Anyone organising a wedding from a distance will tell you that it's a bit more work than being just down the road from your chosen location, and any bride organising their wedding within just a few months will tell you there is a lot to do, but today's couple decided to do both- marry in their home country of Romania (while living in London) and organise it all within just four months!  The outcome is so lovely though- I don't think it could have been better had they lived next door and spent years planning.
I'm lucky enough to have visited Romania back in September last year (in fact, this very wedding was taking place whilst I was there) and it is an incredibly beautiful place – I can completely understand why our couple wanted to go 'home' to be married. Meet Laura and Daniel, a CAD and automation engineer respectively, who married in their home country of Romania on the 20th of September 2015 at the beautifully rustic Wedding House, in Poiana lui Stanga.  Laura was a fan of Love My Dress throughout the planning, so we're delighted to be featuring her own wedding today, and especially so since it was photographed by our Little Book For Brides members, Green Antlers Photography.
"I discovered Love My Dress after we've got engaged and it was a huge source of inspiration. I really enjoyed browsing through all the beautiful pictures and reading all the emotional stories. It is a very good resource, especially for people living in the UK – really helpful in terms of suppliers and wedding dress boutiques."
Photography by Green Antlers Photography
Find Green Antlers Photography on Little Book For Brides
Follow Green Antlers Photography on Instagram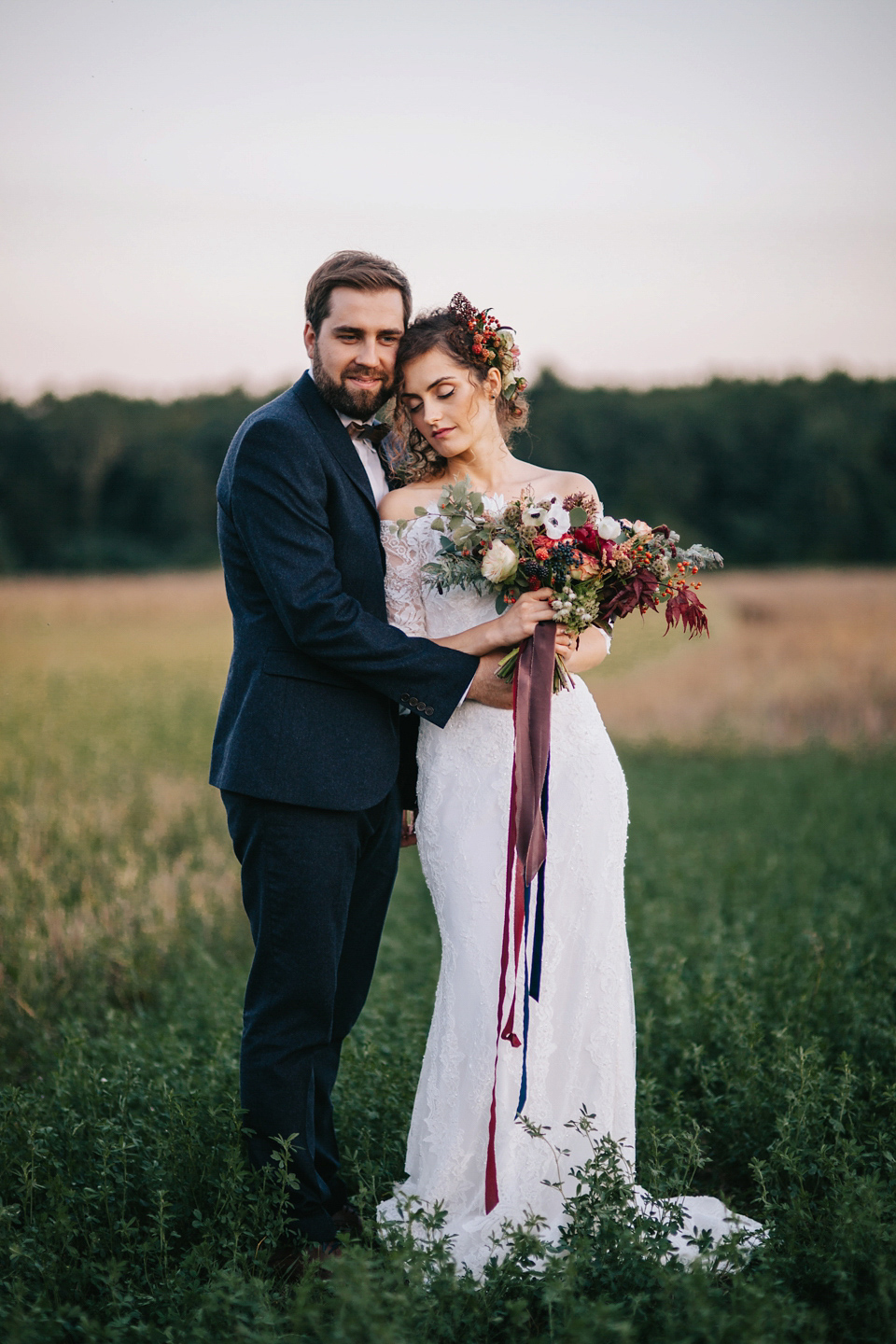 "Because we knew it's impossible to please everybody at a wedding, we decided to style it after our own taste – natural, organic, woody, a bit rustic, with vintage influences.  We didn't have the traditional food menu and we didn't want anything fancy, like any chair sashes. Also we didn't have the traditional "wedding party" – no bridesmaids, no groomsmen, no ushers, but we did have wonderful people around us who have helped a lot."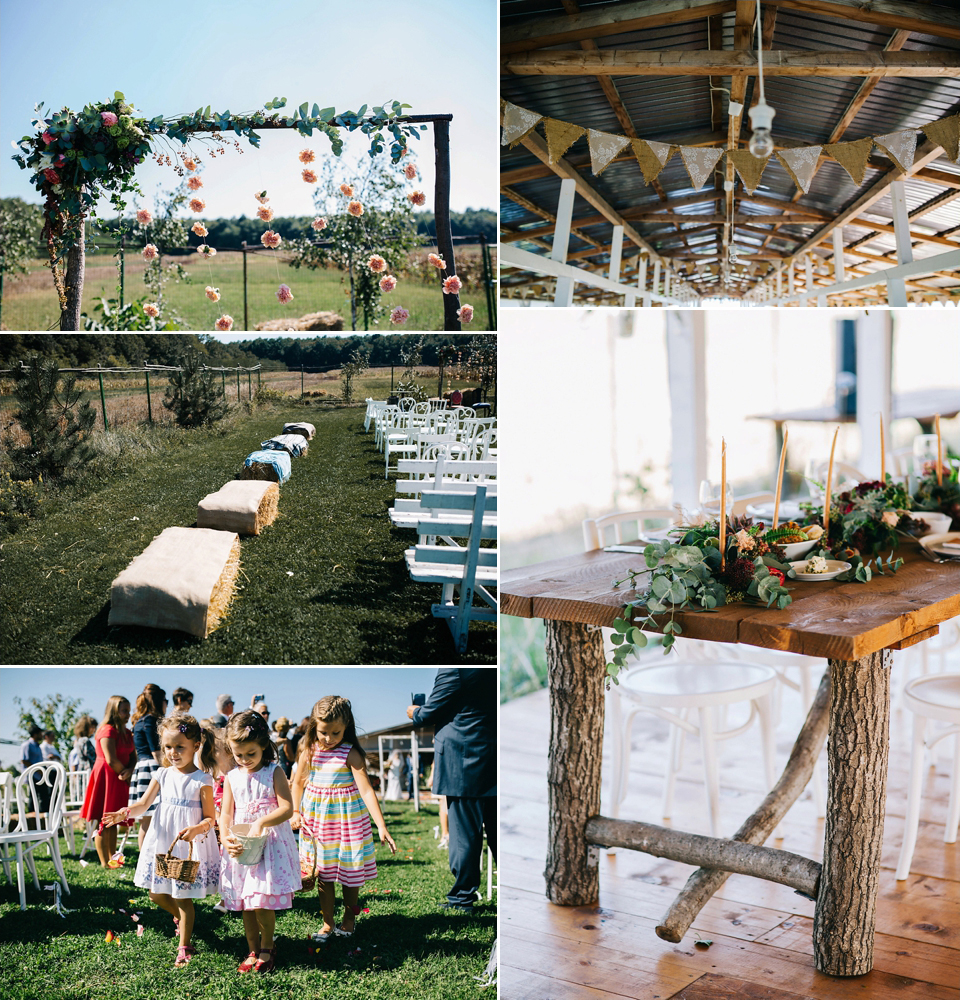 Laura wore a bespoke gown by Romanian designer Otilia Brailoiu.  I adore the off the shoulder style, the lace and the buttoned back and the shape suits her so perfectly.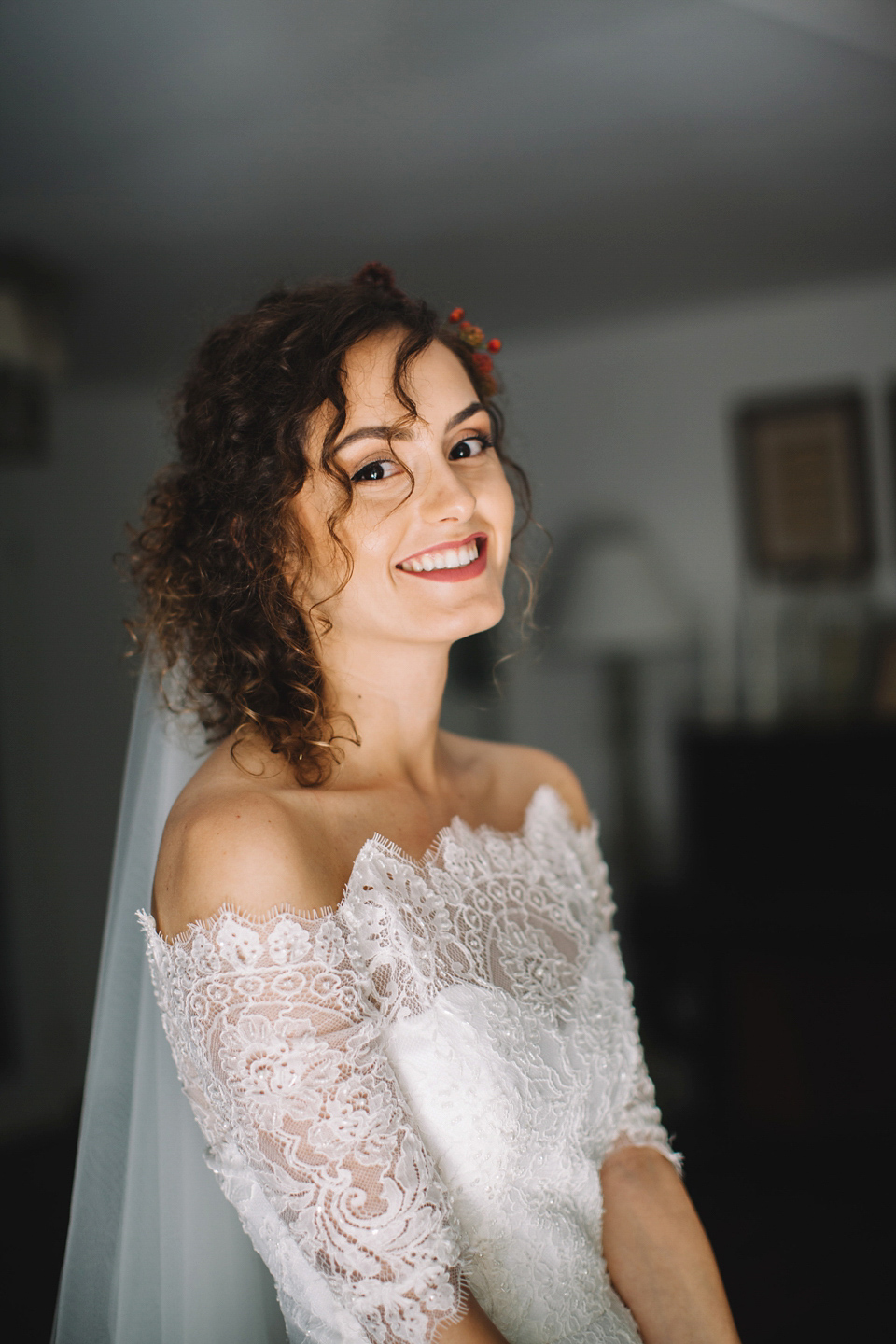 Laura accessorised with shoes from Dune, a beautiful veil (also made by Otilia), a spray of Jo Malone's White Jasmine and Mint cologne, and the most wonderful array of flowers, foliage and berries in her hair.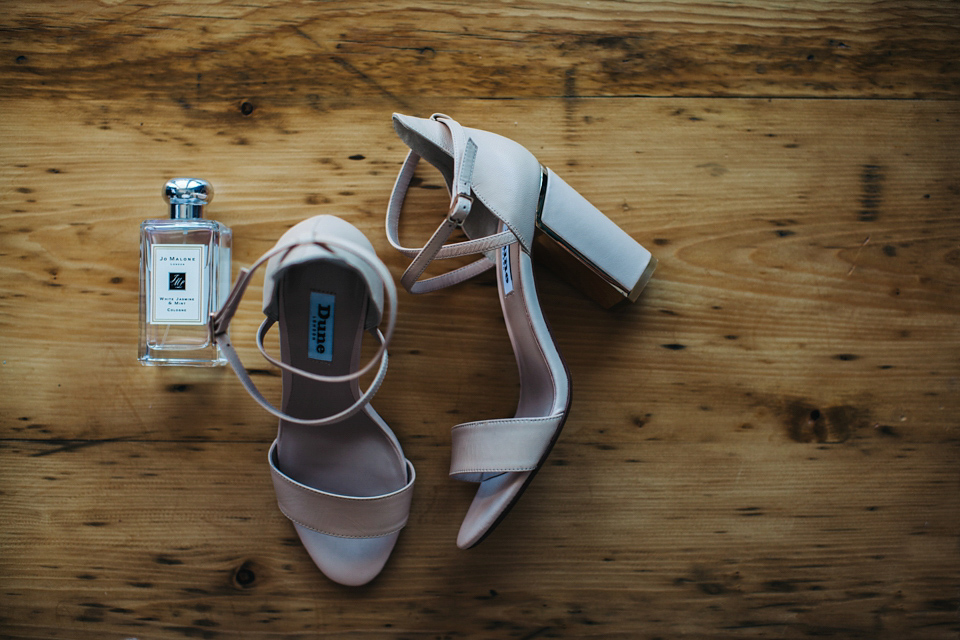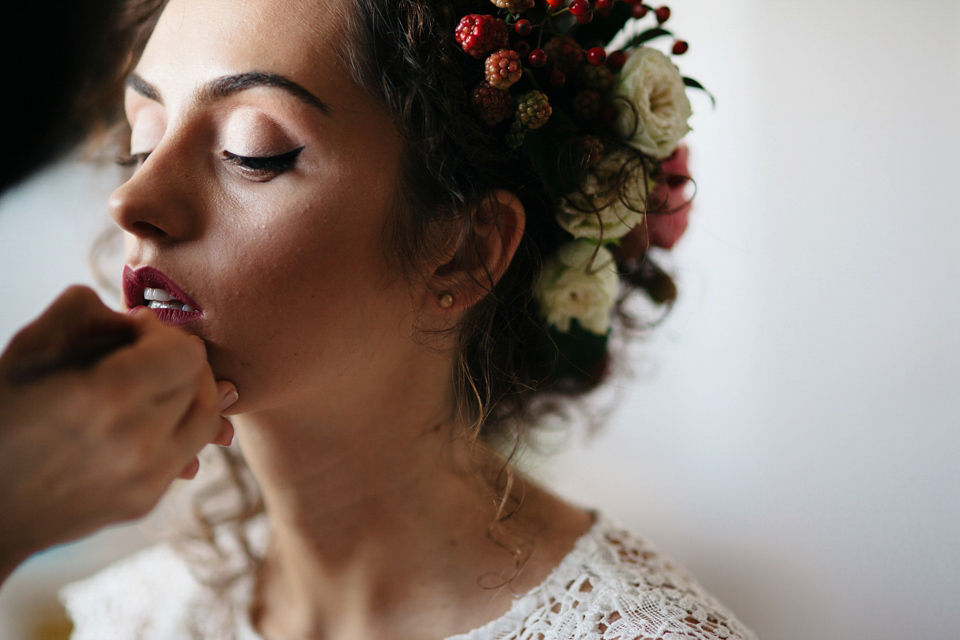 The wonderful floral arrangements were the work of Bloom Bloom Florists who used not just flowers, but berries and fruits to create a seasonal feel to the day.  Their rustic style matches the relaxed feel of the day flawlessly.
"The main idea was to create an Autumnal atmosphere defined by seasonal flowers and fruits.  We really liked the fact that they were very open-minded and keen to experiment with a variety of plants, according to our requests.   They were very friendly and warm ladies who put so much effort into creating the loveliest décor and wedding bouquet.  It was a pleasure collaborating with them."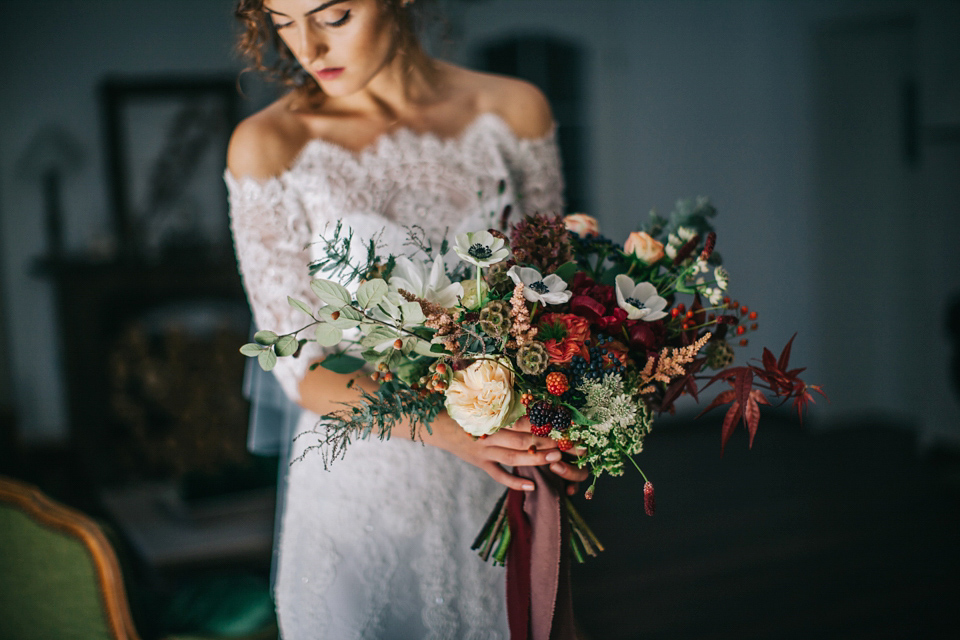 "I had not anticipated the amount of time that it normally takes for a dress to be ordered, made and then delivered, and after trying over 50 dresses on in boutiques in and around London, I started to think about having my dress custom made.  I then discovered Otilia Brailoiu and her wonderful gowns. She's an ex-model, new designer and her work has been highly appreciated internationally."
** Good point made about wedding dress order times ladies – you can read more about that here on Love My Dress).
"Fortunately, my dress designer's studio is based in my hometown, so I managed to fly over a couple of times to have my measurements taken and for my first fitting. It was quite exciting choosing the fabric and thinking about the design together."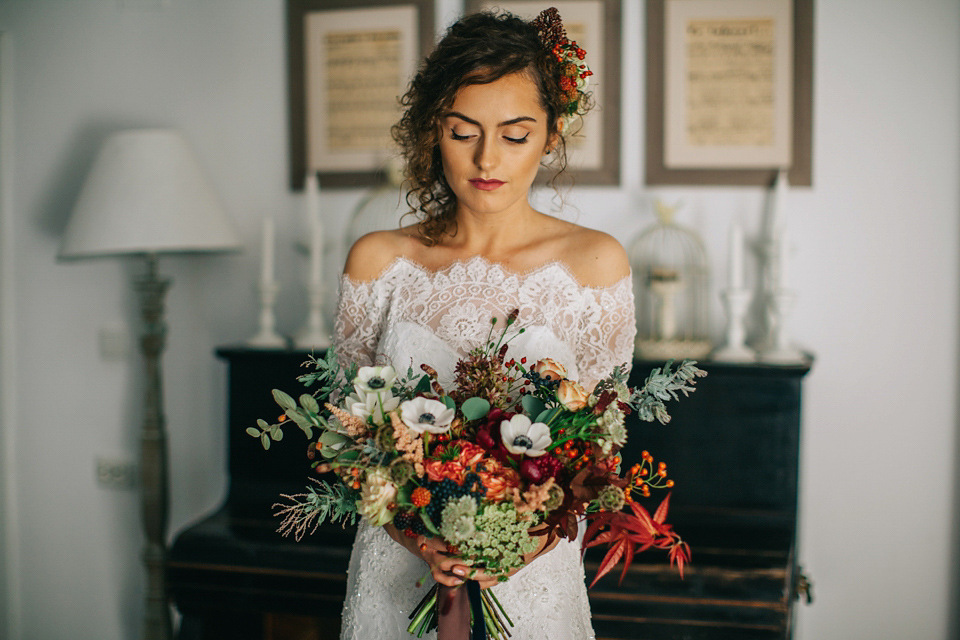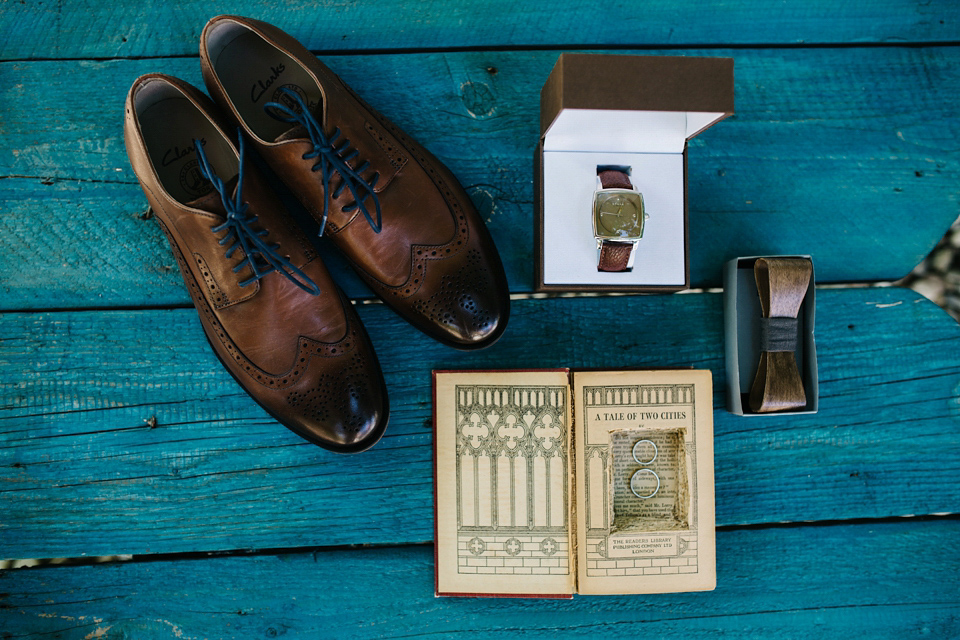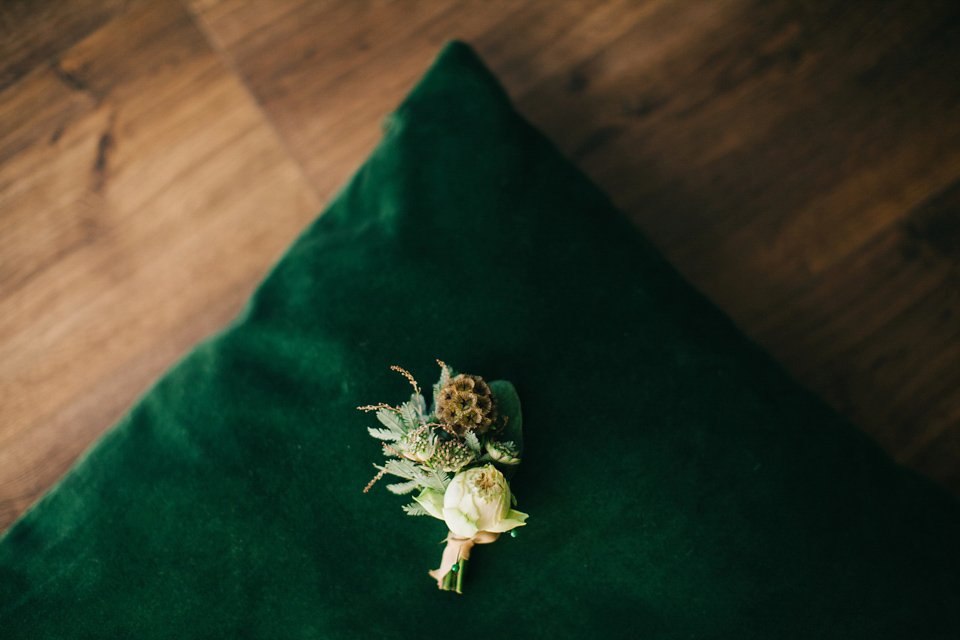 "In the beginning we weren't very sure about the location of our future wedding. We're both from Romania and we live in London. Of course we had friends in London, but we realised that, because most of our friends and family are back in Romania, and because we're both still attached to our home country, we should have it there."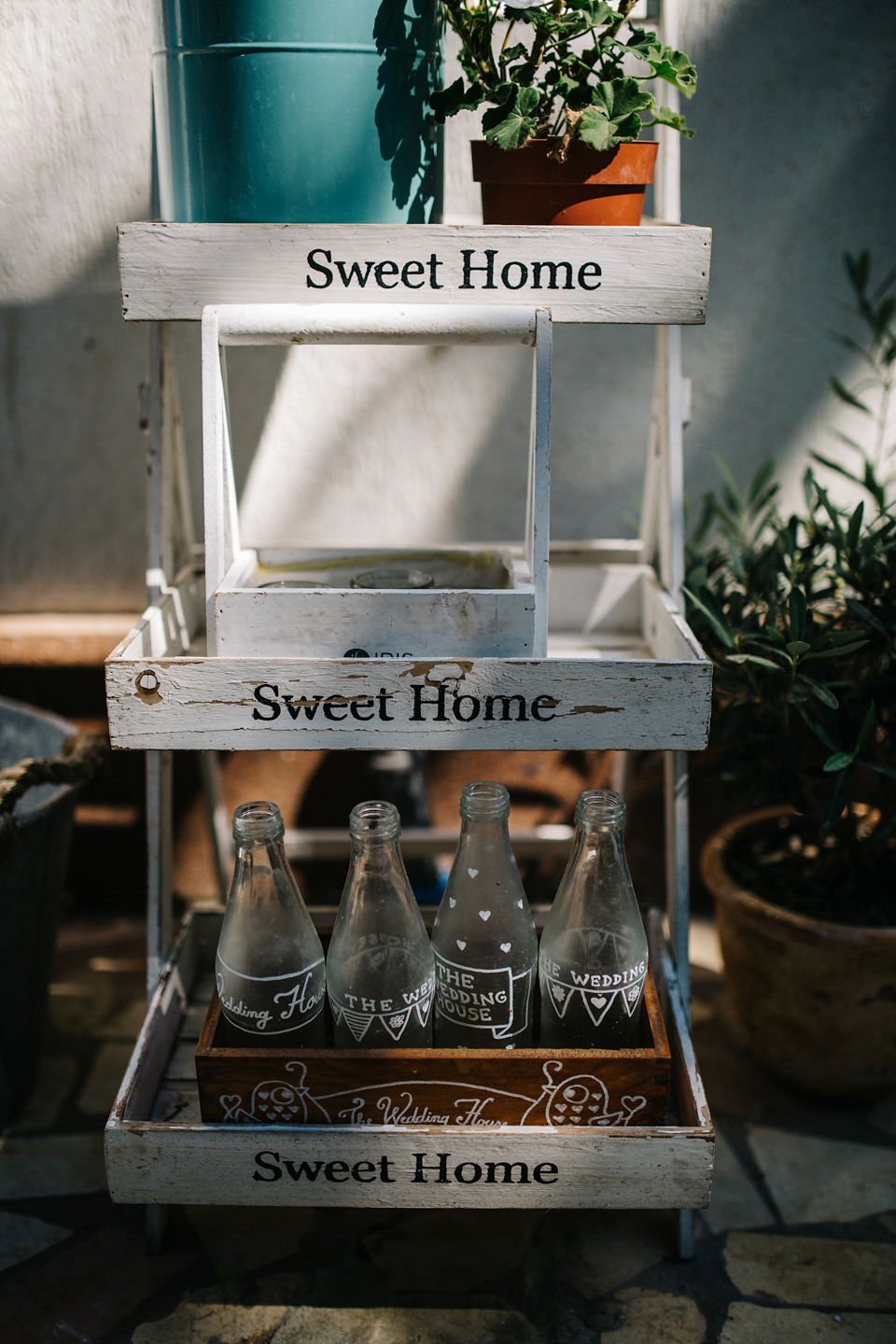 "I quickly discovered The Wedding House and we both loved it. Living in a busy, modern city like London, where you can hardly find the time to breathe some fresh air, we were keen to go back to our origins and have a nice quiet wedding, surrounded by nature."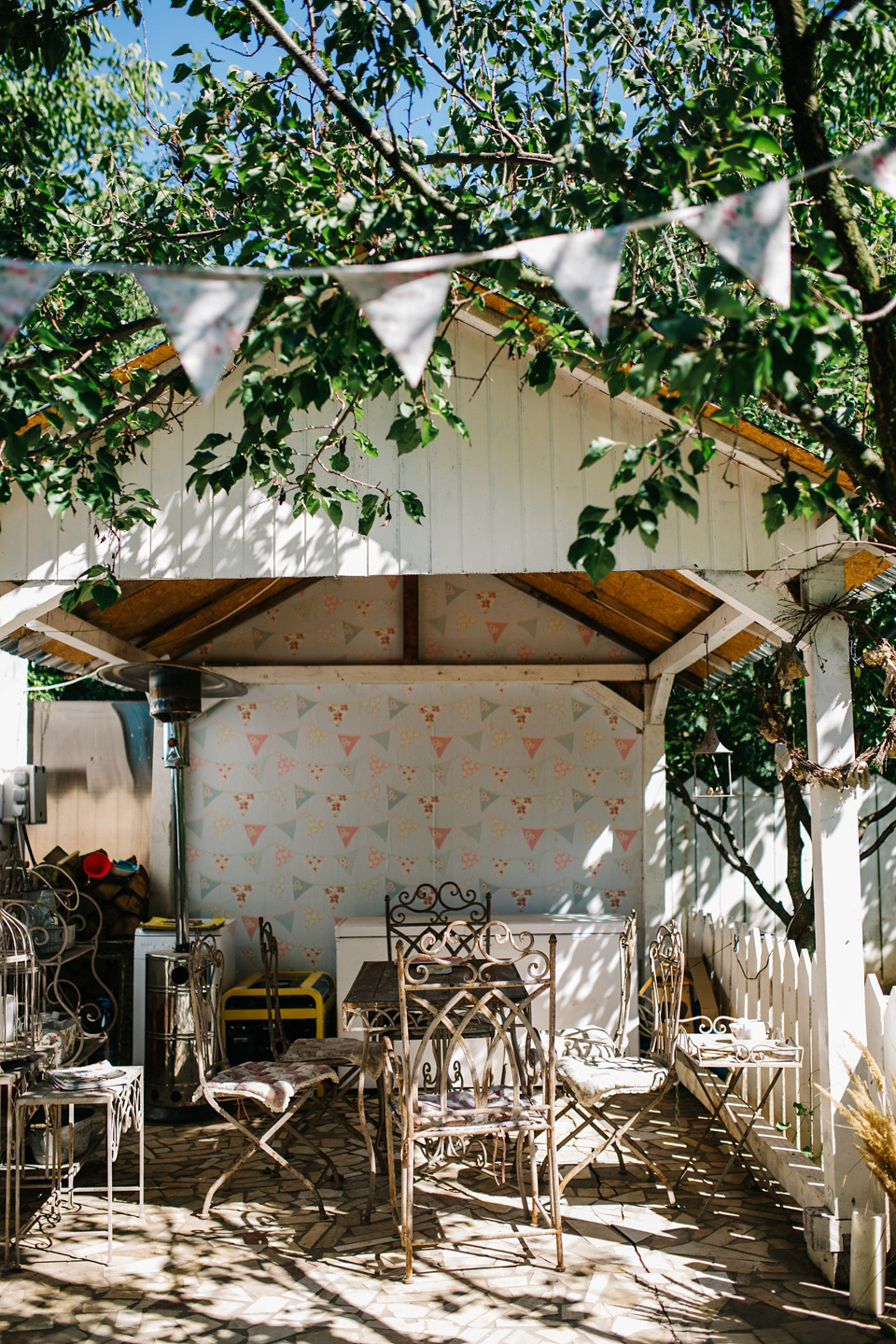 "We booked the place before even seeing it – there was a good feeling about it."
What an amazing venue!  I absolutely love the decor and the clean and fresh but still homely feel.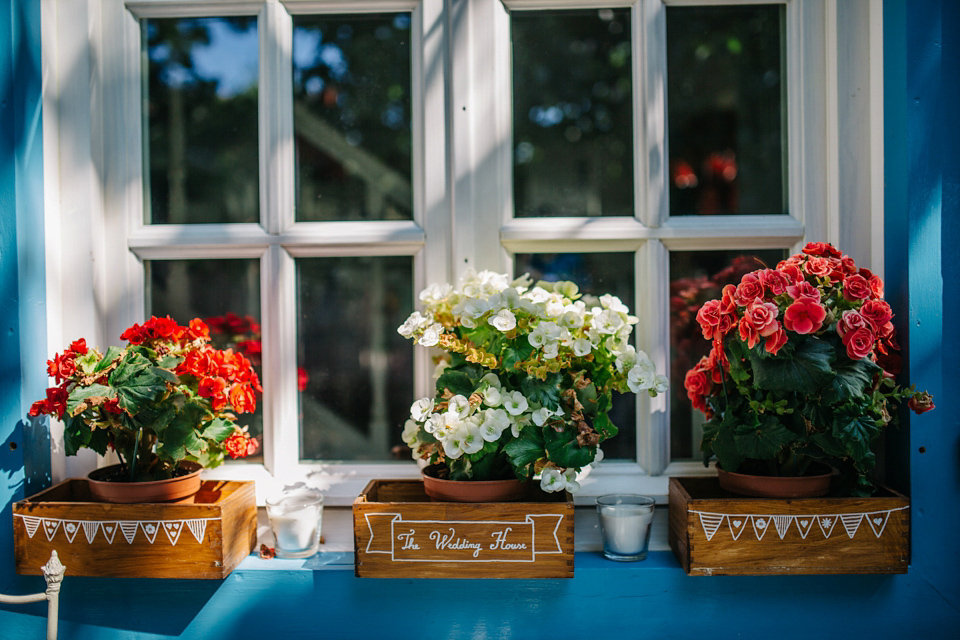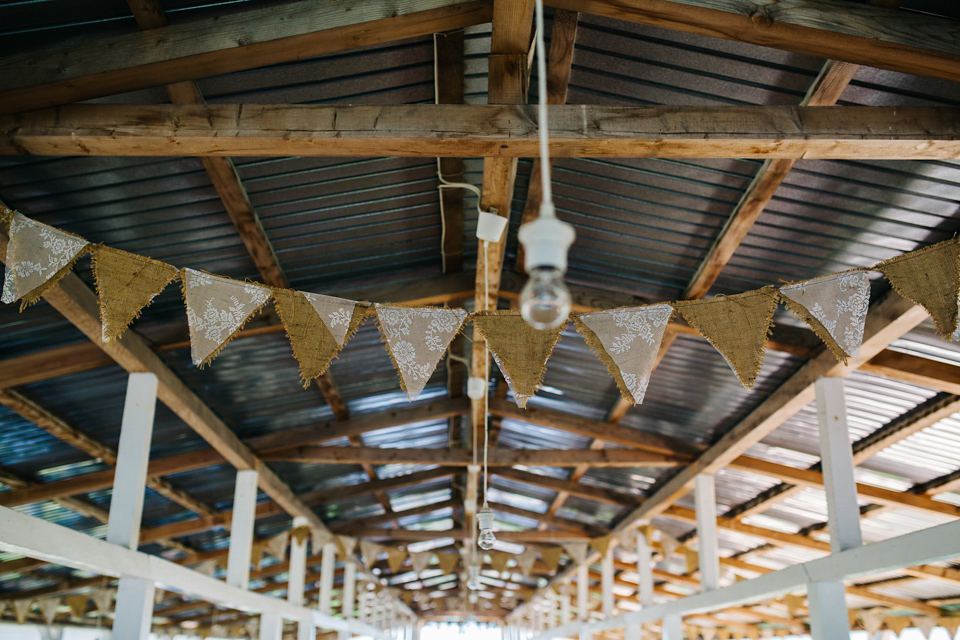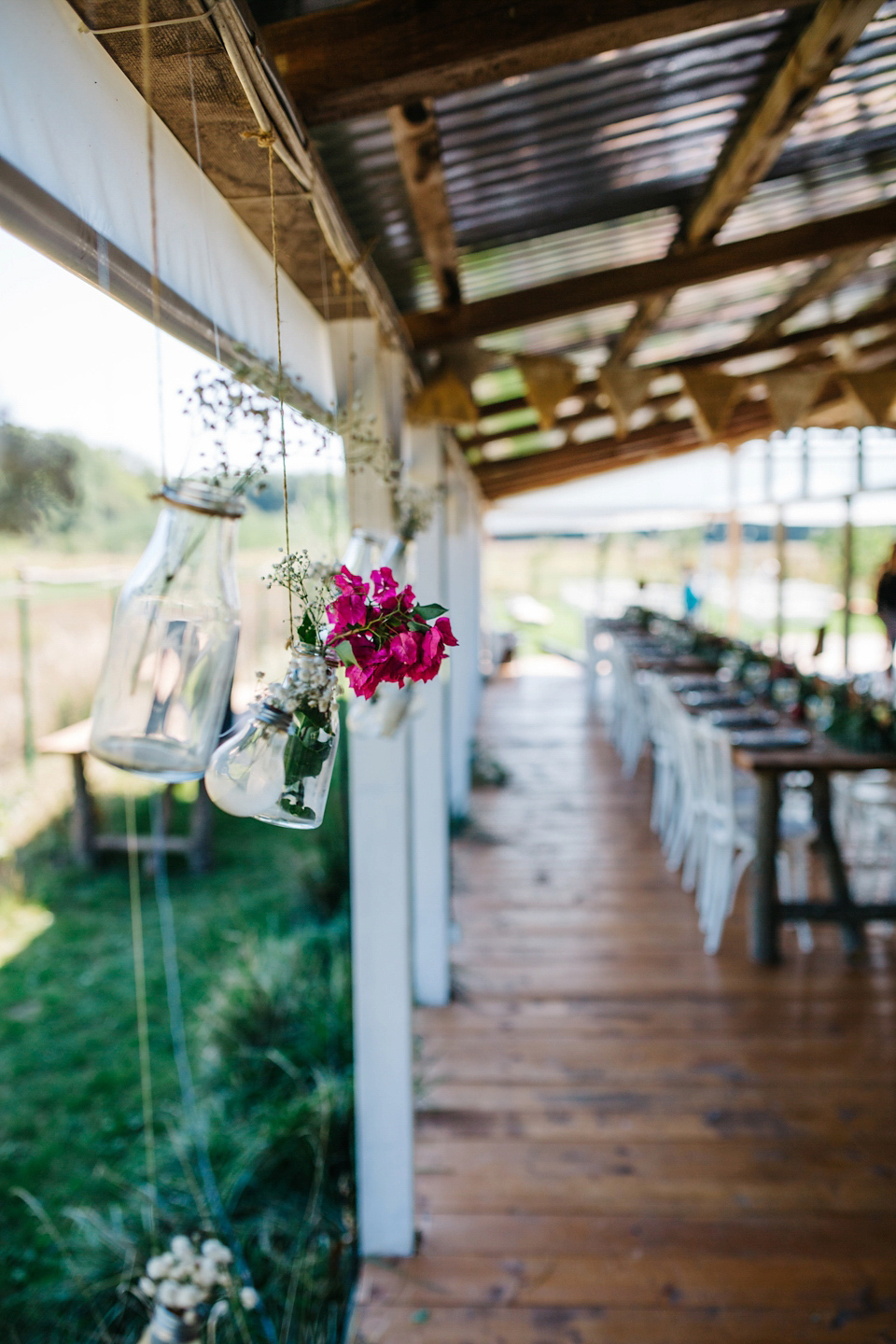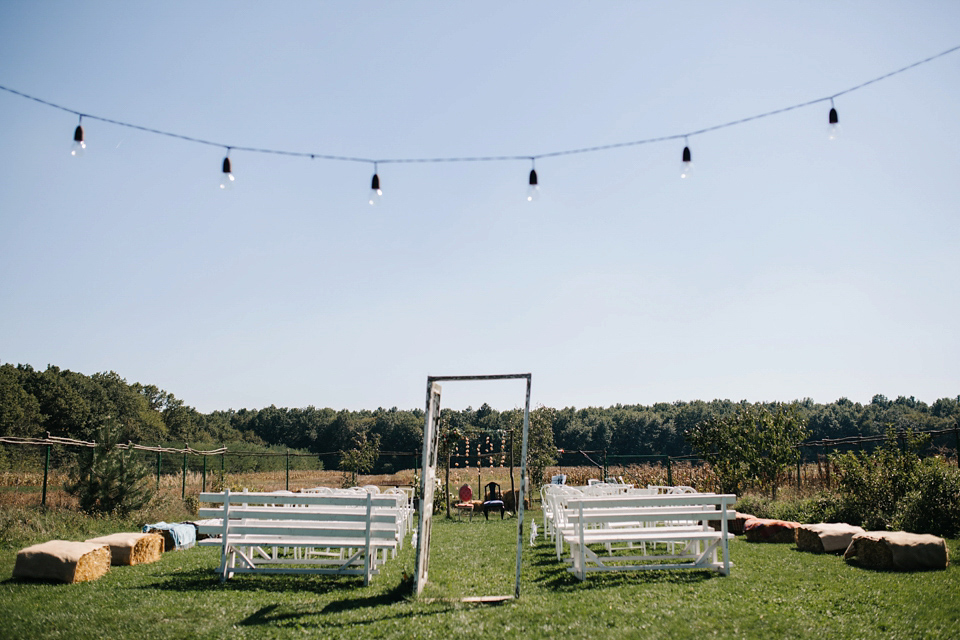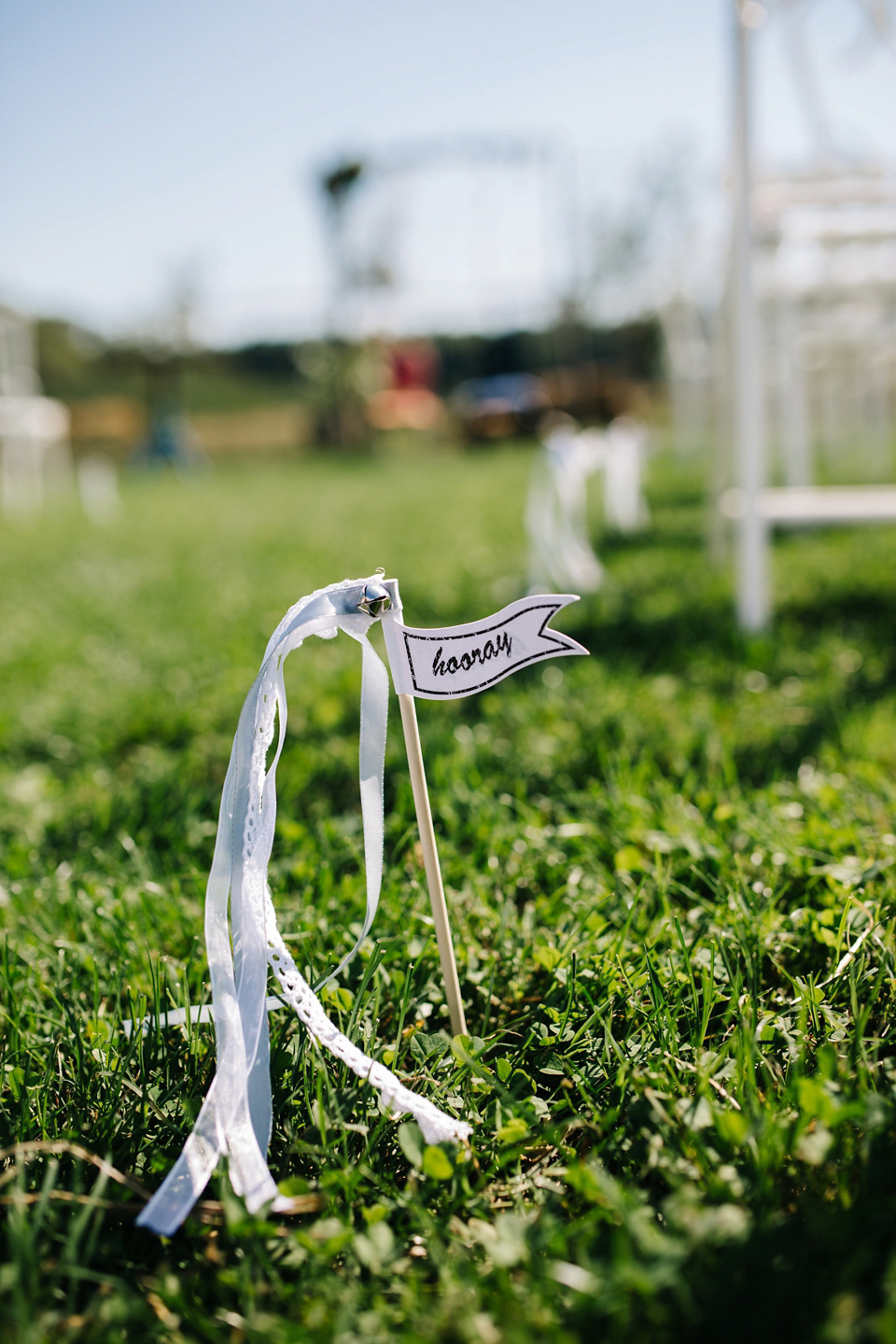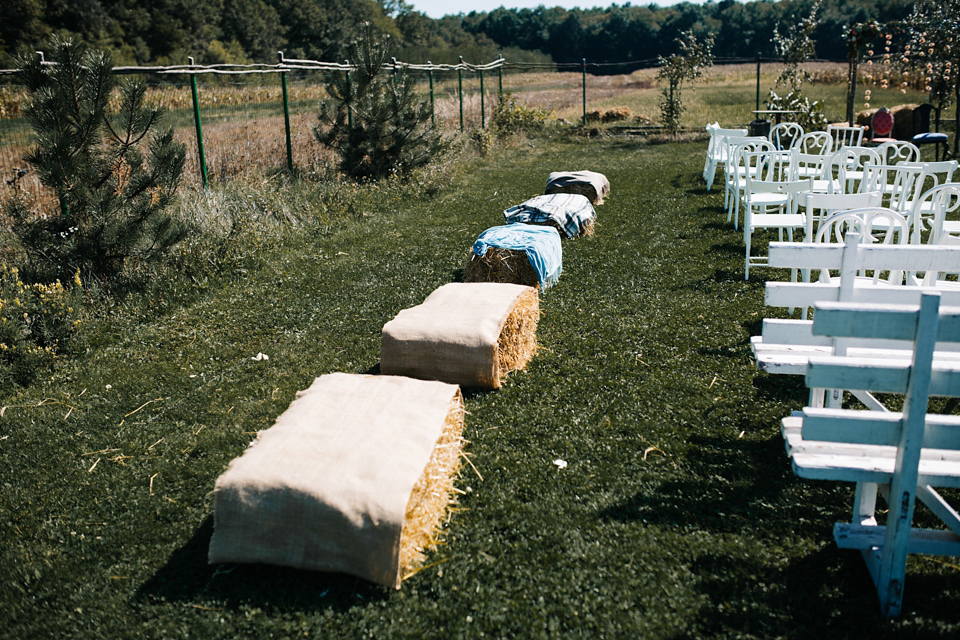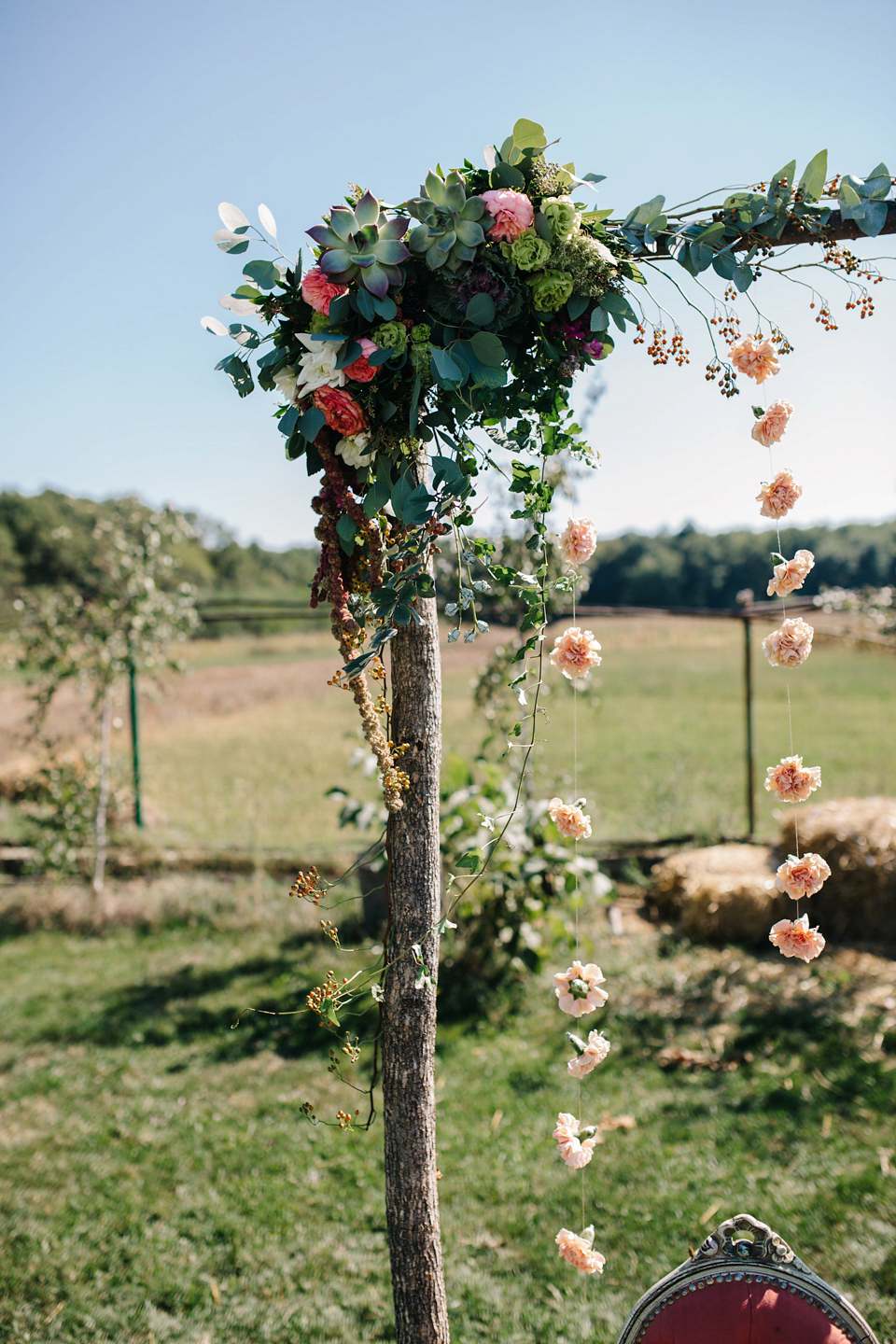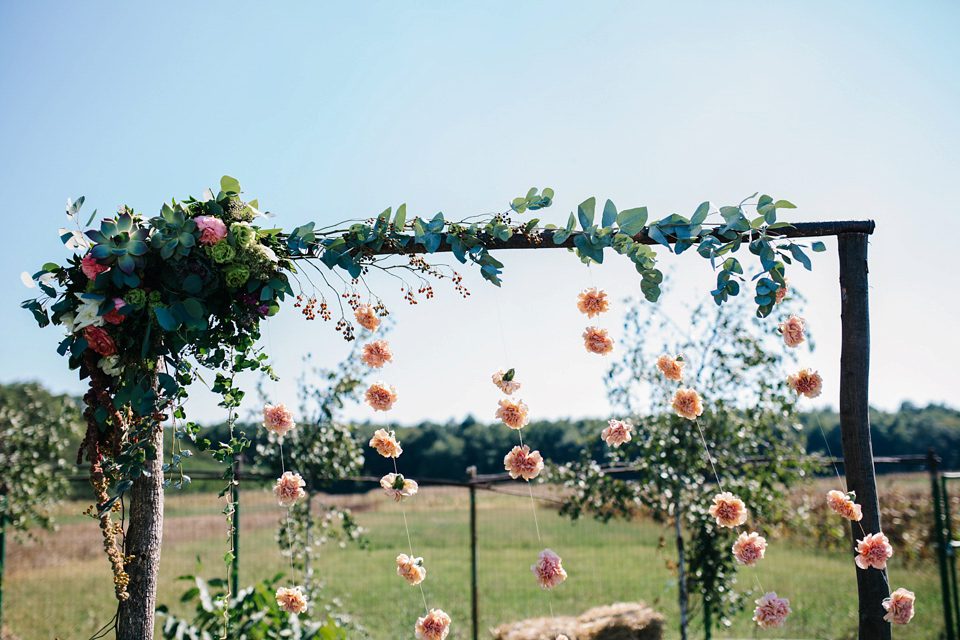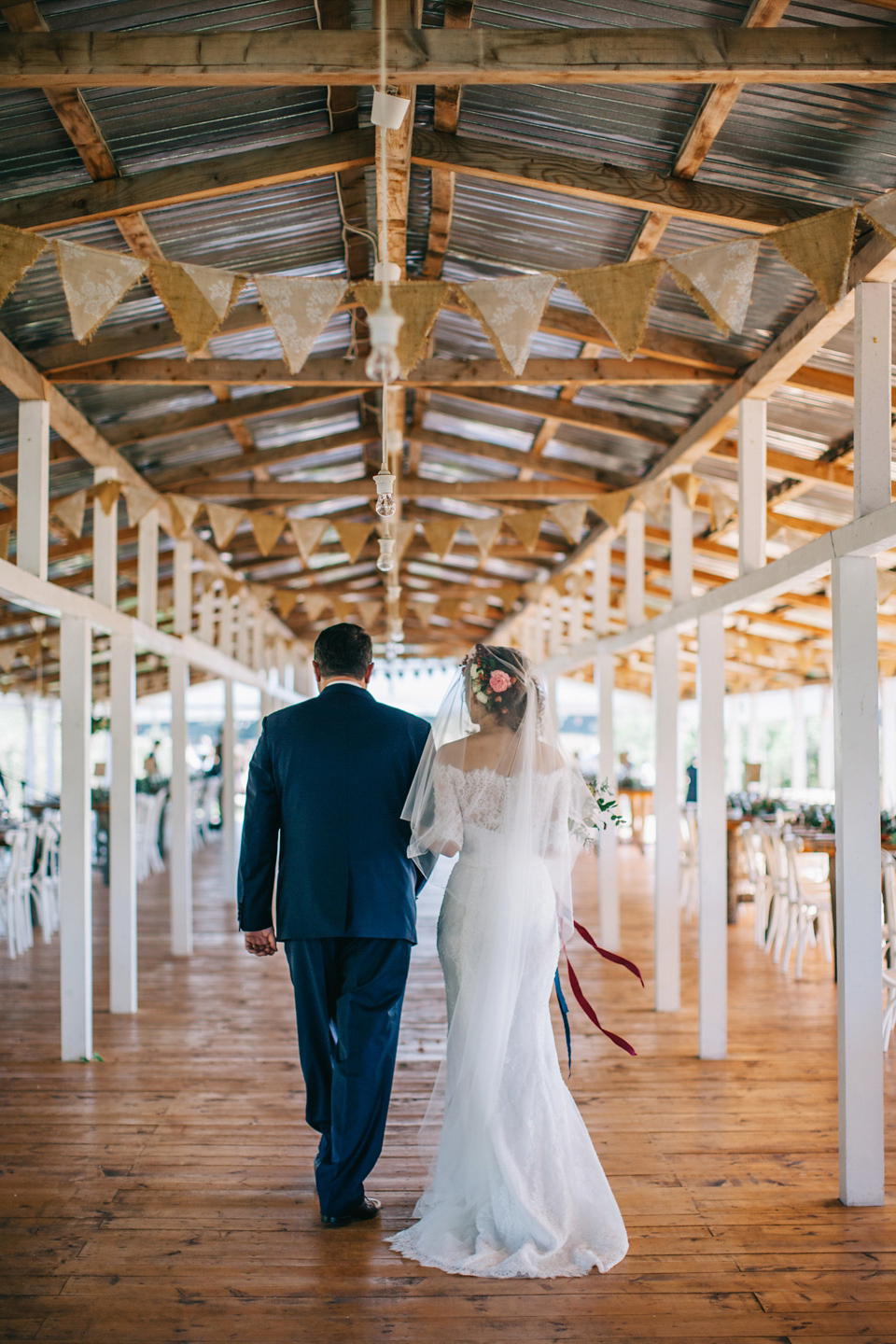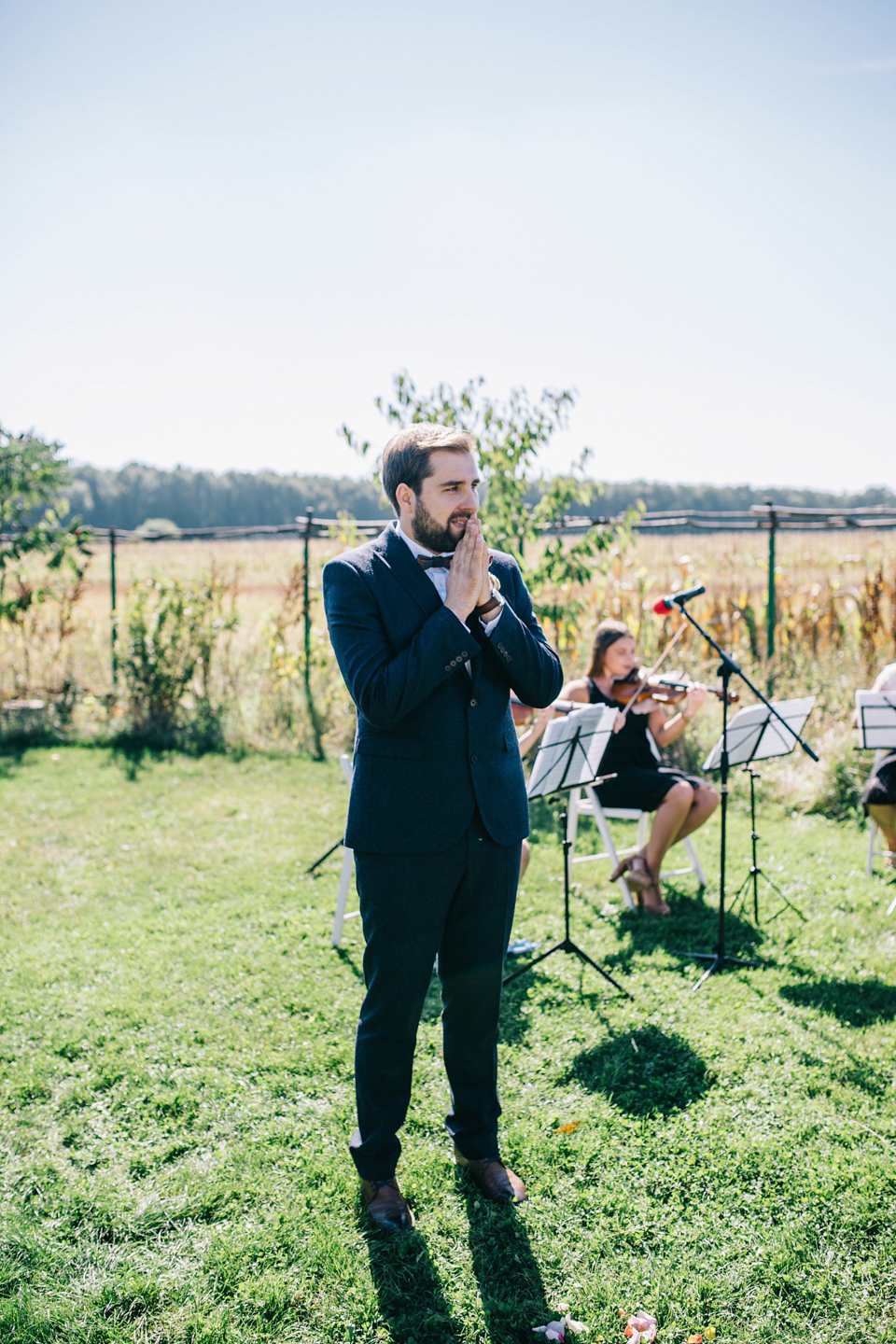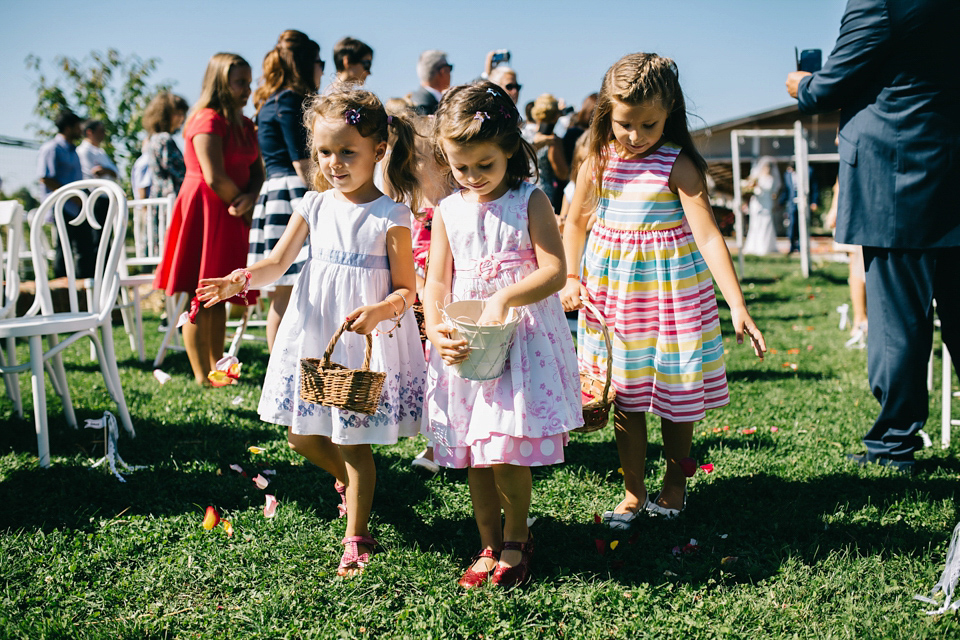 Laura was walked down the aisle by her father to 'Fix You' by Coldplay, played on a string quartet and the couple exchanged their vows under a wonderful wooden structure, wrapped with flowers, in the open air.  I just love an outdoor ceremony.
"My favourite part of the day was walking down the aisle – a moment such full of emotions. Both of us decided not to see each other on the day so we met at the altar."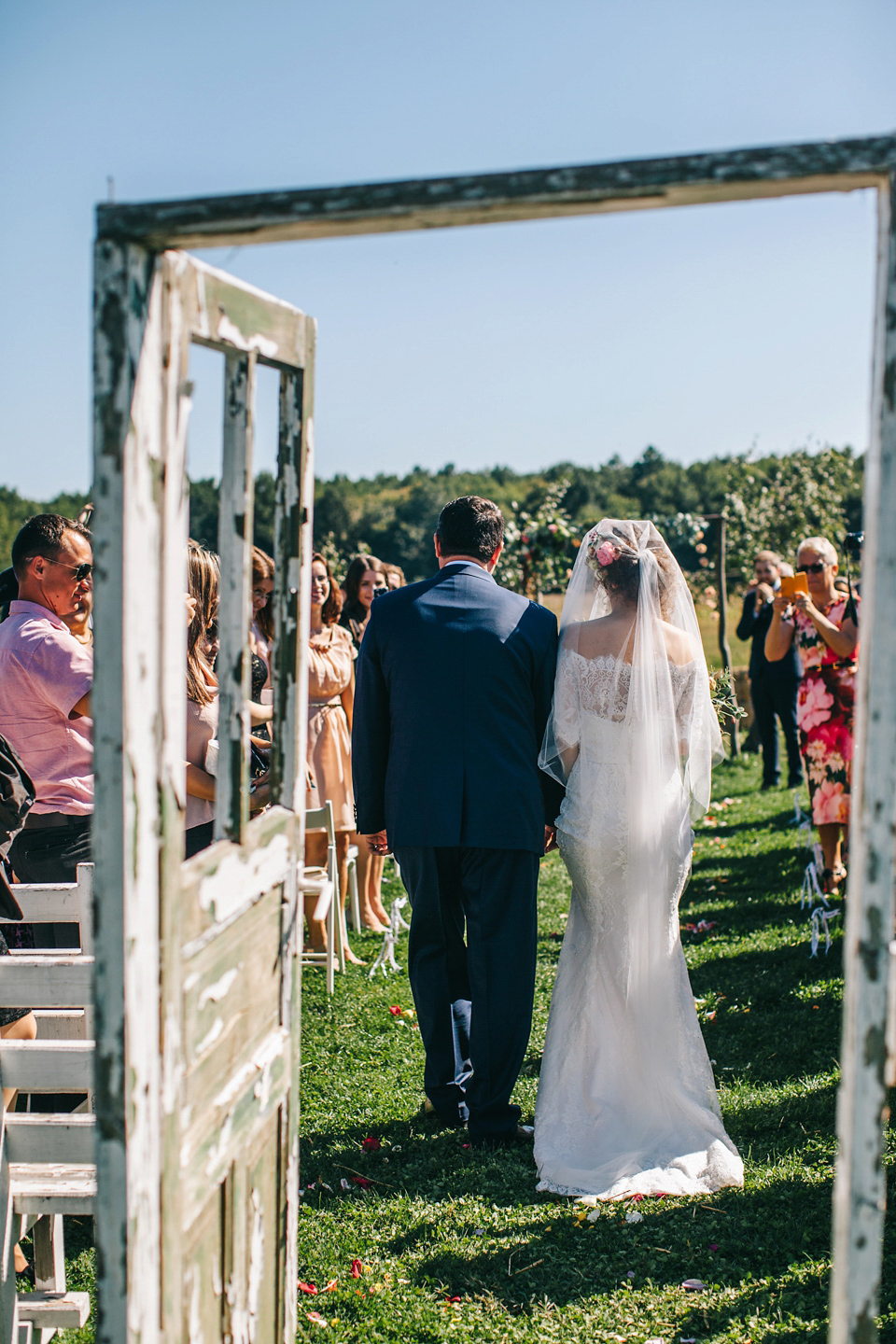 "We've actually only known each other for two years.  We were friends initially, and after a while we started to spend more time together.  After just five months of dating, Daniel asked the big question whilst we were in France.  It was the most perfect day, full of joy and emotions. 
We both felt that we didn't want to wait so we decided to have our wedding just four months after the proposal."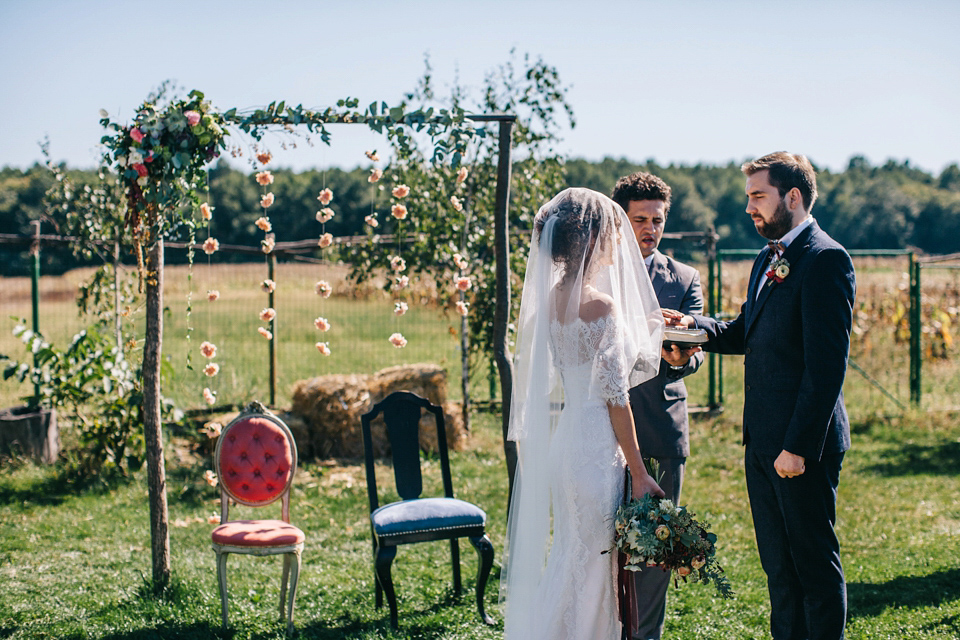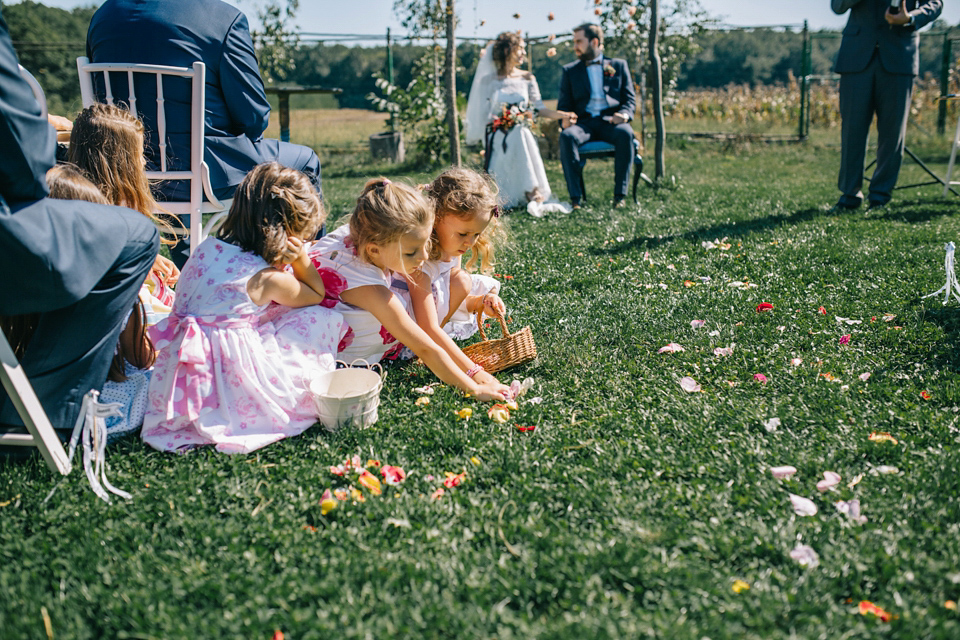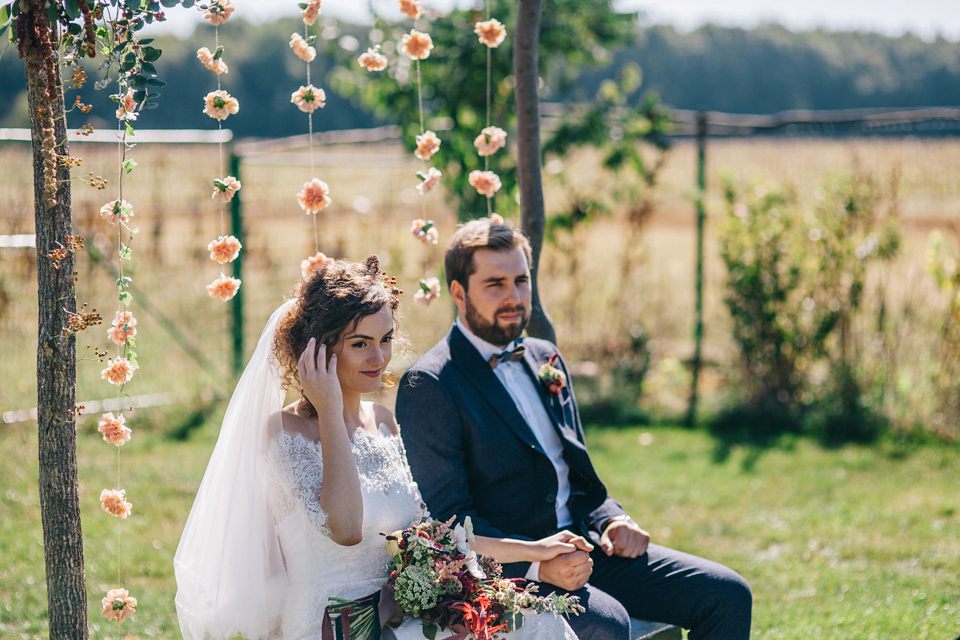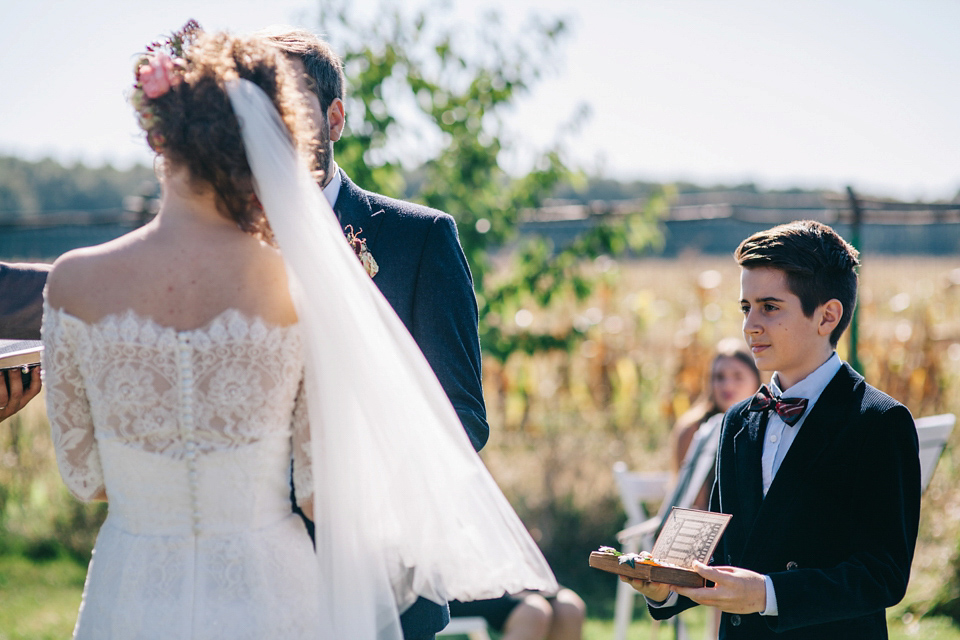 The couple exchanged antique rings, purchased from Grays Antique Market in London.  A ring with history is so romantic, don't you think?
"Daniel bought my engagement ring from this antique market. It fit like a glove and there was no need of any alterations. We bought the wedding rings from the same place as we both like antiques and unique things."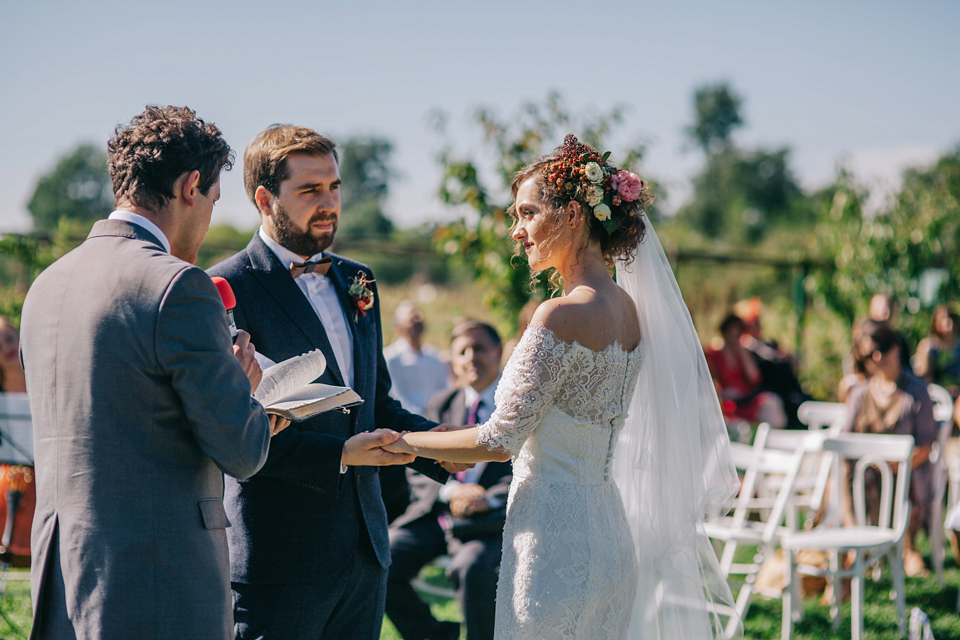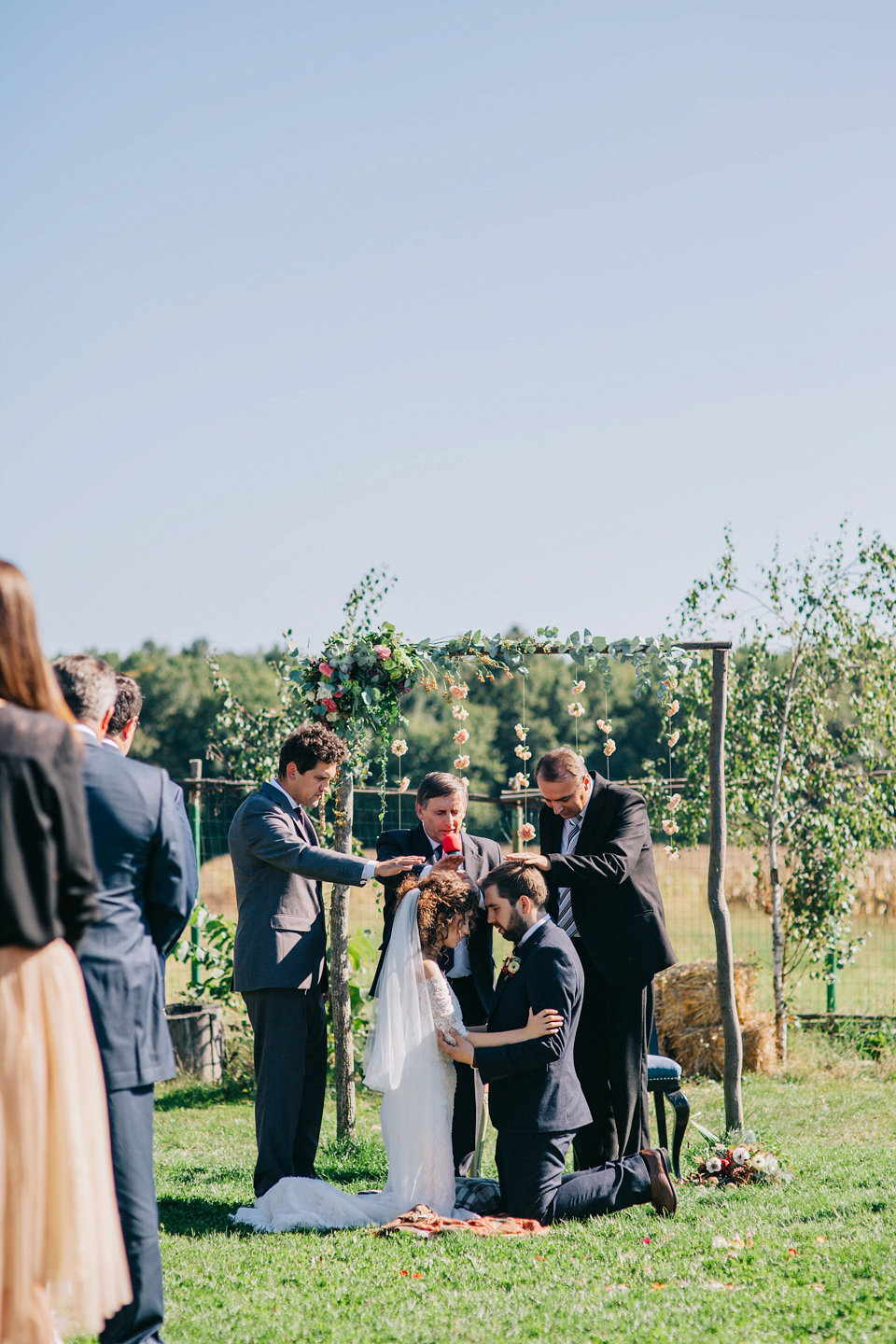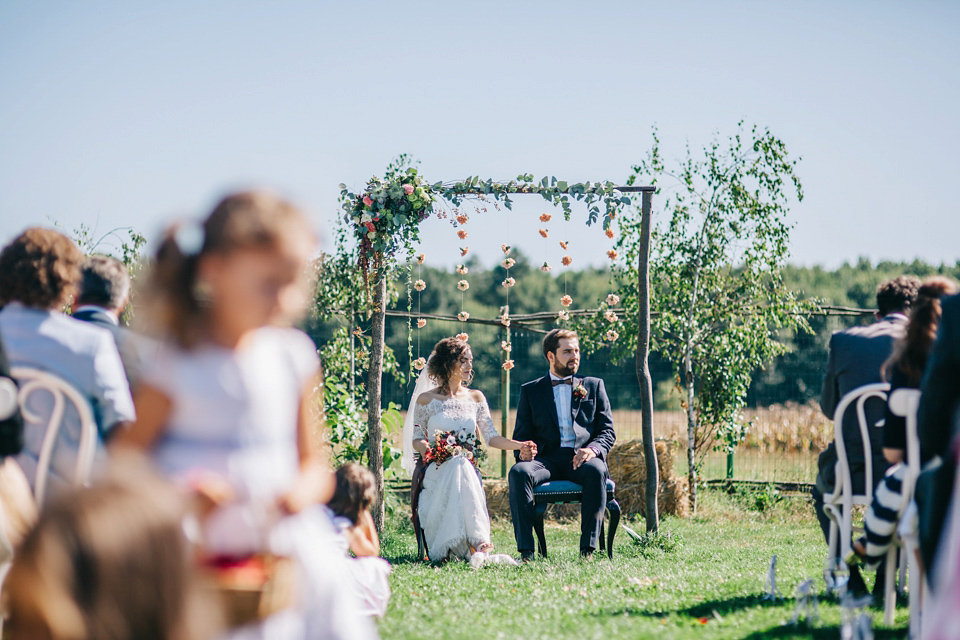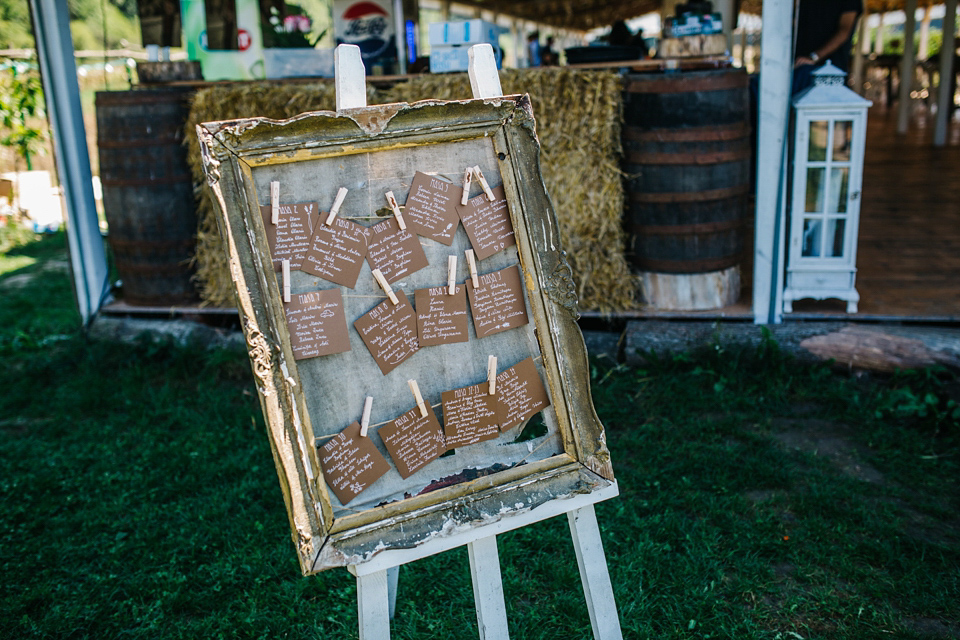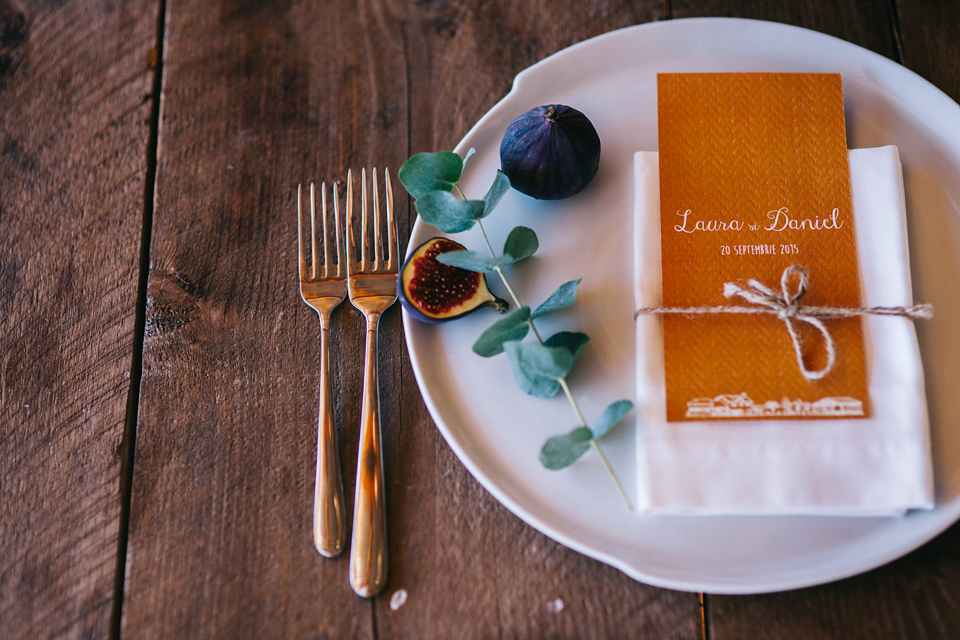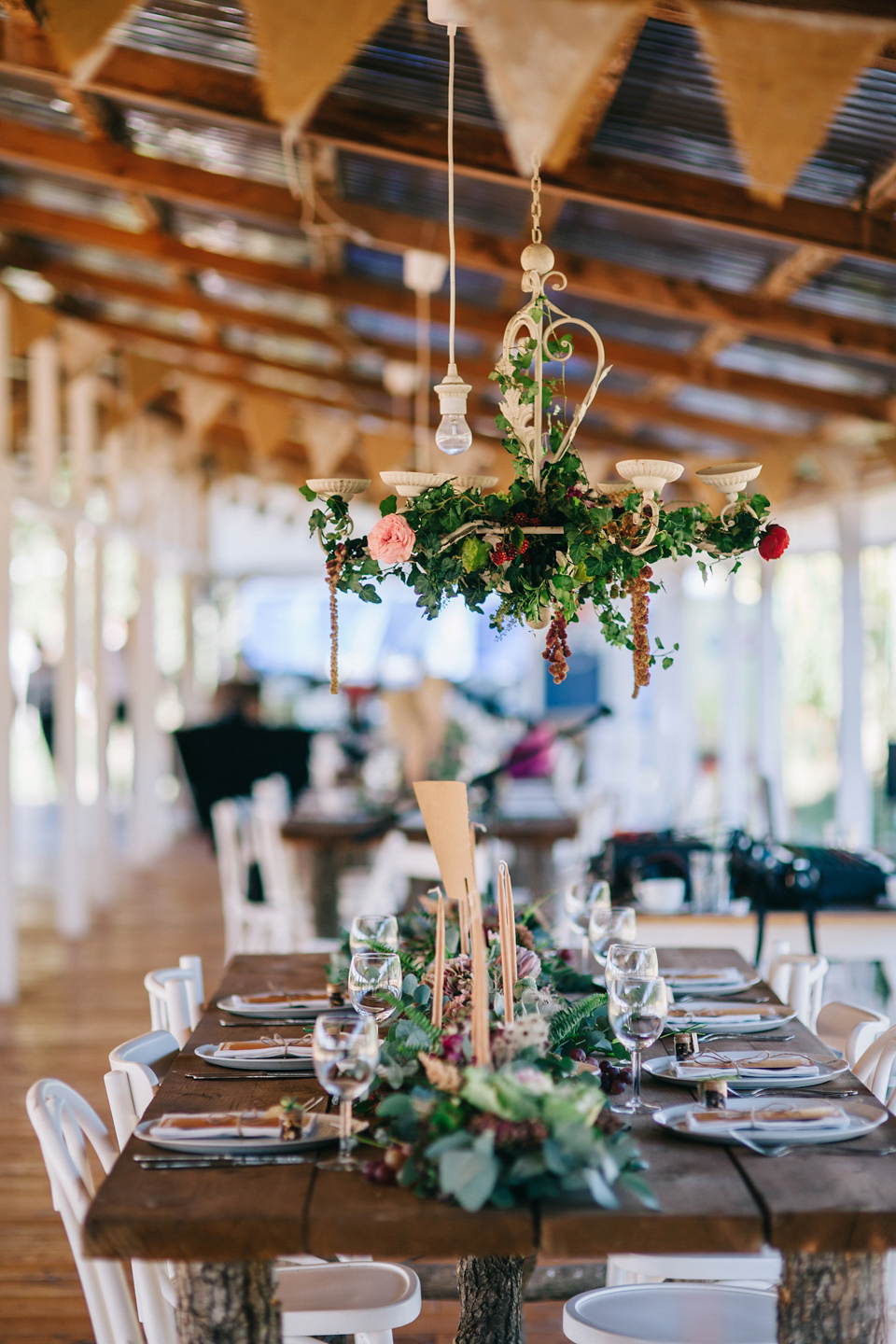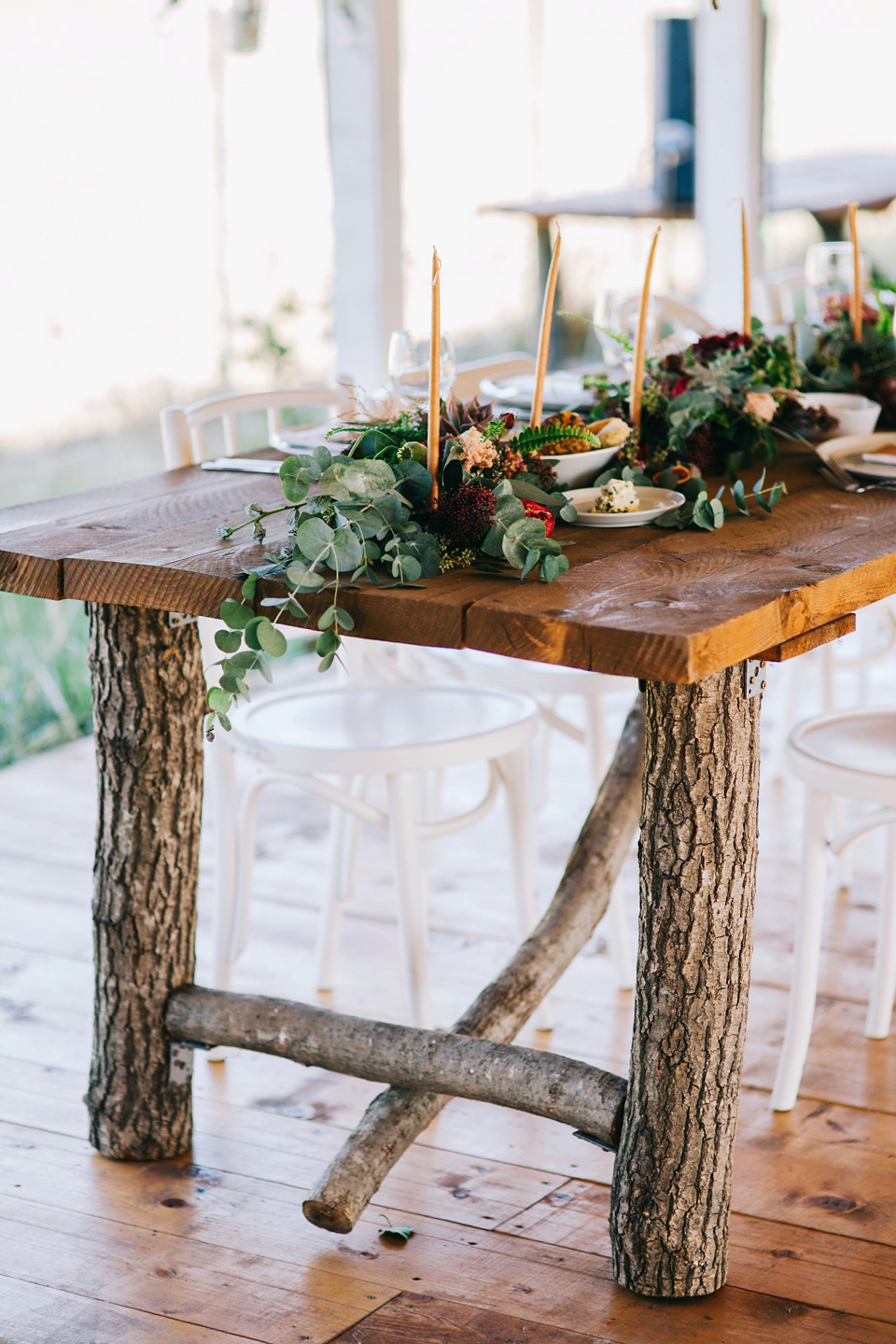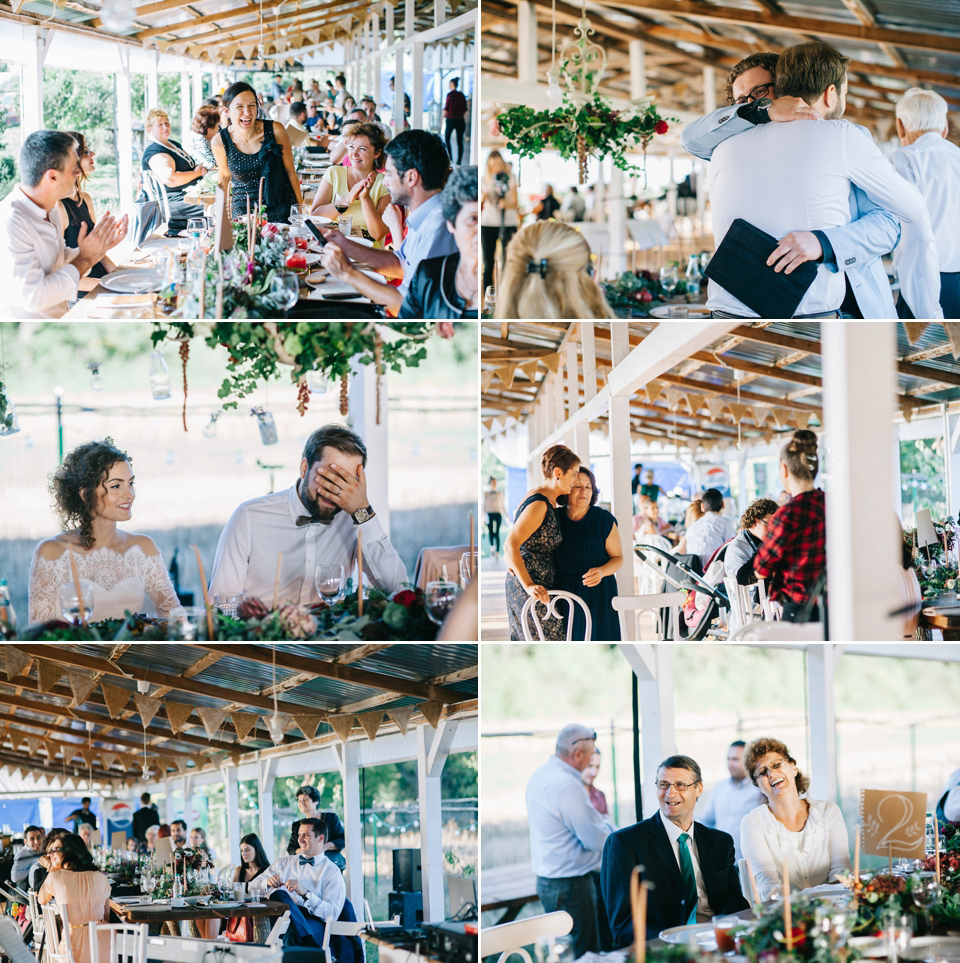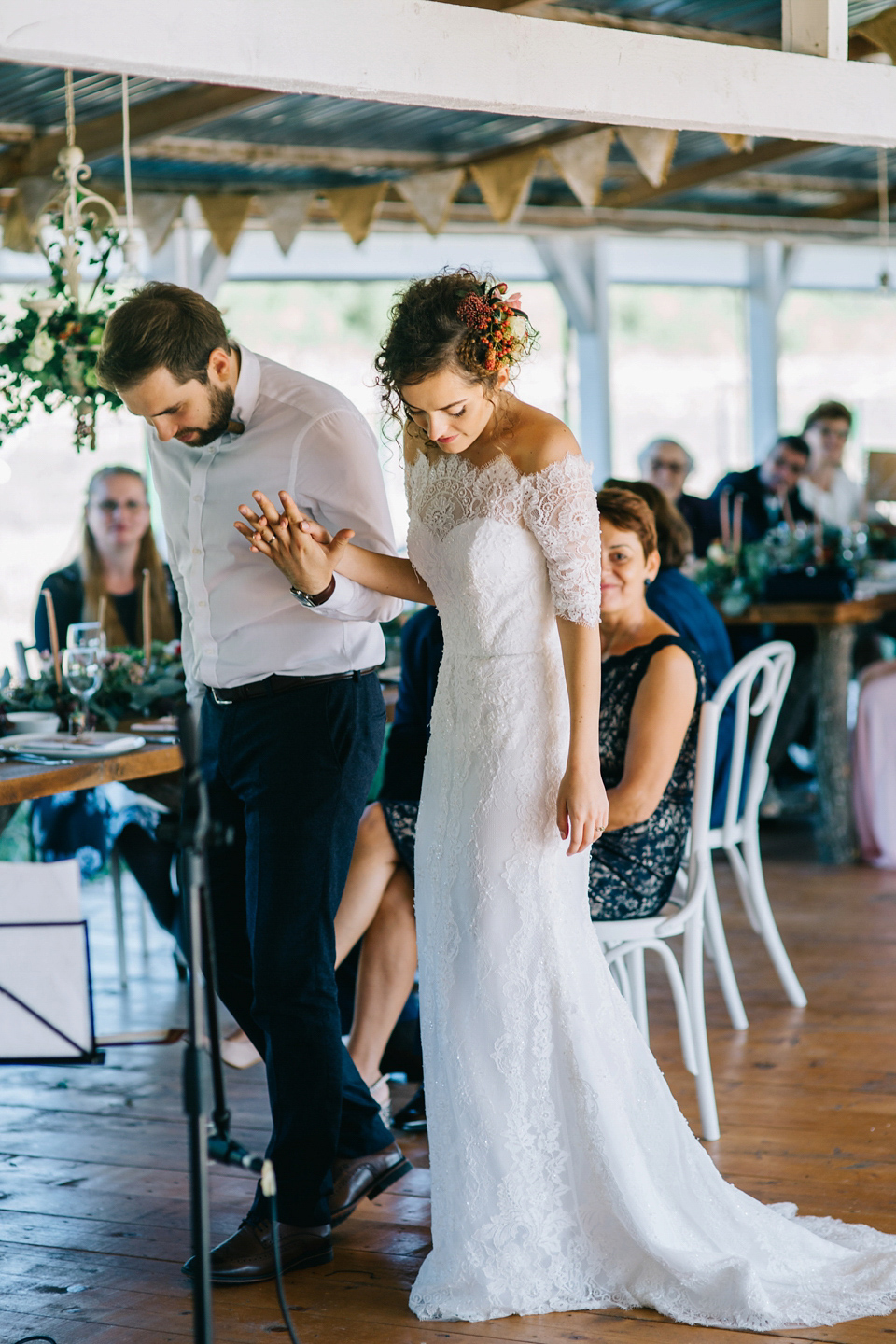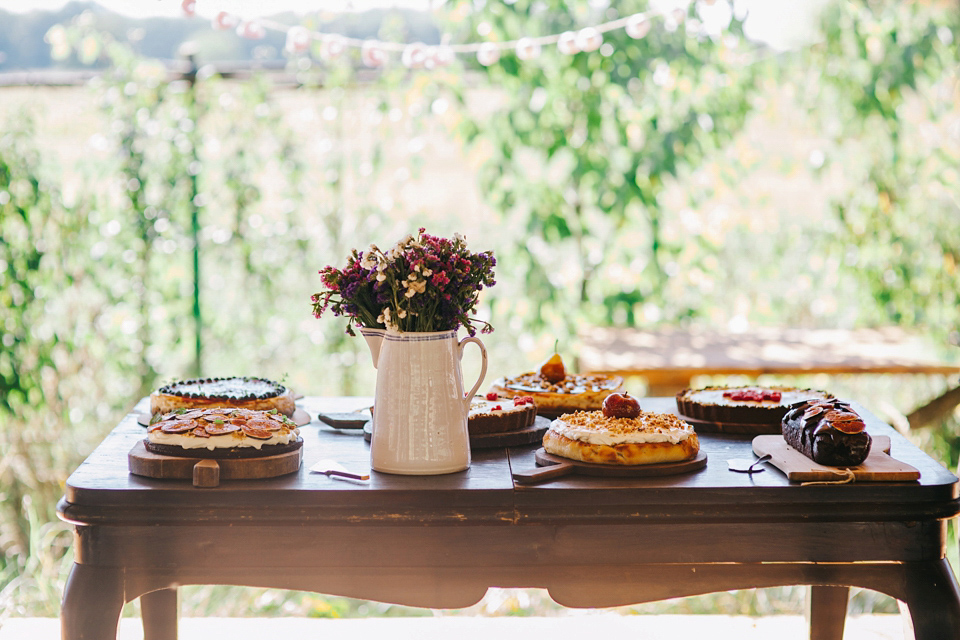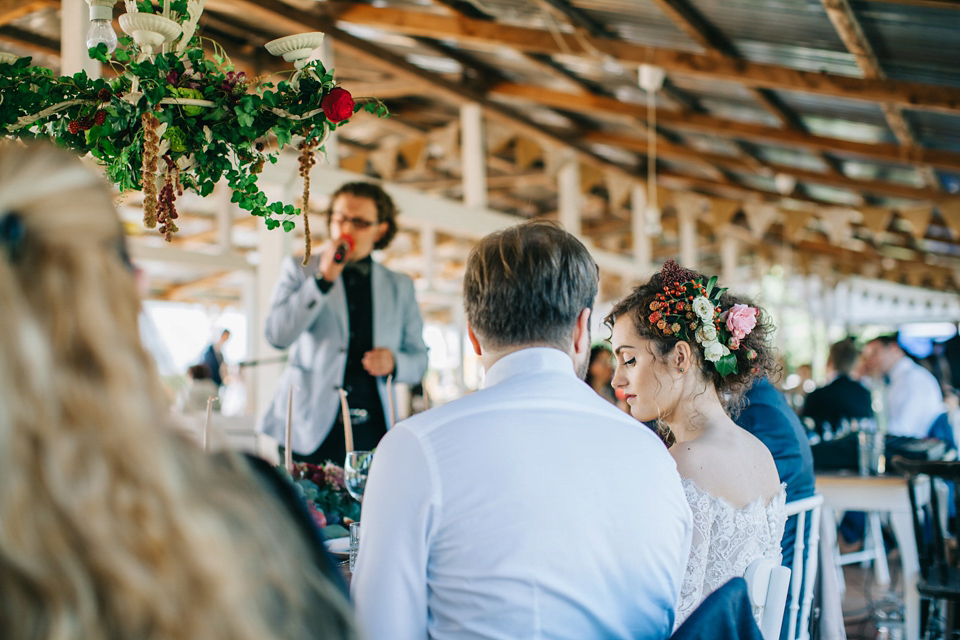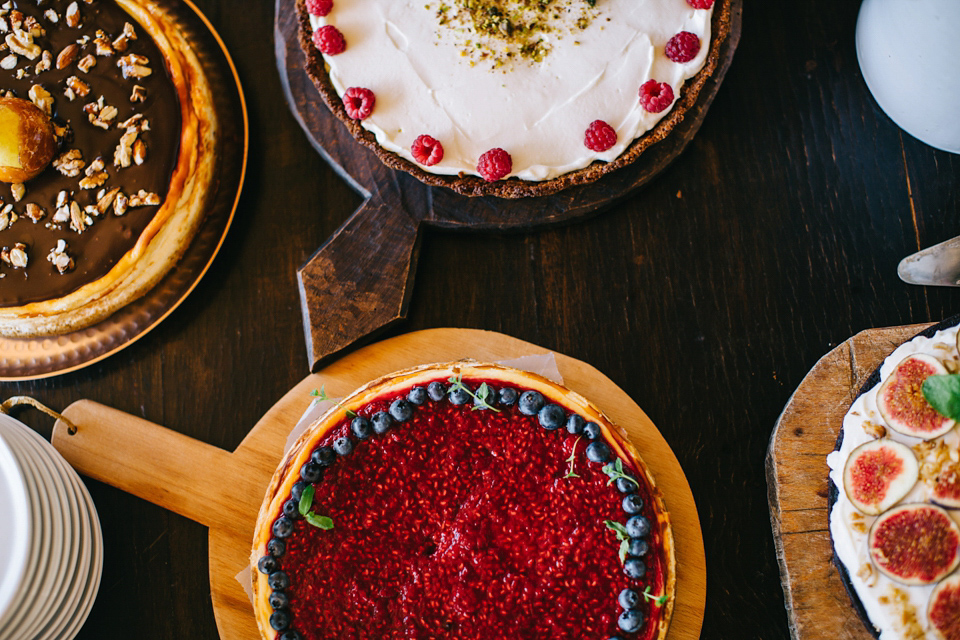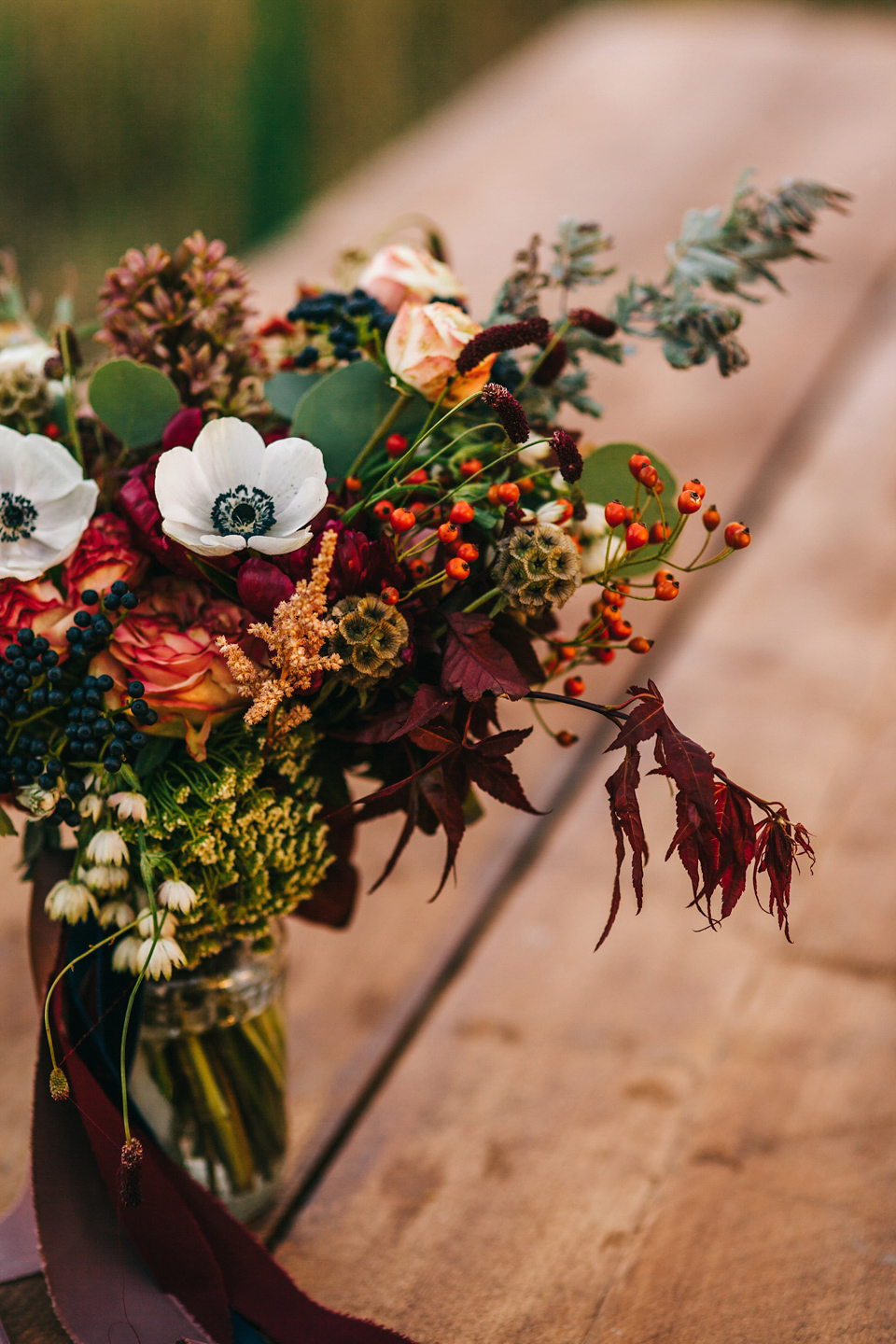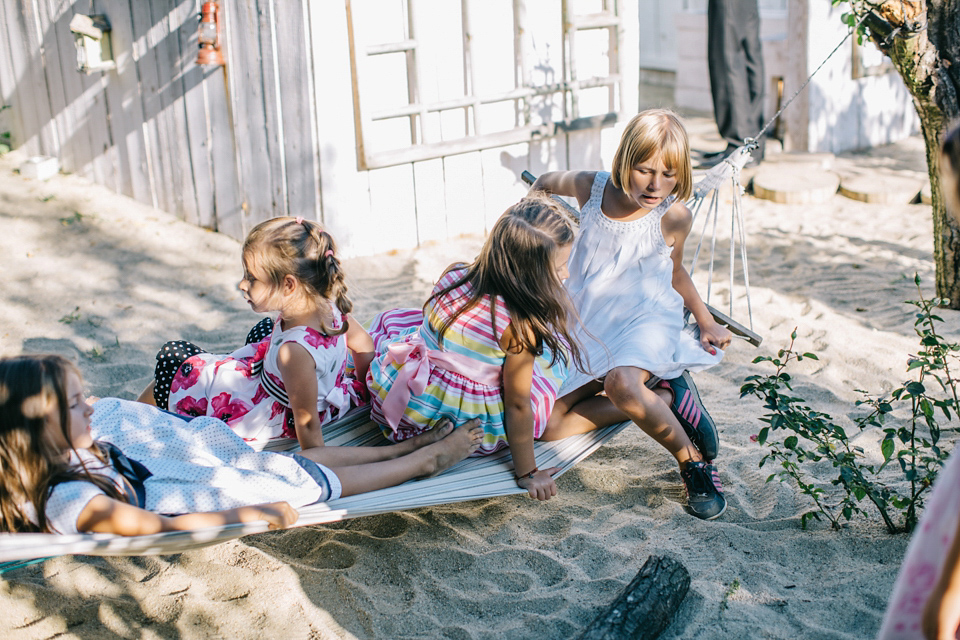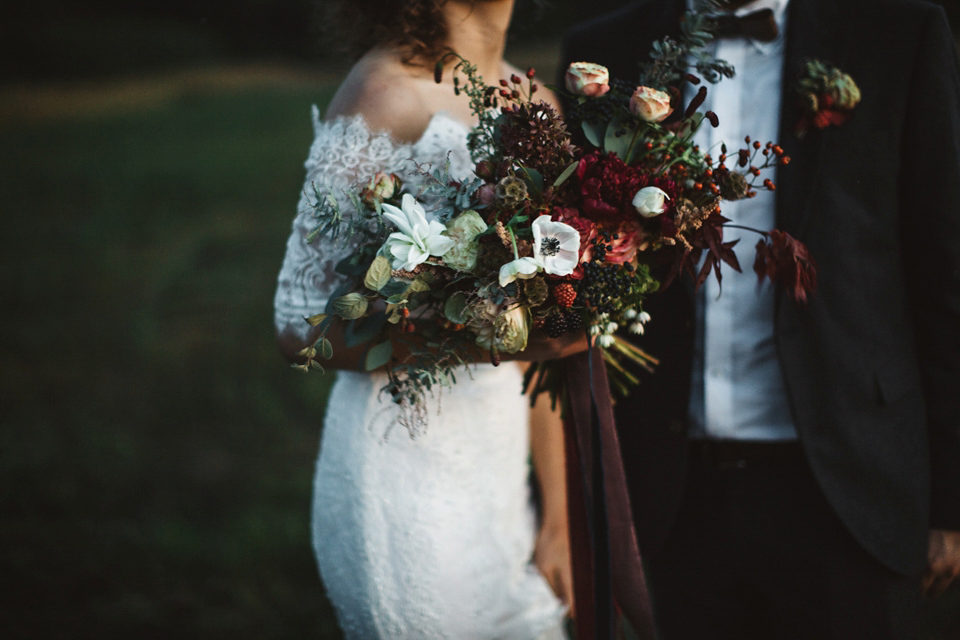 Husband and wife team Sam and Diana of Green Antlers Photography travelled out from London to capture the wedding on film.  They have an amazing eye for light- the depth of colour in these images is incredible.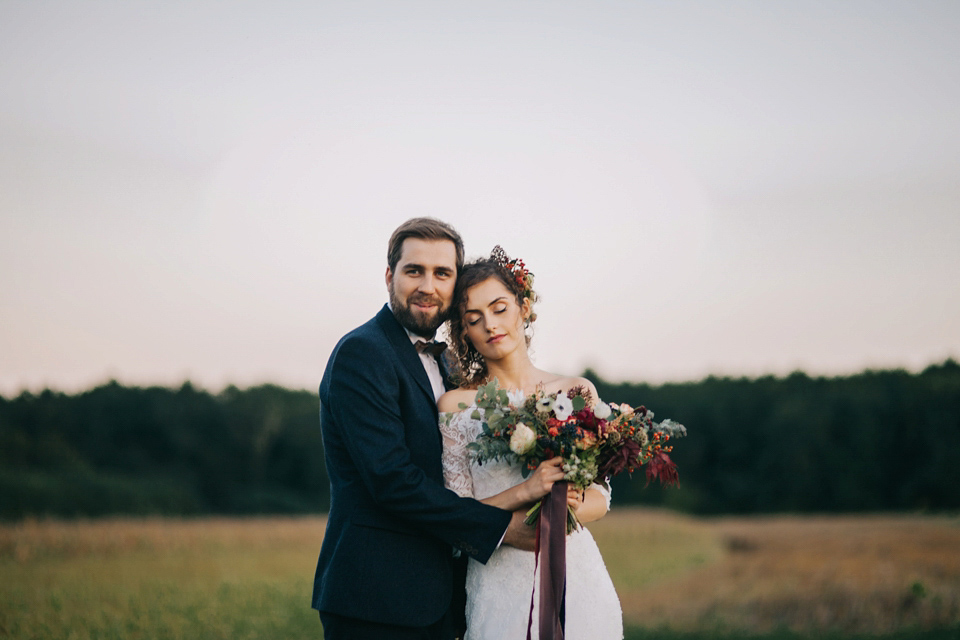 "They are such a lovely, creative couple and very talented photographers – I would highly recommend them to anybody. They seem to have a sixth sense of capturing powerful emotions, wonderful moments and beautiful details.  We are very blessed to have them as friends as well."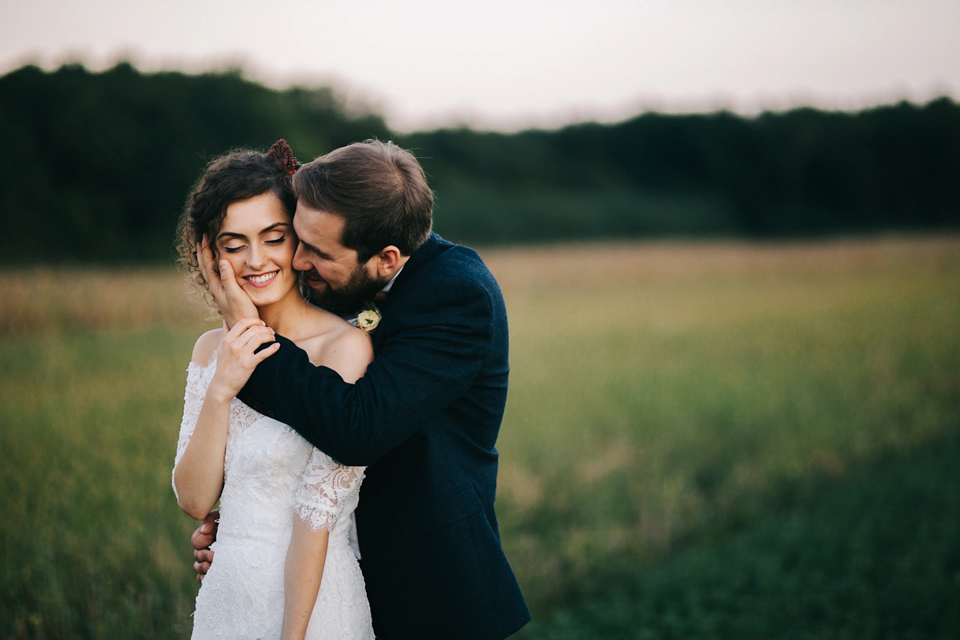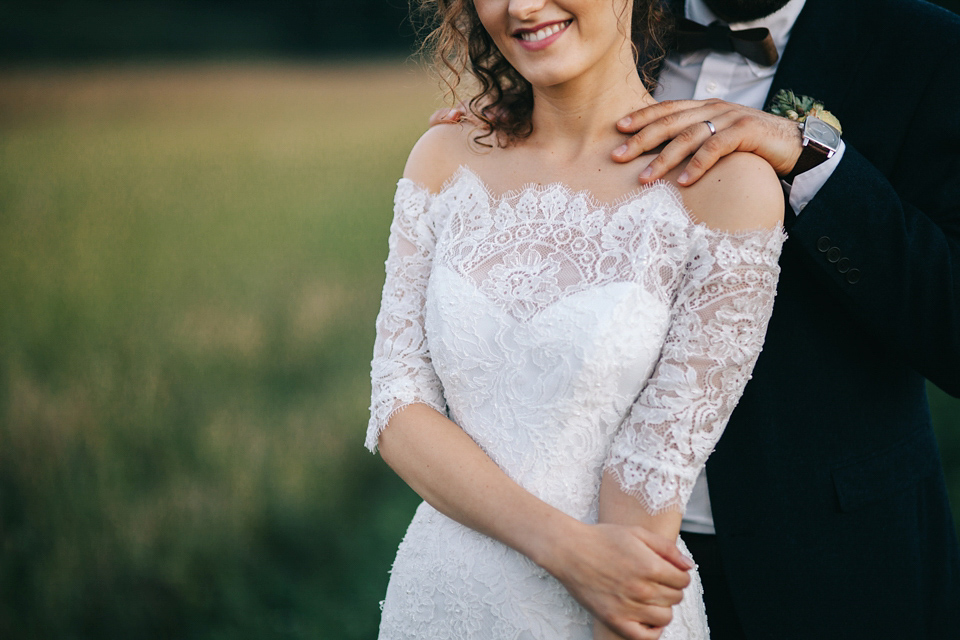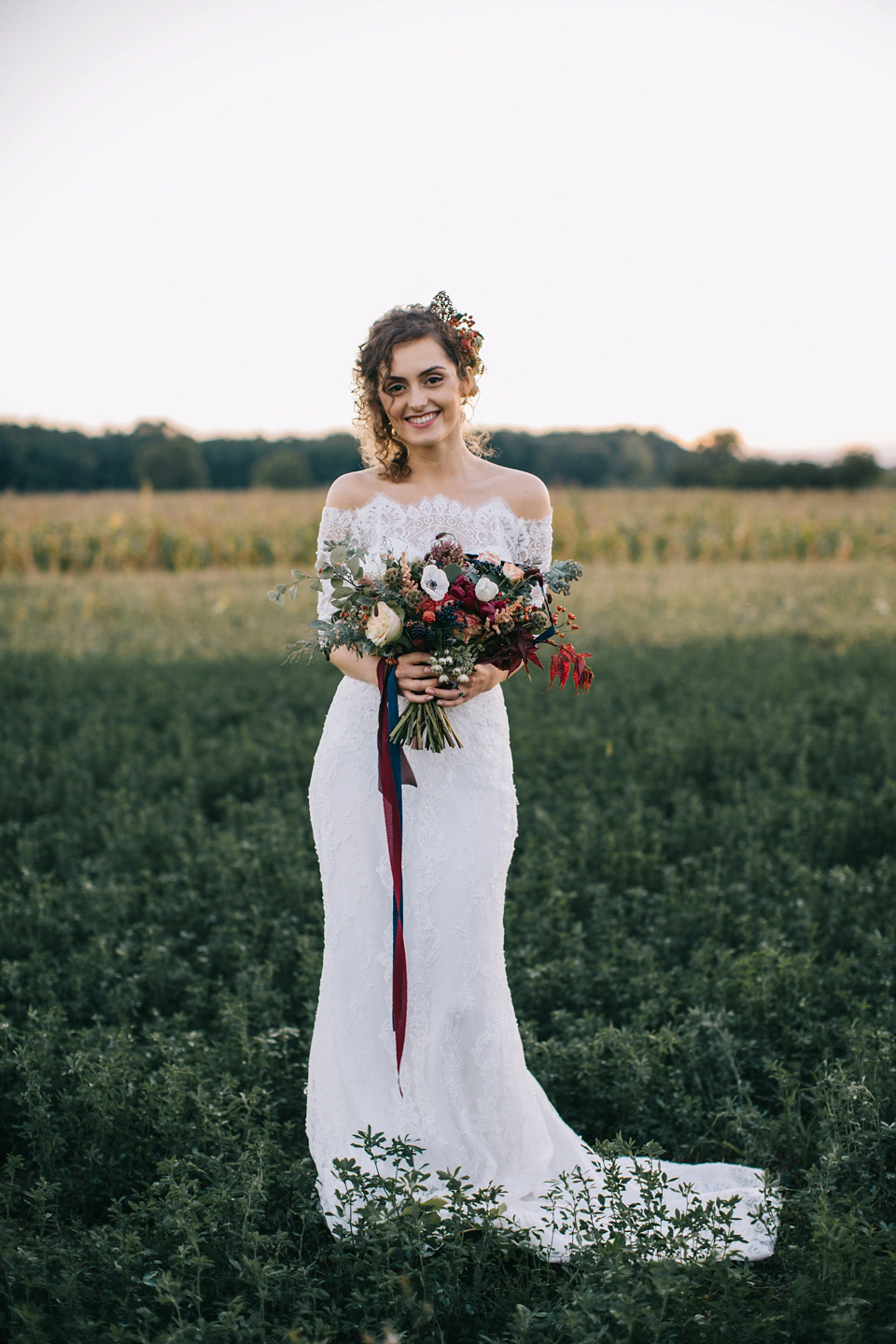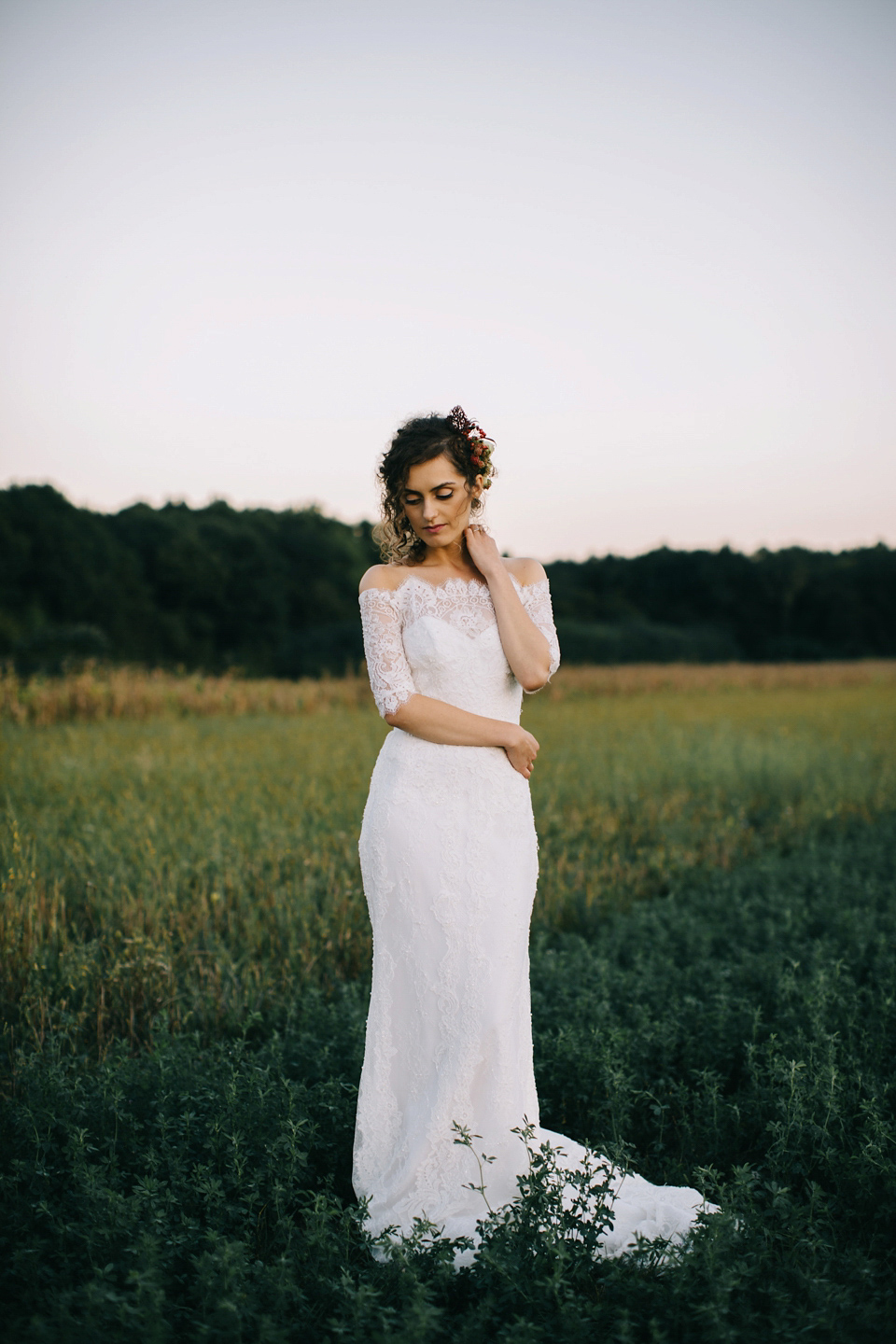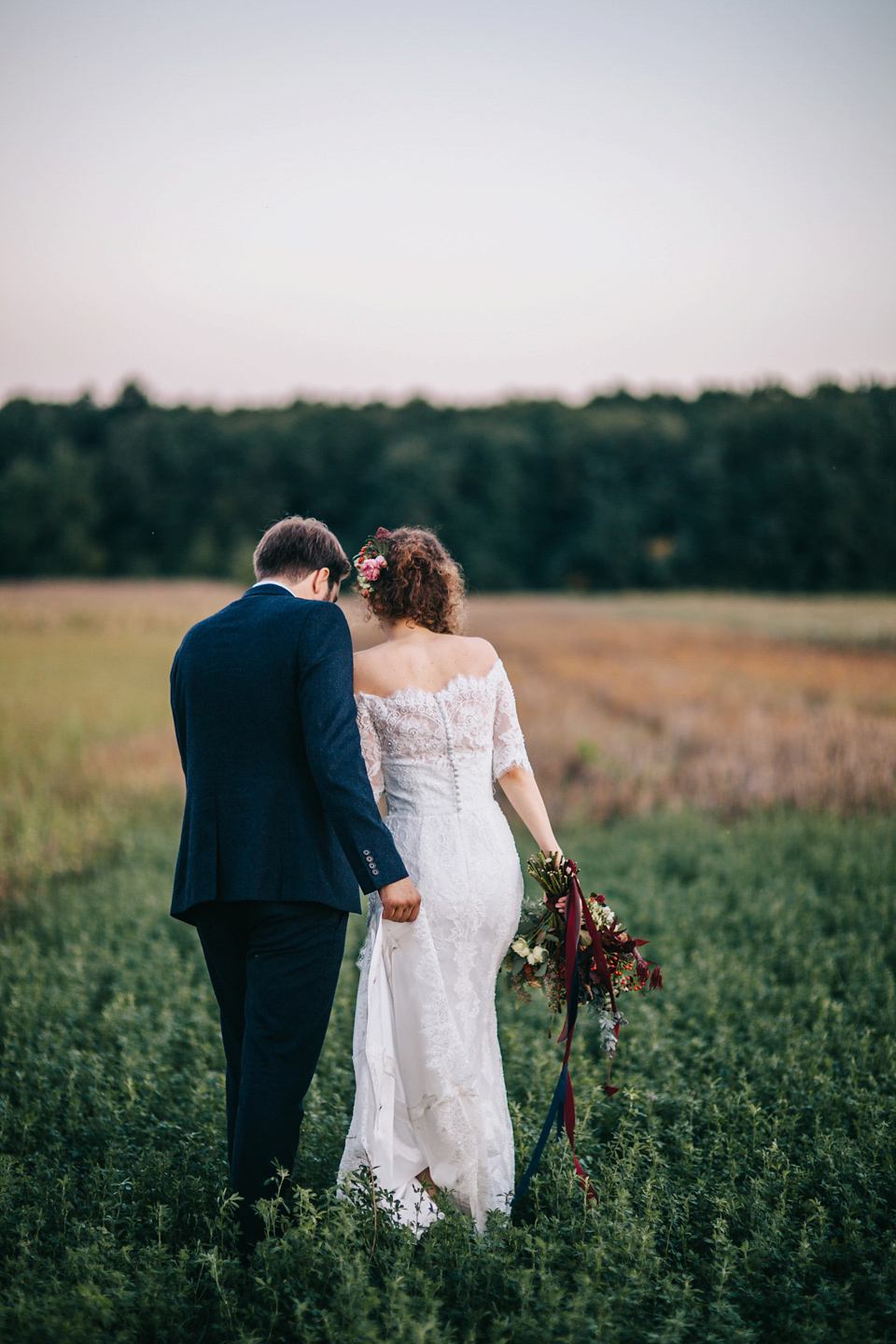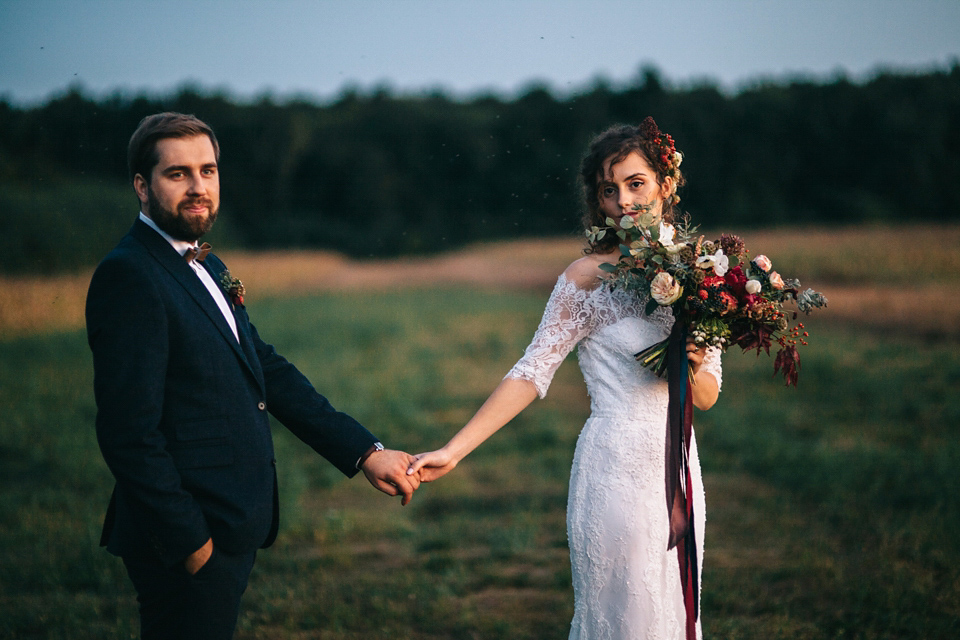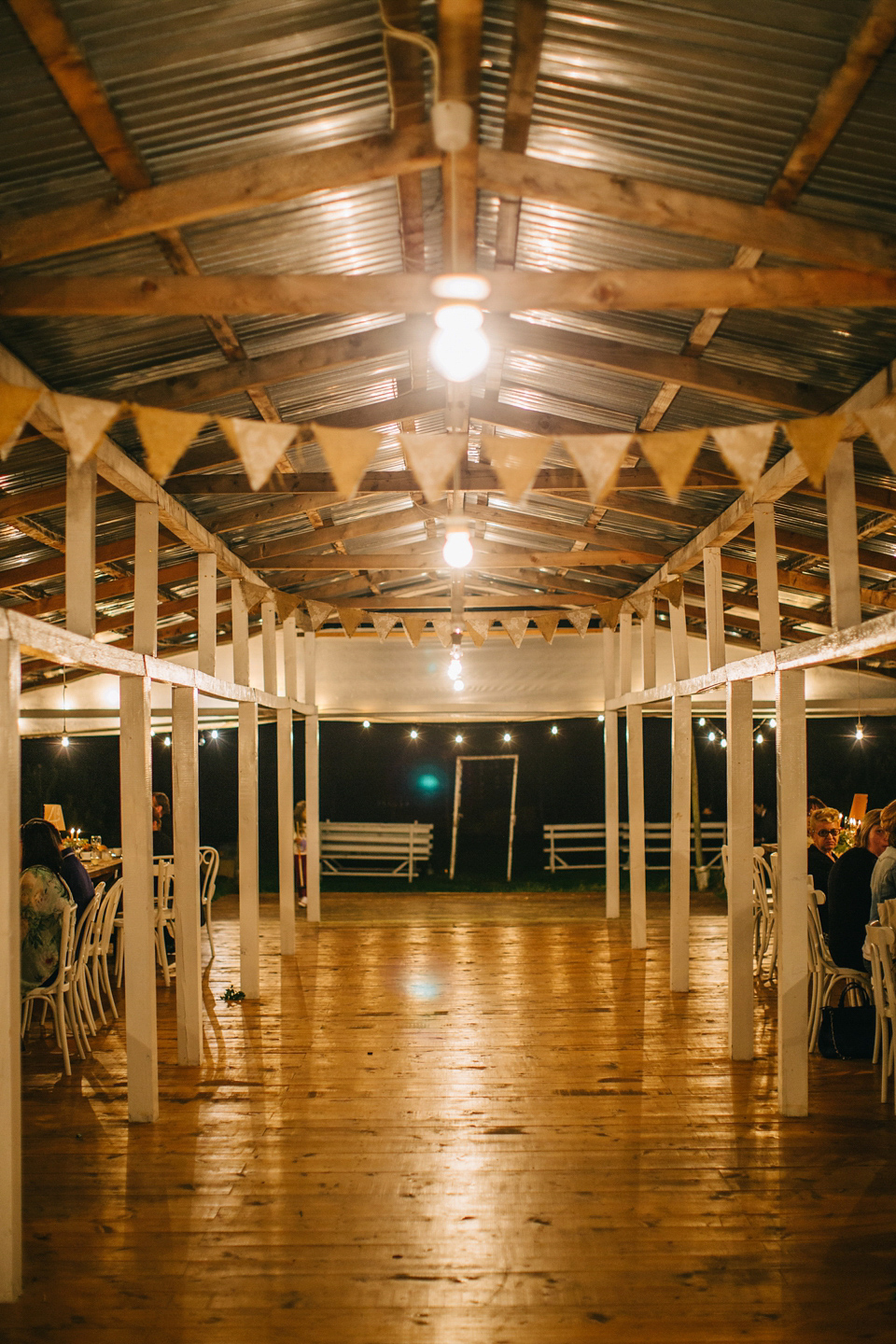 The amazing-looking food was the work of caterers FROG, while the completely delicious sounding cake was made by Flori de Menta– chocolate and salted caramel with caramelised pears?  Yes please…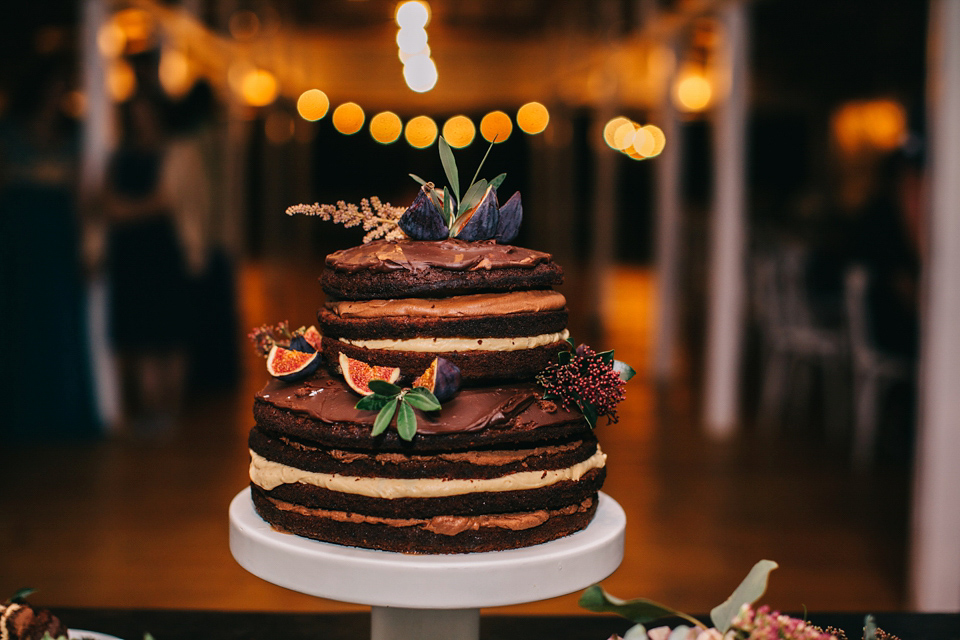 "Flori baked all the candy bar cakes along with the wedding cake. We discovered her online and we fell in love with how everything looked; I can confess that all the cakes and tarts disappeared in within 10 minutes – they were that good!  The wedding cake was absolutely delicious."
Words of Wedded Wisdom
"Your wedding day is meant to be the most important and beautiful day of your life, but in the end, it's just a day- don't spend too much time organising it, as it can be really consuming. Enjoy it! Leave the stress behind and celebrate your love for each other.  The flowers will die, and the dress might not fit anymore one day, but you're left with the most wonderful thing of them all – love.
You can't control everything so, enjoy every second of it, even if it's not as perfect as you were planning it to be."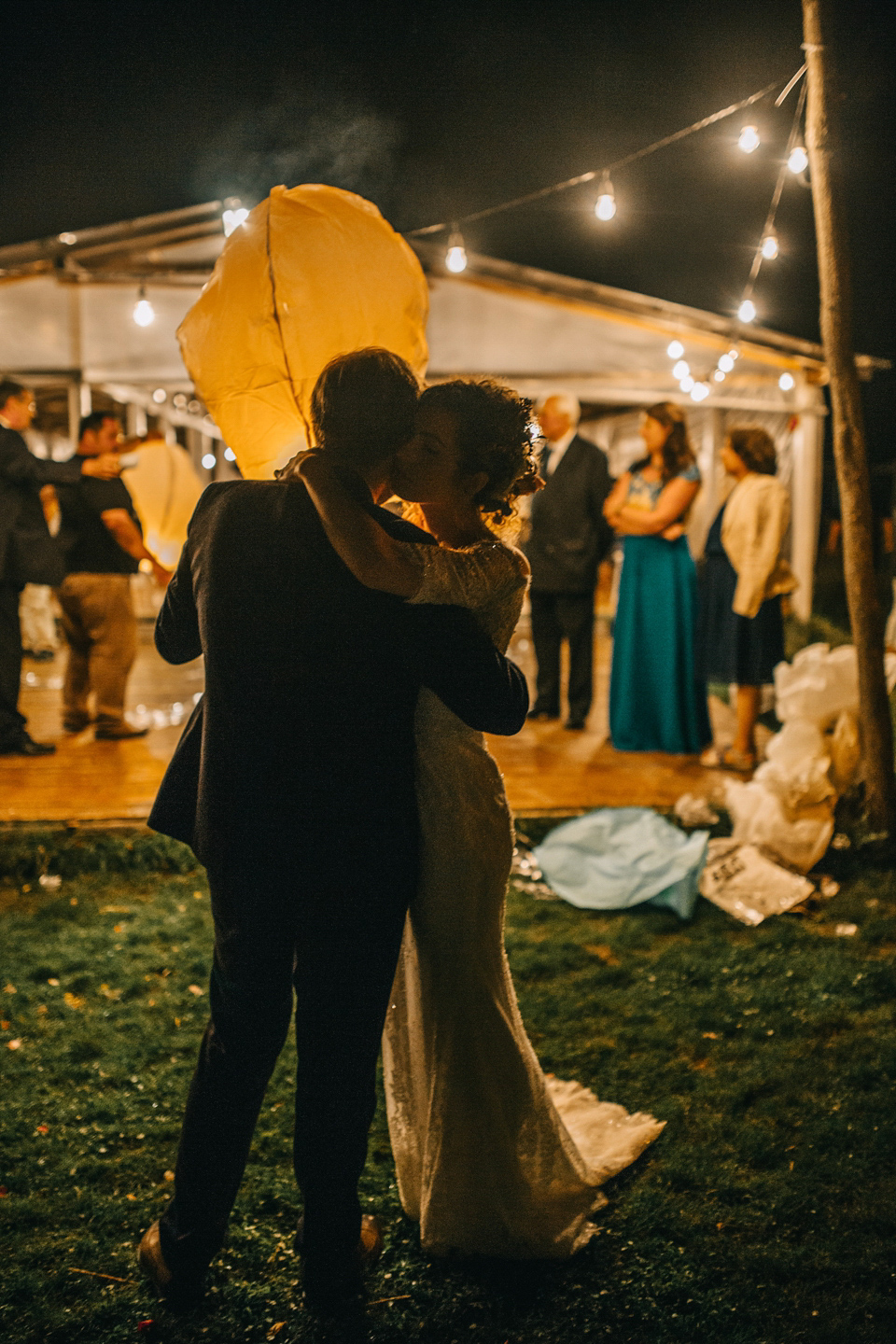 Some very wise words from Laura there- yes, the planning is great fun and the wedding day is something to look forward to, but don't let it overwhelm your love for one another.
Thank you so much to Laura and Daniel for sharing their gorgeous day with us, and to Sam and Diana of Green Antlers Photography for the fabulous photos.  Are any of our other readers marrying back in their home country?  Let us know!
Much love,
Shona x
Photographer – Green Antlers Photography
Film – Film3221
Venue – The Wedding House
Wedding dress – Otilia Brailoiu
Veil – Otilia Brailoiu
Shoes –Dune
Accessories – fresh flowers
Groom –Suit, Next; bow tie, In the Name of Wood (website unavailable); Watch, Cross; Shoes, Clarks
Hair – Adrian Harlea
Makeup – Tania Cozma
Flowers – Bloom Bloom Florists
Cake – Flori de Menta
Catering- FROG
Rings – Grays Antique Market
Entertainment – Groovy Strings (no website)
Invitations – Feel Good Invites