Well little lovelies, it's the end of another busy week here at Love My Dress headquarters. I don't know about you, but I am completely reeling from the fact that this month is almost over. Wasn't it just yesterday we were all sitting down to Christmas dinner with all the trimmings?! February is often considered one of the hardest months to get through, with chilly weather to cope with and little hints of Spring blooms teasing us, and the next big break at Easter seeming so far away, but at the rate this year is flying by, the holiday will be here before you can say "Cadbury's creme egg"!
I have a lovely wedding to share with you all now to signal the arrival of the weekend. Be on the lookout for the simply stunning photos by Kelly from Kelly McAllister Photography taken next to a pond that are reminiscent of a Monet painting. Bride Elena, who works in HR, married Paul, a UX consultant, on 4th July 2015, in the city centre of Dublin on a sunny Summer's day; both keen for simplicity, plus Elena's fondness for a mixture of modern and vintage.
"We both wanted to keep things quite simple on the day and avoid too much fuss. The venues we chose really embodied this. They are beautiful architectural spaces that speak for themselves without the need for too much adornment. I also wanted to have a mix of vintage and modern. There were vintage elements, such as my dress, accessories and the vintage Rolls Royce, but then the bright flowers added a pop of colour and a modern fresh feel."
Photography by Kelly McAllister Photography
Elena purchased her divine dress directly from the designer, Sally Lacock, via her studio in Dalston, London. I am such a big fan of Sally's work – you can view more of her beautiful creations that we've highlighted previously here.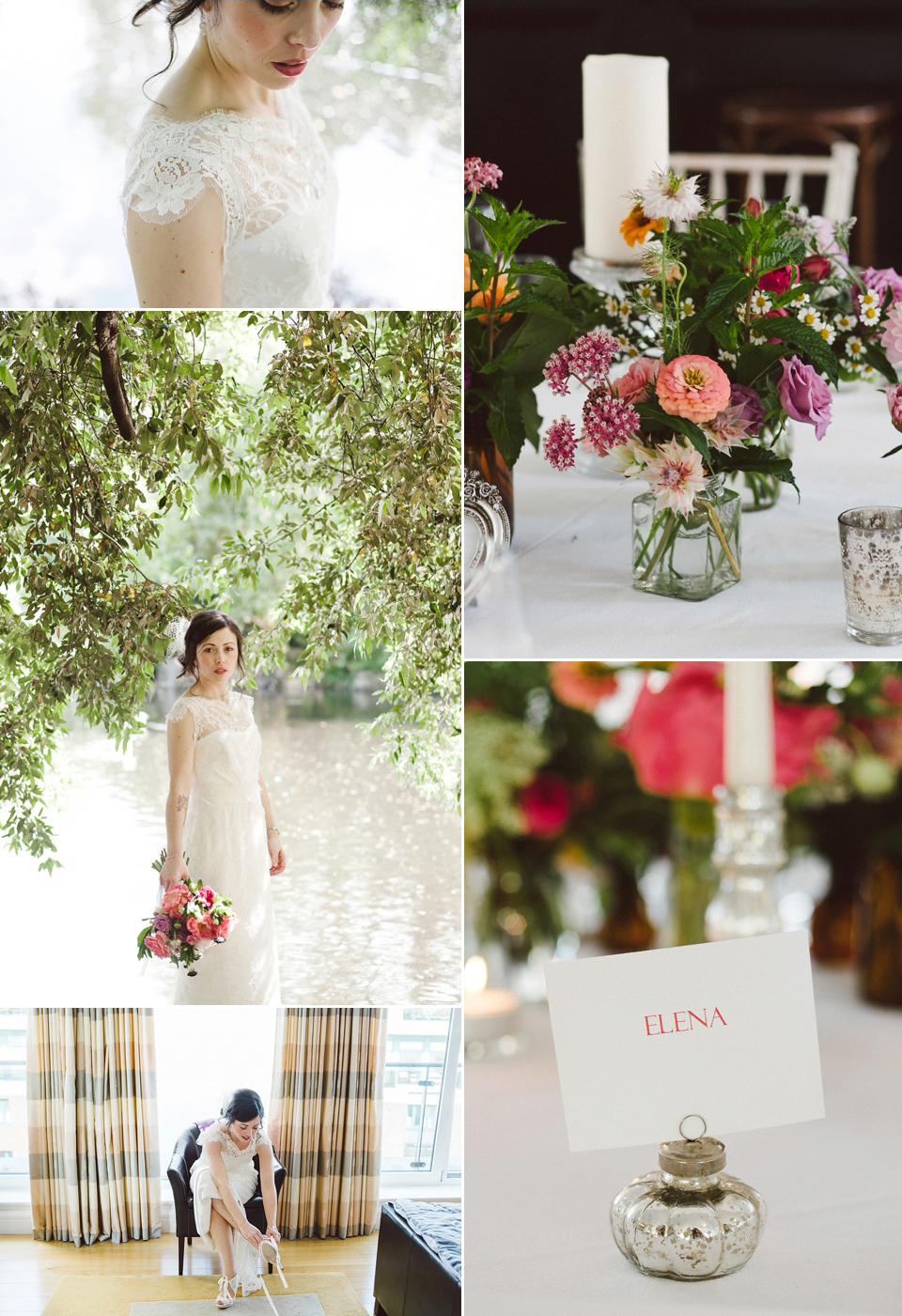 "I had seen the 'Emmeline' dress online and fell in love with it in the pictures – the vintage style, the creamy colour of the lace and the amazing details around the neck, shoulders and back."
The 'Chantilly' design by Harriet Wilde was Elena's choice of shoes, which she purchased directly from Harriet at Brides The Show.
Elena was driven to the ceremony is a pristine and eye-catching vintage Rolls Royce. The couple chose a Dublin city centre location as the bride is from Dublin and held their humanist ceremony at Dublin City Hall.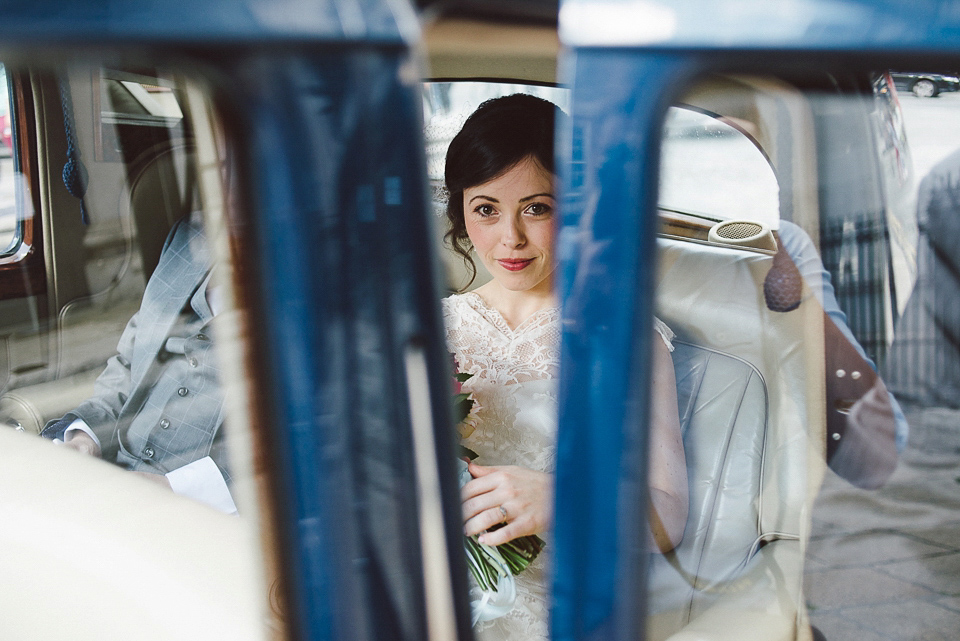 "I went with my mum to try my dress on at Sally Lacock's studio in Dalston. 'Emmeline' was the first dress I tried, but Sally was really patient and got me to try on about six or seven other dresses so I could compare. That was really great because after trying them both my mum and I knew that 'Emmeline' was 'the one'.
Sally's studio was the first wedding dress fitting I had done. I had plans to go elsewhere and try others but in the end I didn't. The dress was then made to order by Sally for me so it fit like a glove. I don't think I've ever worn an item of clothing that fit so perfectly."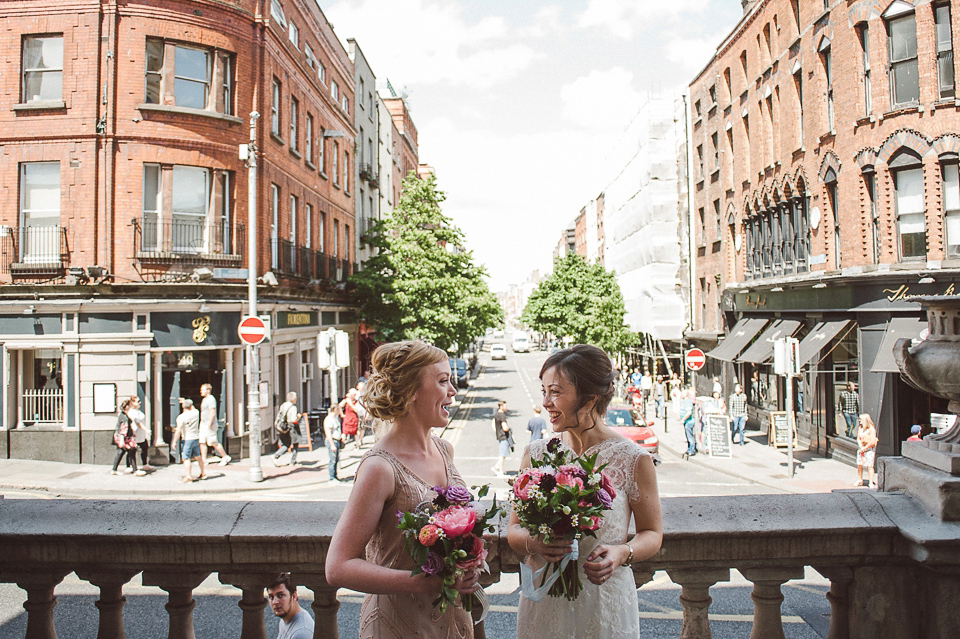 Paul donned a stylish blue three-piece French Connection suit and added brogues from Grenson and a funky bow tie from Beau Tie via Etsy.
"Though we are both from Ireland, we met in London, where we have both been living for the better part of the last decade. We actually met via an online dating site. Paul's proposal came as a complete surprise and really bowled me over. He popped the question while we were on holidays in Dubrovnik, Croatia. We were engaged for just under two years before our wedding day."
Her dad gave Elena away, Frank Kilkelly played beautiful tunes during the ceremony, and the couple went with three readings – the last one being one of my own personal favourites.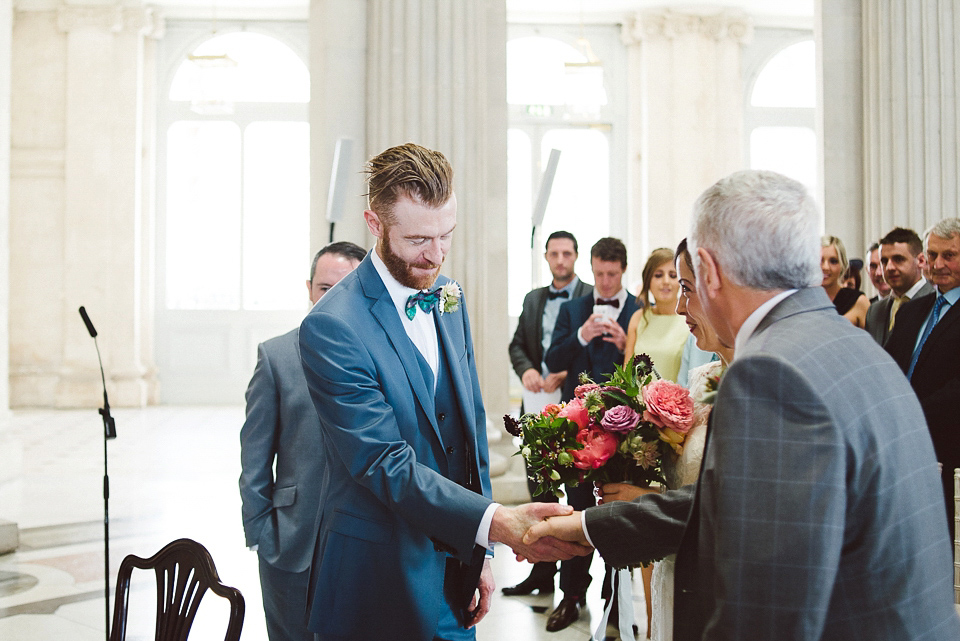 "We left it to Frank Kilkelly to make some suggestions for music during the ceremony. He suggested 'Happy Meeting in Glory', a folk song originally recorded by Bahamian guitarist Joseph Spence and 'Time to Time' by Irish composer Gerry O' Conner. He played excerpts from these songs on acoustic guitar while I walked down the aisle and during various parts of the ceremony. Frank also played as part of a trio, providing some wonderful gypsy jazz during the drinks reception at the hall."
"We had three readings during the ceremony: an excerpt from 'Captain Corelli's Mandolin' by Louis de Bernieres, 'Habitation' by Margaret Atwood, and an excerpt from 'Wild Awake' by Hilary T. Smith."
"My ring is an antique 1930s platinum and diamond ring from Pushkin Antiques at Grays Antique Centre, London. Paul's is a simple white gold band, bought online from Blue Nile."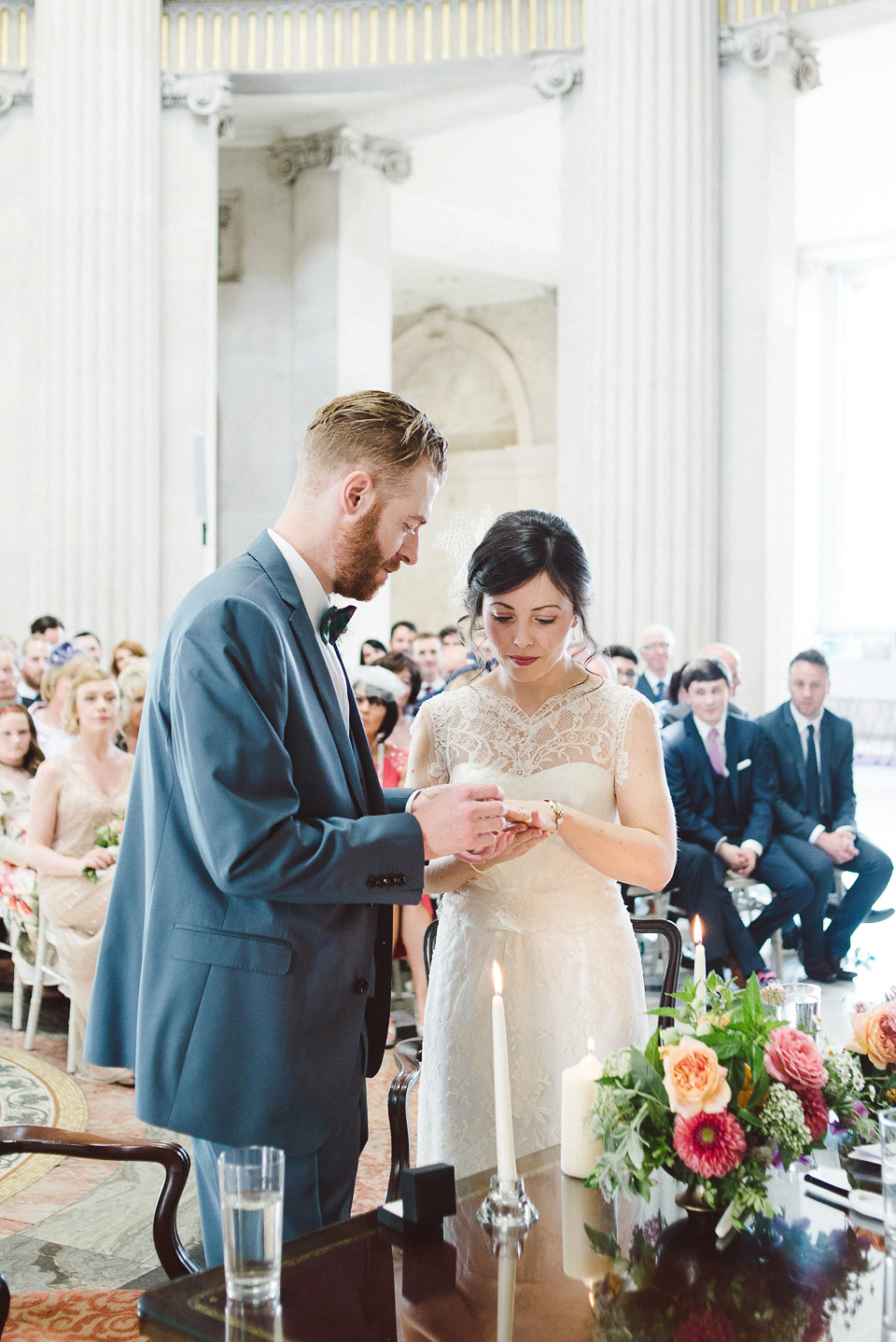 "Our photographer was Kelly from Kelly McAllister Photography. She was really fantastic on the day. Neither Paul nor I are fans of having our photos taken, but she made it very easy. She was a centre of calm on what can be a very hectic day. She was also really discreet and managed to catch some amazing snaps without us even being aware she was there. The results are amazing. She captured the colours and moments of the day perfectly. We also love that she took a mix of colour and black and white."
Elena's bridesmaid wore a stylish beaded Adrianna Papell via House of Fraser gown in a pretty taupe colour, paired with Miss KG by Kurt Geiger heels and an ASOS hair slide. No further accessories were needed, as the dress was stunning in itself; such a lovely colour and gorgeous beading detail. The ladies did their own make up, with hair for the bride, bridesmaid and Elena's mum expertly done by Danielle Dorrington.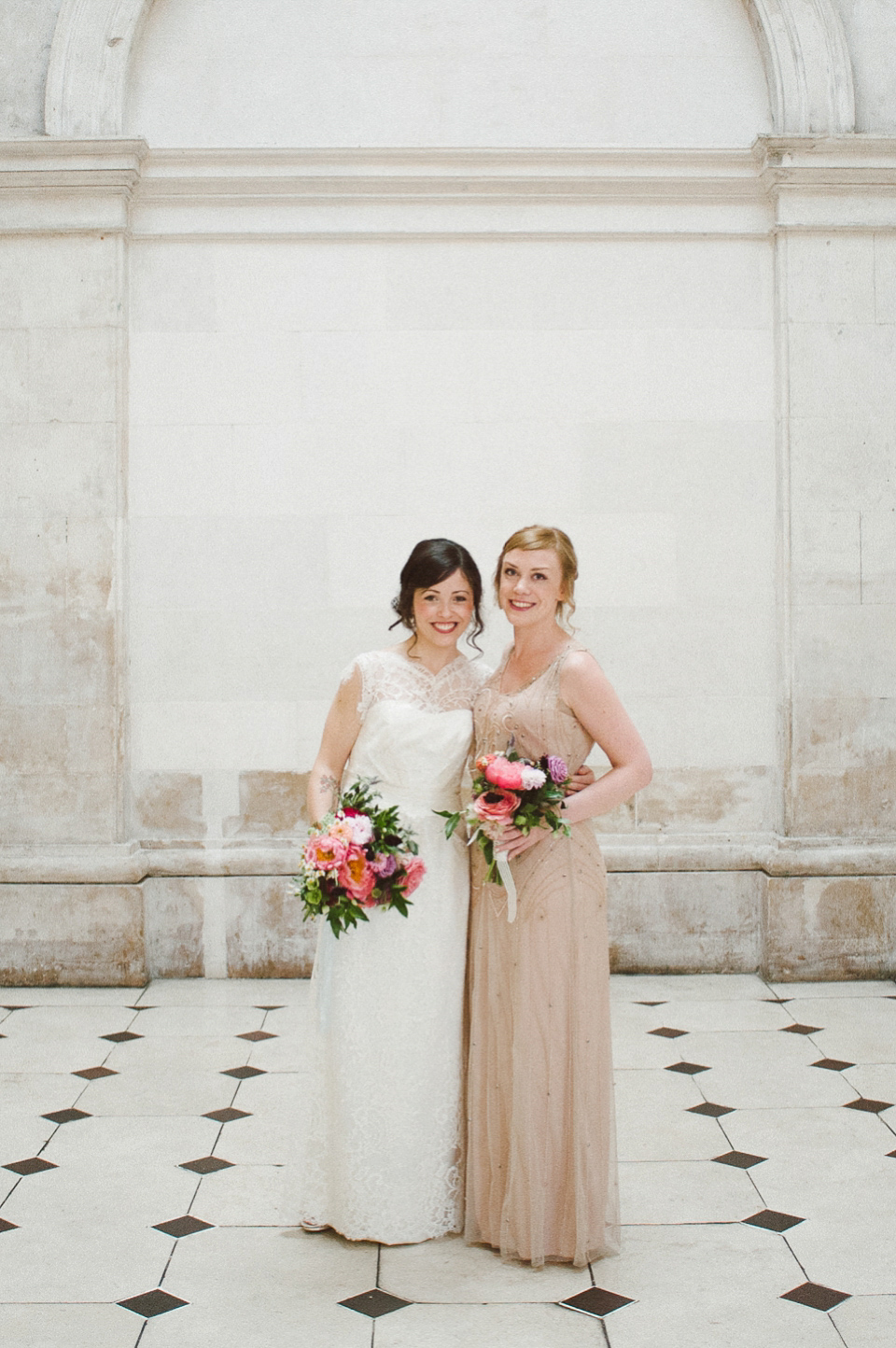 "The vintage Rolls Royce was provided by Fergus Bryan who was also our very dapper chauffeur for the day. He does most of his business (in and around Dublin and Wicklow) through word of mouth (contact details for Fergus are at the end of the feature)."
The beautiful bride added the Colette comb from BHLDN to her hair, a spritz of her everyday perfume, Issey Miyake L'Eau d'Issey, and a bracelet from LuluMay Jewelry via Etsy, earrings from Oliver Bonas that were bought for her by a friend, plus a vintage Bulova Dior watch from Just Sparkles via Etsy. To top off her modern vintage look, Elena found her Lindy Lou Pagoda umbrella from Brollies Galore.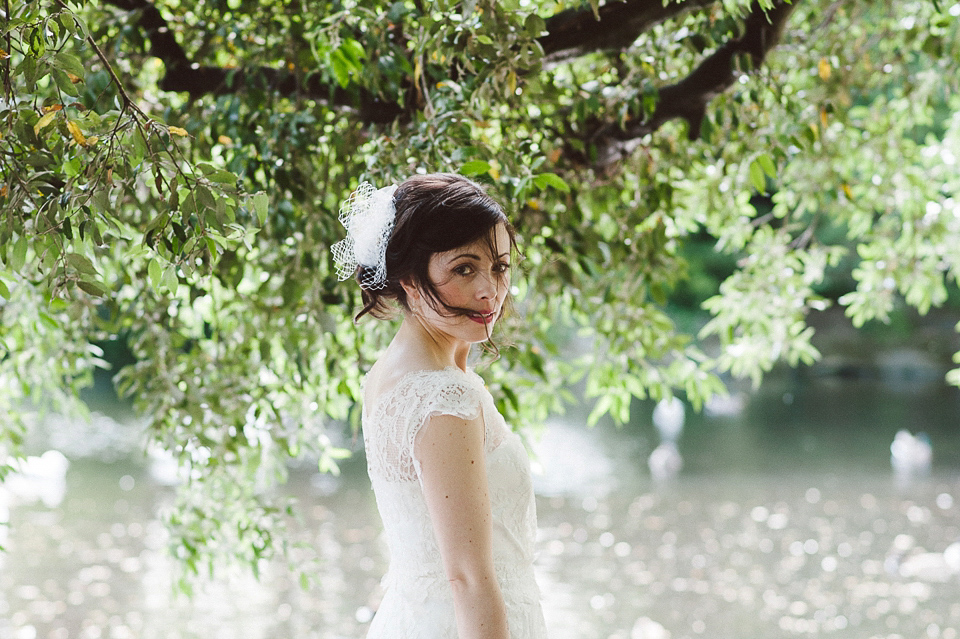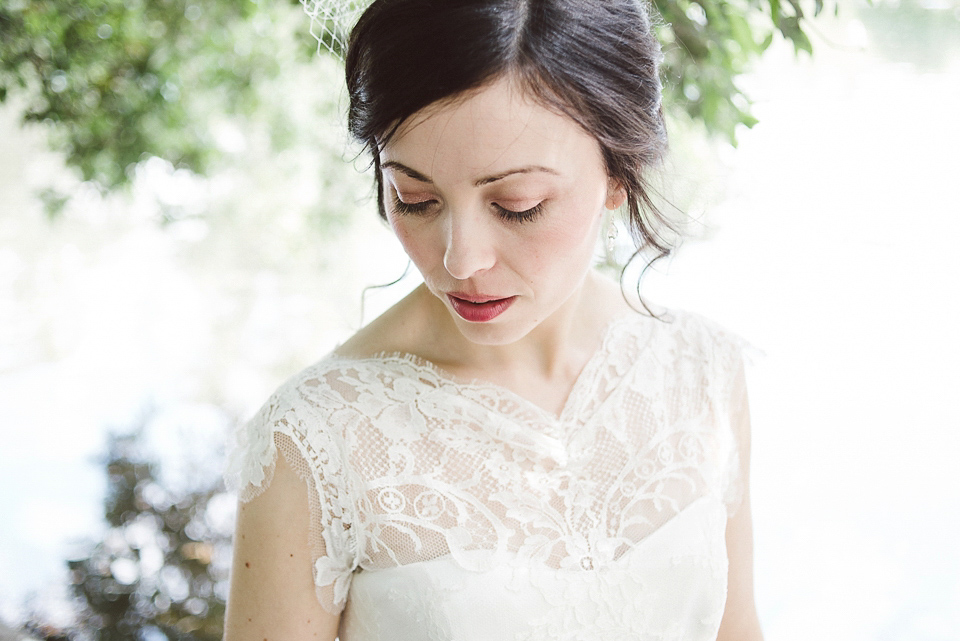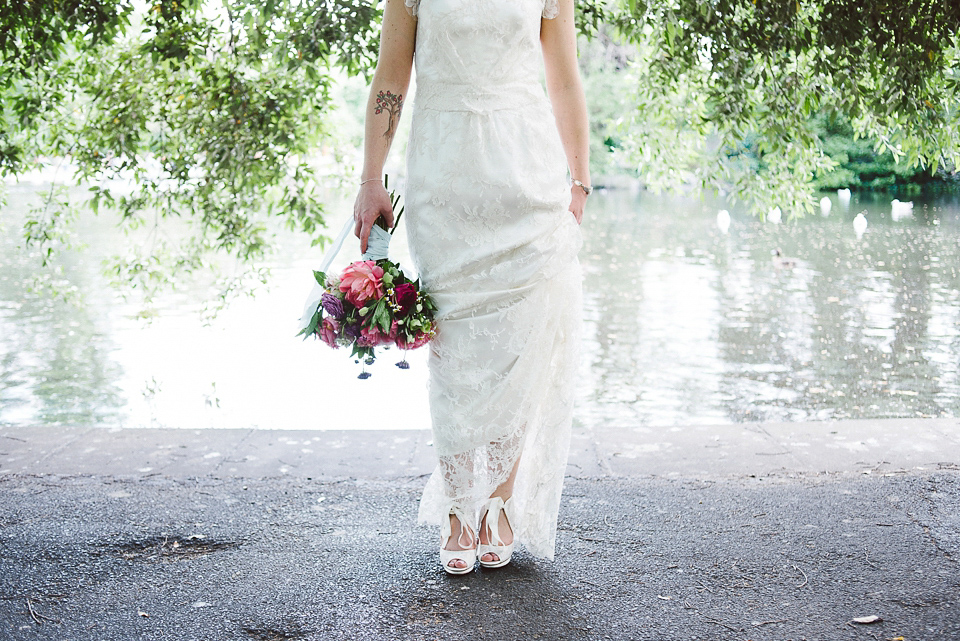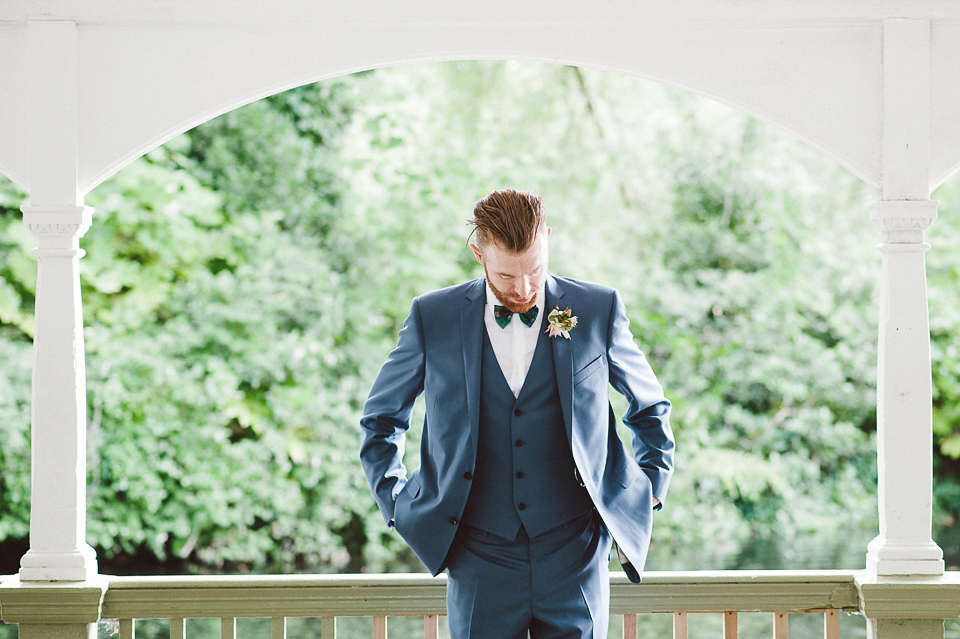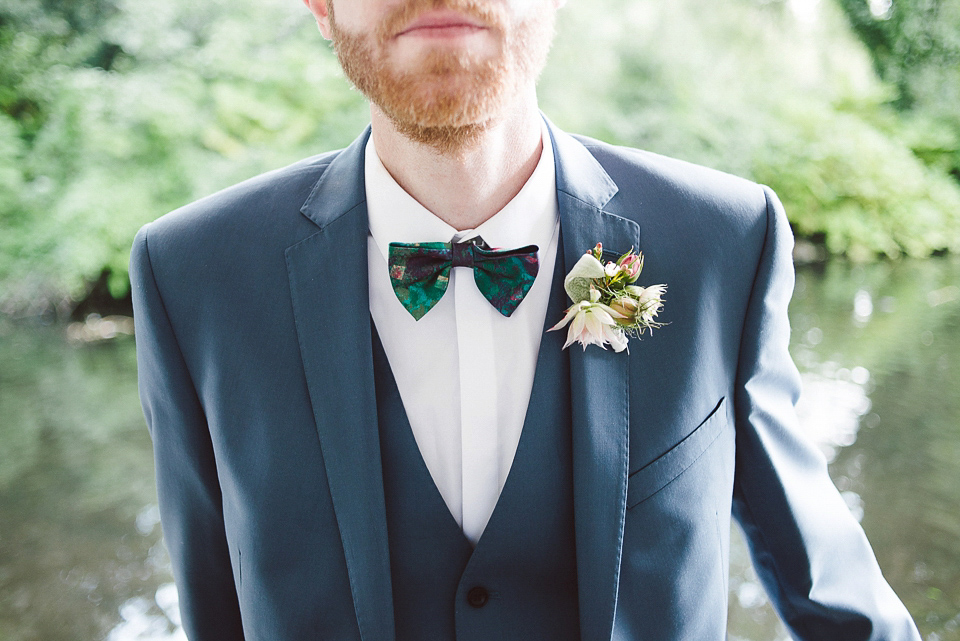 The reception was held at Fallon & Byrne, a stunning space in Dublin City Centre, and handily just around the corner from City Hall.
"We really loved the beautiful simplicity of the room and the Victorian feel of the building, and also that that the room was filled with light, as a lot of city centre spaces within hotels lacked any windows. Fallon & Byrne has a reputation for great food and they certainly didn't disappoint on the day. So many of our guests have commented on how great the food was.
Fallon & Byrne looked after the menus, table plans, place cards etc., which was fantastic as it meant Paul and I didn't have to get bogged down in the minutiae of the day. We were very happy to let Ciara and team just get on with things and they did a fantastic job."
"We wanted really bright, colourful flowers, as it was a summer wedding, and to contrast with the ivory of my dress and the taupe of my bridesmaid's dress. I wanted the flowers to be the only real decoration or embellishment we had on the day, and Patsy and Claire at The Informal Florist did such a fantastic job of making this happen. The table arrangements at the reception in particular were stunning and really made the room come to life. I loved the collection of old apothecary bottles that they displayed the flowers in."
"Fallon & Byrne produced an amazing tiered cheese wedding 'cake' for us, from the cheese mongers in the grocery hall on the ground floor. They displayed it with figs and berries and fruit, and later in the evening it was cut up and served with crackers and chutneys."
Words of Wedded Wisdom
"Planning the big day can be very stressful, but I made the decision in the final few days to completely relax and just take things as they came. If things didn't go exactly to plan on the day, so be it! It was really important to us to just enjoy the day and have fun no matter what.
 In the end, everything on the day was perfect. The Irish weather even came through for us and we had a wonderful sunny afternoon!"
What a great attitude to just relax – and I do love it when the sun shines on our bride and groom's big day! Thank you so much to Kelly for sharing these lovely pictures of Elena and Paul's beautiful modern vintage wedding – and I wish the sweet couple loads of fun, laughs and adventures.
Are you thinking of marrying in Dublin? See here for an effortlessly elegant wedding that's one of my all-time favourites.
Be sure to have a relaxing weekend everyone!
Love Jo -x-
Photographer – Kelly McAllister Photography
Ceremony – Dublin City Hall
Venue + Catering + Cheese Cake – Fallon & Byrne
Wedding Dress – Sally Lacock
Shoes – Harriet Wilde
Perfume – Issey Miyake L'Eau d'Issey
Accessories – BHLDN Colette comb + Etsy bracelet/watch +Oliver Bonas earrings + Lindy Lou pagoda parasol via Brollies Galore
Bridesmaid Dress – Adrianna Papell via House of Fraser
Bridesmaid Shoes – Kurt Geiger
Bridesmaid Hair Accessory – Hair slide from ASOS
Groom – French Connection suit + brogues from Grenson + bowtie from Beau Tie via Etsy
Florist – The Informal Florist
Rings – Pushkin Antiques + Blue Nile
Stationery Paperless Post + Ivy Ellen
Transport – Rolls Royce via Fergus Bryan – 00353 87 250 0445
Entertainment – Frank Kilkelly + DJ Cian ó Cíobháin
Hair – Danielle Dorrington