Today I'm thrilled to be treating you to a rather unusual, but very beautiful wedding, which took place in February last year in Wairarapa, New Zealand.  There really is nothing traditional to be seen at this wedding and I love it for the individuality and freedom it shows- everyone should be able to have the wedding day of their dreams, and if that features the most amazingly glamorous blue sequined dress then I'm 100% in!  Let me introduce our happy and creative couple, Ash and Dave, who married on the 21st of February 2015 at Wairongomai Station – a historic sheep and beef farm near Wellington, New Zealand.
"We wanted the day to reflect who we were as a couple so we went for a very relaxed vibe with pops of crazy and bright colour. The main colour palette was navy and varied peach tones."
Photography by Sarah Burton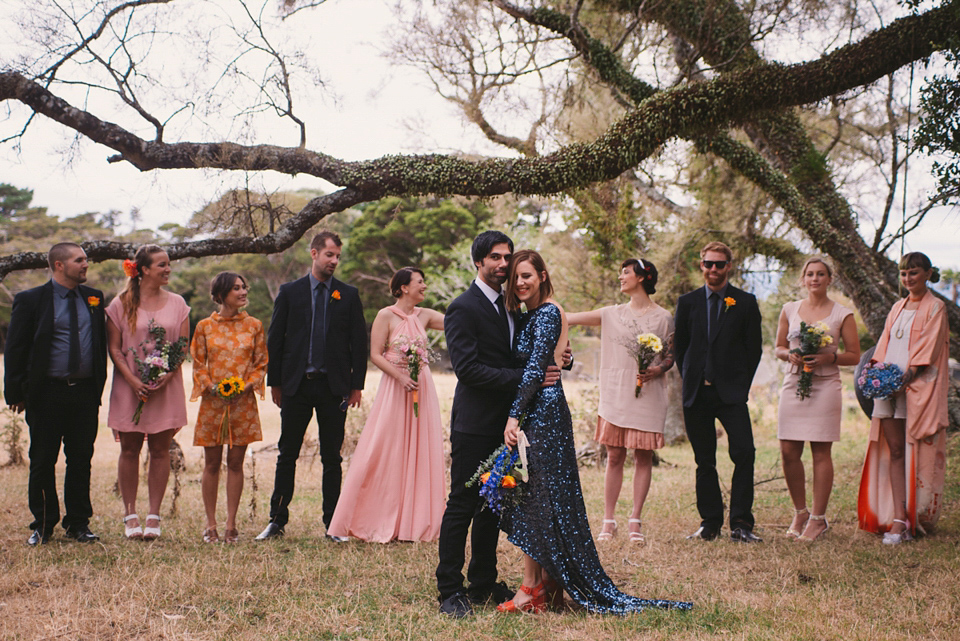 "We bought a whole bunch of fresh wild flowers and made our own bouquets and a large flower chandelier for the food tent. We had all sorts of flowers as I wanted a range for the girls to choose their favourites from."
Ash wore the most incredible backless blue sequinned dress, complete with train, which was made especially for her by local dressmaker, Claire Palmer.  I absolutely love it!
"I saw a wedding shoot online and fell in love with the bride's silver sequin dress.  I wanted to do something different but had my heart set on sequins so I went to the fabric store my girlfriend worked at and she helped me find the perfect sequin fabric- I bought it on the spot!  It was navy/charcoal but changed in different lighting which I loved."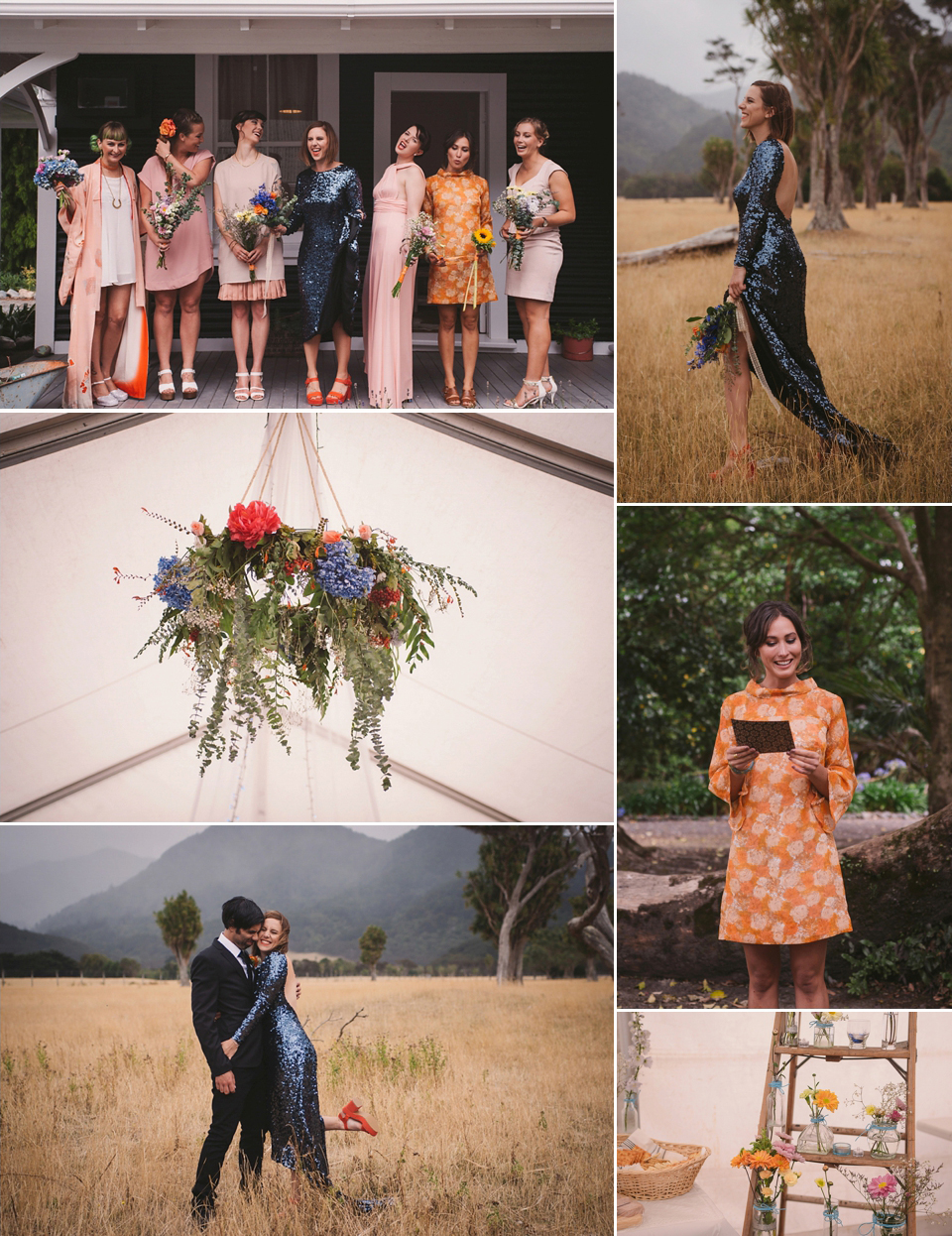 "I was recommended a local dressmaker, Claire Palmer, by a friend who knew her work.  She had worked on Dancing with the Stars creating the costumes and had heaps of experience with sequins.  She was super easygoing and loved making the dress because it was very different to her norm.  I loved the experience it only took us 3-4 fittings to get it finished!  It fit me perfectly."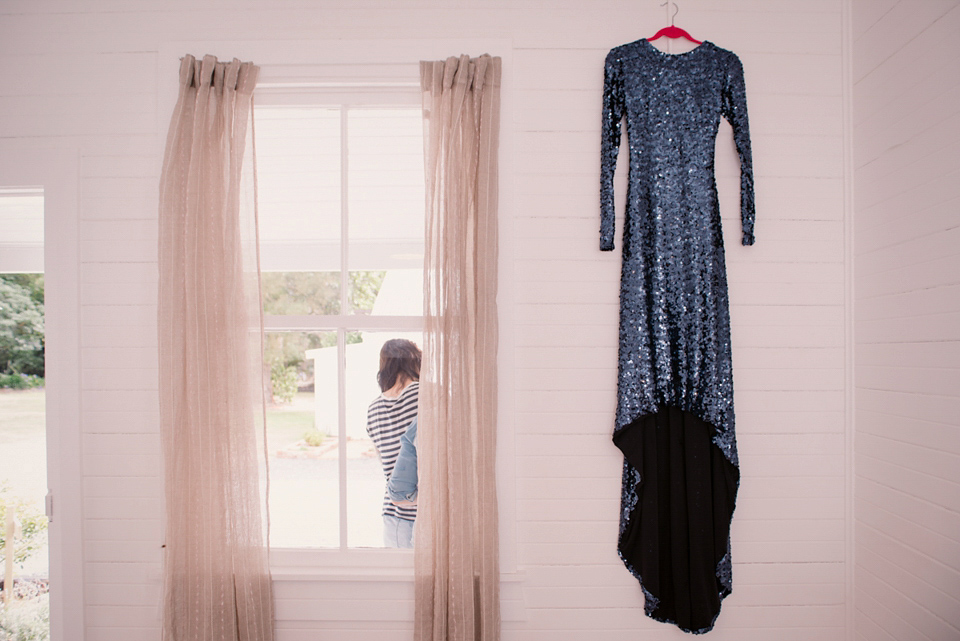 With a dress that fabulous Ash really didn't need too much in the way of accessories, so she kept things simple with fresh flowers in her hair and bright orange platform heels from Ultra Shoes for a pop of colour.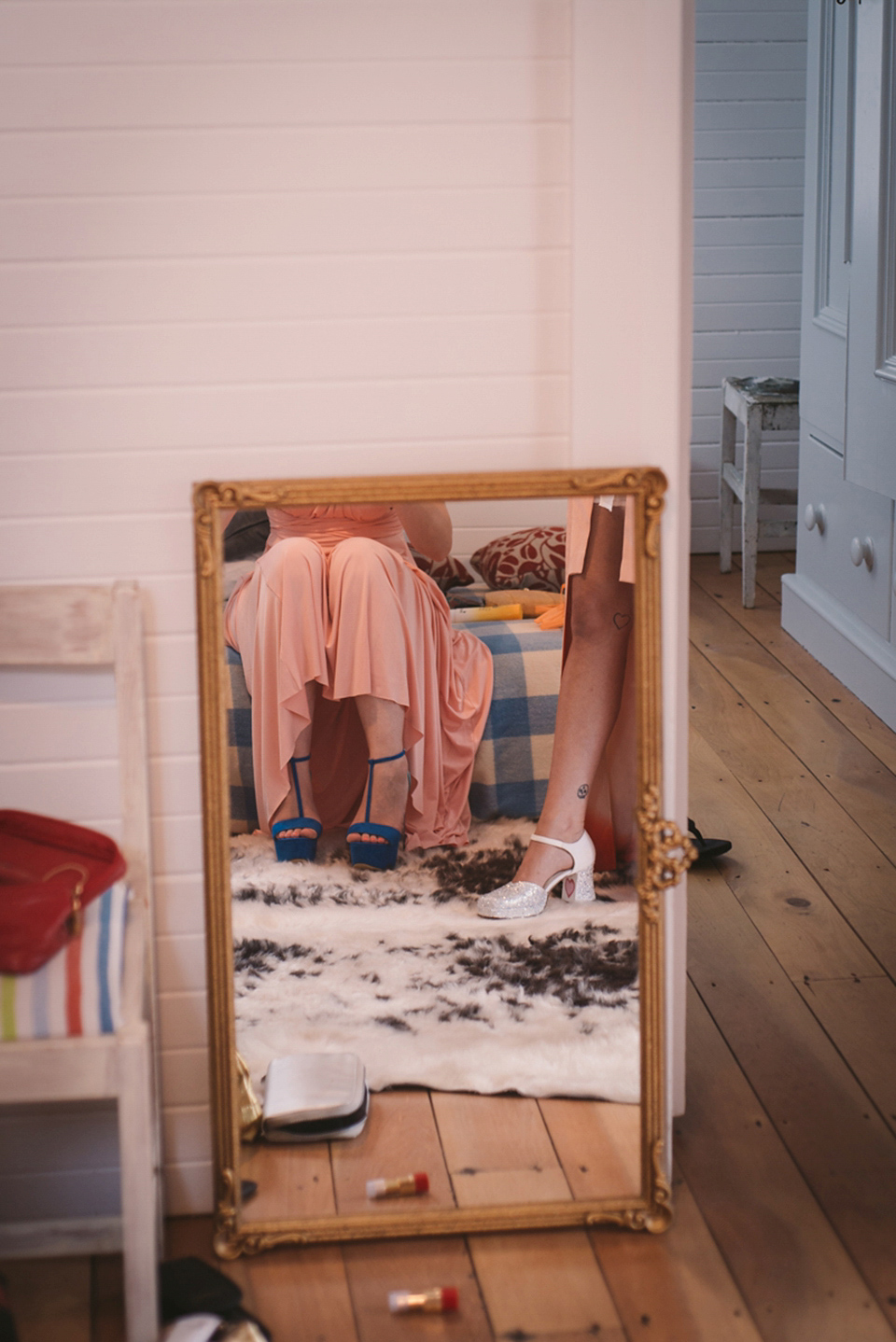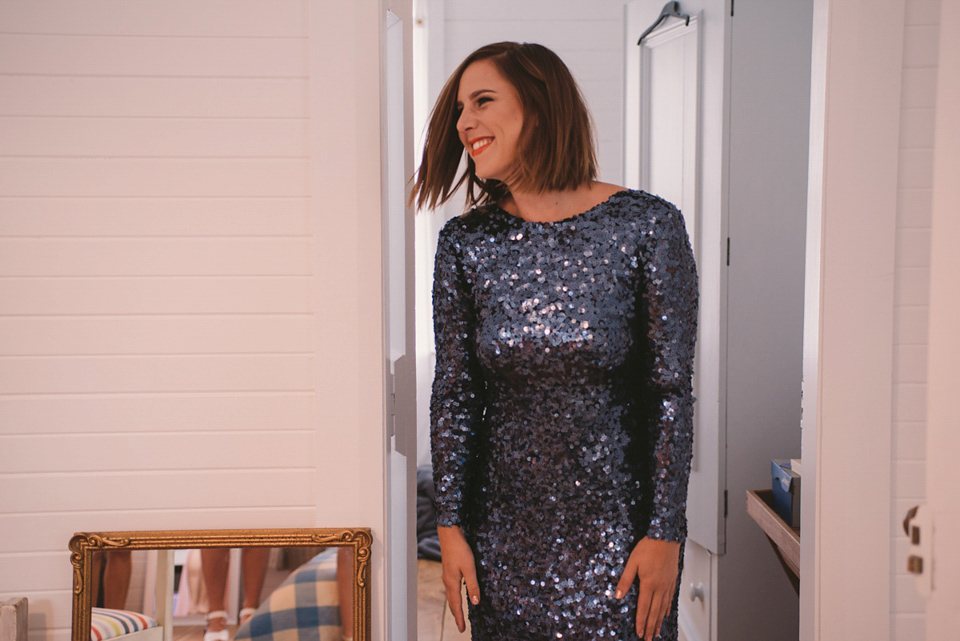 Ash's six bridesmaids chose their own dresses, all in shades of peach and orange, and carried different bouquets- the mix and match style looks wonderfully relaxed, don't you think?
Sarah Burton was the talent behind these gorgeously fun images.  Sarah is new to Love My Dress and I certainly hope we'll be seeing more of her work in the future.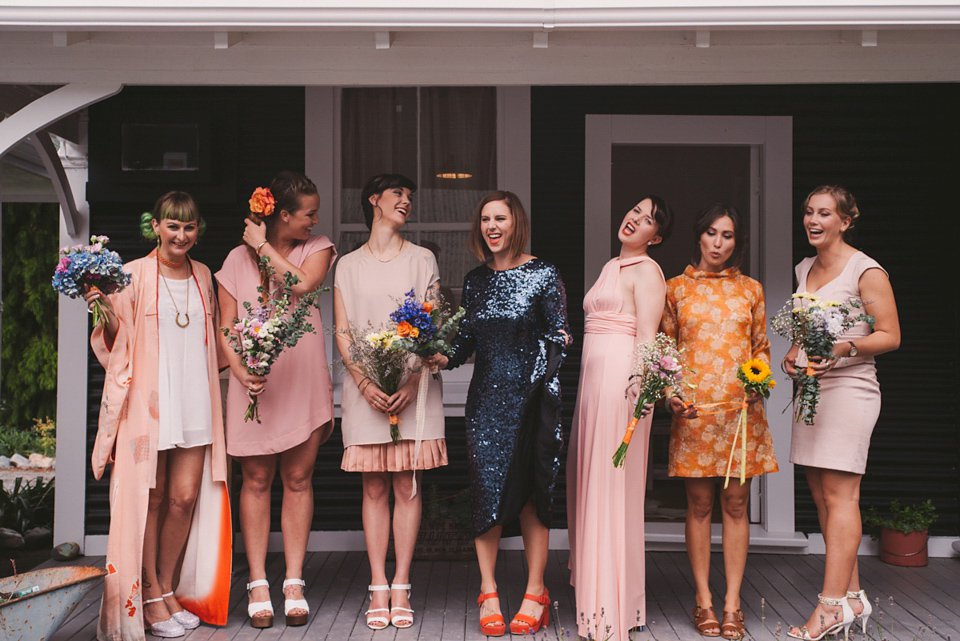 "Sarah is a good friend of mine and we loved having her capture our day! I would recommend her to anyone wanting someone who is really good at getting all the most candid shots digitally as well as on film if you are that way inclined.  She is a fun-loving, easygoing adventurer- brilliant to work with."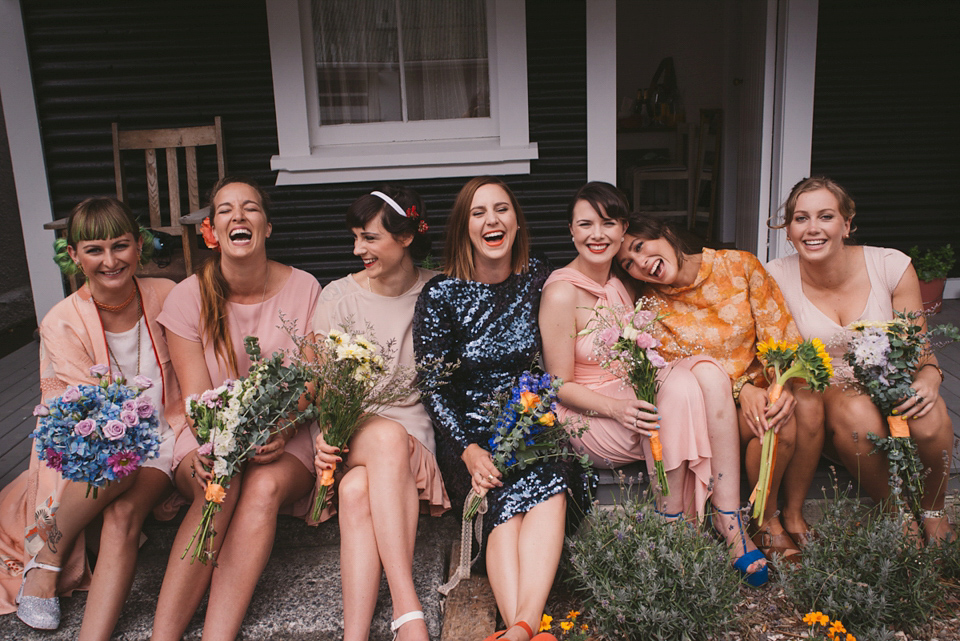 Dave's entire outfit (including his Batman cufflinks!) was purchased from Hallensteins.  I love the contrast of the orange buttonhole against the dark suit.  The Batman cufflinks link beautifully with Ash's thoughts on marriage too….
"Marriage, to me, means being with that one you love through thick and thin and supporting them in doing what most makes them happy. It's being the Robin to their Batman, and also being the Batman to their Robin!  It's a commitment to a long lasting friendship and a commitment to keeping the love sparkle alive."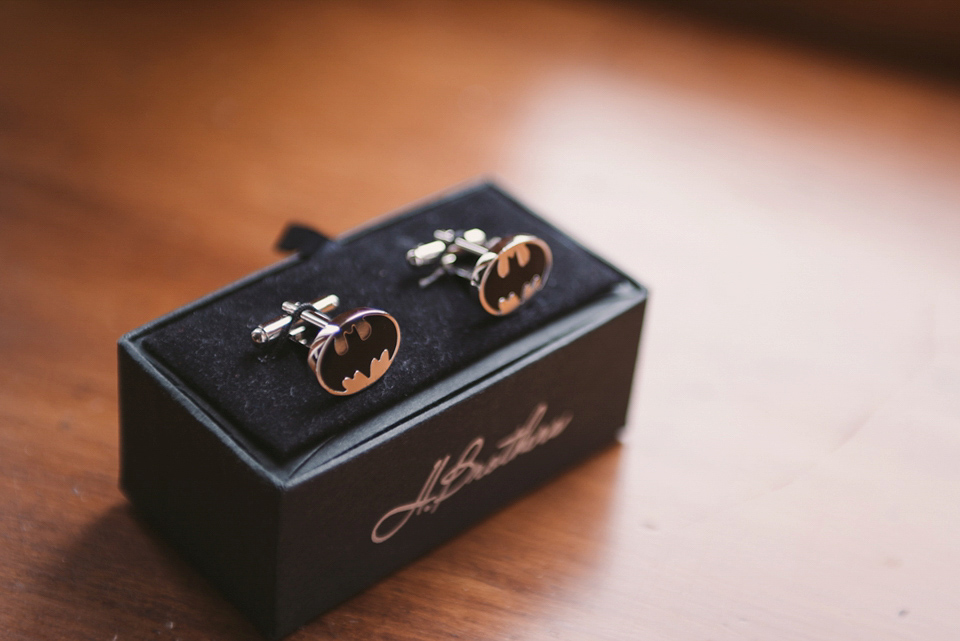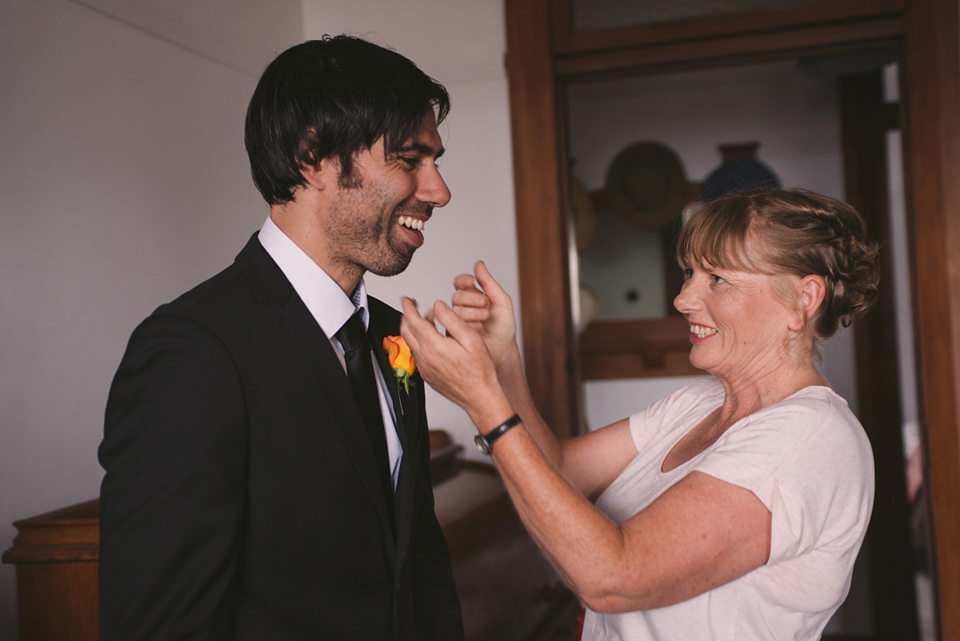 "One of my favourite moments was seeing Dave for the first time before photos- we had the bridal party there and our mums and dads."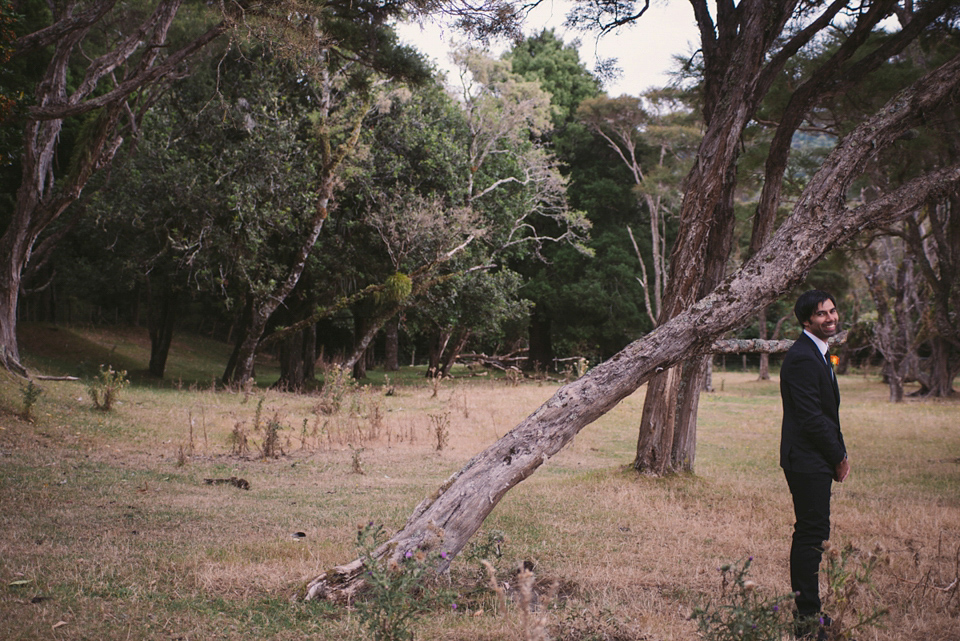 "His smile was the biggest I've ever seen and he teared up a little bit- that was really special.  I was pretty nervous but that dissolved on seeing him!   Another favourite memory was the picnic and just how relaxed and chilled everyone was- being surrounded by that many amazing friends and family from all over was really special and the speeches from everyone who spoke were really clever and heartfelt, such good vibes.  One more favourite memory was singing Queen's 'Bohemian Rhapsody' karaoke style with Dave and all the great dancing and love, everyone got on so well!"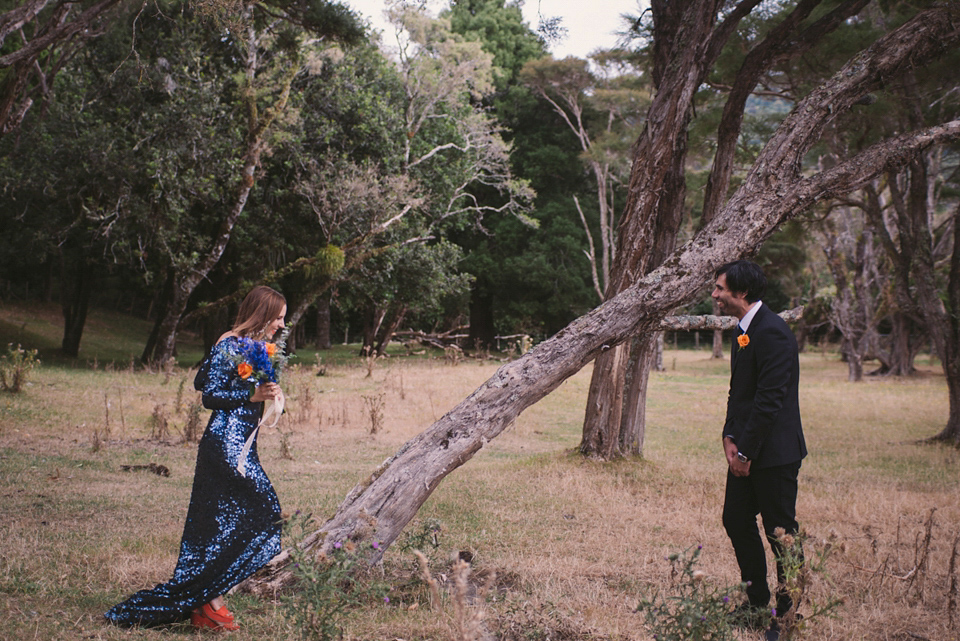 Ash proposed to Dave, which I love love love!  (It's a leap year this year ladies- apparently that it traditionally when a lady 'can' ask her chap to marry her- I say if you want to ask, don't wait for when you're 'allowed' to!)
"We met going to the same gigs, were friends for a while and dated for seven years.  I proposed to Dave with a burger ring (an in-joke we had) on a beach called Pebble Beach near where my Mum and Dad were married. He said YES!  We were engaged for a year and a half before our wedding day."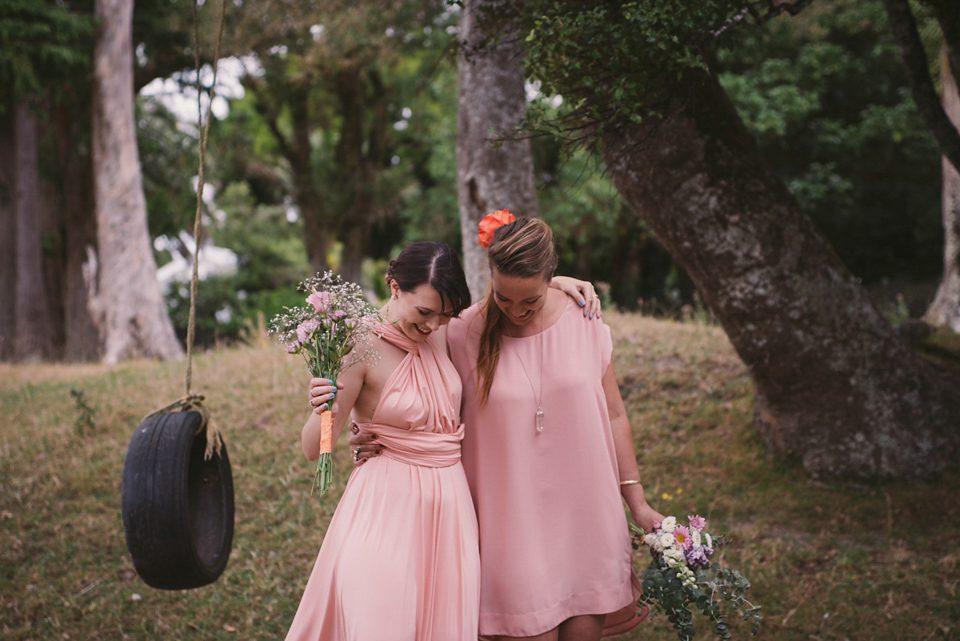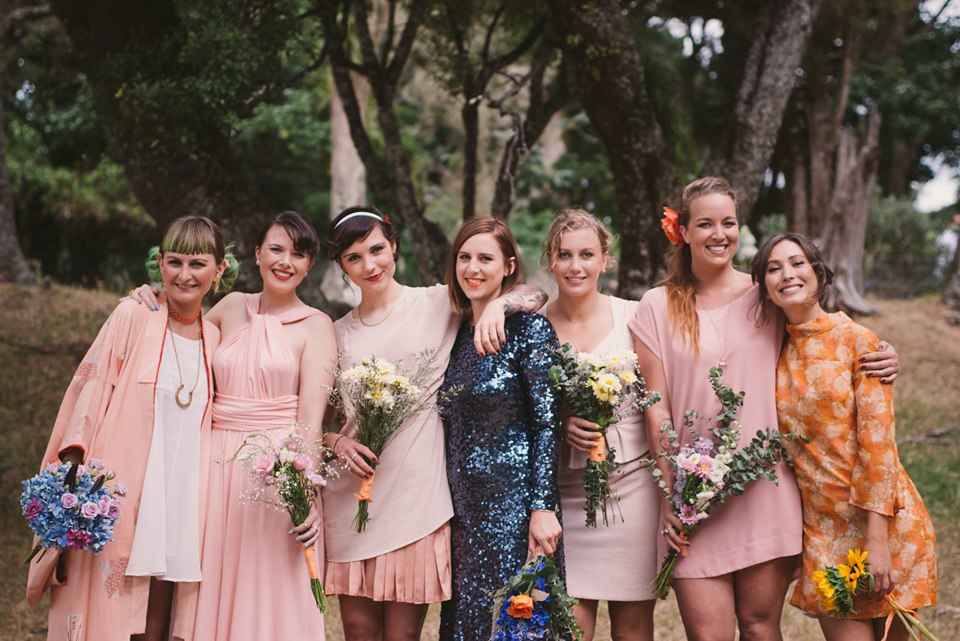 Ash walked down the aisle with both her Mum and Dad to 'Hey there Delilah' by the Plain White T's.
The couple wrote their own vows so the ceremony was very personal: "I found it very cute how we had both had very similar things to say- it made me very happy!"
"We wanted a venue that could hold lots of our family and friends and gave the option to have the bridal party and family stay nearby or at the venue.  I started looking for large houses and holiday homes and came across Wairongomai Estate.  We set up a meeting and fell in love at first sight.  It was giant, with a pool, gorgeous outdoor area, tennis courts and a done-up double garage in case the weather decided to turn on us.  We didn't look at any other venues after that!"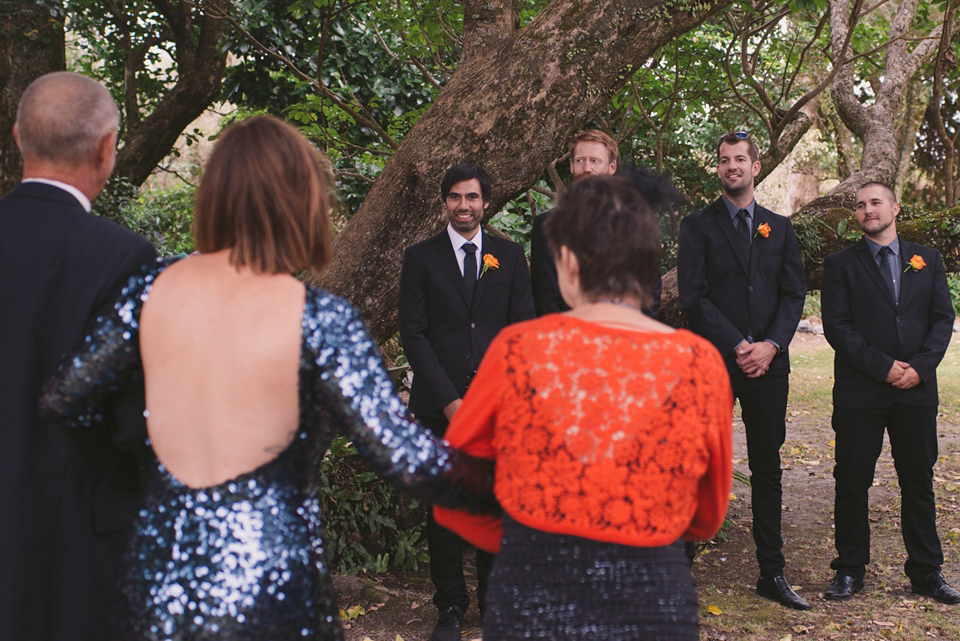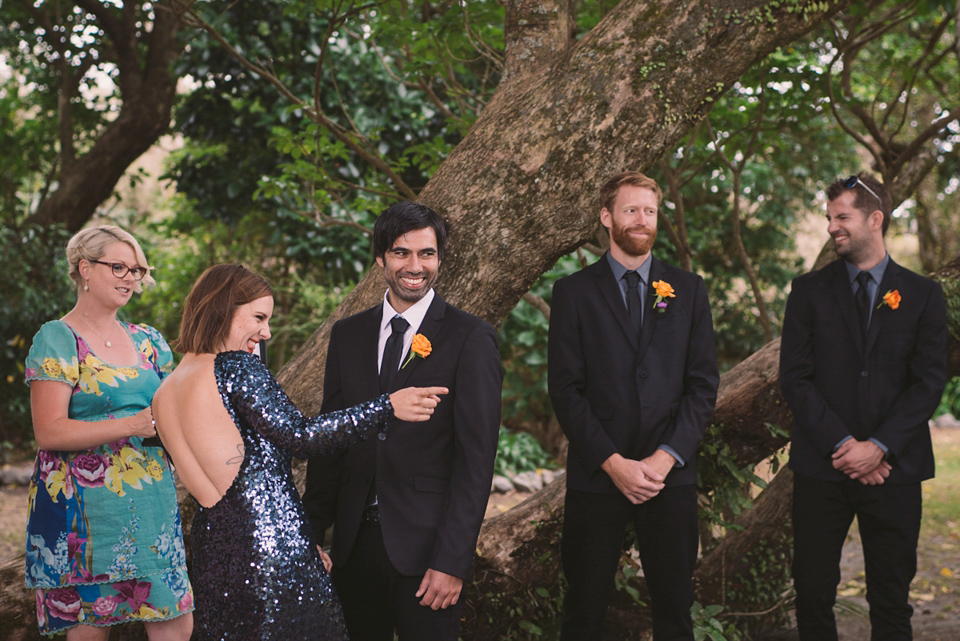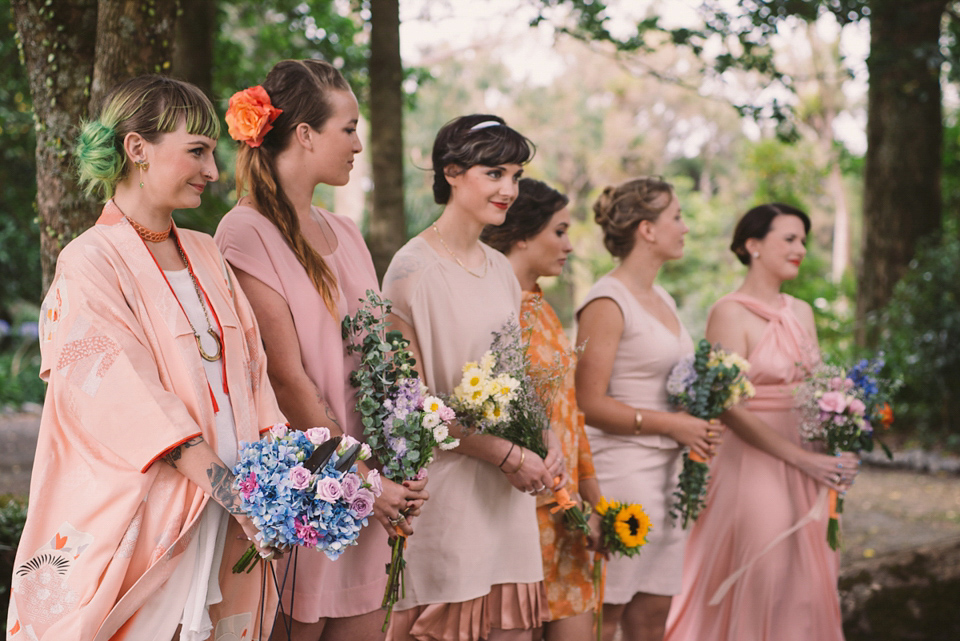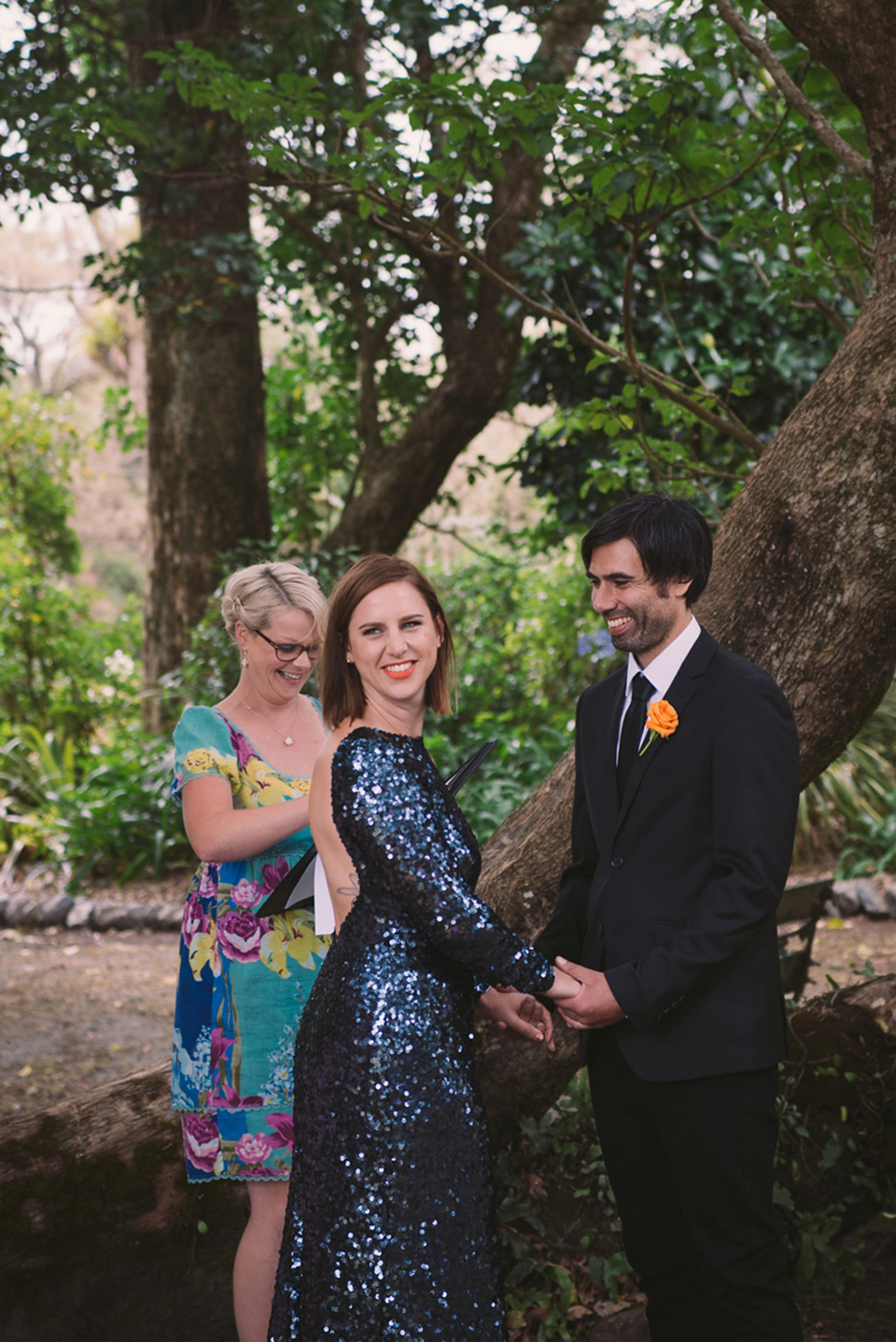 For readings, one of the bridesmaids read 'I carry your heart' by E.E Cummings while the newlyweds signed the register. I do love this poem, which begins:
'I carry your heart with me (I carry it in my heart)'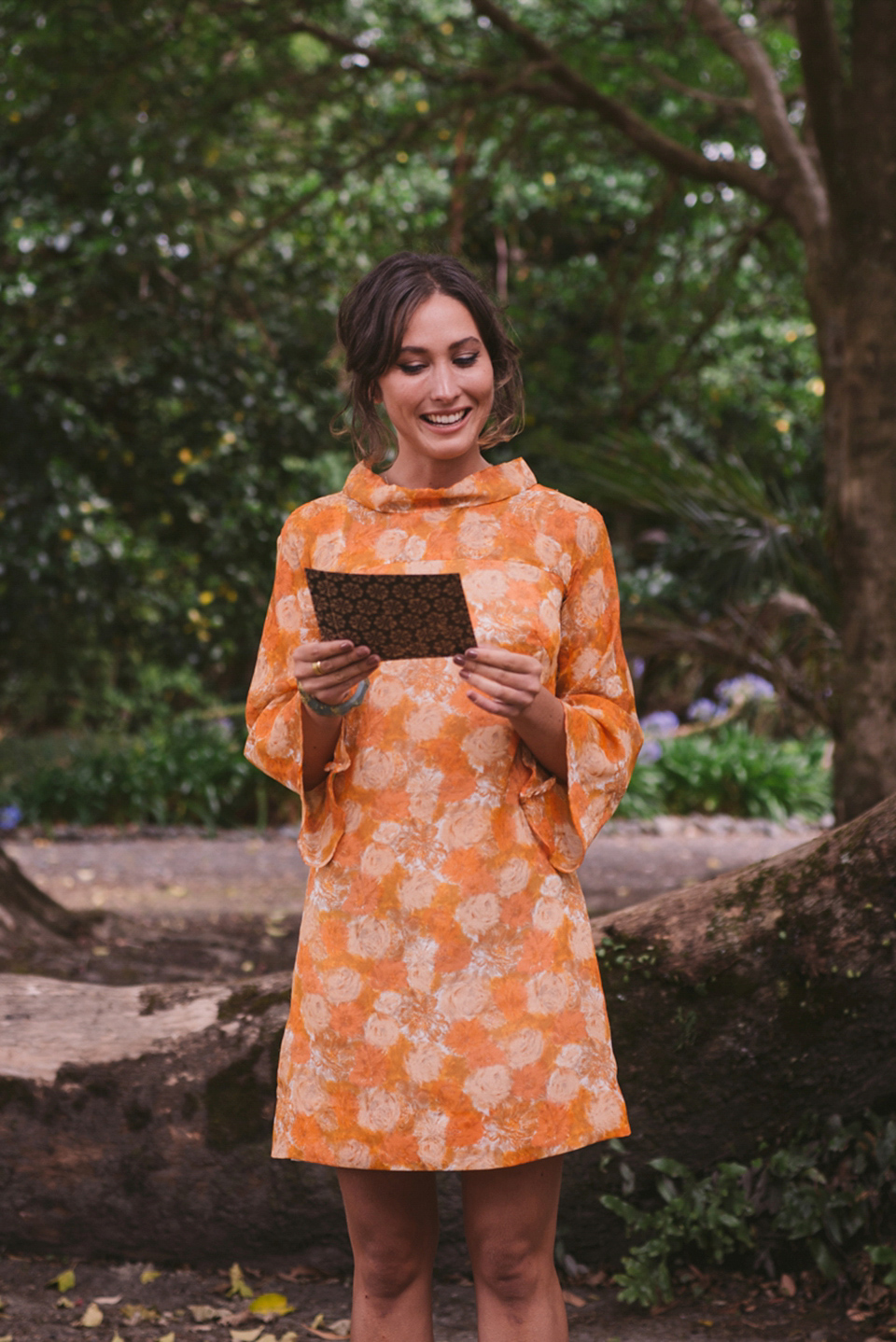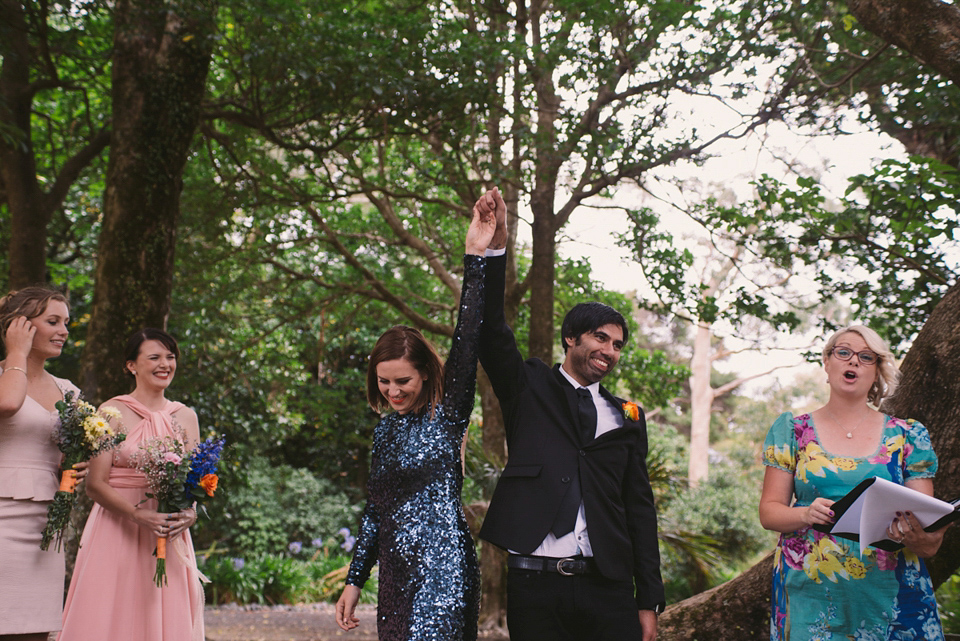 Instead of a formal sit down meal, Ash and Dave chose to host a picnic for their wedding breakfast, complete with Paella provided by The Pan Man.  If you're fairly confident in the weather then I think this is a wonderful idea.  Picnics are one of my favourite kinds of meals and it is a perfect way of doing things if you're having a relaxed day.  The rest of the picnic food was arranged by Brigid O'Flaherty, who also made the wedding cake and heart shaped gingerbread stamped with 'A & D' as favours.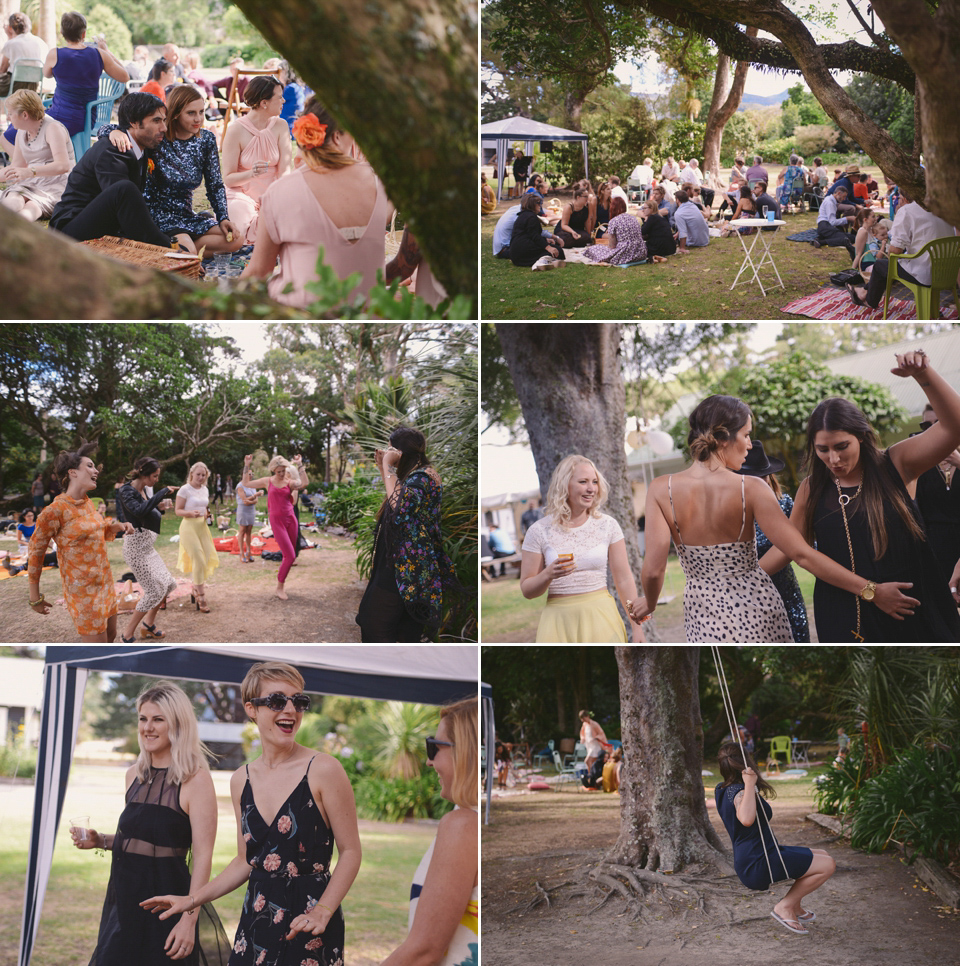 "Dave and I took a step out when reception was going on to look in and reflect on the day which was a wonderful moment shared, we also did photos before the ceremony which saved time later on and I wasn't as nervous walking to the ceremony as we'd already seen each other. We wouldn't change a thing!"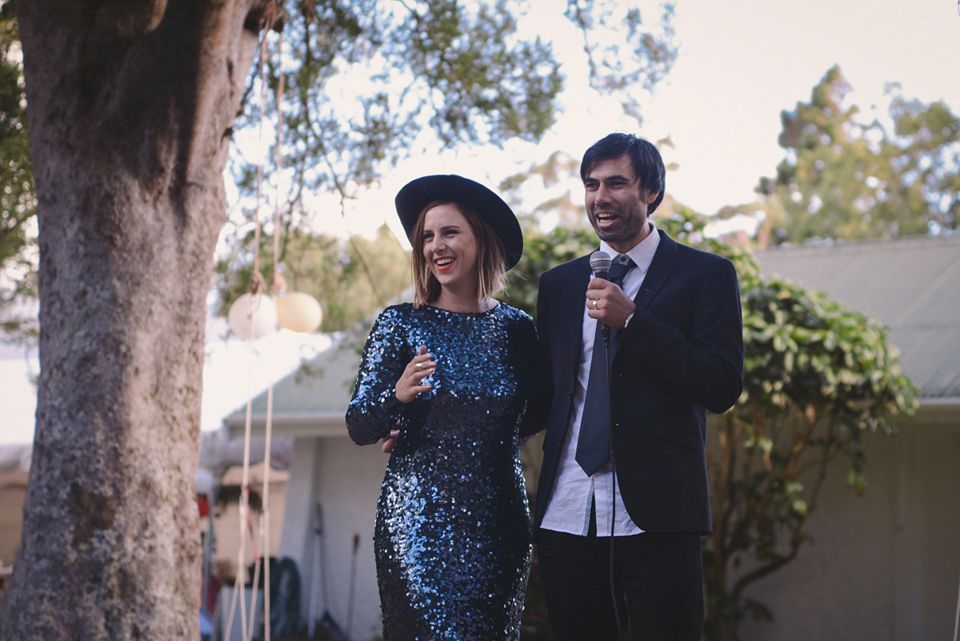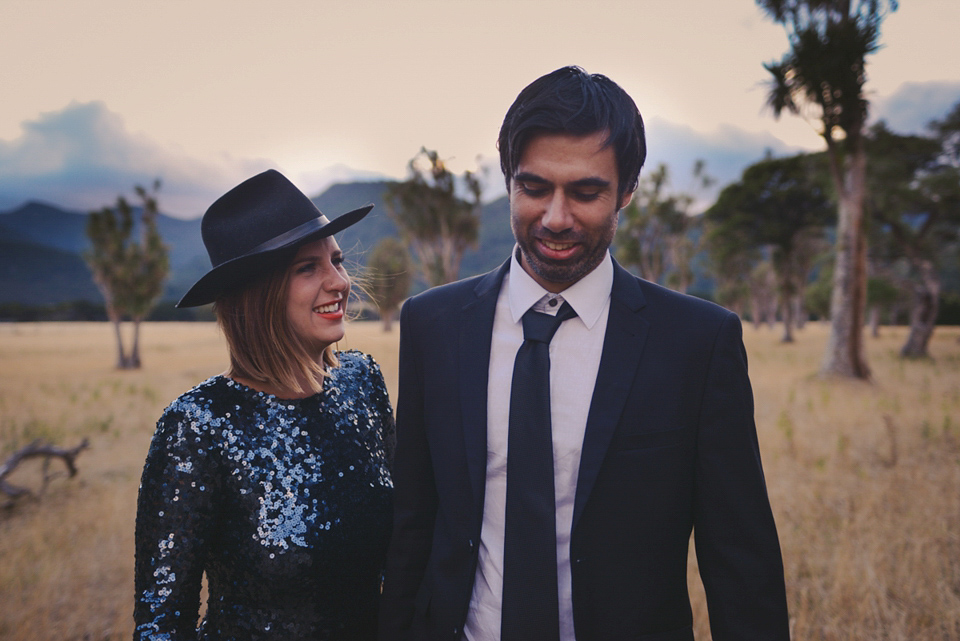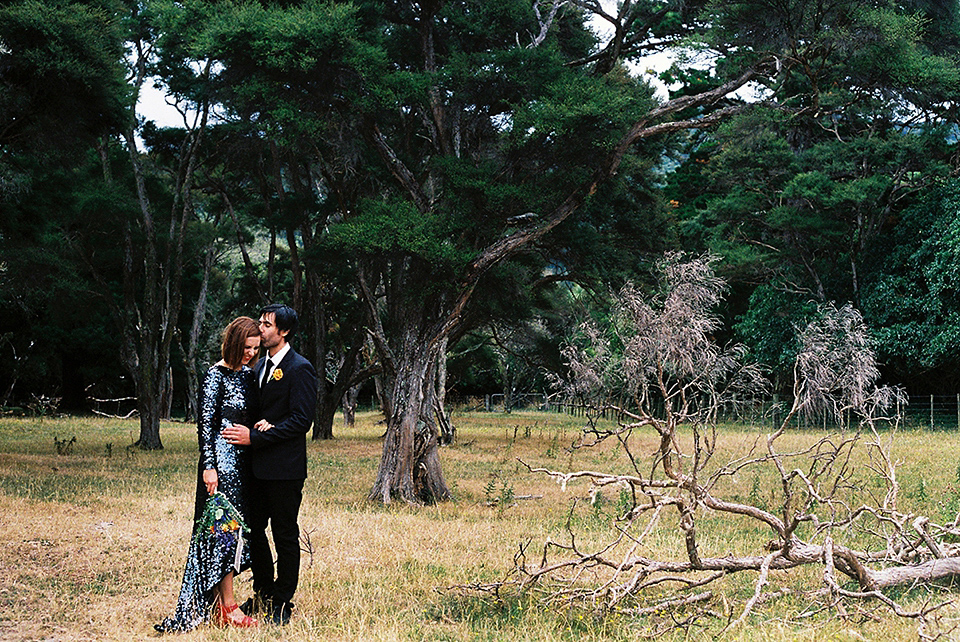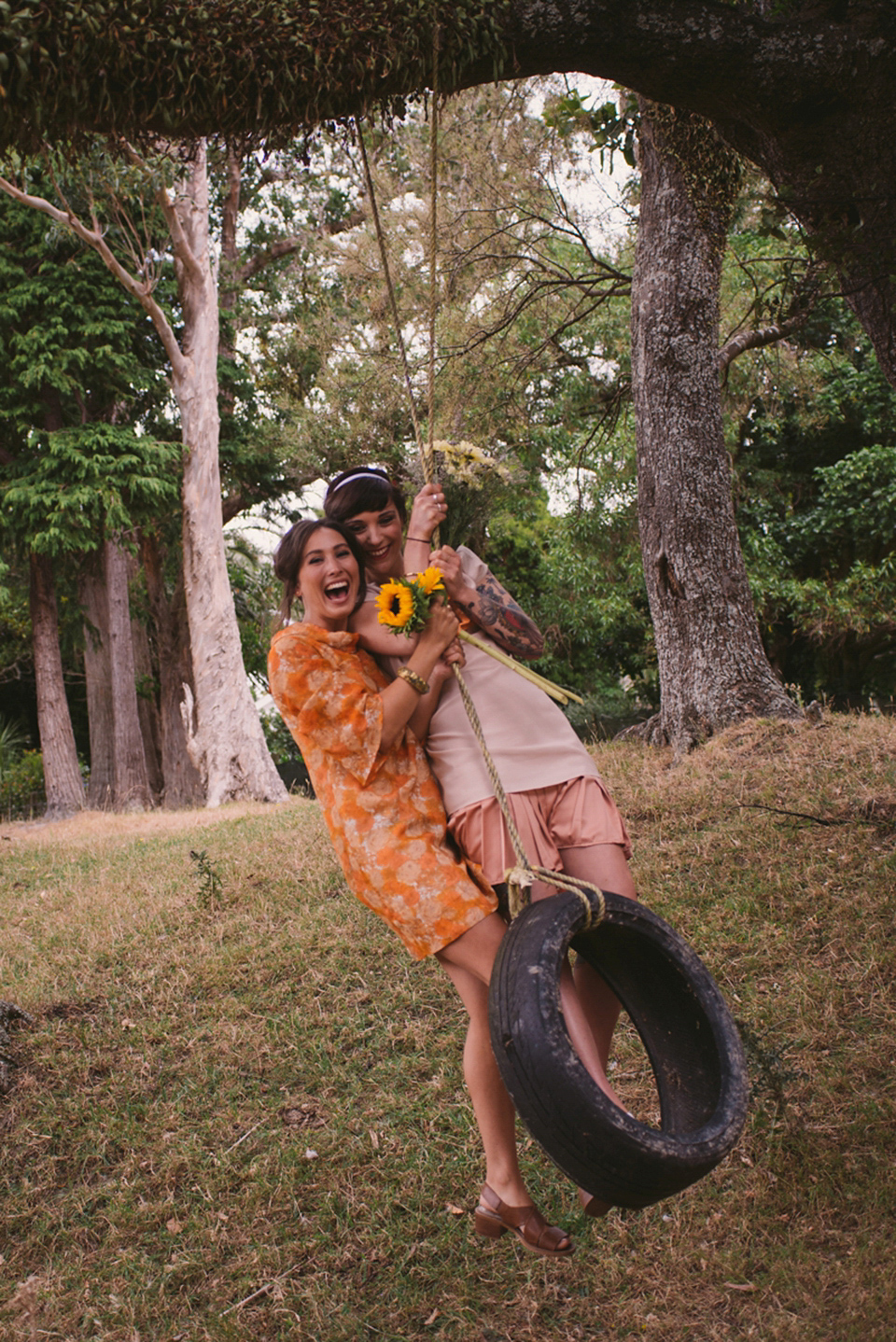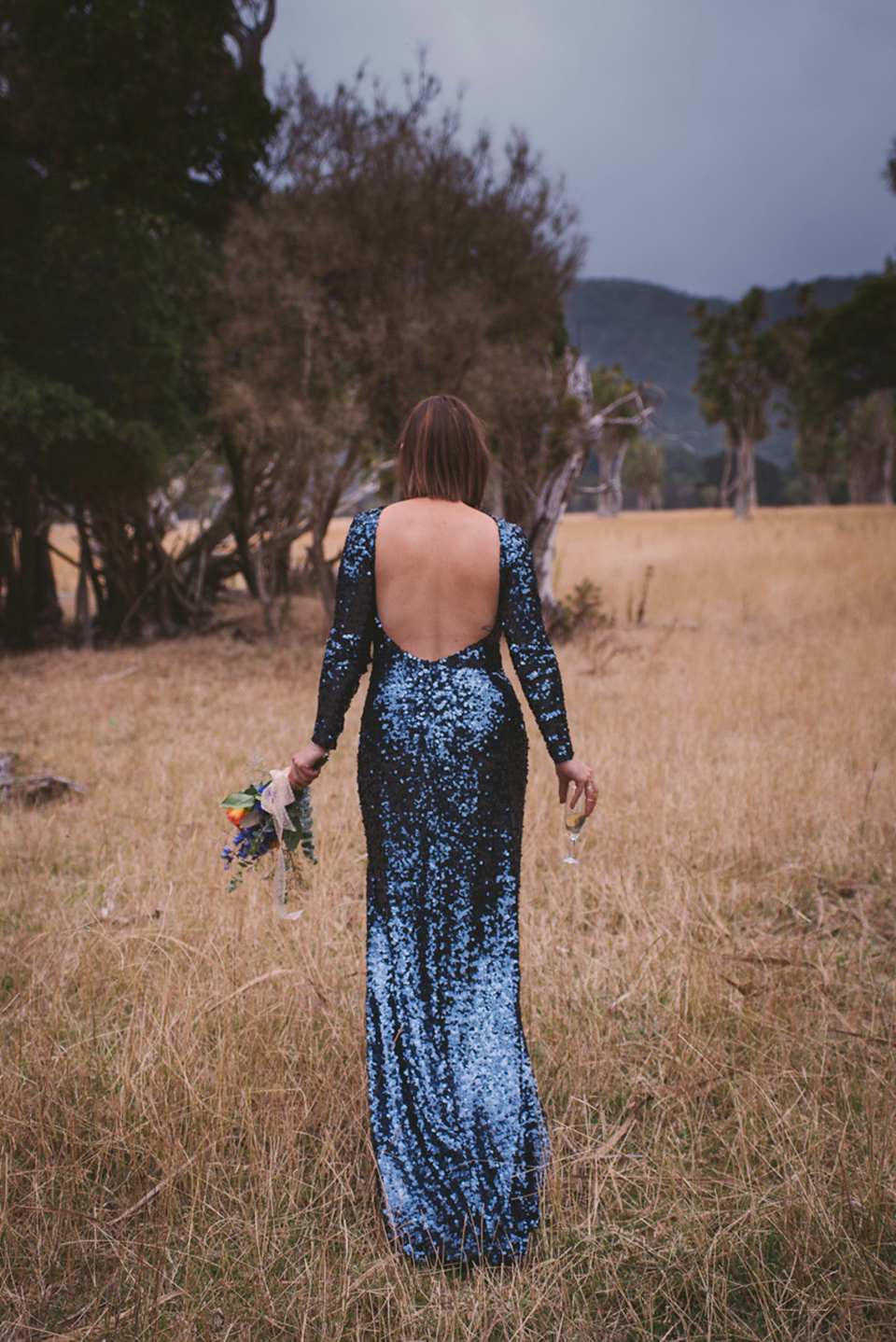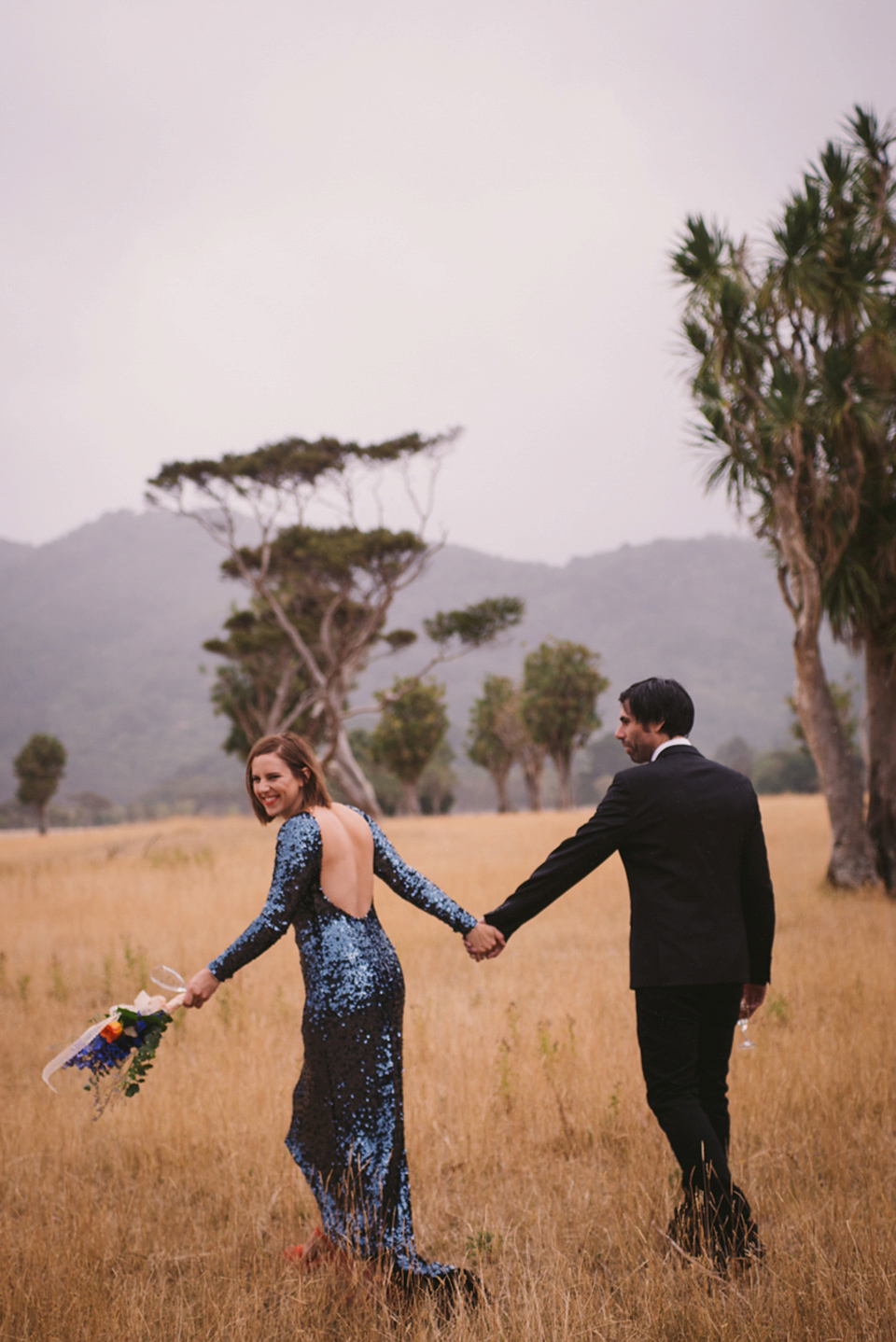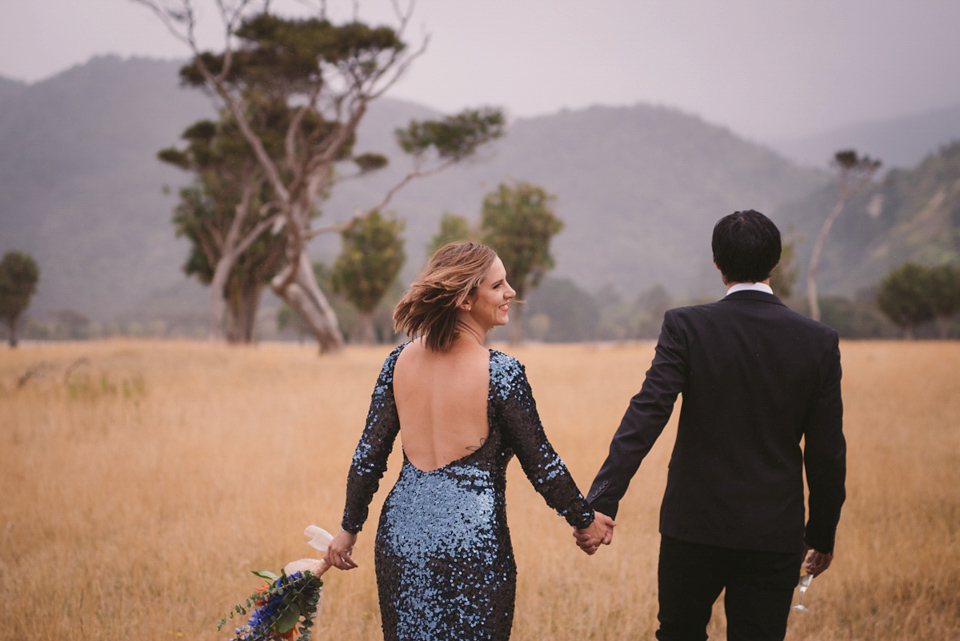 Words of Wedded Wisdom
"Get a good night's sleep the night before if you can!
Be organized as you can ahead of time and make sure you take 5-10 minutes out with your significant other an look back on the day together- after the ceremony is a great time to do this. A friend gave me this advice and it's one of my most favourite memories from the day."
So many thanks to Ash and Dave for sharing their day with us, and of course to Sarah Burton for capturing this visual feast.  Is anyone else wearing a non-traditional dress for their wedding day?  There are so many options out there now that you really can find something to suit every style- and always go with what you love, not what you think you ought to have!
Much love,
Shona x
Photographer – Sarah Burton
Venue – Wairongomai Station, Wairarapa, New Zealand.
Wedding Dress – Bespoke by Claire Palmer, local dressmaker (find a dressmaker in Little Book For Brides)
Hair accessories – Fresh flowers
Shoes –  'Minx' by Ultra Shoes, Wellington
Accessories –  Earrings from Etsy
Hair stylist – Natalee Fisher
Makeup artist – Maia Renner
Groom –  Hallenstein
Bridesmaids – No details- each lady chose their own dress
Cake – Brigid O'Flaherty
Entertainment – Ida Lune
Rings – Walker & Hall
Catering – Brigid O'Flaherty (picnic and sweets), Paella- The Pan Man