Good afternoon you lot – I'm wondering how many new readers we'll have soon after today – it being 29th February and traditional date upon which the lady proposes marriage to her gentleman! We shall have to wait and see, but I'm sending love and good luck to all those doing the deed today. You go for it ladies! I can't wait to hear your stories.
Our wedding this afternoon features  Sarah, who works in Fashion Marketing and her husband Sam, a social worker. Sarah and Sam tied the knot on 4th July last year and chose chose the wonderful Joanna Brown to document their wedding in images. The wedding itself took place at St Mary's Church in Oakley, Bedfordshire and was followed by dinner and dancing in the grounds of their family friends Home, Oakley House, just a few minutes walk away.
Sarah had always wanted to be married in the village where she grew up, and thanks to a heat wave weekend, it meant that they could celebrate a lot of their day outdoors, much to Sarah's delight. I love the special little touches in this wedding, like the fact that Sarah wore cornflowers from the family garden in her hair – how lovely.
"We wanted to combine references to Italy and the English countryside, and this was reflected throughout the day in our choice of food, drinks and flowers. Music was also super important to us, as was our friends' involvement in all aspects of the day – and this was reflected in our DJ sets, floristry, graphics, the dress and ceremony itself."
Photography by Joanna Brown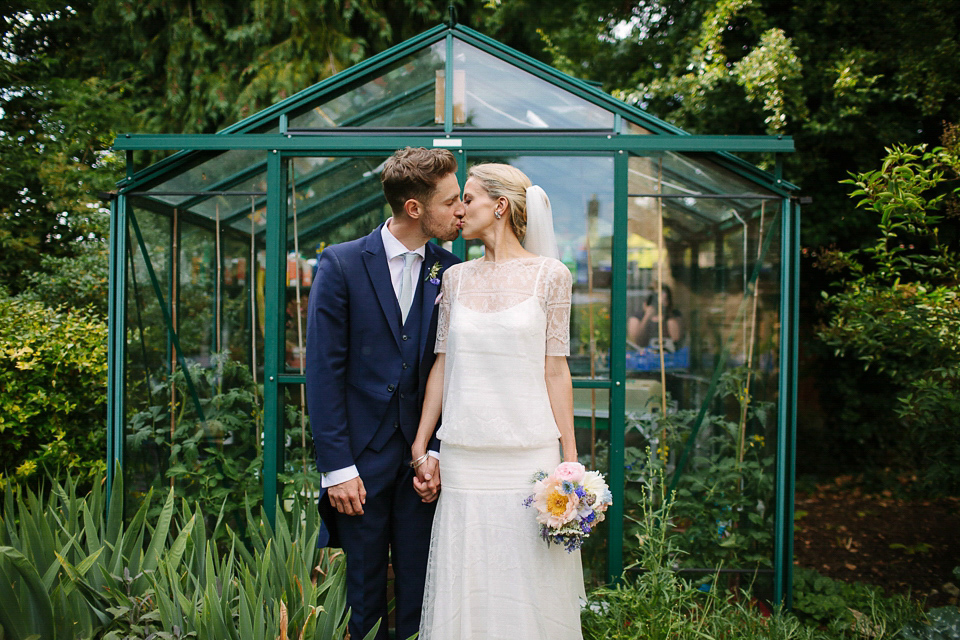 Sarah's beautiful dropped waist gown which so reminds me of the glamorous gowns of the 1920's and 1930's was created by Stephanie Allin.
"Stephanie Allin is a dear family friend (and mother to Max – one of Sam's two best men). As a wedding gift to us she offered to bring my dream dress to life."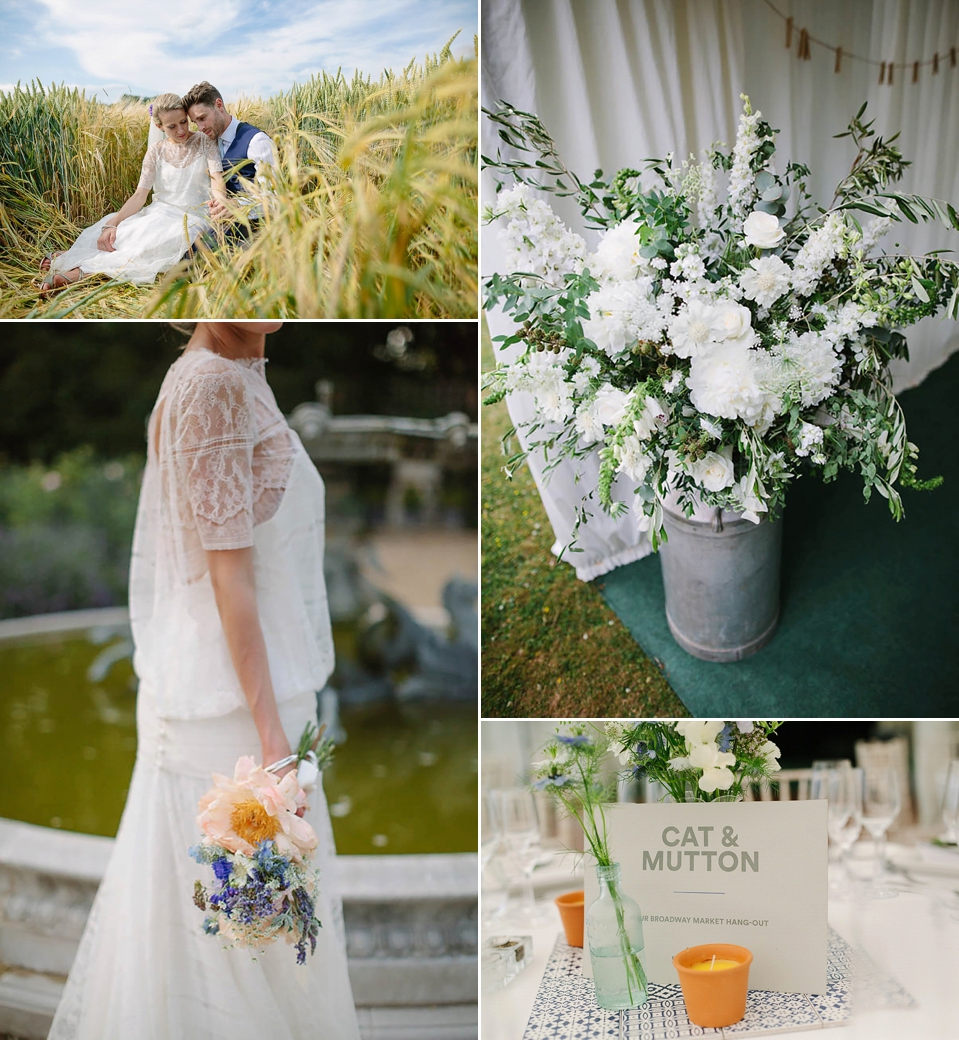 "Our photographer was Joanna Brown. Jo is such a great lady, funny, calm and really made us all feel comfortable. Jo was recommended as she did the photos for another friends wedding. We loved her relaxed style, informality and her use of different cameras /films to get such variety in our final edit."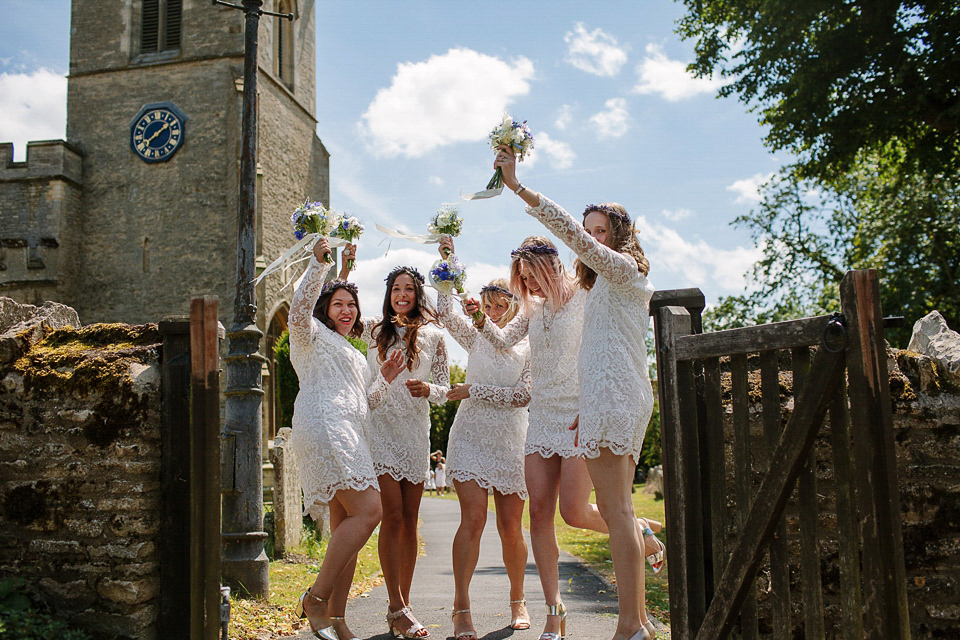 "It's a little cheesy, but we met through our respective best friends from school, themselves a couple (and who were also one of our best men and bridesmaids). Sam was living in Cardiff and we met by chance in Plastic People in Shoreditch on August bank holiday 2012. Two weeks later he came back to London for our official first date, which ended up lasting three days.
Nine months later we moved in together in East London and in November 2014 Sam surprised me with a mini birthday break in Venice (where I'd studied during University) and proposed to me there."
Sarah's bridesmaids wore embroidered white long sleeved tunic dresses from French Connection which they paired with metal shoes of their own choie.
"All of the bridesmaids and flower girls hair were styled loose and natural with lavender crowns.
All their own, styled as they wanted (I didn't want to be too prescriptive as they've all got their own individual style)."
"It was such fun designing the dress with Steph, through a series of fittings with her and her team in Wales and London. She totally understood my taste and how to bring all of my various references together. I really wanted a drop waist and draped silhouette, Steph designed the incredible back as well as other beautiful details, and we chose the fabric from her archive. She brought it all to life which I will be forever grateful."
"I didn't want to detract from the dress and so kept accessories quite simple – my grandmothers Art Deco earrings and a silver bangle bracelet designed by my parents and given to me as a wedding present."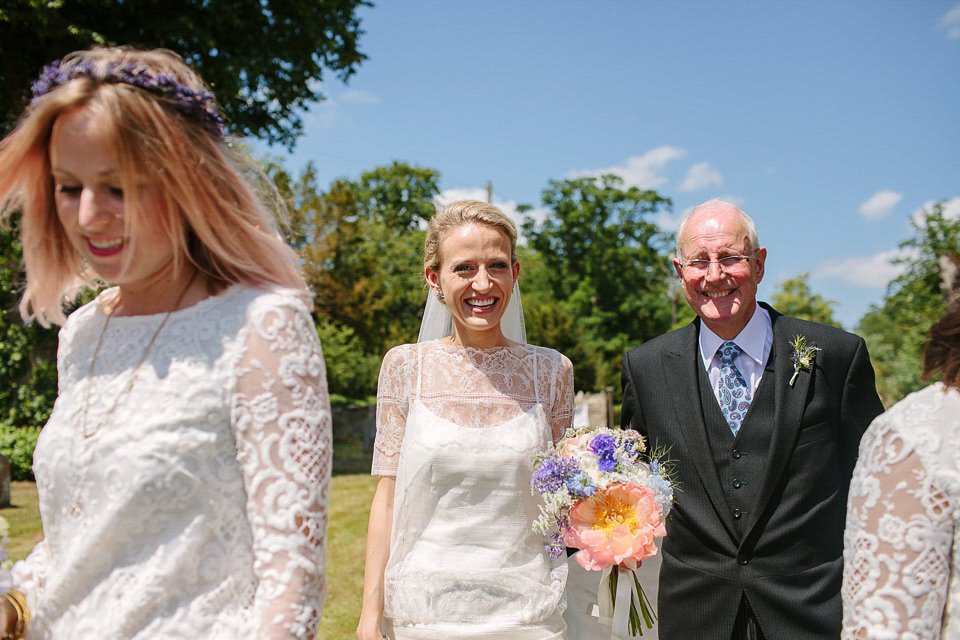 "The flowergirls ore white cotton dresses from Mango. We swapped the buttons down the back for Pearl Drop buttons.
Sam wore a slim fit, navy blue morning suit which he hired for the day from Hugh Harris, Woking.
"He wore antique silver cufflinks which Sarah gave him as a wedding present, his grandfather's vintage Omega watch, a Burberry tie and Reiss pocket square and black Barker shoes."
Cressida Jamieson, a good friend of the bride and groom created the incredible flowers displays, which combined English meadow flowers with Italian herbs. There was lots of lavender, cornflowers, peonies plus olive and rosemary. The overall palette was grey, pale green, blues, white and lavender.
"Our friends chose their readings as surprise for us. As we were married in a church they chose a religious reading – Songs of Solomon and then W.H Auden 'Tell Me The Truth About Love'.
During the signing of the register our friend sang Jose Gonzalez' version of The Knife's Heartbeats – a song really special to us – accompanied by another friend's guitar recording (he'd hurt his back last minute so wasn't able to perform in person)."
"My engagement ring is an unusual Art Deco design and was Sam's grandmothers – so very special. We wanted to combine my maternal grandmother's platinum wedding band in our own wedding bands and during our research of this, discovered an incredible place called The Wedding Ring Workshop in Hatton Garden, where we could design and hand make our own bands (under supervision) which was an amazing experience and one we'd absolutely recommend."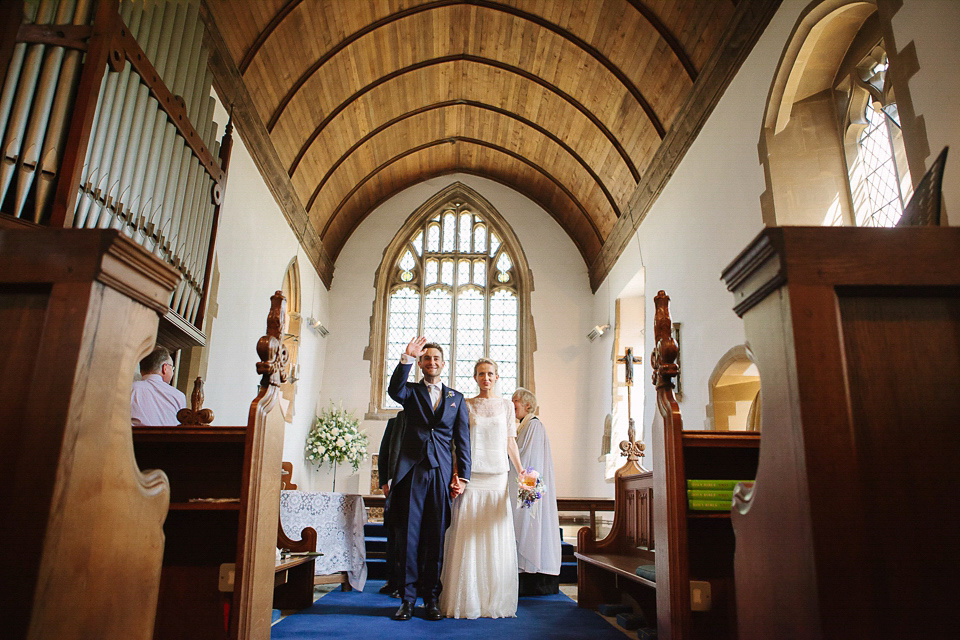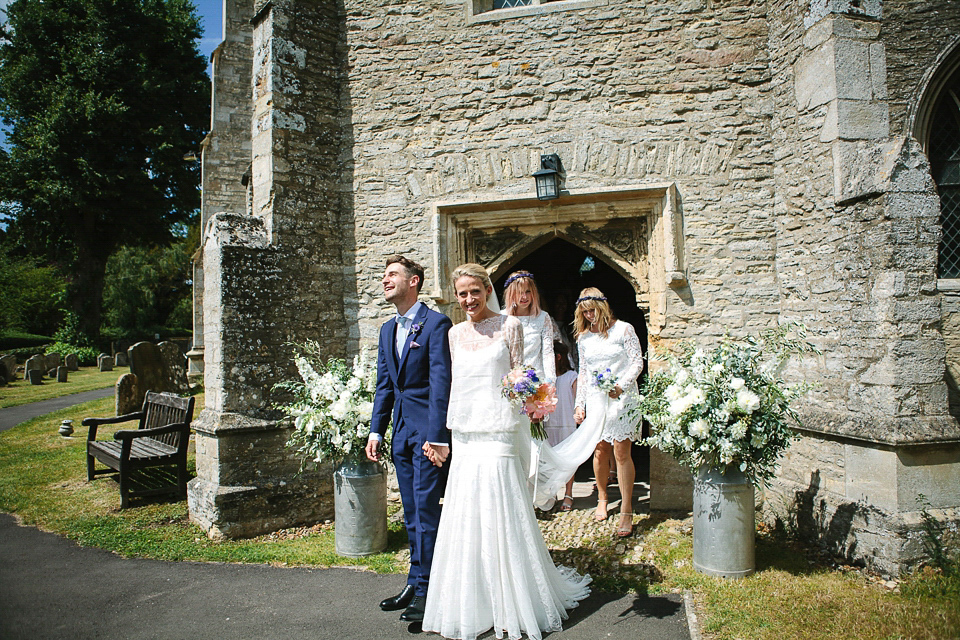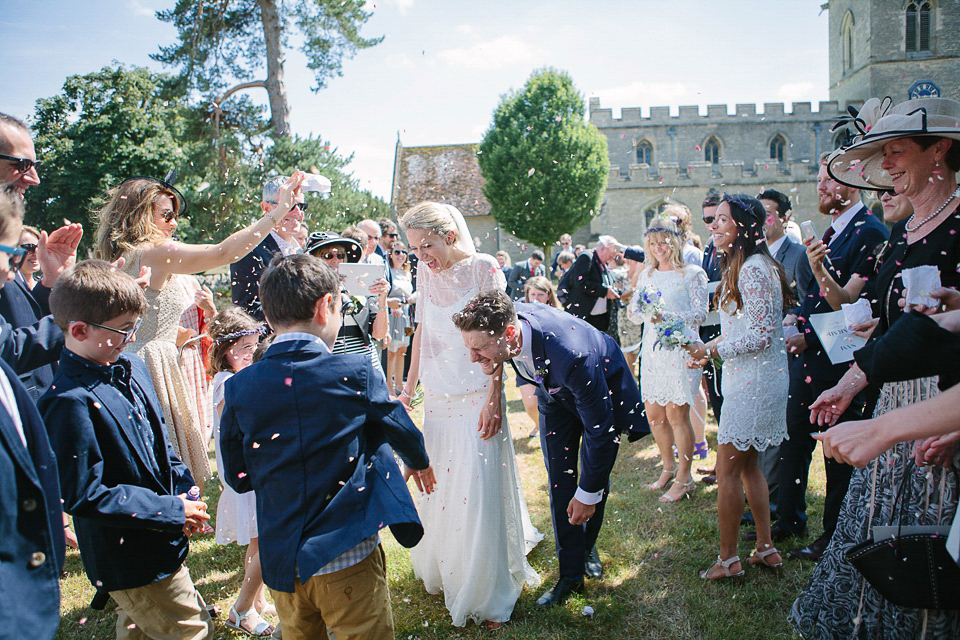 "My parents arranged to have our dog (Donnie) waiting for Sam and me at the end of the confetti arch outside the church which was such a lovely surprise – we'd really wanted to have him play some part in the day and managed to get a few cheeky photos with him."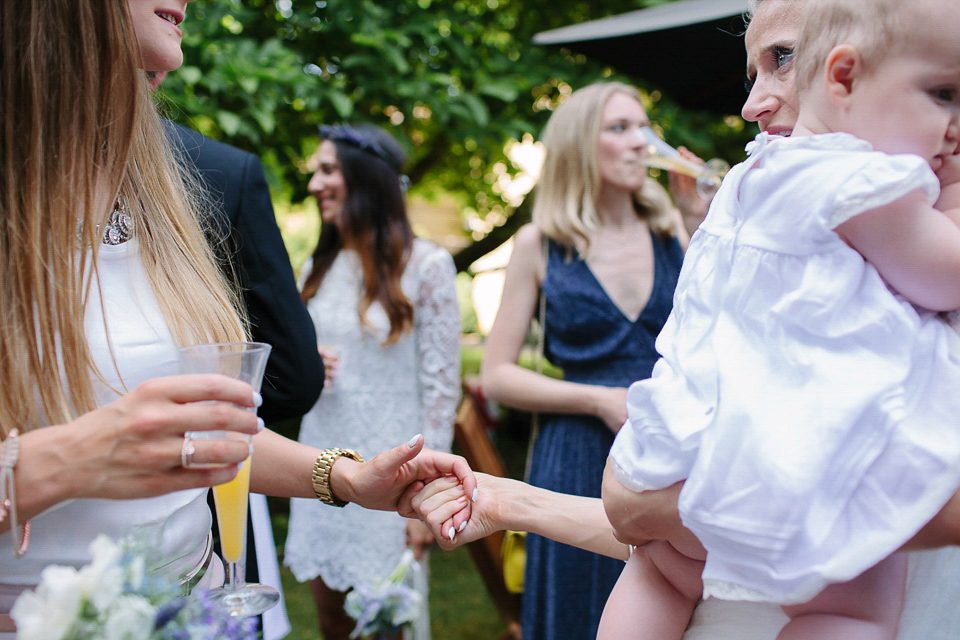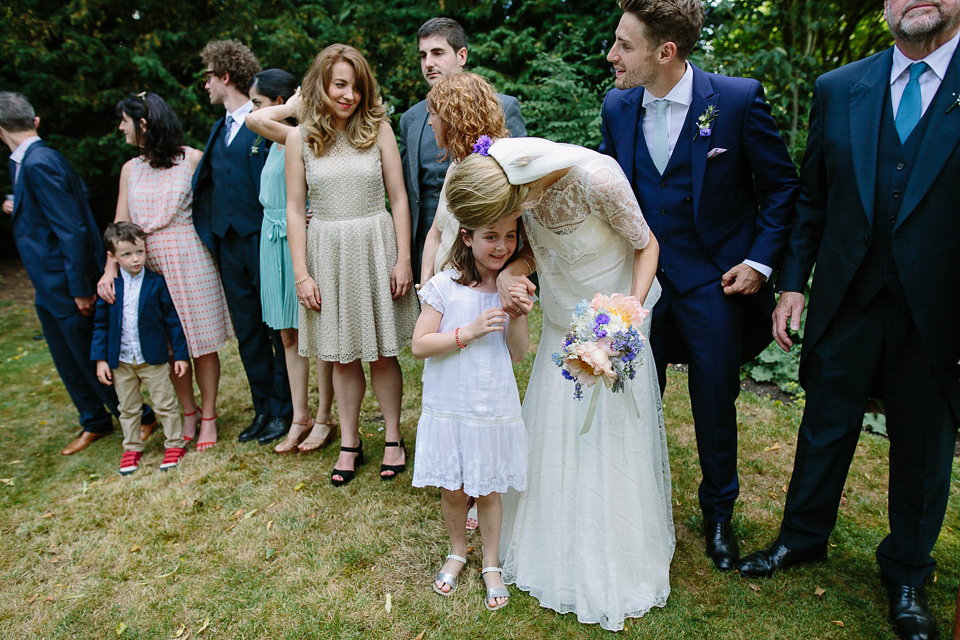 "We escaped to a cornfield for photos after the drinks reception, just sam, me and the photographers, where Sam and I could chat and just be together, that was really special. The speeches were also brilliant…perfect and everyone was so so funny. Finally the dancing – the dance floor was packed all night, especially during the power 90s RnB / Hip Hop (one of my bridesmaids described it as the best 30 minutes of her life!)"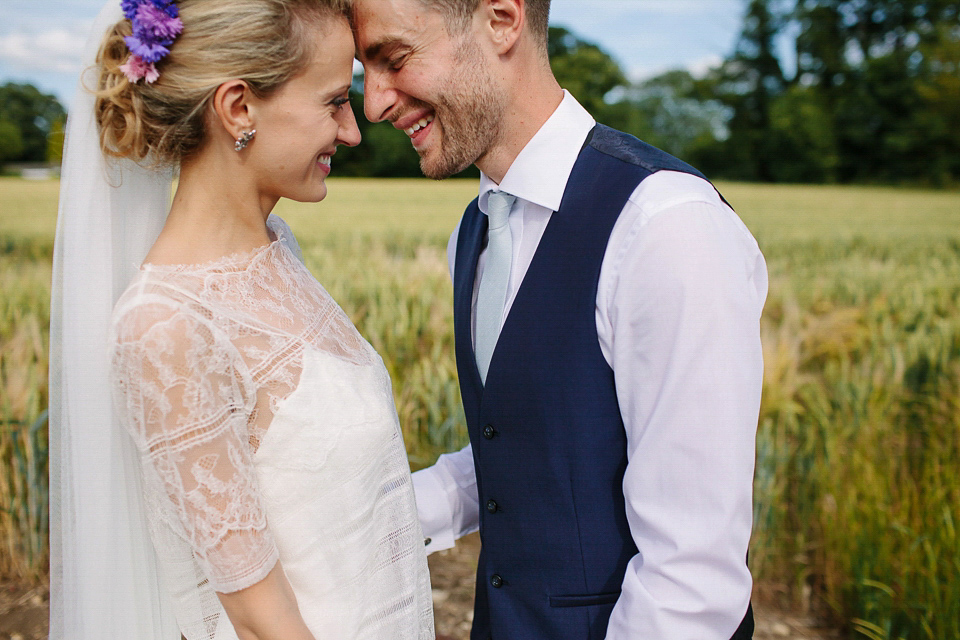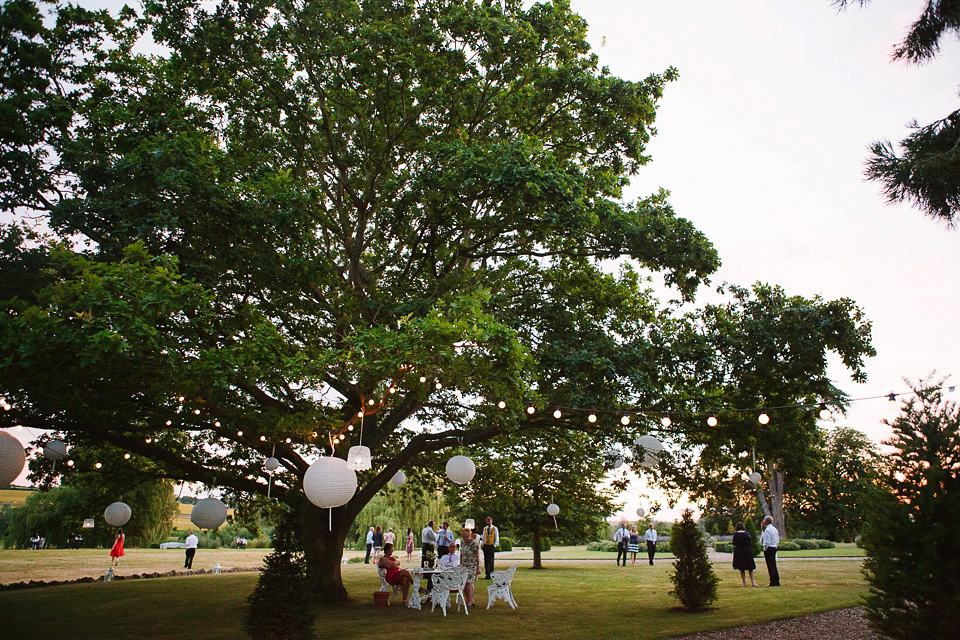 "We wanted the outside and inside parts of the reception to merge as much as possible and so decorated the marquee interior with ivy and foliage as well as white, cream and yellow lanterns, which were continued out into the garden, strung from trees and dotted around the grounds with candles."
"We really wanted our friends to play a big part in the day, and to feel included in all of the celebrations. We landed on creating a 'Who's Who – A Short Guide to Everyone at Dinner', basically a printed booklet which included a mini bio for each of our guests. It took an age to write (across 6 weeks) but was totally worth it when we saw everyone reading it and laughing at their descriptions. And it proved to be a really good ice breaker during the meal too."
"We wanted the tables to be a combination of English meadow flowers with Italian references, so the centre pieces were made from blue & white Mediterranean tiles on which we placed ceramic pots, blue and vintage cut glass vases and citronella candles. The tables were named after our favourite pubs."
"Our friend Lily Dunlop designed the amazing stationery as a gift, which included invitations, table plan and settings, order of service and Who's Who (our alternative to wedding favours)."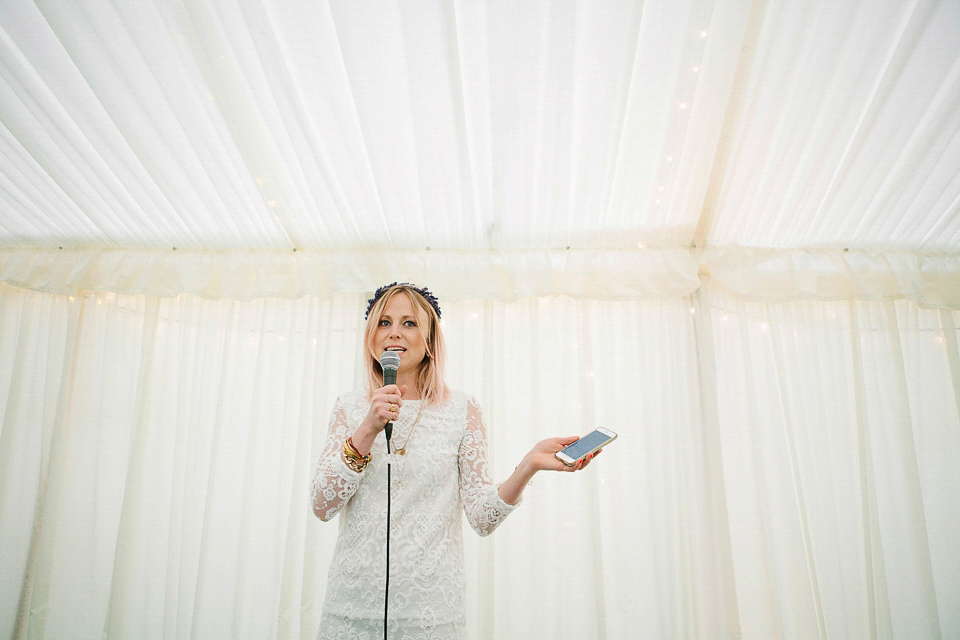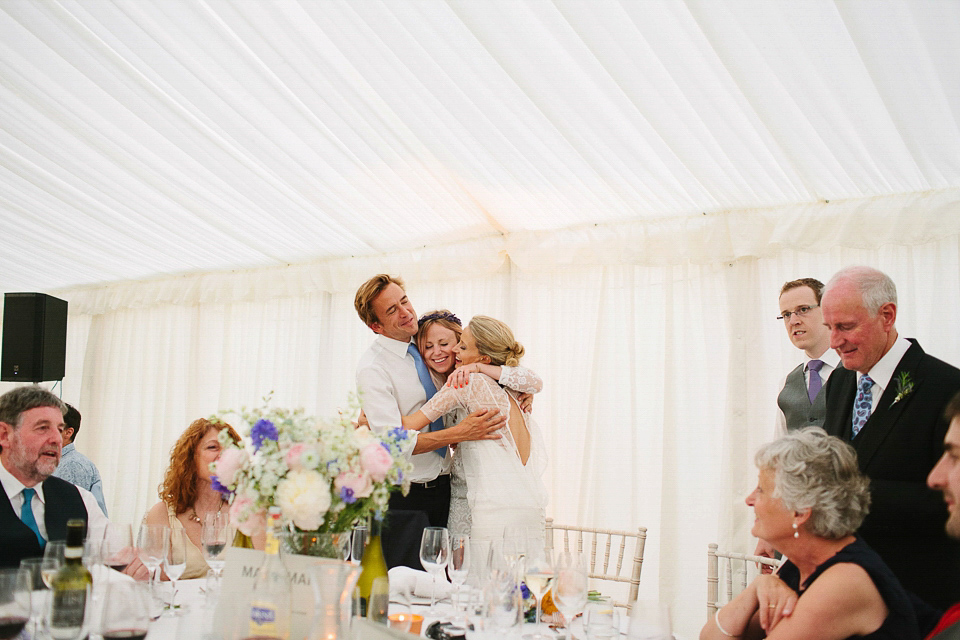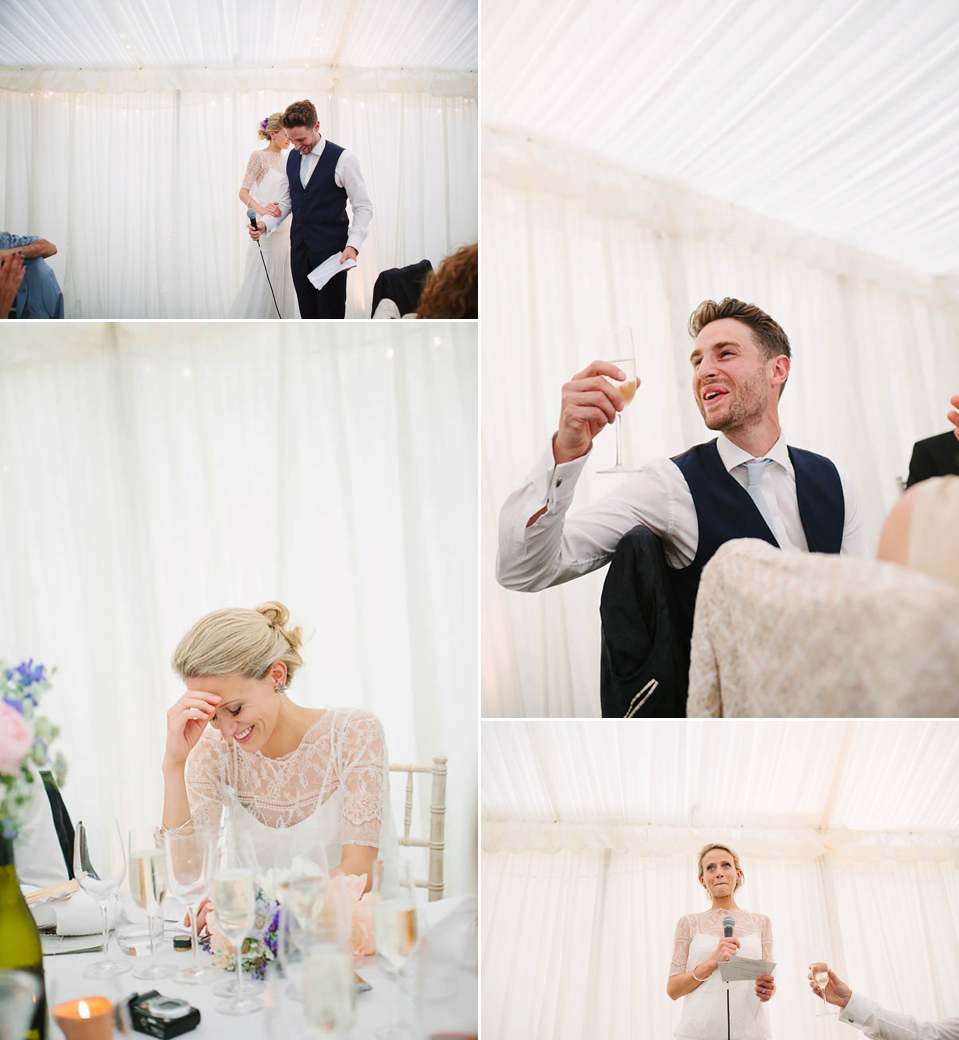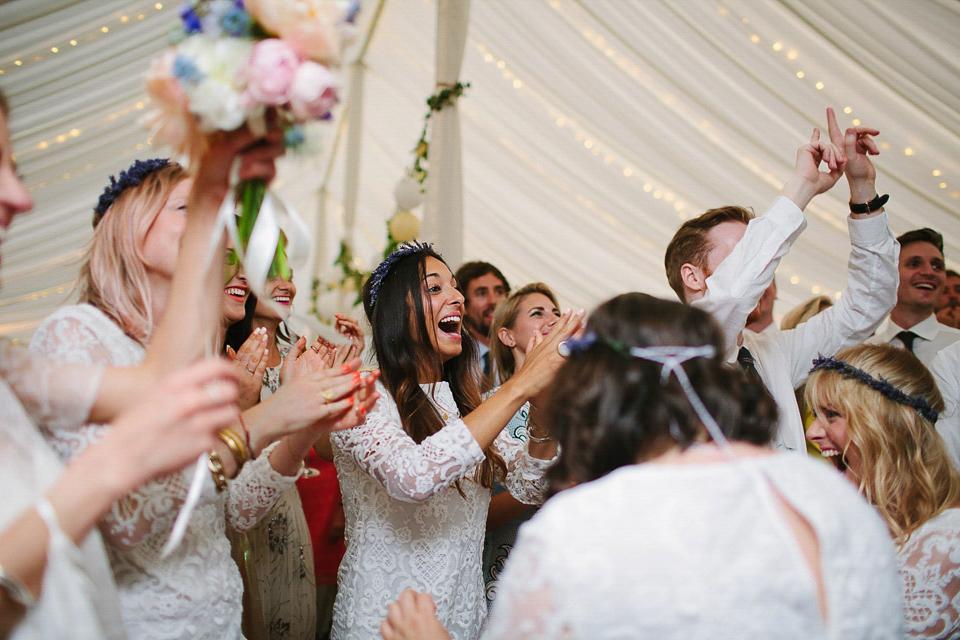 The couple's first dance was to 'I Found You' by Alabama Shakes.
"Sam's brothers are jazz musicians and so performed during the drinks reception.  After dinner we had booked a band called The Flames who played lots of Stones, Fleetwood Mac etc which we loved. We then had two brilliant DJs – a booker and great guy that I have worked with for years, followed by one of Sam's oldest friends Rhys who offered to play a power half hour of 90s Hip Hop and R'n'B – it was possibly the most fun part of the day for us and our friends."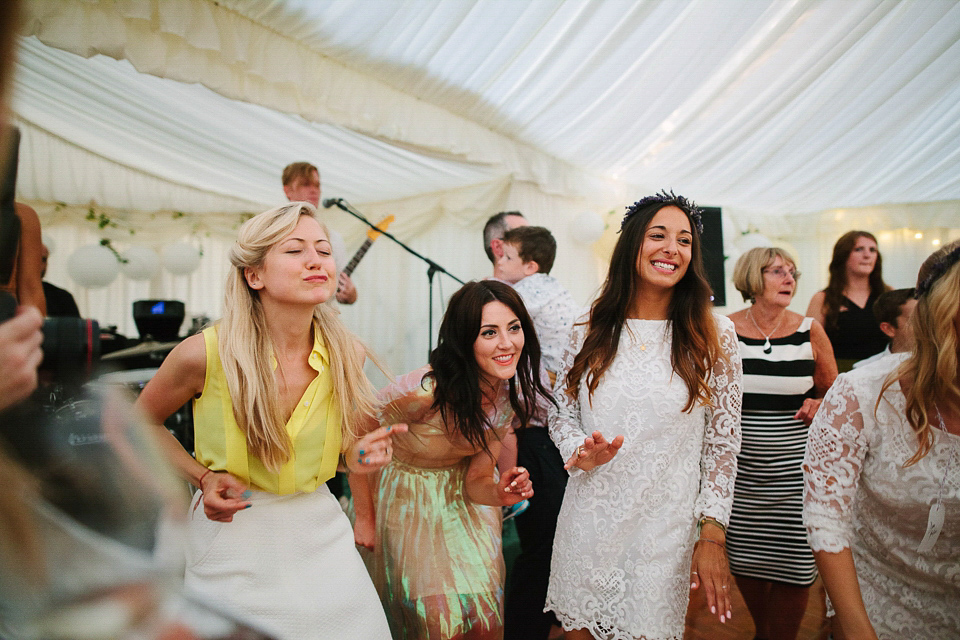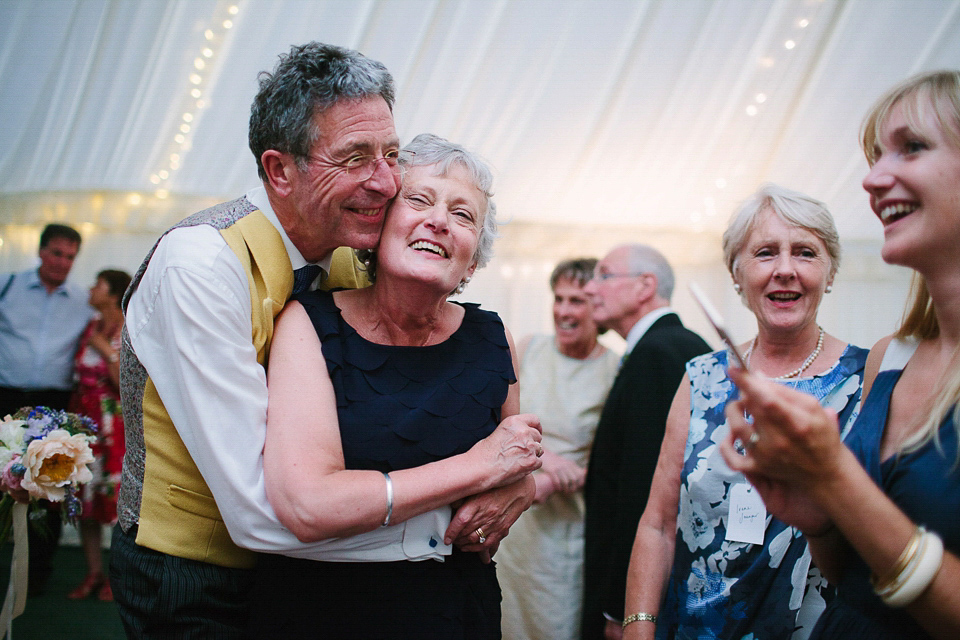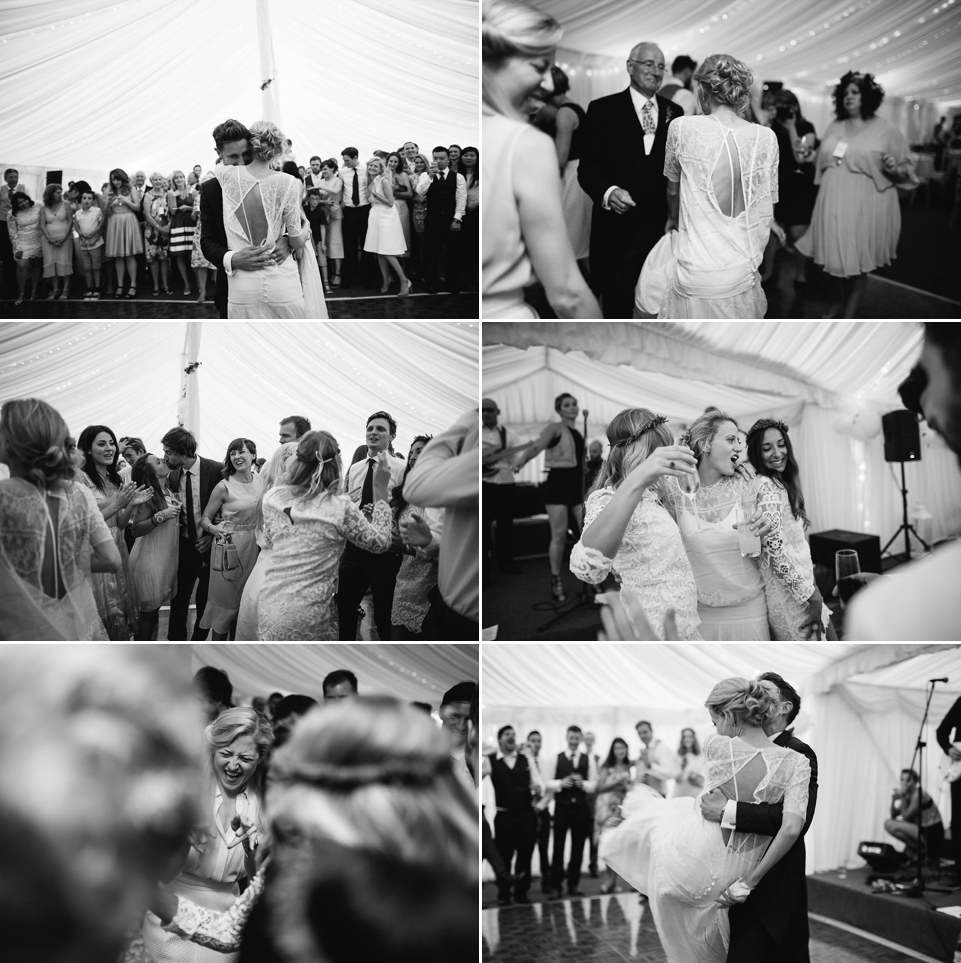 Words of Wedded Wisdom
"When planning your wedding, identify the things that are most important to you and focus on these – as it's hard to achieve everything (especially if you don't have a huge amount of time).
Leave nothing to the morning so you can really relax and enjoy the time with your family and bridesmaids/groomsmen, such a special few hours to take everything in. A good schedule really helps – and delegation! We couldn't have done it without our incredible families and friends.
We would have definitely given ourselves a little more time to decorate, but everything tends to be pretty rushed in the days just before anyway."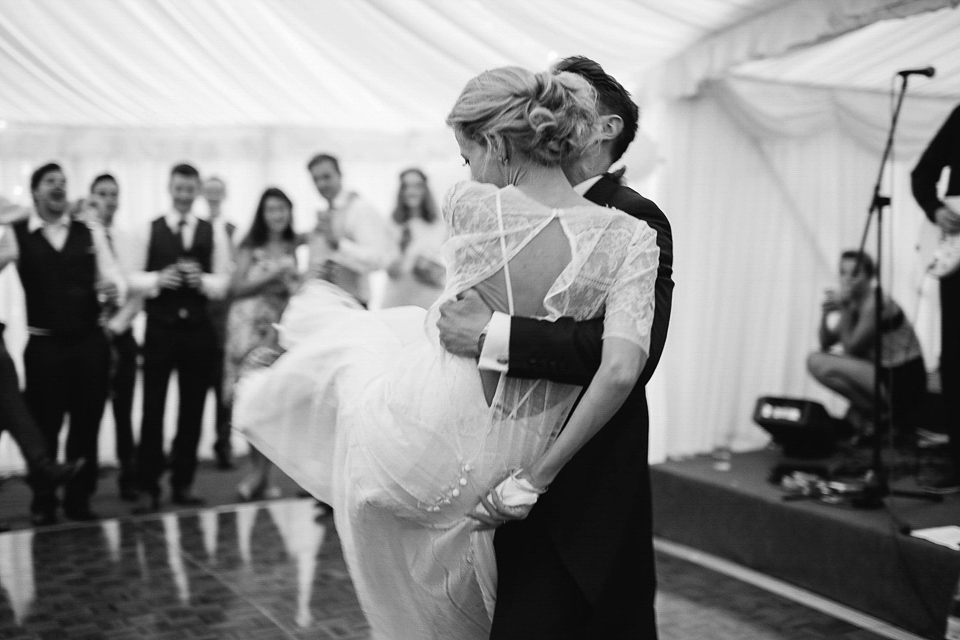 How absolutely charming, all of it. My love and huge thanks to photographer Joanna Brown for once again asking us to share her work on Love My Dress (see more of Jo's photography here lovely readers) and our love and congratulations to Sarah and Sam on their beautiful wedding day. Not far now guys until your first anniversary – how exciting.
Enjoy your afternoon all,
Love Annabel x
Photographer – Joanna Brown
Venue  – Oakley House, Bromley, Bedfordshire
Wedding Dress + Veil – Stephanie Allin
Bride's Shoes – Jimmy Choo
Perfume – Thierry Mugler, Alien
Groom – Hugh Harris, Woking
Bridesmaids – French Connection + own choice metallic shoes
Flowergirls –  Mango
Florist – Family friend
Rings – The Wedding Ring Workshop in Hatton Garden
Catering Company – Capers