I've the most delightful mid-week treat for you lovelies! As a self-confessed lover of all things hippy who donned a bespoke gown for my own boho wedding, my heart actually skipped a beat at first sight of these gorgeous images by Pour Toujours Photography when they landed in my inbox. Prepare to be inspired by wildflowers and groovy attire worn by all the wedding party (and guests!), as we turn back the clocks to midsummer last year for our couple's enchanting nuptials.
Bride Franny is a freelance illustrator and groom Tom is a tree surgeon and they tied the knot on 20th June 2015. After the ceremony at St Michael's Church, their wedding celebrations were held amongst the most beautiful woodland setting at the bride's parent's house where Franny grew up on Garway Hill, Herefordshire. The bride donned her favourite brown leather boots, perfect for an outdoor wedding, a necklace from one of her oldest friends, Ruth, and an assortment of other favourite trinkets, and in true bohemian bride style, wore flowers in her hair.
"We wanted the wedding to reflect us and for everything to be meaningful and not random or unrelated to us. The meal was in a clearing in the woods that my family and I planted together almost twenty years ago."
Photography by Pour Toujours Photography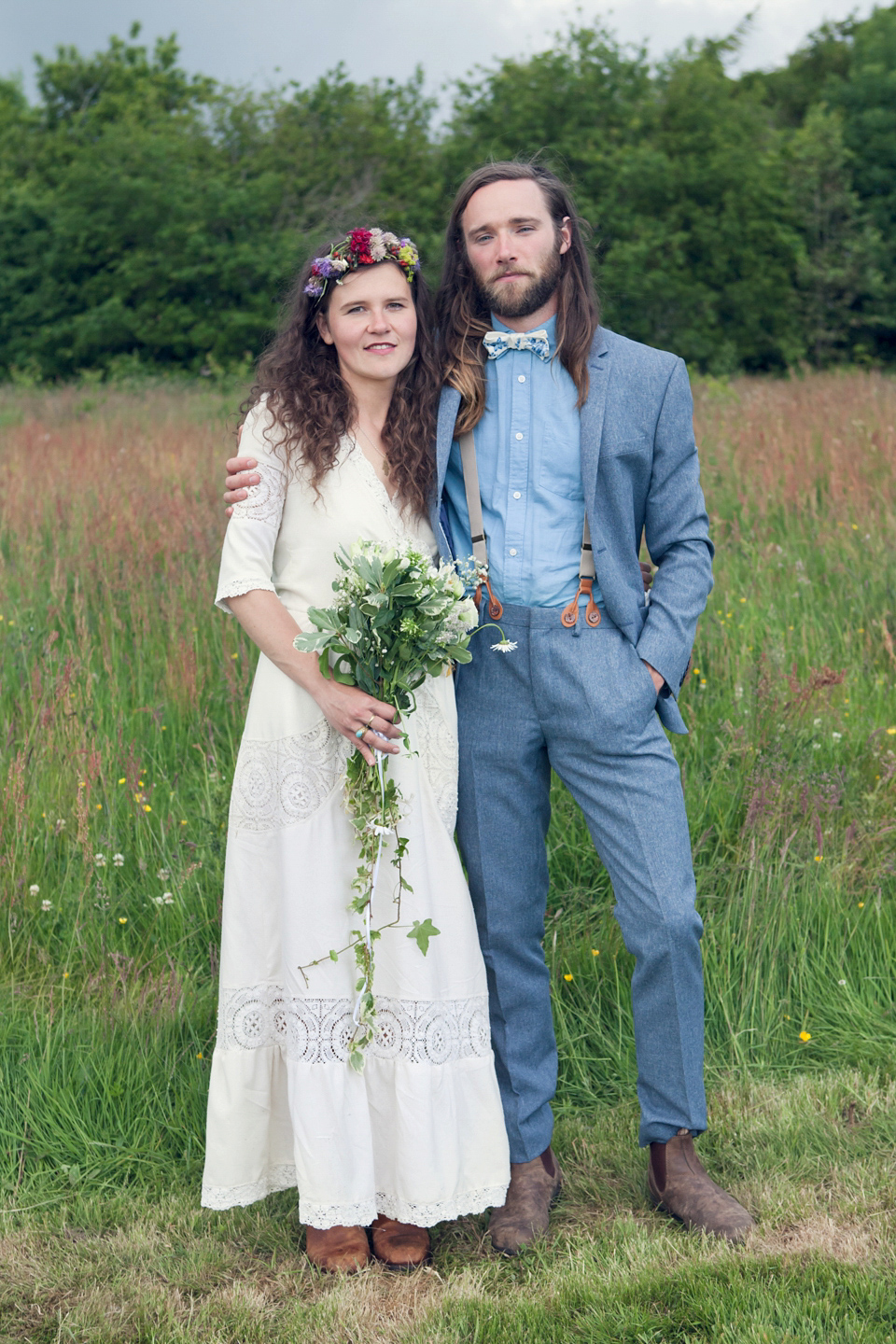 Franny designed her divine dress and with the help of a seamstress friend, Juliet Blamey, they created her incredible and truly unique gown together.
"The dress is a hybrid of some of my favourite dresses; in particular two which I have inherited from my mum. The main part of the dress is made of raw silk, a gift from my mother-in-law. My mum bought the lace in a charity shop in Healesville, Australia, where she is from and where I spent my early childhood."
"My floral headpiece was made with flowers from my friend Nada's garden, with the addition of a jay feather (my something blue), which Tom found when he was young."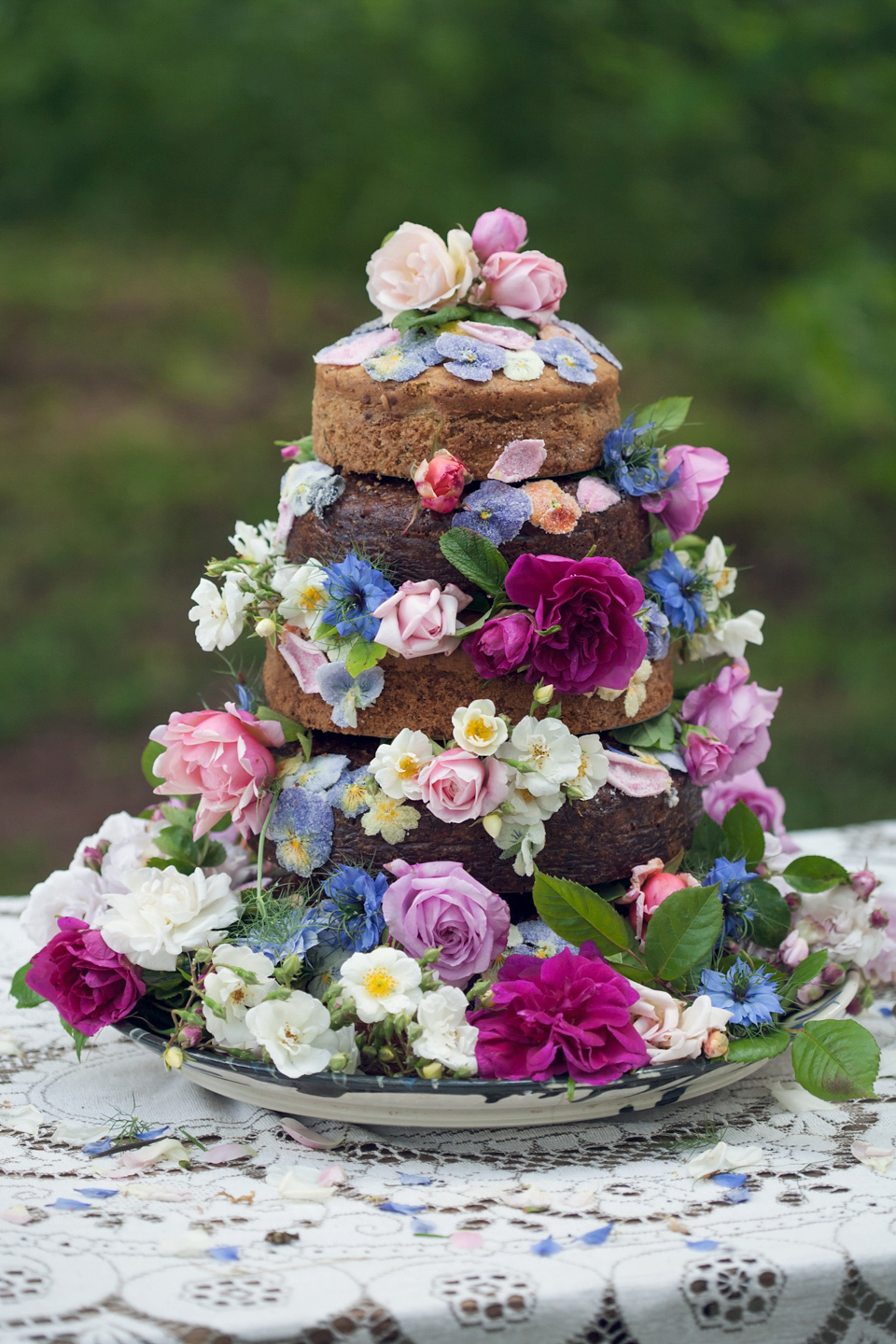 "We met in a pub in rural Herefordshire. Tom drank a pint of water and I drank half a pint of cider. I went home and told my parents that night that I had met my husband. We dated for a further three months or so before we decided to get married."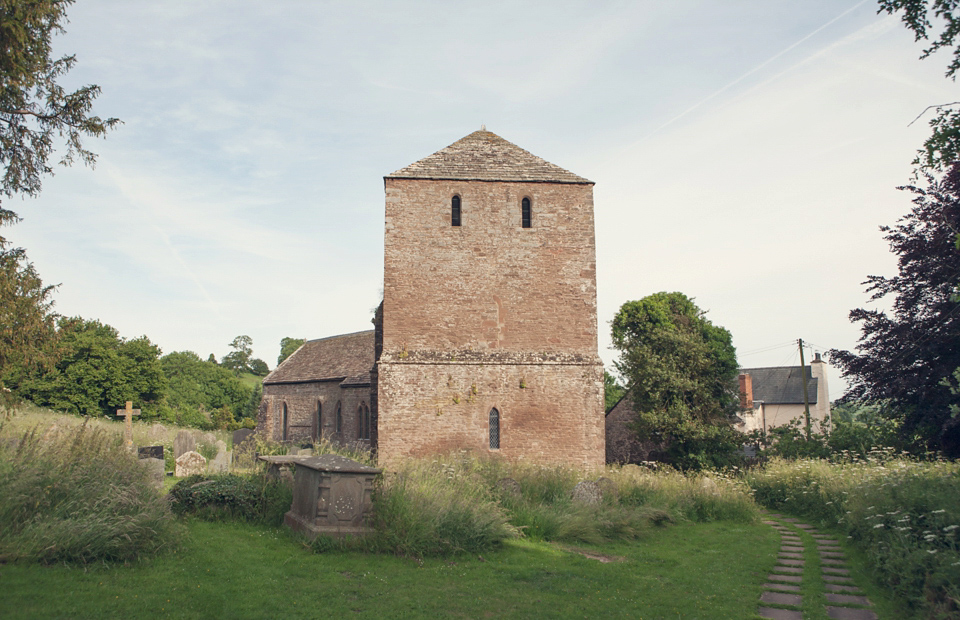 "We got engaged one evening in the car – I said I thought it would be nice to get married, and Tom agreed. It took us about a year and a half to get down the aisle, in part because we had a baby in the interim."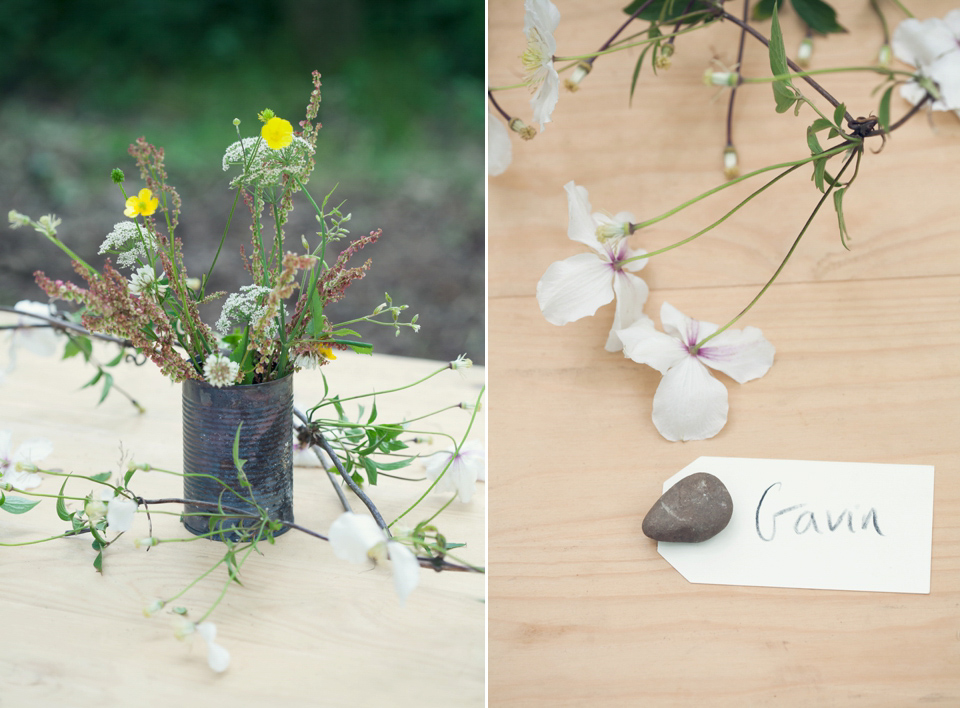 "We did all the decor ourselves, with help from my mum, and guests who had shown up early helped us put it all together. Ruth and I did the table plan and place names on the morning of the wedding.
The centrepieces on the table were tin cans I had collected, filled with flowers from the hedgerow. And tealights hung in the trees with strings of white bunting."
"The majority of our flowers came from the fields and hedgerows around our house, and from kindly neighbours who gave me some from their garden. My aunt also bought us a selection of native wildflowers from Chris Fields in Bath.
My friend Ruth Hardy made us an amazing vegan vegetable cake, decorated with roses from her mum's garden. We're both vegans so it didn't make sense to make a cake which neither of us could eat."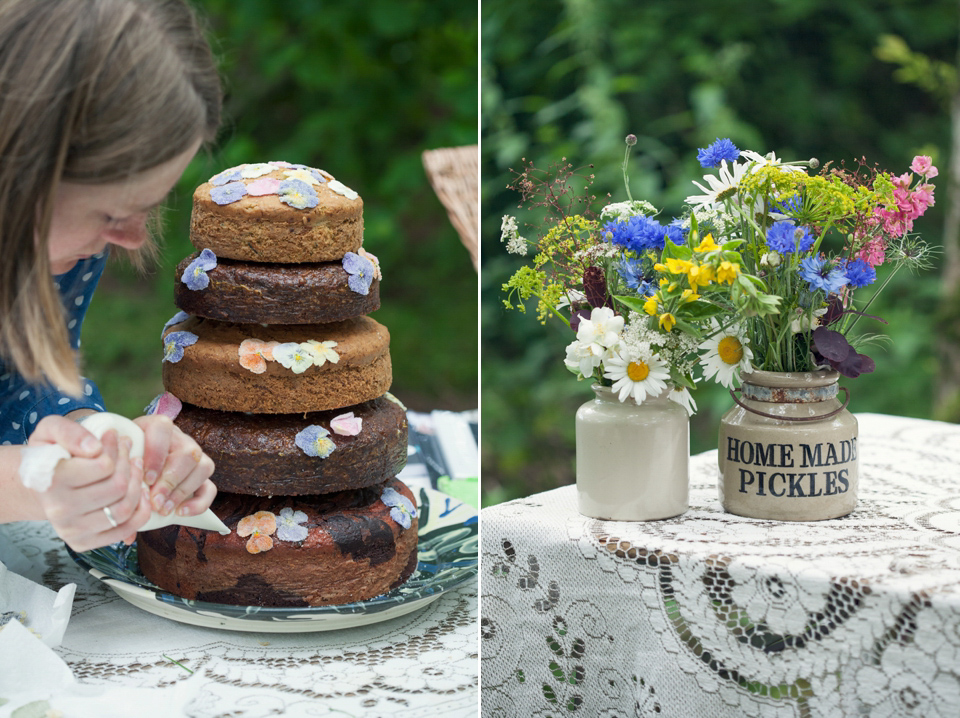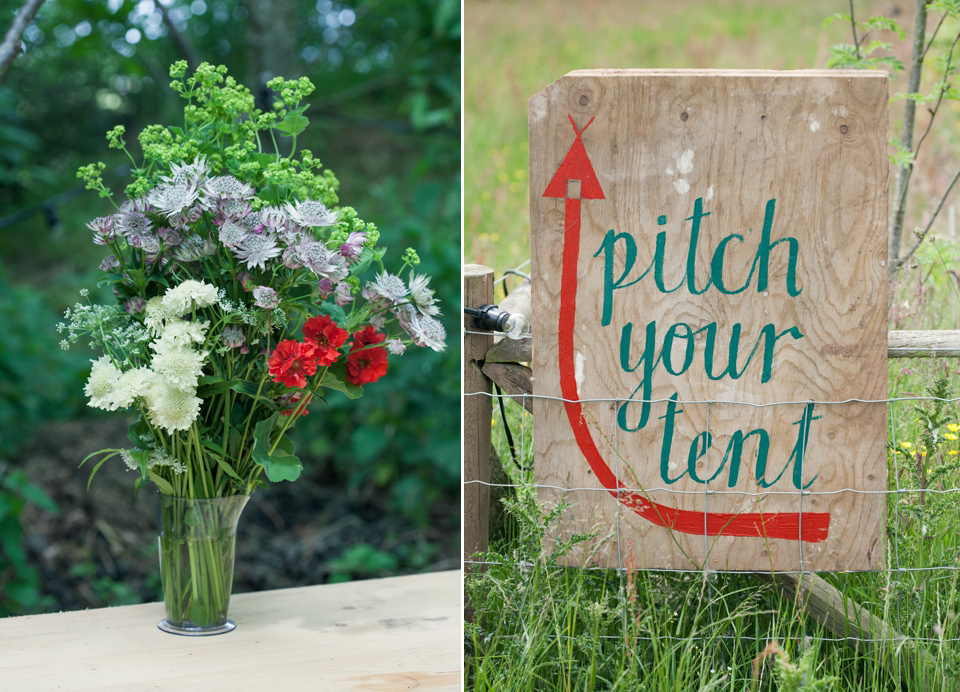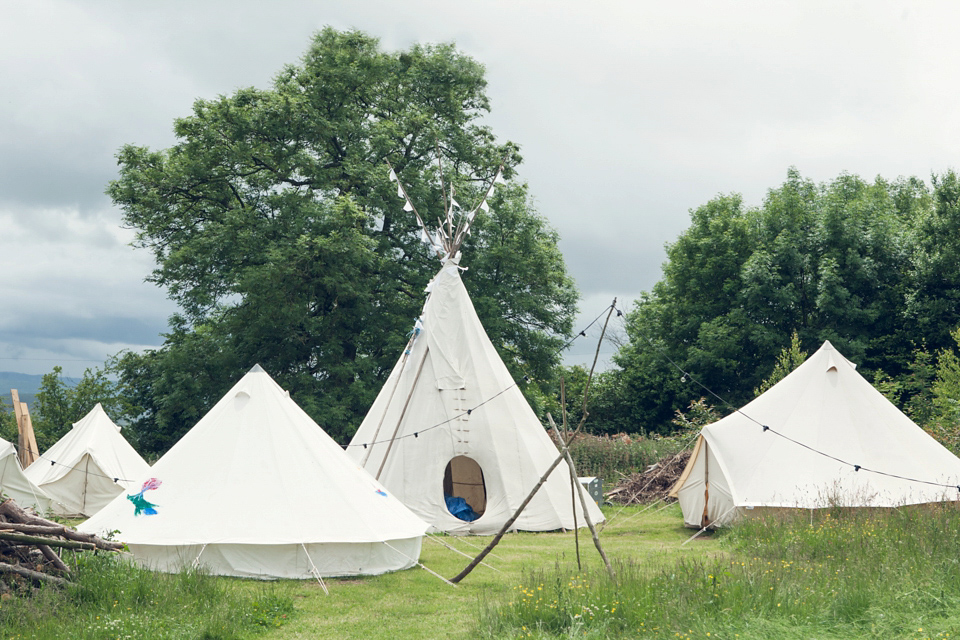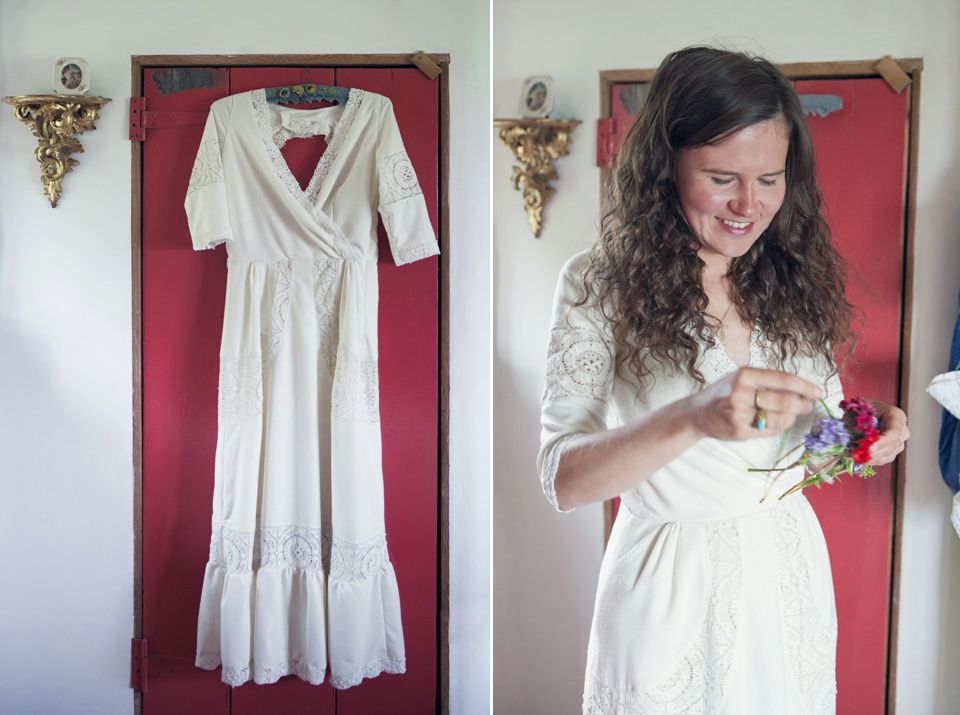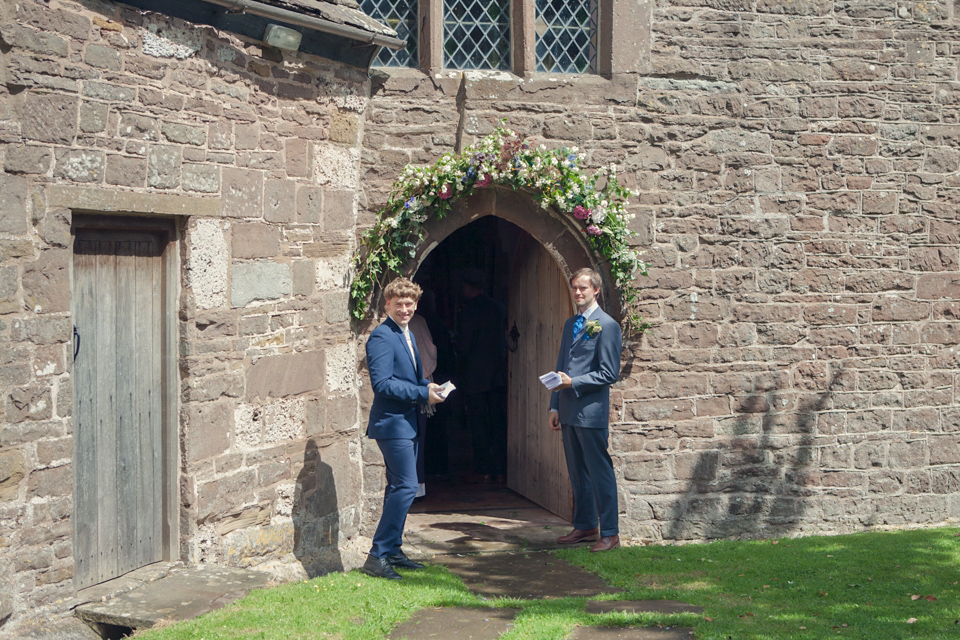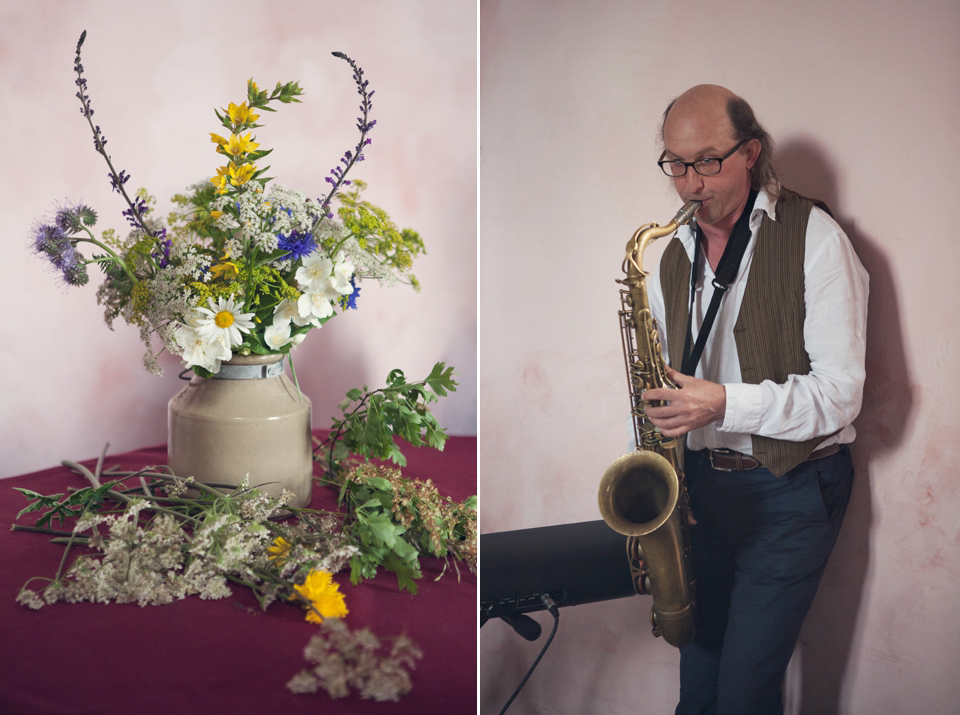 The sweet little helpers pretty boho outfits are absolutely adorable – I love the pale blue floral design – and the pageboy looks very handsome indeed. And the couple's daughter is so very cute in her tiny blue attire.
"The flower girls wore pale blue, floral cotton dresses and white pumps that they brought with them from Paris, where two of them live.
Danny, our pageboy and my godson, turned up in a very swish suit."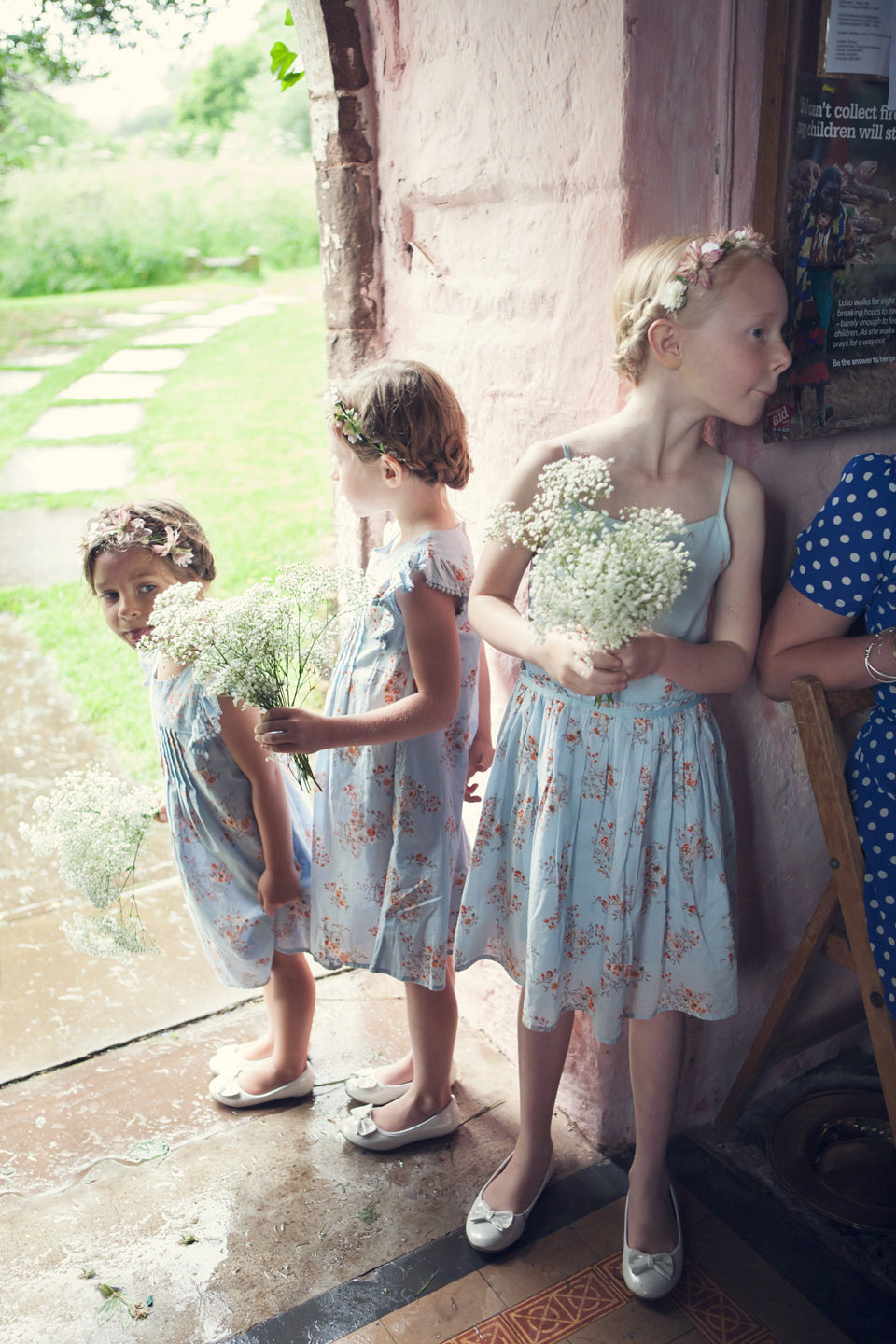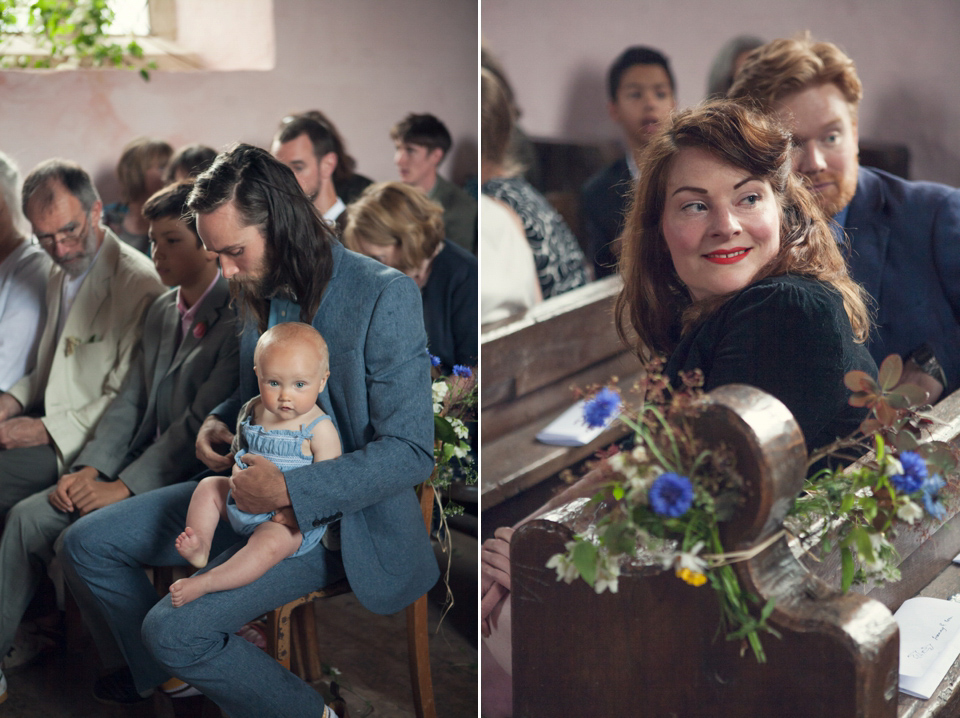 Franny's mum and a selection of early guests decorated the beautiful church with wild flowers, and scattered lavender all over the church floor.
"St Michael's is my local church where I grew up and is a Knights Templar church. Despite not being remotely religious, it has always been a very special place for my family and I. Just by chance I took Tom there for the first time the day we decided to get married."
"My dad walked me down the aisle, to our friend Chris Egan playing Leonard Cohen's 'Dance Me to the End of Love' on the clarinet."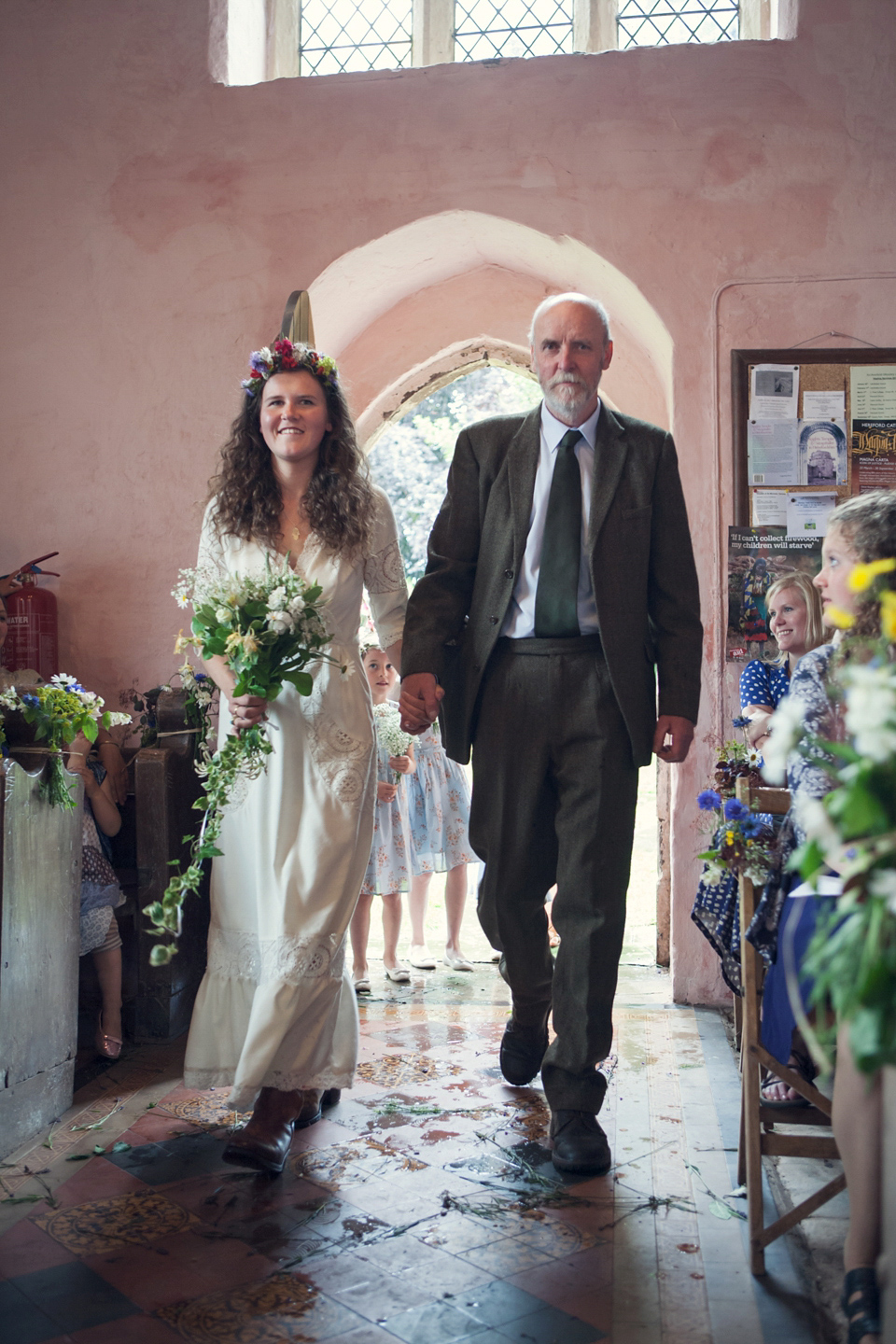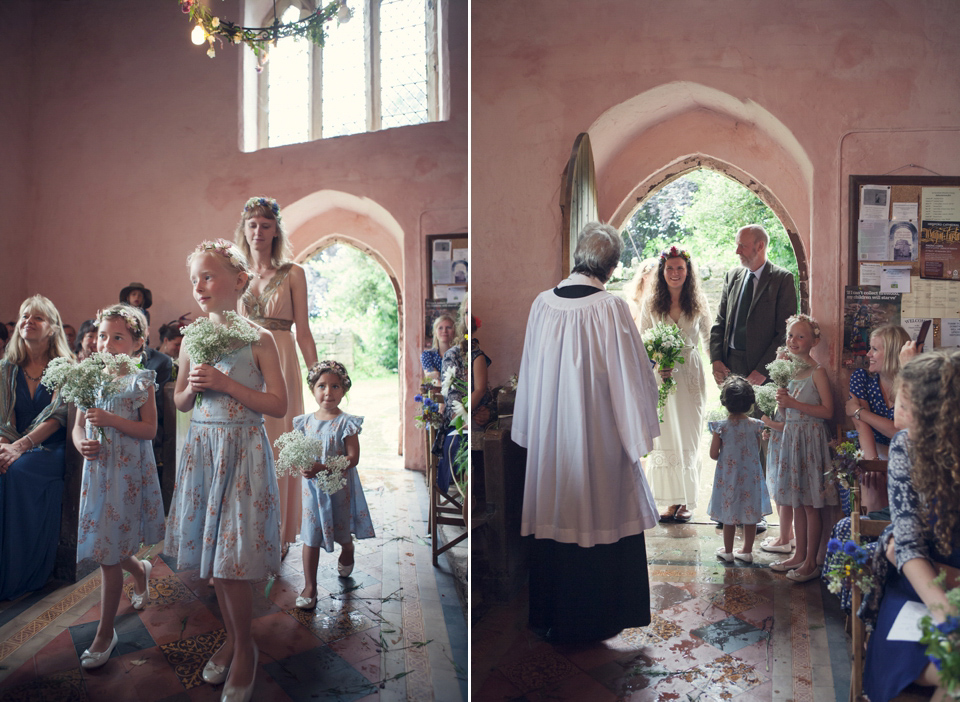 The couple chose two of their favourite readings, 'On Marriage' by Kahlil Gibran and 'Wild Geese' by Mary Oliver, which is below:
You do not have to be good.
You do not have to walk on your knees
for a hundred miles through the desert repenting.
You only have to let the soft animal of your body
love what it loves.
Tell me about despair, yours, and I will tell you mine.
Meanwhile the world goes on.
Meanwhile the sun and the clear pebbles of the rain
are moving across the landscapes,
over the prairies and the deep trees,
the mountains and the rivers.
Meanwhile the wild geese, high in the clean blue air,
are heading home again.
Whoever you are, no matter how lonely,
the world offers itself to your imagination,
calls to you like the wild geese, harsh and exciting –
over and over announcing your place
in the family of things.
"Our vows were the classic churchy vows, which we felt held a good sentiment and were quite beautiful."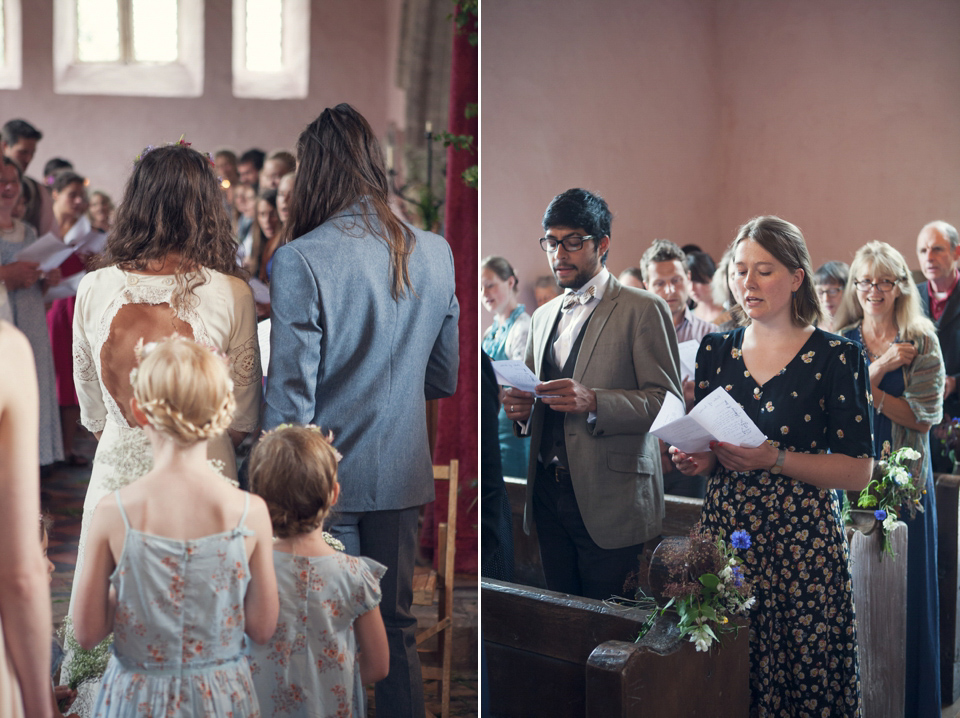 "Our rings were made by jeweller Geoffrey Heath, a parent from the Steiner school I went to. They are part silver and tin and share one copper penny piece; Tom's is 75 percent copper coin and mine is 25 percent. We chose copper and tin as they are native common metals, and as far as we know very little blood has been shed over them (in comparison to most precious metals). The silver held everything together and stop our fingers going too green."
The groom wore a stylish blue suit that the couple bought a few days before the wedding and added funky braces and a bowtie. During the wedding feast later in the day, Tom crafted his long hair into a 'man bun' – a very current and trendy look for the fellas that I just love.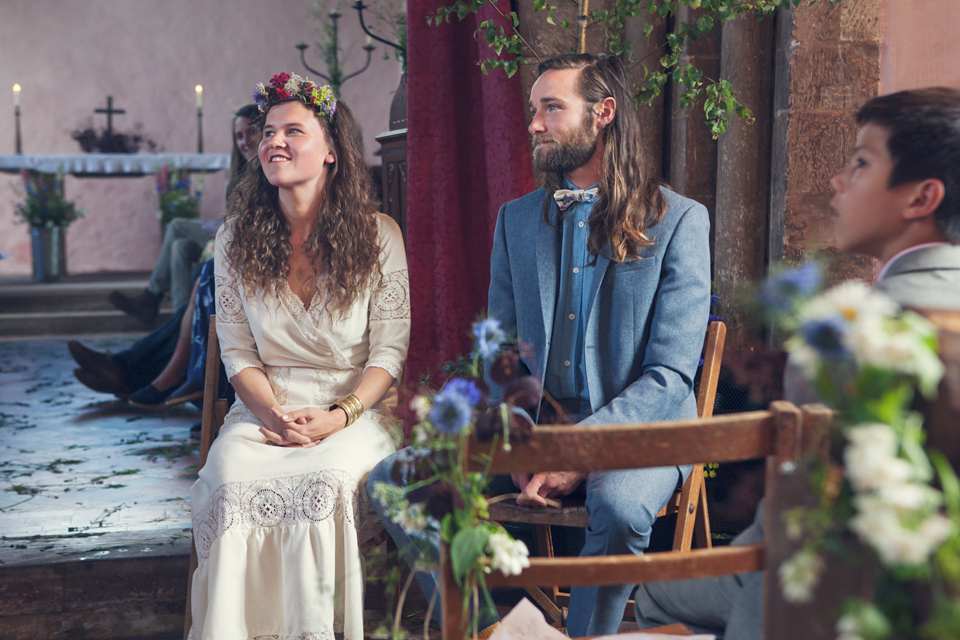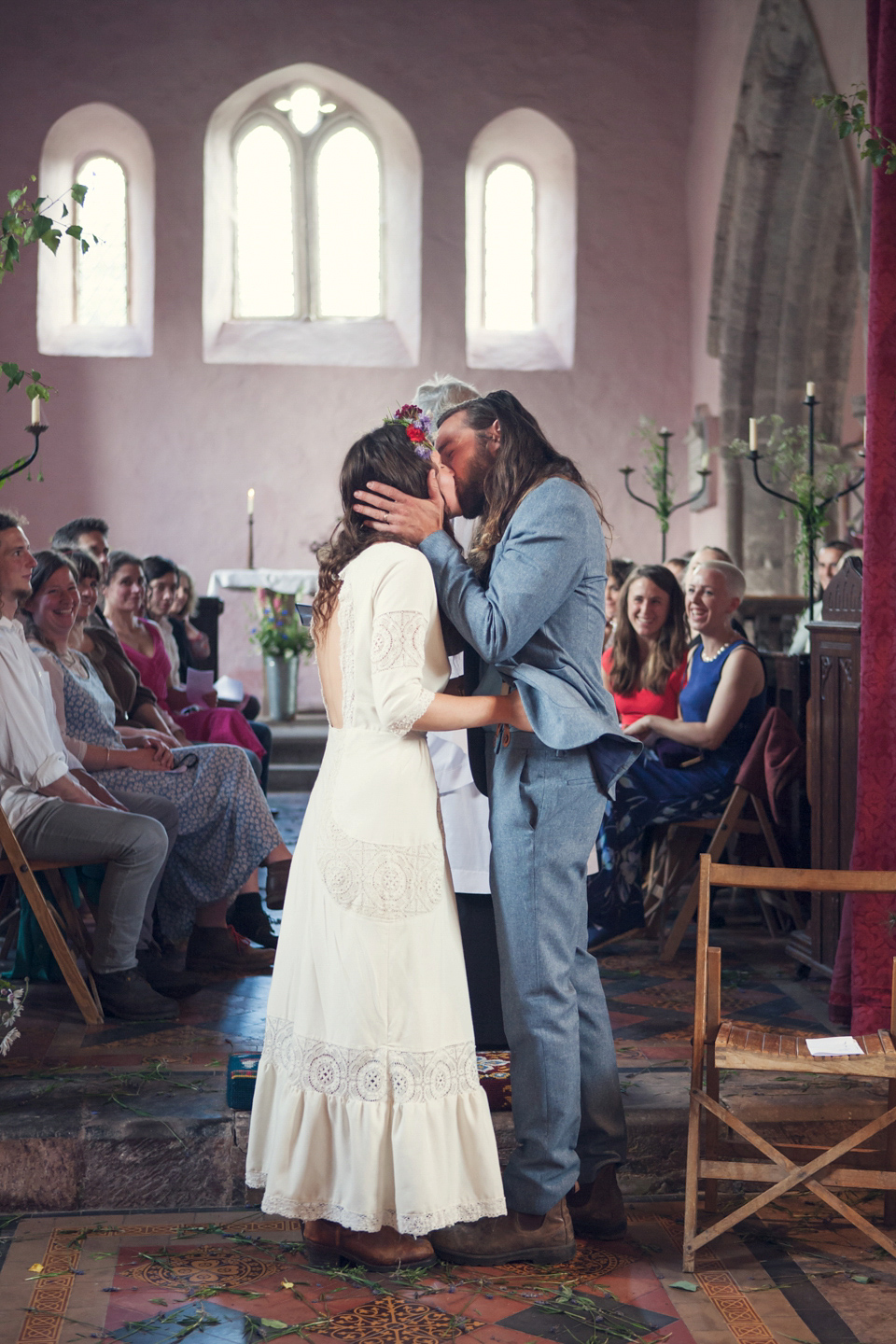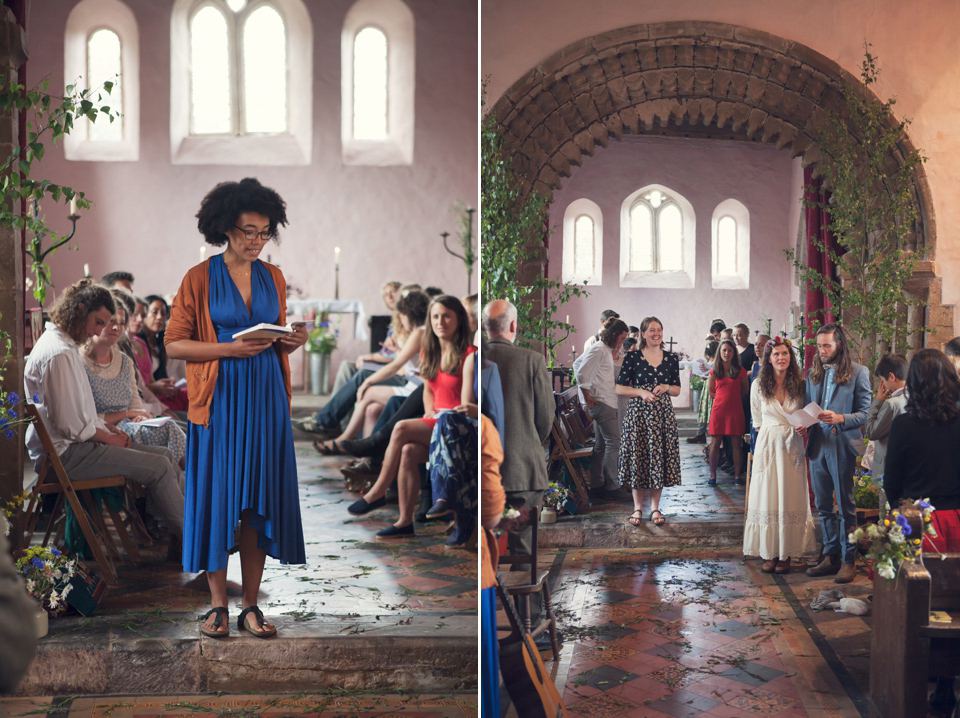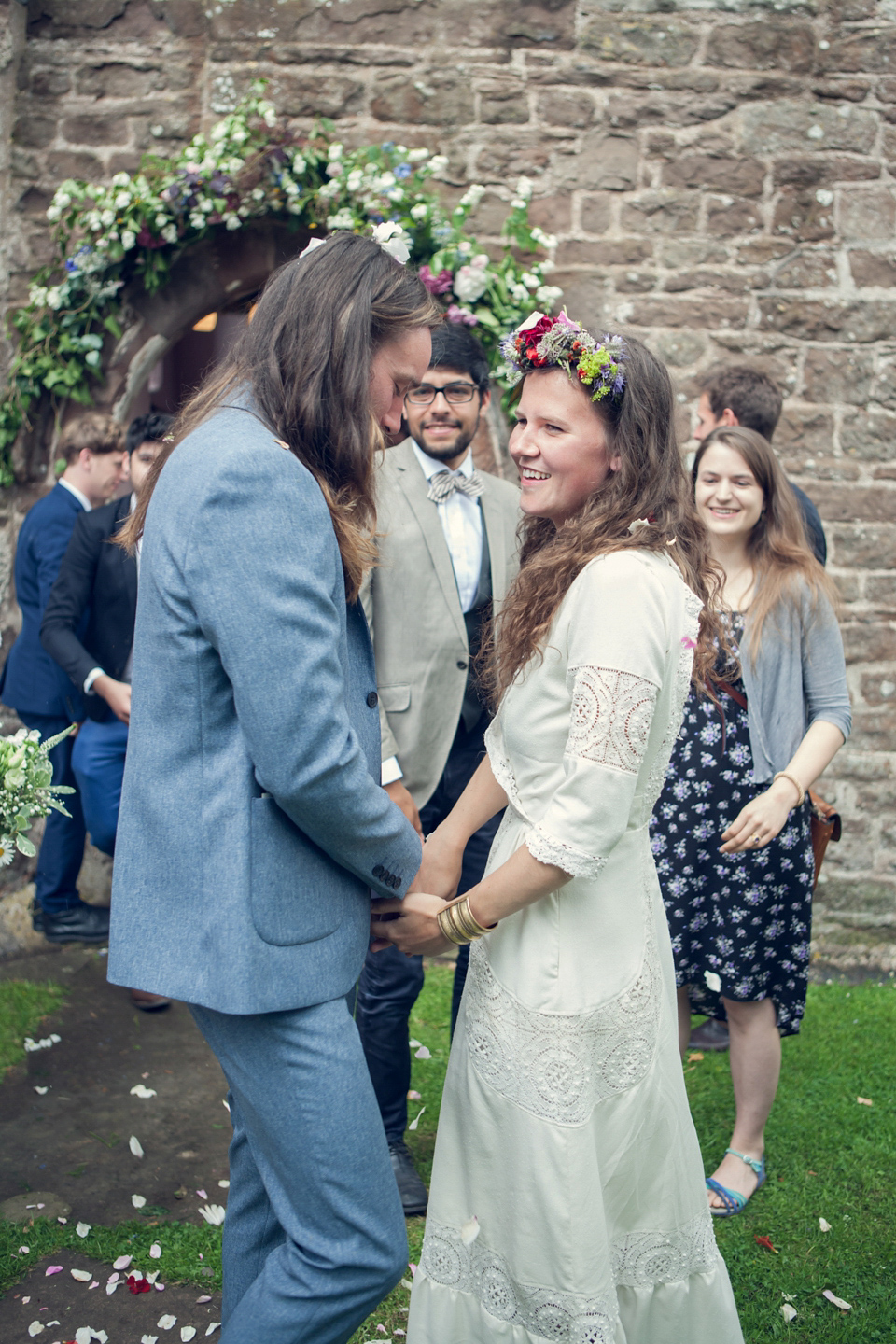 Rachelle from Pour Toujours Photography took the happiest wedding photos I've ever seen and the relaxed vibe completely comes across in these images. Franny, you have one very talented friend!
"Rachelle and I became friends whilst both living in Paris. I admired her elegant, soft photos, and never imagined I'd be so lucky as to have her shoot my wedding."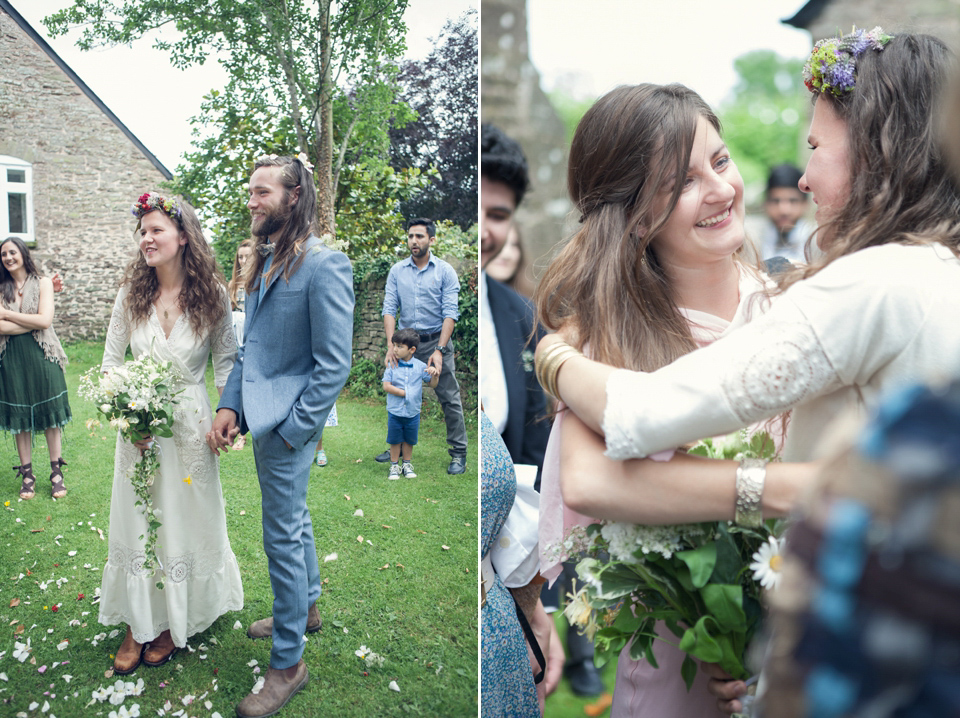 Franny's bridesmaid, her sister Grace, wore a pretty silky dress – found in a charity shop for £3 that was previously a nightie! – and completed her boho look with Roman sandals, a locket given to her by the bride, and wild flowers for her hair, with plaits styled by Franny's dear friend Anna.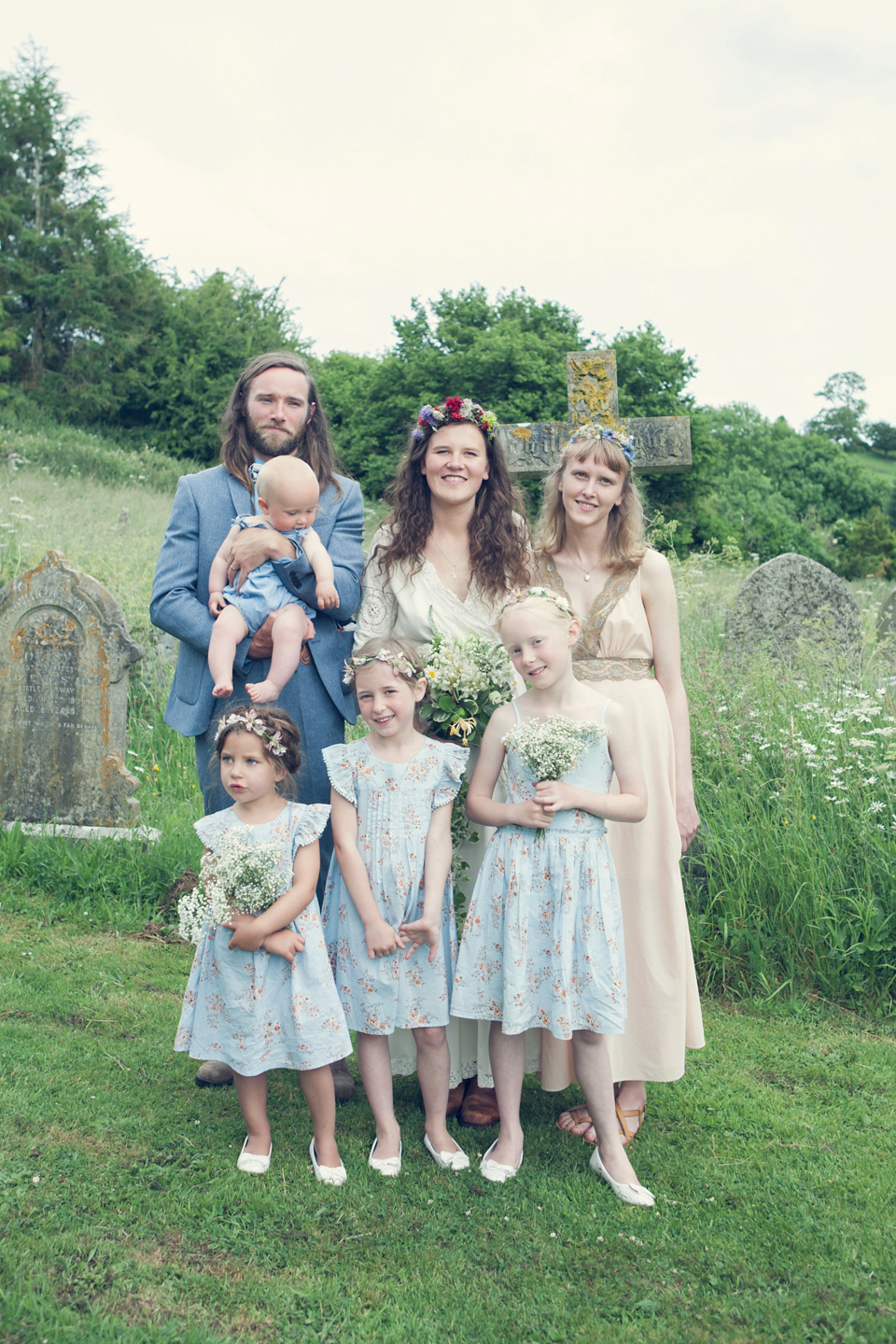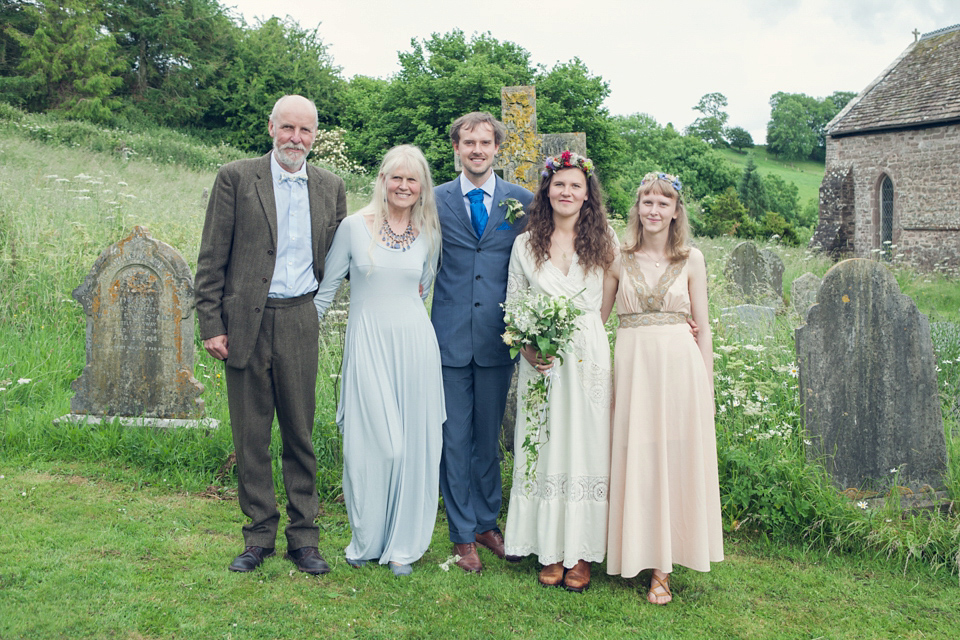 My favourite photo of Franny and Tom's big day is this image of the family riding in the back of the bride's dad's work truck known as "Tommy Truck". Such fun!
"Tom and I, plus our little bridesmaids and daughter Frith, rode back up the hill on a throne (old sofa adorned with flowers and a cloth) on the flatbed; singing songs in the beautiful sunshine."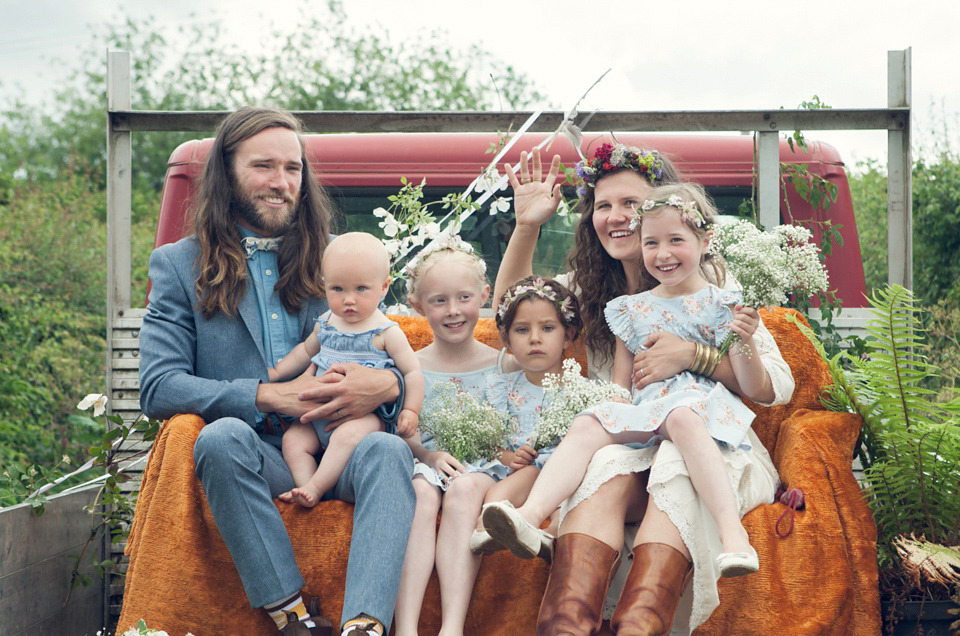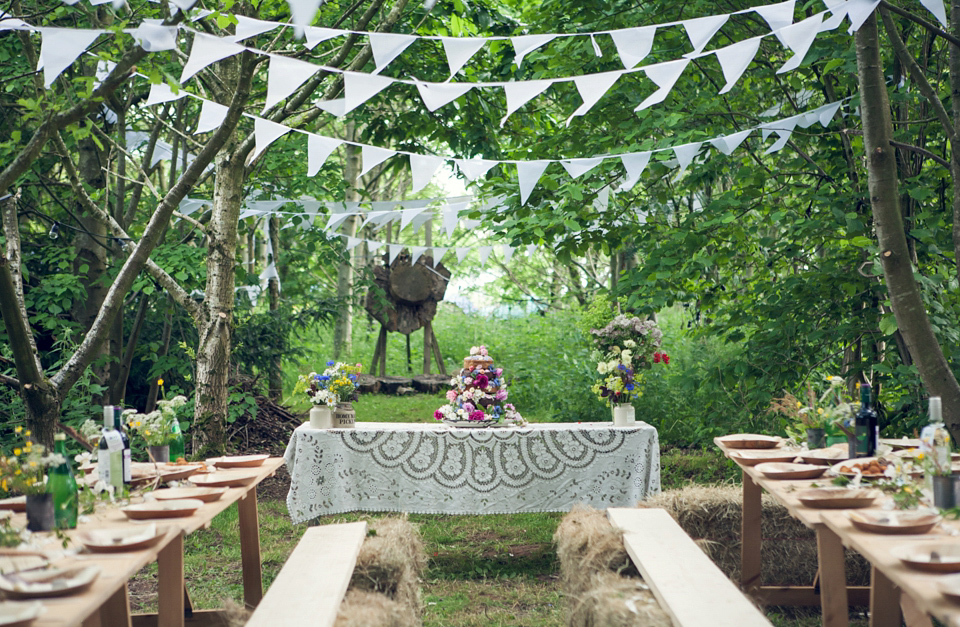 After the ceremony, the wedding party and guests headed to the bride's parent's home and their planted woodland to continue the festivities. I am so inspired by the long wooden trestle tables and benches, sitting on top of hay bales; of all the pretty wildflowers decorating the tables, the strings of bunting, and the simplicity of rocks holding the place names. Falafel King, a middle-eastern vegan restaurant in Bristol where Franny used to work, supplied the delicious feast for everyone.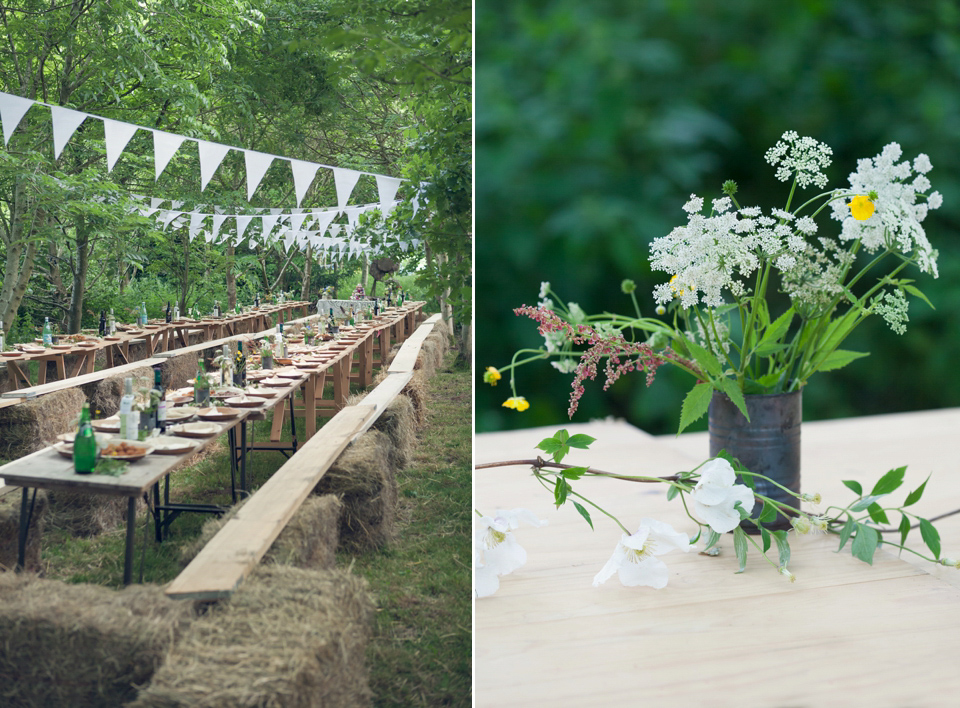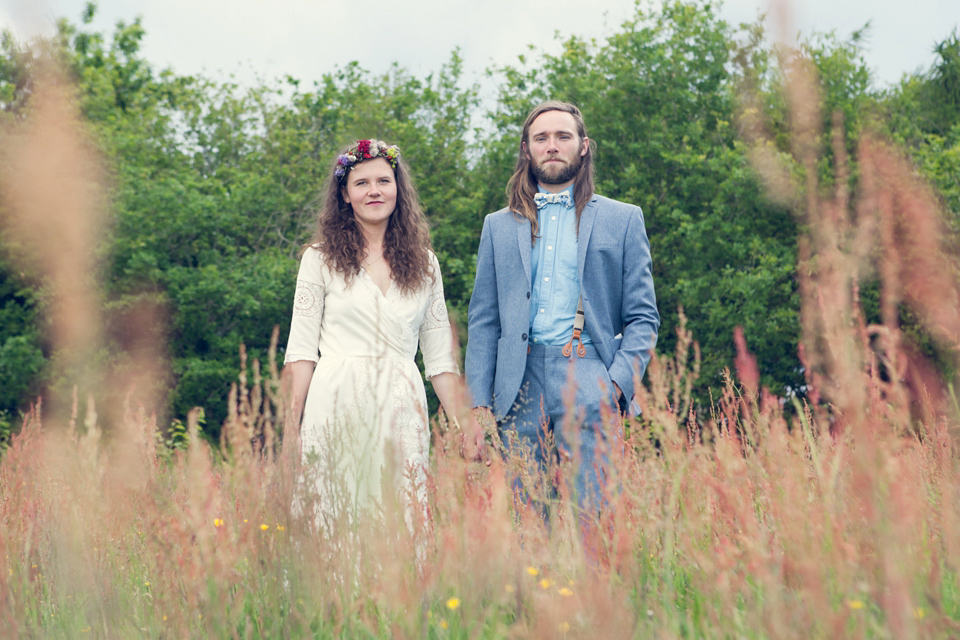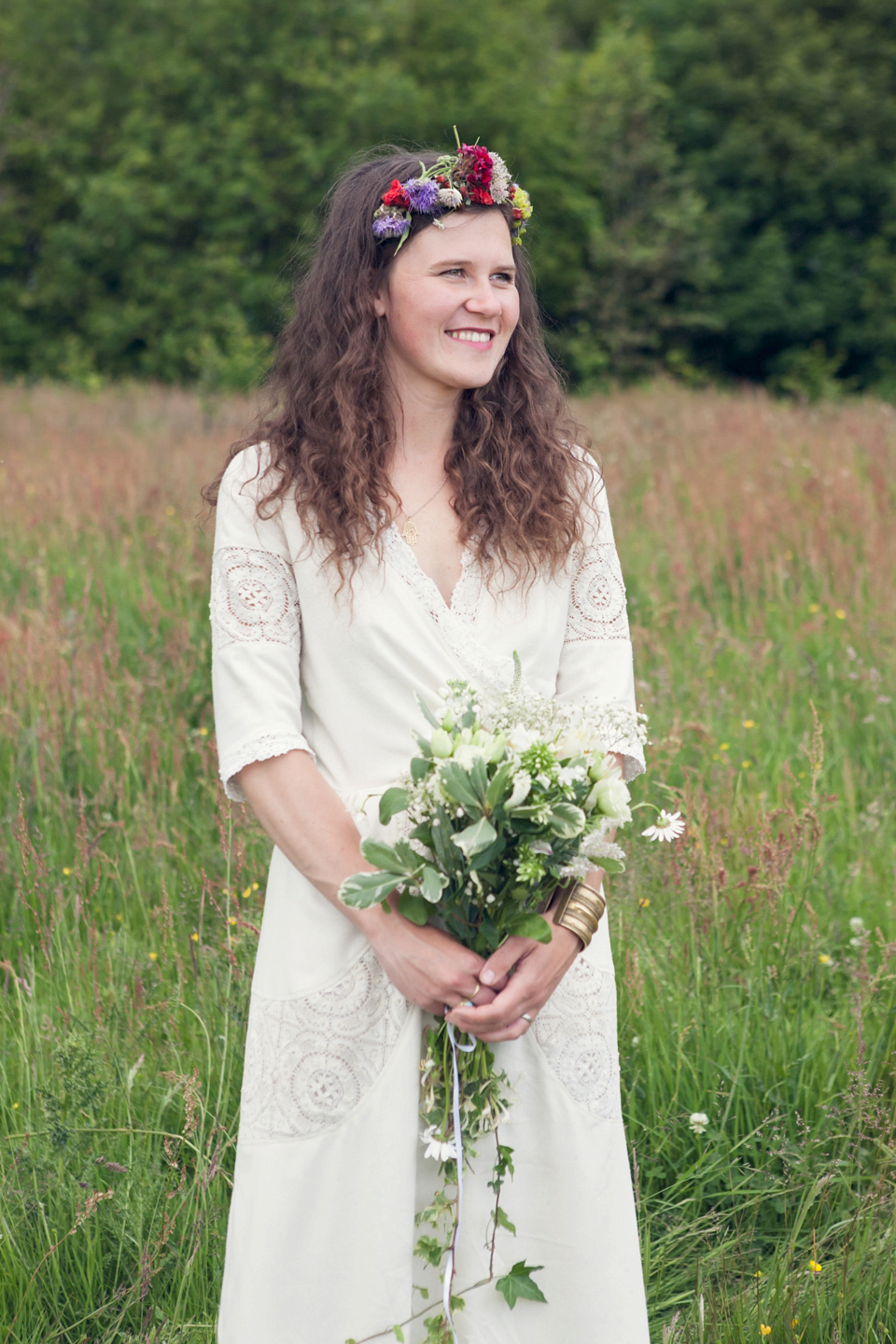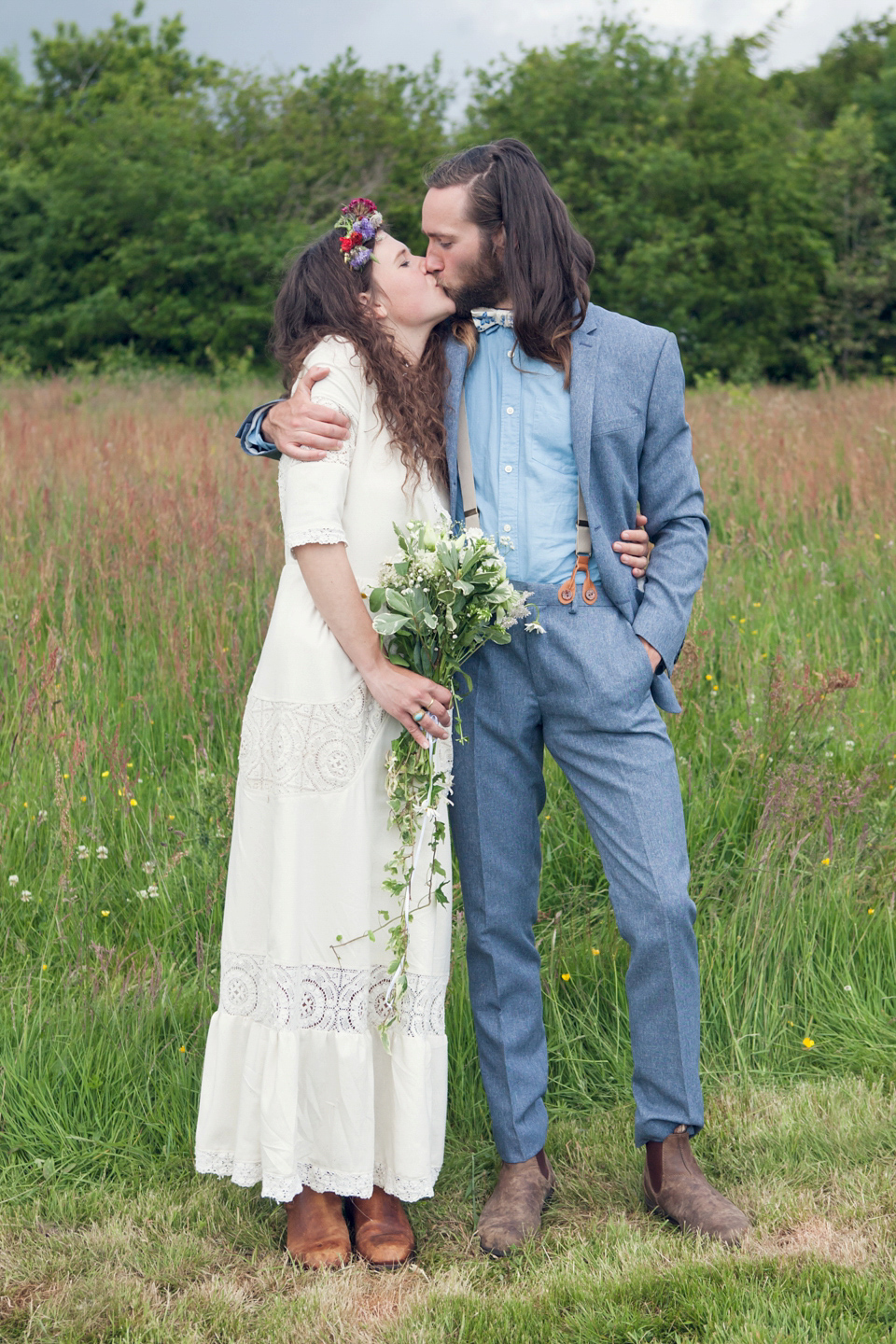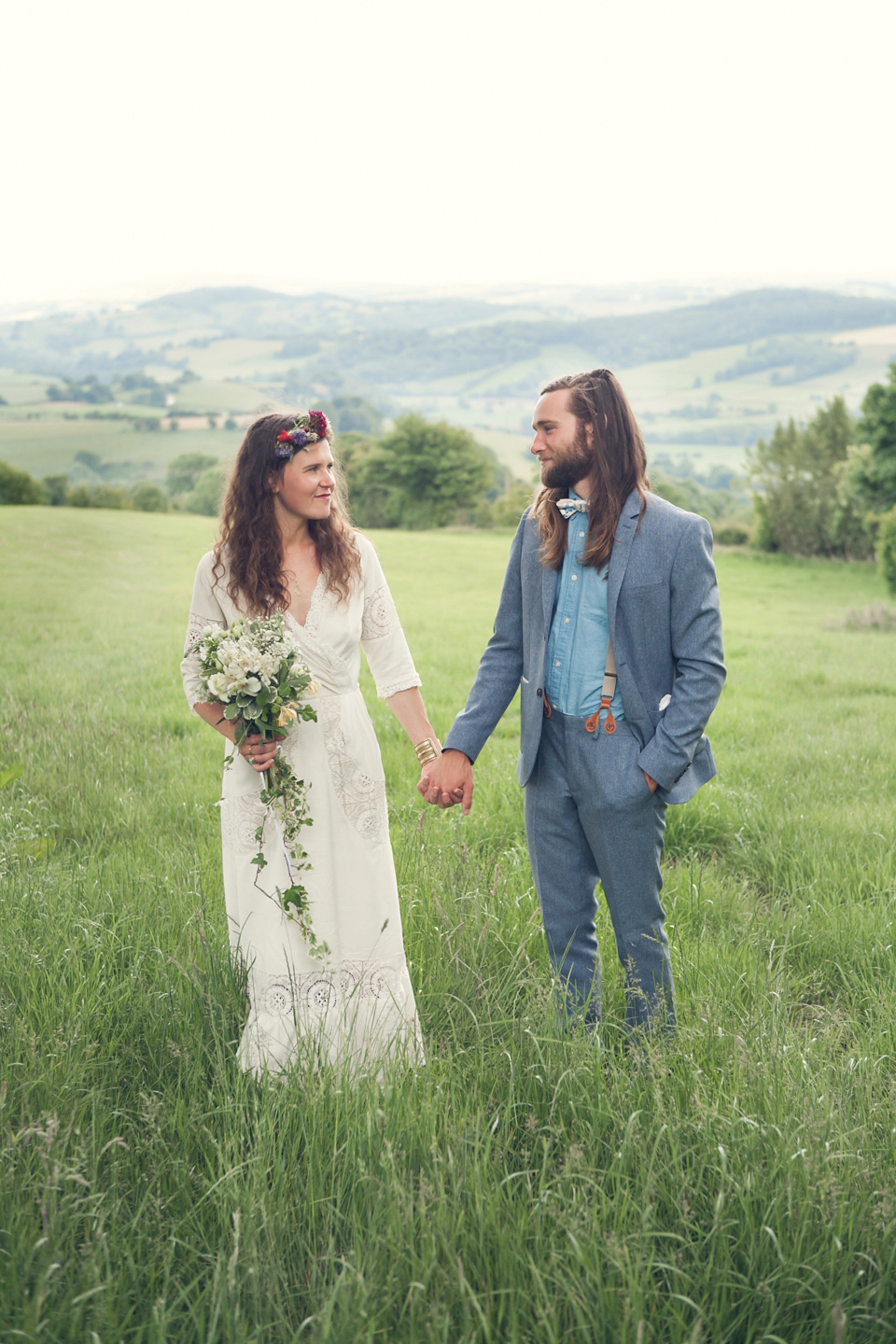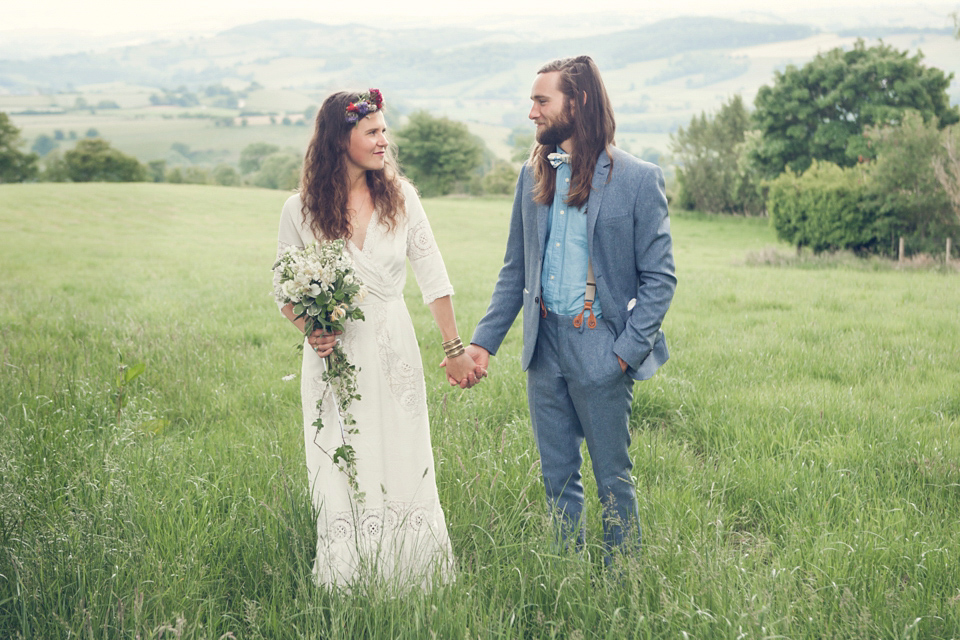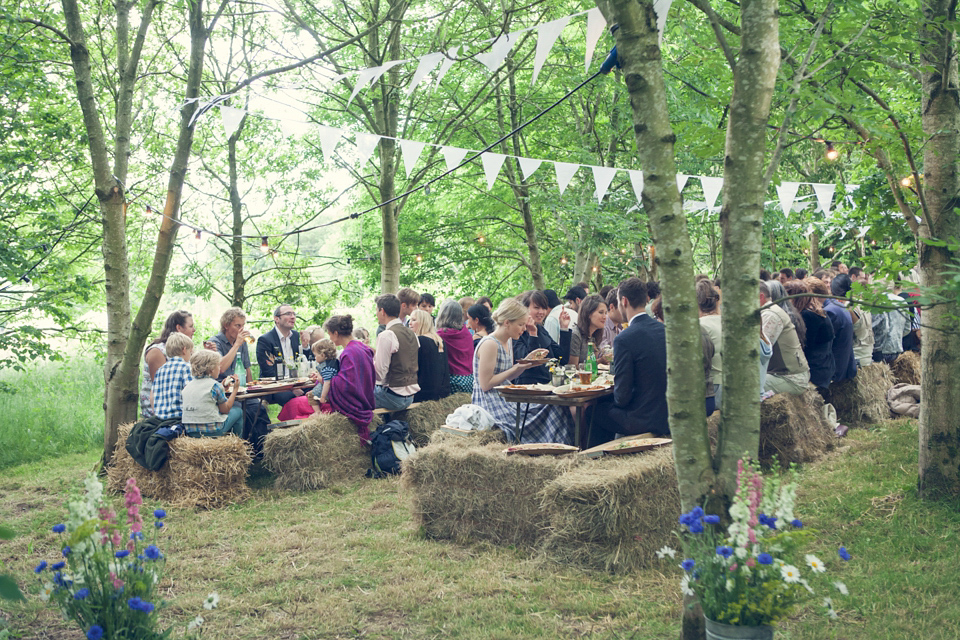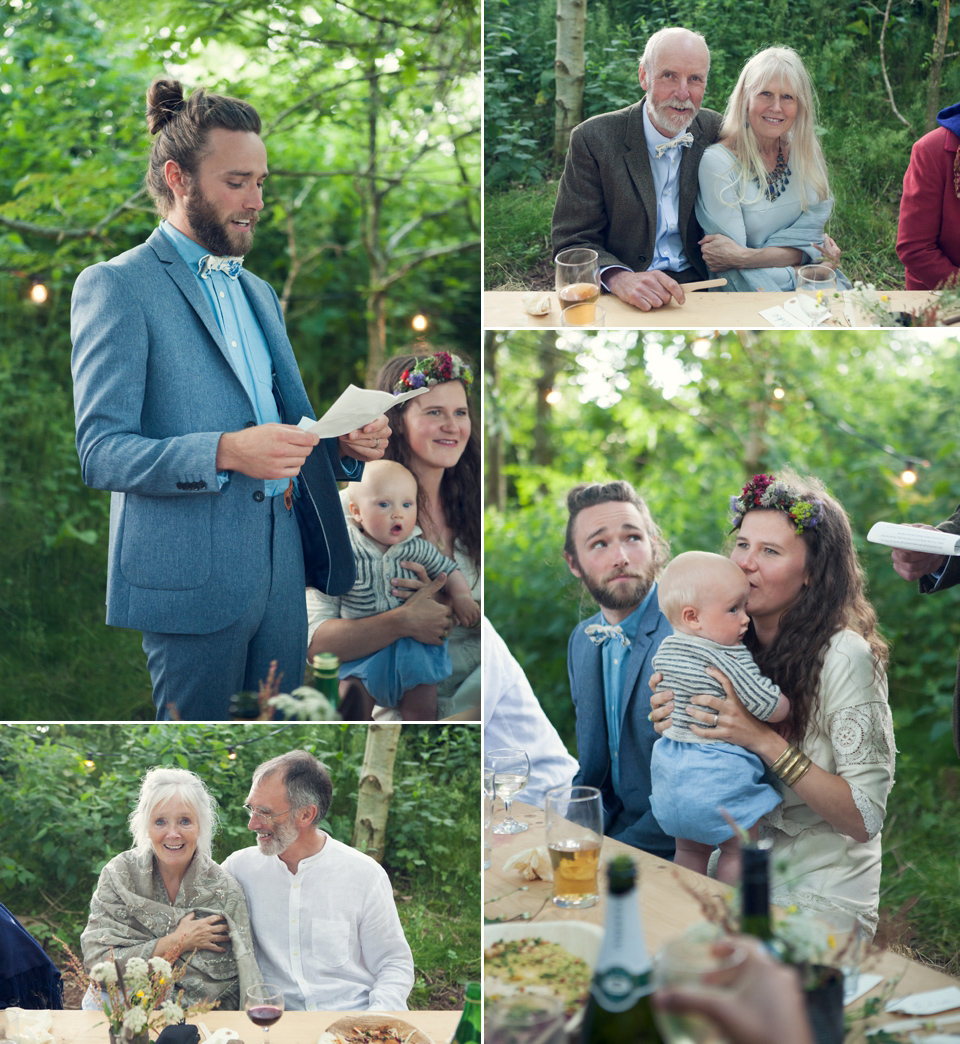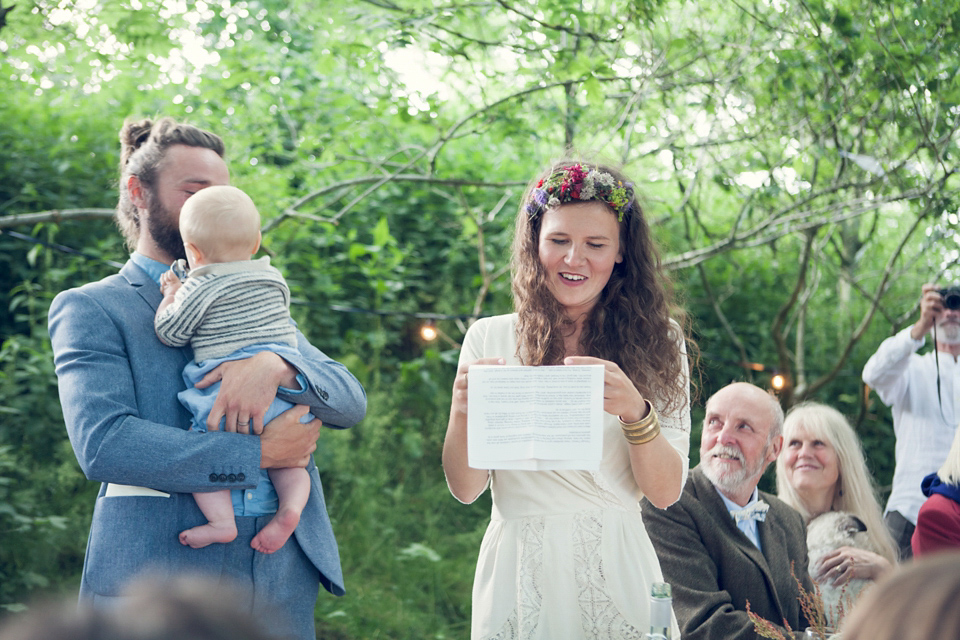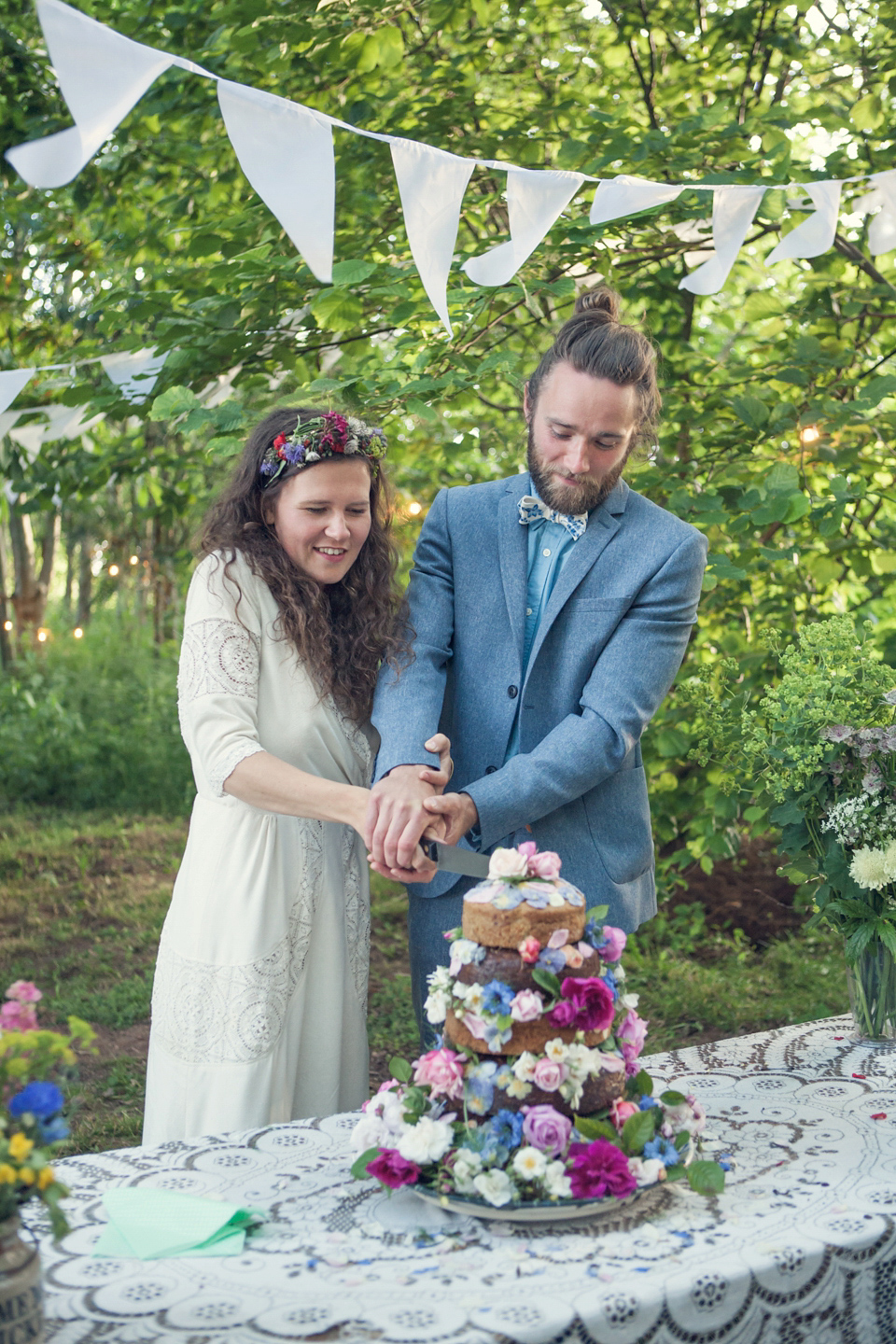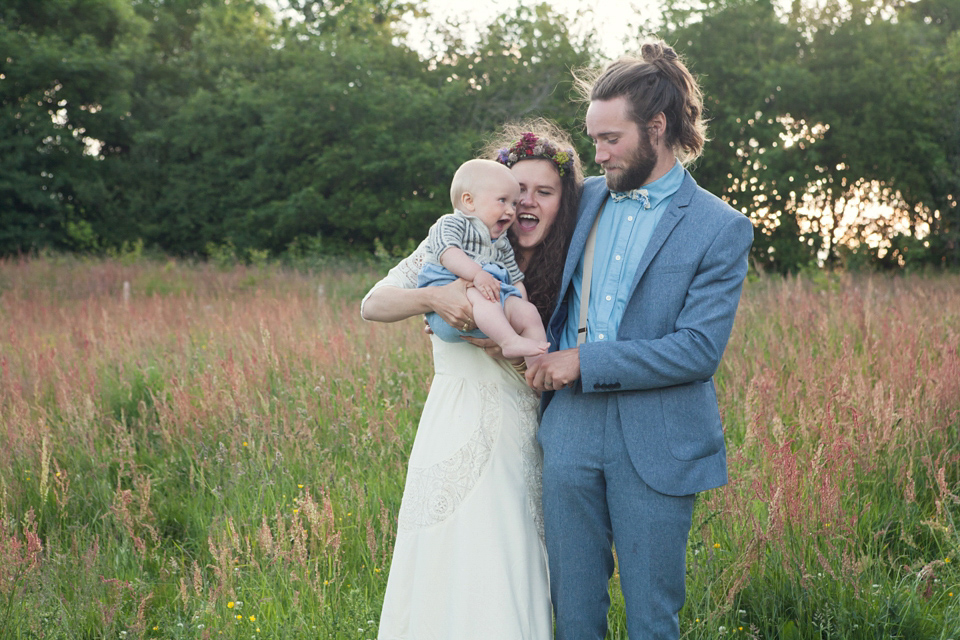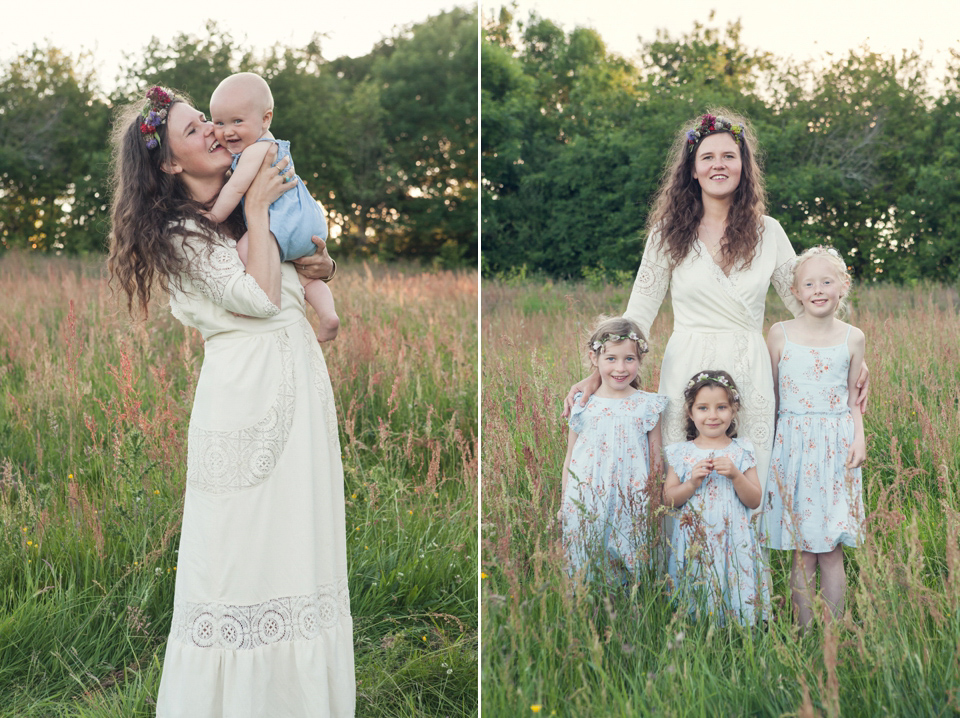 "Walking up to the top of Garway Hill at dawn at the end of the wedding and watching the sunrise on midsummer's day, with some of our best friends, was our favourite moment.
The only thing we would have done differently is to leave the job of digging the toilets to someone else; not the bride and groom in the final days before the wedding!"
Lichen to Giants, a brilliant folk band, featuring one of their best friend's Alfie, provided a great knees-up and an excellently executed ceilidh for the wedding guests. The band played the couple's first dance song, 'Lark in the Morning'.
"It's a beautiful Irish love song, which Tom and I both love. Tom's family is Irish so music like this is in his blood. The lyrics are somewhat apt for our situation too."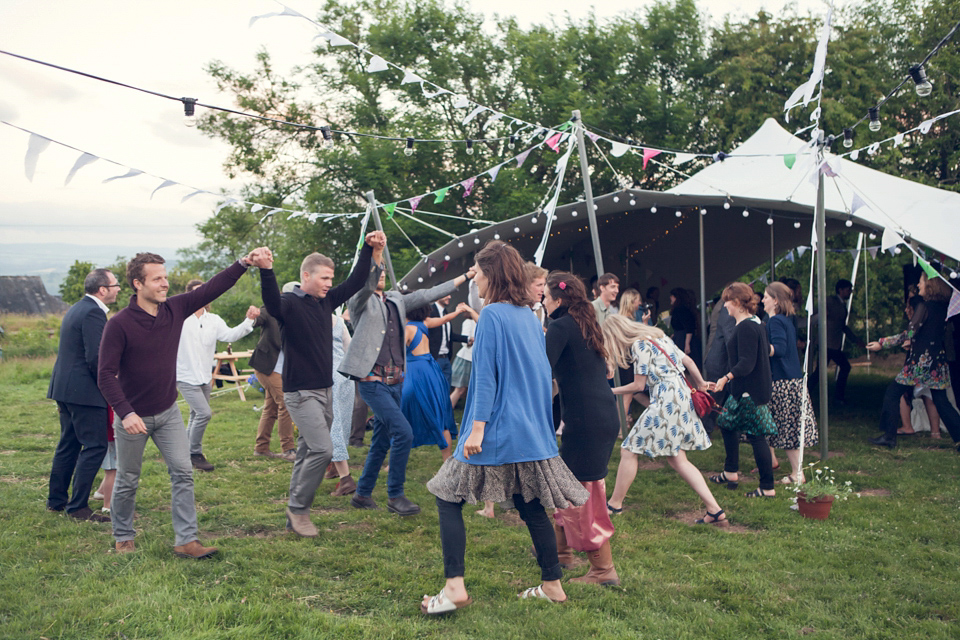 Words of Wedded Wisdom
"Make everything personal and real, for a personal and real marriage ahead. Don't tick the boxes of what you think a wedding should be like, let the day be a manifestation of your love, of you both, and of your friends and families."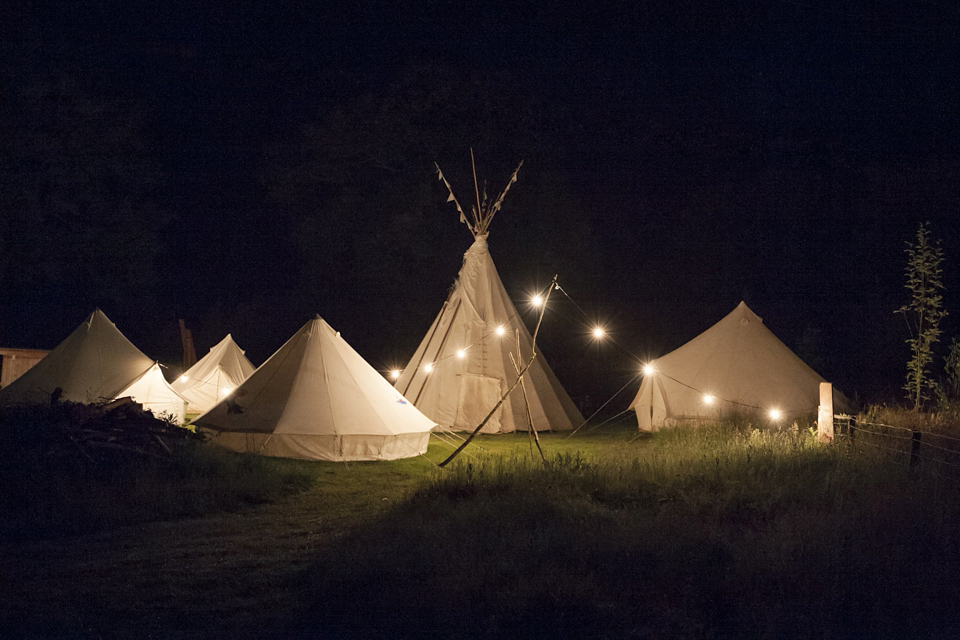 Thank you so very much Franny and Tom for allowing us to share your stunning summer wedding – it truly was an amalgamation of all of your combined loves and I'm feeling so relaxed after viewing your lovely pictures by Rachelle from Pour Toujours Photography – thanks Rachelle for sharing and you have such a gorgeous style. I may just have to book you for when I do a vow renewal in the future – any chance you'll travel to Australia?!
Lovely bride and grooms-to-be – see here for more summer solstice weddings if you're keen to hold your celebrations at this most beautiful time of year.
Wishing you all a productive rest of week!
Love Jo -x-
Photographer – Pour Toujours Photography
Ceremony – St Michael's Church, Garway, Herefordshire
Venue – The bride's parent's home, Garway Hill, Herefordshire
Wedding Dress – Designed by the bride and created by seamstress friend, Juliet Blamey
Shoes – Own boots
Floral hairpiece – Handmade with flowers from a friend's garden
Jewellery – Necklace from the bride's friend + other favourite pieces
Flowers – Homegrown
Rings – Geoffrey Heath
Catering –  Falafel King
Cake – Ruth Hardy
Entertainment – Lichen to Giants folk band