I am constantly wowed and amazed by the creativity of the brides and grooms whose weddings we feature on this beautiful wedding blog. The work that goes into each and every wedding is so inspiring (I find myself so badly wanting to get crafting when I view the real weddings prepared by our lovely team of writers!). Today is no exception, as the bride in this little love story, who works in the fashion industry, designed her incredible dress.
The groom, a property developer, married his beautiful bride on 2nd May 2015 at St Margaret the Queen church; a very sentimental place as it was near his childhood home and his dear mum's final resting place. The church is located in the majestic grounds of Buxted Park and where the couple held their reception at Buxted Park Hotel in East Sussex. They chose a 'ModMono' style – see our lovely collaborator Michelle Kelly's bridal inspiration board here describing this mix of modern, minimalist and monochrome – for their stunning Spring wedding.
"I am very interested in modernist art, architecture and art deco, and wanted to achieve a clean overall aesthetic, with a few details and personal references – minimal fuss, with no frills and no lace, hence the more monochromatic colour palette of navy, black and ivory."
Photography by Naomi Fowler Weddings
The hugely creative bride designed her dress together with a work colleague, then had it made through her handy contacts. I adore the addition of cut-out sections on the front shoulders and back of the dress and the very intricate rows and rows of pearls. What a stunning creation!
The creativity continued, as the bride also designed the bridesmaid's very elegant navy gowns.
The sweet flower girl, adorned with pretty flowers in her hair, looks adorable in her lovely outfit from notonthehighstreet.com.
"The dress was important and, whilst minimal in my tastes, I wanted to ensure that my wedding dress felt 'elevated' enough for the occasion. I work in dress-making and design, so it was important that my dress felt different compared to the product I normally work on. My colleague and I were toying with the idea of doing an armour-type embellishment, but with achieving a more linear texture, creating interest without too much sparkle or bling.
We then came across this technique with lines of pearls covered with chiffon, which was then beaded around with smaller pearls. And that was that I suppose, it felt like it was meant to be! I'm not going to say it was easy to develop, but we got there in the end. The skirt was made of layers and layers of chiffon panels, which floated nicely when walking down the aisle and for dancing in the evening."
The bride's long veil was from a maker on Etsy and complimented her hair accessory – a string of pearls attached to her up-do hairstyle, crafted expertly by Rebecca Litchfield.
"Rebecca travelled down from Bristol and did such an amazing job with my hair and makeup. We met a couple of weeks before the wedding to do a trial, as I had wanted to incorporate pearls into my hair, using a weaving technique. Rebecca picked up what I was looking for straight away, executing the look with speed and precision."
"We met in London almost five years ago and were engaged for close to a year before we married. We got engaged on holiday in Greece after getting lost on a Greek island and realising that we booked accommodation in a different part of the country by accident!"
In a navy suit found via mytuxedo.com and ivory waistcoat, the groom cut a handsome figure, with his lads sporting matching attire.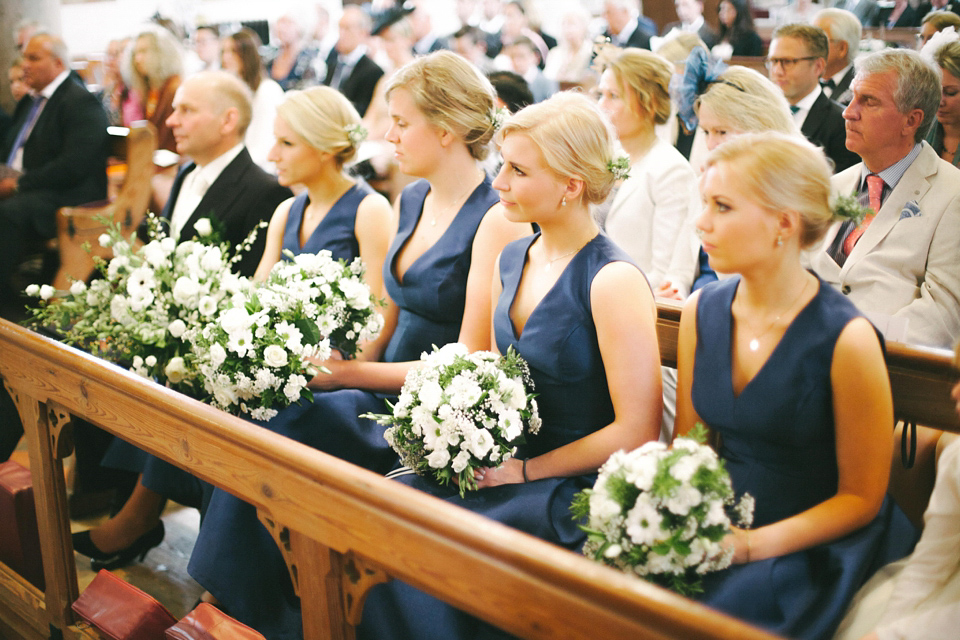 For the florals, the couple had the help of Jan Cox, who works for the parish of Buxted and makes the arrangements for most of the weddings held at the church. I adore the simplicity, yet beauty, of the range of white blooms paired with vibrant green foliage.
"Jan is a lovely lady with great passion for flower arrangements, selecting several of the flowers and greens from her own garden! She prepared my bouquet and all the decorations for the church."
The couple sought a photographer who could capture their special day in an imaginative way – and they discovered Naomi from Naomi Fowler Weddings who delivered their wish.
"Naomi is a hugely perceptive and resourceful photographer with a unique handwriting and ability to capture people, their emotions and surroundings. She is quick and natural and has a brilliant way with light, creating interesting as well as flattering imagery. Naomi's photography is almost dreamlike, without looking too edited or missing out any detail. She has a lovely positive energy and was a great asset to us throughout the planning process and our wedding day." 
The newlyweds and their family and guests took a short stroll to the reception at Buxted Park Hotel for a champagne reception, prior to sitting down for the wedding breakfast, and were treated to the groovy sounds of a gypsy jazz band whilst they sipped their drinks.
"The flowers on the tables were purchased via Fayes Brighton Ltd and arranged by the wedding party. 
We provided little cage shaped tea light holders, which were presented and lit on the tables when the guests arrived to the wedding breakfast."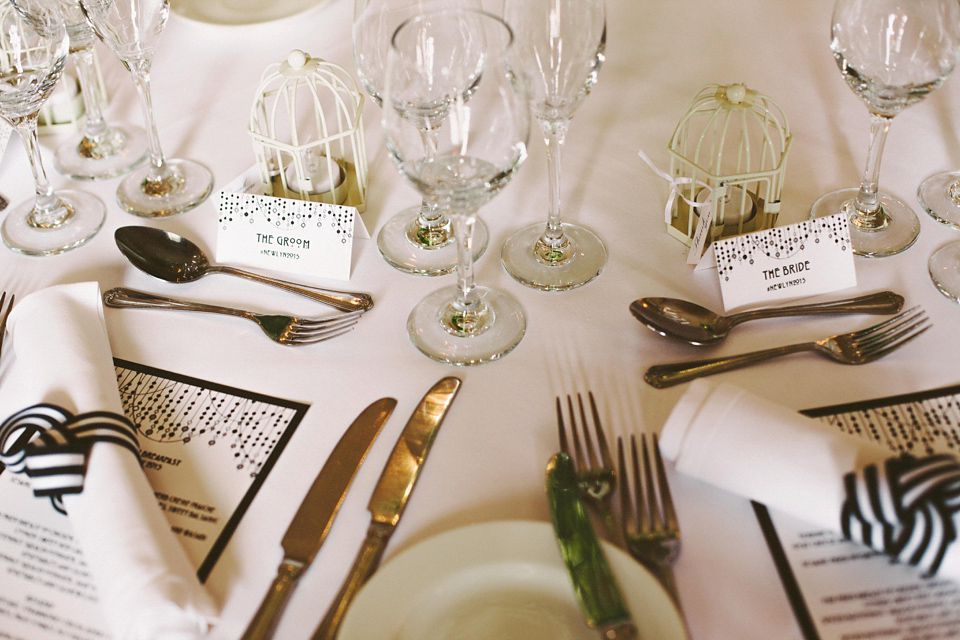 The venue provided the tasty cuisine and the couple's cheesecake was ordered from House of Cheese, a Tetbury-based award winning cheese shop.
"The cheese cake was served with fruit and biscuits and decorated with edible flowers. Neither of us have a sweet tooth, and since we were serving a three-course wedding breakfast, a cake made out of layers of cheese seemed like the natural option."
Words of Wedded Wisdom
"Negotiate absolutely everything. You don't need to spend a fortune and you don't need to have everything."
I've truly loved sharing such a creative and heartfelt wedding with our lovely readers today. A special thank you to photographer Naomi for sharing these simply wonderful snapshots of the bride and groom's nuptials.
Wishing you all a beautiful rest of week lovely ones.
Love Jo -x-
Photographer – Naomi Fowler Weddings
Videographer – Ursula Hutchinson
Ceremony – St Margaret the Queen church
Venue + Catering – Buxted Park Hotel
Wedding Dress + Bridesmaid Dresses – Designed by the bride
Veil – Via Etsy
Shoes – Alexander McQueen
Perfume – 'Black Orchid' by Tom Ford
Groom – Suit via mytuxedo.com
Flower girl – notonthehighstreet.com
Pageboy – Marks and Spencer
Florist – Bouquet and church decorations by Jan Cox + table flowers via Fayes Brighton Ltd
Rings – Carol Franks + Lambtons
Cake – House of Cheese
Entertainment – Gypsy band (contact Matt on 07805 240 767 for bookings) + friends as DJ's
Hair and Makeup – Rebecca Litchfield