Woohoo! We've almost made it to the end of the week little lovelies, so it's time to celebrate with an absolute beauty of a wedding. I've completely fallen for the gorgeous bride's fabulous red clogs; if you're looking for me I'll be surfing the web to get myself a pair (or I might even be heading to the airport to pop over to Sweden for a quick shopping trip … hold my calls!).
Bride Lucy is a designer and illustrator, and James is head of copy at a digital agency in London. They married on 12th September 2015 at Camden Town Hall, then took the tube to the J + A Cafe in Clerkenwell, London for their cosy celebrations. In addition to her lovely lacy dress (more on that shortly), Lucy donned a fabulous pair of Swedish Hasbeens clogs in red which she paired with a most stylish pillbox hat (and perfectly applied red lippy and nails). The whole team is in actual love with this bride!
"We wanted a small, intimate wedding in London and James discovered the J+A Cafe, which was just perfect! It had that laid back feel, lovely exposed bricks, several different rooms for guests to use and a central courtyard if it was warm enough to be outside. Also, it was small and our wedding party of 25 was perfect for the upstairs dining room."   
Photography by Joanna Brown Photography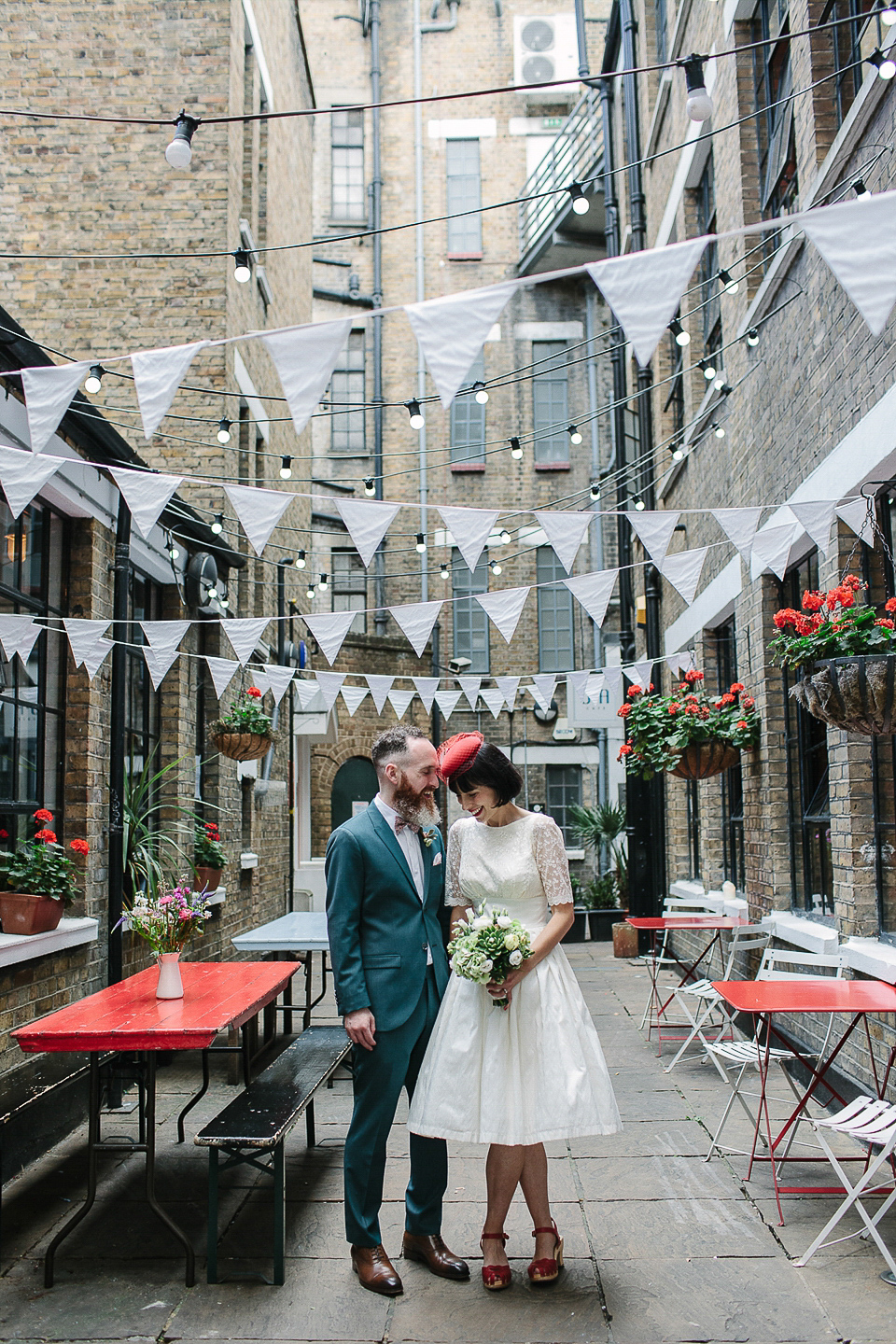 "I knew I wanted a 50's silhouette vintage dress and found Dig for Victory online. My dress was made with vintage silk dupion fabric and lace. I loved the fact it was vintage fabric and it was a shorter style dress which is a lot more 'me' than a long gown. The dress was very affordable but I felt amazing in it and nobody knew it didn't cost the earth (not that I was ashamed!)."
Lucy's bouquet and the buttonholes were from Wildabout Flowers and all about the divine succulents, which looked so very stylish. The flowers at the reception were chosen and provided by the venue.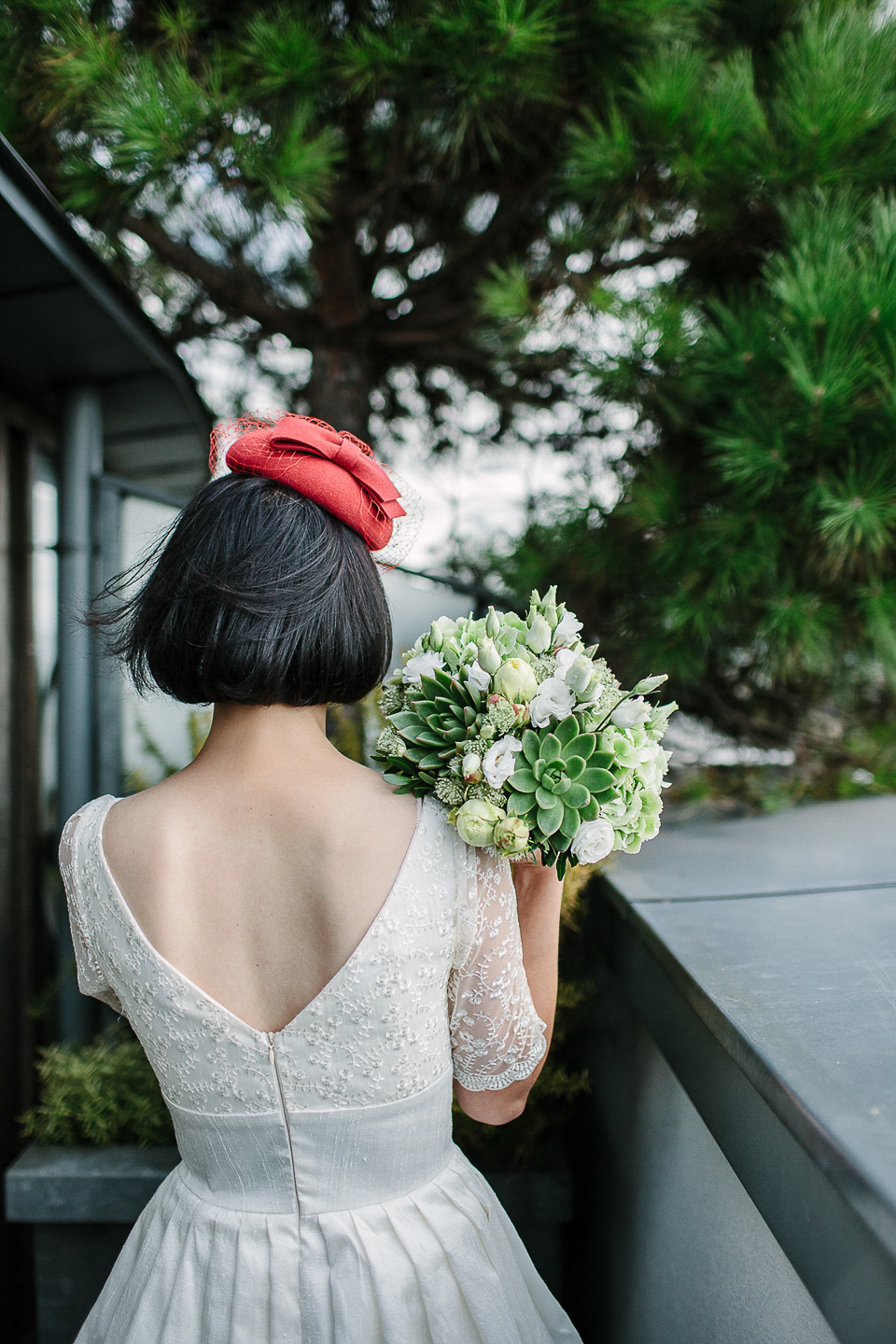 The incredibly talented Joanna from Joanna Brown Photography shot James and Lucy's big day in her signature style.
"We loved Joanna's photographic style and when I first spoke to her on the phone, I knew she was 'the one'! She was absolutely lovely and made us feel relaxed and able to get on with the day without feeling like we were being papped all the time!"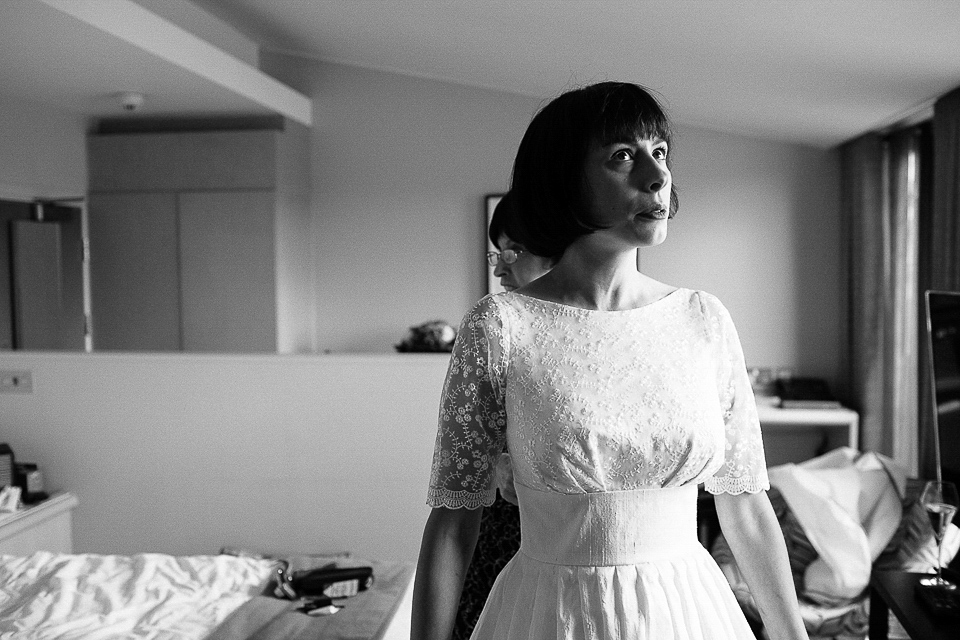 "I'm obsessed with these shoes! And I had my gorgeous pill-box hat made by the lovely Karen at Mind Your Bonce. I did my make up myself after looking at costs and decided to spend that money on luxury cosmetics which would last me after the wedding too. I made sure I had plenty of practice at my make up and allowed loads of time on the wedding morning to get it right."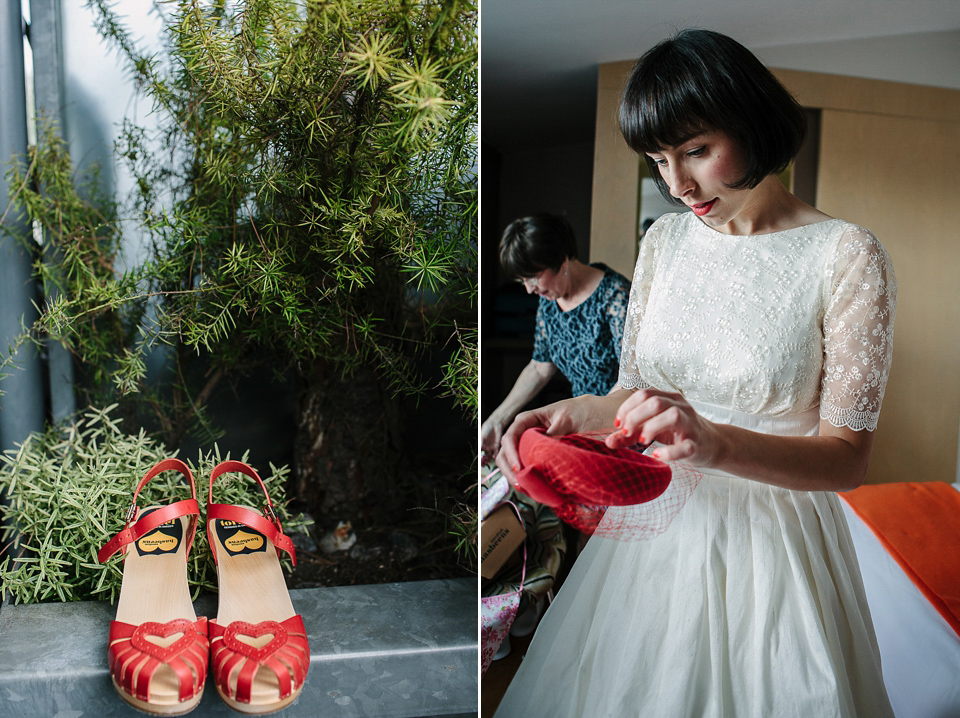 "My earrings were James's late nan's clip-ons. I wore Viktor and Rolf's 'Flowerbomb Extreme' scent. I don't own any perfumes and thought it would be nice to wear one on the day. As it was the first time I had worn it, the scent now reminds me of our wedding day every time I wear it."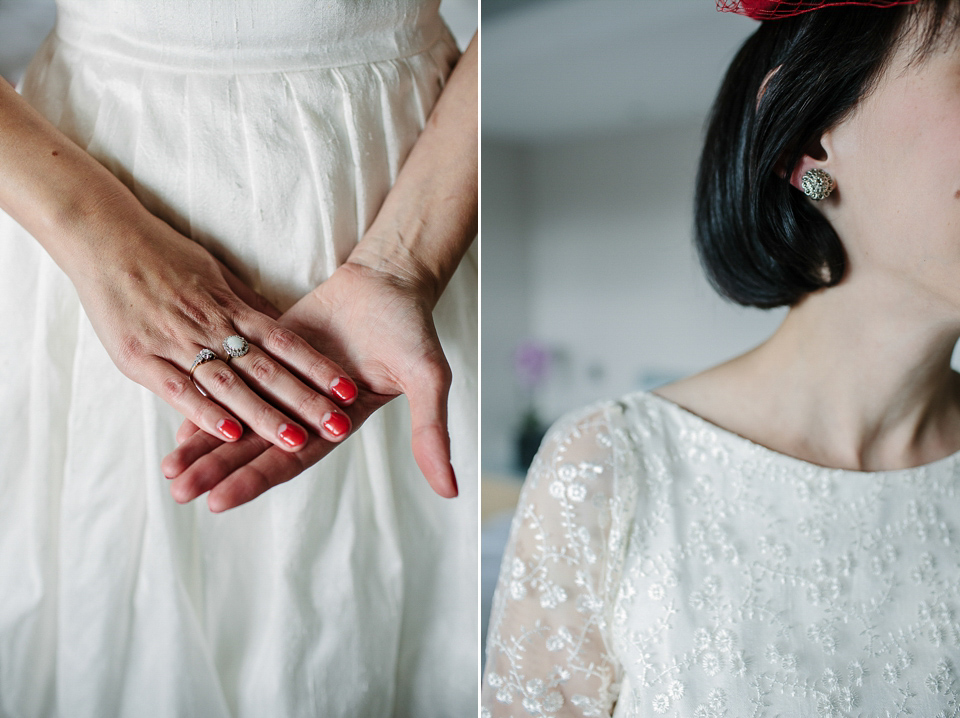 Lucy was very keen on finding a dress that didn't cost the earth, plus also satisfied her love of vintage dresses.
"I didn't want to go down the traditional wedding dress shop route. The idea of spending £1500 on a dress just didn't feel right to me – and only for one day! I just couldn't get my head round that and as I was funding the dress myself it really made me think even more about it."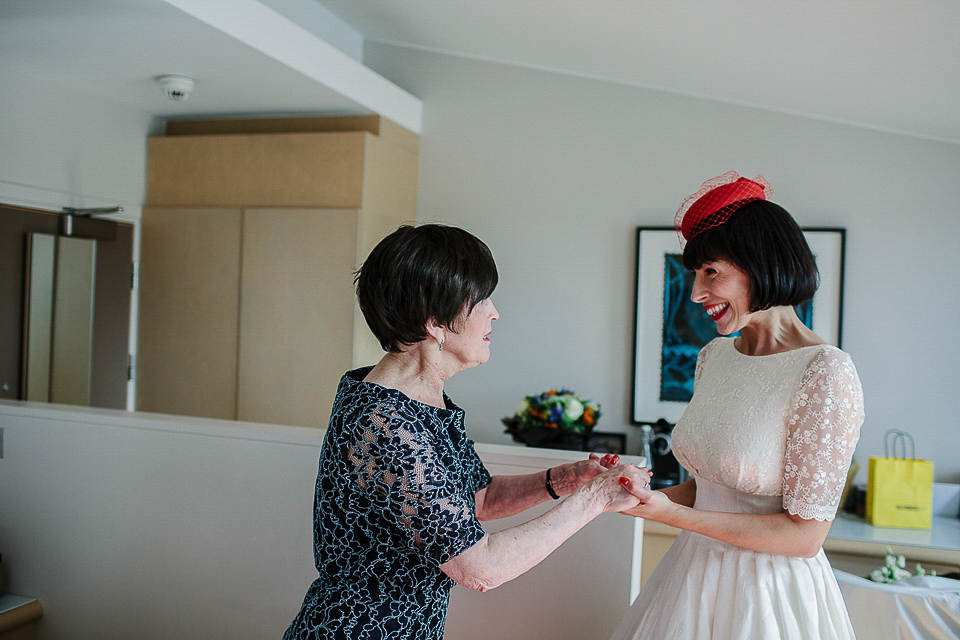 "I wanted succulents in my bouquet and pale creams and whites with greens, as I had a few red accessories and red lipstick, so didn't want my flowers to compete. The buttonholes were perfect!"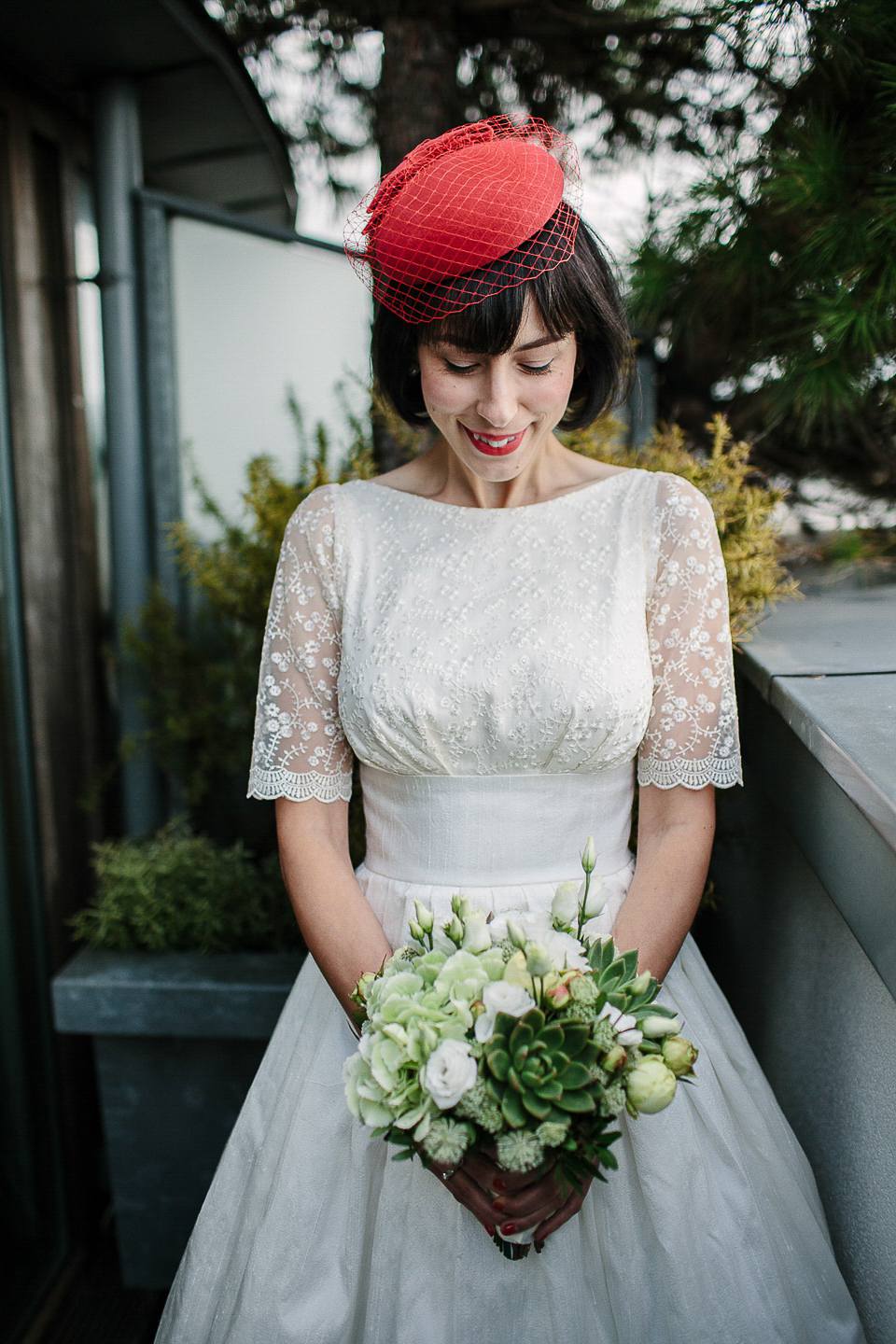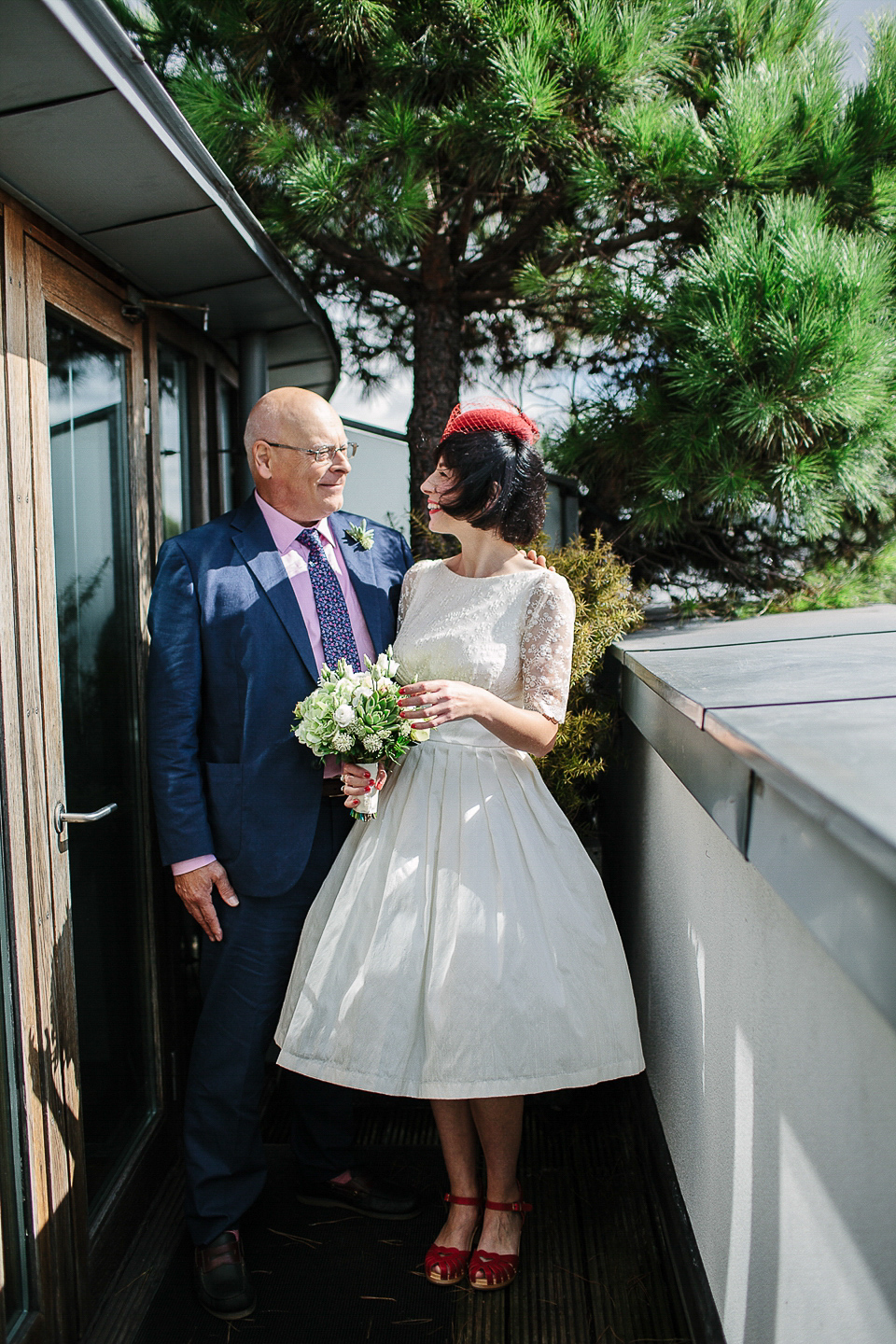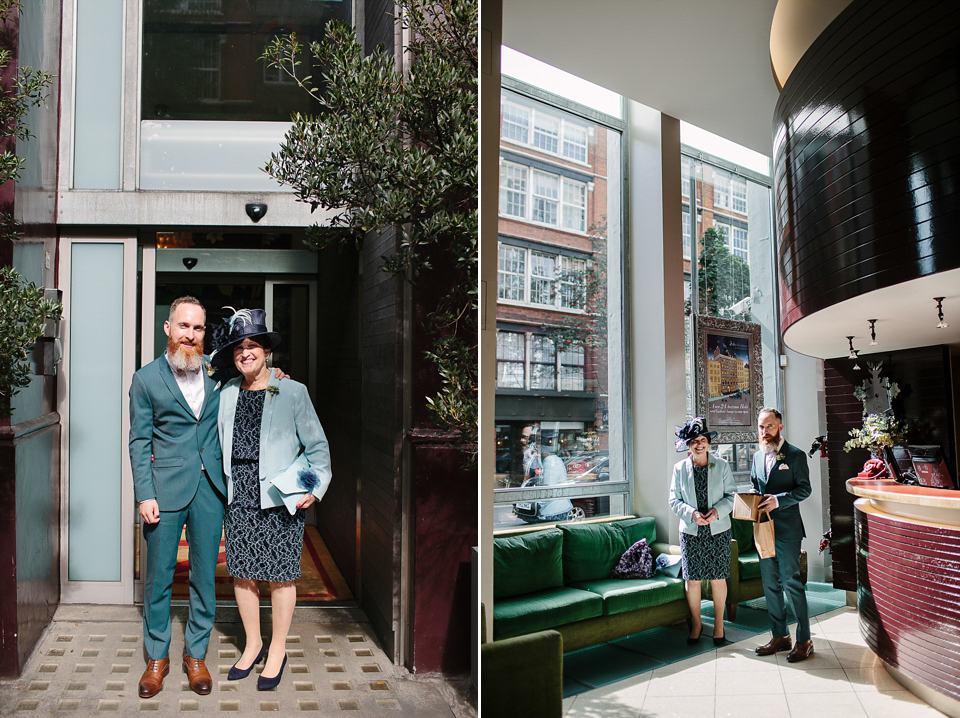 The groom looked very suave in a Tiger of Sweden suit, a Liberty print bow-tie via Botanique Workshop and pocket square, shirt, socks and shoes via Reiss, whilst his groomsmen wore stylish John Lewis suits.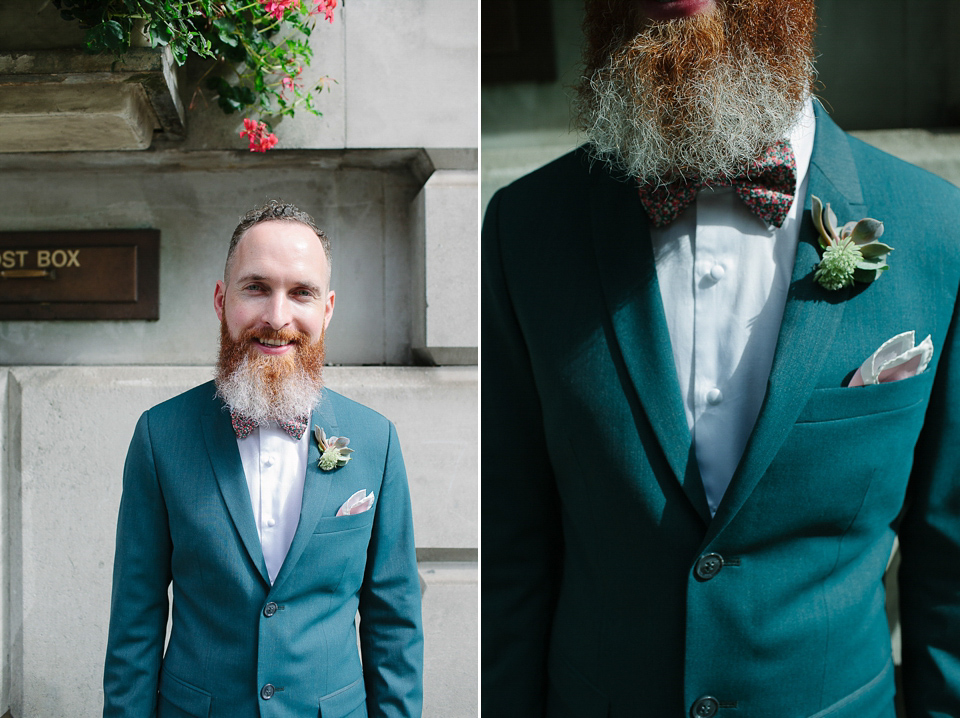 What's that famous saying? 'Life's what happens whilst you're busy making other plans' – and this was certainly the case for Lucy and James when they received some bad news just after they were engaged. There is a happy ending though, as everything worked out with their wedding plans in the end and for the better.
"James and I met at university and got together in our final year. He originally asked me to marry him in a fairly casual way during a lovely evening out at the theatre. It was so casual in fact that I didn't realise he was asking me and a few days later he asked me again. I had a few reasons why I wasn't sure if I could go ahead with a wedding so I said I needed to think (none of these reasons were to do with James or our relationship!). James said he would wait and I was under no pressure to say yes. He gave me a ring to put on if I ever felt I was ready."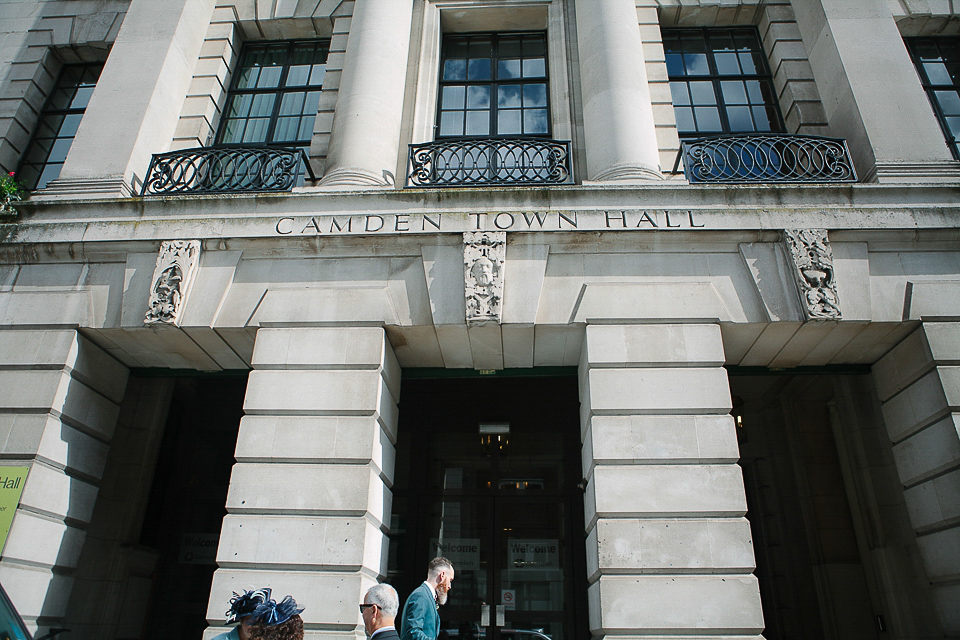 A few weeks later on New Year's Eve I was cooking us a meal and decided it was what I wanted and we could have a wedding no matter what anybody thought. Nothing mattered but us. So we ate our meal and then went up to the local park to watch the fireworks at midnight. James didn't know I had sneaked the ring onto my finger! At midnight I took my hand out of my pocket and I emotionally said to James 'I'm ready!' Not the conventional proposal at all, but it always makes me smile.
We were engaged in January 2014 and booked everything to marry that September, as neither of us wanted to be planning the wedding day for years and years!
Unfortunately, James's lovely mum Sue was diagnosed with breast cancer in the May, and we made the tough decision to cancel our plans, focusing instead on helping her to recover. Once Sue was on the mend we decided to look for new venues and start again from scratch, as we wanted to feel that excitement again, rather than just rebooking everything we had originally planned. We actually made better choices second time round and waited another year before we married."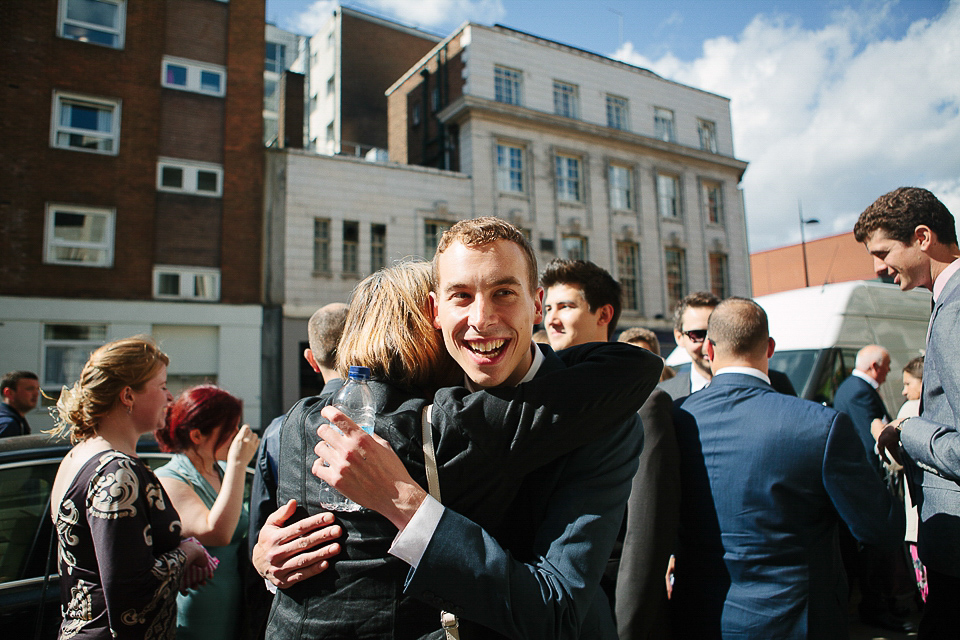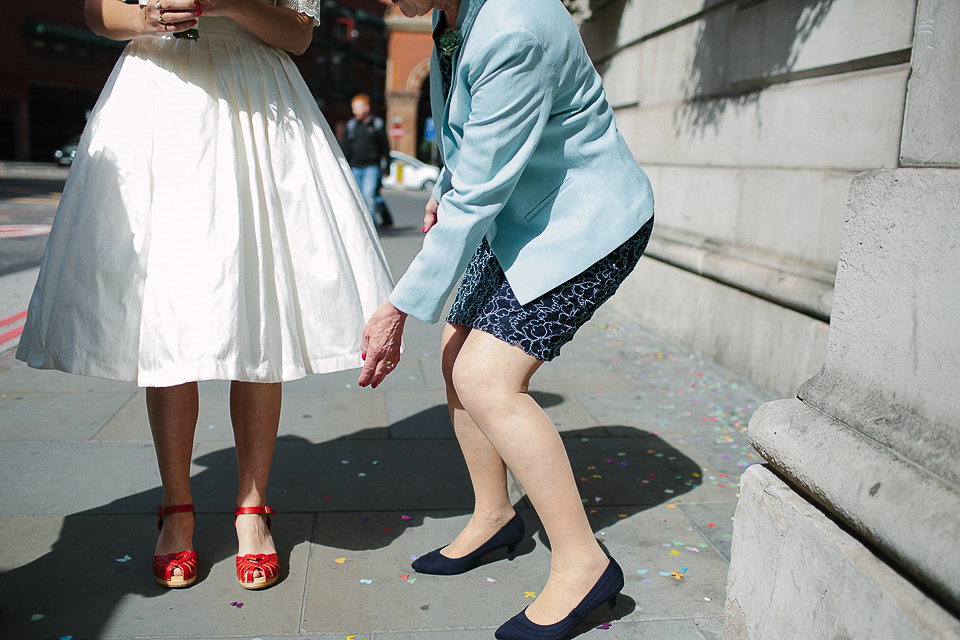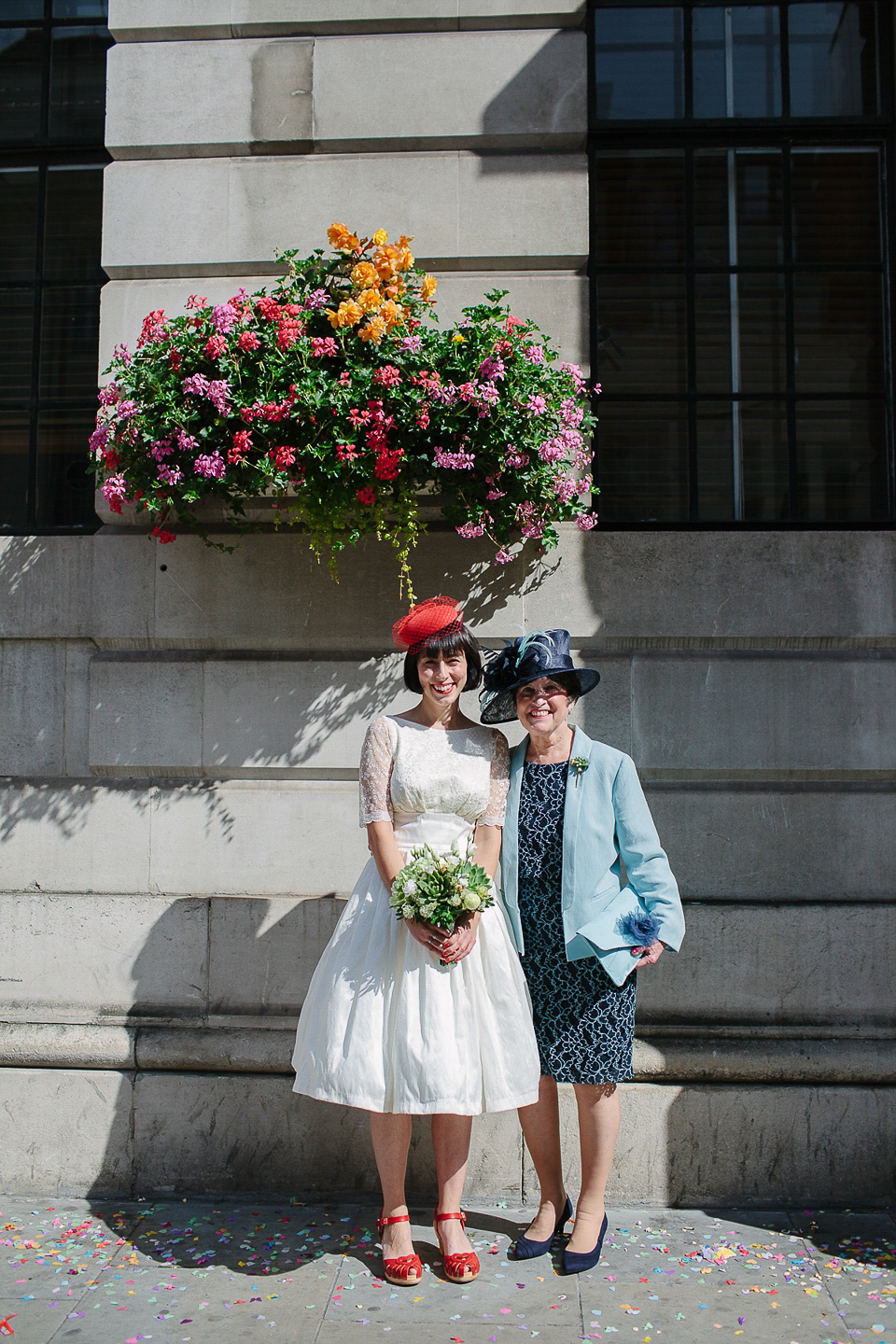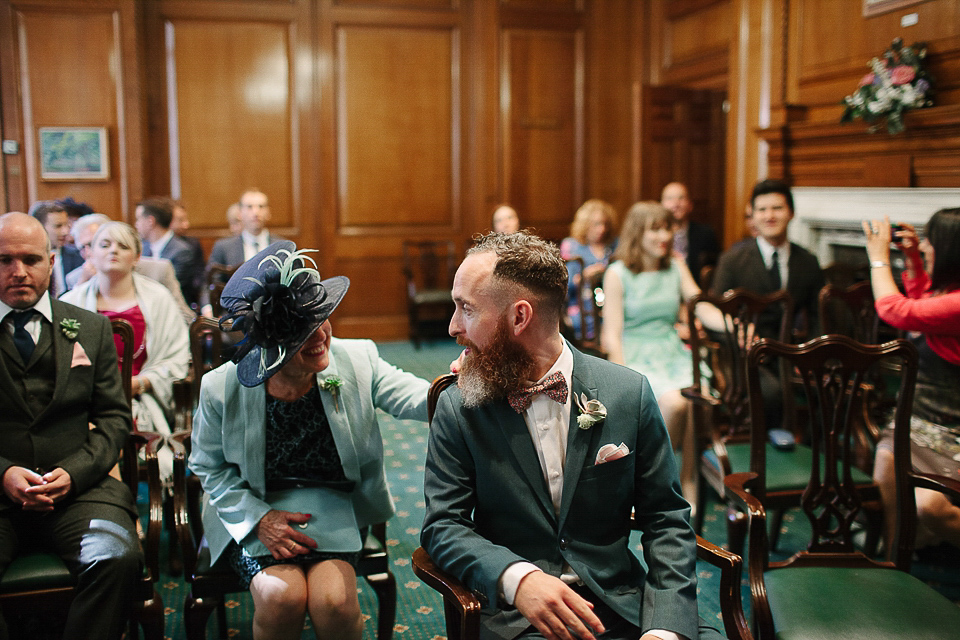 'Breakfast at Tiffany's' by Henri Mancini, from the film with the same name, played as Lucy's dad walked his daughter down the aisle. The couple included one reading in their ceremony – and I just love how everyone travelled to the reception.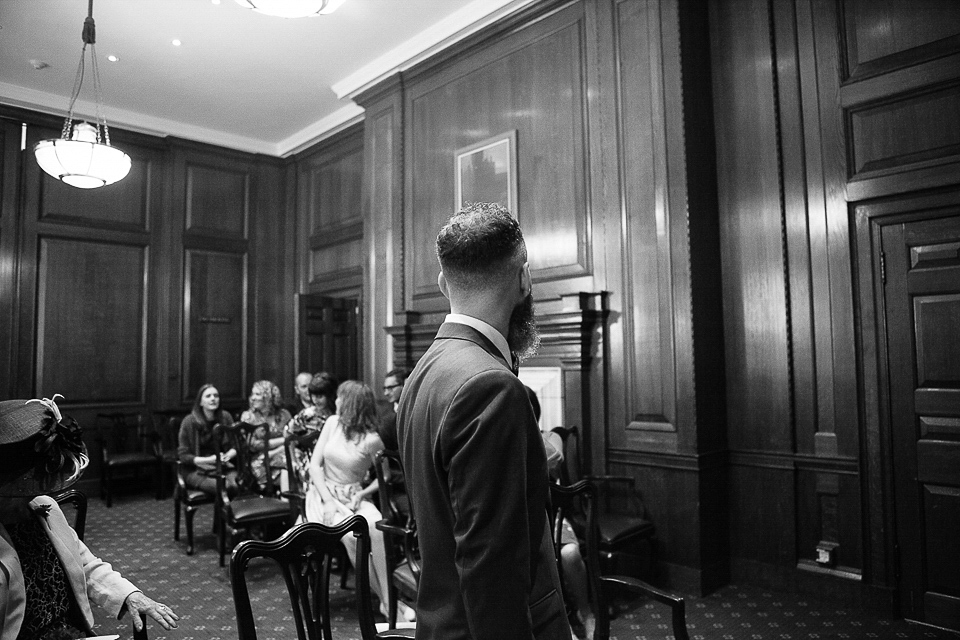 "Our friend Kate read 'I Wanna Be Yours' by John Cooper Clarke. We didn't want a sickly, over the top reading and certainly didn't want something about getting to know each other or starting our lives together when we've been together so long. This poem summed up how we feel about each other in a more quirky, offbeat way."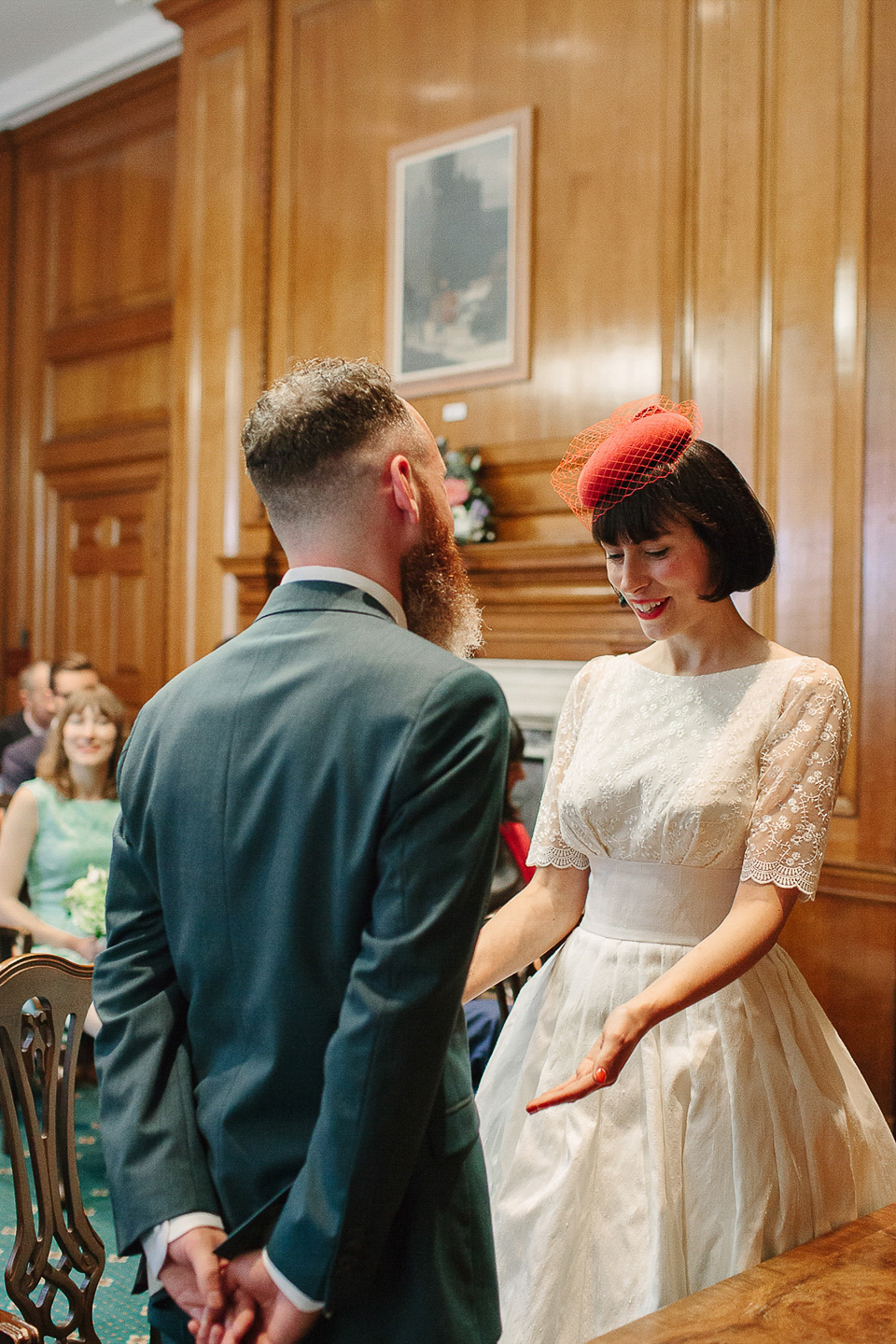 Lucy's rings were both vintage – her wedding ring was from Fidra Jewellers and her engagement ring found via Grays Antiques. James's ring was via a jewellers in The Lanes in Brighton.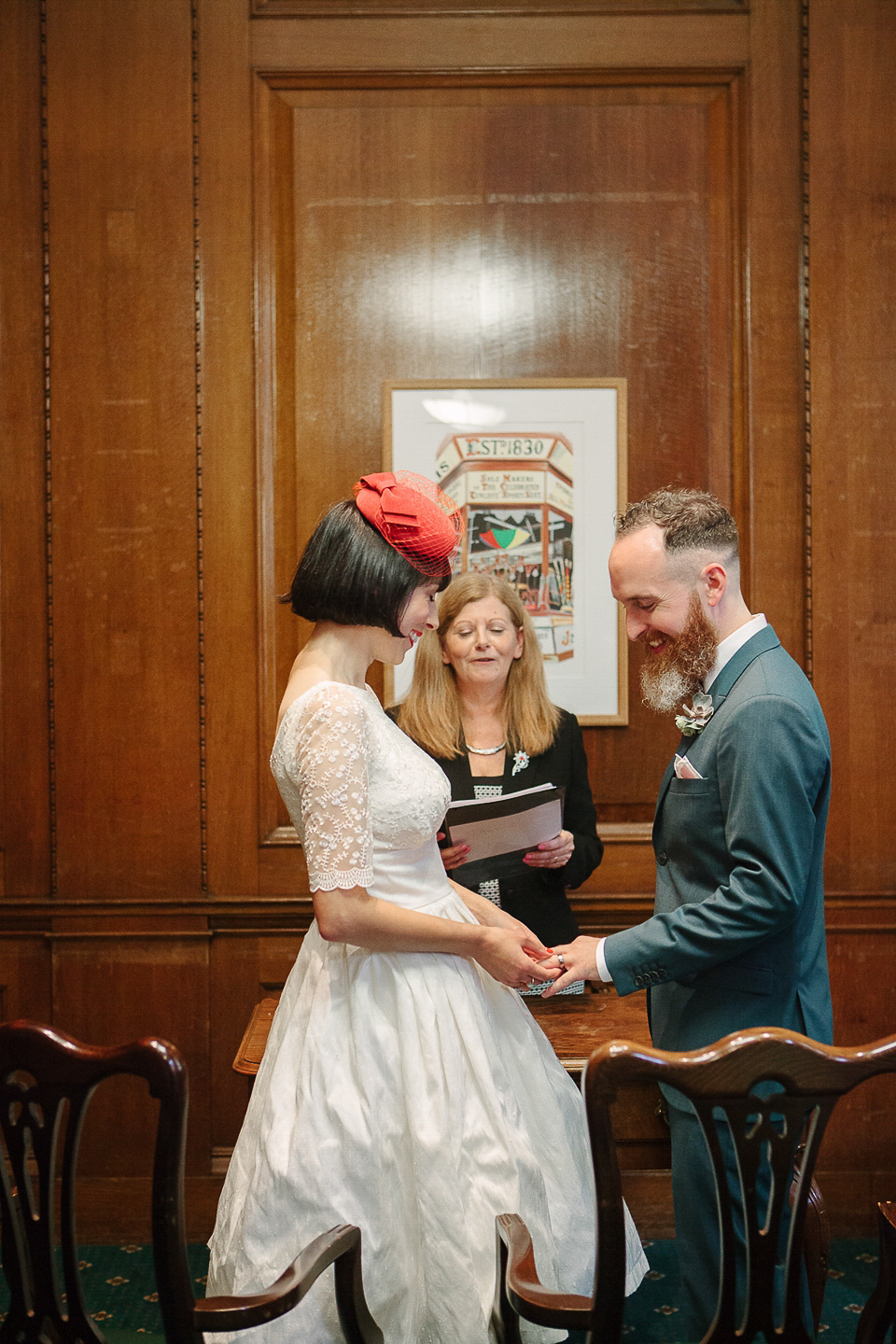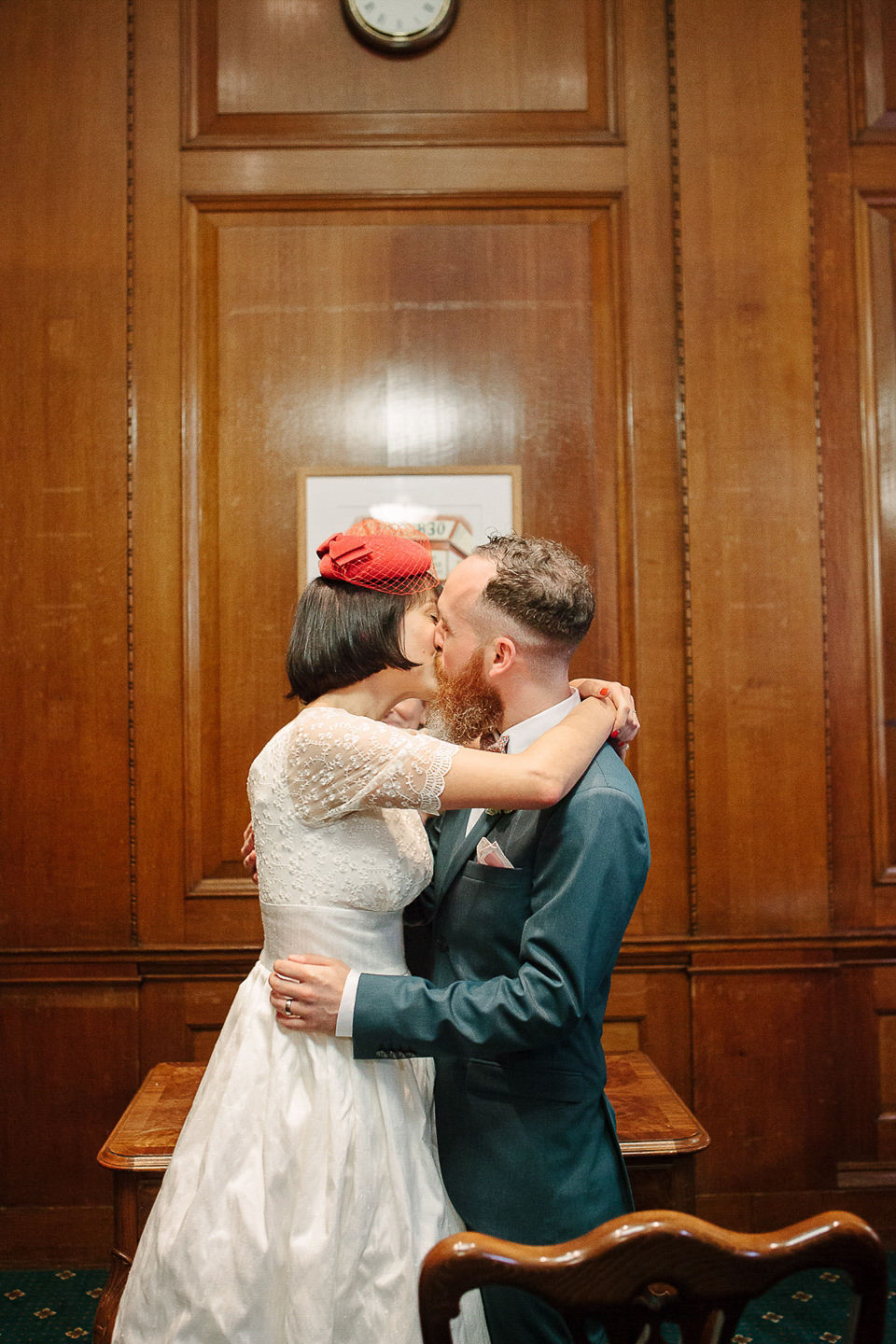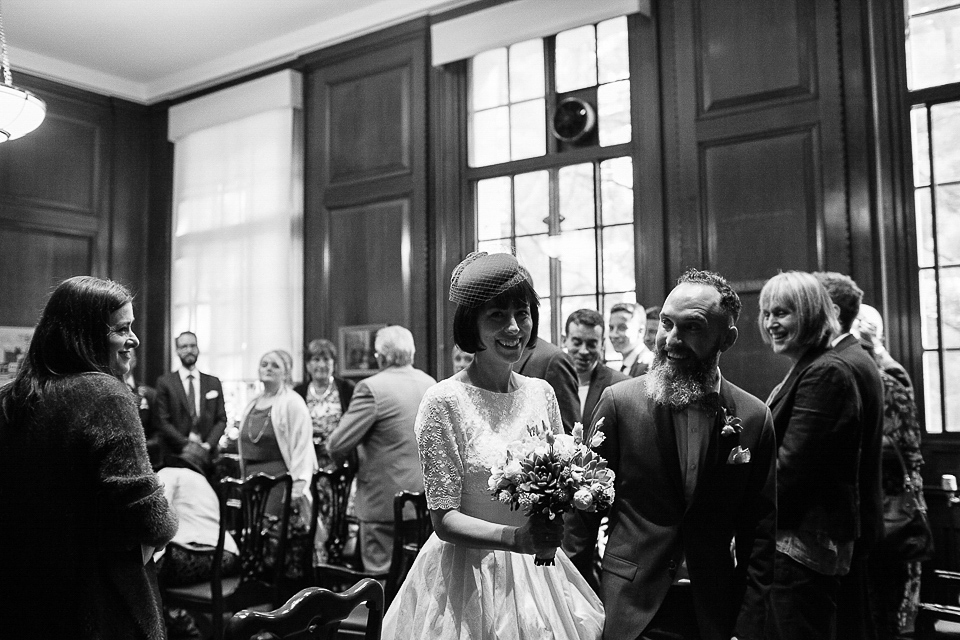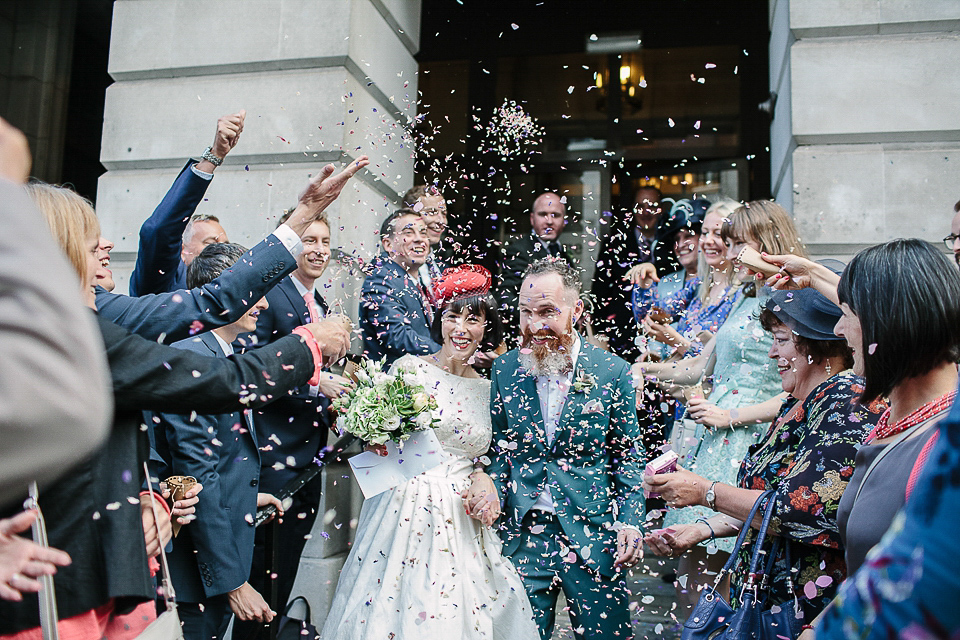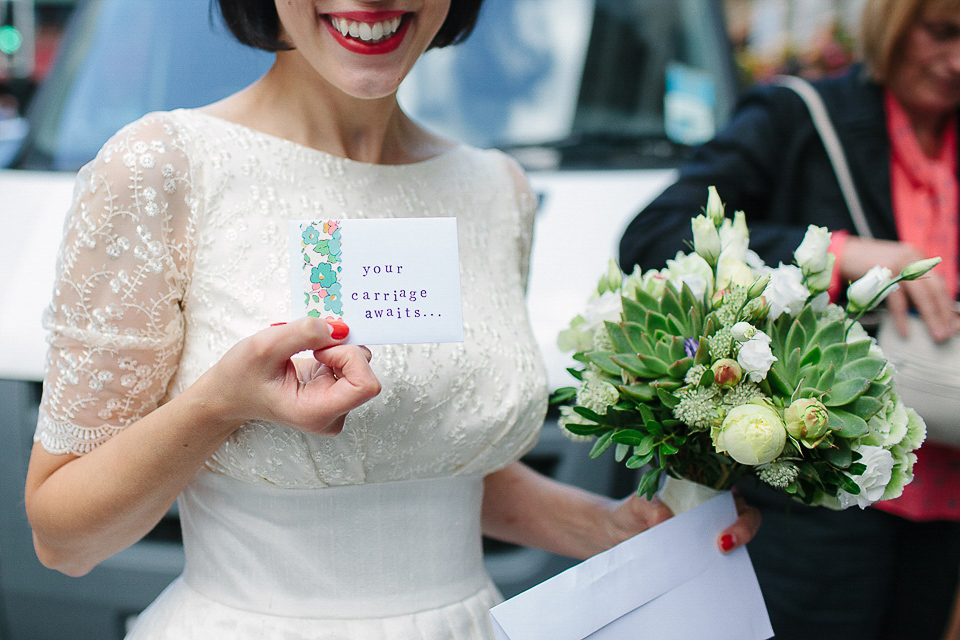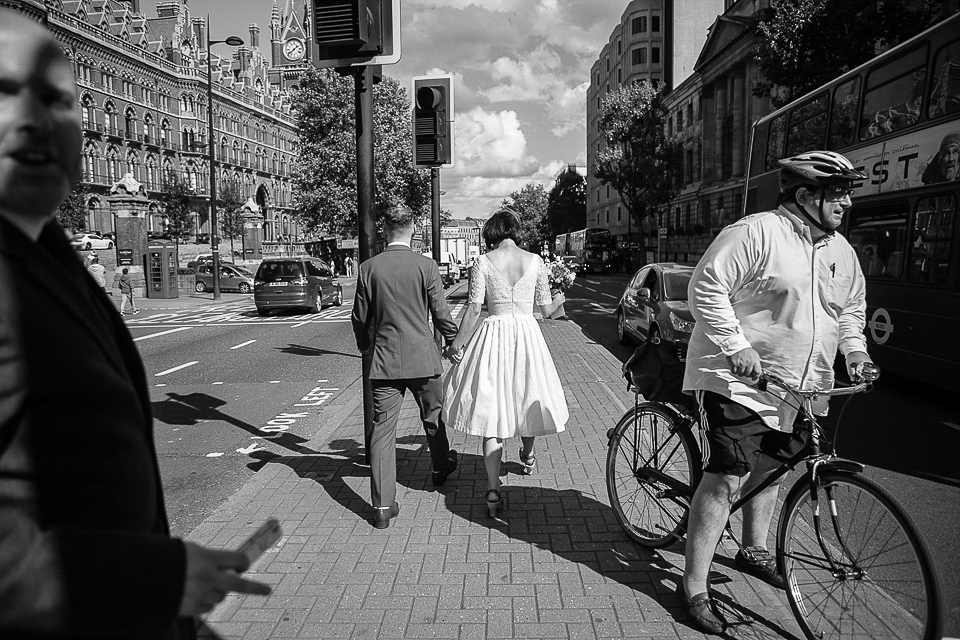 "After getting married, we all got the tube one stop to our wedding reception and it was honestly one of the highlights of the day. All the guests thought it was a novelty and we had so many strangers wishing us well, including one old man who said he and his wife did the same thing years ago!"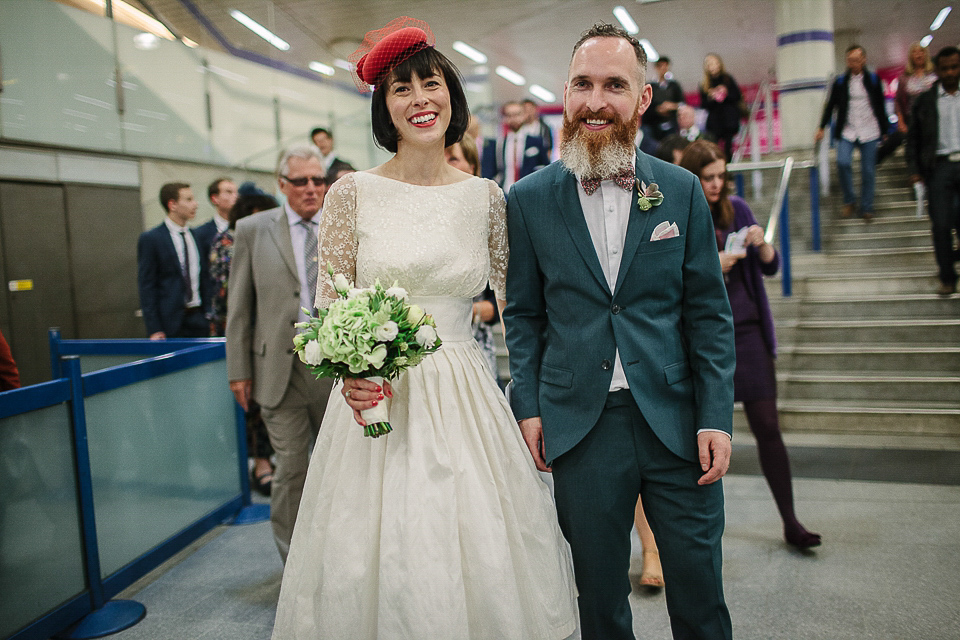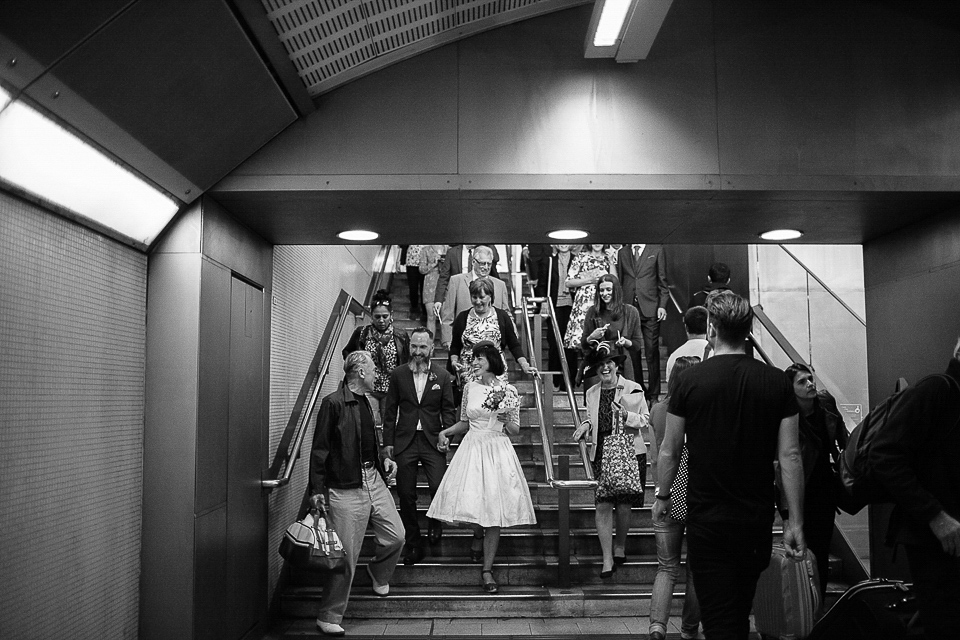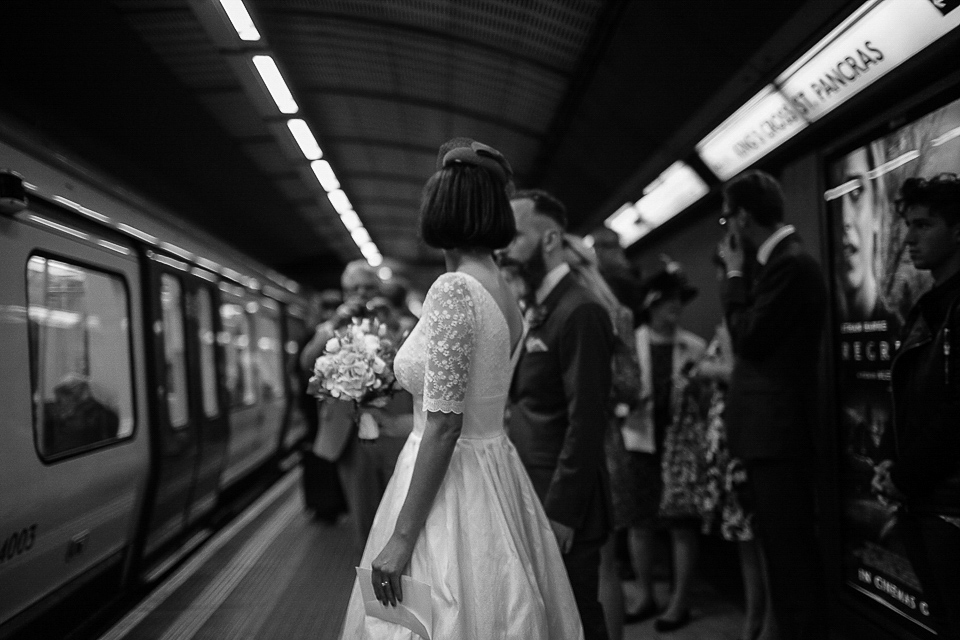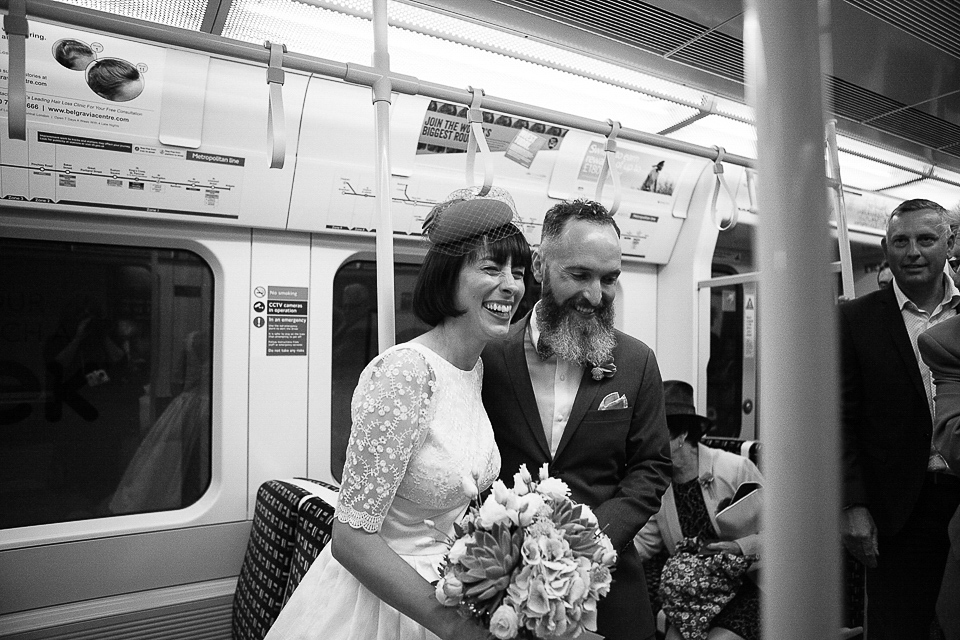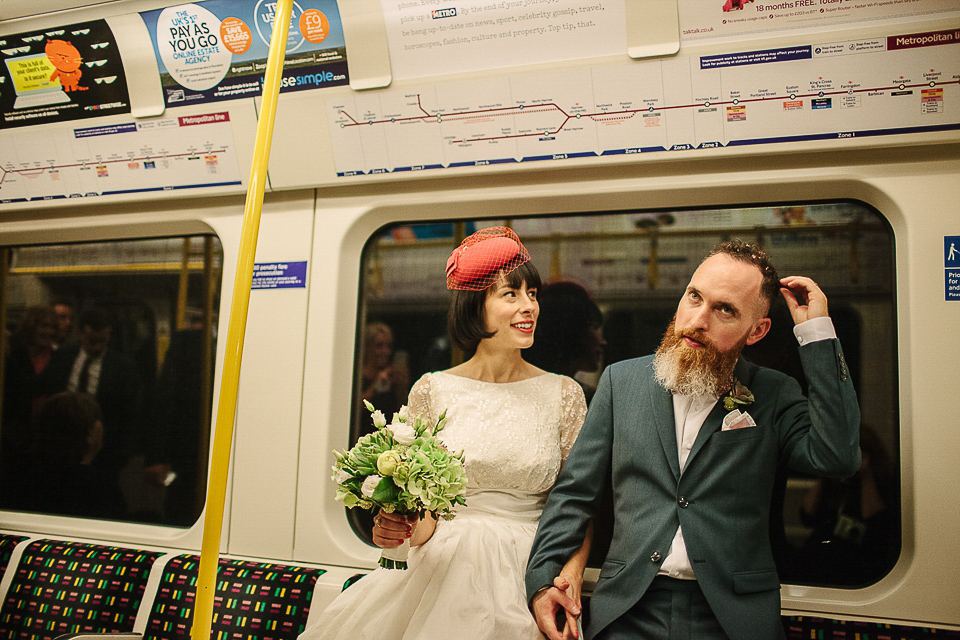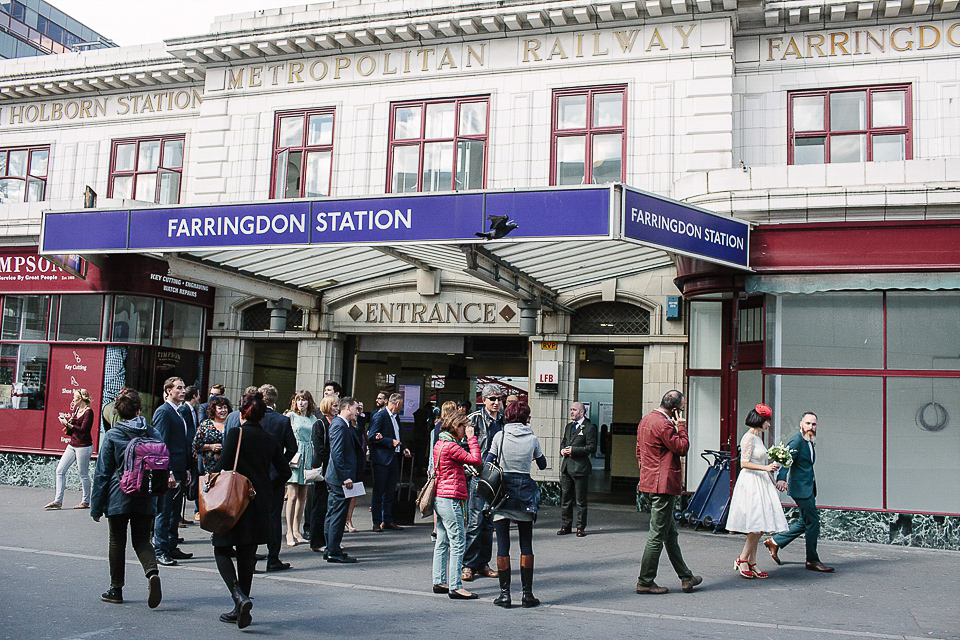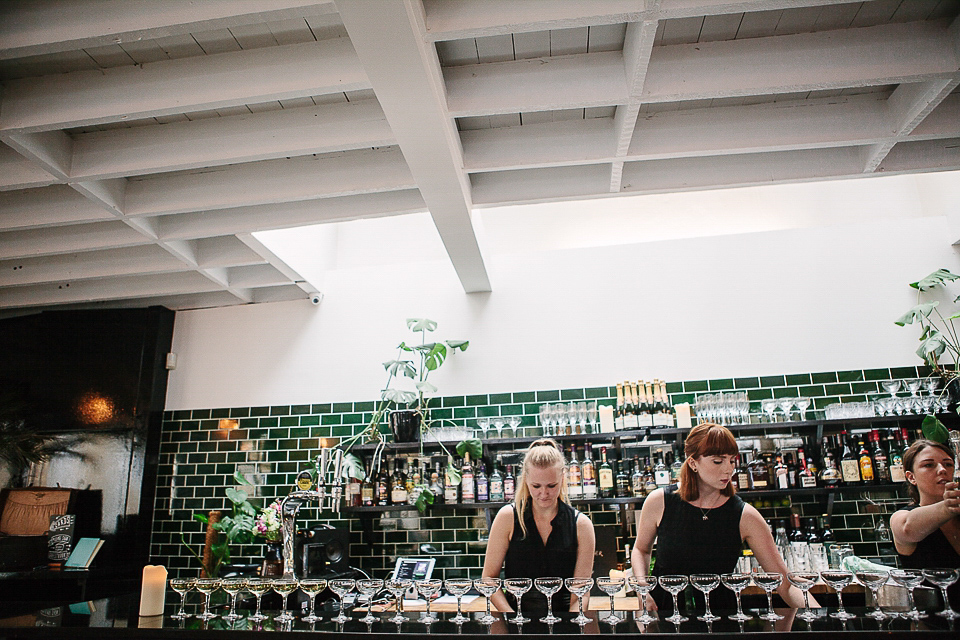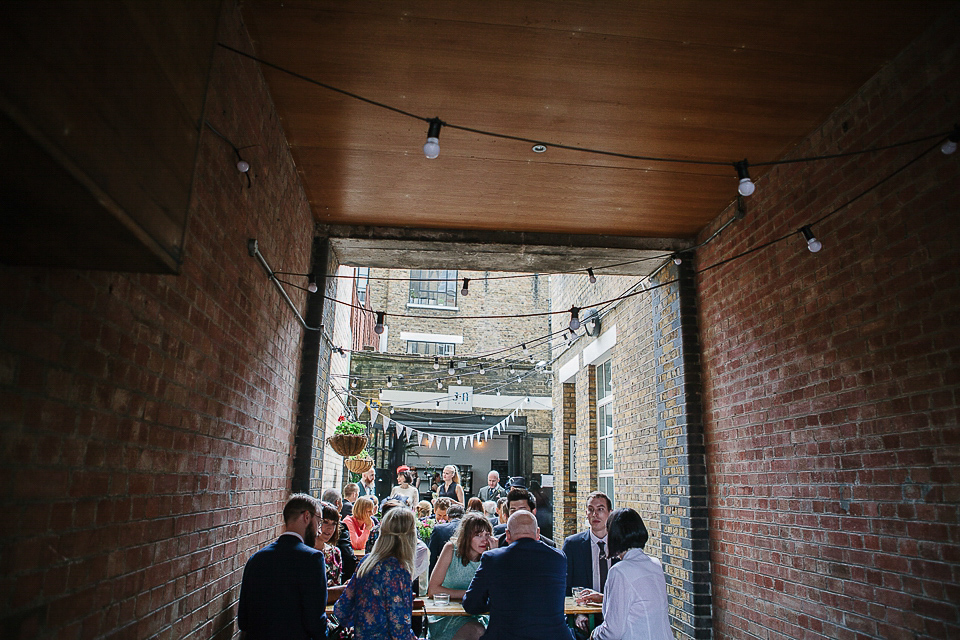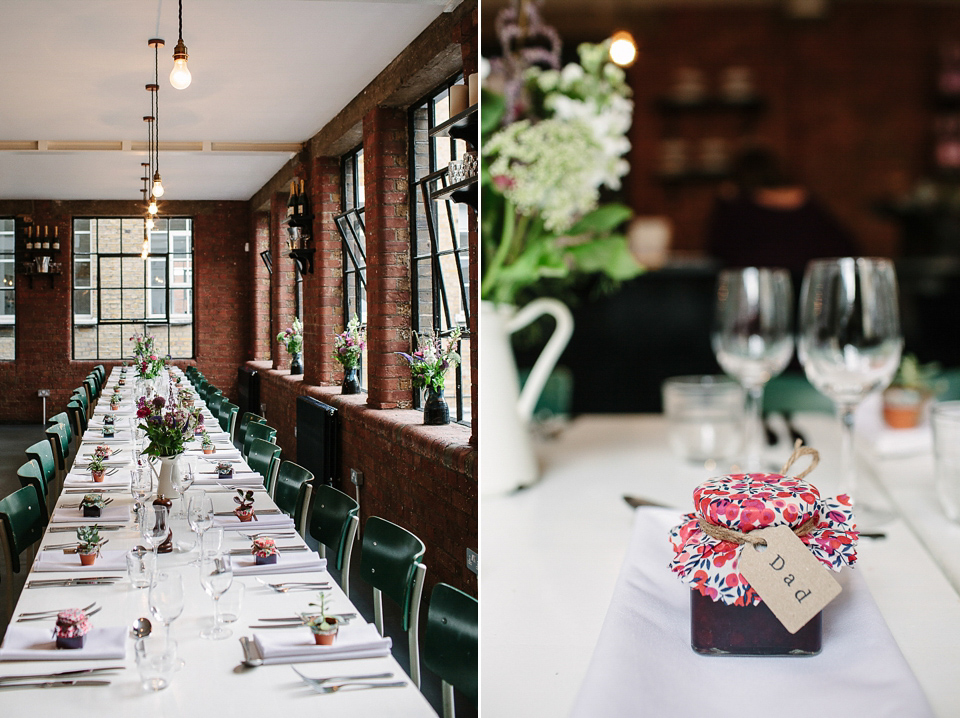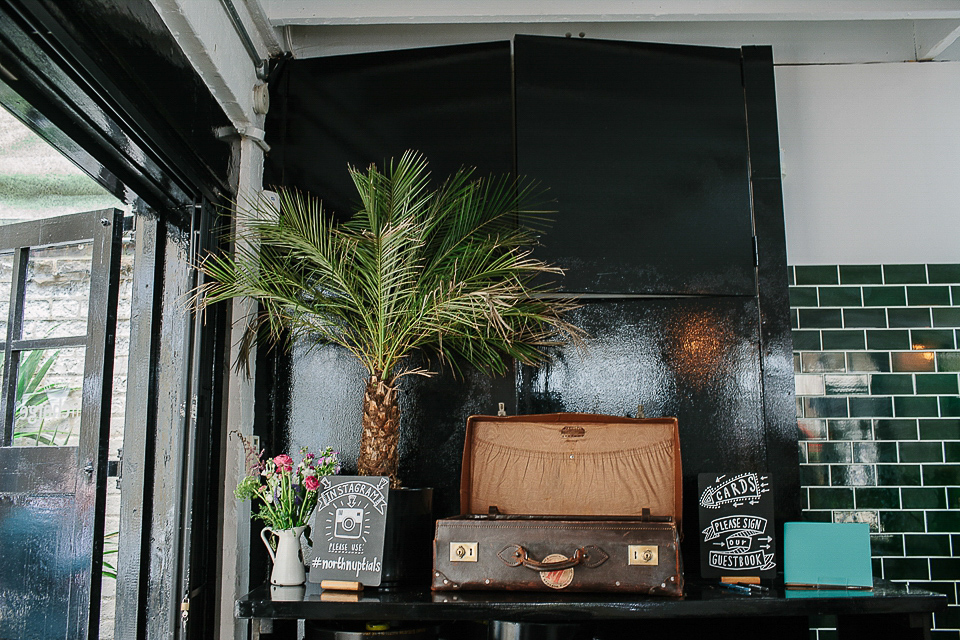 "We both love Django Reinhardt's music, so we arranged for Django's music and other 30's-50s jazz by the Jonny Hepbir Trio to be played at the reception. Our first dance song was '(I Love You) For Sentimental Reasons / You Send Me' by Willie Hightower."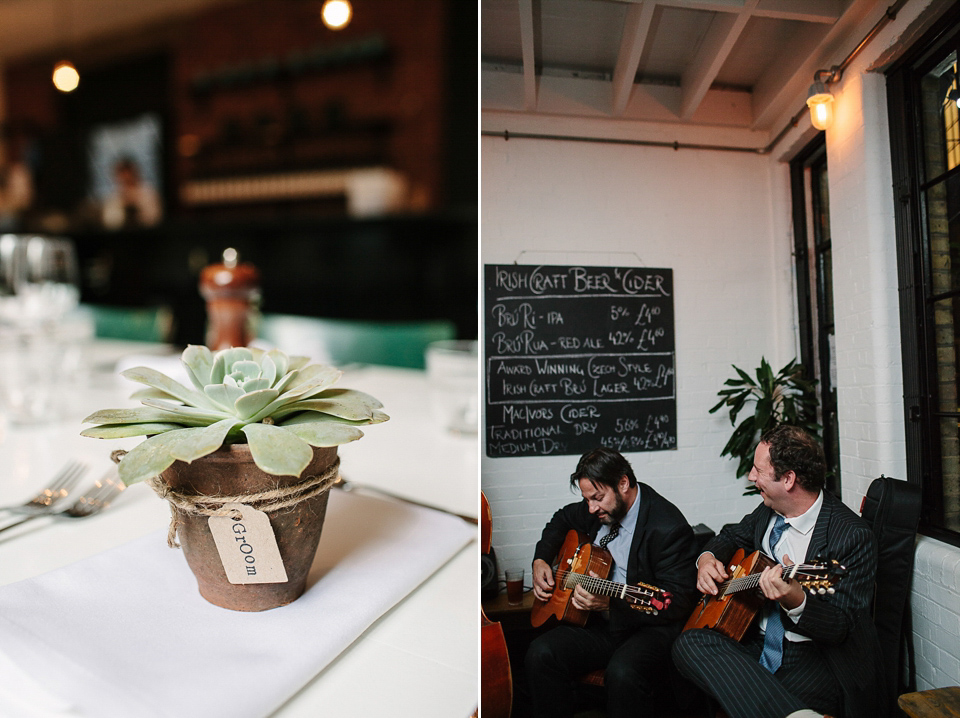 The bride got crafty with the stationery (thanks to her creative occupation) and the couple made the sweetest little favours I've ever laid eyes on. How adorable are the tiny succulents in mini pot plants?
"We made the favours – homemade jam with currants from our garden covered with Liberty print fabric for lids and hand stamped labels and tiny succulents in mini plant pots with the same fabric and labels as the jam. And I designed the invites, wrote signs for the reception and did other bits that needed a homemade touch."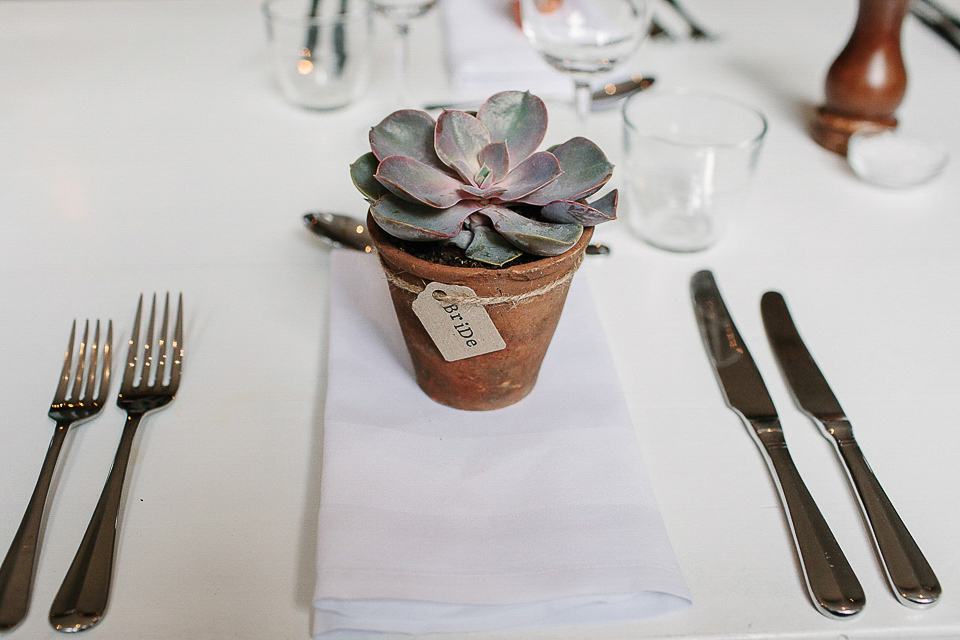 J + A Cafe in Clerkenwell hosted the wedding and what a wonderful discovery it was. The perfect size for their small and intimate party, the cafe provided tasty treats and added simple, effective decor.
"We spent a while looking at venues in Clerkenwell, as it's an area of London that is very quiet at the weekends – which is great as there are lots of pubs and places for hire which you wouldn't get in most parts of London. The venue decorated in a pared down way; white bunting in the courtyard and lovely flowers everywhere. We added a vintage suitcase for people to put cards and presents into."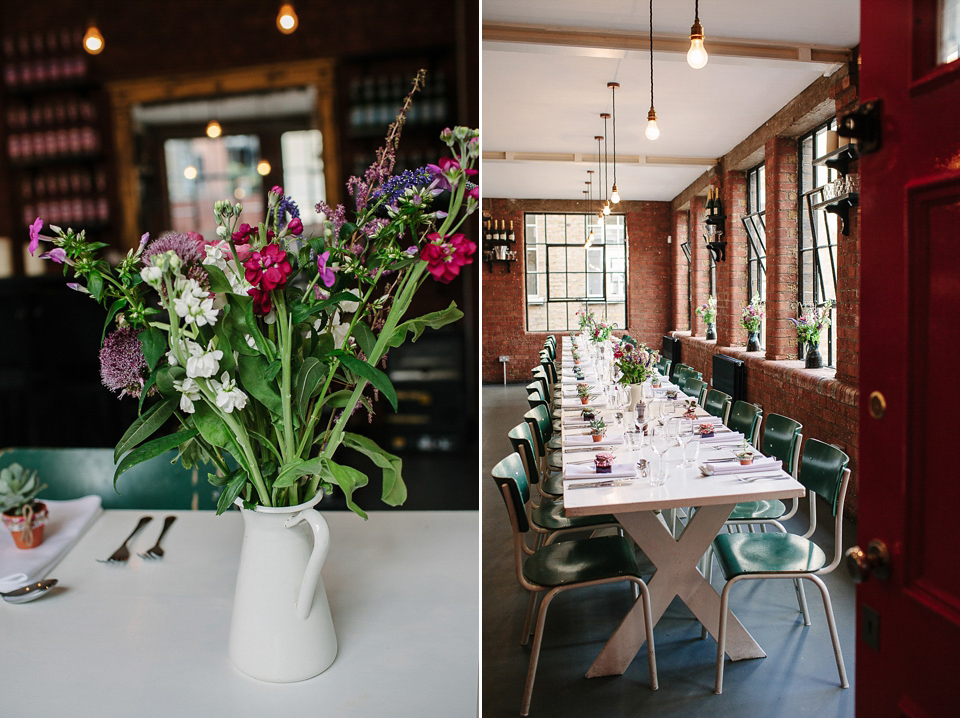 "For the venue, we gave Wildabout Flowers a rough brief and images from Pinterest of 'wild/hand-picked/informal flowers'. We weren't too militant about it and didn't mind, as long as they weren't very formal."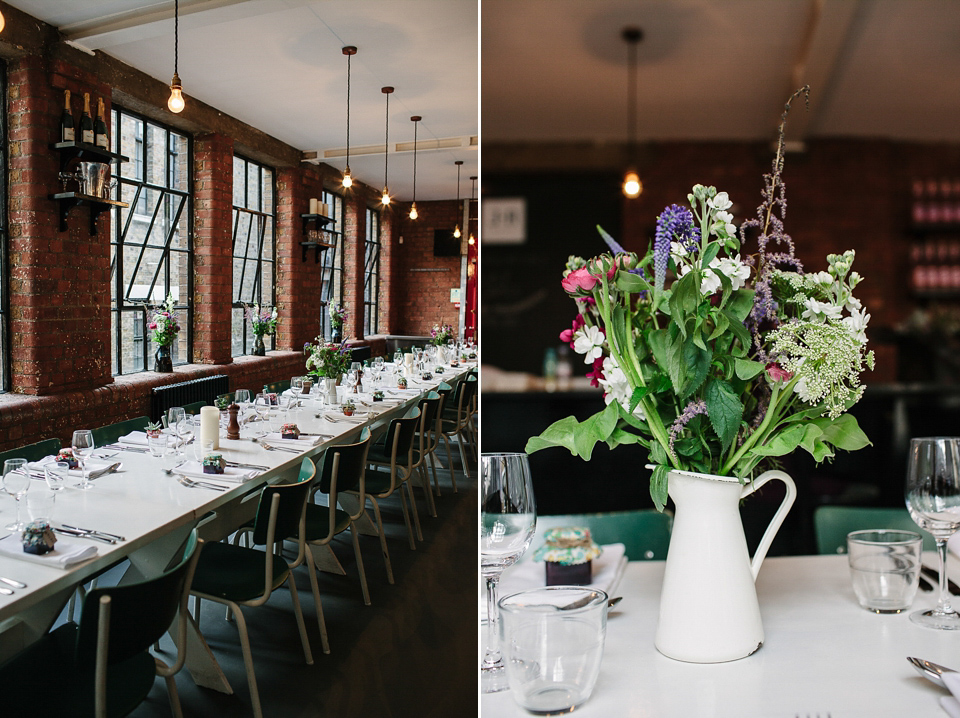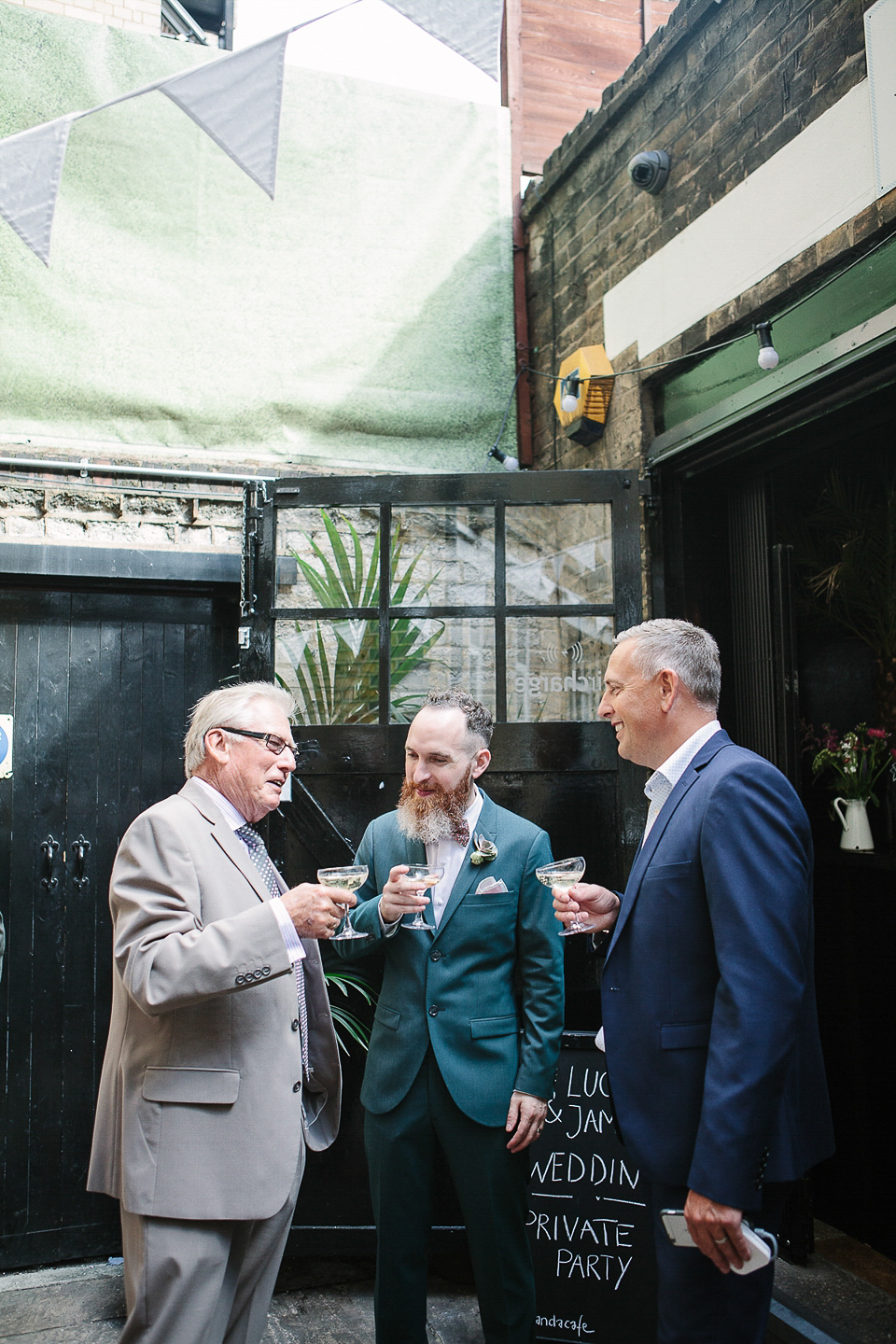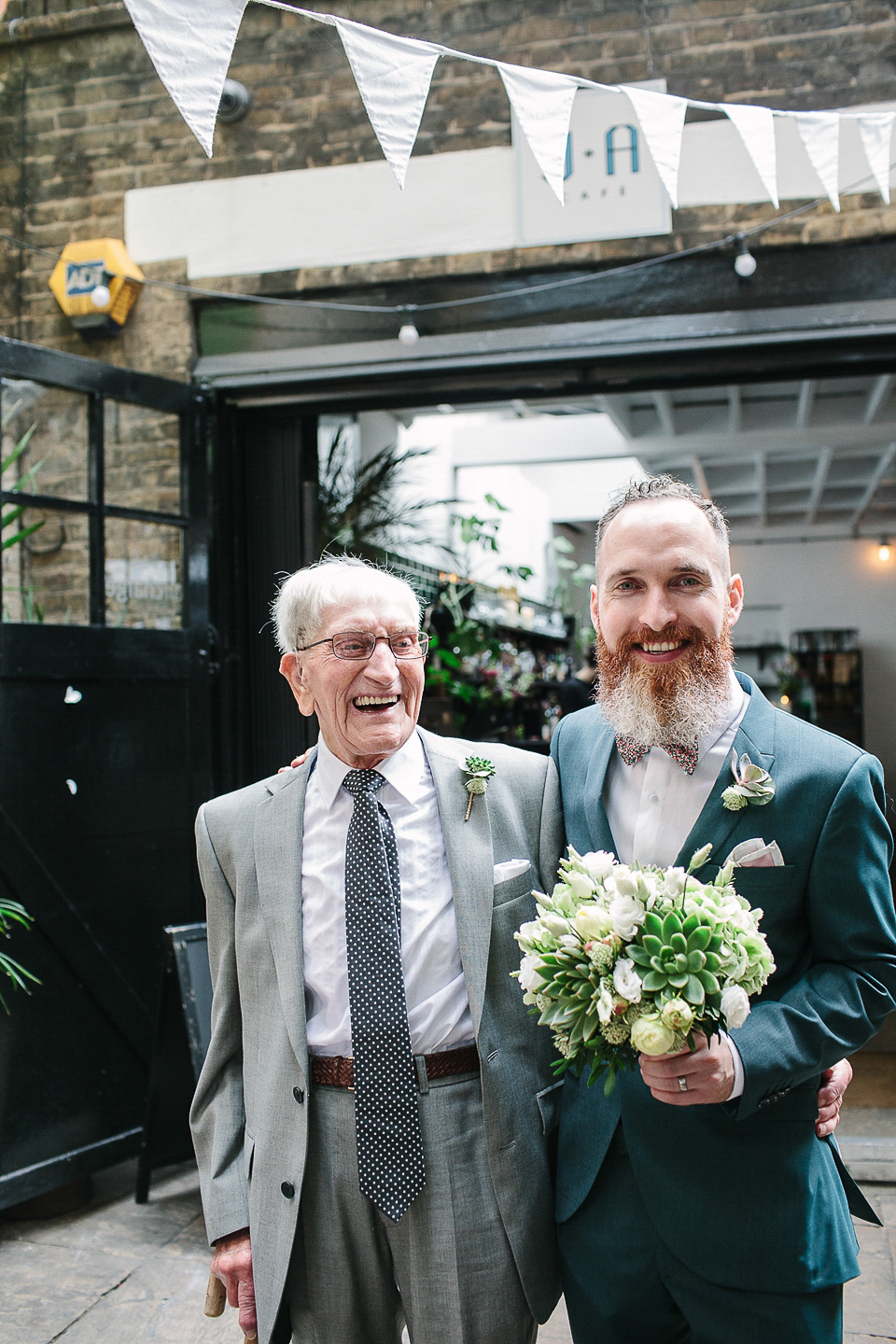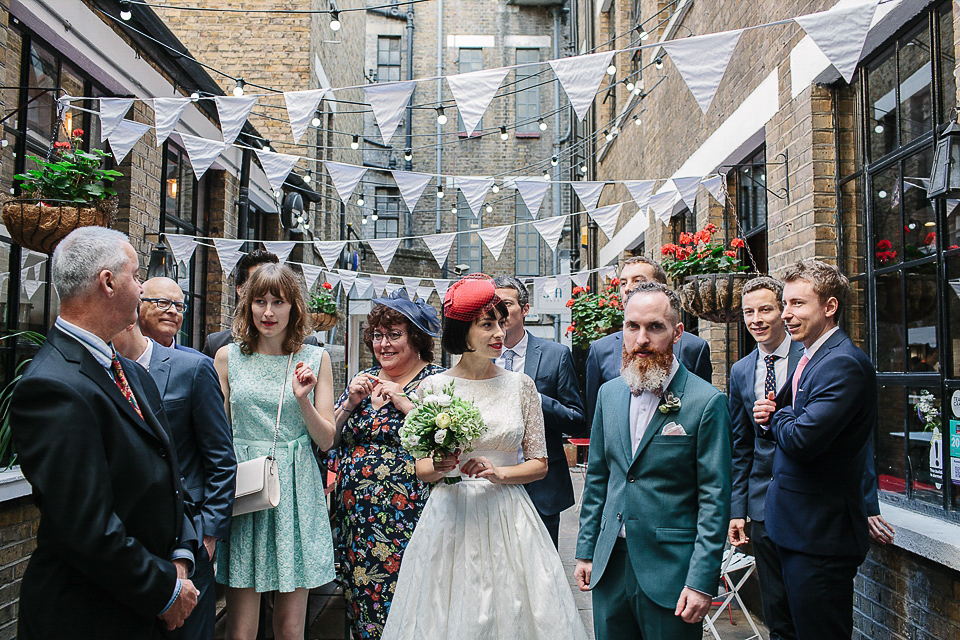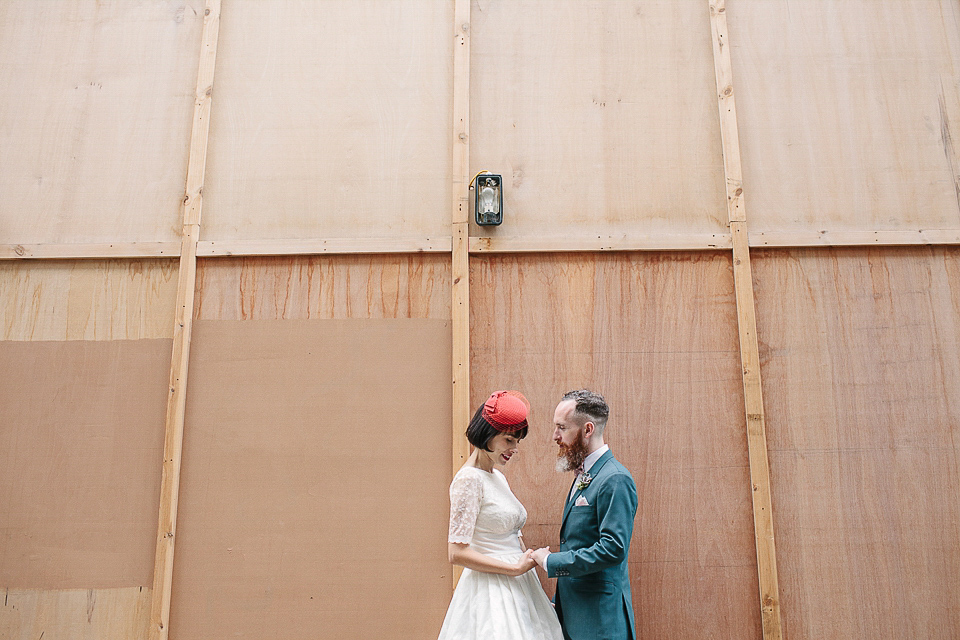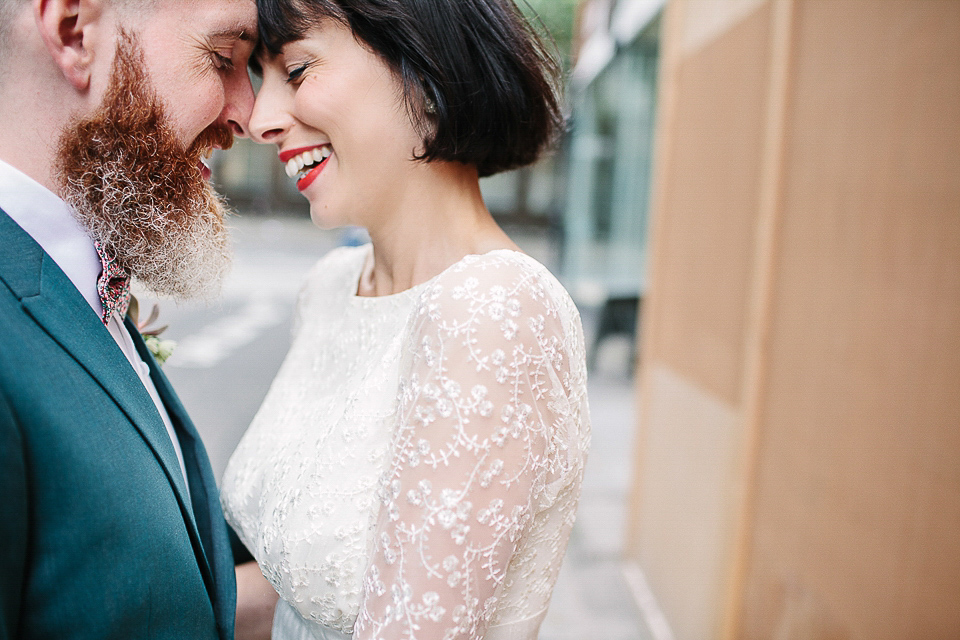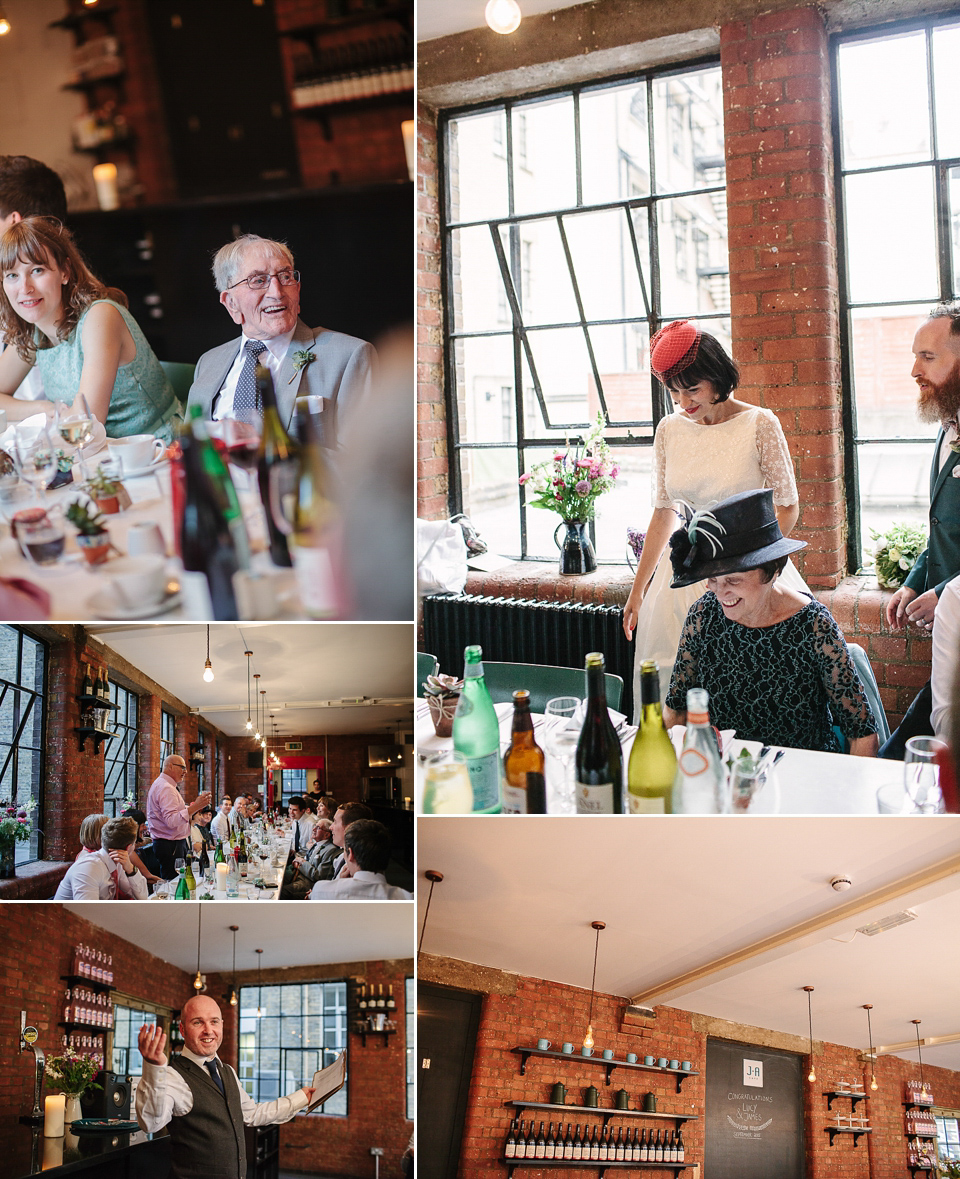 "We didn't want to be too conventional so I did a speech, along with my new mother in law, and this proved to be another highlight of the day."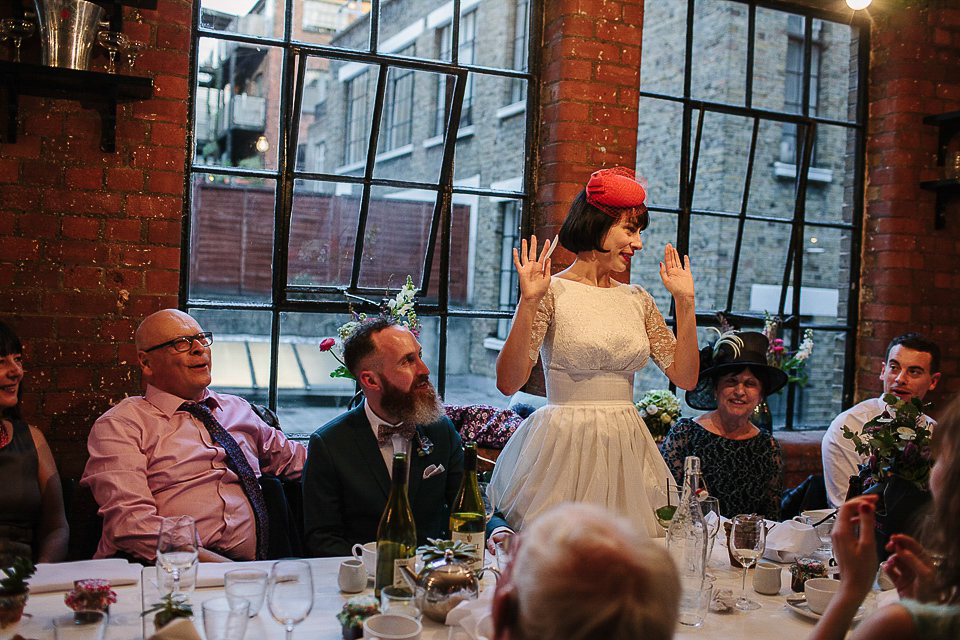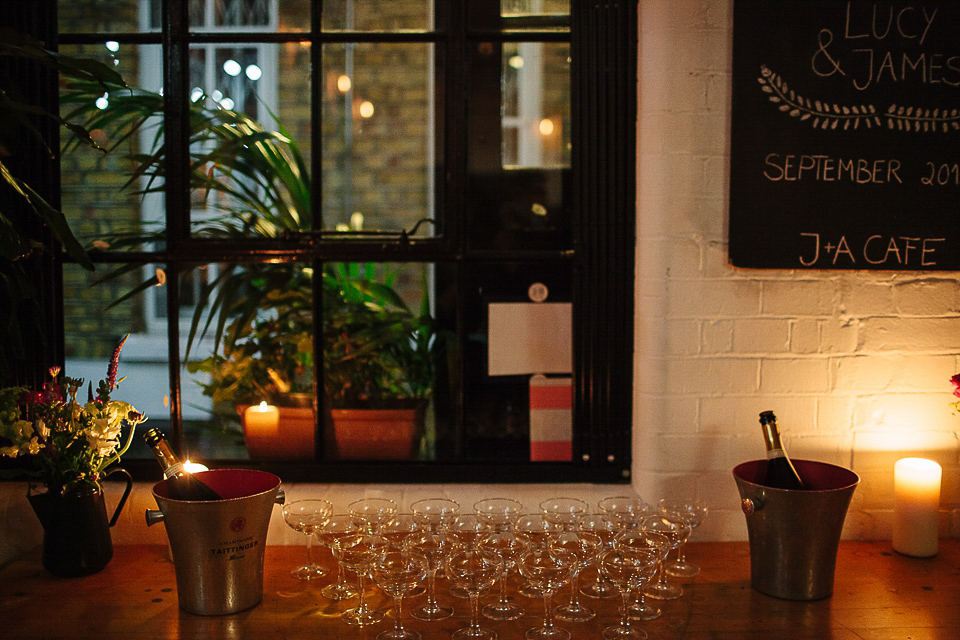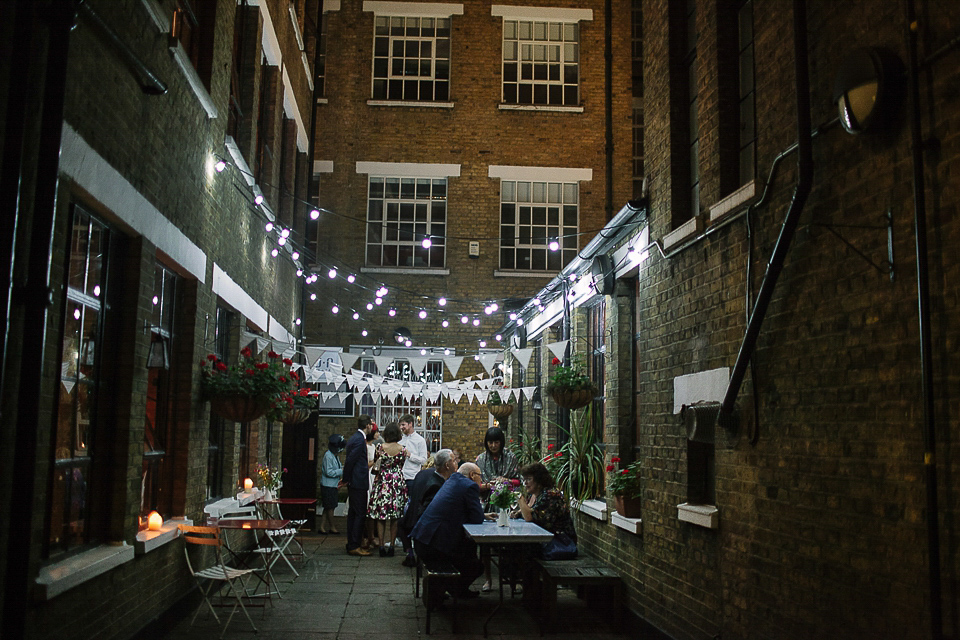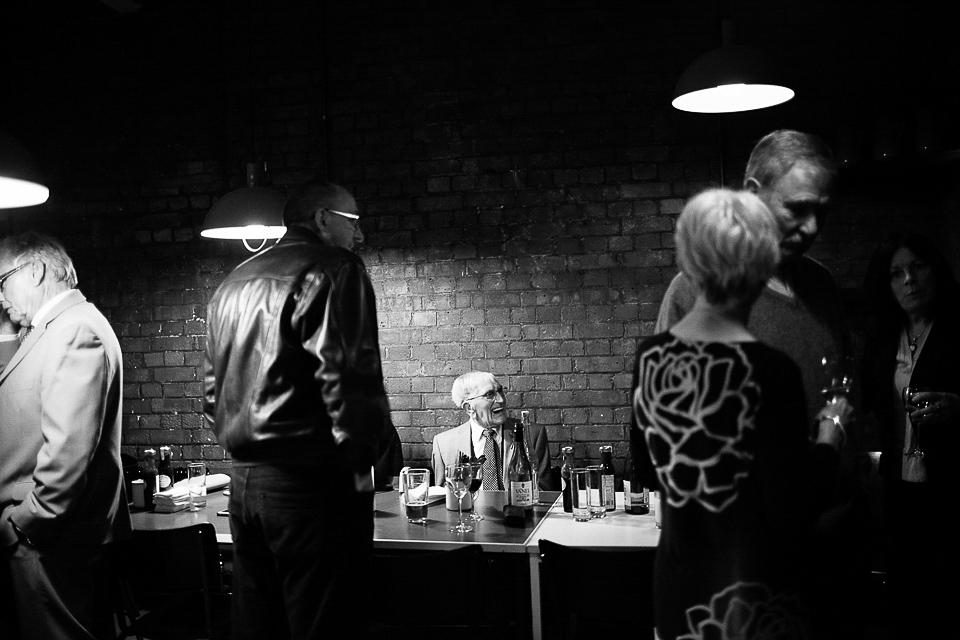 Words of Wedded Wisdom
"I would say don't stress about silly things; after what we went through as a family, nothing is more important than having healthy, happy friends and relatives all under one roof. I don't think we would have minded where we were really.
I would also say do it your way – we didn't have bridesmaids, hen do's or stag do's and knew people may think this was weird but we didn't care! We just wanted to keep it all about the wedding and I really didn't think I needed bridesmaids when there were only 25 guests and a small venue. We invited all the girls who would've been bridesmaids had we gone for a bigger wedding, and the fact that they were included in the small group showed how important they were to us.
 Don't feel pressure to spend loads on a wedding dress. I know most people do it but I honestly don't think it would've made the day any better. And we're not saddled with debt now because of it.
The night before the wedding we did something most would say was very unconventional. We stayed together in a hotel and it was really lovely. I was so calm getting ready and I'm sure that was because James and I had been together the night before!"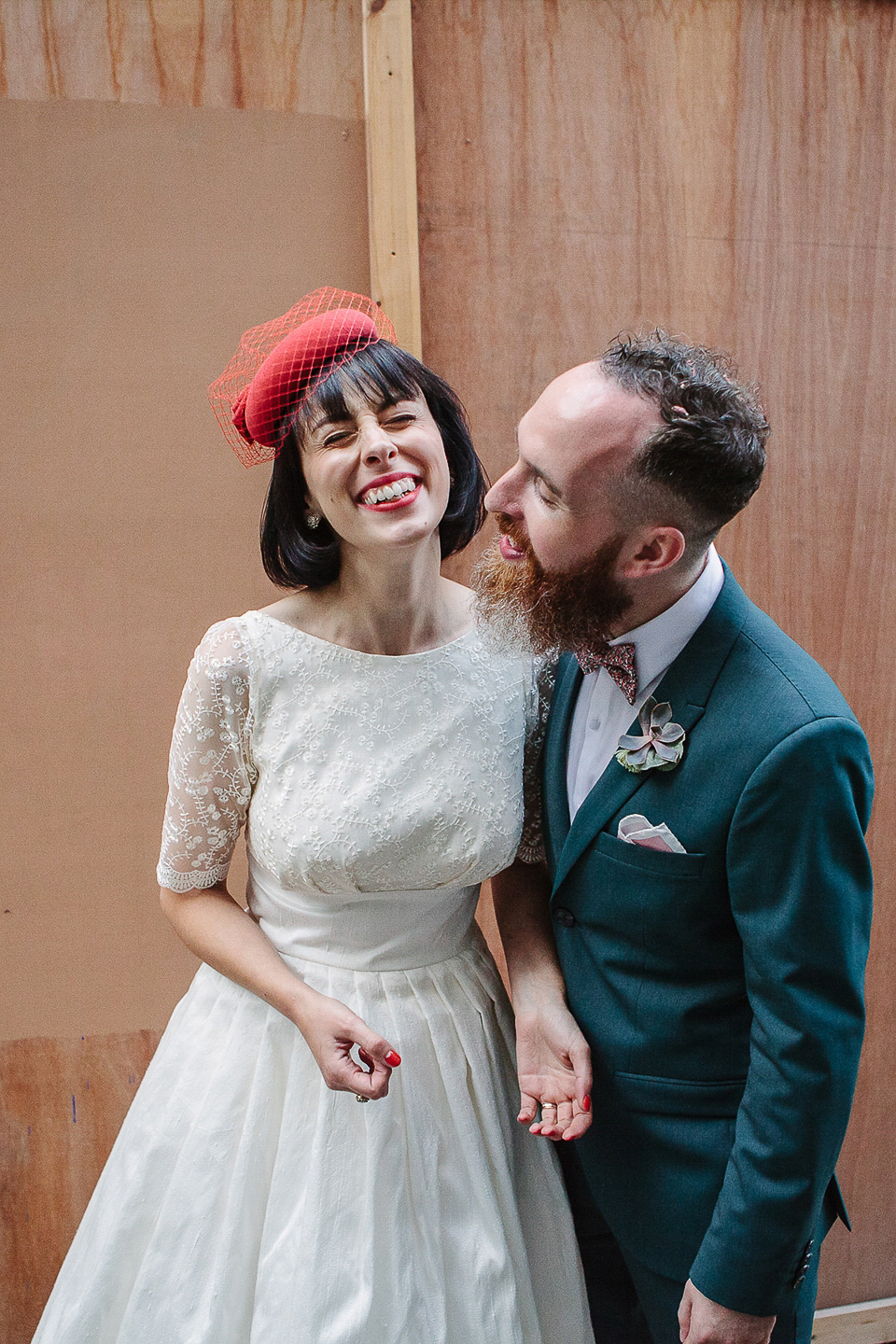 Take note future brides and grooms – these are very wise words indeed. It's been such a pleasure to share James and Lucy's wonderful wedding day with you all and I do hope, lovely brides-to-be, that you've been inspired if you're thinking of adding a pop of colour to your attire?
Also, be sure to save this link to see more beautiful Joanna Brown Photography weddings that we've previously highlighted – and thank you kindly to Joanna for sharing these wonderful images.
Wishing you a relaxing weekend – and good luck with the wedmin if you're in the throes of planning right now!
Love Jo -x-
Photographer – Joanna Brown Photography
Ceremony – Camden Town Hall
Venue + Catering – J + A Cafe, Clerkenwell, London
Wedding Dress – Dig for Victory Clothing
Shoes – Swedish Hasbeens
Hair Accessory – Pillbox hat by Mind Your Bonce
Perfume – 'Flowerbomb Extreme' by Viktor and Rolf
Groom – Tiger of Sweden suit + Liberty print bow-tie via Botanique Workshop + pocket square, shirt, socks and shoes via Reiss
Groomsmen – John Lewis
Florist – Wildabout Flowers + table flowers by the venue
Rings – Fidra Jewellers (bride's wedding band) + Grays Antiques (brides's engagement ring) + groom's ring from a jewellers in The Lanes in Brighton
Transport – London Wedding Taxis + via the tube
Entertainment – Jonny Hepbir Trio
Hair and Makeup – By the bride