When I applied to become a Feature Writer, I told Annabel that Love My Dress was my 'long term, matching tattoos, finishing each other's sentences Love'. And she still gave me a job. Aside from the slightly sinister choice of words, I wanted to convey just how important this wonderful online community is to fellow brides who want a little something extra from their 'I do's'. Without a sprinkling of Love My Dress inspiration, it can be all too easy to follow the vein of tradition and ignore the voice in your head telling you NOT to replace flowers with balloons… (listen to the voice people, the voice is fun). You can also unlock whole new levels of wedding goals that have previously evaded your attention (especially if you've grown up in Cornwall), one of those being an altogether fabulous foray into statement wedding dresses. Get married in ostrich feathers by Charlie Brear, dazzle in backless Midnight Blue OR perhaps Gold Sequins from Jane Hill….swoon.
Say hello to Jackson, a cameraman and Rah, a textile designer; two very happy newly-weds who also happen to have envy inducing jobs! Suffolk Barn in Hawstead was the natural choice for a day of wonderfully huge smiles that took place on 23rd May 2015.
"We didn't really have a 'style' per se – it all sort of worked itself together, we wanted to do as much as we could ourselves (and try not to spend a fortune!). We have an amazing bank of creative friends around us, so we pulled favours where we could. Any themes realised were quite organic in that sense."
Photography by Emily Brittain
Sequins are pretty darn special. Guaranteed to make you feel like a fancy pants in any given situation, this is SO evident on Rah's beaming face, which was perfectly made up by good friend Katherine. Totally worth all of the Down Under dilemmas! "I hadn't looked specifically for gold, but knew I wanted a different kind of wedding dress that I would be able to wear again and again, as soon as I saw this one I knew it was the One. I'm a bit of a Bond obsessive, and I thought it was such a Bond Girl dress; I could hardly say no to that!"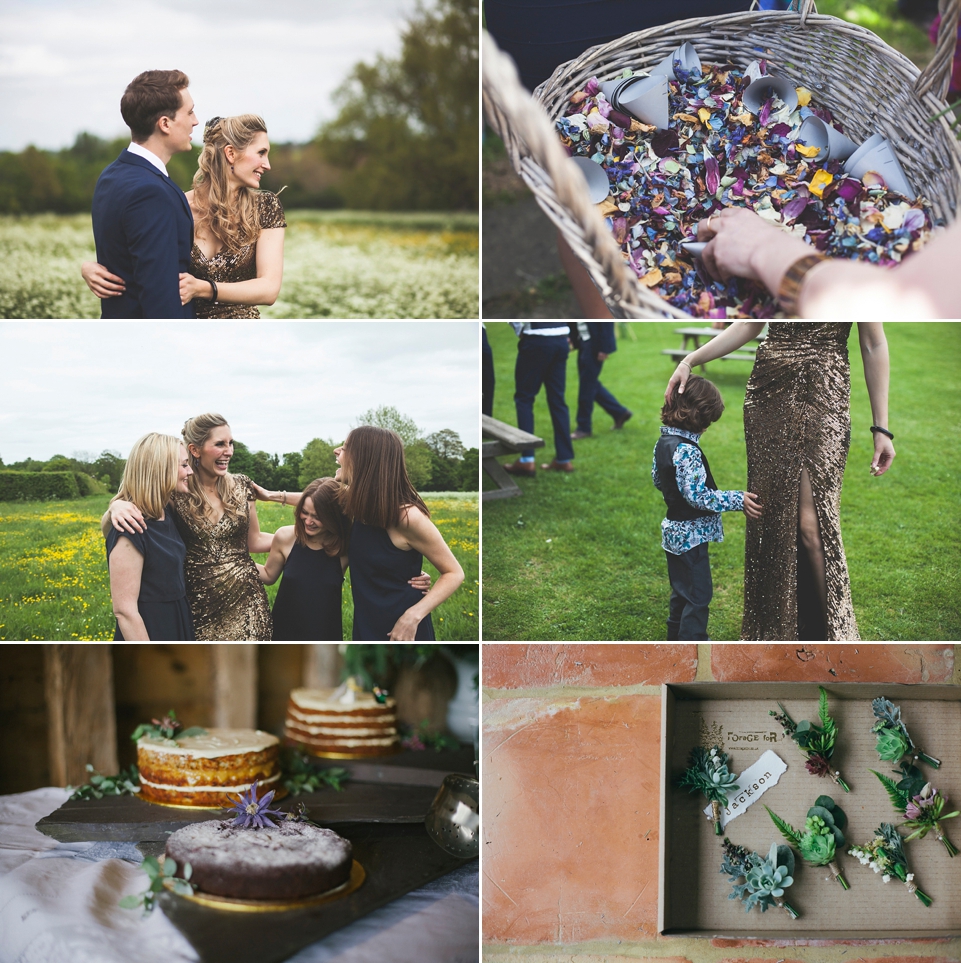 "My dress was from Jane Hill in Australia which did cause a lot of problems, being so far away was quite hard. I don't think I would recommend being an 'international bride' to anyone. Thankfully I had a fantastic dressmaker in the UK – Jan Wardle Designs – who managed to save the day after weeks of stressing"
What a treat to see the day through the eyes of such a talented friend. Emily Britain lets us be a part of the camaraderie and downright fun that spills out of these images; she's photographing people she knows and loves and this warmth shines through. The relaxed and natural feel fits the whole vibe of the day perfectly: a great big party to celebrate Rah's dress- oh and becoming husband and wife.
"The bouquet and buttonholes were made by Forage For, lots of eucalyptus, peonies, ferns and atrantia, foxglove, grasses and succulents to name just a few! I love structured flowers and greenery, all of the different patterns are just gorgeous and a huge inspiration to me in my work. Everything is grown in a walled garden they keep, so what you get depends on what they have – I loved this about them. The bridesmaids bouquets were made by my mum – eucalyptus and cow parsley."
"A family friend lent us their gorgeous 1926 Vauxhall 30-98 which drove me and my parents to the Church and Jackson and I left in. All nine bridesmaids (plus Jackson's parents) were taken in a restored vintage Bedford OB coach."
A pair of suede peep toes matched the navy dresses that the bridesmaids chose. I love these shots of navy blue, gold sequins and laughter in an English spring meadow; this is country wedding chic with a deliciously eccentric twist.
"I had nine bridesmaids so didn't want them all dressed in the same outfit looking like a uniform. The same went for my 'Best Man-Maid' JJ, he wore a slightly more vibrant blue suit so that he was noticeably different from the Ushers."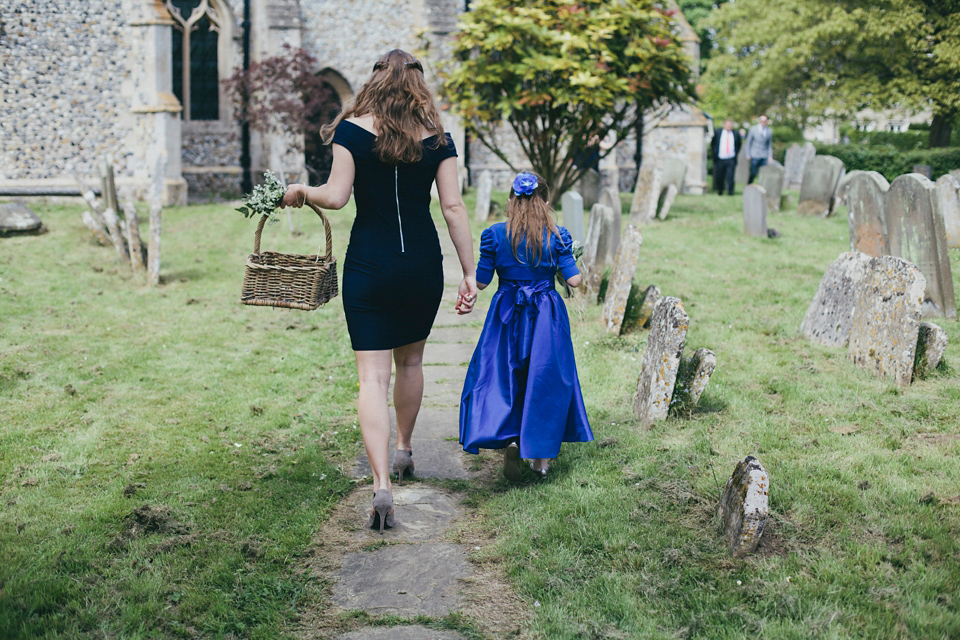 Our groom rocked a bespoke electric blue, three piece suit made by Trotter and Deane. He had no idea why a gold tie had been picked for him (but I'm sure was super pleased when he saw his Bride's matching knock-out dress). Keen to tie in a whole bunch of memories and important places, Jackson wore Cornish Pasty cuff links as a nod to his home county and the place where these two love-birds found each other.
"We met at university in Cornwall in 2007 at the best nightclub in town – Remedies. Its true, you can find love on a dance floor! Jackson proposed to me in his family bathroom on Christmas eve 2013, no fuss, no frills, just popped the ring in my make up bag for me to find and watched my face reflect my disbelief in the mirror. I of course then made him get down on one knee and do it properly . Bottle of fizz then lead to a fantastic pub crawl with friends in celebration."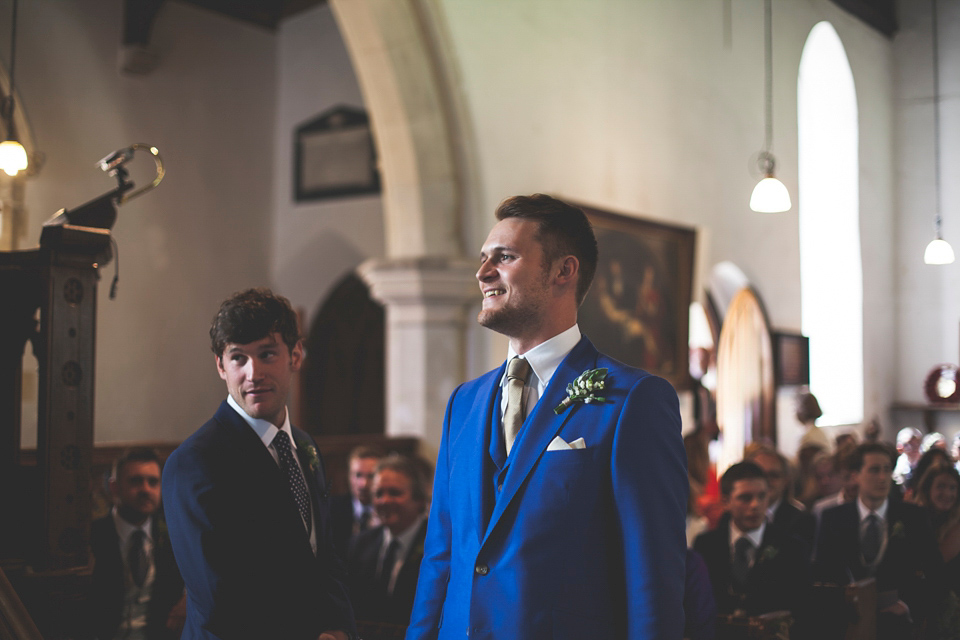 Rah was walked down the aisle by her Dad to the sounds of 'Comptine d'un autre 'ete, l'apres midi', a piano piece by Yann Tiersen. The couple chose to stick with the normal C of E vows and personalise the formalities with three readings: one beautiful extract of the Apache Wedding Prayer had particular resonance….
"When frustration, difficulty and fear assail your relationship;
as they threaten all relationships at one time or another,
remember to focus on what is right between you,
not only the part which seems wrong.
In this way, you can ride out storms
when clouds hide the face of the sun in your lives,
remembering that even if you lose sight for a moment,
the sun is still there."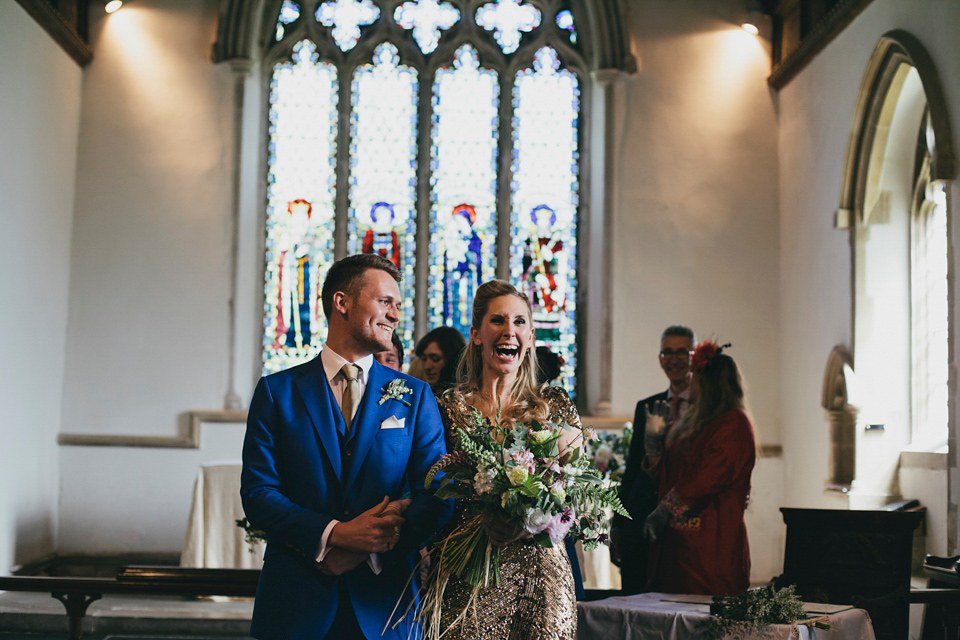 To DIY or not to DIY? I've been debating creating my own headpiece as I can't find exactly what I'm looking for; seeing this vision made by the Bride and bridesmaid Livvy has ensured I will definitely be giving it a shot – who knew guinea fowl feathers were gold sequins' best friends?
Adding to the super personal feel of the day, Suffolk Barn is just across the field from Rah's childhood home where her parents still live. This 15th century delight was constructed as a courtyard for one of the grandest homes of the time and certainly delivers on all manner of atmospheric impact.
"Outside the barn we had string up festoon lights to cordon off an area for the drinks and canapés. We made giant gold hoops wrapped in ivy and peonies that hung from the barn ceiling. The tables were decorated with gold animals, church candles, eucalyptus and dried artichoke heads that we sprayed gold. Jackson's dad made us a giant light up 'R&J' that hung opposite the DJ and we strung up umbrellas above the dancefloor."
The Bride's sister Laura made the scrumptious selection of wedding cakes. Lucky guests were treated to a variety of vegetable cakes – Beetroot and Chocolate, Courgette and Lemon and lastly Carrot – each table were given slices of all three cakes as their pudding. I need some courgette and lemon cake in my life!
Yet another talented friend Rob Fresson created a bespoke storyboard invitation. Guests were then asked to RSVP with a self portrait which was hung above the cards and presents table on the day. This mugshot collage now enjoys pride of place in the couple's living room as a reminder of all the people that partied hard to celebrate just how much love they have in their life.
"We actually decided not to do a first dance but had the intention of doing a last dance instead. We didn't pick a particular song but thought we would just find the right moment. Great idea, but we didn't dance next to each other long enough to have a proper boogie together unfortunately, the evening just whizzed past us!"
Words of Wedded Wisdom
"Don't make it a stressful chore! Get excited about your ideas. I went Pinterest crazy, with separate groups for the mothers, sisters, Jackson and myself! If you give yourself enough time then you'll enjoy it. We both agree that we should have stuck to each other's side more on the day, I hardly spoke to Jackson! We knew that the day would fly by but if we'd managed to stick together a lot of the initial meet and greets would have been done quicker.
Something a friend told me when we got engaged was make sure that you have something exciting lined up for after you are married – all the time you spend with each other having wedmin meetings and making plans will suddenly go and evenings will be a lot less busy. My advice is to have a project, an adventure or something that you can bury yourselves into, giving both of you something to look forward to after all the chaos and madness that a wedding brings!"
Post wedding blues has been a hot topic of conversation on Love My Dress in recent weeks, thanks to reader Charlotte's honest portrayal of feeling crumby when there's nothing left to stick glitter on. Much like our blushing bride, she advises keeping busy and throwing yourself into exciting new projects. We'd love to hear about how you dealt with hanging up your glue gun in the comments section below, there's always time for adventure inspiration in my book!
A humongous THANK YOU to Jackson and Rah for letting us share such a lovely dose of DIY encouragement. You really can get by with a little help from your (super creative and talented) friends – and as we've seen it makes for a pretty special day. Thank you to Emily Brittain for letting us feel like fellow guests at this most awesome English shindig.
Halfway through the week guys, as my exercise DVD keeps telling me: let's finish strong!
Emily xx
Photographer – Emily Brittain
Venue – Suffolk Barn
Wedding Dress – Jane Hill alterations by Jan Wardle Designs
Headpiece – handmade by Bride and bridesmaid
Accessories – Lapis Lazuli Earrings by Anthropologie, Obsidian bangle
Groom – Bespoke by Trotter and Deane
Best Man/Groomsmen – Ted Baker range at Moss Bros Hire
Florist – Forage For
Cake – made by Bride's sister
Rings – Romark in Bury St Edmunds, engagement ring by Serendipity Diamonds
Catering – Crown Catering
Stationery – Rob Fresson