Happy Friday lovely readers! As I write this, April is performing true to form, stunning sunshine broken by showers, so lovely and would make for excellent wedding photos! Today we are visiting one of the most beautiful parts of this country, the Lake District, I'm already feeling the romance. This beautiful wedding is full of smiles, homemade floral arrangements, afternoon tea and their pet pooch Willow. Meet Rebecca who works for the National Trust and Alex a Sales Executive, the pair married in the Autumn season, on 20th October 2015 at New House Farm, Cockermouth.
Rebecca and Alex were determined to have their day their way and as you'll soon find out, they did exactly that, choosing not to do many of the traditional formalities. This included having a first look and walking down the aisle together – two moves we applaud here at Love My Dress!
"The main thing we wanted was it to reflect both of us. I'm definitely not into the idea of a theme, I wanted it quite eclectic, but If I could sum it up, it would be my love of history and rummaging through antique shops and Alex's love of the outdoors and our joint love of nature."
Photography by Jessica Reeve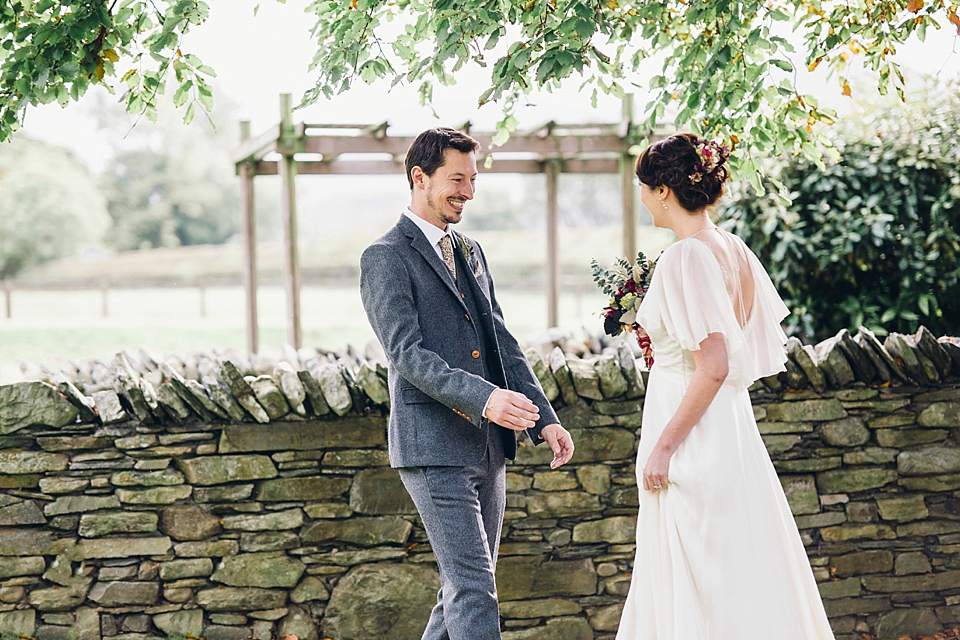 "The styling really began from what we already had in our home.  The best compliment we had was that people said they knew whose wedding they had stepped into instantly, this was what we were aiming for."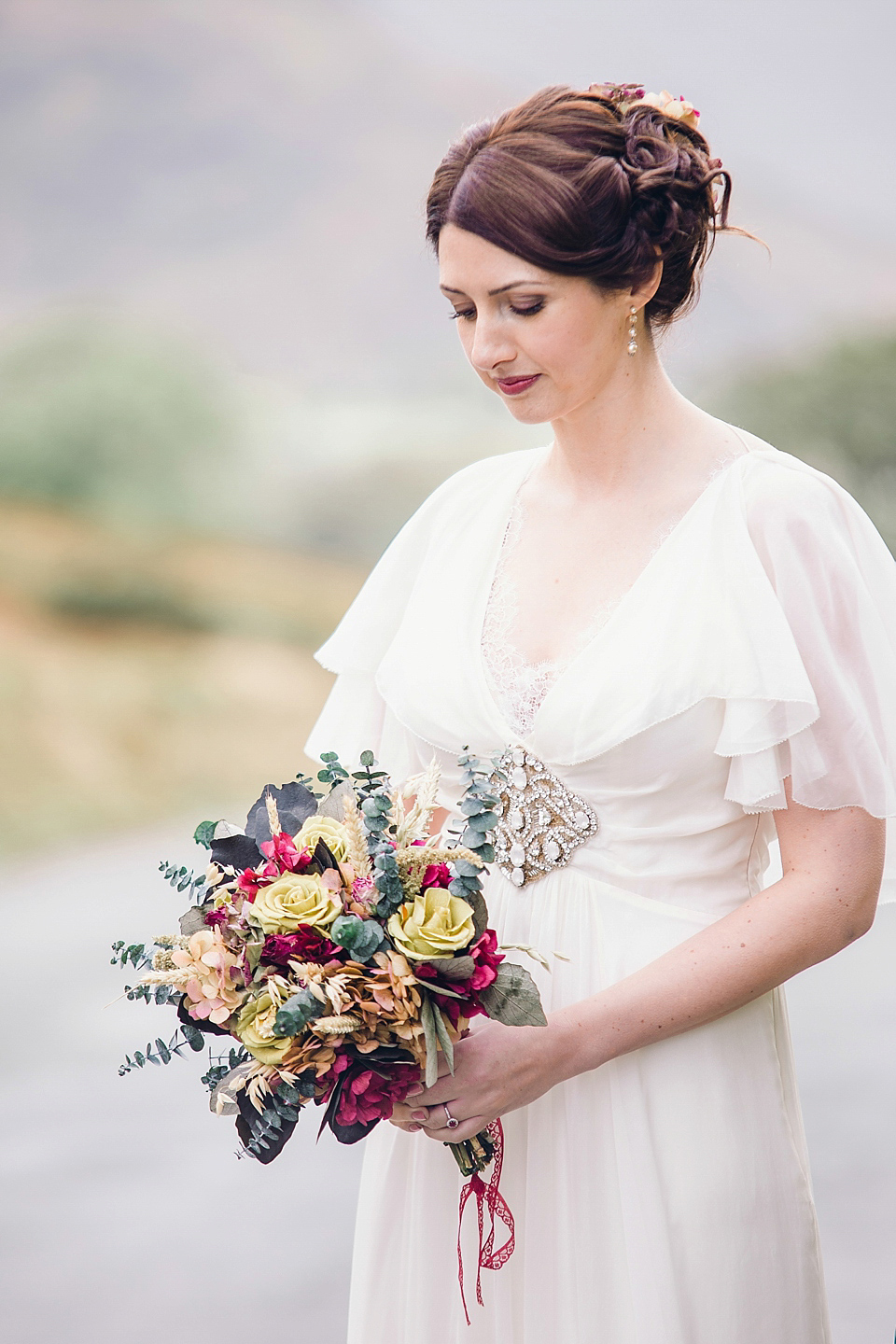 The bridesmaids looked beautiful in a mixture of dresses, with earring and bracelets from Accessorize, the pink vintage style dresses were by Ghost, an off the shoulder floral dress from ASOS and a floaty green style from Coast.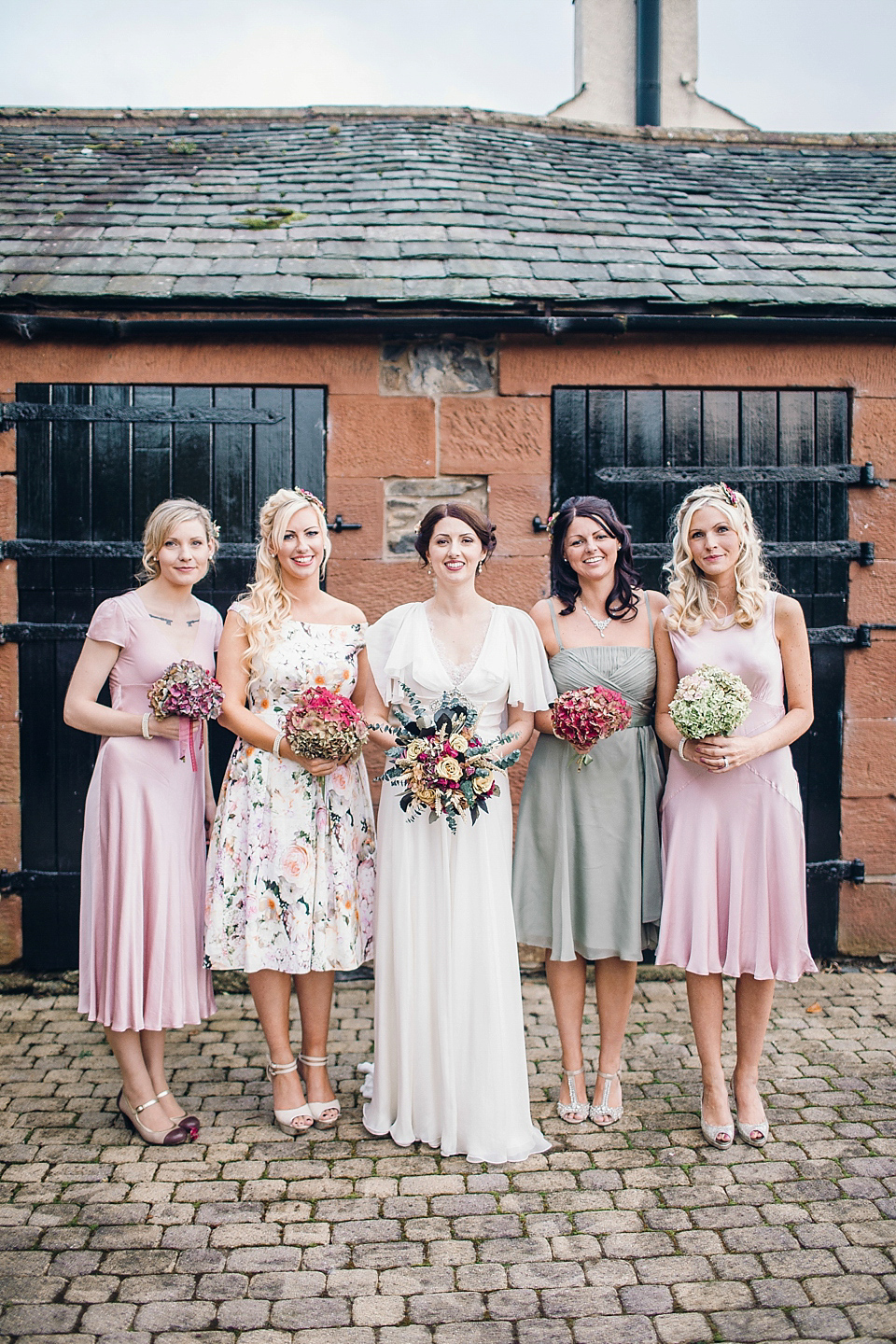 Rebecca found their venue when looking for a photographer for their special day.
"I came across these really beautiful photographs of a wedding at New House Farm.  When we met Hazel and she showed us around we knew instantly that this was the venue for us.  The barn is an amazing blank canvas, but still has a real rustic charm.  The main house has dogs running around and blazing fires.  We had the whole house to ourselves, it felt very intimate which I liked. The location is stunning too our favourite part of the Lakes. I think when we found out our Springer spaniel, Willow, could stay too sealed the deal for me, she is very much part of our family, it would of felt weird not having her there."
Rebecca wore the most beautiful dried flowers in her hair and I don't blame her for not wanting to take it off.
"I absolutely loved my hair piece. I knew I wanted flowers but the whole flower crown thing is not quite my style. I came across Folky Dokey on Instagram and fell in love with what she does.  The fact that she uses dried flowers really appealed to me, as it is what we were having at our wedding."
" She was so patient with me as I was really specific about the colour of dried hydrangea I wanted.  At each stage she would send me pictures of the progress.  What she made me was half a flower crown, with the flowers at the back of my head. I was so sad to take it out when I went to bed!"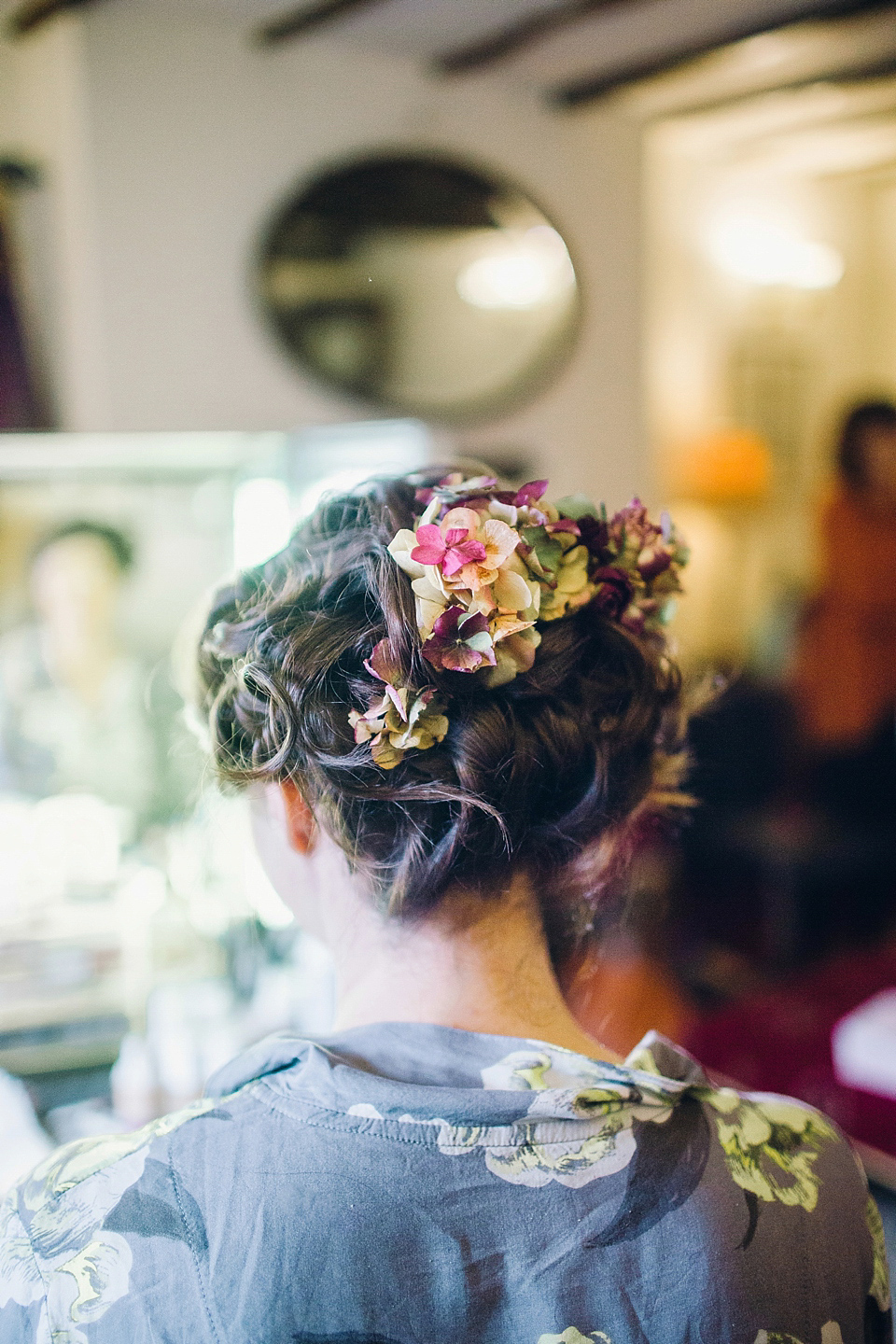 The angelic flower girl wore a pretty dress, shoes and cardigan all from Next with a headband of dried flowers also from Folky Dokey. The cute page boy wore waistcoat and trousers from Monsoon with a bow tie hand made by Catkin Jane in Liberty fabric to match the groom. These two look too adorable walking down the aisle hand in hand.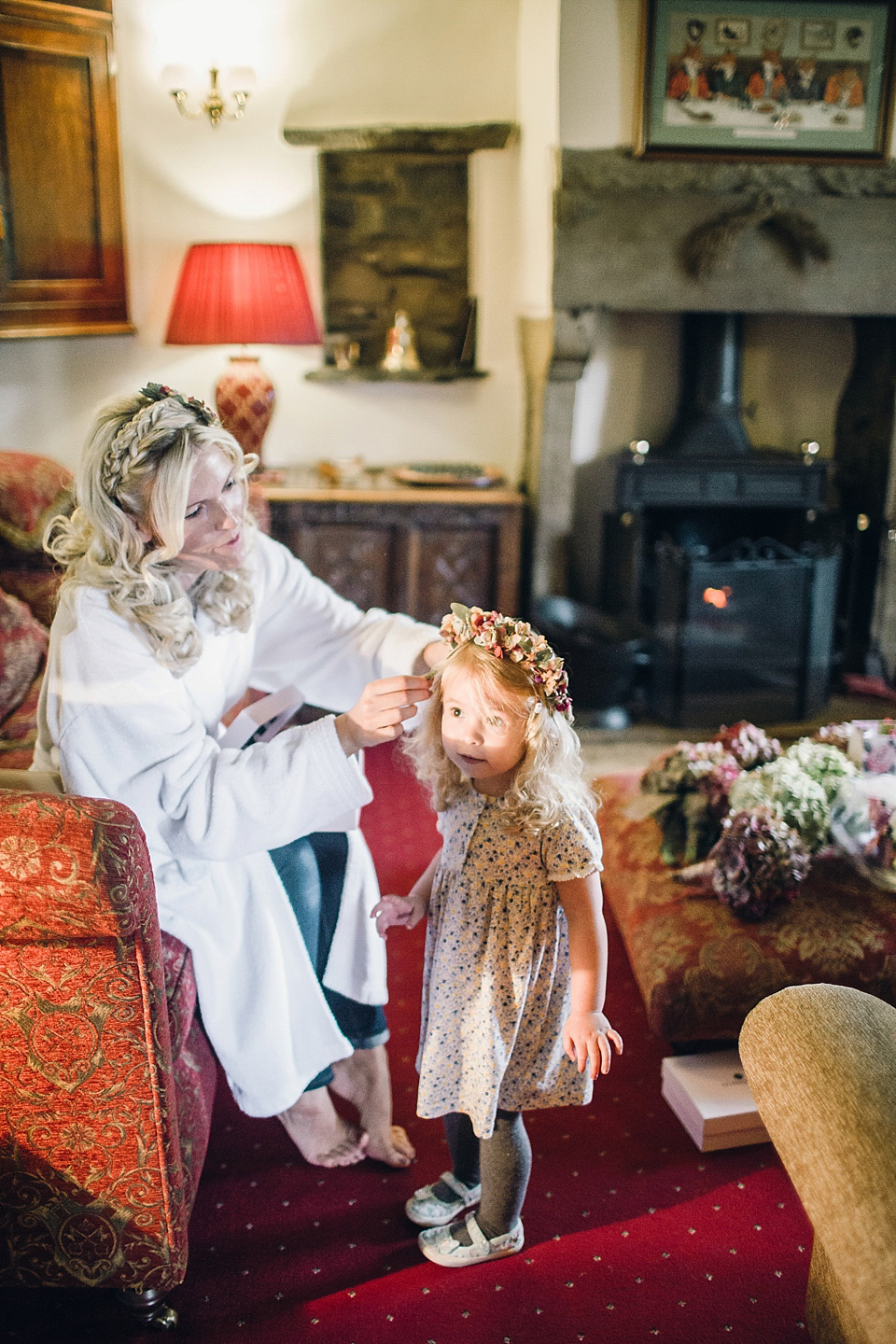 Our bride was very lucky to find her beautiful vintage style Jenny Packham dress on the sample sale rail at Mia Bridal in Carlisle.  Wanting to make the dress her own, Rebecca had it customised with trimmings of scalloped lace around the neckline and the back.
"I have always wanted a Jenny Packham dress, but decided that they were really out of my price range.  Mia Bridal stocks Jenny Packham dresses and I had no intention of trying one on in case I loved it and lost all control of the budget. My sister spotted the dress on the sale rail and I was open to trying anything on."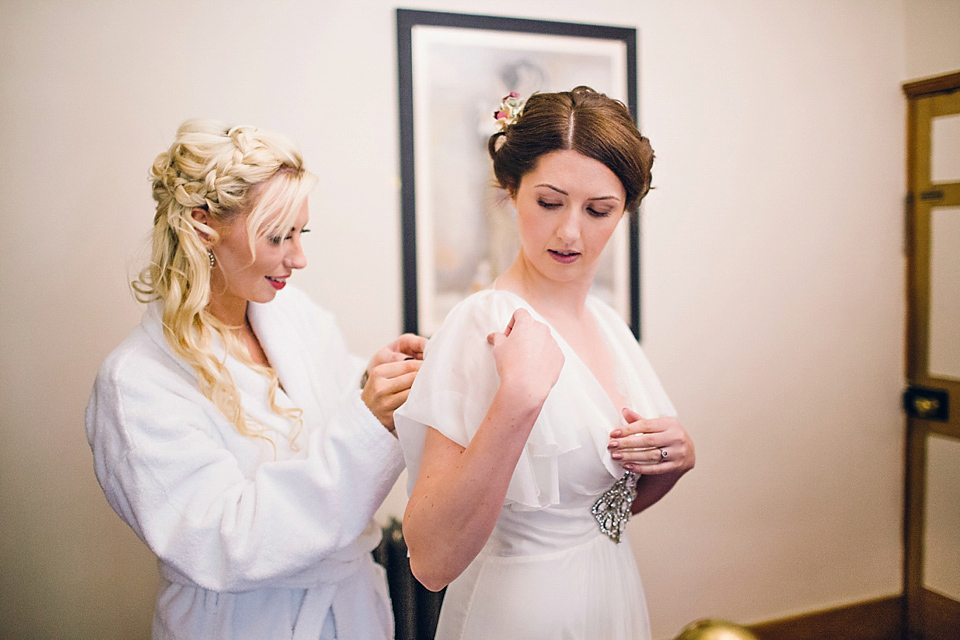 "When I put in on it fit like a glove. I had a moment of 'why did you let me try it on' when I found out it was Jenny Packham, and then a moment of elation when Sarah said it was a sample sale dress. Mia Bridal was the first shop I went to and it was the first dress I tried on."
"I loved that I felt like me in it, it is simple, elegant and the way it flows when I walk is just beautiful. I thought I would struggle to find a dress that I liked.  If it looked or felt to 'bride' it was a definite no. All the other dresses I tried on made me feel like I was in fancy dress.  This just felt like an elegant version of me."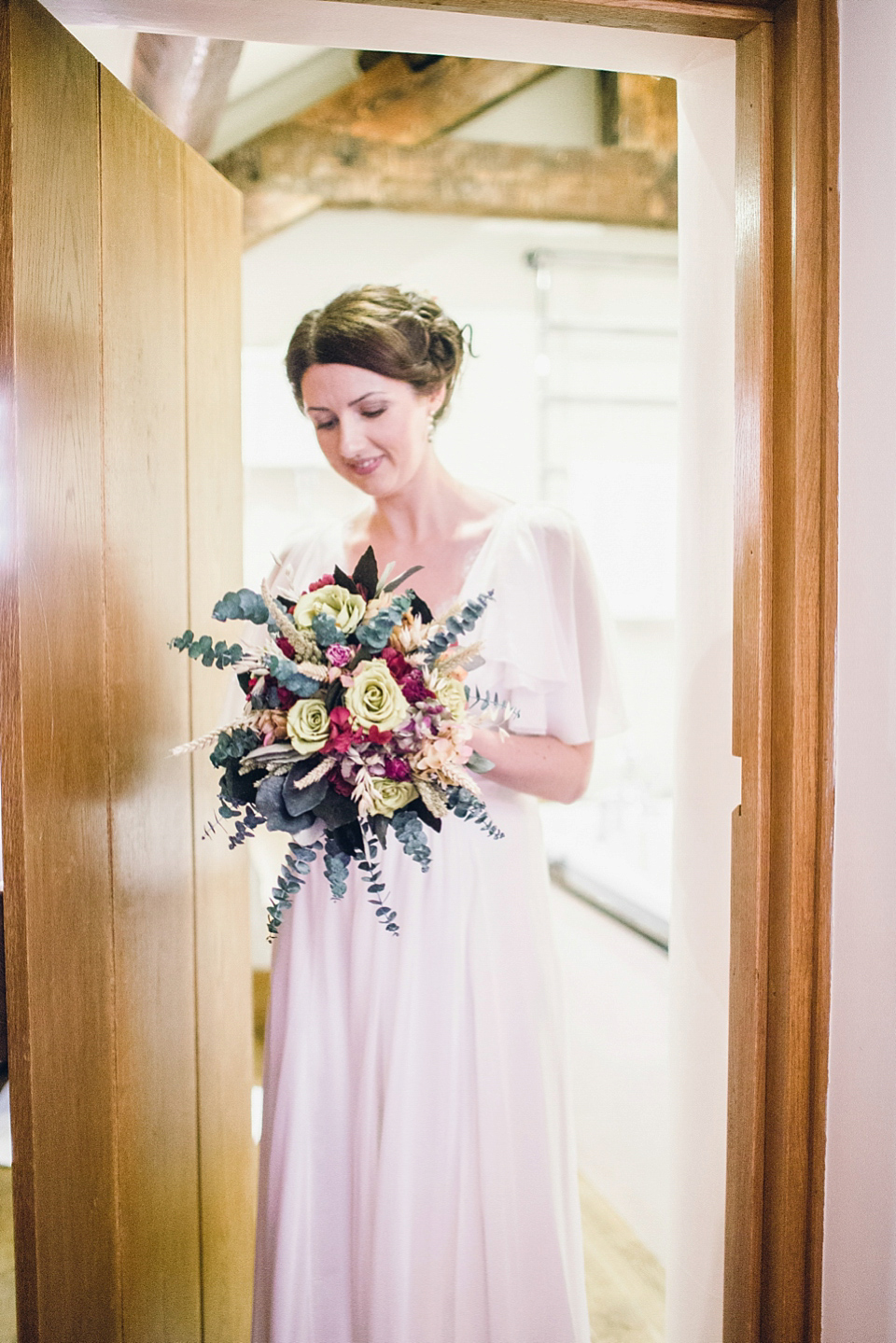 The rest of her look was completed with vintage earrings, a watch belonging to her Grandma, so that she felt she was with her, Rachel Simpson shoes, something she feels she can wear again and a spritz of some of my favourite fragrances Jo Malone Sea Salt and Wood Sage mixed with Earl Grey and Cucumber.
"Scents that I already wear and I know Alex loves. I wanted to feel like me (a common theme!)"
I love an Autumn wedding when the men can start to wear tweed suits, Alex looked great in his from ASOS combined with tie and pocket square handmade in Liberty fabric by Catkin Jane. To achieve the relaxed and informal look Rebecca and Alex wanted, they asked their groomsmen to wear their preferred suit. All of the men had beautiful button holes made for them by Alex's mum, all of which were foraged by the couple including a mixture of feathers, wheat, grasses and berries.
"We met nine years ago, while we were both temps, Alex had just come back from living in Whistler, snow- boarding and I was saving to go back to university to do a MA in Museum Studies.  It was pretty instant for both of us, I had a weird urge to talk to him.
We got engaged Christmas eve 2014, I love Christmas so it was perfect for me. We married 10 months later.  We both wanted an autumn wedding as we love the season especially living in the Lakes, and we didn't want to wait until the following year."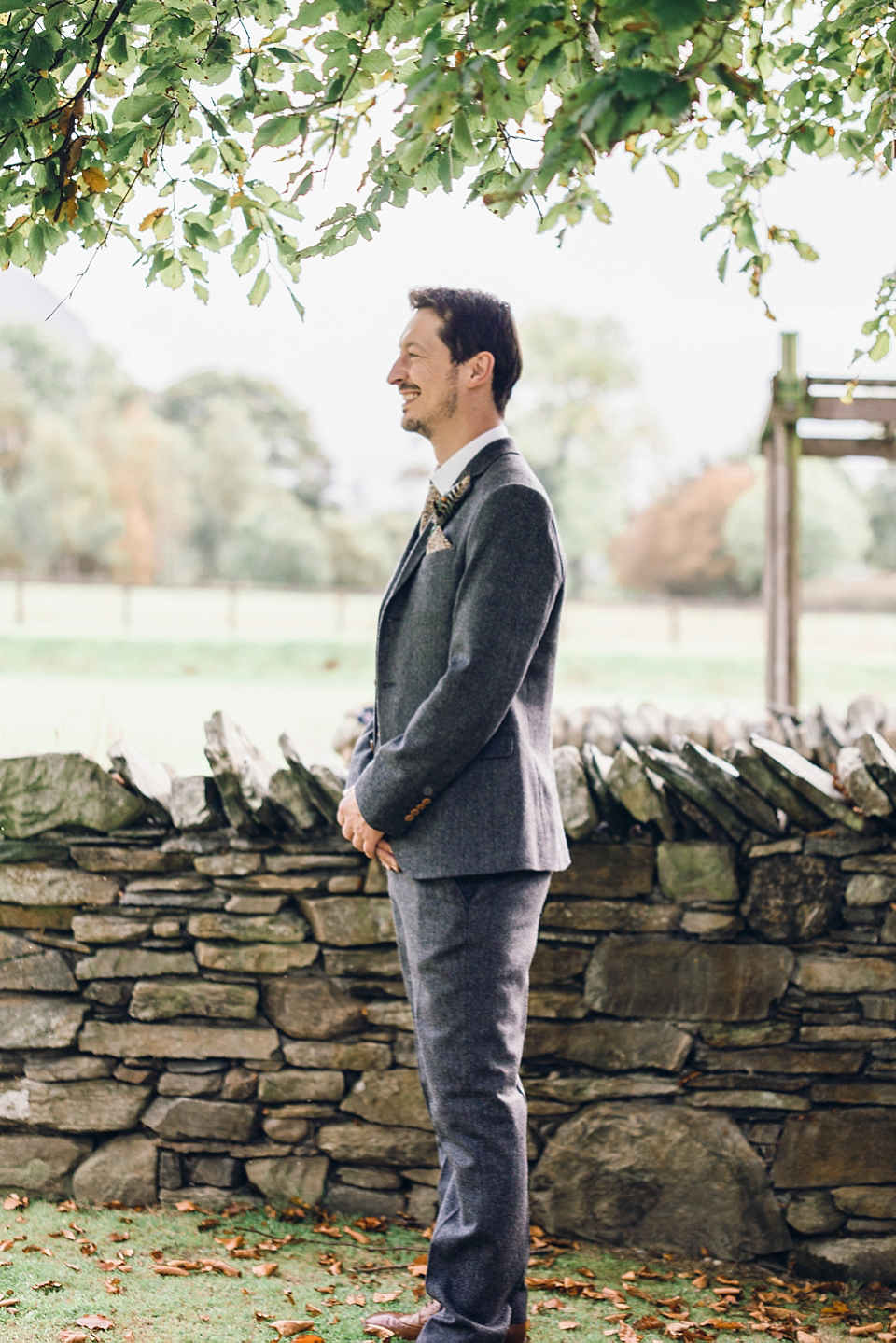 This gave the bride and groom the opportunity to do the 'first look' and to have some really beautiful photos taken of that intimate moment, this was one of their favourite moments of the day.
"I came across Jessica Reeves Photography on Love my Dress via this wedding and noticed that the wedding was in Cumbria. I had been looking for a while for a photographer, as it was something we were particularly picky about.  I wanted relaxed and informal photographs. Jess was amazing, she is really lovely and professional, and we didn't notice she was there most of the time. From start to finish I couldn't recommend her enough.
We were even sent a beautiful wooden box containing our USB, some printed photographs tied with a ribbon – it was a gorgeous touch.  She put together a slide show of the photographs to music, which I loved and when Alex and I sat down together to watch it like re-living the day all over again."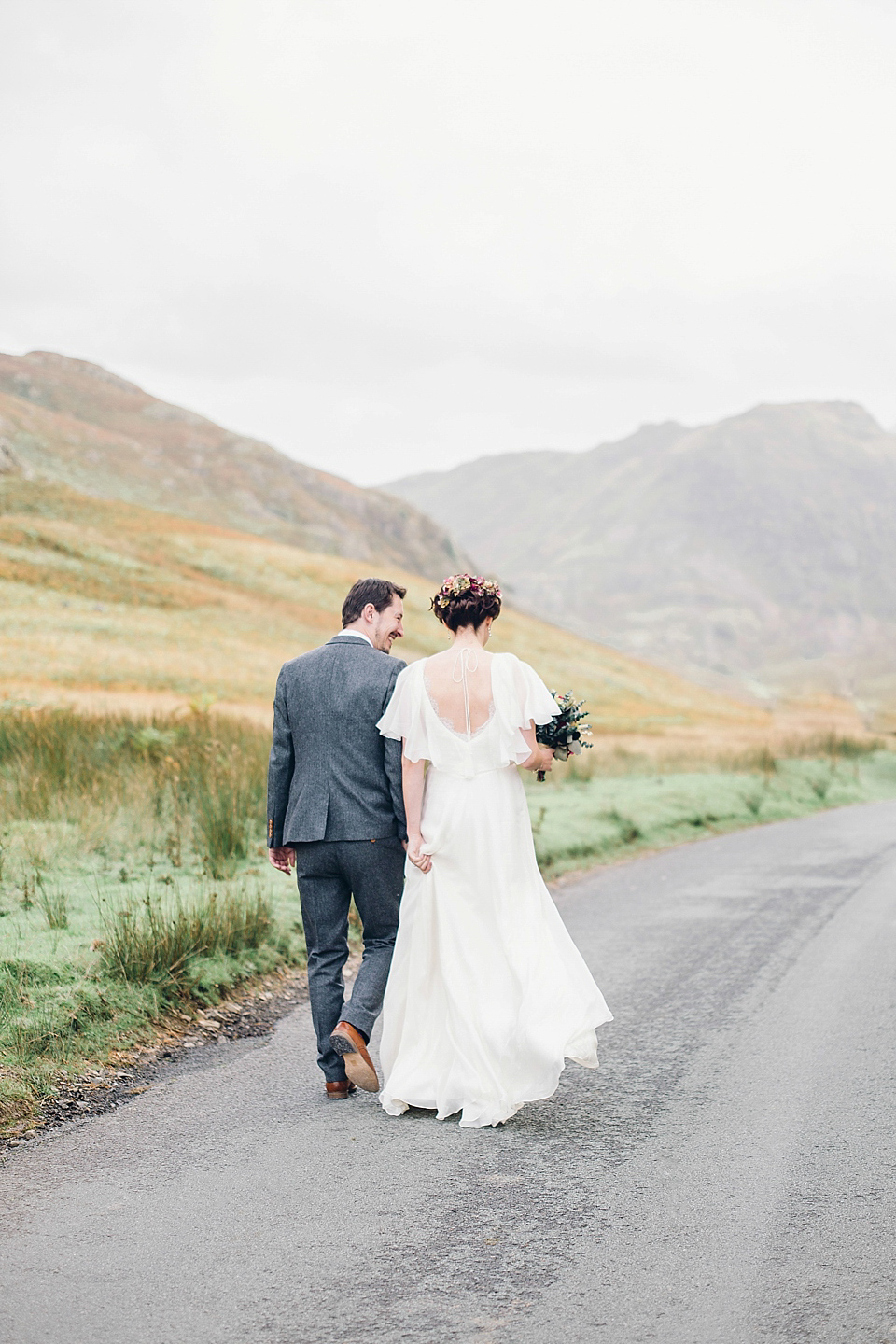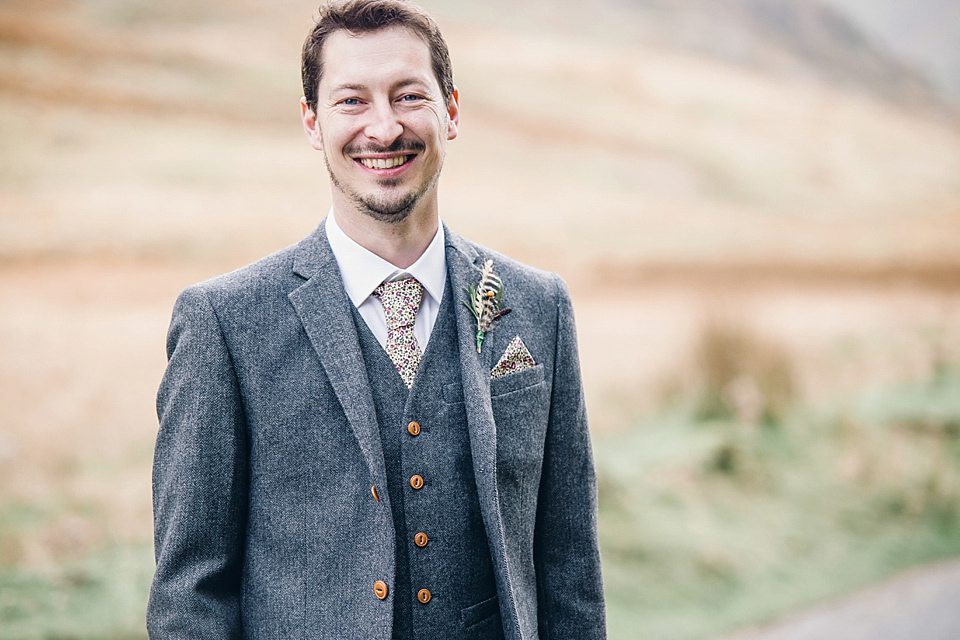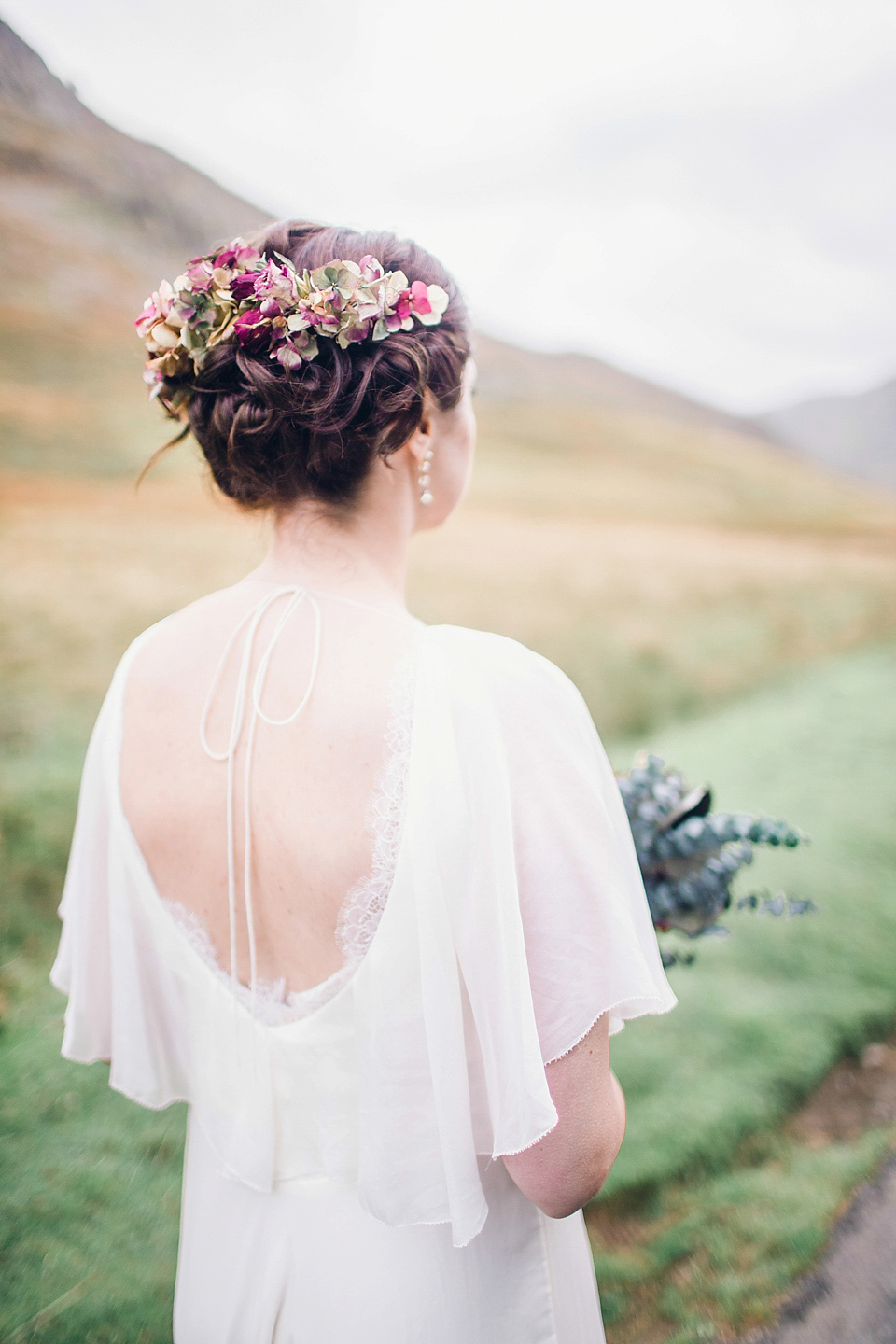 Rebecca, like me, shares a love of hydrangeas particularly dried hydrangeas. This is a really great idea for you brides who are wanting to do your floral arrangements by yourself, the beauty is that you can do all of your arranging in advance, so no pressure on the wedding eve and if you can gather up stems from family and friends, then it is a great way to save some money on your wedding day.
"My bouquet was made by Folky Dokey it contained dried and preserved hydrangeas and roses, eucalyptus and wheat to complement Alex's button hole. All the rest of the flowers were picked and dried by us. I'm a bit obsessed by dried hydrangeas, the range of muted colours they turn are so beautiful. We collected hydrangeas from our garden, from family, friends and even my mum's neighbour, and dried them ourselves – we had a few disasters!  We spent hours foraging and collecting grasses – the dog loved it.
I even had some flowers from Hill Top that had dried and were about to be thrown out!  I was flower obsessed for months. Alex's mum is a flower club member and she had collected a range of beautiful dried flowers for us also.  In the end we had loads which was fantastic as the barn is a big space to fill.  My now sister in law Sam, did some fantastic displays which sat at the front of the barn, and she put together the bridesmaids bouquets."
"I found the idea of being given away uncomfortable, so we made the decision to walk down the aisle together.  We really feel like a team in our relationship, and we are equals, so we wanted to start our marriage in this symbolic way also."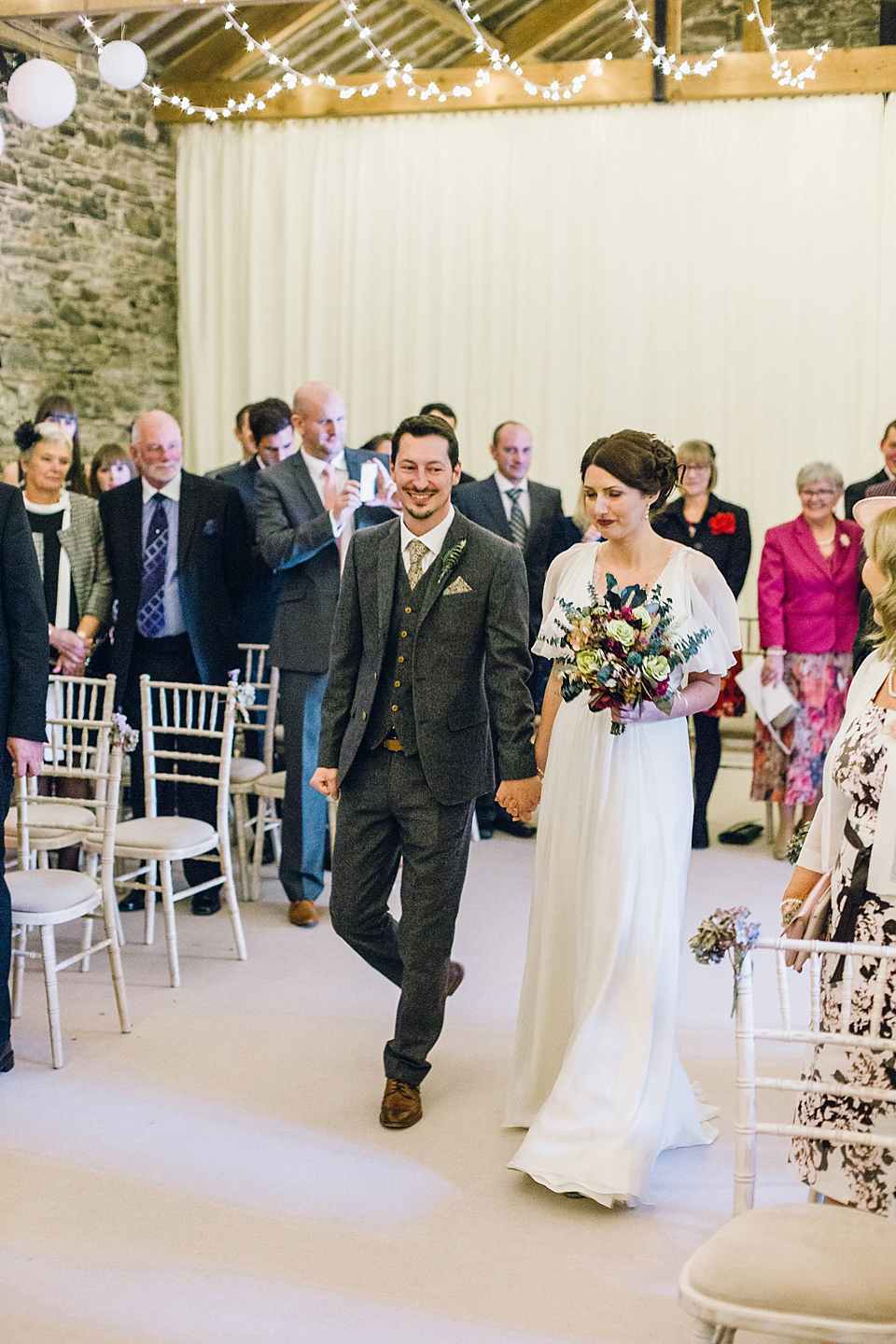 The couple walked in together to 'I've got you and you've got me' By Lennon and Maisy, a song that sums up how they feel about each other.
During the ceremony Alex's brother read this beautiful reading for the couple, something which they recognised themselves in.
Once upon a time a boy met a girl. 
She gave him her hand and he held it tight. 
Together they set off down the unknown path in front of them. 
Sometimes they walked slowly; sometimes at a quicker pace; sometimes they ran so fast it felt kind of like flying. 
Whenever he lost his footing, she steadied him and whenever she tripped, he helped her back up. 
Whenever she grew weary he'd carry her. 
Sometimes they didn't know which direction to go, but although they occasionally lost their way, they never lost each other. 
They wandered contentedly and lived happily, forever and always side by side.
"My best friend Emma also wrote me a beautiful poem.  She is so talented.  She felt too emotional to read it out at the ceremony.  But we had a moment together before the ceremony where she read it just to me and we were both in floods of tears, so it was probably best this way!"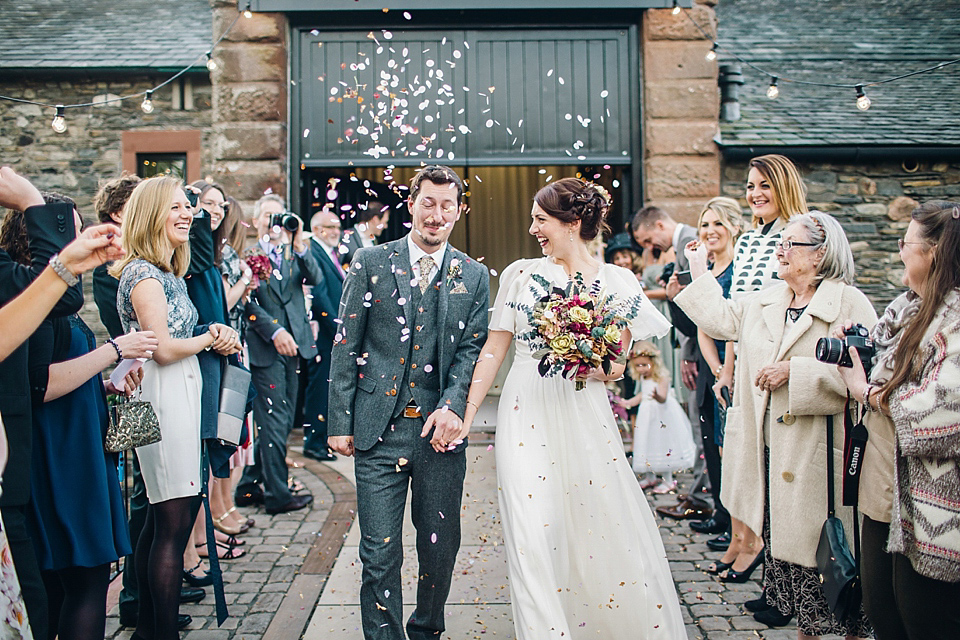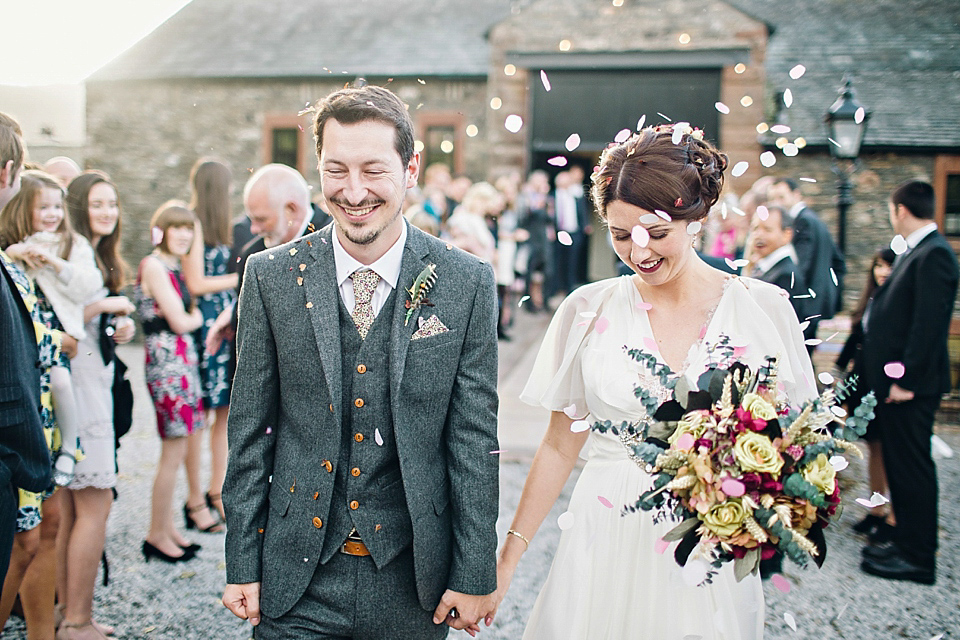 The pair are both crafty and love to make things, Alex particularly has an artistic talent as can be seen in his stunning table plan.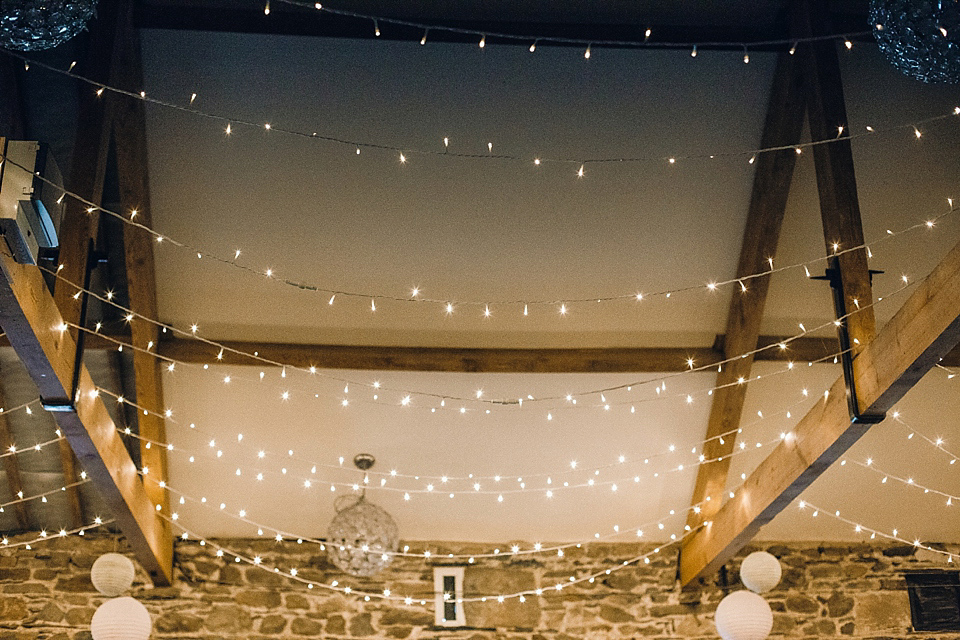 "Alex designed and illustrated/painted the table plan and table names with his favourite birds, he illustrated a cocktail card which went with our Sloe Gin favour, which gave people ideas on how to drink it which was fun.  For the place names we collected and pressed leaves, then wrote on the leaf with a bronze metallic pen. Menu's and signs made by me using old frames that I painted."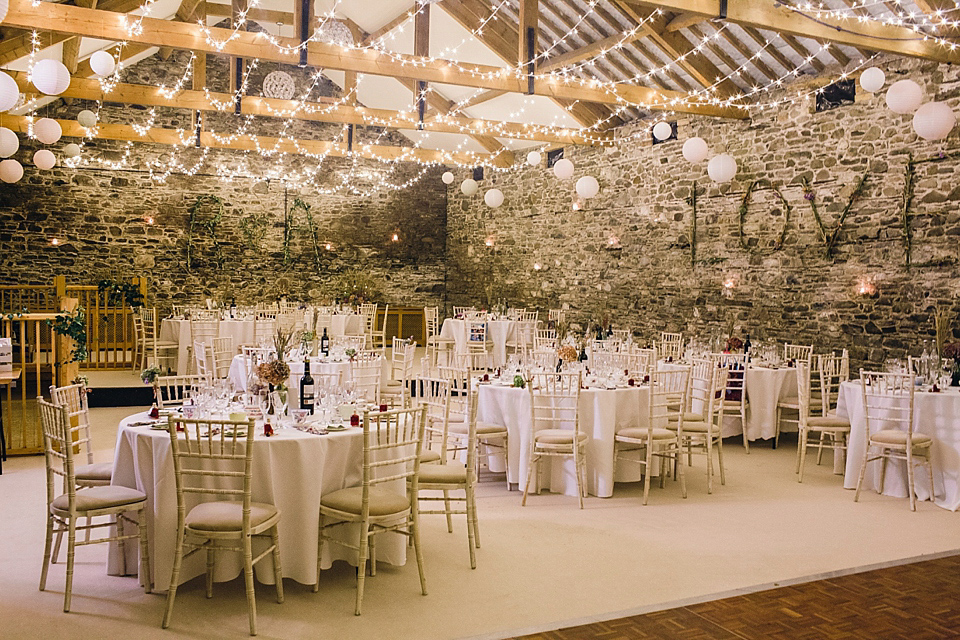 The tables were decorated with items already owned by Rebecca and Alex, such as vintage chemist and drinks bottles, vintage Cornish ware and Dundee marmalade jars filled with the dried hydrangeas, gypsophila and grasses. Alex's mum lovingly made Liberty print napkins for every guest and vintage tea sets were donated by family and friends, with a very special set belonging to Rebecca's Grandma, on the top table.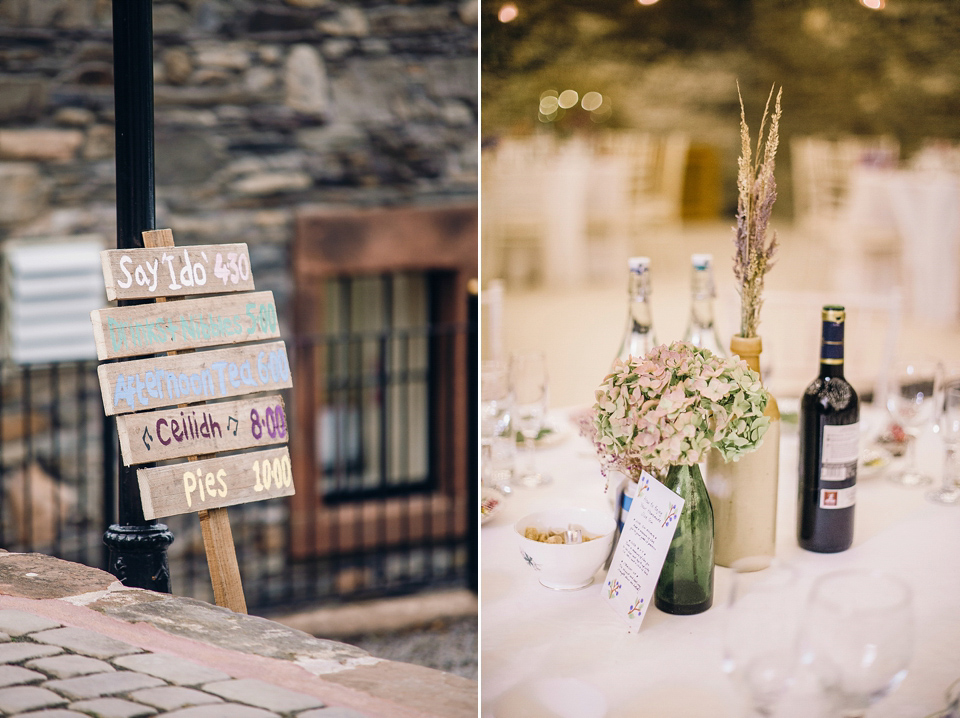 Rebecca and Alex gave two favours to their lucky guests, Sloe Gin made by Alex and the quirky idea of a conker on a string.
"Alex's Grandad taught him how to make it when he was 20 and he has made it every year for the past 15 years, so it was an easy decision to have this one.  The second was a conker on a string, which is a nod to our childhoods in the Autumn."
Hogarth's of Kendal catered for Rebecca and Alex, supplying them with the most amazing wedding breakfast, afternoon tea with mini sausages and mash and they got to take the leftovers home with them!
"We both wanted something simple, and we liked that they are a local company. We chose to have afternoon tea, but it has a bit of an autumnal twist with little cups of soup and mini sausage and mash. The evening food we cooked ourselves – well our family did.  We had pies (can't have a Cumbrian wedding with some pie) they were from Pioneer and were delicious and just want we all wanted by 10.00pm."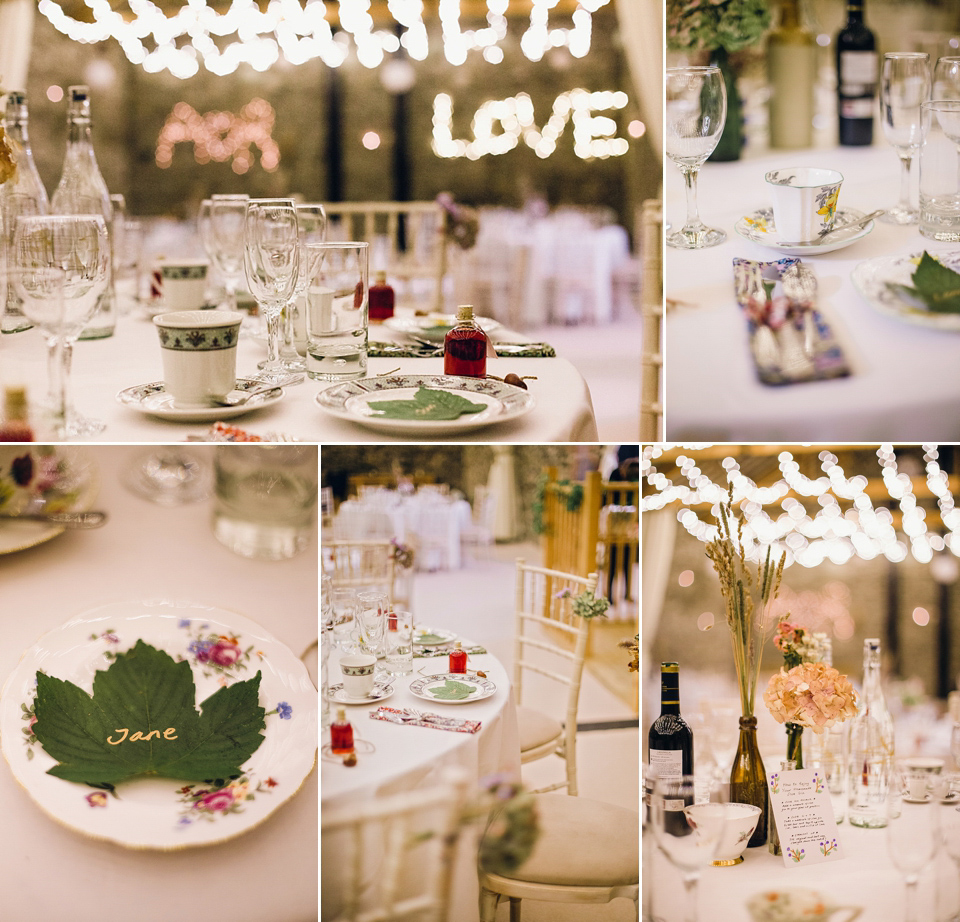 Around the venue they had a 'LOVE' sign and 'A loves R' signs made from foraged willow, and decorated with dried flowers and ivy. These are so lovely, I hope you have them hung in your home now Rebecca and Alex?
The newlyweds chose The Macaroon Ceilidh Band to ensure that all of their guests were up dancing and had their first dance to 'Whistle for the Choir' by The Frattellis.
"We had dancing lessons at 'Wilde Dance School' in Kendal, they tailored the dance for the song we picked.  I found the first dance really nerve racking but I loved having the lessons – Alex loved it all which I think really surprised him."
Words of Wedded Wisdom
"Be more organised, especially as we were doing so much ourselves.  We had some very late nights and early mornings days before the wedding. I think, just go with what feels right for you as a couple, and don't be swayed by others opinions.  I really felt that the way in which we got married and the venue etc. was all a reflection of who we are as a couple, and it was really important for me/us not to compromise on certain things, if you want a bright pink dress, you have a bright pink dress it's your wedding after all.
Don't spend too much time on Pinterest  – you start to second guess the decisions you've made.  And I've read this quite a lot but it is so true.  Make sure you find some time in the day for you as a couple.  It's a wonderfully crazy day, you need to stop for a moment and take it all in together.  People want to help, so let them.
Our families ended up being such an integral part of our day.  They were all at the venue with us days before setting up, and by the time the wedding day came around I felt that they had gotten to know each other really well.  I loved that I could look around the room and see the work and time our families had all dedicated to the day, from collecting tea sets to making the Willow signs and Liberty napkins, it really added to making the whole wedding more memorable."
Thank you so much to Rebecca and Alex for sharing your beautiful day with us, I think you will have given lot's of our brides to be so many ideas. Come the summer, I will definitely be hunting out hydrangeas to dry out and fill my home with. Thank you also to Jess for allowing us to use your stunning images, you really captured that Autumn light perfectly. For more inspiration for your Autumn wedding, take a look here.
Have an amazing weekend all,
Bianca xx
Photographer – Jessica Reeve
Venue – New House Farm
Wedding Dress – Jenny Packham from Mia Bridal
Shoes – Rachel Simpson
Accessories – Earrings from Mia Bridal
Perfume – Jo Malone
Groom – ASOS and Catkin Jane
Bridesmaids –Ghost,  ASOS and Coast
Flowergirls – Next
Page Boys – Catkin Jane
Florist – Bride and Folky Dokey
Entertainment – The Macaroon Ceilidh Band
Catering – Hogarth's of Kendal
Stationery – Bride and Groom