Hello folks! Today's fairy tale, Irish castle wedding has, quite honestly, knocked my socks off. Our couple, who met when they were just three and fell in love many moons later, channelled their magical love story into an equally beguiling wedding day, 5,000 miles away from their home in San Francisco. Ryan and Juliana, who run stationery company Good Juju Ink, tied the knot in a ceremony celebrating their Celtic and Jewish roots on September 28, 2015, at Ashford Castle in Cong, County Mayo, Ireland.
Let's begin by taking a peek at the couple's wonderful wedding film, captured by Catch Wedding Cinematography.
"Ryan and I met as toddlers and grew up—quite literally—across the street from one another, so there was an inherent magical/storybook element to our nuptials that we simply could not ignore. The challenge was to create this fairy tale wedding without it being one giant cheeseball homage to all things Walt Disney (and tacky knickknacks that sparkle)."
https://vimeo.com/167709770/1d6a13c596
"I wanted every detail of this celebration to be infused with mine and Ryan's personal touch—a nod to adventure, to taking risks, to accepting the challenge of a relationship, to the wondrous opportunity to grow and commit in the presence of other people, to the joys and absurdities of life's twists and turns, and finally—to the magic that is the everyday. We visited Ashford Castle two years before our wedding, and we fell in love with it."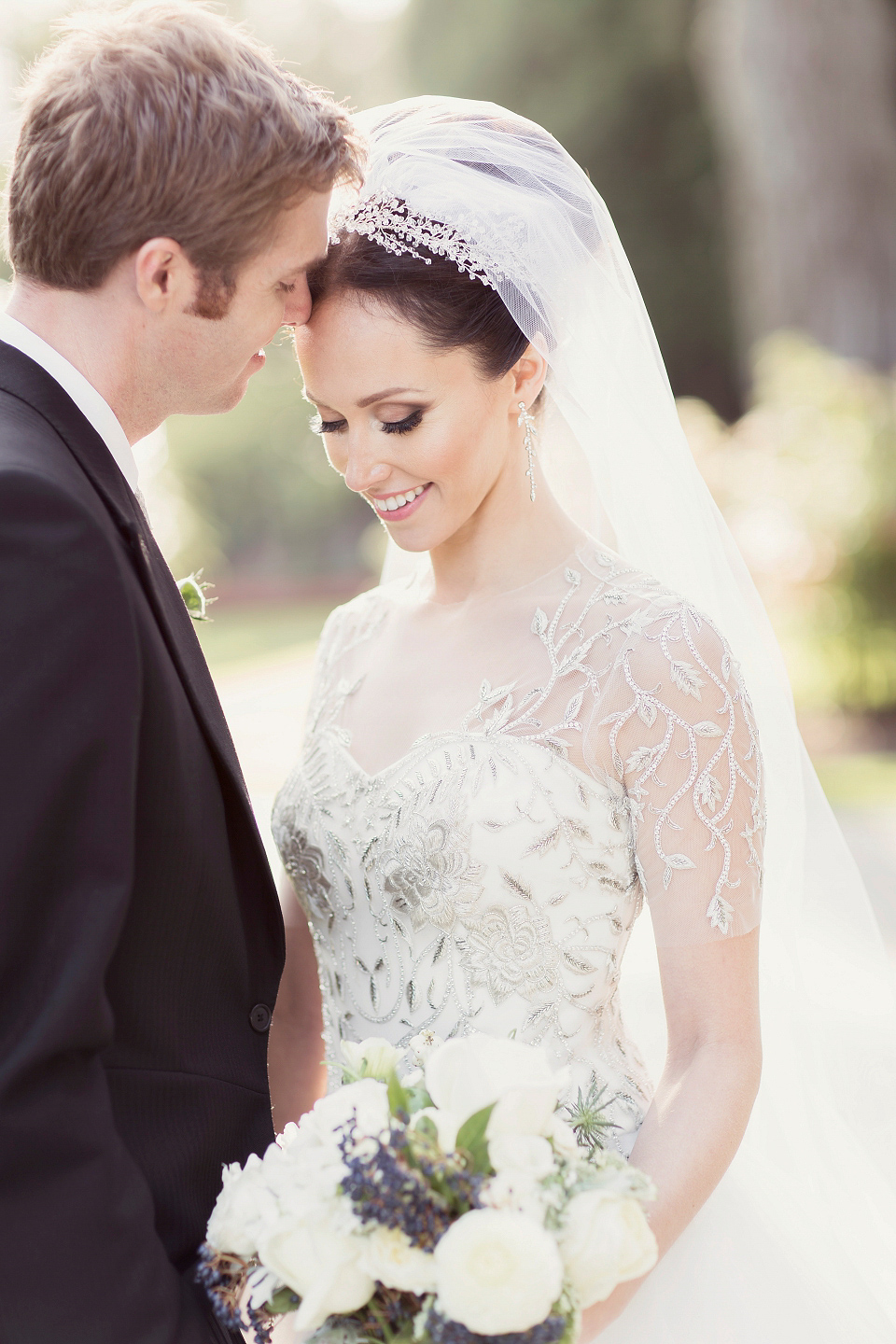 Juliana and Ryan's magical wedding day was captured so very beautifully by husband and wife team, Craig and Eva Sanders Photography, who specialise in fine art wedding photography. You can find Craig and Eva Sanders Photography listed in our Little Book For Brides, a carefully curated resource dedicated to sharing the best suppliers in the business.
"Before I did ANYTHING (even book our venue), I did hours upon hours of internet research to find the photographers that I knew—no matter where we had our wedding—would be able to capture the spirit of  mine and Ryan's love.  Craig and Eva Sanders Photography were an unbeatable team that far exceeded my hopes and expectations for the wedding. They caught the tiny moments as well as the monumental ones, the details as well as the sweeping landscapes. They seemed to slow time with their photography.  I look at my photos at least once a day."
The celebrations took place over two days, day one being an activity day for all who had travelled to the majestic wedding venue in Ireland. The images that follow capture the essence of that day so wonderfully…
"Ryan and I lived across the street from one another as children and met at the tender age of three. There are polaroid pictures of the two of us playing as toddlers, and home movies of us together at birthday parties."
During the first part of the wedding weekend, Juliana and Ryan enlisted the skills of Ireland's School of Falconry and Joyce Country Sheepdogs to help keep their guests entertained with falconry displays as well as sheep herding and sheering demonstrations.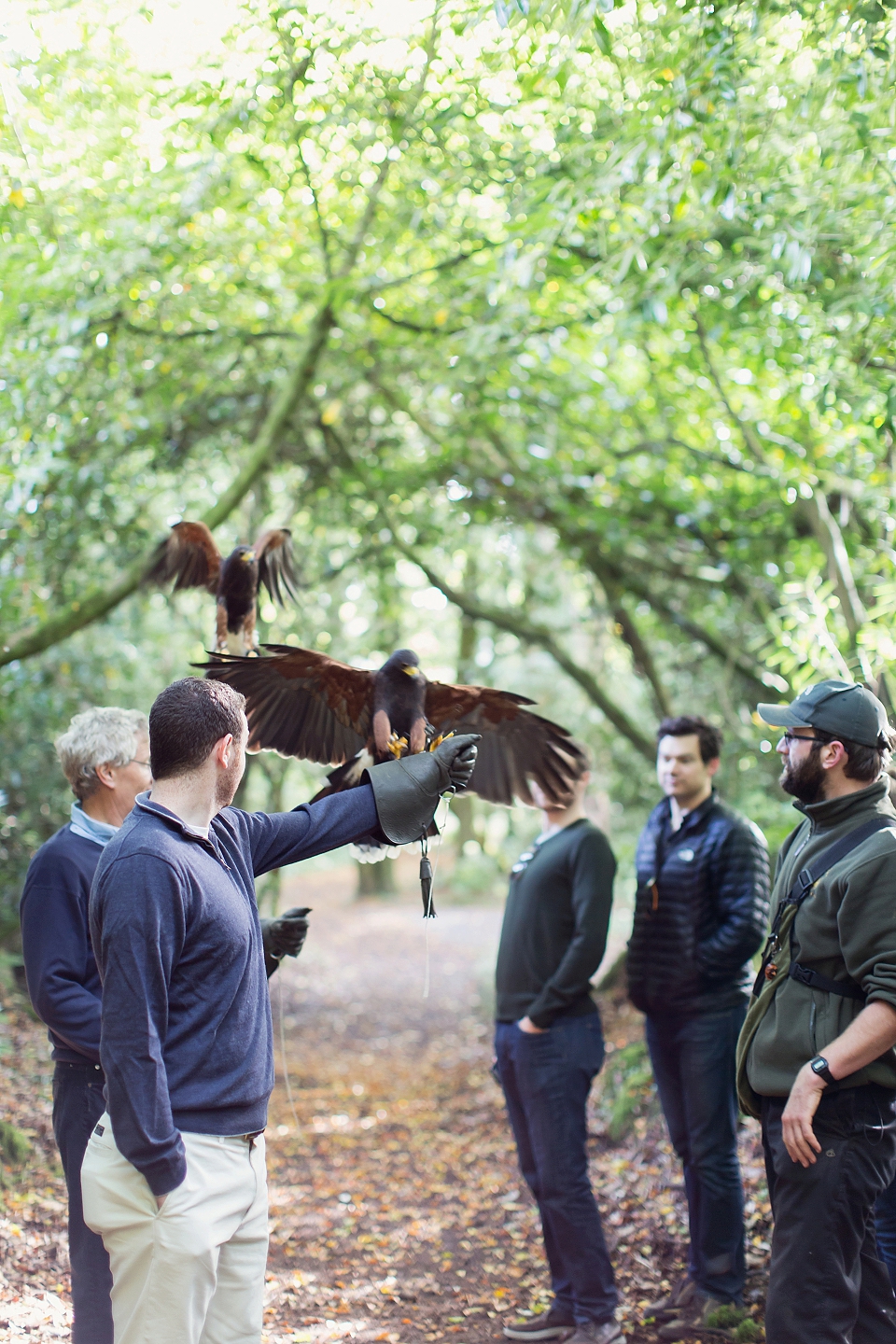 "Although we were close as toddlers, we went to different elementary, middle, and high schools, and also different universities, so we fell out of touch, until right before we graduated from college."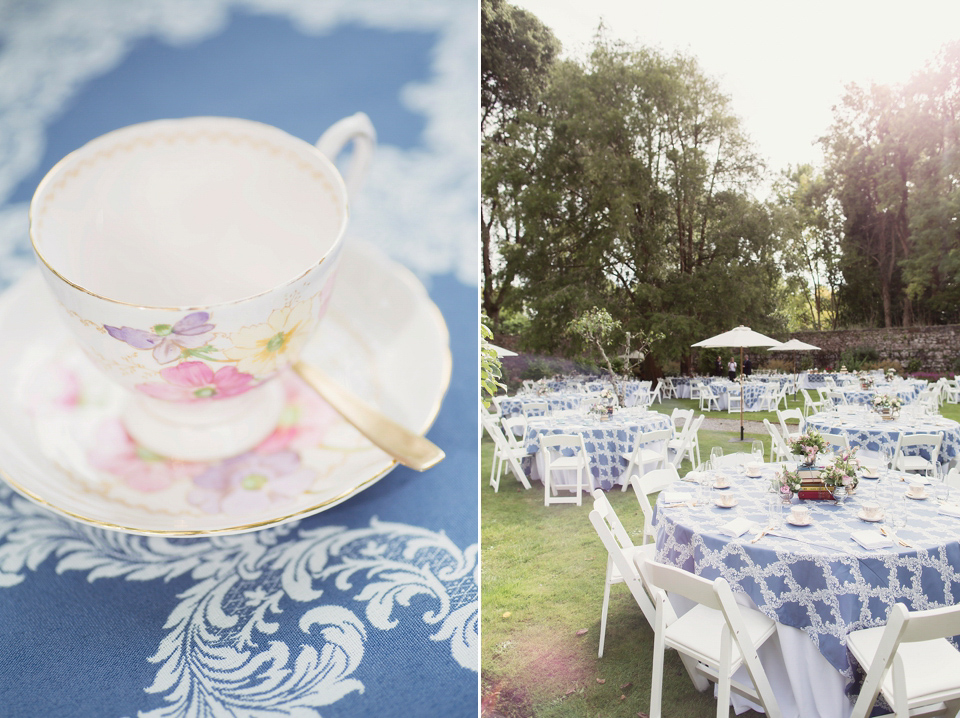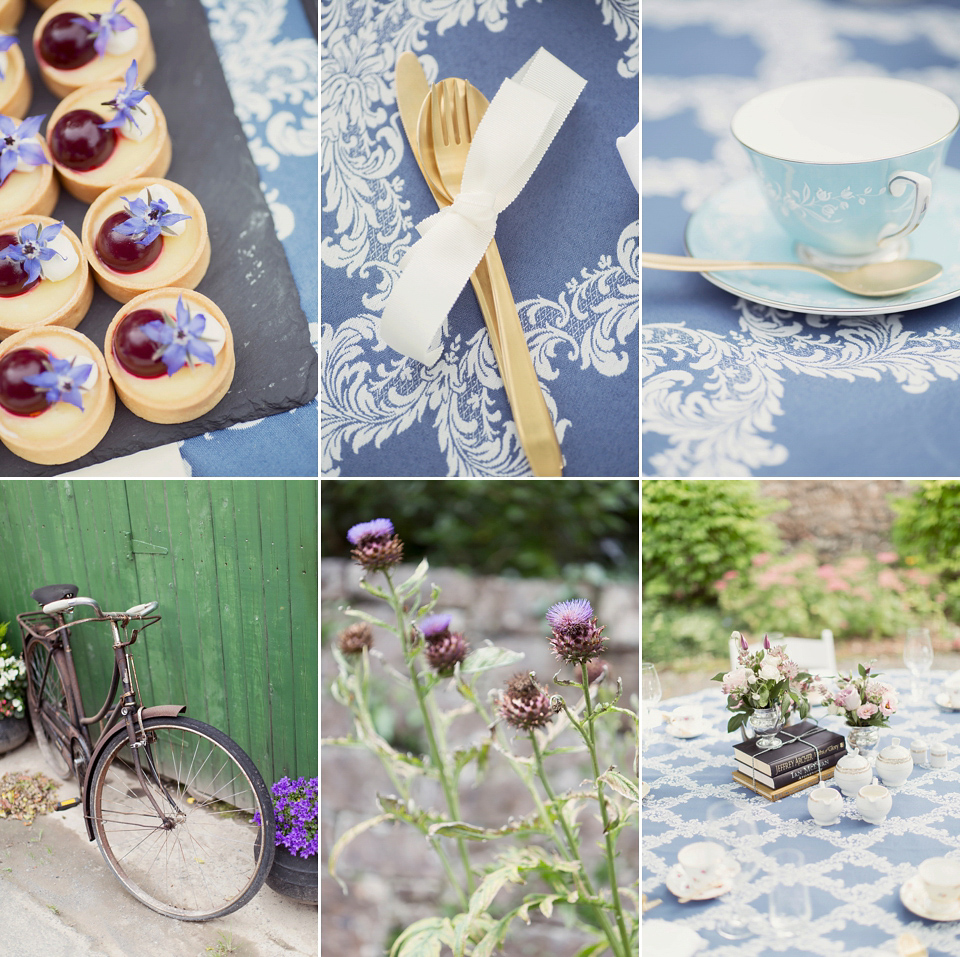 "We reconnected at a mutual friend's birthday party in Los Angeles, where I was living at the time. I looked across the room and said to myself, 'Is that Ryan Kissick? The boy from across the street? He's not a boy anymore!' So I went over and introduced myself. We had a great conversation, but I didn't think anything of it, especially since Ryan was still living in San Francisco."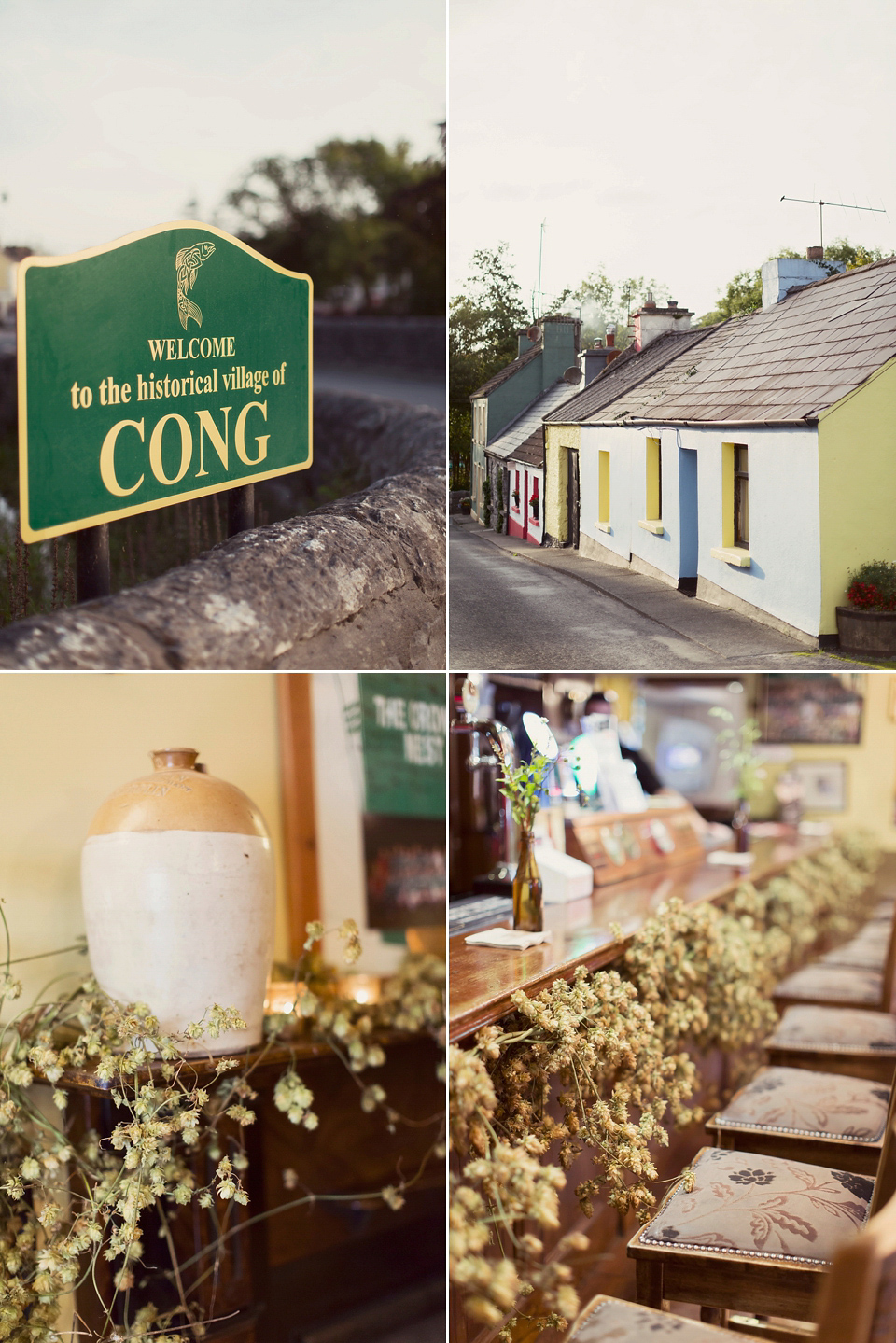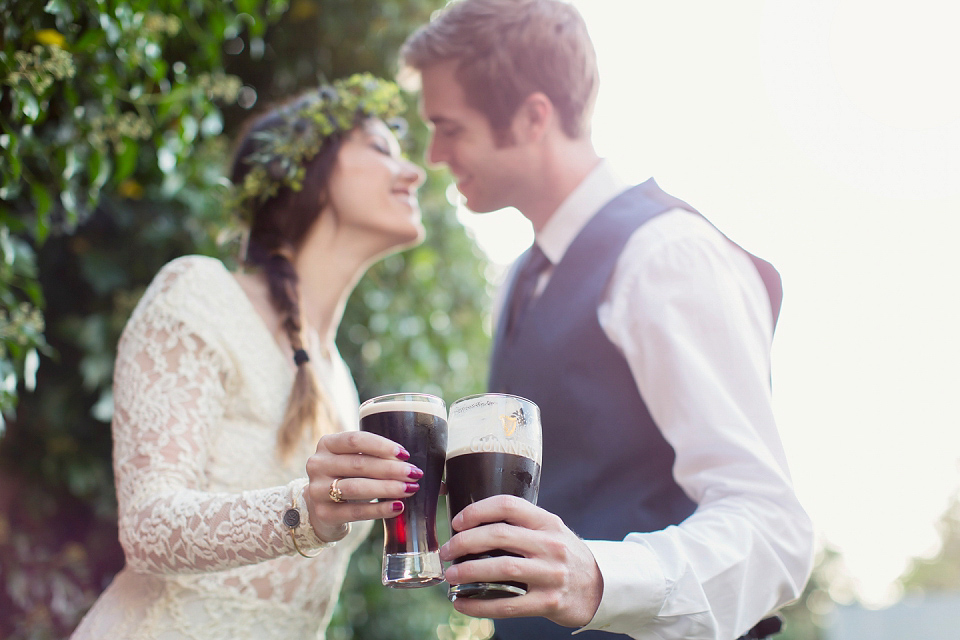 "A year later, however, Ryan moved to Los Angeles for work and we went on our first date.  I told my roommates I had just had whiskey and mac and cheese with the man I was going to marry. Five years later, Ryan completely shocked me with his proposal."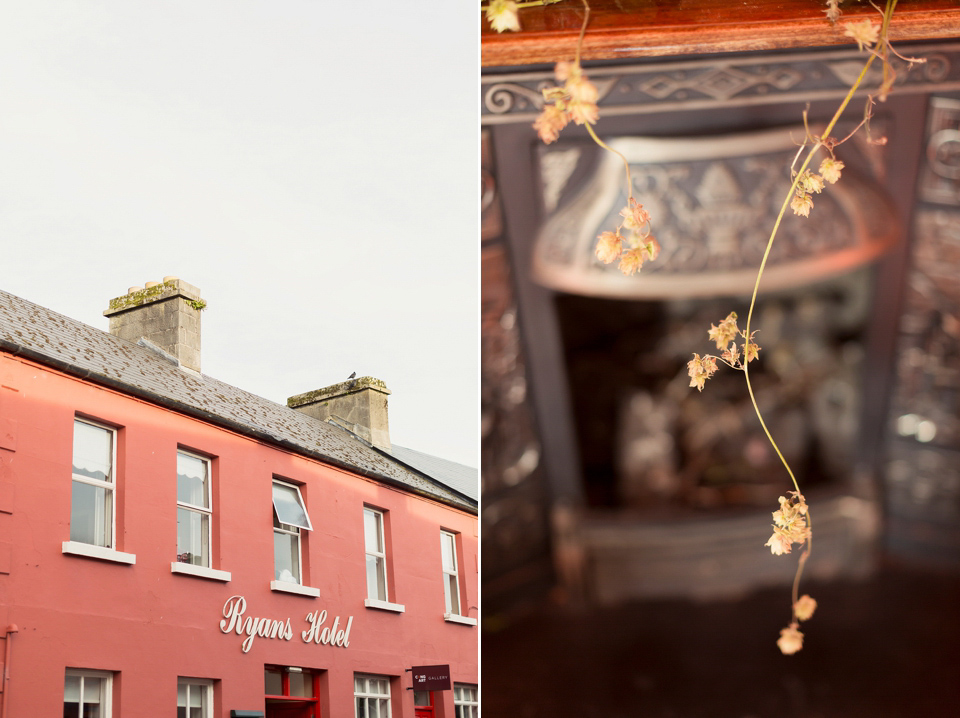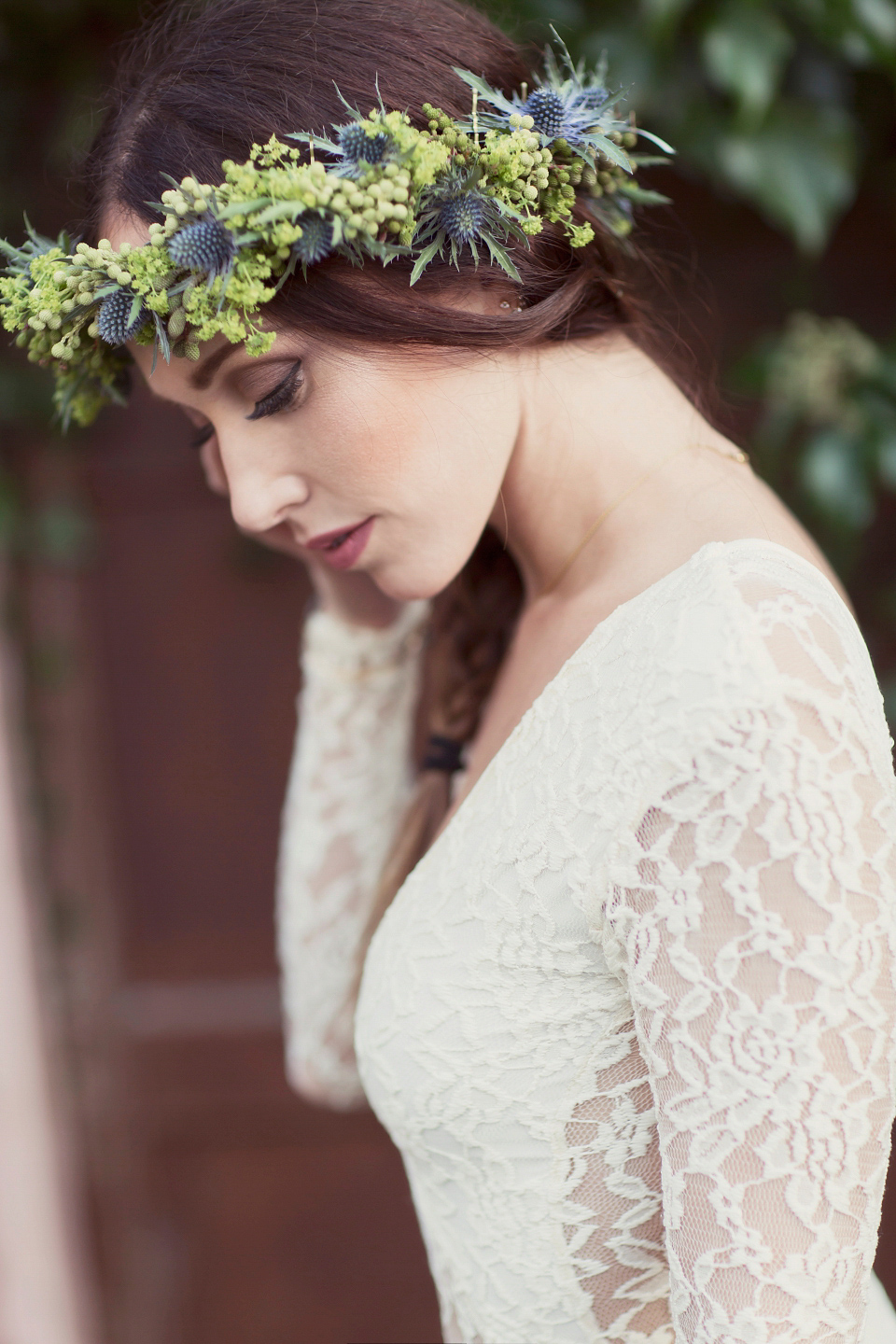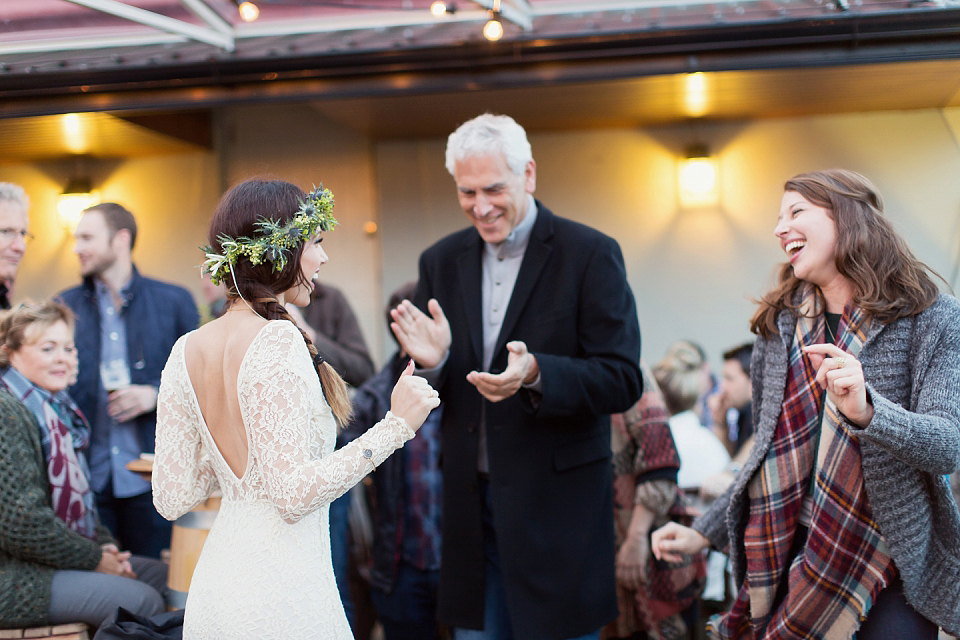 "During our relationship, Ryan often prepared fun scavenger hunts for me and I always loved them. So when he set up a scavenger hunt to celebrate our dating anniversary, nothing seemed too unusual – he led me around some beautiful redwood trees in Northern California, finding little gifts and clues along the way."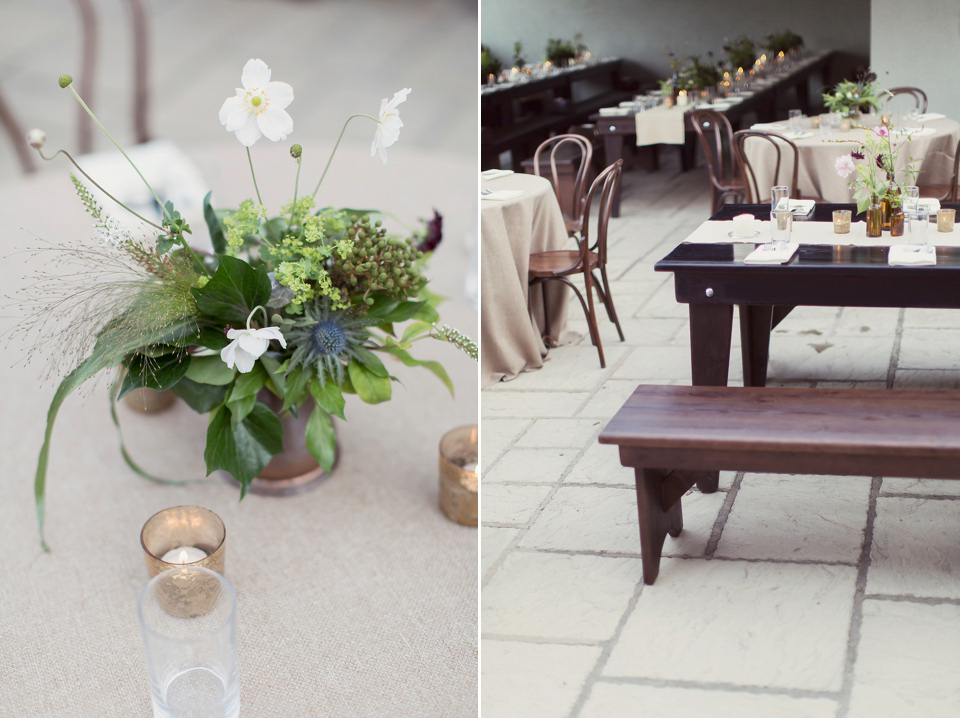 "Then, I opened a gift with a picture frame inside. The picture was of the two of us as toddlers. On the picture frame was a piece of tape, on which was written 'My girlfriend (peel here)'. After peeling off the tape, I read what was etched into the picture frame: 'My fiancée'… at that point, Ryan got down on one knee, and we were engaged! We were engaged for 14 months before our wedding."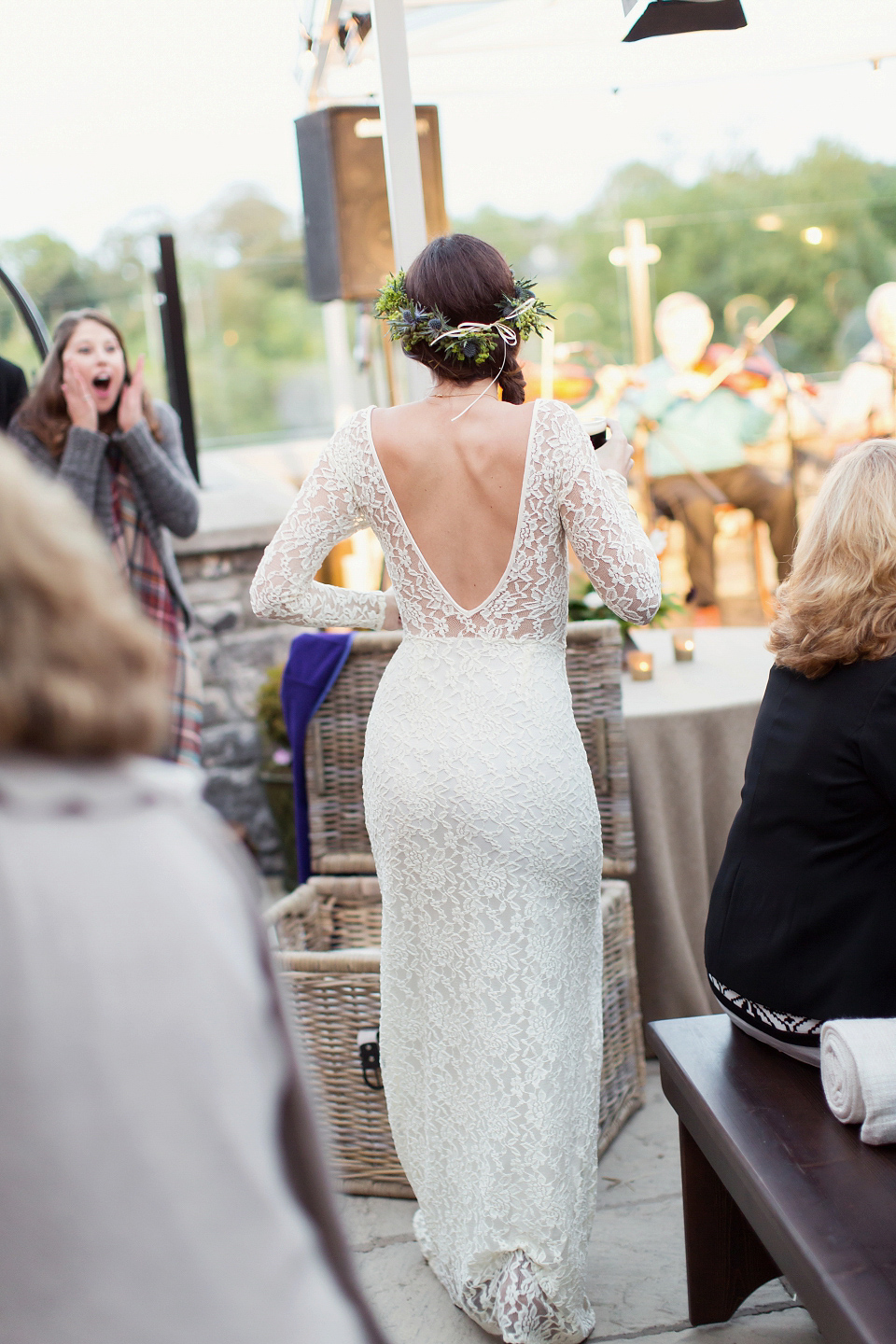 After such a beautiful first day of celebrations, the day was set for day two, the wedding…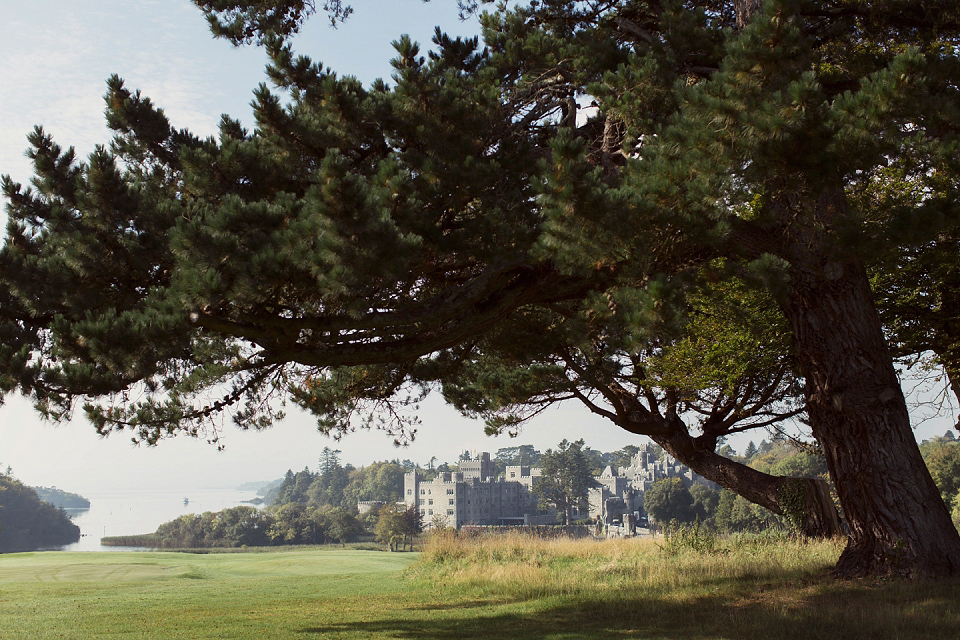 "I'm the designer at our company Good Juju Ink, so I was thrilled to help with all of our stationery and printing needs. Along with Brenda Himmel Stationery, I created our Save-the-Dates and our elegant wedding invitation suite. We coordinated with Appleberry Press to design our ceremony booklets, menus, place cards, etc. In addition to our paper stationery we had a wedding website created by Midnight Coffee Creative. They did an amazing job (check out our website here), and our guests got a huge kick out of the website."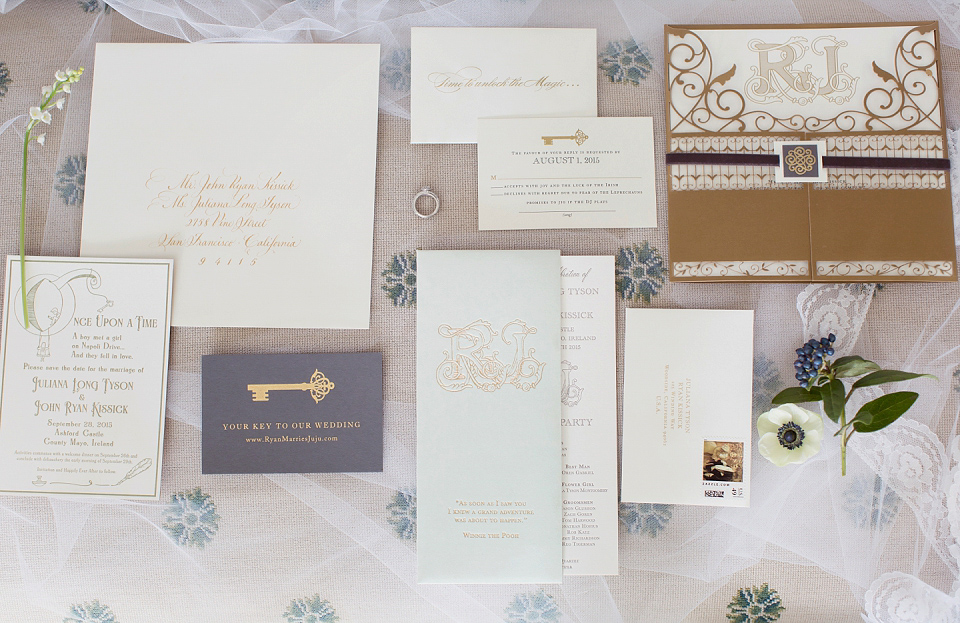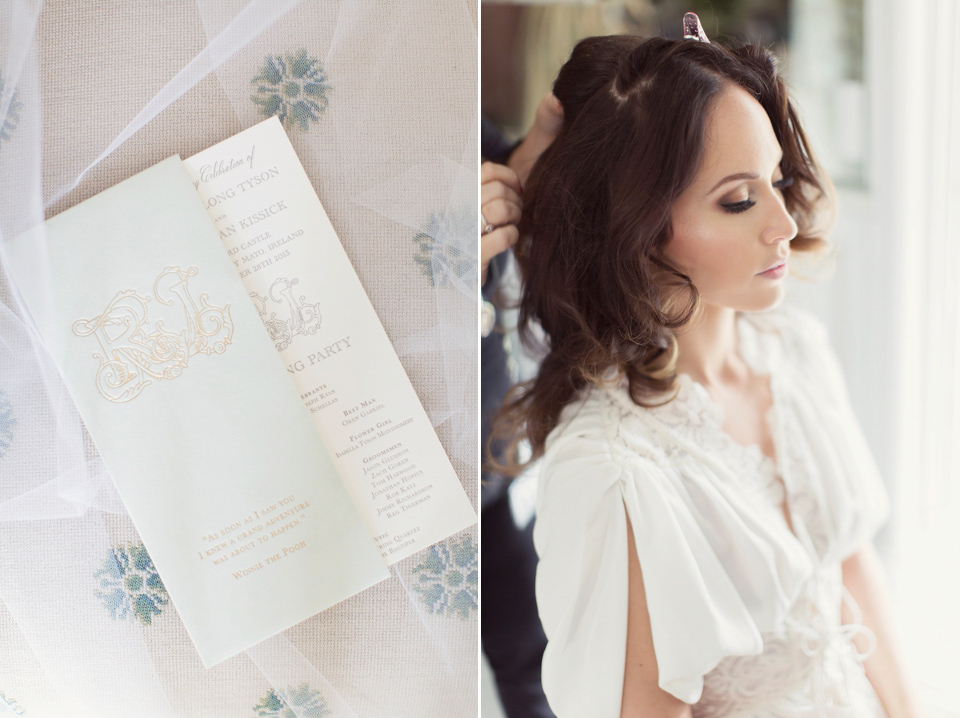 "Our florists, Claire Ryan and Patsie Wrafter at The Informal Florist, were exactly the fine art florists we'd been looking for. We wanted a combination of 'The Secret Garden' meets 'Narnia' – something ethereal, natural, wild, but also elegant and classic."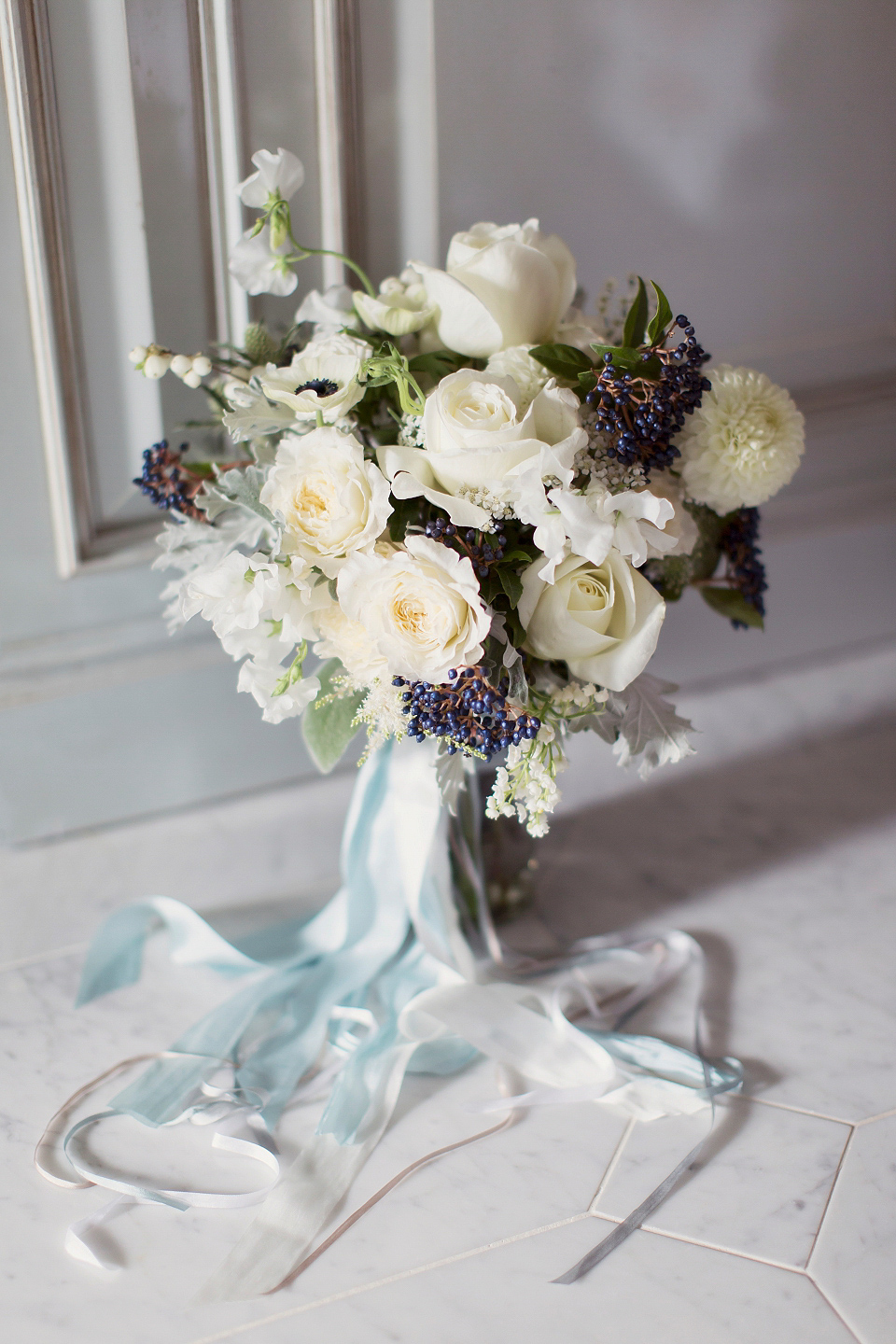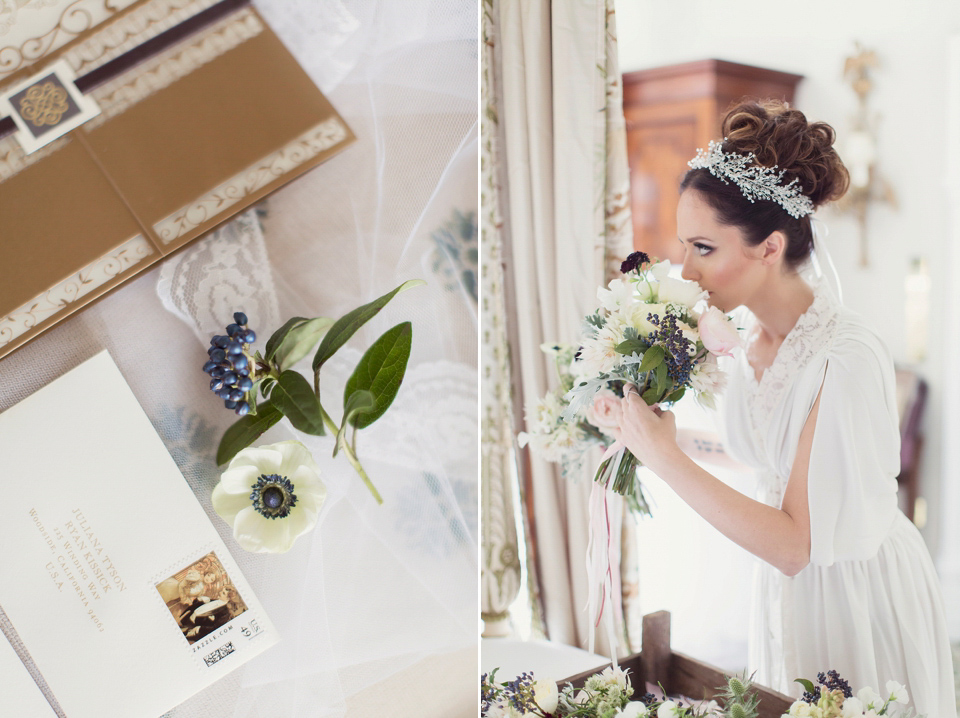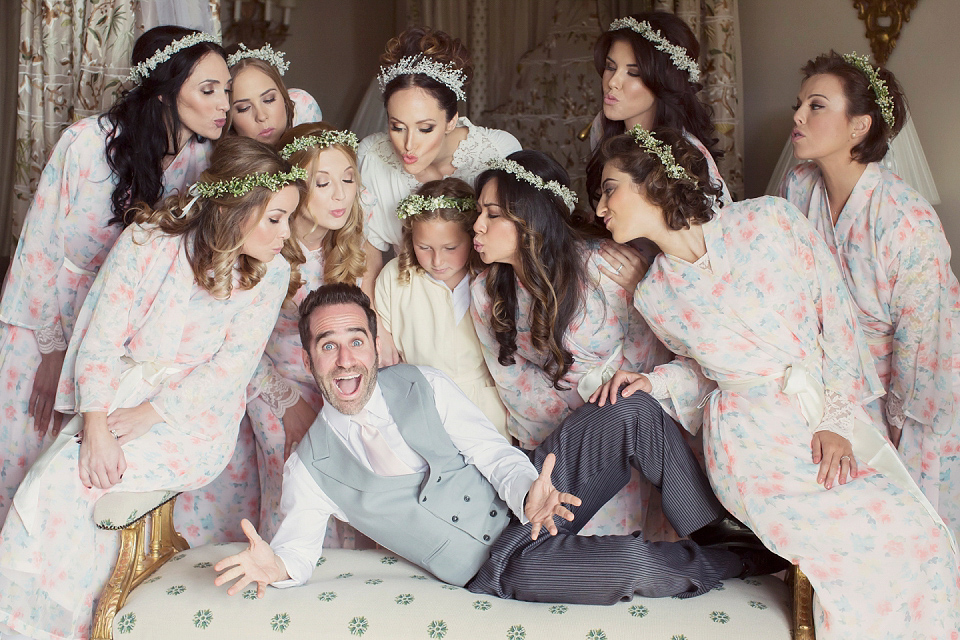 Juliana looked breath taking in a full skirted Marchesa gown with delicately embellished bodice, purchased at The Glamour Closet in San Francisco.
"My gorgeous Marchesa gown was both old world and new world, it took up the space needed to match the regal elegance of the venue—but it also had tremendous whimsy and modern feminine details like the cascading silver embroidered ivy illusion lace sleeves."
"I have a background as a ballerina, and voluminous tulle was an absolute necessity for me in choosing a dress.  However, I wanted to make sure the dress still made me feel like a sexy, beautiful woman at the end of the day – not a little girl playing dress up.  I saw this dress in a window walking the streets of San Francisco and stopped dead in my tracks to try it on."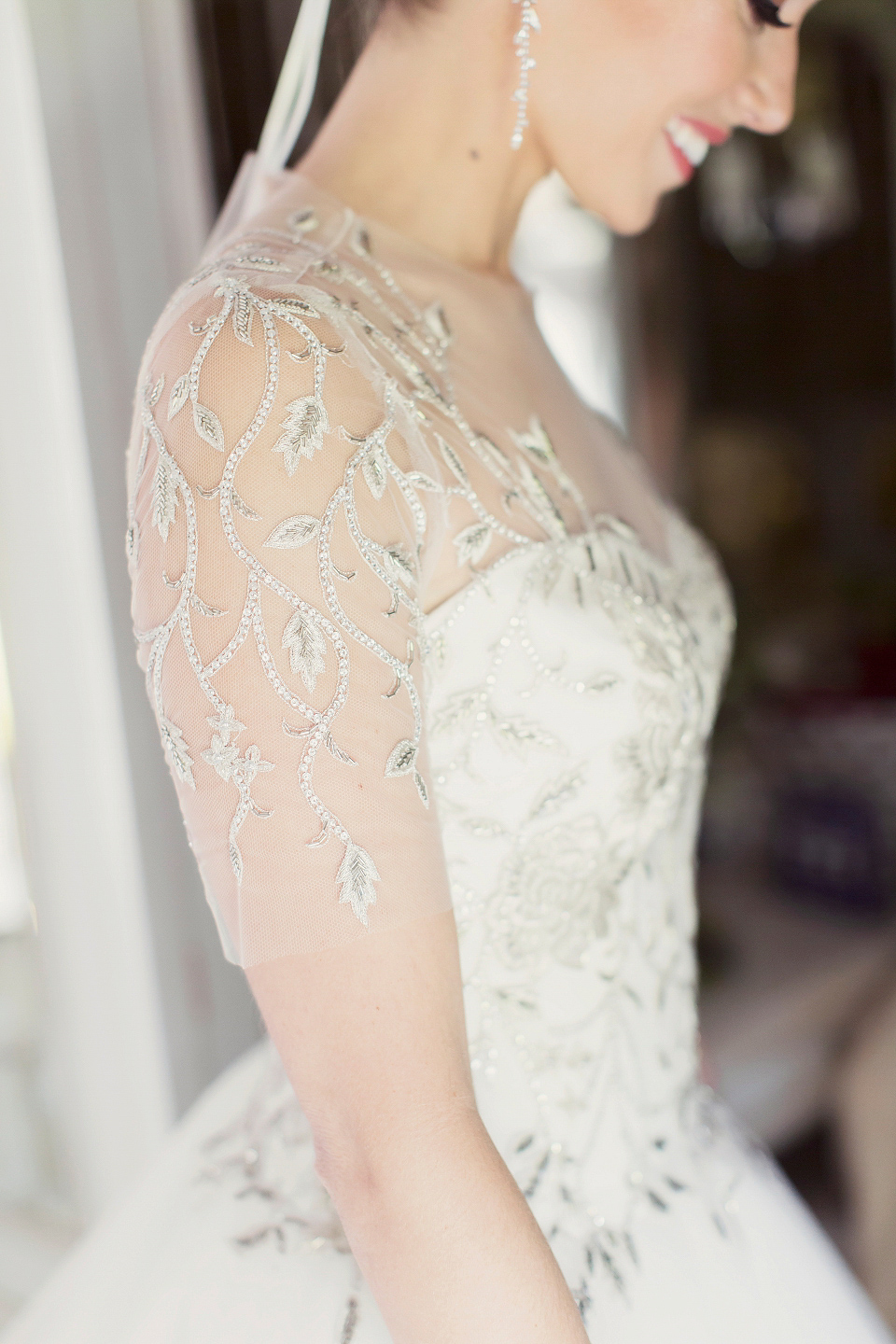 Juliana's eight bridesmaid's wore blush pink gowns, with ivory lace bodices, crafted by Etsy vendor FloAtelier, paired with Modcloth shoes and fresh flower crowns handmade by The Informal Florist .
Our bride paired her gown with a custom made, cathedral length, tulle veil handcrafted by Lynee at Wee Scotty Tailoring in San Fran and a Swarovski crystal and silver wire hair vine from Etsy vendor Melinda Rose Design.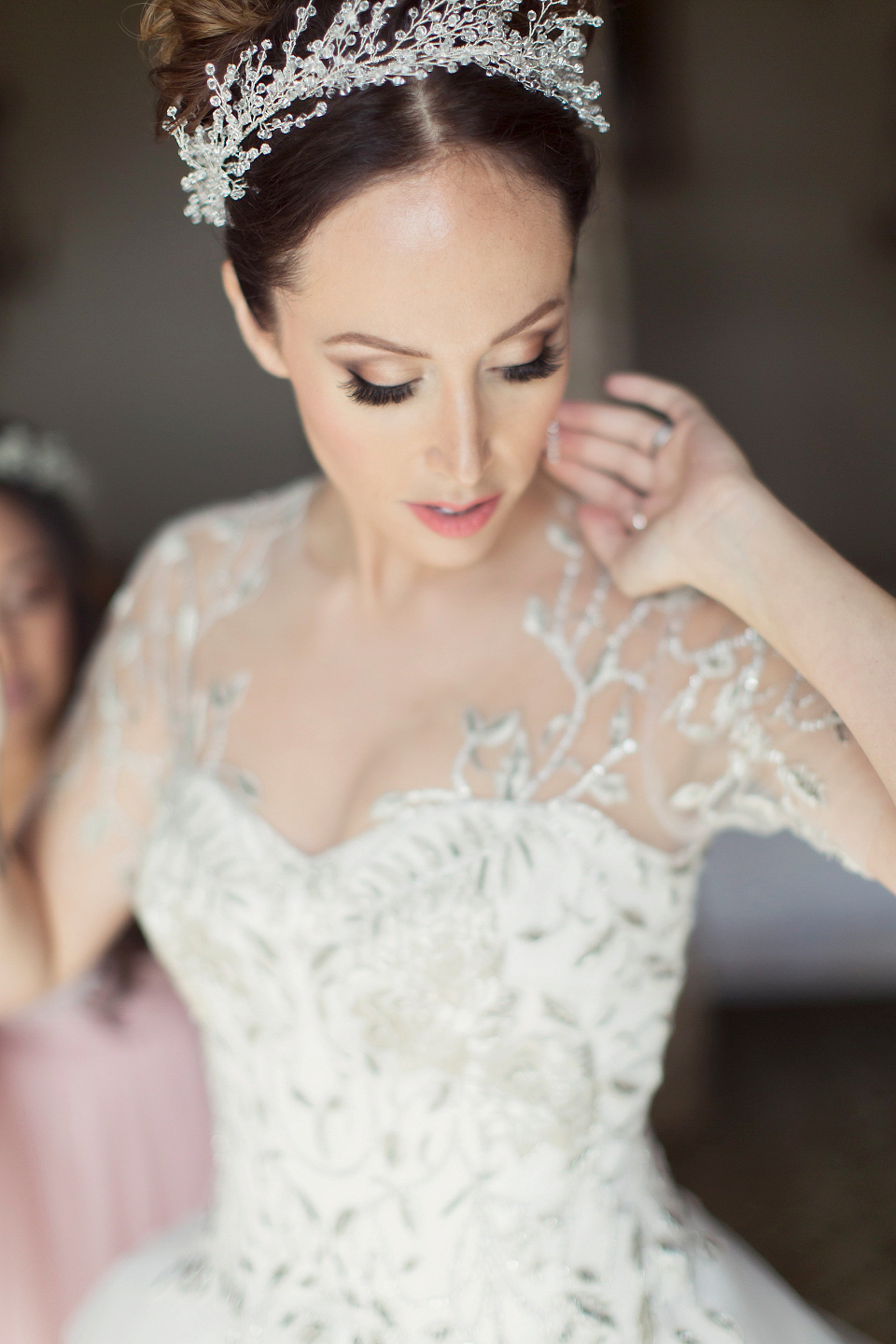 "I wore the monogram engraved ankle bracelet my now deceased grandfather gave to my grandmother in Israel right after they'd gotten married. I also wore a 14K white gold slave bracelet from Carma Collection, and a white gold Hamsa bracelet from Alex and Ani, to represent my Jewish/Middle Eastern background."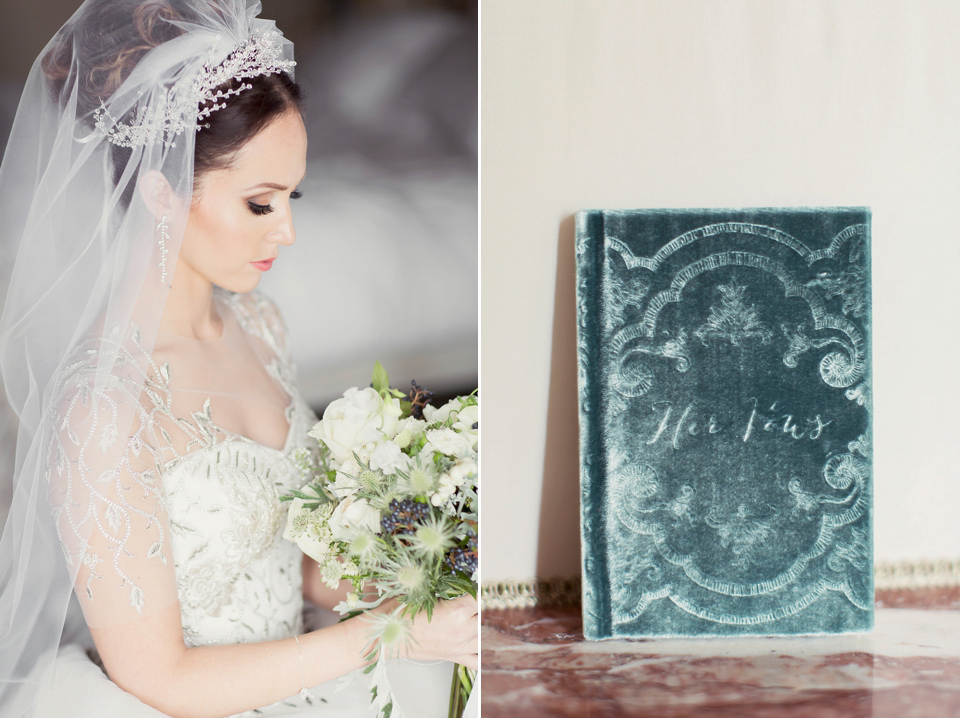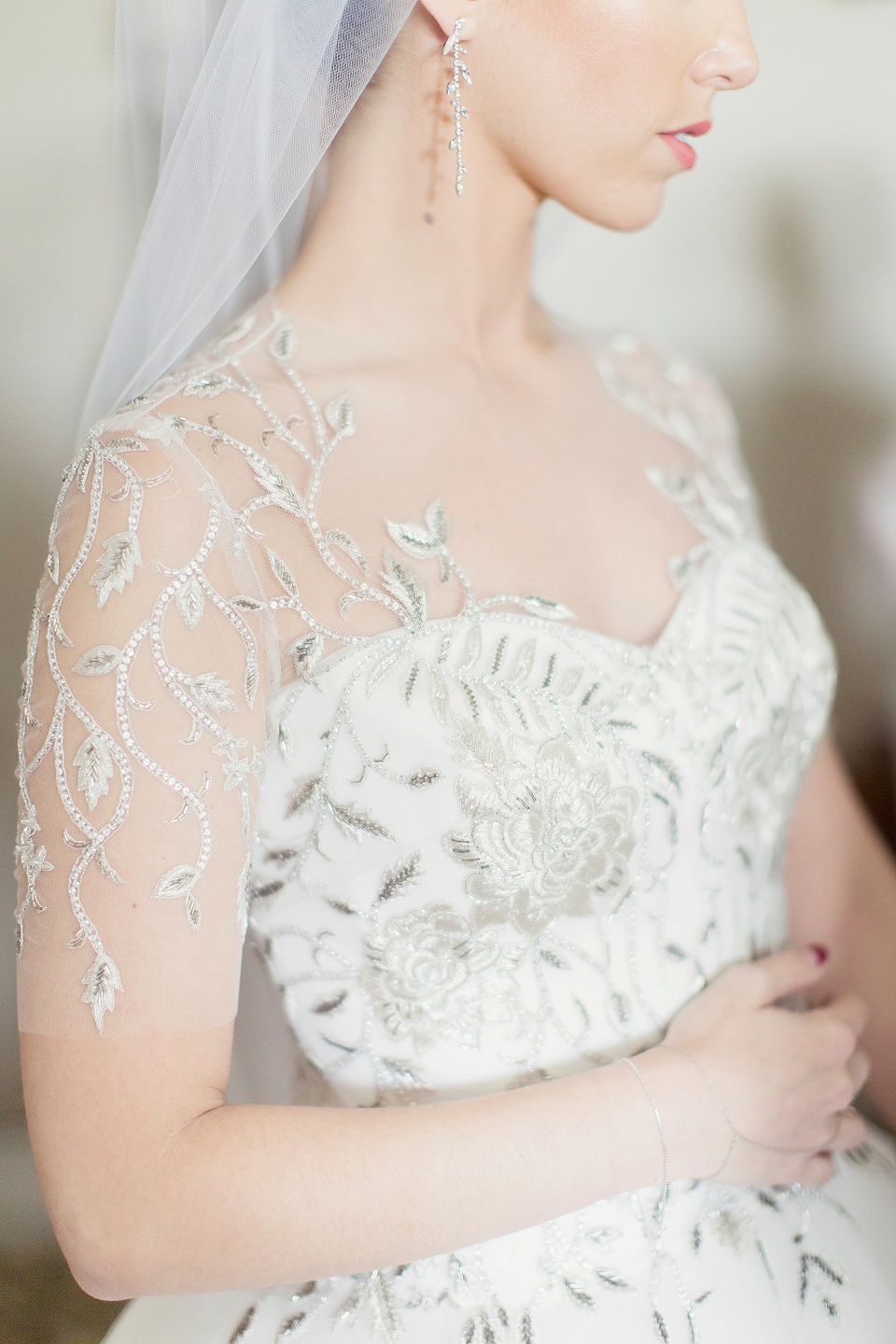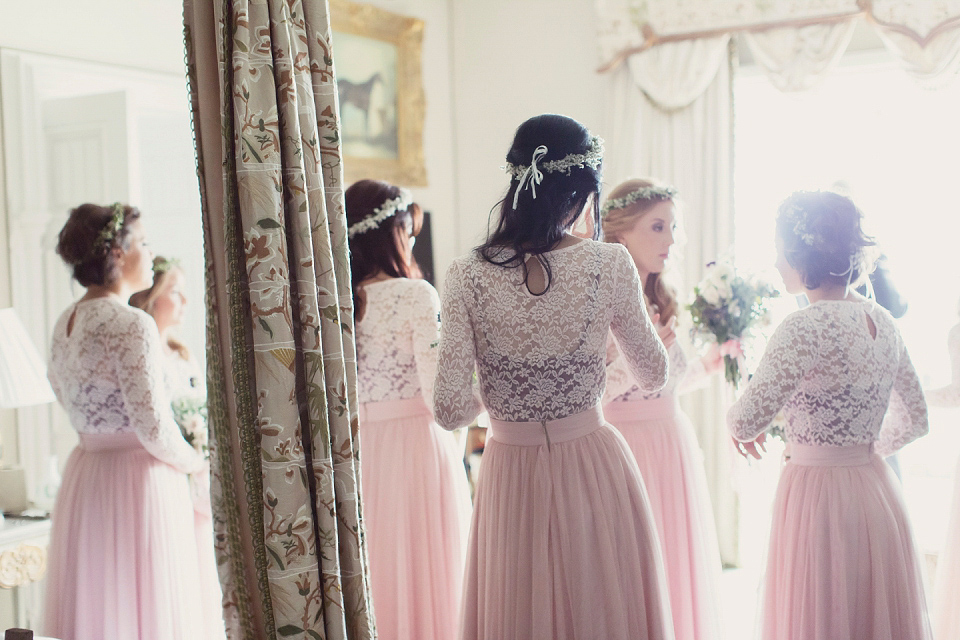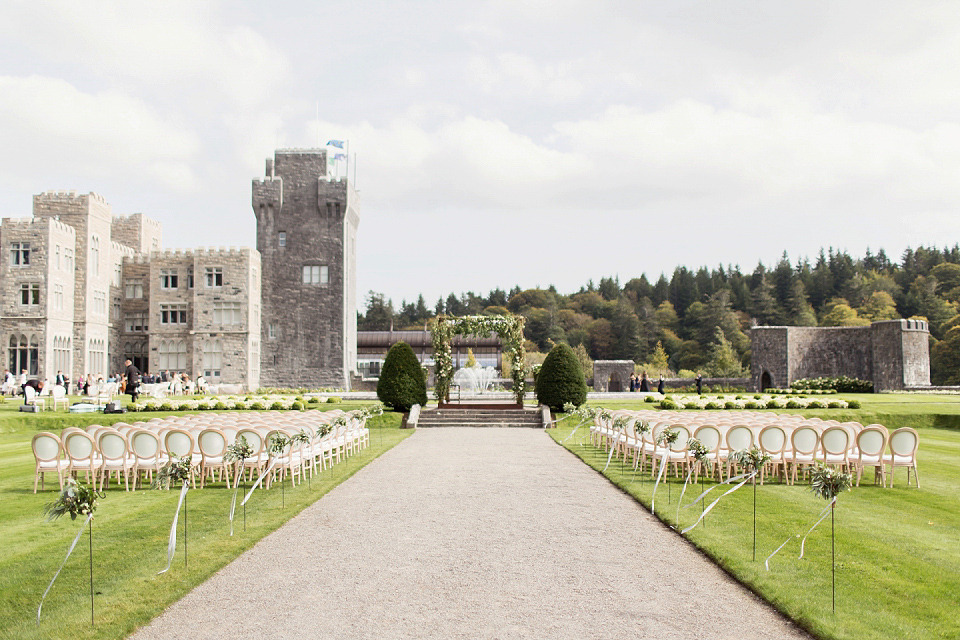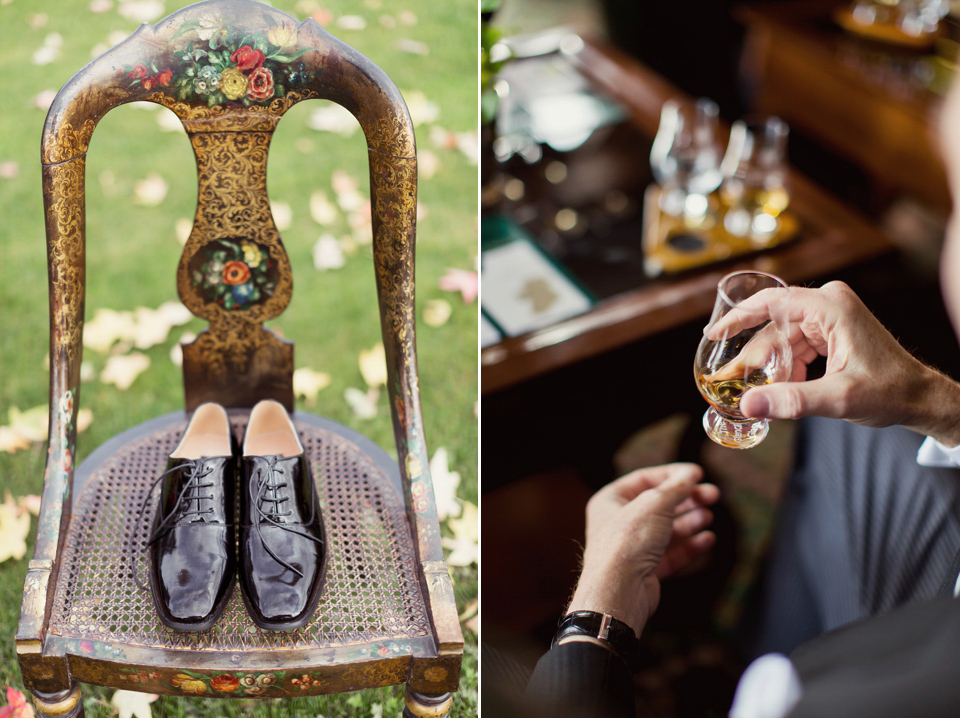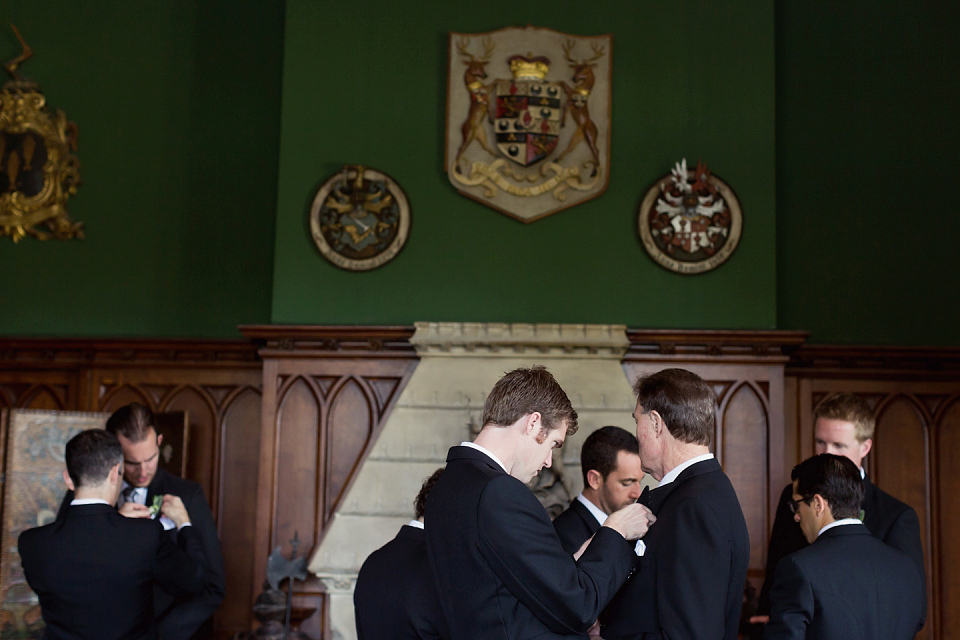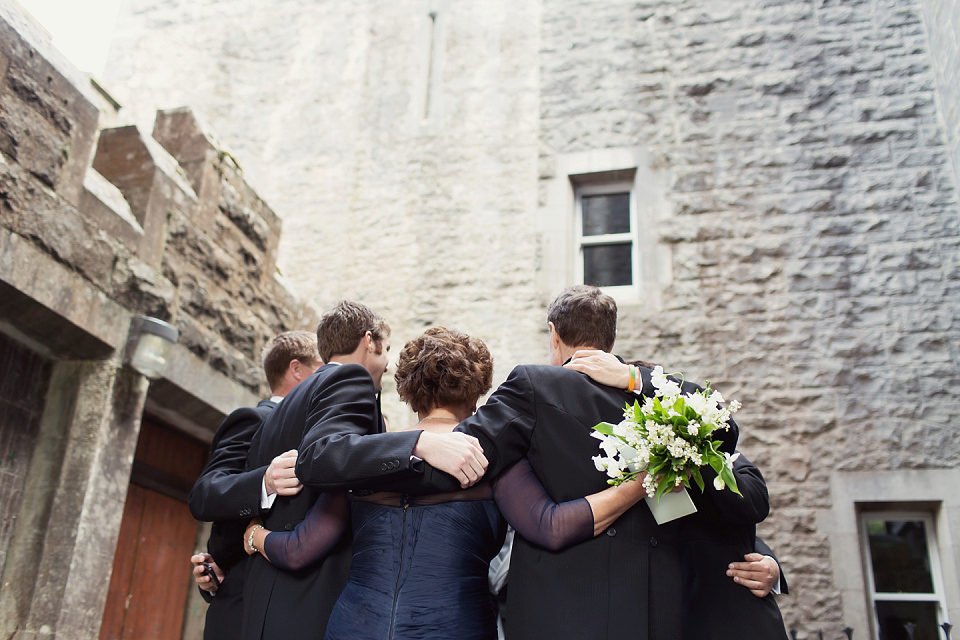 Meanwhile, Ryan looked very smart in a classic Martin Feeney Morning suit, paired with Celtic knot cuff links purchased from Blarney Home, in nod to his own cultural heritage.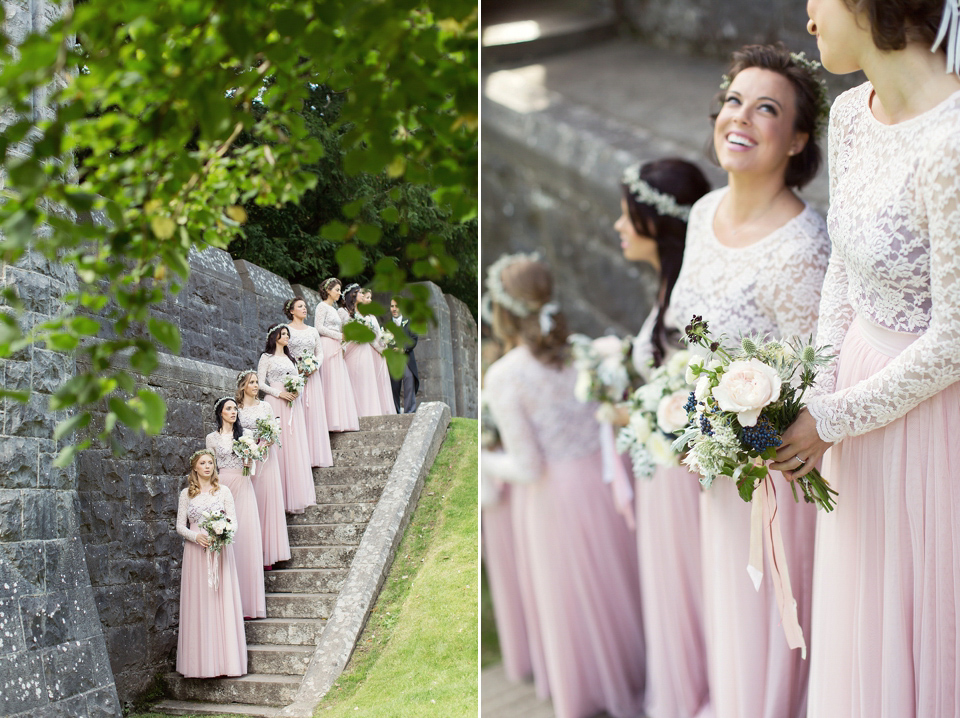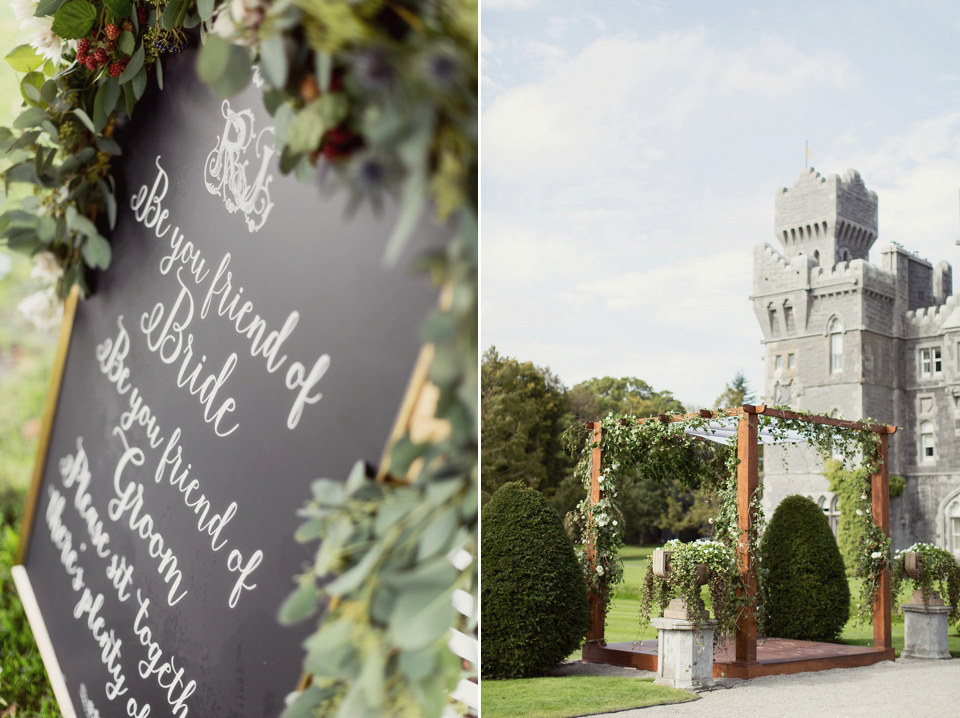 Benny the bagpiper led the bridal party down the aisle, followed by Juliana and her father, to the theme tune from the film 'Little Women', performed by Carolan String Quartet.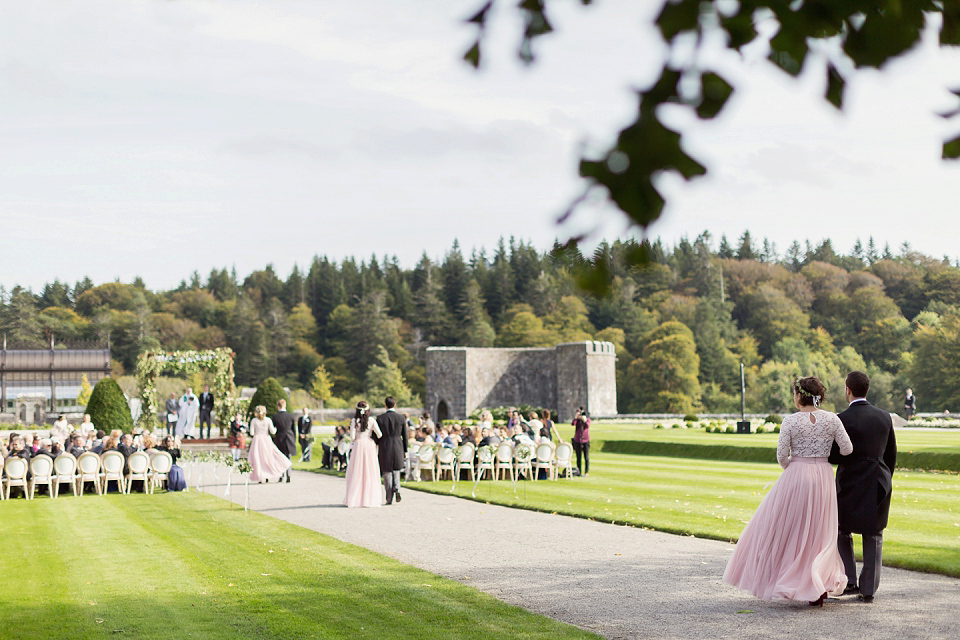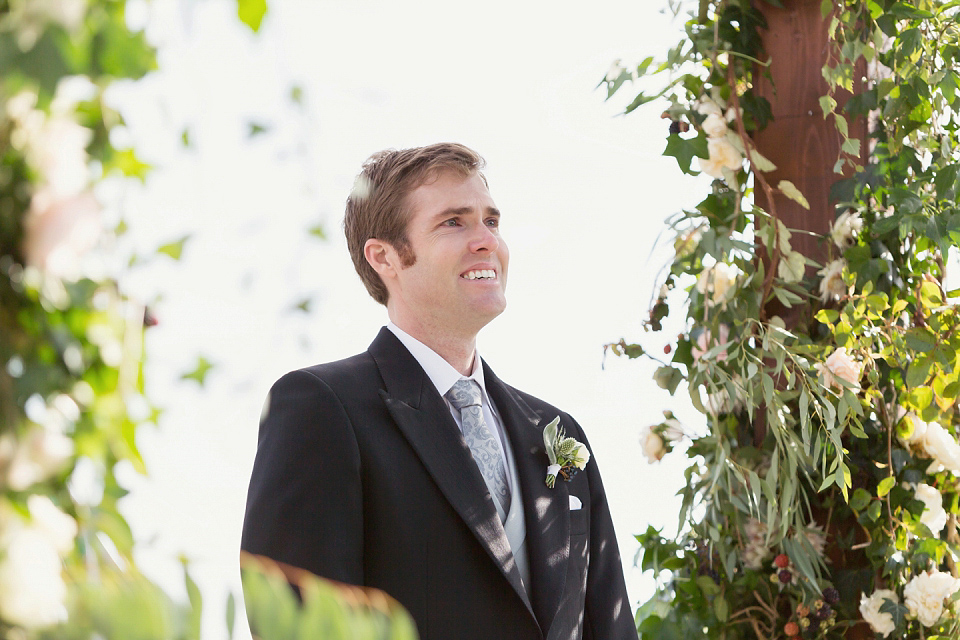 "My father giving me away meant everything to me. He has been my rock throughout my entire life – my mother is mentally ill and was unable to attend the wedding."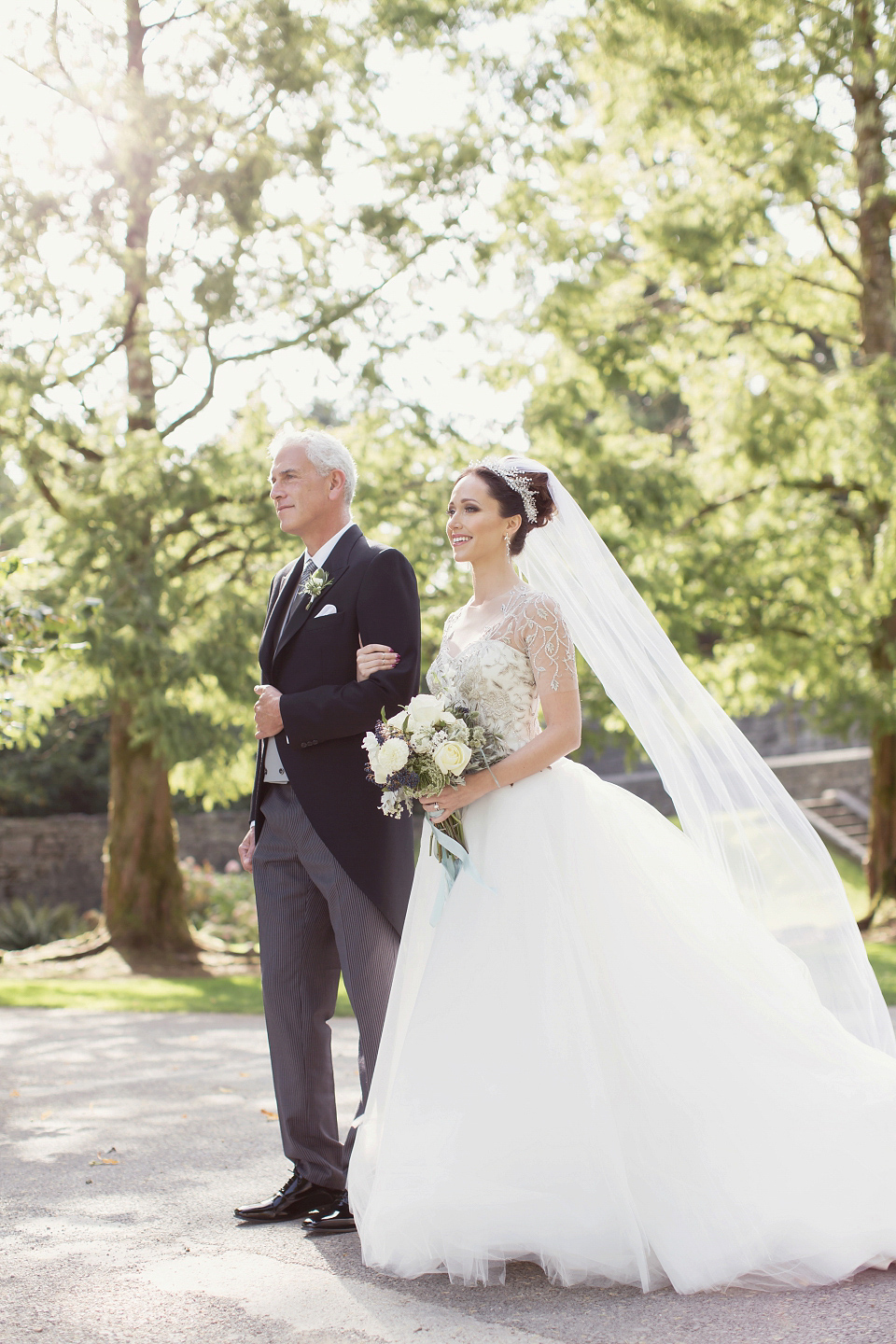 "Our ceremony was an interfaith woven tapestry of Jewish (me) and Celtic (Ryan) traditions. Our officiants were my cousin, Yossi Shellas, who is a secular Rabbi in Israel, and Father Joseph Ryan (Ath Seosamh Ó Riain), a progressive Irish priest who believes in gay marriage and women's rights. We spent hours and hours constructing the wedding ceremony, and it was absolutely beautiful."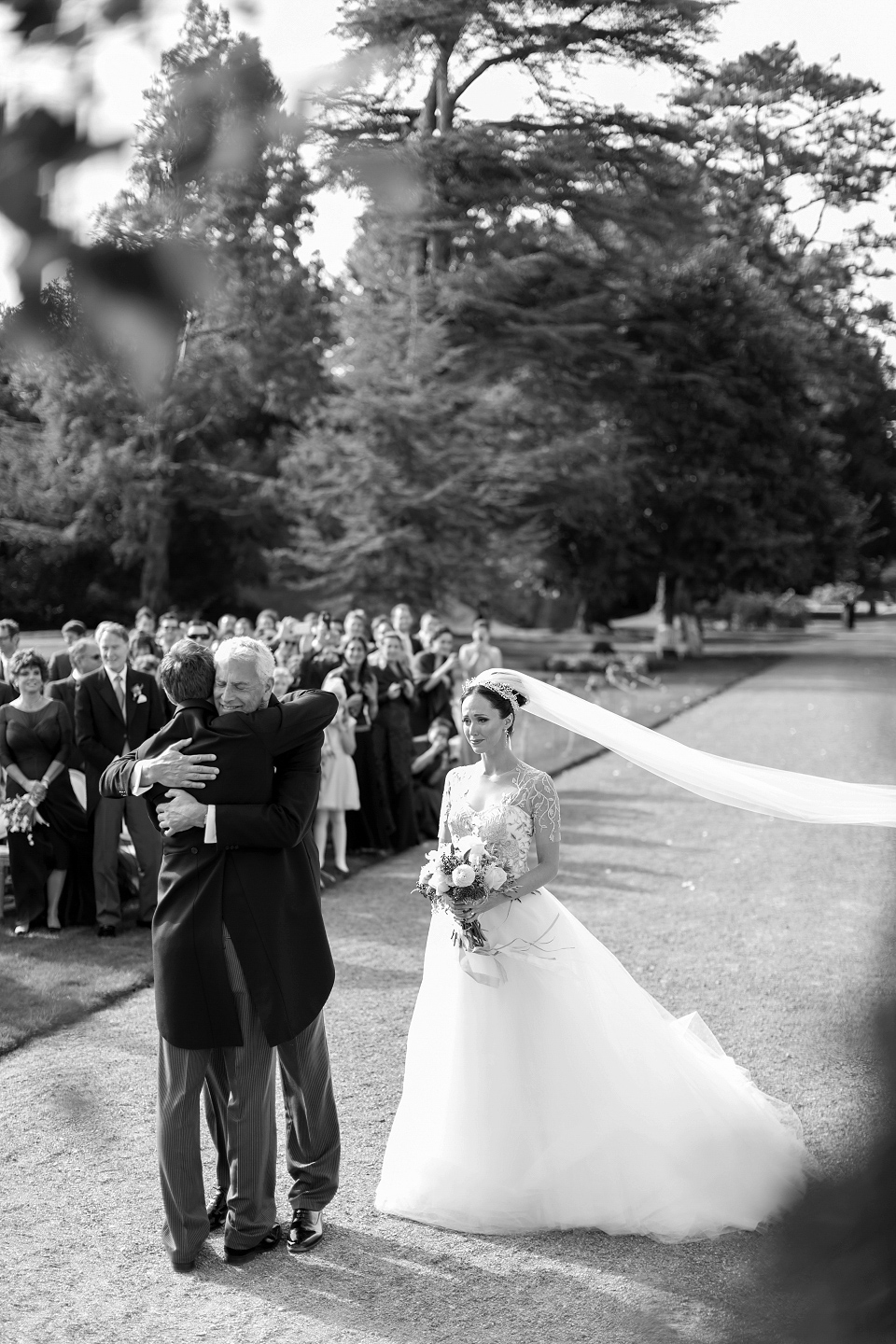 The couple spent months writing their vows to one another and exchanged wedding bands inscribed with the date as well as '3 to ∞' (three to infinity) in honour of the age they first met.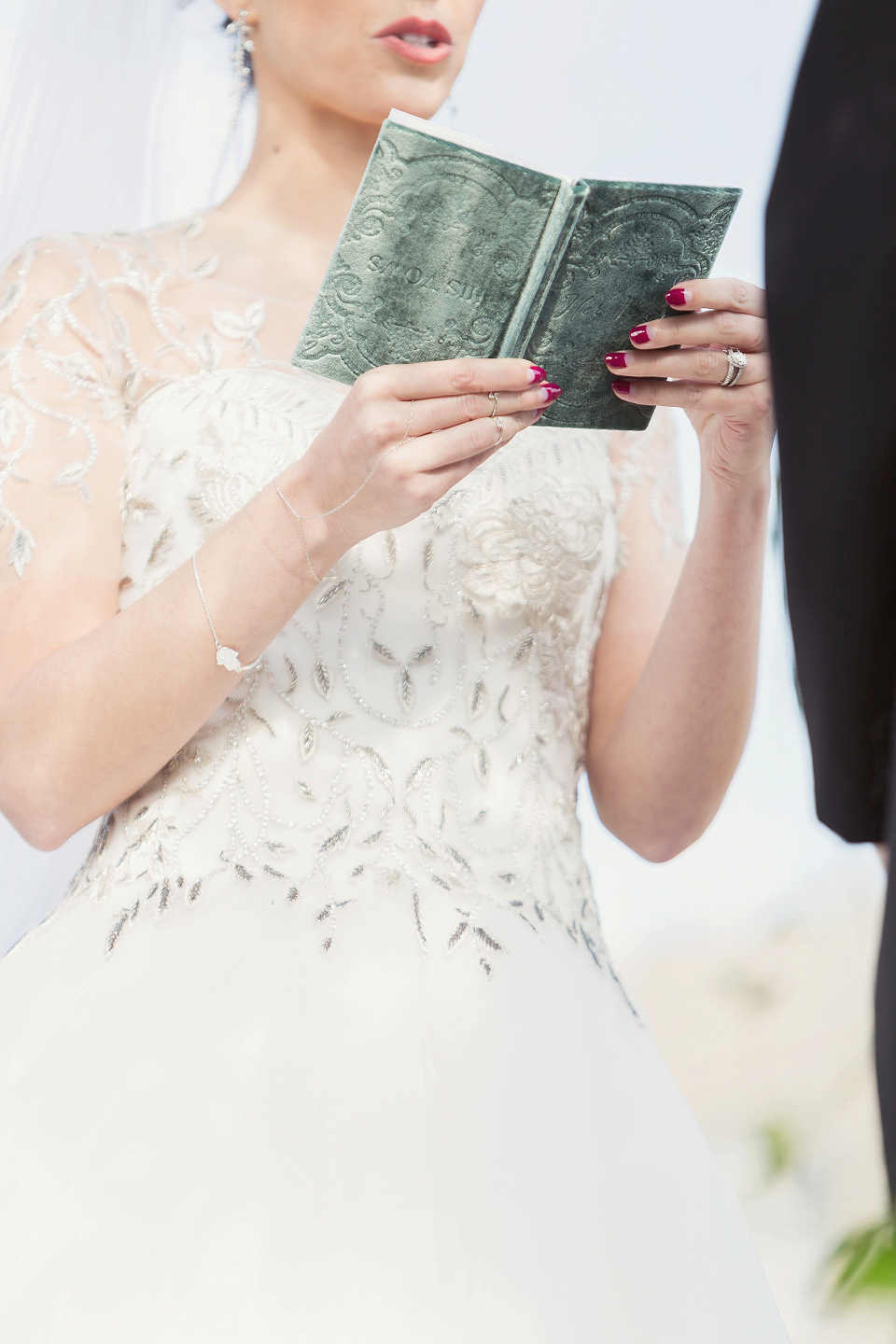 Juliana and Ryan opted for one reading: an excerpt from Song of Solomon from the Old Testament, read by the groom's sister.
"In a nod to both Ryan's Catholic background and my Jewish roots we chose an extract from Song of Solomon – one of the most ancient love letters, written in the Old Testament."
"While many modern couples are committed to one another (and live together) many years prior to an official wedding, there really is a magic that happens once it's official.  There is silent sparkle that suddenly slides into the pit of your belly and stays there – a permanent joy that forever reminds you that you are now so much more than just yourself."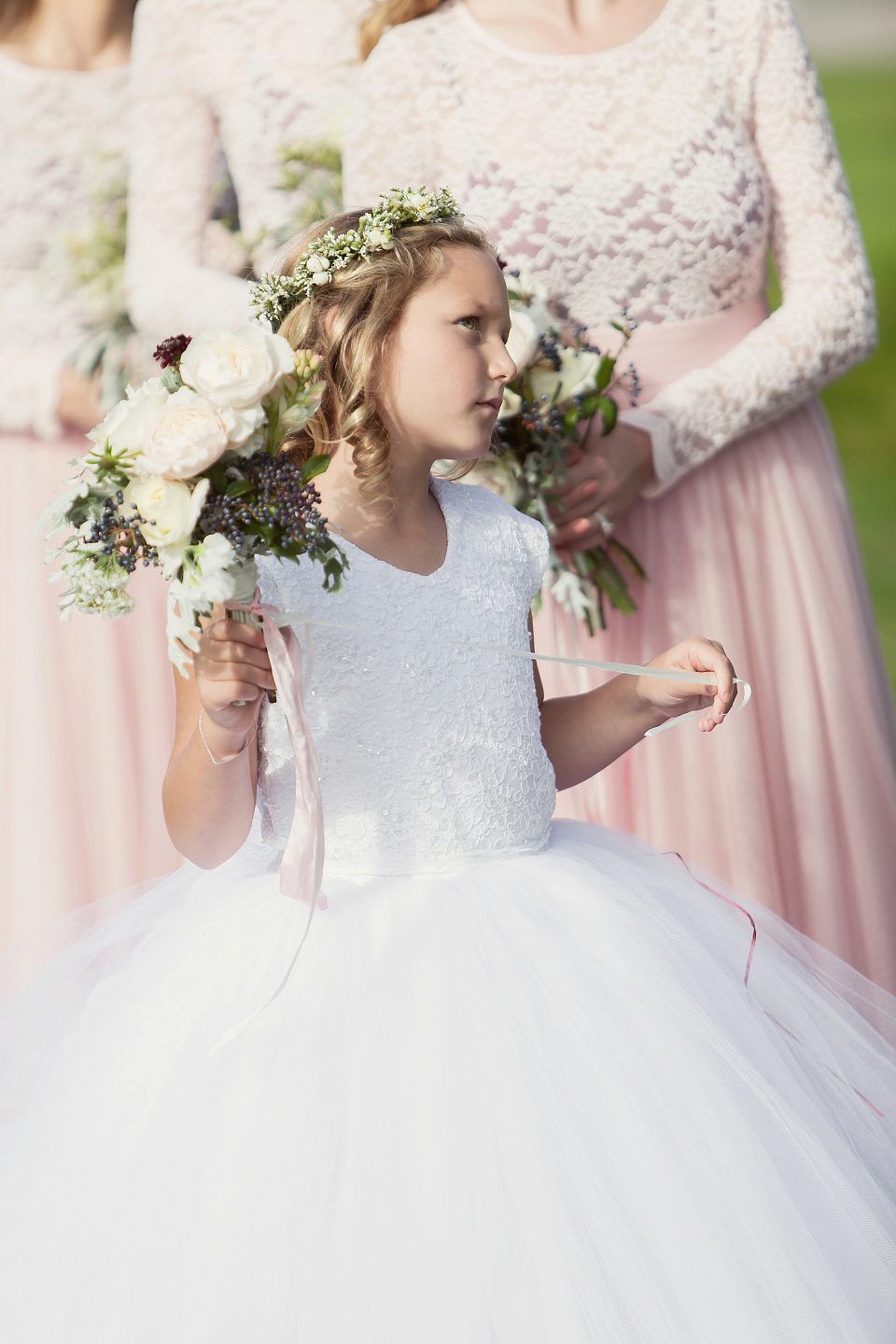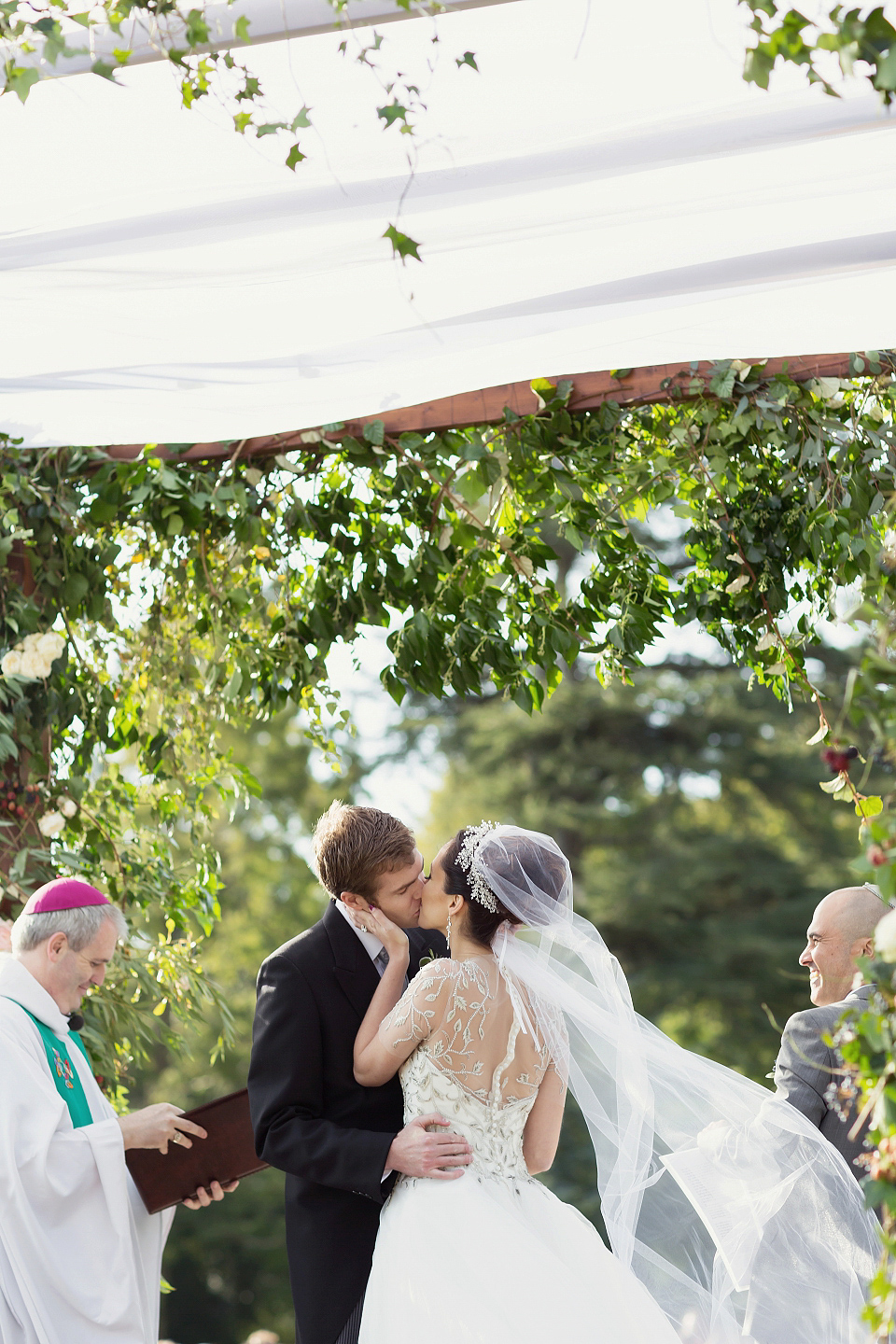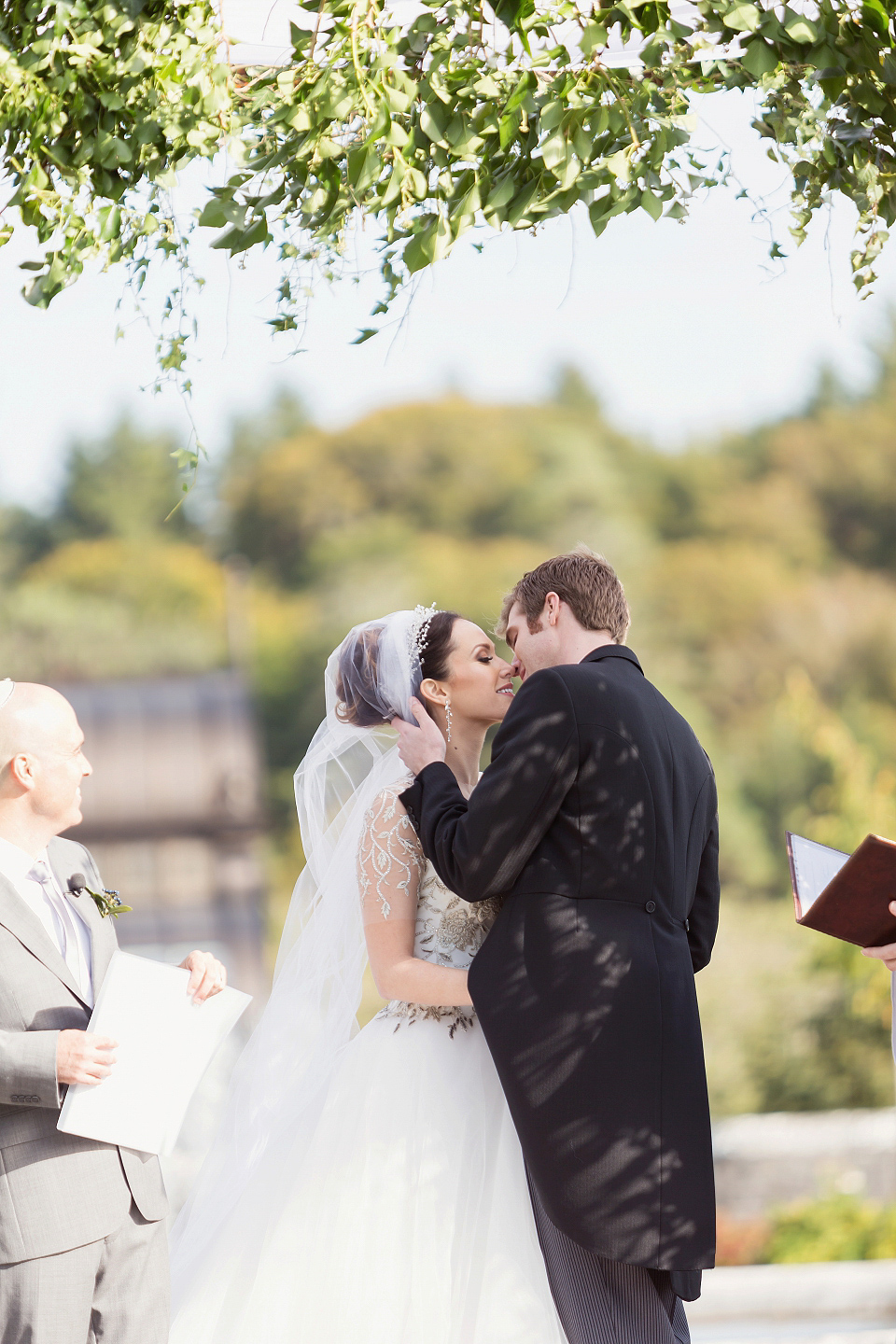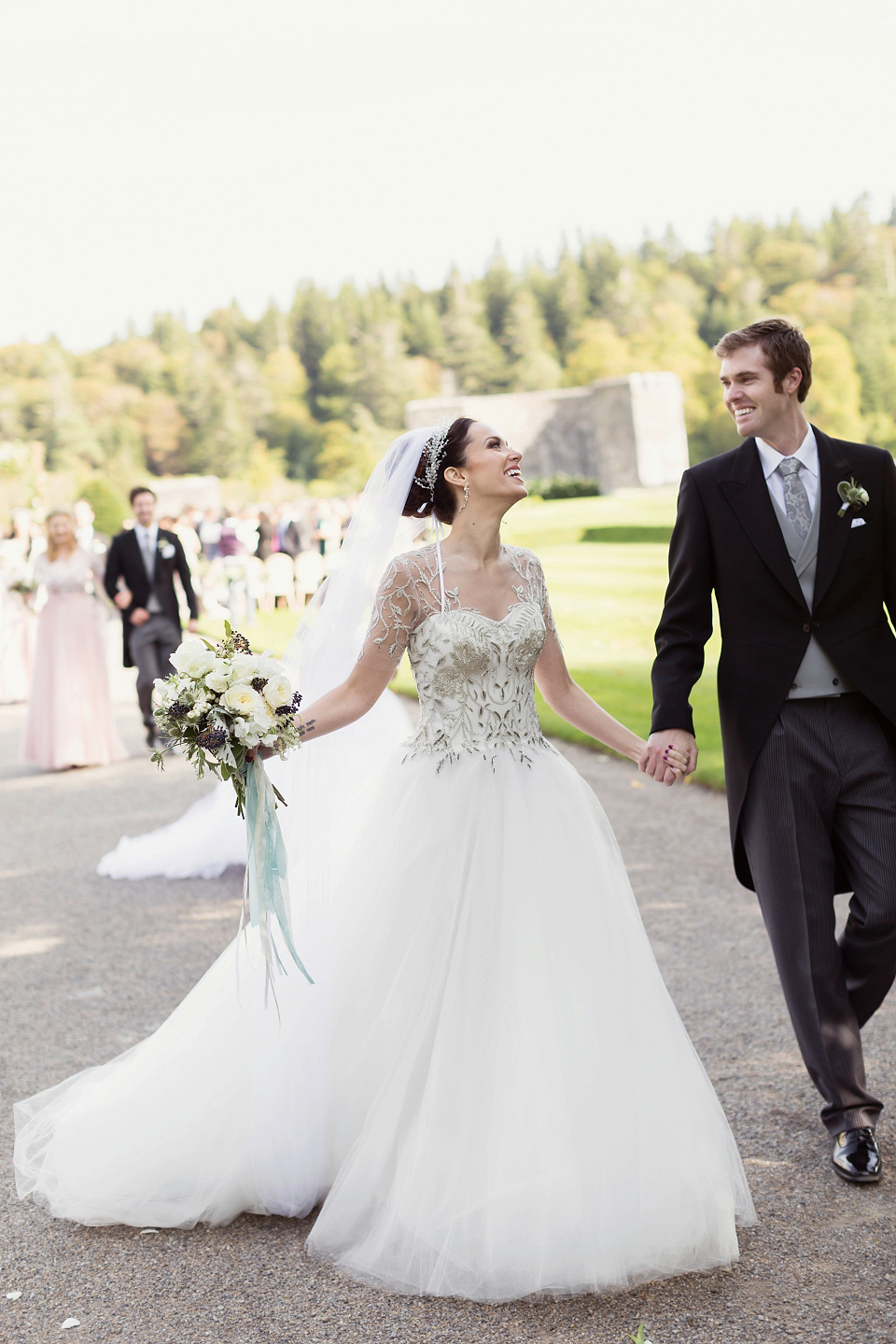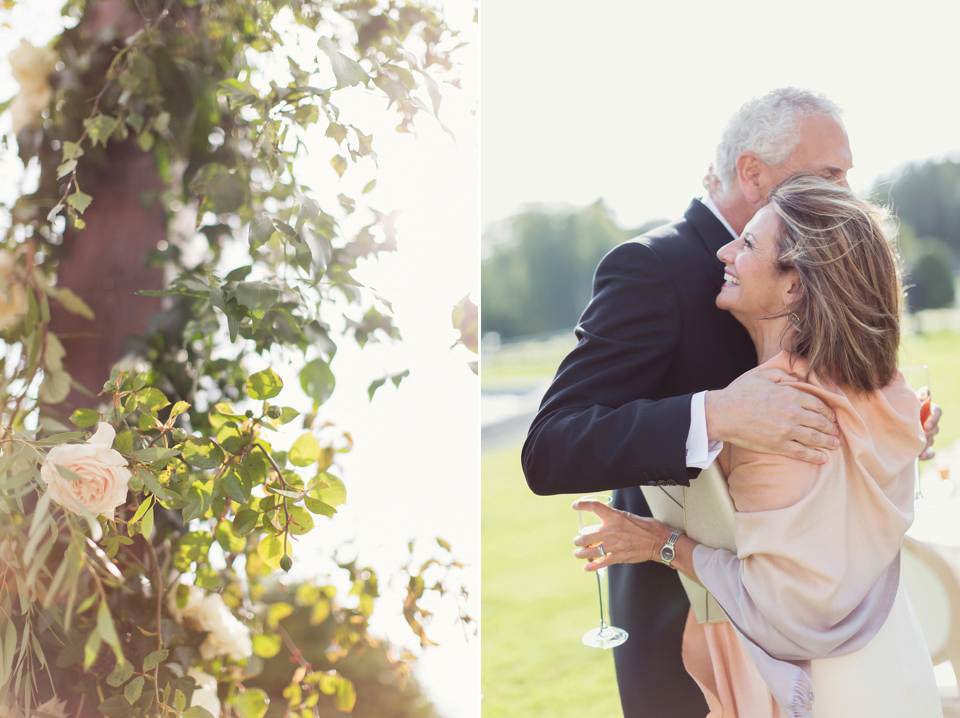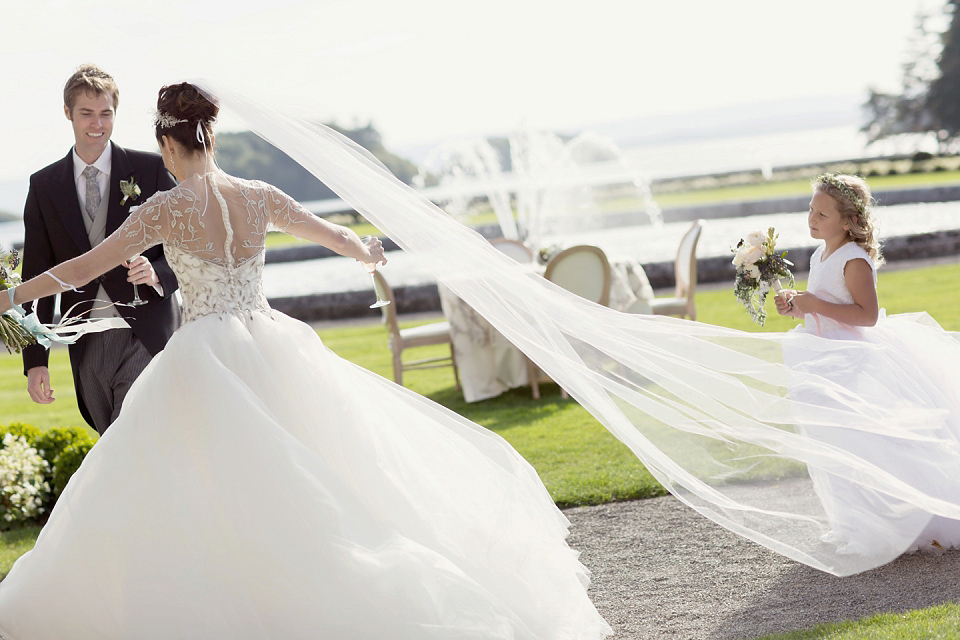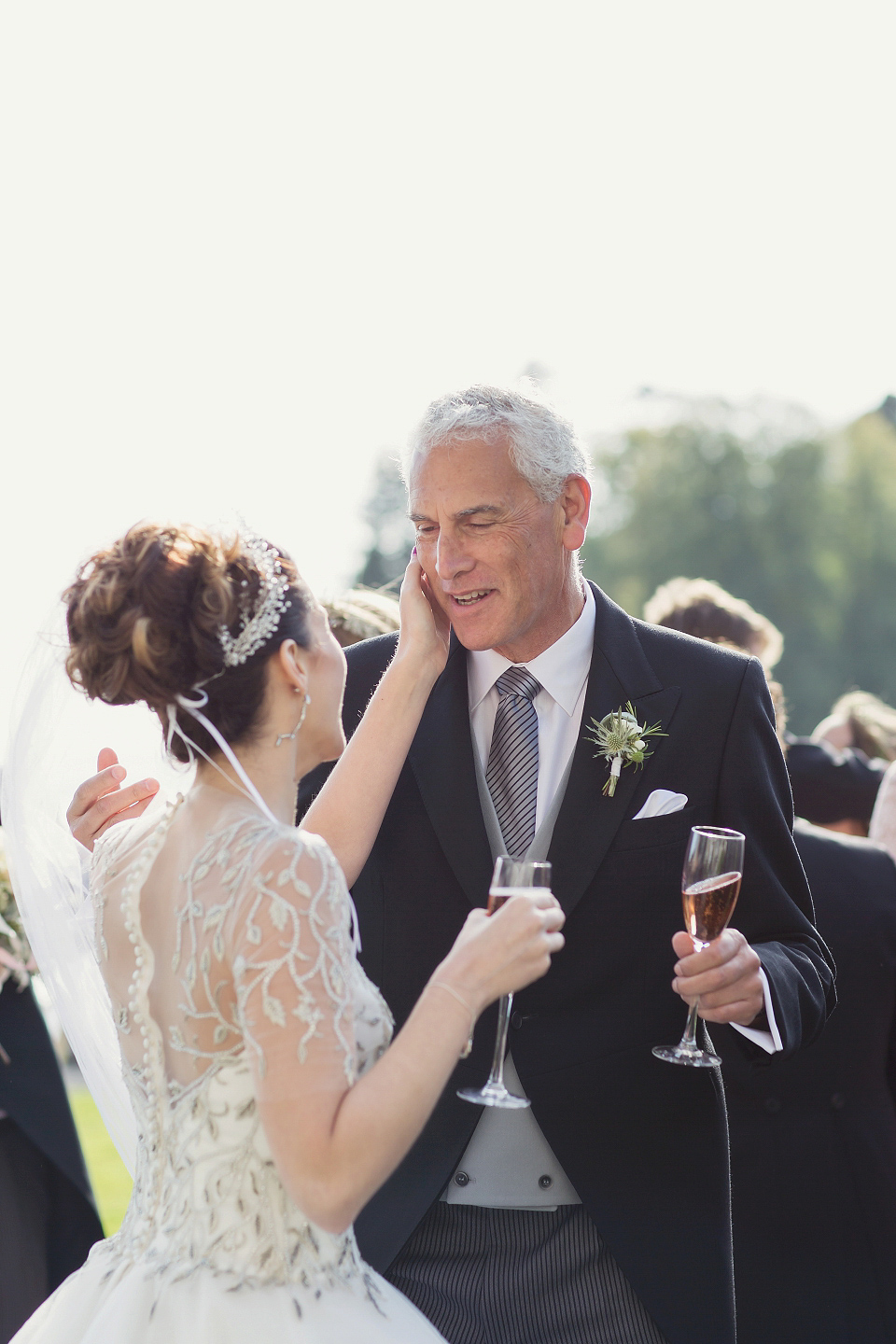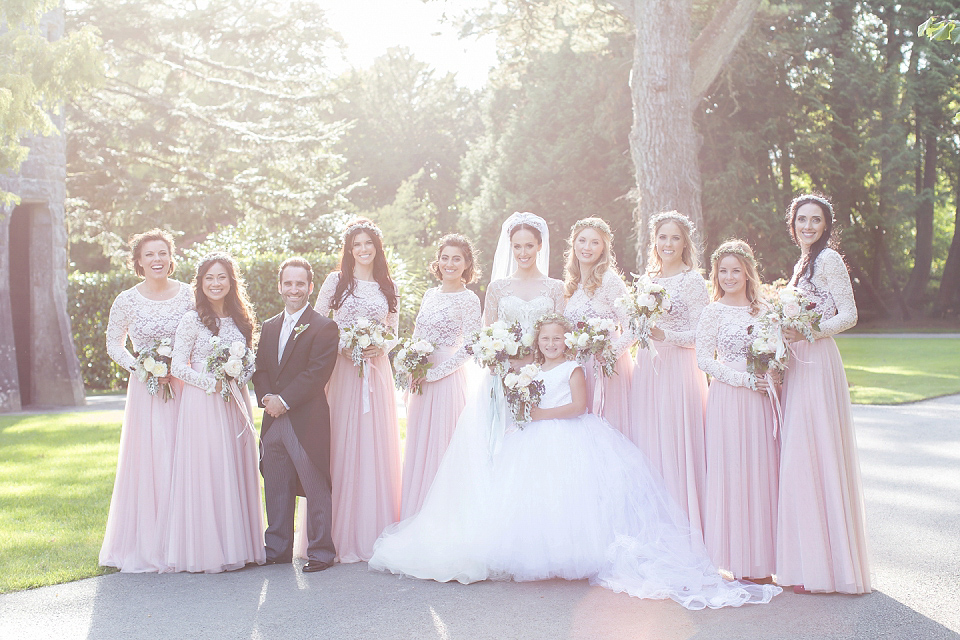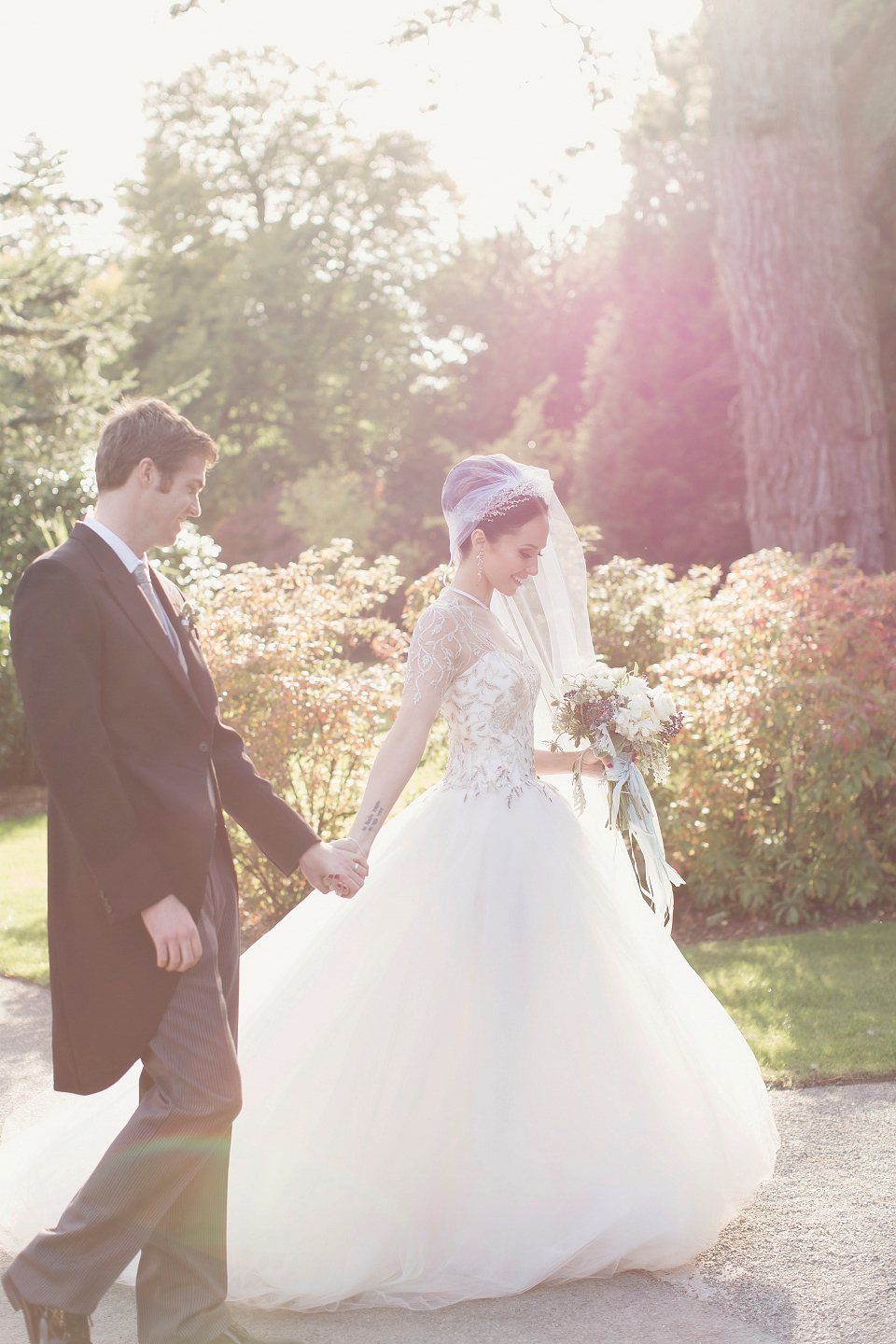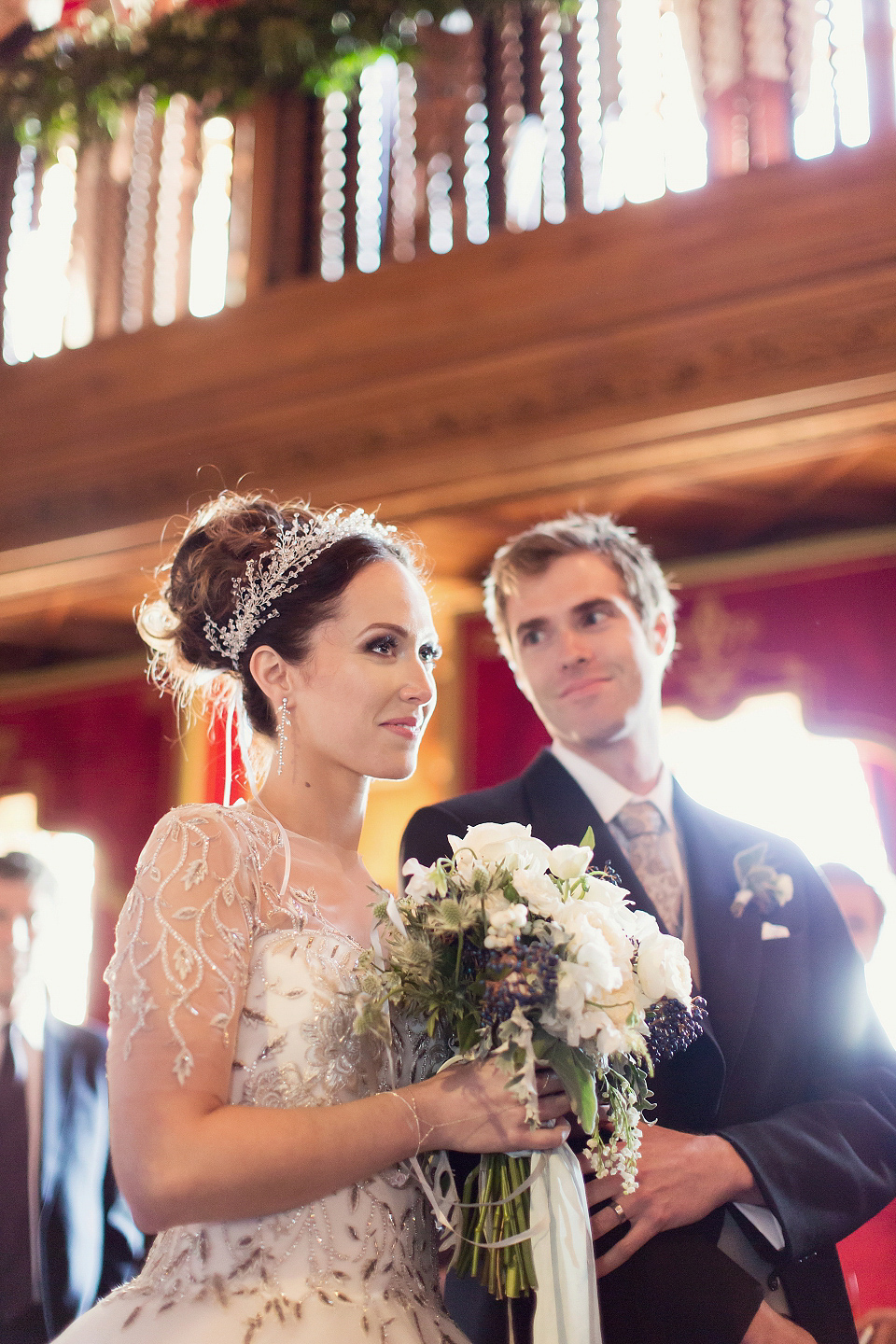 The couple decorated the venue with lots of beautiful blooms displayed in cut crystal, Irish antiques and textiles lovingly hand sewn by the mother of the bride.
"My mother-in-law hand sewed all the linens  for the entire event! We picked out the cloth from the Los Angeles textile market and then my mother-in-law and her best friend sewed the tablecloths and had them shipped to the castle."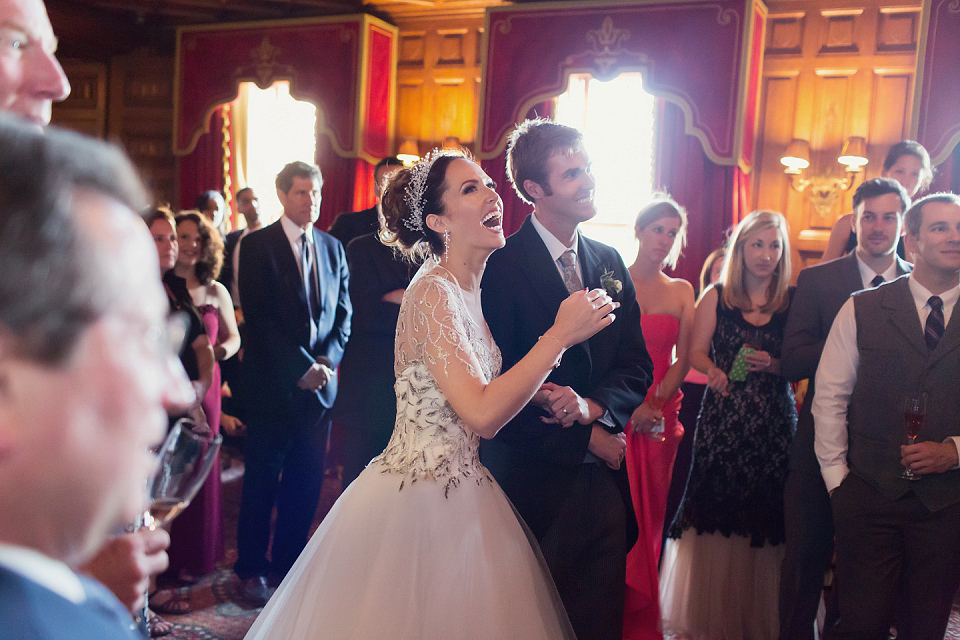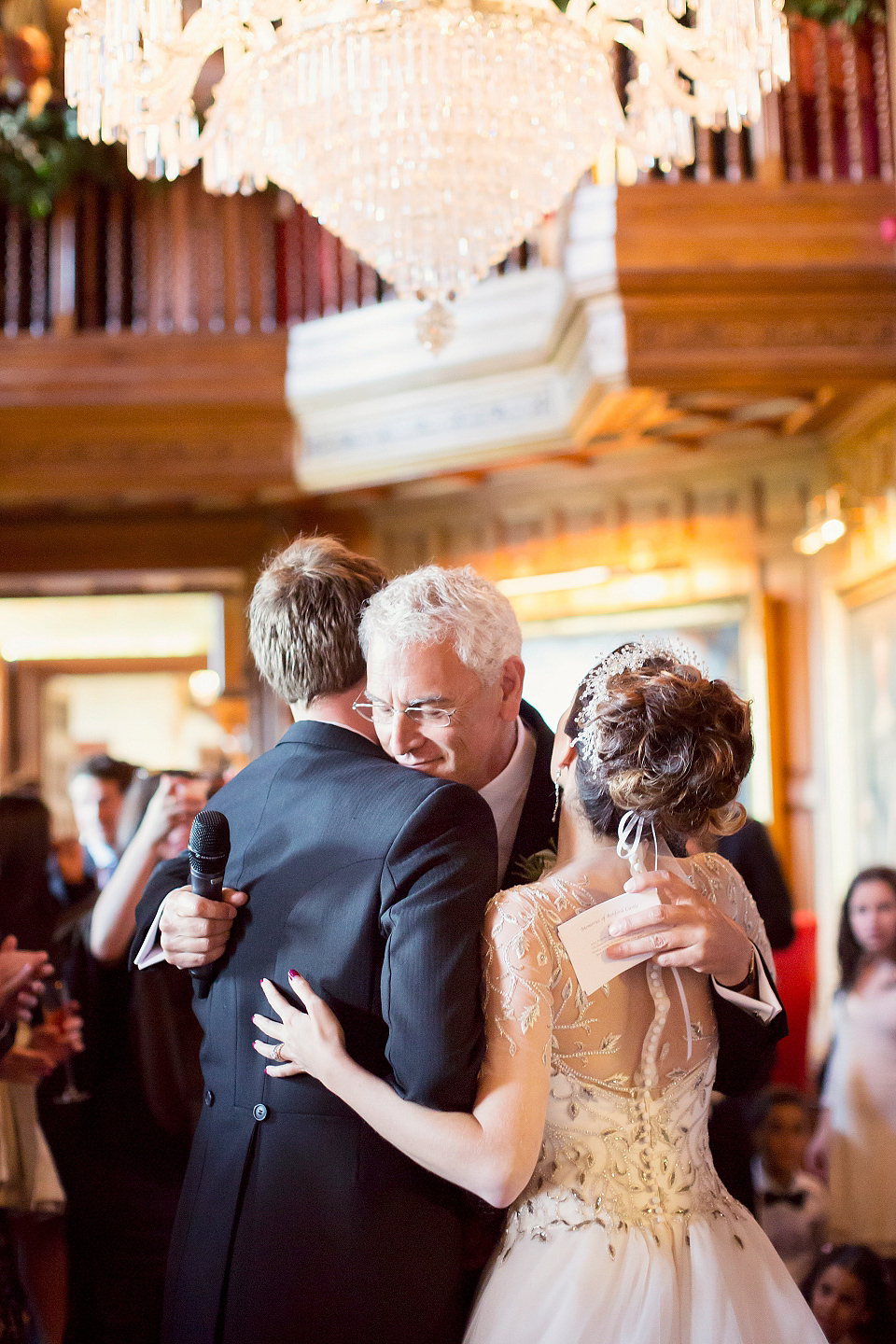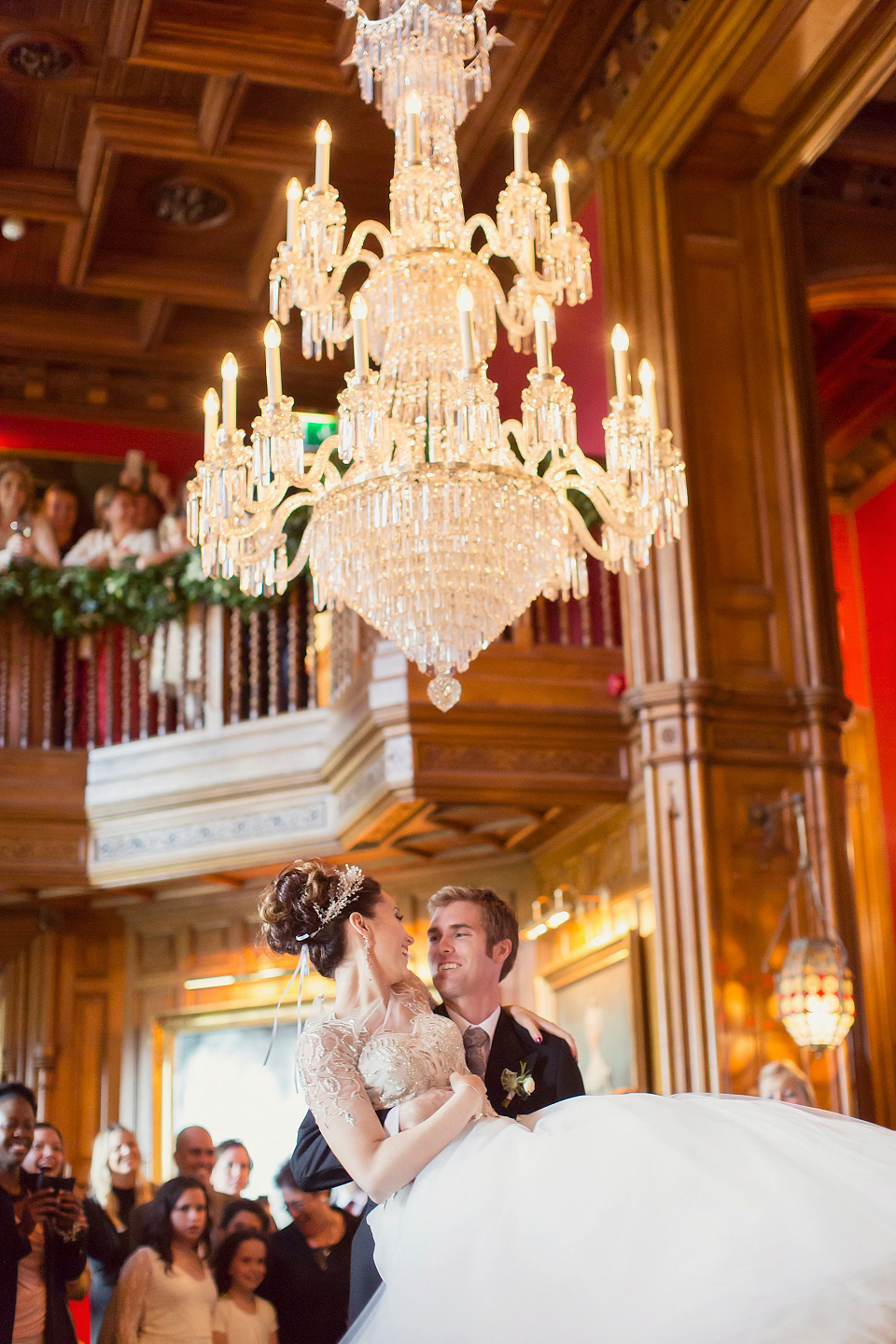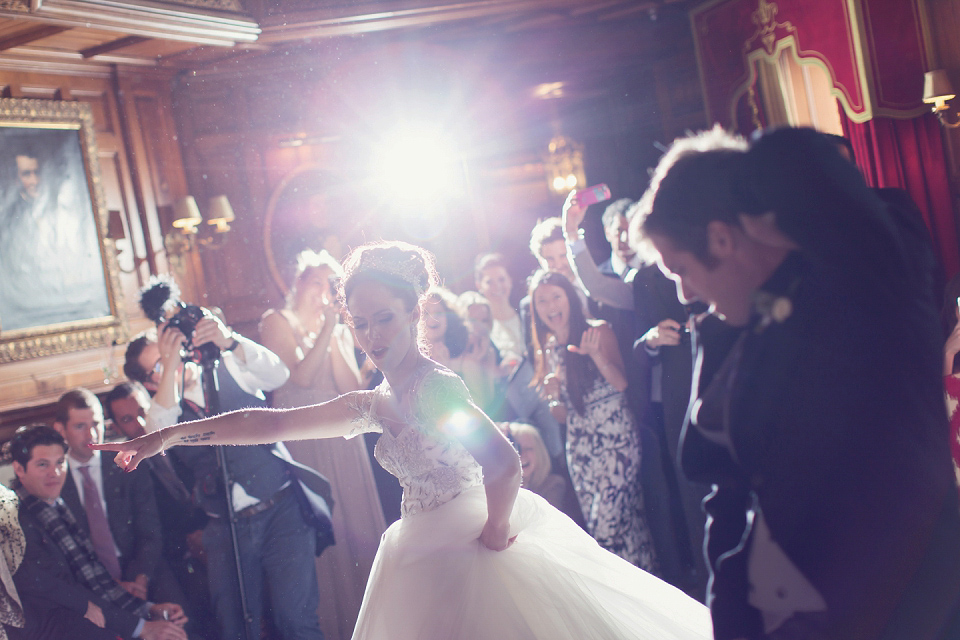 "All catering was done by Ashford Castle, and it was by far one of the best dining experiences we'd ever had in our lives. Each meal was crafted like a work of umami art.
We wanted a wedding cake that was as elegant as Ashford Castle, but also delicious! And boy did Caroline Goulding at The Wedding Cake Boutique deliver."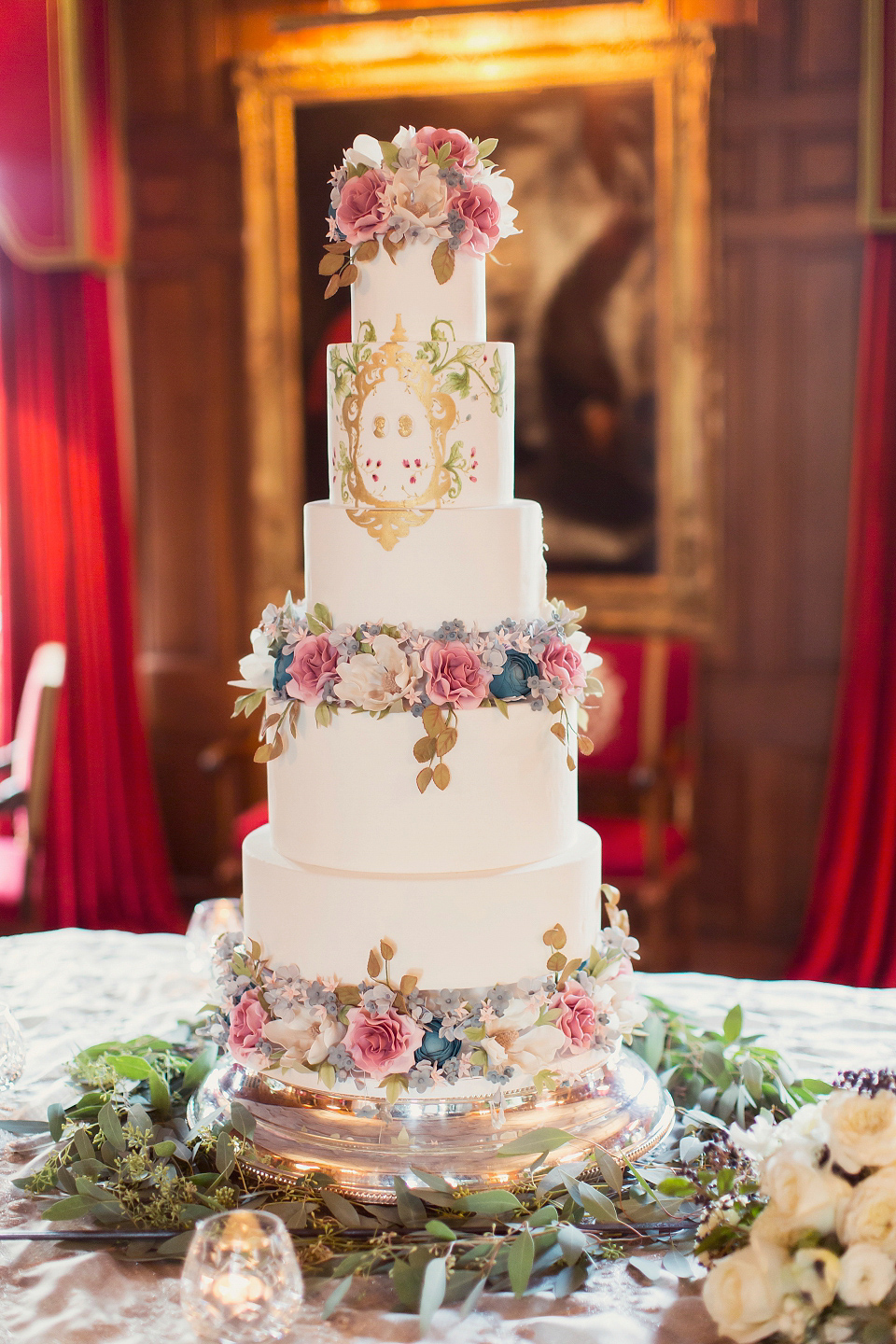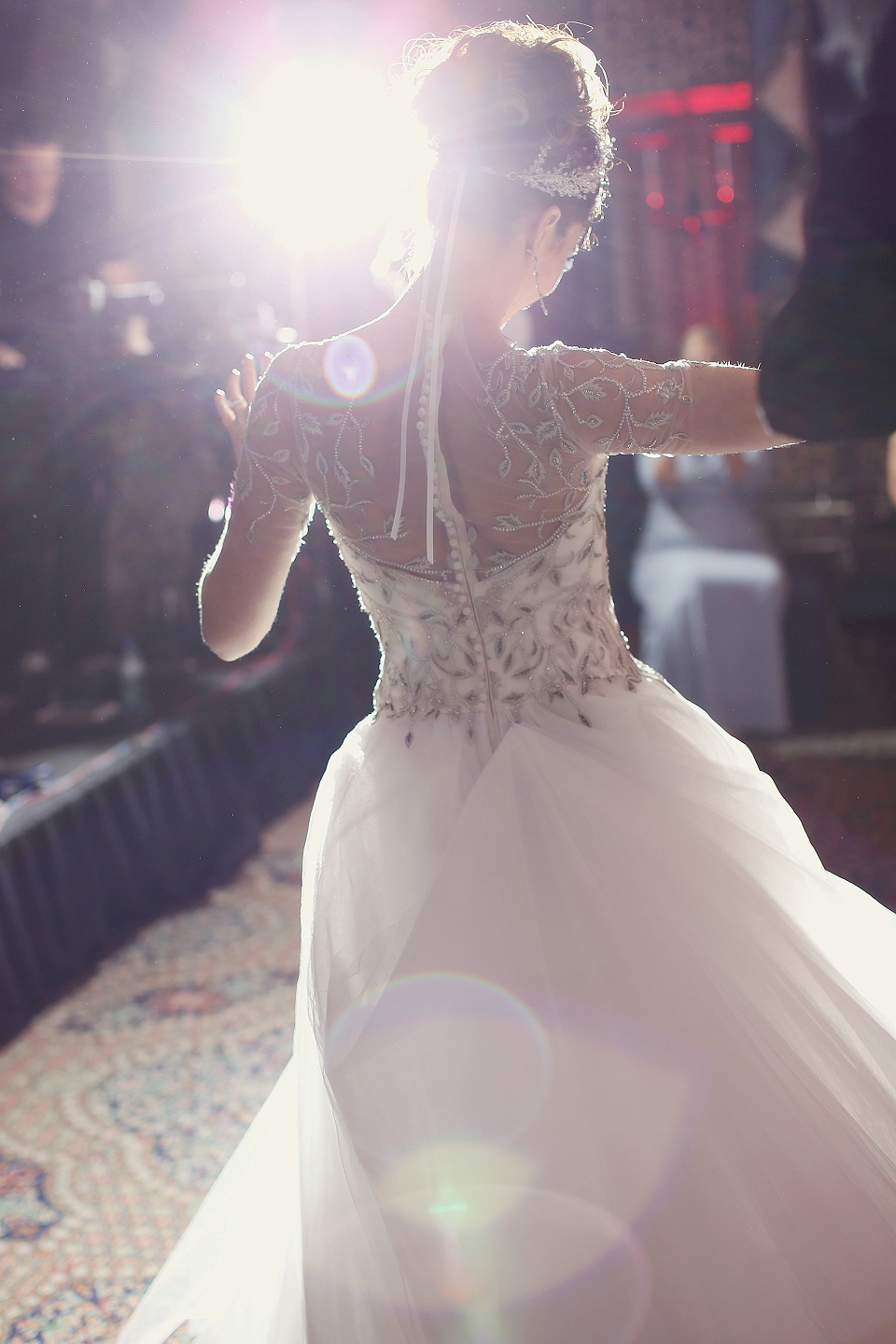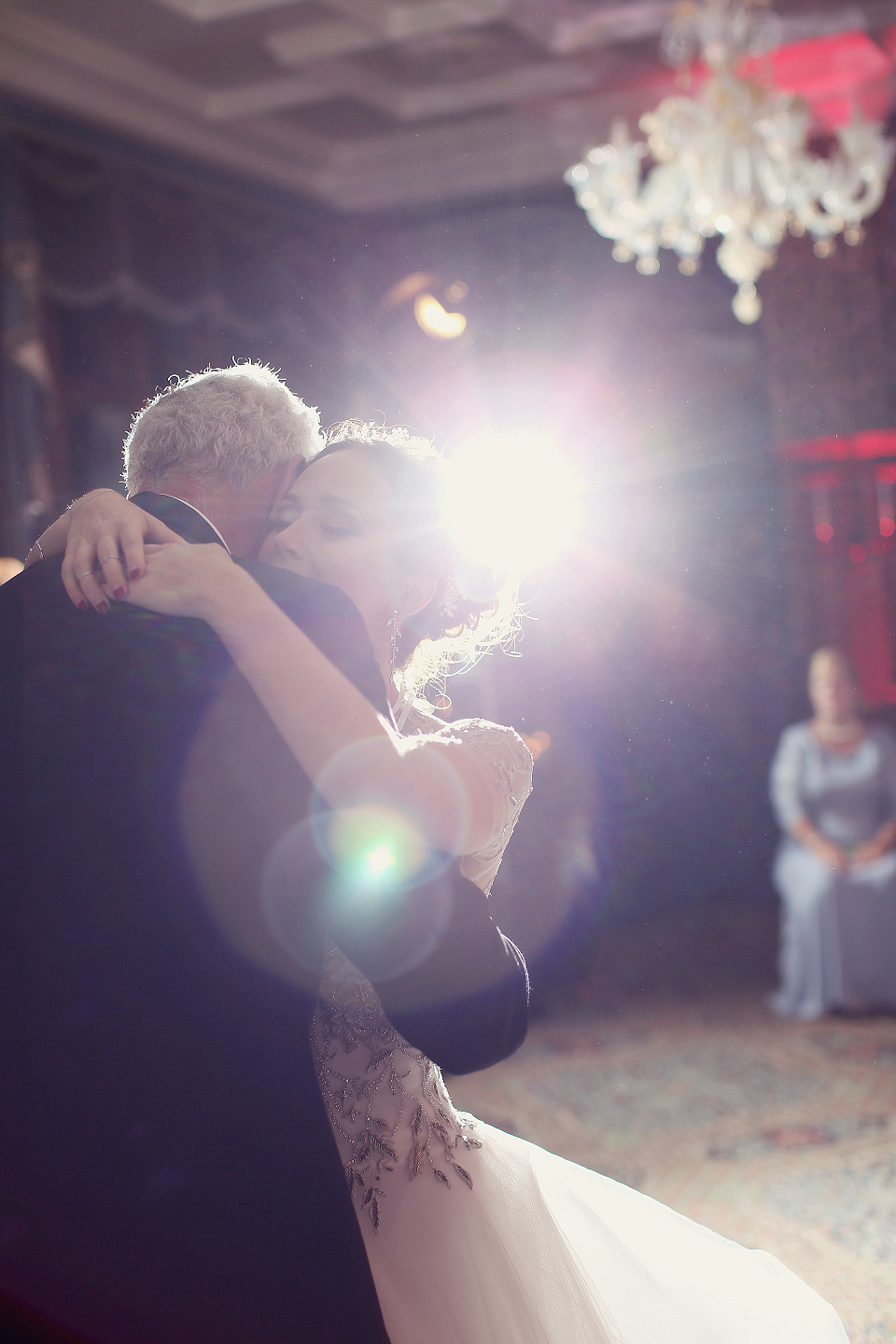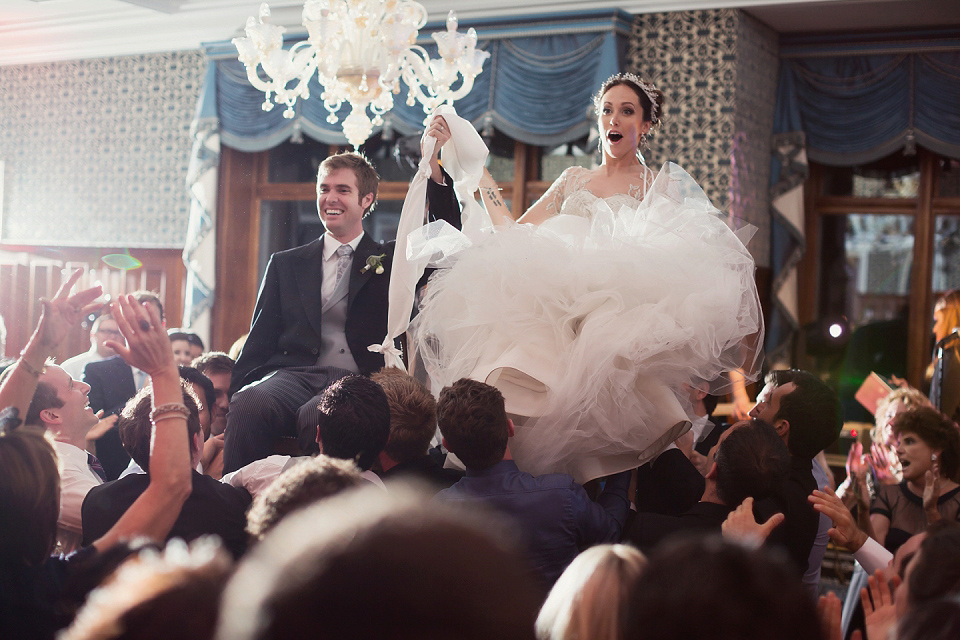 The couple's evening entertainment was provided by award winning wedding band The Firm, who even learned 'Hava Nagila' especially for the occasion (an Israeli folk song, traditionally sung at Jewish celebrations).
"The Firm learned 'Hava Nagila' for us, and everybody cheered as we were lifted up on chairs (a wonderful Jewish tradition). As a former dancer I wanted to do something special for our first dance, so I choreographed a four-song montage."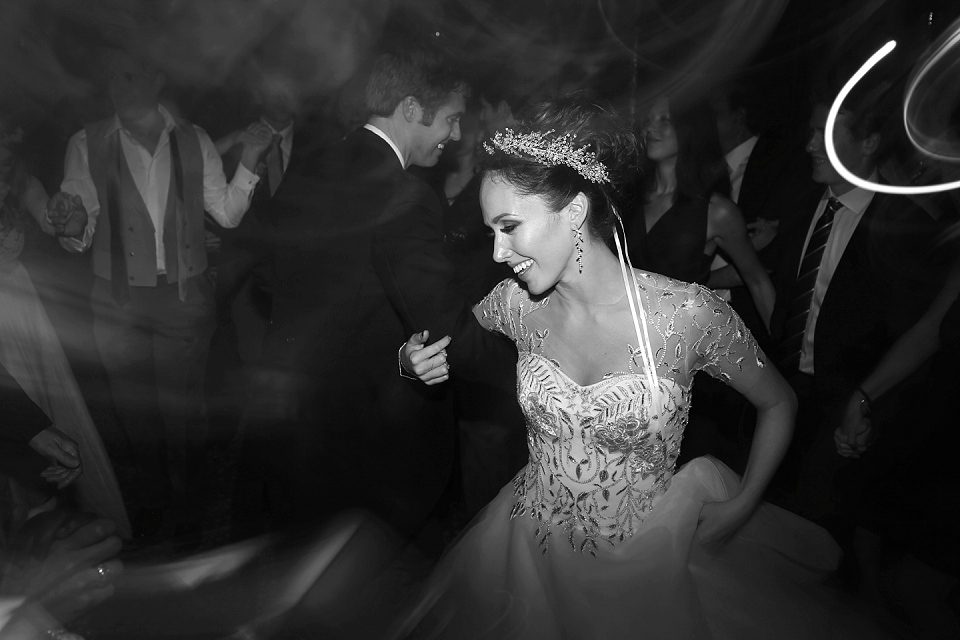 "First was a beautiful waltz (Edward Scissorhands Theme Song). Second, to the surprise of everyone, was Shake Señora (Pitbull version), followed by Push It (Salt N Pepa), and finally The Way You Make Me Feel (Michael Jackson). Our first dance was performed 'in the round', so our guests watched from all around us. We had the best time!"
"I have no idea what we would have done without Olivia of Olivia Buckley Events. Planning a giant destination wedding across an ocean in a secluded castle was a challenge, plus we had some pretty complicated emotional/familial/cultural elements to our wedding and Olivia should win an award in international diplomacy (as well as family counselling!)"
"I would also love to give a special thank you to Áine at Ashford Castle (and the entire Ashford staff in general), the hotel's wedding coordinator, who found Olivia Buckley for us and masterfully communicated between all of our vendors, guests, and family members to give us the most spectacular, seamless three days of wild adventure, delicious fair, and magical celebration ever known to mankind. I mean, we're clearly biased, but still."
Words of Wedded Wisdom
"Here's the thing y'all: it's gonna get cray cray no matter how well you plan, how much research you do, how good you are with money, or how thoughtful you are about the process and the emotions of all its players… weddings are both the birth and the death of identities. This will always mean drama, grieving, disagreement and you simply can't prepare for everything.
Being a healthy, happy, fulfilled bride means accepting the reality that your big day will NOT go as planned. Perfection is not the goal. You've already done the hardest part; you've found the love of your life.  Now let go, and dance in the chaos of it all. I promise you'll have fun if you do. Come rain or come shine (literally)."
A huge thank you to Juliana and Ryan for sharing the details of their big day and to Craig and Eva Sanders for providing us with these wonderful images. If you'd like to see other beautiful weddings on the Emerald Isle, please do follow this link.
Have a great week!
Annora x
Photographer – Craig and Eva Sanders Photography
Film – Catch Wedding Cinematography
Planner/Stylist – Olivia Buckley Events
Venue + Catering – Ashford Castle, County Mayo, Ireland
Wedding Dress – Marchesa gown purchased from The Glamour Closet in San Francisco
Veil – Lynee at Wee Scotty Tailoring, San Francisco
Headpiece – Hair vine from Melinda Rose Design via Etsy
Shoes – Manolo Blahnik
Accessories – Gold slave bracelet from Carma Collection + Hamsa bracelet from Alex & Ani + Crystal earrings from BHLDN + ring from Isabel Coquette Bijoux via Etsy
Bride's Scent –  Angel by Thierry Mugler
Groom – Suit from Martin Feeney + Celtic knot cufflink by Blarney Home
Bridesmaids – FloAtelier via Etsy + Modcloth shoes
Flowergirls – Anna Triant Couture
Florist – The Informal Florist
Cake – Caroline Goulding at The Wedding Cake Boutique
Transport – Leonard Chaffeur Drive
Entertainment – Joyce Country Sheepdogs + Ireland's School of Falconry + Carolan String Quartet + The Firm
Rings – Tacori
Stationery – Invitations created by Good Juju Ink + Brenda Himmel Stationery; ceremony booklets, place cards + menus by Appleberry Press + wedding website by Midnight Coffee Creative
Hair Stylist – Lydia at Le'Masque Studio, Killarney
Makeup Artist – The Powder Room Girls