As I write this, I've just experienced a wonderful weekend away in Melbourne. I did a lot of people-watching in the little laneways filled with funky fashions, quirky decor shops, and had literally the best coffee I've ever tasted in the grooviest cafe. Melbourne reminds me so much of London, with its totally on-trend arts, cultural and fashion scene and yes, I shopped up a storm. And my poor hubby had to drag me away from many a bridal boutique – ohhh, what I'd give to be a bride-to-be again and I very nearly did a Muriel by trying loads of dresses on. One thing that struck me was the vast array of bridal separates available – a growing trend and one that our beautiful bride picked up on in her search for her wedding attire. Did you see Annabel's beautiful White Gallery London images and videos on Instagram and Snapchat last weekend? I've completely fallen for the divine separates in the latest collections by Charlotte Balbier and Suzanne Neville.
Meet Lorena, an art critic and journalist from Madrid, and Edmund, a visual artist and videographer from London. They married on the 5th September 2015 at The Orangery in Holland Park in London; a stunning venue they discovered after attending the brilliant alternative wedding fair Most Curious and  that was perfect for their small, September wedding party.
We are also pretty thrilled to see that Lorena turned to several members of our beautiful wedding directory, Little Book For Brides, in styling her wedding day, including designers Catherine Deane, Lorie X and Harriet Wilde.  We only recommend businesses we know are brilliant through Little Book For Brides – bookmark the site and browse through later when you have a spare half hour – it will even allow you to build your own shortlist of suppliers that you can print out directly from the site into one nice, neat little list (perfect to pop into your wedding planning folder!).
"We wanted our wedding to be about simplicity, beauty, and elegance, to reflect both Ed's British roots and my Spanish background, and to symbolise our love and our families and friends coming together."
Photography by Cristina Cuevas Photography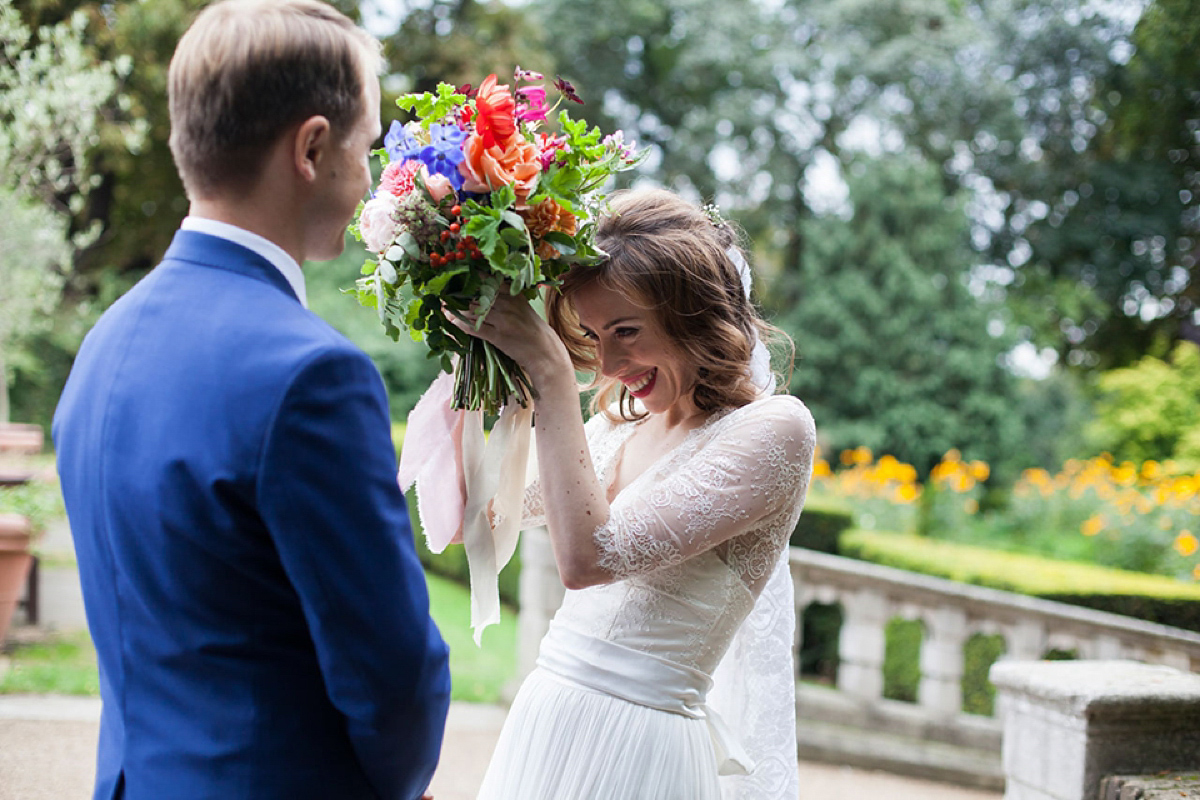 Lorena was certain she wanted to wear bridal separates, as she felt this was a much cooler and sophisticated look than a dress. After trying on a three-quarter sleeve lace top and full tulle skirt whilst in Madrid, she had found her ideal look and set about making this a reality.
"An American friend that had recently got married had pointed me to BHLDN. One night, I found the 'Anika' tulle skirt that designer Catherine Deane was selling exclusively through BHLDN, and I just loved it."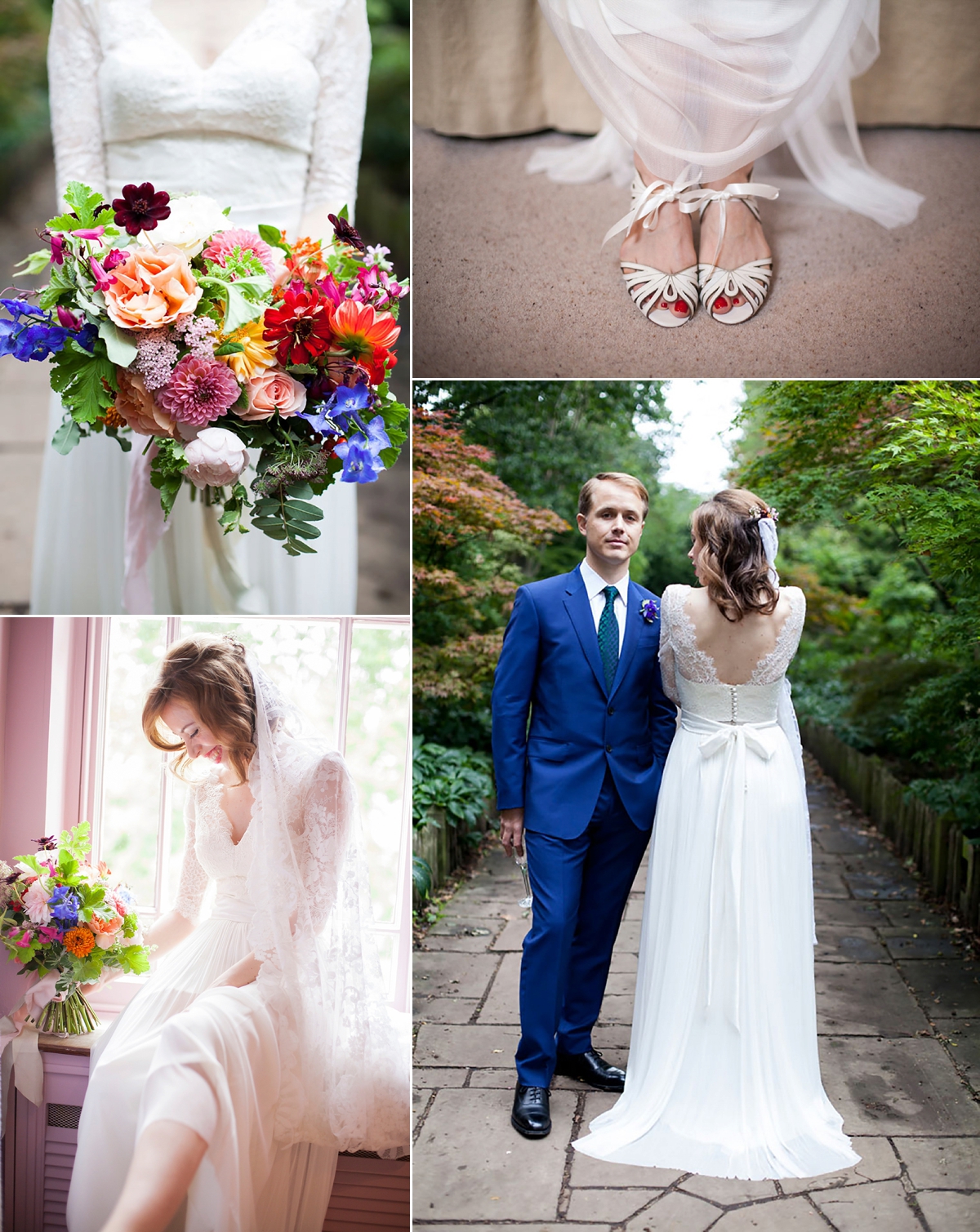 Palais Flowers created the couple's colourful blooms and is a firm favourite of us here at Love My Dress headquarters.
"Our flowers were by Emma from Palais is a good friend of my maid of honour Fede, so she introduced me to Palais' stunning work. She takes floral design one step further and her flower arrangements are like actual artworks; like a modern Dutch still life. She changed the way I see flowers forever."
 "We did our save the dates and invites through Paperless Post which we found extremely useful and saved us a lot of time, as we preferred to spend less money on stationery and allocate more budget for what was really important for us.
We did produce a booklet for the day though, with some useful information such as the readings in English and Spanish, the menu, and a lovely photo that Cristina took of Ed and I, which also served as a favour/souvenir. A great graphic designer friend of ours, Nuno, designed it for us – again, be sure to use your friends' skills!"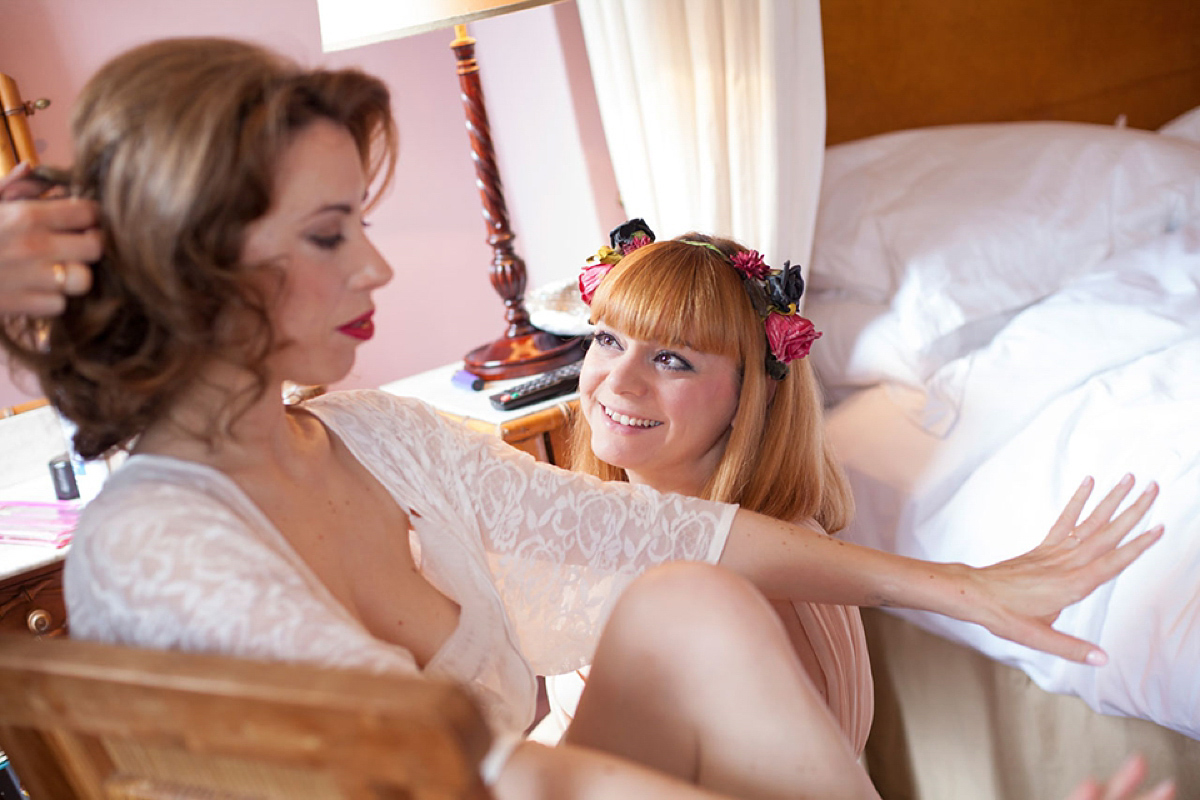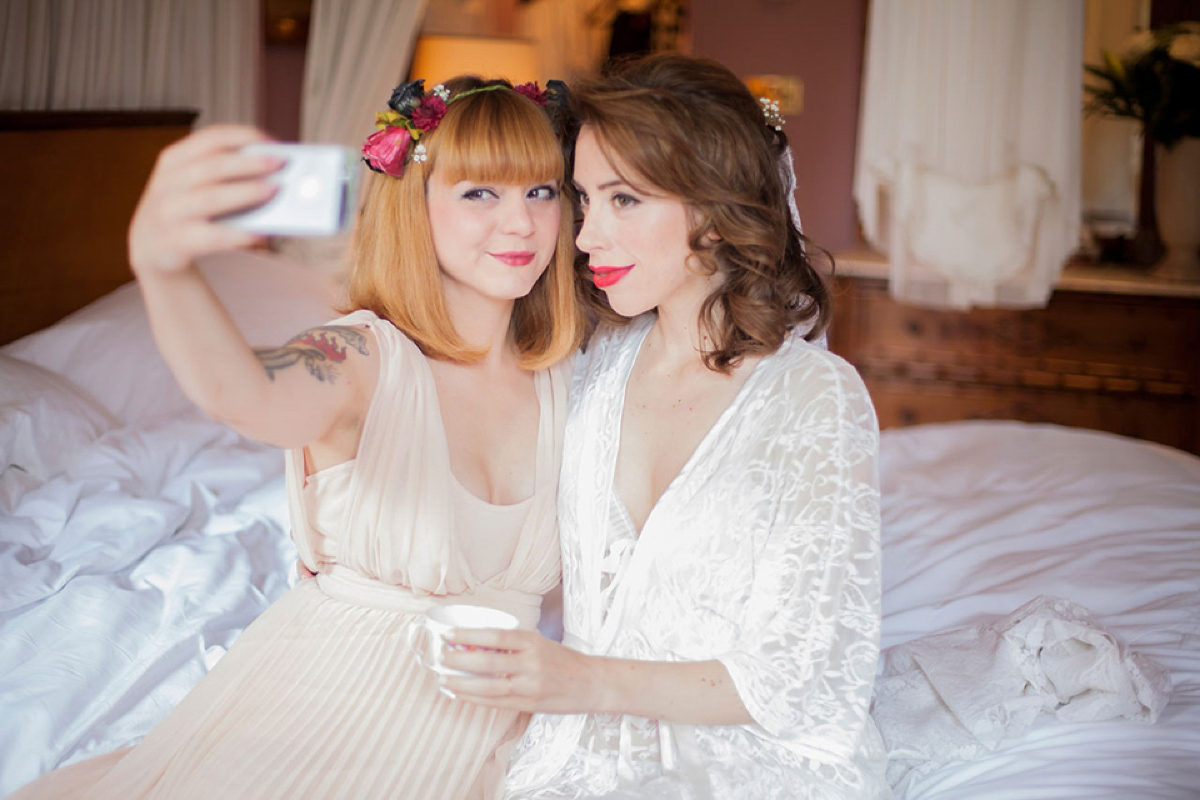 Unfortunately, Lorena was hit by unexpected costs of custom tax when purchasing her Catherine Deane skirt from BHLDN (brides, we urge you to be aware that purchasing goods from overseas can sometimes, not always, incur an import duty tax – it really is the luck of the draw. Find out more here). She also had to pay for some adjustments to the skirt so that it fit her absolutely perfectly, however, the finished skirt was just so beautifully luxurious and perfectly complemented her bespoke lace top, created by up and coming designer Lorie X, who we are uber proud to say is also a member of our Little Book For Brides.
"I now needed someone to make the lace top of my dreams for me. So I browsed around (including checking Love my Dress four times a day) but at the time, bridal separates weren't quite a big a trend as they are now. The solution came to me again at the Most Curious. I can't recommend enough this fair for brides looking for providers that are bit more edgy and less traditional."
"Walking around the fair, I spotted the stand of Lorie X. Laura Hall is a young London-based bridal designer who specialises in alternative and bohemian brides. She is really incredibly unique and crazy talented – I expect big things from her. She had separates as part of her debut collection, which was a sign, and one of her tops featured a stunning corded lace, just like the one I wanted."
"I felt she instantly got me and I ended up commissioning her to create my bespoke three-quarter sleeve lace top. When I tried the finished version for the first time, a few weeks before the wedding, I wanted to cry! It was stunning and what I had envisioned in my head. Laura was amazing throughout the process – dedicated, enthusiastic, patient, affectionate, professional and I can't recommend her enough."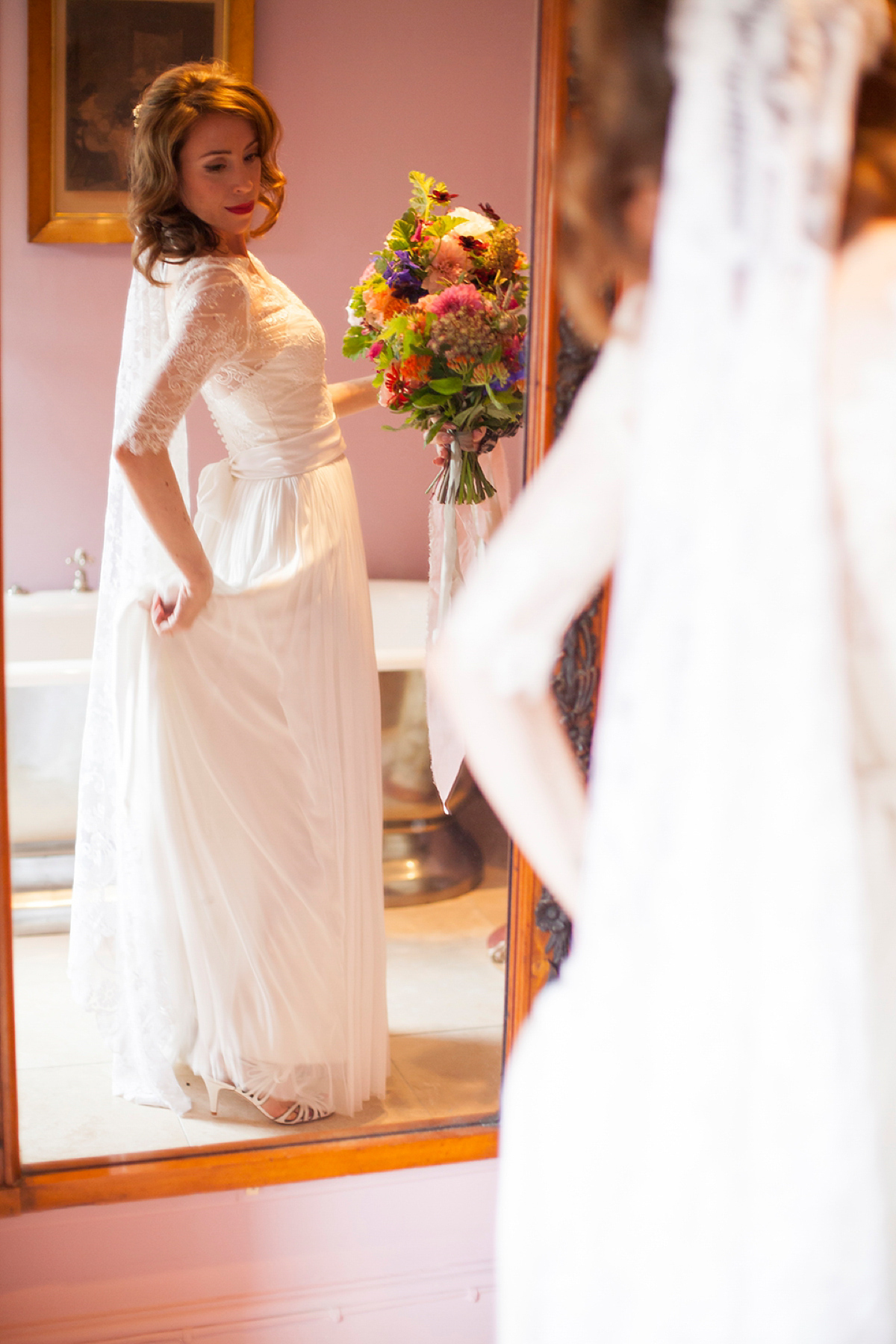 The beautiful bride wore a stunning vintage mantilla veil with gorgeous lace that complemented her lace top, as well as being a nod to her Spanish roots. She donned a pair of fabulous retro Harriet Wilde 'Delfina Low' shoes, accessorised with just her engagement ring and added a spray of her daily perfume, Chanel's 'Coco Mademoiselle'.
"I was totally hell-bent on finding a new scent for the day, but after trying a thousand samples for weeks and not liking any of them, I put my trusted perfume on one day and Ed, unaware of my woes, said "Ohhh, I love this scent on you so much." Sometimes what works, works, especially on your wedding day."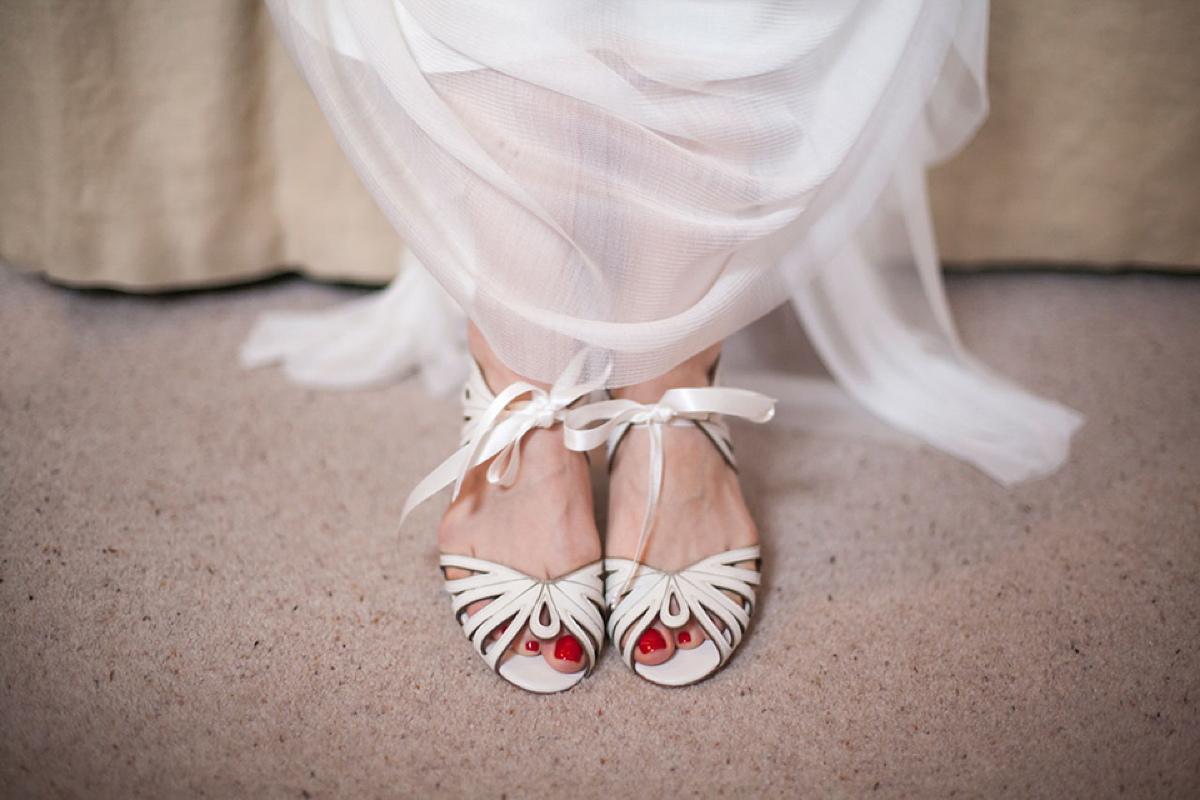 "The flowers were our only decoration at both venues, so we were keen on having a generous array of really stunning ones, and Emma really delivered. At the beginning, I was partial to a white, pink and peach scheme, in dusty/antique hues. But really close to our wedding day, I completely changed my mind and told Emma to go crazy and to use really bright, happy colours, so we had flowers in reds, pinks, oranges, browns, and blues.
It was so uplifting and joyous and our best investment in terms of decoration, as aesthetically Emma's flowers completely made our wedding."
I adore Lorena's bold red lips, cat flick eyes and her hair in soft waves with a small sprinkling of fresh flowers that matched her bouquet; beautifully created by Camilla J Collins.
"My brief was very simple – loose hair with soft waves and some fresh flowers, and a simple make up with a cat flick and red lips, my 'signature look'. I could have done my make up myself (I even asked Camilla to use my own red lipstick – Mac's Ruby Woo), but I didn't want to have a freak out during my getting ready session, so I enlisted a professional."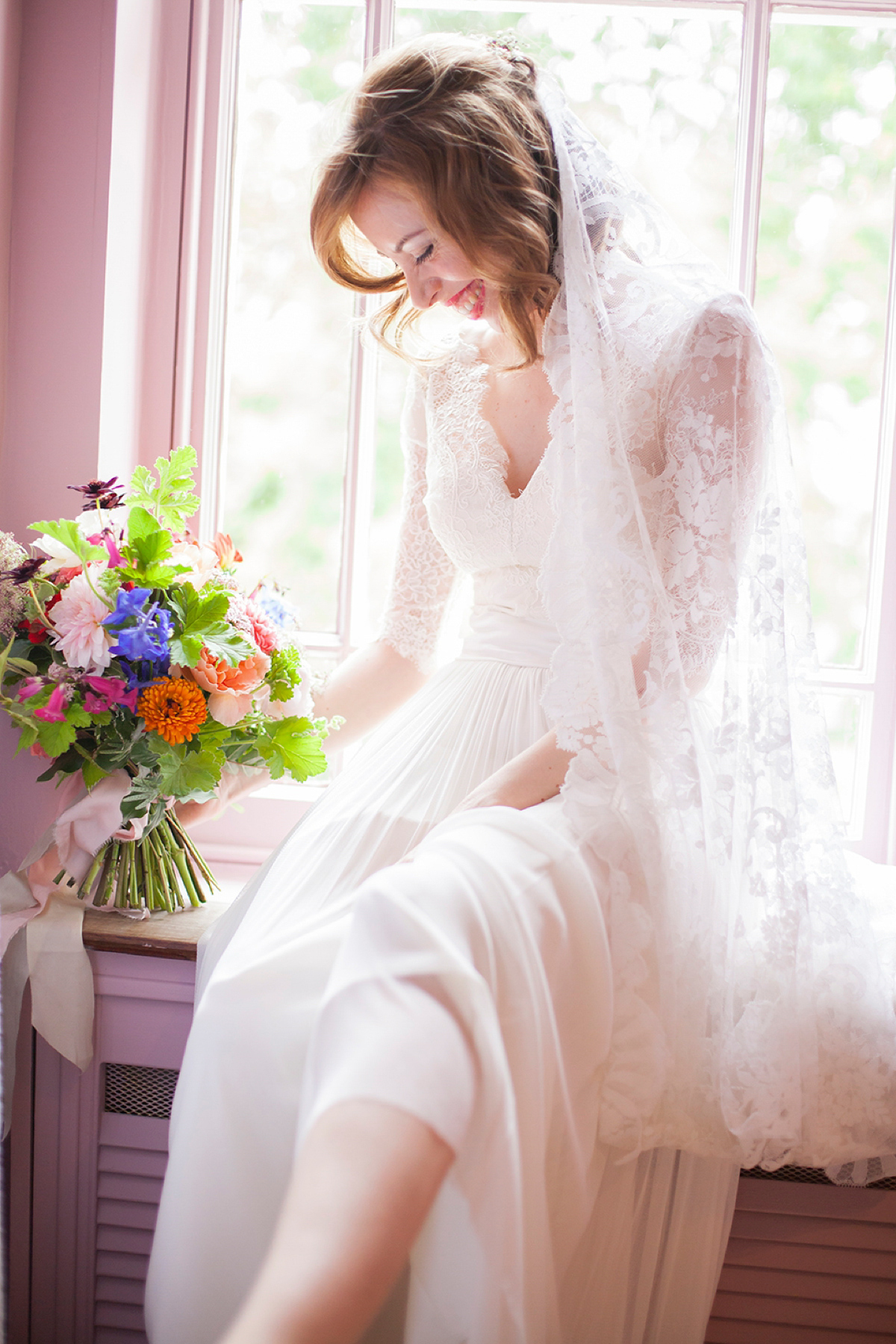 Lorena and Edmund fell in love at 'second sight' and although they had only six months to plan their nuptials, they were so glad they married when they did. Their little love story tugged on my heartstrings lovelies and had me reaching for a tissue.
"Ed and I had met briefly in London in early 2010 at an art gallery and then at a screening at a museum. We both felt something strong happening (chemistry!) when we exchanged a few words, but it wasn't the right time for any of us and we slipped away from each other's lives, like ships in the night. We reconnected by pure serendipity, thanks to a common friend, in the summer of 2012, at first slowly and online, as he was living in Rotterdam and I was in London, preparing to move back to Madrid for a bit. We met at a concert one evening, while he was visiting in London, and that was it, we fell in love then and there. It was really love at second sight. We did long-distance for a few months, he in Brussels and me in Madrid, but we just wanted to be together, so we moved together back to London in the spring of 2013."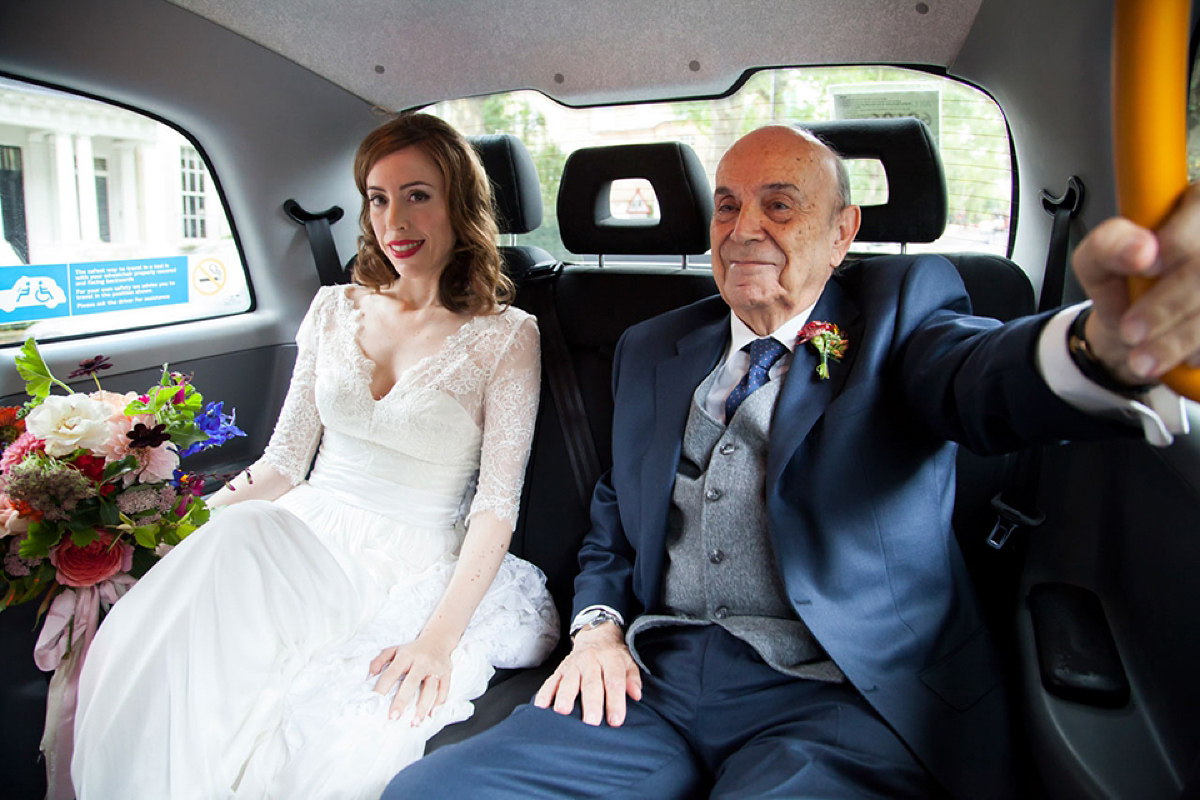 "We got engaged in early February 2015 during a wonderful short trip to Essaouira, Morocco. Although we had talked about getting married before, Ed's popping the question caught me completely by surprise. Unbeknownst to me he had asked my dad for my hand when we had visited them over Christmas, I was so chuffed and proud when I found out."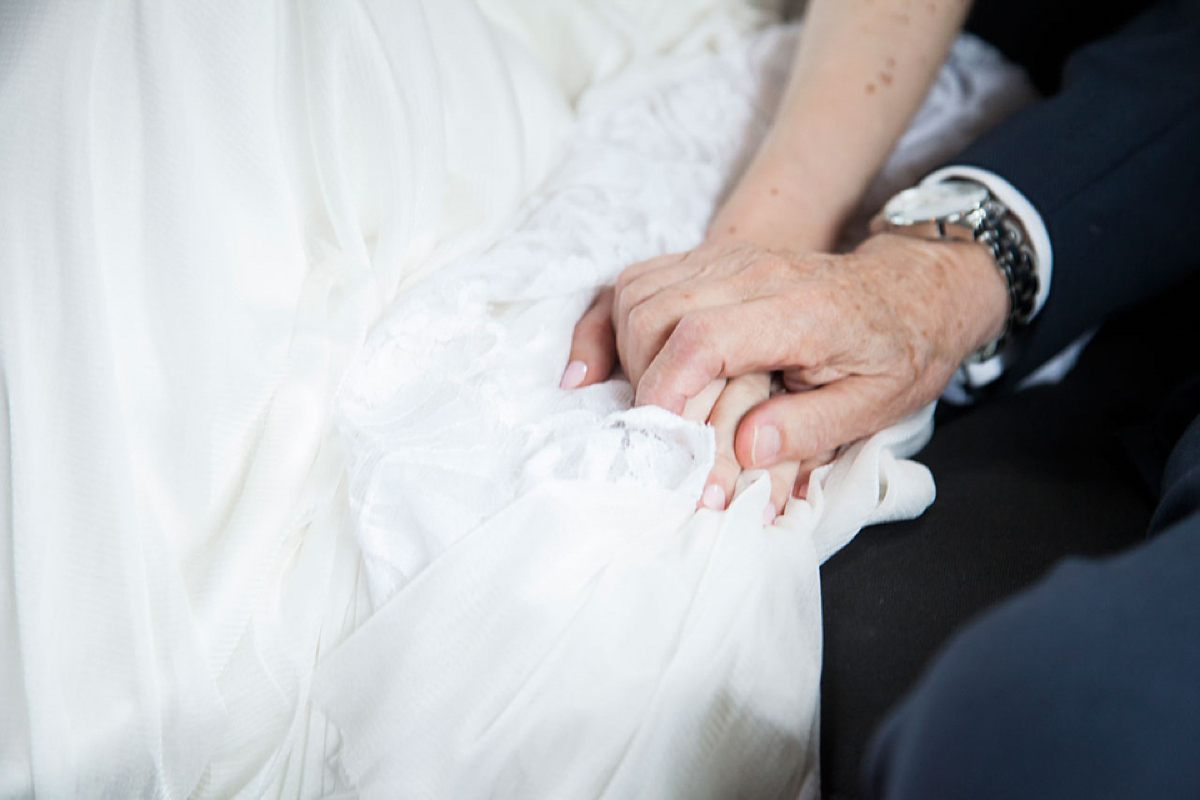 "From very early on, we agreed we would marry in the same year. For some reason, I just felt we had to. That gave us just over six months to prepare the whole thing, and less choice of venues and time to look for dresses, but also less opportunities to obsess over minute details, which suited us both. In hindsight, deciding to marry in 2015 was the best decision we ever made, although we didn't know it at the time.
My dad, healthy at that point, was diagnosed with cancer right after our wedding, and passed away in late January 2016. To have had my dad with me, walking me to the altar and sharing my happiness on this wonderful day gives my mum, Ed and me a huge amounts of comfort today."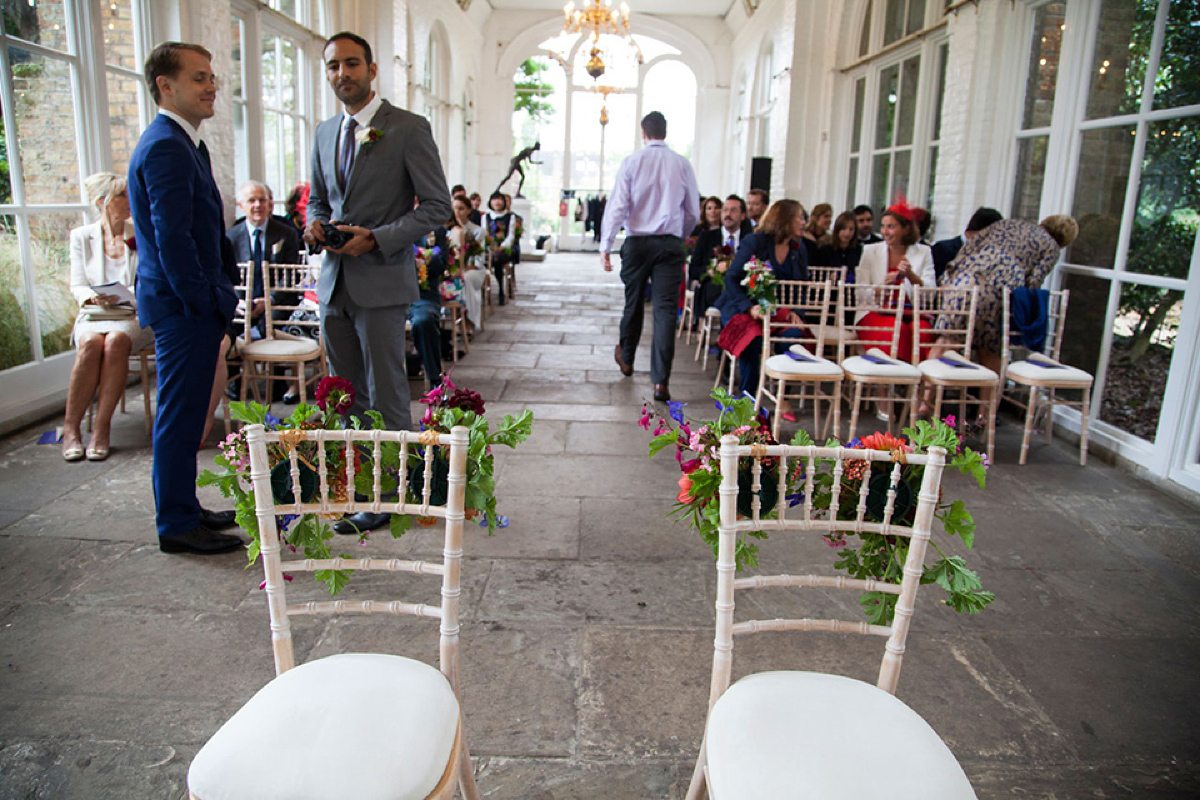 Lorena was given away by both her mum and dad; a lasting memory for the beautiful bride after sadly losing her dad just a few short months after the wedding. The couple exchanged traditional vows and decided to focus their creativity into their readings.
"Walking up the aisle with my parents was priceless, especially since my dad passed away a few months later. I can't imagine having had my wedding without him – it would have been utterly devastating. I feel incredibly blessed that he got to live it with me and I got to have him next to me on the day."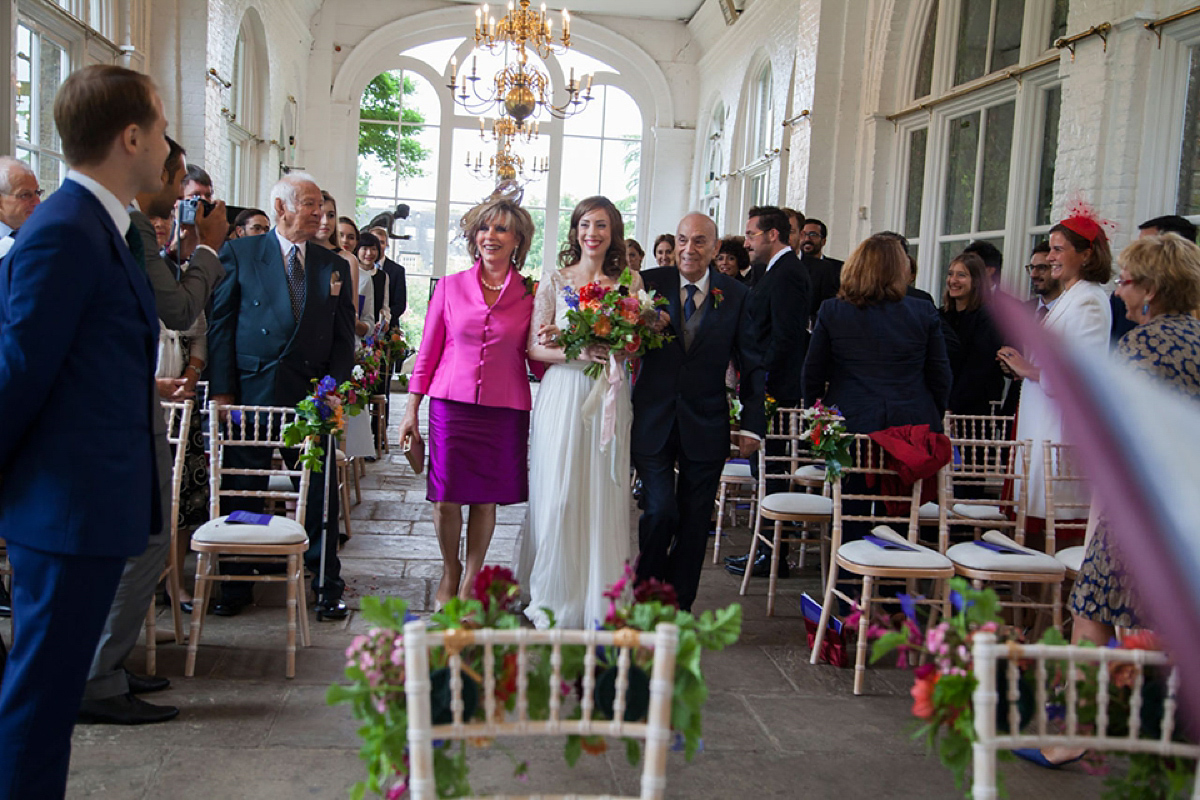 "We chose two poems, one by André Breton, called 'Always for the first time' (read by Ed's sister) and another by Chilean writer Roberto Bolaño called 'Muse' (read by my friend Alex). Breton's poem emphasises the idea of always seeing the beloved anew, with the excitement and mystery of the first period. Bolaño's speaks of admiration, support and friendship as the key components of a long-standing relationship. We thought those two together encapsulated what we want to achieve in our marriage."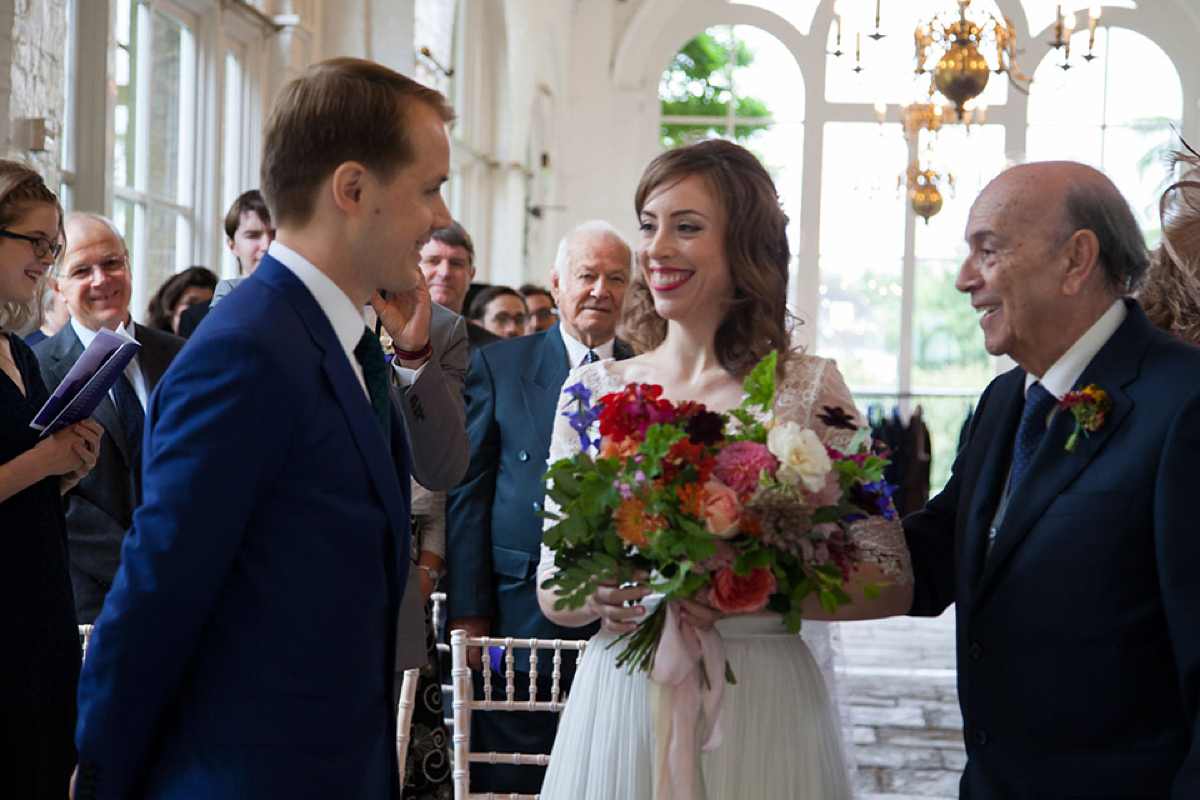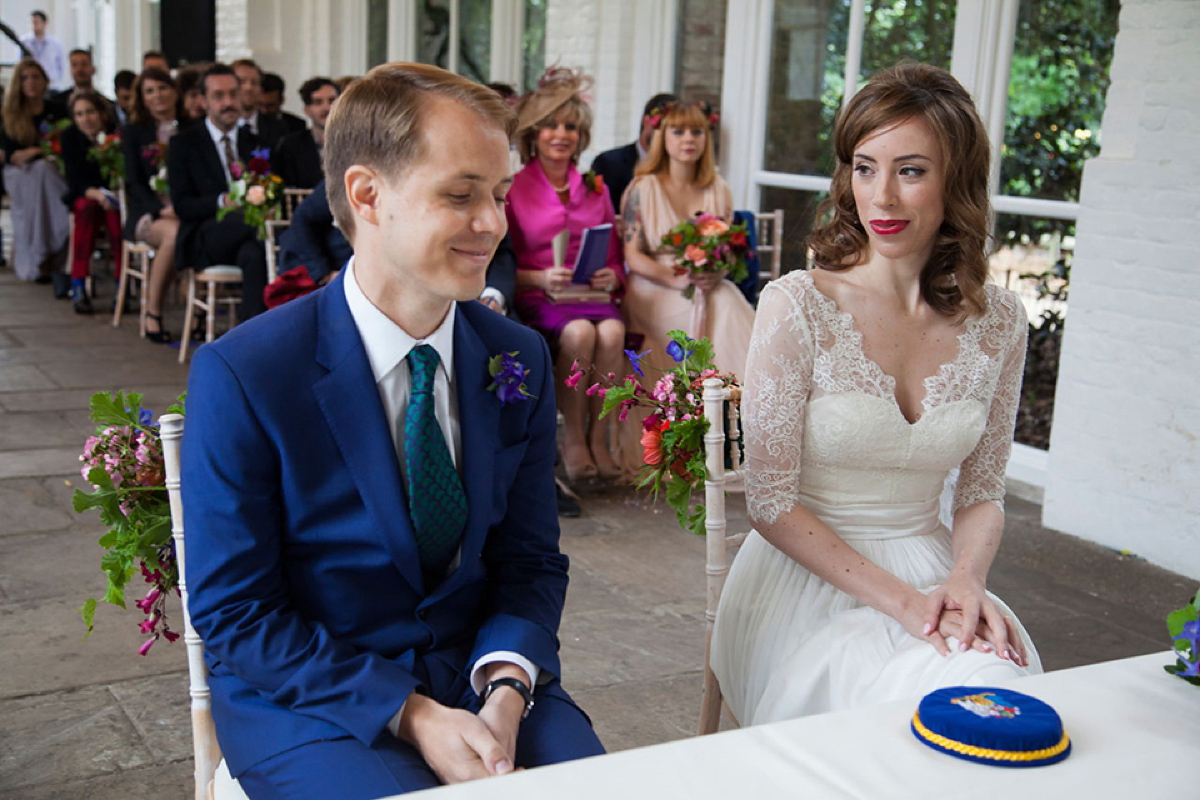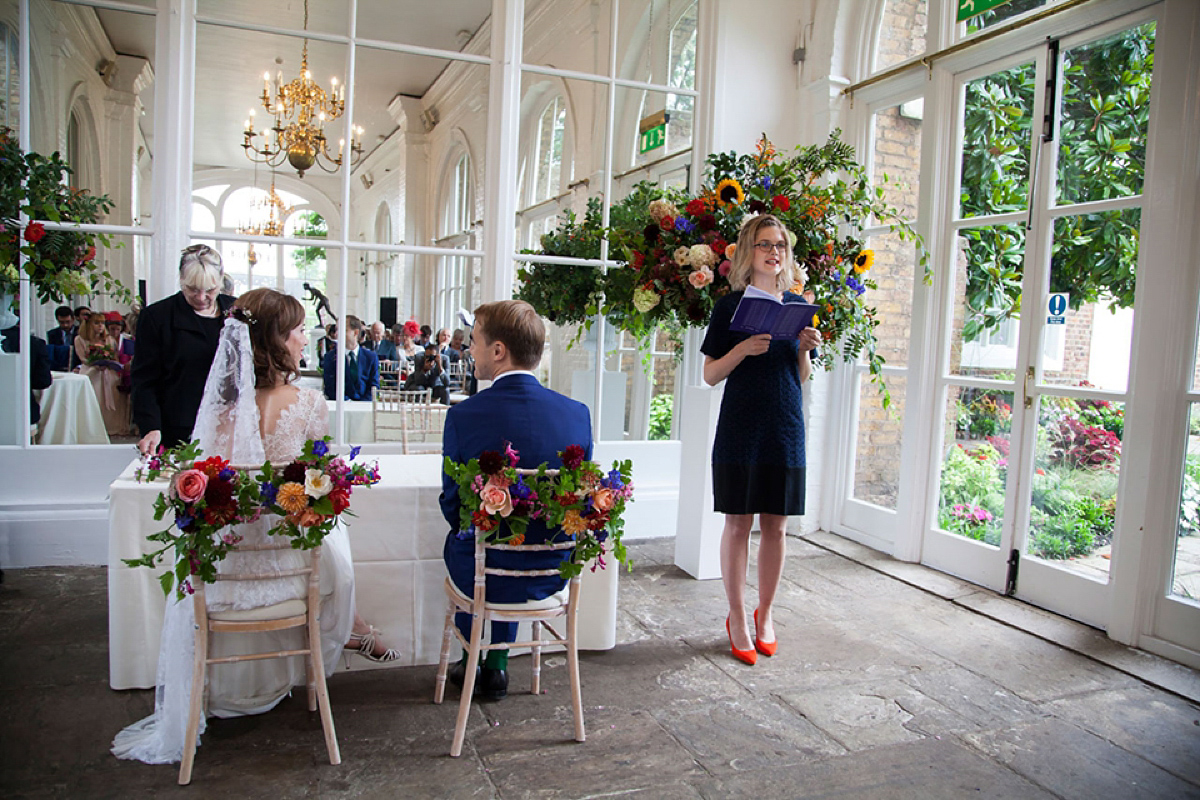 "Our wedding rings were made by Rosie Kent, a fantastic London-based emerging jeweller who also works part-time for British institution Alex Monroe (who's also her mentor). We wanted very simple bands (with a special engraving!). I got a 2.5mm rose gold band, which matched my rose gold engagement ring, whilst Ed got a thicker matt yellow gold, which he loves (he calls it 'my precious'). We wear them on our right hands, which is the traditional Spanish way."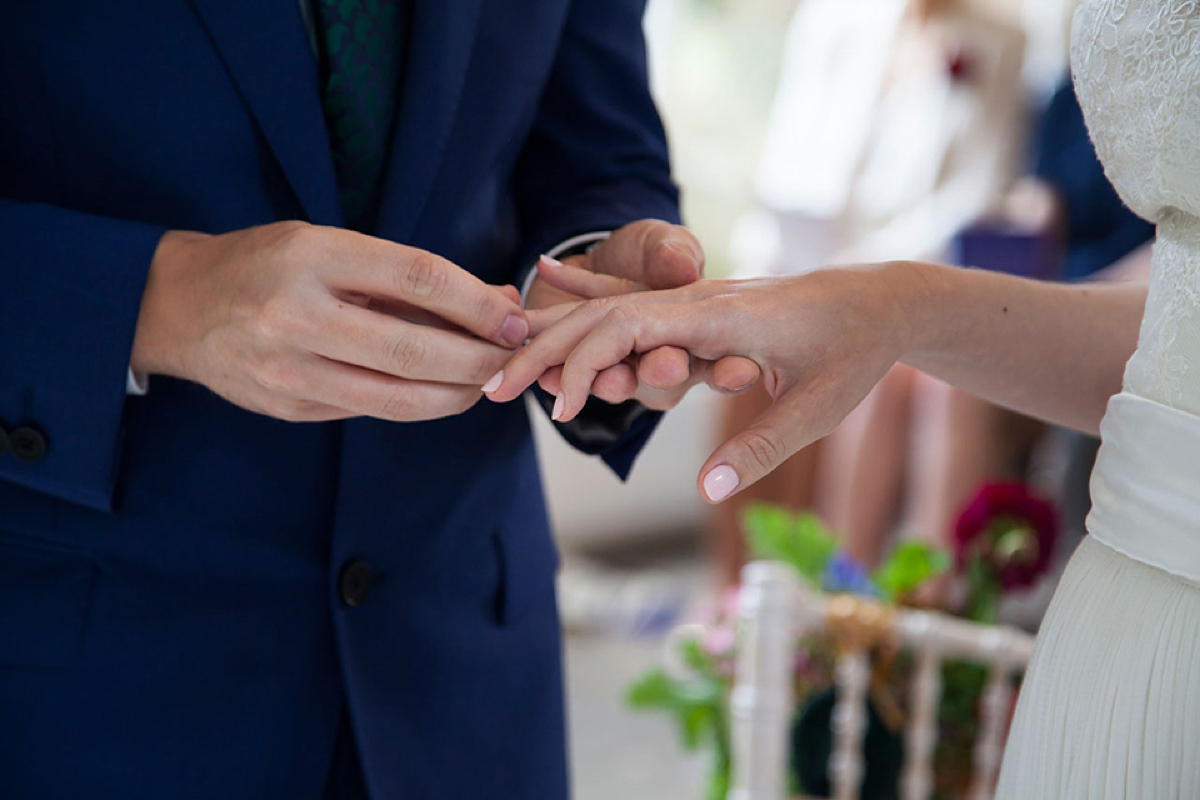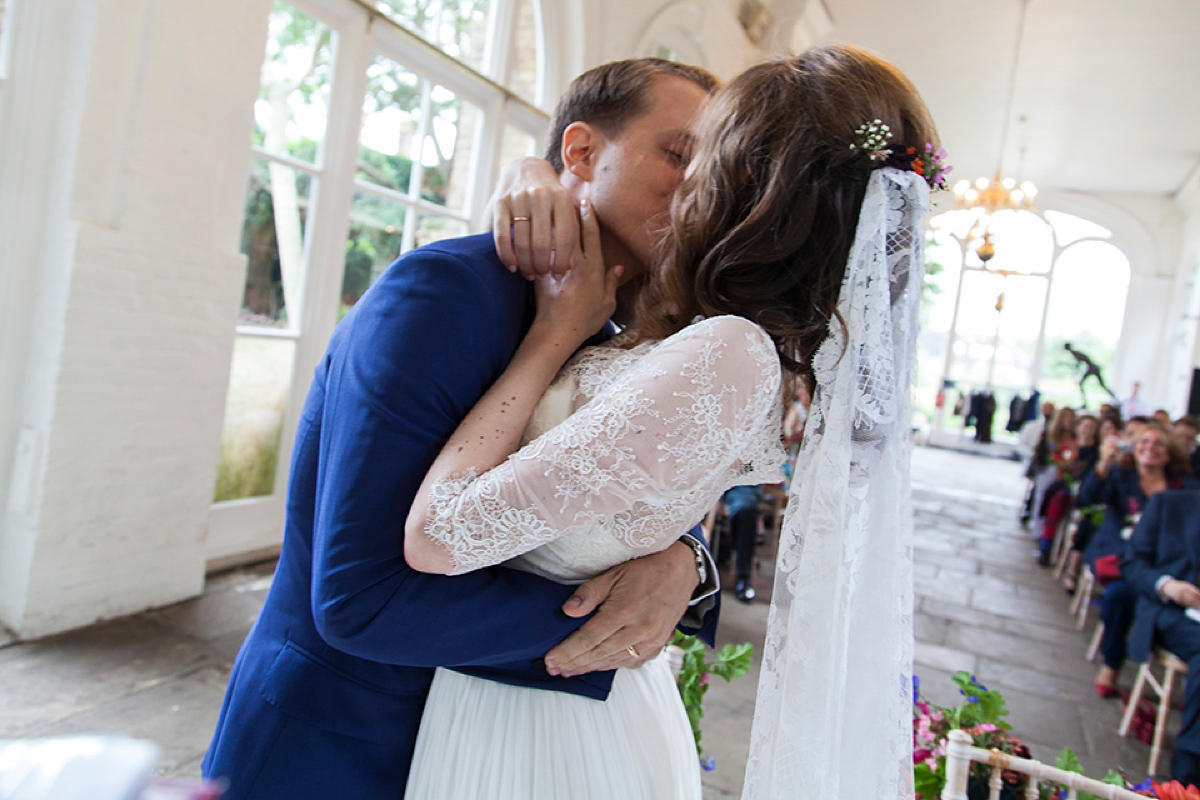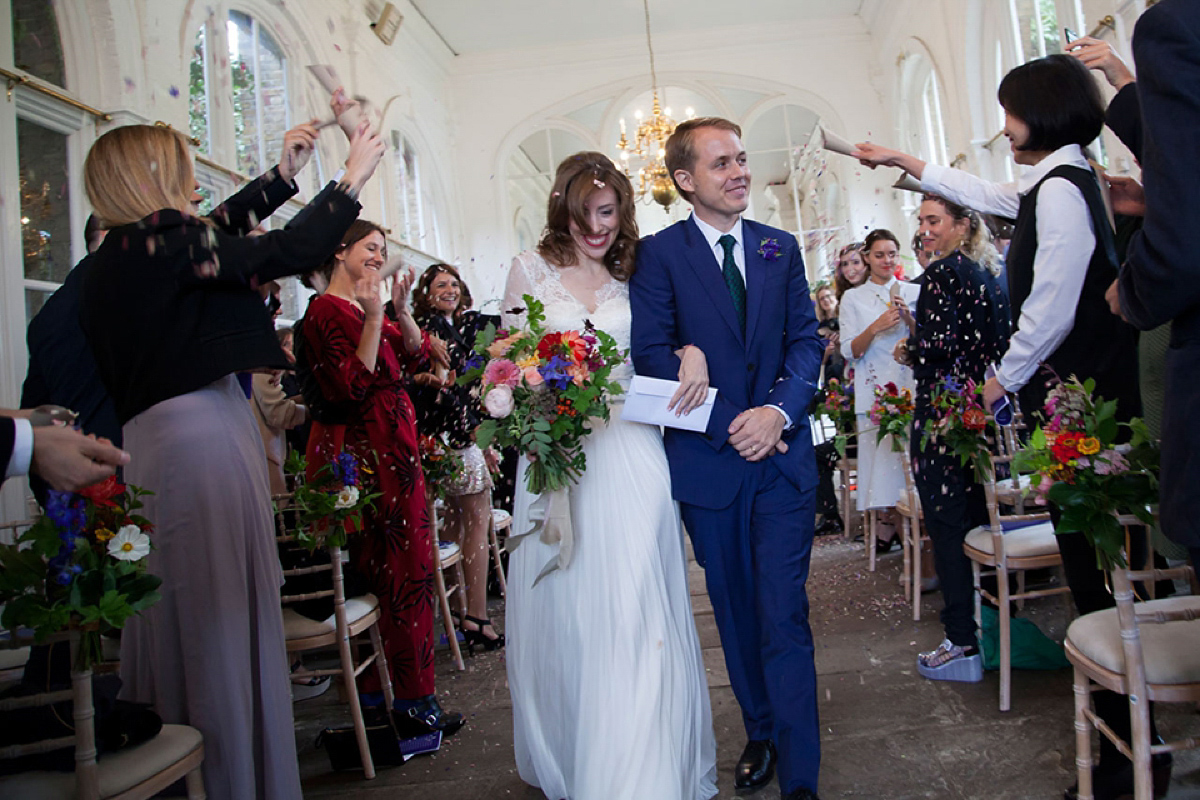 Lorena met their photographer, Cristina from Cristina Cuevas Photography, when she attended a talk Lorena gave about online branding in the arts and the two ultimately struck up a friendship as fellow 'Madrileñas' (from Madrid) based in London and working in the arts.
"We decided to have an engagement shot to see how we all felt and it was amazing. We went to Aldeburgh in Suffolk for a weekend and had a blast with her. The photos were amazing, we felt as if they were taken from the pages of a magazine!"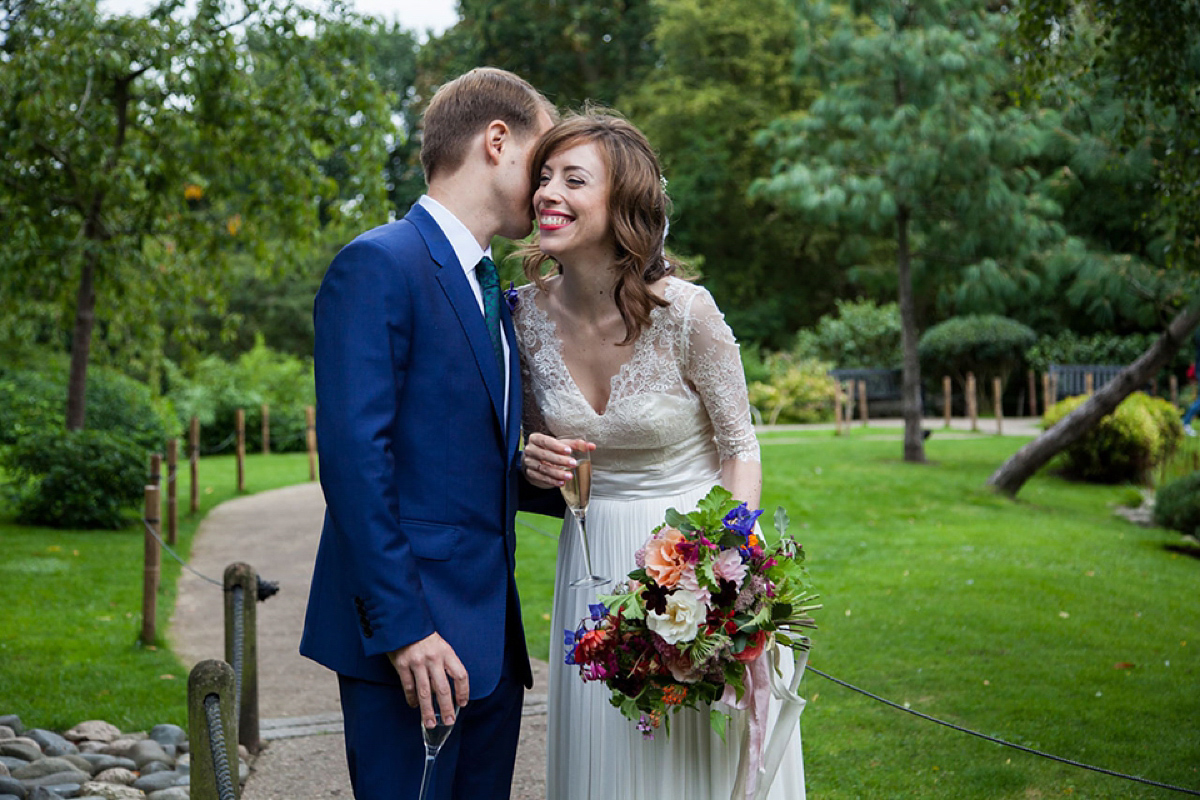 " Also, because she speaks both Spanish and English, she could communicate with all our guests and make them comfortable. Cristina worked alone and really hard on the wedding day, and she did an amazing job. We love our photos, they are natural and fresh and reflect our happiness perfectly."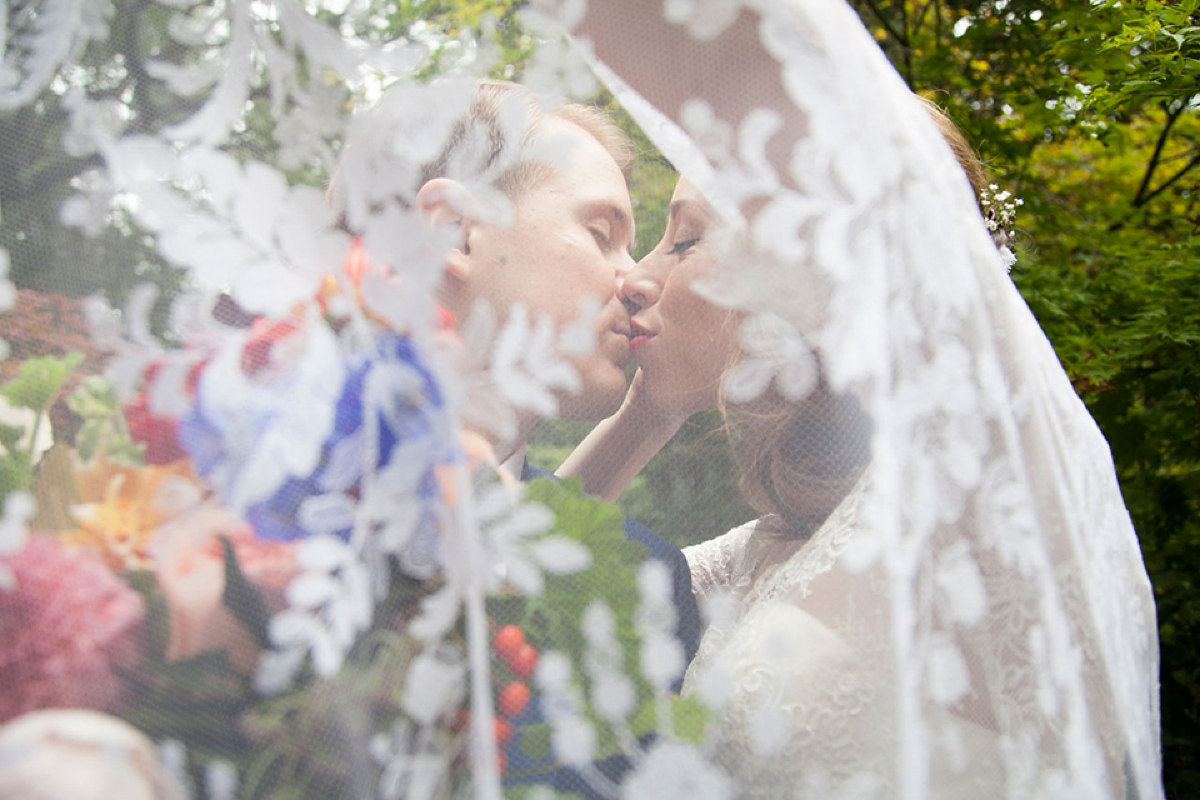 "Edmund married in a stunning blue cobalt suit from Paul Smith. He knew he wanted to marry in blue from day one, and he put so much effort in crafting his look. He tried some other brands, but once he tried that suit, he had his own 'the one' moment.
Ed's crisp white shirt and blue and green tie were from historical French brand Charvet. He went to Paris for work and went tie shopping while there – talk about taking it seriously! He wore matching green socks from Falke and beautiful black Oxford shoes from Church's."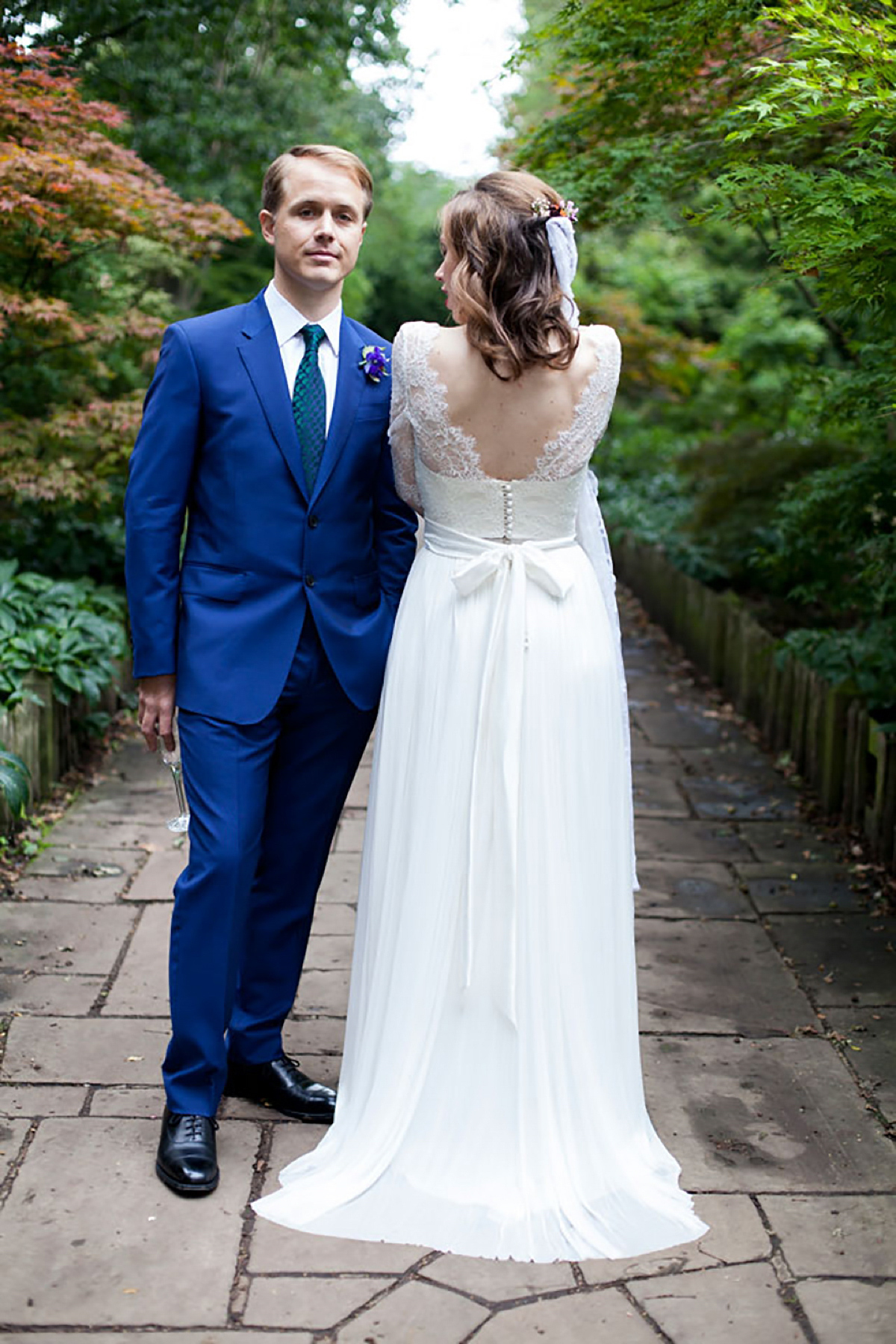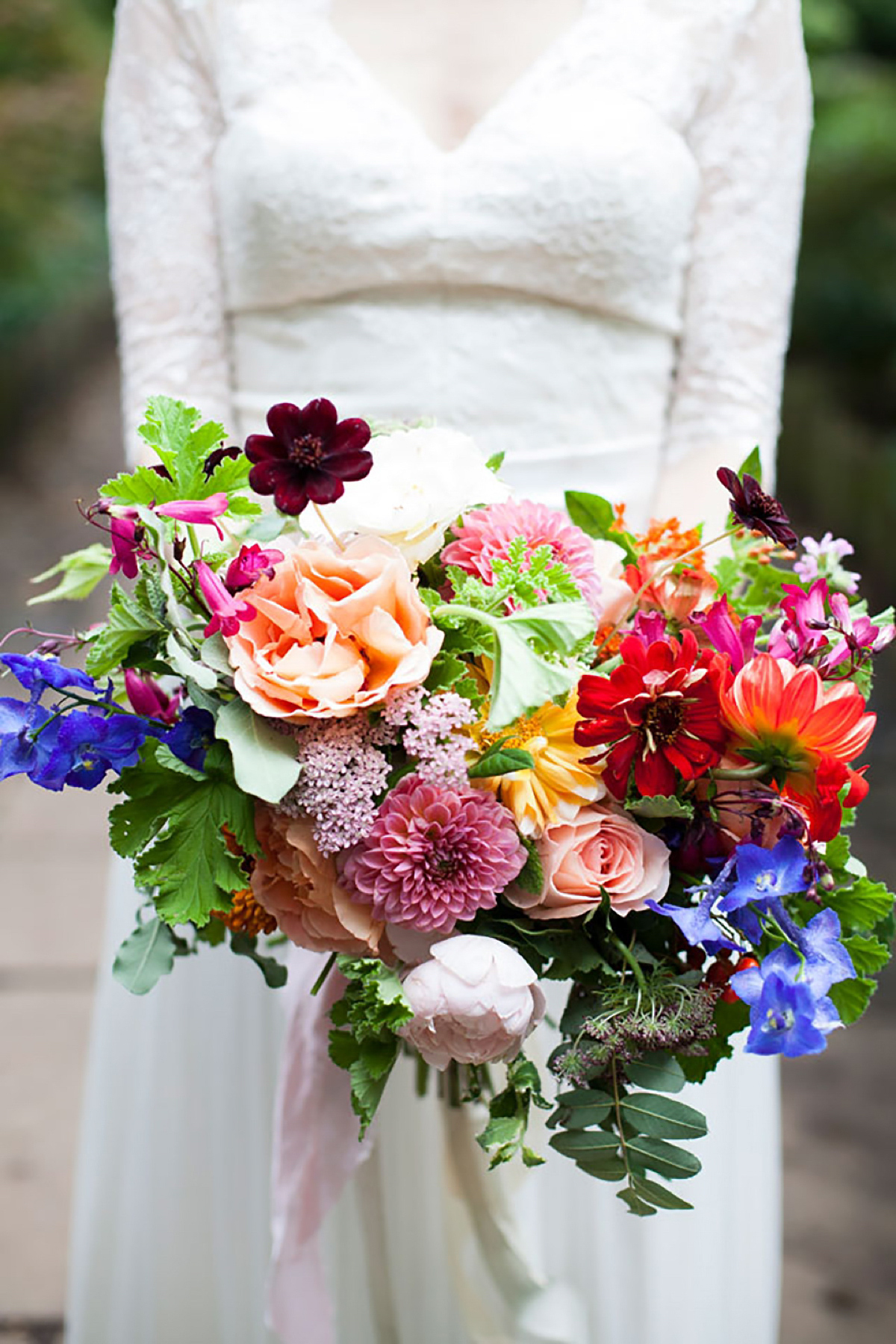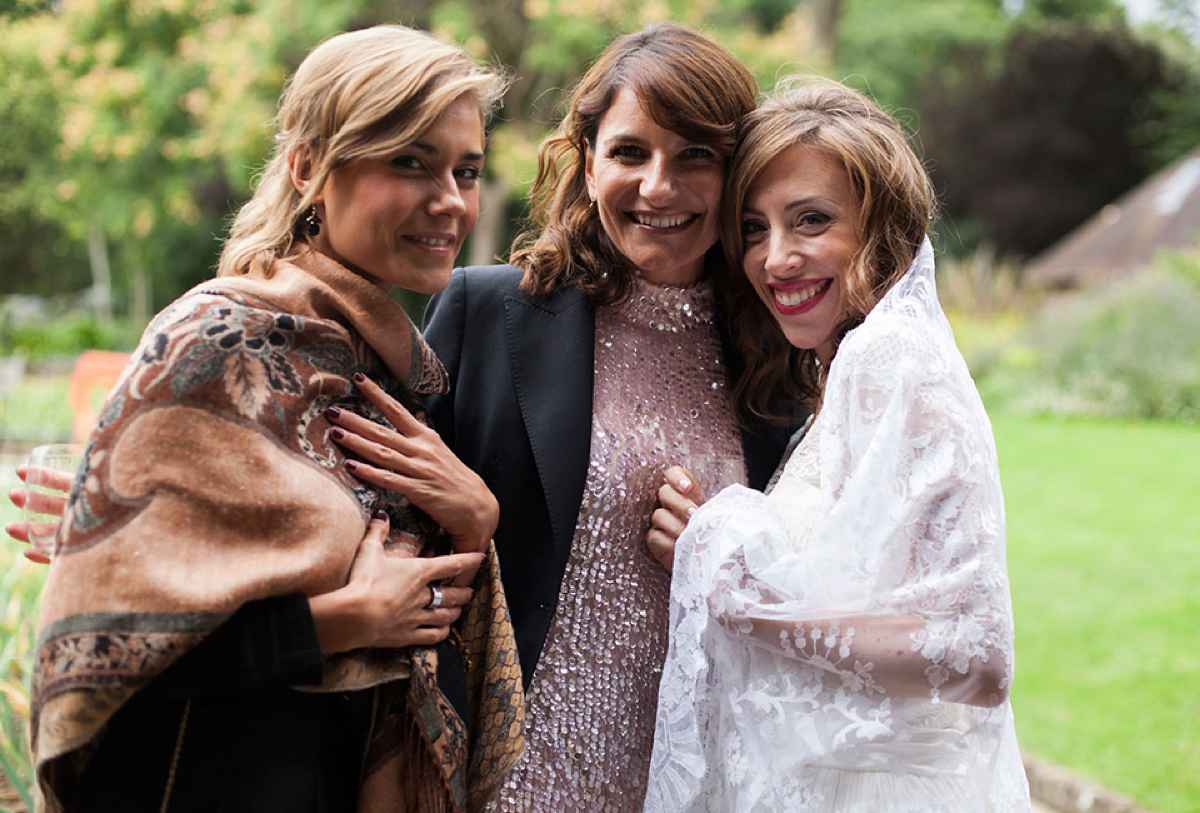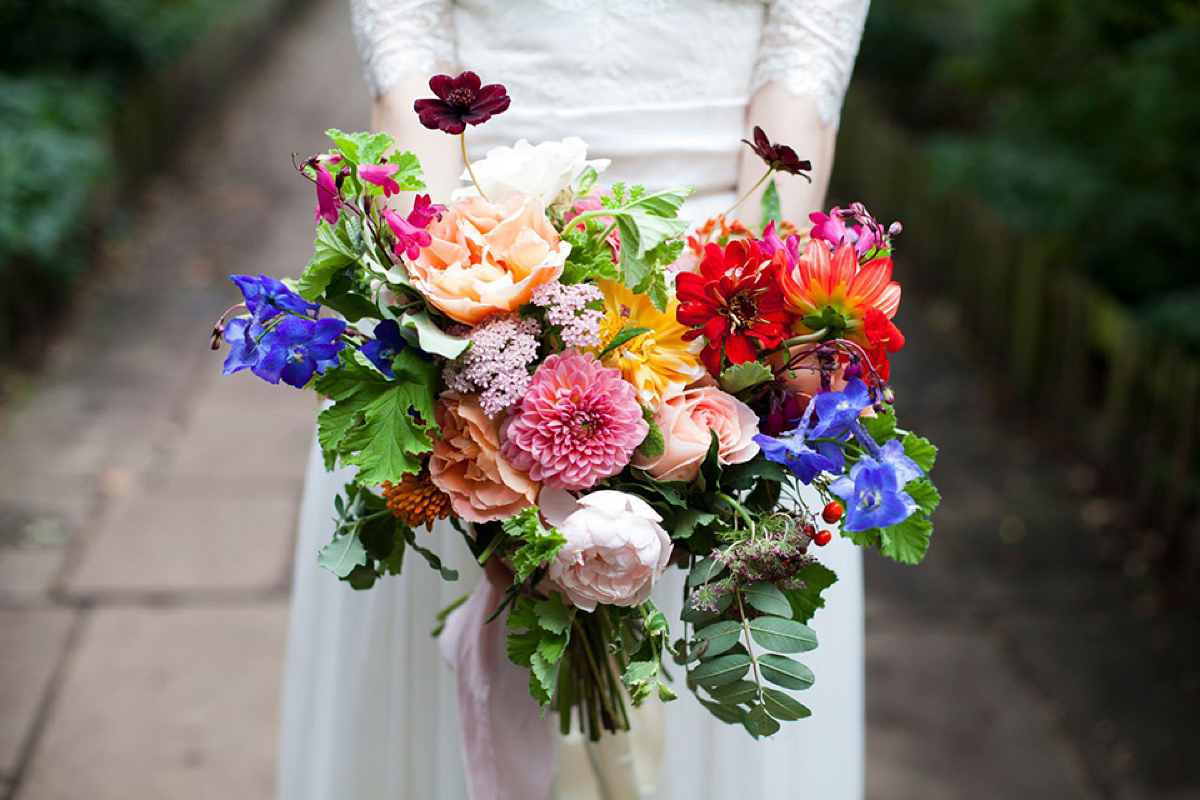 Edmund and Lorena hired a vintage double-decker bus from Time Bus to transport their guests from The Orangery to Studio74 for the evening party organised by their friend.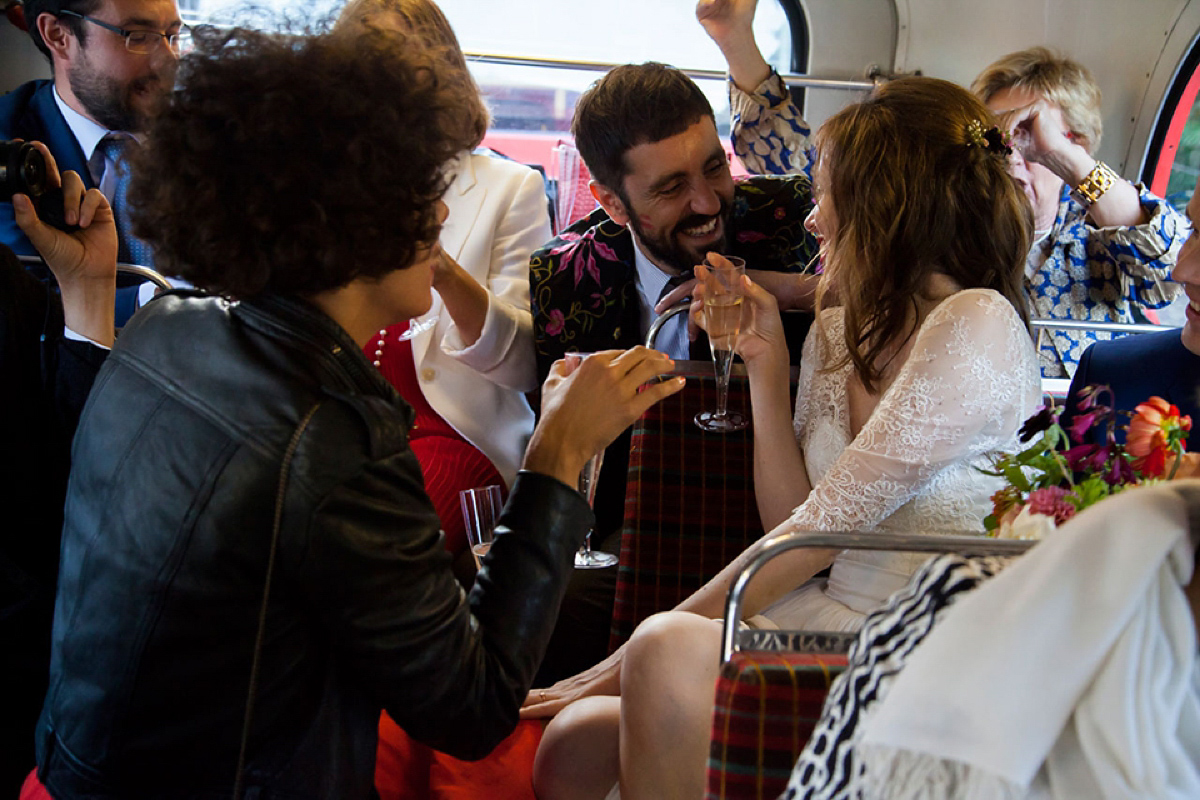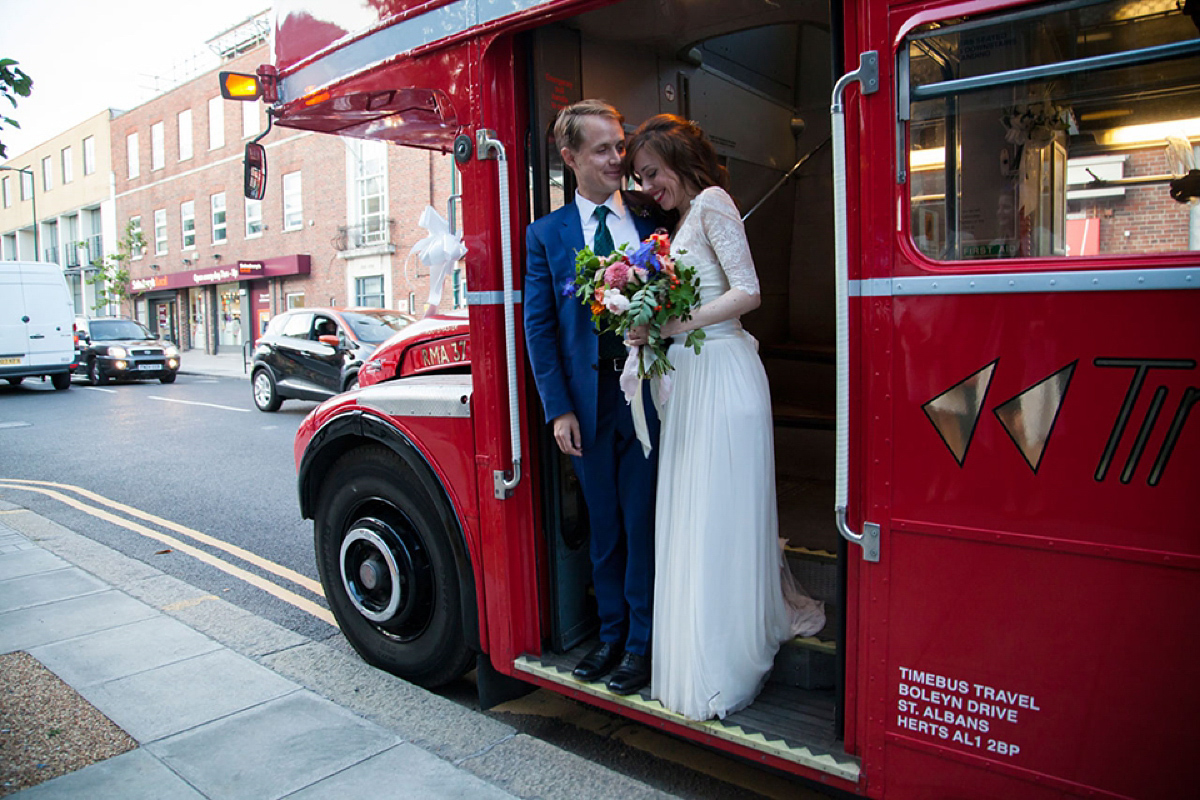 "Most of my closest female friends live all scattered across Europe, outside the UK, so London-based Fede was my maid of honour and the only good friend that could trust to accompany me to fittings, venue hunting and run bridal errands. She completely deserved to have a special place as part of the wedding party and did such an amazing job – I am so grateful for her patience and enthusiasm. Fede's dress was a beautiful Greek-style number from ASOS, paired with Zara shoes and a flower circlet from Lou Lou Loves You (no longer operating)."
"We used some quirky bunting that an artist friend of ours did, and then added festoon lights and flowers. The venue has a lot of personality, with its Victorian industrial look, so we didn't need much in the way of decorations.
We agreed to serve a buffet of Spanish tapas from Brindisa and it went down a storm. I was too frantic having fun with everyone in the evening and I don't remember eating any of those croquetas, tortillas, Iberian ham and cheeses, but afterwards people kept telling me how amazing the tapas were, so they must have been!"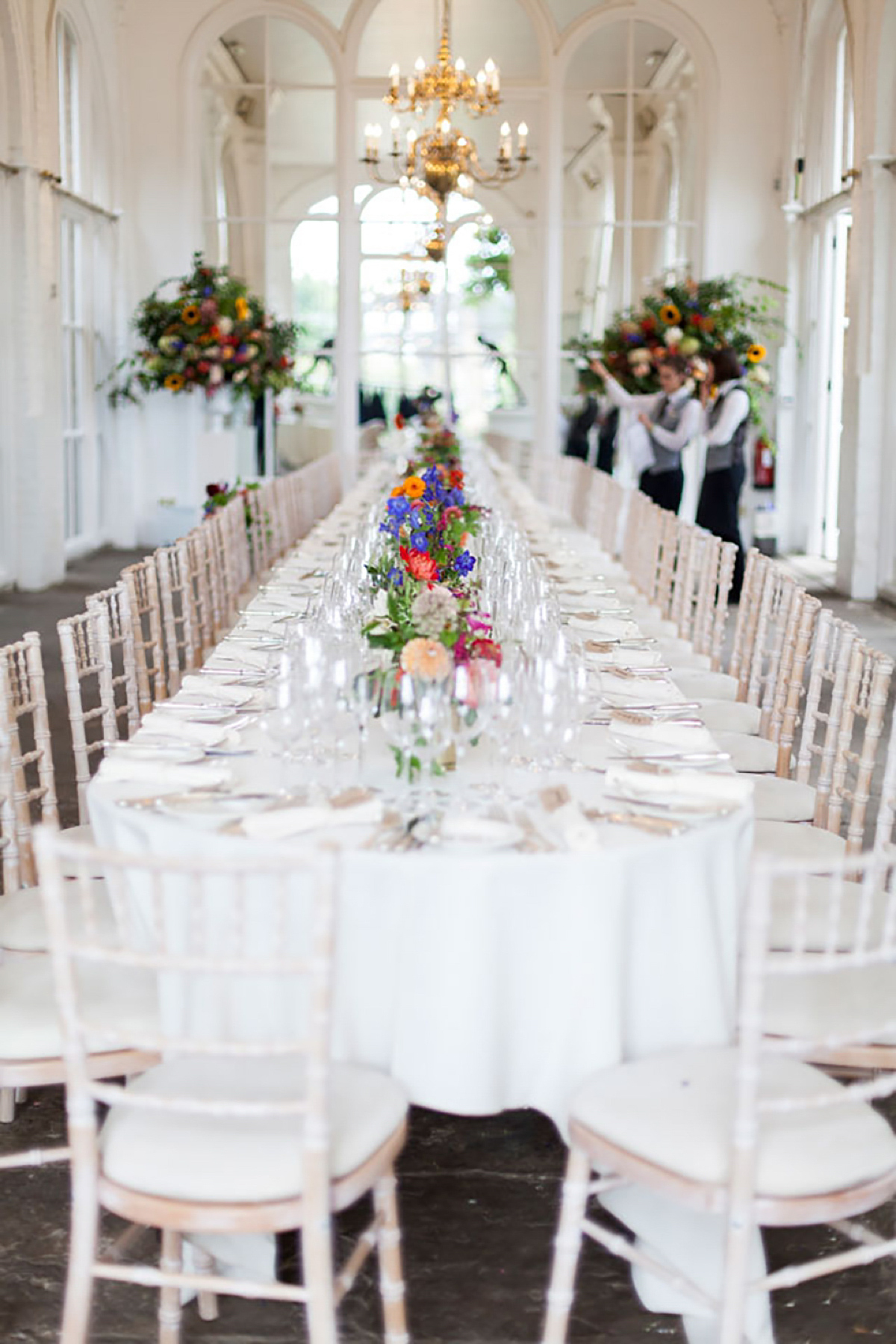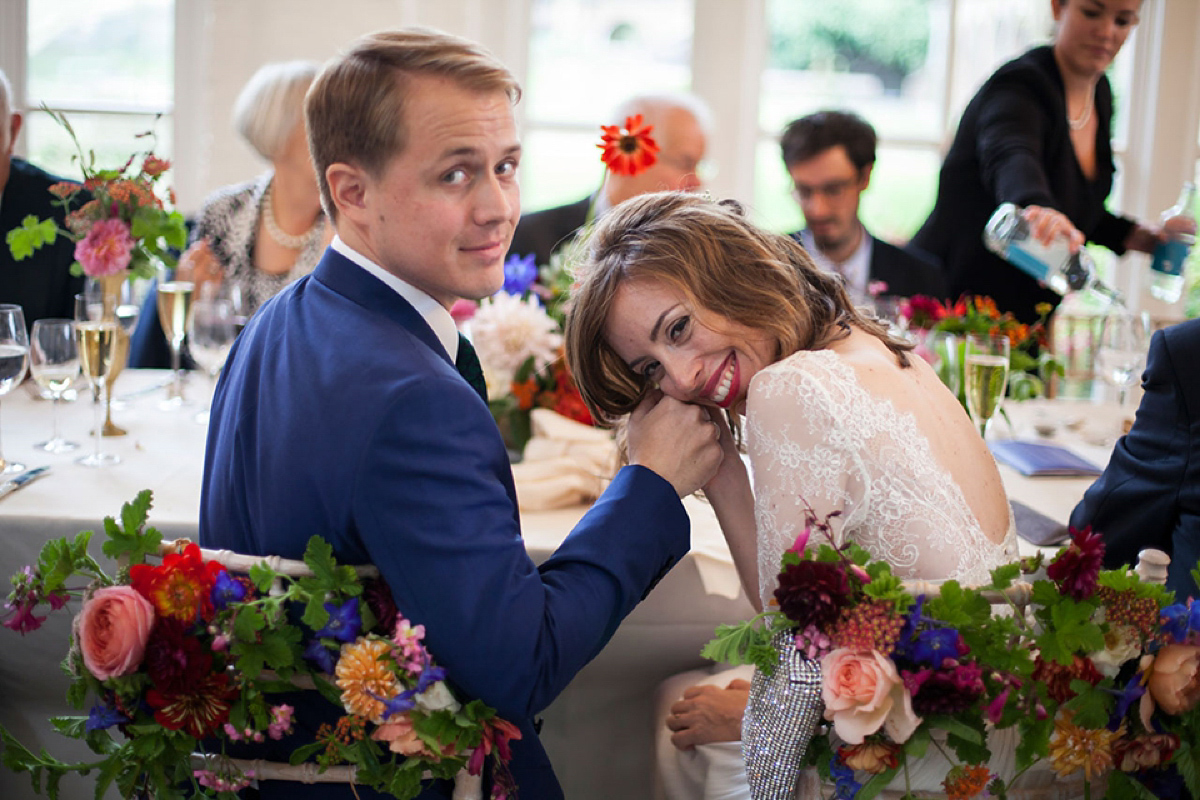 "Our cake was made by our friend Julia Christine Howe, who is the pastry chef at the London restaurant Bistroteque (yes, we are lucky!). We chose a naked cake of strawberries and lemongrass syrup, vanilla buttercream, and crushed meringue with pink peppercorns, decorated with fresh flowers."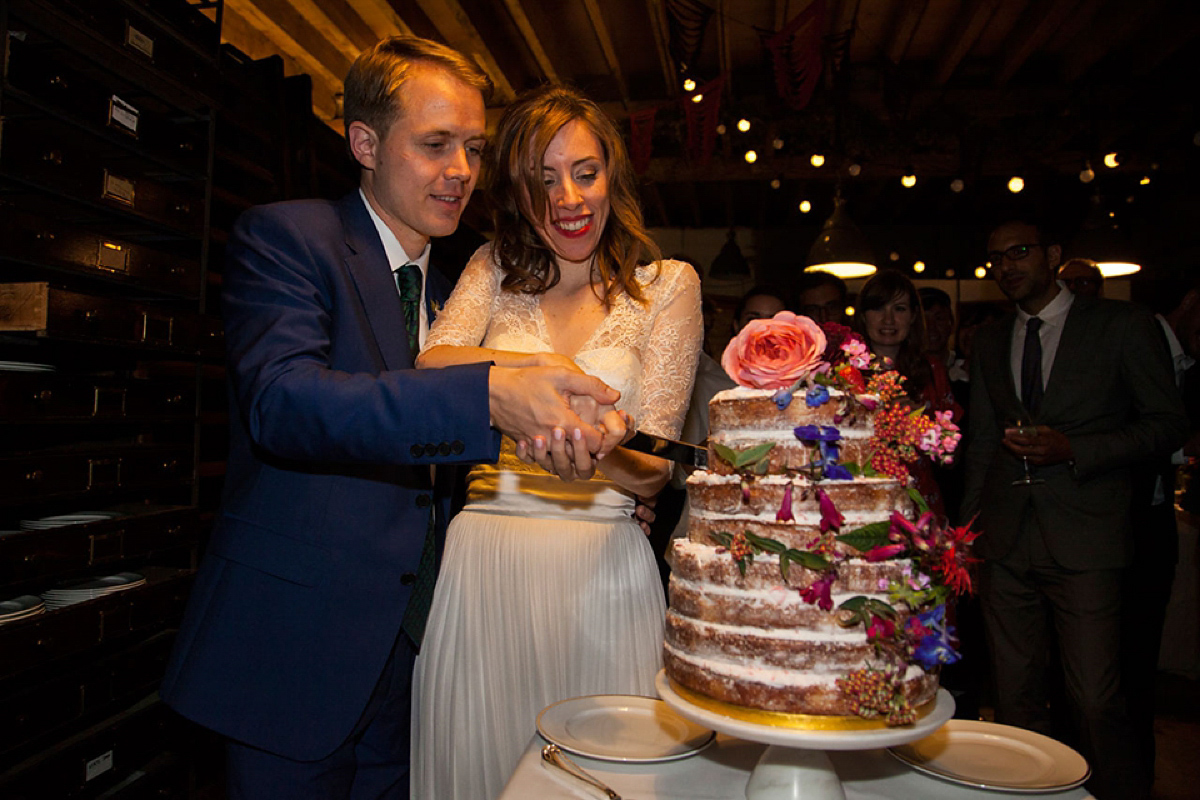 "For the evening party at Studio74 we hired my friend Jorge Garriz, who is the hospitality manager at the studio of star architect David Chipperfield and really knows how to throw a party with great food, drinks and music.
Our first dance was to Fleetwood Mac's 'Everywhere' – we love that song and we didn't want a slow dance, but a happy upbeat one. Very very early on, when we barely knew each other, Ed called me long distance on the phone and sang that song to me with his guitar ("Ahhh, I want to be with you everywhere!"). I remember thinking it was the most romantic, cute, brave, and cringe-worthy thing anyone had ever done for me.
We enlisted a few friends of ours whose DJ skills we have tested on countless occasions to DJ for us in the evening. Don't be afraid to ask for favours and delegate, the people that really love you will be delighted to get involved."
Words of Wedded Wisdom
Plan the big day together: Splitting tasks will not only give you more time to focus on your exclusive 'girlie' treats (dress, hair and make up, lingerie) but your wedding will have been a joint effort and you will feel massively proud of your hard work and shared achievement. I can't think of a better way to start married life. Having said that, keep in mind what aspects of the planning will suit you each best and stick to that. Ed did all the admin and budgeting of our wedding – he was amazing and I can't stress how much his huge daily contribution, making up for my stressful full time job, was absolutely essential to the successful planning of the whole thing. We are so incredibly close we even asked each other for advice and opinions regarding our wedding outfits as well (shock horror, he saw my skirt and shoes before the big day!).
Budget-wise: Weddings, and everything that is part of it, come at a hefty price, and at moments you will feel that everyone is trying to rip you off. Sometimes this might be true, and sometimes they are actually quoting you a perfectly normal price. Try to determine which is which and fight for your rights as a customer – get your money's worth! Also, shop around first and then allocate realistic budgets for each aspect of the wedding, and then try to stick to that. Most providers will be able to work around your proposed budget, but you all need to know how much that is.
For the brides: When you start your search for "the one", you might feel as if there's not a lot of good affordable options for dresses out there, but there are tons! In the beginning, I felt as if the only option for a bride was to shell £3,000+ in an established designer dress, which I didn't want to (or couldn't). But there are very good, more affordable options there, from some younger designers to great vintage gems or very good high street brands, which could put you in the £1,000+ threshold. Do your research, take your time, and don't jump the gun (like me) on an online binge. A huge bridal showroom full of strapless cake-ish dresses doesn't always have to be your first stop.
Spend time with your guests: Try to spend some quality time with all the lovely guests who are there for you. One of our best decisions was to have a small wedding. I am from Spain where large weddings of 200+ guests are the norm. True to the way we are, Ed and I decided to keep ours small and have only the people really present in our lives. In the lead up, it proved to be a controversial decision. But on the day, we had the chance to spend time with all our guests, so it was intimate, manageable, fun, cosy, and everyone had an amazing time. Everyone seemed to be so happy that we were so happy, and that was the best feeling.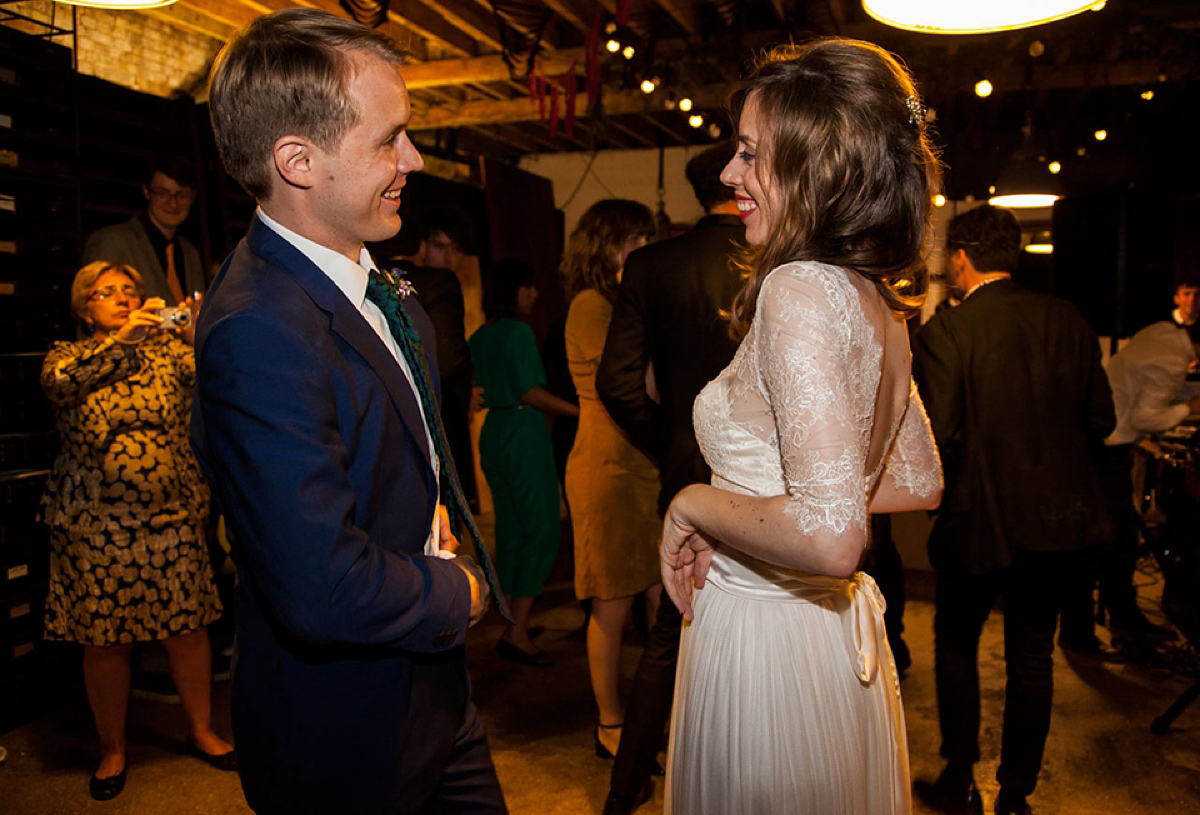 Thank you so very much to Lorena for spending the time to send us all of these brilliant words of advice – and how lucky you and Edmund are to have such great friends to help out with so many aspects of your day. I hope that you lovely readers have been inspired by the beaming bride's contemporary touch of bridal separates. And sending loads of thanks to Cristina for sharing these delightful images of the very happy couple.
I'm off now to get myself a massive bunch of colourful blooms to brighten up my home!
Love Jo -x-
Photographer – Cristina Cuevas Photography
Venue – The Orangery + Studio74
Bridal Separates – Catherine Deane skirt via BHLDN + top by Lorie X
Shoes – Harriet Wilde
Perfume – 'Coco Mademoiselle' by Chanel
Bridesmaid Dress – ASOS
Bridesmaid Shoes – Zara
Groom – Paul Smith suit + shirt and blue/green tie from Charvet + Falke socks + shoes from Church's
Florist – Palais Flowers
Rings – Rosie Kent
Catering – Party Ingredients + Brindisa
Cake – By friend Julia Christine Howe
Stationery – Paperless Post
Transport – Time Bus
Entertainment – Friends as DJ's
Hair and Makeup – Camilla J Collins