I am so excited to be sharing with you today, my very first Provence wedding – surely the first destination everyone thinks of when planning a wedding abroad. For Stefanie and Christopher Wright, Provence was the only possible location to be considered. The bride and groom created a colour palette inspired by the surroundings, green gardens, blue skies, rose wine and sun rays, oh my how idyllic is this. Their wedding was captured in the most beautiful fine-art style with soft, luminous images created on original medium format film photography by the incredibly talented Hannah Duffy, our lovely Little Book for Brides member. I utterly adore them.
"Growing up in the countryside, I have always enjoyed being outside in the open air and being at one with nature. Home, for me, is the sight of fresh flowers, the aroma from a herb garden and the enjoyment of dining al fresco with friends and family. It was these simple pleasures in life we wanted to celebrate and enjoy on our wedding day. For the ceremony itself, we envisaged a church blessing in a small and intimate old village church, similar to the churches in our hometowns."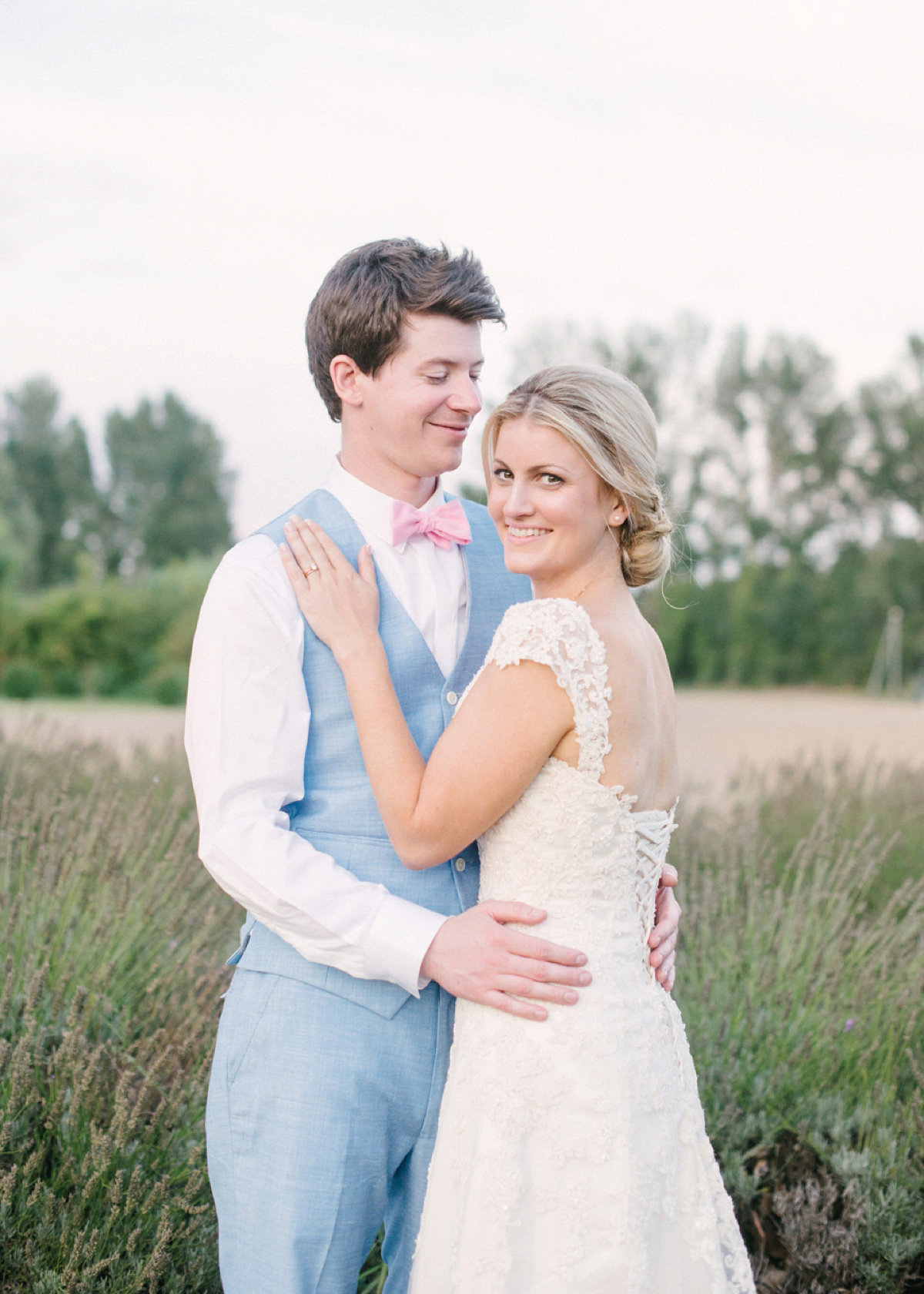 "The location of our wedding was a no brainer for us. Myself and my fiancé both spent our summers in France as children and frequently share family memories of enjoying the food, scenery and way of life. A Provençal garden wedding on a summer's day, combined all the elements of the perfect setting for us. Envisaging this was one thing, making it a reality was something else."
Stefanie wore the prettiest of Maggie Sottero gowns, the Emma style with her delicate lace applique and the most flattering of neckline's.
"I wore a light gold Maggie Sottero, Emma gown. The gown tied up at the back and had detachable sleeves. I wore the capped sleeves throughout the day and removed them just before the first dance for a slightly different evening look."
The bride and groom married on Saturday the 22nd of August 2015 at the idyllic Mas Amoureuse  – Isle sur la Sorgue, Luberon.
Planning a wedding abroad requires help from those in the know and the pair hired Lucy Till to create their most perfect day.
"The selection of colours were based upon the landscape, local village architecture and my gown. We incorporated the colours olive green, blush pinks, pastel blue, off white cream and a crisp white. Colours built upon the garden greens, blue skies, the rose wine, the soft sun rays all of which complimented my light gold gown. The 17th century church with cobbled stone and white interior welcomed the pastel colours as did the charming Provençal houses situated around the church. Celebrating the locality was important to us, ranging from sourcing regional produce and wine to enjoying the music from Gig street, the village band. This created an unique style and character of its own. My aim was to encompass traditional values and Provençal culture to create a rustic and vintage feel."  
"My favourite part of the gown was the lace trim that lined the bottom. It was the perfect A line gown to wear in a warmer climate, practical for walking around the Mas grounds and was so comfortable it felt like a second skin."
The bridesmaids wore gorgeous ivory dresses from Reiss, so very pretty and I would definitely be wearing this dress again if I was them.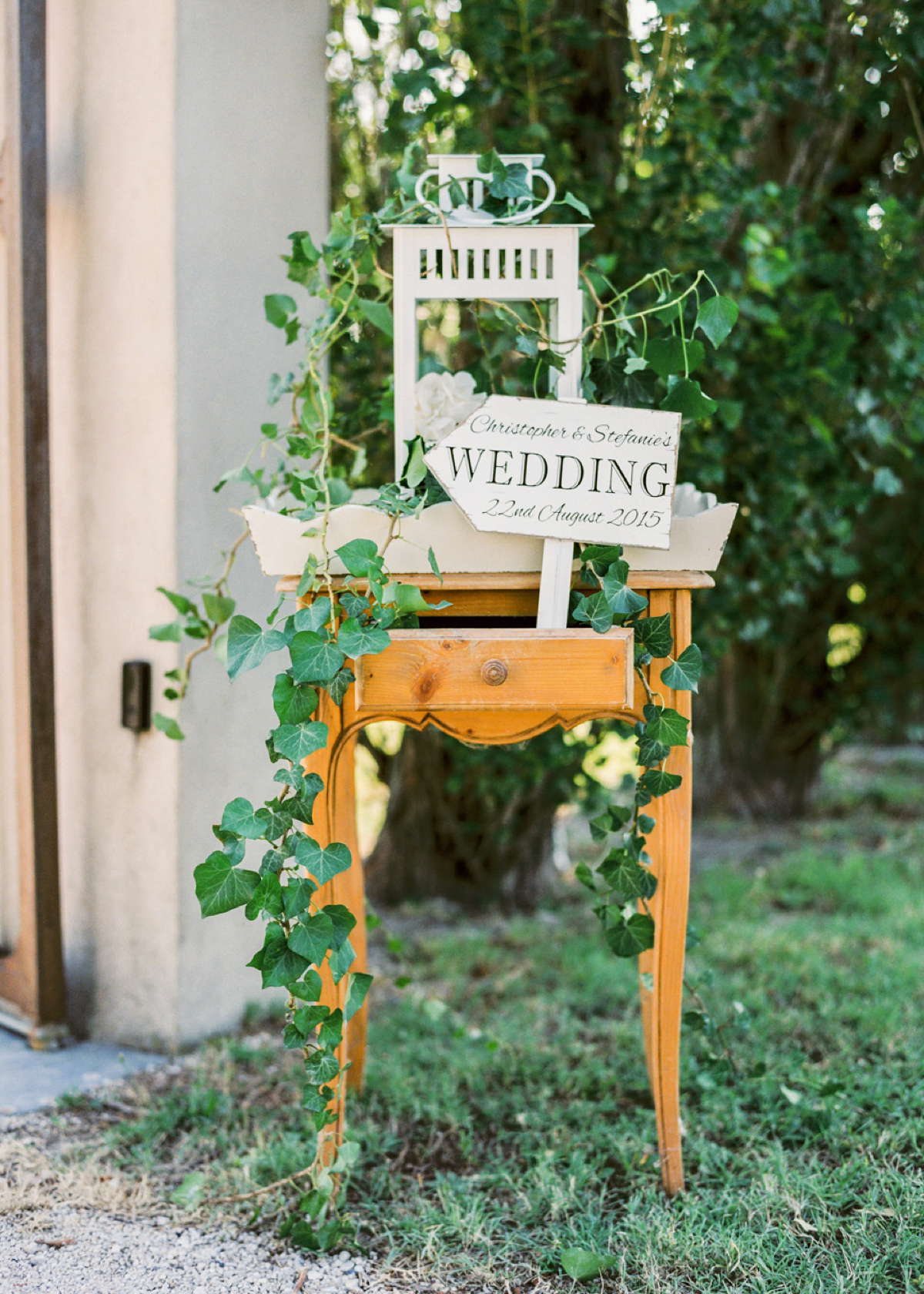 The gorgeous page boys had a custom made shirt and shorts set made in India, the cutest and most dapper of looks for a young man and the flower girls wore dresses from Monsoon, a Little Book for Brides member.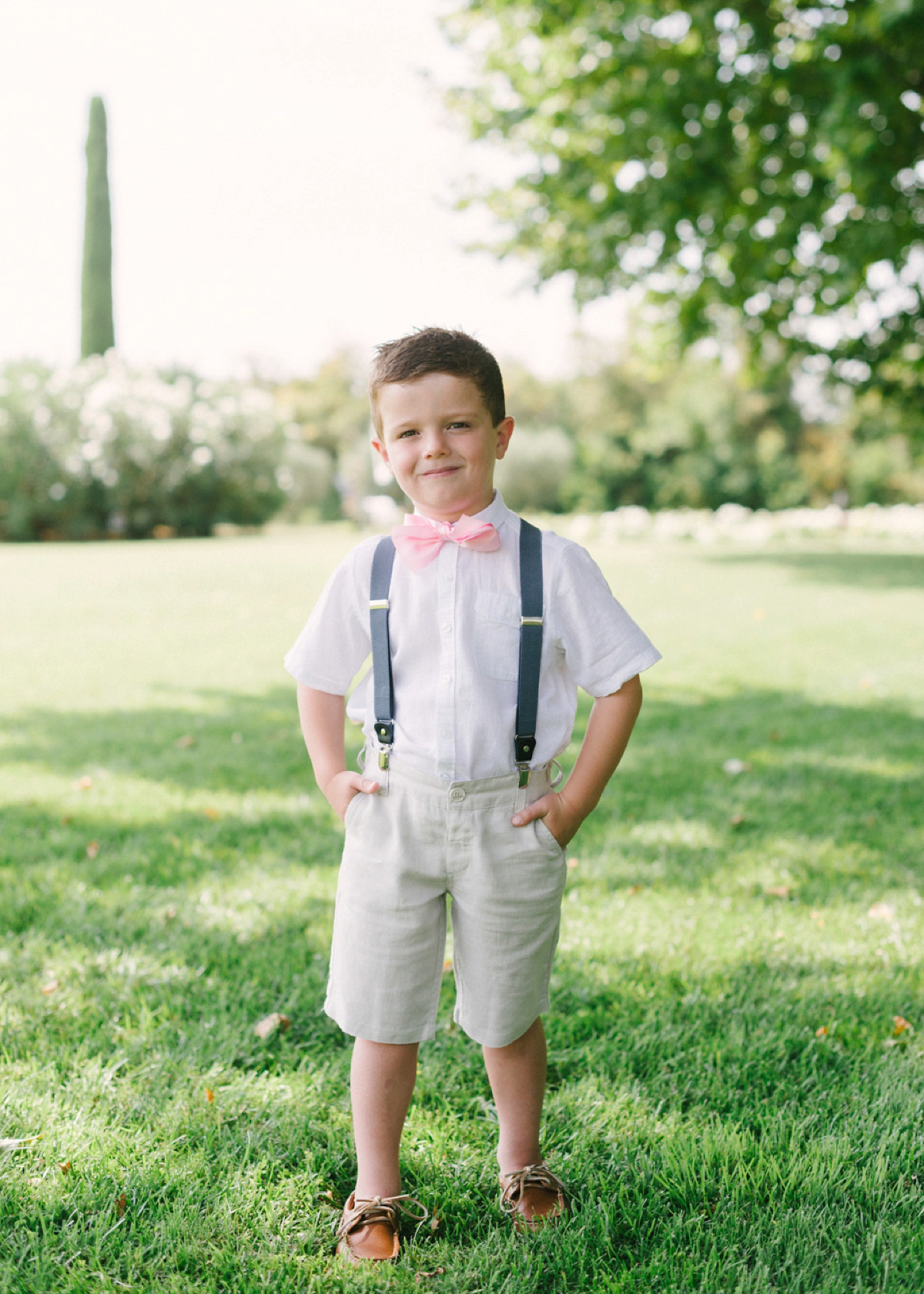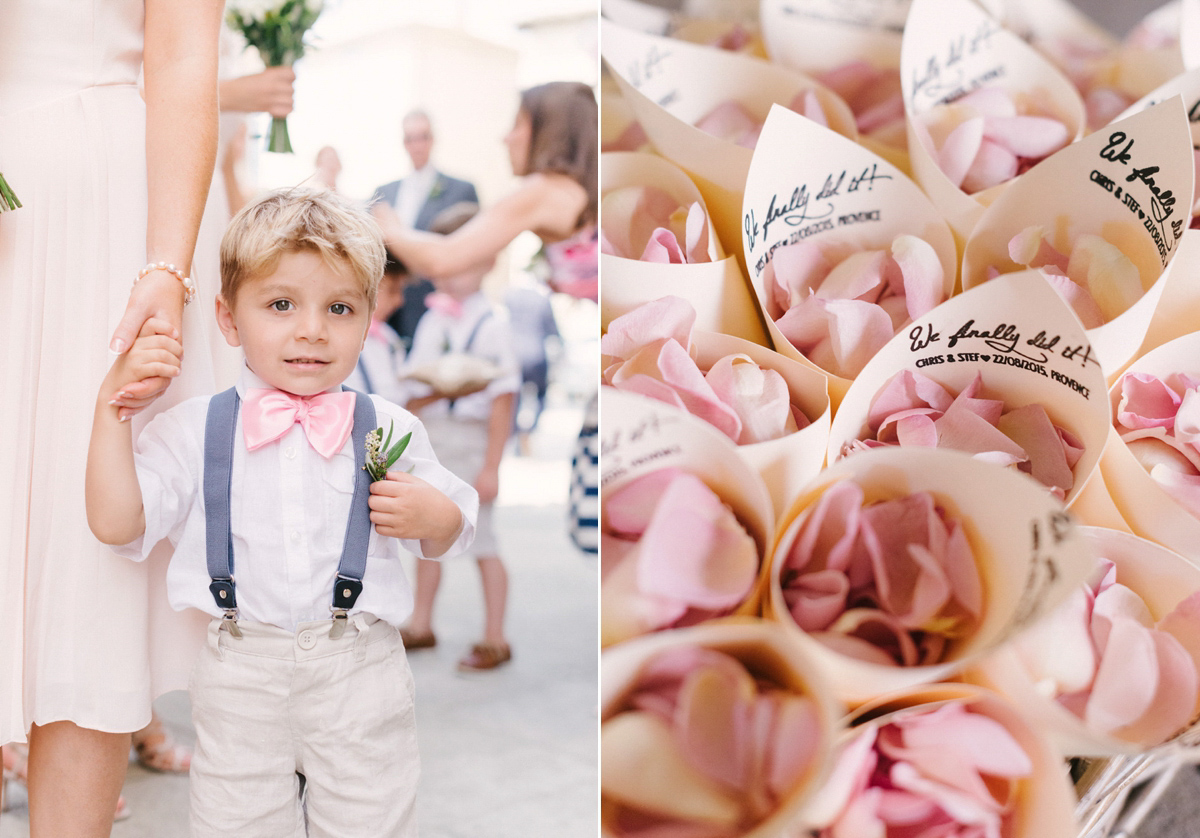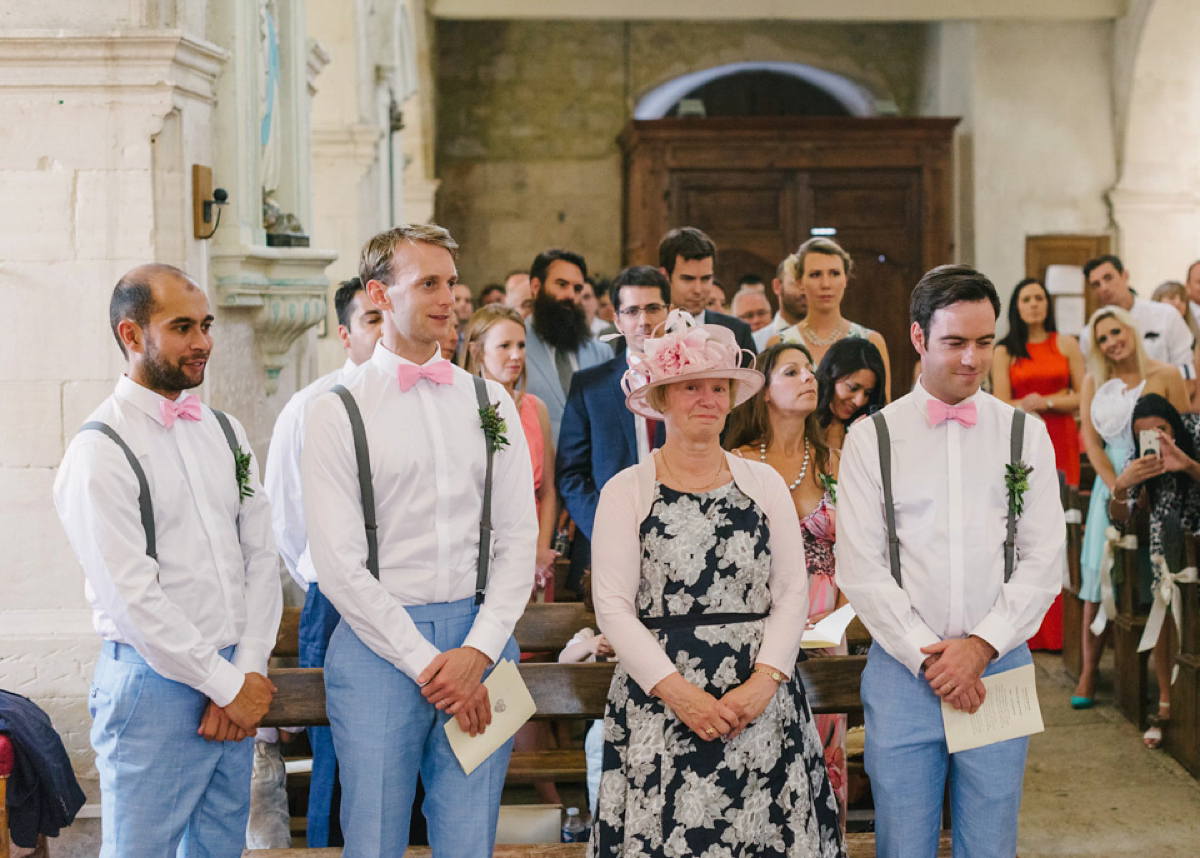 The newlyweds drove off together in the cutest pale grey topless car hired from Rent A Classic Car, I have a bit of a fetish for small grey cars, they are just so gorgeous.
"My favourite moment of the day was riding off in the classical car after the church ceremony as man and wife. It was a feeling of exhilaration, true happiness, freedom and the first moment alone with my husband. Having just tied the knot and on route to the party of our lives with all our close friends and family, it was the perfect time to pause and be mindful. We took a moment to catch our breath and take in the events of the day. This also helped me to digest the overwhelming emotions racing through my mind and body."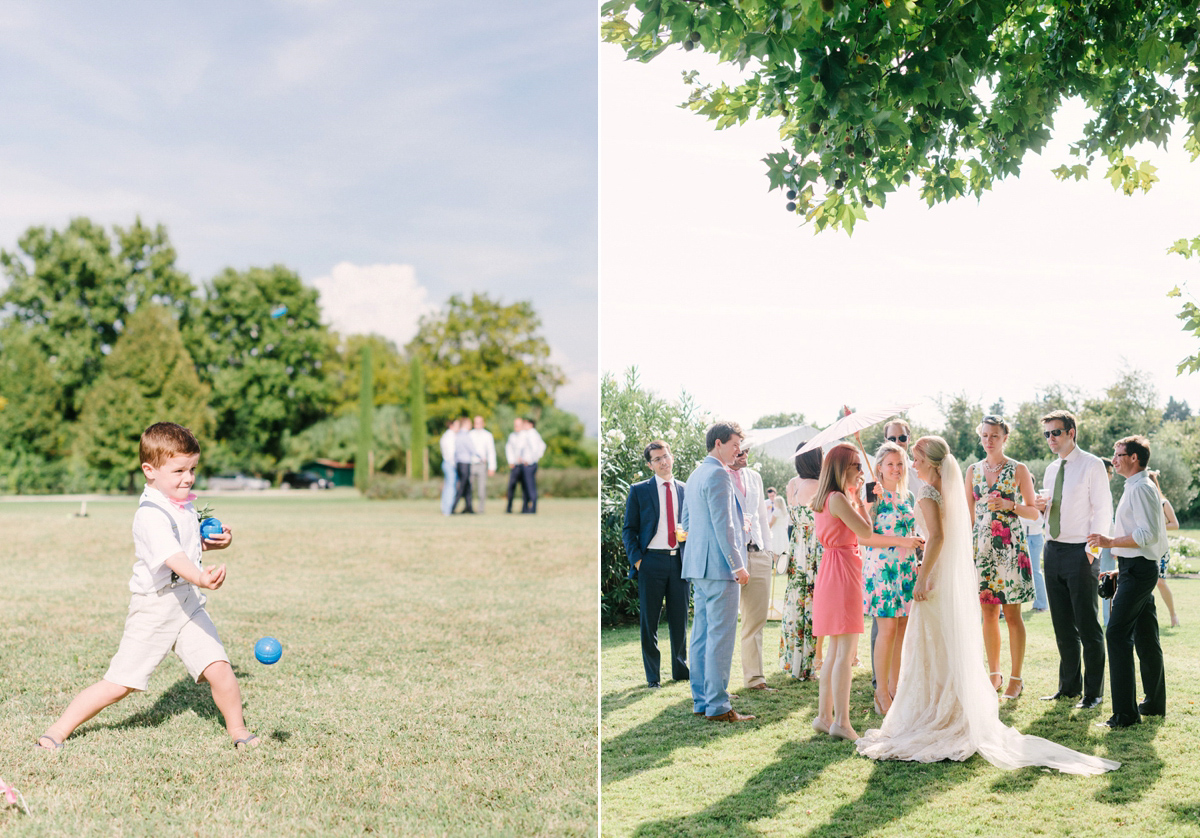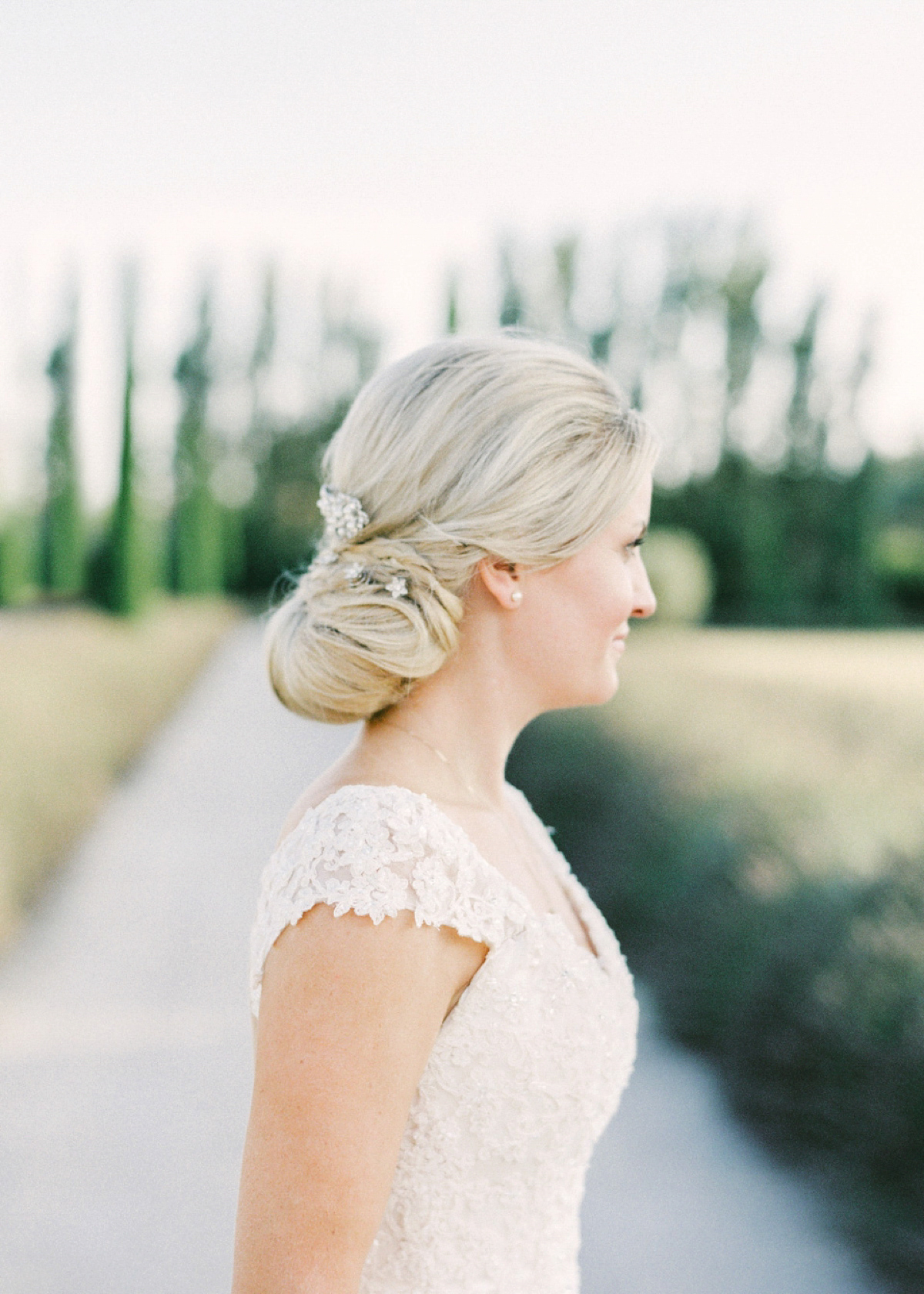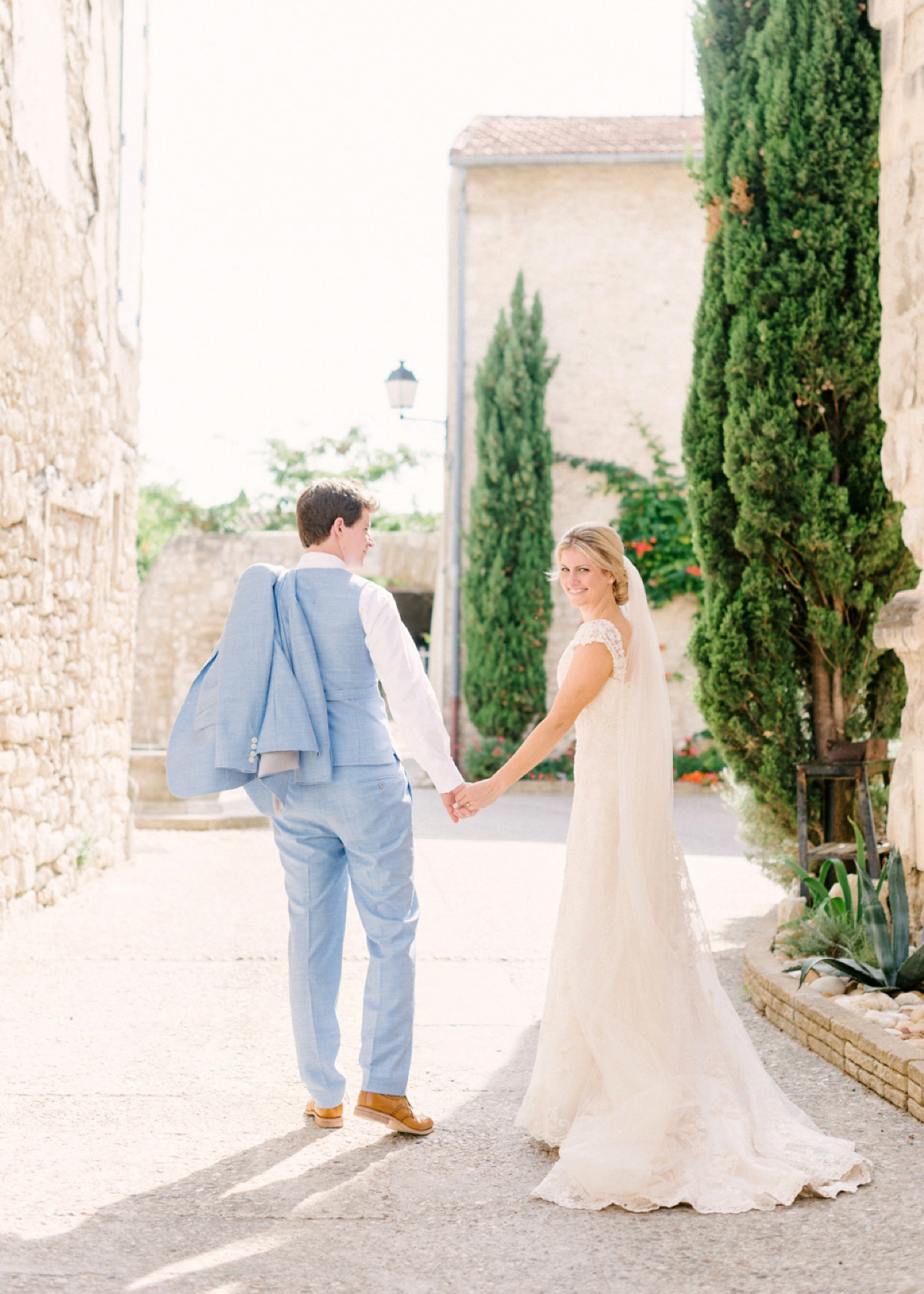 Floral arrangements were created by Blandine Viry of Atouts Fleurs, including my favourite foliage of olive leaves, again Stefanie has really drawn from the location to inspire her choice of florals.
"The bouquet flowers included white freesia's, cream roses and sprigs of olive leaves. Freesia's are my favourite flower and have a beautiful fragrance.  Table flowers included a lavender plant, gypsophila and a jade plant. The jade plant also known as money plant is a special plant to me, having looked after my mothers jade plant since I was a little girl it still sits in my home."
Even though the couple had hired a wedding planner to help with the bigger aspects of the day, Stefanie and Christopher were still very hands on and got stuck in to the preparation as much as possible including plenty of DIY.
"A large part of making our wedding our own was the personal touches. Home made bespoke confetti cones were filled with fresh market rose petals. Local lavender was picked as décor for church pews and as a napkin feature. Garden displays and installments were put together with furniture, ornaments and plants from the Mas grounds. A photo display was arranged on the trunk of a tree showing pictures of us growing up and as a couple over the years. For activities, we had lawn boules and also set up a man size 'polaroid' station for guests to take their picture and then write a French post card message for us."
"The table plan was a large gold vintage mirror with handwritten names written on. The menu's were handmade by myself which included a lace trim which matched elements of my gown and aligned with the DIY wedding invitations. My favourite DIY addition was the name place settings. All guests had a sketch of themselves on the place card to identify where they would be sitting. This required researching the guests Facebook profile pictures and then converting them into a sketch. This was a great icebreaker also for those who were meeting for the first time."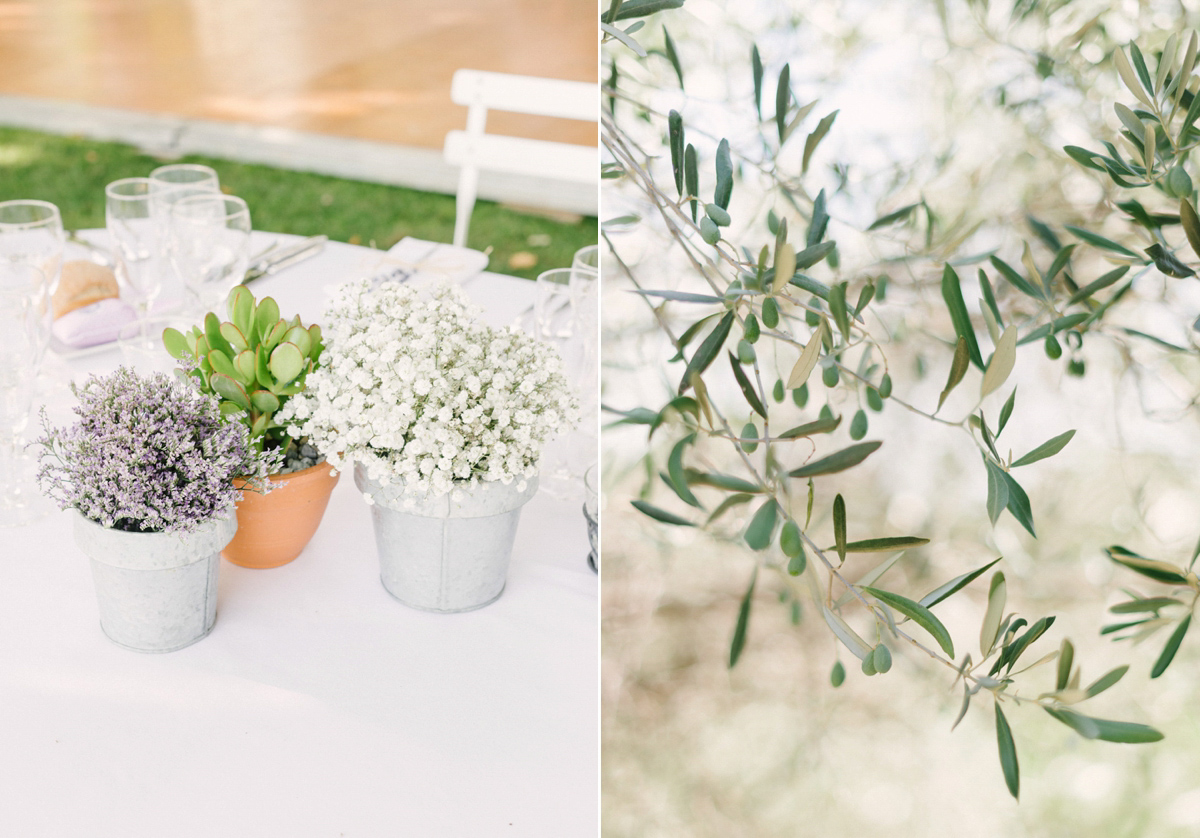 Entertainment was provided for the celebrations by jazz band, Gig Street fronted by Leonard Blair and DJ Phil Rees.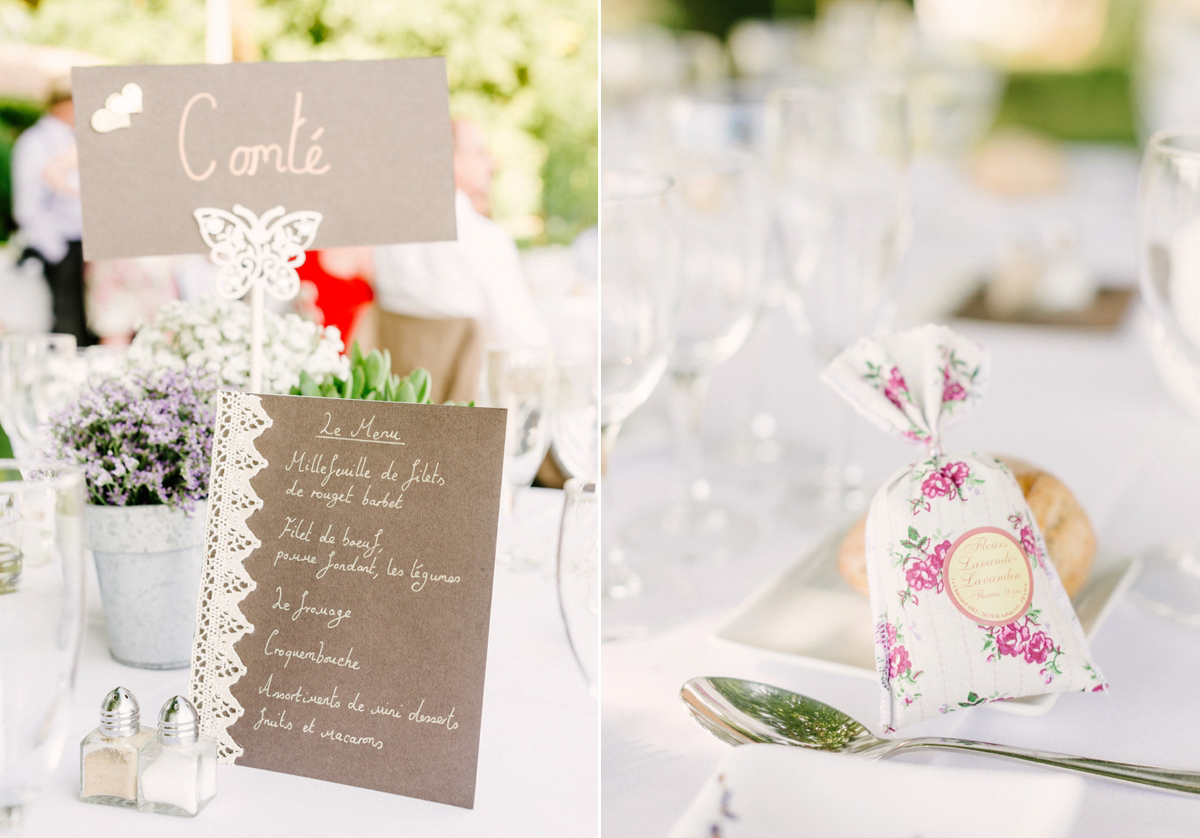 Catering was provided by La Vallergue, including cured ham sliced straight from the bone. Dinner was eaten Al fresco, it really doesn't get much better than that and instead of a cake the pair opted for a classic French dessert.
"The dessert was a traditional celebratory French dessert, a piece montee. A decorative tower of choux buns,  filled with a mixture of crème anglais and chocolate. The centrepiece was held together with caramel and spun sugar. In addition to this, an assortment of cakes were served including mini opera cakes and macaroons."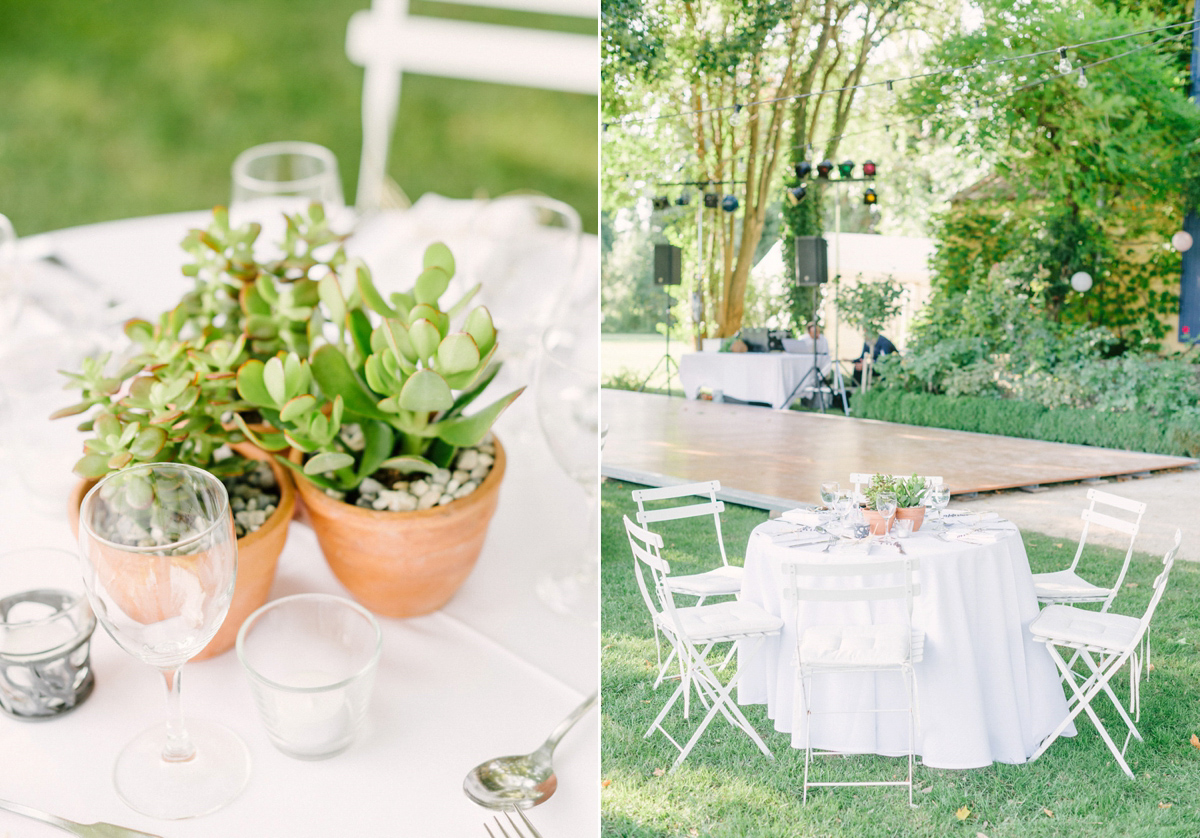 Words of Wedded Wisdom
"Know when to stop! I am guilty of last minute cramming before an exam and my wedding day was no exception. The evening and morning before your wedding, at the very least, should be time for yourself. Any remainder jobs should be delegated to others and the bride's main focus should be relaxing and taking in these final moments. You have experienced months or even years of preparations, planning, budgeting, coordinating and if you are anything like me, over-analysing the what if's. It is time to stop as the time is now. Let it go and live this special day. Just remember to schedule in that mindful pause."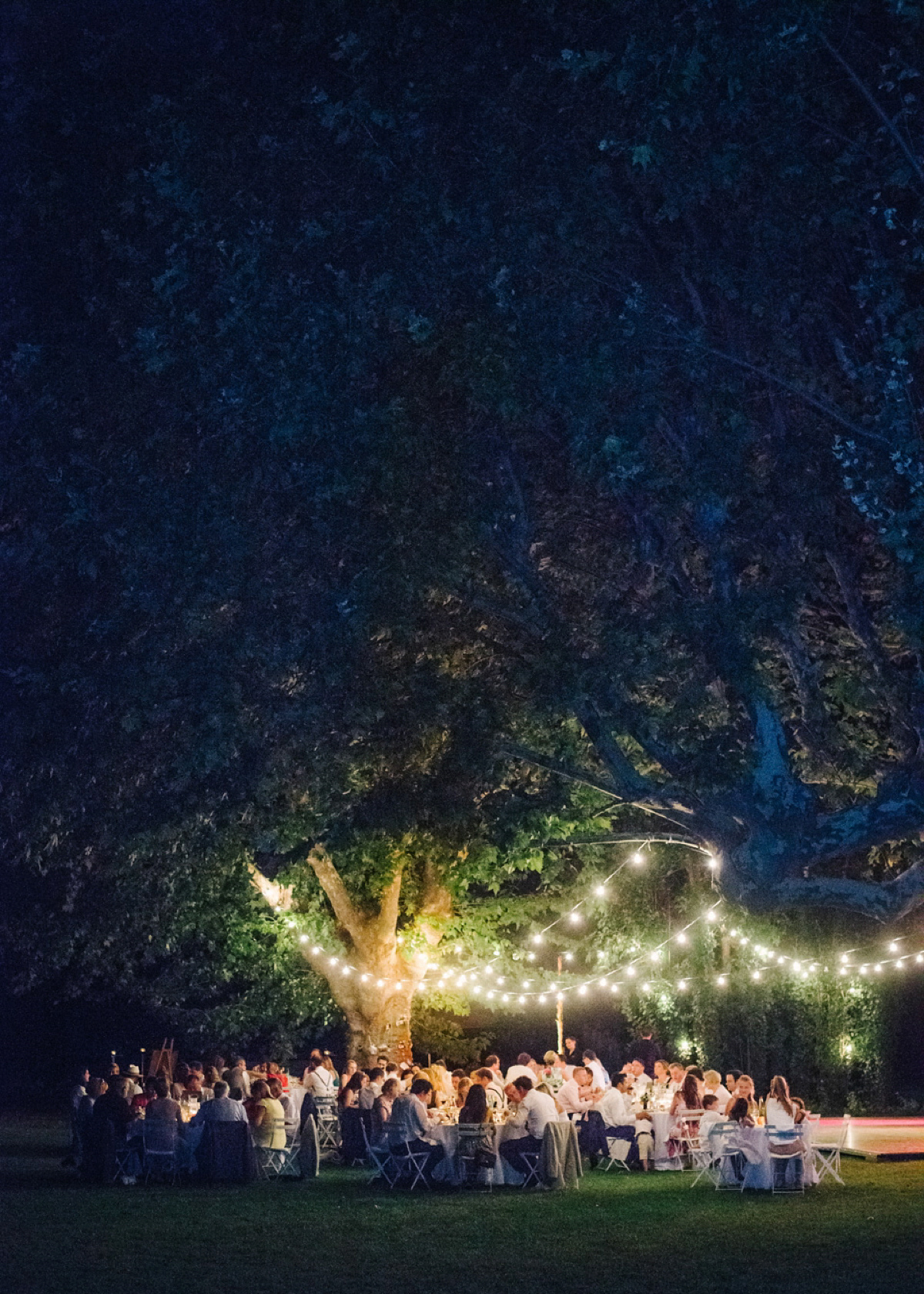 Excellent advice from Stefanie, unfortunately I was one of those brides still doing jobs on the morning and trust me you've got better things to be doing at that stage.
Thank you to Stefanie and Christopher for sharing your special day and thank you to Hannah for sharing the most beautiful pictures with us.
To see more weddings beautifully captured by Hannah, follow this link.
Bianca x
Photographer – Hannah Duffy
Planner/Stylist – Lucy Till
Venue – Mas Amoureuse  – Isle sur la Sorgue, Luberon
Wedding Dress – Maggie Sottero
Shoes – Carvela
Groom – Raymond
Bridesmaids – Reiss
Flowergirls – Monsoon
Page Boys – Bespoke made
Florist – Atouts Fleurs
Transport – Rent A Classic Car
Entertainment – Gig Street and DJ Phil Rees
Rings – Raphael Jeweller
Catering – La Vallergue
Stationery – Bride
Hair Stylist – Carol Ray Bonnet
Makeup Artist – Johanne B