Hands up, who's got the back to work blues? If you're reading this then you've managed to at least wake up and try to function today; for that you shall be rewarded with a total ribbon-fest and the cutest, crown topped flower girl you ever did see. To settle us in to a week of 'what day is it?' confusion I thought it best we took it waaay back to Summer for a burst of floral, Pimms flavoured goodness (not a crazy hail storm in sight). Brimming with utterly thoughtful touches and the kind of hand crafted glory that starts me excitedly sketching designs with the nearest biro, I think the bunting alone can keep us smiling until at least lunchtime.
Terri, a shoots editor and wedding photographer married her long term love Scott who works in IT as a systems developer on 23rd July 2015. Our super creative bride decided to use the power of the engagement ring and have a sneaky look around some wedding venues when on holiday in the Cotswolds. Of course, they promptly fell in love with the Kingscote Barn near Tetbury and the rest is history – and documented beautifully by Mckinley-Rodgers and Story Catchers Wedding Films.
"I loved the colour scheme of pink and gold right from the start but having so long to plan the wedding I was overwhelmed with all the details on Pinterest! I love florals so wanted these to be a huge part of our day. Between me, Scotty and our families we styled and decorated everything. On the day the whole wedding party came together to decorate which made for such a lovely feeling when walking down the aisle; knowing how much effort people had put in to make the day so special."
Now this is a Bride with damn fine taste; Terri chose Little Book for Brides member Mckinley-Rodgers to shoot AND film her Big Day. Super high praise indeed as a wedding photographer herself, you know you can always count on Love My Dress to hand pick the best of the best. The film from Mckinley-Rodgers had me sobbing and shouting for my fiancé to come and watch. Full of such genuine love and happiness, it's the perfect Tuesday pick me up.
"I cannot speak more highly of Pen and Cam (Mckinley-Rodgers). Being a wedding photographer myself I examined so many photographers, printing out their work and comparing shots. After having one Skype chat with Pen and Cam we knew we wanted them on our wedding day. They are calm, professional and just lovely people, our friends and family adored them."
We were drawn to the fact that they also capture film, they produced a highlights video for us that is perfect; we can quickly remind ourselves of the emotion and joy of the day. Not forgetting the wonderful photographs they produced, we love them and they captured our day perfectly!"
We're pretty keen on these super talented image and film makers too, have a peek at more heartfelt moments captured by the duo here.
Louise Alway coiffed our bride's locks into golden waves while Zuzana Ritchie matched the 'do with glamorously radiant make up.
The very aptly named Shoeaholics provided Terri's footwear of choice and the classic scent of 'Roses du Chloe' by Chloe complemented the 'English summer garden party' feel of the day perfectly.
Terri's creativity and knowledge of the wedding industry shines through in her attention to detail and flowing, whimsical décor. With her Dad (Pops) and Step Mum running the It's Bliss Bridal stores in South Yorkshire, our bride was spoilt for choice when it came to choosing the dress.
"I have grown up with wedding dresses my entire life so I knew it would be difficult to choose my own. My dress was made by my Step Mum and she did a wonderful job of it. We started designing it a year before the wedding and adapted it right up until a month before the big day!
I have always loved the designer Anna Campbell so the beading on her dresses were an inspiration, I didn't want a white dress and loved the Champagne pink hue my dress had in the lining. It was important to me to create a dress that I could dance in!"
"I bought my earrings before the day but hadn't tried them with my dress- it turned out they were too overpowering. When my Step Mum helped me get ready she was wearing the earrings she wore to marry my Dad but gave them to me to wear instead. They were a lovely something borrowed!"
Set amongst the rolling Cotswolds hills, Kingscote Barn offers a 'hidden haven far from the madding crowd'. After visiting over 20 venues in their native Yorkshire, Terri and Scott got all the feels as soon as they visited this 17th Century Cotswold stone barn.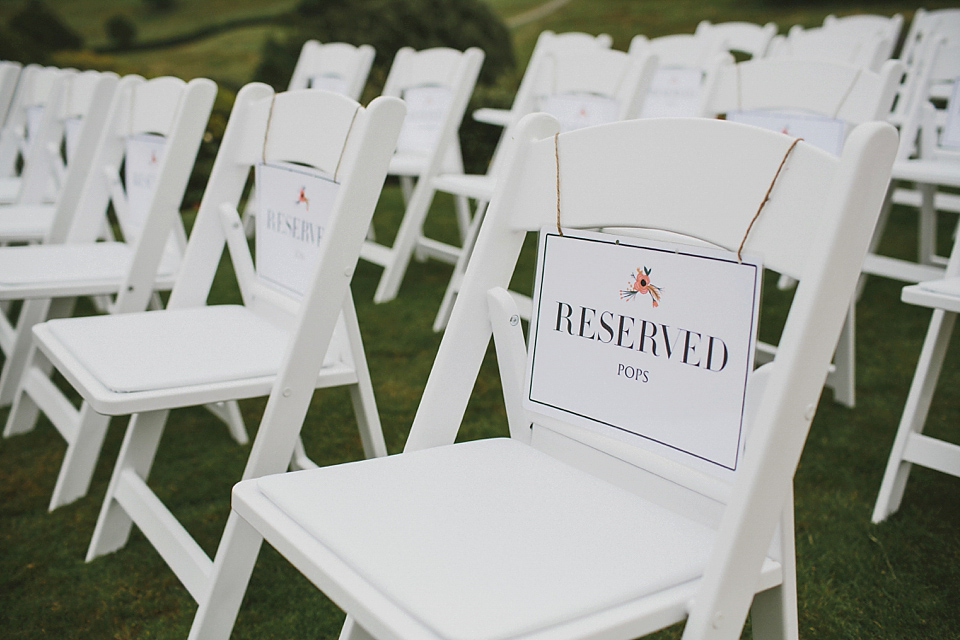 "It just has something special; a beautiful bar, gorgeous grounds and the staff are amazing! No wonder they have won so many awards, the service is second to none."
I was genuinely in awe when I read that Terri produced all of the elements that made this day so unfalteringly stylish (I'm not ashamed to say I have also screenshotted many of the pictures I was sent to write this feature).
"I made, painted and designed all of the invites, menus and place cards with massive help from my Dad (Pops). He even bought a gold foiling machine to DIY the invites! I made a floral pattern out of the flowers on my invitations and had it printed onto material to make my Pops a tie, which he loved as he's not a traditional kinda guy! Scotty and my Uncle made signs and the photobooth which Pops then hand painted. I really enjoyed making everything as when it came together on the day it felt like we had come together as a family to create something special."
These joyous, ribbon strewn blooms were provided by Jacaranda Flowers of Nailsworth who went above and beyond to secure our Brides favourite flower (and reigning motif of the day).
"Coral Peonies are my favourite flower and inspired much of the hand painted flowers on the stationery. The only problem was that they were going out of season! Emily at Jacaranda did such a great job of finding them, our flowers looked beautiful! My favourite décor from the day was the floral arch; I was praying it wouldn't rain so we could marry under it."
The bridesmaids looked peachy in their Eliza and Ethan gowns from It's Bliss Bridal.
I mean come on, a crown and a super cute sign?! Terri had a hard act to follow after these little cuties, but managed to upstage everyone in her beautifully beaded gown whilst her Pops walked her down the aisle to the sounds of 'You're My Best Friend' by The Once. Scott looked dapper in his suit from It's Bliss Bridal and tie from Asos.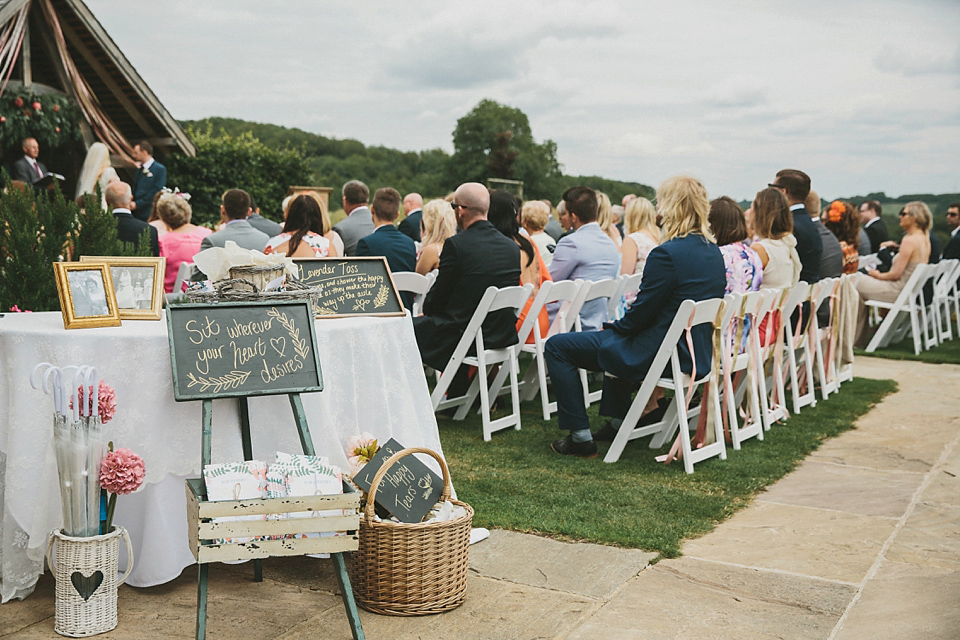 "I knew right from the start that I wanted us to write our own vows. Scotty is not the traditional romantic type but on our wedding day I wanted to hear what he wanted to say from the heart and not from a script. Getting to look into his eyes after 10 years together and finally marry my best friend was beautiful."
"My Bridesmaid and best friend wrote her own reading for the day which was so personal it made us both cry. It was about me and Scottty growing up together and how far we have come. My Auntie read a poem she wrote called 'The Wedding Album' which was beautiful. They were both a complete surprise on the day which was lovely."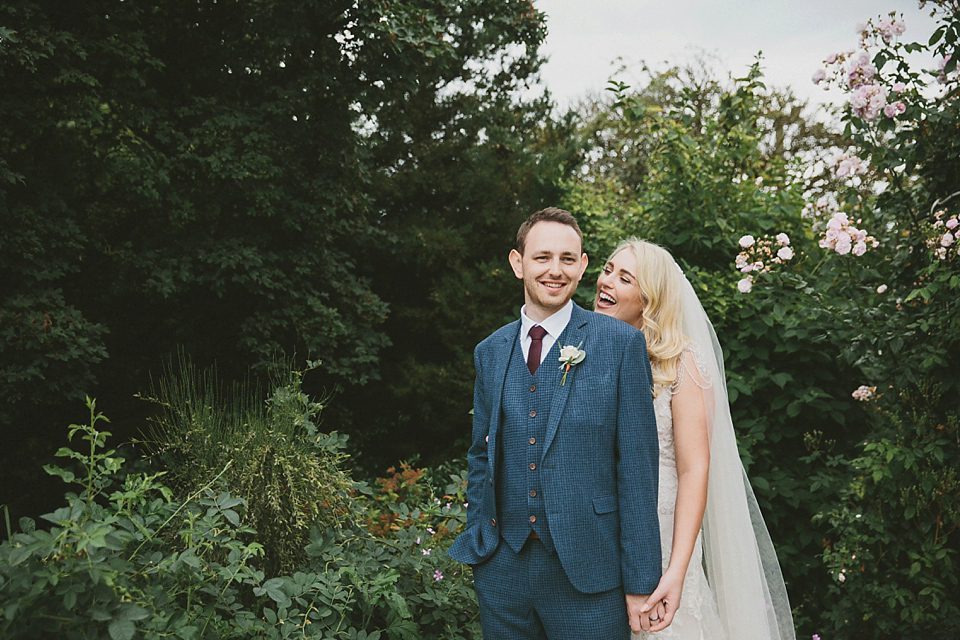 "We decided not to do favours, instead adding personal things to the day. We made personalised place cards with a special picture of us with the guest and hankies and sweets for people to take away."
What a completely lovely idea, and a way of weaving memories and experiences with all those special people into the day (and embarrass your besties!).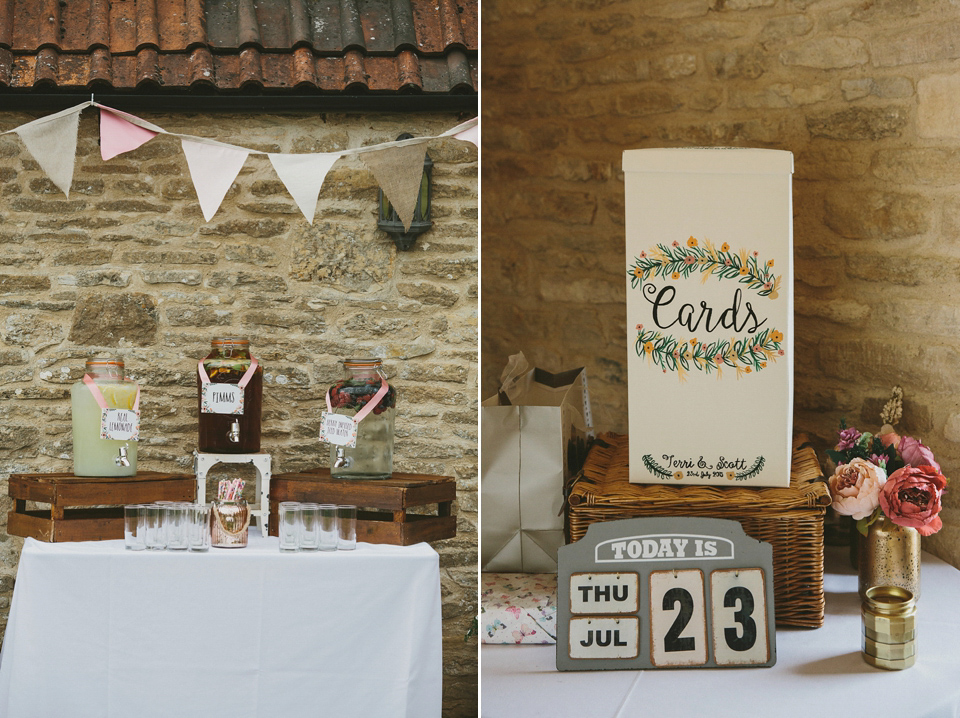 "My Nanna made our cake, I'm so close to her and she always makes cakes for celebrations in our family! I always knew I wanted her to make my cake on my wedding day"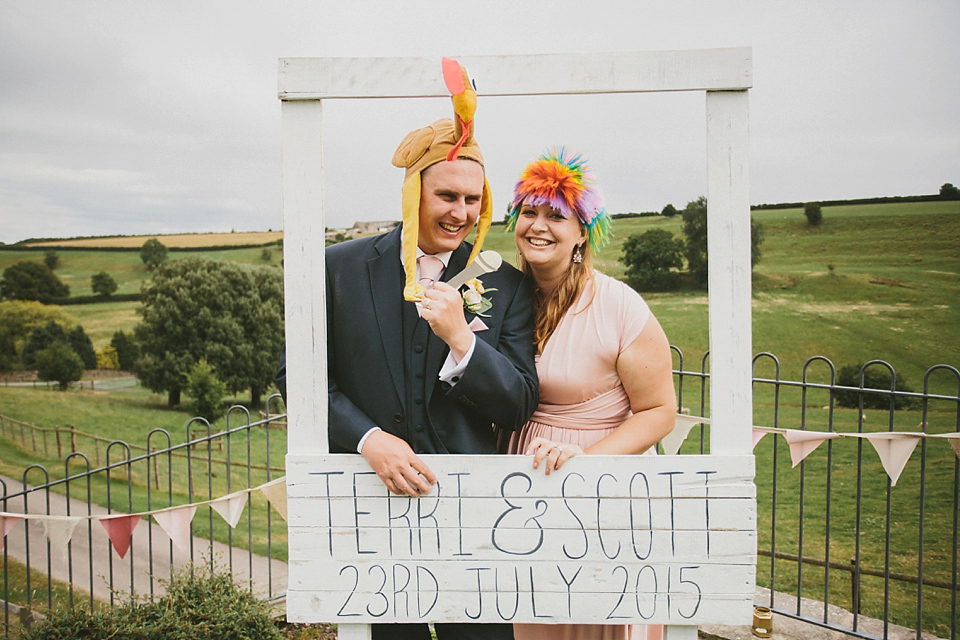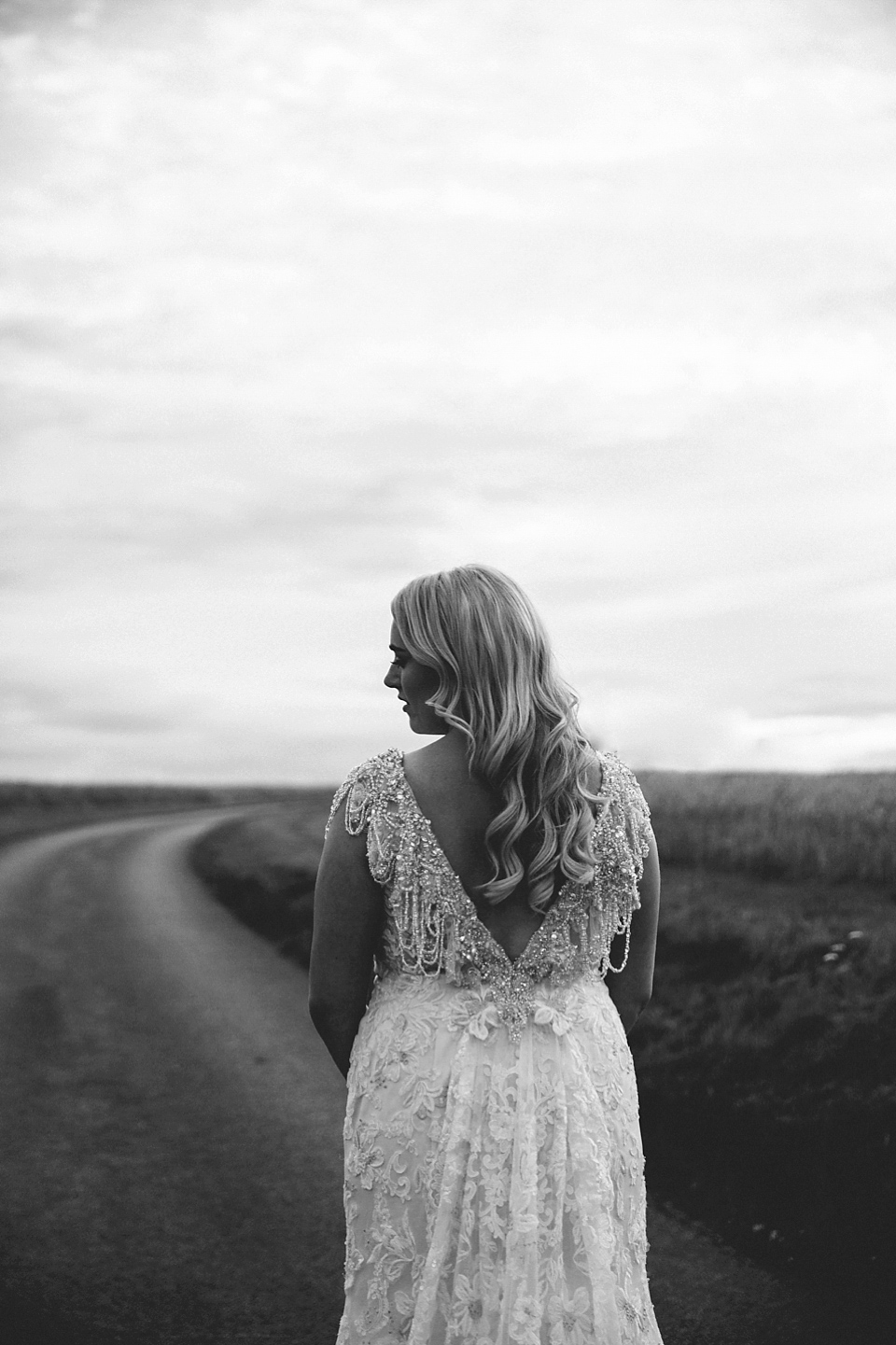 Pops surpassed himself with what I hear was a highly emotional affair, including a card signed by The Beautiful South (Terri's all time faves) and a video message by Noel from Hearsay!
The happy couples first dance was to 'Walk The Moon' by Shut Up and Dance.
"One of my highlights came whilst dancing the night away with all our friends and family. I remember dancing to Arctic Monkeys 'I Bet You Look Good on the Dance Floor' and going crazy, we had danced so hard by that point that I didn't have a care in the world, it really was the best feeling ever!"
Words of Wedded Wisdom
"I heard this a lot before our day but take five minutes out of your day away from friends and family with your other half. The day is crazy – everyone wants a piece of you so that 5-10 minutes we spent having our portrait photos were so special, it meant we had a chance to say 'WOW, how amazing is this!' to each other.
Pay for great pictures – I'm not just saying this because I am a photographer (I promise). Our photographers were worth every single penny, these photographs are the only thing you have left after your wedding day (apart from your other half!). I can't imagine being disappointed with the captured pictures after the high of the day.
Get a videographer – We nearly didn't get a video as things were mounting up but I can't tell you how pleased we are too have 5 minutes of footage from the day. The ceremony is such a blur so it's lovely to listen to those words again.
Also, prepare a schedule. And make sure your bridal party have it. Now this may sound crazy, but working out what was going to happen at different parts of the day meant there were no hidden surprises and everything just seemed to flow."
Aren't these precious snippets of wisdom always so welcome? As most of us are going into this wedding malarkey as shiny, happy novices it's so helpful to hear words from those who have crossed into 'Mrs' territory (and survived!). Terri admits to avidly reading and being inspired by other creative lovelies on Love My Dress – and so the Bridal circle of life continues as I screenshot this whole day. I'm so happy that Love My Dress facilitates this glorious cycle of inspiration, support and blubbing over other peoples weddings.  Oh, and I totally agree with Terri on both the photographer and videographer counts; the more talented people documenting the best day of your life blur, the better.
Huge thanks to Terri, Scott and the unwaveringly genius Mckinley-Rodgers, it's been a pleasure to share such a lovely day of family fun and handcrafted joy. PS. You can have a browse of Bride Terri's photography website here, is there anything she can't do?!
Until next time lovelies,
Emily xx
Photography – Mckinley-Rodgers
Film – Story Catchers Wedding Films
Venue – Kingscote Barn, Tetbury
Dress – It's Bliss Bridal
Hair – Louise Alway
Make Up – Zuzana Ritchie
Shoes – Shoeaholics
Fragrance – 'Roses du Chloe' by Chloe
Bridesmaids Eliza and Ethan from It's Bliss Bridal.
Flowergirls – Monsoon
Groom – It's Bliss Bridal , Tie Asos
Catering – Fosters Catering
Rings – Addy Vintage for Terri, Amazon for Scott
Music – The InLaws
Florist – Jacaranda Flowers of Nailsworth