Does anyone else have a soft spot for Village Halls? I'm instantly transported back to twirly party dresses, orange squash in plastic cups and the threat of pinched fingers in folding chairs. This delightful nostalgia combined with tons of original features and dancing space means that these provincial gems are enjoying a much deserved wedding reception renaissance. The freedom to unleash your inner decoration obsessed demon (I'm confident we've all got one) and the banishment of corkage fees means that your local hall may be just the ticket for a relaxed celebration on your terms. As you'll see, it doesn't hurt if it also happens to be a golden Cotswolds stone village hall with some serious wow factor.
Meet Claire, a textiles teacher and Ben, who works for Red Bull. They tied the knot on 3rd October 2015 on Ben's home turf, the pretty village of Overbury. After saying their 'I do's' in Overbury Church the happy couple then moved onto Overbury Village Hall for their vintage inspired reception. The wonderful David Jenkins was on hand to capture the best day of their lives.
"We wanted our wedding to feel personal to Ben and I. Being creative people, we wanted to create a unique and individual feel to the day by mixing rustic styling with a woodland theme. Colours were inspired by Autumn trend predictions of merlot and blush, I just love these colours. As I have always been a second-hand girl, most of the wedding features were sourced from second-hand shops, car boots sales or handmade."
Photography by David Jenkins Photography
Florist Katie Mawson created these brilliant bundles of rich textures and hushed blooms. The softness of the roses work so well with the dark foliage and pops of deep burgundy.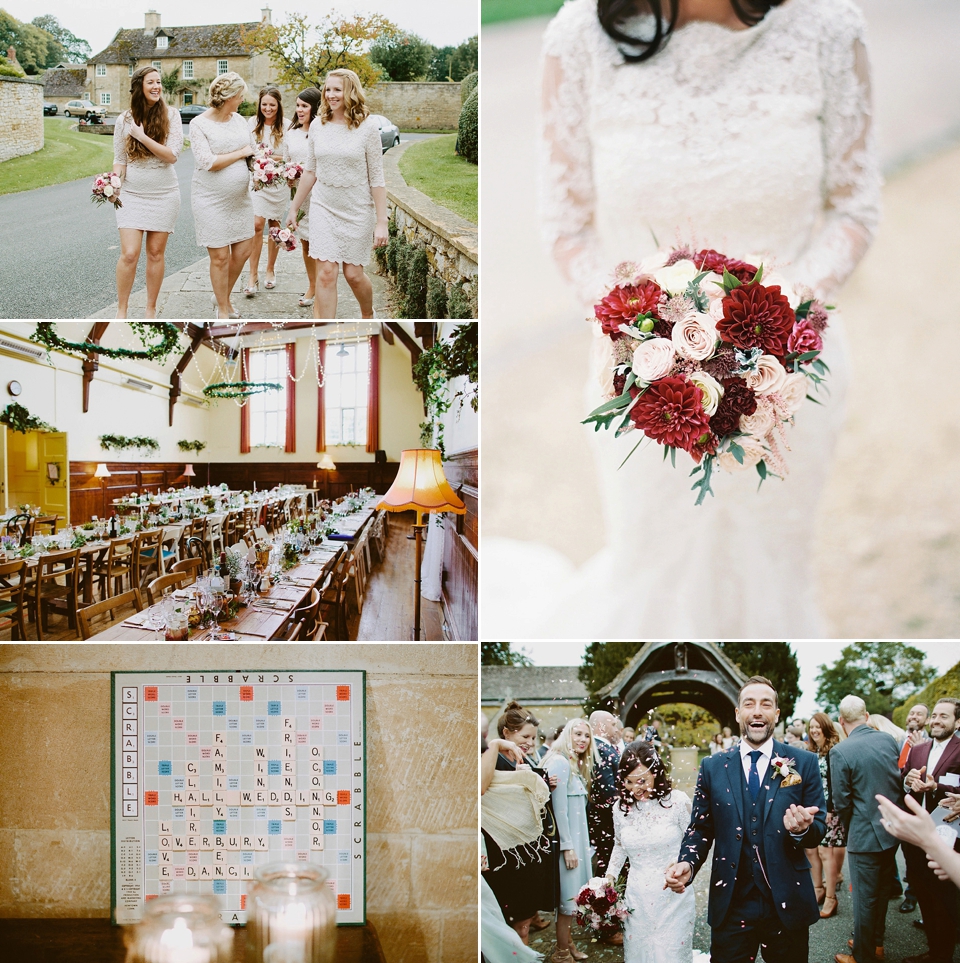 "We chose David as we were very particular about what we wanted and researched photographers for a long time. As soon as we found David's website we got excited, his work is gorgeous and leans toward fine art photography over the more staged shots that we wanted to avoid. He was fantastic from start to finish, had great artistic ideas and a very chilled disposition which we knew we would need on the day!"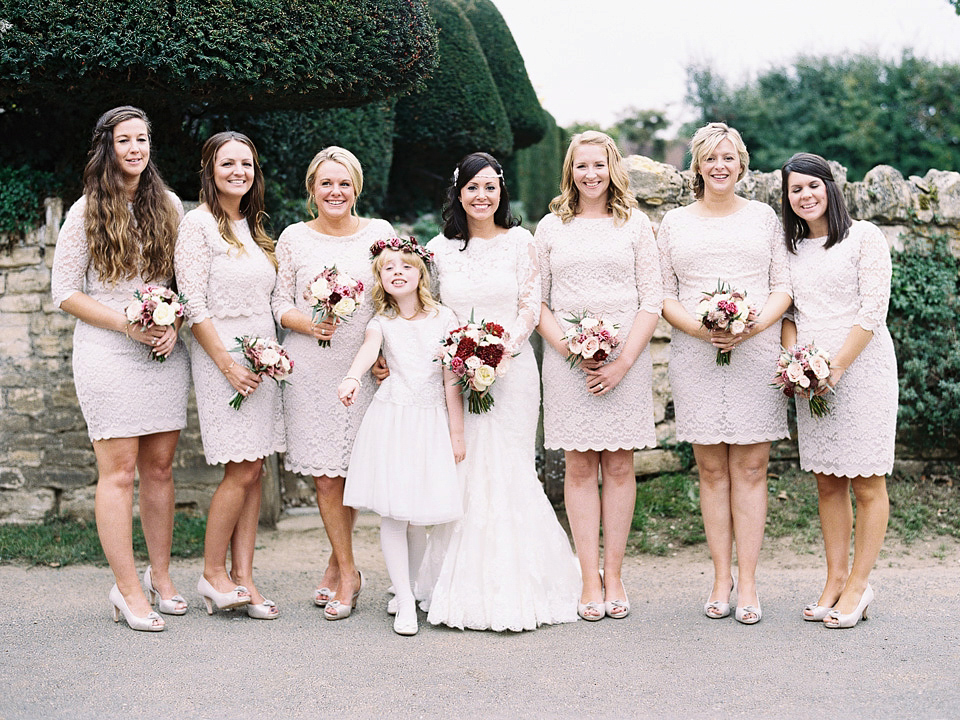 Having had a very good look at David Jenkin's website (purely for research purposes), I can understand the excitement our bride and groom felt when stumbling across this tremendously talented photographer. Optimising the light and love filled looks that surround him, David tells the story behind the day in an honest and elegant fashion. You can see more Love My Dress corkers captured by David here.
Choosing our beloved Little Book for Brides member Charlotte Mills for sumptuously soft footwear, Claire struggled to decide on just one pair! If the smell of new shoes and copious amounts of glitter are things you hold dear, I suggest transporting yourself into Charlotte's beautiful new store by clicking here. We couldn't love these shoes more.
"Charlotte Mills shoes are the best! She writes a beautiful message on the soles of her shoes and pops a sixpence inside for luck. I couldn't decide on a style so I brought two; day shoes and evening shoes (don't tell Ben!)"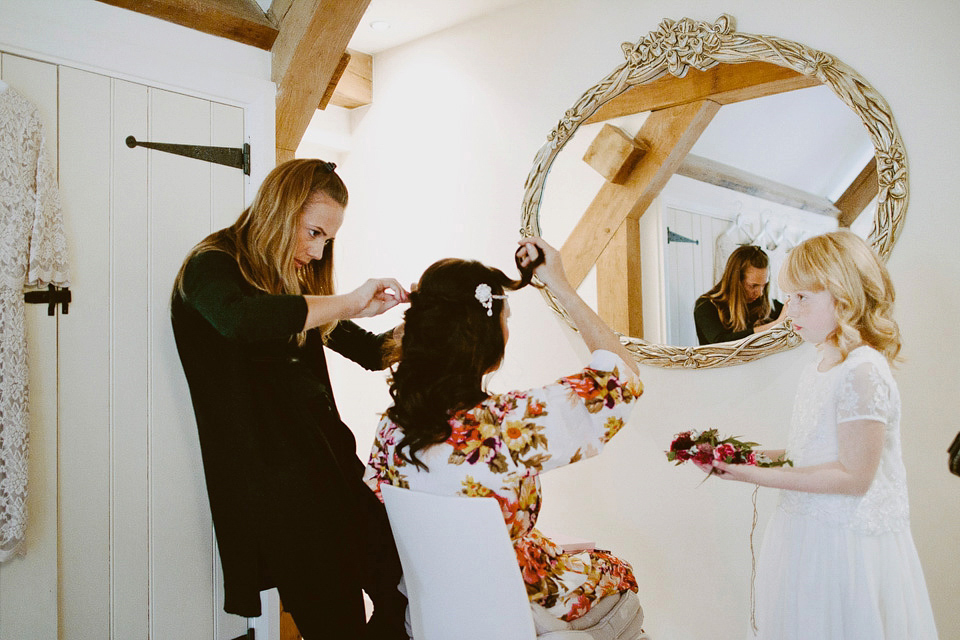 Our bride looked captivating in her Ellis Bridals gown. Classic long sleeves, an elegant keyhole back and a vintage inspired, wonderfully glam head-piece from Etsy all combined to make one showstopper of a bridal look.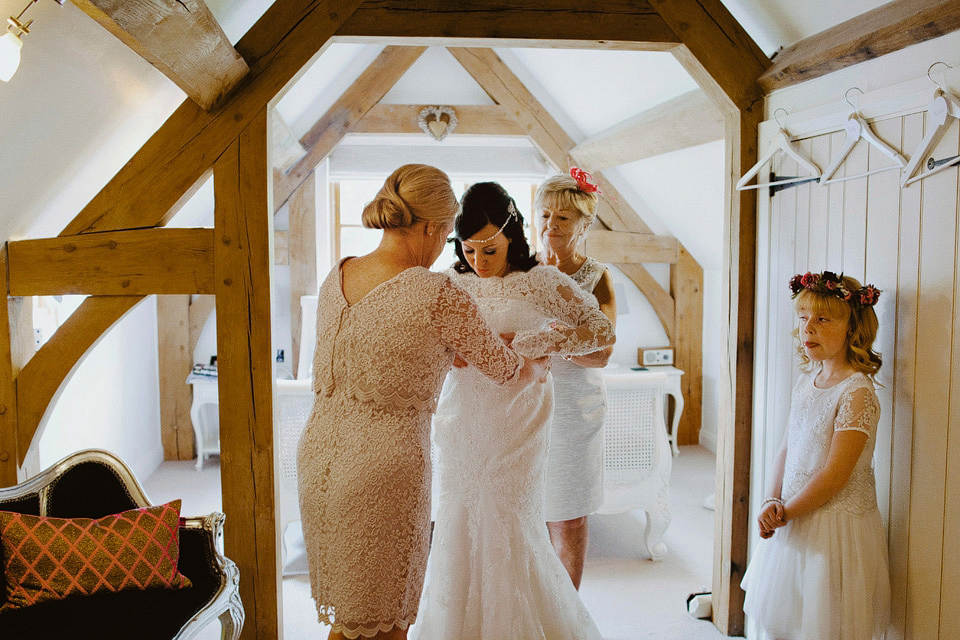 "I searched high and low for my dress, originally thinking I wanted a bespoke vintage dress from London. Expanding my search, I visited local shops and stumbled across Brides of Southampton. My dress was waiting for me on the rail, I had found my perfect dress! It was exactly what I wanted and as soon as I tried it on I fell in love. My dress is called 'Chia' and was designed by one of the oldest designers in a London store."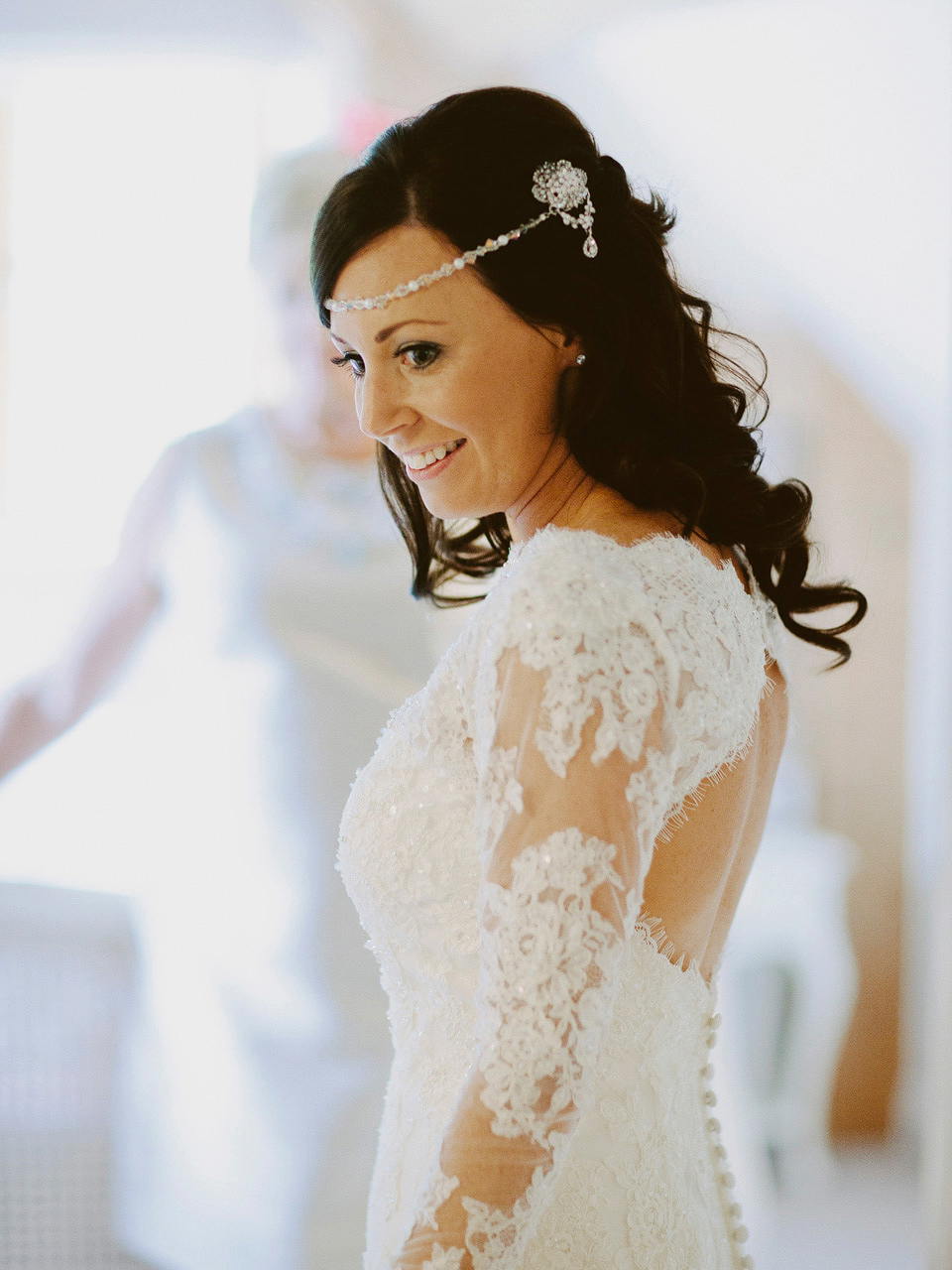 Ben looked incredibly handsome in a cashmere three-piece suit from Ted Baker. He accessorized with a knitted tie from Marks & Spencer, a double hunter pocket watch and Oliver Sweeney Shoes.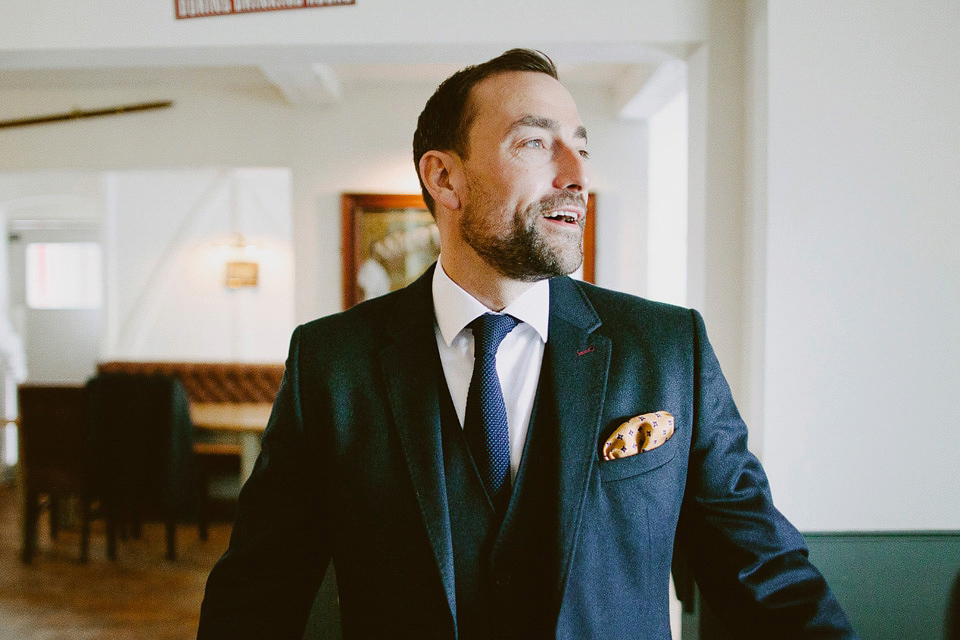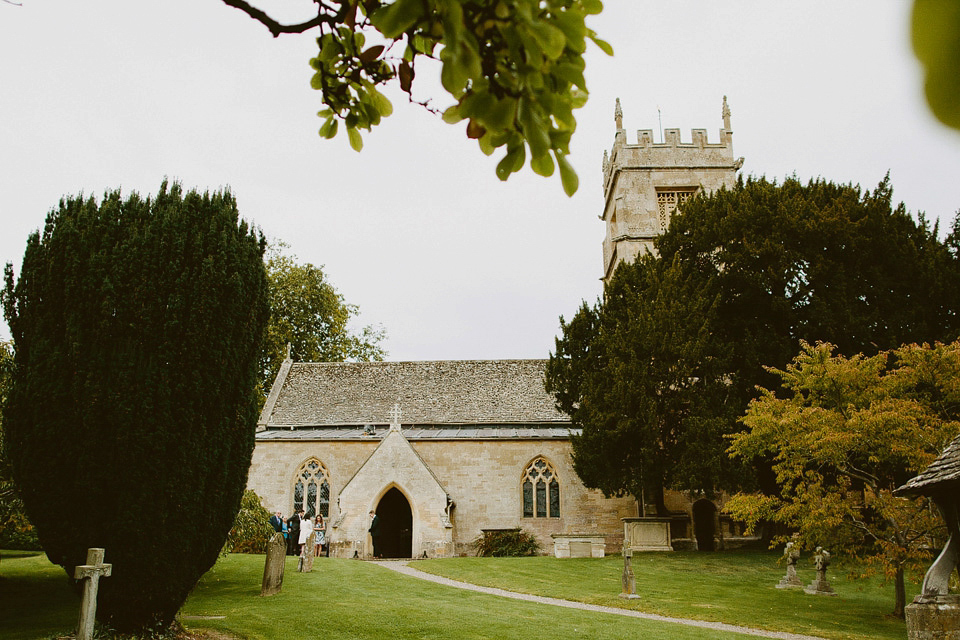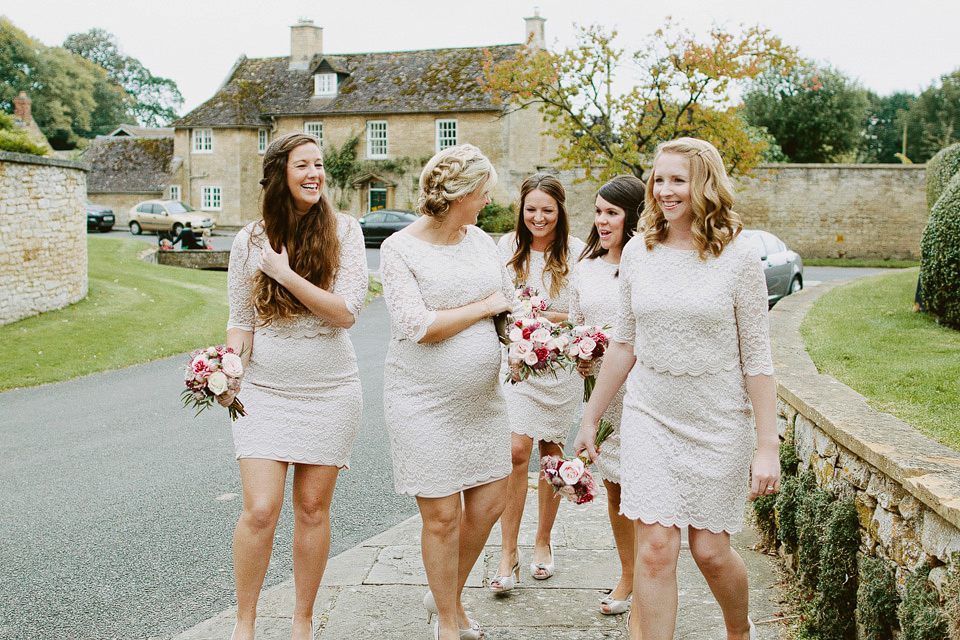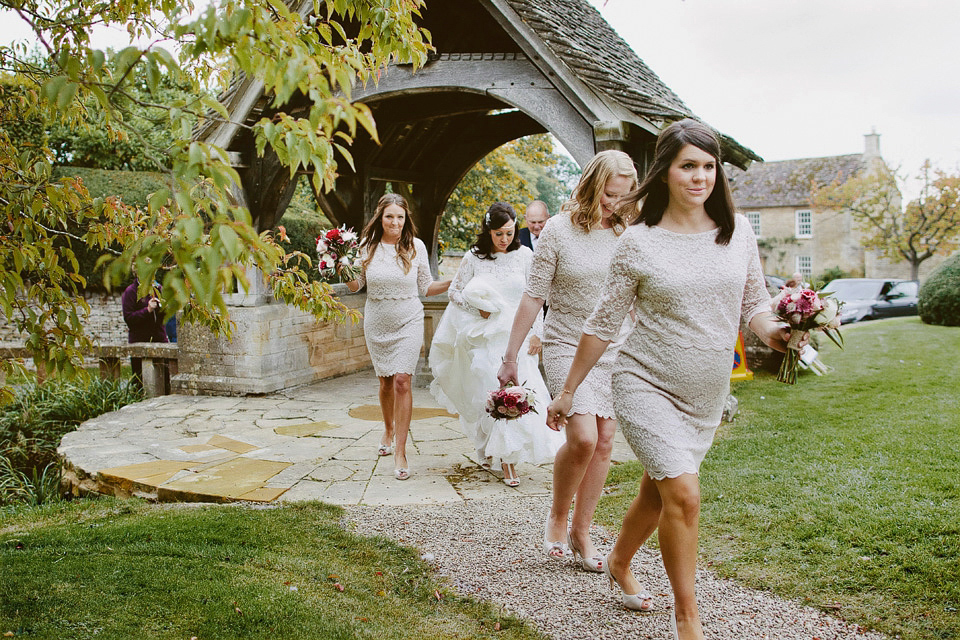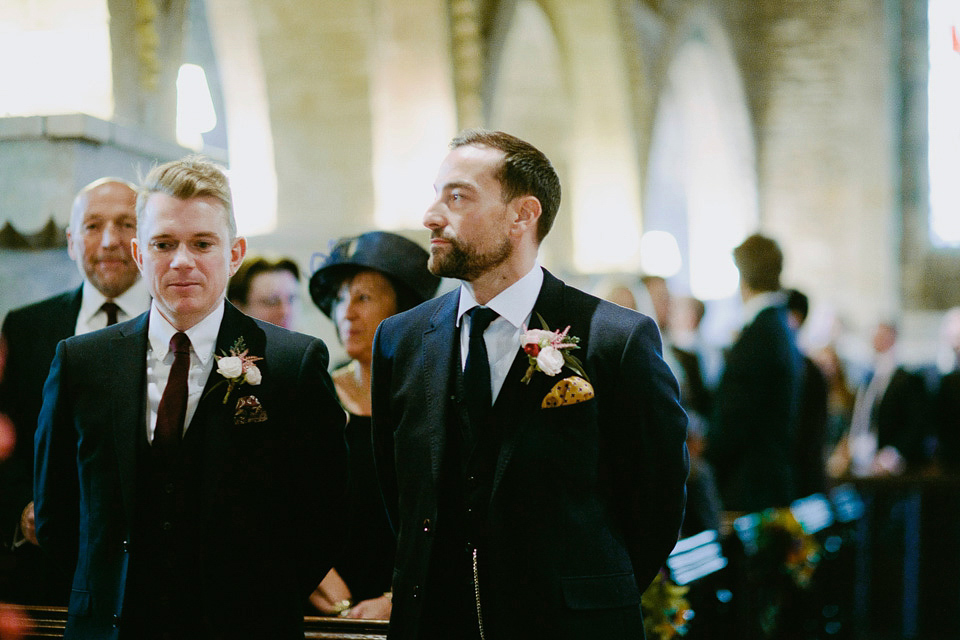 Claire sashayed down the aisle with her Dad to the truly haunting sounds of London Grammar's 'Shyer'. The couple's friend Chris read an adaption of the lyrics to 'Thank You' by Led Zeppelin which is too beautiful not to share.
If the sun refused to shine, I would still be loving you.
When mountains crumble to the sea, there will still be you and me.

Kind woman, I give you my all, Kind woman, nothing more.

Little drops of rain whisper of the pain, tears of loves lost in the days gone by.
My love is strong, with you there is no wrong,
together we shall go until we die. My, my, my.
An inspiration is what you are to me, inspiration, look… see.

And so today, my world it smiles, your hand in mine, we walk the miles,
Thanks to you it will be done, for you to me are the only one.
Happiness, no more be sad, happiness….I'm glad.
If the sun refused to shine, I would still be loving you.
When mountains crumble to the sea, there will still be you and me.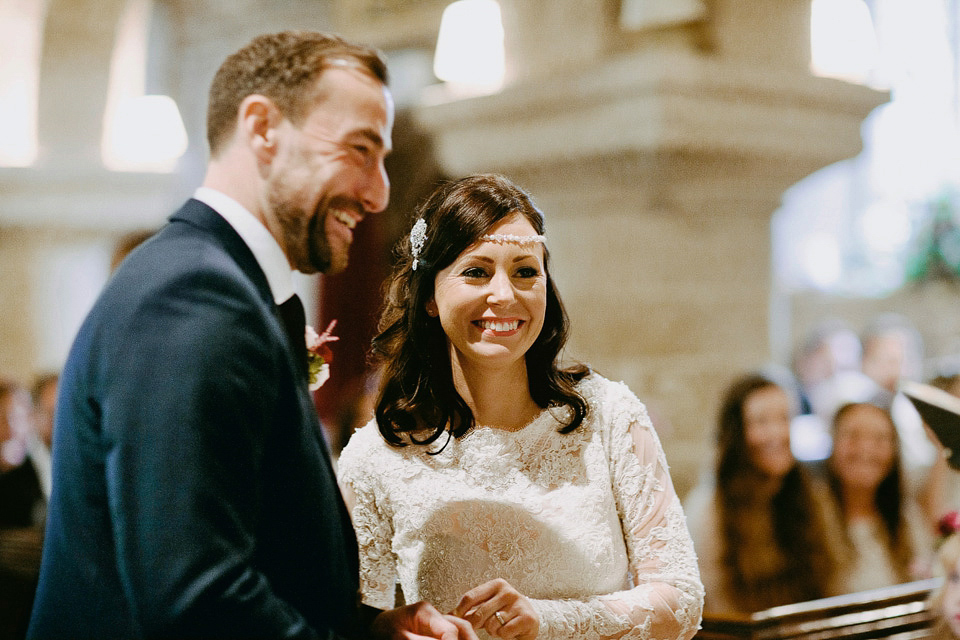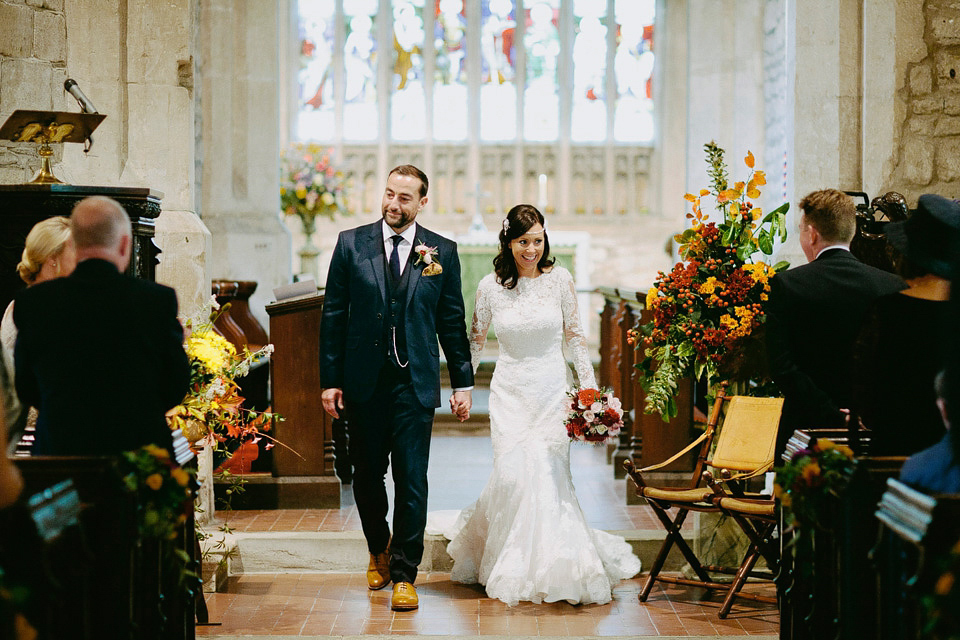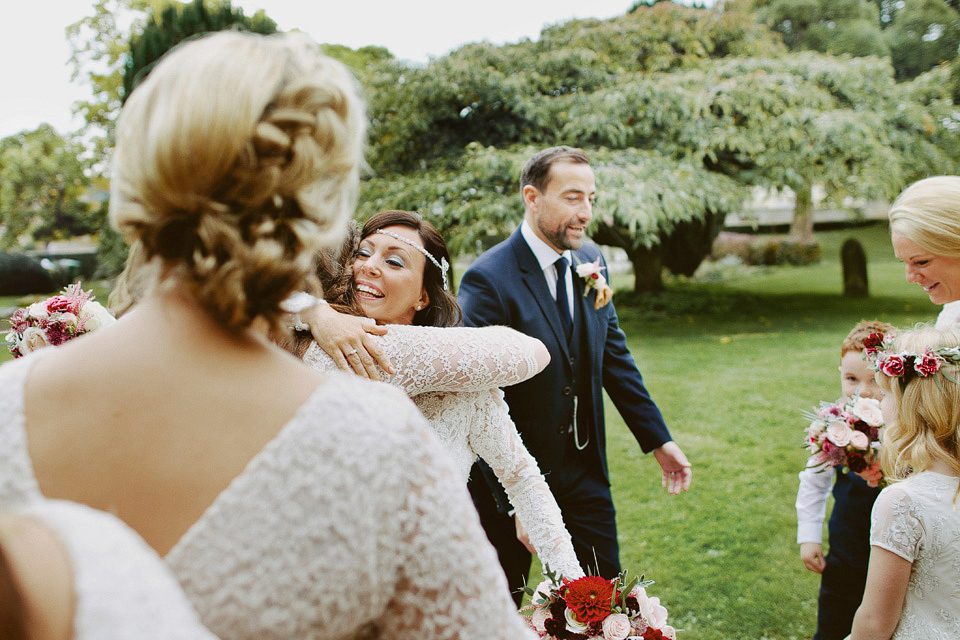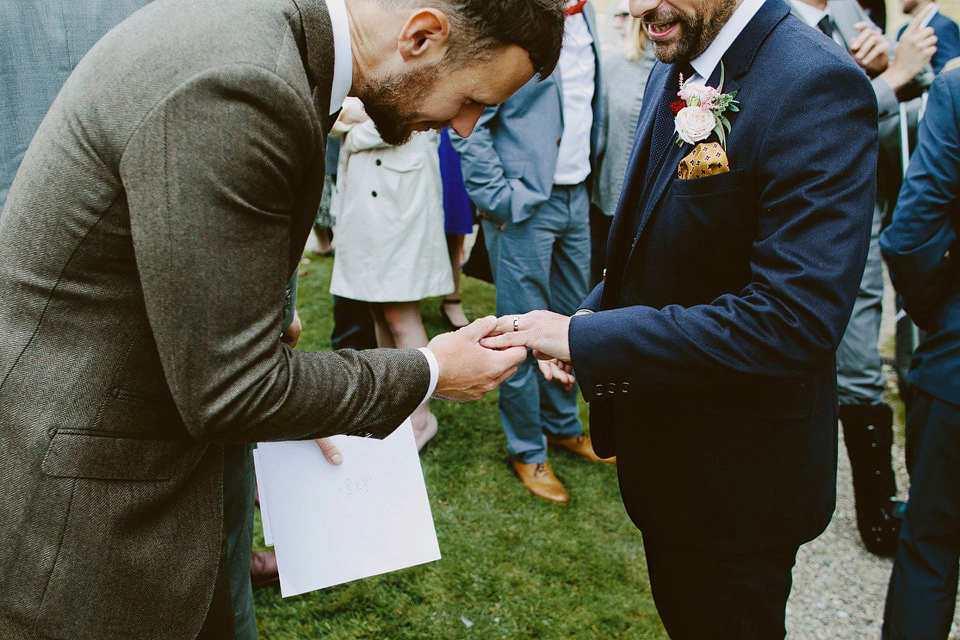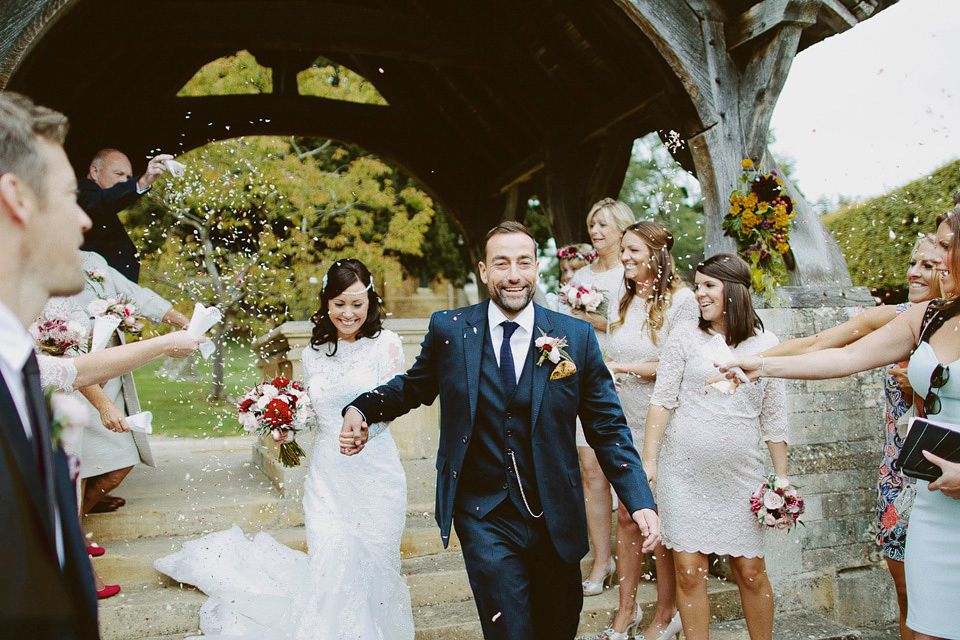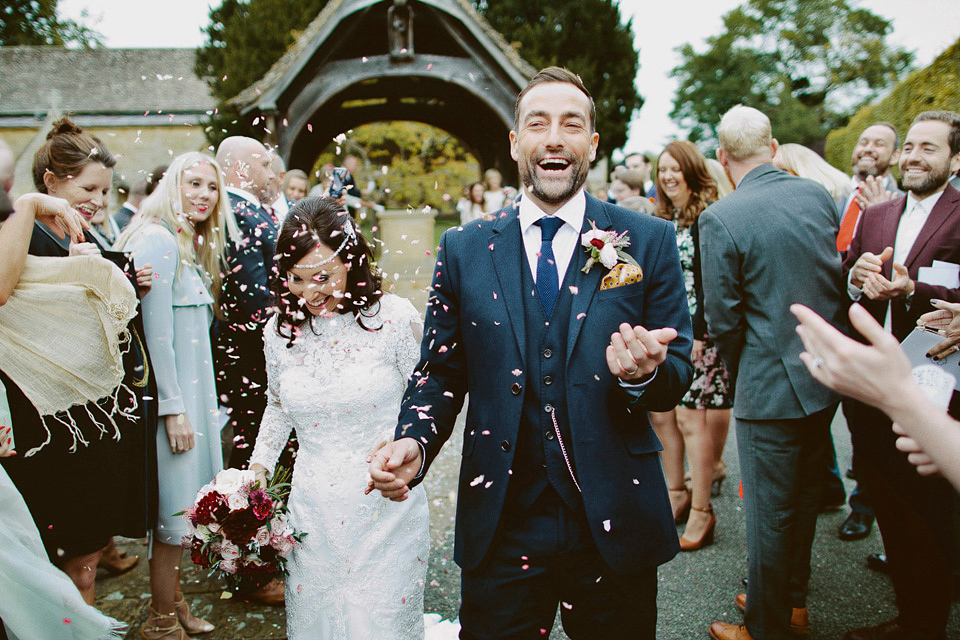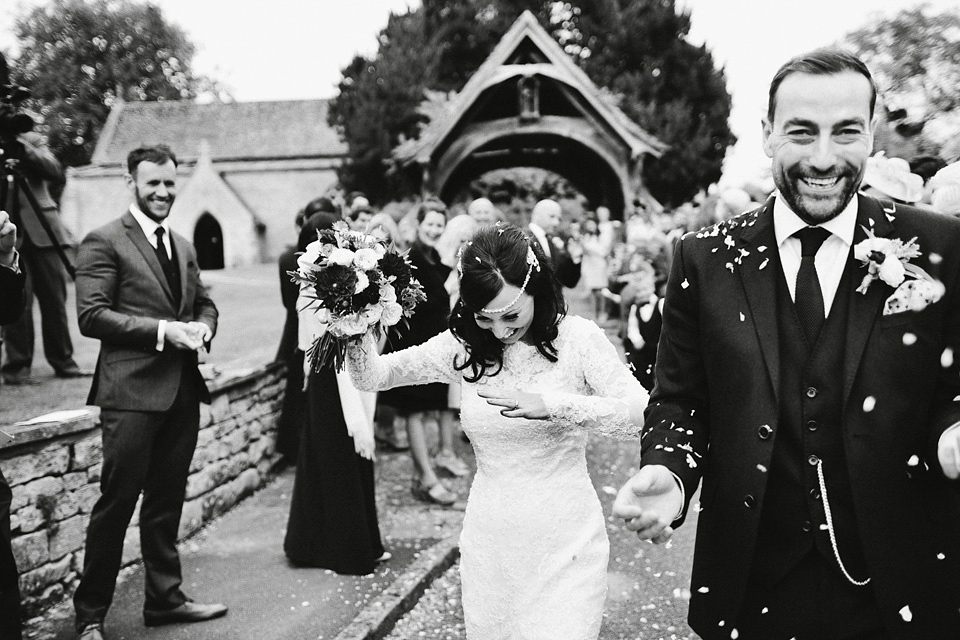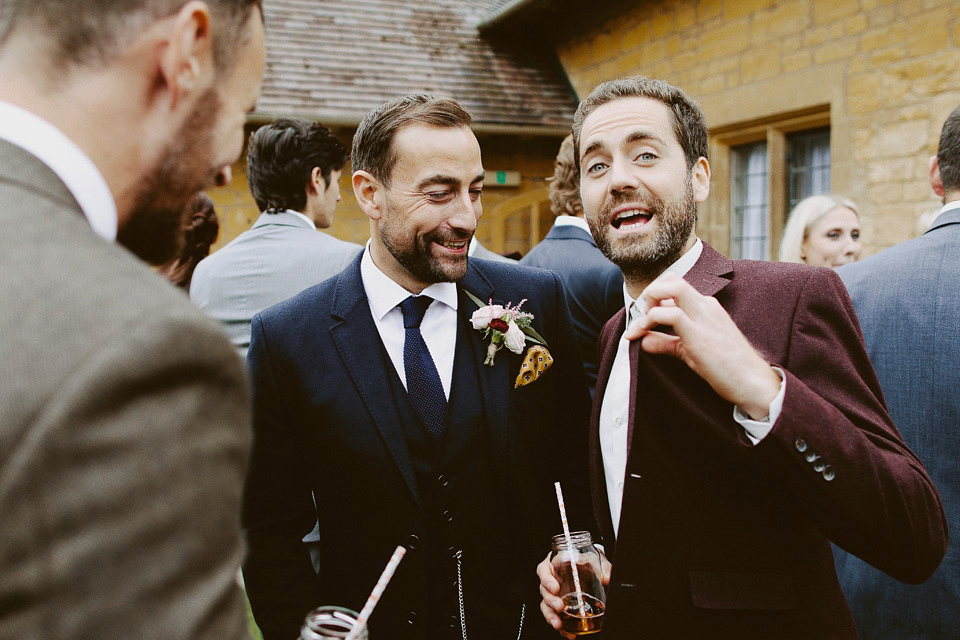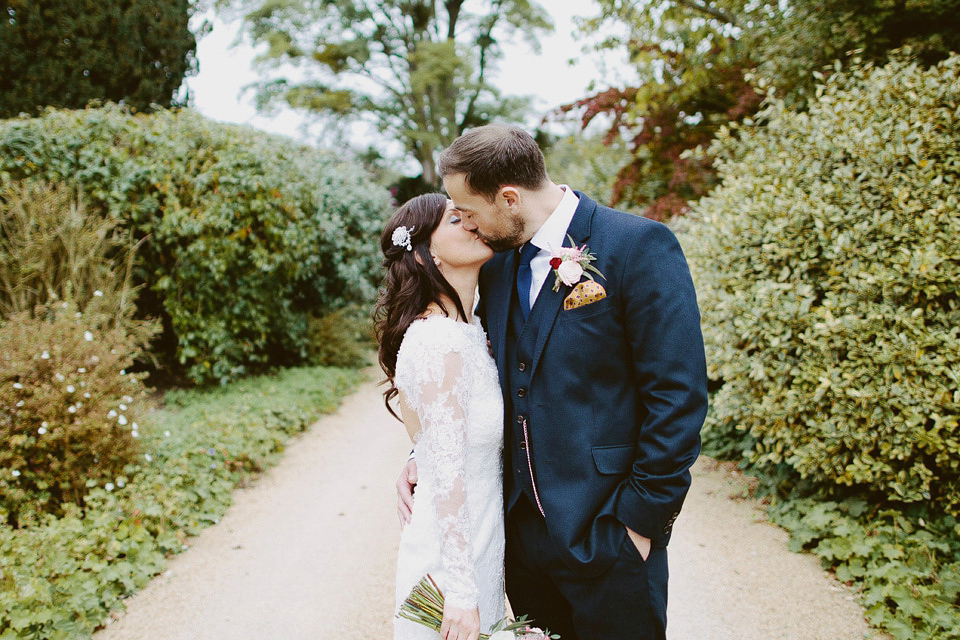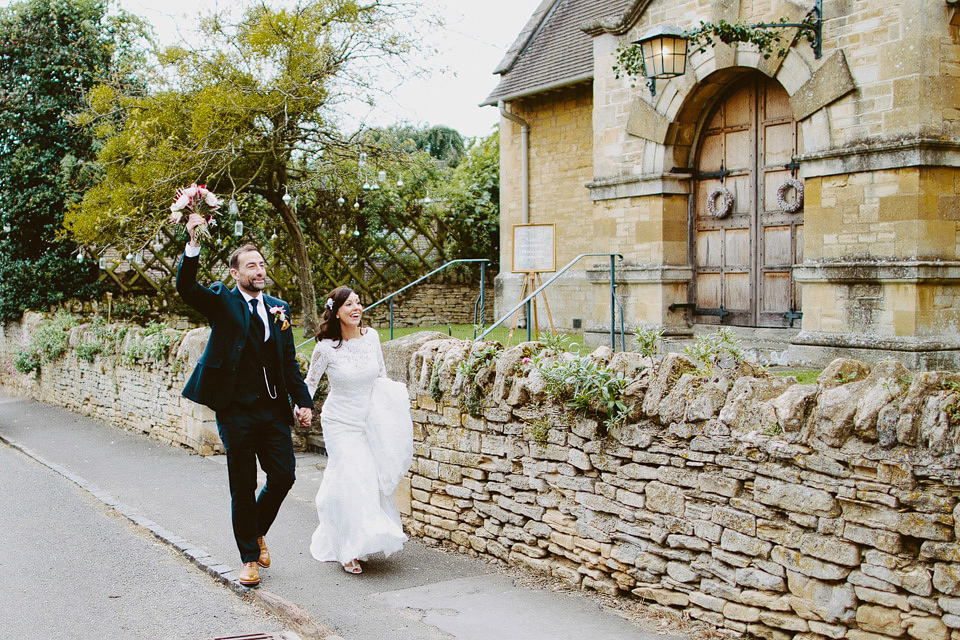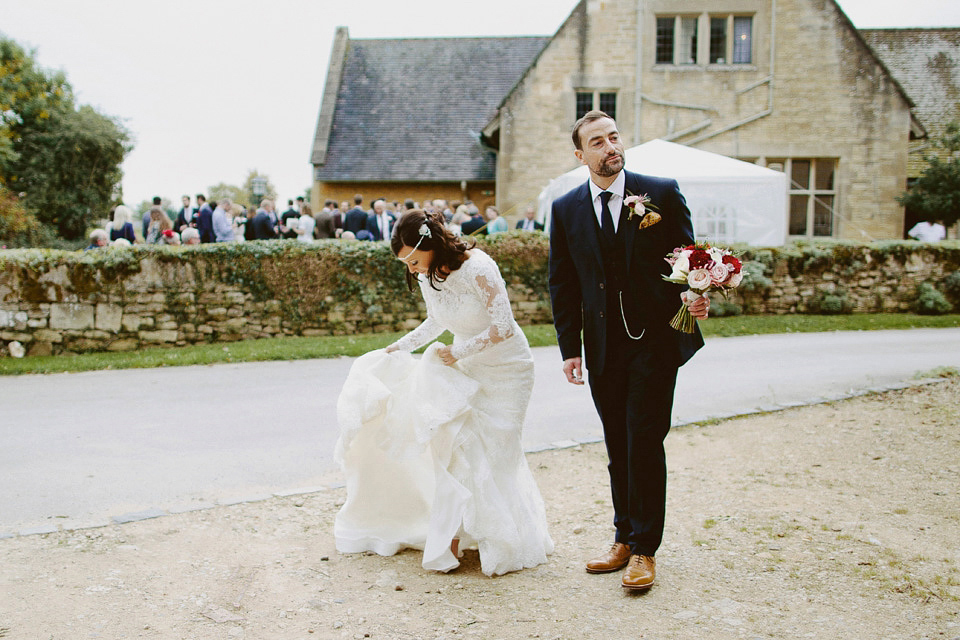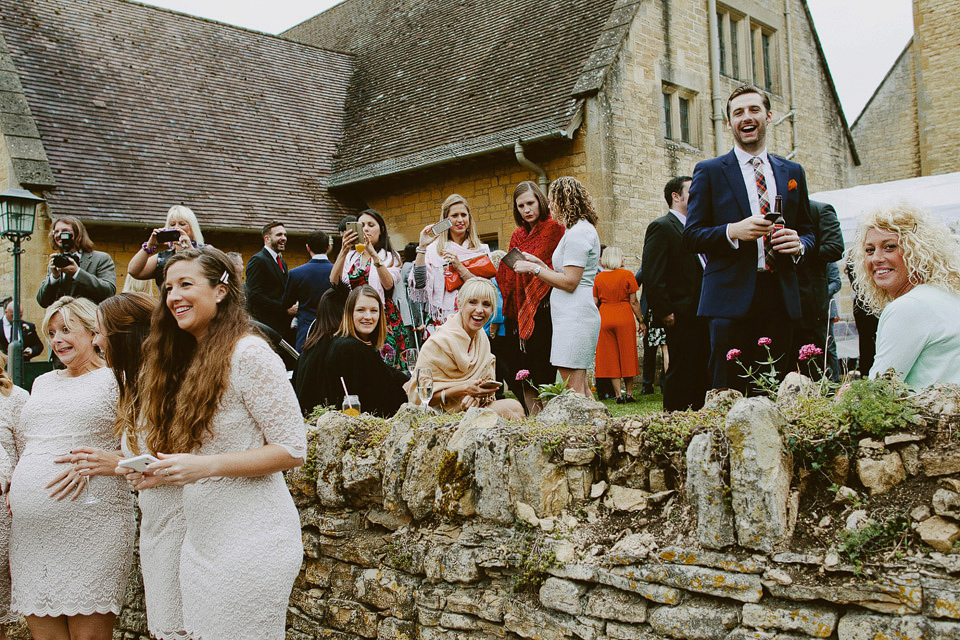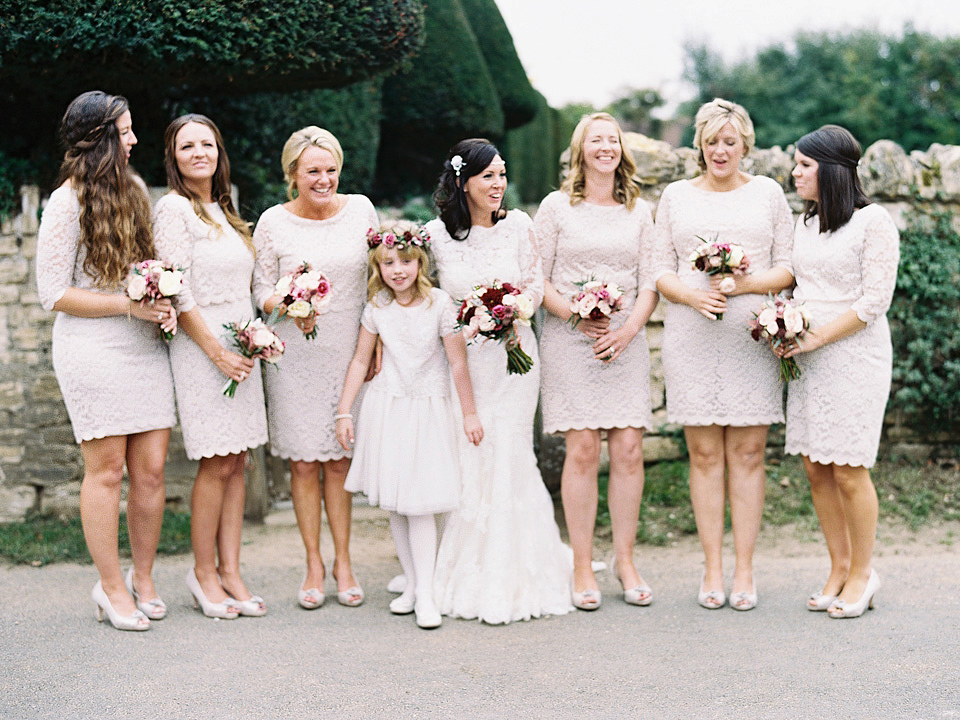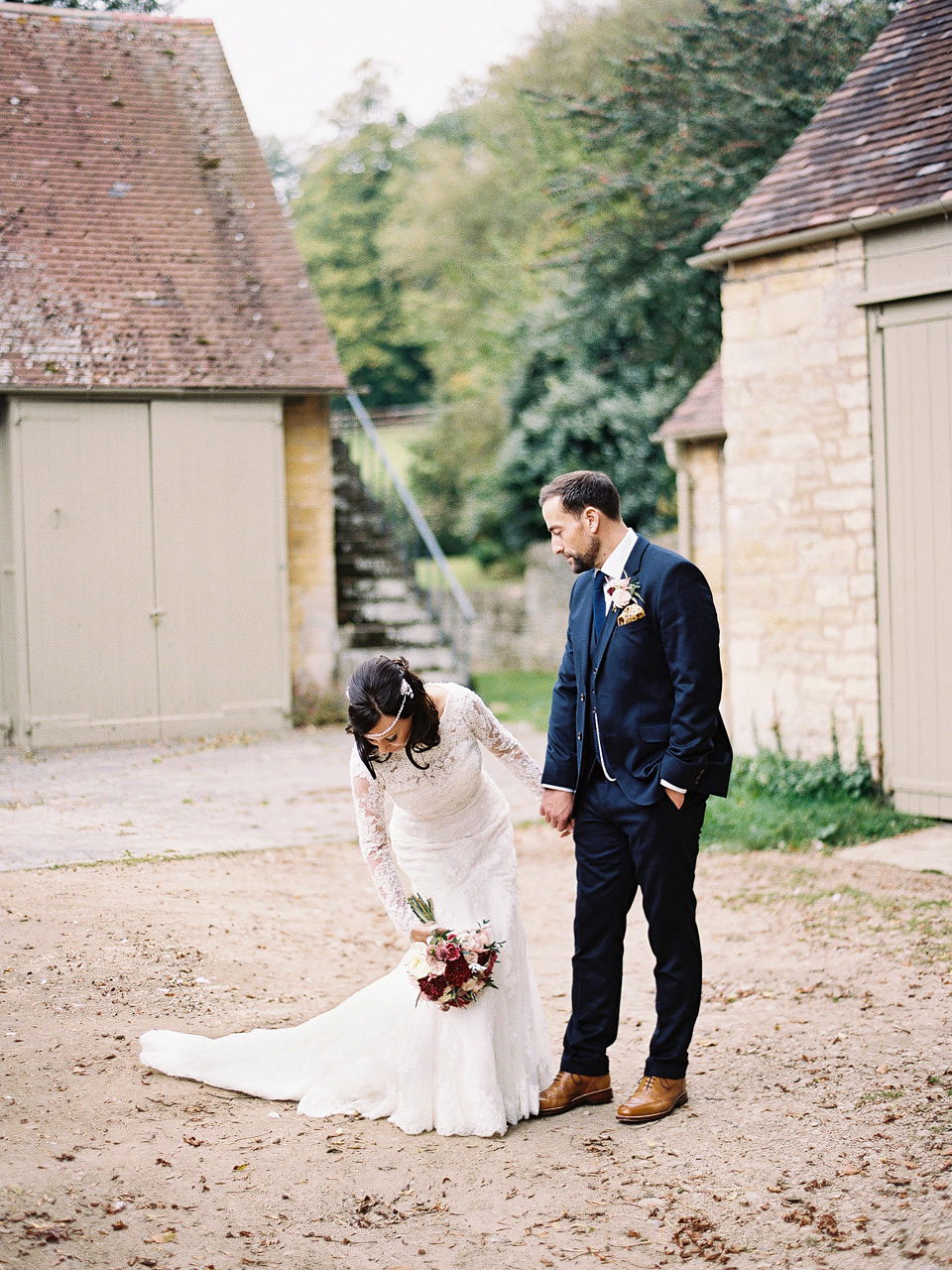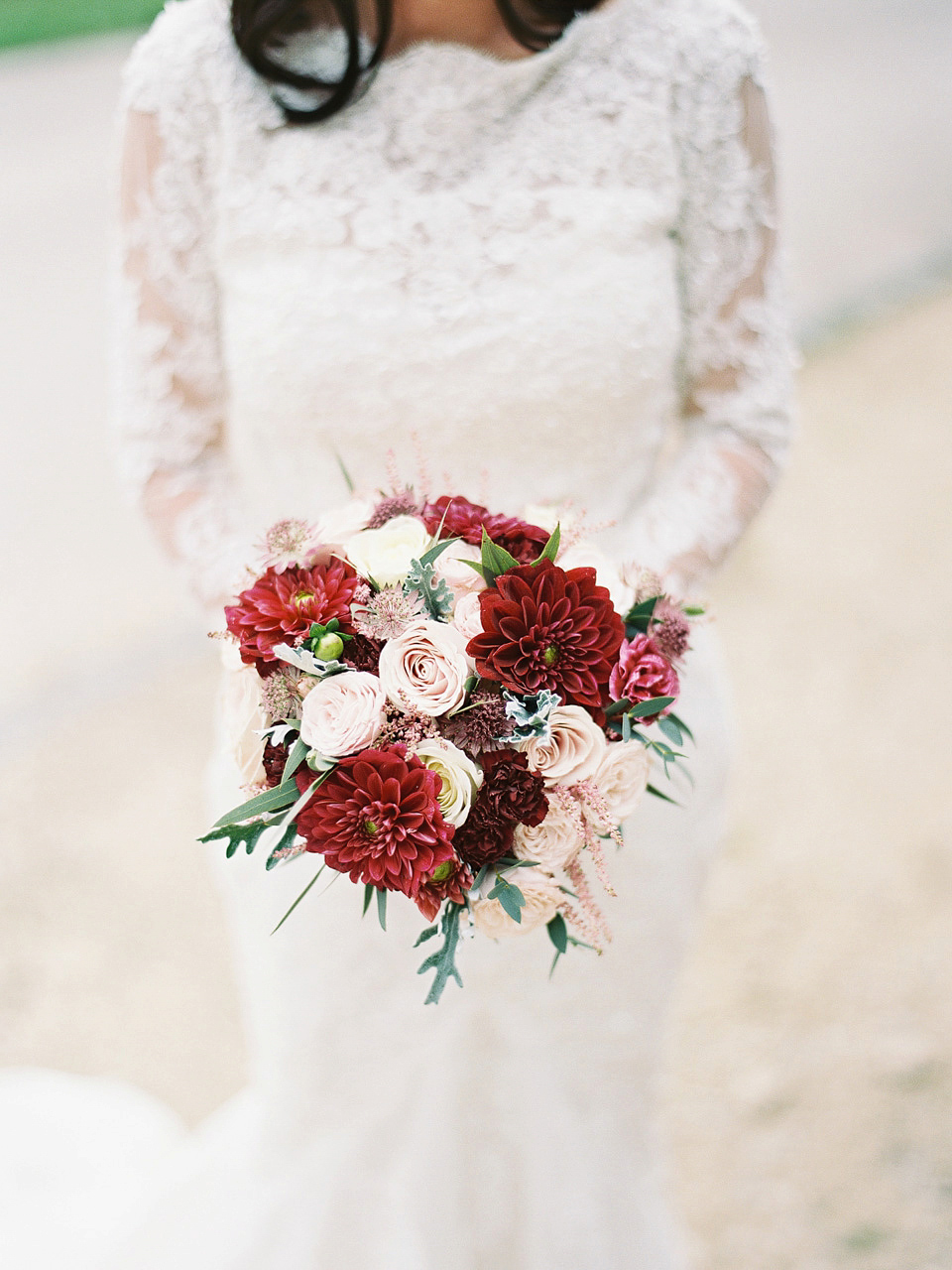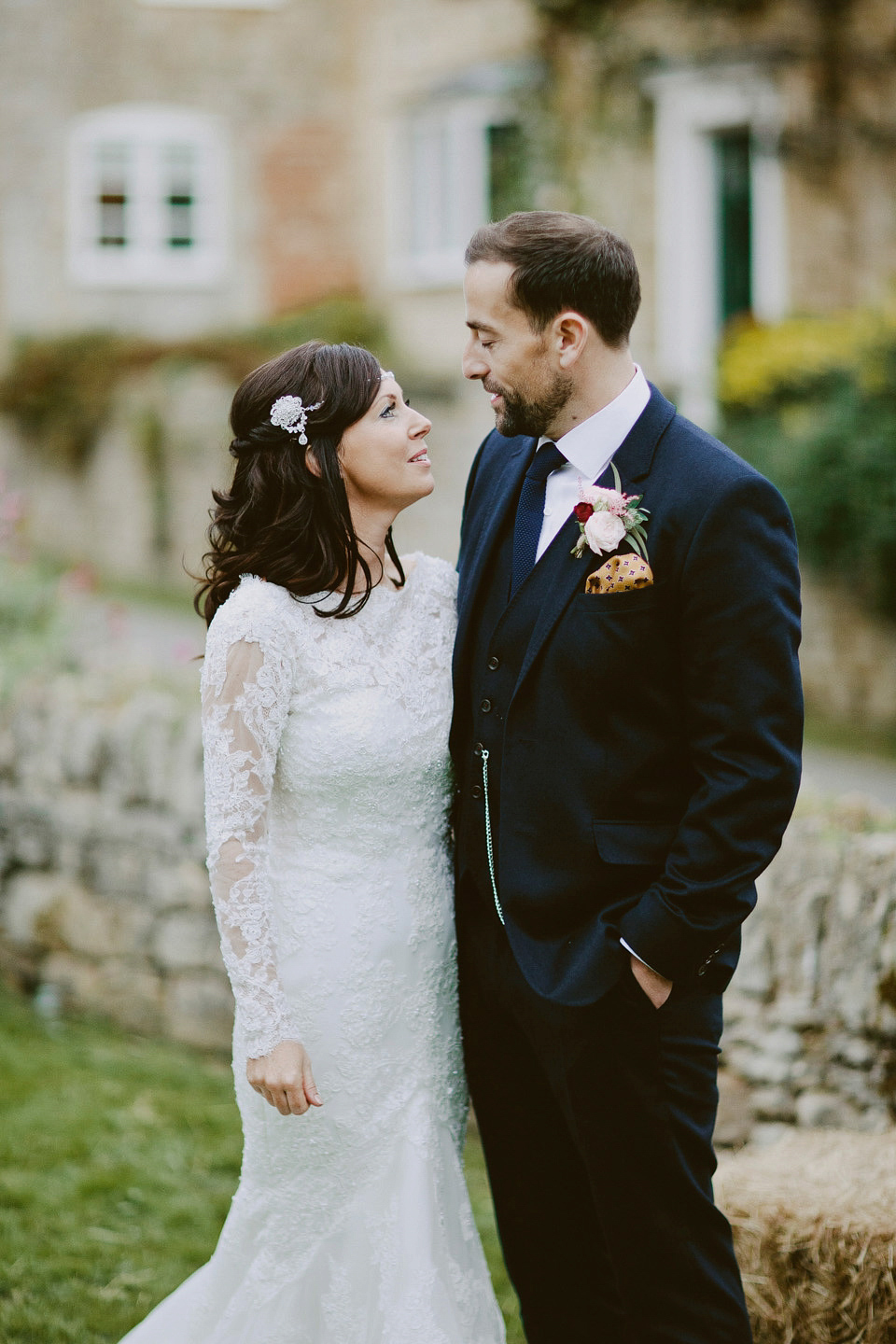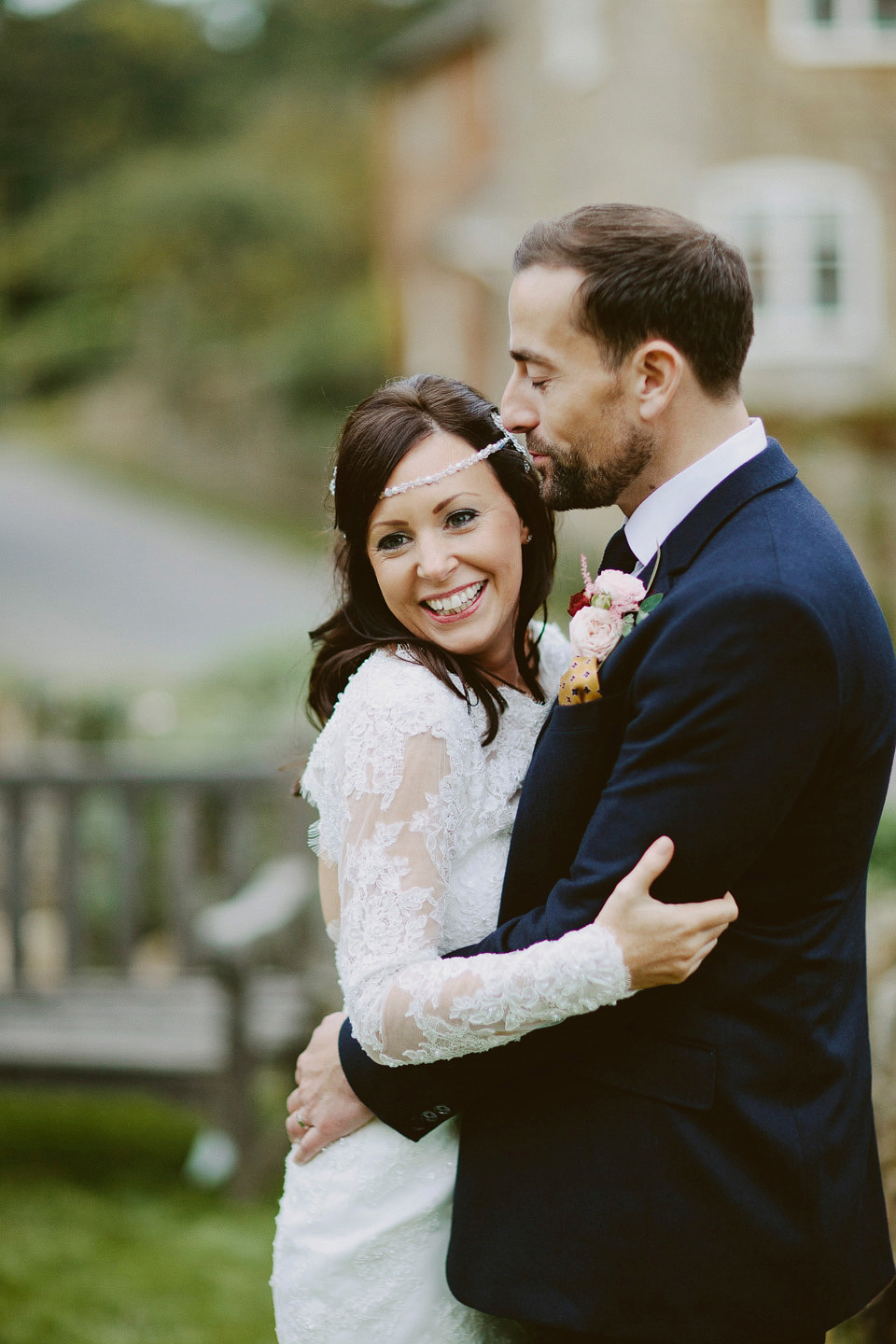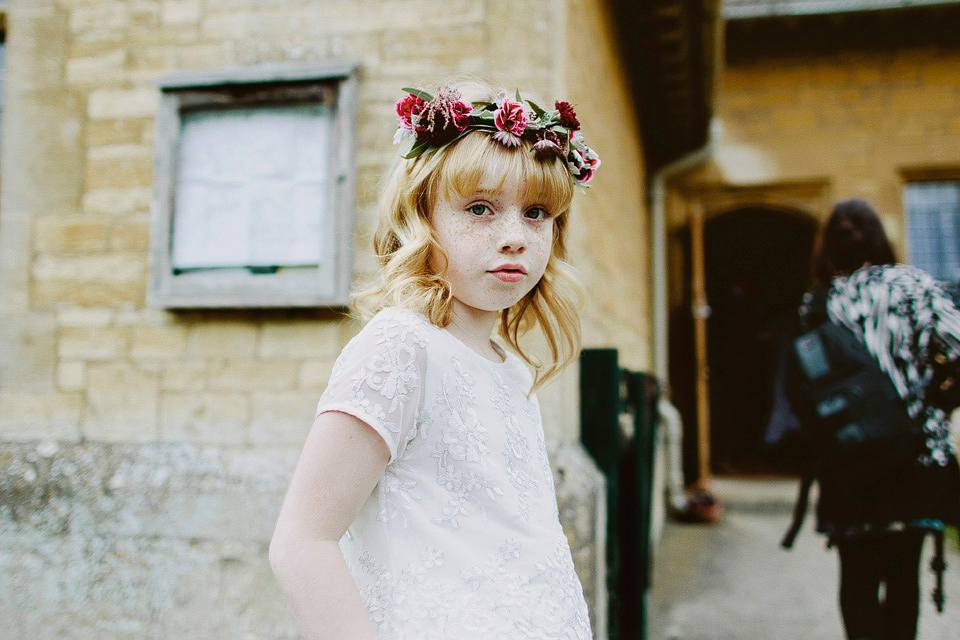 My favourite kind of weddings (and shops for that matter) are the ones where you don't know where to look because there's too much good stuff going on. Claire and Ben's day certainly does that; who knew tin cans could look so fancy?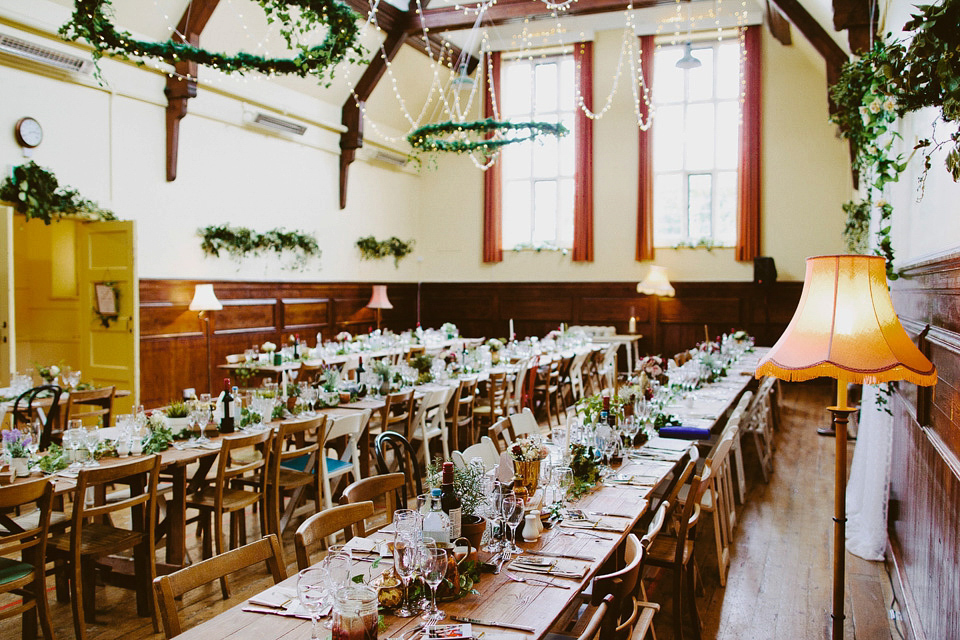 The beauty of a village hall is complete autonomy to enhance and add to its charm, this was done so well with vintage trinkets and personal touches.  Outside space was optimised with a marquee and rustic seating; maybe its the Cornish girl in me but sitting on a hay bale with a drink in hand is a very good place to be. I love that the foliage was collected by the happy couple themselves on Sunday walks, now that's a wedding task I can definitely make time for!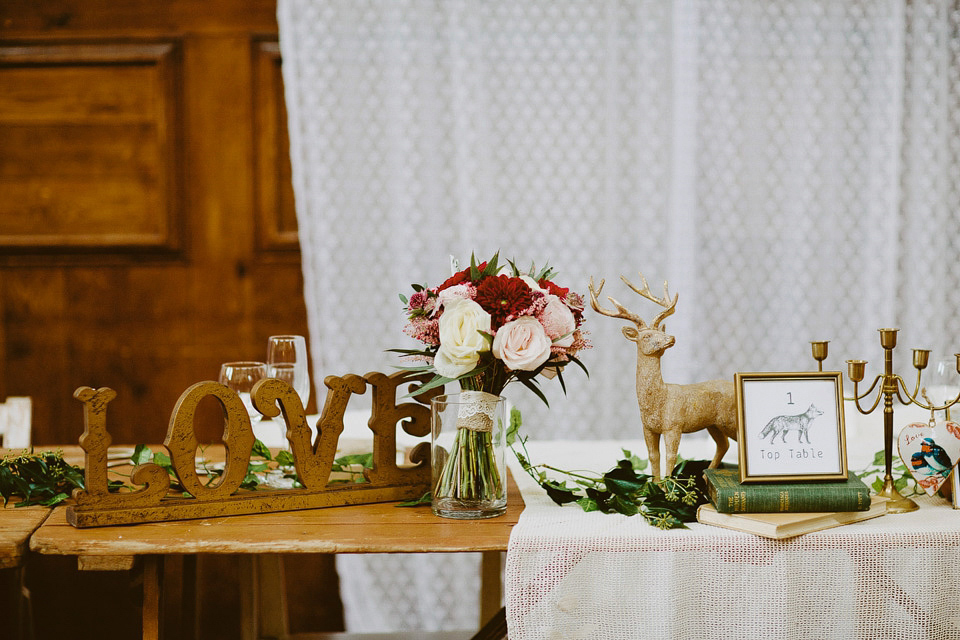 "Dressing the venue was the most difficult thing but I sourced all the lining fabric from recycled shops in Southampton. My mum made bowties for the pageboys and woodland hearts for the ladies.  Ben and his friends climbed ladders to hand all of the decorations. All of the foliage was sourced from the New Forest on our Sunday walks."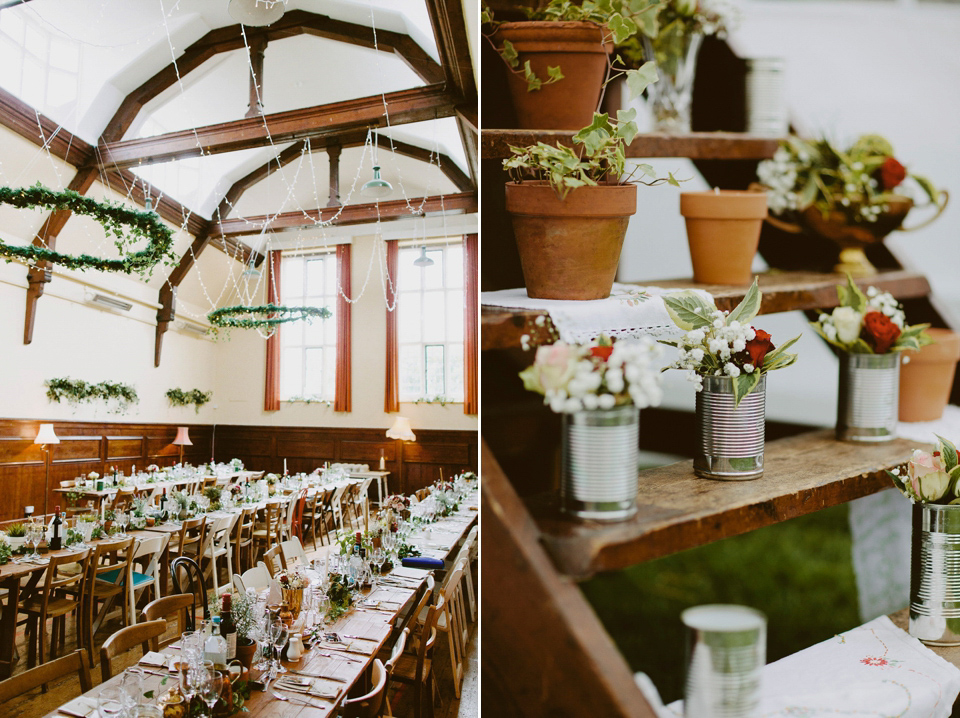 A collective effort and outpouring of love and assistance from your nearest and dearest makes for not only an extra special day, but also memorable planning moments. For more DIY inspiration, check out my recent, gloriously  homespun feature here (warning: its an emotional one).
"All of the paper stationery was made by us and the photocopier at school!"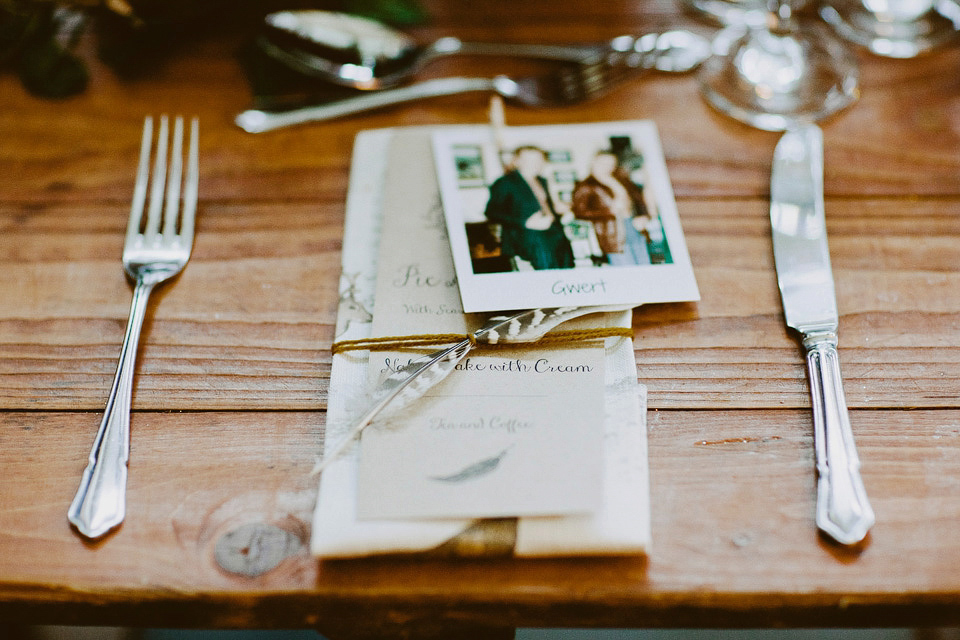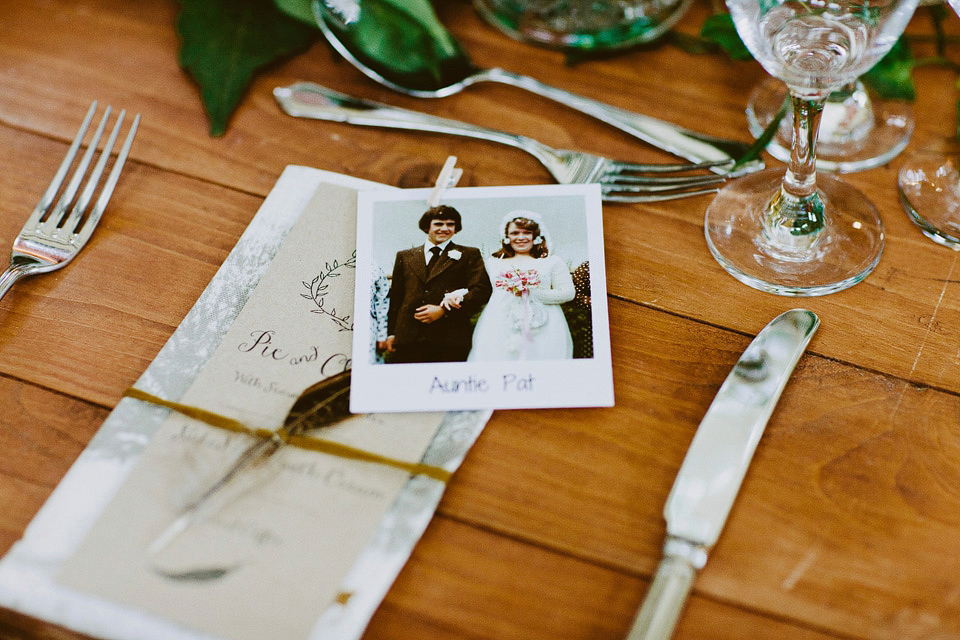 DTR Catering provided the feast and family friend Sue made an incredibly appetising naked sponge cake covered in winter berries for guests to tuck into. The Fidgets and Supercharged were hired from Band Hire UK to provide music to get drunk and dance to. Perfect.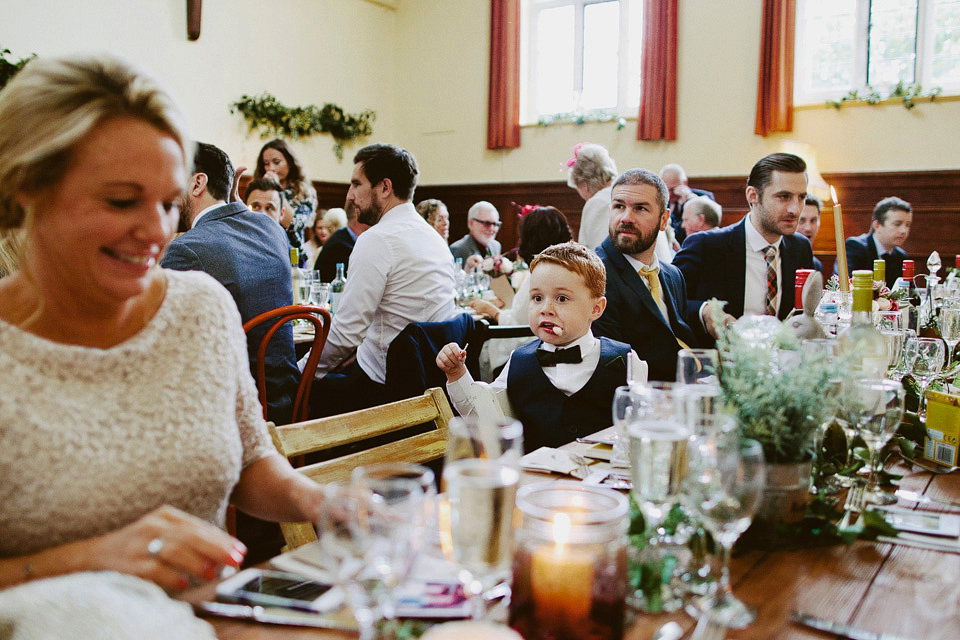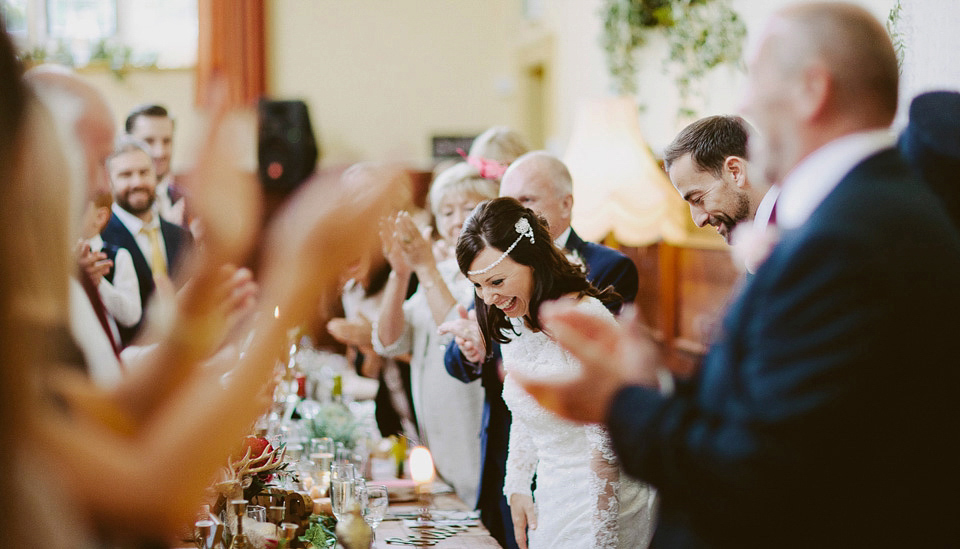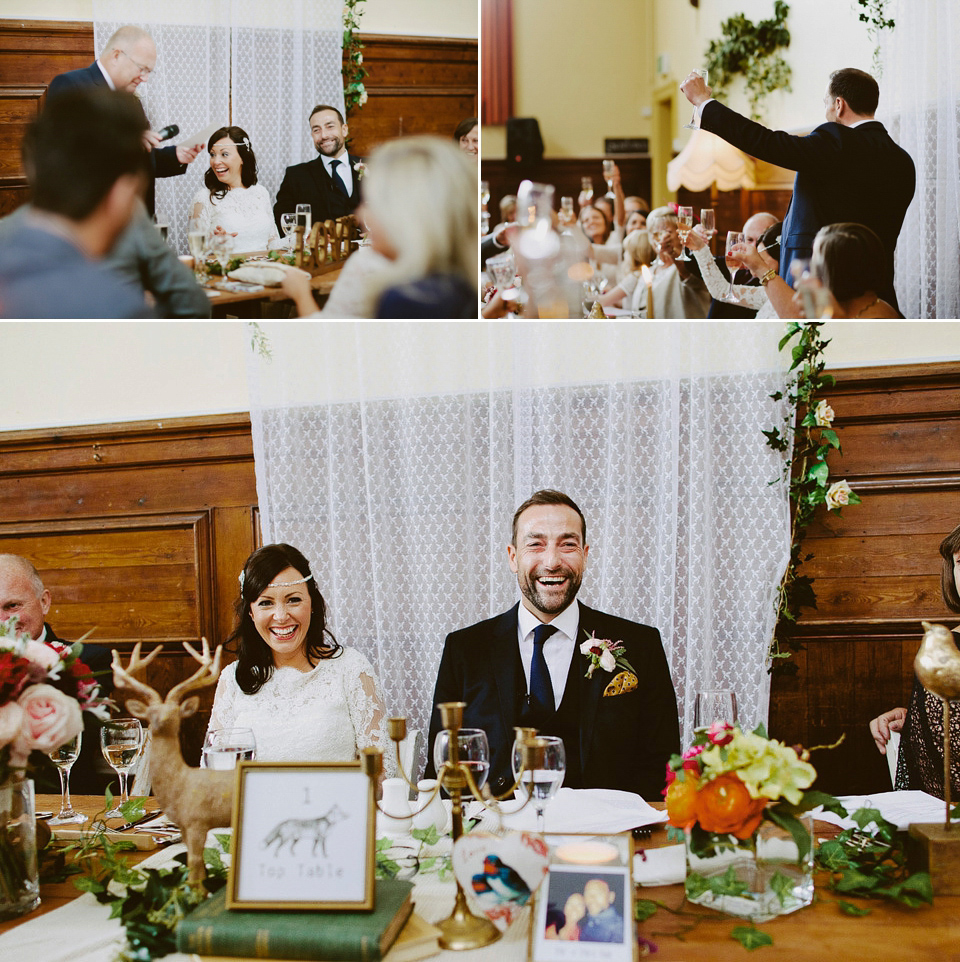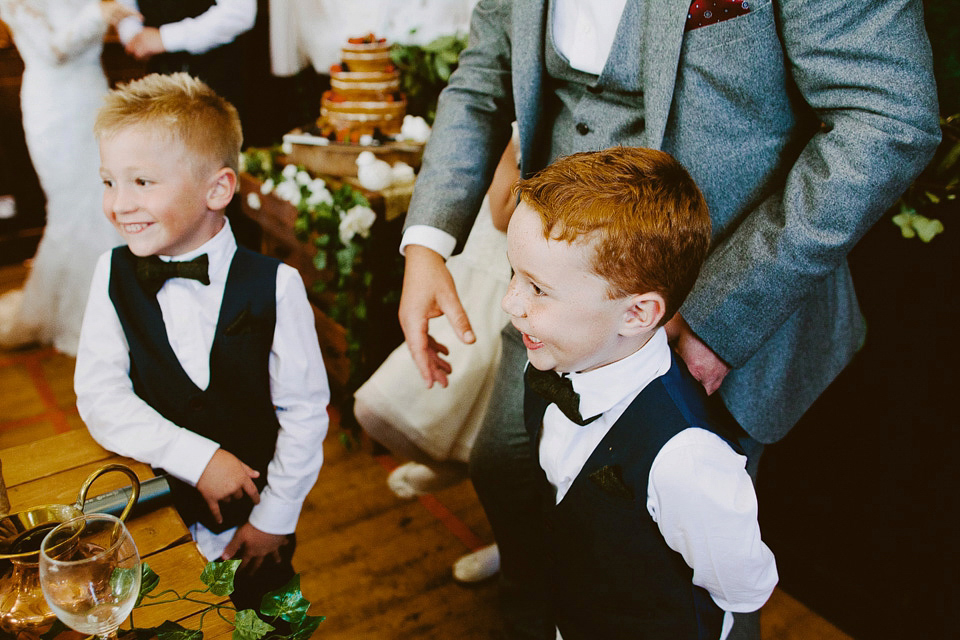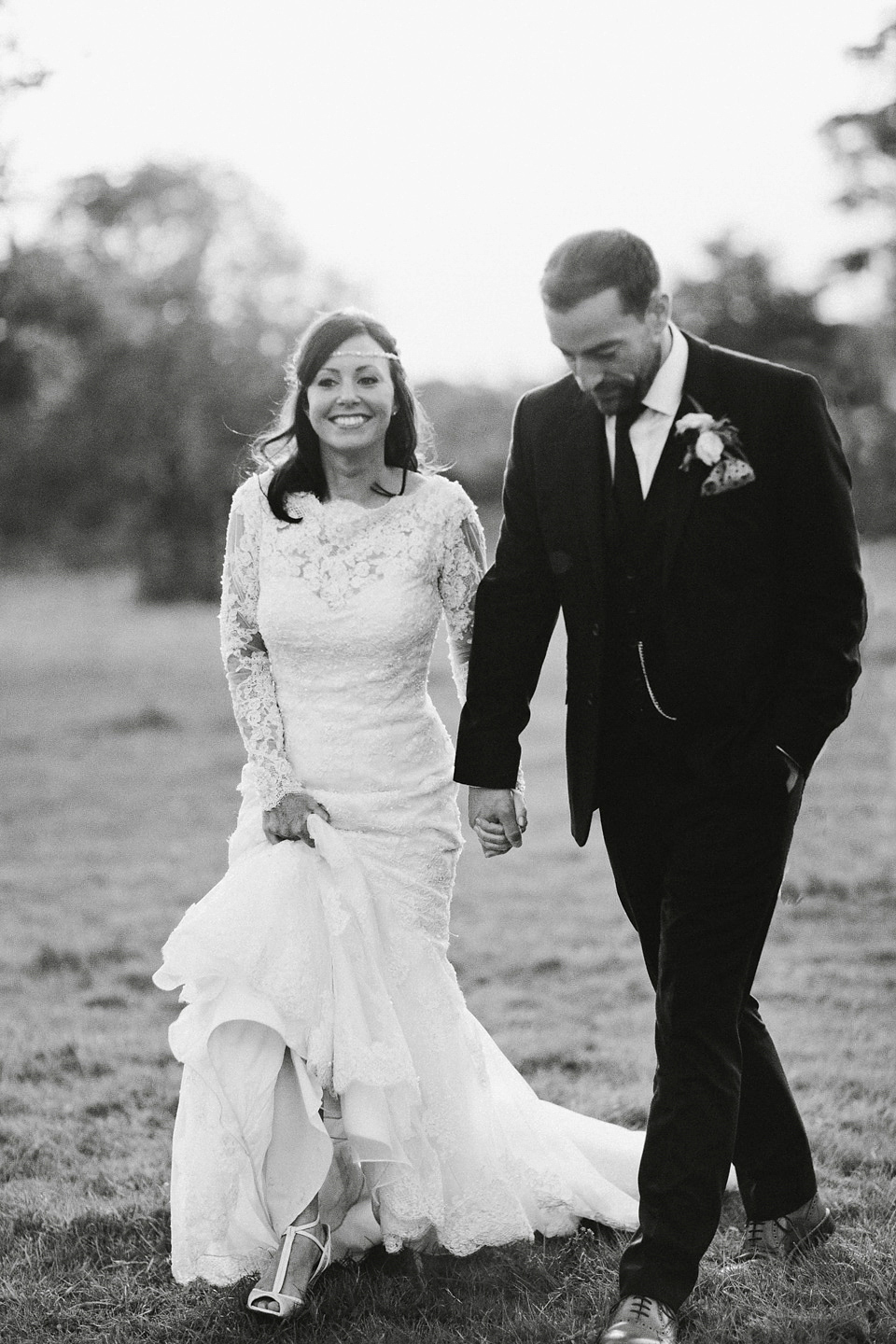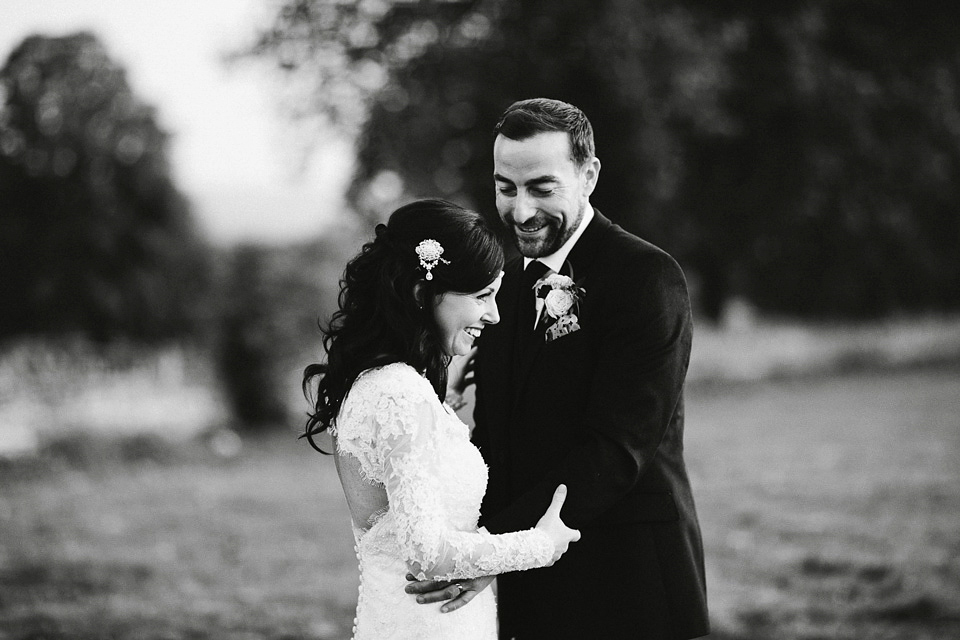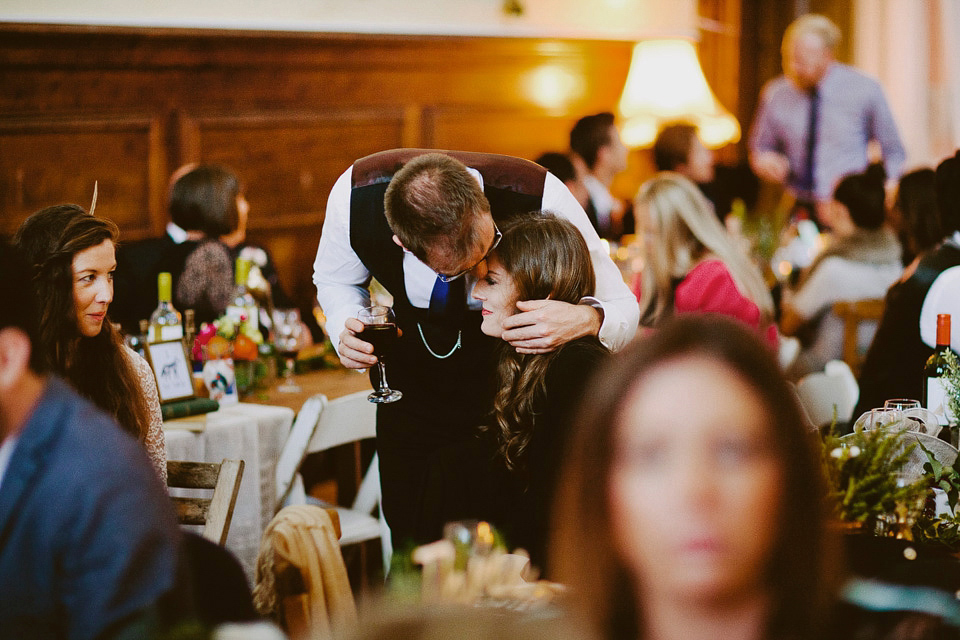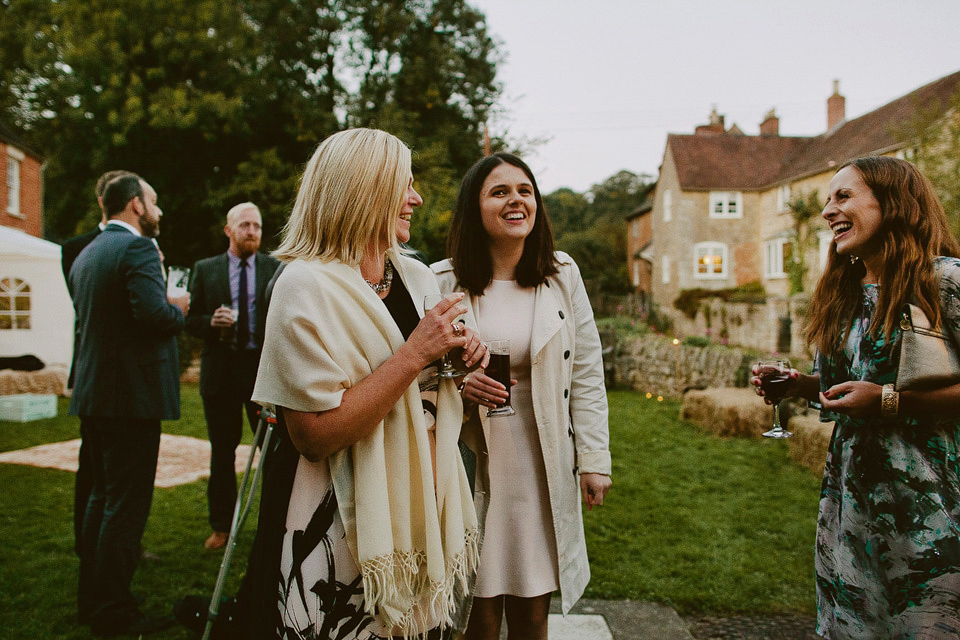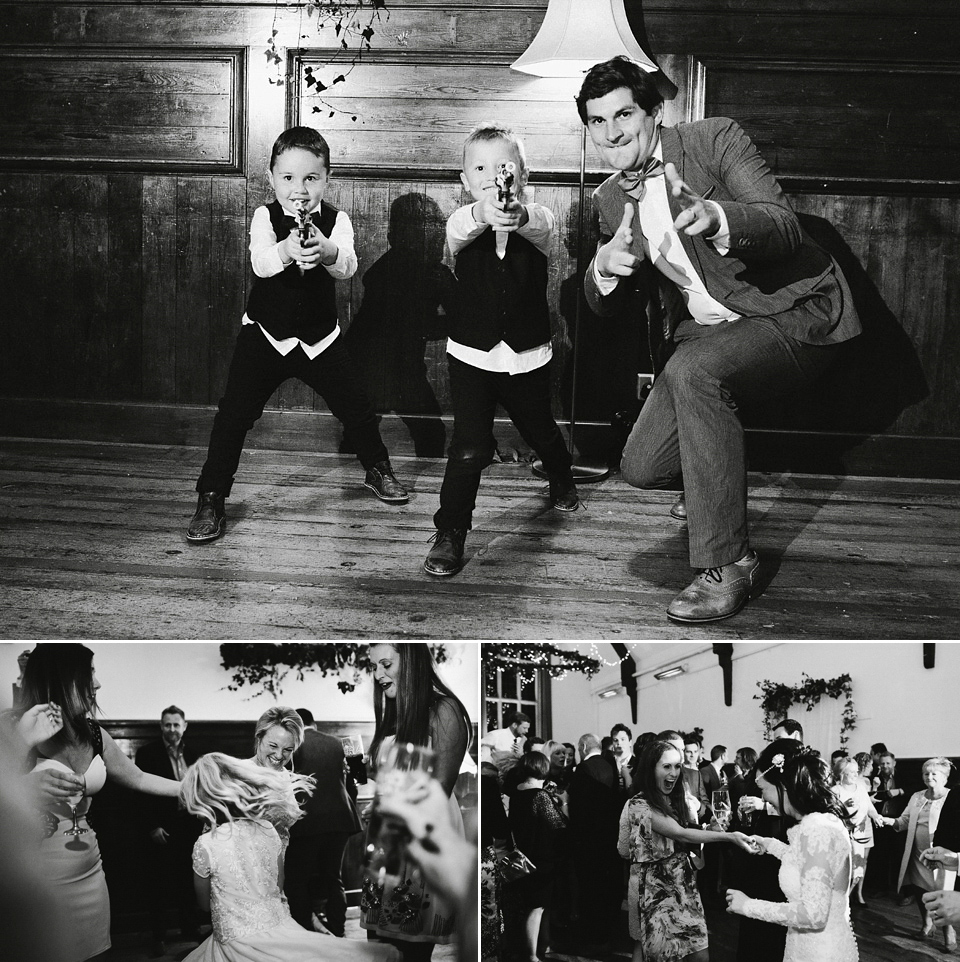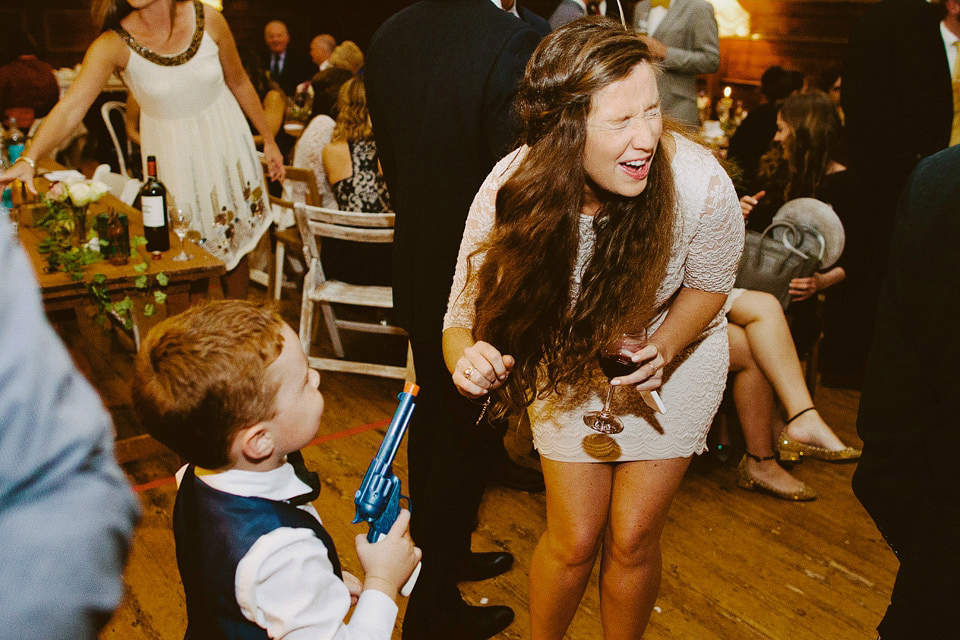 "Our first dance was to Edward Sharpe and the Magnetic Zero's 'Home'. We discovered this band and song at our first gig together and absolutely loved it."
Words of Wedded Wisdom
"Enjoy every minute of your day and planning. Smile throughout and remember it's about you both, so create something magical. You hopefully only get married once."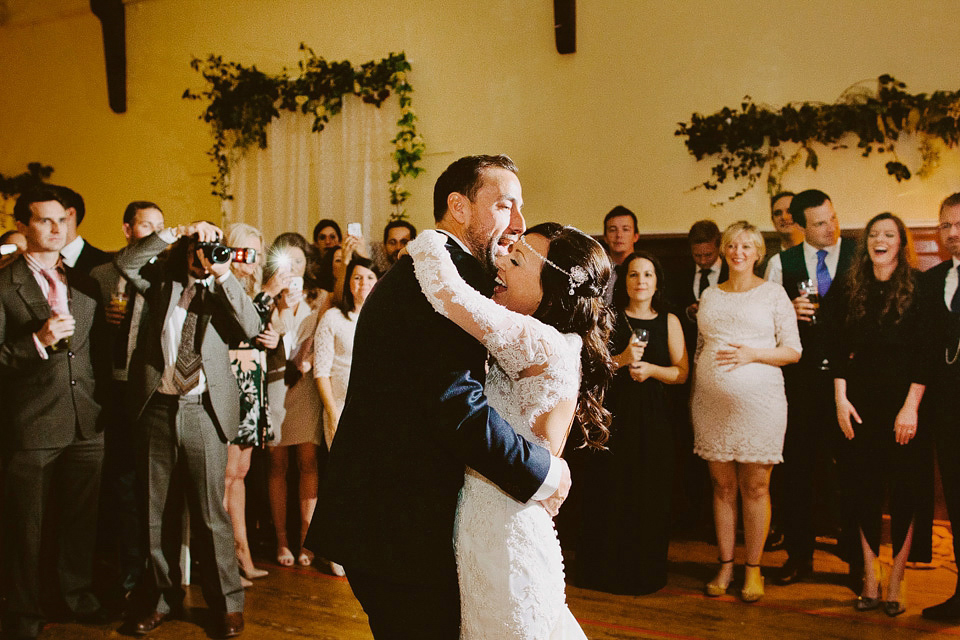 I think Claire succeeded in creating something magical don't you? I do adore the fact that getting hitched gives you the opportunity to create something magical for your loved ones whilst celebrating being a smitten kitten; its no wonder we're all obsessed! Thank you to the happy couple and lovely photographer David Jenkins for letting me share so many smile filled images with you lovely lot.
Love My Dress is totally to blame for the growing pile of craft supplies in our spare room (I've taken to calling it 'The Wedding Room' and don't think I can ever stop), our brides are just so creative! You'll all be pleased to hear my foray into Calligraphy went surprisingly well, if you feel the urge I highly recommend having a go (have a sneaky peek of how I got on here).
Happy hump day guys, its my first wedding of the year on Saturday and I'm SO excited to get stuck in.
Emily xxx
Photographer – David Jenkins Photography
Videographer – Mrs Mash Up
Venue – Overbury Church & Overbury Village Hall
Wedding Dress –  Ellis Bridals purchased at Brides of Southampton
Shoes – Charlotte Mills
Accessories – headpiece from Etsy, earrings from Debenhams
Fragrance – Narsico Rodruiguez
Groom – Ted Baker suit, Marks & Spencer tie and Oliver Sweeney Shoes.
Best Men/Groomsmen – Suits and ties from ASOS, pocket squares from Ebay
Bridesmaids -dresses from Wallis, bracelets from Accessorize
Flowergirl – dress from BHS, floral headpiece by Katie Mawson
Page Boys – Waistcoats and Chinos from Next, bow ties handmade by Bride's mum
Florist – Katie Mawson
Catering – DTR Catering
Stationery – made by Bride & Groom
Hair/Make Up – Brides friends Angelica and Donna
Band – The Fidgets and Supercharged hired from Band Hire UK