Hello, I hope you're enjoying the four day week and sitting comfortably with a cup of tea for this one. Iceland has long been on my list of must-visit places and this wedding reminds me exactly why. The landscape is bewitching and it's no wonder students Kristin and Eskil (Psychology and Physics), chose it to tie the knot on the 11th of July last year. Even in summer the weather is chilly but Kristin stayed cosy for their beautiful outdoor ceremony at Heradsskolinn in a hand knitted cardigan and her trusty denim jacket (a girl after my own heart).
There was a lot of emphasis on sharing the wonderful experience of getting married with those who had travelled with them from Norway and the couple made sure their guests got to enjoy the joys of Iceland too with trips to hot springs and horse riding in the beautiful countryside. It really sounds like the perfect wedding doesn't it?
We love it when brides and grooms are inspired by Love My Dress and Kristin found their fabulous photographers The Kitcheners right here. She read this romantic Scottish Elopement post and suddenly couldn't imagine anyone else but The Kitcheners taking her wedding photos. She tells us that it was like someone 'took the images from her imagination and posted them on the blog' and that was that. These portrait shots are sublime and capture the chemistry and closeness between this couple with that gorgeous atmospheric Icelandic backdrop in such a beautiful and sensitive way…
Photography by The Kitcheners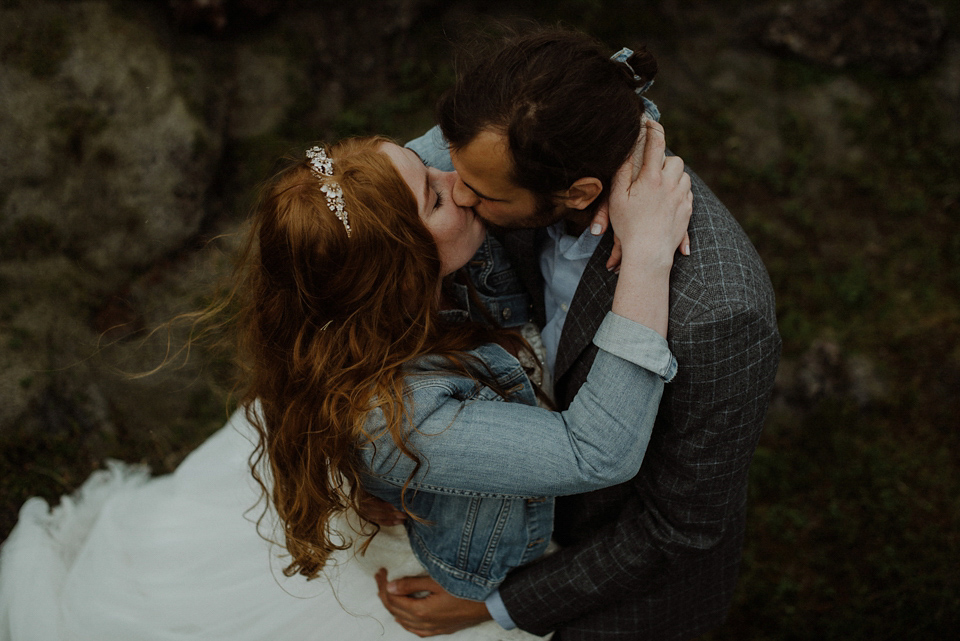 "We prioritised photography, and only spent 20 quid on flowers, we don't regret doing that. We bought heather in October, sprayed it with hair spray and hung it to dry in my granddad's garage. Our budget would not stretch to fancy flowers and amazing photography, so we went with amazing photography."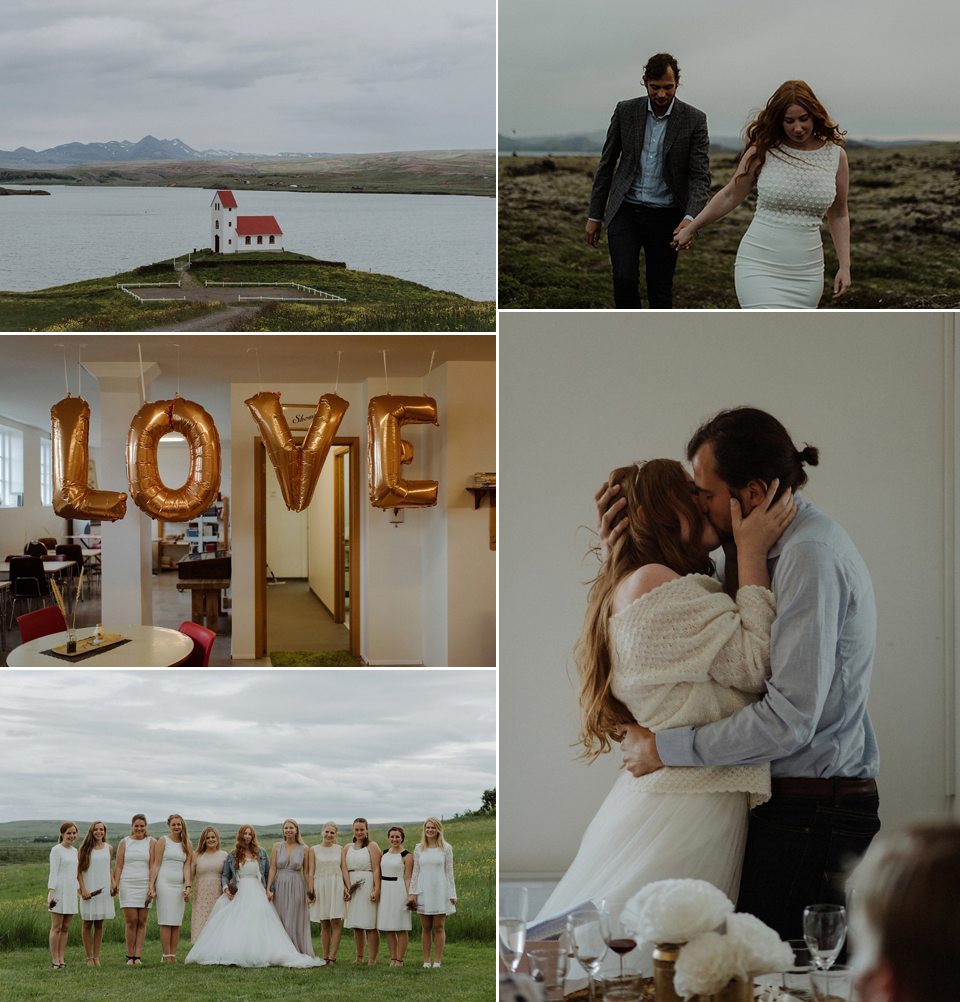 "Joanna and Dylan bring the unique Kitchener-mood into their photos, it's earthy, calm and adventurous, yet the photos are also bursting with honest emotion – smiles, laughter, tears, looks of love and other little things people do to express the truest of emotions. Working with them was such a joy – they were friendly, authentic and hard working. These guys go the extra mile and then some. We are so happy we chose them and beyond happy with our photos. Words cannot describe how much they mean to us and we will treasure our photos forever. We recommend The Kitcheners to everyone and anyone!"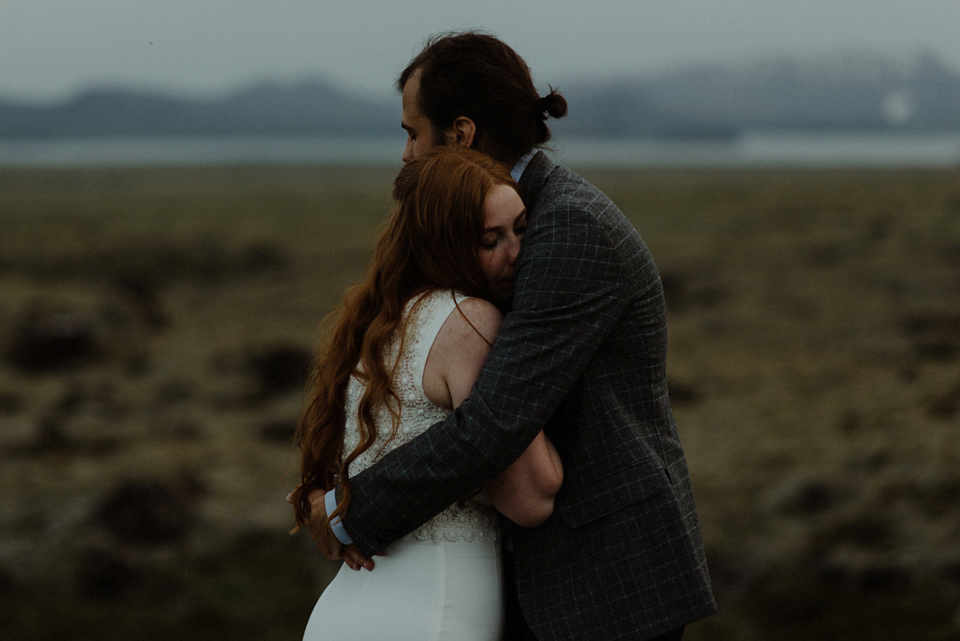 "We met during the first year of high school, I had just gone through a difficult break up that made me swear off men for a year. That is, until I saw Eskil. I knew I had to talk to this beautiful man. We exchanged our first words on a camping trip with the students council. By the camp fire, I started a conversation and both of us felt that unique connection. The rest, as they say, is history."
"We had reached that point where we had talked about getting married, and even set a date (secretly). A few weeks later, Eskil surprised me at home with flowers, candles and Adele's 'Make You Feel My Love' playing in the background. He said the loveliest words and got down on one knee with a square cut 'London Blue' Topaz ring. It was relaxed, non-fuzzy and just the two of us –  love in its purest form."
"We decided to get married in Iceland. Most of our guests were Norwegian and we wanted to take them on an adventure. We envisioned a charming and characterful hotel surrounded by the romantic Icelandic nature. Heradsskolinn proved to be the perfect place, located at Laugarvatn, about an hour from Reykjavik. Its an old boarding school, now turned into a spacious, yet quaint and cozy hostel. Sverrir and Sveinn run the place with their heart and soul, and every time we visited we were greeted as old friends. The staff were so accommodating during the preparations and on the day itself."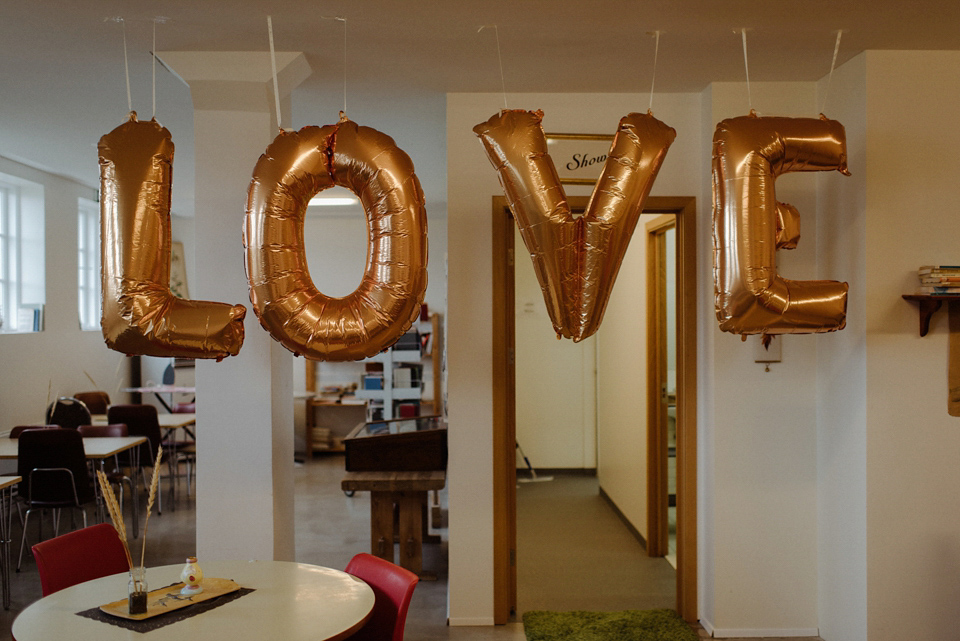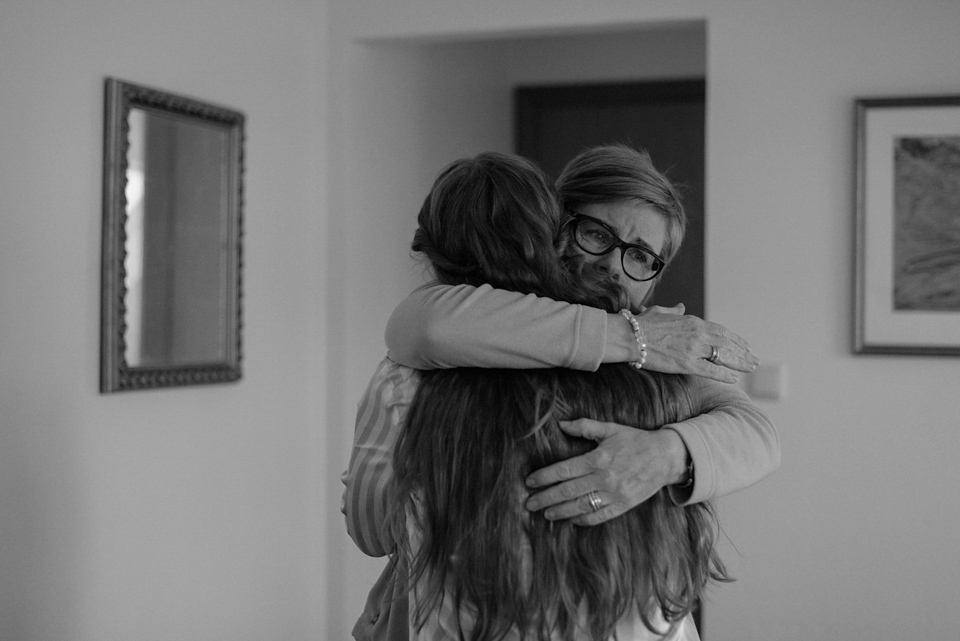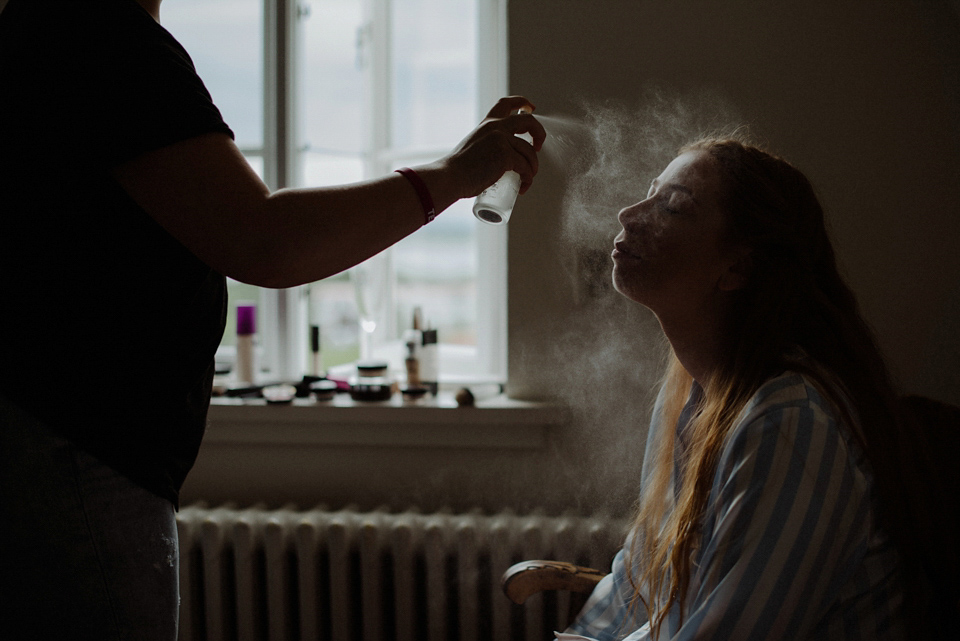 As Kristin was getting ready Eskil had a lovely surprise for his bride…
"Eskil walked through the door with a guitar. As far as I knew, he couldn't play it but he had secretly been learning 'Make You Feel My Love' on the guitar as a gift to me. It took him the best part of a year. I was so moved – it touched my heart so deeply, that he would learn to play our song for our wedding day."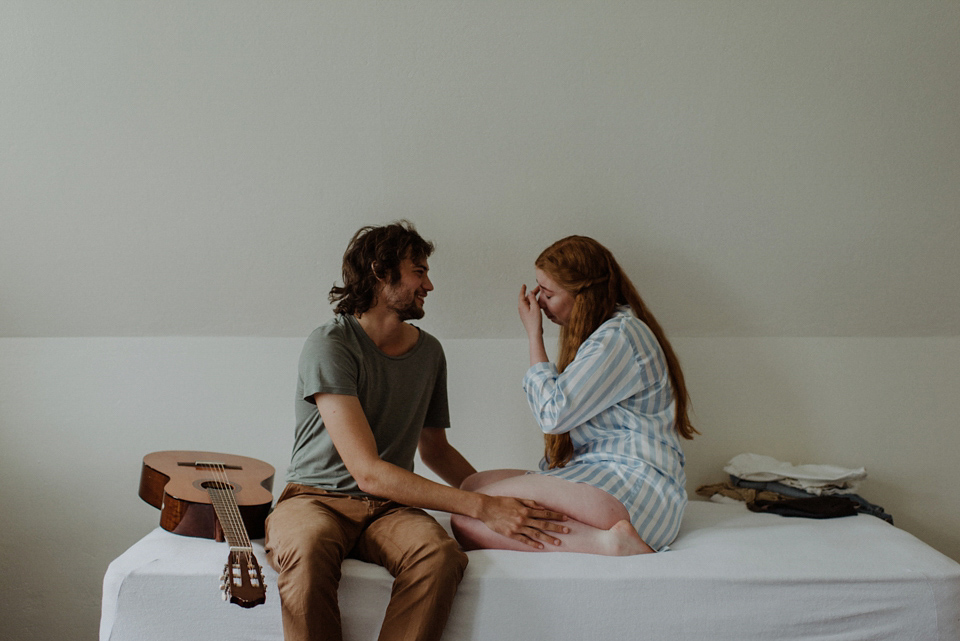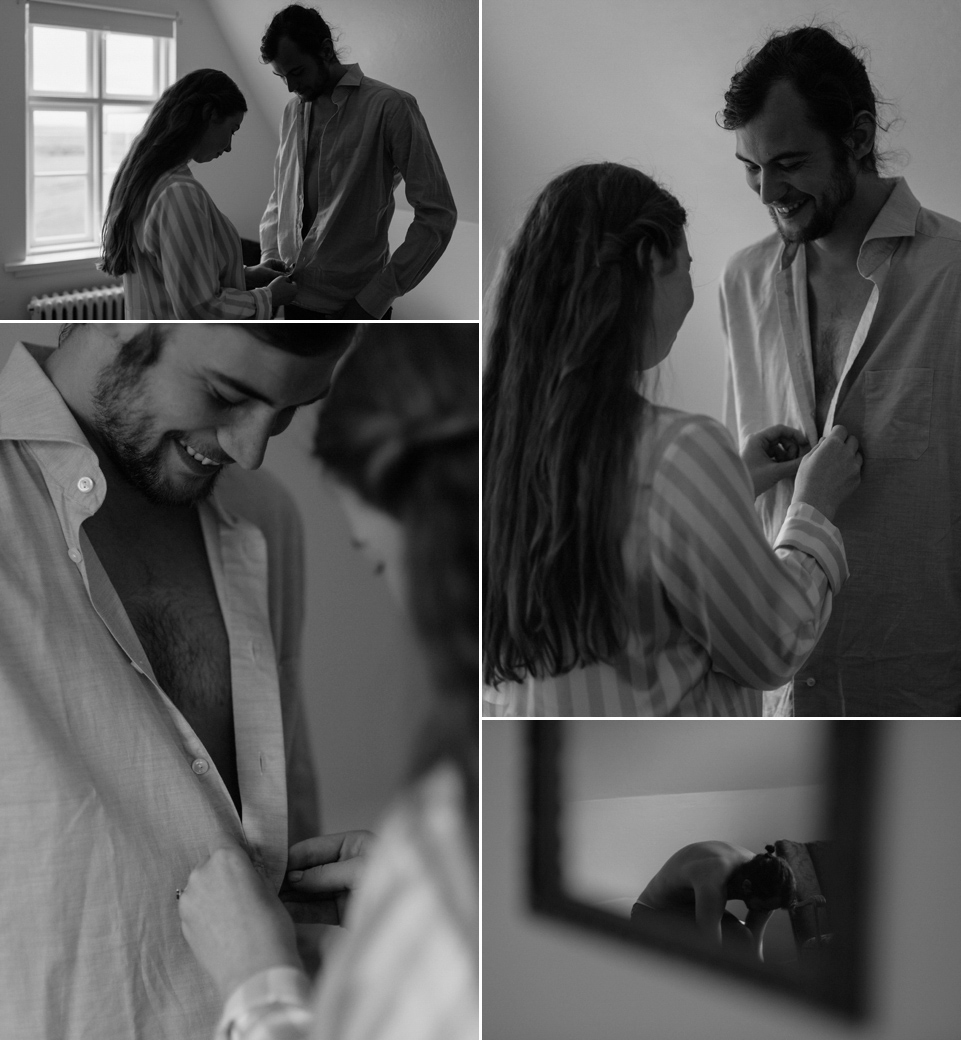 Kristin wore her mother's gold earrings and a veil borrowed from a friend with a Twigs and Honey headpiece. Going for both comfort and style, she wore Topshop ballerinas with both of her dresses. Her lovely husband did get her a pair of Manolo Blahniks as a wedding gift though so spent her honeymoon trotting around in sophistication. She explains her gorgeous and totally unique wedding dress choices to perfection…
"The first dress was a big romantic thing from San Patrick bought on sale in Oslo. I loved how it was quite simple but still romantic and ethereal. My father in-law told me I looked like an Icelandic saga princess and an Irish elf queen, compliments I'll gladly take! I combined this with a cardigan knitted by a family friend, and my trusty old denim jacket from H&M."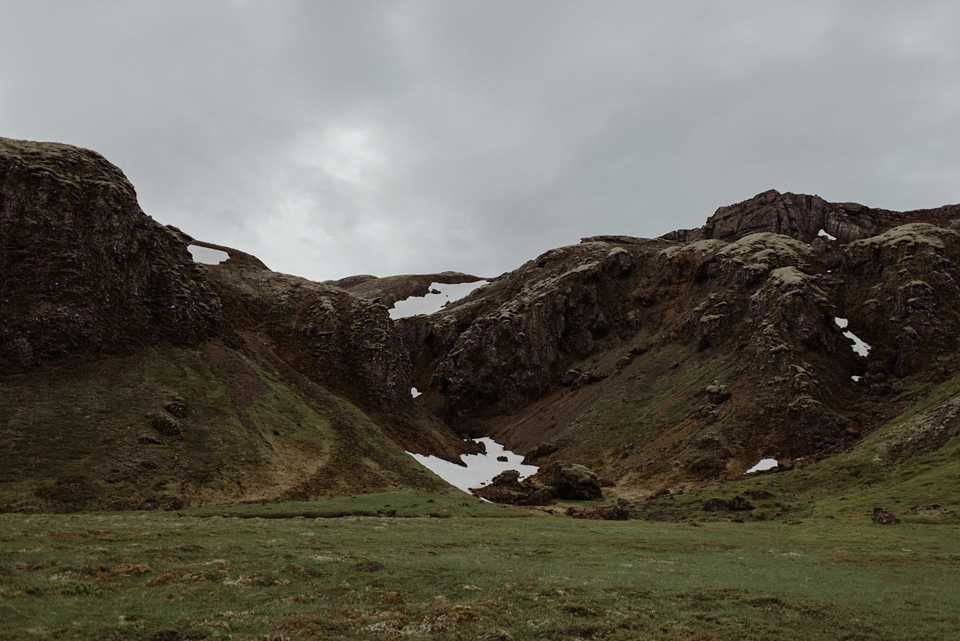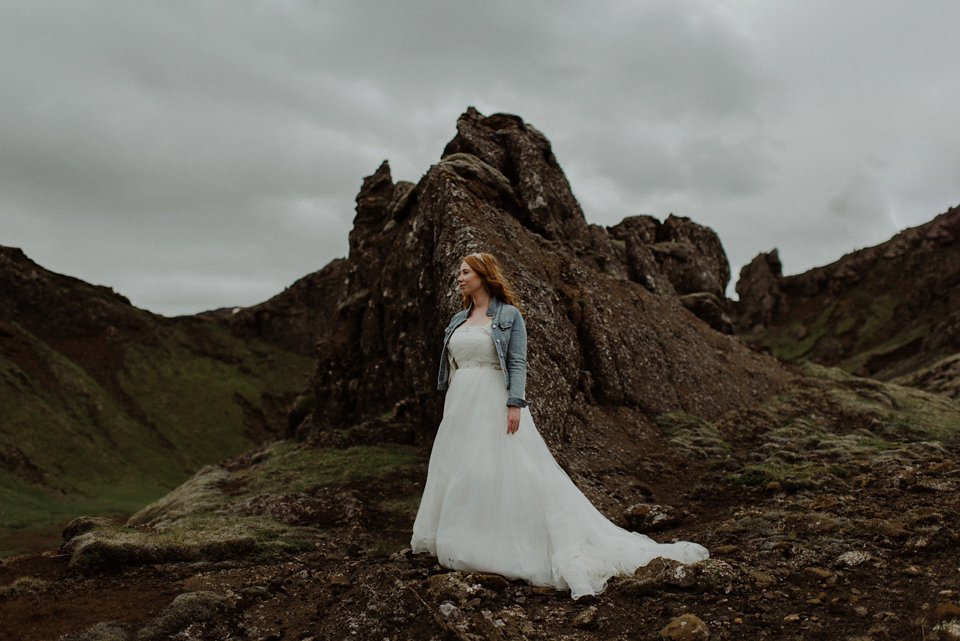 "The Icelandic weather is harsh, even in July, I also wanted to do something different. I loved breaking standardised wedding rules. I wanted to feel like me – romantic, ethereal, wild and a big hint of rebel. I also wore a little sexy dance-friendly number bought in a quirky little shop in Greece two years before the wedding. I knew I couldn't party or dance the way I wanted to in my big dress, and I also wanted to show off my curves."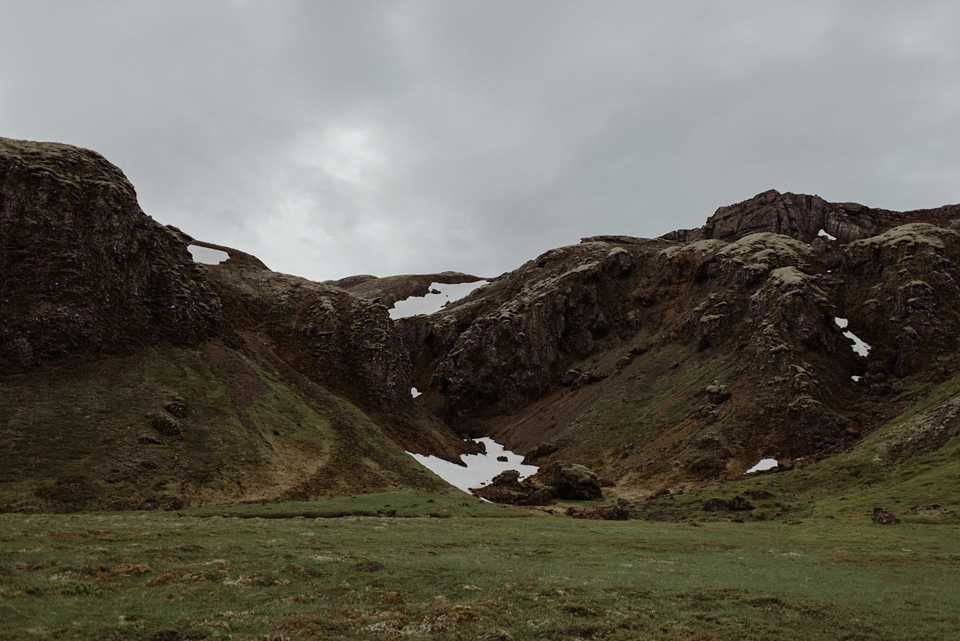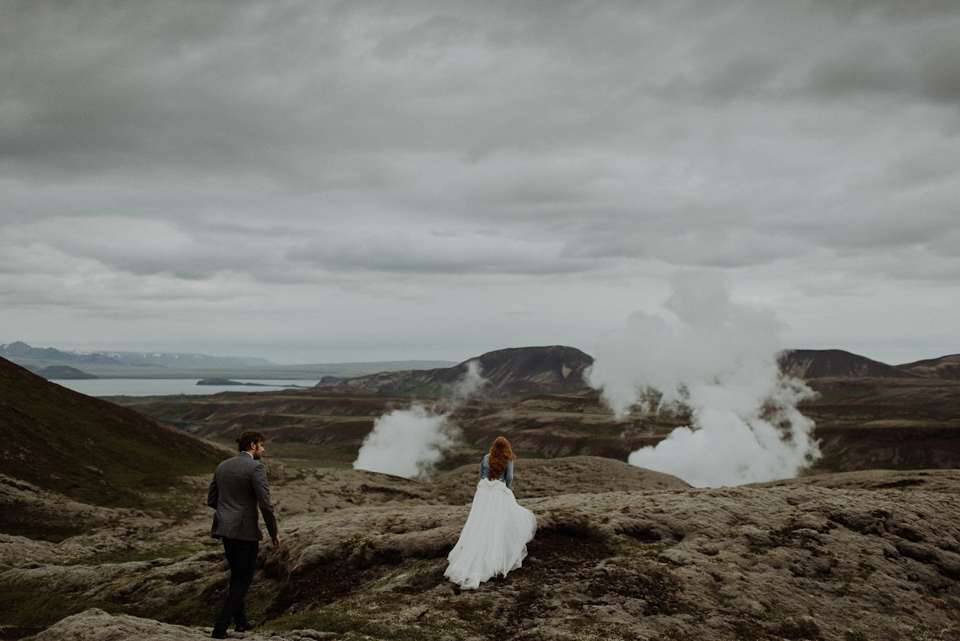 Not to be outdone in the style stakes, Eskil combined a woollen jacket with jeans made by Livid Jeans, a small Norwegian manufacturer. His handmade leather shoes were found in a tiny shop on holiday in Milan.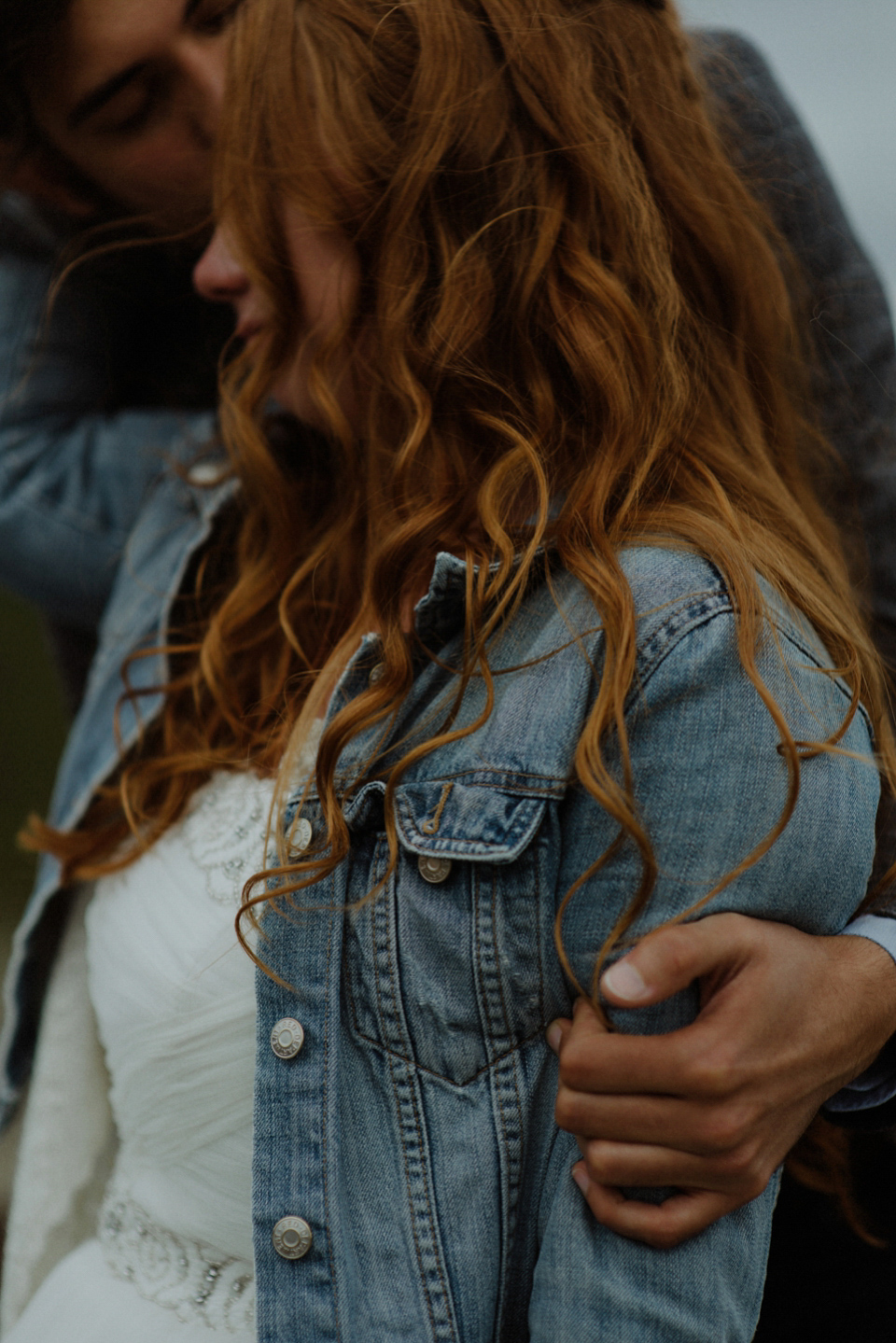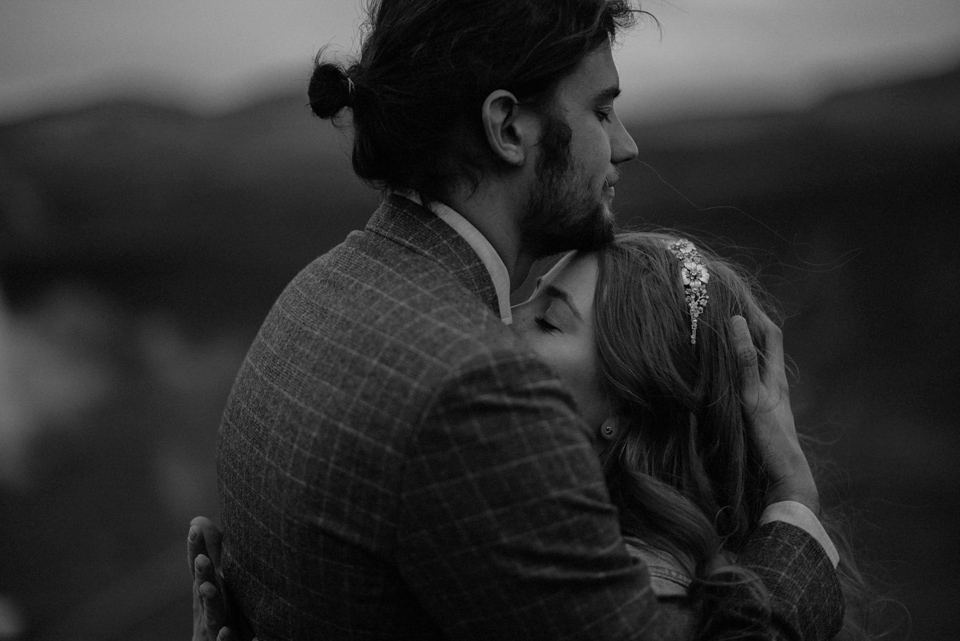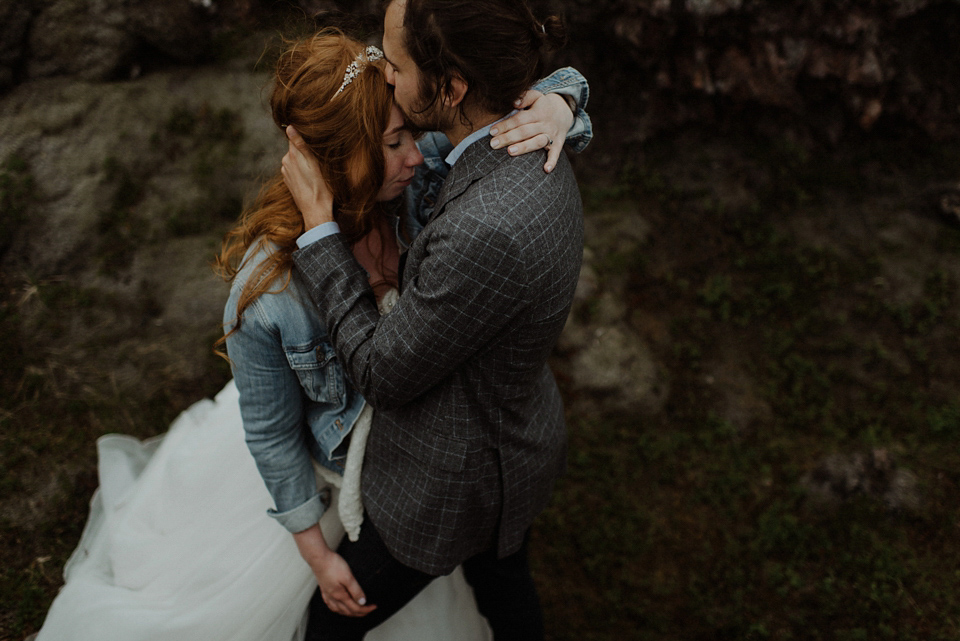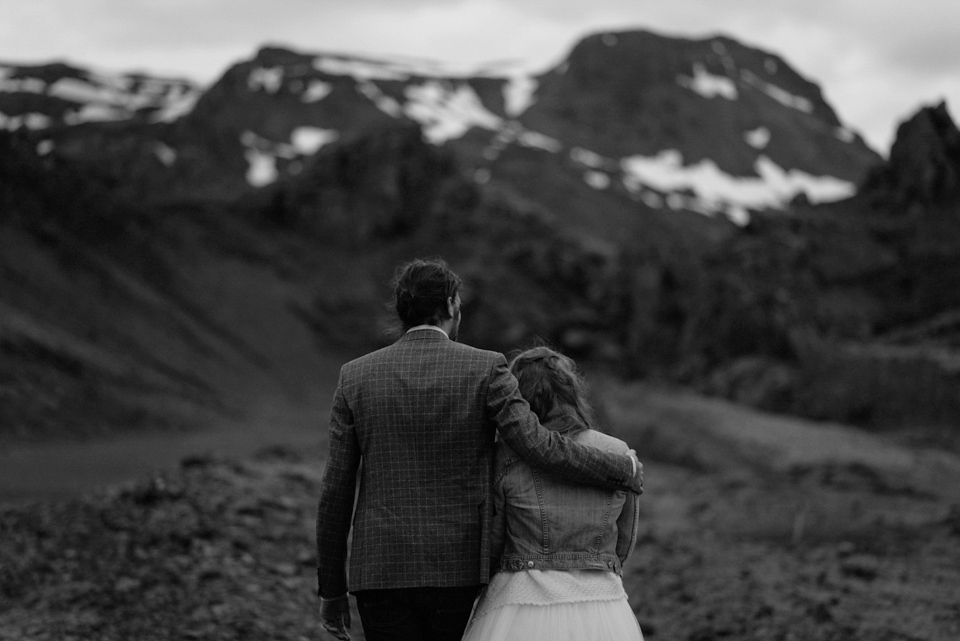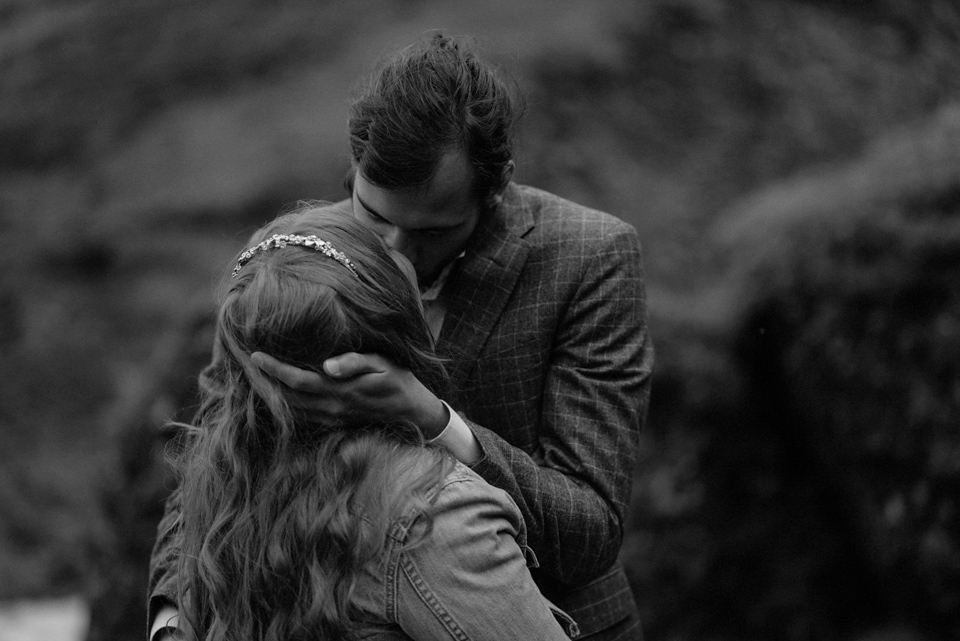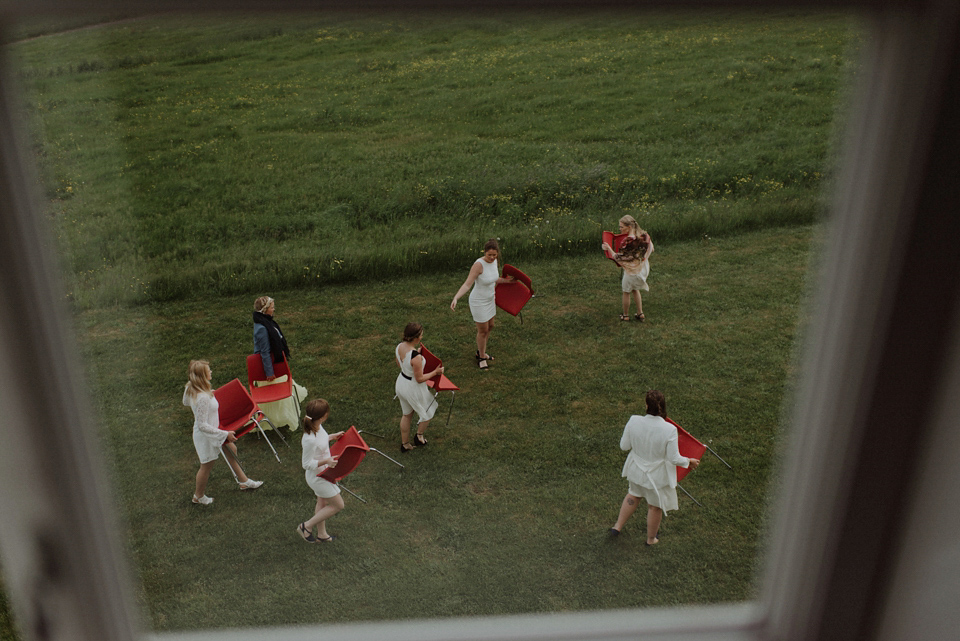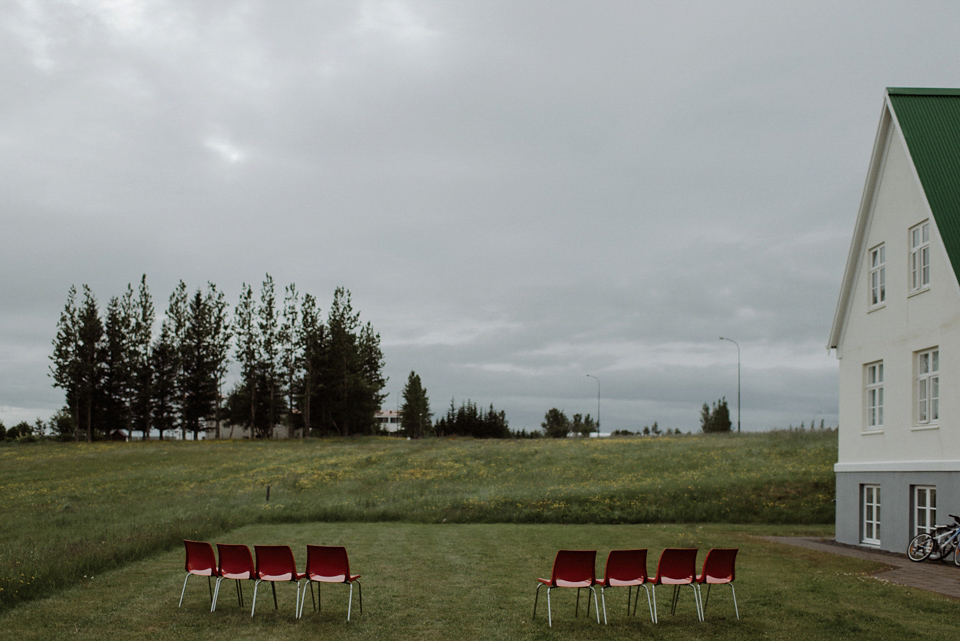 "We thought perhaps they were most active during the evening and decided to assess it in the morning when we moved the ceremony to the lawn by the building instead. Turns out, there were flies there too. I remember walking down the aisle, scanning the air and trying to decide whether the guests were bothered or not."
"I asked my bridesmaids to choose a knee length white dress. I wanted them to feel special and trusted them to choose something to reflect their own style. I love them for who they are and loved to see their personalities in their choice of dress. It was a lucky coincidence they matched so well!"
Kristin walked down the aisle with her father to 'Amsterdam' by Gregory Allan Isakov.
"I felt a bit weird about being 'given' from one man to another. I had a talk with my dad about this and he said that walking down the aisle with me would, for him, rather be a token of our good relationship and his support in my decision to marry Eskil, rather than giving me away."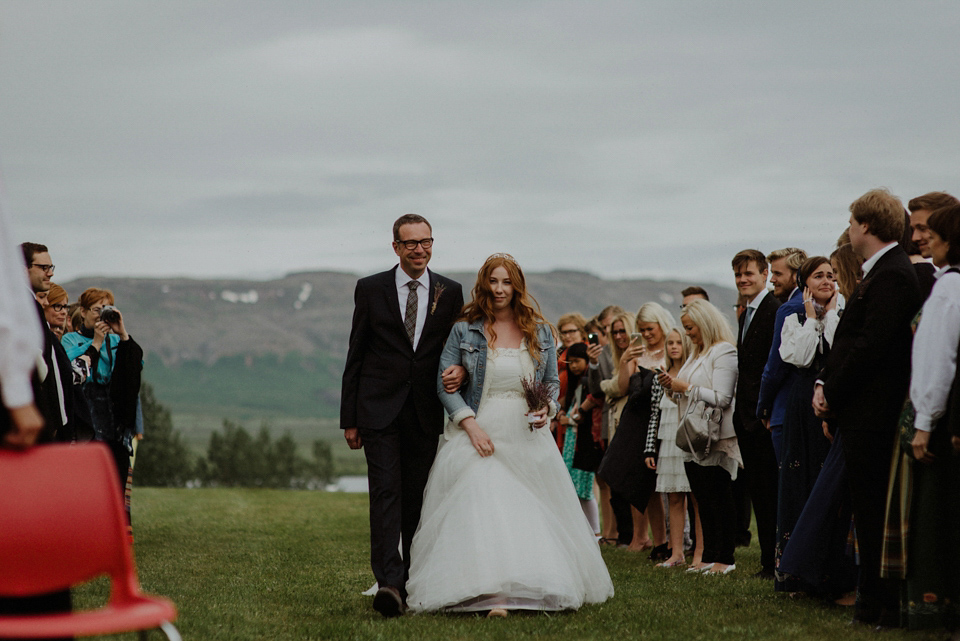 "I posted a small message on our website a few weeks before the wedding, and asked the guests not to use their phones or cameras when I walked down the aisle. 'I want to see your faces – with smiles, tears and everything' I explained."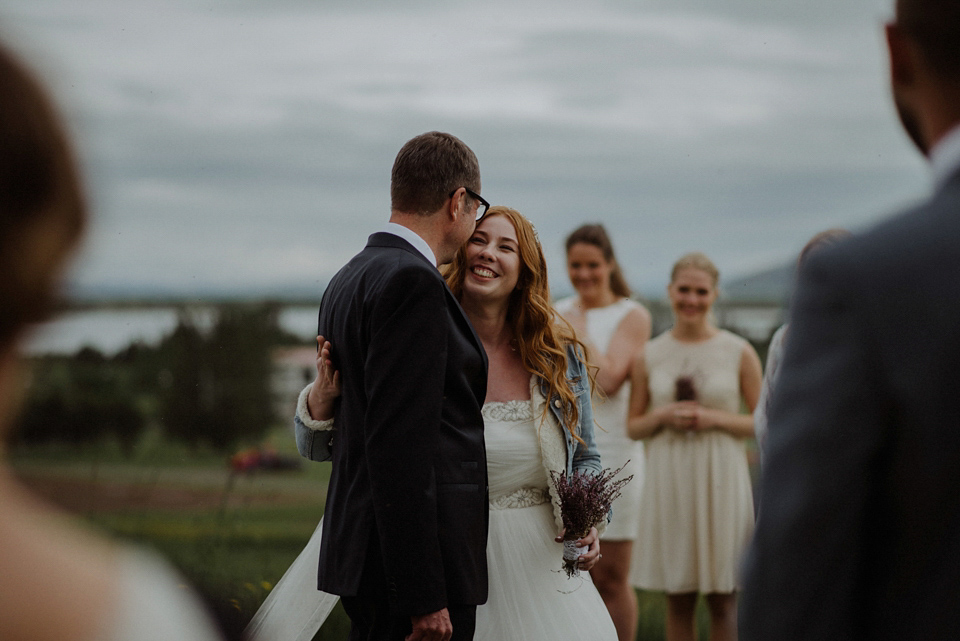 "While one of our bridesmaids sang 'Make You Feel My Love', we asked our guests to fill our rings with love and support. This is called a ring warming, and it made sense for us to ask everyone there to support us in such a symbolic way."
The couple chose 'Home (Is Wherever I'm with You)' by Edward Sharp and the Magnetic Zeros as their recessional song and as a gift Kristin had sewn a heart with those exact words on the inside of Eskil's jacket. How sweet!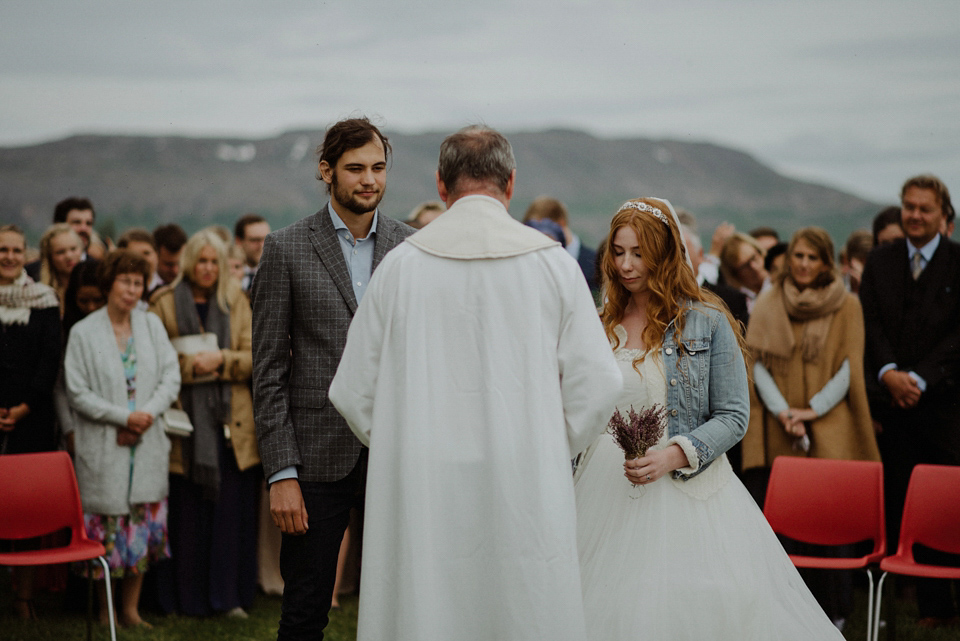 "It was very important to us to be wed outside surrounded by the Icelandic fields and mountains. We had chosen a spot a few minutes walk from the hostel building but at the rehearsal the place was full of flies buzzing in people's eyes, ears and everything. 
When the priest started talking I was still worrying but little more than half way through I managed to pull myself together and focus on what was actually happening. Not enjoying the ceremony is my biggest regret because it was so beautiful and perfect – regardless of the flies. Our priest had married my parents 30 years before, and spoke both Norwegian and Icelandic during the ceremony. It was a beautiful moment, but sadly, not my favourite."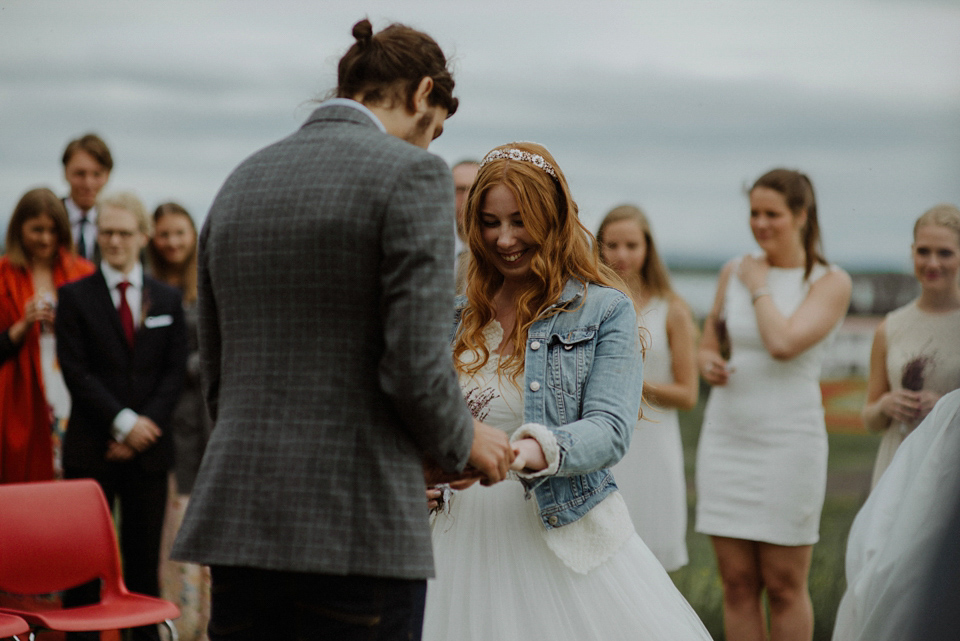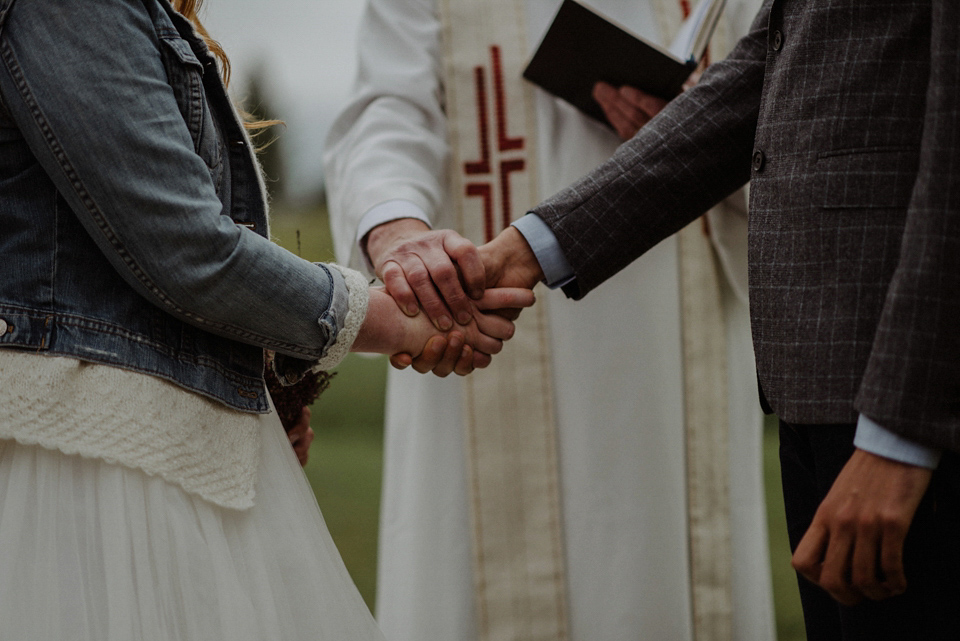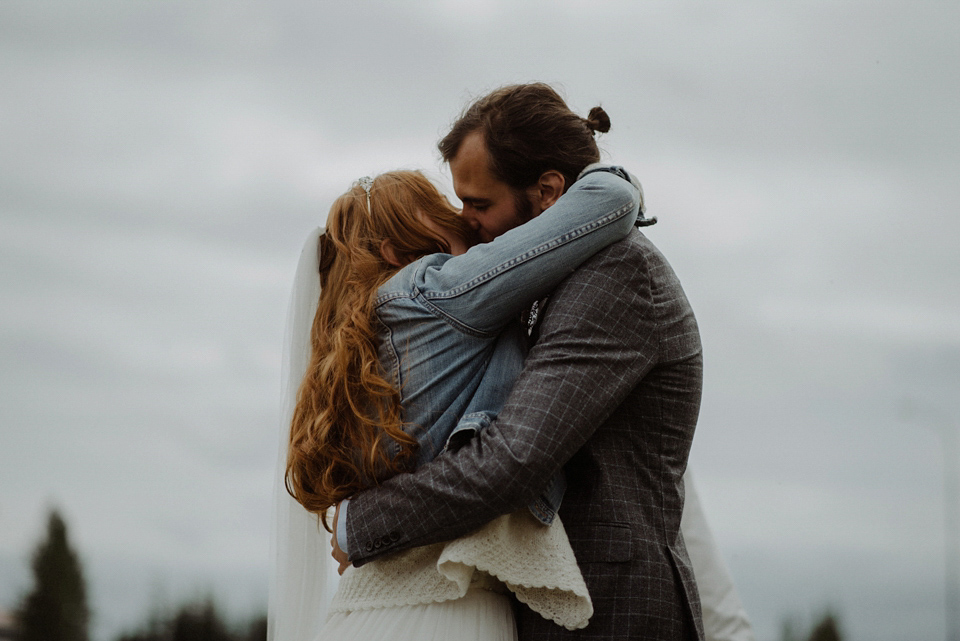 "After the ceremony we did a receiving line. Hugging your friends and family minutes after you are declared man and wife is a very beautiful thing. The images are favourites of ours – they are filled to the brim with love and joy."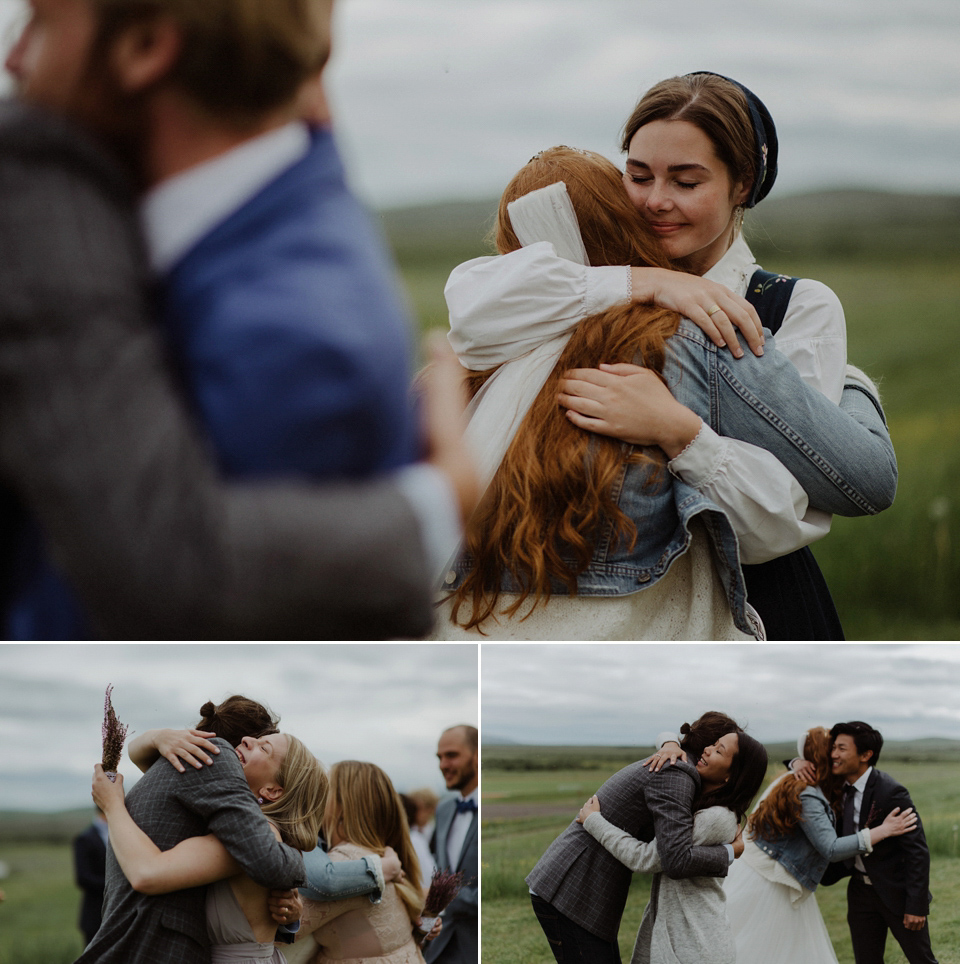 The newlyweds and their guests started their dinner with a shot of Icelandic 'Brennivin' liqueur, and served traditional Icelandic lamb and cakes made by friends and family, buffet style for a relaxed atmosphere. They also left a personal hand written note as place cards for each guest thanking them for coming to the wedding.
"We used Iceland and Heradsskolinn as sources of inspiration. We got old Indian saris on eBay (A tip from LMD, thank you!) and used them as tablecloths. We combined this with gold-sprayed tin cans with hand made paper flowers, donated from a friend's wedding. Heradsskolinn is already quite nicely decorated, and we knew it would look even better filled with all our loved ones in their pretty outfits, so we didn't stress about the decor all that much."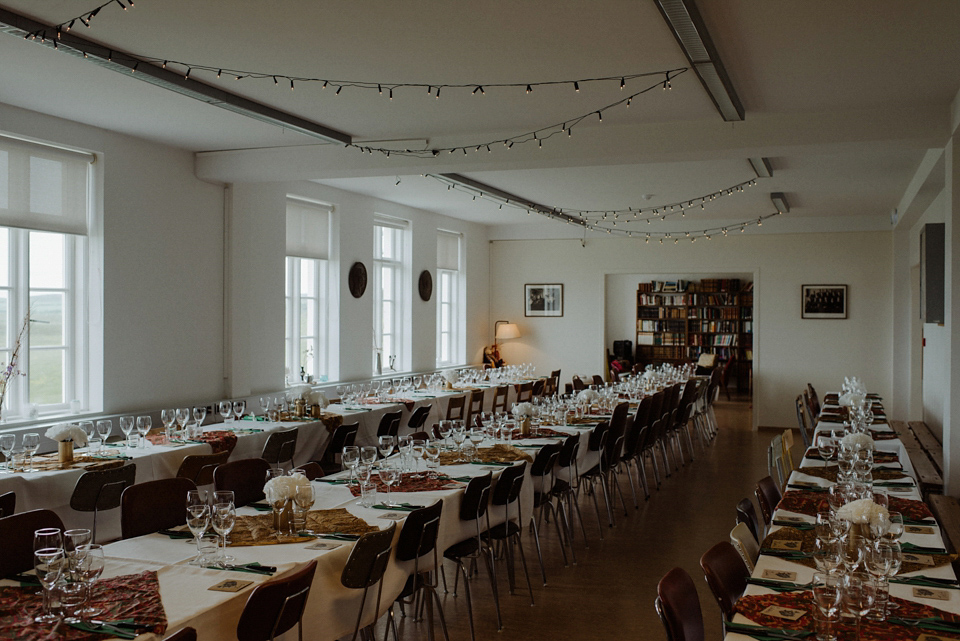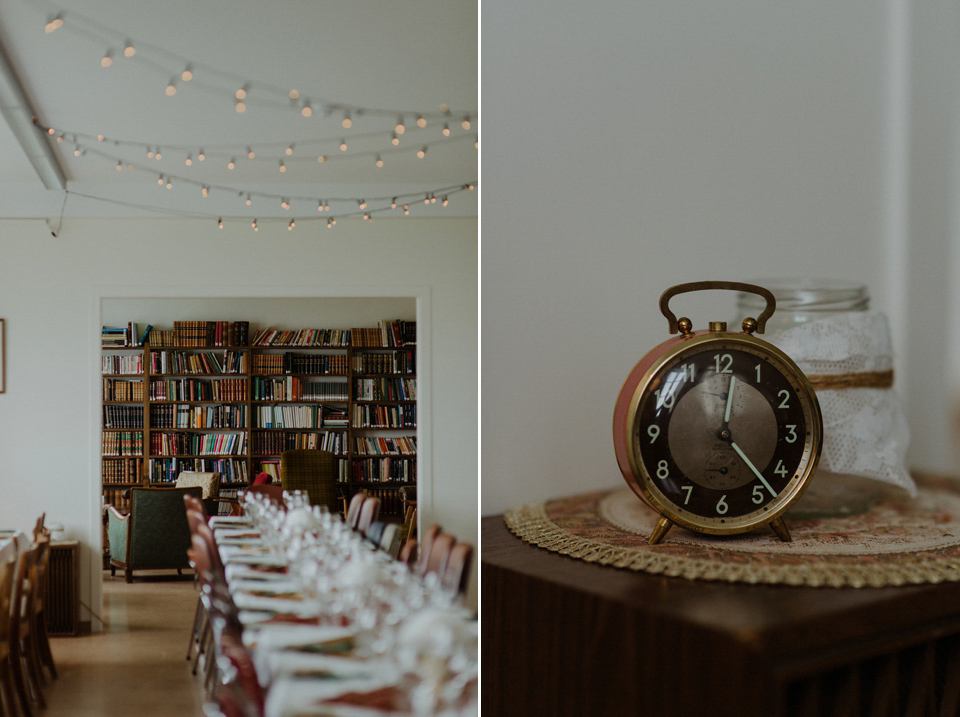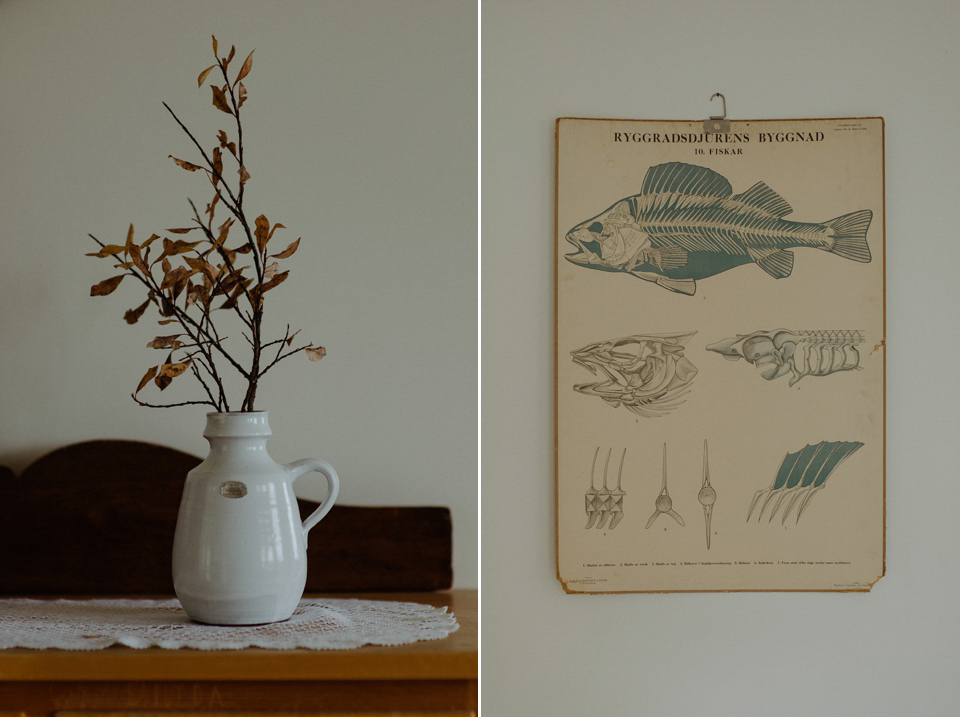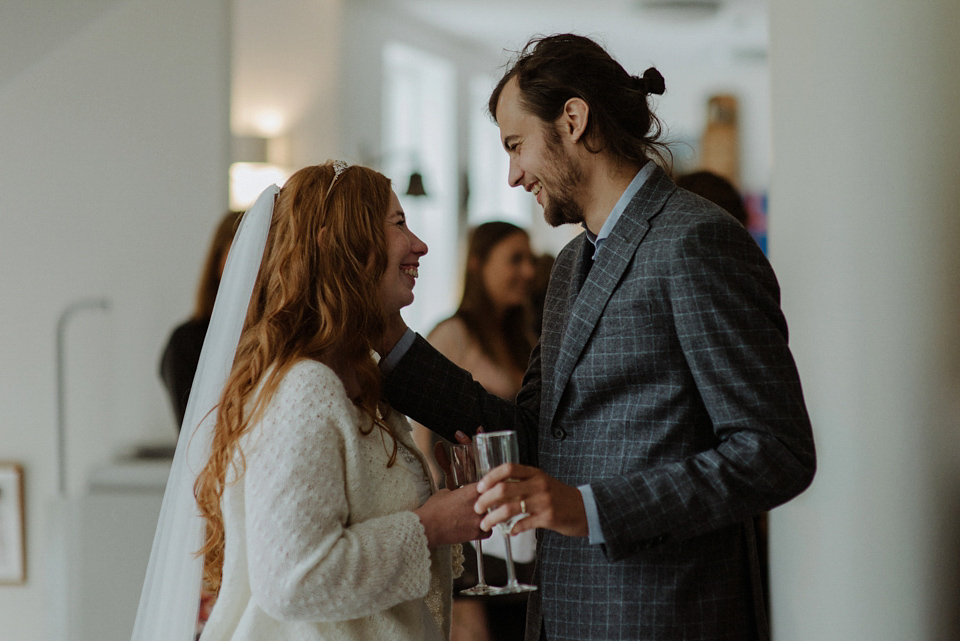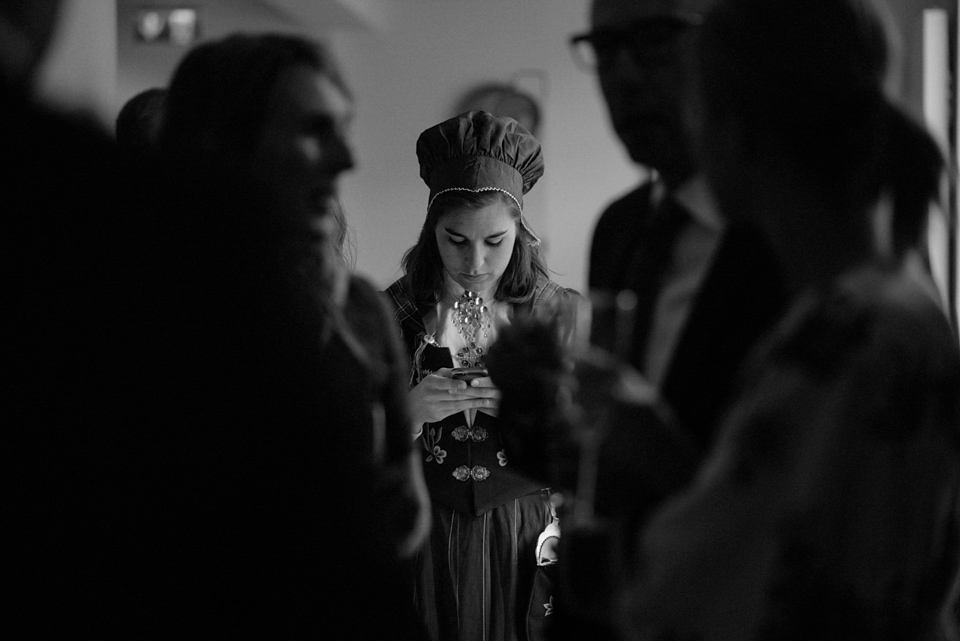 Kristin and Eskil designed the invitations with their friend Nora Husby. She drafted a suggestion of the contours of Iceland which inspired the rest of the planning. I also love their idea to help their guests to get to know one another before the wedding through their wedding website.
"We cannot recommend Nora enough, she will bring your dreams to life. We also used a wedding website where we presented all of our guests, how we got to know them, funny stories and what we loved about them. It was a personal thing between us and the guests, but also allowed our guests to get familiar with one another."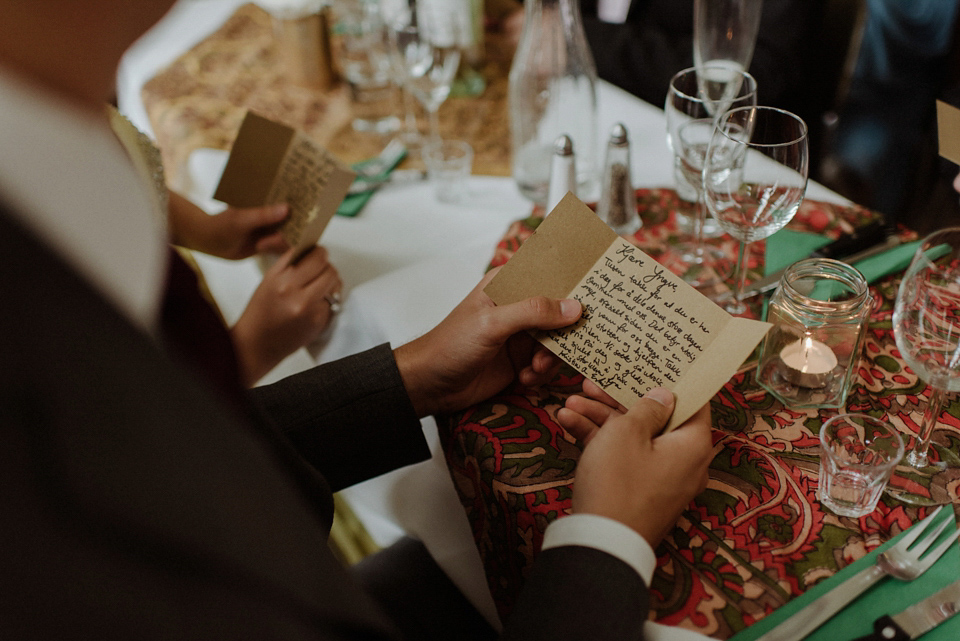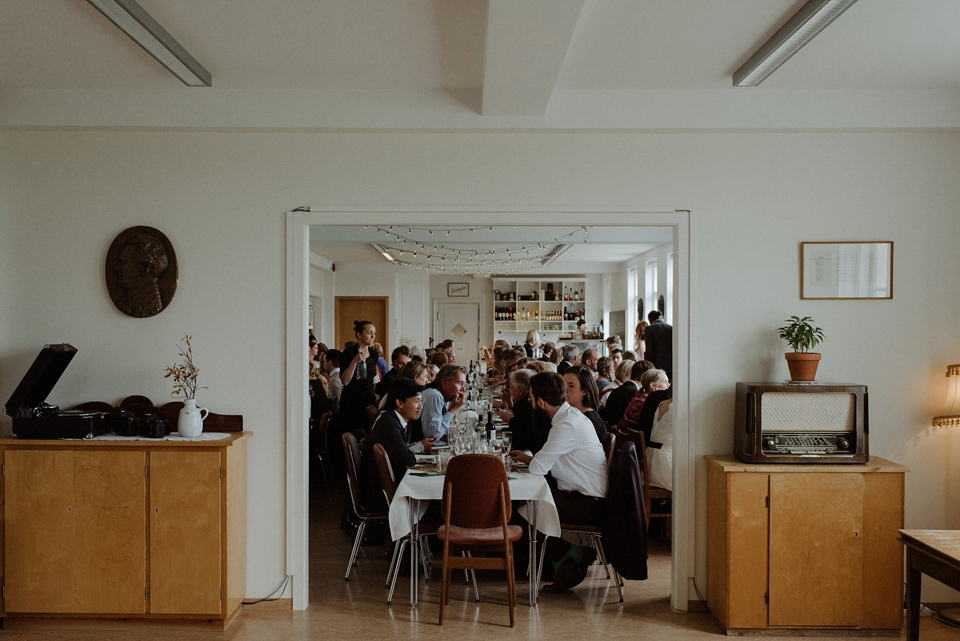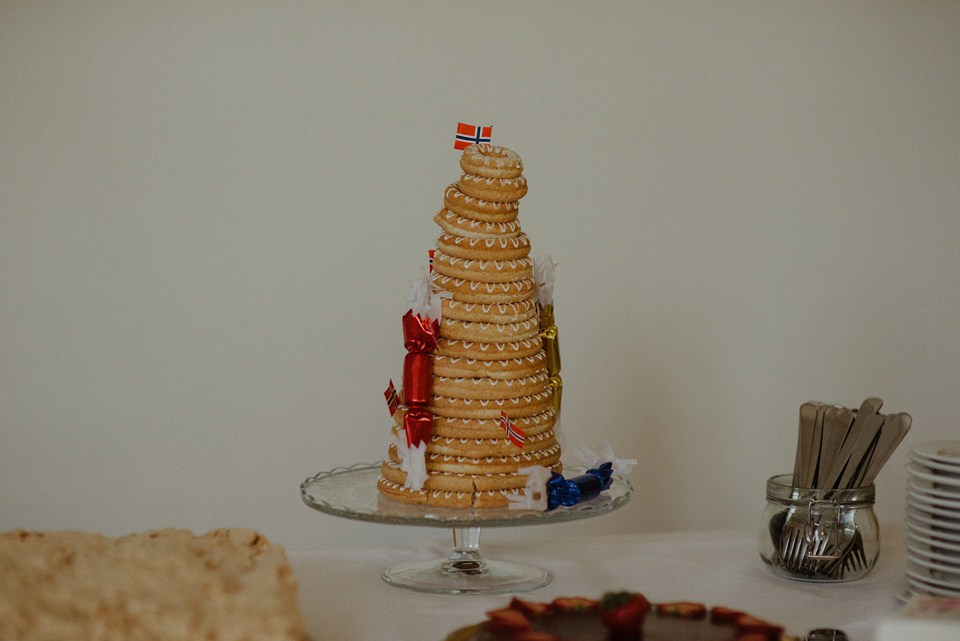 "We had a small table with a date night jar and a map of Iceland as our guestbook. We may have left these for too long in the small hours, as we discovered both of them had a few dirty messages and suggestions!"
"Our first dance song was 'Days Like This' by Van Morrison. We struggled to find a cheerful and at the same time easy to dance to song and ended up with this classic song."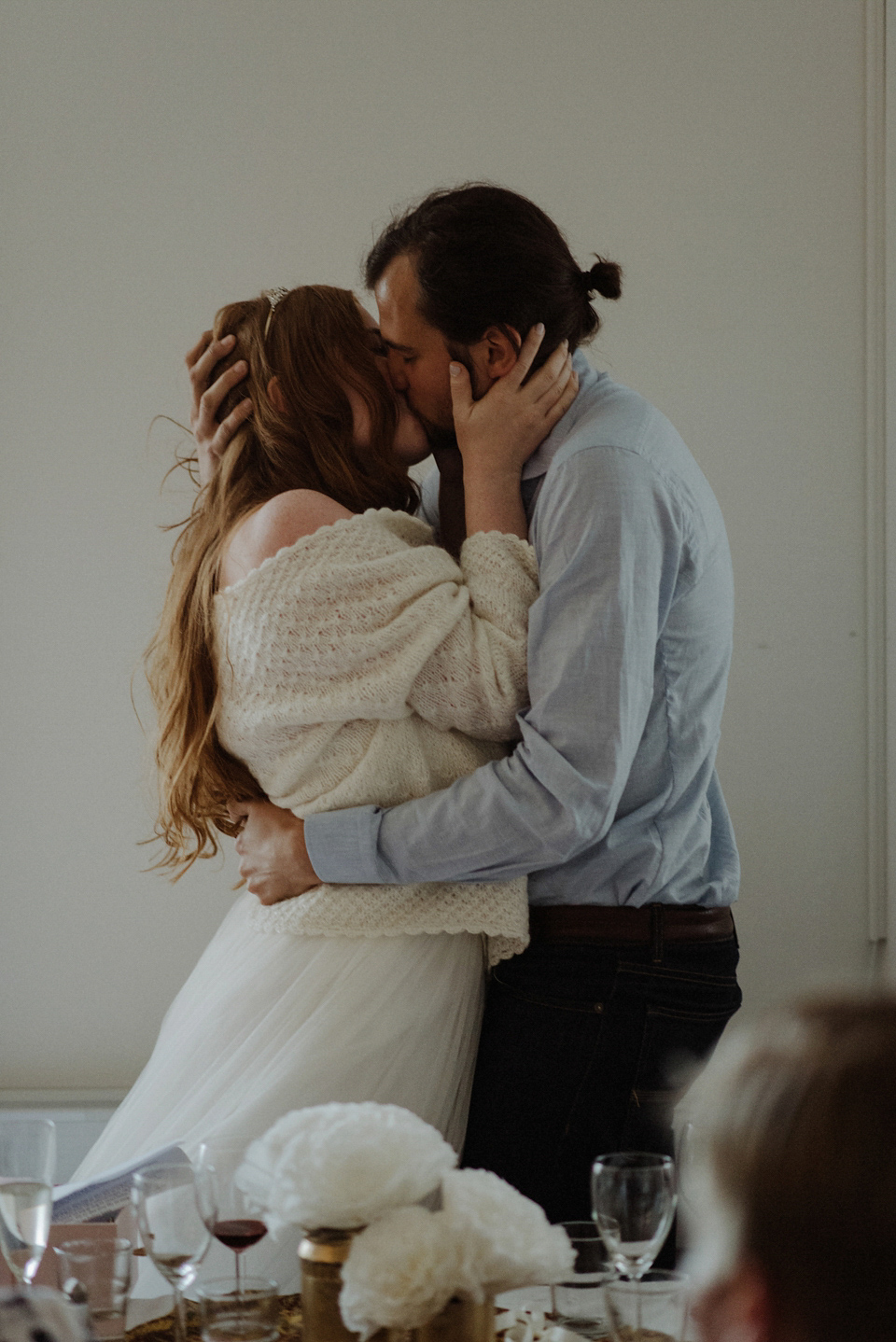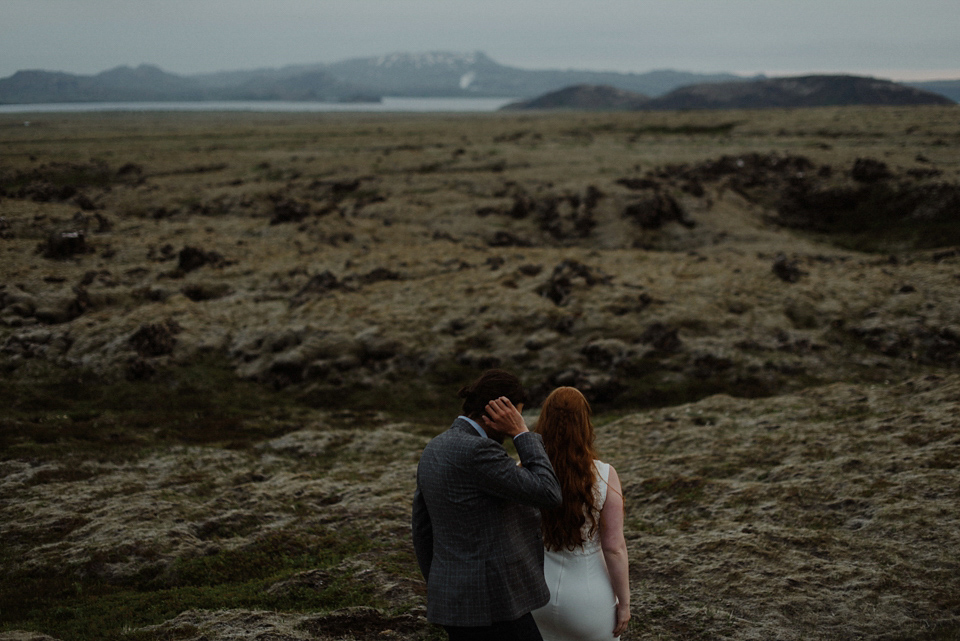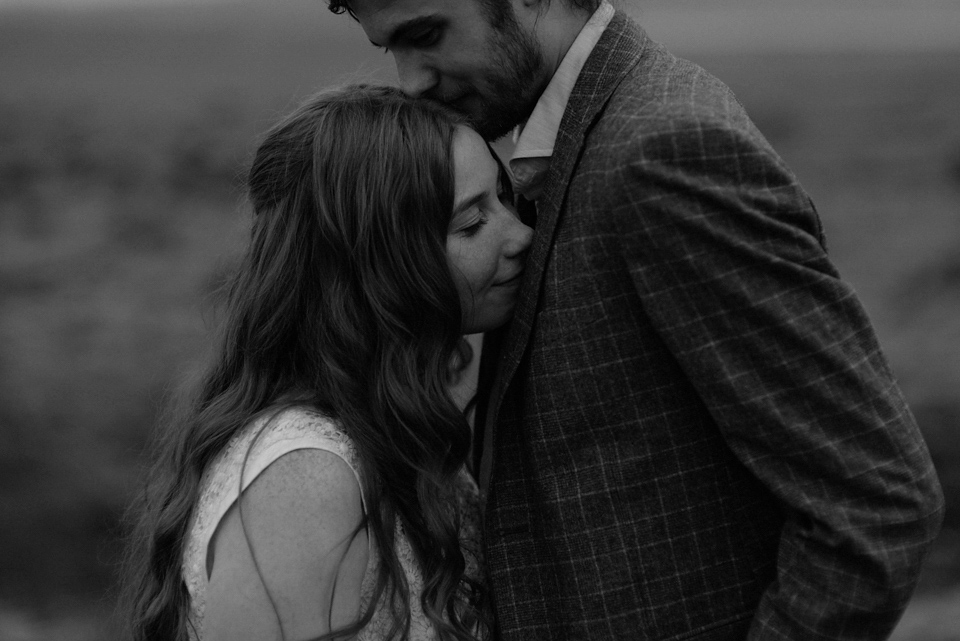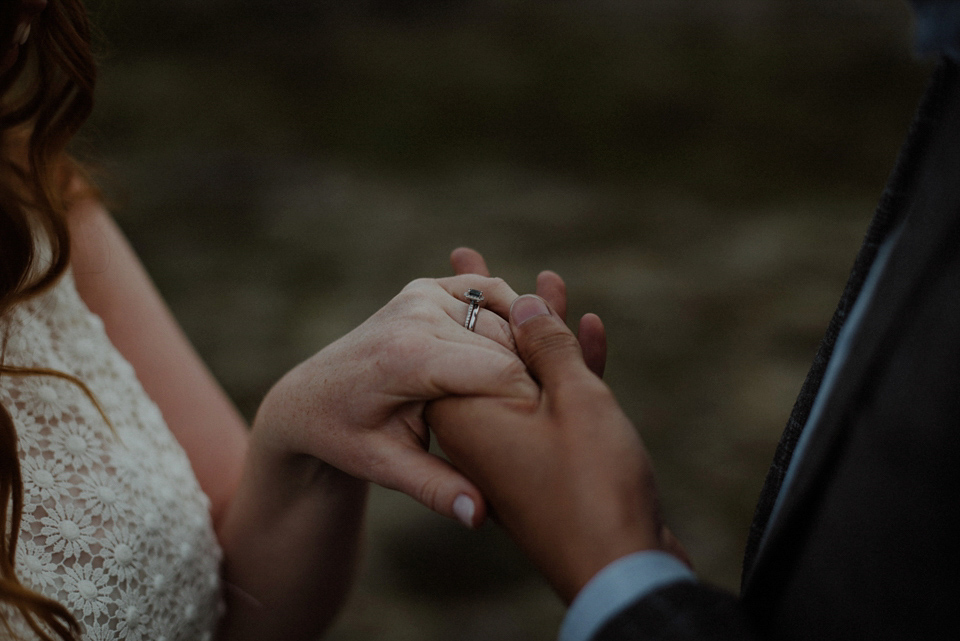 "It was important to us that we spent most of the day together – after all, it's the one day where you celebrate the love and commitment between you. It's paradoxical how traditions insist that the bride and groom should be apart so much during the wedding. We stayed together the night before. We already live together and knew we would have trouble sleeping without each other. It felt safe, comforting and exciting to spend this night together."
"There were so many wonderful moments throughout the day. Like many brides before me have stated; the day goes by so quickly. We were a bit skeptical about speeches, however we were pleasantly surprised that everyone's speeches were so elegantly balanced between moving and humorous.
Our favourite moment was when we left the party at 3am, and drank a champagne in the tub in our room, straight from the bottle."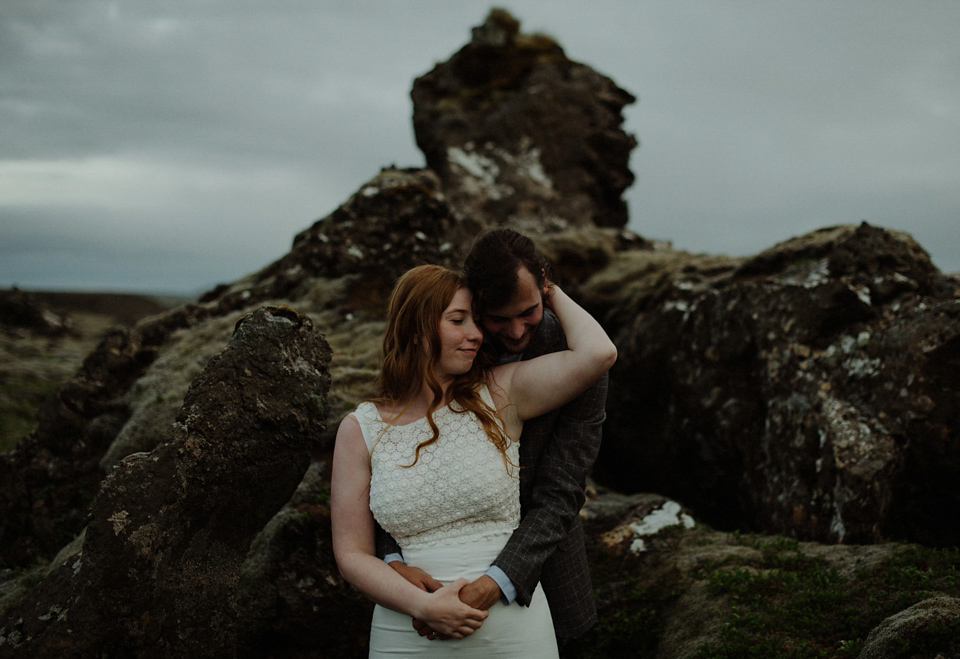 Words of Wedded Wisdom
"We wanted our wedding to be, most of all, relaxed and filled with joy and love. Throughout the planning process, we would ask ourselves; 'What will make the atmosphere more relaxed? How will the love shine through? How will we and our guests feel the love if we do this or that?…
People will tell you how your wedding should be but they are not you. They can't know what's right for you. Follow your gut and stick to it. In the end, people won't care if you picked those flowers, or decided not to wear a veil – people will be happy for you and enjoy your wedding. You will only drive yourself absolutely crazy if you try to have the perfect wedding. You will see the word 'perfect' used a lot but everything can't be perfect. And yet, at the same time, everything will be perfect. The fact that you got married and everyone you love was there to celebrate that will make it perfect. Some things will go wrong, but your wedding will still be perfect."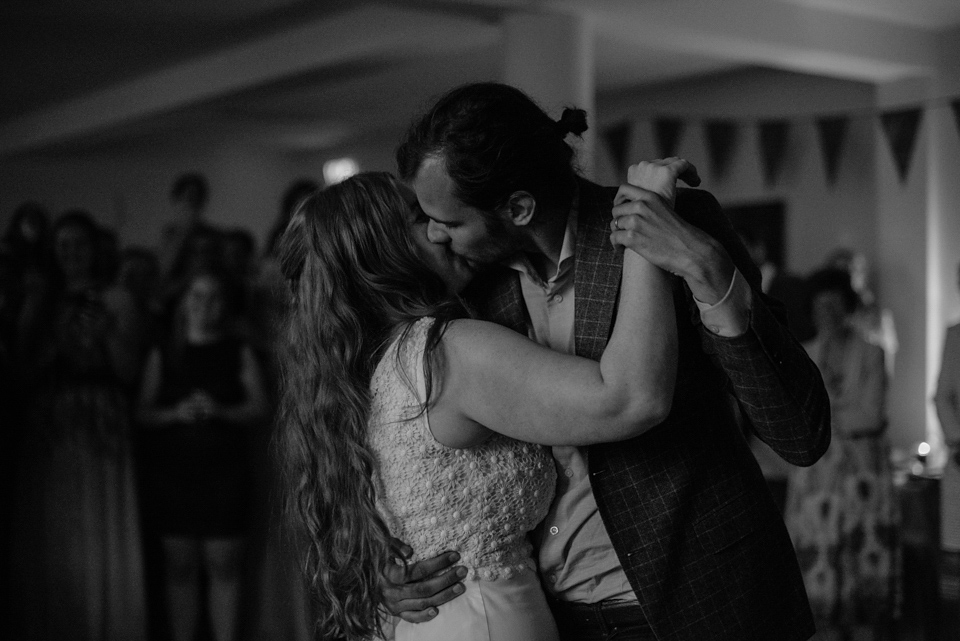 Thank you so very much to the lovely Kristin and Eskil. I have so loved putting this beautiful wedding together, it has without a doubt jumped into my top 5 weddings ever. The Kitcheners as usual have blown me away, thank you for these amazing images.
Are any of you fabulous ladies contemplating wearing your trusty denim or leather jacket for your wedding? We would love to hear from you.
Finally, The Kitcheners have a whole page dedicated to them on Love My Dress, all in the name of research of course…
Love Caoimhe x