During my recent visit to London, primarily to attend the big annual trade event known as 'White Gallery', one of the first designers I was most eager to visit was Caroline Castigliano. I've been a fan of Caroline's work for a number of years now – actually, pretty much since I started planning for my wedding back in 2008, and most definitely since I fell in love with this gown worn by my lovely friend Cat Hepple on her 08.08.08 wedding day. That wedding feature lead to my first interview piece with Caroline over six years ago now, and in the time since then, my respect and love for Caroline and her brand has grown. I'm immensely proud that Caroline Castigliano is now a member of the Love My Dress family of sponsors – her brand fits so perfectly with the glamorous and elegant ethos that guides everything we do here at Love My Dress.
This year Caroline Castigliano celebrates 25 years as a leading bridal couture designer, with the launch of her latest collection, 'Love Is In The Air'. Twenty five years! That's an amazing achievement. This celebratory collection is so wonderfully feminine and sensual and comprises thirty luxury designs that include modern separates and detachable trains.
I was lucky to have been accompanied to White Gallery by our talented partner photographer Georgina Harrison, who, in between trying very hard not to get in the way of the queue of visitors waiting to meet with Caroline (believe me, it was busy!), managed to capture these images.
There's a distinct signature look and feel that immediately identifies the Castigliano gown; when gowns are cut so well and fit as perfectly as this, there has to be a team of perfectionist pattern cutters working hard behind the scenes. Pattern cutting for couture gowns like this is a skill that is worked up over years of practice. Caroline has some of the most talented and experienced pattern cutters on her team, capable of bringing visions like the gorgeous top below to life.
Caroline has also tailored this beautiful collection to the needs of the stylish modern bride – sensual low backs and plunging necklines provide a feel of understated opulence. Whimsical two-piece separates will appear to the younger more fashion conscious bride who wants to make a style statement whilst honouring the skill and craftsmanship that goes into creative each Castigliano gown.
Me admiring this beautifully cut gown by Caroline Castigliano
Above all else, I adore the fresh feel of these gowns; the chic understated style that Caroline Castigliano has become renowned for continues with relaxed glamour and modern clean lines. Timeless designs are elevated with exquisite details to create graceful, feminine silhouettes incorporating traditional artistry with corsetry to sculpt and contour the body. You can bet you'll feel a million dollars stepping into one of these gowns. And isn't that what it's all about – that you look and feel at your most beautiful on your wedding day?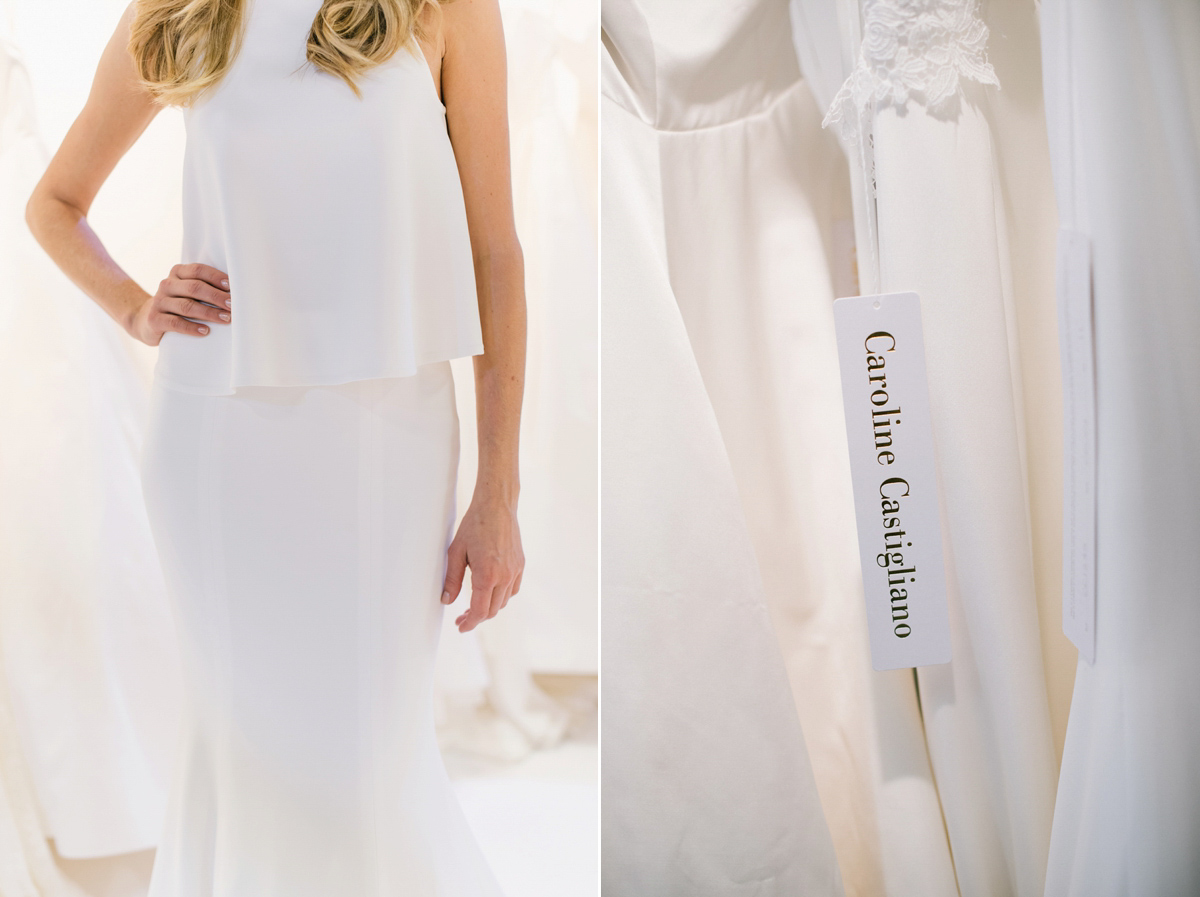 I'm not big in to celebrity – we just don't dig that kind of thing at Love My Dress (we're only interested in inspiring and empowering normal women), but it says a lot about the Castigliano brand that Caroline has dressed and indeed is frequently asked to dress some of the world's most stylish women for their weddings and red carpet events. Among her many clients is an enviable list of celebrities, film stars and dignitaries.
Isn't that gown above just so beautiful – the elegant dip at the lower back and that exquisite, delicately embellished lace. Castigliano's signature is an unquestionably feminine silhouette, which is always effortlessly elegant. Her unique ability to cut and construct garments, enables her to create a gown that is confident and sexy, yet exudes a deep sense of style.
Everything about a Castigliano gown is unique; from the exquisite choice of fabric, to the foundation of the gown, which is created using unique, hidden corsetry and undergarments techniques.
All of Caroline Castigliano's gowns are also meticulously handcrafted here in the UK.
For more information on wedding gowns by Caroline Castigliano, please visit the website. Here you'll find details on stockists, the latest collections, exclusive accessories and much more. You're also able to request your own exclusive appointment at Caroline's flagship Knightsbridge boutique and take a peep at videos from behind the scenes.
If you'd like to connect with Caroline and her team online, you can find them on Instagram, Snapchat (at 'Castigliano'), Twitter and Pinterest. And you can also browse through our real weddings featuring brides wearing a Caroline Castigliano gown here.
Annabel x
This is a sponsored post