I've long been a fan of top International, and British Bridal Wear Designer, Caroline Castigliano.  To me, Caroline's designs epitomise understated chic and refined glamour at it's very best.
I remember first learning about this talented designer when my friend, Cat Hepple, announced she was to marry in one of Caroline's wedding gowns.  The name of the gown was 'Beauty'.  And without wanting to sound to cliched here, it really was an utter beauty! 
Caroline Castigliano has very kindly agreed to talk to Love My Dress and today, I'm really delighted to be able to share my interview with you.  Read on to learn more about the driving force and design talent behind this internationally renowned brand… 
 "I always loved making clothes as a child, and my mother influenced and encouraged me from a very early age.  Professionally, I have been designing for almost 20 years – in fact next year will be our 20th birthday!  I opened my first boutique in 1991 and launched my first bridal collection shortly after, and the rest is history! 

Bridal wear appealed to me because the bridal gown is the single most important gown a woman will invest in. I love the ability to transform a woman so that she looks and feels more confident than she ever has before.  The bridal gown also says everything about a woman's style and personality – so I get incredible fulfilment from by being involved in such an important part of their day."
Some of Caroline Castigliano's original design sketches and lace samples…
All Photography on this page Copyright (c) 2010, Caroline Castigliano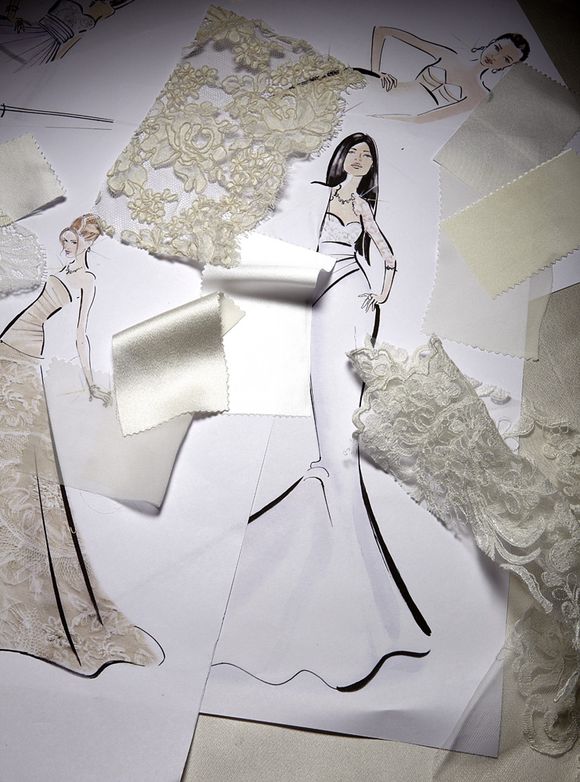 Was there a defining point in your career that set the Caroline Castigliano Brand on to the path of success? If so, what/when was your big break?…"The big break came when I decided to ask Jasper Conran to design an exclusive collection of wedding dresses for the Castigliano brand.  The stunning collection received worldwide critical acclaim and the brand was catapulted into the spotlight when Lady Sarah Armstrong-Jones, daughter of Princess Margaret, married in one of our designs – a gorgeous white draped georgette gown with a ruched bodice.  The gown is still described as one of the most beautiful wedding dresses ever created and some of the best and most inspiring work in bridal fashion.  

After such a phenomenal reception to the collection, we knew that the company was now moving to a new level.  Within months the first Caroline Castigliano bridal collection featuring my own designs was launched and I have never looked back!"
Below – 'Beauty', from The Oppulent Collection – the dress that turned me into a Caroline Castigliano fan… 
How would you describe your signature style?…"Without question my style is understated effortless feminine glamour – structured fishtails and statement organza gowns are very much the signature of the Caroline Castigliano brand."
How would you describe the Caroline Castigliano Bride?…"Our brides are women with a definite sense of style who are aware of fashion and the latest trends; they love the beauty of fabrics and appreciate fine tailoring. They understand the importance of investing in quality fabrics and beautifully cut clothes they want to make a statement at their event."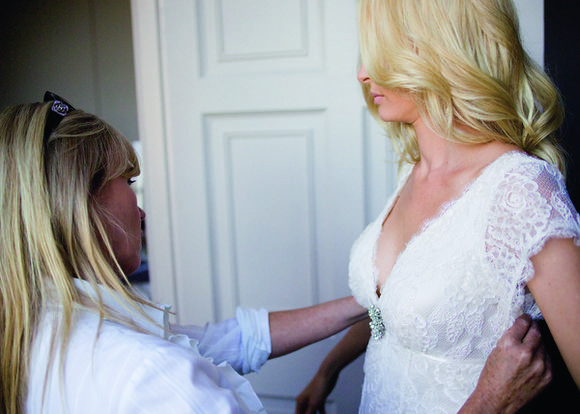 How would you describe the Caroline Castigliano experience?…"Our boutiques are renowned for offering an unparallelled level of service to our clients. I believe that the purchase of a bride's wedding gown is one of the most important and emotional decisions of her life.  All our Castigliano experts are committed to ensuring that a bride's experience is one that will be cherished for many years to come.

Brides to be can expect a very friendly team with a lot of experience who will guide them through the collection and help them see different ways to create their overall vision for their wedding day by using different silhouettes. We really pride ourselves on our knowledge and service."
Inside the Caroline Castigliano flagship store at 154 Brompton Road, Knightsbridge…
What is your unique selling point – what makes the Caroline Castigliano experience unique?…"The unparallelled quality of our gowns, the exceptional level of service offered to all our brides, and my complex integral corset that I have spent years developing. It simply creates perfect balance and proportions on the body before I drape one of my luxury handcrafted gowns over the top to form a stunning classic gown with a strong contemporary feel."
One of the large pattern-cutting table in the Caroline Castigliano design studio…
What inspired your latest collection of bridal wear? And how would you describe the collection?..."The 2011 collection is all about 'relaxed feminine glamour'. I've created pieces that are super chic and effortlessly luxurious. The collection holds a lot of soft tulle and lace gowns. There are of course also key pieces with structured fishtails and statement organza gowns that are so much the signature handwriting of Caroline Castigliano. I want my brides to feel really beautiful like they have arrived on the red carpet and they have total confidence when everyone is watching them." 

Also from The Oppulent Collection…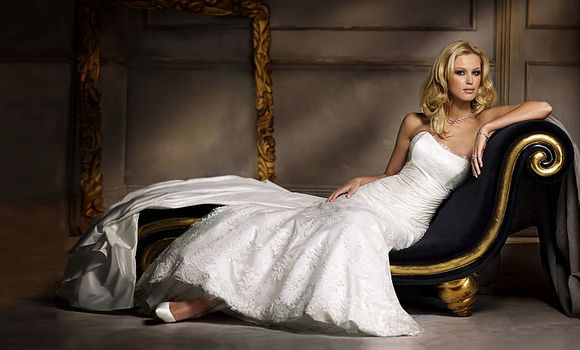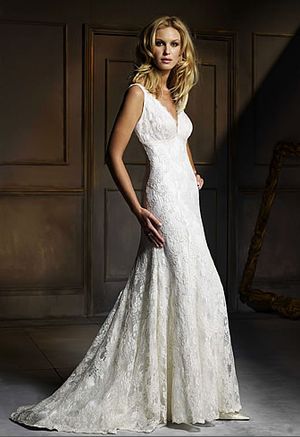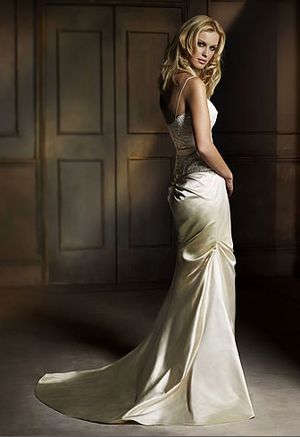 What type of fabric and embellishment feature in the latest collection?..."I always use silk fabrics. For my "Paris" gown , I used a soft silk duchess satin. There is a lot of structure to the fabric and this is important when creating a sculptured fishtail.  For "Paradise", I used a very fine silk organza, layered with a fine tulle to create beauty and movement – this gown is stylish yet playful.

I have added a lot of detail and embellishments for this collection. Although the cut and sihouette is still very much Caroline Castigliano, I have also introduced heavier laces, special beading and more intricate details. This year,the key trend for wedding dresses is red carpet glamour."
What motivates you when it comes to designing? …and what inspires you?…"My desire to design is based on my love of sculpture, art and the beauty of fabrics.  I love the ability to transform a bride to look and feel more confident than she ever has before.  I like women to look feminine and sensual, I design to show curves and the beauty of being a woman but my look is subtle and understated. The inspiration for the latest collection was the desire to create 'red carpet understated glamour'.  I want all brides wearing a piece from this collection to feel so beautiful as if they wanted to say 'I made no effort I always look like this I am incredibly beautiful and I have great style.!!"
Below, 'Paris', from the Relaxed Glamour Collection…
Do you see any bridal wear trends picking up in 2010 and for 2011?..."Beautiful soft gowns, very feminine, with low backs and red carpet glamour statements. Lace will continue throughout 2010 into 2011 as a strong trend with a lot of striking beading and brooches highlighting our bridal gowns."
Headpiece/hair accessory or veil?  Or both?!?…"Veils and long trains on bridal gowns are traditions I consider important. There is only one time in your life when you can wear a veil and I believe it adds that final finishing touch – everyone should wear one."
Can you provide a retail price guide for your bridal wear?..."As all our gowns are bespoke and made-to-measure there are no standards retail prices, but our gowns start from approximately £2,250."
Below, 'Wisteria', from the Relaxed Glamour Collection…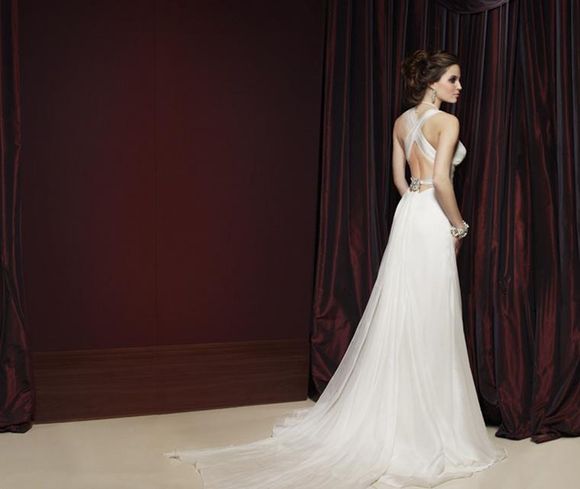 Do you have a personal favourite style of bridal gown, and if so, why?..."My favourite gown changes depending on what I am working on at the time! I have a broad selection of gowns in the collection and everything depends on the type of wedding the bride is having. I absolutely adore Heaven, the beauty and movement of this gown is quite spectacular.  I have produced this gown with a heavily embellished bodice and added a stunning scalloped edge to the skirt which brides who love bling adore. The power of the gown, like all Castigliano gowns is the cut , tailoring and movement we create in our dresses. Our bodices are based on old fashioned corsetry and I have worked for years developing the silhouette to create excellent proportions and a perfectly balanced form."
Which other designers (bridal wear and non-bridal wear) inspire you the most, and why?…"Personally, I love everything that Dolce and Gabbana create.  I consider them to be truly amazing, talented designers with that unique ability to inspire.   Their look is classic, chic and stylish."

Below, 'Beautiful', from the Indulgent Collection…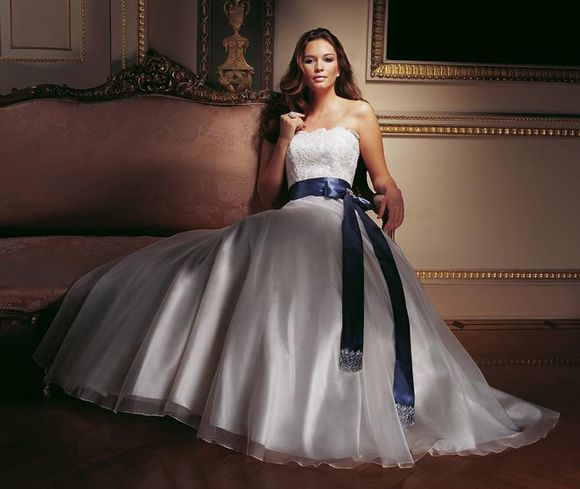 What do you enjoy most about your job?…"I love designing because I love being a part of such an important day in my clients' lives and knowing that I was truly able to make them feel and look sensational."
If you weren't a Designer, what would you be?…"A Journalist."
What do you like to do when you're not designing?…"Spending quality time with my husband and children is definitely my main priority when I'm not designing."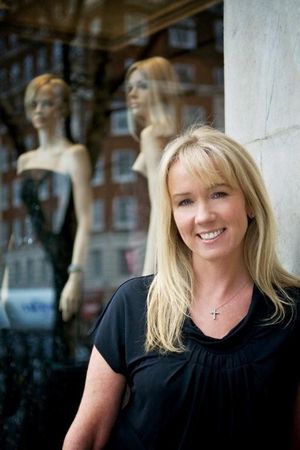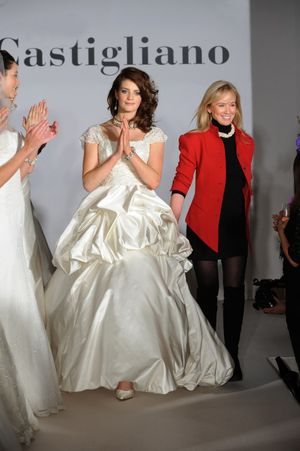 What are your plans for the future?…"We have lots of exciting things in store for brides towards the end of this year and in 2011!  In September, we will be travelling to Dubai to showcase our bridal and evening wear collections and offer our bespoke service to Dubai's leading ladies.  In the same month we will also be unveiling our latest collection, so brides closer to home should watch out for upcoming events in the UK!  From January 2011 onwards our birthday celebrations will begin and will include a huge party to mark 20 years of Caroline Castigliano. We will be sure to keep your brides up to date with any events and offers throughout the year!

And after all that, I think I'll be ready for a holiday!!"
Below, 'Eugenie', from the Indulgent Collection…
And finally, what important advice could you give to the Bride to be setting out to find her perfect wedding gown?…"The bridal gown is at the very heart of every wedding, it is what every guest remembers and it expresses the mood and feel of the day.  To start with, a bride must think about the vision she wants to create for her day – you will wear an entirely different gown if you want to look contemporary on your wedding day than if you wanted to create a classic look.
We spend a lot of time working with our brides to discover the image they want to create.  Once that is established we work on silhouettes to create the chosen image.  We then work on detail.  It is vital to work with a professional who really understands the cut of the gowns and can guide you through a collection.  When all these important criteria come together you will find yourself walking towards a mirror and you will know your dreams have come true and you are looking amazing and you will feel fantastic, and you will want everyone to look at you."   
My lovely friend Cat Hepple looking resplendent in her Caroline Castigliano Gown.  Cat's was one of the very first weddings I featured, she married on 08.08.08 – you can view the post in full here…
Photography Copyright (c) 2008, Lovegrove Weddings
And a little video footage for your viewing enjoyment :)  First, the team at Julia Boggio Wedding Photography filmed the new bridal dress designs at the advertising shoot for Caroline Castigliano. This is the behind the scenes documentary that Julia Boggio and her team created for Caroline Castigliano…
Video Footage Copyright (c) 2010, Julia Boggio

Caroline Castigliano 2010/11 'Relaxed Glamour' Collection on the Catwalk…
Video Footage Copyright (c) 2010, Atlantic Multimedia

Thank you Caroline for making the time to speak to Love My Dress 🙂
You can view catwalk real Bride's in their beautiful Caroline Castigliano gowns here.
Are you a Caroline Castigliano Bride? We'd love to hear from you 🙂
Click here to view more exclusive designer interviews on the Love My Dress Wedding Blog.
Annabel xXx
♥