Welcome to Wednesday! I have a simply gorgeous wedding to share that is full of images of sheer joy – including a bunch of very funny ones that had me snorting with laughter – by the one and only Ed Godden. Becca, a marketing manager, married her beau Will, an accountant, on 26th March 2016 for their Springtime celebrations at Lillibrooke Manor in Maidenhead, Berkshire; with a shared love of country chic and memories of fun times with loved ones at their favourite pub front and centre as the inspiration for the day.
Our Little Book For Brides wedding directory member Ed Godden took these photographs.
"Ed Godden was one of the first and best decisions we made. We knew we wanted him as our photographer, having followed his work on social media and his website. I had also worked with him many years ago at a local newspaper. Will was in complete agreement that we had to book him. He is one of the nicest people! No formal group shots and being ordered around, he just blends in all day, taking incredible photos."
The pretty maids wore pale blue gowns from Monsoon with elegant lace detailing on the shoulders. I love the shots captured of them grappling with that pesky Spring shower.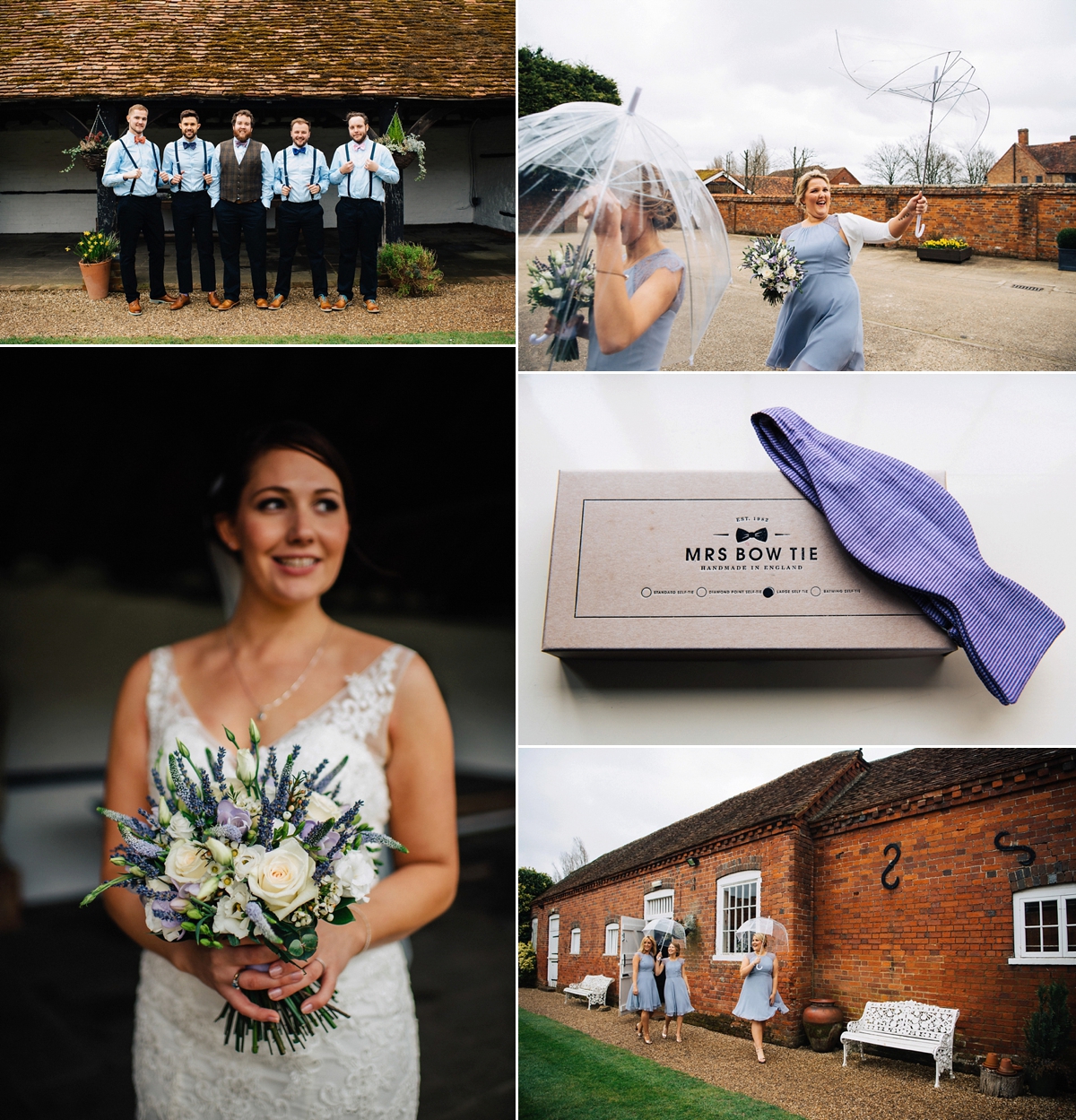 "We love country chic, so we mixed rustic flowers, tweeds and a more casual dress with a real ale/wine theme. We love spending time in our local pubs with friends and family and have shared many celebrations in our favourite pub, The Nags Head, so it seemed appropriate to have a laid-back pub (in a barn) style that we love so much for our big day."
"We chose The Flower Shop as our florist – a friend of ours works there so we trusted her entirely with our flowers for the day. They were wonderful and knew how to colour-match to fit our theme with just the most basic of information from us. We have a limited understanding of what would work but knew lavender had to be incorporated, as it was my Gran's favourite, and wheat to fit with the real ale/wine/country theme. They were perfect! They even managed to incorporate a locket with a picture of my Gran and Granddad, within my bouquet to carry down the aisle."
Hair and makeup was by Maressa from Makeup Magic.
"Maressa is so lovely. She came to my house to do a trial a couple of months beforehand, which helped so much. I don't really wear make up or do my hair properly so she had a job to make me feel comfortable – but she was awesome! She spent so much time with us on the day and even followed us to the venue to fix my veil and make sure everything was in place before I walked down the aisle."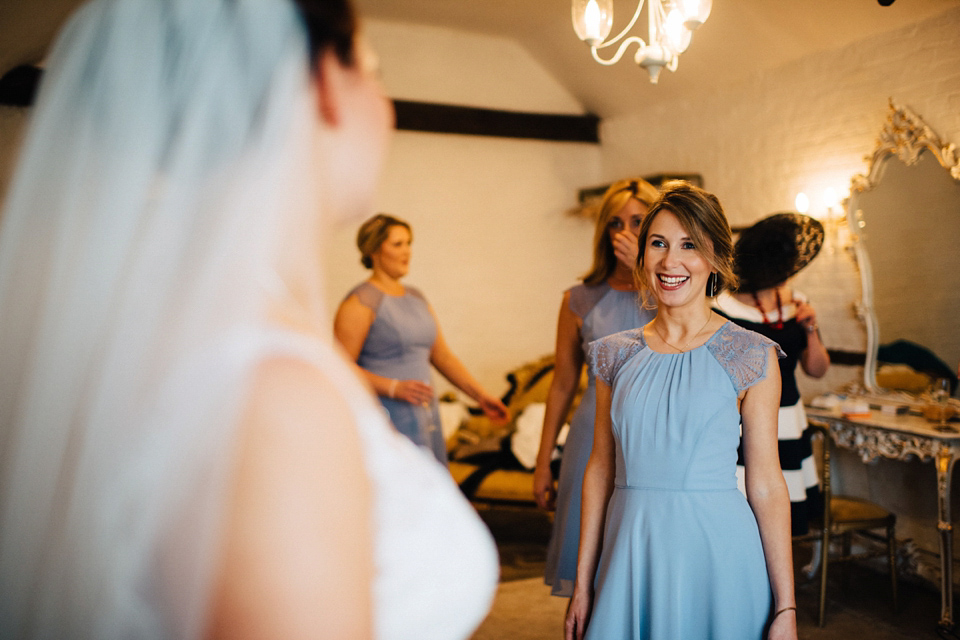 Becca chose a beautiful Mori Lee gown and veil from Bride To Be, the grooviest pair of Irregular Choice heels, and accessorised with necklace and earrings from Essential Jewellers, a bracelet that was a gift from a vintage market and a spritz of 'Hot Couture' by Givenchy.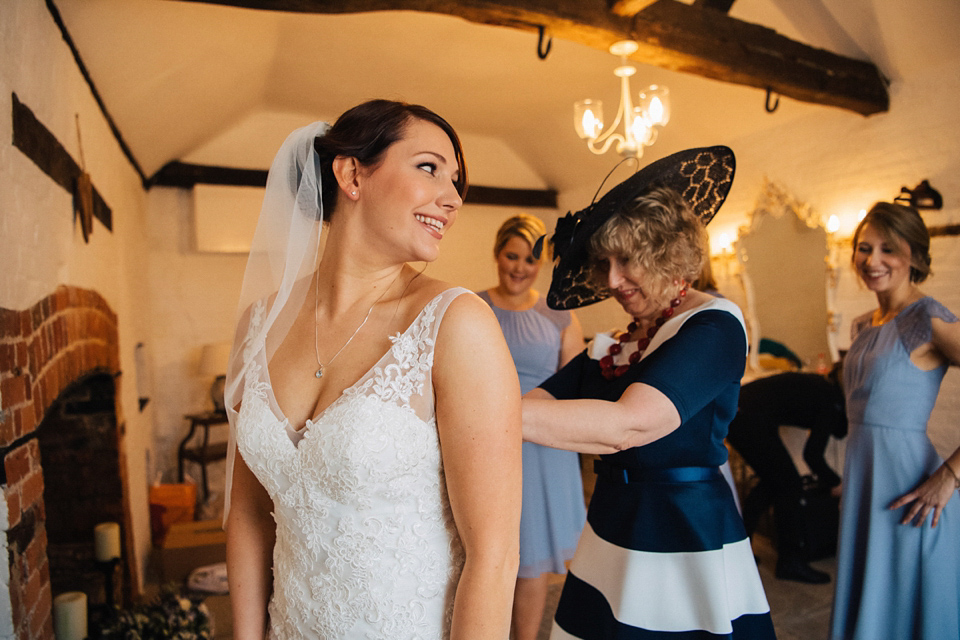 "My dress was nothing like what I thought I'd go for, other than it featured lace. I didn't want anything too heavy or formal, just something a bit different, comfortable and something I could eat and dance in. I only tried it on to rule out the shape and fell in love with it."
Will sported a stylish ensemble with a tweed suit from Slaters, bowtie from Mrs Bow Tie and Russell & Bromley shoes. The groomsmen wore the same attire as Will, except they added braces from Topshop instead of a waistcoat, funky brightly-coloured socks and Justin Reece via Slaters tan brogues (complete with blue shoelaces). From the photos, it sure looks like the fellas had the most jolly time getting ready!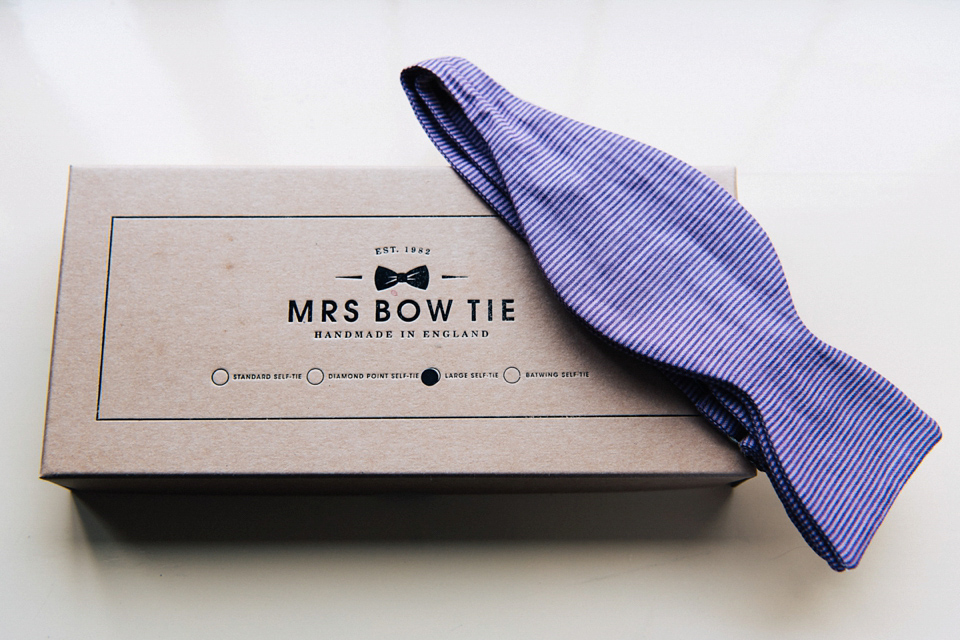 "We met at a charity gig that a mutual friend was hosting. I worked with him and Will played for the same local football team.
Will organised a surprise weekend away with the destination only being revealed on the day, having given me a clue every day, that I wasn't to discuss with anyone. We flew to Dublin, on our 6-year anniversary, a place Will had pretended to propose, on the first New Year we were together."
" On arriving, I got my penultimate clue, which led us to Dublin Castle where he proposed. My final clue took us to a pub called the Stags Head where I was greeted by friends and family who Will had arranged to fly over and spend the weekend with us to celebrate, hence not being able to share my clues in the lead up – they're all rubbish at keeping secrets, or not as the case now seems!"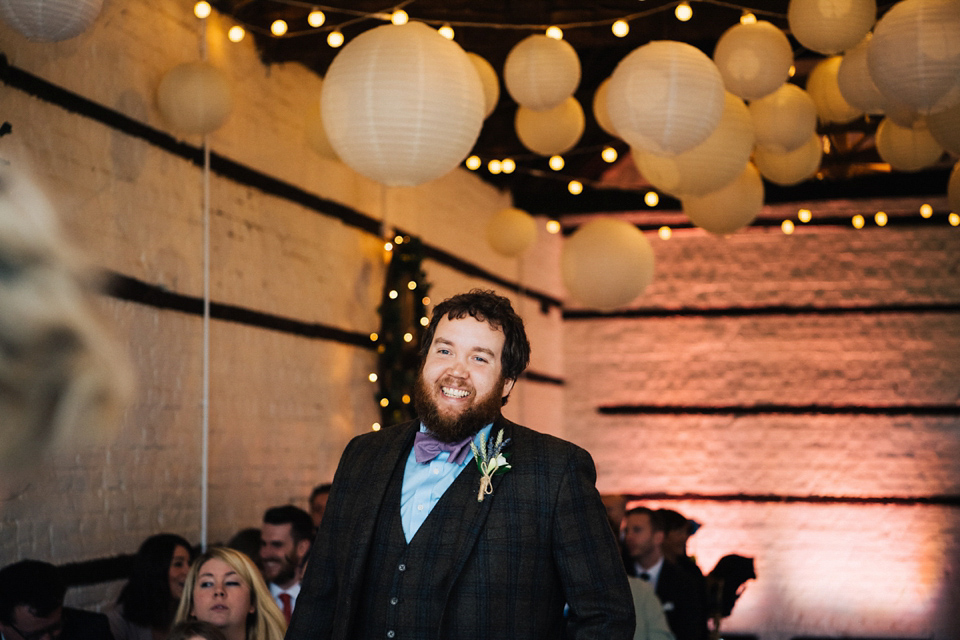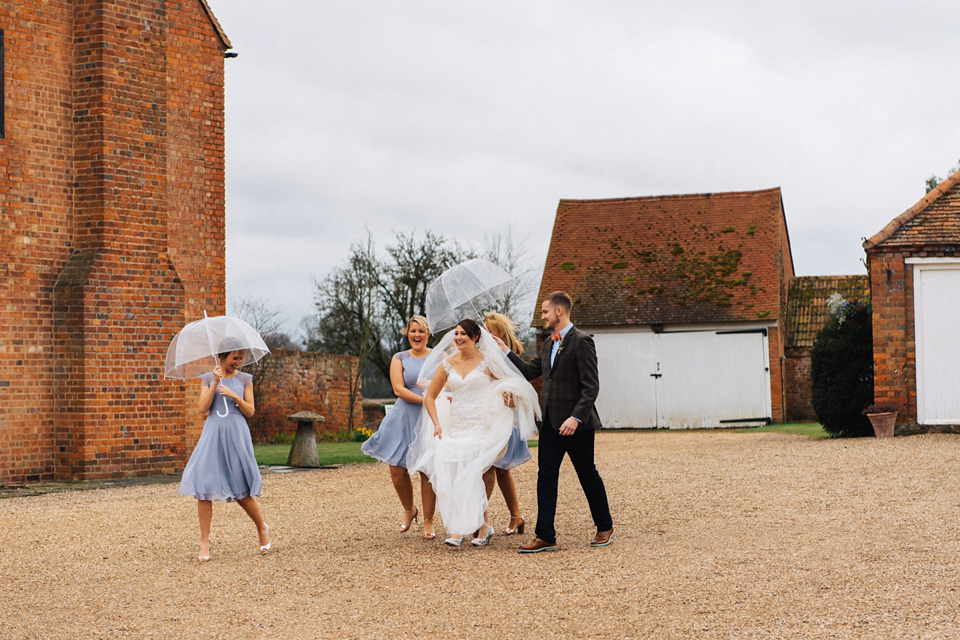 Will's dad drove both Will and Becca separately in his London cab to the venue for the ceremony. Becca's brother walked her down the aisle to the acoustic version of 'Wings' by Birdy and the couple were married by Frances from the Royal Borough of Windsor and Maidenhead.
"We were provided with a choice of vows and words to say or create elements of our own. We chose from the selection offered, as we liked the less formal options including friendship, support, love and celebration rather than religious, or formal more traditional 'honouring and obeying'."
The civil ceremony included two readings read by Will's Mum and Becca's stepfather. The first, 'Wind in the Willows', was a favourite book of Becca's as a child and the words sum up how they both feel about their future – the big adventure that's ahead of them.
"The second reading, 'I Like You' by Sandol Stoddard, was perfect for the ceremony as it described how Will and I feel about each other – we don't take things too seriously, we just really like each other. Here is an extract:
"I like you and I know why.
I like you because you are a good person to like.
I like you because when I tell you something special, you know it's special
And you remember it a long, long time.

I like you because I don't know why but
Everything that happens is nicer with you
I can't remember when I didn't like you
It must have been lonesome then
I like you because, because, because
I forget why I like you but I do."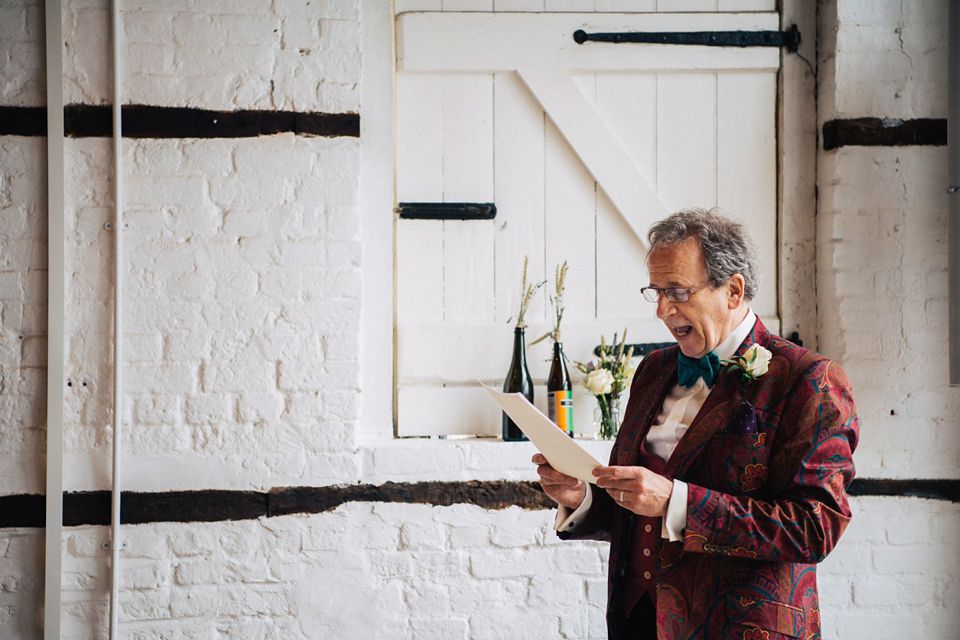 Becca's engagement ring was from The Diamond Shop in Hatton Garden, whilst both wedding rings were via Robert Gatward Jewellers in Reading.
"We had my engagement ring made from scratch, after designing it and handpicking the stones. This was such an awesome experience; a great way to make sure you are getting the most for your money and something completely unique."
I just adore the images by Ed from Ed Godden Photography. He has a way of making you feel as if you were right there amongst the action. And a family member, Becca's cousin Alex Smith from Aspire Imaging, helped out with filming of the ceremony.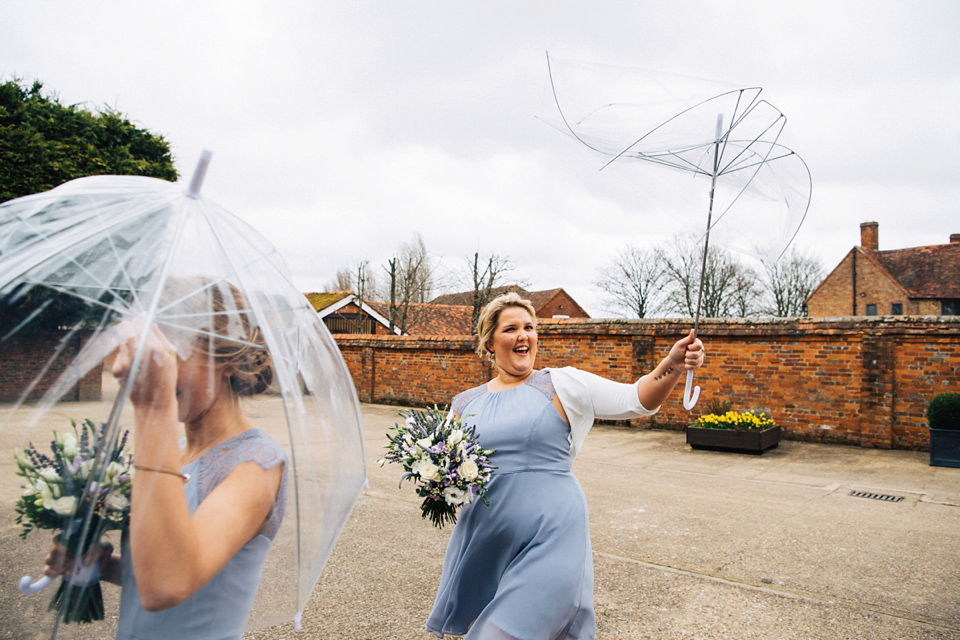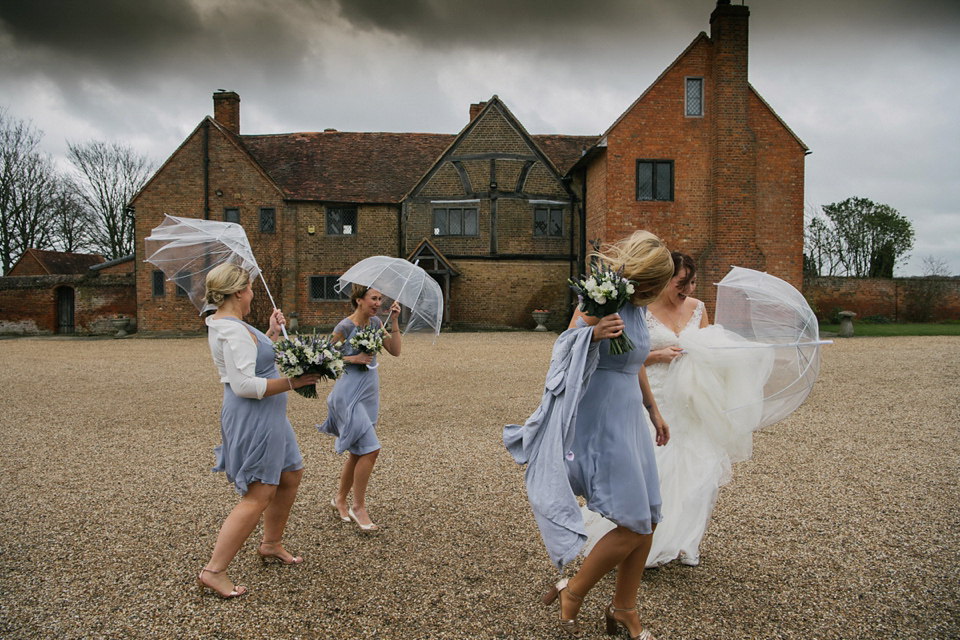 "We really wanted a big party rather than a formal wedding, so Lillbrooke's barns and grounds were perfect. There was so much space for us to split the ceremony, reception and all the extra bits in between, without feeling like we had to hide clear downs and changeovers of rooms from ceremony to reception area.
We used vintage postcards for our guestbook that were put into an old suitcase of my Gran's. We wanted to read them on our minimoon and will now create a scrapbook of them to keep."
"We put a pub quiz on the table made up of ten questions about Will and I for the guests to fill in throughout dinner. The answers were announced after the speeches and the winning table won a round of drinks. I created the rest of the quiz and sweepstake forms, table plans and drinks vouchers on card from Hobbycraft and using images I found on the internet that fit the theme.
The table plans were stuck to wine bottles like wine labels with lavender coming out of the top. Our favours were mini bunches of lavender from Lavender World."
Guests were treated to delicious cuisine by Lillibrooke Manor and for the drinks, Becca and Will were able to also provide their own beverages.
"We had Prosecco and elderflower fizz for reception drinks alongside our favourite cocktail 'Rum Runner.' Table wine was Picpoul and Malbec and a selection of locally brewed ales sourced from our local pub, The Nags Head, were served throughout the evening at a reduced cost, alongside the venue's own drinks menu."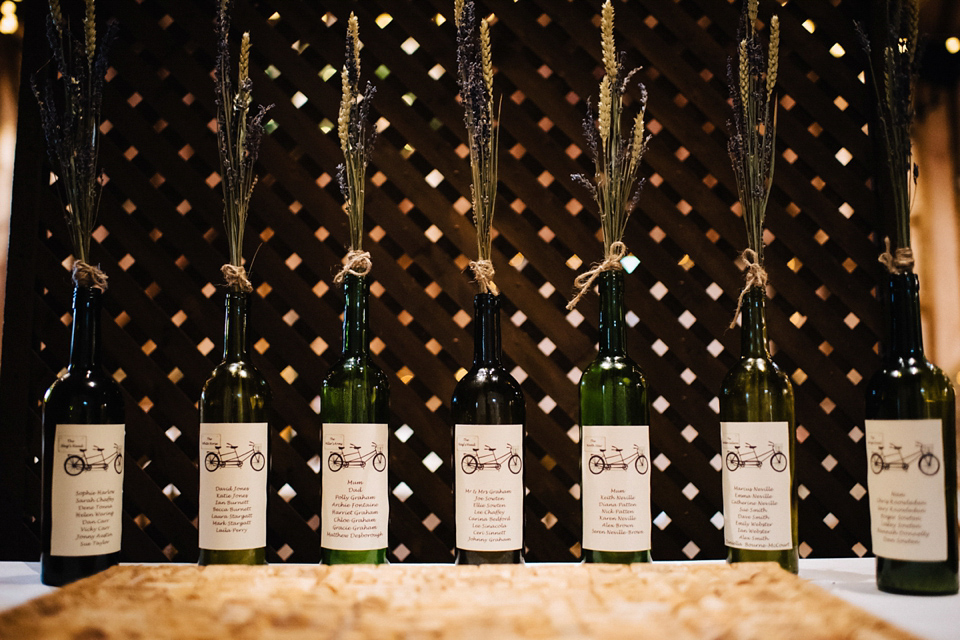 Pudding was a mix of homemade cakes that guests entered into a Great Wedding Bake-Off – how yummy!
"Our wedding Bake-Off was so much fun. Seventeen friends and family entered cakes anonymously and we got to taste them all before picking best idea, best tasting and best looking. We then presented the winners with engraved 'Star Baker' wooden spoons. Everyone worked so hard to make incredible cakes, which acted as pudding for our guests and leftovers were served as part of the reception buffet."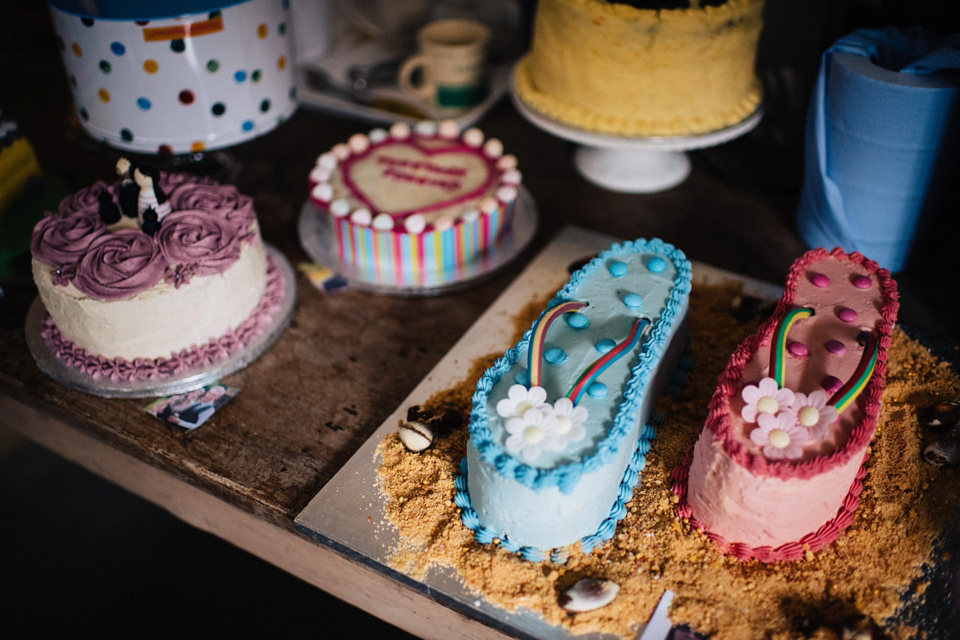 "Our friend, Graham Corker, whose gig we met at was also playing a live set of our favourite songs throughout the Bake-Off, so everyone was singing along and eating incredible cake – perfect!"
"The Instagram photo booth frame was a digital file from Etsy, then created with foam board from Hobbycraft and printed via a local printery."
Lighting is a brilliant way to decorate your venue. Becca and Will used a lighting company called Academy Audio who decorated the ceremony barn and the Animal Engine Room with a mixture of festoon lighting and lit lanterns, then used dimmable festoon lighting in the Great Barn.
"They created a bespoke layout for us and were in touch day and night, even doing a mock up at the venue a few weeks before so that they were sure that the layout would work. They met us there twice prior to the wedding and even showed up for a second day, having already set up, when we were there setting up the day before, just to make sure that we were happy with it."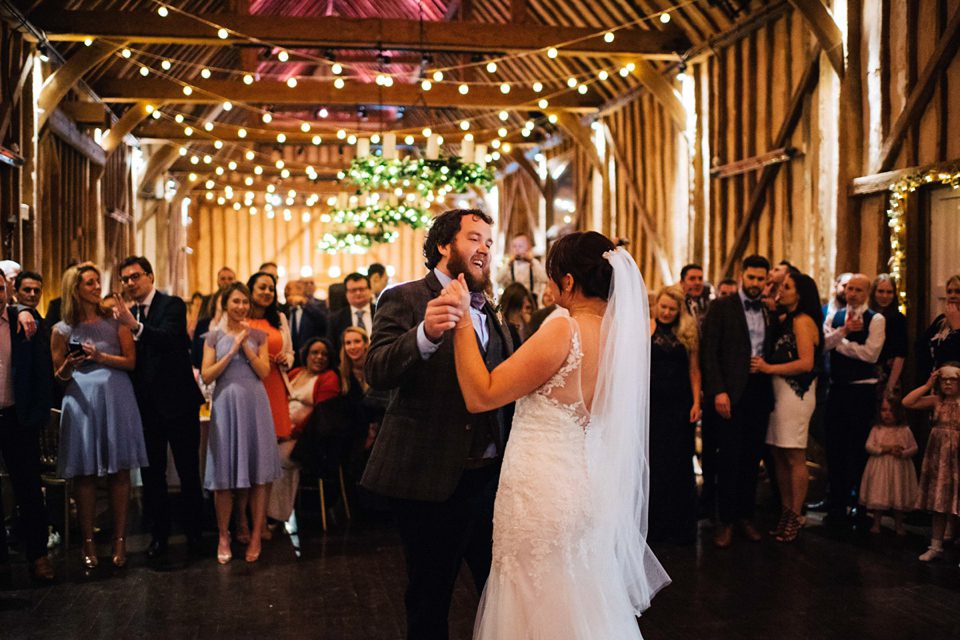 Words of Wedded Wisdom
"Have your wedding, not somebody else's. Worry less about what others will think about your choices. Our day couldn't have been more perfect for us and everyone loved it, especially as we were enjoying it so much!
The one thing we would have done differently is not felt nervous about contacting suppliers when we had questions early on. A lot of worry could have been avoided had we asked as we thought of things, rather than waiting for face-to-face meetings. Most suppliers were happy to respond to emails/calls throughout the process, however early on."
Such wise words – thank you Becca and Will for sharing your delightful day and keep having loads of fun and adventures together! Also, a very big thank you to Ed for capturing the party vibe so brilliantly. Be sure to click here to see more of Ed's wonderful work we've previously highlighted.
Have a wonderful, productive and exciting rest of week little lovelies!
Love Jo -x-