Happy Friday lovelies! I can't believe September is hurtling towards us at such an alarming rate, does anyone else feel like this 'summer' has just vanished in the blink of an eye? Well today on this most gorgeous of wedding blogs, I'm going to rewind back to the start of May (when we actually enjoyed something resembling a summer) for the pastel-hued and handmade wedding of the lovely Stephanie and Neil.
Neil, Art Director at Iris Worldwide and a Blues and rock n' roll drummer in his spare time, wed his beautiful bride, Stephanie, who works in regional sales at Concur, on 8th May. They filled their day with thoughtful handmade details and worked from a romantic, soft colour palette.
"We wanted to keep things as simple as possible but at the same time inject our personalities into the day. Getting married was about working together to make the best day possible. I am very much a girly girl and love pastels, pinks and sparkle, and with Neil's drumming hobby we wanted a balanced mix of us both."
Photography by White Stag Wedding Photography
Stephanie wore a dreamy backless gown, made with delicate lace and flowing satin and tulle by Alvina Valenta. Combined with her tumbling curls and soft make-up, the overall effect is feminine, romantic and downright lovely.
"I purchased my dress (style 9405)  from Ivory & White in Alabama. The reason being that once I fell in love with the dress after trying it on in the UK, I phoned a US store to see if they had a better price point, and they happened to have the dress in my size in the sample sale – it was fate! And a bit of crafty knowledge that the US tend to offer better pricing meaning I could have my dream dress and not break the budget."
"I loved that it was so comfy and offered the backless look I really wanted. The gorgeous beaded belt detail, layered lace, charmeuse satin and tulle material looked effortless and had a sparkle which softly glinted through the dress and train. I had tried about ten dresses and thought nothing of it until I tried the Alvina Valenta and had the most amazing moment."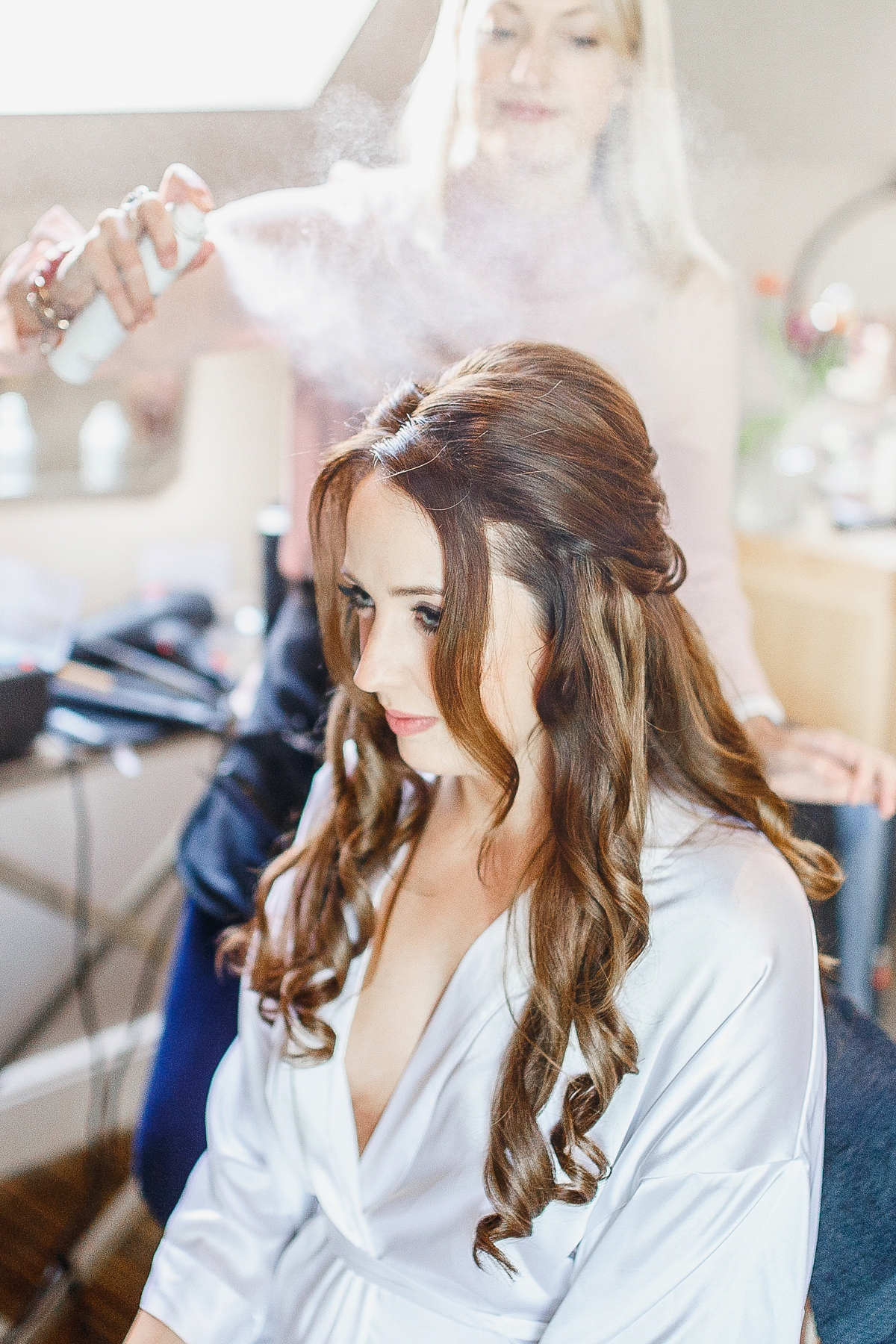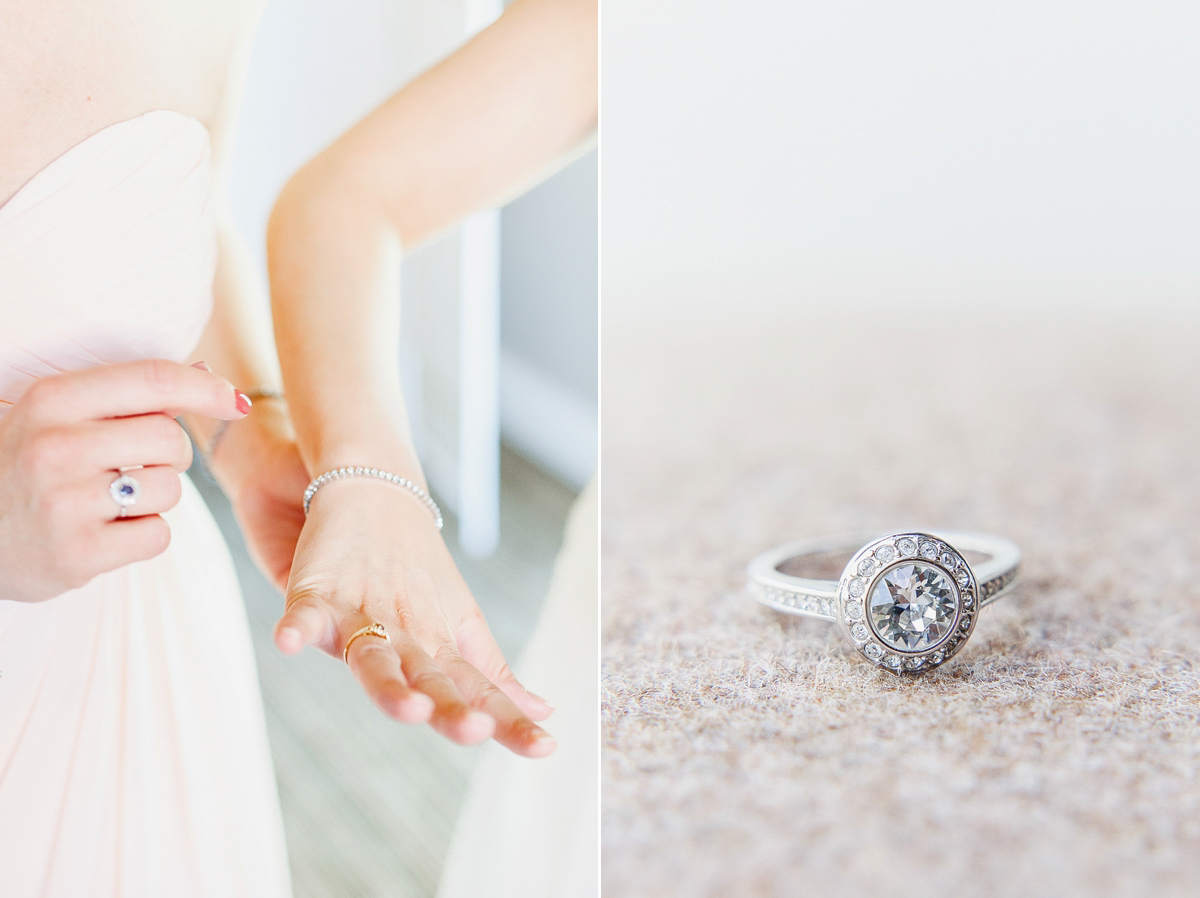 Stephanie added a delicate veil and diamanté hair comb from The Dressmaker and a touch of further sparkle with her cute Benjamin Adams peep-toe shoes.
Wanting to feel like herself on her big day, she applied her own make-up and turned to her favourite perfume; Bohemia by Marks & Spencer.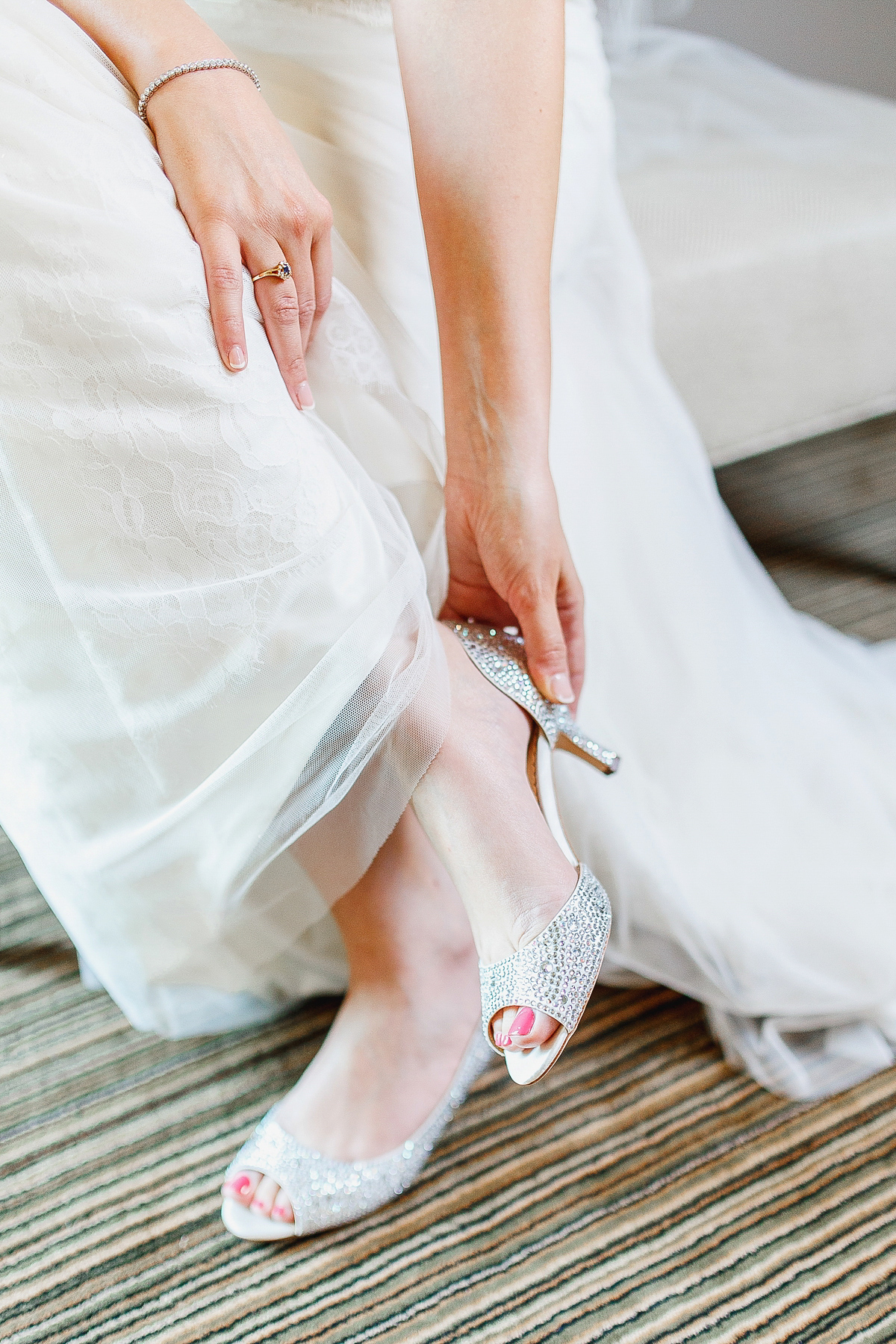 "My earrings were bought at a boutique in New York just off 5th Avenue, the bracelet is Swarovski, which was a gift from Neil the Christmas before we got engaged and my hair was done by Anna White. I've had many designer perfumes but this is my favourite fragrance that I wear everyday – a lot of brides want a new scent for their wedding to just remember that day, but I just wanted to be me and remember our day everyday."
In keeping with the soft pastel tones so loved by our bride, Stephanie's bridesmaids wore pretty, strapless peach gowns designed through JJ's House.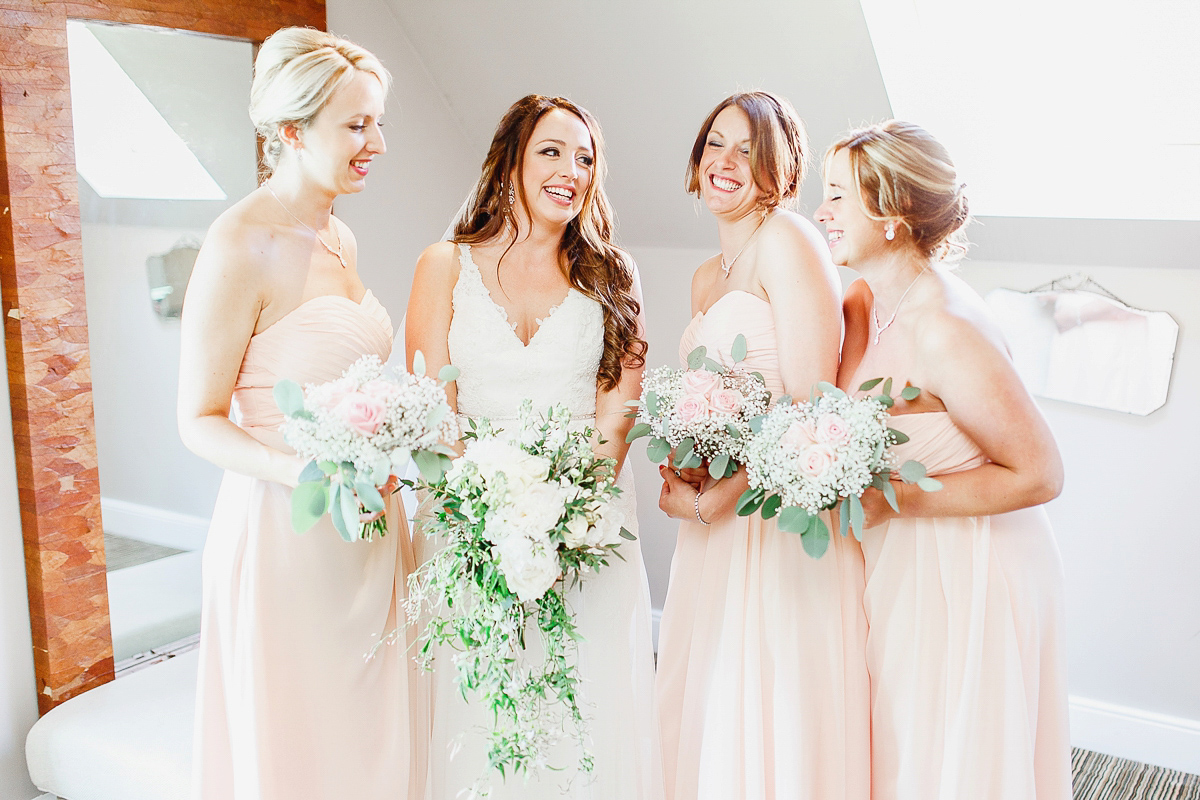 The lucky girls were gifted with Wedding Nites diamanté pins for their upswept hair as well as jewellery sets by Jon Richard at Debenhams.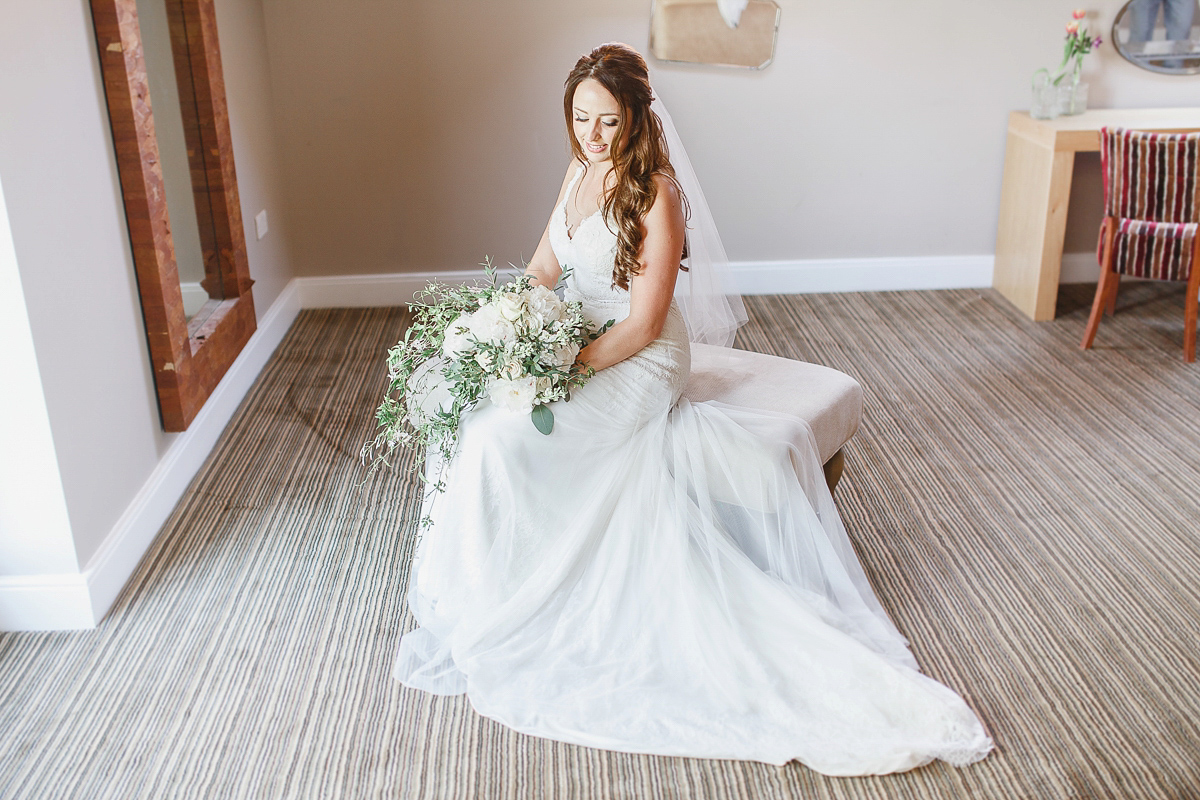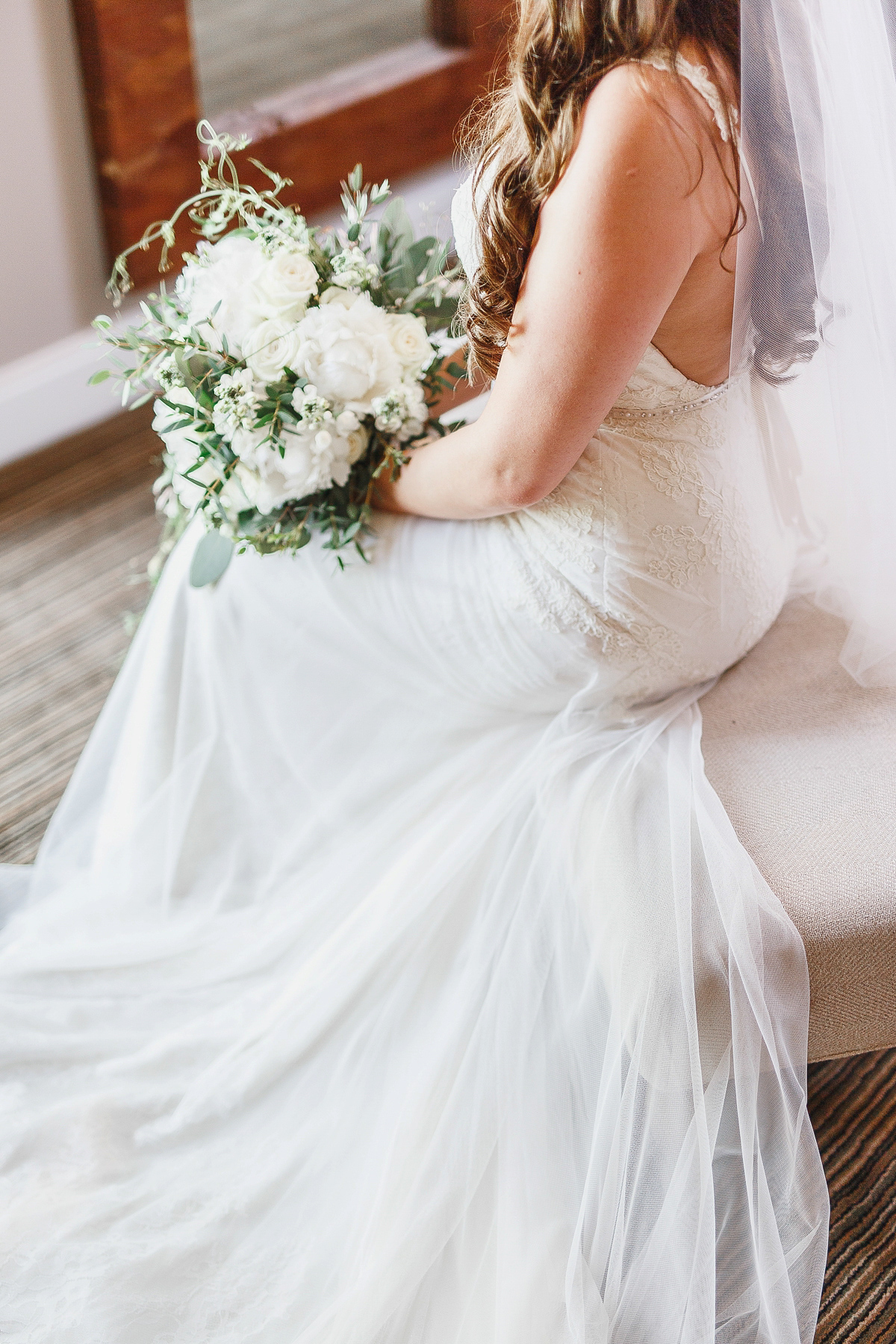 "My flower girl wore a dress from BHS and a fresh gypsophila circlet made by our florist. The Bespoke Flower Company are a really nice florist who offered simple, unstructured pastel coloured flower designs to fit with our chosen style."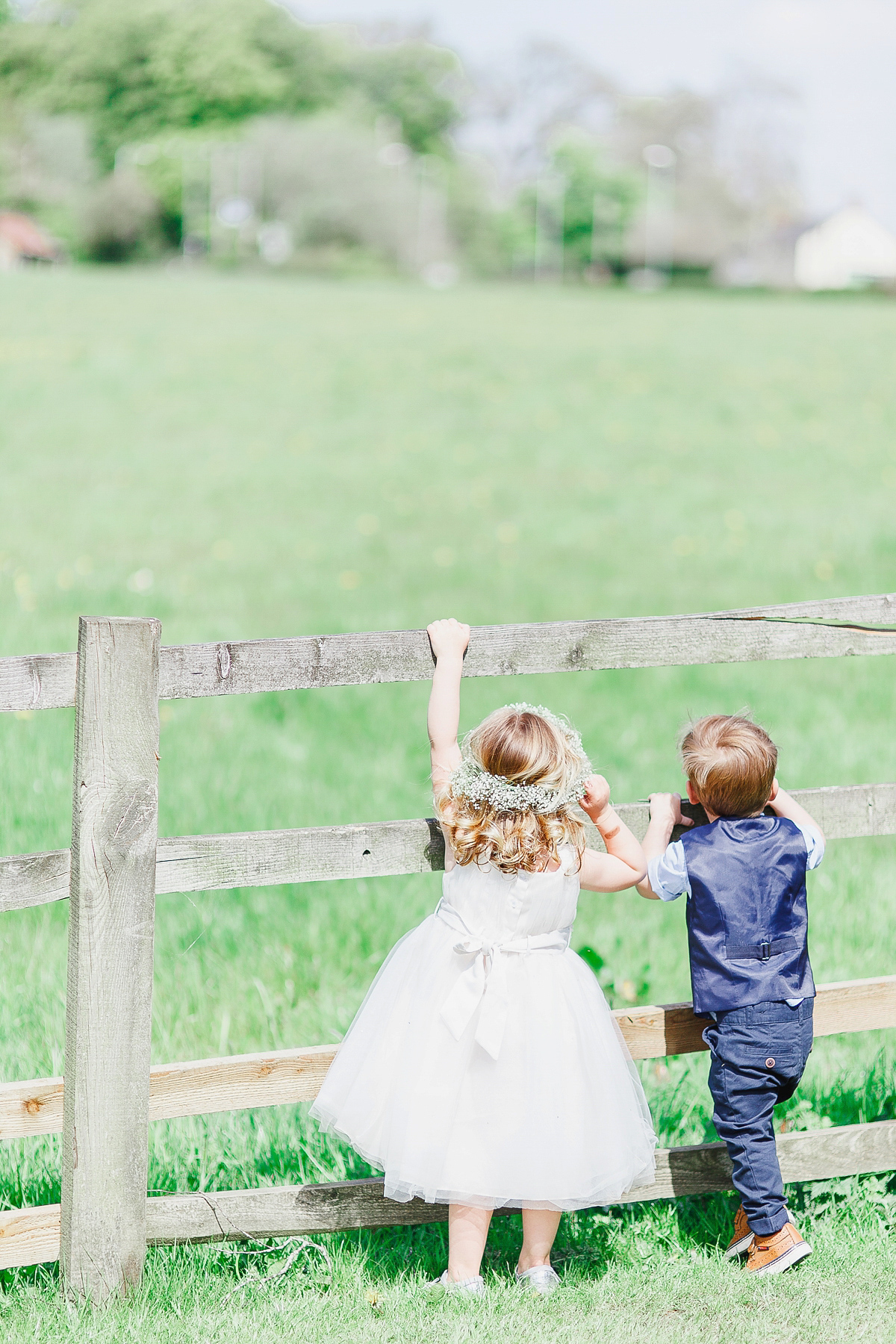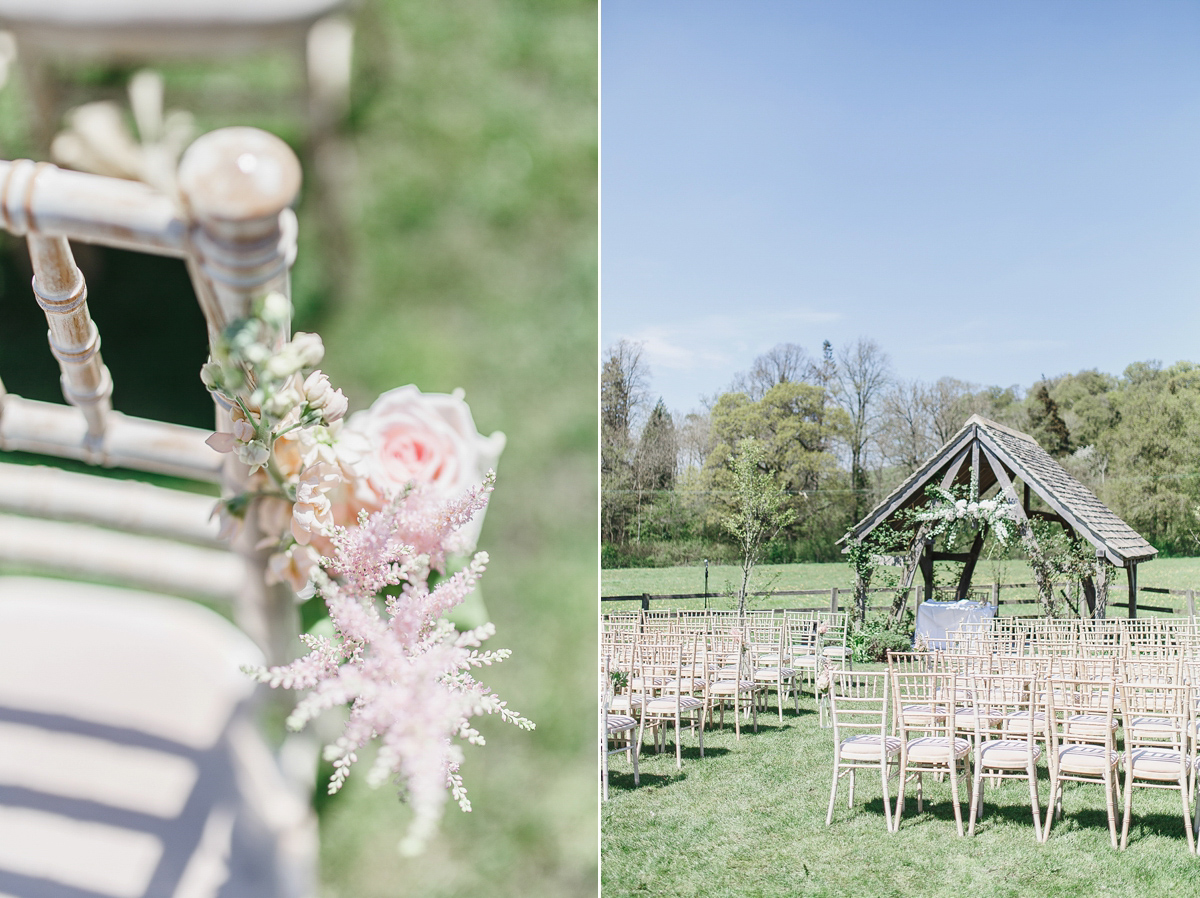 There's something about a circle of fluffy gypsophila crowning a head of golden ringlets that just instantly melts your heart.
Not alone in the cuteness stakes however, the very sweet page boy rocked a Debenhams ensemble and the groom was resplendent in a eye-catching blue three-piece suit from Marks & Spencer. Neil is one of those adorably emotional grooms who makes me well up just by looking at him.
"We met at one of Neil's gigs in London. We got engaged on New Year's Eve 2014/15 and spent sixteen months planning the wedding together."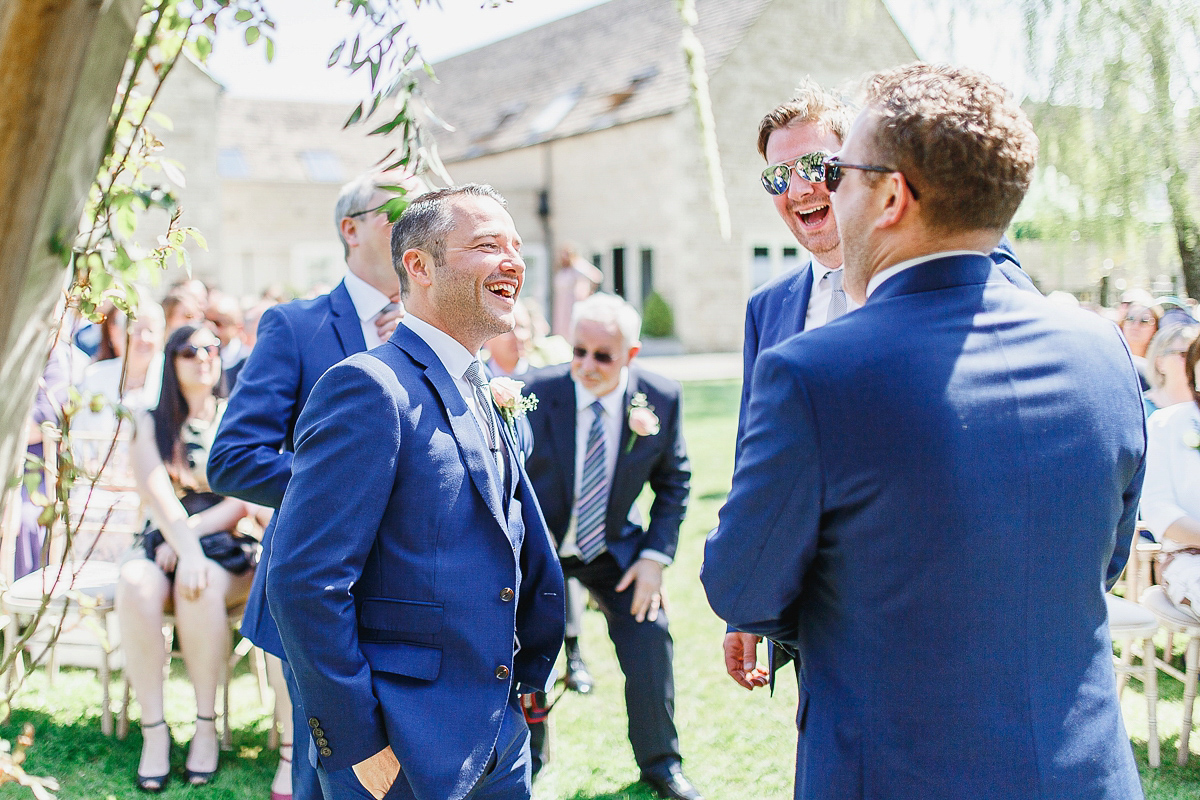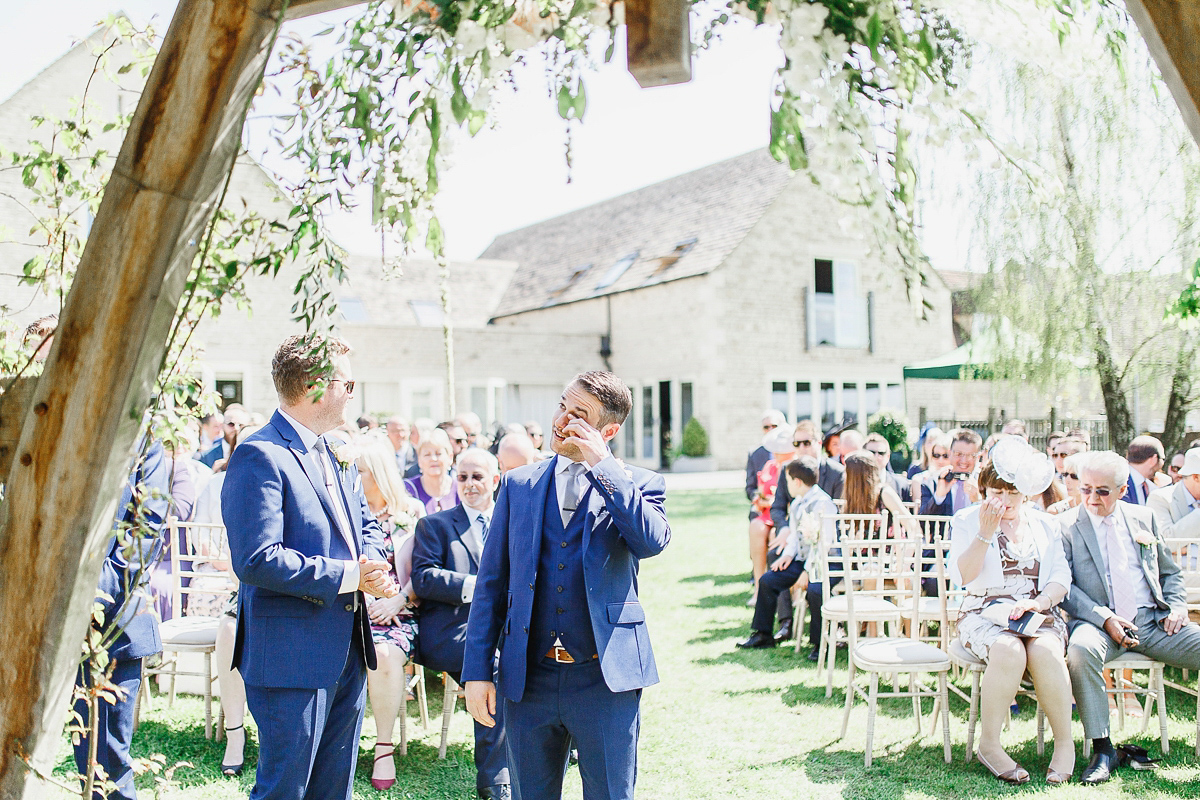 Stephanie's extremely proud dad John gave her away. The tearful first look with his baby girl, captured so beautifully by photographers White Stag Weddings, brought a huge lump to my throat. Father and daughter were accompanied down the outdoor aisle by Richard Grisman from the band Wildcard, who played Train's Drops of Jupiter on acoustic guitar.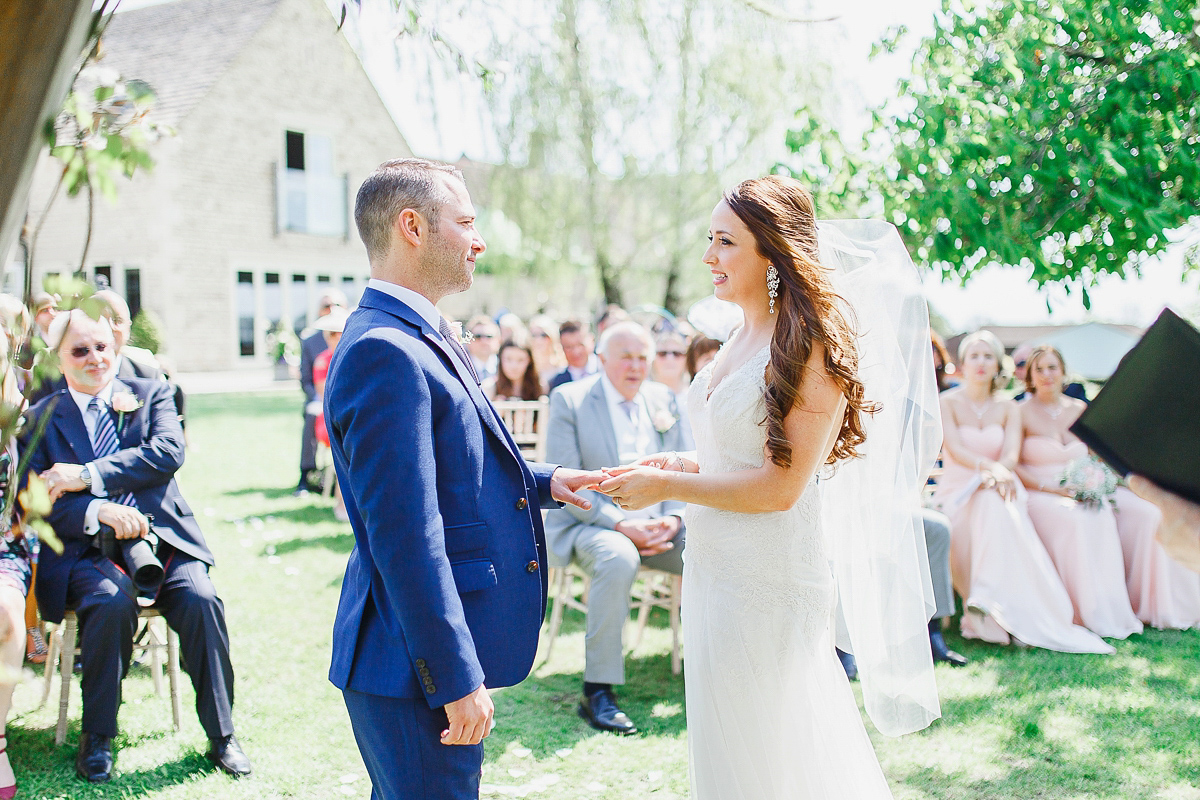 Licensed for weddings both indoors in their ceremony hall and outside under a beautiful arbour, Hyde House allowed the couple to enjoy the beautiful sunshine and play out their day exactly as they liked.
"Hyde House is just beautiful – we wanted a simple, lower cost but beautiful venue. As we planned a civil ceremony we could get married wherever but after finding Hyde House between Banbury where Stephanie grew up, and Cheltenham, where Neil went to university, we knew it was perfect. Hyde House have a professional but laid-back attitude to creating the best day possible."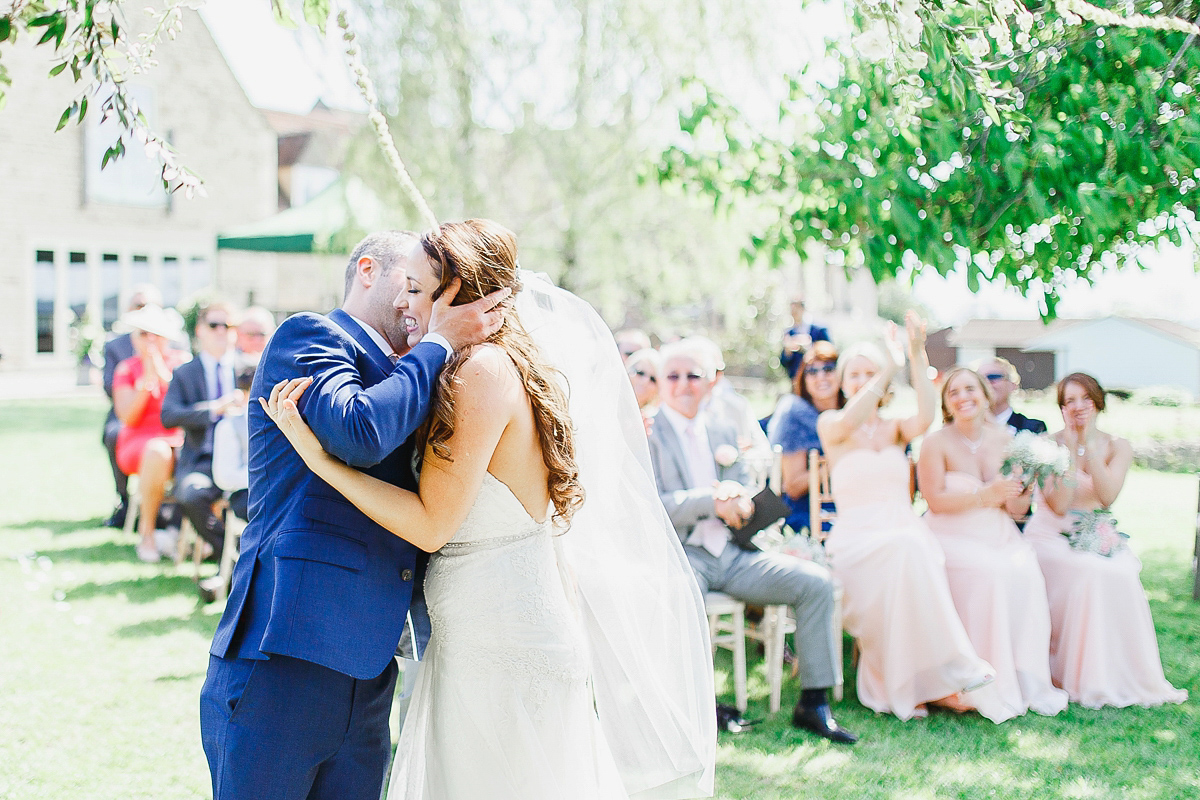 Stephanie and Neil chose two readings; the lovely 'Love is a temporary madness' extract from Captain Corelli's Mandolin and 'Love' by Roy Croft.
"The Roy Croft reading has just the perfect words for us – the first verses are the best:
I love you
Not only for what you are,
But for what I am
When I am with you.
I love you,
Not only for what
You have made of yourself,
But for what
You are making of me.
I love you
For the part of me
That you bring out."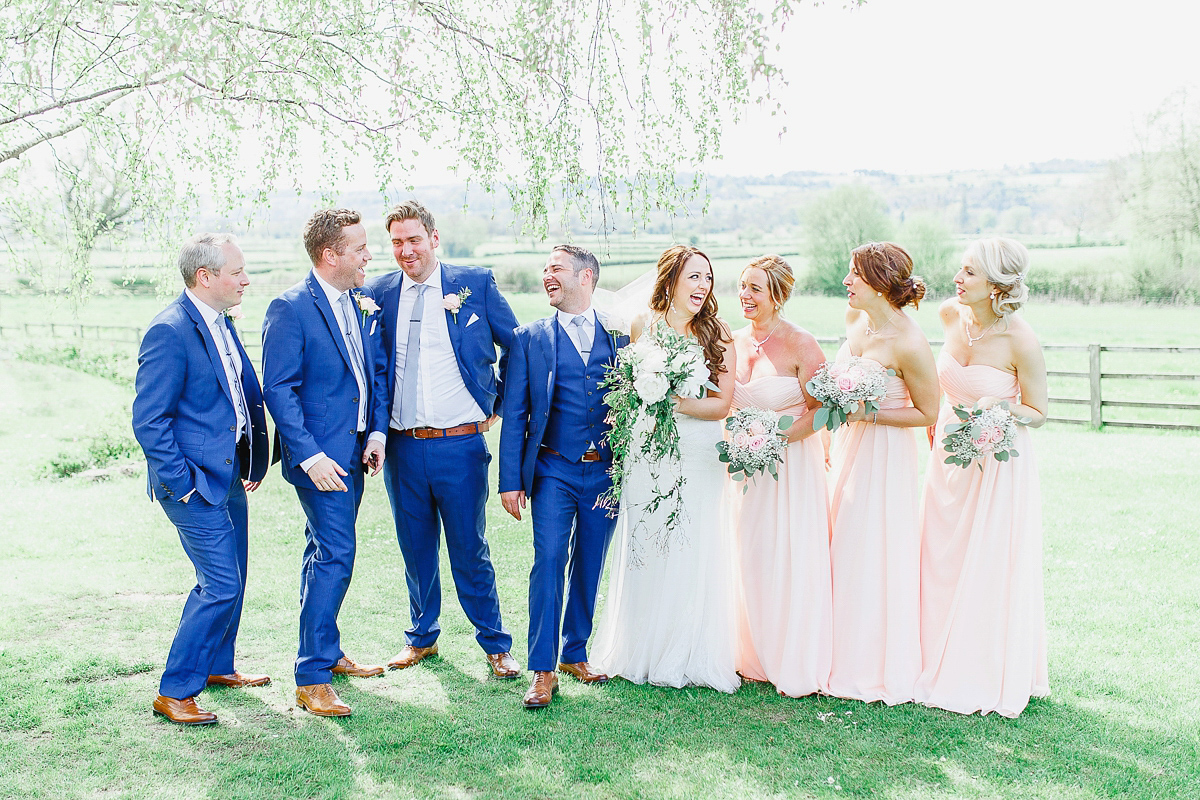 Saying their vows with the sun warming their shoulders and the wind gently blowing Stephanie's curls looks so incredibly romantic. The couple exchanged rings bought from Coco Fine Jewellery on New York's 5th Avenue, Stephanie's wedding band nestling alongside her engagement ring from Jade Jewellers on Hatton Garden. This was the couple's very favourite part of the day.
"Our favourite moment was marrying each other surrounded by all of our favourite people. The only thing sweeter was Neil's gift to me on the morning of the wedding; a Tiffany locket with a picture of my late best friend inside with the note, 'you couldn't get married without her by your side'. Needless to say, it's the best present I have ever received."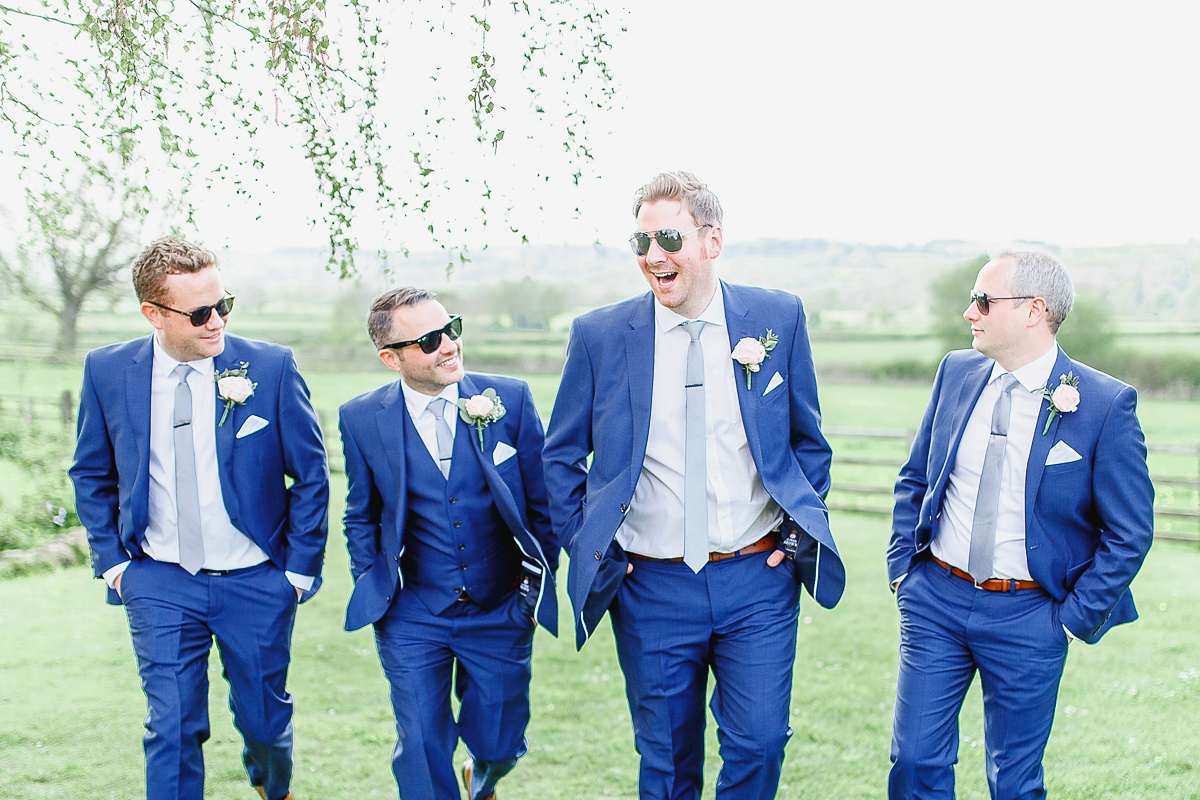 I absolutely adore that the new Mr and Mrs just can't keep the ear-splitting grins off their faces in the wake of their ceremony; their just married joy is totally infectious if their smiling, laughing guests are anything to go by.
The couple also took the time to capture some sweet couple portraits with their photographers in the beautiful surroundings of their Cotswolds venue.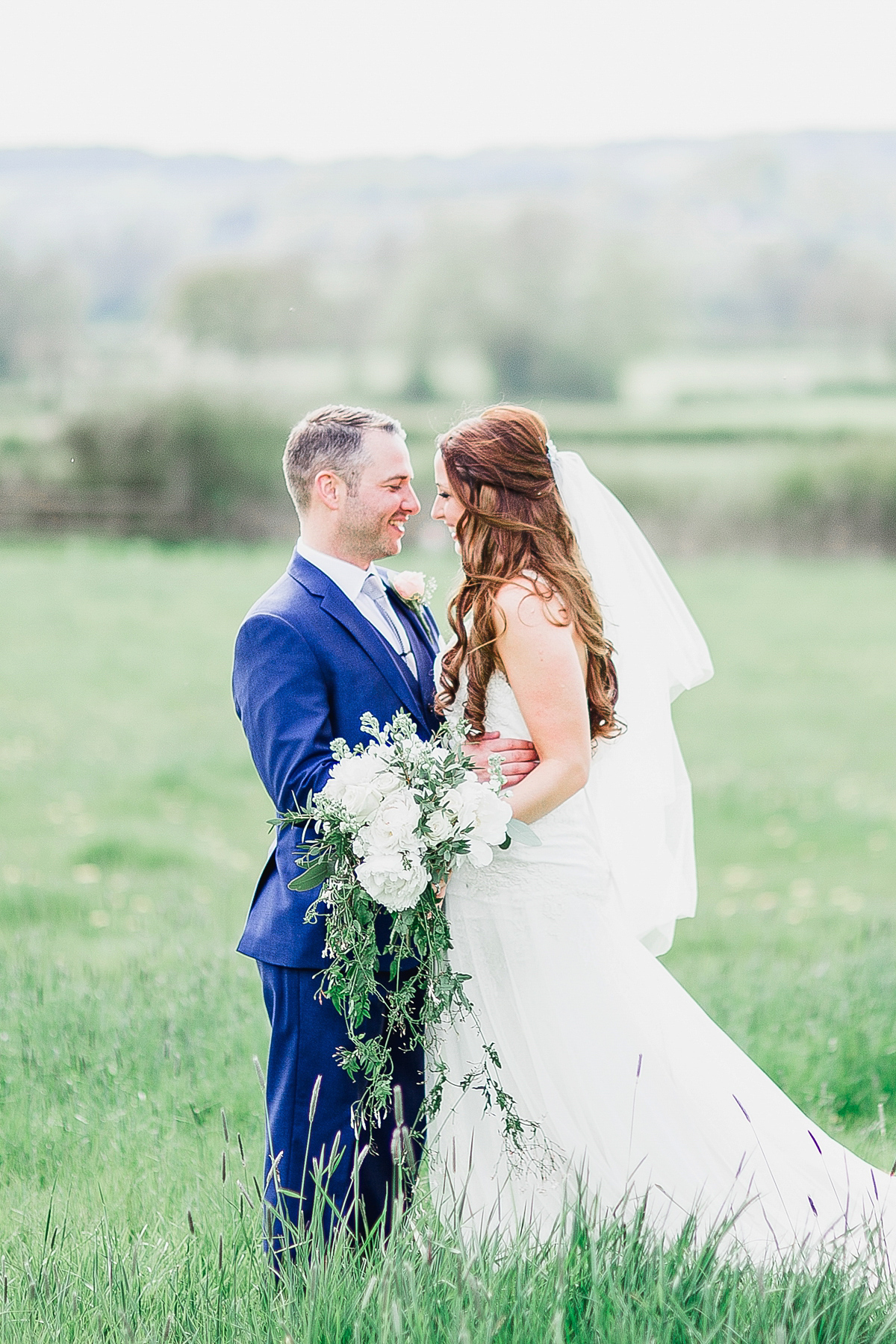 "We can't recommend White Stag Weddings enough, Catherine and Andy are so lovely and take wonderful photos, which capture the biggest and smallest of moments."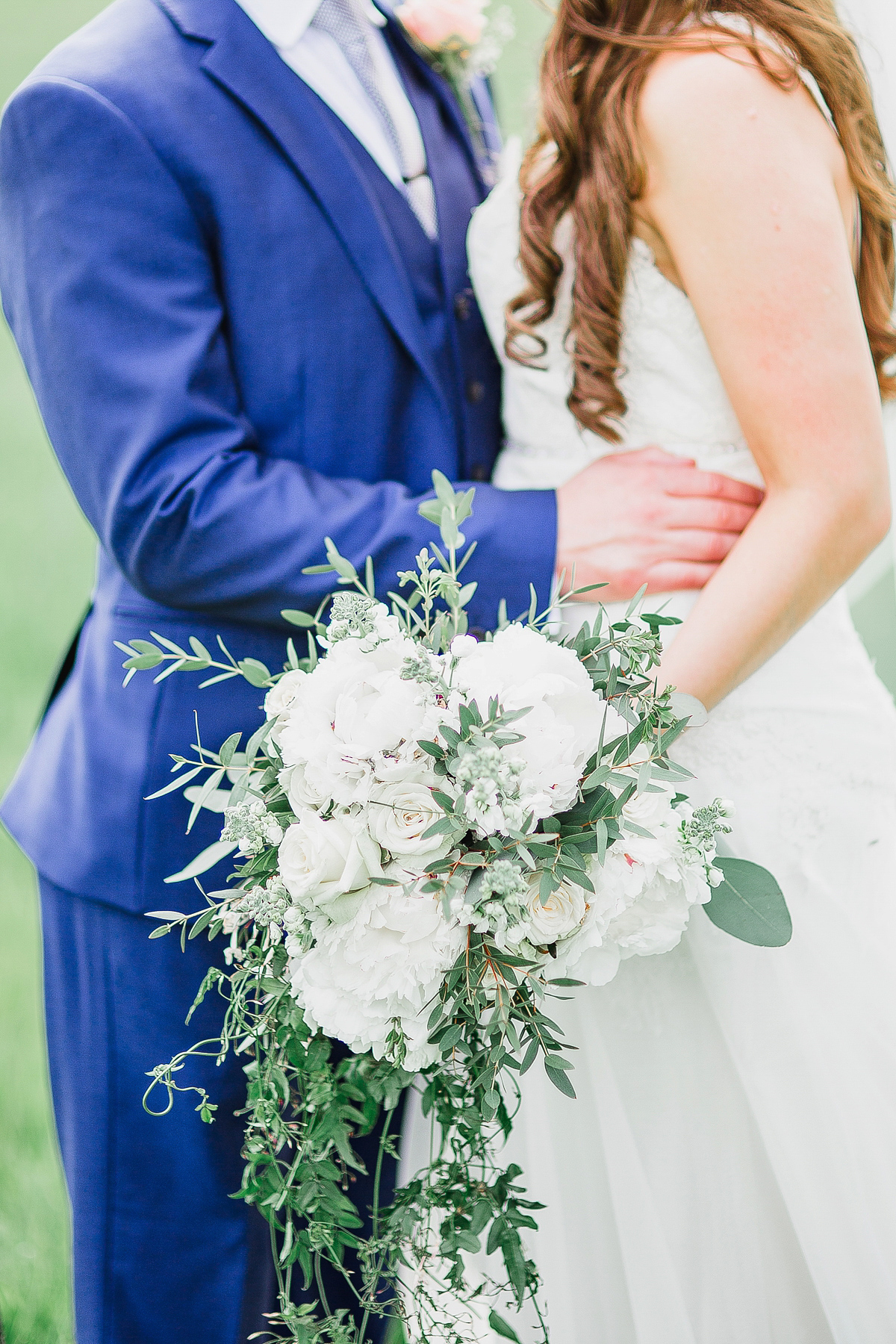 "They have a very laid back approach and make sure you enjoy your day rather than spending hours taking posed pictures. The results are soft and simple, capturing everything from a quick group to traditional wedding shots."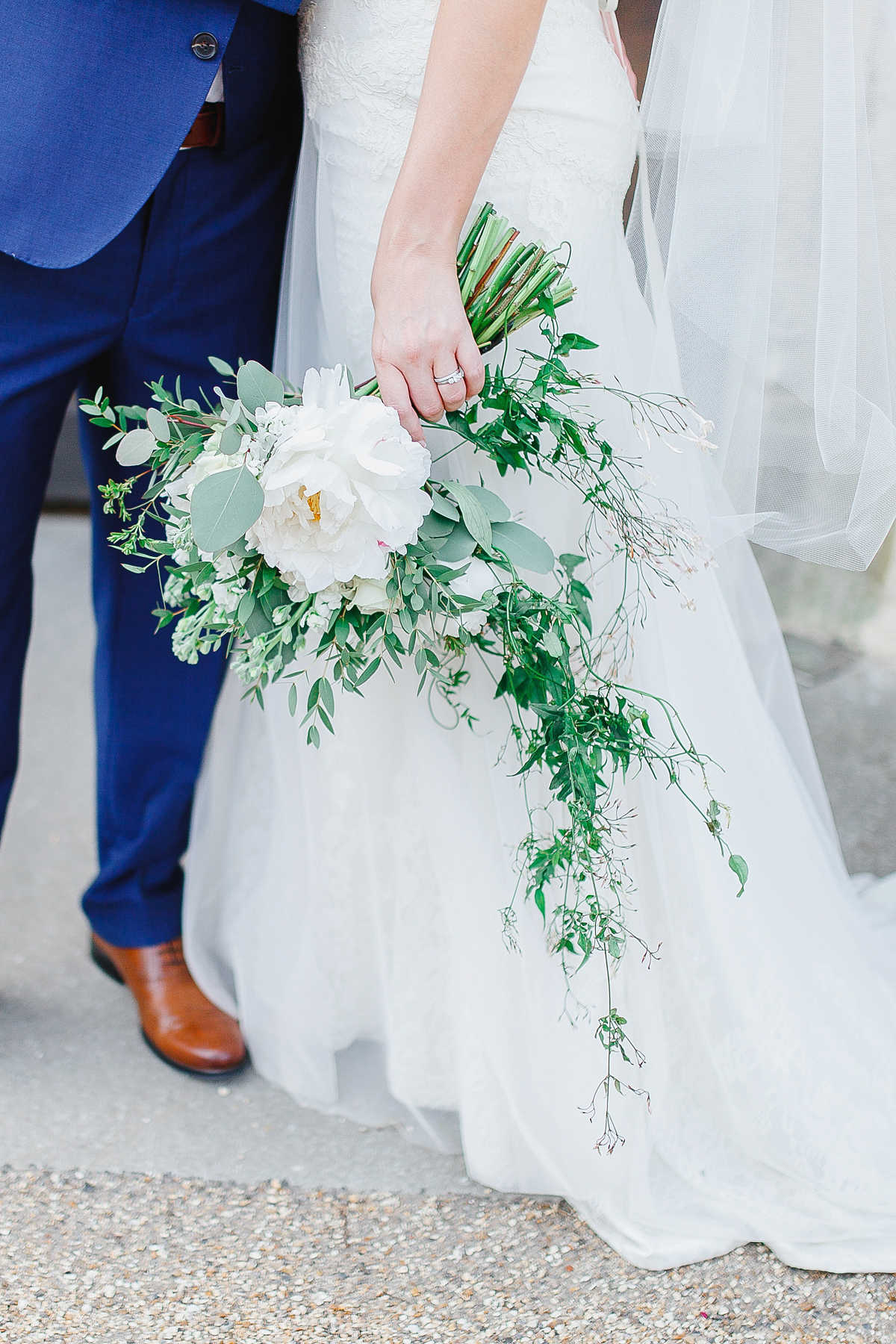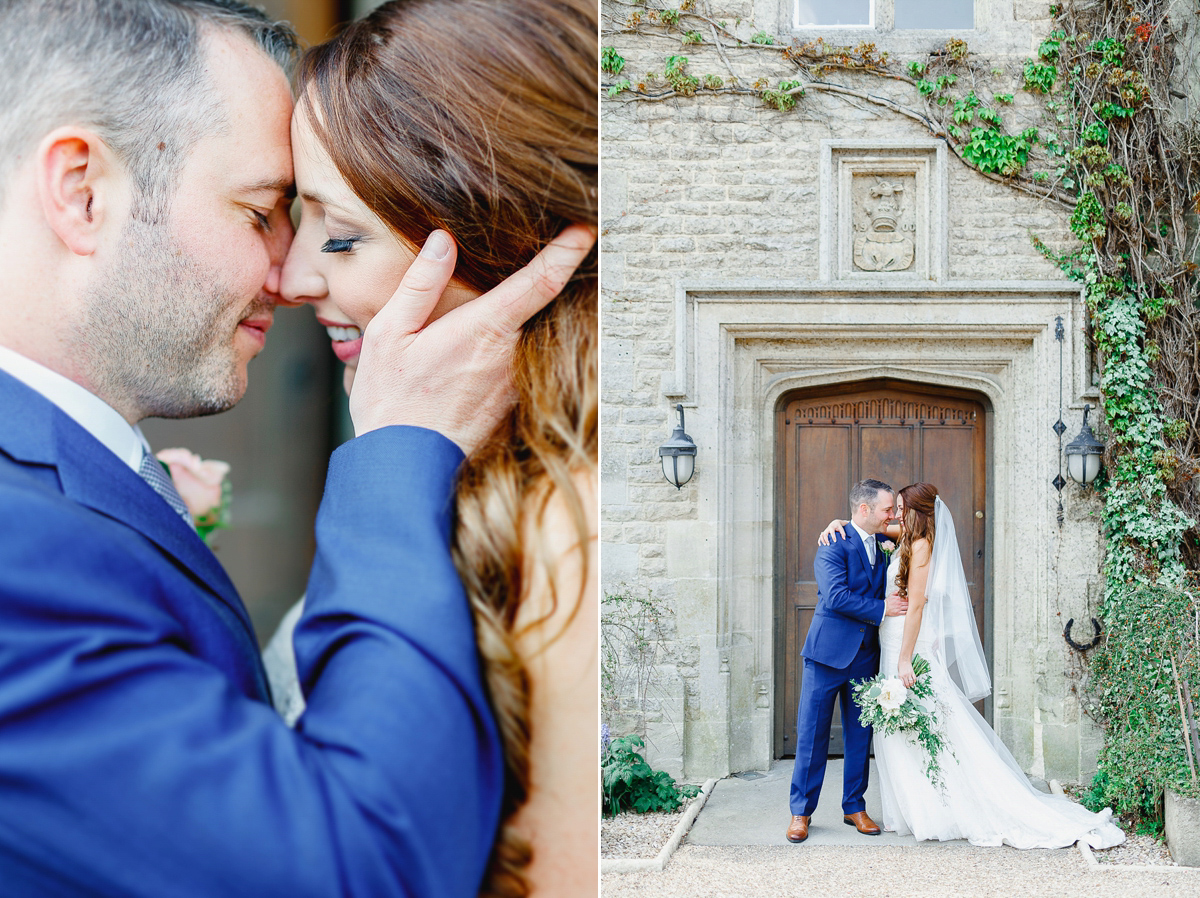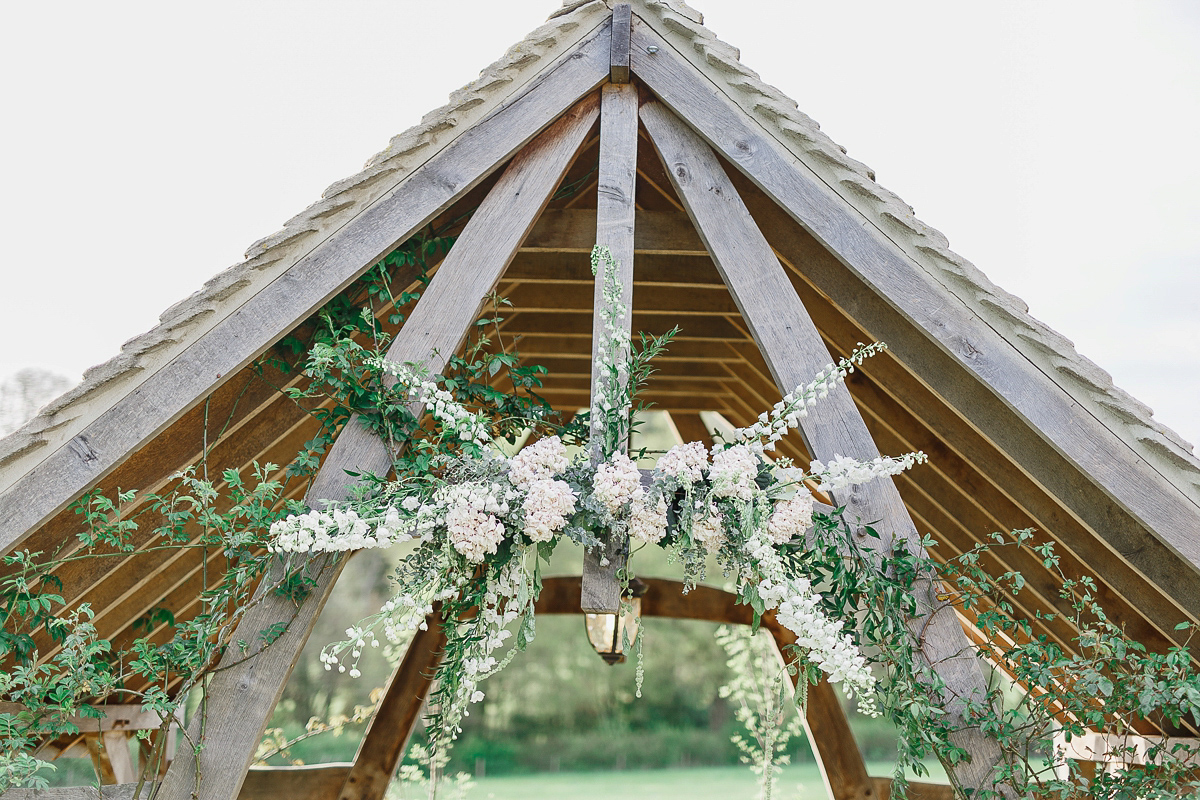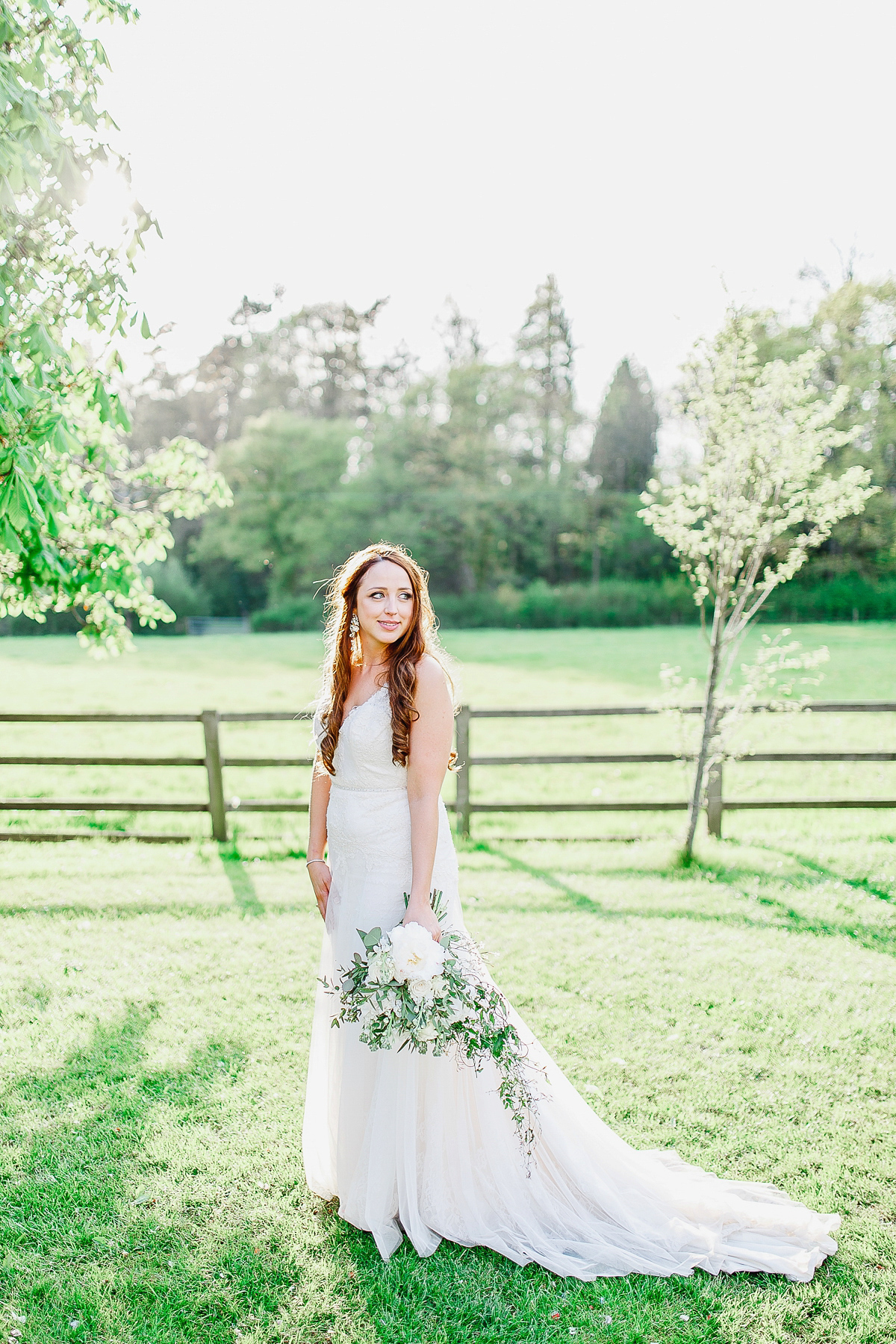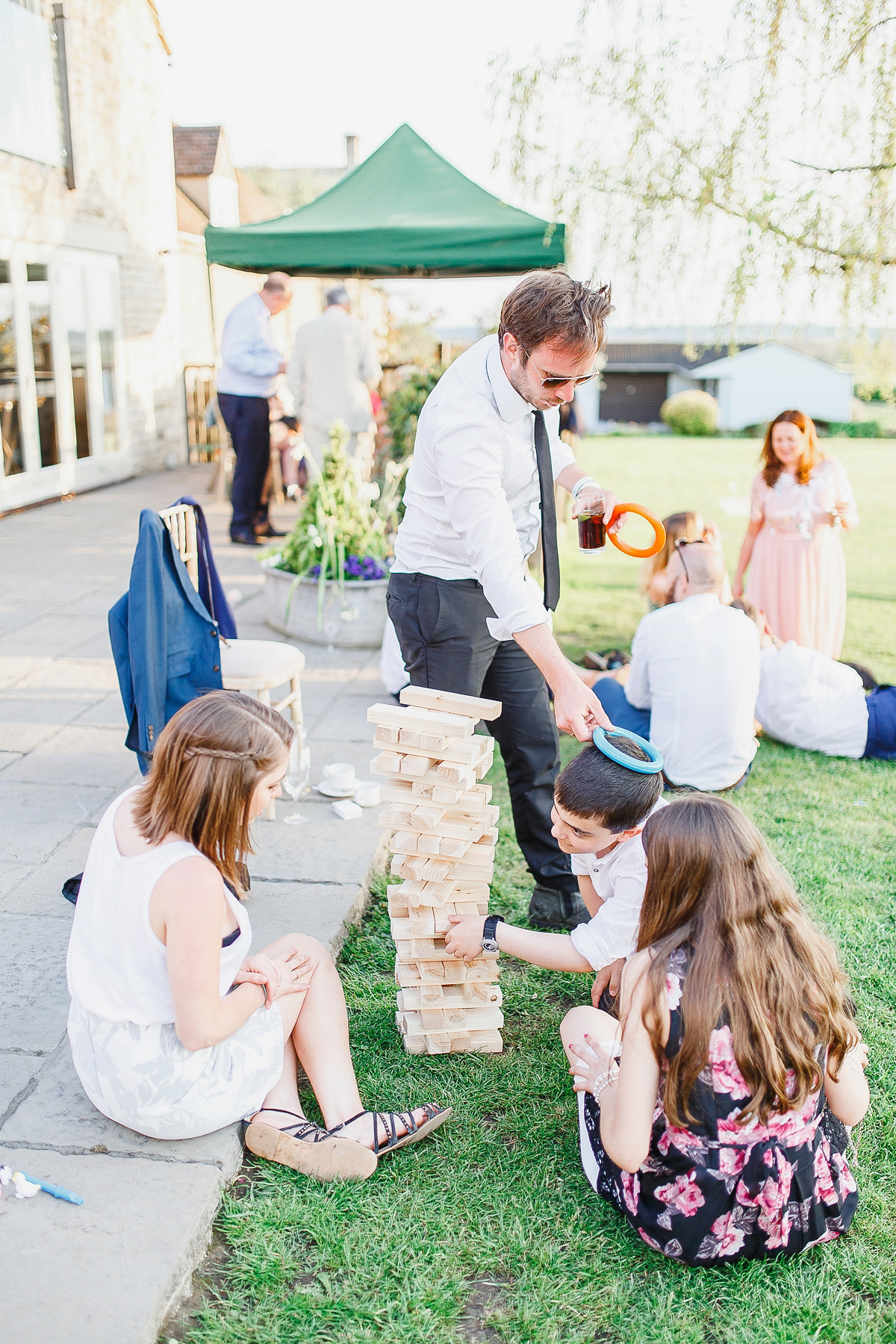 Hyde House kept guests happy with their wonderful in-house catering, expertly managed by Gary Quigley. The venue allowed the couple real creative license and Stephanie and Neil crafted a whole host of thoughtful and personal handmade details.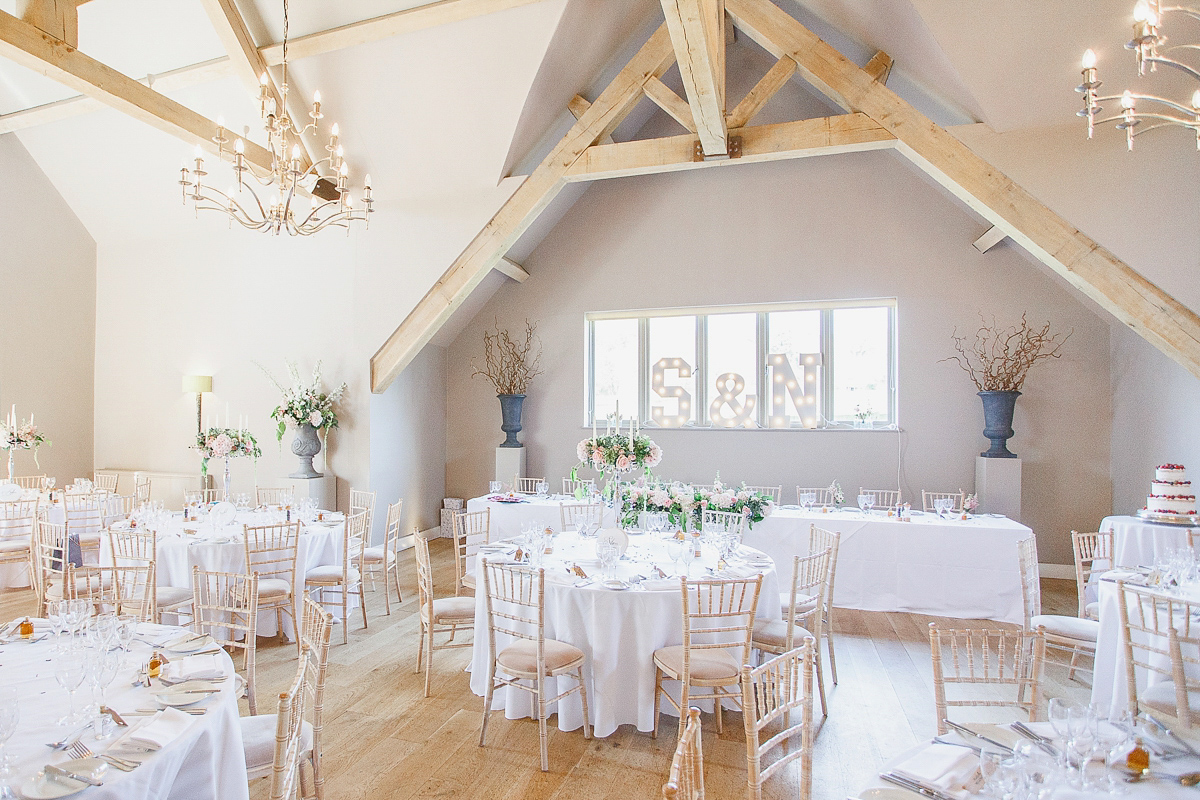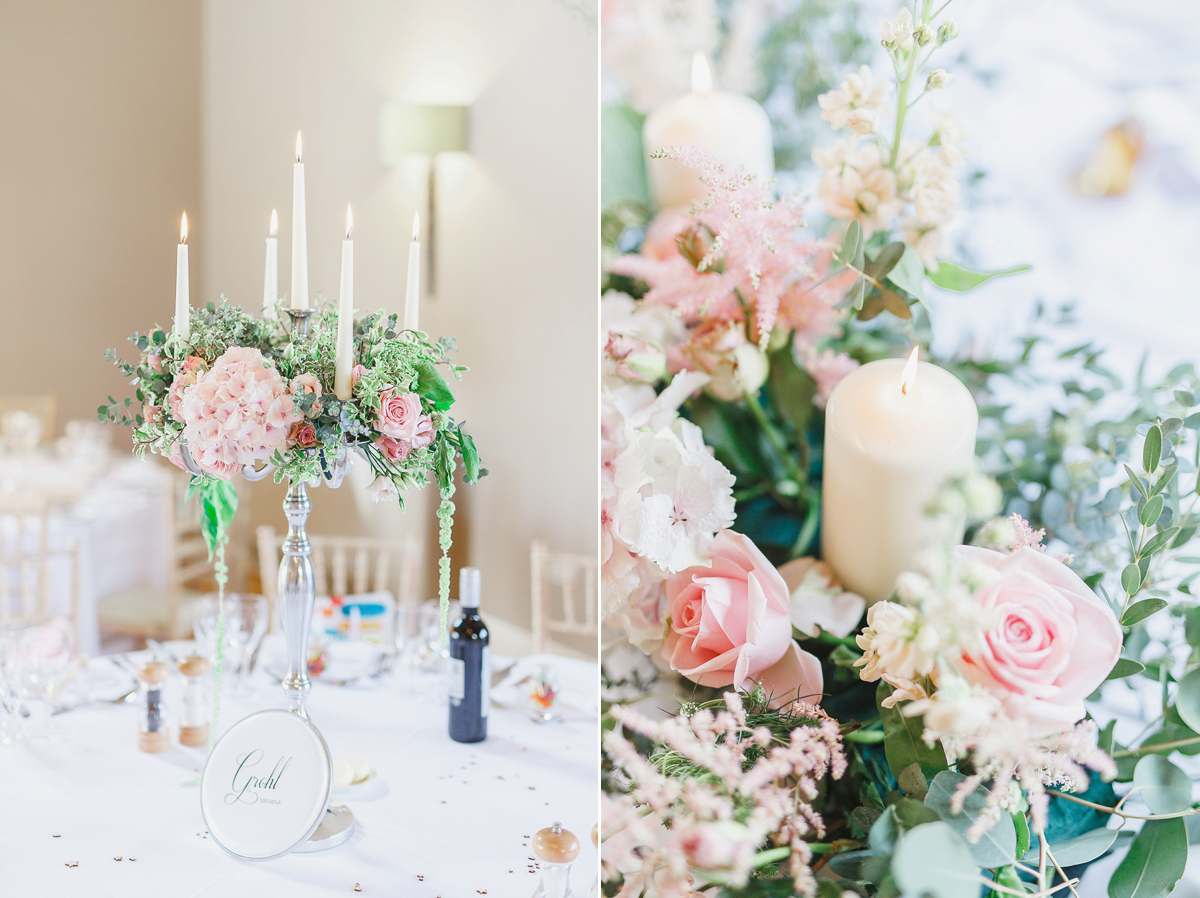 As well as a traditional guest book, Stephanie and Neil also provided a drum skin for their guests to sign, which they now hang proudly on the wall in their lounge as a momento of the day.
"We had activity kits to keep the little ones entertained – bubbles, planes, masks, lots of stickers and sweetie jar favours. And we opted for a naked cake from Bay Tree Cakes. We wanted a simple cake that fitted well with the rustic barn vibe; this one looked amazing and tasted great. They are a lovely, friendly company and we ordered everything online, which was quick, simple and cost effective."
"We are both creative so it was important for us to get hands on; we made all the favours, invitations, table names, the table plan and the bass drum card box. All of the typography and styling was carefully selected to blend with our personal, individual style."
"All the invitations were designed and printed by us to fit with the style of the venue and theme of the day – a simple country wedding. The table names were all Neil's favourite drummers and the table plan had black and white imagery mounted on a mirror with hand drawn detail matching the invitations. We created a card box bass drum by printing 'To The Bride & Groom' on vinyl and mounting it on a black drum head, cutting a hole for the cards."
"We made all the favours too. We wanted to buy everyone a drink in the evening without a costly free bar, and our handmade and personalised 50ml favours of gin, vodka, rum and whisky kept everyone very happy through into the evening. It also made quite the talking point when guests realised we handmade each one. We are actually launching a range of designs that can be personalised as required, so if you're interested please contact Stephanie on 07701091800."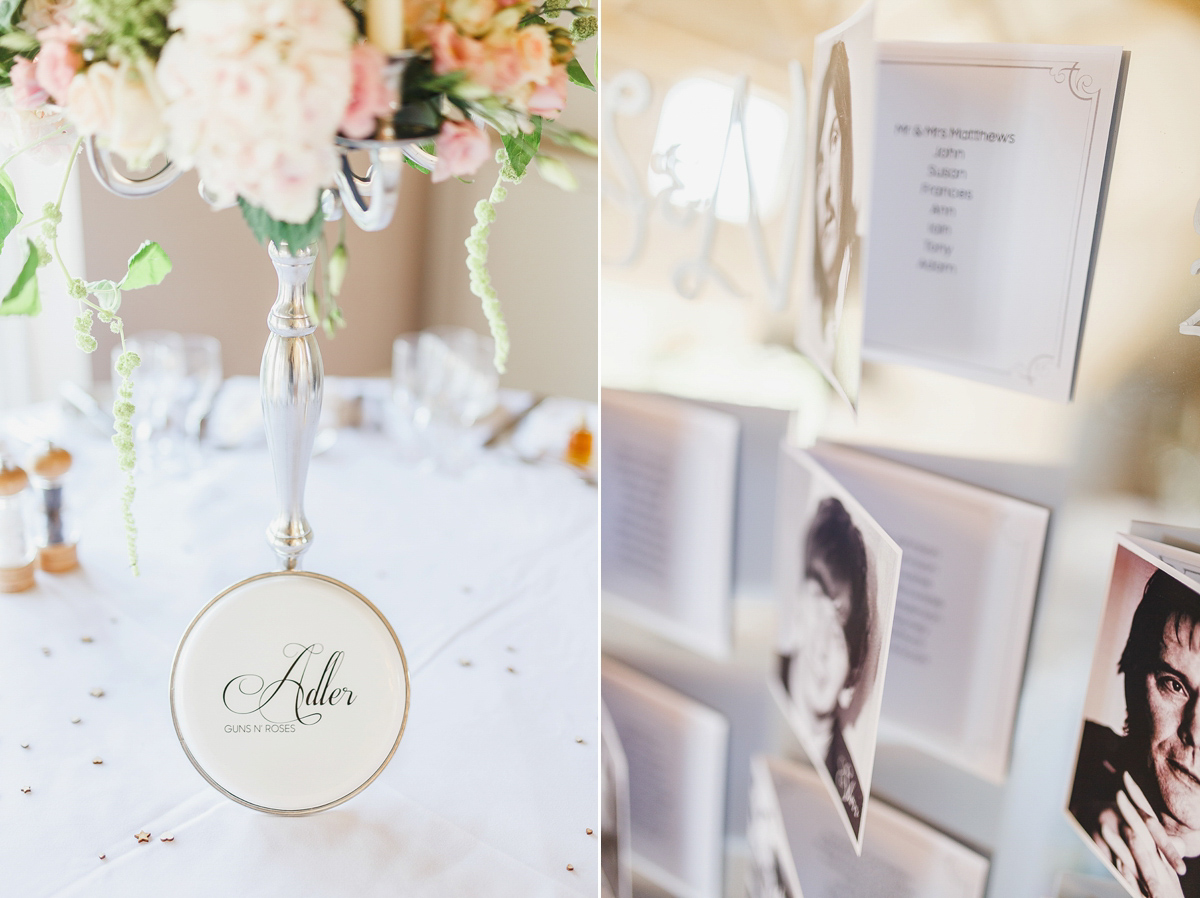 With Neil's musical background, it's unsurprising that booking the right band was of the utmost importance. The newlyweds also booked a retro style photo booth, which provided strips of images for their guests to take away and a second set for Stephanie and Neil's guestbook. Such fun keepsakes!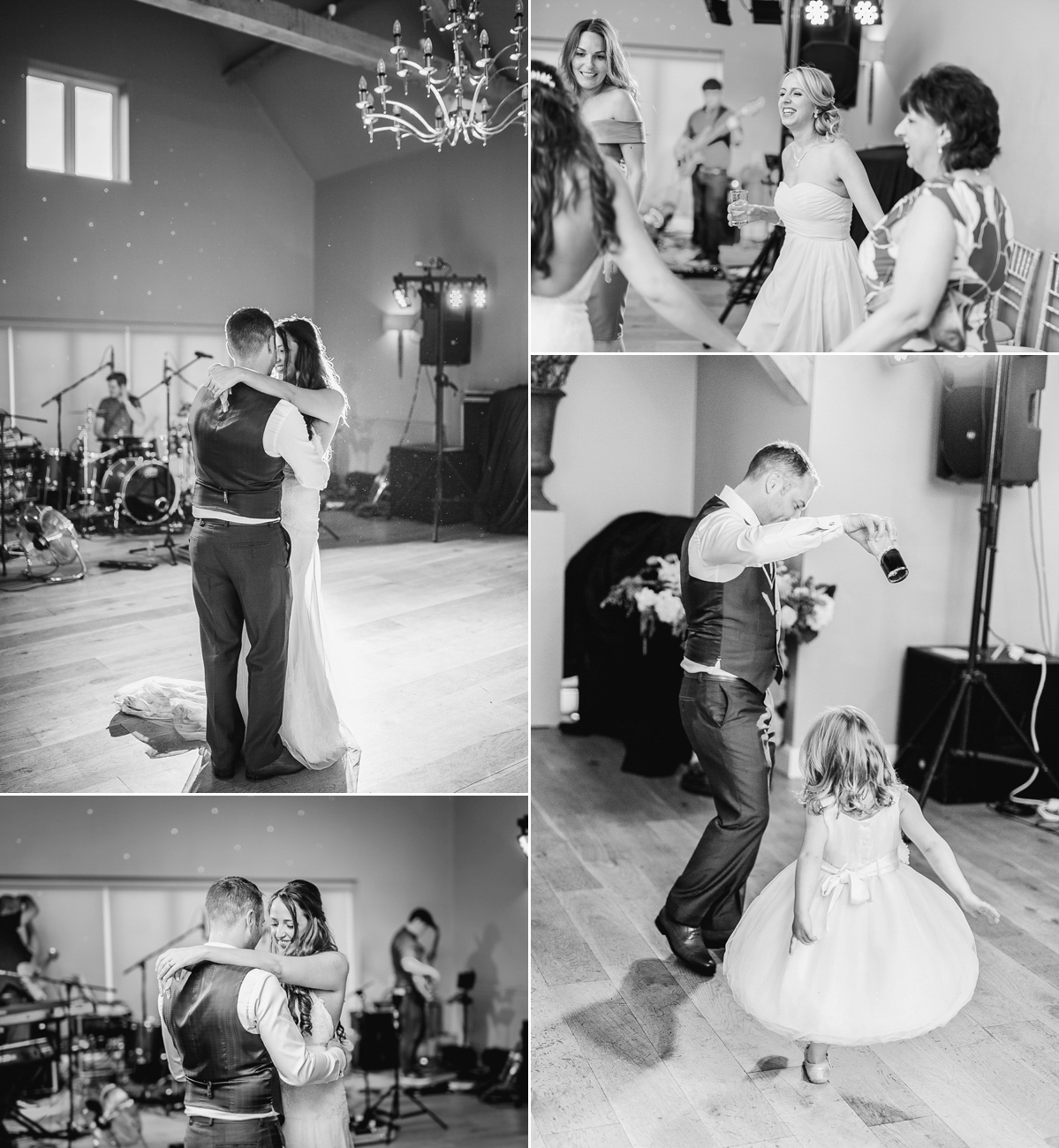 "Our band Wildcard were simply amazing and such a nice group of lads. They actually played at our friends Tony and Natalie's wedding in 2014 and didn't disappoint the second time around. For our first dance we chose 'Lets Get It On' by Marvin Gaye. We just love Marvin Gaye and wanted something love-inspired with a little humour."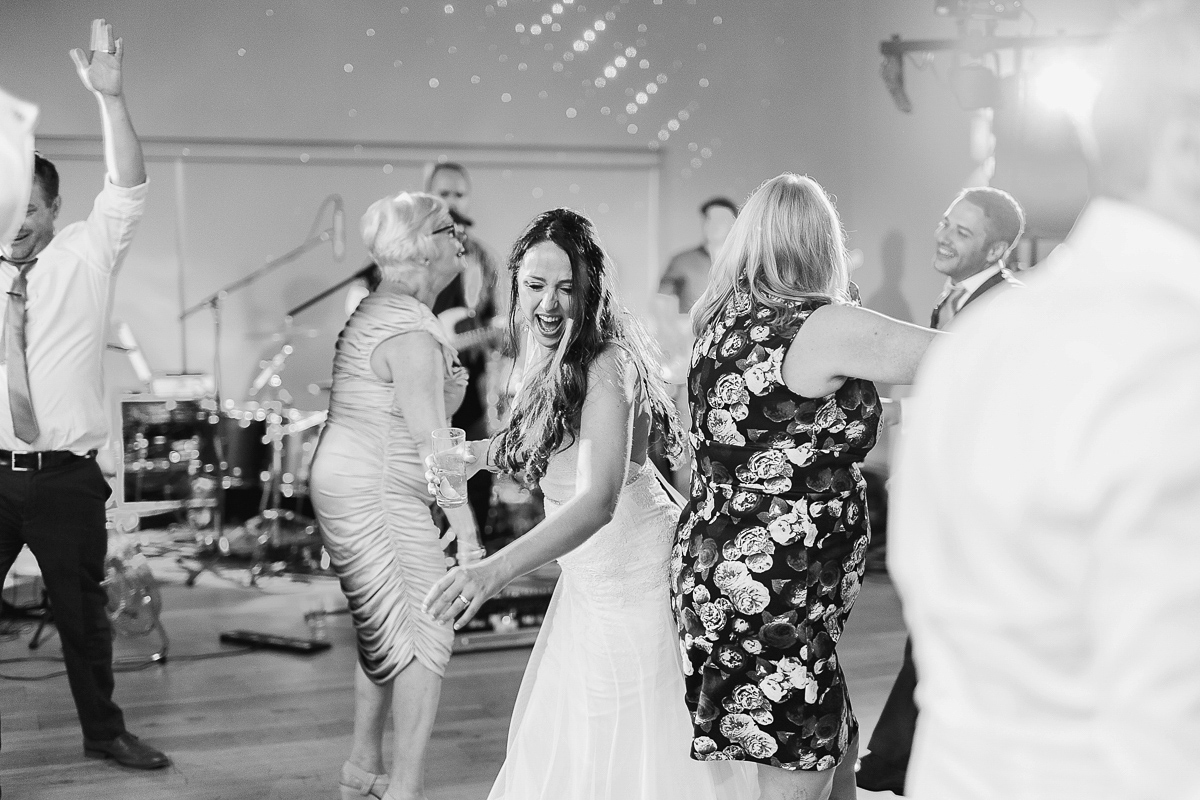 Words of Wedded Wisdom
"Just enjoy yourself and remember why you are there. It's so easy to get caught up in it all and worry about how things are going but just try to relax and just enjoy what you've created; it will be amazing."
I must say a very big thank you to the lovely Stephanie and Neil for starting our weekend in the prettiest way. And of course a second big thanks to White Stag Wedding Photography for these love-filled images of just married joy. If this gorgeous day has you in the mood for more pastel prettiness, simply follow this link.
Wishing you a lovely weekend,
Em x