We don't like to blow our own trumpet here at Love My Dress, but it's no secret that we share elegantly stylish nuptials that prove to be a veritable inspiration feast for the discerning bride to be. The giddily engaged (I'm including myself here) can see Pinterest board fodder laid out within the confines of real life weddings as brides and grooms celebrate all they hold dear. These brides can then pass on their wisdom, share supplier joy and tips from the other side. Quite frankly, Love My Dress is a life raft in a sea of slightly disappointing magazines and confusing google searches. Little Book for Brides takes that one step further in offering hand-picked, delectable suppliers for your perusal, but I'm sure you've already treated yourself to a little browse, right?
The wedding I'm sharing with you all today embodies all of the above Love My Dress wedding blog goodness. Country chic and rustic styling is hugely popular at the moment and the possibilities of pretty vintage touches and romantic venue décor are endless. Matt, a College Lecturer wed Mhairi, an Events Manager at Holy Trinity Church, St Andrews on 2nd August 2015, making today their first wedding anniversary (congratulatory hugs guys!). They continued the party at Kinkell Byre, showcasing all manner of homespun adornments and a welcome dose of fun and family joy mixed in for good measure. Bride Mhairi has enlightened us all with some top tips, so if you're leaning towards this wonderfully vintage English wedding vibe, pay close attention.
"We were probably most inspired by other rustic and vintage weddings, with a touch of the Art Deco, but mostly we wanted to have a wedding that was us – relaxed, fun, and family focused. We just really wanted it to feel like a big family gathering, and it really did!"
Photography by The Gibsons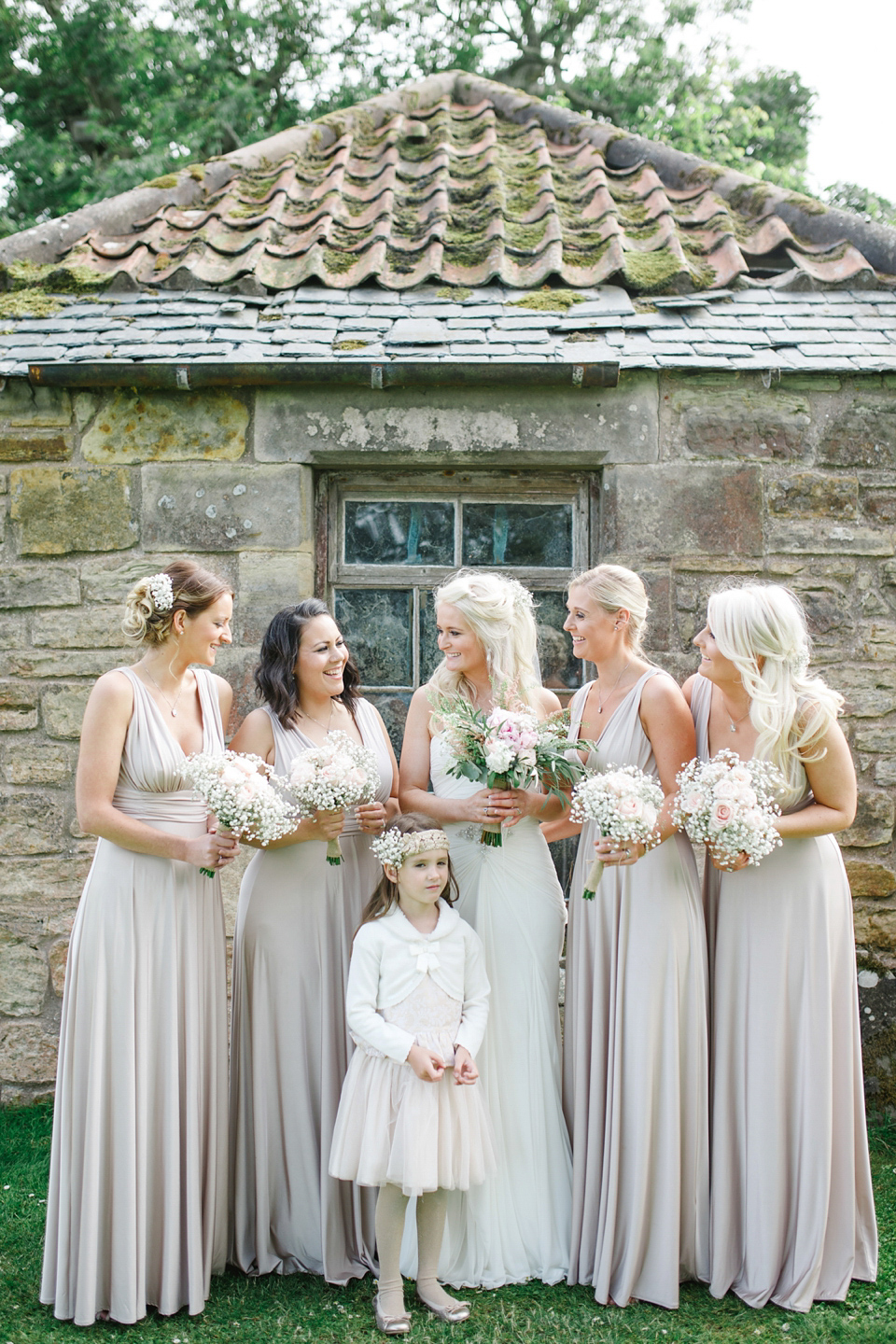 Bridesmaids gowns from Biba via House of Fraser
"I loved how the dress flowed when I walked and it was important to me that it wasn't too heavy or fussy, because I just wouldn't have felt like me. I also knew Matt would love it for all the same reasons I did."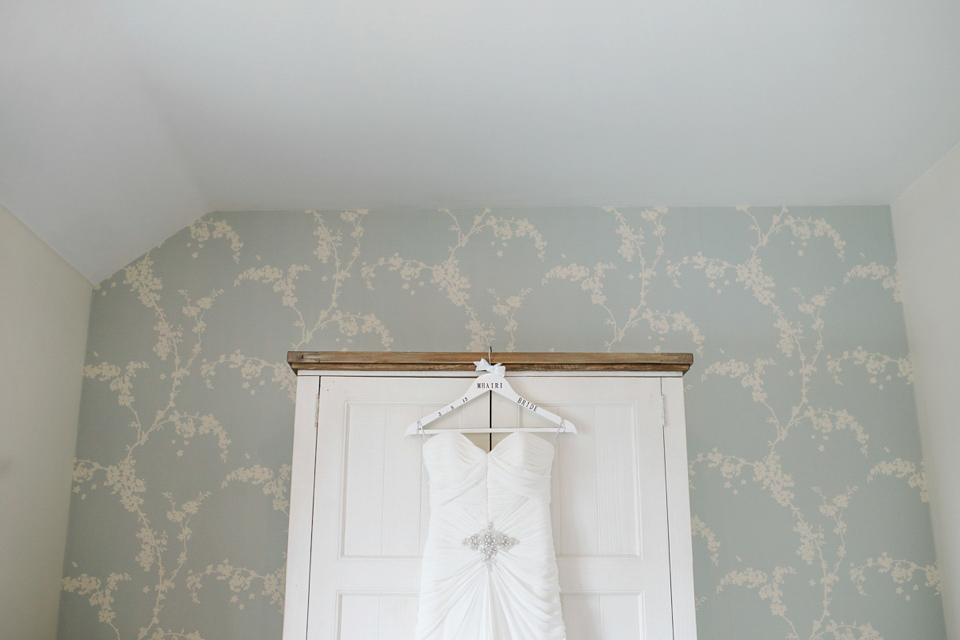 Badgley Mischka provided some bejewelled heels and our bride chose to spritz herself in a new perfume for optimum wedding memories, 'Si' by Giorgio Armani. If these Deco-esque beauties float your boat, then I have to direct you a sumptuous, vintage inspired treat that we shared last week, I still can't get those feathers out of my mind.
"My diamond necklace was my 'something borrowed' which was from my bridesmaid Nicola. I also had a 'something new' anklet and a garter that my sister Kirsten gave me that morning and I had the best surprise ever from Matt that morning; I woke up to a little package beside my bed which was my 'something blue' – a sapphire and diamond ring. I also carried a lace handkerchief in the church, which was from my gran as my 'something old'."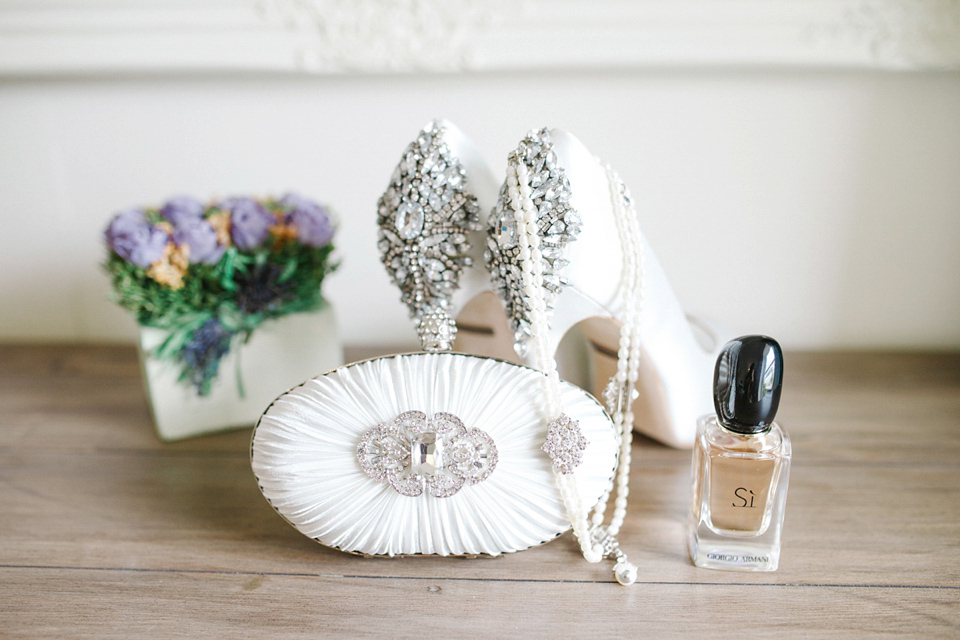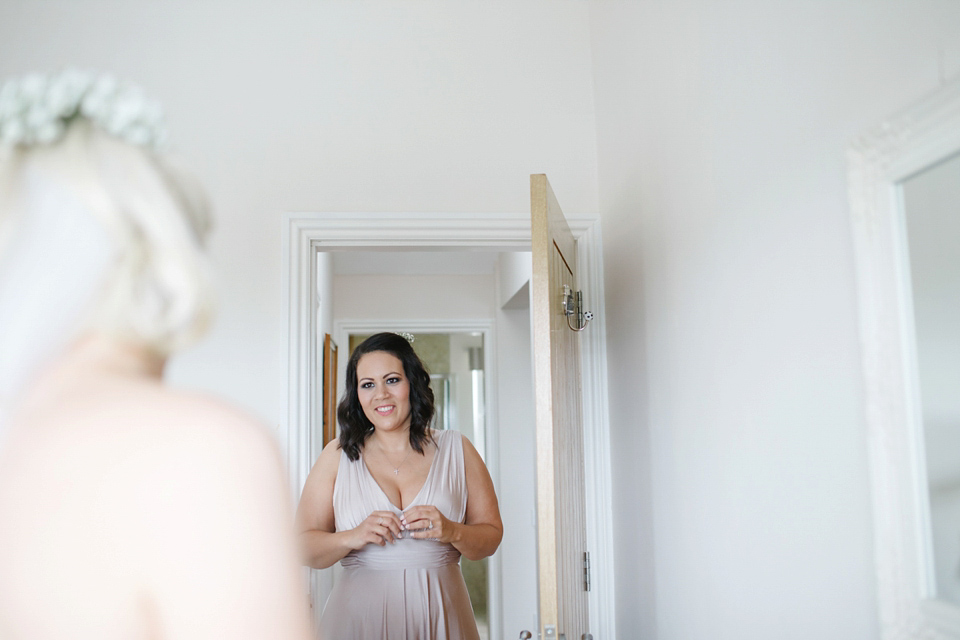 In keeping with the low-key elegance of the day, the floral arrangements were soft and romantic; dainty pastels and muted eucalyptus really pop against the shimmering white of Mhairi's gown. Choosing Melissa Coll was a decision that felt natural to our bride, showing that going with your gut and finding suppliers who share your vision is key to a fruitful and stress-free planning experience.
"I knew I wanted pastels, soft colours and lots of white. I initially came across Melissa on Instagram and immediately I wanted her to be my florist. As soon as I spoke to her, we were totally on the same page with all our ideas. She did my bouquet, my bridesmaids bouquets, our hair flowers, table flowers, pew ends, buttonholes and my cake and was just fabulous!"
Mhairi wanted to keep her bridal look simple and classic with just a touch of sparkle, choosing an Enzoani dress from Opus Couture in West Kilbride. Gypsophlia flowers were added to Mhairi's loose cascade of white blonde waves. Excited bridesmaids were treated to mini bottles of champagne from Grays and Feather and twinkling Swarovski necklaces before slipping into their elegant Biba gowns, purchased at House of Fraser.
This being a Scottish celebration, groom Matt rocked a traditional kilt and suit combo from MacGregor and Macduff, with his groomsmen in similar, darker outfits.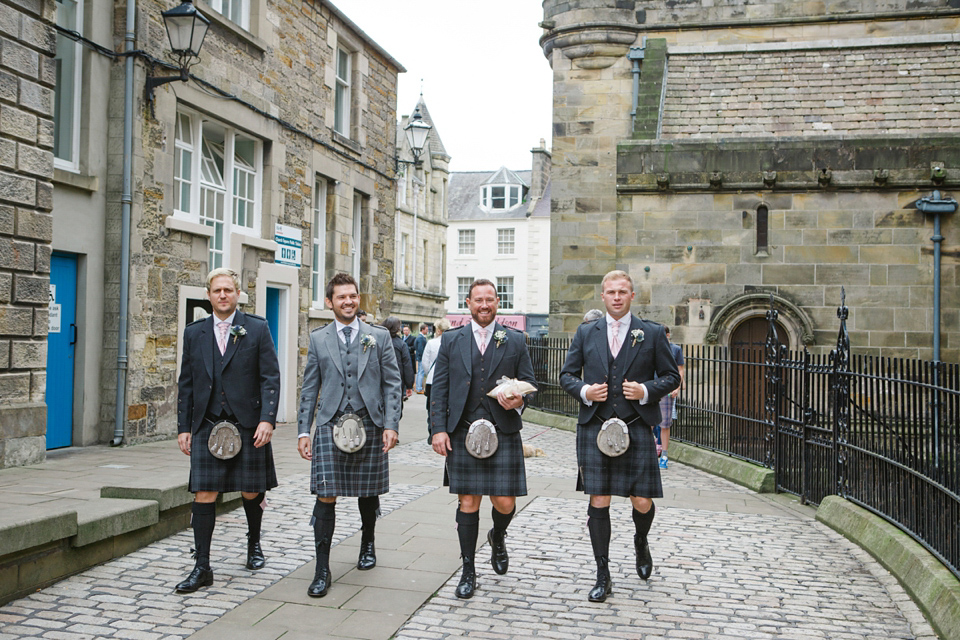 Personality and warmth flows through the day, just as Mhairi and Matt wanted it to. The wedding planning process began with that all important question: Where? St Andrews had always played a part in these lovebirds relationship and so the location meant a lot. They shared their love of this Scottish town with friends and family that had travelled from all over the world to support them in their journey to matrimonial bliss.
"St Andrews was one of the first places we went on holiday together so it's always been special to us. We knew we wanted to get married near the sea and loved the idea of a relaxed, barn wedding. As we had lots of family and friends travelling to Scotland from all over (Wales, Spain, Australia etc.) we thought St Andrews would be a lovely place for them, and us, to spend the weekend."
"We met when I was on my best friend's hen night in Merchant City, Glasgow and Matt was up from Wales visiting his friend who lived there at the time. We spent three years doing 'long distance' after that, and used to joke about our relationship being 'sponsored by Flybe'. Eventually I moved to South Wales in February 2013 and we got engaged in October 2013 at Firkin Point, on the bonny banks of Loch Lomond."
Upon arriving at Holy Trinity Church, St Andrews, Mhairi's 'Wee Dad' Papa Spoon walked her down the aisle to iconic sounds of the traditional wedding march. Readings were chosen based on hopes for the future as Mr and Mrs Jones, which an extract of an adaption of Pam Ayres 'Yes I'll Marry You My Dear' giving me a Welsh love jolt.
"Yes, I'll marry you, my dear,
And here's the reasons why;
So I can cuddle you & cwtch you,
Until the day we die."
(Cwtch – a Welsh hug)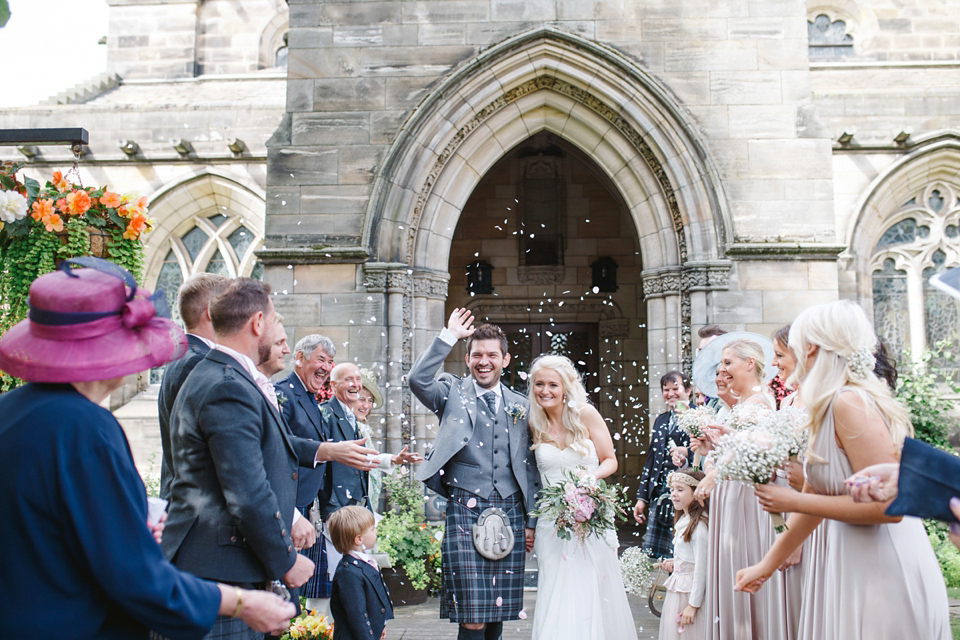 Continuing the very personal thread of the celebration, Chantal and Scott, aka The Gibsons Photography have known Mhairi since she was a little girl, adding further depth to the whimsical, light filled images. The backdrop of painted metal doors is incredibly simple but so effective.
"Chantal and Scott were fabulous to have around on the day. Not only did I fall in love with their style of photography but I've known Chantal & Scott since I was in school, so we felt so much more relaxed around them. They are a great team and a fantastic, happy couple! They're not intrusive at all, which I think is important for the day. And because there are two of them, they manage to capture the day from both the bride and groom perspectives without lots of rushing in between."
Kinkell Byre bills itself as a 'blank canvas venue', a 250-year-old former cow shed with vast potential that gives you complete control of your chosen aesthetic. The new Mr and Mrs Jones enlisted help from loved ones as they filled the barn with personal touches, homemade decoration and miles of bunting made by the bride.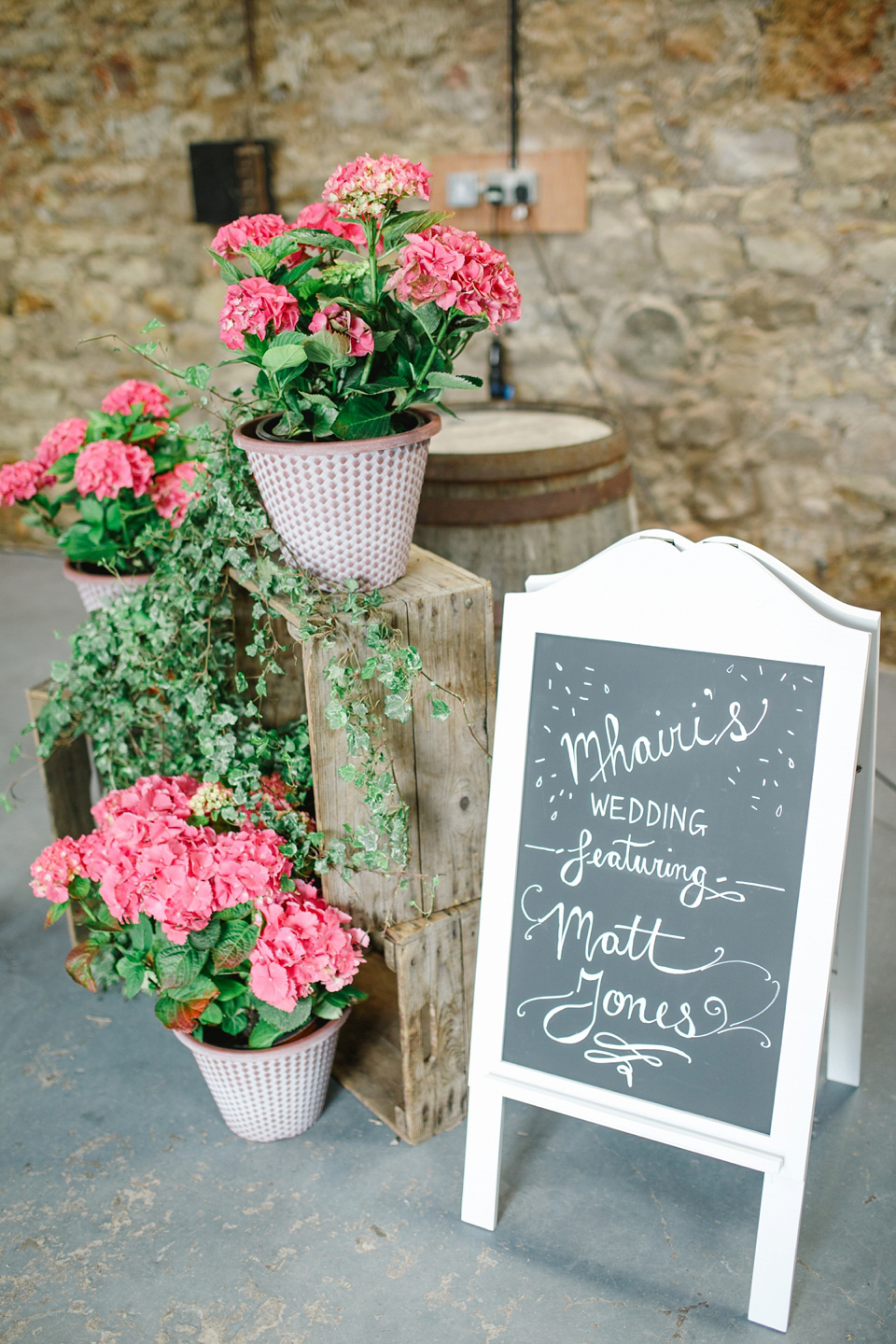 Hessian and gypsophilia are truly a match made in heaven when it comes to classic, rustic styling and they were used in abundance for optimum impact. For more barn-tastic celebrations and styling inspiration have a little click here.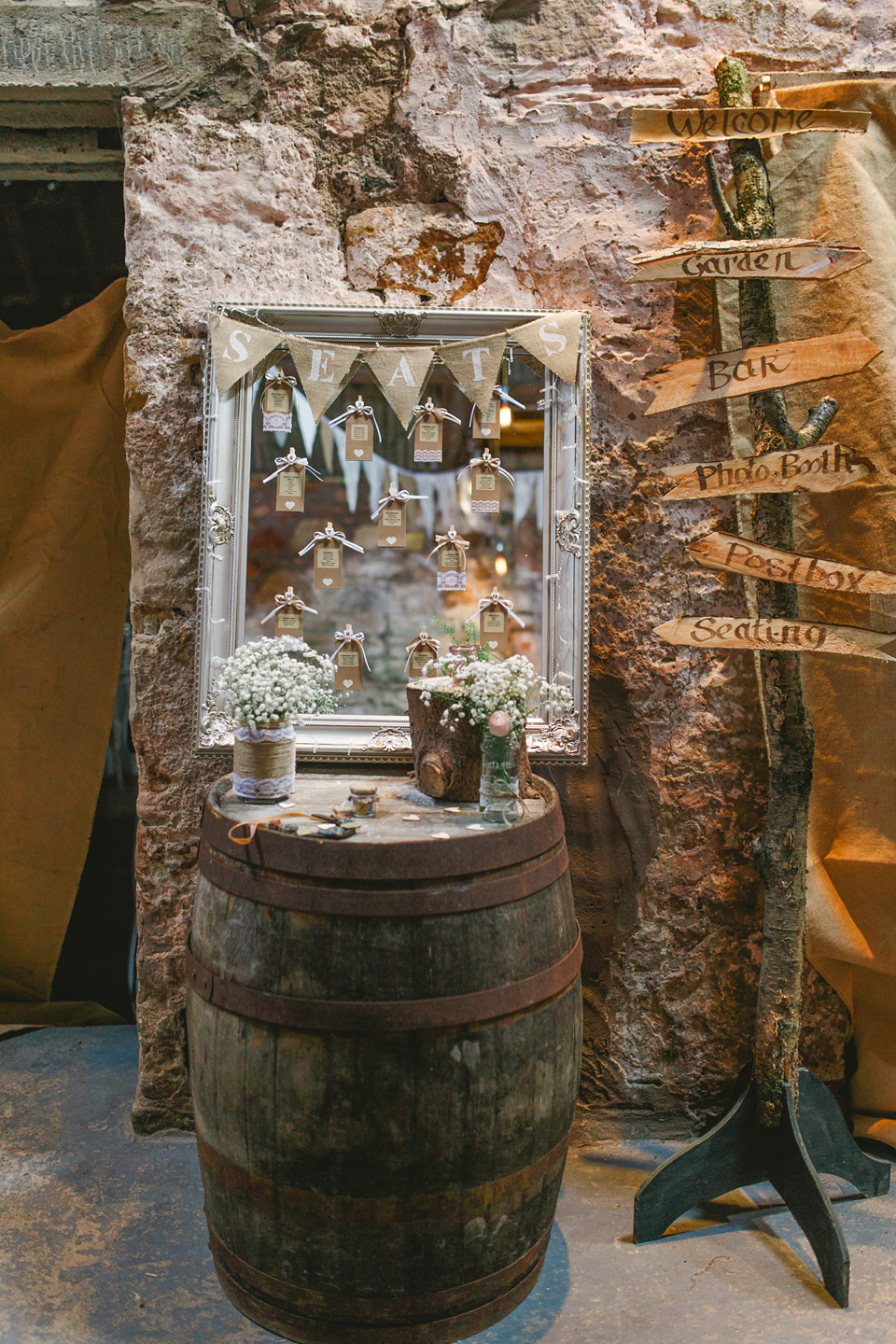 A vintage mirror was used for the table plan, personalised M&Ms filled mini jam jars and jenga blocks were signed as a guest book alternative. On point, atmospheric lighting was provided by Stephen Leslie at I-light which wowed guests and the bride and groom alike.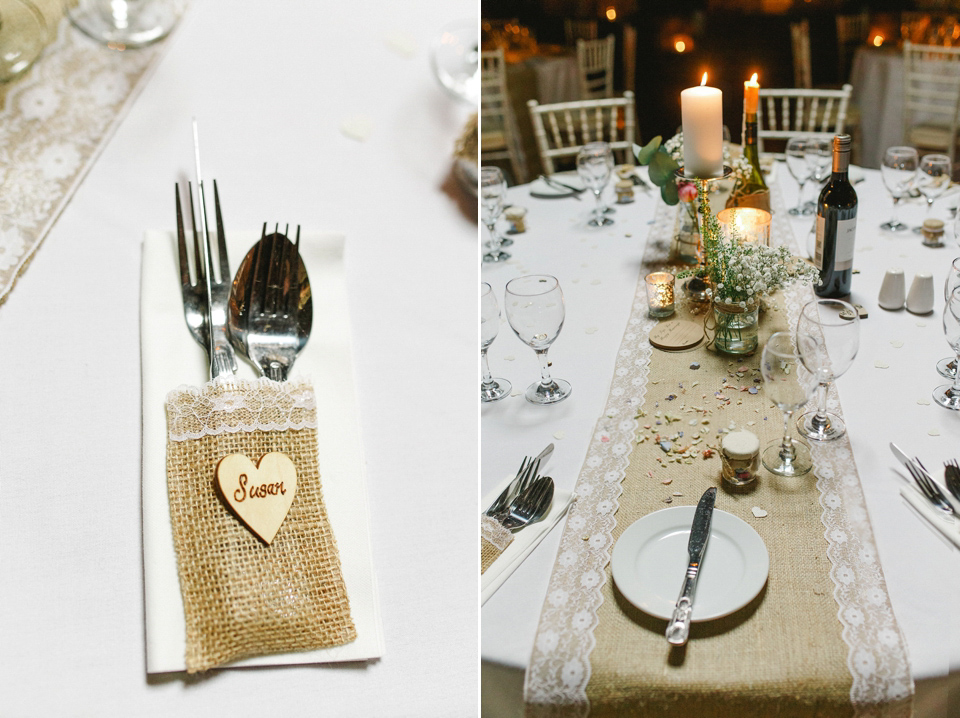 Catering was provided by Alastair Gourley with a side dish of opulent piano music from Alex Graham Piano whilst the guests ate, drank and were merry. Signalling the start of the party were in-demand band Ernest, who played the happy couples first dance before keeping guests on their feet long into the night.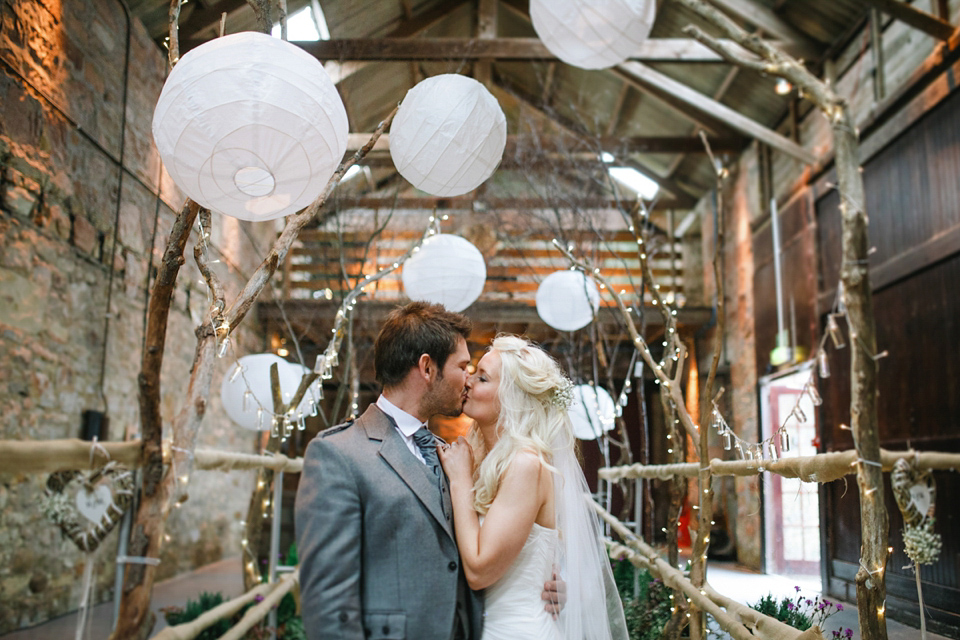 "Our first dance was 'No Ordinary Angel' by Nick Howard. We spent many car journeys driving back and forth from Scotland listing to music and came across this beautiful song. We quite liked that it probably wasn't very well-known and so it was a little more private to us. We also knew that the bands voice would suit the song really well."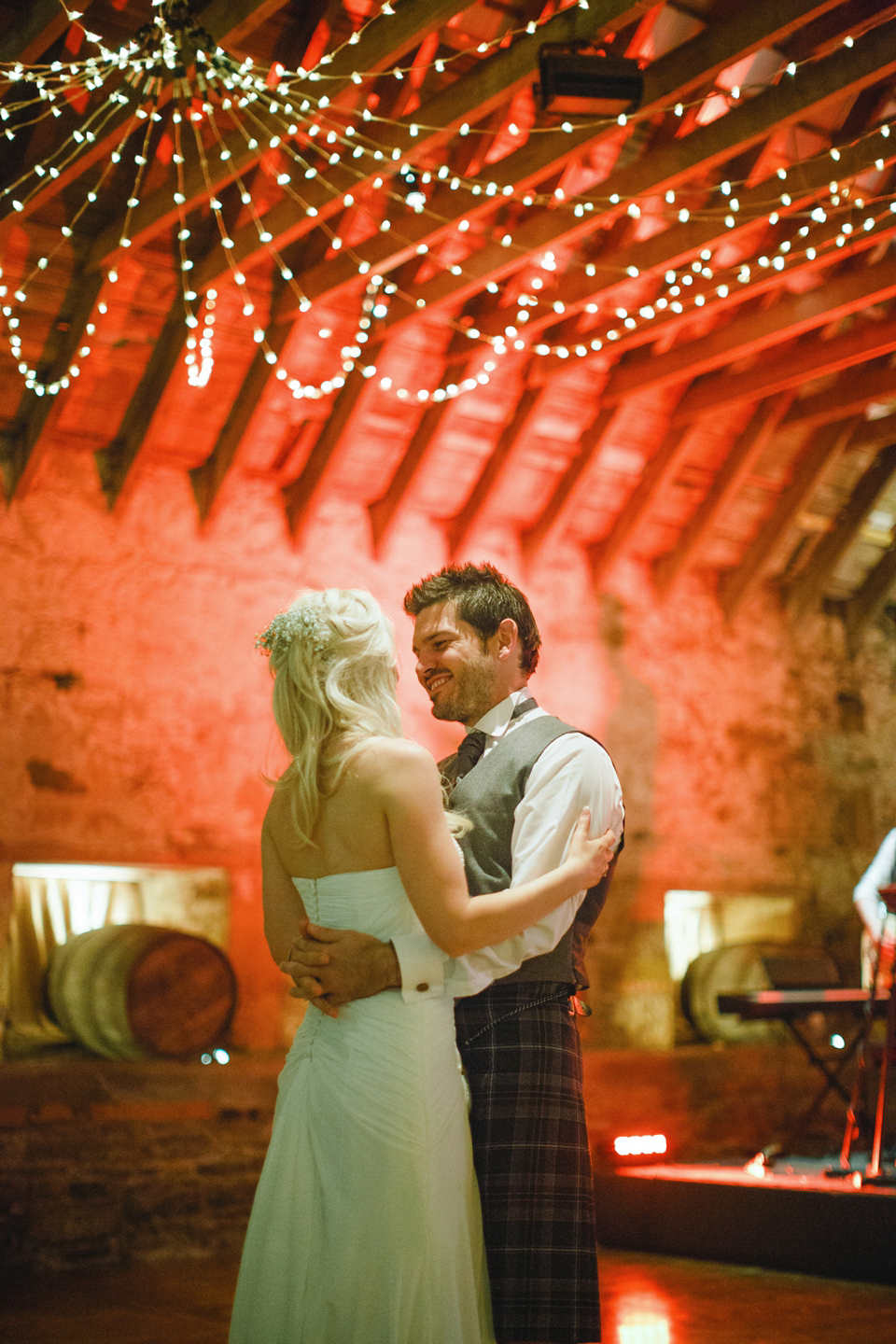 Words of Wedded Wisdom
"I honestly loved the whole day from start to finish, from silly things like going walking in my onesie with a cup of tea in the morning with one of my bridesmaids (which was a lovely way to start the day), to every second spent on the dance floor with all my closest friends and family. If I was to choose one moment, it would have to be driving to the reception venue in the convertible VW with my new hubby as it was the first time we got to spend time together alone and catch up on the excitement of our morning.
Ideally I would have like to have had a wedding planner. I loved all the planning and organising of the wedding in the lead up to the day, but on the day, you do really need someone to make sure things are running smoothly. We ended up running quite behind and missing out a few small things we'd had planned because of timing. I don't know whether having a wedding planner would have changed that or not, but I'm sure it would have helped.
My advice to anyone planning a barn wedding is to make sure your first priority in decoration is lighting. All the little details are amazing and everyone will love them, but the lighting is what really blows people away. Although I'd planned every little detail myself, even I was taken aback when I first walked into the barn and saw how beautiful and magical it all looked."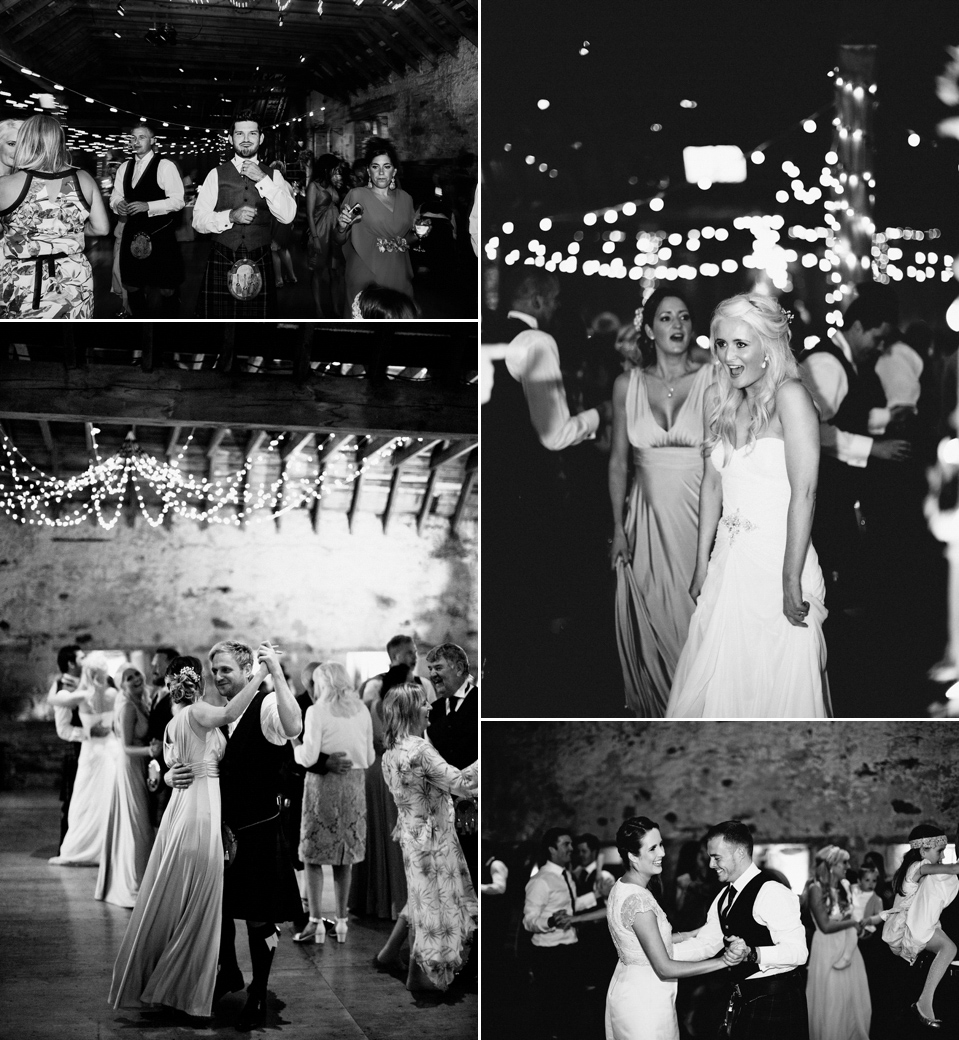 So ladies, wedding planners and lighting are bride Mhairi's top tips, so click on those words for easy Little Book for Brides links (we aim to please). Scotland seems to produce an impressively large amount of truly spectacular weddings, you can browse dramatic scenery and more kilts than you can shake a stick at by clicking here.
Huge thanks to the gorgeous Mhairi and Matt for allowing us to share a snippet of your special day, I hope you are in the midst of some serous first anniversary celebrations and wish you both all the happiness in the world. Thank you to The Gibsons Photography for such romantic images, I hope we see more of your work on the blog very soon.
In the interest of sharing information of importance within our Love My Dress sisterhood, I can't not emphasise how much magic I found at Mad Dog's and Vintage Vans on my second hen do last weekend. For those of you looking to go off grid and re-discover life away from electricity (but in a stylish way, we're not cavemen) then look no further. I've taken a piece of the peace I found there to get me through the next 5 1/2 weeks until I get married and its turning out to be very precious indeed.
Love, as always
Emily B xxxx