Back in those heady, early days that followed my engagement, I'd spend hours excitedly crawling the internet for potential wedding venues. My search started on Christmas Day 2007 – a full 24 hours after my now husband proposed to me on a very rainy Christmas Eve in what would, several years later, turn out to be our hometown of Whitby. Back then, Whitby was a beautiful little town not far from where my husband had grown  up, that meant the world to us both. We'd visit Whitby for weekend getaways during our first years of courtship and I developed a deep love for the area and all it's magic.  I fondly recall the days we'd be driving through the surrounding North Yorkshire moors, winding our way through the pretty villages that nestle amidst the lush green undulating hills and fields of gold, and saying to Philip 'one day we'll retire here'.  Some dreams really do come true, because the village we were passing through at the time, we now live in.
Loving Whitby and the surrounding area as we do, there was never any question where we'd get married there. My initial Google searches threw up a few potentials that turned out as false starts, but it wasn't until I drilled down into page 2 of my search results that I discovered a hidden little gem by the name of  Dunsley Hall, an elegant country house tucked between the winding roads that make their way down to Sandsend beach. We booked a visit immediately and I knew, even before we'd stepped place into the building, that this was where we'd say our marriage vows.
It goes without saying that Dunsley Hall holds a very special place in my heart and so I was so heartened when at the start of this year, I found out there were new owners at the Hall working hard to breath new life into this most charming of country house wedding venues. Today, I'd like to share a few photographs that my darling friend (and our new partner photographer) Georgina Harrison captured on film at Dunsley Hall recently. They capture that sense of refinement and splendour that I associate with Dunsely Hall – characteristics available in perfect enough measure to provide a sense of occasion.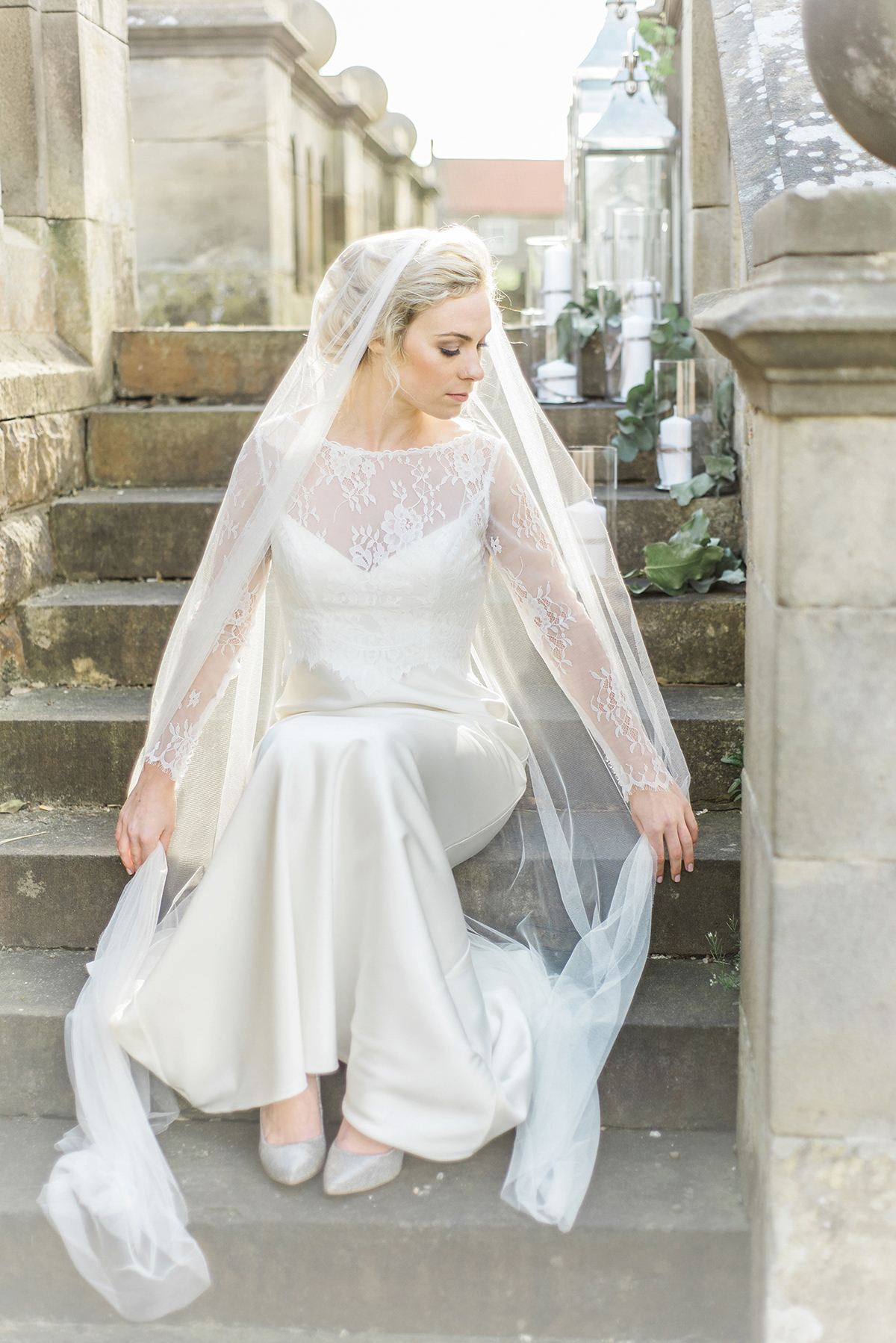 Dunsley Hall Hotel is a landmark Victorian country house built by the Pyman ship building dynasty. Today, it offers a peaceful and restful retreat within the North Yorkshire countryside, it is also the prettiest of exclusive, private hire wedding venues, just a stones throw away from the magnificent Yorkshire coastline and only 2 miles to the centre of the historic seaside town of Whitby. Sandsend, one of the most popular beaches in North Yorkshire is just a stroll away.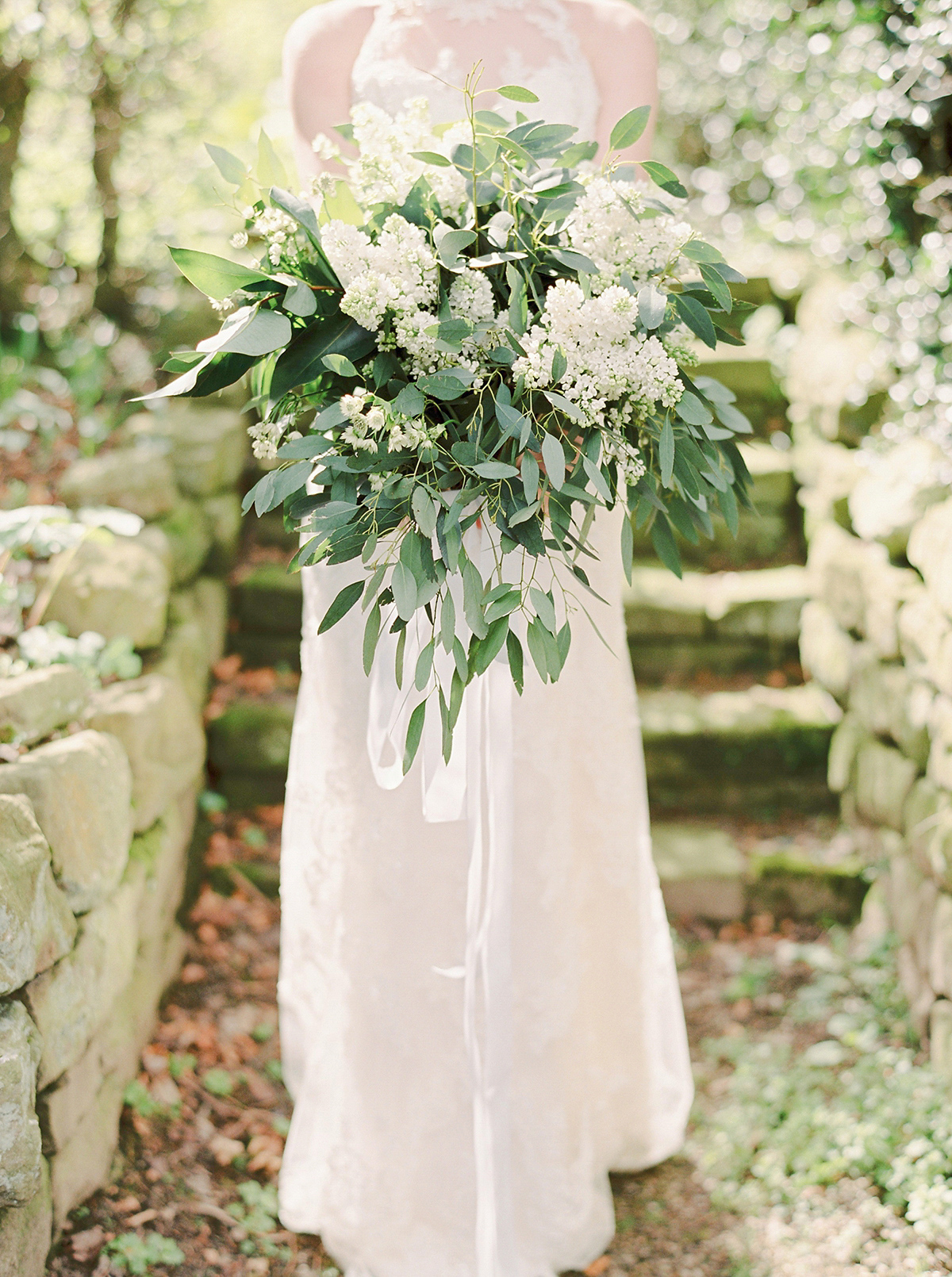 Photographer Georgina, who I'm going to hand over to for the rest of this feature, tells us more; "Pam and I wanted to created an understand classic look to show off Dunsley's beautiful character inside and out so we choose a mix of greys and greens with beautiful traditional crafts such as letterpress from Noble Fine Arts and beautiful glass ware and lots of soft silk and lace. Noble Fine Arts were the perfect choice and create the most luxurious stationery with a timeless quality."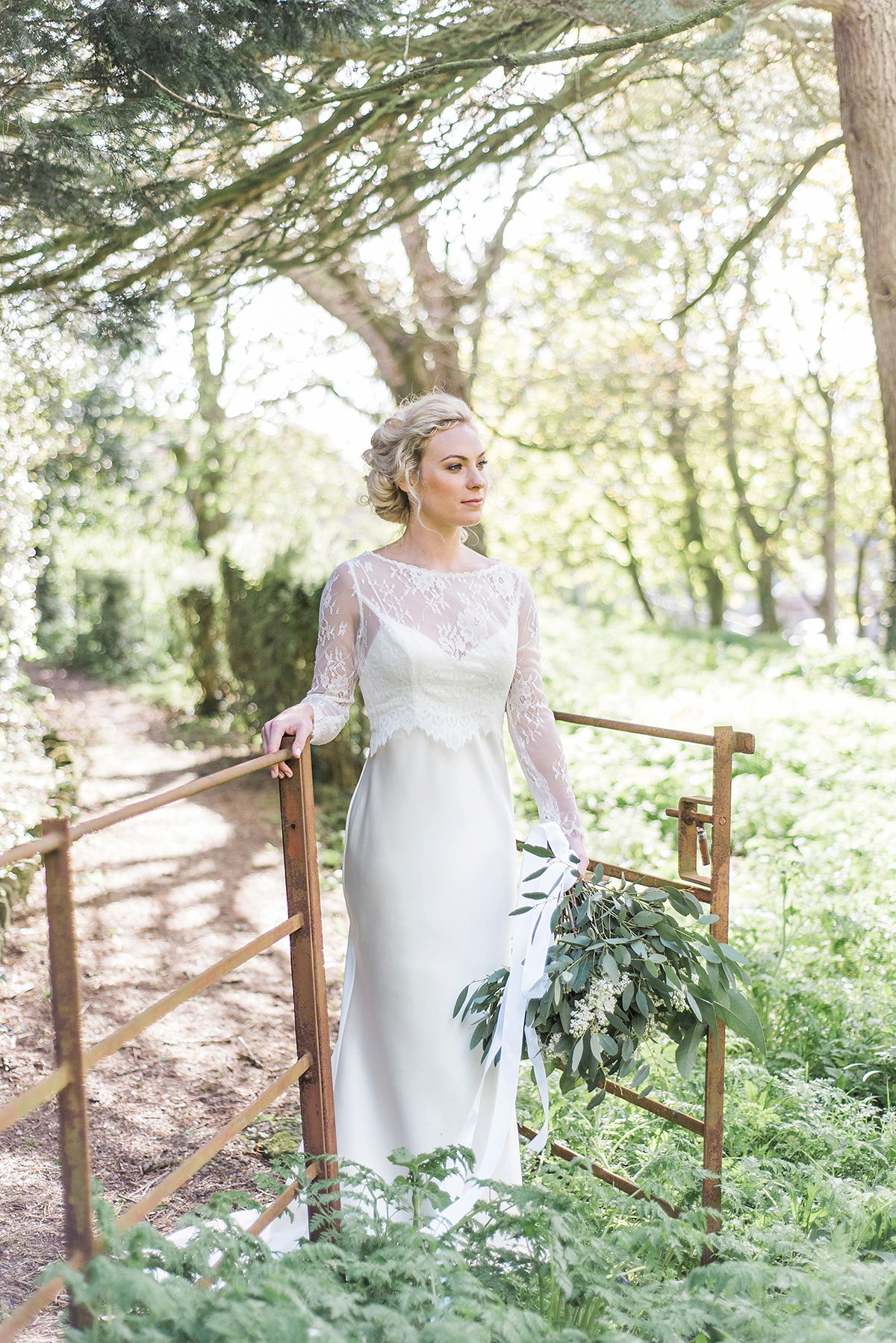 We also talked with stylist Pamella Dunn about her part in creating these lovely images…
"Can you image my delight when approached by the talented photographer Georgina Harrison as she shared her ideas for a very special fine art shoot in the beautiful North Yorkshire costal town of Whitby? I adore the seaside, long walks along the shore line breathing in the sea air, so from the beginning I knew this project was going to be a personal investment too."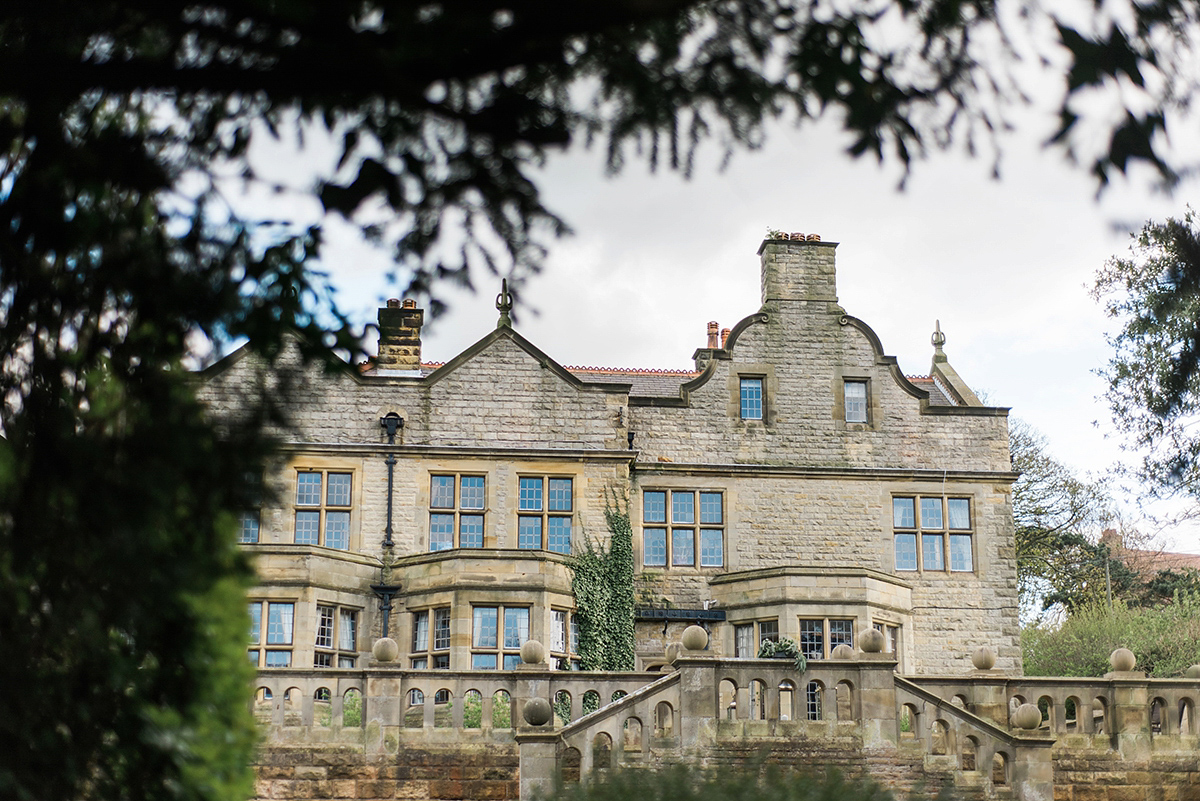 "The location and charming Victorian wedding venue on the edge of the North Yorkshire Moors National Park was just waiting to be rediscovered. New owners are restoring the stunning manor house, maintaining the stylish essence of a bygone era with luxurious decor, furnishings and fabrics. The spectacular setting has a seductive charm which I found impossible to resist."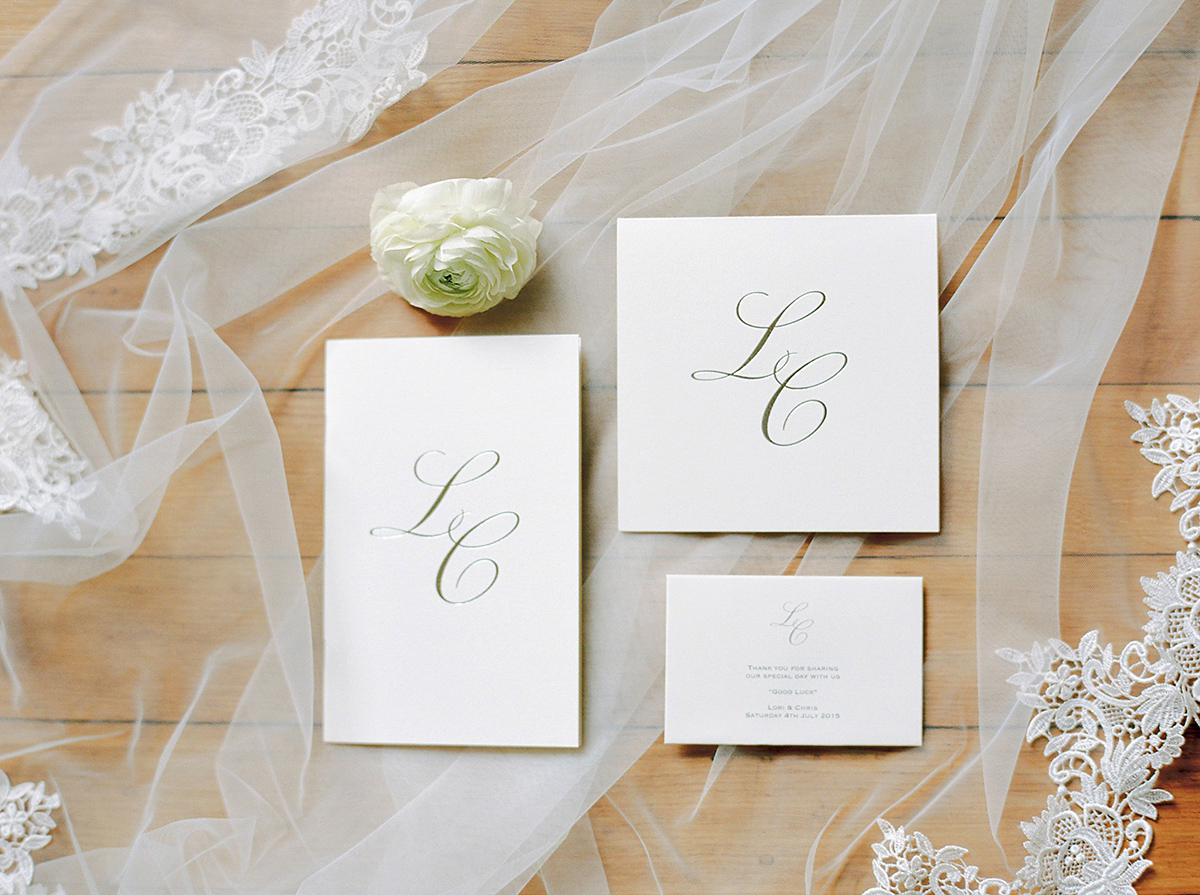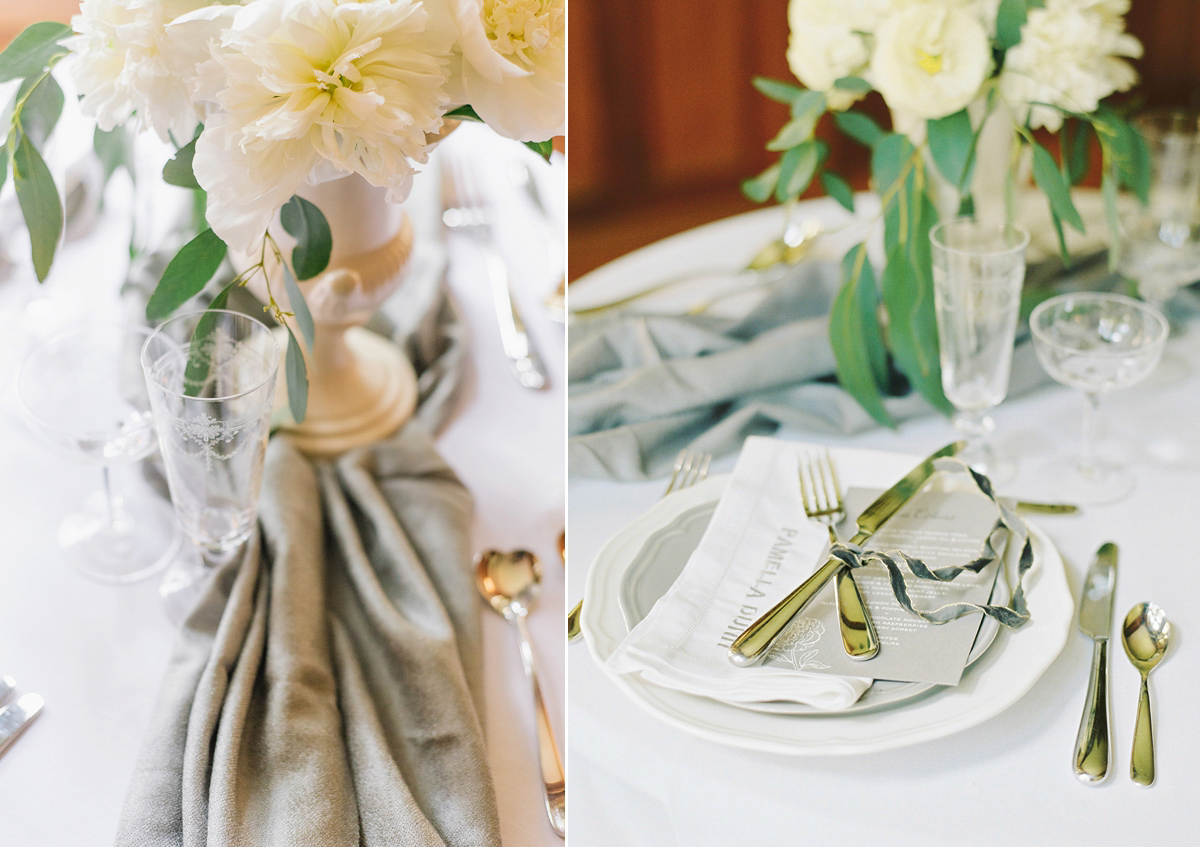 "The grounds take in breathtaking views, manicured lawns, graceful eucalyptus trees sharing pretty meadows with fruit trees and wild flowers; I was lost in styling heaven. The natural flow and abundance of original wrought iron fencing, gates, stone work and meandering paths stole my heart and I will forever have a fondness for this special place."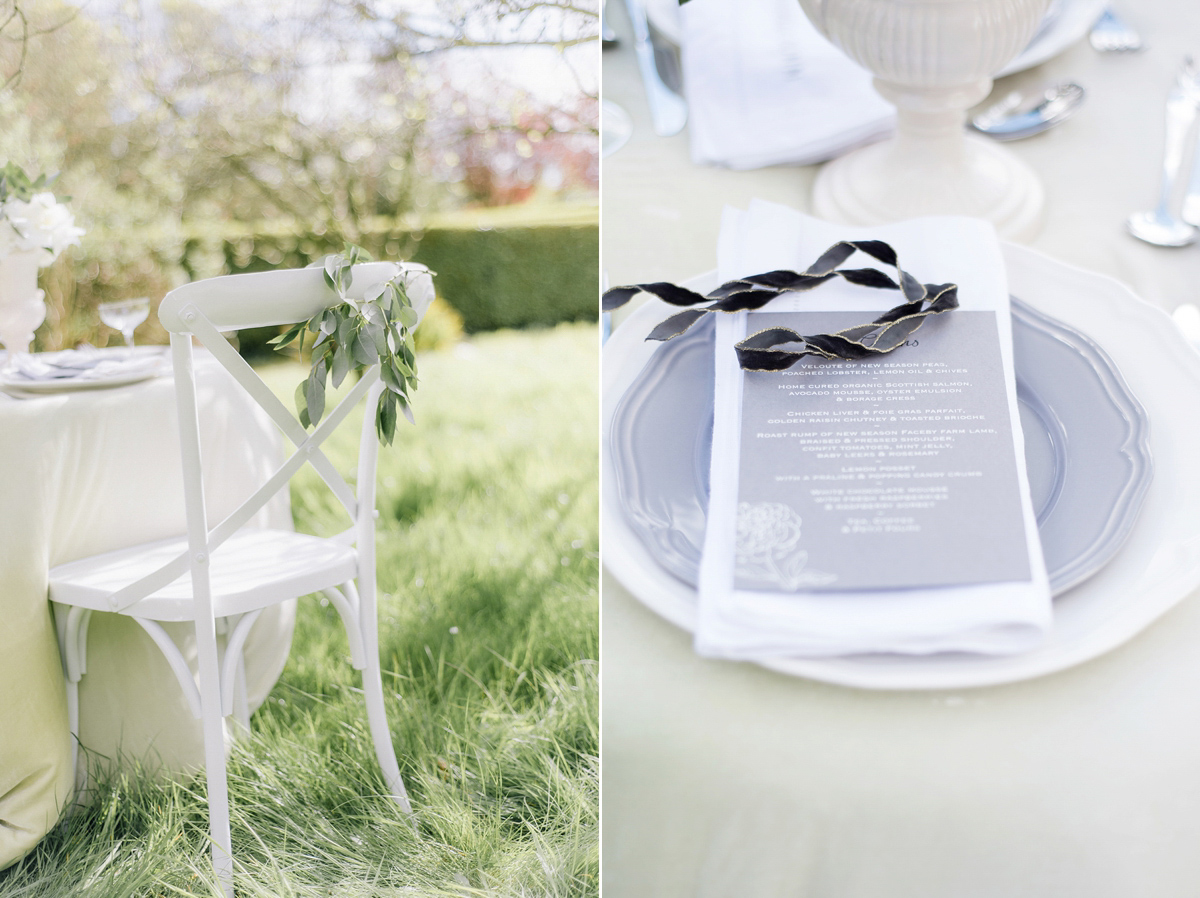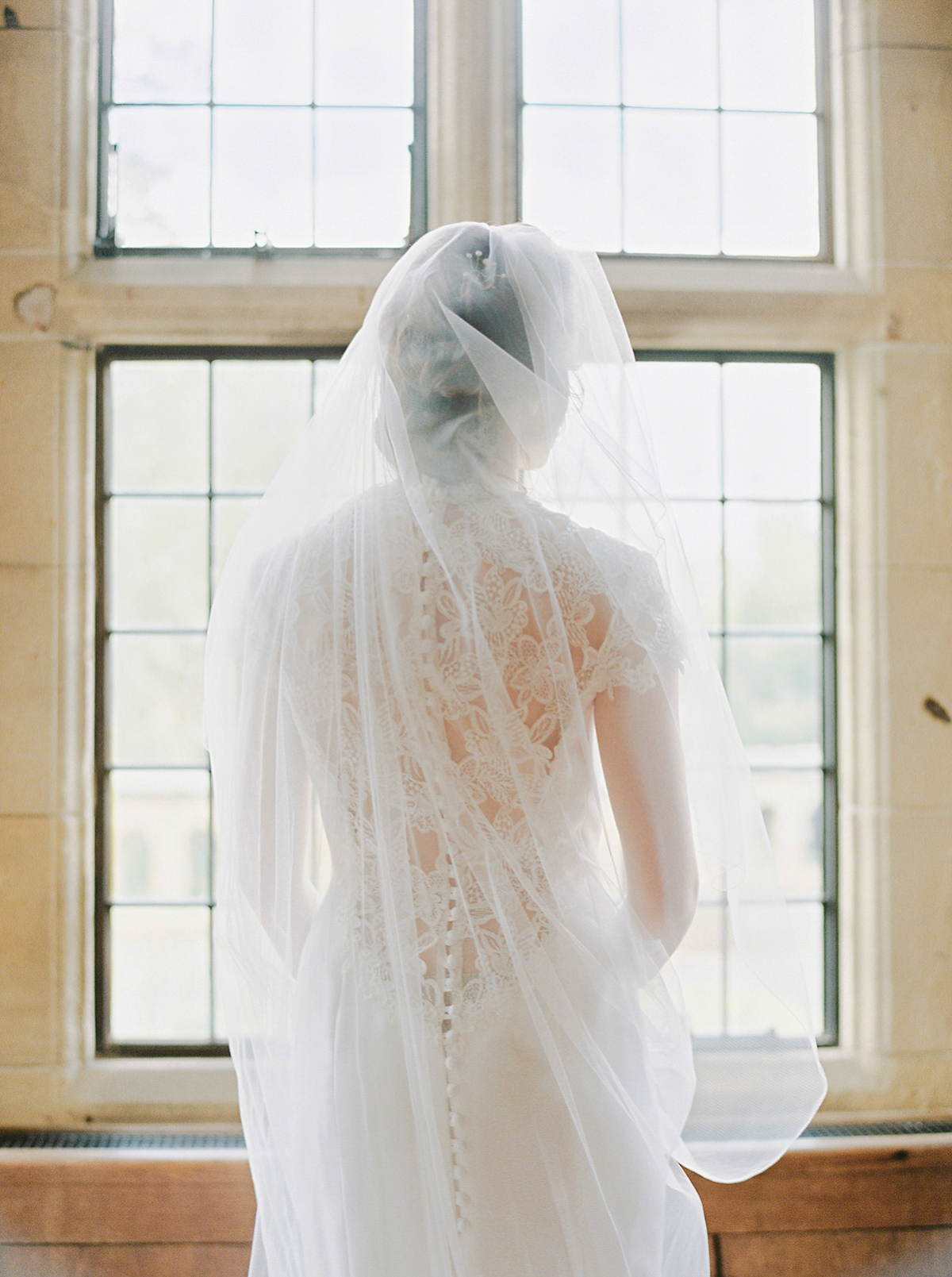 "Reflecting the beauty and peaceful calm of the surroundings the design was soft and sympathetic, using seasonal wedding flowers of fragrant white lilac, eucalyptus and peonies. The colour palette was cool and subtle with chalky whites, velvety muted greens, complemented by rich fabrics that billowed in the breeze. I wanted to create something achingly beautiful and truly authentic, a style that was thoughtful, and perfectly in tune with the romantic setting and venue.
I think by now you have guessed I loved everything about this collaboration, and I hope it illustrates that dreams really can come true in this idyllic North Yorkshire costal hamlet."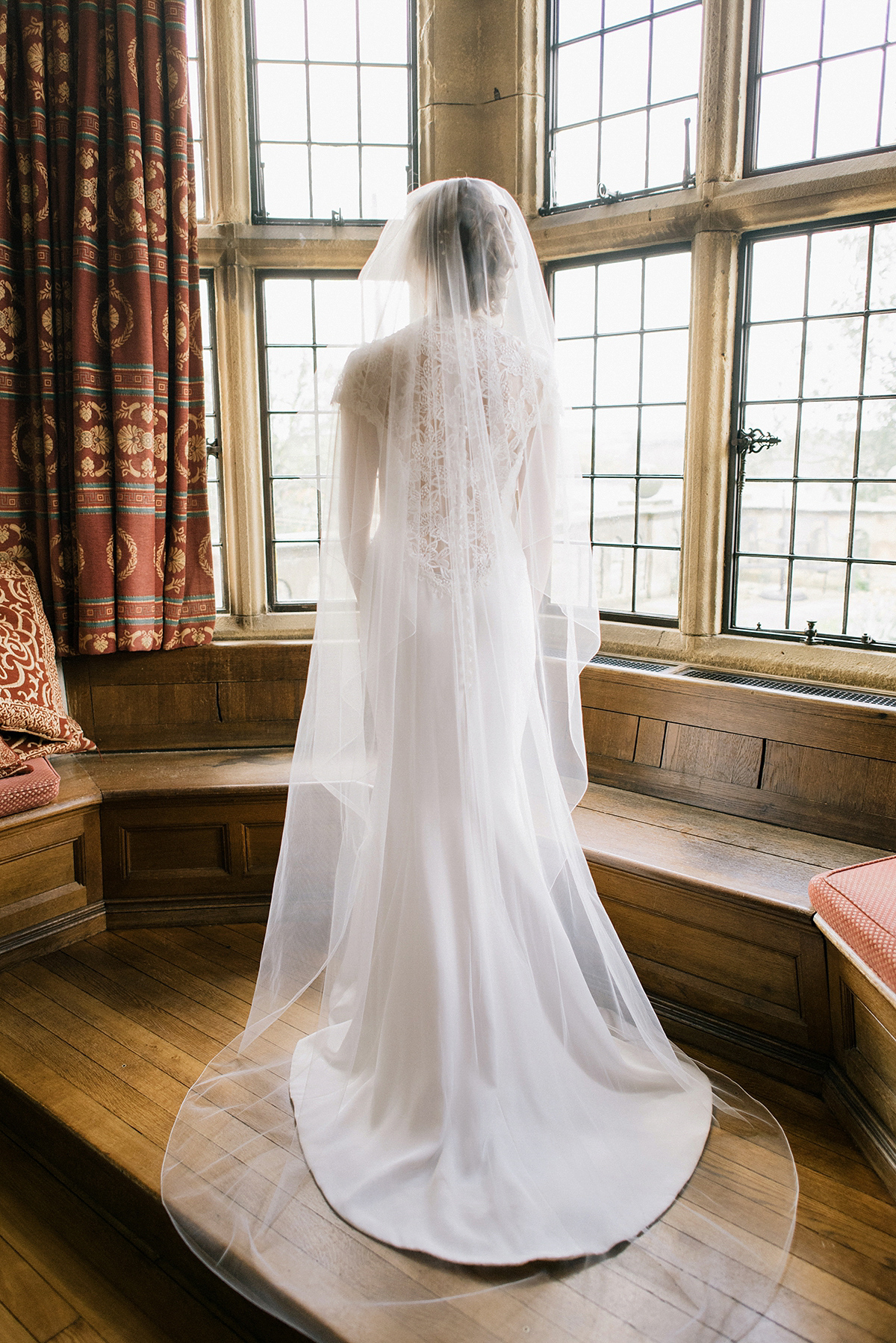 Our first model, Phoebe translated the elegant look with a beautiful slightly more structure up do created by hair and makeup artist Catherine Elizabeth. Having worked with Catherine on a number of shoots I know she can create the most magnificent looks and ultimately can really pull a look together with her craft.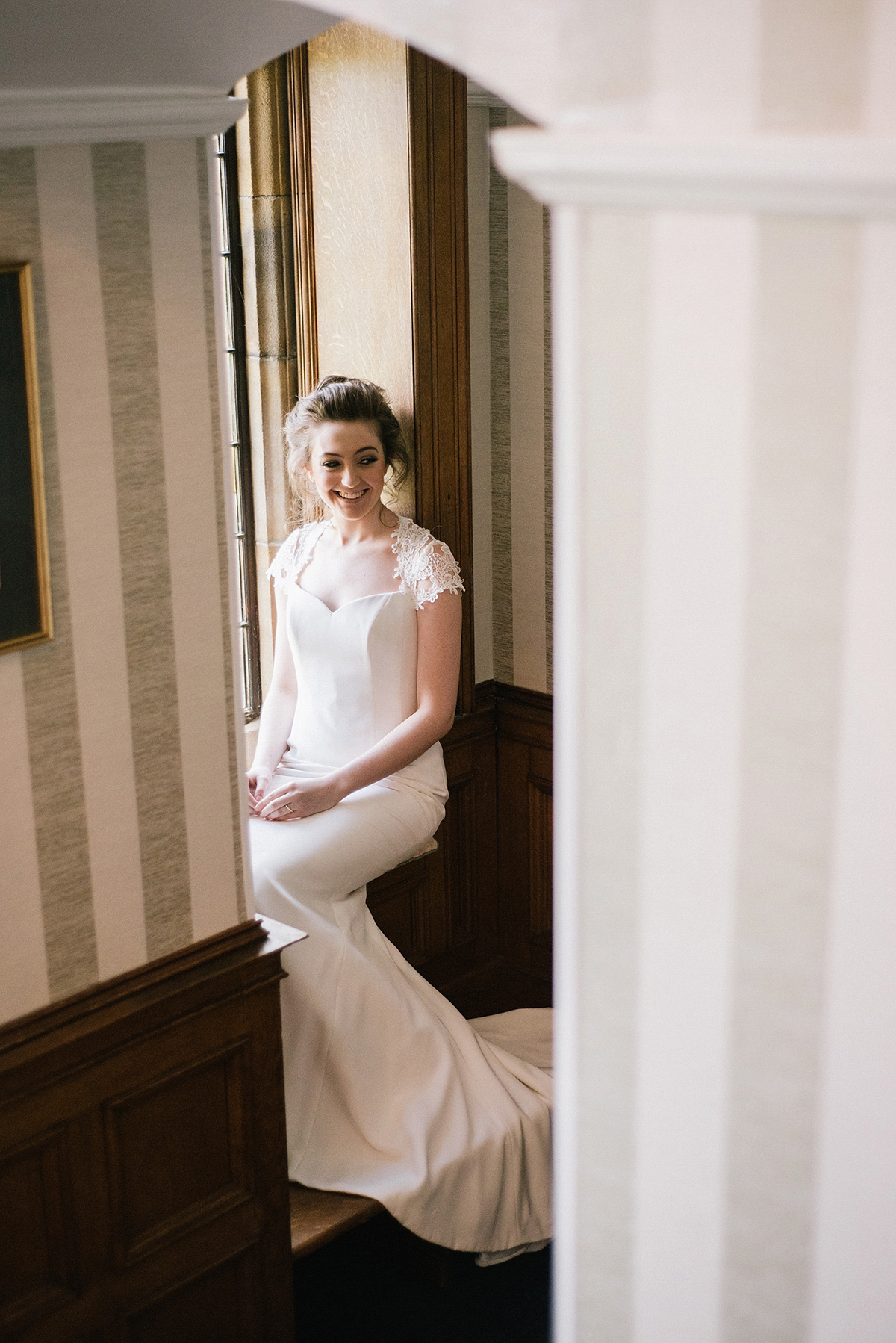 Diana over at The Little Pearl Bridal Boutique selected the most elegant gowns from her beautiful collection. Here is a little bit from Di
"The soft fishtail embroidered lace gown from our Enzoani collection has an ethereal and understated glamorous feel.  Styled with Chez Bec hair accessory and veil by The Couture Veil."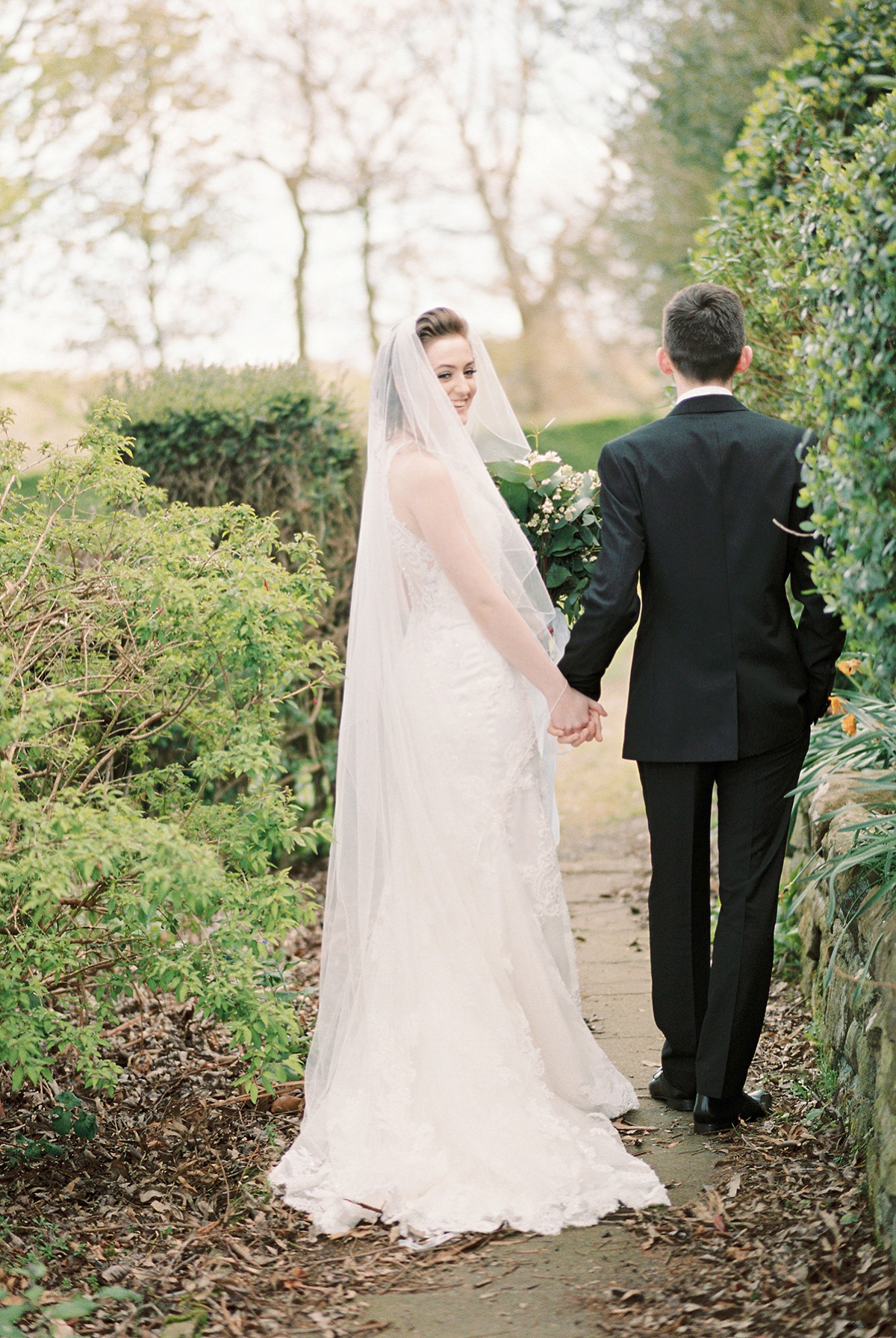 "The soft crepe Sassi Holford column gown has a stunning high back lace detail. Such a classic and elegant look. Styled with Chez Bec hair accessories and veil by The Couture Veil.
The Charlotte Balbier separates collection is perfect for creating your own individual style. The Harper satin slip and Tempest lace topper is styled with a vintage tulle veil from The Couture Veil."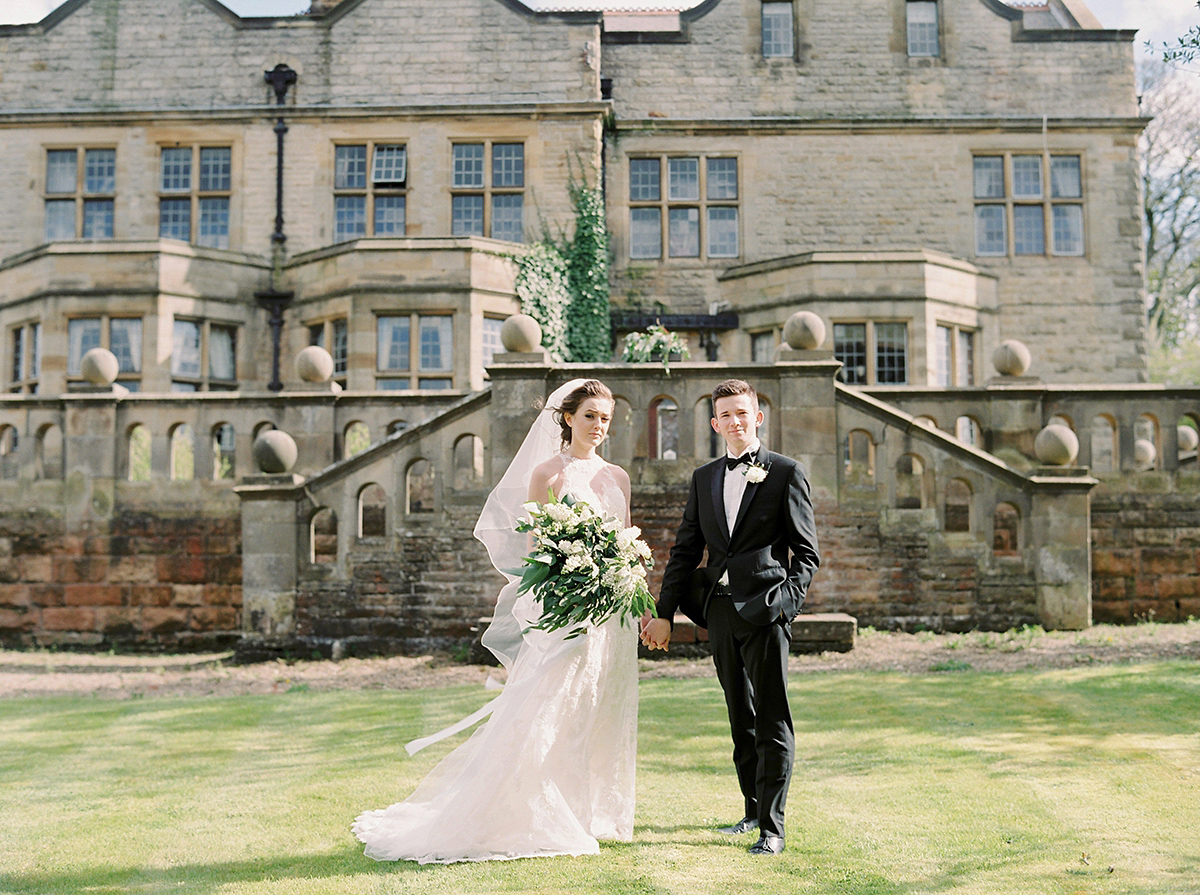 We also wanted to show how a similar look could translate to the outdoors by mixing in a zesty lime velvet table scape for the beautiful orchard area with our stunning second model Gerri. Pamella also styled the wonderful outside terrace and stone staircase at Dunsley, using large urns,lanterns and lots of beautiful foliage. By sticking with a white and green colour palette with the foliage we would really bring to life the beautiful stone work at Dunsley.
Gerri has the most amazing look and we wanted her hair to have a slightly less structured look with more of a bohemian twist – again Catherine was did the most wonderful job with hair and makeup.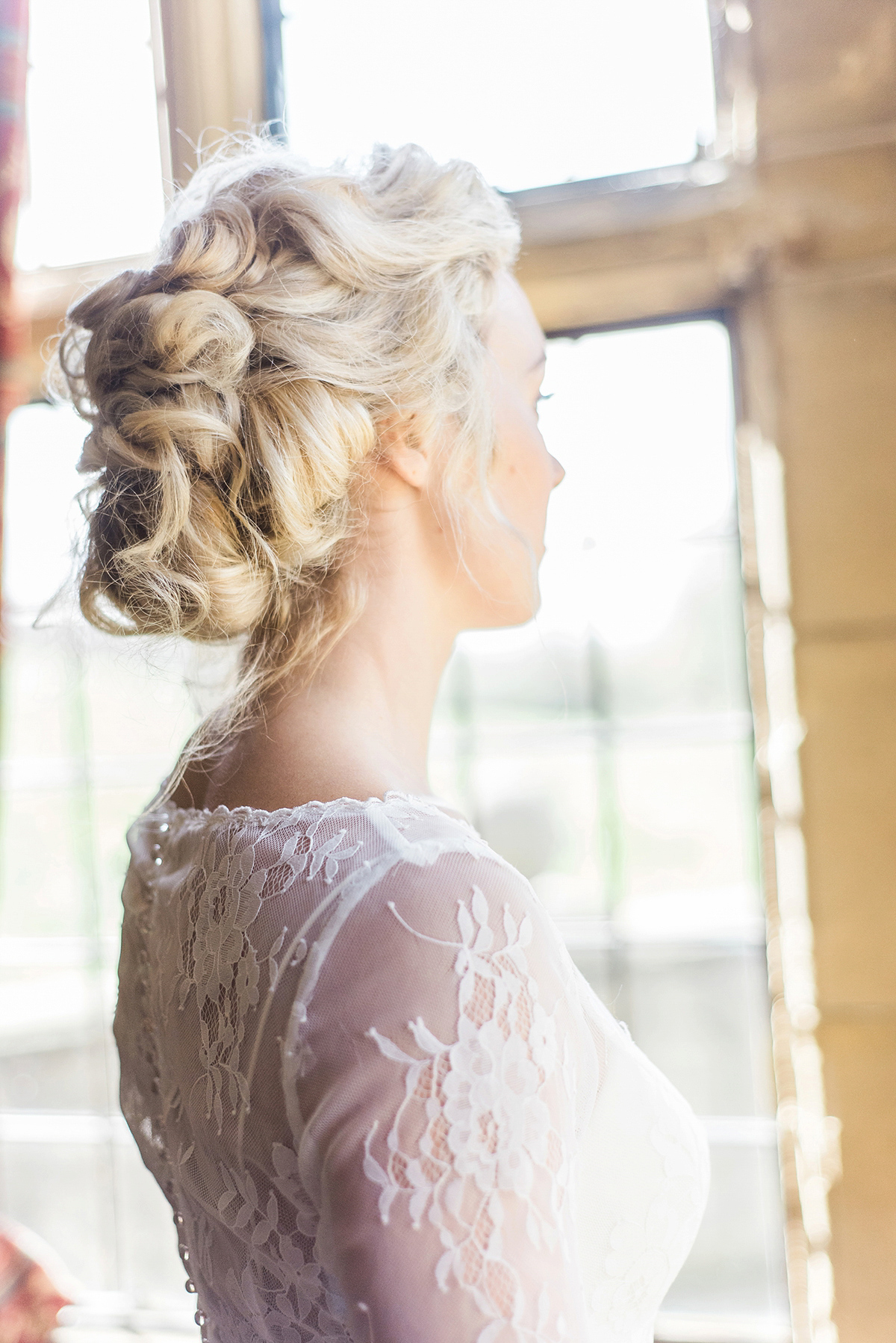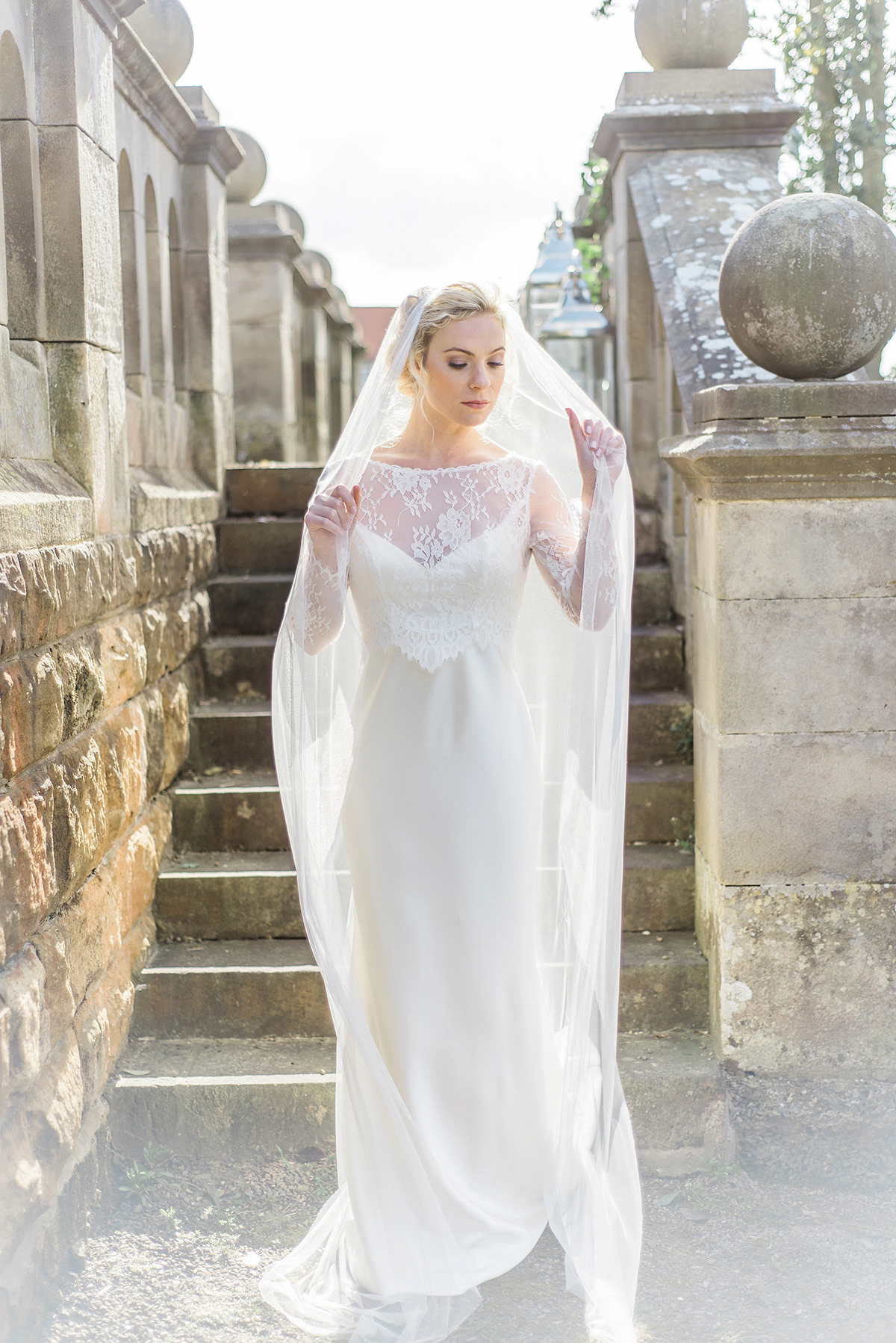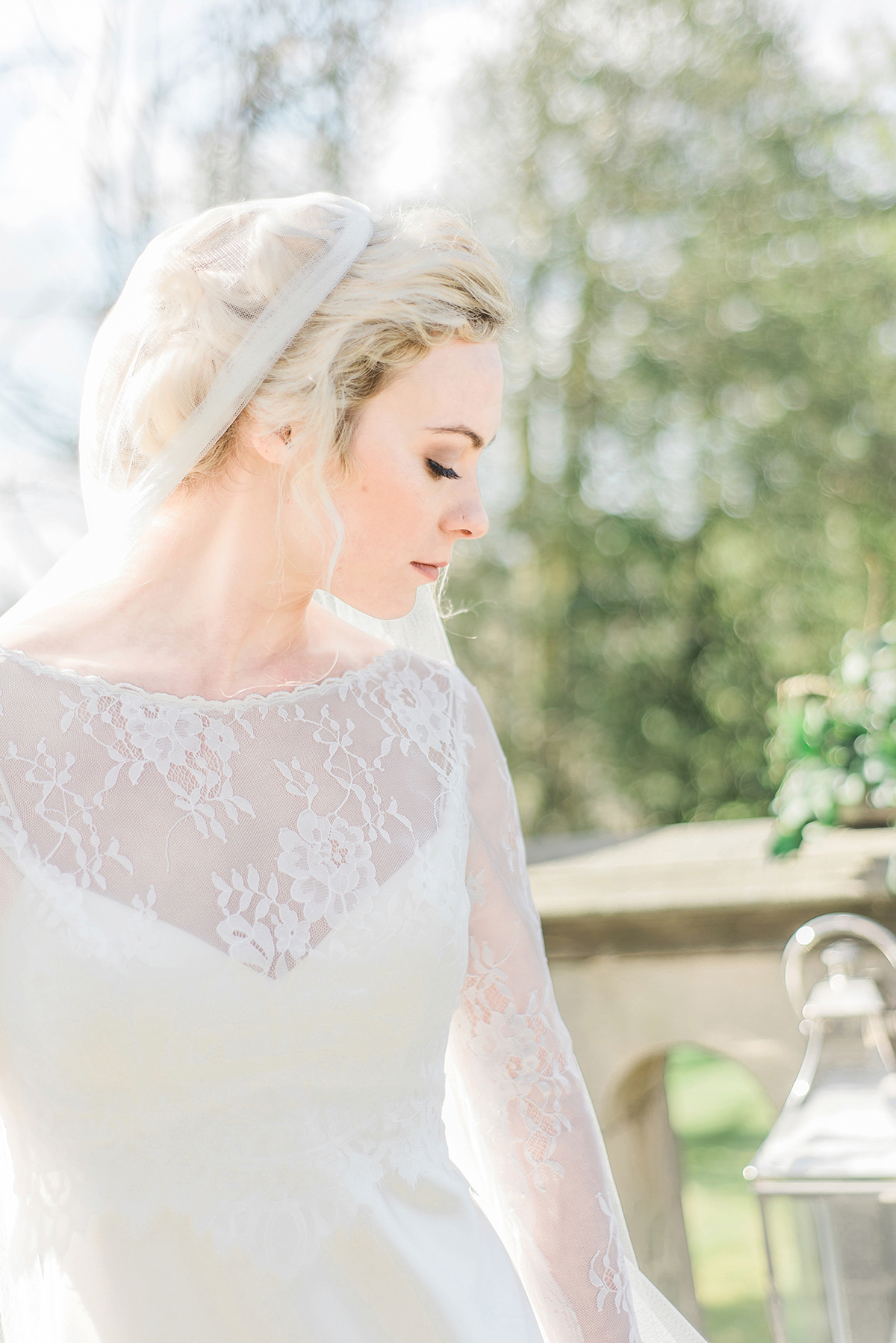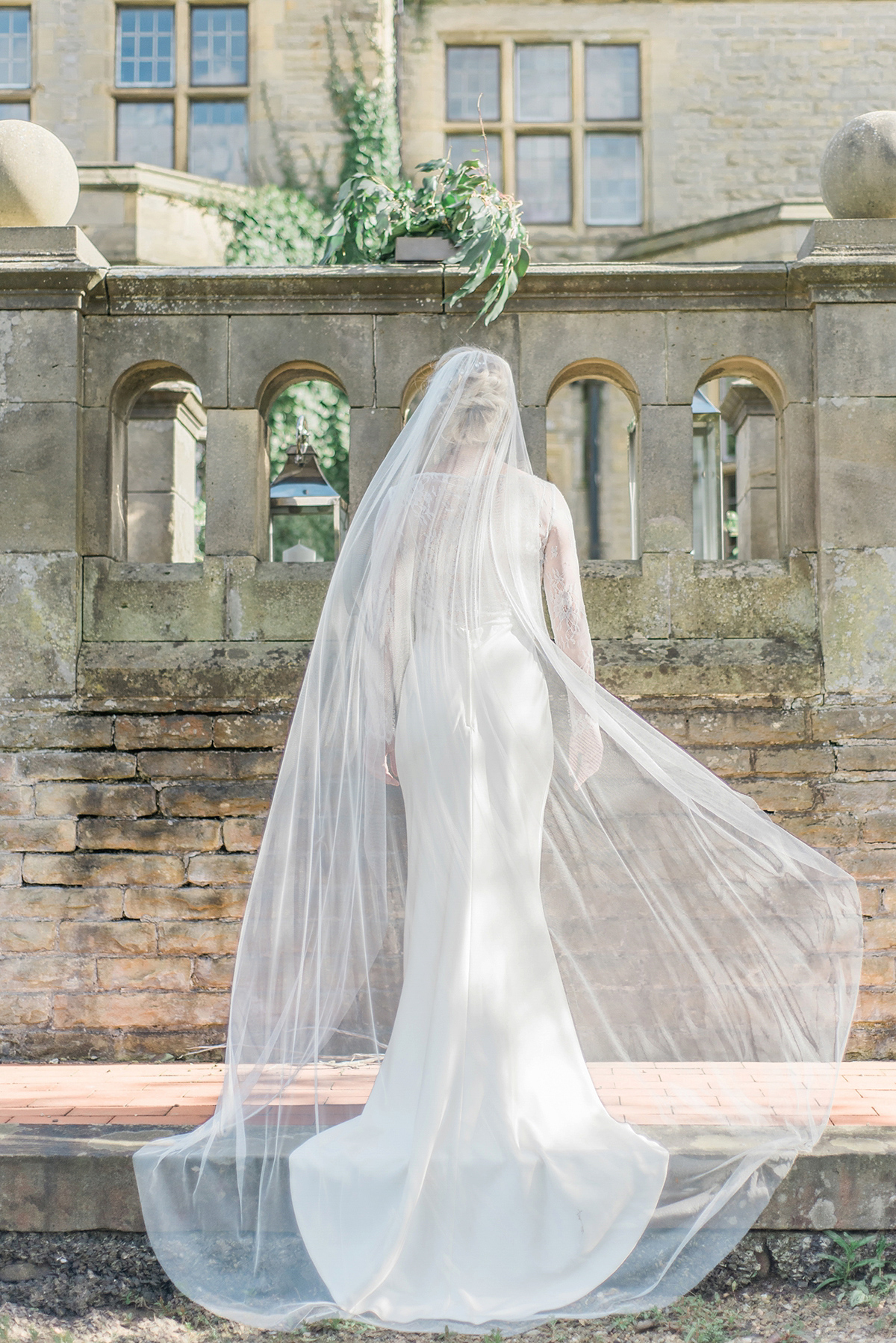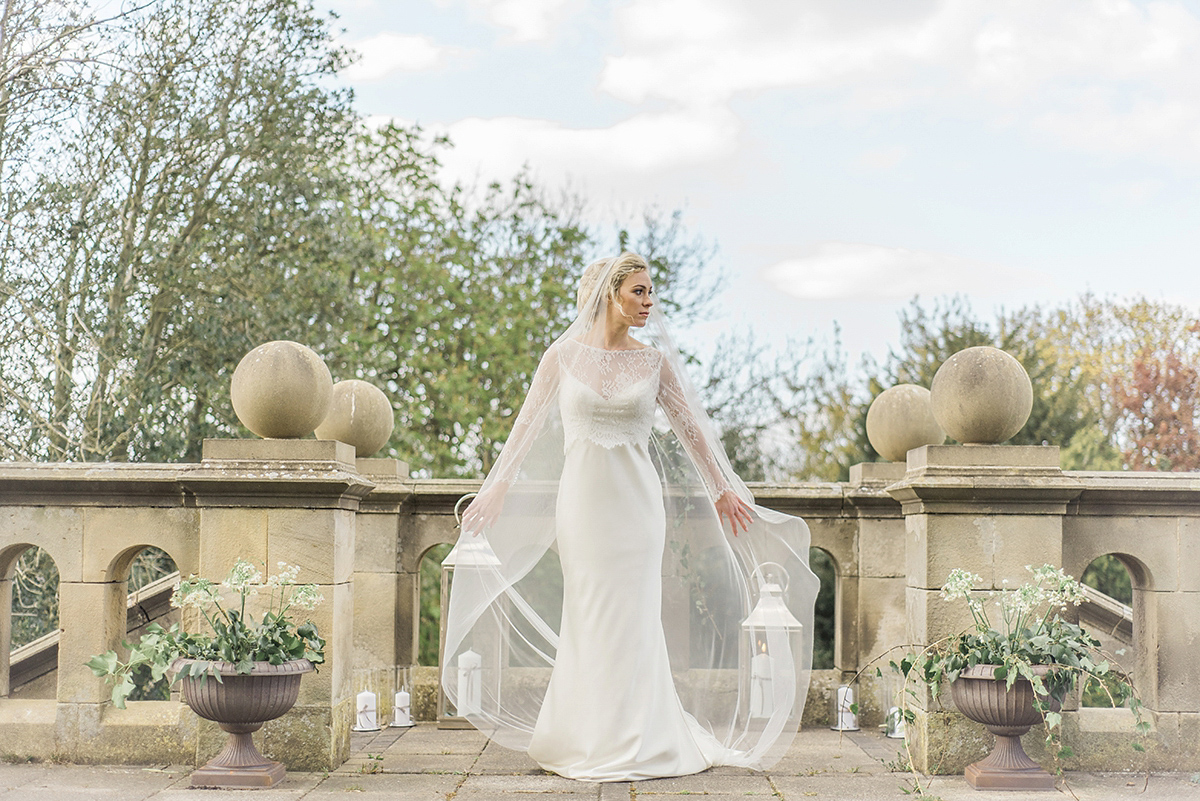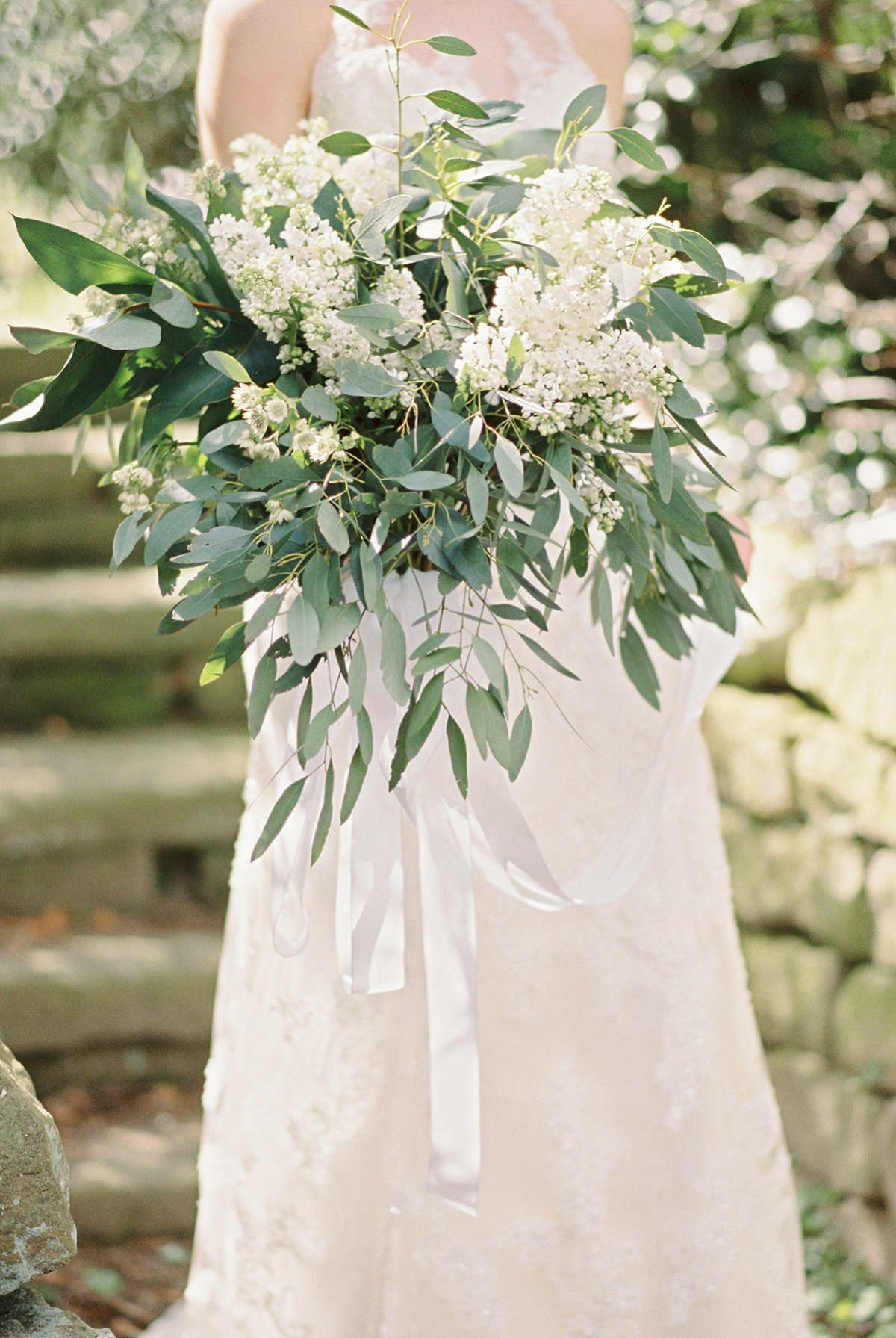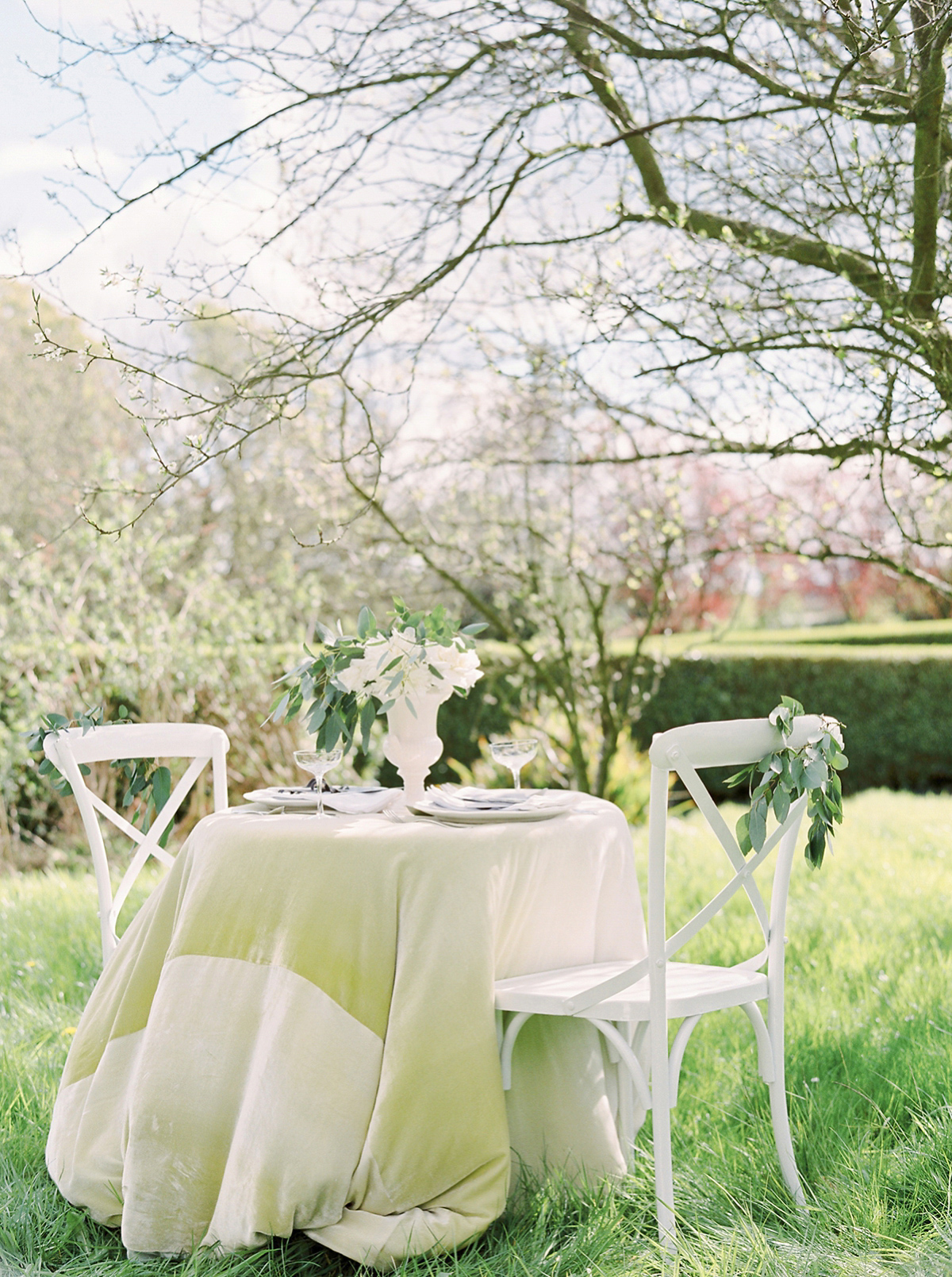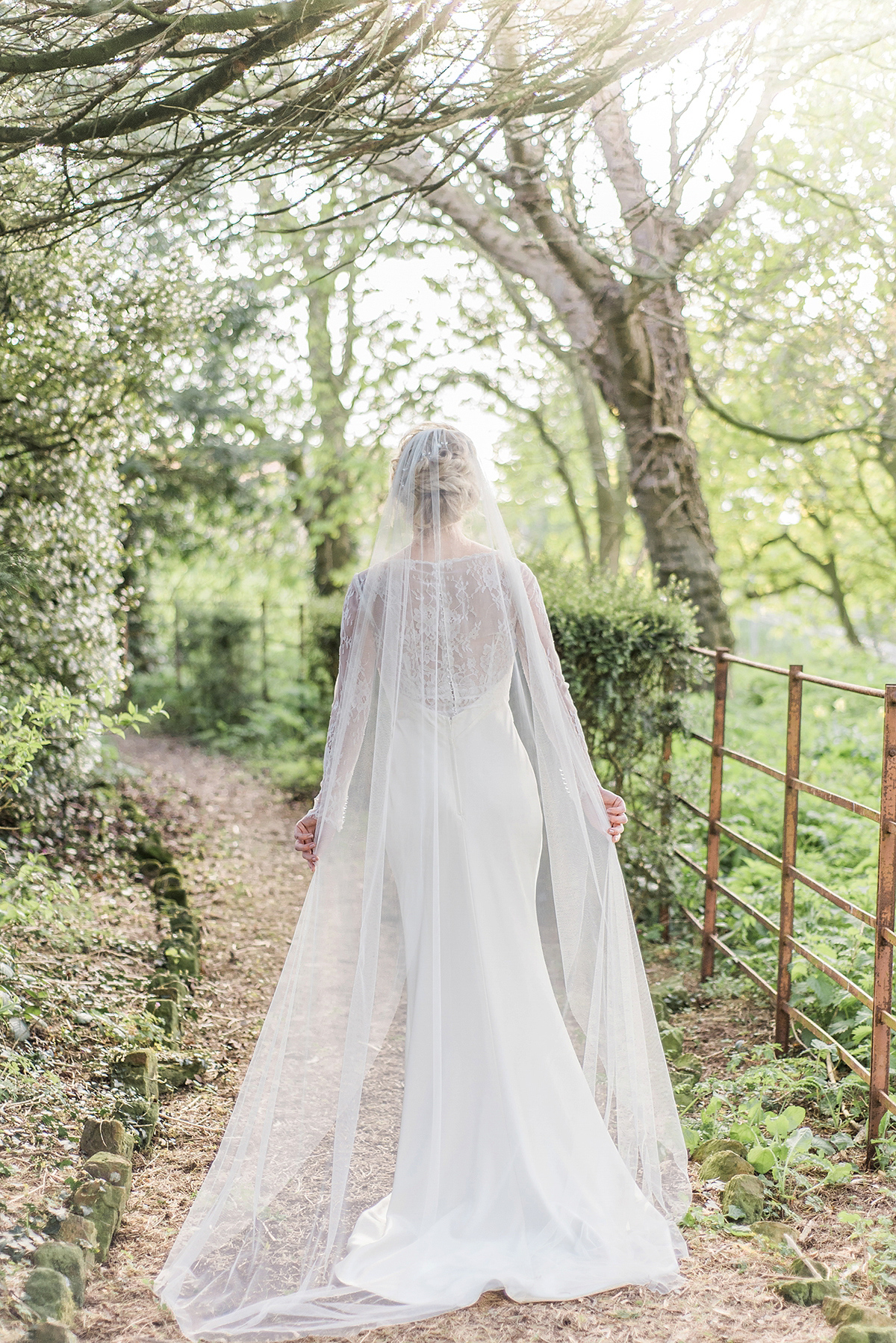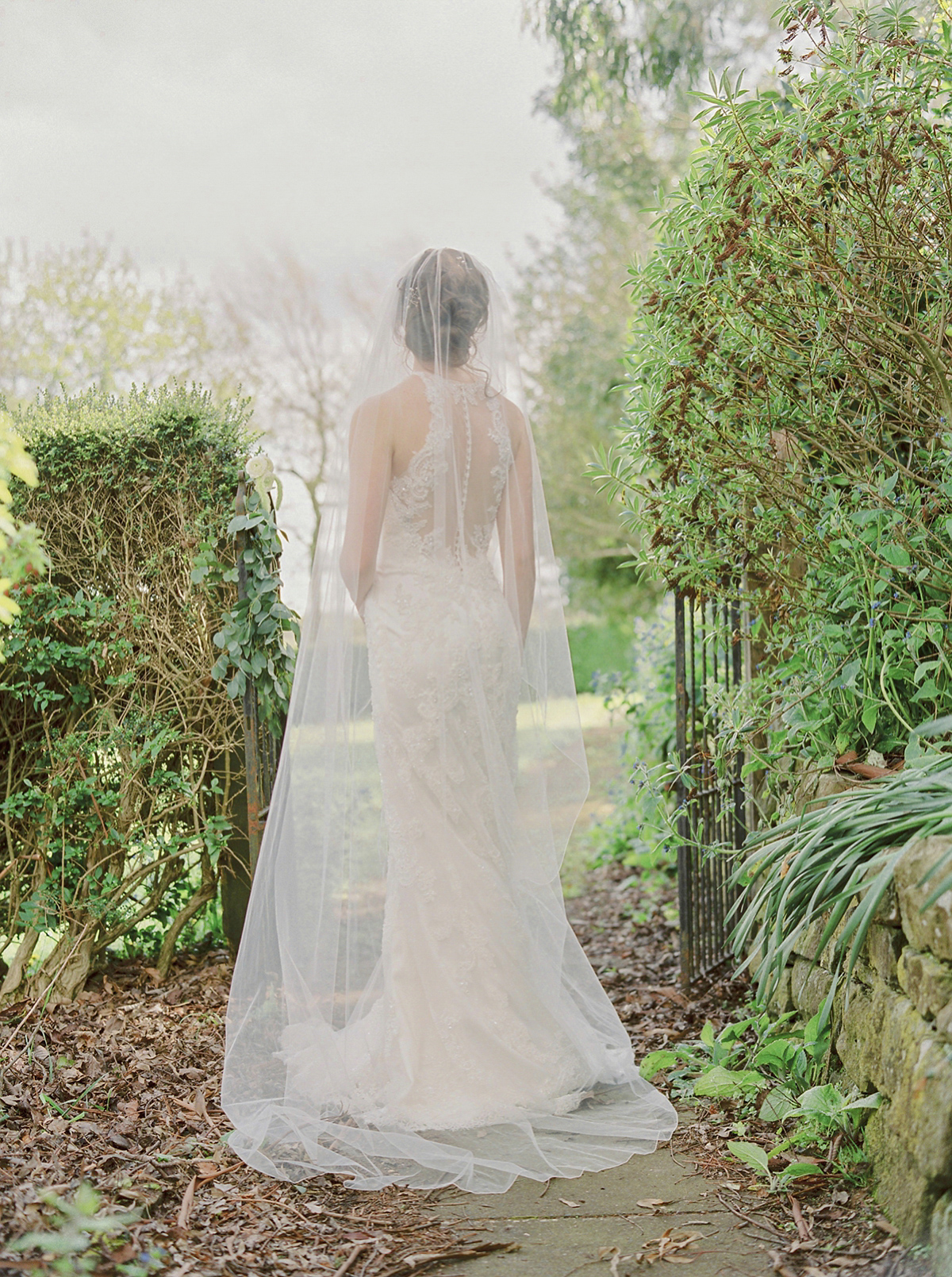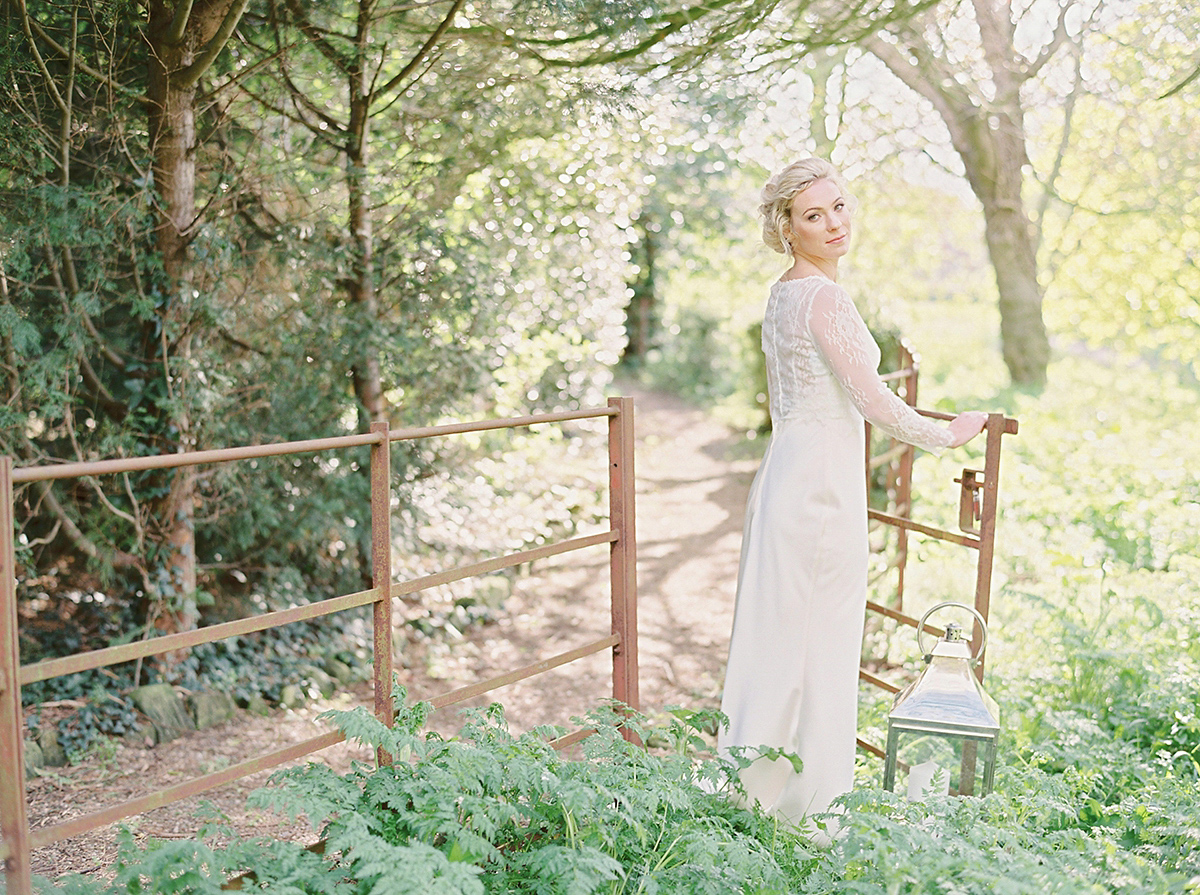 We also used a beautiful cake created by Sarah over at Blush cakes, again we wanted something simple and understated but still super pretty.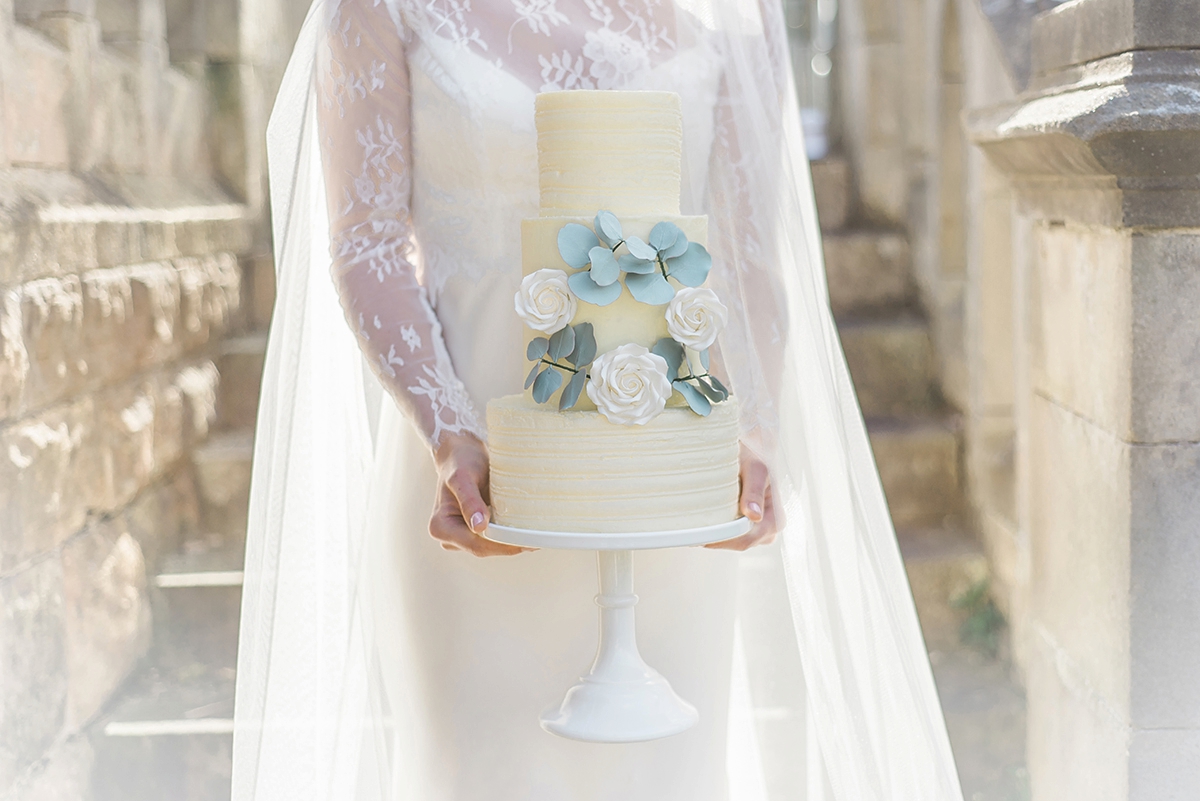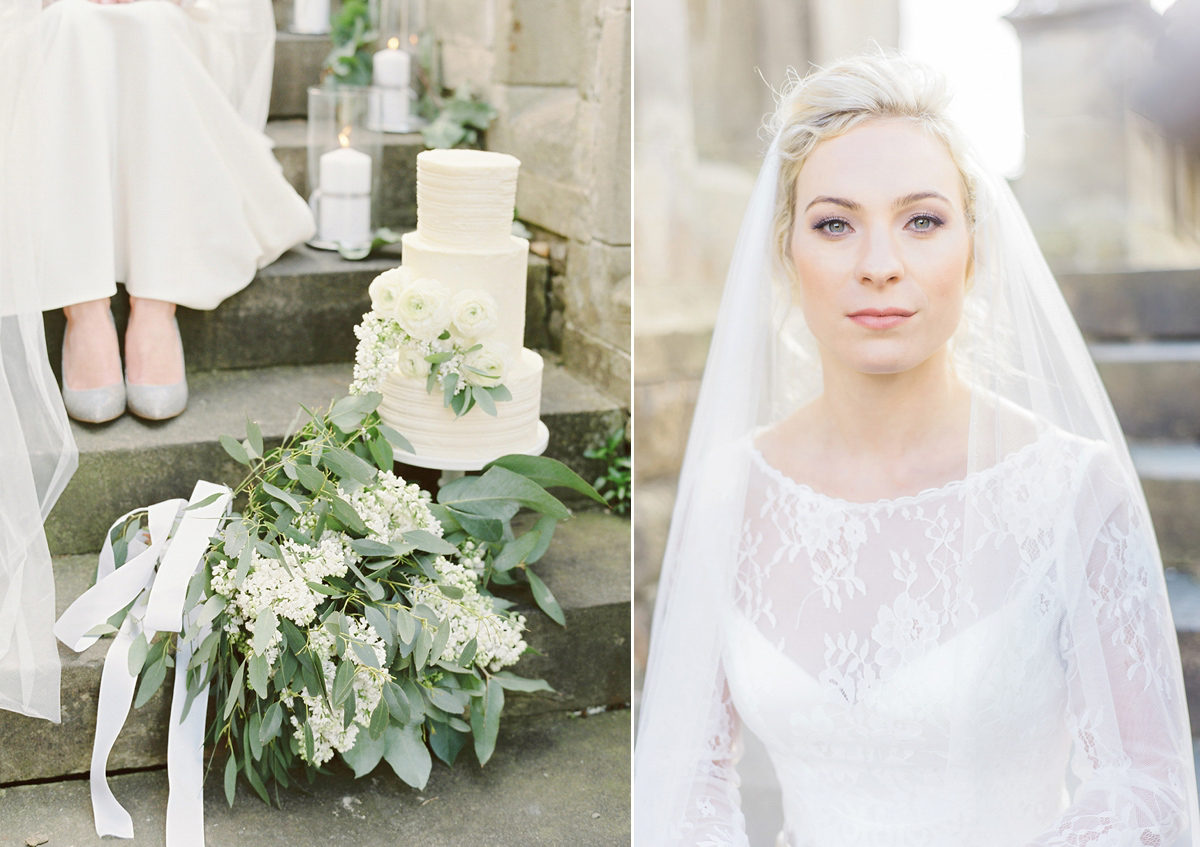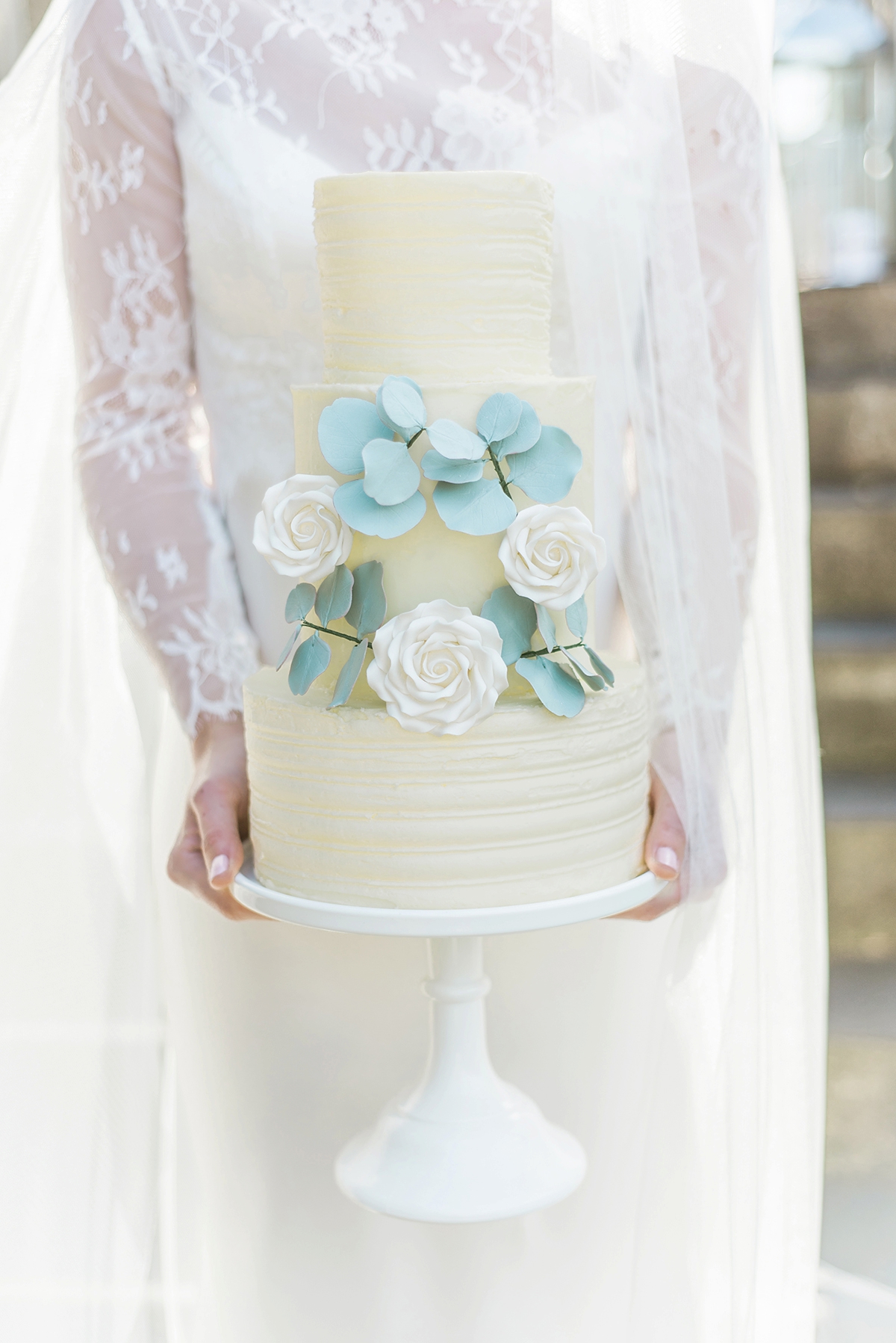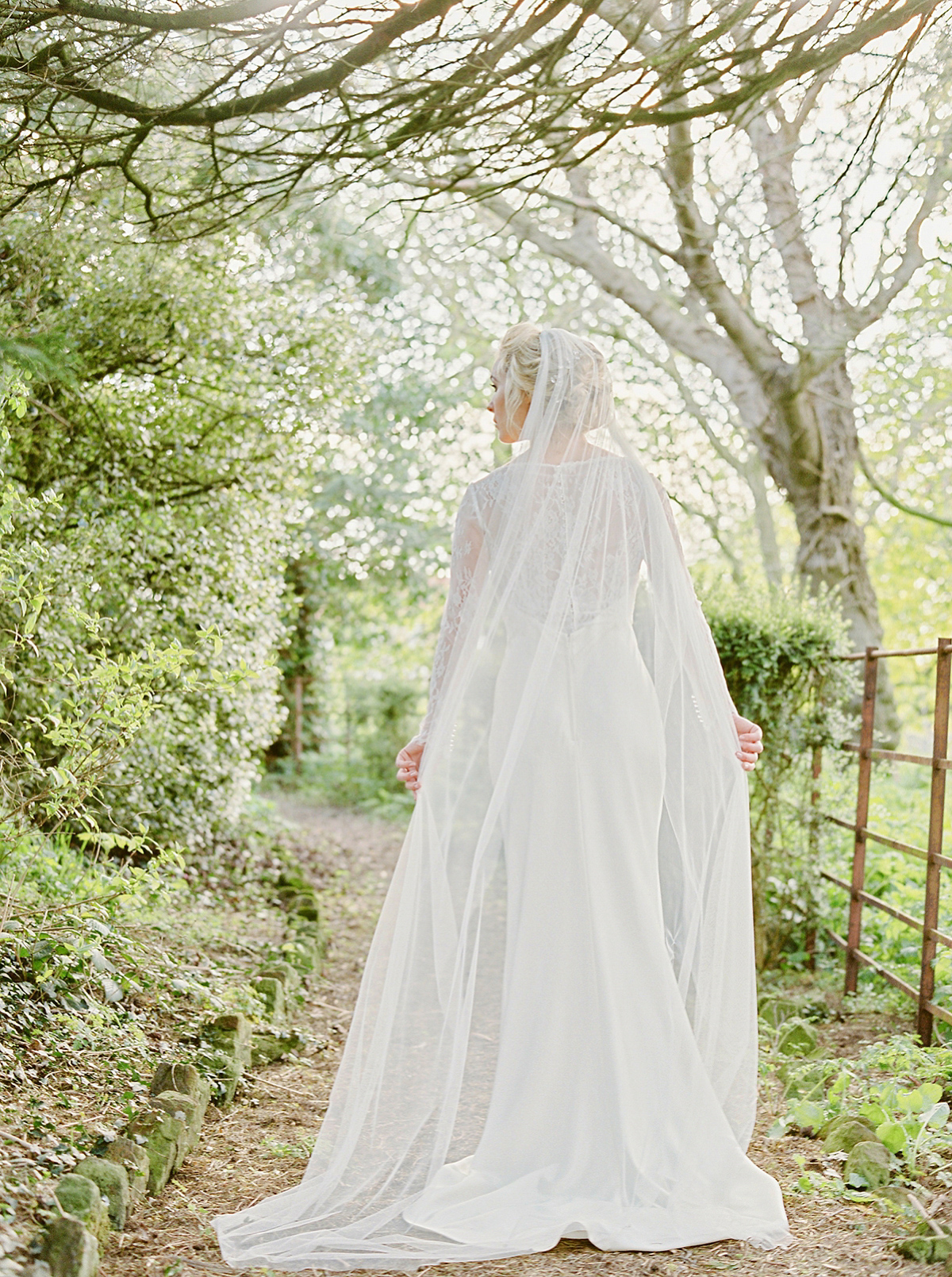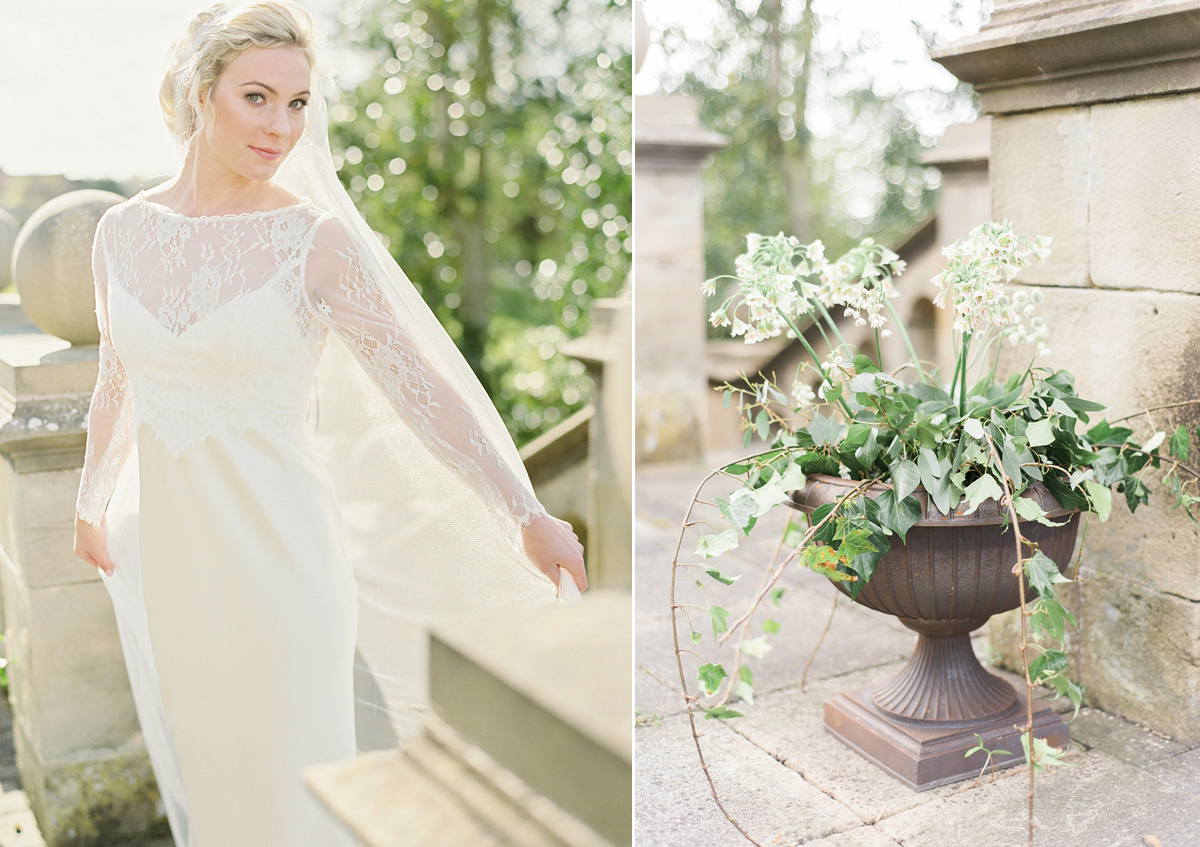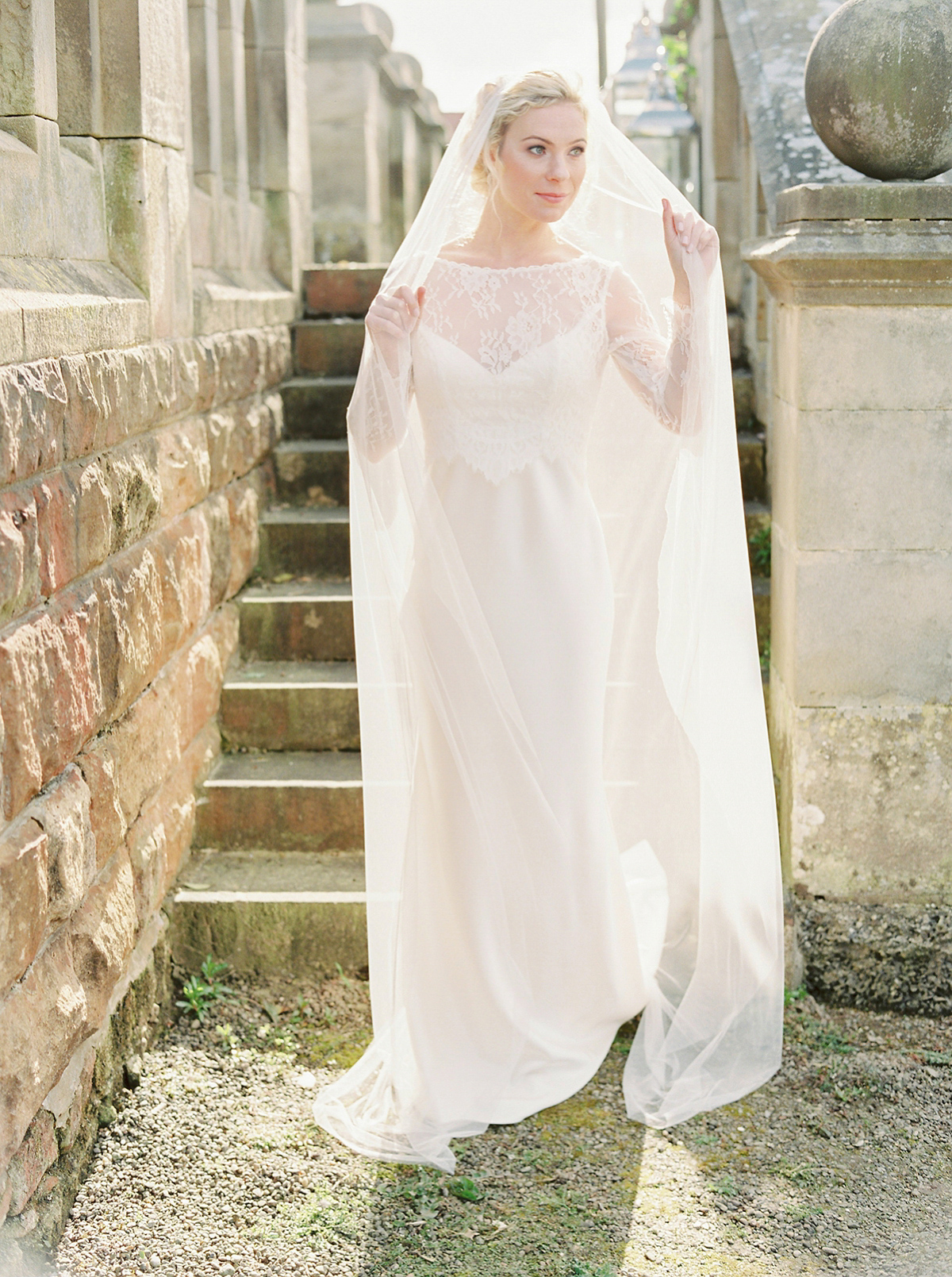 The shoot was about showing off what is already there but by mixing in a few well thought out clever ideas how a look can come to life.
I am particularly in love with the white lilac and eucalyptus bouquet Pam crafted. It was about looking at what was in season and complimenting the look and luxury on offer at this beautiful retreat.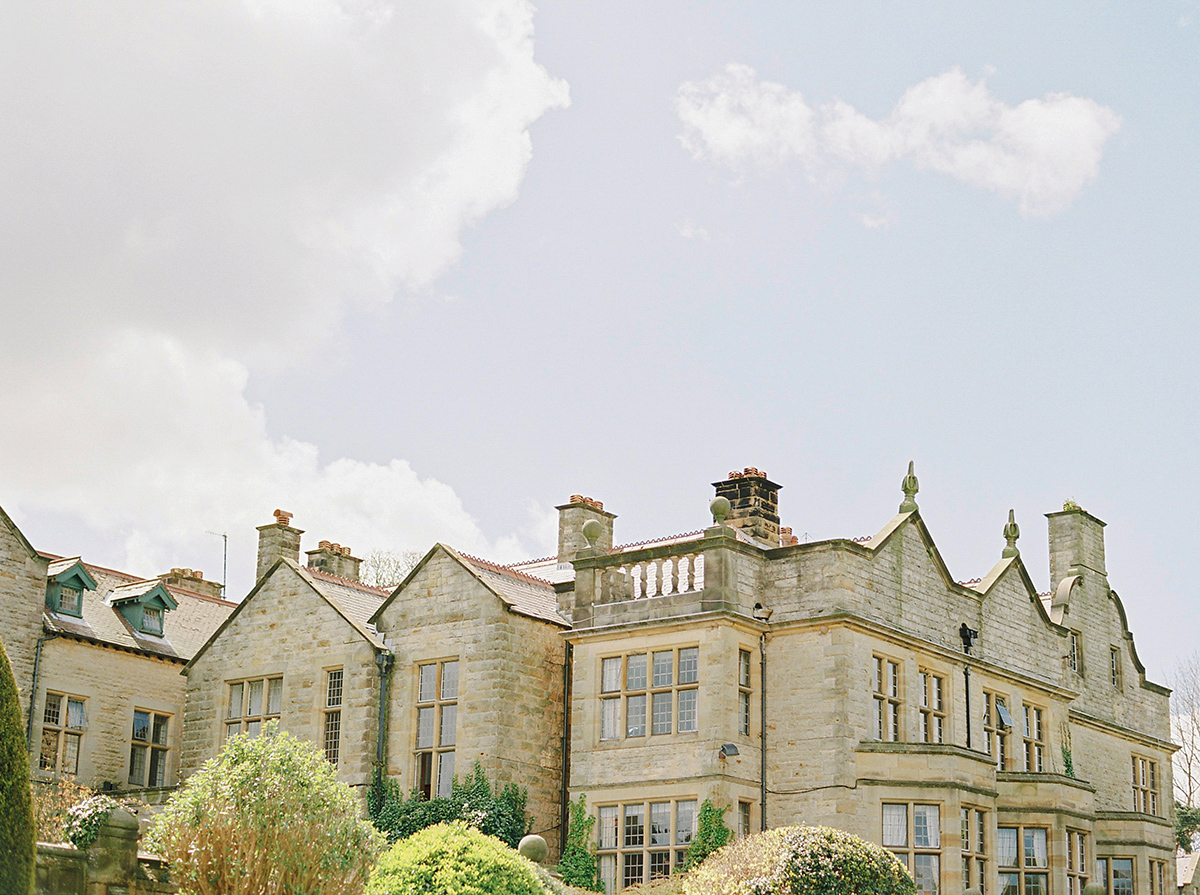 Huge love and thanks to Georgina, Pam, Dunsley Hall and all who contributed to creating these delightful images for sharing with you all today. I strongly encourage anyone considering marrying in the Whitby area to contact Dunsley Hall for a viewing.  You can view images from my own March 2009 wedding at Dunsely Hall here.
Love Annabel x