Do you want to know the thing I love most about writing for Love My Dress? Celebrating love. The kind of mountain-moving, heart-aching, awe-inspiring love that just seems to burst out of every single one of our real wedding features in all its shapes and forms. That two-is-better-than-one, hand-in-hand, partners-in-crime adoration. Because in this world there are some things that are just made to go together; frosty mornings and oversized jumpers, lazy Sundays and breakfast in bed, Winnie the Pooh and Piglet.
So in the vein of all things that are meant to go together, allow me to introduce you to the beautiful Nicola, a Theatre Nurse at Glasgow Children's Hospital, and Philip, a Retail Training Manager, who married in wildly beautiful Scottish style on 21st May this year. Nicola wore an enchantingly beautiful lace gown by the exquisite Stewart Parvin, who unsurprisingly happens to be one of our revered Little Book for Brides members. And speaking of Little Book for Brides superstars, lets kick this beauty of a wedding off with a gorgeously vibrant video by Worldy Nomads Films, followed by images by some of our very favourite image makers The Curries.
https://vimeo.com/173039748
"Initially we were inspired by a 'joining of the clans' style wedding with heavy Scottish influences. This idea softened somewhat during the planning and developed into a 'Scottish moorland' scene. This was highlighted through the presence of foraged flowers, natural garlands, hanging branches from the rafters, and moss in the original water troughs."
"I wore Jo Malone's English Pear & Freesia body crème and cologne on the day. I had a lovely bridal experience in store choosing the scent with my mum and one of my best friends. I also gifted my mum, the three bridesmaids and Phil with different scents for the day."
Nicola wore Natalie shoes by Rachel Simpson, which she purchased from boutique, Melle Cloche. Fresh flowers provided by PYRUS studded her flaxen locks, softly styled by Cameron Bryce of Sculptur Salon.
"I wore very simple pearl earrings and a matching bracelet from Highland Angel. Cameron has been doing my hair since my teens and my make-up was done by Anna MacKenzie, who was recommended by a friend."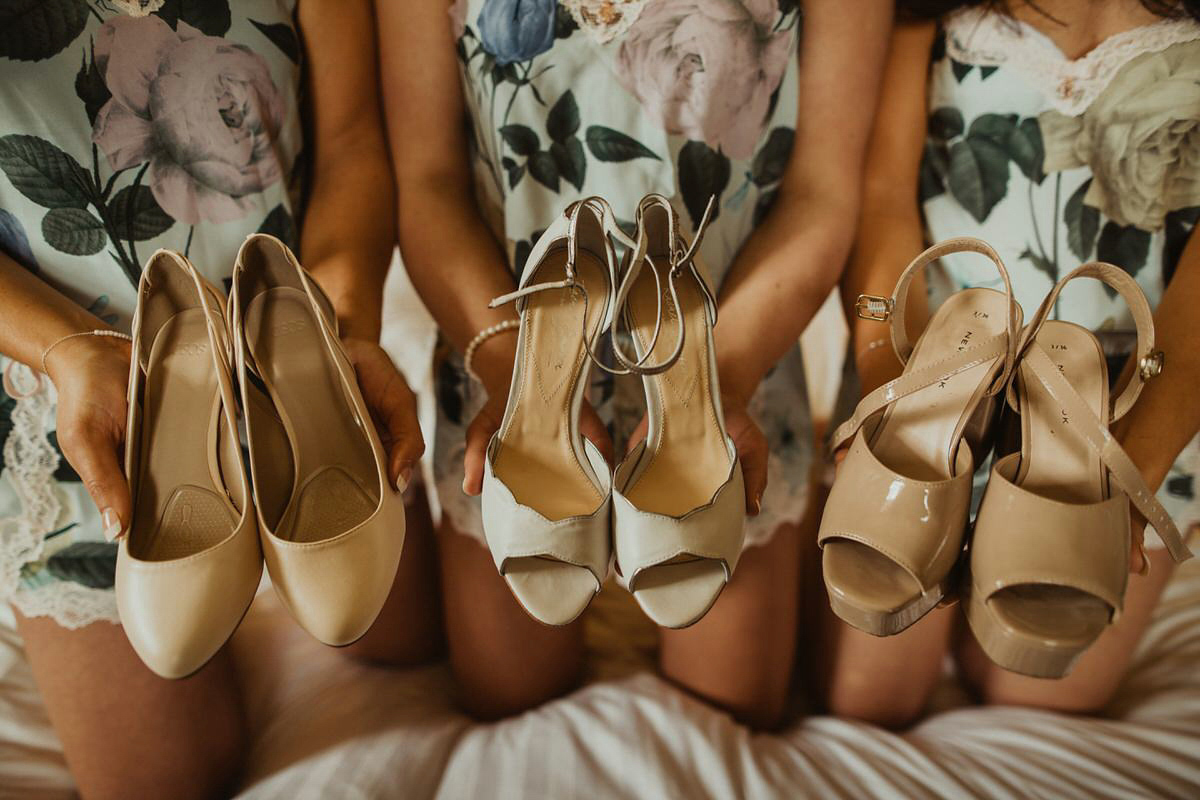 There's an incredible sense of emotion in these images; raised to new heights by the incredible use of light; at once broodingly dramatic and softly romantic. The intimate shot of Nicola, framed in a sweeping archway in her flowing gown with cascading blooms, bathed in a pool of softest light…it's the bridal portrait of my dizziest daydreams.
"My dress was designed by Stewart Parvin. 'Songbird' was the name of the particular dress, which I bought the dress from Anne Priscilla Bridal in Glasgow's Merchant City. Unbeknown to me, on the day of my appointment Stewart Parvin was in the store. He advised and assisted me personally, taking my measurements for the dress himself as well as gifting me a sketch of the dress."
"It was my sister who picked the dress from the rail and suggested I try it on. I loved the look of it on the hanger but felt nervous about trying it on in front of Stewart. As soon as I had it on I knew it was the dress I wanted to marry Phil in. "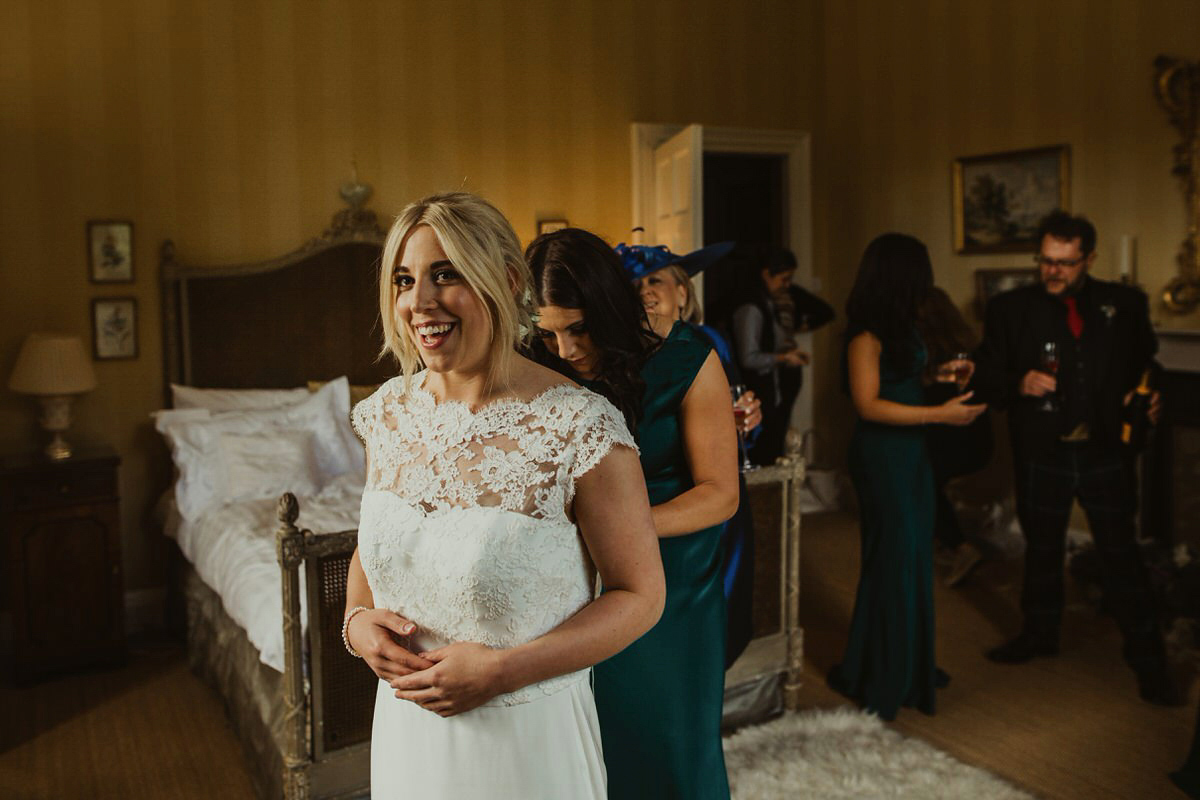 "I needn't have been nervous as Stewart was straight over to me at the mirror in the middle of the store, pinning the dress, adjusting my hair and showcasing accessories. The simplicity and elegance of the dress made it an easy choice and I particularly loved the lace and the detail of the buttons to the bottom of the train."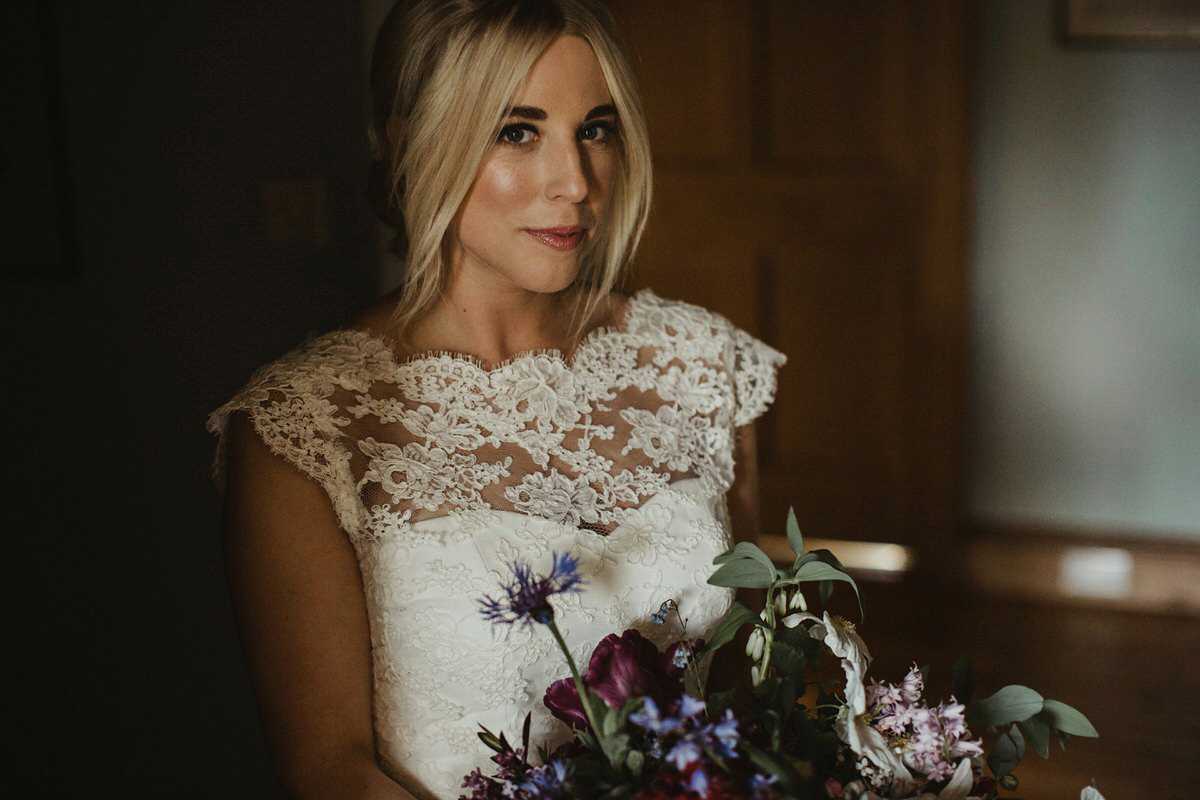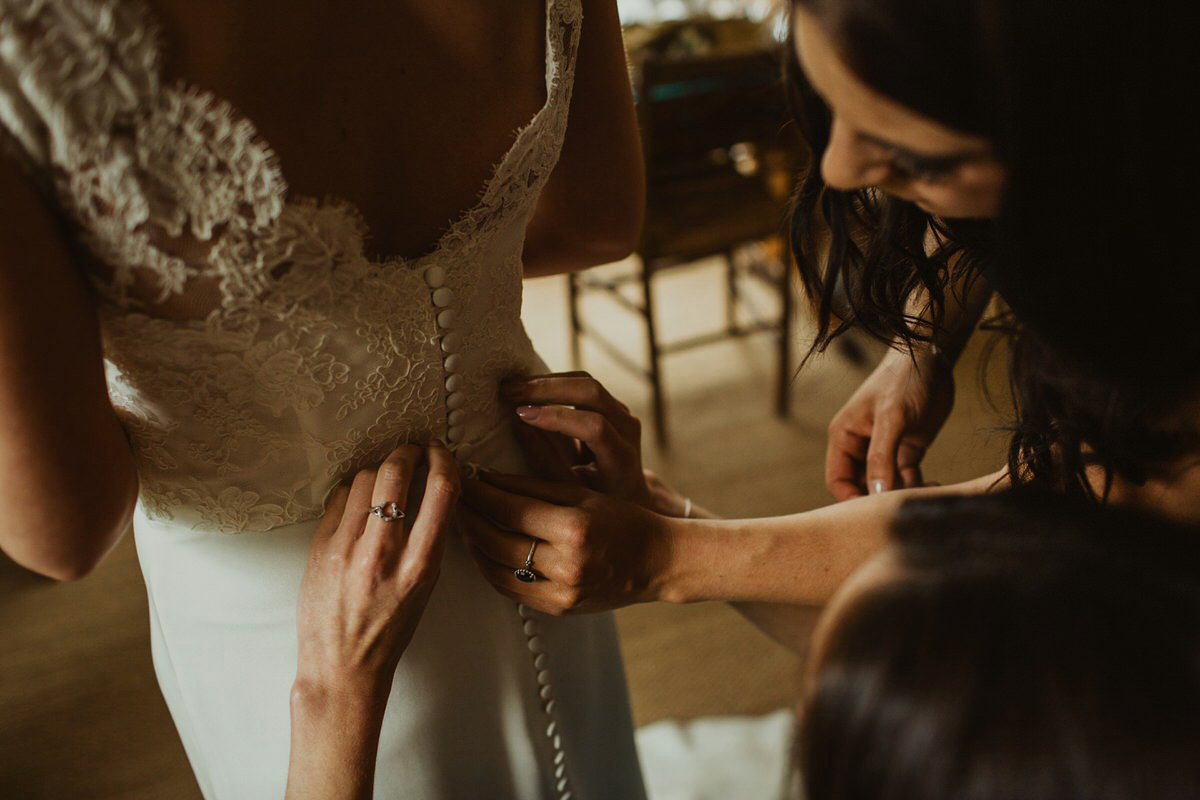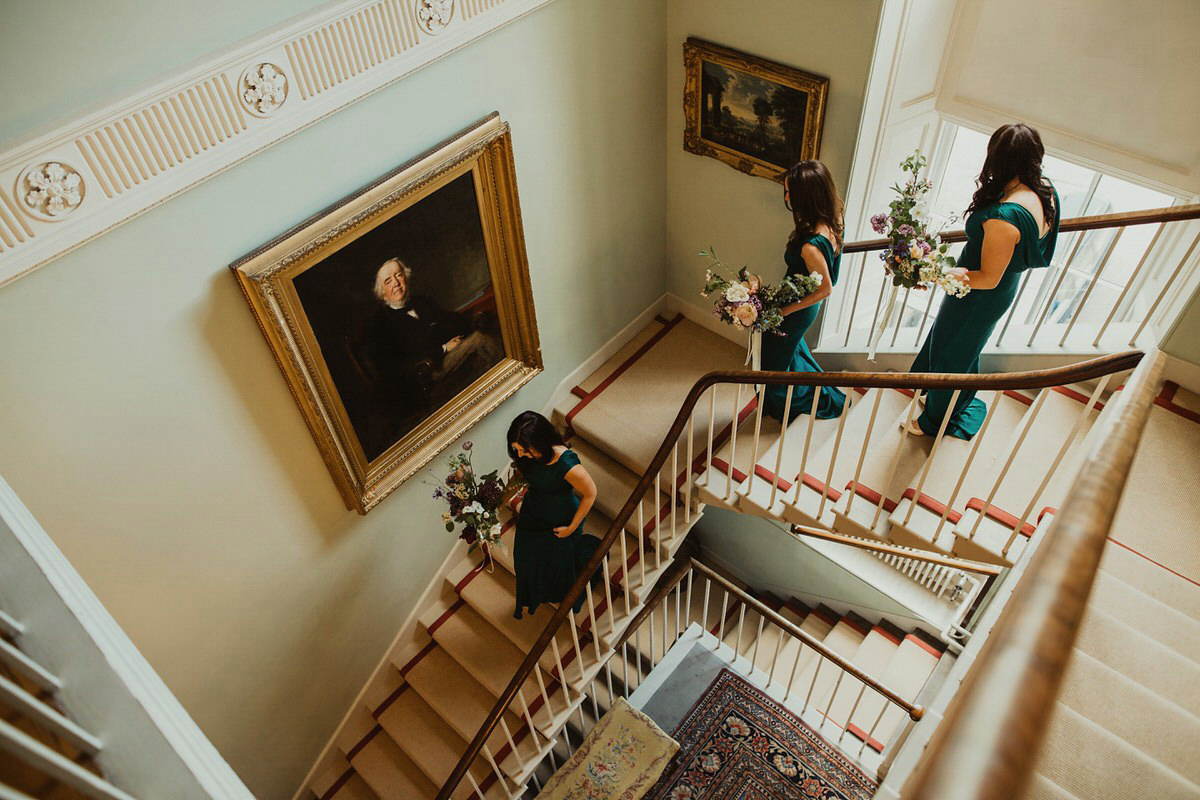 So I'm starting to think today's bride might just be soulmate material; a gin lover with exquisite taste in florists? I call dibs! Just look at the unfurling, untamed organic structures crafted by the amazing PYRUS Botanicals.
If this name is ringing some gorgeous bells, you may have seen the incredible creations of these flower-focussed visionaries gracing this ethereal woodland wedding.
"We wanted our flowers to be quite understated and natural to fit in with the natural features of The Byre. The Byre is an ideal blank canvas to really be creative with and we knew that PYRUS had a history of providing stunning and natural creations. We chose this venue because we wanted a location that was private, accessible geographically for our guests, but mainly because we wanted a venue where we could create a relaxed, informal and sociable atmosphere."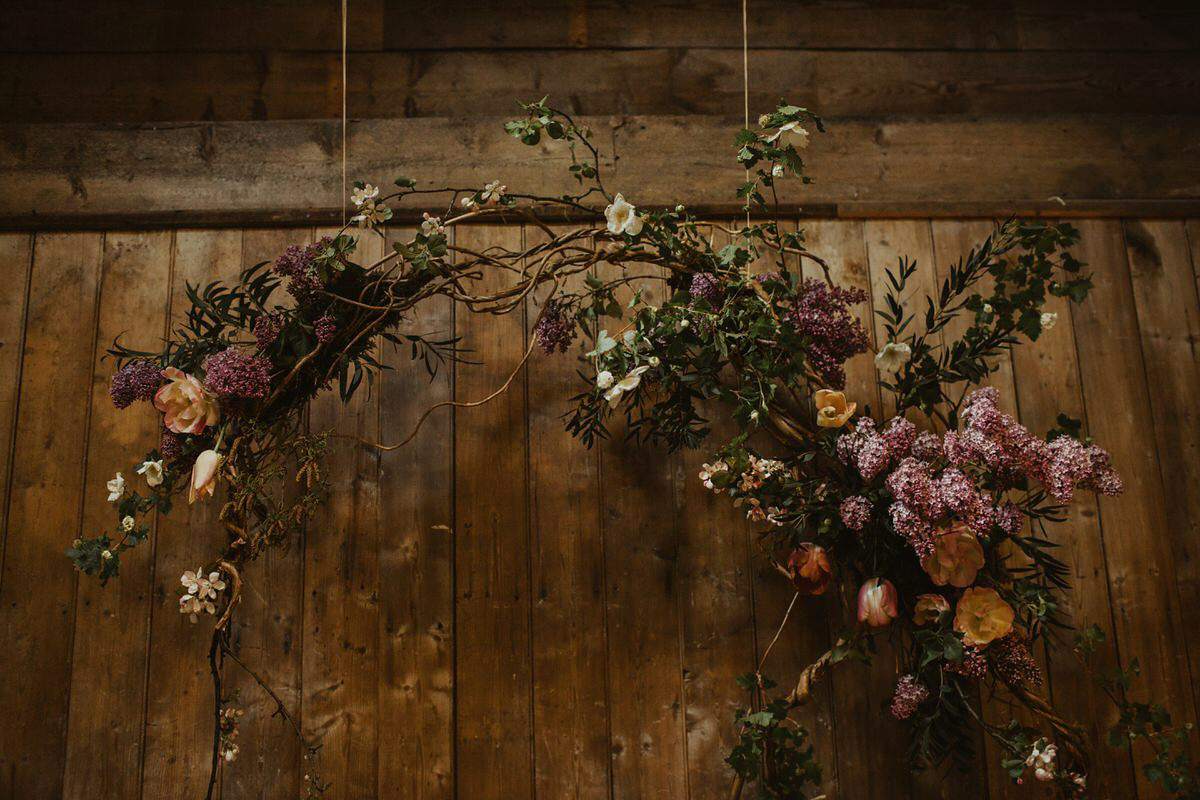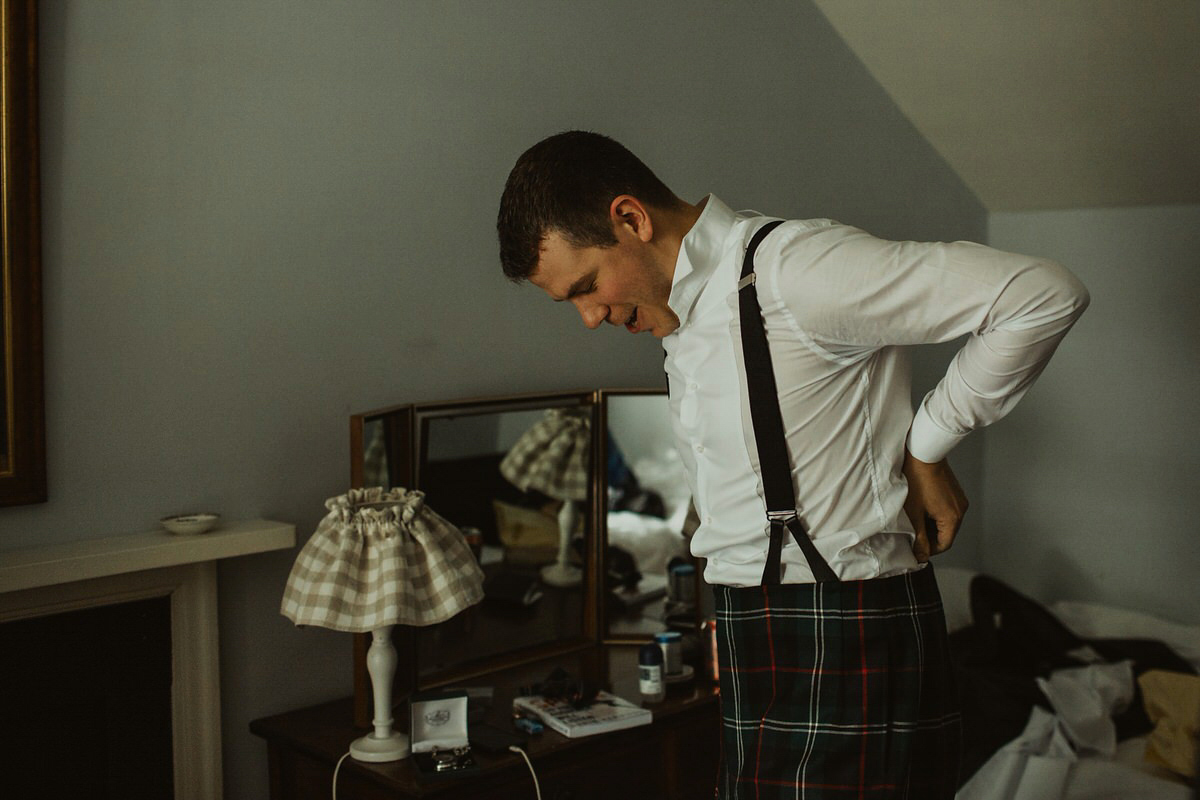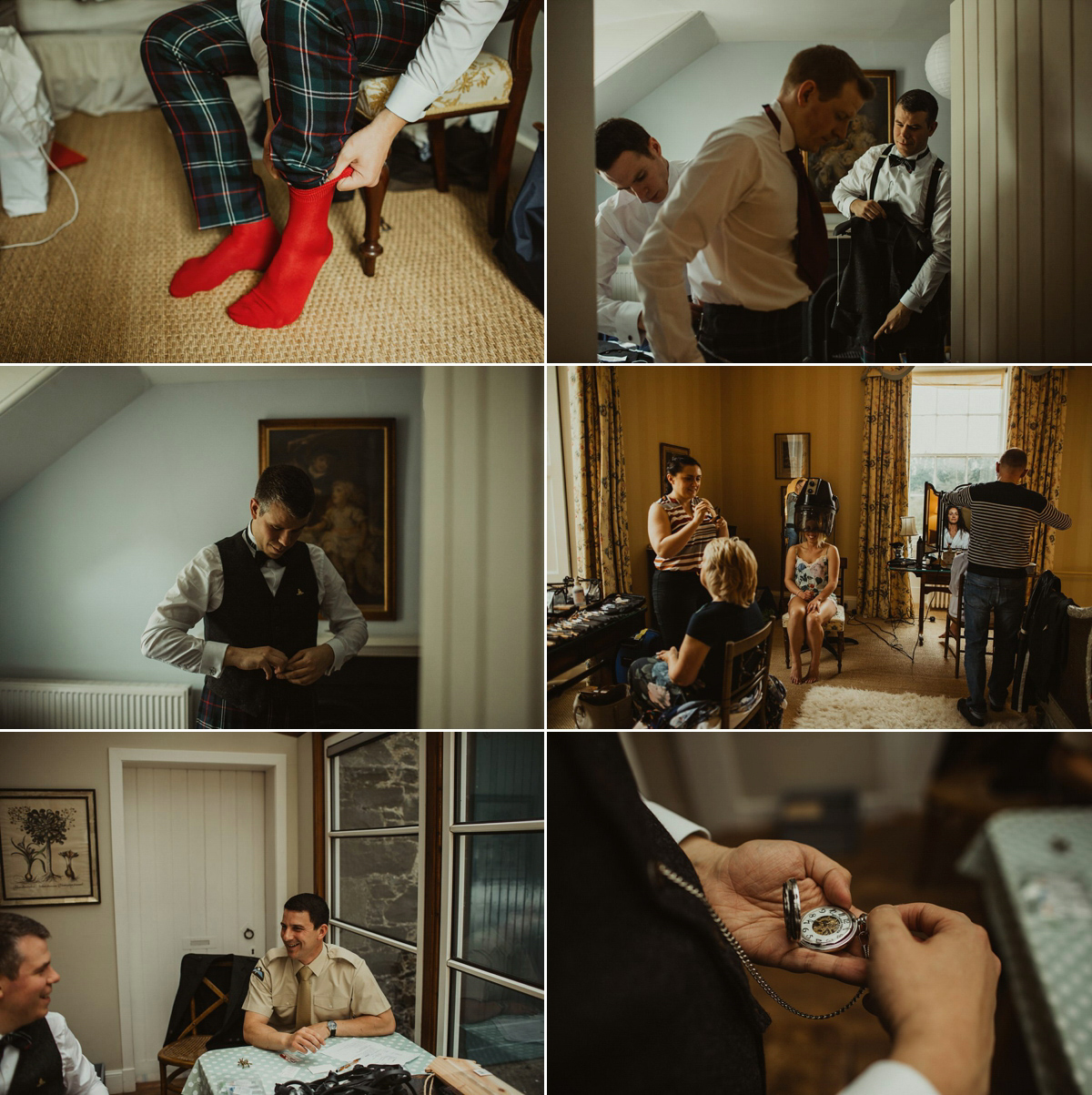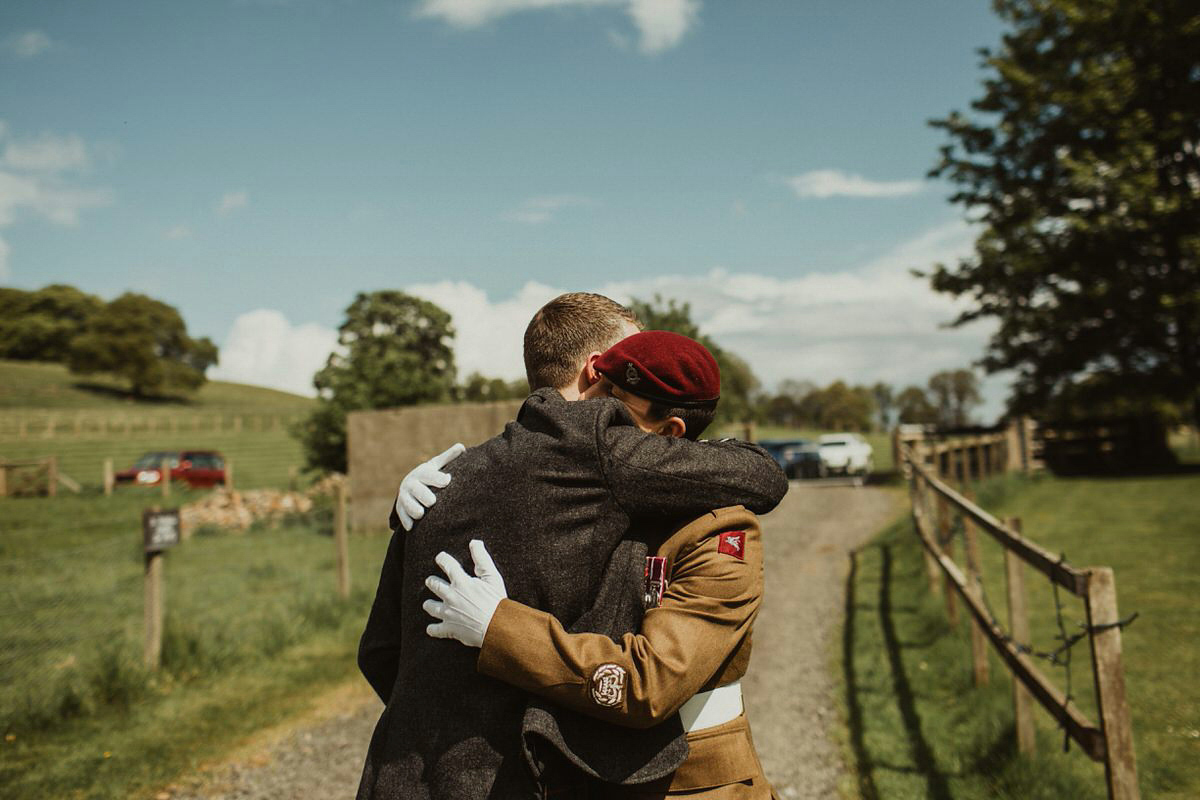 "Philip wore tartan trews and a bow tie in rose hunting tartan with a crail jacket and waistcoat made to measure by A.Crawford & Sons in Glasgow. He had M&S brogues, a T.M.Lewin shirt and a pocket watch and cufflinks bought from private eBay seller. His personalised button hole included a rose clan pin badge."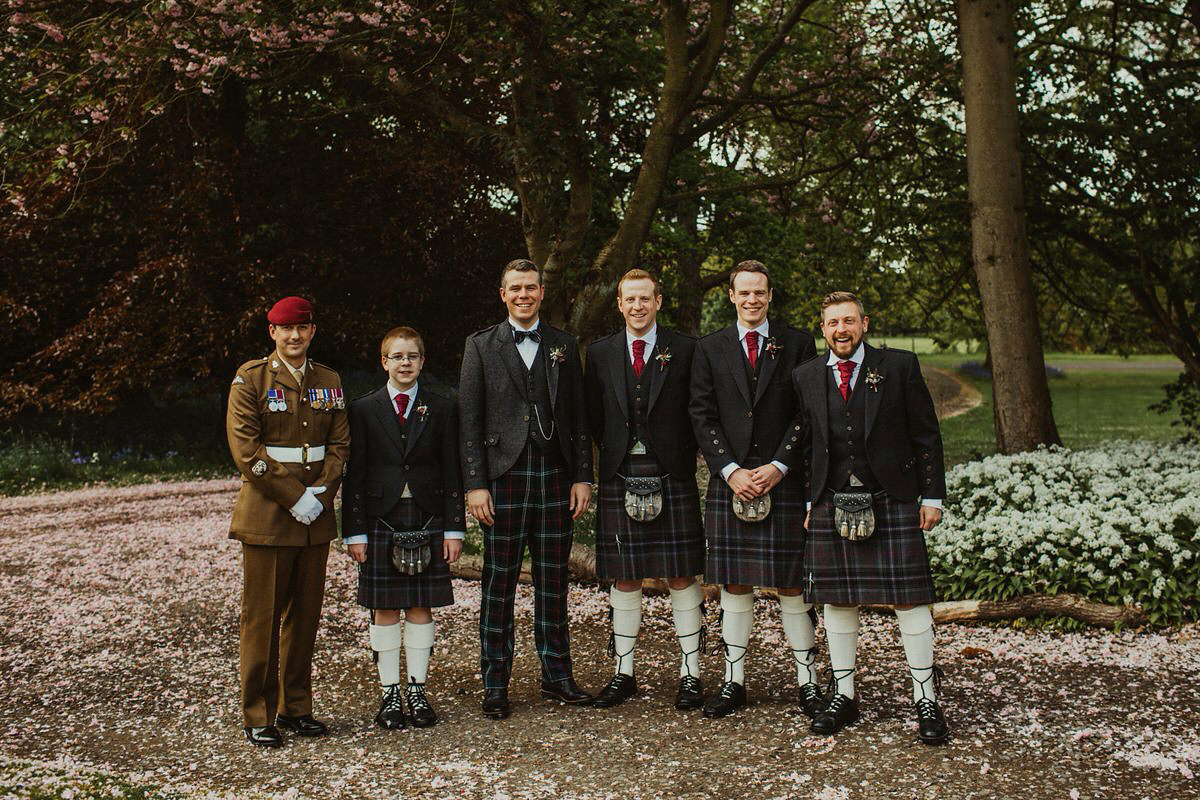 I love that Philip's ensemble honours the couple's original 'joining of the clans' concept. It's so sweet that the couple chose to celebrate and rejoice in their shared heritage.
"We met in the summer of 2008 through one of Philip's work colleagues who was also one of my friends from school. Philip was working in a clothes shop in Inverness and I was a student at Glasgow University. The first twelve months of our relationship were spent back and forth on the Megabus between Inverness and Glasgow to see each other before we moved in together in Spring 2009 and started to build our life and careers together in Glasgow's West End.  We got engaged in May 2014 while sitting on the beach, watching the sun set on the southern coast of Spain. We set the date soon after and enjoyed having two years to plan and prepare."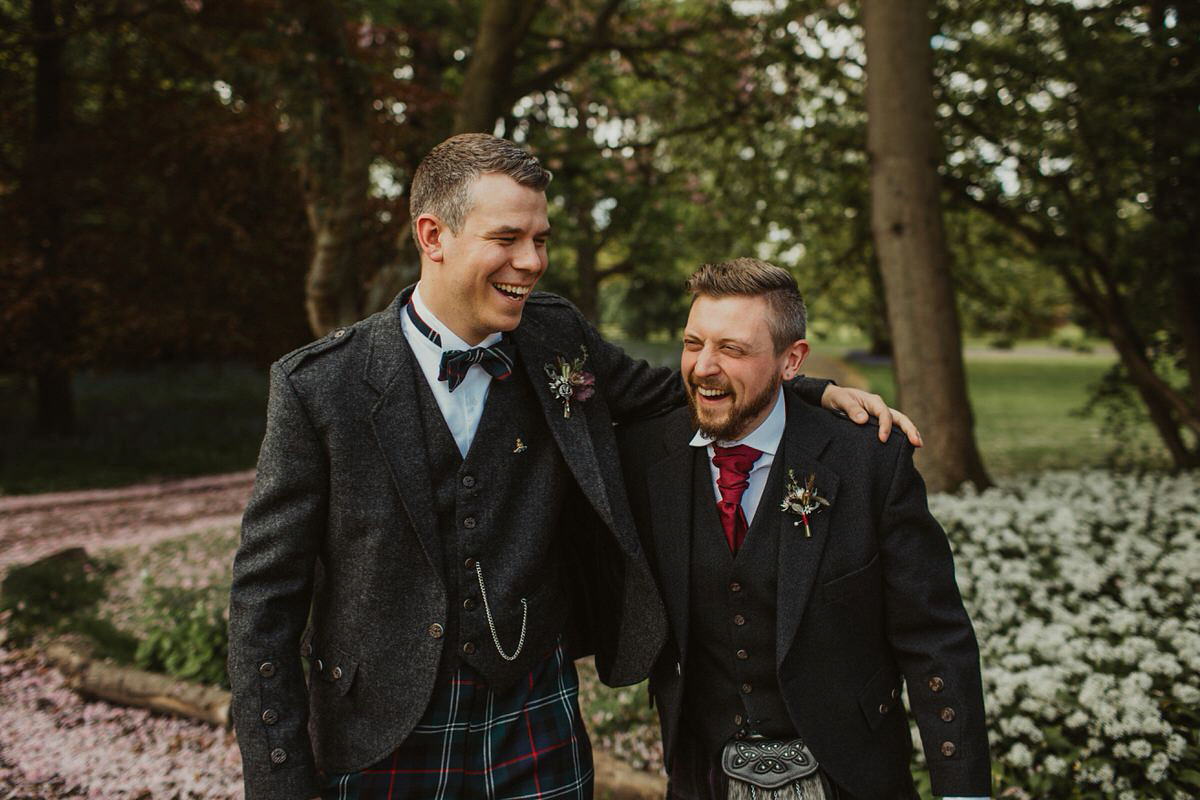 Nicola's pretty maids wore their own shoes and earrings with their incredibly elegant emerald Ghost dresses. There gorgeous gowns are such a popular choice with our brides and I can totally see why. The thoughtful bride gifted her bridesmaids with silver and pearl bracelets from Highland Angel in addition to their Jo Malone fragrances.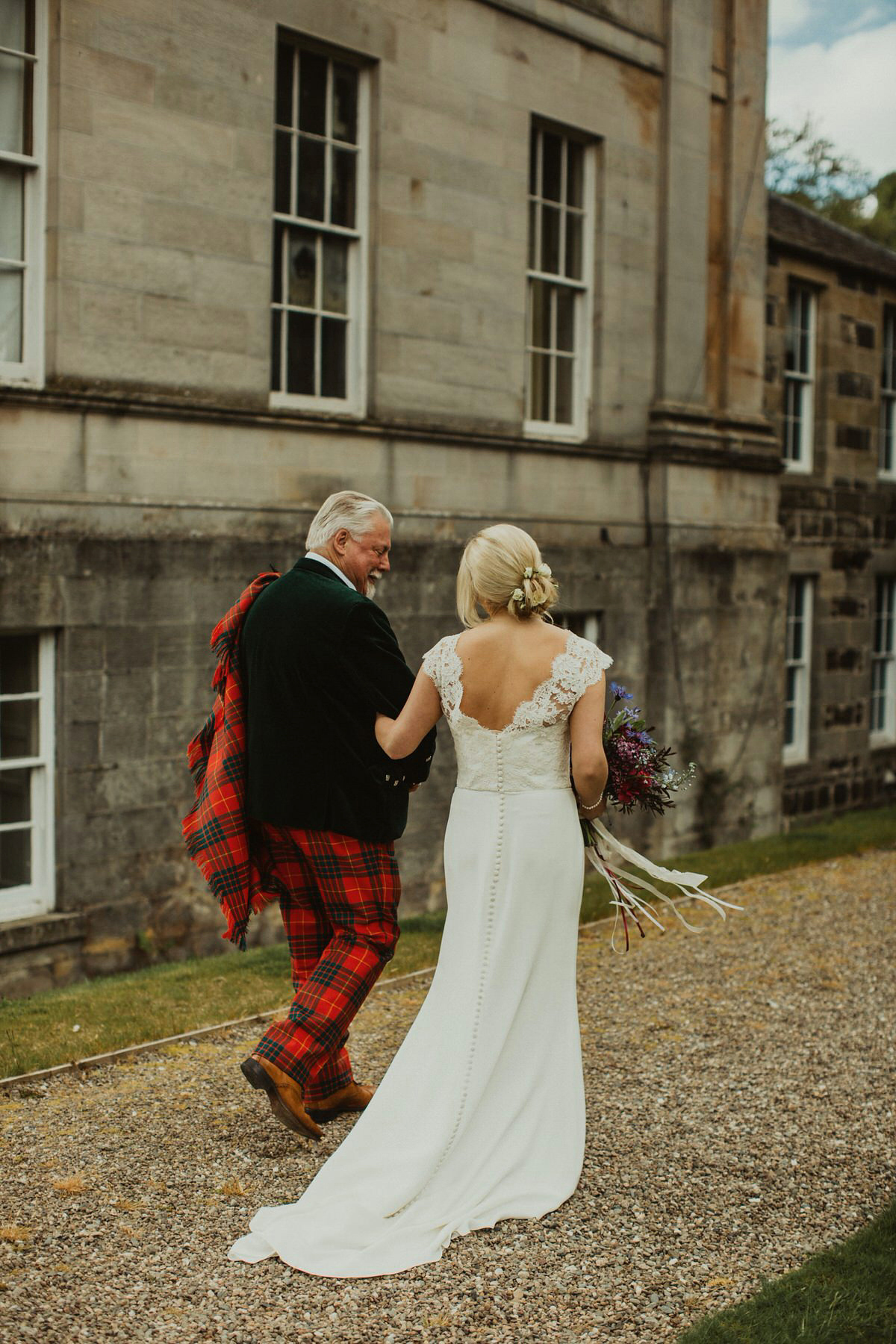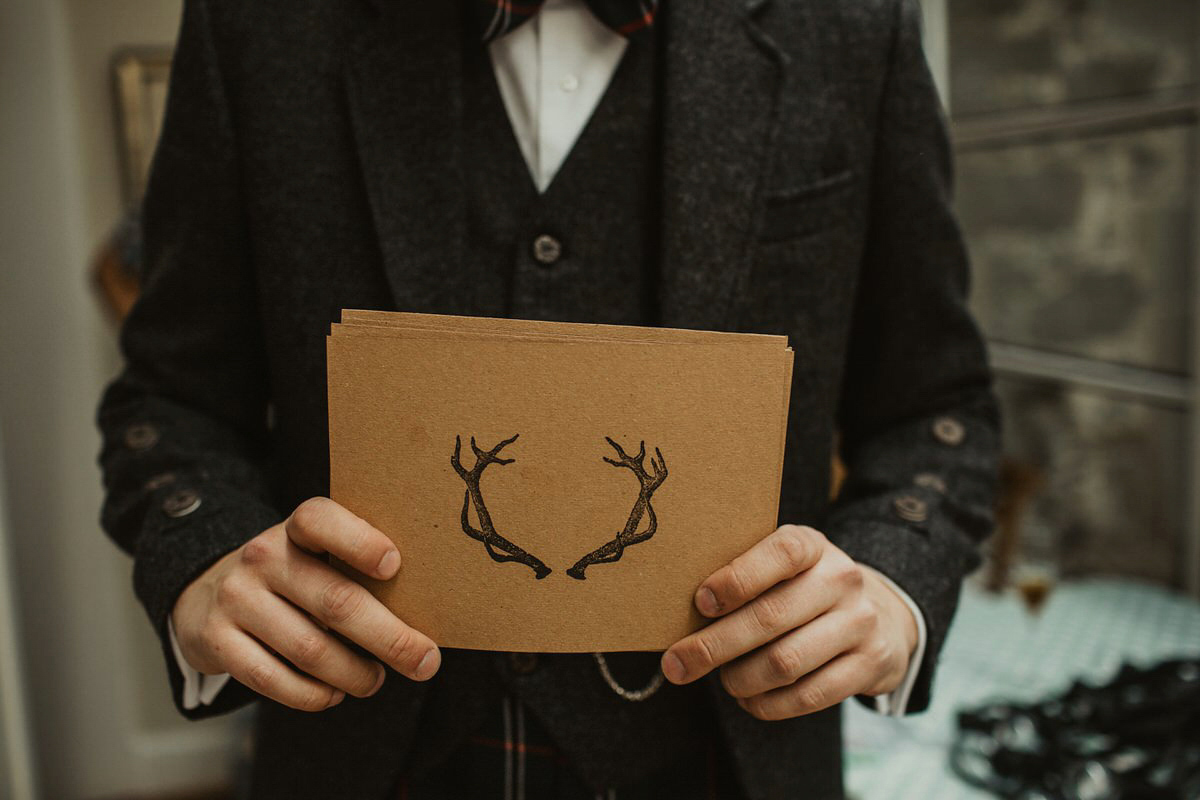 Nicola's dad, Graham, walked her down the aisle accompanied by The Dotted Crotchets, who played the achingly beautiful and joyful Hoppipola by Sigur Ros. By the way the track's title is Icelandic for 'hopping in puddles,' which makes me smile every time I hear it.
"We tailored our own vows after taking inspiration from various blogs and websites. We had a Humanist ceremony so we wanted our vows to be honest and personaL…"
I, Nicola, am proud to marry you, Philip. The person I want to share my life with. I promise to trust and appreciate you. To respect and cherish your uniqueness and to support, comfort and strengthen you through life's joys and sorrows. I Nicola, accept you Philip, as my husband.
I love that Humanist ceremonies are fully legal in Scotland; it gives the bride and groom complete free license to make their ceremony as personal and as unique as they are as a couple. Nicola and Philip also chose a series of readings, each conveying a different sentiment.
"We wanted something serious, something light-hearted and something with a bit of humour. We had 'I Like You' by Sandol Stoddard Warburg, the 'Love is a temporary madness' extract from Captain Corelli's Mandolin by Louis de Bernieres and 'Love' by Roy Croft."
"We went to Glasgow's Argyll Arcade to choose our rings. We both knew the style that we wanted before we visited and the arcade offers a huge selection so it was easy to find the perfect rings. Phil wanted a plain, new metal, matte finished band in order to be classic and versatile and I wanted a simple diamond band."
During their ceremony and at their reception, Nicola, Philip and their wedding guests were joined by a very special guest…a beautiful barn owl. I may have squealed loudly in excitement when I first saw these images – I adore owls and one of my best ever presents from my fiancé (aside from my engagement ring of course) remains a falconry day where I almost had to be physically restrained from smuggling out a gorgeous little guy named Alfie (he wanted to come and live with me, I promise!)
A warm and laid-back atmosphere being of paramount importance to our lovely couple, it was essential they found a photographer able to candidly capture all of those fleeting little moments in a relaxed and informal way. I'd say Nicola and Philip struck gold when they found The Curries.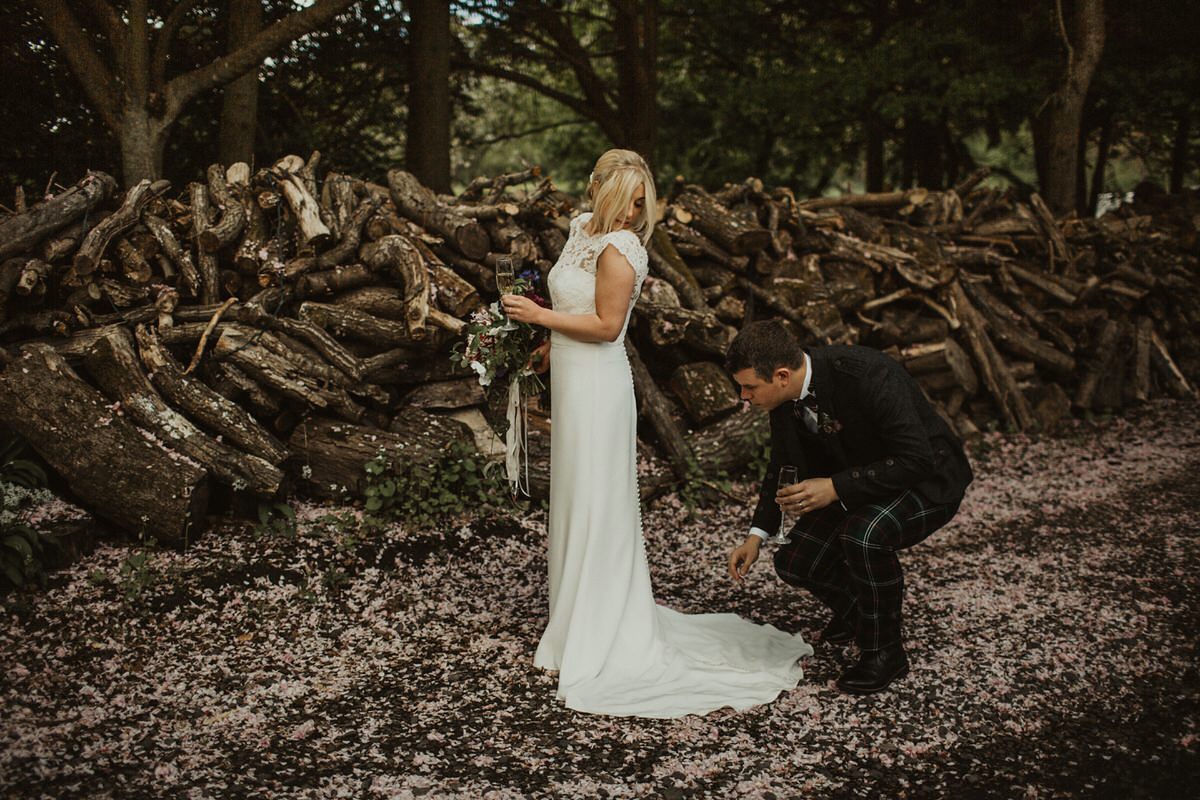 "The Curries photographed our day. We were certain that we wanted a 'candid' style of capturing our wedding that wasn't too formal, focusing on capturing the emotions of our guests and highlighting some of the details rather than lots of structured and formal shots. We came across The Curries online and were drawn particularly to their ability to capture a great degree of feeling in a still shot."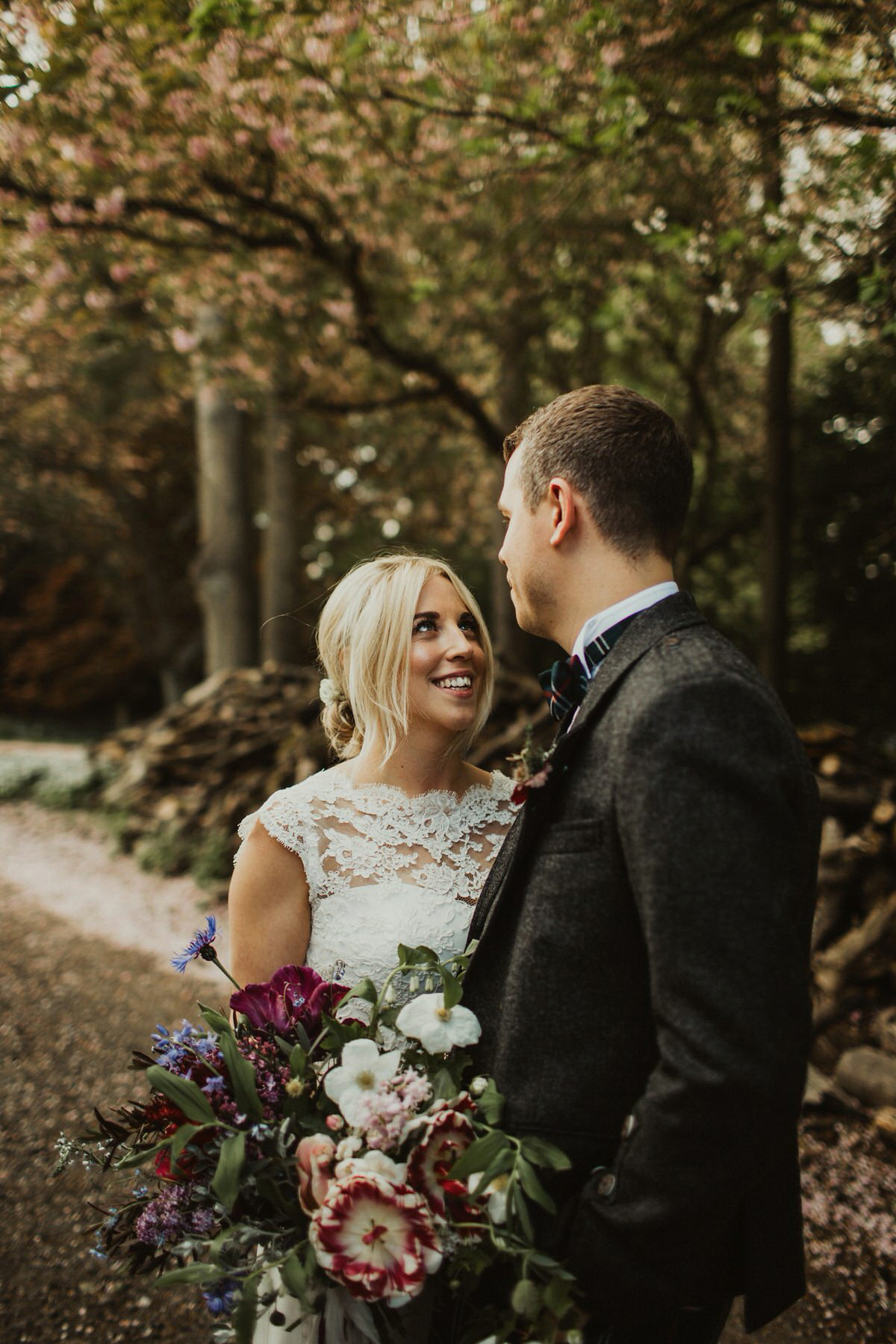 "Throughout the entire process they couldn't have been more accommodating of our views and wishes or easier to work with. From the initial meeting round at their flat to their ability to help us keep calm and composed on the day, we felt they were more like a couple of good friends that happened to be taking our photographs."
Nicola and Philip relished their drinks reception as an opportunity to spend a little time together as husband and wife, which also gave The Curries a chance to capture some gloriously love-filled just married shots.
"Our favourite part was during the drinks reception when we took a short 'time out' to have photos taken in the beautiful walled garden on the Inchyra Estate. It gave us the opportunity to take some time away from the guests and reflect on the fact that we'd just actually got married!"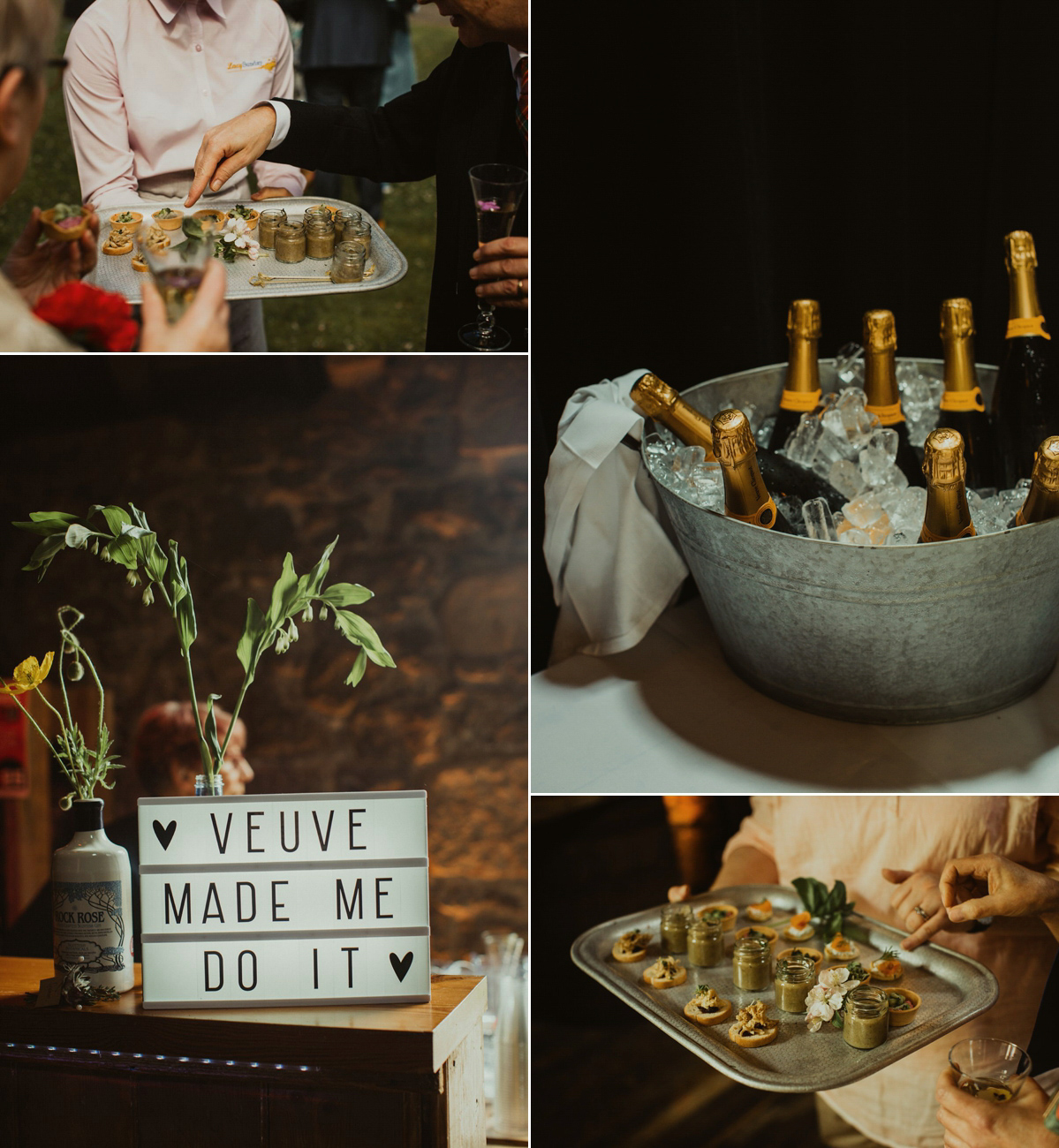 Honouring their love of Scotland (and their love of cheese and biscuits), Nicola and Philip opted for a four-tiered cheese creation by George Mewes. And the Northerner in me rejoices that the couple chose a sweet but fun Arctic Monkeys track for their first dance.
"It weighed in at a cool 13kg! We had a base of Isle of Mull Cheddar, a layer of Corra Linn, a layer of Dunsyre Blue and a layer of Tunworth (English – technically cheating)."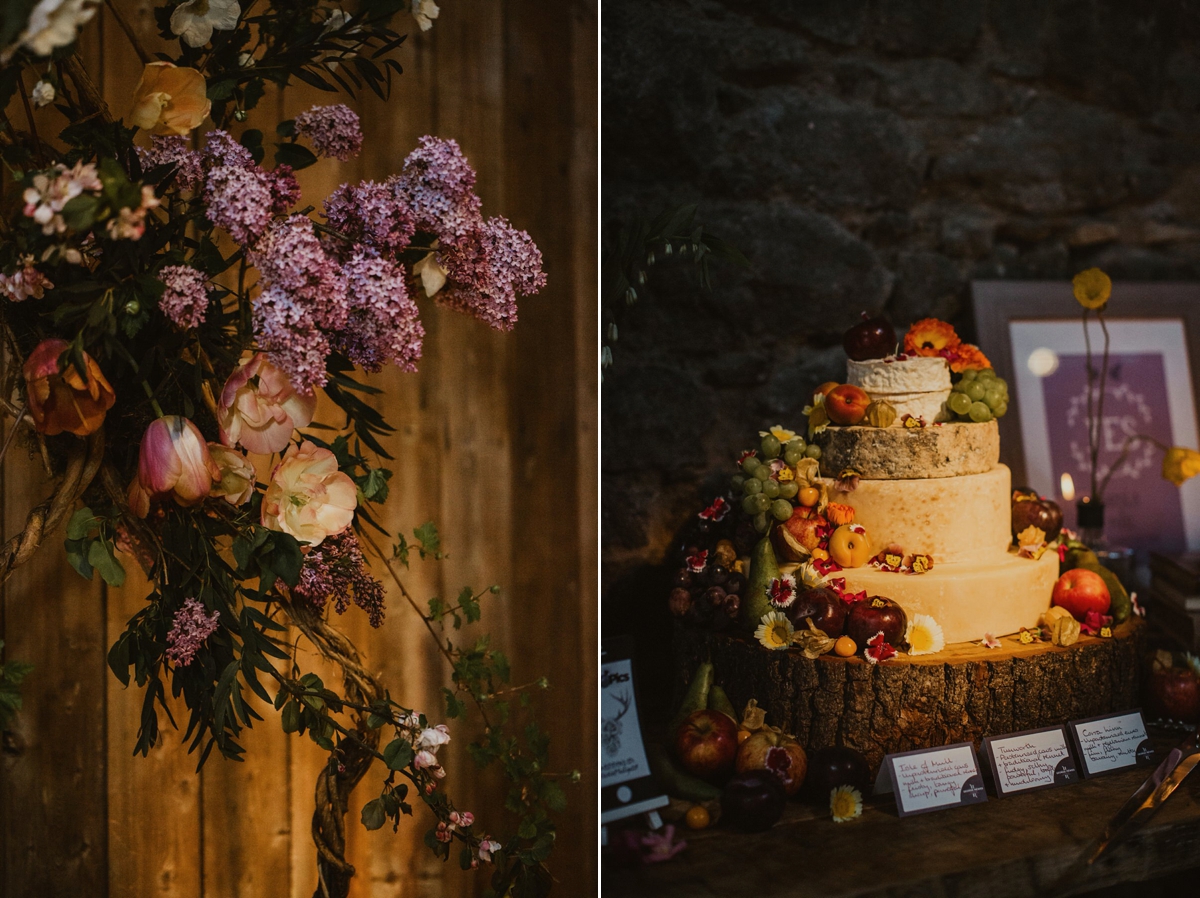 "Our joining of the Scottish clans theme was further reinforced by the presence of stag's heads and tree slice table risers." 
"Whisky (one of Philip's passions) was largely present in the form of the table plan and also some empty bottles holding single stem flowers placed around the venue. Single stem flowers were also placed in empty Scottish gin bottles (one of Nicola's passions.)"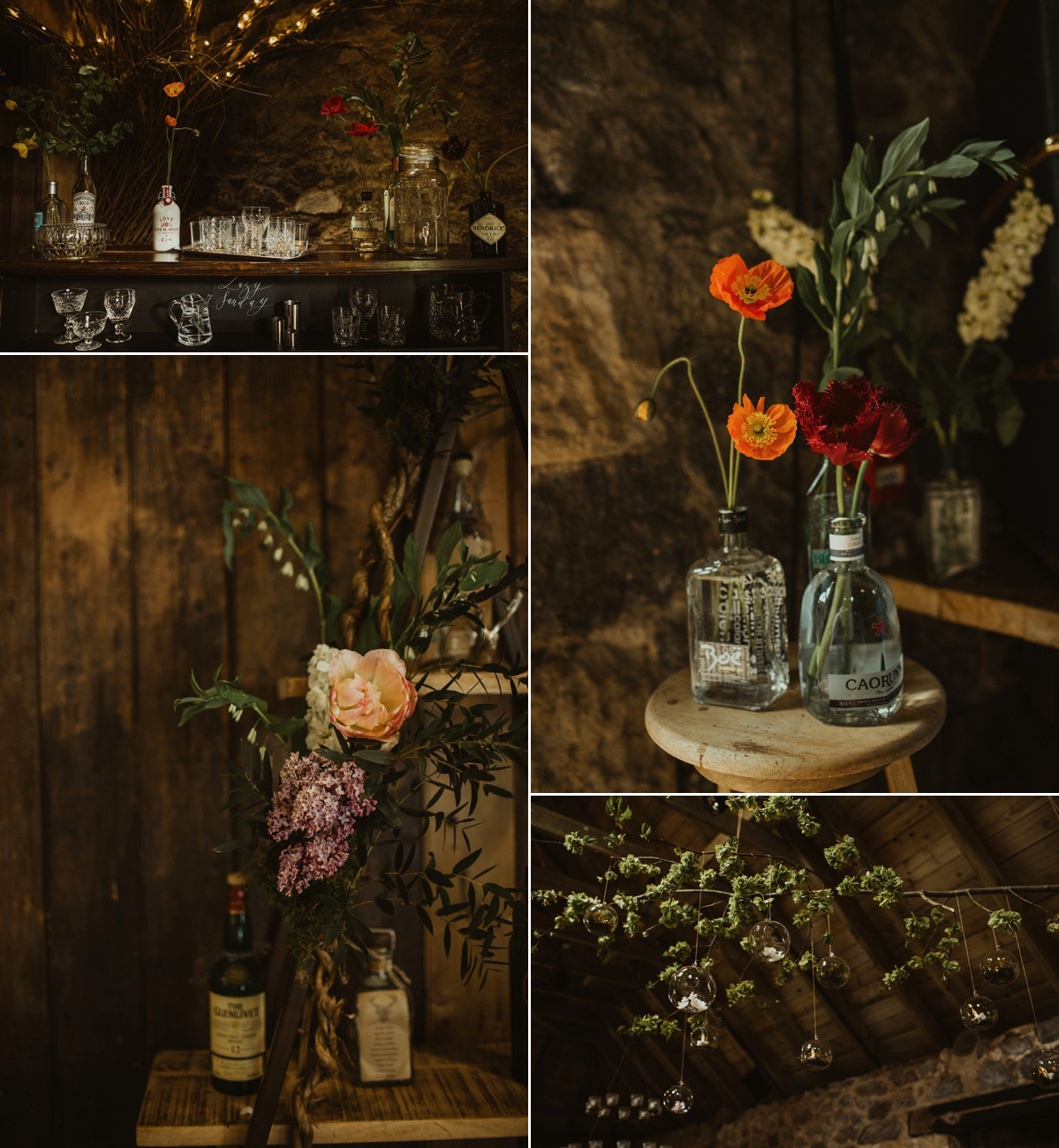 The couple's reception is a veritable paradise of rustic Scottish delights, all bathed in the glow of a canopy of fairy lights and scattered liberally with yet more of PYRUS' gorgeous floral creations.
"We designed and produced the stationery ourselves with support from a close friend, Lucy. We kept a consistent 'rustic' theme of kraft card, twine, and stag antlers throughout all of the stationery. Most of the styling details and decor items were taken from our flat and we relabelled whisky bottles for the table plan and centre pieces."
"We chose Lazy Sunday off the Byre's list of suggested caterers as we wanted 'sociable' and hearty food, using local ingredients. We had Scottish charcuterie sharing platters to start, hearty Perthshire beef casserole for main and a deconstructed 'DIY' Cranachan for dessert."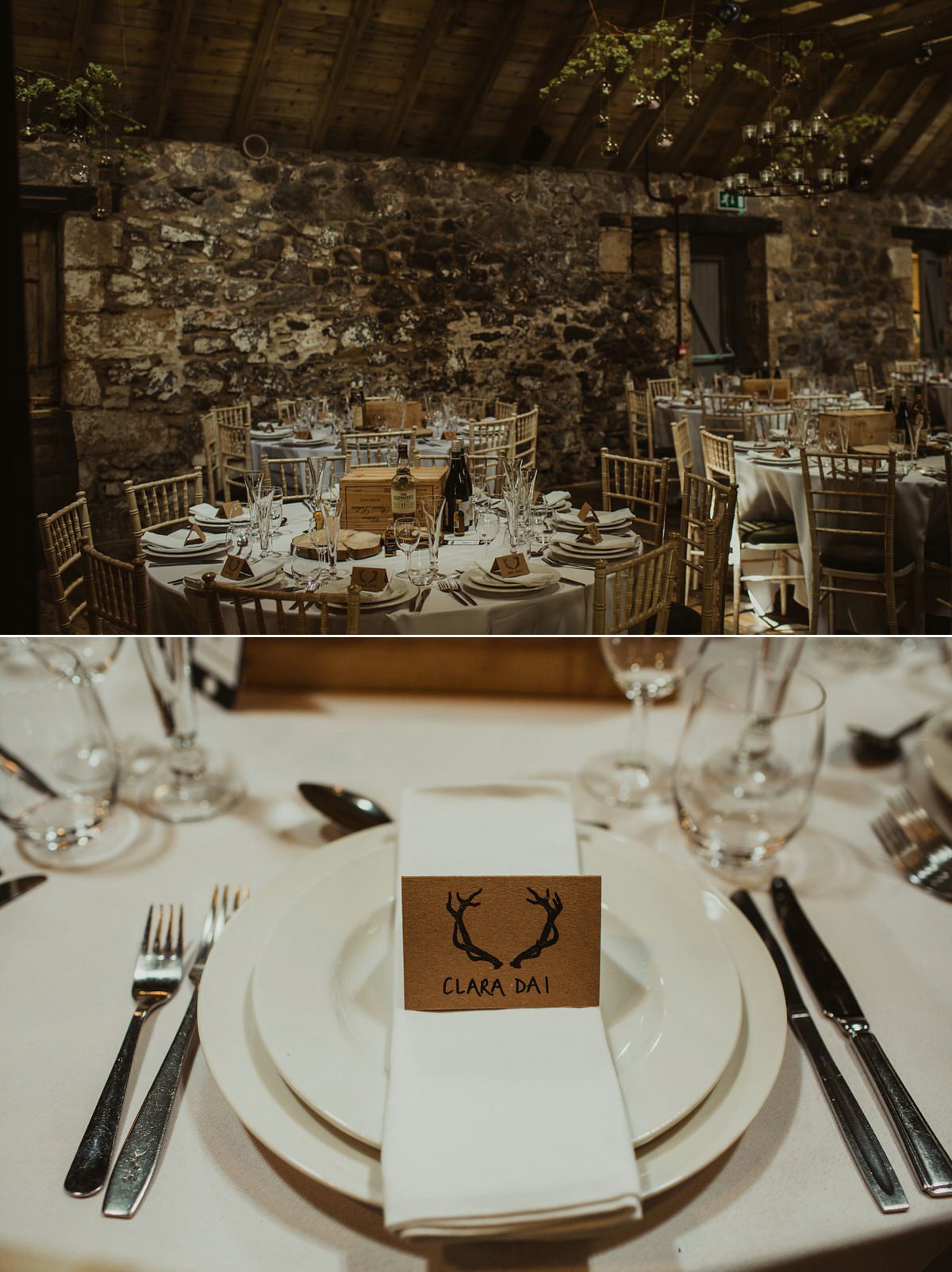 "Our band, Replay, performed the Arctic Monkey's version of 'Baby I'm Yours' to be honest it was the shortest song we could find which suited a first dance."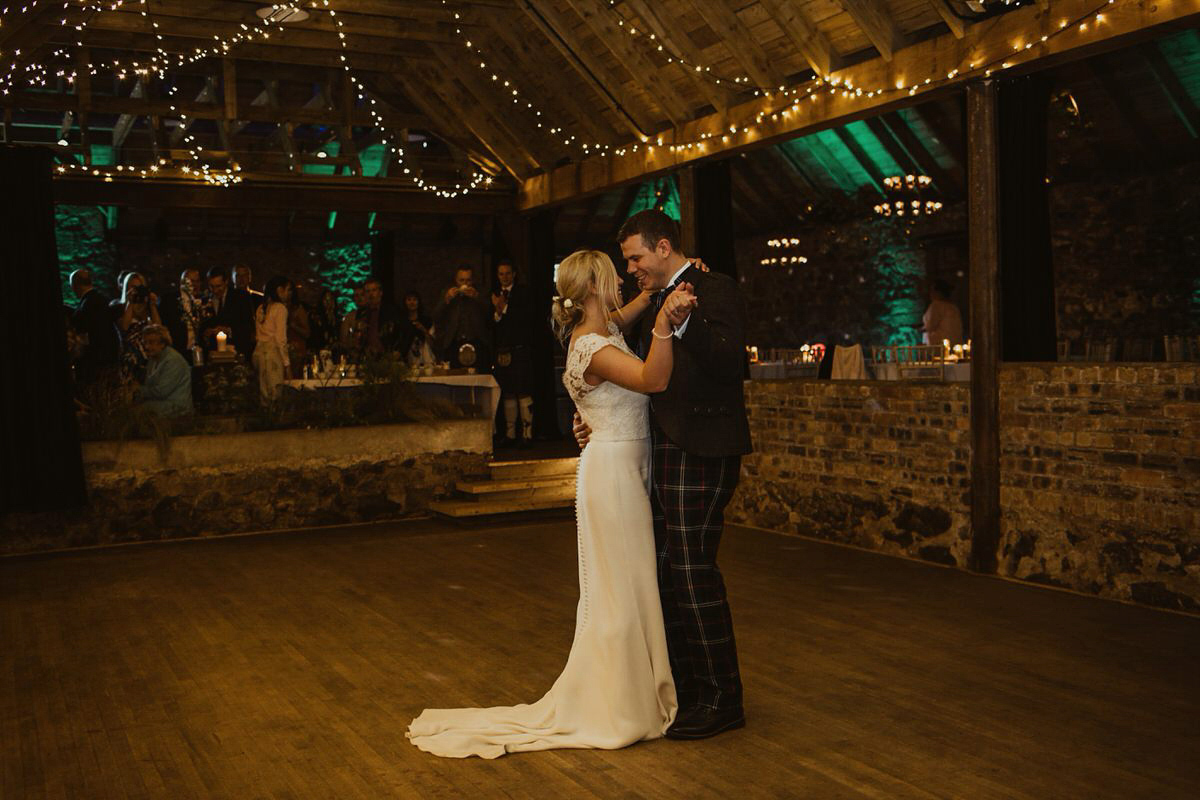 Words of Wedded Wisdom
"Enjoy the process of planning your wedding. If you are organised and calm throughout the planning stages, there's no need for any stress in the run up to the day or on the day itself. We were completely in agreement on every detail of our day and very sure of how we wanted it to look and feel. My advice is to make decisions you are both happy with and that the day is equally each other's – it's a marriage you are celebrating after all."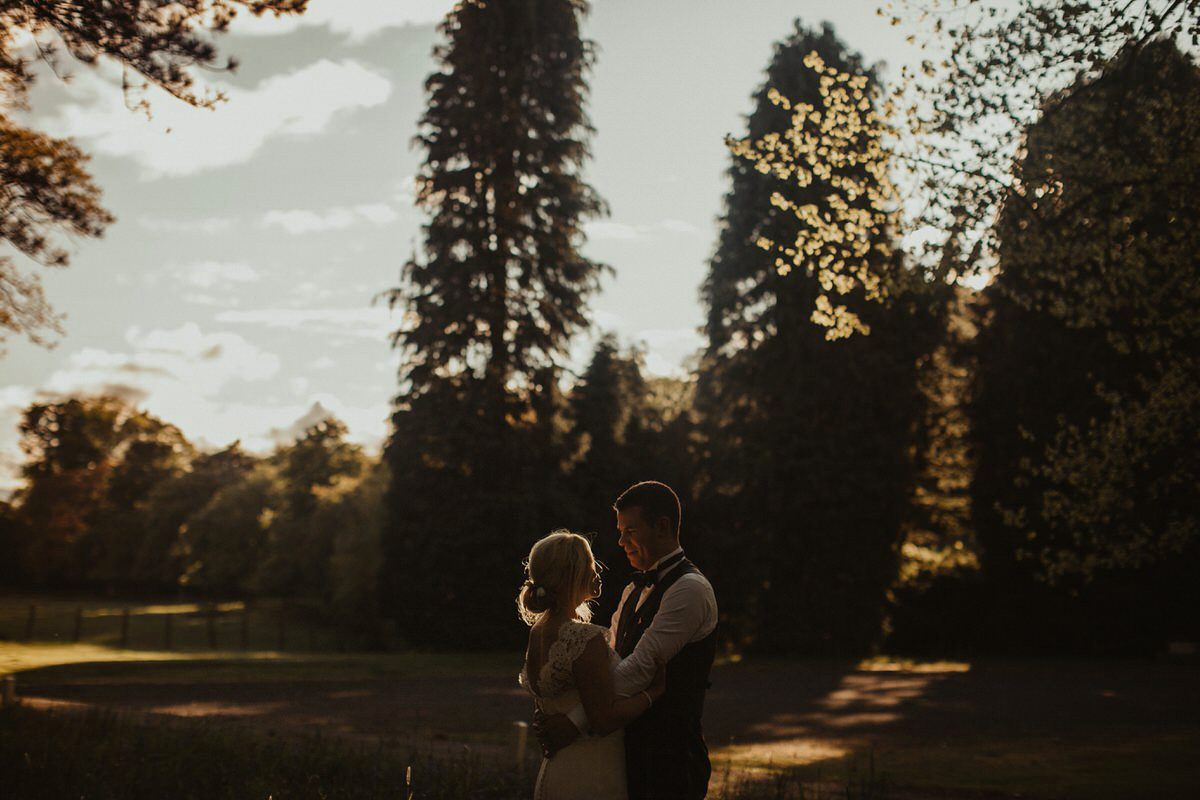 Thank you so so much Nicola and Philip for sharing the details of your beautiful day with us. If you just can't get enough of this Scottish beauty, head on over to Instagram and search #rosetoughwedding to your heart's content.
And of course a huge thanks to The Curries Photography for these sensationally gorgeous images. For more wedding goodness shot by this talented duo, look no further than here. Our wonderful archives are filled with their creative genius, not forgetting this sublime Scottish wedding featuring my favourite EVER bridal ensemble.
Love, Em x