A very happy Friday to you, little lovelies! I've the most delightful sweet tale to share today to set you up for the weekend ahead. These arty images are by Ryan Learoyd of Shutter Go Click Photography – one of our wonderful Little Book for Brides members. Amy, a doctor, and swim teacher Alexis, who is also currently studying Primary Education at University, tied the knot on 29th May 2016 at The Leeds Club in Leeds, West Yorkshire. I adore their meeting story, as well as Amy's incredibly romantic proposal from Alexis.
Amy found this very wedding blog a huge source of inspiration and liked that it's all about real weddings, with real life quirks and hiccups. Both Amy and Alexis knew from the start that they didn't want a 'cookie-cutter' wedding, and so Love My Dress was the perfect inspiration to what they wanted, however they wanted – and also greatly helped with Amy's choice of gown.
"Even though Love My Dress does look at entire weddings, I am obsessed with just looking at all the different wedding dresses. Each bride is so unique in their style and colour, and I loved seeing brides in vintage dresses. It really gave me the confidence to just choose a dress I felt good in, and not to be restricted by what is traditionally 'bridal', so thank you!"
"We met at the leisure centre where we both worked as lifeguards and swimming teachers. In typical fashion, I met Alexis on my first day at work there, while he was sunbathing on the roof! We were friends for a long time, and I think that is one of our biggest strengths."
"We'd been together about a year when it was time for my elective – a summer where you work in a hospital anywhere in the world – and I went to Bali. Little did I know, Alexis was planning to chase me to the other side of the world to propose. He came to Bali, and we took a trip to the Gili islands where after a beautiful day of beaches and snorkelling he proposed on the beach under a full moon, surrounded by candles in coconut husks. Heaven! Of course I said yes straight away, who wouldn't!?"
Alexis looked dapper in a Topman suit, Grenson Stanley shoes and a funky bow-tie.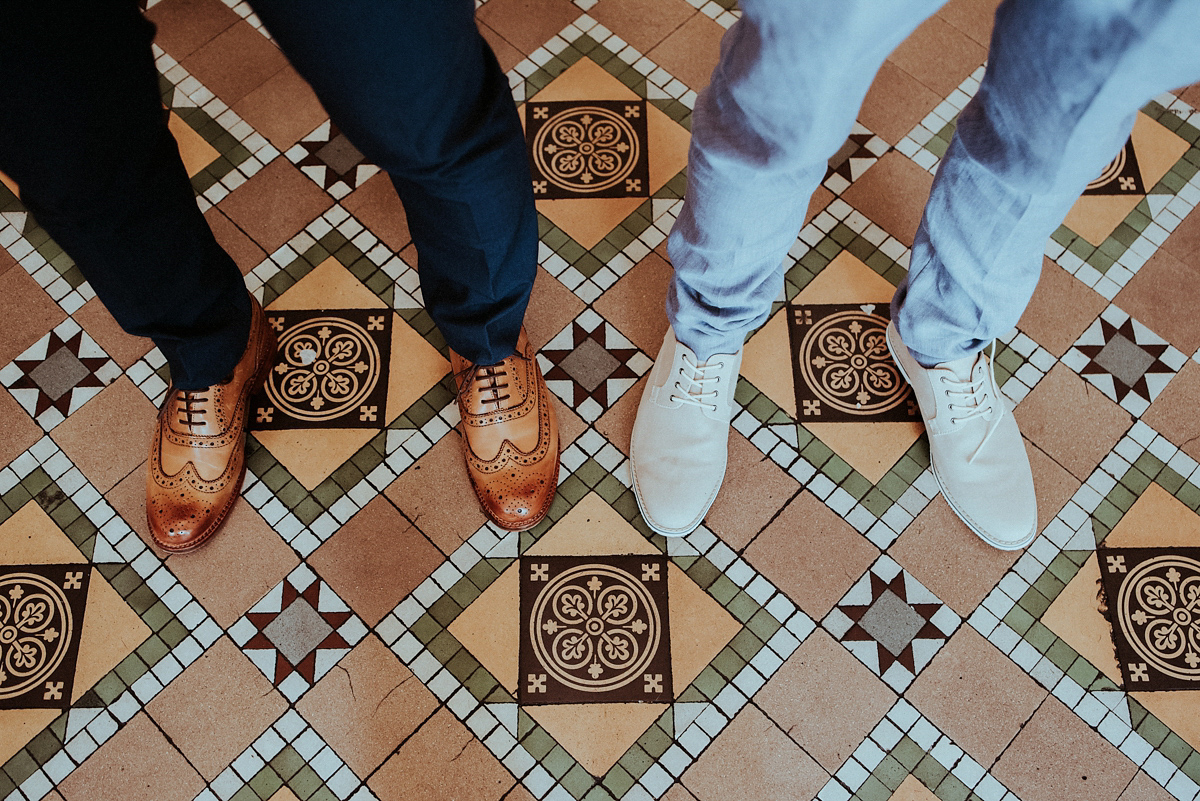 Amy's five maids donned gorgeous gowns via Victoria Lou Dresses – you can also contact the designer via email at [email protected] – in various shades of blush pink, their own shoes, and accessorised with a beautiful bracelet.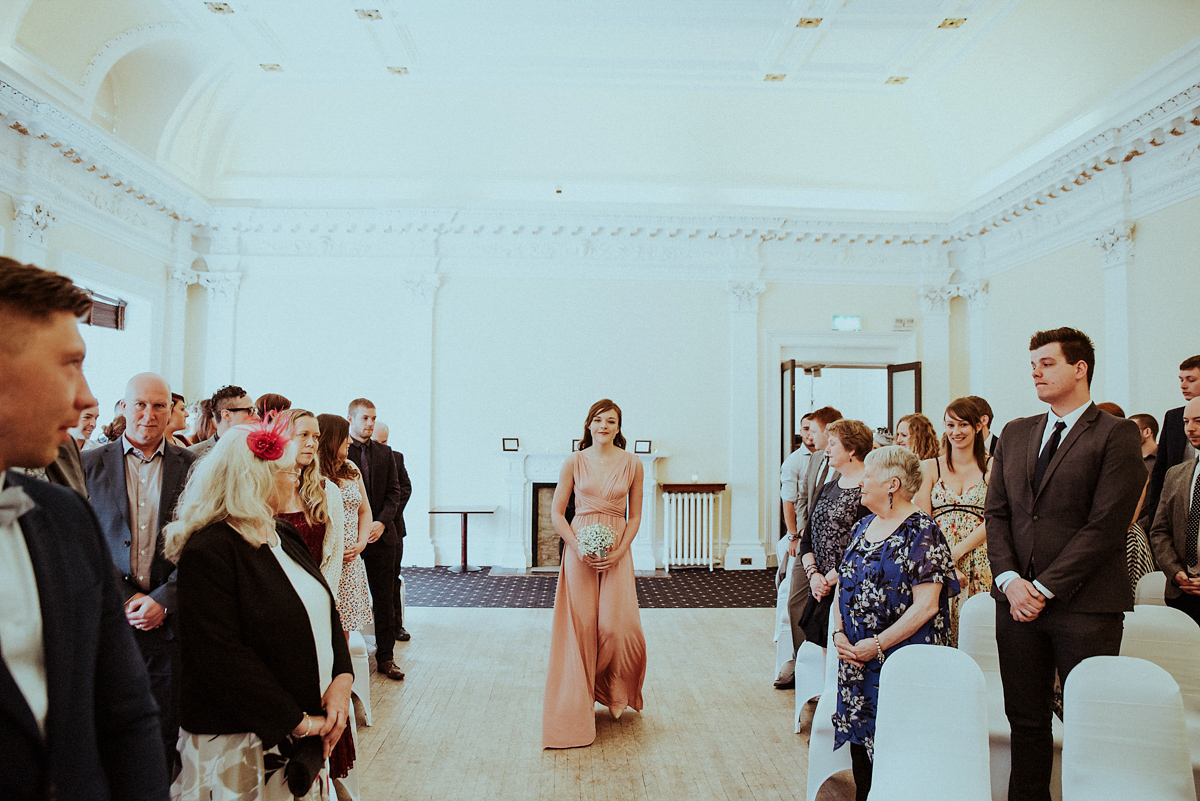 "I bought a bracelet from Azendi for each of my maids as a thank you for all their help and hard work."
I love these emotion-filled images of Amy and her dad walking the aisle together; to the sweet tune of Benjamin Francis Leftwich's '1904'.
"My dad walked me down the aisle. It was such a lovely moment, and one of my favourite memories seeing how proud he was."
Amy added metallic flats from Next, an Azendi bracelet, earrings from Silver Groves Jewellery, and a spray of Victor & Rolf's 'Flowerbomb' – one of her everyday scents that Alexis loves. The beautiful bride did her own make-up, whilst her pretty hairdo was by Kymberley Jefferson of Cutting Room Creative.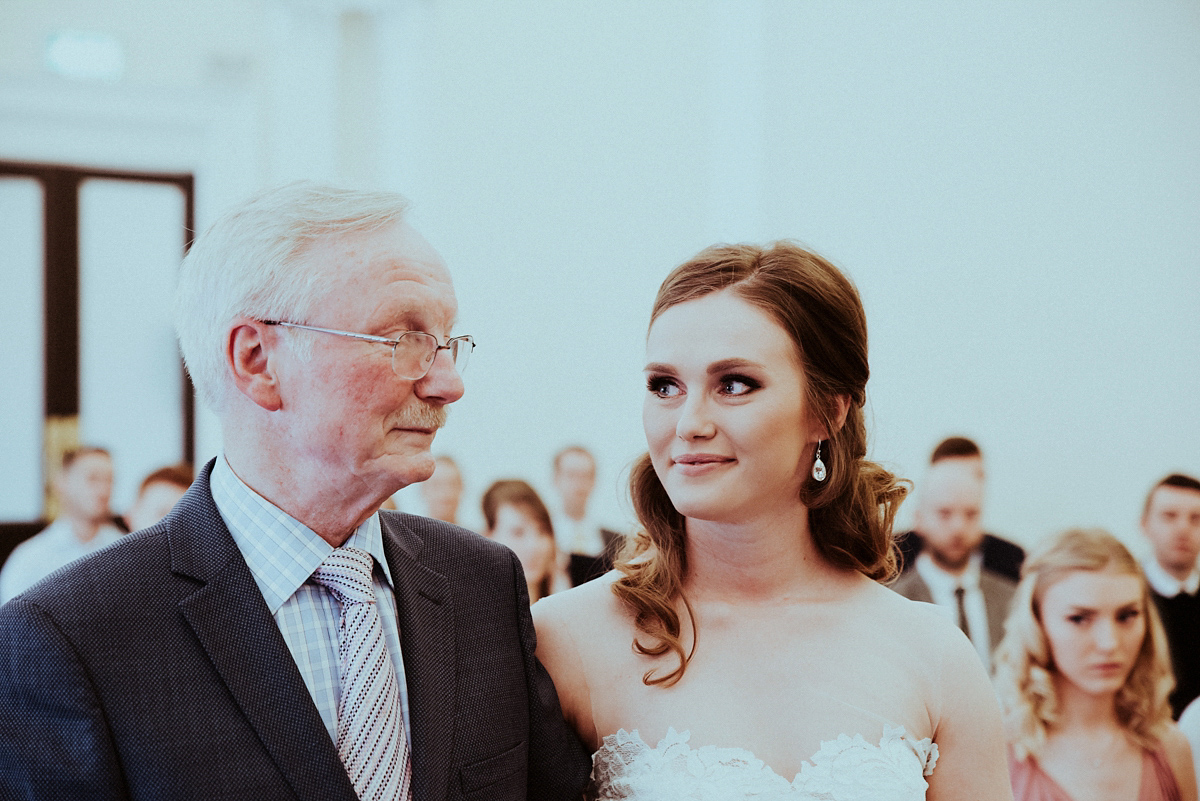 The beautiful bride's choice was a stunning Grace Loves Lace dress and she was a vision of pure grace.
"As soon as I put it on at their trunk show, my bridesmaids were in tears. I loved the delicate lace and illusion neckline, and as we were looking for a relaxed feel to the wedding, the flowing skirt and lack of any zips or structure seemed perfect."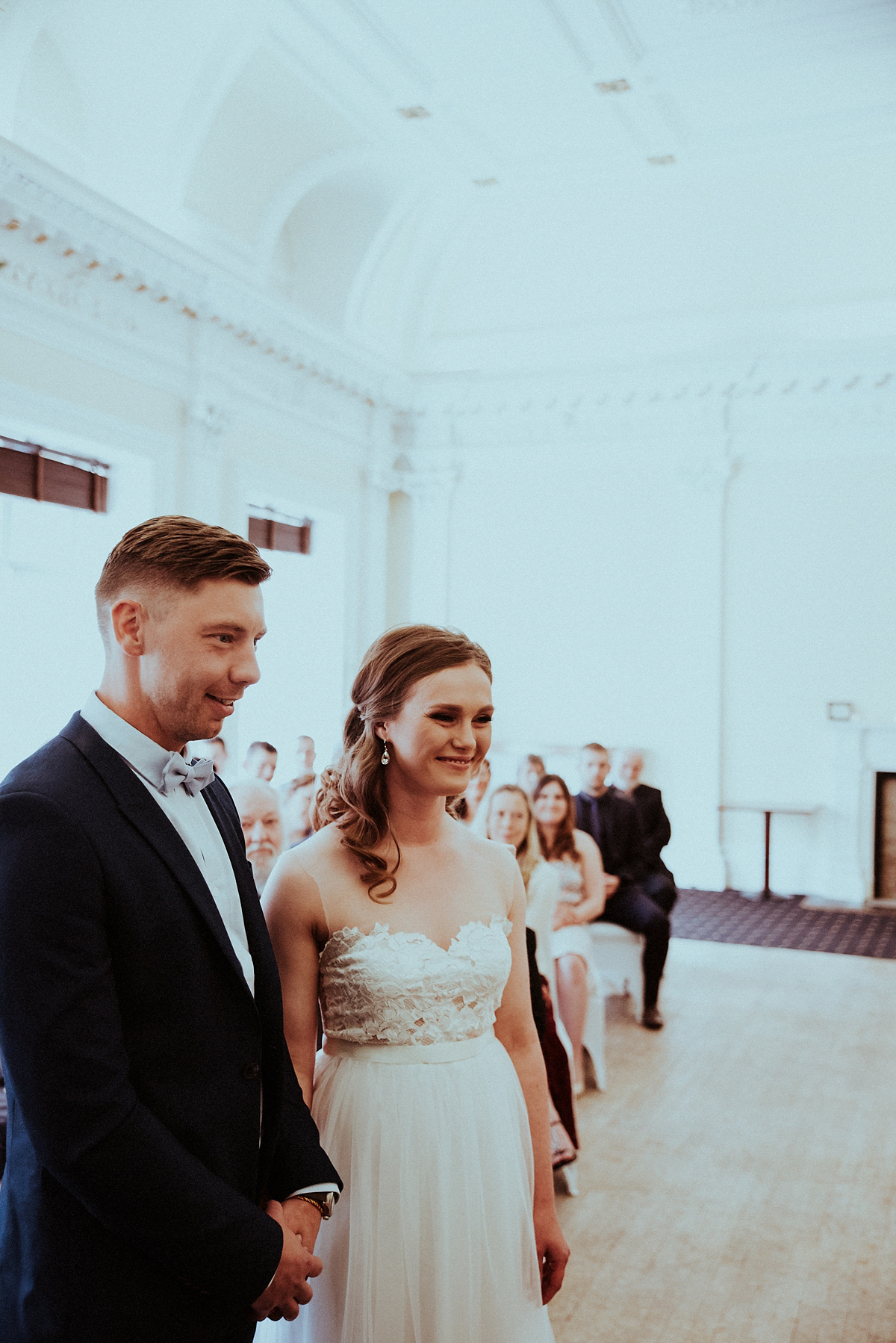 "Alexis and I are both atheists, and our ceremony was conducted by celebrant Lynda Gomersall, who personalised everything to us and our story. Lynda recounted our story for everyone to enjoy, and talked about what we love about each other and the special commitment of marriage. Then we had a unity candle ceremony, where each of our mums lit a candle to represent the two families, before Alexis and I took the light from each and lit our own candle together as a sign of our new family."
"Then we exchanged our promises to each other, and exchanged rings. We wrote our own promises, and even though we were both really daunted by this it was lovely to tell each other what we're committing to with our own promises."
"My engagement ring is antique, so it took a long time to find something to complement, especially as I wanted a bit of sparkle! I found it at Goldsmiths, whilst Alexis found his ring at Berry's.
We were both very lucky to have got our rings at great prices. I didn't think this would be something to negotiate on, but I got my ring custom-made and reduced in a temporary sale, and Alexis did a great job negotiating on the price of his (after some time spent watching the metals market!)."
"I cannot recommend Ryan from Shutter Go Click Photography highly enough. I knew from the moment I saw his work I wanted him to photograph our wedding, and he did not disappoint. By far the best money we spent, it was worth every penny to have someone as talented and fun to be around as he was."
"I knew I loved the architecture and sights of Leeds, but neither of us could have predicted how amazing the pictures would be, and the fact that he is still in touch with us helping us to pick our prints just goes to show how much he loves his work. The result was completely gorgeous pictures of us, our family, our friends and of Leeds – just perfect."
"The bouquets were made by my lovely mum. My bouquet was a mix of roses and ranunculus, and the bridesmaids had gypsophila which looked and smelled wonderful."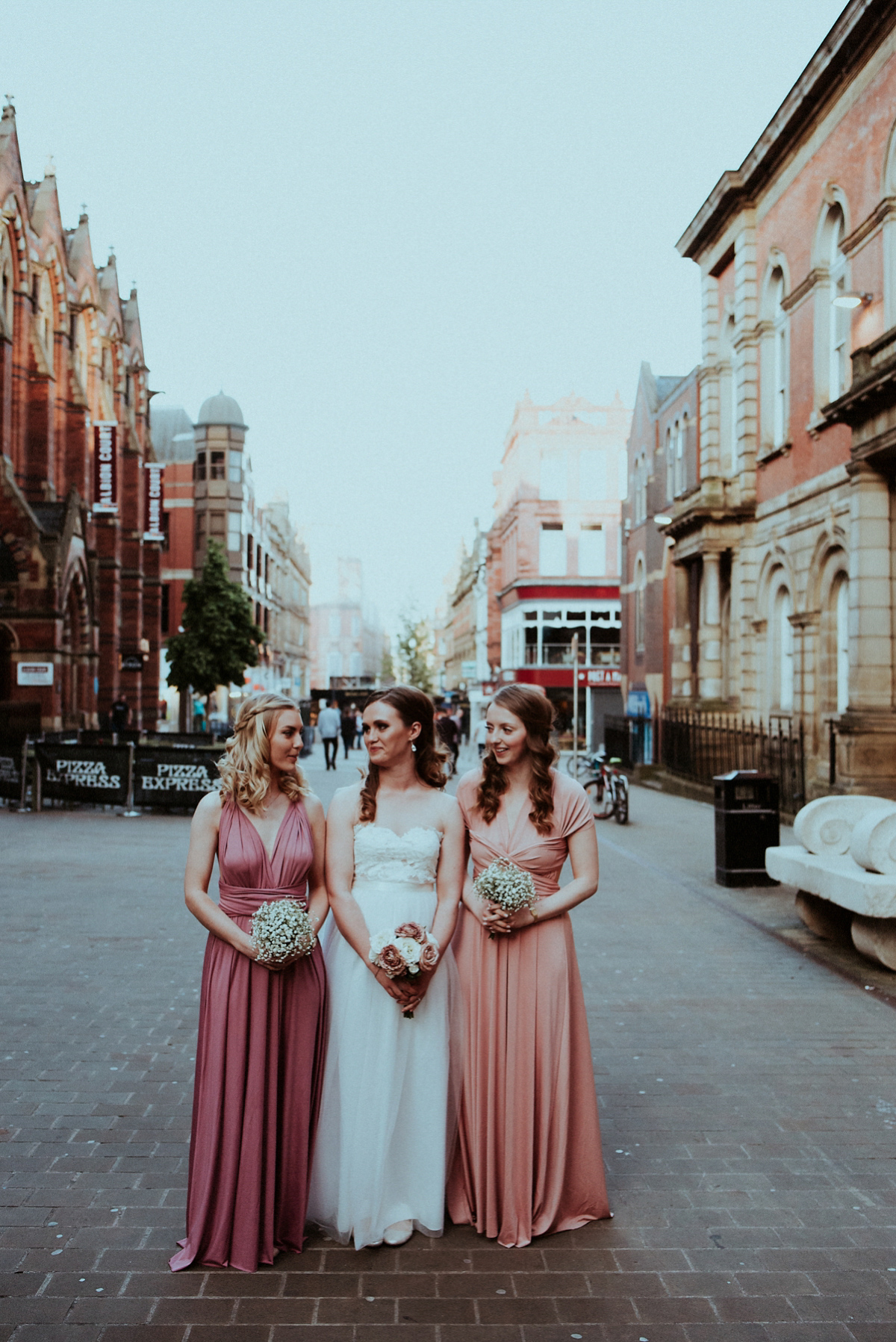 Alexis and Amy, even being locals to Leeds, had never noticed their venue The Leeds Club until they stumbled upon it and fell in love at first sight at the beautiful building, with its ornate tiled floors and sparkling chandeliers. They had exclusive use of the club and as the internal decor was stunning as it is, they added a few little decor touches of their own.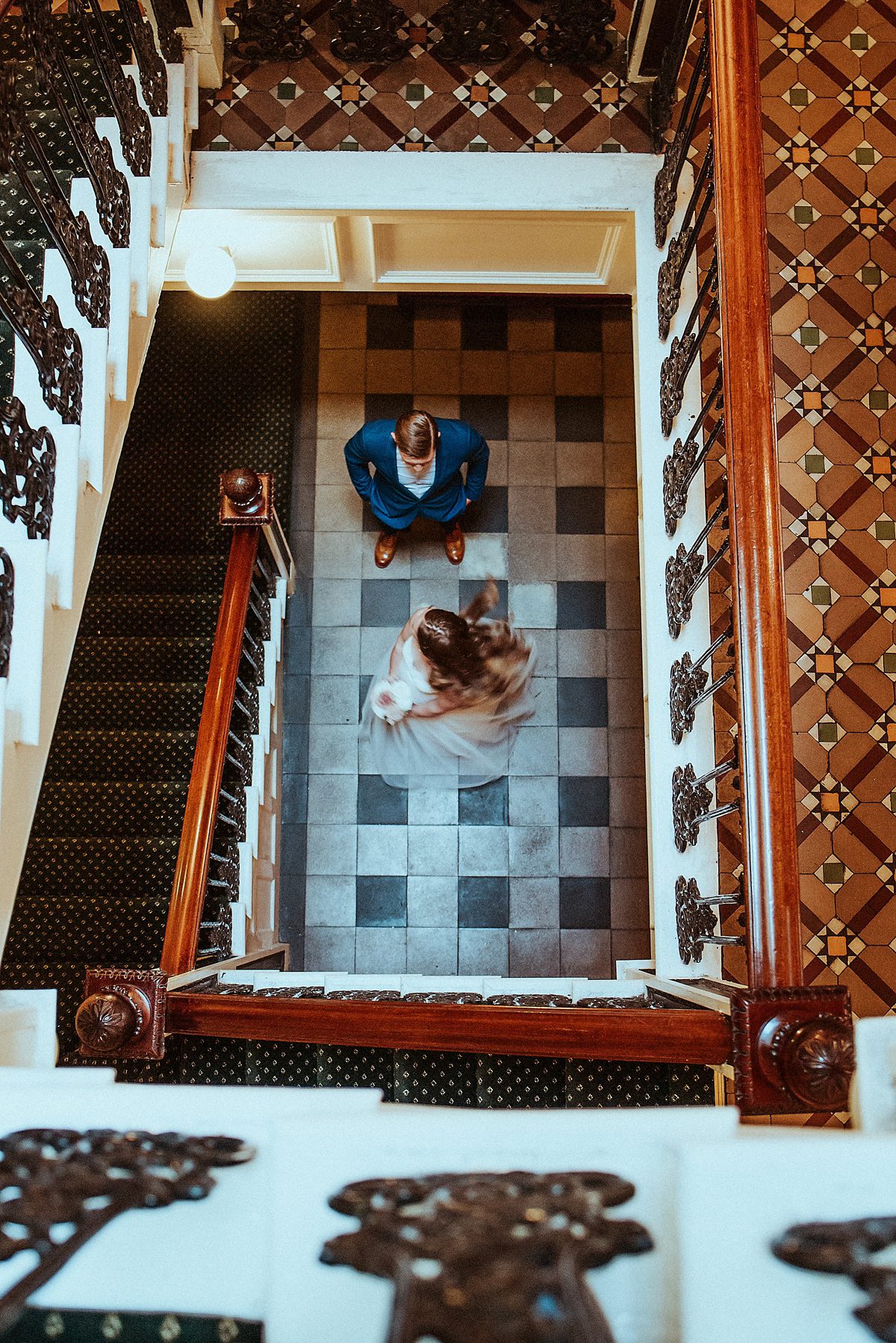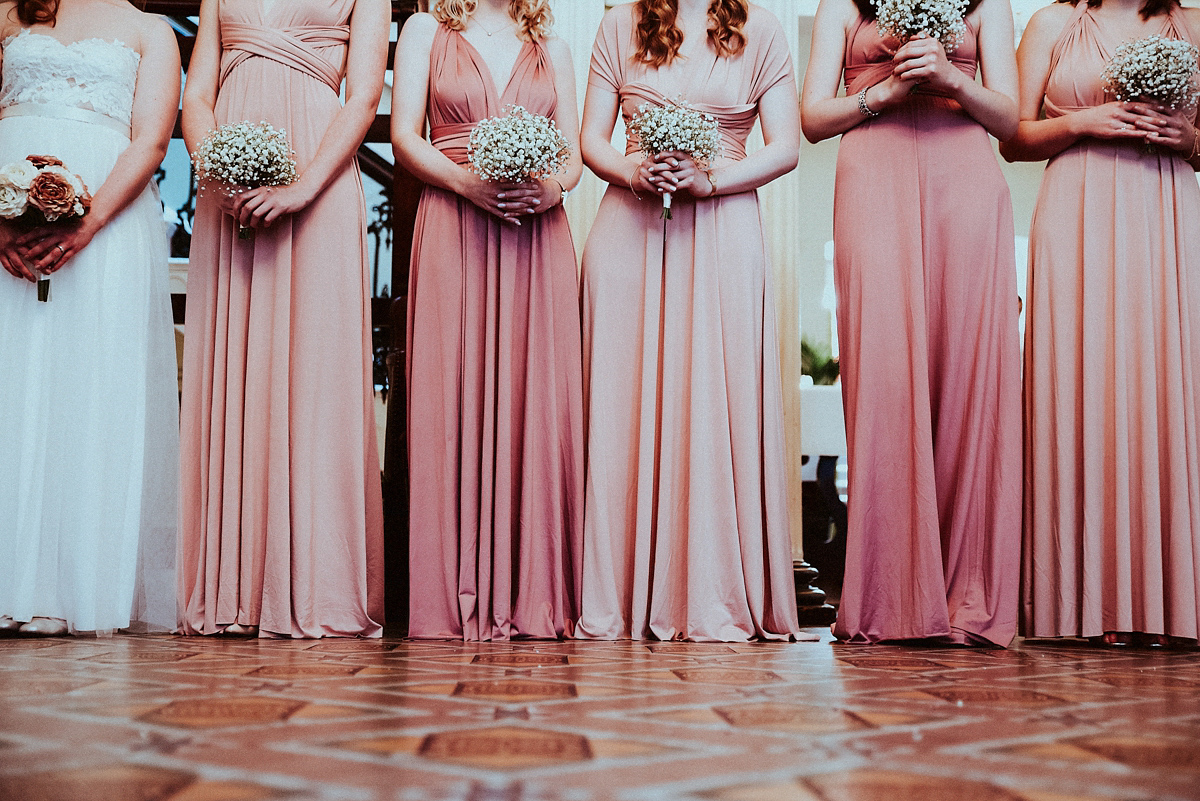 Are you having favours for your guests? Many couples put so much effort into making them, but as Amy explains, she chose not to have them after advice that they can get left behind (this very thing happened to me – anybody need a bunch of little mini clapperboard nametag holders?!).
"I thought about and obsessed over favours for the guests for a long time, particularly because I had never been to a wedding before and I didn't know whether this really mattered or not. Eventually the advice I received from others is that favours are often forgotten or left behind by guests, so we decided not to have any."
"I honestly don't think it made a difference, although I am always so impressed by couples who manage to produce something individual to each guest."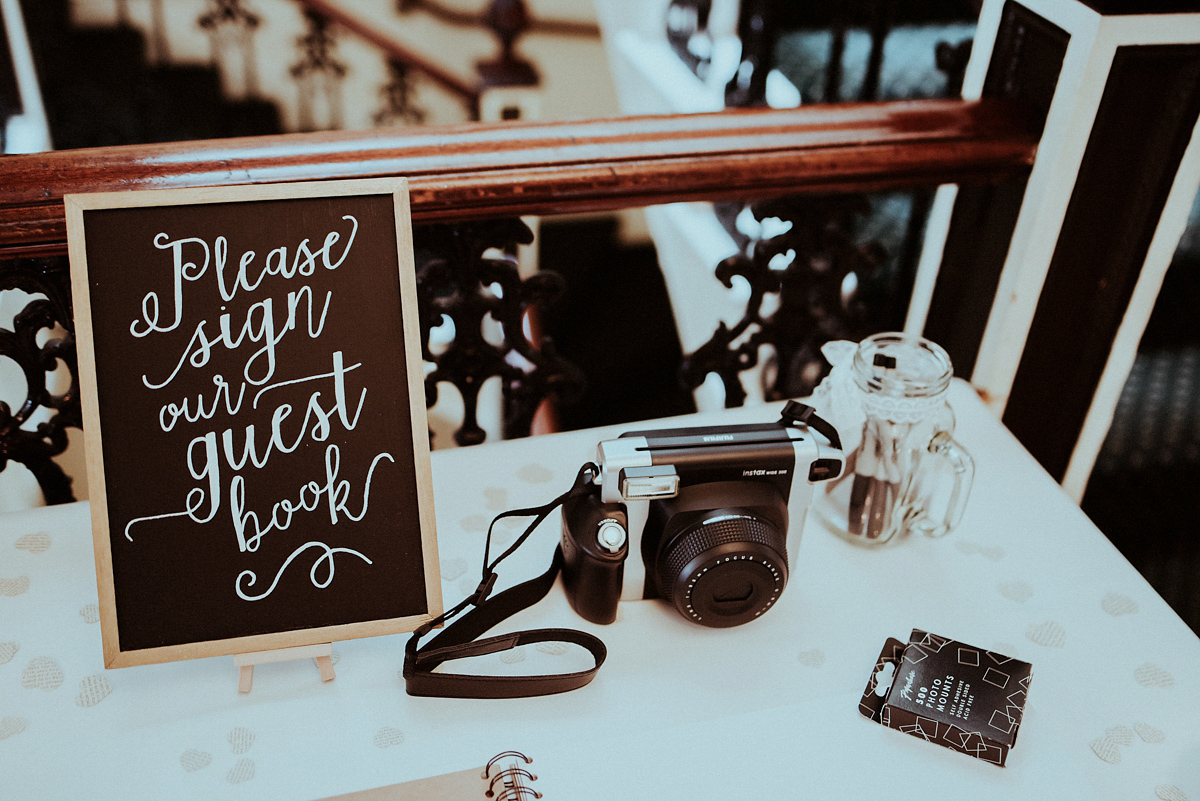 The Leeds Club Kitchen prepared tasty cuisine for the wedding party and guests. And the couple's three yummy wedding cakes were from Patisserie Valerie.
"We couldn't bear the idea of the cost of a traditional wedding cake, and we both wanted something we'd actually want to eat. So Patisserie Valerie was the perfect solution, a fraction of the price and we had three wedding cakes."
"Neither of us wanted a formal first dance. The Leeds City Stompers band were incredible though, and everyone was up and dancing in no time.
I had a gorgeous day getting ready with my bridesmaids and the ceremony was beautiful, but my favourite part of the day was a total surprise when the band suddenly played 'I Wan'na Be Like You' from The Jungle Book. Completely unexpected, it got everyone dancing together and was the perfect happy relaxed moment – just as Alexis and I had hoped for the whole time while planning. It was just so amazing to see everyone we love dancing and celebrating together to such a silly song, and the performance from The Leeds City Stompers was incredible."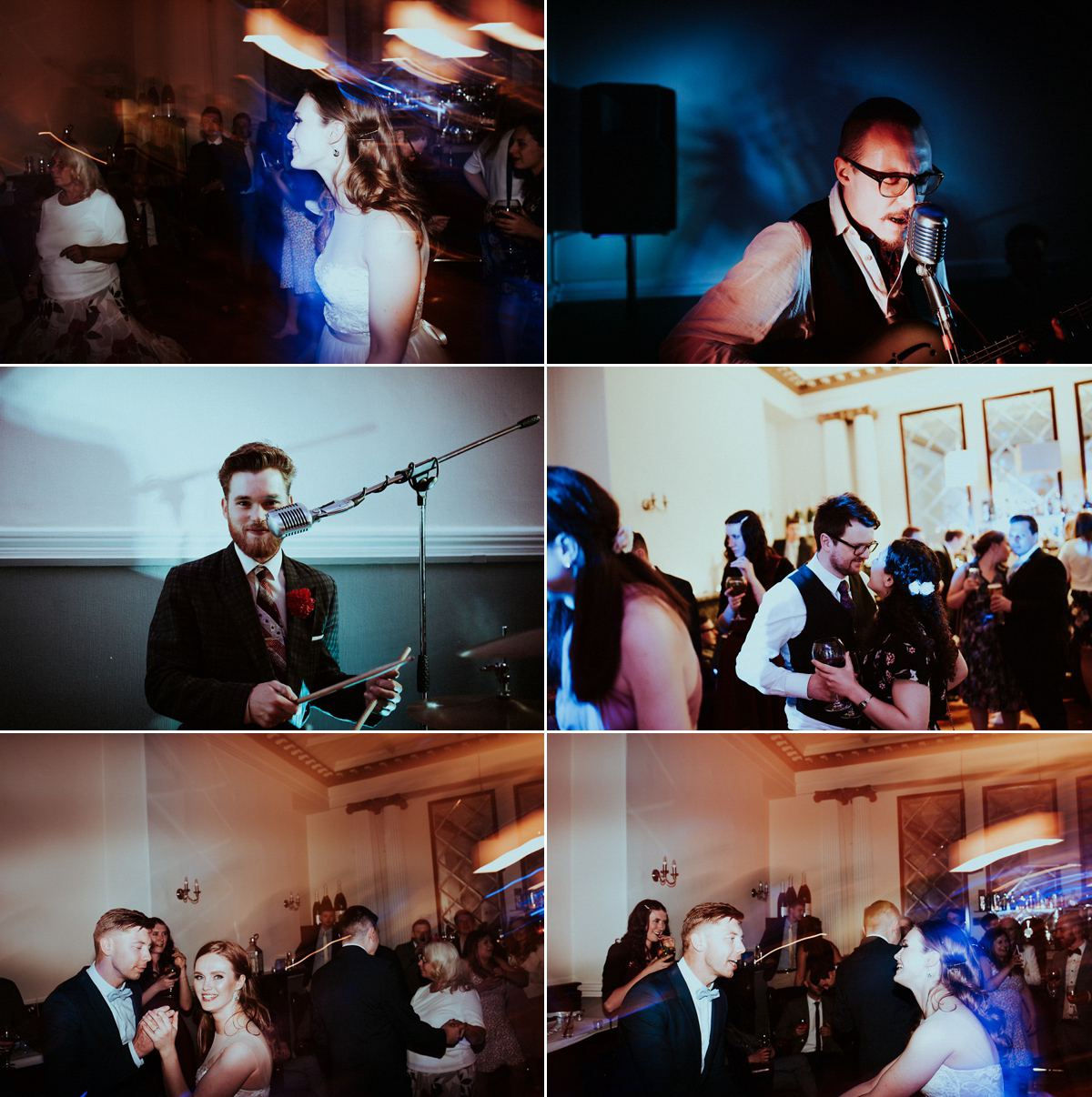 Words of Wedded Wisdom
"I was engaged for over three and a half years – so my advice is to take your time! Everyone is so obsessed with rushing to plan their wedding, and I was constantly asked how things were going and whether we'd started or not, but it doesn't matter. We took our time, found our venue completely by chance, and it couldn't have been more perfect for us. Once this was done and the date set, the important thing was to try and meet the people we'd be dealing with – photographer, celebrant and so forth, and make sure we were happy that they'd be right for us.
The only thing I would have done differently would have been to have a proper ceremony rehearsal. We didn't have one, opting instead to just brief the bridesmaids and our parents beforehand, but I do think it would have been worthwhile and would have eased some of the nerves for all of us!"
Brilliant and important advice there – take note brides and grooms to be. Thank you so very much to Ryan for sharing Alexis and Amy's beautiful day and for capturing the hotspots of Leeds and their beautiful venue in such artistic style. Wishing all the very best to the lovely couple and Alexis, keep up the romantic gestures!
If you've fallen for Amy's divine dress, then you must click here for more Grace Loves Lace inspo.
Have the jolliest weekend lovelies!
Love Jo -x-