Hello lovelies, we're in Tuscany this evening on Love My Dress for the wedding of Lucy, a personal assistant taking a career break to spend time with her son and Shaun, a hotel general manager. Their nuptials took place in the gardens of Villa di Masseto in Florence, Italy on the 26th of May this year. There's an intimate, family focused feel to the day and the images are emotional with breathtaking shots of the couple surrounded by the spectacular views. The couple found some of their suppliers on these very pages including photographer and Little Book For Brides Member Claudia Rose Carter.
"I visited Love My Dress on an almost daily basis during the planning stages and was lucky enough to find our photographer and my headpiece designer via the site. I felt quite daunted by the prospect of planning a wedding when we first got engaged and I think one of the reasons we were engaged for nearly two years, besides the birth of our son, was that we had no idea where to start and so it was by visiting Love My Dress regularly, that we began picking up on little ideas that appealed to us and eventually became the basis for the ultimate look of our wedding day."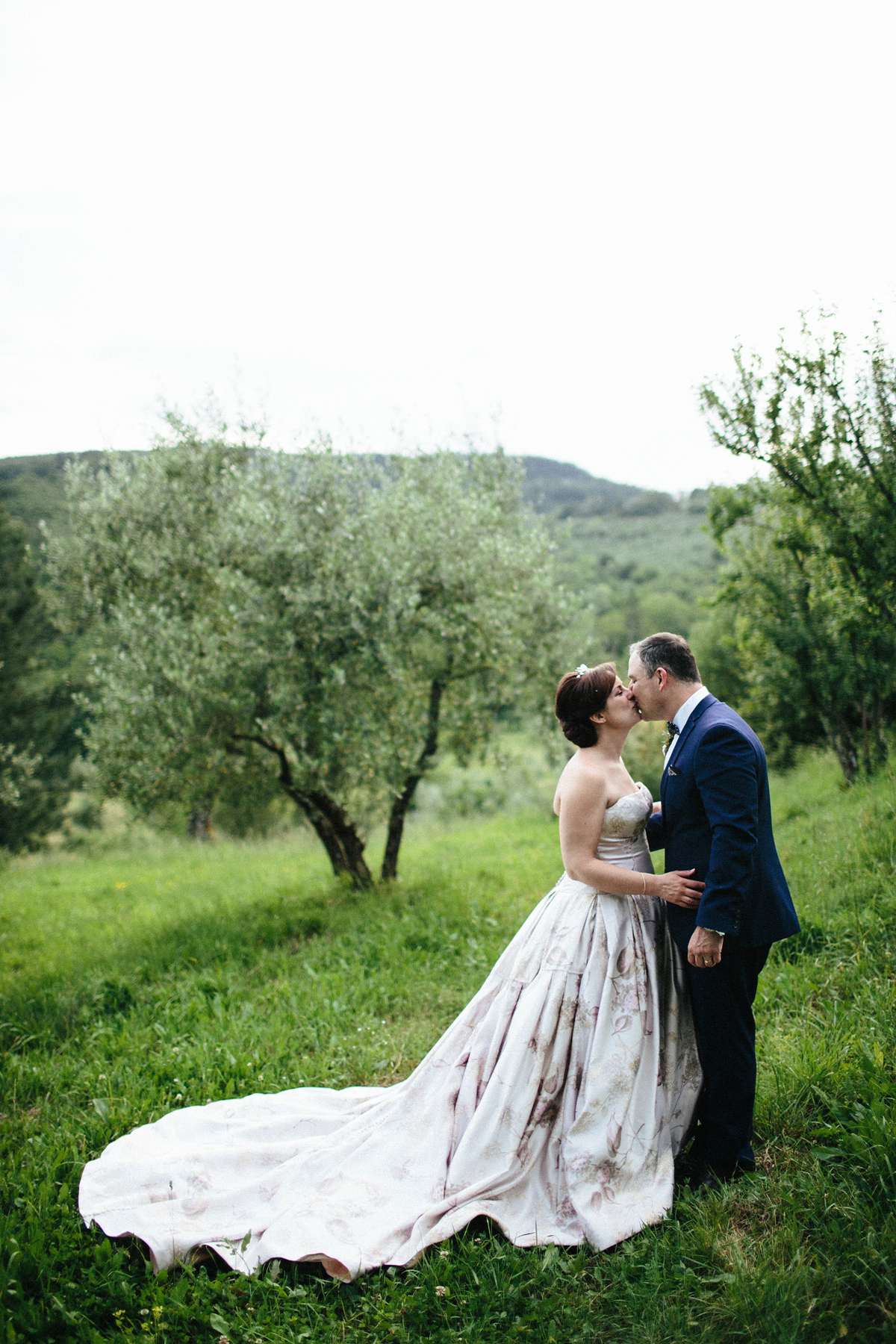 Lucy's beautiful floral headpiece was created by the wonderful Lila, a designer she found within a feature right here on Love My Dress.
"Working with Sofia was a dream. I'd always imagined wearing a fresh flower crown on my wedding day but it wasn't going to be possible with a destination wedding and I didn't want to take the risk of ordering something from a local florist and not getting to see or try it on until the day itself.""When I went to her studio I realised that a full piece would be too much for my small head so we settled upon a bespoke design to run along one side.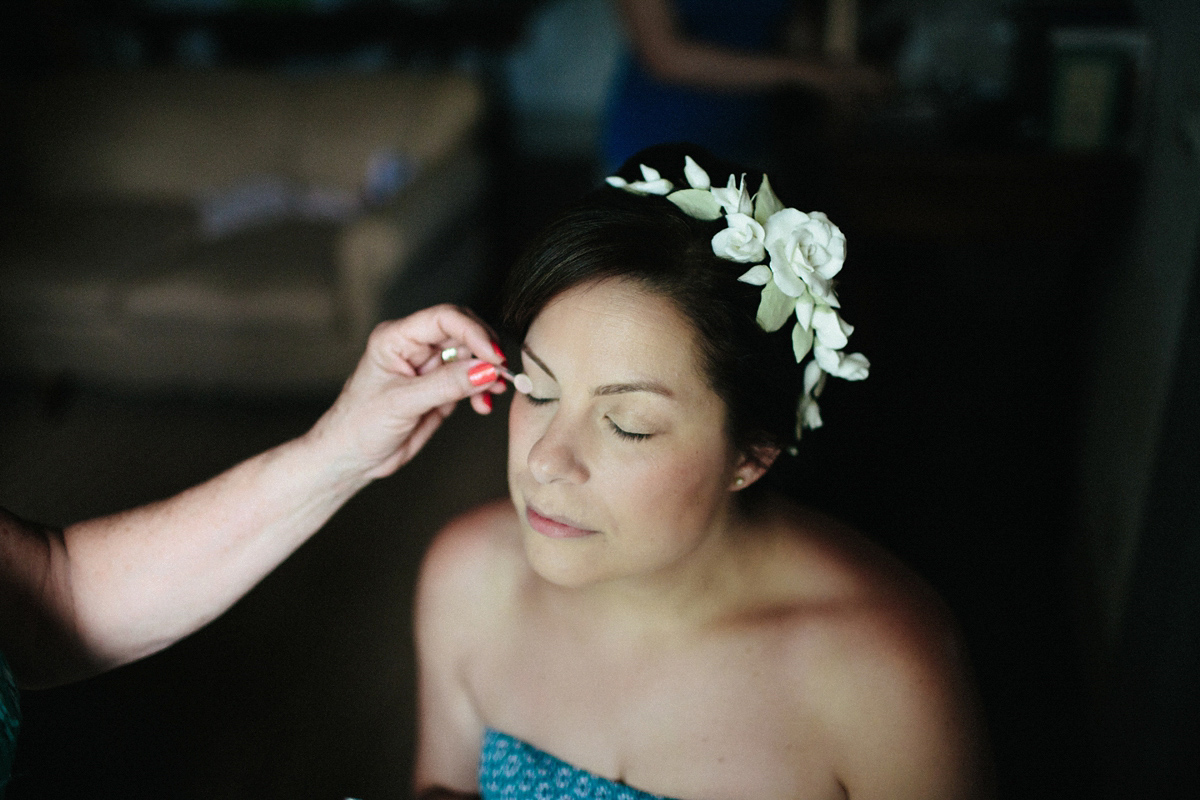 "The handmade clay flowers are so realistic and lightweight to wear as well as being sturdy – as proved by my niece who decided to give it a good squeeze. I plan to get it framed so that I can mount it on the wall, it truly is a work of art."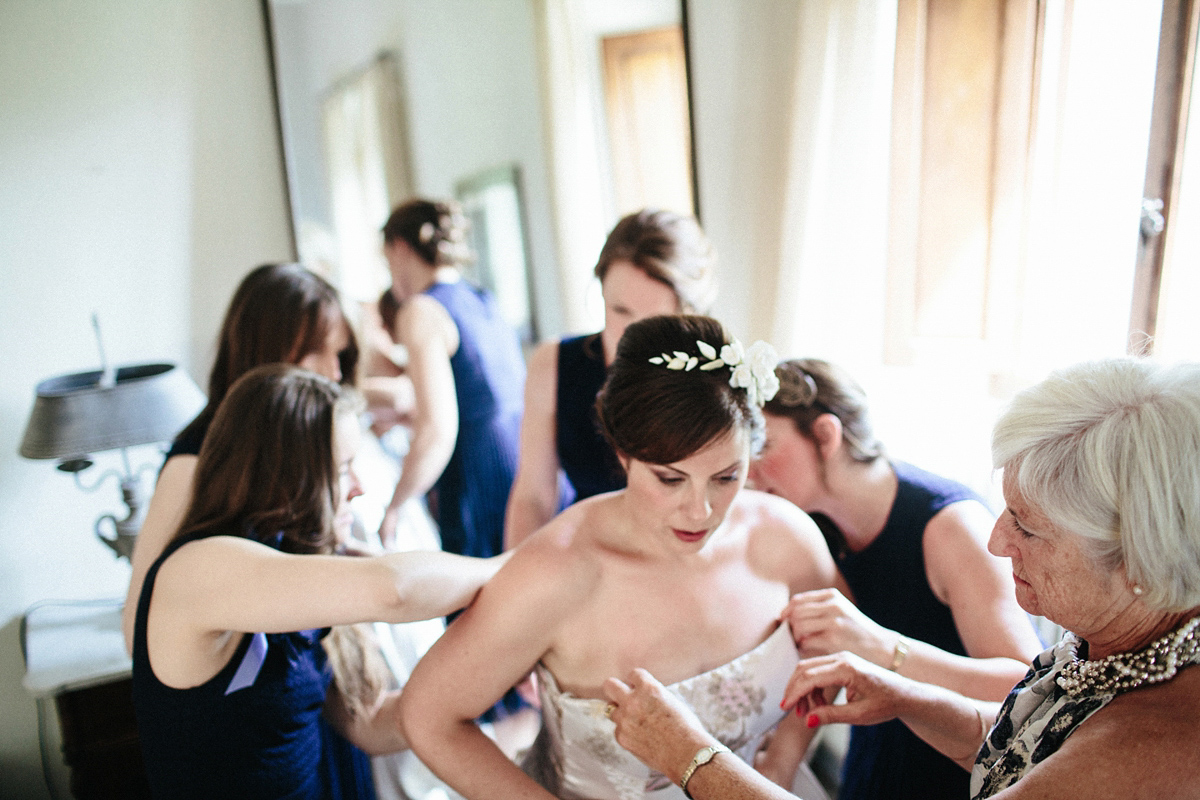 My heart did a little dance when I saw Lucy's amazing Vera Wang gown (really, no word better describes it), the fabric is so sumptuous yet it fits perfectly with the relaxed feel of the Tuscan countryside and beautiful garden ceremony.
"My dress search was entirely focused on the fabric. I knew I wanted colour and an interesting print but it was some months before I came across this one and I knew I had to try it on despite the two hour drive to David's Bridal."
"The fabric was even more beautiful in person, with gold embroidery throughout, which I hadn't picked up on in the photographs I'd seen. I probably wouldn't have tried this strapless style dress on had it not been for the fabric but it just felt right from the moment I put it on and that was that. I didn't try a single other dress and ordered it on the spot."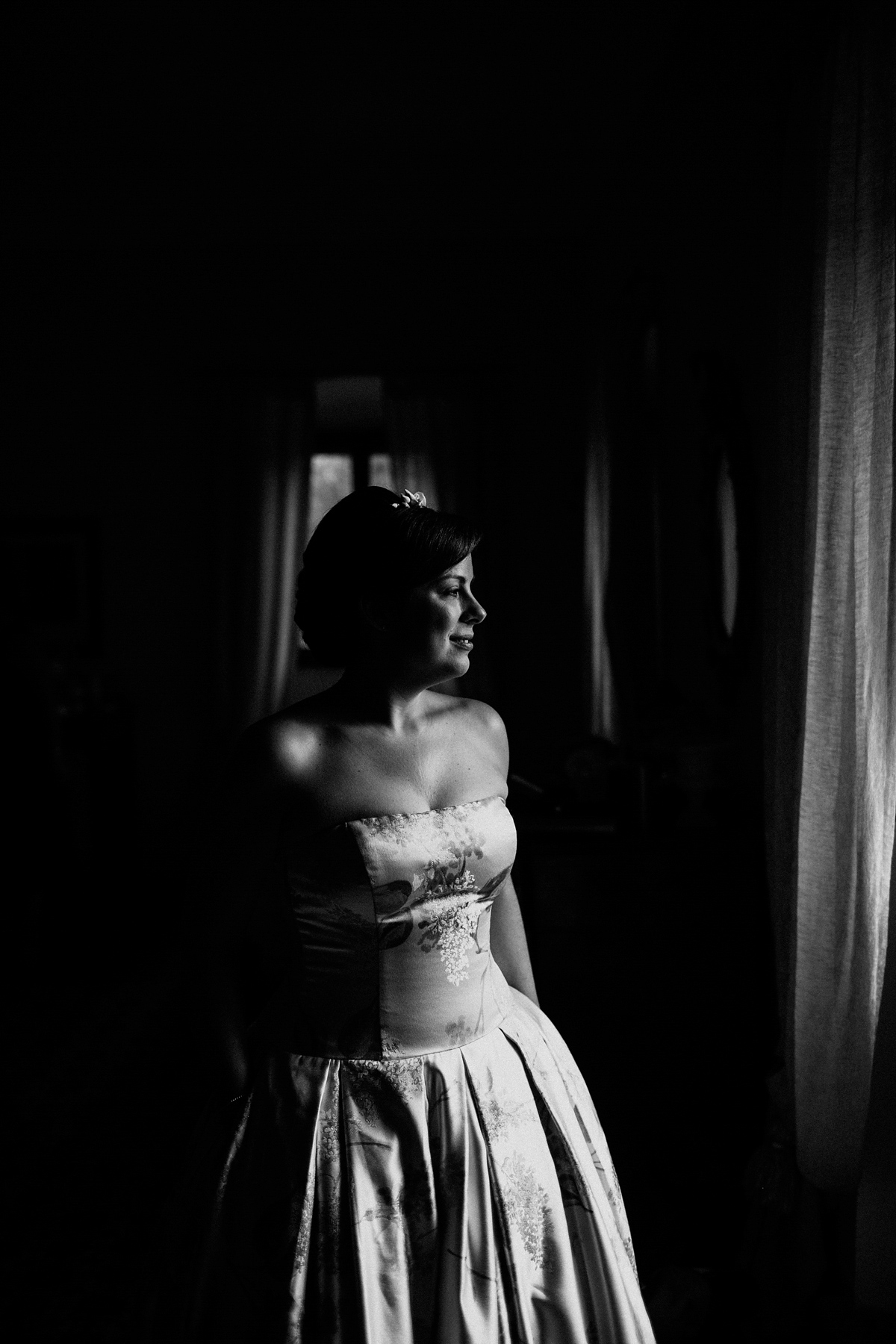 "We met in Hyde Park for our first date, which almost didn't happen because Shaun was an hour late! Happily he was worth the wait and it was in the exact same spot that Shaun proposed just over 18 months later, much to my surprise – four weeks before our son was born."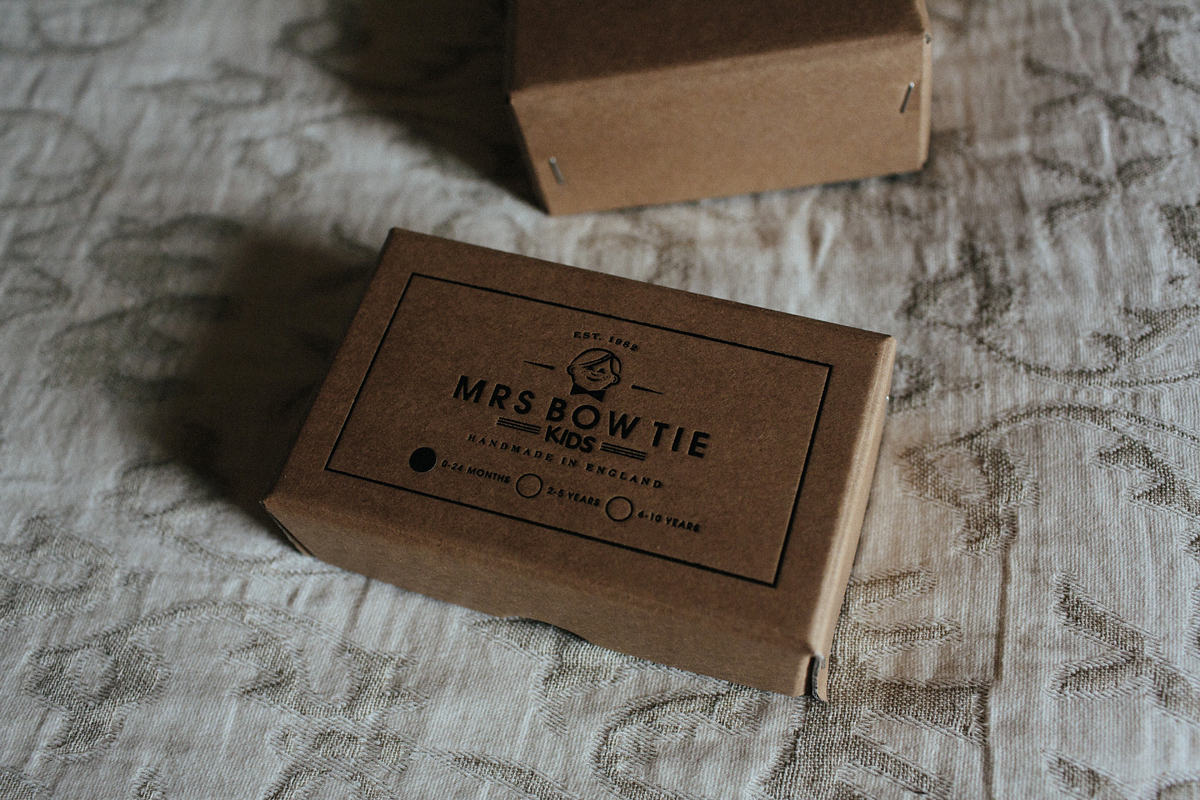 "Shaun wanted to go for a less formal version of black tie and so opted for a lightweight navy blue suit from Next with a polka dot bowtie from Mrs Bowtie instead."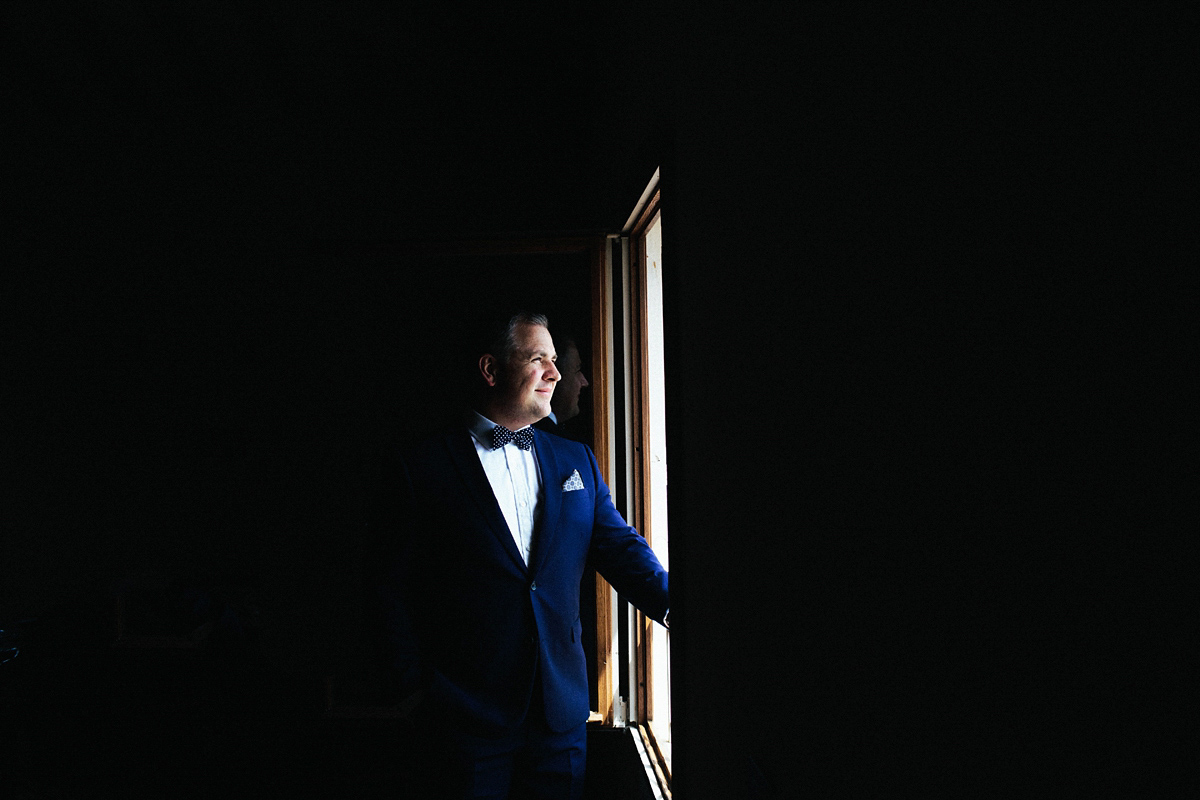 "We actually bought it with a view of using it as a sample for getting a similar bespoke suit made but each time Shaun tried it on, he became more convinced that it had the look and feel he was after."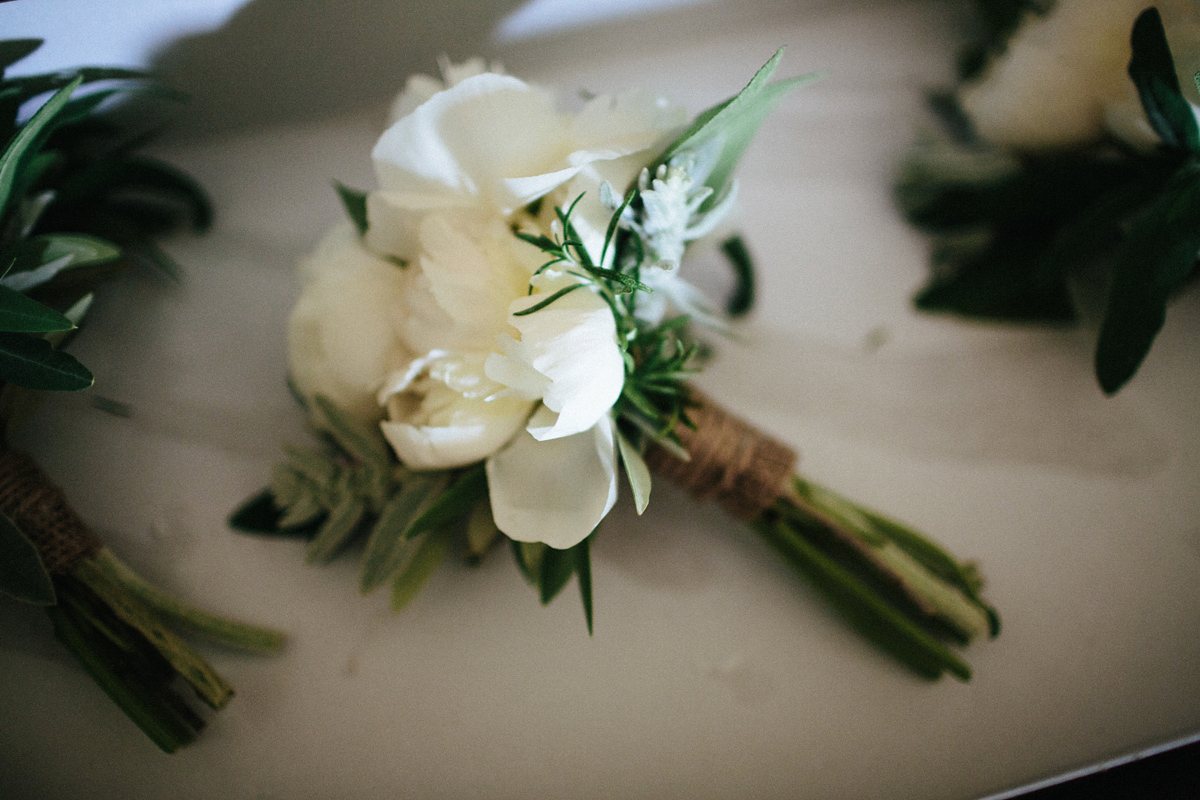 "With a couple of simple alterations it ended up being the perfect suit for him. The groomsmen wore their own navy blue suits and the same Mrs Bowtie polka dot bow ties."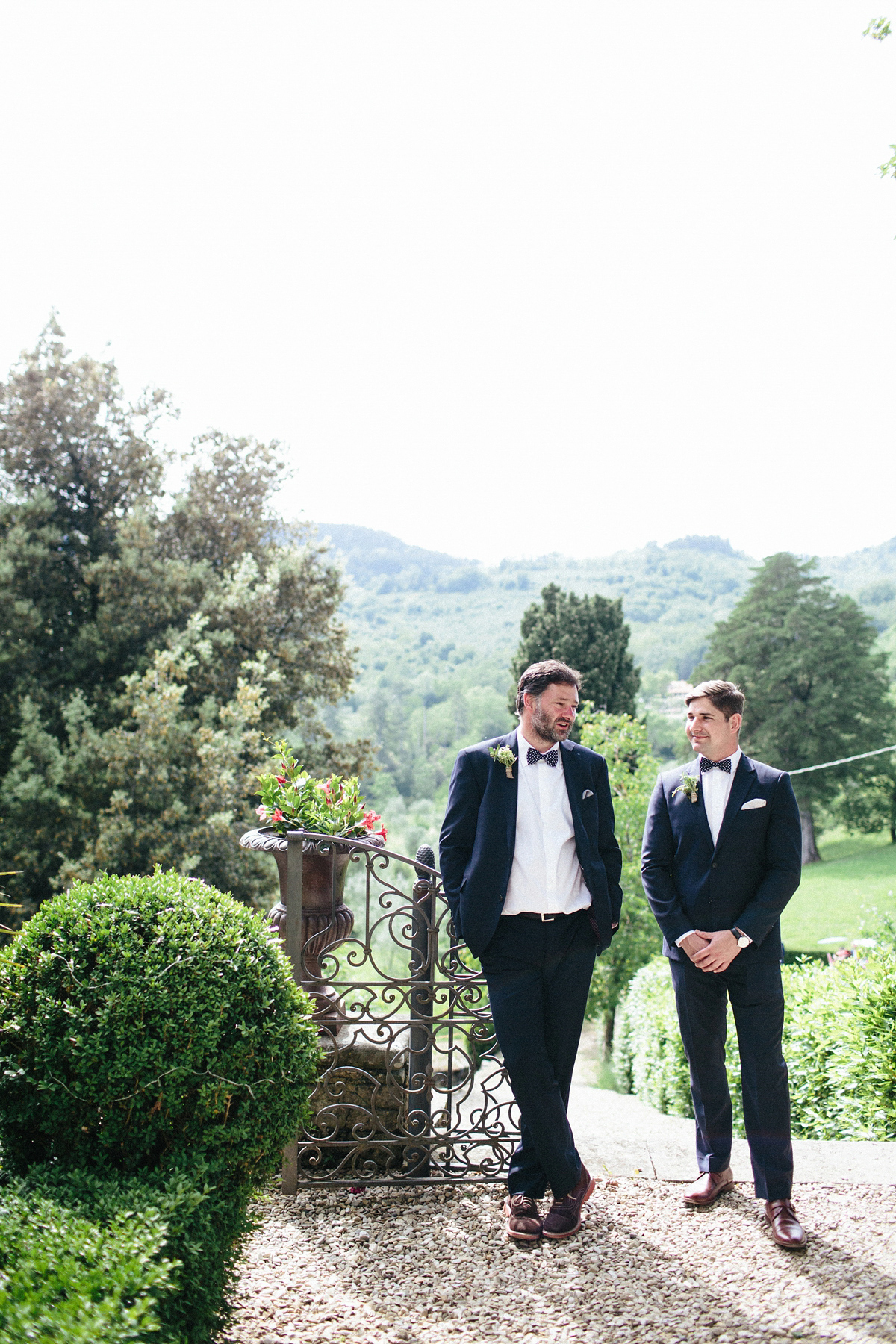 "I wore Jo Malone Peony and Blush Suede perfume, which was a gift from Shaun for my birthday a couple of weeks earlier. I didn't need much alongside my intricate headpiece and patterned dress so I only wore my mother-in-law's diamond earrings and a simple gold twisted bangle she kindly gifted to me."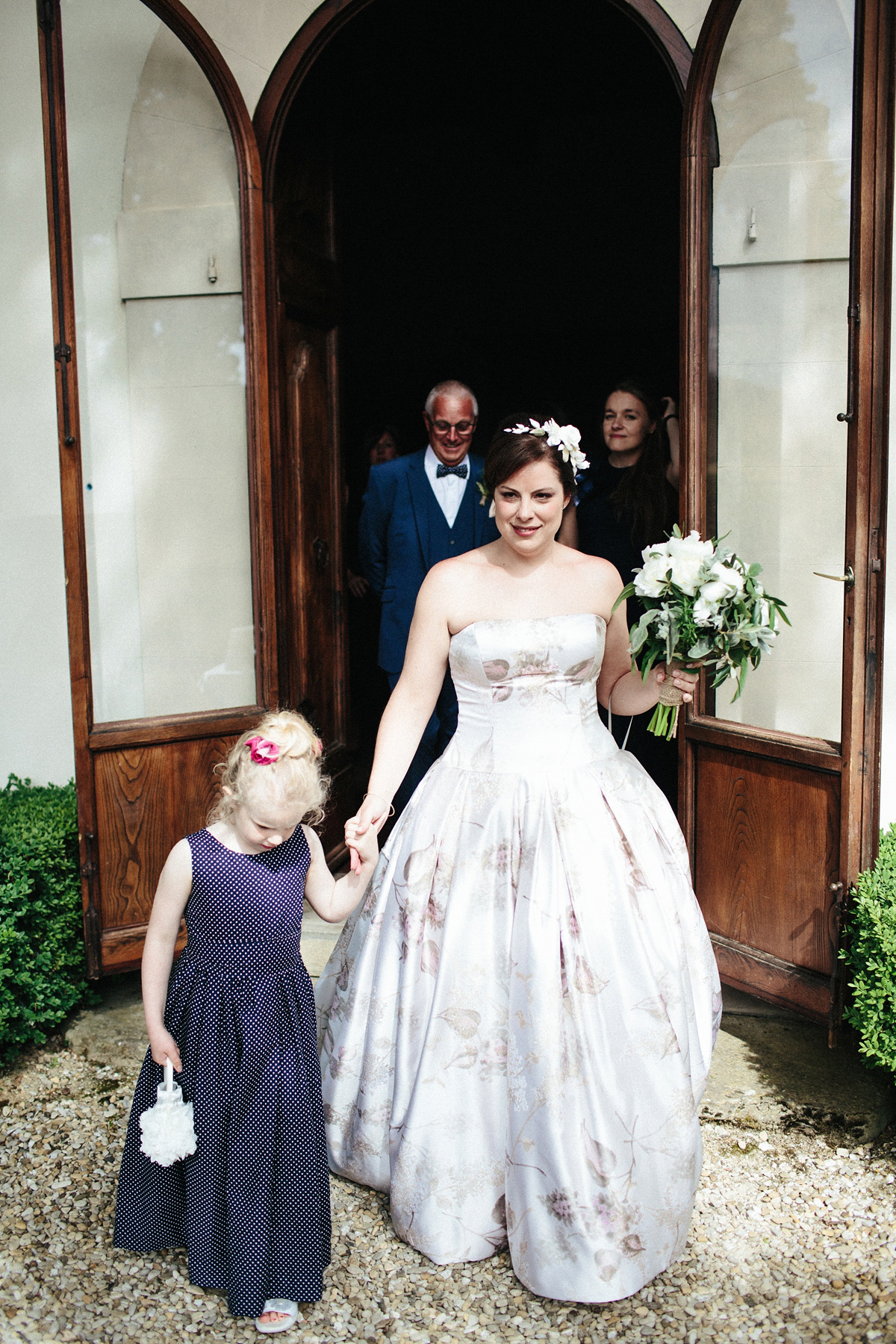 "My dad walked me down the aisle. We had to descend quite a steep gravel path so I was grateful for the physical as well as the moral support. A technical glitch meant that the Hans Zimmer piece I had chosen didn't play so instead we walked to the sound of birdsong. It couldn't have been more magical."
"Shaun suggested getting married in Italy after we'd spent some months trying to find a venue in the UK that would both suit the back garden wedding feel we were going for and our budget. Finding THE dress cemented the idea for me. We also liked the idea of a venue where our families and close friends could stay for the entire week."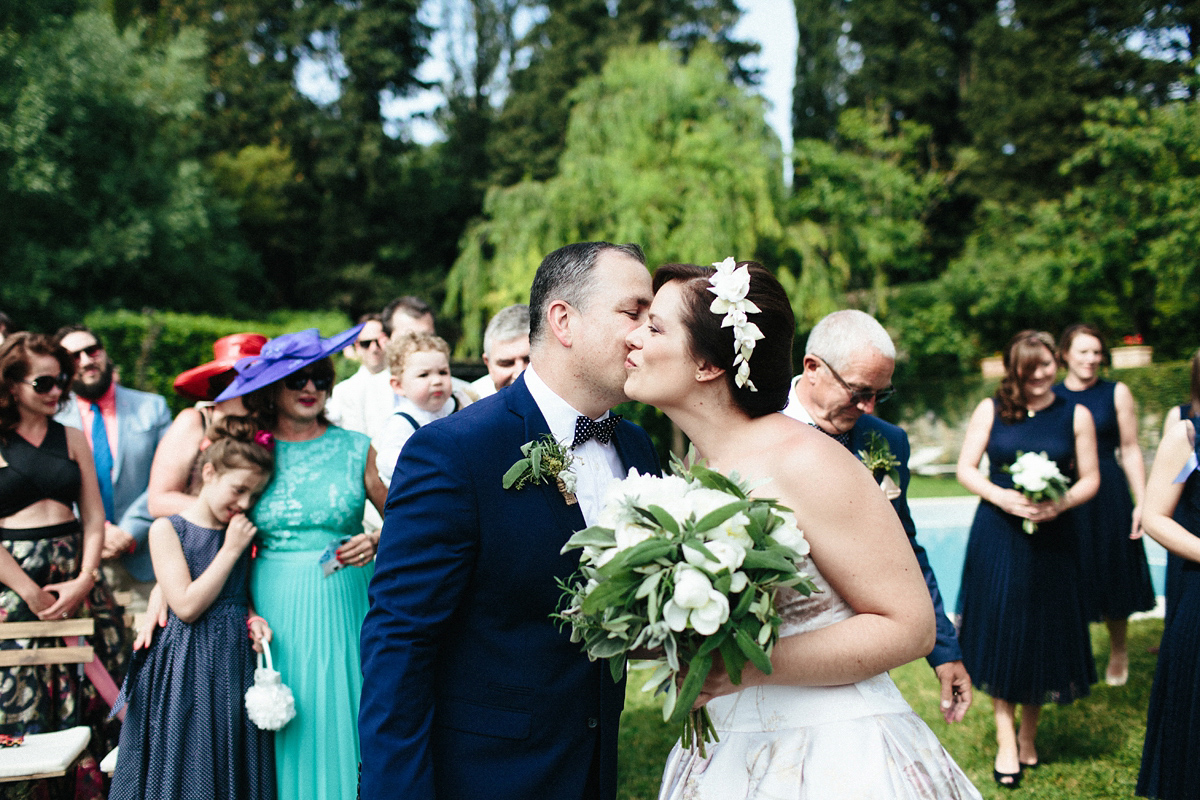 "We took a bit of a risk booking Villa di Masseto without seeing it in person but when we went for a quick visit 6 months prior, we could not have been happier with our choice. We knew the villa and gardens would provide the perfect feel and back drop for our special day. We didn't hire an event planner but we could not have organised everything without the help of the villa manager Benedetta. Her assistance, advice and recommendations were invaluable during the planning stages."
"Our style for the day was pretty much dictated by the venue. We kept the décor minimal because we felt that the villa didn't need much dressing at all, what with the beautifully maintained rose gardens and the stunning countryside views.""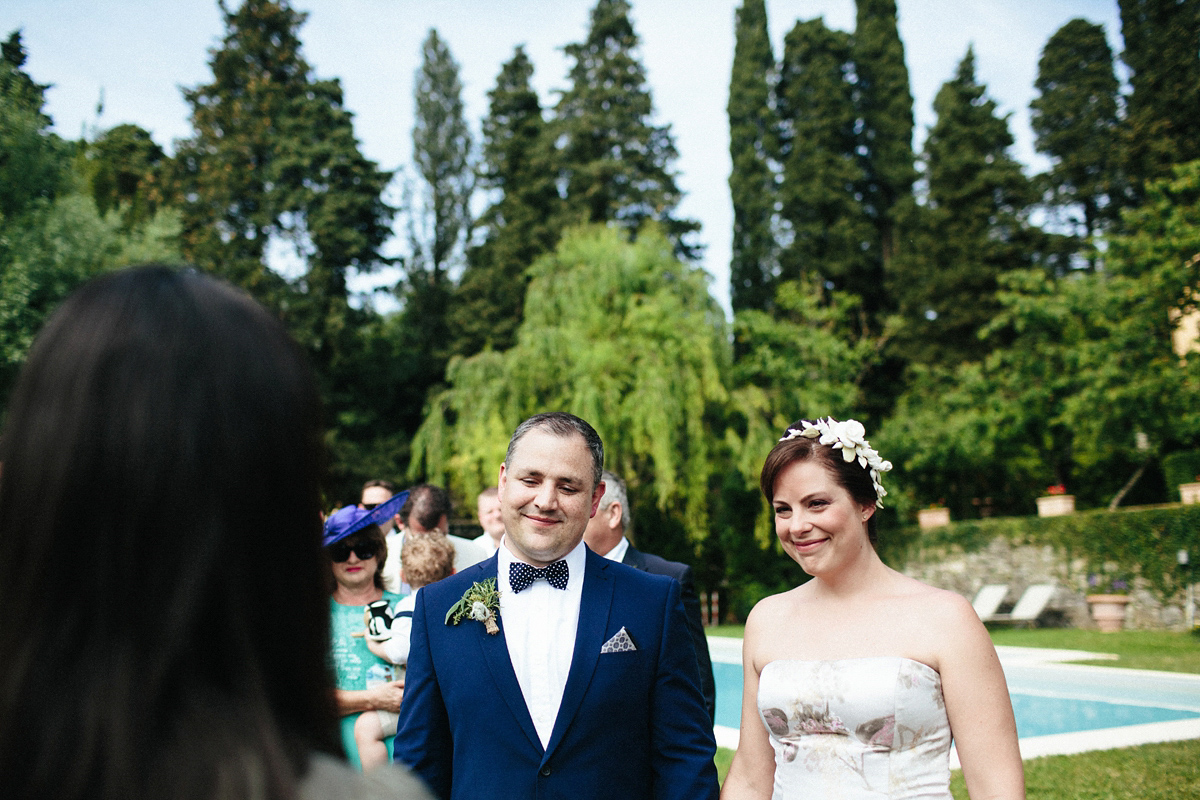 "I discovered how talented my hairdresser Mauro from Weddingallover was before our civil ceremony when he managed to tame my usually wild and unruly hair into a gorgeous style in just 20 minutes. Mauro then produced another sleek style for our wedding day and I'm so happy that I trusted him."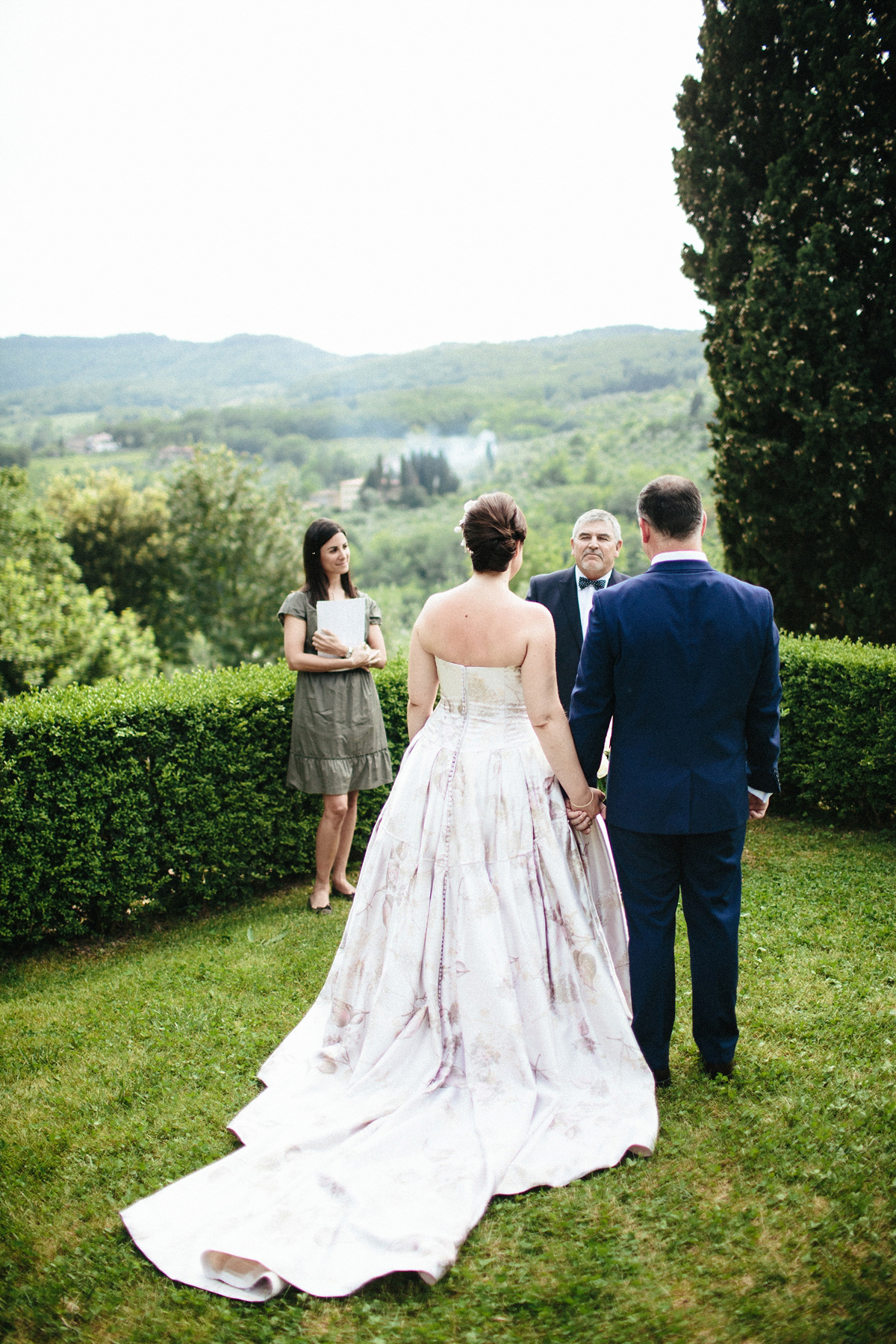 "We also had a civil ceremony at Fiesole Town Hall, which although lovely, was a bit impersonal so it was important to us to be able to create something special for our wedding day. We worked with Francesca, a celebrant, who took some words we had written about each other and turned them into the most beautiful, emotion filled ceremony.
Shaun designed my engagement ring which was made by Michael Matthews in Bournemouth, using a diamond brought back from South Africa and they also made our weddings bands. I had my grandmother's wedding band altered with a 'v' cut out to fit alongside my engagement ring and Shaun chose a simple gold band to match."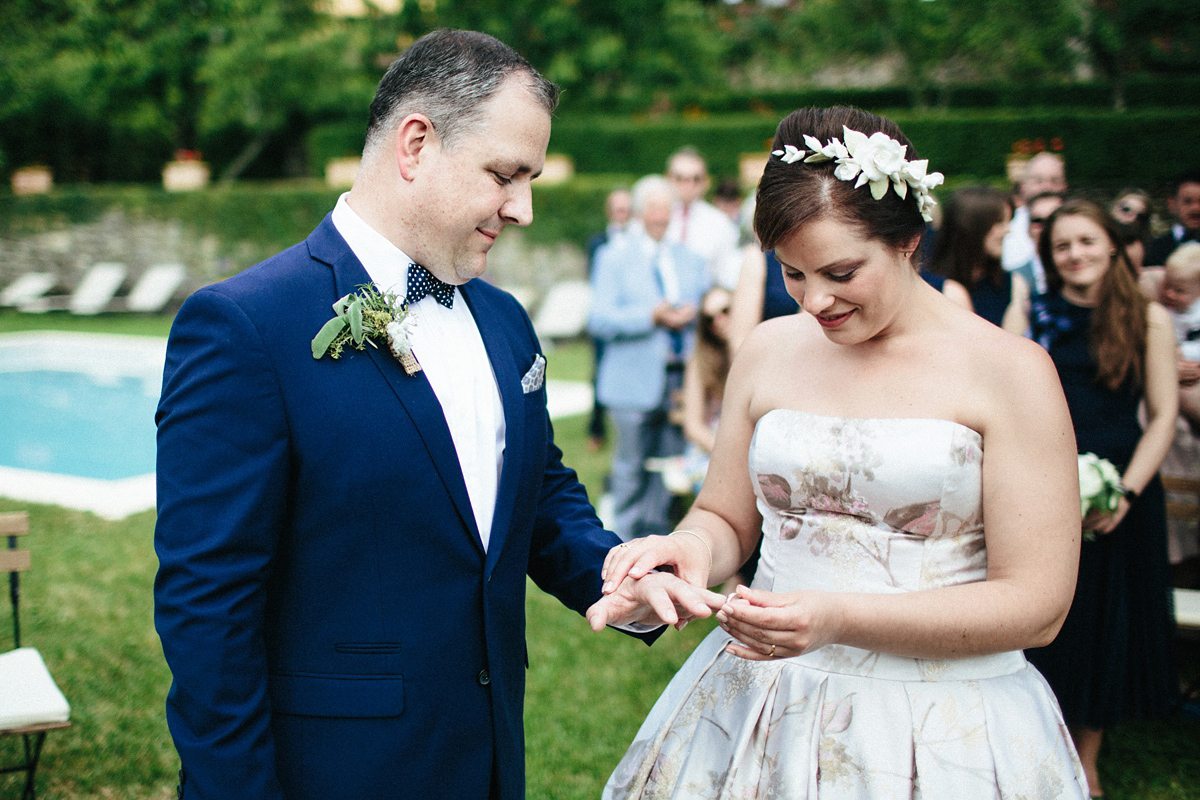 "We asked the groom's dad to do a reading for us. 'What We Wish For You' by Sarah Ritchie seemed perfectly apt as it's exactly the kind of advice our parents have always offered us, which is ultimately to do whatever makes us happy."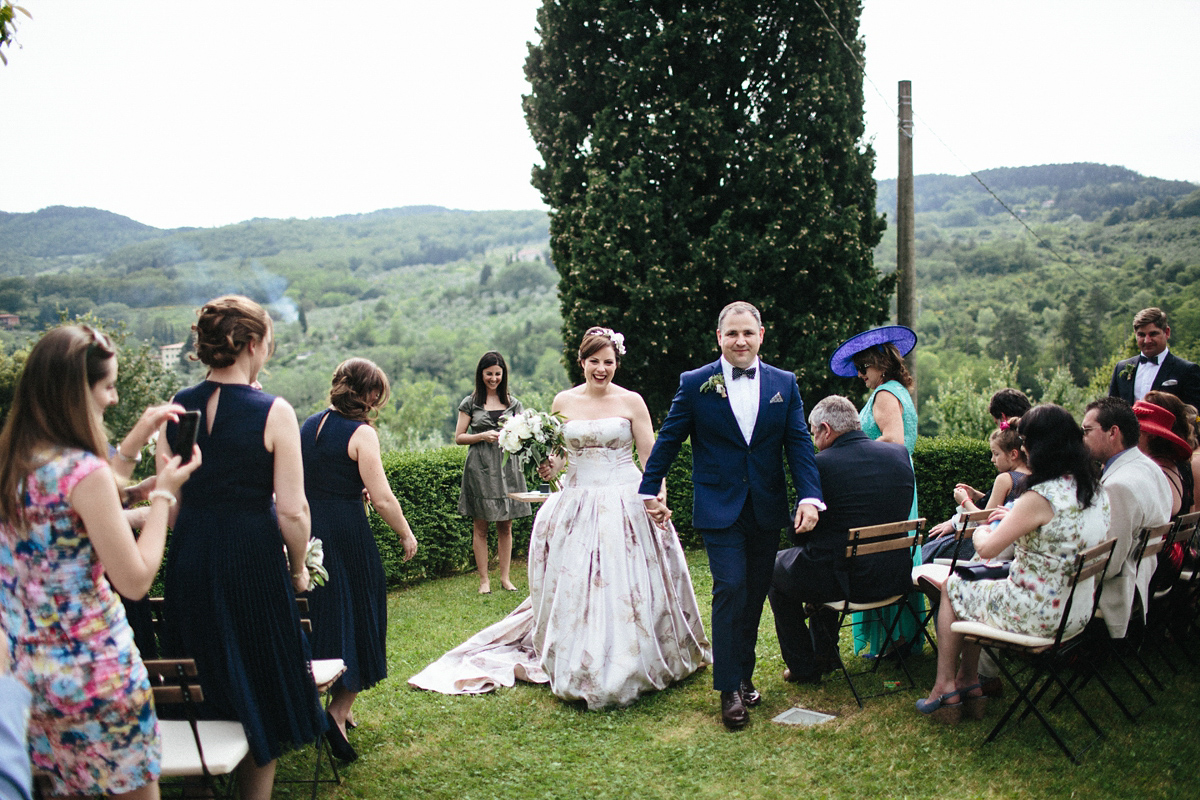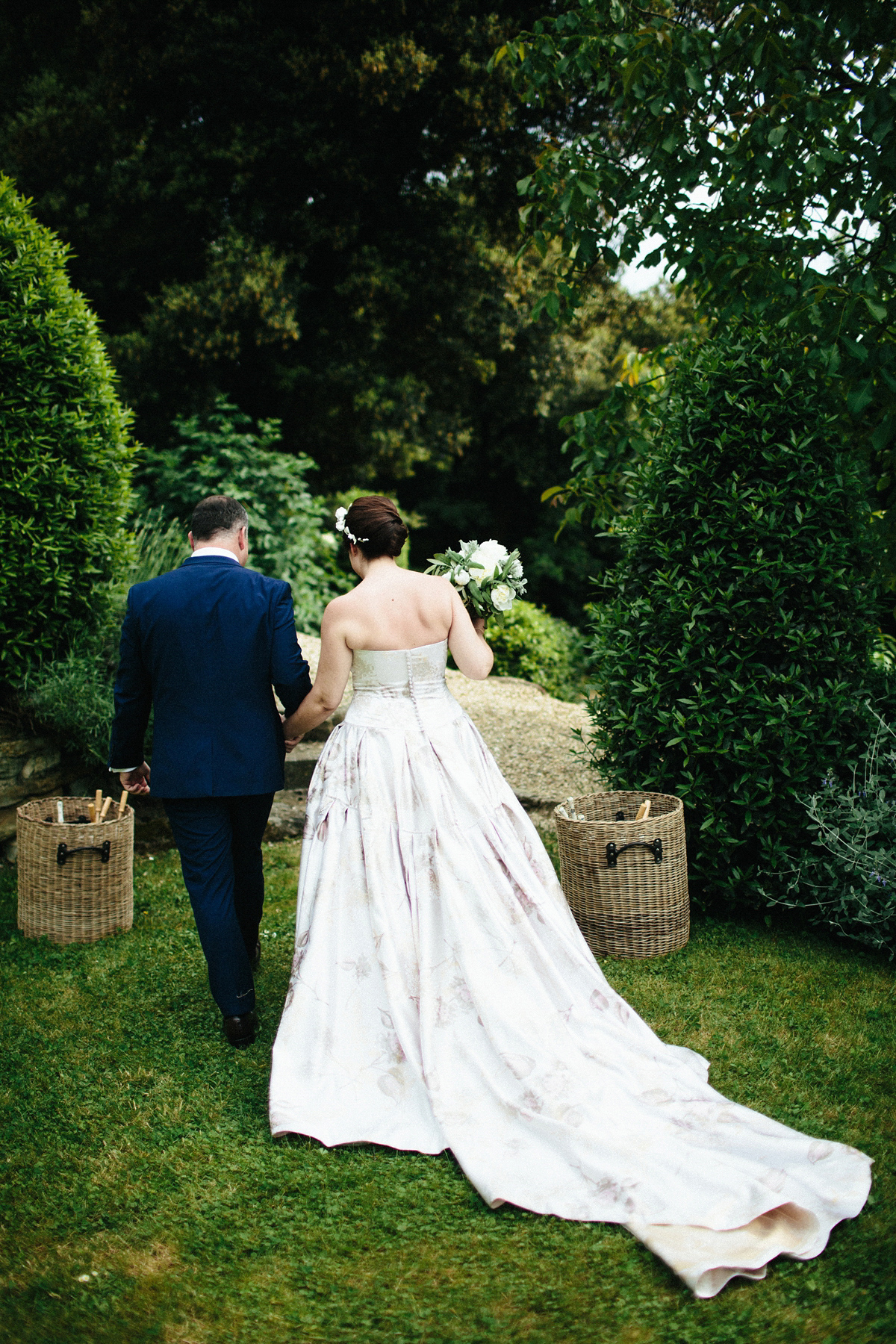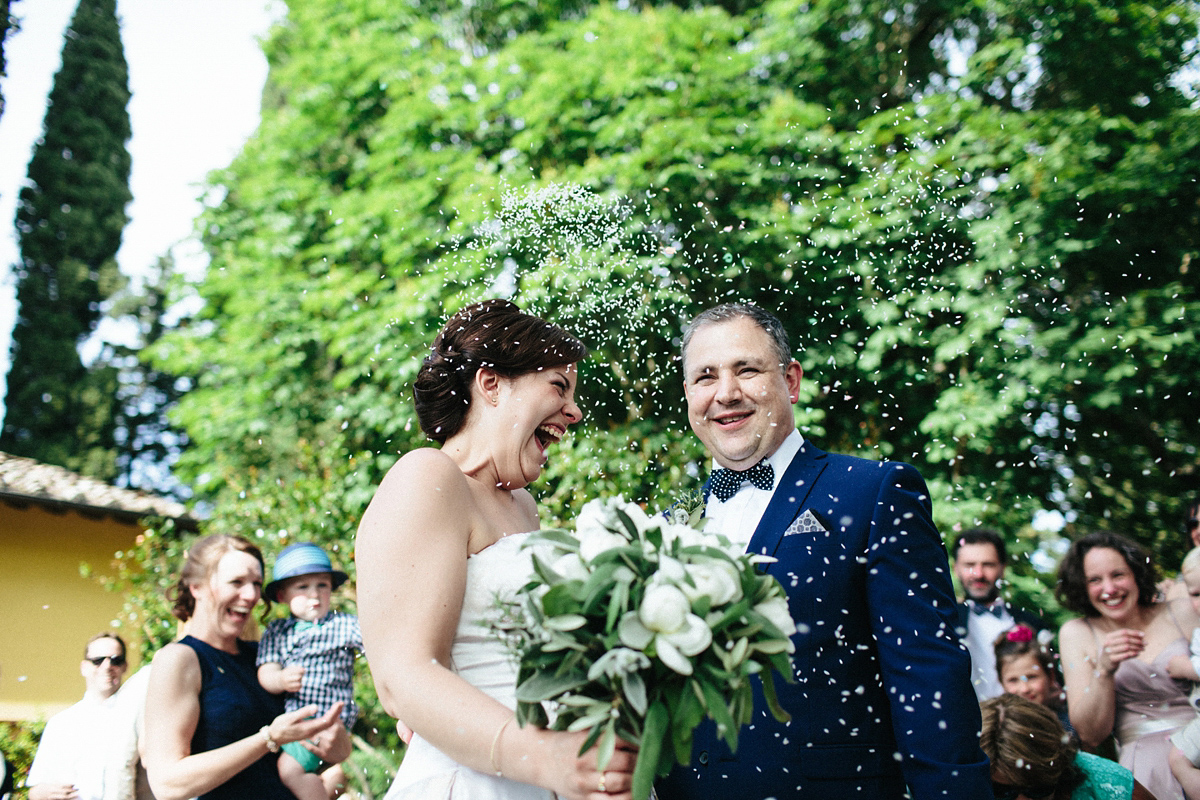 "Our son and nephew wore shorts, braces, sandals and bowties to match the older guys."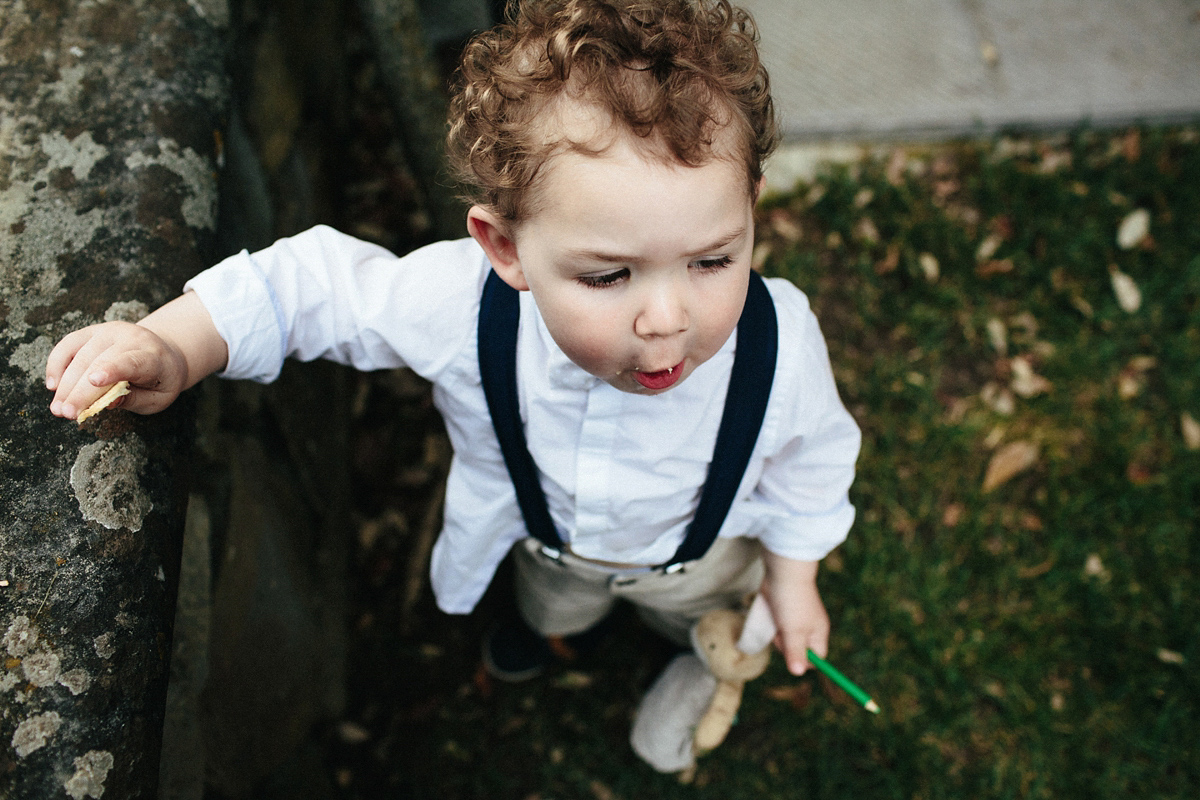 Regular readers will recognise the couple's choice of photographer, Little Book For Brides Member Claudia Rose Carter. She has a knack for catching the most beautiful light and in Tuscany that's definitely not in short supply.
"We'd stumbled across Claudia's work and bookmarked her website early on in the planning stages and were particularly drawn to her reportage style but we weren't sure if we had the budget for a photographer. It was always at the back of my mind that we would regret it if we didn't hire a professional photographer but we didn't seriously start thinking about it again until a couple of months before the wedding, by which time it began to dawn on us that we had left it too late."
"I therefore couldn't believe our luck when I saw Claudia's offer on Love My Dress for our wedding month and she was available. I still cannot believe we got so lucky. Claudia fit right in from the moment she arrived at the villa and wasn't at all phased by the chaos caused by all the little ones running riot amongst our DIY wedding preparations.
"Claudia was really great company and made everyone feel relaxed enough to let their guards down for some truly amazing shots. Claudia beautifully captured the feel of the day and it takes us right back there each time we look at them."
Lucy bought pots of herbs from a local garden centre for the tables, I just imagine the beautiful scent of fresh herbs hanging in the air.
"We wanted only green herbs on the tables to keep them clean and simple and really allow the surrounding rose gardens to take centre stage. The herbs also gave off the most beautiful aroma during dinner, especially with the heat of the candles around them. Benedetta sourced the white peonies and fragrant green herbs for the bouquets and buttonholes. I was so pleased with the result."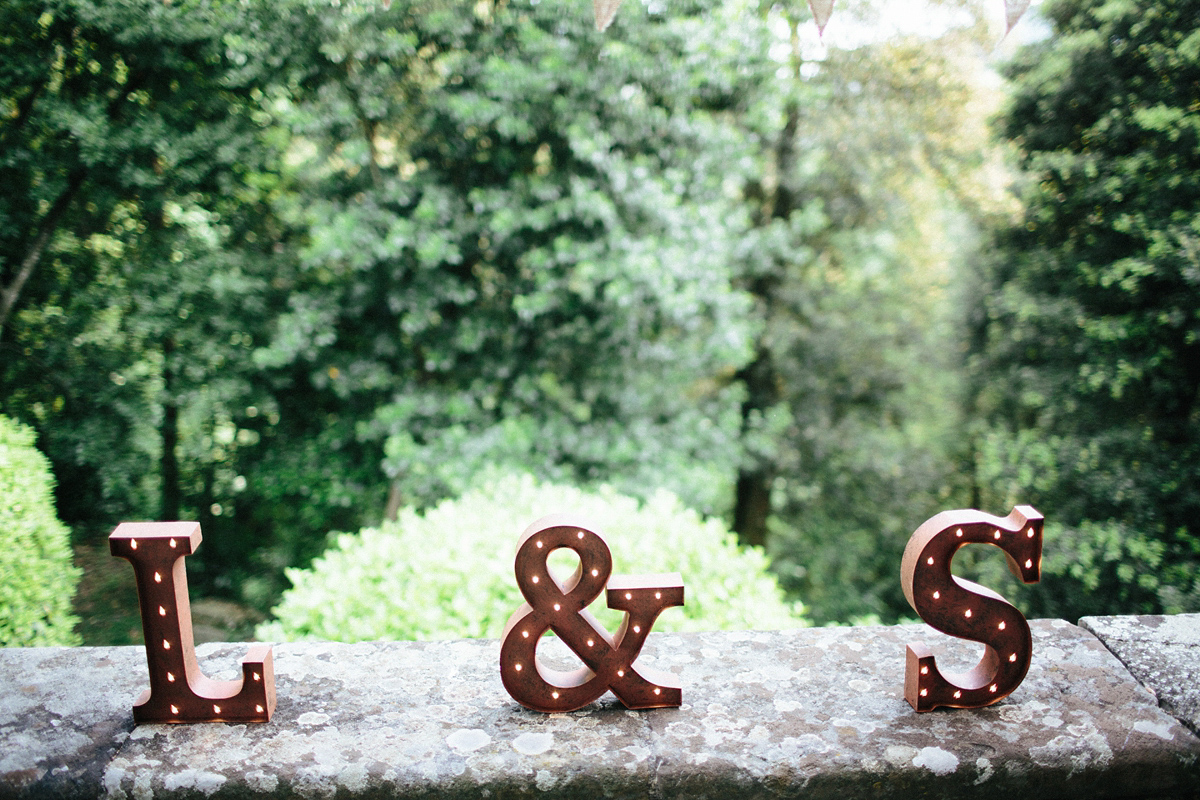 "There was never any doubt that I would ask my good friend and bridesmaid Juliane to design our stationery so when she offered to do it as a wedding gift for us, we were thrilled. The design included a personalised stamp that featured on all the pieces from the save the dates through to the place cards and thank you cards."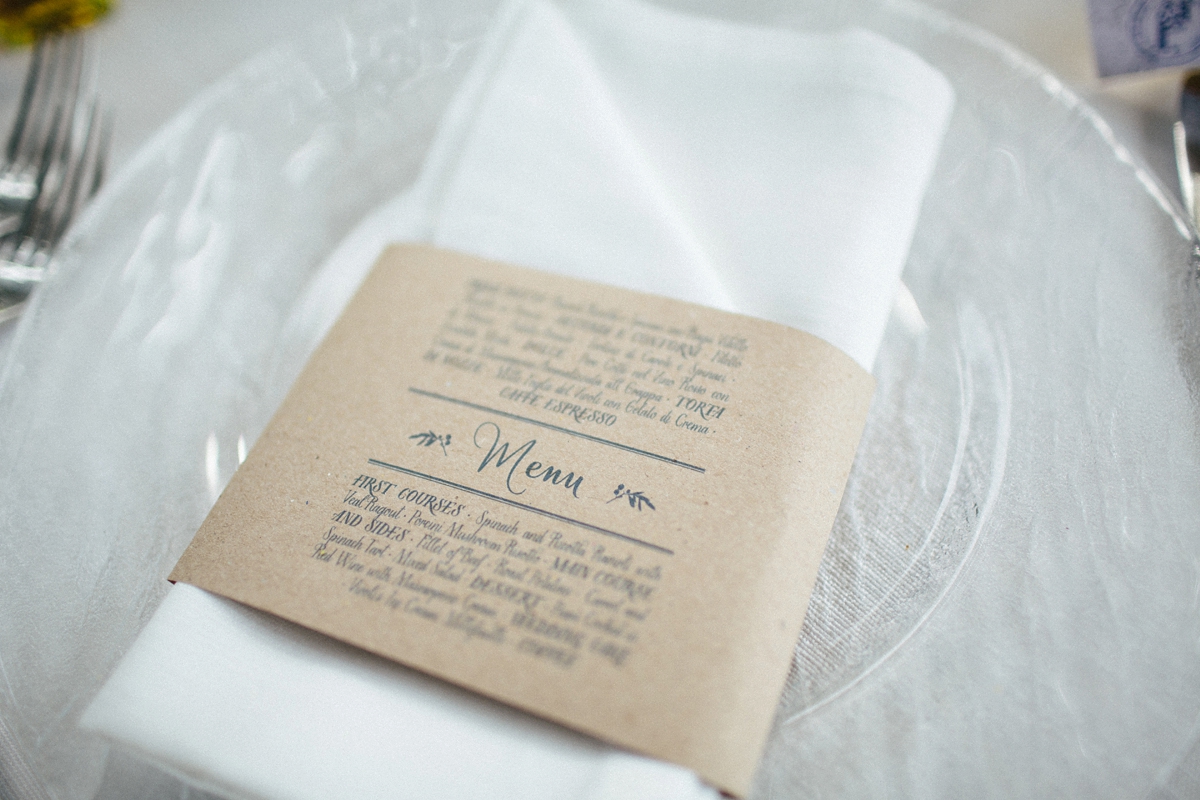 A menu of traditional Italian fayre was on offer for the wedding breakfast and favours of miniature bottles of locally sourced olive oil doubled up as place cards for the guests.
"We chose L'Oste Gentiluomo to cater based upon a recommendation and it was the best decision we made. The food was divine and enough traditional Italian food to feed an army. Our guests still talk about the food and it makes me wish I'd had the time to try more of it myself but sitting surrounded by all our favourite people, eating delicious food whilst watching the sun go down was truly amazing."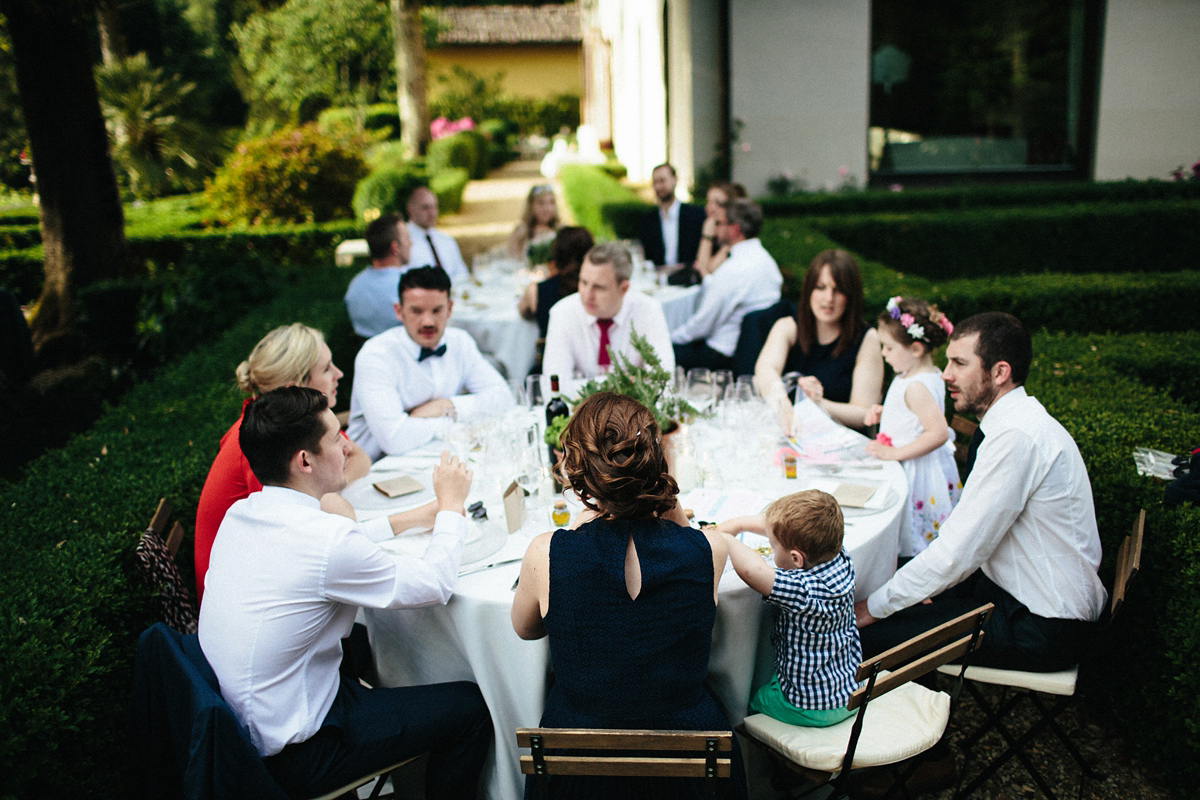 "I originally thought the bridesmaids would wear different dresses because they have such individual styles, however, my bridesmaid Caroline came across the dress we eventually chose from Warehouse whilst she was looking for an outfit to wear as a guest to another wedding and we all loved it. The classic simplicity meant that the girls could accessorise in their own unique way and I'm so pleased that they all looked like the girls that I know and love – with their individual personalities showing through."
"When I couldn't find the flower girls dresses I was looking for, my sister-in-law agreed to make them. All Melissa had to go on was a picture from Pinterest but the polka dot dresses she created turned out better than I could ever have imagined and the girls loved them."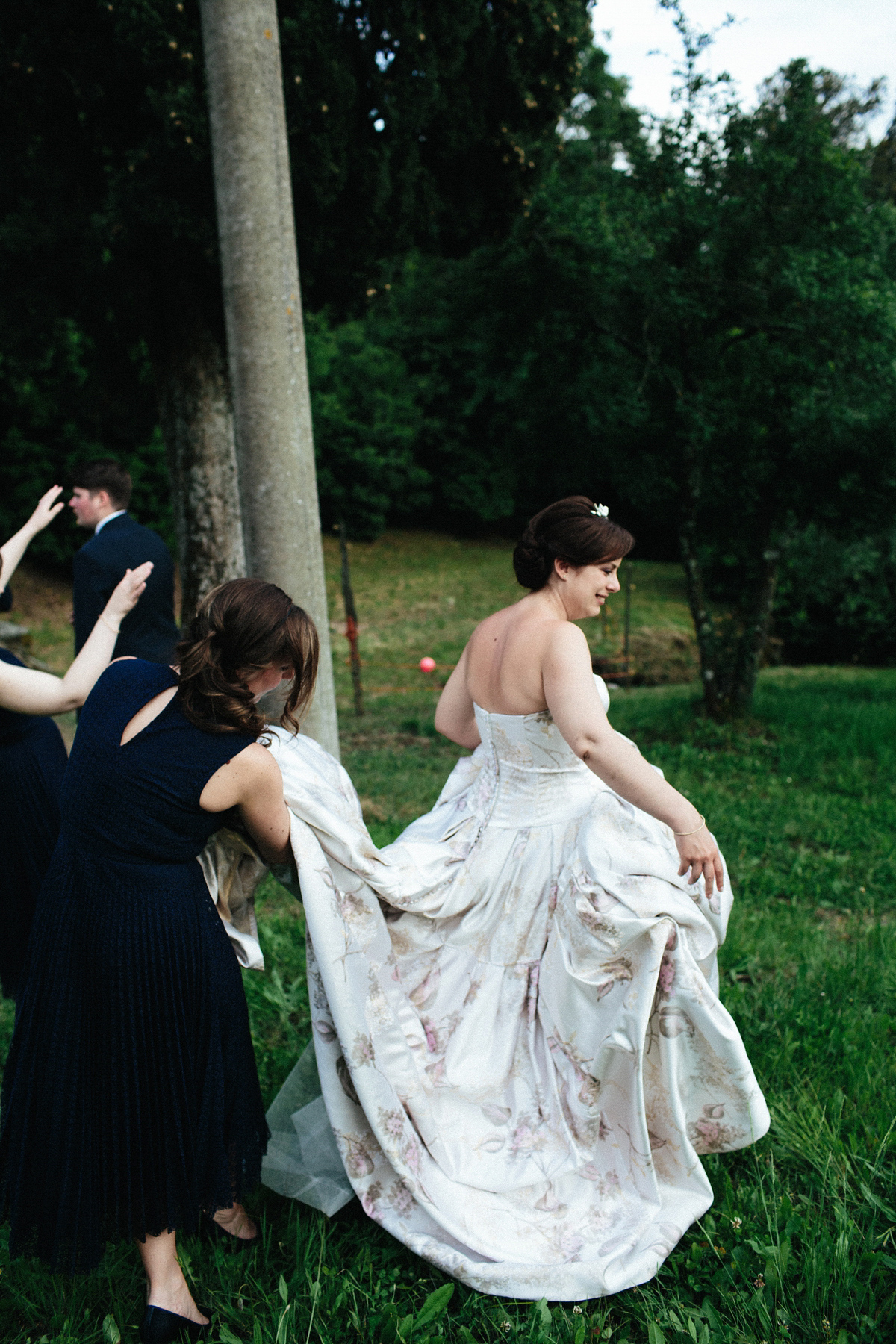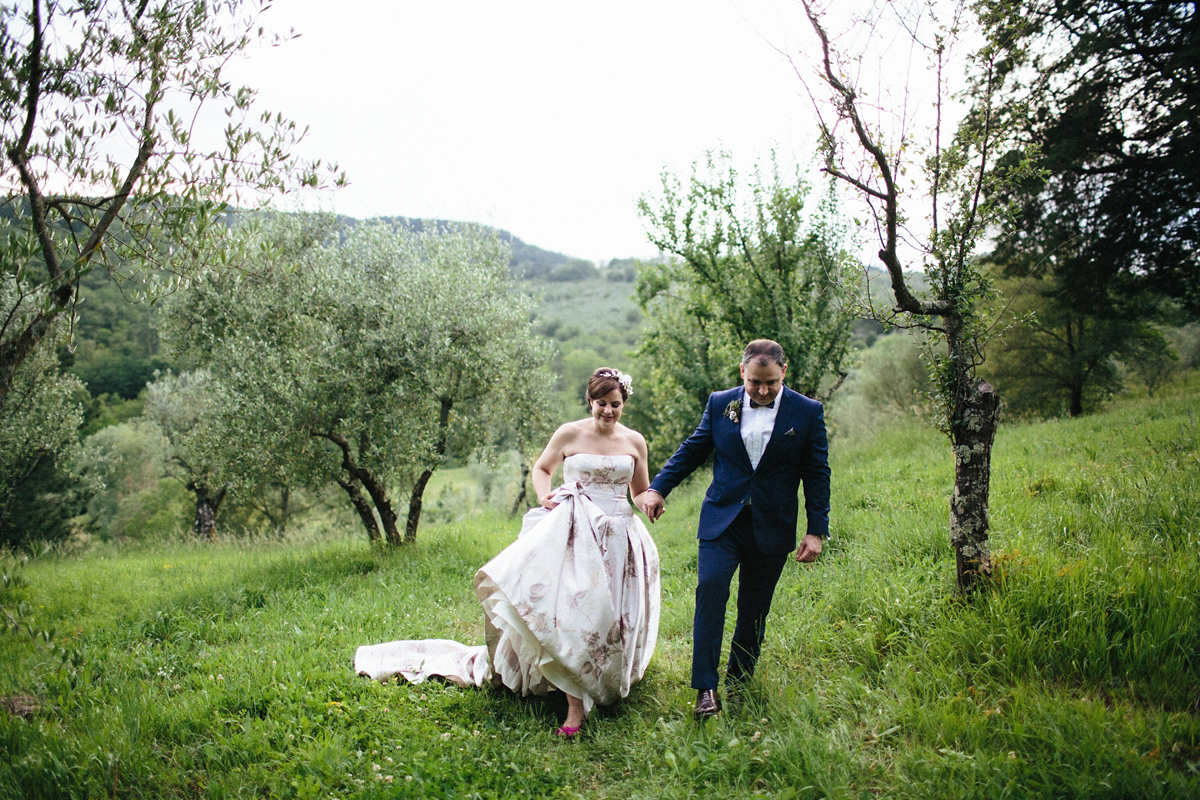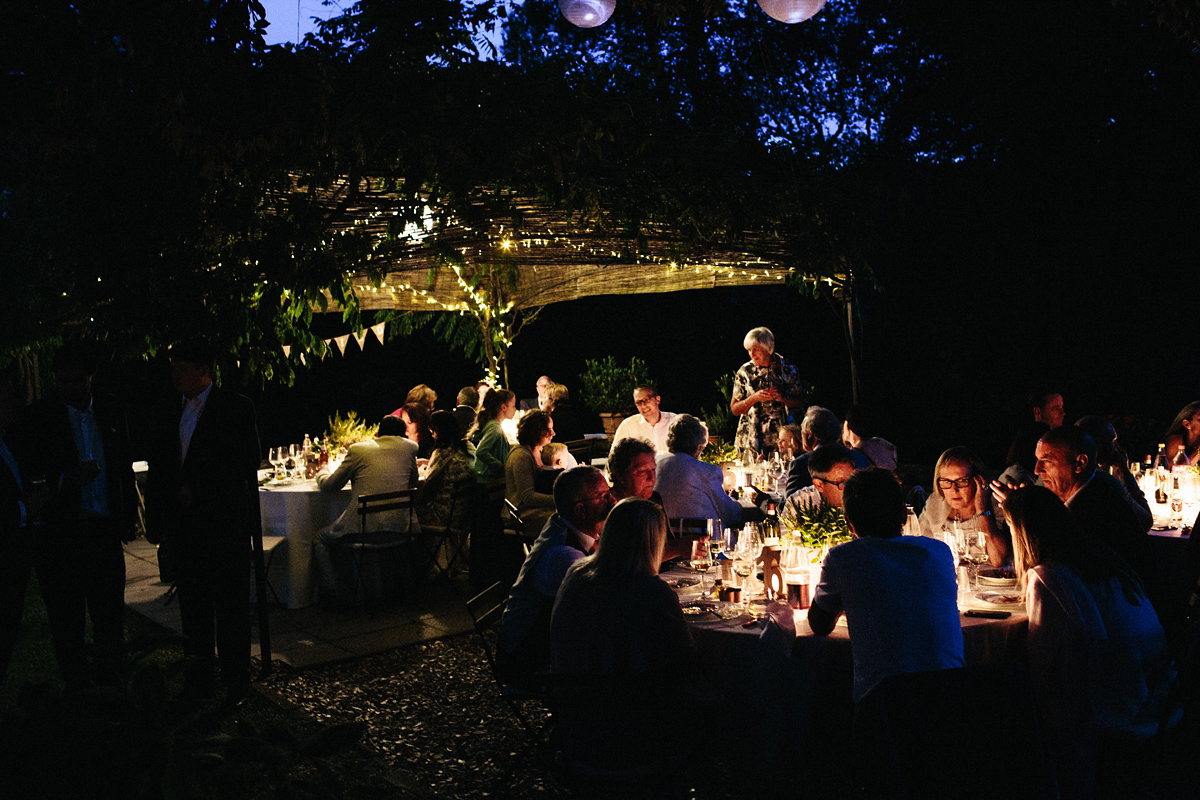 "Our first dance was to 'I'm Yours' by Jason Mraz. We chose it because it's fun and upbeat and we could really dance to it. This was followed by 'our' song, 'Happy' by Pharrell Williams', which got the party started."
"We had spent months working on a playlist with lots of Motown to get everyone up dancing ."
Words of Wedded Wisdom
"I think you can sometimes feel less in control whilst planning a destination wedding because you can't be there on the ground to search, sample, organise etc so I would suggest following local advice and recommendations and then leaving it to the professionals to do their job. The only aspect we were keen to put together ourselves were the table decorations because we had a specific vision in mind. We were more than happy however to leave the flowers and catering decisions to the suppliers and we could not have been happier with the outcome. It also meant fewer things for us to coordinate and therefore worry about.
We both agree that there is absolutely nothing we would change about the day itself, except perhaps to take the time to sample more of the fantastic food. In hindsight we should have booked a photographer much sooner because it was sheer luck that we were able to find Claudia at such short notice but we're so glad we did. I also wish I had purchased a dress closer to home. I ended up making 5 trips for alterations as I was still losing baby weight and the long drive was a bit tricky at times. Having said that, the staff couldn't have been more helpful and didn't bat an eyelid when I needed to feed and change nappies. We underestimated how much and how long it would take to complete all the paperwork required to get married in Italy. The time soon flies by and submitting our paperwork with just two days to spare, causing a lot of last minute anxiety."
I hope that this wedding has perked up your day. As long admirers of Claudia's work we love sharing her beautiful images and there's plenty more to see here. Thank you also to Lucy and Shaun, this couple know how to host a gorgeous wedding.
Love Caoimhe xx