Now readers, there aren't many downsides to writing for Love My Dress, in fact, I can only really think of one, and that's the pure wedding envy I get when I leaf through the photos and read the stories of the creative and inventive couples we get to feature here.  Today's wedding is definitely one of those- the outdoor ceremony, the laid back reception and the prettiness of all the details are just perfect and I'm really looking forward to sharing it with you.  Meet Imogen and Lee who married on the 3rd of June 2016 in the middle of the woods, followed by a reception at their local allotment clubhouse (possibly a first for Love My Dress).
Imogen looked utterly divine in the beautiful 'Juniper' by Temperley London.
"I loved how relaxed it was, although it still felt very special.  It wasn't too structured and was lightweight to wear.  I loved the nod in the detailing to past eras, without it being too stylistic or of a particular era and it had just the right balance of detail and clean lines; I felt elegant and chic, yet relaxed at the same time."  
Photography by Greg Milner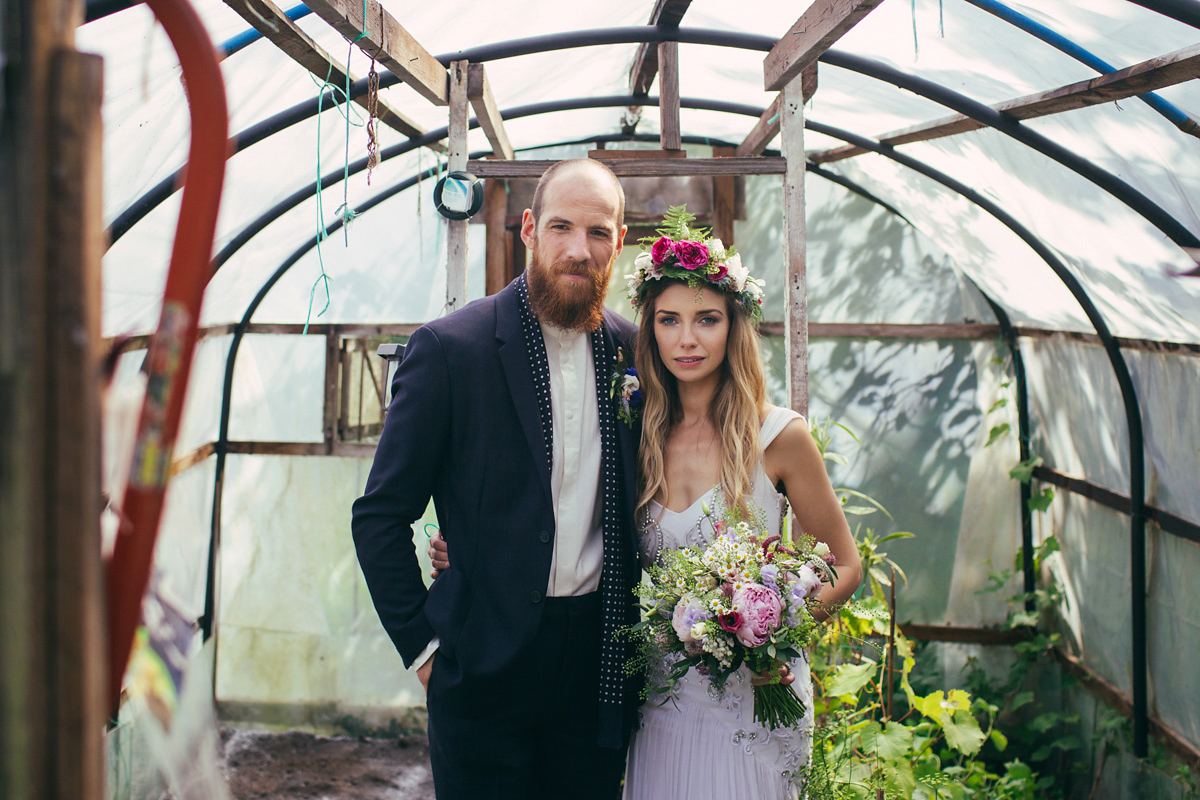 The man behind today's gorgeous images is the very talented Greg Milner, a newcomer to Love My Dress, but one I'm certain we'll be seeing more of in future.
"We were introduced to Greg by some close friends and got on like a house on fire.  We loved his documentary style and he was so down to earth and friendly that he put us at ease straight away.  I know it sounds really cliched but we hardly even noticed he was there, which is exactly what you want.  Our photos are more than we could ever have dreamed of, and we're eternally grateful to him for capturing the day in such a beautiful way.""I'd been to a couple of wedding dress shops with my mum, and tried on some lace dresses that I'd always thought I'd probably go for, but they felt too formal for me.  My best friend Laurie took me to Bicester Village for the day, and we wandered into Alice Temperley – at the back they had a small bridal section.  I tried them all on and when I put on the Juniper dress, I loved it, but it was way out of my price range."
"Unbeknown to me, both Laurie and my mum had (separately) been on a website called Still White and found the dress in my size, altered to my height – it was like it was meant to be.  They both messaged the seller, and we had the dress sent from London. When it arrived, it wasn't quite in the condition described, but a quick trip to a seamstress and they were sorted."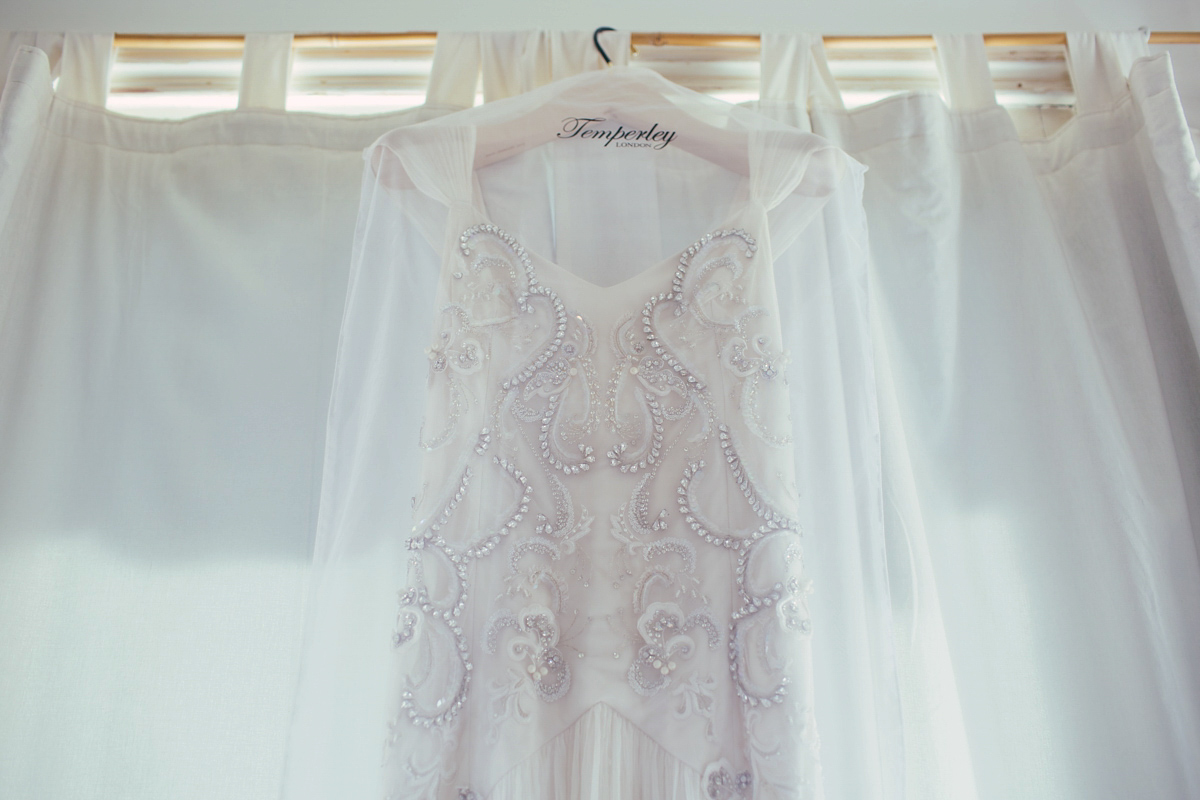 Hair and make up were the work of Lily from Parlour, Birmingham (hair) and Harriet Roberts (make up).
"Lily has been my colourist for years, and I knew she'd know exactly what I wanted. It's great when you involve people who already know you so well; it puts you in a really relaxed and reassured mindset that you'll feel like 'you' on your wedding day.  I found looking for a makeup artist tricky, then I was recommended Harriet and I was over the moon.  She made me feel like a much better version of me and I can't recommended her highly enough."
On her feet Imogen wore pale gold snakeskin shoes from M&S, while for jewellery, she chose rose gold and crystal stud earrings from V Jewellery.  As the dress was quite detailed and she also wore a fabulous flower crown, created by family friend Zoe, Imogen decided to keep the rest of her look simple and clean, which worked beautifully.  For scent, she chose her signature Lime, basil and mandarin by Jo Malone.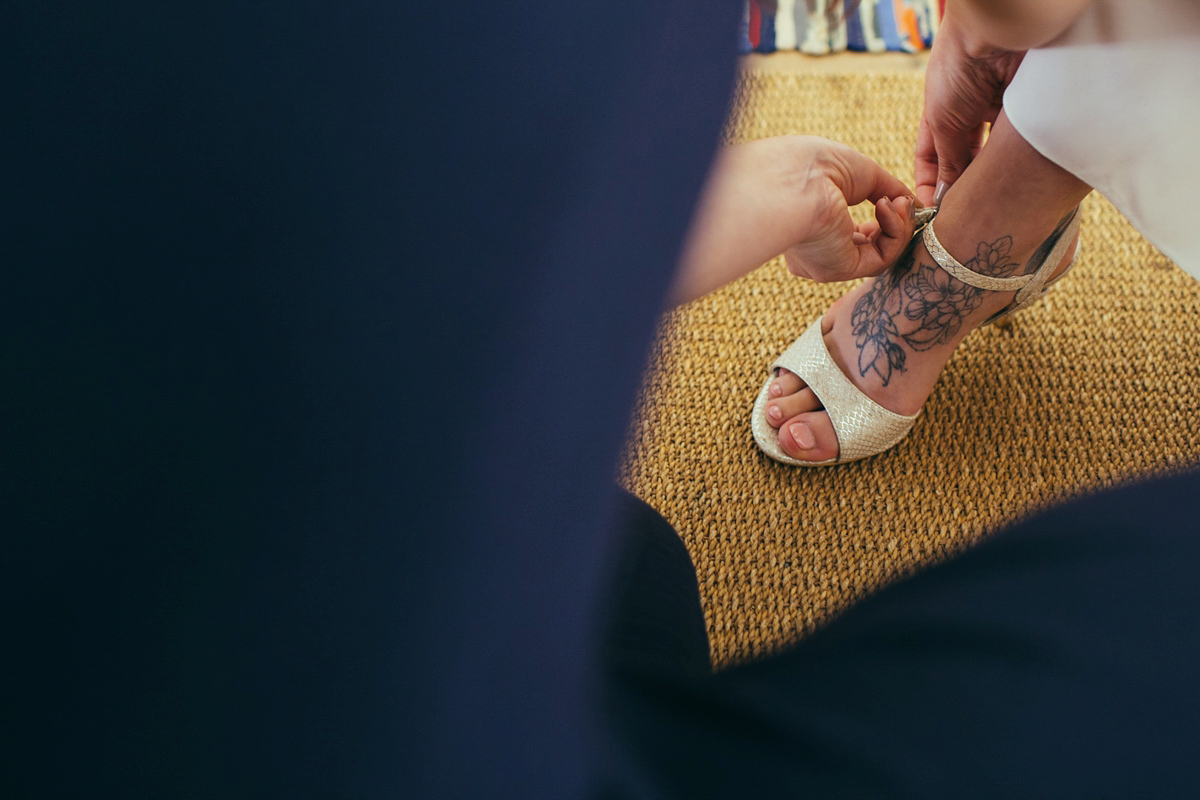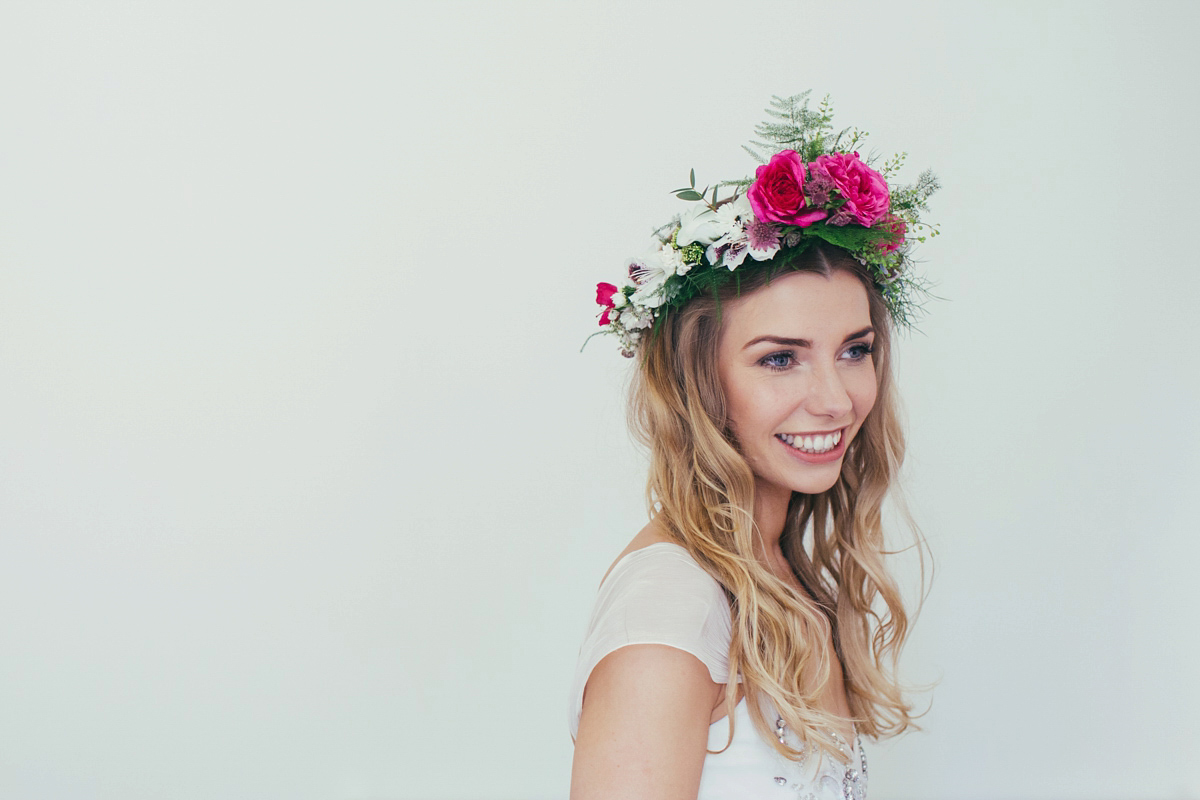 The bridesmaids looked fab in mismatched dresses, with their own chosen shoes and accessories, based on a colour palate requested by Imogen, who then let them make their own choices- doesn't it work well?
"As a gift on the wedding morning, I gave my two sisters Floss and Polly a pair of rose quartz earrings and my two other bridesmaids, Laurie and Sarah, a copper and rose quartz ring which they all wore on the day (all from Etsy)"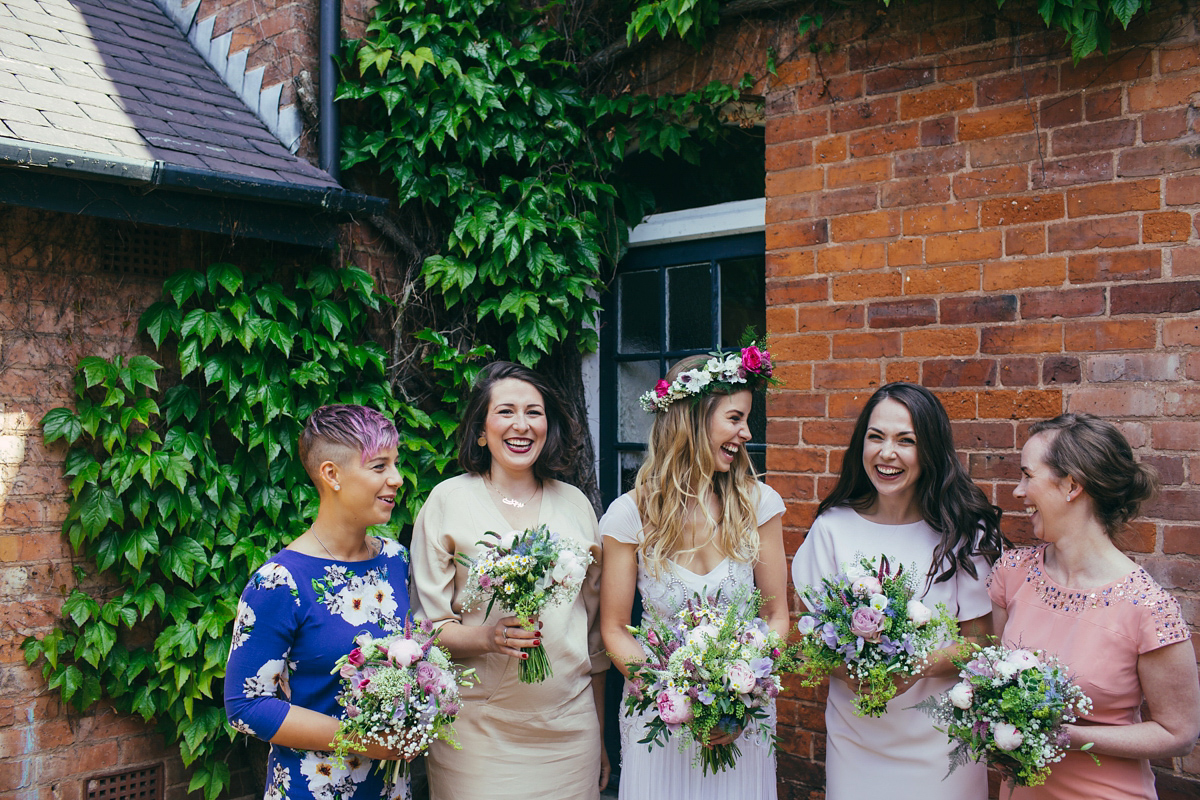 "Our amazing friend Zoe did all of our flowers and she's not even a florist, just one mega talented, creative lady.  I sent her a load of images of the sort of things we liked, mostly informal arrangements, lots of soft pinks and purples with some splashes of bright yellows and magentas, a mixture of soft structured flowers like peonies with English wildflowers and herbs and lots of foliage and greenery.
I wasn't particularly bothered about specific flowers, so they were a surprise on the day, but we trusted Zoe completely and knew she'd make them look fantastic."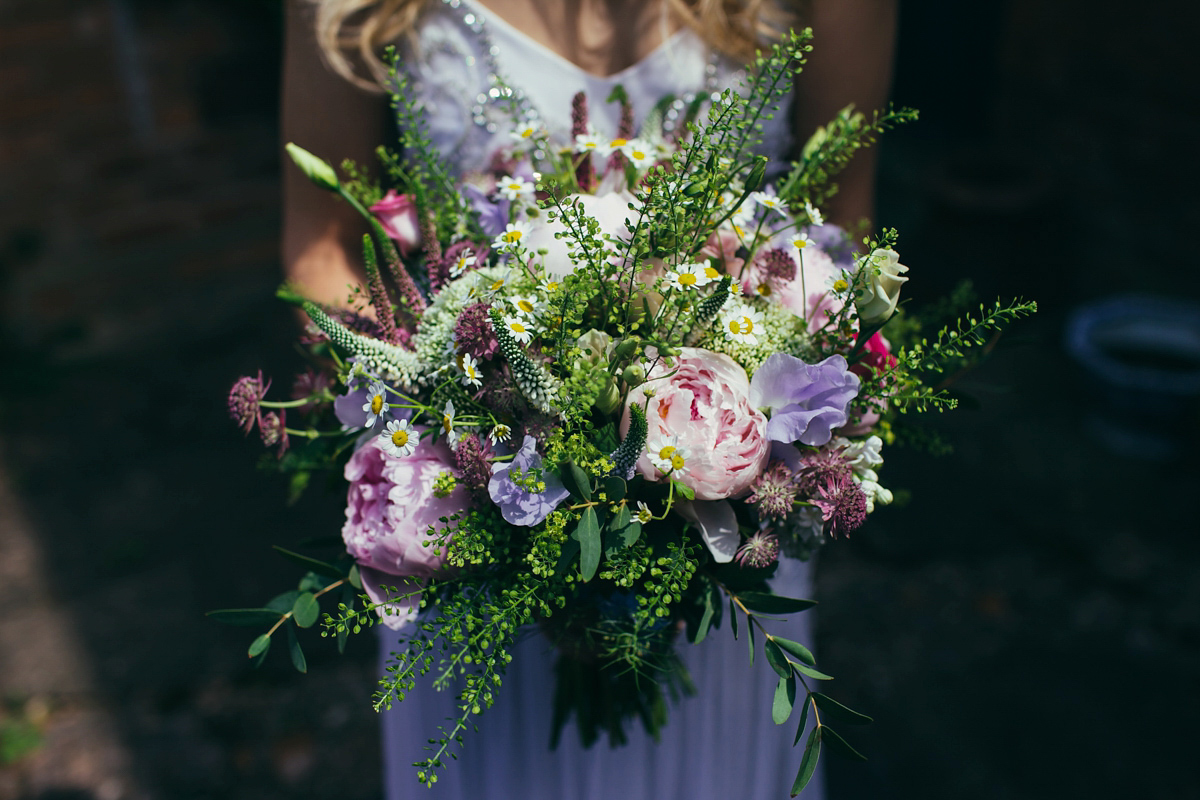 "We asked our guests to meet at the Highbury pub in Kings Heath, Birmingham on the day of the wedding.  Everyone met Lee there, apart from me, my four bridesmaids and my dad.  The guests all had a drink together and then took a short walk into Holders' Lane Woods  for our ceremony."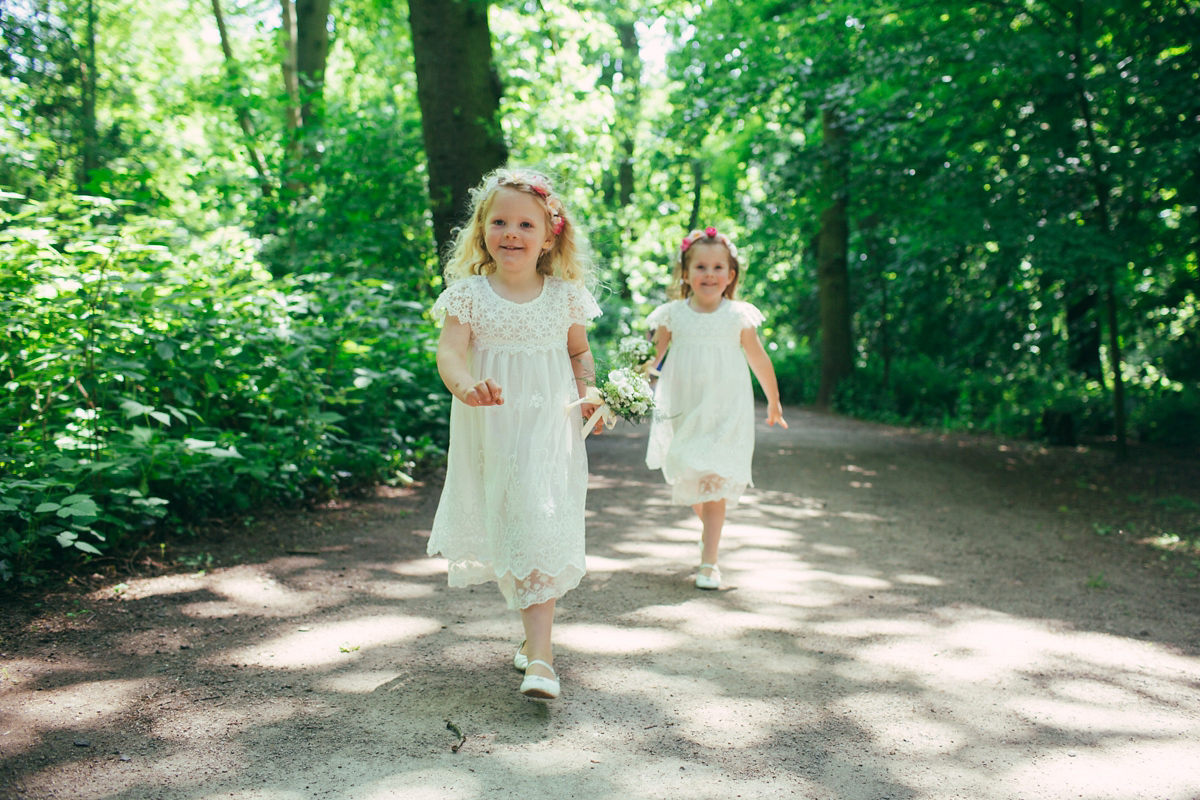 Imogen was accompanied through the woods and down the aisle by her dad, to 'At Last' by Etta James.
Lee looked extremely sharp in his carefully chosen outfit.  In his own words…
"I've never been one for traditional wedding suits so I just wanted something navy, textured, and lightweight.  However, knowing what I wanted was one thing but finding it was another. "
"My main criteria was that I wanted something that I could wear again and not put to the back of my wardrobe never to be seen again and after several trips London I found my dream suit in COS in Birmingham Bullring.  It was a size too big but after seeing a tailor I had the perfect fitting suit."
"The fact that it was in the sale made it a double win.  The shirt and socks were from Folk Clothing, my braces from Sharp & Dapper, shoes from Clarks and scarf from Hawes and Curtis."
"My two best men and usher wore navy cropped trousers from Topman and white shirts from ASOS all with a different collar.  My sister was also an usher and she wore what she wanted."
The couple wrote their own Humanist vows and Imogen's brother Josh and Lee's sister Emilie did readings, which they chose themselves.  Emilie picked an extract from Captain Corelli's Mandolin by Louis de Bernières, while Josh chose "I Love You" by Roy Croft.
"After we said our vows, Kathy led us into the middle of our guests, they created a circle around us and then all said an Apache Wedding Blessing, which we'd printed onto cards and handed out with the confetti in the pub earlier.  I thought I was going to cry when our guests said the words altogether…"
Now you will feel no storms, for each of you will be shelter to the other.  Now you will feel no cold, for each of you will be warmth to the other.  Now there is no loneliness, for each of you is companion to the other.  You are two persons, but there is one life before you, and one home.  Turn together to look at the road you traveled, to reach this—the hour of your happiness.  It stretches behind you into the past. Look to the future that lies ahead.  A long and winding, adventure-filled road, whose every turn means discovery, new hopes, new joys, new laughter, and a few shared tears.  May happiness be your companion, May beauty surround you both in the journey ahead; And through all the years to come.  Go this day to your dwelling place and enter into your days together.  May your days be good and long upon the earth.  Your adventure has just begun.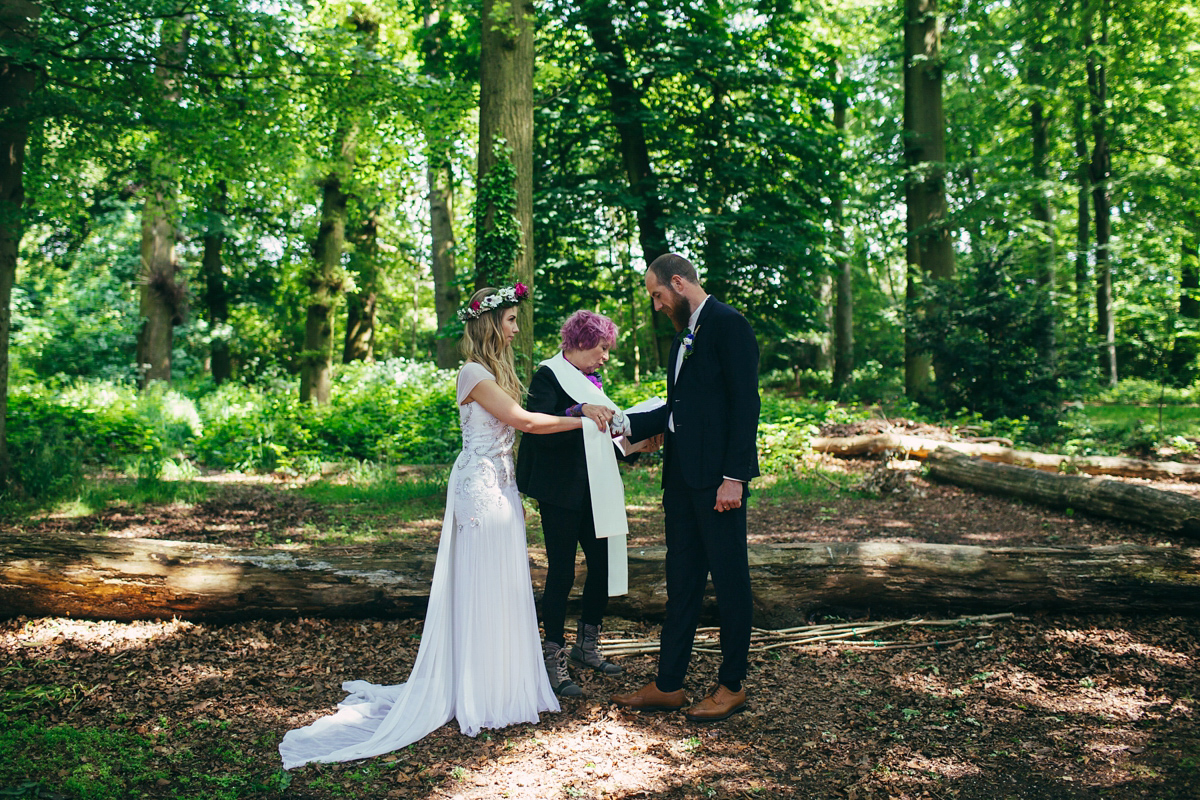 The couple exchanged rings from GH Moore, which were made from the gold from Imogen's grandparent's wedding bands.  I love it when people do this- the amount of history and memories held in that tiny band is incredible.
"My grandma's ring actually belonged to her grandma, and both of the bands had a Birmingham hallmark, so it just felt like it all fitted. I loved the idea of using rings that were already in the family, and sharing that with Lee made it really special."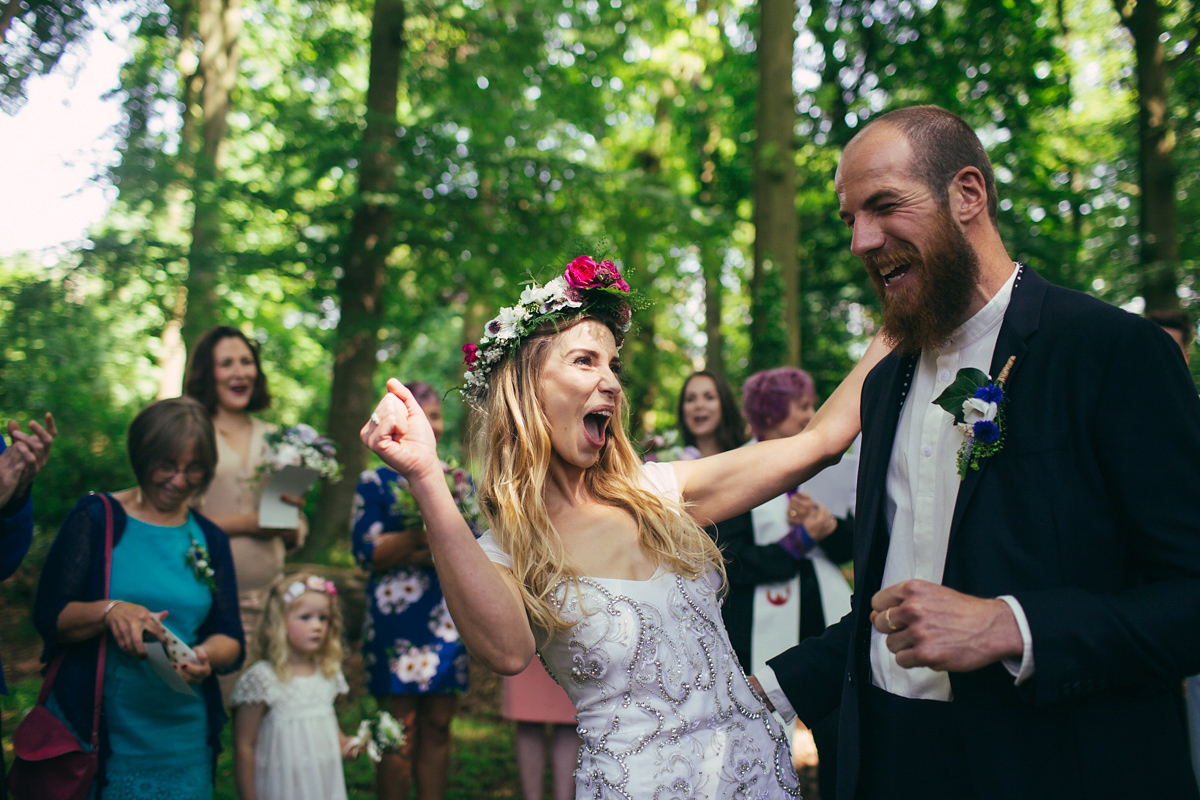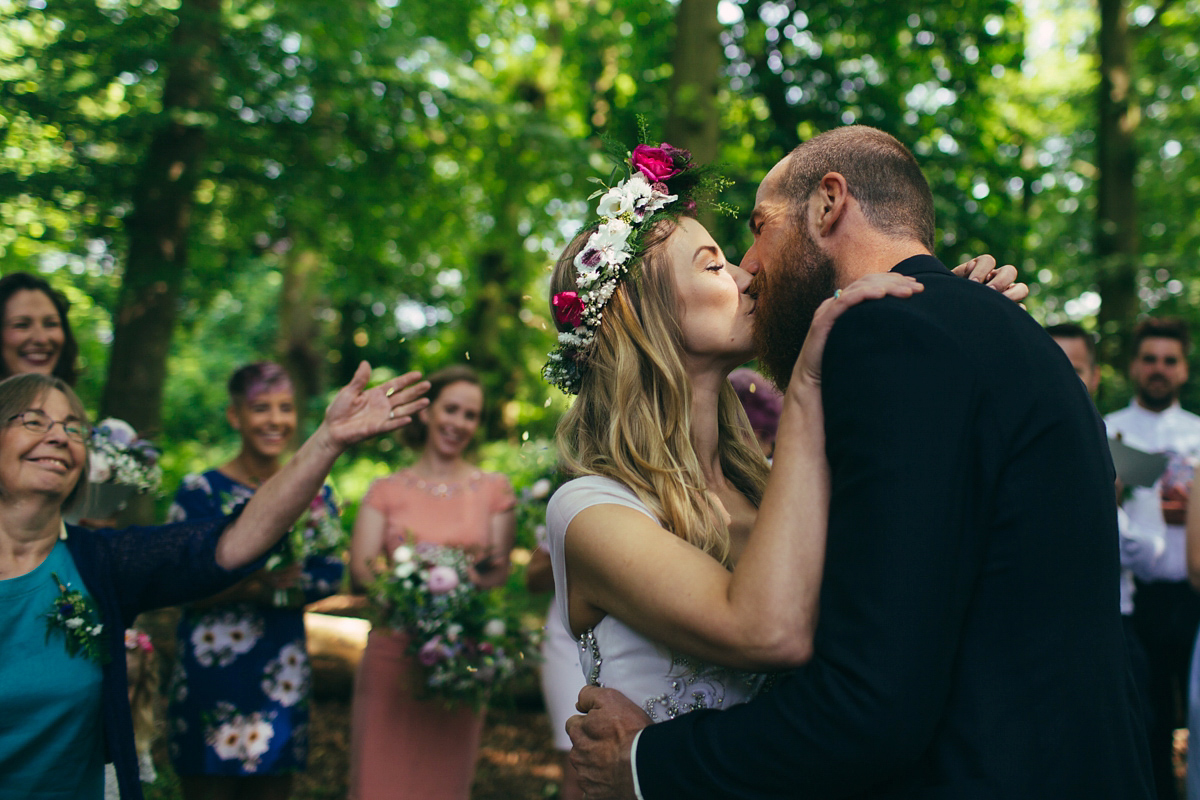 "After the ceremony, everyone walked together through the woods to our reception at Moor Green Allotments.  We played music on the walk and it felt brilliant to have everyone moving together."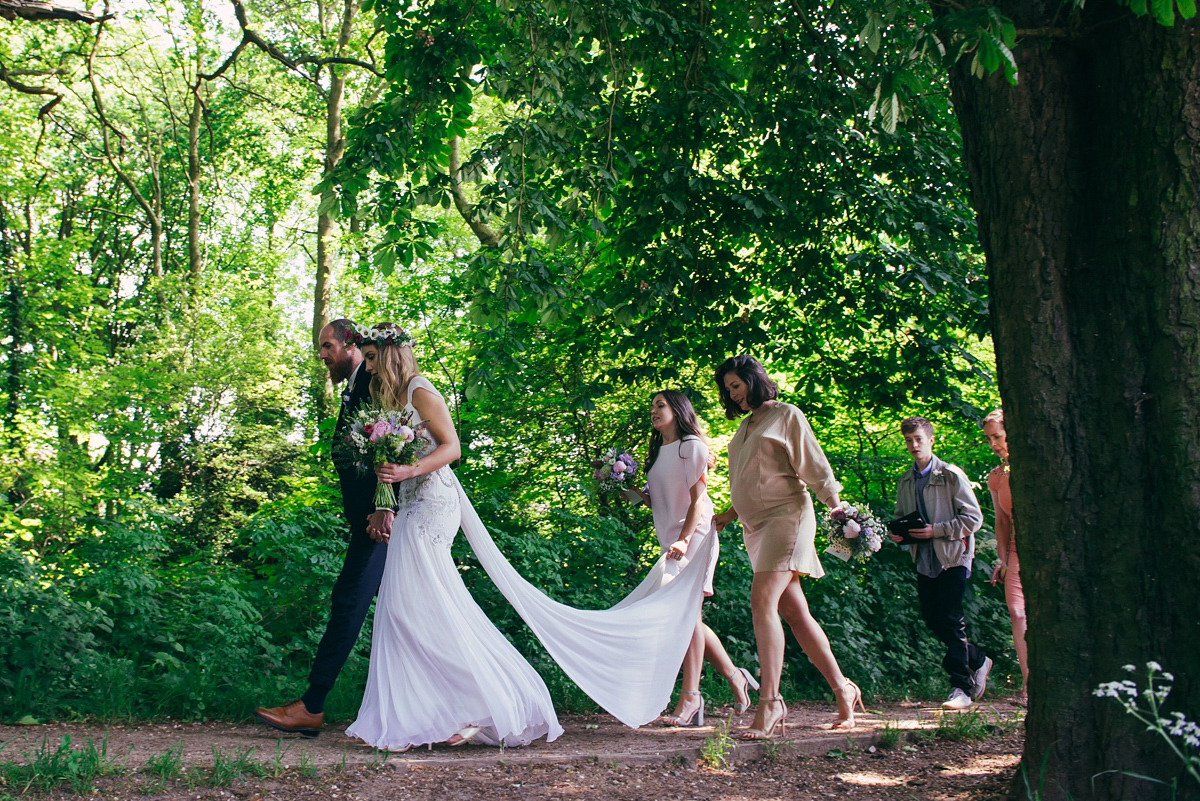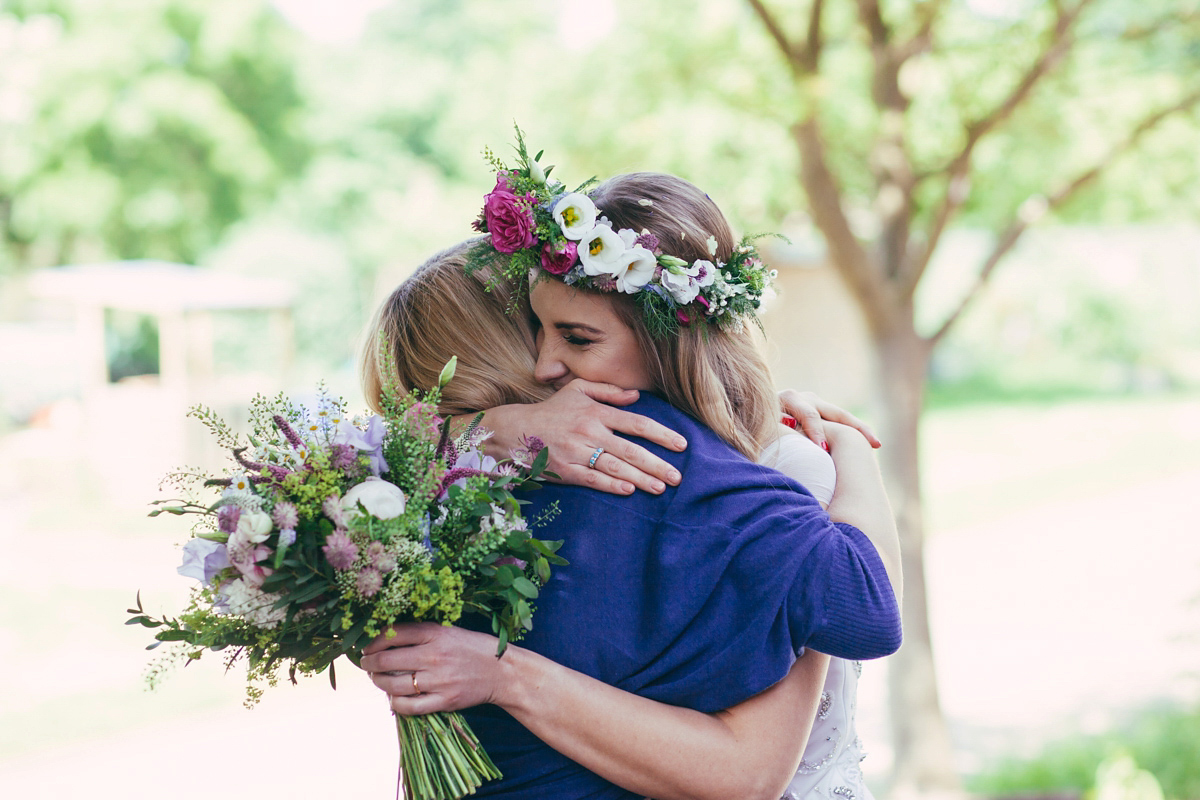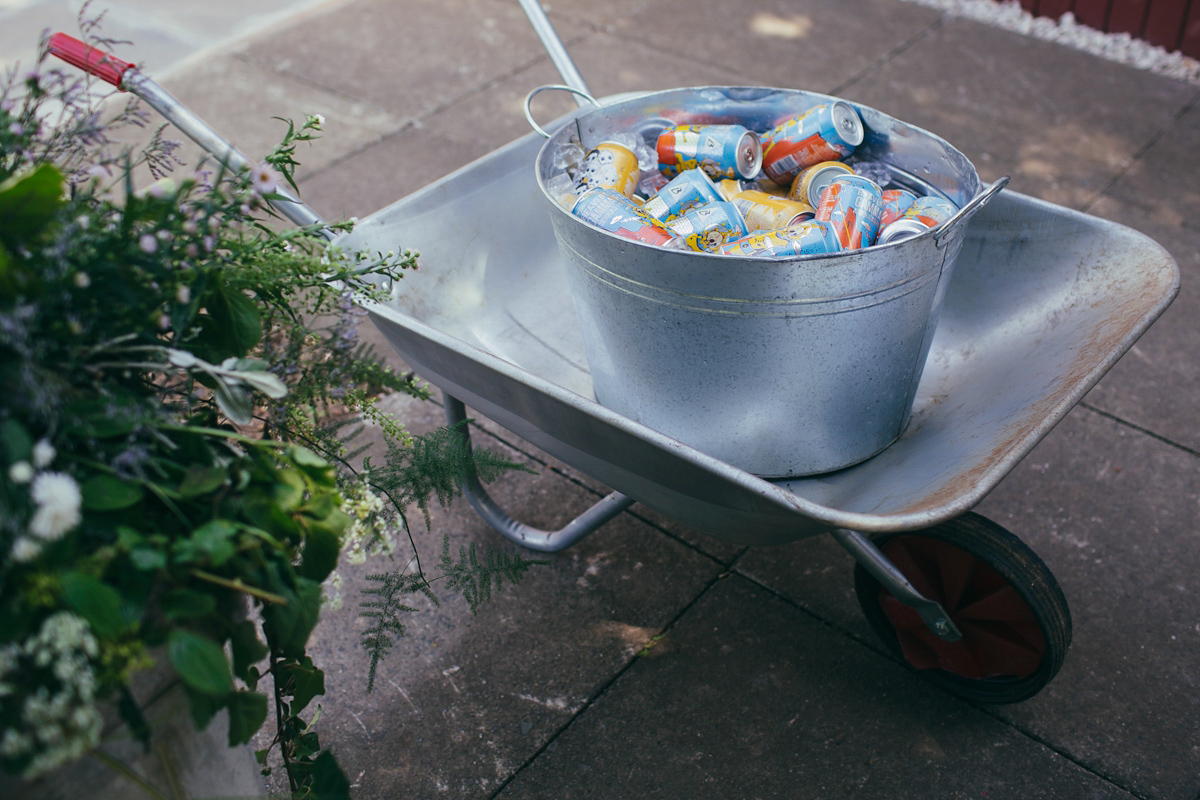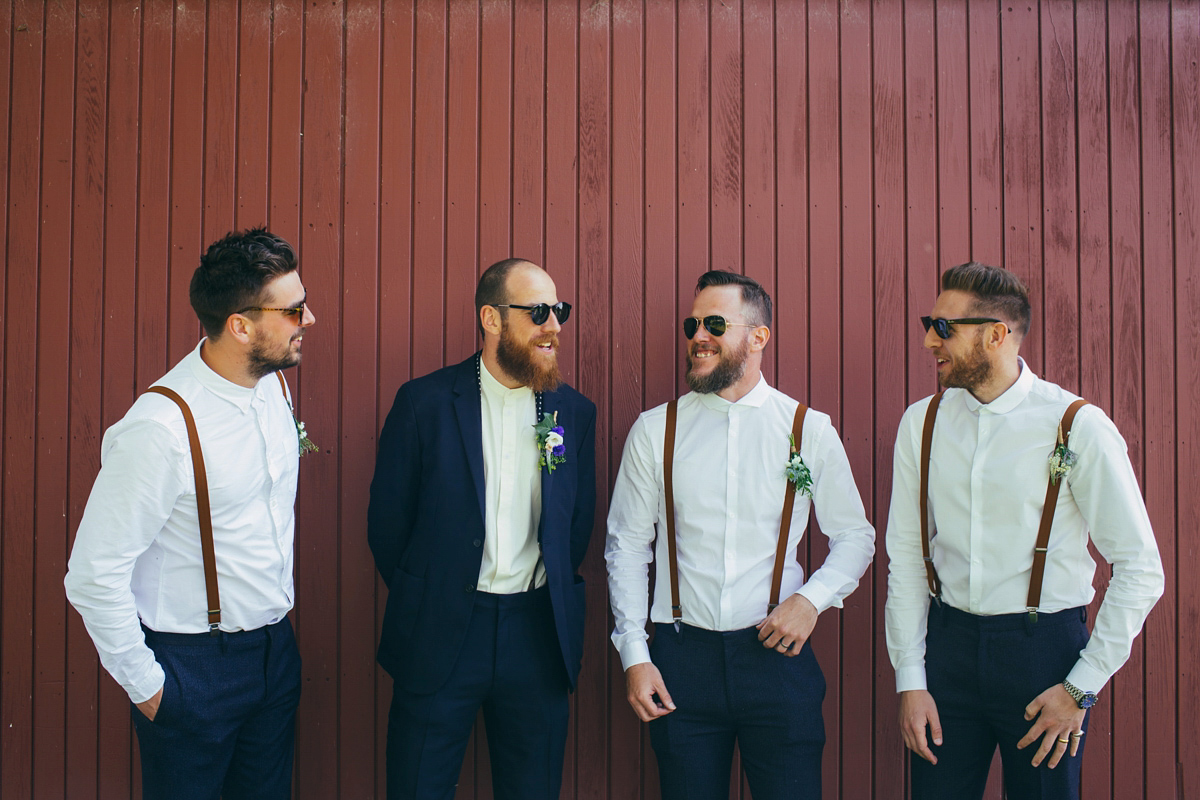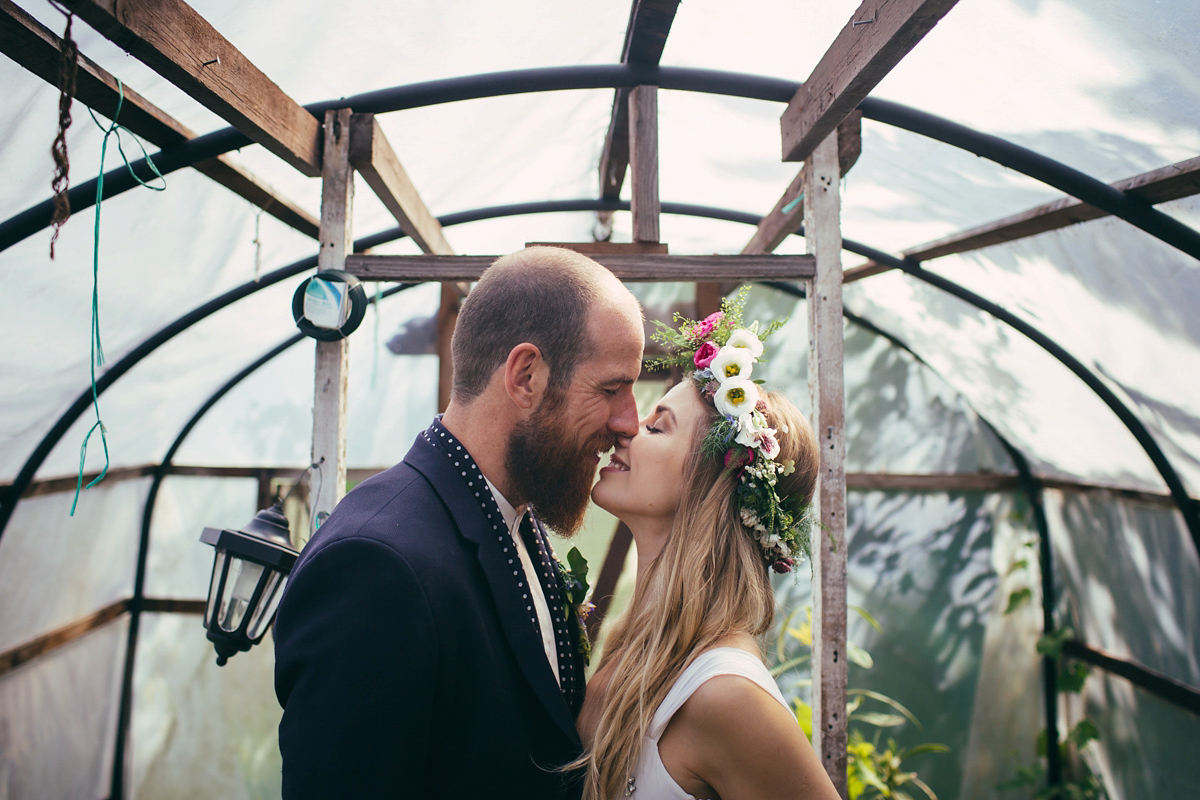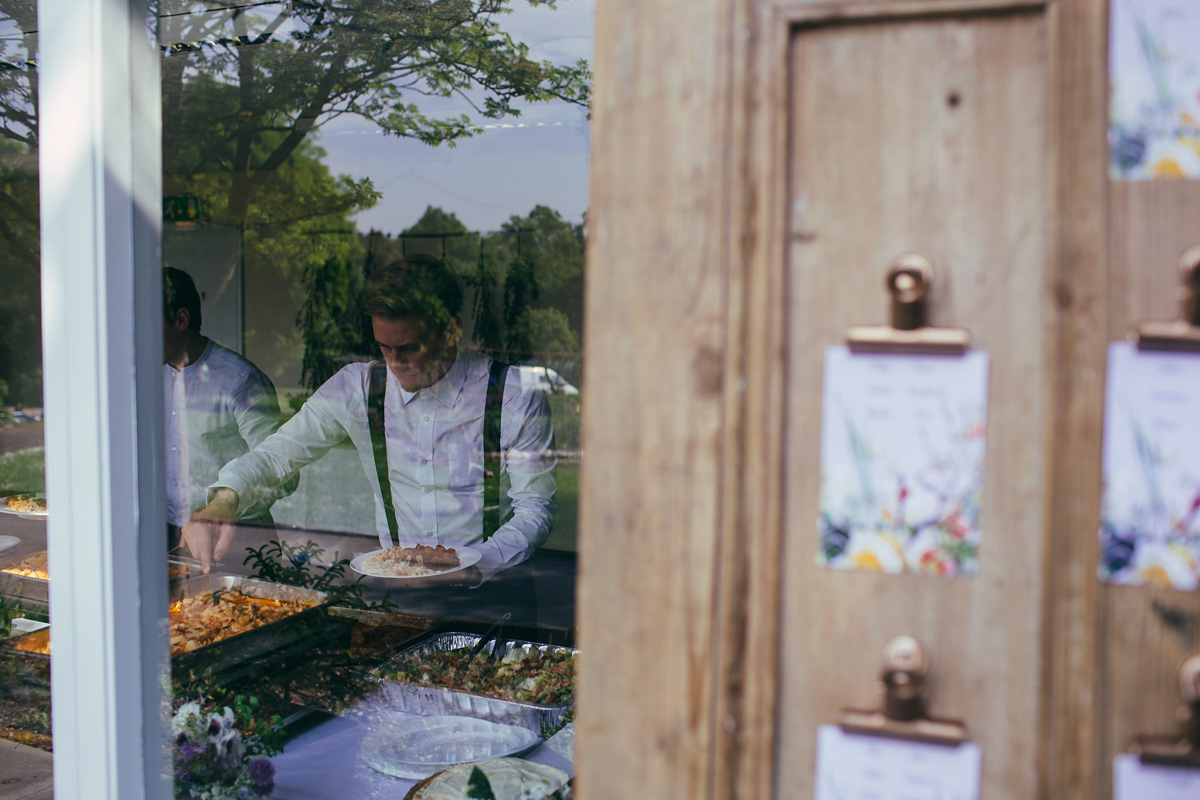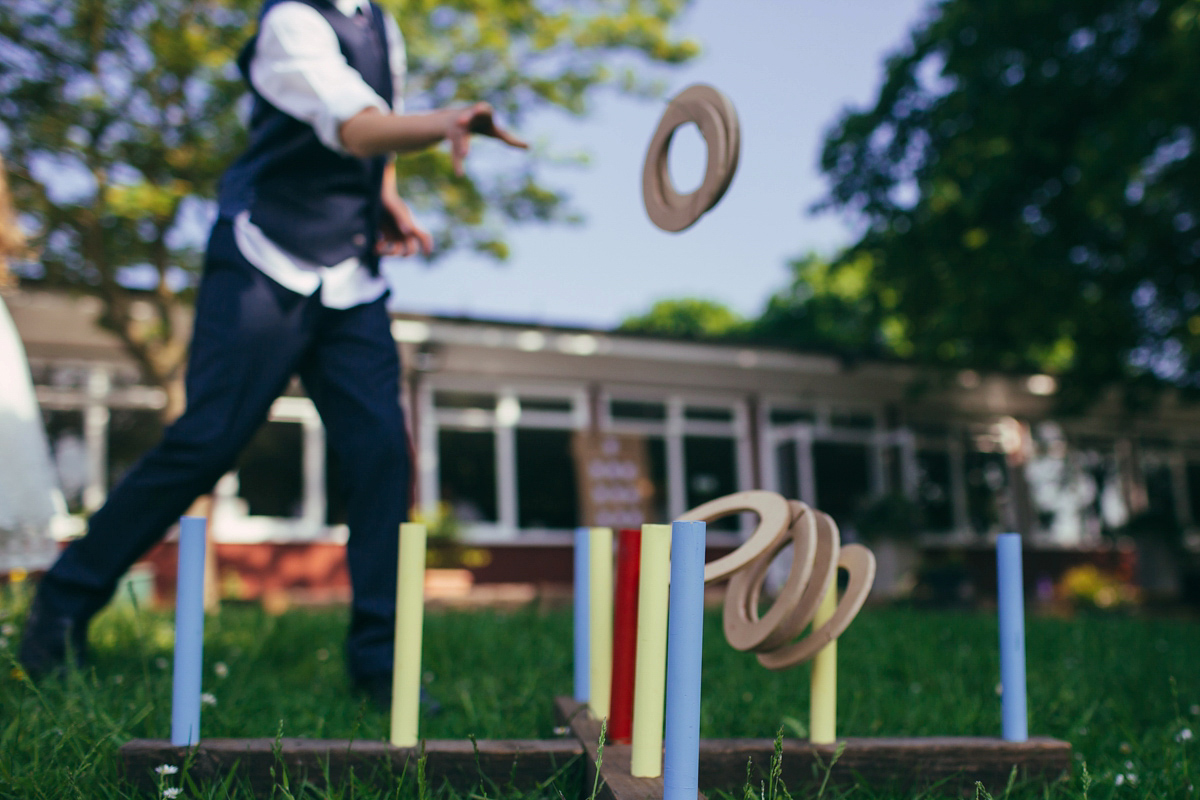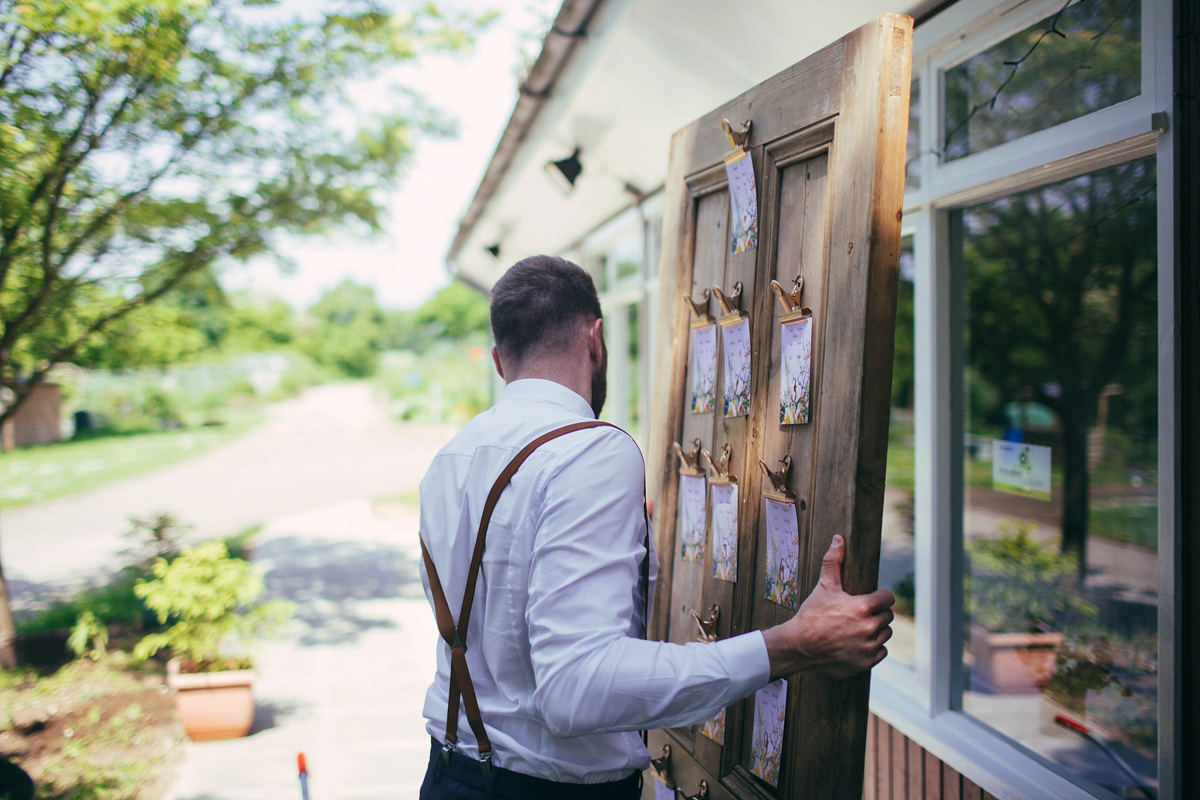 As well as the floral decor, Imogen and her mum painted hundreds of white feathers with gold paint and glitter to create garlands to hand around the venue and Lee's Mum made an incredible eucalyptus hanging for one of the walls.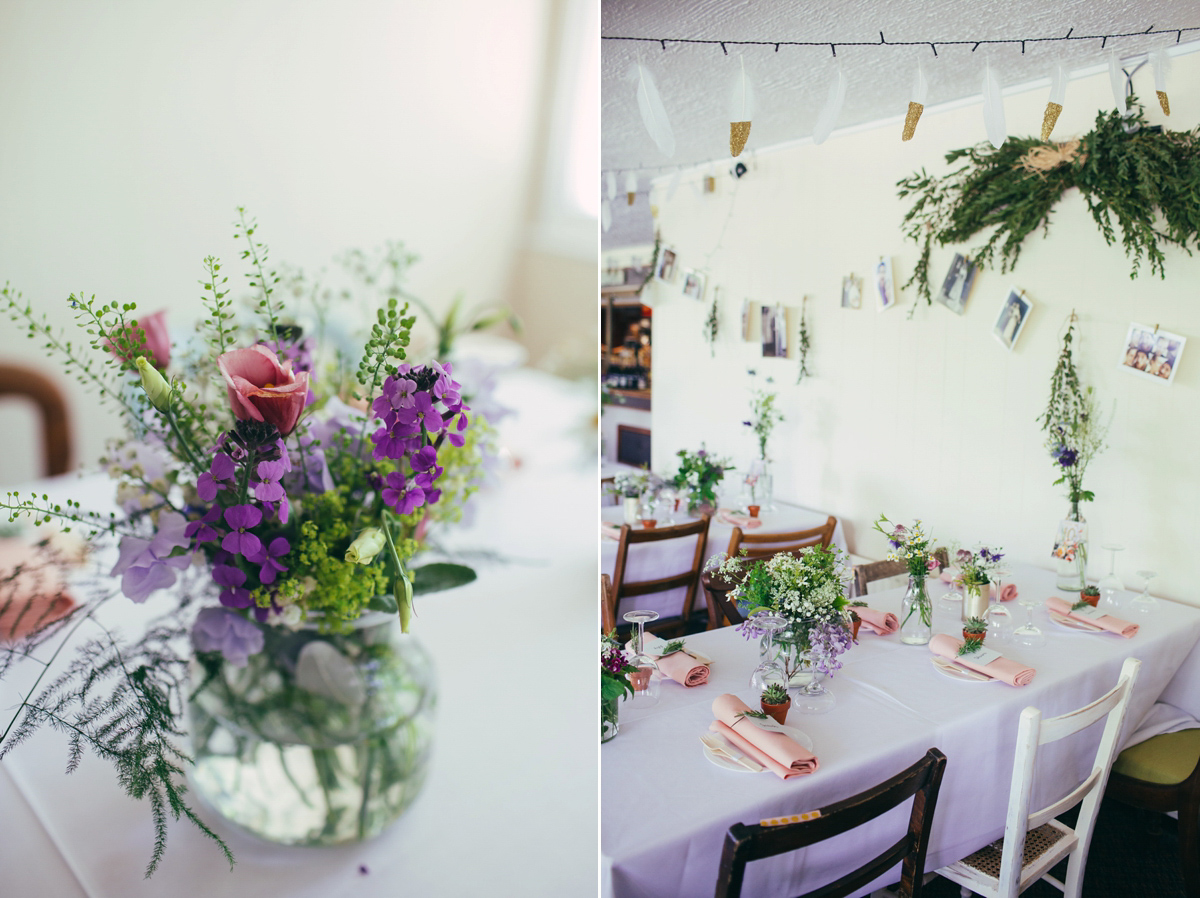 In-keeping with the plant theme of the allotment, Lee's mum potted a selection of small plants into terracotta pots for favours.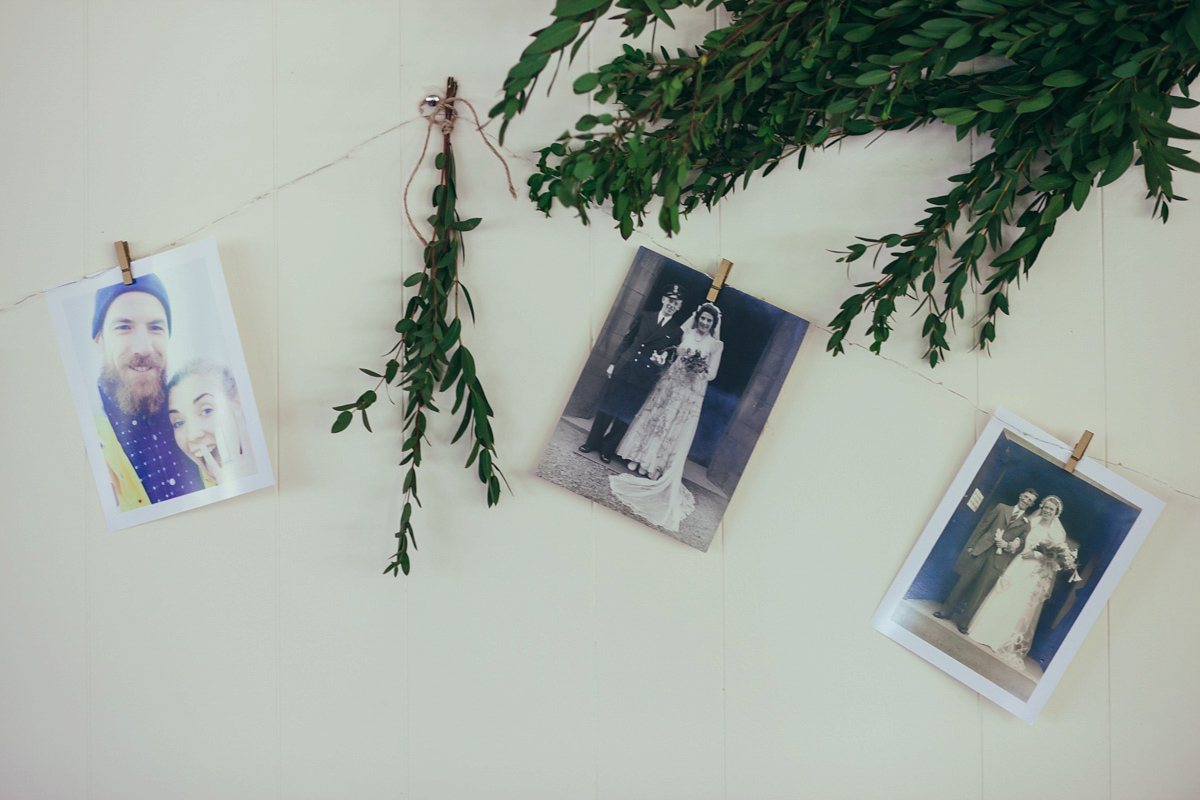 The spectacular cake was the work of Imogen's mum, who is understandably known in the family for her baking skills.
"We didn't want a traditional wedding breakfast for our food as we wanted everyone to be sharing.  As there were limited facilities at the clubhouse, we booked Cedar Cafe, a Lebanese restaurant, to cater. Their food is out of this world and went down an absolute storm.  Everyone loved the 'help yourself' feel.  For the evening we hired the Jabberwocky, a toastie van we'd seen at Brum YumYum, a food event in Kings Heath."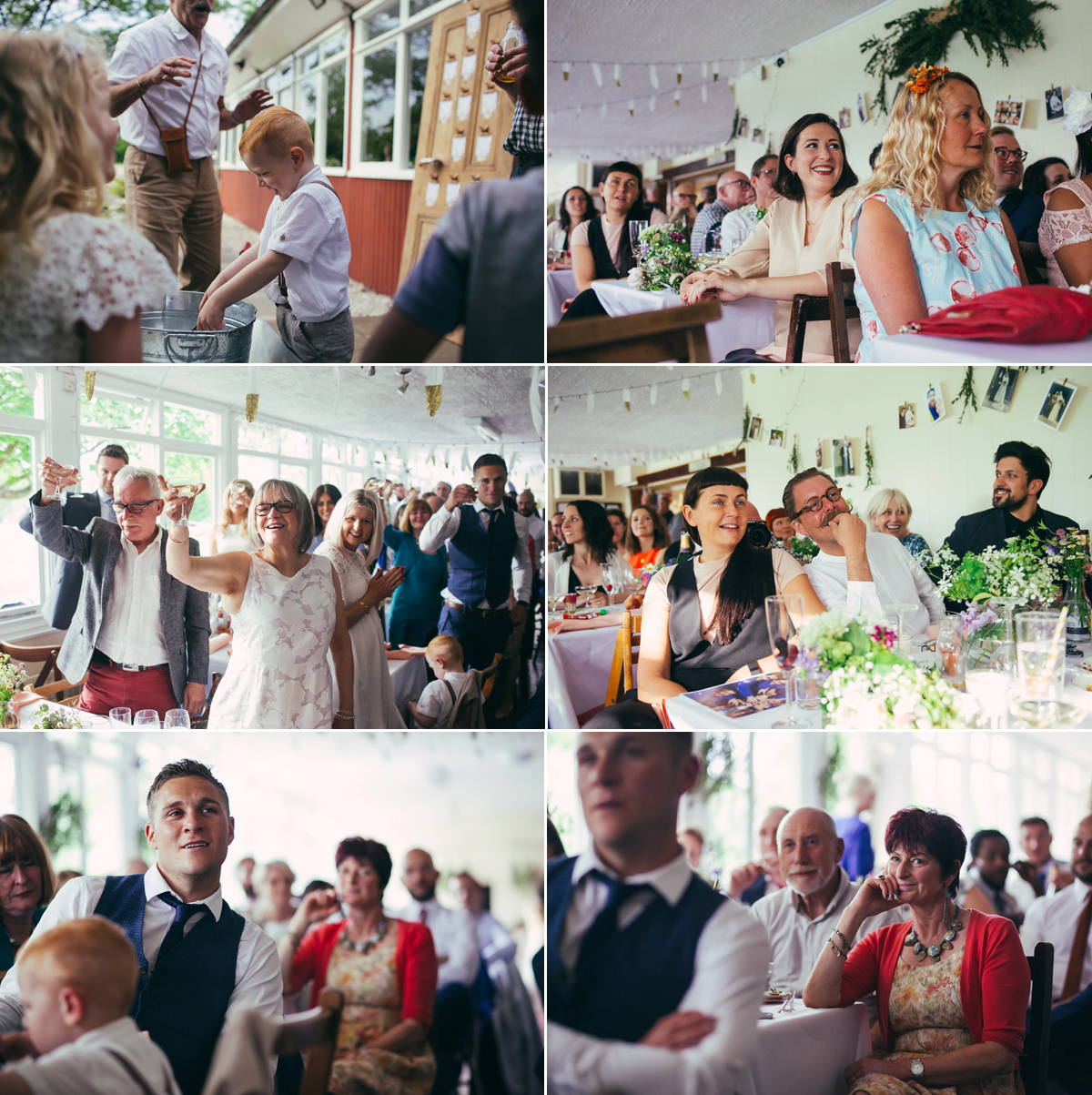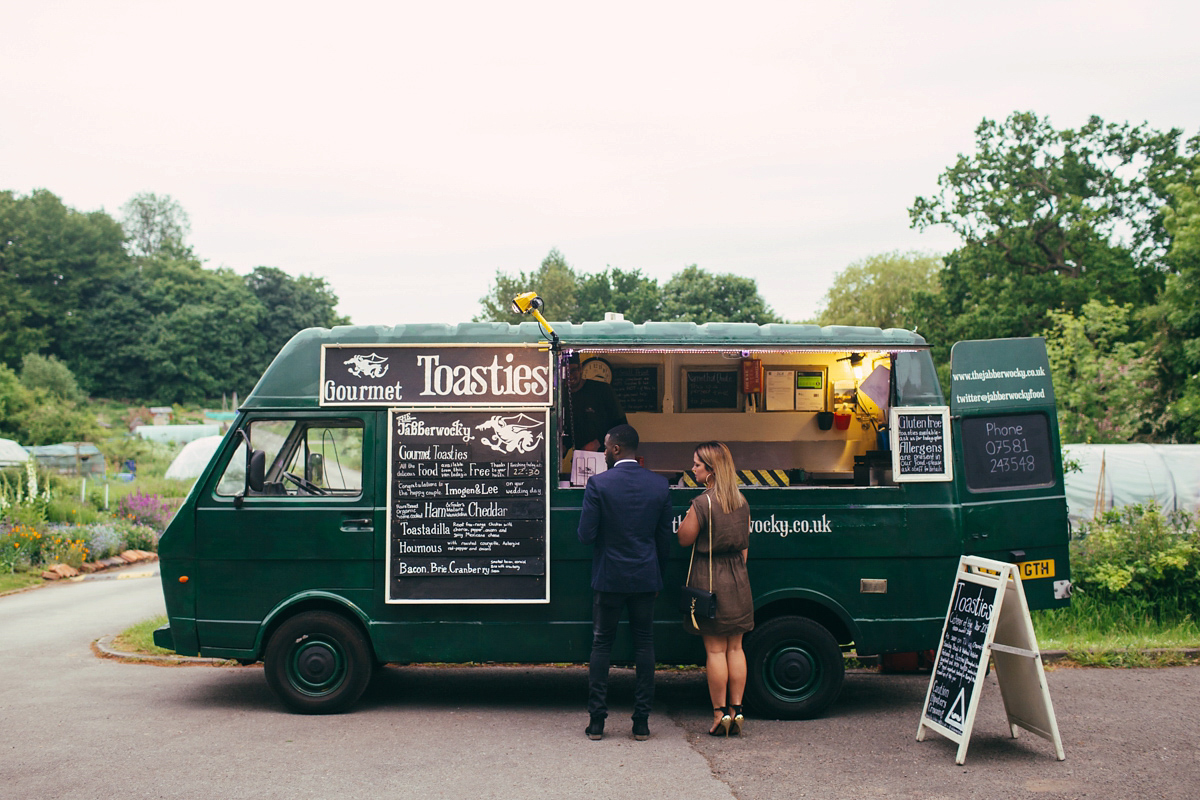 "We'd put so much energy and time into sorting out things  for the reception that we both sort of forgot about how special the blessing would be."
"My favourite part was definitely walking through the woods with my dad, and turning the corner to see all our family and friends waiting, with Lee at the at end; that filled me with so much love."
So many thanks to Imogen and Lee for sharing their beautiful day and to Greg for sharing his beautiful images.  Do we have any more allotment based weddings waiting in the wings?  For other days with a woodsy, or garden theme, take a look through our back catalogue of gorgeous weddings, just bursting with inspiring ideas.
Much love,
Shona x