Christmas is this week! I hope you've all been behaving yourselves to make sure St. Nick brings you something extra lovely, and that if you braved the shops this weekend, you didn't lose too many fingers in the last minute festive rush. I have to admit when I received the sensational images I'm about to share with you, I did feel a bit like Santa might have got a tiny bit confused and that Christmas had come early. Allow me to introduce you to Ian and Natasha Tomlin-Hall; Company Director of Grammatik and the Art Director of Stylist Magazine respectively. This lovely pair wed in velvety-rich, sumptuously atmospheric autumnal style on 8th October this year at Chiddingstone Castle in Kent.
"I have a slight tendency towards the darker things in life and neither of us wanted the look of a traditional white wedding. We wanted everything to have a really Gothic romantic feel to it without it being too 'emo'. I chose a really dark colour palette for the flowers and decided on black for the bridesmaids. Ian chose black for his wedding suit and a dark charcoal grey for the ushers, with burgundy ties to match the flowers. My invitations were all black and gold with a burgundy wax seal and the stationery and favours all followed suit."
Photography by Matt Horan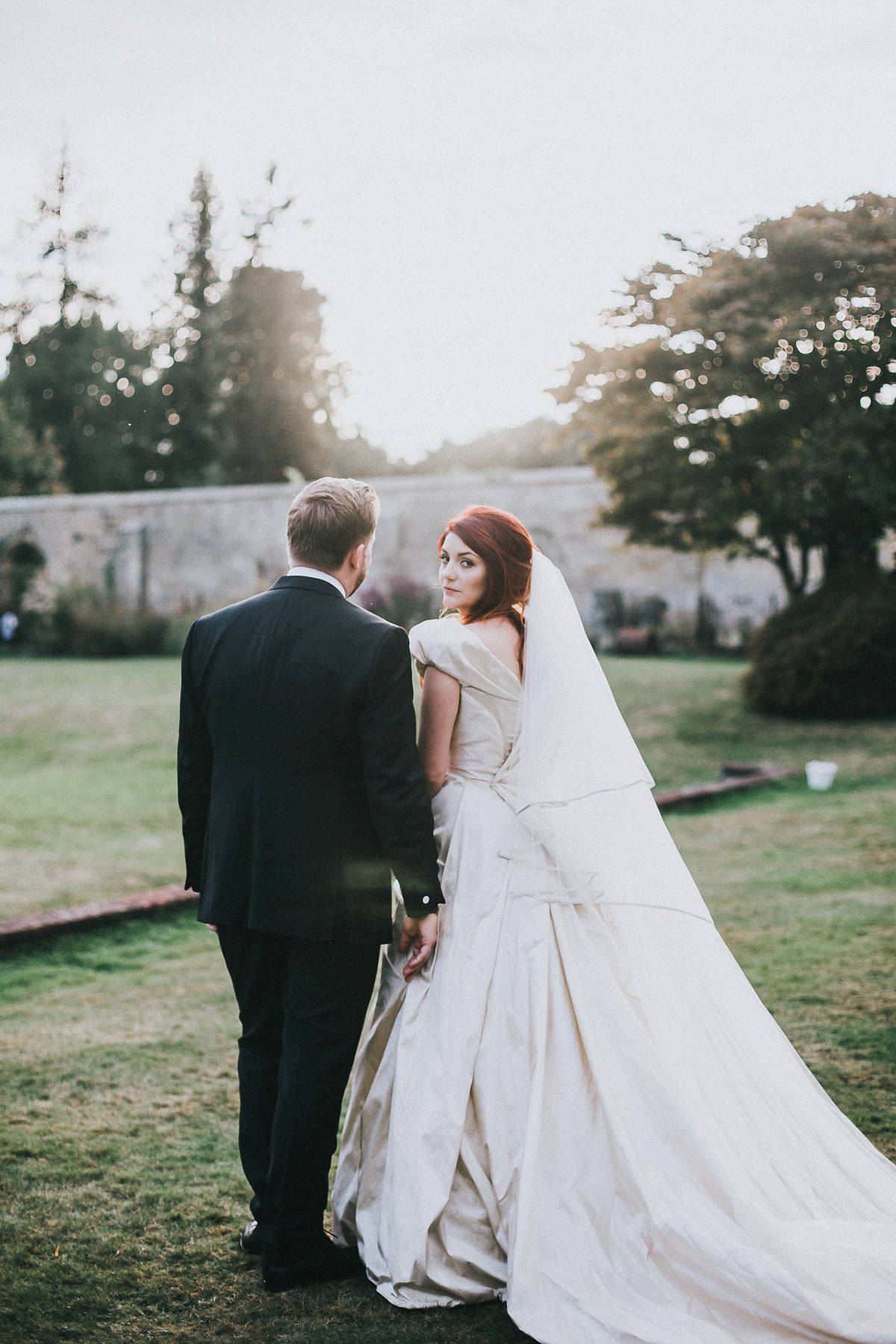 Such an achingly romantic day called for a seriously show-stopping gown; Natasha chose a variation of the Scarlet dress designed by Belinda Chorely of Beyond Burlesque, which just oozes sexy, feminine, dramatic glamour. Paired with a two-tiered veil and dark heels from M&S, Natasha looked every inch the timeless beauty with a cool, dark edge.
"I have always loved Dita von Teese's Vivenne Westwood wedding dress that she wore when she married Marilyn Manson, and this was a (better!) version of that dress. I chose an ivory, almost gold-like, colour silk and Belinda and I worked together to make a variation of the Scarlet dress she has on her website. I loved the look of it and it was so incredibly lightweight. I also felt that it would stand the test of time as it looked like it could be from any era." "We chose the castle Chiddingstone Castle as my parents live in Kent and it was only an hour's drive from London, where most of our guests were coming from. It also had a very Gothic feel and as we wanted our day to encapsulate Gothic romance, it was perfect. In total we had ten months to plan our wedding; it was the perfect amount of time for us."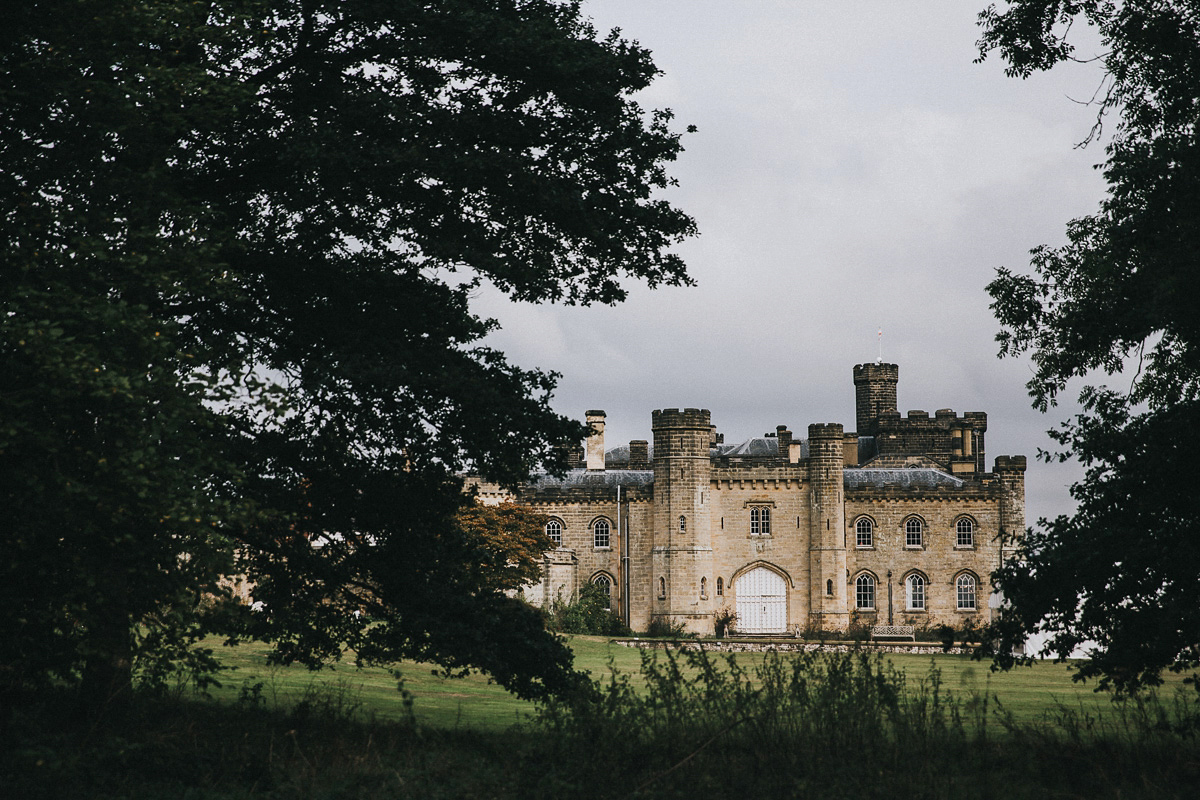 I haven't come across the utterly beautiful work of Matt Horan Photography before, but this talented creative is now firmly on my wedding radar.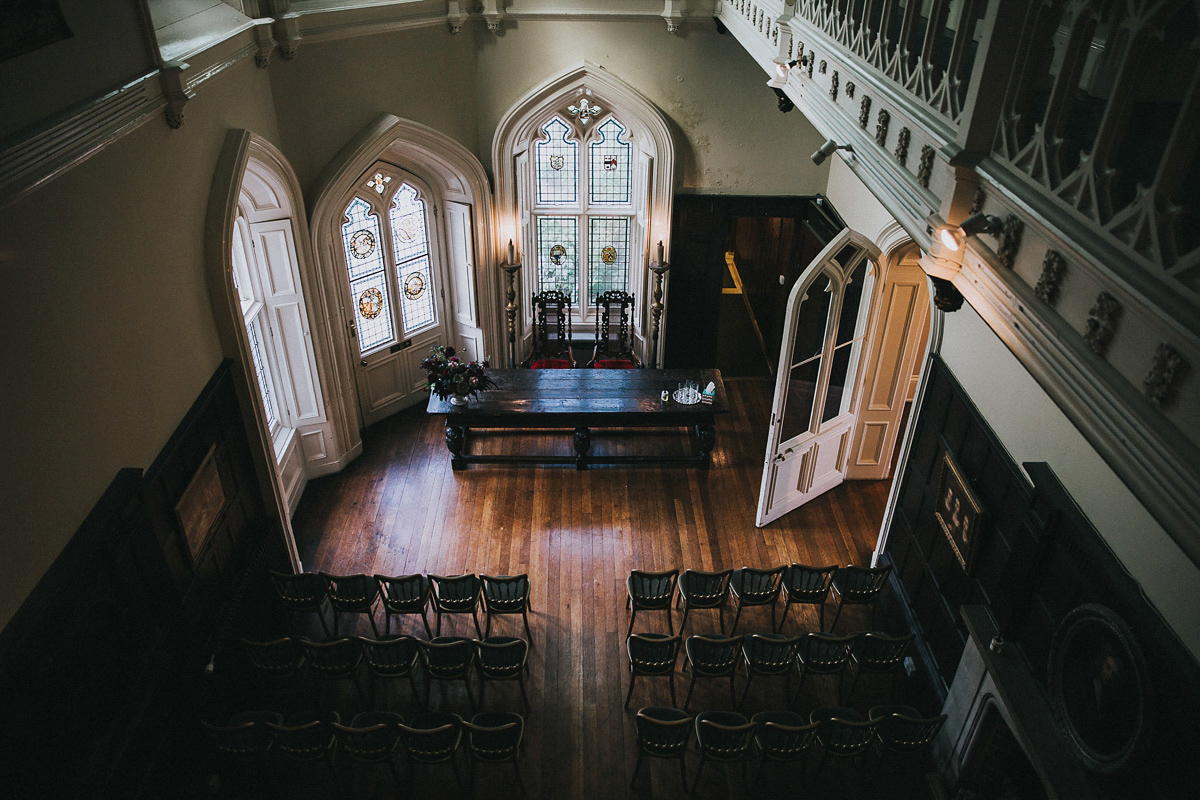 I absolutely adore this style of dark, atmospheric photography; I can really feel the intimate story of Natasha and Ian playing out in front of my eyes through these divine stills.
Everything has an air of brooding mystery and of heady, passionate romance – Matt has well and truly encapsulated the couple's Gothically romantic feel.
"I cannot tell you how excellent Matt Horan was, and many of the guests thought he was a close friend of the family as he fitted in so well. The standard of photography was just brilliant and he put everyone at ease as well as just being an all-round great guy. As I work for a magazine, my standards when it comes to this sort of thing are pretty high, but he totally exceeded all our expectations."
As an art director, it felt totally natural for Natasha to design all of the stationery herself. She had her creations printed by Blush and learned calligraphy with À L'aise in order to address her own envelopes. A bespoke wax seal was the perfect finishing touch. And in keeping with all of this creative masterfulness, Palais Flowers supplied the most heart-stoppingly gorgeous blooms.
Velvety dark dahlias nestle alongside luscious greenery and antique-pink roses – just divine. You simply must check out more weddings involving these gloriously creative florists.
"Palais Flowers perfectly encapsulated everything I wanted from my flowers and loved the Gothic romantic brief. My bridesmaids all wore the same black skirt and a mix of different tops from Coast, and as a gift I bought them all monogrammed bracelets, which they wore on the day with their own earrings."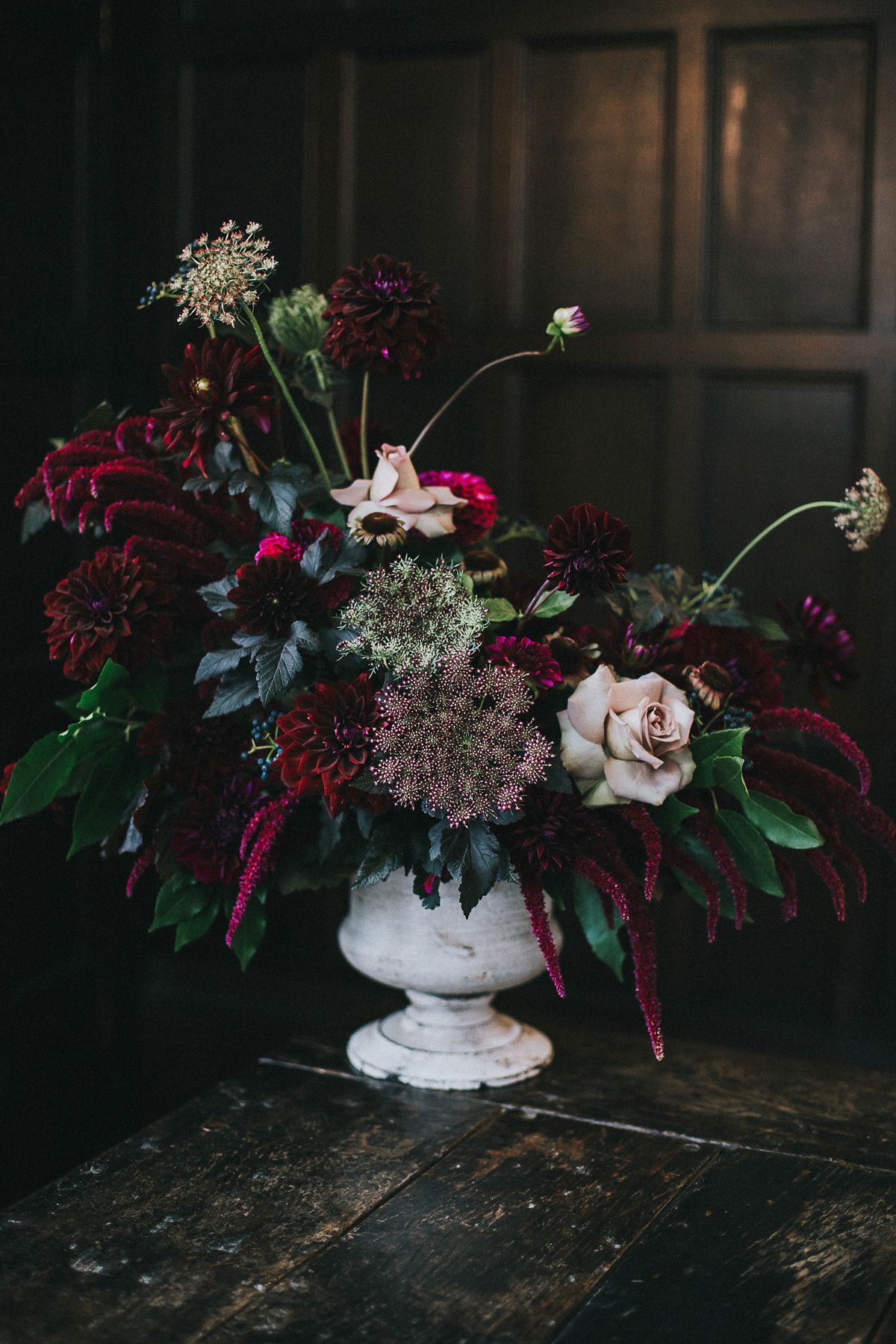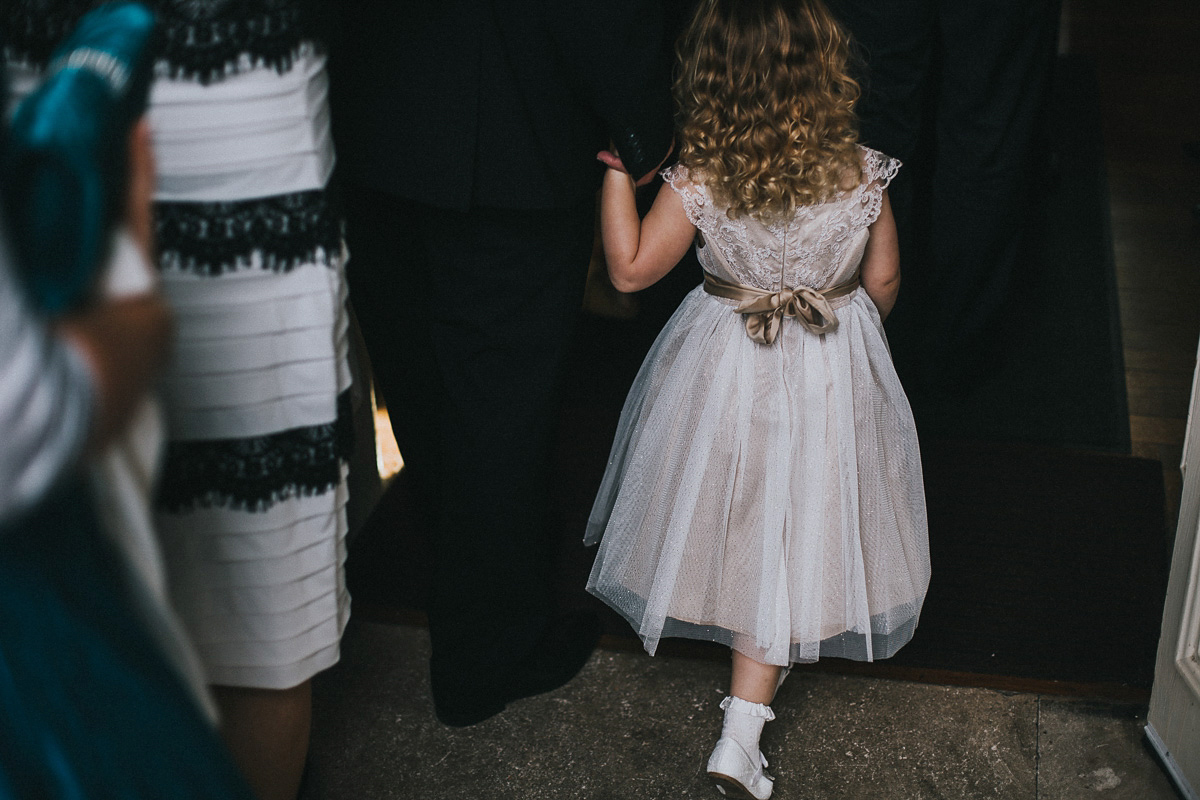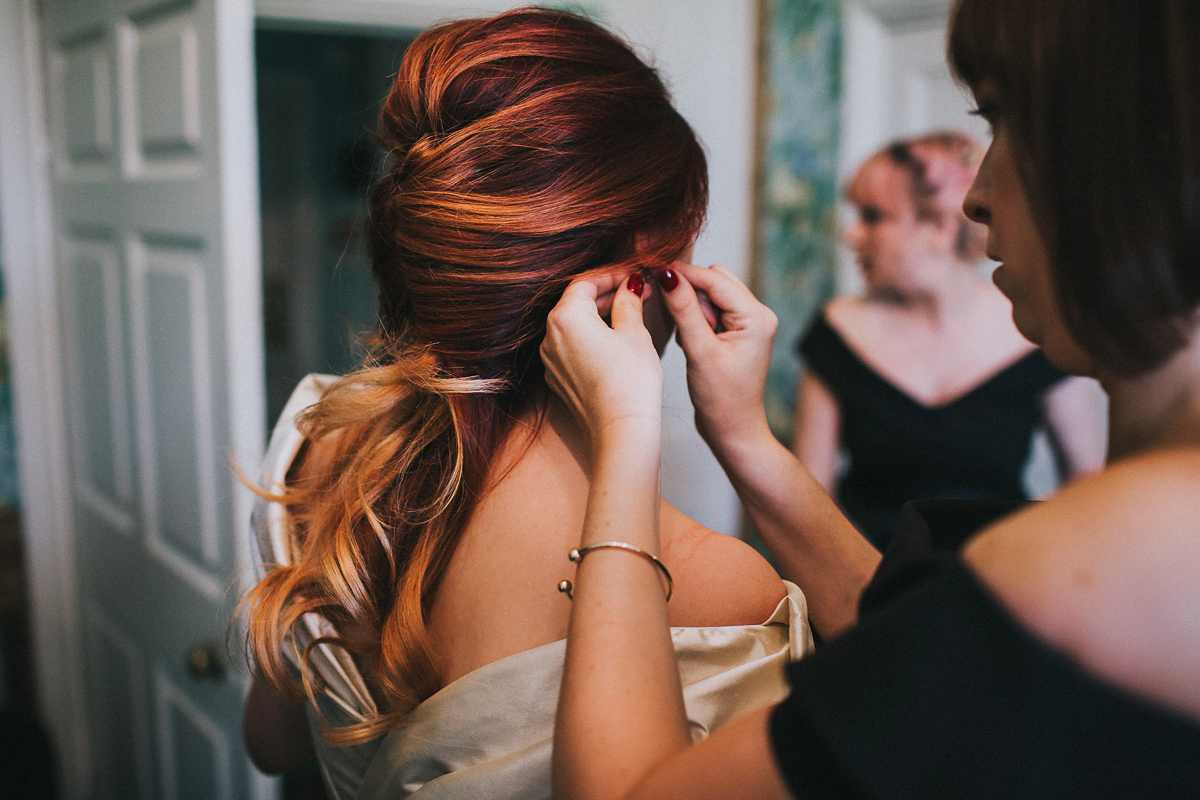 "I went to Liberty's and their scent expert helped me pick out La Route d'Emeraude based on what I already wear. I wore a string of my mum's freshwater pearls round my neck with the same pearls made into studs for my ears, with a Victorian gold and turquoise crescent moon brooch Ian gave me as a gift on the morning of the wedding."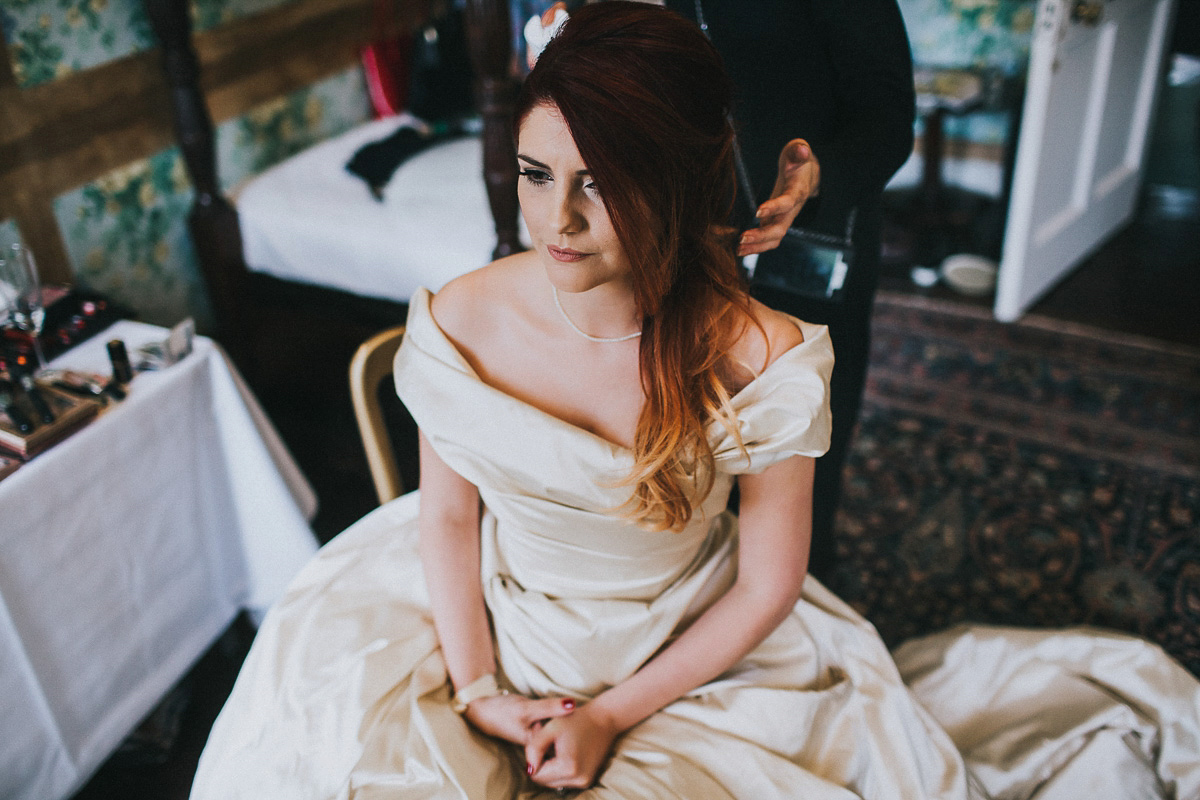 "I also wore a ribbon round my wrist with a horseshoe pendant borrowed from a friend, a wishbone pendant that belonged to my great aunt on my maternal side and a locket that belonged to my grandmother on my paternal side; I love the way they jangled together when I moved my hands."
Natasha's long-time hairdresser Issey Hyde expertly coiffed her flowing ombre locks, while Julia Wren, who came recommended by Issey, mastered our bride's perfect smokey eyes and glossy lips.
"Issey Hyde is my normal hair dresser and did a phenomenal job not just with me, but all the bridesmaids and my mum too. Julia was also fantastic and a real calming influence on the extremely hectic morning of the wedding. She did an excellent job."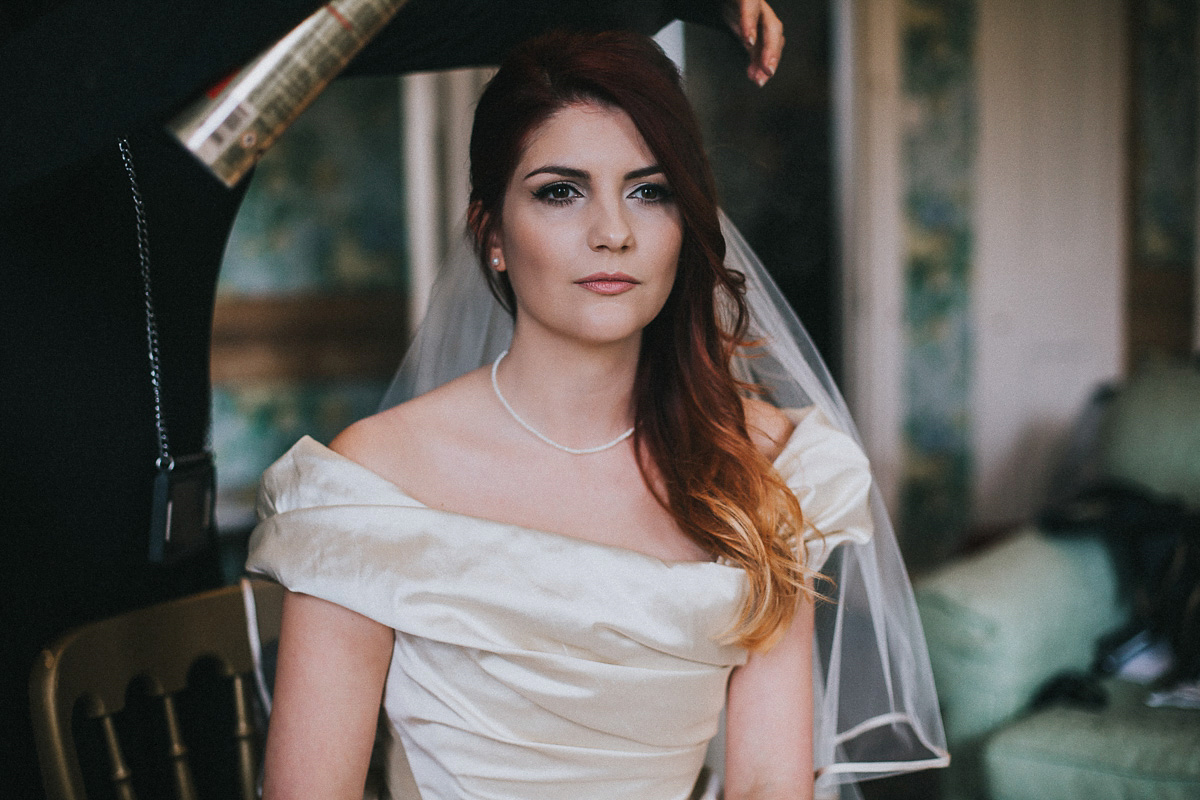 Ian, meanwhile, looked seriously cool in a Mark Powell London ensemble of stylish black suit, knitted ivory tie and vintage tie pin. He also wore vintage Art Deco cufflinks which were a gift from Natasha on the morning of the wedding, and the groomsmen wore knitted burgundy ties from Mark Powell.
"We actually met on Tinder about two and a half years ago and then Ian proposed to me in New York in early December last year with a beautiful Art Deco 1930's ring. We wanted to get married this year for sure, and originally wanted a September wedding, but as is the case with a lot of places, the venue dictated the date we finally went for in October. It actually worked out better as the feel of our wedding was very autumnal."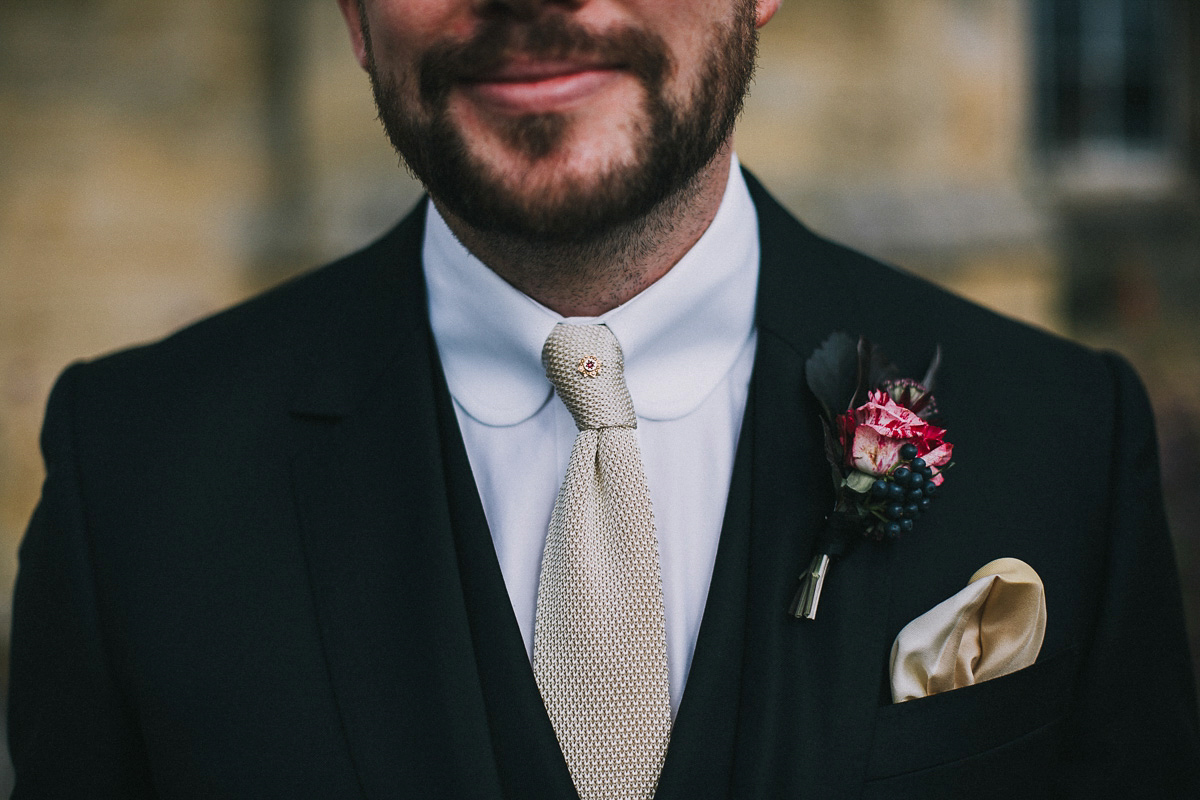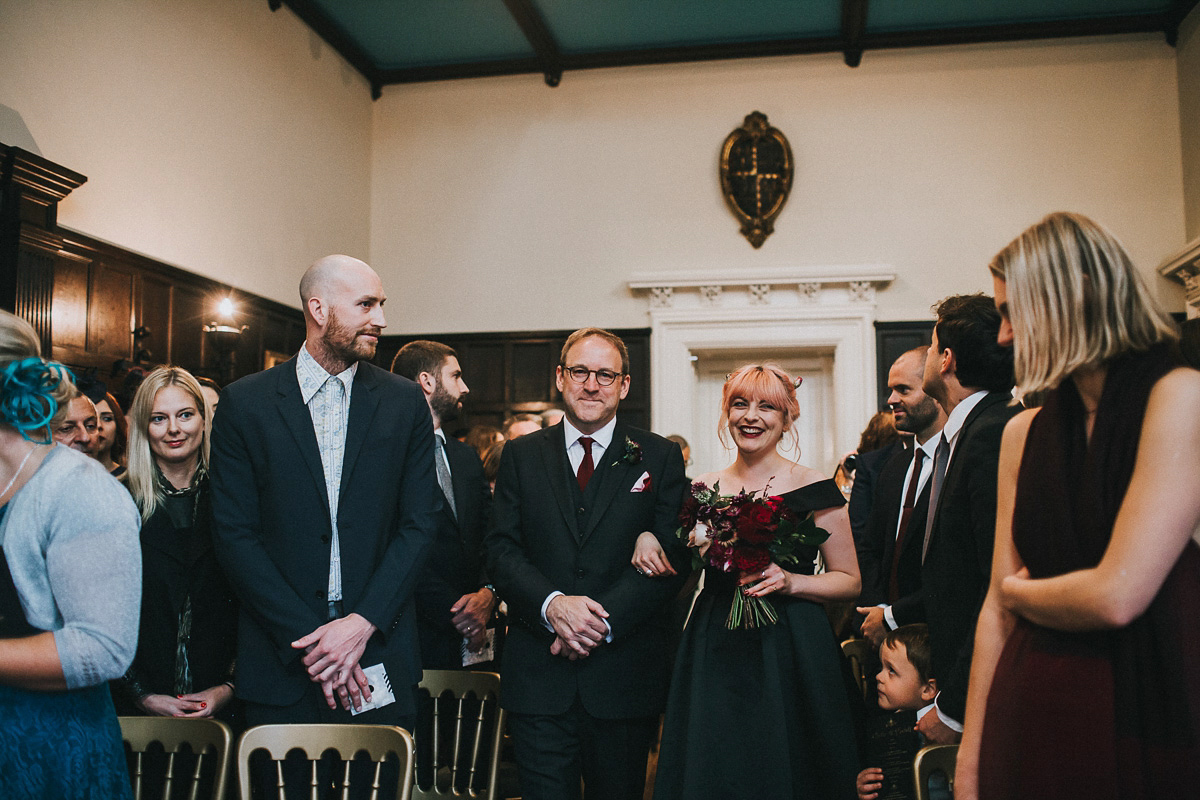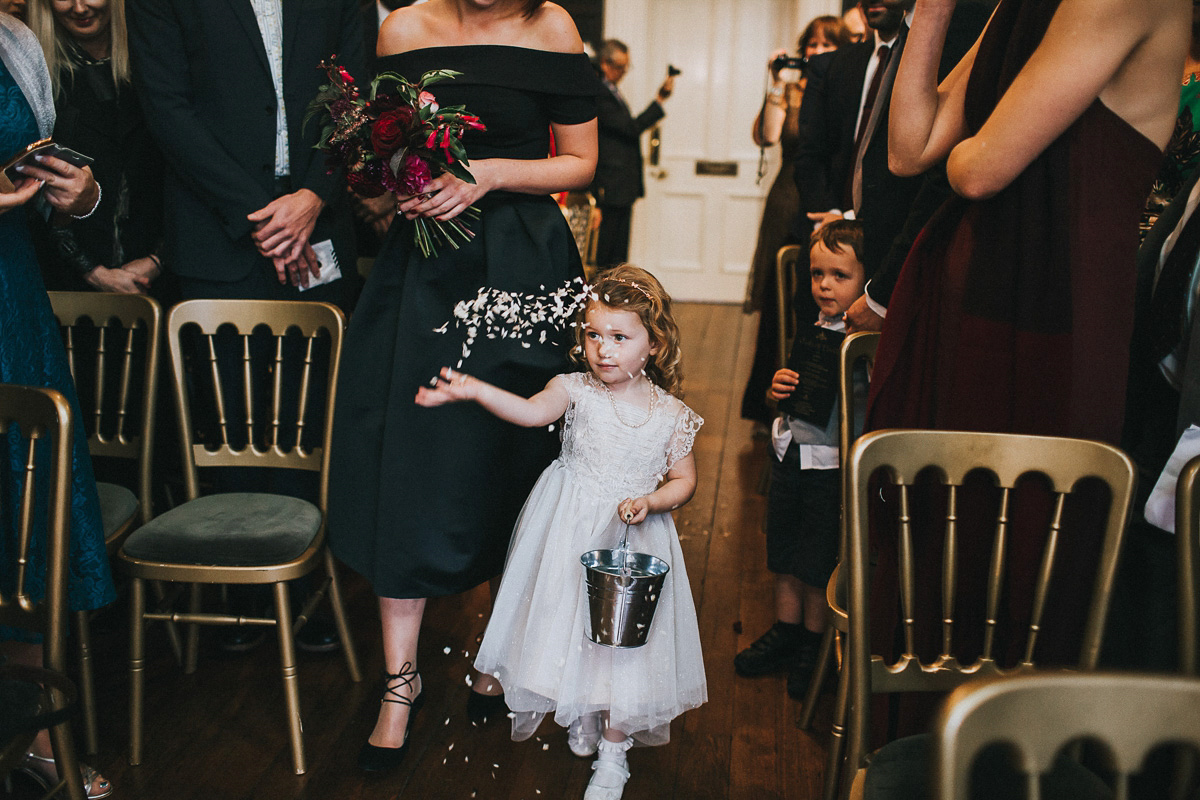 While guests entered the ceremony space to such cinematic music classics as Jurassic Park, ET and Superman, Natasha walked down the aisle on her Dad's arm to Jupiter, The Bringer of Jollity from The Planets by Gustav Holst.
"My old singing teacher Angela Henckel sang 'Song to the Moon' from Rusalka by Dvorak and we had 'The day the saucers came' by Neil Gaiman as a reading. I found the poem searching on Google when we were in a pub and I read it out to Ian and we both had tears in our eyes by the end of it! The other was an extract from 'A Farewell to Arms' by Ernest Hemingway, who is one of Ian's favourite writers."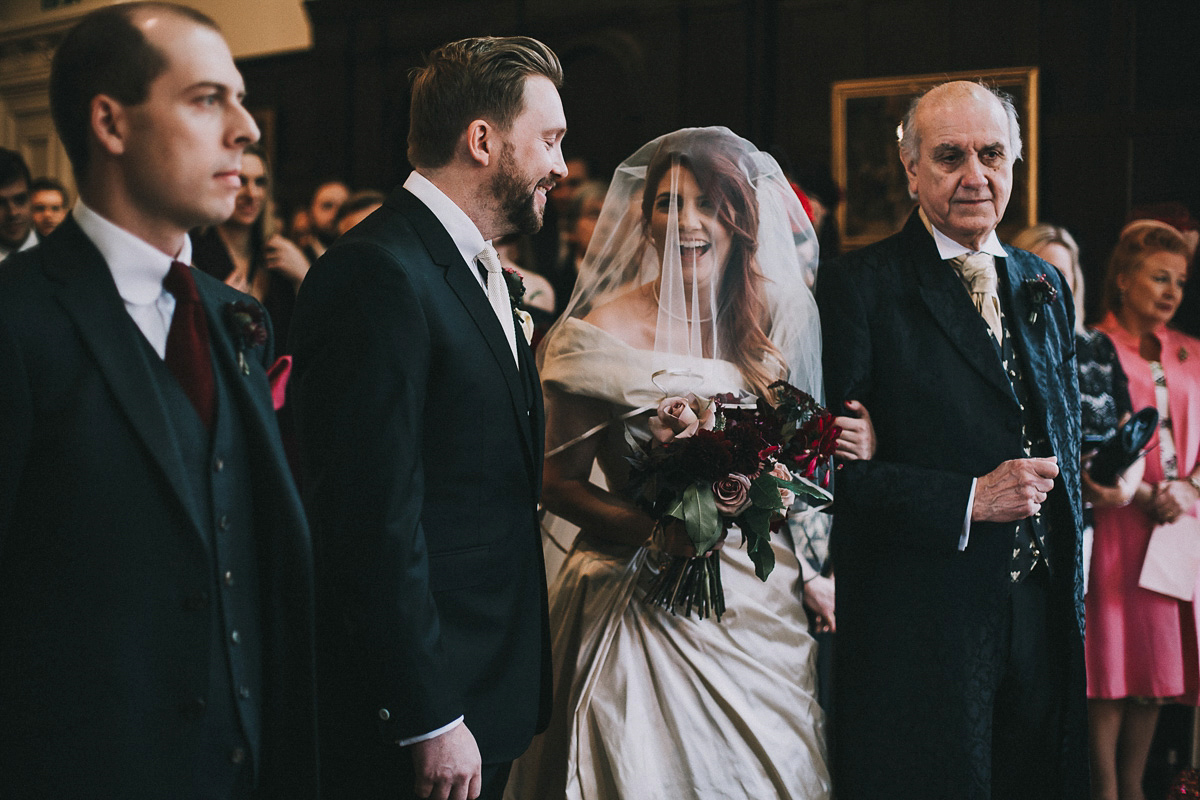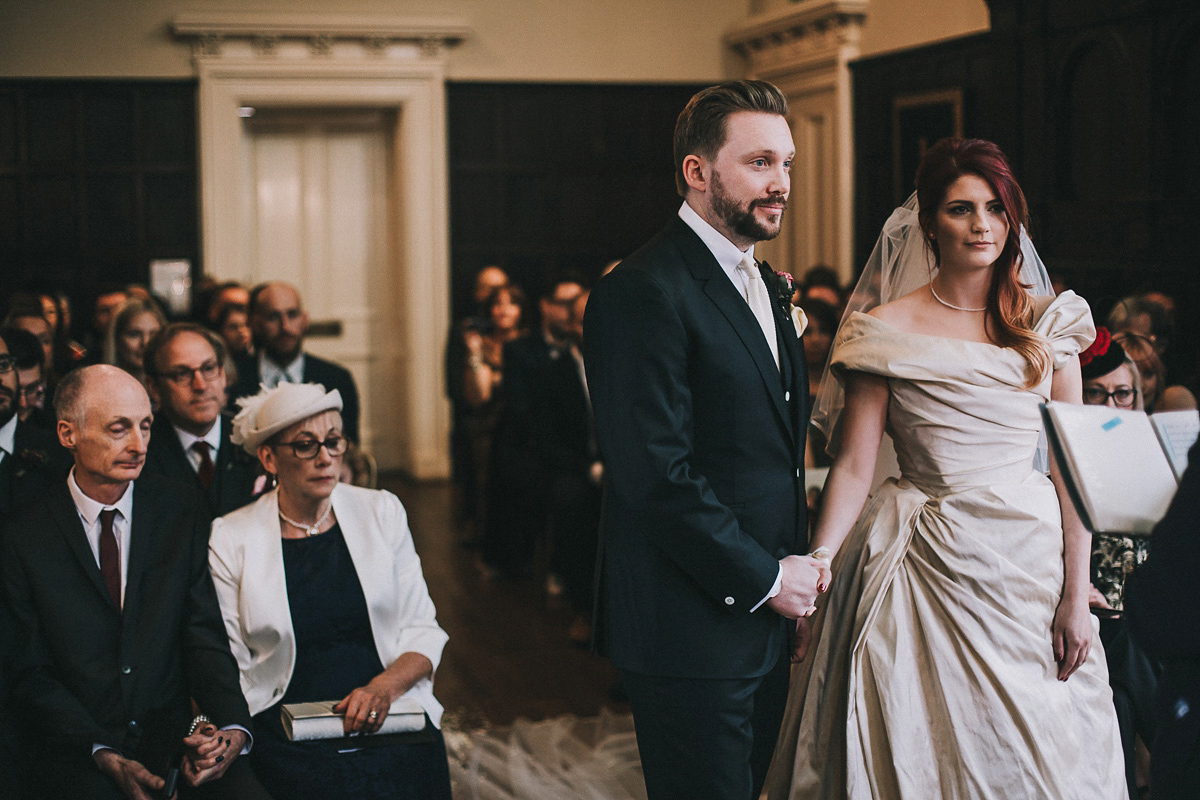 Glowing light softly filtering through the windows behind them, Natasha and Ian exchanged vows and rings by Georgina Boyce Fine Jewellery, whose creations Natasha found at a press day. While Ian opted for a rose gold band, Natasha has a thin band crafted in platinum.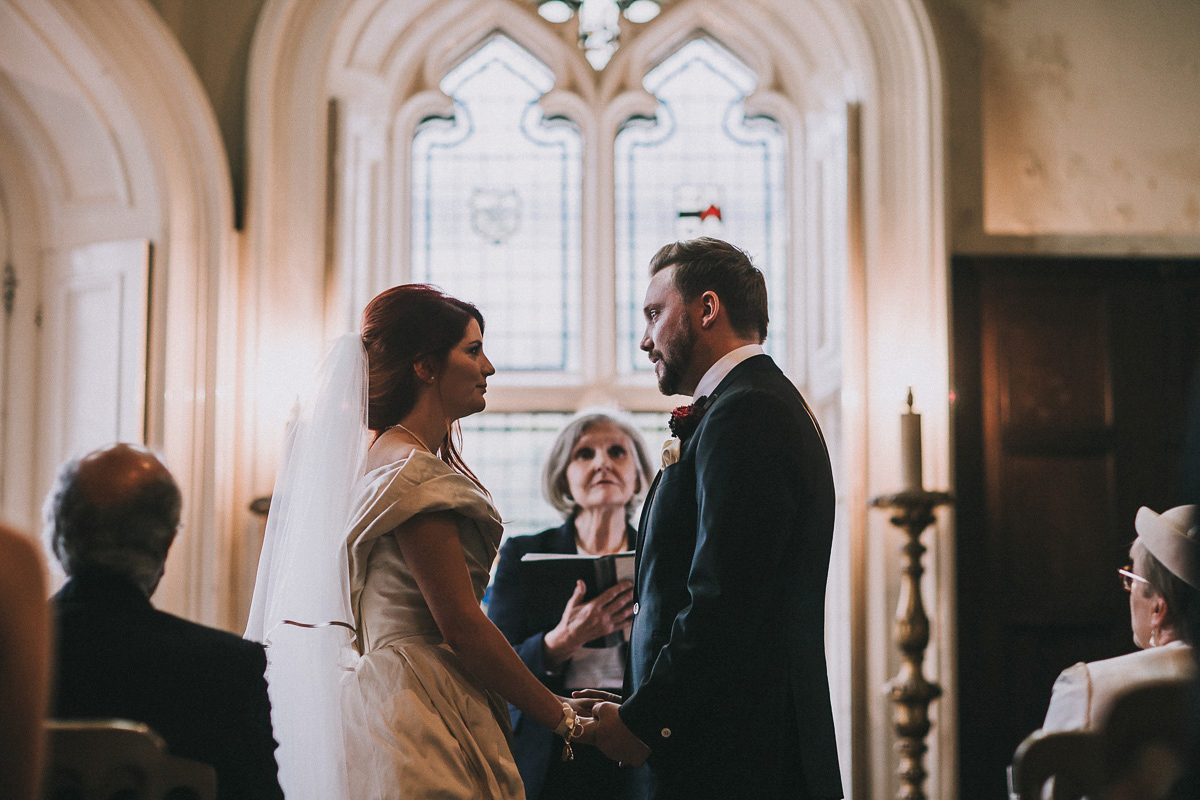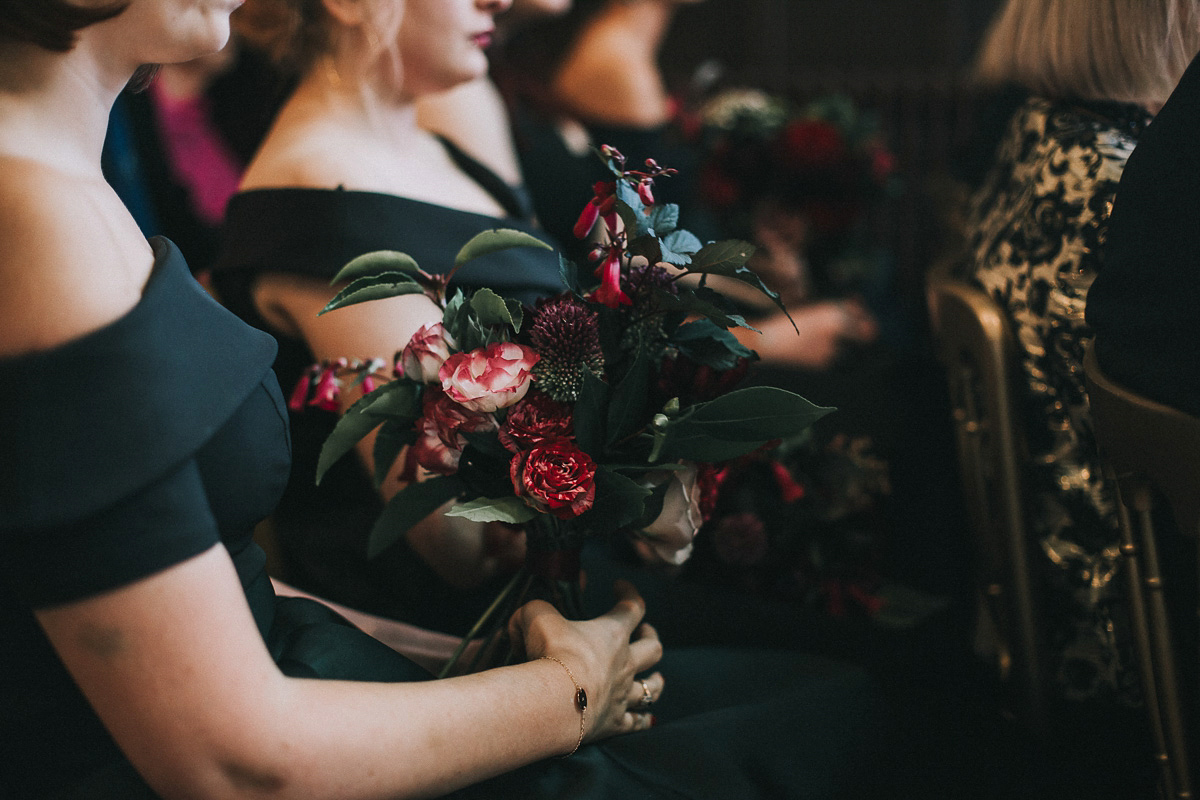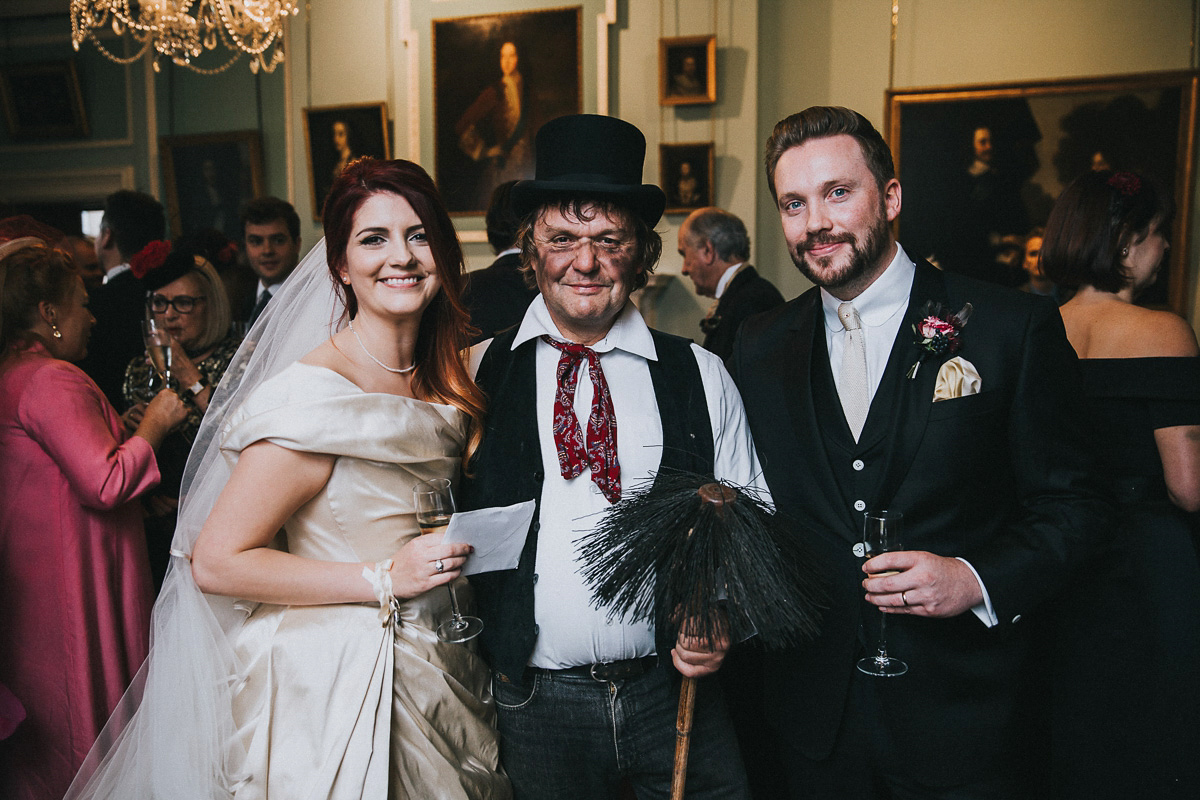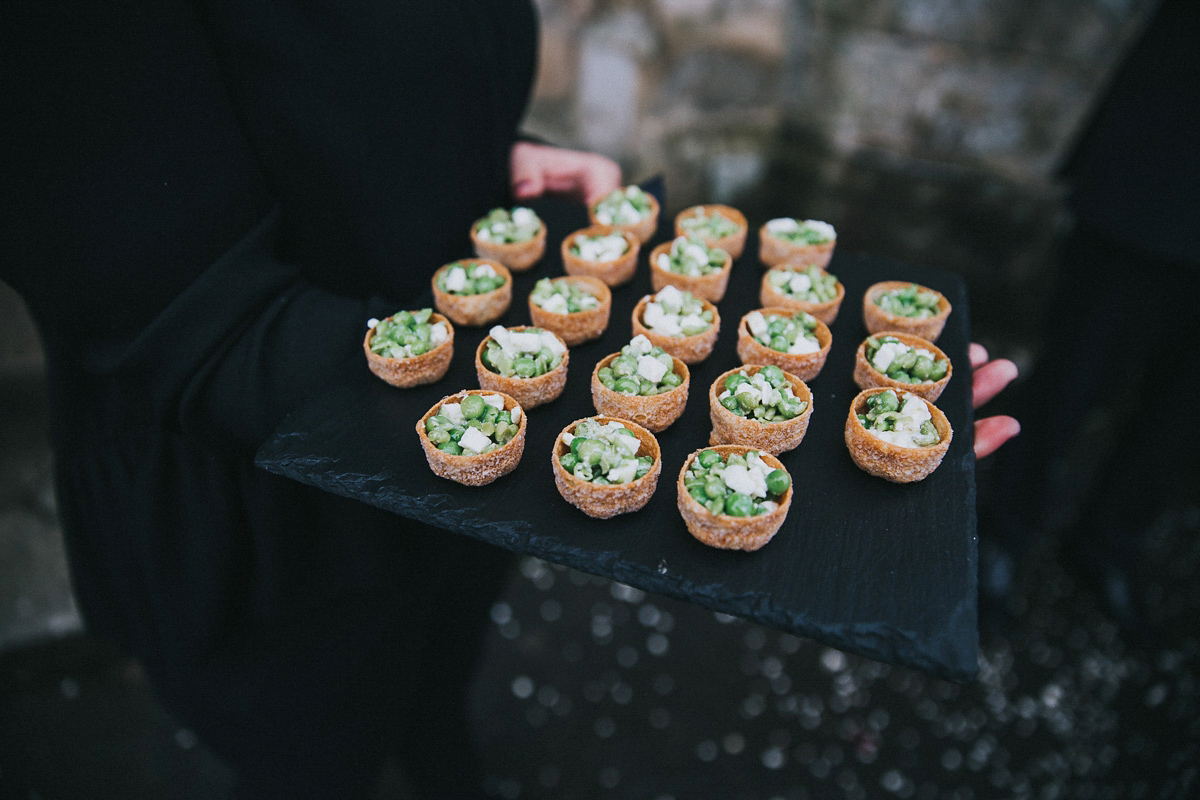 Bridesmaids in black has to be one of my favourite wedding details – so chic alongside the sweet flower girl in her soft gold dress from Monsoon; you can see more of their pretty creations on their Little Book for Brides listing.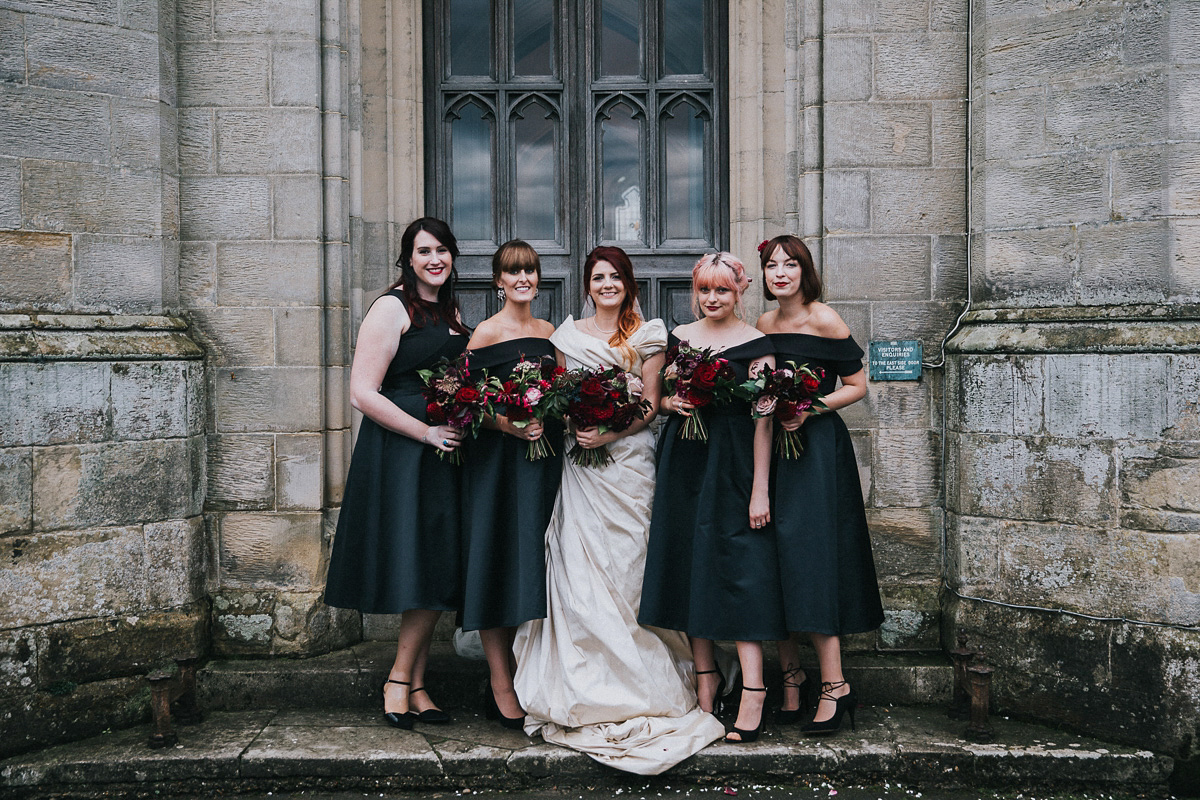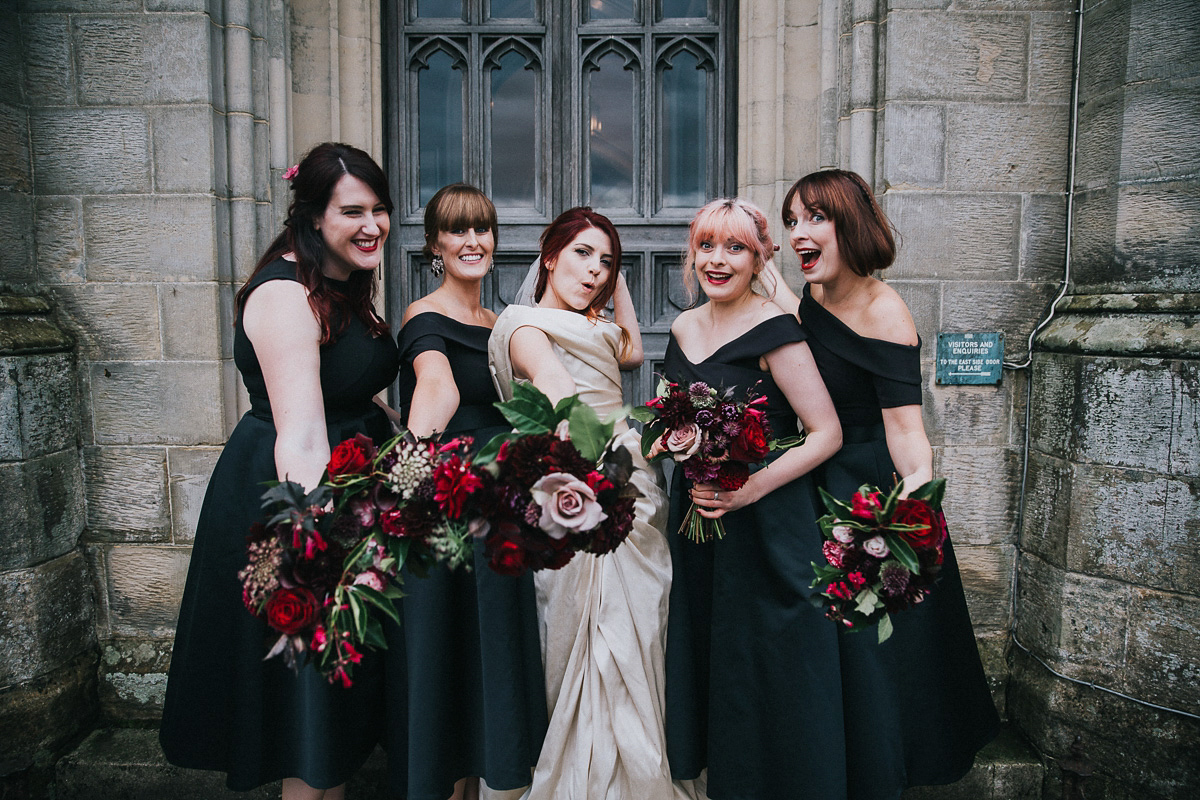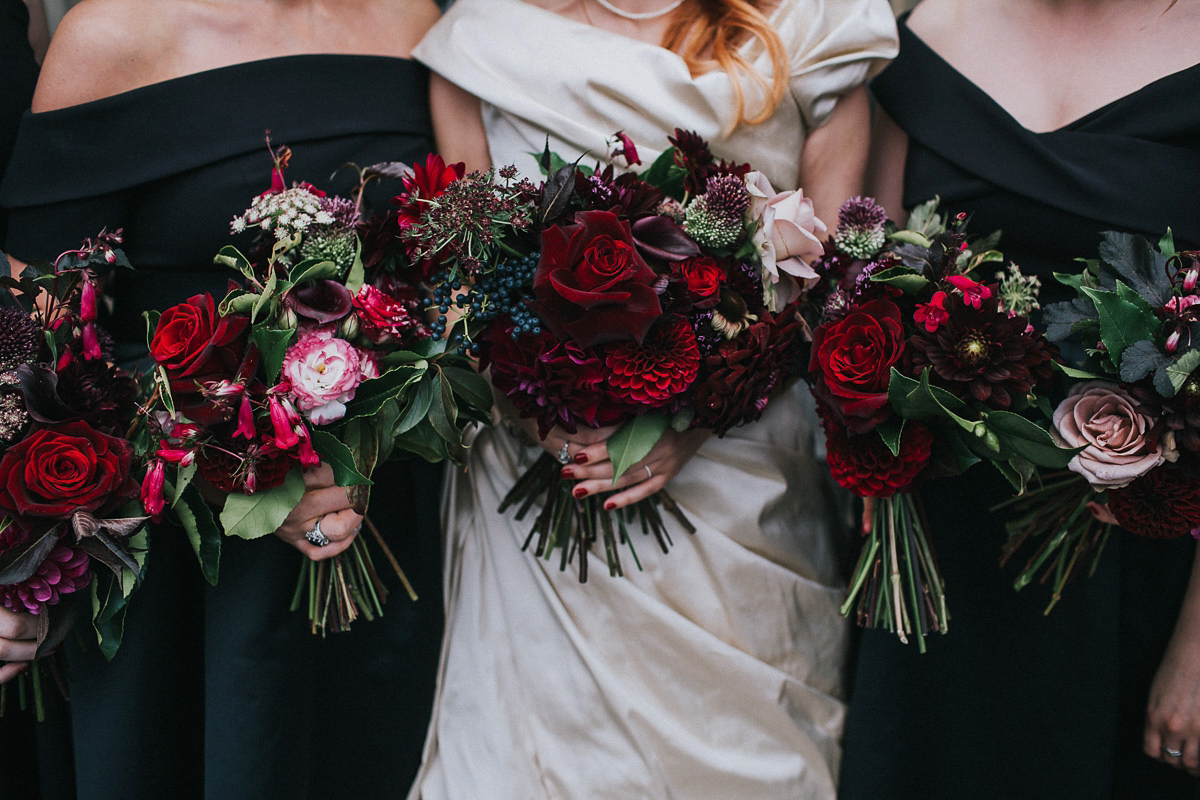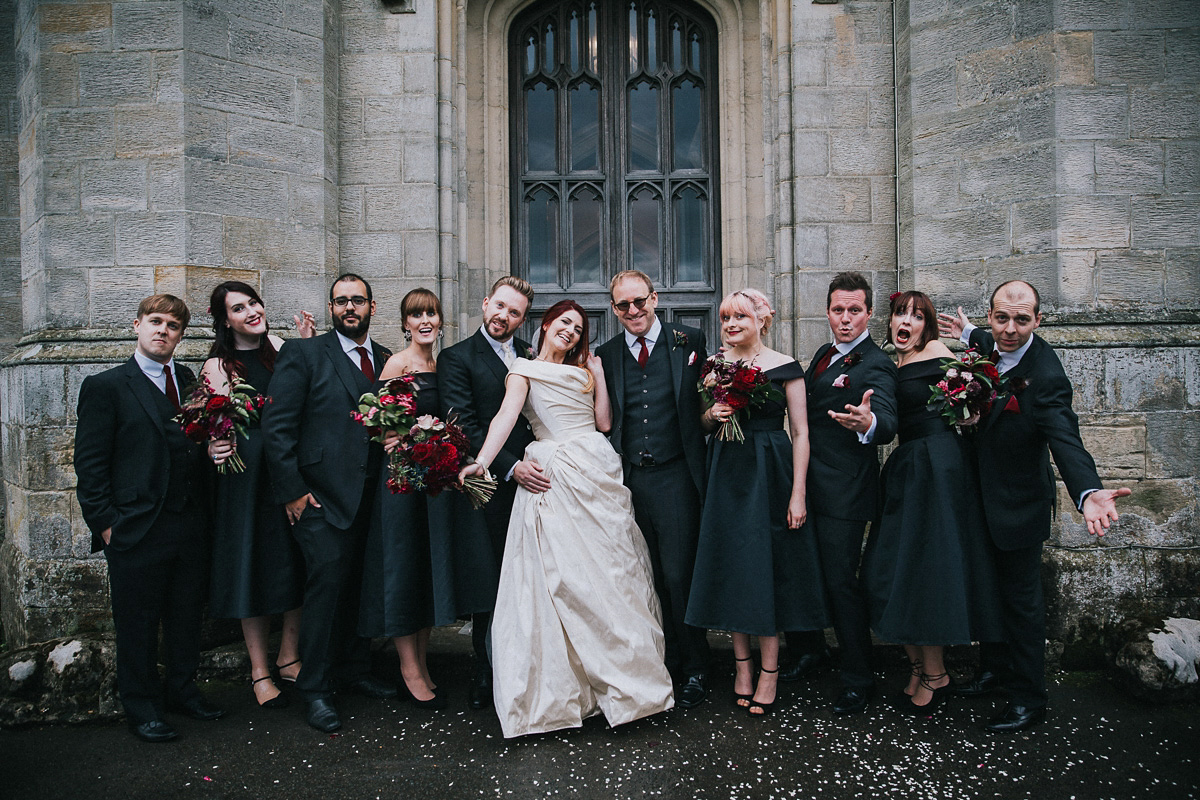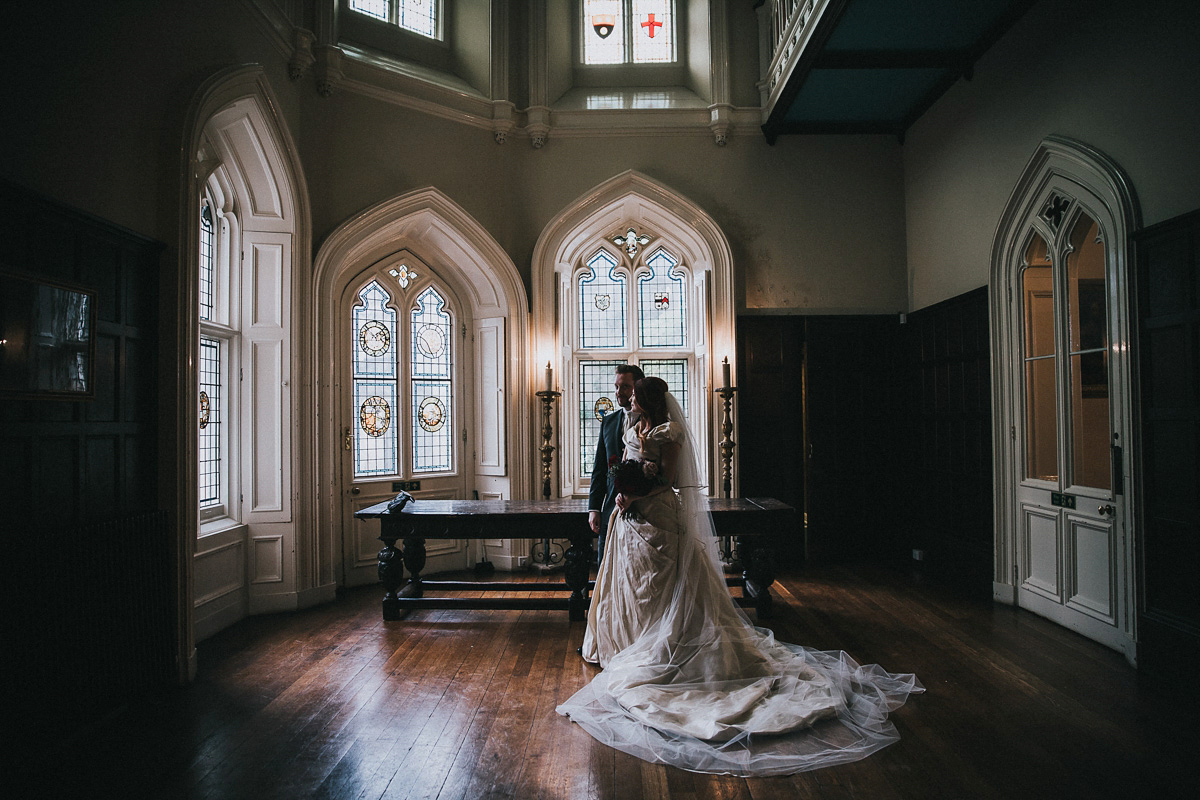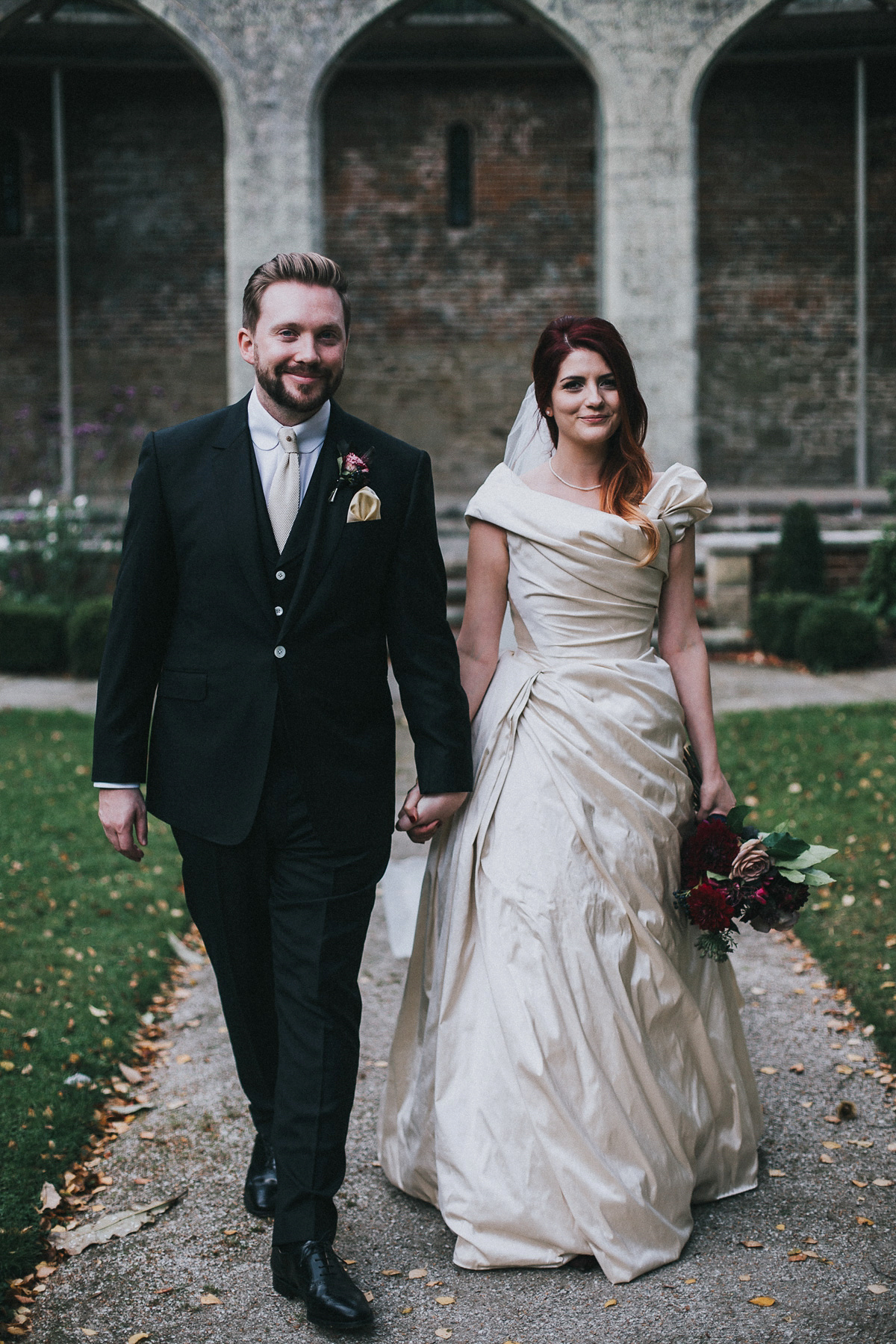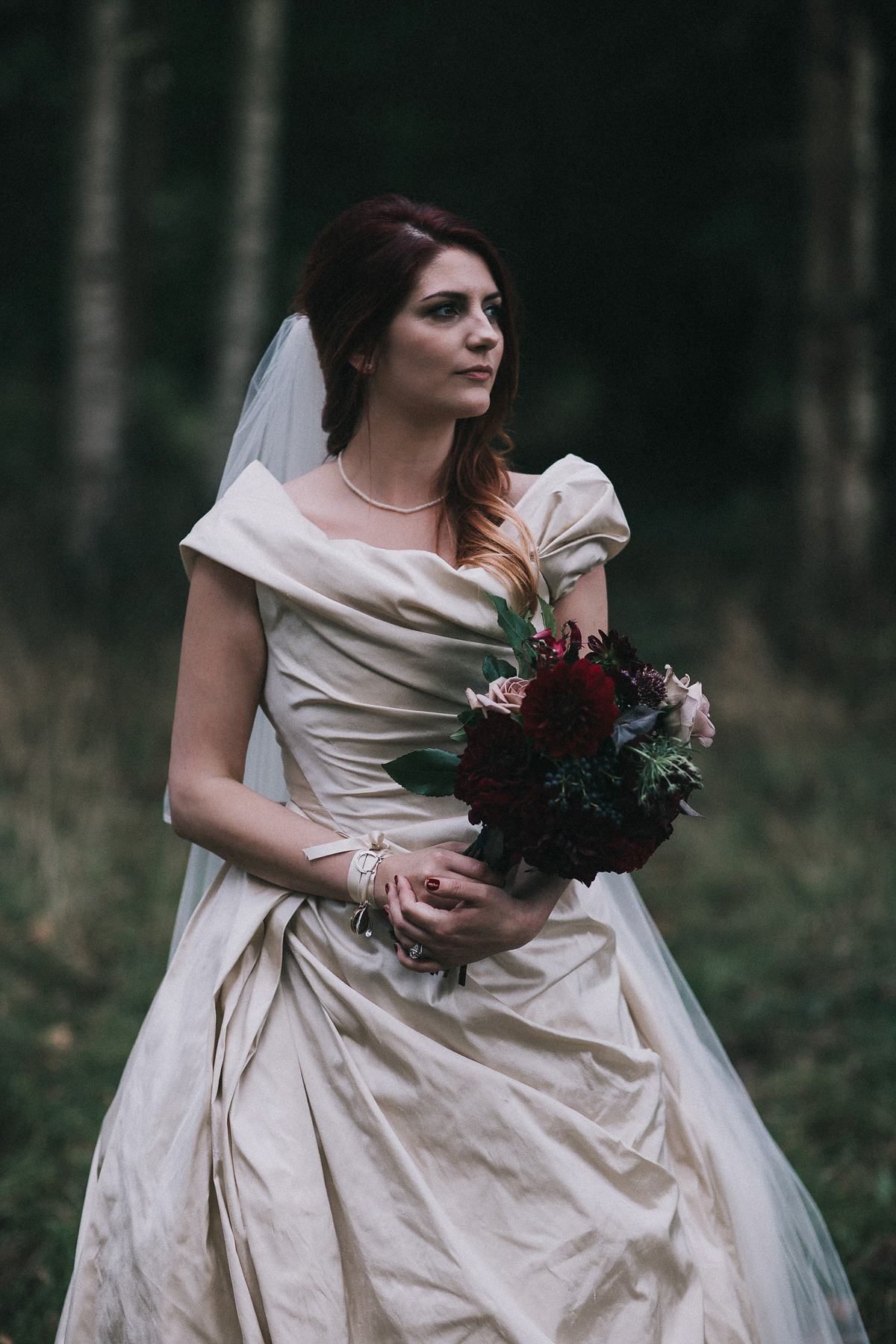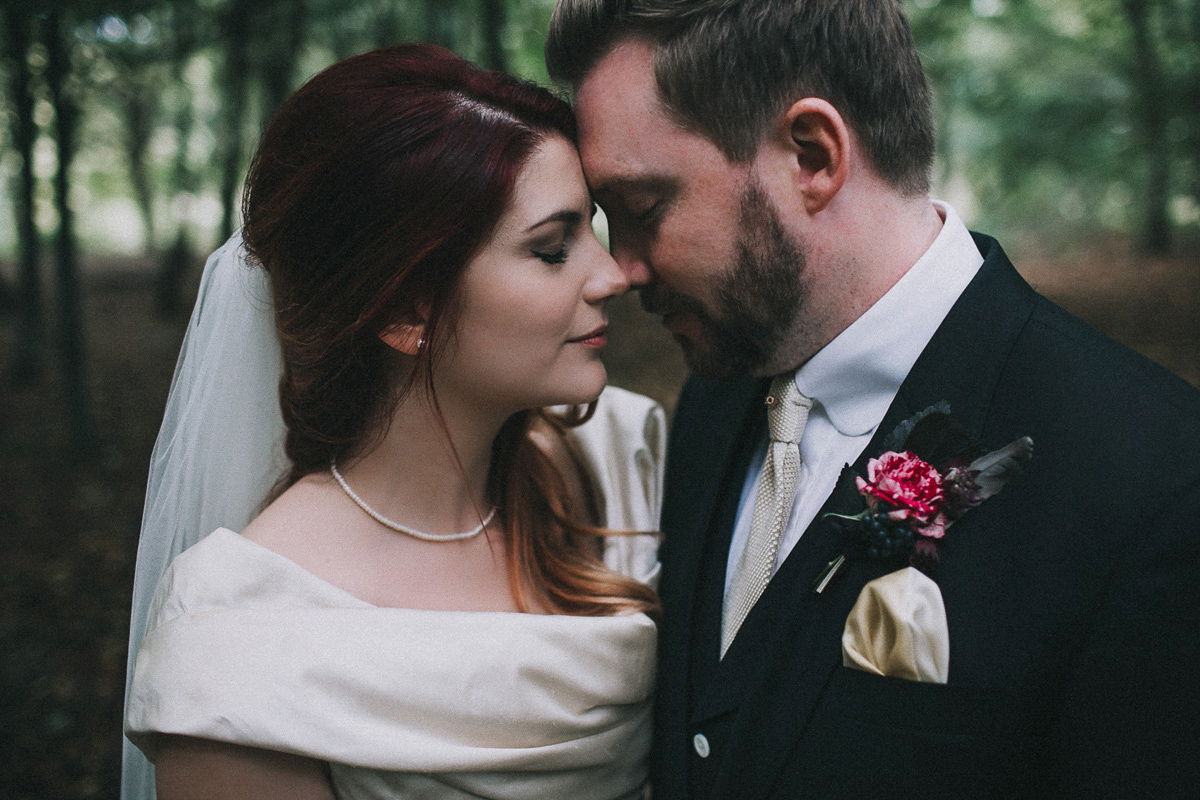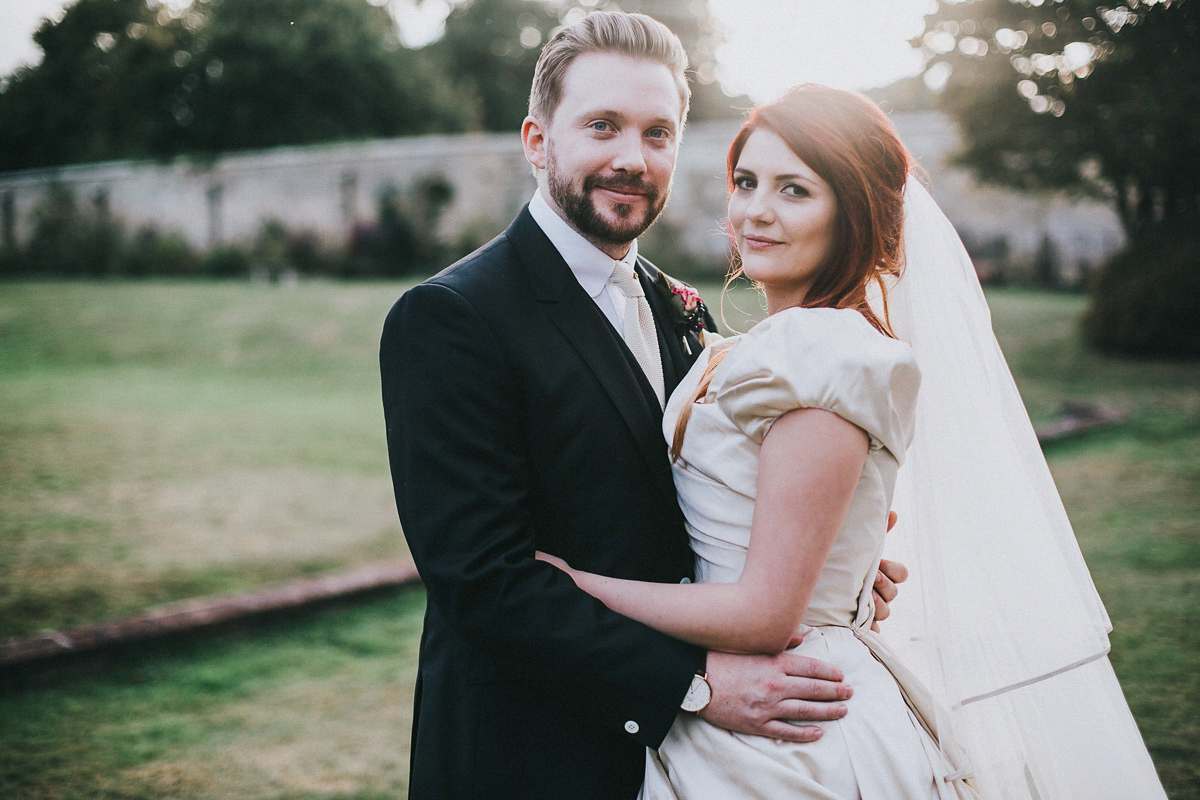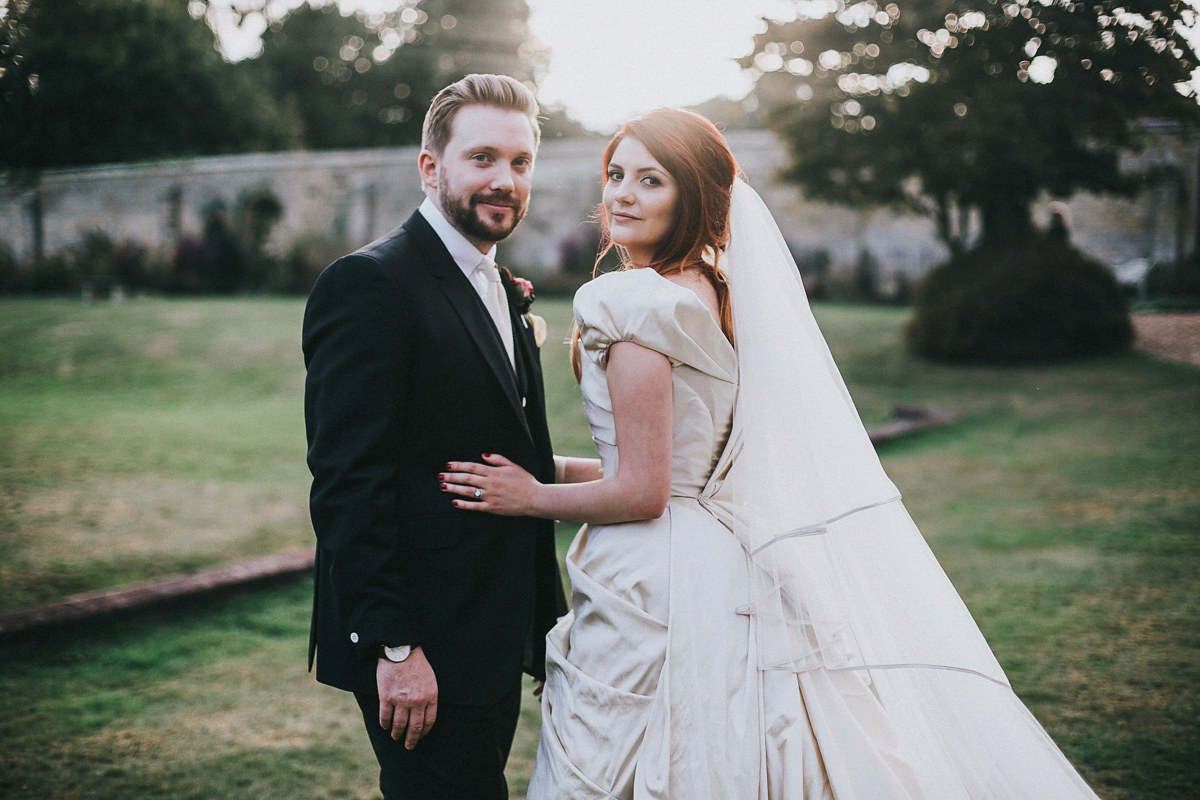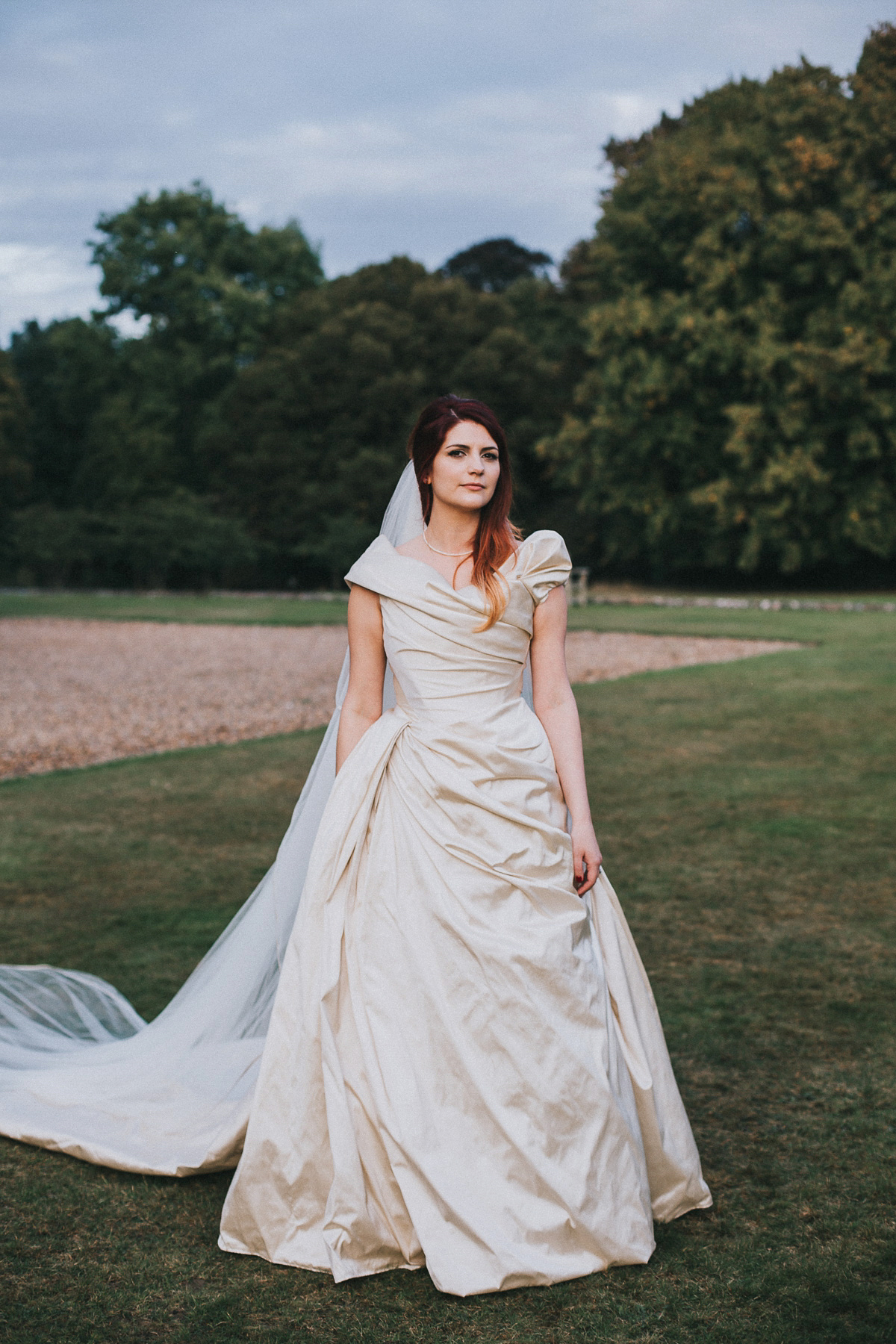 After posing for some achingly romantic and atmospheric couple shots, taken in the grounds of Chiddingstone Castle, Natasha and Ian jubilantly rejoined their guests for a wedding breakfast catered by Urban Pantry. The softly draped fabric and twinkling fairy lights of their marquee setting creates a lovely warm atmosphere. To fend off those late night rumbling tummies, the newlyweds treated their loved ones to delicious pizza provided by Pizza Federici and a scrumptious homemade wedding cake, crowned with a pretty topper by Poppy Chancellor.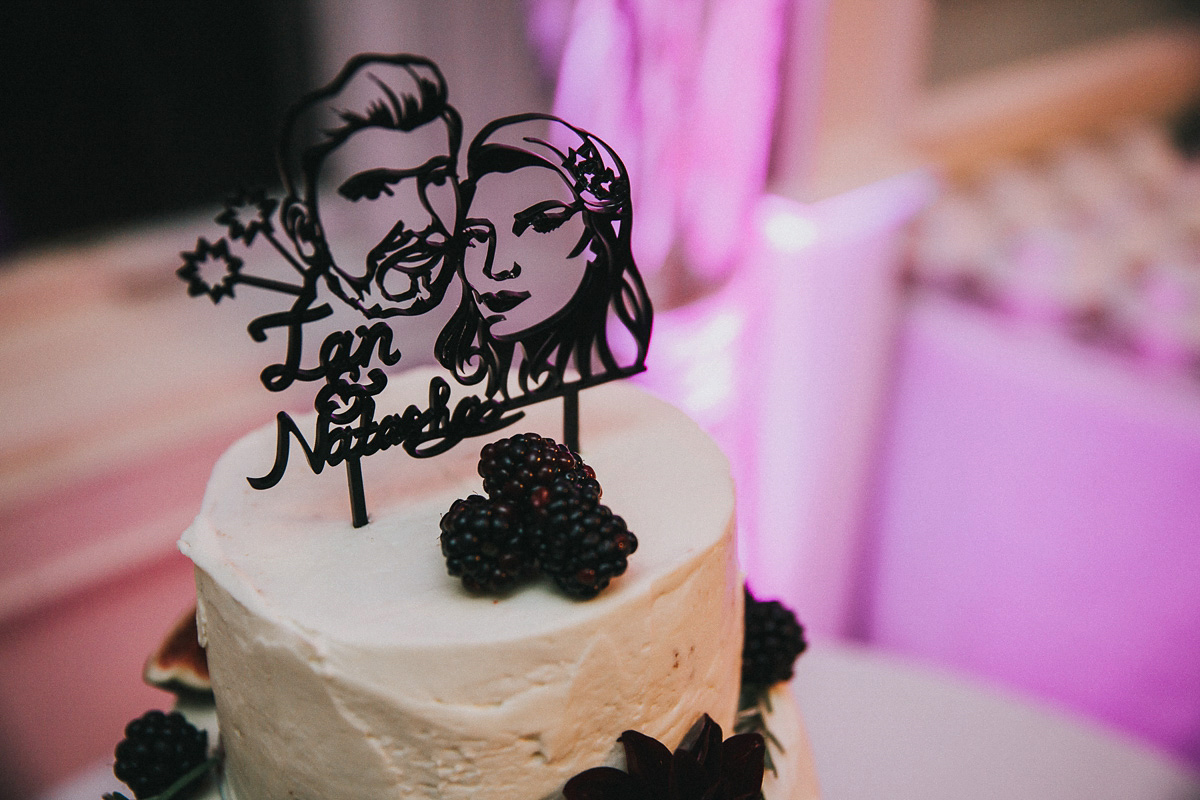 "Our cake was made by one of my bridesmaids, Kayleigh Hardy. We had three tiers; lemon sponge, Persian love cake (cardamom and rose) and coffee cake with a simple buttercream rough finish icing."
"For favours I bought black and white stripy sweet bags and filled them with Haribo (and veggie Percy Pigs for the vegetarians) and sealed them with the same wax seals I used on my invites."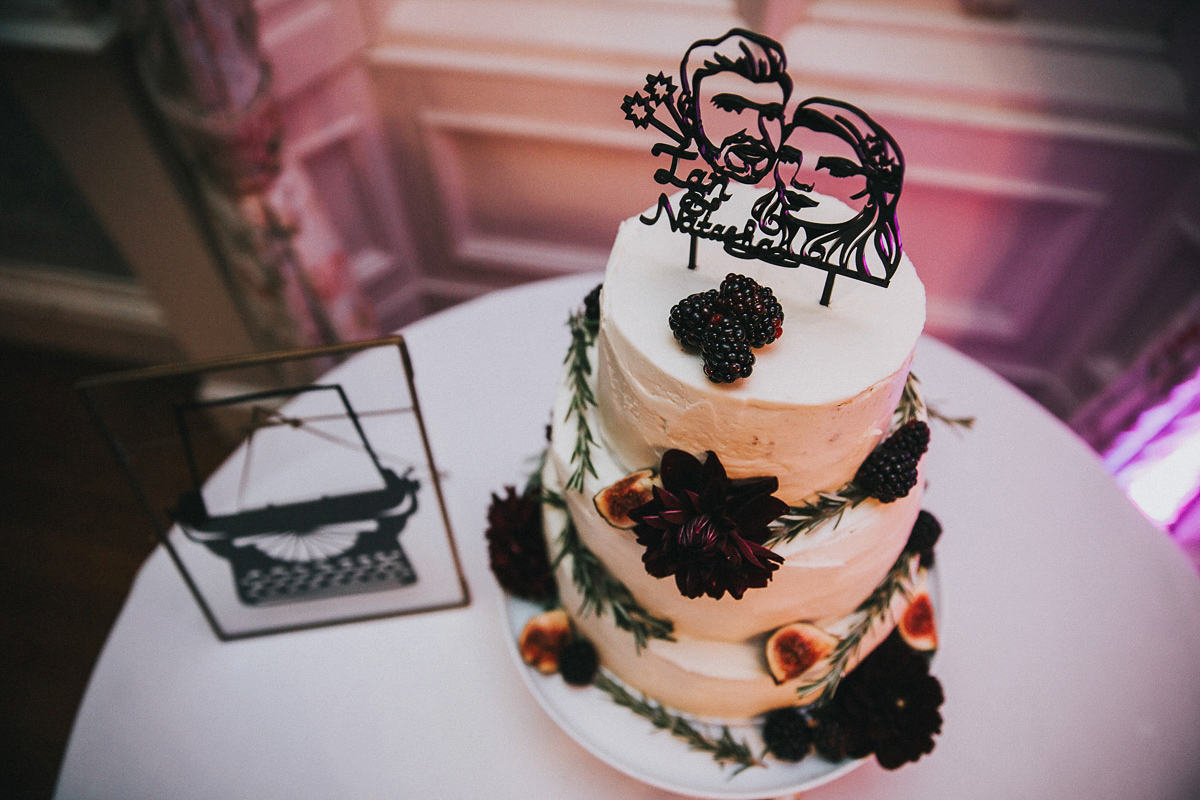 Retreating through the inky night back into their ceremony space for dancing and just married celebrations, DJ Marcel Mendez kept the dance floor packed. Lucky guests also enjoyed the stylings of jazz group The London Trio, booked through the Royal Academy of Music 'hire student performers' scheme (what a fabulous idea!)
"For our first dance we chose Stevie Wonder's 'Knocks me off my feet'; it's just our song! Our favourite moment of the day was when we snuck away and sat on a bench on our own for half an hour to take it all in while everybody else was dancing. It's so important to have time to absorb everything amongst the fun and buzz of it all."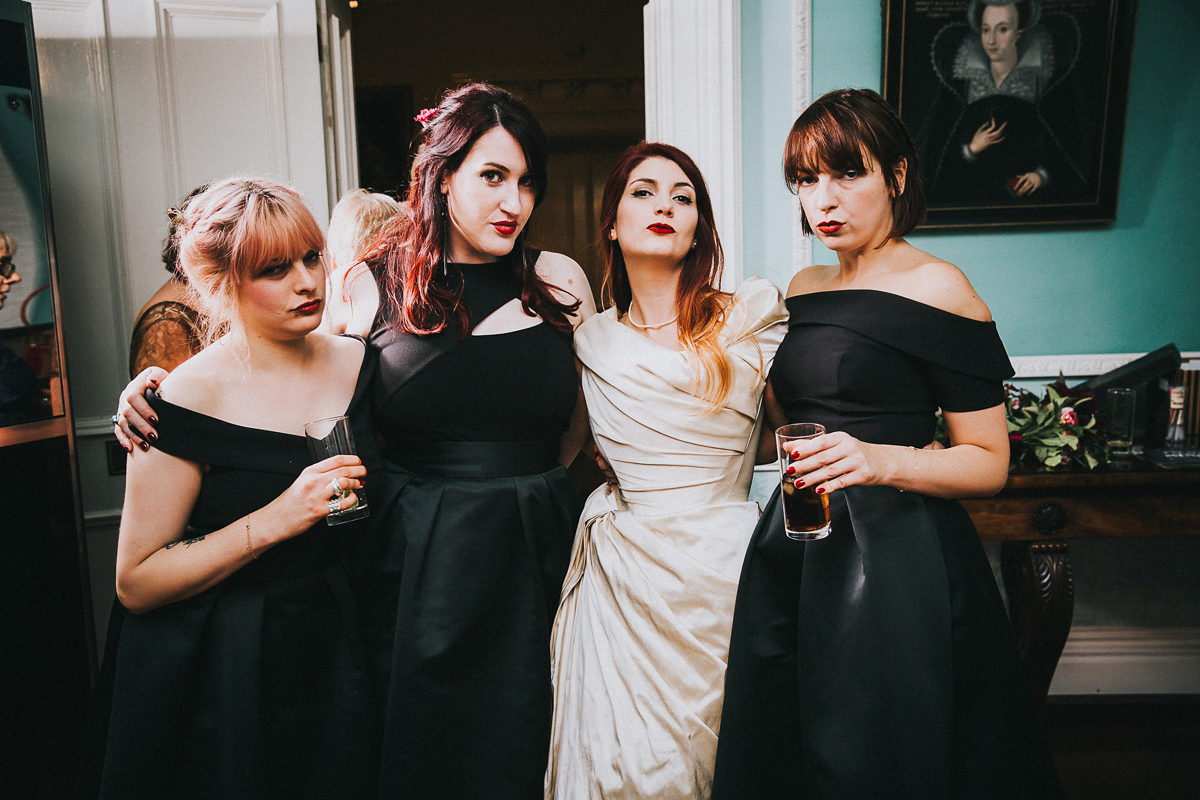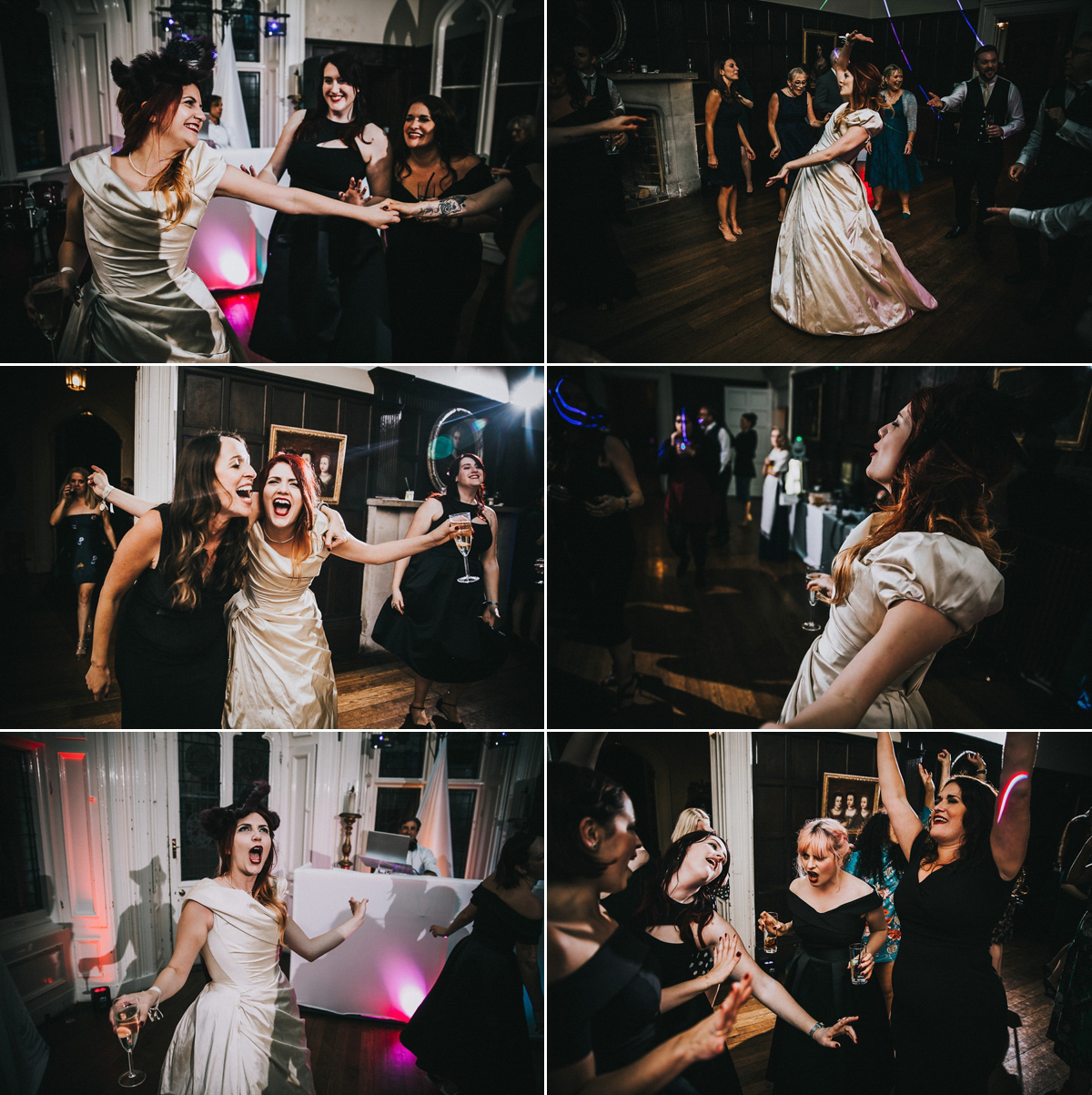 Words of Wedded Wisdom
"I ran out of time getting ready in the morning and was subsequently 45 minutes late walking down the aisle (sorry Ian!). I should have been more organised given that we were only allowed to be at the castle from 10am. Just be as organised as you can and try not to get bogged down with the minutiae. It can be daunting, but it will all work out in the end. The most important thing is that you are declaring your love to the person you love in front of your loved ones. And everything else is extra."
"I was also really quite paranoid (as every bride probably is) about it raining. We had purposefully arranged for our ceremony to be inside as the weather is not to be trusted in October. It absolutely chucked it down during the ceremony and it absolutely did not matter, and also it turns out it's really good luck!. It also meant the lighting after it had stopped raining was absolutely perfect for the photographs and the sun did peep out at about 5pm, which again was brilliant for photographs. So it all worked out for the best. No one should worry about the weather. You won't even notice it on the day and it will most likely make for much more atmospheric photographs."
"I should have spent more time on planning my honeymoon as in hindsight I think we went to the wrong place. The comedown isn't great. I think I have a touch of post-wedding depression, which I think is to be expected – just try and busy yourself with other things and don't let it affect you. But the advice from other brides is priceless and the Love My Dress Facebook group is INVALUABLE. Thank you!"
Thank you so very much from the bottom of my Christmas-fuelled little heart to Natasha and Ian (might have done a tiny Instagram stalk hunting for more wedding snaps) and of course a huge, admiration-filled thank you to Matt Horan Photography too. These images are nothing short of spell-binding.
With love and festive cheer,
Em x