Ohhhh lovely ones – just you wait until you read all about the utterly gorgeous wedding of Primary School Teacher Heidi and Procurement Manager Frazer, who tied the knot on the 23rd of March 2016 at Knocknamuckley Parish Church in Portadown. The newlyweds and their guests then celebrated in true style at the magnificent 800-year-old Ballymagarvey Village in Balrath, County Meath in Ireland.
Upon first sight of these lovely images by Kat Mervyn Photography and this beautifully captured montage of their day by Pigmint Film, I have completely fallen in love with everything about the couple's early spring wedding, especially Heidi's chosen attire and her peach floral crown. Total and utter perfection!
"I don't think there was one particular thing that inspired us, simply just choosing what we loved. We have very similar tastes, so that made things very easy for us. We did add little French-themed touches here and there though, as a reminder of where it all started. We fell in love with all things French back in 2013, so much so that we returned to the South coast of France the following summer, and France, for obvious reasons, will always have a special place in both our hearts." 
"My Rime Arodaky bridal separates were purchased from The White Gallery in Burren, County Down. This shop is a beautiful boutique and is the exclusive stockist of Rime Arodaky in Ireland. I felt like the luckiest girl ever when I got to meet Rime herself. She was over in the boutique the weekend I chose my dress – it's a beautiful memory I'll forever treasure!"
Photography by Kat Mervyn Photography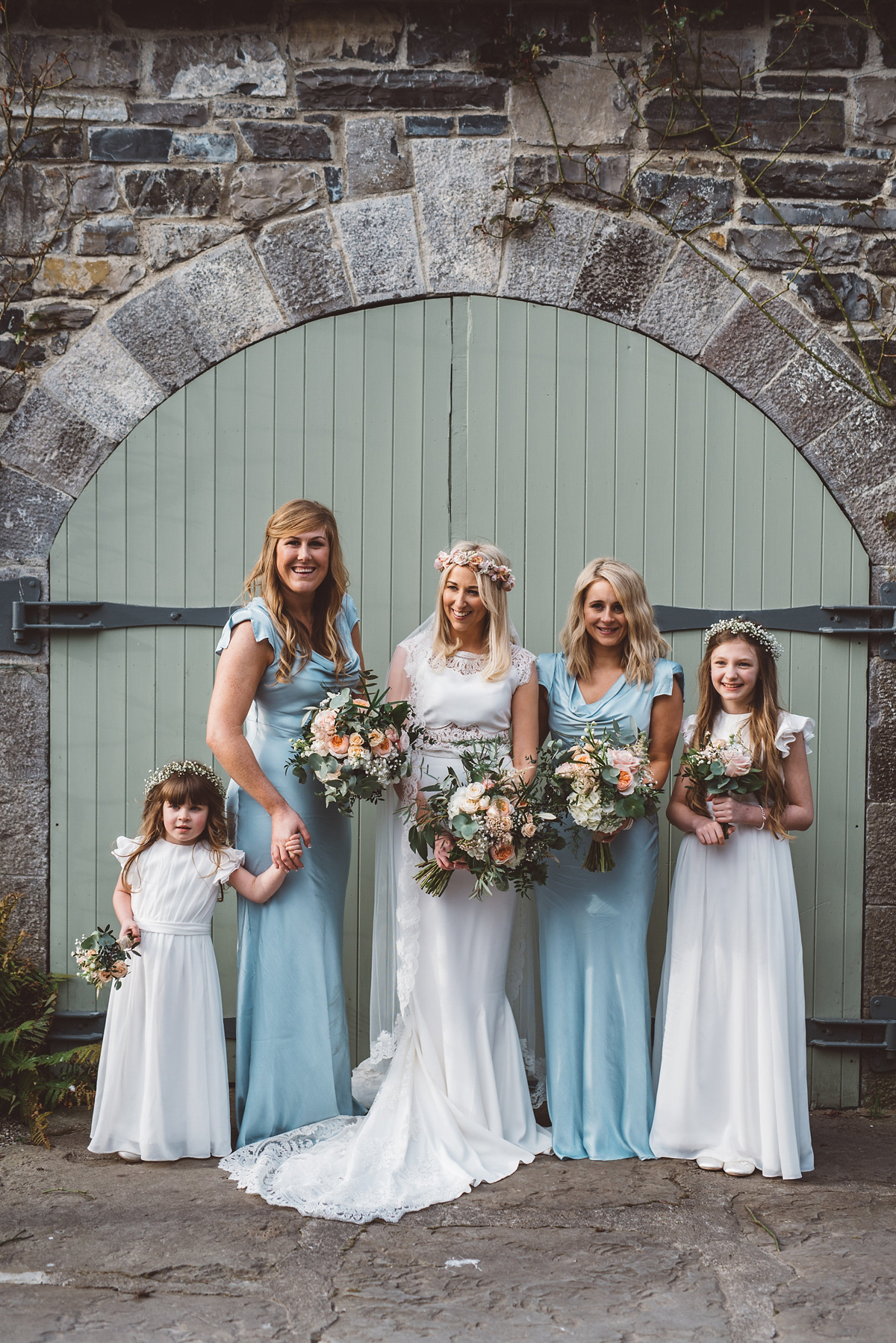 The beautiful bride added a long veil from Petticoat Lane Bridal, a pair of sky-high Christian Louboutins, a spritz of Jo Malone scent gifted by her mum, a fine pearl bracelet, diamond earrings from notonthehighstreet.com and the pièce de résistance; a silk floral crown from the beautiful Whitby-based The Shepherds Purse; members of our most beautiful bridal resource Little Book for Brides (view their listing here).
"My floral crown was one of my favourite accessories from the day – the beauty of it is that it wasn't made from fresh flowers, so I can keep it forever. I hope I have a little girl someday to pass it on to."
"Our stationery was by an extremely talented watercolour artist from Paperbark Event Stationery who creates the most stunning bespoke/customised designs. The best feature was his 'map of the day' – it was just beautiful!"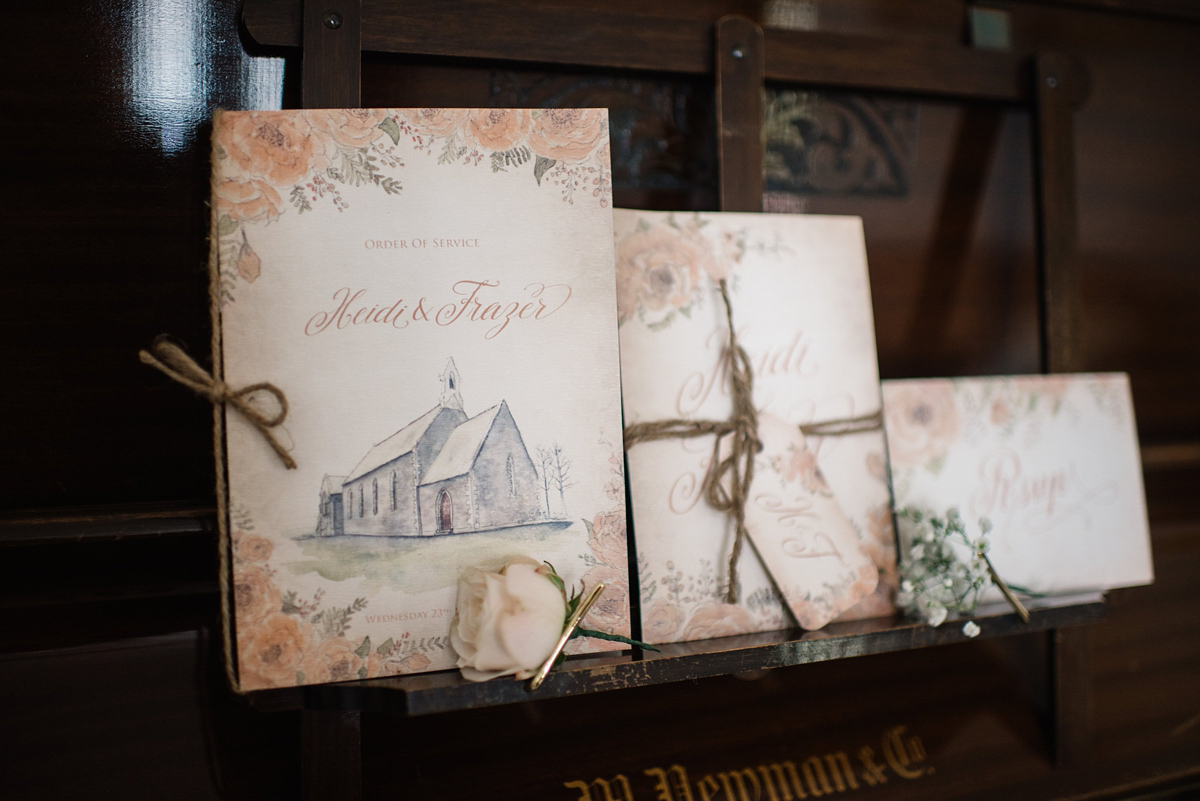 "I loved the simple, timeless effect the dress had. I liked the way it was a two-piece and had very striking back detail with a dramatic train."
"I didn't know what dress I would go for but always wanted a floral crown in my hair, in order to create a boho look. This dress fitted perfectly with my vision."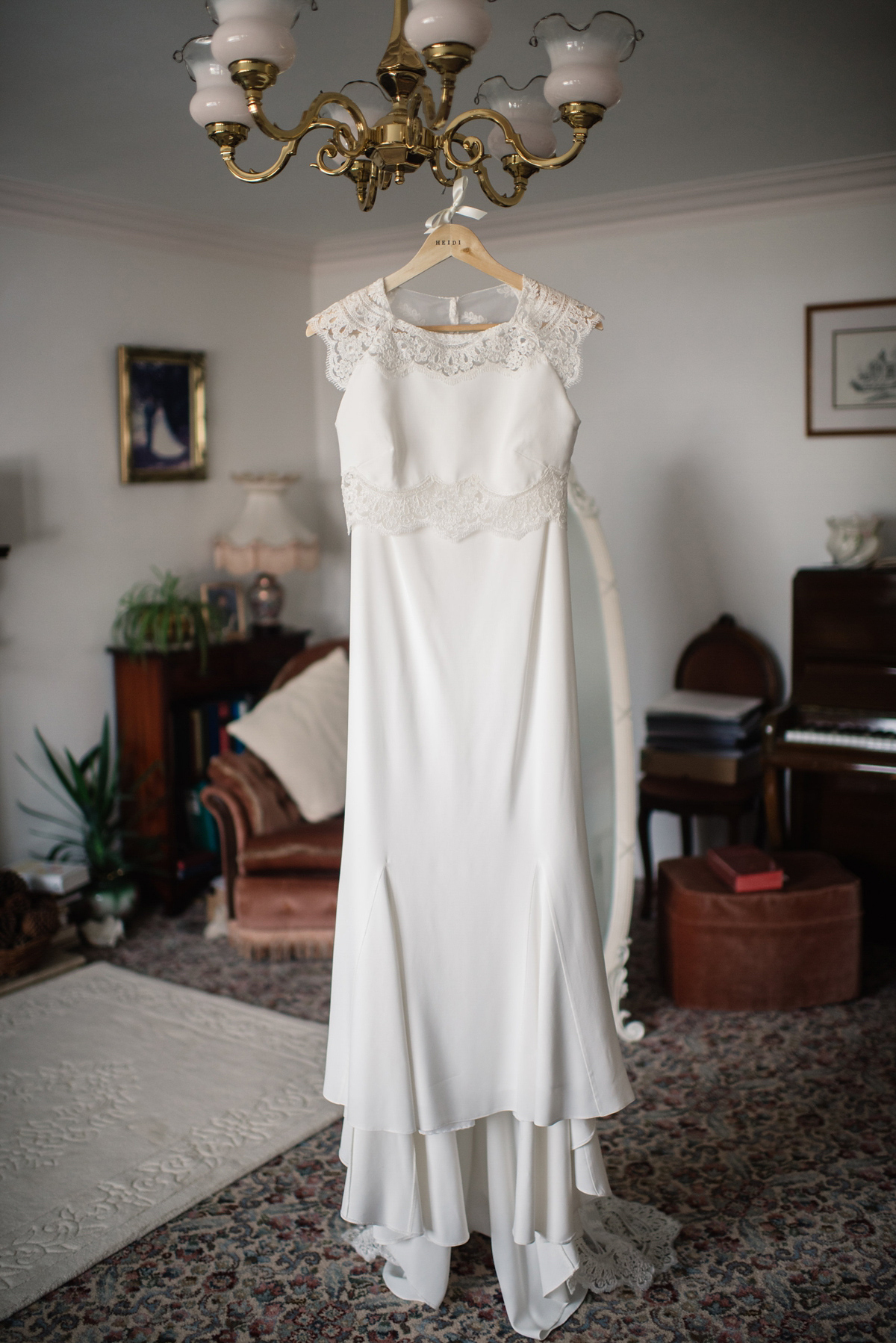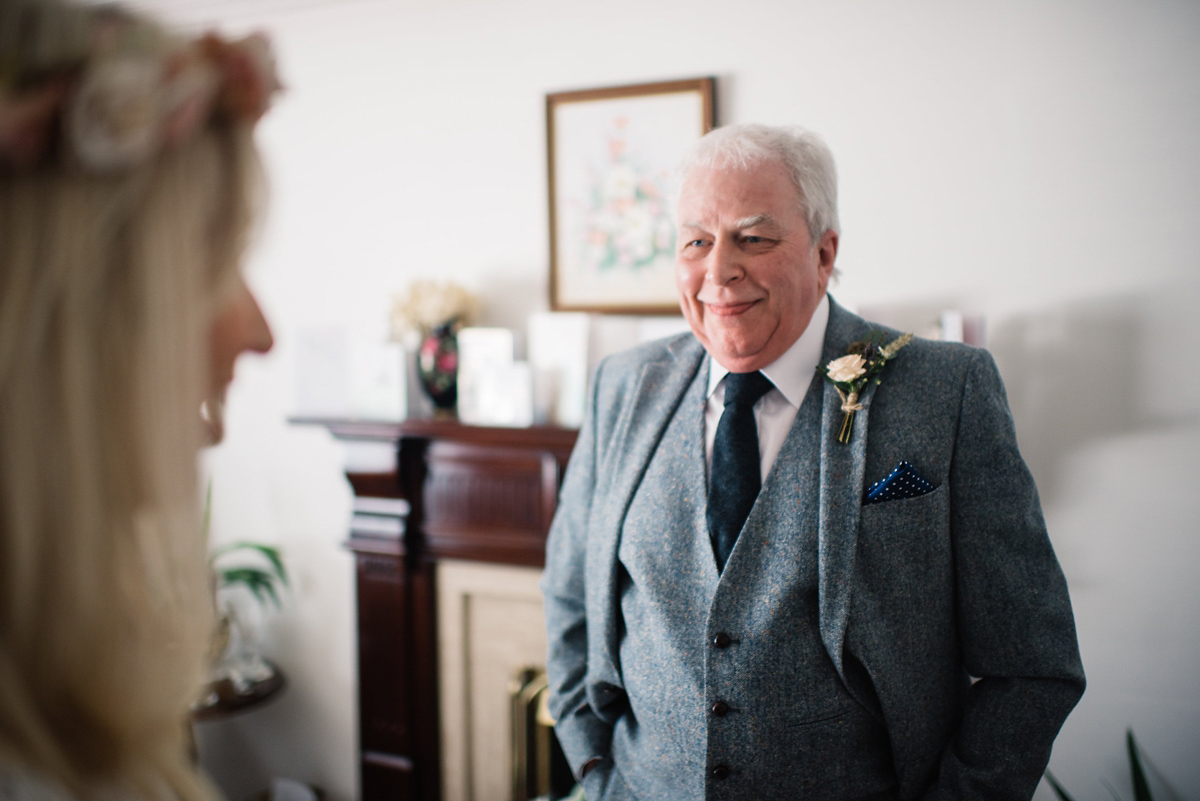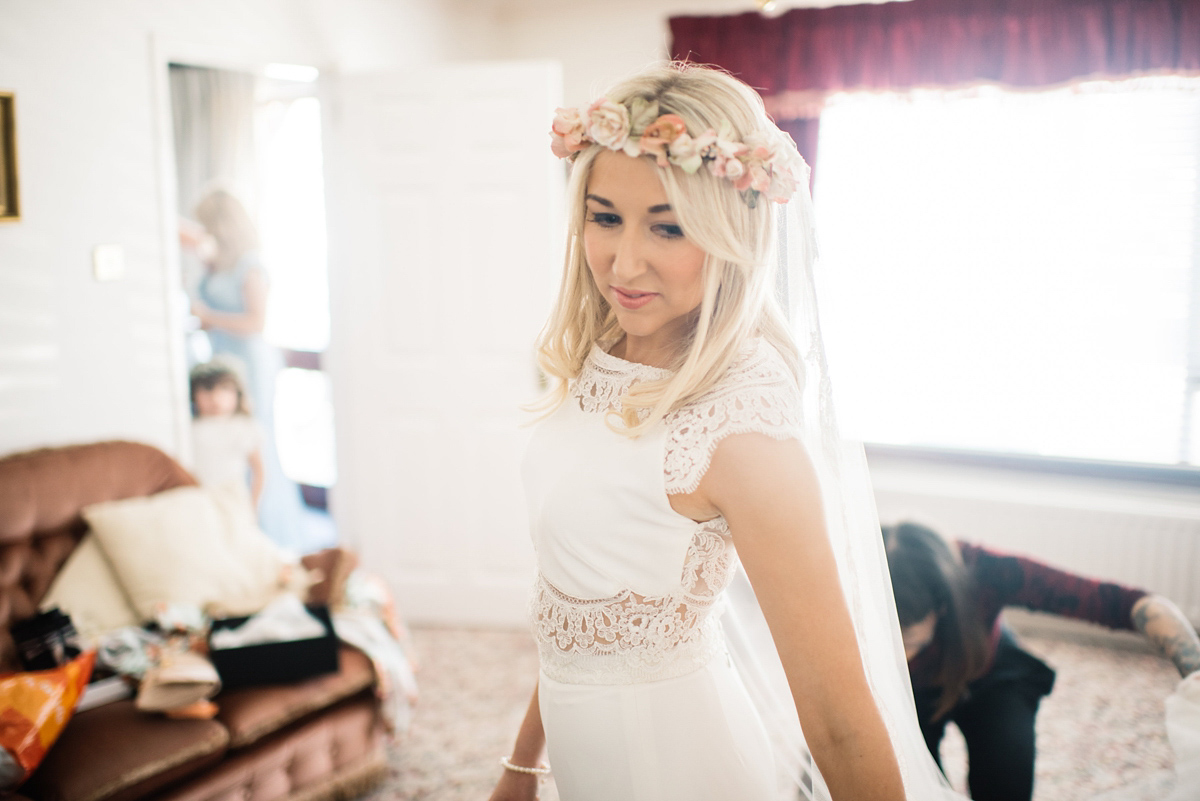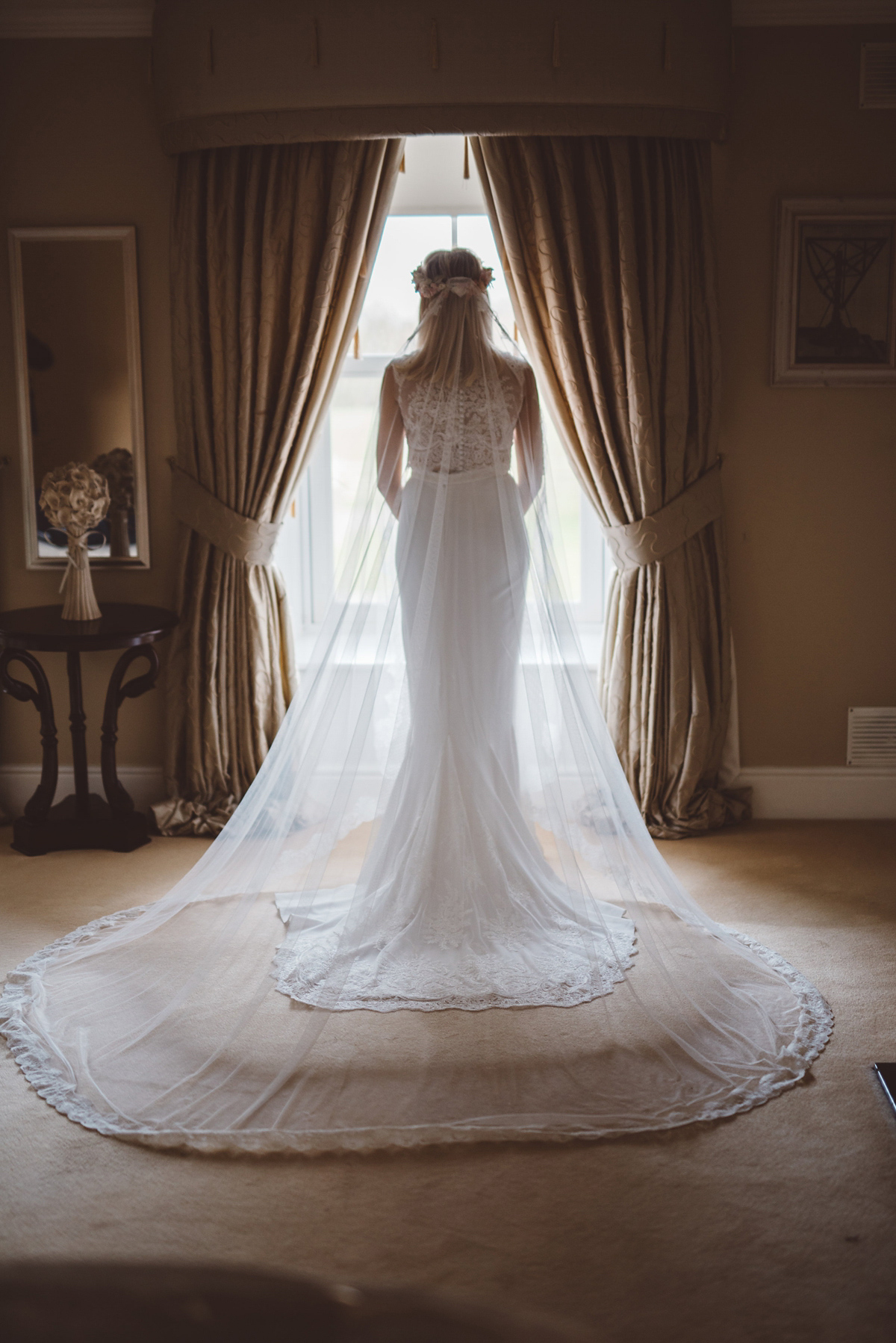 "The suits, footwear and accessories for the best man, groomsman, ushers, father of the groom and father of the bride were supplied by Statement Menswear."
"Frazer also bought the guys silver cufflinks to wear on the day which were engraved with each of their initials – purchased from Etsy."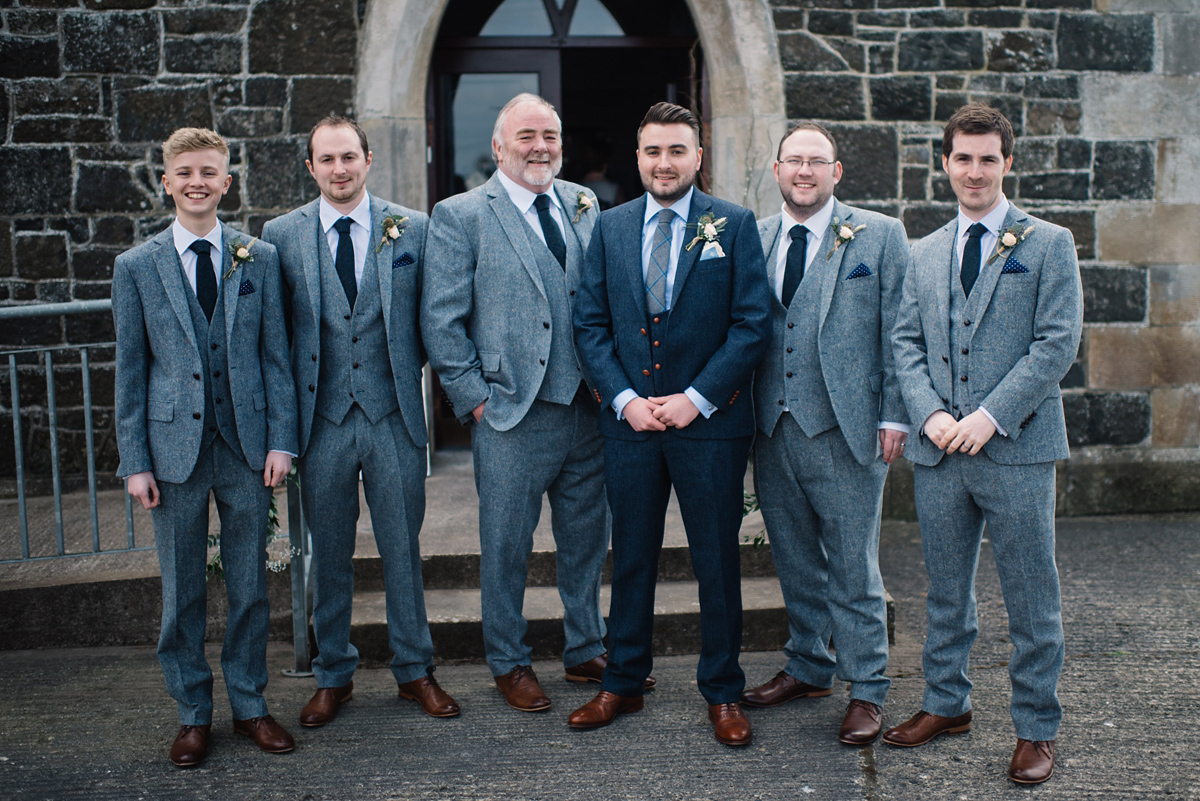 "Flowers were one of the most important things for me – I knew they had to be just perfect. I wanted them to compliment the boho look so needed them to look random with lots of loose greenery entwined."
"I wanted my flowers to be the focus and stand out, so I choose blush/soft peach shades from The Posy Barn to contrast against my skylight blue bridesmaids."
"I walked into Kathryn's rustic shed the night before my wedding and the place was filled with flowers; I was overwhelmed and shed a tear (or 2 or 3) as they were perfect!"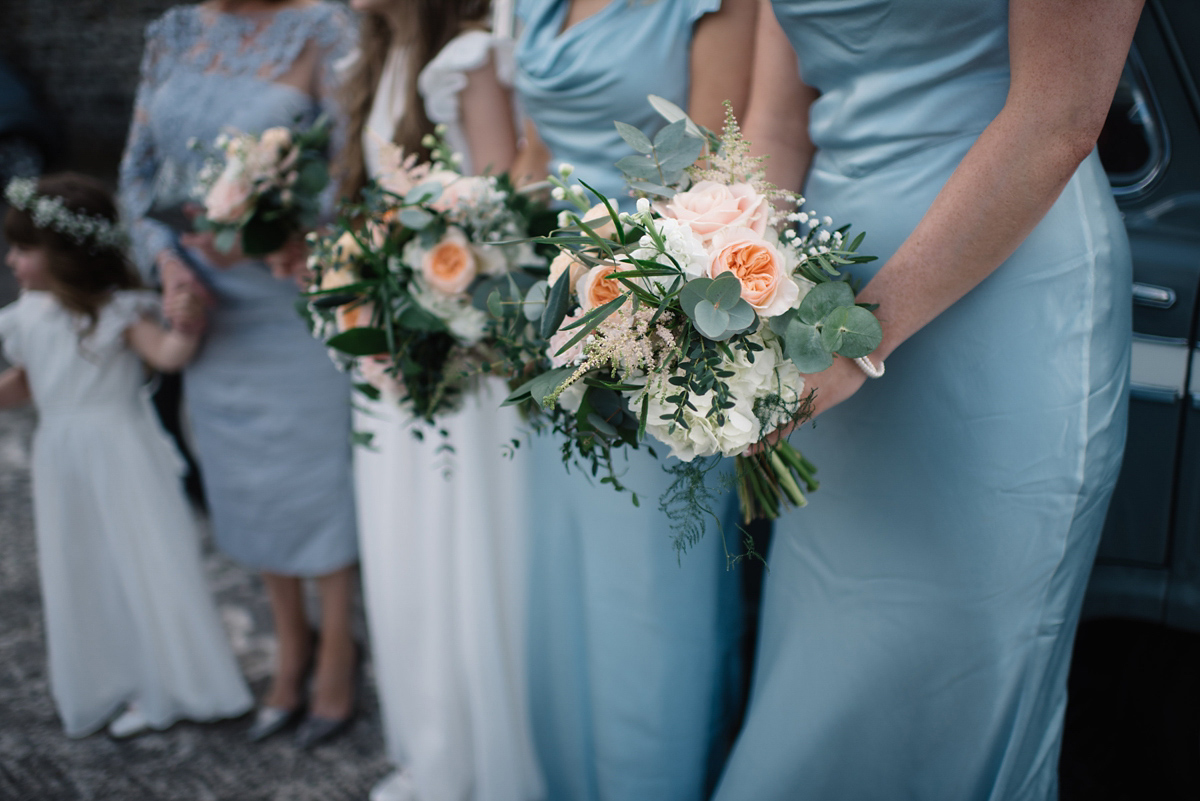 The flower girls look so adorable in their gorgeous dresses from Petticoat Lane Bridal, shoes via Rainbow Club, plus real floral crowns by the florist The Posy Barn.
In their pale blue Ghost London dresses from The White Gallery, Heidi's maids were a picture of beauty; accessorising with heels from Kurt Geiger and Next, and pearl bracelets and earrings via notonthehighstreet.com.
Hair was by Lynette Murray with makeup by Jennifer Ireland.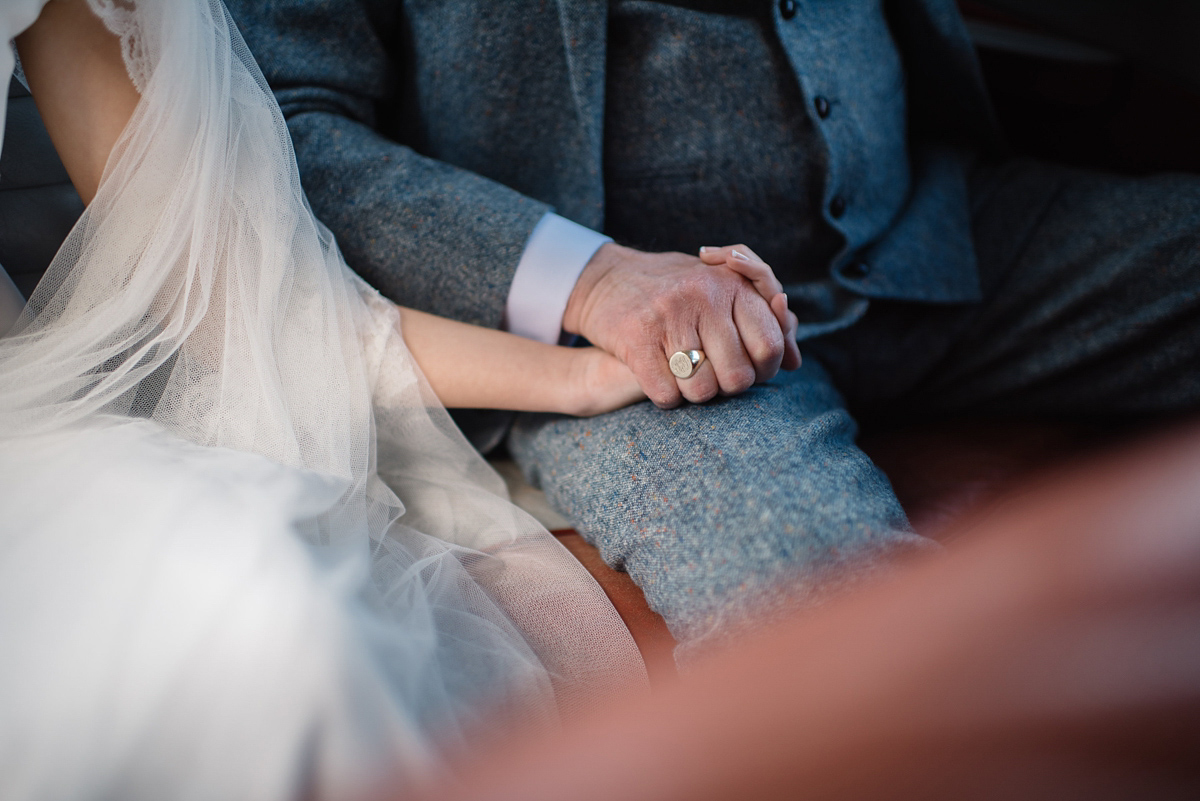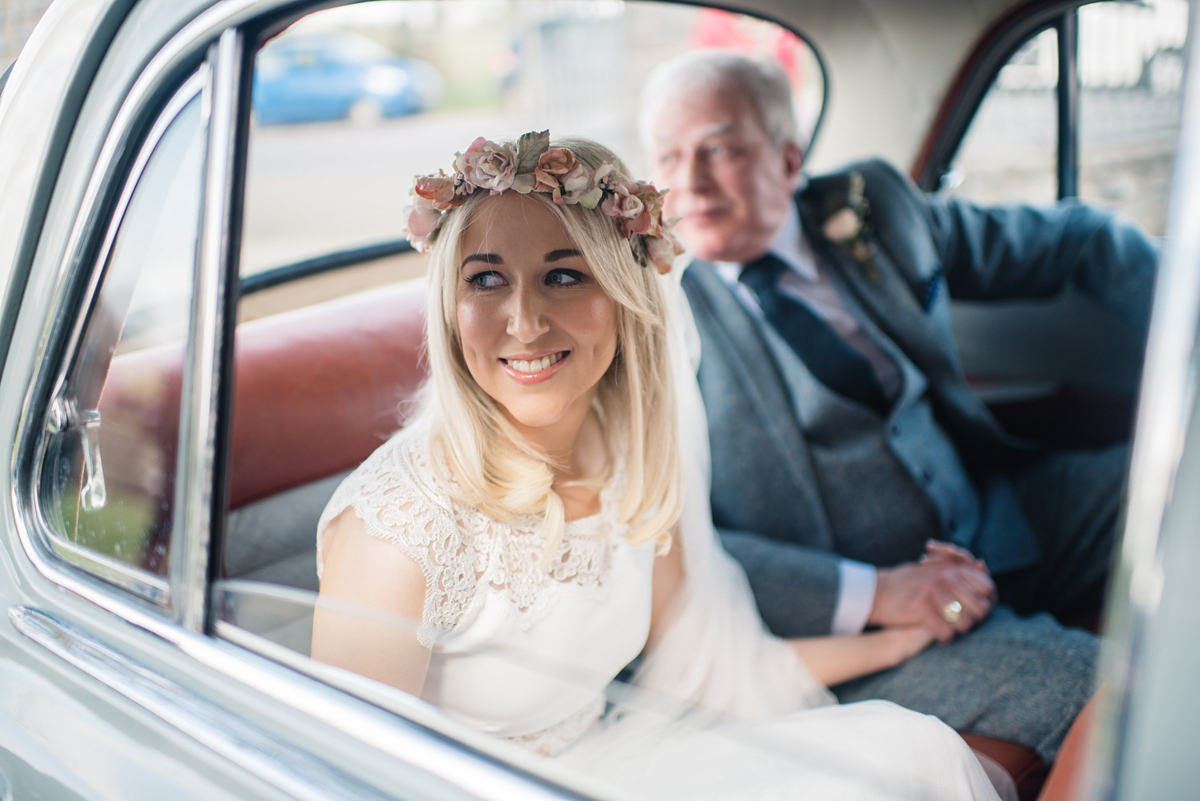 Heidi was accompanied down the aisle by her beaming dad to 'Hymne' by Vangelis and exited to 'Toccata from Symphony No. 5' by Widor. The couple had traditional vows included in a traditional Church of Ireland service and two bible readings – one from I Corinthians, and the other from Ephesians – and their wedding bands were from Murray & Co Wholesale Jewellers and Diamond Merchants.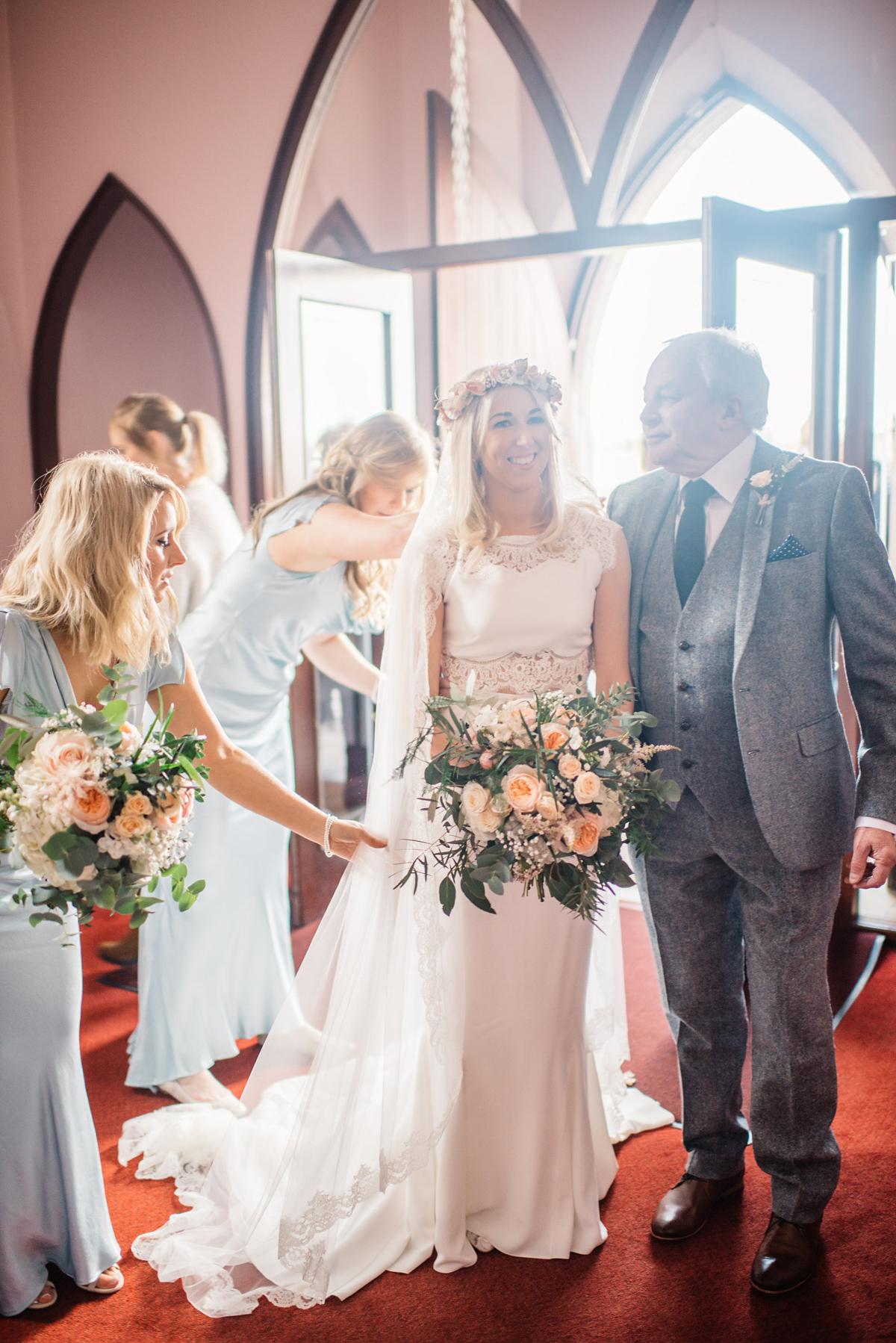 "I began teacher training at Queens University Belfast in September 2005 and met Frazer within the first week of being there (he was studying pharmacy at Queens at the time)."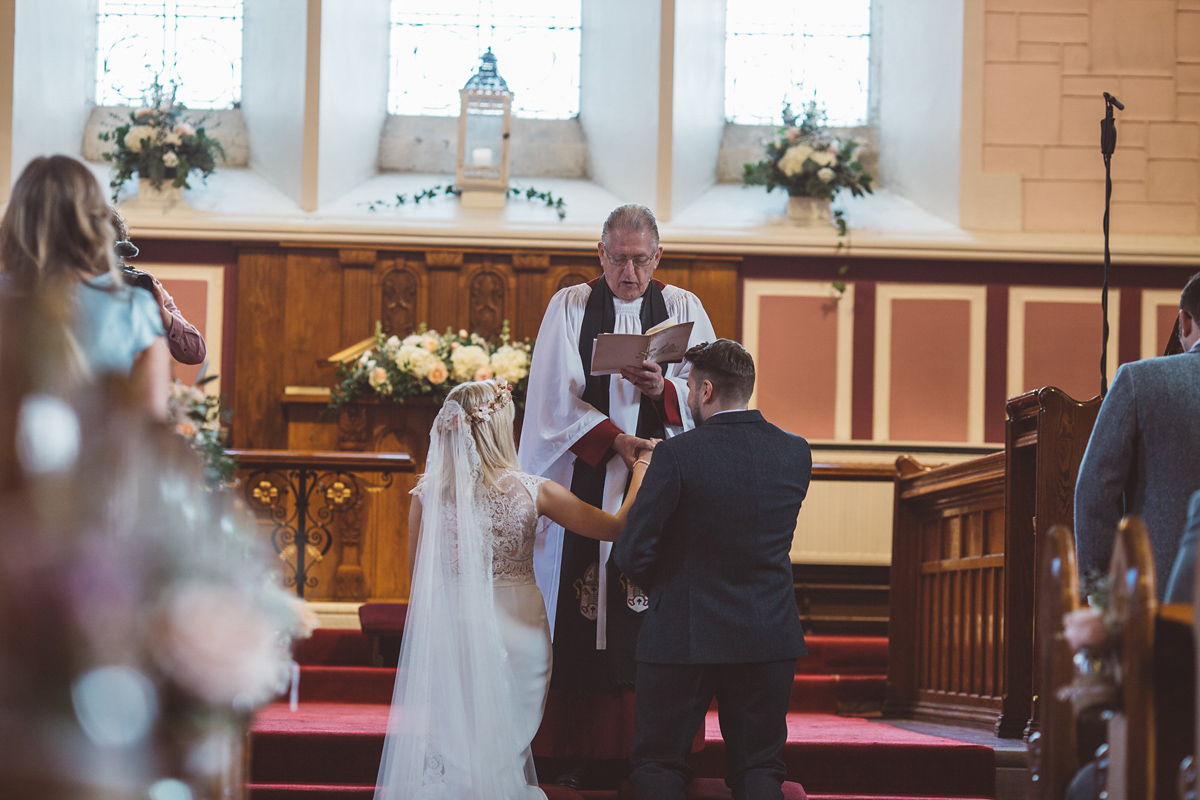 "We officially got together on 25th November 2005 and spent almost eight years together as boyfriend and girlfriend, before Frazer got down on one knee in Villefranche-sur-Mer on the south coast of France and popped the question on 6th August 2013."
"After the surprise engagement, we took our time to plan the wedding of our dreams, and eventually tied the knot two and a half years later on 23rd March 2016."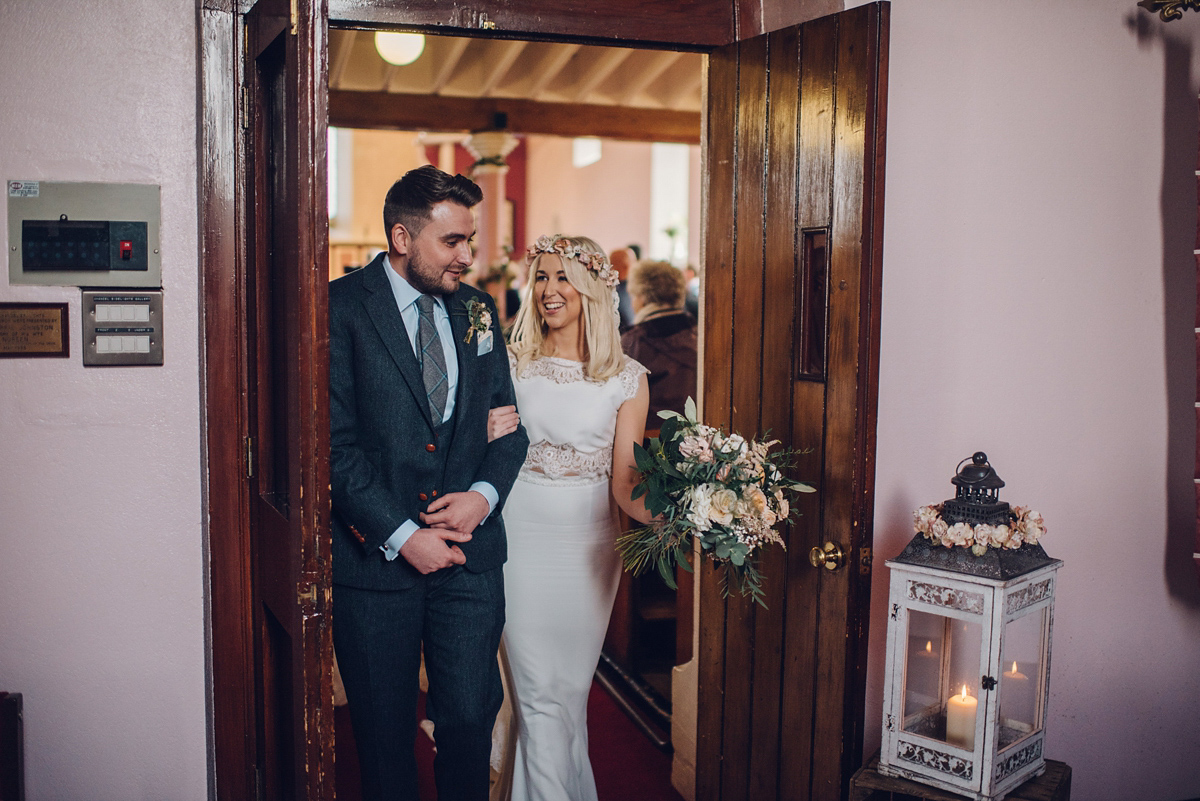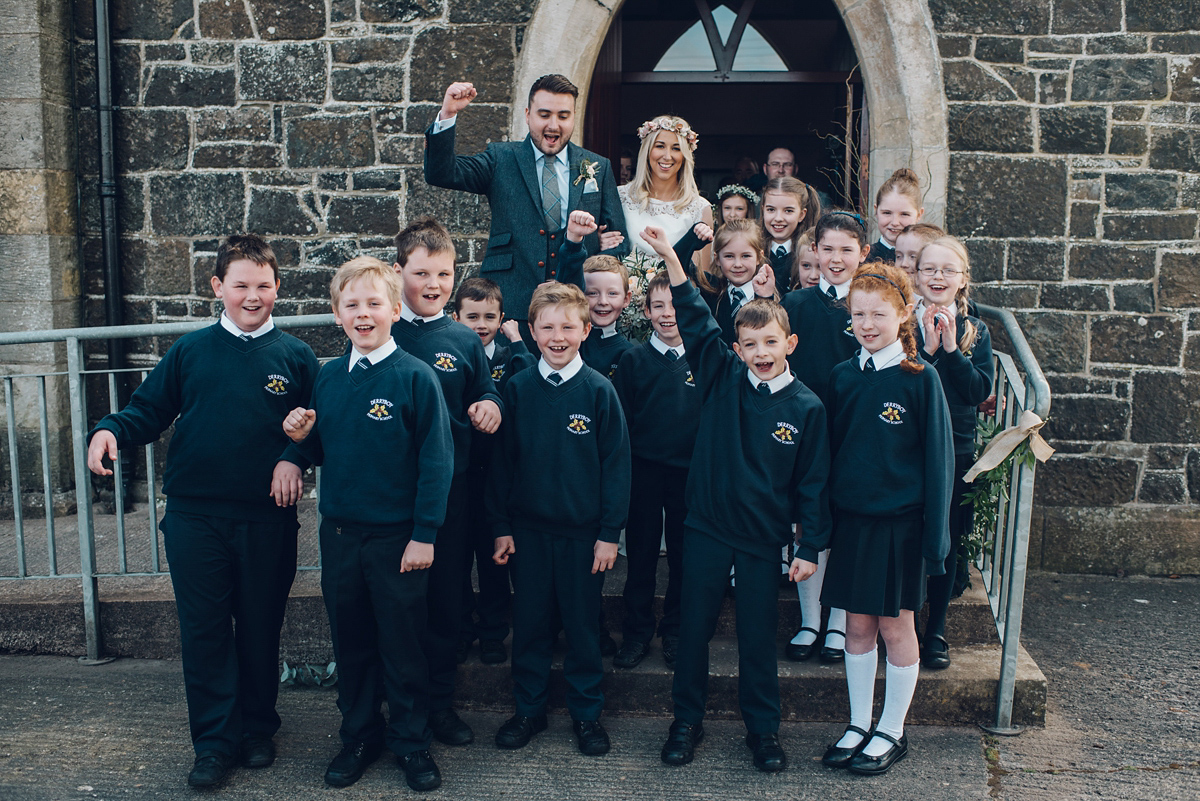 "Our photographer Kat made us both feel so relaxed and comfortable; it was like being around a good friend all day. She almost never asked us to pose, and let us just be ourselves; in fact, most of the time it was like she wasn't even there. Kat is so creative, has such a great eye for detail, and when it comes to working with the light, she is simply a magician. She has given us the most stunning, natural, romantic memories of our day; memories which we will treasure forever!"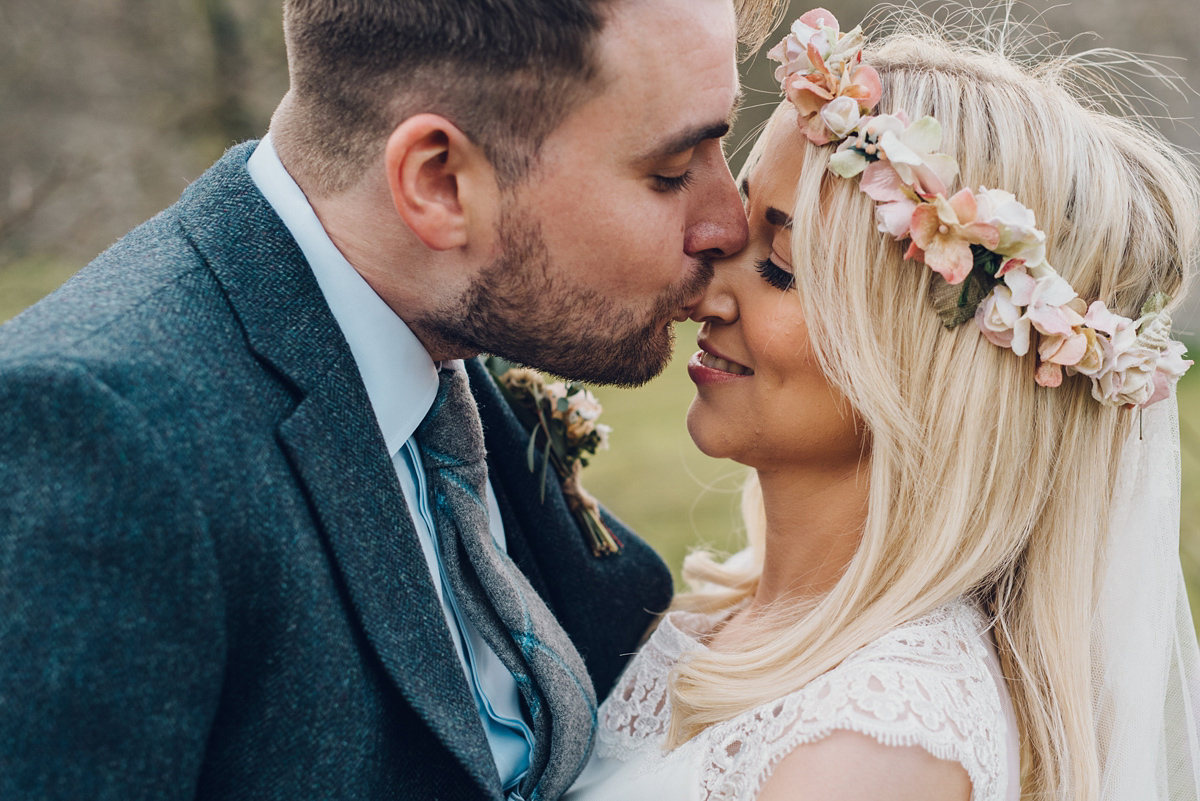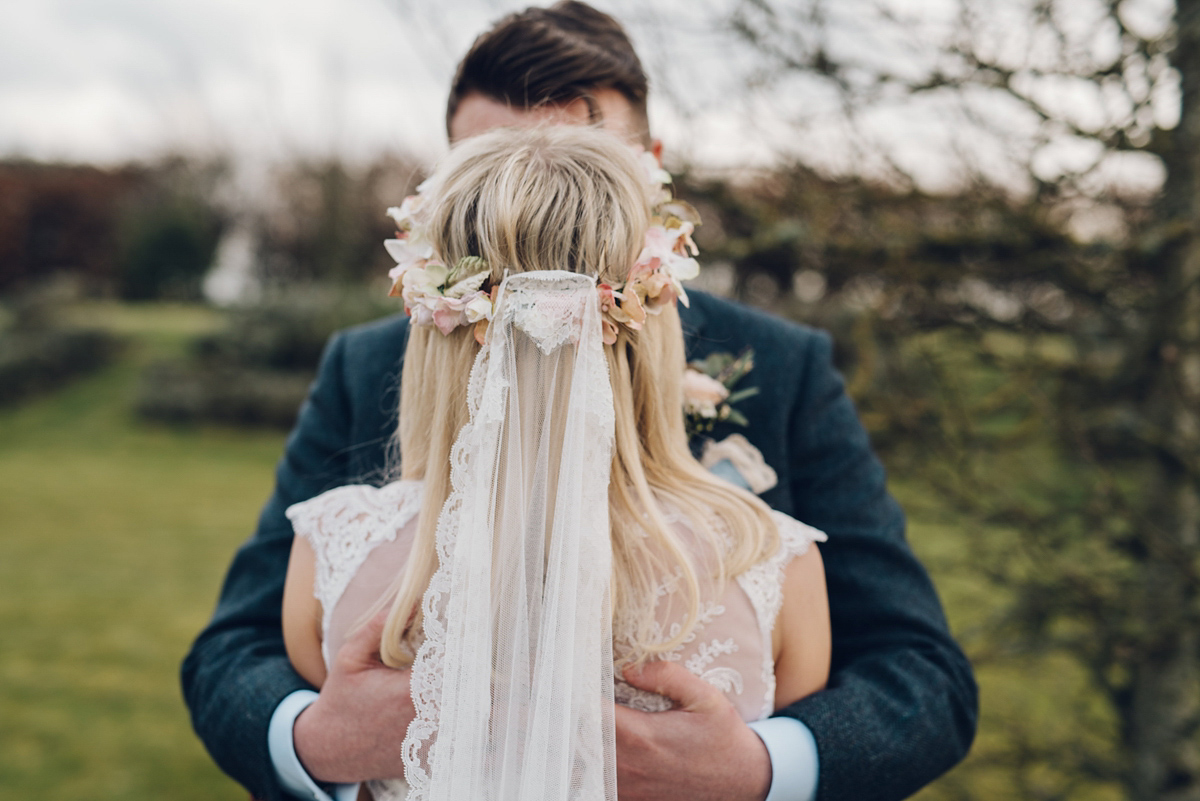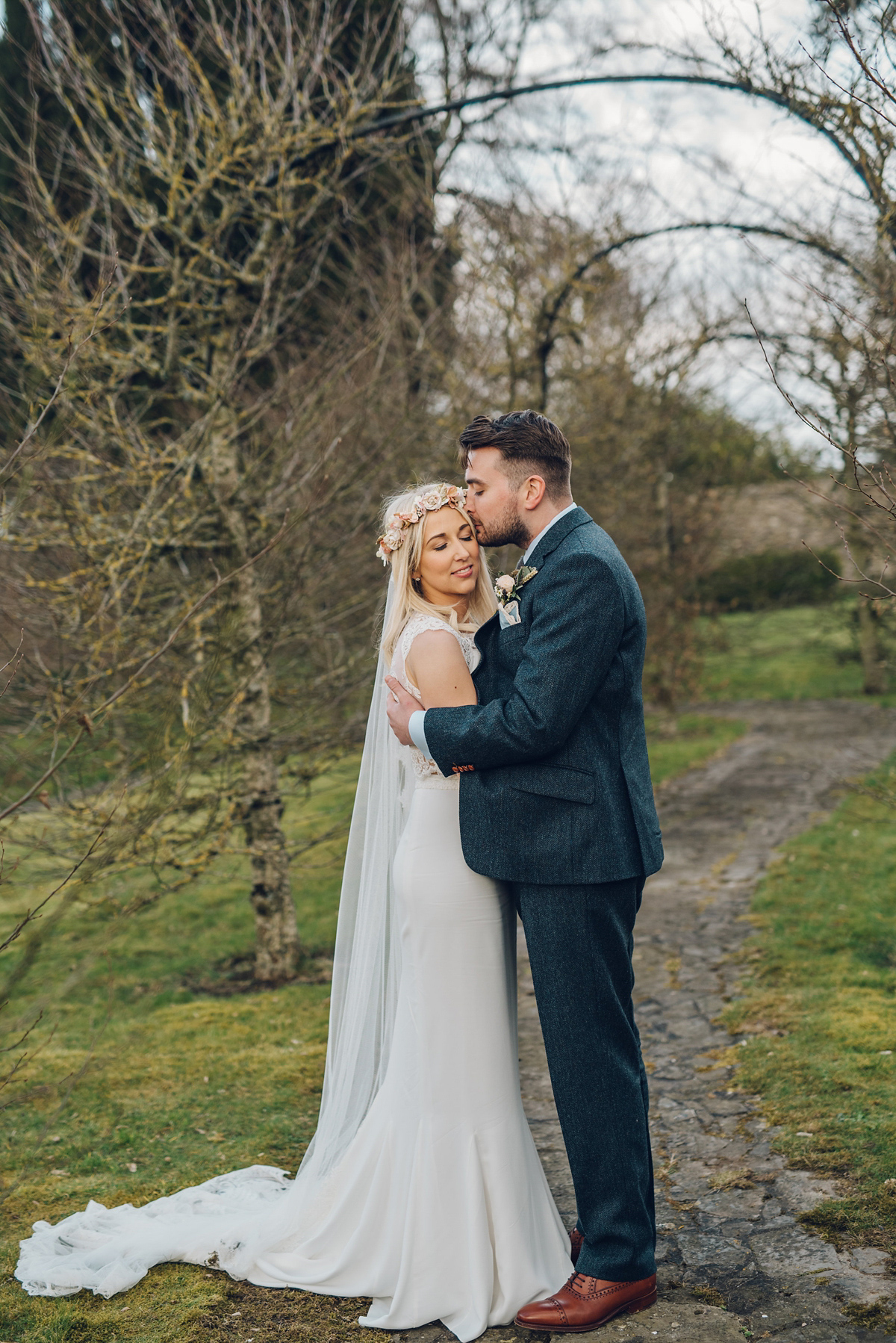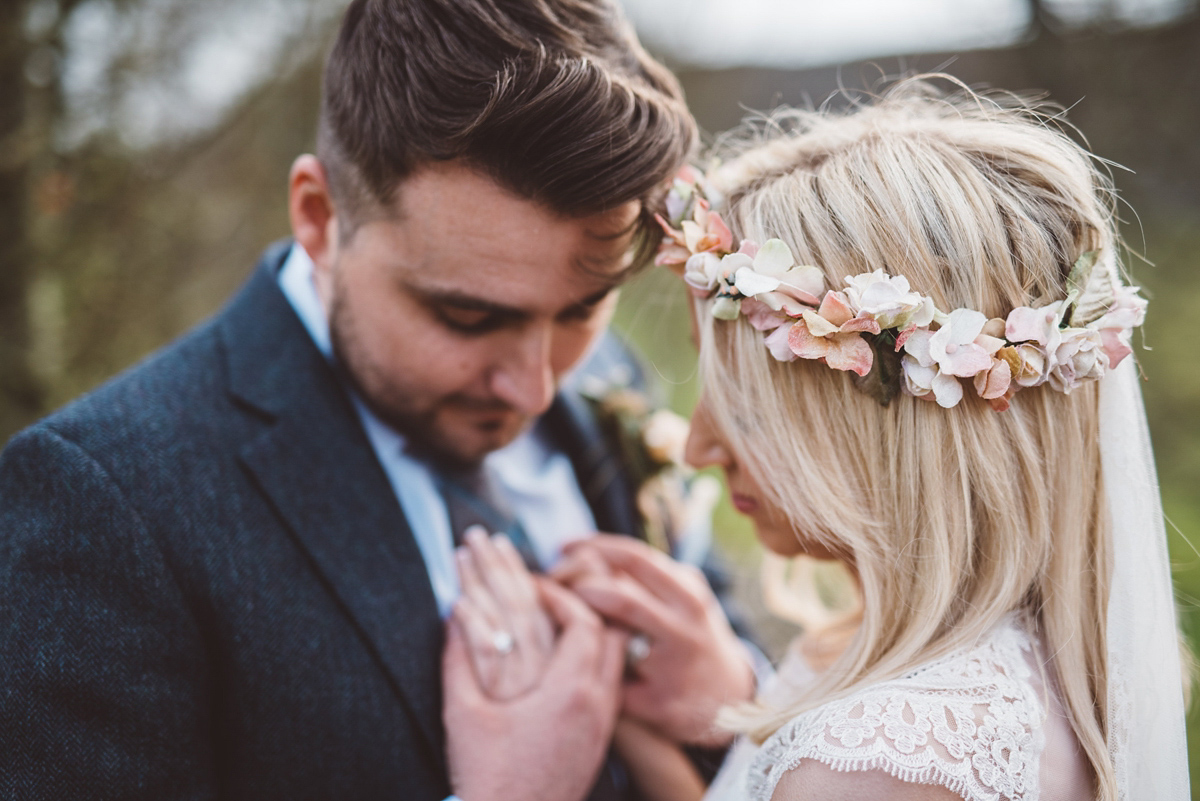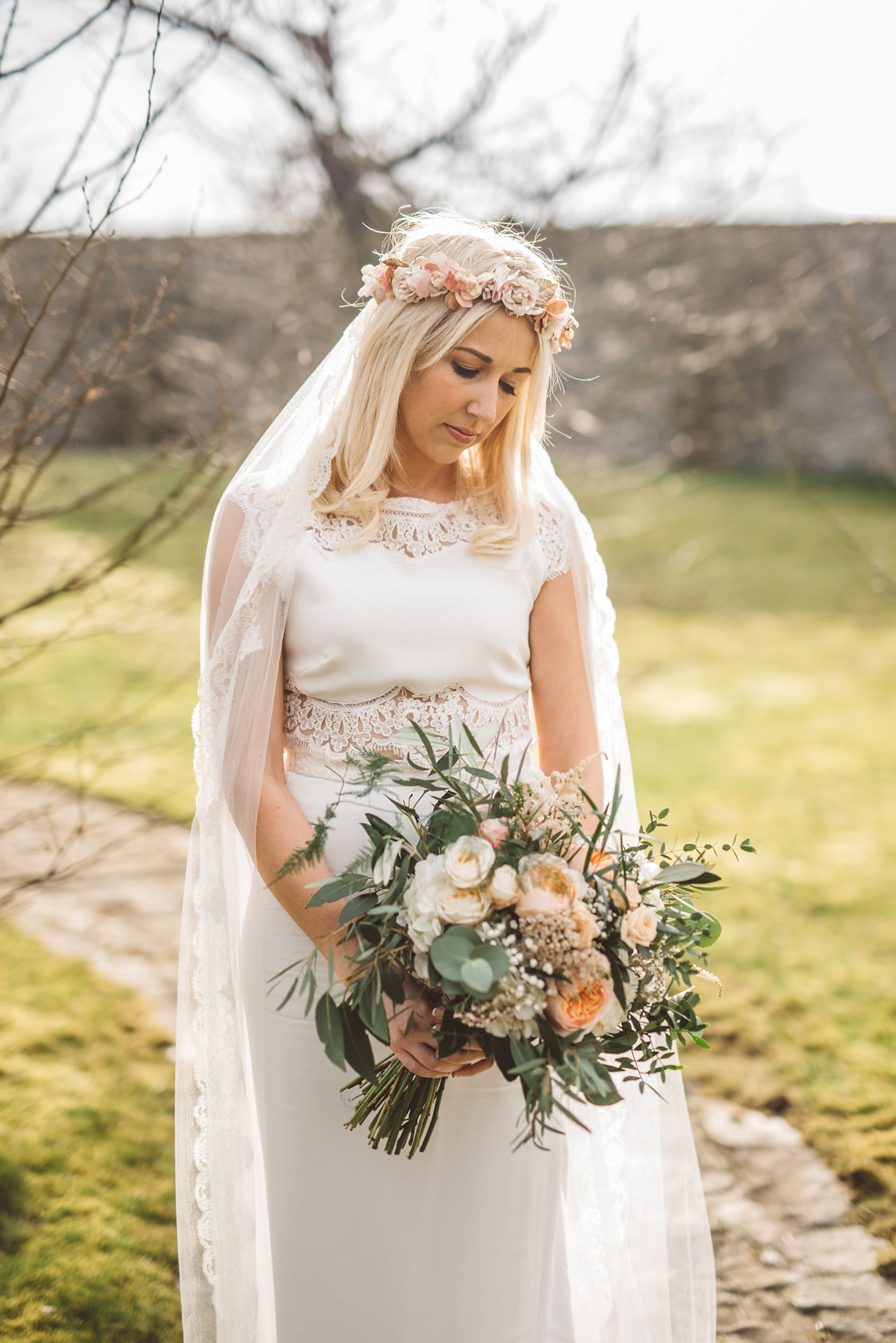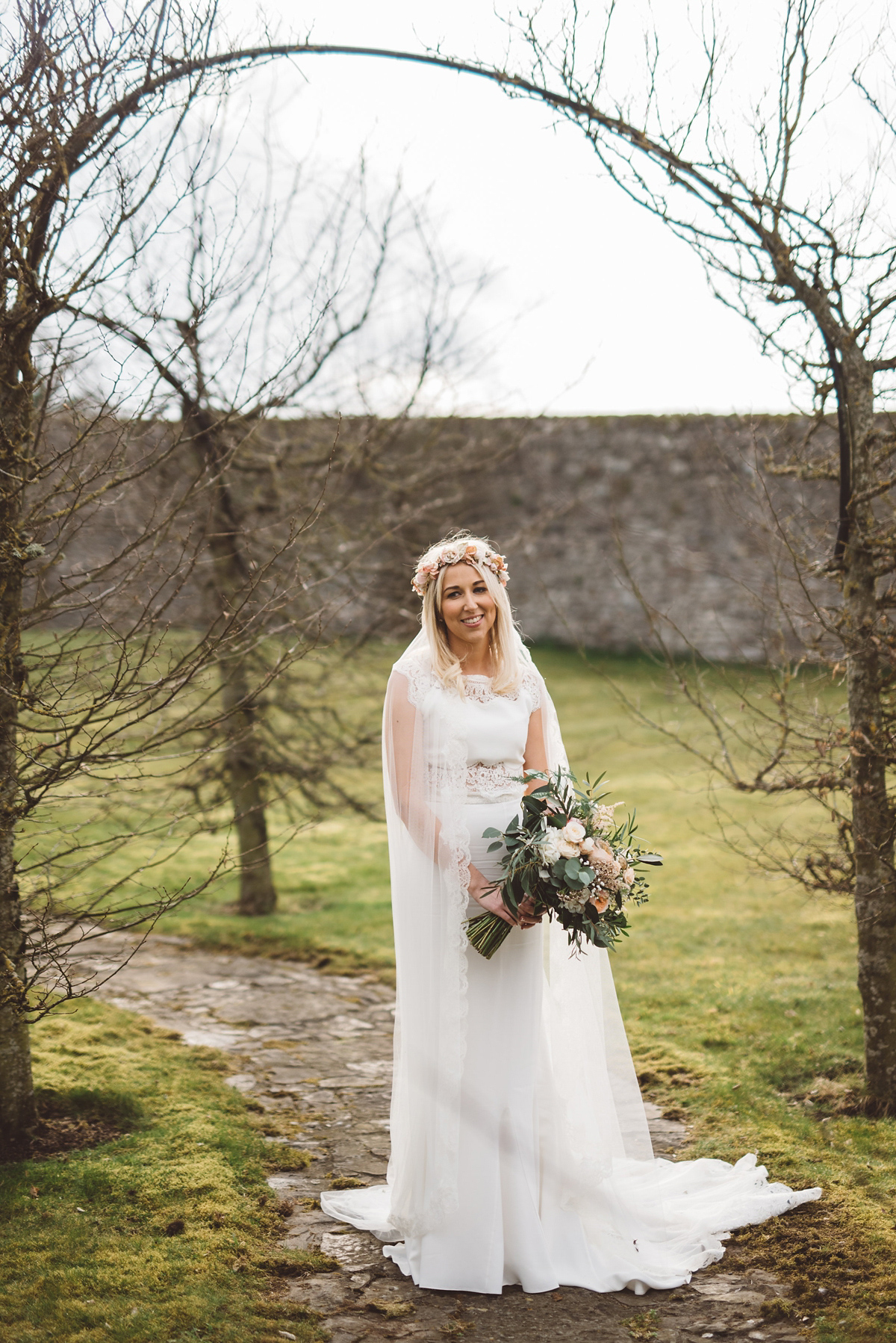 Frazer's custom-made three-piece blue tweed suit by Chris Suitor of Suitor Belfast and The Belfast Tailor included a personalised monogram stitched inside, which read 'F&H 23/03/16'. His shoes and belt were from Robinson's Shoemakers, pale blue shirt via The Tailor Store, tweed tie from Statement Menswear and he added the sweetest touch; a Burberry pale blue pocket square (from eBay) with off-white lace trim stitched on by his Auntie Florence. And Heidi gifted Frazer with cufflinks engraved with FH on top and the date of their engagement (06/08/13) on the back.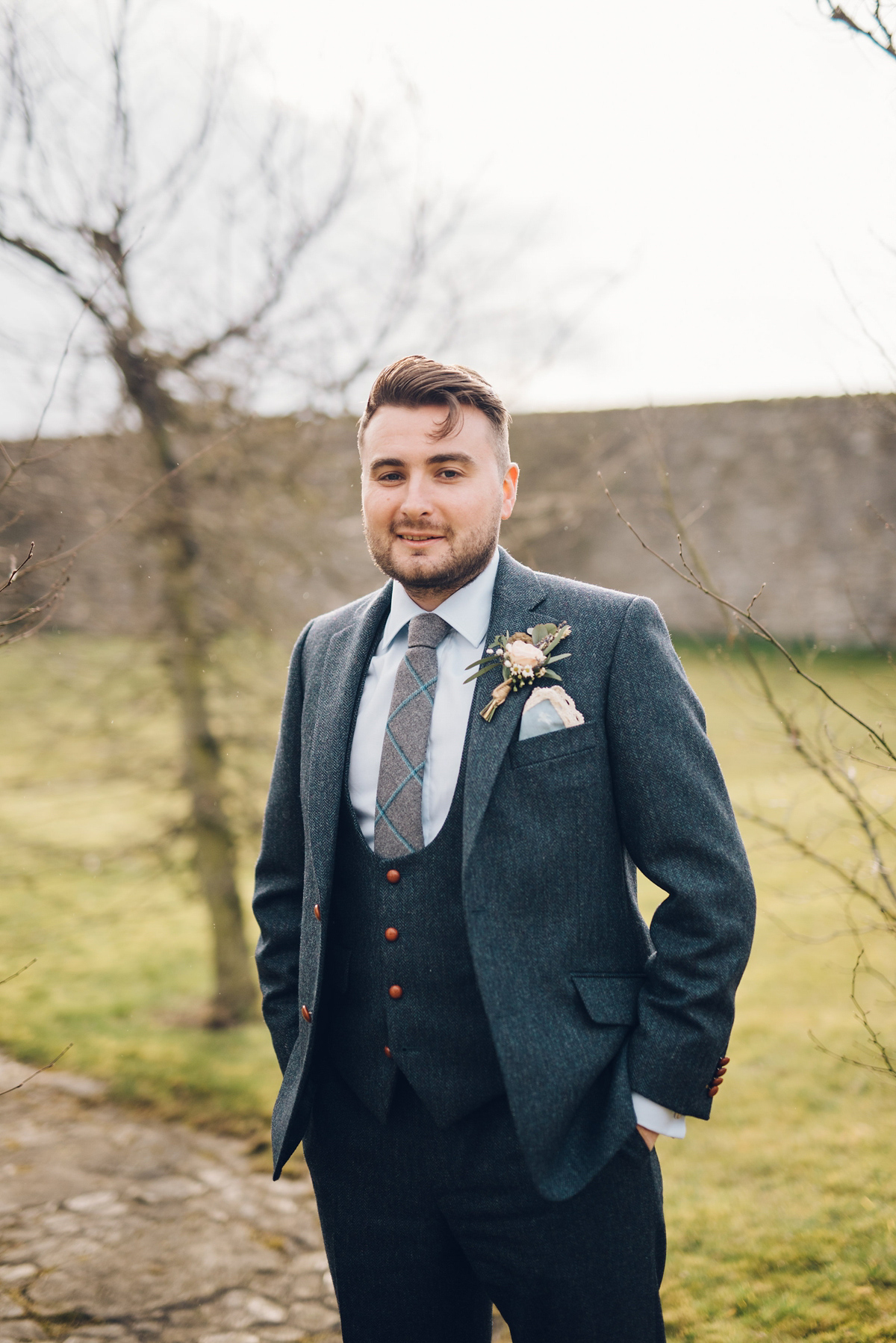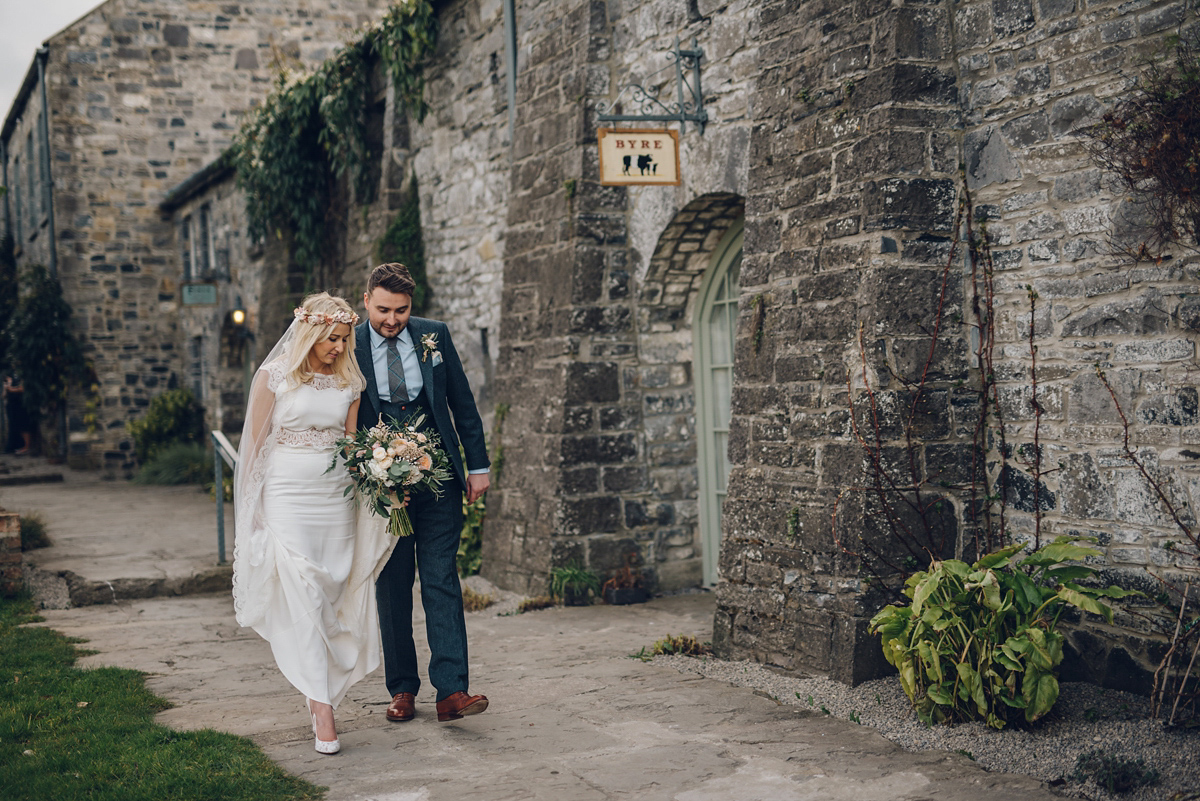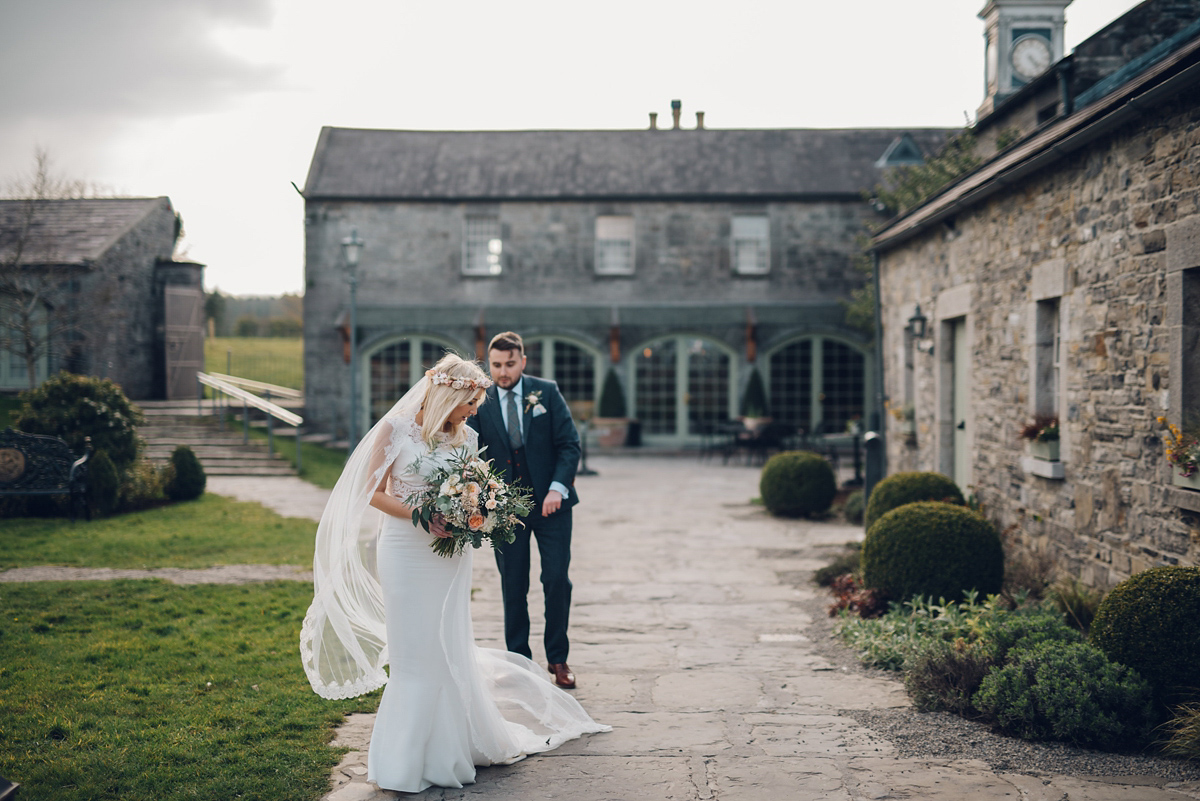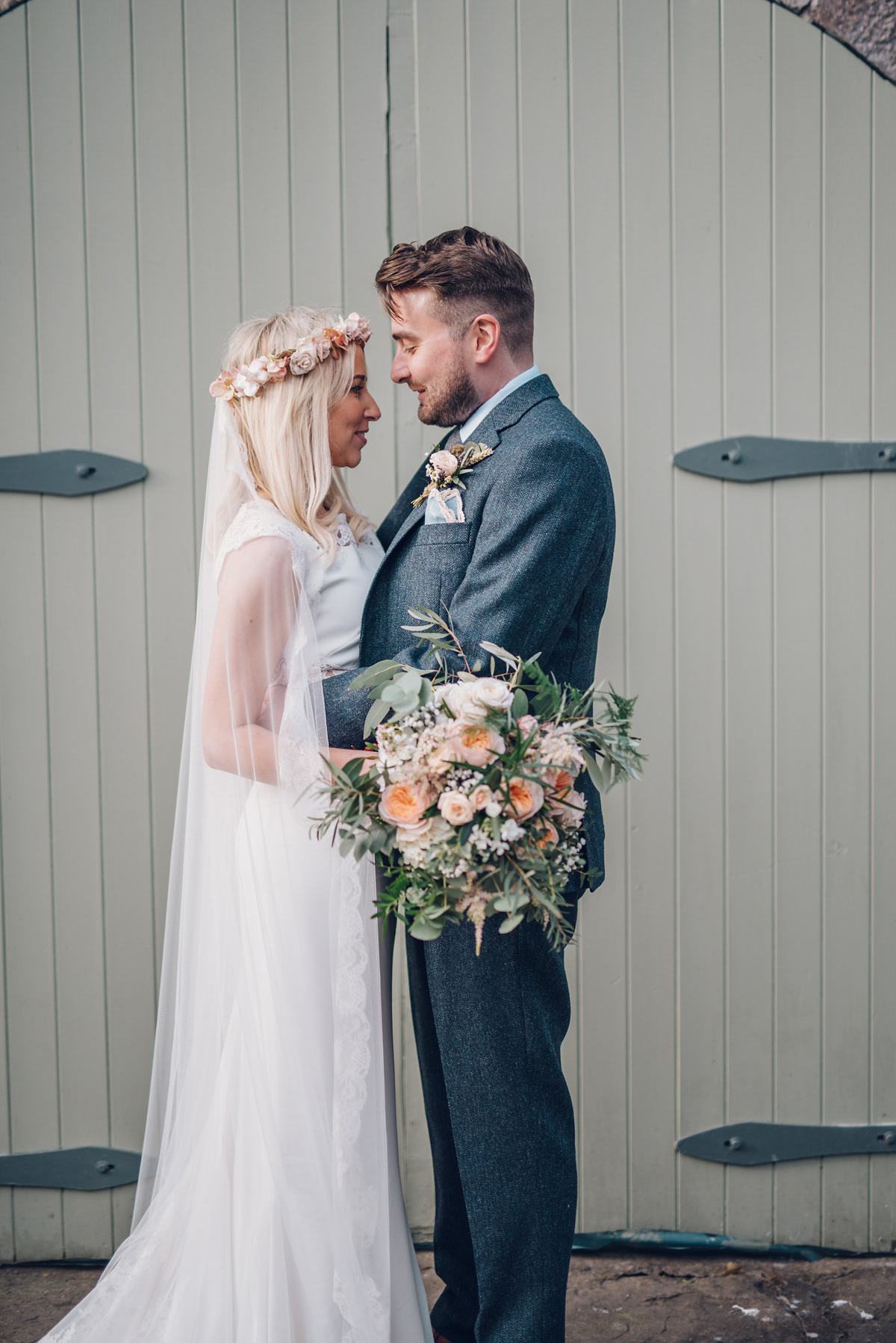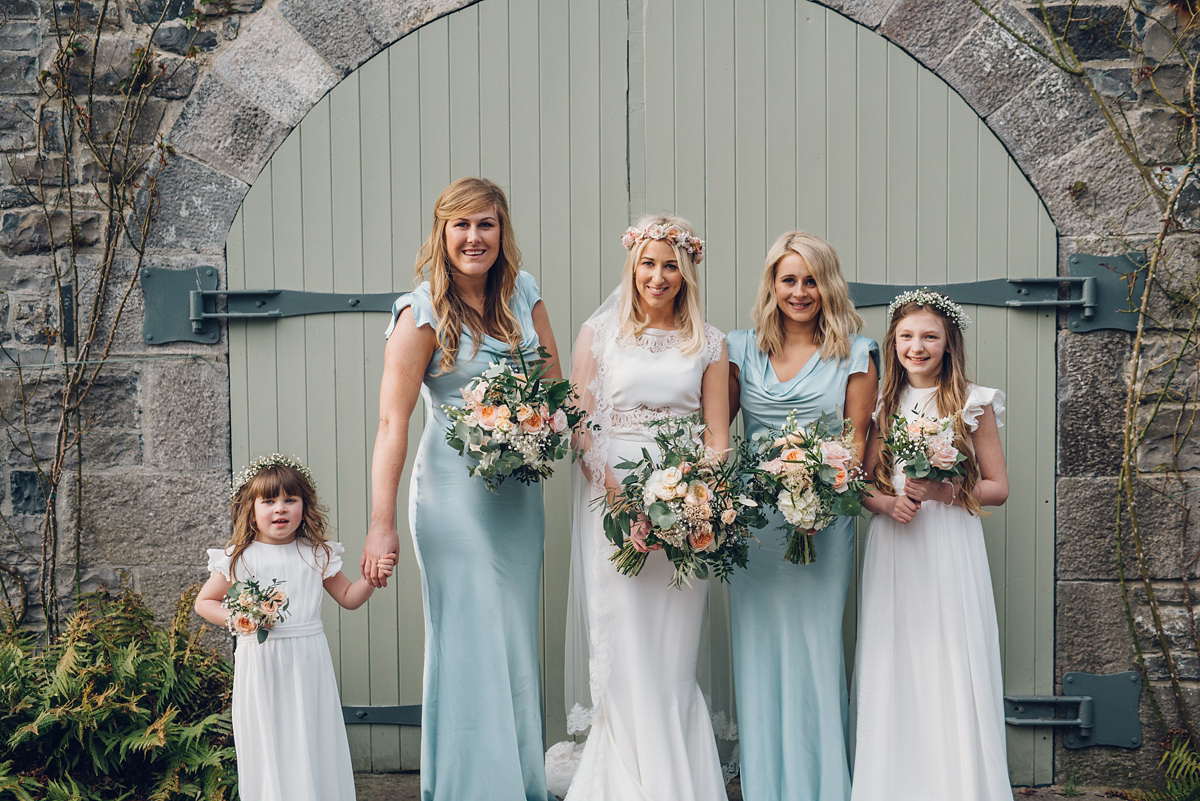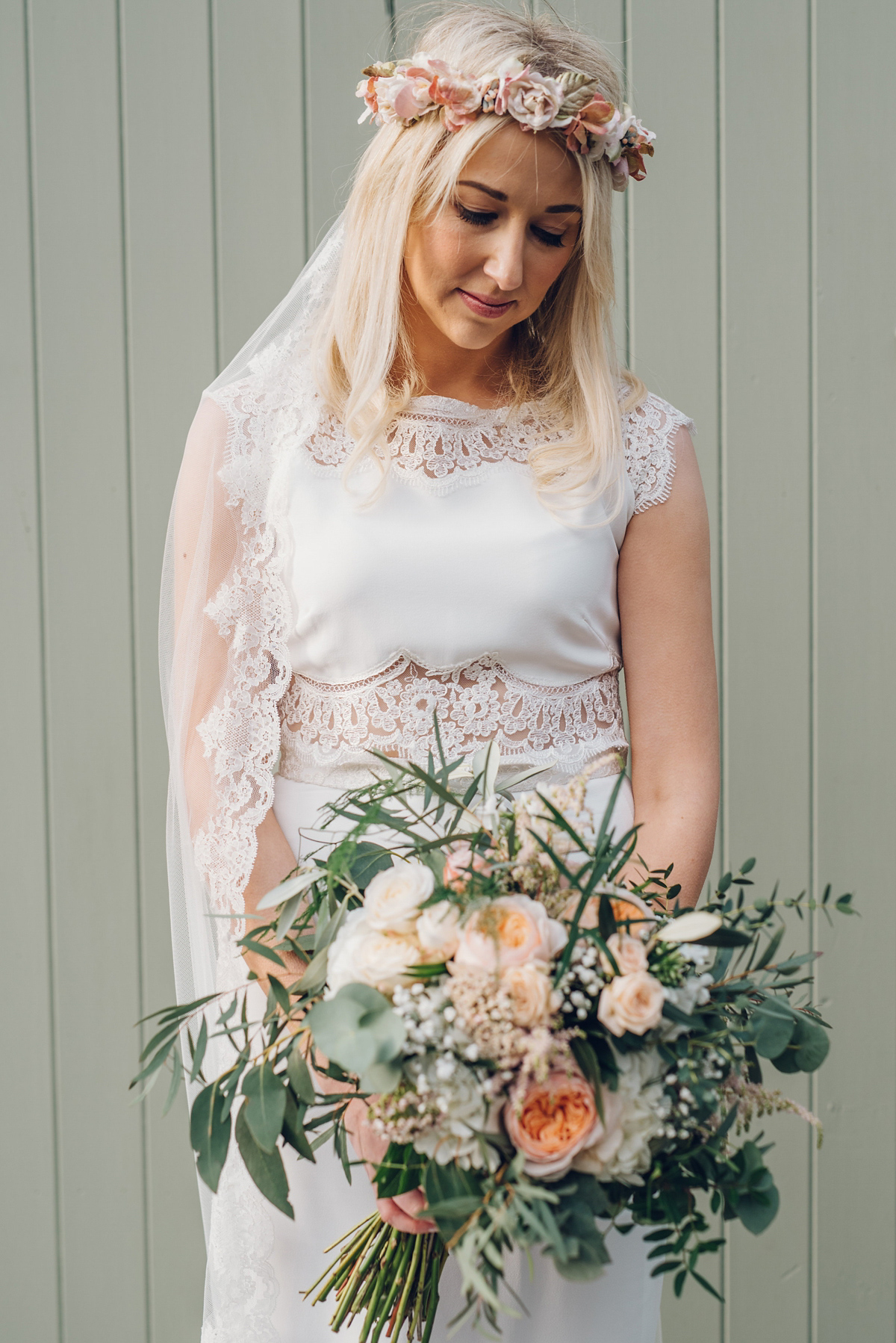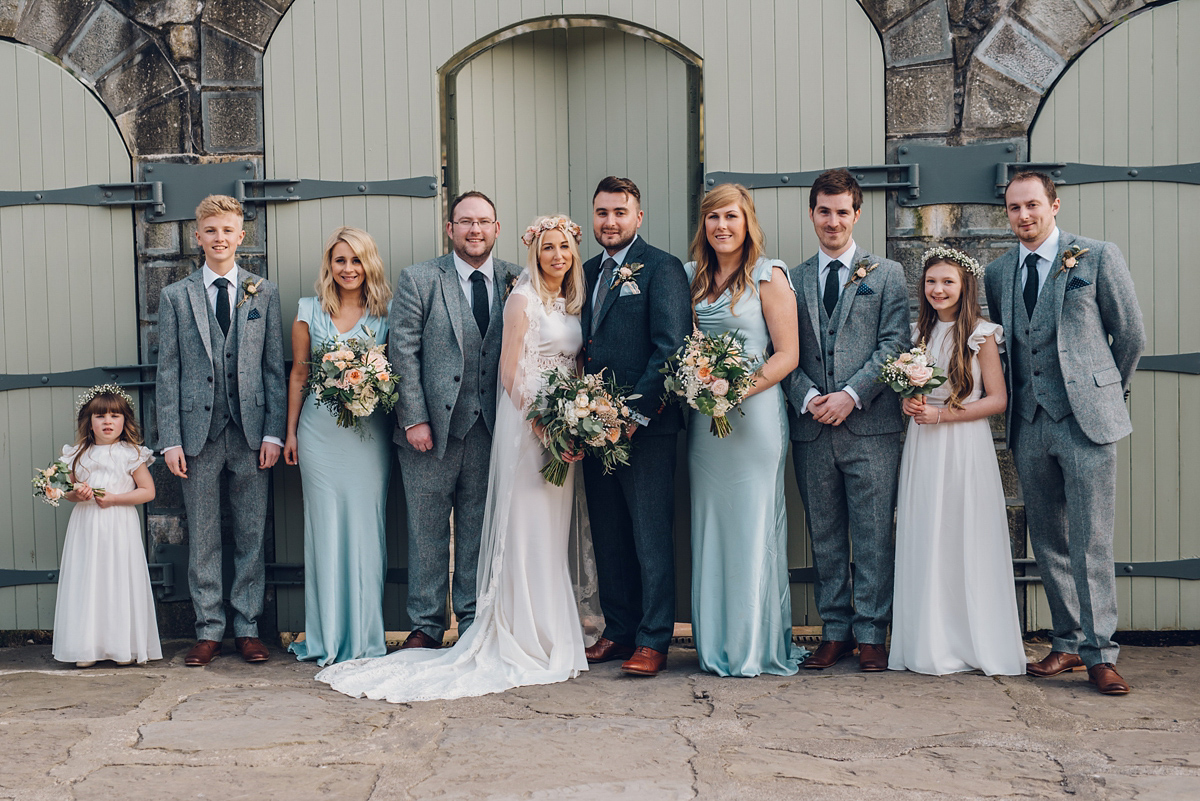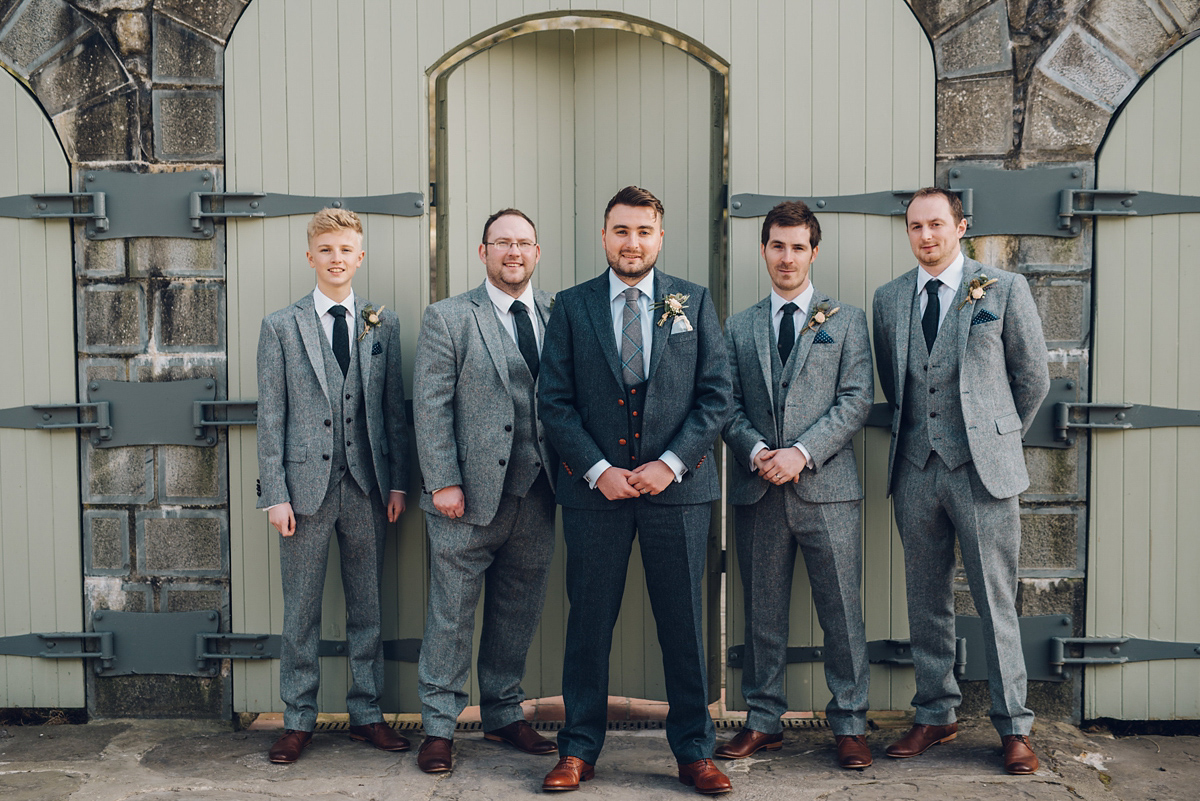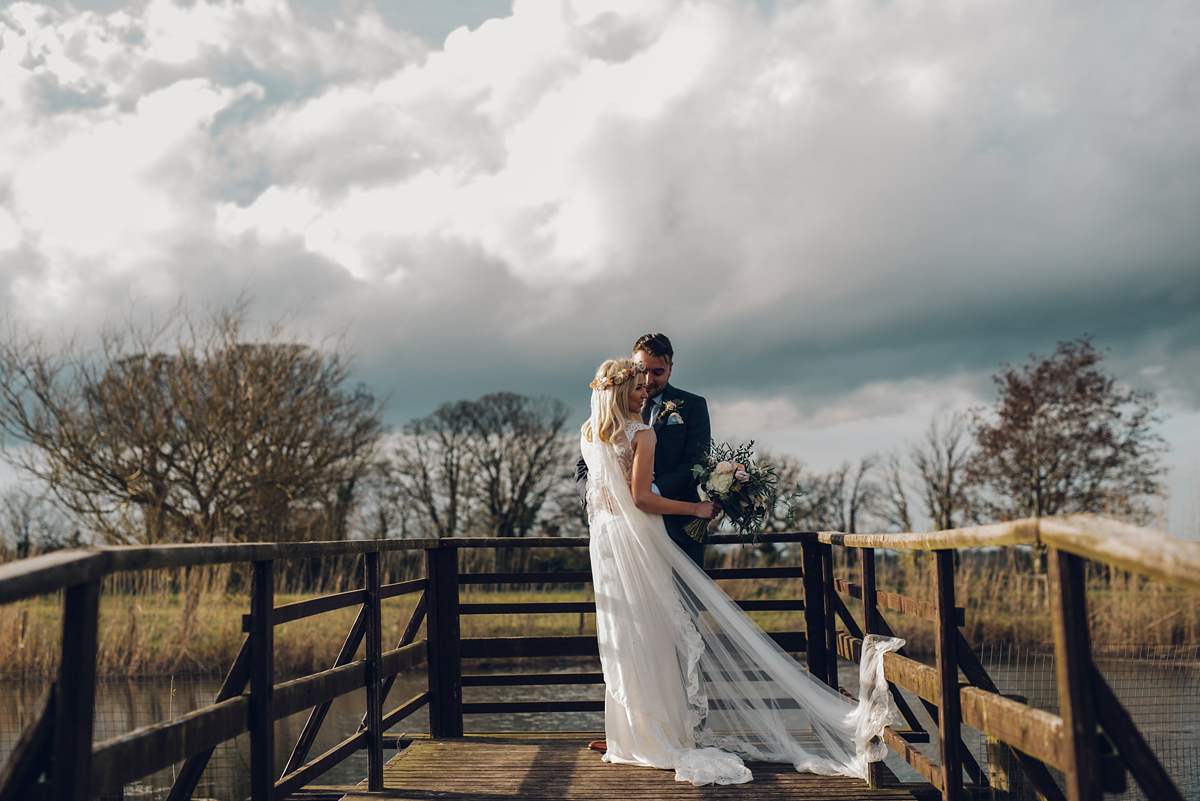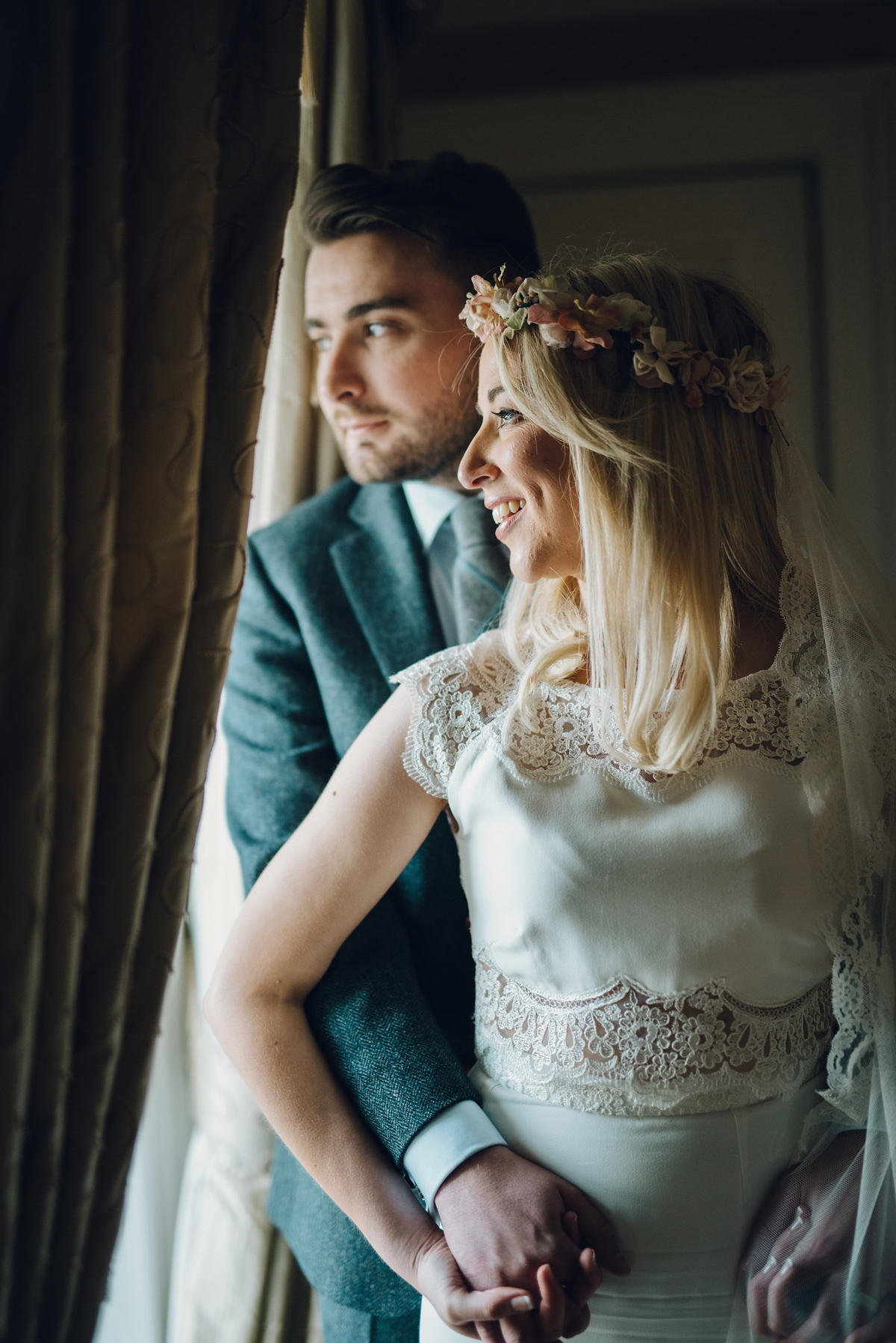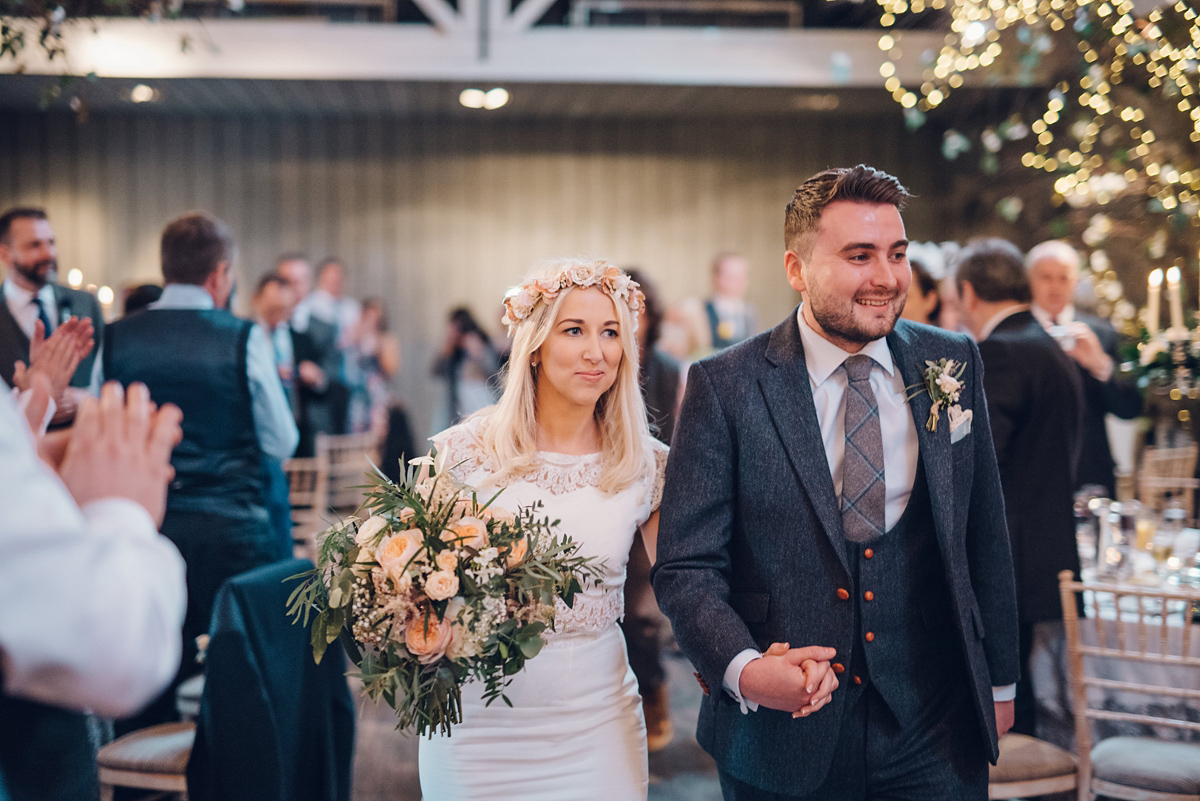 The chocolate bar favours have the most heartfelt tale behind them.
"For our favours, we decided to go with a company called 'Wee Choco' who made and provided six flavours of large chocolate bars for us which we piled in a rustic wooden crate. Each chocolate bar was wrapped with a beautiful personalised "old style" paper wrapper."
"The lovely thing is that this company provides employment opportunities for people with learning difficulties. Wee Choco look past learning difficulties, and tap into the creative talents of those with special needs, employing them to create and wrap each and every chocolate bar."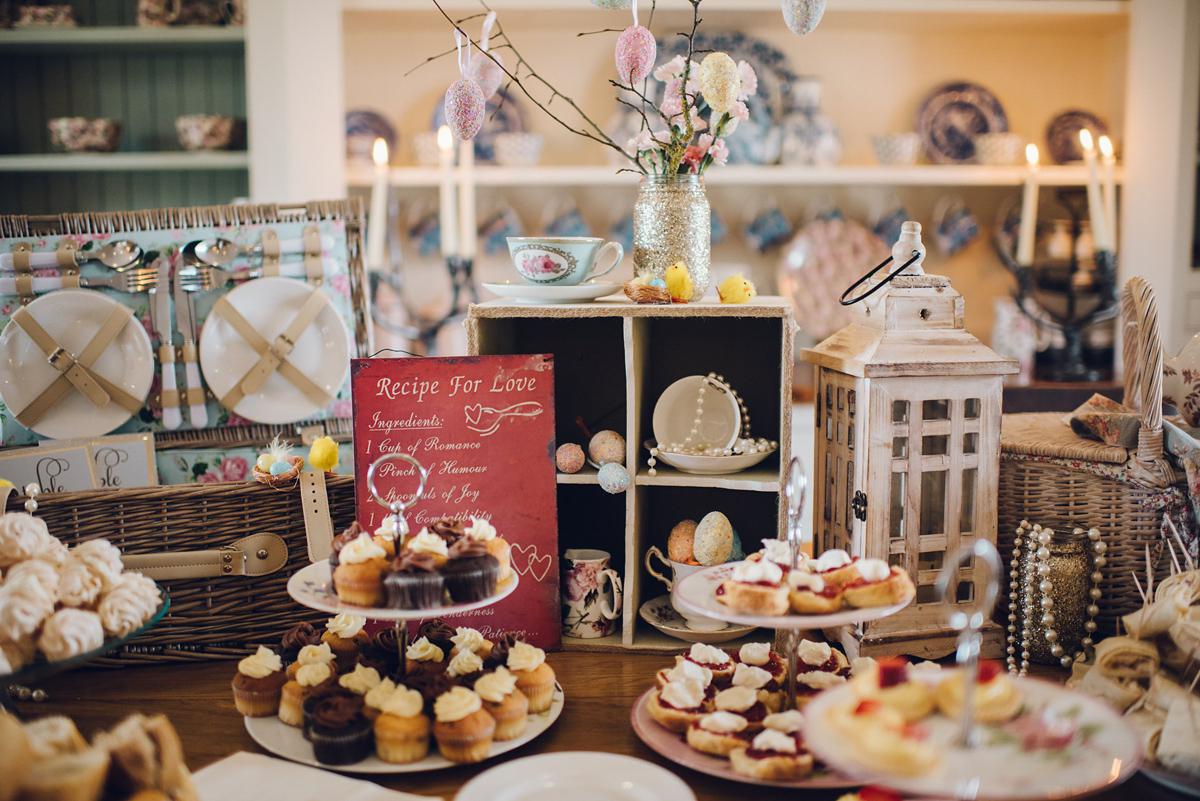 To compliment the venue's many quirky areas, the couple added props from notonthehighstreet.com – personalised rustic wooden crates, vintage photo booth props, hessian bunting, linen/lace bunting, personalised wooden outdoor directional sign, and kids 'I-Spy' camera game props. They also added photos of themselves (placed throughout the manor house) and photos of their parents on their respective wedding days and of their grandparents (placed beside the wedding cake).
"The money paid to Wee Choco goes towards supporting the employment opportunities that they provide – a very worthwhile cause, and one that is very close to Heidi's heart."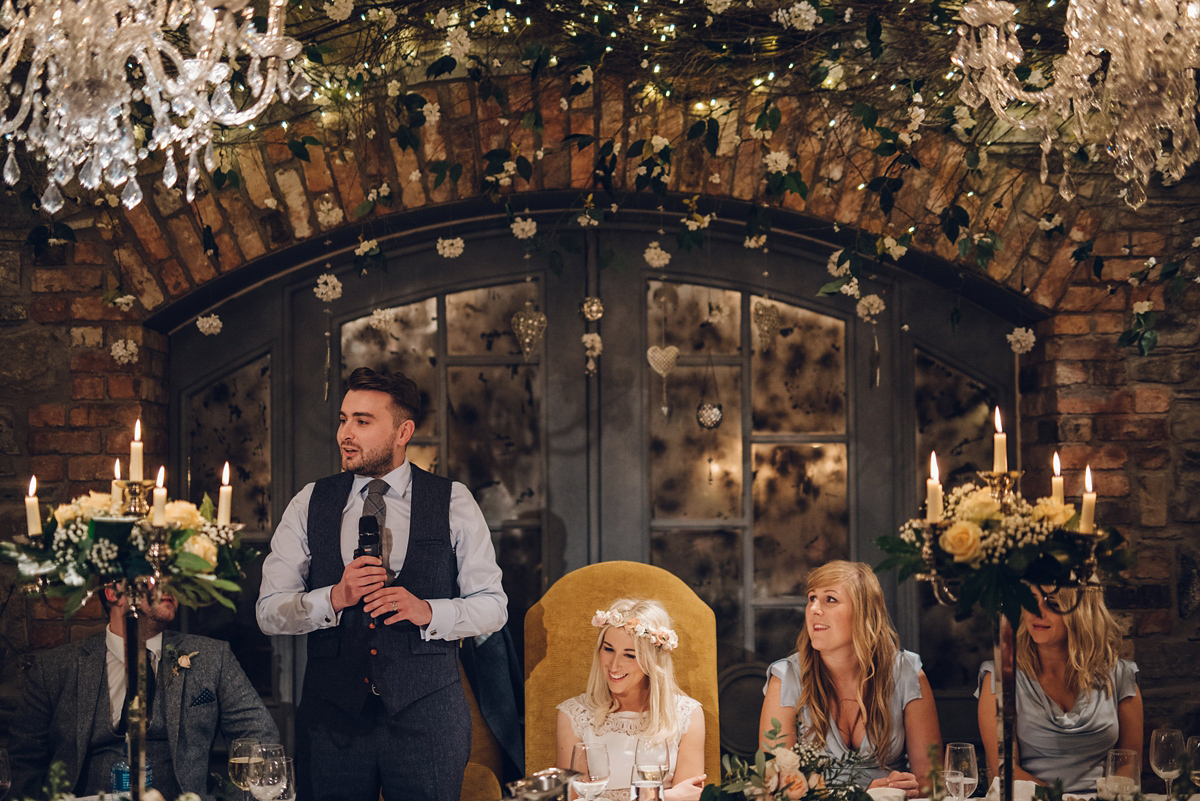 The incredibly delicious-looking cake was by Wendy Clint, Frazer's cousin, and sat atop a rustic wooden log cake stand, which was made by Patrick Walsh of Wooden Treats, complete with an engraved heart shape and 'Mr & Mrs McFadden, 23 March 2016' carved into the front. I absolutely adore the very special touches Wendy included in her design.
"We didn't even consider asking anyone else about a cake, and it meant so much to us that Wendy agreed and was able to do it. We both loved the rustic nature of buttercream icing and wanted a range of textures, twine and flowers rather than something fussy and ornate. Wendy captured our vision perfectly and produced the most stunning three-tier cake for us. Each tier had buttercream icing applied in a different pattern/texture."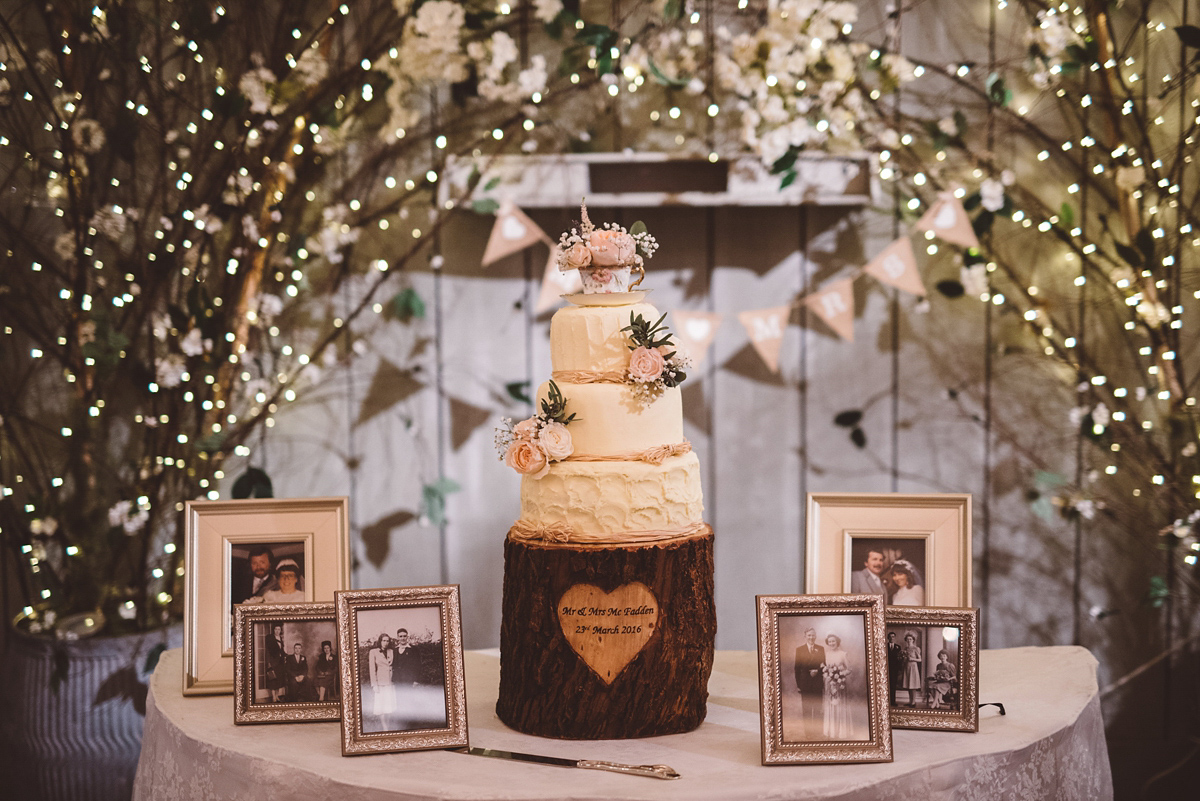 "Separating each tier was a rustic twine hand tied in a small bow. There were a few small flower arrangements to match the bridal flowers added to the cake, one of which was placed on top of the cake in a small floral teacup (over 100 years old) which has been passed down through the generations on Heidi's side. To top things off, Wendy even placed a little ceramic plaque with the words 'made with love' on the back of the cake, solely for us to see as we cut the cake … a small touch which meant an awful lot to us."
"Our amazing live band, The Gents, were four very talented musicians who entertained us all. And our first dance song was 'Tenerife Sea' by Ed Sheeran, who we both love. I took Frazer to Wembley the previous summer to see him live for his 30th birthday. After that, there was really only one choice for a first dance song!"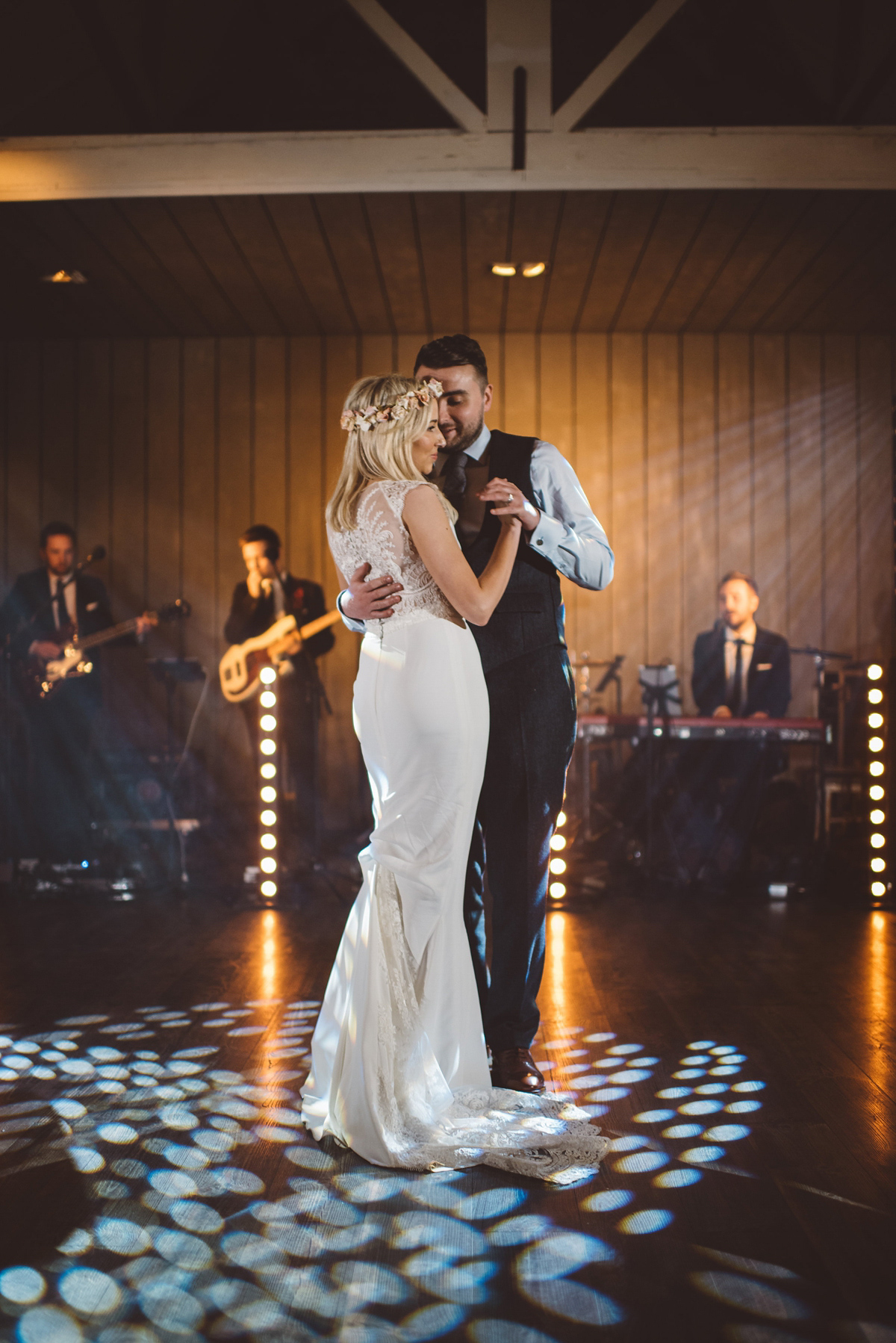 Words of Wedded Wisdom
"Enjoy every single minute of it, as the day comes and goes in a flash! Take a few moments aside together at regular intervals on your big day to chill out and to take everything in. We were afforded the opportunity to do this, and it was absolutely priceless.
Frazer and I know each other very well (which is to be expected when you are with someone for over 10 years prior to getting married), but we definitely know we are meant to be after buying each other almost the same wedding gift. I thought of the unique idea of commissioning a painting of our wedding venue 'Ballymagarvey Village' for Frazer, whilst Frazer came up with the equally unique idea of commissioning a painting showing both the church and Ballymagarvey Village for me!"
I just love this wedding gift story – proof that Frazer and Heidi were meant to be together. It's been a privilege to share your day with our readers and I cannot stop staring at Kat's brilliant photos which so beautifully capture the vibe and the style of the day. For even more boho style by the talented Rime Arodaky, see here.
Sending hugs and positive thoughts to you all,
Love Jo -x-