One of the things I love most about the weddings featured on Love My Dress is that it highlights just how much choice there is when it comes to your wedding dress. Full-length, tea-length, long sleeves, no sleeves, jumpsuit styles, two-piece ensembles, traditional white, and bold colours like this brilliant rainbow dress; there are endless options. The beautiful bride we're viewing today chose a short dress from Reiss, complete with pockets, for her wedding to Ben on the 27th of August 2016 at Brunswick House in Vauxhall, London.
Groom Ben works in market research, whilst Jennifer's field is Human Resources. Upon planning their big day, they chose the Mayfair Library for the ceremony – a registry office in Mayfair with a small room for the ceremony and a lovely garden outside – and Brunswick House filled with loads of cool antiques for their reception.
"I tried quite a few more traditional wedding dresses, but they didn't feel like they were right for me, and this was a really nice, simple, but still elegant dress which seemed perfect. It also had pockets, which was handy!"
Photography by Steve Fanstone
"We really wanted a unique and relaxed feeling with our venue in London. Ben and I looked at hundreds, and this one – a grand old house which is now a restaurant, bar and antiques showroom – had exactly the vibe that we wanted and we loved it as soon as we saw it. We didn't really have a theme or specific style in mind; the most important thing for us was having a relaxed and welcoming feeling where everybody could enjoy the party, and the drinks!"
Jennifer donned a groovy pair of Ted Baker heels and accessorised her elegant look with an old favourite flower headband from New Look, a Thomas Sabo black bracelet, Swarovski sparkly silver bracelet, and a necklace that belonged to her mum.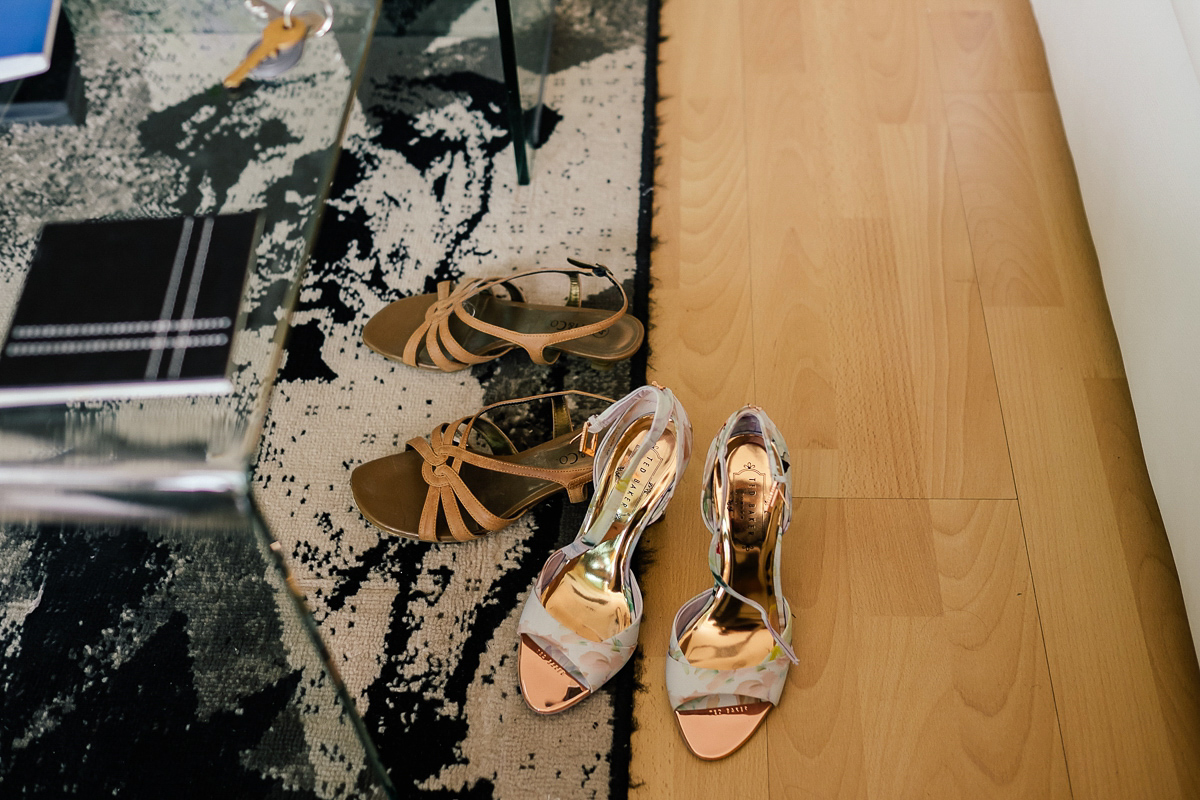 "My friend got me a wedding present of a perfume consultation with Jo Malone, so I got to wear the custom perfume that they made specially for the day."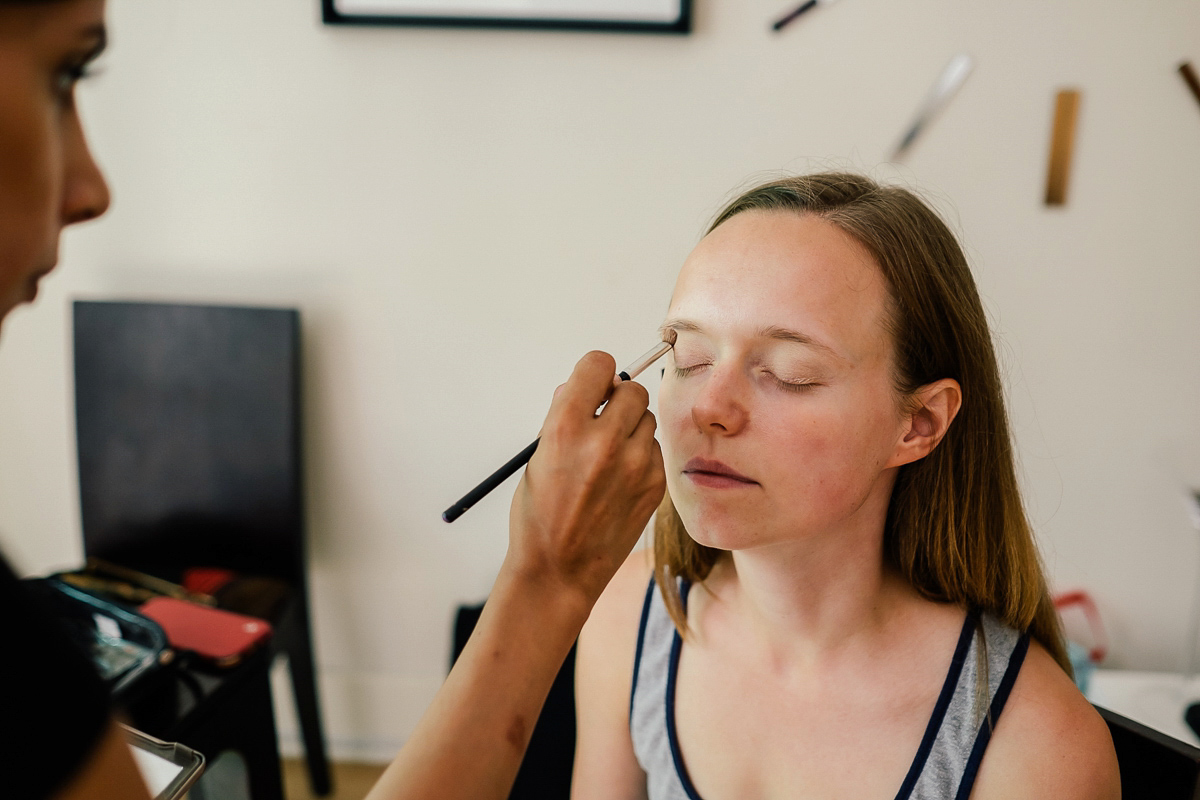 "We had seen a few wedding specialist florists, but we didn't need anything epic, and they all seemed really overpriced."
"The Flower Yard made us great jam jar flowers for our tables, a lovely wild flower bouquet for me and buttonholes for the men with a Scottish theme."
Sophia from Lipstick and Curls (one of our darlings from the most helpful of wedding planning resources Little Book for Brides – see their listing here) did a gorgeous job with Jennifer's hair and makeup and her perfume was the result of a lovely gift from a friend.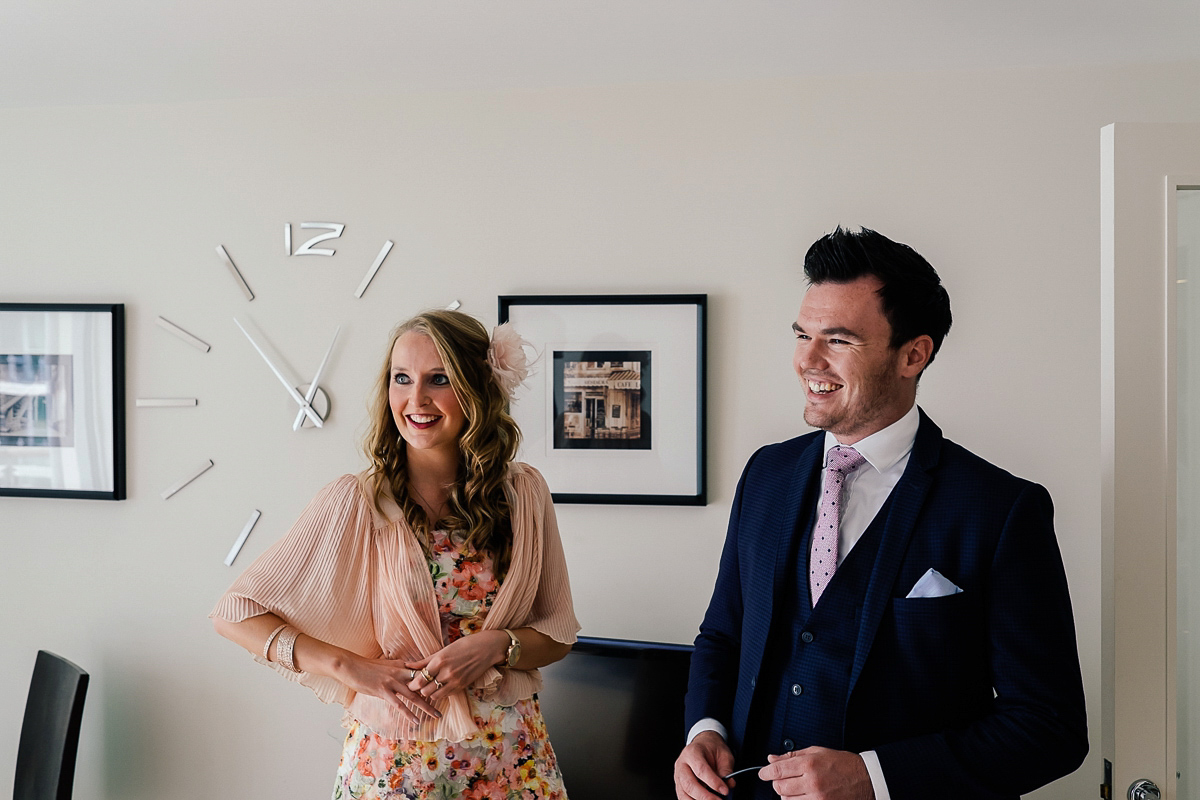 The bride chose to have her best mate by her side for support.
"I had a man-maid, not a bridesmaid. My best friend Paul wore a suit from Slaters and Ted Baker shoes."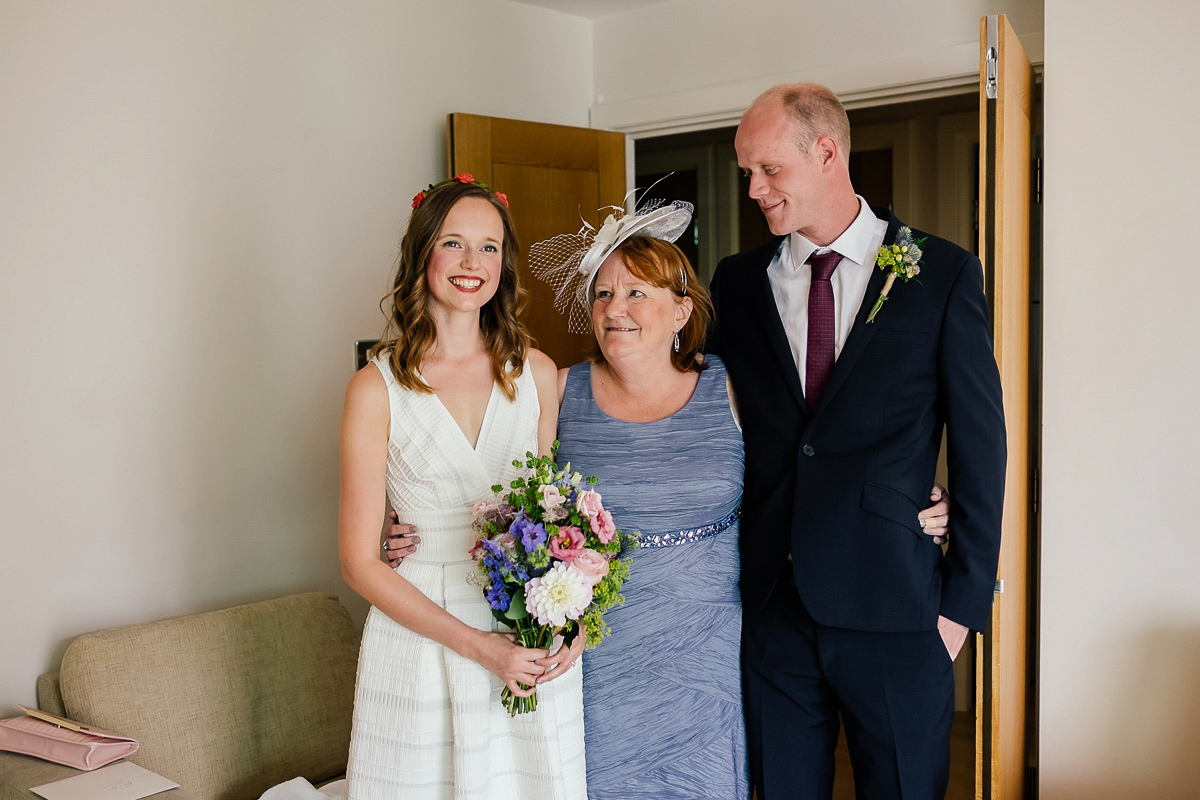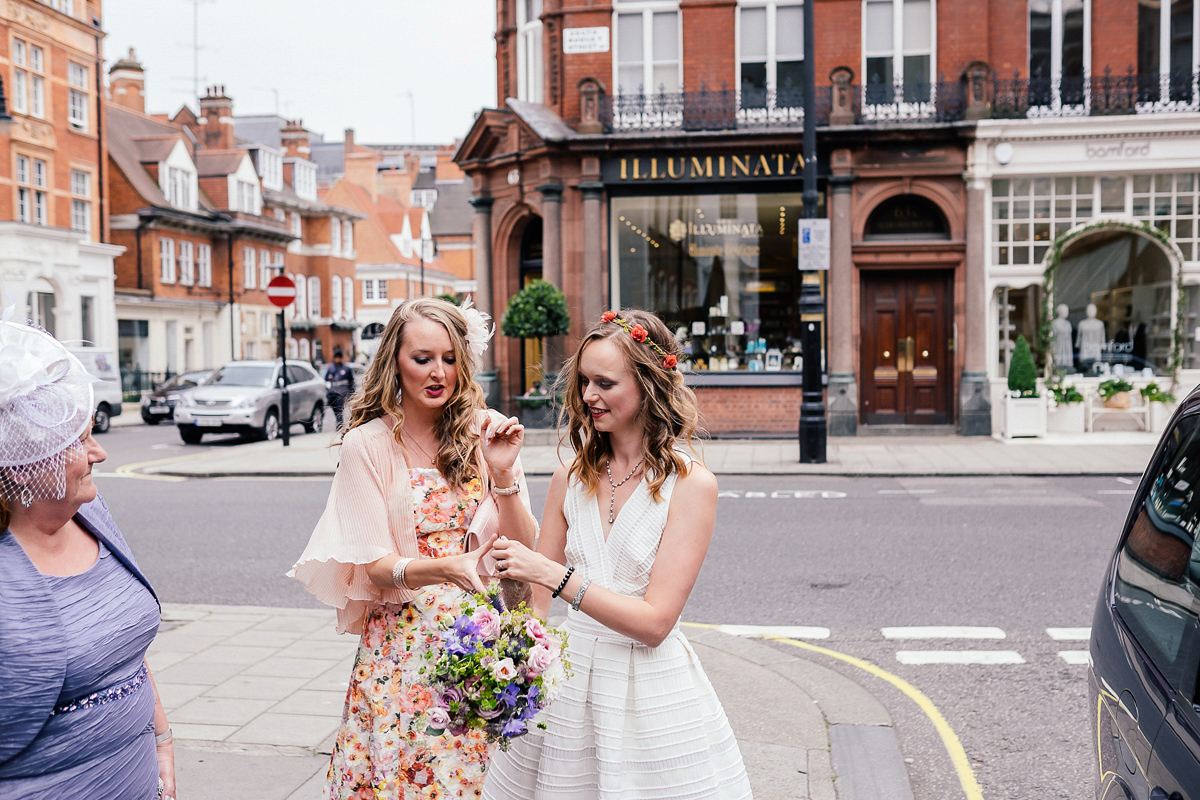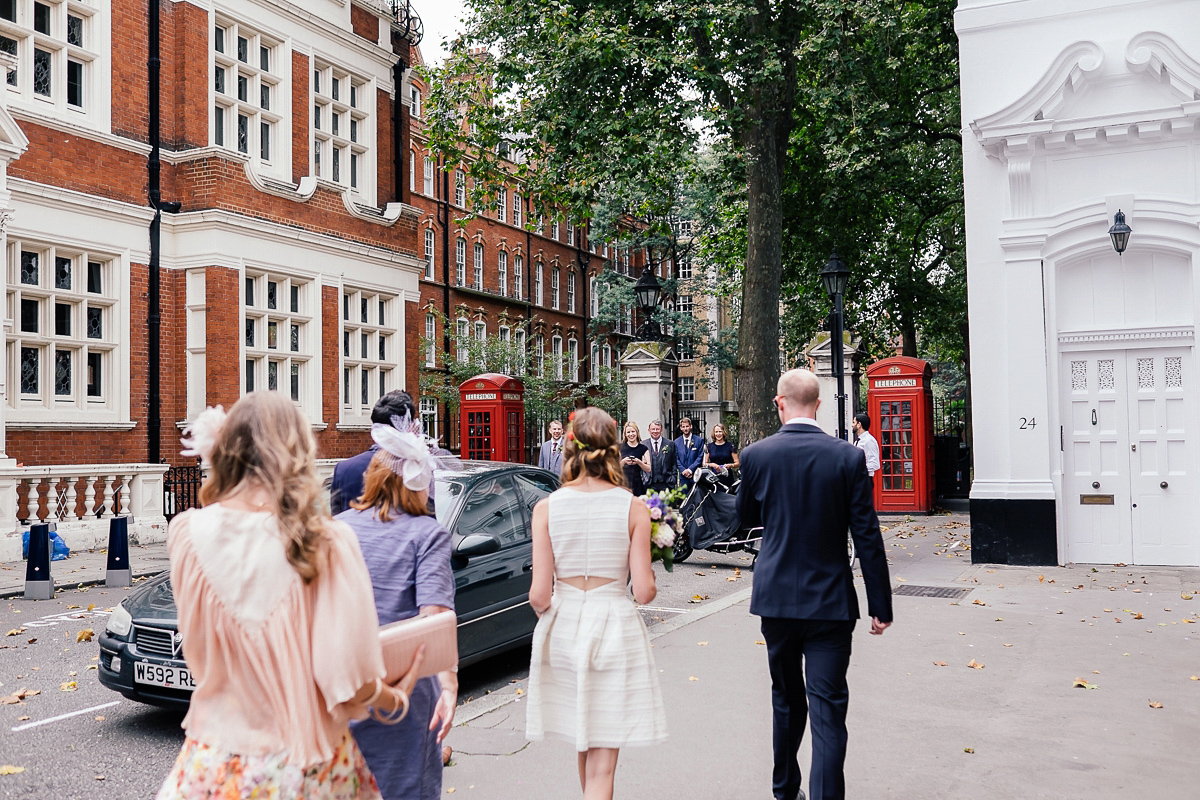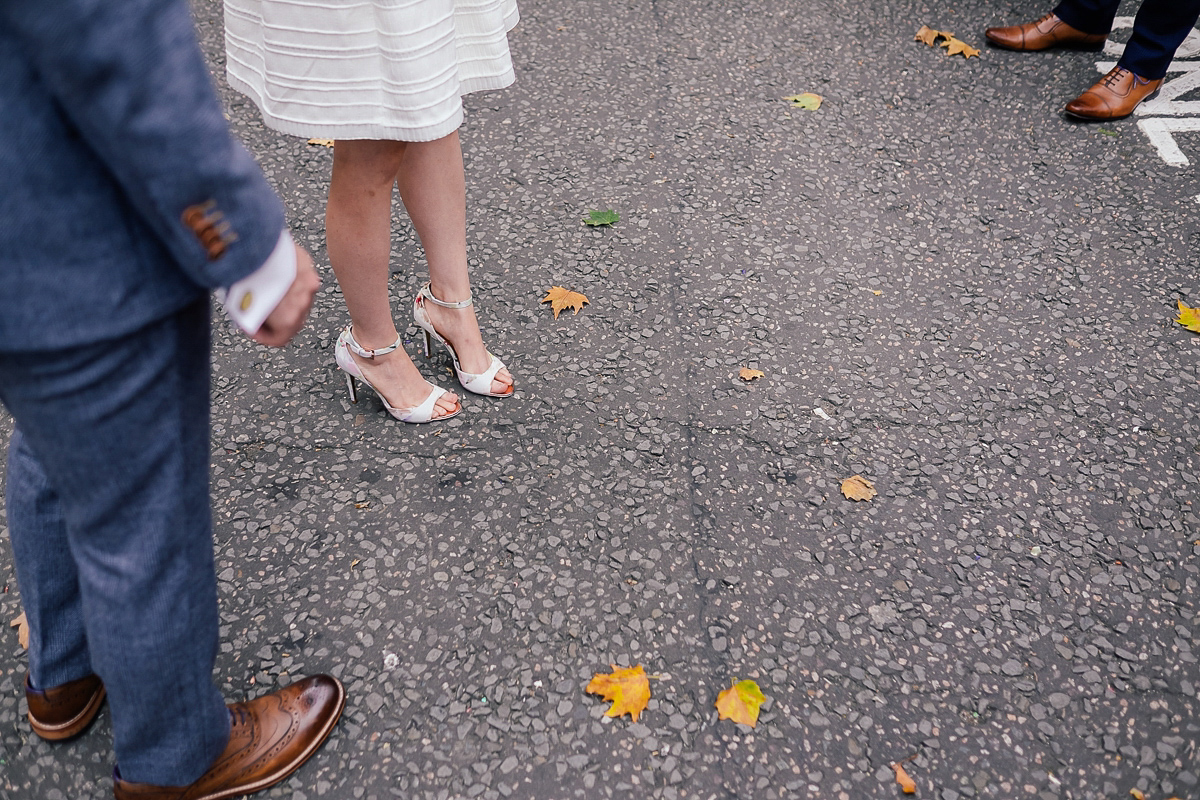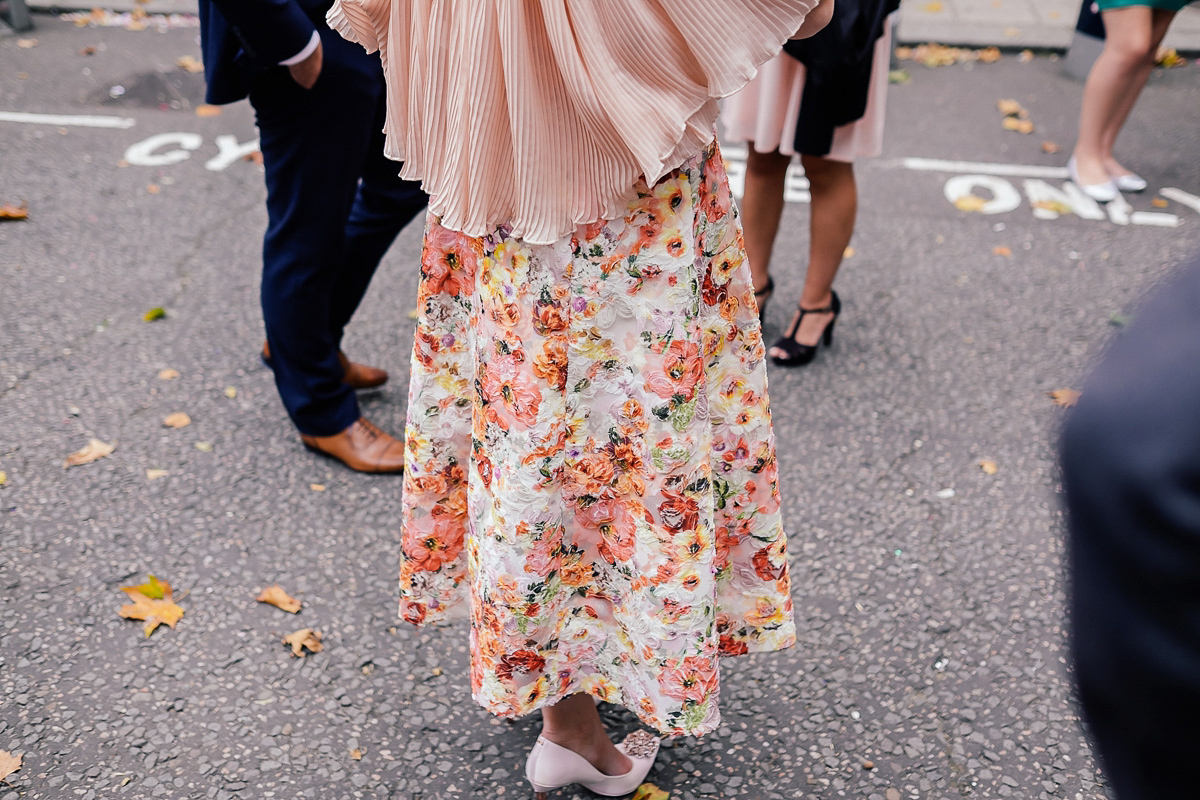 Ben looked very dapper in a Victor Valentine grey suit, Ted Baker shoes, Paul Smith tie-pin, Peckham Rye tie, boutonniere from the florist and cufflinks from Etsy – made from old maps of Santa Fe and London where the couple got engaged and married.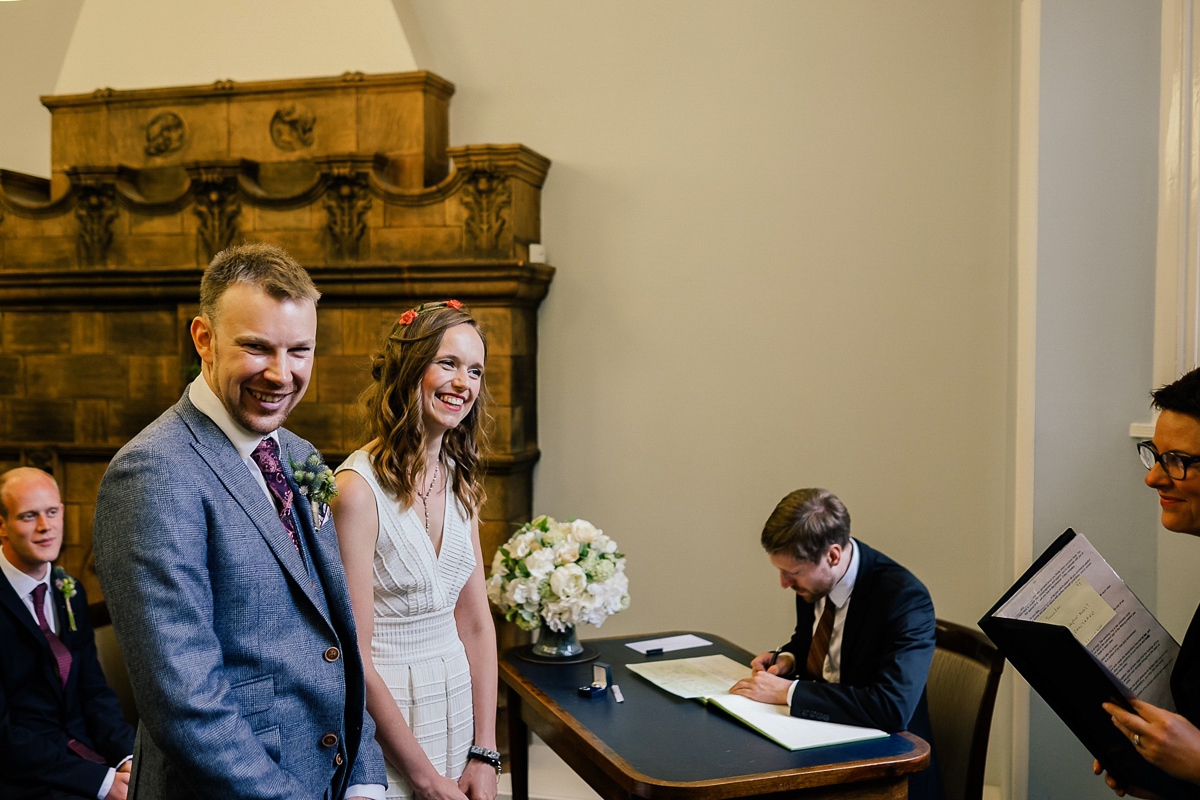 "We met at uni in Glasgow, although we only became a couple just after graduation. We had been together for eight years, and lived in London together for five when we got engaged. Ben proposed in Santa Fe on a road trip holiday we had planned for our thirtieth birthdays.
He had planned to propose before dinner, but several margaritas before dinner meant that he was quite drunk and decided that it was best to wait till we had both sobered up in case I thought it was a drunken whim (or forgot what I had answered!), so we got engaged the next morning."
Ben accompanied his beautiful bride down the aisle to the tune of 'Ain't No Mountain High Enough' by Marvin Gaye. They selected their favourite vows from the choice at the registry office and I love this sweet story behind the reading.
"Ben's mum made a reading of the lyrics to Bruce Springsteen's 'If I should Fall Behind', selected by Kirsten, Ben's sister, but then she was too nervous to read it on the day!"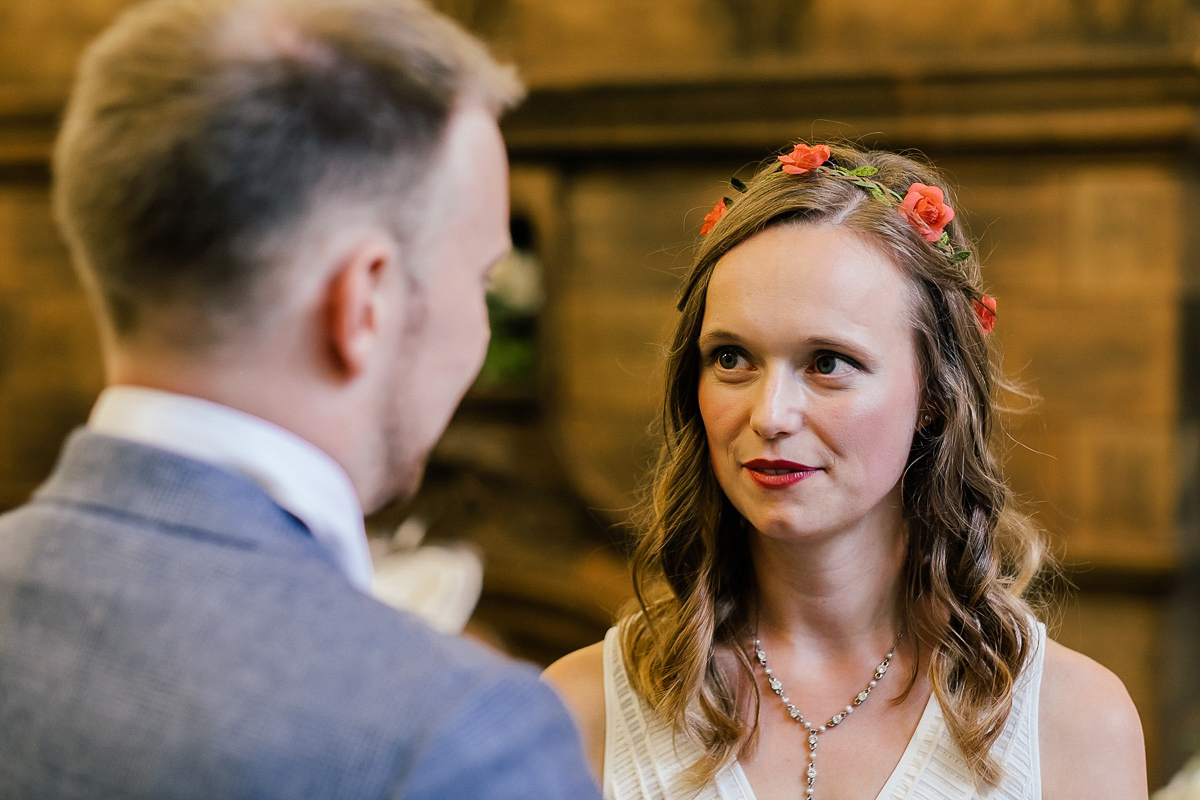 "We got both of our wedding rings and my engagement ring from E Katz and Co Ltd in Hatton Gardens."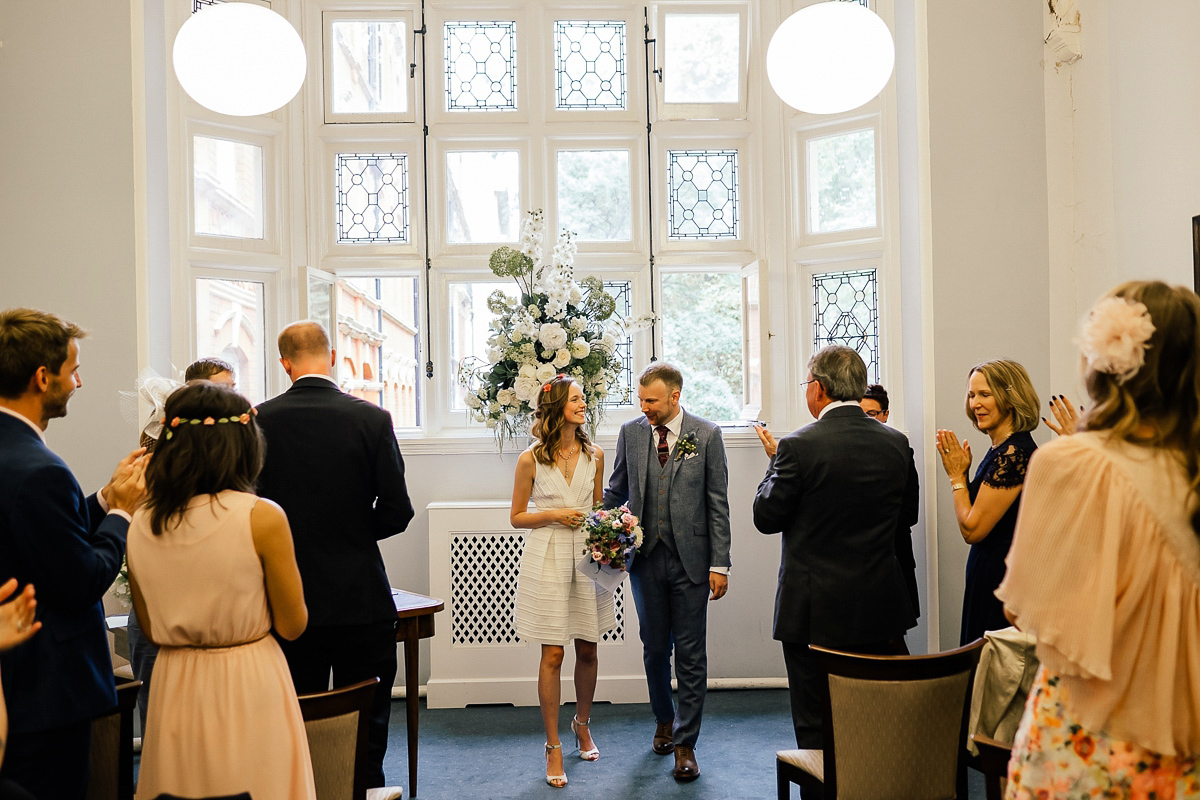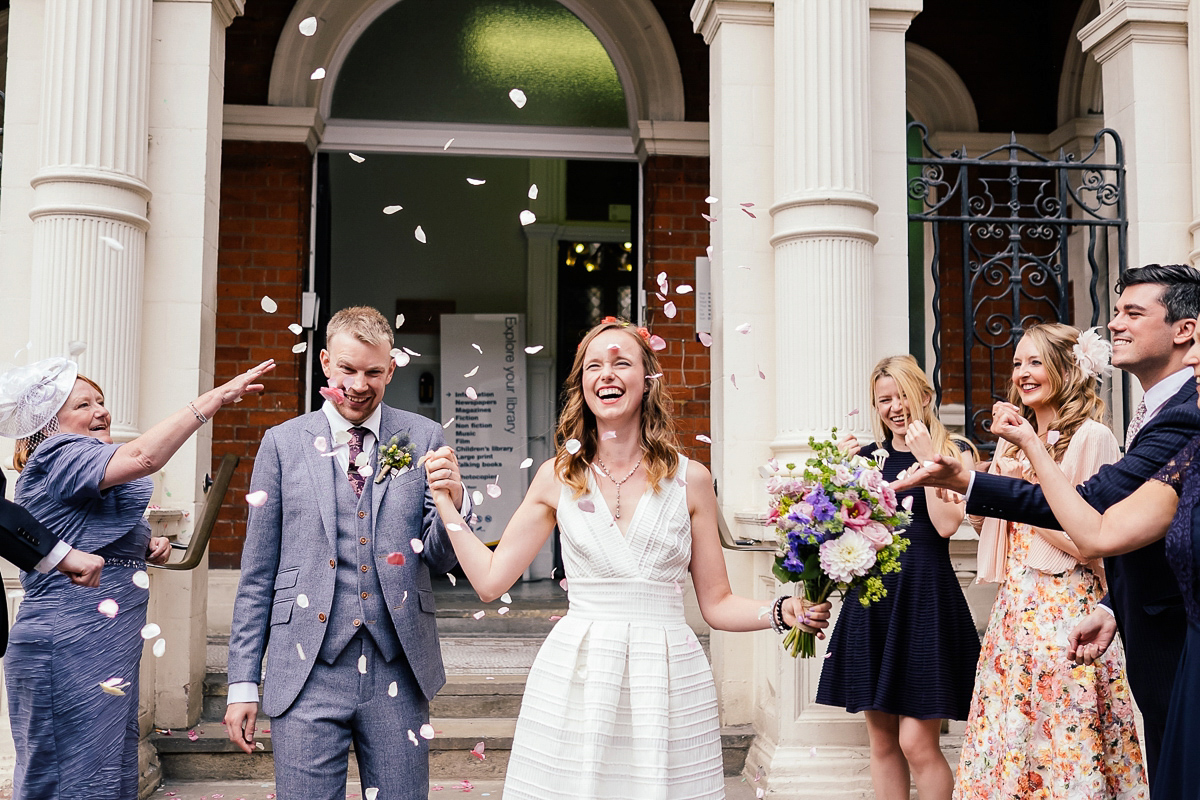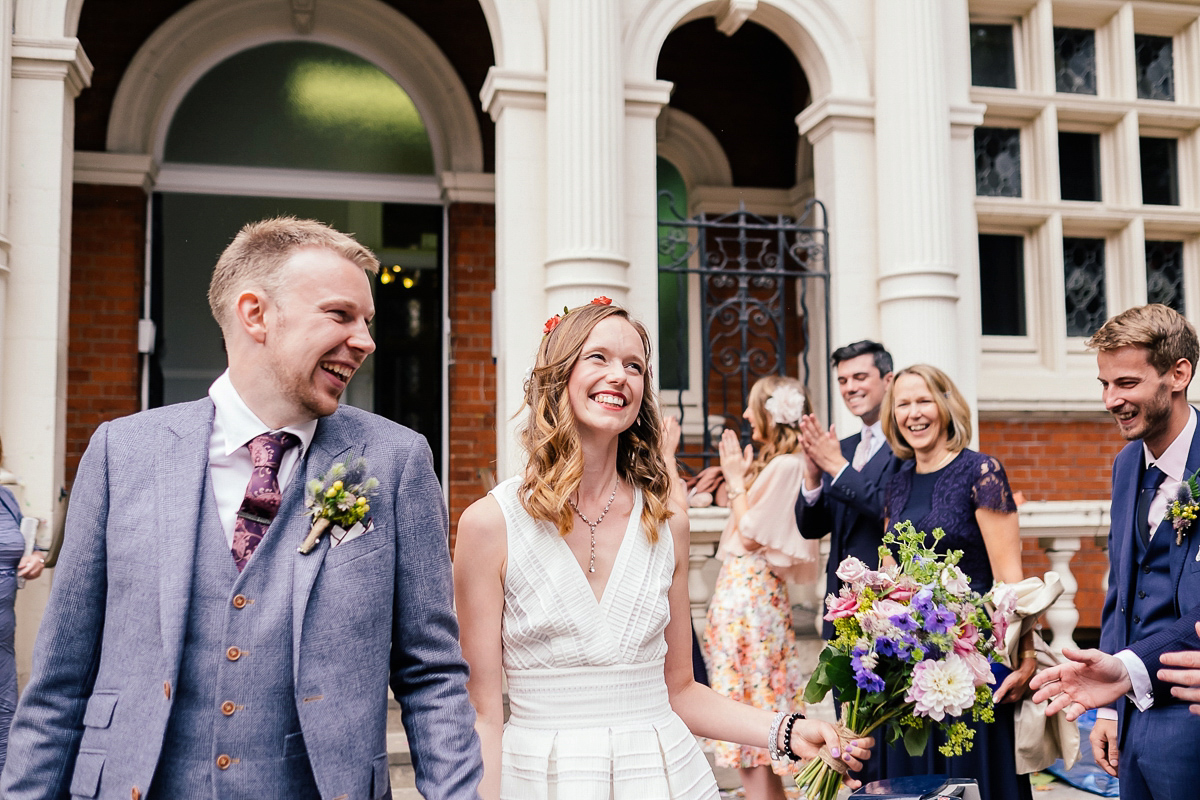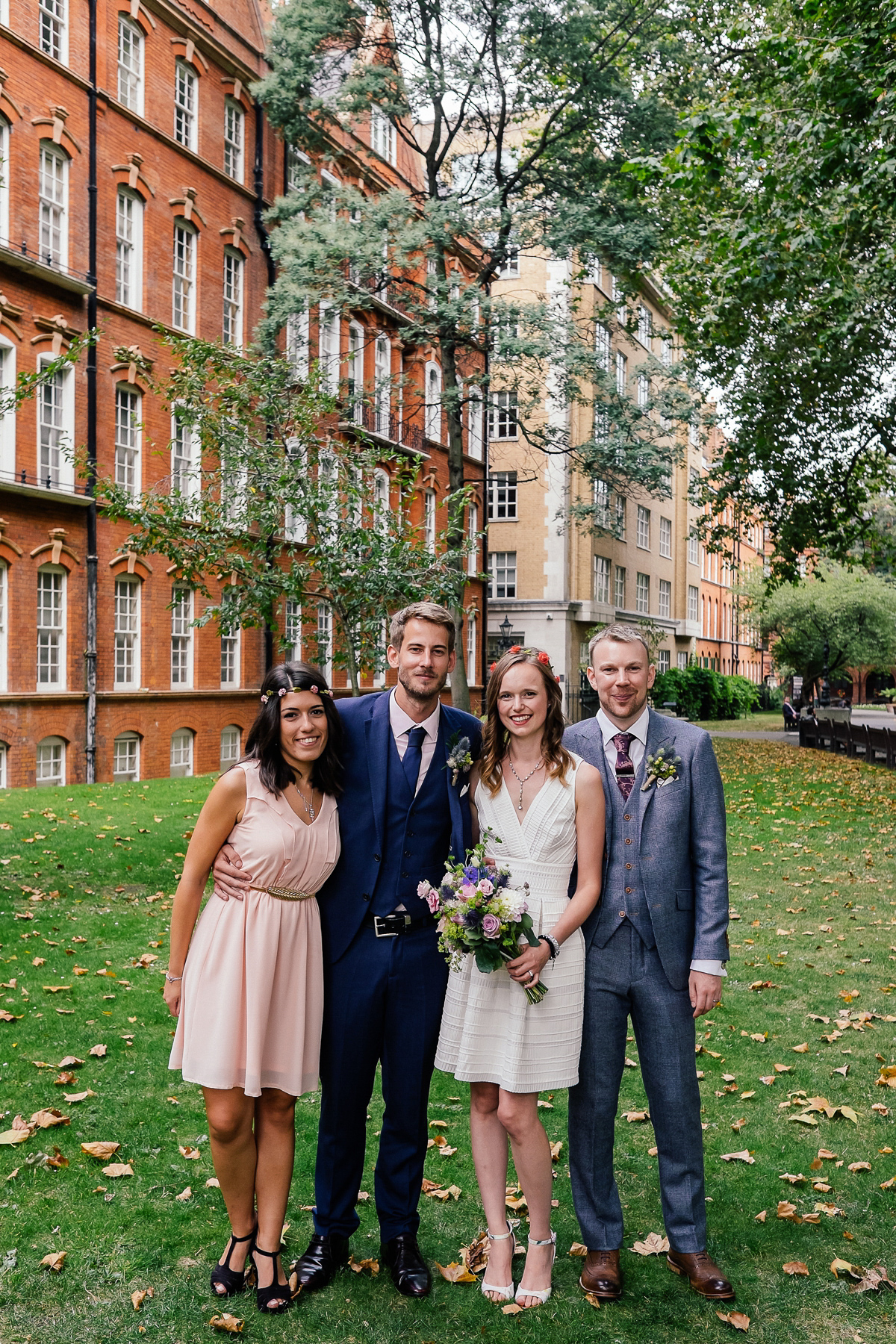 The newlyweds kicked off their celebrations immediately after the ceremony; enjoying drinks in the park to cool down in the summer heat.
"Our favourite part of the day was straight after the ceremony, where we took some pictures in the park, but ended up a bit ahead of schedule with some time to kill, and so some guests ran off and bought Prosecco and beers and we had a drink in the park with our wedding party."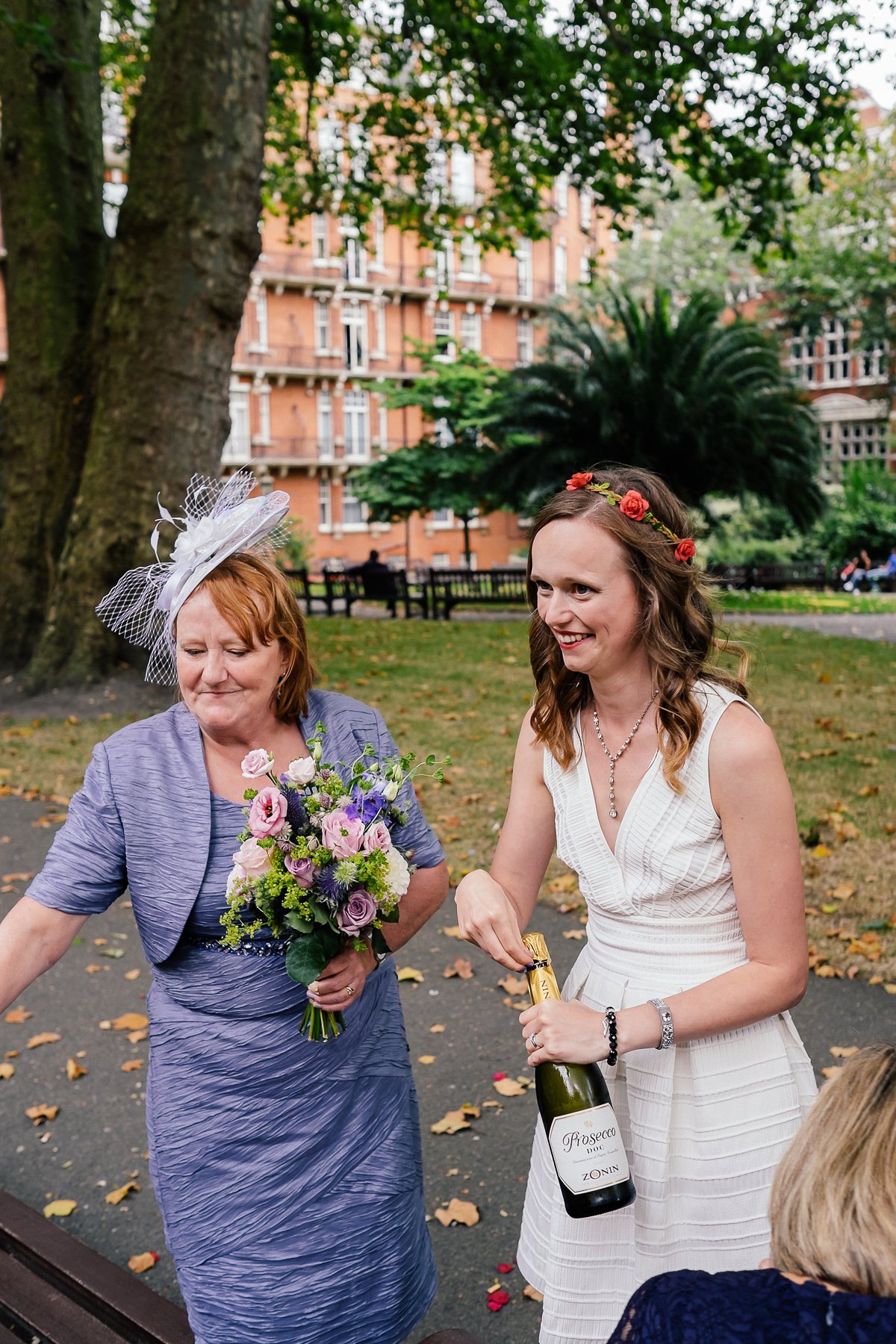 "The day was quite hectic, so we really enjoyed this unexpected slower part and spending some time with our very small wedding party group before we met up with everyone else for dinner and dancing."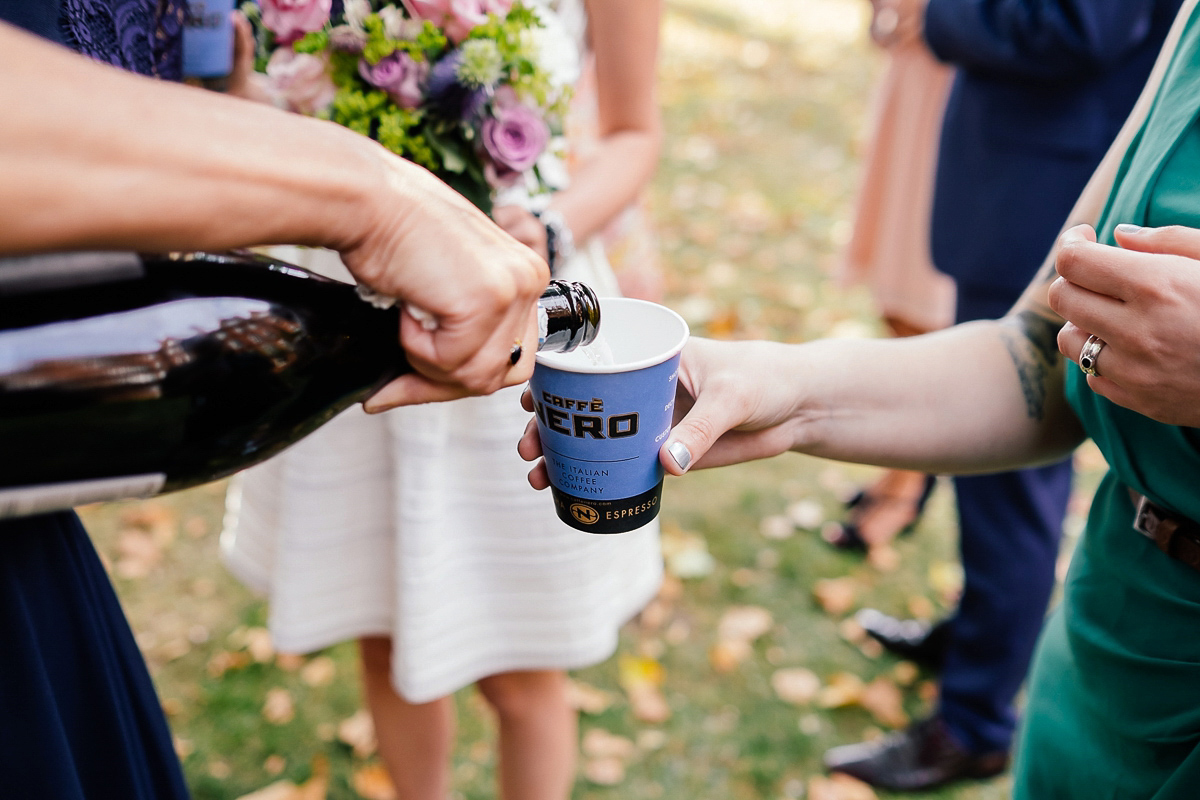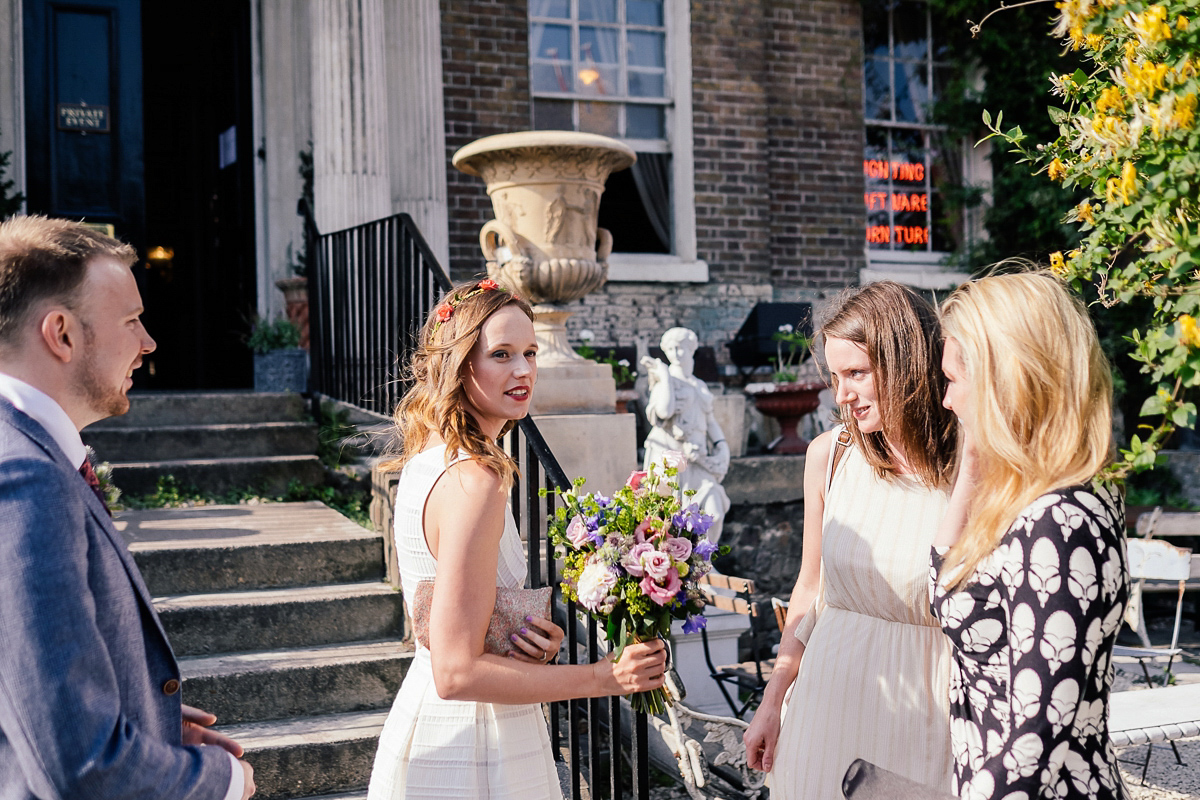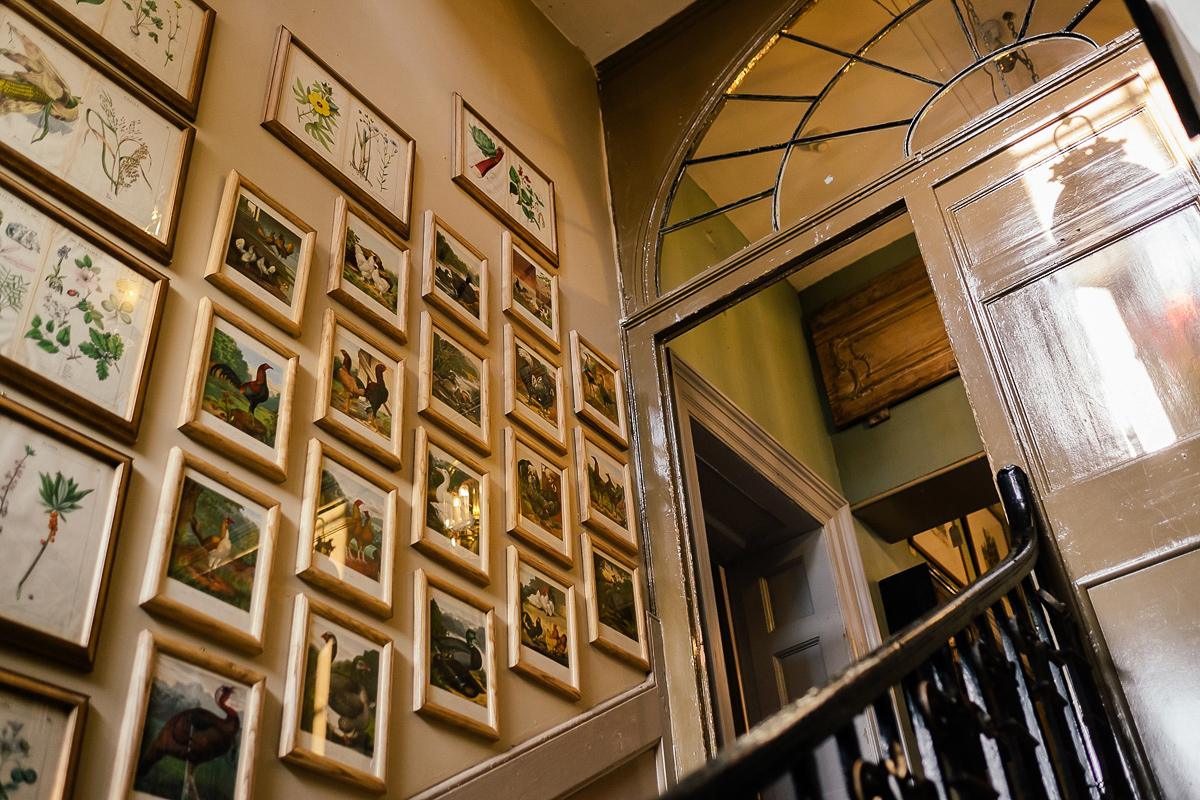 "We made our table plan and settings ourselves, but would like to mention the brilliant invites that we got through Etsy from Katie Barnes Studio."
"Ben's family sorted out the wedding favours for us – his Dad made his own rhubarb gin and cherry vodka, and his mum and sister sorted out the little bottles and labels."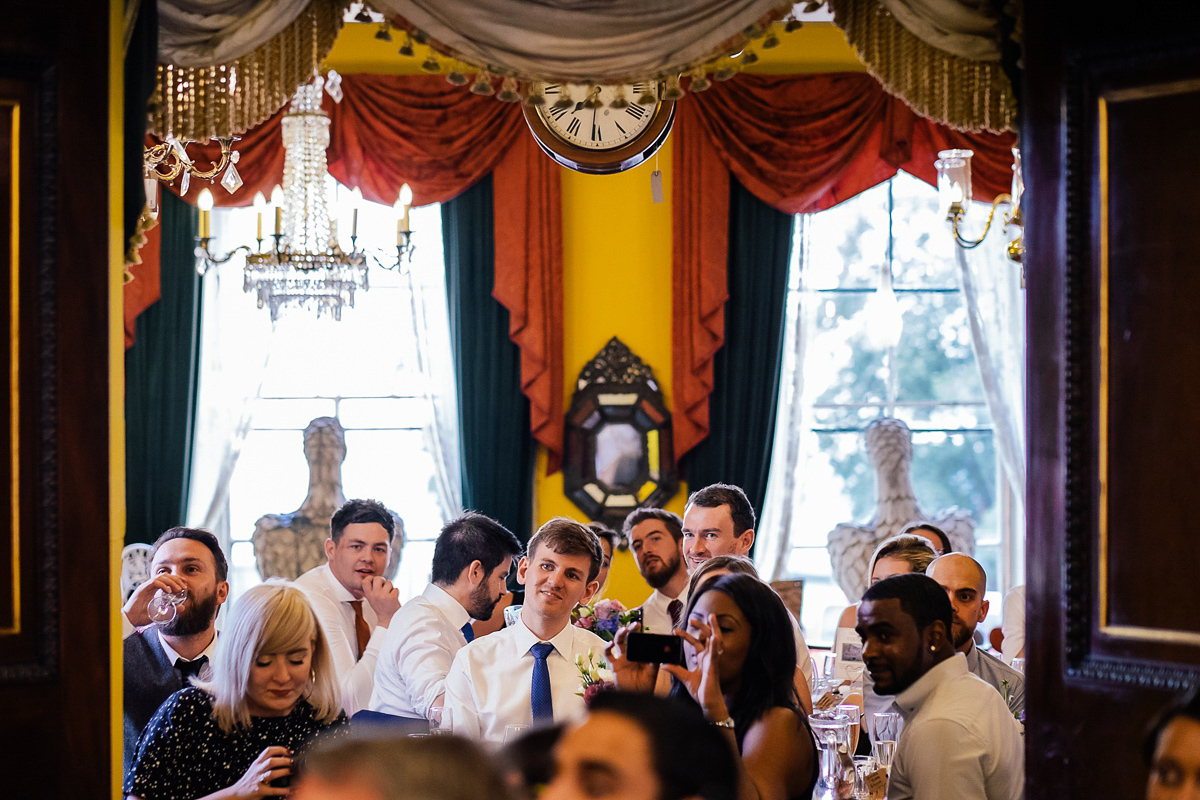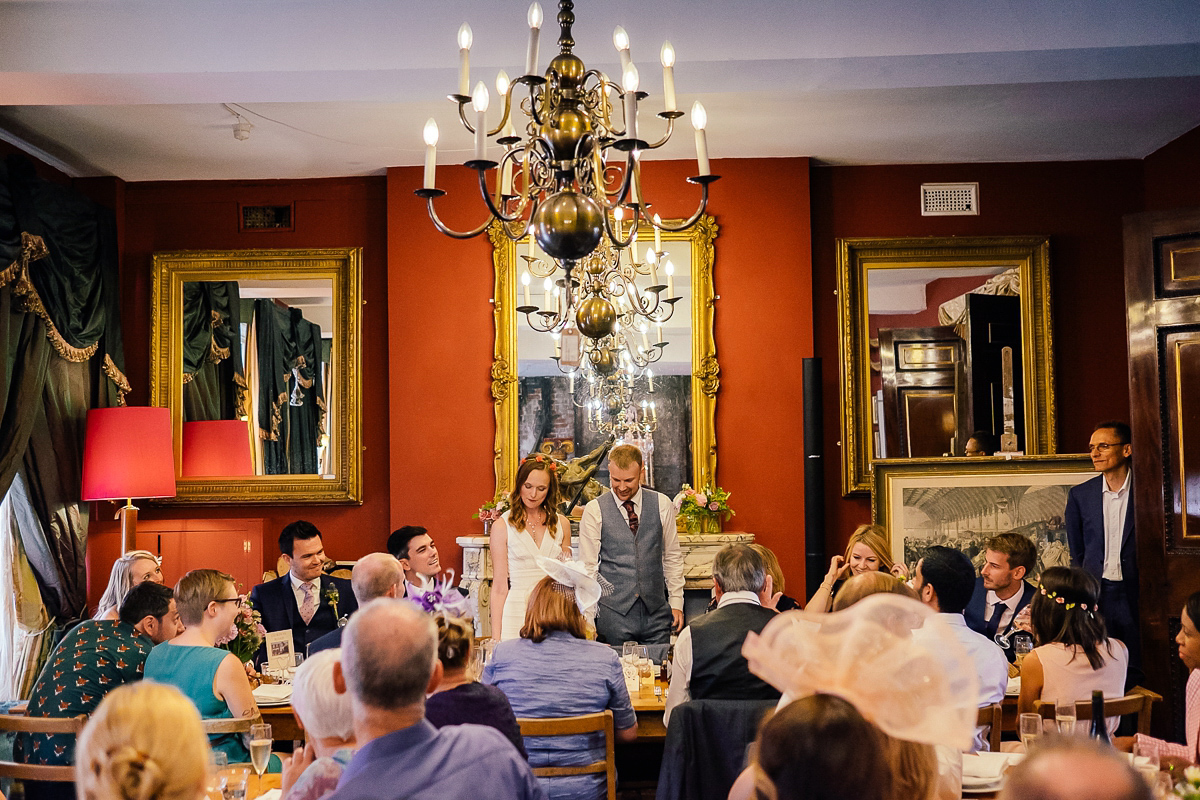 "Neither of us are super comfortable with being photographed, so we had an engagement shoot to get a bit of practice and to get to know Steve from Steve Fanstone Photography."
"He's a great guy. We are really happy with our photographs and think they captured the fun and chilled feeling of the day, which is exactly what we wanted."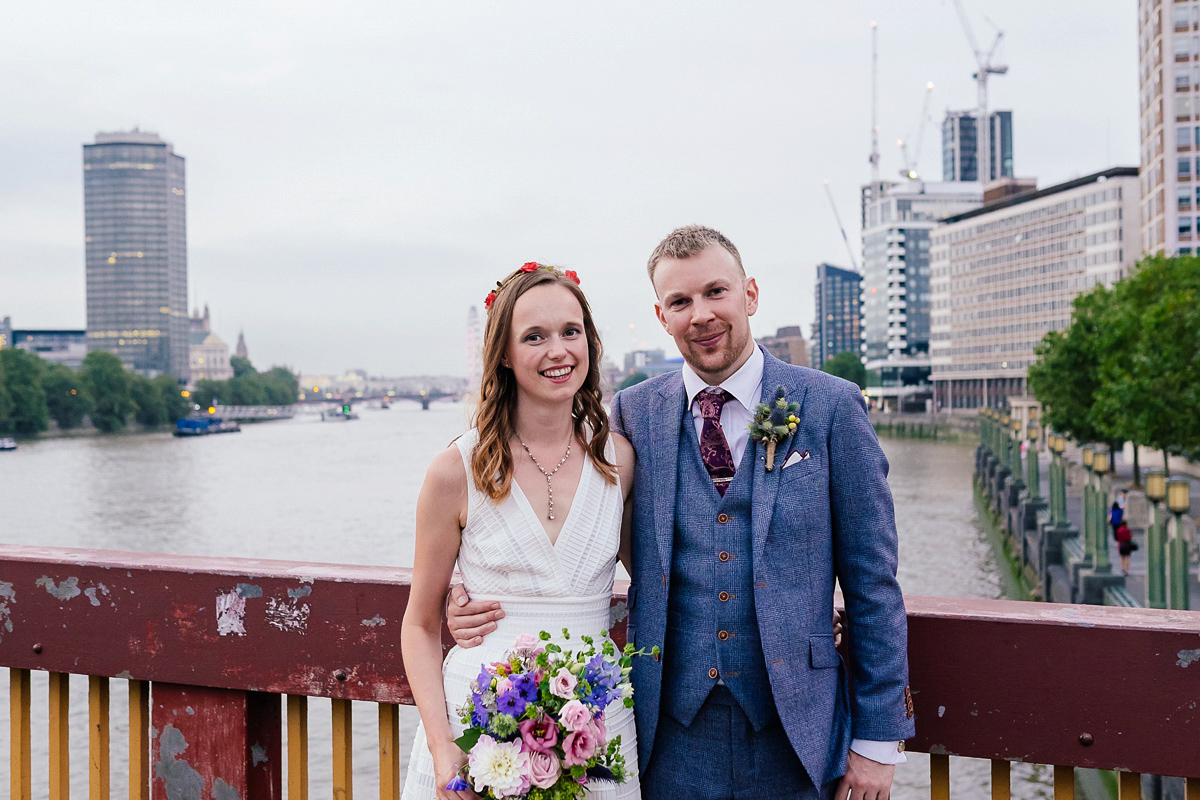 "We didn't have an official first dance, although the way it turned out the first dance that we had together was to the highly inappropriate, 'Gold Digger' by Kanye West! DJ Tony Winyard did a great job at getting everyone on the dancefloor, even though it was very hot and sweaty."
"Our cake was a tower of Tunnock's Teacakes and Caramel Wafers – we were both born in the area around the Tunnock's factory, so when we decided against a traditional wedding cake this seemed like a nice way to add a taste of home."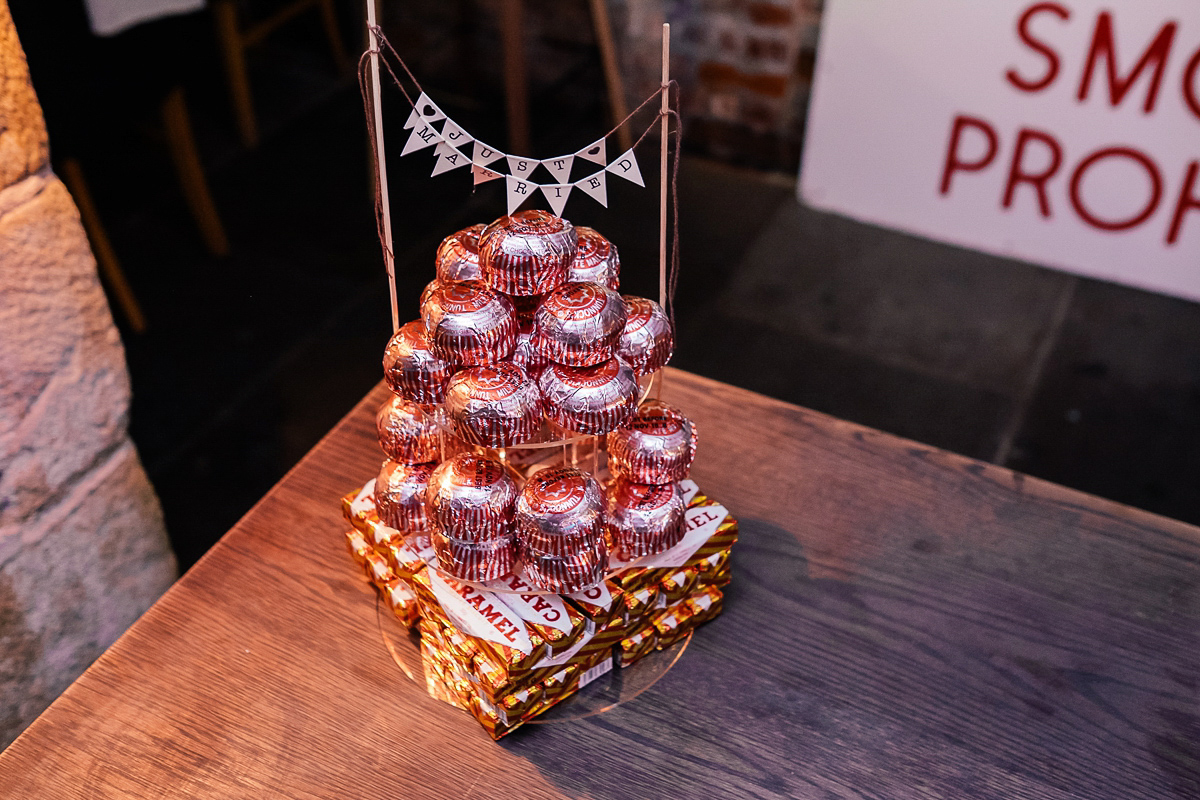 Words of Wedded Wisdom
"Our photographer suggested that just after dinner we sneak away to take some pictures of just the two of us, before we joined the party downstairs, and this was a great idea, as it was nice to have a minute just to ourselves and a chance to reflect during the day.
Also, our honeymoon was a few months after the wedding, so we just had a mini-moon with a couple of nights in a spa on the coast. This turned out to be exactly the peace and quiet together that we needed after a very busy weekend with all of our family and friends around all weekend. I think we might have had a nervous breakdown if we needed to pack for a big holiday straight after the wedding! So I'd recommend a mini-moon, but if you are going away for a big honeymoon straight after your wedding then I'd recommend doing all your packing before you need to start arranging the venue and people start arriving.
I don't think there is anything that we would have done differently – maybe just got the venue to buy some air conditioners, as it turned out to be one of the hottest days of the summer and the dance floor was a very sweaty place to be!"
I totally agree – I too had a mini-moon (in Florence, Italy) and it was sooooo relaxing and exactly what hubby and I needed after all the build-up, so be sure to take Jen and Ben's very sound advice on board.
A big thank you to Steve for sharing the couple's most delightful photos, where the happy vibe completely comes across with everyone's big smiles.
Are you thinking of a short dress like Jennifer's? Take a look at these other gorgeous short gowns we've previously highlighted for loads of inspo.
Love Jo xo