Its Friday, spring is on the way and I have the most beautiful wedding to share with you today.  Meet Sarah, a Producer and Tom, a Director, who married on the 6th August 2016 in Tom's family garden. Sarah wore the beautiful 'Esme' from the wonderful Halfpenny London (members of our Little Book for Brides wedding directory), which she purchased from the Halfpenny boutique in London.
"We had the wedding in Tom's parents' beautiful back garden in Worcestershire.  Tom grew up there and it's such a special place with stunning views of the Cotswolds. We didn't even consider any other locations, although we did have our civil ceremony in Edinburgh ten days before the 'big wedding' – it's my hometown and I really wanted us to be legally married in Scotland. I had a clear idea in my mind of how I wanted the day to look and feel.  This became known (only half-jokingly) as 'The Vision'.  The main priority was that we wanted to make the most of the garden and the incredible view."
Photography by Lisa Carpenter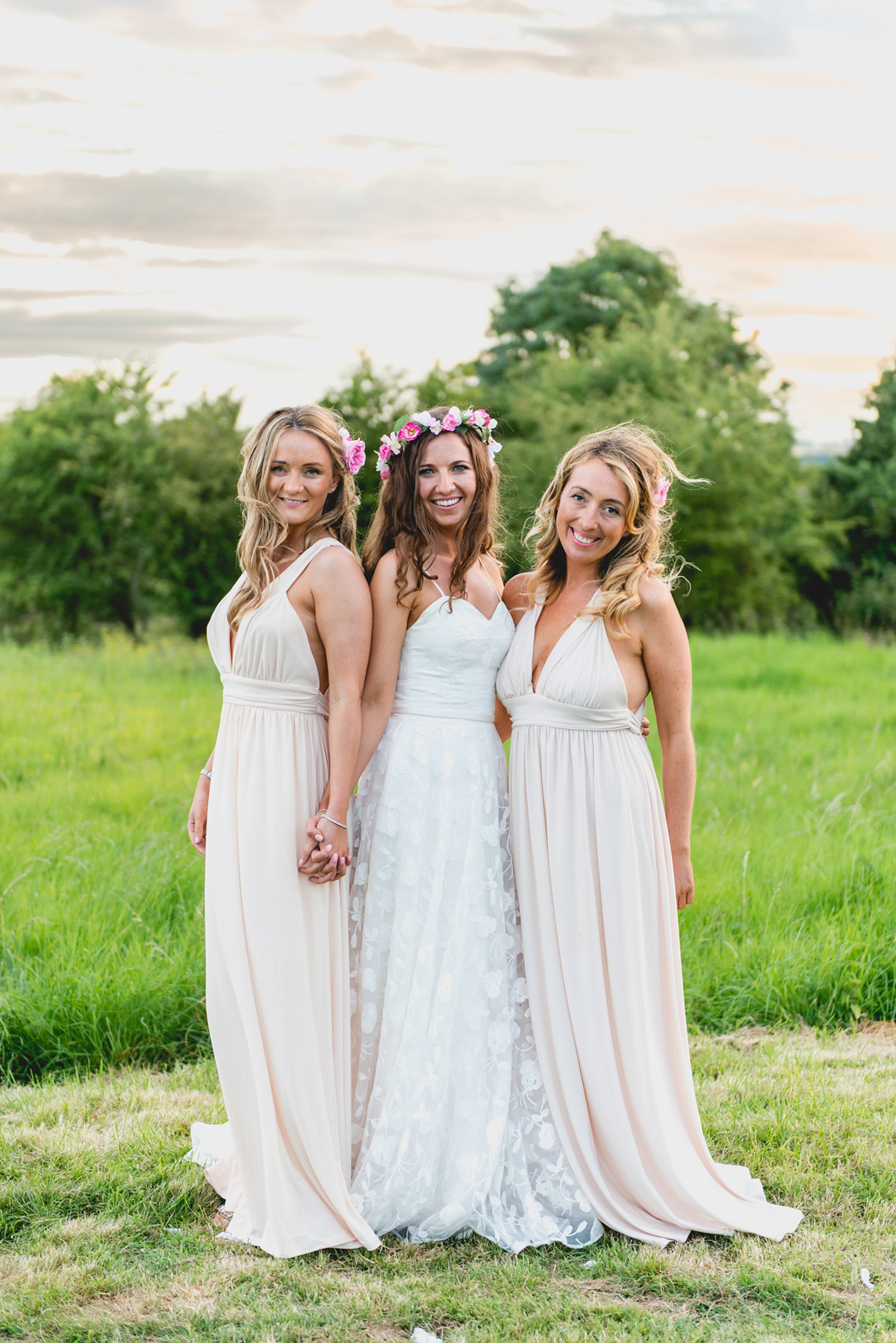 "I wore a mini-dress for our civil ceremony so I wanted to take the opportunity to wear a big, show-stopping dress but I still wanted to feel like me and stay true to my own style.  I went to the first appointment at Halfpenny with my friend Caroline.  I loved all the dresses but when I tried on the Esme and Caroline said I looked "like an adult ballerina", I was sold.""Esme is made from the most beautiful fabric and the top layer is floral embroidered organza which was unlike anything I'd ever seen before.  I loved the fitted bodice, the low back and the amazing organza train which the sun shone through beautifully on the day.  I added spaghetti straps and a little belt to highlight the waist.  It was absolutely perfect."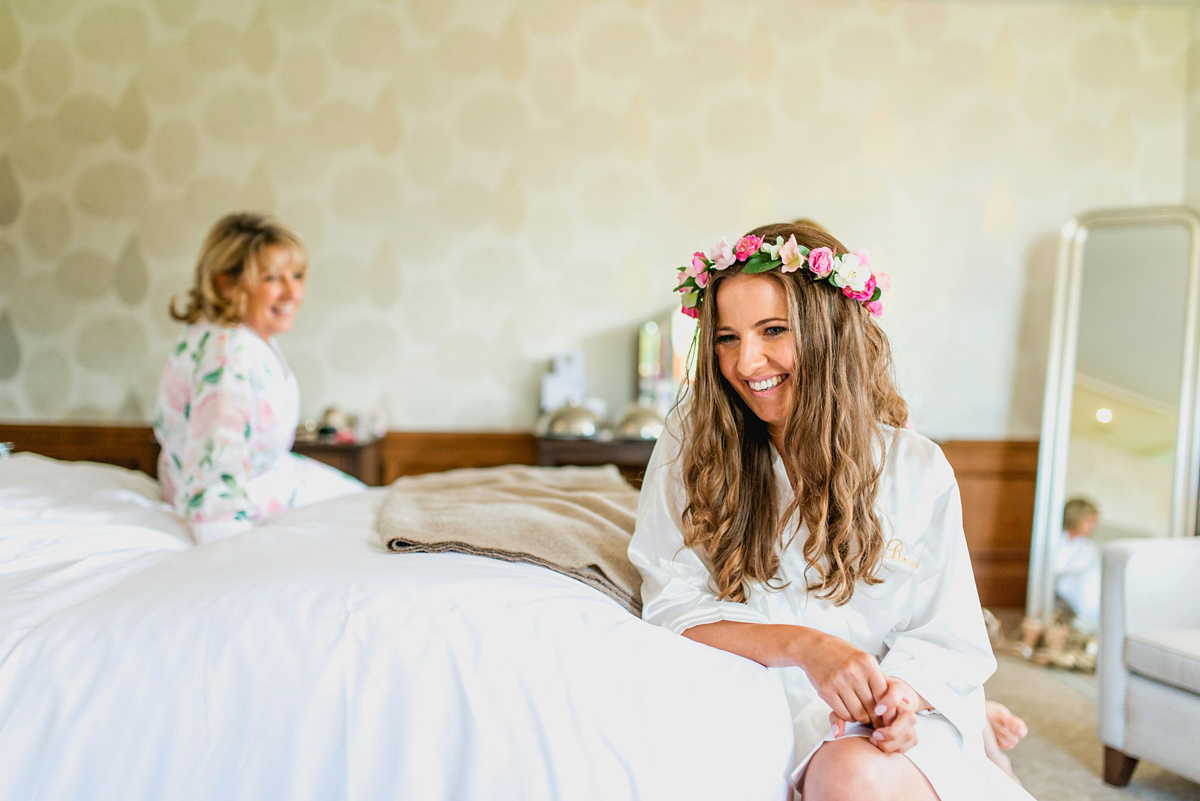 "For our flowers, we went with Rose and Grace, who were recommended by Tom's sister.  I wanted to have pots of lavender as centrepieces instead of cut flowers and the finished result was just breathtaking."
"For the other flowers, we wanted bright pinks, blues and purples and a wild, undone feel.  Catherine completely nailed it.  Catherine is so creative and she really did an incredible job."
On her feet Sarah wore gold wedges from LK Bennett, while for jewellery she borrowed a beautiful floating diamond necklace from her mum and teamed it with a tennis bracelet and Swarovski earrings.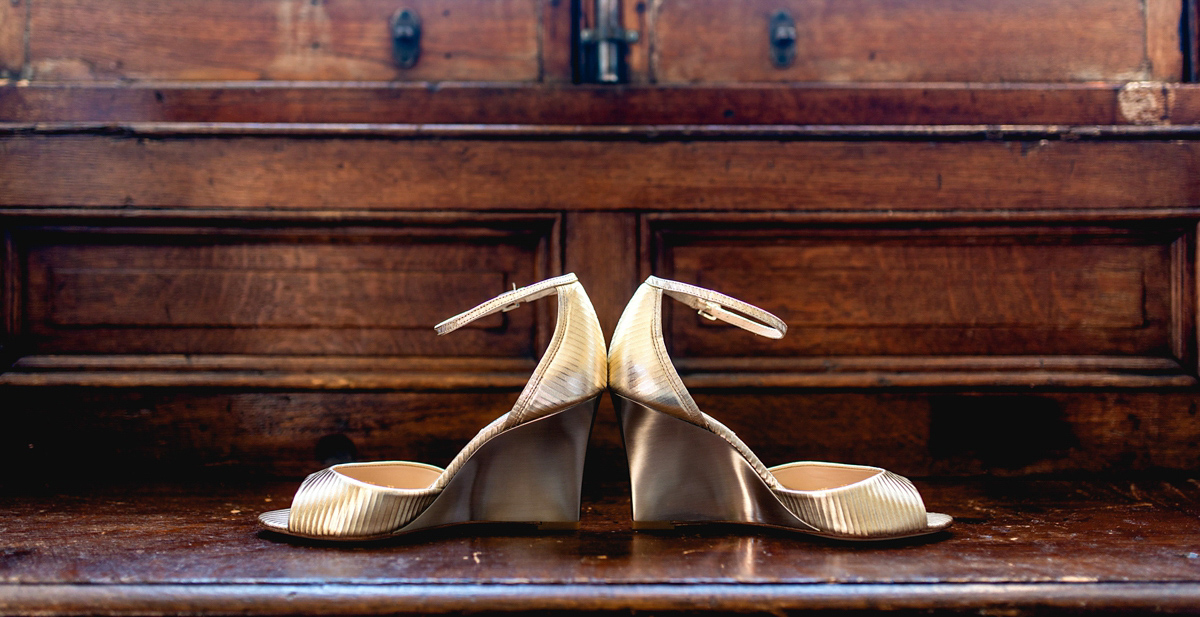 For hair and make up, Sarah booked Rebecca Haines.
"Rebecca is completely lovely and she did such a wonderful job. She was also a brilliant person to hang out with on the wedding morning too as she is so friendly and made us all feel so relaxed."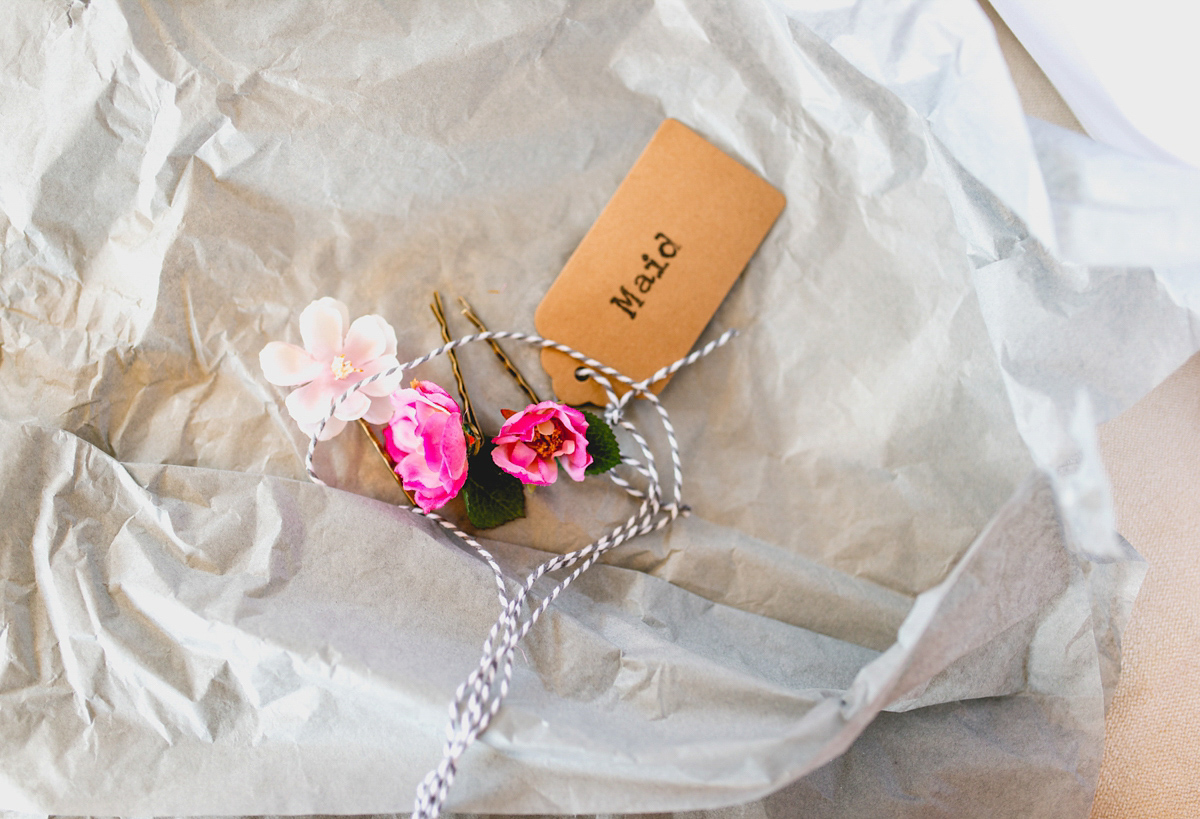 "I wore a silk flower crown which I ordered online from Florrie & Eve by Nadia di Tullio.  The girls at Halfpenny London recommended her as they said real flowers can wilt if it's a hot day."
"Our wedding day was absolutely roasting so I was glad I took their advice."
The bridesmaids looked lovely in gowns from ASOS, paired with shoes from Kurt Geiger, while the flower girls wore dresses from Marks and Spencer.  For accessories, the adult bridesmaids wore silk flower hair clips, with their own jewellery, while the little ones wore gyp crowns.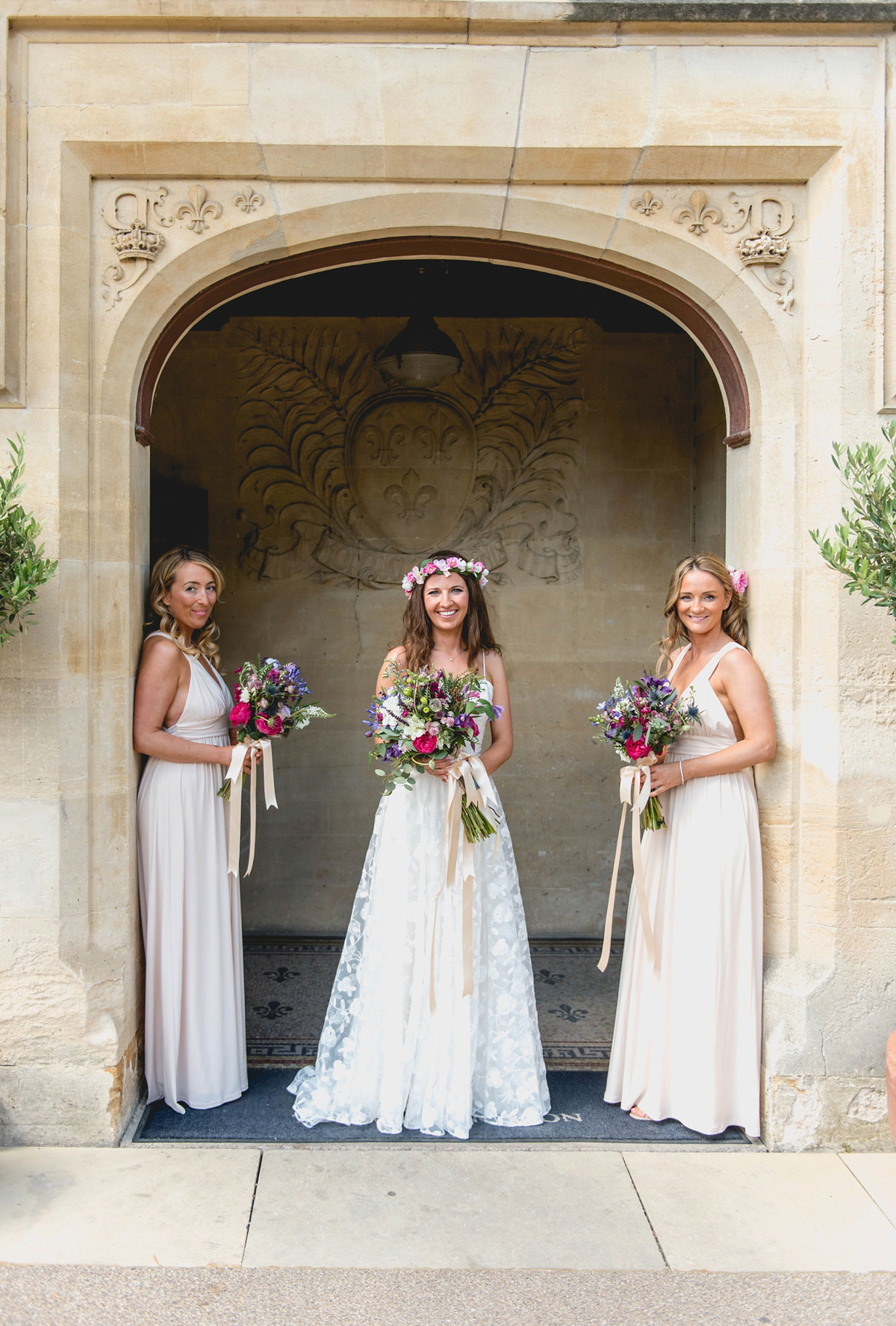 The little page boys looked very stylish in shorts and shirts from Marks and Spencer, each worn with a super cool pair of sunglasses.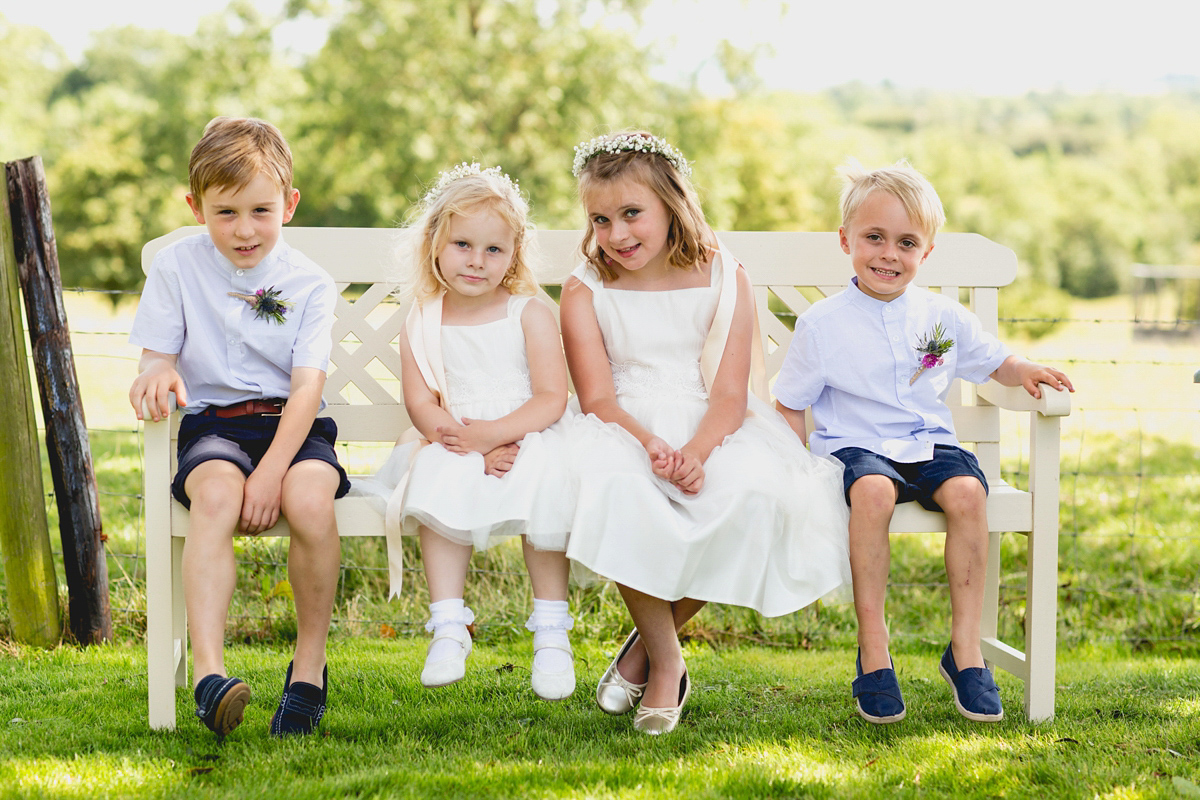 "We wanted the ceremony to be in the open air and for the marquee to be as open and airy as possible so it felt like we were sitting in the garden.  My inspiration was the South of France, where I have been going on holiday since I was little."
"I wanted to bring the Cote d'Azur to the Cotswolds, with a few Scottish touches along the way.  During the planning, it became apparent that Tom loves anything gold so that emerged as an unexpected motif too."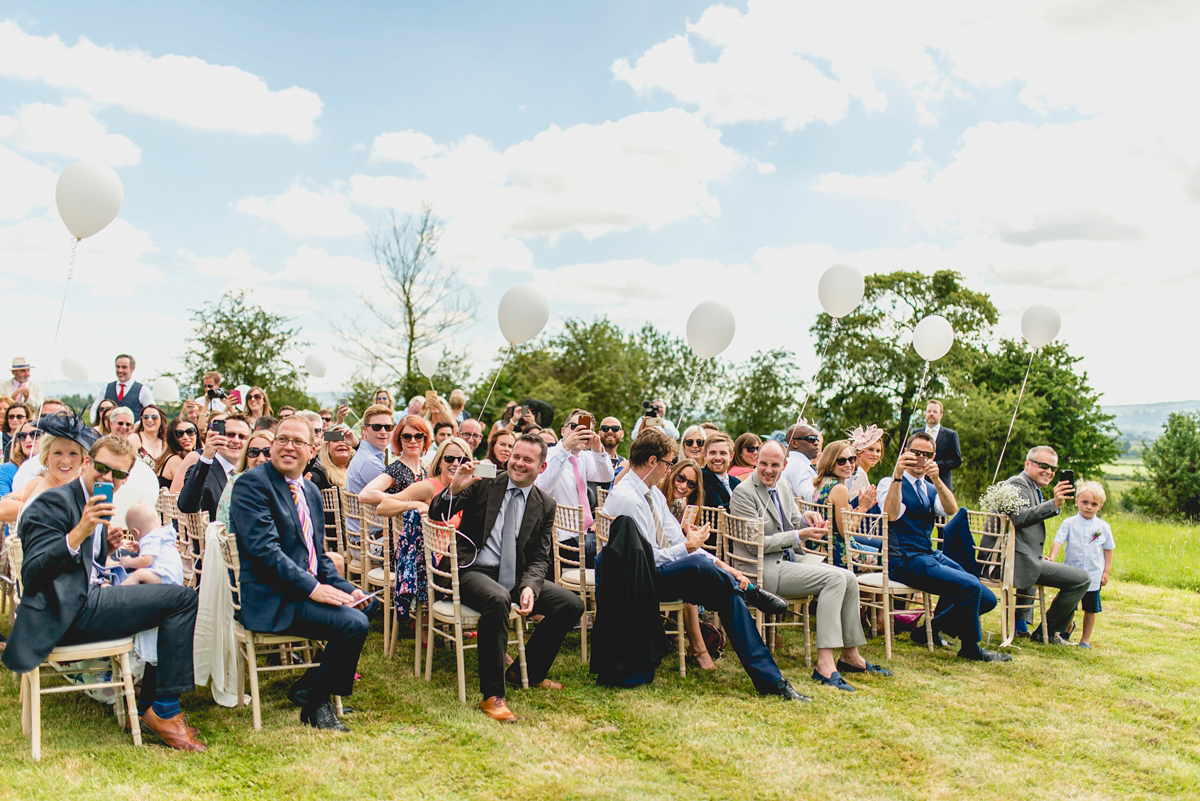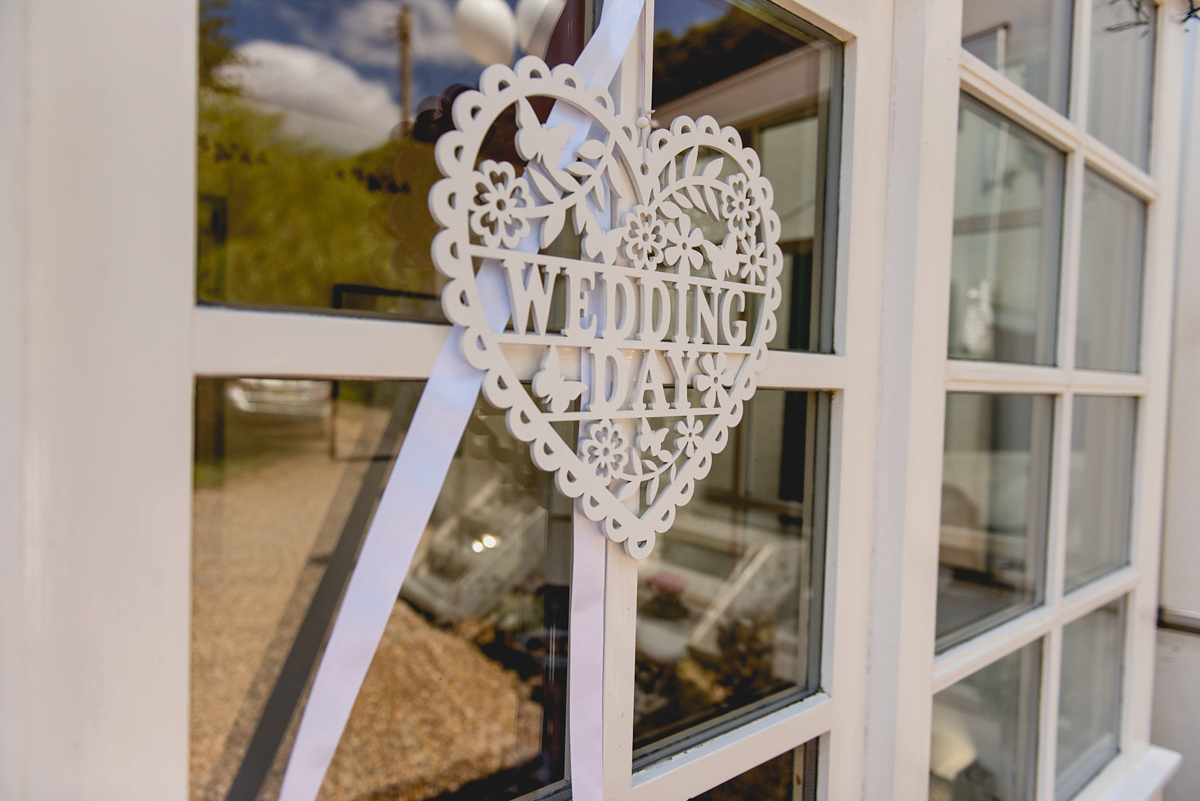 Sarah was accompanied down the aisle by her Dad to 'Sunshine on Leith' by the Proclaimers, while Tom arrived driving his Grandad's vintage tractor with the Star Wars theme booming out across the field!
"As we had already been legally married in Scotland, we decided to ask one of our closest friends to officiate the wedding and it was one of the best decisions we made.  There was lots of laughter and beaming smiles during the ceremony and everyone commented on how personal and relaxed it felt."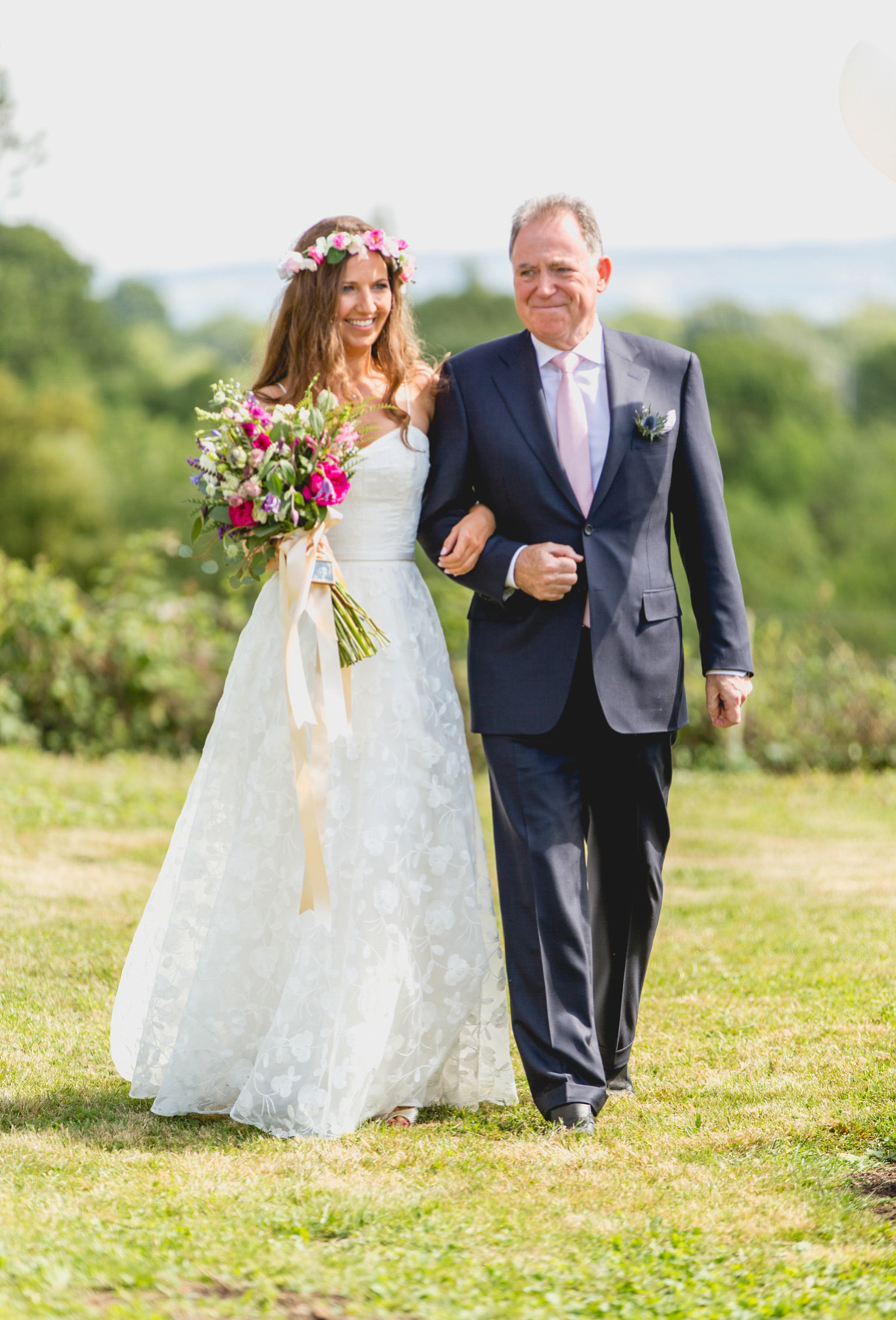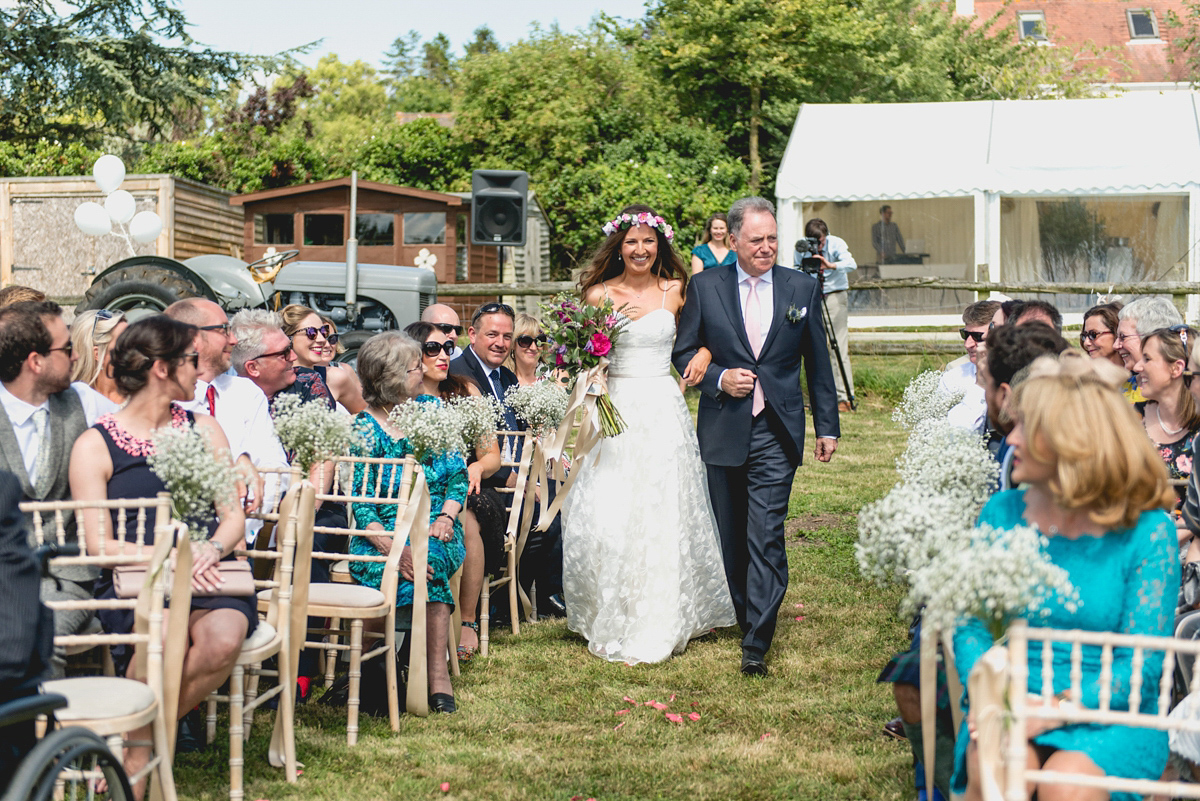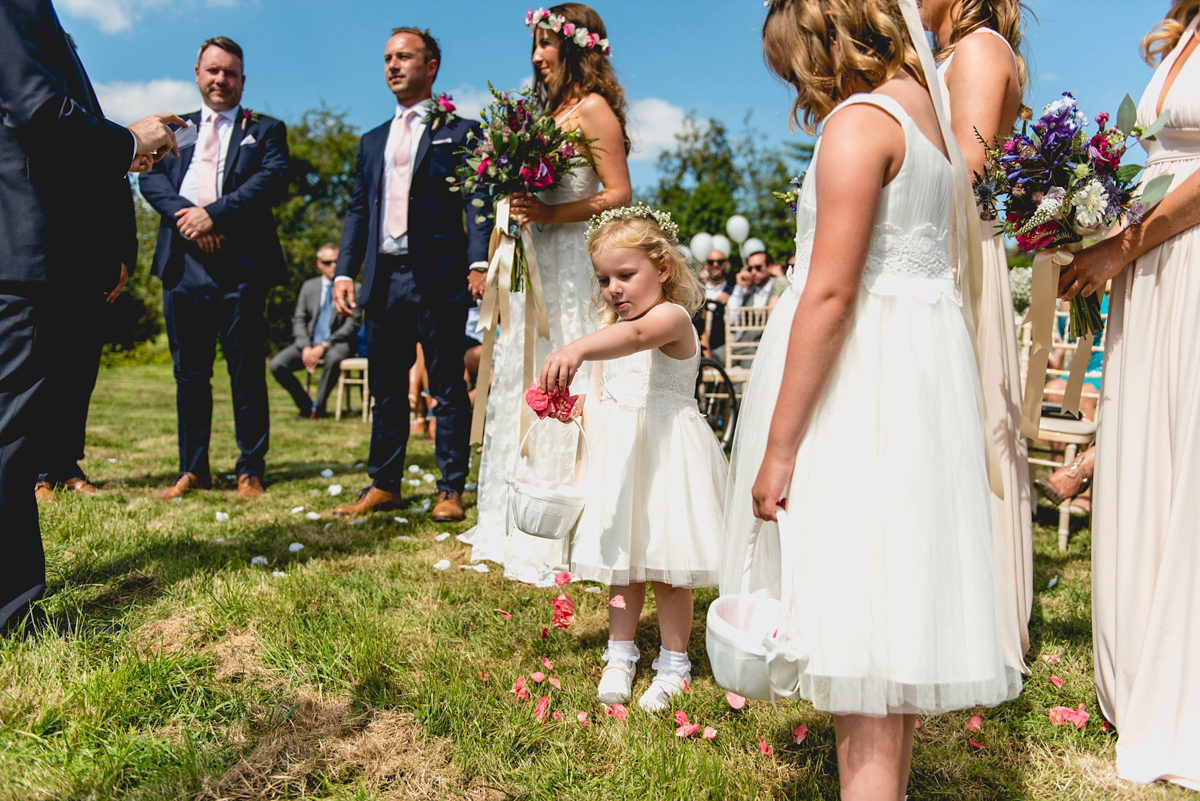 "Tom wanted a really slim fit suit and found the perfect one in Reiss after a lot of shopping.  He also wore brown brogues from Marks and Spencer and a pale pink tie and pocket square from Reiss.  His parents gave him a beautiful tie clip on the wedding morning and he looked incredibly handsome."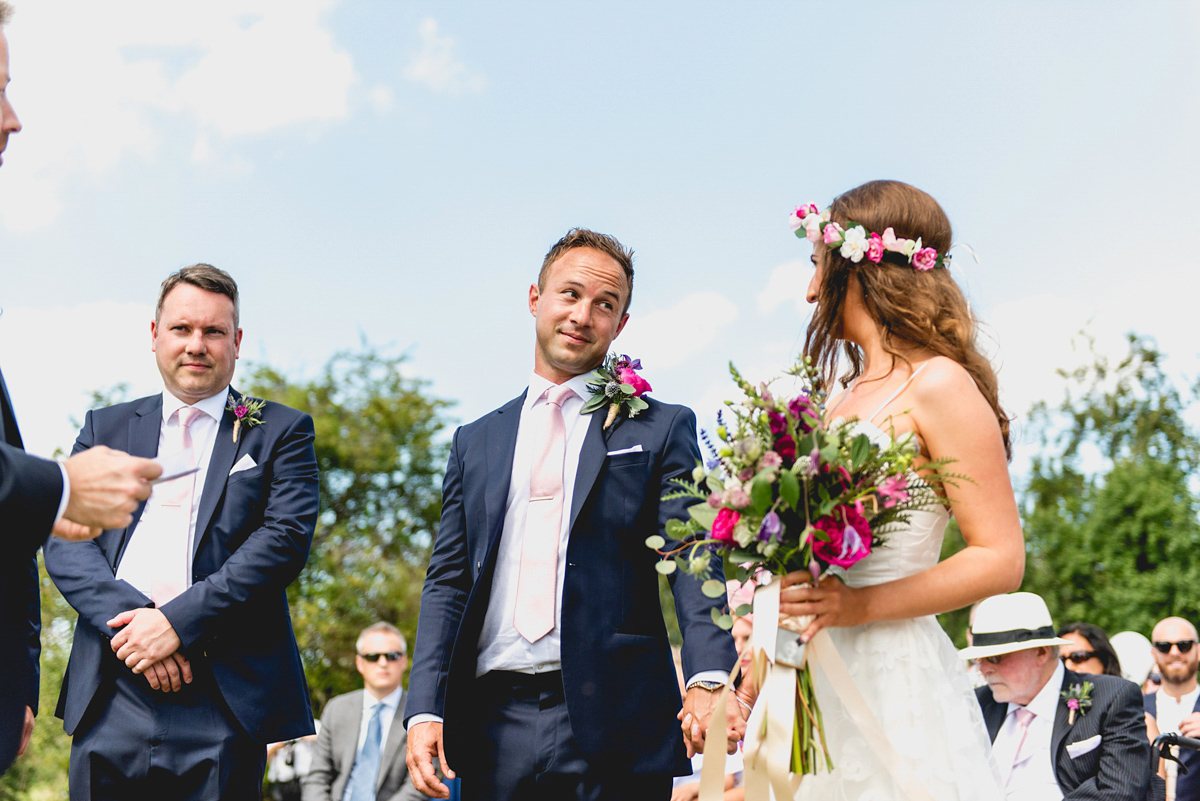 The couple chose two readings- 'The Relationship Promise' by Luke Wright and 'I Wanna Be Yours' by John Cooper Clarke, both lovely choices.  Sarah's ring was from family friend, Camilla Jones, while Tom's was from the Wedding Ring Workshop in London's Hatton Garden.
"At the end of the ceremony, we walked out under a shower of confetti (from Confetti Direct) to 'Burning Love' by Elvis (Tom's all-time favourite artist) and the Royal Philharmonic Orchestra."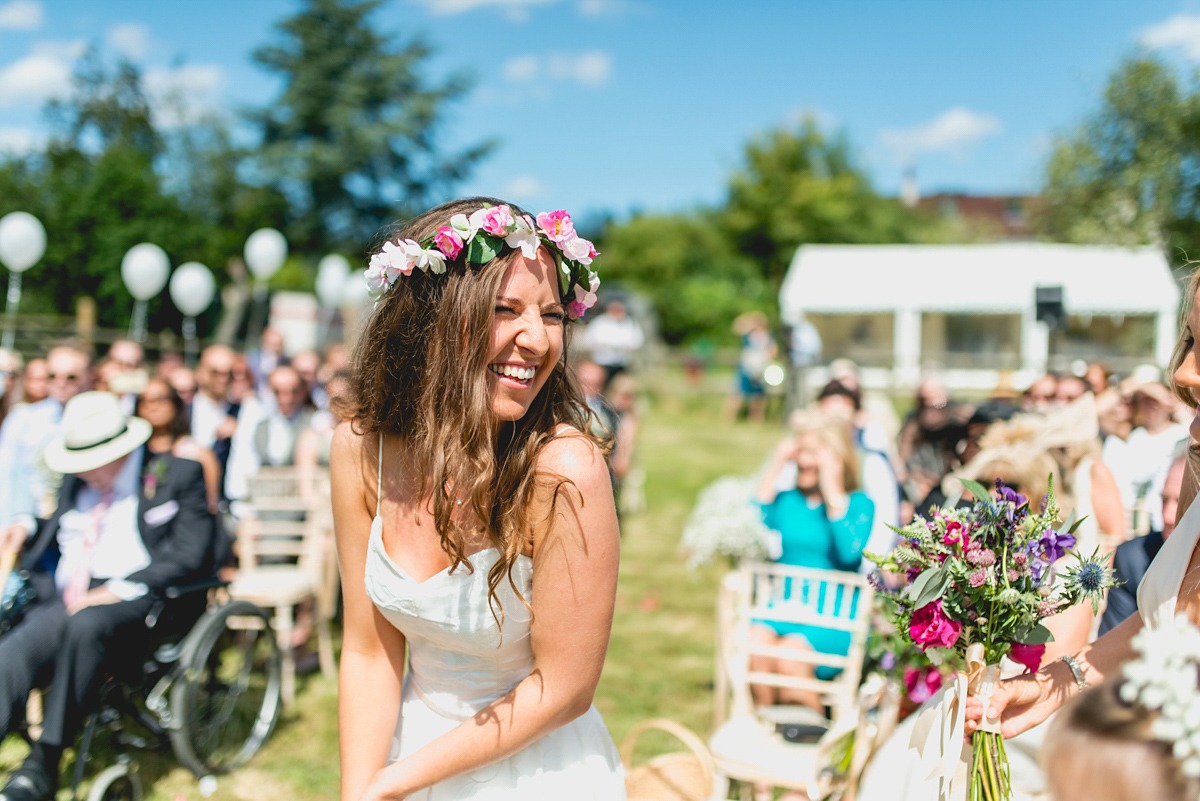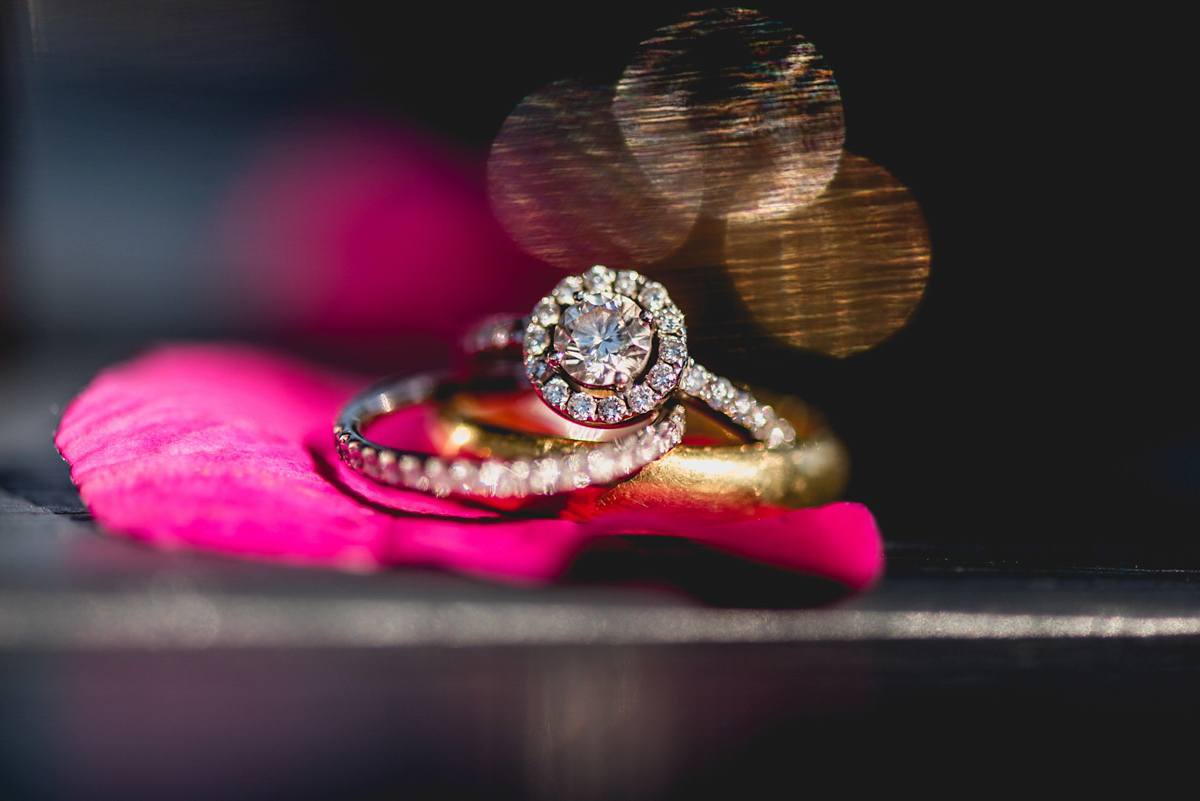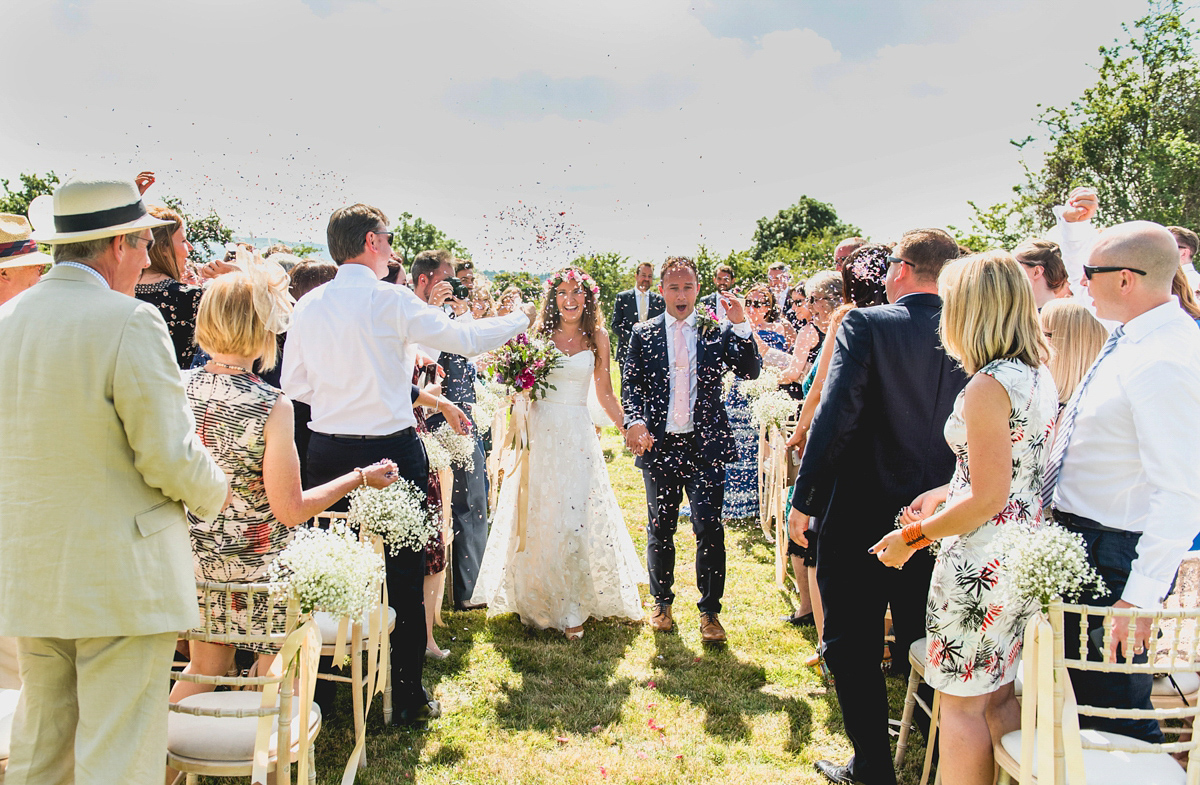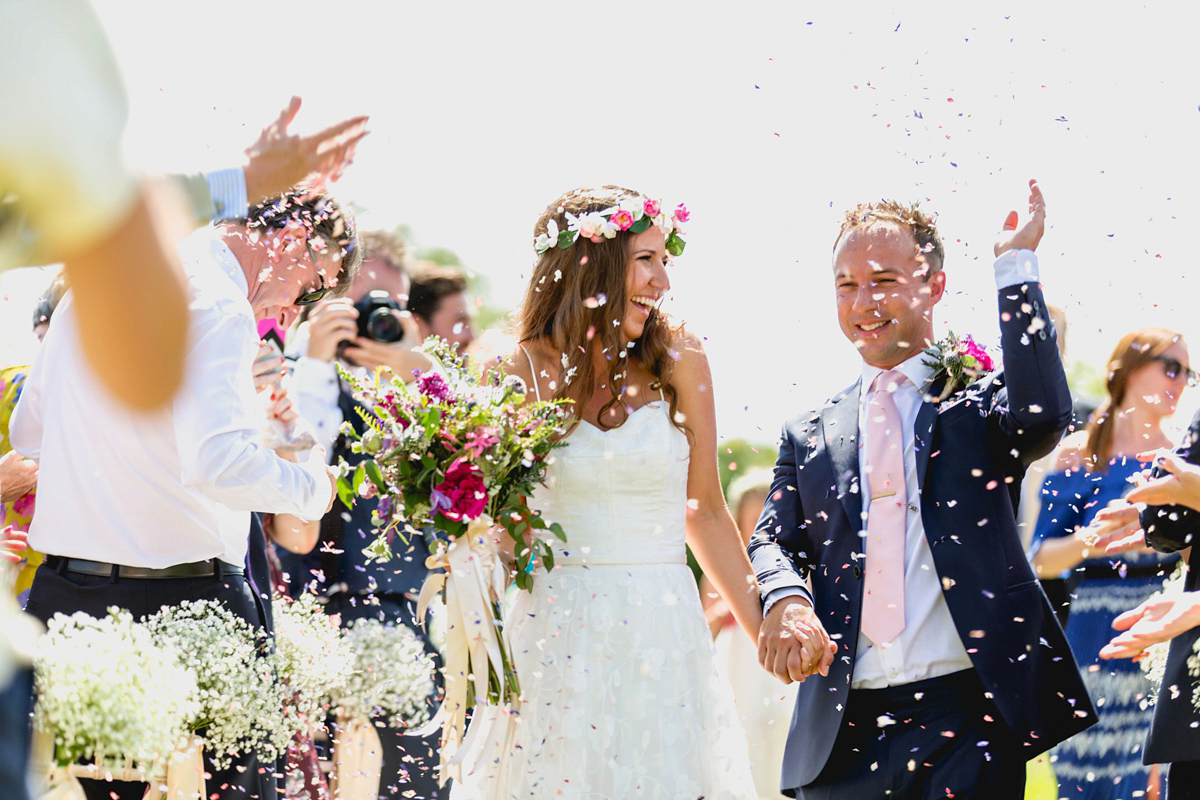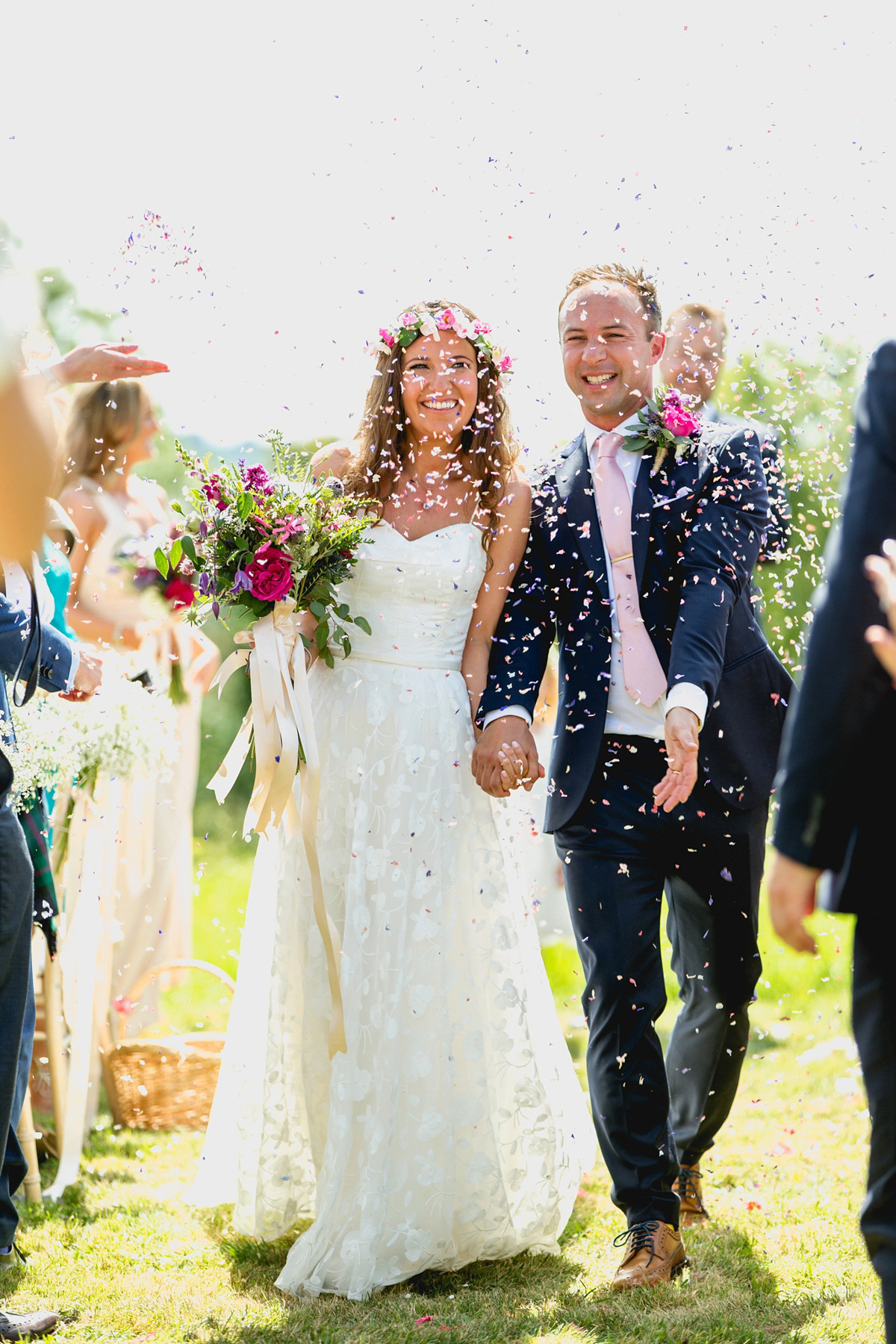 "We wanted an acoustic roaming band for the drinks reception and we found the perfect one via Scarlett Entertainment.  They wandered among the guests during the drinks reception, and then took the initiative to keep performing in the marquee during the starters.  They were awesome."
Today's gorgeous images are by the lovely Lisa Carpenter.
"Lisa is just a superstar. She's so lovely, funny and down to earth, it just felt like hanging out with a mate.  We loved her natural, documentary style and felt like she really understood the type of day we wanted to have.  She perfectly captured the day and I love seeing how happy and relaxed everyone looks."
"Lisa was a joy to work with (as was her lovely second shooter, John) and the photos are just incredible, we can't stop looking at them and reliving the day."
"For the reception we hired a marquee from Fews Marquees.  They were brilliant to work with and created the most beautiful space."
As with any marquee wedding, decor was a big job, but Sarah, Tom and their families made the place look completely stunning with boxes of lavender, gold pom poms, thousands of fairy lights, white balloons, hired olive trees and potted hydrangeas (from Wyre Hire) and two giant canvases with photos of the happy couple.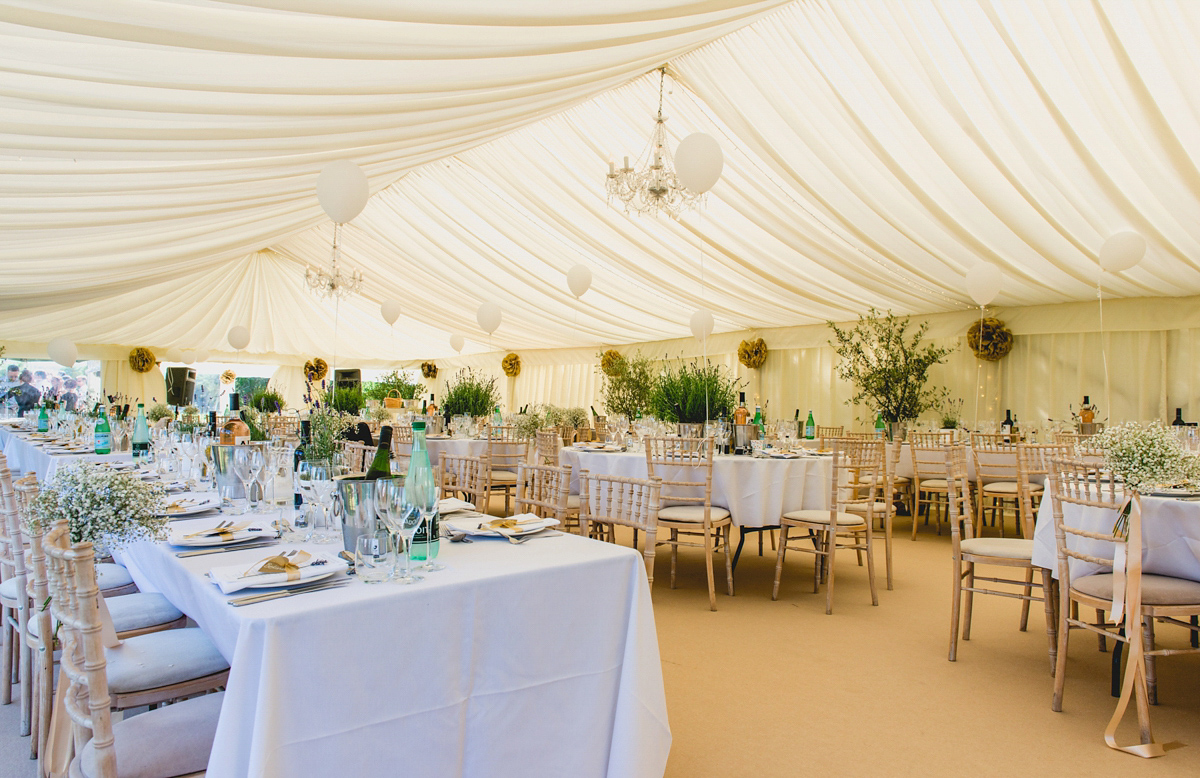 "The food was amazing.  We worked with Kemp and Kemp, who were just incredible.  Tom and I are obsessed with food and known for eating out all the time so the food was one of our main priorities for the day.  We really wanted to put on a lavish feast for our guests.
We started with a drinks reception around the pool.  I wanted 'stations' where people could help themselves to various treats so as well as free-flowing Prosecco and delicious canapés, there was a Bellini station, a beer and cider station, a kids' station and an oyster and sashimi station."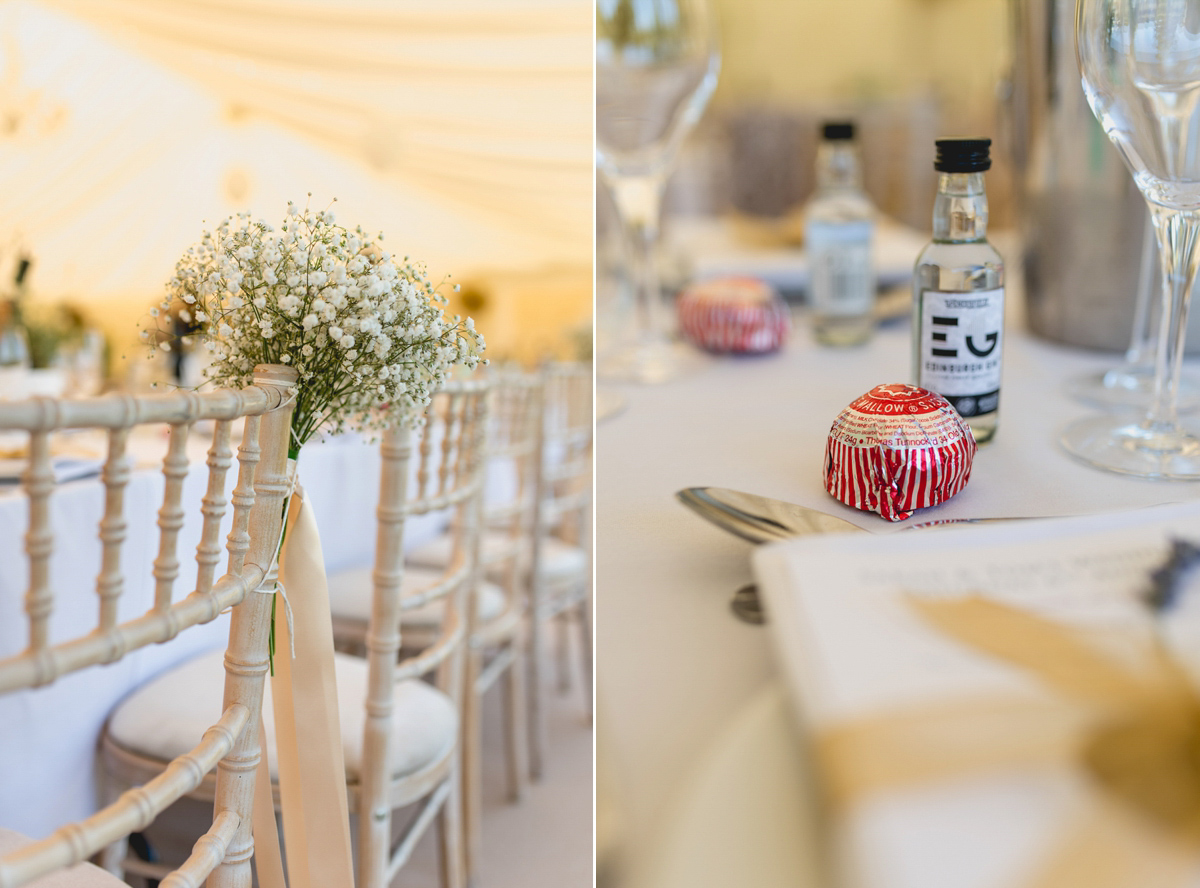 "We then moved into the marquee with everything served on overflowing sharing boards.   It was so abundant and felt really luxurious.  It was also great fun and very relaxed, as everyone just had to dig in.  Afterwards there was coffee and shortbread made by my Aunt Dorothy, which is officially the best shortbread in the world.  Everyone said it was the best food they'd ever had at a wedding, which was brilliant."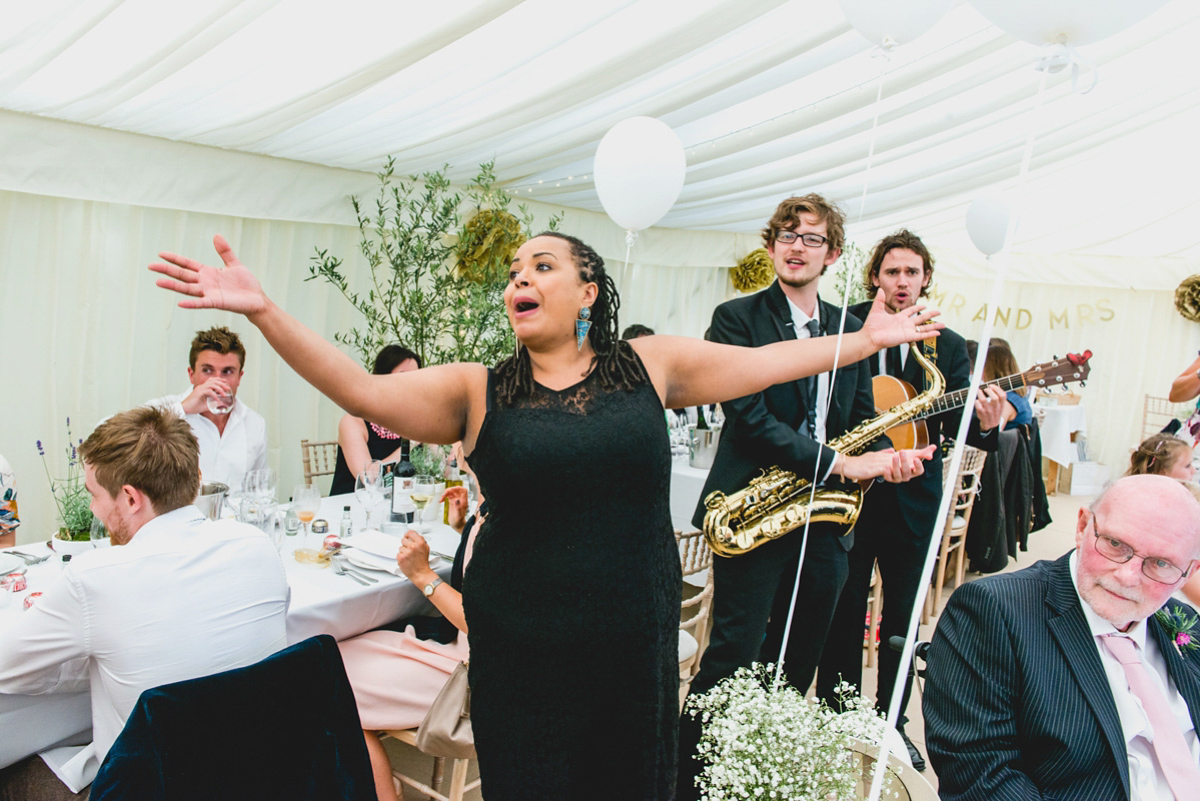 As if that wasn't enough, Tom's family friend Simon Taylor (an award winning local butcher) kindly provided the evening food, making a spectacular seven-tier pork pie cake along with three hundred sausage rolls.  For the actual cake wedding cake, Sarah and Tom chose a white and gold ombre cake from Lily Vanilli decorated with fresh flowers.
This amazing cake though is by the incredibly talented Lily Vanilli.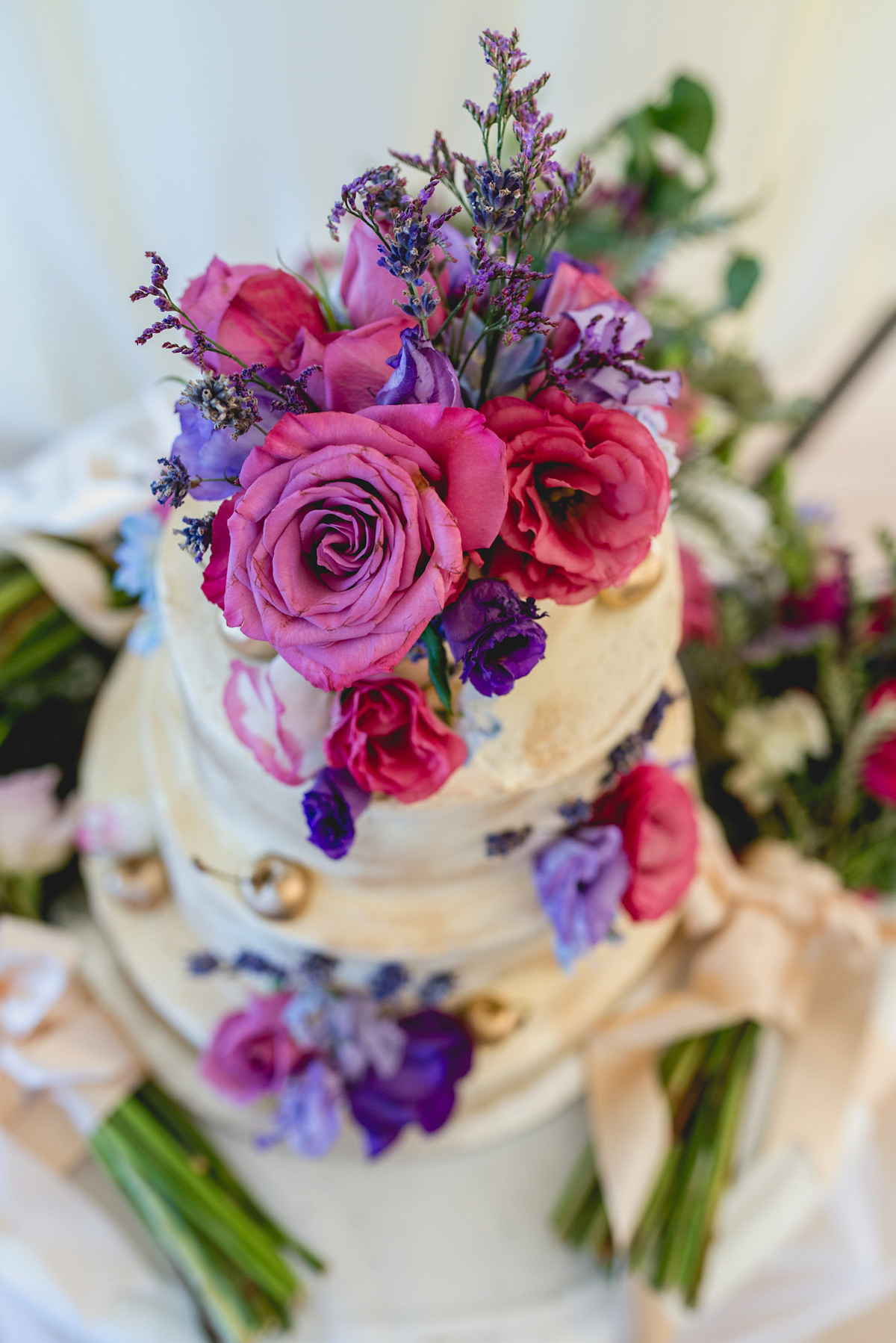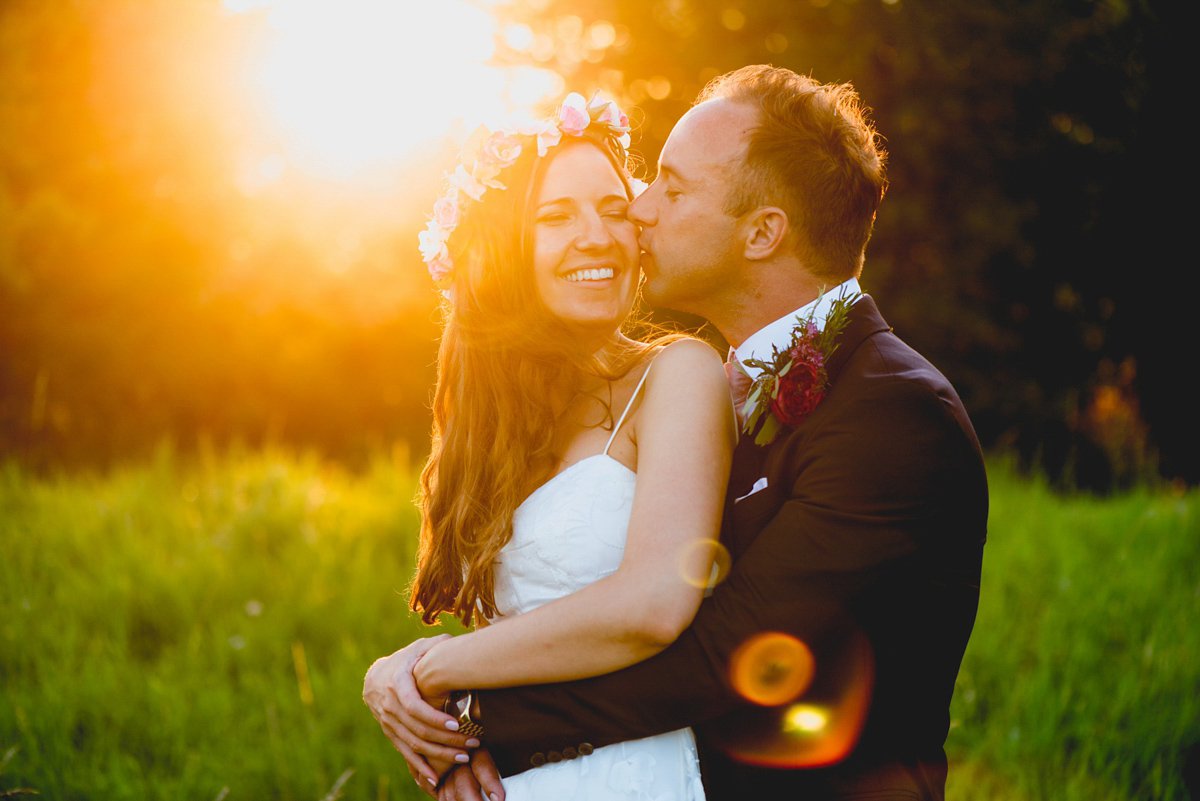 "Our DJ was the amazing Danny from Wedding Jam.  He was a superstar and got the perfect mix of songs that kept the dancefloor absolutely packed all night."
Finally, in honour of a family friend who couldn't make the day, the guests were treated to fireworks from Pershore Fireworks.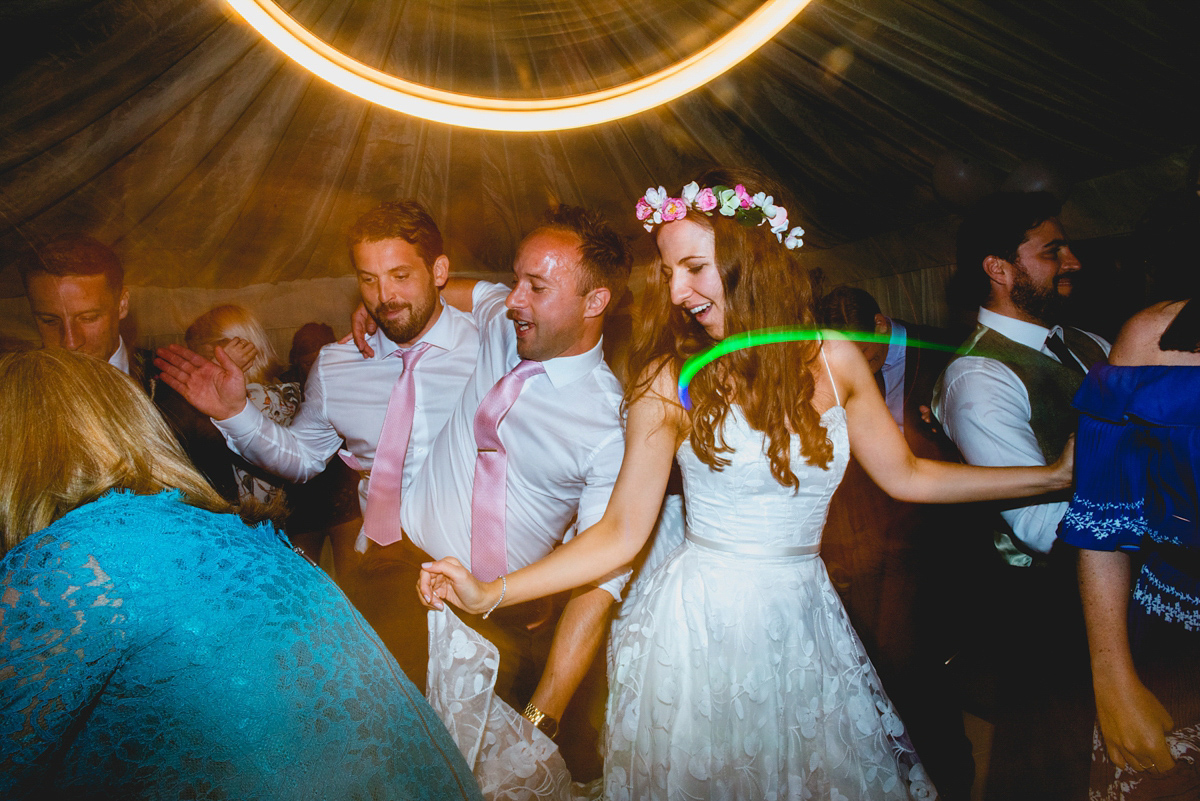 Words of Wedded Wisdom 
"Enjoy the planning and the details and the whole process – you'll probably never do something on this scale that's so personal to you again, and you will miss it when it's gone.  
Find suppliers you love and feel you can really trust.  They should understand you as a couple and the type of day you want to create, then you can just leave them to it and know you will be delighted with the results on the day.
The day was a real team effort  and we couldn't have done it without a huge amount of help from our family and friends, especially our amazing mums who were heavily involved throughout."
So many thanks to Sarah, Tom and Lisa.  For more of Lisa's work, take a peek here and for more brides in beautiful Halfpenny London gowns, take a little look at this link.
Much love,
S x