Aren't we in a funny in-betweeny season right now? Gone are the crisp winter mornings and mugs of steaming hot chocolate yet the fresh bright dawn of spring hasn't yet graced us with its presence. Boo. I'd like some sunlight now please. Here to answer my sulky prayers are the lovely Sophie, a newly qualified primary school Teacher, and Darren, who works in real estate. Their sun-drenched wedding celebrations took place on 30th July 2016 against a backdrop of azure ocean and the white-washed beauty of the island of Ibiza.
"I'm a true romantic at heart, so I wanted to reflect this in our wedding. I knew that I wanted soft pastel colours and happened to stumble across my floaty, blush pink bridesmaids dresses while doing some Christmas shopping back in 2014, and the rest of the styling stemmed from there. As Ibiza is also known as 'The White Isle', it seemed fitting to incorporate lots of white elements alongside my blush pink theme, so I chose touches of lace and pearl as well as hydrangeas and gypsophila."
Images by Lui Photography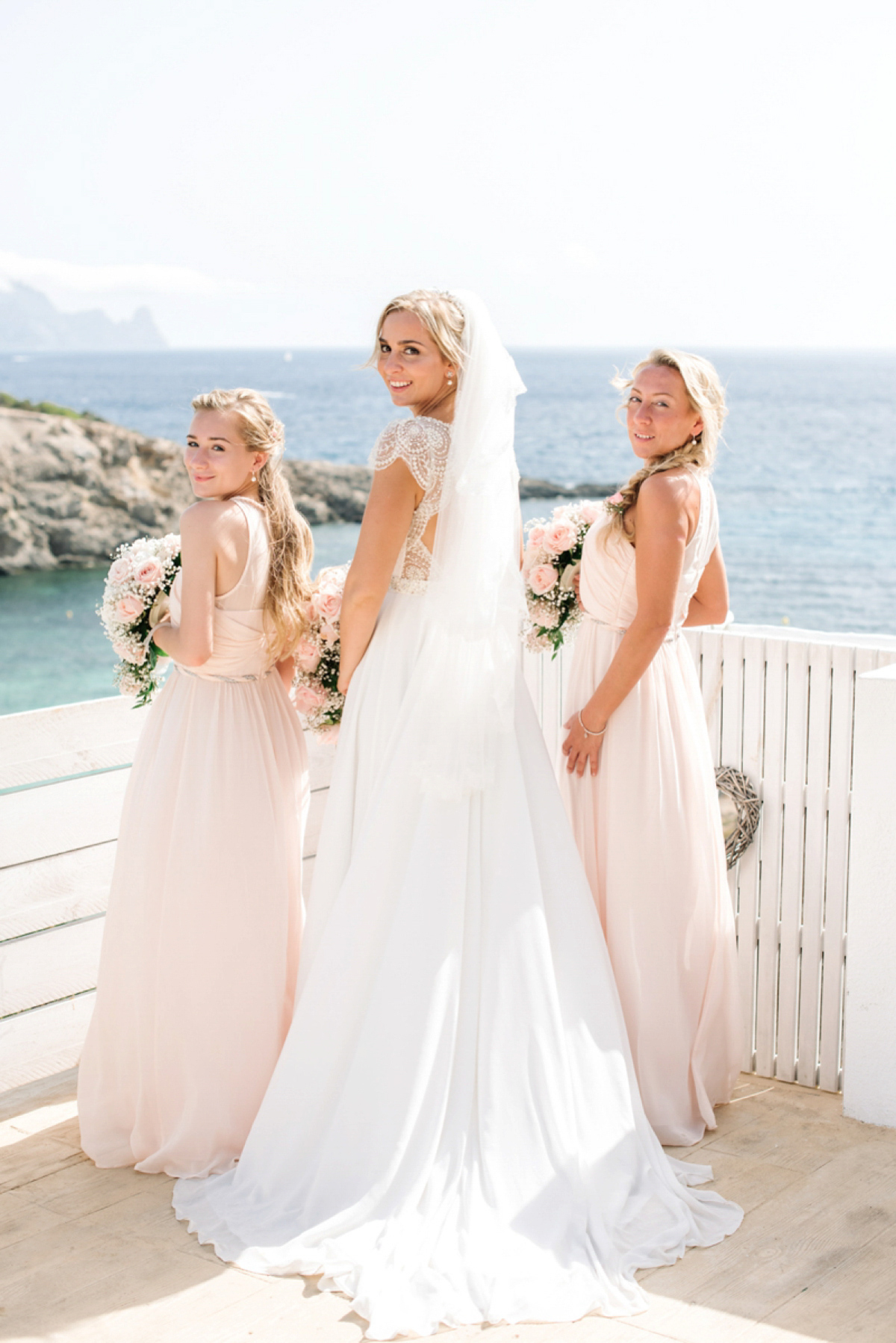 Sophie wore a handmade, bespoke gown designed and created by Babaranne of House of Moirai. The beautiful beaded detail shimmered in the summer sun and a flowing, romantic skirt was truly evocative of the couple's romantic theme. A splash of lace and dainty cap sleeves were a gorgeously feminine finishing touch.
"I had been struggling to find a dress that I felt was 'the one', but as soon as I met Babaranne all that changed. B took the time to look at all the images of the dresses I had previously tried on, and we discussed my favourite elements. She sketched me a beautiful, bespoke beaded lace gown with a keyhole back and an ethereal, floaty skirt with a stunning train, and as soon as I saw the drawing I knew that she would turn this vision into the most stunning dress. The waistline and the floaty skirt matched the style of my bridesmaids dresses and the train added some drama, while the exquisite beaded lace and key hole back with capped sleeves added femininity and detail.""After being told about Love My Dress from my dressmaker, I loved following the blog and reading other brides real weddings. It was such a fab place to get inspiration or just to get excited about my own wedding through reading others. My double-layered tulle and lace veil was also designed and created by House of Moirai. The veil was finished with an intricate lace edging; the same lace which had been used to create a scallop neckline on my dress."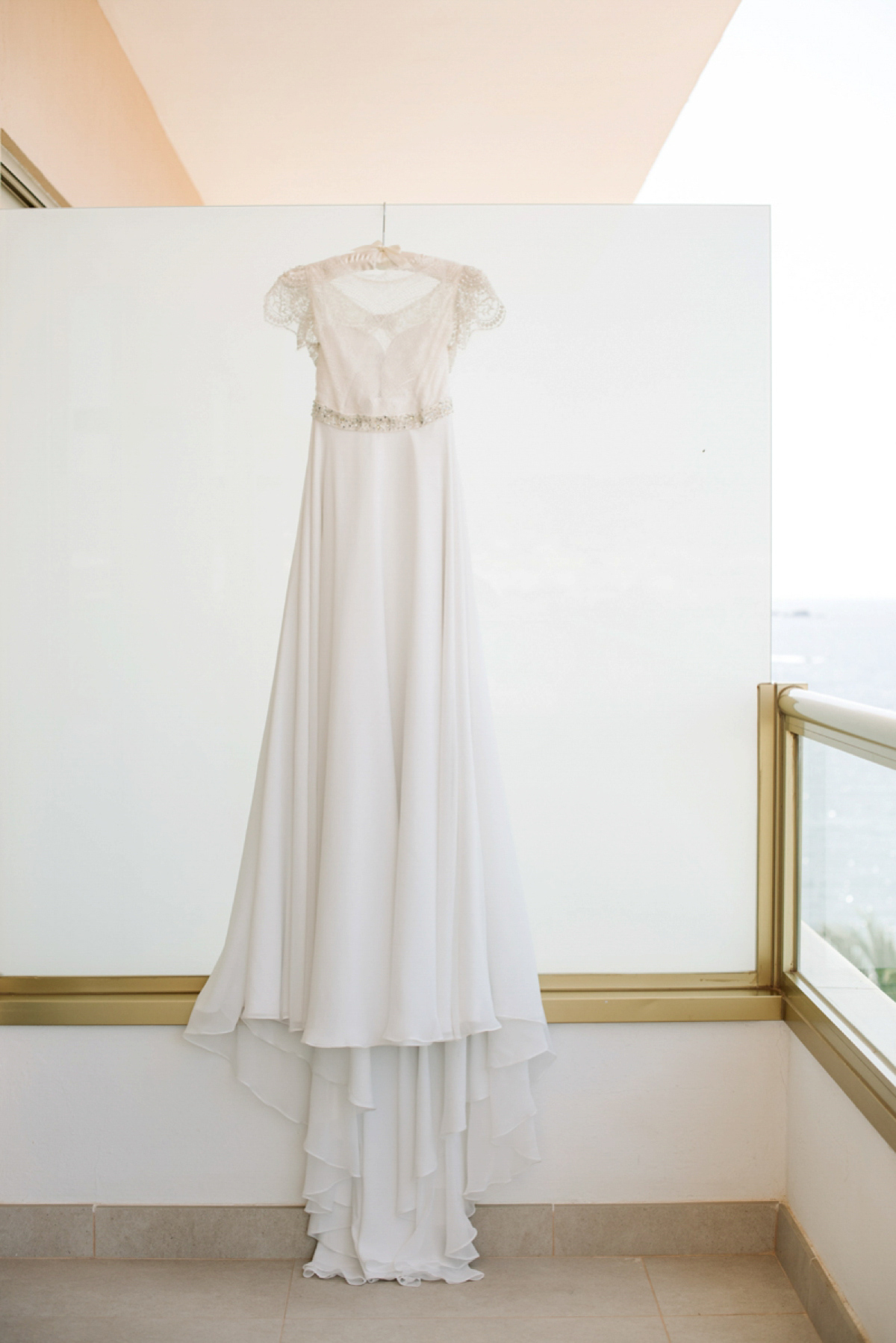 Sophie rocked a pair of gorgeous Jimmy Choo sandals and added a pearly headpiece to her lace-edged veil, bought from The Bridal Showroom in Dubai after a lovely appointment testing out their full range of accessories.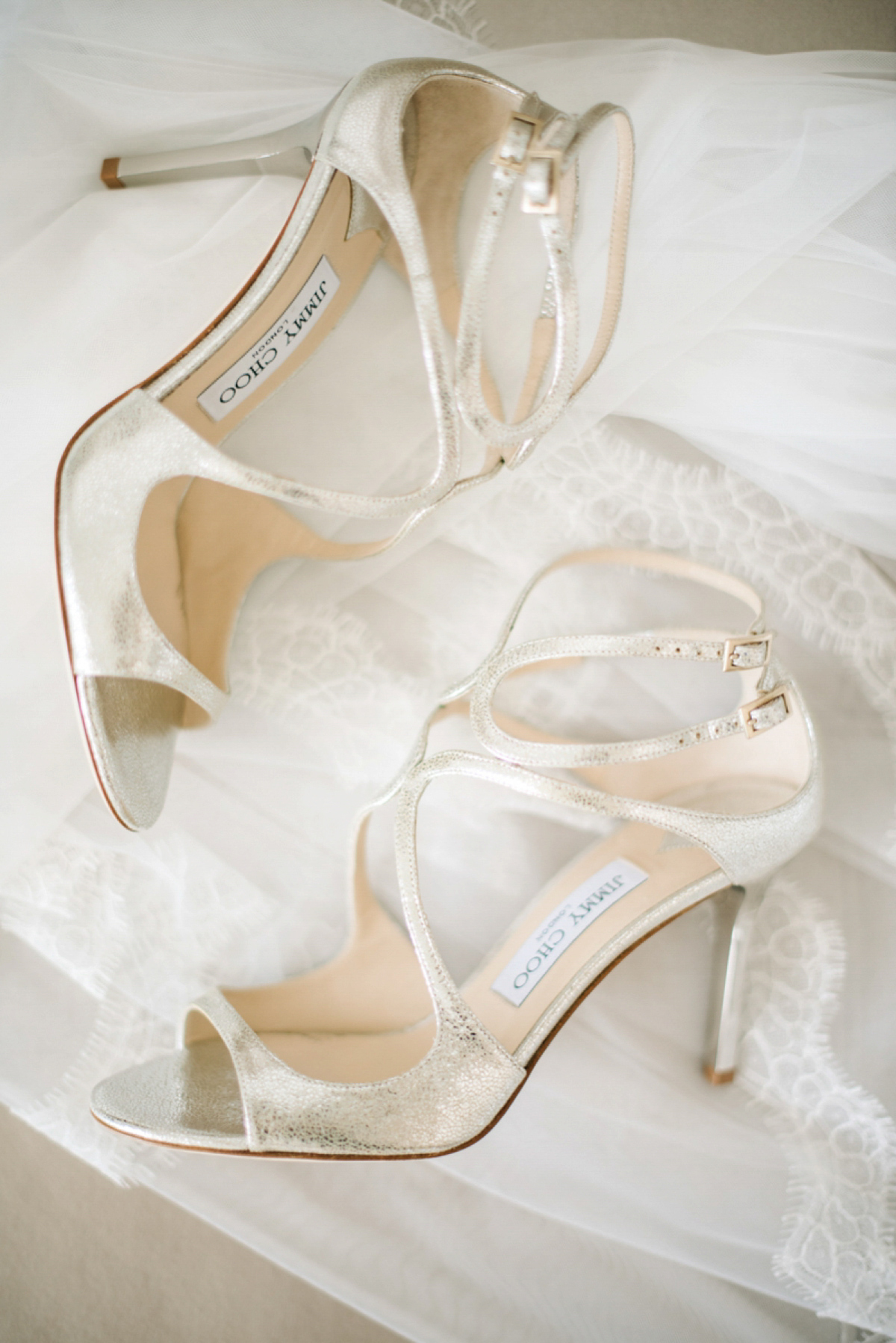 "Ibiza has been a place which I have visited since I was a child. In 2013, Darren and I made our first visit to Ibiza together for a friend's wedding and Darren instantly fell in love with it too."
"Once we got engaged we knew immediately that Ibiza would be the place for us; sunny, warm and beautiful with delicious food and easily accessible for family and friends as well as being a place we could legally get married in a Catholic church."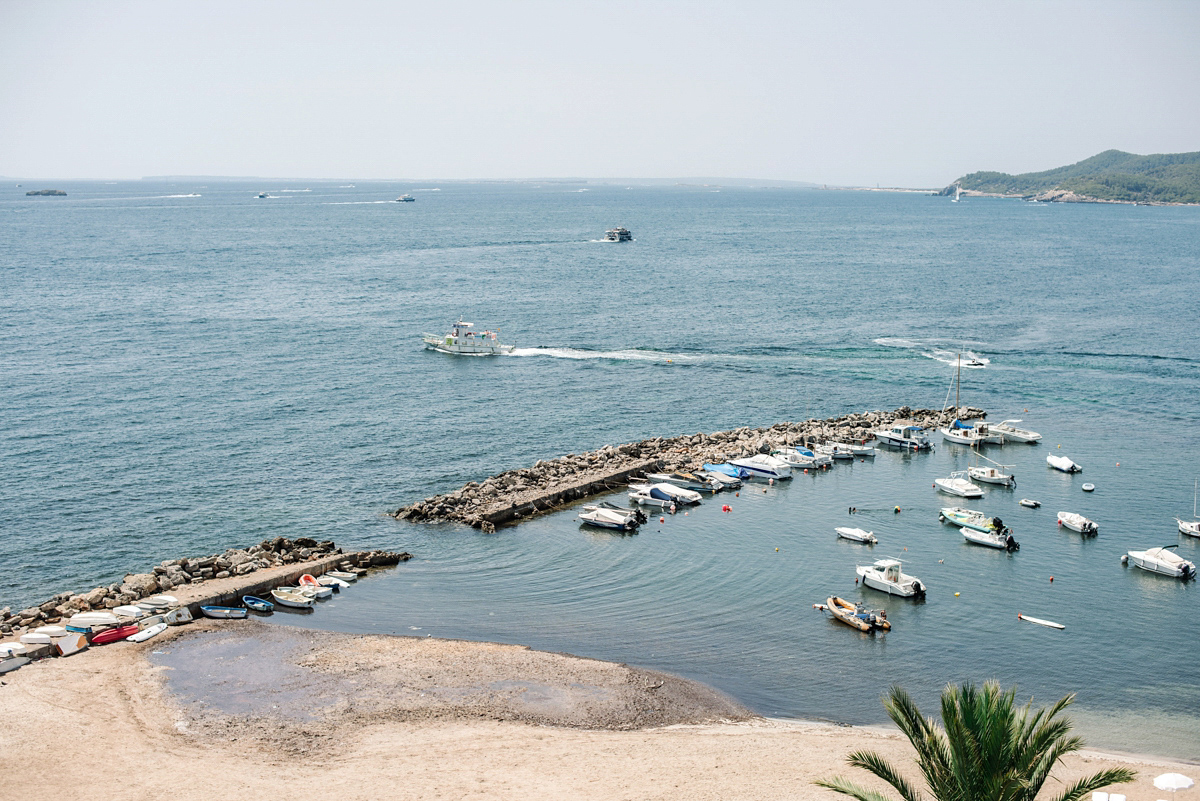 "The lovely Kinga of Ibiza Hair & Makeup created a soft up do for me, which showed off the incredible back of my dress. I chose Blooming Bouquet by Miss Dior for my perfume – I love its fresh, floral, summery scent and its name and colour matched so perfectly with the bouquets. I wore Chanel pearl droplet earrings, which had been a Christmas present from Darren a few years prior, and on the morning of the wedding, Darren had a present sent to my room via one of my best friends – a stunning diamond tennis bracelet which beautifully matched the diamonds of engagement ring."
Sophie's something old, borrowed and blue came in the form of a Manchester City Football Club garter, borrowed from the groom's aunty – a sweet and funny little nod to Darren's favourite team.
"Darren and I met 10 years ago in a bar; we got talking and shared a kiss and I gave him my phone number. But our relationship was not all plain sailing from there. Darren then went to Australia for three months and I moved away to go to university in Birmingham. Somehow we managed to keep in touch and once Darren was back from Australia we started to spend more time together getting to know each other and eventually falling in love."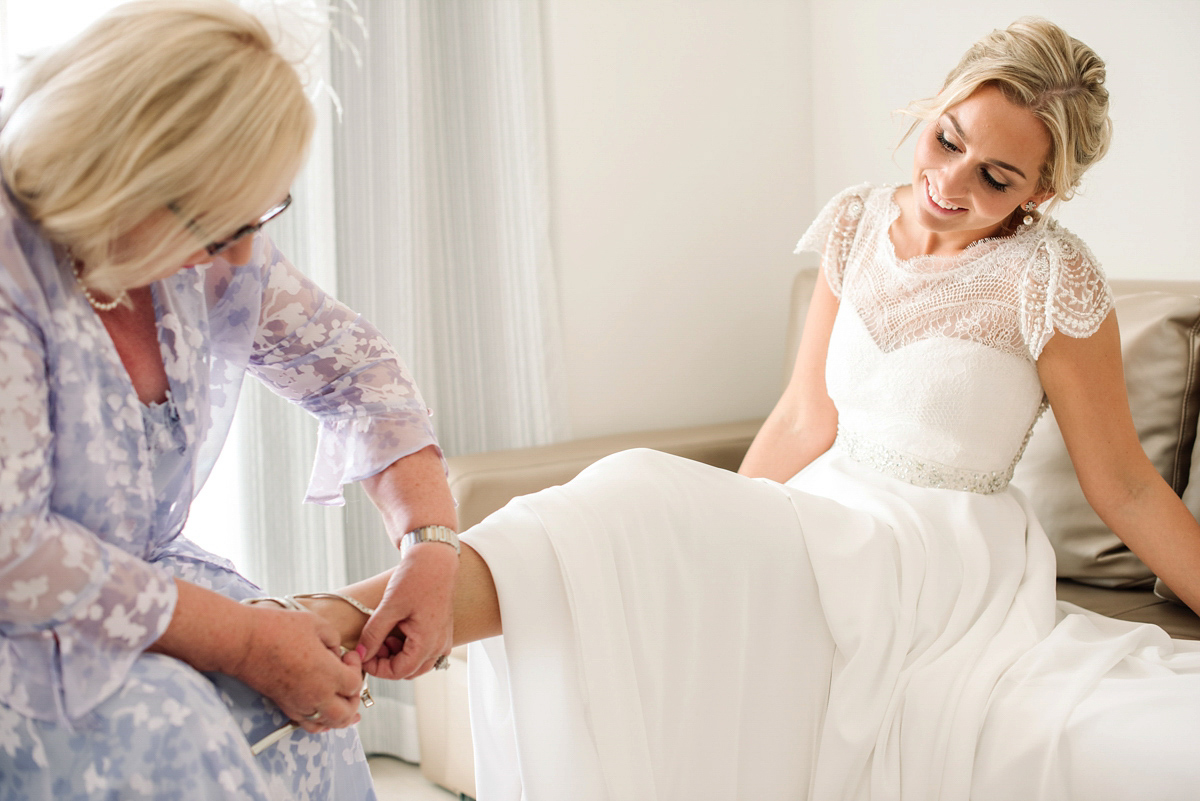 "In 2010 we took a massive risk to move to Dubai together and in January 2014 Darren whisked me away on a surprise holiday to the Maldives for my birthday. We went on an excursion to a desert island and Darren took a small present out of his rucksack, which he told me that wanted to give me now so I could enjoy it for the rest of the holiday. I opened it up to find the most gorgeous ring inside. As we were totally stranded on this dessert island with no phones or internet, it was lovely to have the following four hours just the two of us to really enjoy the moment and take it all in."
"We were engaged for exactly two and a half years. We wanted to take our time to plan the perfect day and enjoy the build up too. Our mentality was that this would be the biggest day of our lives, so we didn't want it to come and go too quickly."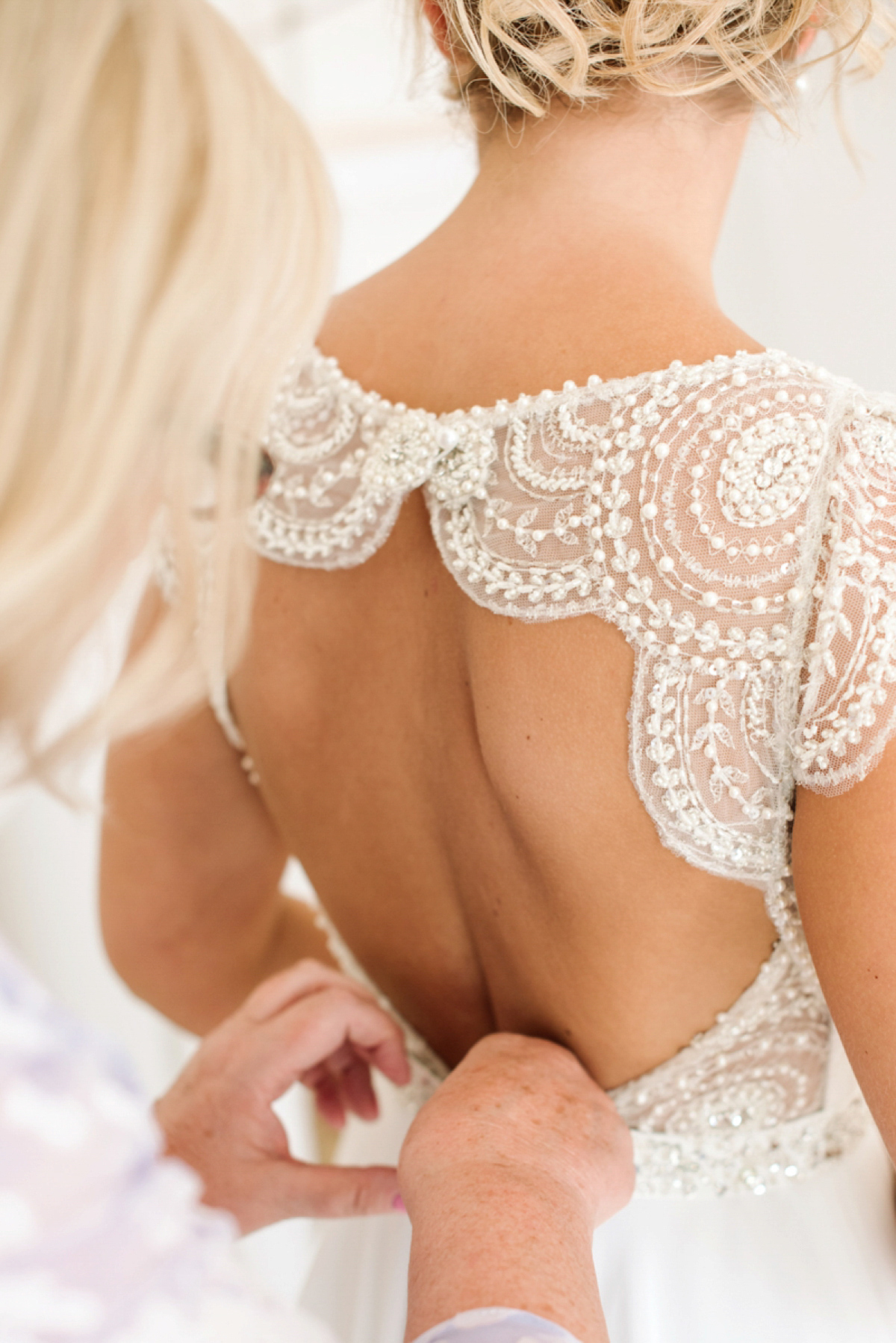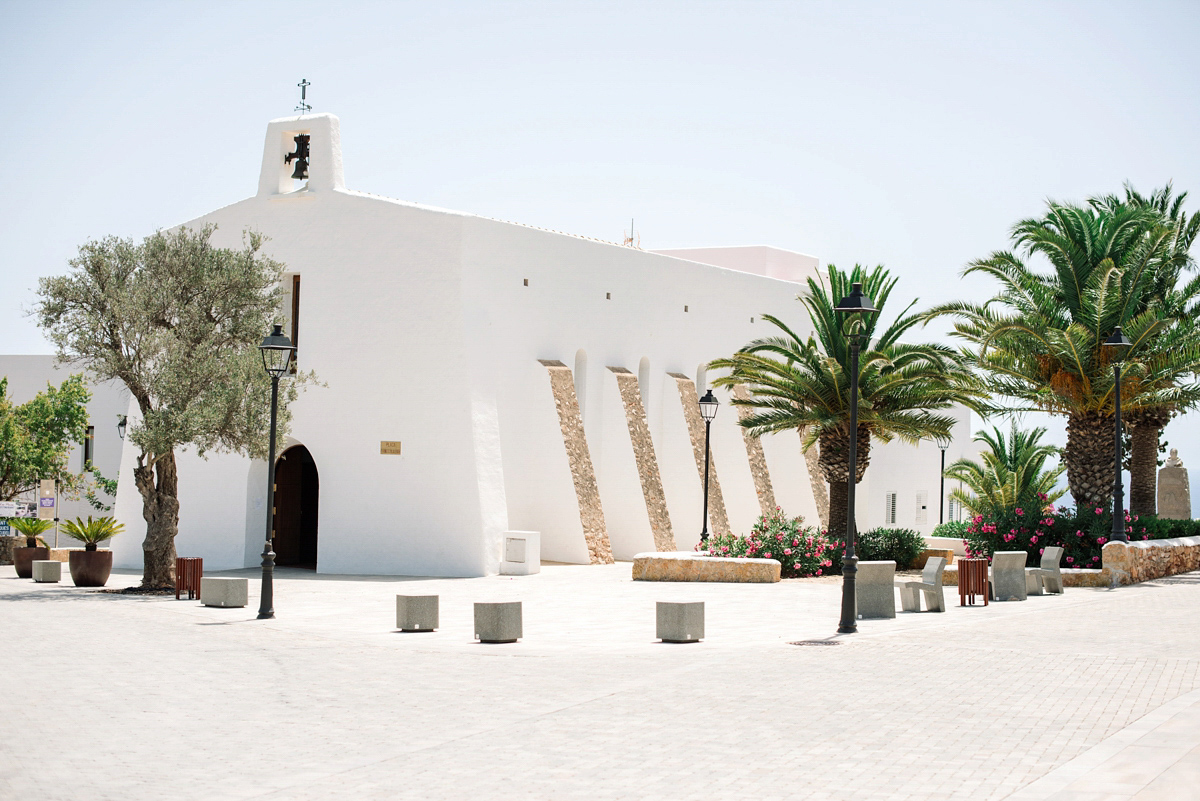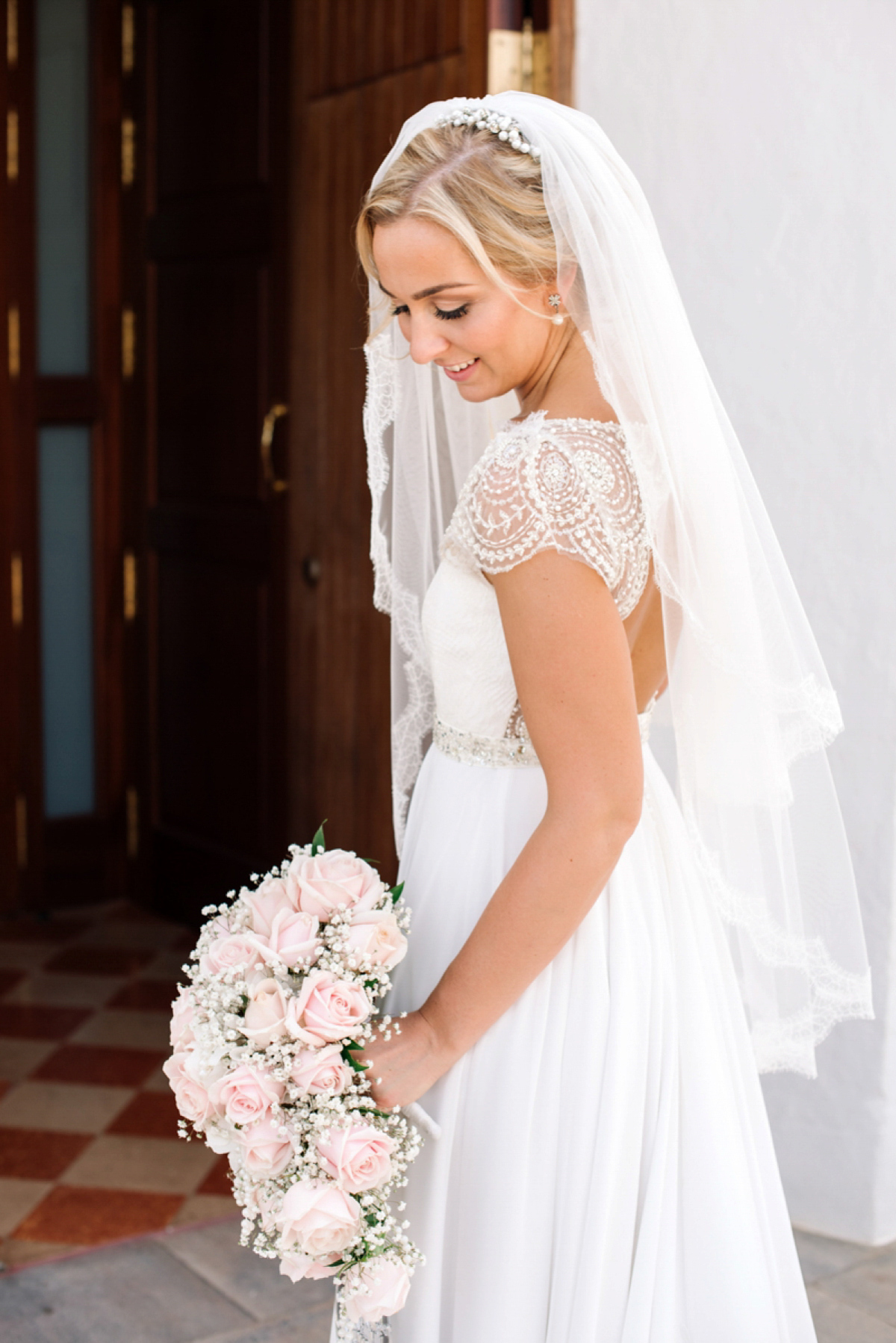 House of Moirai also created a sweet pink flower girl frock; its lace detailing and capped sleeves an adorable mirror of Sophie's wedding gown. It's no surprise that the adorable little Phoebe didn't want to take it off at the end of the day.
"Our Wedding was relatively intimate with just 65 guests travelling to Ibiza for the big day. The ceremony was held in Es Cubells Church; a small, white washed chapel, perched on a cliff edge in a village of the same name."
"The reception followed at a venue called Elixir, which was situated on the west coast of the island and overlooked the azure blue Mediterranean ocean."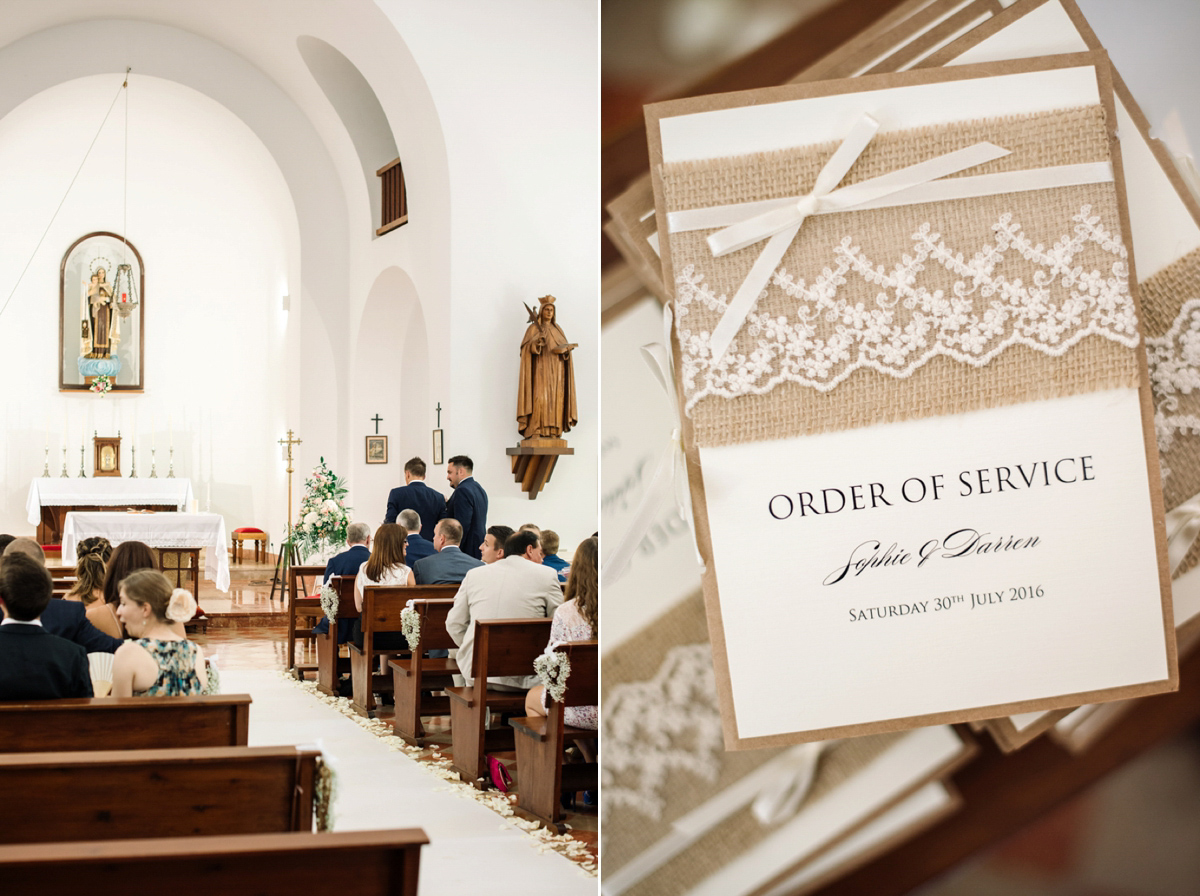 "We booked a classic Rolls Royce Silver Cloud, as I loved the elegance, style and romance of this car. As the car brought my Dad and I to the church, my heart was racing and I remember trying not to move a muscle because I was so nervous of damaging my dress or knocking my veil. That didn't stop me and Dad taking a cheeky selfie in the car, and although it isn't one of our professional photos, it's still one of my favourites."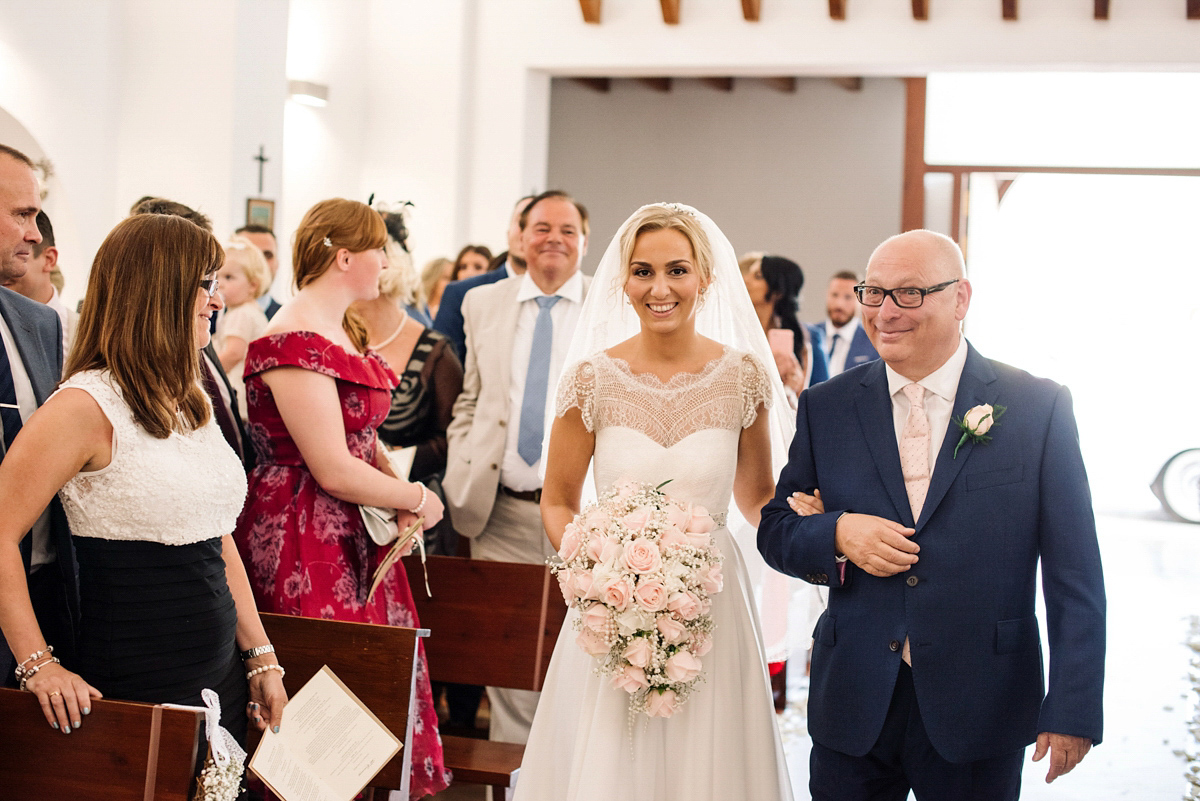 "I had always envisioned a church wedding, with my Dad walking me down the aisle, so it really was just perfect when I finally had that special moment with him. It was the most incredible feeling seeing all the faces of my friends and family smiling back at us, and seeing my handsome, future husband stood at the front. It was one of my favourite moments of the whole day as it had been one I had dreamed of for so long. We walked down the aisle to Adele's 'Make You Feel My Love'  – I absolutely love this song and the emotion I feel when I listen to it."
Sophie and Darren spoke the traditional Catholic vows; the poignancy and history of these promises were so incredibly important to the couple. Sophie's brother and Darren's aunty Joanne each gave a bible reading, which the newlyweds chose for their messages of love, compassion, kindness and patience. Friends of the bride also lead a short prayer during the service; a very moving and emotional experience.
"During our ceremony, music was provided by the incredibly talented Samantha and John Hocking. Another British couple living and working on the island, and, for anybody wanting to get married in a Catholic church in Ibiza, Sam is the lady you need to be in touch with! Although not a wedding planner as such, Sam was able to secure the church we wanted to marry in as well as handle all the paperwork with the Spanish authorities."
"On top of all that, she is the most amazing singer. Sam sang as I walked down the aisle and later in the ceremony she sang 'A Thousand Years' by Christina Perri as we lit our unity candle. Sam and John both sang The Beatles, 'Here Comes the Sun' as we walked back down the aisle as husband and wife. We really wanted something fun and uplifting at the end of the ceremony and it seemed a perfect choice as we were about to head out into the Ibizan sunshine as newlyweds."
Sophie sealed her vows to Darren with a classic Cartier platinum band, while her new husband slipped on her slim white gold and diamond band from Cara Jewellers, based in the gold and diamond Park in Dubai. The newlyweds jubilantly exited the white-washed church of Es Cubells into the radiant Ibizan sunshine and were whisked away to their reception at Elixir.
Darren wore a dark blue three-piece suit, tailored in Dubai by boutique Ascots & Chapels, and personalised with his name and wedding date stitched into the jacket lining with pink thread. He added a complementary blue tie and his trusty Rolex Daytona, finished off of course with an obligatory pair of sunglasses to cope with the beaming Ibiza sunshine.
"We used Studio By Ana Lui, a company that came highly recommended to us via various other wedding suppliers on the island as well as other Ibiza brides who I had managed to contact via Instagram and Facebook. Everybody I had spoken to raved about Ana Lui, so she immediately became my first choice."
"She was so popular in fact, that despite contacting her two years before the wedding, she was already booked! Luckily, Ana worked with another super talented photographer, Eva, who was still available and so we quickly sent across our deposit to get her booked in."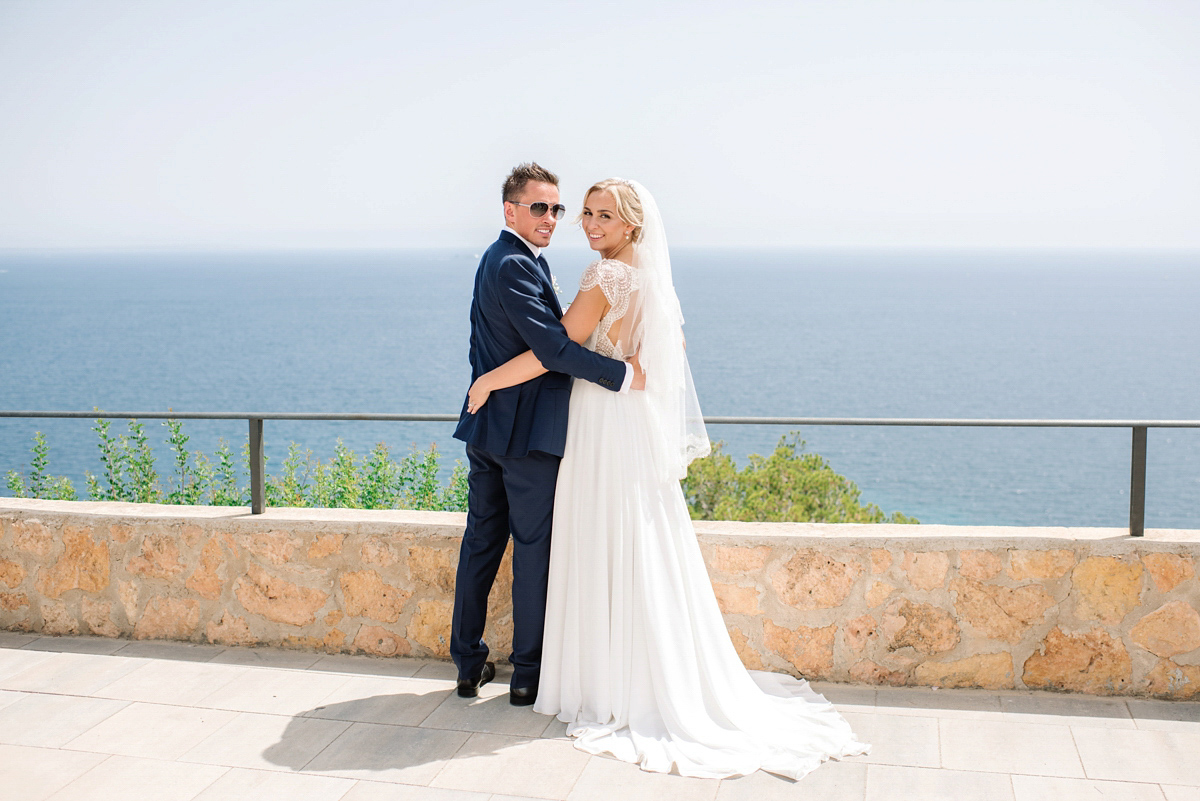 "Eva was a dream to work with. She was so friendly, complimentary, relaxed and felt more like a guest or friend than a photographer. She captured all the images I had hoped for and we managed to get such a variety of shots from the morning getting ready, to the church service, to the stunning views at the back of the church and later on at the reception venue, on the beach at dusk and finally the first dance.
She really created a beautiful story of our day though her stunning shots."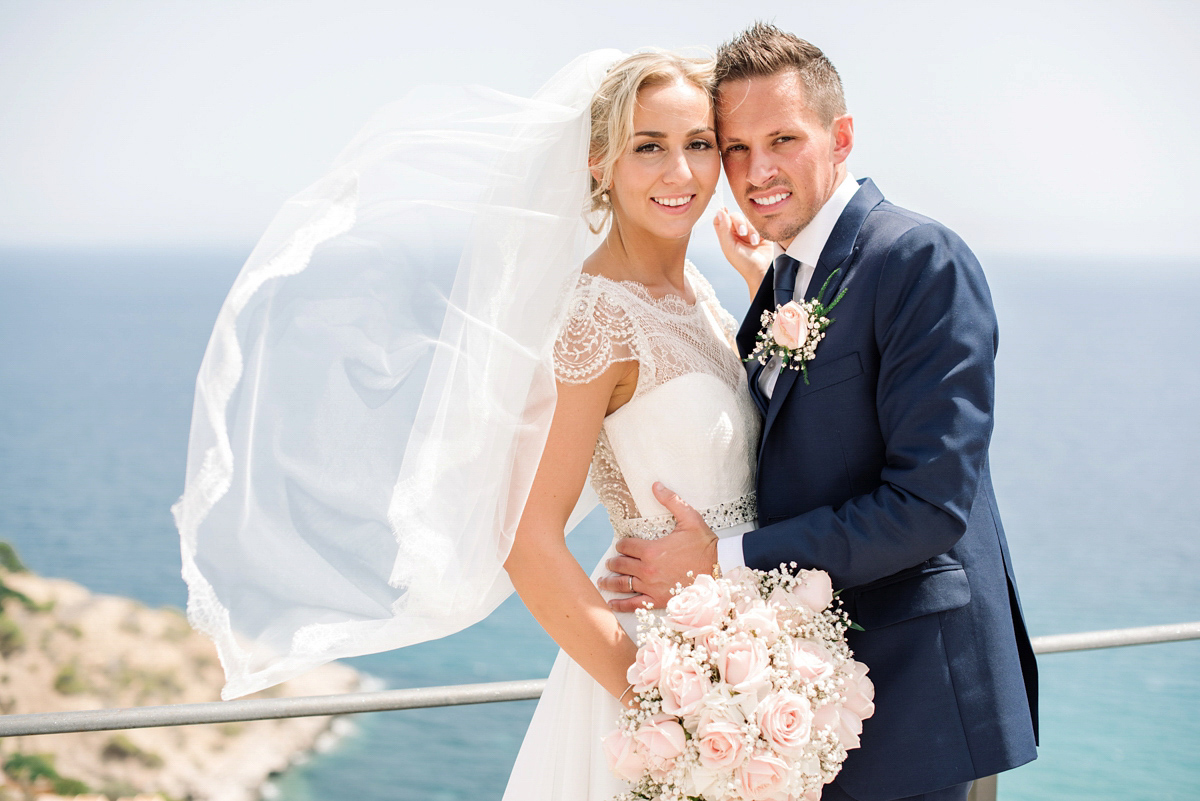 Adam and David of Studio By Ana Lui were also on hand to film the day. 'To video or not to video' is one of the most frequently discussed topics in our private Facebook group for brides and newlyweds (seriously, if you're not a member yet, make it the one thing you do today, I promise you won't look back) and Sophie and Darren were delighted with their decision to book two videographers – ensuring every precious moment was documented in a natural and unobtrusive way.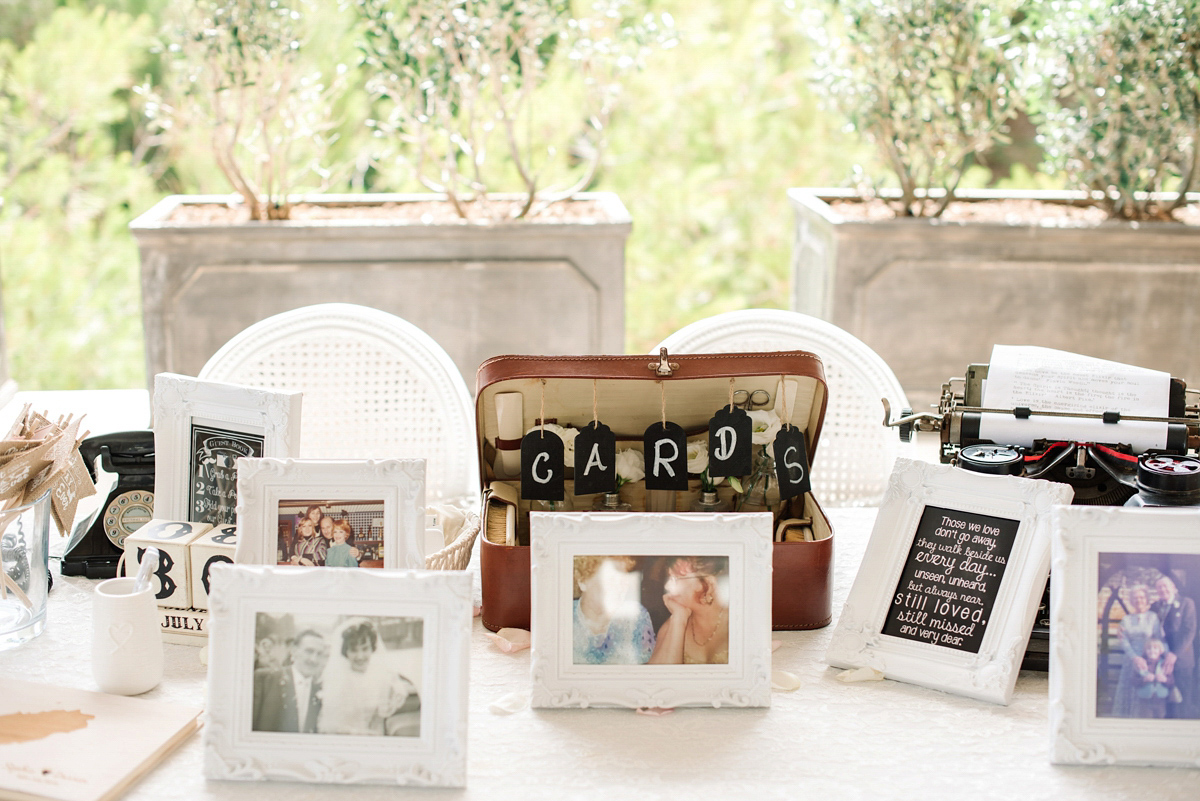 The couple chose Gary and Holly of Floral Dreams Ibiza to create their pink and white floral arrangements, scattered with pearls to tie in with their romantic vision and colour scheme.
"We chose Floral Dreams Ibiza as our florist and I could not have been happier. Gary and Holly totally surpassed all my expectations; they really did provide the most stunning bouquets I had ever seen. I never thought I was such a flower person until I saw my huge shower bouquet of roses, gypsophila and hanging pearls and just fell completely in love with it – I didn't put it down for the whole day! Gary and Holly were also the loveliest couple to deal with; a British couple who had moved to Ibiza to do what they love – and it really showed. We went to their villa to discuss our vision for the flowers and we were constantly in touch via email. They were always so prompt to reply and answer any of my queries."
"We didn't hire an event planner, we took a trip back to Ibiza in July 2014 and met with most of our suppliers directly. Many of the wedding suppliers know each other and work together a lot so we were able to find a lot of people through recommendations and word of mouth."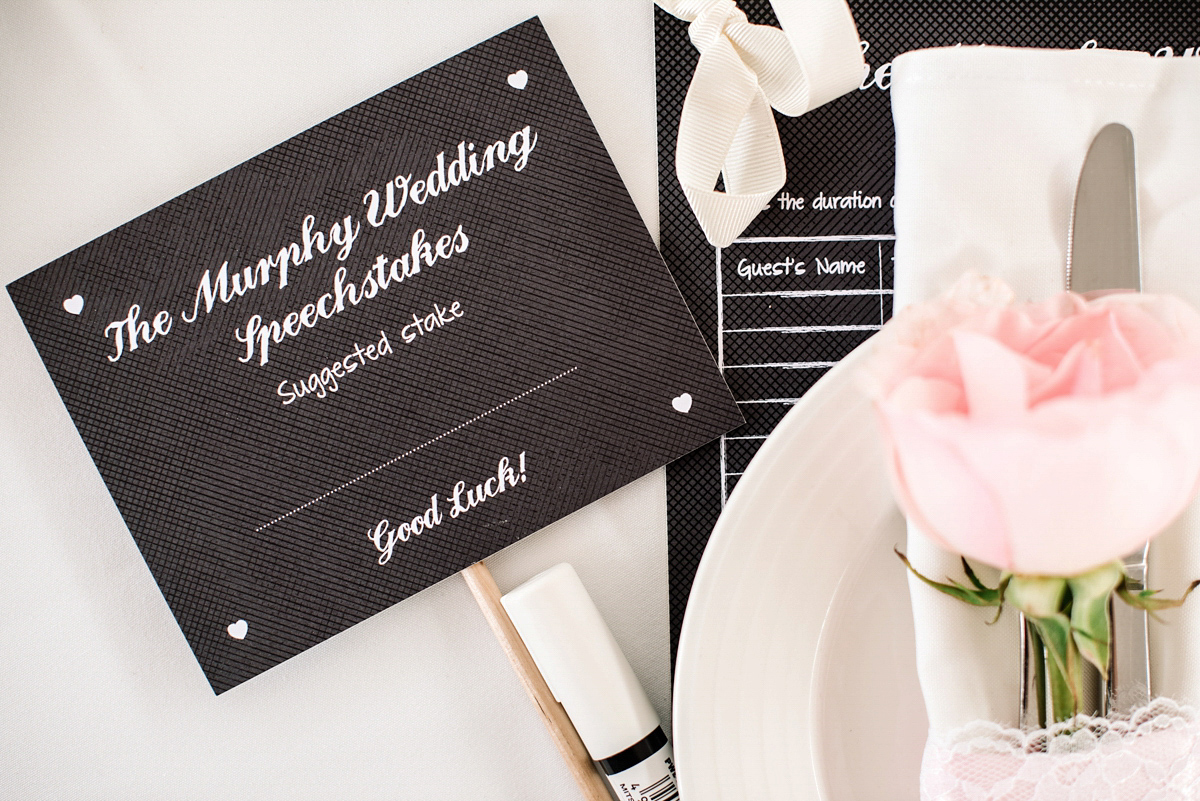 "I found stationery suppliers difficult to come by, especially in Dubai, so I looked on Pinterest for some inspiration. I came across a website called 4 Love Polka Dots and I was really taken by some of their rustic and lace designs. For the table plan, I used a company called Nina Thomas Studio, which I found via Not on the High Street.
When I contacted Nina, and sent her all the details for my table plan, (which included the name and location of my venue) I couldn't believe it when she emailed back saying how excited she was to create it, because I was getting married at the exact same venue in Ibiza that she had!"
Scrumptious food and a four-tiered naked cake were provided by Elixir and Sophie describes their catering as 'out of this world'. I can almost taste the pomegranate-scented cava and smell the delicious waft of canapés that their guests were treated to upon arrival.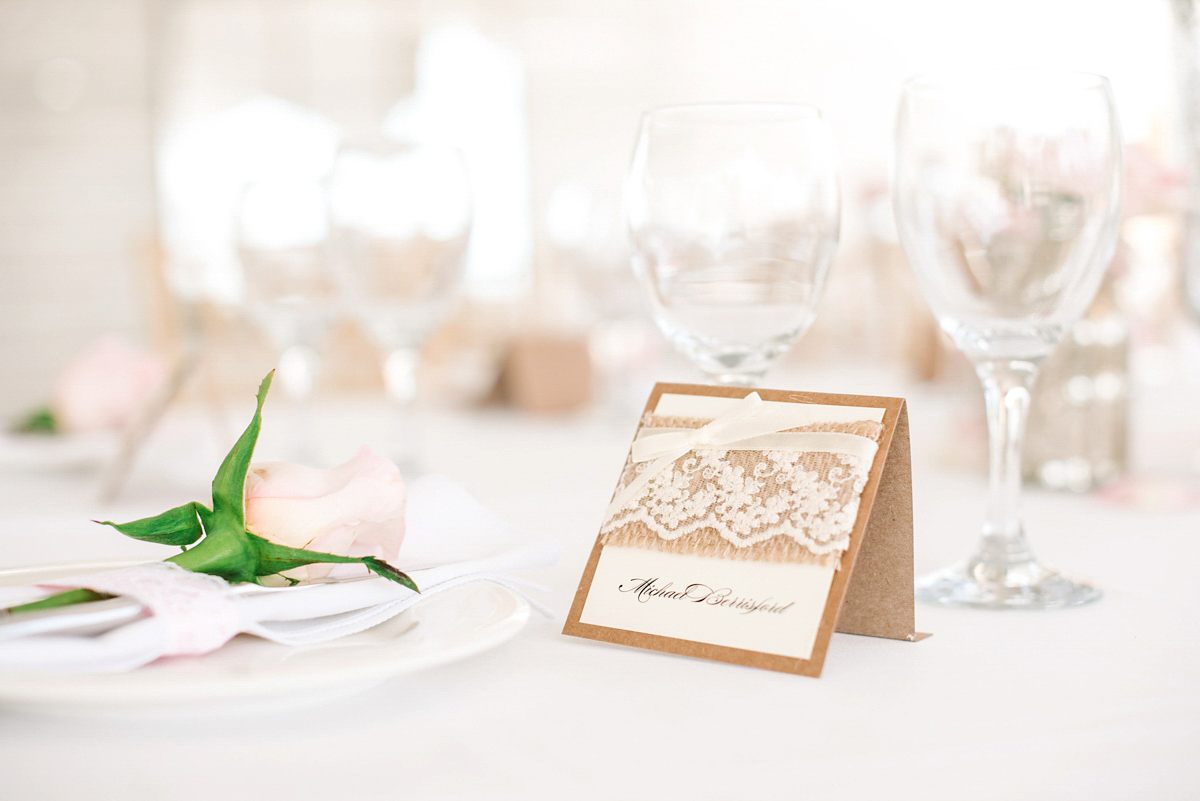 Sophie and Darren chose a modern take on authentic Spanish cuisine – a selection of tapas favourites for their starter, followed by steak served with a rosemary rioja jus or local white fish en papiotte. Dessert was an indulgent platter of sweet goodies and the guests' glasses were charged with Laurent-Perrier Rosé champagne for the toasts. Is it lunchtime yet!?
"During the evening party, Elixir also set up a Mojito bar which was a massive hit with family and friends. They also put out an incredible array of cheese and cured meats as an evening snack board. I was having such a whale of a time dancing, I barely even noticed this part of the evening, but was told the next day by many family and friends that the cheese and meats had been just as yummy and beautifully presented as all the other food.
The quality and quantity of all the catering was second to none, topped off by impeccable service and amazingly friendly staff."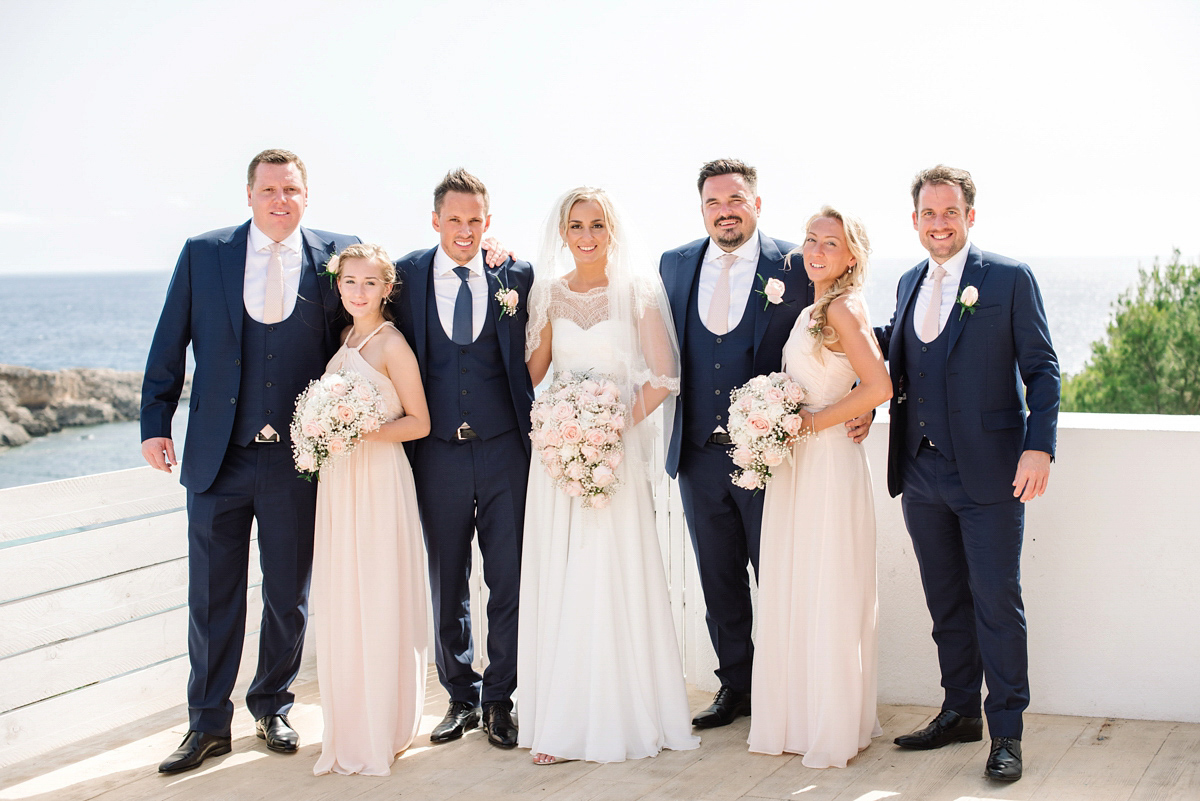 "Our cake was made in house at Elixir by the amazing Vickki. On the night, we didn't get a chance to sample any of the cake, but happily the staff at Elixir boxed up two tiers to take away with us. It was such fun to wake up the next morning and have cake for breakfast in bed with my new husband."
Sophie and Darren provided ivory silk fans and flip-flops as wedding favours; big hits with the male and female guests alike. Local artist, Lovely Laura, sang classic covers during the reception and later in the evening, returned to play her saxophone alongside DJ Ben Santiago. I can just imagine the wedding party dancing late into the night in classic Ibiza party style.
"We chose Frankie Valli's, 'Can't Take My Eyes Off You' as our first dance track. It took us ages to choose as we don't really have a 'special song,' but we both love old classics and songs that get everyone singing and dancing. We also didn't want anything that was too slow or soppy; we wanted something a bit more upbeat and this song fit perfectly. Darren had been really nervous about the first dance, but I think he really enjoyed it in the end."
"What we loved about having destination wedding was the fact that we were able to spread our celebrations over a few days. Living in Dubai means that we don't get to see our favourite people from home too often. We organised a boat party a couple of days after the wedding, which was fantastic."
Words of Wedded Wisdom
"Remember at various points in your day to take a little step back to admire all your hard work – it takes a lot of effort planning a wedding and so much thought goes into just one day. During the wedding breakfast, I sat silently for a minute or two, just looking around watching all my guests enjoying themselves, seeing the beautiful decorative details I had chosen, listening to the Michael Bublé playlist I had put together and I smiled to myself thinking how all the hard work had paid off because everything had come together so perfectly."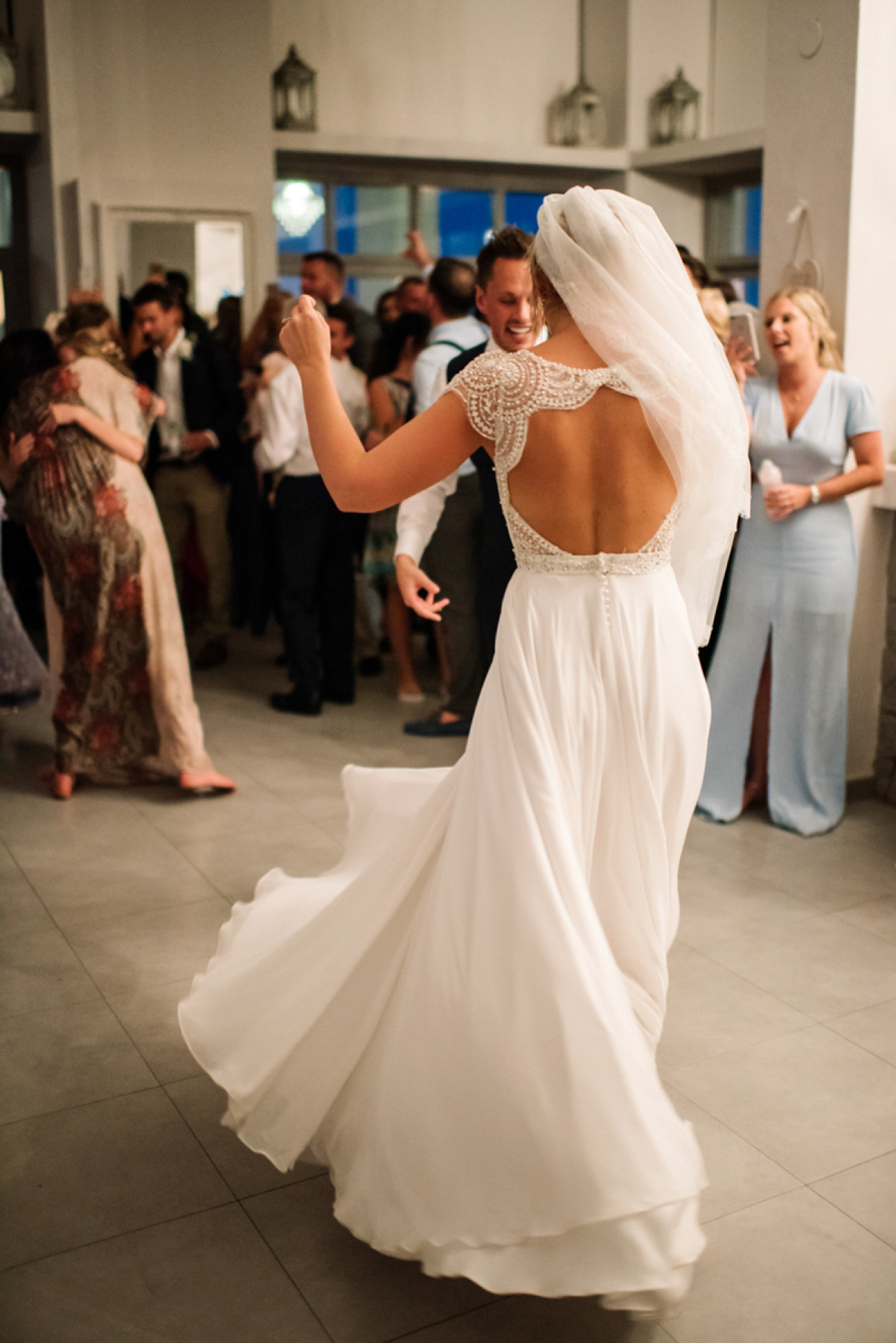 Thank you so very much to Sophie, Darren and Eva of Stuio By Ana Lui for brightening up our Saturday in the very best way. Are you planning a wedding in Ibiza? Or any other exciting destination? Do let us know so we can legitimately daydream about snowy mountaintops and sun-drenched beaches. Sigh. Is it summer yet?
Em x