As a native Australian, I grew up by the beach. Every time I visit, the fresh, sea air clears away the cobwebs. If you need some downtime right now, then let me whisk you lovelies away to the stunning seaside for this charming summer wedding with images by Livvy Hukins Photography that features an incredible Raimon Bundó dress and loads of nautical decor. I adore the handmade paper windmills! Meet Ellie and Ben Maslen, who tied the knot on the 11th of June 2016 at All Saints Church, then held their seaside reception at Whitstable Harbour at East Quay Venue. Ben works as a business director for a media agency, whilst Ellie is a graphic designer with her own wedding stationery and favours business called Ginger is the New Black – very handy!
"We really wanted a seaside wedding and the East Quay was the first venue we visited after doing a lot of research online. We took one look inside and fell in love with it so much we didn't look anywhere else. We now love Whitstable so much we are looking to move there soon! We decided to go for a nautical theme, so a lot of blue and white colours and that went through to the styling of the reception venue, where we used lots of rope, netting, seashells and paper windmills. We even produced sticks of rock in our wedding colours as our favours for our guests and with all our wedding stationery, which I designed myself, we kept the nautical look and feel."
Photography by Livvy Hukins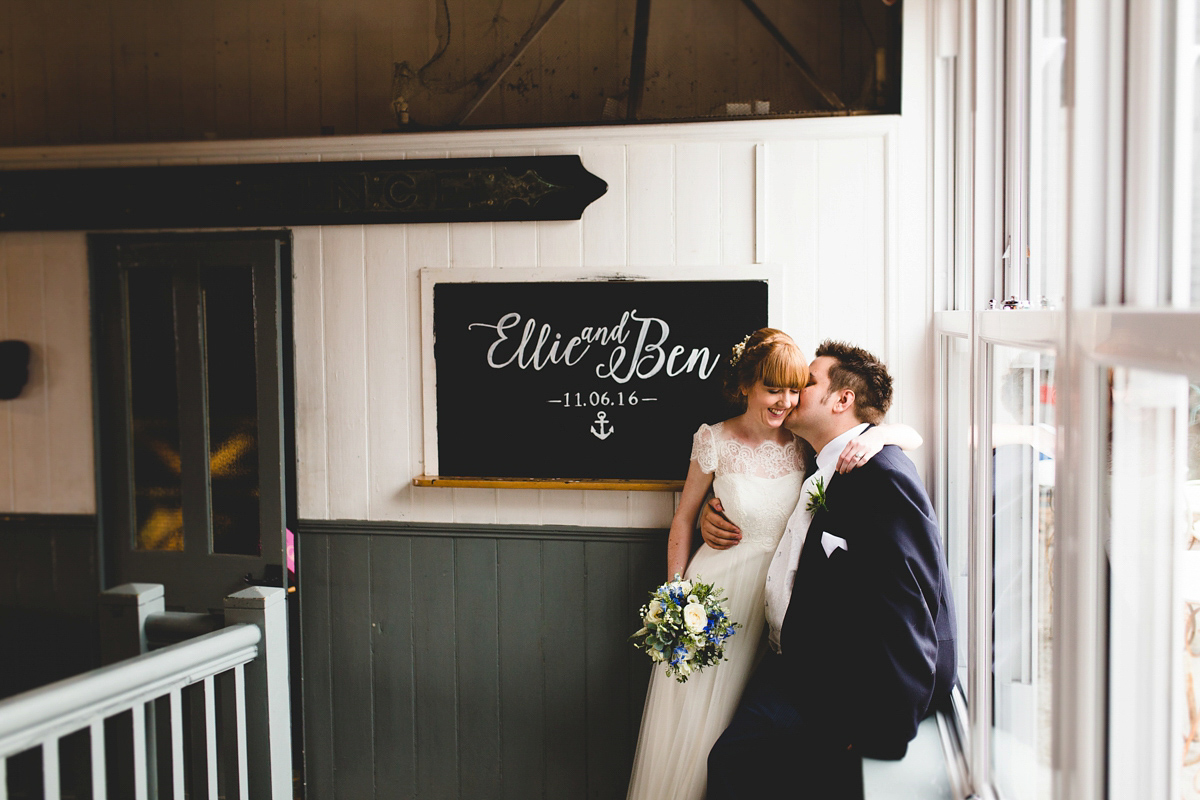 Ellie's gorgeous Raimon Bundó gown was from Mirror Mirror in Islington, London, who were very helpful during the dress decision process.
"I was very fussy when choosing my dress, and the girls at Mirror Mirror were amazing. I tried on so many different styles; each time telling them what I liked and what I didn't like about each dress. This helped them get a feel for what I wanted overall and they came back with two options that were both so perfect it took me a while to decide which one was my favourite! In the end I decided the Raimon Bundó was the dress for me, with the delicate lace on top, and the ivory went well with my complexion and I still got to have a big, floaty dress with a bit of a train."
"Ben and I were 'set up' by a mutual friend. We went on a blind date to Winter Wonderland in Hyde Park, and that was it! Ben proposed after nine months, on a lovely spot under the trees on the south bank of the Thames, and we married a year and a half later."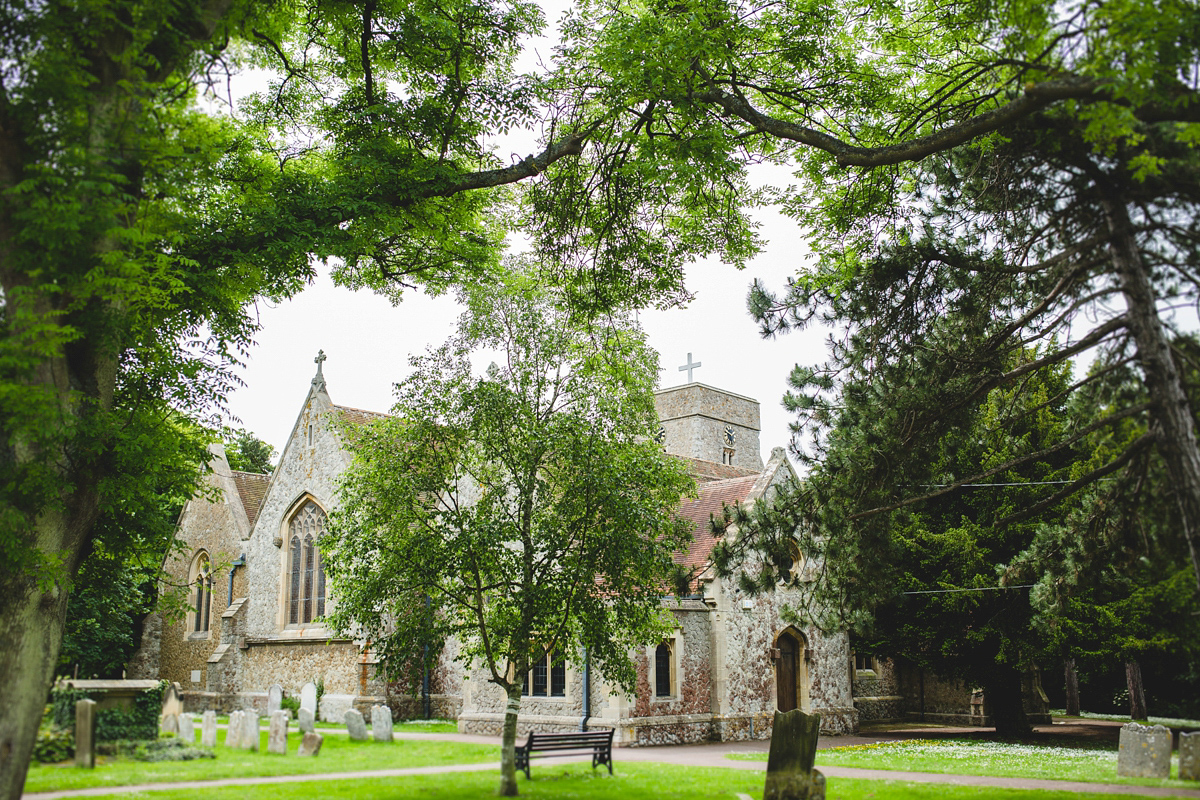 All of the stationery, favours and styling was by creative Ellie: the save the dates, invitations, RSVP's, stickers, order of services, place settings, table plan, windmills signage, blackboards, and sticks of rock favours. Such a clever bride!
"Since the wedding I have set up my own wedding stationery business called Ginger is the New Black; creating bespoke stationery and favours."
"The sticks of rock with our own branding and in our wedding colours were from The Rock Shop. The bunting, shells, hessian table runners, netting, driftwood, and candles were all from ebay. The dried flowers in glass jars were from Winter Flora."
"We hired our vintage Nissan Figaro as our wedding car from Retro Classic Car Hire and a coach from Regent Coaches to transport guests from church to the venue."
Ellie added Rainbow Club at John Lewis heels, 'Femme' by Hugo Boss scent as her 'something borrowed' from her mum, sprigs of dried flowers by The Artisan Dried Flower Company to her hairstyle, and heartfelt items of jewellery.
"I wore a simple gold bracelet and attached my grandmother's pendant that my Grandad gave to me when she passed away a few years ago. I wanted to make sure I had a part of her with me on the day."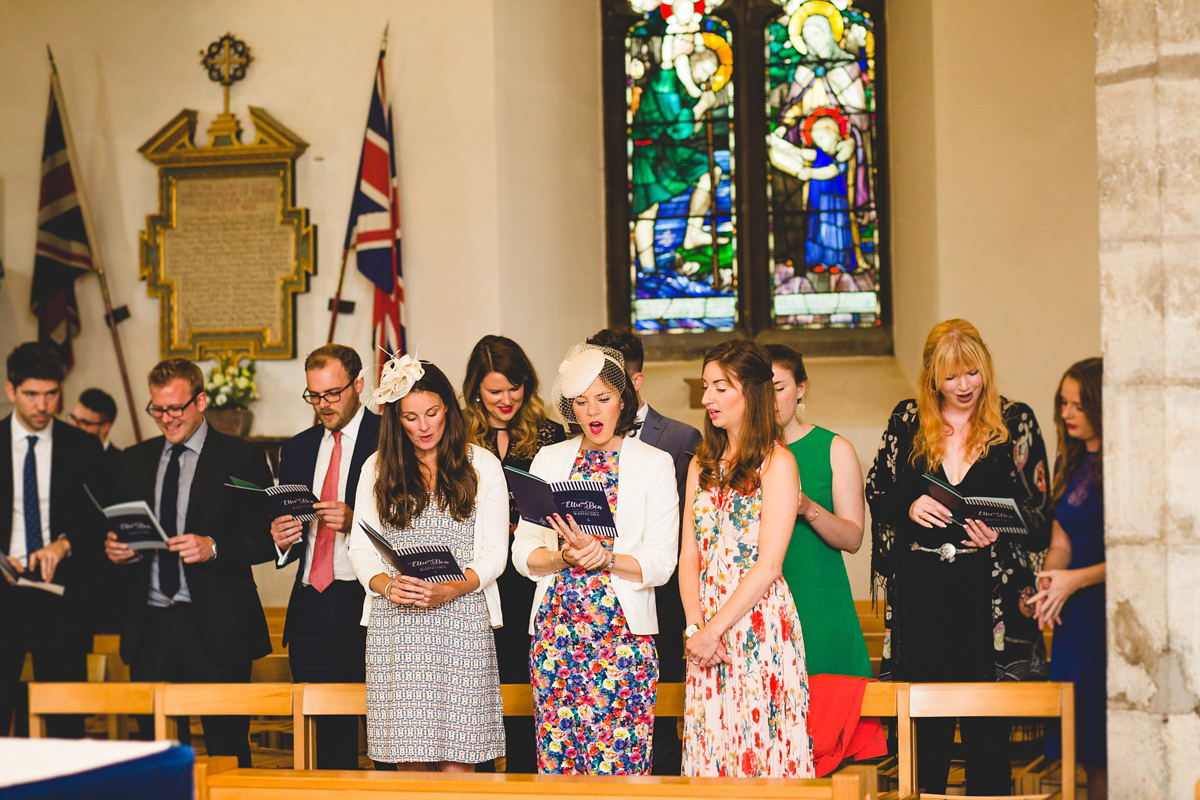 "My Dad accompanied me down the aisle to Pachelbel's 'Canon in D minor'. We had traditional vows and two readings: 1 Corinthians 13 (a very common wedding reading, but we like it) and the second was an extract from Jayne Eyre by Charlotte Brontë. Ben loves the book and he chose this extract:
"When you are near me, as now: it is as if I had a string somewhere under my left ribs, tightly and inextricably knotted to a similar string situated in the corresponding quarter of your little frame. […] You are my sympathy – my better self – my good angel. I am bound to you, with a strong attachment. I think you good, gifted, lovely: a fervent, a solemn passion is conceived in my heart; it leans to you, draws you to my centre and spring of life, wraps my existence about you, and, kindling in pure powerful flame, fuses you and me in one. […] All my heart is yours: it belongs to you; and with you it would remain, were fate to exile the rest of me from your presence forever."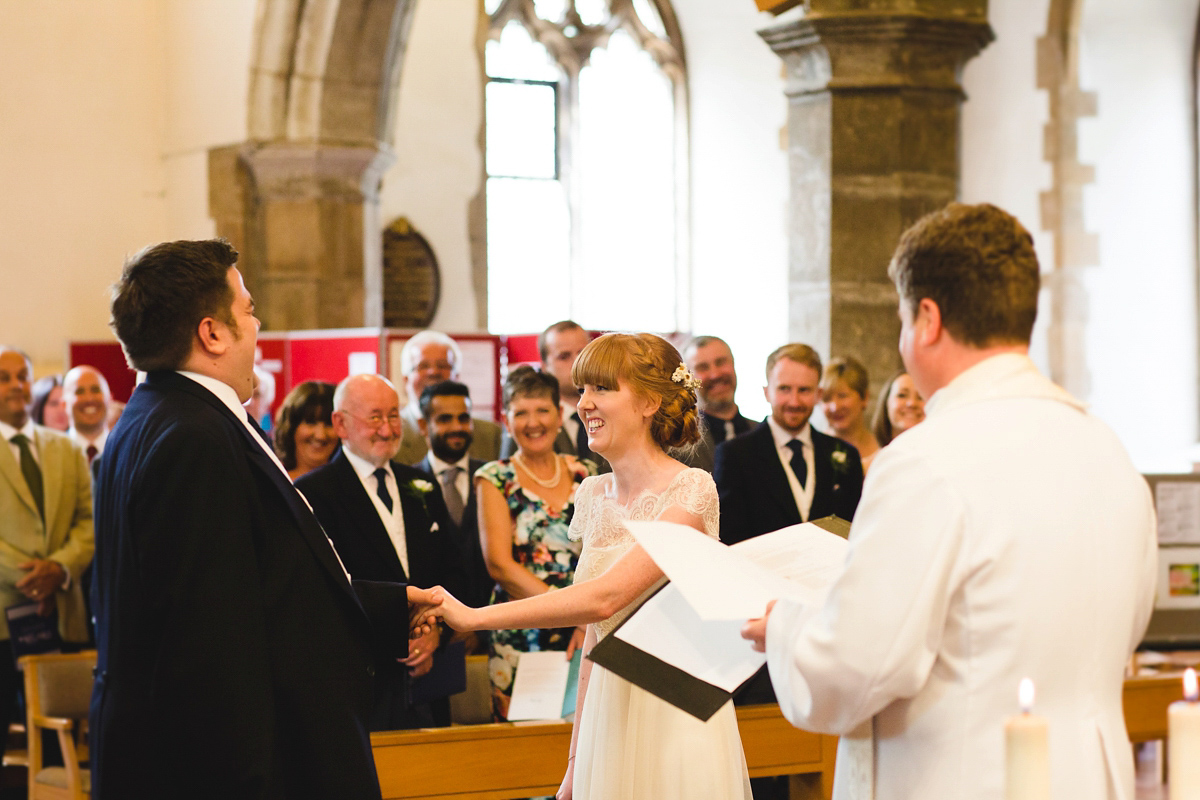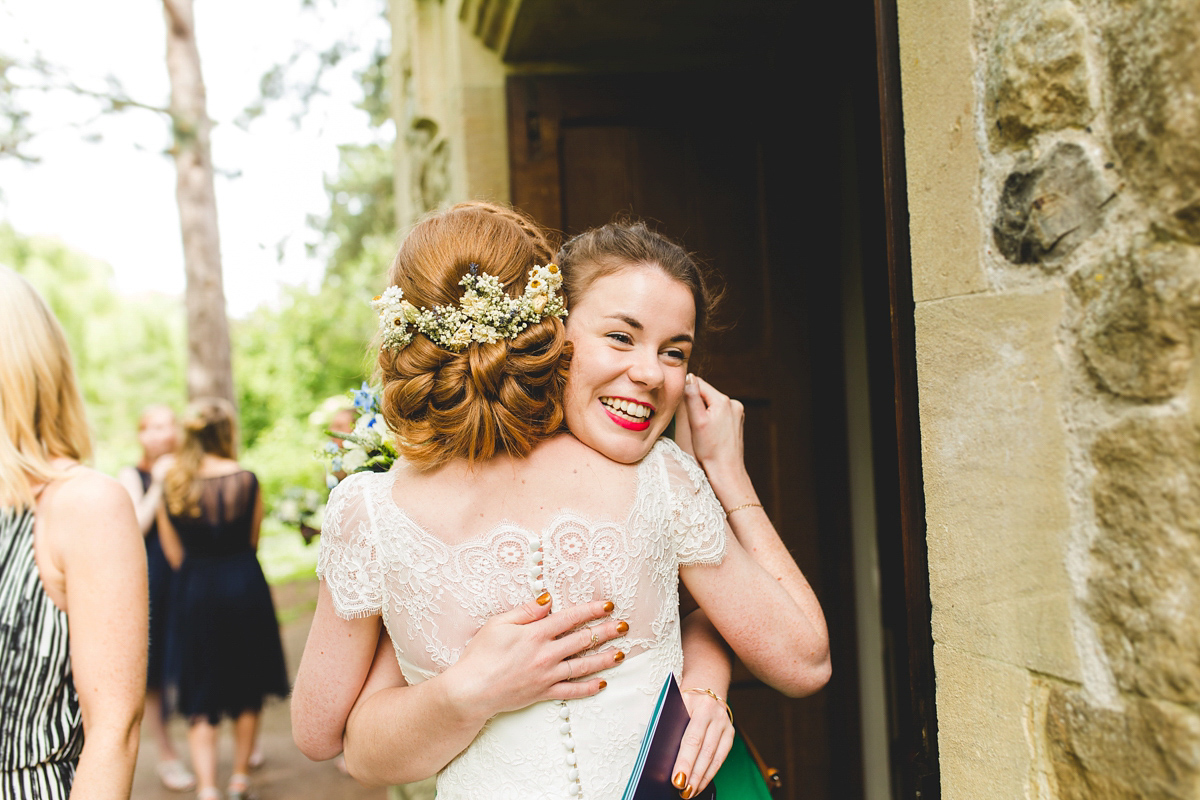 Jane from Graham Greener florist created the stunning floral displays.
"We went with a lot of blue and white colours to fit in with the colour scheme of the wedding. We wanted the flowers to have a casual feel and not look to elaborate and hence succulents and other 'wild flowers' were used to achieve this effect."
"Apart from the actual ceremony, I would say my favourite moment was leaving the church and Ben driving us to the reception venue in our vintage Figaro and getting to see all his hard work decorating the East Quay. He had to set up the venue on the morning of the wedding without me and it was very stressful, but he did an amazing job and it all looked great!"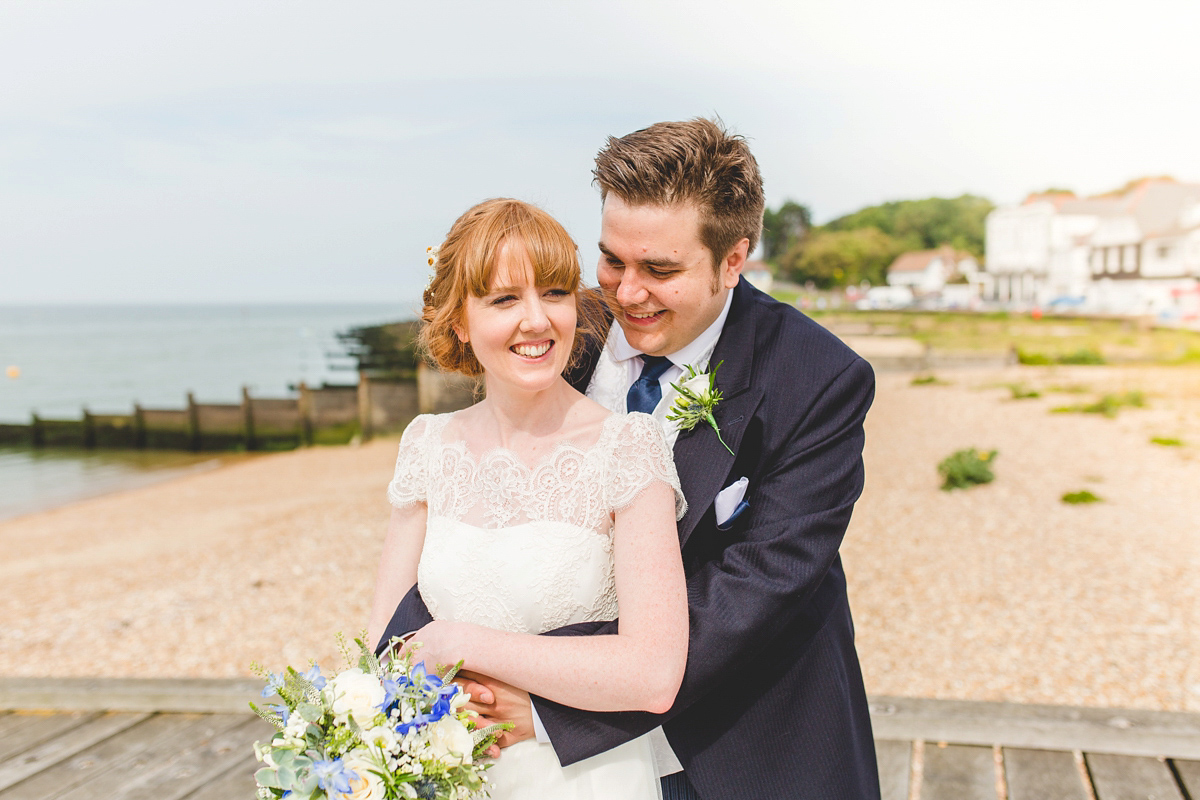 "Livvy from Livvy Hukins Photography was a fantastic wedding photographer; she was so kind, creative, considerate, and above all talented. Her style was very much the more 'natural' rather than staged, which we loved."
The London Victorian Ring Company are a part of our beautiful Little Book for Brides bridal resource – see their listing here – and provided Ellie and Ben's wedding rings, as well as Ellie's engagement ring.
"This is where Ben bought my engagement ring, which was just what I wanted style wise; an art deco vintage-style ring. We loved the small family-run business so much that went back to them to make our wedding rings too. They were wonderful to deal with and provided incredible service."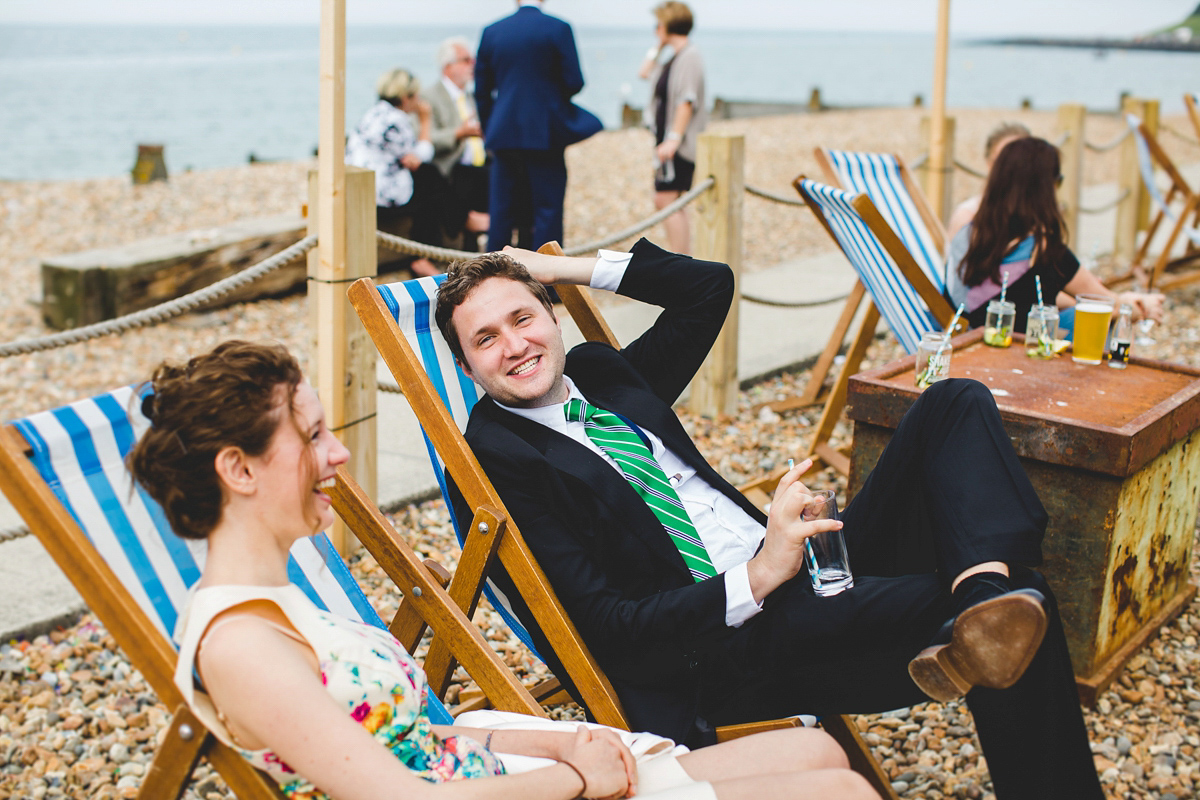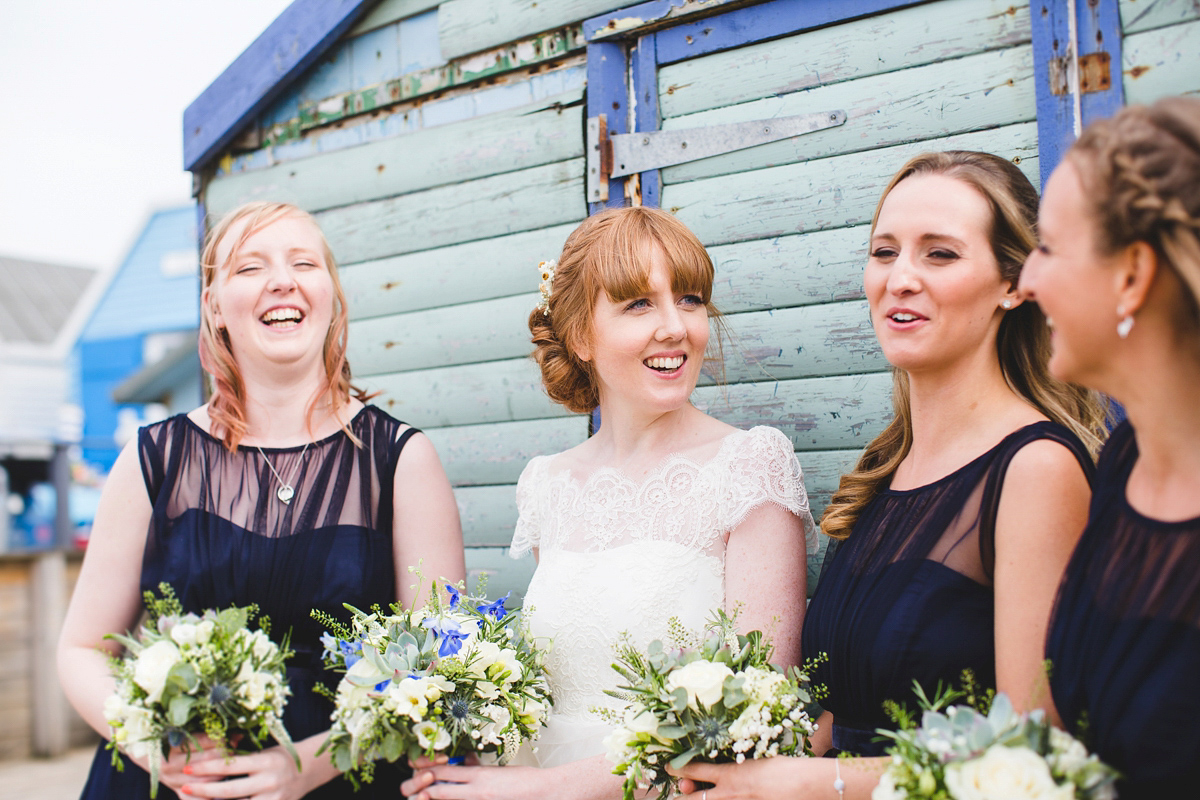 The pretty maids wore navy gowns and heels, both by 'Debut' by Debenhams, and added dried flowers by The Artisan Dried Flower Company and silver and pearl necklaces from House of Fraser. Hair and make-up for the stunning ladies was by Lydia Rae Make Up.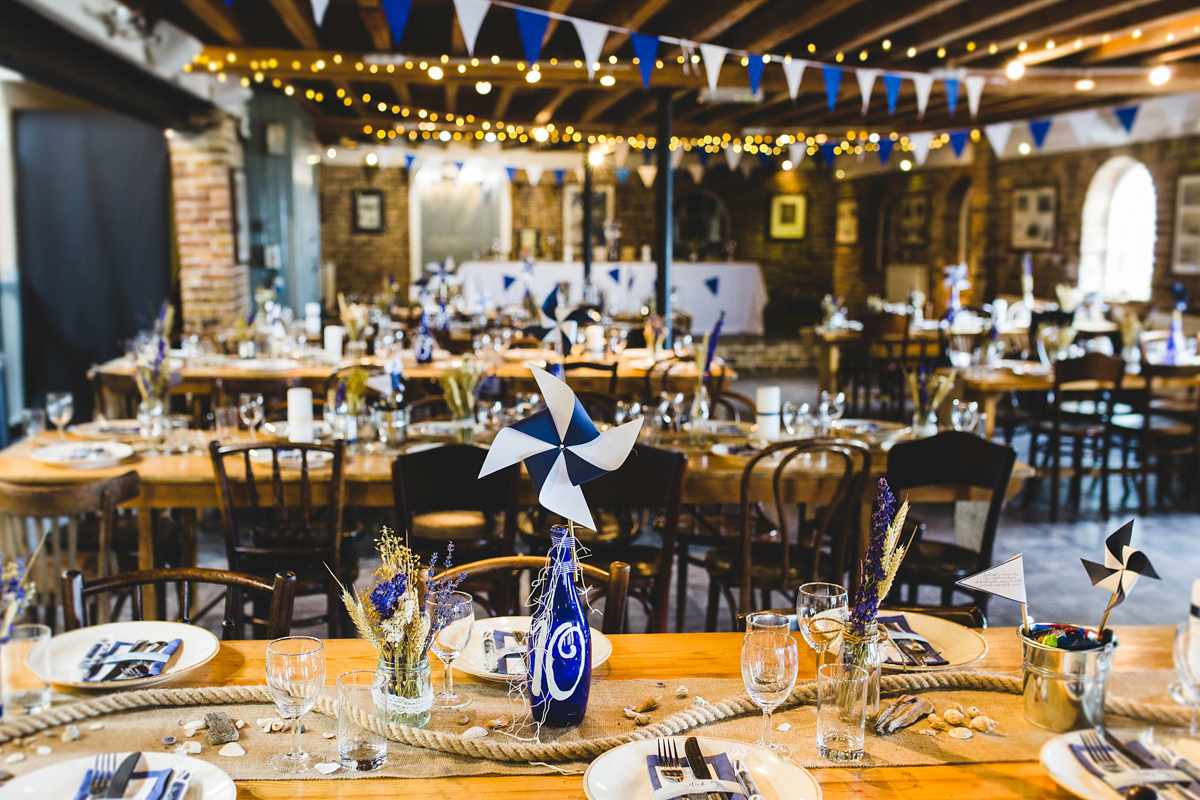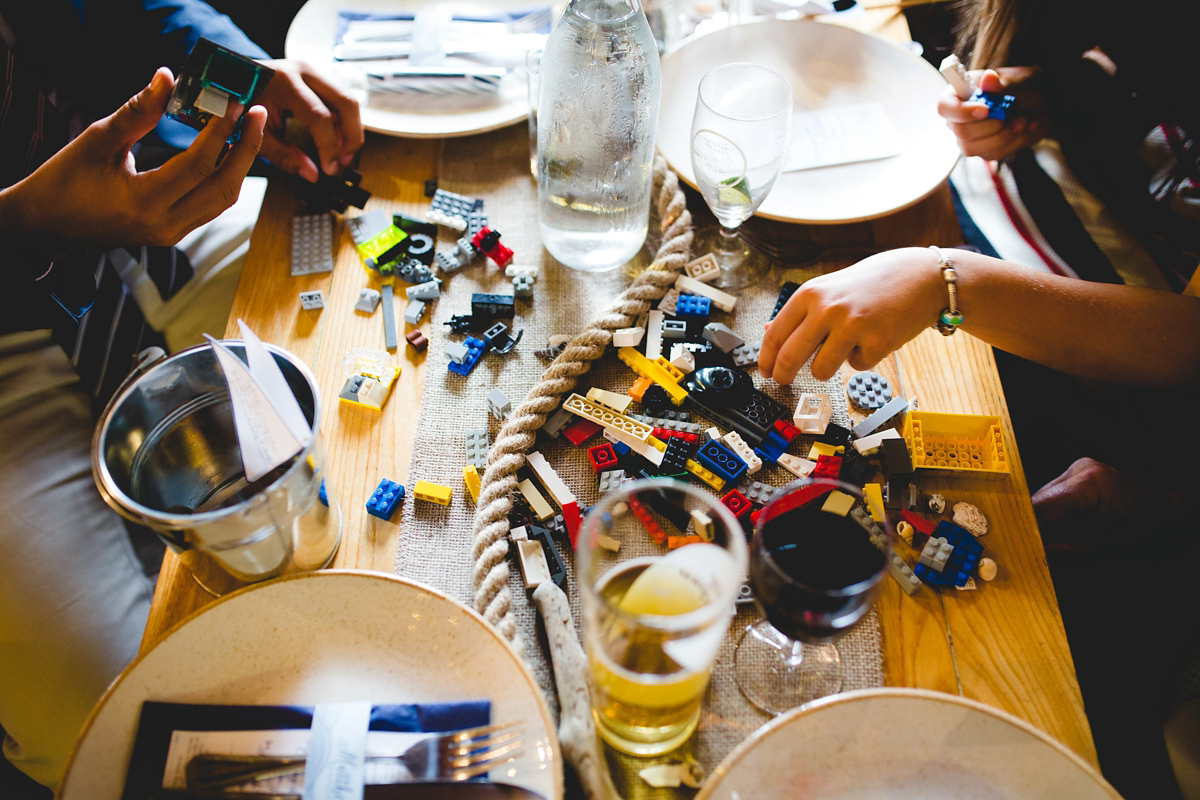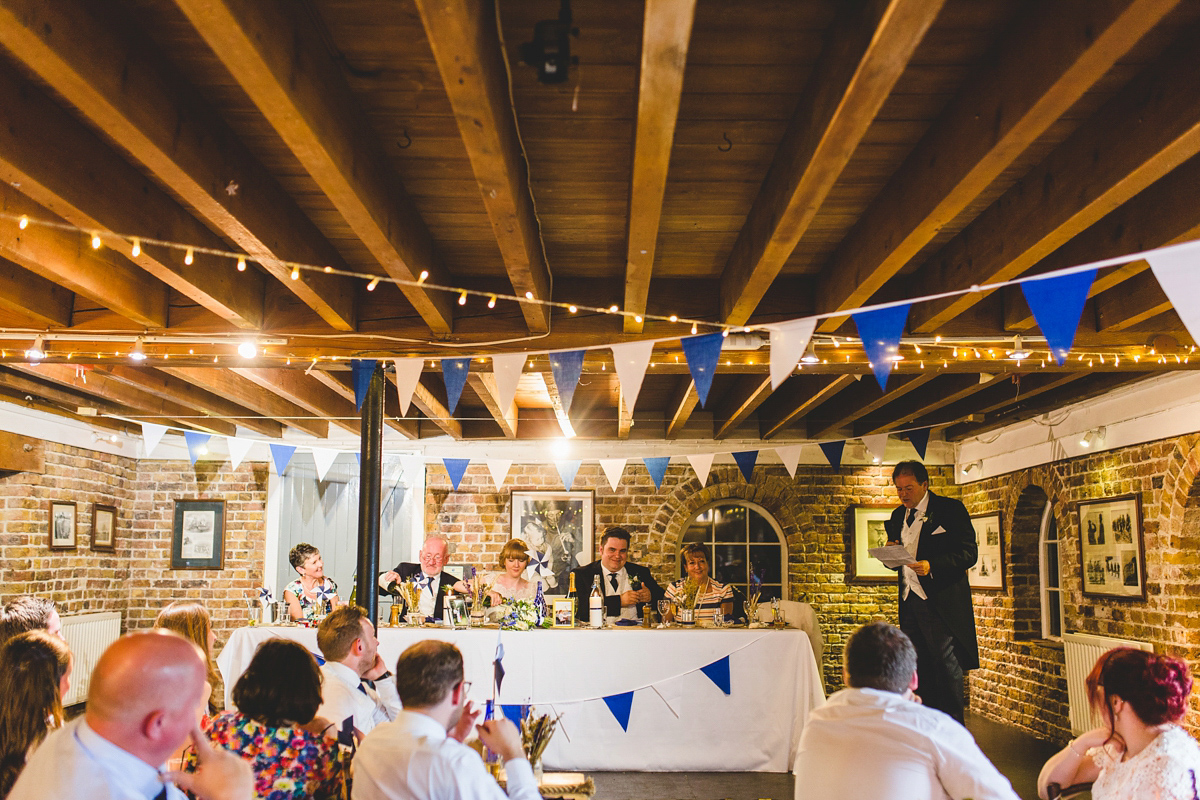 Guests were treated to canapés and a BBQ by the East Quay Venue and an Icecream Van for dessert – and for the wedding cake, Bluebell Kitchen created the blue and white macarons for the couple in delicious blueberry and cheesecake flavour, which they added to a macaron tower bought online.
"We then finished off with a small iced sponge cake from Marks & Spencer on the top, with a blue ribbon and our Lego bride and groom cake topper. Ben *loves* Lego, so this went well with the buckets of Lego we had on each table at the reception, for guests to build something in our Lego competition!"
Words of Wedded Wisdom
"Try and give yourself enough time to plan everything – we tried to complete two things a month in the lead up to our wedding so it wasn't all a last minute stress the few months prior. We wanted to make sure we enjoyed the lead up and planning just as much as the day itself (as it goes so quickly!)."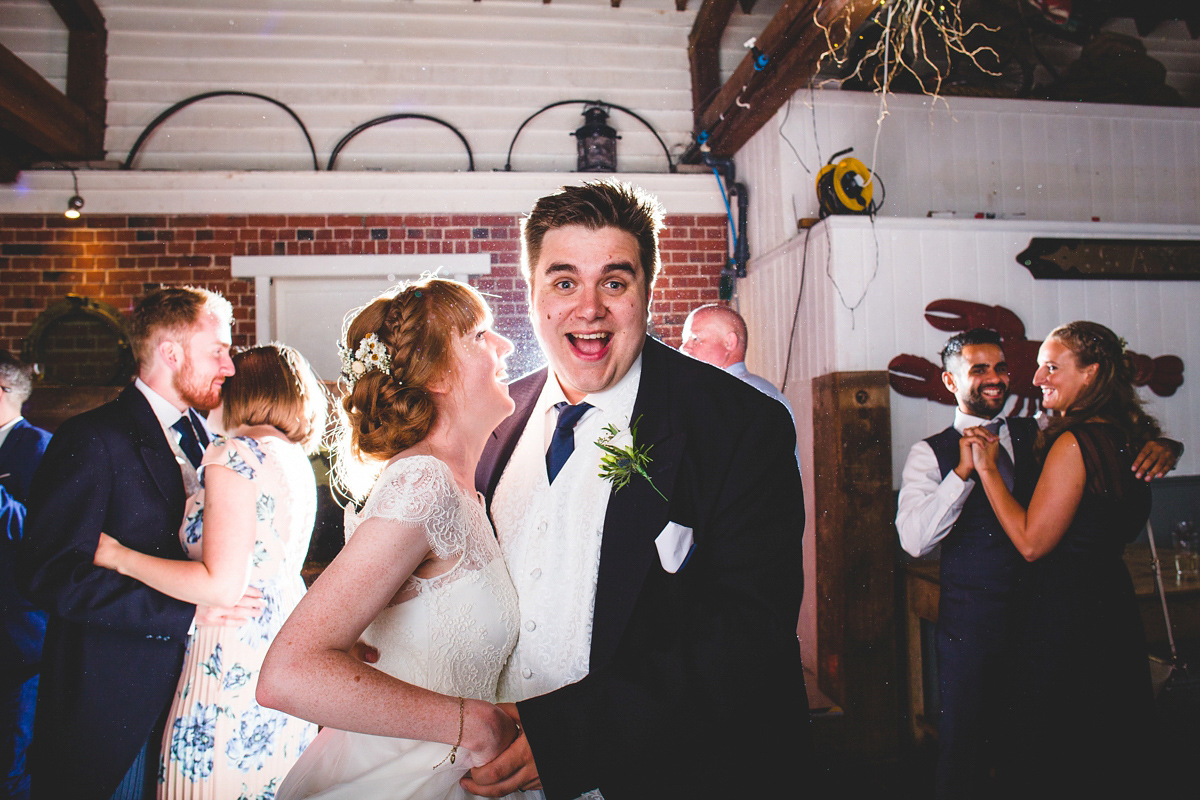 Thank you so much lovely Ellie and Ben for allowing us a sneak peak into your big day – and thank you too to Livvy for capturing these joy-filled images of all the happy moments. I so understand you wanting to move to be by the beach and hope all is going brilliantly with achieving your dream.
I'll leave you with more Raimon Bundo inspo – happy browsing all!
Love Jo -xo-