For all you lovelies currently in the throes of wedmin and needing a bit of colourful inspo, you may let out a little squeeeee! (as did I) when you see the bride's incredible dress and the brilliant rose gold and copper tones used throughout the styling. Groom Dominic works as a sales manager, whilst bride Gail is an international event manager, who also runs her own small business Blue Shoes Event Hire – hiring of rose gold cutlery – which she was inspired to begin after her wedding. The couple celebrated on the 1st of October 2016 at Newington House, in Newington, Oxfordshire, firstly tying the knot at the sweet little church next door.
"We wanted elegance and glamour but nothing over the top. The venue fitted our style perfectly and we are known for our love of cocktails so having a cocktail hour with a quirky cocktail van and canapes was a must! The rose gold and copper tones were inspired by my fabulous engagement ring in rose gold that my amazing husband picked out all on his own. The blush pink was then driven by my dress colour. I'm not really a pink girly girl but it worked perfectly."
Photography by Alexandra Jane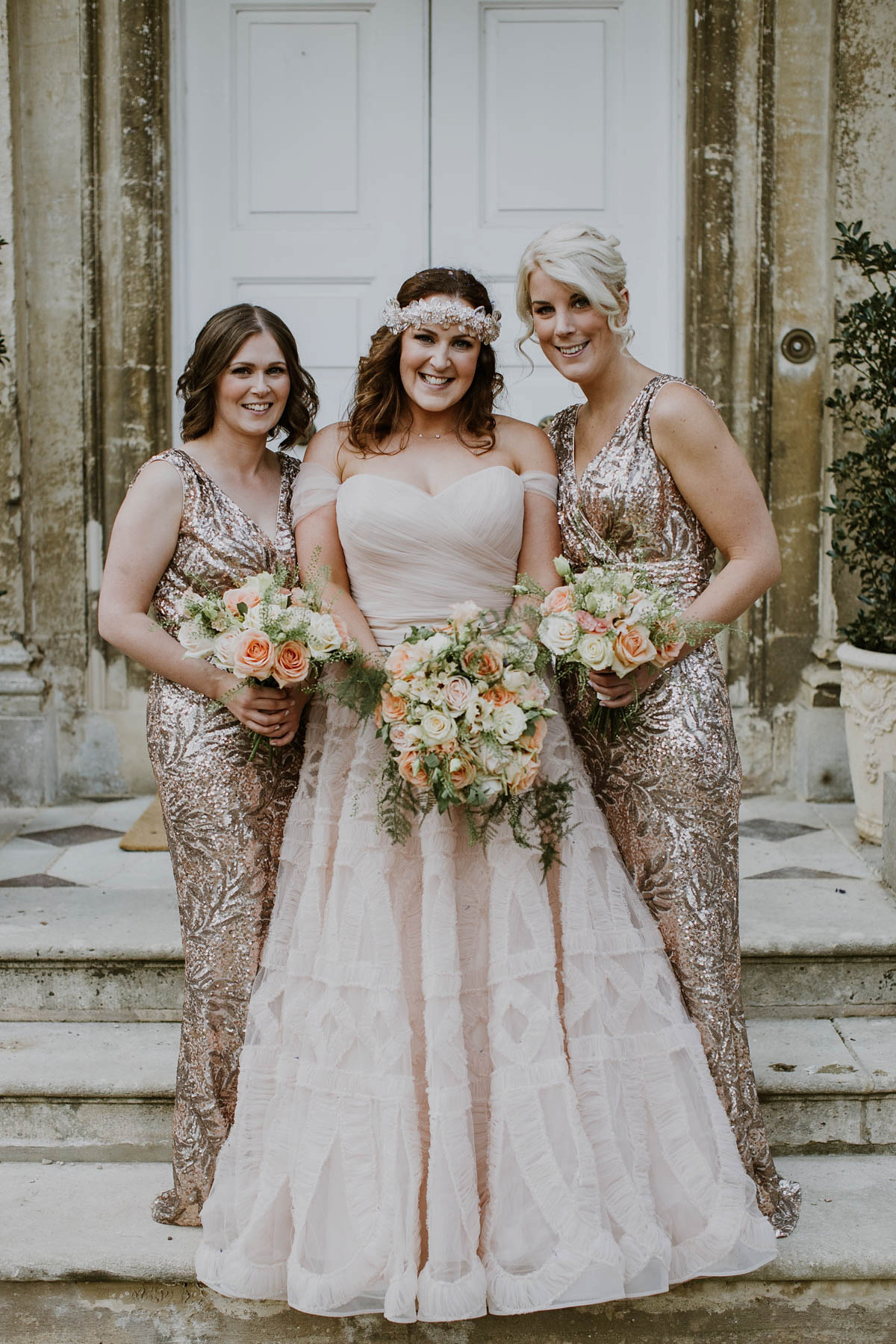 Gail wore the blush pink 'Edlin' gown by Watters Bridal – a purchase she from Mariee Nantwich.
"Katy of Mariee Nantwich was amazing! As soon as I walked in I felt at ease.  I really struggled finding my dress and stopped looking for a while. I knew I didn't want a white or ivory dress as I like something a bit different and always liked the idea of a subtle colour. I finally came across Watters and the style was more me. The Edlin dress I chose was actually my least favourite of the ones I looked at, but when I tried it on, I fell in love with the skirt and colour as it was so different and  elegant.
I never initially wanted a strapless dress though, so Mariee Katy added some off the shoulder tulle details which I could then take off for dancing in the evening. I also wore a subtle belt that helped pull the look together.""Liz Beckett made me look the best 'me' and didn't make me up into something I'm not. With having naturally curly hair, small details get lost (and tangled) in my curls. I didn't really know what I wanted and went to the NEC wedding show for some fun with my sister and mum, not looking for anything, and came across Tantrums and Tiaras. They were actually local to me in Oxfordshire and they had a headpiece on the stand that I tried on, but the other way around to how it was advised to be worn (how I eventually wore it on the day)."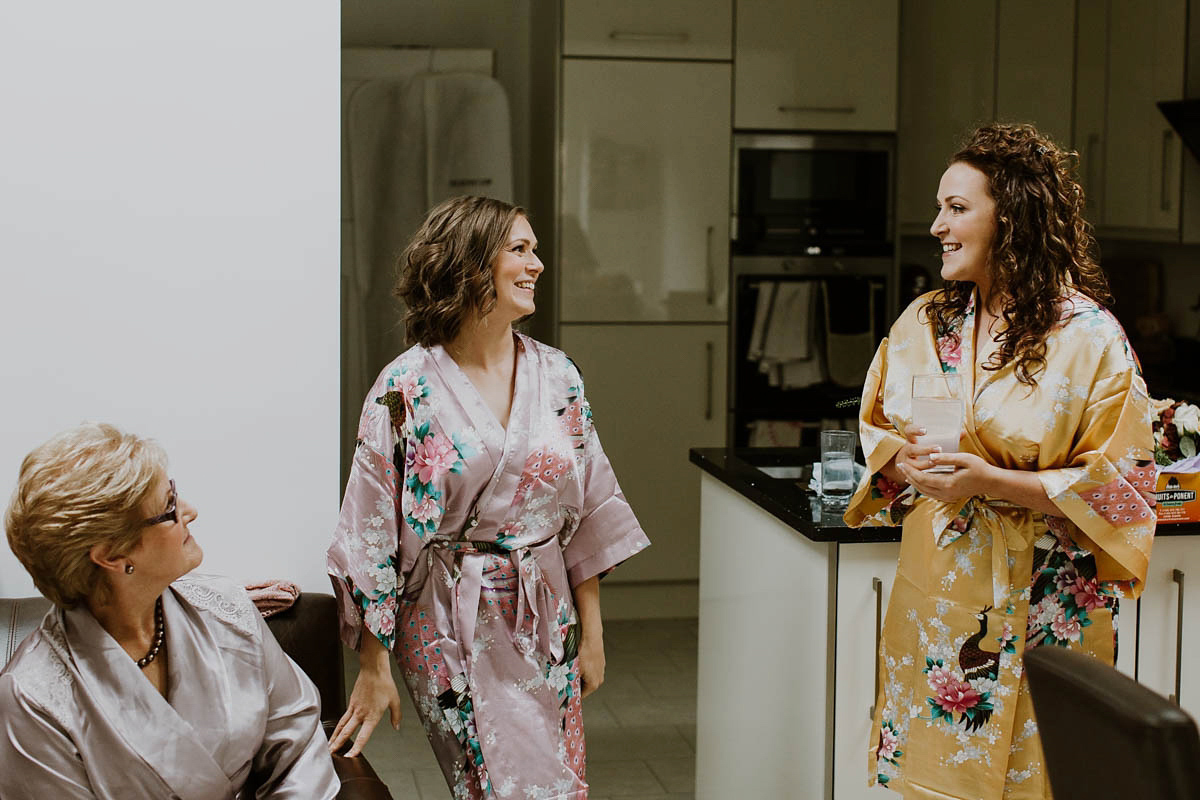 "The designer fell in love with it being worn that way and so made a bespoke piece for me! It was fabulous and when we were saying our vows the sunlight came through the church window and it glistened and sparkled beautifully."
"Having local suppliers was important to us. We didn't want to spend lots on flowers and Louise from Wild Thyme Florists worked with our budget and really made the most of it. We had very natural flowers which were beautiful and smelt divine, as Louise also works a lot with herbs."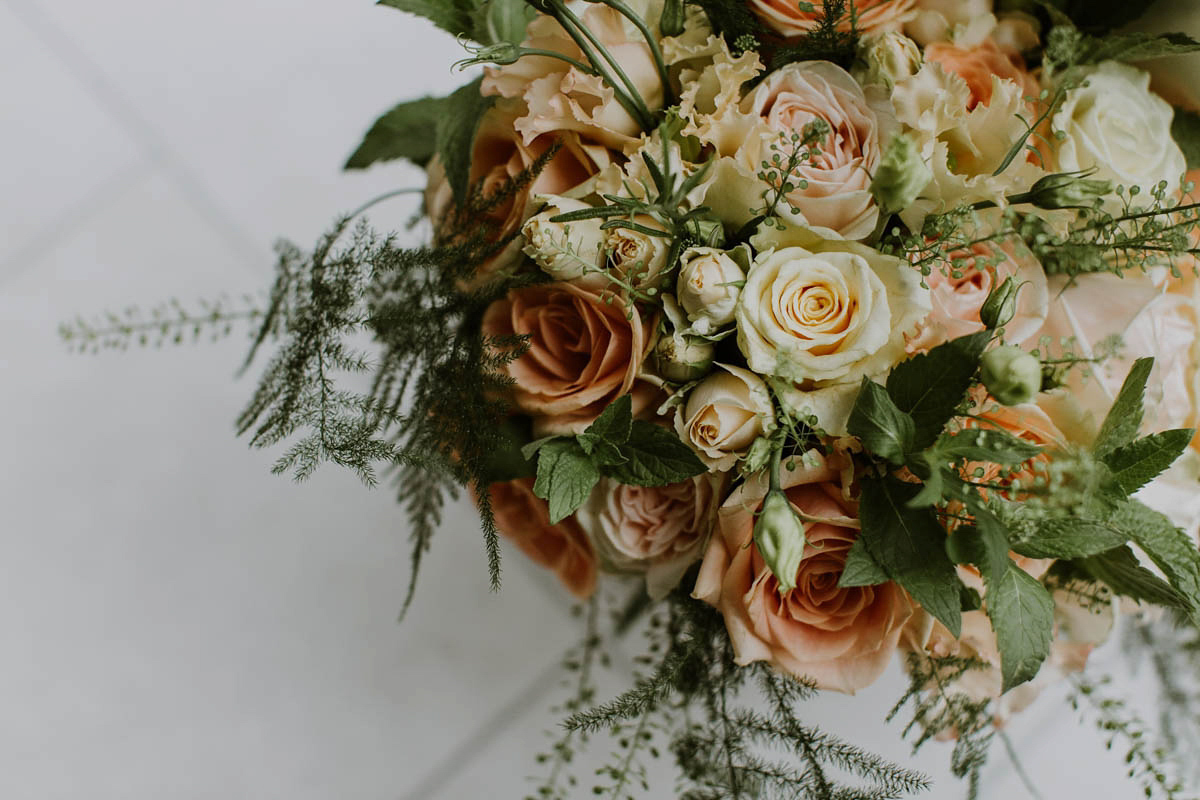 Gail's veil was found via ebay, her diamond necklace was given to her on the morning of the wedding as a gift from her groom, and she added a spritz of Chanel's 'Chance'; her old faithful fragrance. And she sported a stylish pair of heels that were her dream wedding shoes.
"I have always said 'I wanted to get married in Jimmy Choo' and my dream came true! I am very much a shoe lover and this was something I was not willing to compromise on. I wanted a shoe I could wear again and not too bridal so I went for the opposite of bridal and went for blue suede! They were 'my something blue' and really gave a fun twist to my dress. They were actually made for me and had the date of the wedding engraved on a gold plaque on the bottom. The whole process of picking the shoe made me feel like Cinderella … some say extravagant, I say worth every penny!"
Gail's two maids positively shone in their sparkly Badgley Mischka dresses from Net-a-Porter with their own comfy shoes.
"I fell in love with these dresses and they were my first purchase for the wedding. They weren't 'bridesmaid-ey' and they could wear them again to a black tie event. They looked amazing and sparkled all day."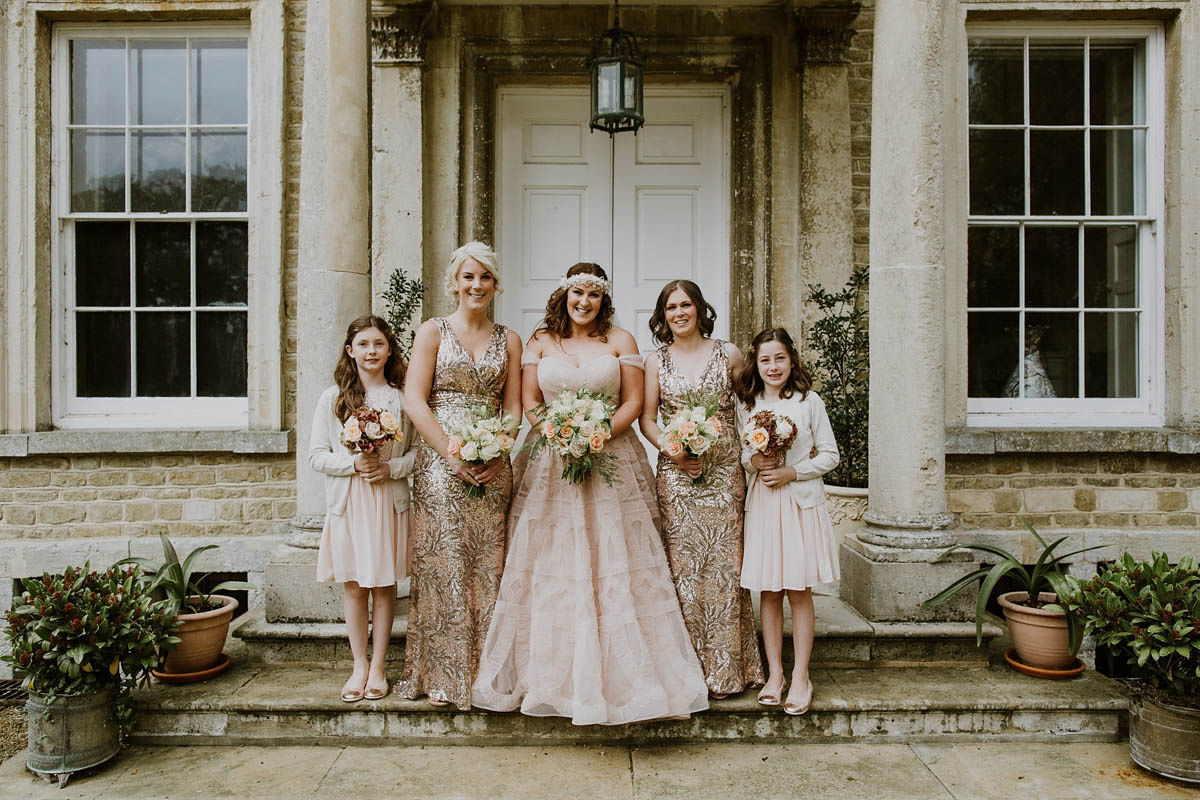 The groom and his groomsmen wore stylish Ted Baker suits with tan brogues, and a blush tie and pocket square.
"Dominic and I met through a mutual friend and were friends for approximately a year before we started dating. We were together for just over five years when Dominic finally proposed in a little park next to the Flatiron building in New York on the 25th October 2015."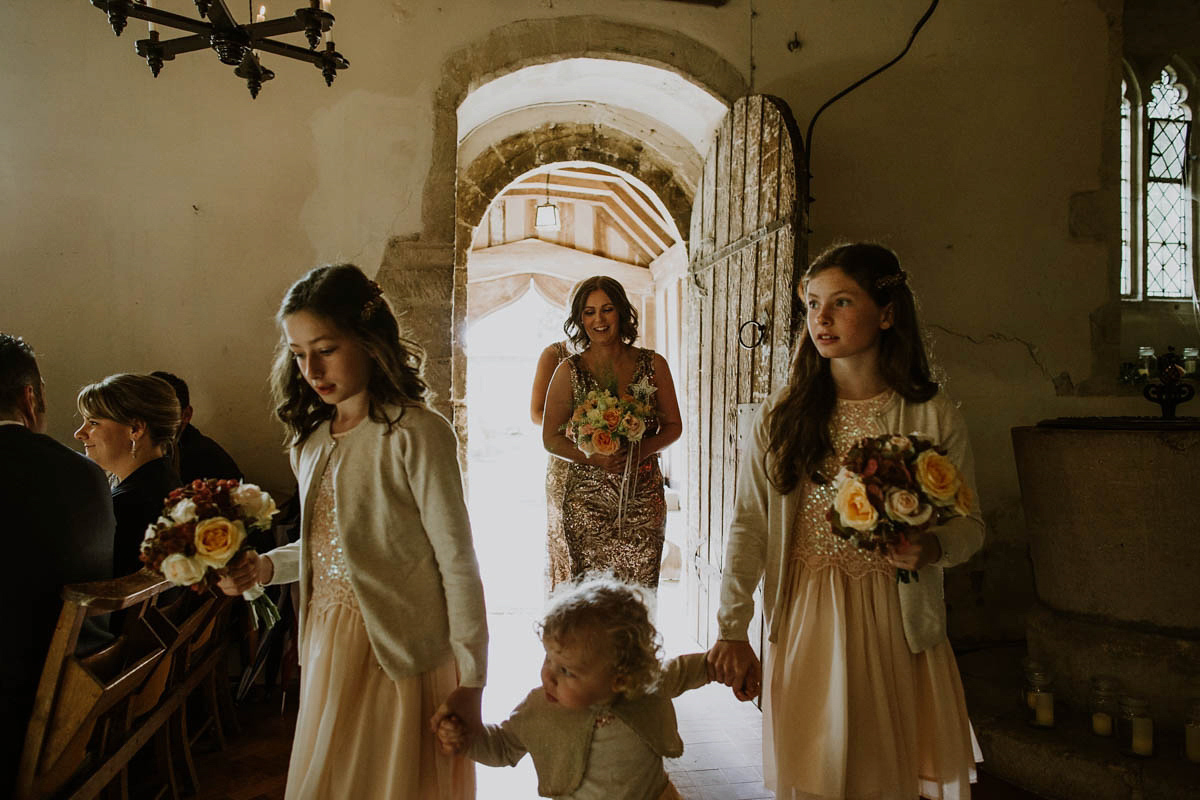 "My dad accompanied me down the aisle. We had the traditional bridal march and leaving the church we had Tom O'Dell's 'Grow Old With Me' sang by the Oxfordshire Welsh Male Voice Choir which was so breathtaking and a sentimental addition by bringing the Welsh aspect into the day."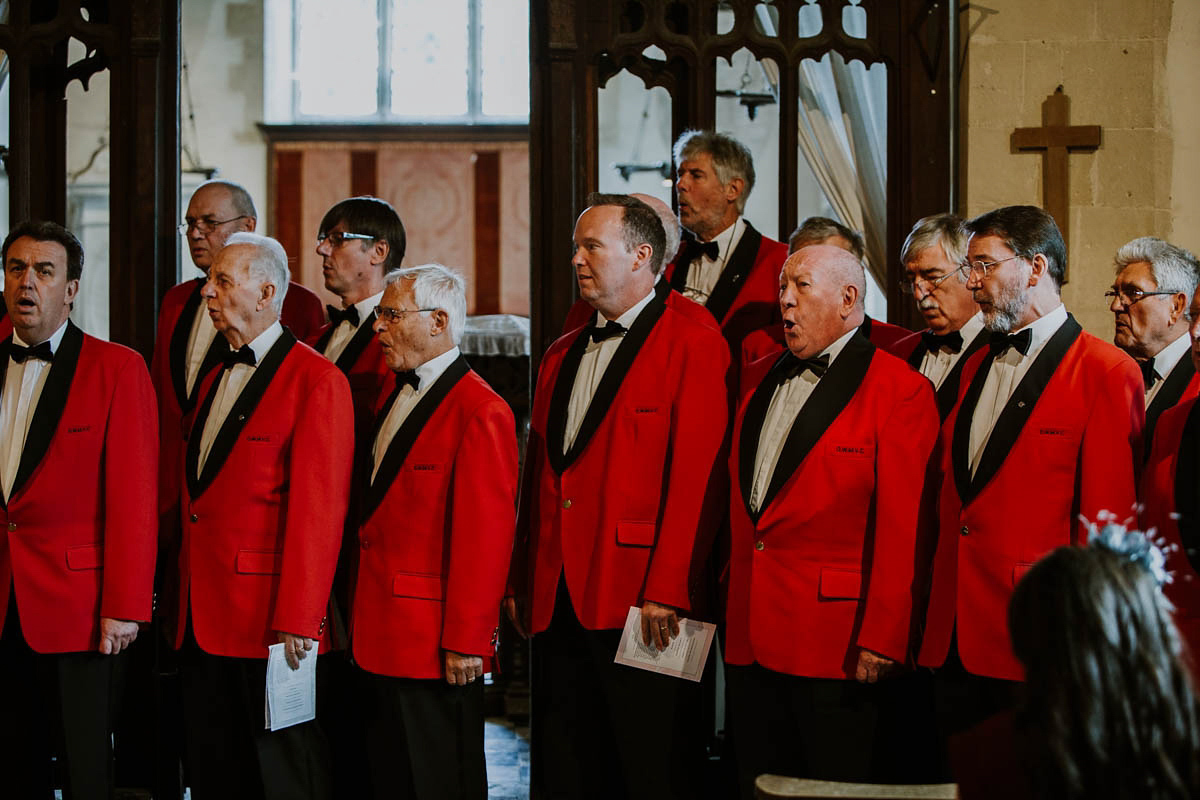 "My favourite moment was getting to the end of the aisle and seeing Dominic. All the nerves disappeared after that. Also, sneaking off to have fifteen minutes in the evening to ourselves and looking out from the house over the garden to see the marquee and all of our friends and family having a lovely time."
"We went to our local jewellers for Dominic's ring, as he doesn't wear jewellery he didn't want anything too heavy and Biagio was very helpful in helping us select the right ring. We chose to get my ring from the same place as my engagement ring; 77 Diamonds in London."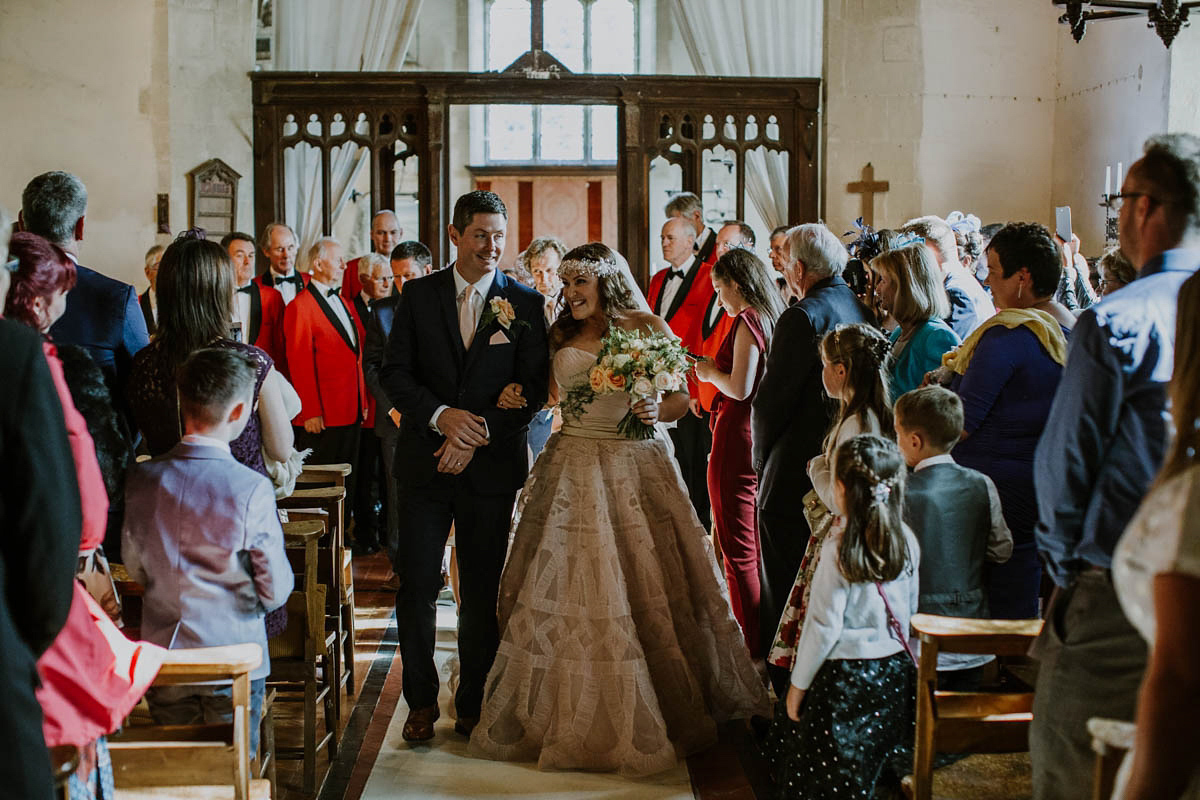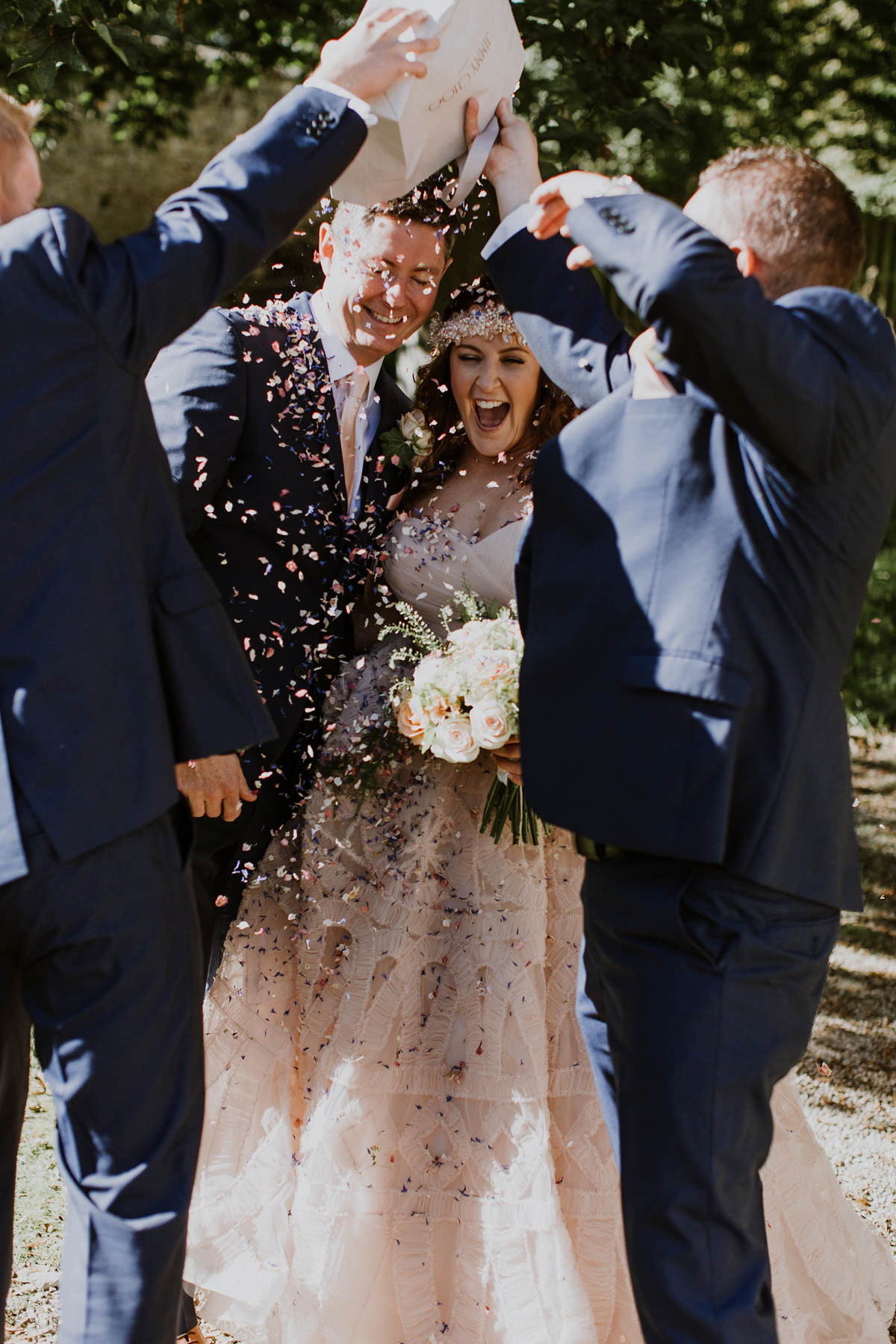 The young helpers were Dominic's children who wore attire from Marks & Spencer and Gail's niece wore a fun flamingo dress from Monsoon.
"They were all 'party dresses' and not classed as bridesmaid dresses, as I wanted them to look their age and have fun. They also had sequin detail like the adults so they didn't feel left out and the theme was subtly carried through each dress. The older flower girls wore a gold headpiece from ZARA."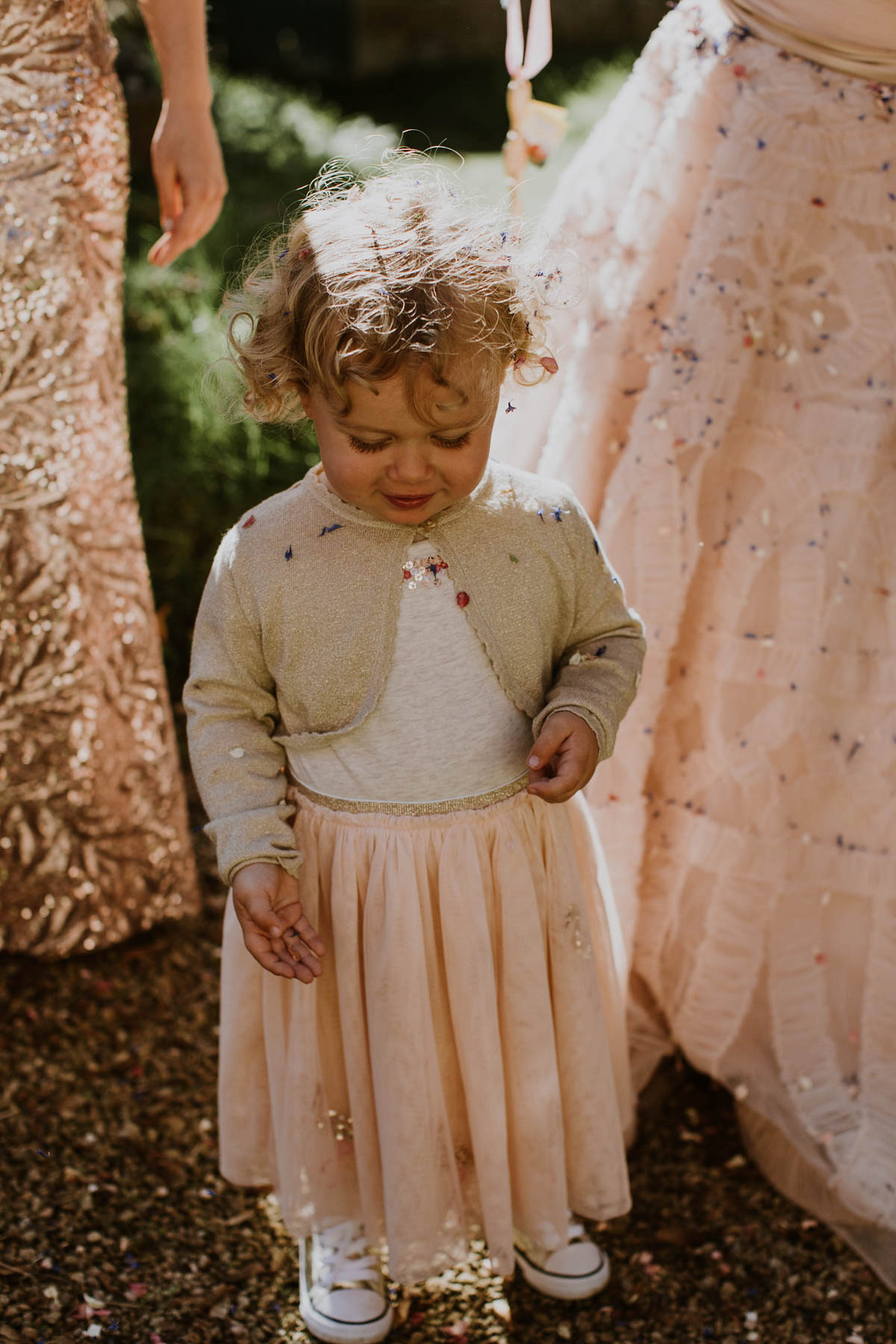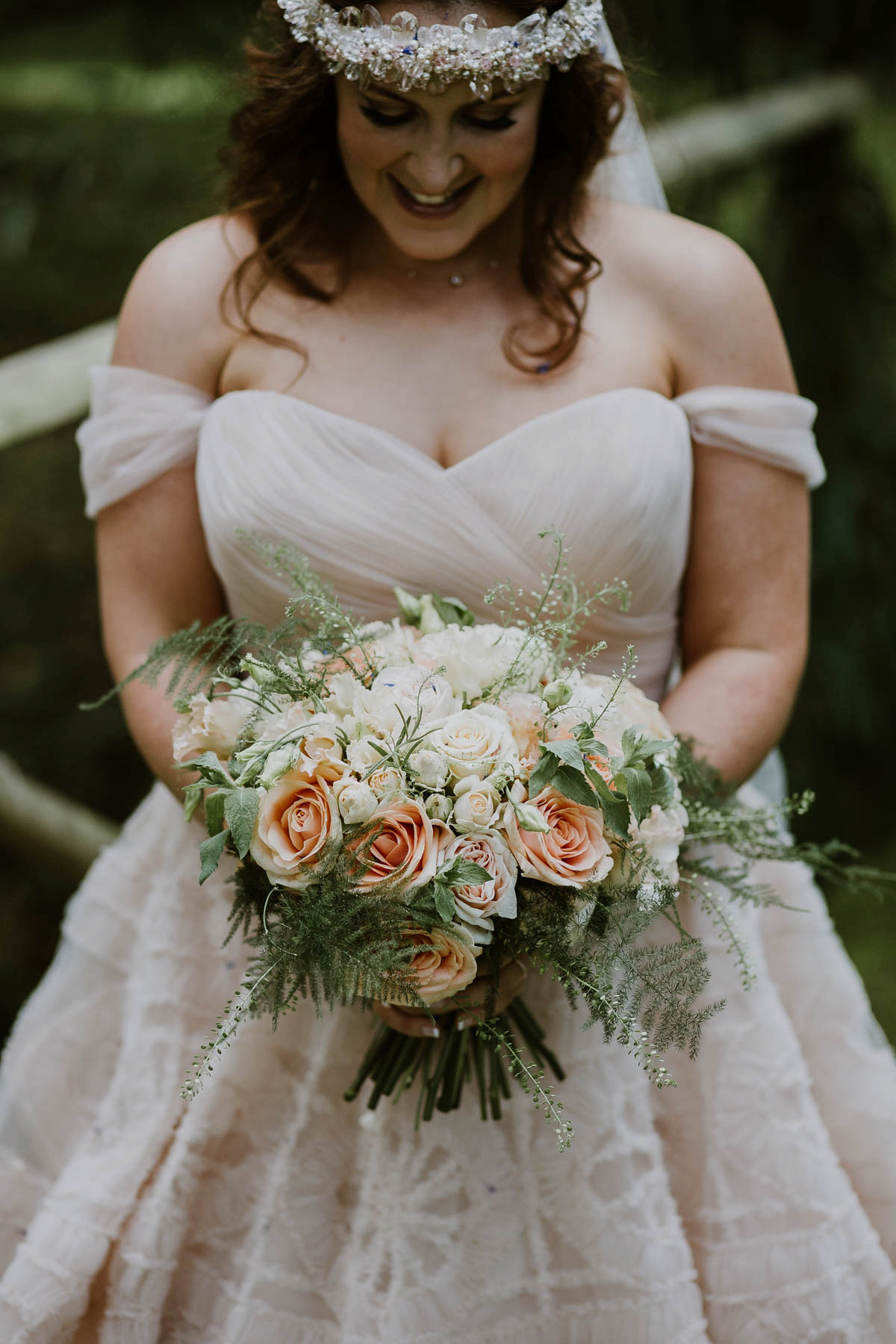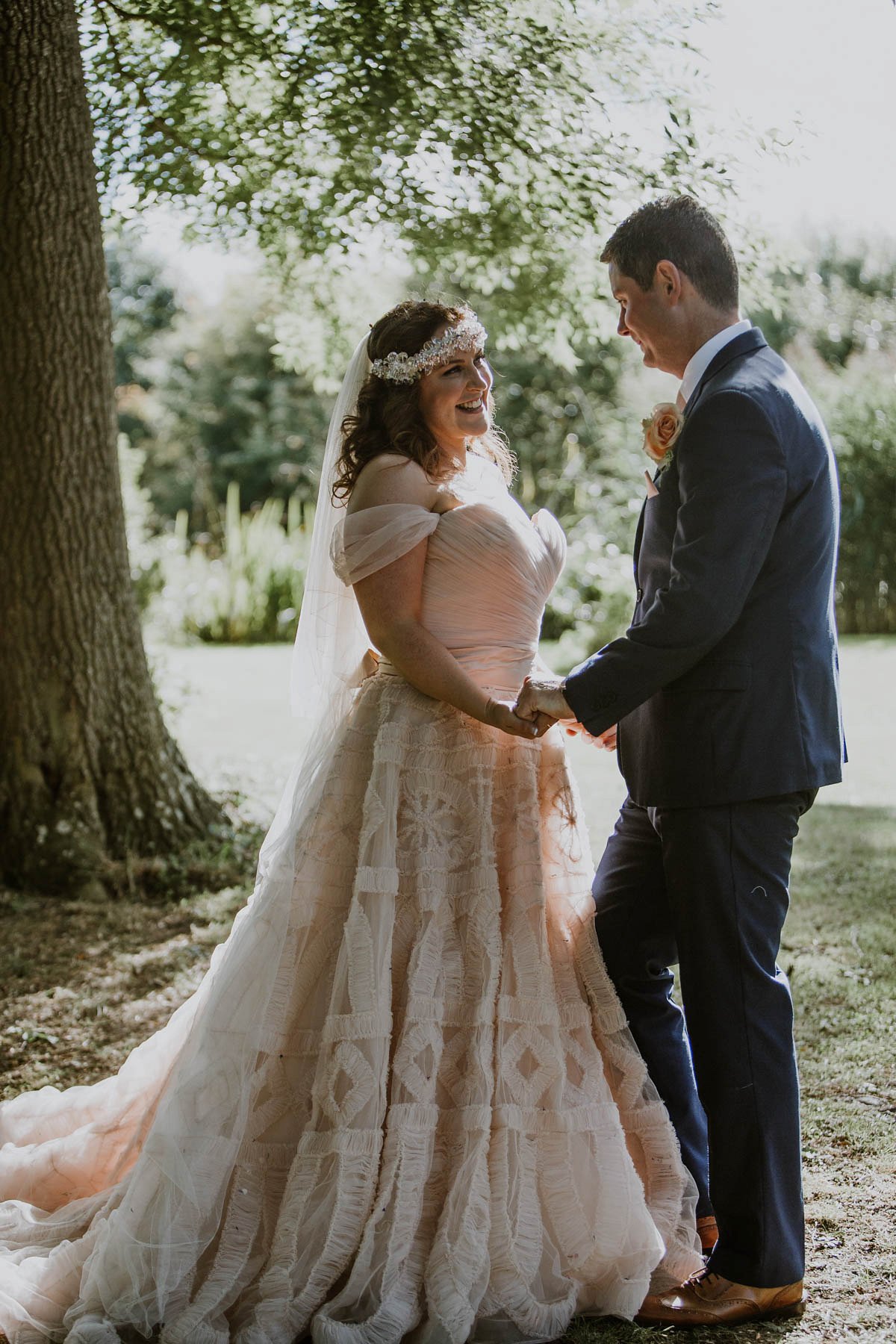 "Alexandra of Alexandra Jane Photography captured natural moments and although we did some 'posed' photos, they were still quite natural. My favourite photo is of Dominic helping me change from my rose gold brogues (that I have had for years!) into my Jimmy Choo's after we had finished having our photos taken in the grounds."
"It was perfectly captured by Alex and wasn't staged at all. We did our own video via a GoPro. Dominic's nieces had fun being the videographers for the day!"
The venue, with a church so close by, gave the couple free reign over their suppliers – and the couple cleverly took on a wedding planner for the final stages of their big day.
"We chose Newington House because we fell in love with the church next door as it was small, old but perfectly formed and reminded me of my church in my home village in Wales. Also, the venue was new where we could use our own suppliers, exclusive, had beautiful grounds and was family run. It was grand but in an intimate way."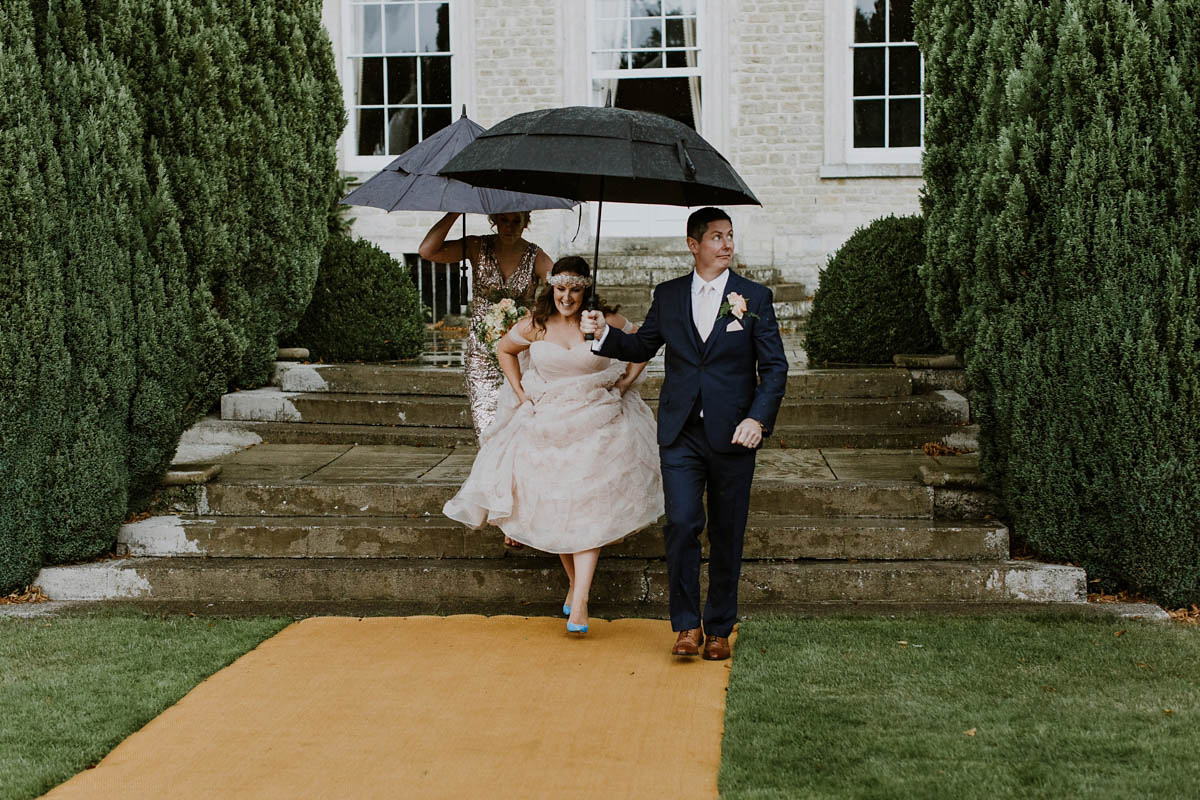 "We hired Perfect Peony, Caroline to help us in the last few weeks leading up to the wedding and on the day. I didn't want to have to 'manage' my own wedding and knew I wouldn't be able to relax if I didn't have someone else take control – with my job being an Event Manager I wanted to enjoy the day. Definitely money well spent!"
A friend of Gail's kindly designed and supplied the stationery and for the favours, the bride's mum sourced and purchased traditional welsh cakes from Llangollen (near the family home in Wales) and, together with the bridesmaids, packaged them up.
"Sarah and the team from Feast Catering were absolutely amazing, the food was to die for and they listened to our requirements from start to finish. We also had our cocktail van for the cocktail reception which was a great addition. We were let down four weeks before the wedding by another cocktail company which was very upsetting and stressful but Bar De Cru owner Daniel came to the rescue and it couldn't have been better."
I'm in utter love with the decor in striking rose gold and copper – the geometric candle holders, table numbers, tree centrepiece decorations, sparkly table cloth and the pretty cutlery. These tones work so well together.
"Our rose gold cutlery was the main décor for the tables which really made the tables pop and added something different to the usual cutlery. I sourced this myself and will happily hire out to anyone looking for rose gold cutlery!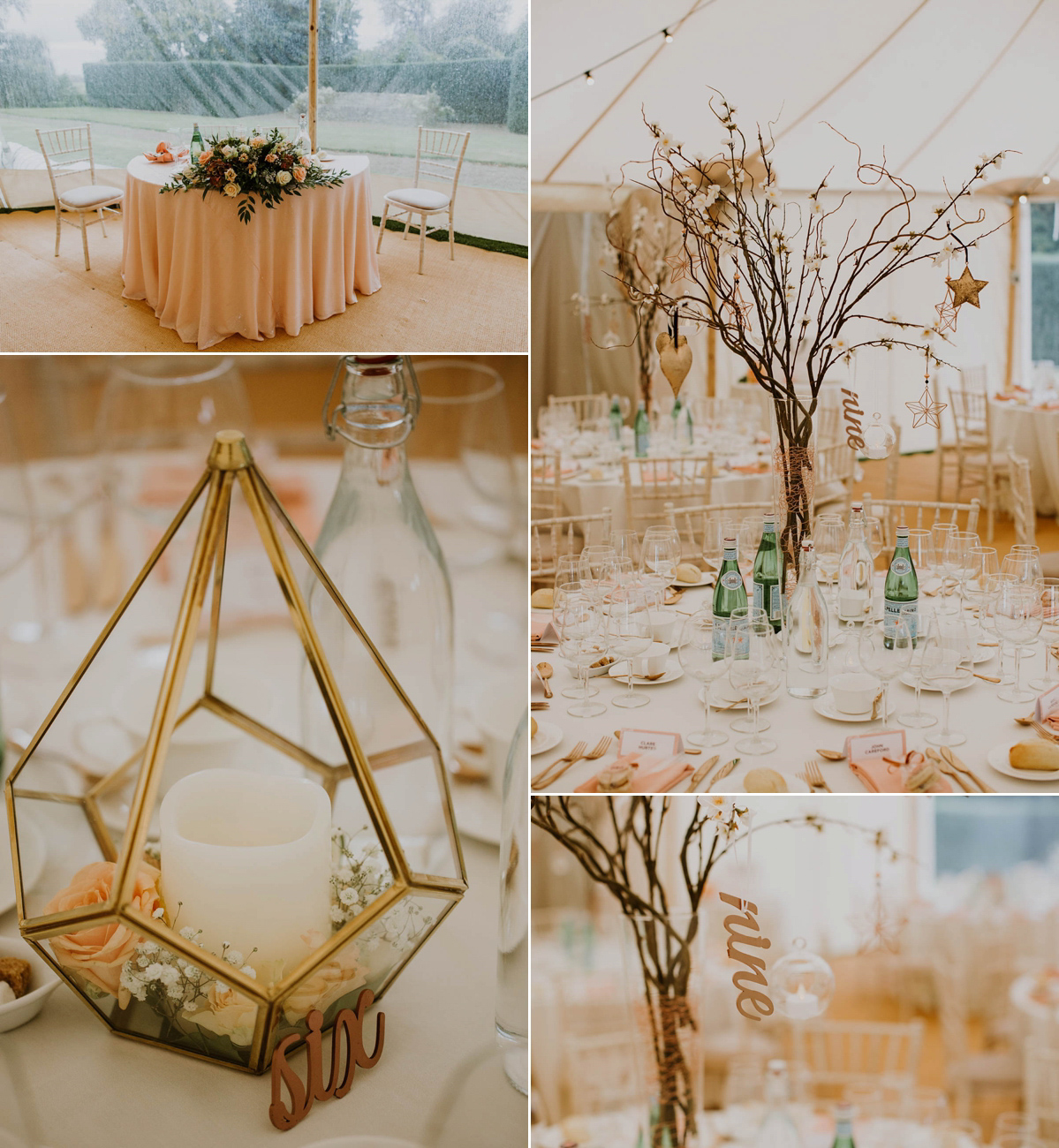 "Our cake was by French Made and three tiers consisting of carrot cake, lemon drizzle and pear and caramel cake. We chose the different tiers as carrot cake is my favourite, lemon drizzle was Dominic's and pear and caramel was very autumnal."
"We chose a semi-naked cake as we are not keen on icing and fruit cake."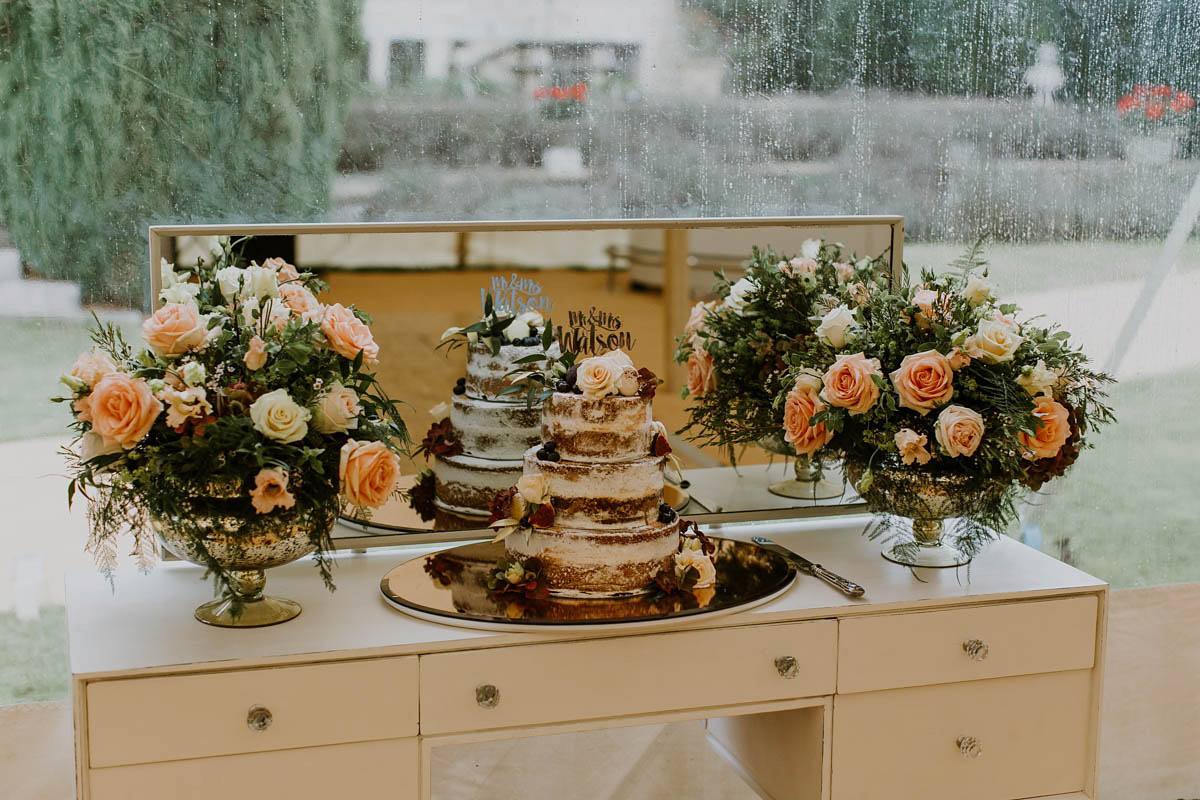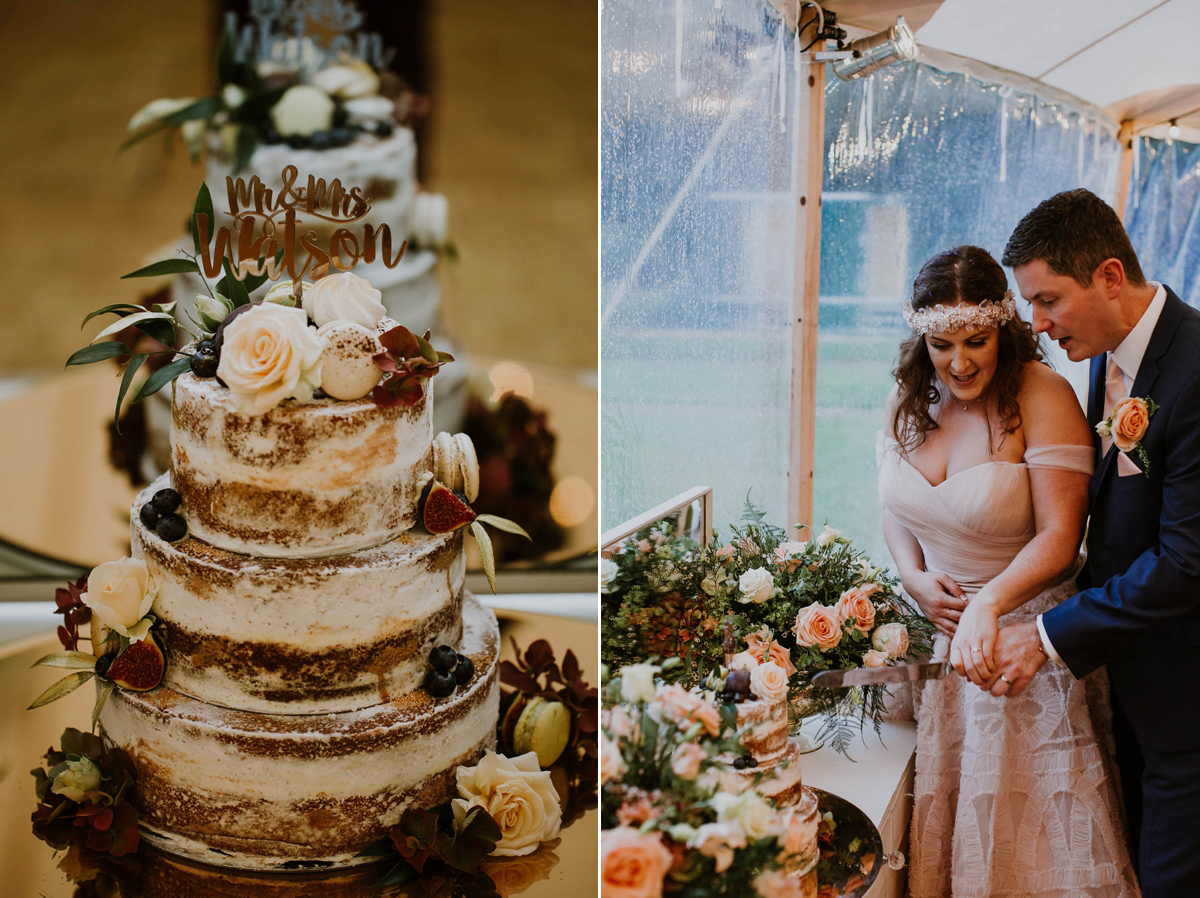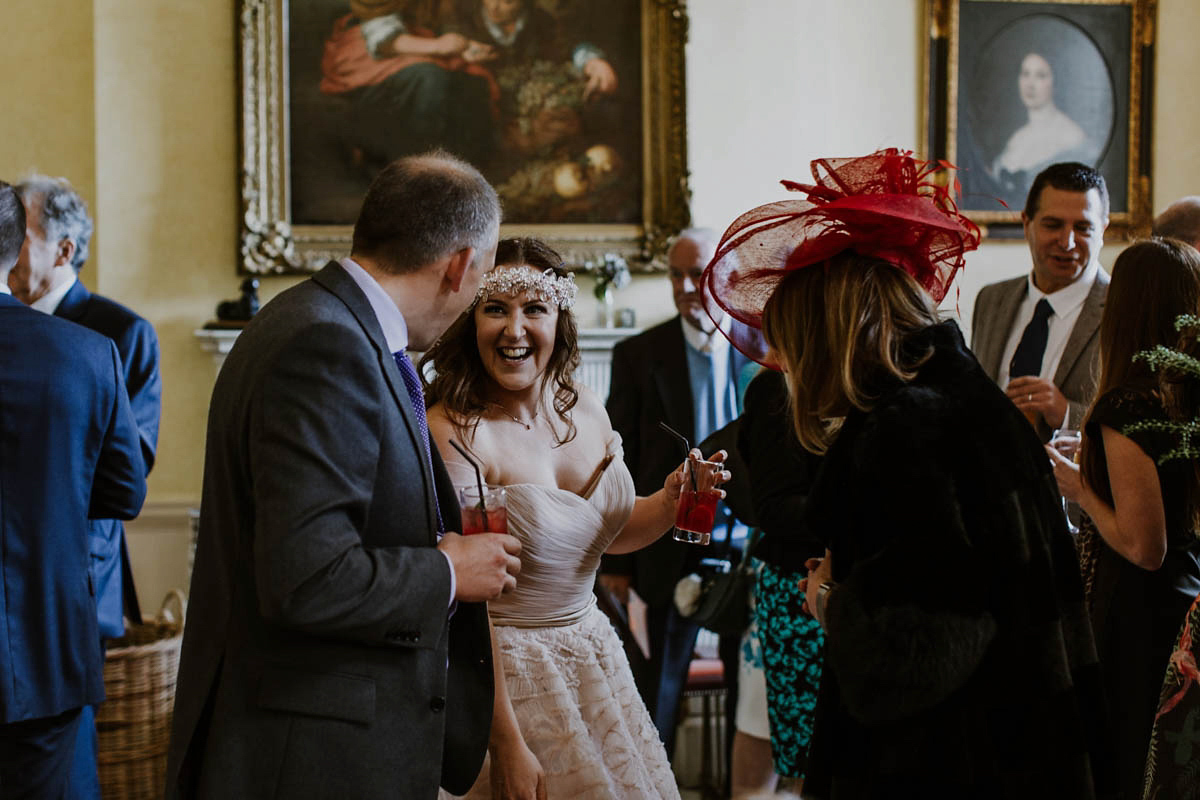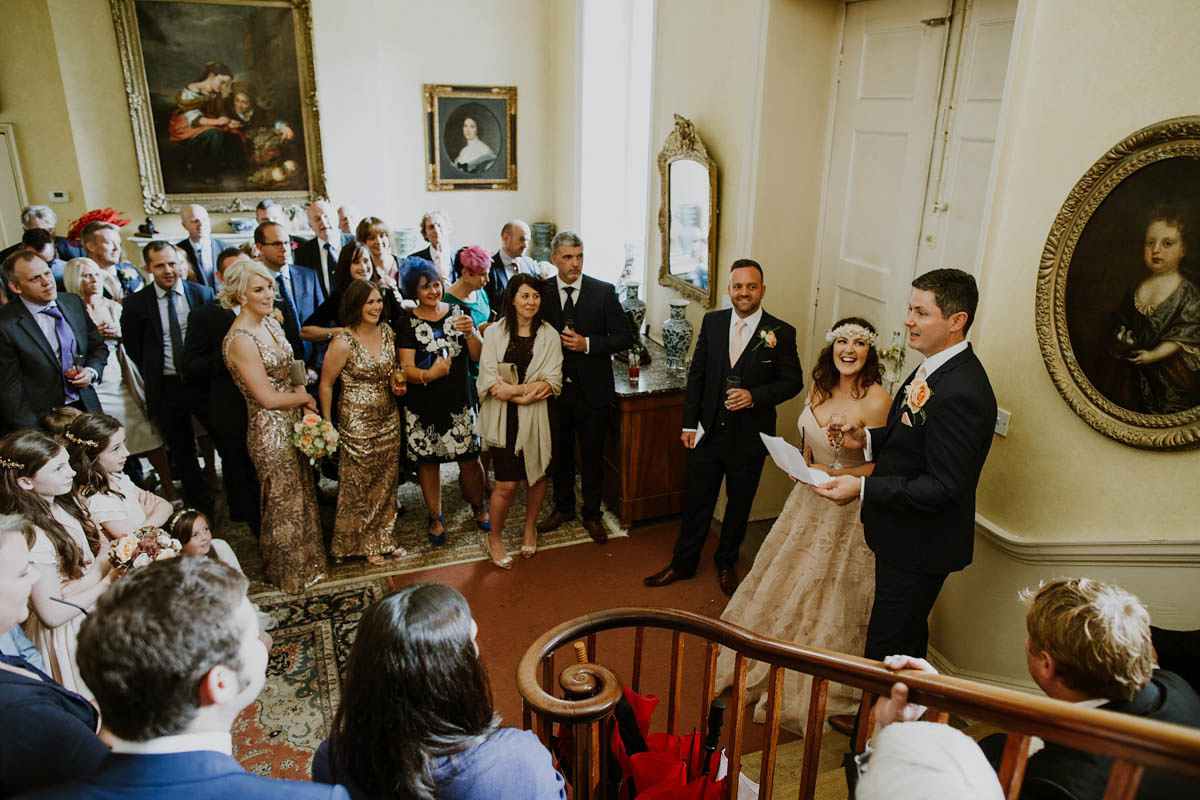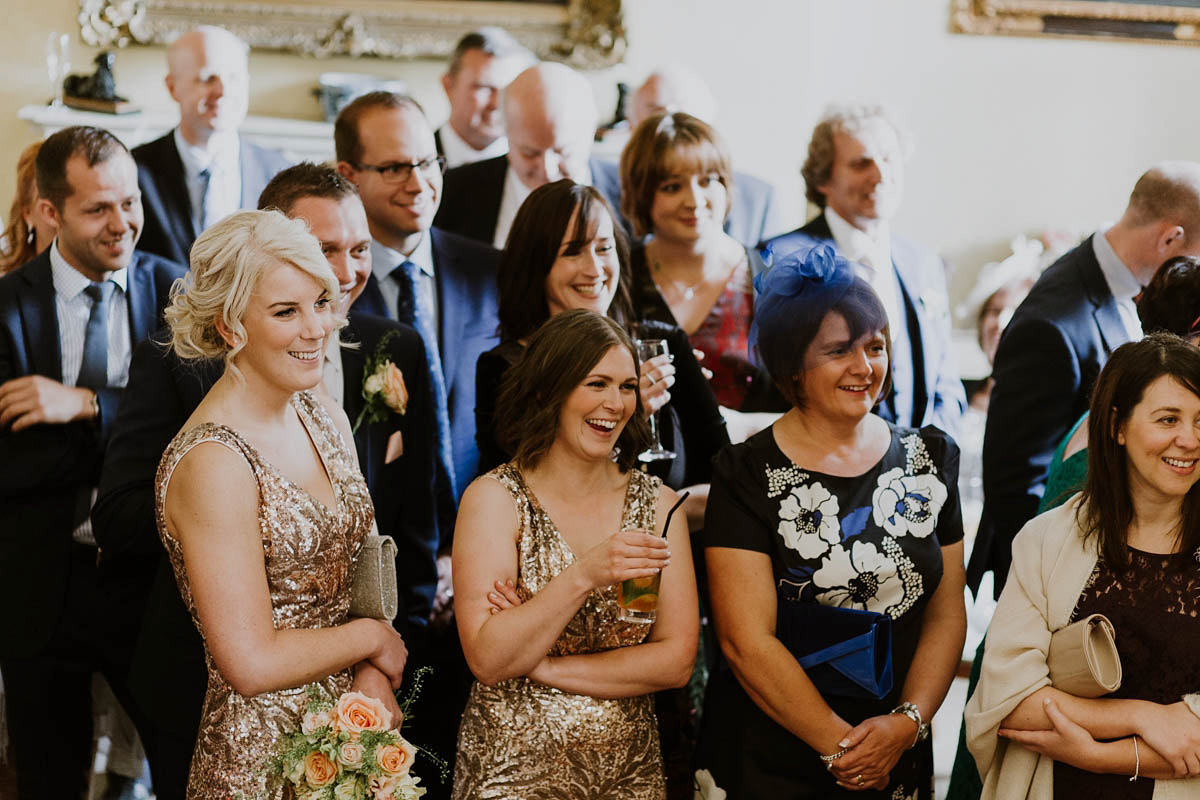 "We had a local DJ from Solly's Discos who entertained us all evening. Our first dance song was 'A Thousand Years' by Christina Perri, as the words really resonated with us as a couple."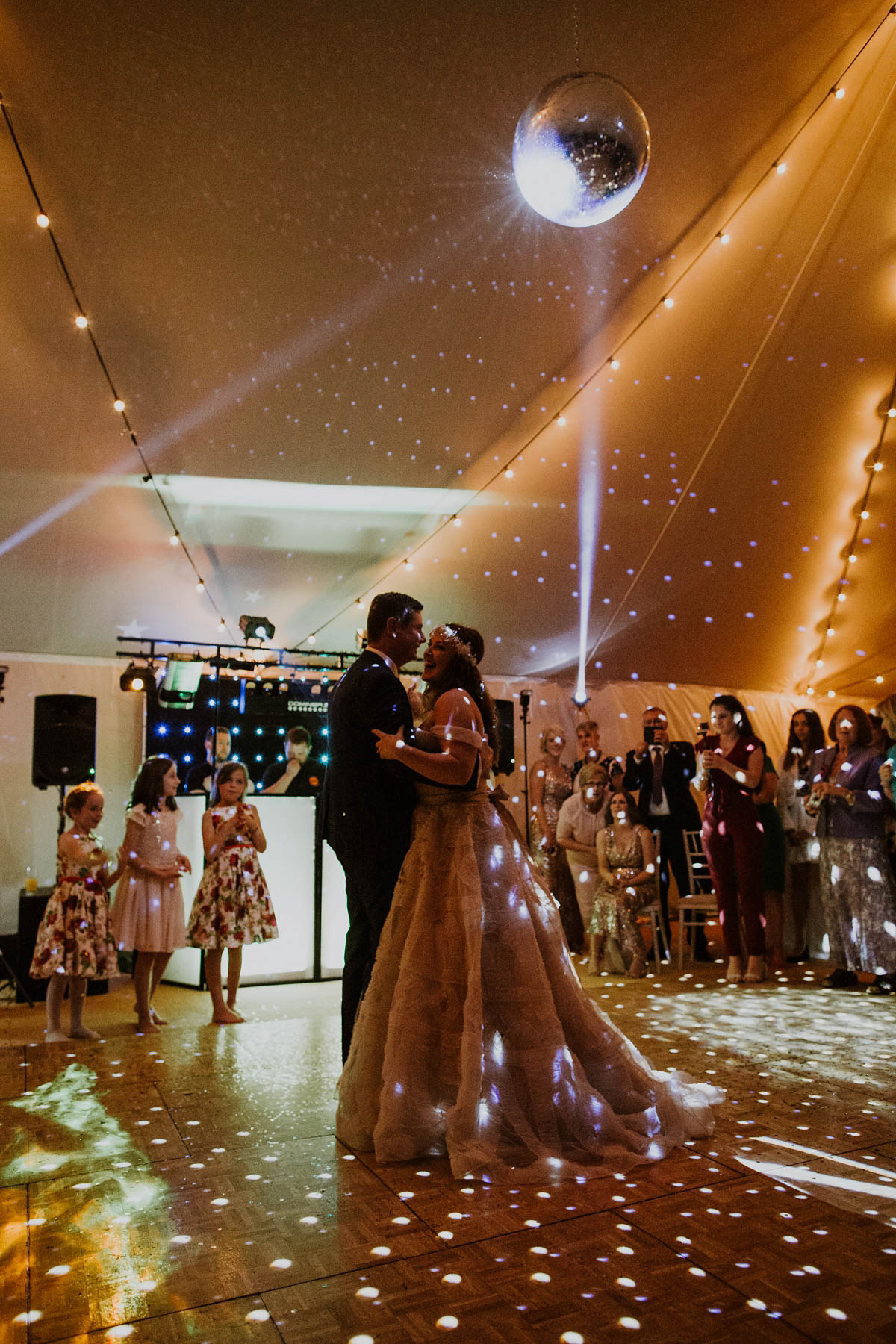 Words of Wedded Wisdom
"For dress shopping, don't feel like you have to settle. I got that feeling when nothing I tried on really felt like 'me'. I decided to stop going into the shops for a while and focus on searching for designers online that I liked the style of. Once I knew what kind of designers I liked (and which were in budget!) I then found boutiques which were stockists and that's how I came across Mariee. If you walk into a boutique and don't get the right vibes, don't feel obliged to try anything on. I had this feeling when I went into one shop and felt pressured – I should have walked out but I was polite and tried dresses on they were giving me, and that shot my self esteem into pieces, as they were WAY too small and dresses which did not flatter me whatsoever and were totally opposite to what I said I wanted.
Also, hardly anyone gets the 'WOW this is my dress' moment either. I didn't until I put it on with my hair, makeup and accessories on the morning of my wedding!
I love our guest book – we actually used a globe and got everyone to write on it. We now have it displayed in our home so we can see it, whereas a guest book would have been put away and never looked at."
Thank you Gail for these pearls of dress shopping wisdom. Our brides-to-be love to hear these helpful tips and tricks – and you look utterly divine! A huge thanks to you and Dominic for allowing us a sneak peek and to Alexandra; thank *you* for these love and light-filled shots of the couple's beautiful day.
Take a look at more stunning Watters gowns here from the LMD archives – happy browsing lovelies!
Love Jo -x0-