I love to travel abroad, but I'm also a big fan of Wales- its such a beautiful area and I strongly advise a trip there if you can.  Today's bride and groom married near Brecon, surrounded by hills and mountains and its the most beautiful day- I can't wait to share.
Meet Tara, a style writer for an interiors magazine and Dave, an accountant, who married on the 20th August 2016 at St Edmund's Church Crickhowell, followed by a reception at the stunning Llangoed Hall.
"My love of flowers and nature inspired the styling.  I wanted an outdoor, bohemian feel that highlighted natural beauty, so opted for a very neutral colour scheme in a very relaxed style with nothing too structured.  Our venues and the surrounding scenery were so beautiful, I felt that anything more would have taken away from that."
Photography by Hannah Duffy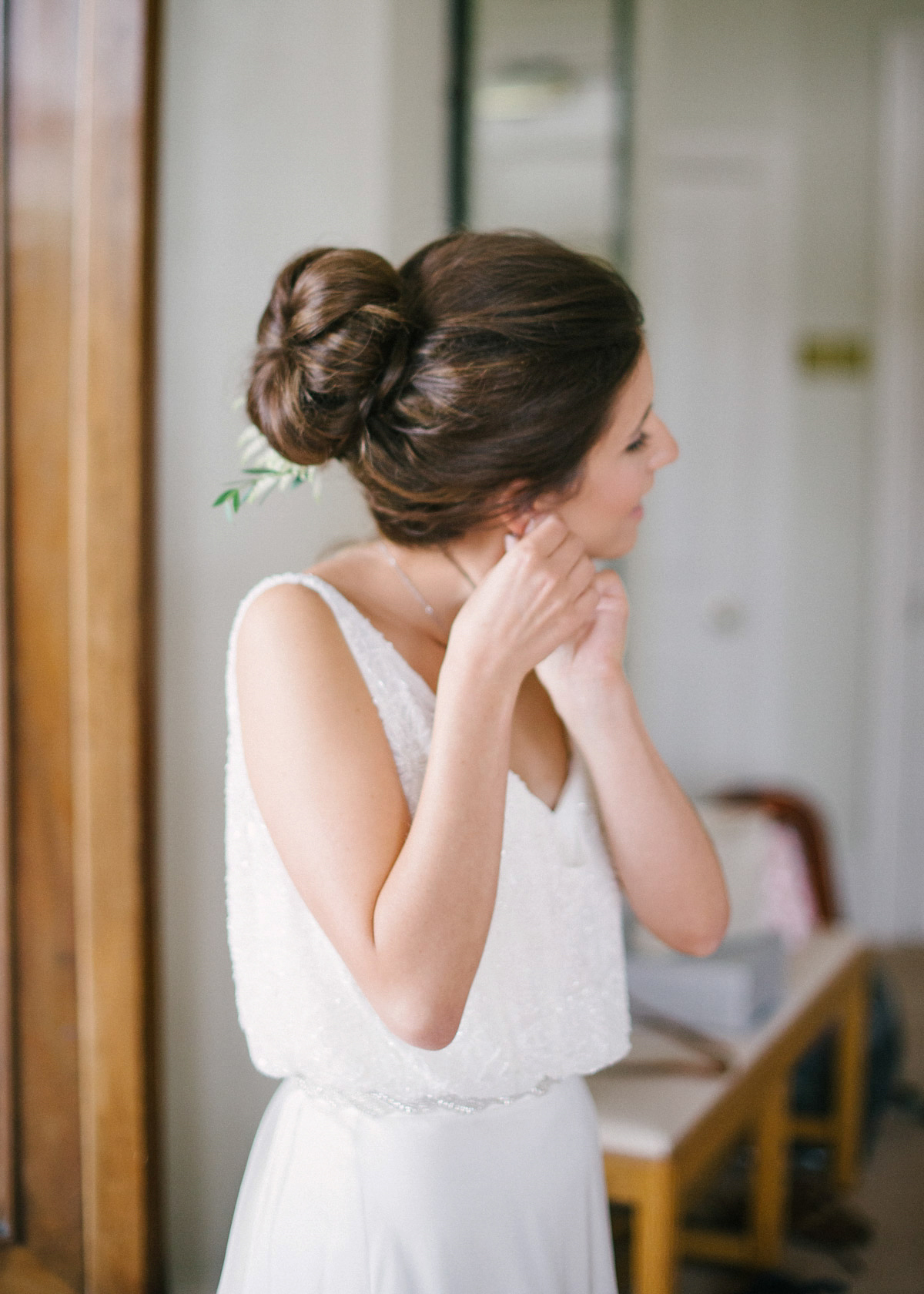 Today's gorgeous, light-filled images were the work of our Little Book for Brides Member, the fabulous Hannah Duffy.
"I can't recommend Hannah enough; she did the most wonderful job from start to finish, even travelling to our home before the wedding to talk through the style of photography we wanted.  She also travelled down to our venue a day early to suss out potential locations and come to the rehearsal.  So many guests mentioned how friendly and warm she was and she made us both feel relaxed and comfortable.  We are SO pleased with the results."
Tara wore a gorgeously simply Stephanie Allin gown, which she purchased from the designer's London boutique.
"I was lucky enough to have my first appointment with Stephanie herself.  It was so amazing to work with her on my dress – she sketched the final design and I have it framed on the wall in my bedroom."
"It was all about the silhouette for me – simple, yet elegant.  I wanted to shy away from anything too figure hugging and I loved the relaxed, bohemian feel of the silk chiffon skirt; it was almost casual in style.  A touch of vintage-style beading on the bodice was just perfect and I fell in love as soon as I put it on."
Hair styling was the work of Padge from Shine Hair Salons, while make up was by Naomi Emmanuelle.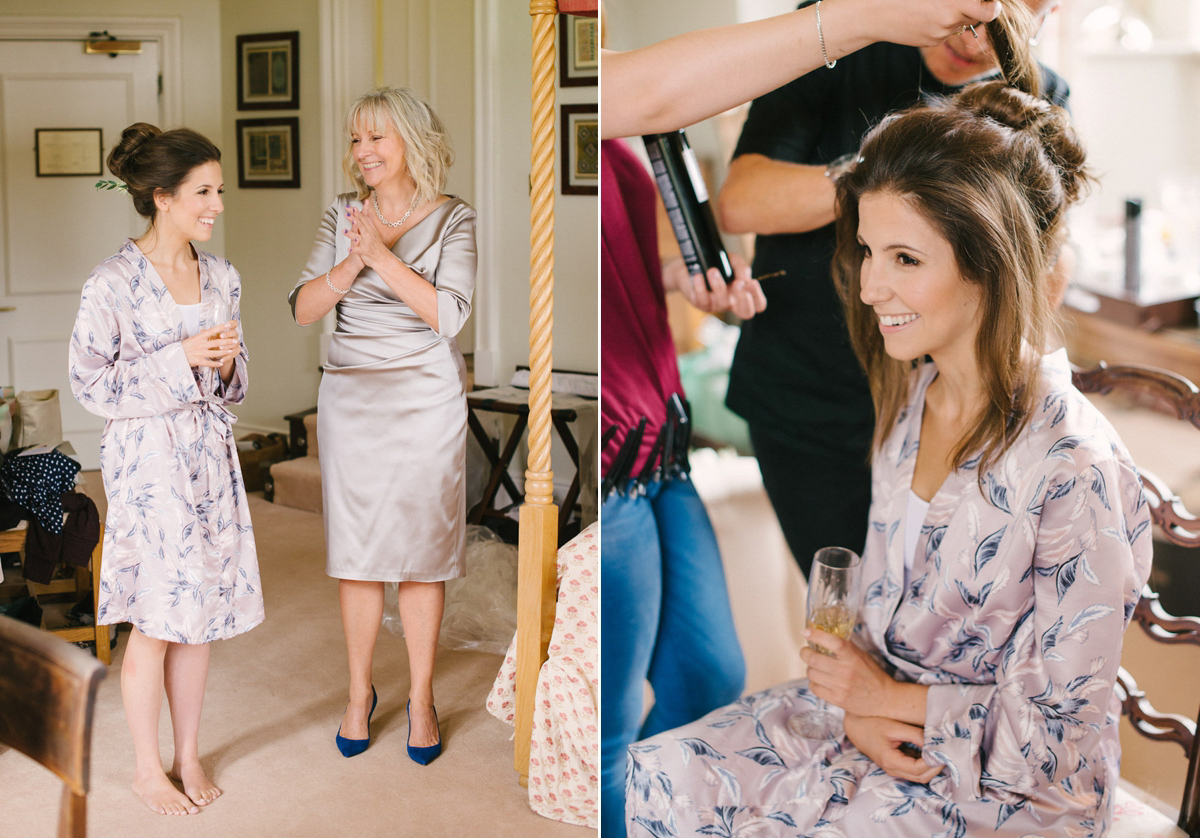 The bridesmaids looked lovely in pastel gowns from Dessy, purchased from Anne Harding in Bristol, worn with their own shoes and fresh flowers in their hair.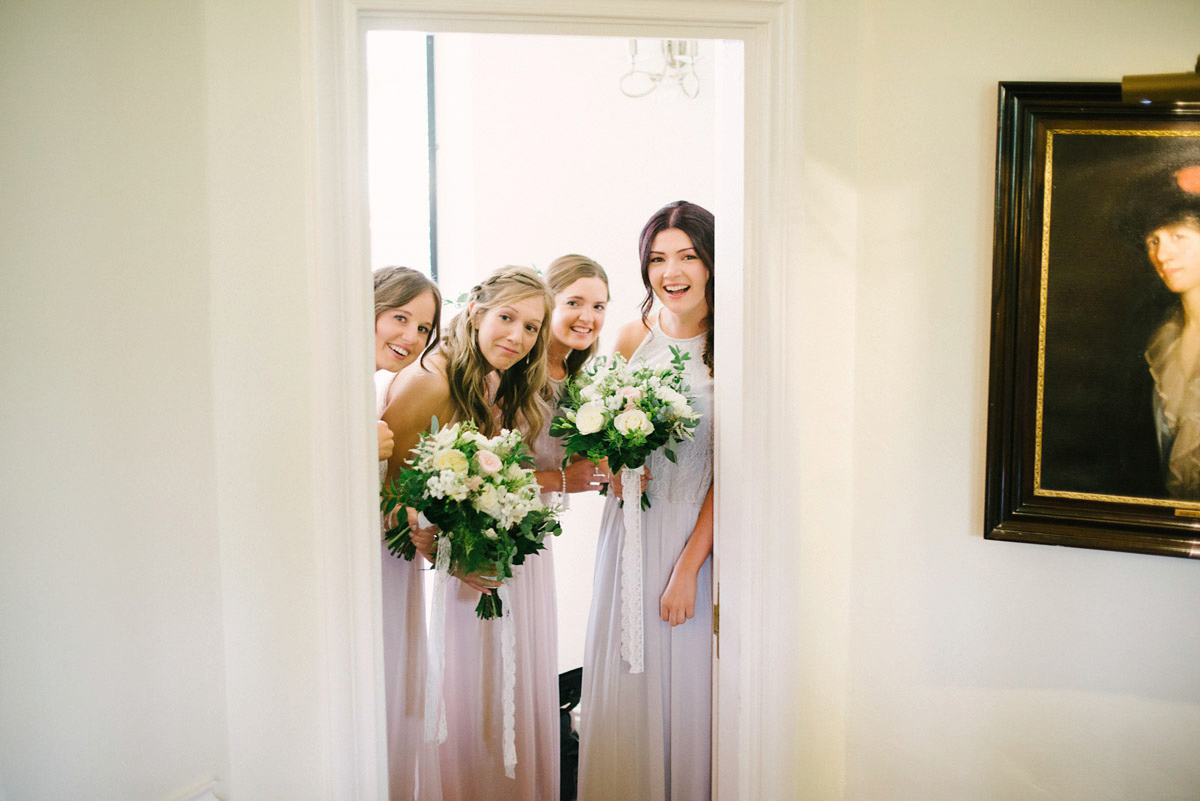 The beautiful flowers are by Hilary's Floral Design.  I especially love Tara's bouquet- absolutely bursting with flowers- and the romantic floral arch above the church door.
"We wanted a wild, chaotic feel with our flowers.  Ivory was our main colour, with hints of soft vintage pink but we also opted for lots of fresh greenery, with eucalyptus of all different kinds taking centre stage.  We also included scented herbs such as rosemary and thyme which smelt wonderful in the reception room."
"Getting married in Wales was such a special thing for Dave and I, as well as my family, so I tried to incorporate Welsh touches where I could.  Amongst all the beauty of the day, Dave and my Dad's love of rugby also shone through.  Our hymns in the church were Bread of Heaven (the Welsh rugby anthem) and Jerusalem (the English rugby anthem) which was great fun, and my Dad presented Dave with a Welsh rugby shirt with his surname on the back during his speech."
Tara accessorised with a Sassi Holford veil with fresh flowers for an added touch and we're very proud that Sassi Holdford are members of our Little Book for Brides Directory.   On her feet Tara wore shimmery heels from Dune, while for jewellery she chose a vintage necklace and earrings and a bracelet which was borrowed from her mother-in-law-to-be.  For scent, she wore Coco Noir by Chanel.
"Dave and I went and chose our fragrances together. We wanted scents that we'd never worn before, so that we'd always associate it with our day.  I wore mine everyday on honeymoon too and wearing it now takes me back – it was such a happy time."
"We married in St Edmund's Church in Crickhowell, Brecon.  It's the most beautiful location, surrounded by rolling valleys and snow-covered mountains."
"My Dad grew up there and it's a very special place for both him and I, with lots of lovely memories. "
Tara and her Dad were transported to the church in style via a classic car hired from Henrietta Hire.
"My Dad walked me down the aisle and thank goodness he did as I was so nervous.  I remember him chatting to me the whole way down, keeping me calm until I got to the top of the aisle.  It's one of my loveliest memories."
Dave looked extremely smart in a classic tailed suit from Impeccable Wear, worn with a tie from Hugo Boss.  the best man wore the same suit, with a TM Lewin tie.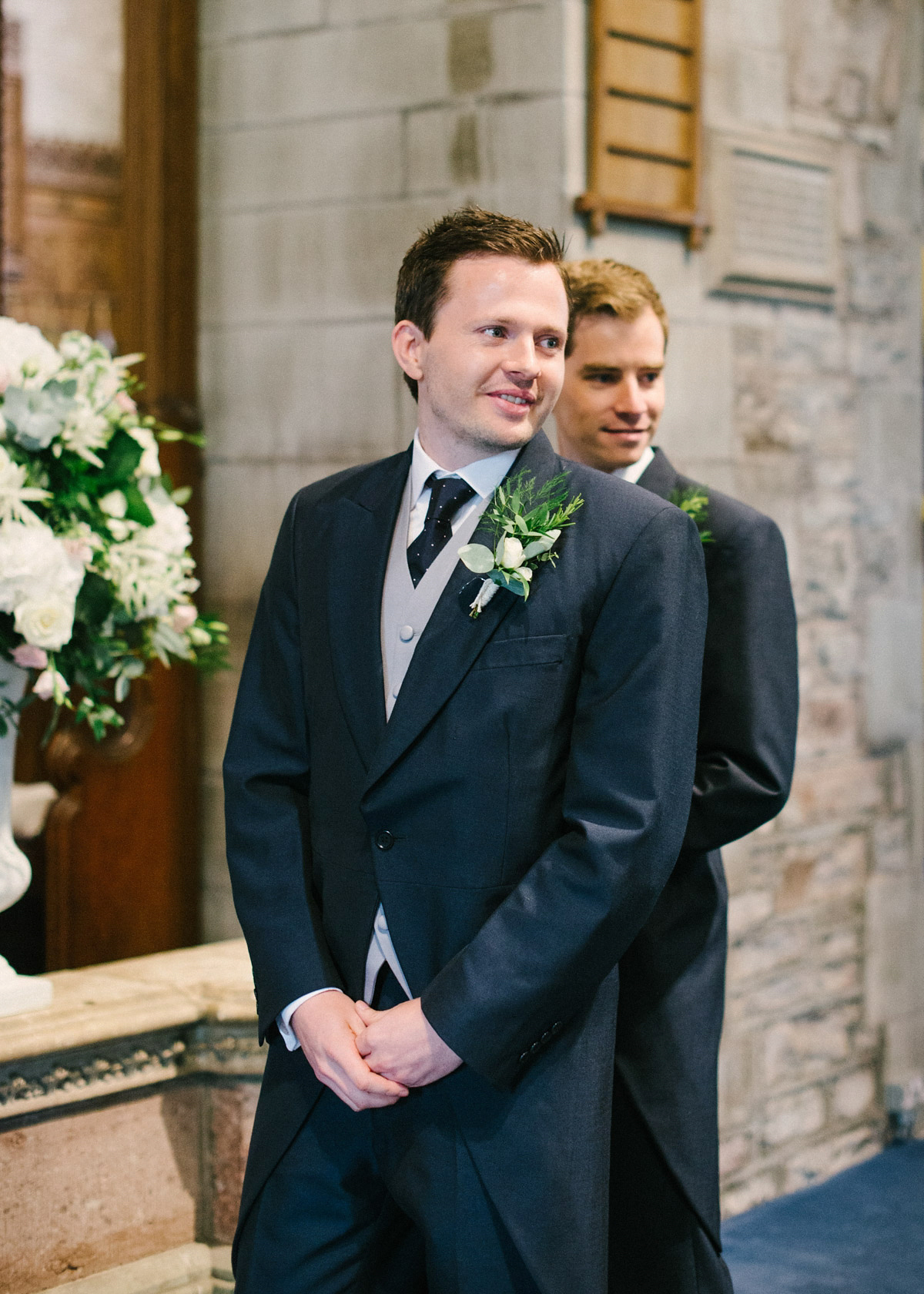 Tara and Dave opted for the traditional vows, as it meant a lot to them to repeat words that have resulted in so many happy marriages across both their families.  They exchanged rings from De Beers, engraved with their wedding date and 'cariad', which means 'love' in Welsh.
"We aren't ones for overtly romantic readings, so it took us a little while to find one that suited us.  We decided on 1 Corinthians, Chapter 13 and also the following from 'Chaos of the Stars' by Kiersten White.  It sums up our views on marriage, relationships and love perfectly."
"The church service was my favourite part of the day.  Standing up next to Dave and saying our vows in front of all our friends and family was so special and such a vivid memory.  If you'd told me before that would be the case I wouldn't have believed you (it was the part I was dreading the most as I was so nervous) but it really hit home the importance of what we were saying to each other and I was totally lost in the moment."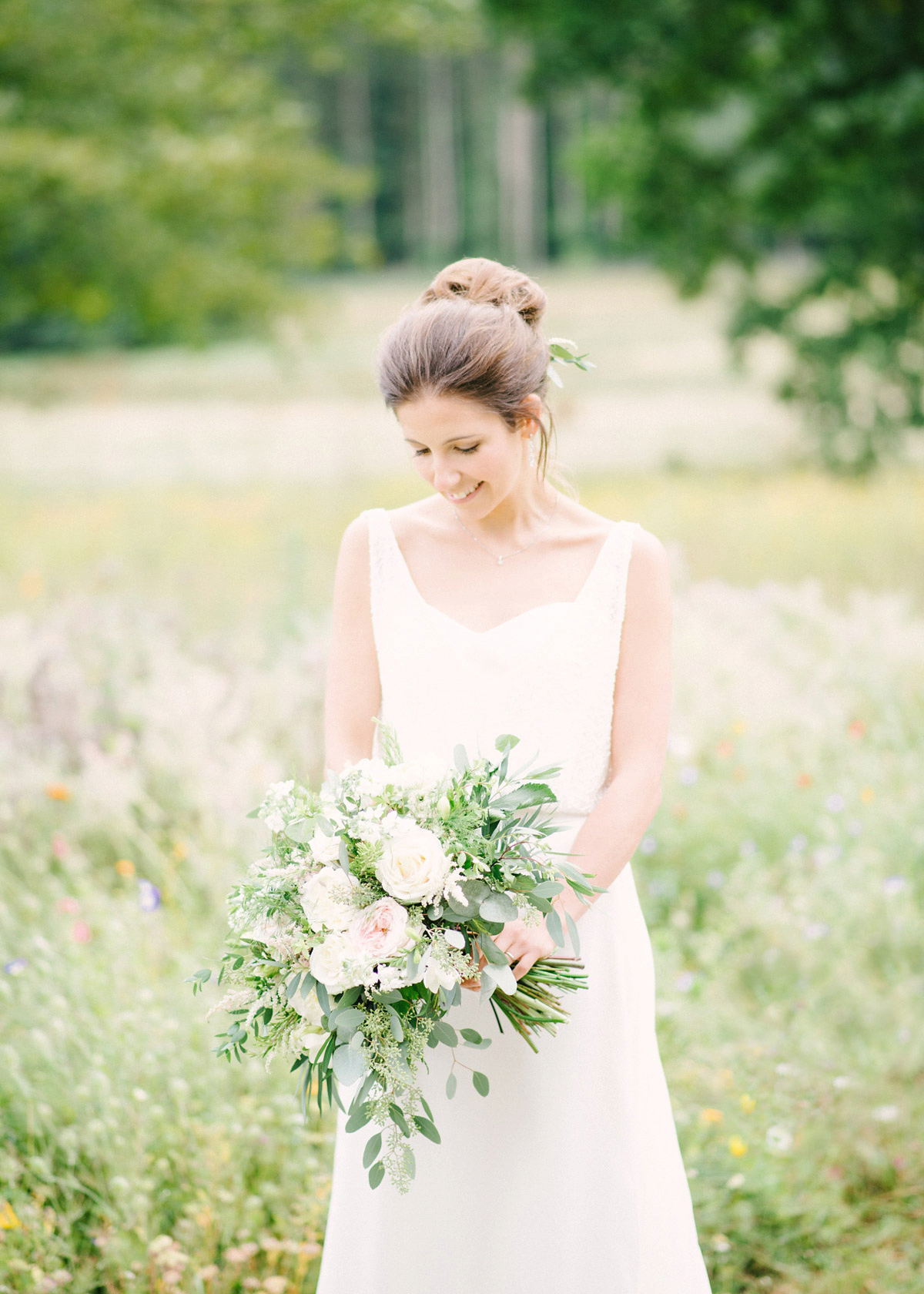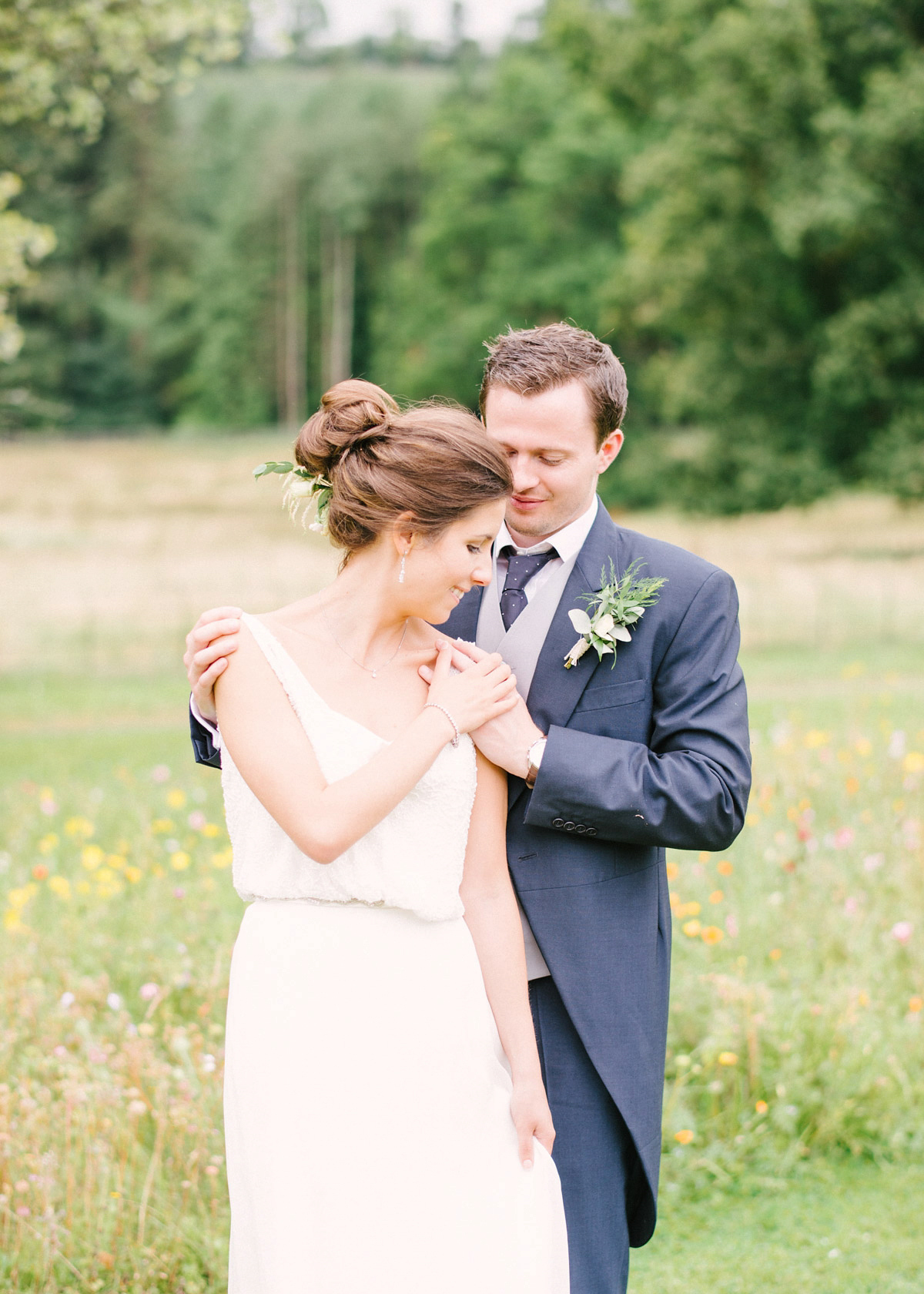 "Our reception venue was Llangoed Hall– a beautiful country house that once belonged to the husband of interiors guru Laura Ashley."
"Dave and I both fell in love with it as soon as we walked in and the staff were so friendly and welcoming too."
Being an interior styling expert, Tara did the reception décor herself and it looks absolutely wonderful- so calm and beautiful.
"I created the centrepieces myself and we dressed the entire reception room with candles and lit them before the guests came in, resulting in the most wonderfully serene atmosphere.
"There were two big shelving units in the main reception room which were great fun to style up.   I carried on the theme with candlesticks and tealights, interspersed with personal touches including old wedding photos of family members, greetings cards and memorabilia I collected from our engagement in Paris.  I was so pleased with the finished result."
Guests were treated to music by harpist Bethan Nia during the reception drinks and a band called Penfold later in the evening.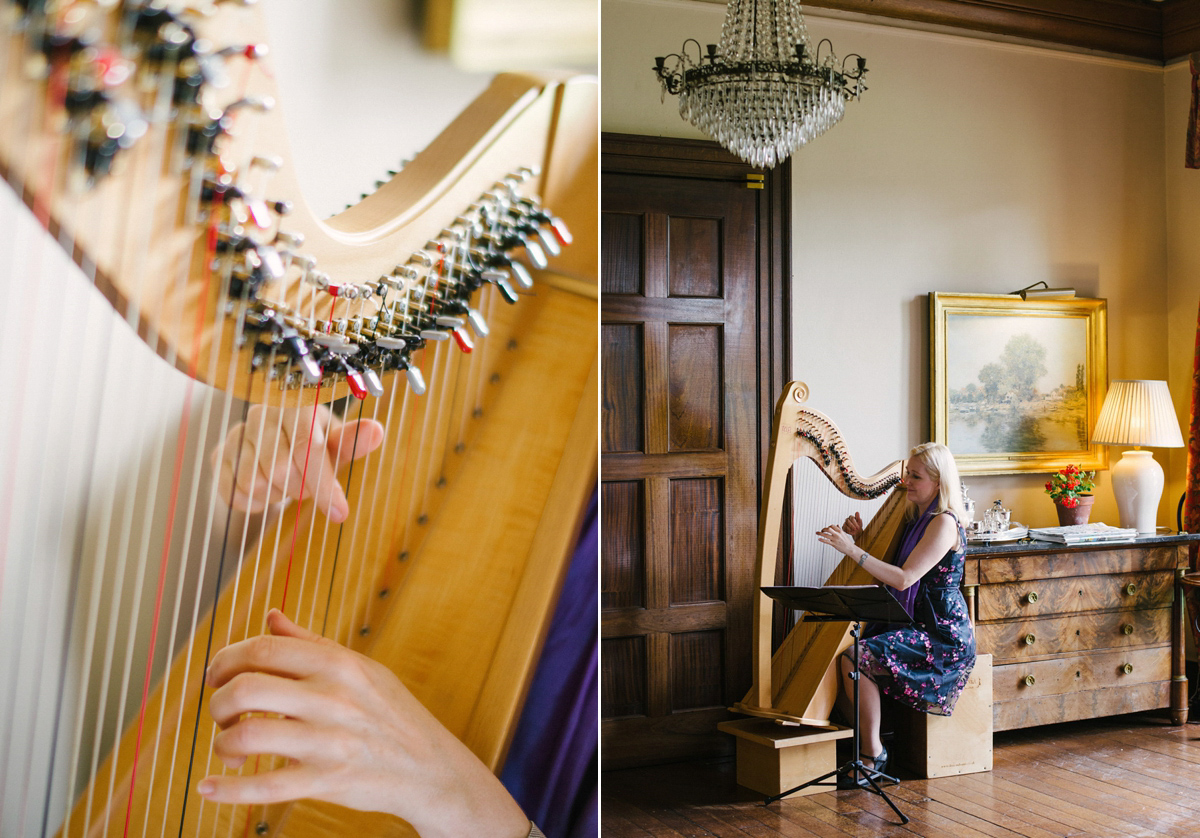 Catering was done in house, while the beautiful four-tier cake was by Rosie Shaw Cakes.
"My second favorite part of the day, after our ceremony, was listening to the speeches.  My Dad, Dave and our best man Dom all did the most amazing job and everyone was in stitches laughing, then crying the next."
"I remember looking around at everyone I love in the same room together and feeling an overwhelming sense of happiness and contentment.  It's a feeling I'll never ever forget."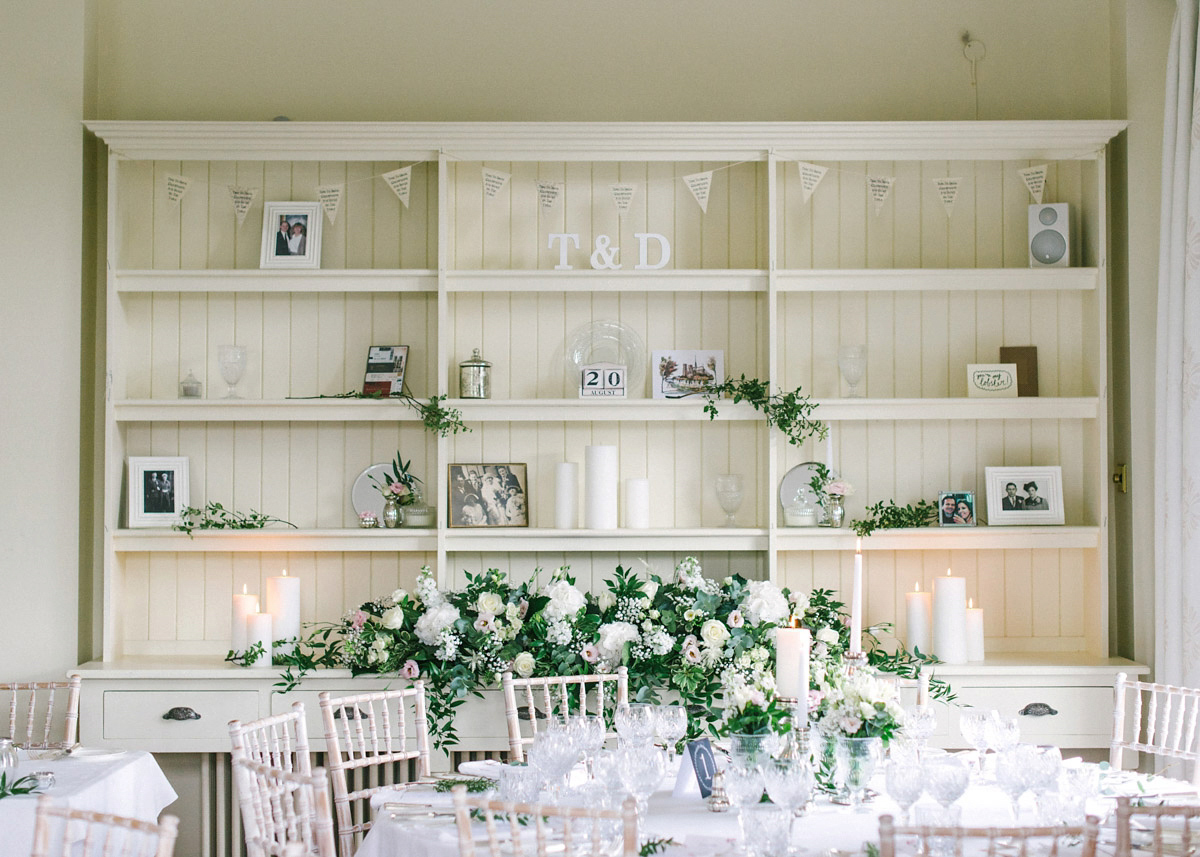 Words of Wedded Wisdom
"It's so easy to say in hindsight, but try not to worry about things that you can't control, whether that be bad weather, building work or whether the band arrives on time or not.  I got so worked up about everything beforehand, but on the day the building could have fallen down around me and I wouldn't have cared.  Everyone is there for you because they love you and want to see you happy, nothing else matters."
Huge thanks to Tara and Dave for sharing their special day- llongyfarchiadau!
Much love,
S x