How, please, is it May already?  I feel as though the year has only just begun.  Today we're sending you back a few months and featuring a lovely small (but perfectly formed) winter wedding in West Sussex, with a beautiful embroidered gown and a cosy pub reception; I love it.  Meet Rhoda, a teacher and Michael, a deputy headteacher, who married on the 18th of February 2016 at Arundel Town Hall,  followed by a reception at The George at Burpham.
I'm completely in love with Rhoda's gown- Lucille by Eliza Jane Howell- which she purchased from The Wedding Room, Chilwell.  I'm such a fan of Eliza Jane Howell dresses (who also happen to be members of our Little Book for Brides Directory) and the beading and embroidery never fails to make me covert these beauties.  Rhoda actually first spotted her dress on our blog, which is so lovely to read.
"Because we were having quite a small wedding and our reception venue was also quite small, I knew that I didn't want a massive dress.  When I saw Lucille, I fell in love with all the beautiful beading and the intricate design."
Photography by Olivia Judah
"Our day was mainly driven by the fact that we wanted a small, fun, relaxed wedding as we couldn't see the appeal of organising a huge day and being stressed in the run up.  It was important to me (the bride) that I got to do lots of the fun things like making decorations and invitations. However, I didn't want to take on massive organisational jobs and be overwhelmed by them.
We also tried not to be tied in by tradition; we only booked things if we wanted them, not because we thought that we should have them.  In terms of colour, we tried to keep the palette neutral and work with sage greens and creams as we wanted to work with the colours that were already in the George."
On her feet Rhoda wore 'Jasmine' in antique silver, by another of our fabulous Little Book for Brides members, Rachel Simpson.  In her hair she wore fresh gypsophila and for scent, she chose her favourite Lime, Basil and Mandarin by Jo Malone.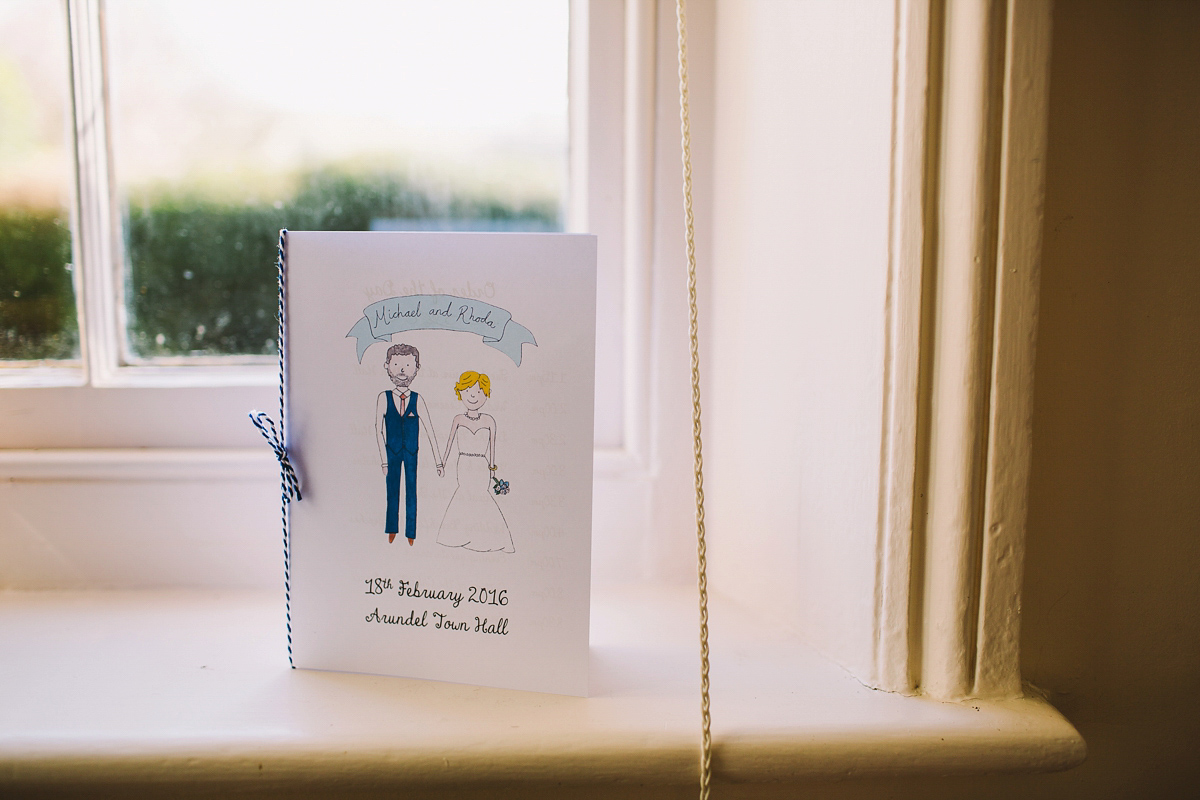 Hair was by Steven at Gilded Pleasure and make up by CLJ Makeup.
"Steven has done my hair for quite a few years so he was the natural choice.  I went to get my hair done on my own on the morning of the wedding and his salon was such an oasis of calm- I sipped champagne and felt completely relaxed.  It was lovely to spend a bit of time away from the madness and just collect my thoughts."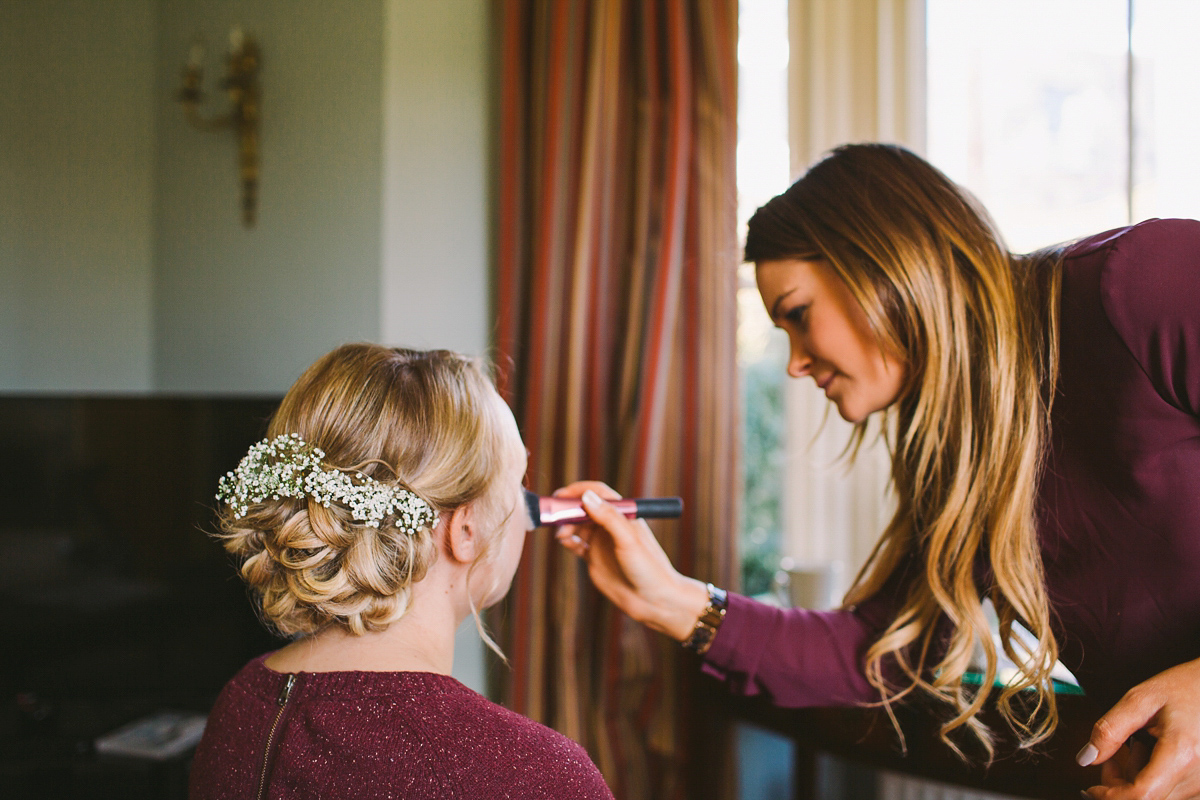 "For jewellery I wore my mum's silver bangle as my "something borrowed".  My dad gave it her on her sixteenth birthday and it has a message "to my sweet sixteen" engraved inside."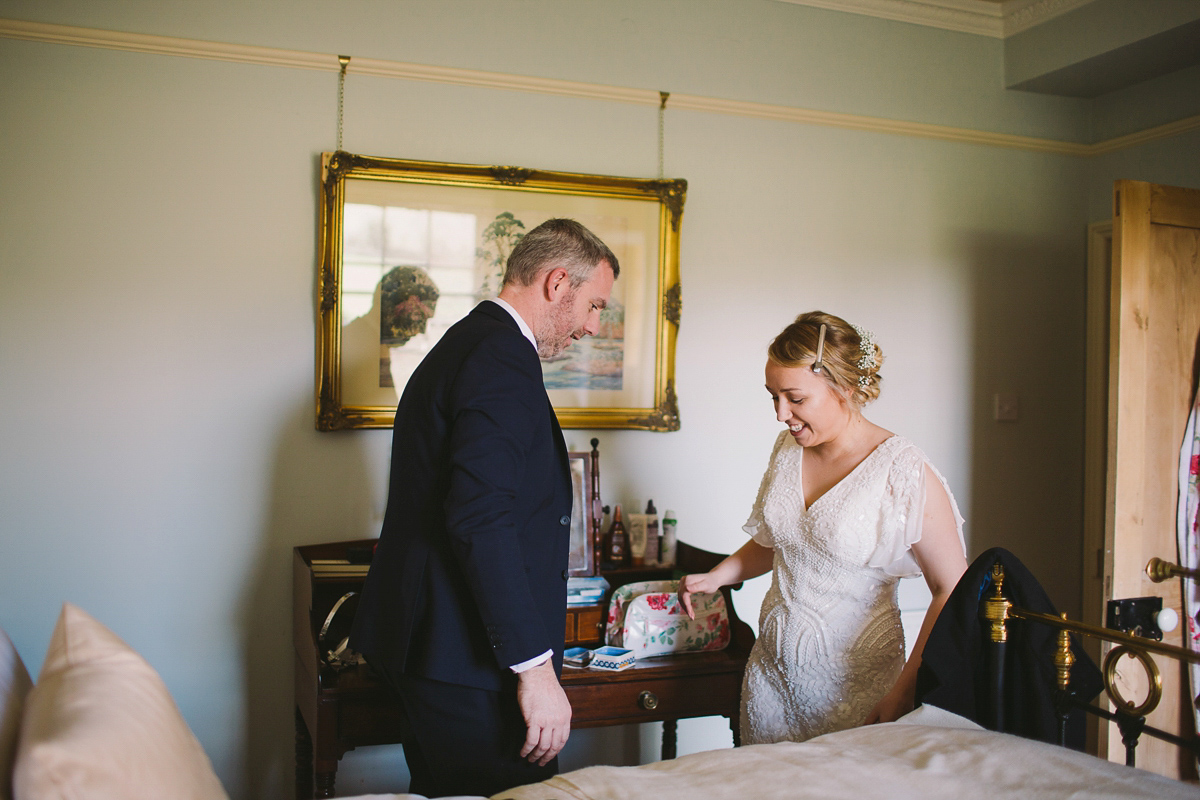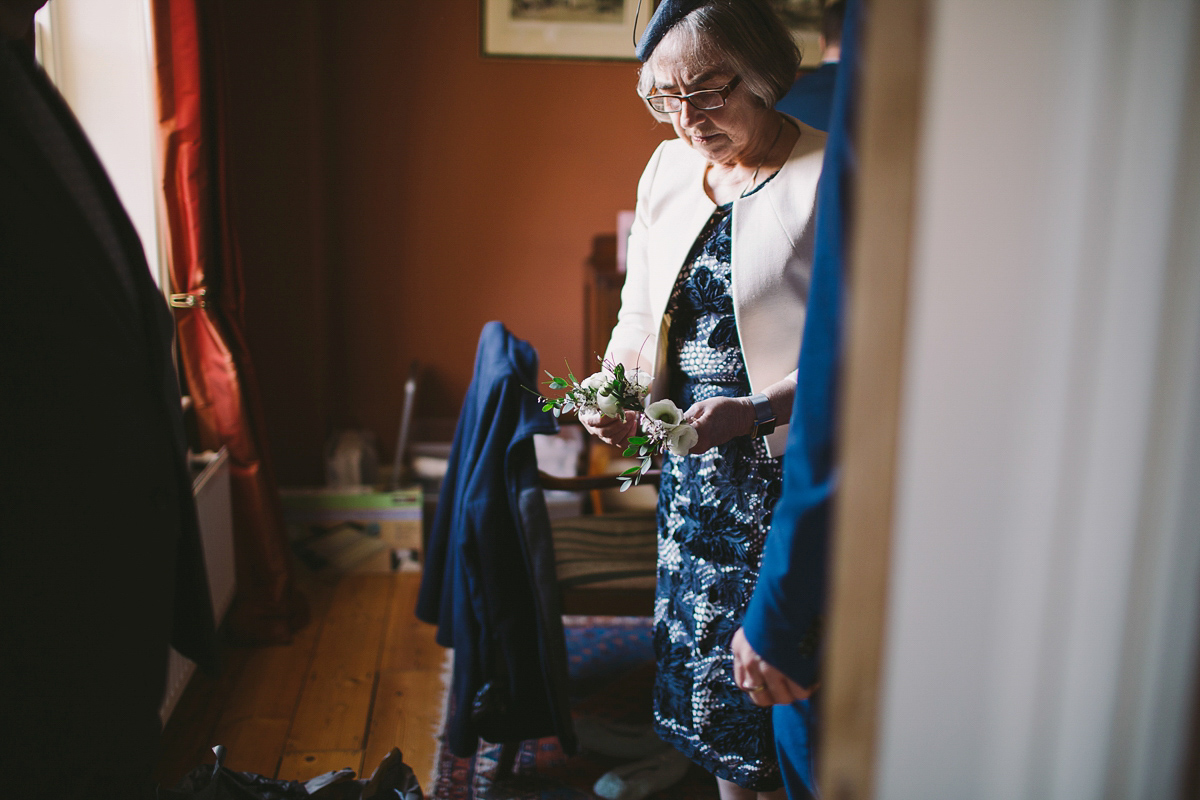 "Although we now live in the Midlands, Michael's family are in Sussex, and we first met when teaching in the same school in the area.  We chose Arundel Town Hall to marry, as we both loved this historic town and the building with its beautiful view of the castle, large terrace and huge windows with lots of natural light."
"We liked the idea that we would be able to travel back every so often and visit our venue too."
Rhoda walked down the aisle with her Dad to her beaming groom, to 'River Flows in You' by Yiruma.  I adore the images of Rhoda and Michael once Rhoda reaches the top of the aisle- there's just so much glee on their faces.
Michael looked handsome in a dark blue suit from Marks and Spencer, worn with a yellow tie.
"We decided to get ready together on the morning of our wedding.  We couldn't see the appeal of spending the morning apart.  This turned out to be quite lucky as Michael seemed to be the only person who could do the zip on my dress up!"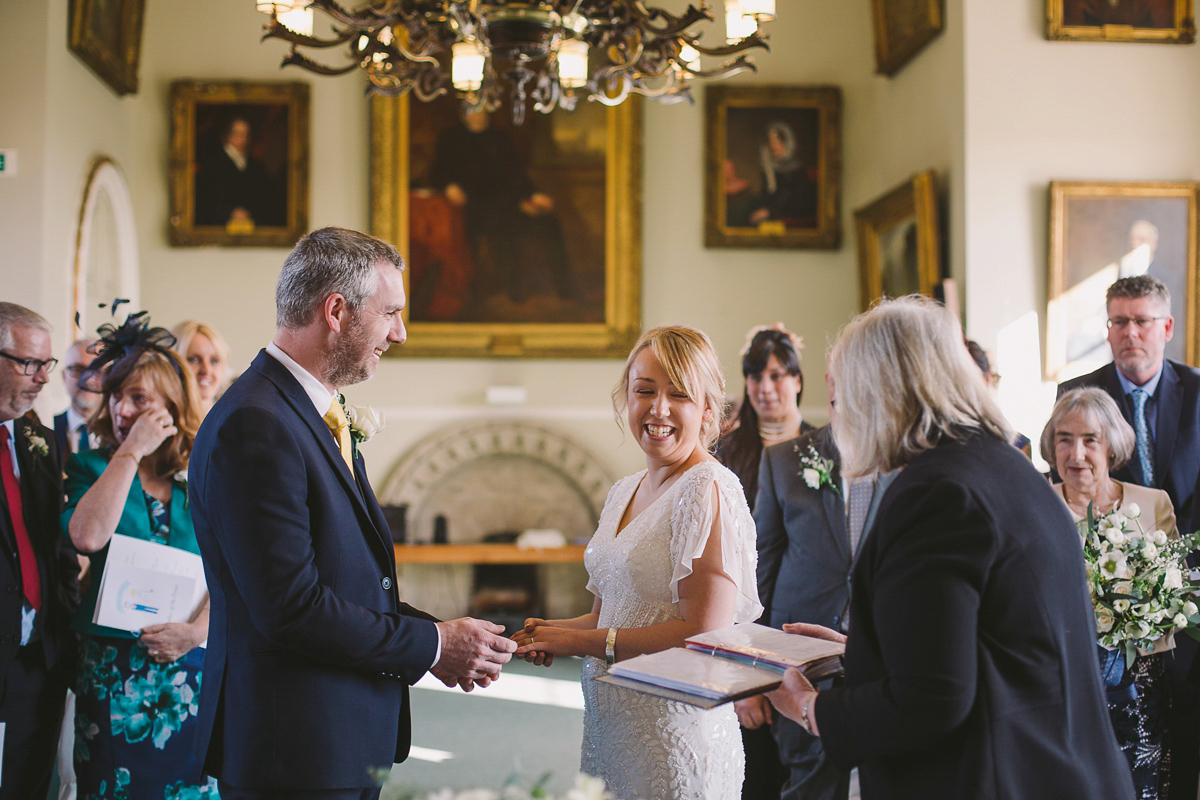 The couple wrote their own vows and chose two readings- a personalised version of 'A Lovely Love Story' by Edward Monkton and an extract from 'A Pale Blue Dot' by Carl Sagan.  They also exchanged simple silver wedding bands, purchased from Solitaire in Nottingham (Rhoda) and H. Samuel (Michael). Perfect.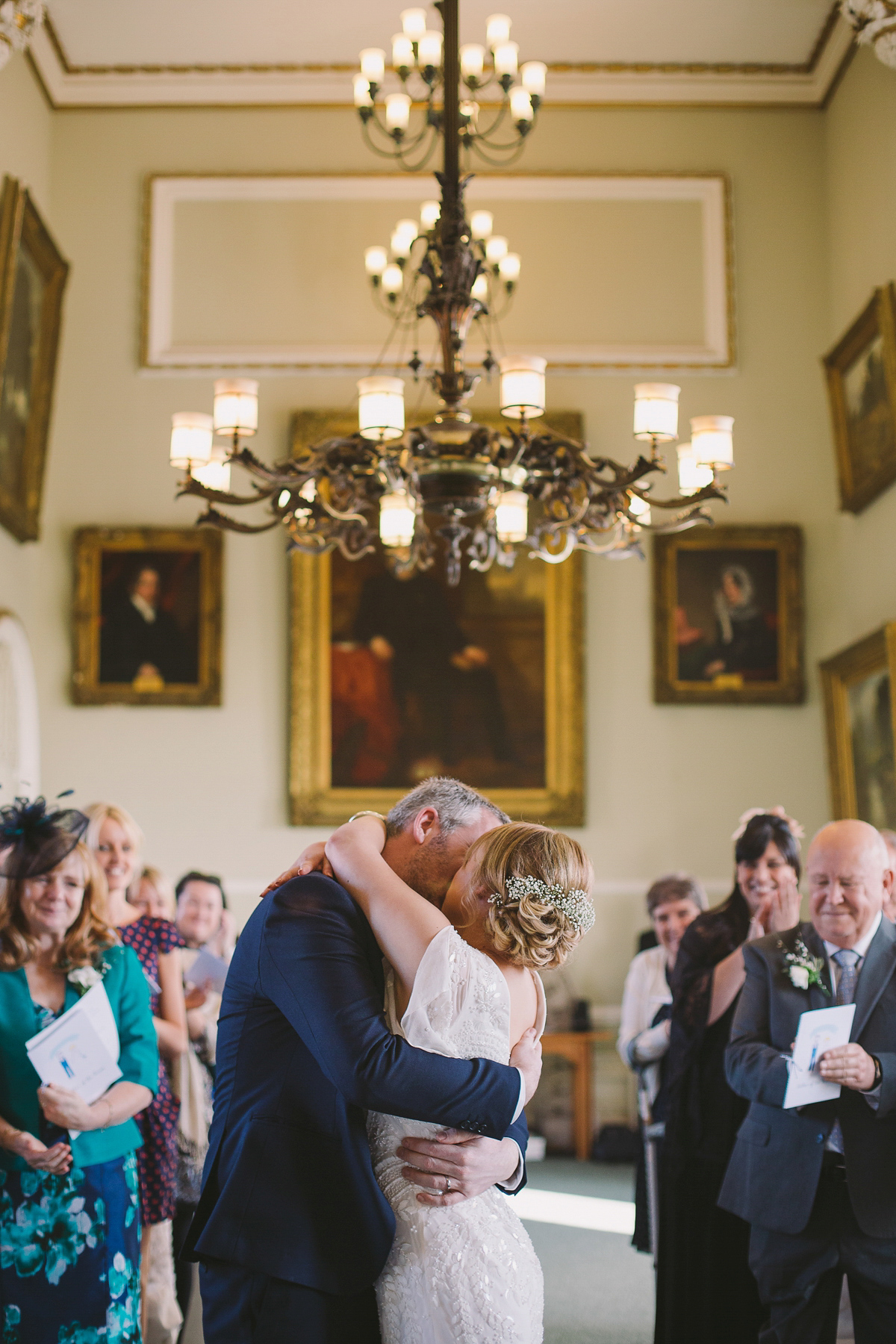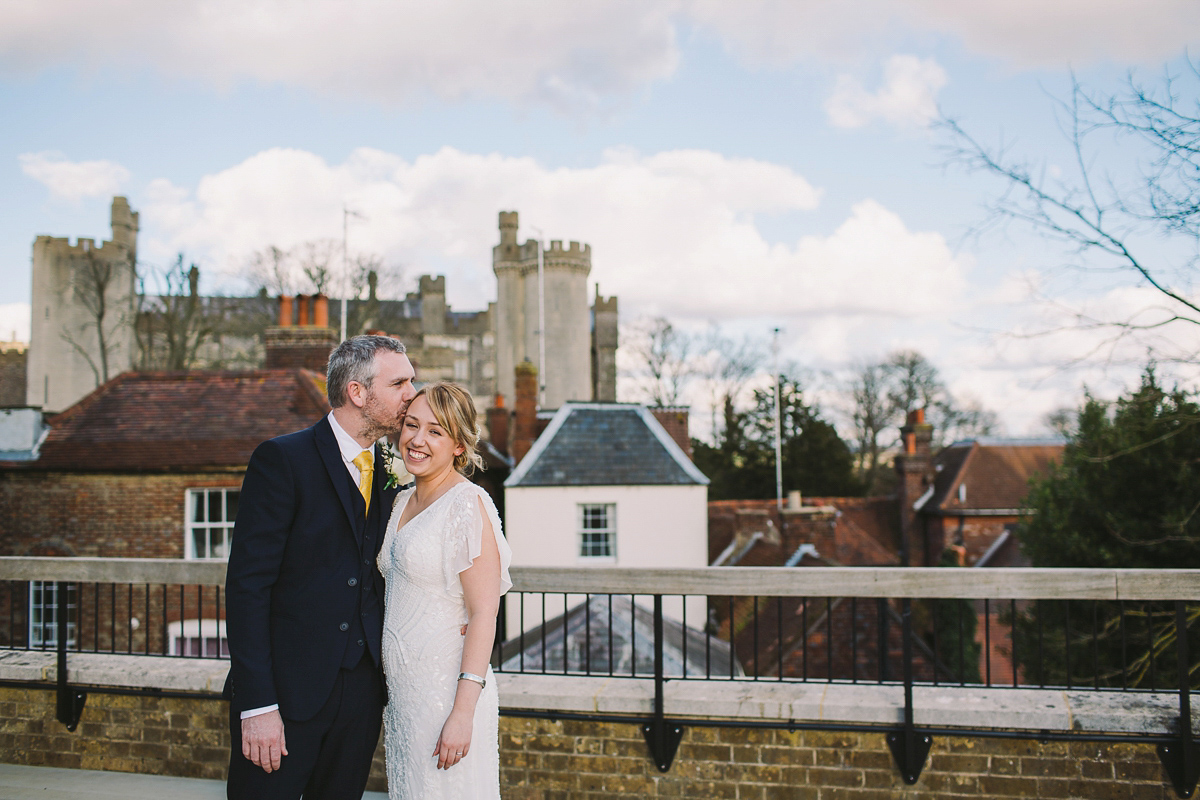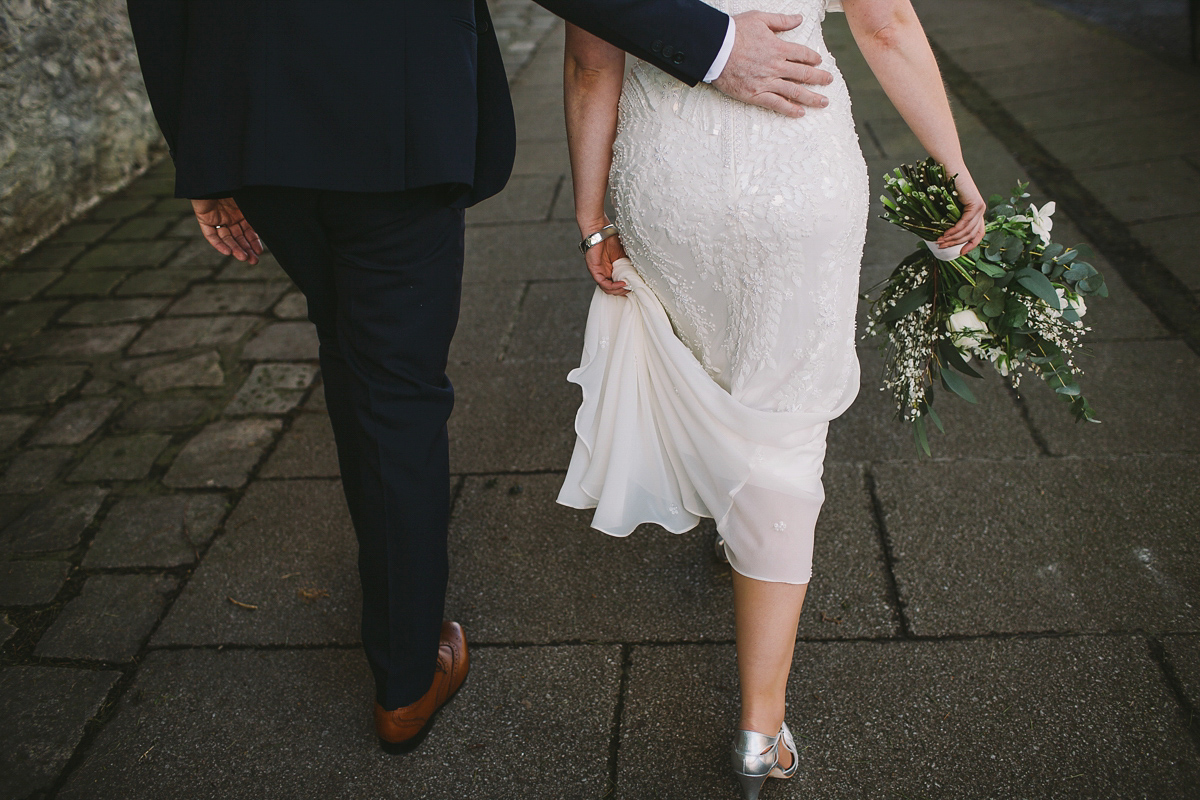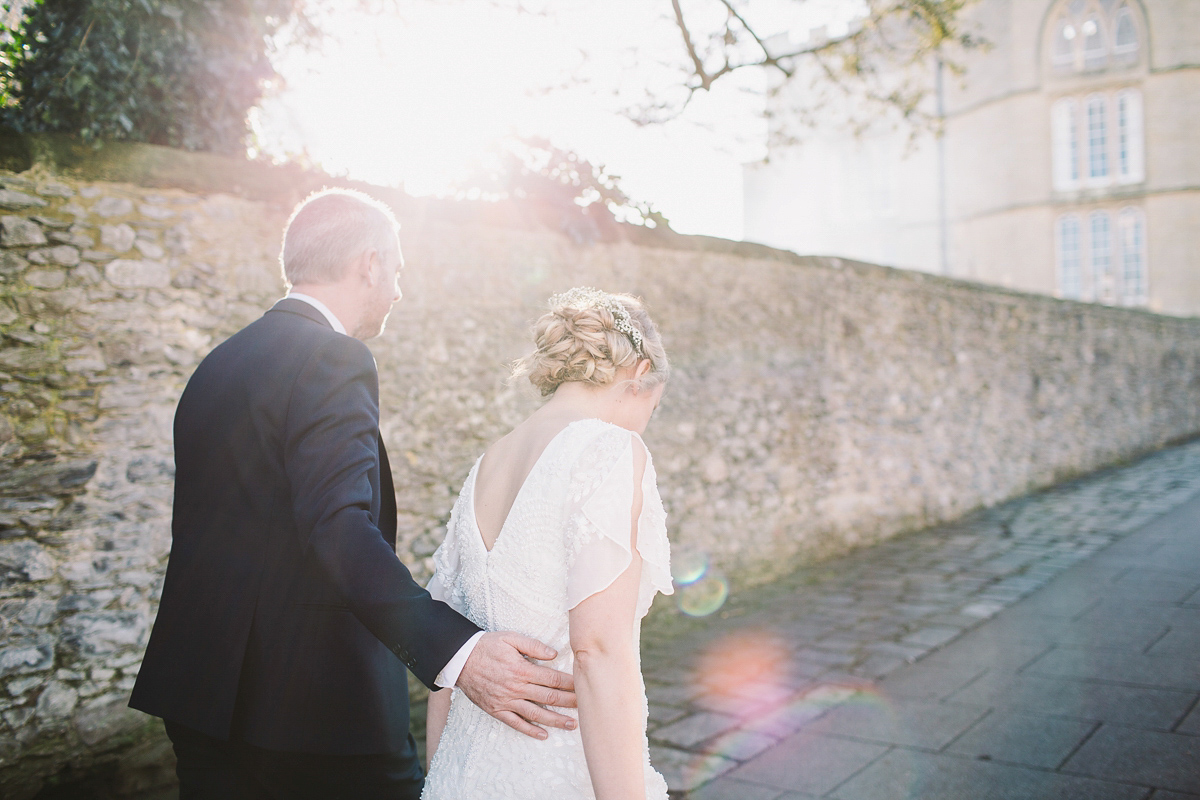 Today's lovely images come to us of Olivia Judah Photography who is a new photographer to Love My Dress.  I love the honest nature of her photos and especially love the pictures of the newly married Michael and Rhoda in the fields at sunset- such amazing winter light.
"We chose Olivia because she takes such natural photographs which capture the light beautifully.  She has an artistic eye for beautiful shots and was so much fun to work with on the day.  Standing in a freezing cold field in wellies to get some "golden hour" shots in between our main and our dessert somehow managed to be one of our favourite memories!  She manages to be completely unobtrusive but everywhere at once; I'm still not sure how she manages it."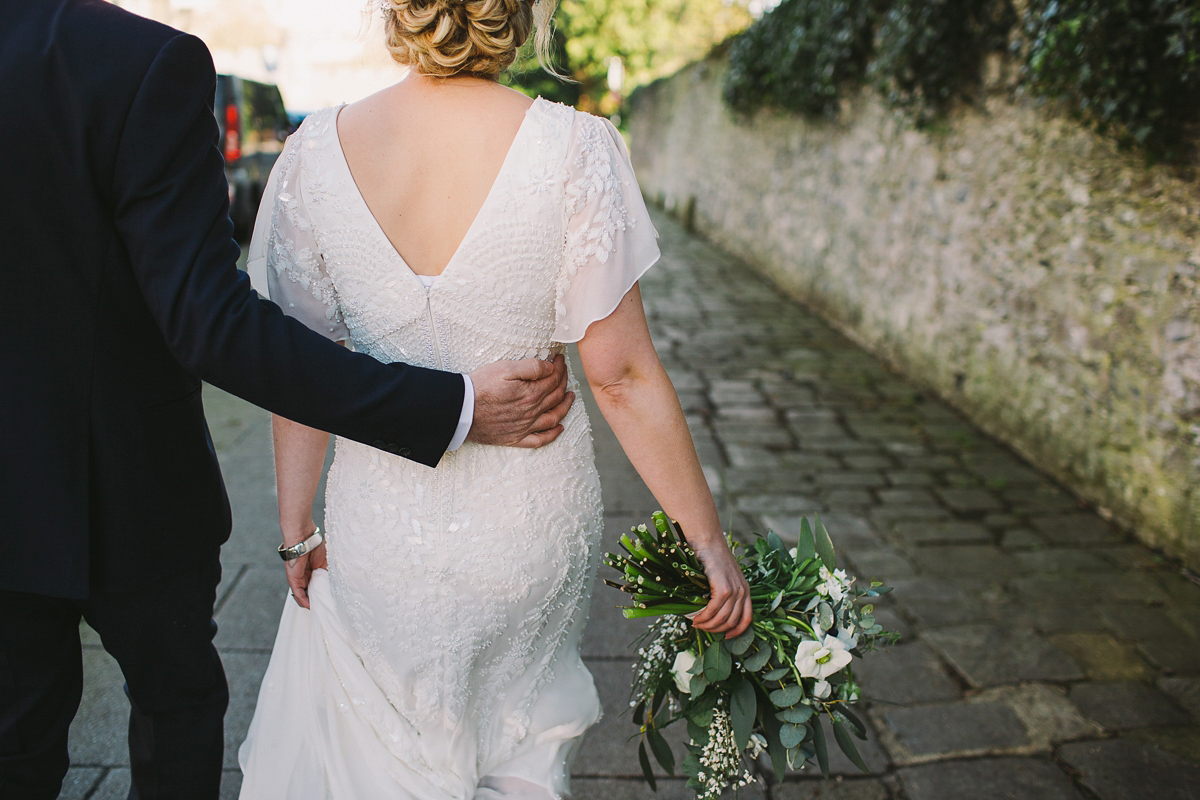 Flowers at the venues were the work of a friend of the couple, while Rhoda's beautiful bouquet was by Flora and Nora.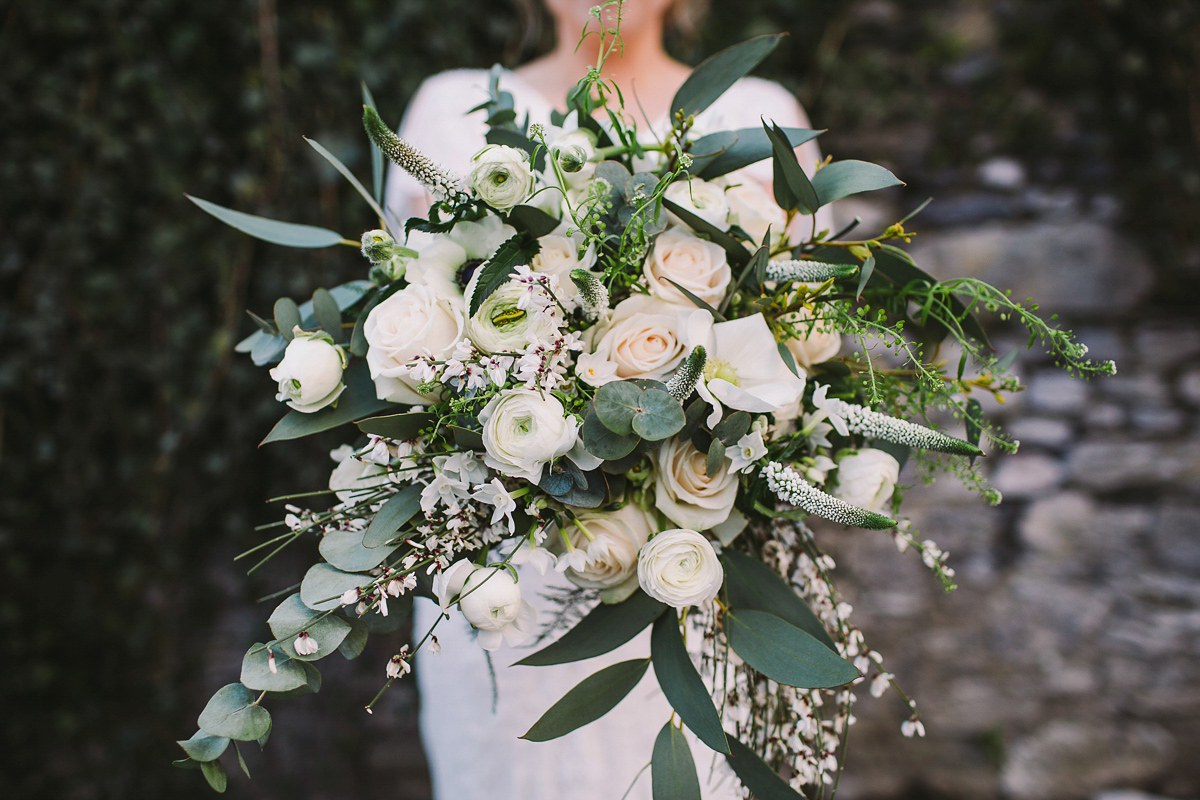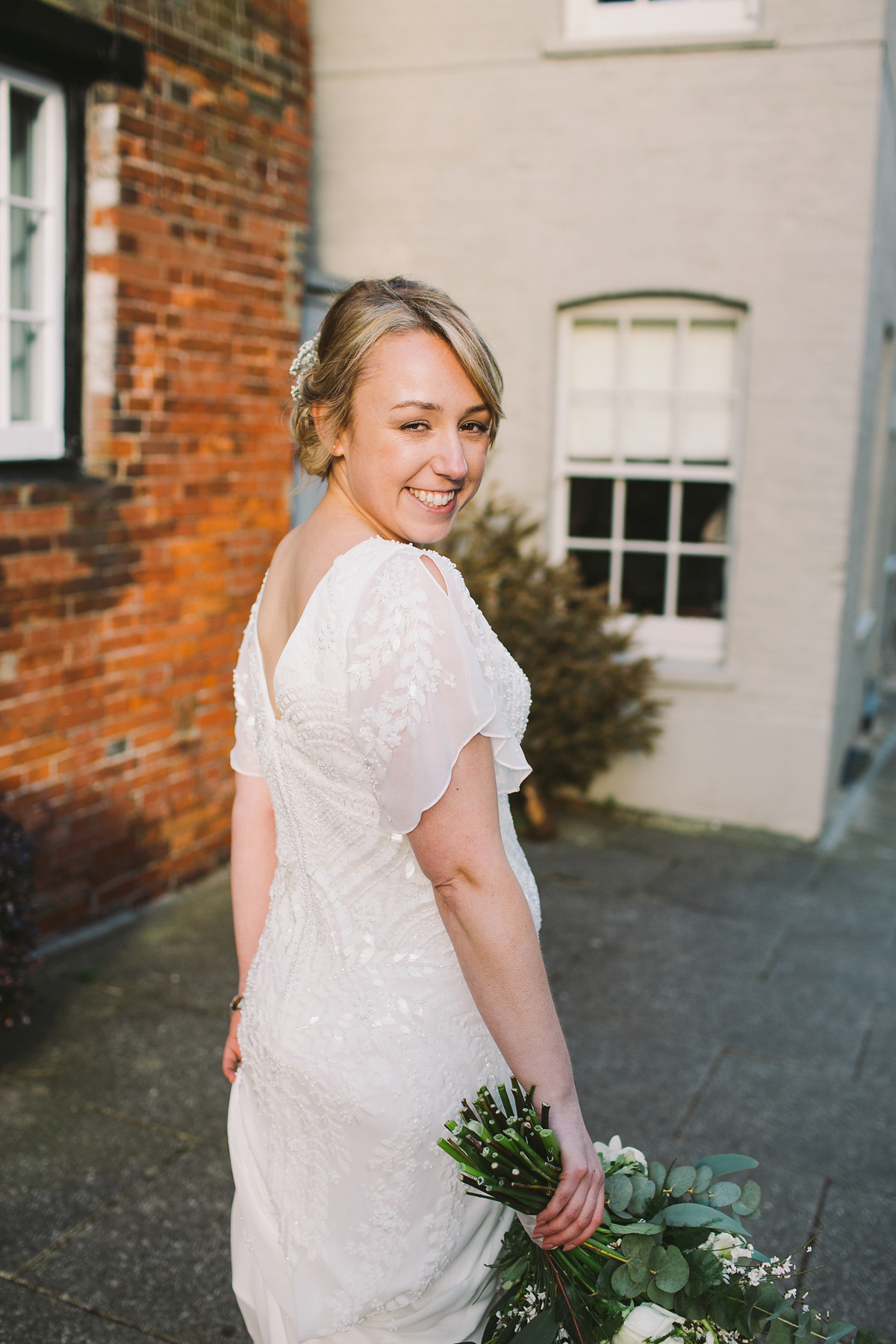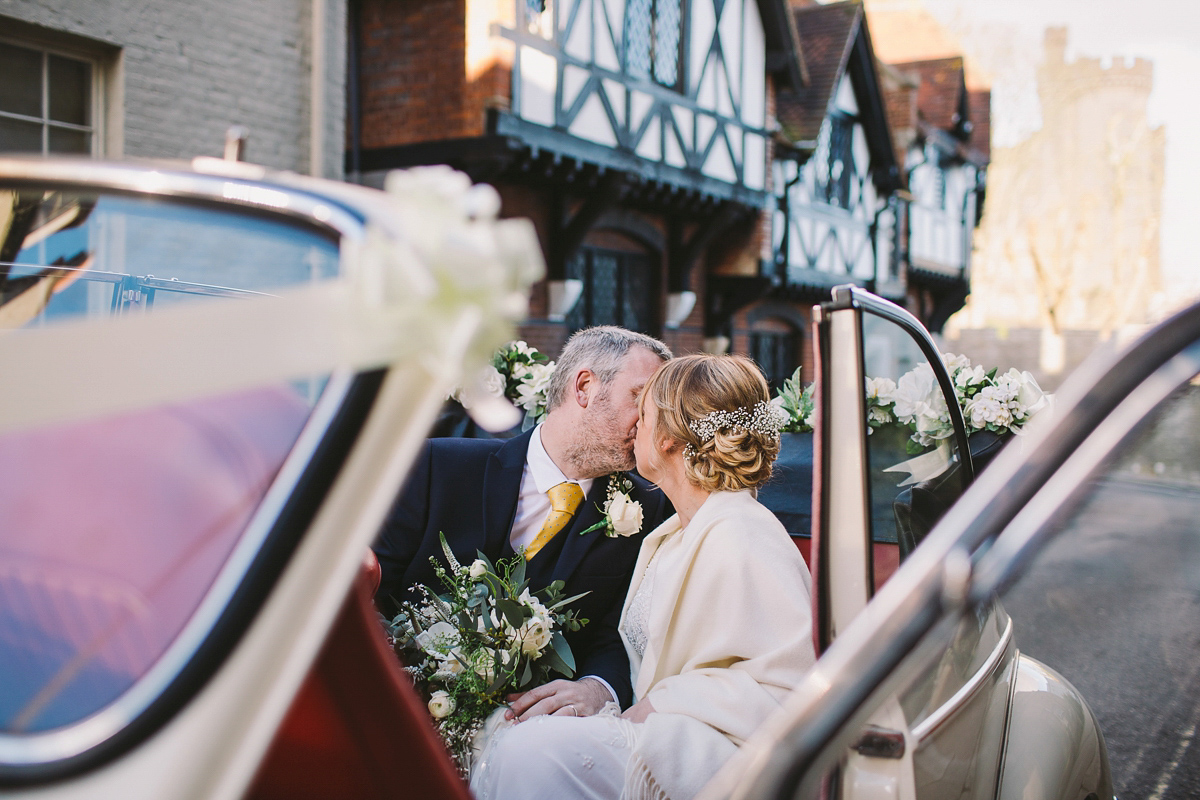 "The George is a country pub which is owned and run by the people of the village of Burpham.  We chose it because the food here is amazing and they allowed us to tailor our menu to exactly what we wanted."
"It's also a small and friendly pub so it suited our small, relaxed wedding and the beautiful interior matched the feel of the wedding, so required hardly any decoration to finish it off."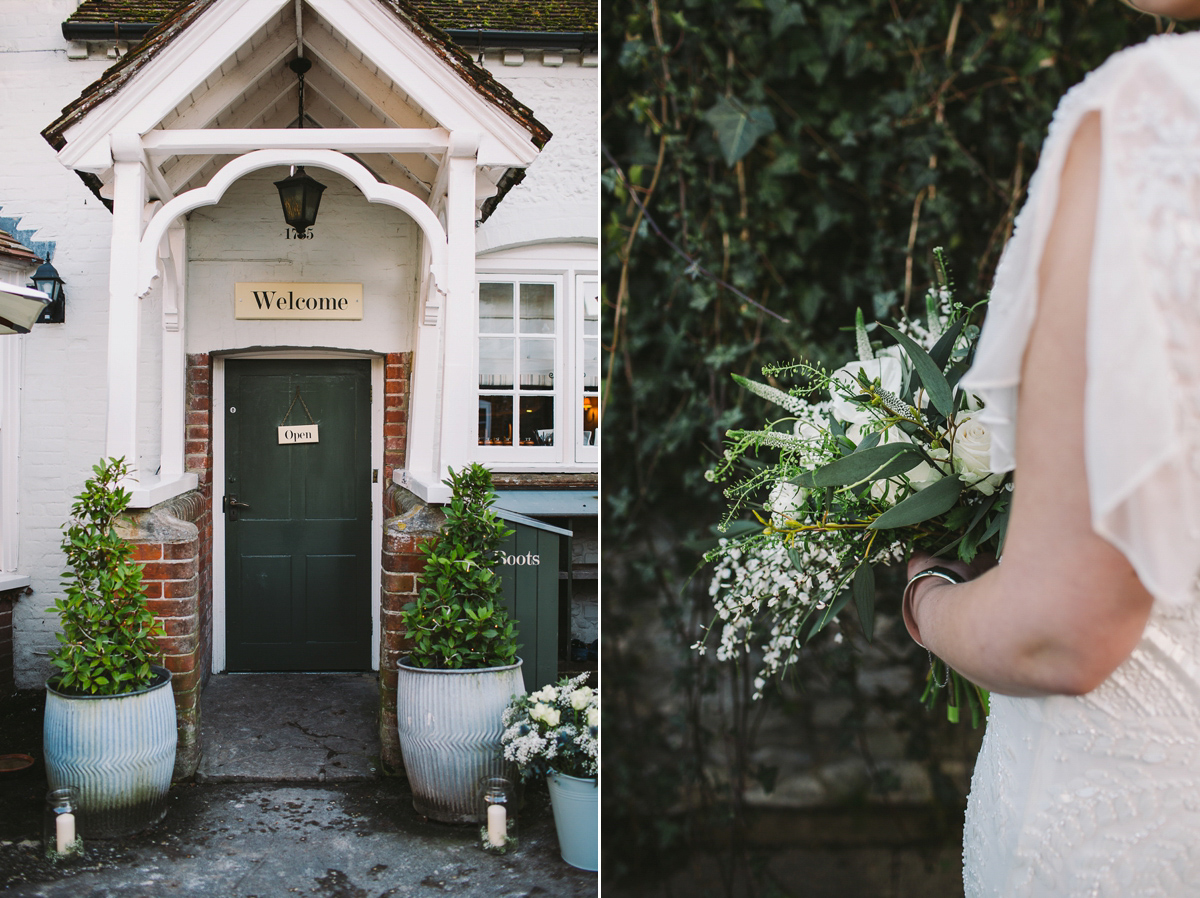 Catering was provided by the George, while the classic three tiered cake was the work of Michael's talented aunt.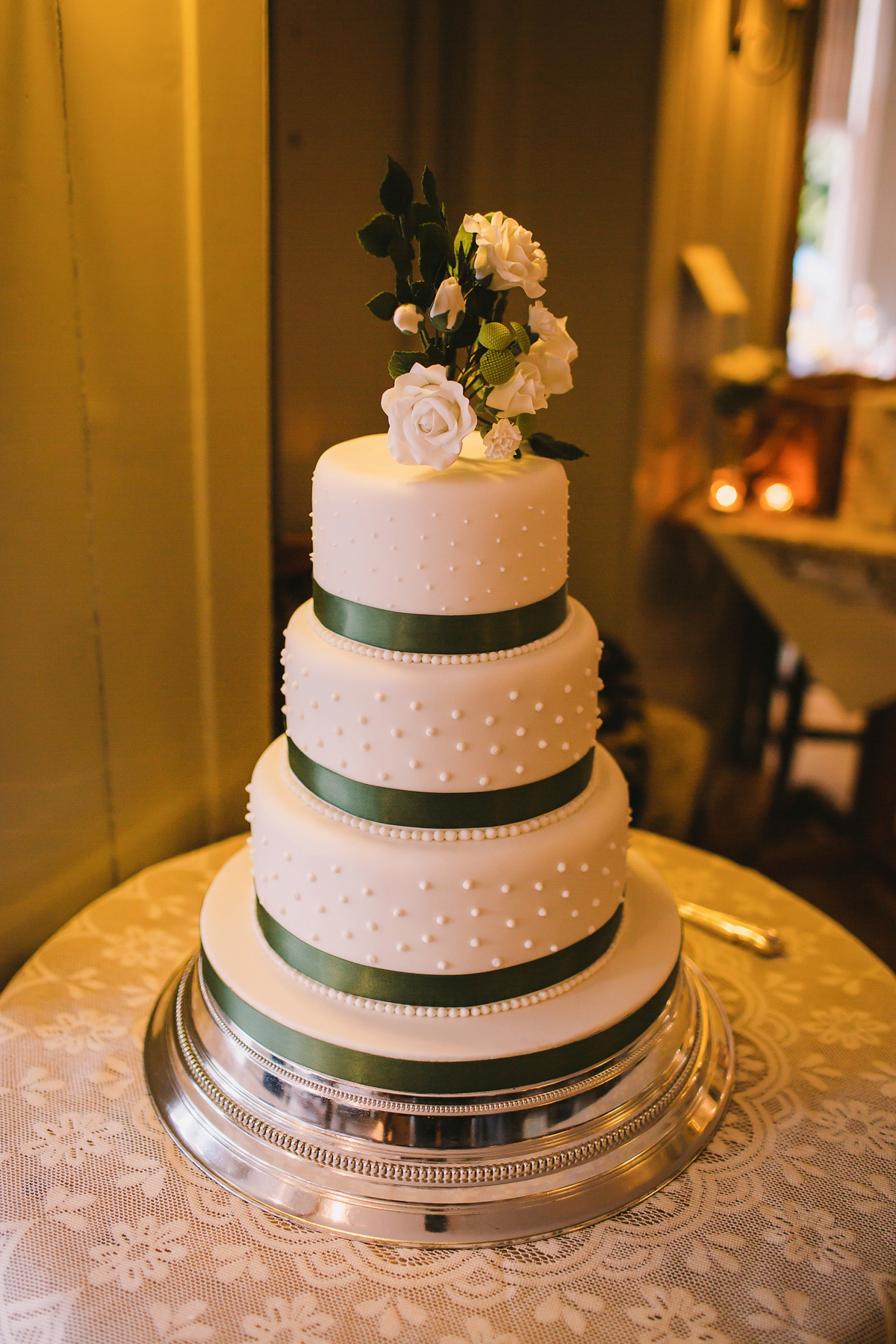 To travel in style between the ceremony and reception venues, the newlyweds hired the cutest white Morris Minor convertible from Premier Wedding Cars.
"On the tables at the George we had flower arrangements in cream and white, arranged in glass vases with lots of glass tealight holders on the tables.  I made bunting and we strung battery powered fairy lights along it."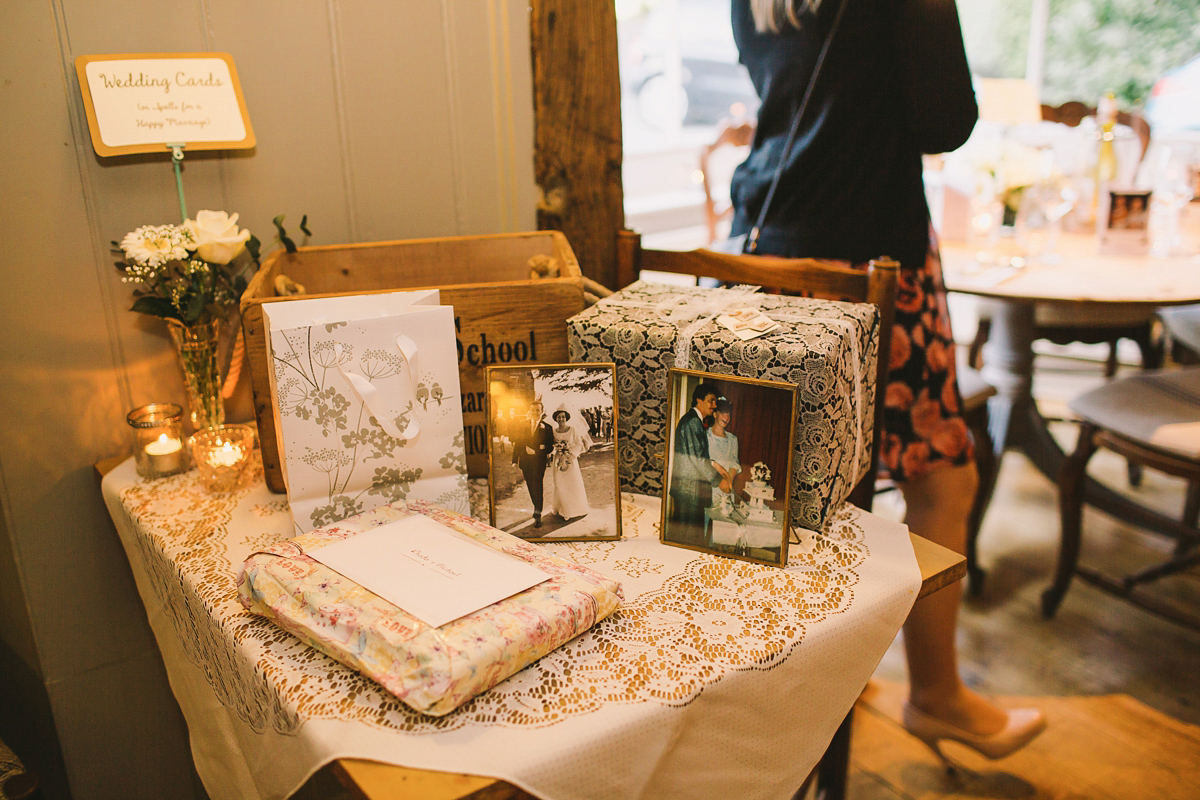 "For the name places we made individuals cards for our guests.  On the front was a photo of them with either the bride, groom or both and we wrote messages inside.  These went down so well – people loved reading them and sharing the messages.  For our table names we went with famous couples from our favourite films, t.v. programmes and books, with a quote from said film or book on the back.  We had Ron and Hermione from 'Harry Potter', George and Mary from 'It's a Wonderful Life' and even Pam and Mick from 'Gavin and Stacey'."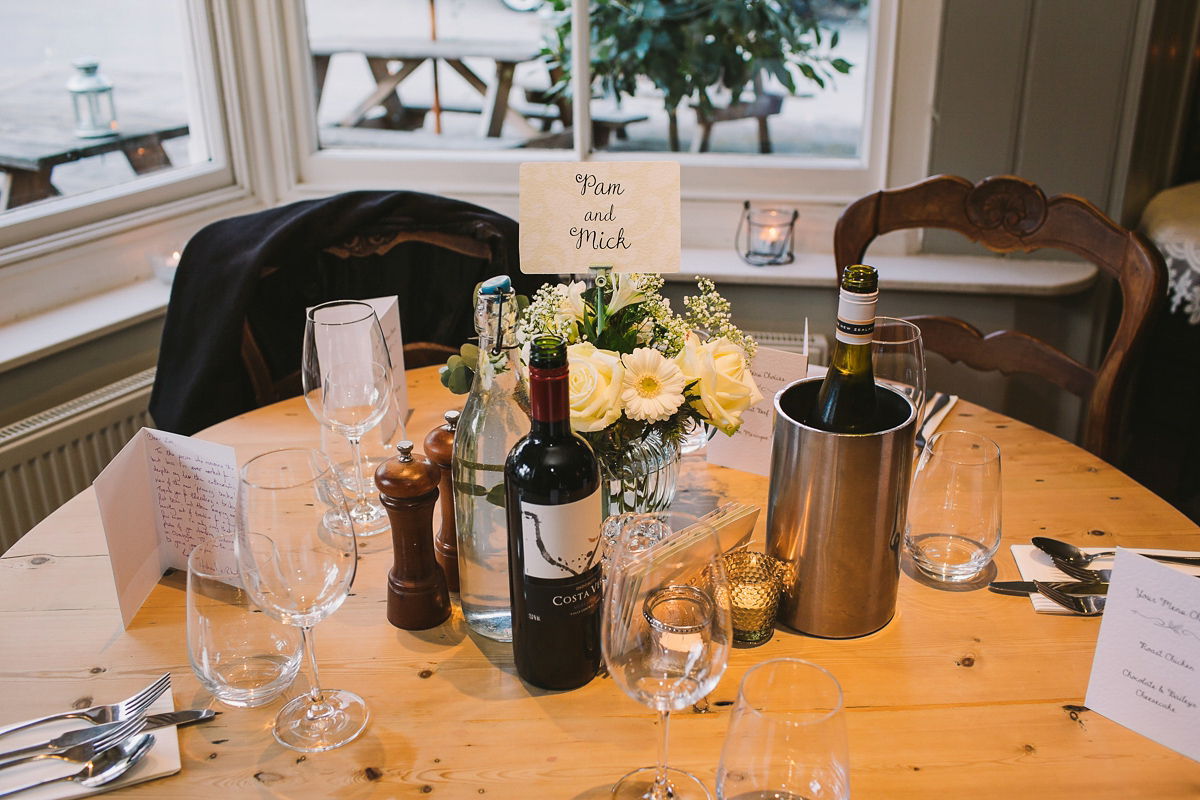 "I'm a bit of a Harry Potter fanatic so we had some little decorative touches from the book: our wedding card box was a wooden Hogwarts Potions box and the venue had a deer's head on the wall on which we put some Harry Potter style glasses and a Gryffindor scarf."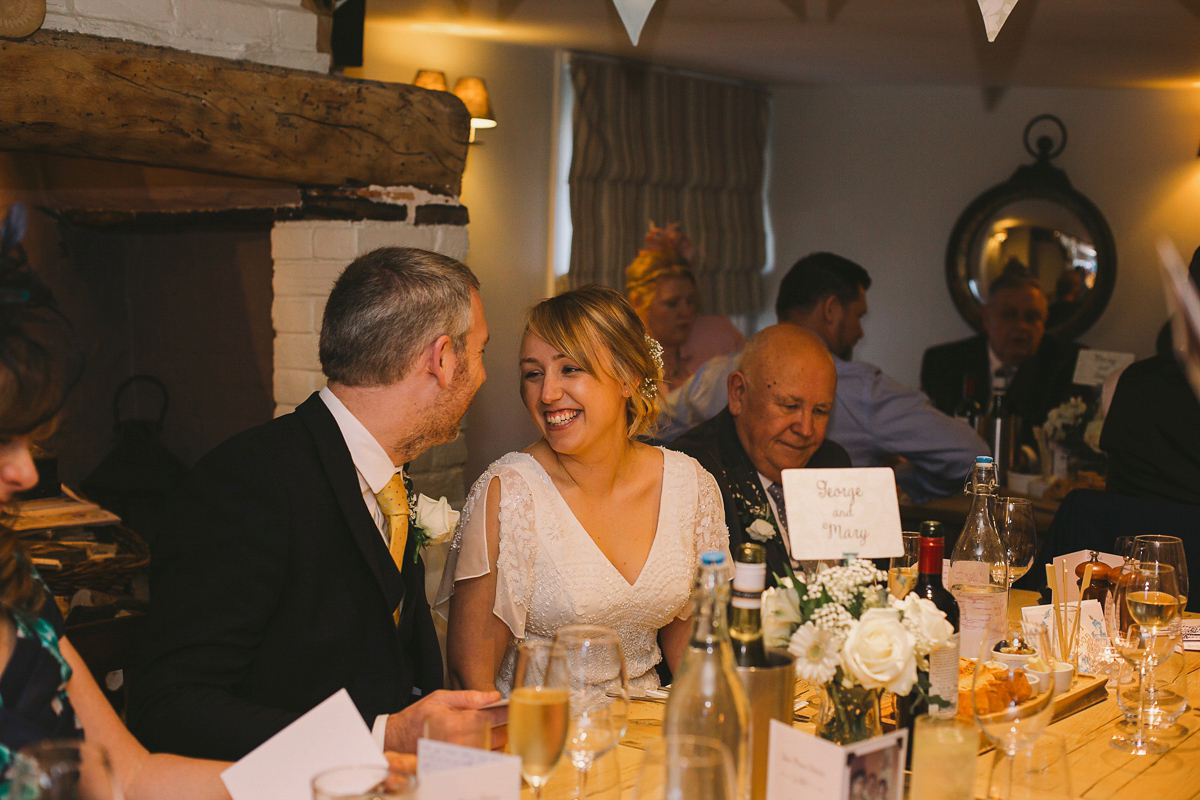 For music, Michael and Rhoda hired a jukebox from Jukebox45s and the newlyweds had their first dance to 'Love is Easy' by McFly.
"The day was wonderful and there were so many highlights – hearing our own personal vows for the first time, travelling to the reception venue with the roof down in February and waving to passers-by, sneaking out at sunset for some photographs to name but a few.  We wouldn't change anything."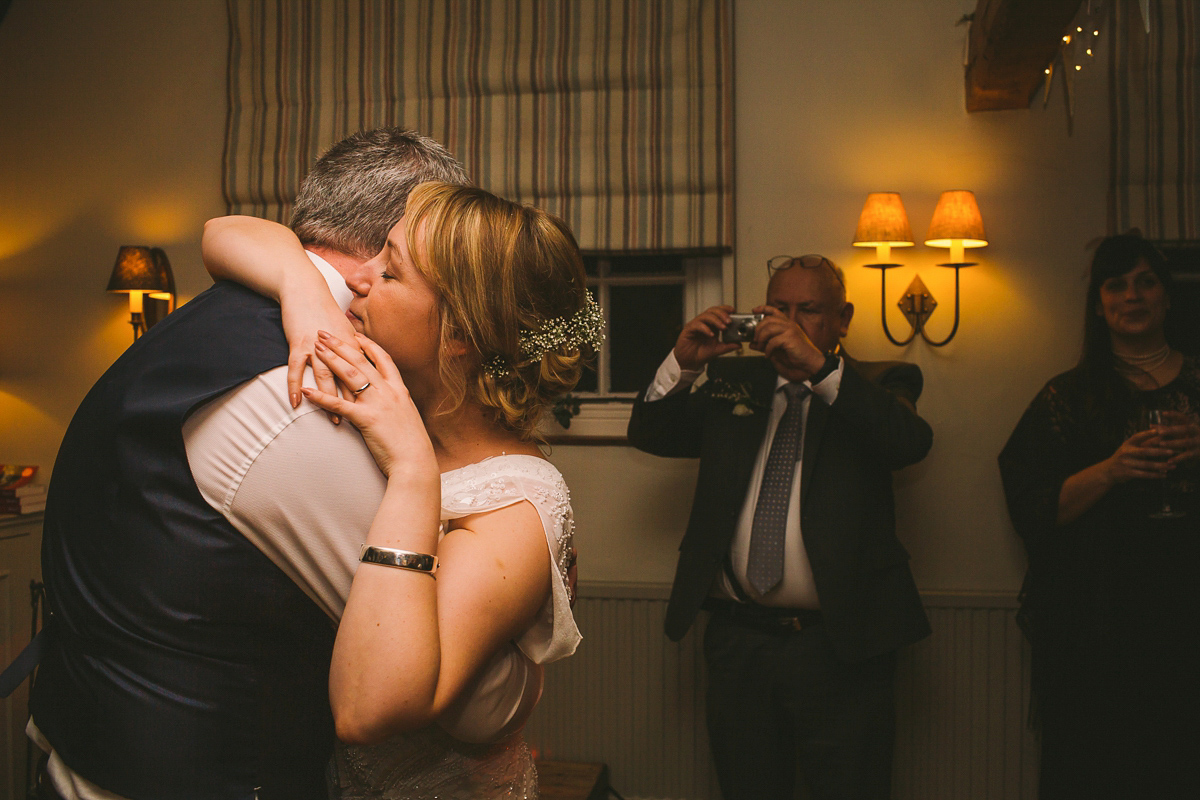 Words of Wedded Wisdom
"If you have any talented friends or family, rope them into help.  I loved discussing flowers and decorations over a glass of wine at friend's houses and visiting Michael's aunt to choose the cake.  Also, do as much or as little as you want to.  I loved making things for the wedding but I know it's not everyone's bag.  Things can easily stop being fun when they stop being manageable."
Wise words.  So many thanks to Rhoda, Michael and Olivia Judah Photography for allowing us a little peek into this beautiful wedding day.  Are any of you wearing or considering an Eliza Jane Howell dress?  Take a peek at these beauties for some further inspiration or to completely convince you of your choice.
Much love,
S x