Once upon a time I was an art history student and I remember studying the painting this day was inspired by- what a fabulous idea for a wedding.  Not only that, but the bride wears the most beautiful Halfpenny London gown, almost everything is homemade and the whole day takes place in the garden of the Groom's family home – just lovely.  Meet Eleanor, a full time mum, and Angus, a bid manager, who married on the 3rd of September 2016 in Wilstone, Tring in Angus' grandparent's garden.
Eleanor looked beautiful in the gorgeous 'Esme' by our Little Book for Brides Members, Halfpenny London, purchased from the Halfpenny London store.  With the petal effect of the skirt and bodice, it really is the perfect garden wedding gown.
"I chose the beautiful Halfpenny London Esme dress, which is made from floral embroidered organza.  The fit of the dress hid my post-baby bump and reflected the aesthetic of our venue.  It felt very fun to wear while being luxurious."
Photography by James Allan
"We saw the 'Painting the Modern Garden' exhibition at the Royal Academy and fell in love with the dreamy atmosphere the impressionists created.  I have always loved John Singer Sargent's painting 'Carnation, Lily, Lily, Rose' which became the main inspiration for our day. The garden was a blank canvas which gave us complete creative control over the set up. We hired a marquee from County Marquees."
Not only did Angus and Eleanor marry in a garden, they actually got engaged in one too.  The circumstances of their engagement story did make me giggle a little though.
"We met through a mutual friend who sneakily and cleverly engineered us meeting, through a shared love of painting.  We got engaged in the garden of Great Dixter in Kent (after changing our son's nappy!)."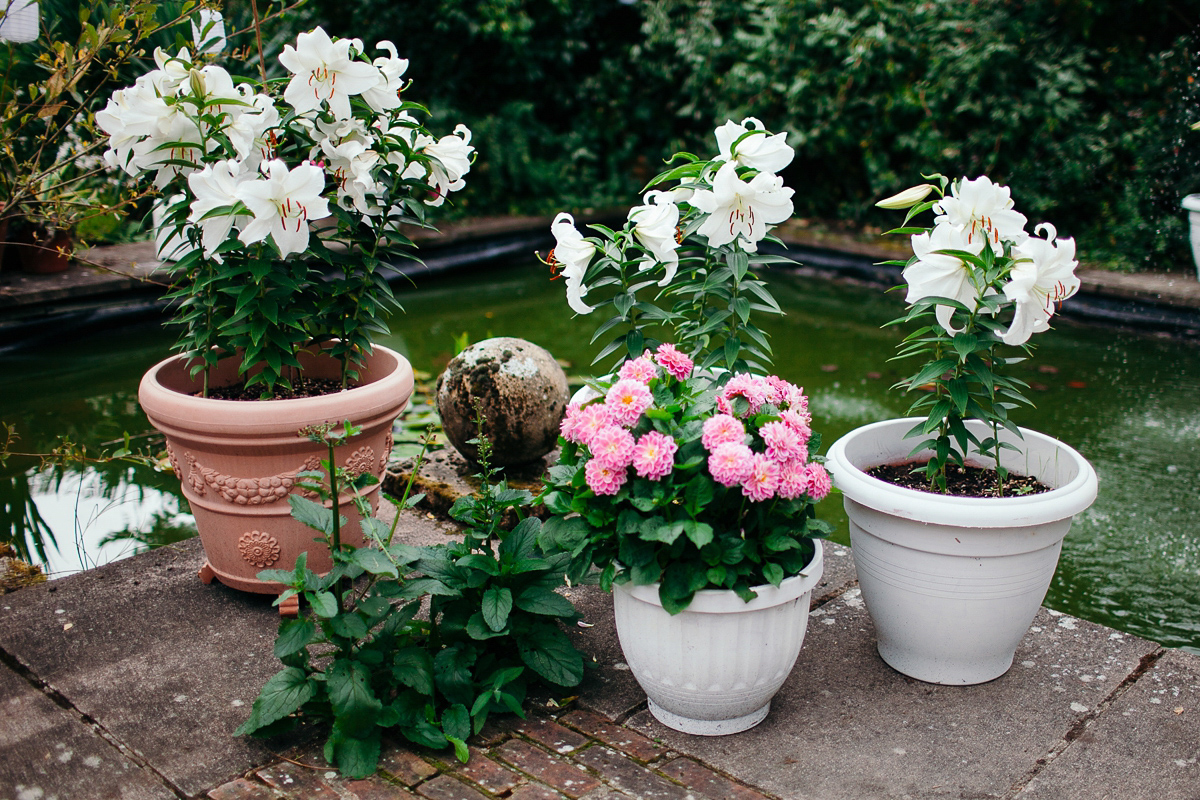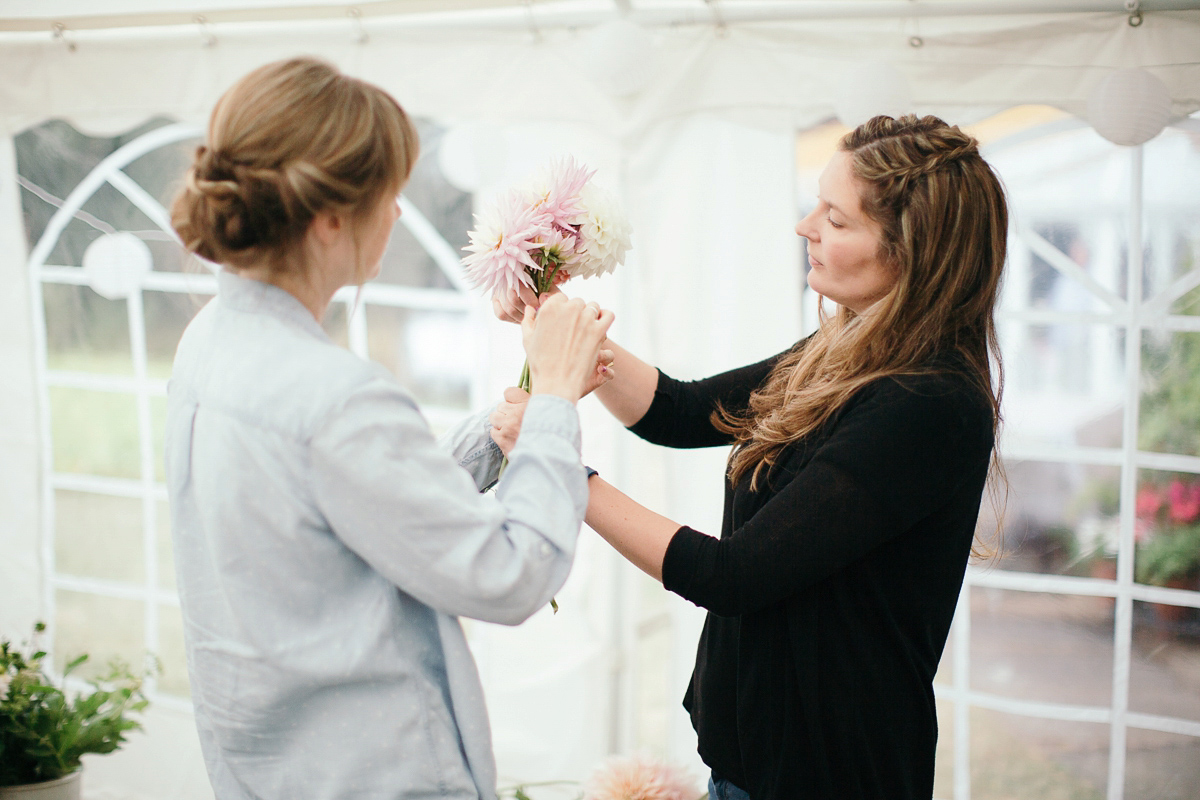 Eleanor did her own make up and had her hair done locally on the morning of the wedding.
The bridesmaids looked lovely in silvery grey crinkled dresses from Selected, worn with their own shoes.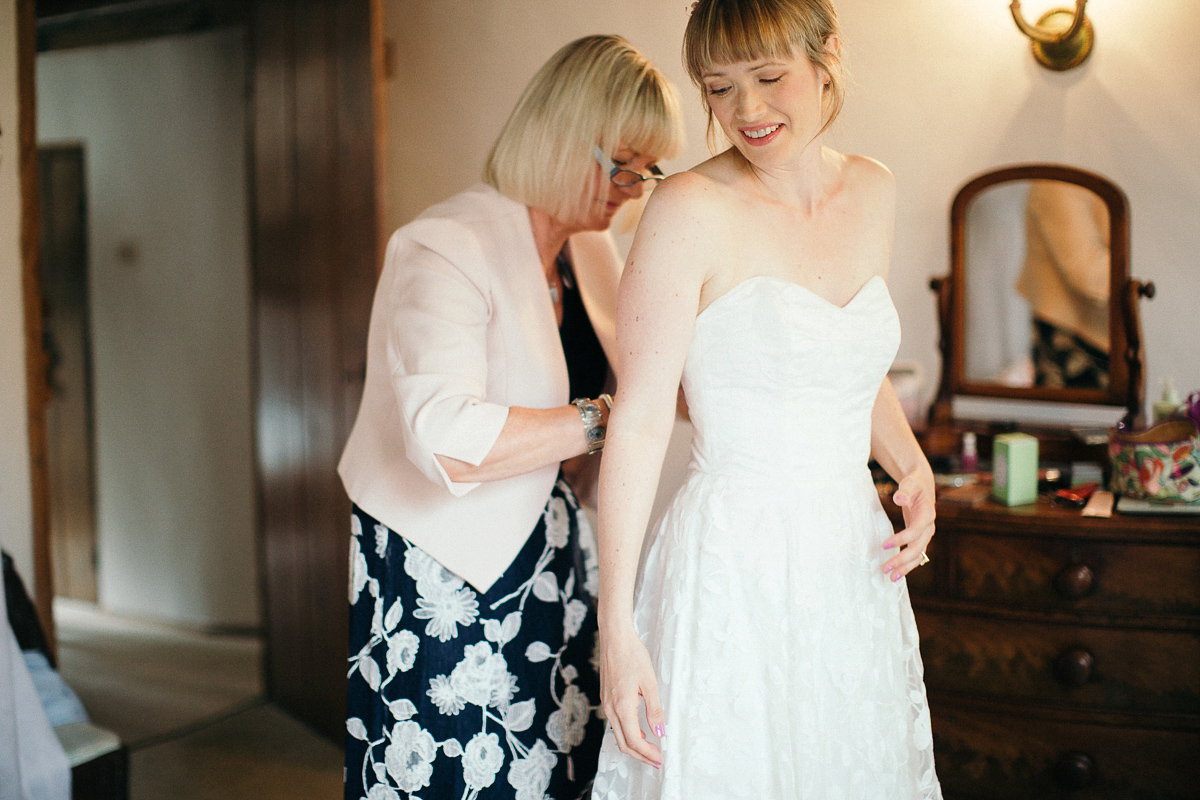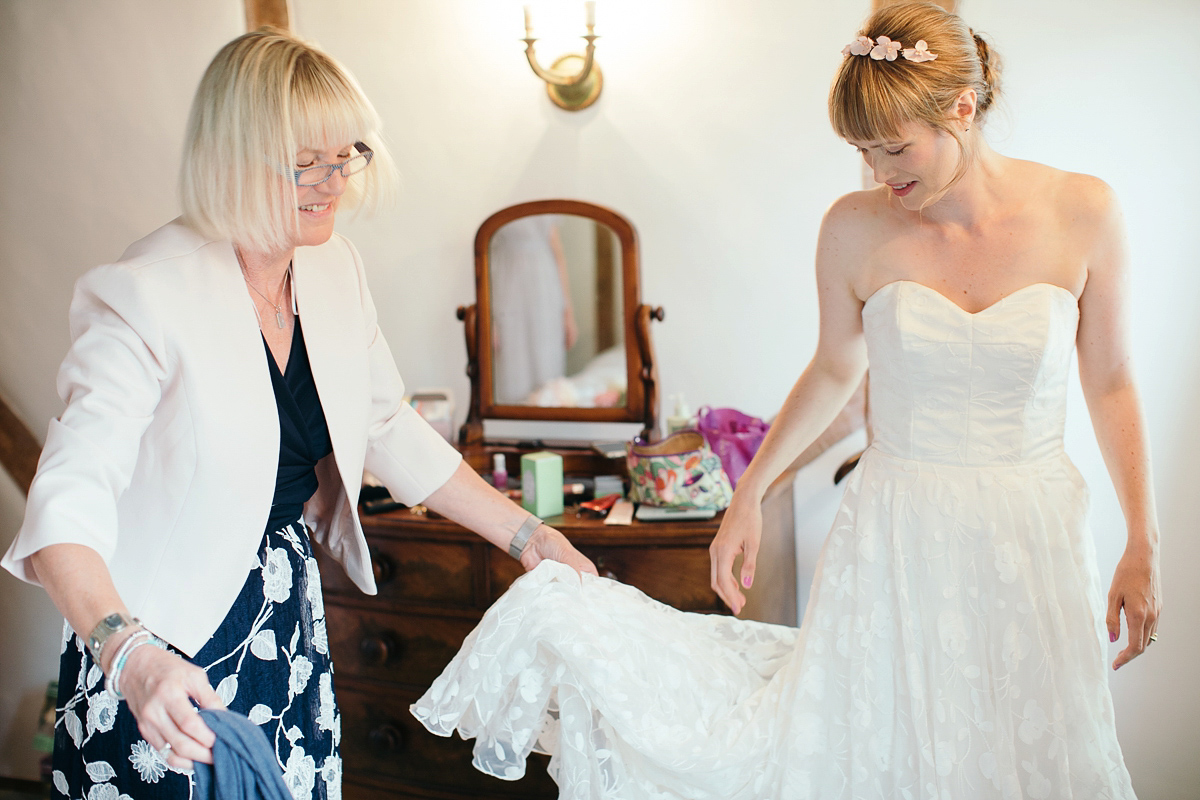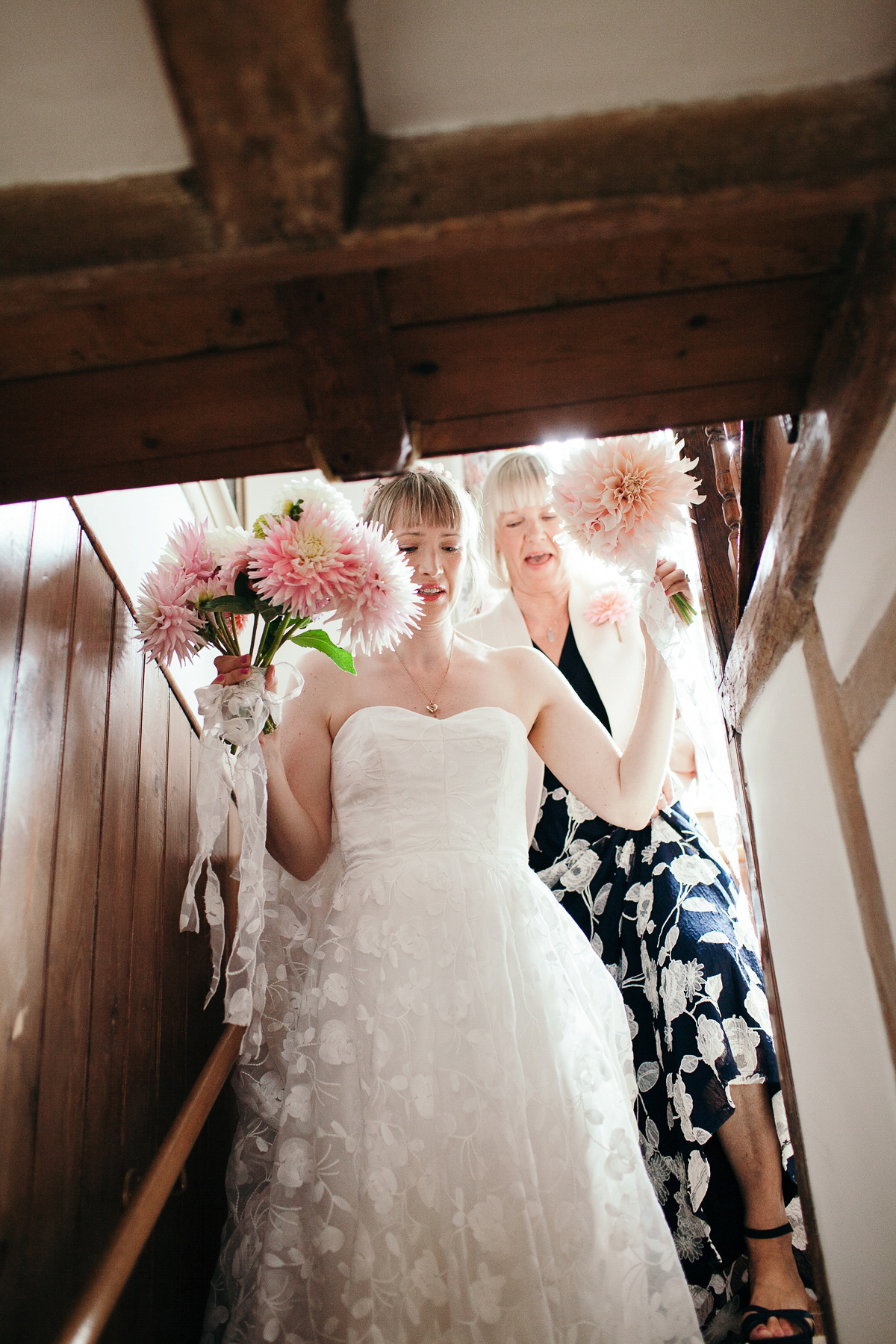 On her feet Eleanor wore a pair of pink suede shoes from Dune and in her hair, a simple but lovely floral hairband in pale pink from H&M.  For jewellery, she chose a gold heart-shaped locket with a blue sapphire and diamond, borrowed from her mother.  This helpfully doubled (tripled?) up as her something old, borrowed and blue.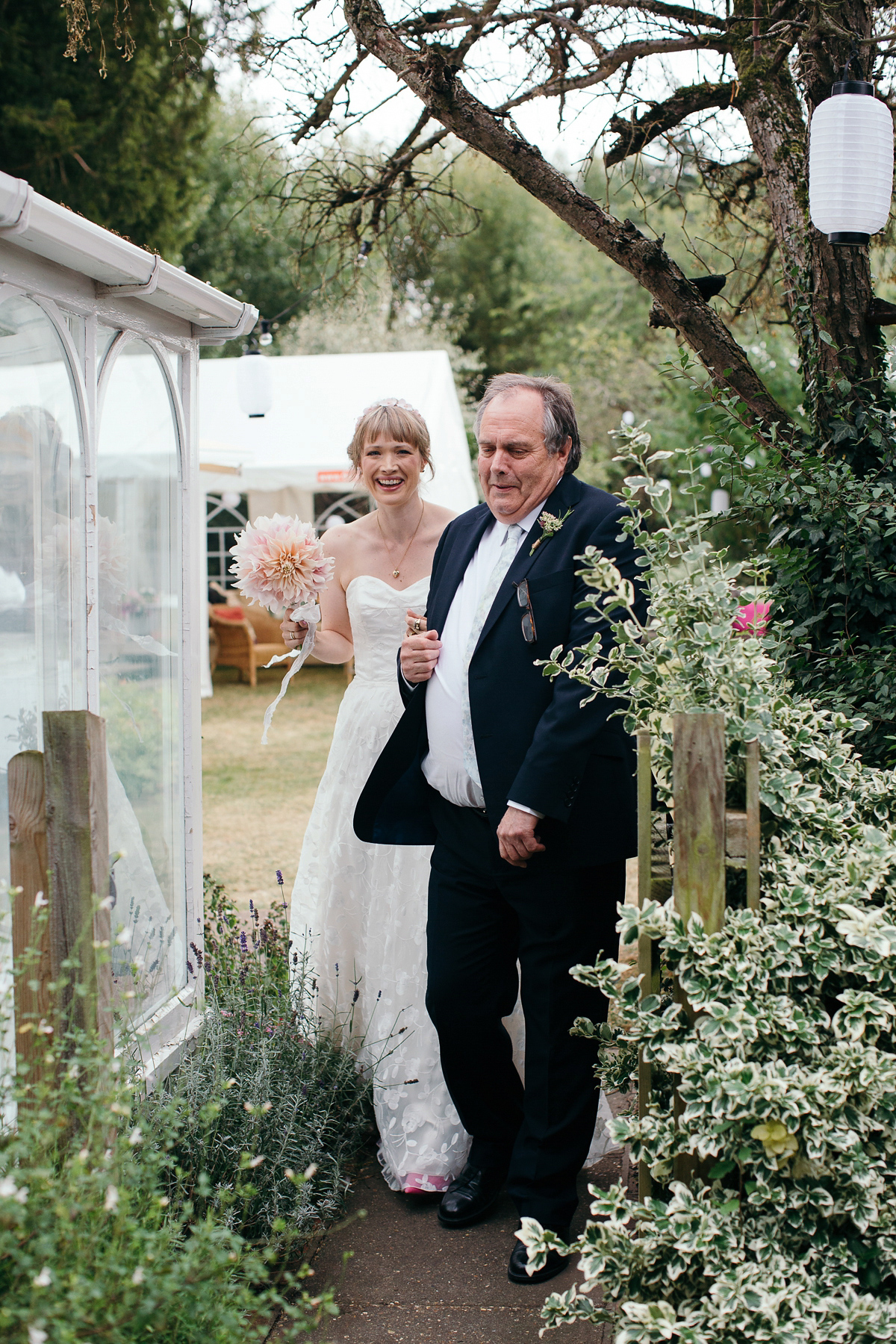 Eleanor walked down the aisle with her Father, bridesmaids and son to 'Squeeze Bees' by Ivor Cutler.
The couple wrote their own vows and didn't share them with one another until the ceremony itself.  If you're feeling brave I highly recommend this- its so lovely to get a surprise in the ceremony.  As well as sharing vows, the couple also exchanged rings by jeweller Noemi Klein.
"Angus had my engagement ring made by Noemi.  It's a branch with three diamonds and is an unconventional shape so we went back to Noemi for our wedding bands.  Noemi came up with a bark design and my wedding band fits together with the engagement ring."
For readings, Angus and Eleanor chose 'A declaration of need' by John Hegley and also asked guests to sing 'I'll never find another you' by The Seekers.
The handsome groom sported a tailor-made suit from David Green Tailoring, worn with a silk tie and buttonhole made and decorated by Eleanor herself.  Angus' groomsmen looked equally smart in their own suits, with matching ties, also made by the talented bride.
"We exited the ceremony as husband and wife to 'Number 1' by Goldfrapp."
The tables in the marquee were dressed with white linen and an abundance of pink florals, as well as silver candlesticks, creating a wonderfully clean and crisp look.  For favours, Eleanor made chocolate mendiants which they decorated with rose petals and pistachios- so pretty.
Angus and Eleanor's mums made themselves very useful, with Angus' mother helping the couple grow all the flowers for the day and Eleanor's mum making and decorating the beautiful four tier cake in varying shades of pink.
For outside décor, Eleanor made metres and metres of bunting from greaseproof paper which glowed in the evening light and had the added bonus of being waterproof.  I love this idea and it looks so beautiful in those stunning photographs of she and Angus in the lantern-lit garden.
"We collected green glass jars for our table decorations and hung as many lanterns and lights in the garden as possible!  The real decorations were the flowers we grew in the garden" (and they really are gorgeous, don't you agree?).
The eye behind today's lens is photographer James Allan.
"James put us totally at ease during the run up to and on our wedding day.  We love his photography and we loved the moments we spent away from the party having a few quiet photos taken too."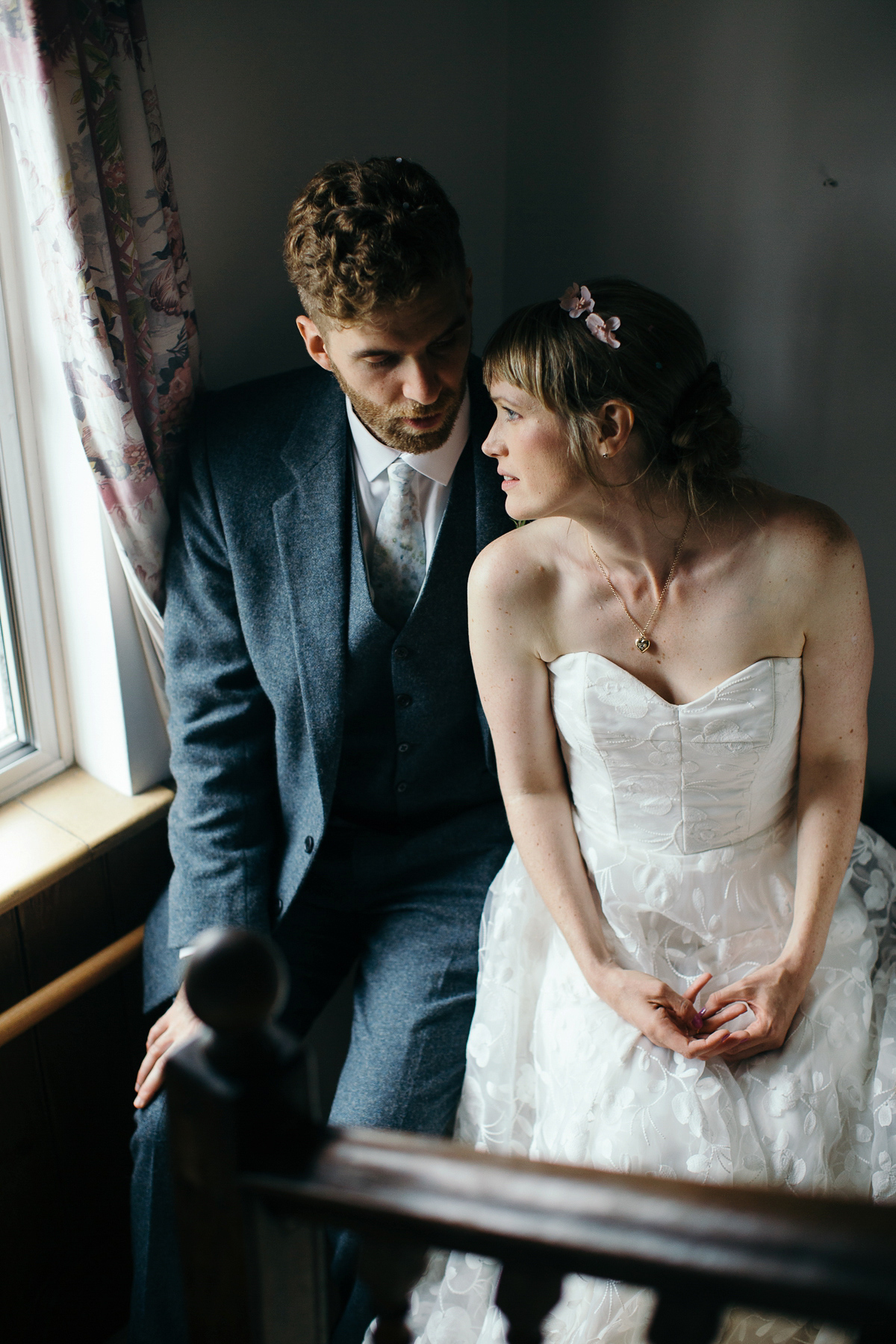 Musical entertainment came in the form of the 'Funkheads' band, hired from a local school (no details) and Eleanor and Angus shared their first dance as a married couple to 'Are you ready for love' by Elton John.
"It's a perfect disco track with a message of love, happiness and optimism."
"My favourite part of the day was sharing our vows in front of our friends and family and walking into the marquee as husband and wife to wild cheering from our guests."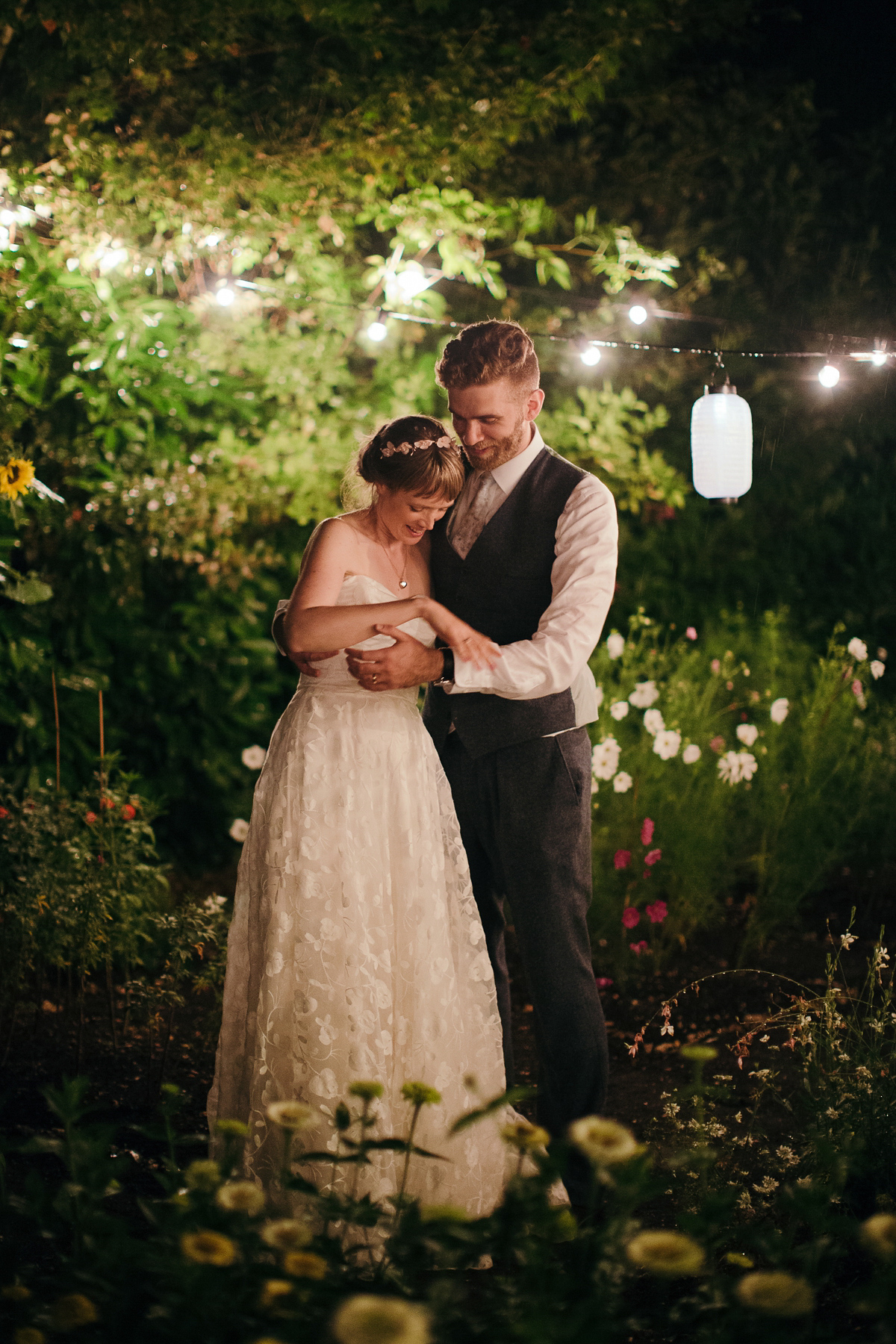 So many thanks and congratulations to Eleanor and Angus and huge thanks to James Allan for sharing his work with us today.  Are you tempted by a Halfpenny London gown?  Have a look here for some more lovely brides wearing this gorgeous bridalwear brand.  (In fact, here is another Love My Dress bride also wearing 'Esme'– both ladies look wonderful but completely different, so if you were ever concerned about making a dress 'yours' then don't be- you'll wear it your way and it'll look fantastic).
Much love,
S x