Hi there. I hope you managed to get some downtime over the bank holiday weekend. It was a bittersweet weekend for my family as we bid farewell to my brother and his girlfriend who are off travelling in Asia before going to live in Australia. It has now dawned on me how much I'll miss them while they're away.
Now to the job in hand, Robyn and Tom tied the knot on the 27th of August 2016 at the stunning Bignor Park in West Sussex. I was utterly delighted to see, firstly, that Robyn was rocking a gorgeous Halfpenny London dress and secondly, that Laura Babb was the photographer. Both are valued members of our Little Book For Brides directory and bring an extra something special to each wedding they are featured in.
"We fell in love with Bignor Park and then everything else had to fit in. It's a beautiful but relaxed place and that was just how we wanted our day to be."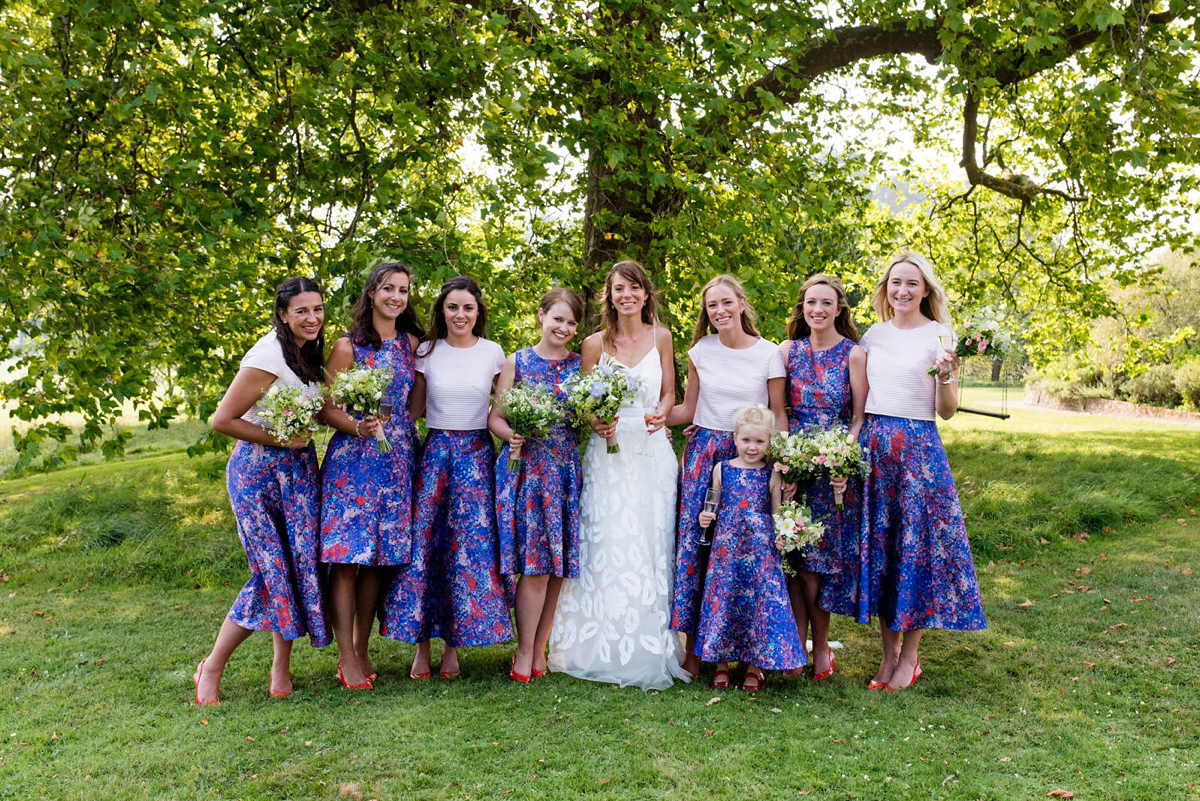 The couple chose Little Book For Brides member Laura Babb to photograph their wedding. She is wonderful at what she does, with a great eye for the perfect shot, the spontaneous sunset shots of Robyn and Tom are a testament to that.
"We absolutely adore our wedding photos and couldn't have dreamed of better results. Laura and Pete were so easy to work with and we loved their informal and relaxed approach. We spent too long chatting at our reception drinks and didn't have time for the couples portraits before dinner. Laura grabbed us after the food however and we quite literally chased the sunset into the fields behind the house. The spontaneous photos are just stunning."
Robyn looked beautiful in her bridal skirt and top – a combination of designs created by our Little Book For Brides Member Halfpenny London – who we also featured on the blog this morning! We simply adore everything by Halfpenny London and love the simplicity of Robyn's silky spaghetti strap top, paired with her textured tulle dress. So very feminine and elegant.  To complete her look, Robyn added a veil for the ceremony and wore a gorgeous pair of two-tone LK Bennett shoes.
"My Halfpenny London top and skirt was such a simple, but impactful outfit, which felt both contemporary and traditional at the same time. This definitely resonated with me as it mirrored the feel of the type of day we both wanted."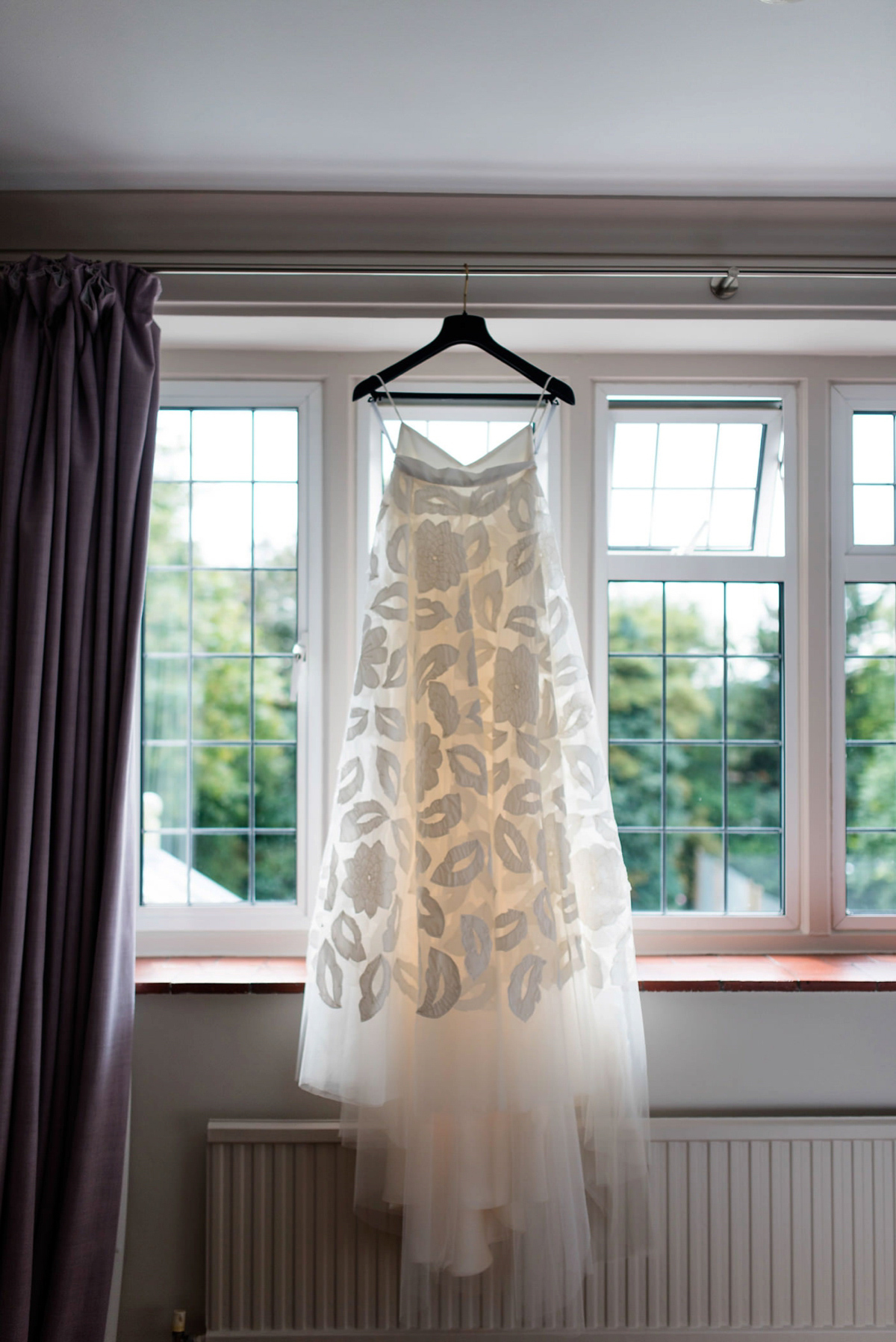 "Tom's dad is an illustrator and did all our beautiful stationery for the day as well as creating our own personalised logo."
The bride travelled to the ceremony with her bridesmaids in a fabulous orange Bedford.
Tom wore a bespoke three piece from Timothy Everest with a Turnbull & Asser tie. His groomsmen all wore their own suits with Liberty print ties and Happy Socks.
Robyn's bridesmaids wore a gorgeous mix of LK Bennett skirts and dresses with Ted Baker tops. Her five year old cousin also wore a dress in the same print, adapted to fit from an adult dress. The ladies wore LK Bennett shoes and were given a pink clutch, with a vintage pocket mirror inside, by the bride.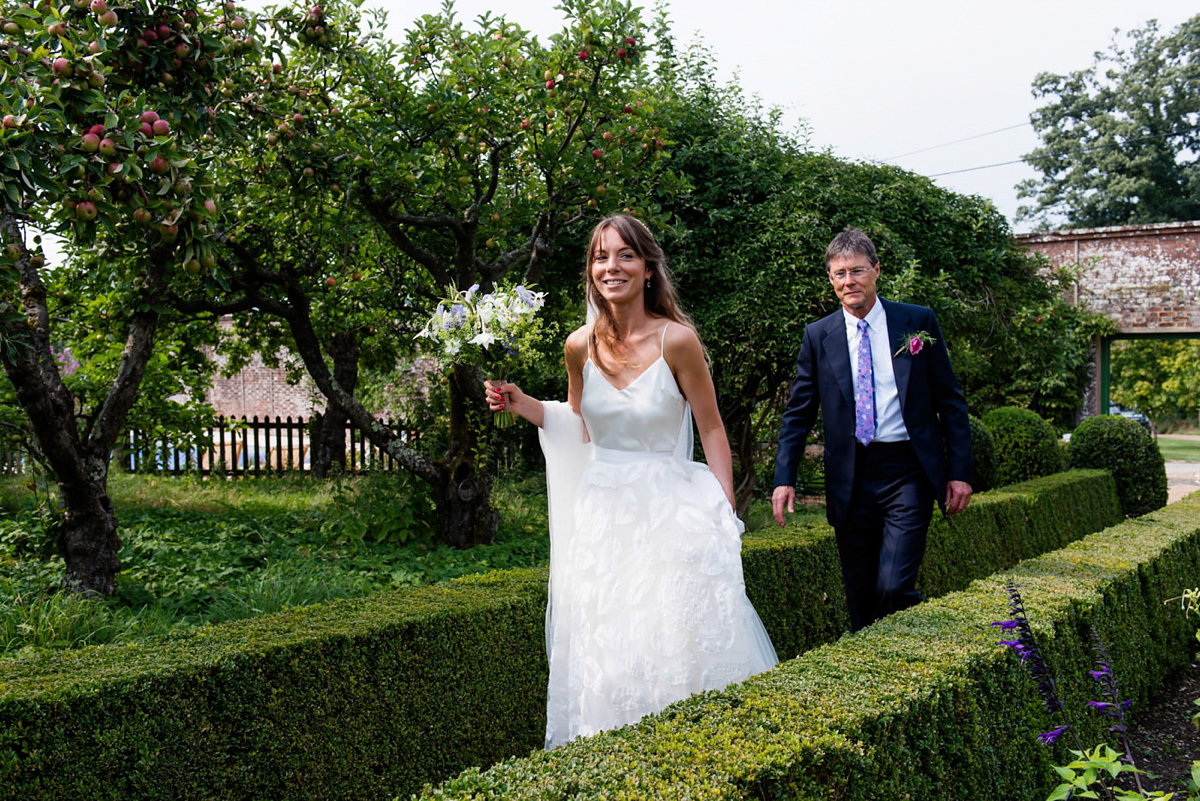 "Tom and I went to school in the same town and had friends in common, but we had never met before one fateful Friday night out in July 2011. It wasn't the most romantic start. Tom doesn't recall meeting me that night and didn't know my name when he text to ask me out on our first date the following Tuesday. It was all uphill from there however and Tom proposed last May on a trip to the Northumberland coastline, a part of the world that means a lot to both me and my family."
"Two of Tom's best friends read 'Marriage Morning' by Lord Tennyson and an extract from 'Les Miserables' by Victor Hugo (below) and I asked my sister to read 'Oh, the Places You'll Go' by Dr Seuss. 
We picked 'Marriage Morning' as a beautiful, traditional and very English piece. The 'Les Mis' reading resonated with both of us. We're not very soppy or good with grand statements about love, but we agreed with every word of this piece. The last piece I totally adored. I asked my sister to read it (Drama students in the family come in useful) and she did a great job. It's upbeat, fun and actually quite apt for us when you take in all the words. Romy replaced 'Buxbaum' with my new surname in the last verse which was very cute. It ended the ceremony on a happy and excited, go getting note and set the tone nicely for the reception drinks."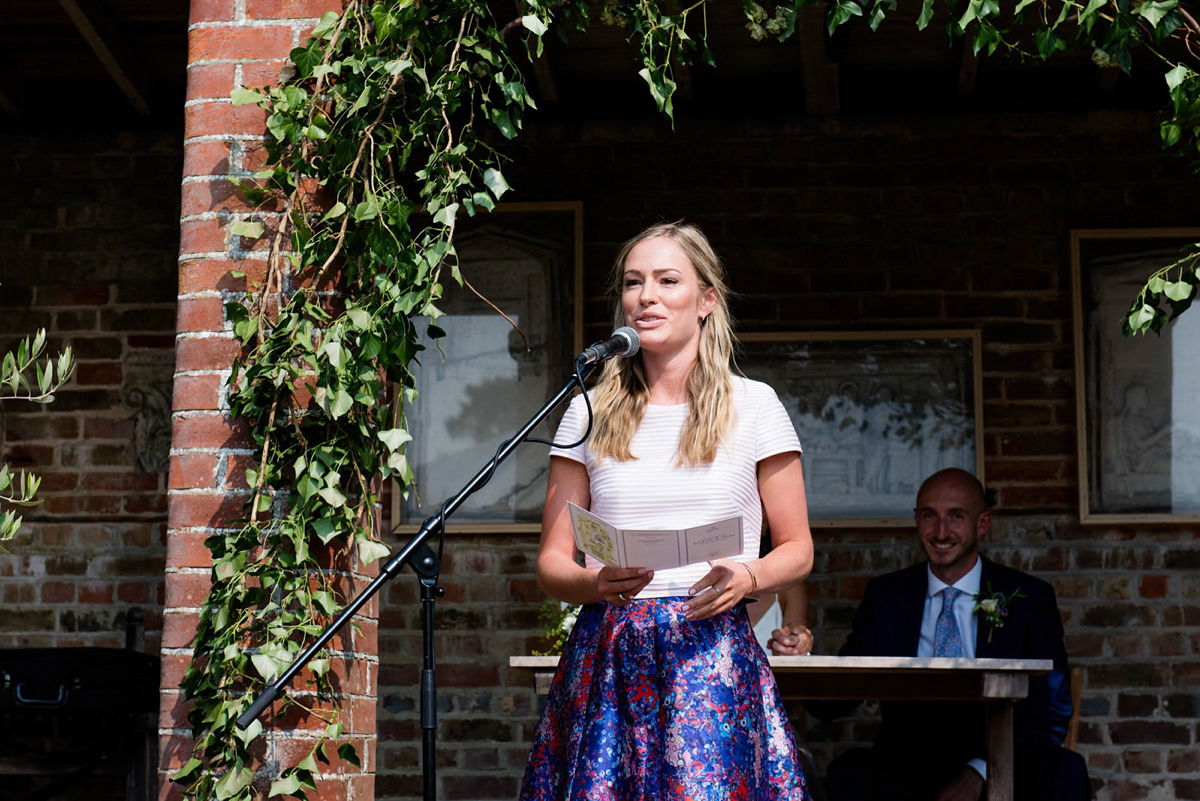 "As a non religious ceremony we weren't expecting it to carry such weight, however we were both very moved by it. The registrars did a great job at making it feel personal despite never having met us. It was very touching to see all our friends and family gathered to see us married. We couldn't have asked for more gorgeous surroundings either. We had such a fabulous day it would be wrong to wish for anything to be changed."
"We had a jazz quartet play at the drinks reception and then The Ronnie Scott's Rejects, a 7 piece band played the evening. I wanted absolutely everyone on the dance floor and Niall and the band were perfect for that."
The couple hired a beautiful pole tent, a bell tent, sofas and coffee tables and lots of bunting and festival flags from The Event Flag Hire Company. The effect is absolutely gorgeous and fits perfectly with the laid back feel of the day. Robyn's mum Ginny, who has a great eye for design, did all of the styling.
"Our caterer Naked Food Company made our lemon, carrot and chocolate layered cake. Carole Lindsay is a rock star and an absolute pleasure to work with (as were her team). She's full of energy and new ideas. I couldn't recommend her more highly."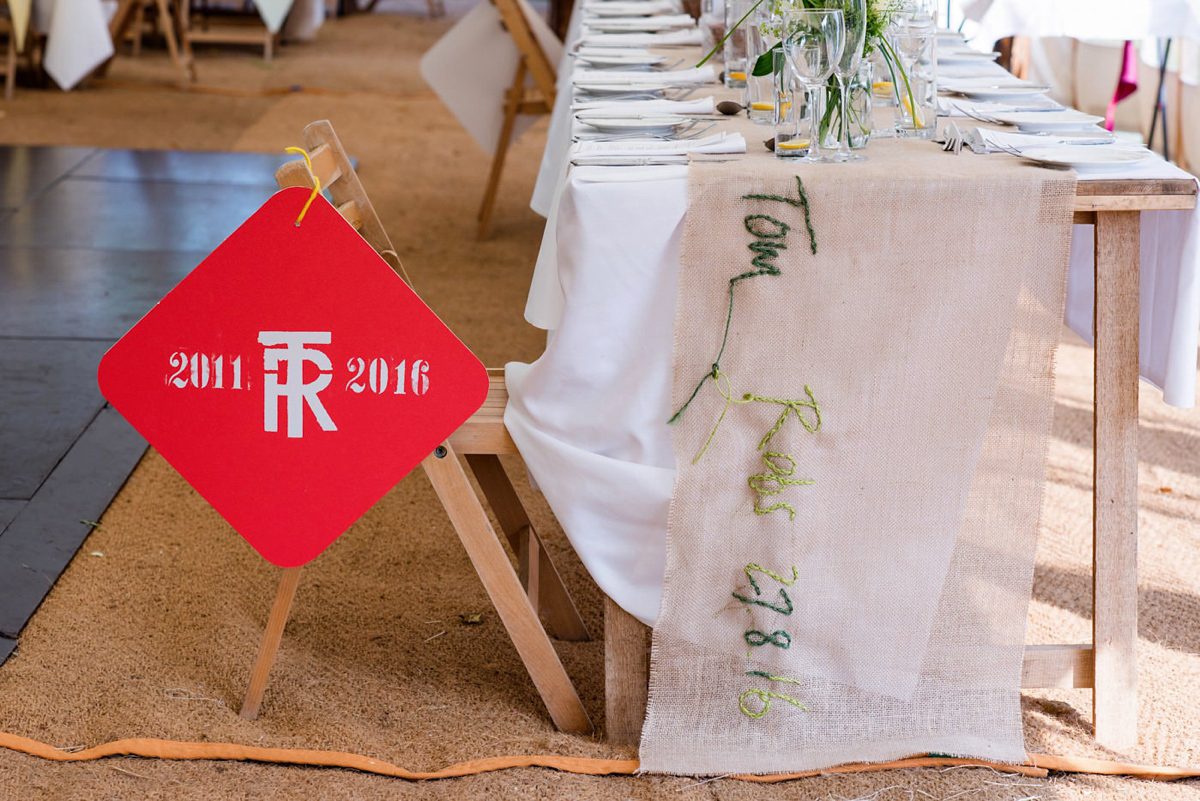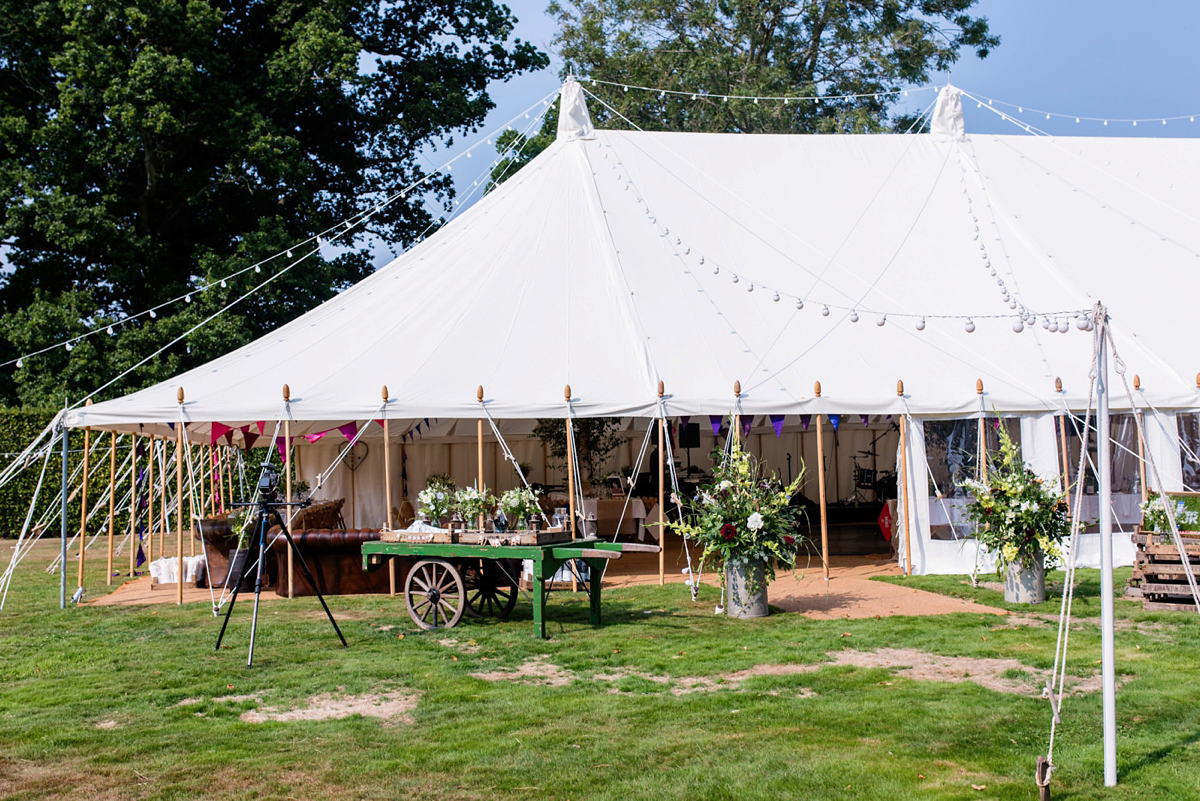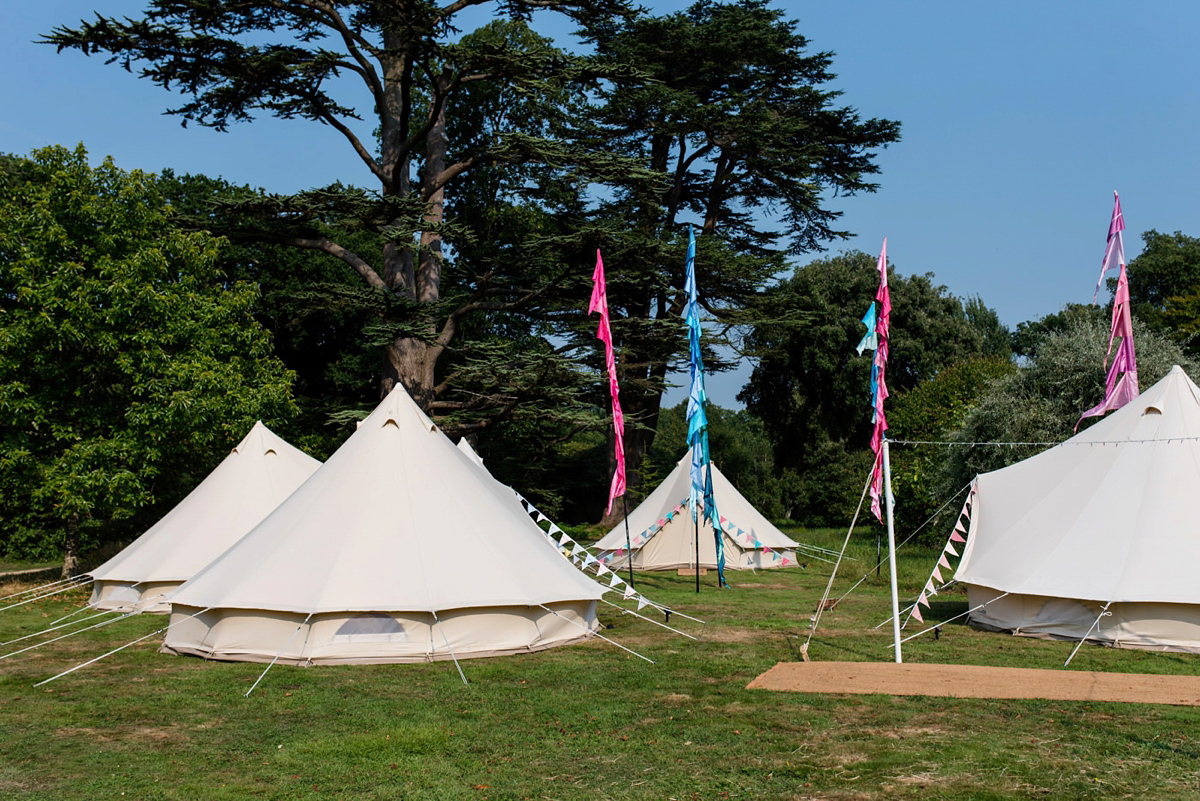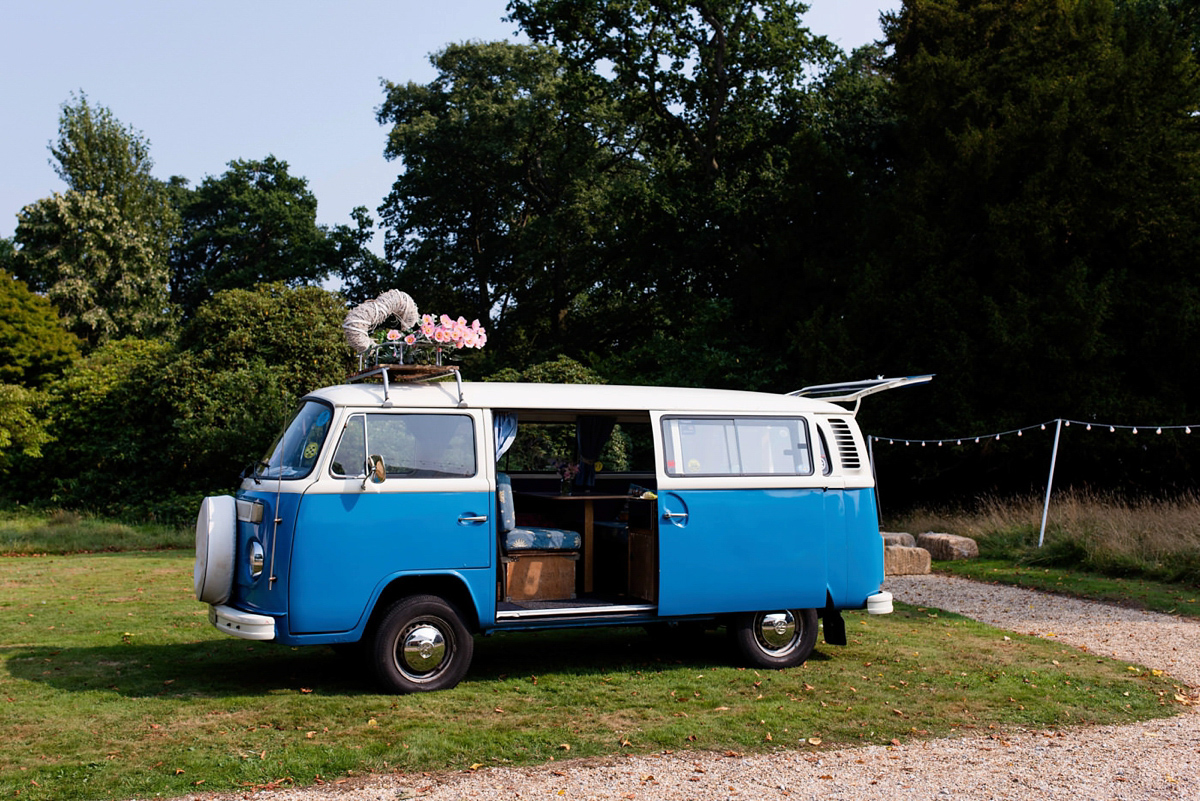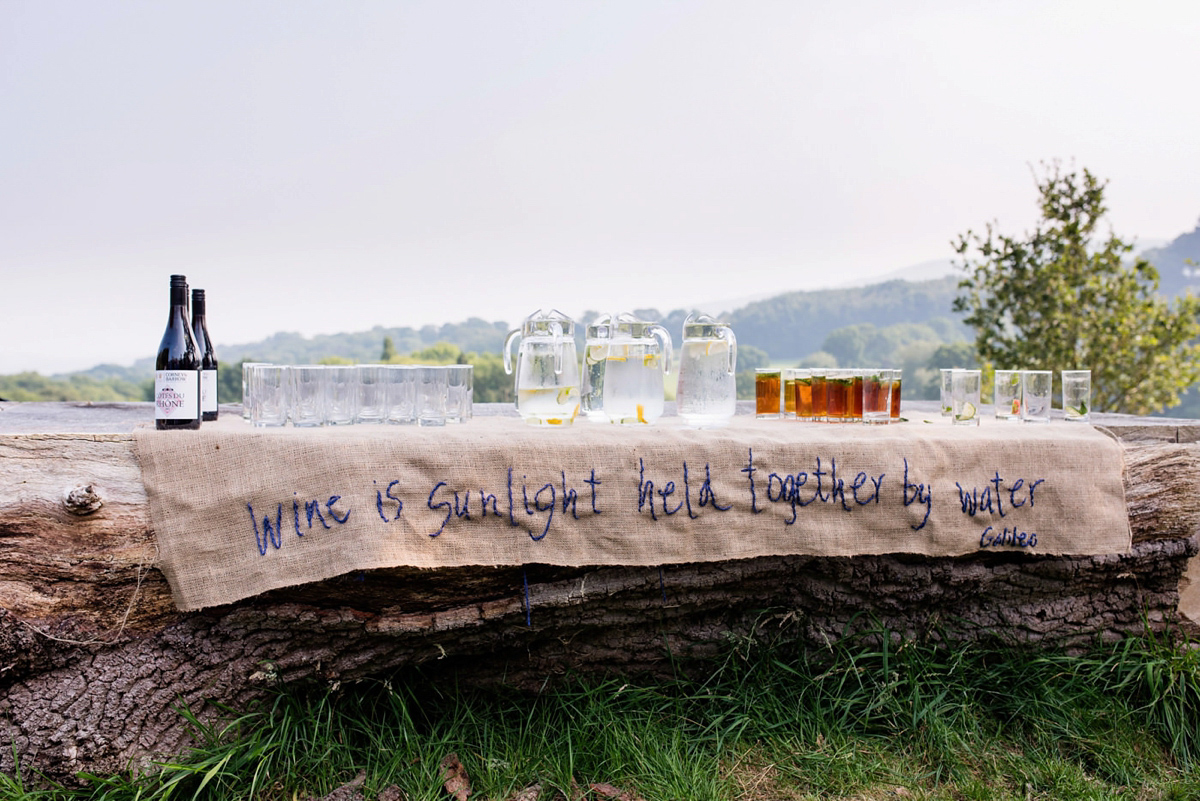 I adore the wild, meadow-like feel to the flowers. Beth and Wade Houlden of Fittleworth Flowers have a garden at Bignor Park from which they supply a couple of weddings a year.
"I loved the idea of having locally grown flowers and Beth and Wade completely surpassed all expectations. They are hugely talented as well as the most lovely people to work with. They lent us their VW camper (named Della) and did everything they could to make our day as easy, happy and beautiful as possible."
"Beth immediately understood what I wanted. After I met her for the first time she came to find me at the house afterwards and handed me a beautiful bouquet she'd just picked from the garden. Wade was the man responsible for making the poles of our pole tent into trees with birds (robins!) flying from them. He didn't even blink when we asked if it was possible."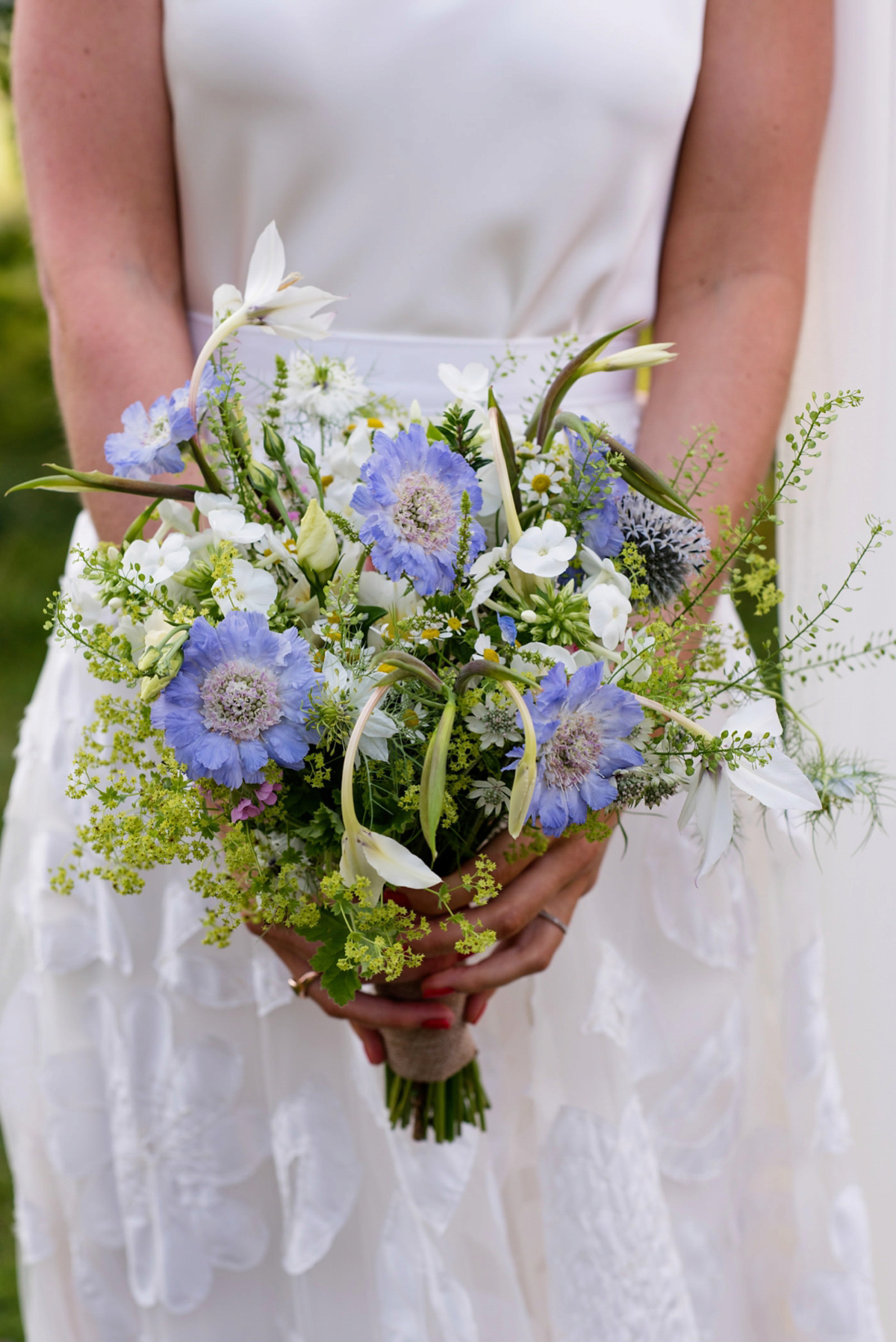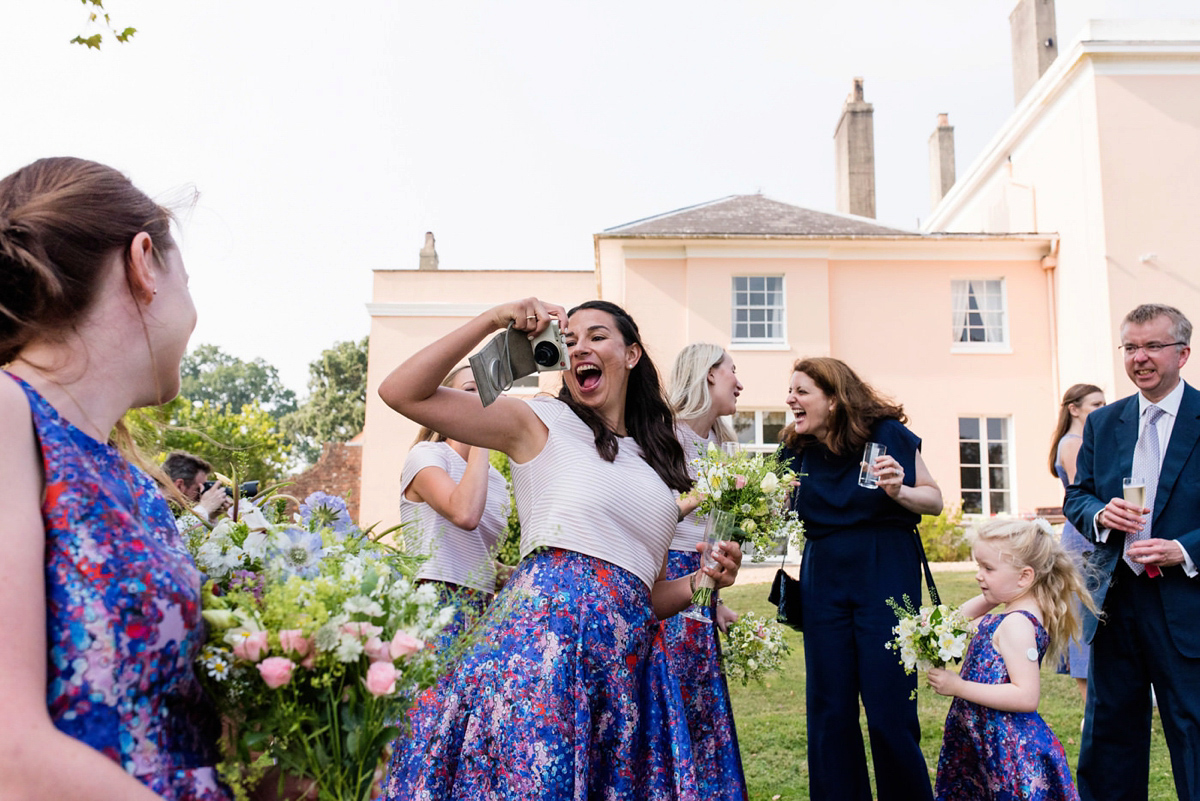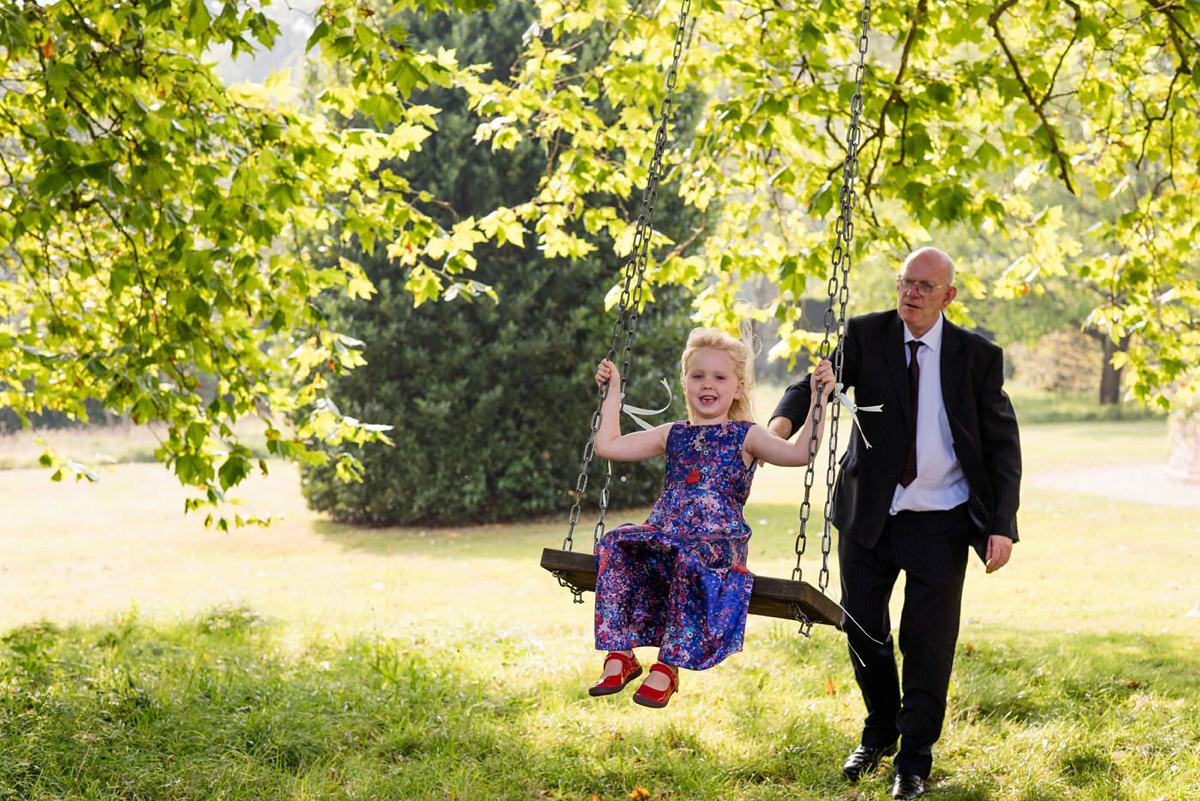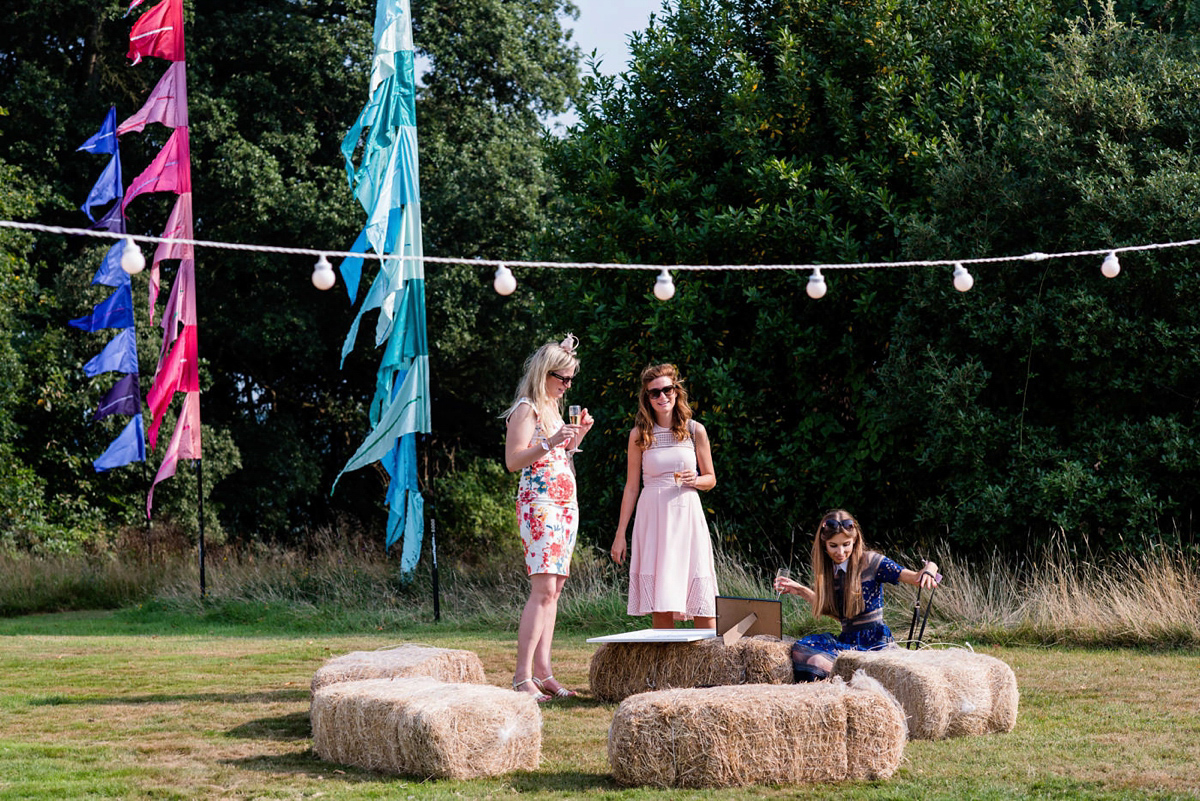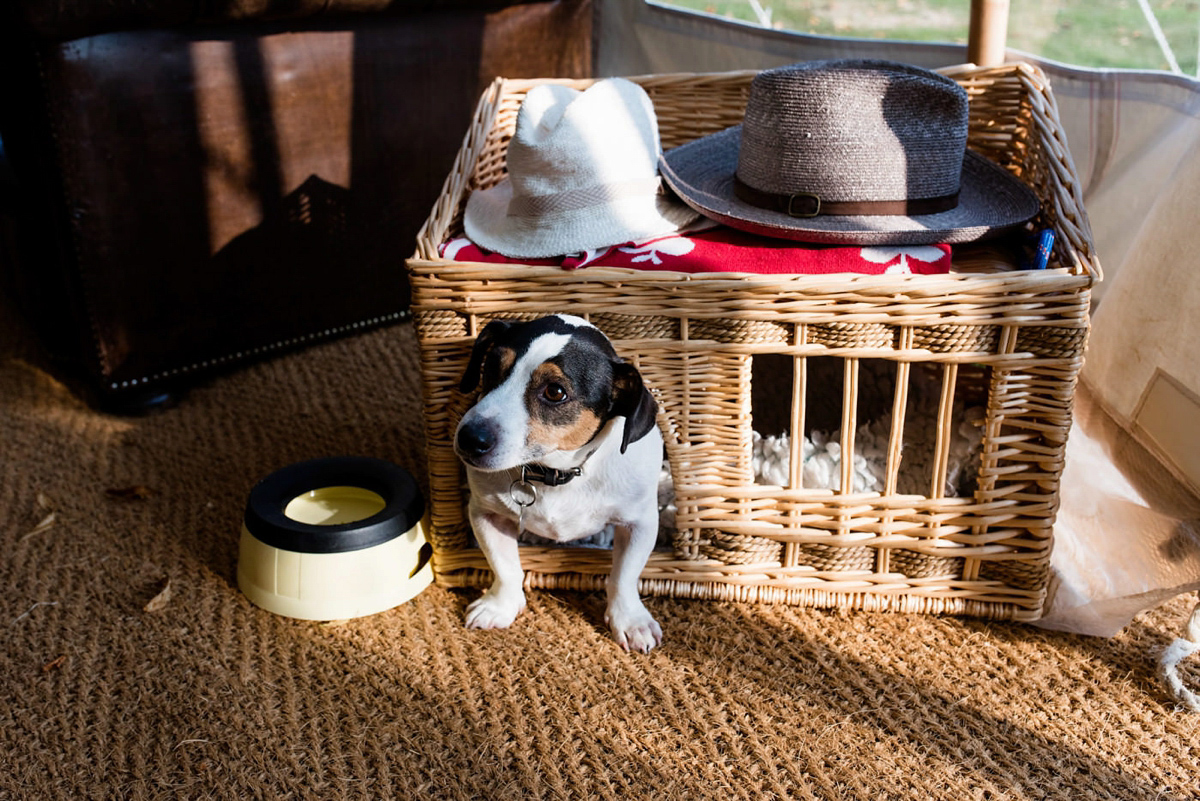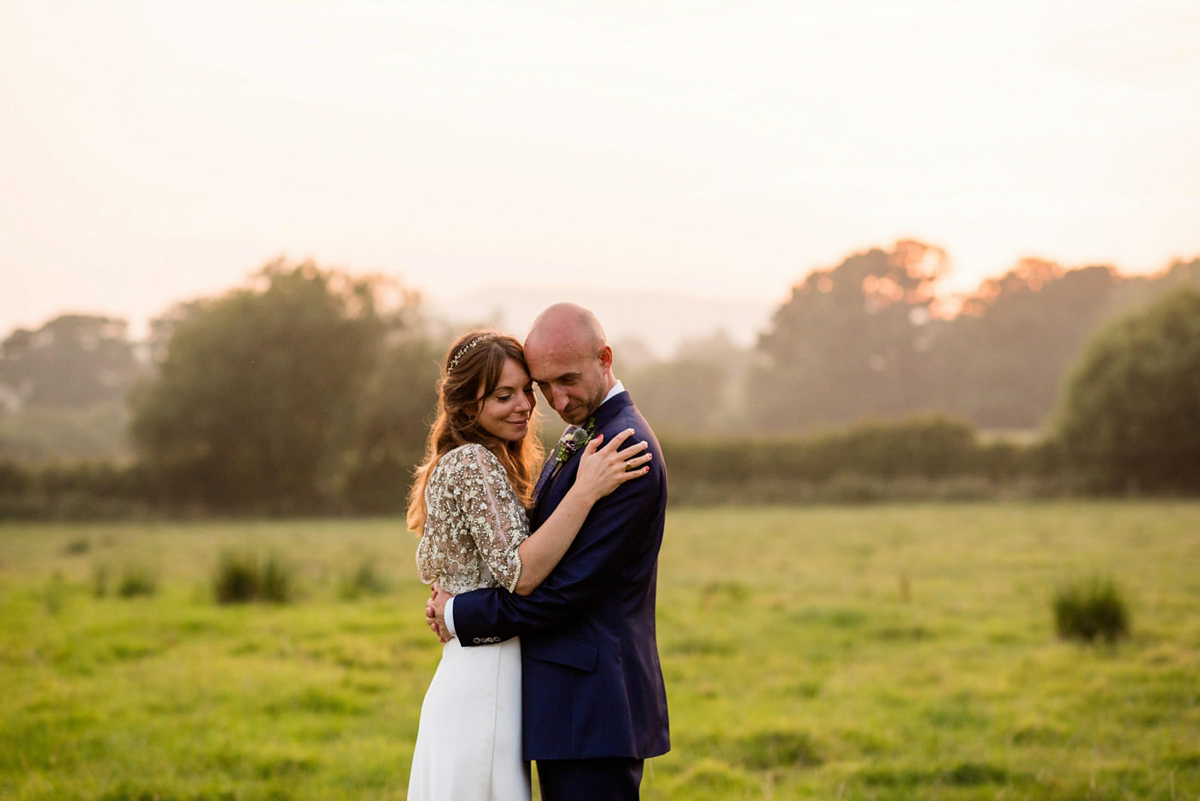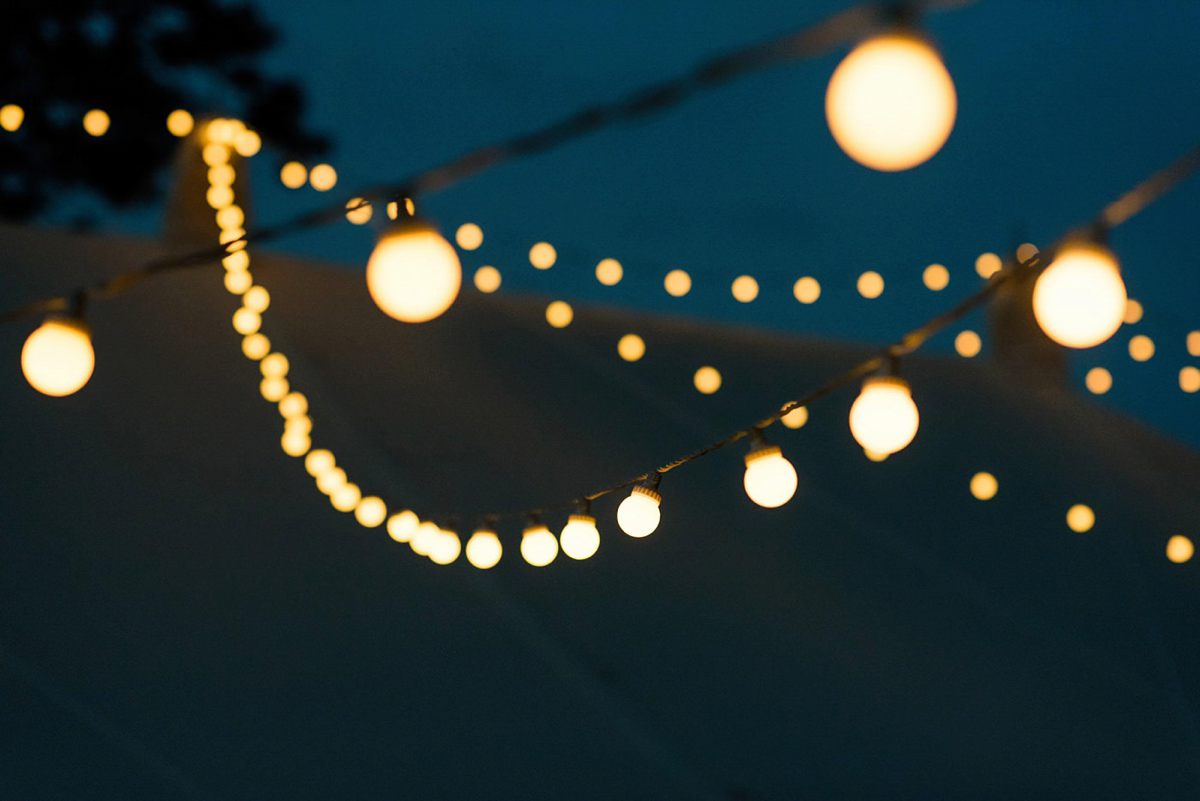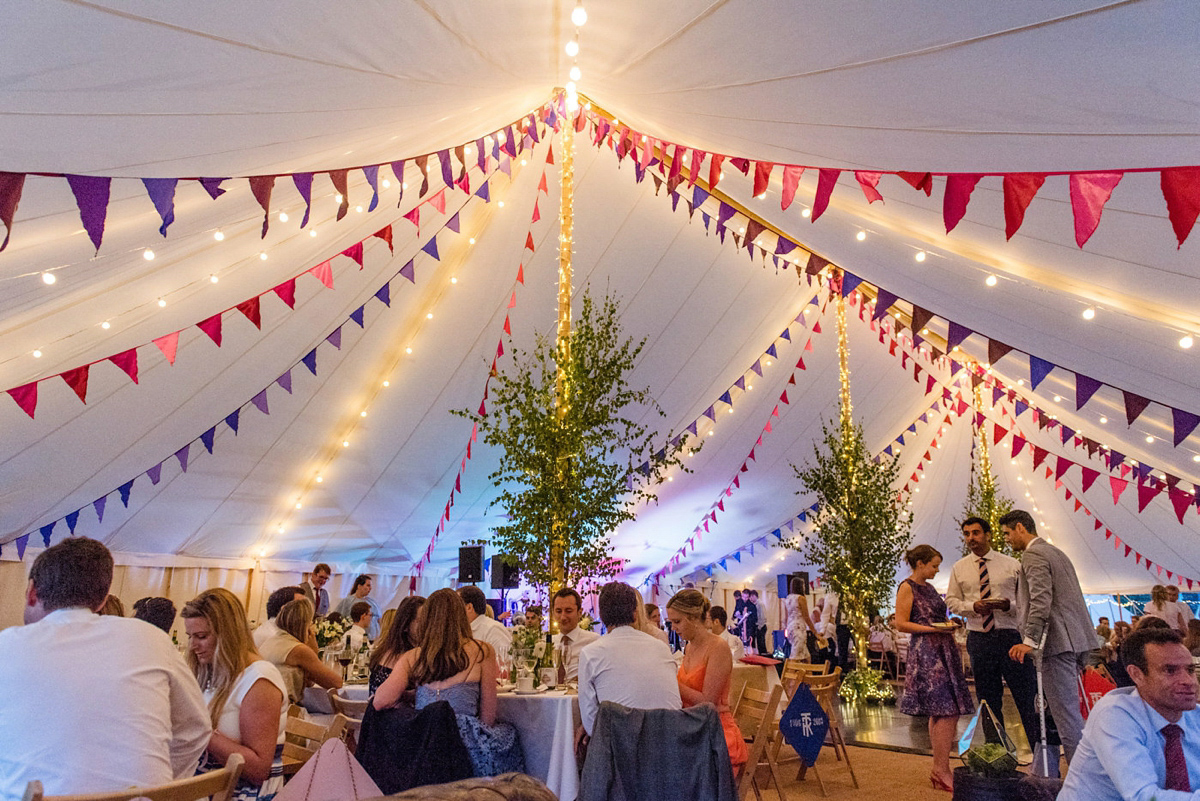 "We had our first dance to 'Feeling Good' by Nina Simone. Sassy, fabulous and the perfect track for the occasion."
Words of Wedded Wisdom
"Simply relax and enjoy the day. All the hard work is done and while some things may not exactly go according to plan you will be the only person who notices. Also, don't get too caught up in having the best of everything. It's so easy when you begin planning to want the flashy tipi or most expensive tables etc. but when it comes down to it, you will remember your friends and family who were there to celebrate with you and the smiles on their faces. Fancy chairs or cutlery won't be what defines the day.
For me what made our day a success was embracing everything that Bignor Park had to offer. It was a very home grown wedding, from the flowers to local caterer (we were Carole's first client). I love that we used smaller suppliers and young, enthusiastic people. Each and every person went out of their way for us."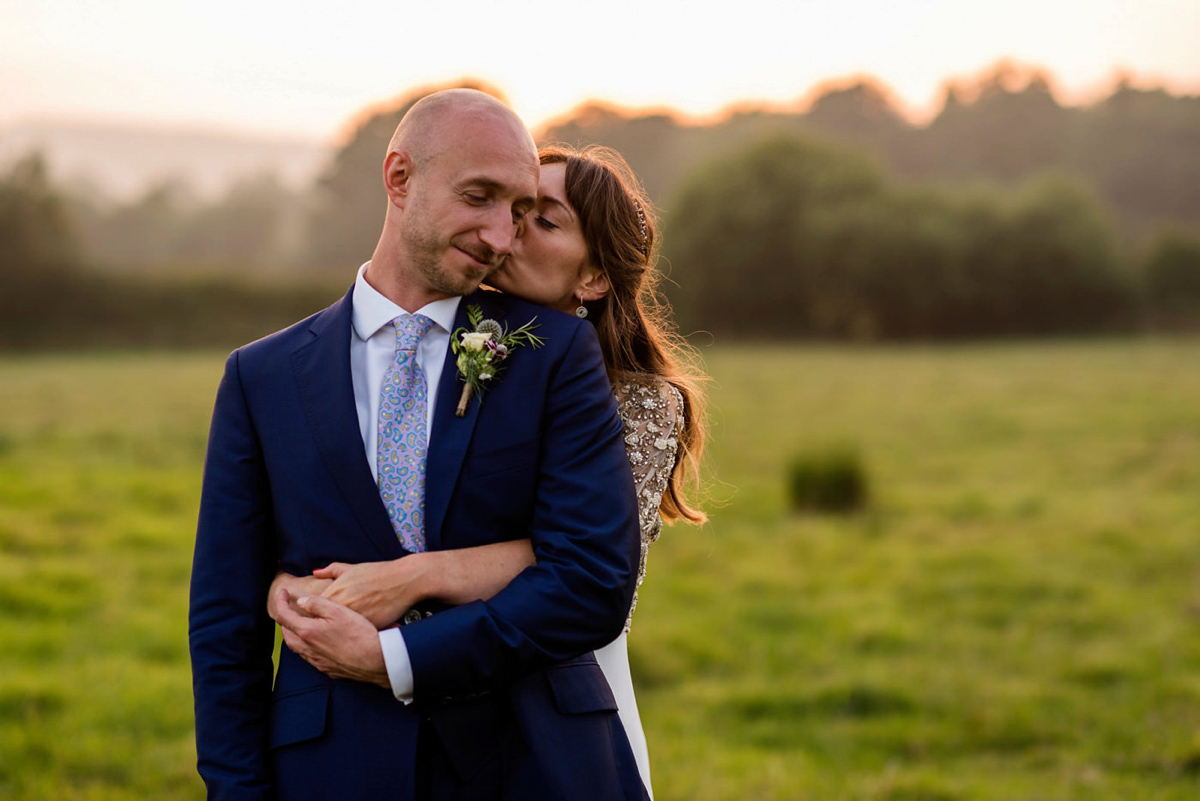 Thank you so much Robyn and Tom for allowing us to share your wonderful wedding day. Thanks also to the fabulous Laura Babb for the gorgeous images. More of her beautiful work can be found by clicking here. You can also enjoy a film of the couple's wedding here.
Love Caoimhe xx