I have been pestering my husband recently for another trip up to Scotland, as he was canoeing on Loch Lomond over May bank holiday while I was away for work and I was so upset to miss out as there's just something about the brooding landscapes, the mountains and the colours in that area that I absolutely adore.  Today's beautiful Scottish wedding has both helped with my longing for a visit and made it worse!
Meet Emma, who works in finance and Tod, who works in sales, who married on the 22nd of October 2016 at St. Mary's Church, Dalmahoy, followed by a reception at Kirknewton House Stables, near Edinburgh.
"We were eager to have a relaxed wedding that wasn't too formal.  We have so many wonderful friends and family so our main objective was to pull them all together to celebrate with us."
Photography by Carley Buick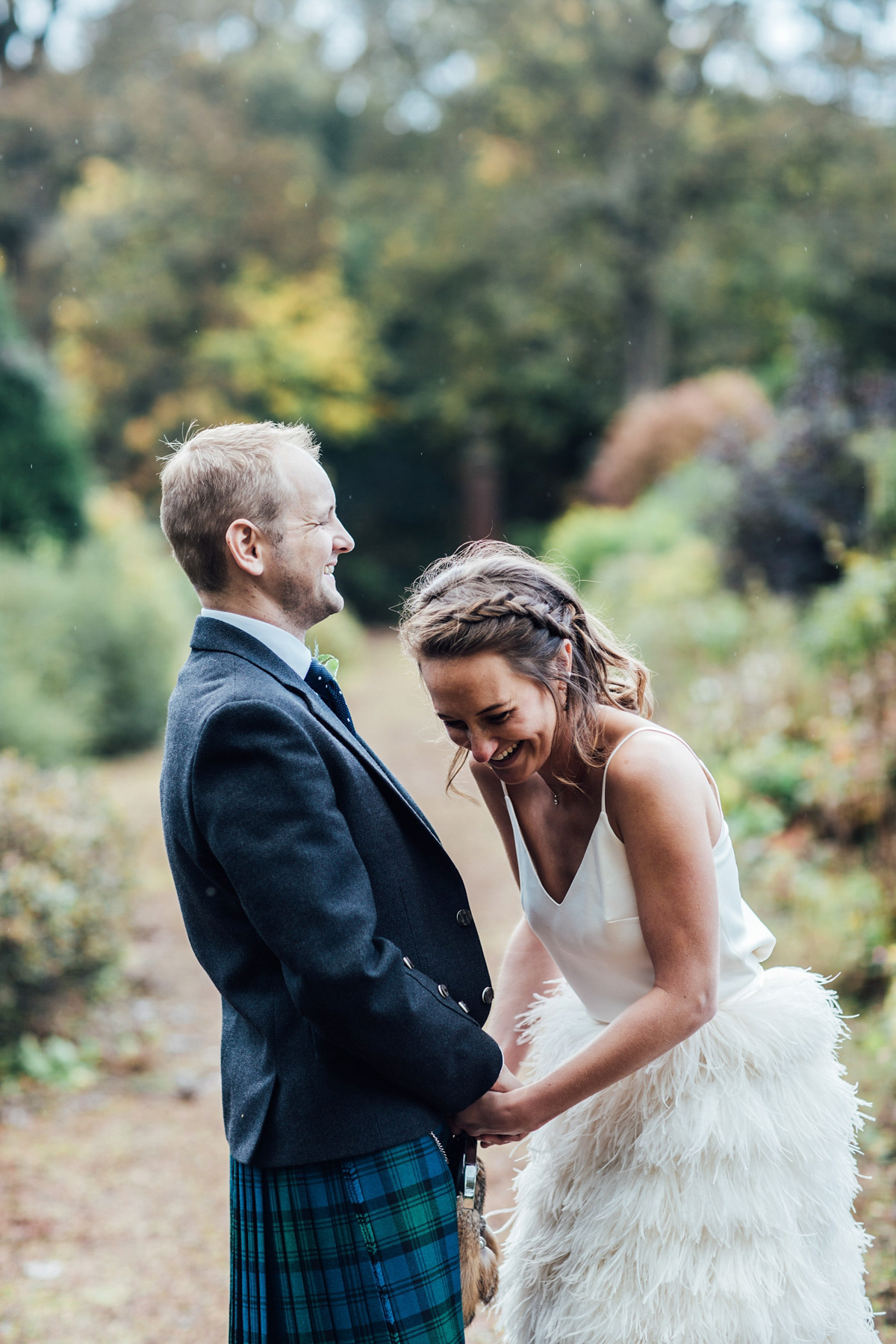 Emma wore an utterly breathtaking gown by the fabulous Charlie Brear, which she purchased from the London boutique.  I can't get enough of that wonderful skirt and the wide ribbon round the waist- it makes me think of Swan Lake ballerinas- just gorgeous.
"I loved everything about my dress;  it was the most sensational thing I had ever seen.  I only tried on this one dress and it fitted me perfectly, so bought it there and then.  I felt unreal in it, and it was incredibly comfortable."
In her hair Emma wore a very pretty comb by Highland Angel, while on her feet she wore a pair of fabulous pink and glittery pumps from Russell and Bromley.  For scent she chose Oud and Bergamot by Jo Malone and for jewellery,  she wore a pair of earrings which were a birthday present from her sister several years ago, in her birthstone, blue opal.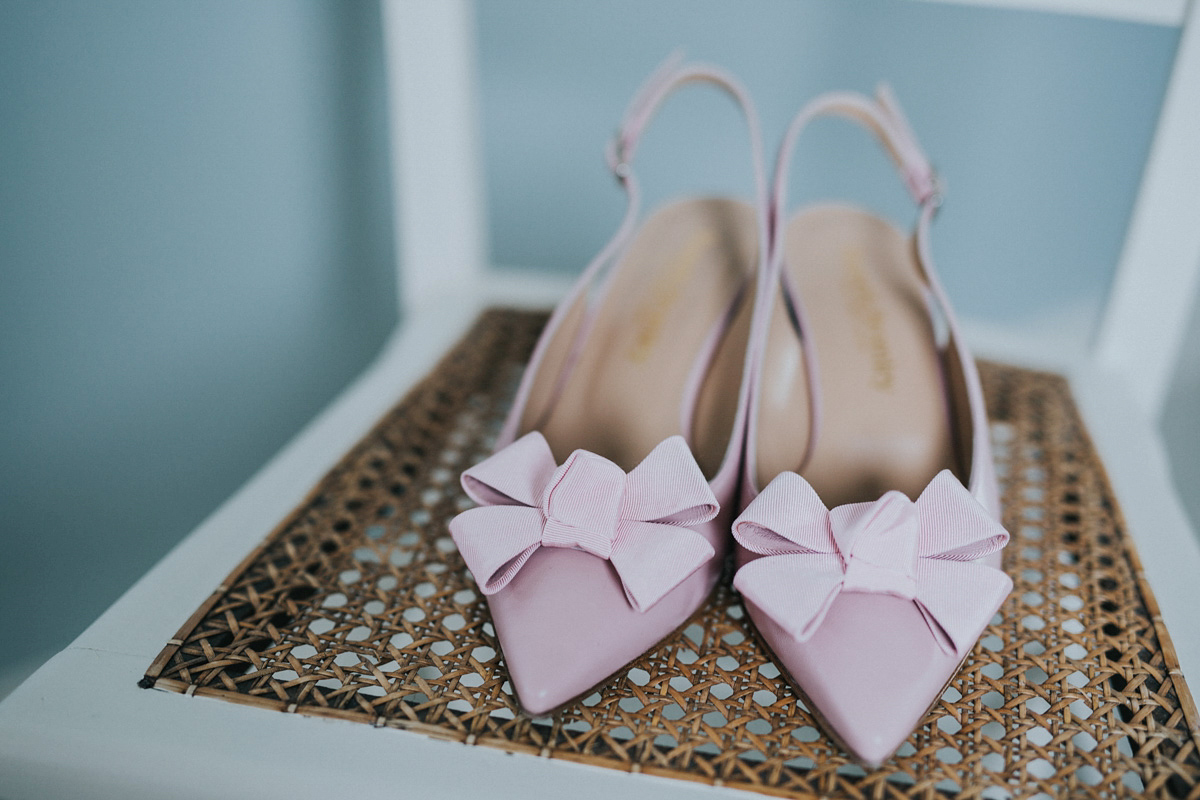 The beautiful flowers were the work of Emma's talented Mum.
"I asked her to use pale colours, with some thistles and loads of greenery and she also put feathers in my bouquet to match my dress.  I wanted the flowers to be relaxed and wild to match the overall theme."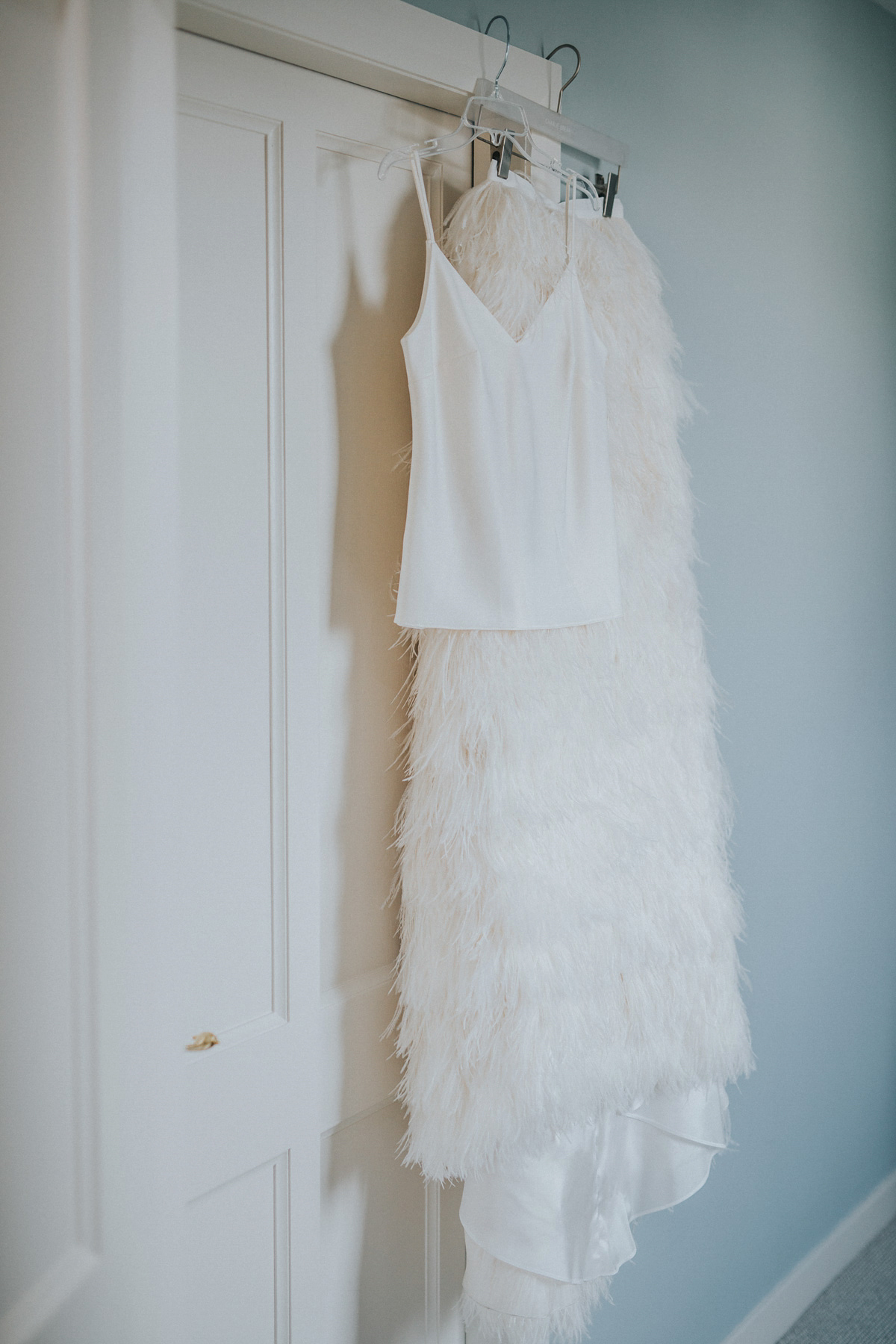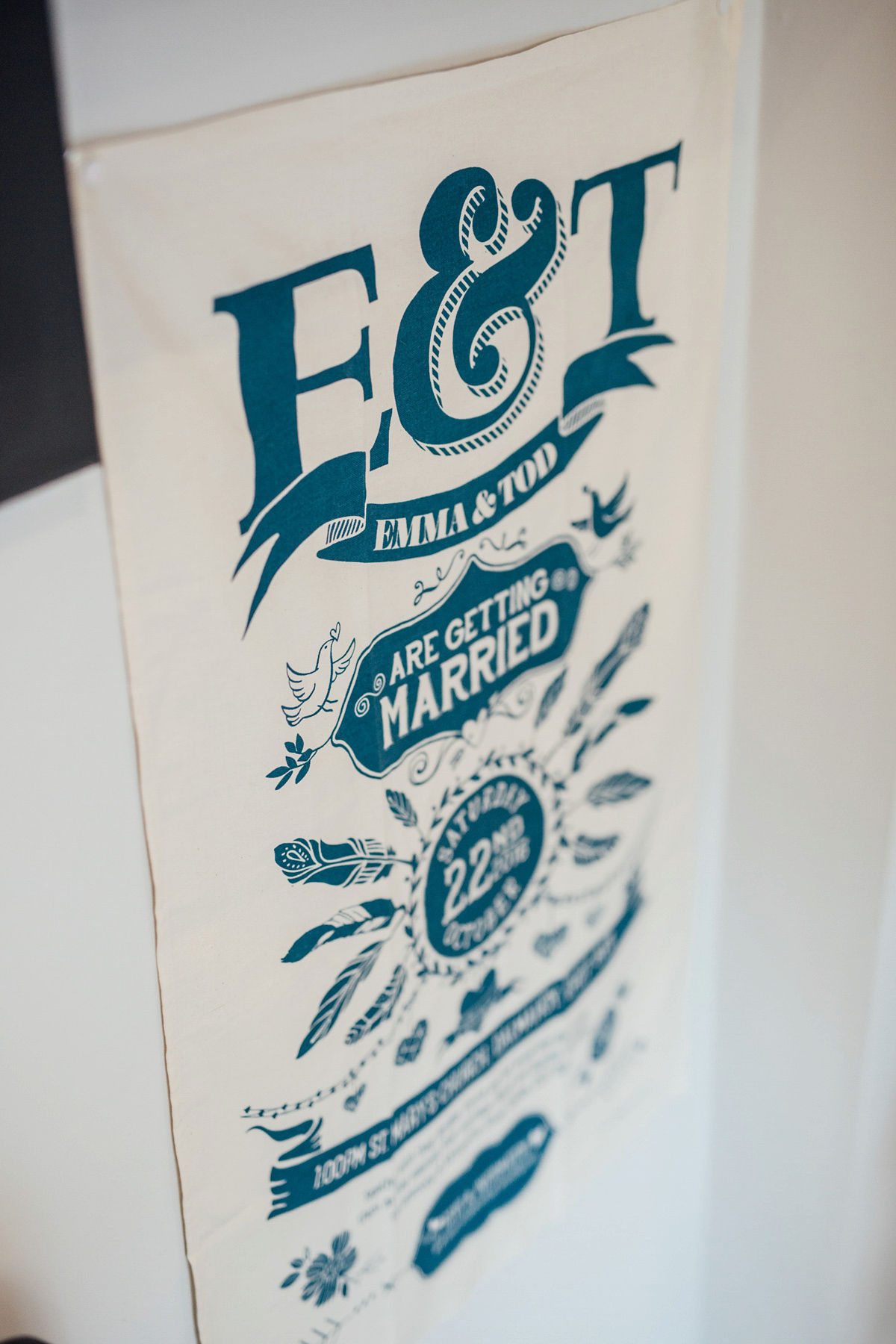 "Tod got my engagement ring made in Dublin by a friend at Paul Sheeran.  My wedding band was an old family ring and Tod's was from McIntyres in Edinburgh."
"We both wanted simple plain wedding bands; I got enough sparkles on my engagement ring!"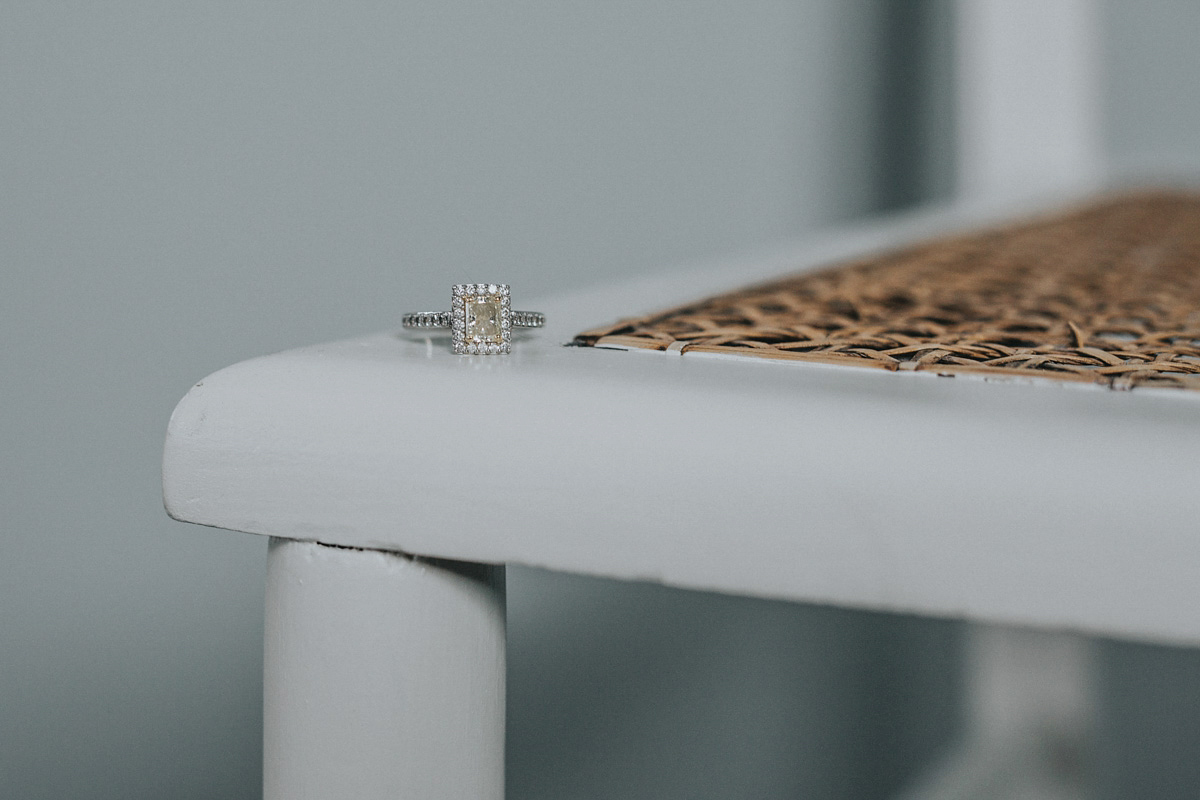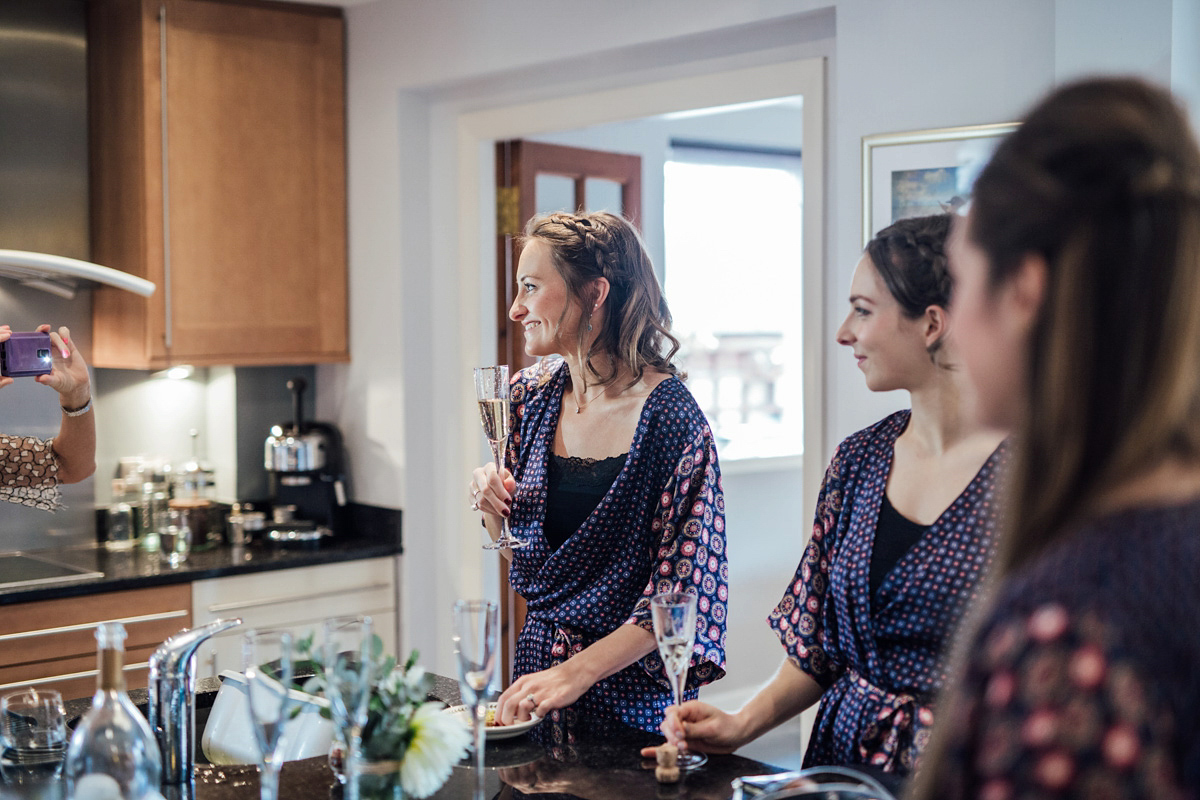 Hair was the work of Sphere hairdressers and Emma did her own make up, while the bridesmaids used Moi Beauty.
The eye behind today's lens is the talented Carley Buick.
"Carley was absolutely fantastic.  She was so at ease with everything she was doing and great at giving us direction.  We didn't want loads of posed photos and she captured this perfectly for us.  She has since been booked by two of our friends for their upcoming weddings too."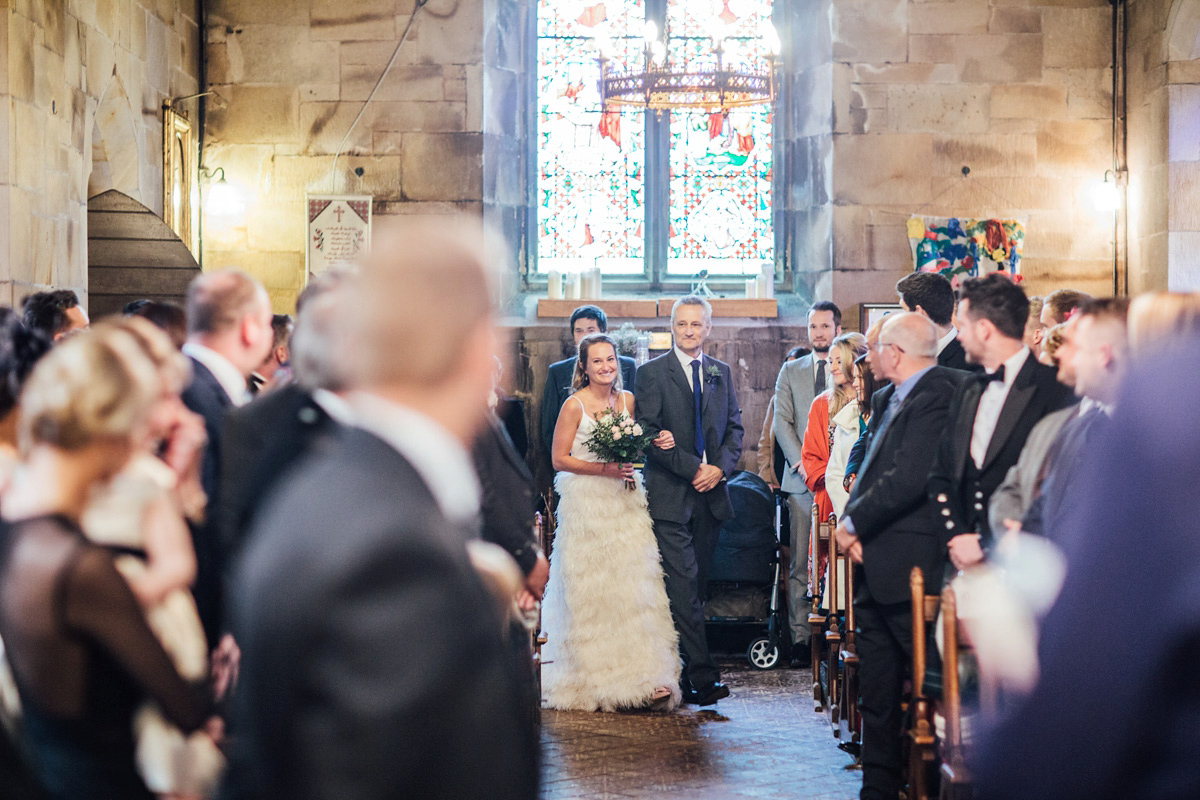 Emma walked down the aisle with her Dad, to the classic wedding sound of Pachelbel's Canon in D.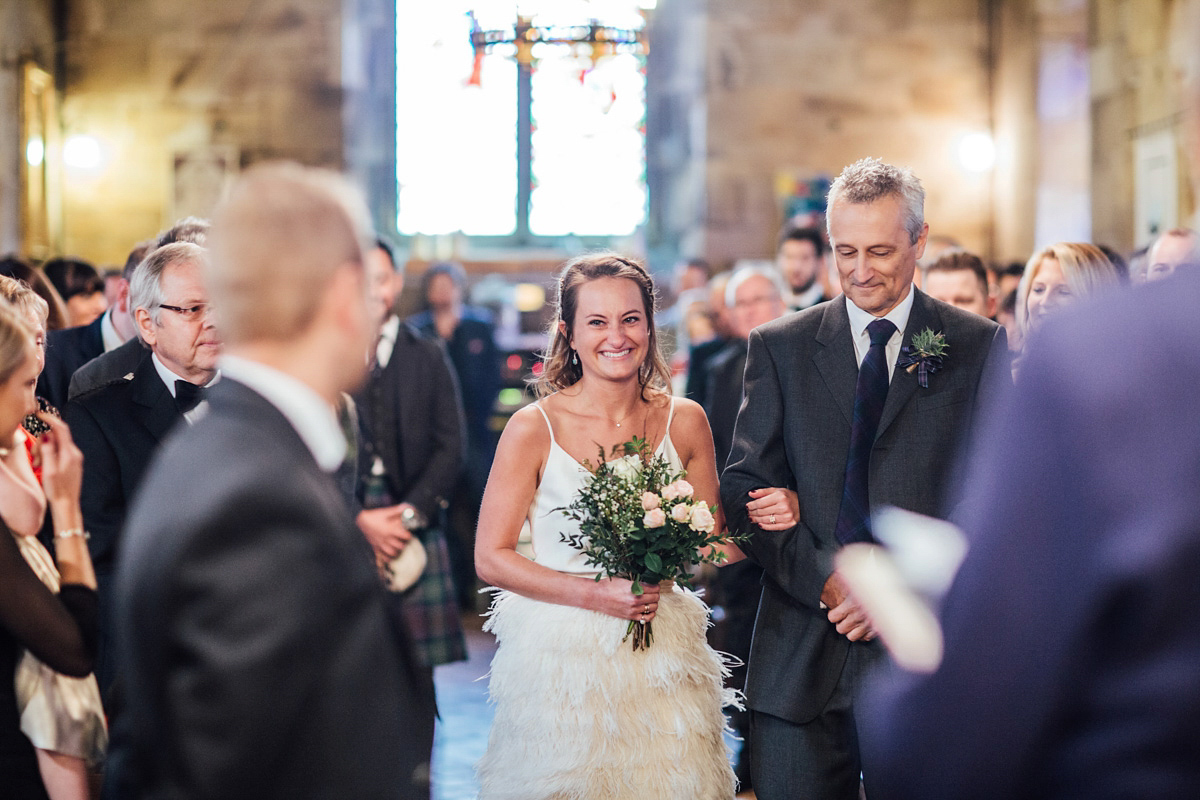 "Two of our friends each delivered a reading during the ceremony.  Hilary read, "A Walled Garden" (Anon) which she then got framed for us."
Your marriage should have within it a secret and protected place, open to you alone.  Imagine it to be a walled garden, entered by a door to which only you hold the key.  Within this garden you will cease to be a mother, father, employee, homemaker or any other of the role which you fulfil in daily life.  Here you are yourselves – two people who love each other.  Here you can concentrate on one another's needs. So take each other's hand and go back to your garden.  The time you spend together is not wasted but invested.  Invested in your future and the nurture of your love."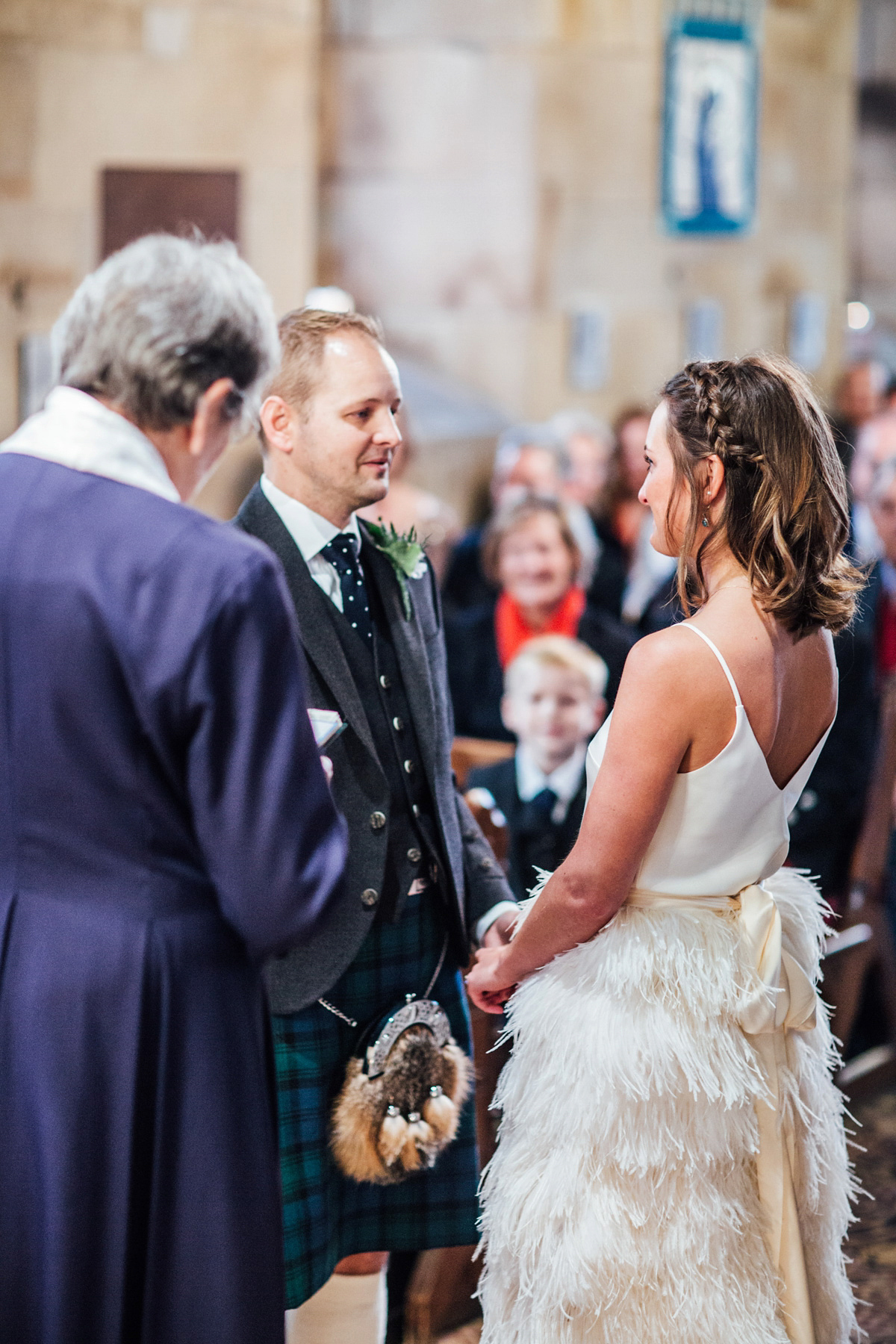 Claire, another of the couple's friends, read 'Love' by Roy Croft, which begins 'I love you, not only for what you are, but for what I am, when I am with you.'. How wonderfully romantic.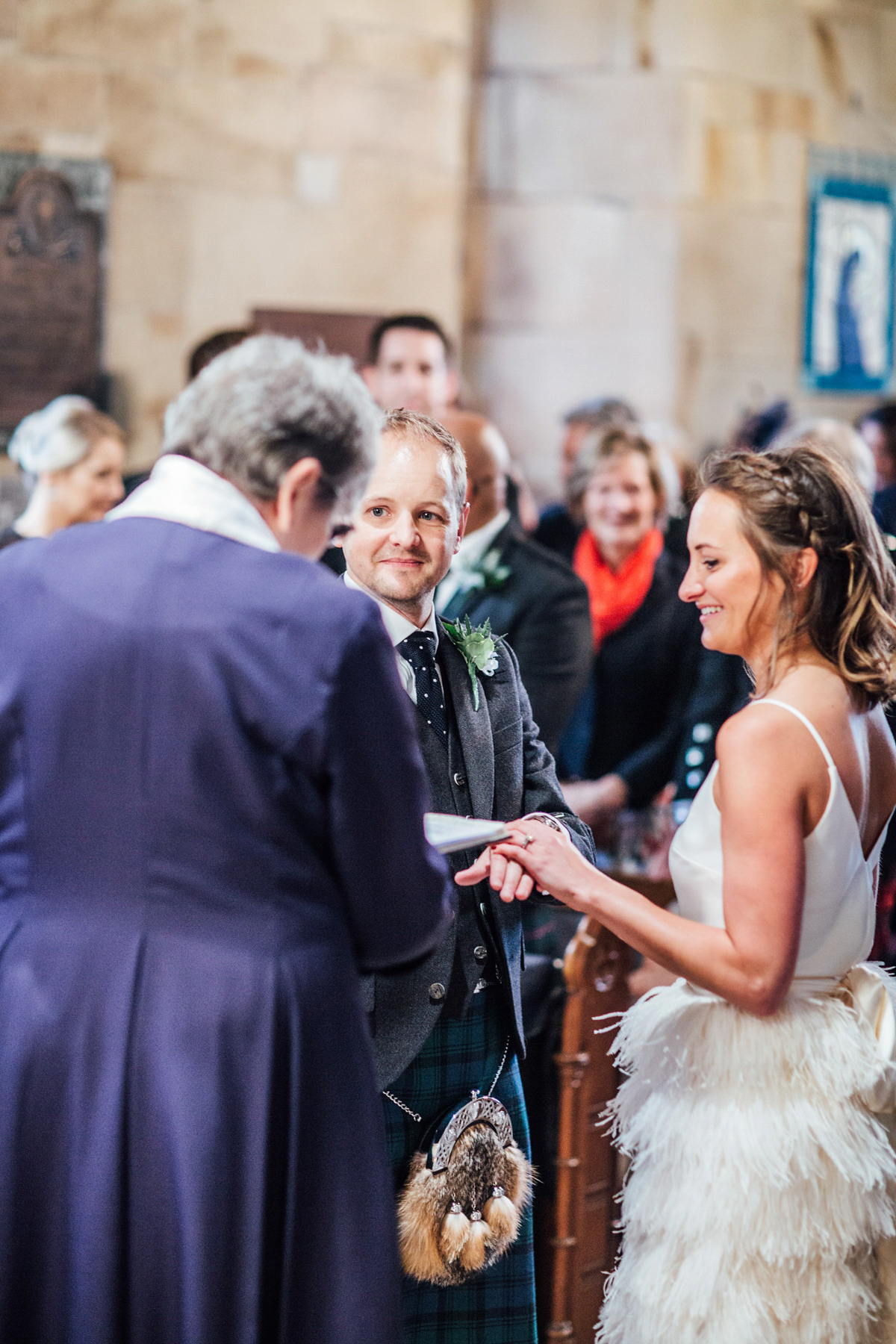 The menfolk, young and old(er), all looked very handsome in full kilt and accessories, hired from McCalls, with blue jackets, wasitcoats and ties and different tartan for Tod and the rest of the wedding party.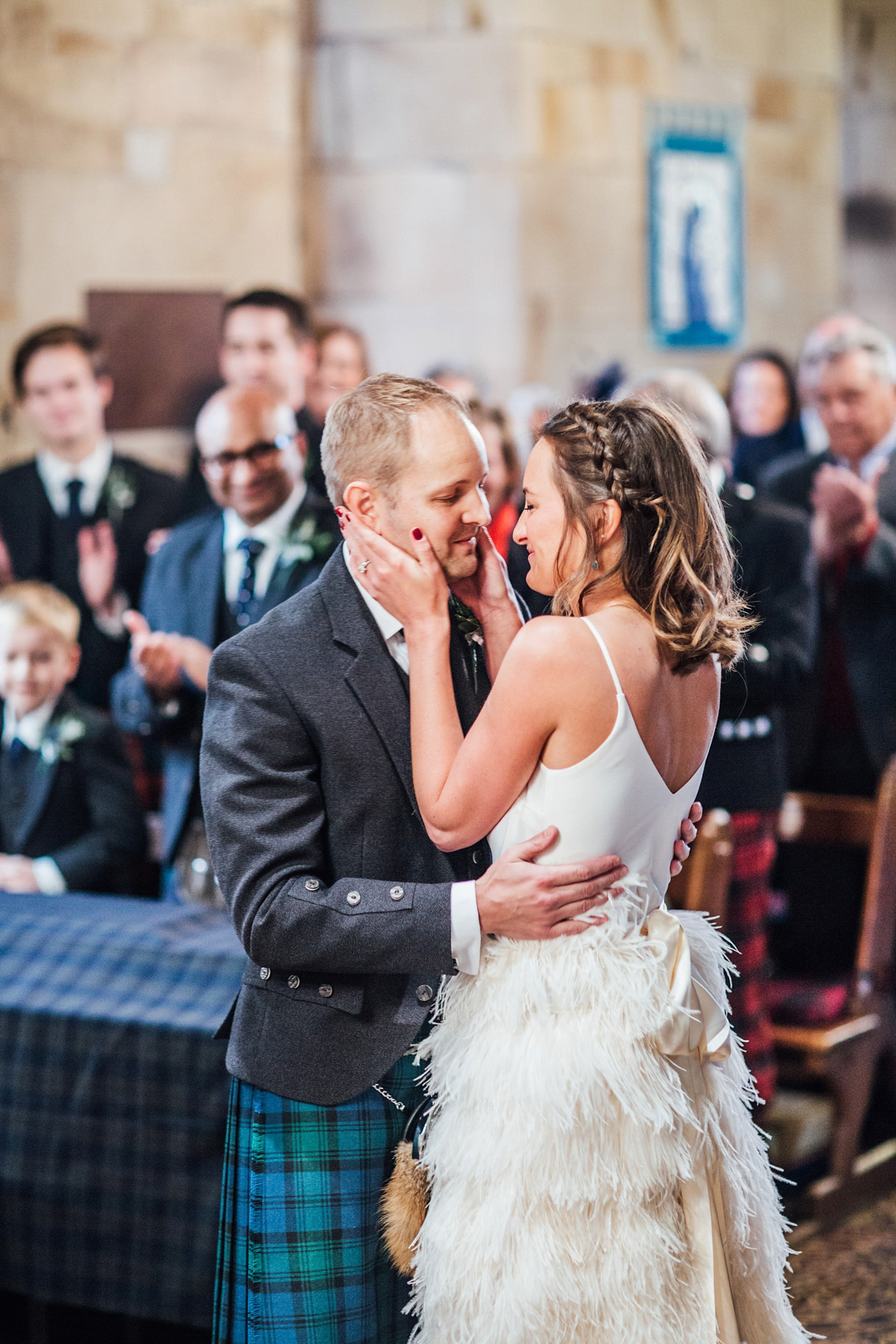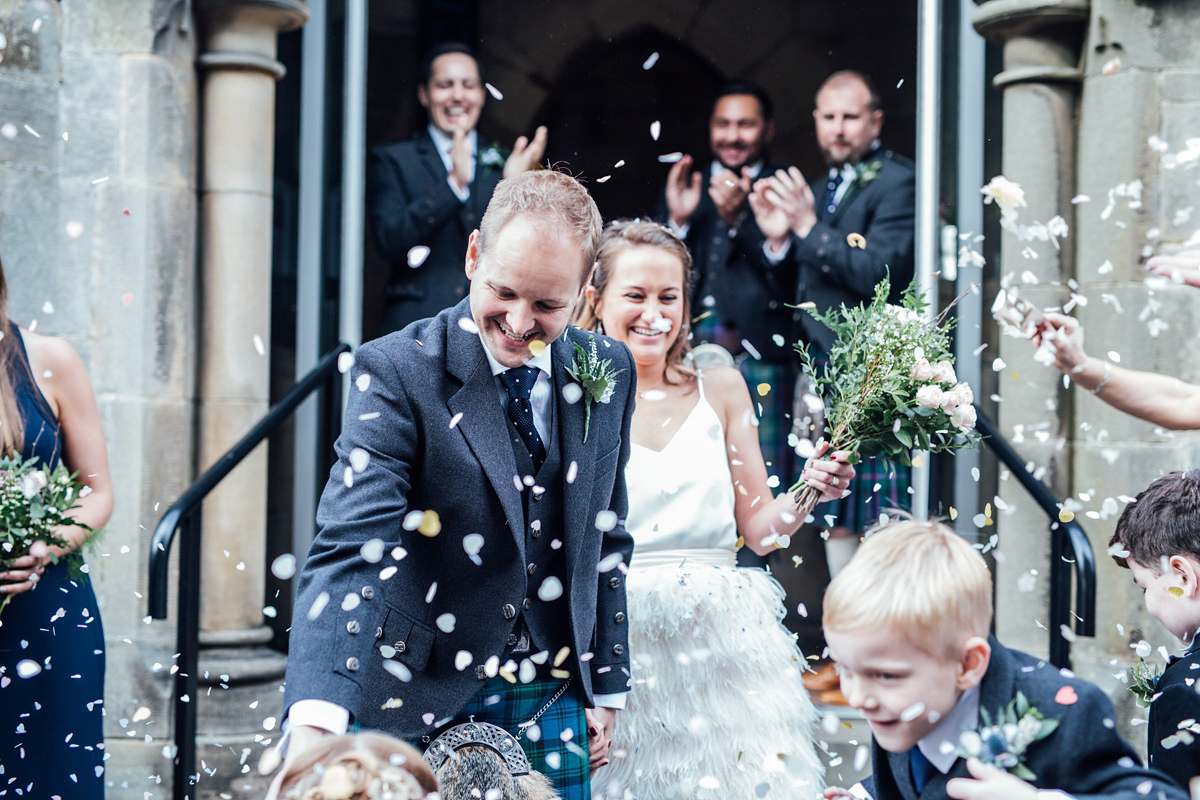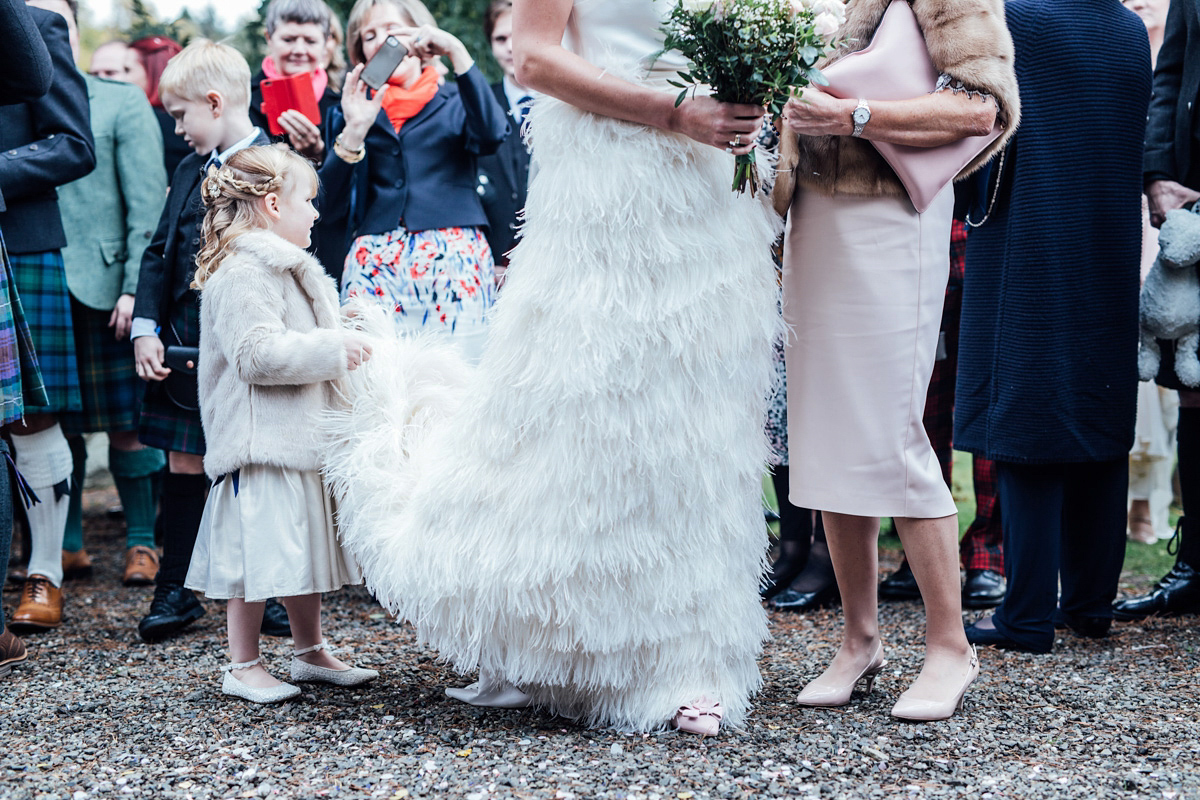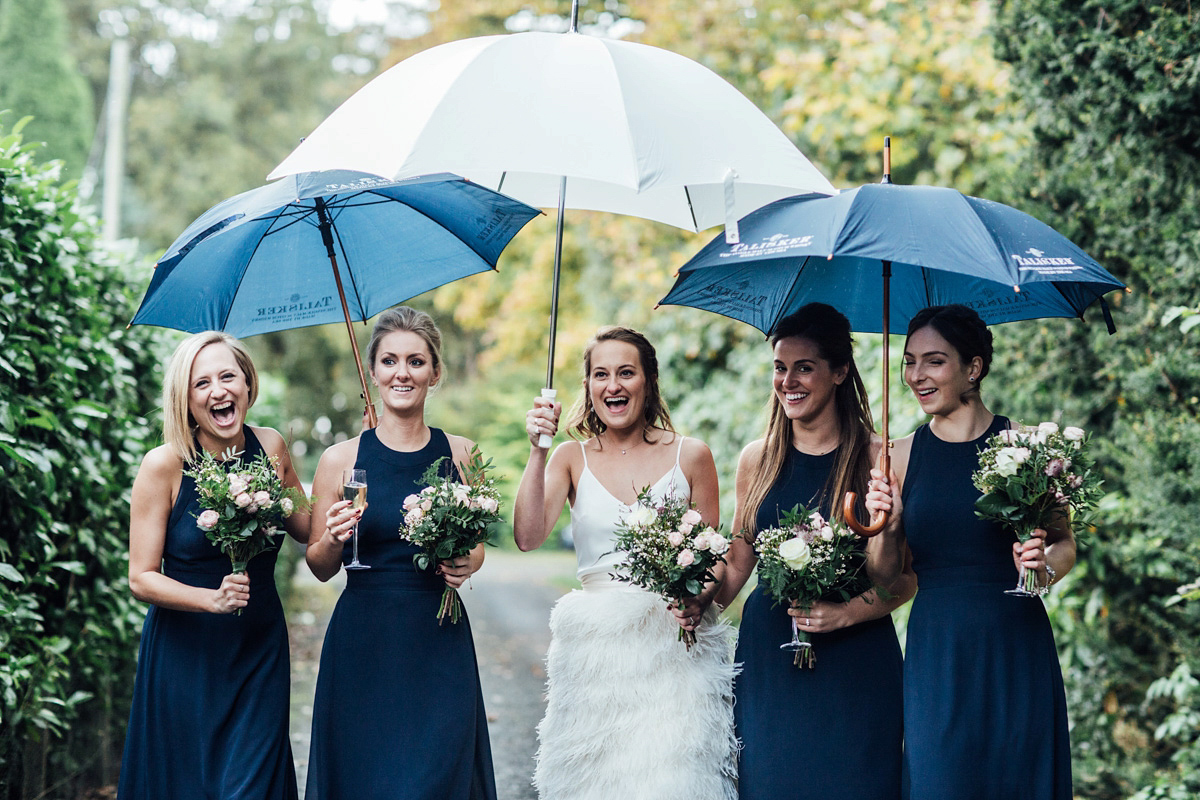 The four bridesmaids looked extremely elegant in dark blue dresses from Dessy, worn with their own choice of shoes and jewellery.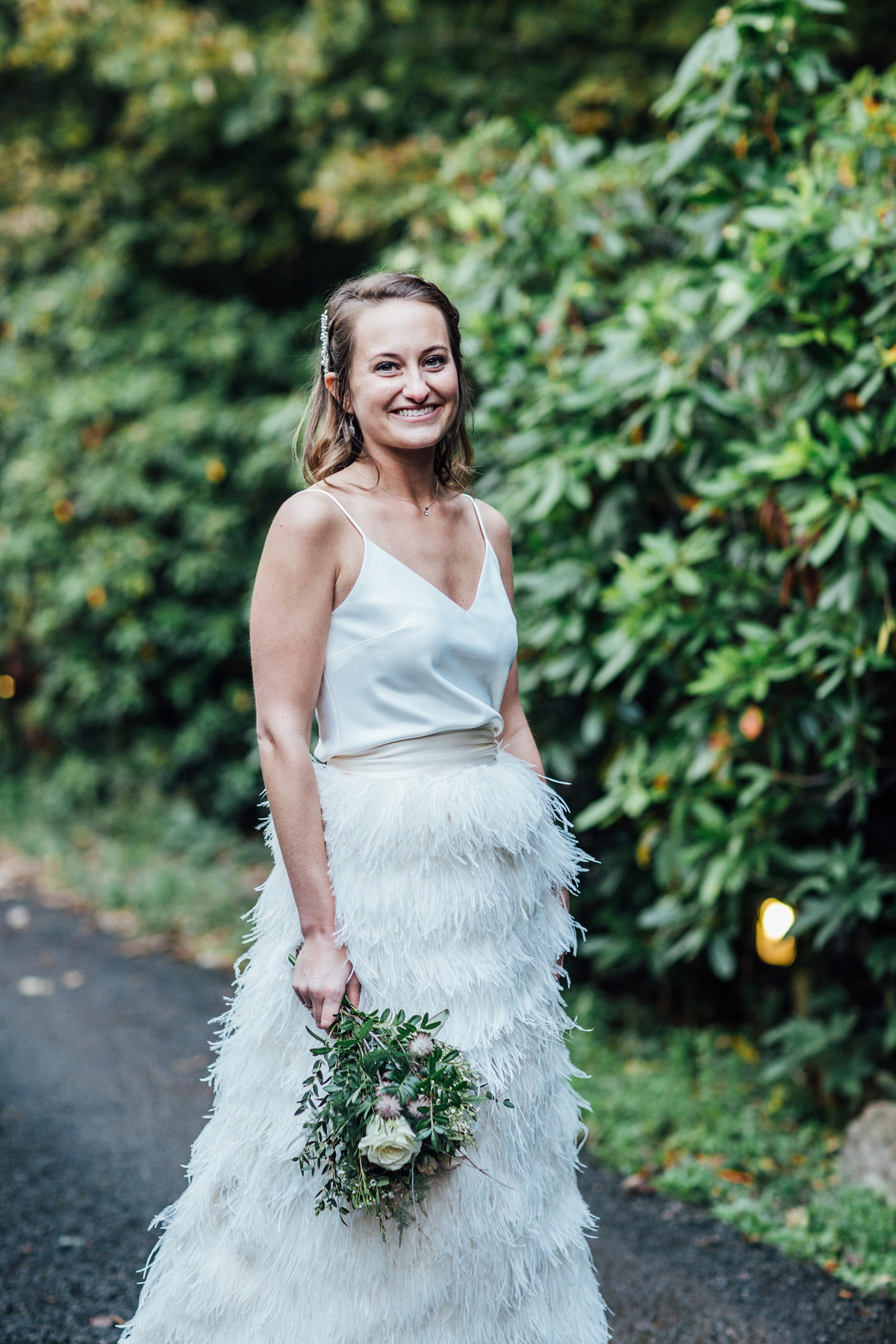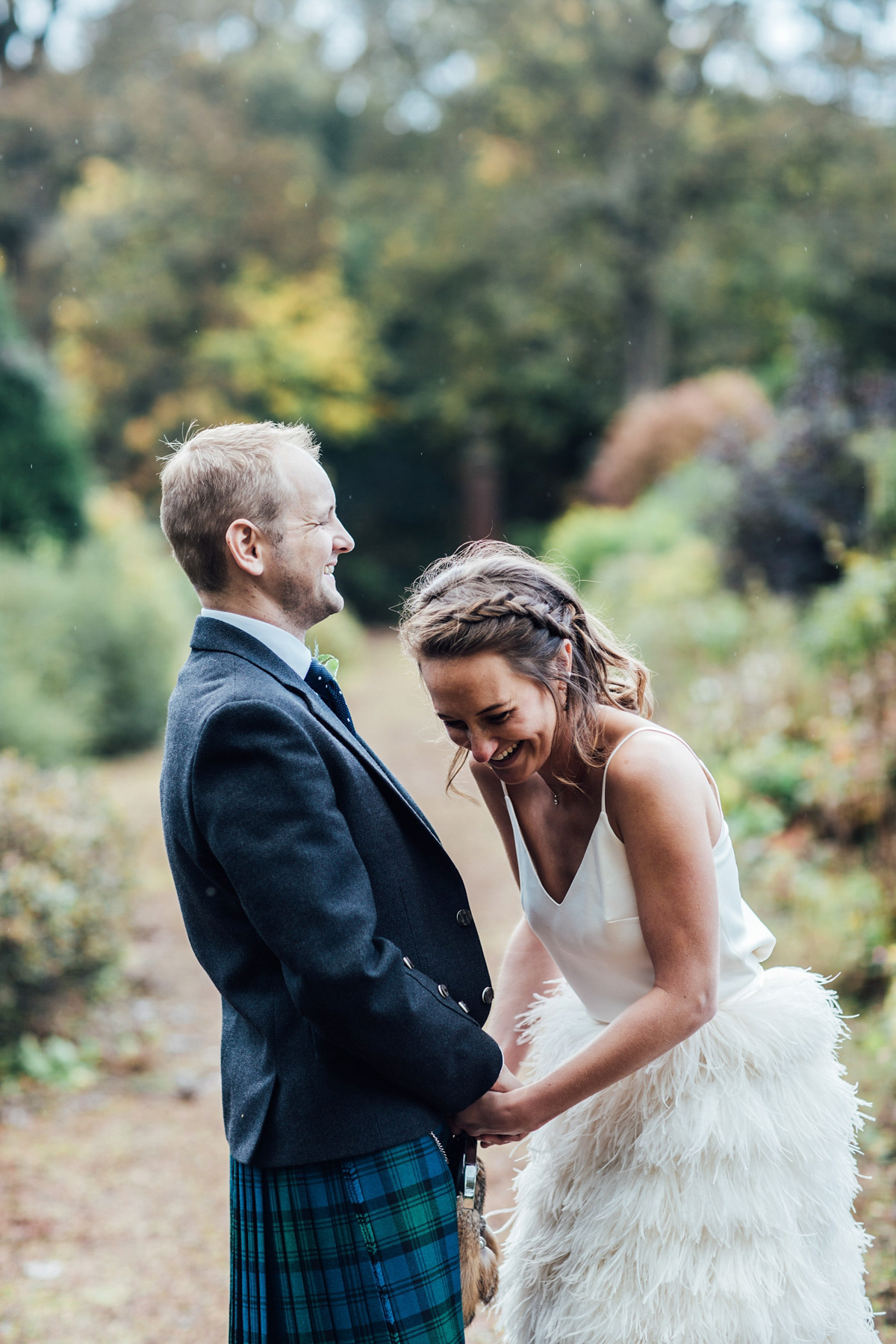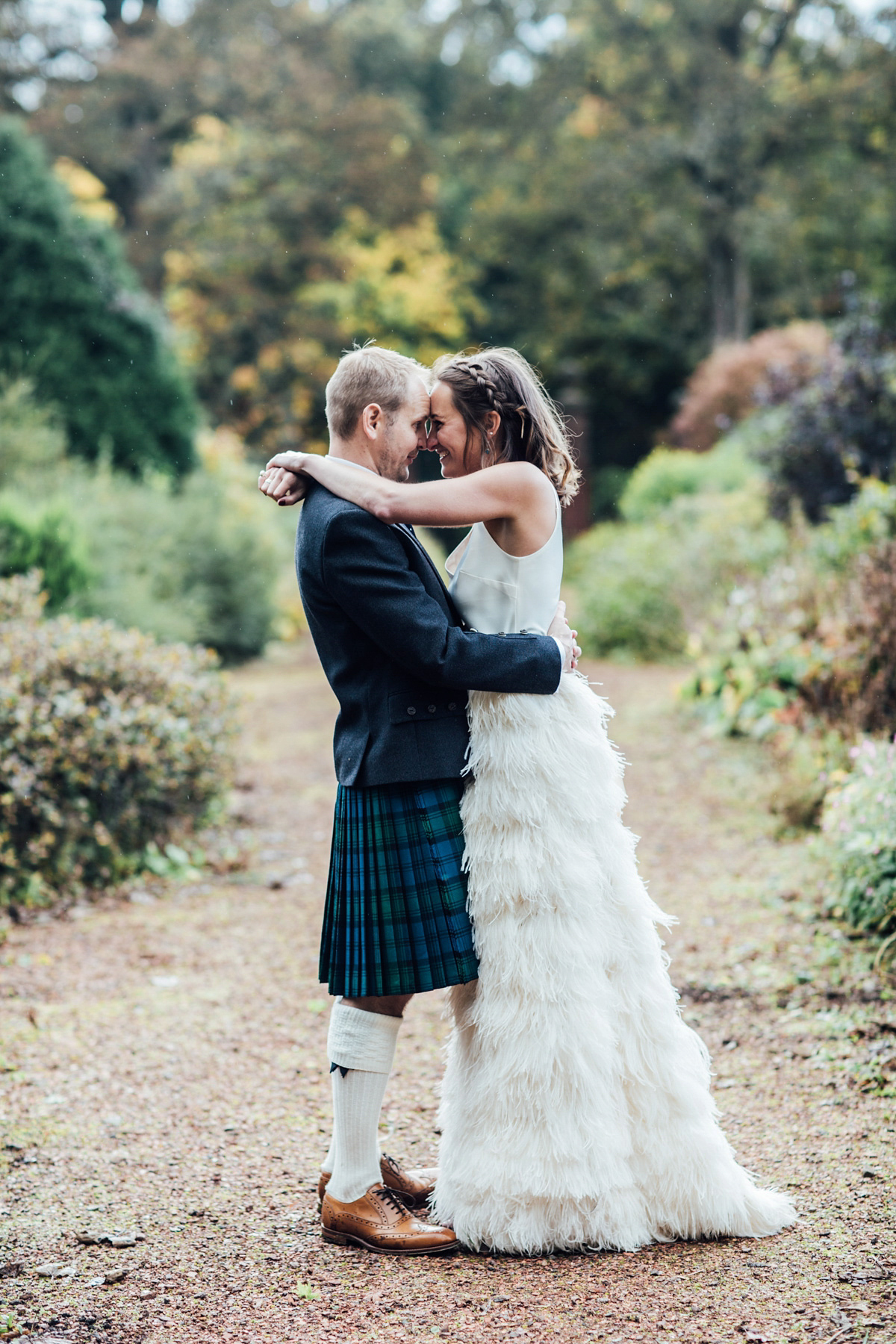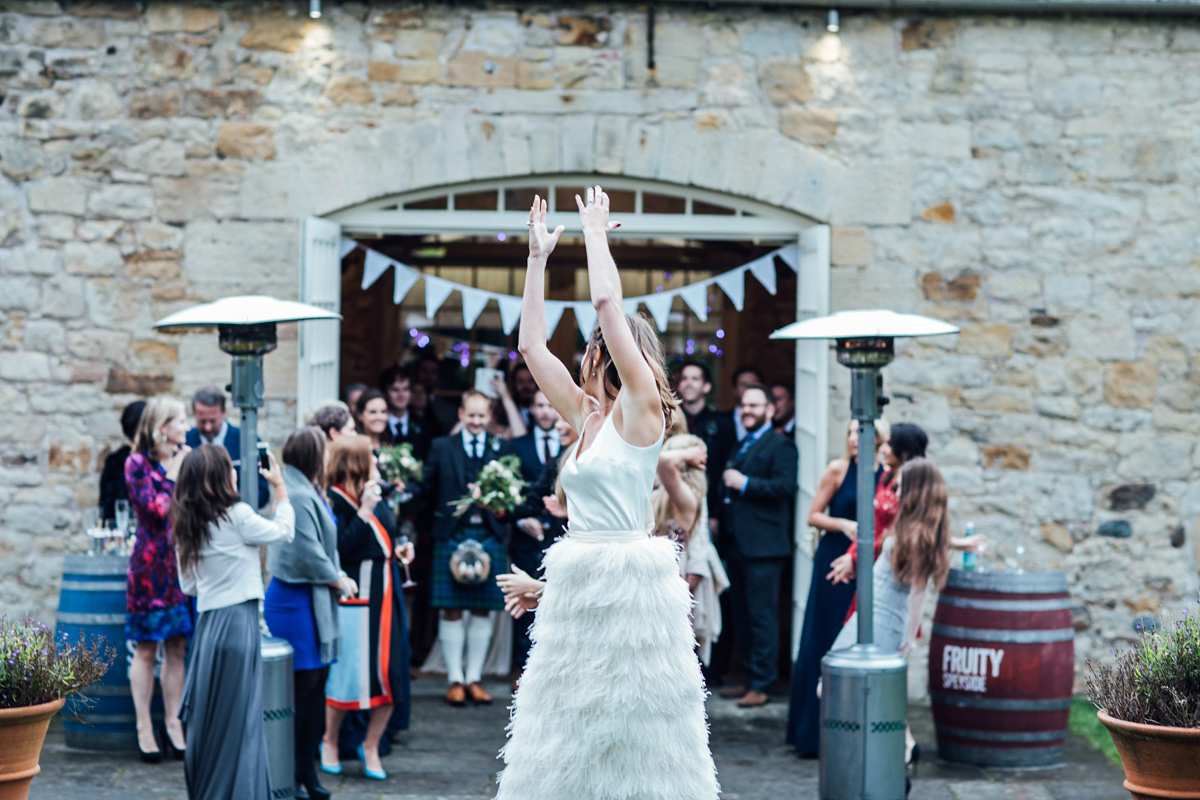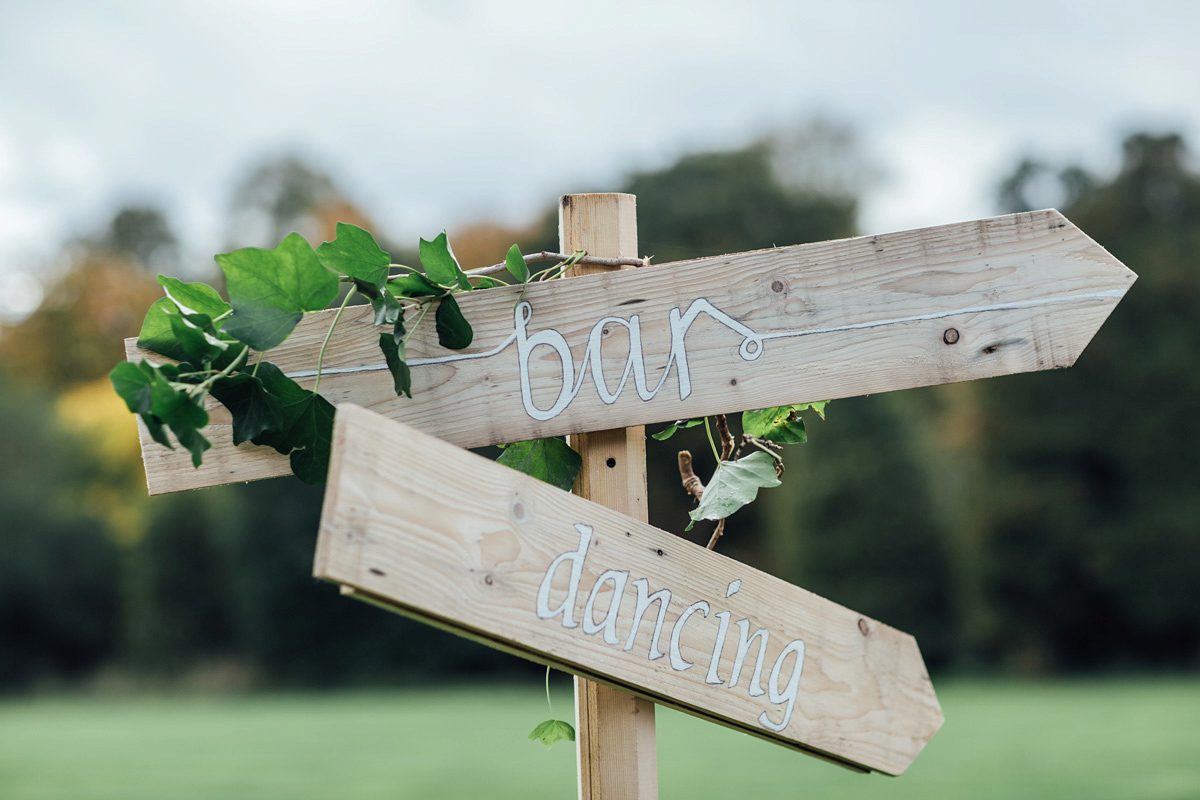 "We chose Kirknewton House Stables first because of the simplicity of the venue.  It is a lovely space and you are able to do anything you want with any suppliers."
"We then found the Church a mile down the road and chose it because it was so beautiful.  We live in Edinburgh, so wanted a venue that was close to us."
"The reception venue is a converted horse stable and quite rustic, opening out onto the most beautiful gardens, so I wanted to make sure that we were able to use the outside space.  We roped loads of people into helping us with the decoration; my mum and step dad did all the signs for us and he hooked up a 3ft long disco ball to hang off the rafters.  Mum did the flowers and the table decorations with jam jars that I had asked friends to collect over the year.  My bridesmaids decorated the venue with me, the groomsmen were in charge of the bar, my aunt did the cake for us… the list goes on."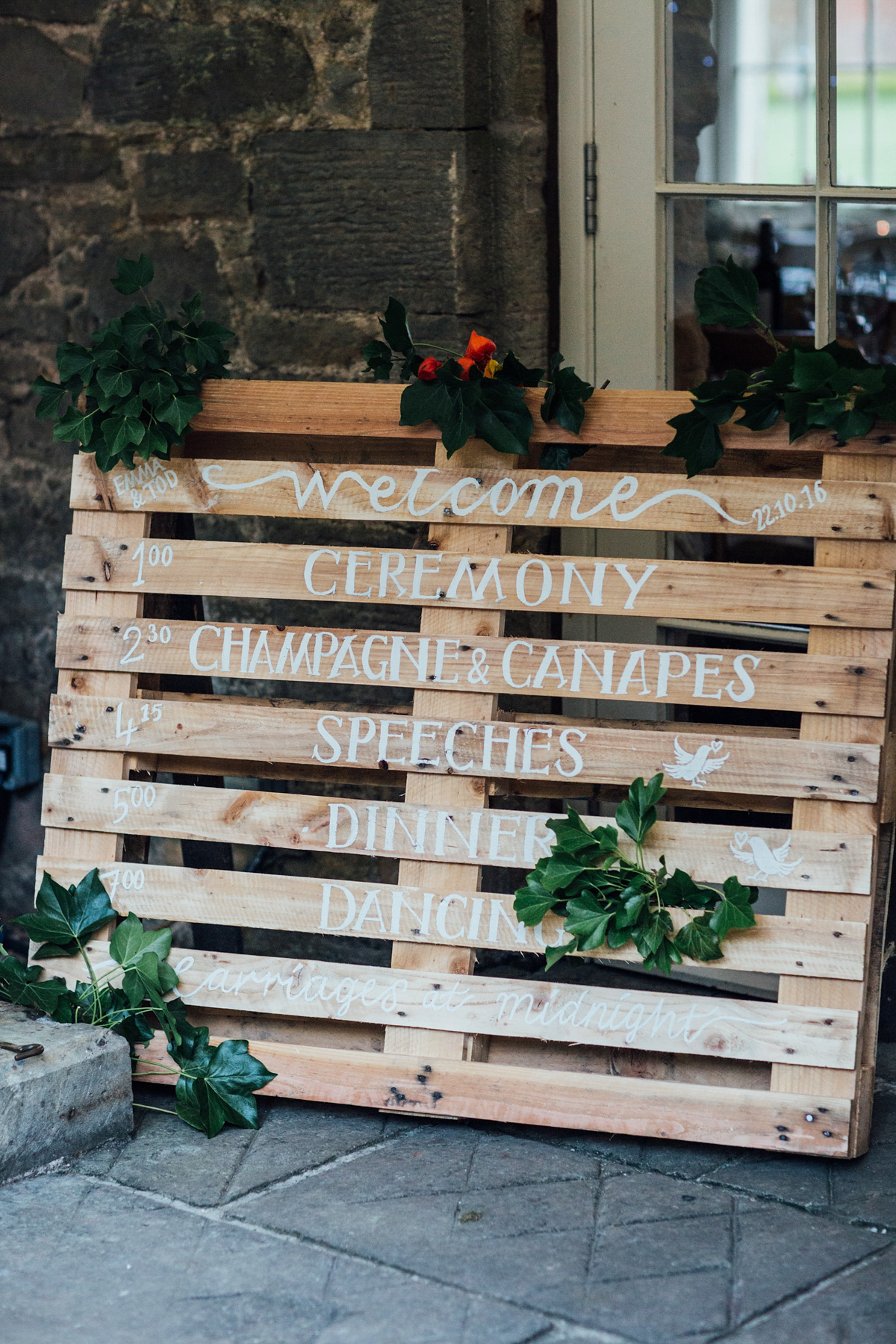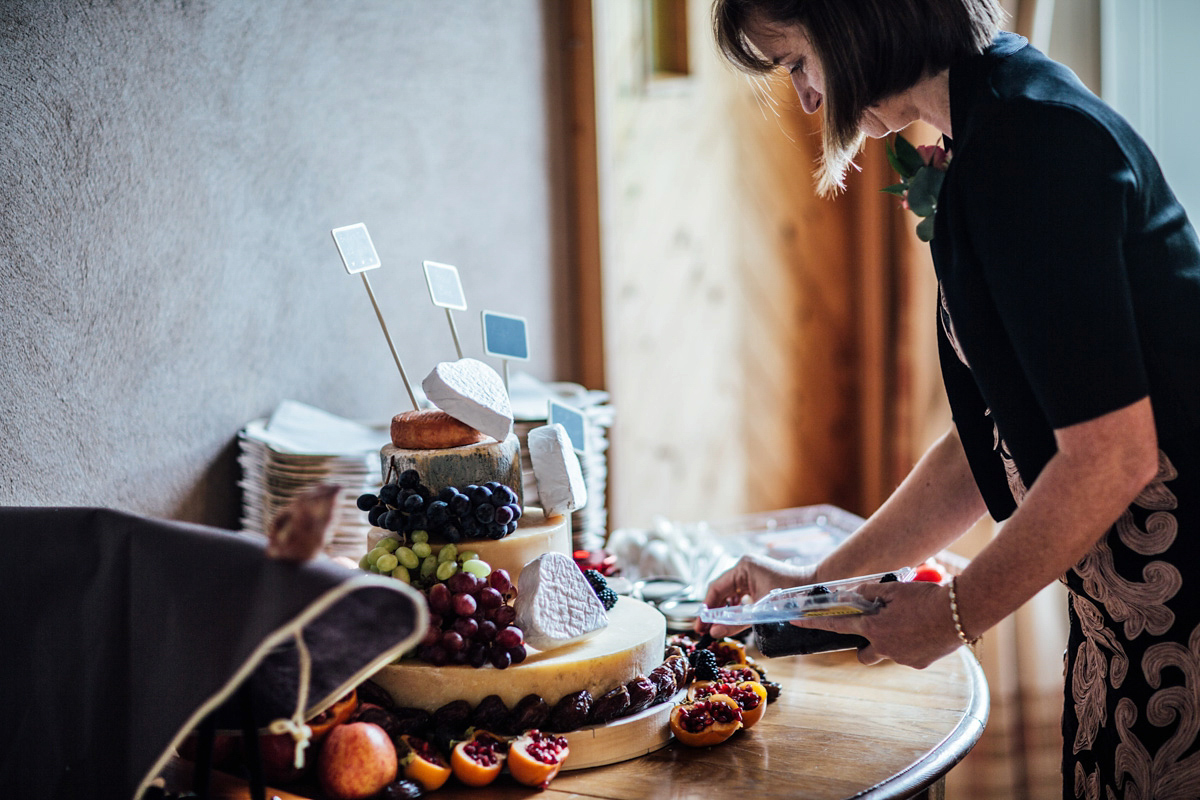 "The reception décor was a lot of fairy lights, hessian bunting, pinecones that my mother in law had collected, feathers galore and candles.   We used gorgeous scented candles in bay leaf and rosemary from a lovely company called St Eval who are based in Cornwall.  It was a lovely woody smell that now reminds me of my wedding day."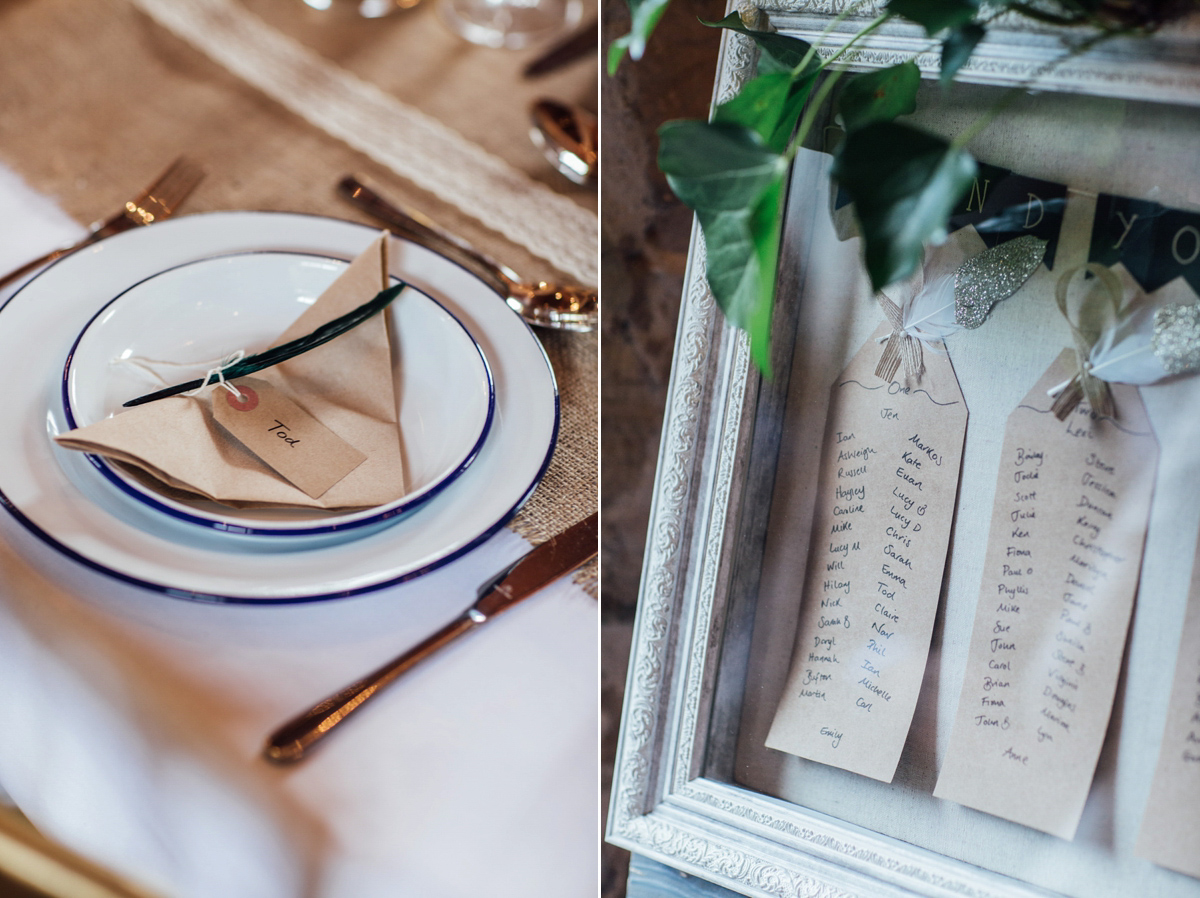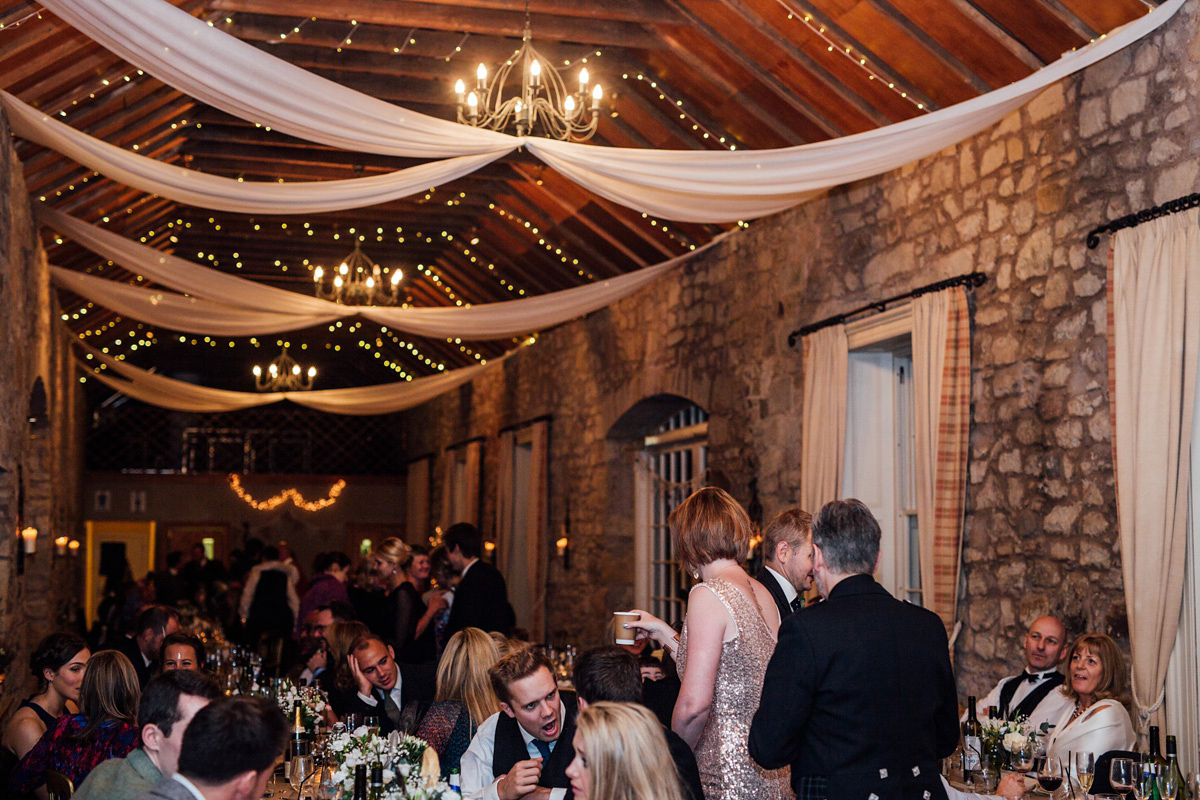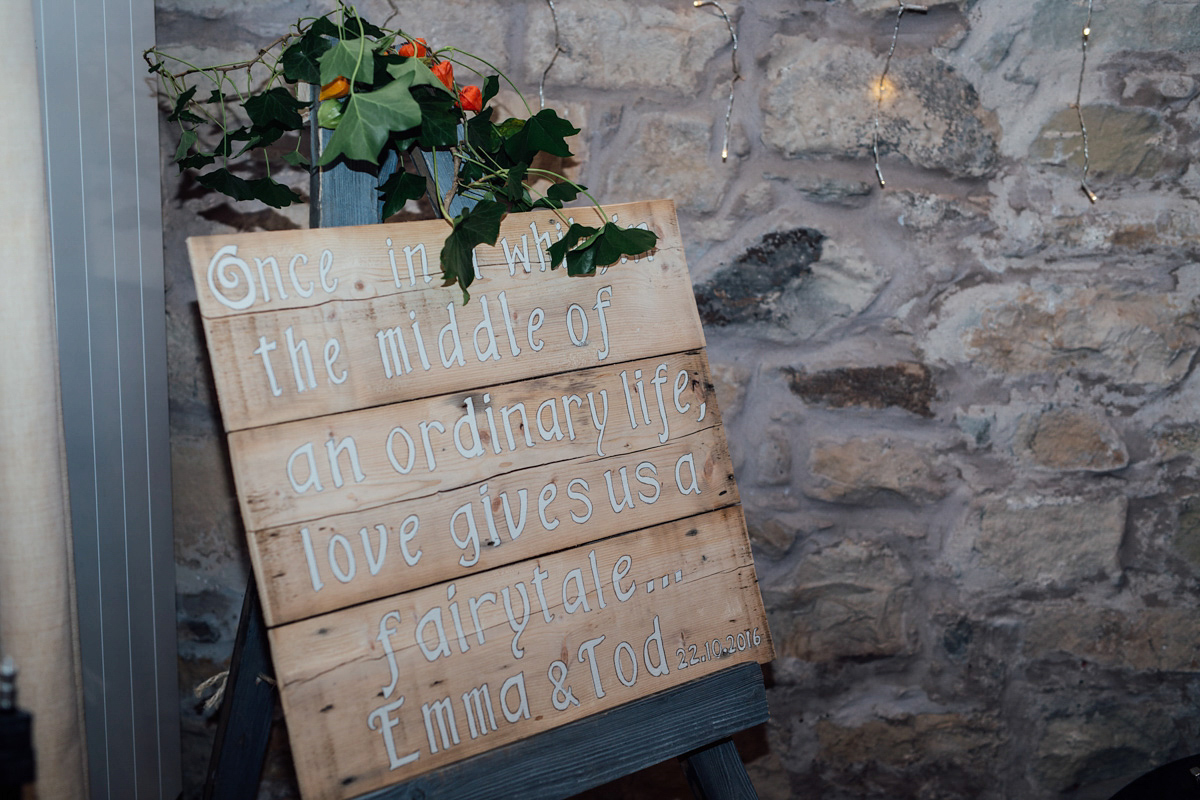 The delicious catering was by Wild Rover Food, while the cake was a tower of cheese, purchased from I.J. Mellis and assembled and decorated by Emma's aunt.  Favours were sent before the wedding in the form of invitation tea towels, purchased from weddingteatowels.co.uk
"Karen was sensational and designed the most beautiful tea towels for us to send as invitations to the guests."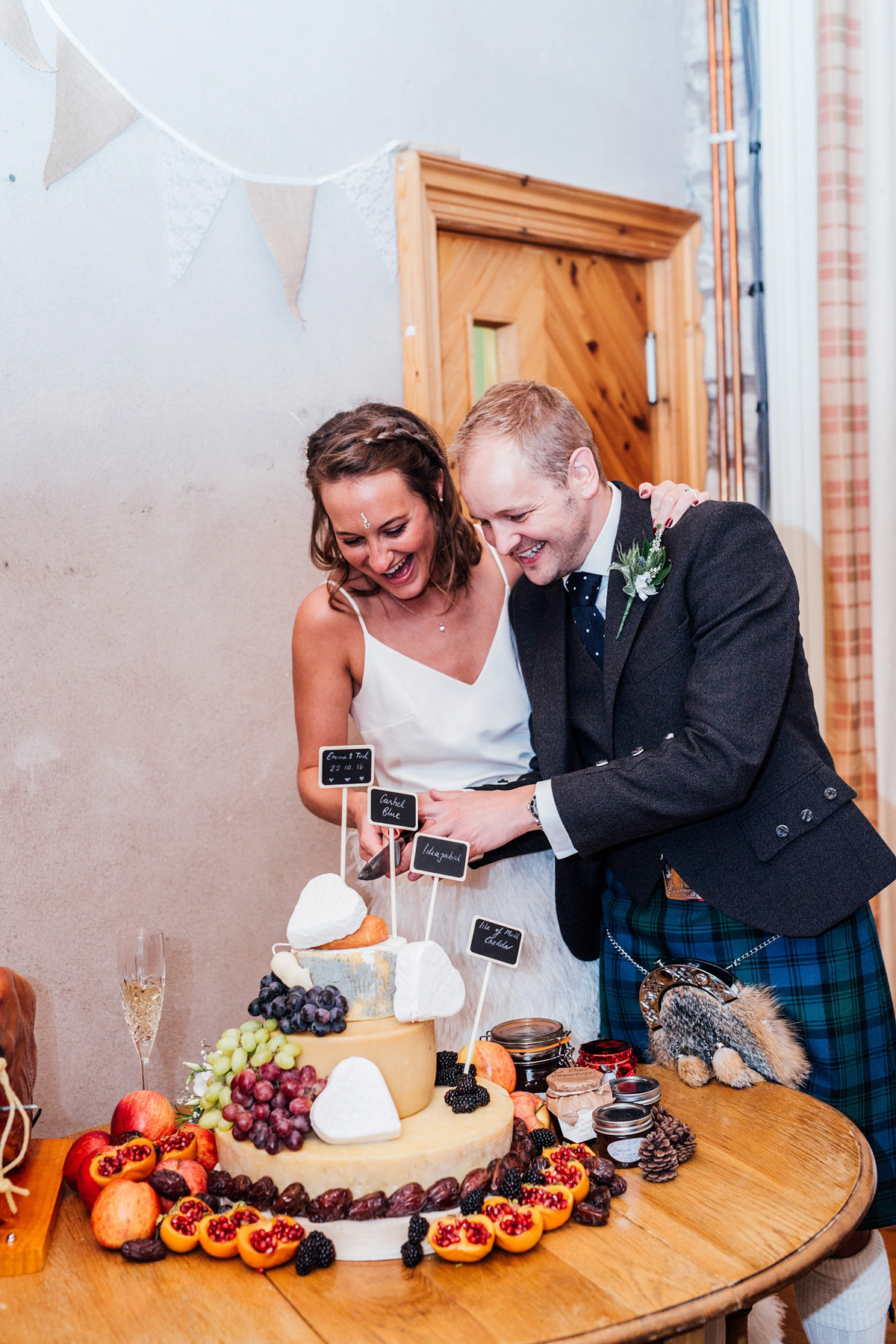 Evening entertainment came in the form of a ceilidh, led and played by The Jiggers and the newlyweds had their first dance as a married couple to 'At Last' by Etta James.
"I loved the whole day, it was just brilliant.  Everywhere I went, my favourite people were there."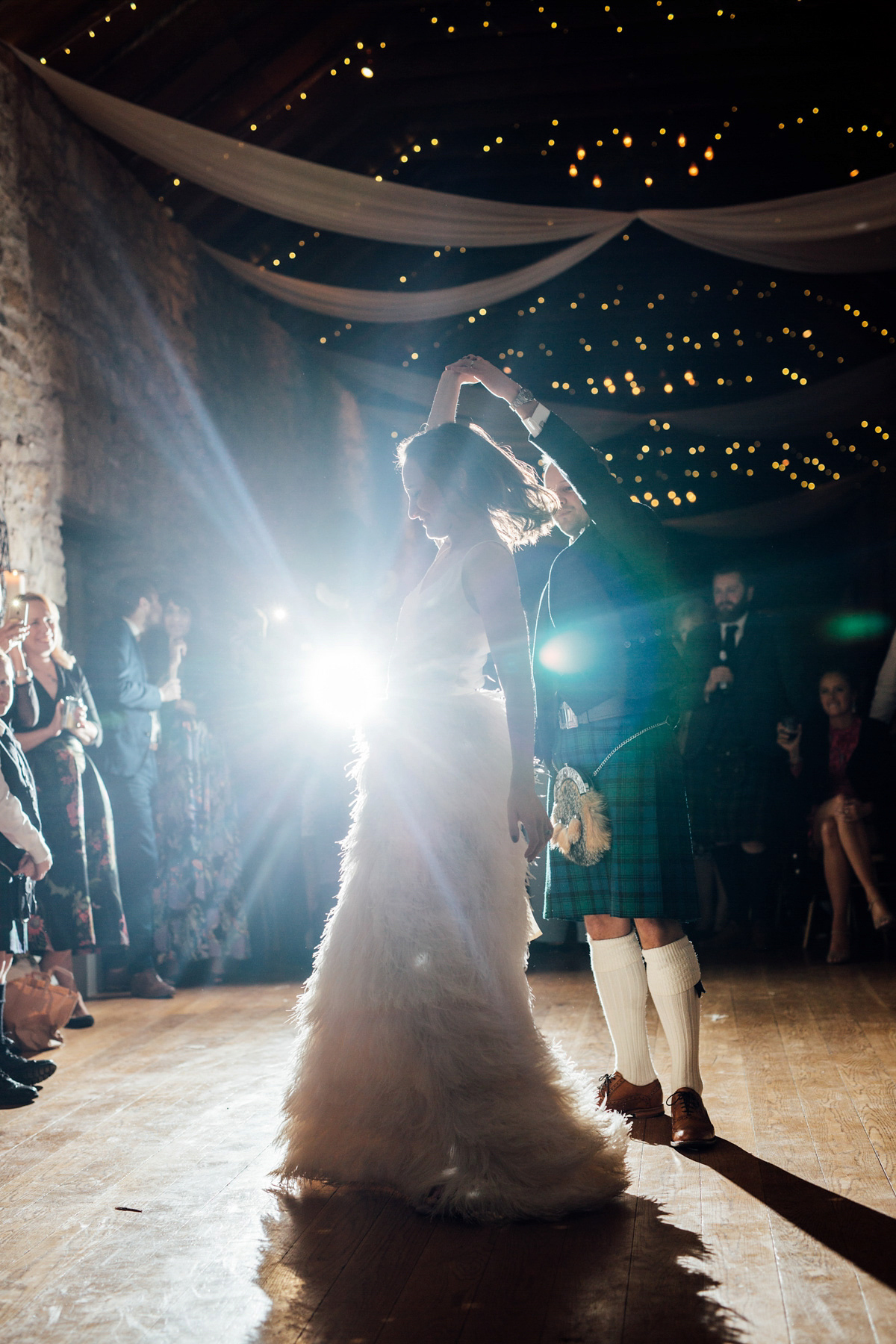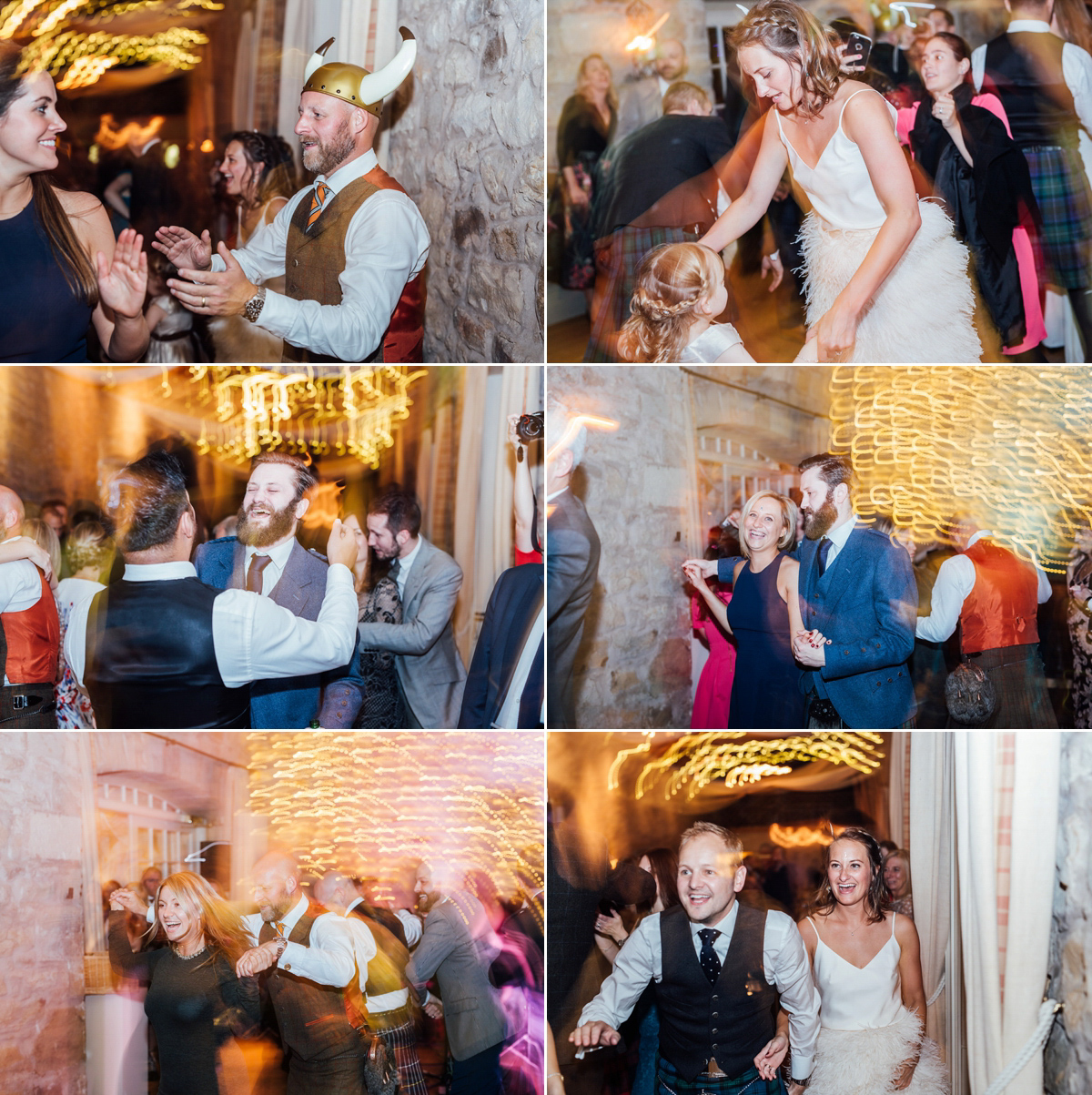 Words of Wedded Wisdom
"As fun as Pinterest is, it can also be overwhelming as there are so many ideas on there . It can also drag you down a bit if you are comparing what you have against a filtered professional photo.  Use it as inspiration, but don't compare a Pinterest wedding to your own.
Accept help from anyone and everyone.  People love to get involved, let them!"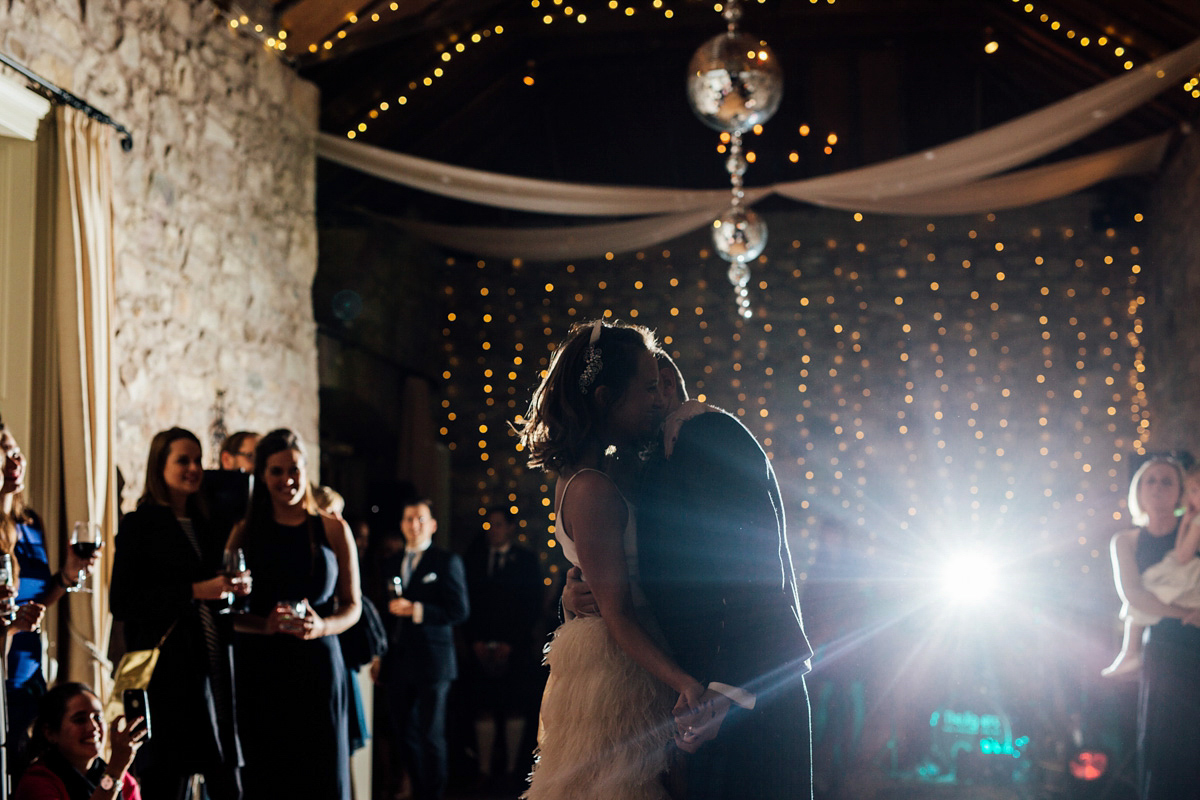 Huge thanks to Emma and Tod for sharing their beautiful autumnal wedding with us today, and of course to Carley Buick for sharing her work.  Has this lovely day filled you with excitement for your own Autumn wedding, or perhaps made you consider this most beautiful of seasons, if you haven't decided on your date yet?  Take a peek here for some more of Carley's work and here for more brides in Charlie Brear and if that isn't enough to fill your entire weekend, take a peek here for some more gorgeous Scottish weddings.
Happy browsing!
S x