Now I am terrified that in just over five weeks time, on my wedding day, the heavens will open and a huge deluge will tumble down on our Italian celebrations, ruining all our plans for an outdoor party. But today I have the most beautiful wedding to share with you, a union that took place under a blanket of drizzle – and do you know what? It's beautiful. And the rain makes it even more so. Faye, a bar manager, married Lex, a carpenter, on 10th September 2016 in the grounds of Whitminster House in Gloucestershire; a flower-filled, joyful celebration.
"We wanted a venue that offered the opportunity to make our wedding truly unique to us. It was important to us that our suppliers weren't stipulated by the venue. If it's a blank canvas, it can be made into the wedding that you want it to be. Whitminster House is a great value venue as it includes marquee and accommodation for twenty included in the price. If you're not local there is also option to hire very sweet rental cottages on the premises for up to fifty people."
Images by Bowtie & Belle Photography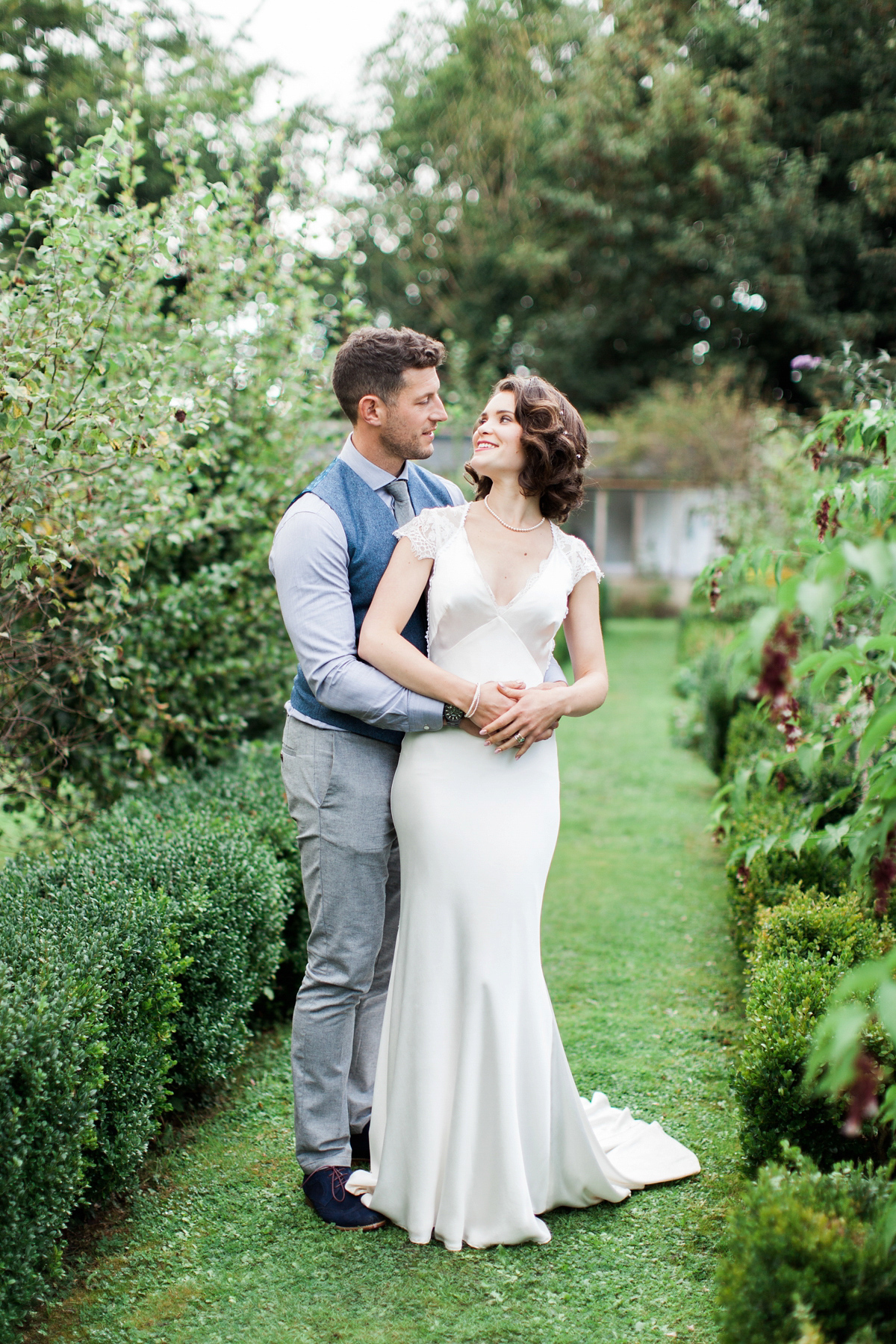 Faye wore the divine 'Ella' dress by Anna Georgina & Kobus Dippenaar, which she purchased from Morgan Davies Bridal in London. Our bride visited a sample sale at the boutique with her bridesmaid, Katey, long before she and Lex had decided on a date for the wedding – she just couldn't wait to visit the shop after seeing their beautiful collections online.
"I chose a variety of dresses to try, making sure I tried different styles. Because I visited the store on their sample sale day I was only able to choose and try on five dresses. Luckily for me, as I went to try the dresses, the silk Kobus Dippendaar dress was returned to the rail and I quickly snapped it up before anyone else spotted it."Chloé Love Story was Faye's chosen scent, a romantic, recent purchase that just seemed perfect for the day. Nina Shelley took care of her beautiful make-up, and Faye's über-feminine, vintage-inspired curls were crafted by Leah Court.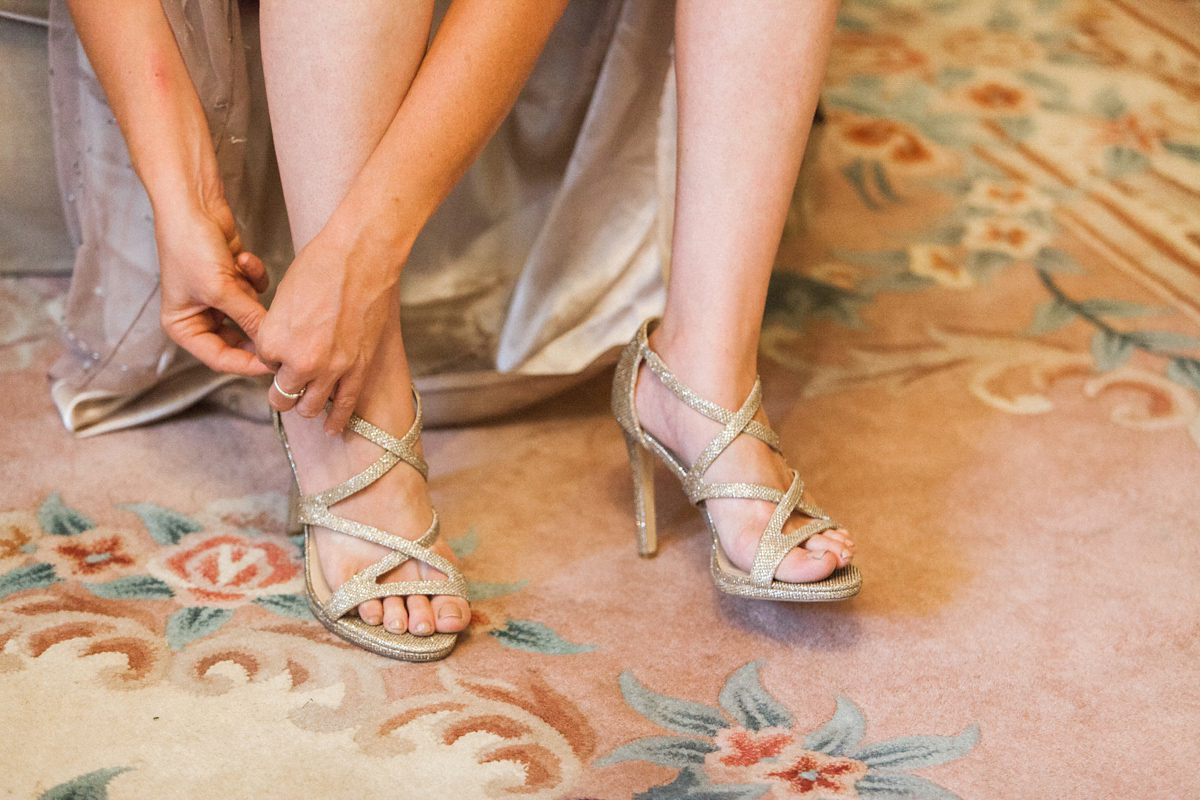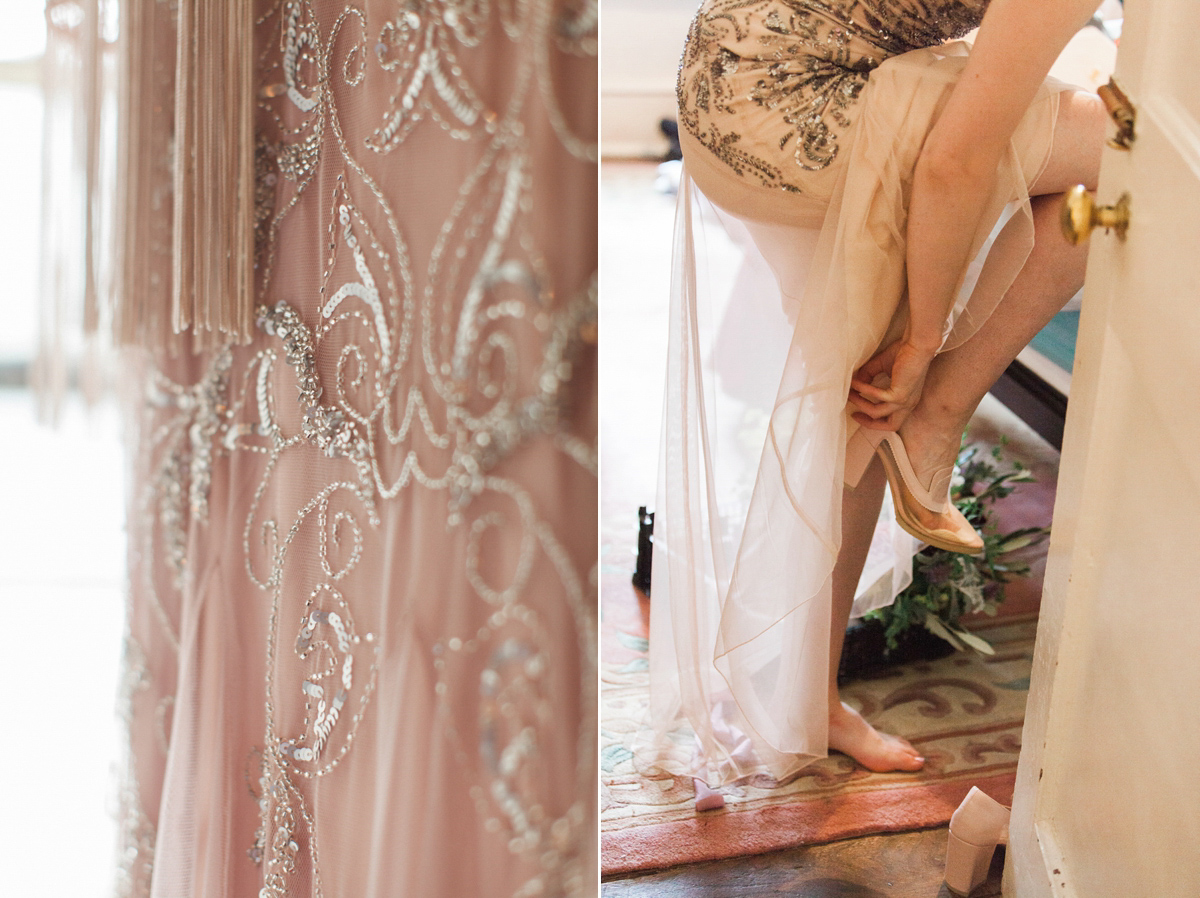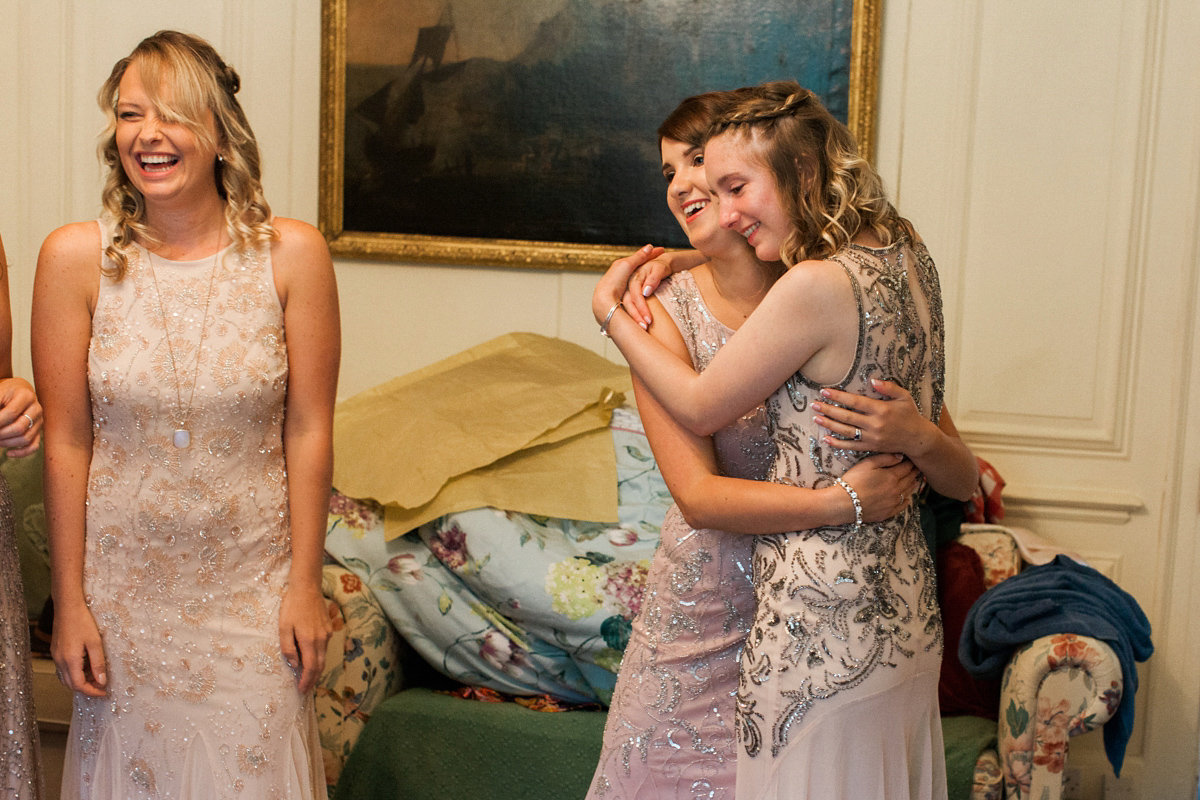 Faye chose her gorgeously mismatched selection of bridesmaids dresses from Debut by Debenhams and Miss Selfridge. I love how the fitted, full-length, intricately detailed gowns mirror the stunning lace back and figure-skimming style of Faye's dress.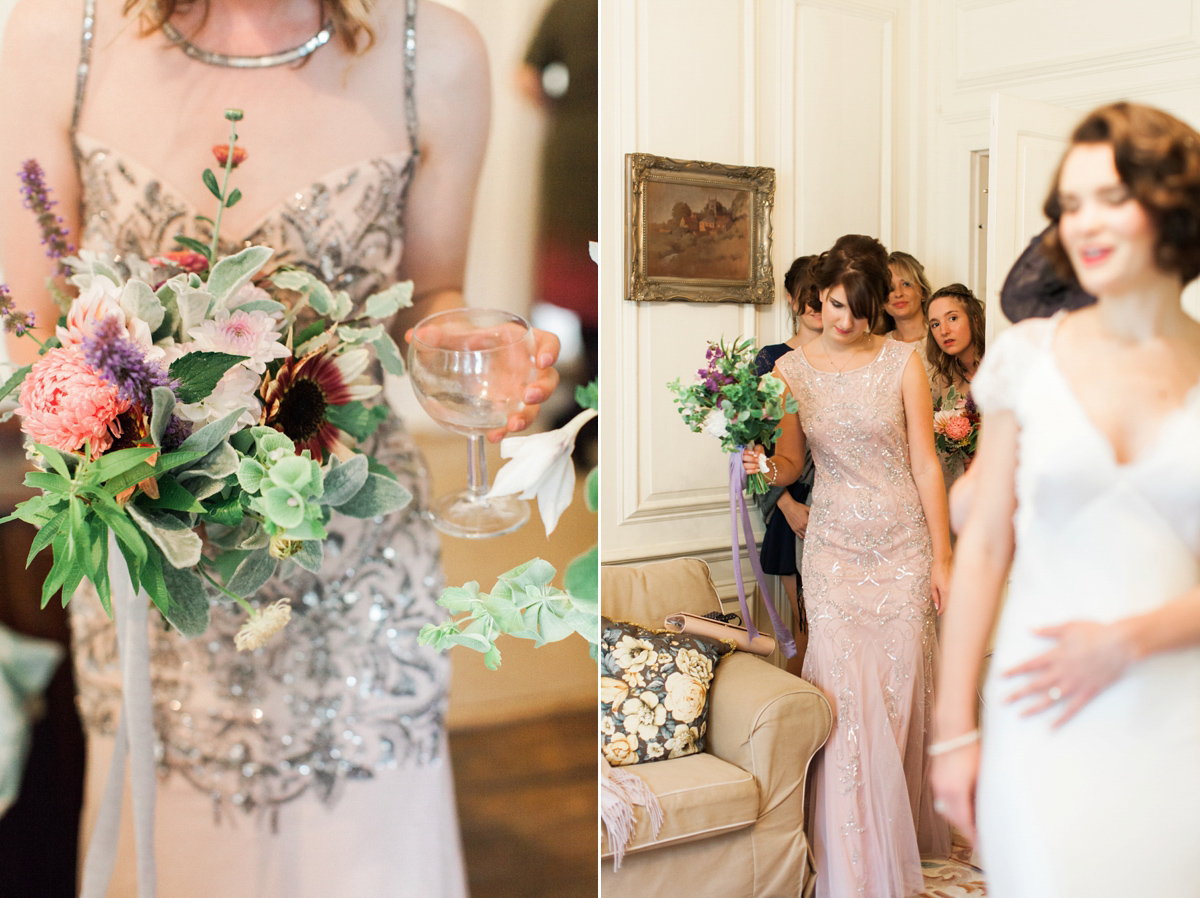 "I really wanted to try a silk dress as they are so simple and beautiful, and I was intrigued as to how it would look on me. I knew before I went that the back detail was one of the most important features of the dress for me, so the combination of the silk and full lace back was a match made in dress heaven."
"When I walked out into the shop many of the other customers commented on the dress so I knew it was a good choice."
Our bride chose a pair of shoes from Ted Baker, the same place Lex sourced his jacket and waistcoat, which he teamed with Jaeger trousers and a shirt from Hugo Boss.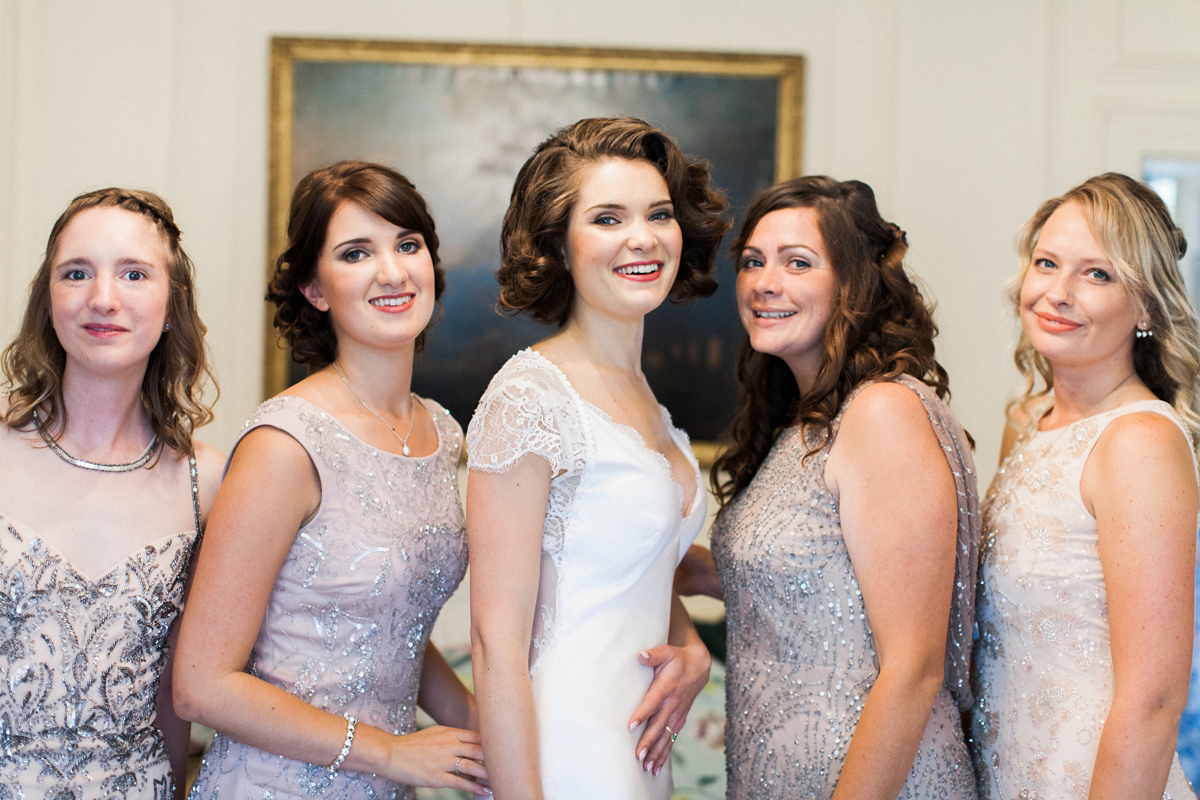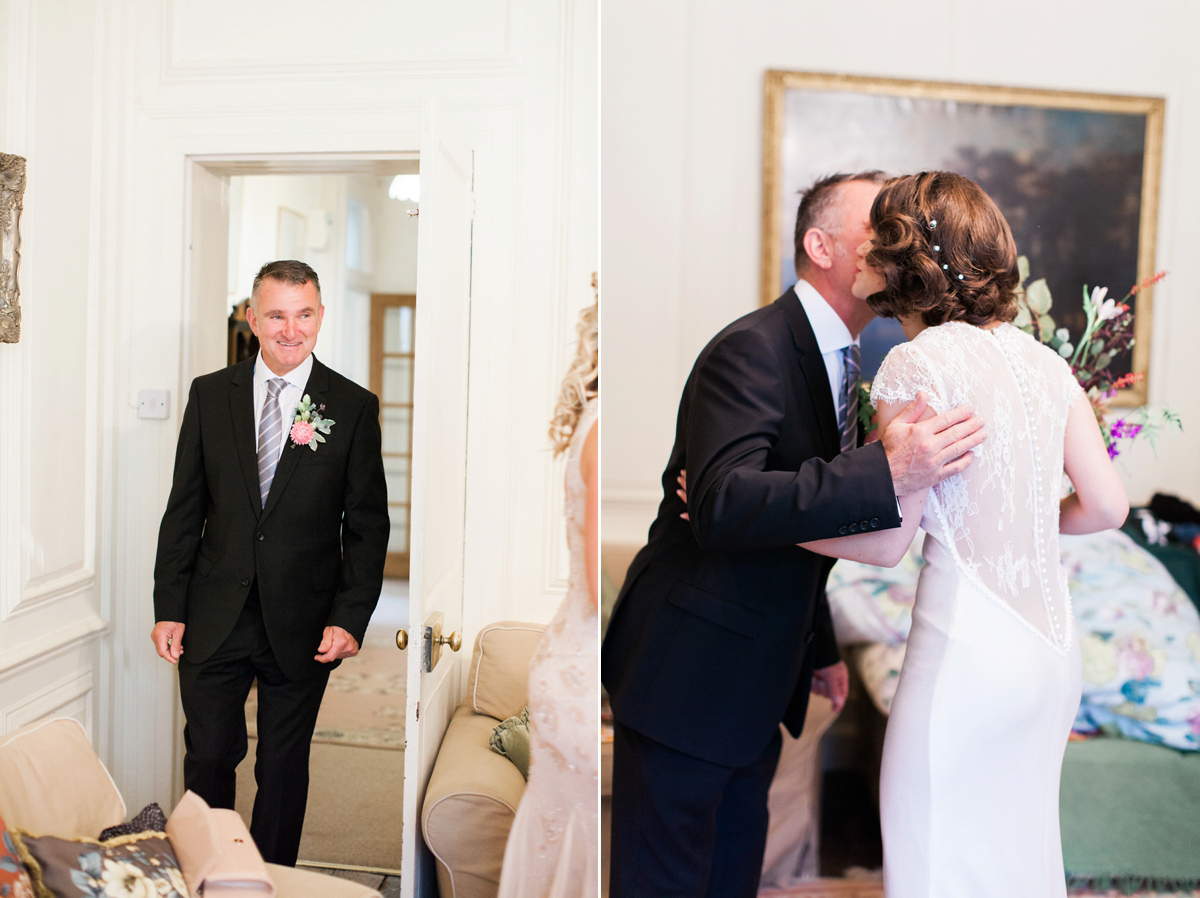 Electric Daisy Flower Farm were responsible for the beautiful unstructured blooms; the bridal party's bouquets are simply stunning, bursting with luscious flowers, fresh foliage and trailing the prettiest pastel ribbons.
"Fiona was an electric character with imagination and we loved her natural and seasonal home grown flowers. I found her on Instagram and fell in love. When we met at her house, we spoke over tea and described our wedding ideas. I gave her some rough ideas about the colours, but accepted that due to the time of year it may not have been entirely in keeping with our 'theme.' I trusted Fiona to create something beautiful and not knowing what my bouquet would look like was a wonderful treat. It was a highlight of my day seeing Fiona and her delivering the flowers."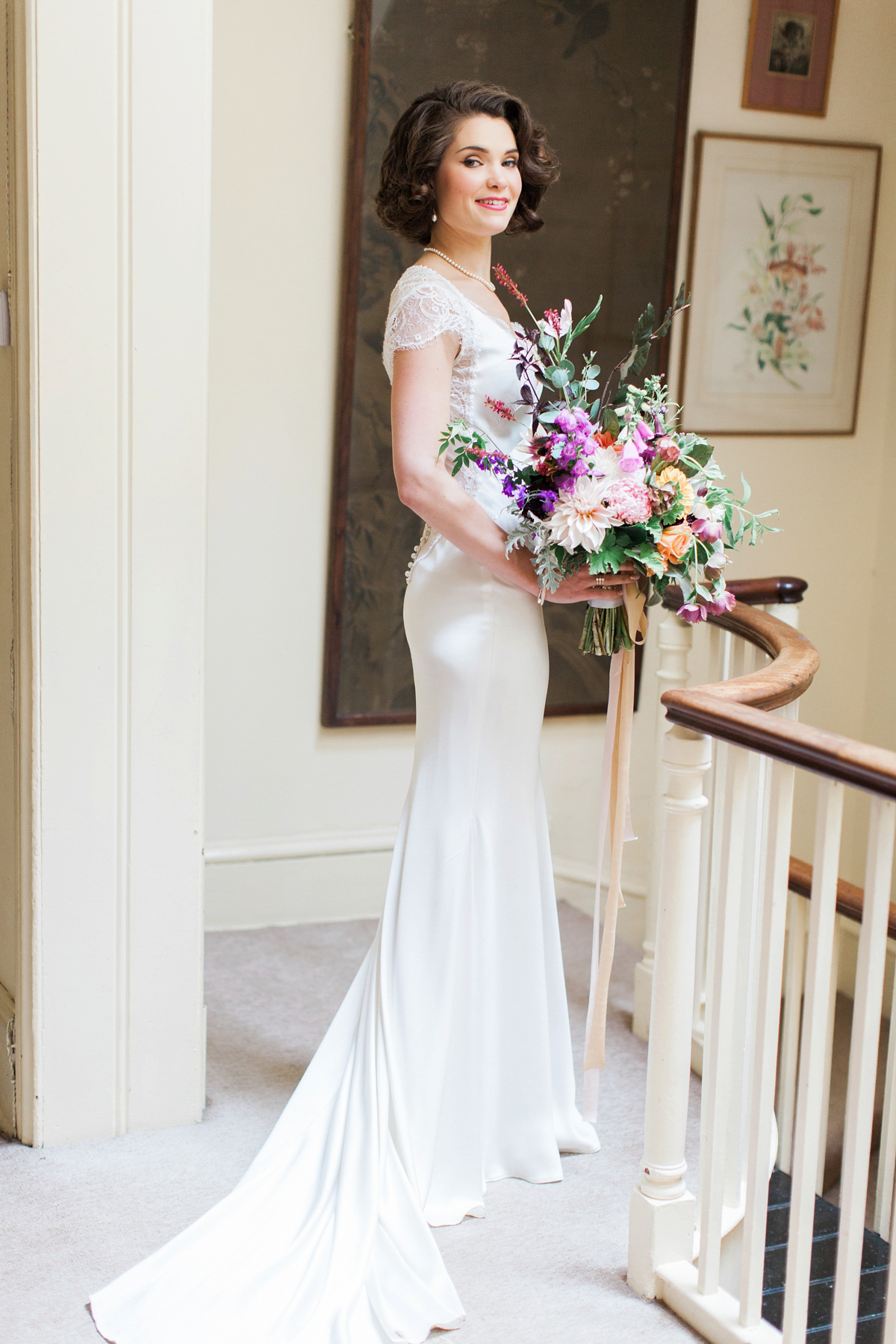 Faye travelled to the wedding venue in serious style, in her dad's Morgan three-wheeler.  She was determined to make this gorgeous vehicle a part of the day, even though she didn't need any transport at all.
"It was a bit of a running joke that I would somehow sit on the car and be carried to the aisle. My dad walked me down the aisle to Sebastien Tellier's 'La Ritournelle.' We used traditional vows and asked our brother-in-law to marry us. We had married the previous Monday legally, and treated the Saturday ceremony as our 'real marriage'."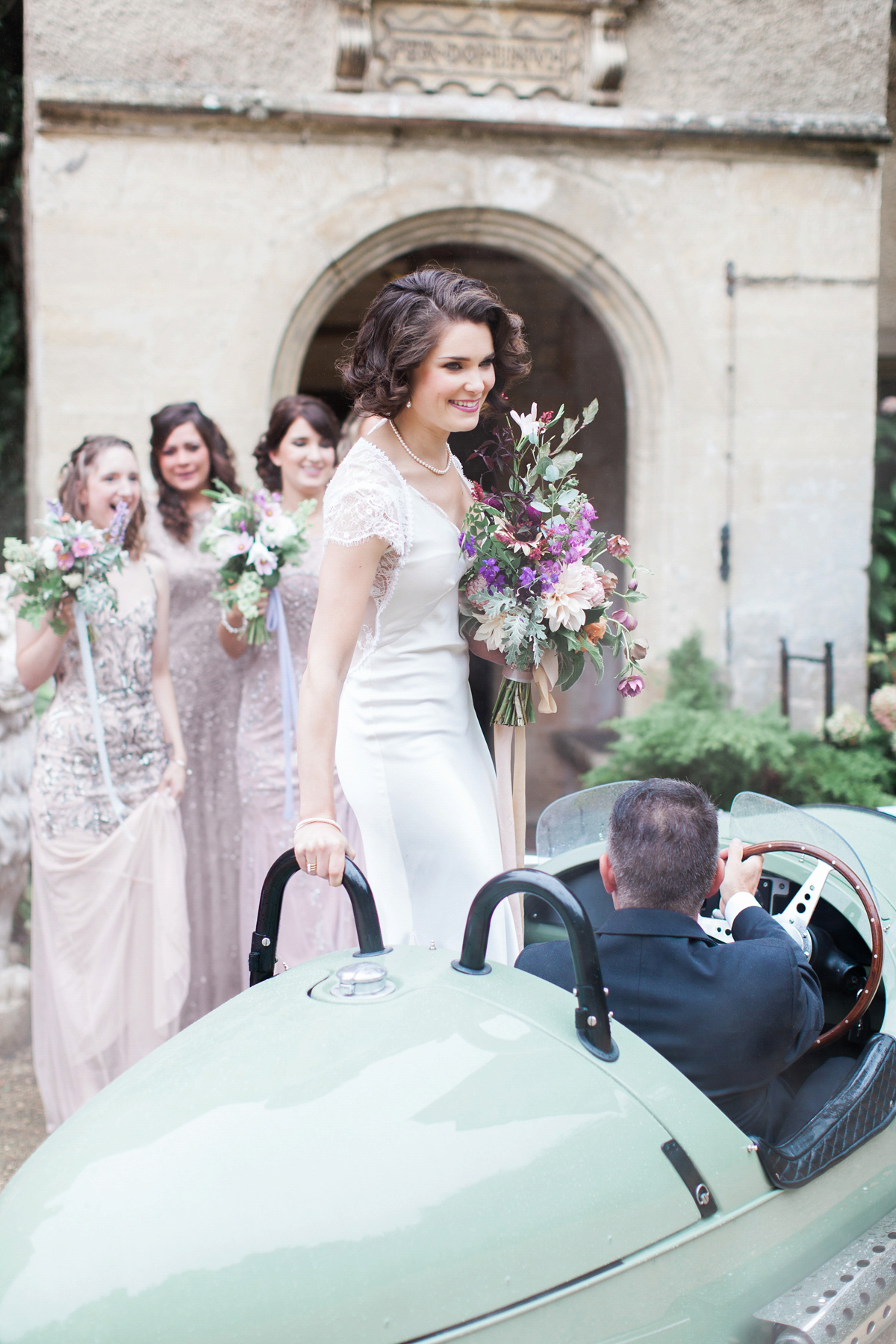 "Being a bar manager, I am fortunate to meet new people every day and it's a great opportunity to talk with people that I would otherwise never come into contact with. Of course as soon as Lex came in he caught my eye. I knew immediately that I would very much like to talk to him. Conveniently for me we had a mutual acquaintance so I had a good excuse to talk to them both."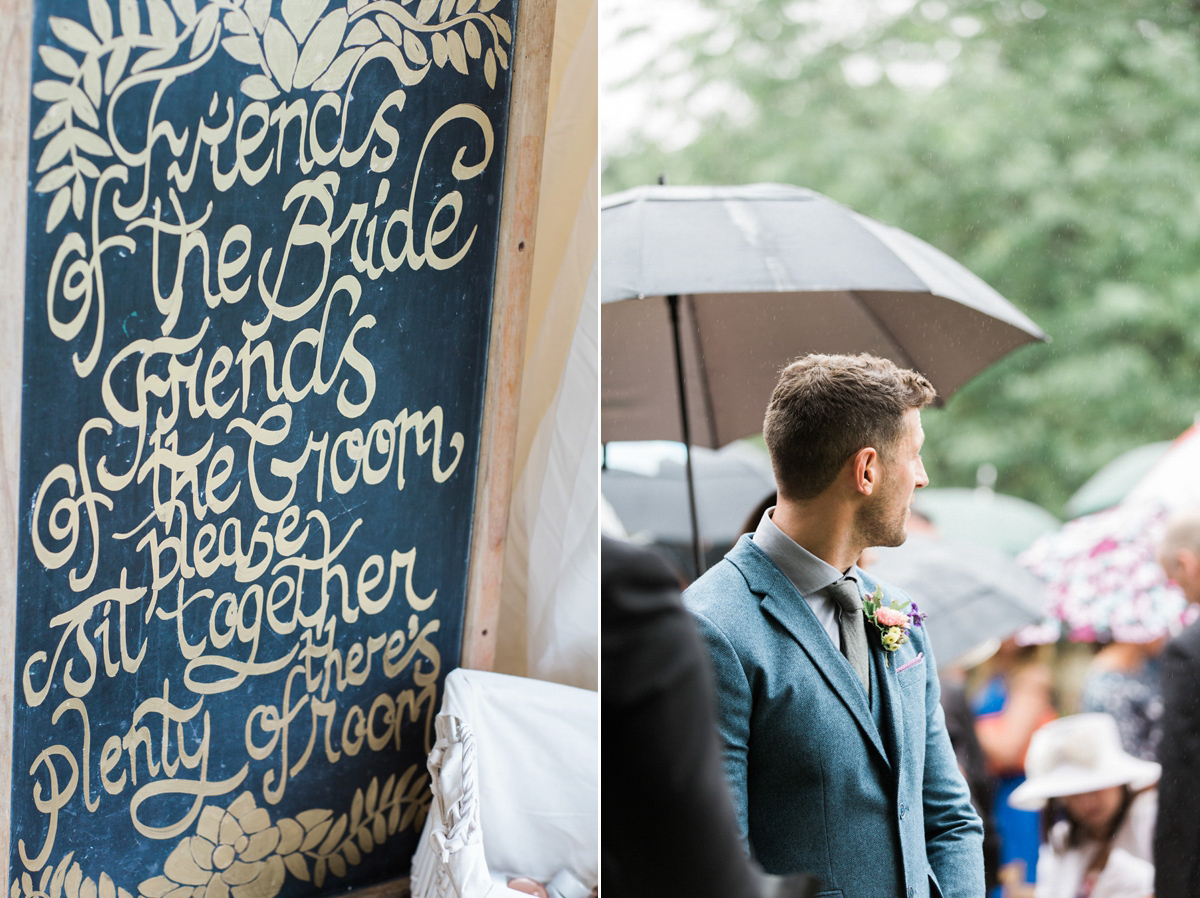 "Despite desperately spending my entire evening at his end of the bar, nothing further came of this encounter. I still hoped that I would see Lex again, and fortunately for me he did return. This time I wasn't at work and after indulging, as people do in bars, I had enough courage to tell him what I thought of him. By this point I had indulged perhaps a little too much and simply shouted 'hello, beautiful man!' at him. Somehow and somewhat miraculously, I got Alex's phone number and the rest is history."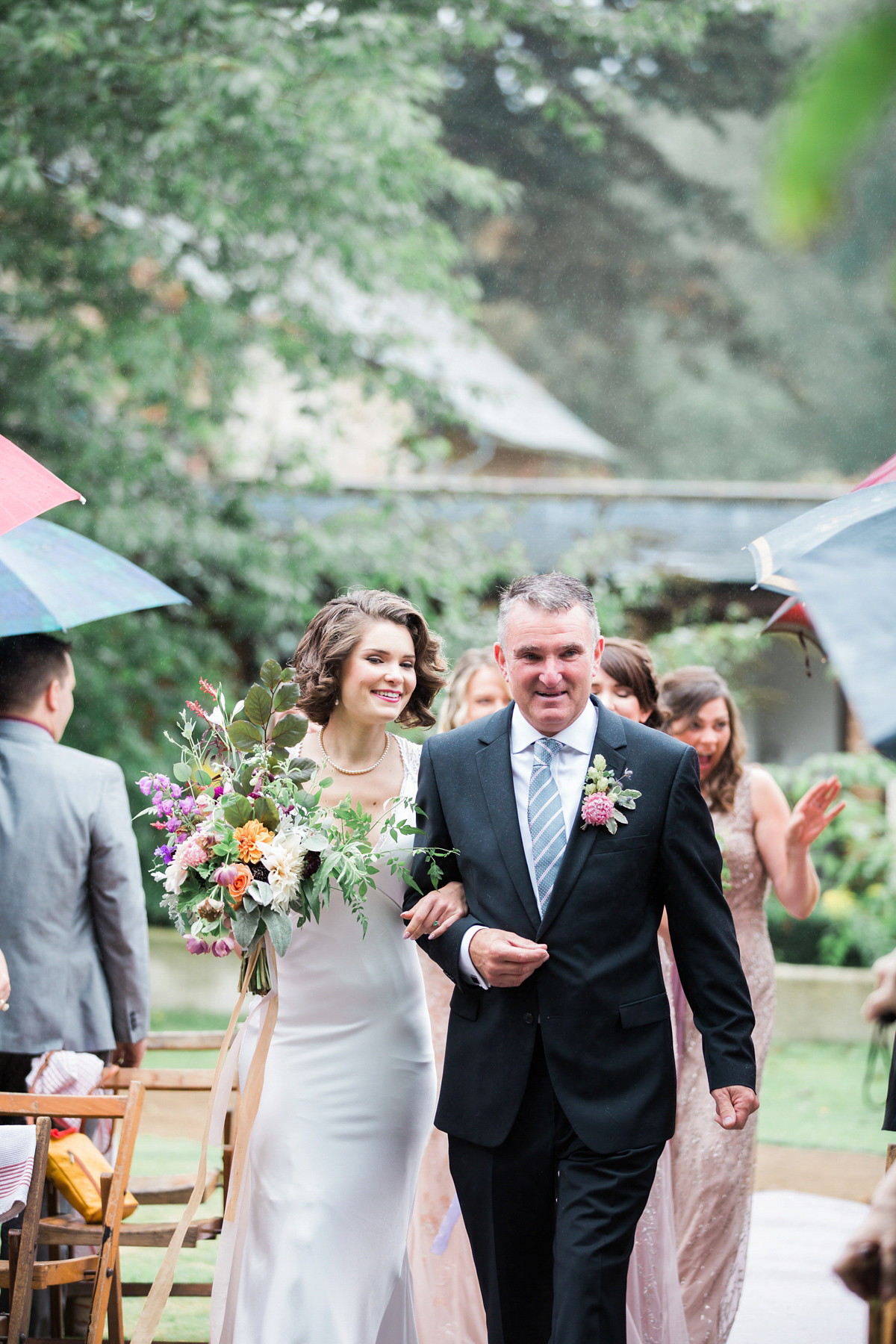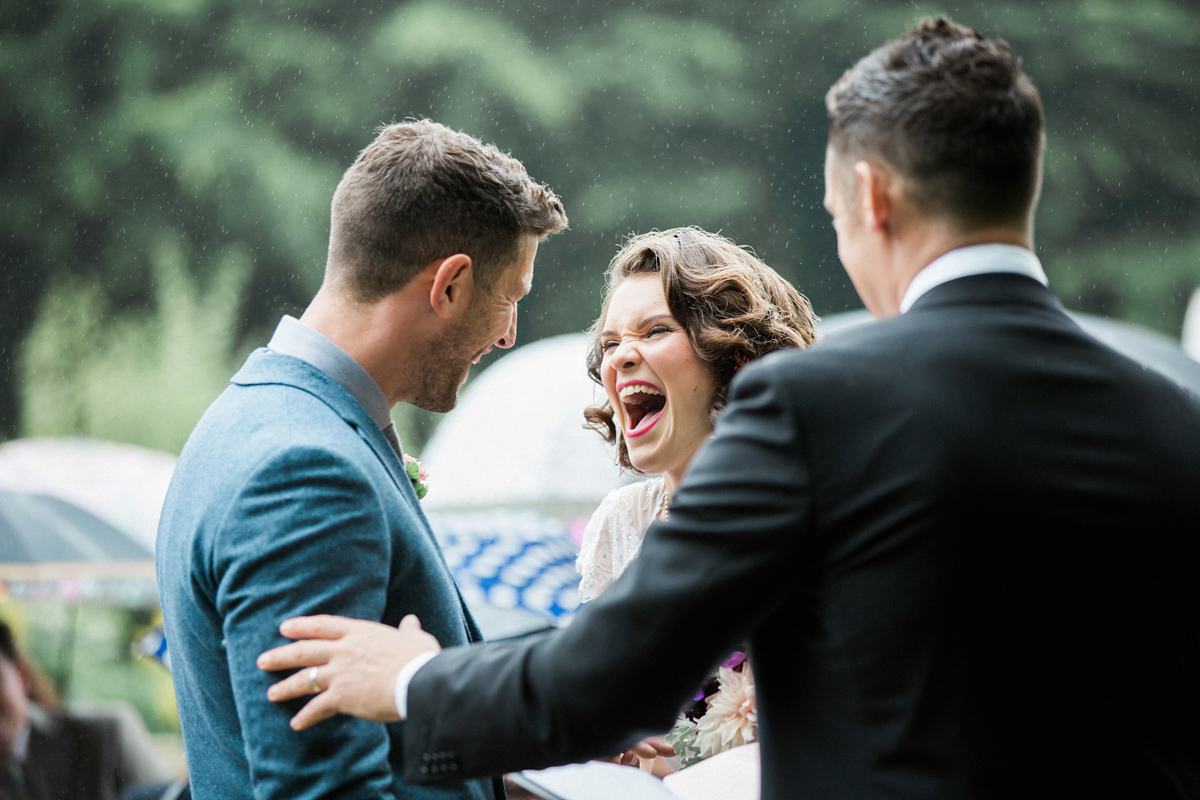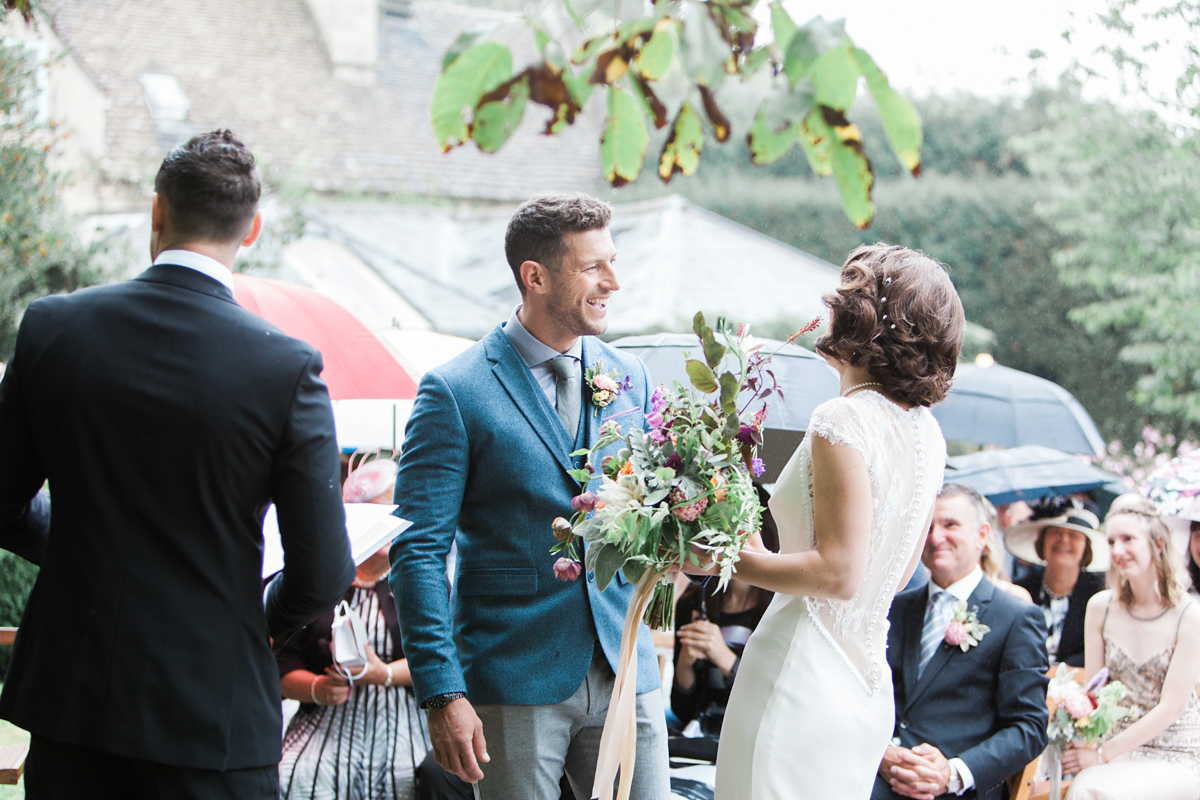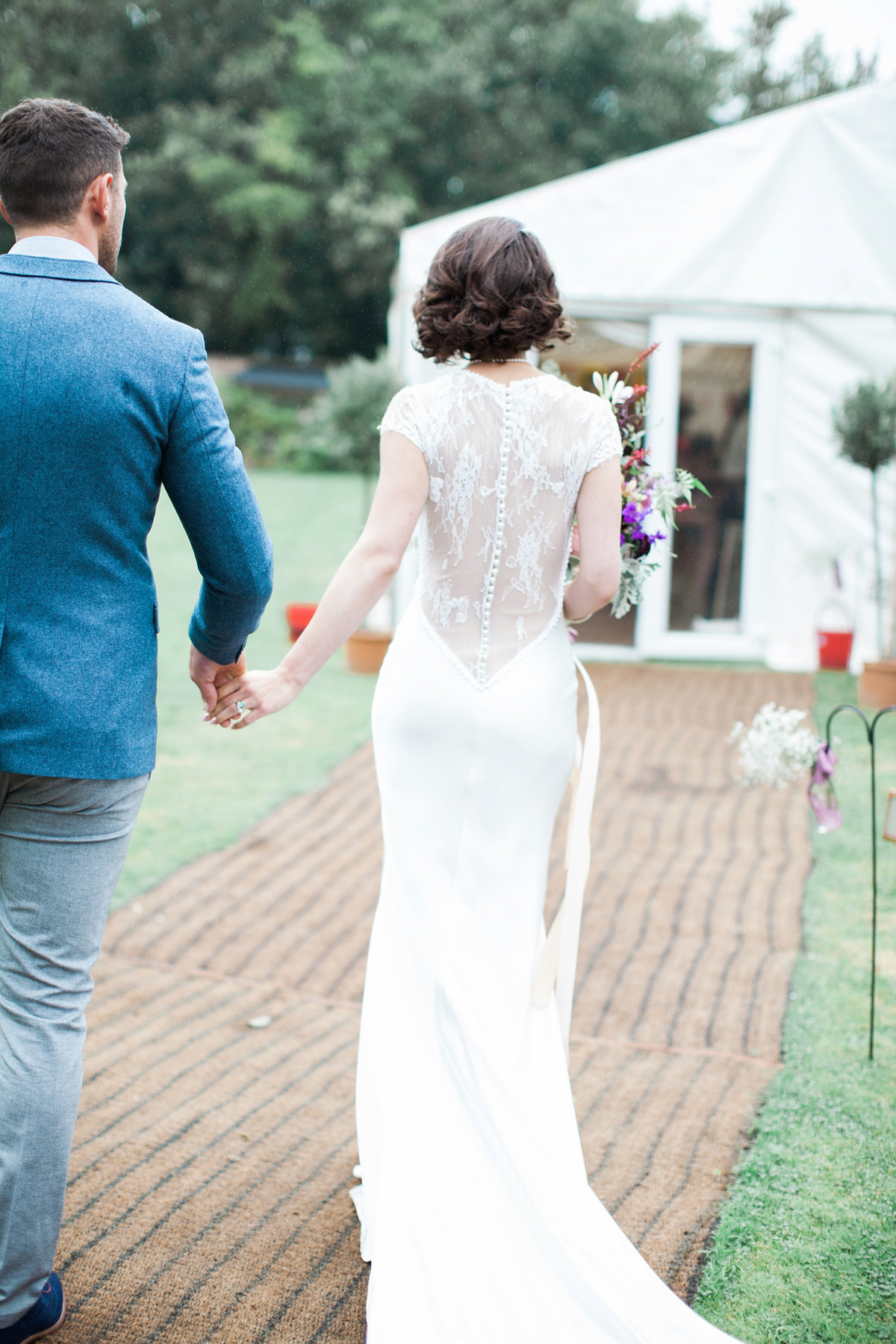 All of this shimmering beauty was captured on camera by Bowtie & Belle Photography; a husband and wife team based in the heart of the Cotswolds.
The images that this talented duo have captured of Faye and Lex, joyfully smiling in the rain before their loved ones, covered in a sea of umbrellas, are so heartbreakingly romantic.
"I was looking for a fine art photographer. I love the natural use of light and how enchanting the style is. I went to school with Thomas and Samantha who are school sweethearts and now have a wonderful photography business. They offer amazing packages, ours included an engagement shoot, which was a great opportunity for us all to meet. We had a lovely afternoon and were amazed how natural it was to be photographed by them."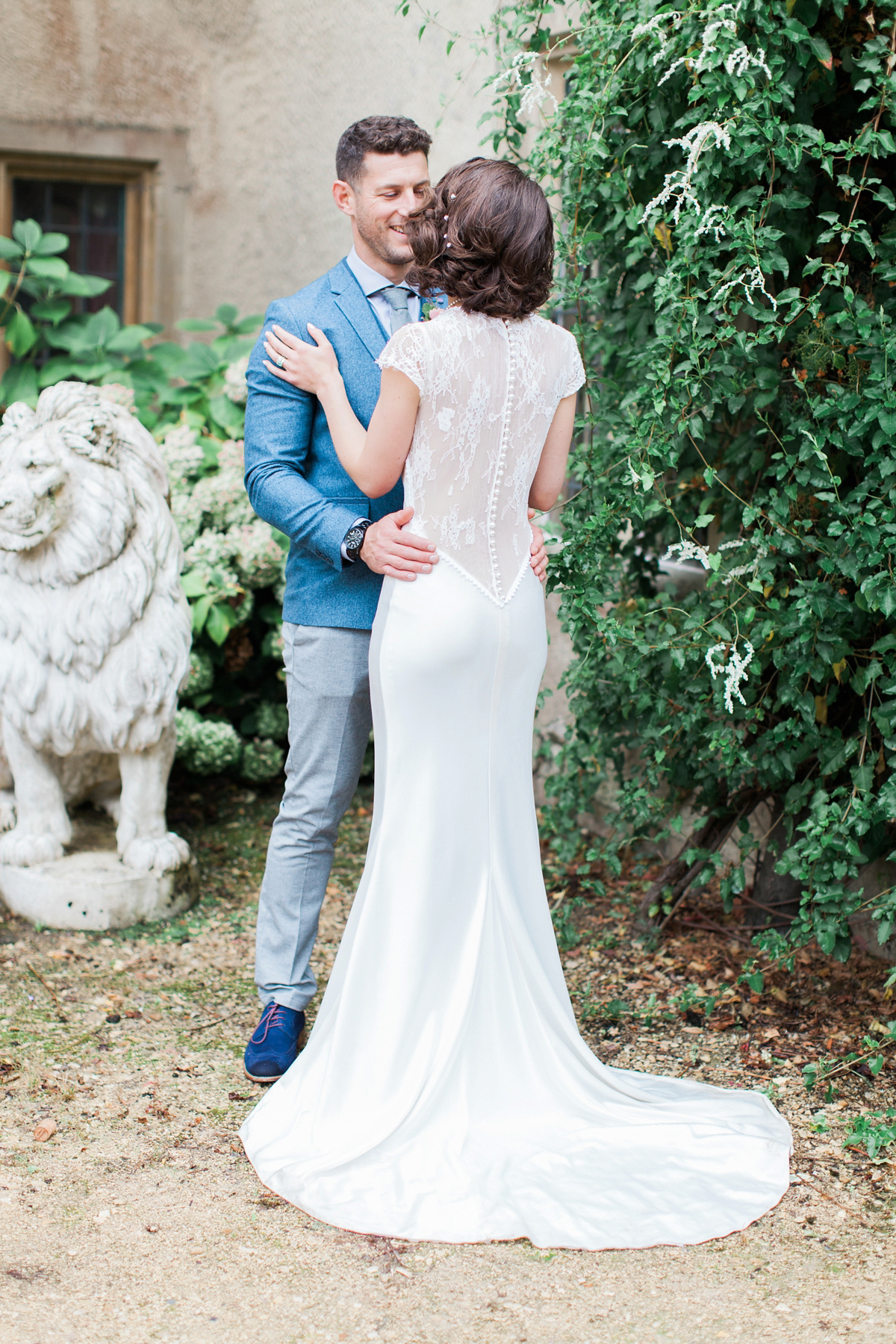 "We were so fortunate to have them work with us at our wedding. Having two photographers gives an insight into the day that can't be achieved by one. It gave us a really intimate timeline of our day, seeing how both of us spent our mornings (who drank the most sloe gin!) seeing from two angles the reactions to the same moment. They work together seamlessly, the candid shots they were able to capture are just remarkable."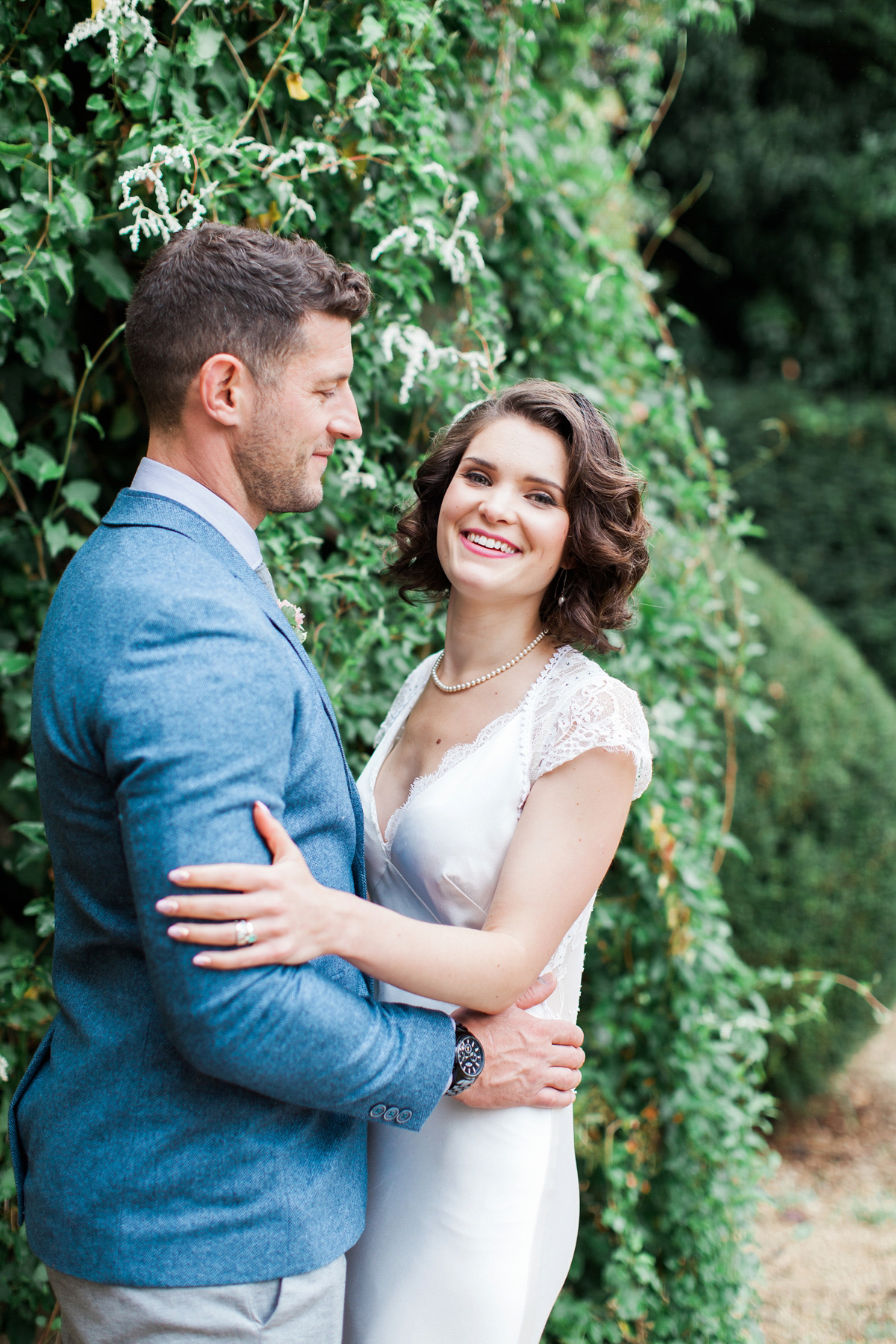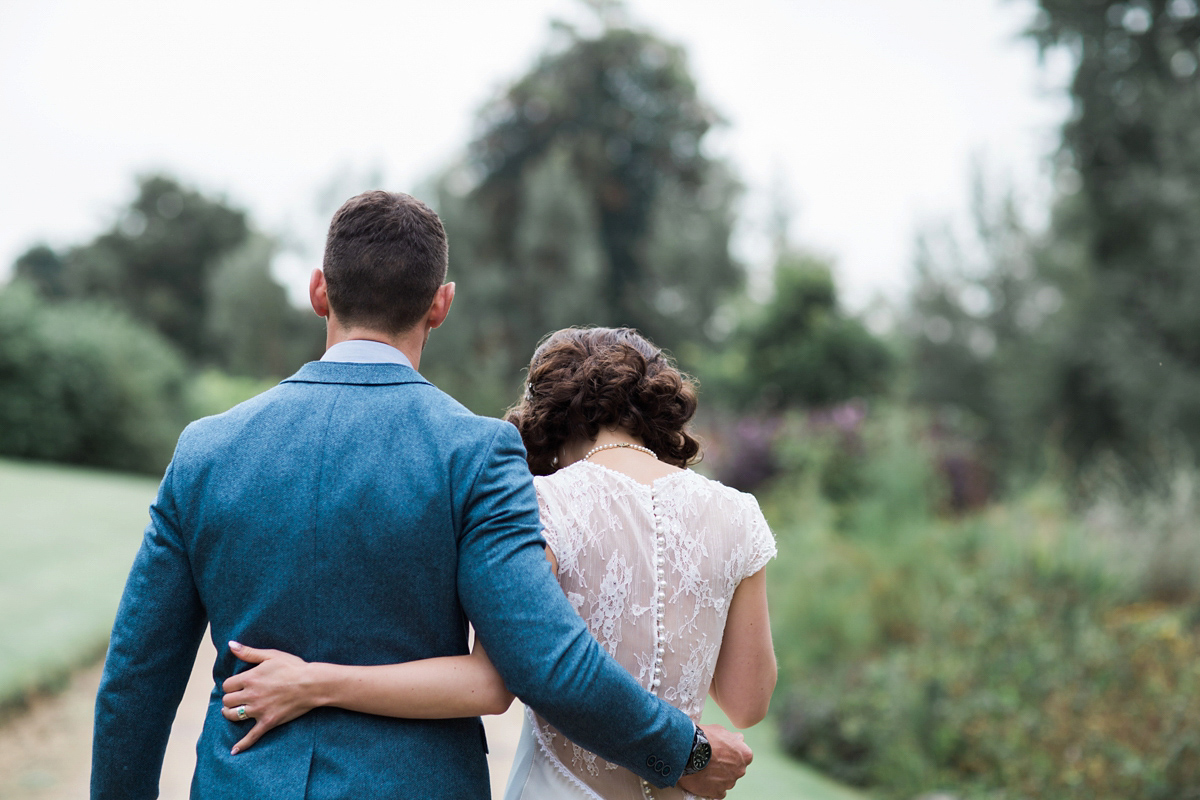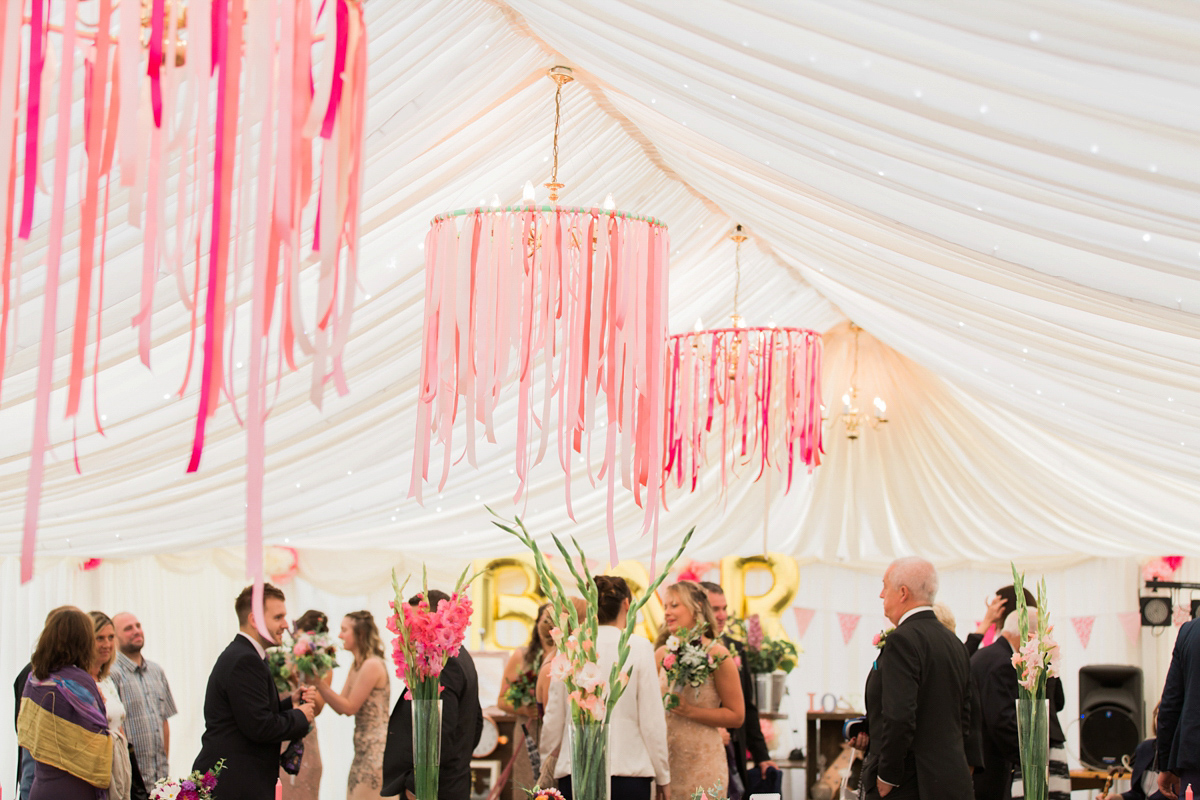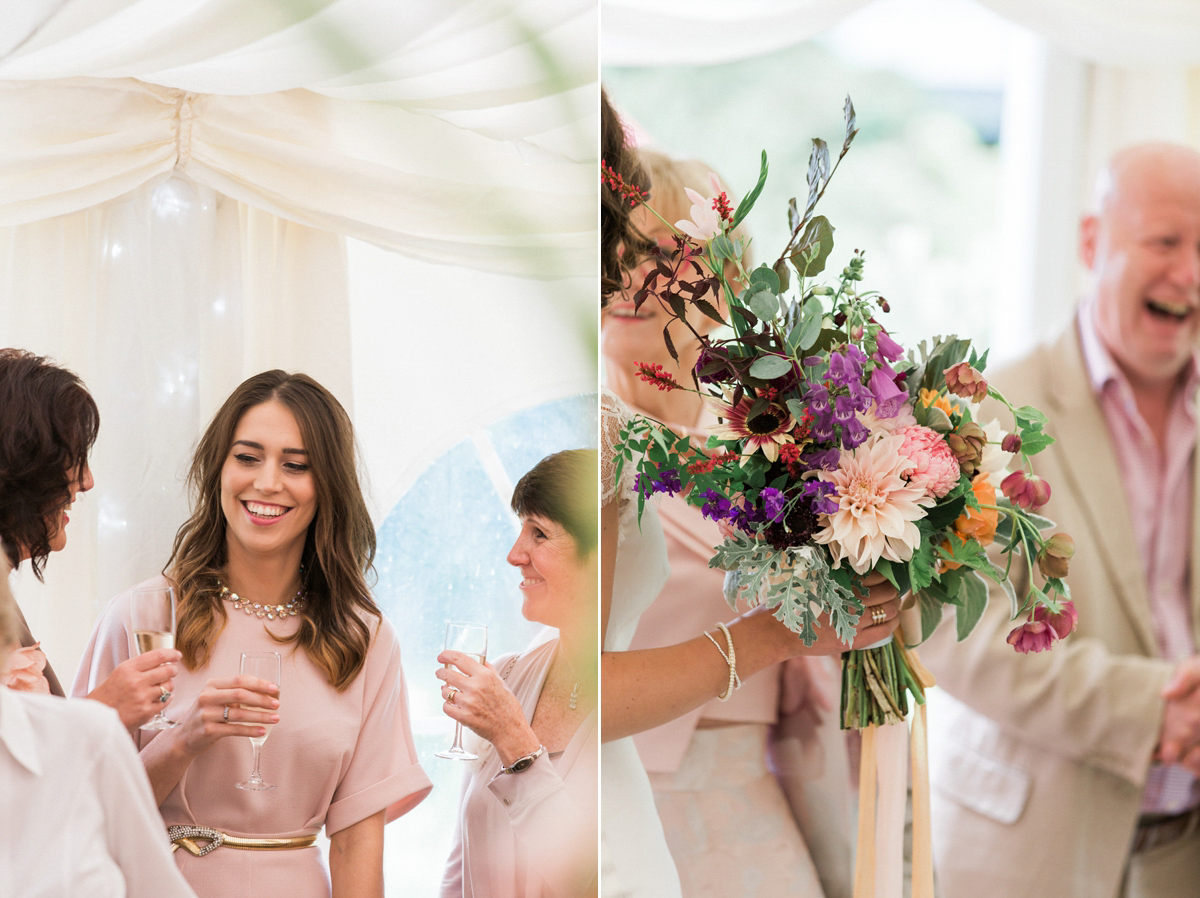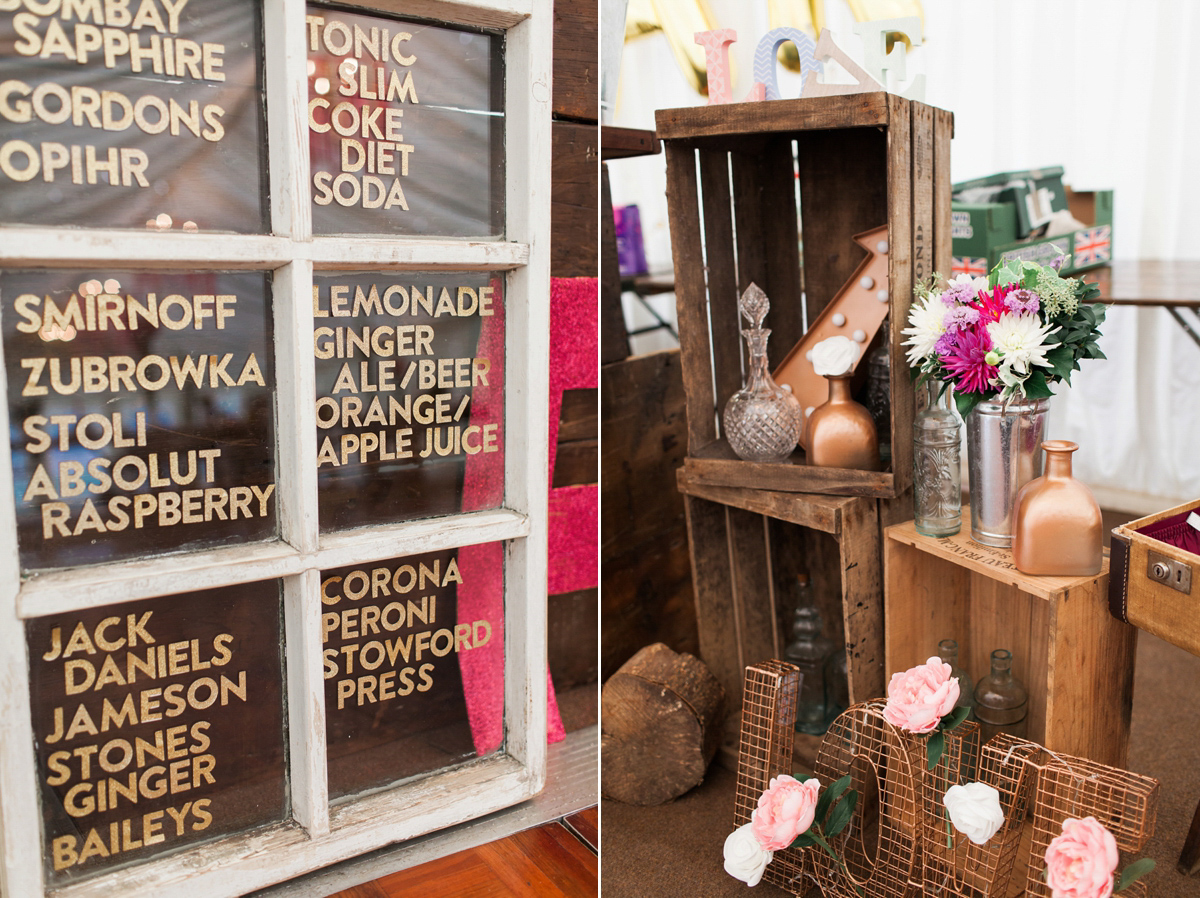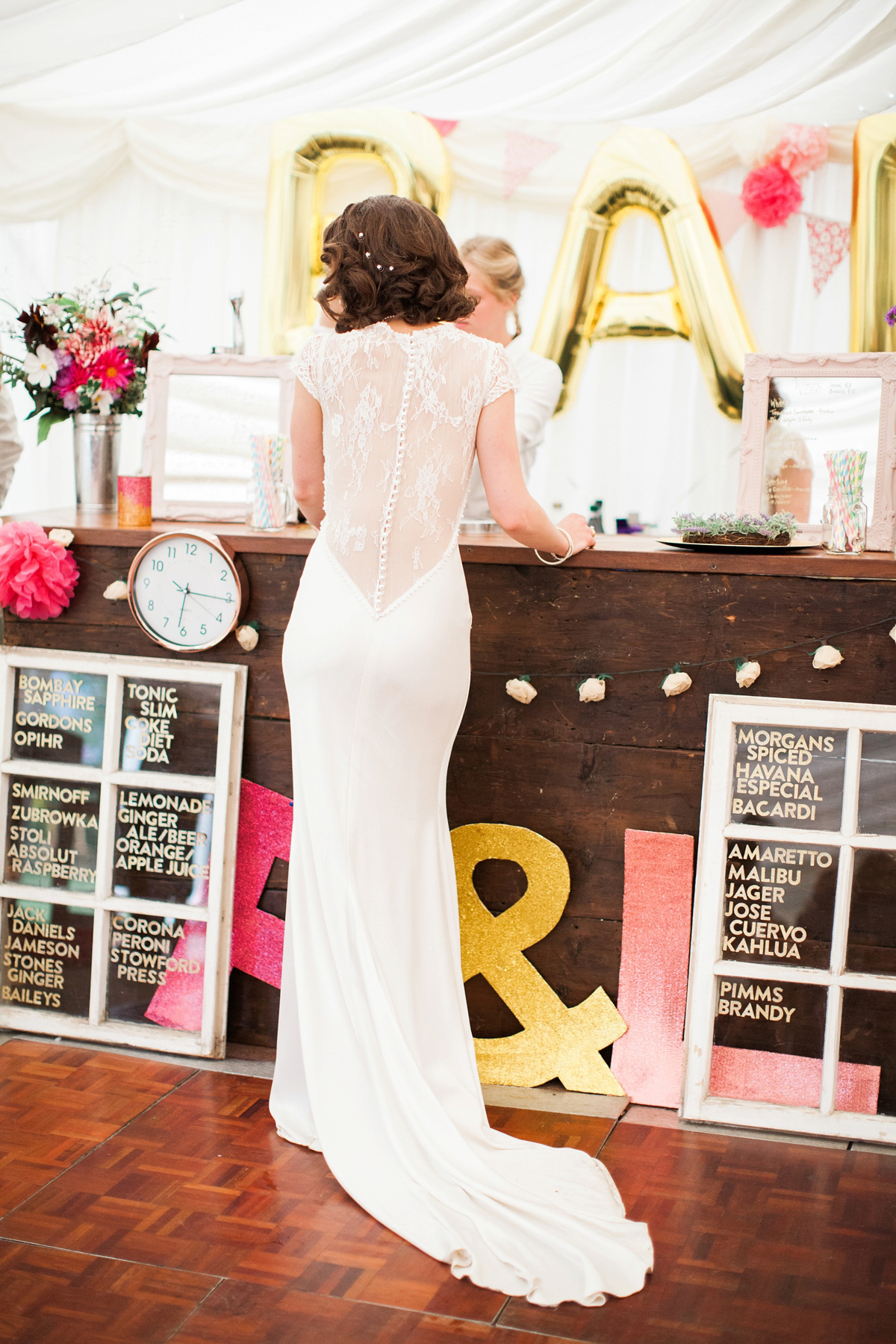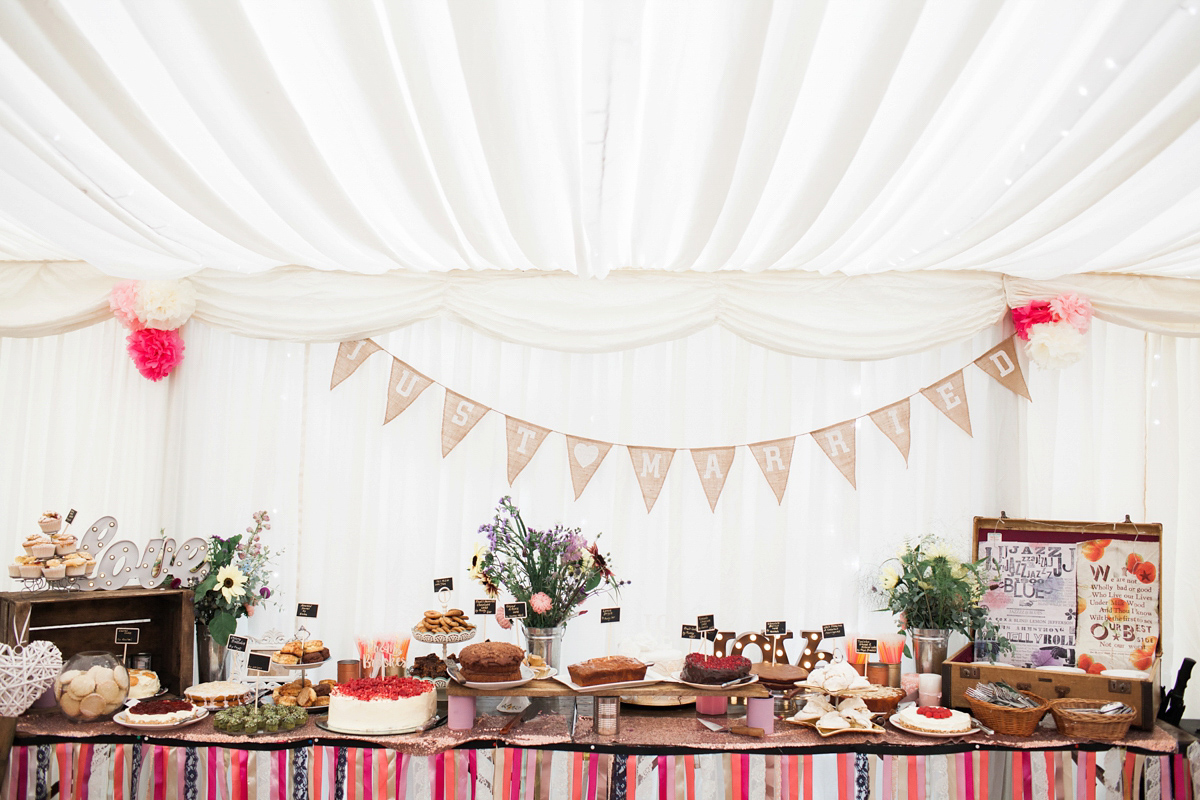 As a self-confessed bakery fiend, Faye was never going to be happy being restricted to choosing just one cake. After a wedding breakfast catered by Birch Catering, guests dove into a scrumptious cake table, with contributions by a number of the couple's beloved friends and family.
"Birch Catering were exceptional, their young staff were remarkable and couldn't do enough to help. We loved the canapés and they seemed to go on forever. There was so much food, yet not quite enough to soak up the prosecco."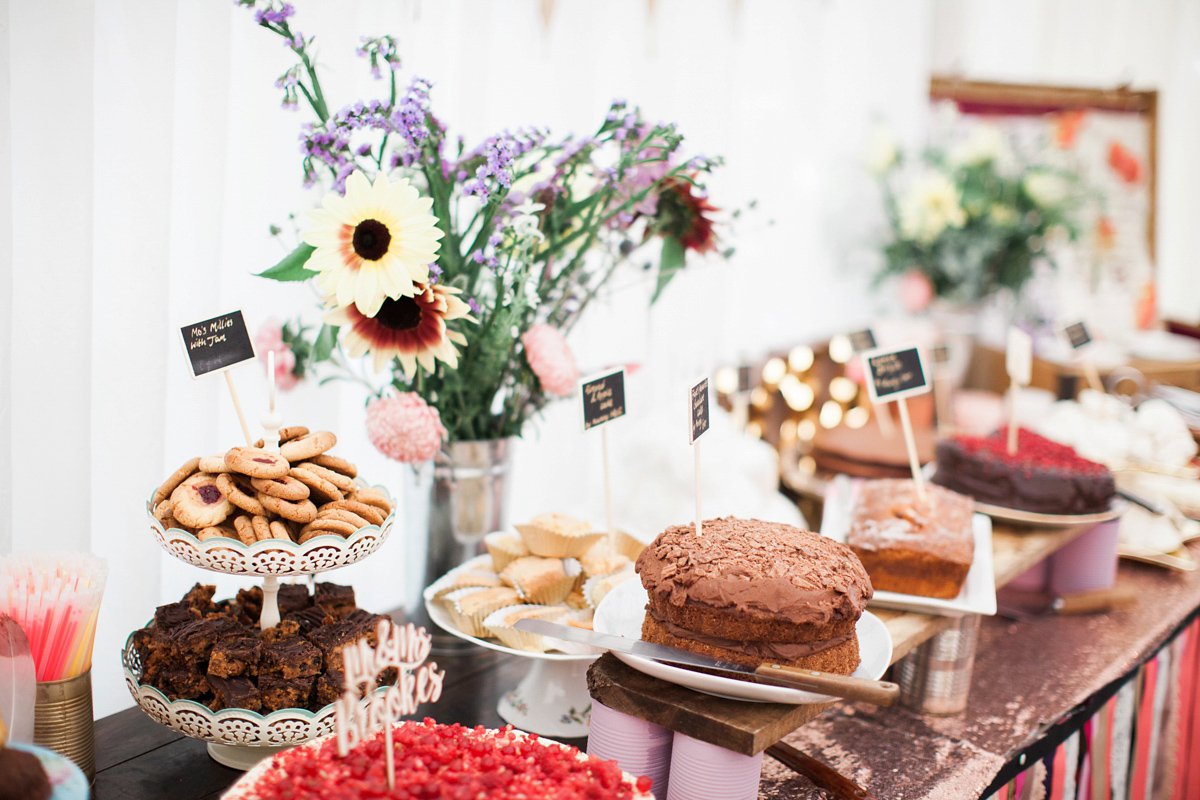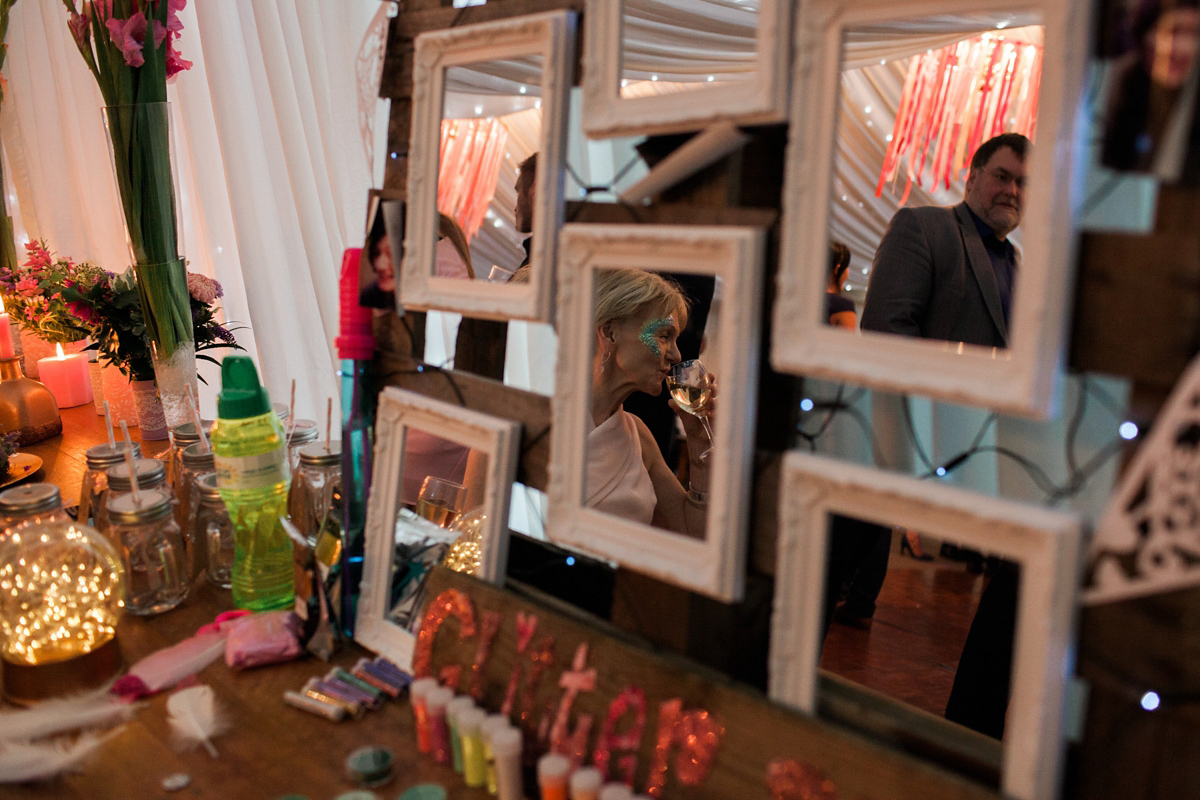 "Seeing all of the hard work come together was a huge part of the day. It felt like years in the making and was very much a personal day with all the styling and decisions made by us. I especially loved setting up the marquee the day before, having my nearest and dearest put in much appreciated hard work to bring our vision together."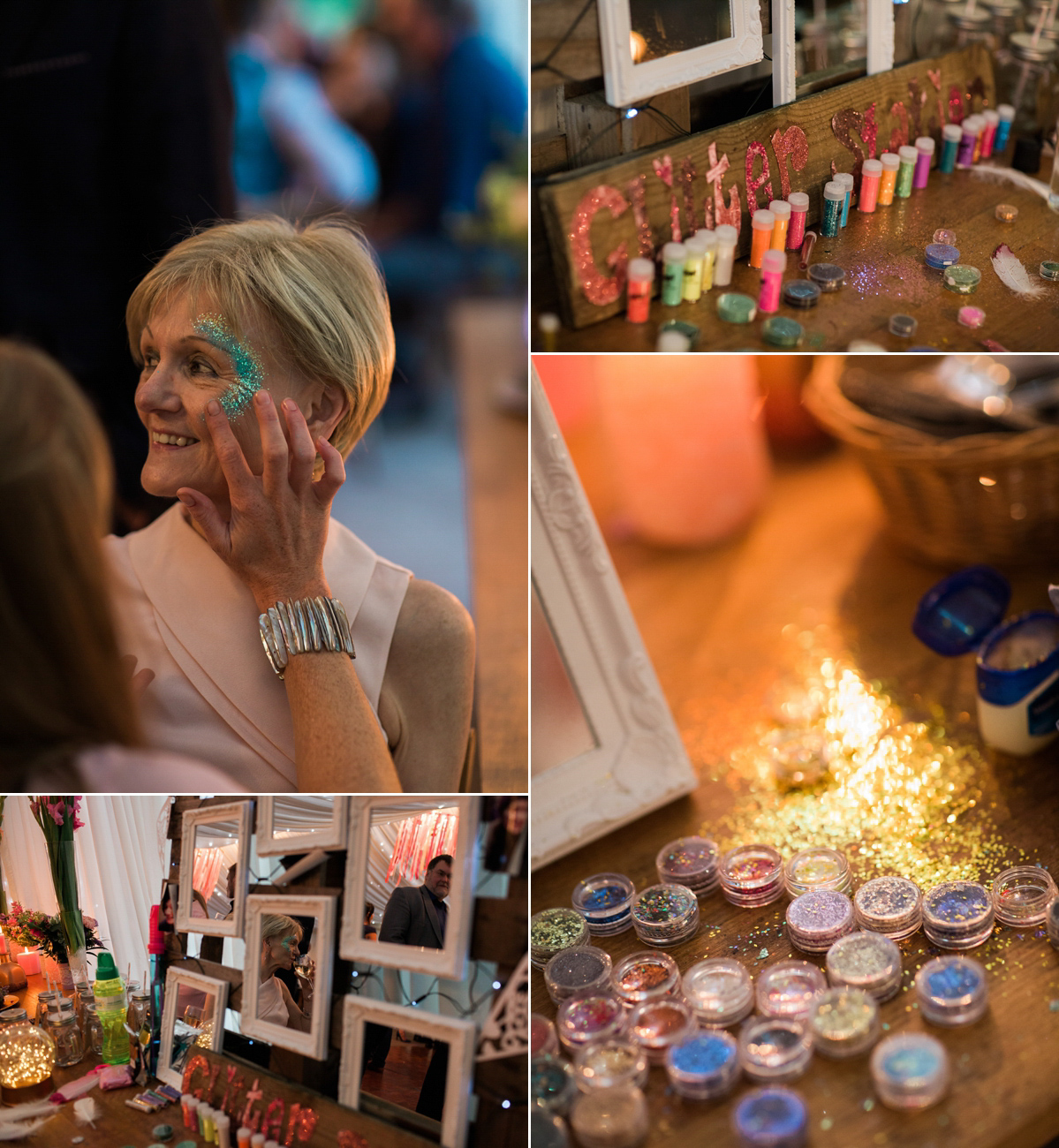 Words of Wedded Wisdom
"I think it's easy to get carried away with ideas, you see so many inspiring things along the way and you can't help but want everything. I wasn't very good at sticking to a theme and deciding exactly what I was trying to achieve. The simplest of things can be the most memorable."
"Remember that it's your day and that it should be exactly what you want it to be. Don't do things because it's traditional and others want you to. Let it be a reflection of you both and your love and journey so far."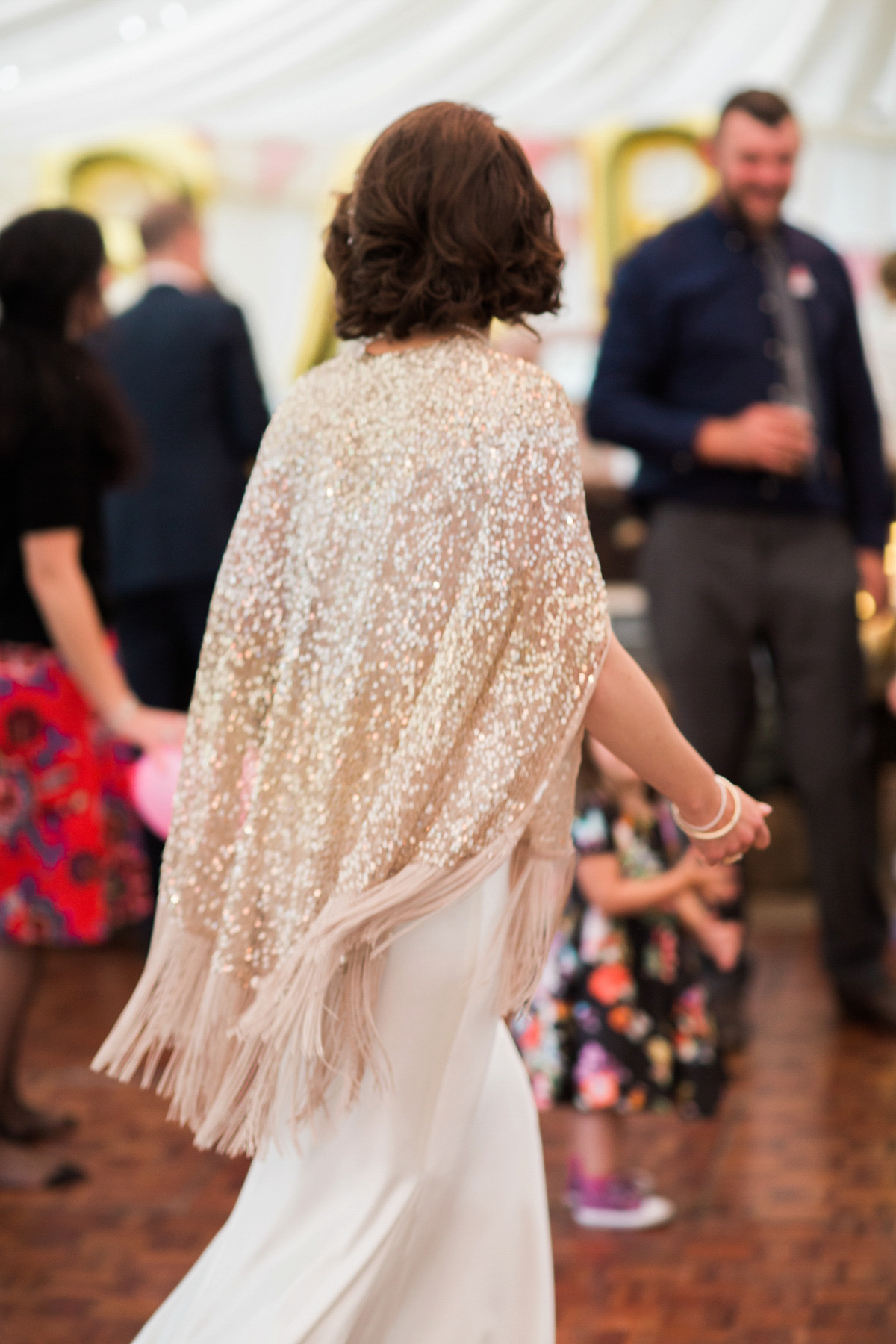 That just leaves me to say a huge thank you to Faye, Lex and Bowtie & Belle Photography for sharing this beautiful day with us all. And if you're worried about the weather on your big day, I hope these gorgeous rainy day celebrations help put your mind at ease just a little.
With love,
Em x