Happy Monday lovelies! In all the impending wedding excitement, I keep forgetting that immediately after the day itself, my new husband(!) and I will be heading off on our honeymoon – aka as an excuse to have the most lavish holiday and eat everything in sight. I can't wait to eat my body weight in delicious pasta and ice cream and explore Sicily's golden beaches.
Totally getting me in the holiday mood today, is the gorgeous coastal celebration of Ellie, a director in television production, and Alex, a cameraman. Mr Took and Mrs James Took wed legally on 3rd August 2016 at Islington Town Hall, an intimate ceremony in front of ten guests, followed by their larger wedding celebration at East Quay Venue in Whitstable two days later.
"The location of our wedding meant we were naturally inspired by the sea so we used lots of driftwood and shells, which were scattered amongst the flowers. We used a broad colour scheme of cobalt and coral and added loads of other colours to this too. The idea was to keep everything informal and colourful and to create a mood that was relaxed and fun."
Photography by  Lyndsey Goddard Photography
I so love Ellie's natural hair and make-up, which she styled herself, with her chic white jumpsuit, which cost her just £19 from New Look! She paired her structural, tailored all-in-one with nude sandals from Dune, which she wore again to their coastal celebrations on the Friday. Alex looked quite the modern gentleman in his separates from Reiss, his navy trousers swapped for a light grey-blue pair two days later.
"I originally purchased a dress from Needle & Thread for the legal ceremony but a few days before the ceremony, I felt like it wasn't really me. It was a gorgeous dress and very feminine but I wanted something that was a bit more laid back, so the day before the wedding I ordered six jumpsuits from ASOS, which arrived the morning of the ceremony. I ended up wearing a (very cheap) number from New Look. It's definitely not where I expected to get my outfit from but I loved the style and felt really comfortable in it."
Ellie and Alex had been a couple for five years before they tied the knot and after getting engaged in May 2015, they had 15 months to plan their celebrations. Their intimate legal ceremony at Islington Town Hall was followed by a laid back reception at one of their favourite bars, Hoxley & Porter.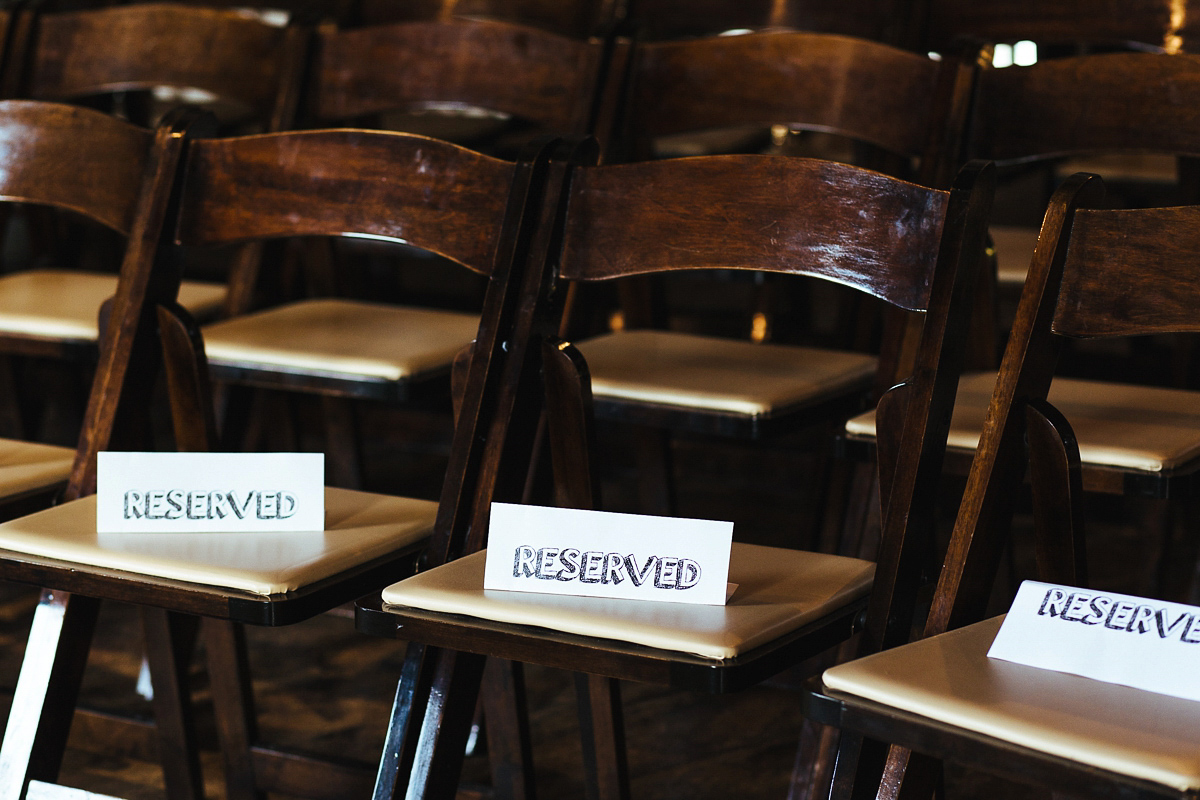 "We looked at lots of different town halls across London and Islington Town Hall was undoubtedly one of the most beautiful and it's right on Upper Street, so it gave us lots of options for somewhere to eat afterwards. We chose the Mayor's Parlour for the ceremony because it felt really intimate, perfect for our small party of twelve. Hoxley & Porter is one of our favourite bars with an art deco interior and we thought the style would appeal to both our mums."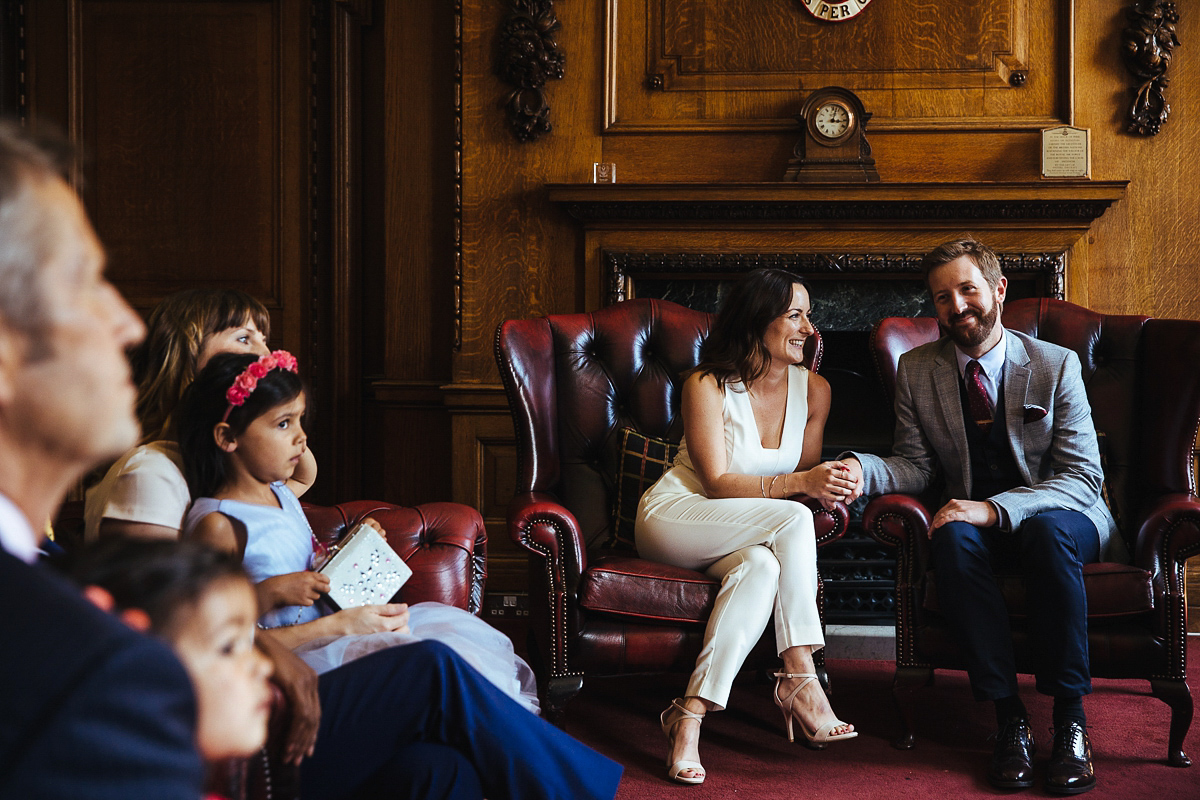 Ellie and Alex decided to make each other's wedding rings at Rachel Jeffrey's jewellery school in Hertfordshire, their bands made in silver and then cast in platinum. They so loved spending the day together, making something the other would wear forever – they whole-heartedly recommend this process to other couples.
"The moment we walked into the Mayor's Parlour together to see our family waiting for us was very memorable. It felt so intimate and there was no build up to it at all. We loved how simple and straightforward it was. Just us and our family."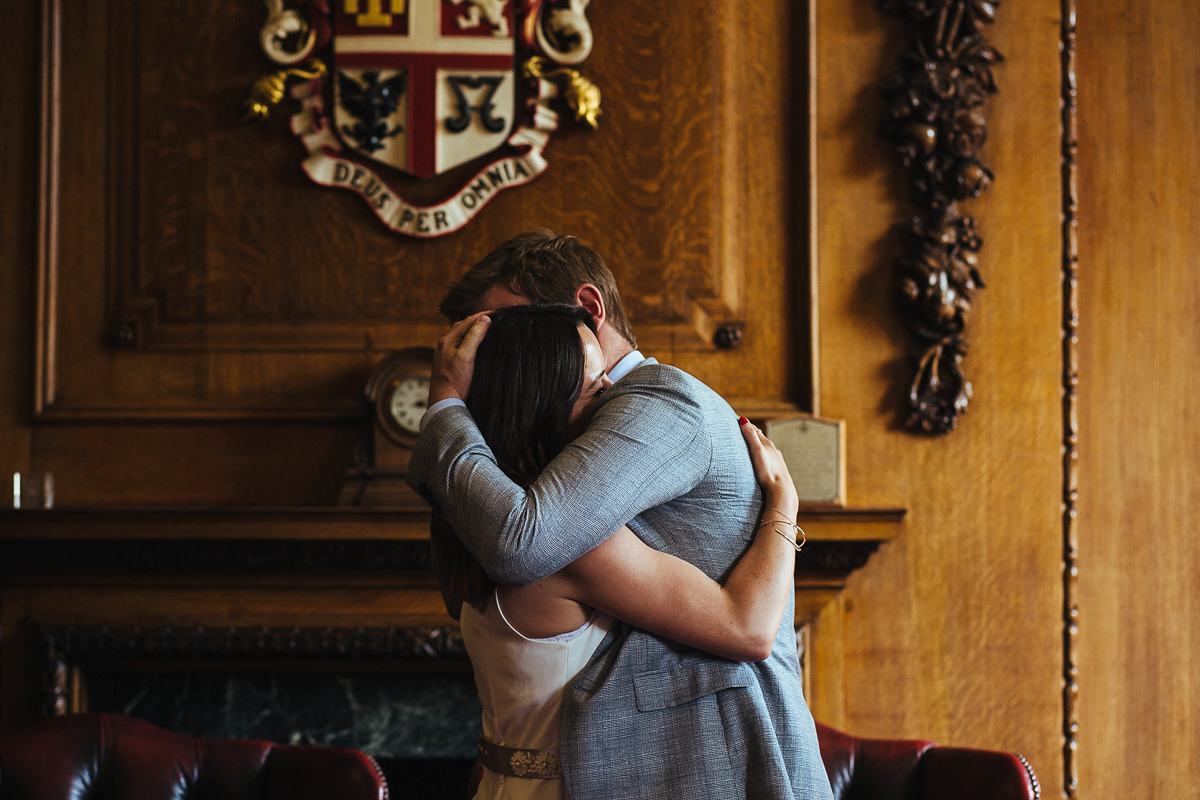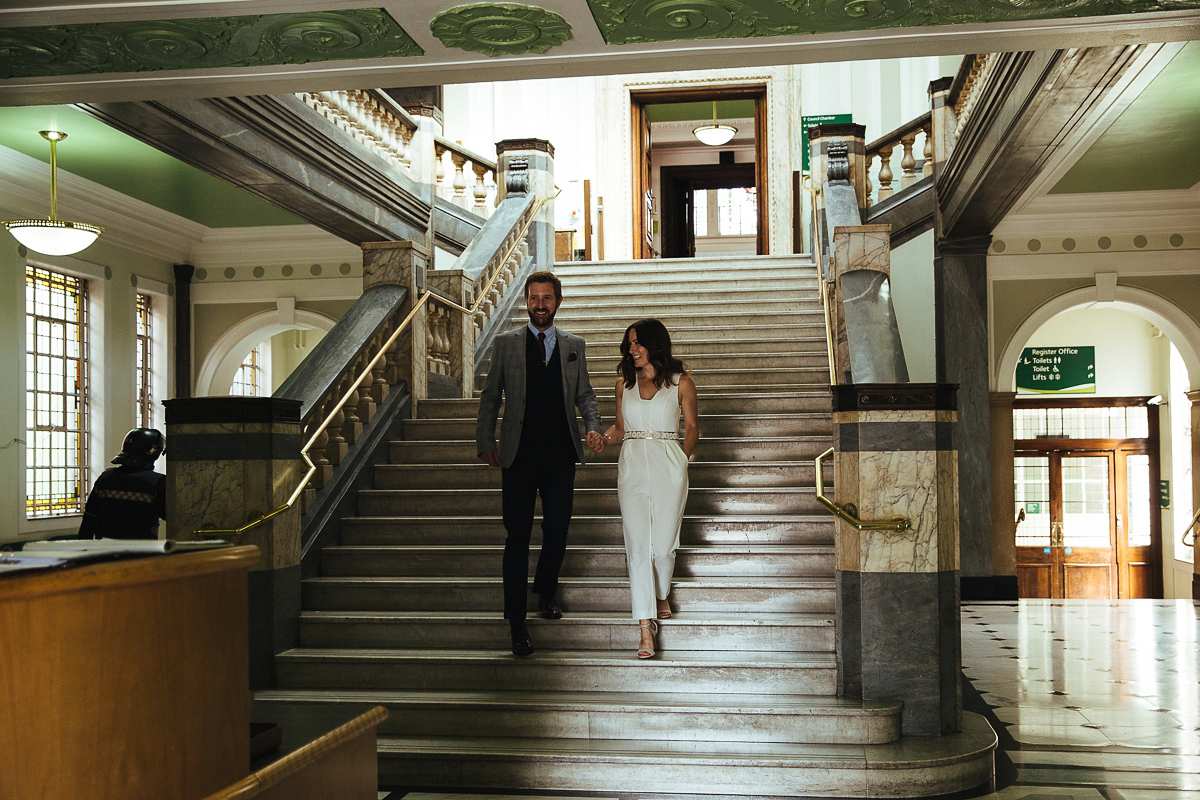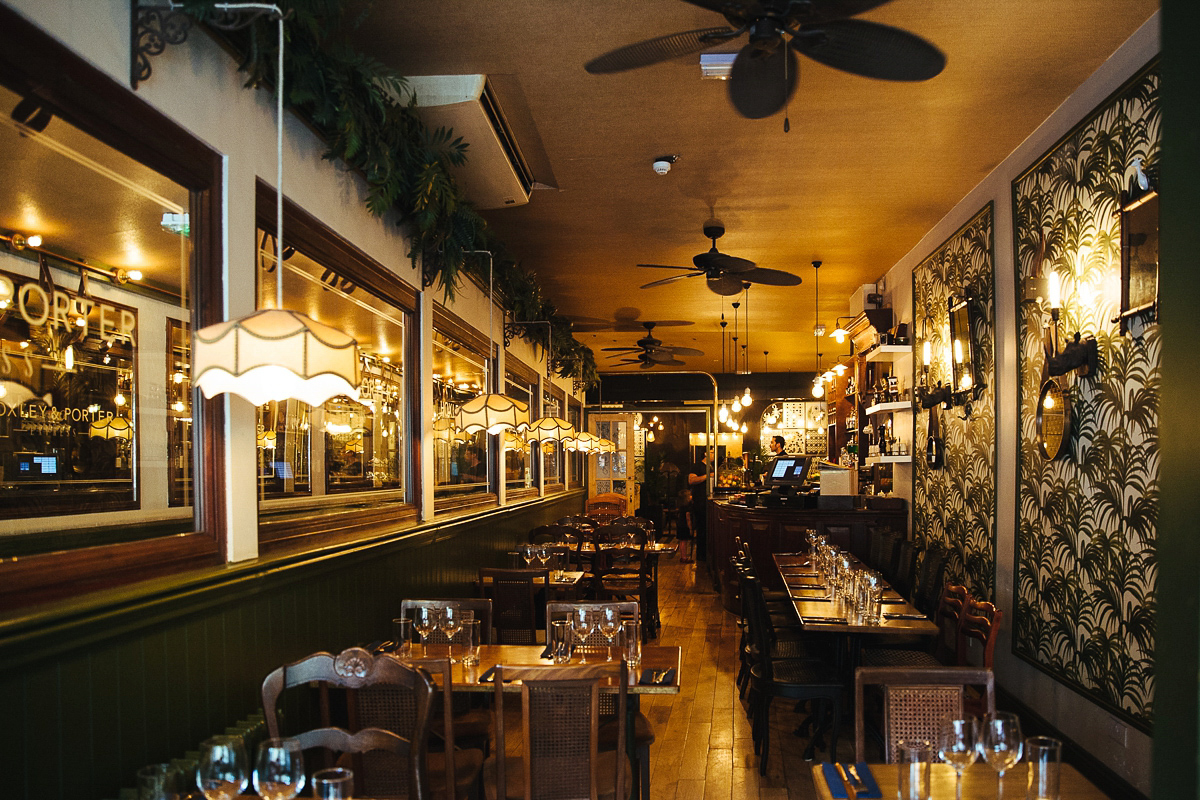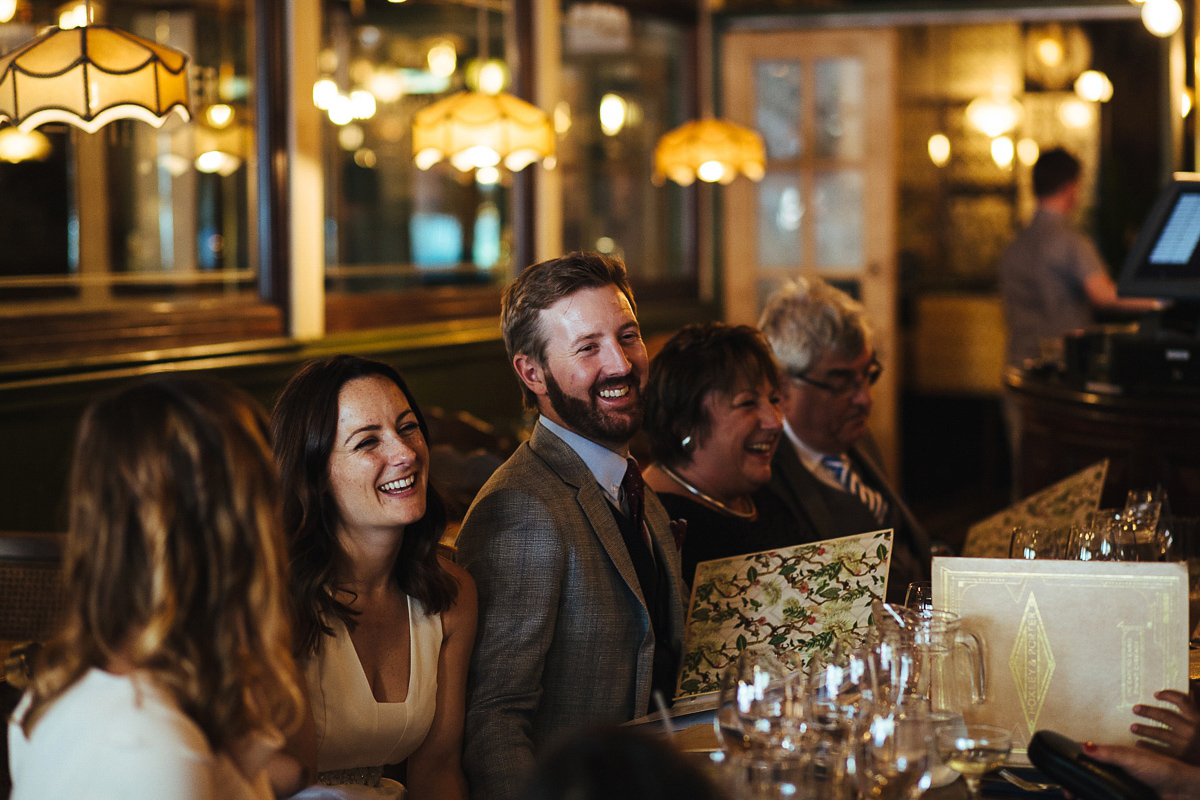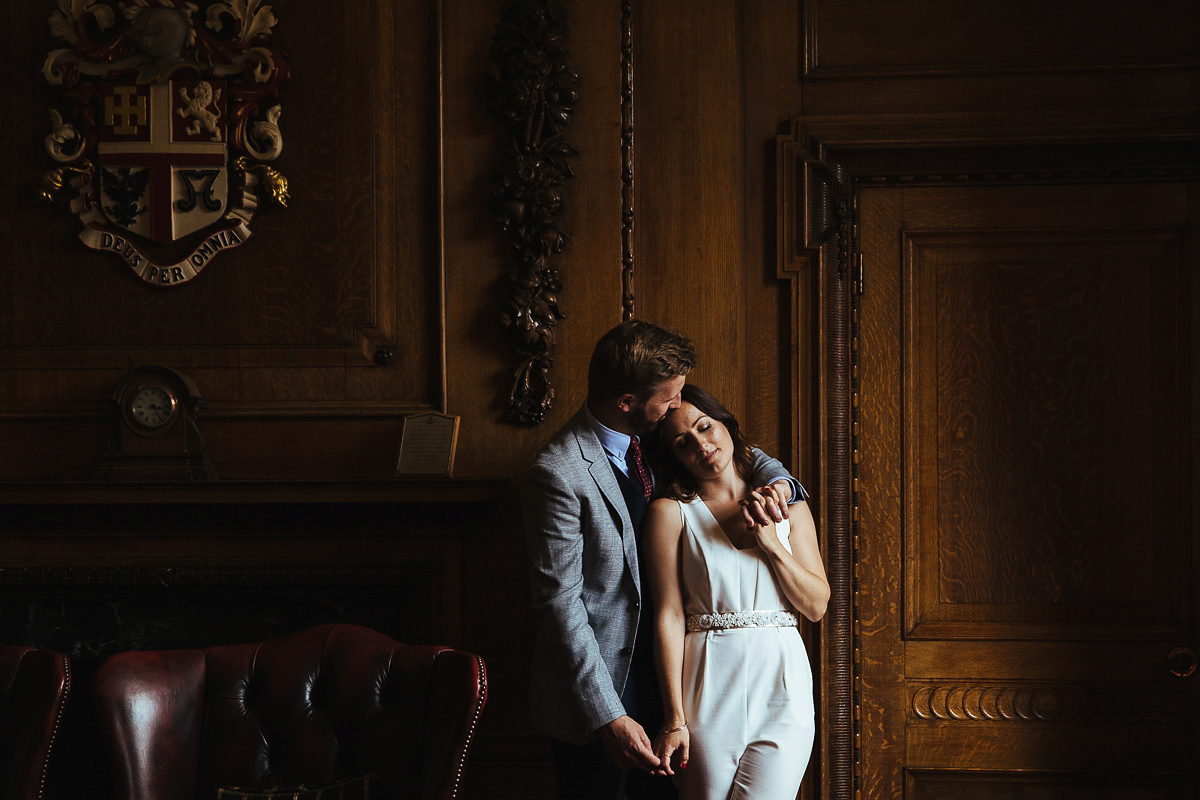 Ellie chose a divine champagne slip from Charlie Brear for her seaside nuptials, the soft tone emphasised by the shimmer of two hair broaches from ASOS, nestled in a relaxed updo styled by Robert Mithcell Hairdressing. She wore Miss Dior by Christian Dior, a scent she associates with holidays, and her subtle, glowing make-up was applied by Frances Prescott.
"Charlie Brear is a designer I've always liked for her contemporary dresses, so there was never any doubt where I would get my dress from. I wanted something very simple and understated and chose the champagne 'Payton' slip with a matching metallic belt with flowers and studs on it. I was quite nervous about what people would think of my dress, but on the day I felt great. It was lovely to hear people say that it was exactly what they imagined I'd wear."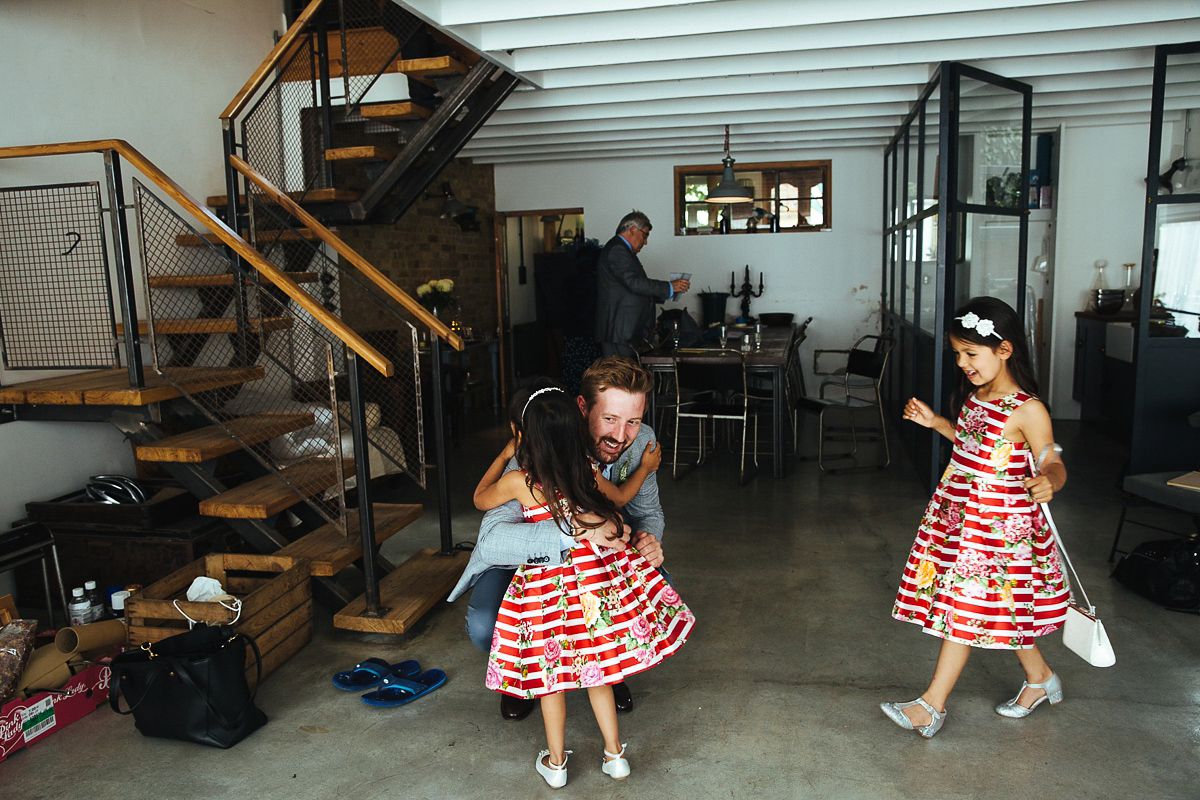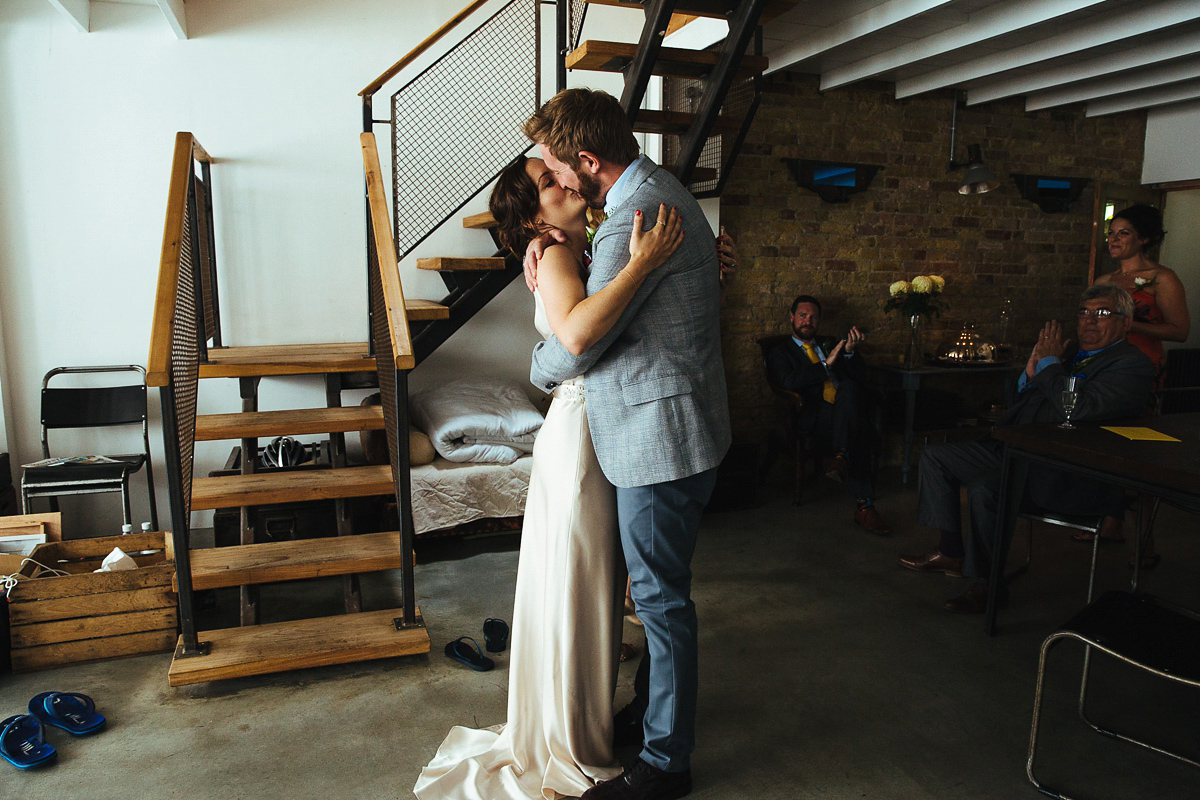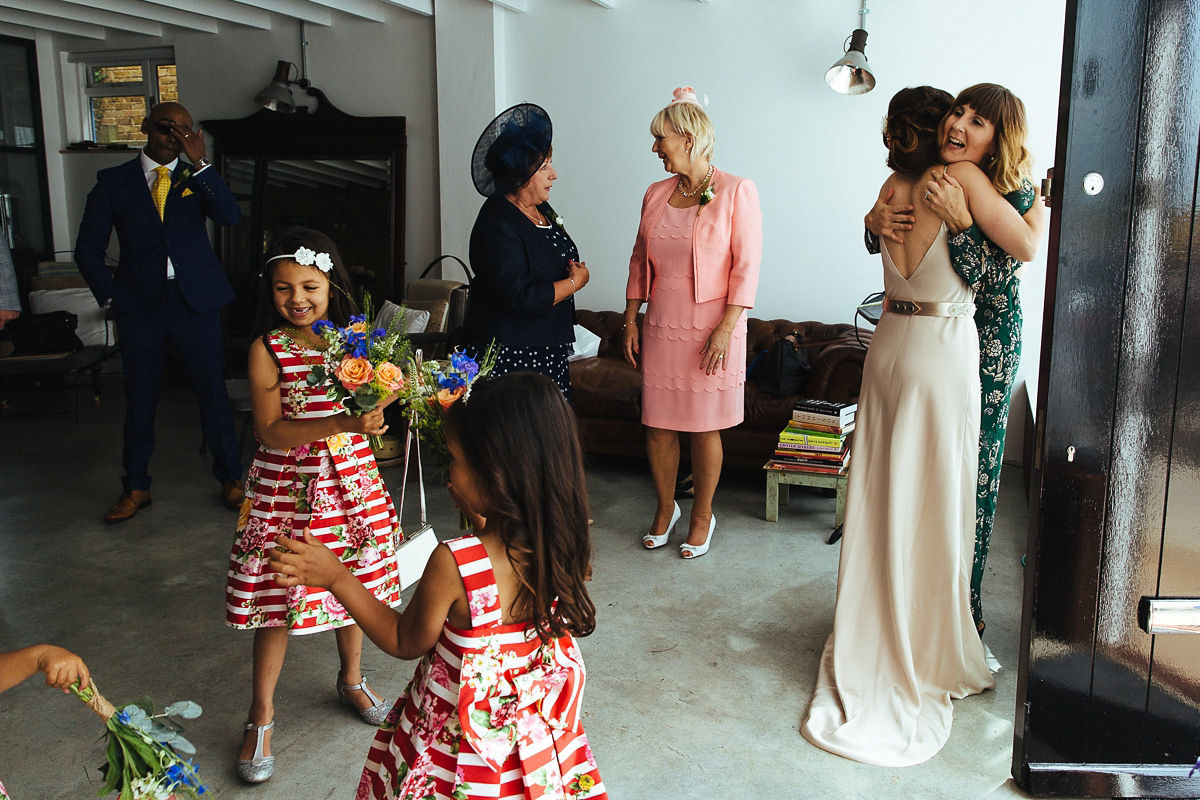 "With regards to bridesmaids and groomsmen, we didn't have formal roles but our closest friends were there beside us throughout everything. They were there from start to finish, helping us host a party at our rental house the night before the wedding, helping dress the venue and generally helping out just like bridesmaids and groomsmen would. We wanted them to wear their own clothes so they were comfortable and we gave each of them a floral buttonhole to wear."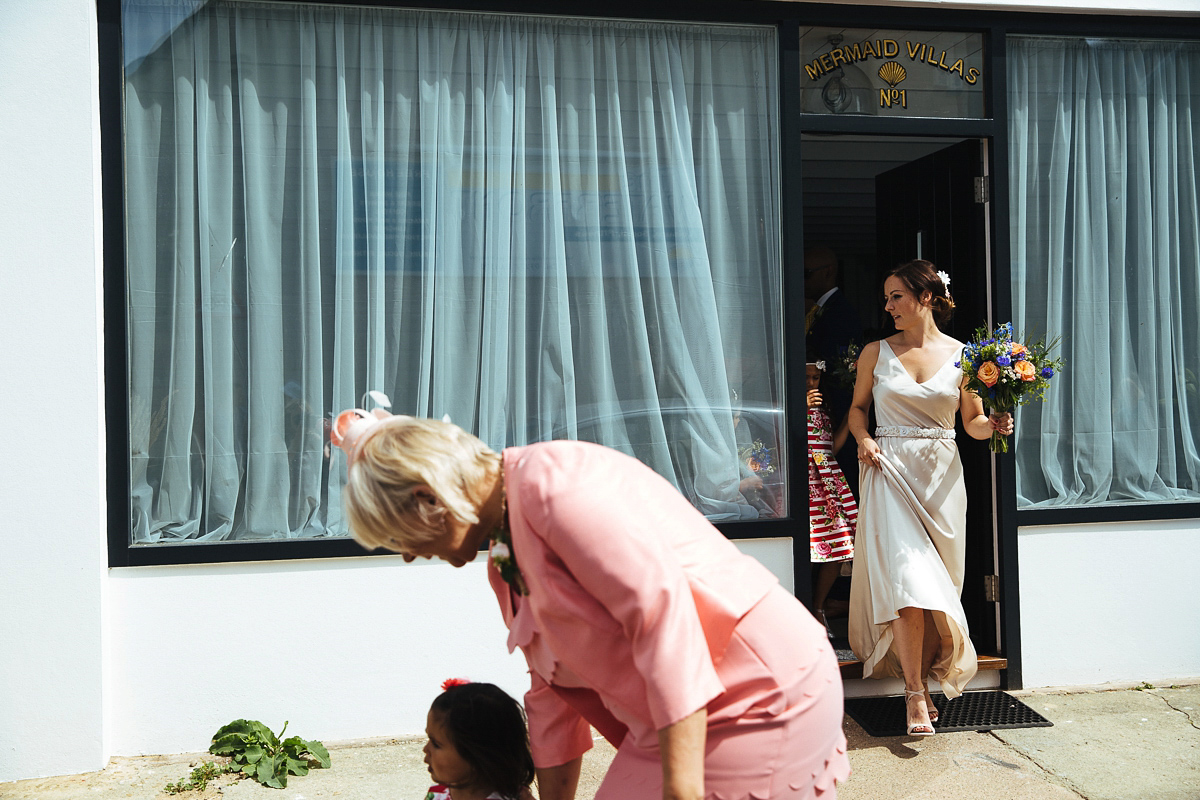 Alex bought his bride a rose gold bracelet on the day of the legal ceremony, which she wore along with some simple rose gold bangles and a ring. The images of the couple and their friends getting ready are so lovely – so relaxed and full of joy. Ellie and Alex rented a property a ten minute walk from their venue, allowing them to take a sunny beachfront stroll to their ceremony.
"Our three nieces walked (or ran, as was the case for our 18 month old niece, Indie!) ahead of us and then we walked in together. I had always known I would never be given away on my wedding day. It's just not something I'm comfortable with and my dad was totally fine with that."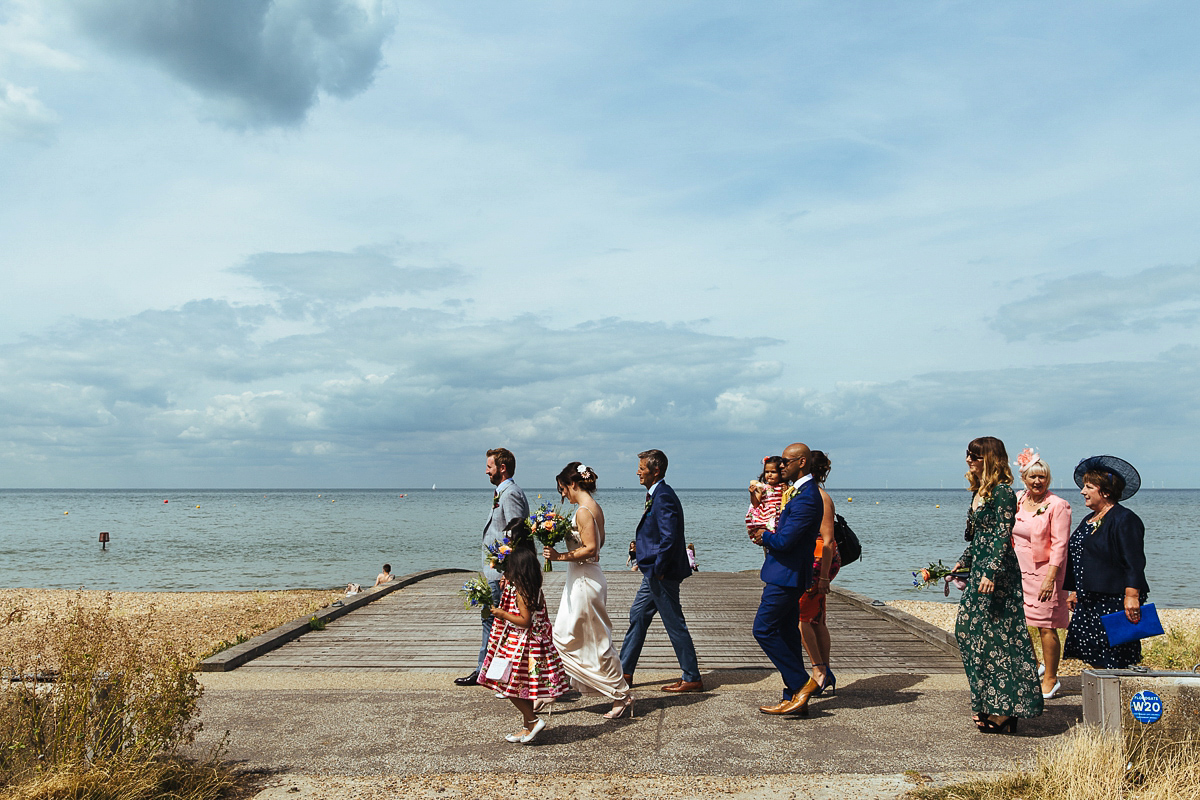 "Going in together and being together on the morning of the wedding was amazing, so much nicer than being hidden away from each other. We were surrounded by our friends in our rental house getting ready and it meant we weren't nervous before the ceremony. We spend a lot of time apart as a couple so if there was ever a time to make sure we were together, it was on our wedding day."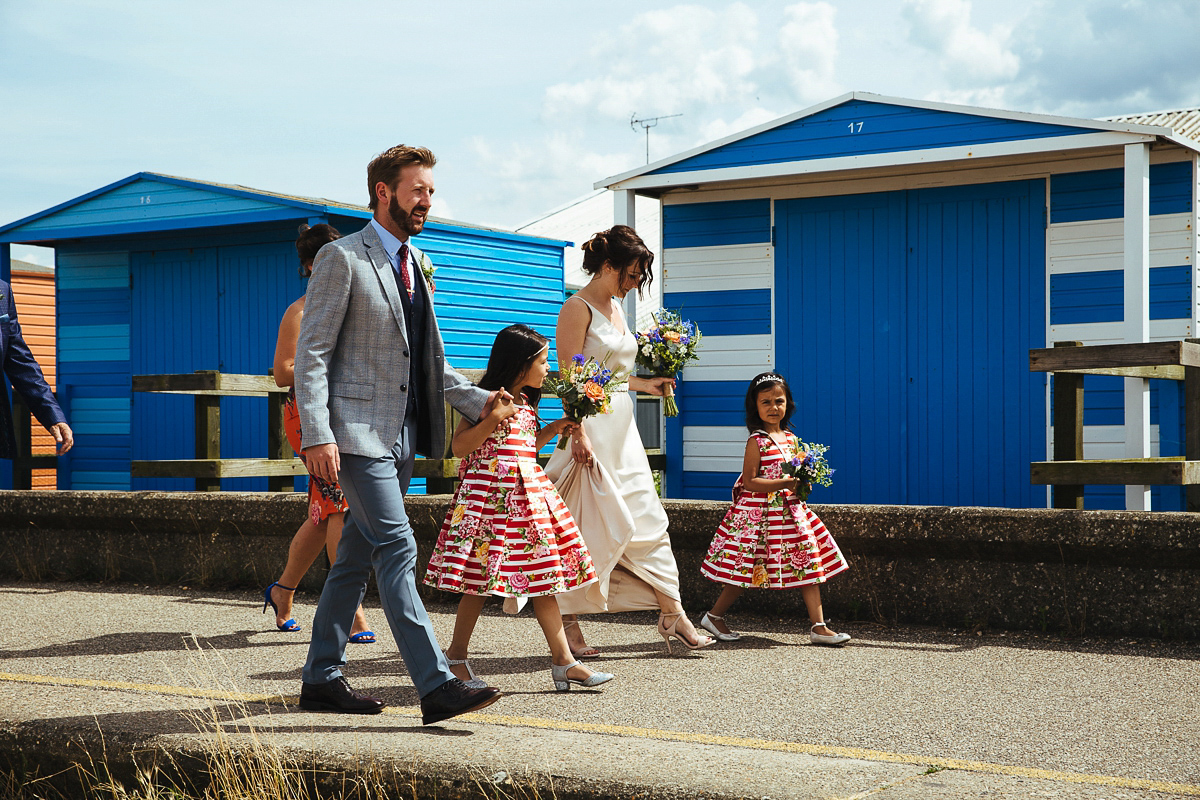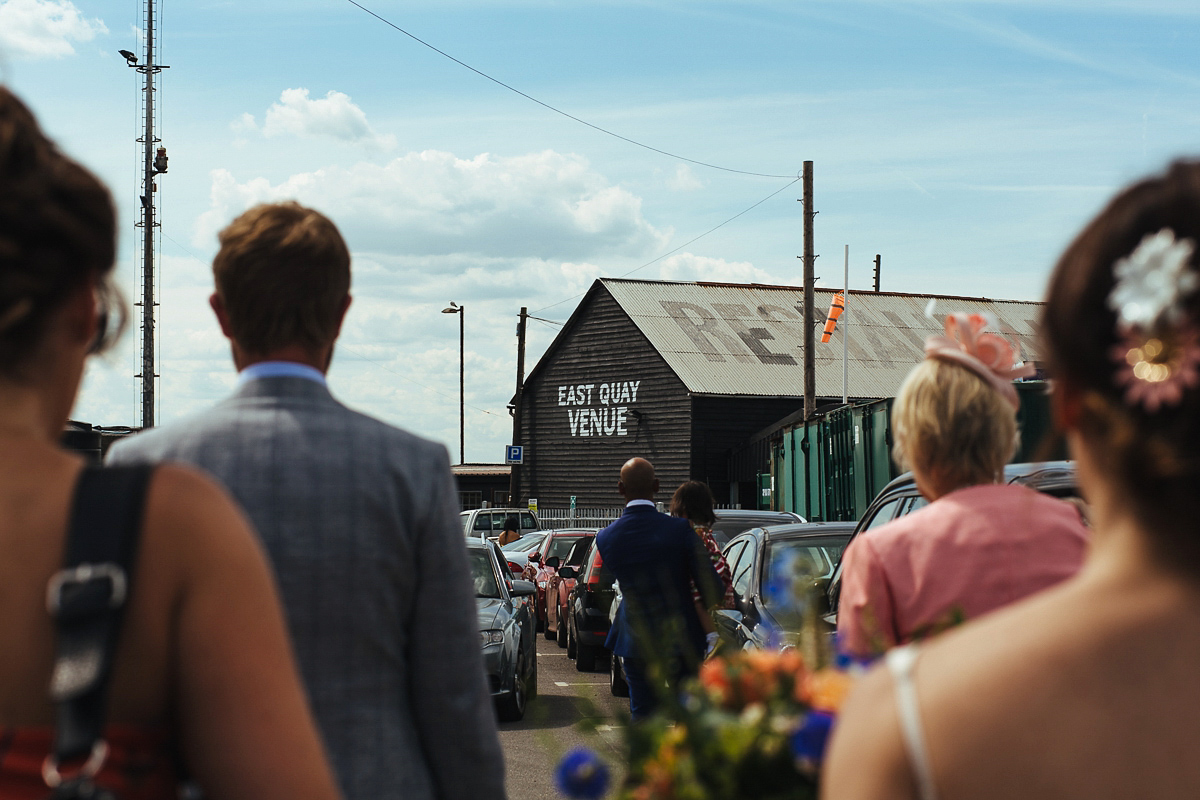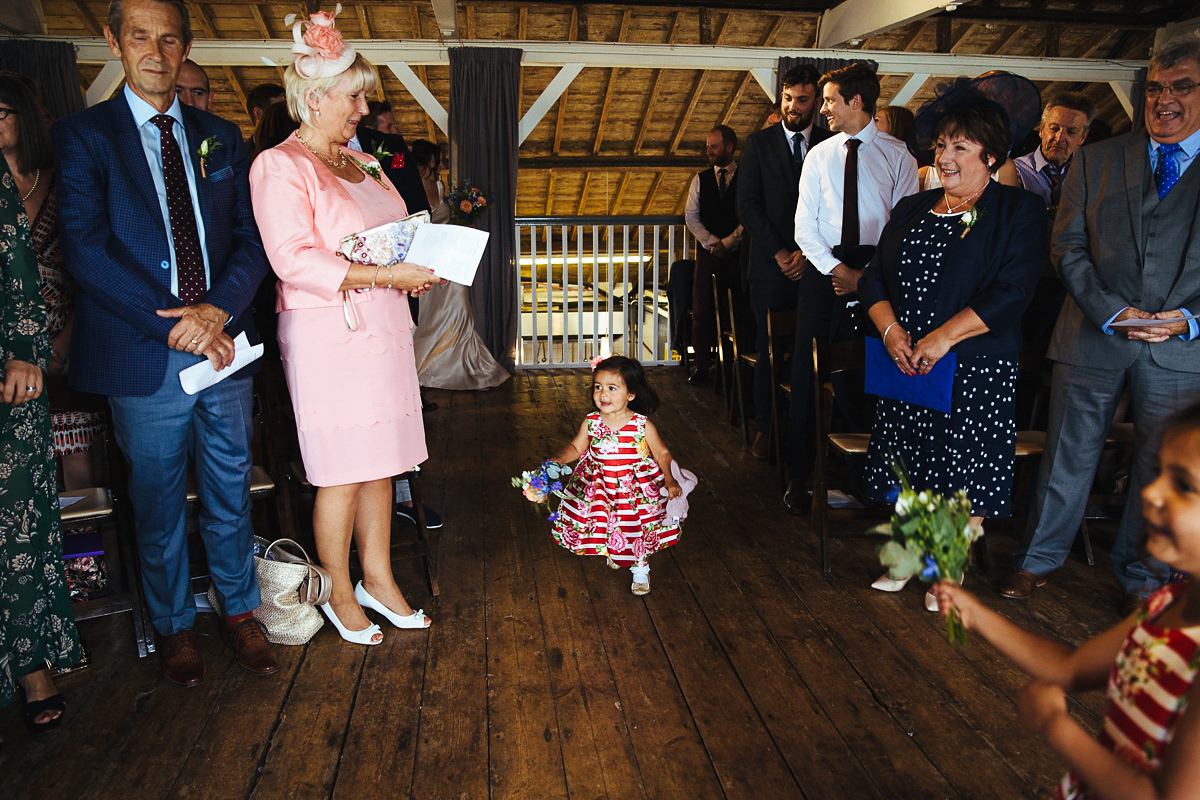 Ellie and Alex walked into their ceremony space together to From Eden by Hozier, for the simple reason that they'd been listening to it a lot in the weeks before the wedding. Their ceremony was conducted by Ellie's cousin, Christabel, who the couple are both very close to.
"Christabel asked us lots of questions in advance and then wrote the most hilarious, personal ceremony. Having someone who knows us conduct the ceremony meant that she set a really relaxed tone for the day and had all the guests giggling."
"We couldn't find any readings we liked so in the days leading up the wedding, we talked about everyone singing a song instead. We thought it would be fun and get everyone in the party mood but choosing the right song was tricky. We didn't do anything more about it until the morning of the wedding when Alex said we should do 'Can't Take My Eyes Off You' by Andy Williams."
"We decided to go for it and had our friends download the track and print out the lyrics for everyone in the hours before the ceremony. I was nervous that it might fall flat but everyone got involved and it was such a funny moment. We knew it was worth it when everyone starting shouting out the run up to the chorus."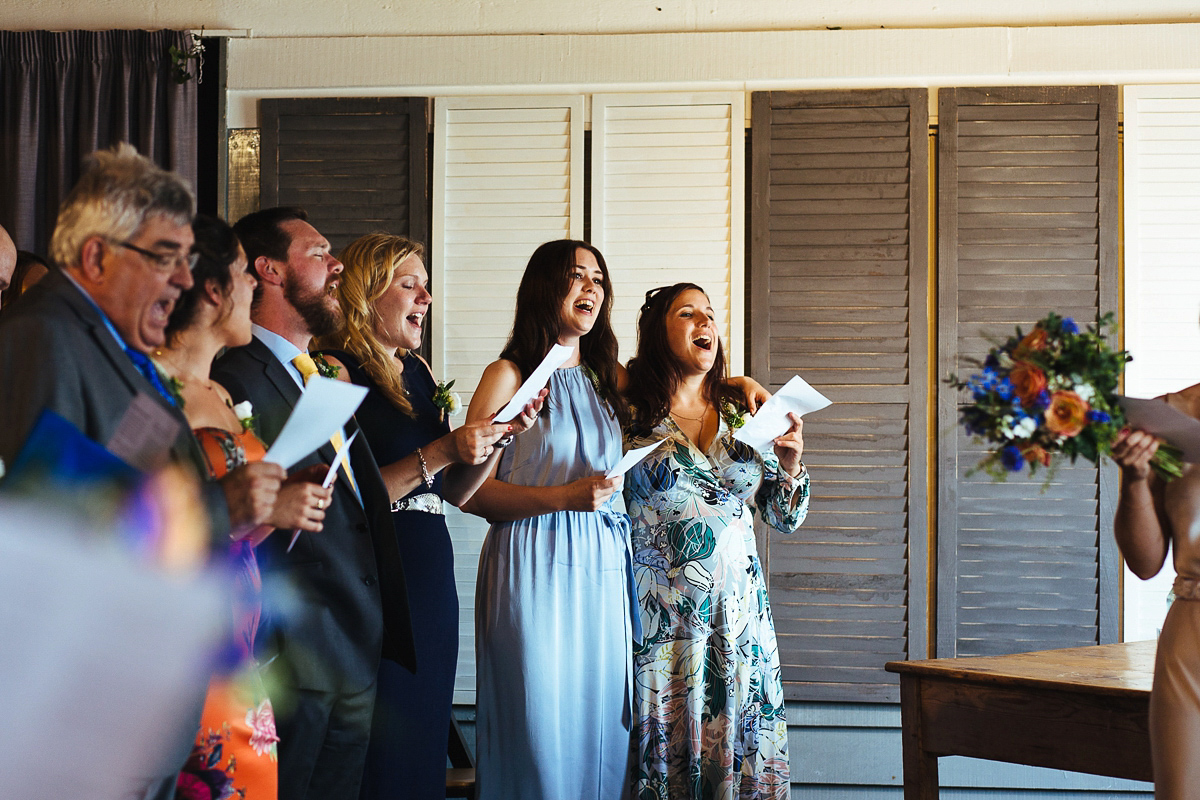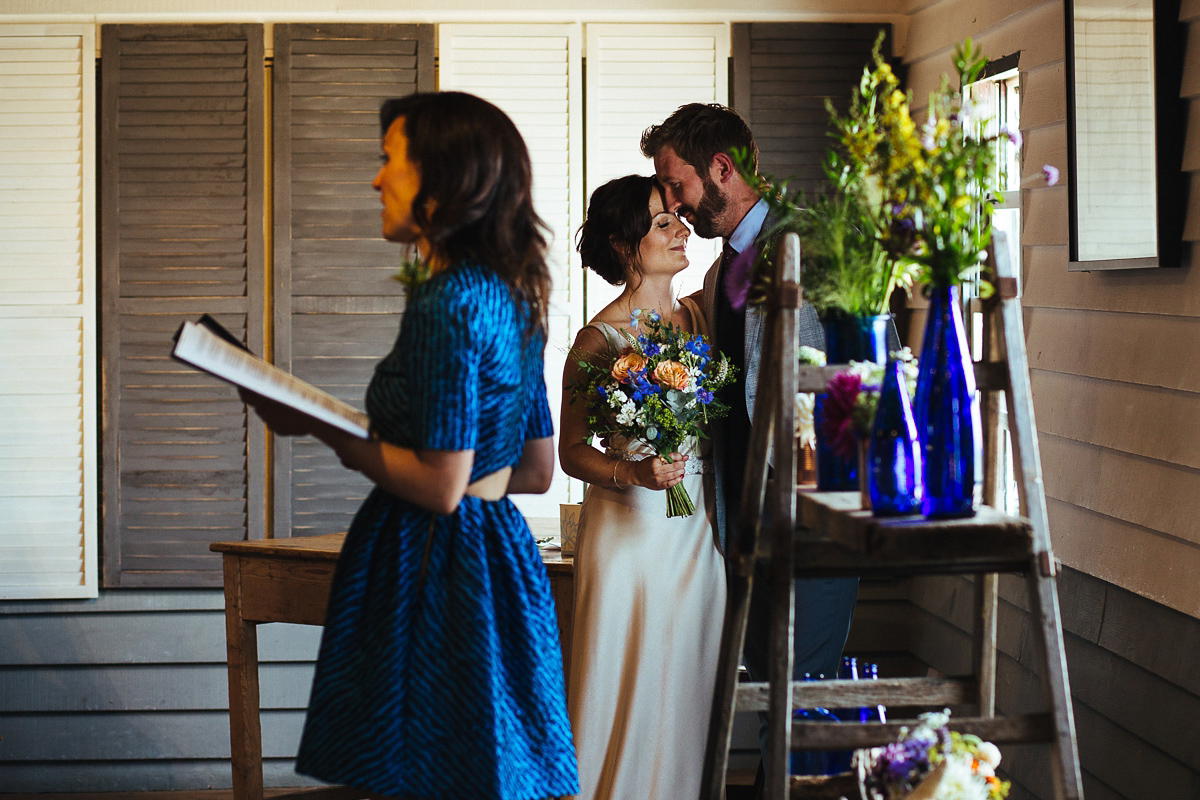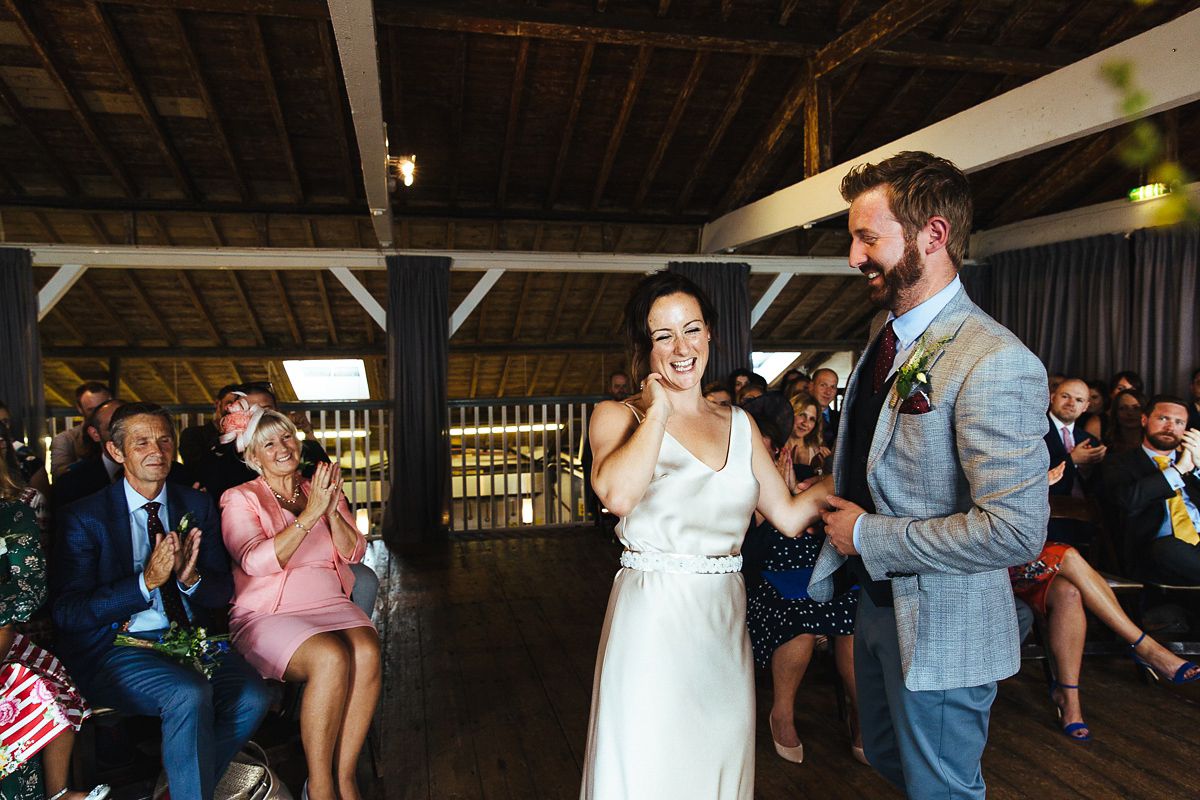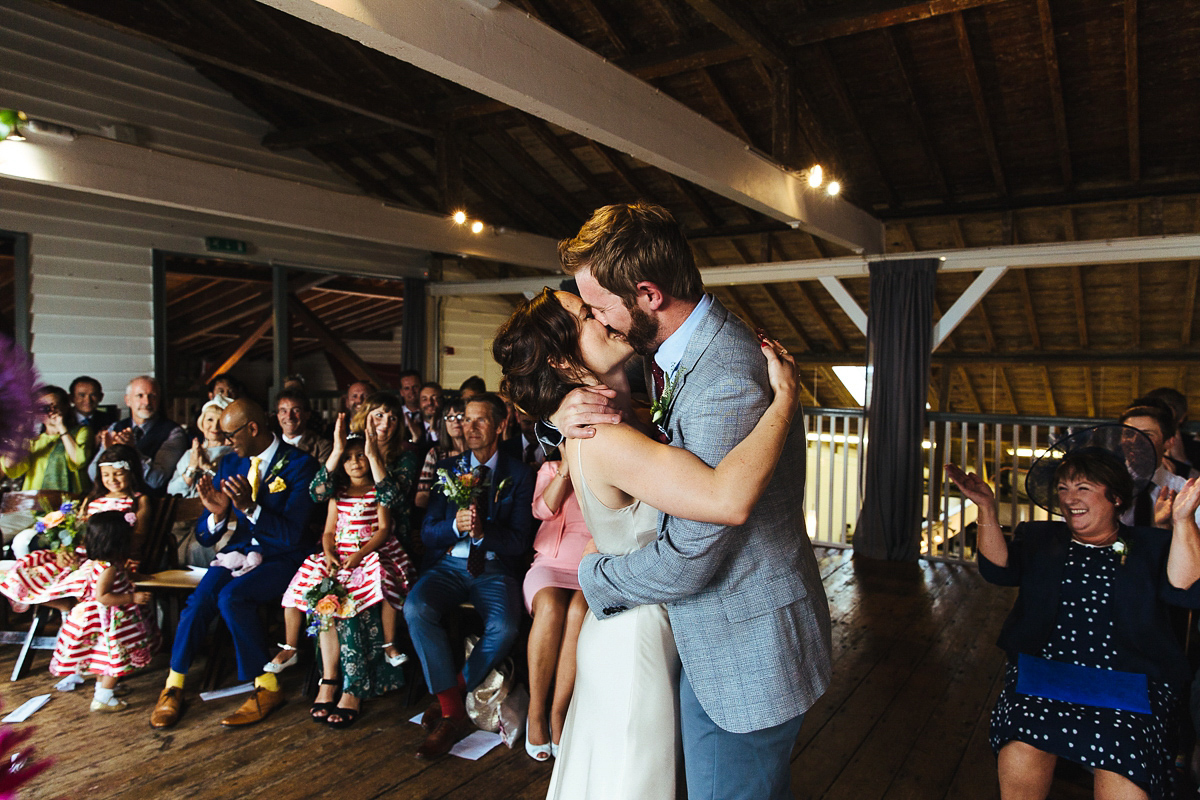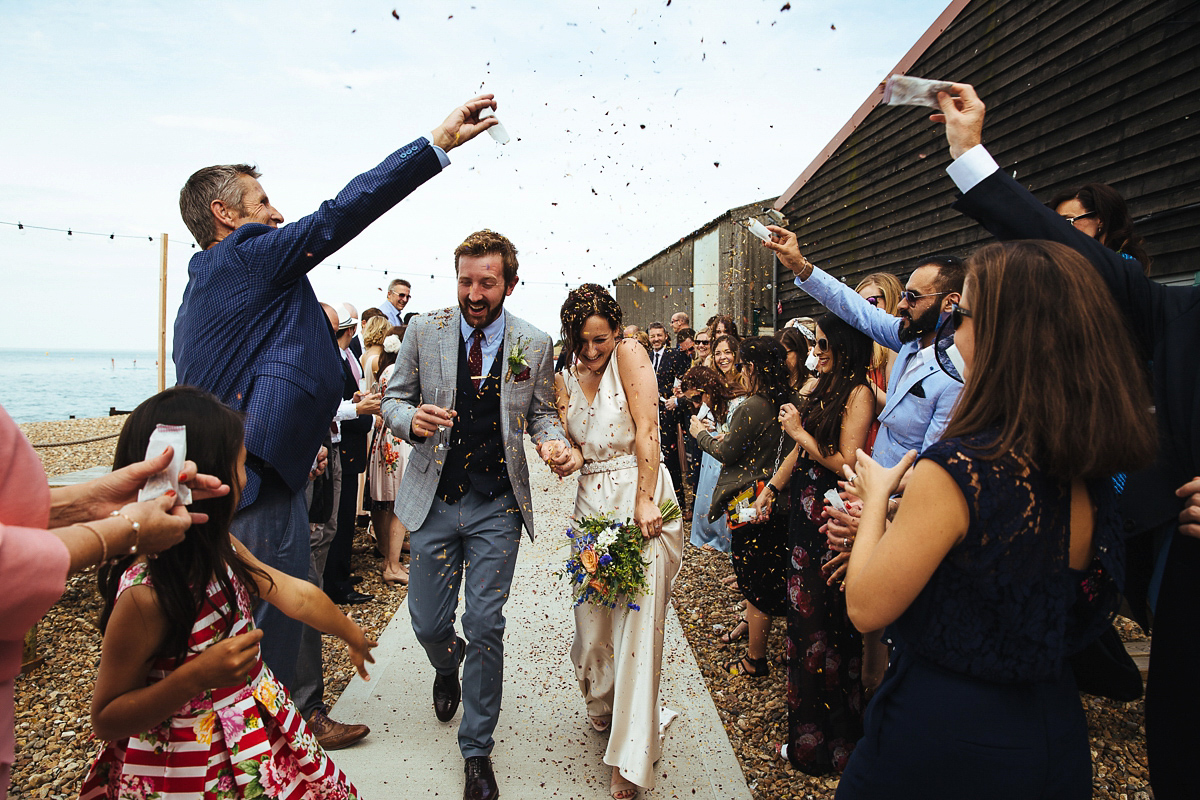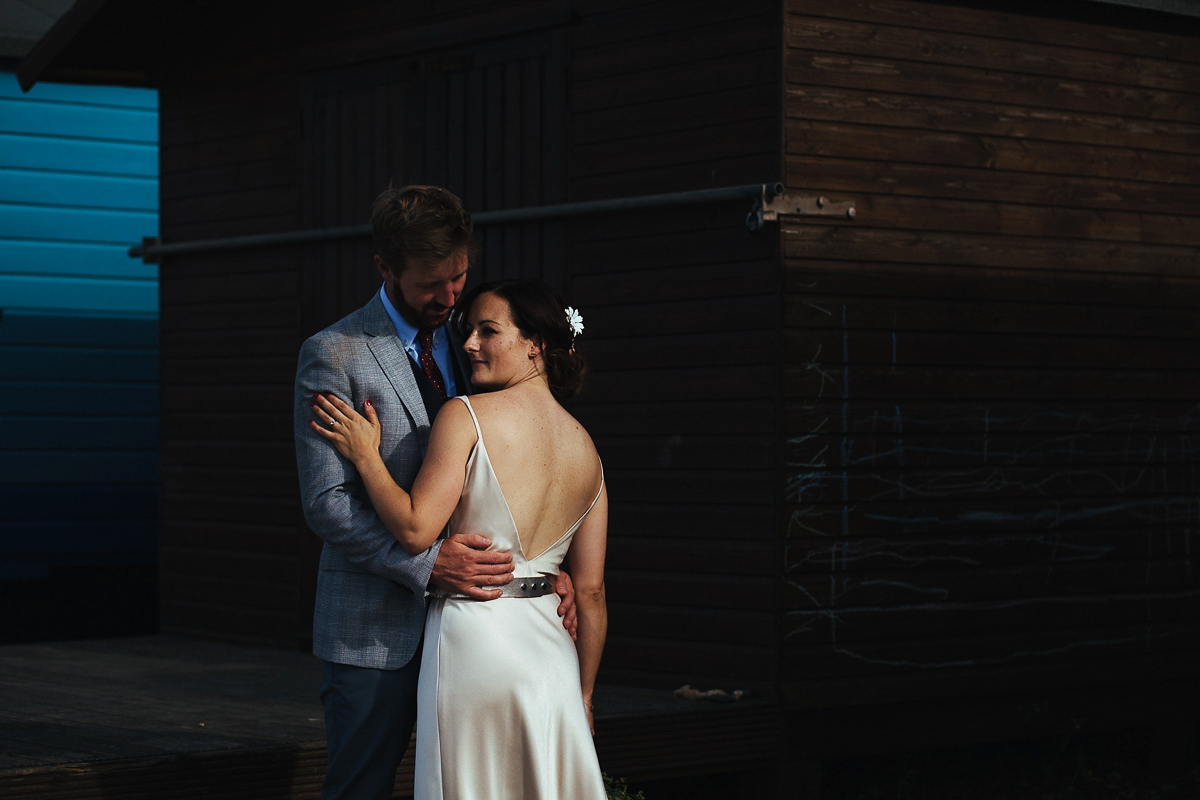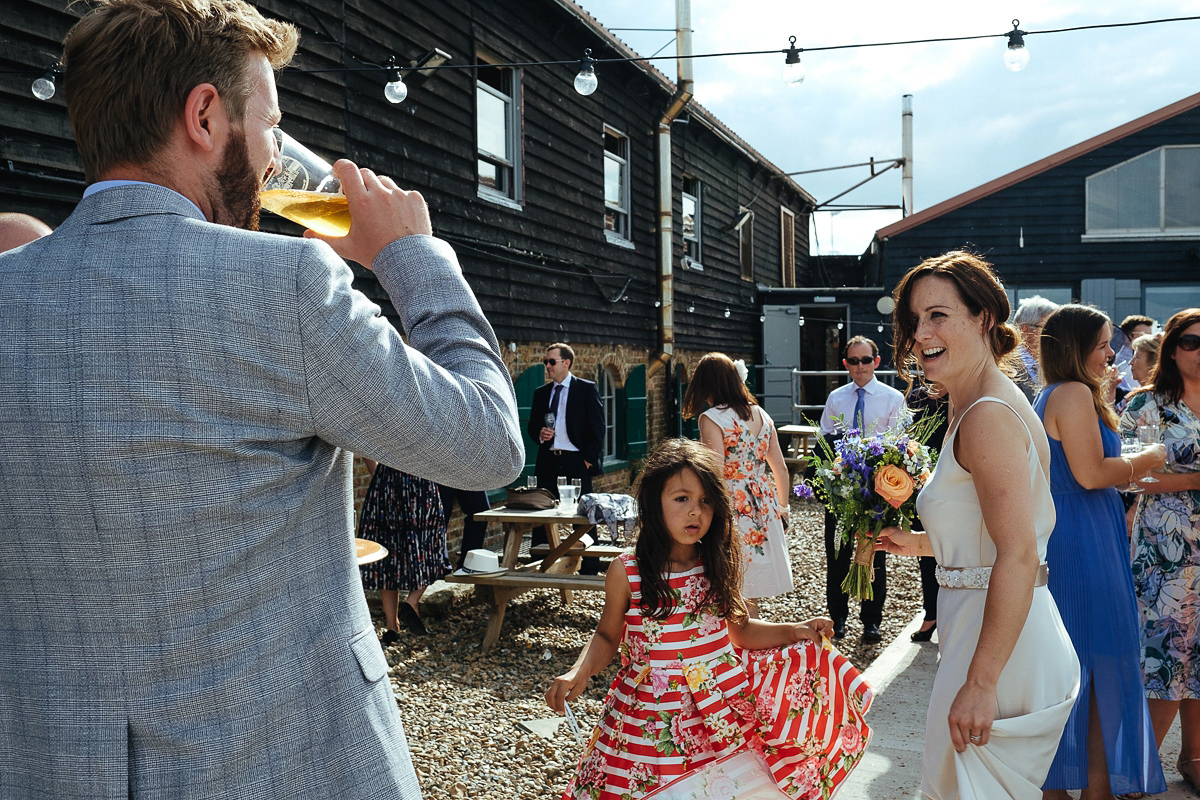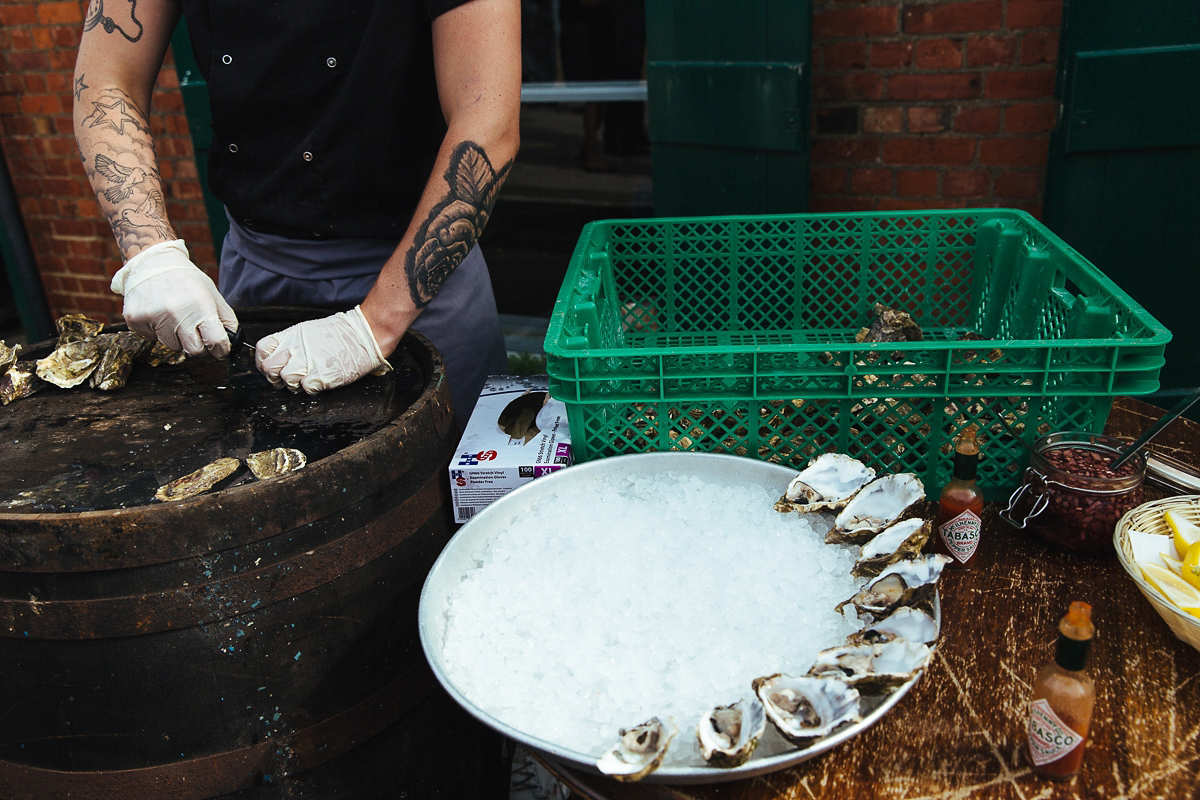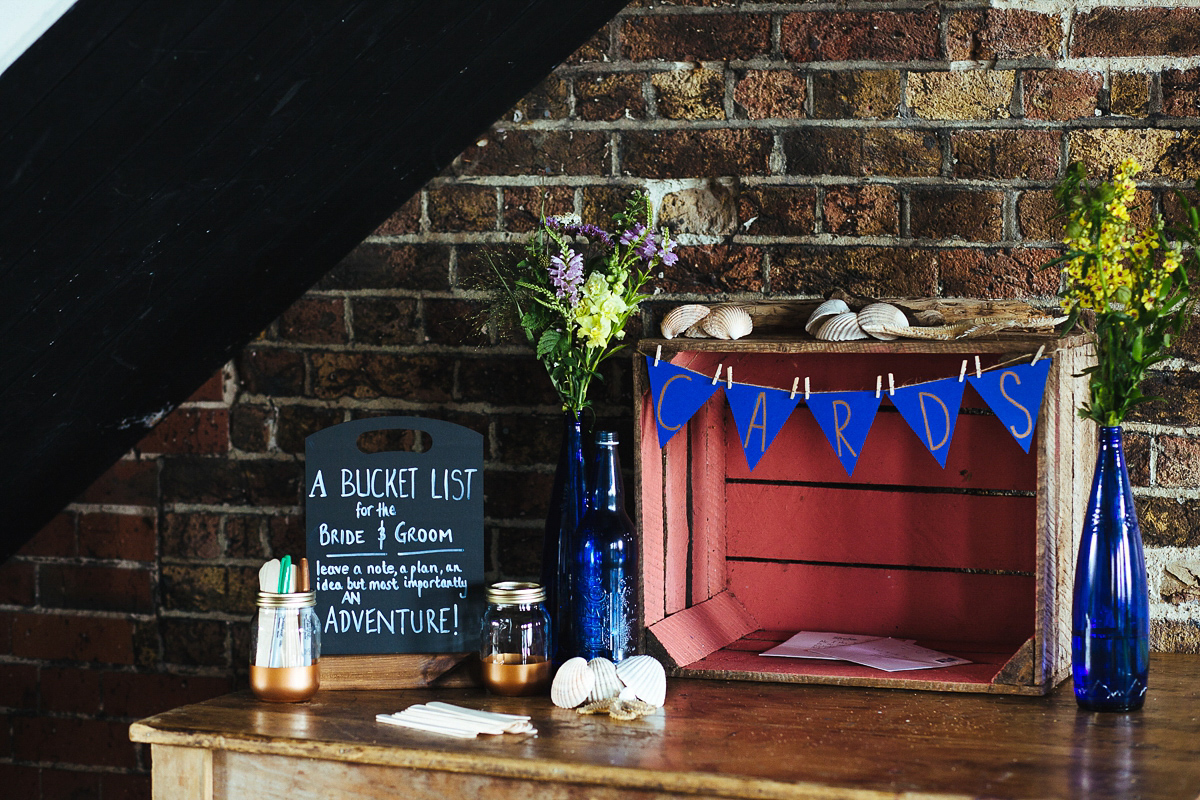 The day after their legal union, the newlyweds went to Blooming Green Flowers and handpicked their wedding blooms, which was one of their favourite parts of their wedding. Ellie and Alex didn't want the pressure of trying to make up formal arrangements so they ordered a bridal bouquet, three hand-tied bouquets for their nieces and buttonholes for the bridal party from local florist, Jane at Graham Greener, who also supplied all of the fairy lights and festoon lights for their venue.
"The only thing we knew when we started wedding planning was that we'd like to get married by the sea. We both spend as much time as we can on the coast so our criteria for a venue was sea, sunshine, fish and chips and fizz. The East Quay was the only wedding venue we looked at and we booked it within less than a month of getting engaged. We loved the building's rustic charm and knew the venue would allow us to have a truly laid back and informal wedding day."
"All the family got involved and it was lovely to see our three little nieces picking out flowers that would be used in the wedding. It was also really affordable as you simply pay by the bucket and cut the flowers yourself. Alex's very talented sister, Harriet, had recently completed a floristry course so back at the house in Whitstable, she coordinated the whole operation, laying all the stems and foliage out and putting together the most beautiful flowers."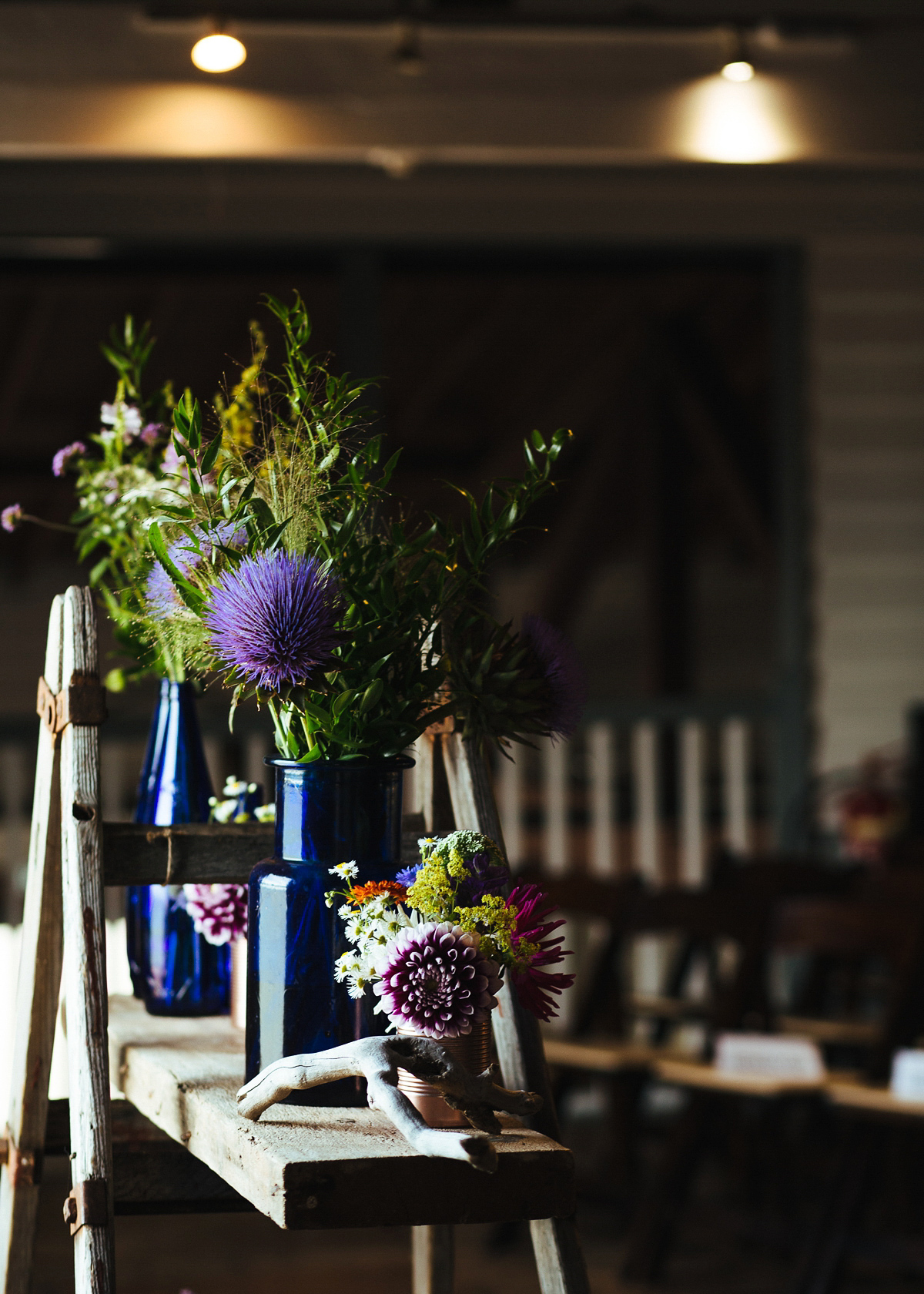 "We are amazed at what she achieved with the help of our mums and friends. It really was a group effort and seeing the flowers at the venue on the wedding day, knowing the time and effort our loved ones had put in to making them, was very special."
All the delicious seaside fare was supplied by The East Quay. Guests enjoyed canapés and freshly shucked oysters under an azure sky while the little ones frolicked on the beach. The venue created a menu tailored to Ellie and Alex, sharing-style plates designed to bring their guests together and get the conversation flowing.
"We liked the idea of 'family style' food so each table was served a large piece of beef with one member of each table designated 'carver'. This was served with lots of different salads and fresh breads. It was perfect for a hot summer's day. For dessert, each table was served a whole cheesecake with cream and bowls of fresh fruits. We loved that this got everyone chatting and it created a great, social atmosphere."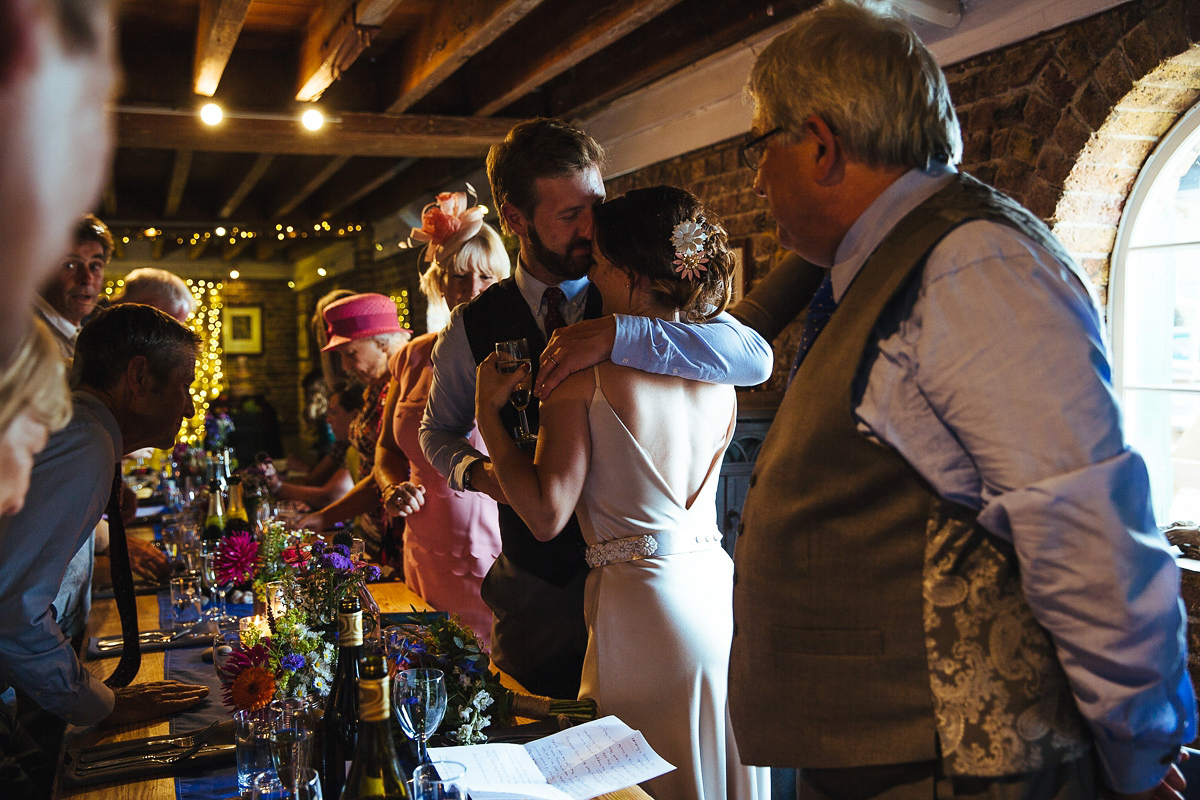 Lyndsey Goddard has captured so perfectly the unbridled joy of the guests, lustily belting out the words to their chosen song. There is something so soft and beautiful in the quality of the light in these images. We actually shared a lovely summer garden party celebration on Love My Dress, documented by Lyndsey – take a look!
"I first met Lyndsey about five years ago when she gave a talk at London College of Communication about her career as a photographer. I was taking a break from work and studying photography at the time and I was really inspired by her. When I showed her work to Alex he was equally impressed and we booked her without looking at any other photographers."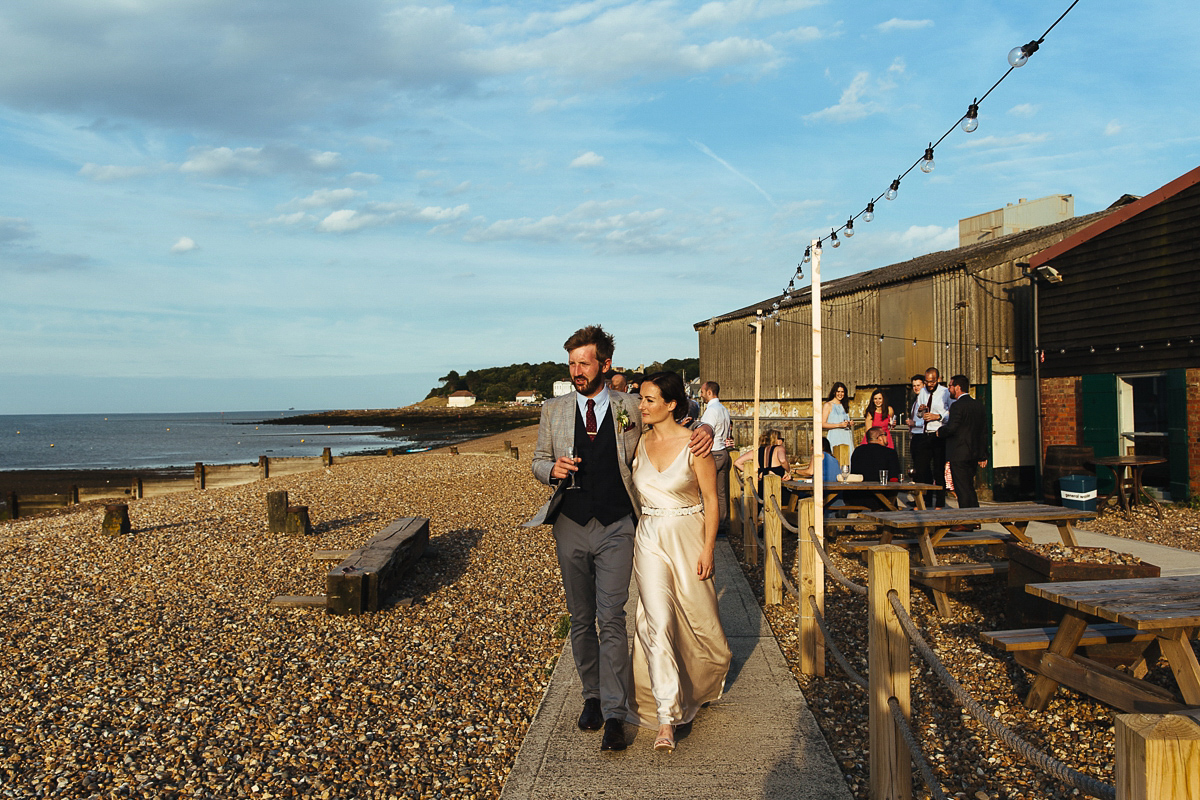 "The way she composes her images is very unique and we both loved the way she uses light and reflections in her photos. Not only is she a talented photographer but she is also a really lovely person to have around on your wedding day. She was unobtrusive but incredibly friendly and easy to get on with. She photographed our friends' wedding a month after ours and when we saw her there it felt like seeing an old friend."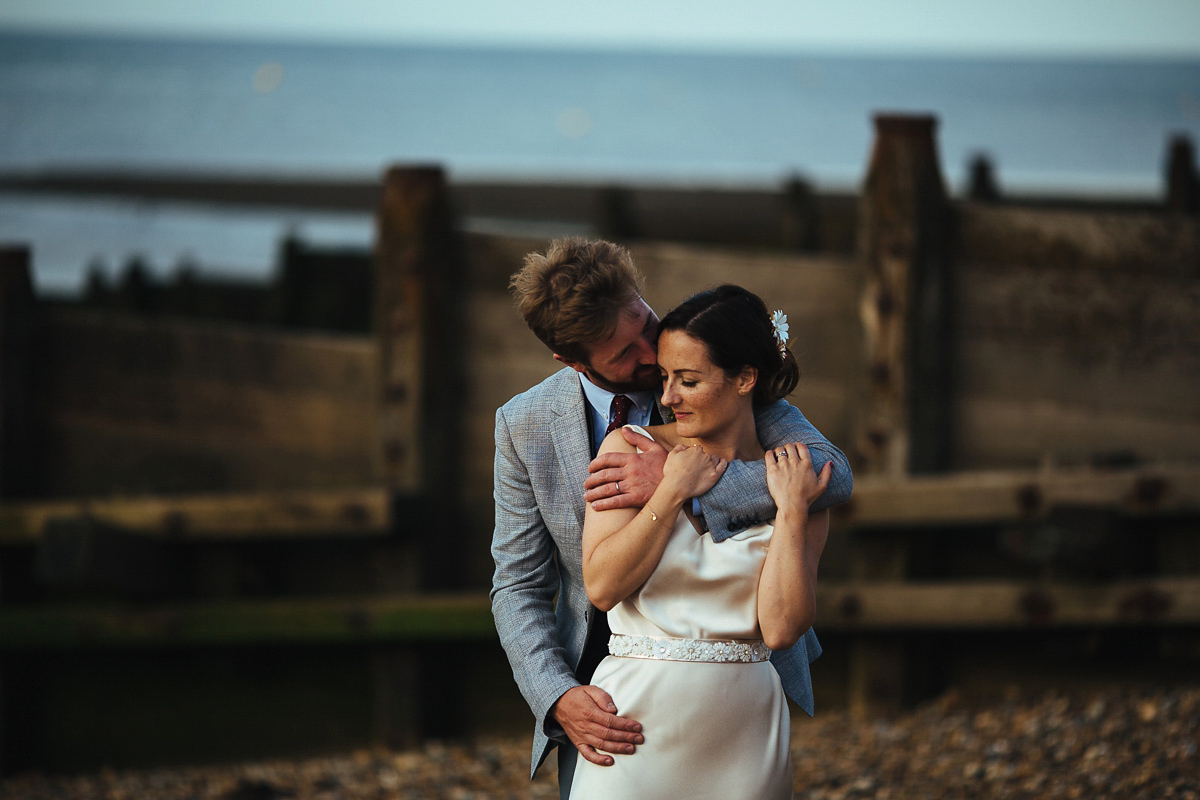 "It is so hard to select one favourite part, but seeing all the people you love in one place is pretty special. We loved being by the beach on our wedding day and seeing our friends and family smiling and enjoying themselves."
"Our talented friend, Bec Carter, who owns The Write Signs, created some amazing signs. Not only this but she also created some brilliant signs on the chalkboards that were already in the venue including a brilliant 'I bet that you look good on the dance floor' sign."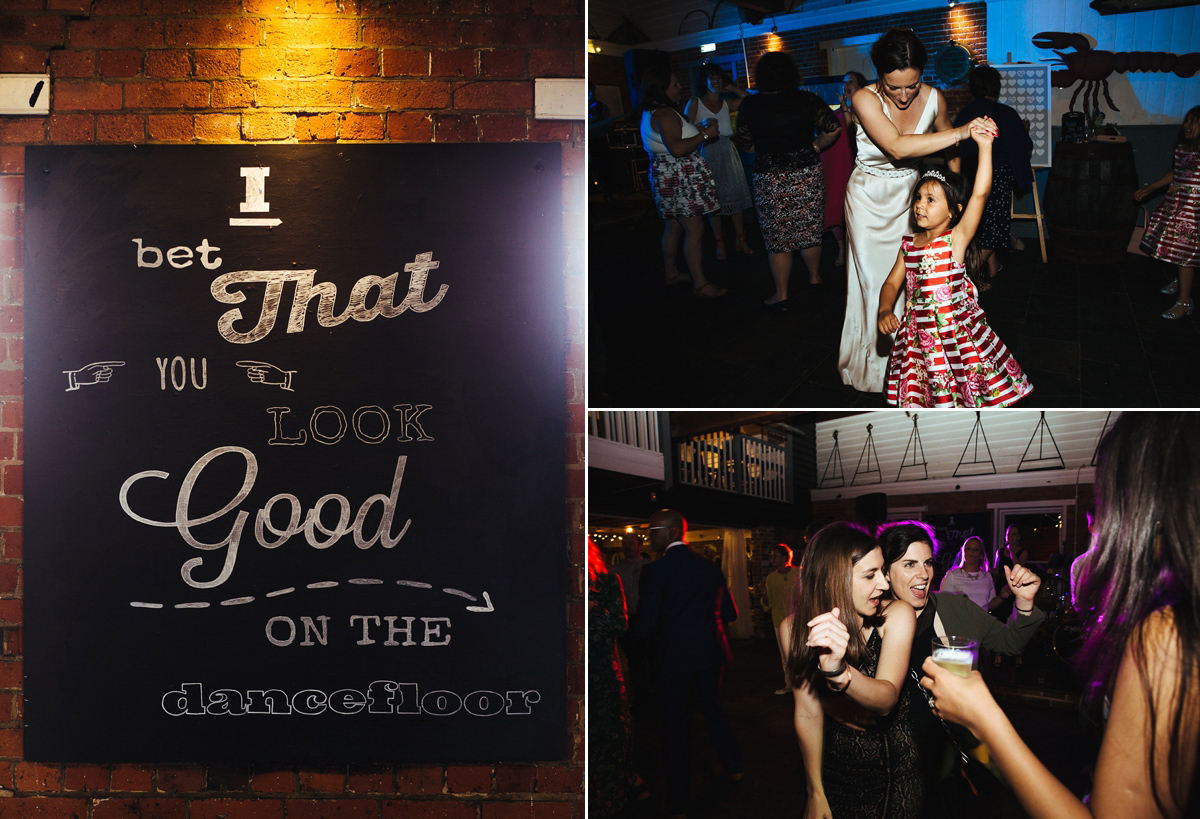 Ellie and Alex booked band Black & Gold for their evening celebrations and swayed to Home by Philip Phillips for their first dance. They chose it for its lyrics, which speak of finding your home in a person rather than a place – something that means a lot to them both as they spend a lot of time away from each other travelling for work.
"We decided to go for it and had our friends download the track and print out the lyrics for everyone in the hours before the ceremony. I was nervous that it might fall flat but everyone got involved and it was such a funny moment. We knew it was worth it when everyone starting shouting out the run up to the chorus."
"We also set up a video diary room as an alternative to a guest book, which had some hilarious results. We also brought along some furniture from our house, which was used to display information and flowers. We used a set of frame shelves as the backdrop to the ceremony ,which were decorated with blue glass bottles, driftwood and flowers and we used antique ladders to display the table plan."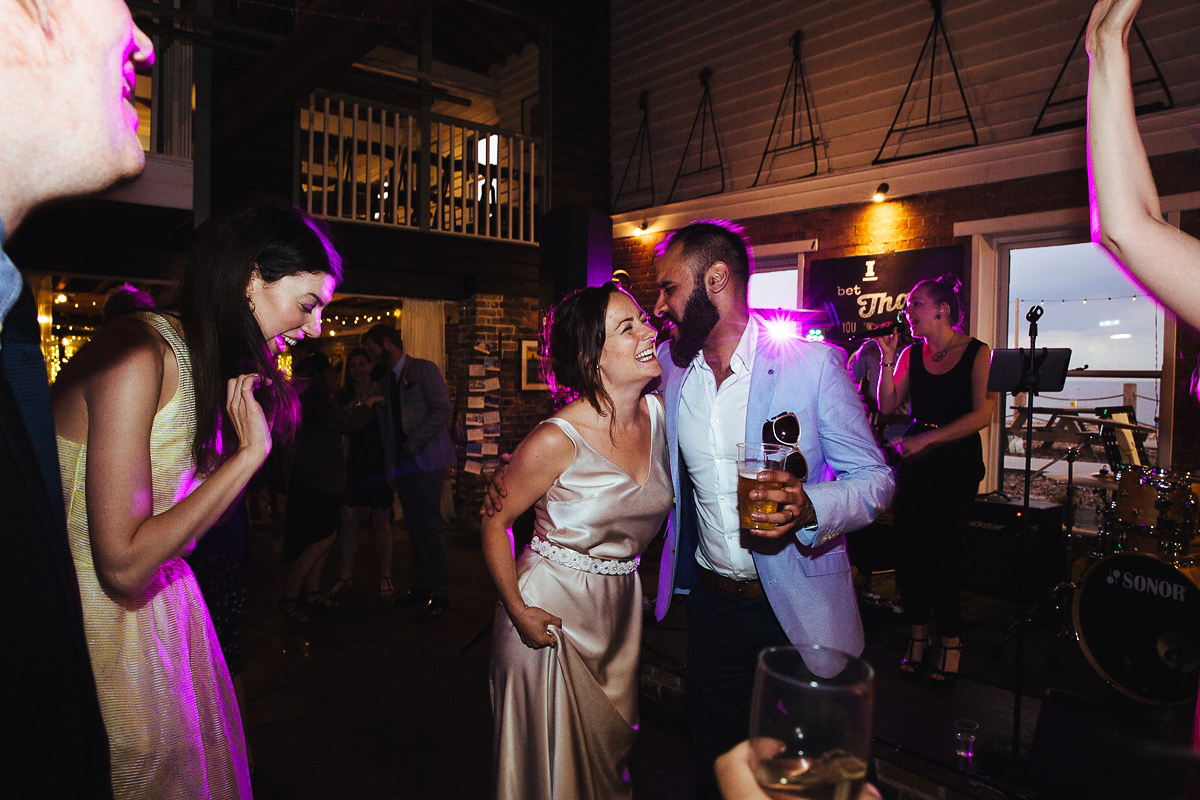 Words of Wedded Wisdom
"On reflection, the one thing we would do differently is to make sure everything we put on for the guests was clearly visible. We had a keg inside for people to help themselves to, a big basket of blankets and we set up a video diary. Having someone to announce all these things might have made it more obvious to our guests. We just assumed they would spot everything but there's a lot going on and you want to make sure they can enjoy all the different parts of the day."
"Where possible, make things yourself. Making our own wedding rings and picking our own flowers were really special moments. They were for us exactly what wedding planning should be – fun time spent with the people you love. No one gets married to be stressed."
"Don't worry too much about how things look. It's about creating a mood and making your friends and family feel relaxed and happy. That's more important than everything matching perfectly."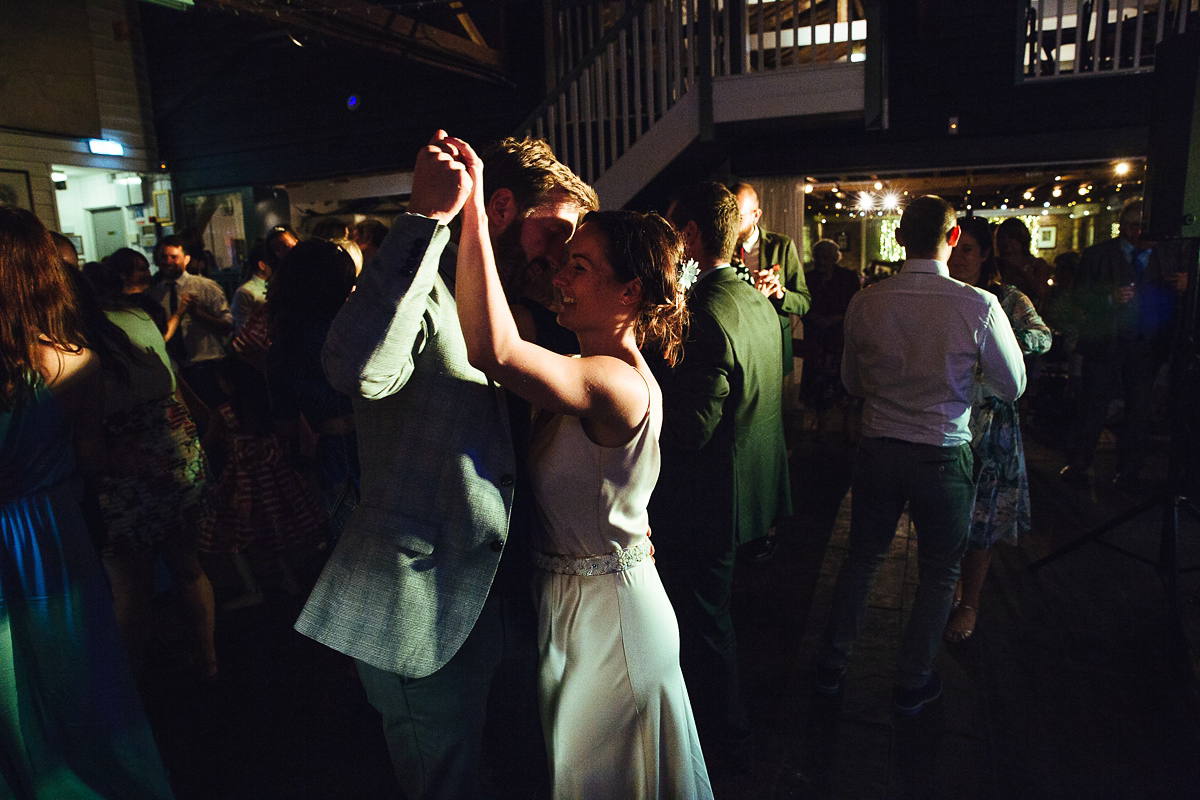 I'm so grateful I was able to share this love-filled seaside celebration with you all today. Thank you so much to Ellie, Alex and of course Lyndsey Goddard Photography for allowing us a very privileged insight into the day.
Take a look right here for oodles more seaside wedding beauties – these fabulous unions are making me very excited for my honeymoon!
Love, Em x