Hooray, I have a wedding from my much loved home county to share with you today, and its a really fresh, crisp and clean beauty of a wedding in shades of white and dove grey, giving it a very classic feel.  Meet Nick and Jess, who married on Saturday 10th September at St George's Church in Jesmond, Newcastle Upon Tyne, followed by a reception at Capheaton Hall, Northumberland.  The day was planned by the bride's mum and Anna Rainbow, who was provided by Capheaton Hall.
The couple were set up by their best friends and were together for four years before Nick proposed in an amazingly romantic manner, with a secret lunch at Jesmond Dene House in a private room filled with champagne and flowers, followed by a surprise party back at their own home.  The couple married one day after their five year anniversary. Bride Jess had some lovely words to say about our beloved blog:
"I really like how real and relatable Love My Dress is and I love the way that it's written.  It's fantastic for picking up tips from previous brides and reading how happy they were with each of their days. I'm a bit of a 'colourphobe', so I knew the wedding would be mainly white but apart from that we didn't really have a style in mind.  We quickly learned that we liked clean and simple, rather than busy and fussy so we chose a white carpet and a white starlit sky for the marquee and we also decided to have one side of the marquee clear, to make the most of the stunning views."
Images by Melissa Beattie Photography
Jess wore the beautiful and classic 'Vigi' by Pronovias, which she purchased from Bridal Wish in Blagdon, Northumberland.
"I tried all different shapes and sizes and quickly realised that I wanted a very plain, heavy silk dress.  I found a few that I liked but this was the first one I tried on that had detailing at the top and I totally fell in love with it.  I think you just know when it's the one.  It also had pockets which was a huge bonus."On her feet Jess chose gold and glittery 'Abel' by Jimmy Choo, while in her hair she wore a full length veil purchased from Bridal Wish.  For jewellery she chose Stephen Webster diamond thorn earrings (which were her 'something borrowed' from her Mum) and a Tiffany & Co infinity endless bracelet which Nick had bought as a wedding present.
"It was very sweet, as our logo for the wedding was an infinity sign with our initials in."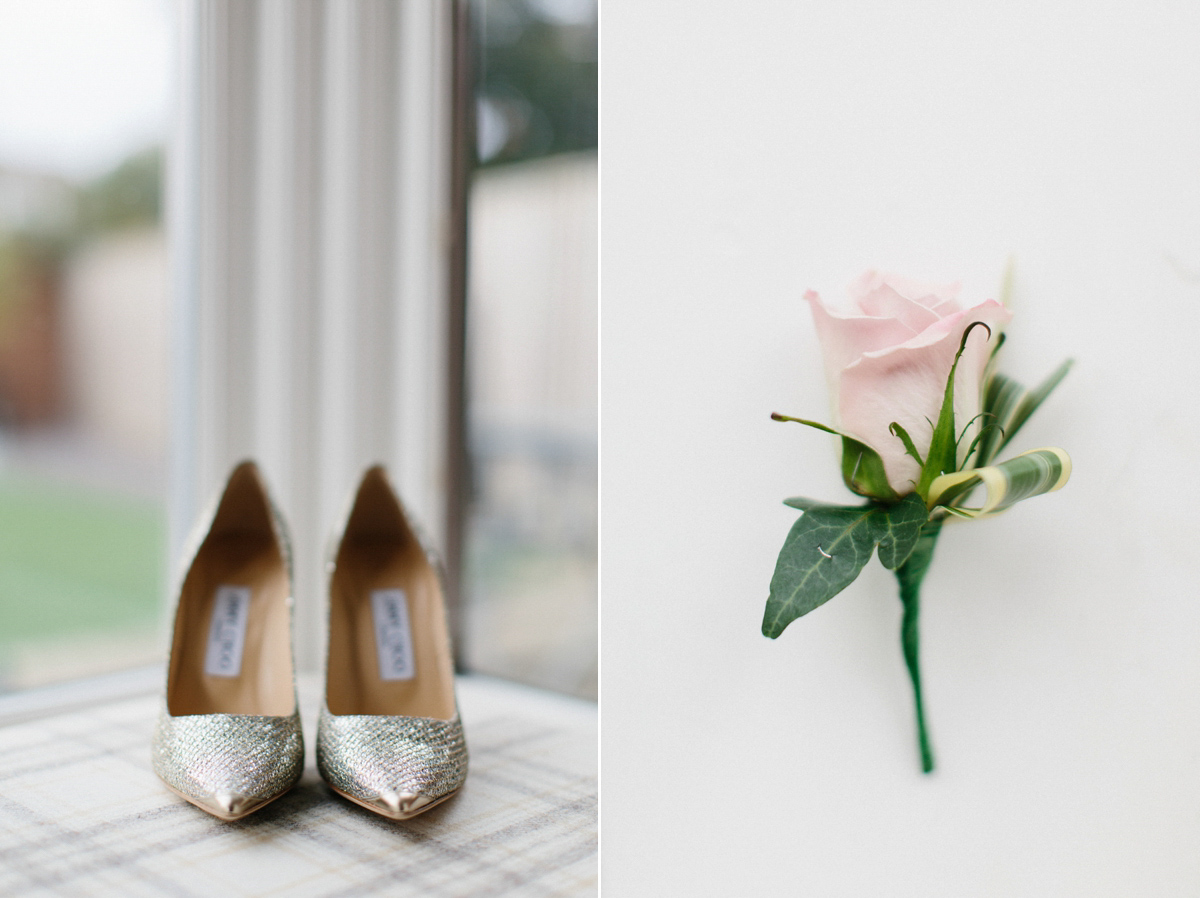 The wonderfully romantic and soft pastel florals were supplied by Nicola Allinson of Secret Garden Flowers.
"Nicola is a family friend and has always provided flowers for family events.  She is incredibly talented and has the most beautiful selection of flowers, so she was a very obvious choice."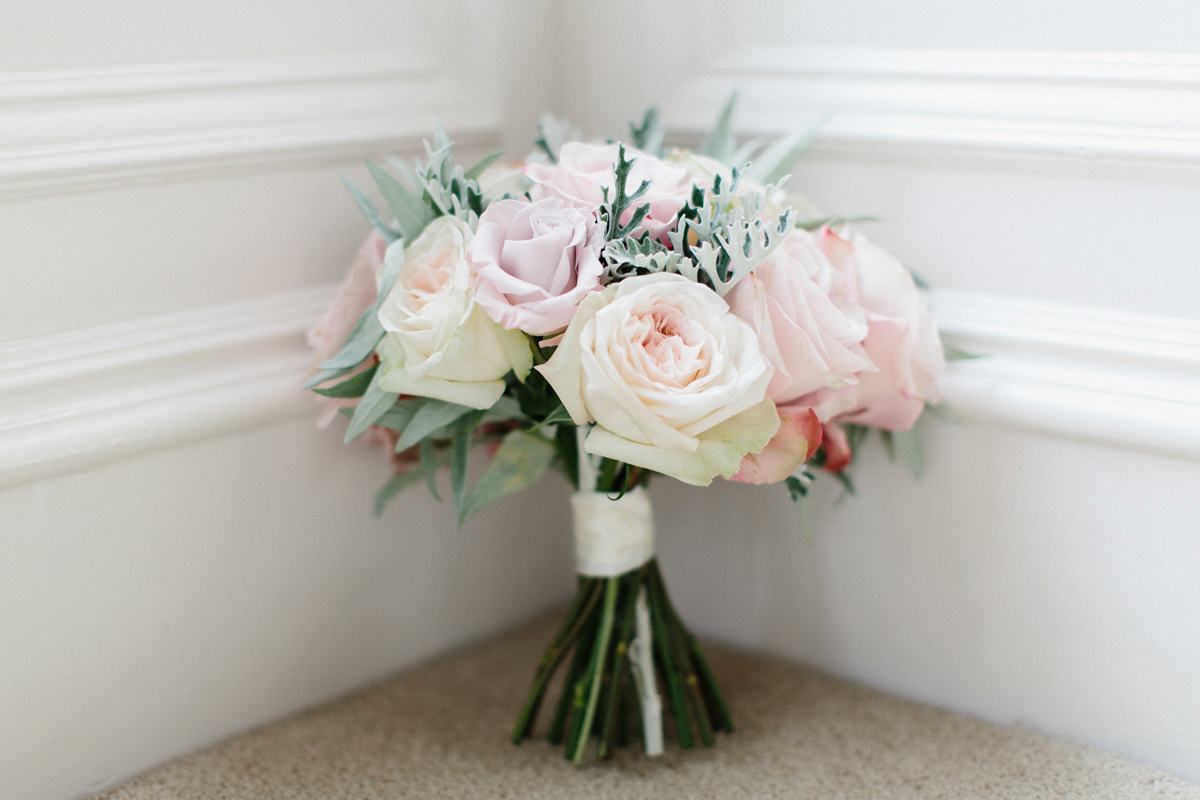 For scent, she opted for Coco Mademoiselle by Chanel.
"I bought the travel atomiser so that I could keep it in my pocket to keep reapplying throughout the day – if ever there was a day to douse yourself in Chanel, this was it."
Hair was the work of Zahra from Boilerhouse Hair, Jesmond, while a close friend of the bride did her make up.
The bridesmaids looked beautiful in soft grey 'Hera' gowns by Reiss, which Jess purchased in Heathrow airport on her way home from a holiday!
The ladies wore fresh flowers in their hair and a Return to Tiffany bead bracelet by Tiffany & Co, which was a thank you present from Jess.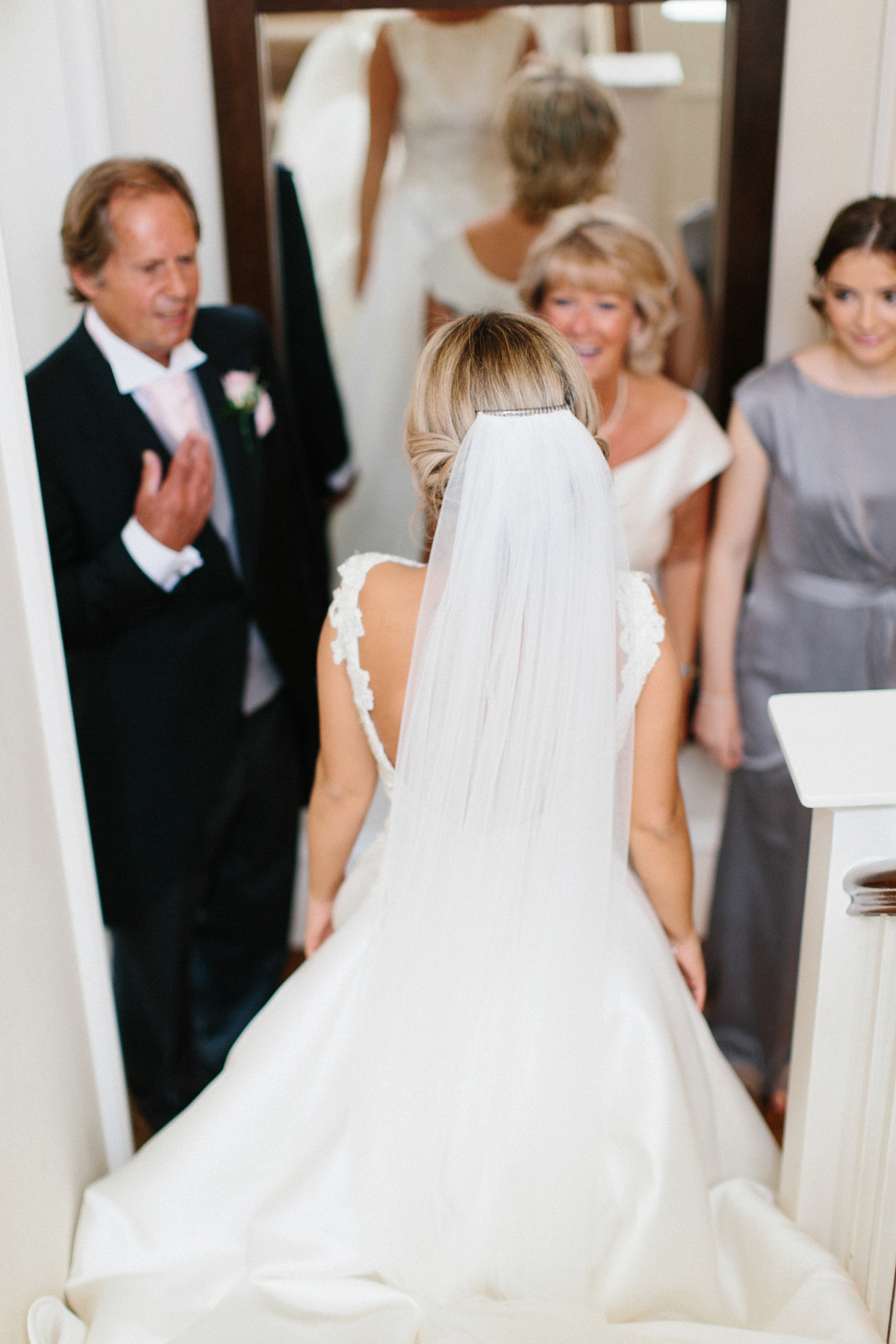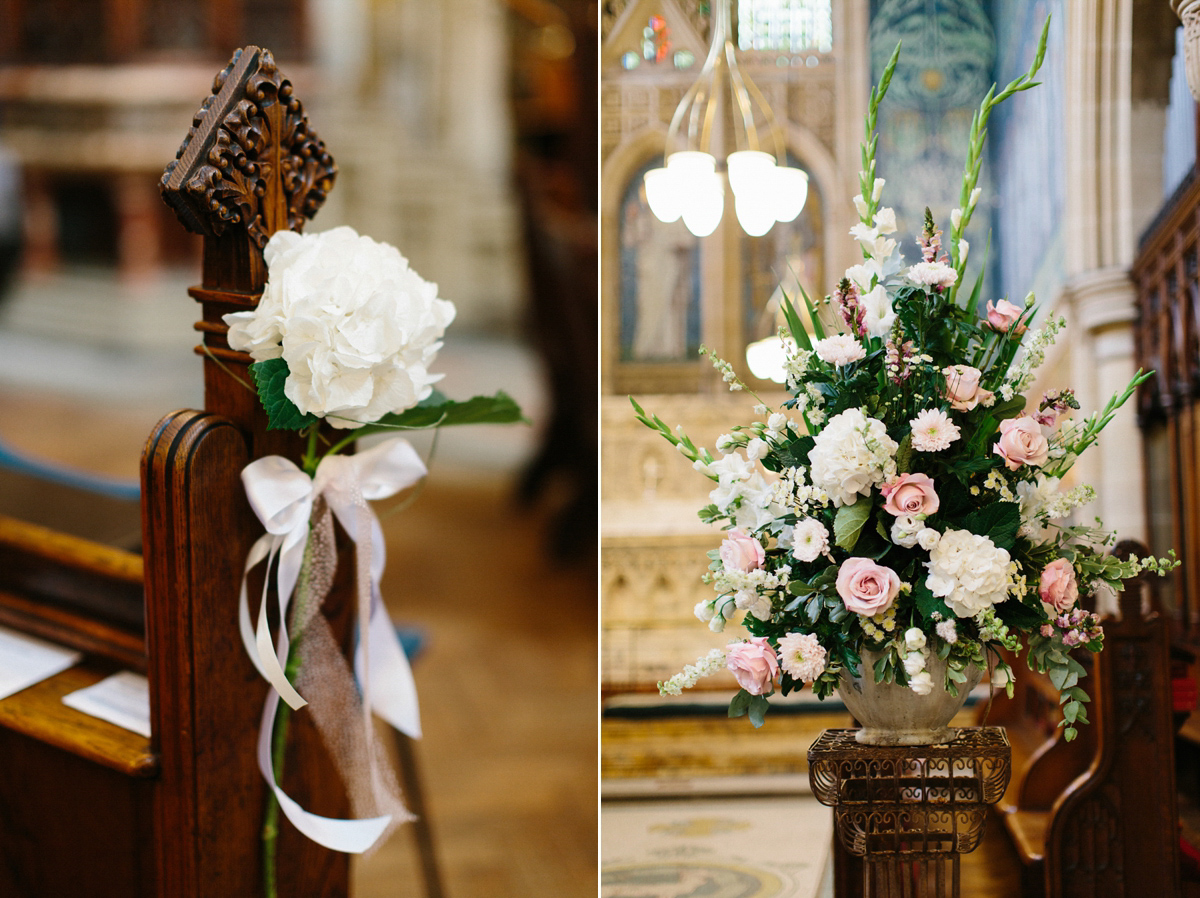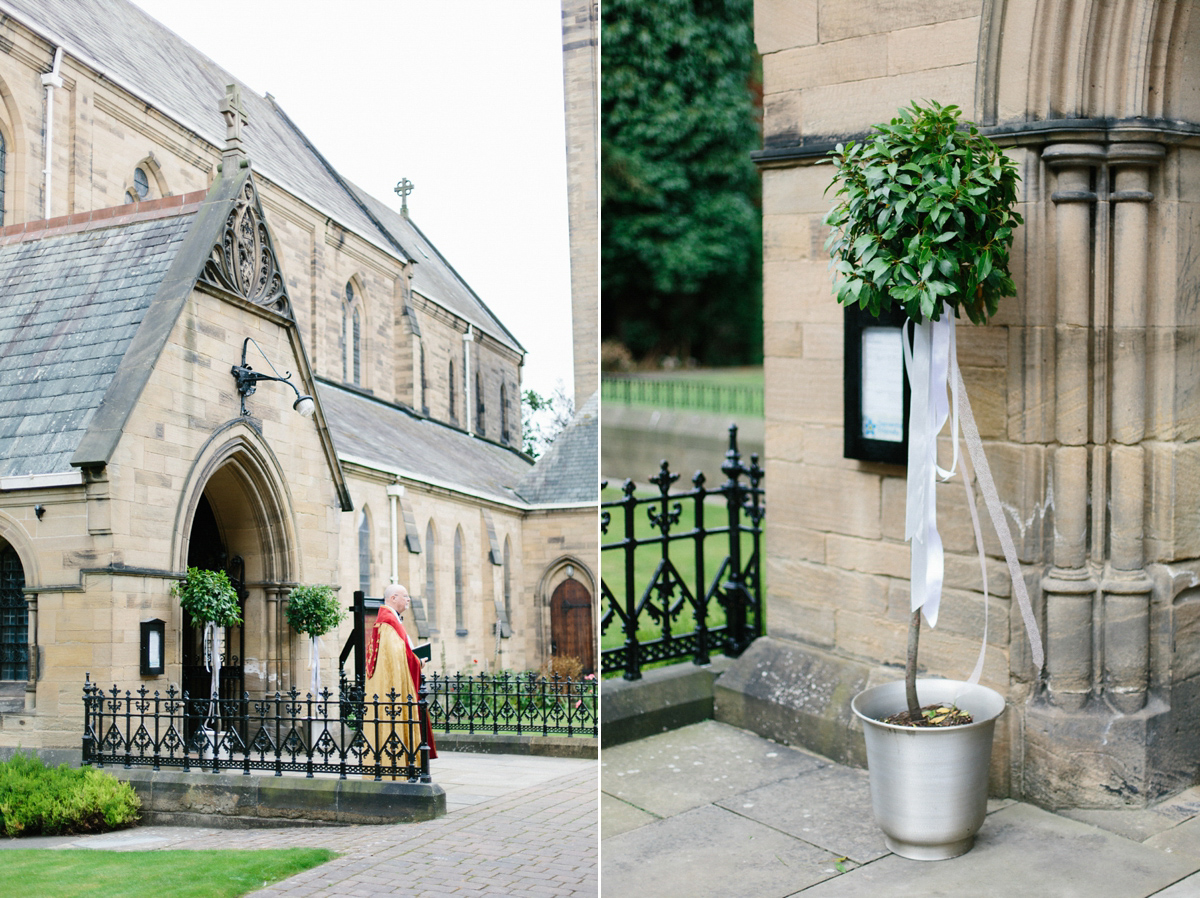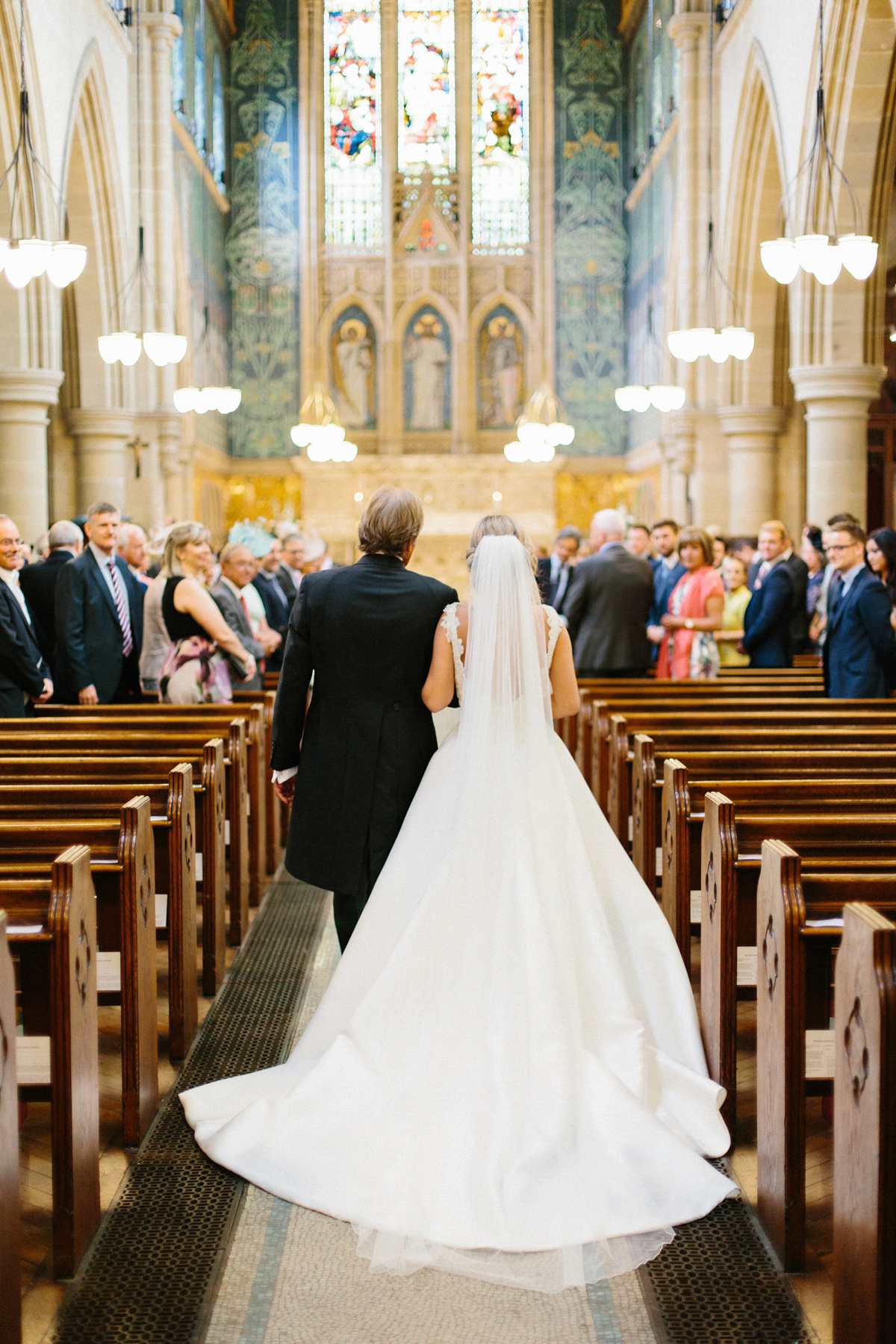 Nick and his groomsmen looked very smart in morning suits hired from Moss Bros.
"My engagement ring is a three stone ring set on a platinum band.  The diamonds were from my late Grandma's engagement ring, so it is extremely special to me.  Nick had the stones reset at Richard Sinton Jewellers. They are a fantastic jewellers in the centre of Newcastle and we would highly recommend them."
The ceremony took place at the utterly gorgeous St George's Church in Jesmond- just look at that amazing window!
"We wanted two readings and so chose 1 Corinthians 13 4-8 which was read by our good friend Jen Aziz and 'He's not perfect' by Bob Marley, which everyone absolutely loved.  It was read by Nick's younger brother, Joe and he kept eye contact with me throughout the reading, which was very sweet, as it was as if he was talking only to me."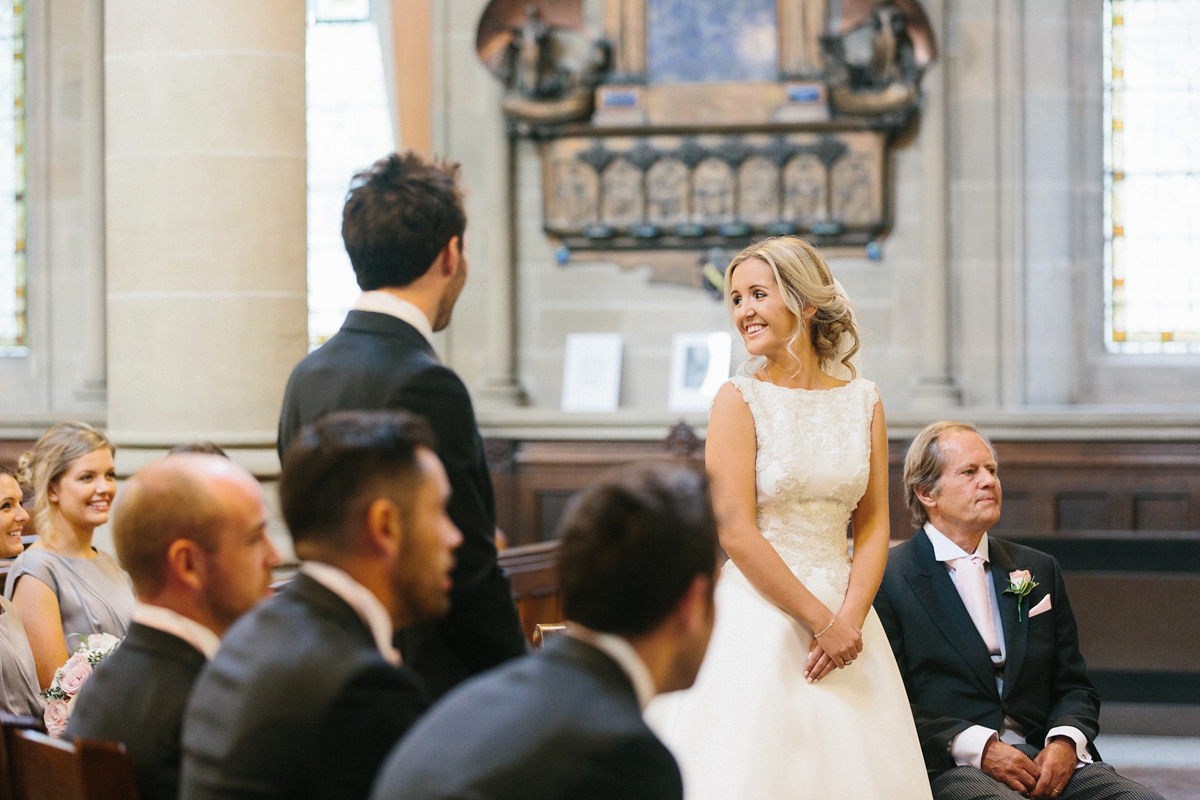 "We both said that the church was our favourite part of the day.  Obviously we loved the reception but we were both really nervous about the ceremony and we ended up loving every minute of it."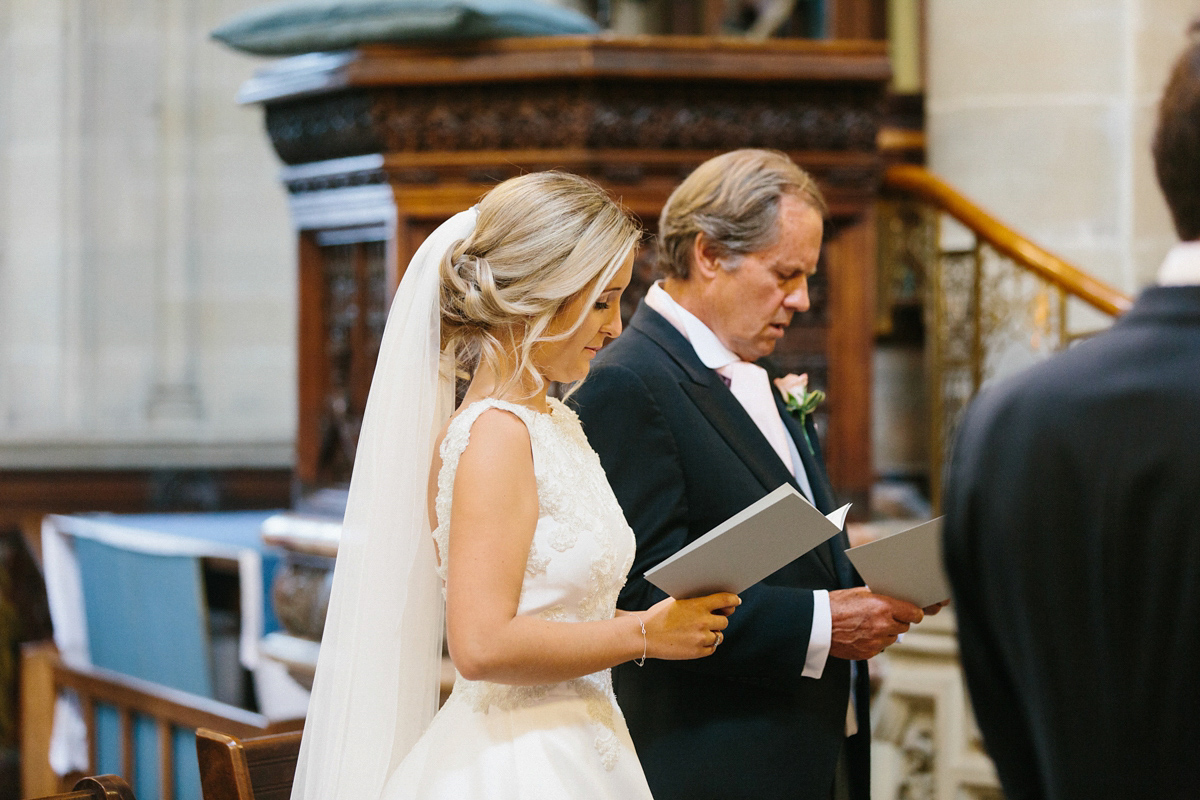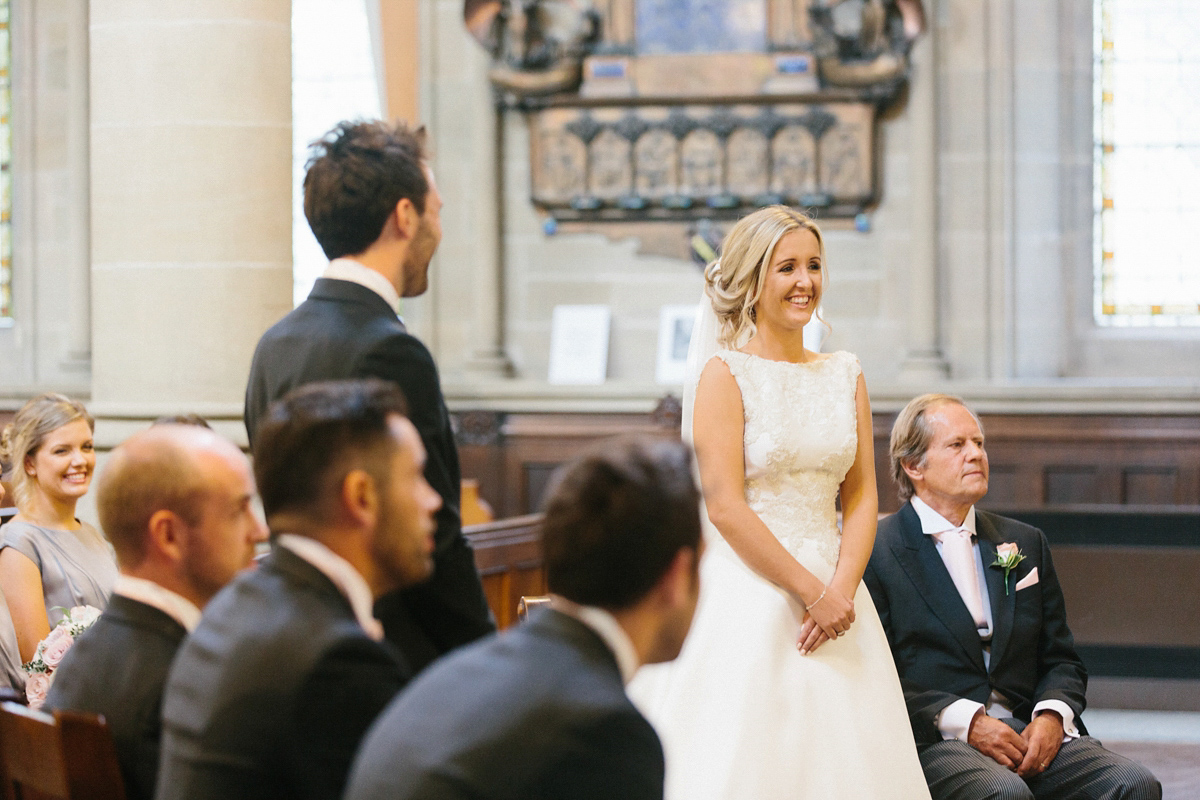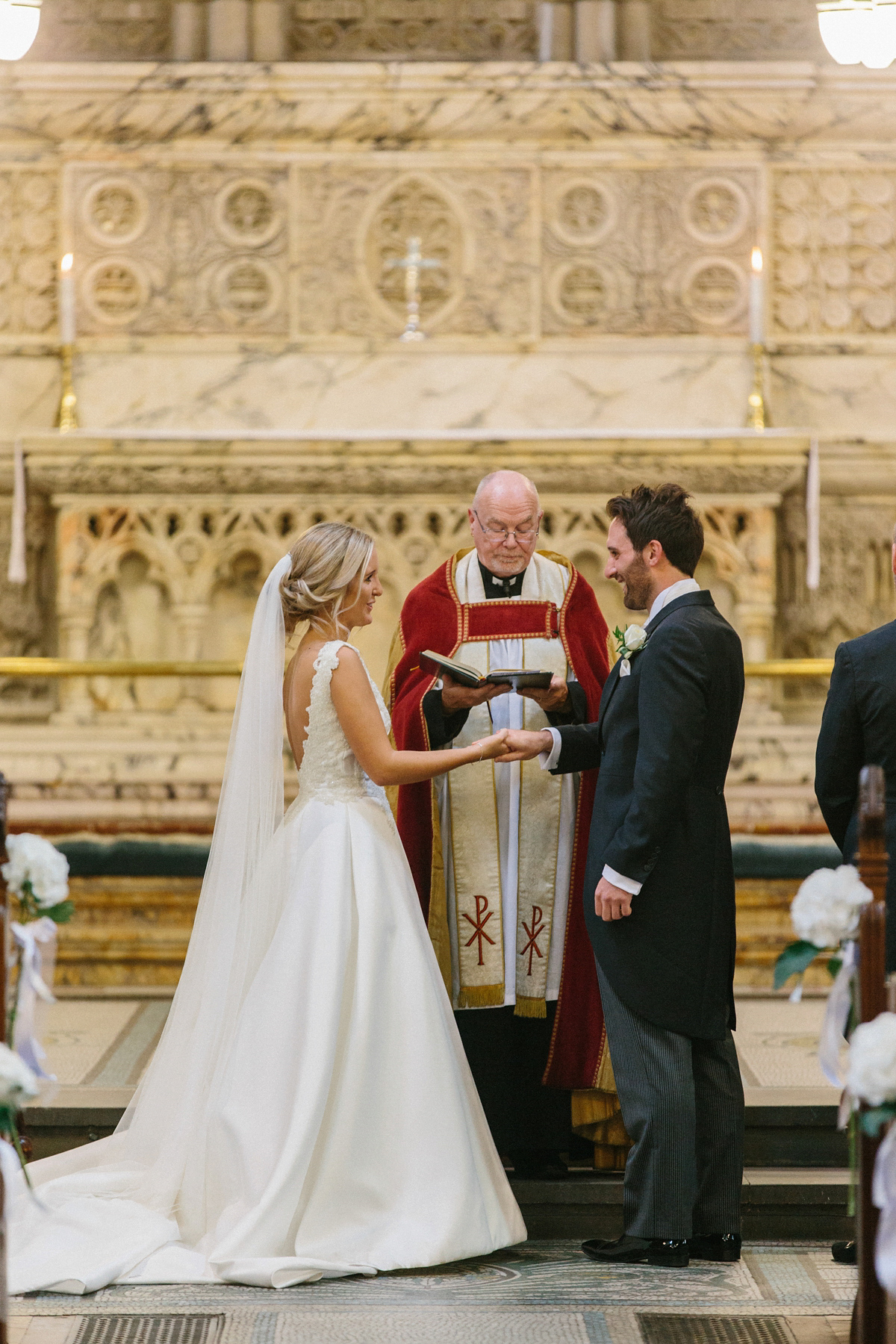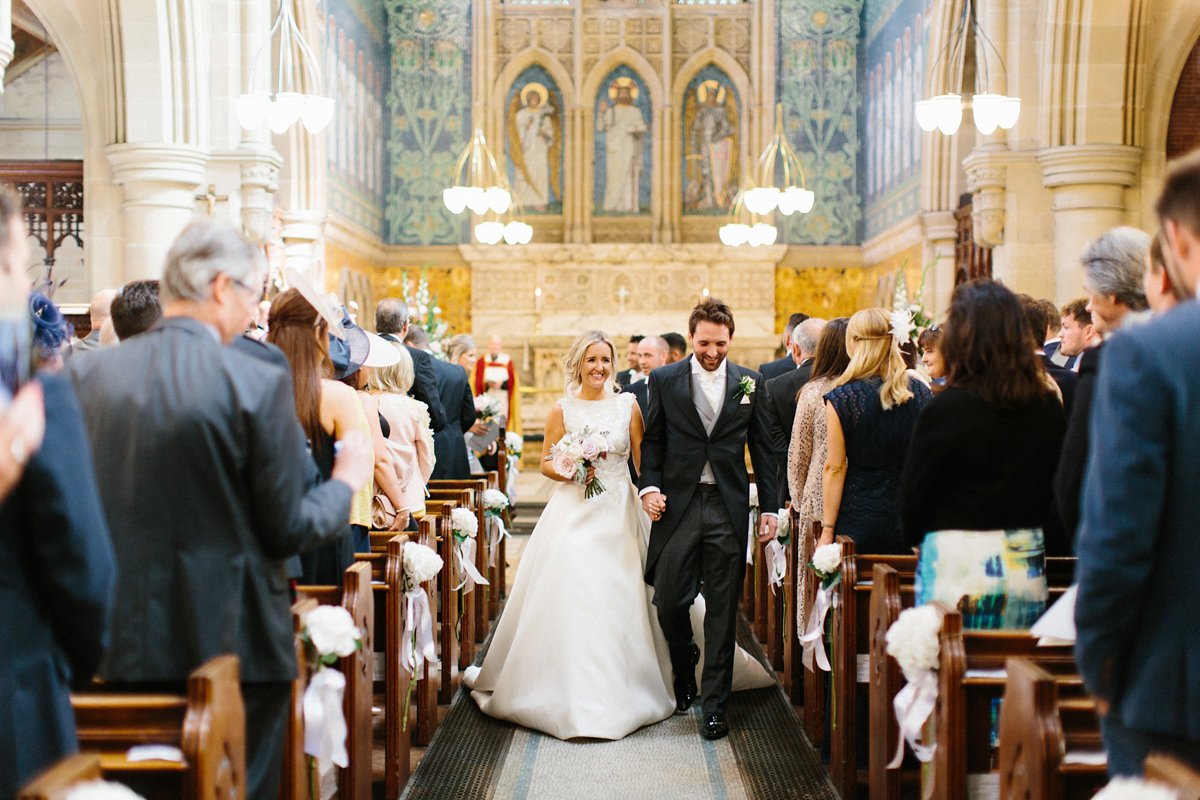 "We were actually on our way back from looking at another wedding venue when Nick said 'I'm sure there's a place called Capheaton Hall round here', so we found it, drove up the driveway and instantly fell in love.  It is absolutely stunning."
"You hire a marquee for the grounds but also have access to a number of rooms inside the Hall.  The grounds and views are breath taking and are the perfect canvas for a 'create your own' wedding.  Eliza and Willy, the owners of the Hall, are wonderful too."
Jess and Nick travelled to the reception in a white Beauford Tourer convertible, which they hired from AB Wedding Cars.
The talent behind today's wonderful light and bright photographs is the lovely Melissa Beattie, whose pictures we have featured a number of times before.  Jess and Nick were thrilled with her work.
"I met Melissa at a wedding fair at Healey Barns and instantly fell in love with her work.  Her style was everything I had been looking for and even the presentation of her albums and USB box were gorgeous.  She was an absolute dream on the day and lovely to have around in the morning and she captured the happiness of the day in a series of natural photos, which is exactly what we wanted.  She also photographed all the little details, which are so nice to look back on."
Catering was by Boldon Farmhouse Pantry (who come extremely highly recommend by our couple) while the cake was the work of Dreamworld Cakes.
"Our marquee was provided by Collingwood Marquees and we chose a white starlit ceiling and a white carpet for the interior.  We also had large 'N&J' in lights at the side of the stage, which looked amazing.  They were provided by Coco Luminaire – another fantastic company in Newcastle."
"I bought two gorgeous faux white rose trees with white square pots from Country Baskets in Gateshead which we placed either side of the stage and lay a faux white rose garland across the front of the stage (also from Country Baskets).  I also bought some large hurricane vases and tied a white wooden heart around each with a grey ribbon.  I stuck photos of people we had loved and lost to each of the hearts and lit candles in the vases.  We displayed these on a table in the marquee."
All paper goods were provided by The Cardlab Letterpress Co. in grey and ivory to match the colour scheme.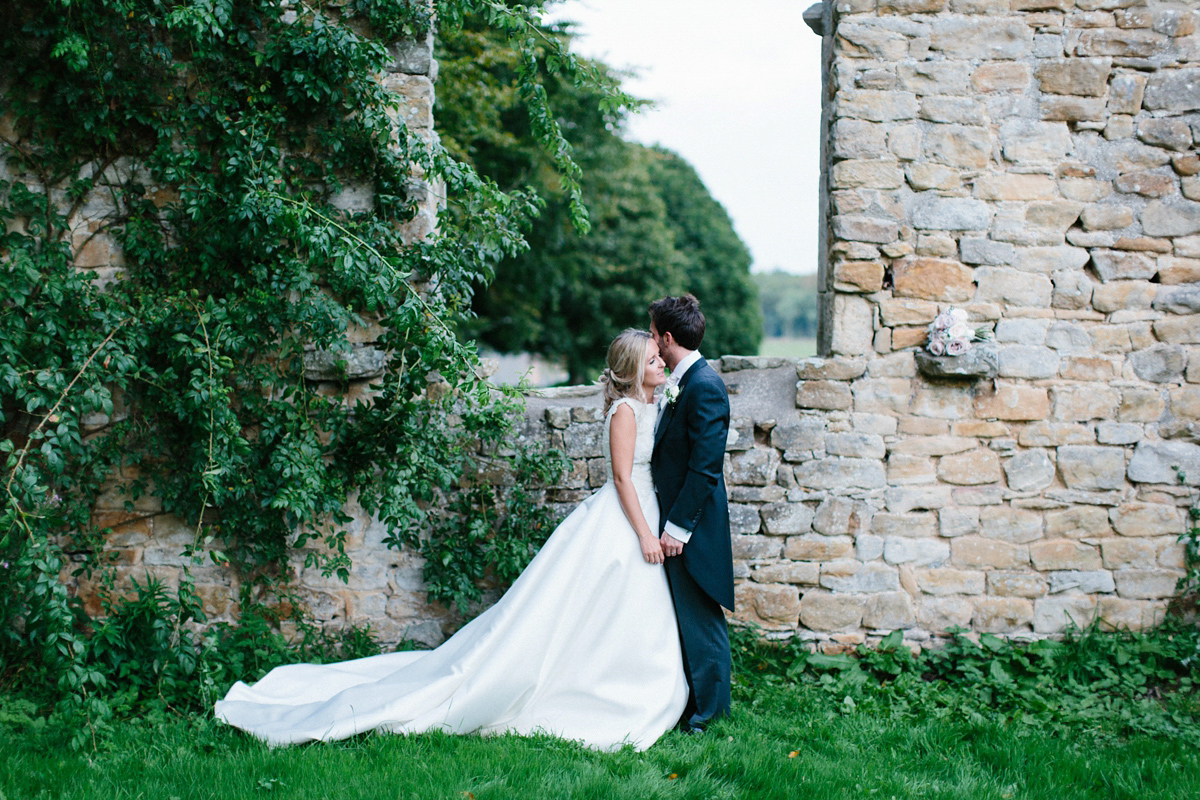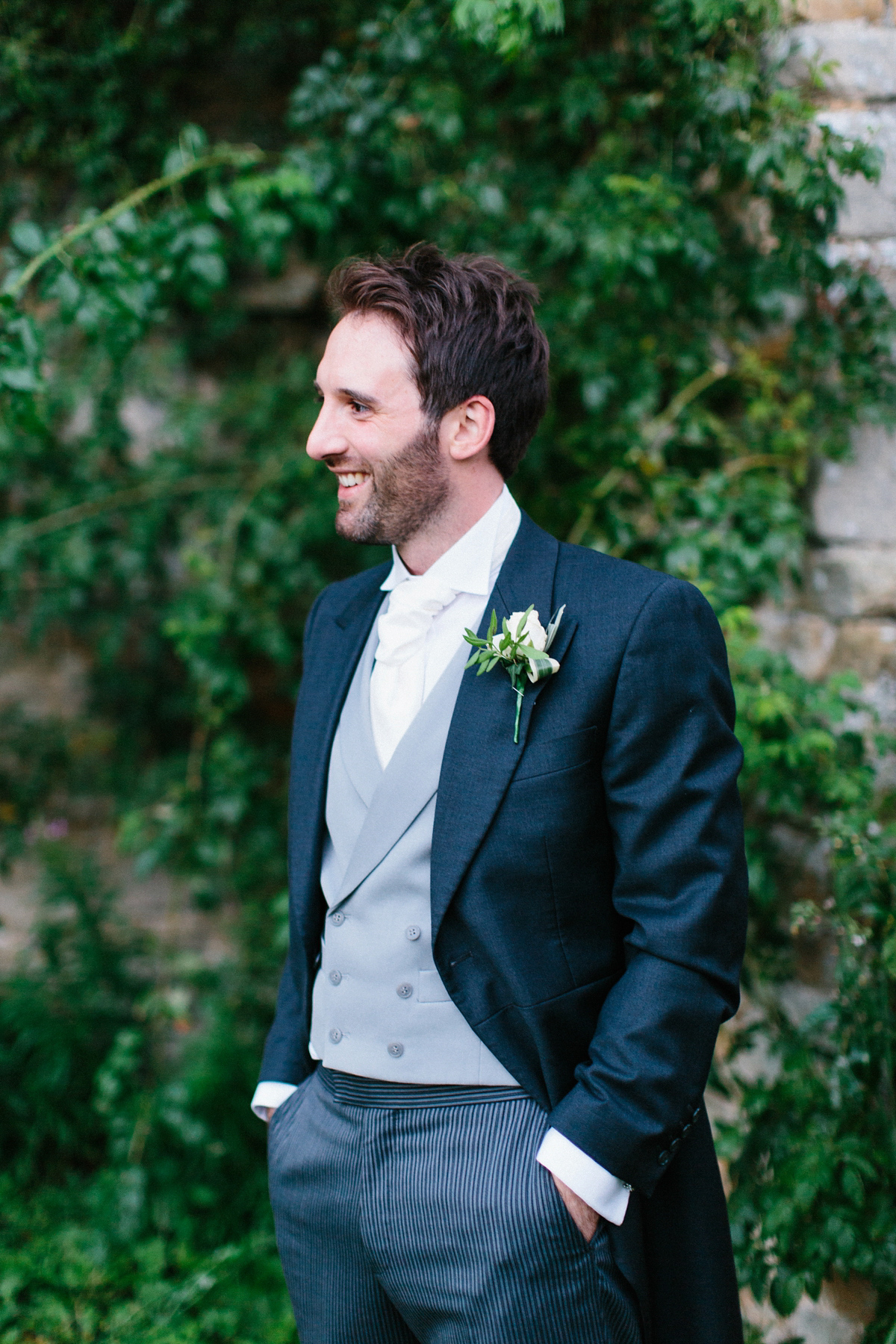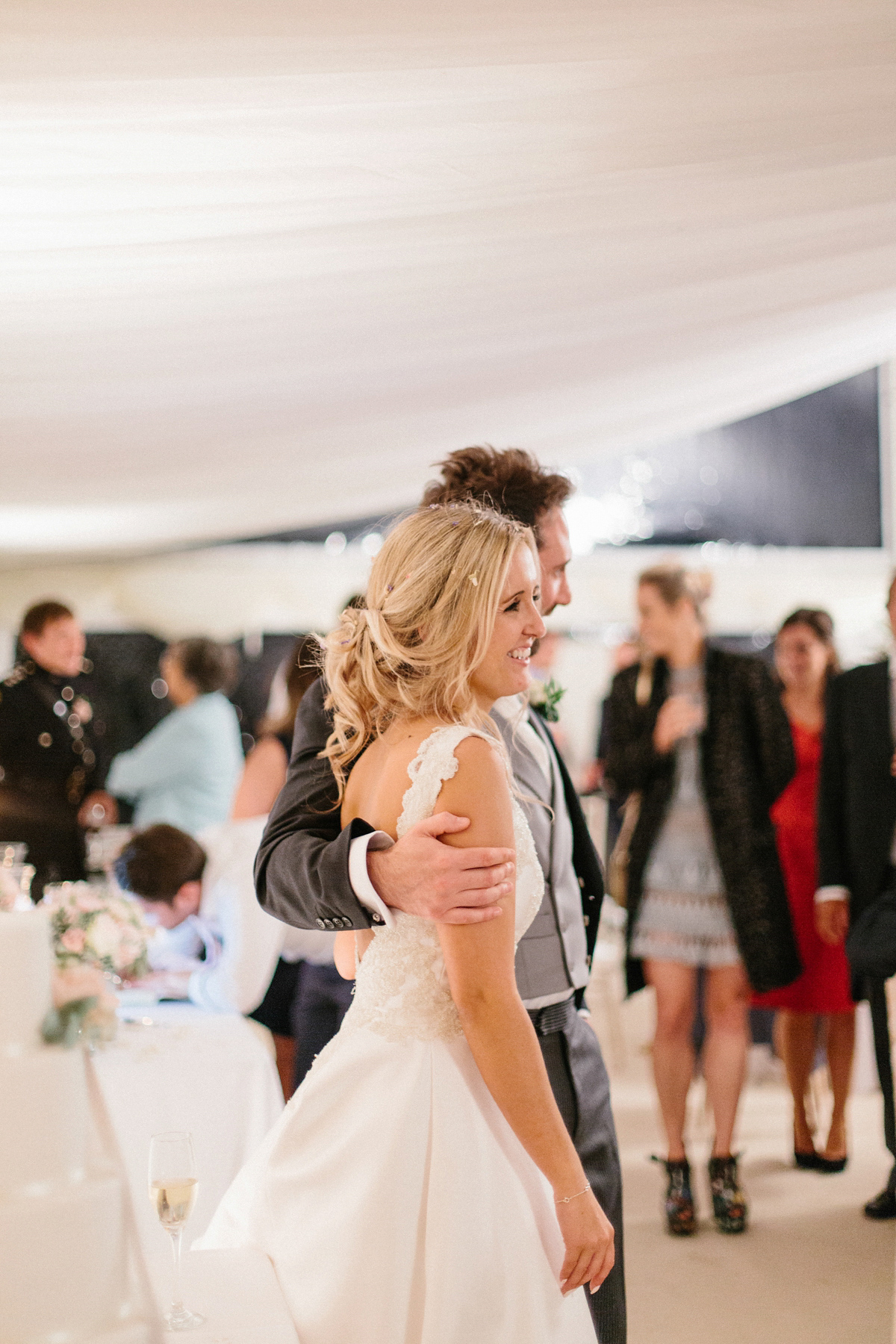 For entertainment, Jess and Nick chose Grace Under Pressure to perform for their guests.
"The lead singer of the band is a close friend and they are absolutely fantastic.  They had everyone dancing from the minute they started until the minute they left – including lots of heckling for an encore.  They also did an amazing job of our first dance song, 'Thinking Out Loud' by Ed Sheeran."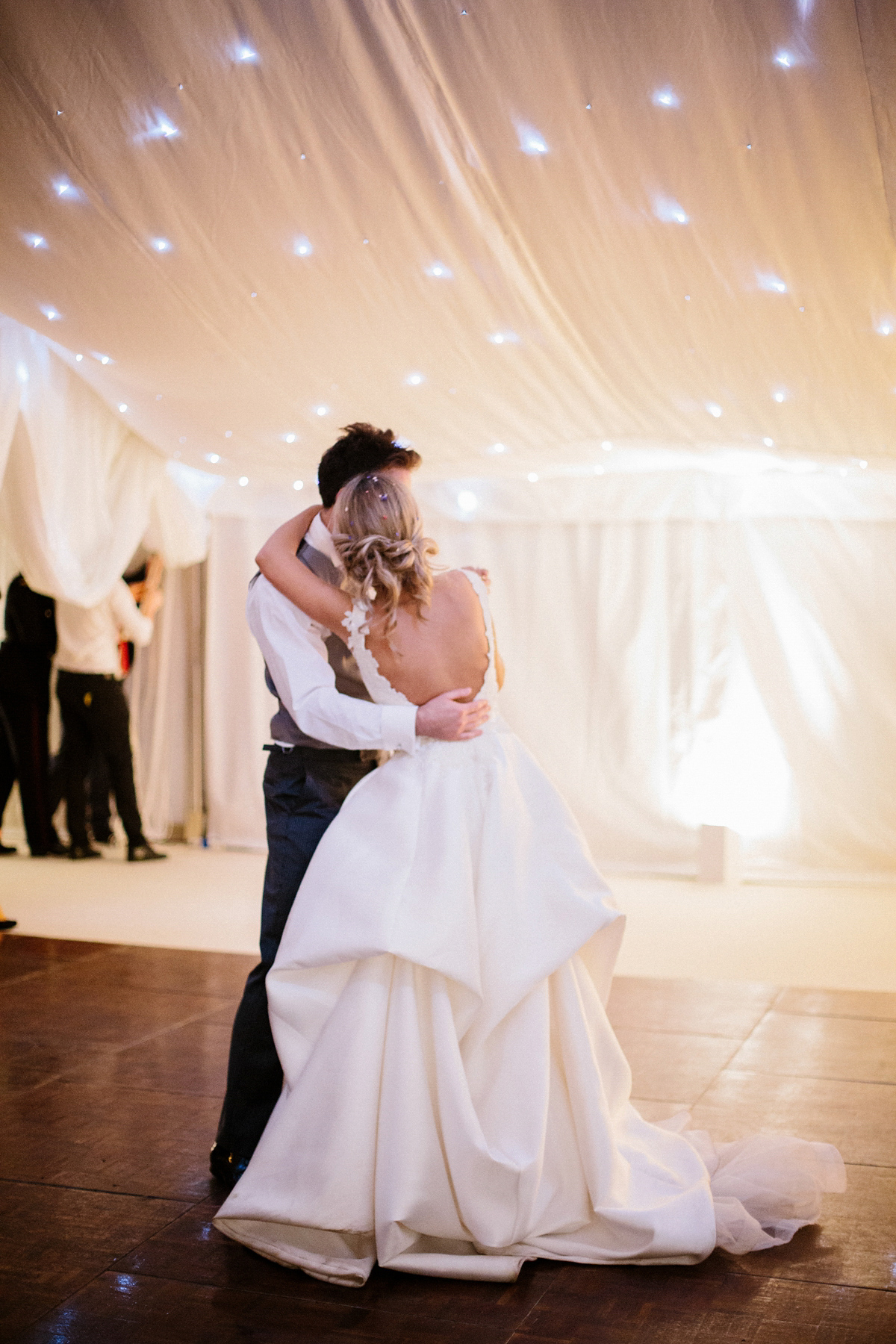 Words of Wedded Wisdom
"Try not to stress about the little details – you won't even notice them on the day.
Try and grab a few minutes with your husband throughout the day to look around and take in everything that is going on – this is one of the only times in your life that everyone you love is under one roof.
Enjoy every second."
So many thanks to Jess and Nick for allowing us to share their lovely day.  Would you like to see some more Northumberland- based weddings?  Take a peek here if so, while for some more brides in Pronovias, take a look here.
Much love,
S x