This week is just flying by; I'm getting excited as I'm due to visit family friends in America and travel out next week. There is so much to do before then though. Now, do you ever look at a couple and think 'Wow, they look so cool'? Today's bride and groom, Amy, an Art Consultant and George, a Publican, make me think just that. They married on 20 August 2016 at Boxgrove Priory Church, Chichester, West Sussex, followed by a reception at The Anglesey Arms in Halnaker, the pub of which George is landlord. The couple wove together Swedish design to honour Amy's roots with influences from the Sussex countryside to create a beautiful wildflower, natural and relaxed celebration. I have a feeling that our writer Emily Deaman is going to love this wedding with its Scandinavian elements.
The couple chose to marry in their home village of Boxgrove and held their reception in the two-acre garden at George's pub, The Anglesey Arms. Amy turned to our own, beautiful wedding blog pages to seek inspiration for her wedding….
"Love My Dress is a great source of inspiration. This was my go-to blog when getting inspiration for my dress; full of different styles along with tips and tricks. There are so many ideas to try out and it's full of advice for your big day. Stunning imagery and everything beautifully written. Everything you need to plan your whole wedding, and great to hear from other brides too."
Photography by Camilla Arnhold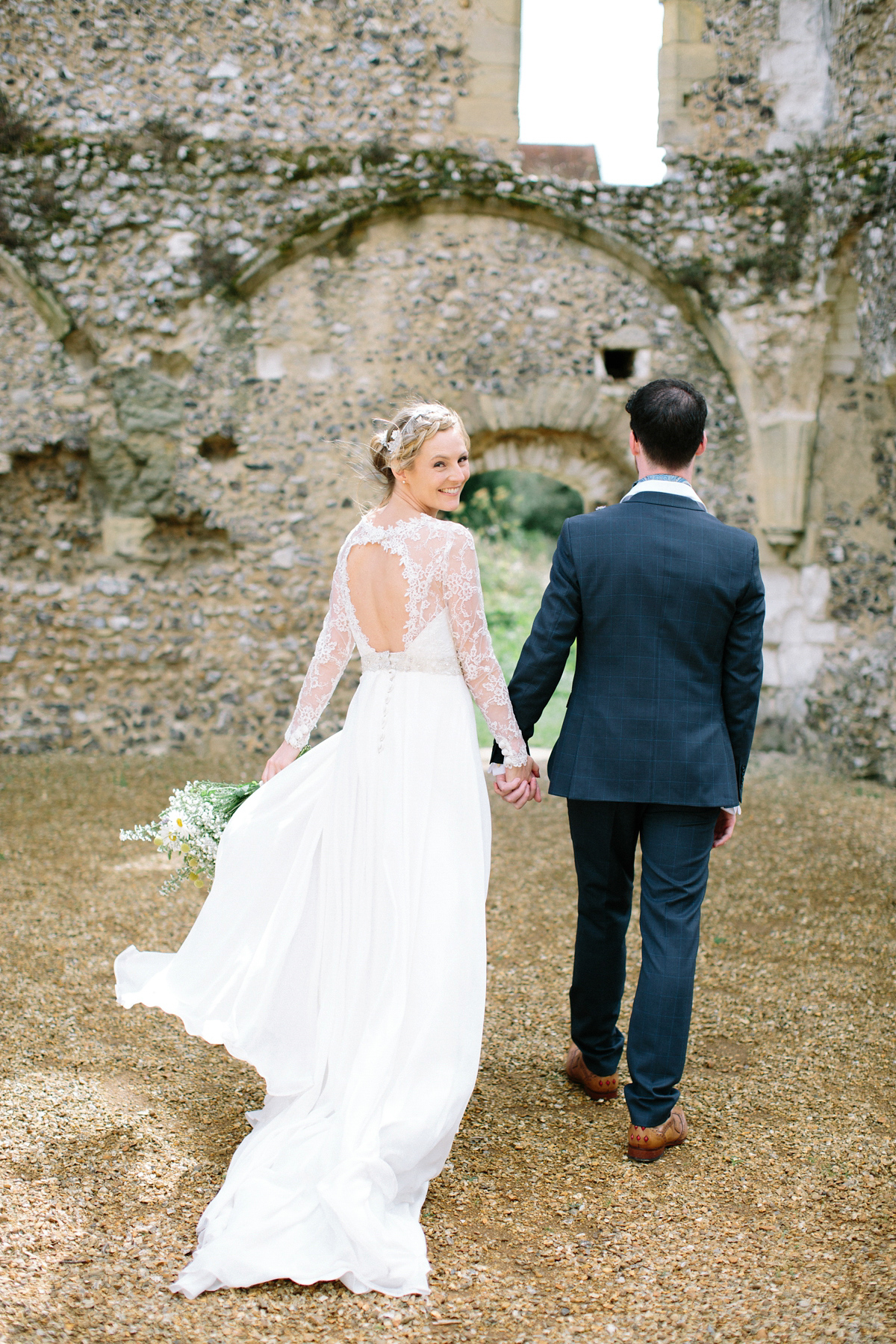 As an Art Consultant, Amy obviously has an eye for style, and she designed her gorgeously lacy, long-sleeved gown with dress-maker Carolyn Keyes. I love the idea of working with a designer and seeing an initial idea evolve. The lacy keyhole-back especially is just so lovely with the simple, fitted bodice and skirt.
"I wanted a relaxed bohemian look for my dress. It was important to me that I felt comfortable so I didn't want anything too restrictive. I trawled the Internet for inspiration and had a clear idea of what I wanted. I tried on several different styles just to be sure but just couldn't find 'the one'. It was my mother-in-law Jools who suggested I speak with Carolyn. As soon as I stepped into her shop and saw a selection of her designs I knew immediately that she could create exactly what I envisaged.""I sat down with designer Carolyn Keyes and after that first chat, she sketched my perfect dress. She let me have total control of every design element of the dress including the style of lace, the dress fabric, the jewels and even the buttons. It was an incredible experience having my vision created and meant that I loved every single part."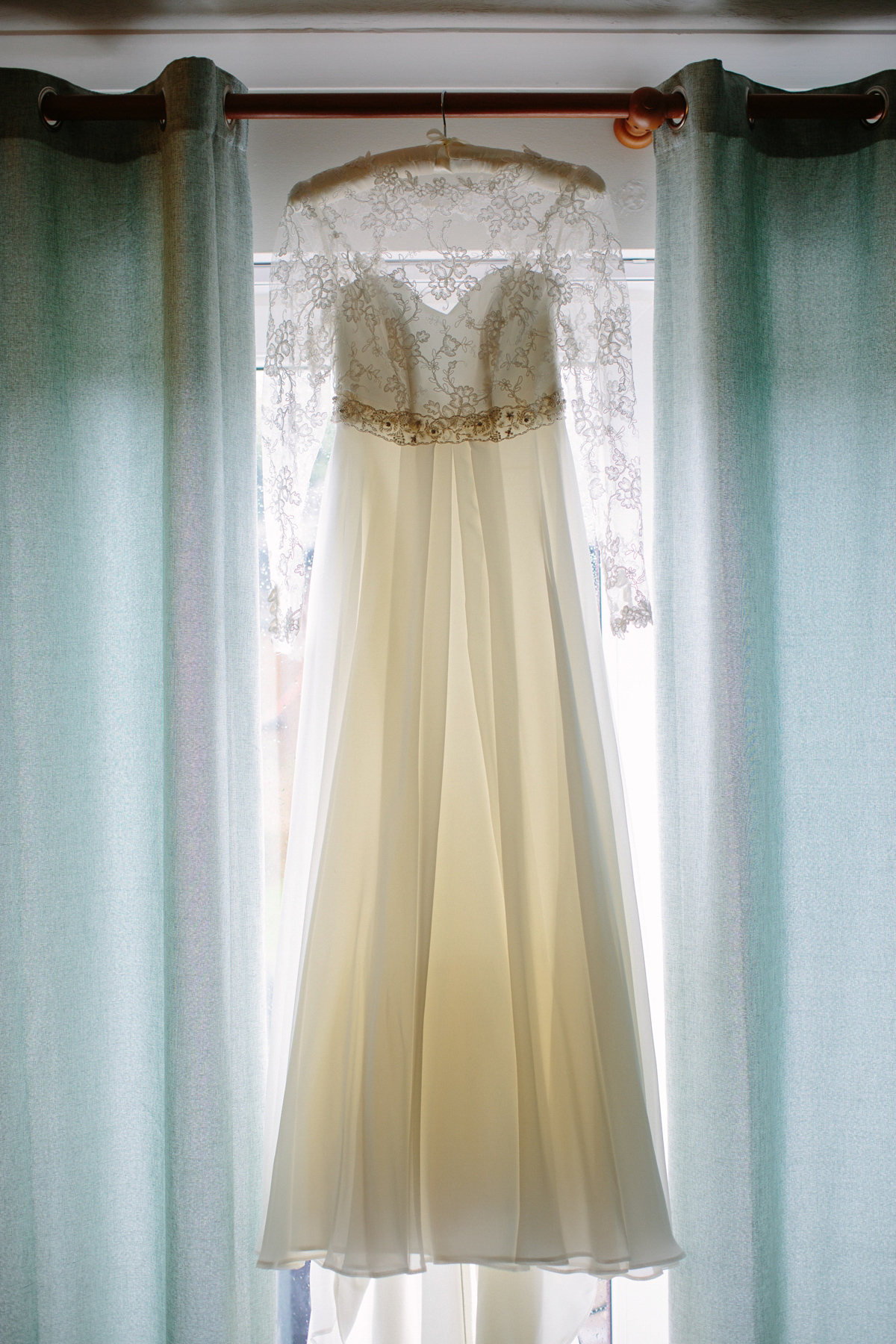 The overall look is bohemian, relaxed and natural, but Amy added a touch of edge with these incredible cream and gold studded shoes by Dune.
"I really wanted an edgy, sexy shoe and had my heart set on a pair of Valentino Rockstud's but couldn't justify the expense. I found a very similar style by Dune and snapped them up instantly!"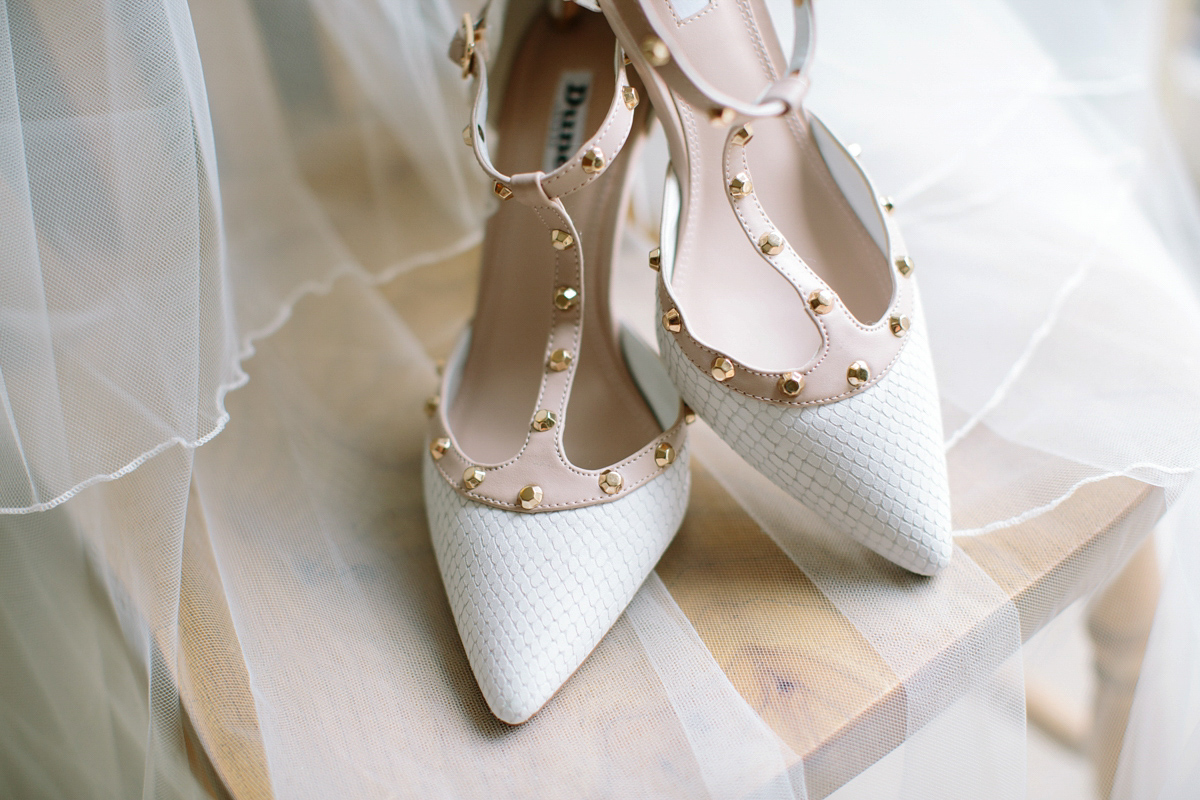 She added a cathedral-length veil, handmade by Carolyn, which looks wonderful in these images and really suits the Priory ceremony. Amy added a floral jewelled headpiece for the ceremony, swapping it for a dainty floral crown, which matched the bridesmaids, later in the day. Both suit her beautifully, and look perfect with her braided up-do.
"My hair was by the fabulous Sam Orwell, a freelance stylist based locally who specialises in wedding hair. I wanted an up-do but again very bohemian, in keeping with the look of the whole day. We bounced ideas and imagery back and forth and had a trial session. It was even more perfect on the day."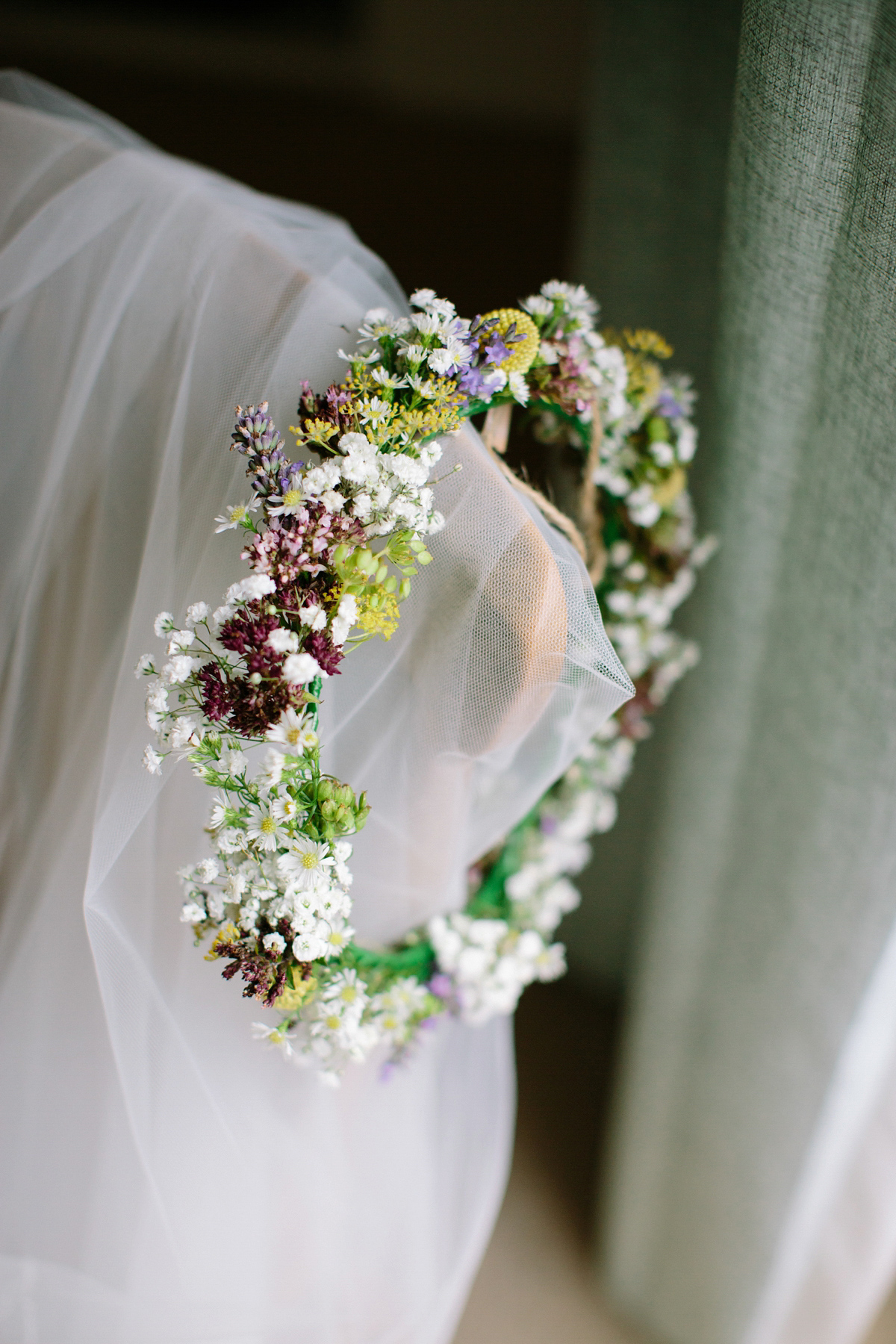 Amy stuck with tradition and chose her accessories to fit the rhyme 'Something Old, Something New, Something Borrowed, Something Blue'; her late grandmother's pearl bracelet, her new dress and shoes, pearl earrings borrowed from her mother, and a handmade Beu Beu Design garter in blue.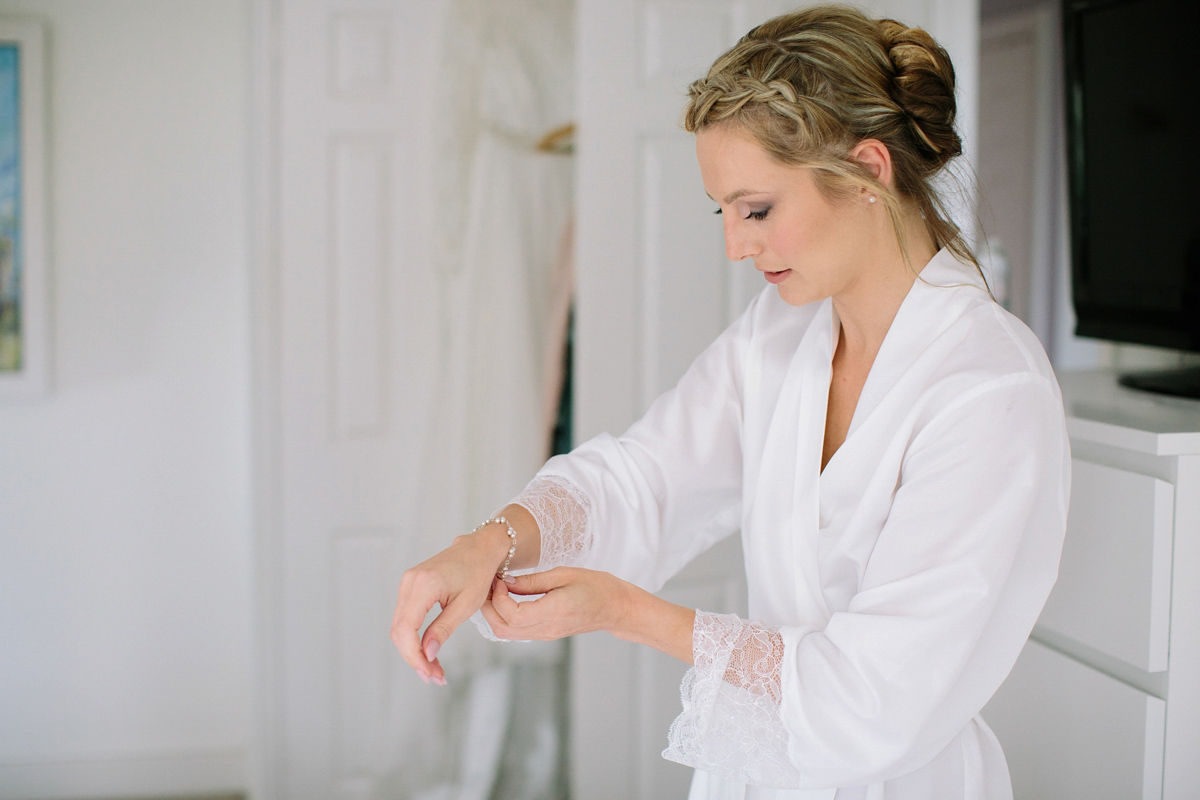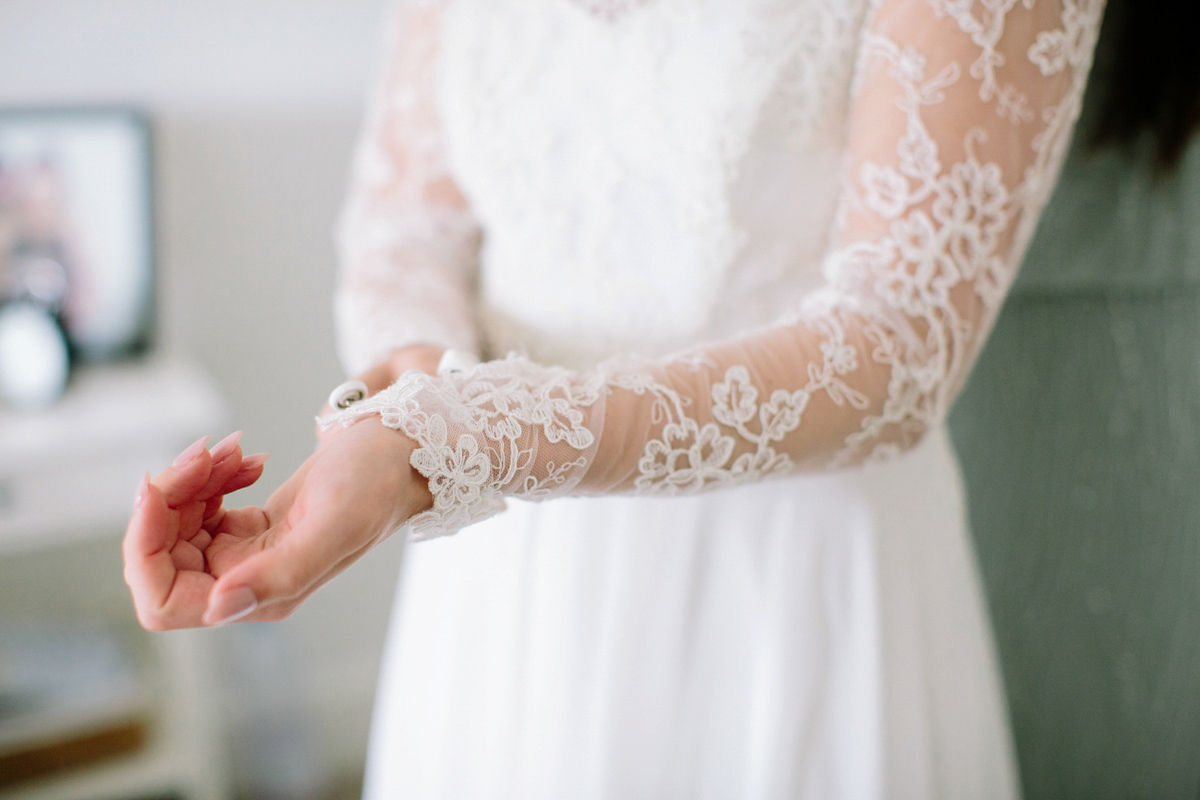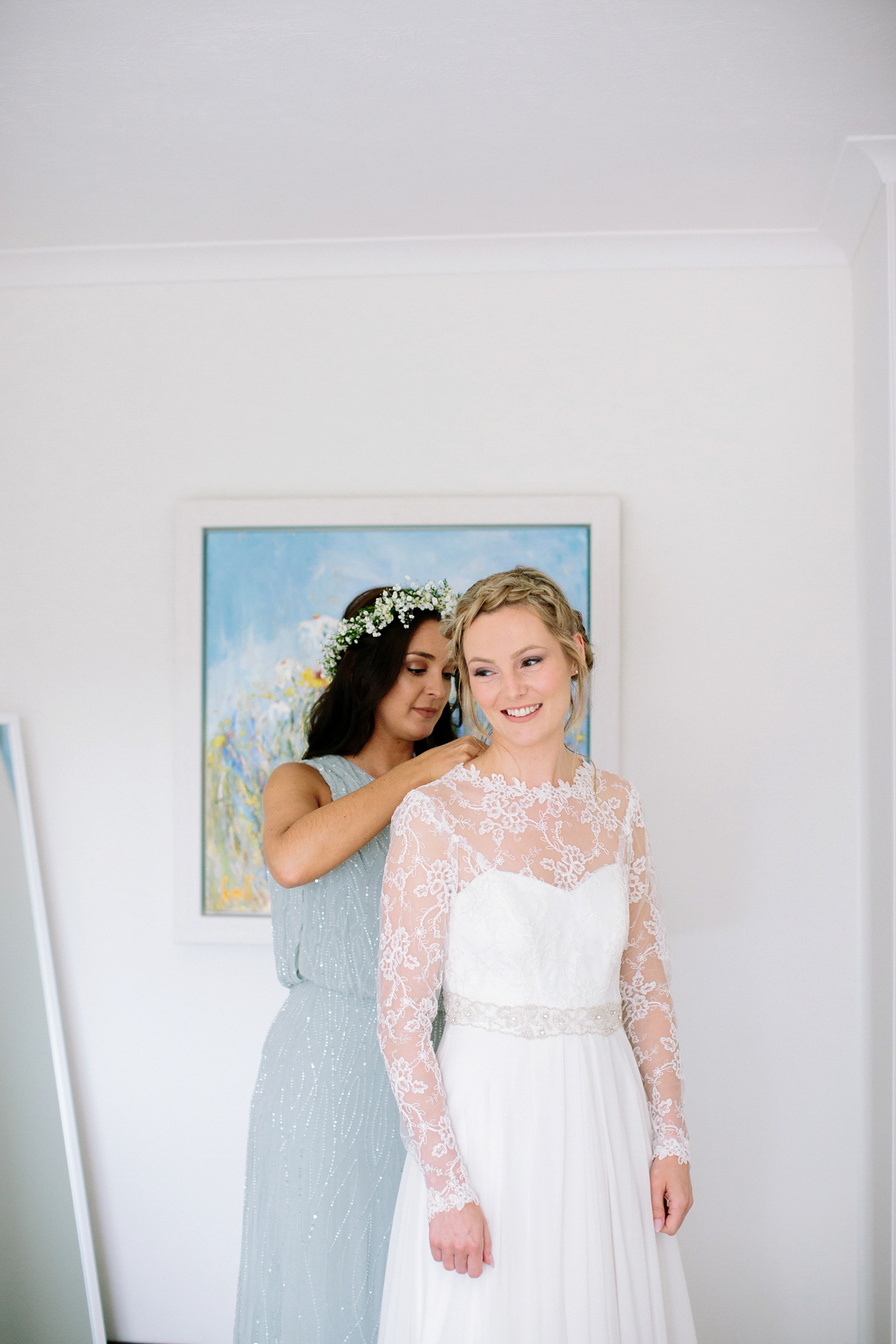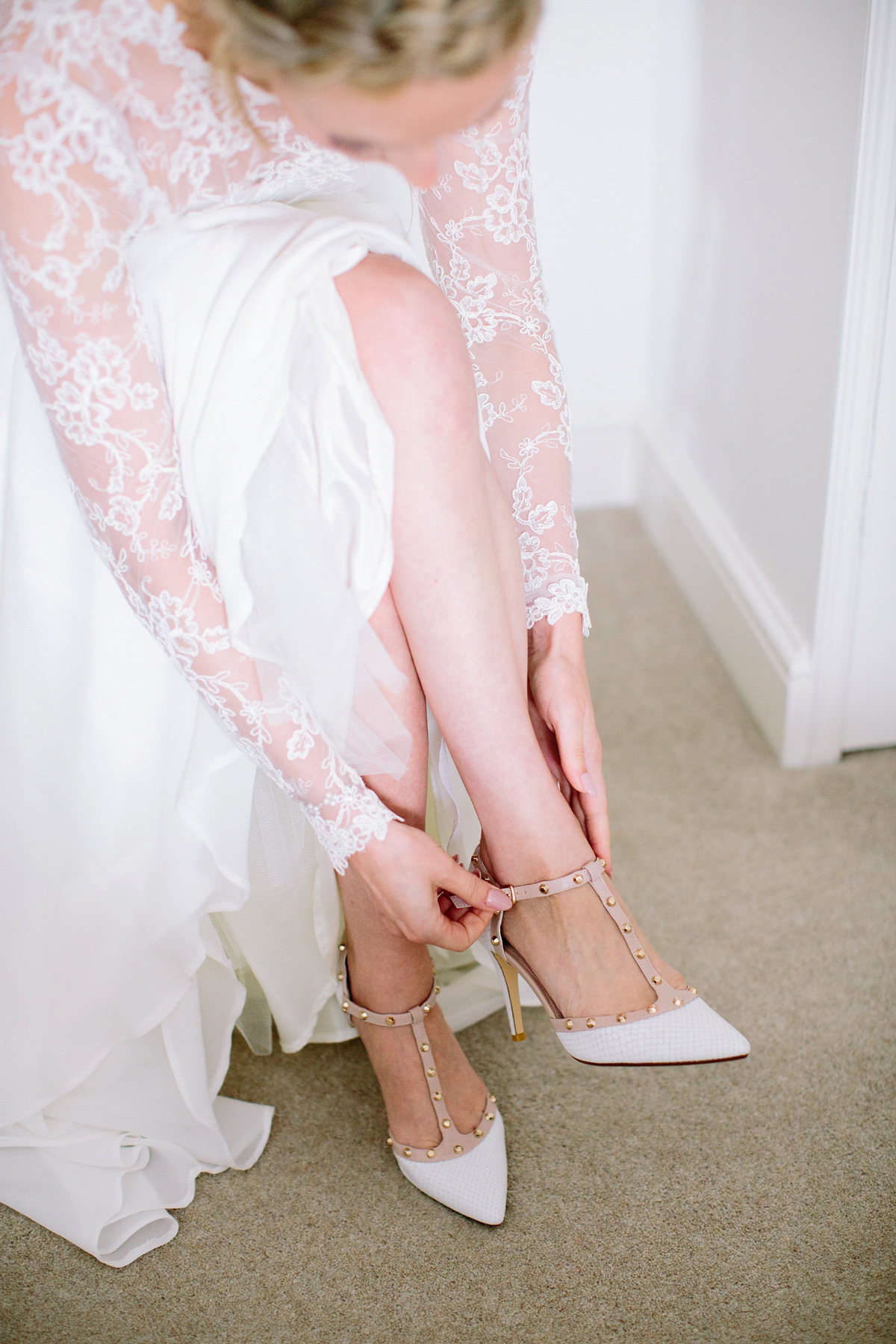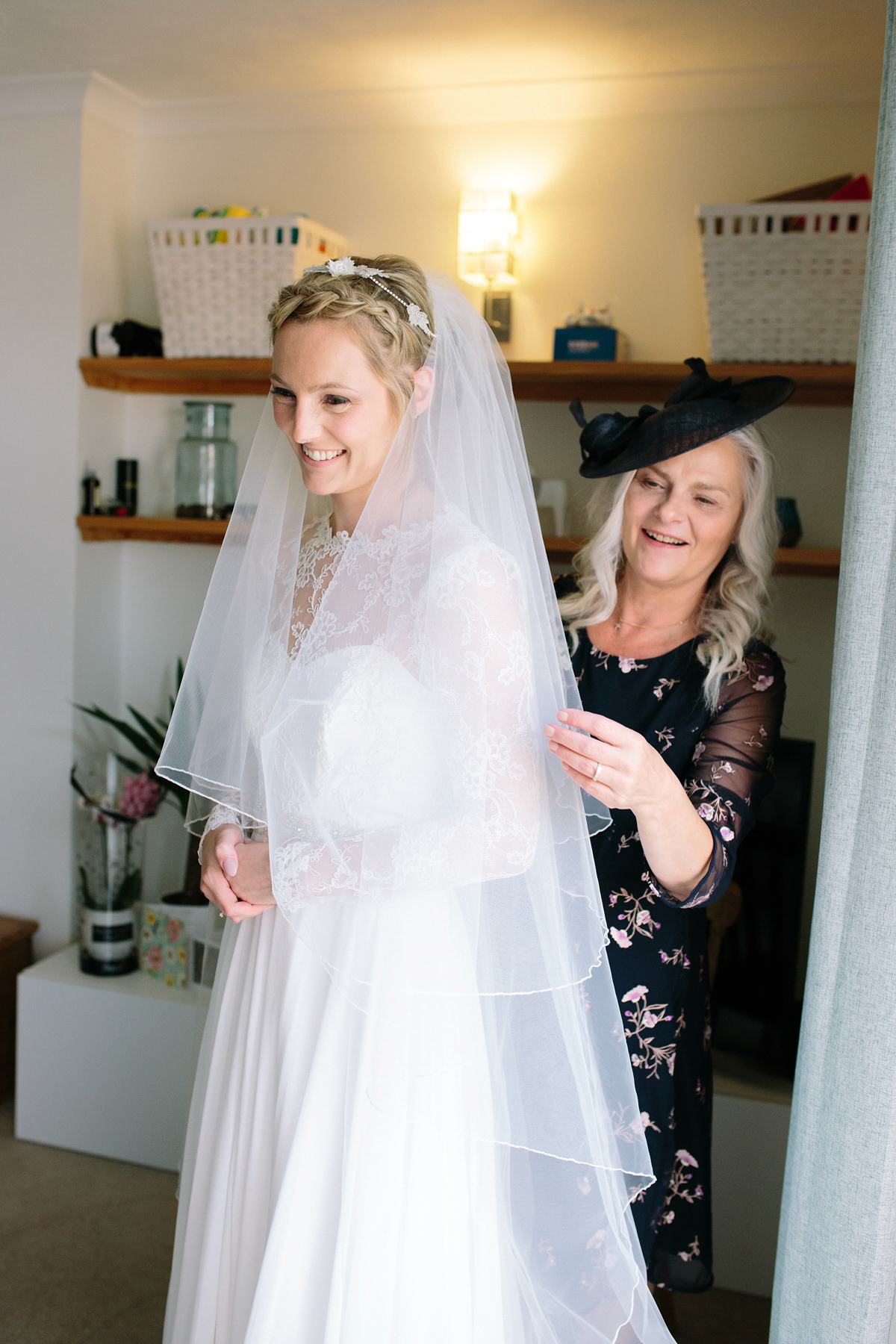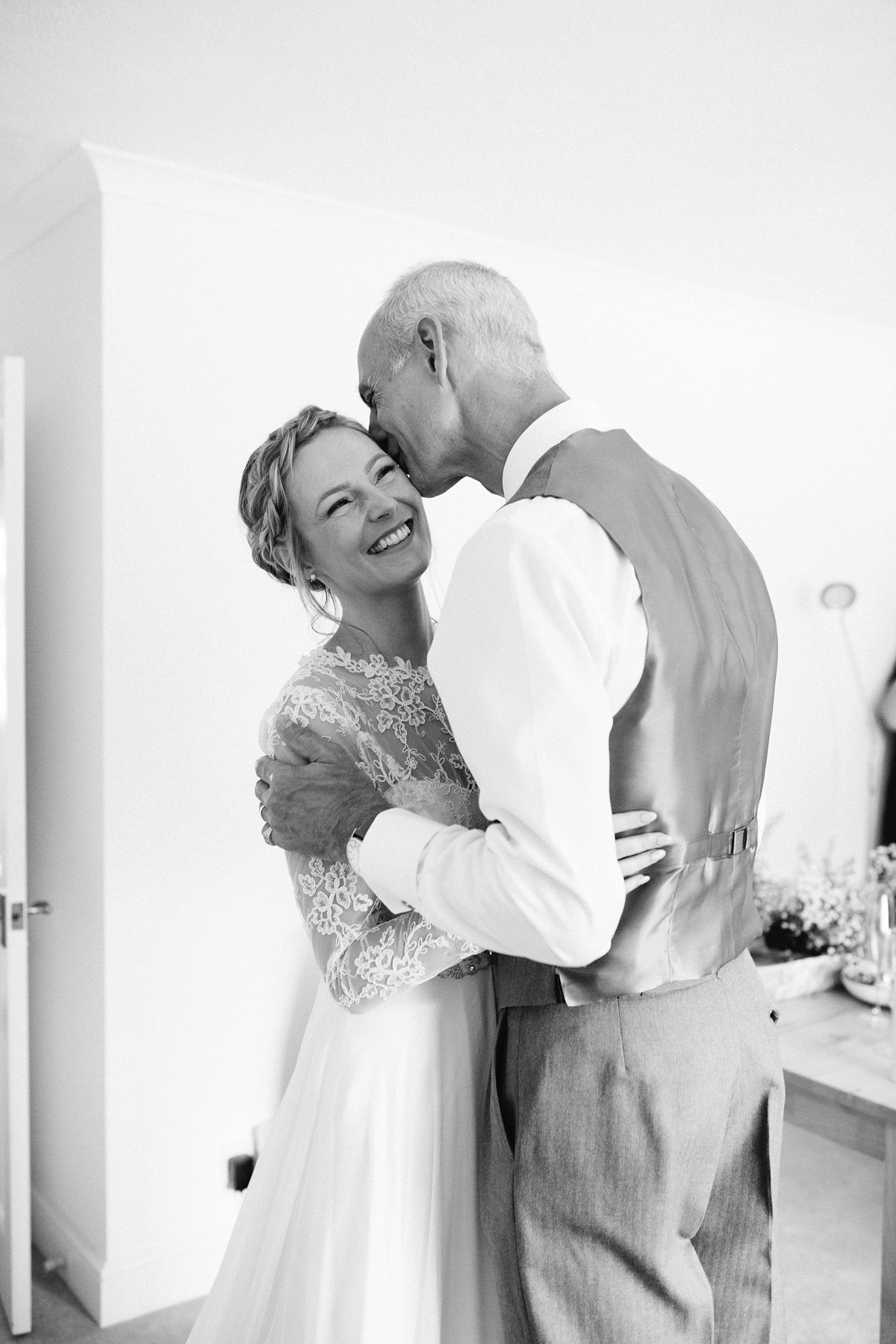 The Scandinavian elements were subtle but looked so beautiful. The wedding invitations are delightful – so colourful and pretty.
"The Wedding Print Shop in Chichester provided our invitations and thank-you cards. The main illustration design of these was based on traditional Swedish floral embroidery patterns."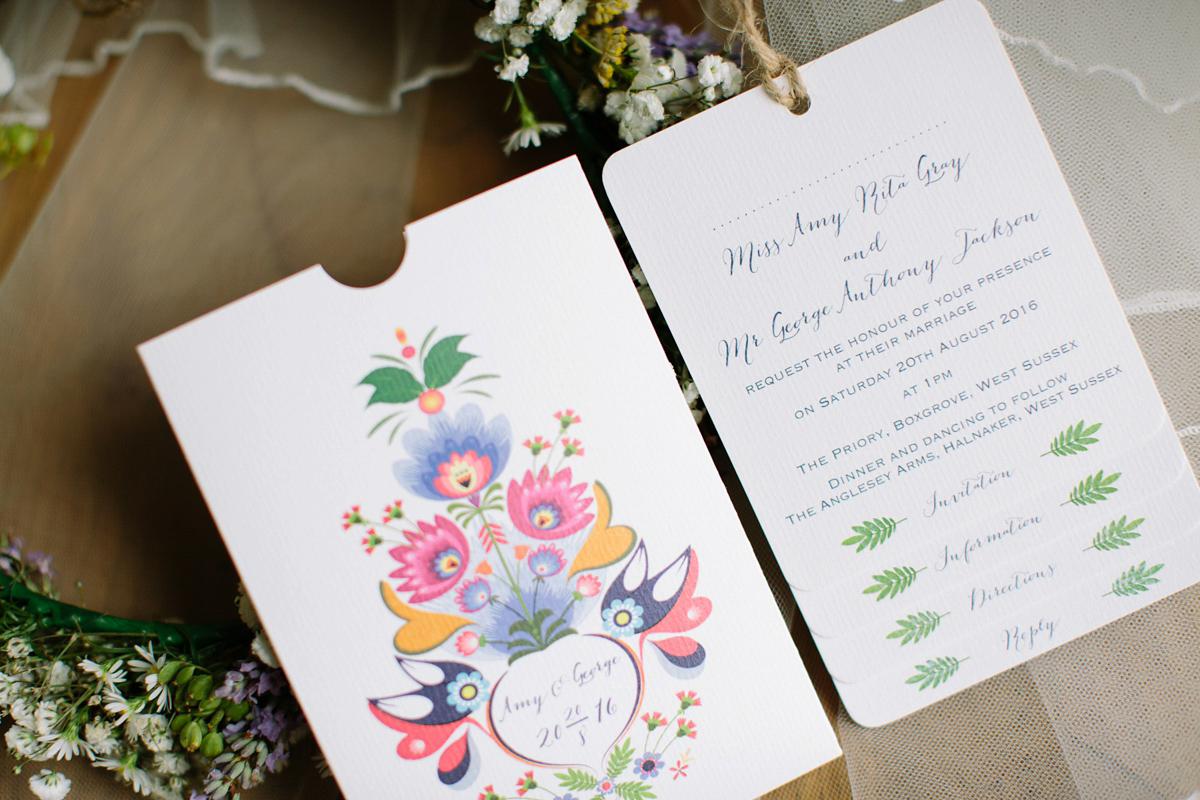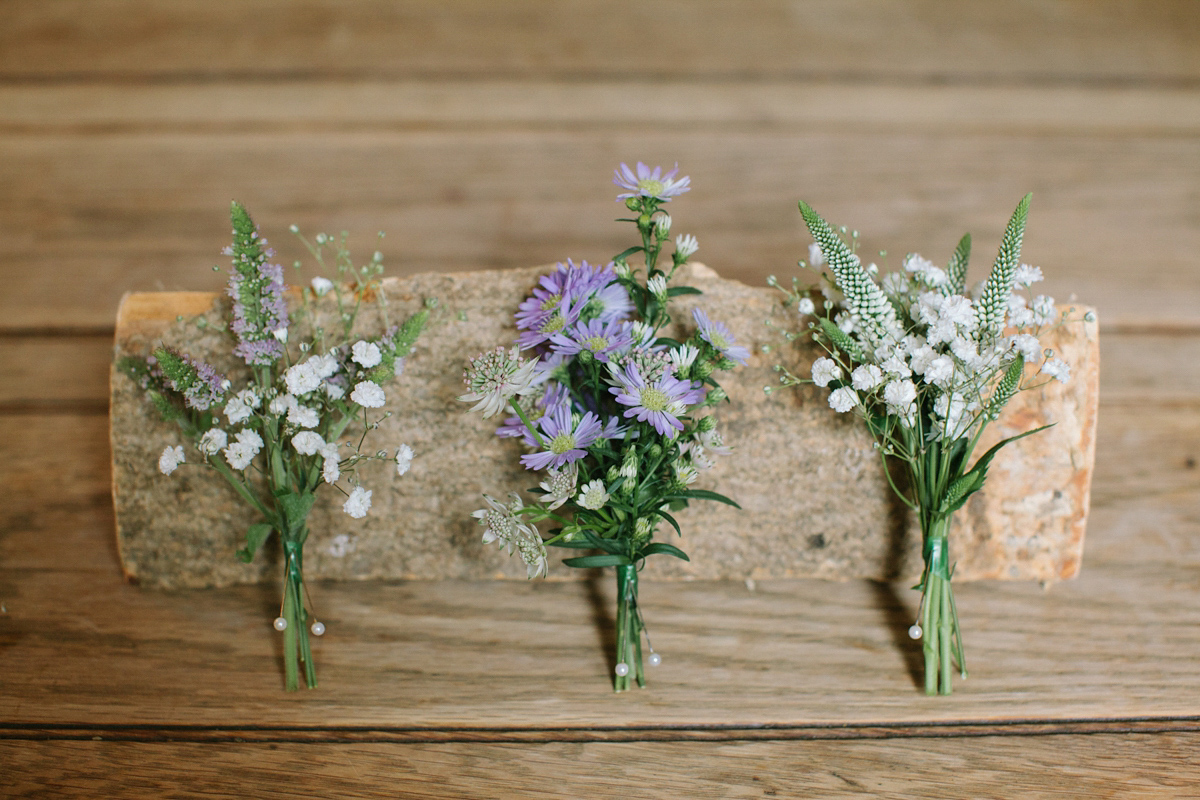 George and Amy met through mutual friends in their early twenties and were together for a year before parting and going to separate universities.
"After a few years apart studying, working,  we realised something was missing and have been together ever since – eight years and counting! George proposed on Christmas Morning 2014 whilst I was about eight months pregnant with our son, Axel. He handed me a rather large box which I unwrapped only to find it contained a smaller box which contained another smaller box and so on until I came to the last. He presented me with his grandmother's ring and popped the question. It was a very emotional moment which quickly turned to lots of laughter when we realised the ring didn't fit because of my swollen hands!"
George's three-piece checked dark blue suit from Remus Uomo exudes effortless cool. I love his tan leather shoes, waist-coat and Paisley Ascot tie, and Axel looks absolutely adorable in his suit chosen to complement his father's.
"We wanted our little boy Axel to be smart, comfortable and wearing something similar to George. We chose a navy linen two-piece suit (trousers and waistcoat) from Marks and Spencer, a little wildflower button hole and a pair of yellow Converse so he could do lots of running around."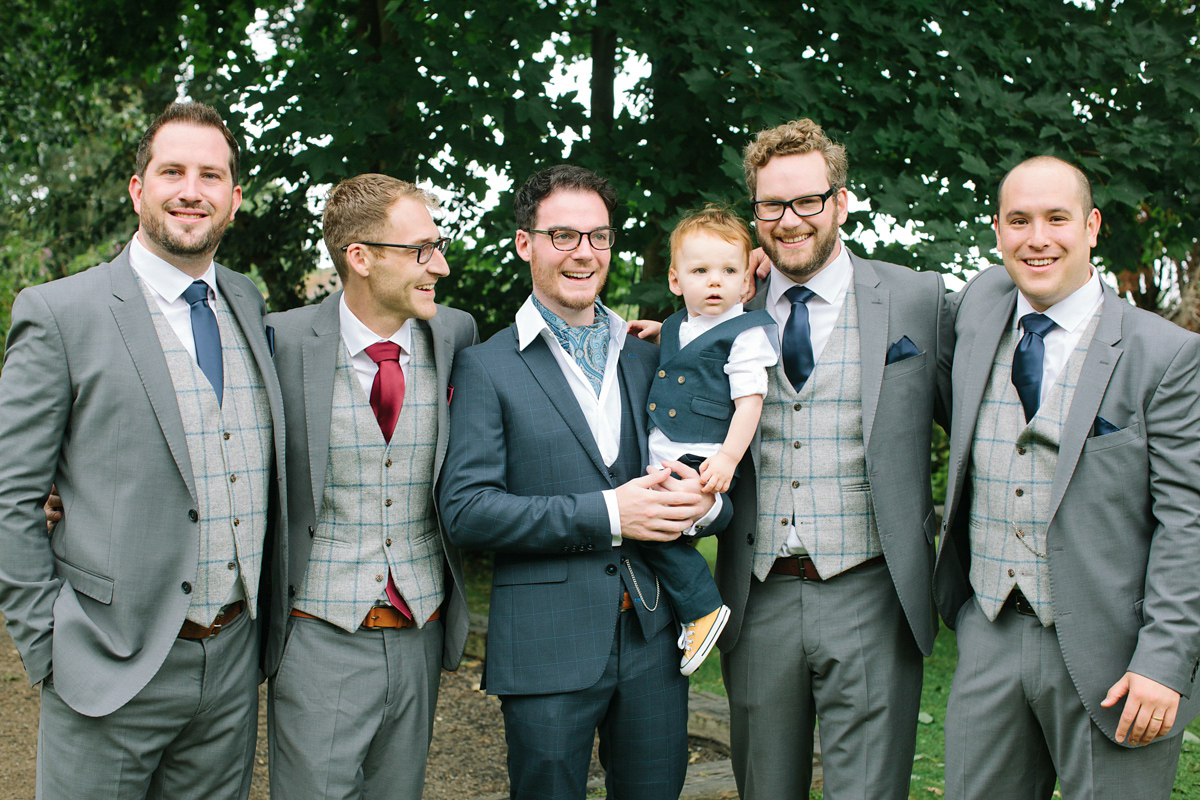 The groomsmen's dark grey suits and waistcoats also tied in with George and Axel's outfits, and were worn with their thank-you gifts.
"As a small thank-you to his groomsmen George bought each of them a set of cufflinks, each one relating to their shared love of comic books and gaming! These included Pokemon, Zelda, Deadpool and The Punisher. They all wore them on the day."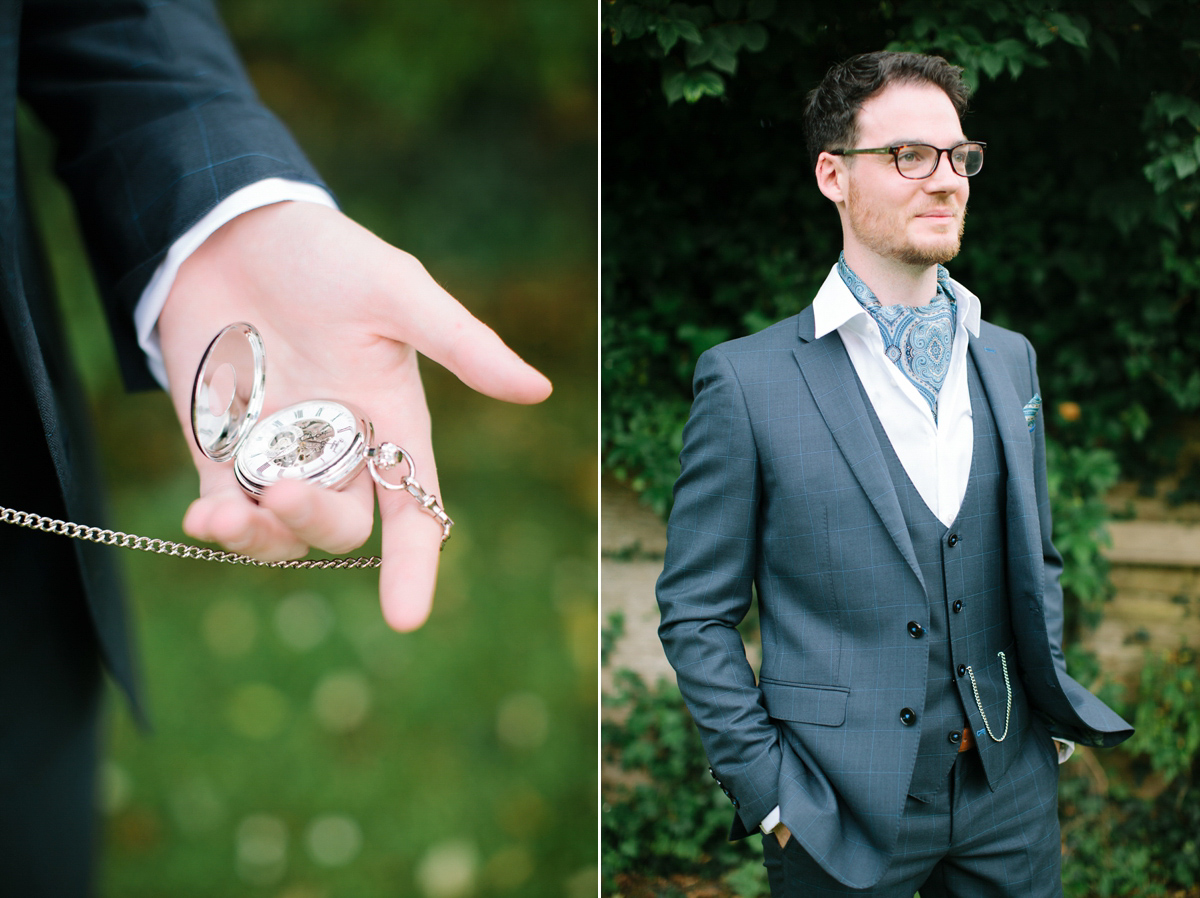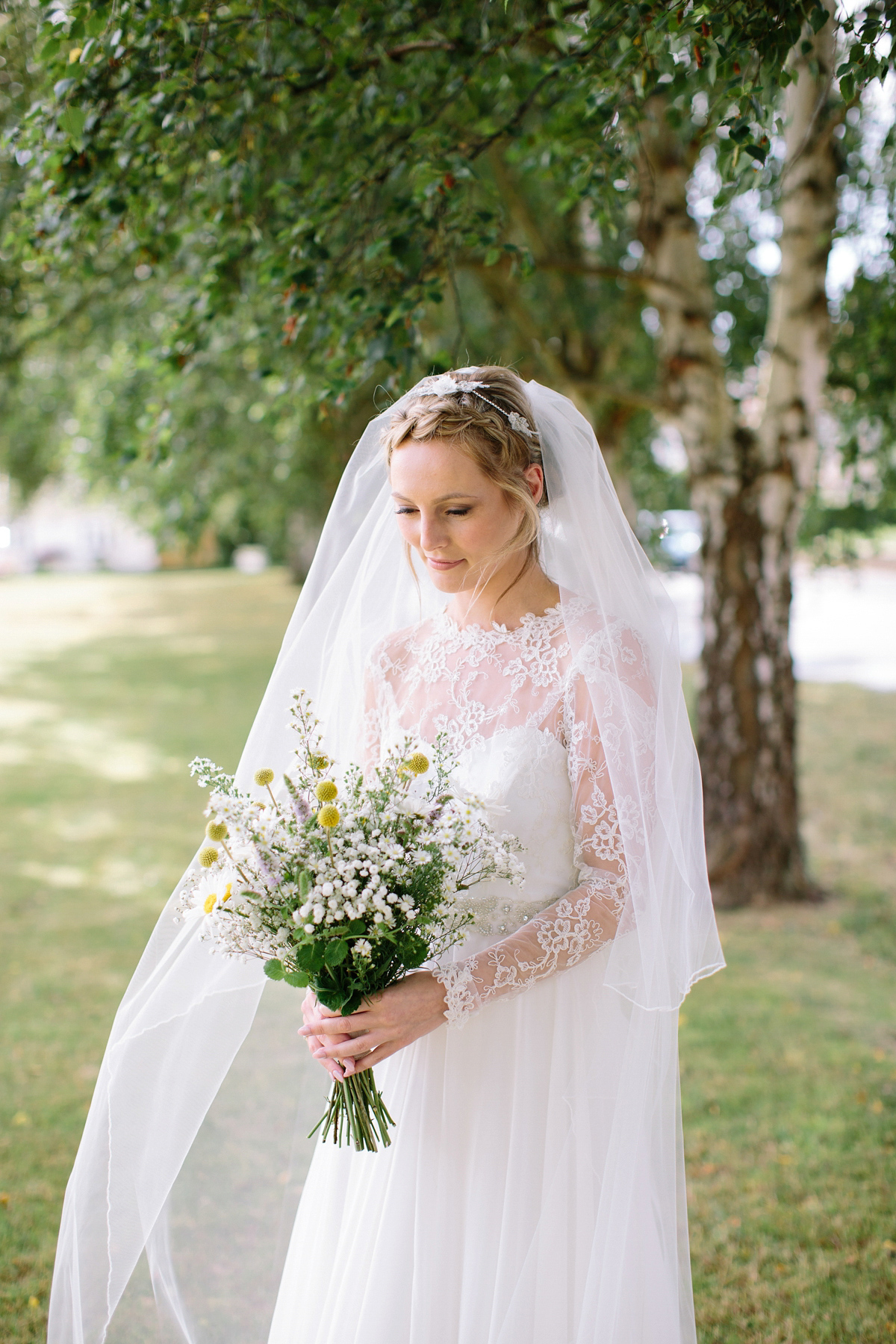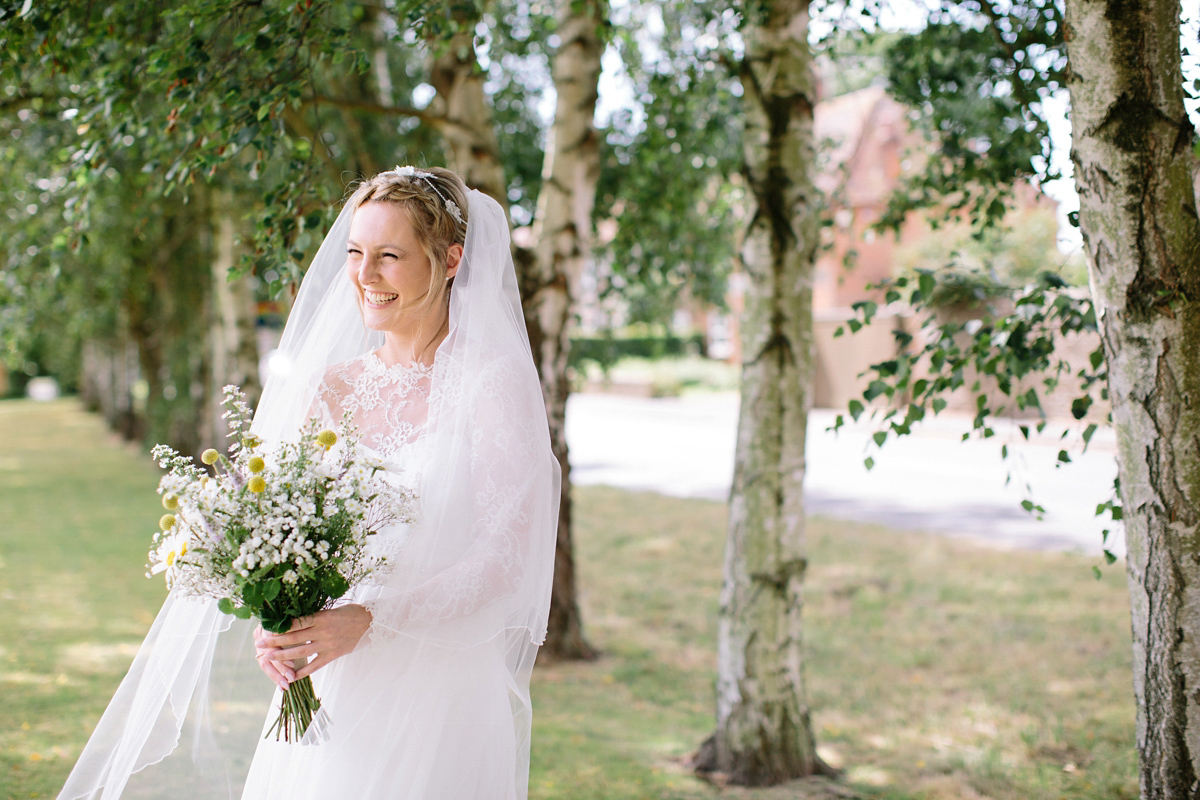 Her grown-up bridesmaids looked fresh and pretty in floor-length, one-shoulder ASOS gowns in pale green. They look so lovely with their floral crowns of gypsophila.
"The gowns were embellished with tiny pearlescent sequins so glittered in the light. Perfectly in keeping with the style of the day. As a little thank-you to the girls I bought them all a silver knot bangle by Attic, which they all wore on the day."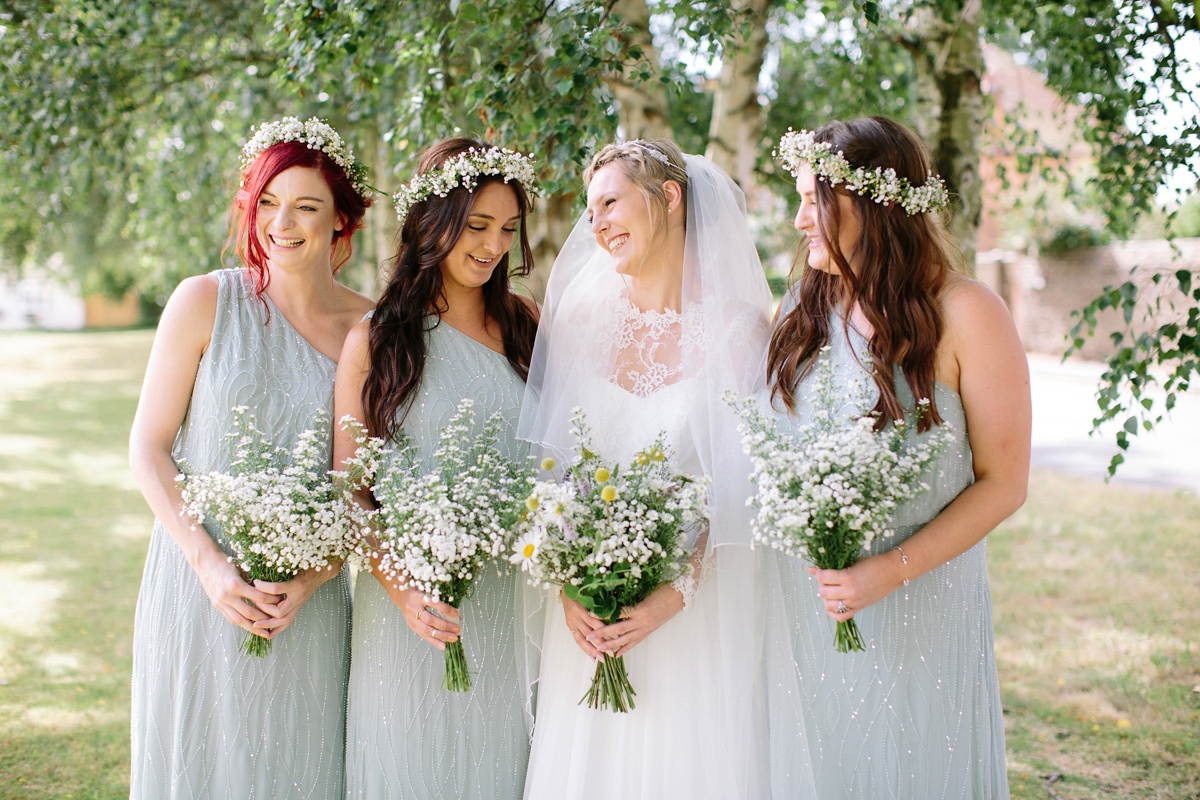 The bride and bridesmaids all carried the prettiest bouquets of white and yellow summer flowers; they really evoke the feel of a countryside meadow, exactly the look that the couple were hoping for. Their talented florist was Mandy Hassell, who put together their reception flowers too.
"I know Mandy Hassell through my dad and when I approached her about doing my flowers she didn't hesitate. I explained about wanting lots of wildflowers for my bouquet and she took on board everything I said, suggesting gorgeous options and alternatives. She had such a wonderful understanding of my vision and the end result far exceeded my expectations. She was out on the morning of our wedding foraging for extras to give it a wild and authentic feel. When they arrived I was completely over the moon, sheer perfection – they were a real talking point. She had filled vintage-style buckets and watering cans – these were placed in and around the marquee and finished it off beautifully."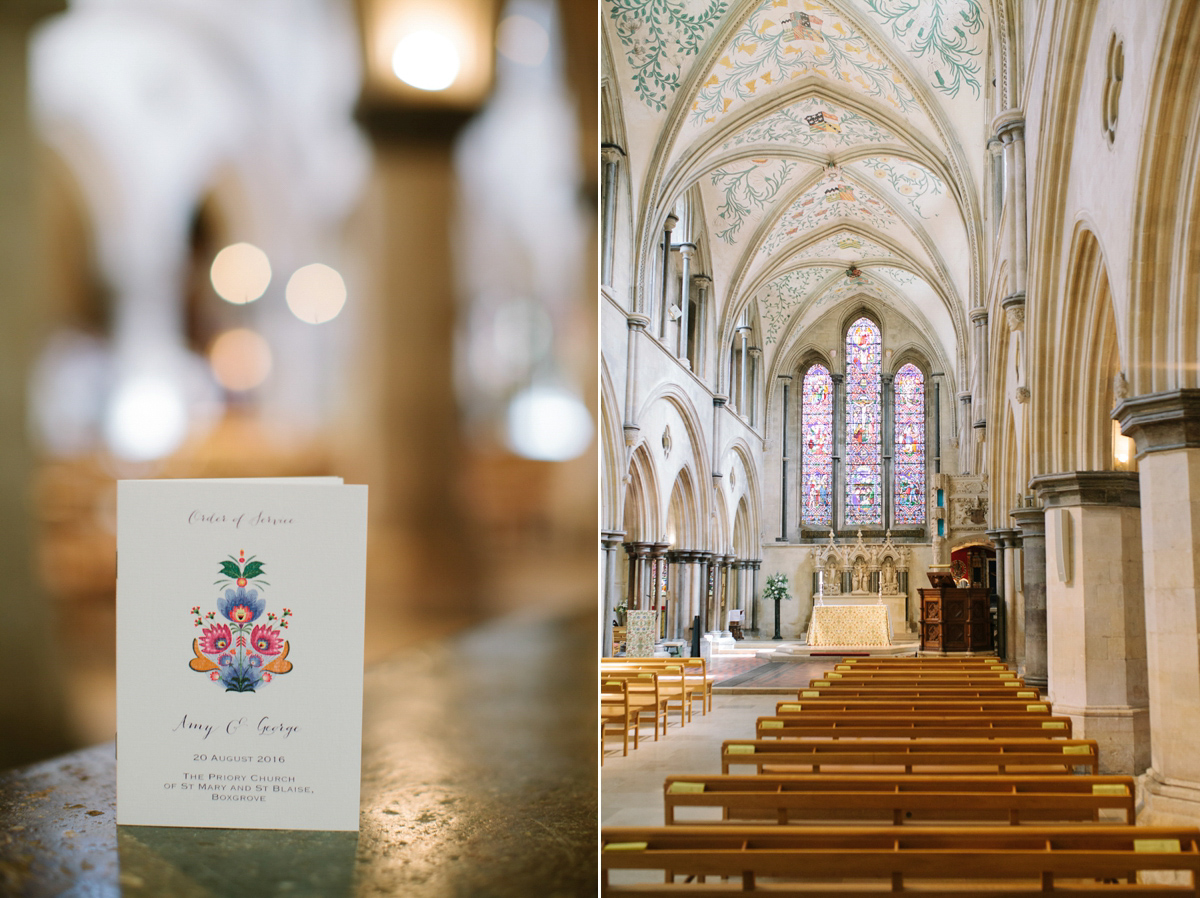 Boxgrove Priory is such a magnificent venue; it looks so airy and light with its high ceilings and wide aisles. Amy travelled to the church in a beautiful white Rolls Royce 'Ghost', a surprise on the day from George, whist he waited in the church with their toddler Axel.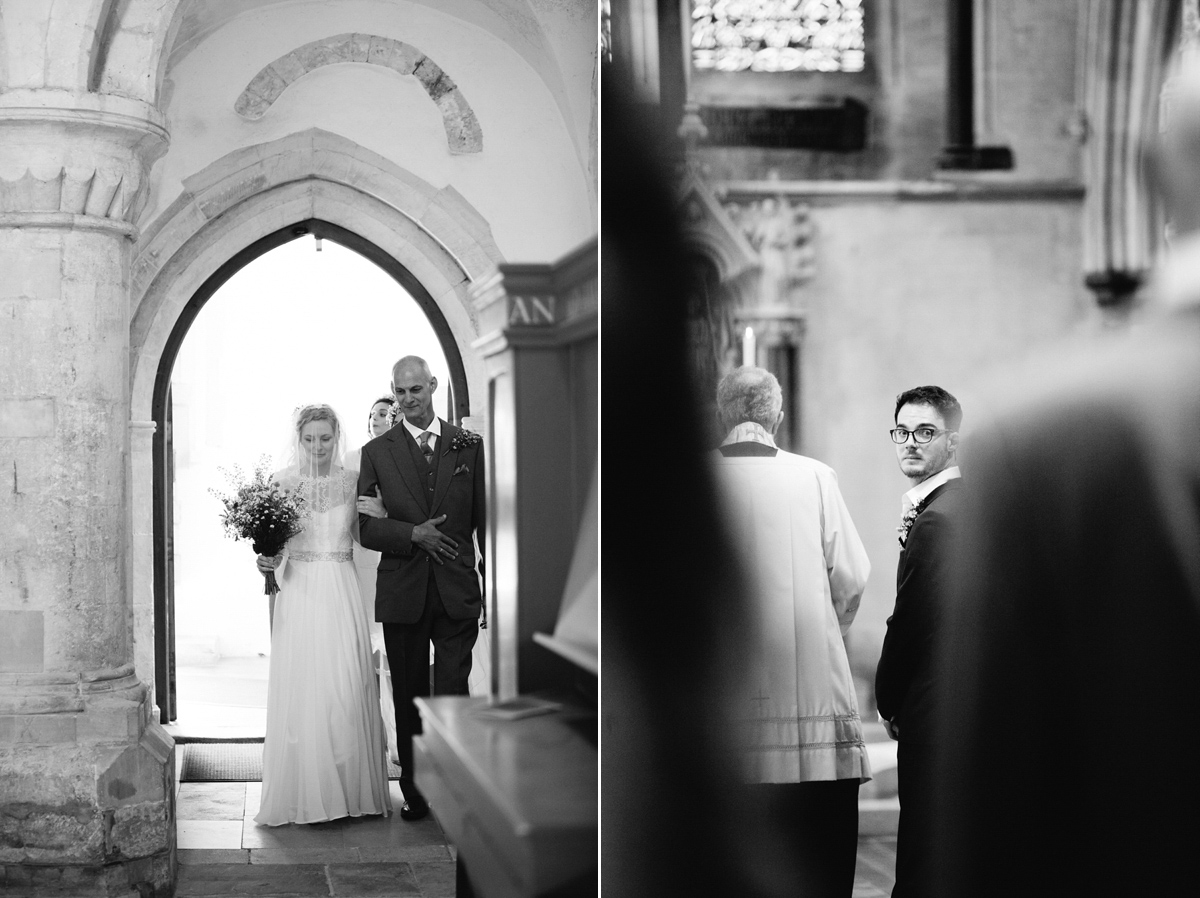 Amy and George chose to have a traditional ceremony, and she walked down the aisle with her father as the church choir sang.
"The composition they sang was a stunning piece of music George and I discovered through our research, called 'Northern Lights' by Ola Gjeilo, a Norwegian composer. Once again, in keeping with my Scandinavian ties."
The couple both chose this moment, coupled with seeing each other for the first time, as their favourite part of the day.
They chose traditional vows and readings, with their friend Charlie reading 'The Song of Solomon 2:10-13;8:6-7'.
"Being a church wedding we wanted to have something respectfully religious as well as something less formal. The Song of Solomon is a beautiful excerpt which not only we connected with but felt was relatable to everyone, religious or not."
There was a further reading by Amy's brother Alex, an extract from 'The Velveteen Rabbit'.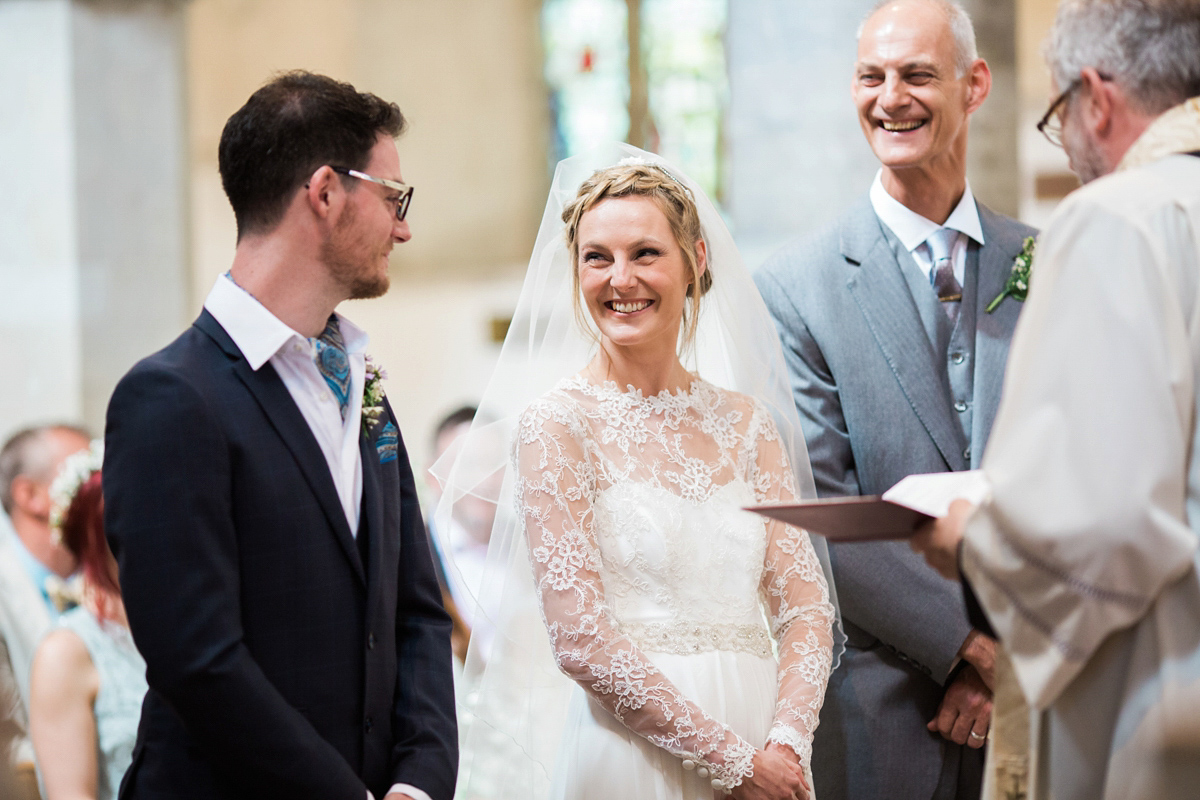 "'The Velveteen Rabbit' is one of my favourite stories I read as a child. When I reread it I became very emotional as I knew instantly I wanted to hear it being read at our service. Having my brother read it made it all the more special. We loved the message and meaning of each of these extracts and felt they were perfect for our wonderful day."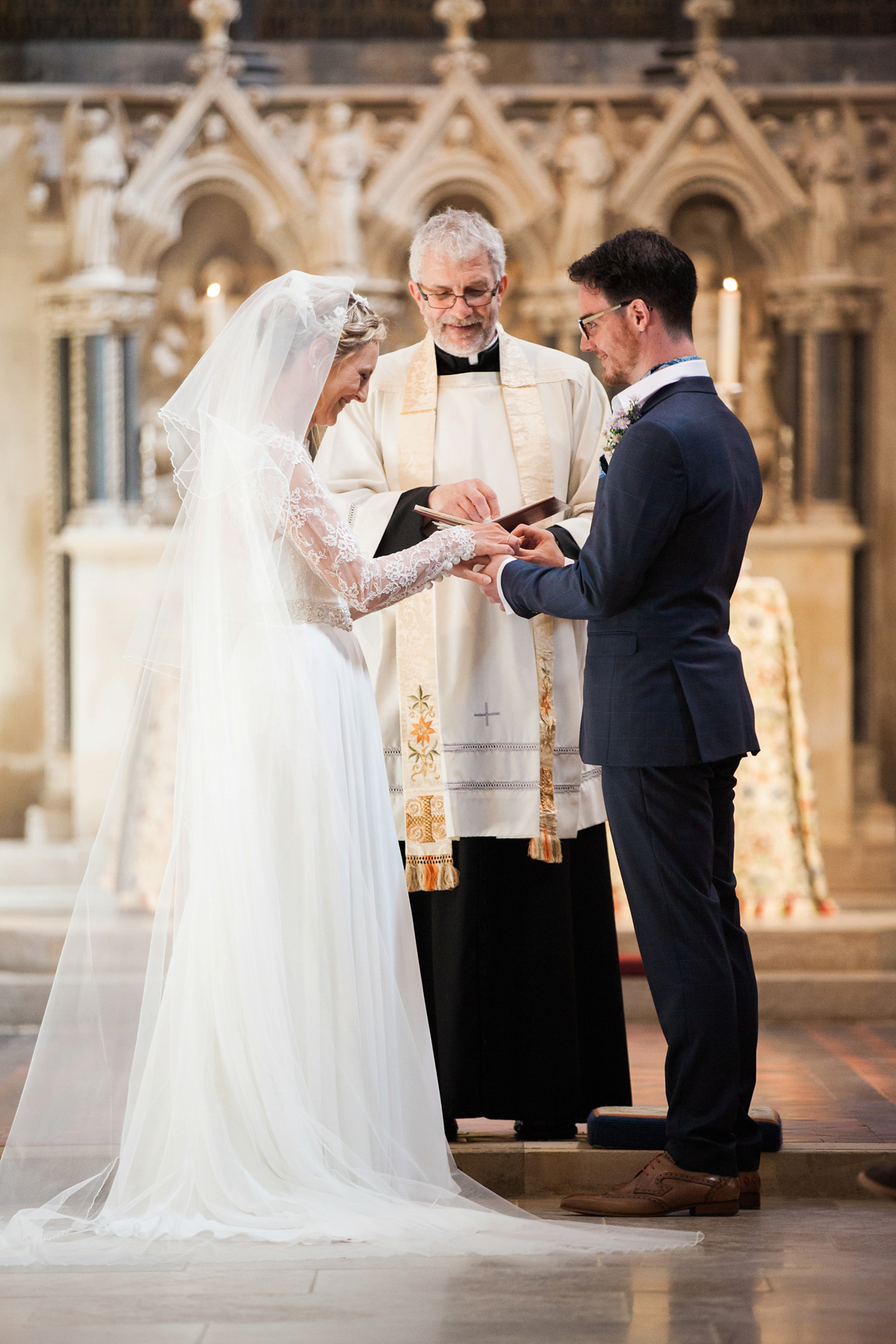 The couple exchanged rings by Timothy Roe in Chichester, adding a lovely hidden message to each to make them personal.
"We opted for very simple plain gold bands with an inscription inside, a lyric from Tom Waits' 'Jersey Girl', the song we had our first dance to."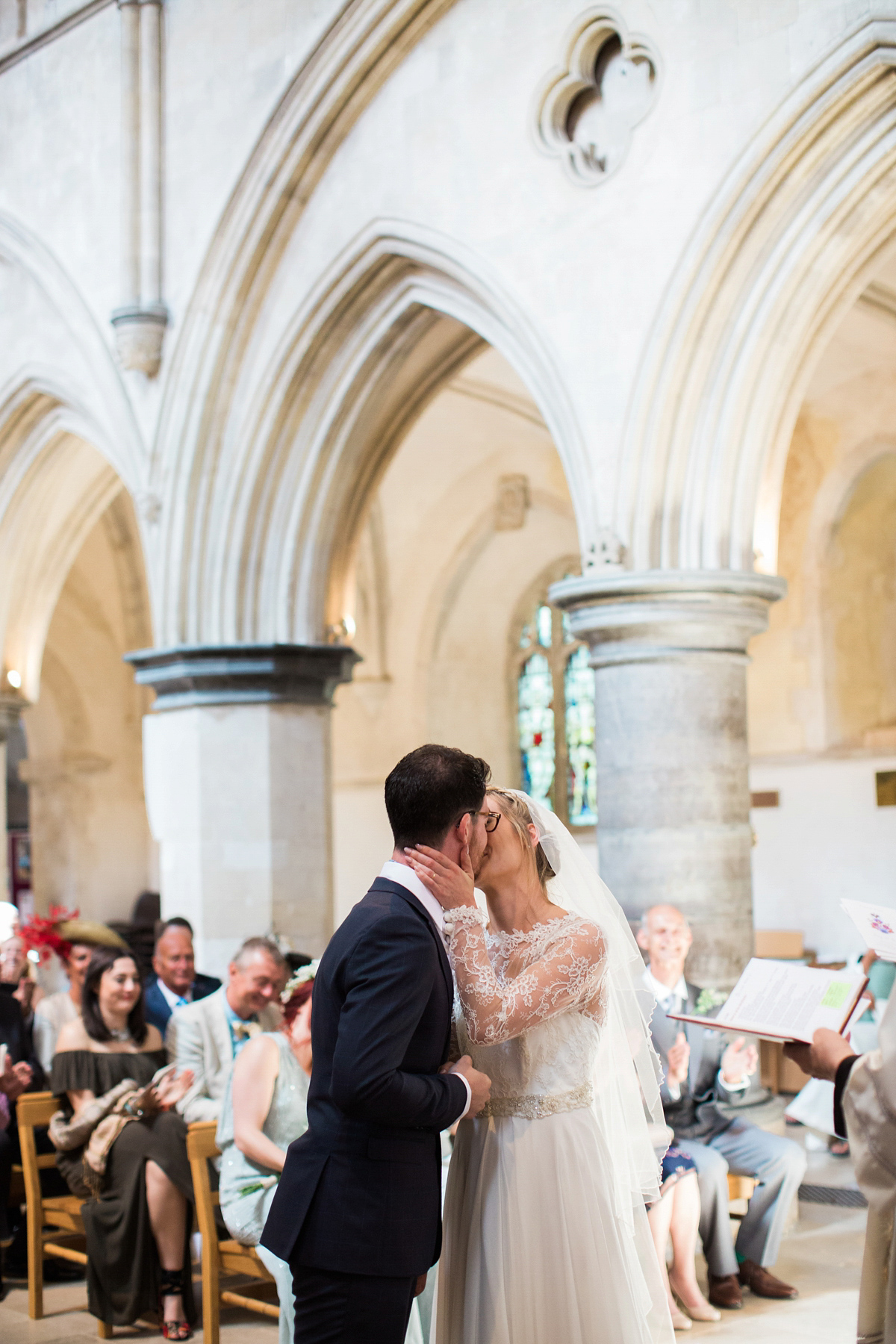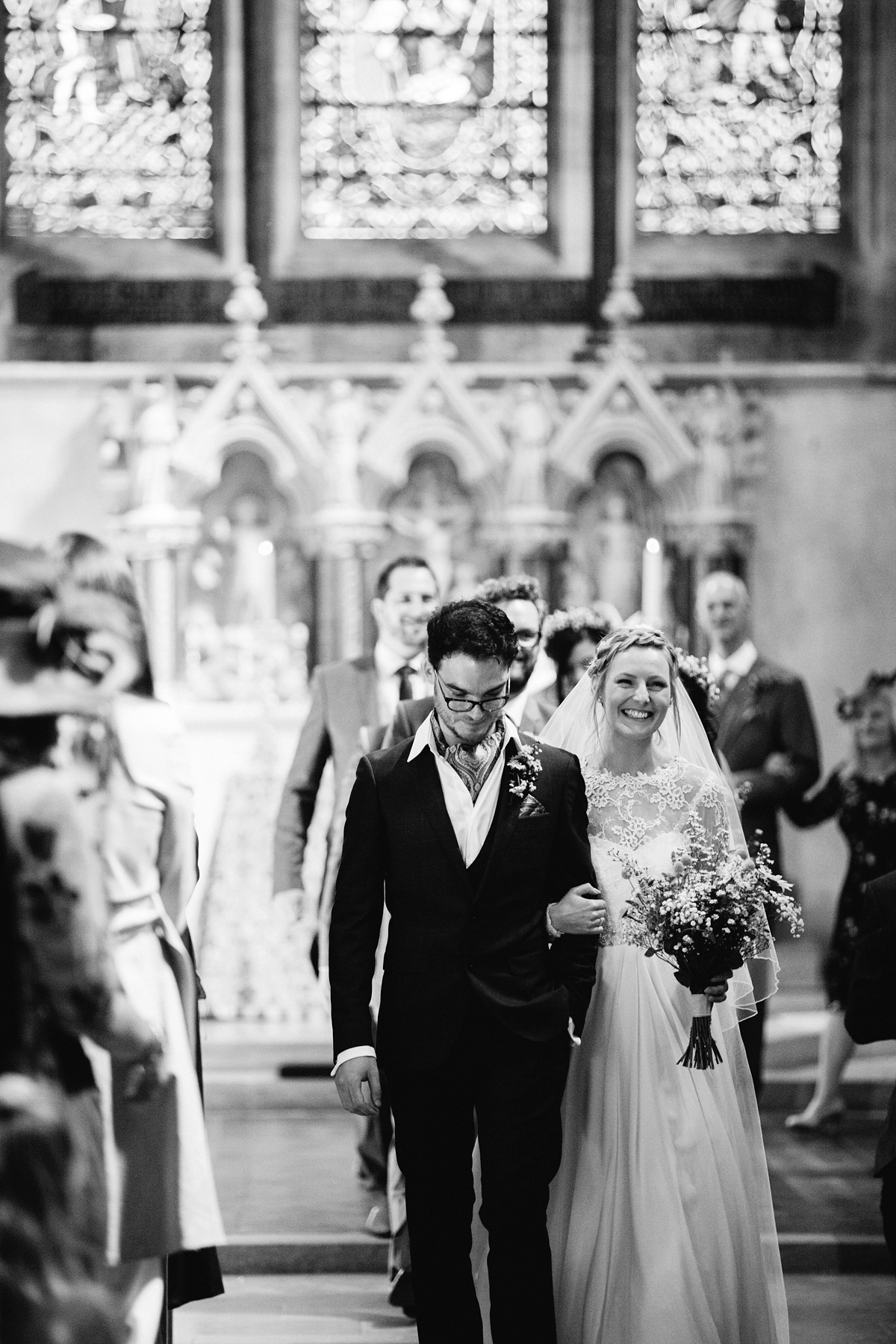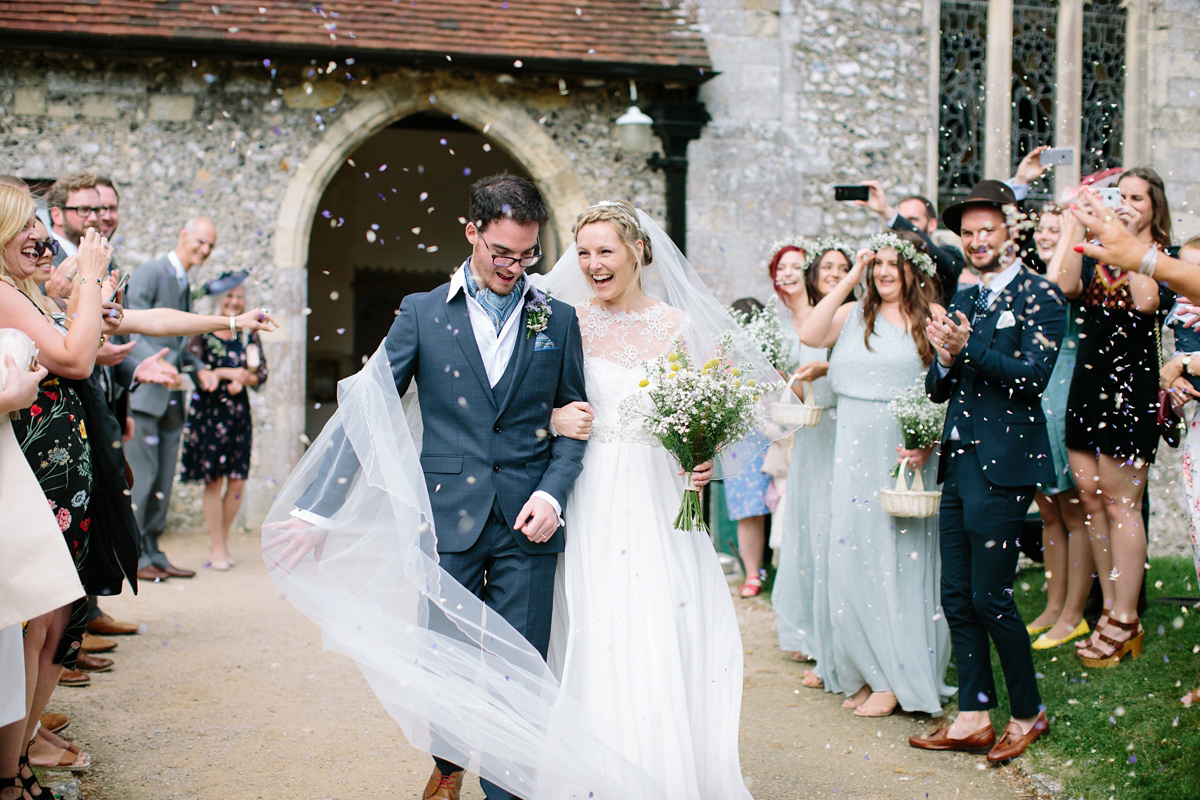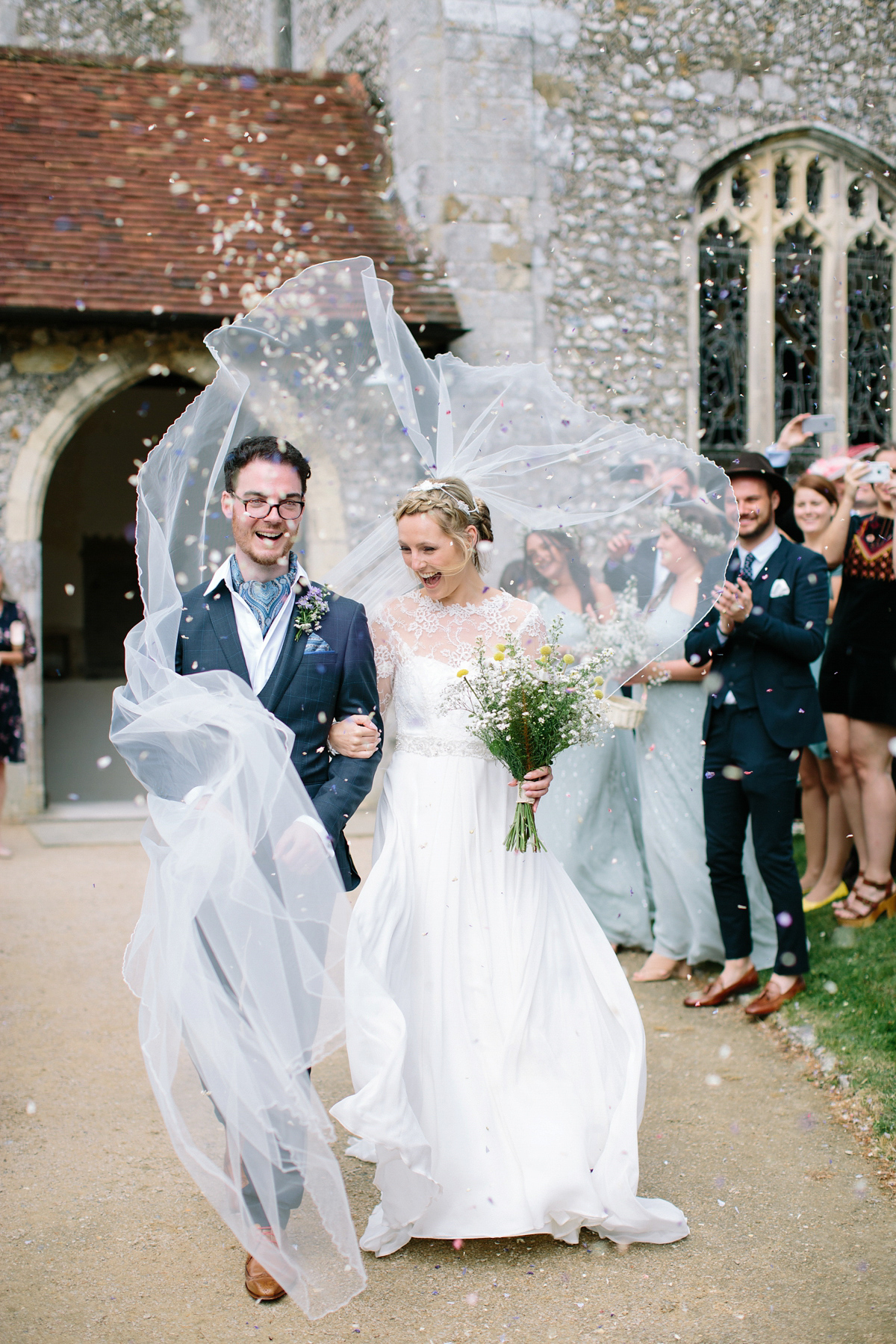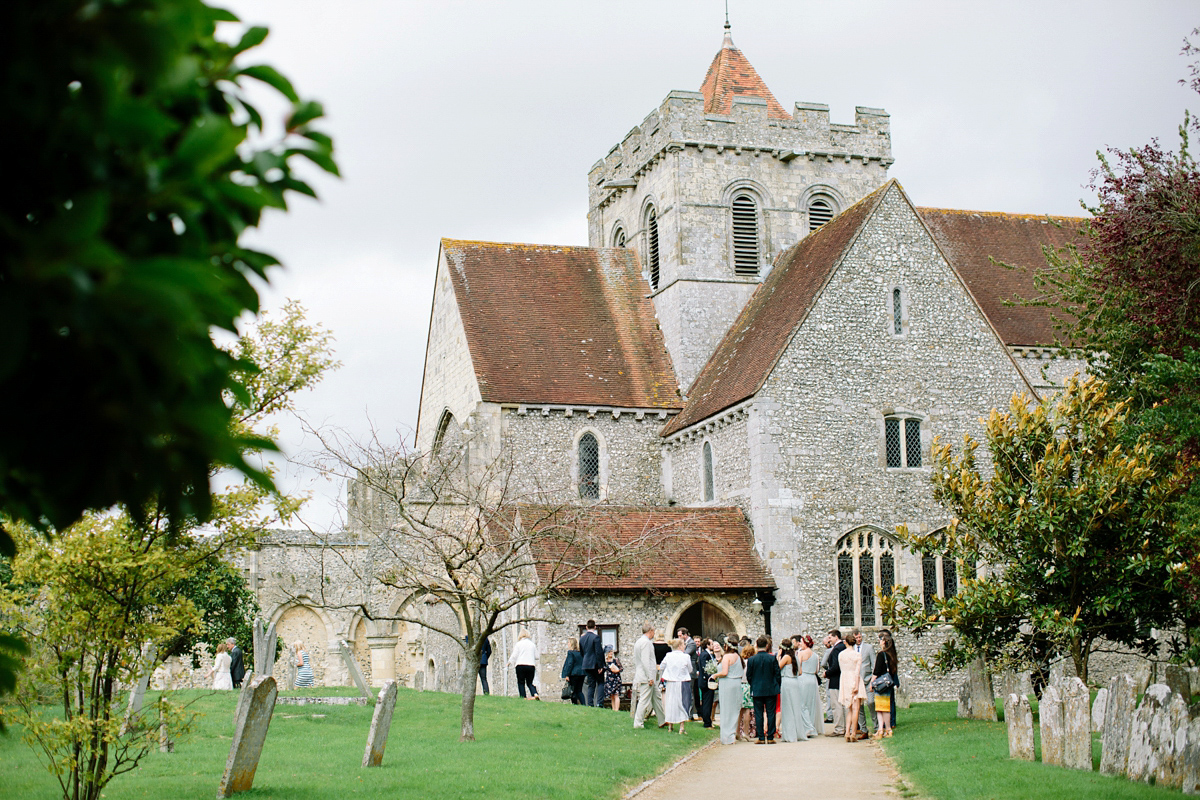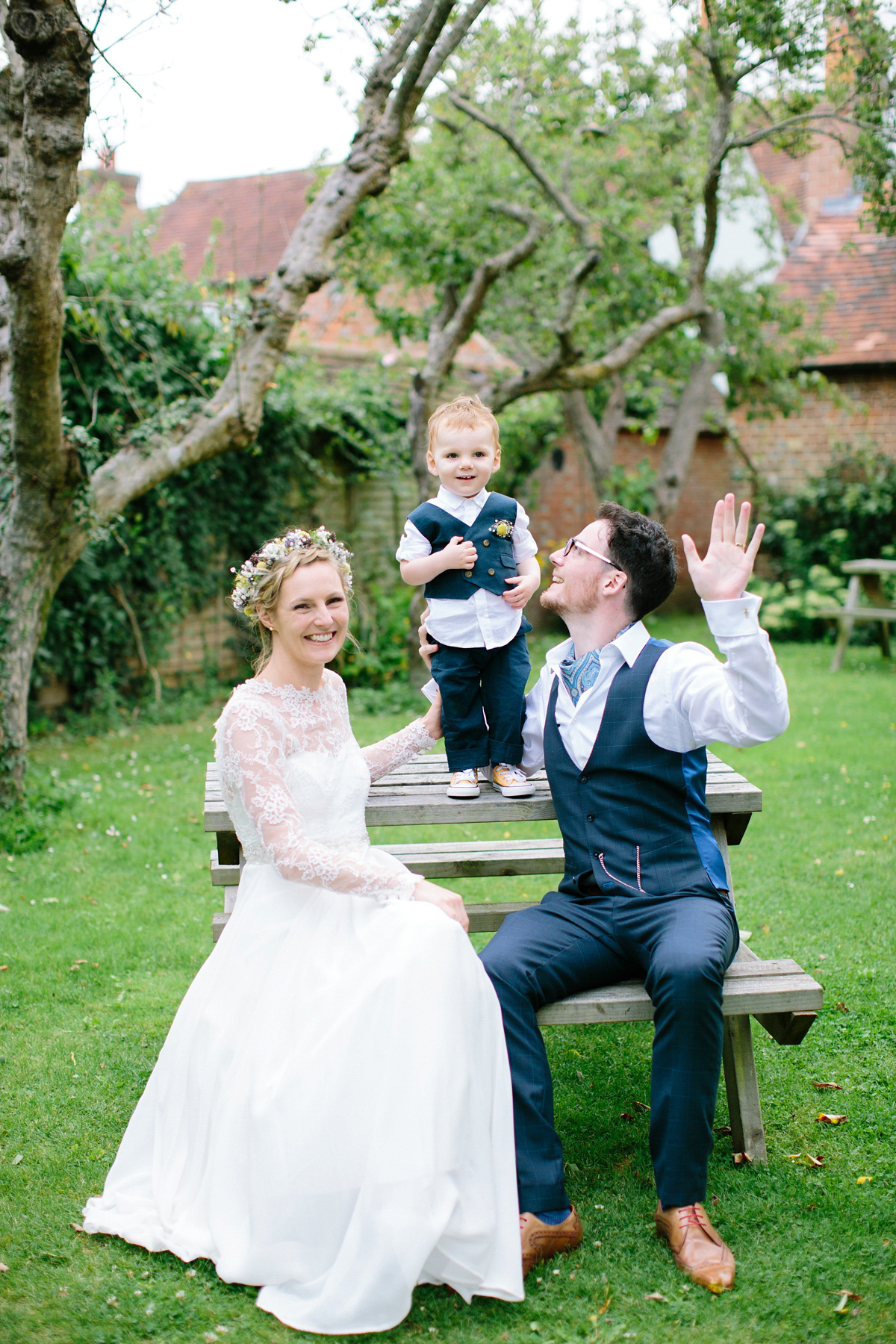 We have Camilla Arnhold Photography to thank for these beautiful images, which capture the Sussex countryside brilliantly. I love the pictures of the newly-weds amongst the ruins in particular. We've been lucky enough to feature some of Camilla's work on Love My Dress before; follow this link to have a look. As a friend of the couple, she was the obvious choice for wedding photographer.
"The wonderful Camilla Arnhold has been a friend since our school days. Having her as our photographer was the first decision we made after we got engaged and we set the date around her availability. She was absolutely incredible and made us feel so relaxed."
"She is a consummate professional as well as being an exceptionally talented photographer, capturing moments we would never have thought of ourselves. When she sent our photos over we were completely blown away by how beautiful they were. She really captured our day perfectly."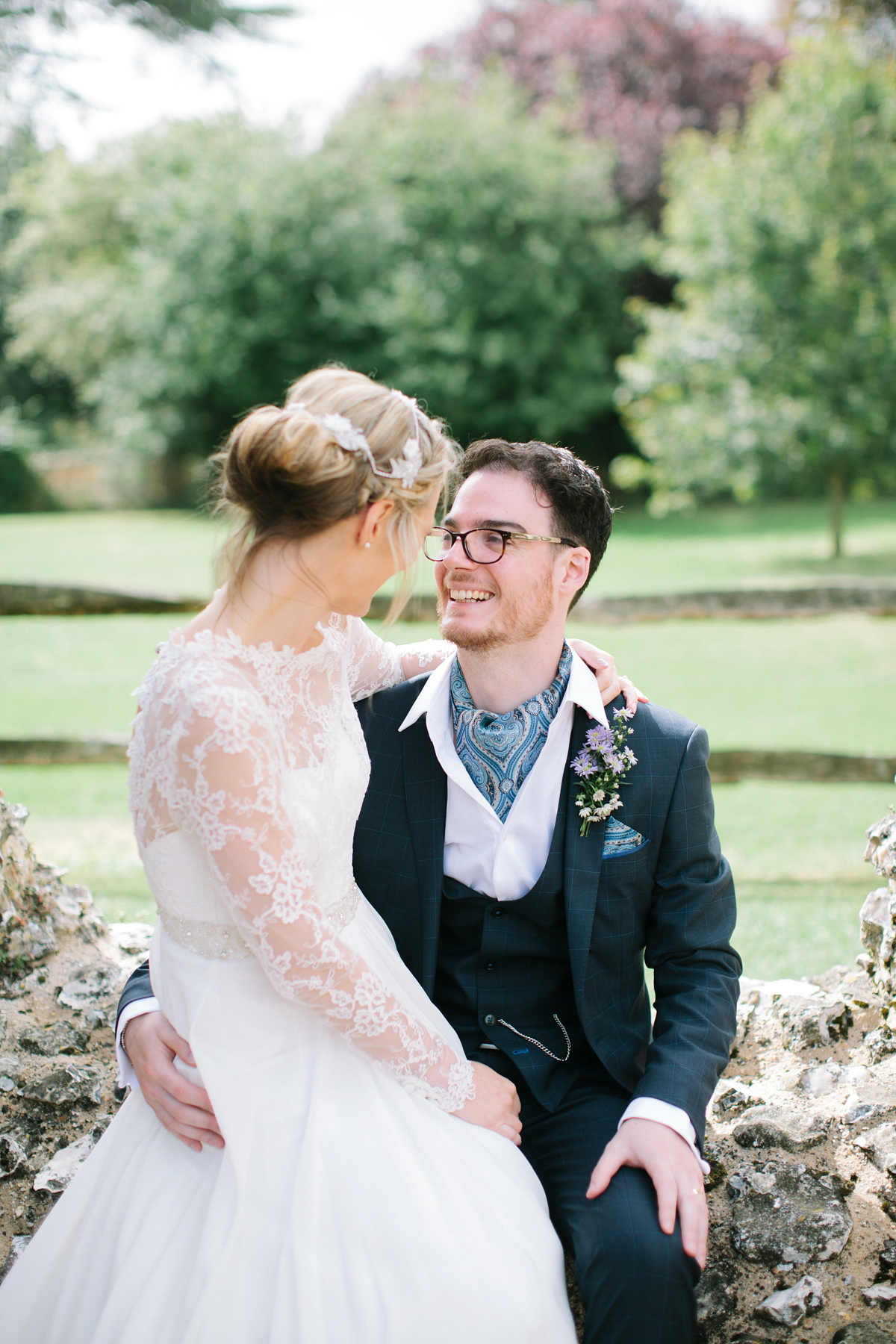 The couple really wanted to incorporate the beautiful Sussex countryside in their wedding day, and holding their reception in the gardens at The Anglesey Arms was the perfect way to do this. To create an informal and relaxed day for their guests they chose to create a cool, fun venue using tents by Party on the Grass. I haven't seen anything like this before, and love the idea of the different areas for guests to move between.
"We decided not to go for a traditional marquee and opted for the more contemporary design offered by Nathan and Kelly at Party on the Grass which allowed us to separate seating, bar and dancing areas, a layout which proved fantastically successful. They also provided stunning lighting throughout, dramatically highlighting the two huge oak trees that dominate the garden. When night fell the garden and marquee looked spectacular."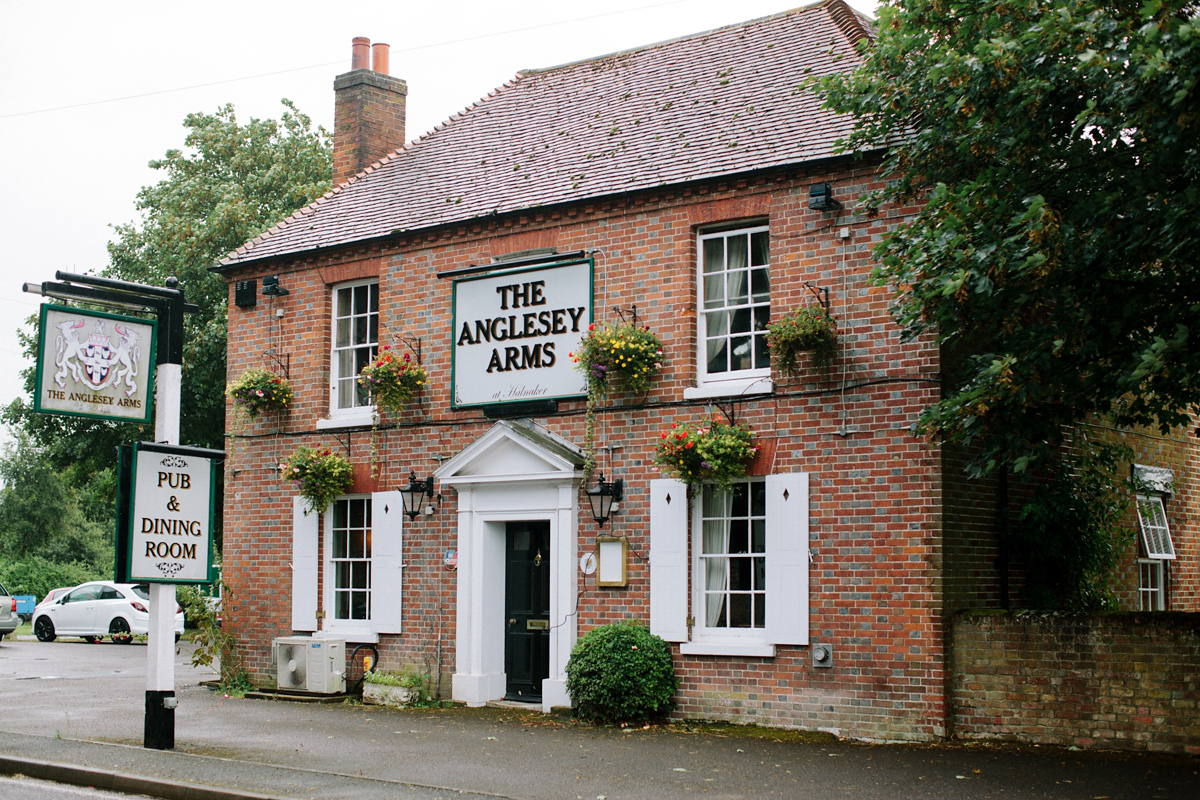 "George's pub has a stunning two-acre garden and we wanted to keep as much of the day outside as possible (weather permitting!). We had to obviously plan for rain so a marquee was essential. Luckily space was no object and meant the guests were able to mill about and enjoy the outdoor setting but dive straight back in when the wind picked up. It all added to the fun!"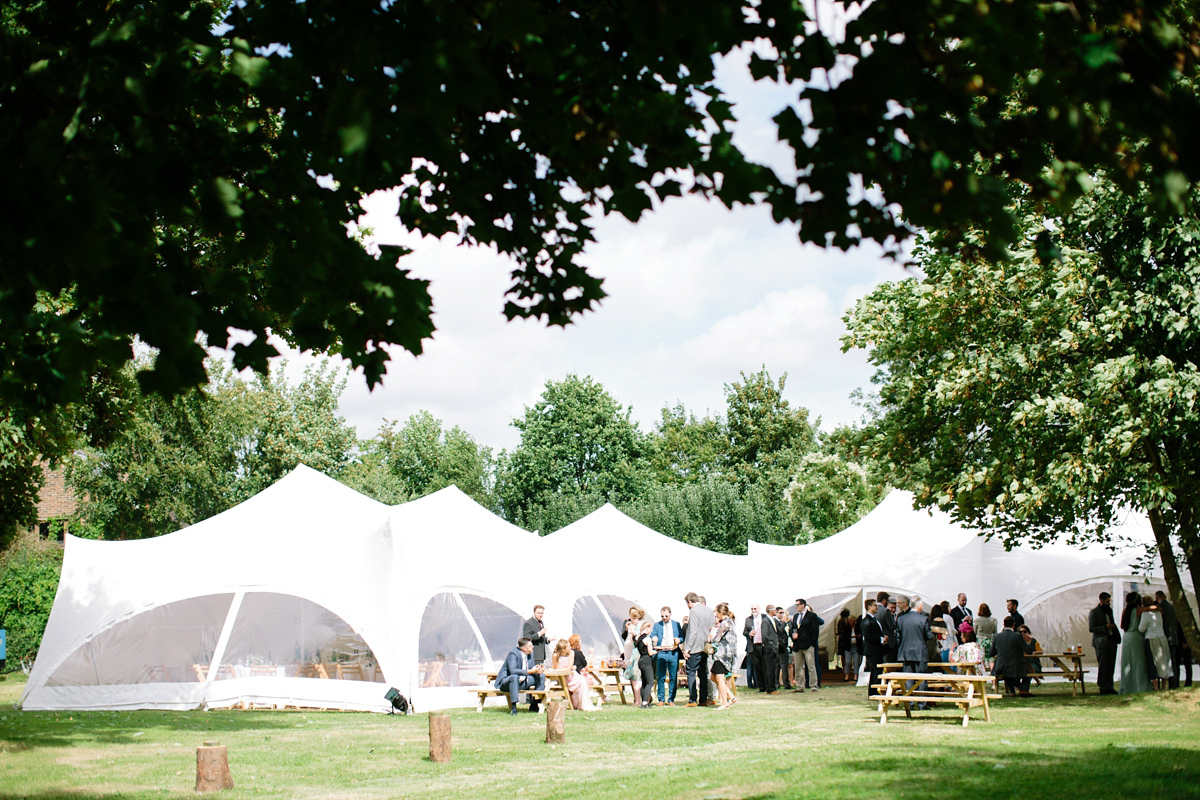 The couple chose to continue the fun and relaxed feel of the wedding by providing their guests with luxury bell tents.
"We asked Katrina at Beautiful Bells to provide their luxurious bell tents as an accommodation option. These proved immensely popular and looked beautiful amongst the garden backdrop decorated as they were, with classic bunting and fairy lights. They looked stunning! We had the bridal tent for ourselves complete with double bed and rustic furnishings. Perfect."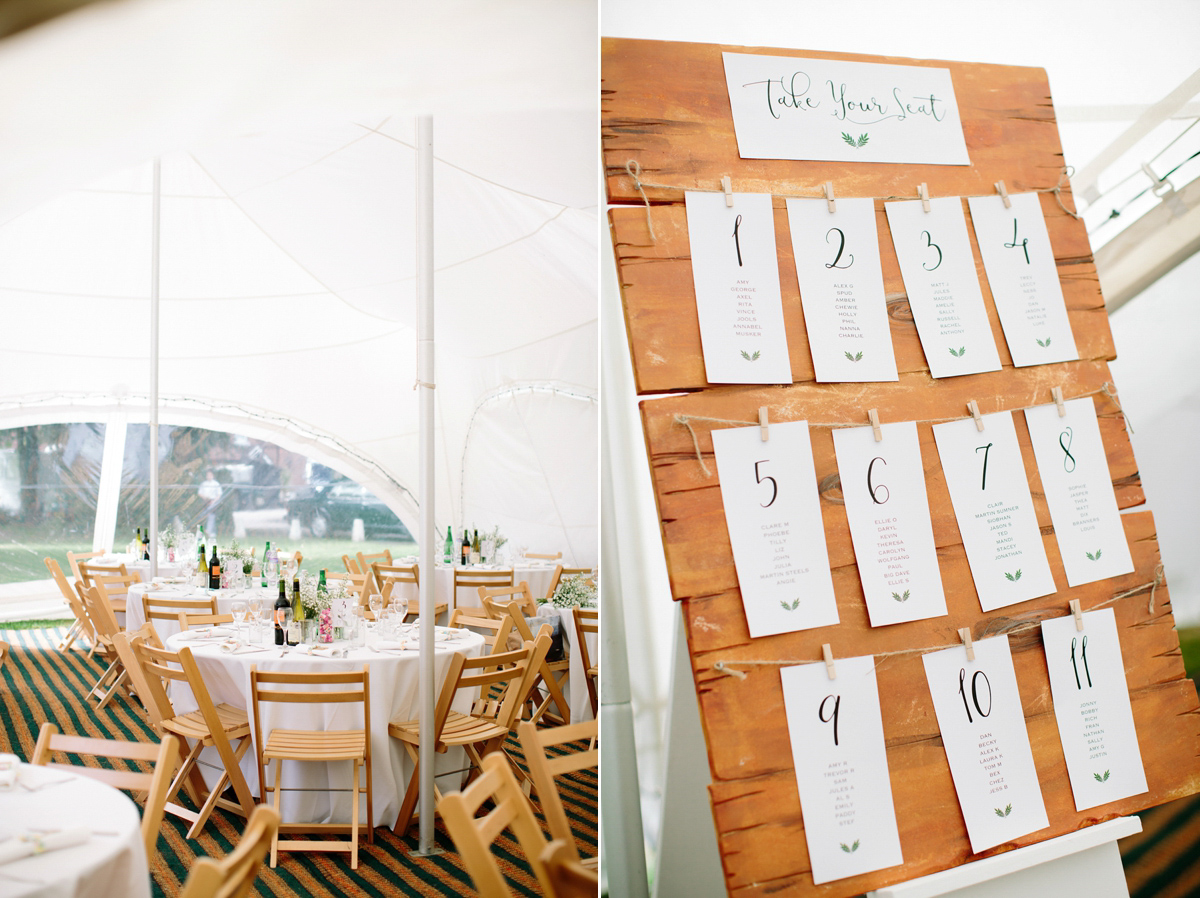 After enjoying relaxing in the pub's gardens, the guests moved inside for a feast served up by The Anglesey Arms' head chef Emma Murphy, who also created this perfect naked cake which they served up for dessert. I love the rustic and relaxed feel of un-iced cakes, and this magnificent creation looks so opulent and delicious.
"We wanted a very simple 'naked' cake, basically layered sponge with cream and jam, with lots of wild berries and flowers to decorate. I spoke with our head chef at the pub, Emma Murphy, who knew exactly what I wanted and produced one of the most beautiful cakes I have ever seen. I could not have been happier – it tasted incredible too! "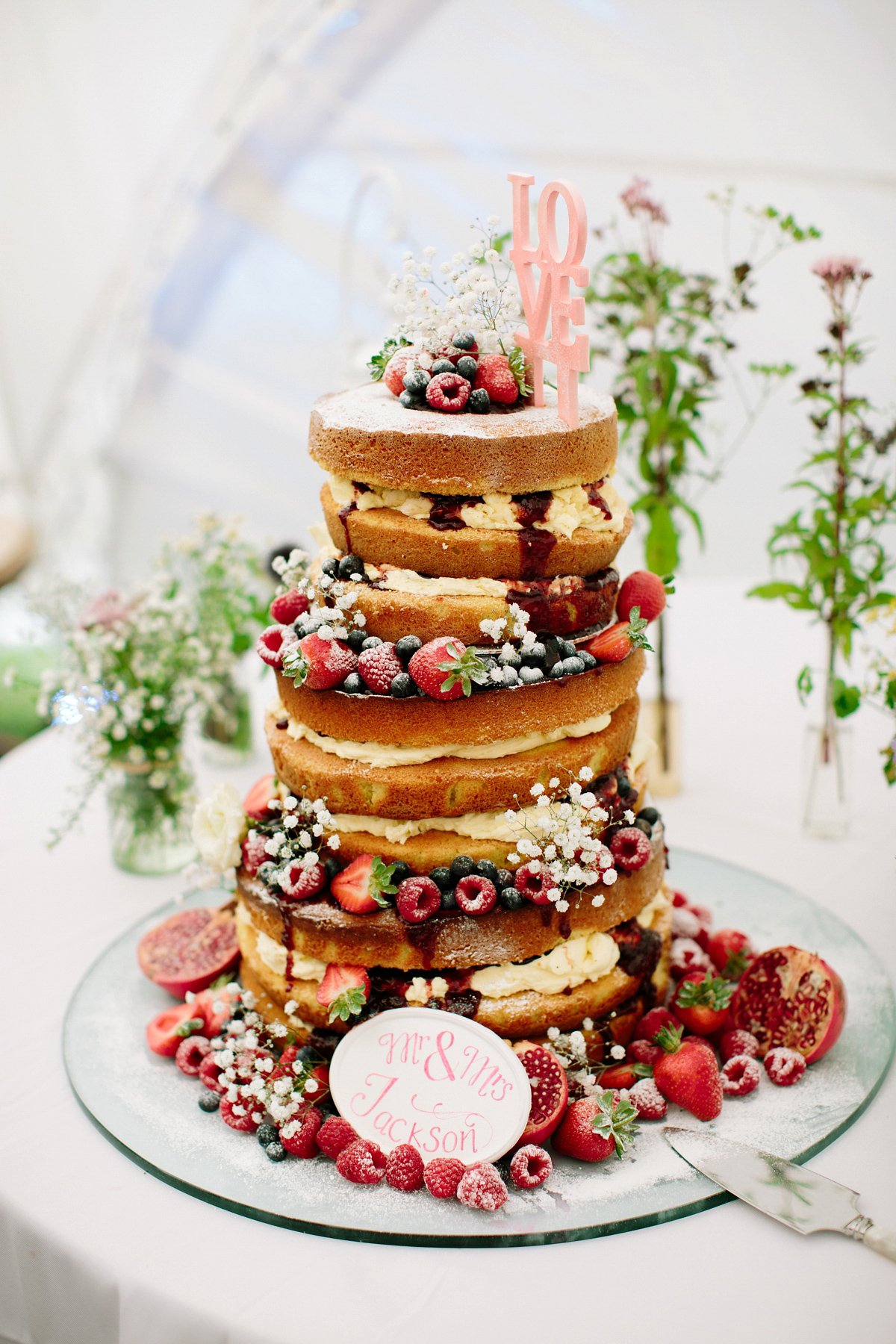 The interior styling was kept simple, with lots of wildflowers in vintage-inspired receptacles, foraged foliage and flowers by Mandy, and simple table styling of Swedish flags and sweetie favours – big jars of Love Hearts and candy necklaces as napkin holders. What do you think of the 'Family Tree', literally built up around an old tree?
"Our gardeners Mark and Rebecca Ford of Two Circles Design also created a stunning bespoke wicker archway wrapped around a large tree, on which we attached family photos – our family tree. They also built a large bonfire surrounded by tree stump seats where we sat late into the evening."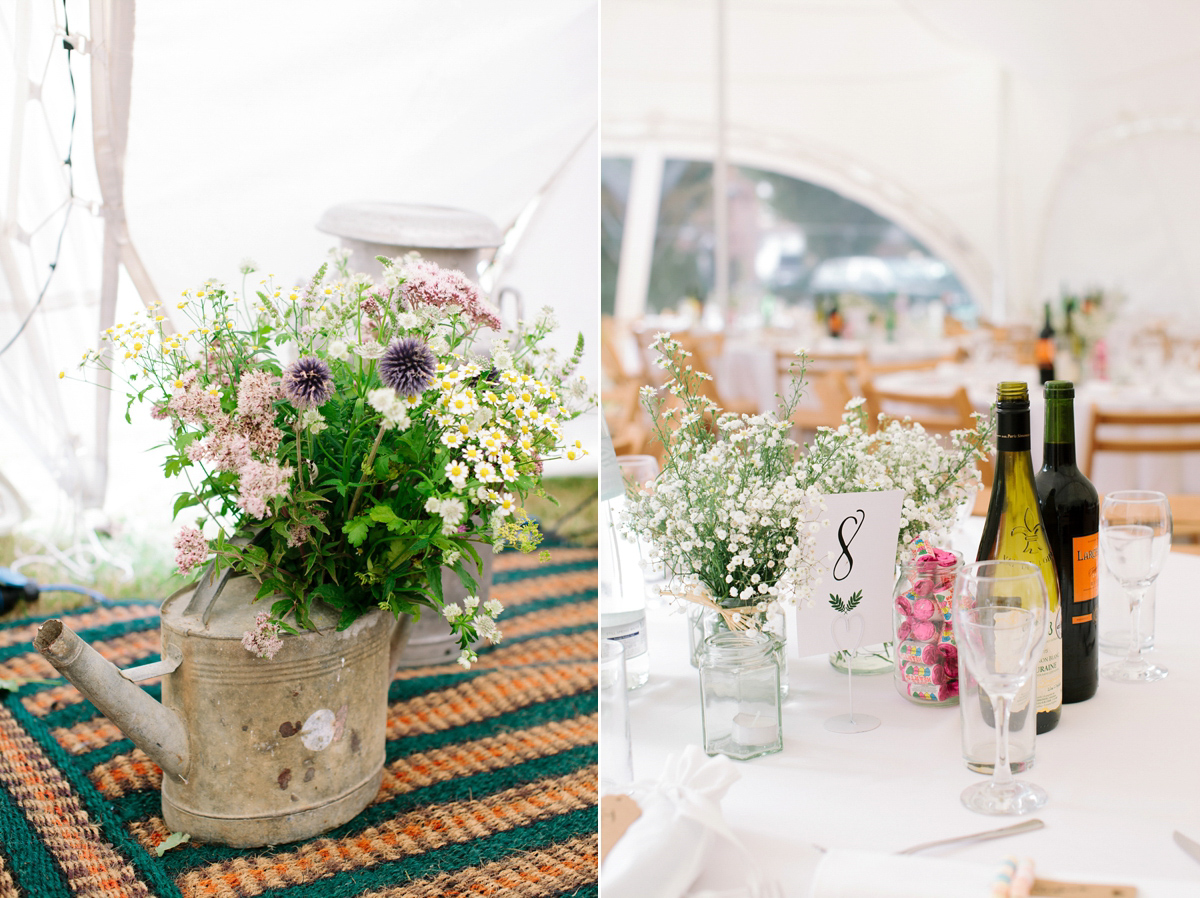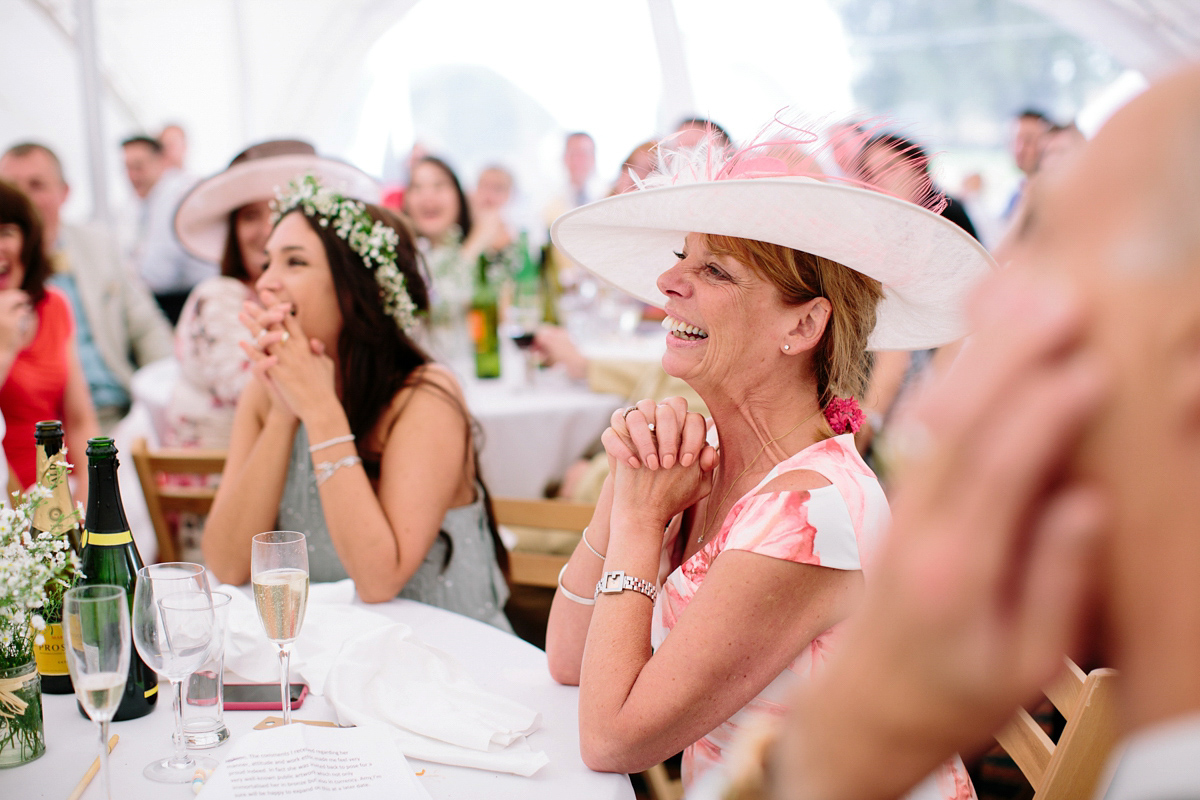 Family is obviously incredibly important to this couple; as well as involving them in the ceremony, they chose to honour George's late father Roger with their choice of first dance song.
"We toyed with a number of different songs for our first dance but eventually chose the beautiful 'Jersey Girl' by Tom Waits. This is an extremely special song to us and was also one of George's late father Roger's favourite songs. This made it even more poignant and our way of making sure he was with us during one of the most special moments of our life."
Words of Wedded Wisdom
"I got quite stressed about the weather in the run up to our big day. I can't emphasise enough how irrelevant it becomes when you wake up on the morning of such a momentous moment in your life. Everyone is in such high spirits and you are so happy and wrapped up in making the most of every moment that you really do forget about those little things."
"Make sure your bridal party are level headed and know how to keep you calm. My bridesmaids knew when I needed a moment alone as well as how to react when I started to get a bit wobbly and emotional."
"Don't forget to take a moment with your husband, breathe, stand back and take it all in. The day is over in a flash so savour it."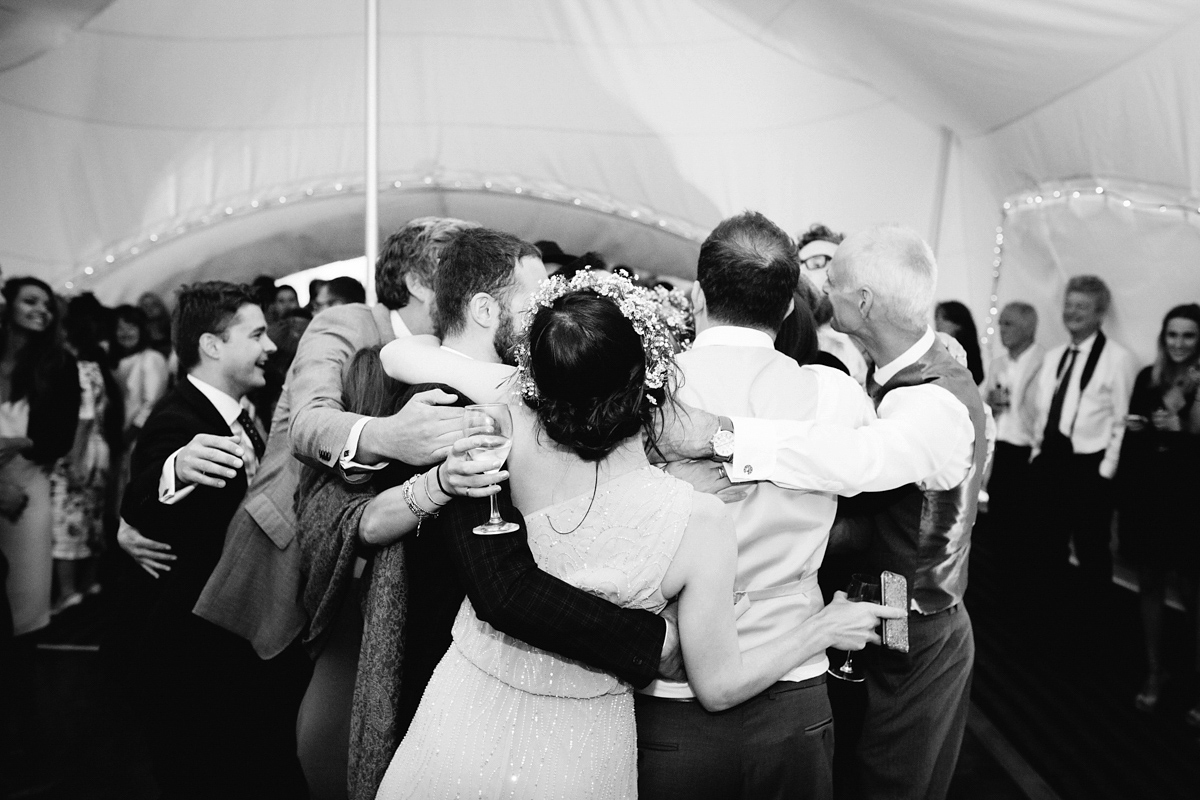 Thank you so much Amy and George, and Camilla, for letting us share your day. It looks like the most relaxed, prettiest of weddings, and how lucky you are to have been able to celebrate in your home village. If you'd like to see more from this wedding, search on Instagram for their hashtag #AmyandGeorgeWedFest – there are so many fun images to scroll through.
Wishing you all a lovely end of week,
Ele xx
Credits & Thanks
Photographer - Camilla Arnhold Photography
Venue - Boxgrove Priory Church, Chichester, West Sussex and The Anglesey Arms, Halnaker, with marquee from Party on the Grass
Wedding Dress - Carolyn Keyes
Veil - Carolyn Keyes
Headpiece - Jewelled headpiece, a gift from Carolyn Keyes
Shoes - Dune
Accessories - Amy's Grandmother's pearl bracelet, her Mother's pearl earrings, a Beu Beu Design garter
Perfume - Chanel Allure
Groom - Three-piece Remus Uomo suit via Stephen Lawrence Clothing, Chichester
Bridesmaids - Pale green ASOS gowns and their own shoes
Page Boys - Marks and Spencer suit, Converse shoes
Florist - Mandy Hassell of Beckie-Lou Florist
Cake - Emma Murphy at The Anglesey Arms
Transport - Rolls Royce Ghost
Entertainment - Friends of the couple
Rings - Timothy Roe, Chichester
Catering - The Anglesey Arms
Stationery - The Wedding Print Shop , Vanessa Musker (no contact details) and Langham Brewery
Hair Stylist and Makeup Artist - Sam Orwell (no contact details)
Accommodation - Beautiful Bells
Venue Styling - Two Circles Design