Hello lovelies! You had better enjoy your view of things today, because tomorrow morning, we will be unveiling a brand new and beautiful website design for Love My Dress – one we have spent months working on, and quite literally glued to on a 24/7 basis for the past fortnight. I AM SO EXCITED. Make a note folks, make a note – tune in by 6am tomorrow and all will be revealed. Eeek! But first, we have a beautiful sun-filled Thursday of real-wedding features to get through, starting with this botanically beautiful wedding, planned in just six months.
Francesca, lead digital designer for women's activewear company Sweaty Betty, married Nathan, head of digital media at Electric Theatre collective, a VFX studio, on 23rd September 2016 at Rowton Hall in Chester.
"We wanted to incorporate all the things we like – I wanted lots of botanical elements and wild flowers for example, but we also wanted it to be relaxed and just a bit different from the norm. One of my favourite things is to visit botanical gardens and it was in Kew Gardens that Nathan asked me to marry him (we'd been together 6 and a half years). He didn't get down on one knee, he loves to break the stereotype! We knew we didn't want a long engagement, and we booked the date for six months later."
Photography by Maureen Du Preez
"My dress was by Parisian designer Laure De Sagazan and I bought it (I met my best friend on my lunch break) from The Mews Bridal in Notting Hill. Once I discovered Mews I knew I had to get my dress from there, it's just the kind of effortless french style that i love. I managed to get an appointment to see what they had in stock (I couldn't have anything made to order as my wedding date was less than 6 months away). The girls at Mews were so lovely, it was absolutely my kind of wedding boutique, so laid back and cool."
"I had looked at a lot of inspiration and I knew the kind of style I was looking for. After trying on a few dresses, the one I chose was a drop waist but Lucy had pinned it so it sat higher on my waist (because i'm a petite 5"2 it suited me much better this way) and I loved it. The unusual French lace was so beautiful and it had an amazing low back. I always wanted a dress with sleeves and the silk skirt was elegant and relaxed. It was the perfect mix of classic and bohemian."
"I was quite indecisive about hair and make-up to begin with. Then a friend of mine got married a month before me and her make-up looked perfect – she recommended Laura (supplier detail not supplied – we're working on it readers!). and I booked her for myself and my bridesmaids hair and make-up."
"She did an amazing job of braiding and tousling the bridesmaids hair, and she tamed my curls which I opted to keep natural. Our make-up was subtle, keeping to neutral tones and she had the perfect Nars satin lip colour for me – in a deep berry red."      
"My bridesmaids dresses were pale blue long dresses with delicate cape sleeves. I loved the colour, and I think it's one that suits all skin tones so I knew they'd all look lovely in it."
"My bridesmaids had real flower buds in their hair, it was very natural and each had individual styles. Bridesmaids accessories were minimal – I left it up to them what to wear and I think they all opted for stud earrings."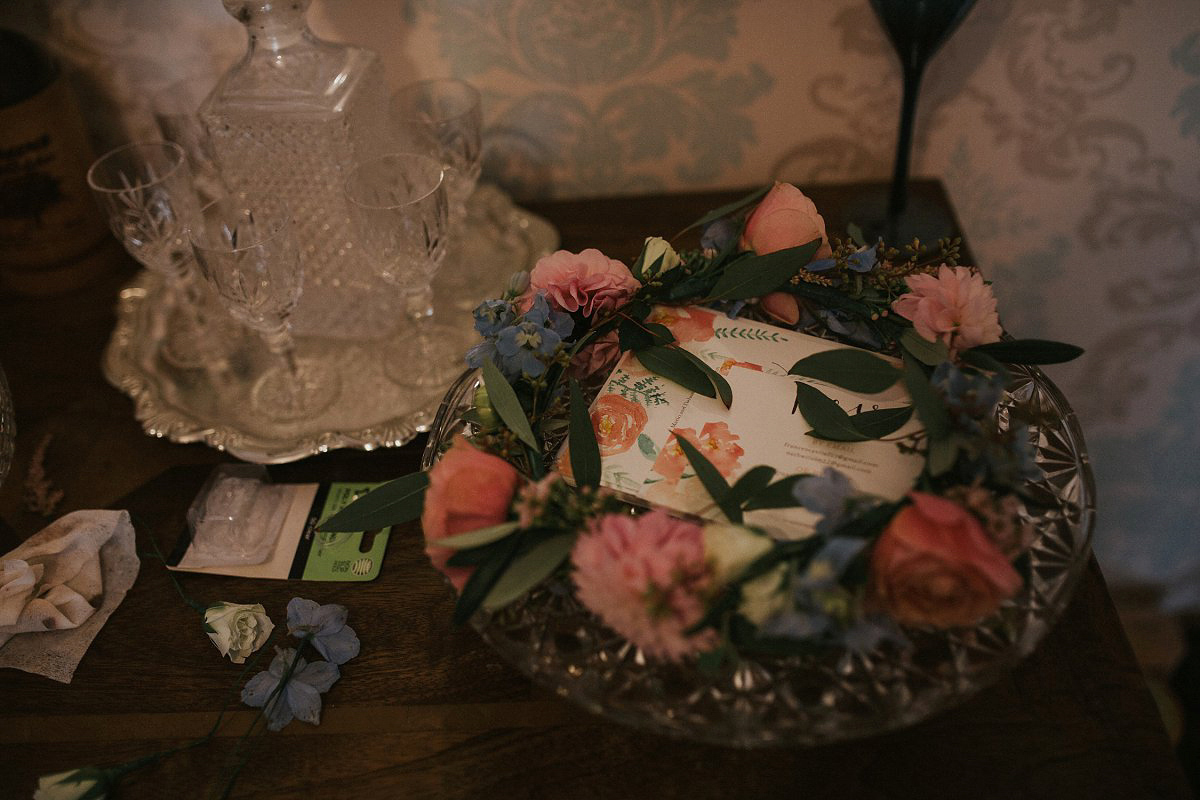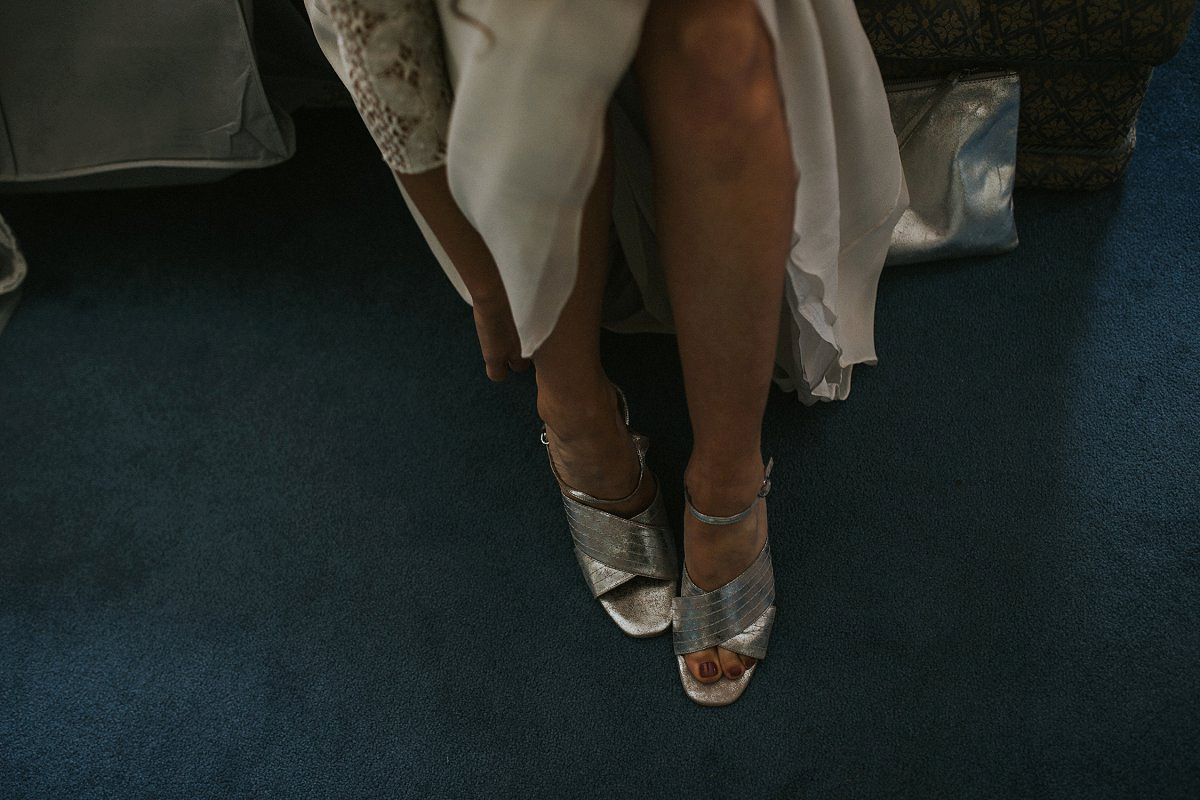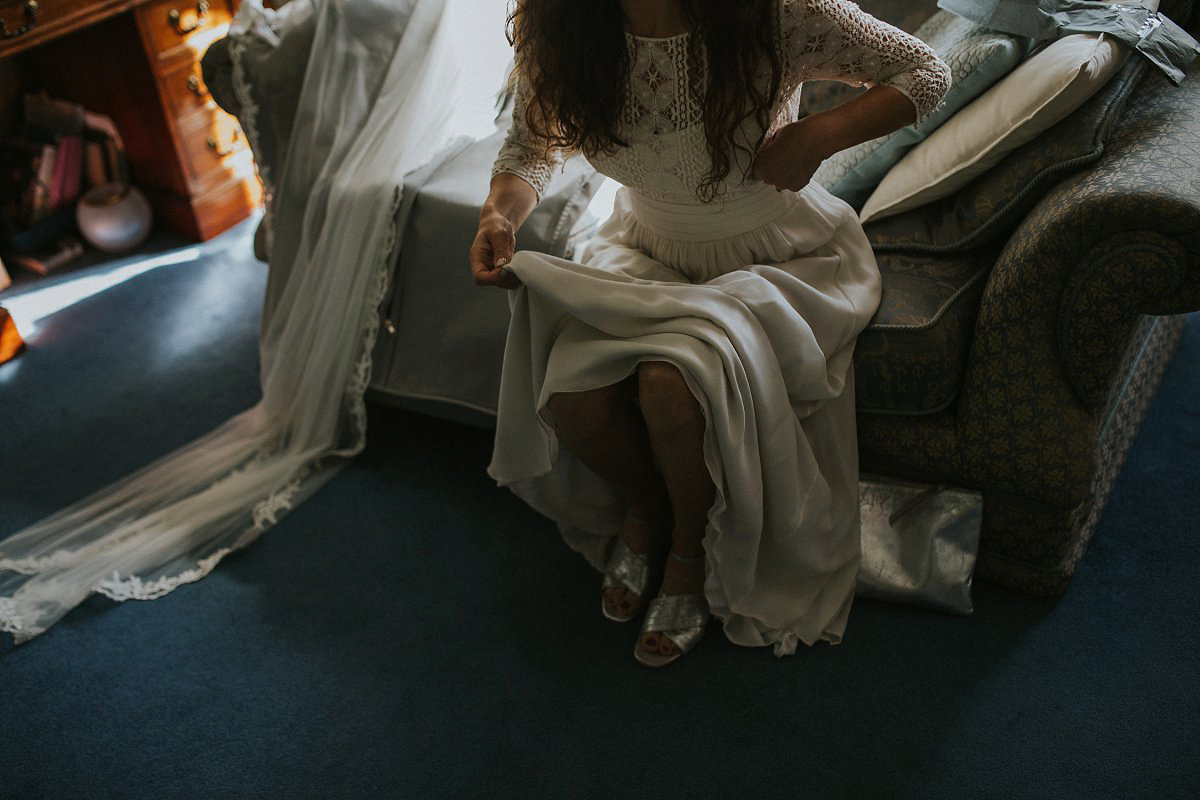 "I wore a real flower crown to match my bouquet, which included o'hara roses, café au lait dahlias, pale blue delphiniums and large leaf eucalyptus. It was the best, and I loved wearing it so much."
"Apart from my floral crown, I kept my accessories very minimal as my dress had all the detail I needed. I just wore some gold and pearl stud earrings that were a present to my Mum from my Dad."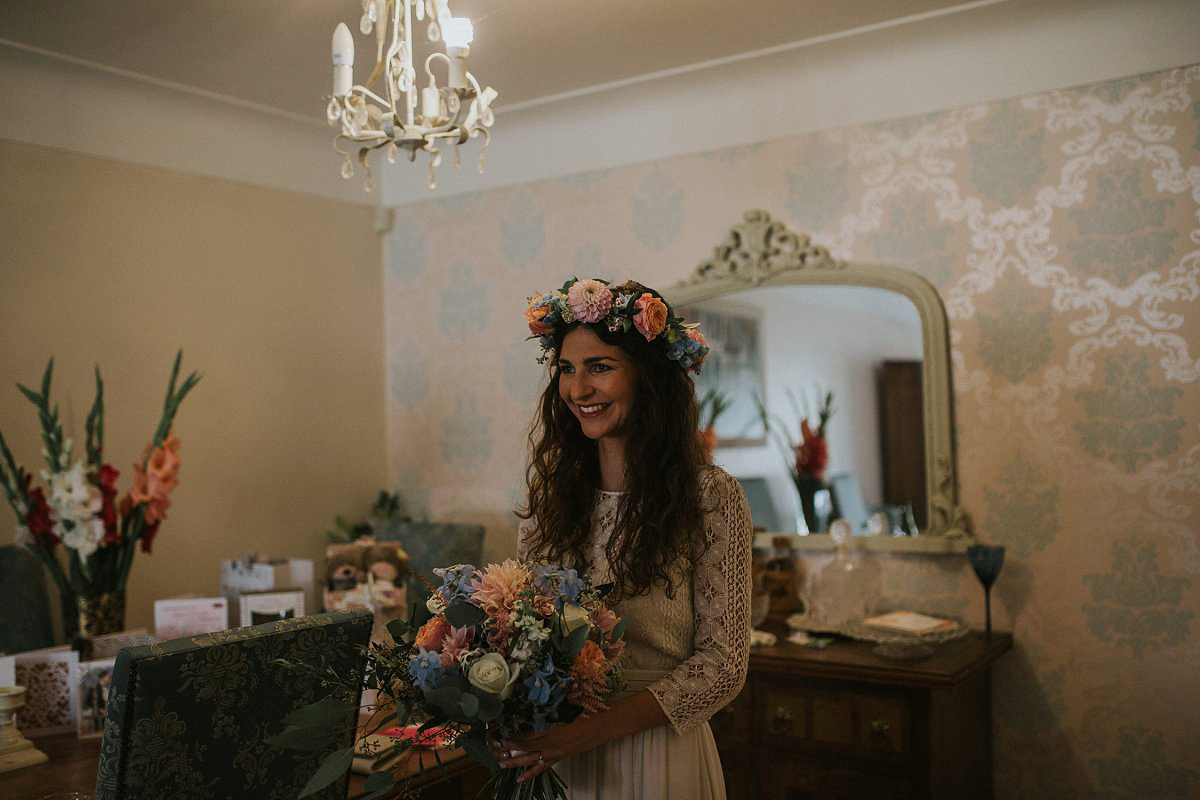 "My veil was from Etsy. It was so pretty but I had a bit of trouble keeping it attached to my head."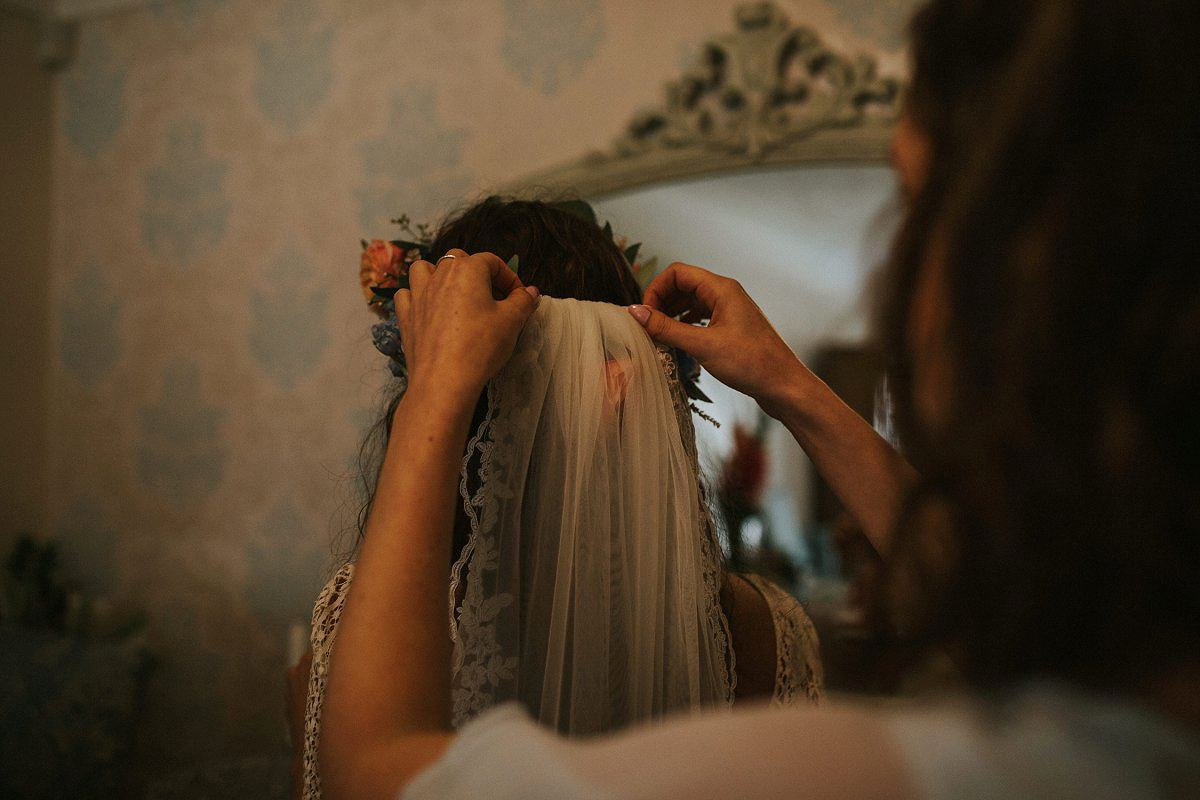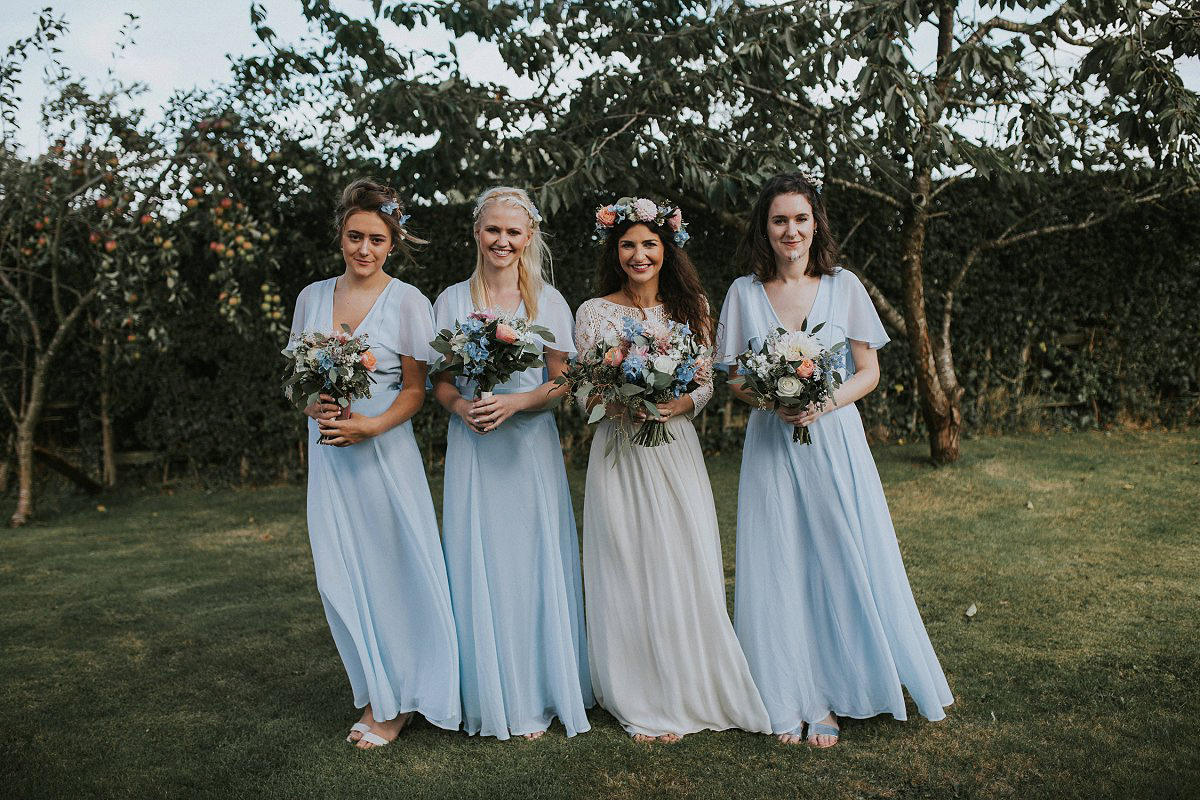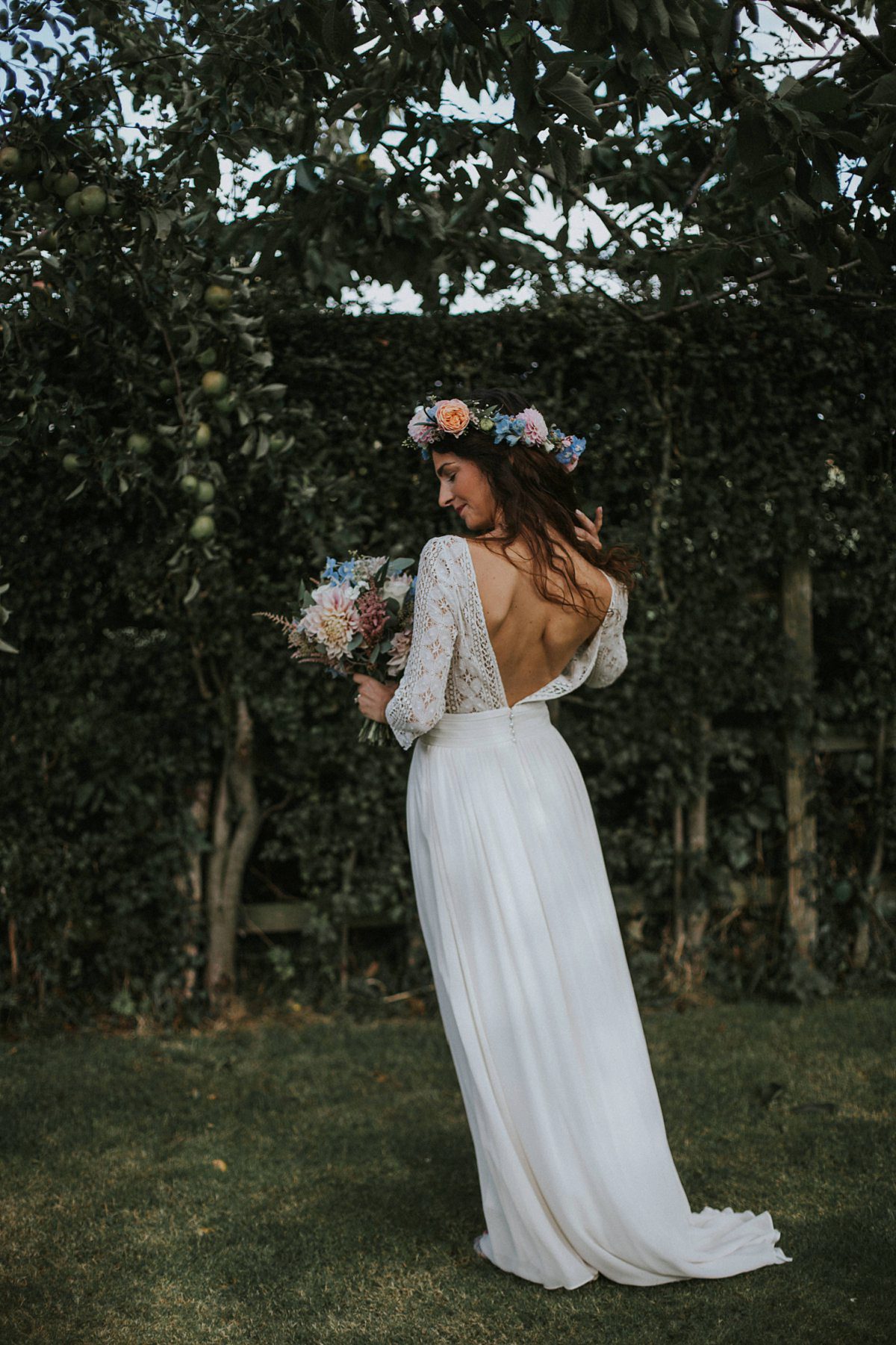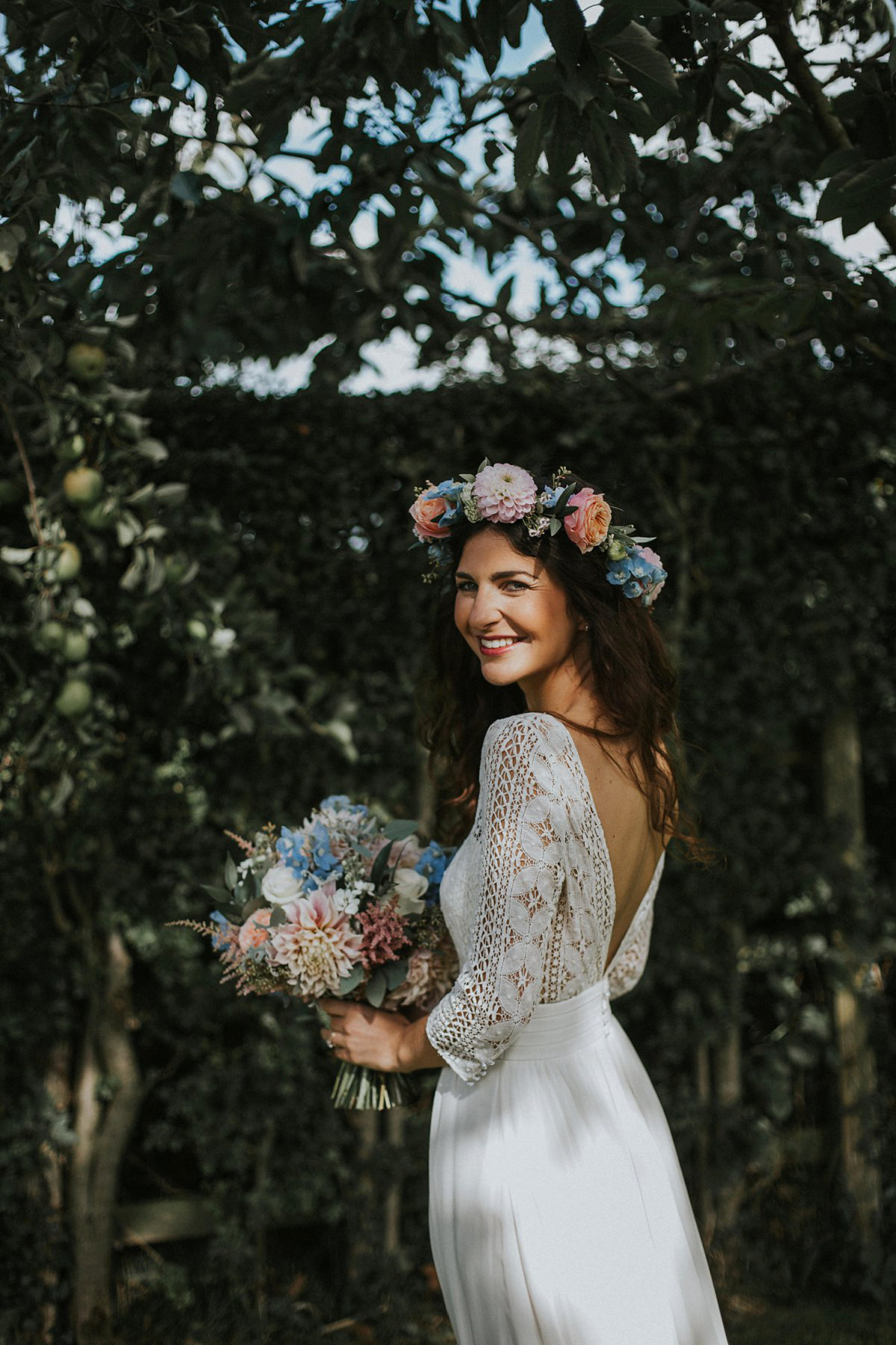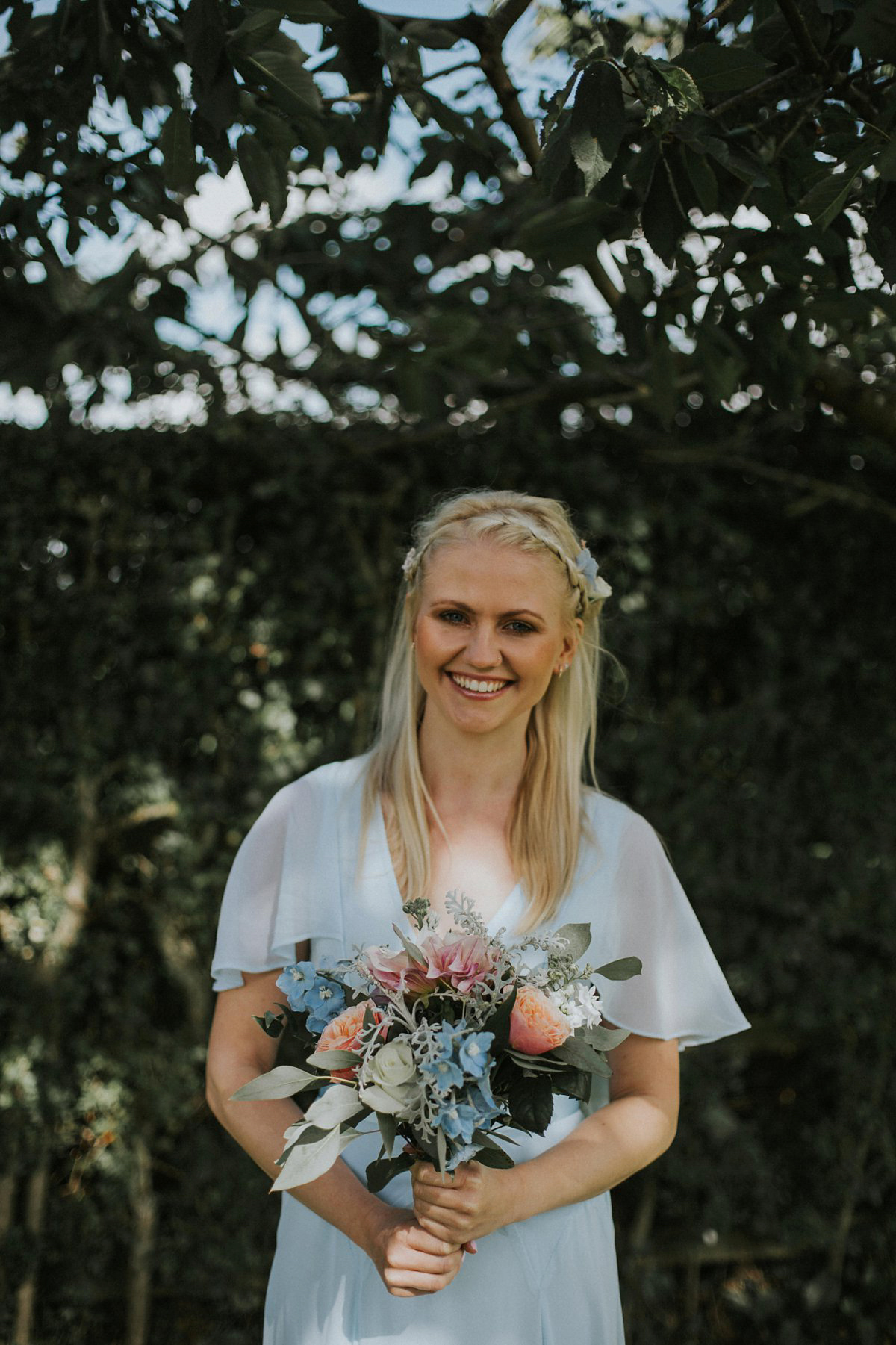 "Our ceremony was at St Werburgh's church in Chester, this has always been my family church. Even if I'd wanted to be different and have it somewhere else I don't think I could have because the church itself is beautiful and the priest is so cool."
"I'm not kidding, he's the best and made it such a memorable ceremony because of his humour and sincerity."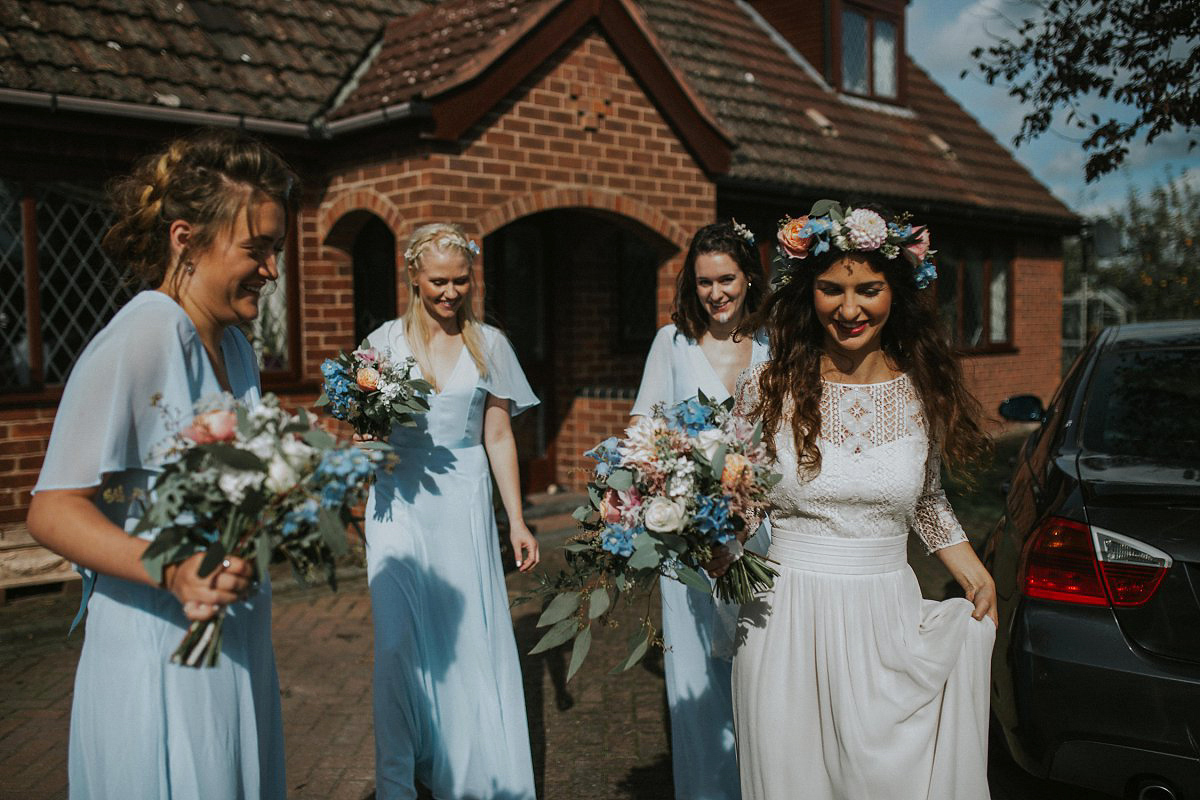 "I designed all of the stationery for the day – being a graphic designer that was obviously going to be my job! I did a watercolour illustration of flowers and foliage, and used this as a theme throughout. I got the invites printed online as a suite. I calligraphed our names for the invites, all the guests names and addresses for the envelopes, placecards, and favour tags. I know this seems like A LOT of handwriting – but I loved it!"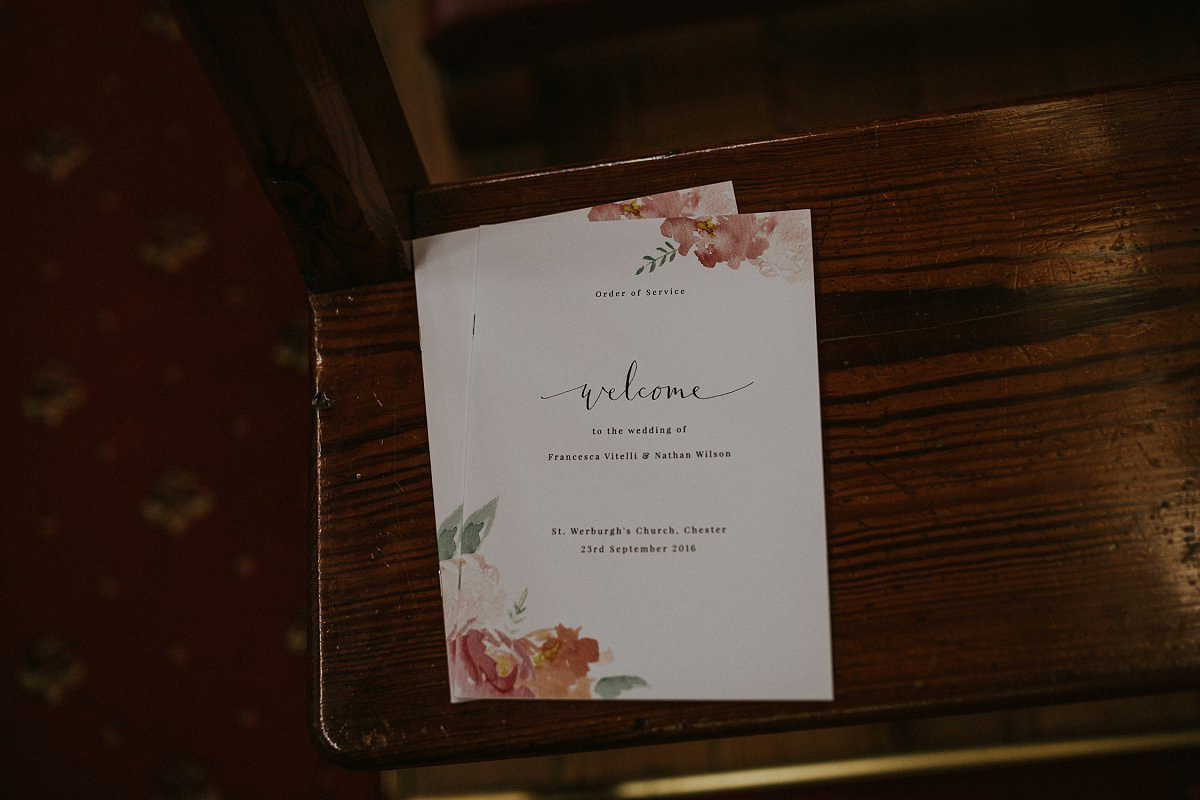 "The Best Man and groomsmen chose their own suits, all in a mid blue. I like the effect of having different shades of blue so I didn't mind that they weren't all the same."
"My dad walked me down the aisle. I'm not sure I can find the words to explain how much this meant to me. He was very unwell and that year had been extremely difficult for us as a family. He was so determined, he was always my inspiration and he always will be. We were accompanied by the sound of 'The Arrival of the Queen of Sheba', by George Frederick Handel.
My Dad passed away a month after the wedding, something I could never have prepared for. I will always be so thankful that he could be there."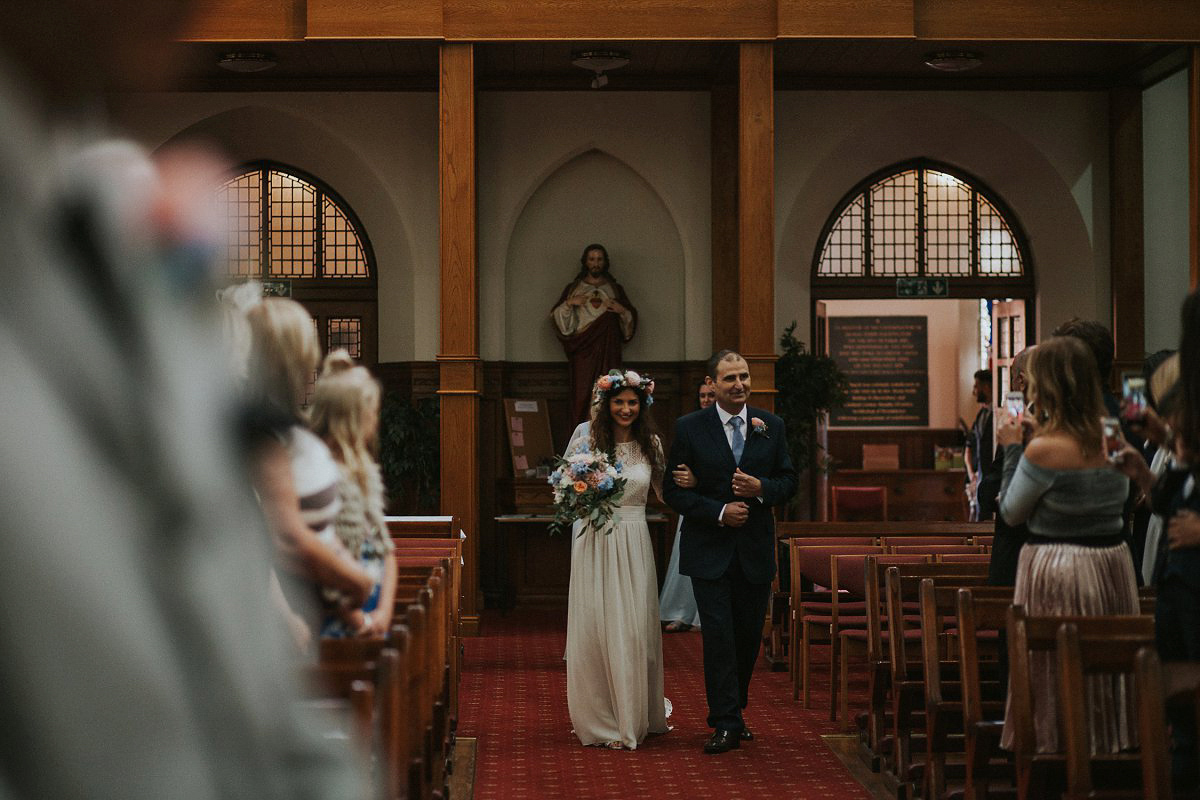 "My favourite part was arriving at the church with my Dad, seeing my three brothers waiting outside, then walking down the aisle. In fact this was the bit that I thought I would be most anxious (I was nervous about being nervous). But actually on the day, I was just over the moon. This was the part that meant the most, the beginning, and obviously I was wearing the best outfit I've ever worn so I was pretty happy about that."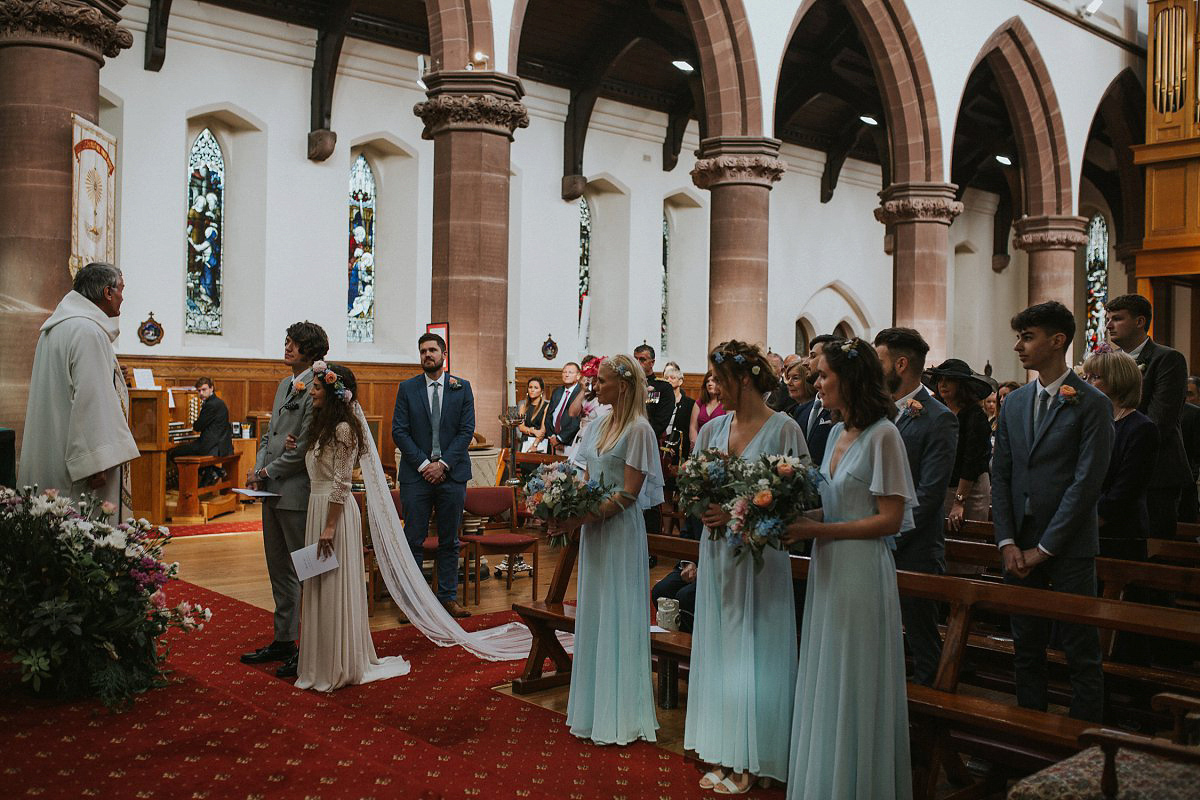 "We met at university. We first crossed paths in first year as we were in the same friend group. I liked Nath instantly and I remember watching him play guitar at a friend's place and him complimenting my t-shirt. But that was pretty much that for some time and we only spoke to each other properly at the end of second year."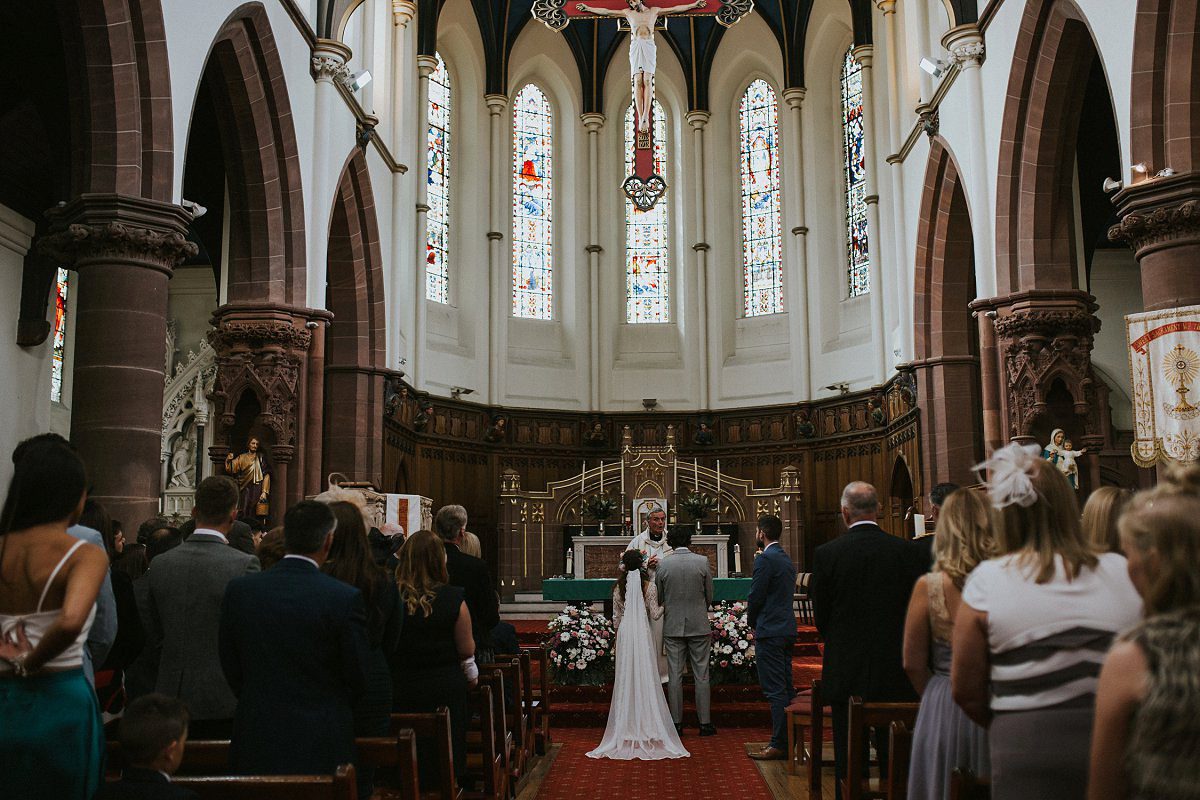 "When we got back after the summer holidays to start our final year I saw on facebook some friends had a spare ticket for Alton Towers and I was dying to go so I asked if i could come along."
"When he picked me up Nath was in the group too and we had a great day being silly and running around Alton Towers. By the end of it we were making our next plans to carry on the fun, and it went from there!"
"My ring is very special as it was my Grandma's, a plain gold band bought from the 1950's when she married my Grandad. Nath's was from a little jewellers in Richmond, also plain gold band."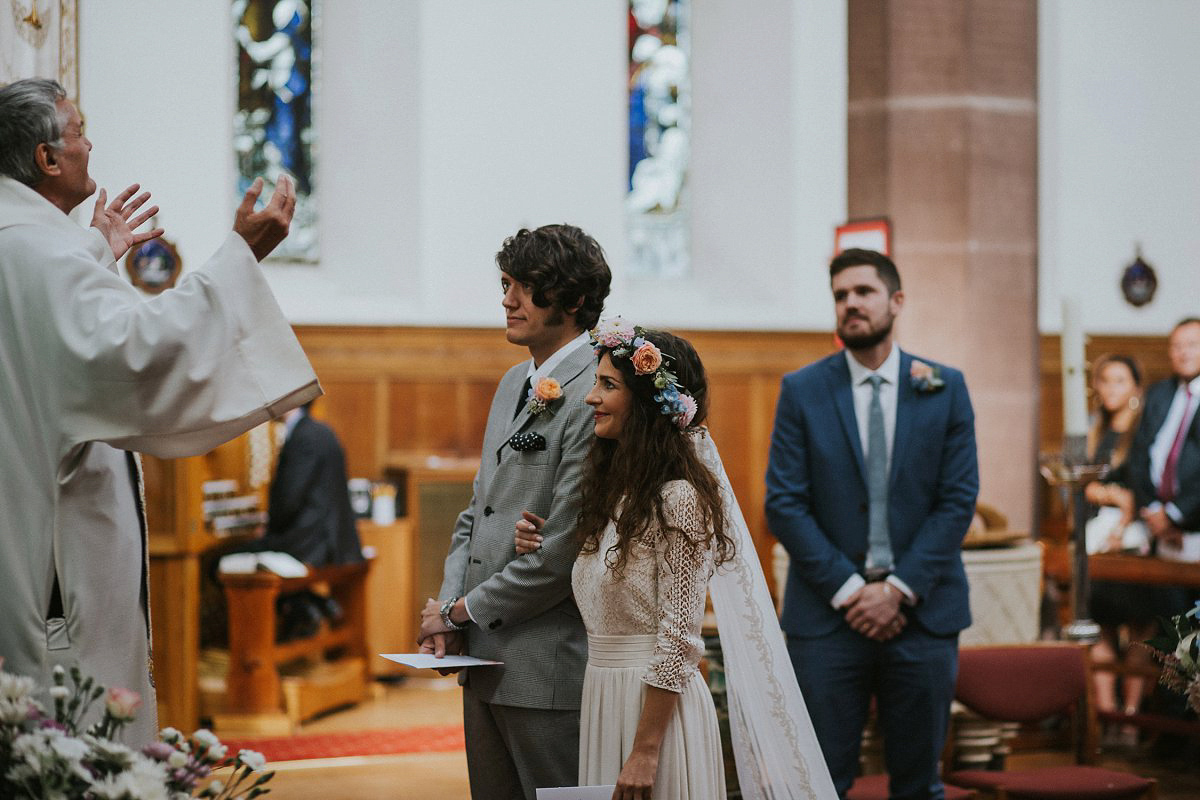 "During our ceremony, we exchanged traditional Roman Catholic vows. We also had three readings as part of the Catholic ceremony. Two of these were from the Old Testament, Song of Songs, and the third was a poem called 'Pathways', by Rainer Maria Rilke. I love all three readings – they are all about love, but in a mystical, unexpected way."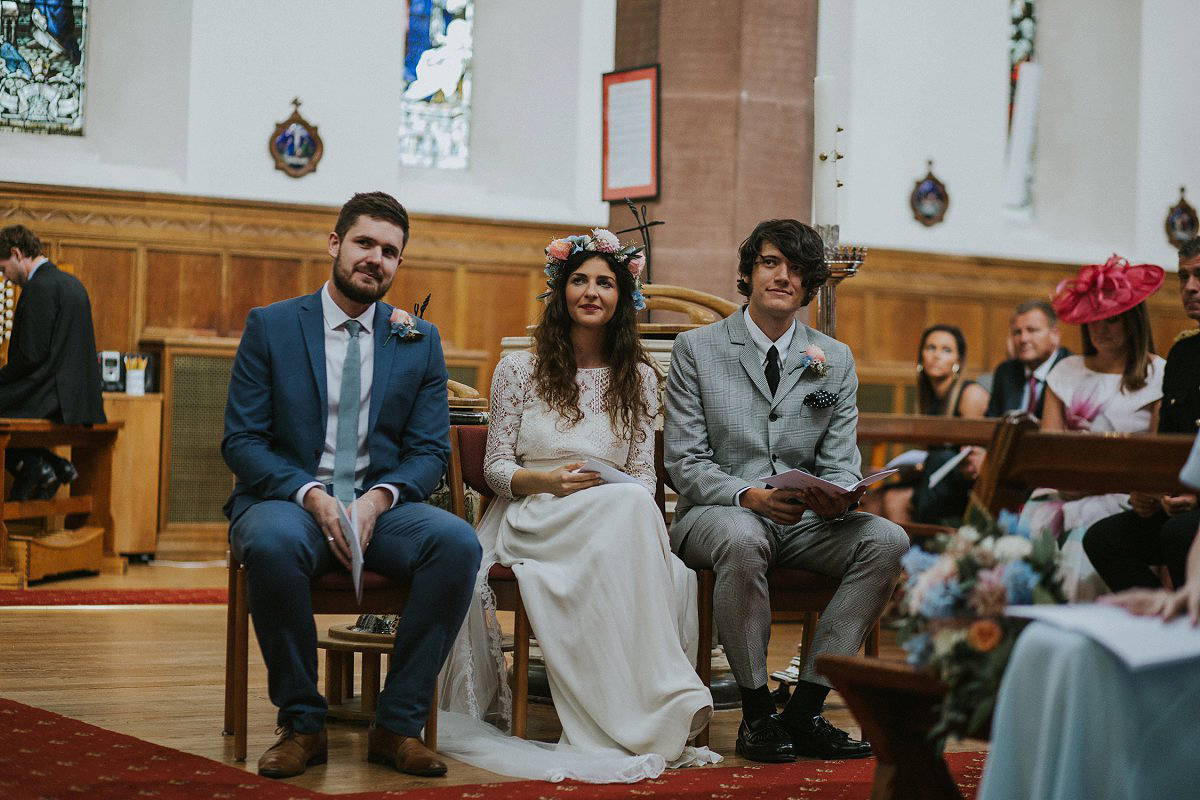 "My two page boys wore 3-piece navy suits from M&S."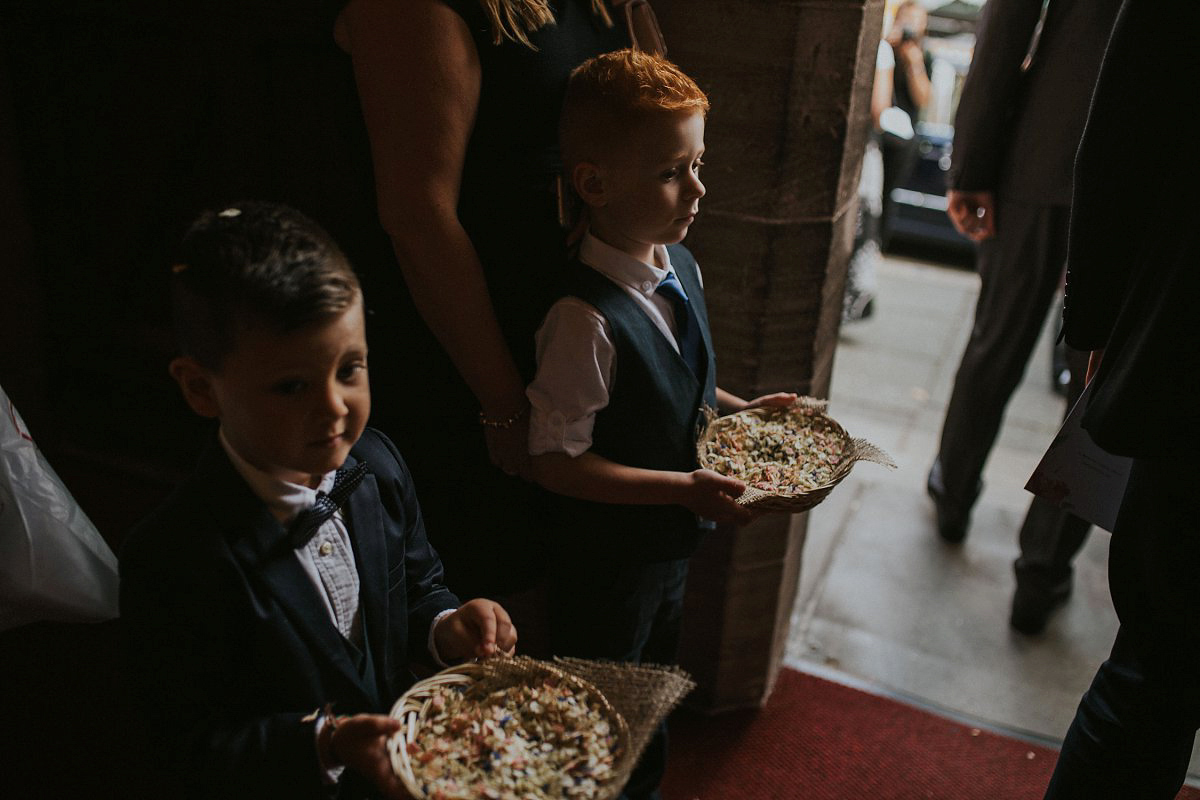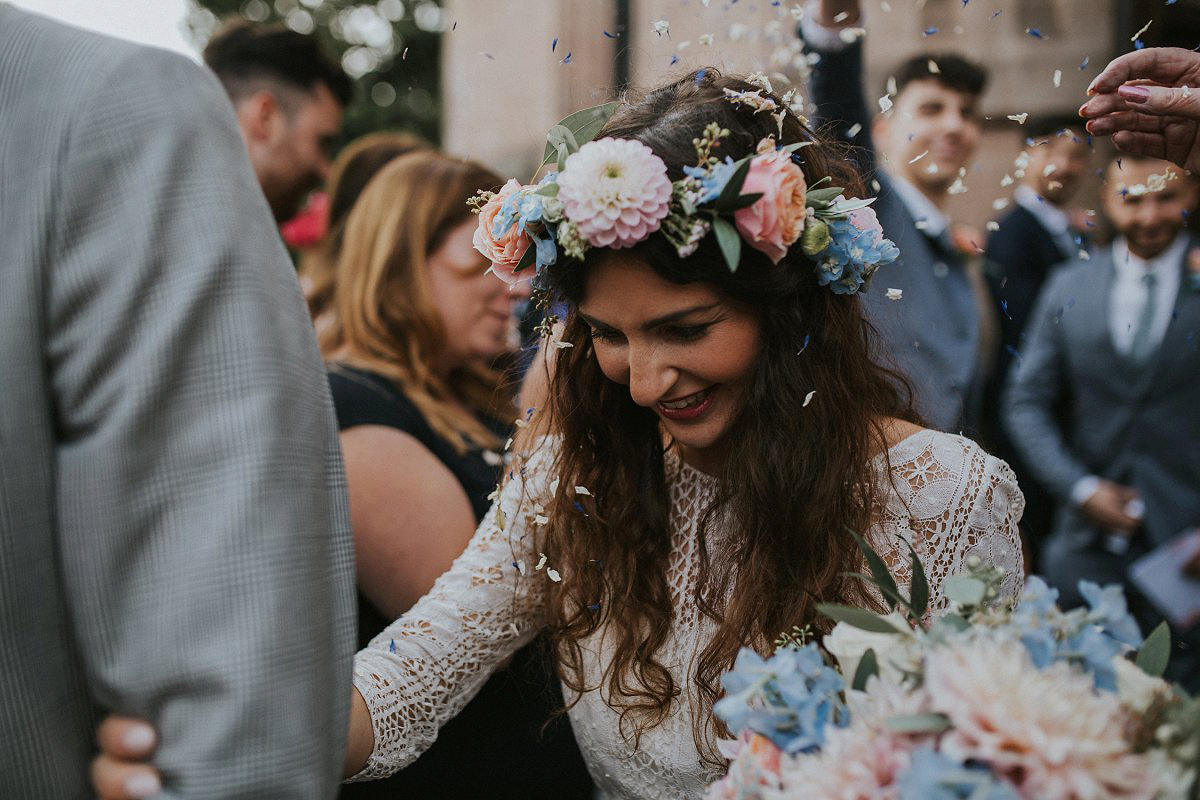 "My flower girl wore a Monsoon Children Ivory dress. It had a layered tulle skirt with applique rosettes. She also carried a miniature wild flower bouquet to match mine which was so cute."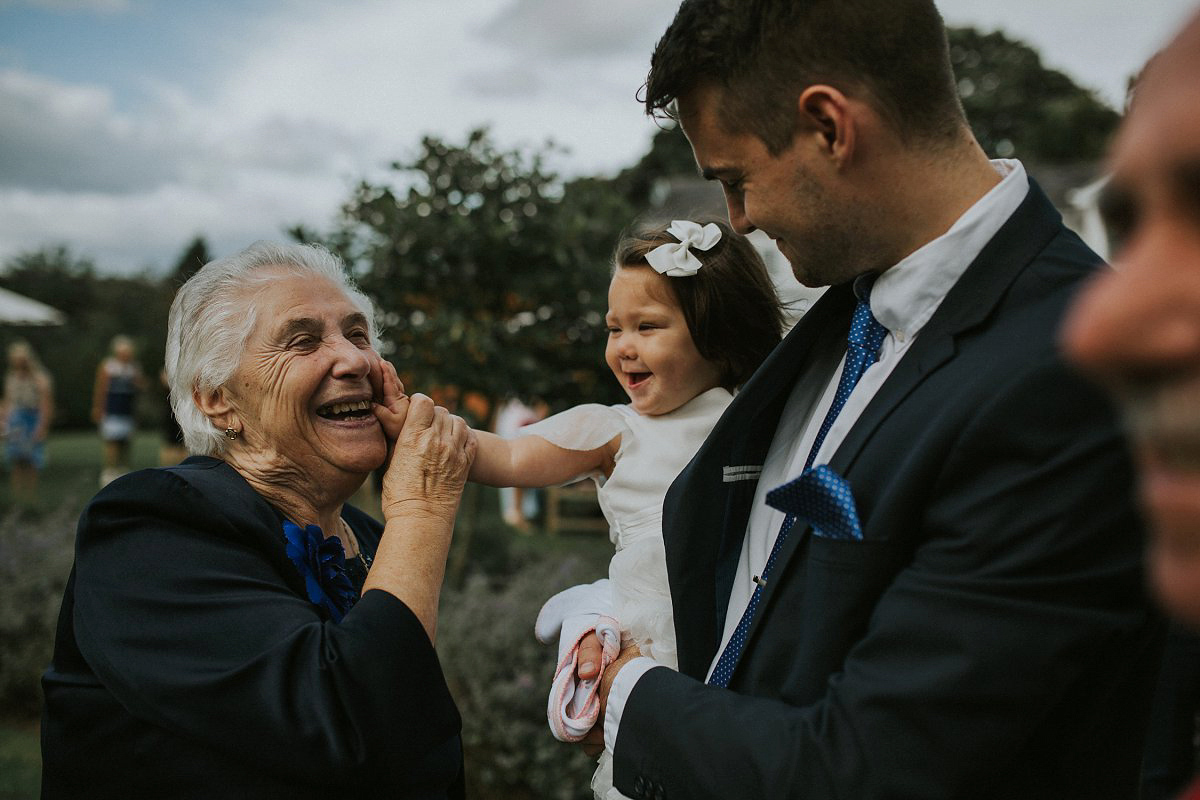 "Our photographer was Maureen Du Preez. We had a very good idea of the style of photographer we wanted, it was so important to have someone who could share our vision for the day and capture real moments in an organic and creative way."
"Maureen's portfolio is amazing, I love how she works with natural light and shadows, her work has an artistic mood which we really like. She was organised in prepping for the day and worked with another photographer, Lottie. Both had such a positive energy that made us feel at ease."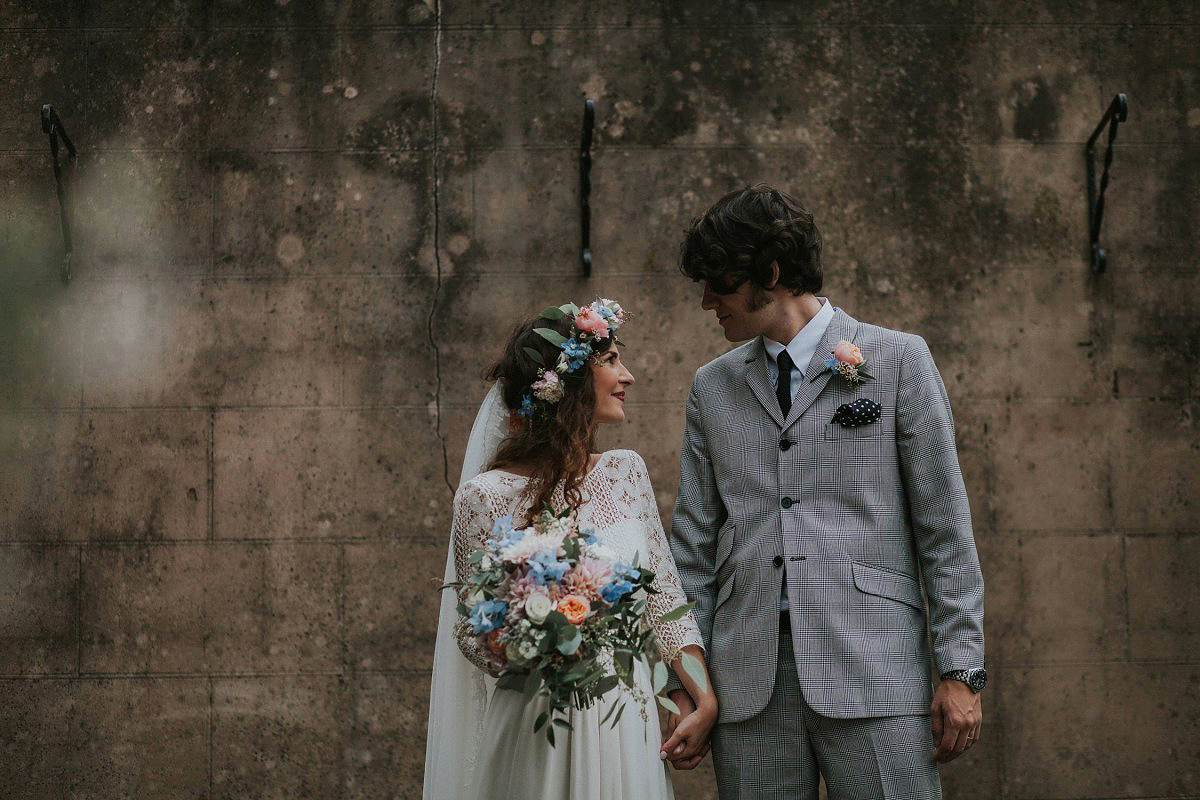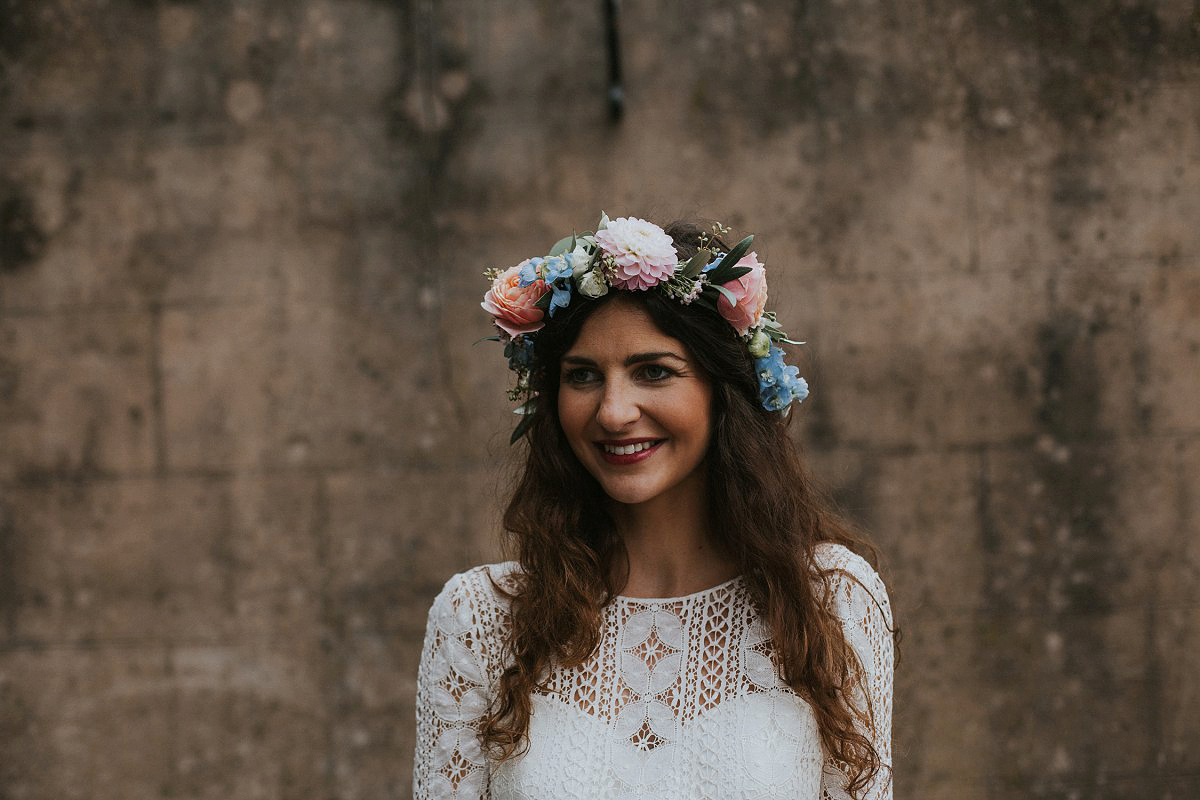 "I wanted very natural wild flowers, so I knew it had to be Wild Floral Design. I went into their shop and was filled with excitement (partly because of all the amazing flowers, and partly because of their monogram pattern tiled floor) when I talked to them they just 'got' exactly what I was thinking and already started coming up with ideas for what I might like. I sent over some photos of what I had in mind (lots of foliage, dahlias, roses, peonies) and they came back to me with the perfect description and quote."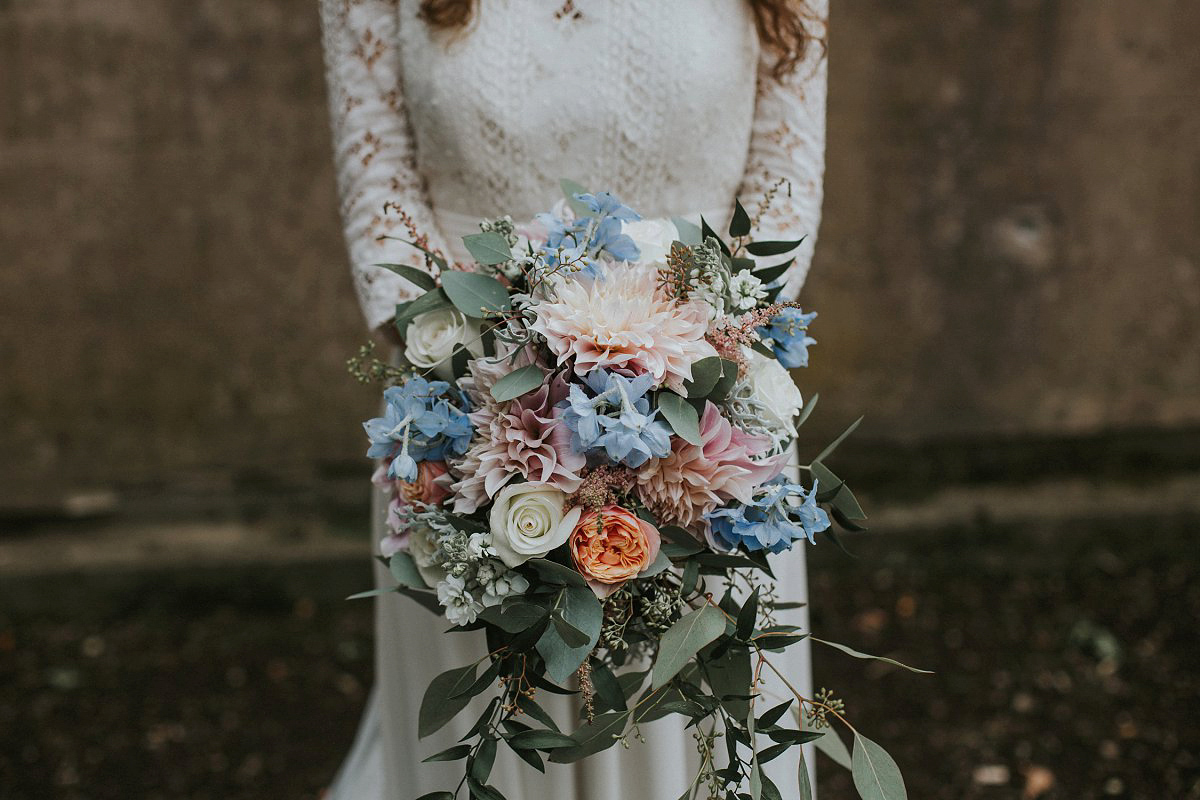 "The flowers were natural and scrummy, they are just the kind of flowers that I love. There was lots of eucalyptus, leafy foliage and the flowers were neutrals with pops of colour. They were the flowers of dreams!"
"Nath's suit was from Sherry's – a Mod shop selling 1960's clothing in Carnaby Street. The suit itself was a Prince of Wales check, 3-button suit jacket with matching trousers. He wore a white shirt and a black knitted tie. (both also from Sherry's). This is very much Nath's style, he has always been into 60's music and fashion."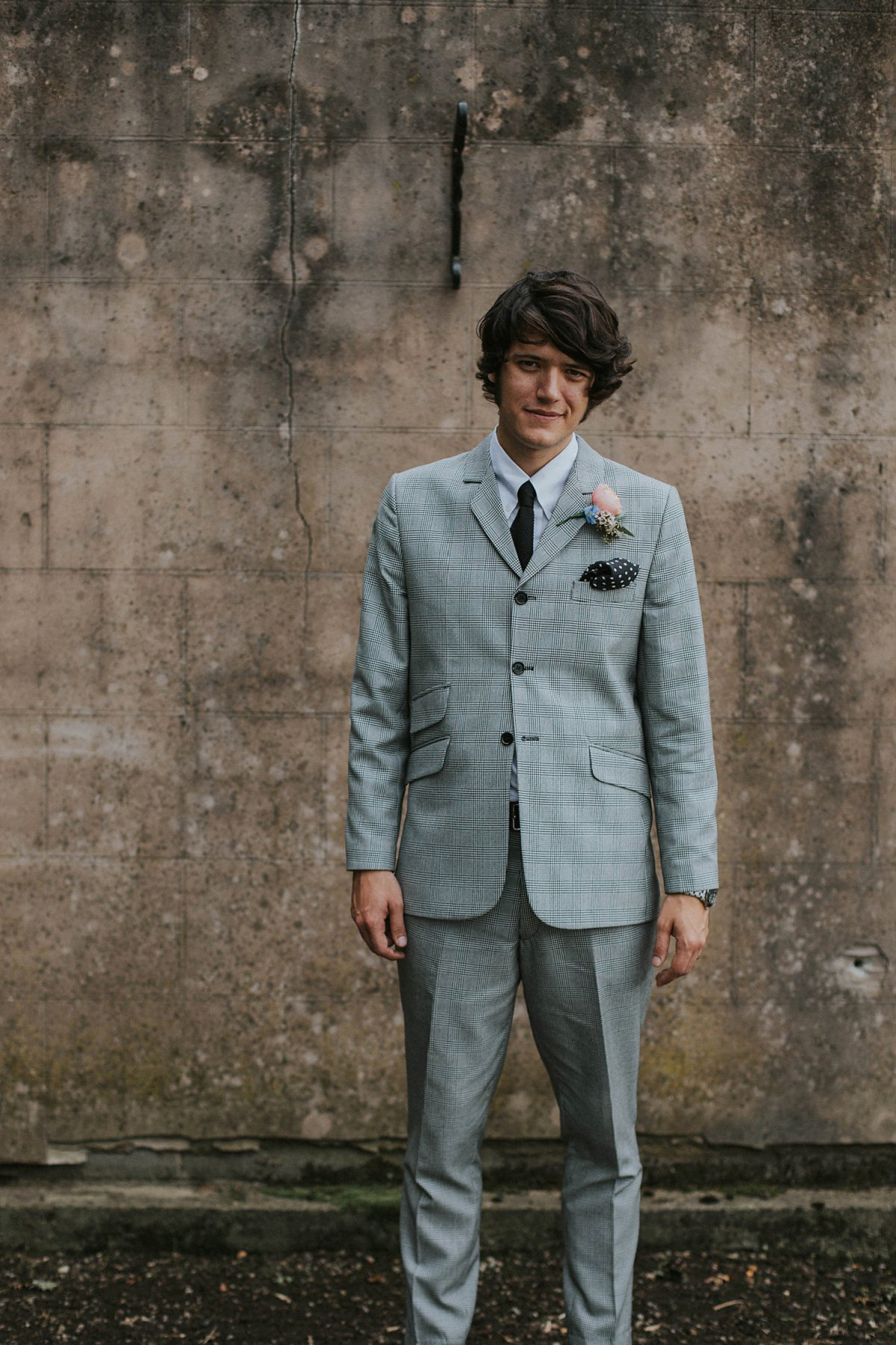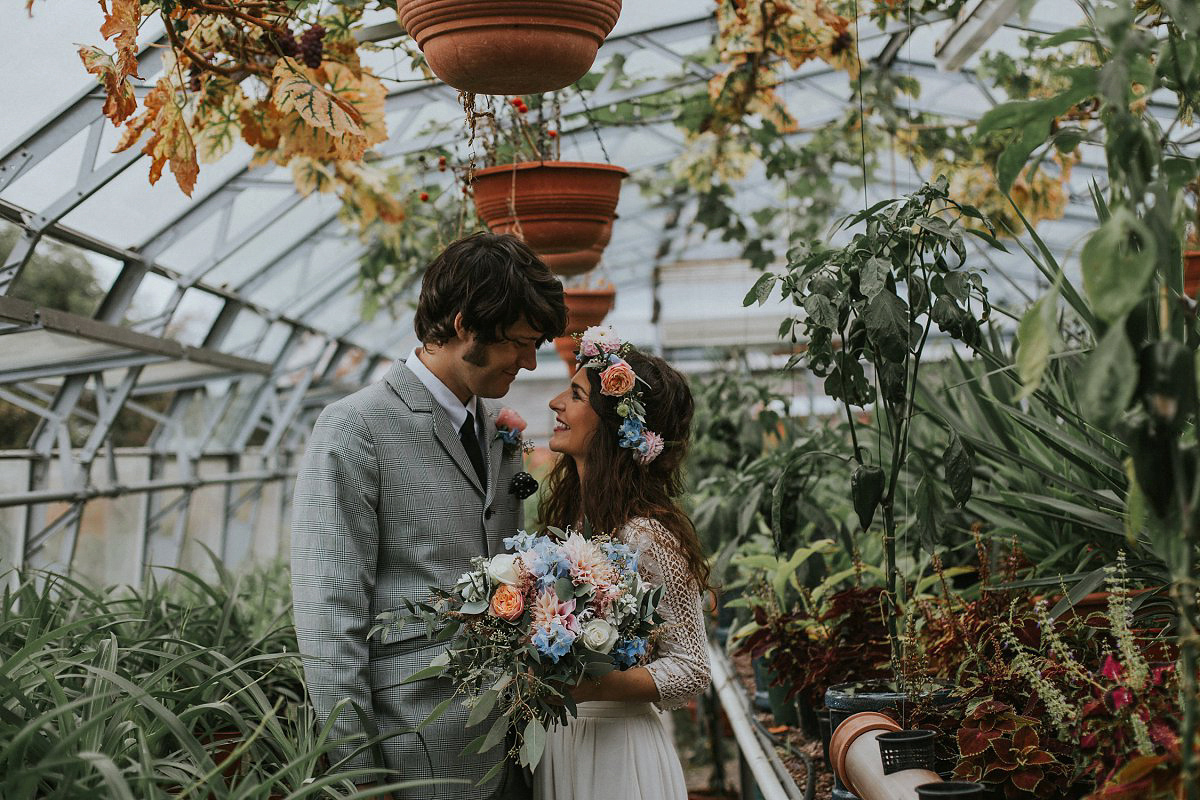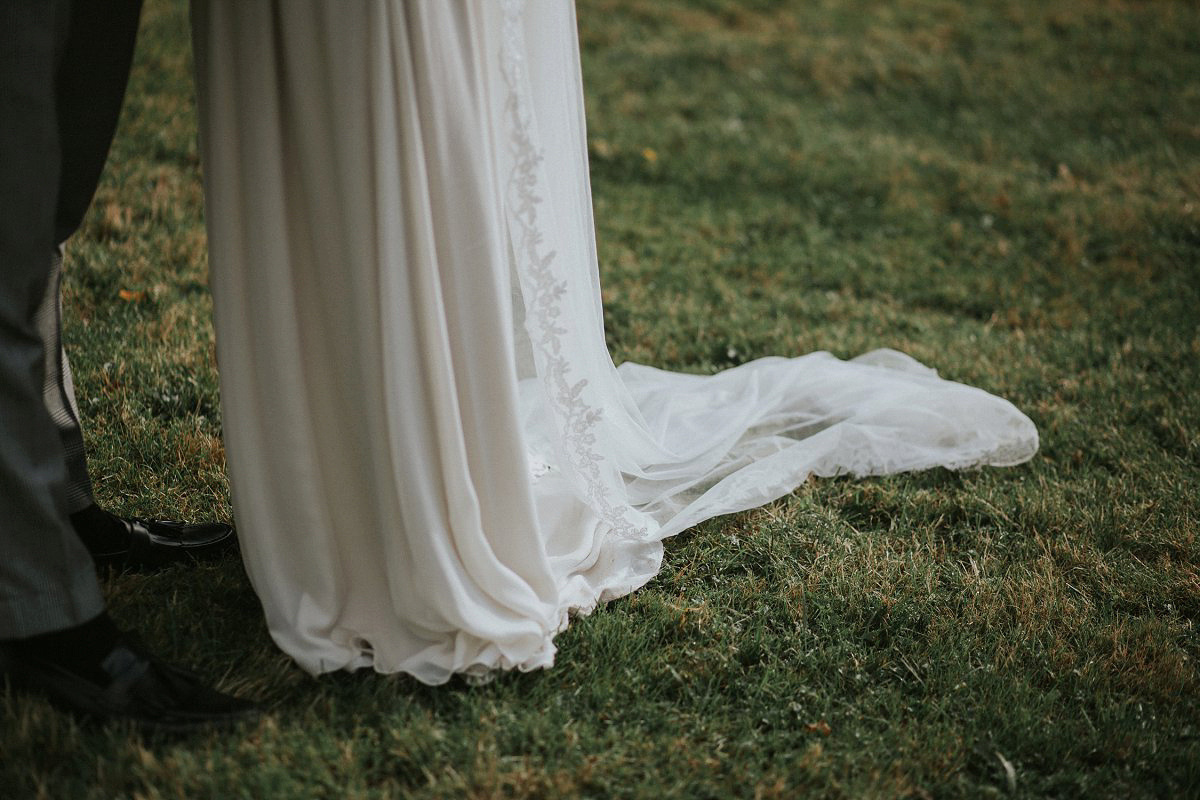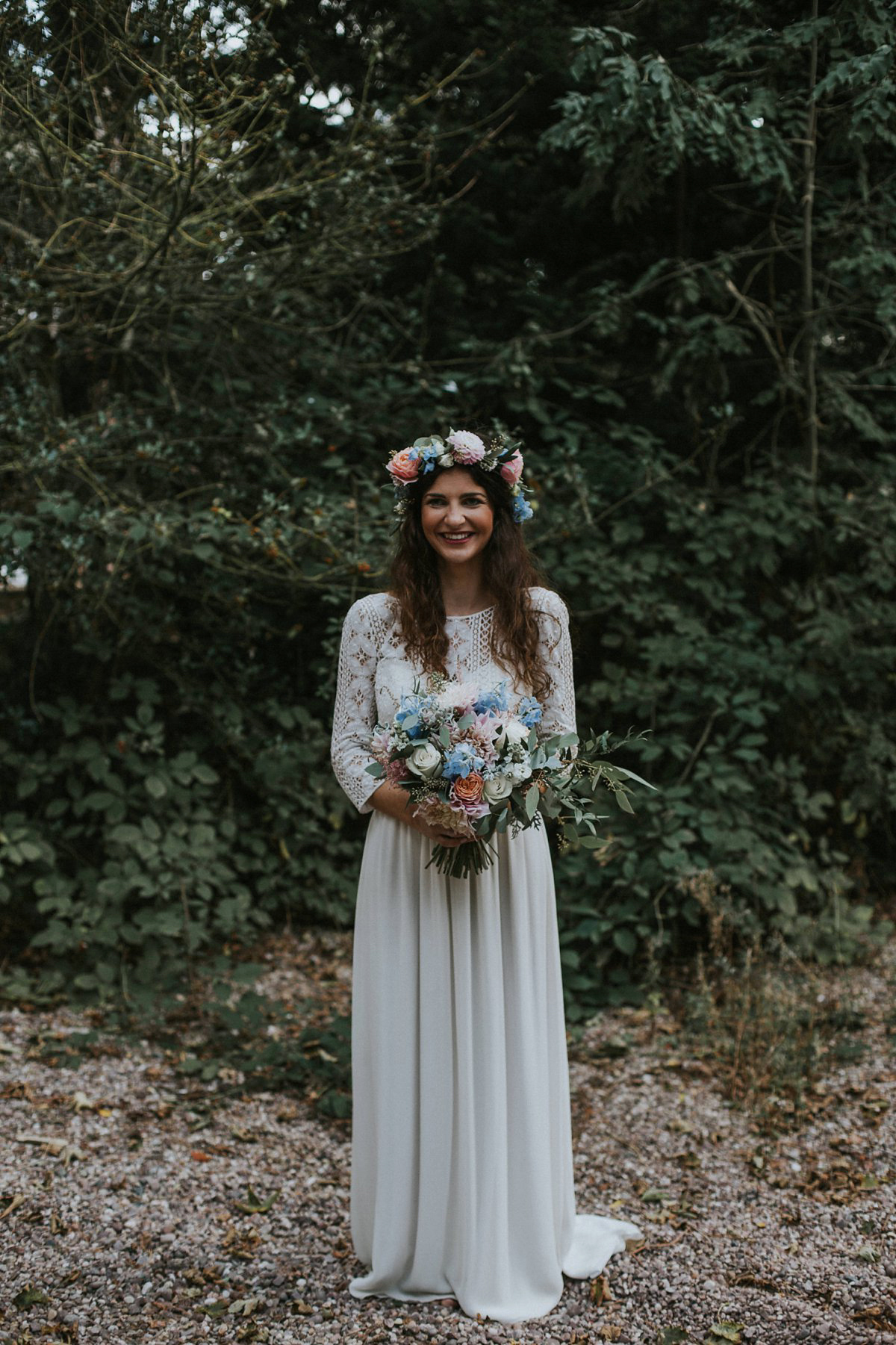 "Although Nath and I have lived in London for the last five plus years, we knew we wanted to get married in Chester as it's where me and my family are from. I had an idea of what kind of venue I'd like and I spent some time researching online, my search area was small and for a while I didn't find anything right. I wanted something with character, but with a laid back feel. Somewhere personal that we could make our own."
"Rowton Hall is 5 minutes from my family home, it's somewhere I'd been before and it just so happens to be where my Mum and Dad had their wedding reception 30 years earlier. It suddenly popped into my head that I'd like to take Nath there to see what he thought. As we walked through Rowton village I could picture this being the place. Rowton Hall were so helpful and we just loved it from the beginning – it looks amazing from the outside, the gardens are beautiful (complete with a greenhouse). I think I hadn't thought of it sooner because it was so familiar to me, but once I saw how Nath loved it too and the connections it had to my family and where I grew up, it made perfect sense."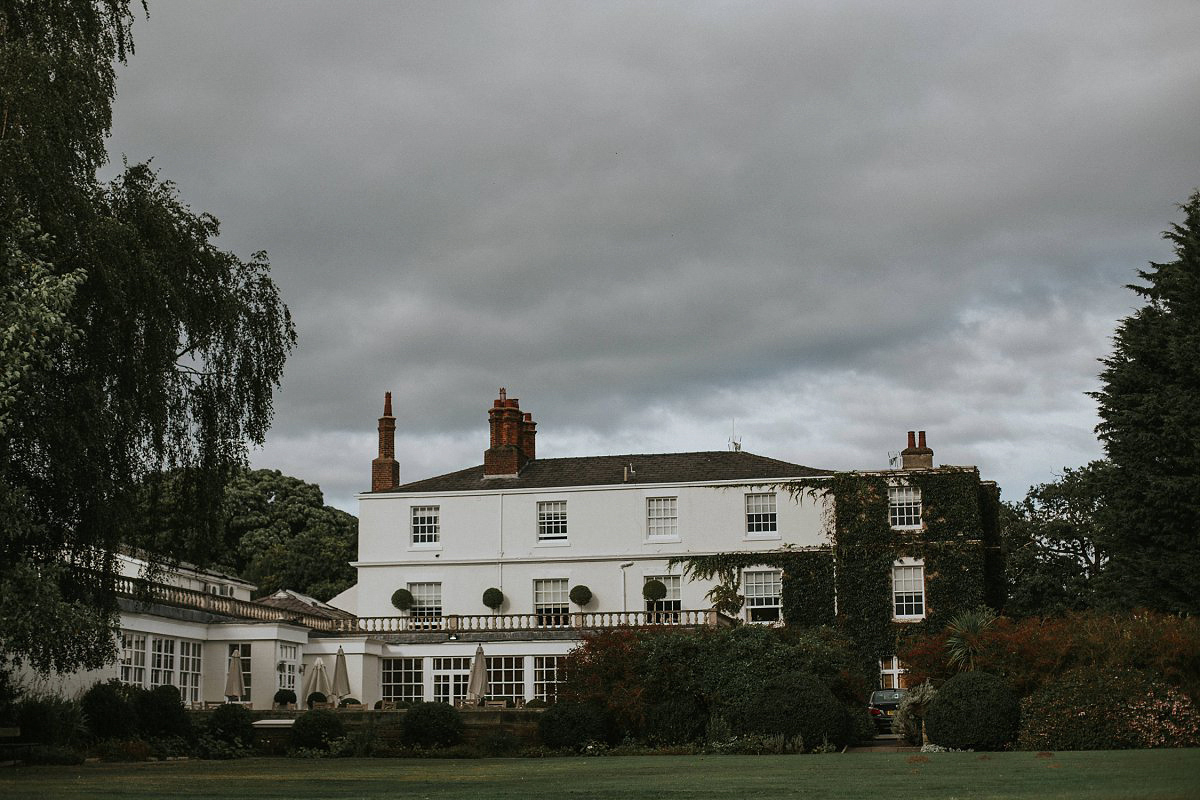 "We had a steel drum band for the reception when we arrived – this is because the sound of steel drums just makes me feel so happy and reminds me of the summer."
"As I'm half Italian, we also had Bomboniere for tradition, which is five sugared almonds in a little laser-cut paper box and displayed in vintage Grosvenor Farm crates which were given to us by a lovely friend of my mum's."
"For the table plan I bought a big chalkboard and hand-wrote everyone's names – I really didn't want anything polished and I liked the simplicity of it."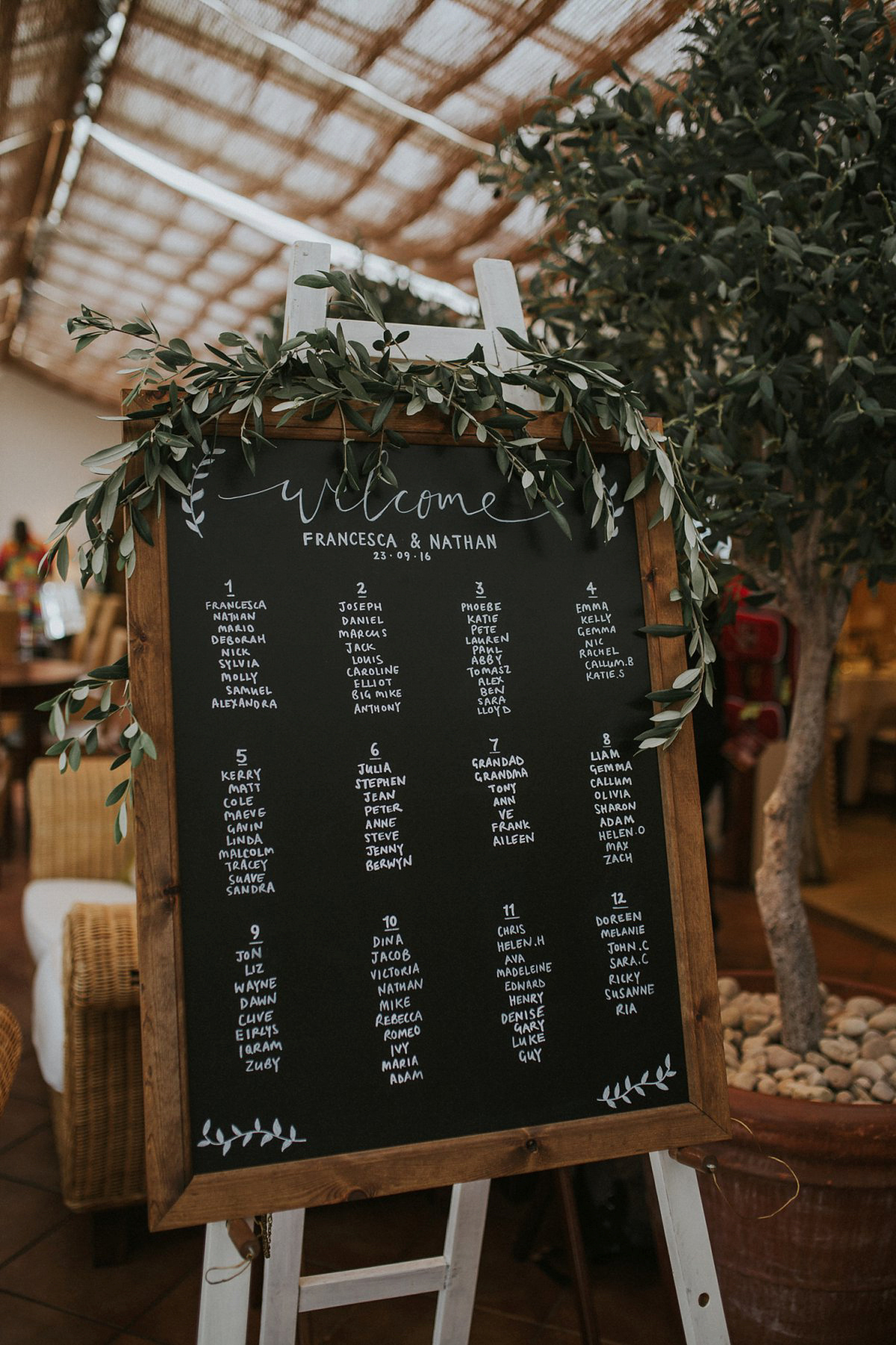 "We had glass vases of wildflowers on rustic wood tree stumps in the centre of each table, and lots of olive branches for a mediterranean touch. There were gold candlesticks with white taper candles, tealights, and name labels tied with a sprig of rosemary on every place setting. We also had monogram planters in our initials, which my mother-in-law filled with succulents and plants, that we placed with 'wish' cards for guests to write on."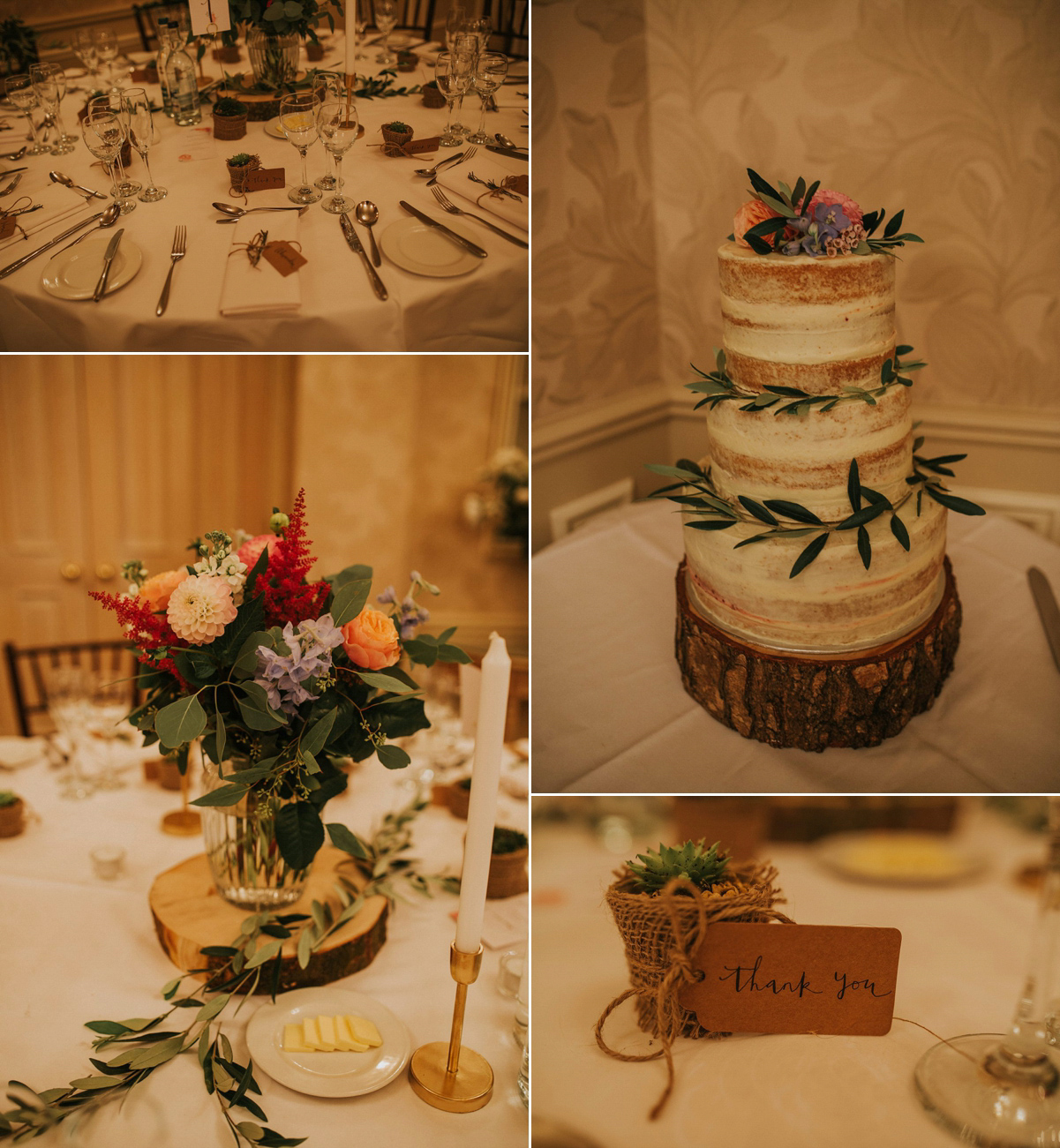 "We didn't want anything traditional, and I searched for classic naked sponges that were wedding-fuss-free. I was so happy to come across Polka Dot Bakery – Abbie creates authentic cakes at her home in Chester, and I liked the idea of supporting local, independent businesses where I could. Abbie created us a nearly-naked 3 tier victoria sponge (it's a classic, and it's our fave!) that was decorated in some of our wild flowers and olive leaves."
"It was simple and elegant, just how we wanted, and absolutely delicious. I just WISH I had asked for the leftover cake for us to be kept for us the next day, I was just having too much fun to think of it at the time!"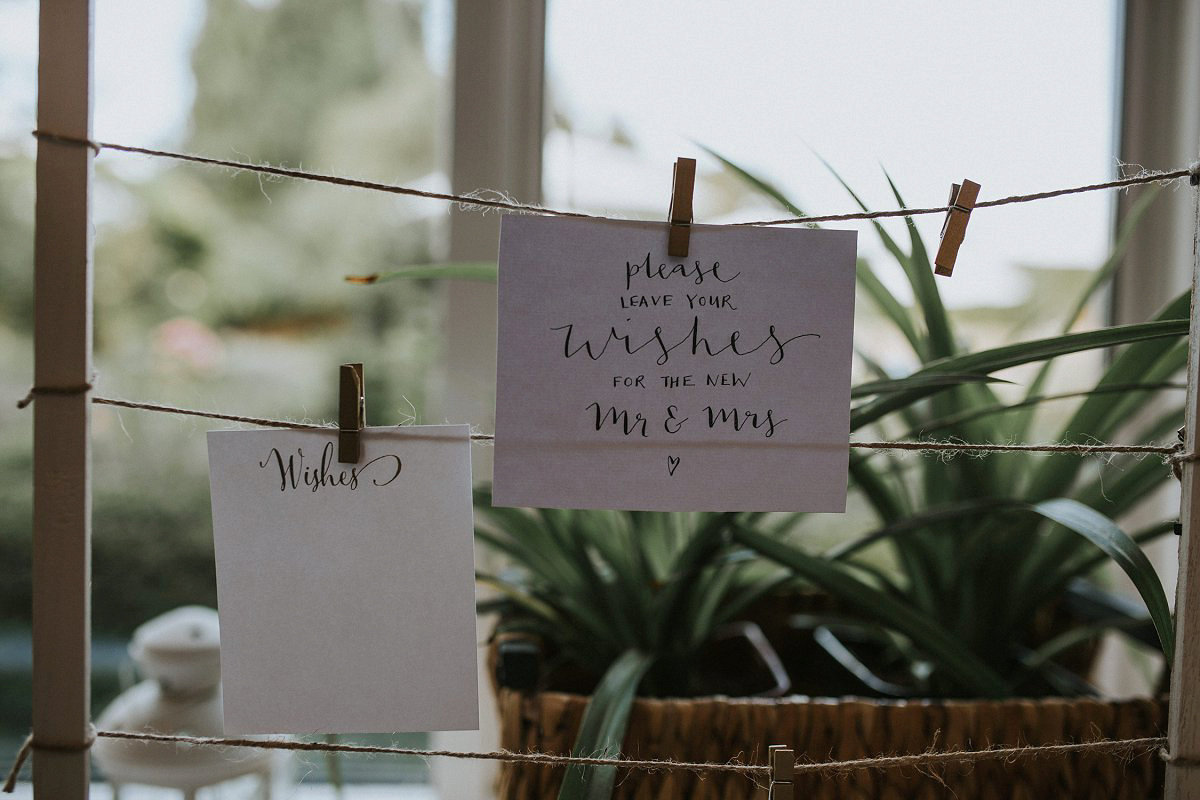 "Our wedding favours were tiny succulents that I bought online from The Curious Plant Company. When they arrived me, Nath, my mum and my Aunty spent all evening planting them into little eco pots, covering with hessian and tying the labels on with string."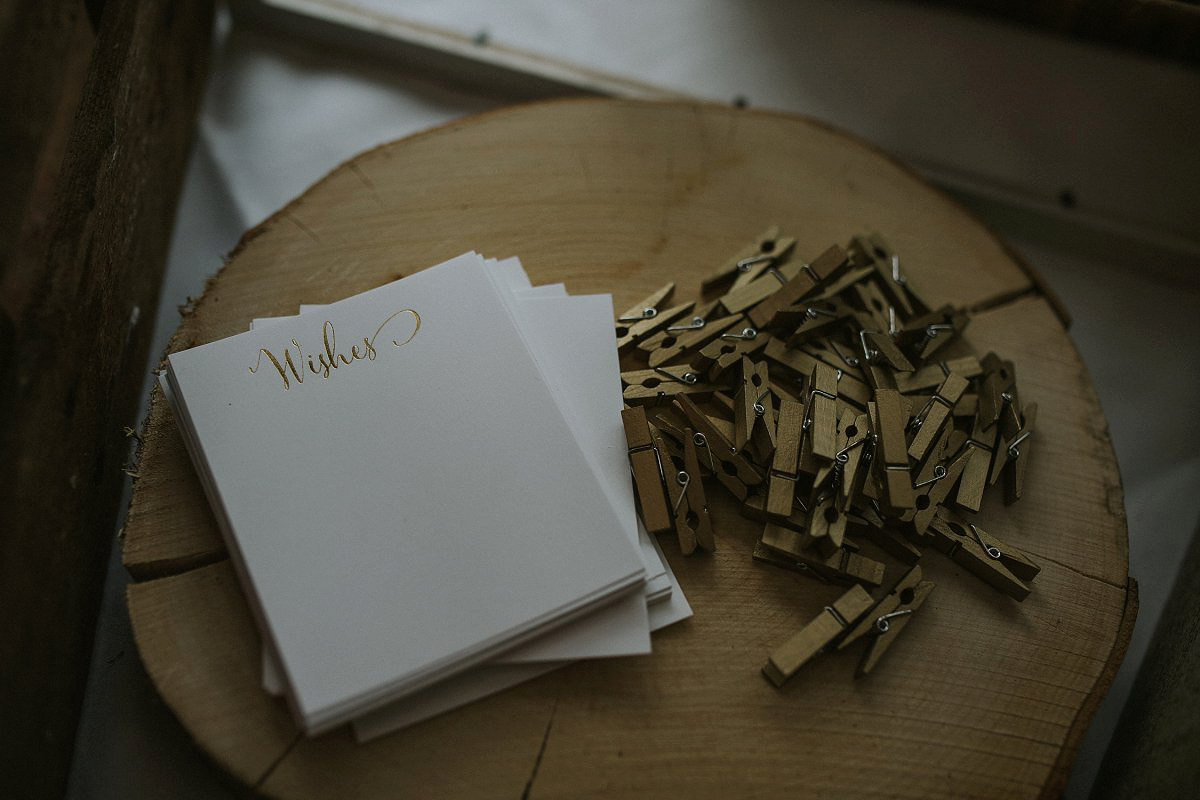 "I really don't think we'd have done anything differently. I can only base it on my personal experience which was probably quite different from the norm. I only hoped that our wedding could be a little sunbeam of light in what was an immensely difficult year. We made the best of everything, having those we love with us meant more than anything else."
"For the evening we decided to do the music ourselves as it just didn't feel right to get a traditional DJ. We hired a PA system, lots of fairy lights and created a playlist of all our favourite songs. This is one thing we were nervous about doing ourselves, but it turned out to be easy and I'm so glad we did!"
"Our first dance song was 'Malela' by The Brian Jonestown Massacre. This is Nath's favourite band, I think he owns every single record they've ever made on vinyl. We've been to see them live a few times and this is one of my favourites too, it's got a good tempo – plus it's unusual and we knew not a lot of people would have heard it (yes, let's confuse the guests!)"
Words of Wedded Wisdom
"Planning can be so fun, it was an escape in some ways for me and I knew the small things didn't need to be stressed over. But if you start feeling pressure you should take a step back and think about how to simplify things, and trust people to help you – you'll be relieved!
Do all the things you like – it doesn't matter if someone won't like it or it's been done before. You can find endless wedding inspiration but stay true to yourself – and don't worry if things don't go exactly to plan, it won't matter. What truly matters is you two, family and friends. I was happy just to have everyone there."
I read through lots of posts on Love My Dress, it was reassuring and lifting to read stories about similar relaxed weddings, seeing other bohemian french style dress – and favourite locations were sun-drenched countryside weddings in Italy  (that I would daydream about). I didn't look at many other blogs as I found most of my inspiration on Pinterest and Instagram."
Absolutely gorgeous – love and thanks to photographer Maureen Du Preez whose work I simply love and adore, and of course to the lovely bride Francesca for sharing so much useful information. You can see more of Maureen's work here on Love My Dress, and more Laure de Sagazan brides here.
What do you love most about this wedding?
Love Annabel x