Stylish is the best way to describe this wedding, but the bride Zahra is a beauty and lifestyle editor at Grabble so she probably felt the pressure to deliver a beautiful wedding when she married her beau Tom, an account manager at Vice Magazine.
The couple tied the knot in a little church in the grounds of Drumtochty Castle in Aberdeenshire on the 4th March 2017, before continuing the party into the wee hours in the castle itself. Zahra's bespoke dress is absolutely stunning, as are her bridesmaids in knitted jumpers and fur stoles. Our much loved Little Book For Brides member, Caro Weiss, was the perfect choice to capture this sublime wedding.
"Drumtochty Castle was the first venue we looked at. It's just a really, really stunning venue with a wee church in the castle grounds, it sits completely on it's own, surrounded by the forest. It really is a special place. We knew we wanted a big castle or house that we could have for the entire weekend to share with our friends and family. Also, not having a finish time on the big day was a big thing for us. At Drumtochty, the staff leave at 1am and you have the venue to yourself, so no one comes along to turn the lights up and tell you to stop dancing!"
Photography by Caro Weiss
The couple's good taste definitely extended to their photography, they chose the wonderful Caro Weiss and Eileen Dunn of Sugar 8 to record all of the beautiful details of their special day.
"Caro Weiss is by far the best wedding photographer I have ever seen. All of her images are so beautiful and she is so, so lovely to work with. Even though it was absolutely pouring the entire day, she captured some beautiful images, especially the ones of me and Tom in the forest. That was one of my favourite parts of the day which was made possible by Caro and our videographer Eileen."
Zahra looks phenomenal in her three piece dress, comprising an A-line skirt with train, an amazing 1950's style long sleeved top and a sheer lace top, all designed by Kavelle Couture in Edinburgh. The bride also added her Great Aunt Kay's fur stole.
"I had tried on so many dresses in both Edinburgh and London and just felt like everything was the same. The dress was a lot harder to find than I had anticipated as I planning to buy a full length, long sleeved lace dress but it didn't really feel like 'me'. When I visited Kavelle, she had a skirt similar to the one she designed for me (I fell in love with the pockets) and then we sat down and designed the two tops – one for the church and reception, which I wanted to reflect a sort of 1950's Chanel jacket-type, and then a shorter lace top with a high neck for the party. I had originally purchased a full-length veil but once my outfit was complete it was just far too much, so I visited Rachel Scott Couture, who made me my tiny wee veil."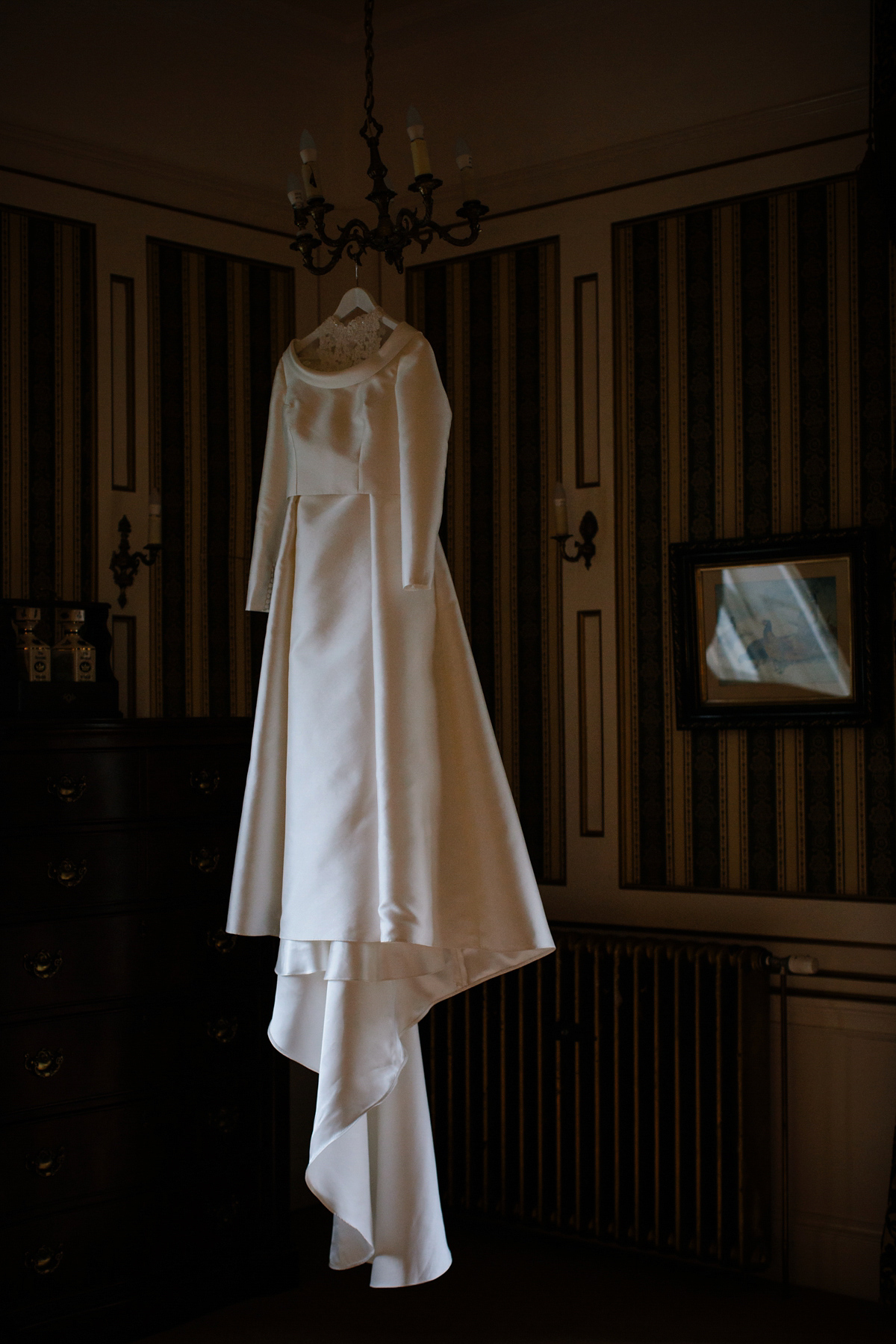 "My dad and Tom had both asked me not to wear high shoes so that I wouldn't be taller than either of them. I found my pink slingback bow pumps in COS and thought they were really cool, and super comfortable. The block heel was perfect and the colour of the shoes had the same tone as my fur stole."
"AMM Team did our hair and makeup on the day. These girls are amazing, they listened to everything we said – none of us wanted to look 'too weddingy' but wanted to have makeup and hair that would last the entire day."
"I totally panicked about my hair. I had numerous trials but after a few hours my hair was just falling flat. I really wanted to wear it down, but the back of my dress was so pretty, I knew I couldn't."
"After my last trial on the Wednesday before the wedding, I called my sister in a flap and she suggested Crown Couture, a hair extensions specialist, that might be able to braid something into my hair to keep it in place, so that's what I did!"
"I wore Stella McCartney perfume. I copied my Mum's scent about five years ago and haven't worn anything else since."
With Zahra in such a stylish outfit, her bridesmaids couldn't be too far behind. The ladies led the rear in a floaty mink midi skirt and knitted jumper from Reiss with amazing pom-pom shoes from high street favourite Zara.
"We were introduced through our best friends, but at the time we were both in other relationships. When I became single, I moved in with Anna and Jamie (our best friends) and started seeing Tom around a lot more, then something just clicked. Annoyingly, I had decided to move back to Scotland at this point, so had moved out of Anna's flat when we started to chat."
"I lasted around three months in Scotland, as I was in London almost every weekend with him before deciding to move back to London and into Tom's flat. It all happened very quickly but we decided that when you know, you know – and that was it. Tom proposed around a year after that."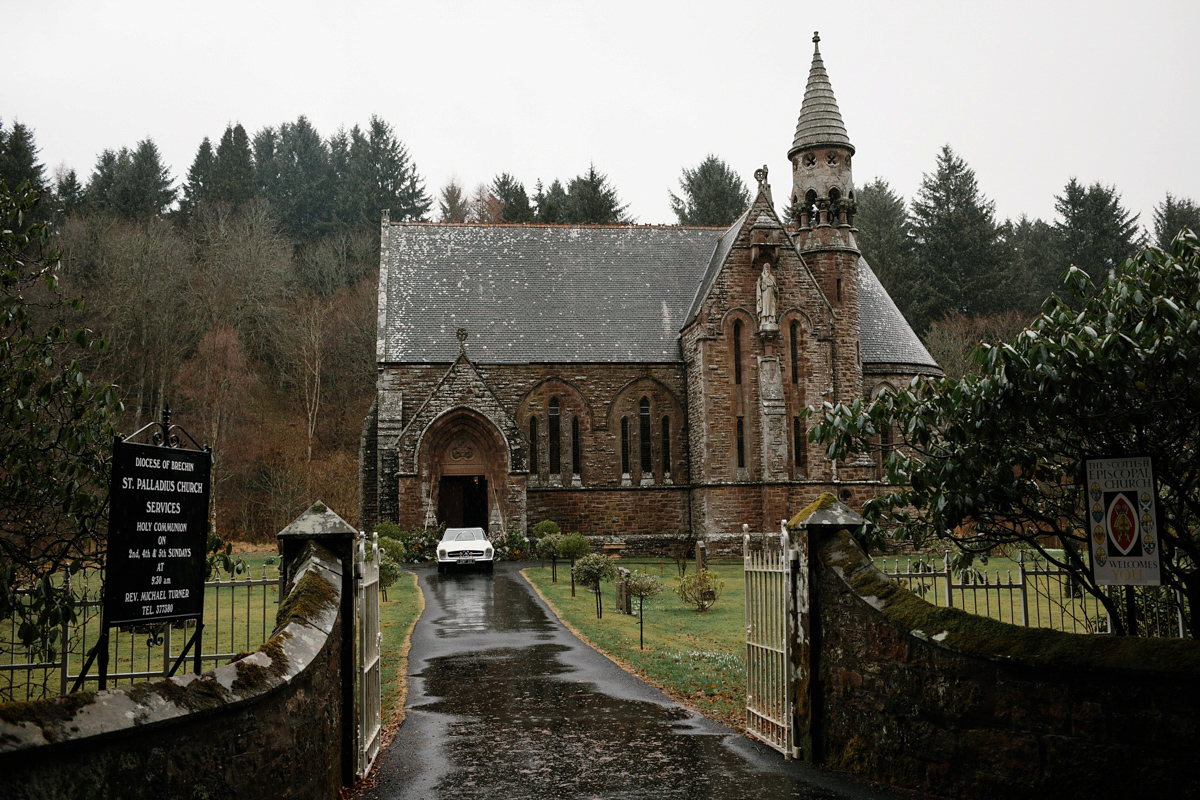 Zahra arrived with her dad in her Grandad's vintage Mercedes. 'La Vie en Rose' was played by trumpeter Colin Steele and pianist John Rankin.
"We worked with the minister on the vows, but made sure we added; "I love you not just for you, but for who I am when I am with you" and "I give you my hand to hold, and today I give you my heart to keep". We thought these were just very sweet, lovely and not too corny."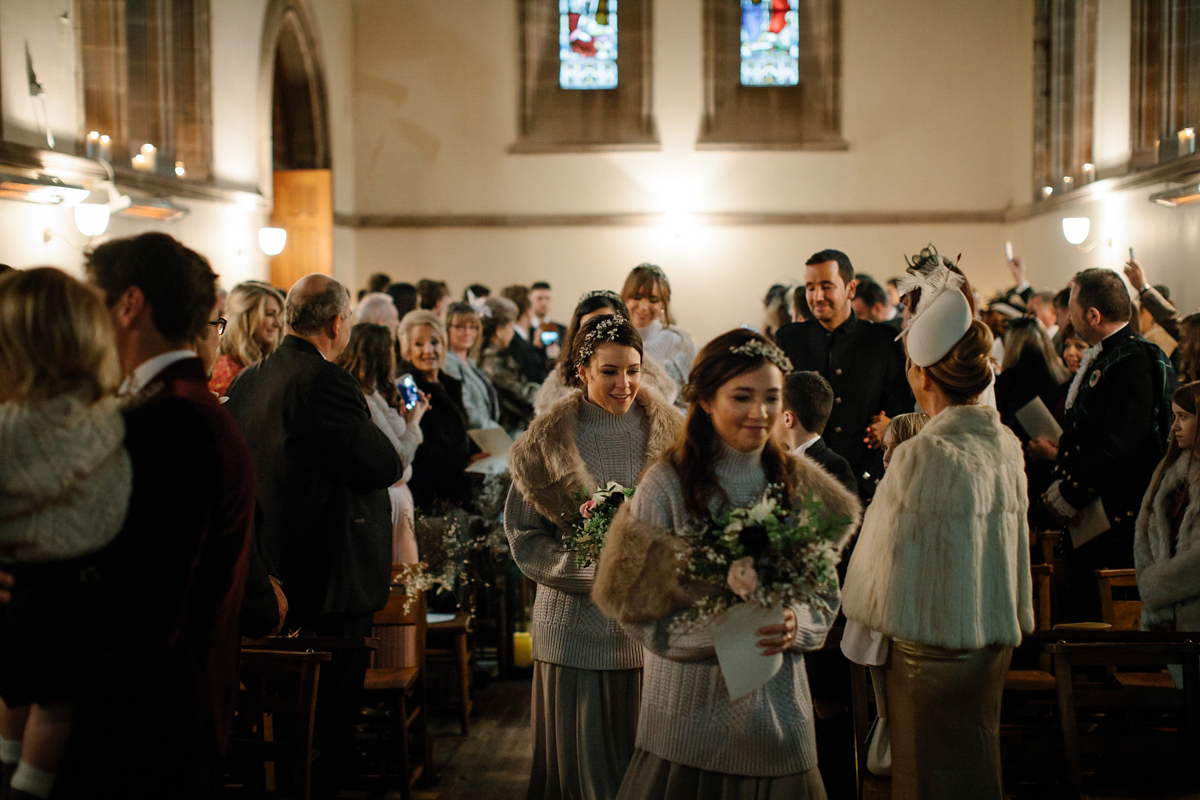 "The earrings were my Granny's. She passed away a few years ago, so I knew I wanted to wear something of hers, and know how much she would have loved it. My Grandma gave me her ring as my 'something blue' and wore my engagement ring in return on the day, and my 'something borrowed' was my Great Aunt Kay's vintage fur stole."
"It's an amazing cut, it has pockets and a really beautiful collar. The day after the wedding she gave me a box, inside was a large suede heart with my new name and wedding date embossed on it. She gifted me the stole and told me to sew the heart on the inside, which was one of the sweetest moments."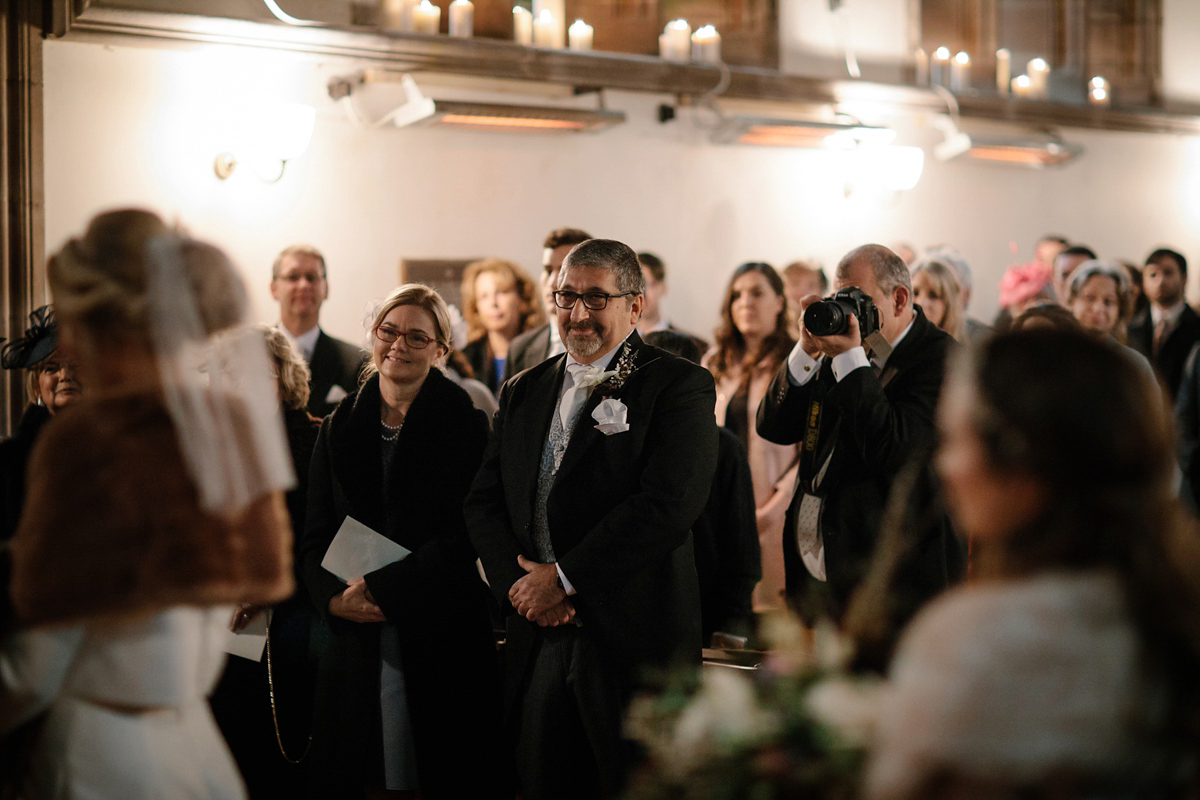 Zarah's two cousins (10 and 11) did a rendition of 'Sic A Wife As Willie Had' by Robert Burns. The boys had learnt it at school and they wanted an authentic Scottish poem so it was perfect. Tom's cousin then read 'Weddings', author unknown.
"My best friend Anna's mum made both mine and Tom's rings. She actually used gold from a ring that belonged to my dad which was really, really lovely."
Groom Tom and his groomsmen look very dapper in their black tie tuxes. Tom's burgundy velvet suit is a Hackett number to which he added cufflinks and socks bearing the logo of his beloved Crystal Palace Football club. His groomsmen also wore the 'lucky' Crystal Palace socks with their TM Lewin suits.
"When I came across floral stylists Myrtle and Bracken, it was a match made in heaven. I fell in love with her Instagram feed and she's so amazing. I knew I wanted a lot of greenery and wild flowers and she never repeats the same bouquets so you know no wedding will ever look the same."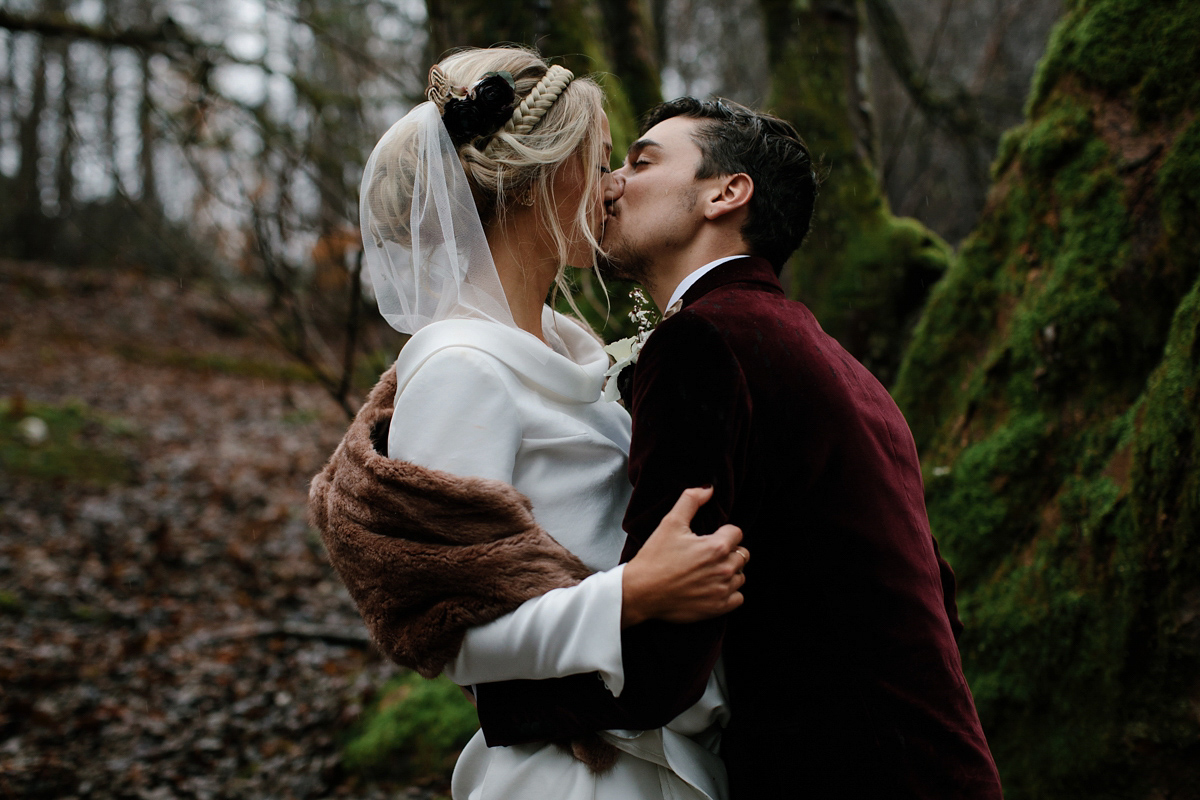 "I used to style parties for a luxury party planner in London, and so I knew what I wanted/didn't want. We had chosen such a classic venue that I knew the décor had to reflect this with wild flowers and greenery, and a lot of candles and antlers, to keep it romantic."
"We had a lot of gold candelabras and personal photos dotted around the venue. I used my cowhide rug, horns and various candle holders on the top table to ensure it stood out."
"My amazing sister Nicole designed all of our stationery and my 11 year old cousin Sophie drew a sketch of the church for our order of service cover."
Zahra loves honey so when the lady at Edinburgh Farmers market found out she was getting married, she made a rose concoction just for her. The couple decided to give the ladies jars of the honey as favours, and the men were given gold feather bottle openers.
The couple wanted a fairly simple cake that she could decorate with fruit and flowers at the venue. Three Sisters Bake made a beautiful gluten free, almond flour cake that all of their guests could enjoy.
The couple were disappointed to have their original band pull out just a month before the wedding. Luckily they found another amazing band, Dope Sick Fly, to play a set before Tom, who is a DJ, played some tracks and a number of their friends took turns on the decks for the rest of the night.
"A few years ago, we decided that Honey by Mariah Carey was our song. It just kept appearing during our dates and in the car/on the TV etc and so we decided it was fate. We danced to this for a little bit and then quickly changed to an upbeat song so everyone could join in."
The couple also has their wedding filmed in vintage super 8mm style.
"Eileen of Sugar 8 is such a nice person and I was so thankful that she had brought along an assistant to help capture the day as I really wanted shots of both me and Tom on the morning of the wedding. The girls were dancing around the room with champagne, whilst the boys went clay pigeon shooting in the pouring rain and then to the church to light the many, many candles."
Words of Wedded Wisdom
"Try not to stress, although realise that you will, no matter how organised you are. I actually think I got more stressed about trying not to get stressed, so just relax and enjoy it! It was over so quickly, so you just have to enjoy every minute. Also, if you haven't booked your honeymoon yet – I would recommend booking it a few weeks/months after your big day so you have something to look forward to."
"We went to the north of Scotland for a few days straight after the wedding and pretty much just slept for a few days, and then we have our proper honeymoon in May which is something really exciting to look forward to. And don't worry about the weather. It literally poured every minute of our wedding day but you just have to embrace it. A good photographer will make the photos look amazing no matter the weather. And if your hair gets a little wet, don't worry, it will always dry!"
Congratulations Zahra and Tom, your wedding is absolutely stunning, and thank you to the fabulous Caro Weiss, whose images I could happily stare at, all day, every day.
Love Caoimhe xx