Don't you love it when people turn their back on convention and do things in their own, unique way? I do, so it is such a pleasure to feature Caroline and Chris's wedding. Caroline's sparkling personality absolutely shines through her words, which really capture her approach to and energy on the day. The couple married in a non-traditional celebration on 7 May 2016 in the magnificent Glasshouse at Abbeywood Estate, Cheshire.
Their day was centred around Caroline's desire to have a 'non-weddingy' day and her incredible bespoke gold Emma Beaumont dress, and blended pastel colours, spring meadow flowers and lots of crafty elements for a rustic, floral look. Caroline also chose a small group of 'bridesmates' – a genius idea that allowed her to ask both her female and make friends to be part of the small bridal party. I hope you love this wedding as much as I do.
"I'm a feminist and never had any desire to get married because of all the sexist/traditional connotations tied up in it. We didn't get engaged in the usual sense of proposing and buying a ring and announcing it, because that just isn't us. After a few years of living together, we just talked about it and decided it would be fun to get married as long as we did it our way. We didn't book the venue or do any serious planning until 2013. And then planning a big fat feminist wedding took hold of our lives and we became obsessed with bunting and jam jars."
Photography Claire Penn
I really must start by talking about Caroline's incredible gold gown, designed with Emma Beaumont. Form-fitting, glamorous and intricately-detailed, it truly is an heirloom piece and looks wonderful with her skin tone and dark hair.
"Wedding dresses aren't my cup of tea (nor is anything traditional). I spotted a gold embellished dress by Elie Saab online years ago and longed for it but didn't win the lottery to be able to afford it. Luckily I ended up with an even better gold embellished dress that Emma designed and made after I told her what I wanted. Emma was a dream to work with and I couldn't have been happier with the finished dress."
Self-professed feminist and non-traditional bride Caroline, who works in publishing in the Civil Service, met Chris at a job interview back in 2010.
"Chris was doing the interviewing. Needless to say I got the job… We got together a few months later and moved in together in 2012."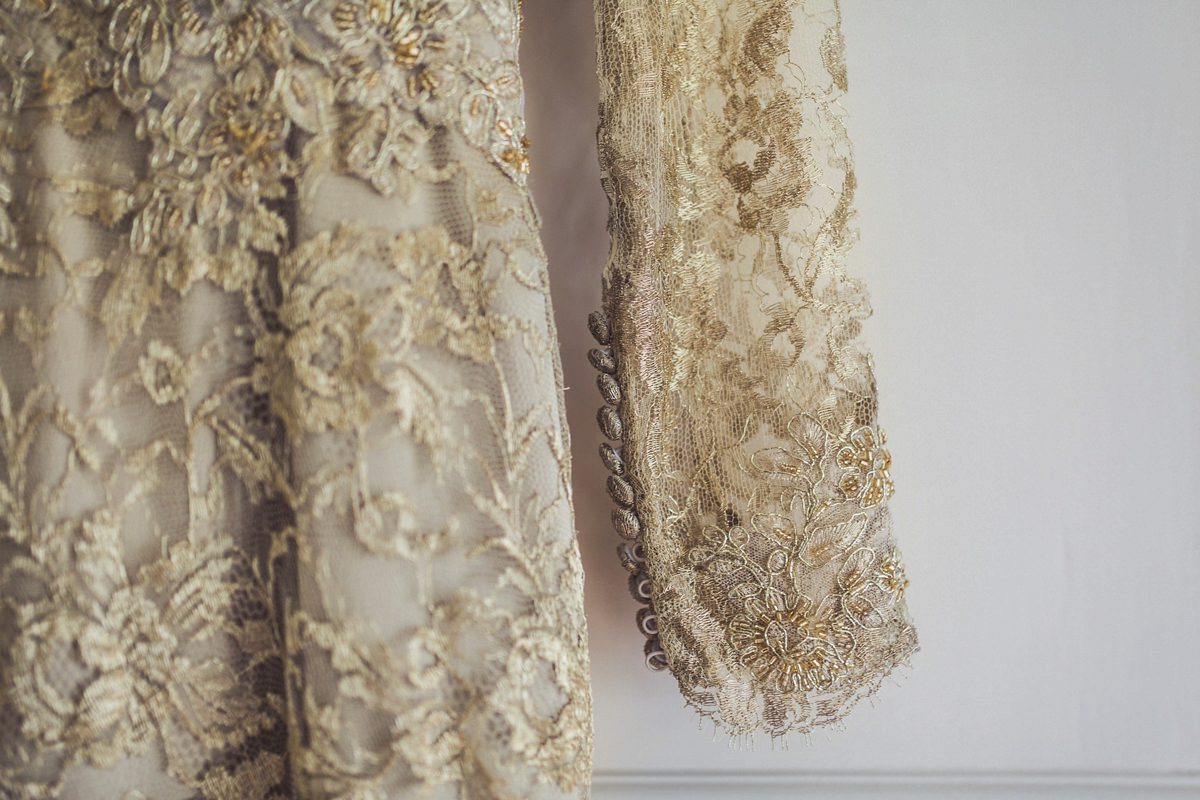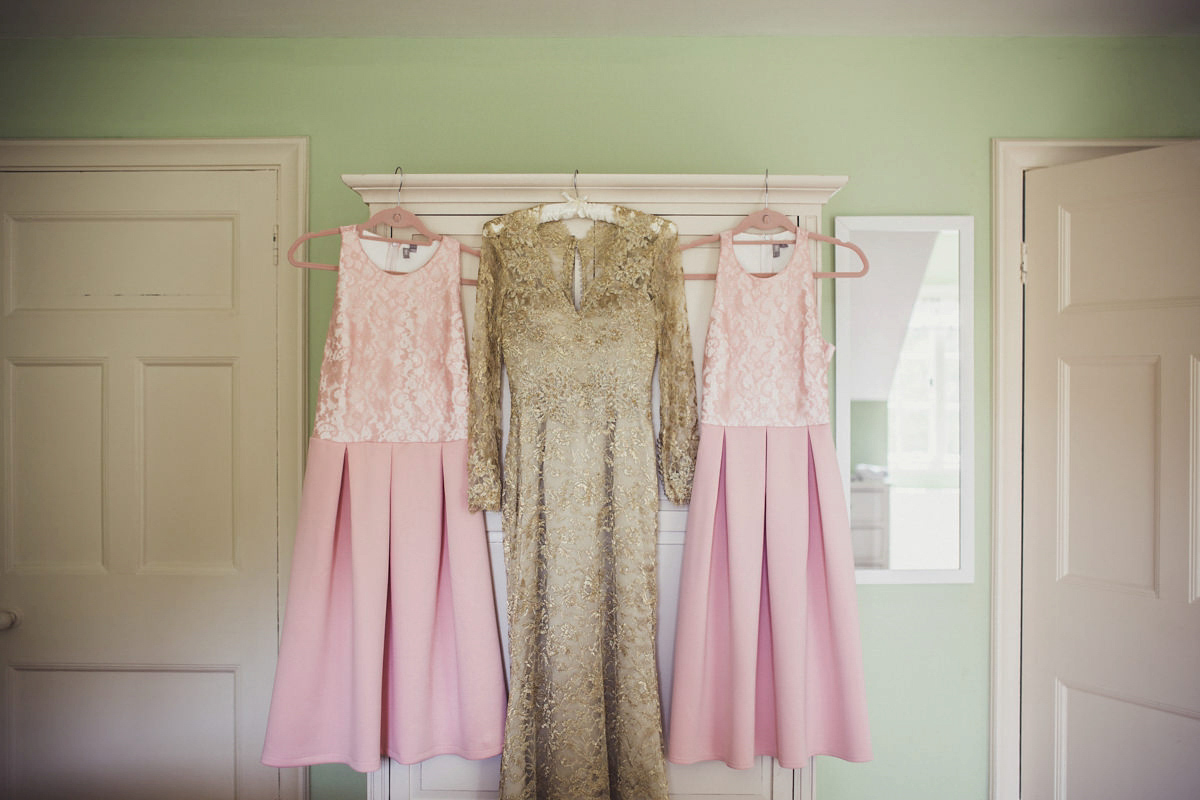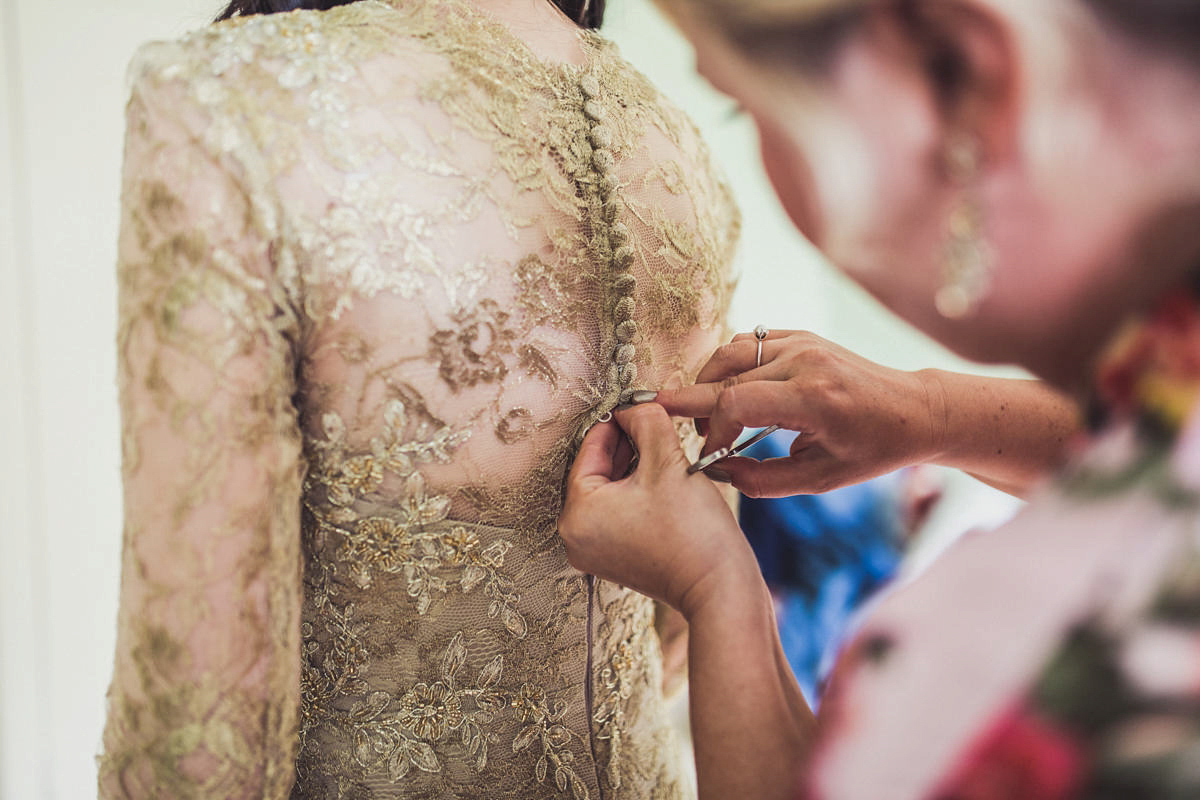 Caroline accessorised her golden gown with simple gold earrings bought in Madeira, and a pearl ring bought for her by her mum which she wears every day. She wore an Eden perfume on the day, chosen for its environmental credentials.
"I don't buy normal perfumes because they're tested on animals, but Eden do great affordable dupes of high-end scents. I had their version of Chanel Chance on the day."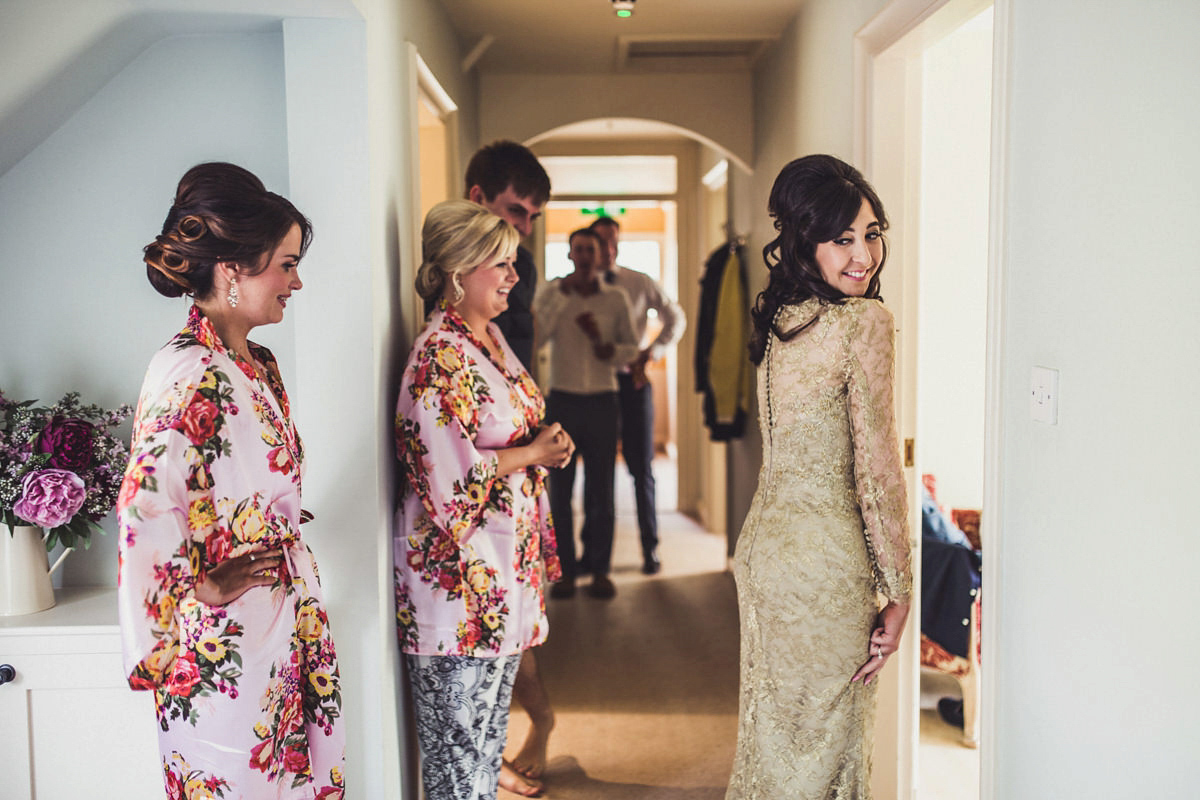 She wore block-heeled shoes by one of our favourites Charlotte Mills; modern and comfortable, they feature her signature heart detail in sparkly gold to complement her gown. If you love this style then please take a look at this feature, and also catch up with her listing on our wedding supplier directory Little Book for Brides.
"The chunky heel was a lifesaver after being on my feet all day. I'm 5′ 8″ so although I wanted a heel, I didn't want much height. This one was perfect and the gold went with the dress nicely."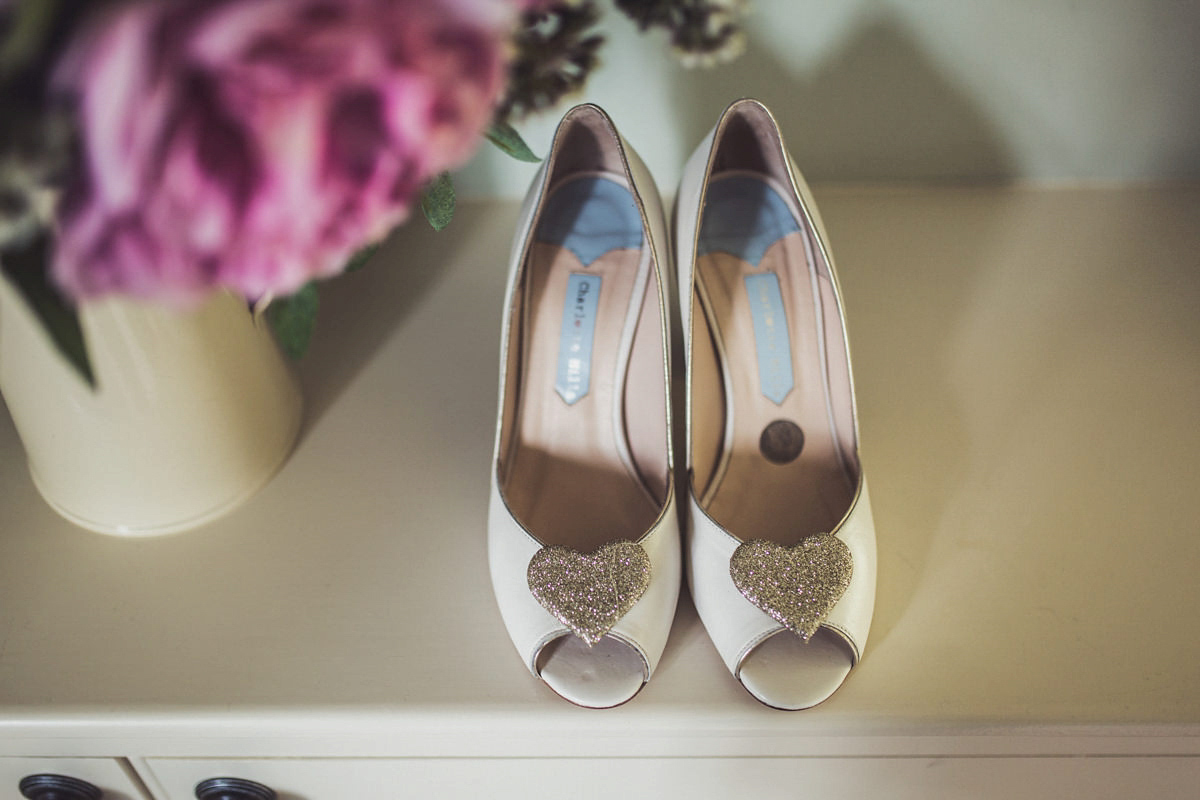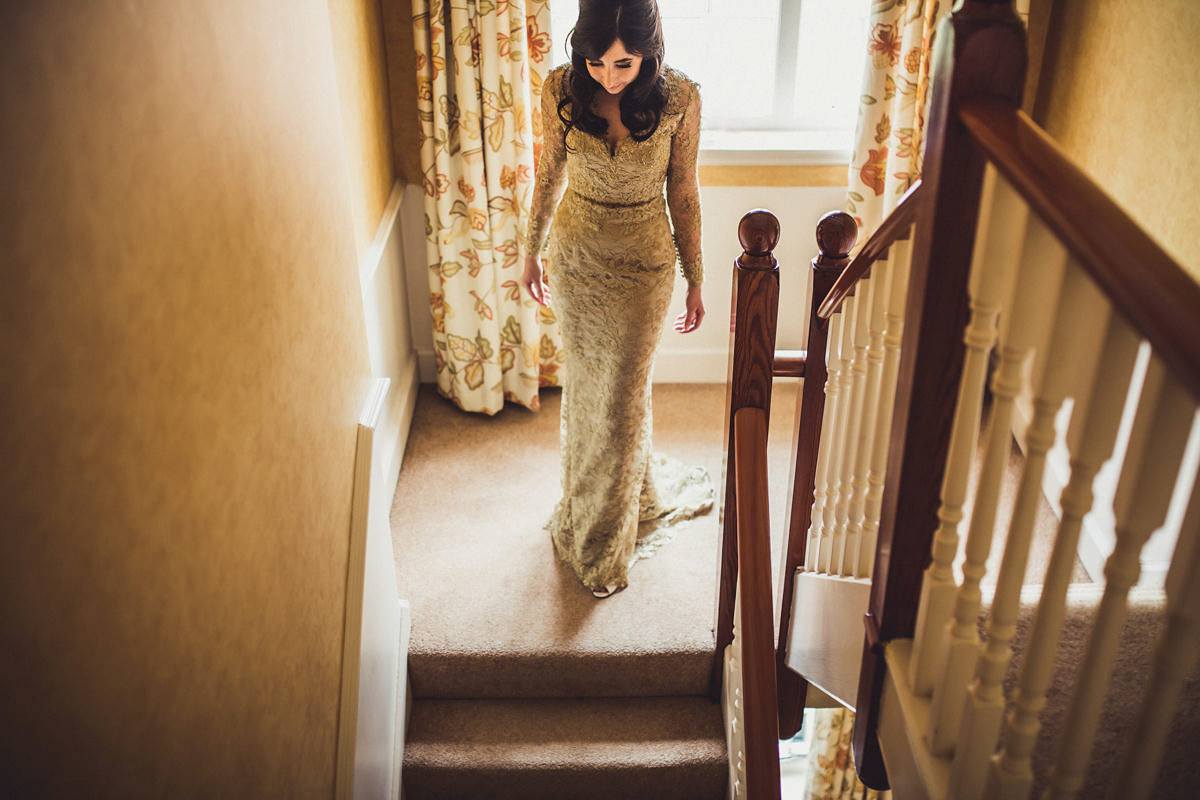 Caroline's show-stopping bouffant hair-do was the work of Bethany from The Vintage Beauty Parlour in Chorlton, and she chose a glammed-up version of her day-to-day look of winged eyeliner and pink lips, applied by Ewa, also from the Parlour.
"I wanted a bouffant to end all bouffants and Bethany definitely delivered it. It didn't budge all day! I went for my usual style of makeup, winged eyeliner and pink lips. Only Bethany did it a million times better than I ever could. I also really enjoyed the hair and makeup trial at her amazing vintage salon – well worth it."
Chris rocked his own look in a smart blue suit from Next, which co-ordinated well with that worn by his best man, usher and both fathers.
"Chris wanted a textured tweed-like blue slim-fit suit and ended up finding the perfect one in Next. His floral tie was a £1 bargain from Primark. It got as many comments as my dress!"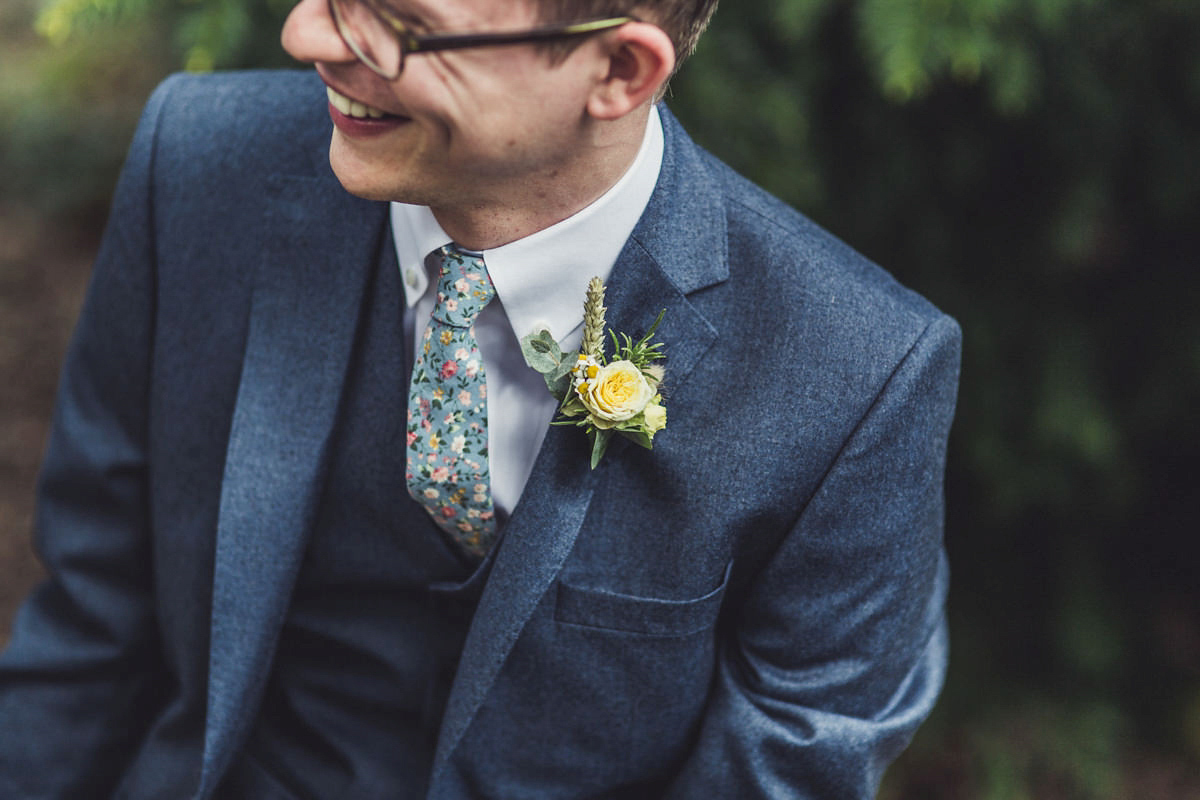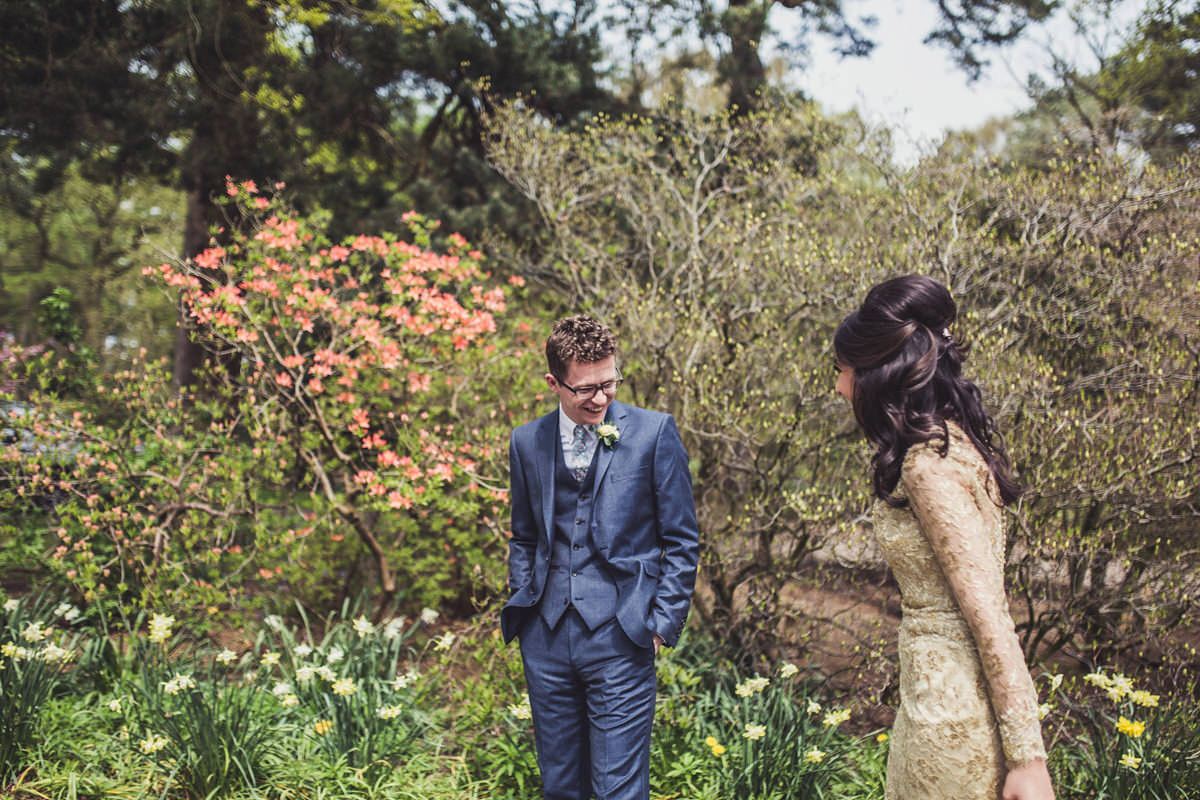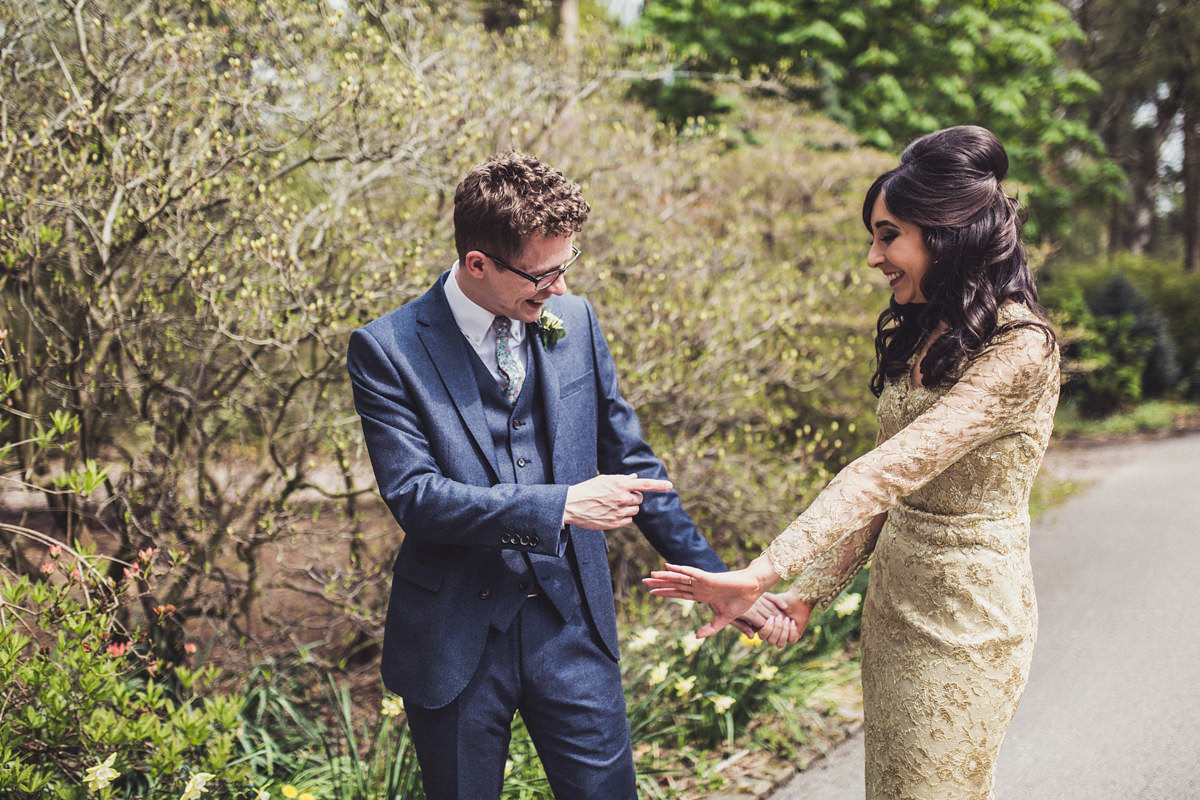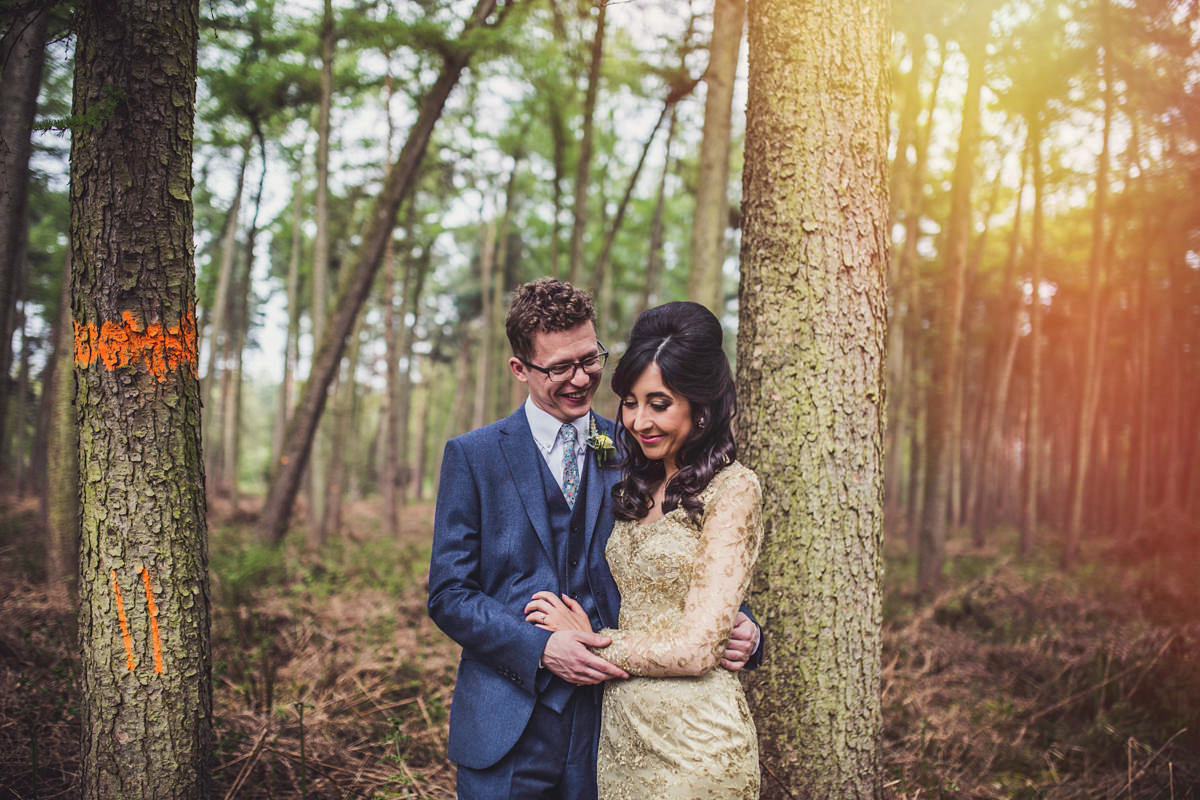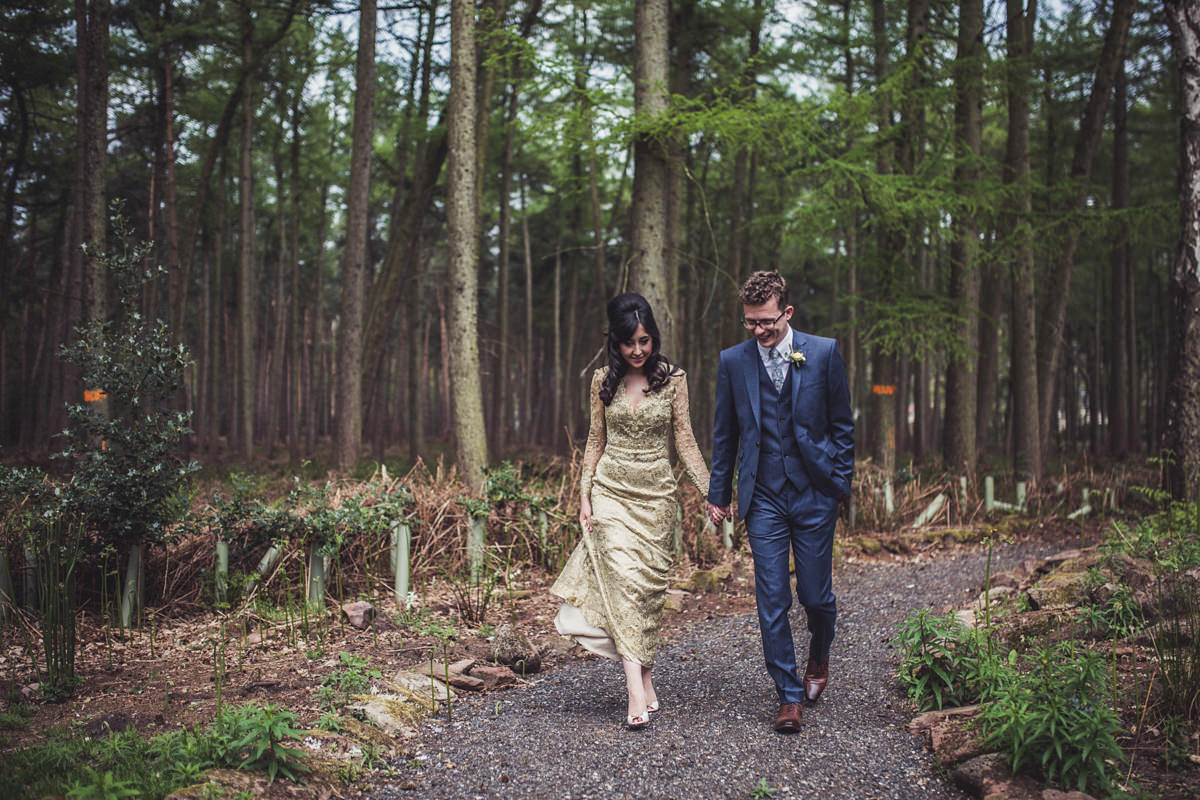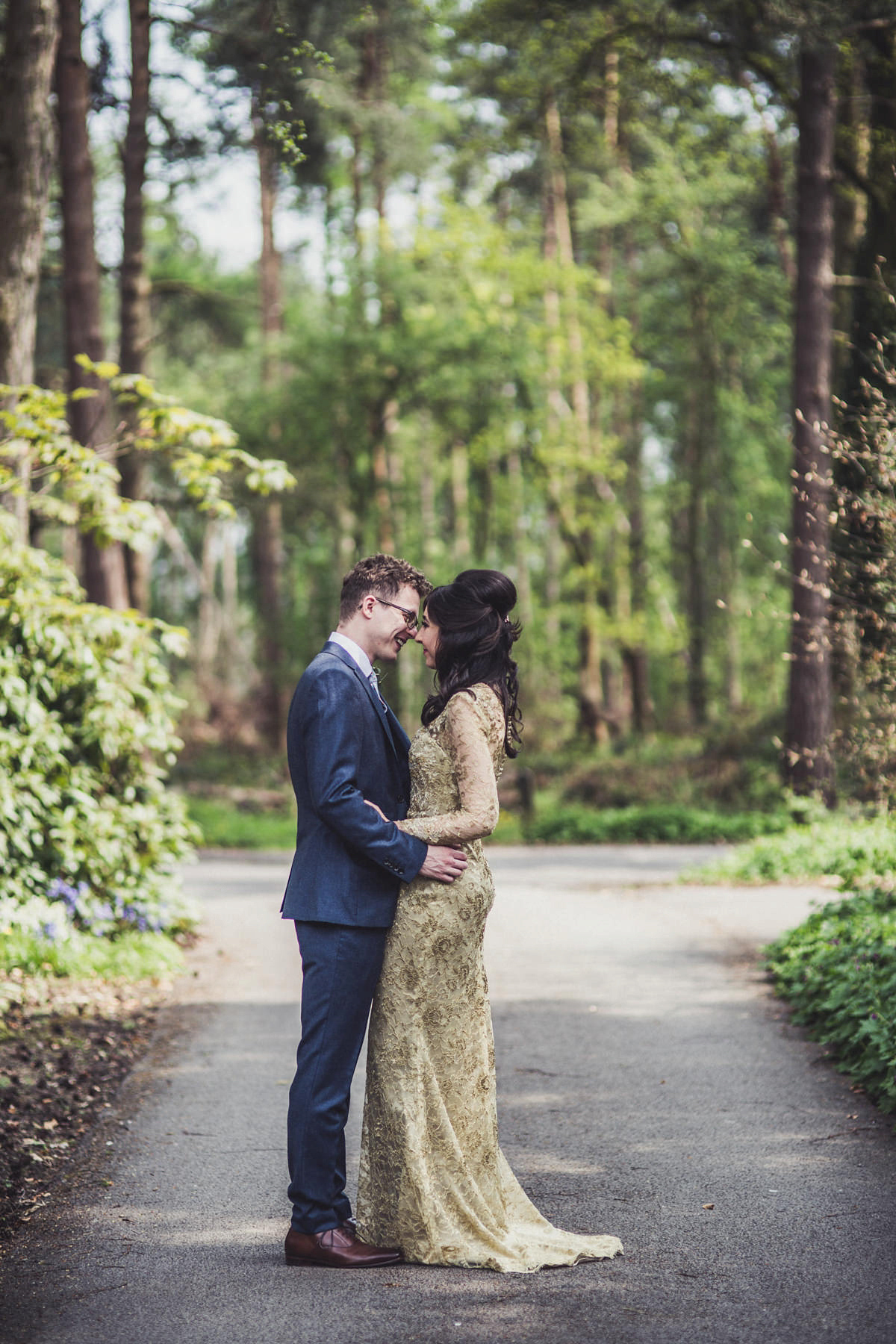 Due to their desire to eschew conventions and tradition, Caroline and Chris went back to the drawing board to plan their day. Becoming 'Ms and Mr', having a 'first look', walking down the aisle together, bridesmates and writing their own vows were just some of the ways in which they chose to celebrate.
"Getting married wasn't specifically something either of us really wanted to do. We didn't feel the need to join an institution. We͛re not religious and we don't want kids so there didn't seem a need to formalise it for those reasons. And we were happy as we were just living together. We actually toyed with the idea of having a wedding-style big party to celebrate our relationship without the legal marriage bit, but ended up deciding that people might not come, especially older relatives!
So we decided to get married, on the basis that we were already happy and it wouldn't change anything but would just be a fantastic day to get everyone together in one place to celebrate. It's not often you get everyone you know and like together in one room to do something fun."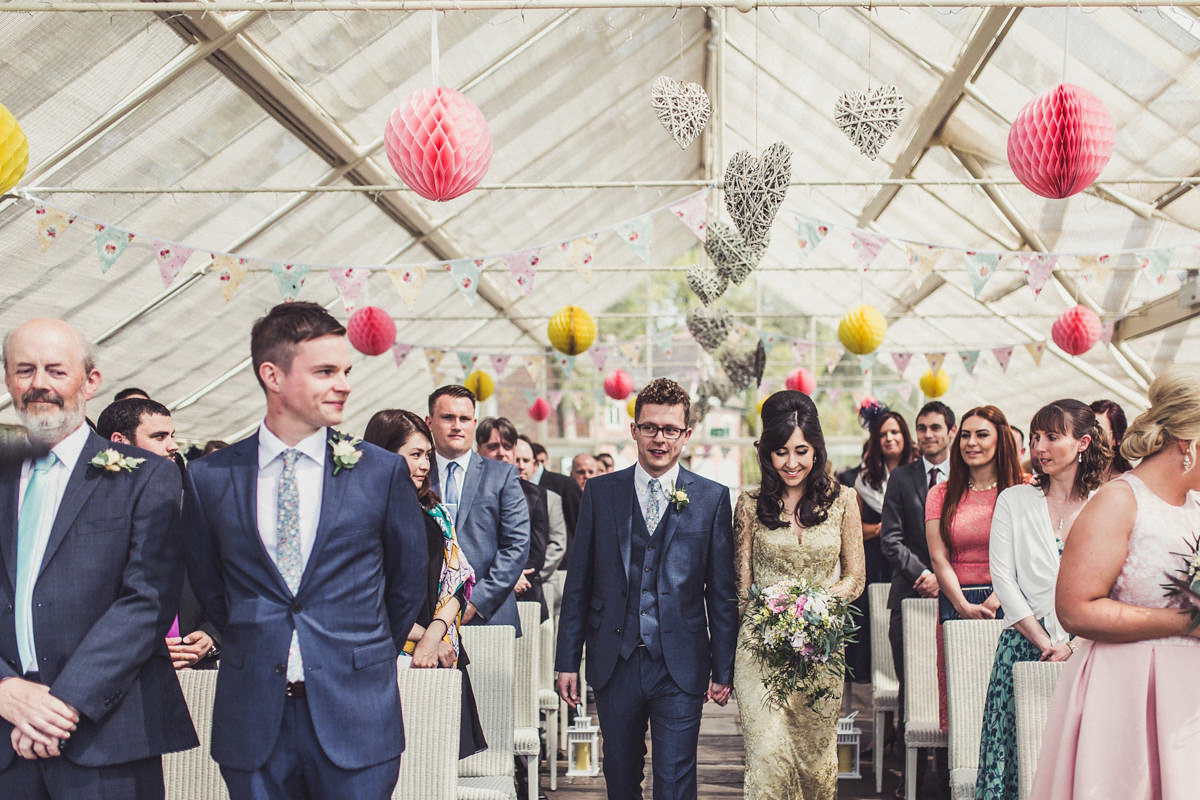 Caroline and Chris chose to do things their own way, walking down the aisle together but preceded by their parents and the rest of the bridal party to 'Waverley Steps' by Roddy Woomble.
"We stayed at Abbeywood the night before the wedding together: sleeping in separate rooms would have felt odd. We went our separate ways to get ready but saw each other before the ceremony for some photos and walked in together hand in hand. Neither of us changed our names or titles. We didn't do anything we didn't want to do."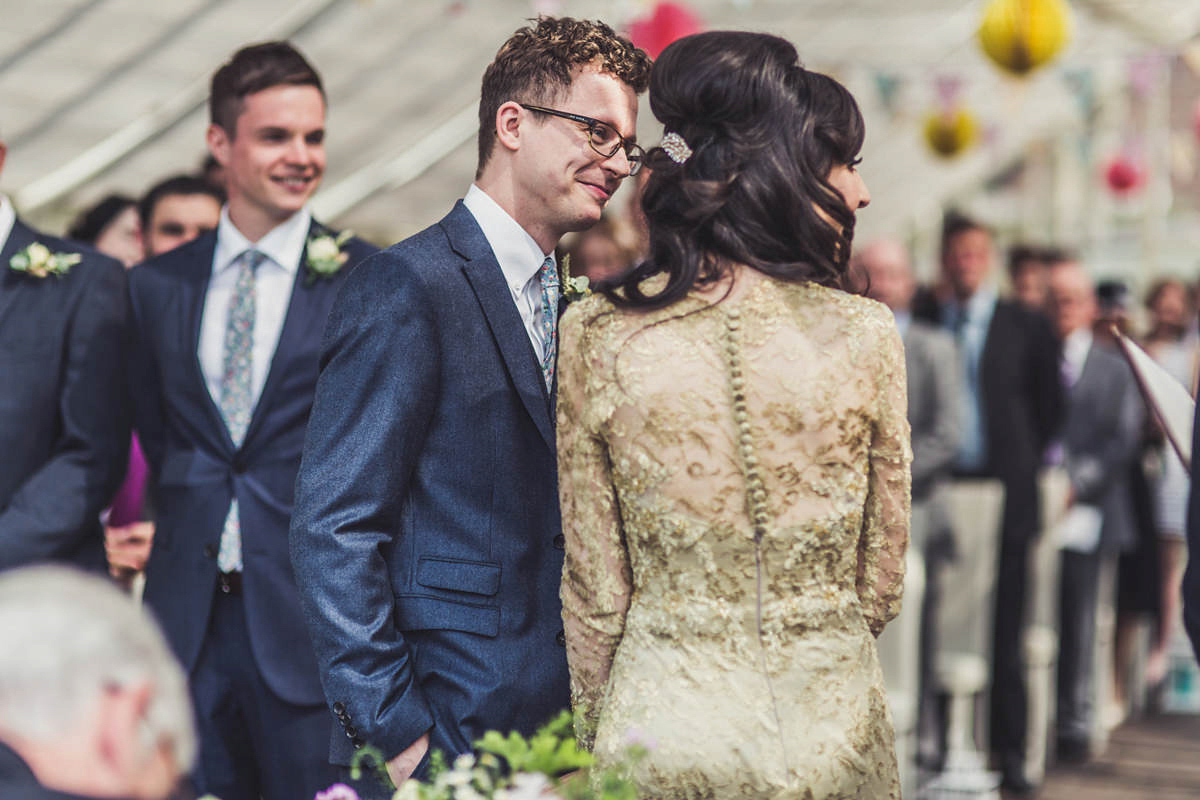 Caroline had a small bridal party of three, and I love how she included her best friend Matthew. Her girl bridesmates looked pretty in soft pink, vintage-style dresses from ASOS whilst bridesmate Matthew chose a navy ASOS suit. Having seen the idea on Love My Dress, she bought matching floral dressing gowns – so pretty.
"I had 'bridesmates' not bridesmaids. One of my best friends is male so I changed the name."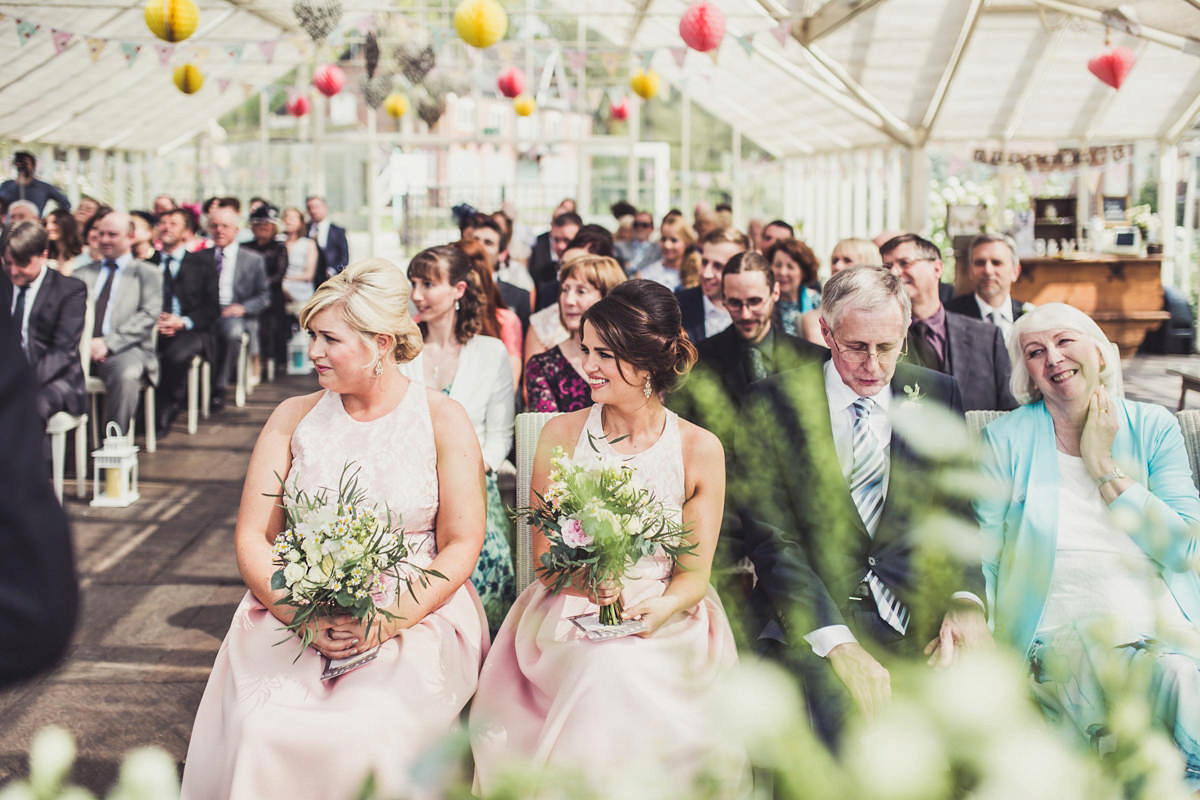 Because of their non-traditional engagement, Caroline had no engagement ring so the couple chose intricate wedding bands to exchange during the ceremony.
"We bought slightly more elaborate wedding rings a few weeks before the wedding. Chris has a simple matte band and I have a yellow gold halo ring. We got them from Marlow's in the Jewellery Quarter in Birmingham."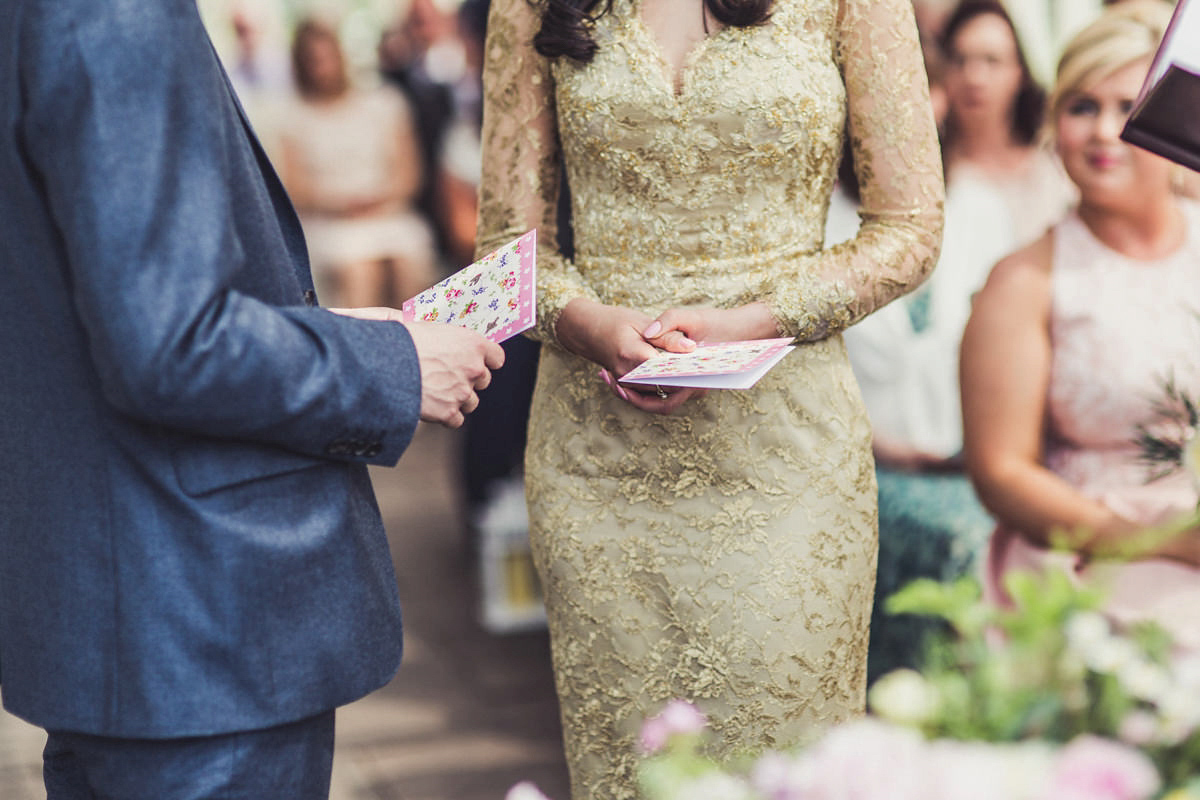 They chose to personalise their vows, writing simple but heart-felt words:
"Caroline: 'Before I met you, I was always on the edge of everything. And now we're in our corner together. I promise you'll always be my best friend. I love you and I like you.'
Chris: 'Before I met you, I lived my life in black and white. And now I live in colour. I promise you'll always be my best friend. I love you and I like you.'
The track we played after we got married and were signing the registrar was 'Living in Colour' by Frightened Rabbit, so Chris's vow related to the lyrics in that."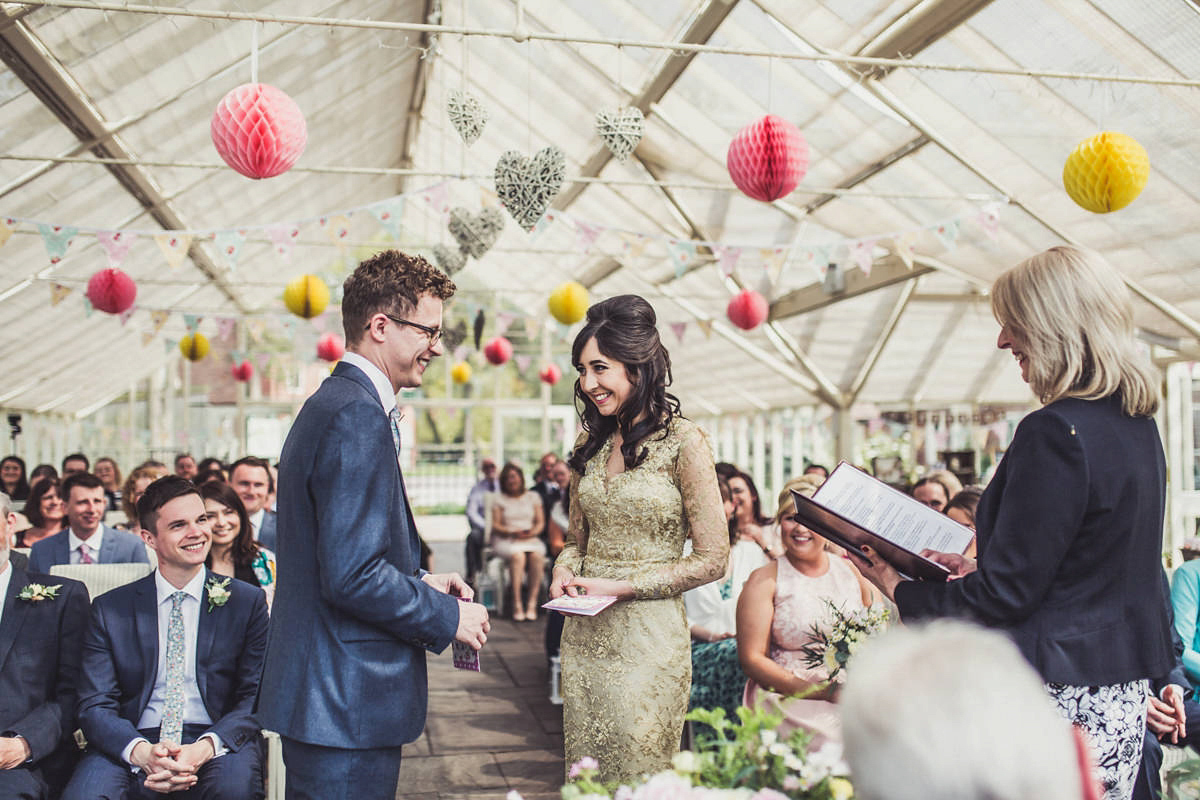 Their readings were from Edward Lear's 'The Owl and the Pussycat', and somewhat surprisingly, Mary Berry's recipe for 'The Perfect Victoria Sponge', read by bridesmate Matthew.
"My friend Viv read out 'The Owl and the Pussycat' because it has a special meaning to us. We've collected quite a few Owl and Pussycat-themed things over the years. And anything that mentions 'a runcible spoon' is suitable for a wedding in our book. My friend and bridesmate Matthew chose to read Mary Berry's recipe out, which is a nod to an in-joke with my friends and also that being in The Glasshouse surrounded by all the bunting was like being in the 'Great British Bake Off' tent. He took the original and made it hilarious. It really has to be seen to be believed and understood."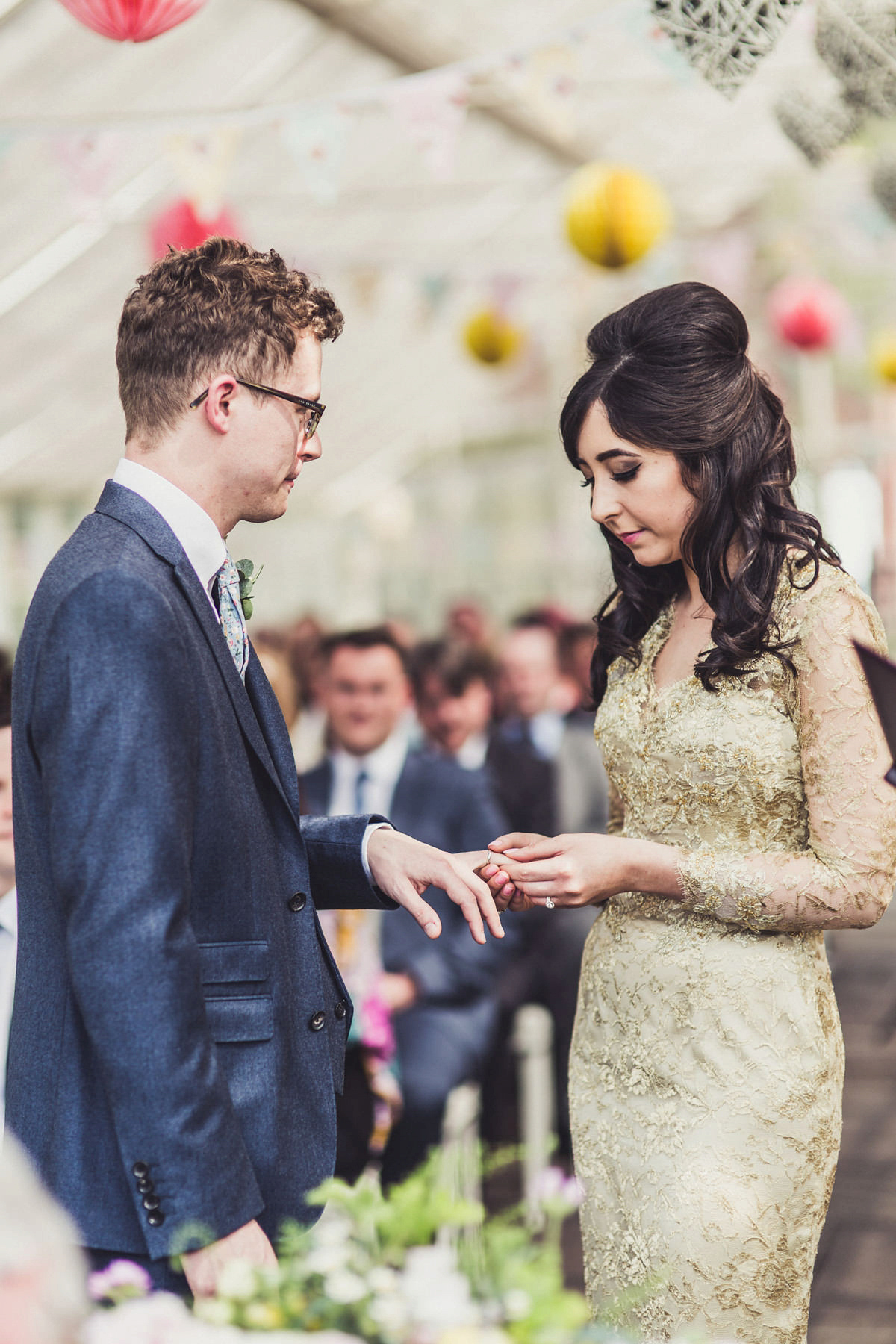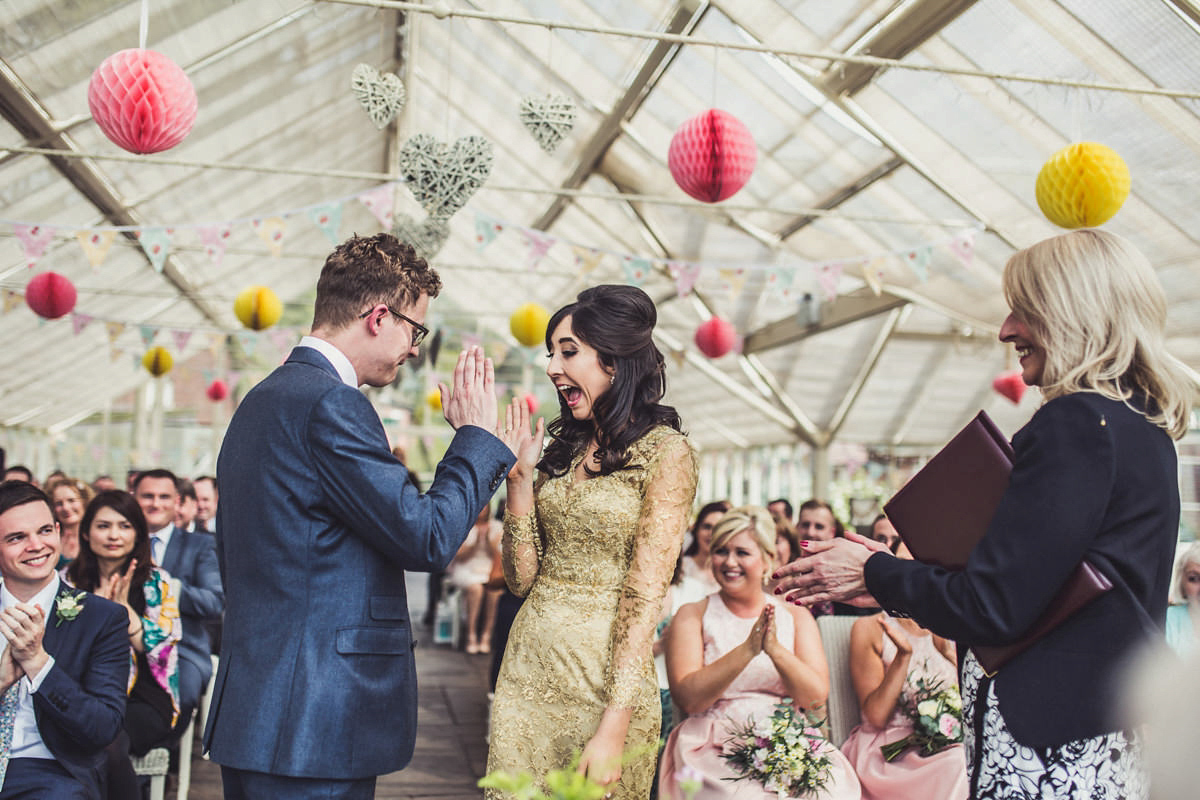 These delightful images are the work of Claire Penn Photography, whose distinctive natural, colourful style I love. Caroline highlights why a pre-engagement shoot is useful, something to bear in mind if you are newly engaged.
"Our photographer was the amazing Claire Penn. We can't sing her praises enough. She's incredibly popular and wins lots of awards for very good reason – she is fantastic. Everyone was blown away by the photos and she was a joy to have there on the day."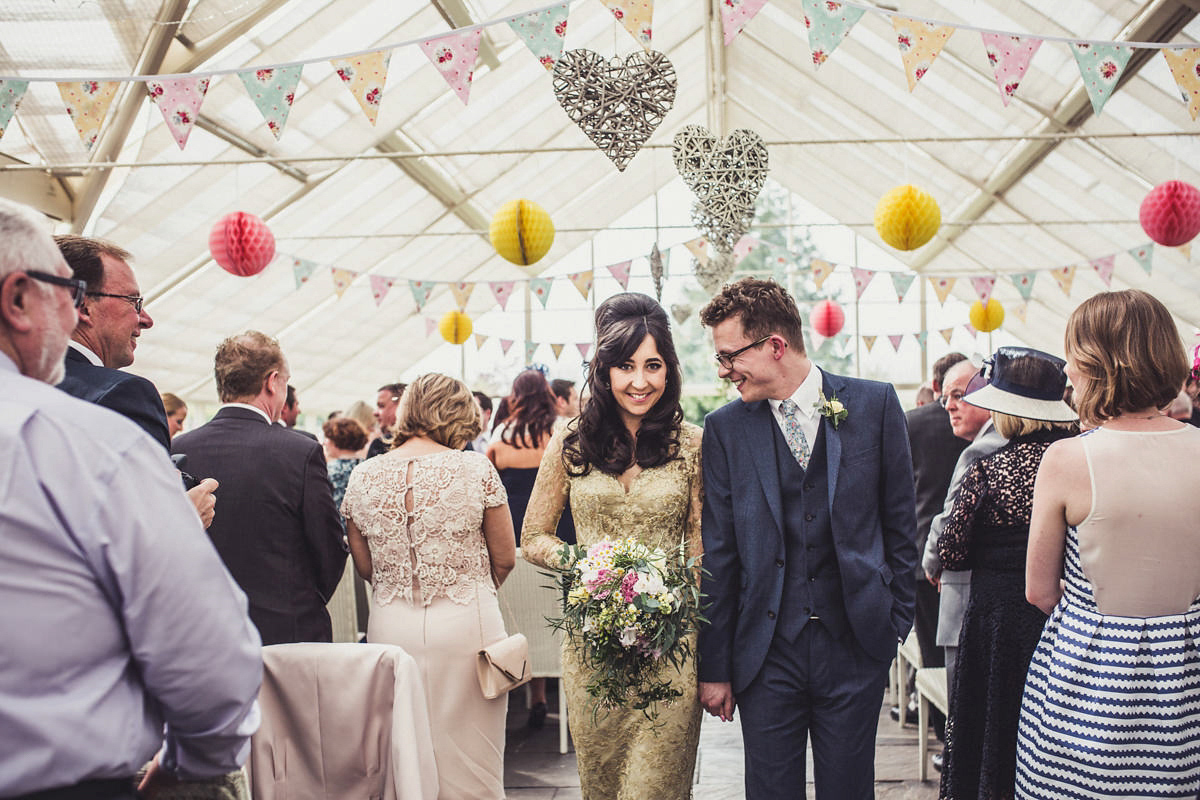 "Claire put everyone at ease and got completely on board with our non-traditional day! We also had a pre-wedding photo shoot in Shrewsbury, which was one of the best things we did. Not only did we get to know Claire and have a right hoot with her on the day, we found out what angles are NOT flattering and how to be comfortable in front of the camera."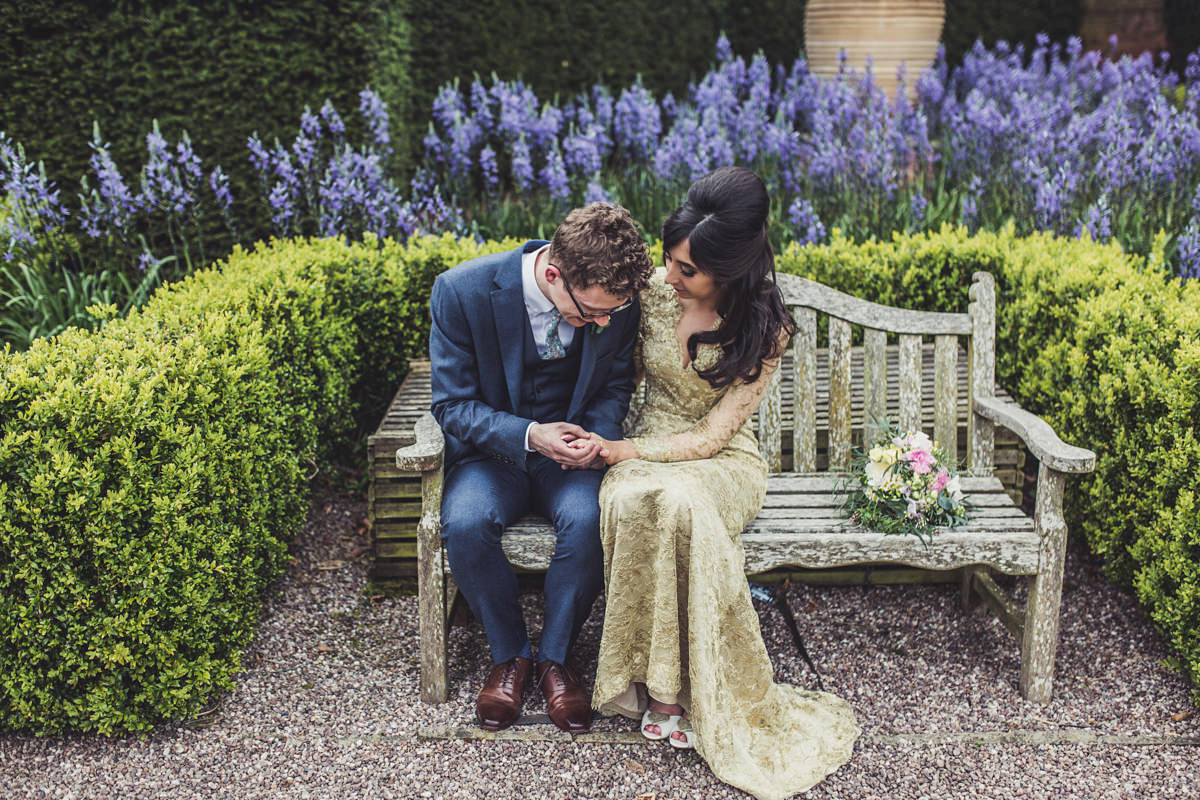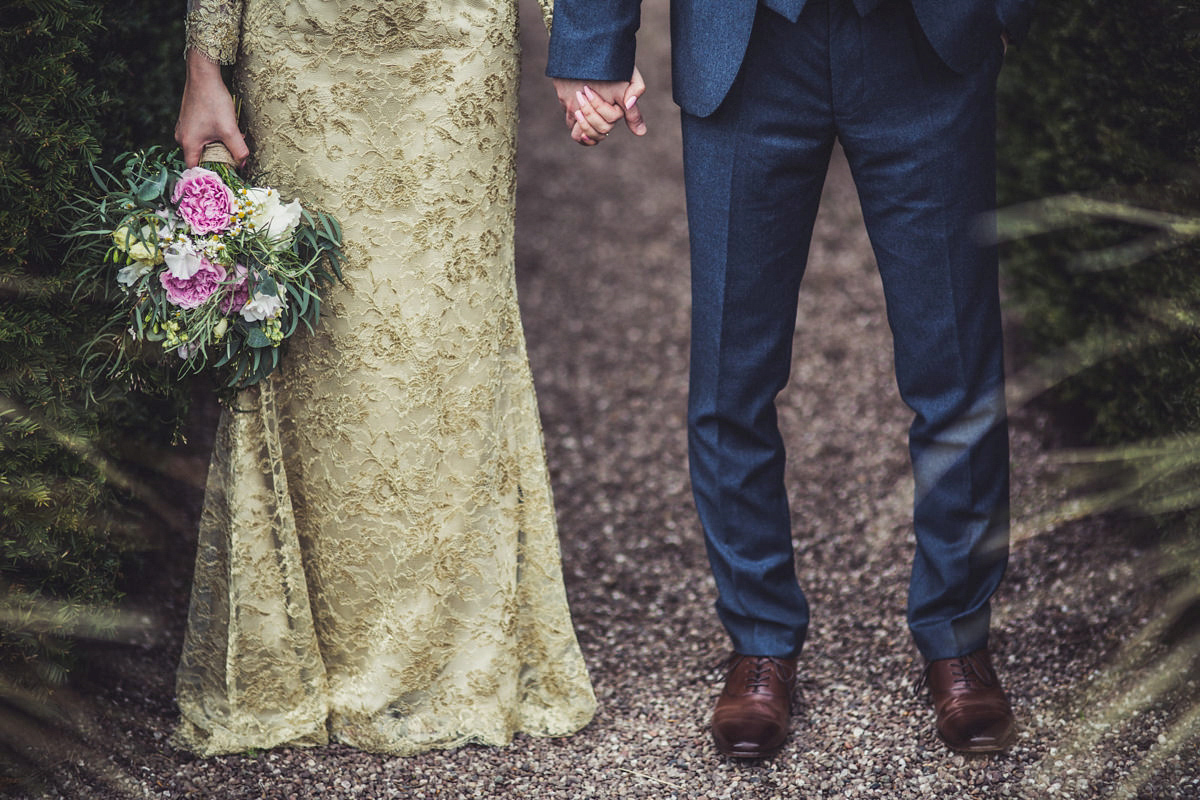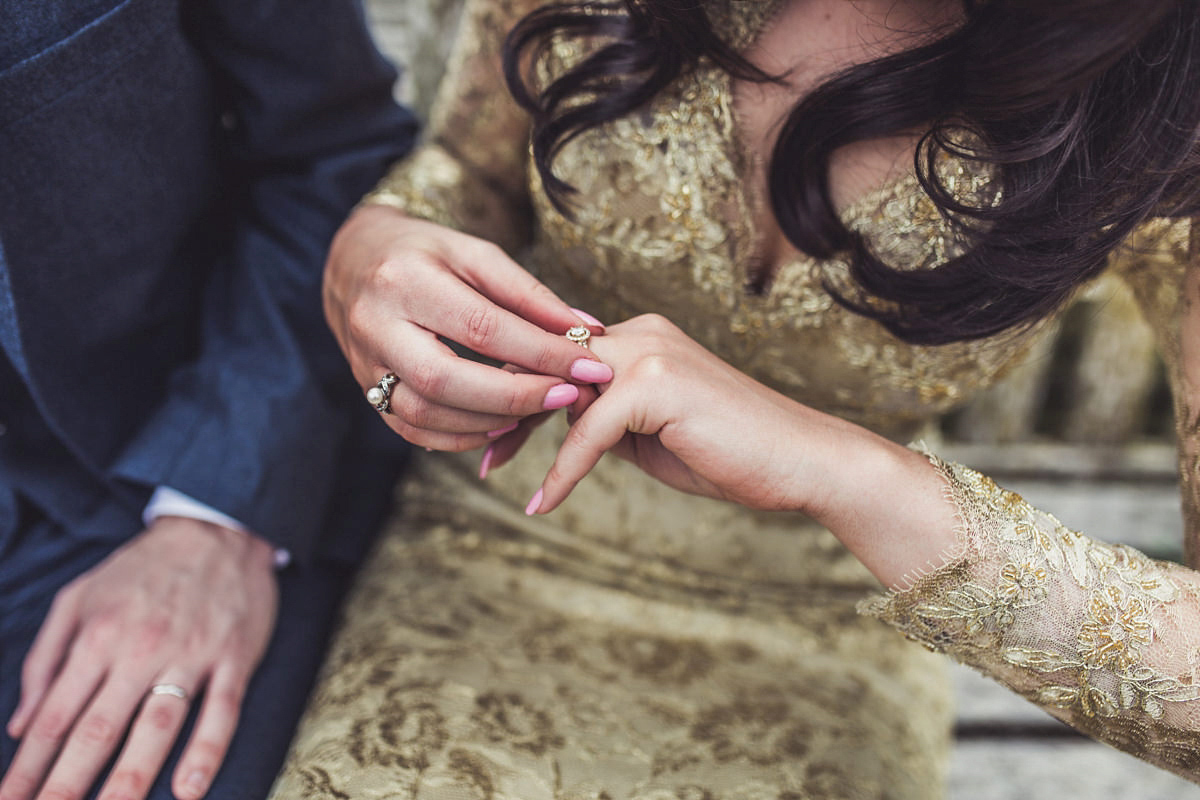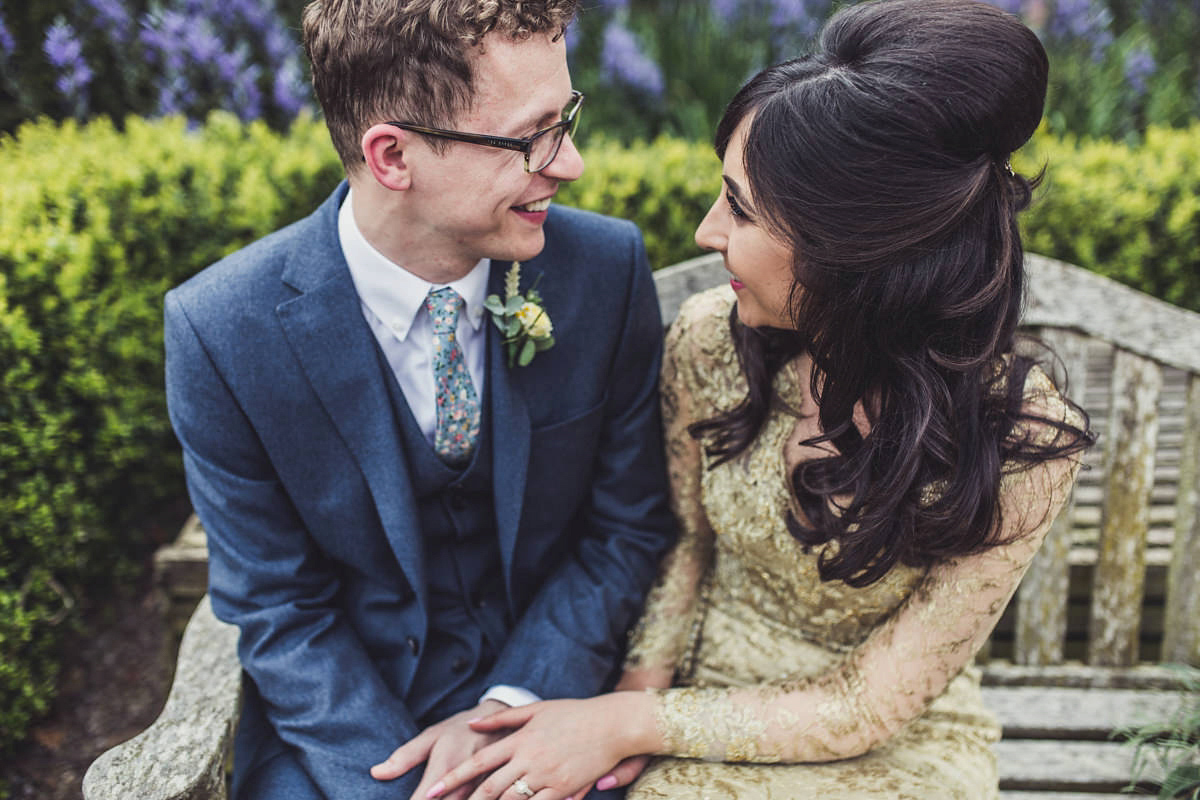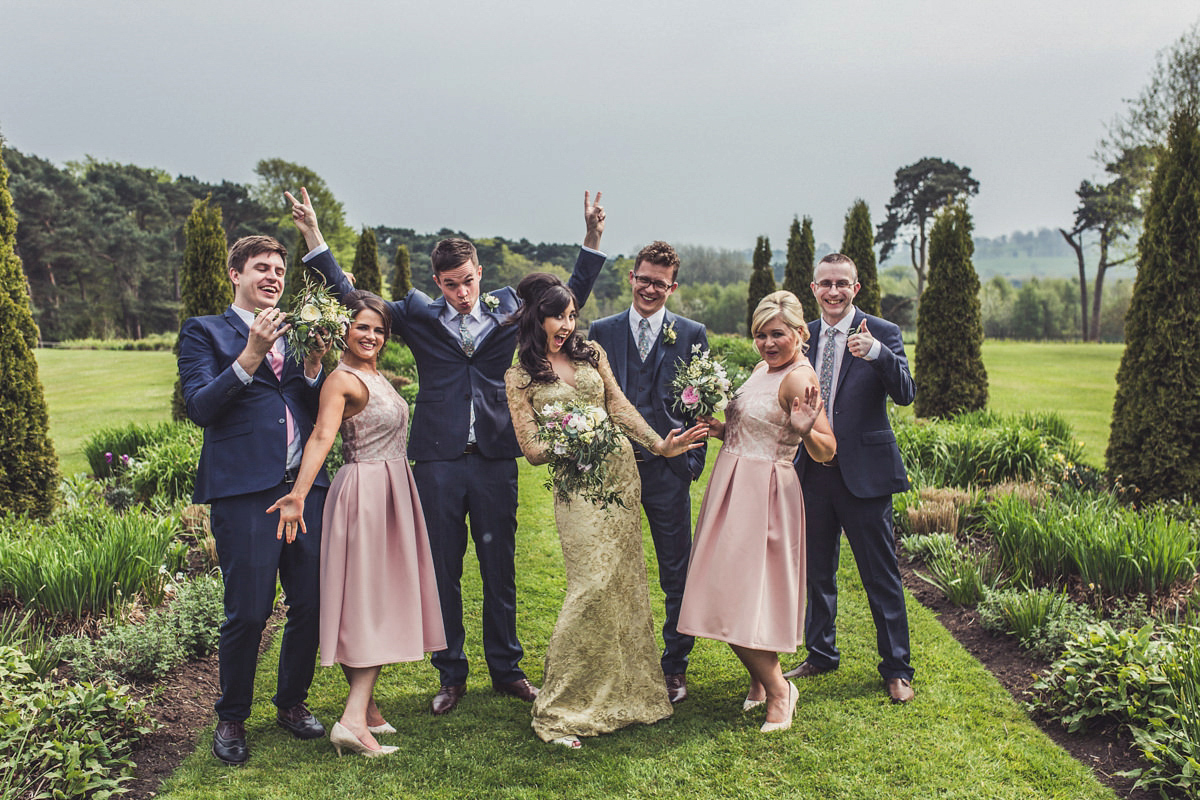 Flowers by Sam at The Traditional Flower Company were a celebration of springtime, English countryside flowers, that fit so well with the garden setting of the marriage. The simple yellow buttonhole adds a real splash of colour to Chris's suit.
"The flowers were probably the most talked-about aspect of our day. Everyone seemed to love them as much as we did. We both like natural, trailing hedgerow-type flowers and we wanted them to be in pinks and yellows to match the bunting. We ended up with pink David Austin roses, yellow freesias, jasmine, dill heads, pink delphiniums, sweet peas, stocks, hydrangeas and all sorts of hedgerow greenery. One of our favourite days of wedding planning was going down to Sam's beautiful flower farm in rural Staffordshire to choose the flowers. She understood what we wanted and made it all even better than we could have imagined."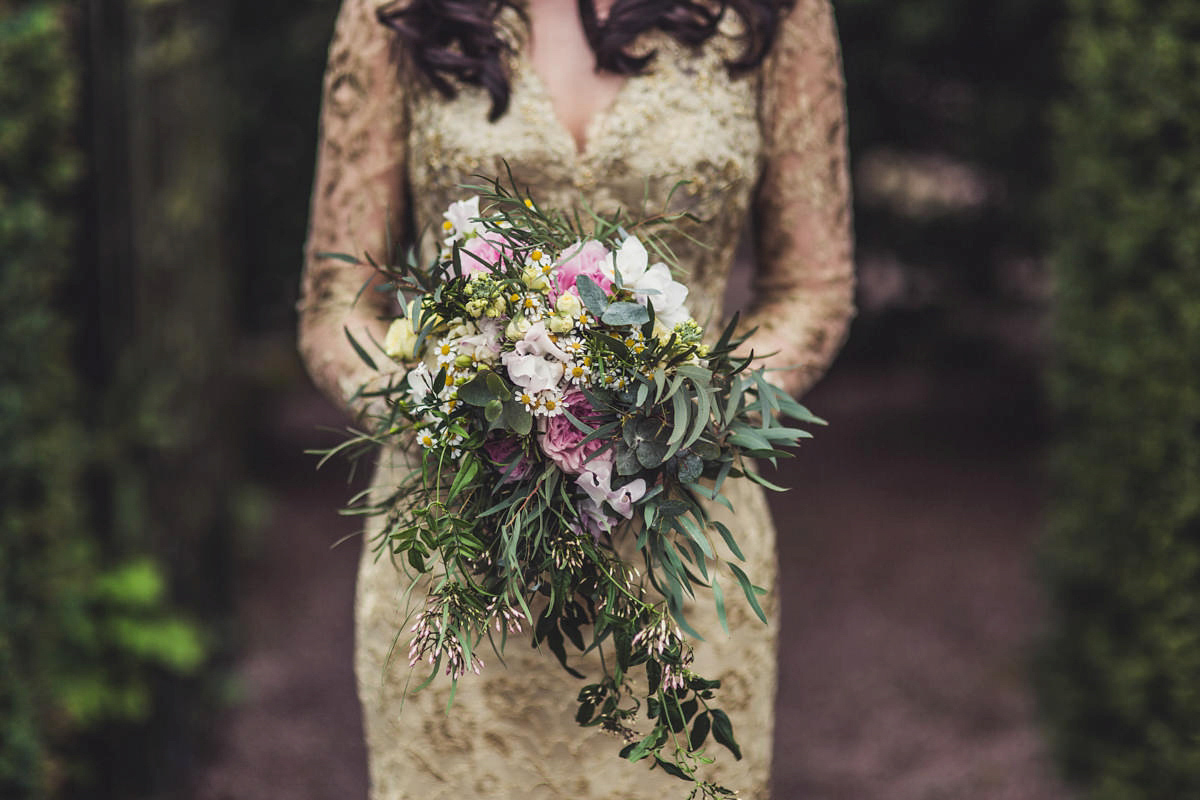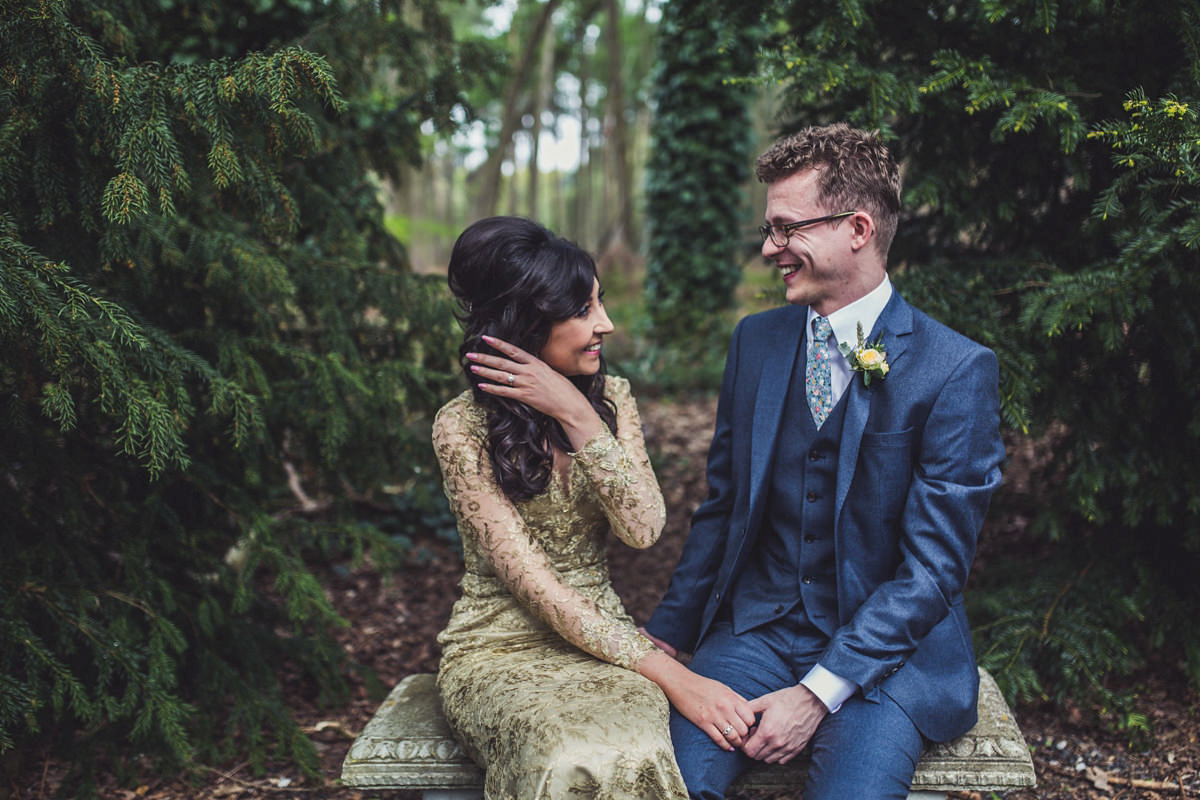 After the ceremony and beautiful photos in the grounds, the newly-weds celebrated over a wedding breakfast before music and dancing.
"Abbeywood Estate has a café and restaurant on site and provides its own catering in the form of Benjamin Lauren Catering. The food was incredible and we still regularly go back to Abbeywood's café for lunch whenever we're in the area."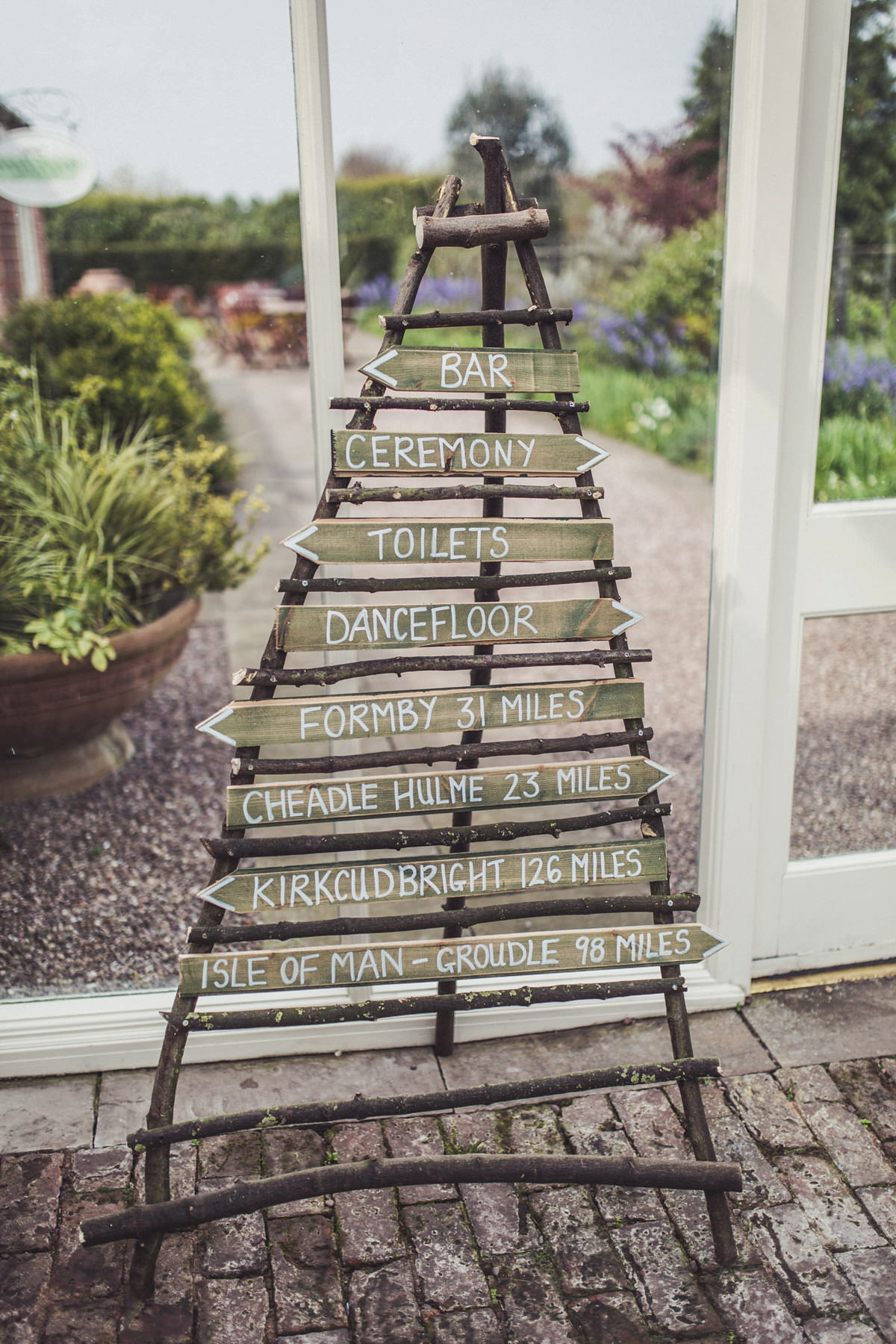 Like many brides, Caroline used Pinterest to help her plan the creative aspects of her venue styling. It looks absolutely beautiful; this kind of venue styling really takes your breath away on first sight.
"Pinterest has a lot to answer for in terms of styling our wedding. We knew we wanted pastel colours and a rustic, floral look. We also knew that the colour palette would have to go well with my gold dress. Chris's mum spent the best part of a year sewing pink, yellow and duck egg bunting to decorate The Glasshouse and bar. She probably still has nightmares about it. We spent ages measuring up the glasshouse to get it all just right and it looked brilliant on the day. Our motto is 'more is not less… more is always more' so we went all out with the decoration!"
Their venue was the beautiful Glasshouse and gardens at Abbeywood Estate, near Delamere in Cheshire. I adore the images which capture the height and drama of the glass building, as well as the classic English feel of the woodland and walled gardens.
"We chose The Glasshouse at Abbeywood Estate because it's a white, blank canvas with so much potential for bunting and decoration; it has beautiful floral gardens and woodlands for photos; and importantly it has some accommodation on site for guests as well as for the couple. As soon as we went to view it, we loved it. What sealed the deal was when we walked down through the gardens and saw that they had horses. I couldn't have my horse there on the day so this was the next best thing and felt like a sign."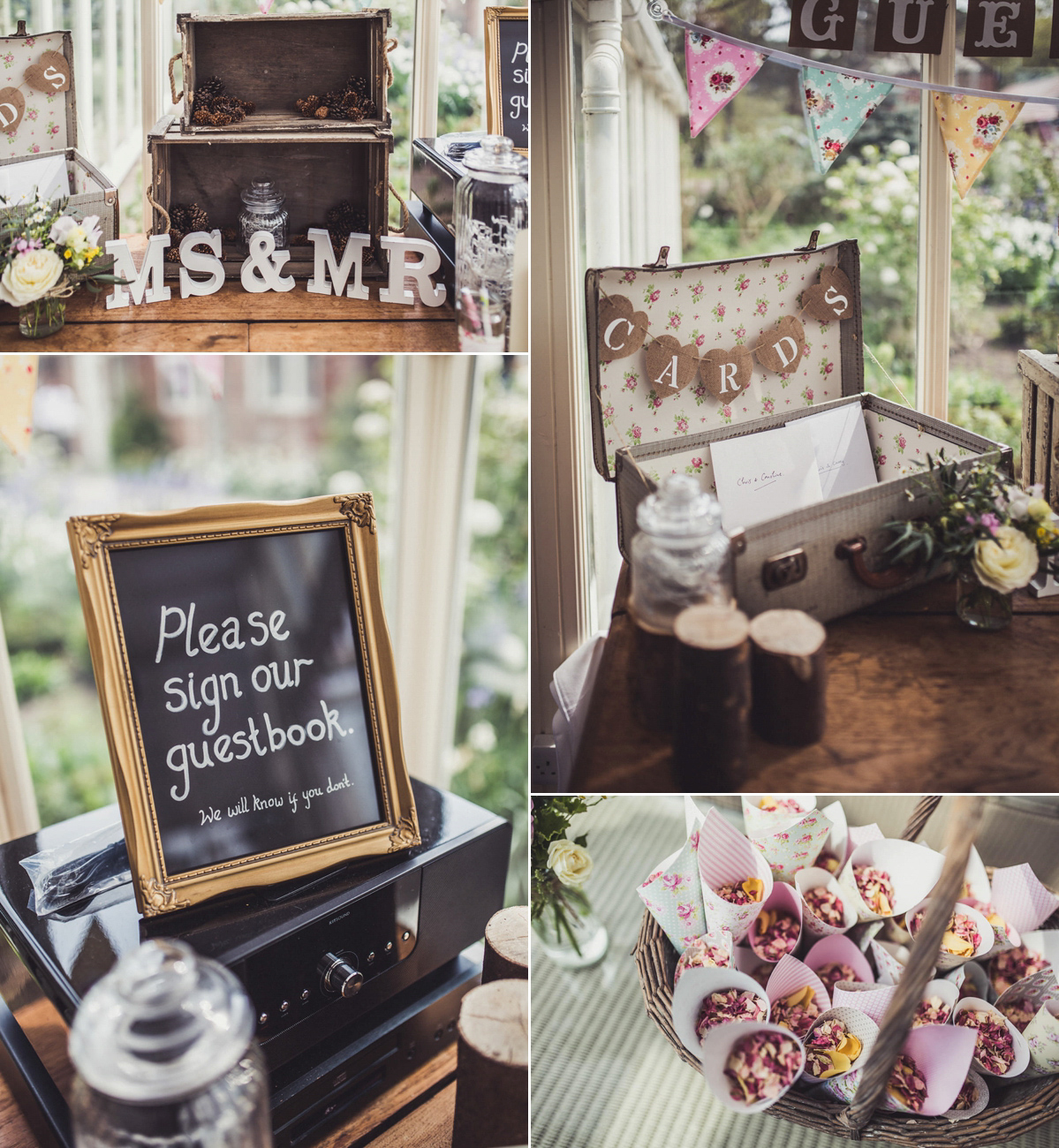 The couple run a travel blog, Pack the Suitcases, together and their love of travel was referenced in many of the styling details, including adding luggage tags to pine cones for place names.
"For the card box, we used an old suitcase off Ebay and Chris's dad lined it with wallpaper to match the table plan. We love travelling and in our spare time, we run a travel blog called Pack The Suitcases, so a suitcase had to feature somewhere. My dad made a rustic wooden directions sign with arrows, for the entrance to the venue. It had stuff like bar and toilets on, but also how many miles and arrows in the direction of places that mean something to us: where we live now, my hometown, special holiday places."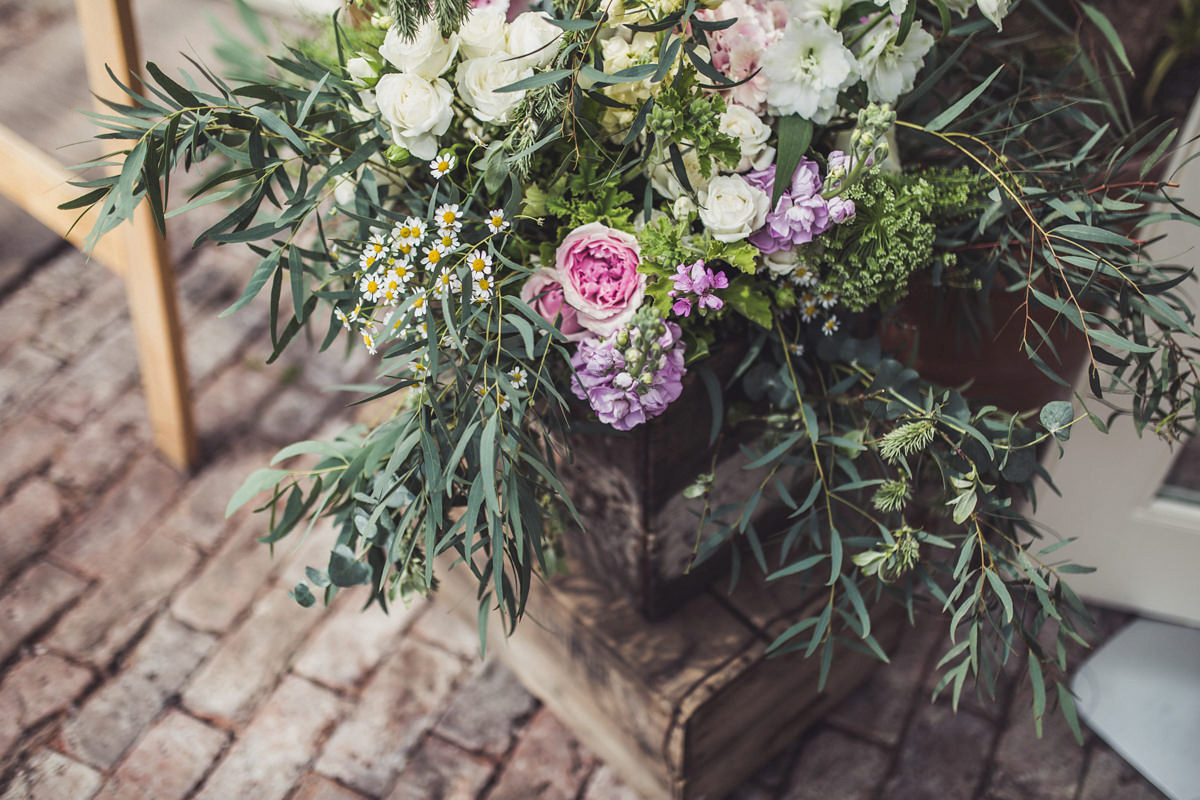 They also added dozens of milk bottles, jam jars and milk churns filled with fresh flowers, a wicker basket to hold confetti cones filled with dried petals from Shropshire Petals, yellow and pink honeycomb hanging decorations from Ikea to match the bunting, and fairy lights to highlight the bunting. Their favours were little 'Meant to Bee' envelopes of bee-friendly wildflower seeds, a really cute idea which guests can enjoy for months after the wedding.
"We got these on Ebay and have since had photos from guests of them flowering."
"We weren't changing our surnames or titles, so we made a bit of a feminist joke out of this with some wooden letters spelling out 'Ms and Mr'."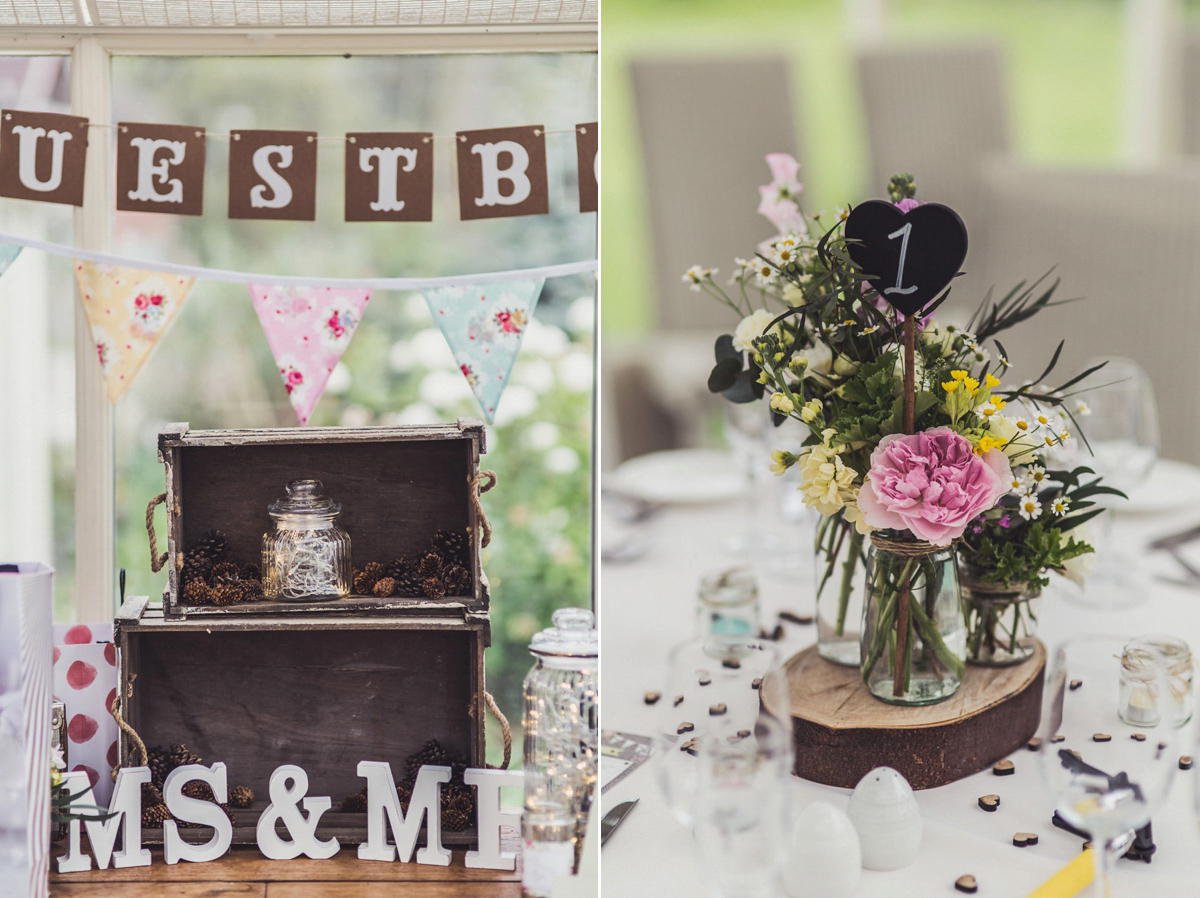 Their cute and quirky wedding stationery was designed by Heart Invites.
"Lauren made a beautiful hessian-inspired design for our order of the day leaflets, menus, directions, RSVPs, invites and save the dates. She sent these designs as PDFs and we printed them via Printed.com."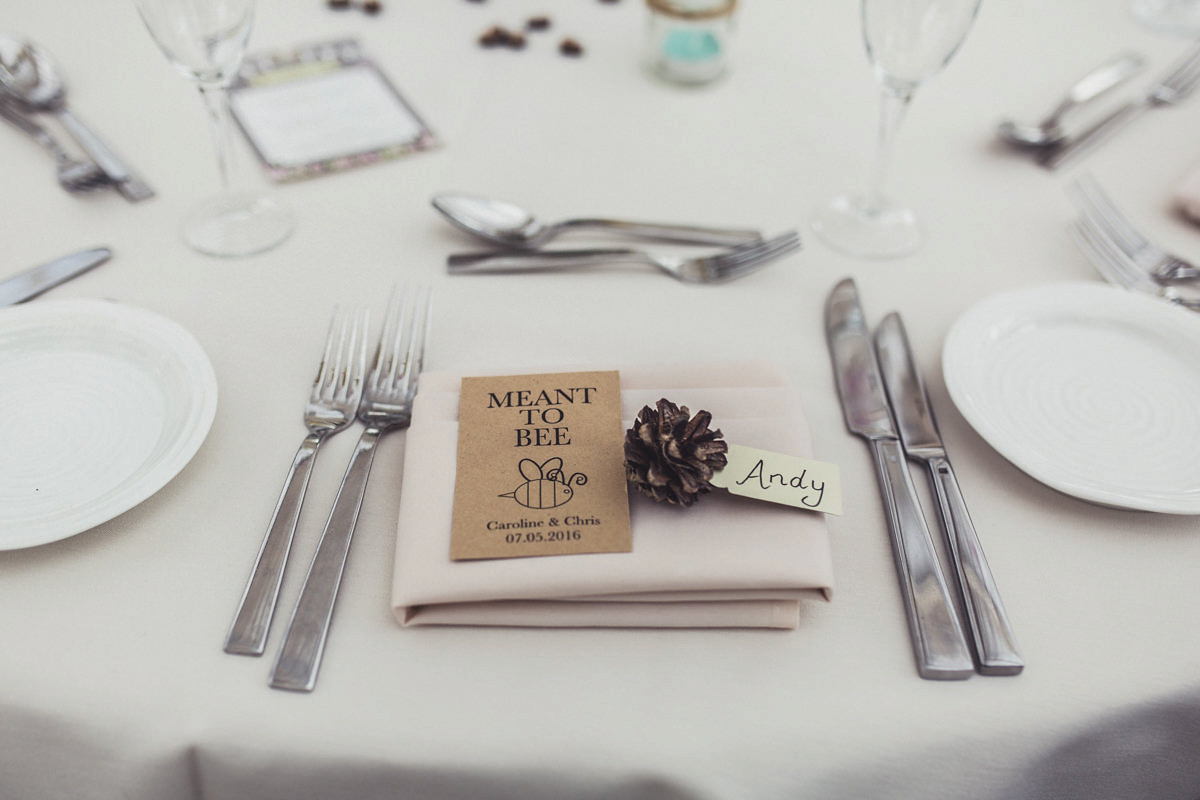 Their love of 'The Owl and the Pussycat' is shown in this beautiful naked cake made by Dottie's Pantry. The cake table is one of my favourite elements of the reception; it's so pretty and simple.
"We decorated two tables; one for the cake and one for the guestbook and card box. Both tables had rustic crates from a local florist, Kilner jars with battery-operated fairylights in them, and lots of pinecones scattered about. We collected the pinecones from the pinewoods in my hometown of Formby and also the Isle of Man, where Chris spent his childhood holidays."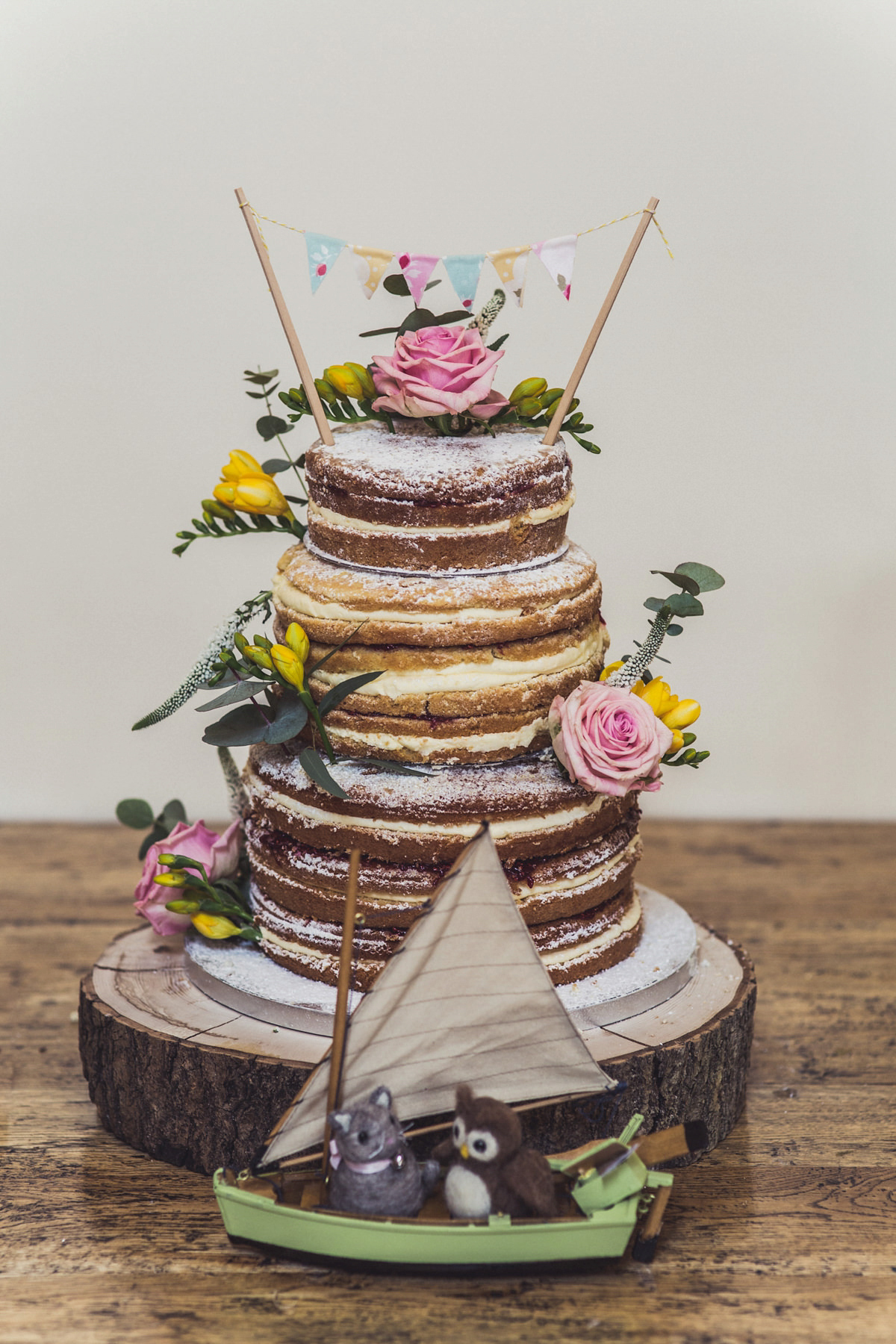 "My dad made the cake topper; a pea-green boat with oars and a sail. It was for little Owl and Pussycat models to sit in. My dad even made a miniature five pound note, lute and pot of honey to go in the pea-green boat. The owl and pussycat were from Little Elf's Toy Shop on Etsy. We found Dottie's Pantry after seeing a three-tier naked cake covered in flowers on Pinterest and knowing that was exactly what we wanted. When we found that it had been made not too far away in Bury we knew it was cake-based fate! The bottom layer was Victoria sponge, the middle layer was lemon drizzle, and the top layer was lavender. The whole thing was delicious. We also had two batches of tray bakes arranged around the cake: chocolate brownies and rocky roads. Keeley is famous for her rocky roads and deservedly so. They were gone in five minutes."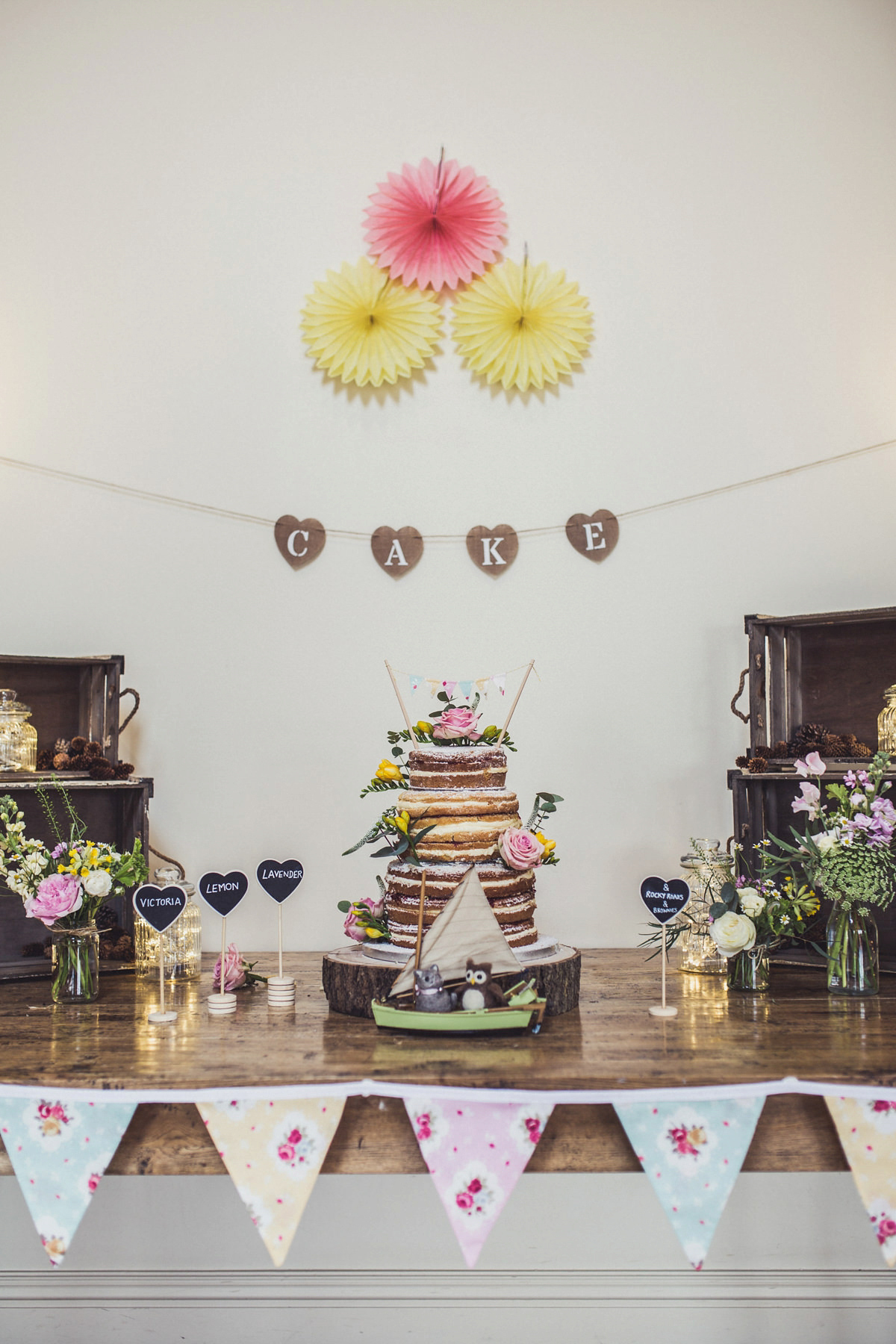 Chris and Caroline named the speeches as one of their favourite parts of the day, and highlight how glad they were that they organised a wedding videographer so that they could re-watch the speeches afterwards.
"We both really enjoyed the ceremony but the speeches stood out too. It was very important to us that it wasn't all men speaking, so I did my own speech. Strangely I really enjoyed it and wasn't that nervous. But like most people, I hated watching it back on video: why does my voice sound like that?! It was still fun though. We both loved everything about the day really."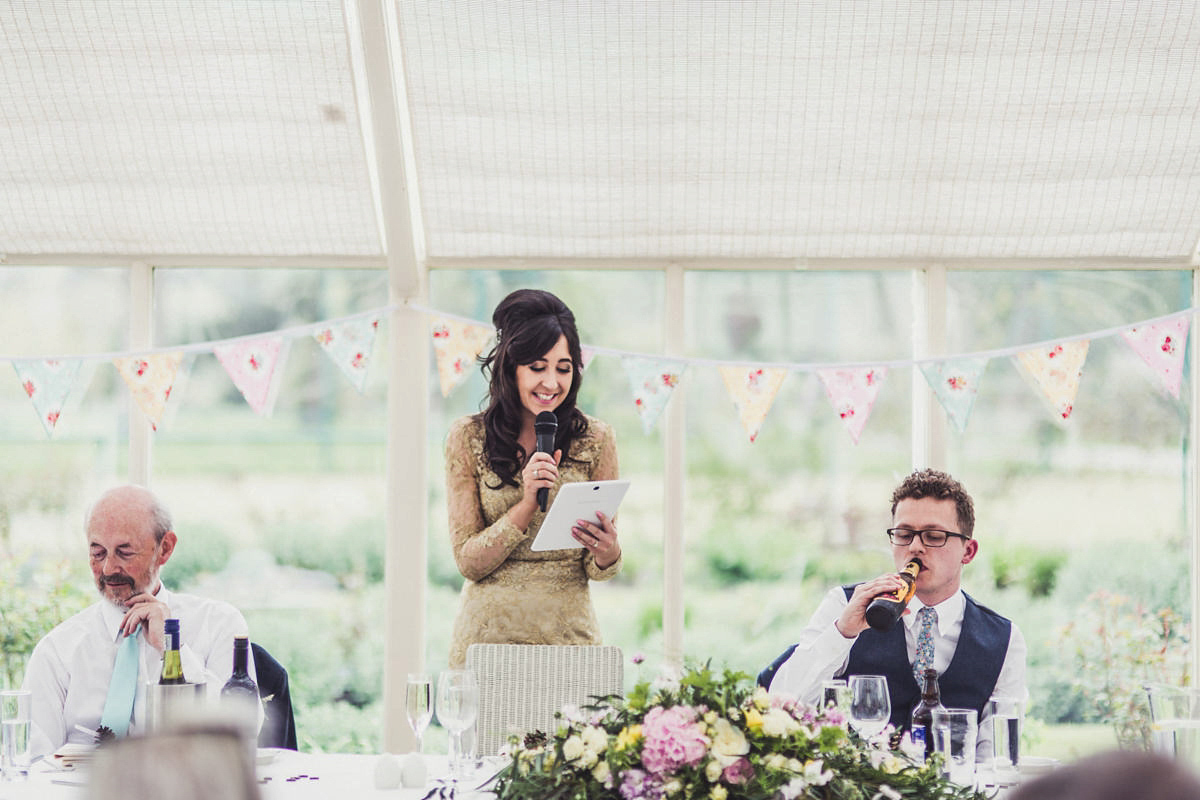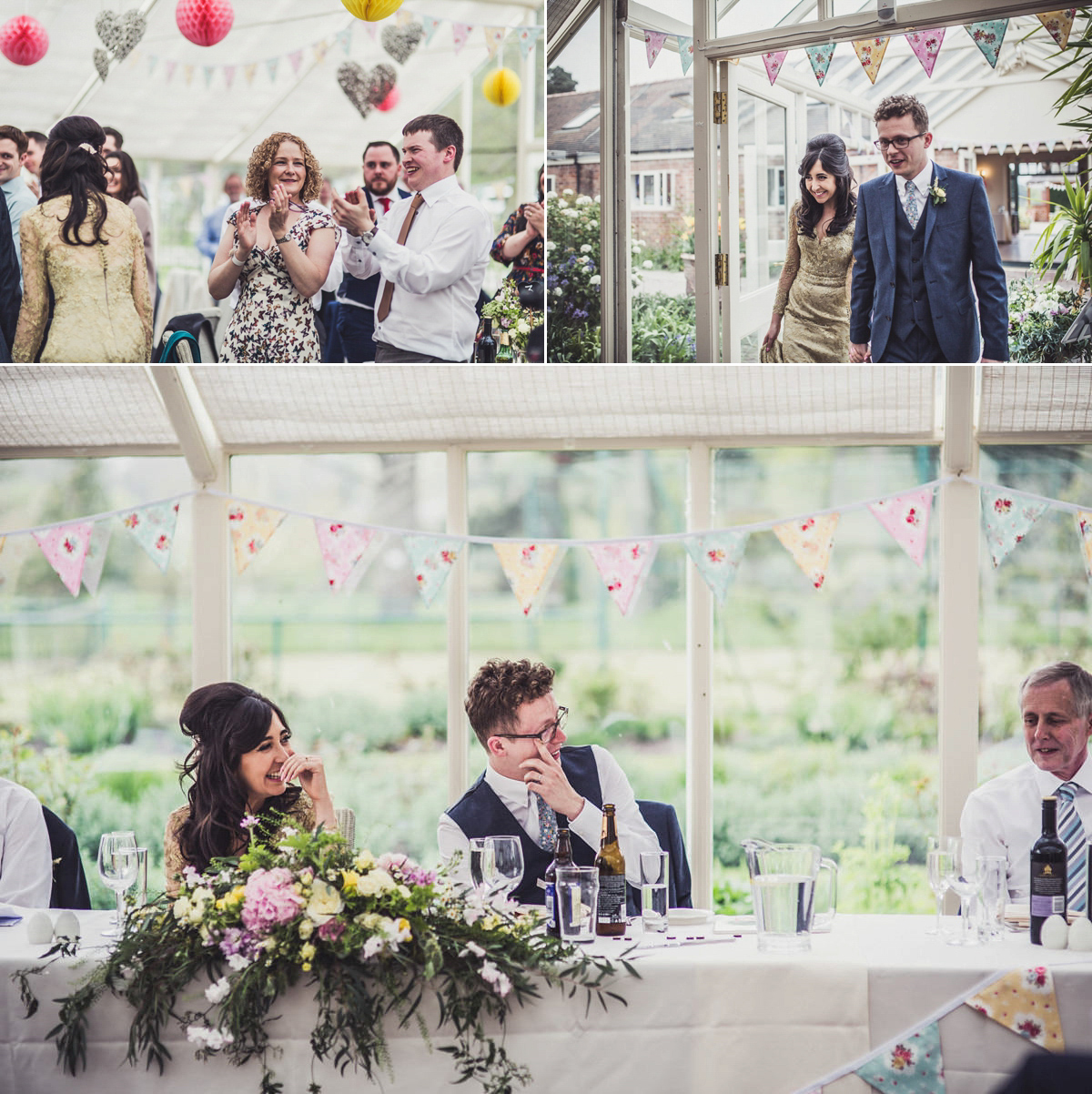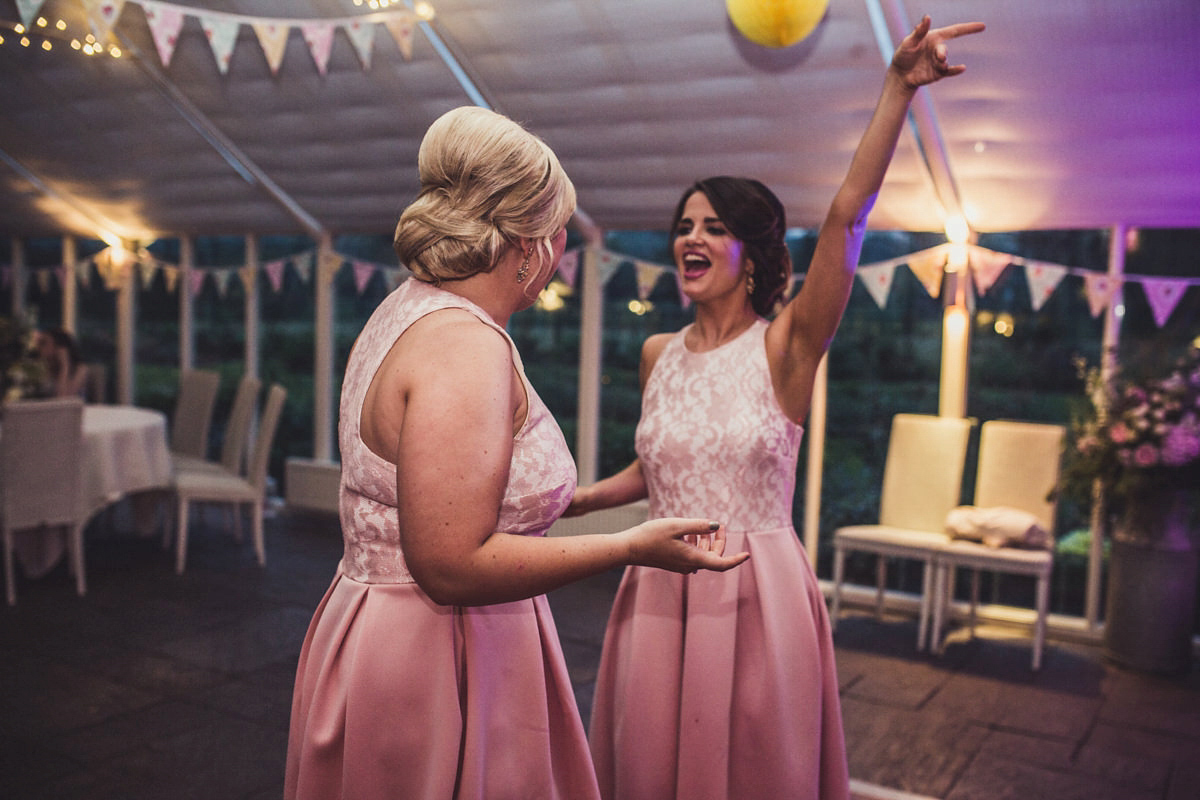 If you're one of those couple who are uncertain about having a first dance, Caroline and Chris show that it doesn't have to be done.
"We didn't have a first dance. Chris has never danced in his life, so starting at the wedding wasn't happening! We also didn't like the idea of it anyway. My friends were more than happy to break the dance-floor ice with me. We had a rendition of 'Downtown' by Macklemore to kick things off."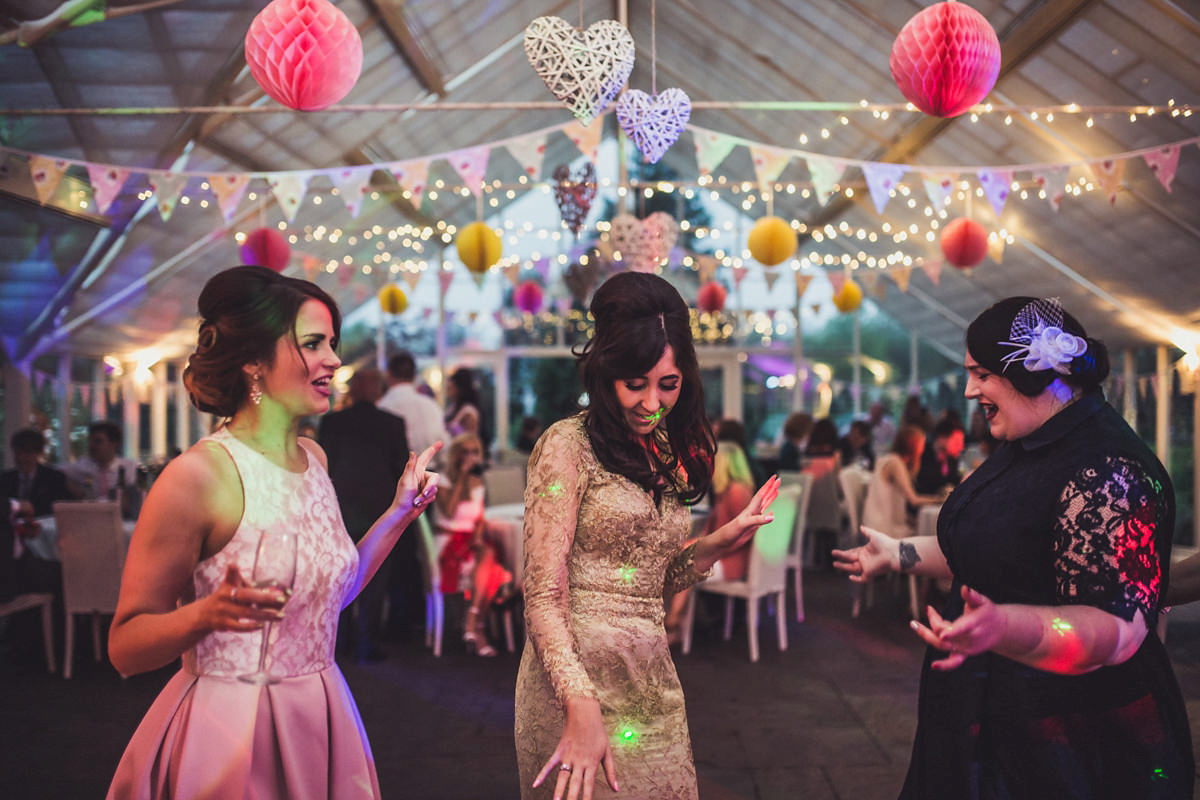 "We didn't want cheesy disco-type music so went for a mixture of indie pop, retro and chart music with Hi-Life DJs, who were great. They asked us for some tracks we liked and built it around that – as well as a 'banned list' which was equally fun to make."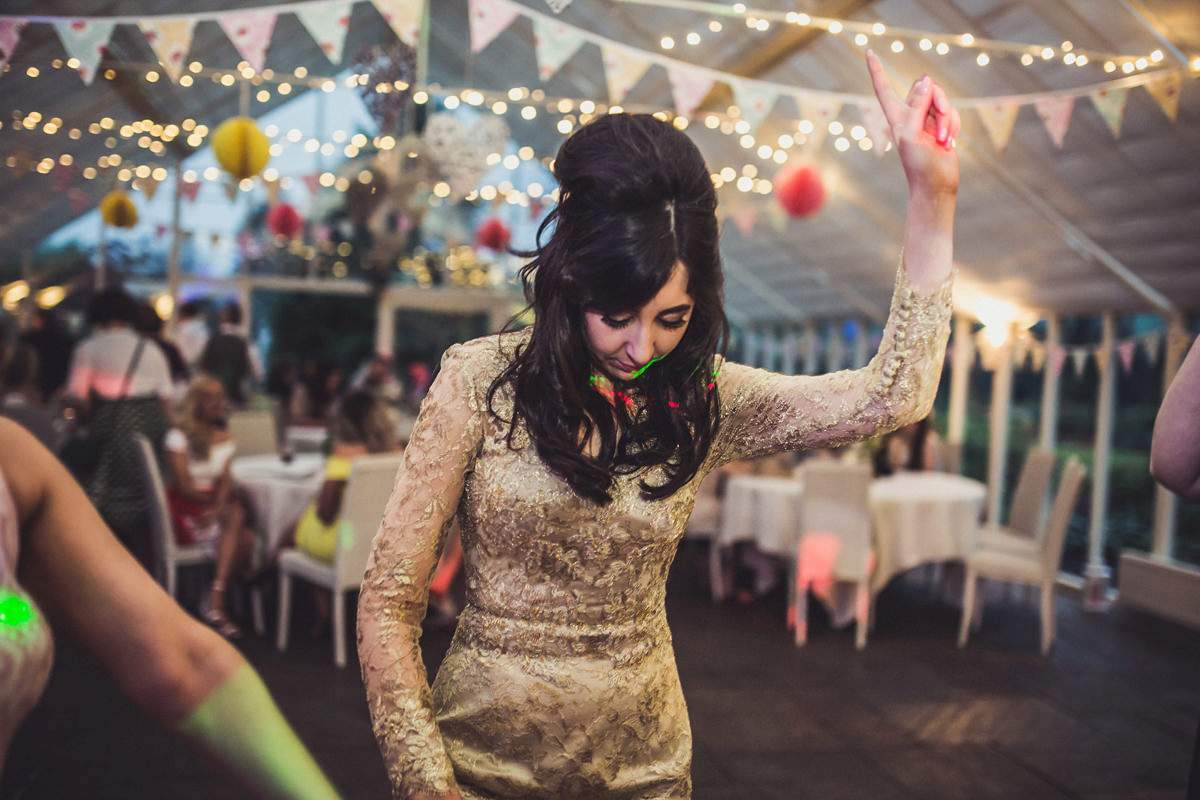 "Our videographer was Joe from Perfect Day Production Videography. We were umm-ing and ahh-ing over whether or not to get a videographer but we're really glad we did. To save money, we didn't have the whole day filmed. Joe arrived just before the ceremony because this was the bit we really wanted filming. It's surreal but so funny watching it back – my two friends who did readings were both brilliant and even better on a second viewing.
We do remember the whole ceremony but lots of people told us it'd go in a blur so it was definitely good to have it filmed. We also had the speeches filmed, which was great because we were both doing speeches and had too much adrenaline to really focus on what the others were saying. We appreciated them much more on video and it caught loads of good moments."
Words of Wedded Wisdom
"Don't feel pressured to do anything and just do what you want. It's a day to celebrate and formalise your relationship and all you legally have to do (if you want) is say a certain bit of the ceremony wording. Everything else is up to you, so you can do all or nothing – go totally traditional, make it all up from scratch, take any aspects of traditional weddings that you like and make them your own, or just say those legal words and go home."
"We probably wouldn't have cut the cake. It was one of the few traditions we didn't think to edit out of the day because it didn't jump out as having any sexist connotations. We also needed something to draw the guests back in from the gardens ready for the evening do, so it sort of ended up happening. It was the only time on the day we felt staged and awkward. Also, I would have had more bridesmates. I wanted to keep the bridal party relaxed and small and the whole thing as non-weddingy as possible, but in retrospect I should have just had a few more. My friends were all around me for the whole day so it wouldn't have made lots of difference, but I should have had a couple more in the role of bridesmate."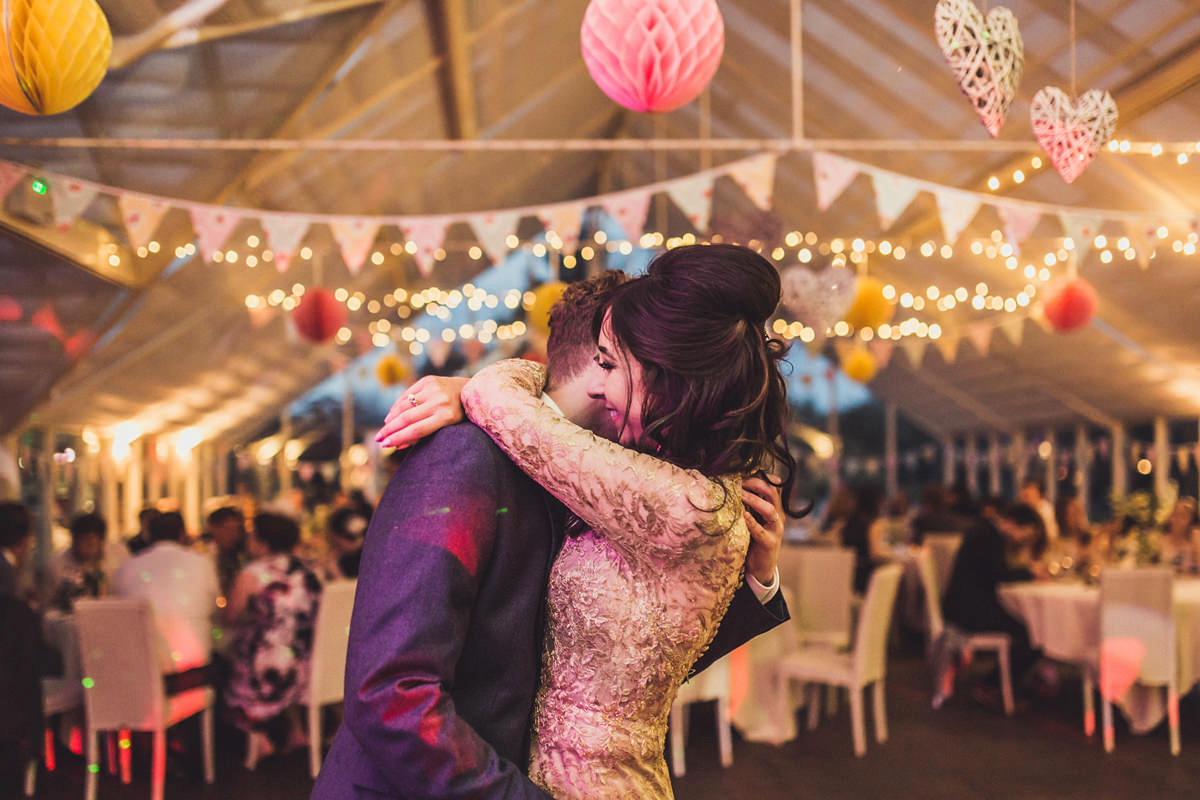 Caroline and Chris, thank you so much for sharing your day with us. I've thoroughly enjoyed seeing how you've done things a little bit differently, and I've fallen in love with this incredible gold gown. Given their love of travel, it's no surprise that their honeymoon was a trip around Scandinavia which sounds magical. If you'd like to follow their adventures, be sure to visit their Instagram feed @packthesuitcases.
"We did a little Scandi-inspired tour for honeymoon. We went to Reykjavik in Iceland, Bergen and the fjords in Norway, and Gothenburg and Stockholm in Sweden. In Stockholm, we also went to the Eurovision Song Contest, which was hilarious and amazing. The honeymoon was just as important to us as the wedding and both created some lovely memories."
Thank you also Claire Penn for sharing your beautiful work with us.
Sending love,
Ele xx