Good morning lovelies – I very much hope this finds you well and not getting drenched in this endless rain. What has this week been like? The view from my office window this evening is…misty and dare I say, a touch bleak! But we have sunshine to look forward to this weekend (hoo-bloody-rah! …fingers crossed/touch wood/don't wish too hard!).
Hopefully this lovely feature will help lift your spirits this Friday morning. This is the wedding of English teacher Robyn to Accountant Ian. The couple tied the knot on 29th October last year at Rotherwick Church, followed by a reception at Rotherwick Village Hall in Hants.
"We wanted our wedding to be a reflection of us, our home and our lives. It needed to be informal, intimate, intense, wild and warm-almost as if we had just invited everybody to our house for a drink and they happened to turn up looking fabulous. We chose colours that reflected our home space and my ruby engagement ring. The gothic literature undertones happened almost accidentally as a result which worked beautifully as we both read a lot of historical fiction."
Photography by Three Flowers Photography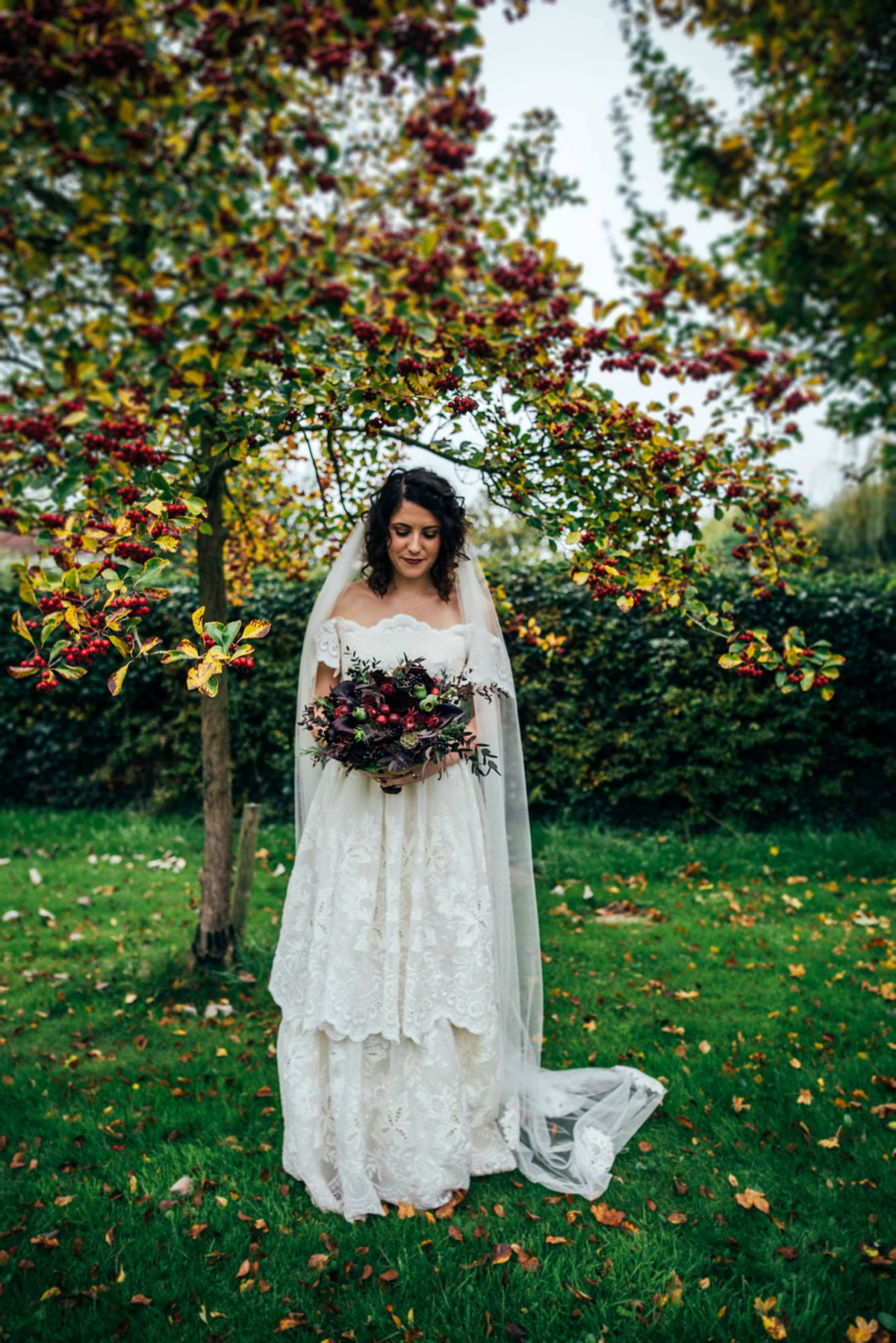 "Charlotte of Three Flowers Photography is amazing. She was fast and unobtrusive. I didn't even know she was there. She told the story of my day, my way. I couldn't have asked for anything more as a camera-phobe!"We know that not every bride wants to invest in a beautiful designer gown – the wedding we shared yesterday being a prime example, but to many of our lovely brides, wearing a gown that has already been worn by a family member and that holds sentimental value, means so much. That's exactly what Robyn did when she slipped into her mother's 1980's wedding dress last October. And she looked utterly gorgeous for it.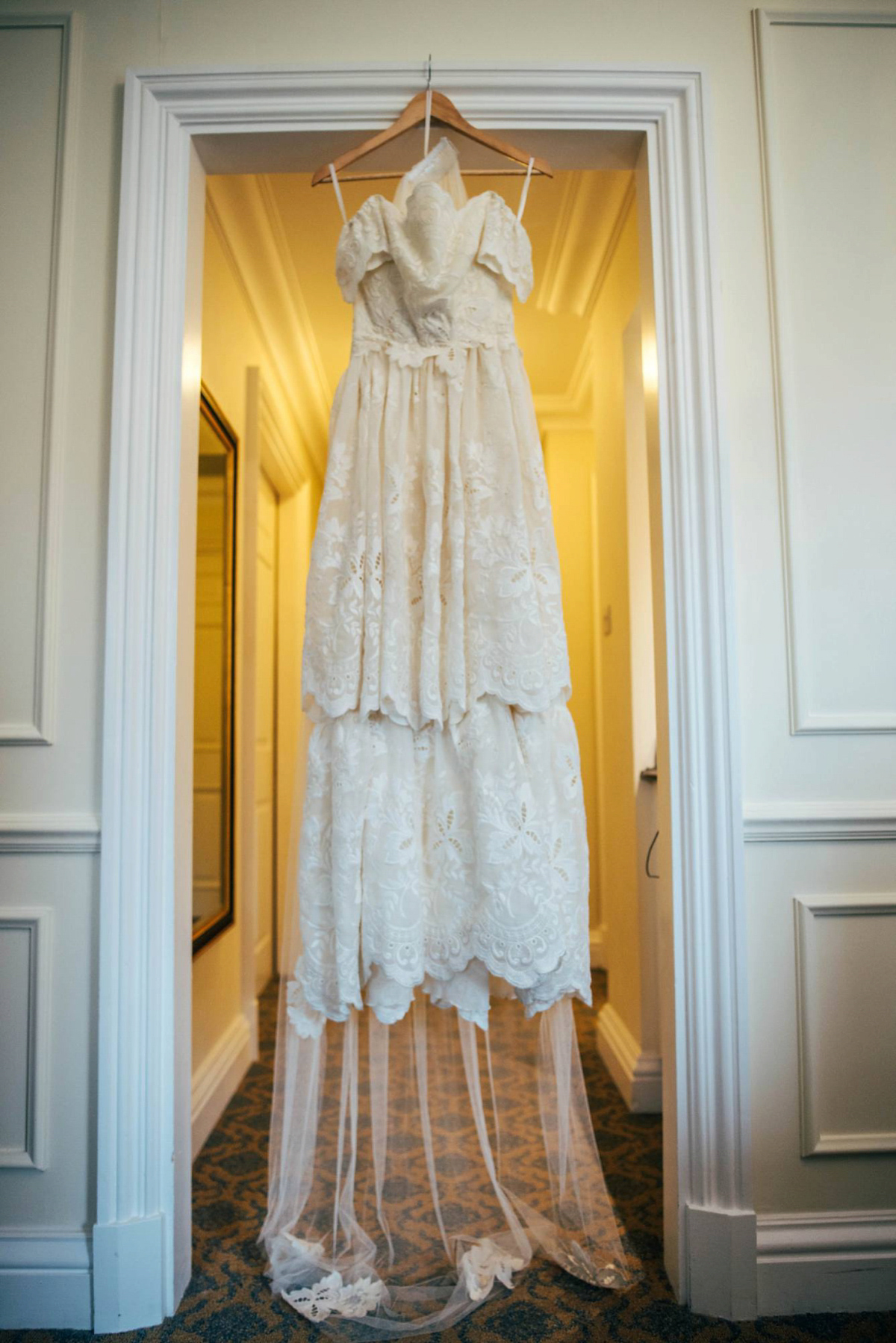 "My dress was my Mum's wedding dress from the 1980s. I had it altered slightly by the amazing Ben and Adrien at Nortier Shallow. I just knew my Mum's dress was the one – even as it sat in the loft in a bin bag!"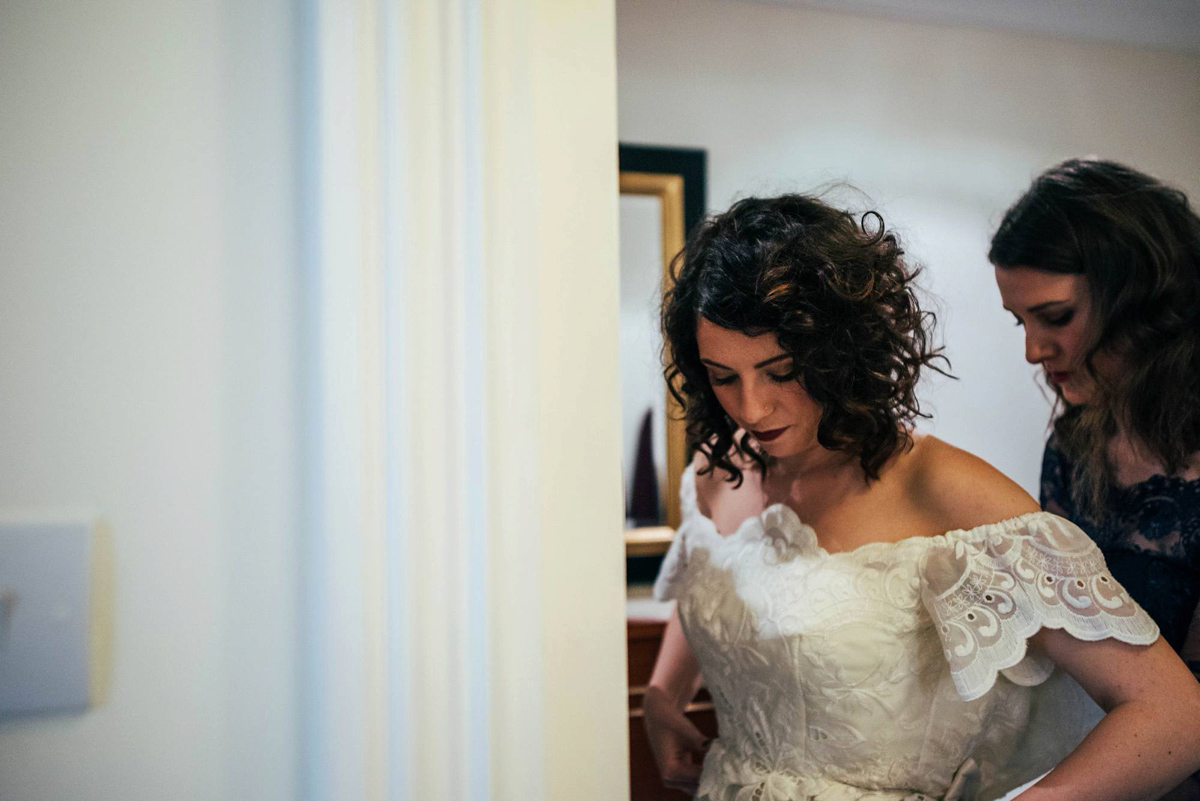 "Ben and Adrien tea stained a veil of their own in their kitchen sink. They sewed left over lace flowers from my dress around the bottom of it so they traipsed after me like wild flowers."
"I had a pair of ivory satin vegan ballet shoes made for me by Gandolfi."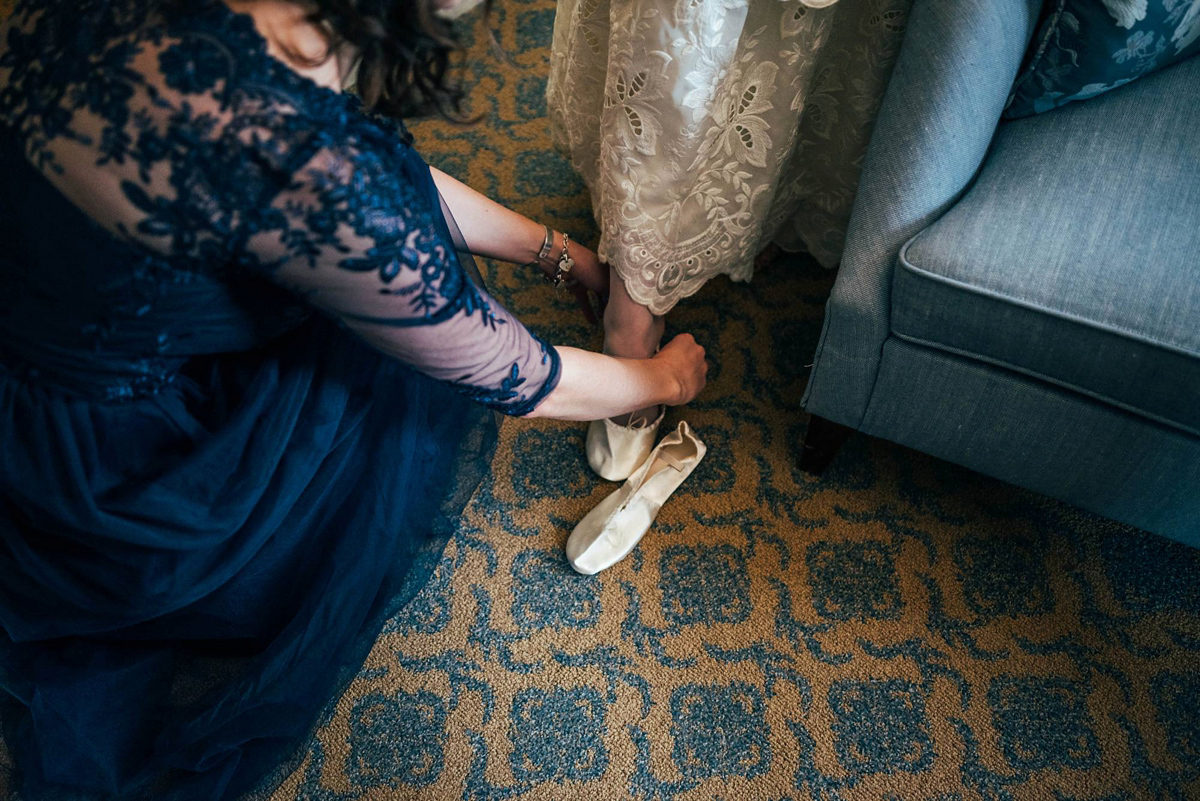 "My best friend Tamsin Hollis who works with makeup did my bridal makeup. My Maid of Honour tongued any wild curls into place the night before whilst we watched Father of the Bride."
"I wore a pair of vintage ruby earring studs, that I actually found in Henley on a walk with my Mum and Teddy, her dog."
"Bridesmaids dresses and shoes were a high street assortment – I advised my bridesmaids to wear what they felt most beautiful and comfortable in."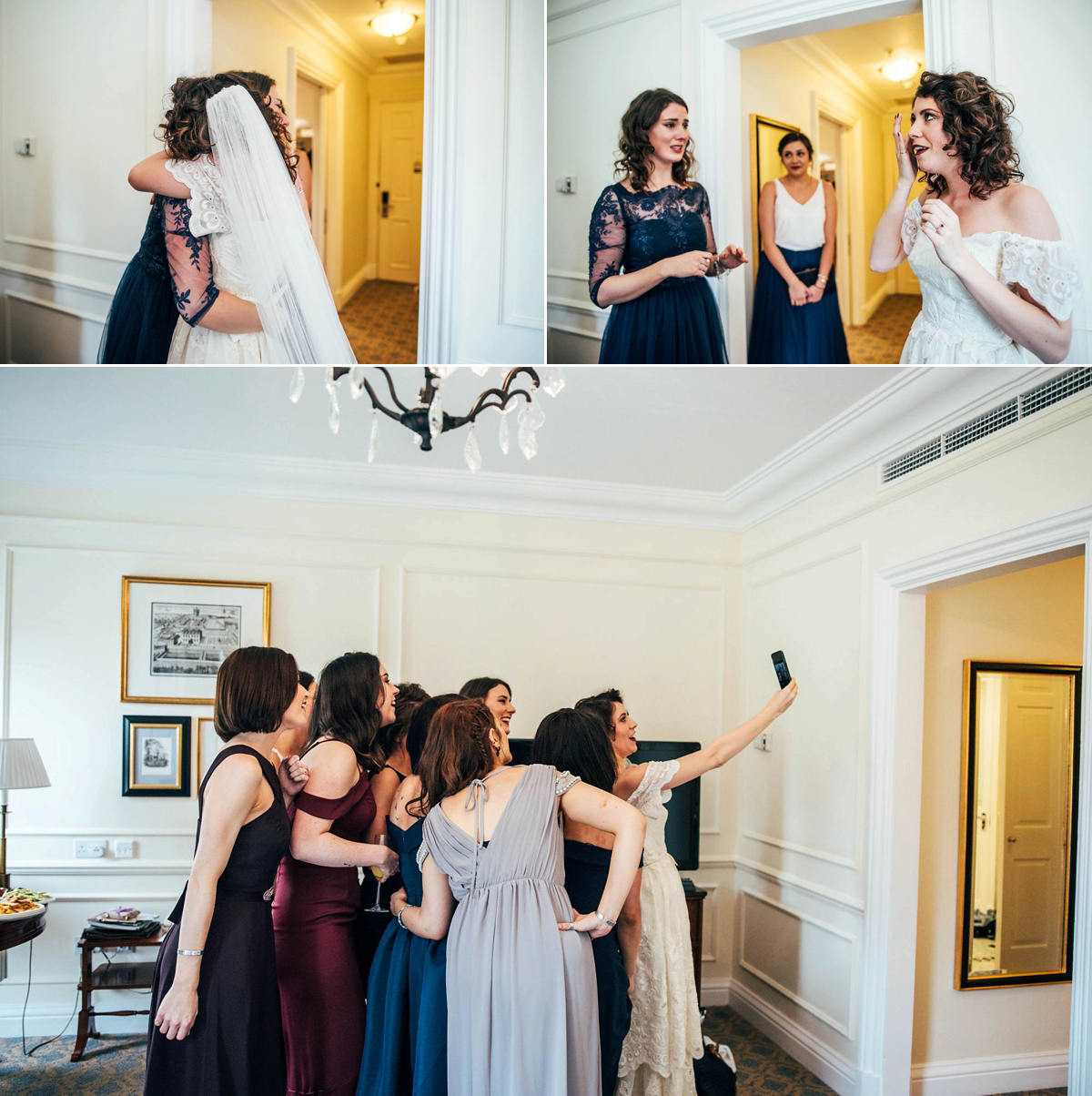 "For perfume, I wore Paul and Joe 'Blanc'. It has a powdery freshness that smells innocent yet alluring. I was wearing it when Ian proposed."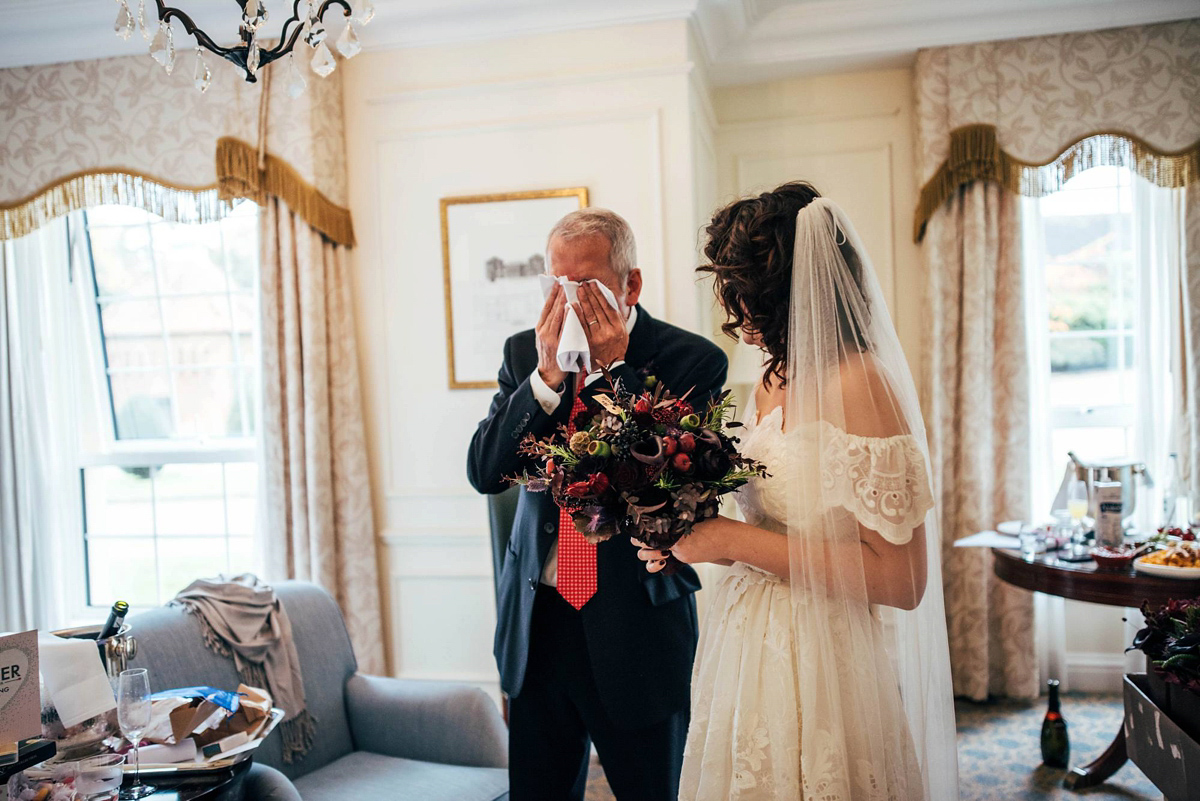 "Ian and I met in Mrs Peterson's class in Year 3 at school. I moved schools after Year 4 but I met Ian again when I was 15. I used to sneakily watch him play football in the park and he would watch me walk the dog (which I did every day after school so I could see him)."
"We started texting but he was always going to bed so early so I thought he was boring!"
"My favourite moment of the day was the unexpected sense of calm and peace I felt driving to the church. It was as if this was always meant to happen."
"The texting died down until we met again at the train station on our first day of college at 16. We travelled together with our friends every day and I was gutted he had a girlfriend. We got together at midnight on New Years eve 2006 into 2007 and have been together ever since. Ian proposed to me on a walk in Alresford village on 26/9/2015."
"My Dad accompanied me into the ceremony to the sound of 'Concerning Hobbits' by Howard Shore. I still cry when I hear it now."
"We stuck with the traditional vows during our ceremony.  My maid of Honor read Ruth 1:16 and my brother Jack read the poem 'Fidelity' by D H Lawrence."
"Ian's brother Matt read an extract from his favourite novel 'The Alchemist' by Paulo Coelho (see below). We had to have a biblical reading and Ruth is so romantic. I asked our brothers to choose a reading themselves and surprise us. I wanted to hear how they saw our love, not how we wanted them to."
When he looked into her eyes, he learned the most important part of the language that all the world spoke – the language that everyone on earth was capable of understanding in their heart. It was love. Something older than humanity, more ancient than the desert. What the boy felt at that moment was that he was in the presence of the only woman in his life, and that, with no need for words, she recognised the same thing. Because when you know the language, it's easy to understand that someone in the world awaits you, whether it's in the middle of the desert or in some great city. And when two such people encounter each other, the past and the future become unimportant. There is only that moment, and the incredible certainty that everything under the sun has been written by one hand only. It is the hand that evokes love, and creates a twin soul for every person in the world. Without such love, one's dreams would have no meaning. (From  'The Alchemist' by Paulo Coelho)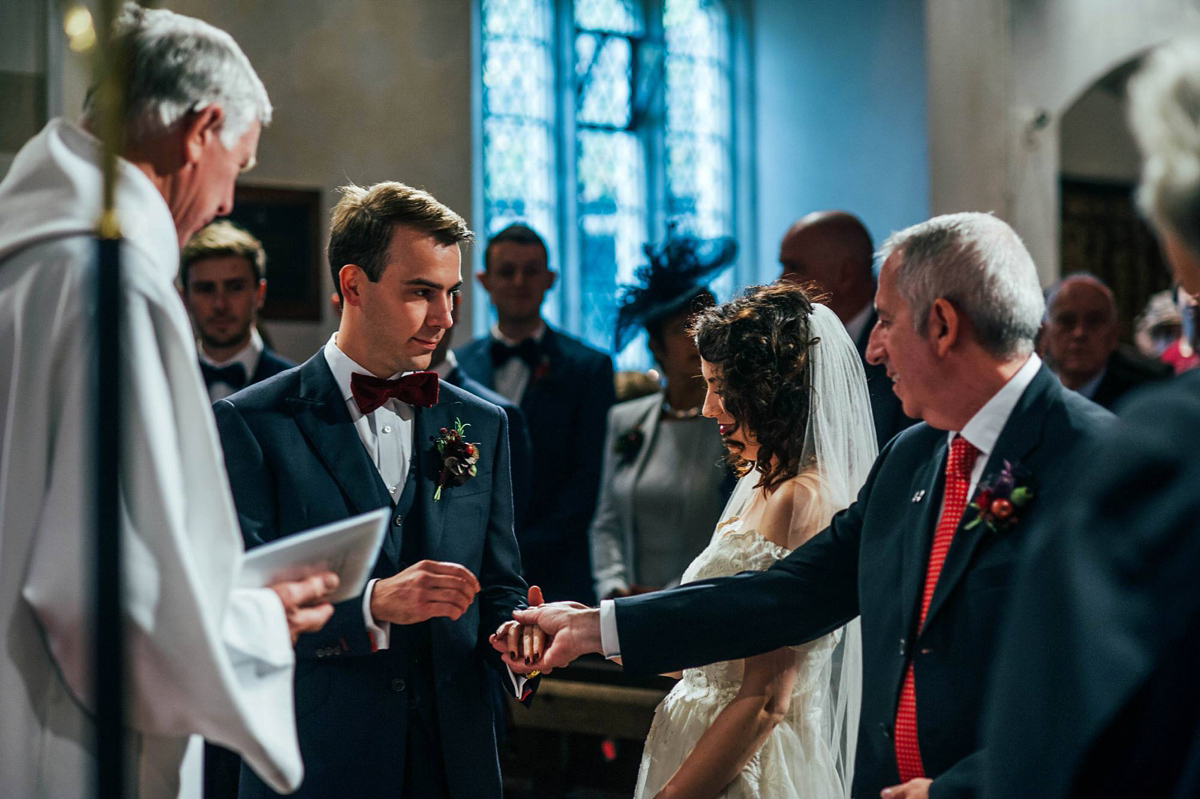 "Our florists were Silwood Nurseries, located in Ascot. I showed Sophia, my contact,  my Pinterest board and explained the feelings I wanted to experience on my wedding day but I asked her to surprise me. I didn't want to hamper her creativity by being prescriptive.
Sometimes it's helpful to breathe and hand it over to the people who know best. Our only decorations were flowers and Sophia utterly transformed the day with them. The fact it was a surprise blew me away even more."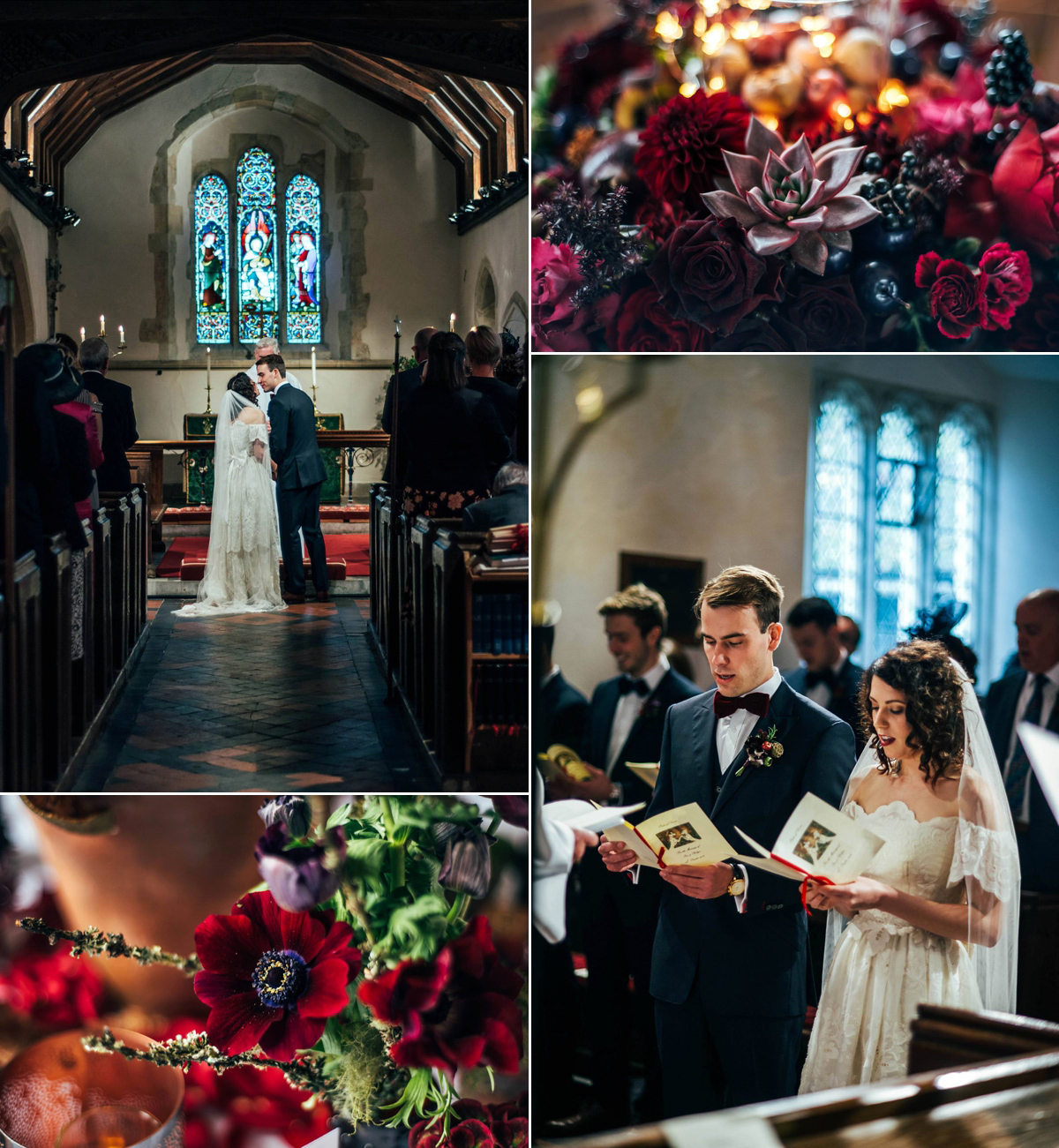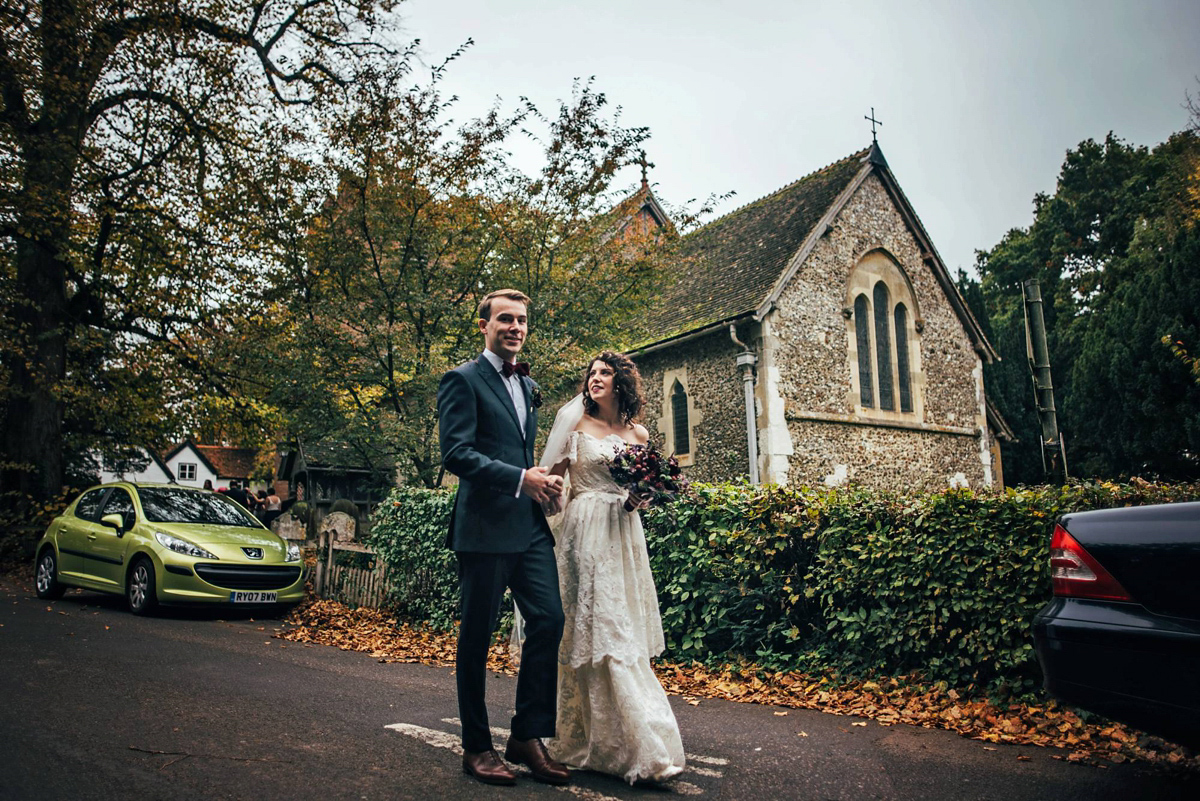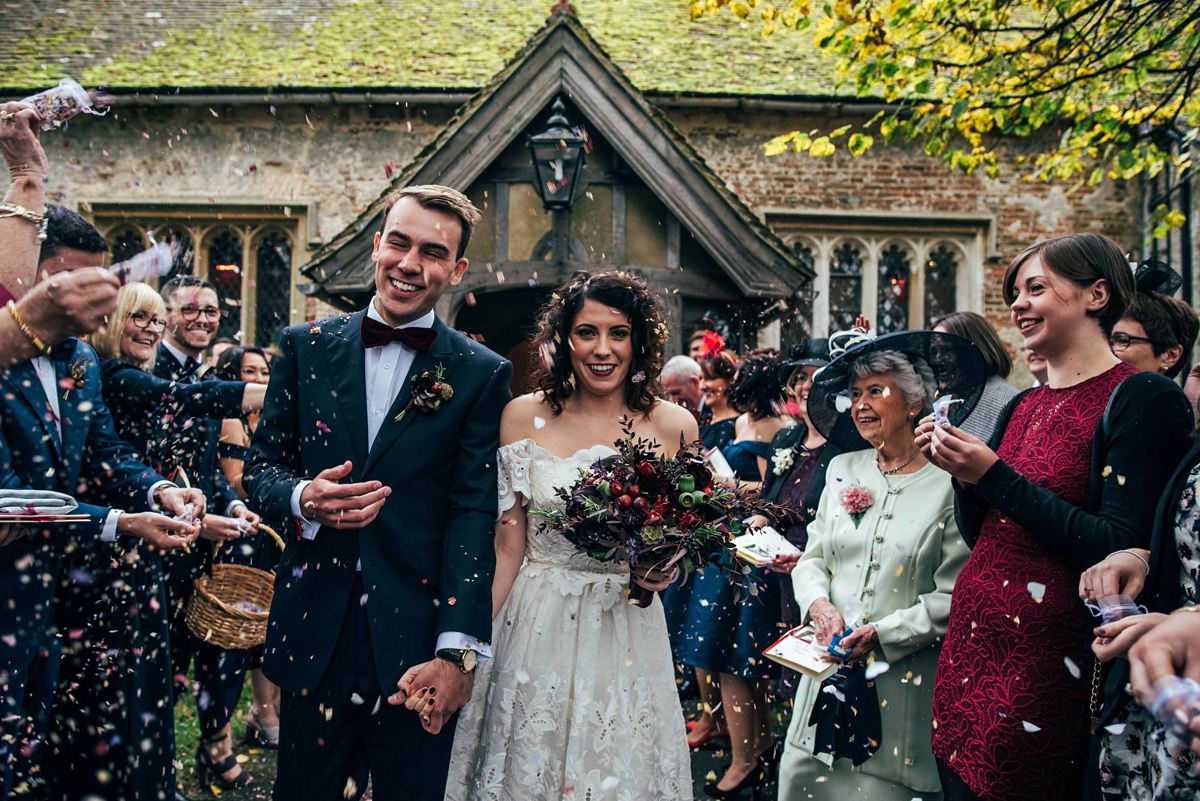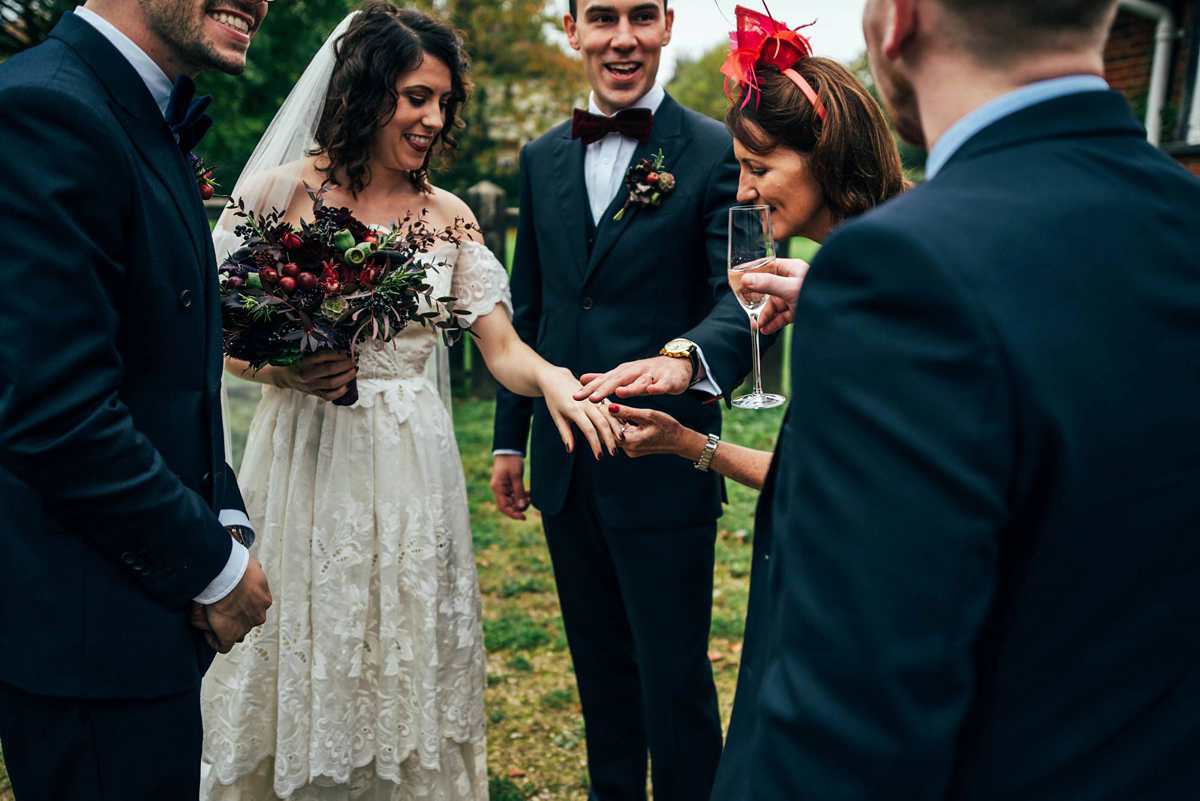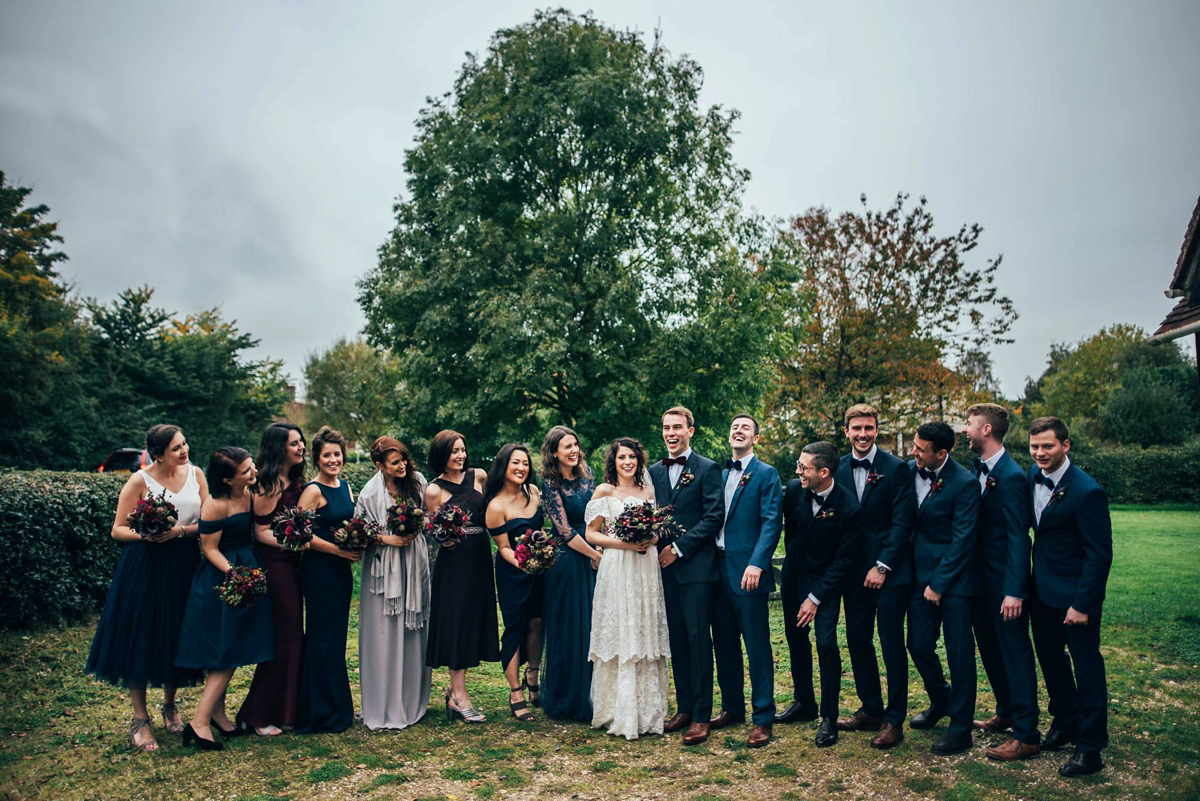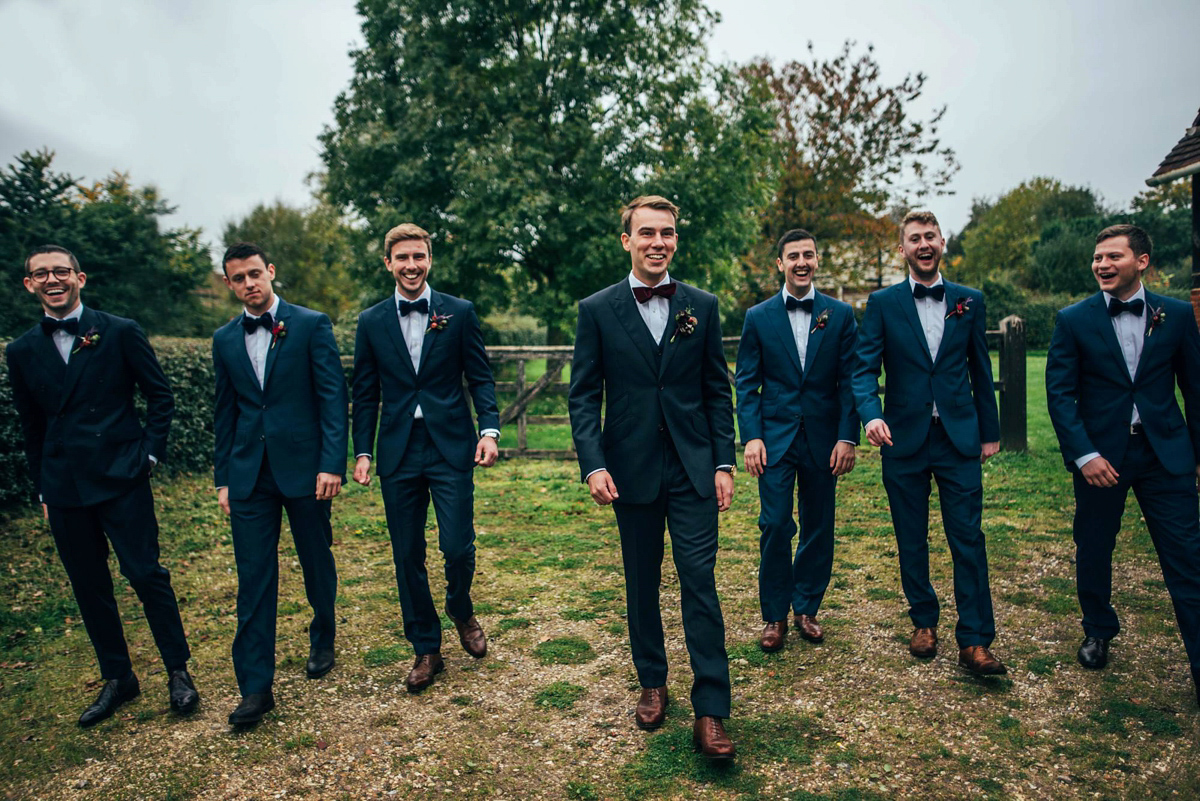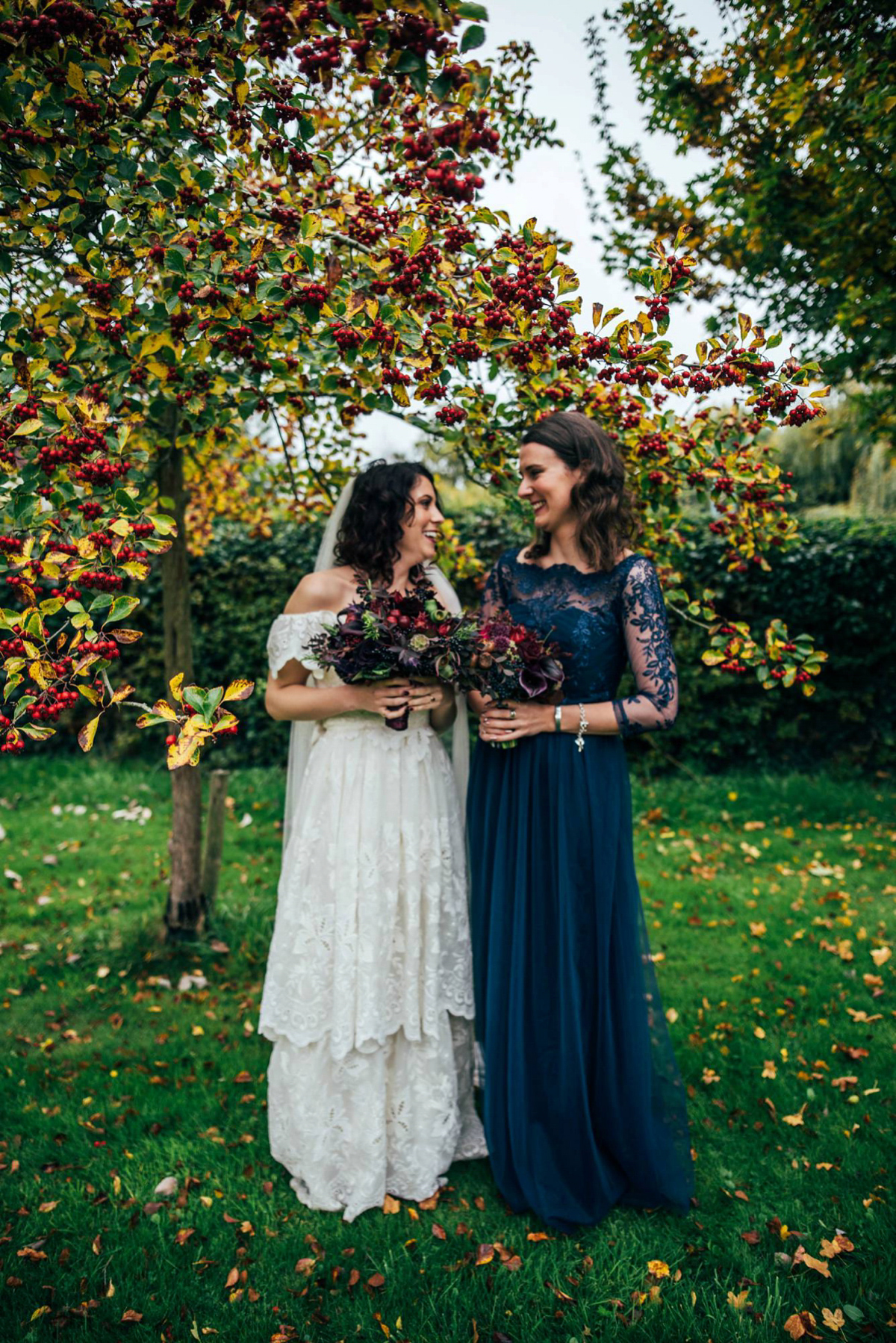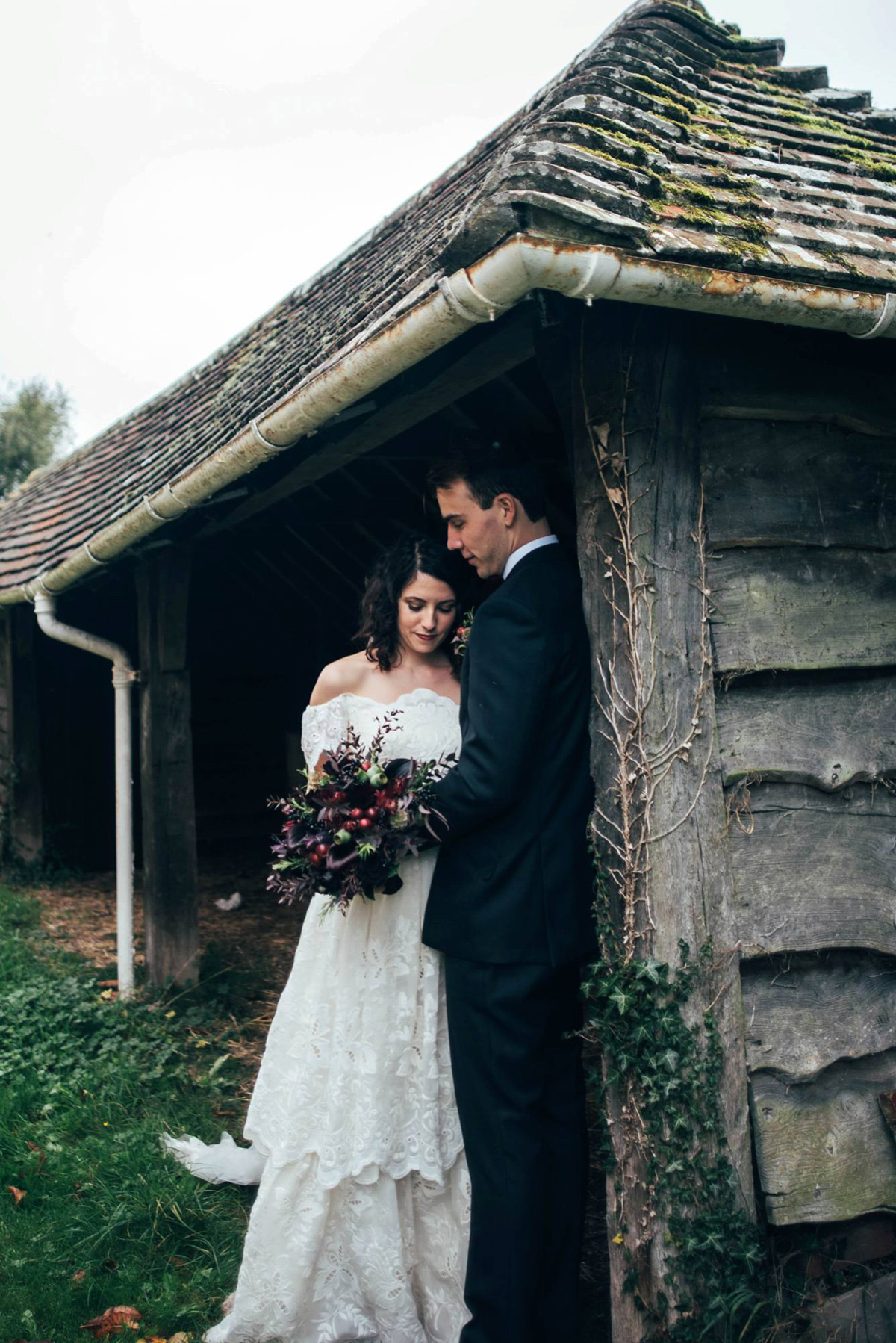 "I went to Brownies at Rotherwick Village Hall and Ian played a gig there in a childhood band. We grew up walking across the fields to get to the village pub."
"I made our invitations by dressing my two Maltese dogs (Chester and Little Foot) in bride and groom outfits, collecting bag upon bag of autumn leaves and creating a bit of a photoshoot. I even made their playhouse into a church. I had the best shot made into postcard invites."
"I wanted people to smile as soon as they opened the envelope. Ian and myself made our own 'order of the day' booklets, my Mum wrote the place cards and Ian made the table numbers using black and white silhouettes of Disney couples. For favours I had a woman from Etsy make friendship bracelets for every body and put these in little organza bags. I also had some little heart shaped mints."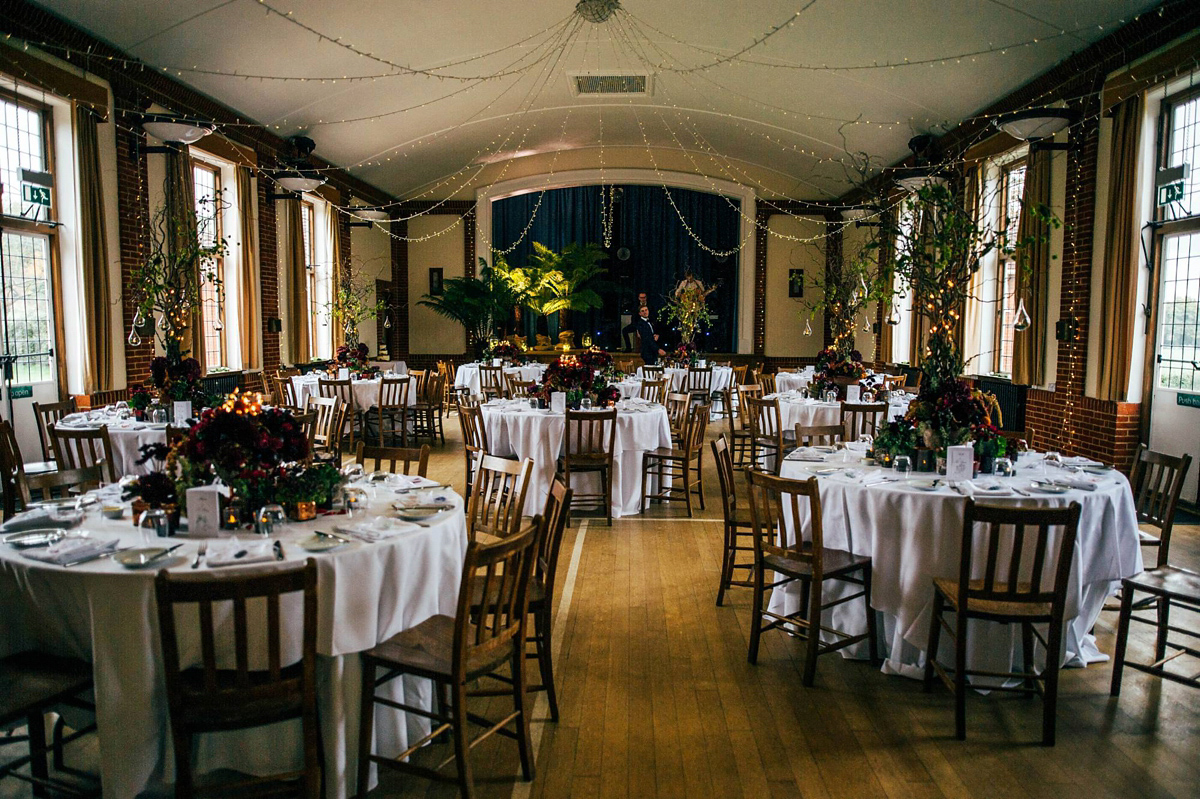 "Sophia, our florist, did all of the flowers at the hall which were mesmerising. I borrowed every lantern possible from Ian's Mum, Tina, and filled them with fairy lights and placed them around the entrance which looked enchanting.
I had a few pictures of Ian and me through the years on display and we also had a canopy of fairy lights strung up in the hall by partylights.co.uk. Otherwise we kept it very simple and let the blooms do the talking."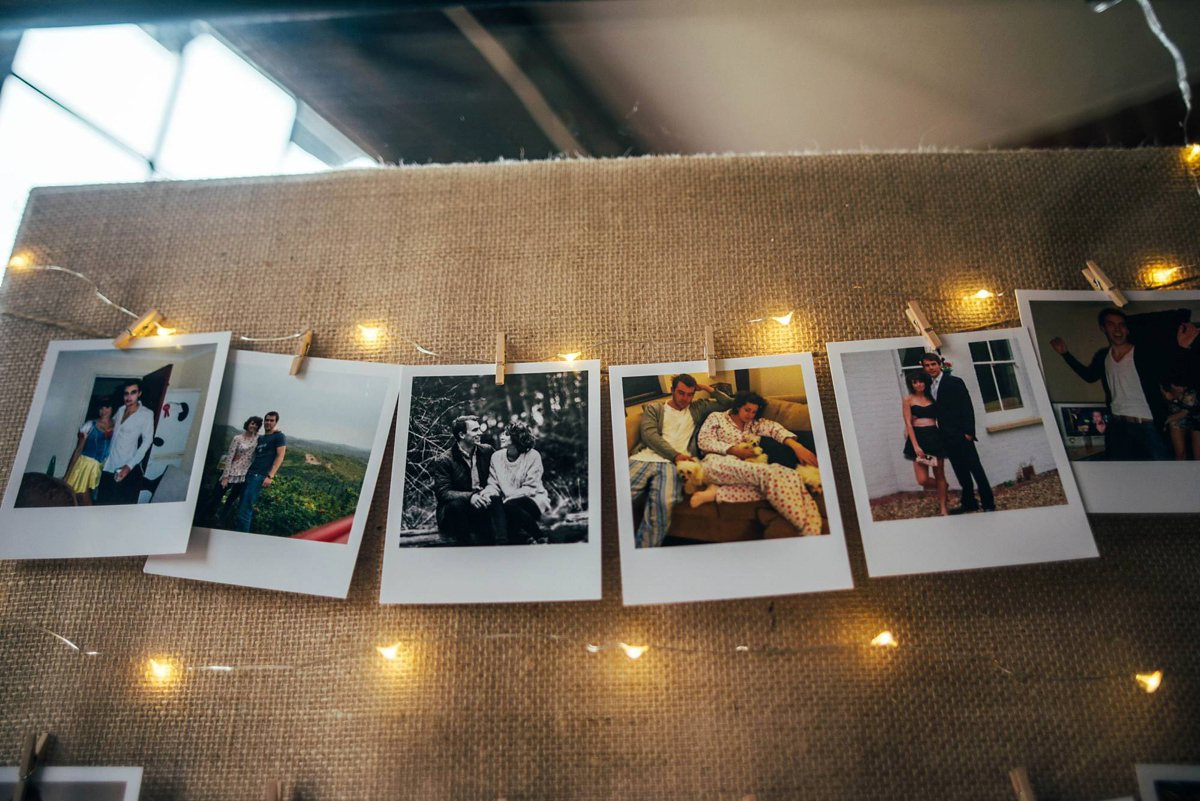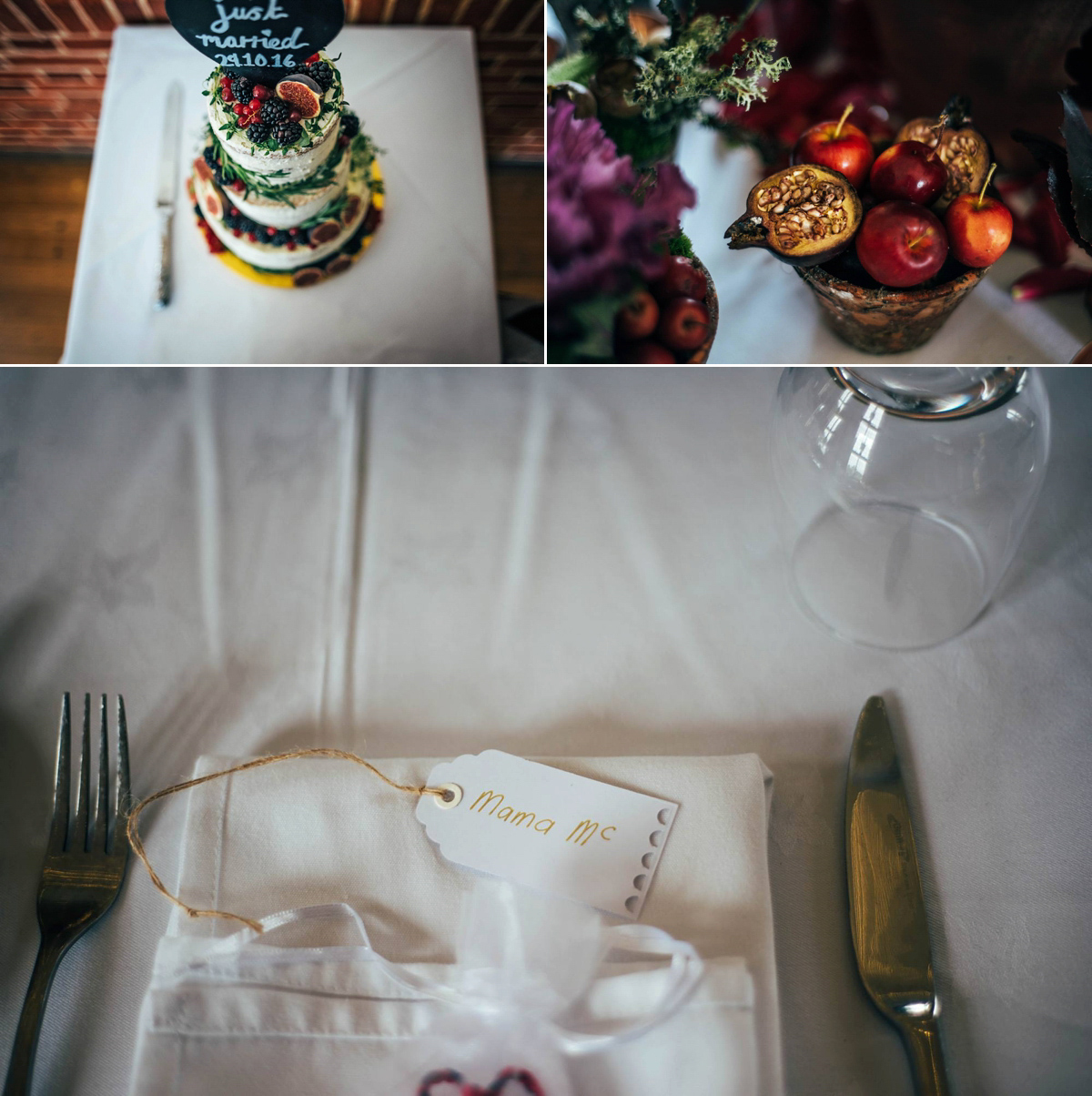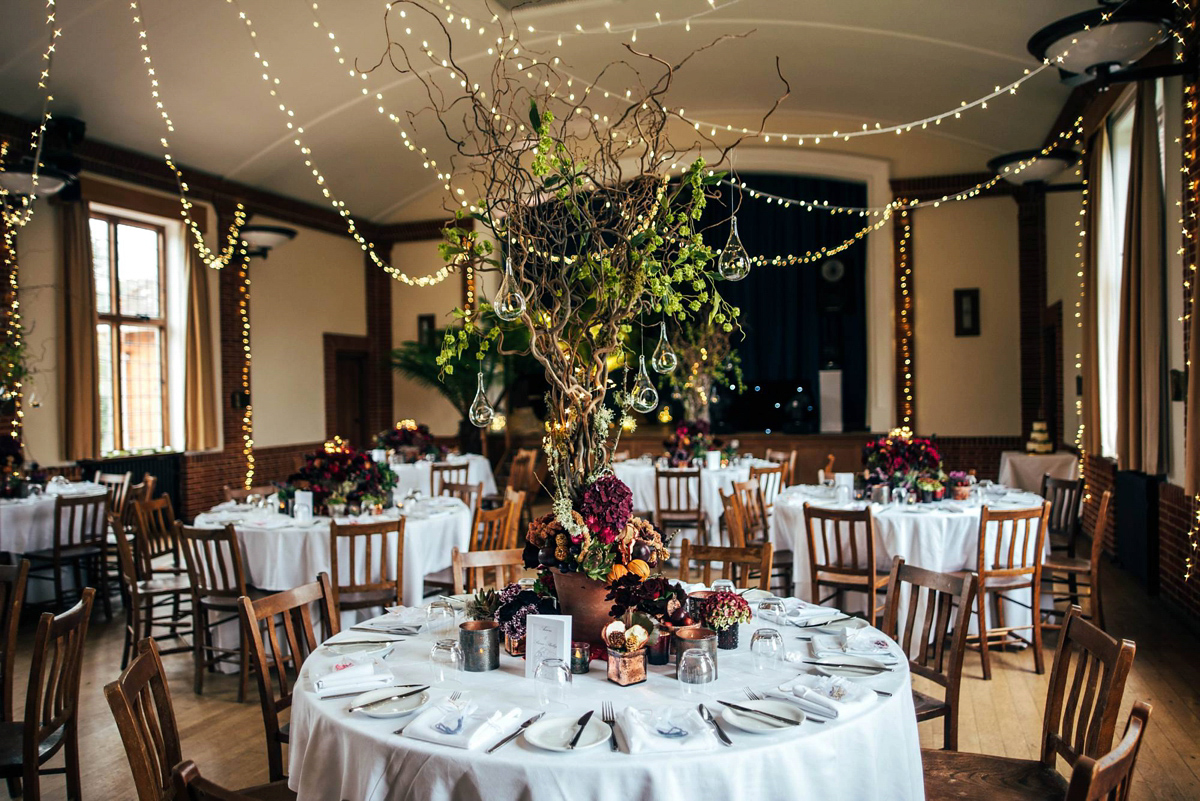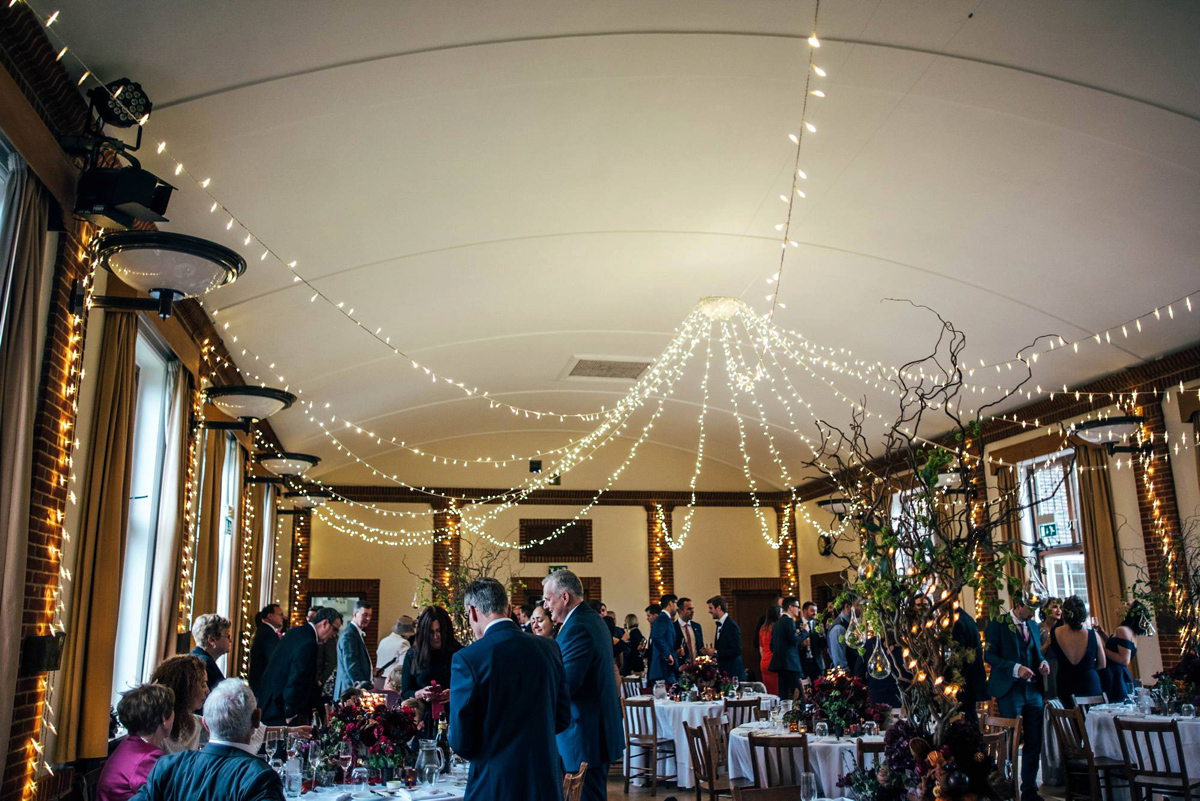 Robyn read P.E.T.A's advice for vegan weddings before organising her catering. The couple used Yo Sushi for a vegan sushi platter as canapes, Big Pan Paella  for a vegan paella during the wedding breakfast and Mission Burrito for vegan burritos for late night snacks.
"Hannah Duncan of Oh My Crumbs made our cake. Hannah is Ian's cousin and I tasked her with making a vegan wedding cake. She made a 3 tiered semi-naked lemon cake shrouded with rosemary and plump, ripe berries. Again I gave her some ideas but left the design to her. She's incredibly talented."
"We were very lucky to have an up and coming acoustic singer play before our wedding breakfast. He has just signed a record contract and so sadly we cannot name him. Our disco was done by Farnham Light and Sound."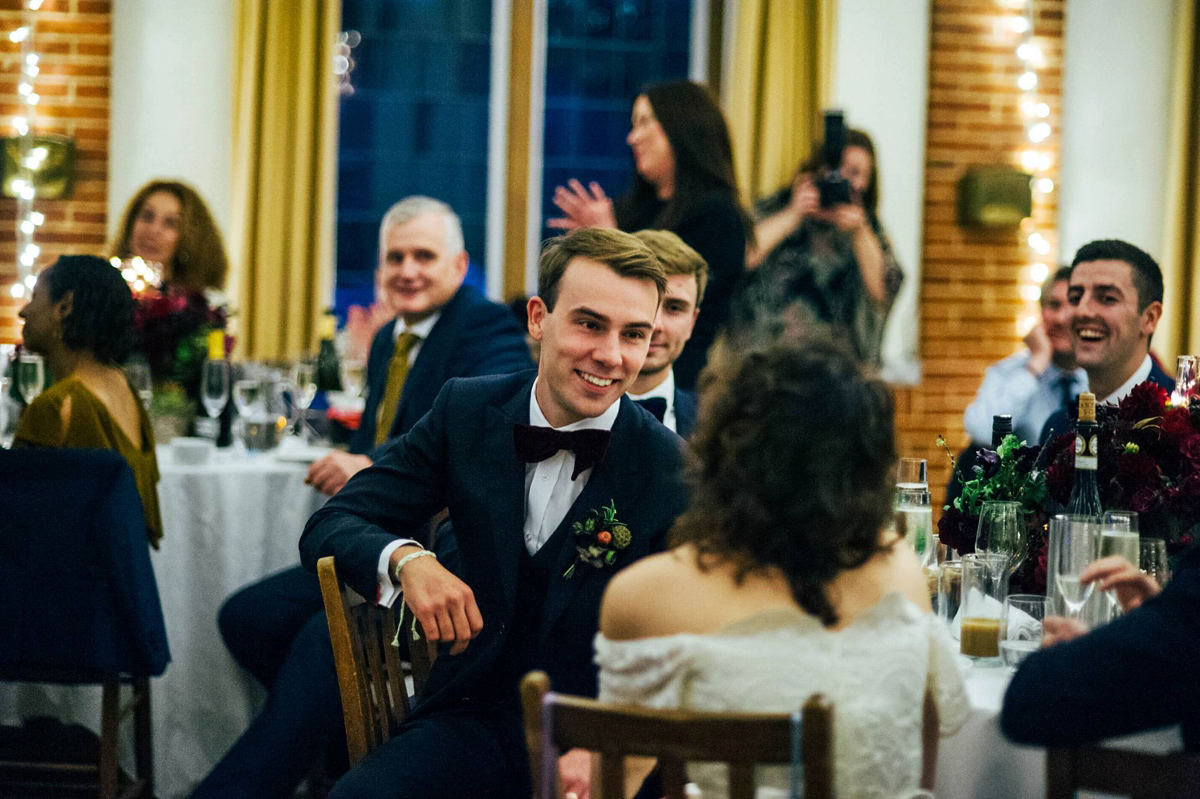 "Our first dance was to 'Into You', by Tamia. Our acoustic singer learnt it for us. I remember listening to an acoustic version of it by Childish Gambino in bed not long after we were engaged. My brother, Jack, had sent it to me. We listened to it in bed and in that moment I felt so blissfully happy and I knew that was our song."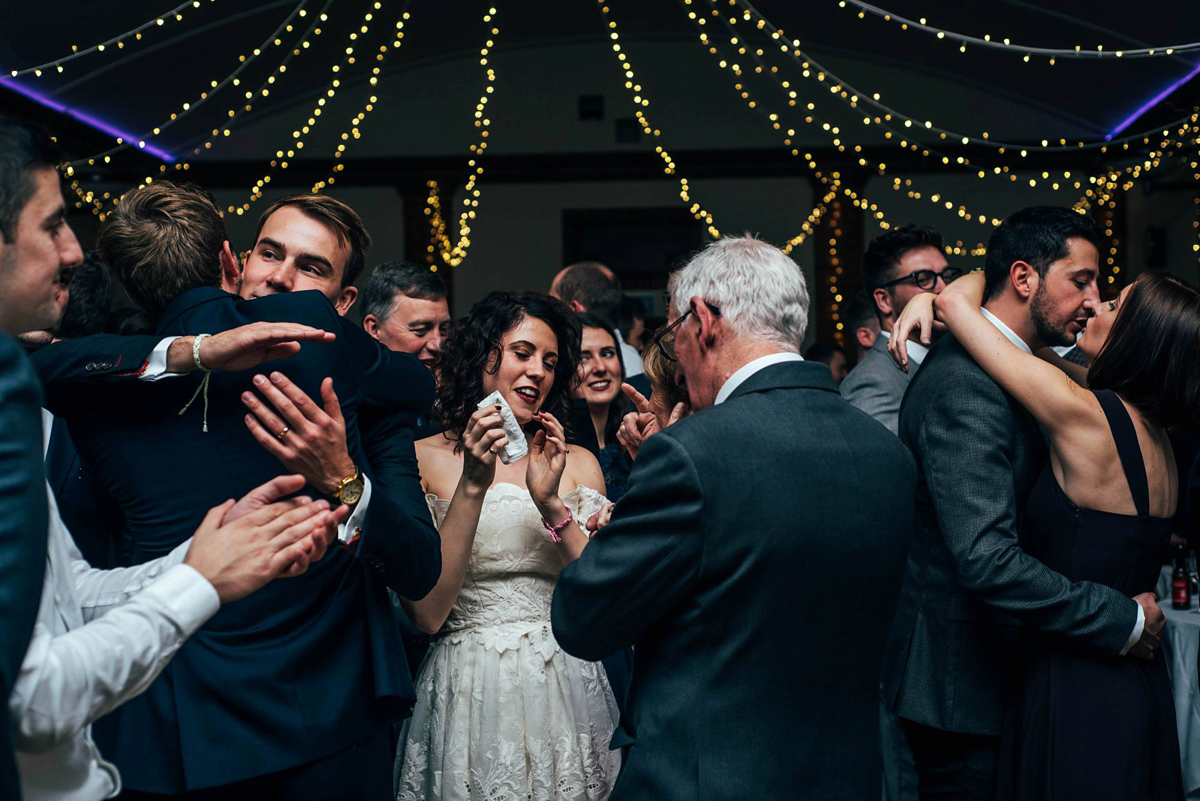 Words of Wedded Wisdom
"Don't get caught up in what you think you should have or what everybody is expecting of you. Close your eyes and picture how you want to feel on that day. Hold on to that feeling and let that lead you."
What an absolutely beautiful day! Huge love and thanks to you Robyn for sharing such helpful information with our readers – you look *wonderful*.
Love Annabel x