Some weddings are huge, some are middling sized and some are very small, but they're all lovely.  I must admit to having a bit of a soft spot for really small and intimate weddings though.
Today's Brighton based affair, with the ceremony at Brighton Town Hall and a reception meal at The Coach House, is a gorgeous example of this latter type and just oozes so much love and happiness.  Hannah and Oliver married on the 16th of March 2017 with just thirteen guests and their baby daughter Ruby in attendance and the day was captured beautifully on film by Sara Reeve.  Unsurprisingly, Hannah and Oliver were thrilled with their photographs.
"We both love being by the sea and we got engaged in Brighton so it holds special memories for us. We live in Hertfordshire and thought that getting married in Brighton would combine our wedding with a 'mini moon'.  We wanted the day to be intimate, stress free and inexpensive and to spend it with immediate family and closest friends.  Oliver is incredibly laid back and let me plan everything, even his outfit!"
Photography by Sara Reeve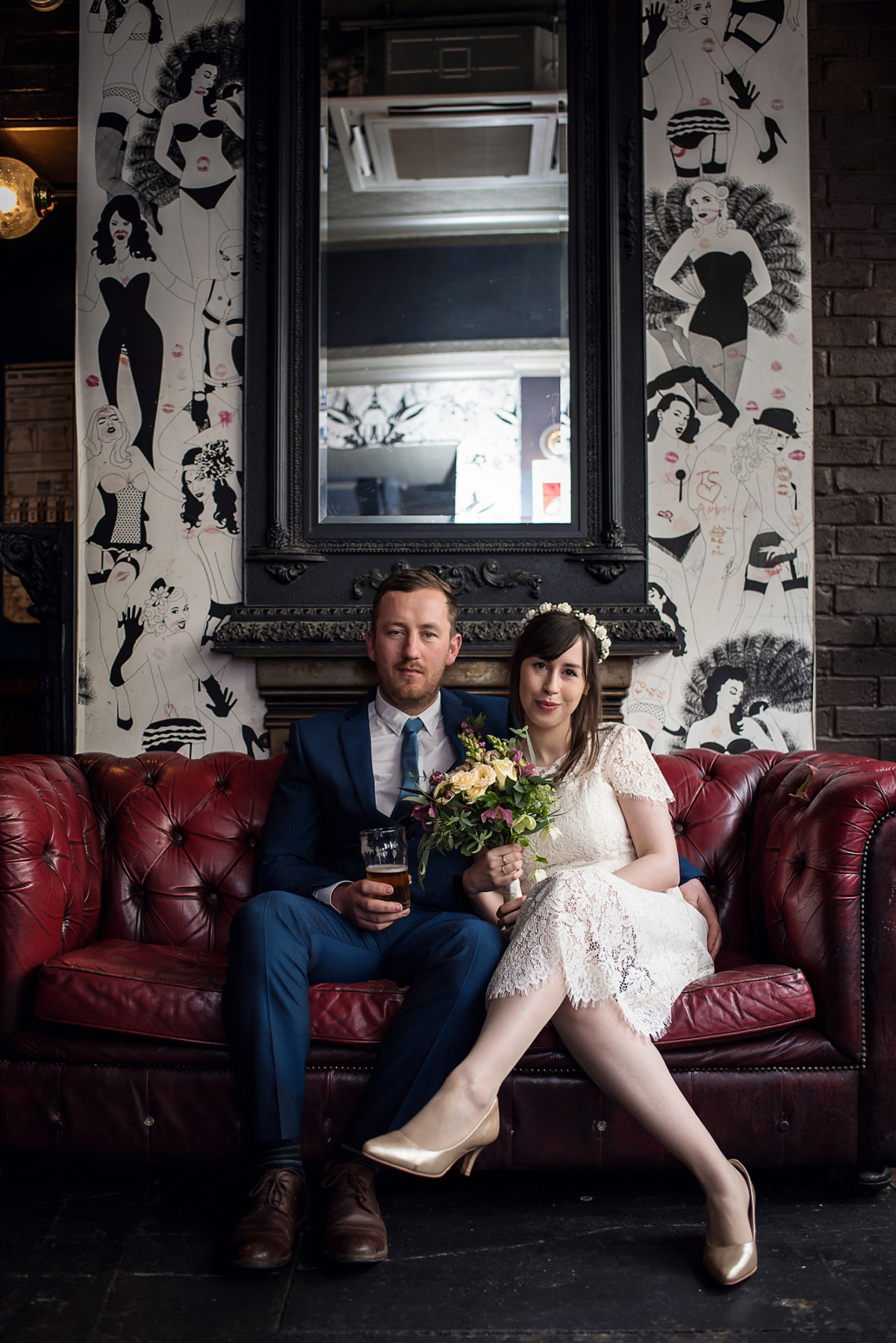 Hannah looked beautiful in a short lace number from Marks and Spencer, which she paired with gold heels from Clarks, a flower crown from Flash Floozy on Etsy and a gold bag from Other Stories.
"I wanted a short dress with sleeves that looked vintage and something that I felt pretty in, especially as I had a baby in October.  I'm also breastfeeding so needed a dress that I could wear a proper supportive bra with.  I ordered four dresses from different online shops and in the end chose the cheapest dress by far, which is very unlike me.  I loved the thick lace and the flattering shape."
"We met in a house share in a horrible, run down house in North London.  I kept having to ask Oliver to fix the electrics when they stopped working and that's how we got talking. We were together for four years before we got married and in that time bought a house, got our amazing ginger cat, Heathcliff, and had a baby."
"There wasn't really a proper proposal.  When I was pregnant we had a discussion and decided to get engaged and chose a ring together from Etsy. We went to Brighton for the day a month later."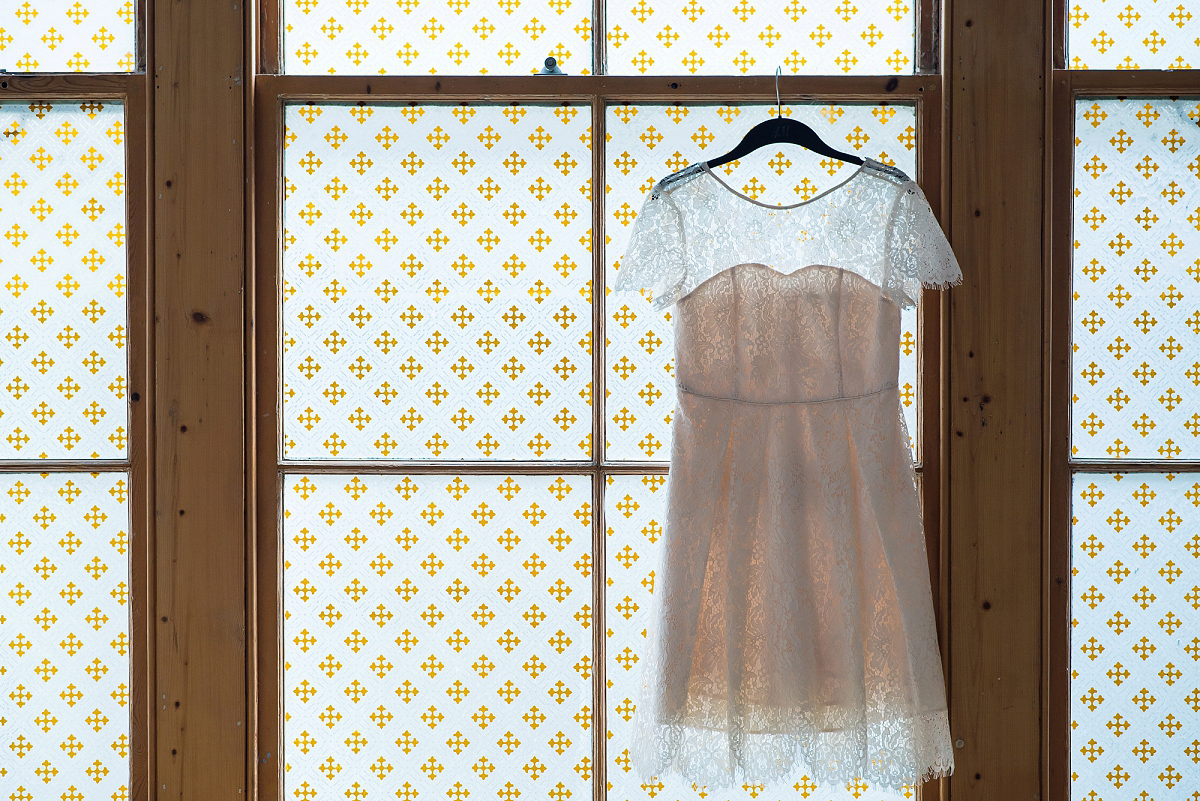 "Oliver took me to the beach and in the pouring rain under an umbrella gave me a letter about our life together so far, printed a timeline of photos and gave me the ring we'd chosen. We then went to a vegetarian restaurant to celebrate.  We really wanted a day to celebrate our little family. We were engaged for ten months before we got married but planned it in less than nine weeks." 
Little Ruby was bridesmaid and wore a floral dress and white cardigan from John Lewis while Oliver wore a navy blue suit from Next and a pale blue tie from ASOS.
He accessorized with the watch Hannah bought him for his 30th birthday.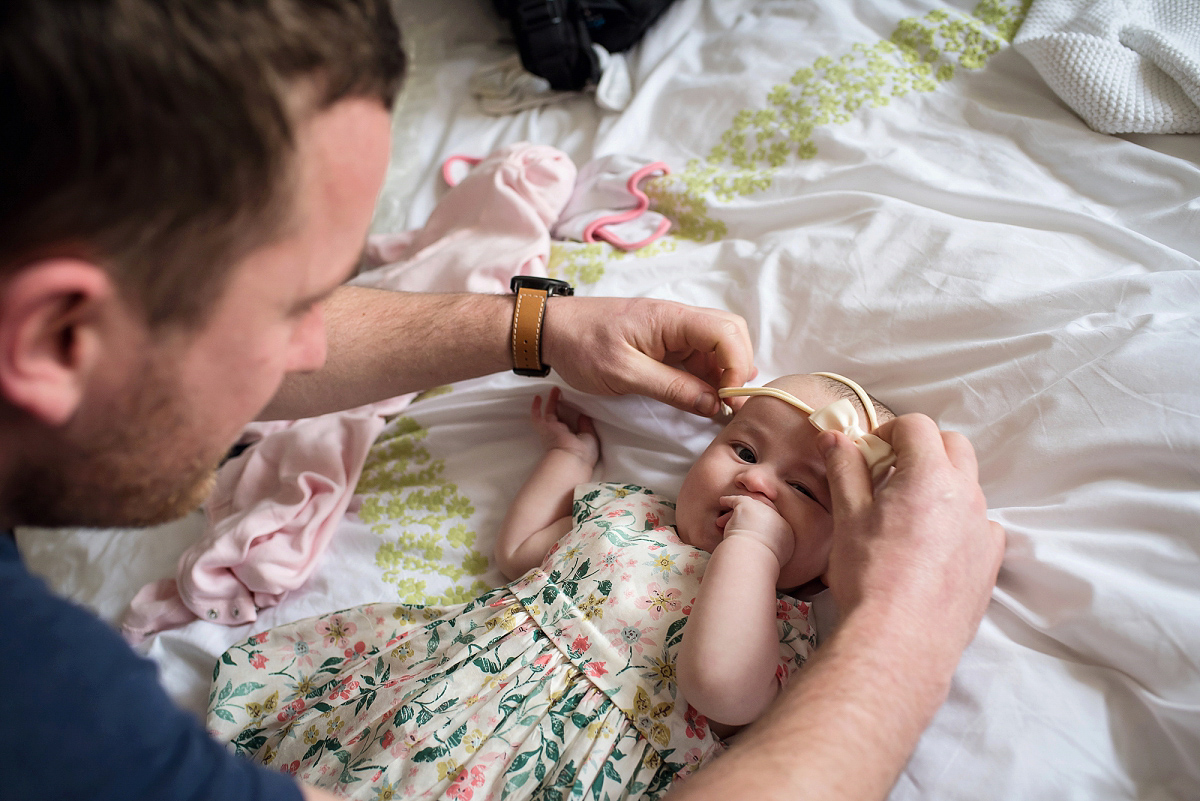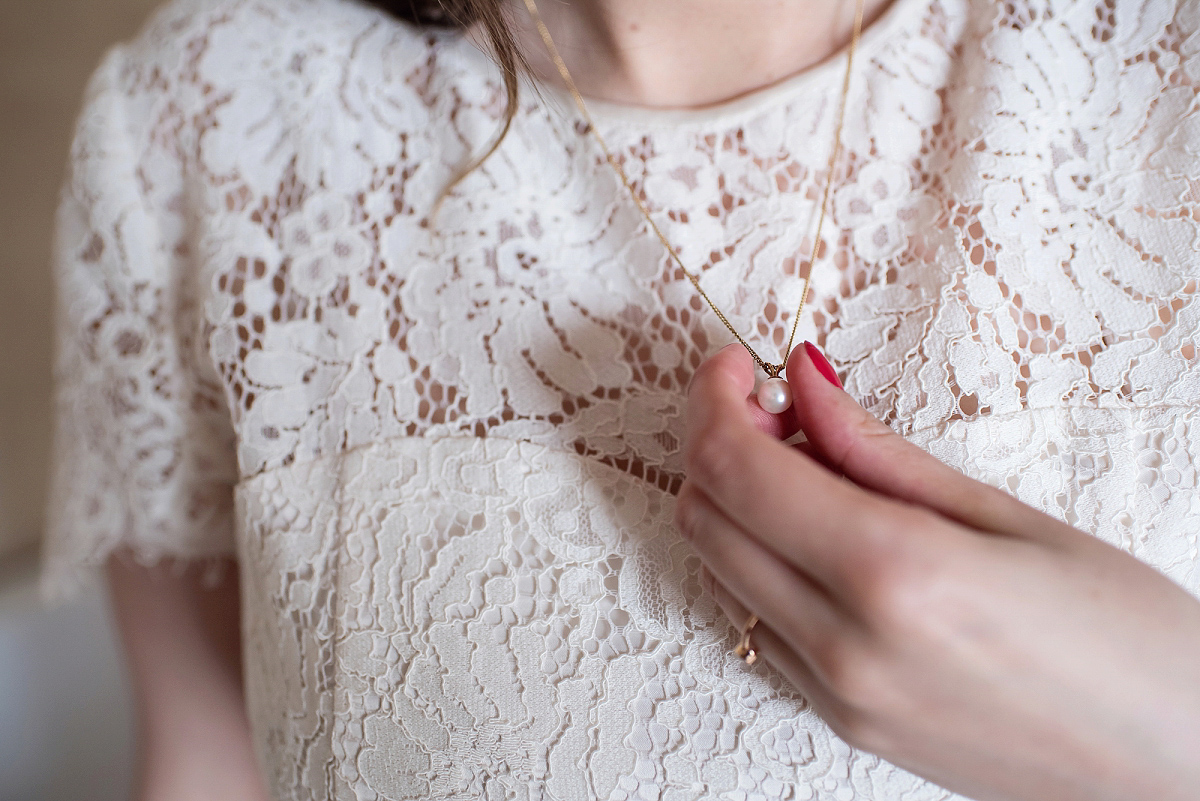 "We didn't include many traditions but did include the something old, something new, something borrowed and something blue.  I borrowed my mum's pearl stud earrings, wore a pearl necklace that my Dad bought me for my 21st as my something old, and my tiny Nikki Stark turquoise blue ring.  My flower crown was my something new."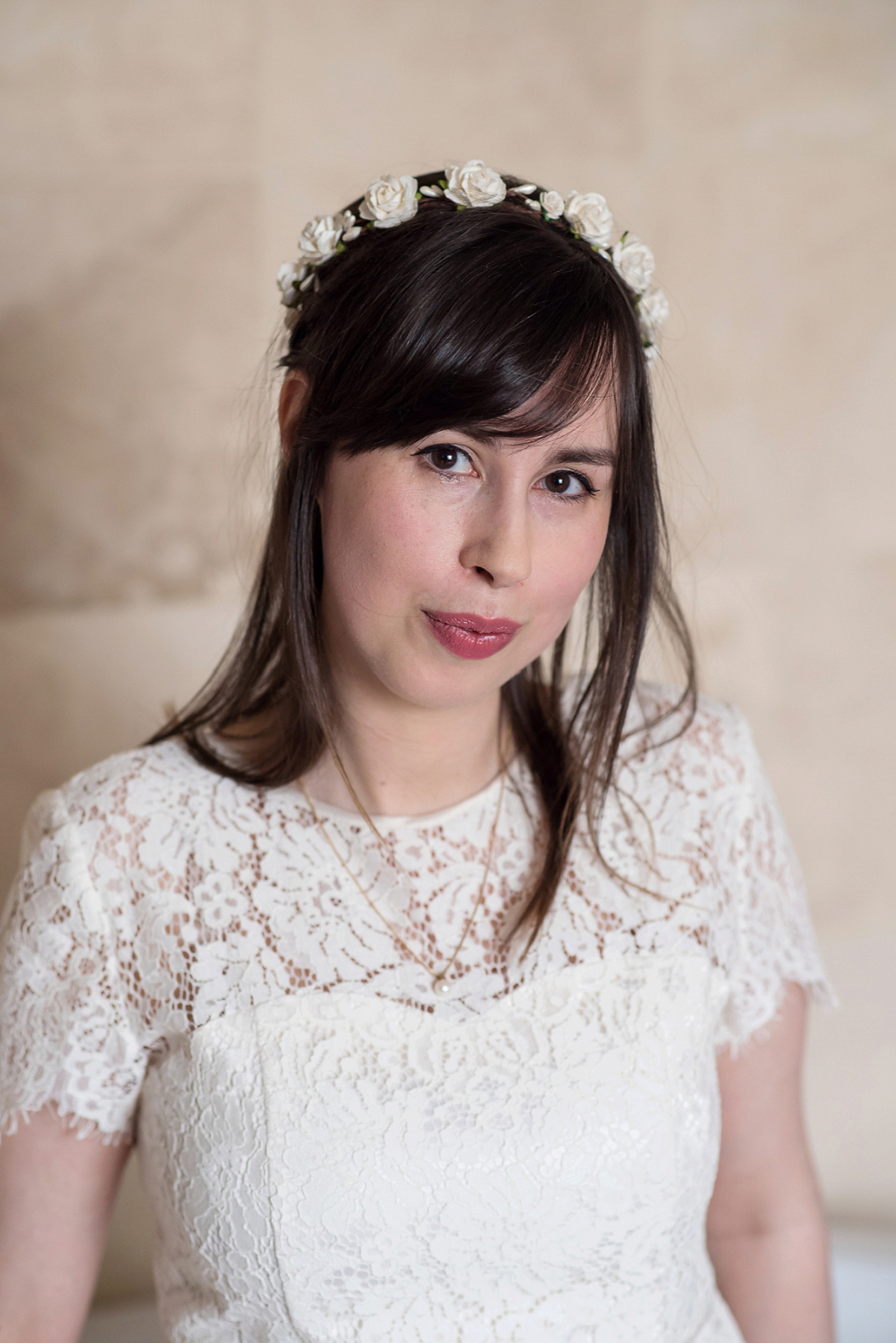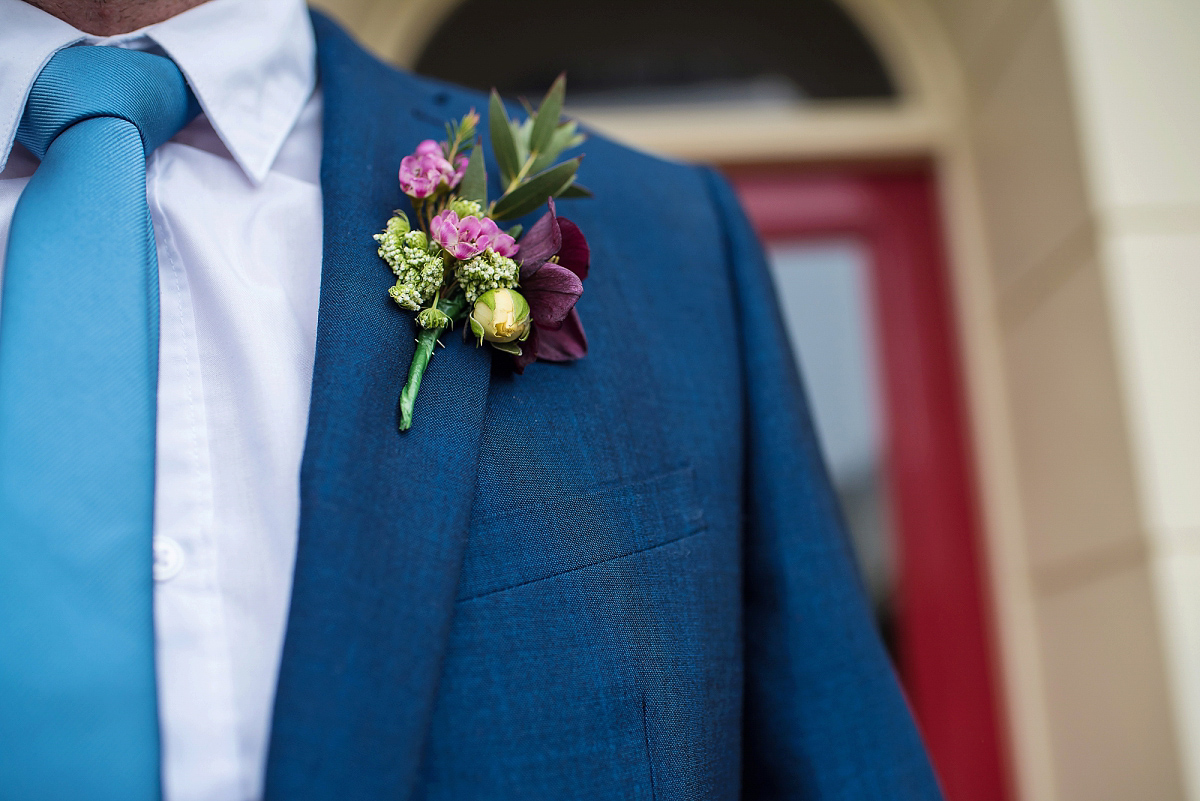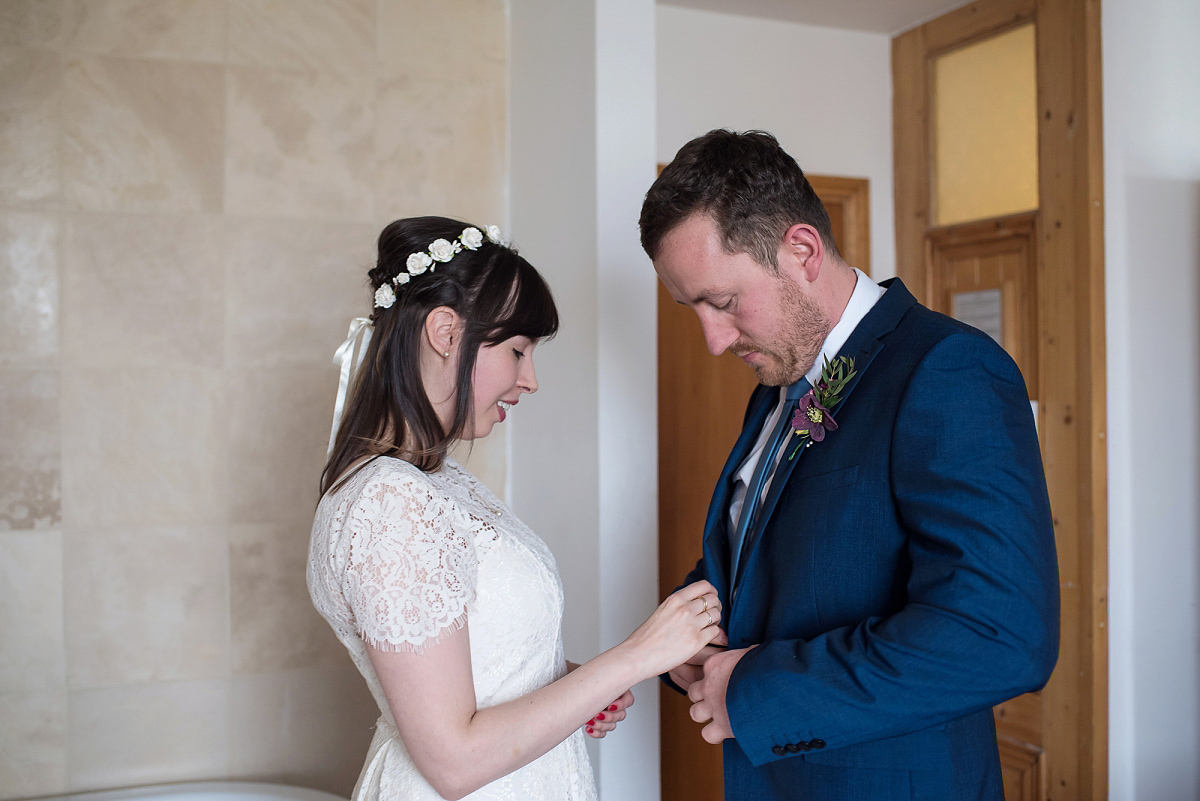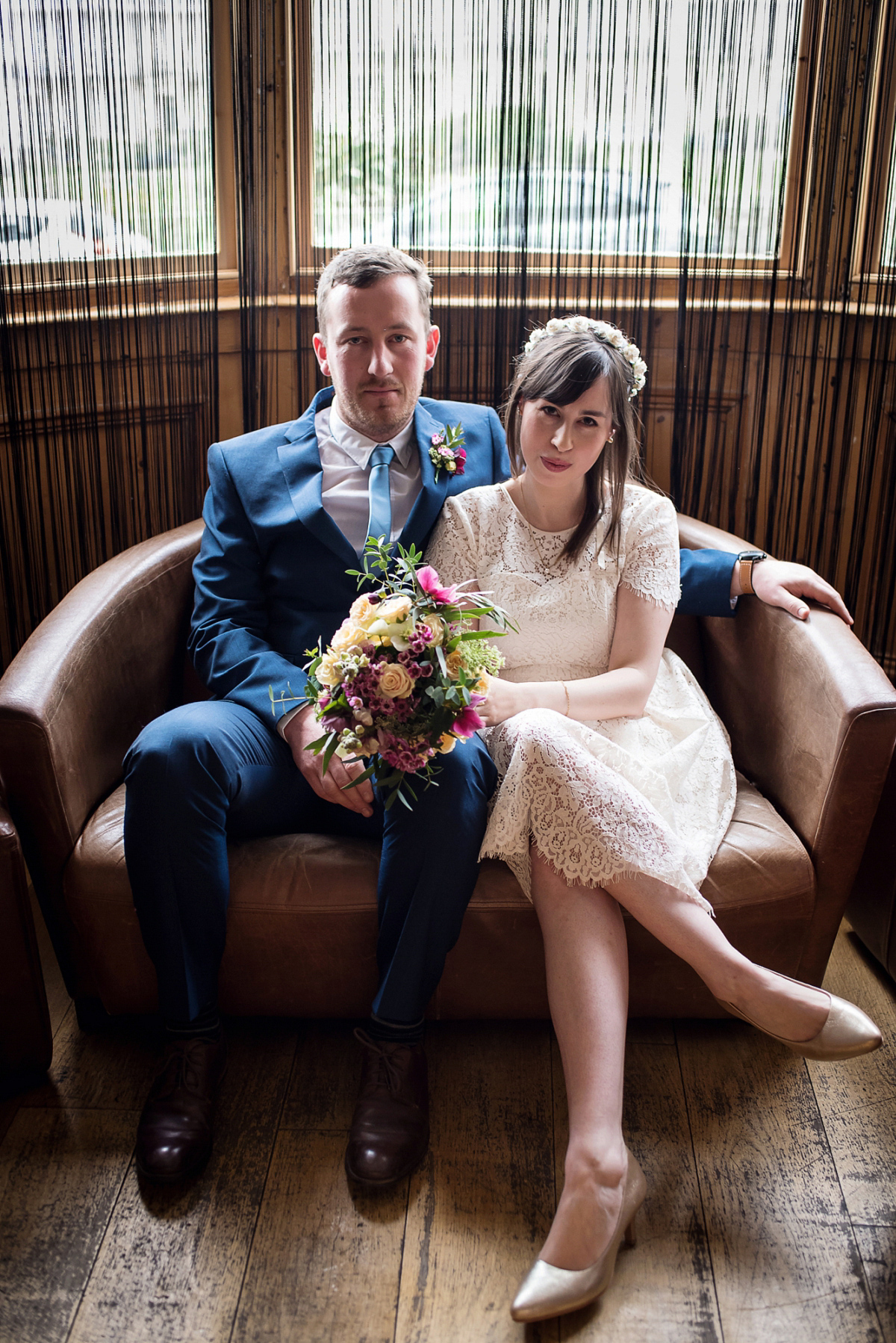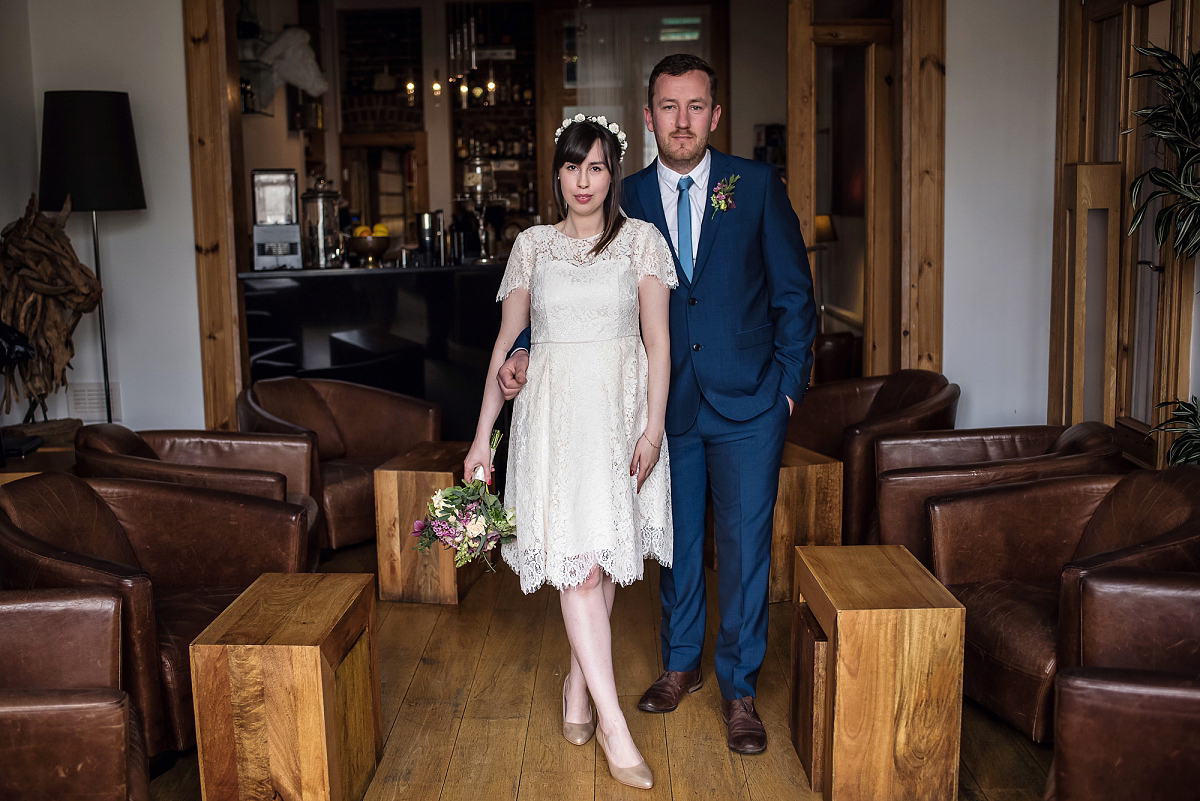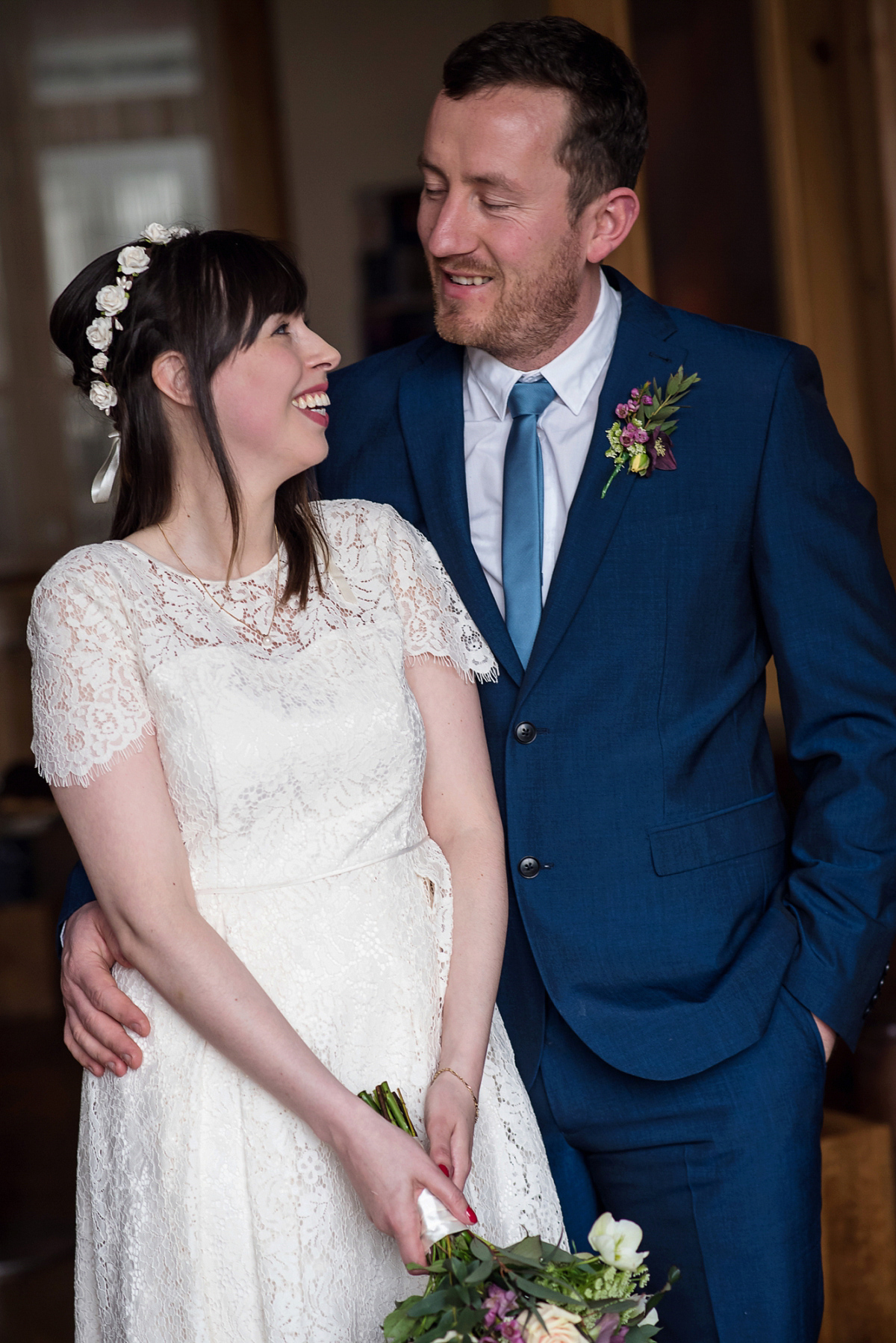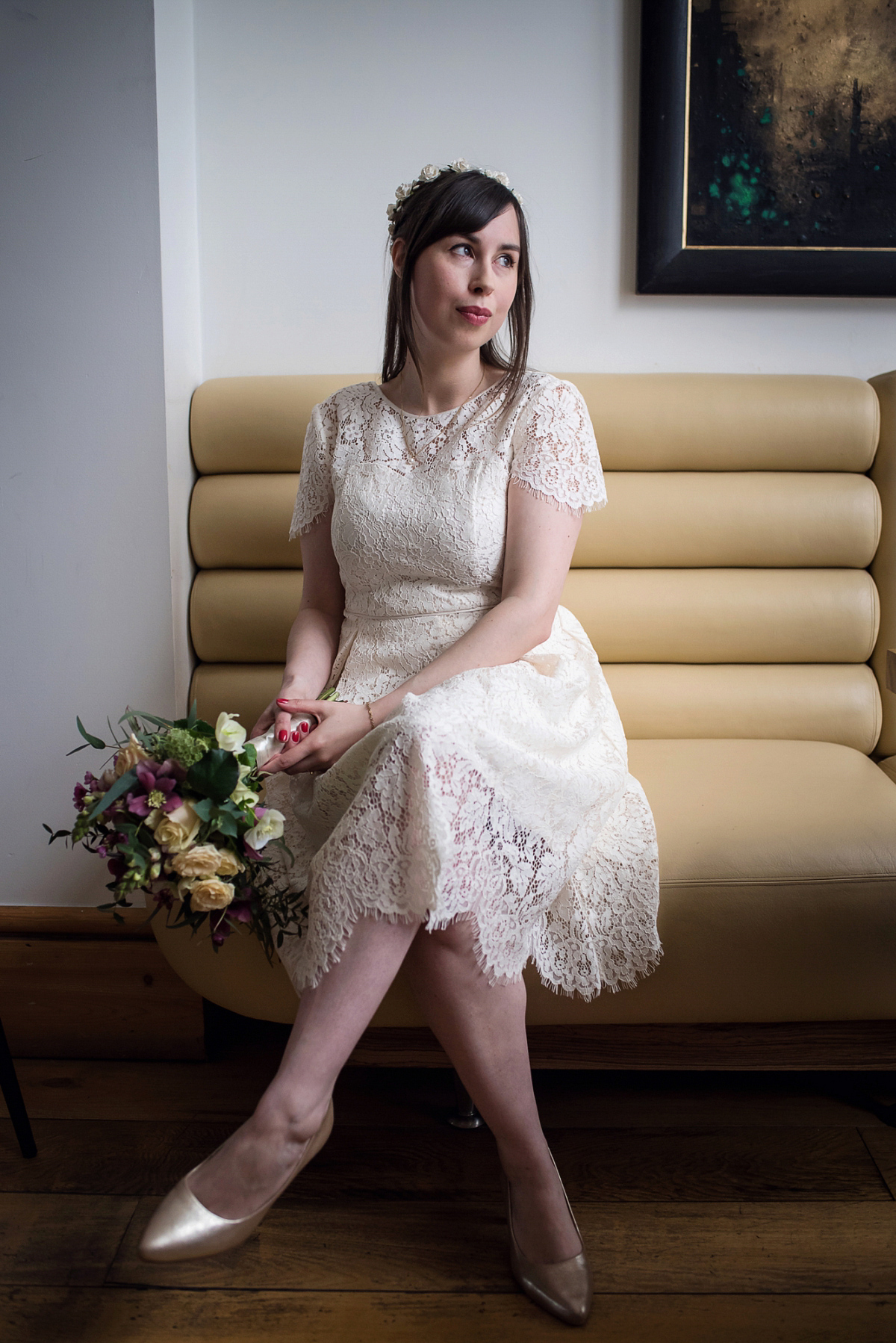 The fabulous florals were the work of Ginger Lily who Hannah found through Love My Dress, hooray!  The brief was peach and pink flowers with lots of greenery to tie in with Ruby's dress, including roses and nothing too structured. I think they nailed it.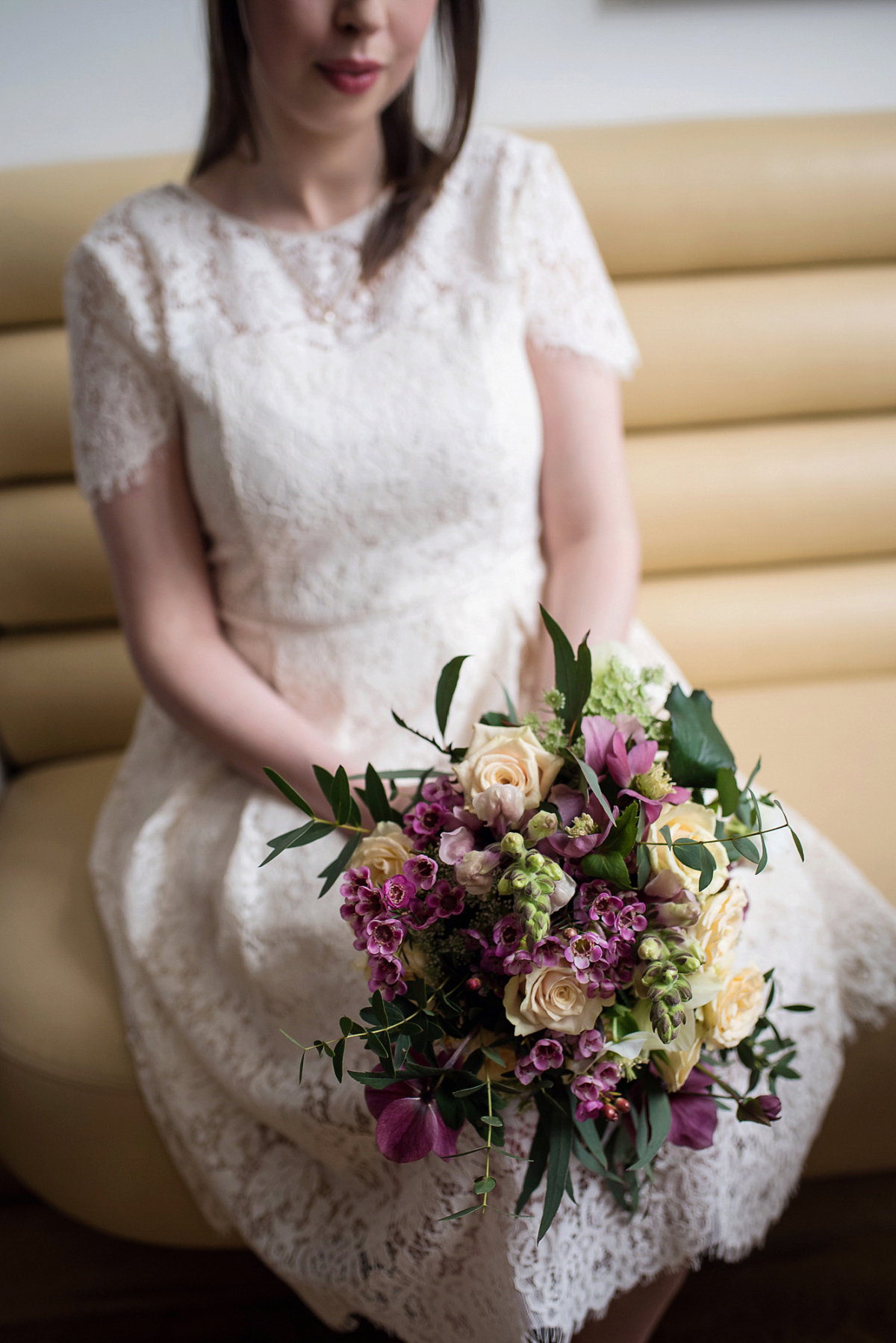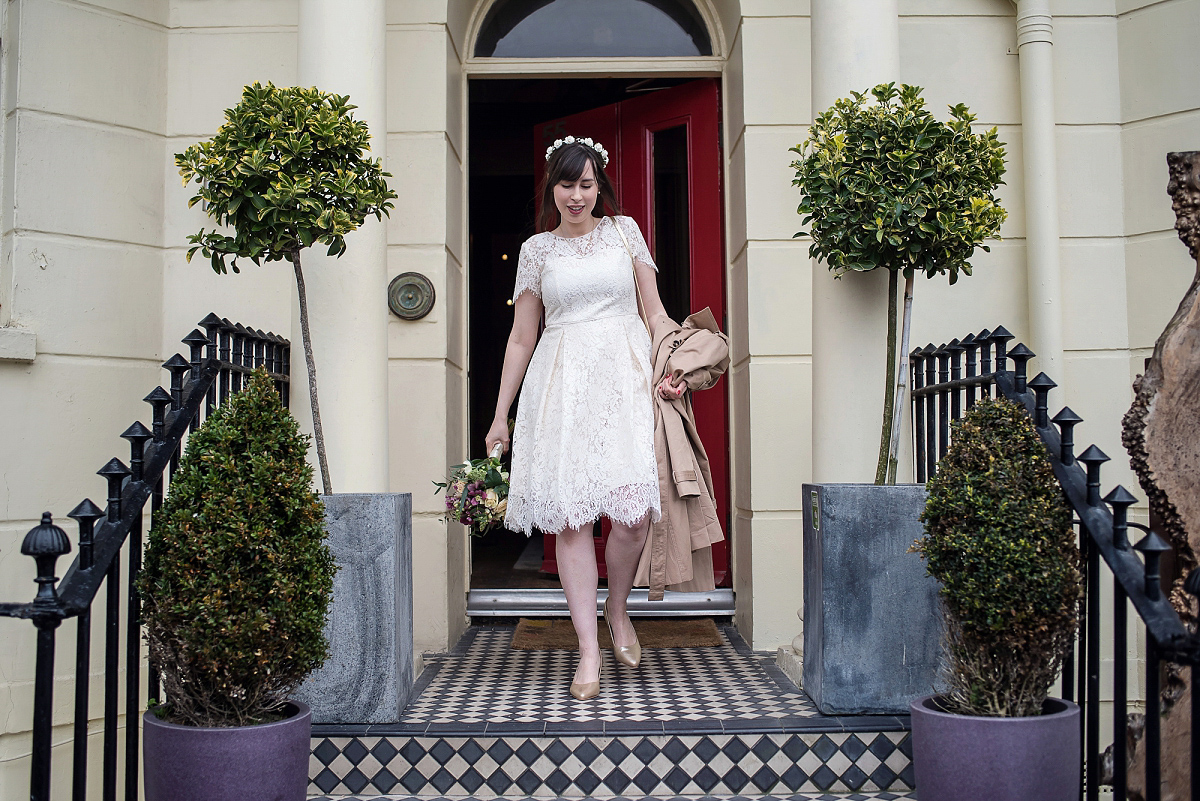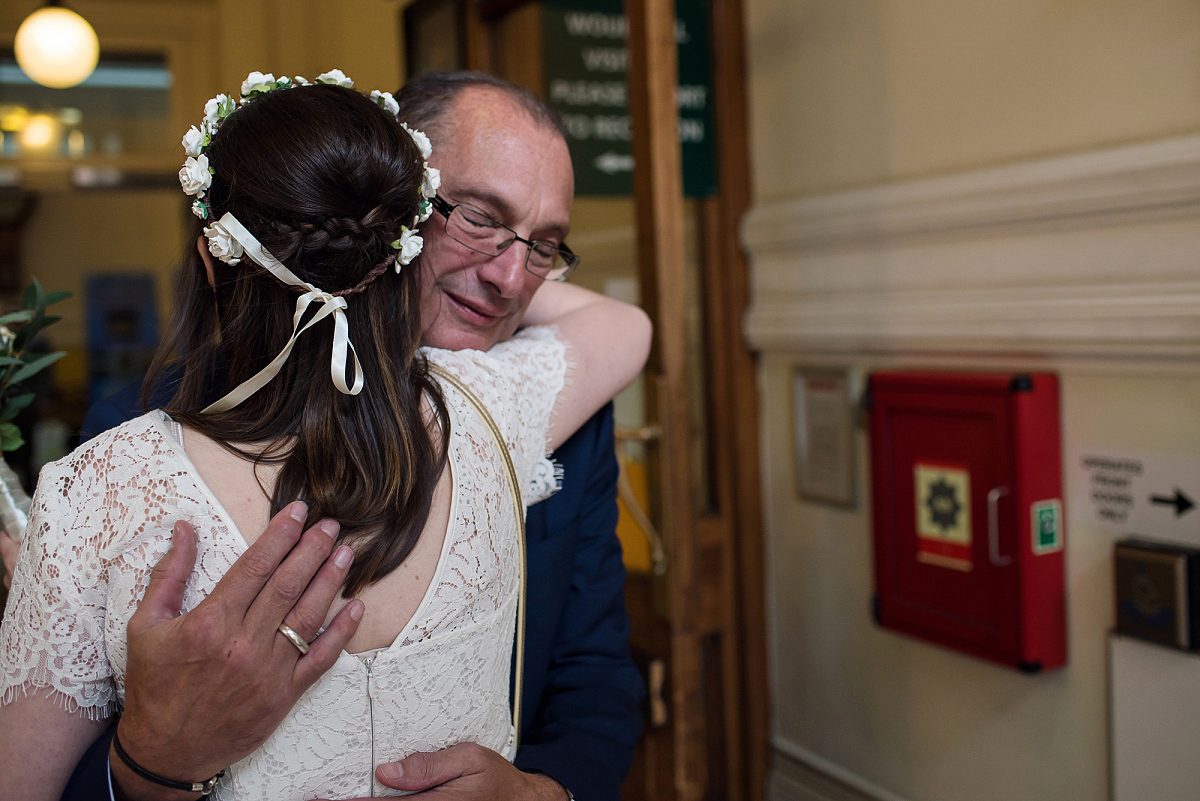 Hannah's wedding ring was a hammered rose gold band from Nikki Stark while Oliver chose a plain sterling silver ring from Goldsmiths.
"My Dad works for Simmons Bakers and we always have their cakes for Christmas, birthdays and special occasions so it made sense to have Simmons cakes at our wedding. We had a lemon drizzle cake, carrot cake and Rolo chocolate cupcakes."
"There wasn't an aisle for me to walk down as such, but I walked into the ceremony room with my dad.  He has helped us so much over the years and I was very proud to walk in with him to 'Laura' by Bat For Lashes.
Oliver and I signed the marriage certificate to 'Modern Love' by David Bowie and walked out to 'Ruby' by Kaiser Chiefs, for our daughter."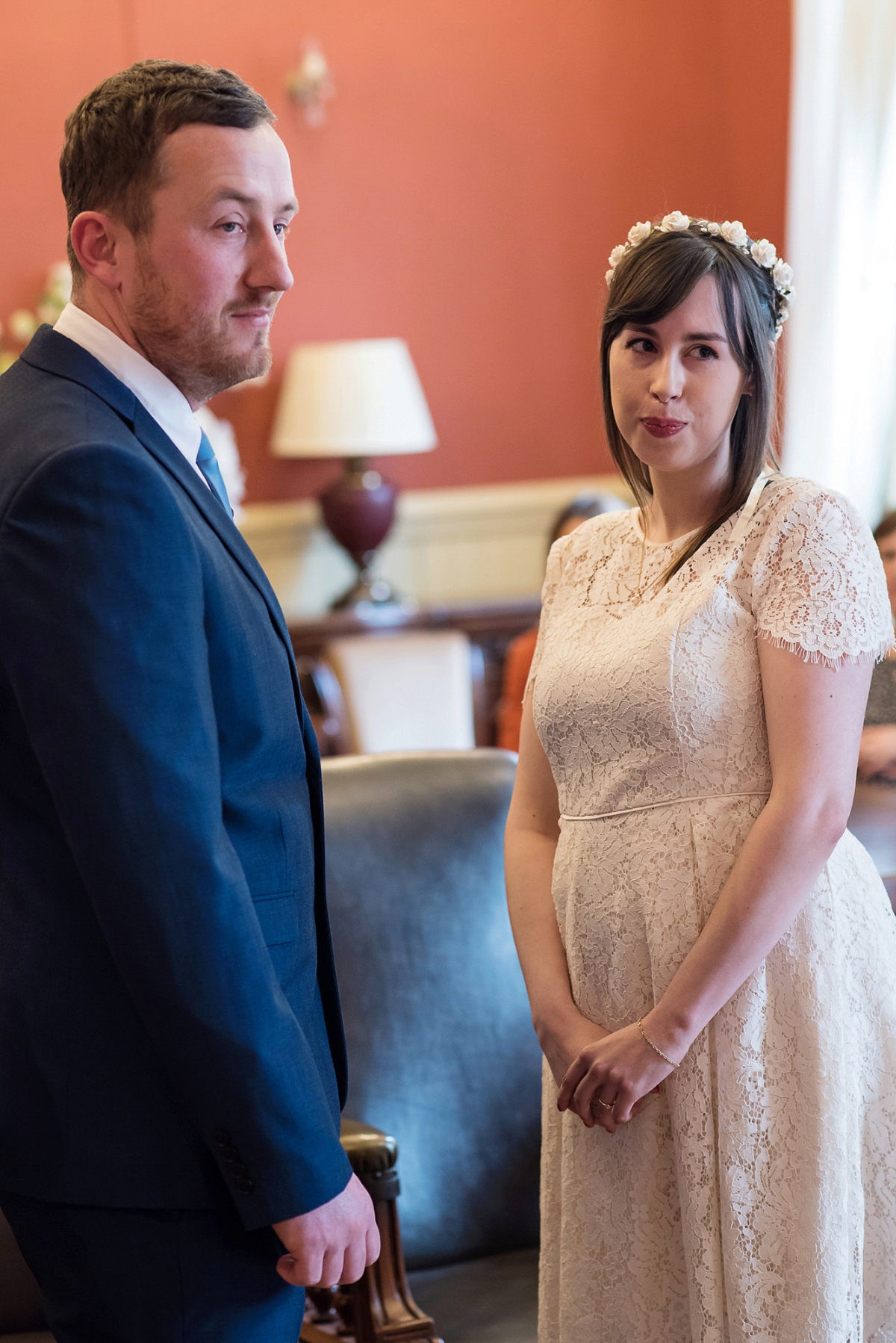 Hannah's friend Caroline read a quote from one of Hannah's favourite films, 'Frances Ha'.
"It's beautifully written and describes love in an unsentimental way."
It's that thing when you're with someone, and you love them and they know it, and they love you and you know it… but it's a party… and you're both talking to other people, and you're laughing and shining… and you look across the room and catch each other's eyes… but – but not because you're possessive, or it's precisely sexual… but because… that is your person in this life. And it's funny and sad, but only because this life will end, and it's this secret world that exists right there in public, unnoticed, that no one else knows about. It's sort of like how they say that other dimensions exist all around us, but we don't have the ability to perceive them. That's – That's what I want out of a relationship. Or just life, I guess.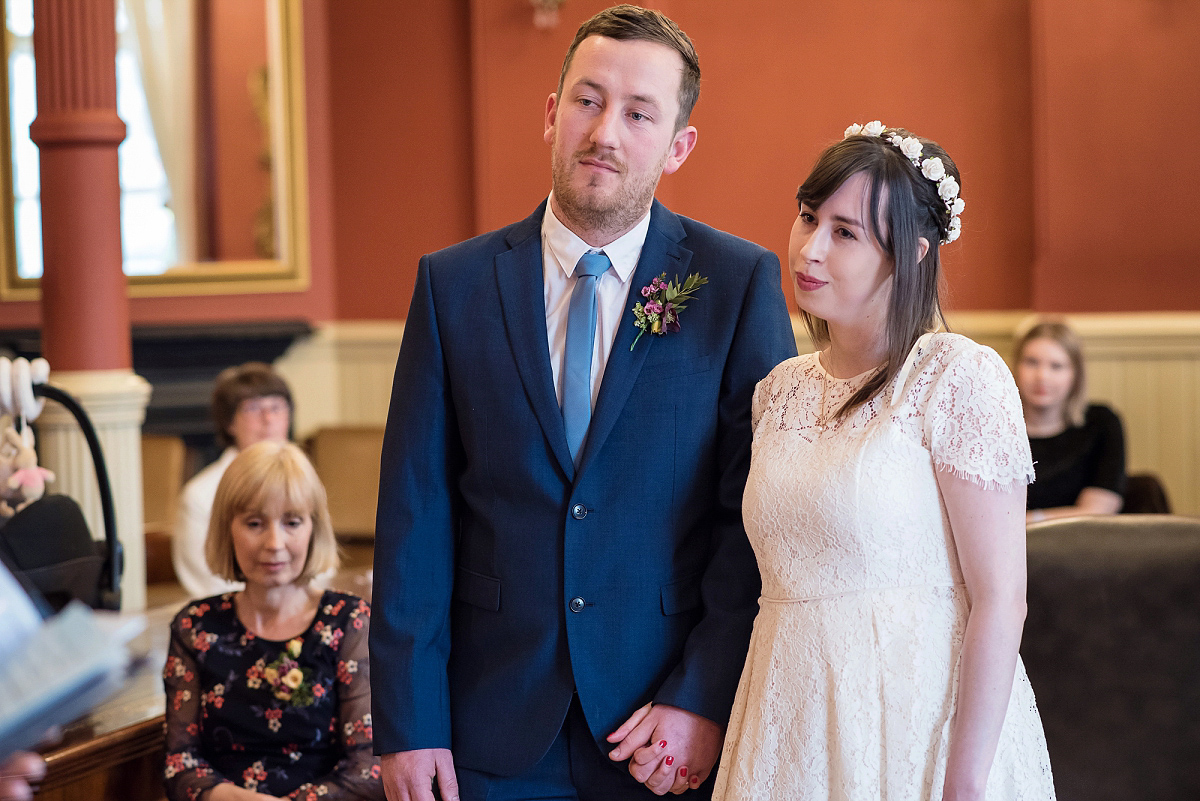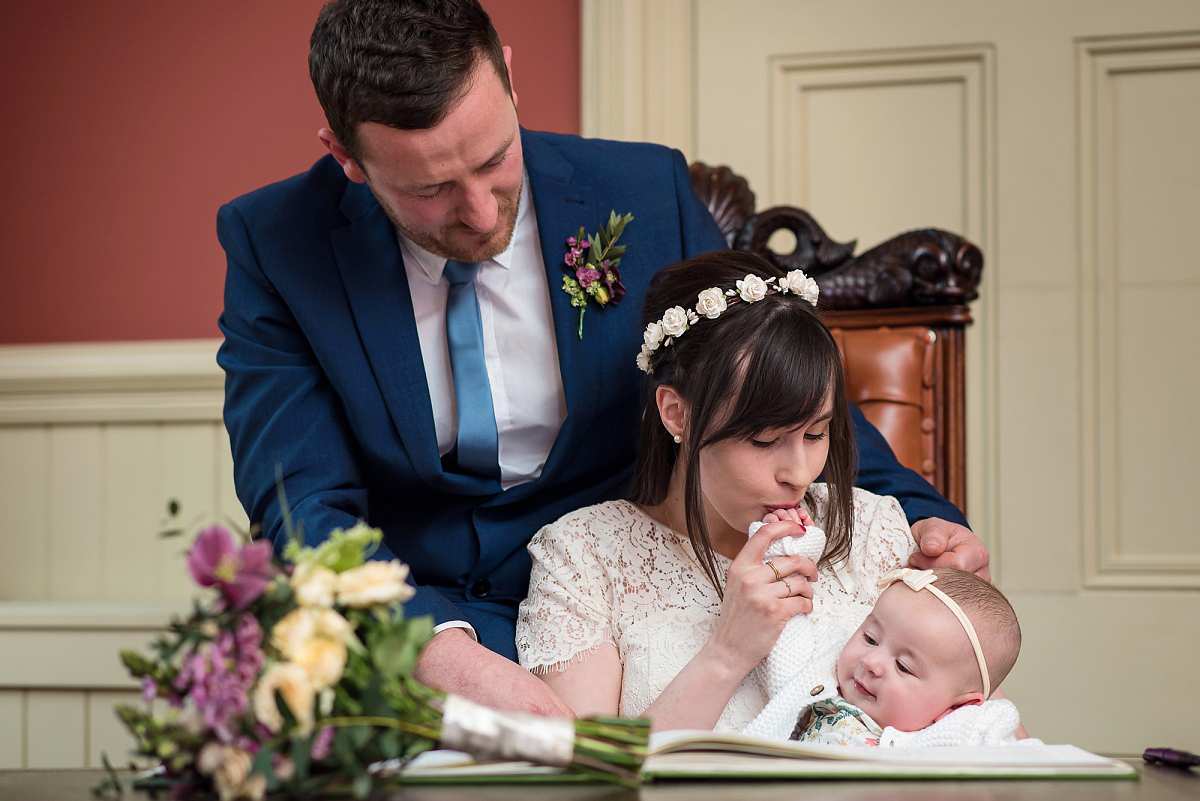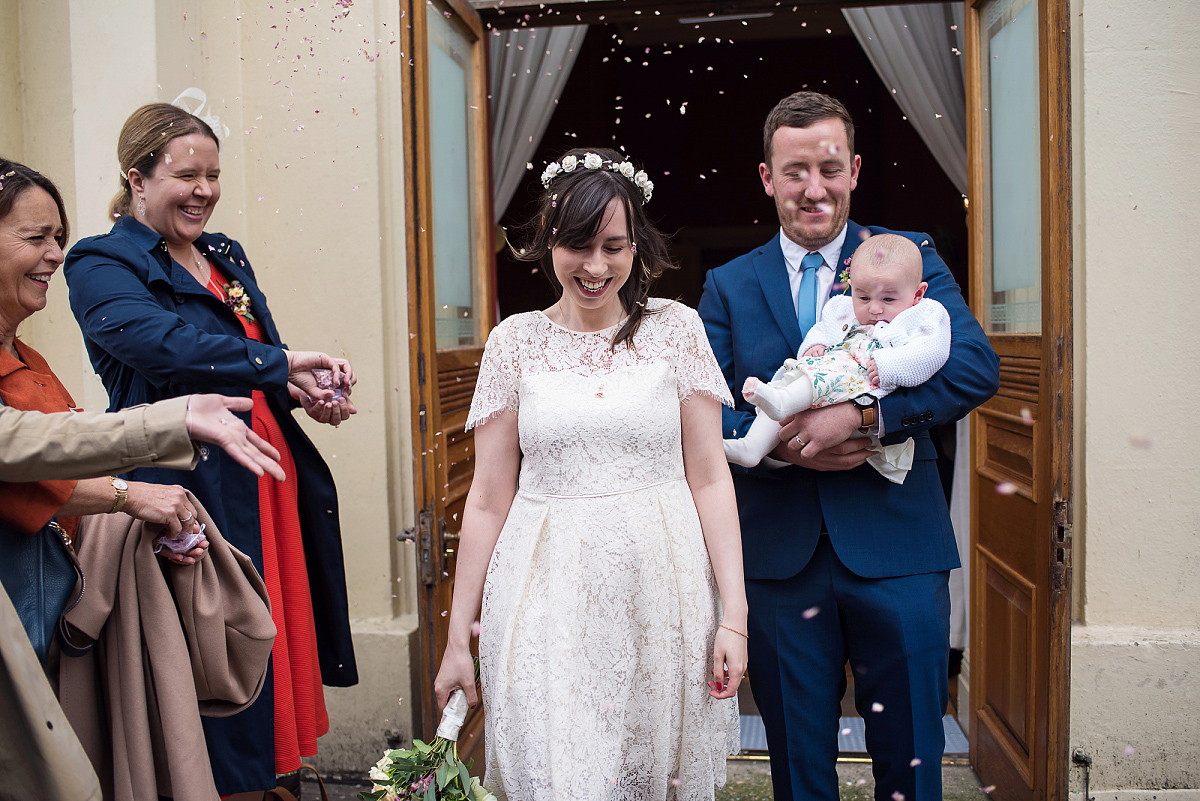 "My favourite part of the day was wandering around Brighton with my new husband, having our photos taken and strangers offering us their congratulations.  Oliver's favourite part was the amazing food at The Coach House."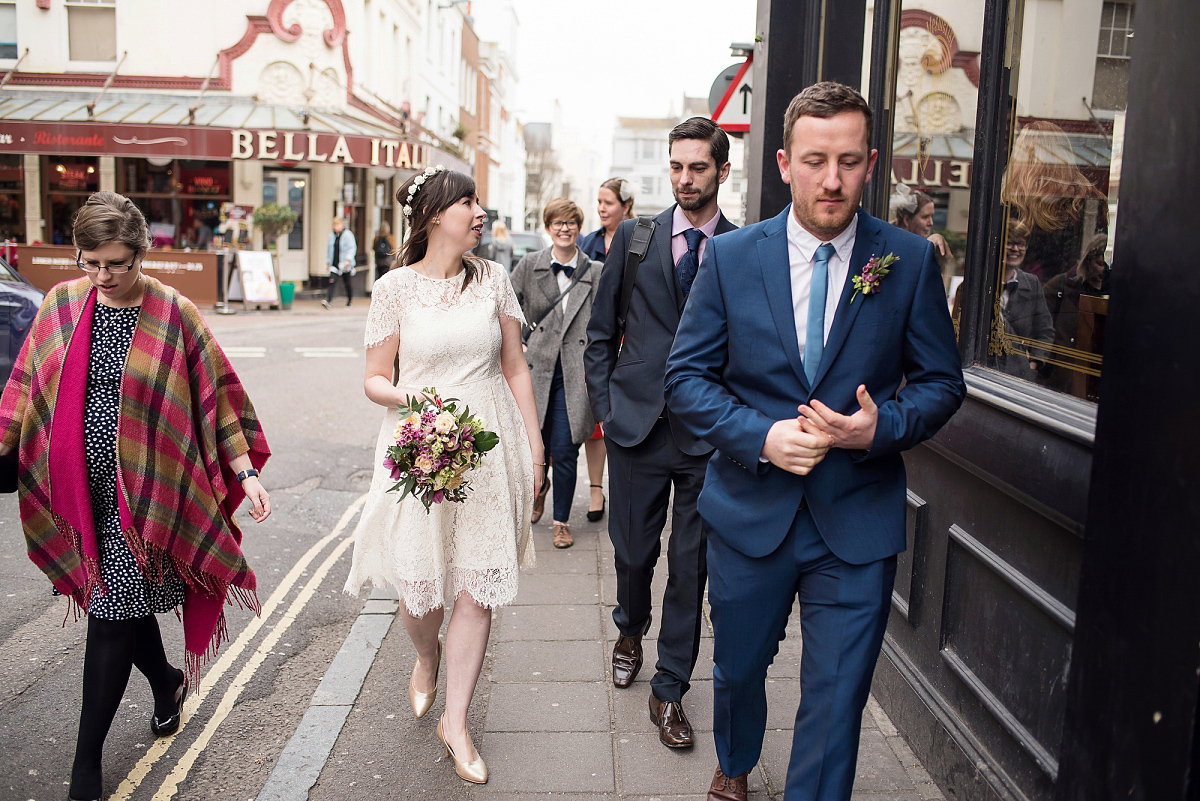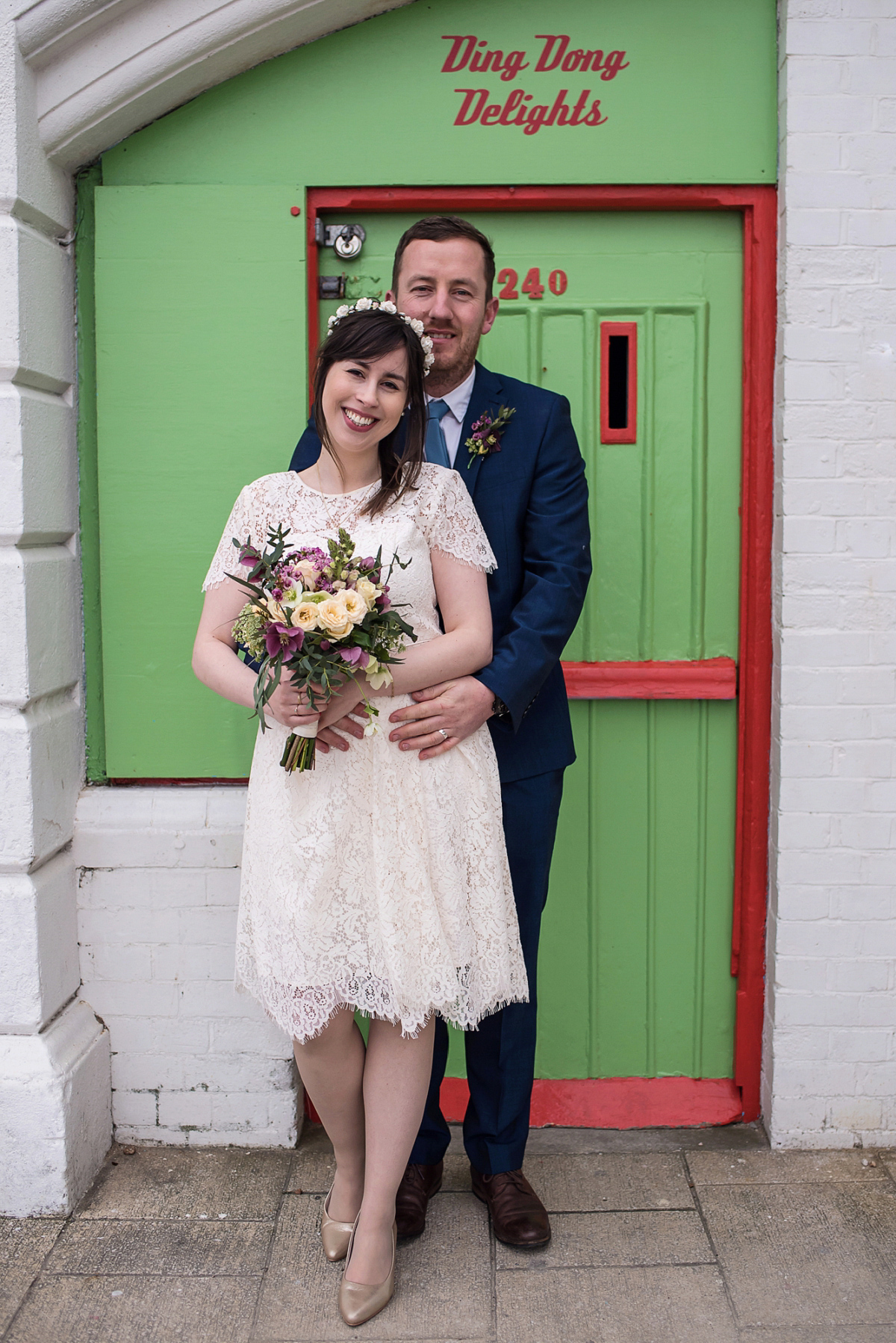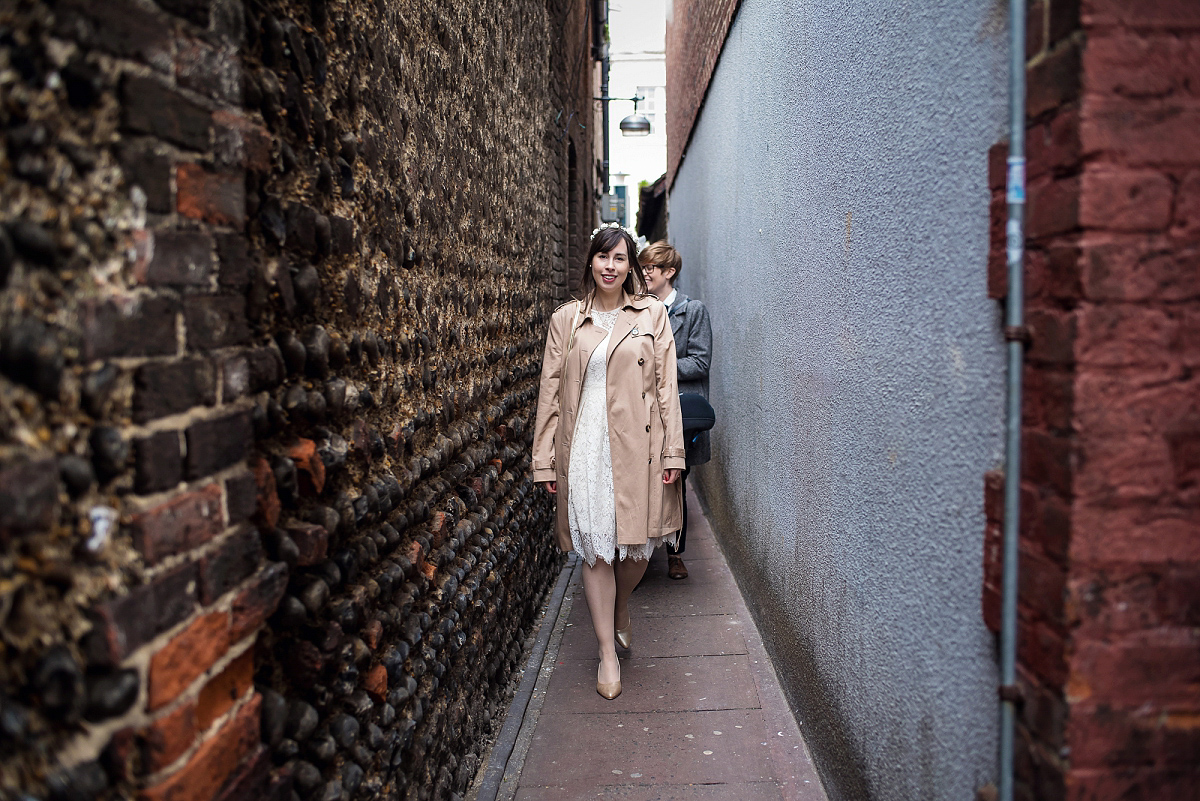 "We booked a private room in The Coach House and all sat around one big table.  I saved some jam jars and my mum decorated them with white lace and filled them with white roses.  The Coach House added candles and a white tablecloth and it looked very pretty."
"I added a cake topper that I ordered from Ginger Ray from Not On The High Street to the carrot cake and my brother made a play list for the meal.  I painted the floral place cards myself using watercolours and black ink."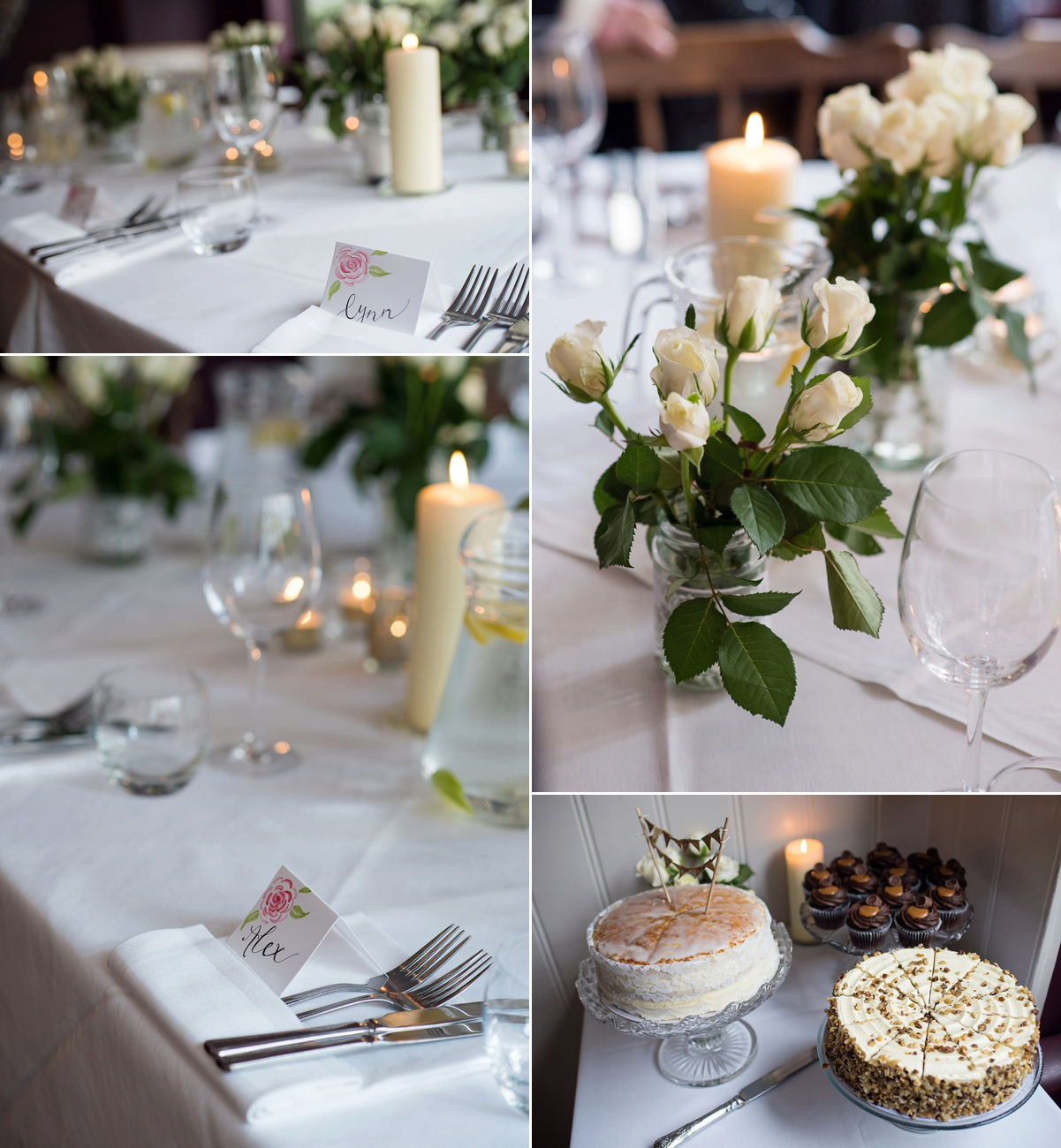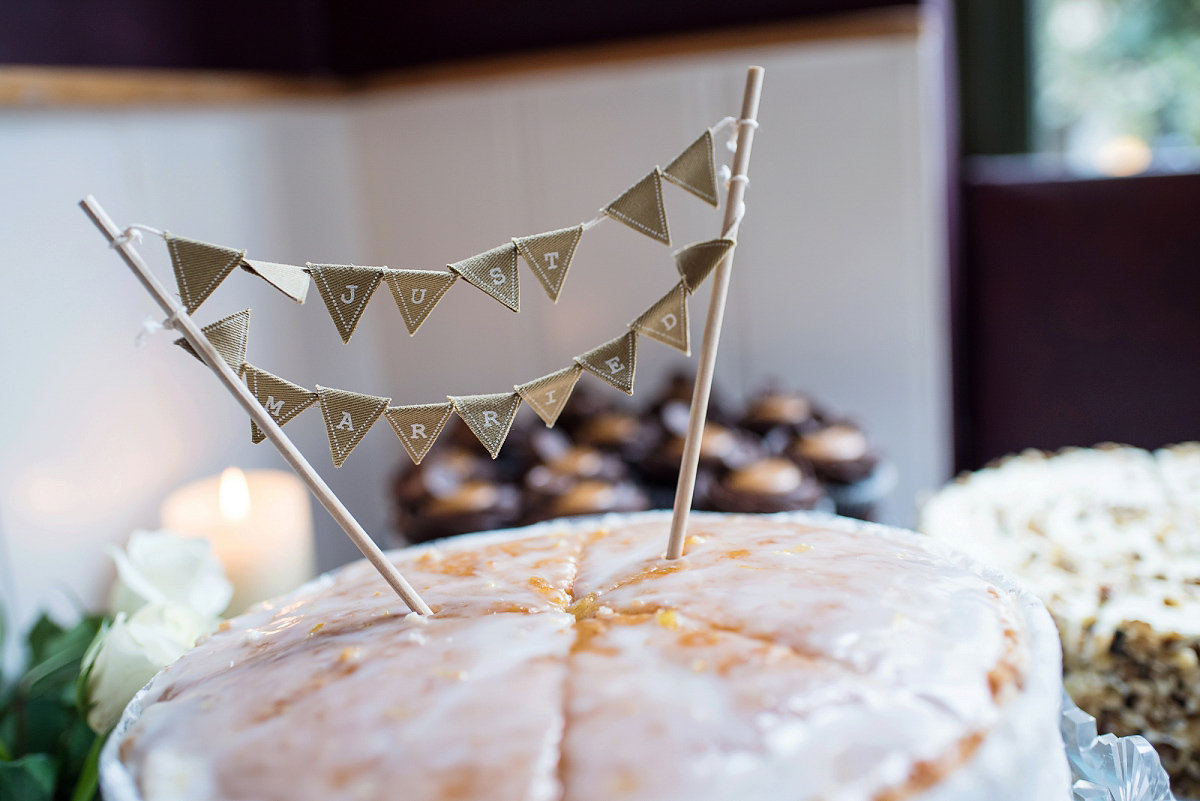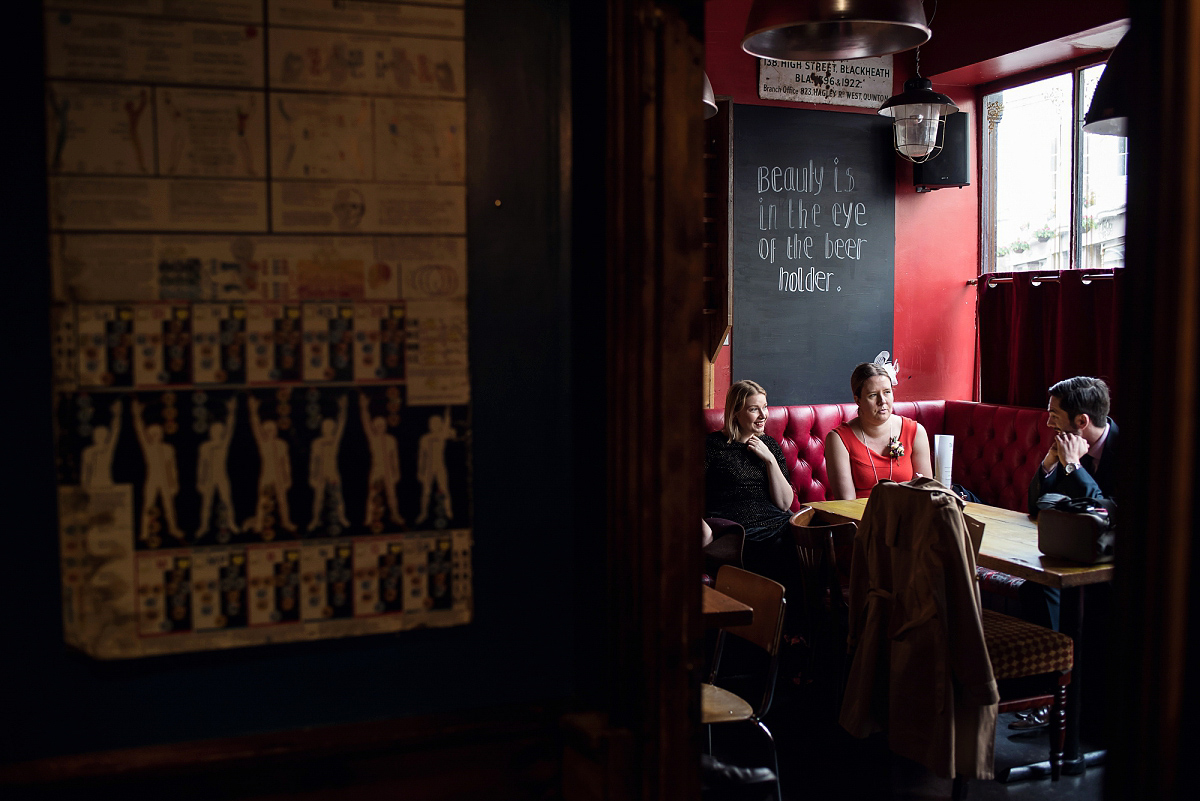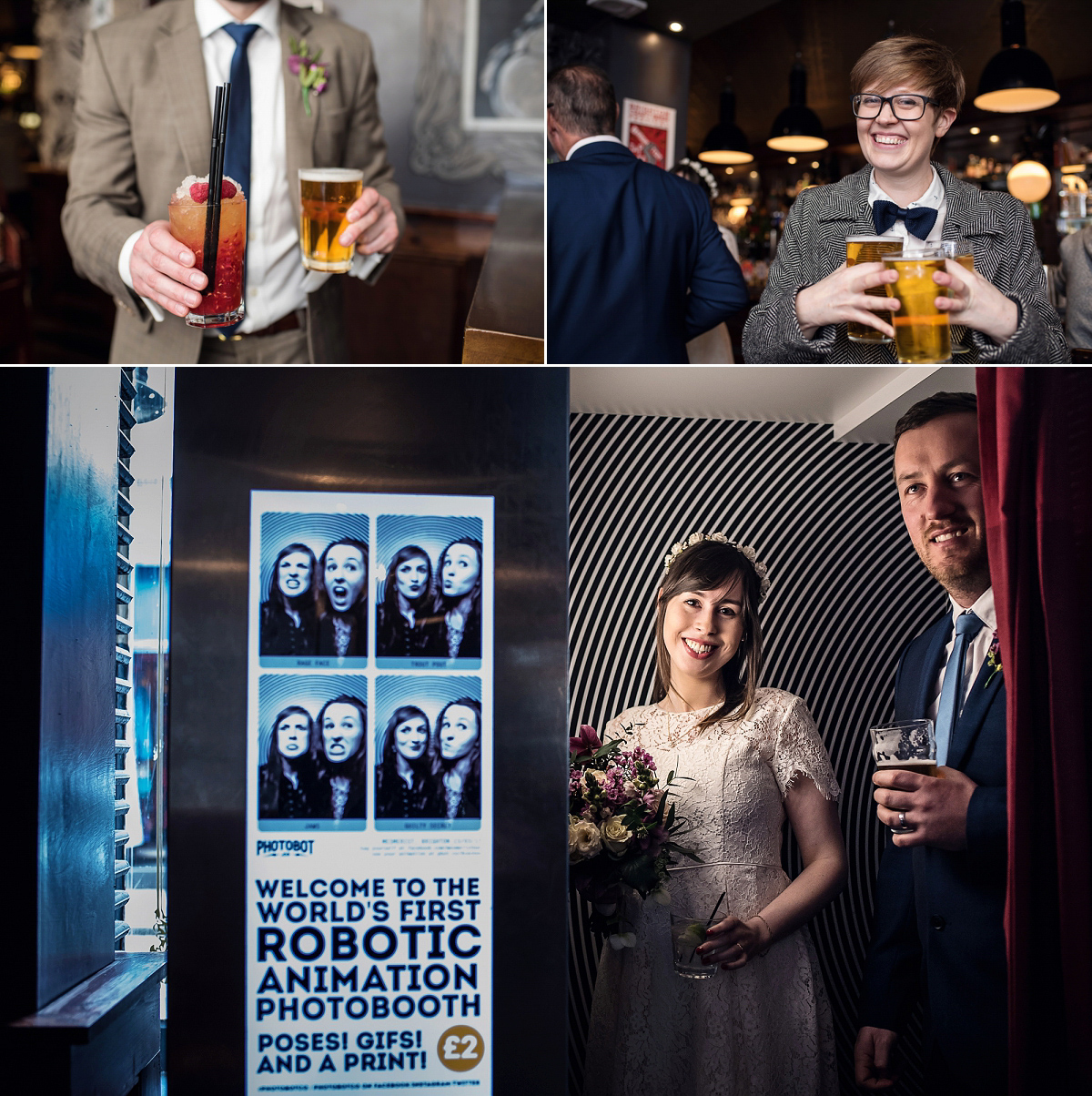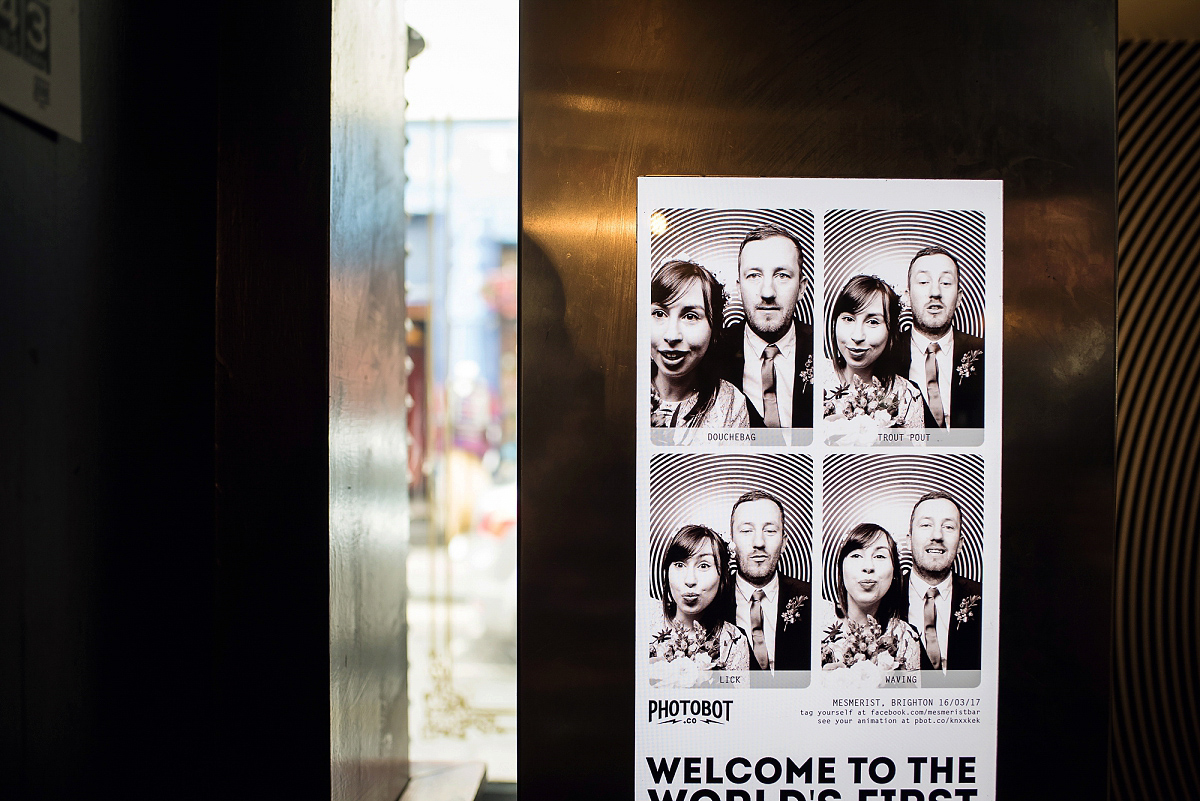 Words of Wedded Wisdom
"Your wedding doesn't need to be a big, stressful event if you don't want it to be.  Just focus on what is important to you as a couple and it can be as fancy or as fuss free as you want- it's your day."
"We stayed three nights at the beautiful Hotel Una, who upgraded us to a fancy room when they found out we were getting married.  Staying in a beautiful hotel was one of our main priorities, especially as it was our first holiday as a family of three so was really special.  Having an amazing photographer, irrespective of the cost, was also a priority as we will look at those photos forever."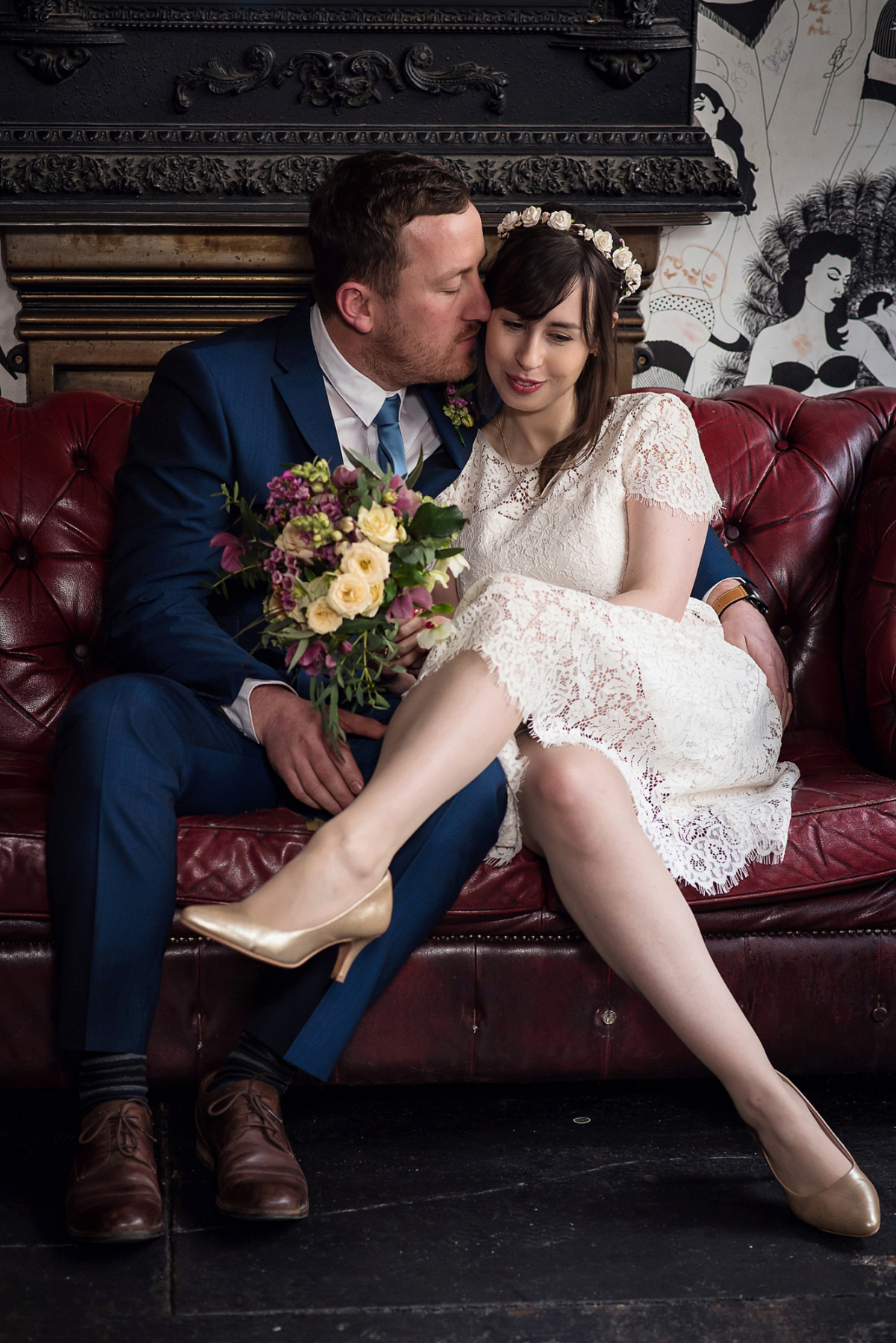 Thank you for sharing your day Hannah, Oliver and Ruby- I love every moment of it.
Much love,
S x