It's almost the weekend lovely ones! Let's celebrate right now with the most delightful wedding that totally oozes of the personalities and quirks of the beautiful bride and her dashing groom.
Fiona is an executive assistant at BrewDog (her dog, who features regularly in these images, is rather an Instagram hit!) whilst Donnie works as a civil servant and they married on Saturday the 20th of August 2016 at Pollokshields Burgh Hall in Maxwell Park, Glasgow. As self-confessed perfectionists, Fiona and Donnie planned their whole day themselves and chose their venue for its blank canvas, with a beautiful antique frame, that they could completely put their own DIY stamp on. Let's begin with this sweet tale of their meeting – which will explain the bus stop sign in these images by the uber talented Caro Weiss.
"We first saw each other whilst commuting on the same bus and spent months exchanging fleeting glances and smiles. But neither of us had the courage to talk to each other. One day, there was a rainstorm of biblical proportions, which forced Donnie to take an umbrella with him. As he got off the bus, he saw me running through the downpour with just a Metro newspaper shielding me from the rain – I had forgotten my umbrella! He caught up with me and from under his brolly he said "That's just silly…" and invited me to share his umbrella. We can't remember what we talked about in that first conversation, we were both a bit overexcited."
Photography by Caro Weiss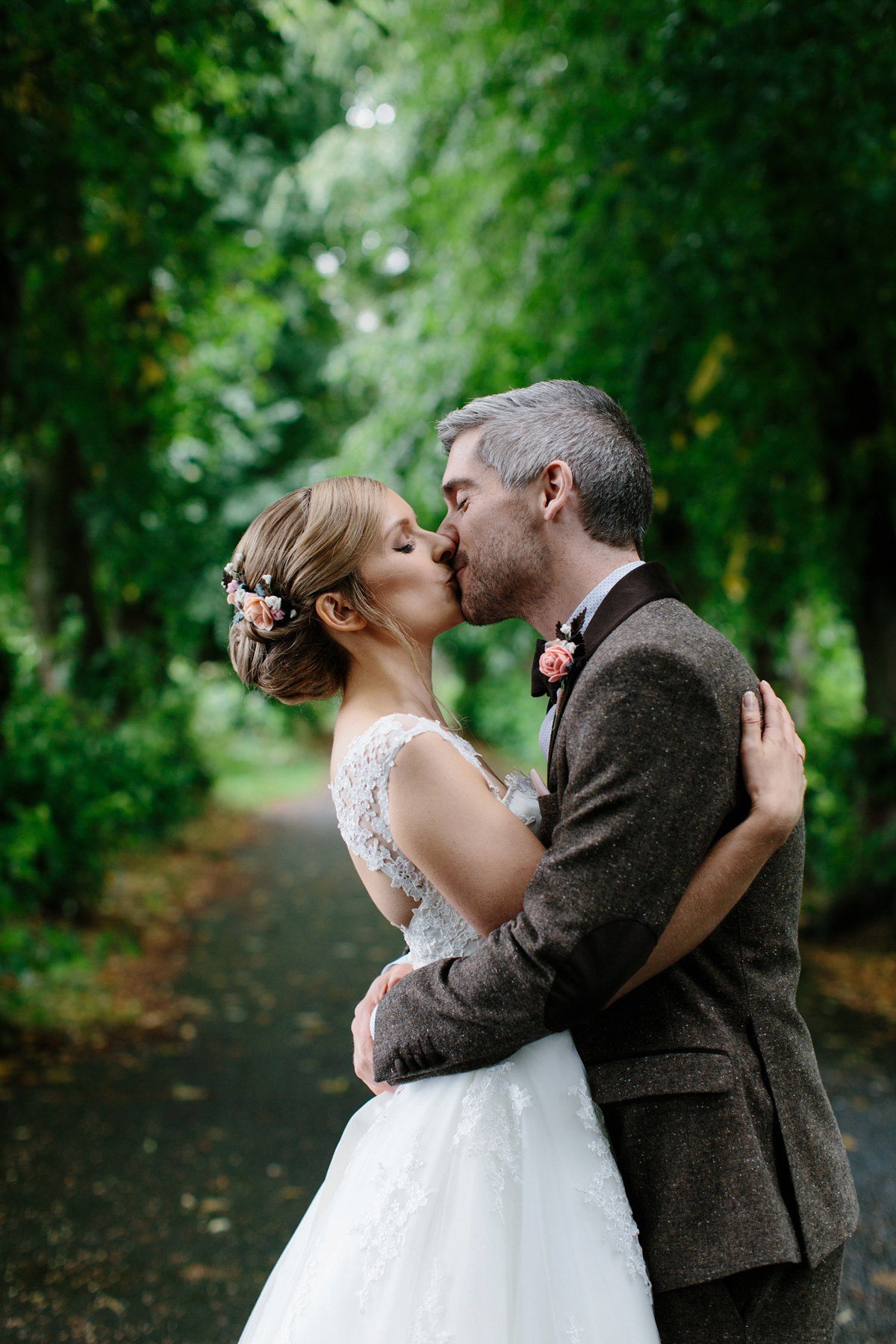 One of our favourite photographers here at Love My Dress headquarters – and Little Book for Brides member – captured Fiona and Donnie's wedding in her signature style; the amazing Caro of Caro Weiss Photography.
"When we were searching for a photographer, Caro's shots stood out so much. They have a timeless quality and somehow look like memories. She's also a lovely person and fit in on the day like she was one of the guests.""My dress was by House of Mooshki and I bought it from Pretty Woman Bridalwear Specialist in Edinburgh. I've always loved tea-length wedding dresses, but the selection in the shops is very limited. Some shops might have one or two short styles if you're lucky, but many have none."
"A friend told me that 'Pretty Woman' had loads of short dresses, so I immediately booked an appointment to try all of them. 'Leonora' was the perfect dress for me. I knew I wanted something lacy with tulle, but the unusual keyhole back was what really sold it for me."
In addition to her stylish dress, Fiona wore peep-toe sandals from House of Fraser, a Peerie Bloom hair accessory, and her every-day scent.
"I wore the same fragrance that I wear every day: 'Stella' by Stella McCartney. I love the scent and wanted to have something familiar to counteract all of the new clothes, hair and make-up."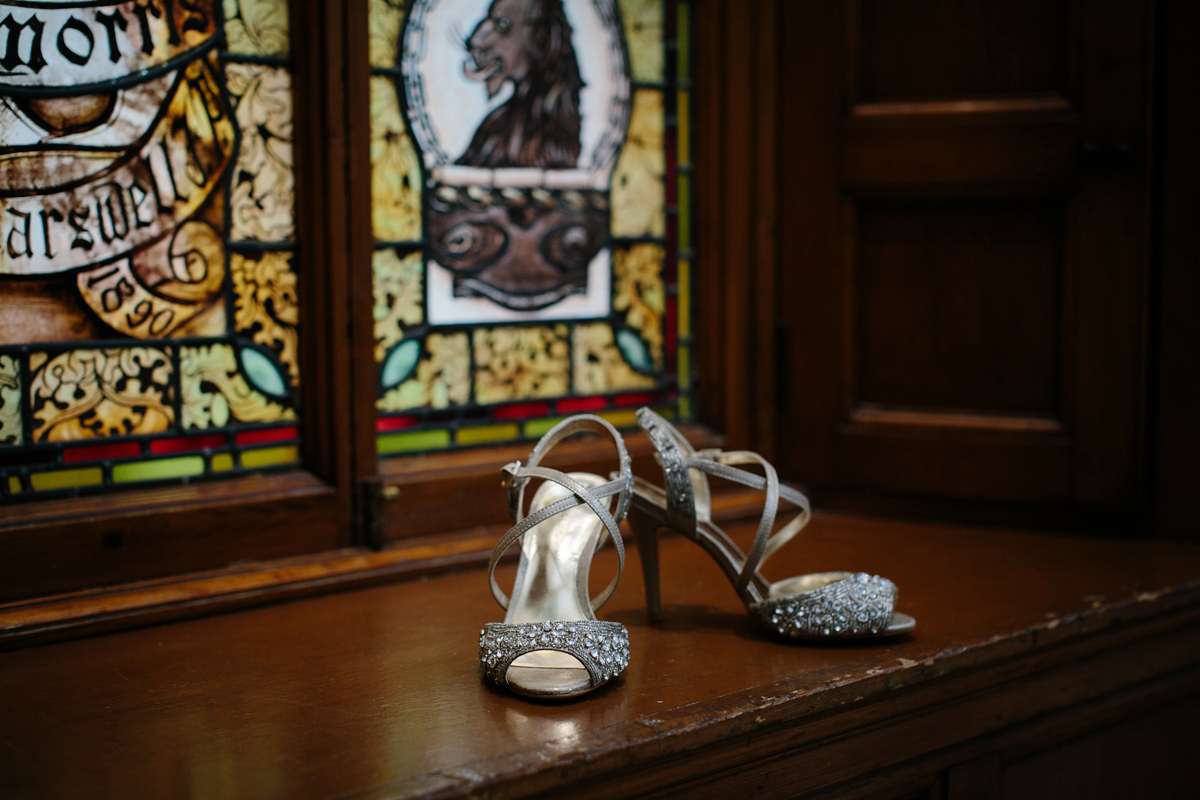 You're going to spy someone very special to the couple in these photos; their adorable pooch Buster, who was an engagement gift and played the important part of ring bearer on their wedding day. Buster wore the same bowtie as Donnie that had been converted for him using an old dog collar.
"We went to LA to celebrate our 30th birthdays in December 2014. I turned 30 whilst we were there and Donnie proposed to me at sunrise, in Hermosa Park, with a beautiful view of the LA skyline – it was just like a film. Although he proposed with a ring, the real engagement gift came a few months later and is more beautiful than any piece of jewellery – our furry son, Buster the border terrier.
 We were engaged for one year and seven months before the wedding."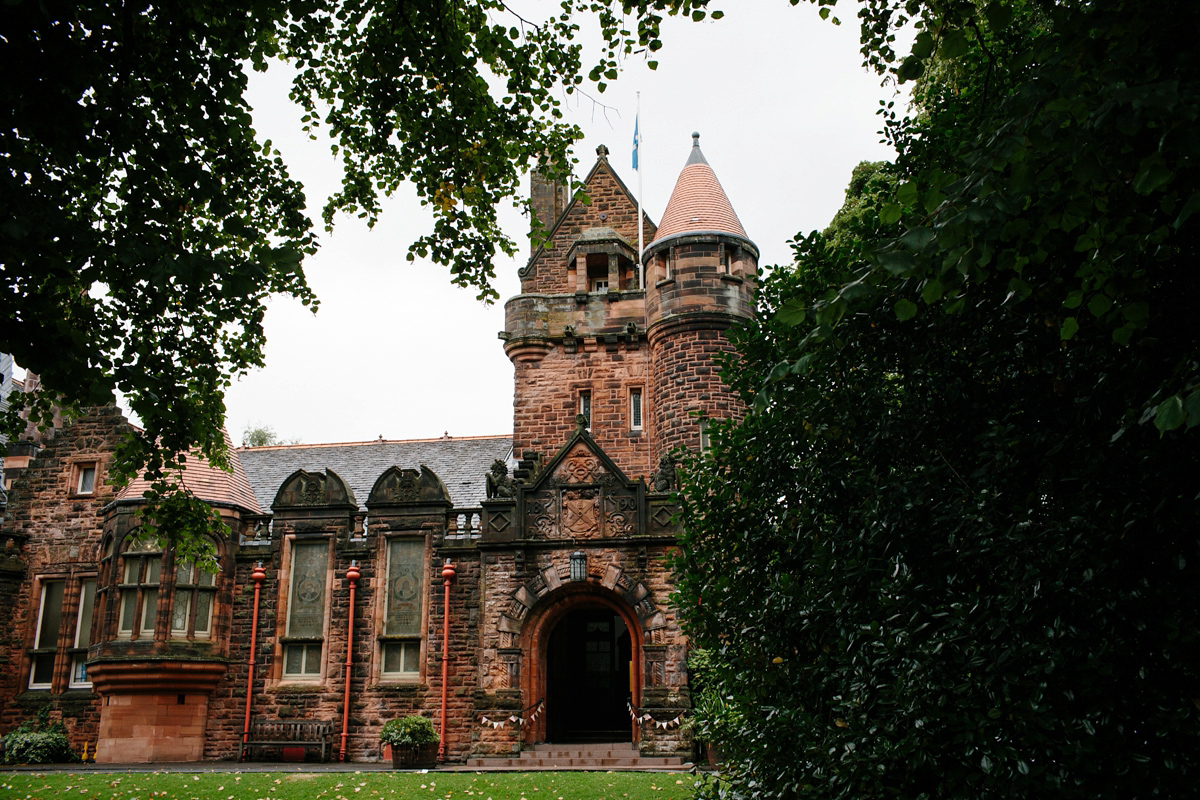 Ohhh I so adore when the couple incorporates quirky and personal elements in their big day! The stationery and signage were inspired by Wes Anderson films and by the Original Pantry Café in LA, which also helped inspire the breakfast-themed food. Genius!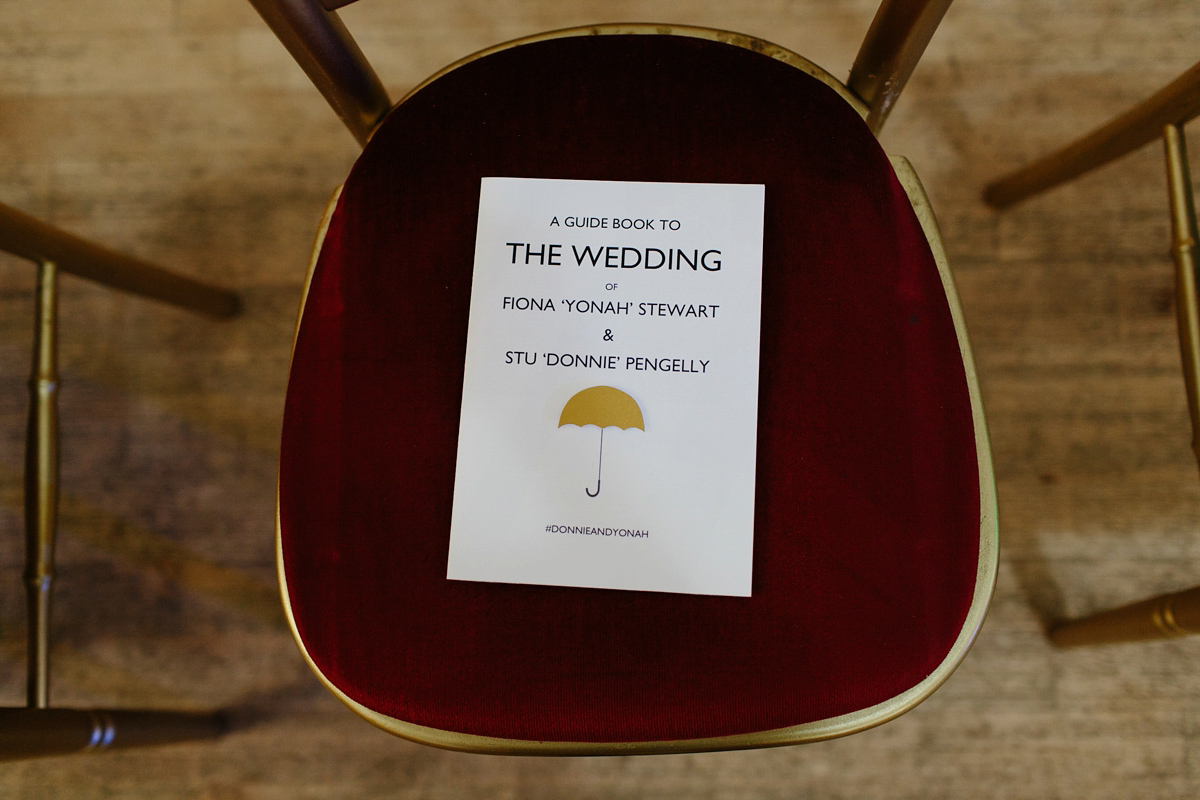 "We designed and made all of the stationery ourselves. The 'save the dates' were made from old floppy discs (bought on eBay) that we turned into fridge magnets. The invitations were a reworking of the well-loved Penguin Classic books and the menus were based on the Original Pantry Café branding. Our tables were named after beloved fictional eateries from our favourite films and TV shows, some of which baffled even the geekiest of guests."
"Donnie has always wanted to wear a brown suit on his wedding day, so brown was always going to be in the colour scheme. He was just about to take the plunge and have a bespoke suit made but luckily we found exactly what he was looking for on eBay for a fraction of the price."
"Then he took it to Star Stitch on Miller Street in Glasgow to have it altered perfectly. Donnie covered a pair of Bertie shoes in brown glitter for the dancing and his proper bowtie was from Tie Room."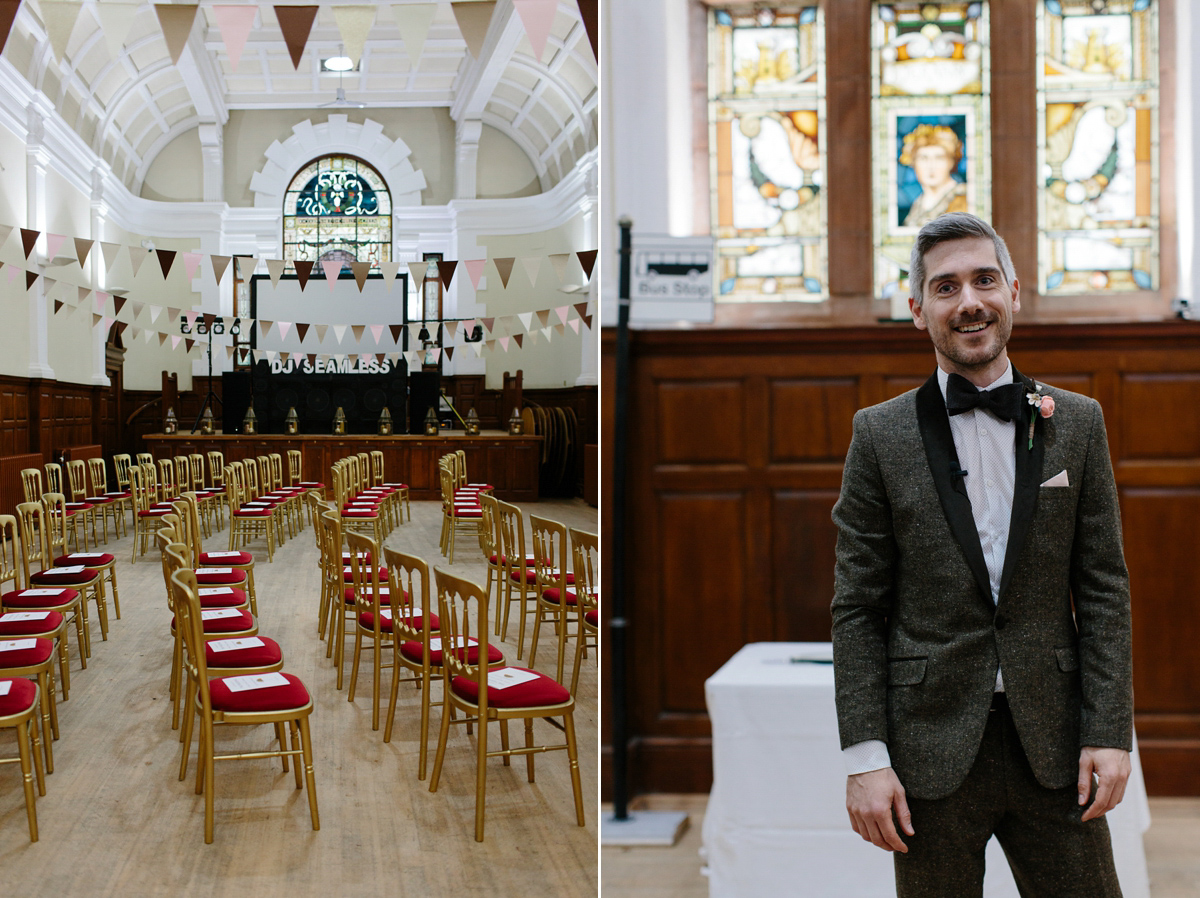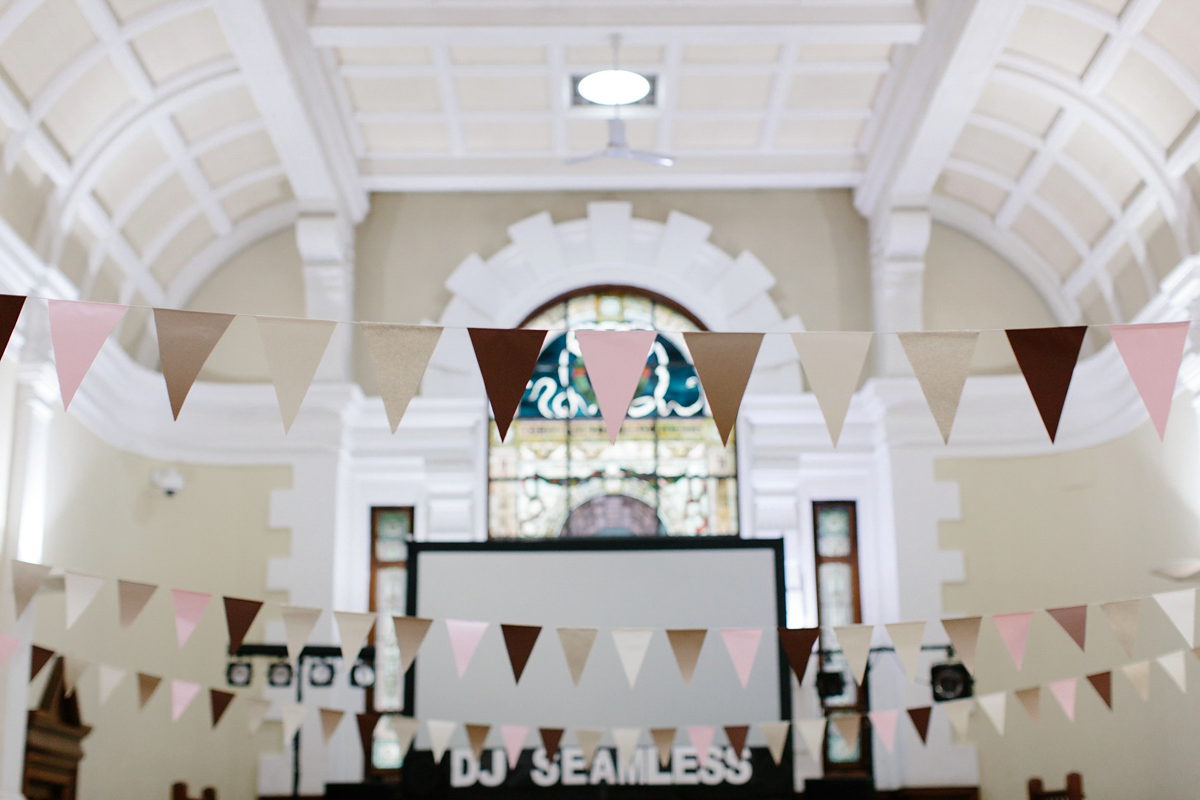 Peerie Bloom prepared the couple's unique florals – they were made from felt, so will be a lovely keepsake.
"Our flowers were handmade from felt by the wonderful Peerie Bloom in Shetland. Not only do we plan to keep them forever, but we were able to match them perfectly to the rest of our colour scheme."
"The 'Best Wan' (Glasgow-speak for 'Best One', as our best one was not a man) wore a gold Jenny Packham sequin maxi dress. Clem the usher's suit was from ASOS – a lucky find as brown suits are pretty hard to come by!"
The choice of bridesmaid's dresses were inspired by the character Lorraine's prom dress in 'Back to the Future', which helped firm up the couple's colour scheme, as well as setting a vintage tone. The pretty maids wore a Peerie Bloom hair accessory and the same shoes as the bride from House of Fraser.
"The bridesmaid's dresses were by True Bride, purchased from The Finer Detail in Glasgow. They have a massive selection of short bridesmaids dresses compared with most of the other shops in the city and were super friendly – a pleasure to deal with.
We got them altered to fit perfectly at Fabricated Bridal in Partick. One of our bridesmaids was pregnant so her shape was constantly changing, but Fabricated were really helpful and ensured the dress fit perfectly on the day. They also cleaned my dress after the wedding. Laura Slaven from AMM Team did the hair, whilst the make-up was by a friend."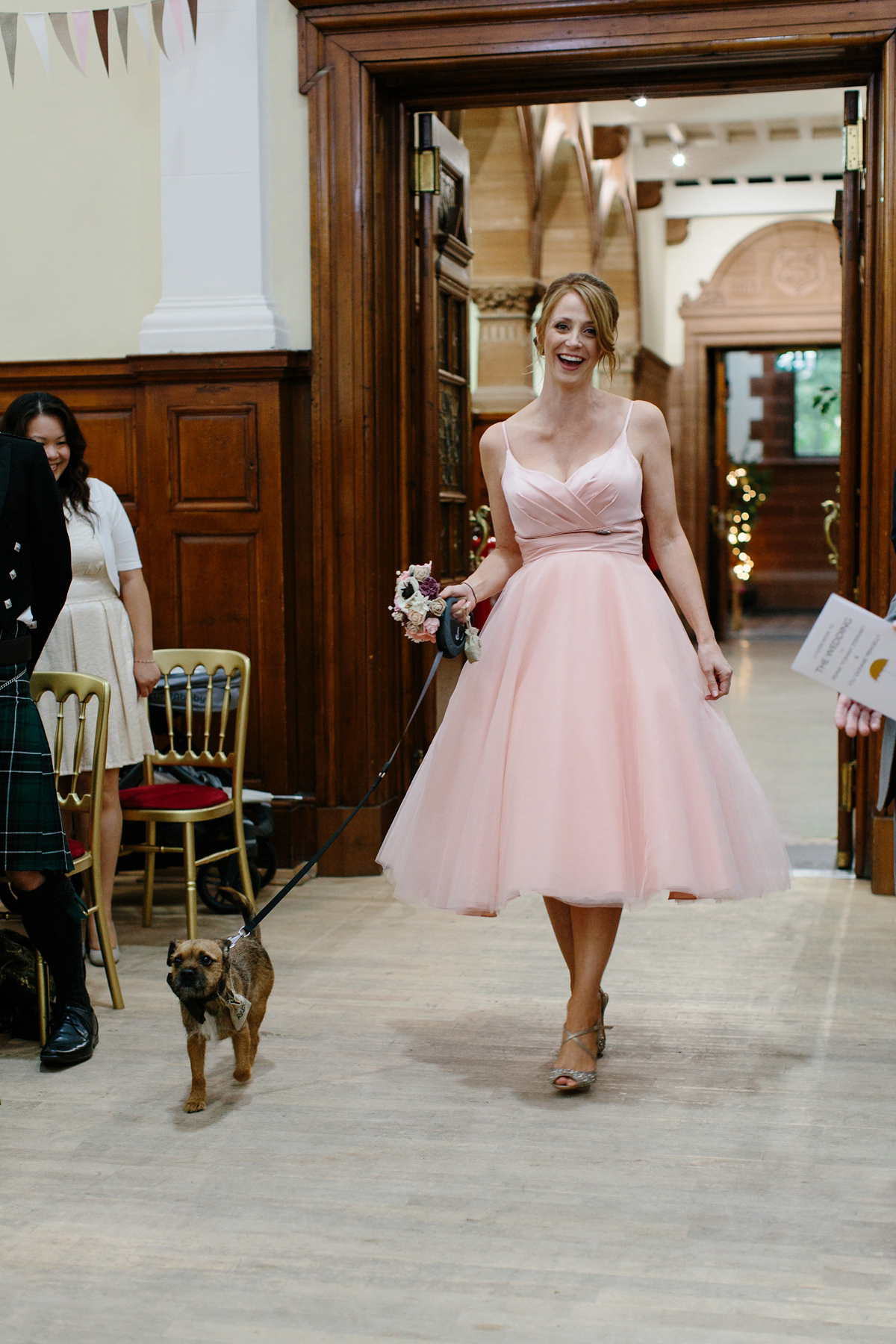 "Cecilia, our flower girl, wore an outfit from BHS and it was chosen to match the bridesmaids' dresses as closely as possible. The bridesmaid's dresses came with inbuilt brooches, which added a bit of simple glamour. We looked everywhere for clutch bags to match their dresses and finally found the perfect bags in Monsoon in the children's section.
Cecilia had the same bag as the 'big girls', which she loved. The bags also had handy optional straps. The floral robes we wore whilst getting ready in the morning were from Primark. Donnie's mum altered the smallest robe to fit our flower girl, so that she matched the rest of the girls and felt really included."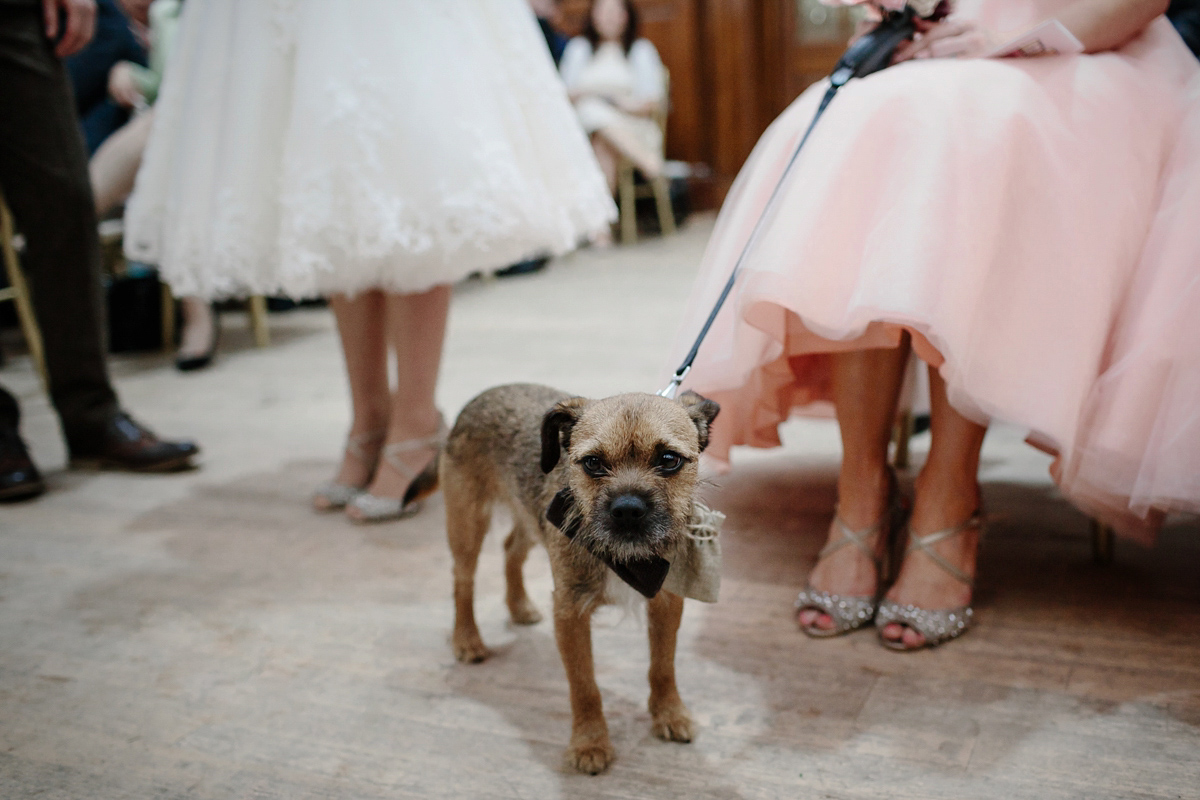 "My dad passed away when I was 18, so my older brother Iain walked me down the aisle and provided a great 'Brother of the Bride' speech after dinner.
 I walked to an instrumental version of The Divine Comedy's 'Songs Of Love' which despite being best known as the theme tune to 'Father Ted', it's actually got a really beautiful melody.
This was played along with some other songs by our landlords, Derek and Elspeth Barron, who also happen to be brilliant musicians."
"Our fabulous friend Ange read out the lyrics to the Huey Lewis And The News classic 'The Power Of Love' which features in our favourite film of all time 'Back to the Future'. The lyrics are pretty cheesy in places but Ange made it sound as inspiring as any Robert Burns poem.
Finding a reading that means something to you is hard but when we realised we would get to hear Ange repeatedly say 'power' in her Northern Irish accent, we knew it was right."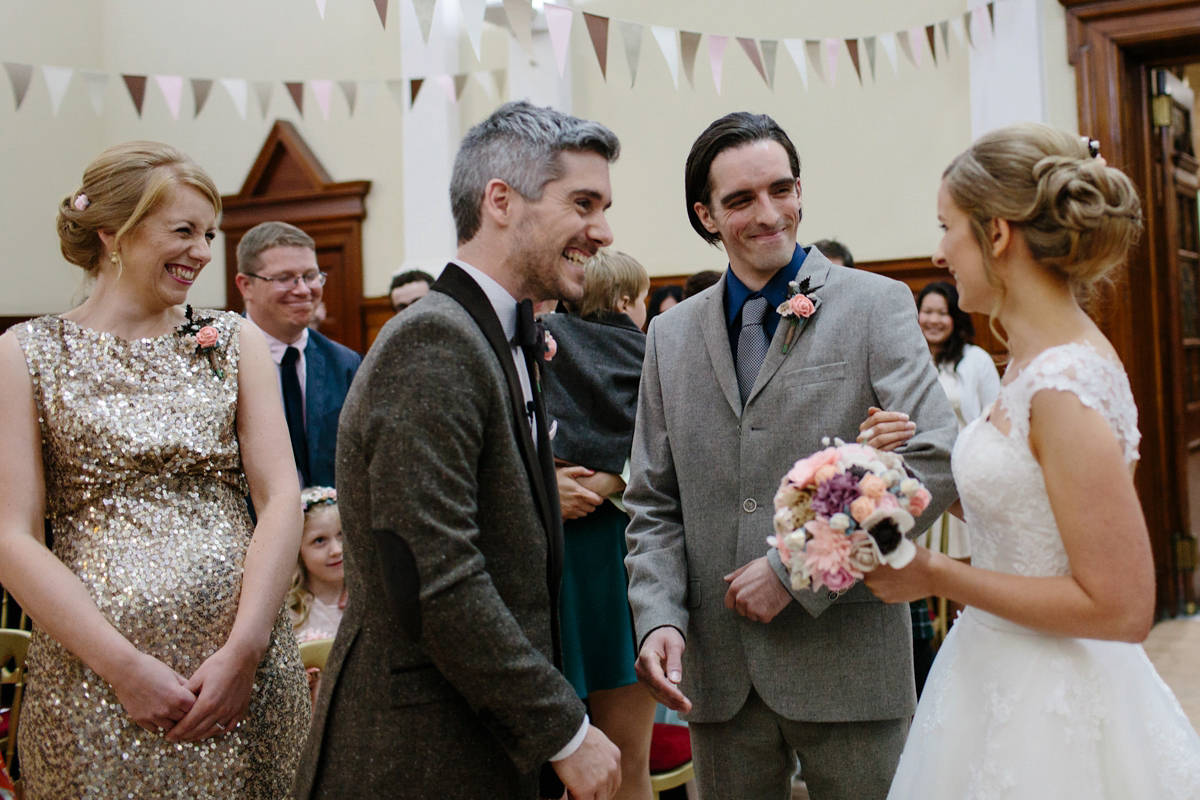 Fiona and Donnie's friend Kirsty Harvey (who can be contacted via Independent Humanist Ceremonies) led their heartfelt, humanist ceremony.
"Kirsty has such warmth and energy that you can't help but smile when she's doing her thing. She also has an amazing voice, so there's no need for a microphone! Kirsty wrote a great script for the whole ceremony and then encouraged us to change it as much as we liked to make sure it was exactly what we wanted. The end result was deeply personal and very meaningful which was important to us."
"Since my engagement ring came in the form of a puppy, my wedding ring had to be really special. I fell in love with a tension ring by German company, Niessing. A single diamond is held in place by pressure alone, giving simple elegance. Donnie chose a ring from the same maker and we bought them from ORRO Contemporary Jewellery in Glasgow.
ORRO has an amazing selection of unique jewellery and the customer service from Neil and Wes was brilliant. They even let us bring our dog along to the shop and they had some treats waiting for him – he was delighted! We love our rings so much, that we only remove them when eating tacos."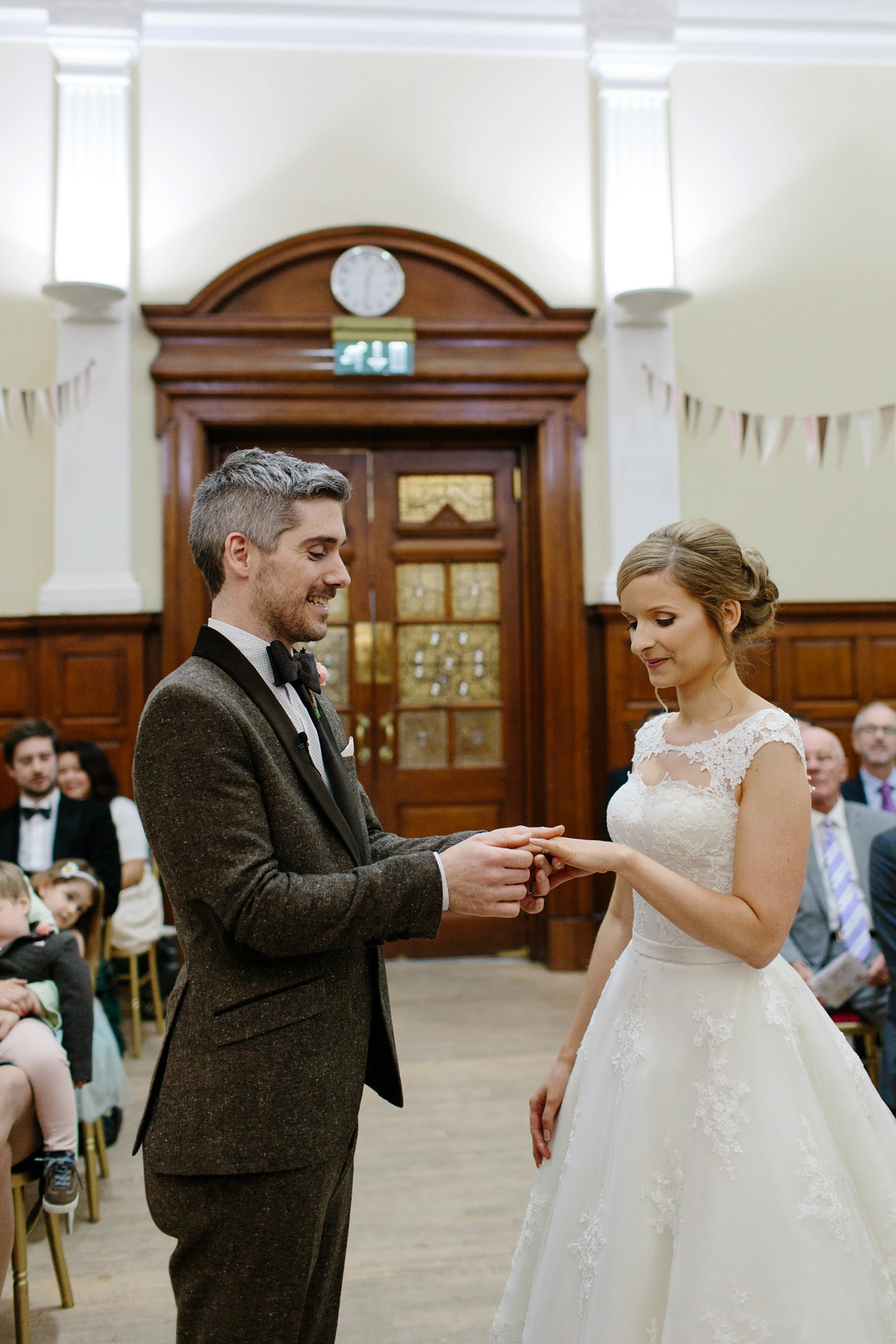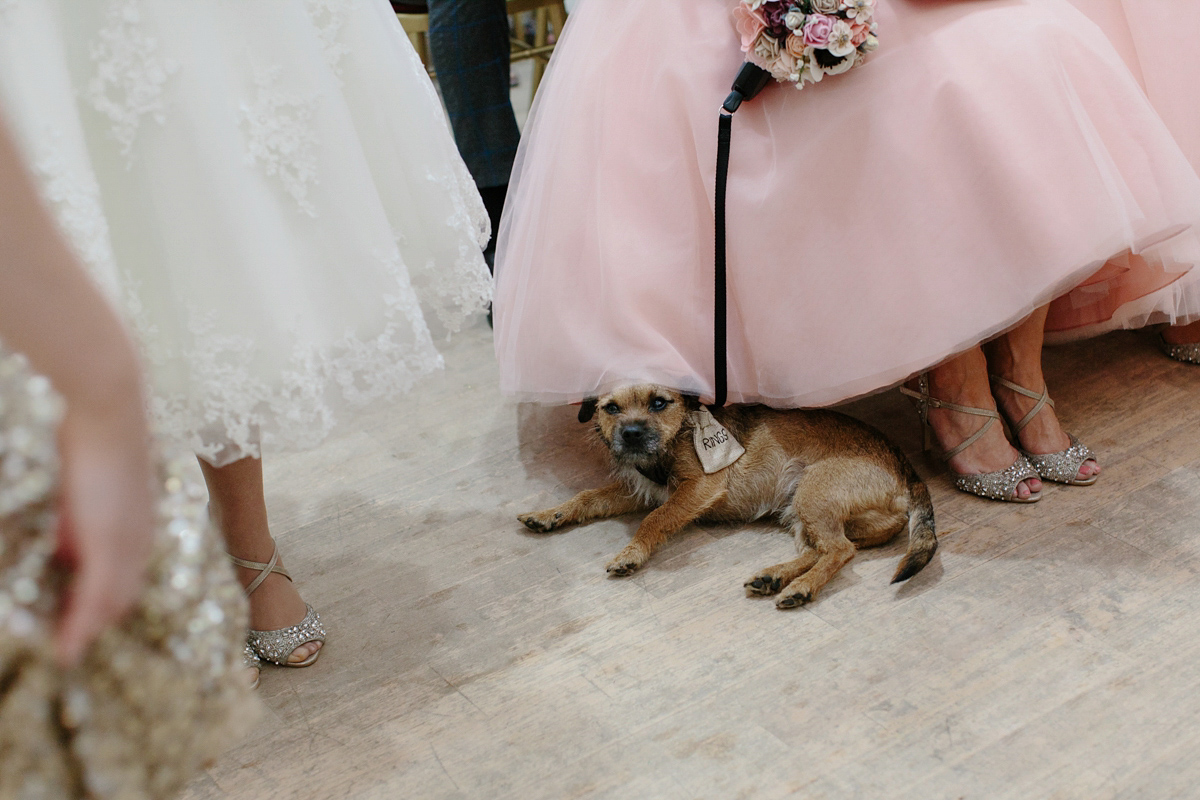 The couple's page boy, Henry, looks utterly adorable in his wee little outfit.
"We wanted Henry to be smart and match the rest of the bridal party, but it was really important for him to be comfortable because he was only two. Bar One Clothing printed a 'tux t-shirt' which we teamed with a brown tweed jacket, pink skinny jeans and brown shoes, all from 
Zara Kids."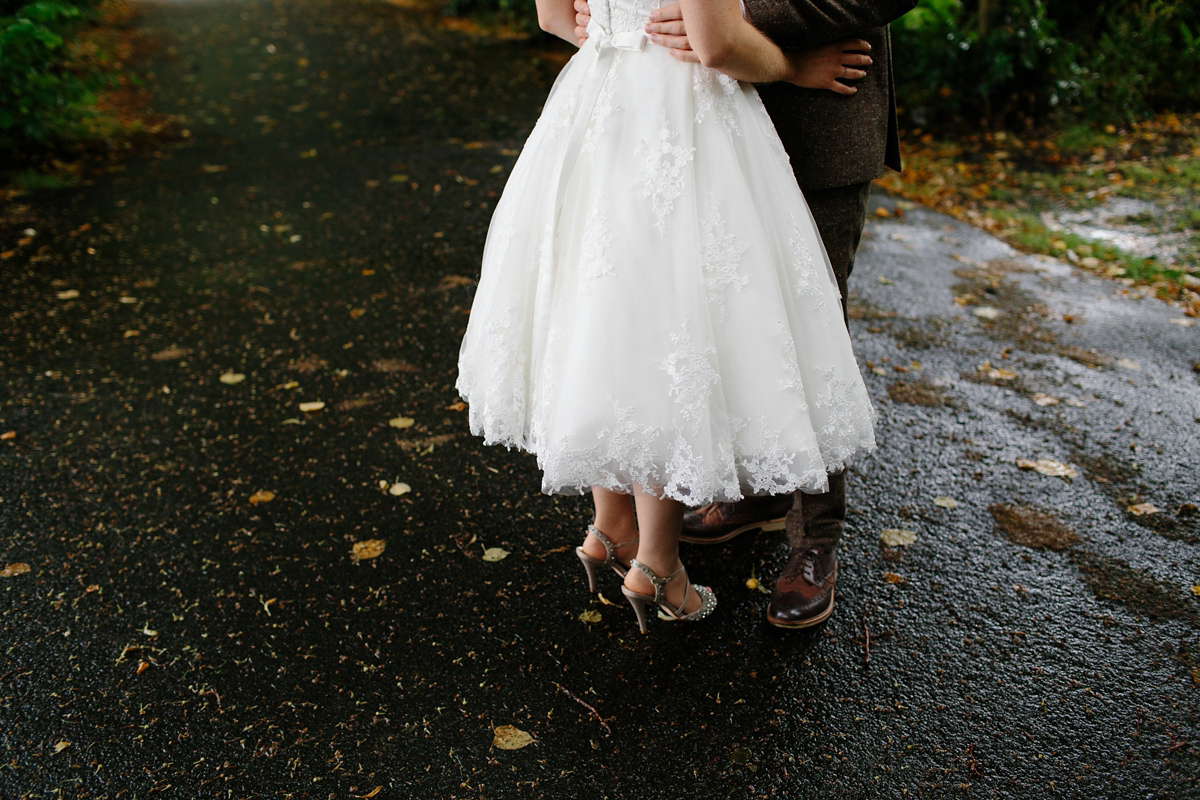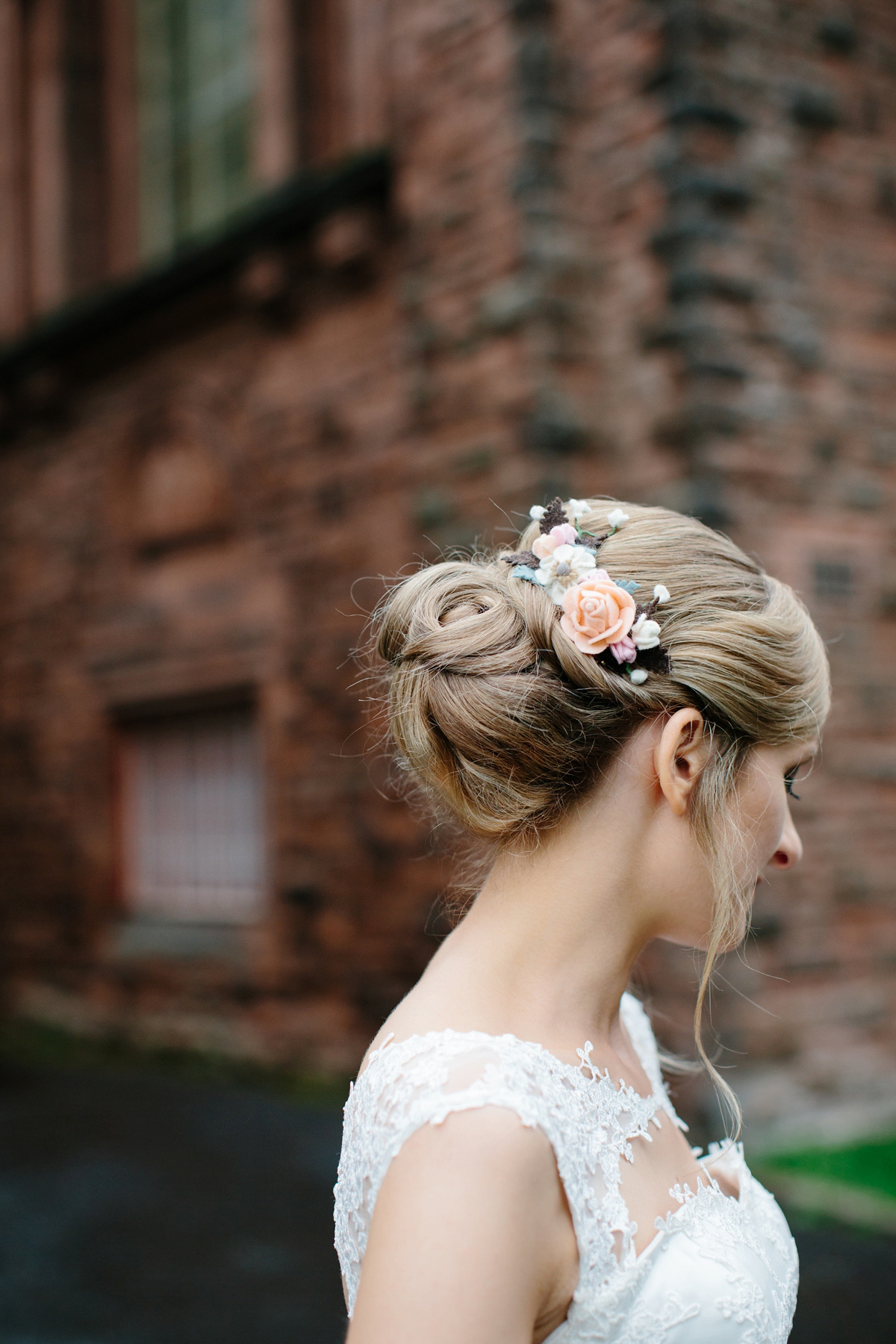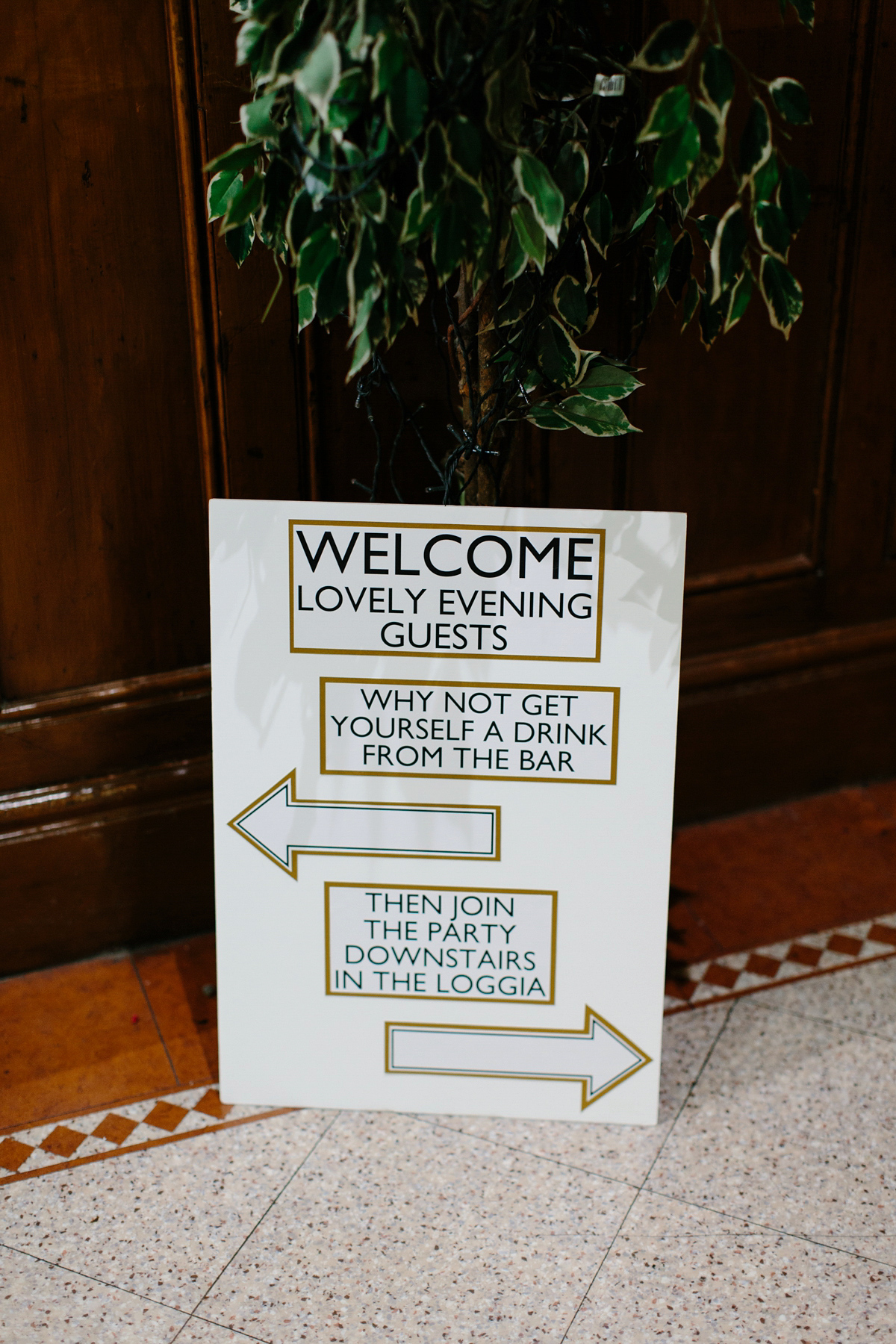 "For favours, Make it Sweet made some personalised Tic-Tacs to commemorate the day, and we made a donation to one of our favourite local charities, Social Bite."
"Donnie's mum made a massive amount of beautiful bunting and we made our own confetti using tissue paper. The centrepieces were lanterns bought from TK Maxx with pearlized candles from Country Baskets and moss from eBay. We made name cards from 'Hello my name is…' stickers, which our guests enjoyed wearing after the meal. Donnie's dad made a bus stop sign, as a tribute to our first meeting near the bus stop."
Prezola, another member of our growing Little Book for Brides community (see their directory listing here) were on hand to help out with the couple's wedding gifts.
"We set up a bespoke gift list with Prezola, because they were one of the few sites which would allow us to add items of our own choosing. We filled it with activities, restaurant visits and other cool stuff we planned to do on our honeymoon."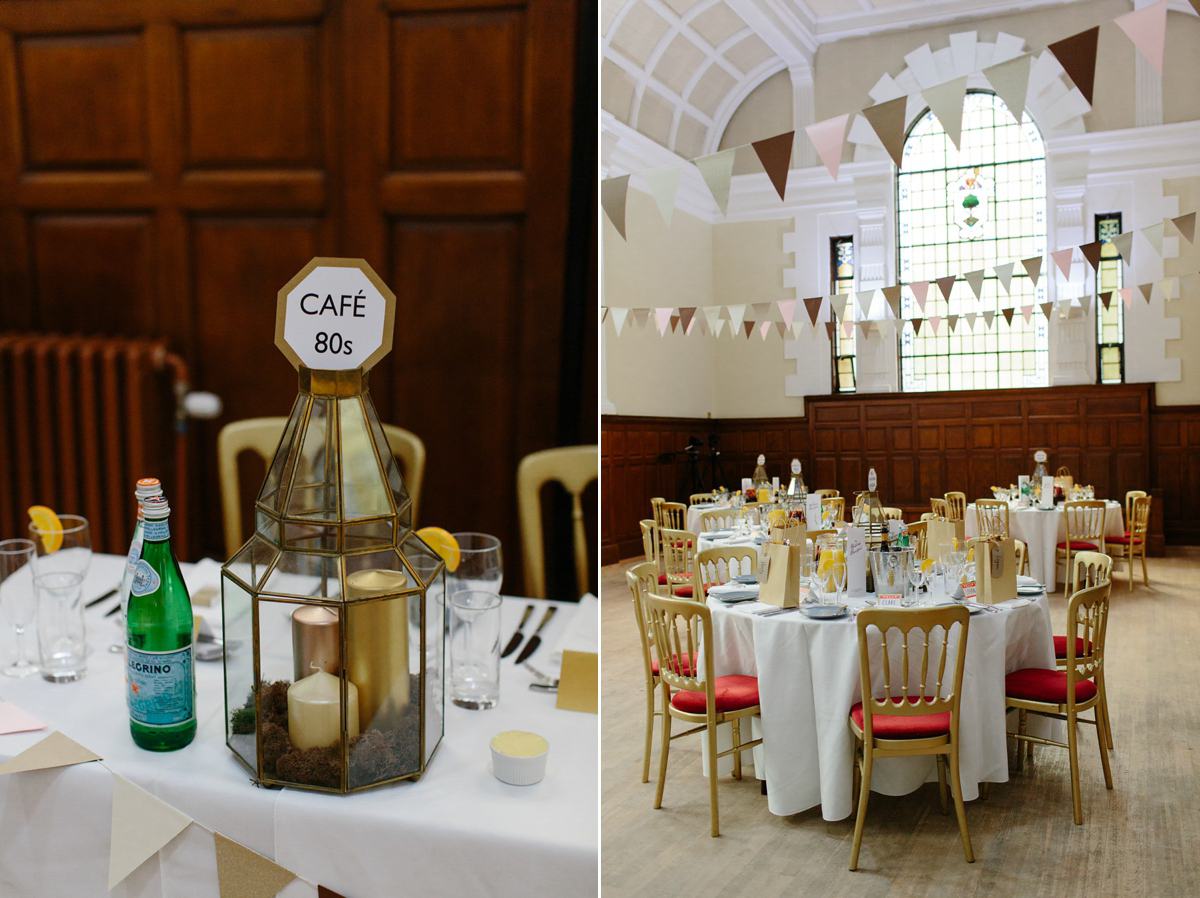 Donnie and Fiona took the 'wedding breakfast' idea completely literally – and gave guests the most amazing spread of delicious breakfast items. Pancakes anyone?
"We had always wondered why it's called a Wedding Breakfast when there's never any sign of breakfast food. After all, breakfast food is the best food of all time.
 So we designed a breakfast themed menu consisting of pancakes, French toast, waffles and other breakfast classics. It even had a gourmet pop tart as one of the desserts. As a great woman once said "Why would anybody ever eat anything besides breakfast food?"

"Our evening buffet was provided by the fantastic Flat Out Food with their beautiful Citroen H van, Belle. They're sadly no longer in operation but their amazing meatballs and flat breads will live on in the memories of our guests."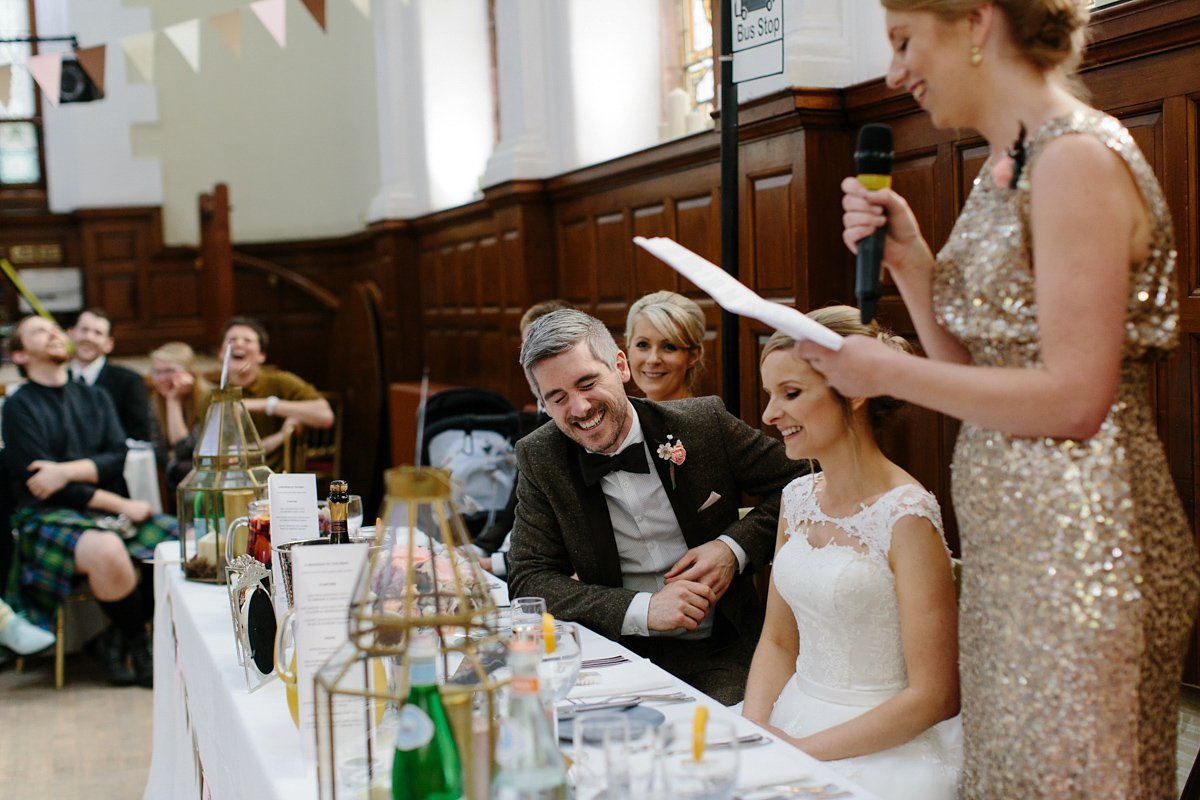 "Our cake was made by our friend Fiona, who is known for her baking prowess. It was a beautiful and delicious three-tiered naked Victoria sponge with fresh cream, jam and berries. We had the last bit of cake for breakfast before going on our honeymoon."
I remember having a slight altercation with my soon-to-be husband during wedding prep phase when we discussed the music. I desperately ached for a live band, but we couldn't make it happen with the budget and ended up having a DJ. I was so concerned, though, that there wouldn't be anyone on the dance floor (cue actual nightmares where I woke up convinced this actually happened!) and worried about the songs the DJ would play. Luckily, Fiona and Donnie saw sense and worked out a clever way to ensure their favourite tunes were played without fail.
"Music is very important to us, so we wanted to ensure that the all of the songs played on the day were songs that we loved. We're such control freaks that we couldn't bear the thought of trusting a DJ to stick to our playlist, so we made a video of Donnie DJ-ing and projected it onto a screen behind a DJ booth handmade by his dad. The 'DJ' was a real talking point and he didn't once deviate from our list :-)
We hired a PA system, disco lights and a projection screen from Audio CP in Glasgow. They set it all up for us on the morning of the wedding and came back to collect it at midnight, all for a really reasonable price."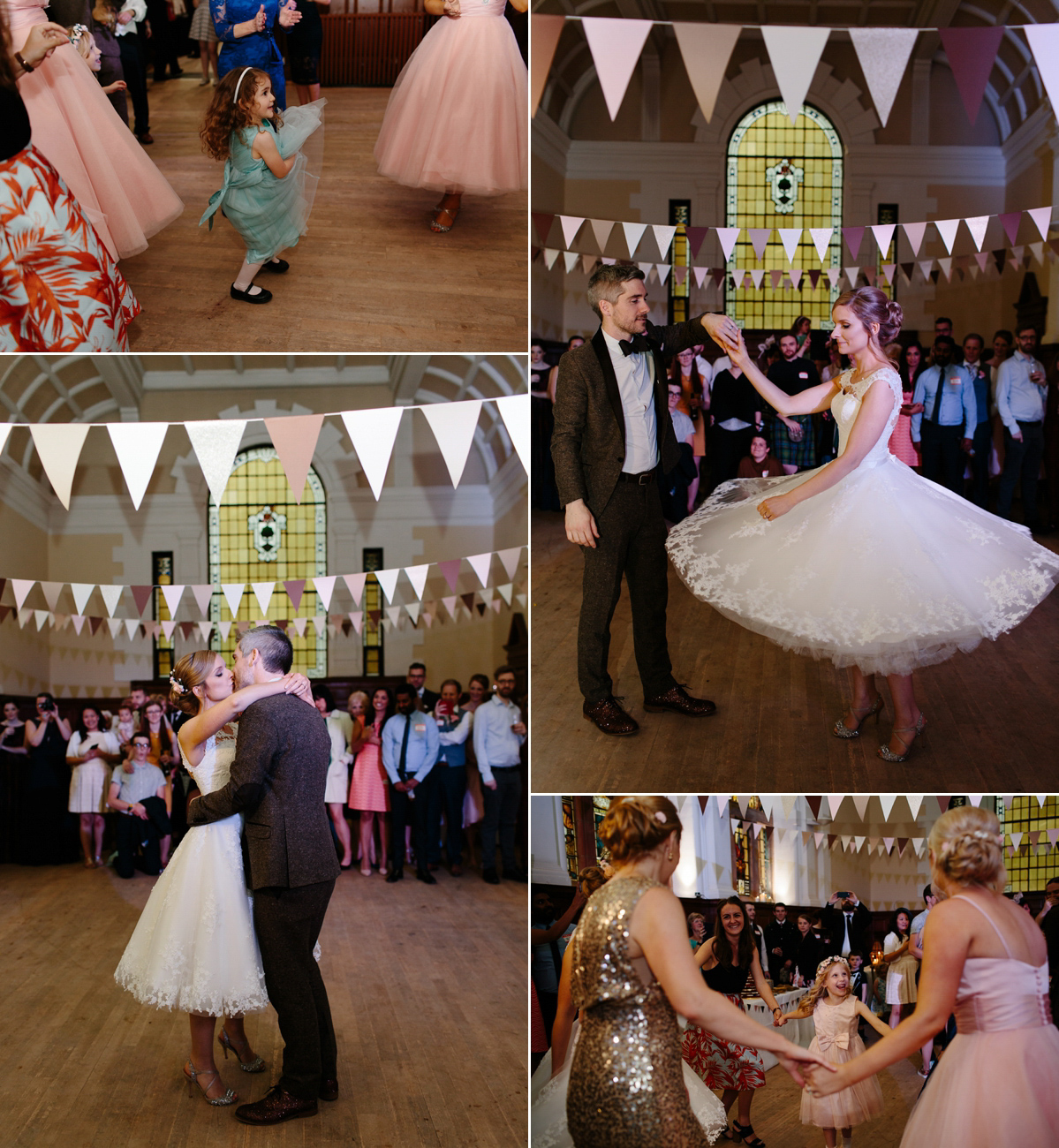 "Our first dance was to Daniela Andrade's acoustic version of Beyoncé's 'Crazy In Love'. The original has always been a favourite tune of ours so when we heard this beautiful stripped back cover, we fell in love with it immediately and, although we had a long list of possible first dances, this just seemed to fit perfectly."
"We chose Walnut Wasp videographers, because their films have a really nostalgic feel. David and Gail were great on the day and provided us with a fantastic video, which is filled with loads of lovely little personal touches. They also let us have loads of creative input, which we don't think many other companies would offer."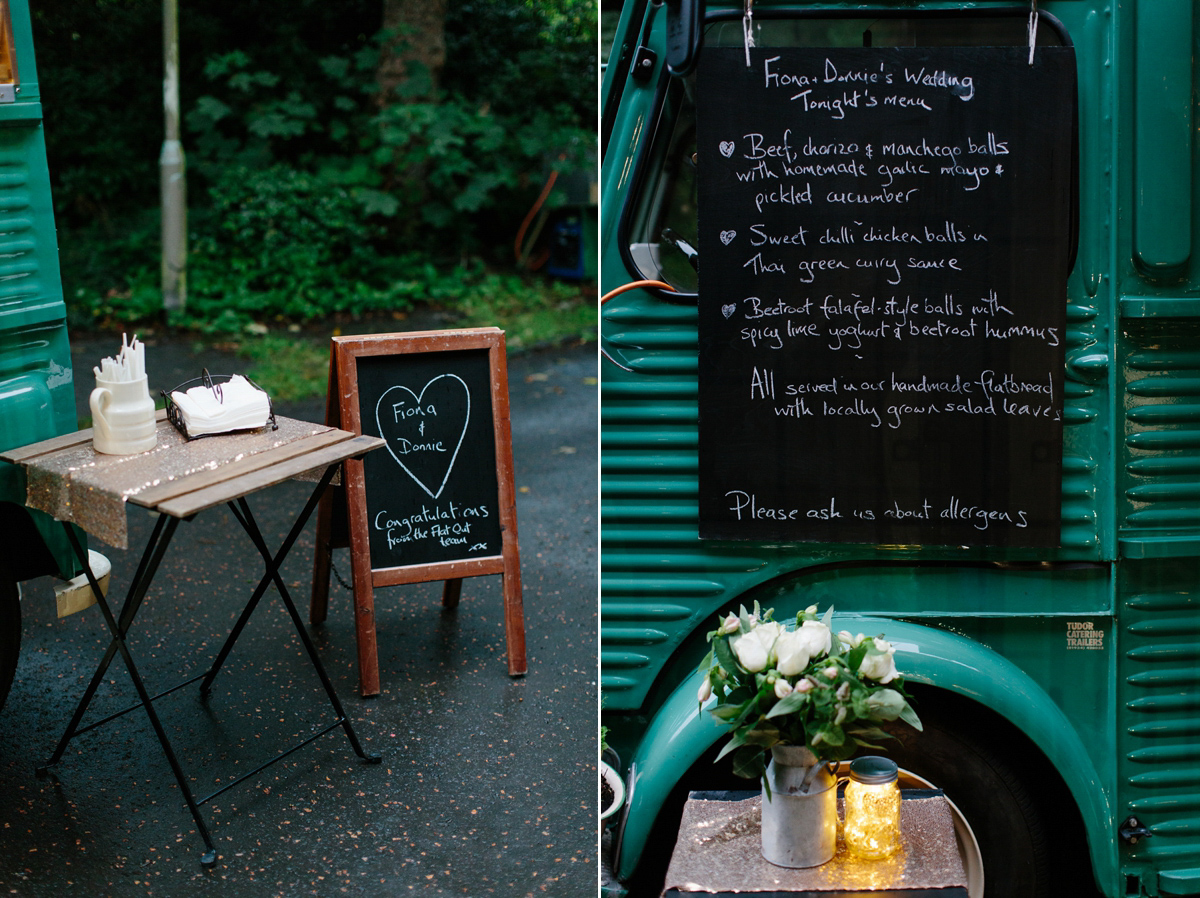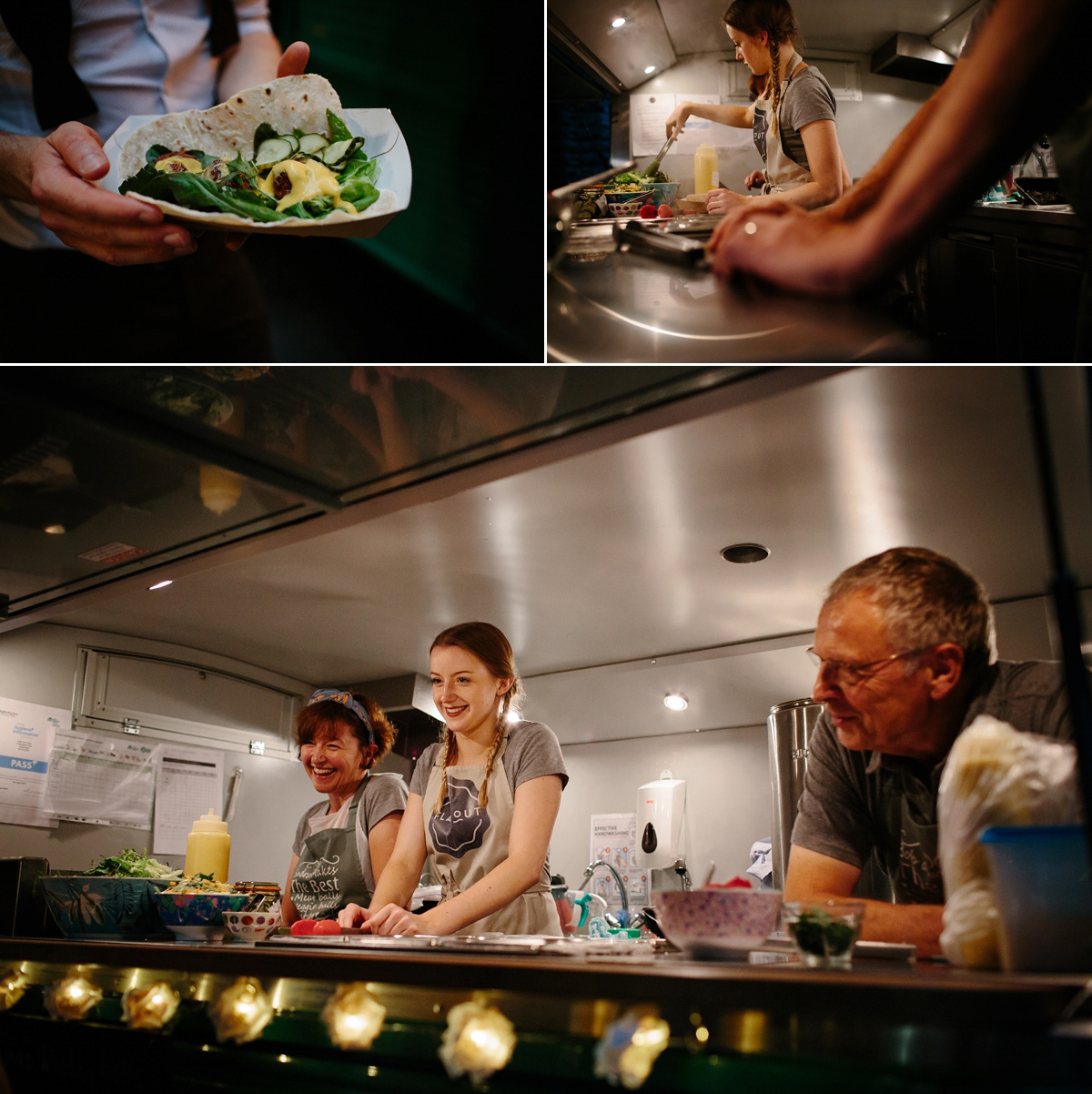 Words of Wedded Wisdom
"We wanted to have a unique wedding that was authentically 'us' but it was often challenging to find things that we genuinely liked, as opposed to things that were just 'on trend'."
"It can be difficult to go against the grain, especially with so many people influencing you. But if it's really important to you to be yourselves, it's worth the extra work."
If you've fallen in love with Fiona and Donnie's delightful photos, then I urge you to browse the LMD archives containing loads of Caro's incredible work here – and I'm sending a very big thank you to the lovely couple for allowing us a sneak peek into your wedding. I'm definitely going to have a proper wedding breakfast with eggs benedict for my ten-year vow renewal – thank you for the inspo!
Love Jo -xo