Happy hump day to you all! I've just returned from a naughty trip into town as I heard about a mid-season sale and can never resist a bargain. I spied the most divine pair of winter boots and, just like this most beautiful bride you're about to meet, fell in love at first sight.
Gosh, I do love a bride in boots, so prepare yourselves when you see her outfit! Krissy, who is a parliamentary researcher, married her beau Chris, a teacher, on the 1st of April earlier this year. Their ceremony was held at All Saints' Church in Brenchley, Kent, then their celebrations continued in tipi's set up amongst the stunning apple orchard setting of Krissy's parents' back garden.
"We love the outdoors – our first date was rafting! So being in my parents' beautiful garden surrounded by the apple orchards where I grew up felt so personal to us surrounded by a place we both love. The tipi's influenced it – they are an incredible space that facilitates so many different and unique ideas. We wanted a wedding where everybody could connect and enjoy, from grandparents to toddlers. Finally, we wanted it to reflect us – hence the ski torches, greenery, and funk jazz band."
Photography by Jessica Williams Photography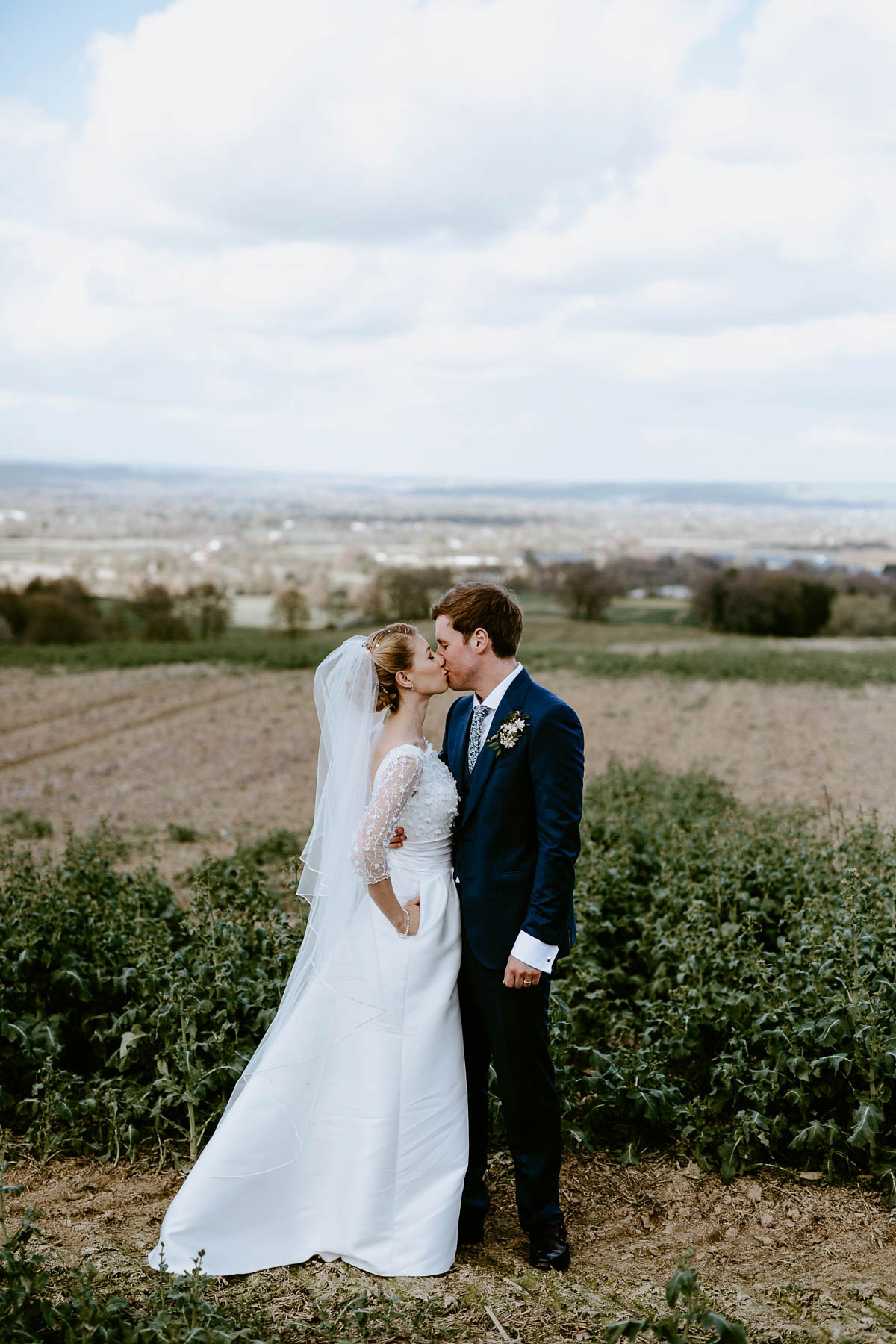 "Jessica and James from Jessica Williams Photography were beyond brilliant. On both the engagement shoot and the wedding day I forgot they were there to take photos; it was like hanging out with friends. The photos are stunning, interesting and take you back to relive the day itself. We absolutely love them. Jess's photos are art and we will treasure them forever."
Krissy designed her exquisite dress and veil with dressmaker Judy Mott who specialises in bespoke couture wedding dresses – and together they created the gown Krissy had envisaged. I adore the intricate detail on the bodice, the 3/4 lace sleeves, and handy pockets.
"I loved Jesus Piero dresses, so much that I wanted different bits from different dresses but couldn't find exactly what I was looking for. I had also been to Judy's workshop and was blown away by the amazing quality of her work – by far the most beautiful silks and incredible craftsmanship. It turned out that getting it made was not that much more than buying it so I thought it could be fun to do the whole process from scratch."
"I was always going to get married in boots because I love them and we were getting married in a field. I saw them in the window of Russell & Bromley and fell in love."
A textile artist friend, Mary Ann Chatterton, handmade Krissy's divine gold hair accessory (also worn by the bridesmaids). She added a spritz of 'Chance' by Chanel, her go-to perfume and first bottle given to her by her grandfather, then finished off with lovely jewellery pieces.
"My necklace was lent to me by my mum and it also belonged to my granny. Mum also lent me my earrings. The pearl bracelet was a gift from Chris the day before the wedding."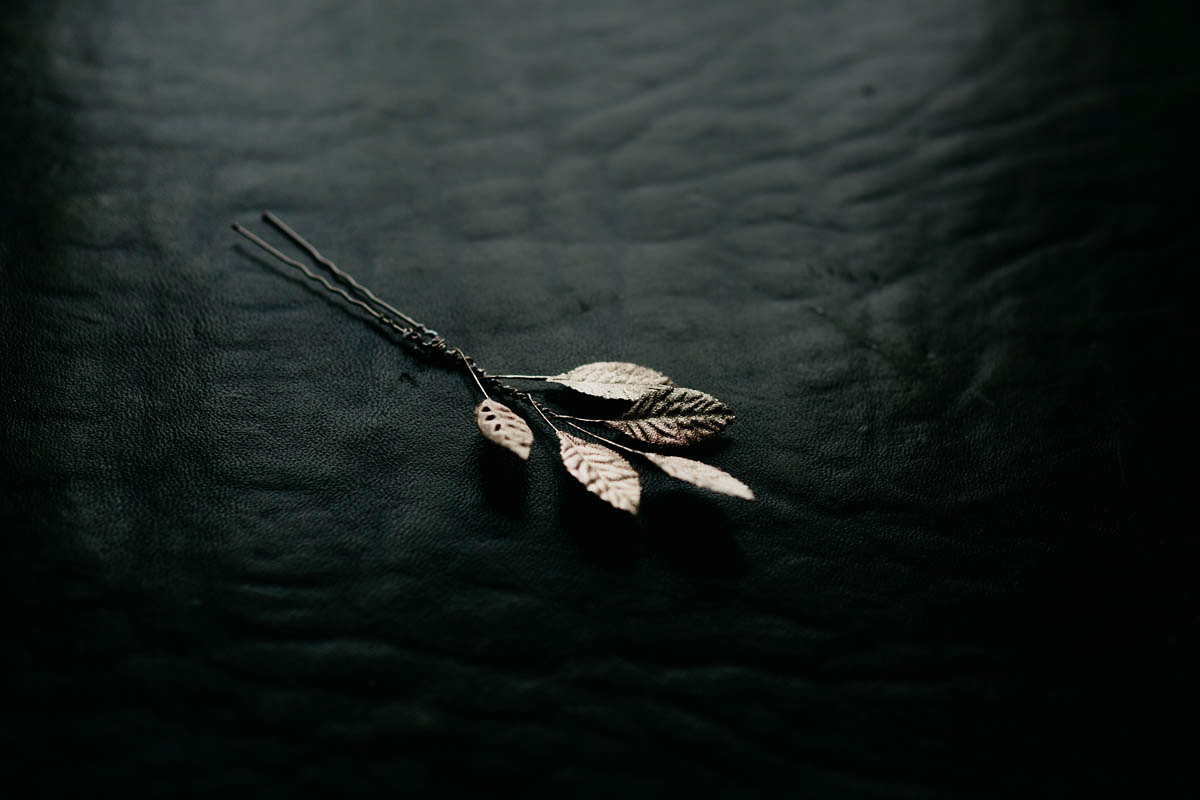 "Laetitia Rix of Makeup Angel was amazing and so patient. I had allergic reactions to the makeup in the trial and she let me come back and spend hours working out what I could use or not."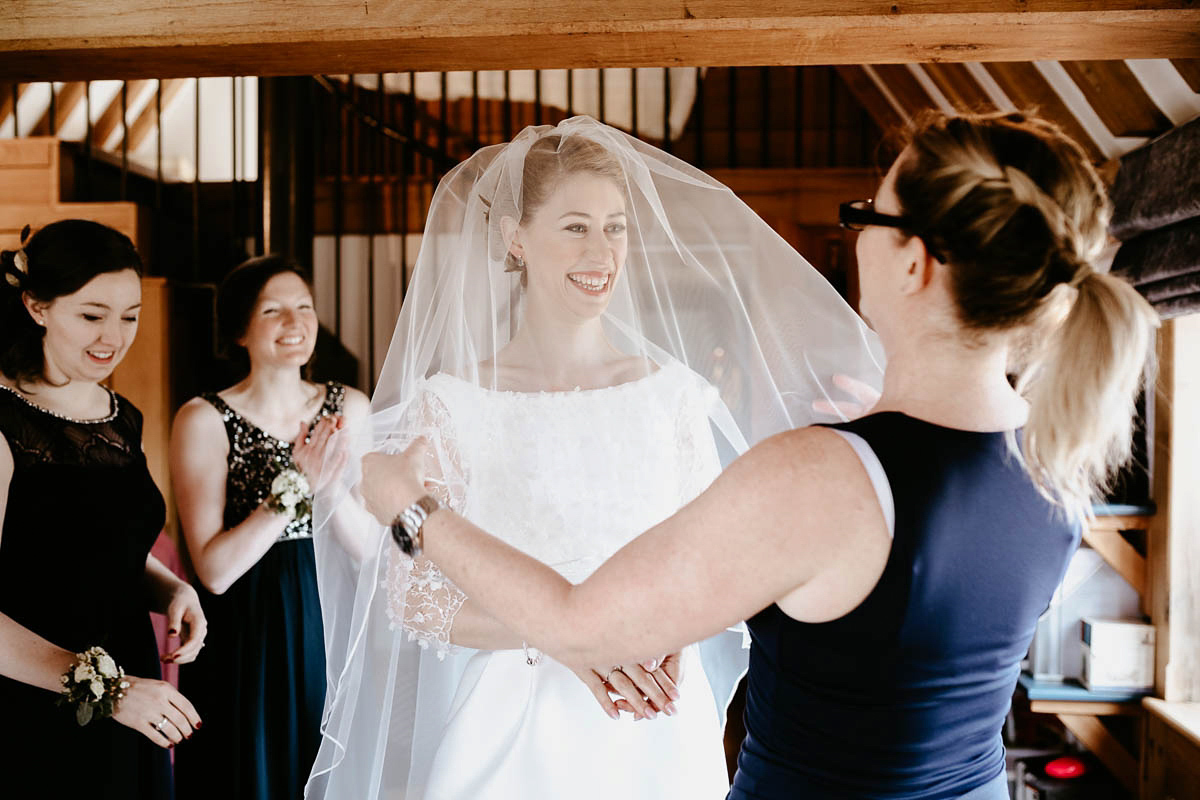 The bridesmaids sported pretty wrist corsages, pearl earrings and a hair accessory made by Krissy's friend Mary Ann Chatterton – and chose their own shoes and navy attire.
"The bridesmaids each had a different outfit and they looked beautiful. I just asked that they get something in navy and let them choose what they wanted to wear and what suited them individually. It was important they wore something that would suit their personalities and their figures. One wore a jumpsuit, one a long dress and two wore short dresses and they were from a variety of places."
"Chris wore a Gieves & Hawkes three-piece suit and his blue Liberty Print Emma and Georgina tie was via a website called Catkin Jane."
"I gave Chris a hipflask filled with Glenrothes single malt as a wedding present to open in the morning. The groomsmen all wore their own suits."
The sweet flower girl donned a Monsoon dress – you can view their Little Book for Brides directory listing here – with a handmade sash and the page boy's adorable attire was by Marks & Spencer.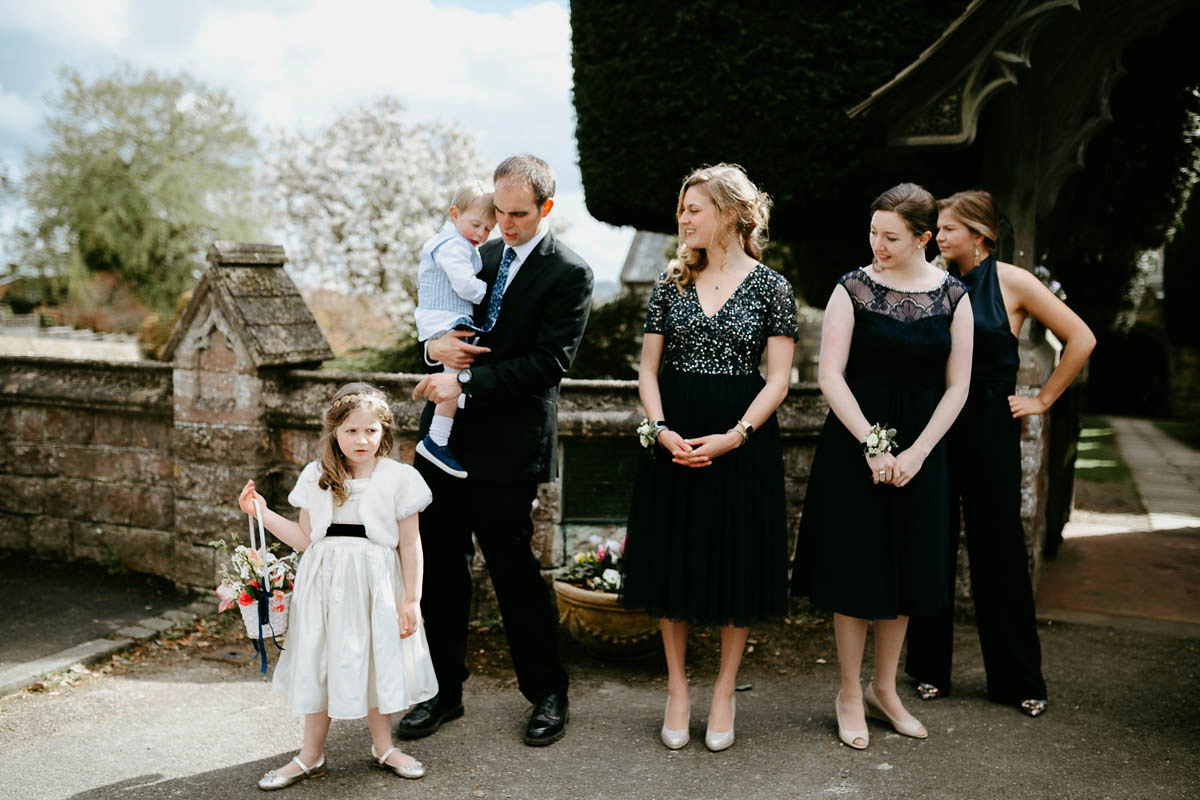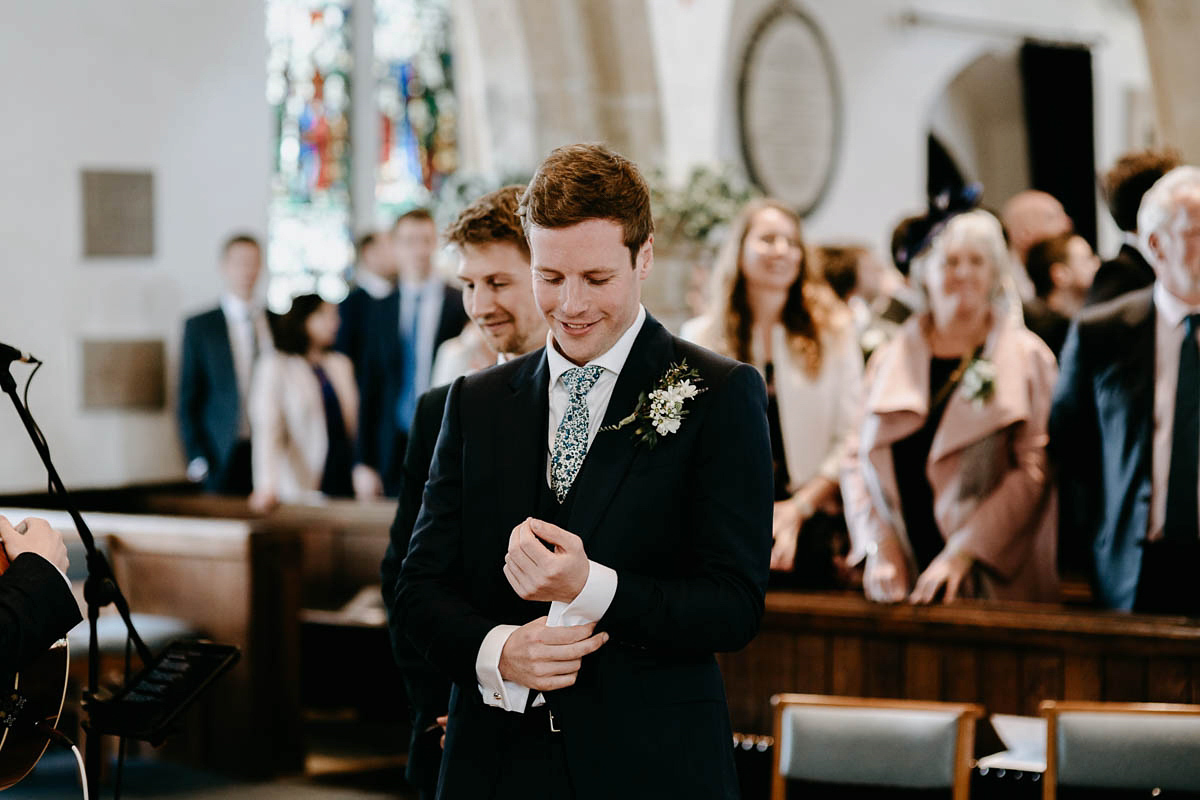 Krissy displayed her creative side, preparing the watercolour image on the invitation and order of service, then designed the rest of the stationery with Tom Barnard, one of the ushers who is a freelance graphic designer.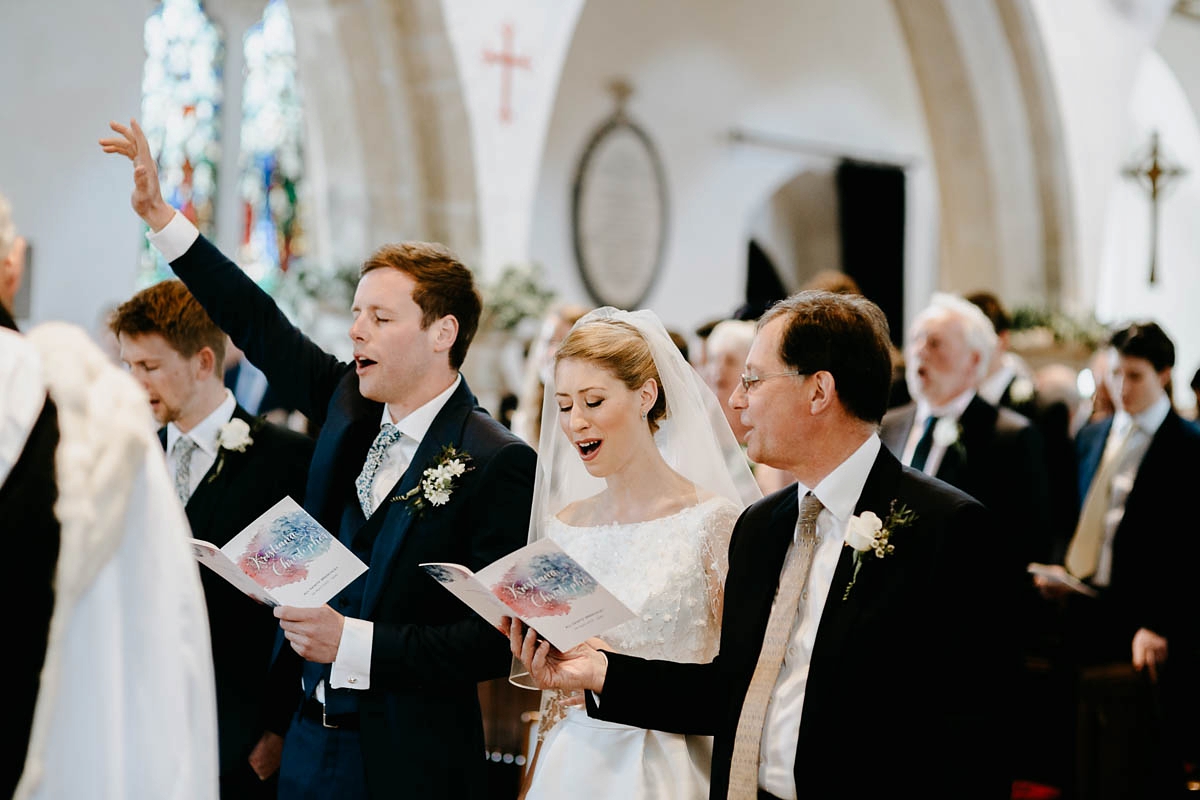 "My wedding ring was from G. Collins & Sons in Tunbridge Wells and where my engagement ring was from. Peter Jenner in Tunbridge Wells handmade Chris a gold ring in a shape that was comfortable and what he wanted."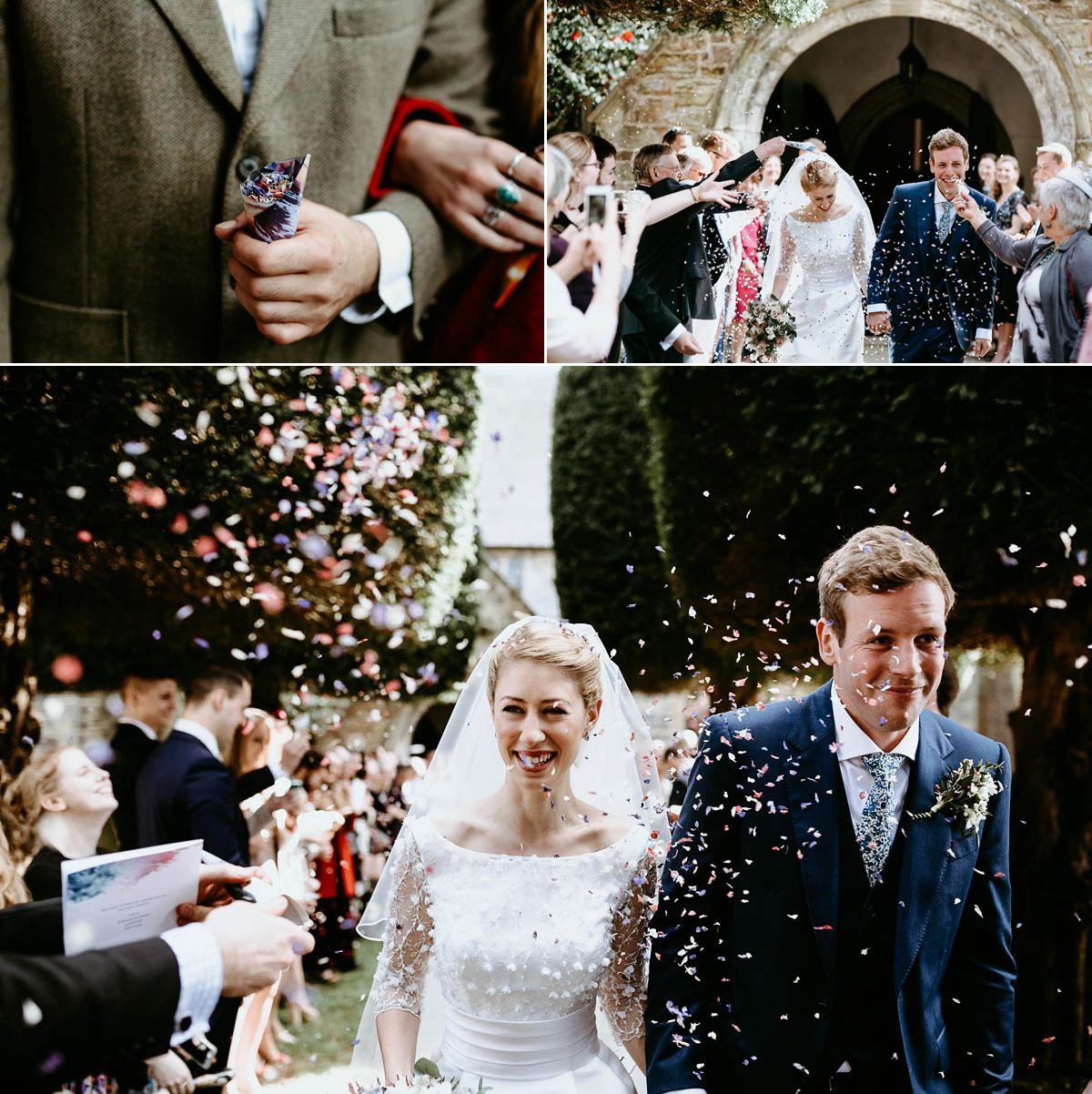 "Our favourite moment was when we walked back from the other side of the farm where we had been having photos – it was 10 minutes alone together right after getting married."
"The sun was shining and we were walking down through the aisles of apple trees in full wedding gear."
"The wedding car was my dad's Saab 9000 convertible. Dad accompanied me down the aisle at the church to my cousin Dominic playing Simon and Garfunkel on acoustic guitar. We had the traditional vows of a Christian marriage ceremony and two readings which both summarise much of what believe – Romans: 8 v 31-39 and Ephesians: 3 v 14-21."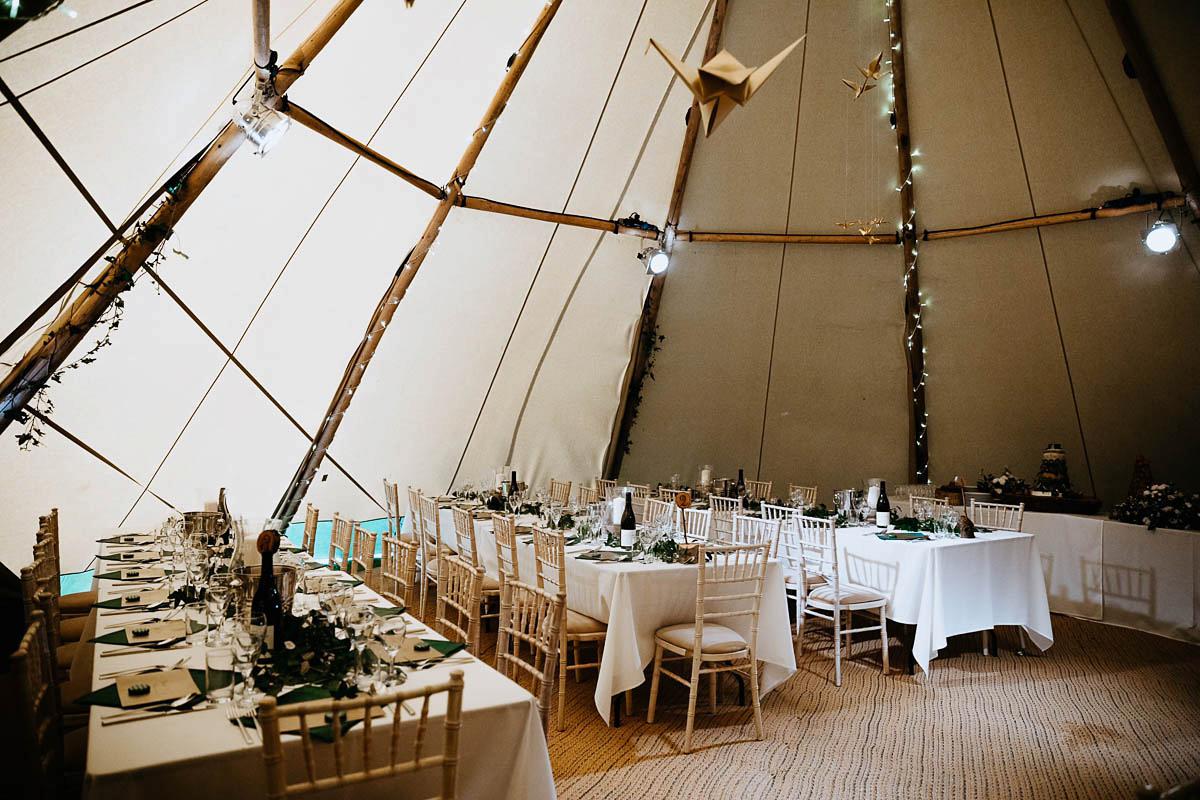 The tipi's were decorated with a simply stunning array of items. Gold origami crane mobiles and giant origami cranes hung from the roof. There were also gold touches in the form of ski torches – ski's spray-painted gold with oil lamps attached to them.
Planted pots of tulips adorned the tipi's and I love the addition of fairylights and ivy and greenery gathered from around the farm and garden strung around the tipi poles. So much inspo here lovelies!
"As a little girl I never dreamed about dresses, I dreamed about cake. So we ended up having three cakes – we are both terrible at choosing between things as well. My mum makes the best Christmas cake so it was a no brainer when she offered to make a huge fruit wedding cake for us. It is also Chris' favourite type of cake."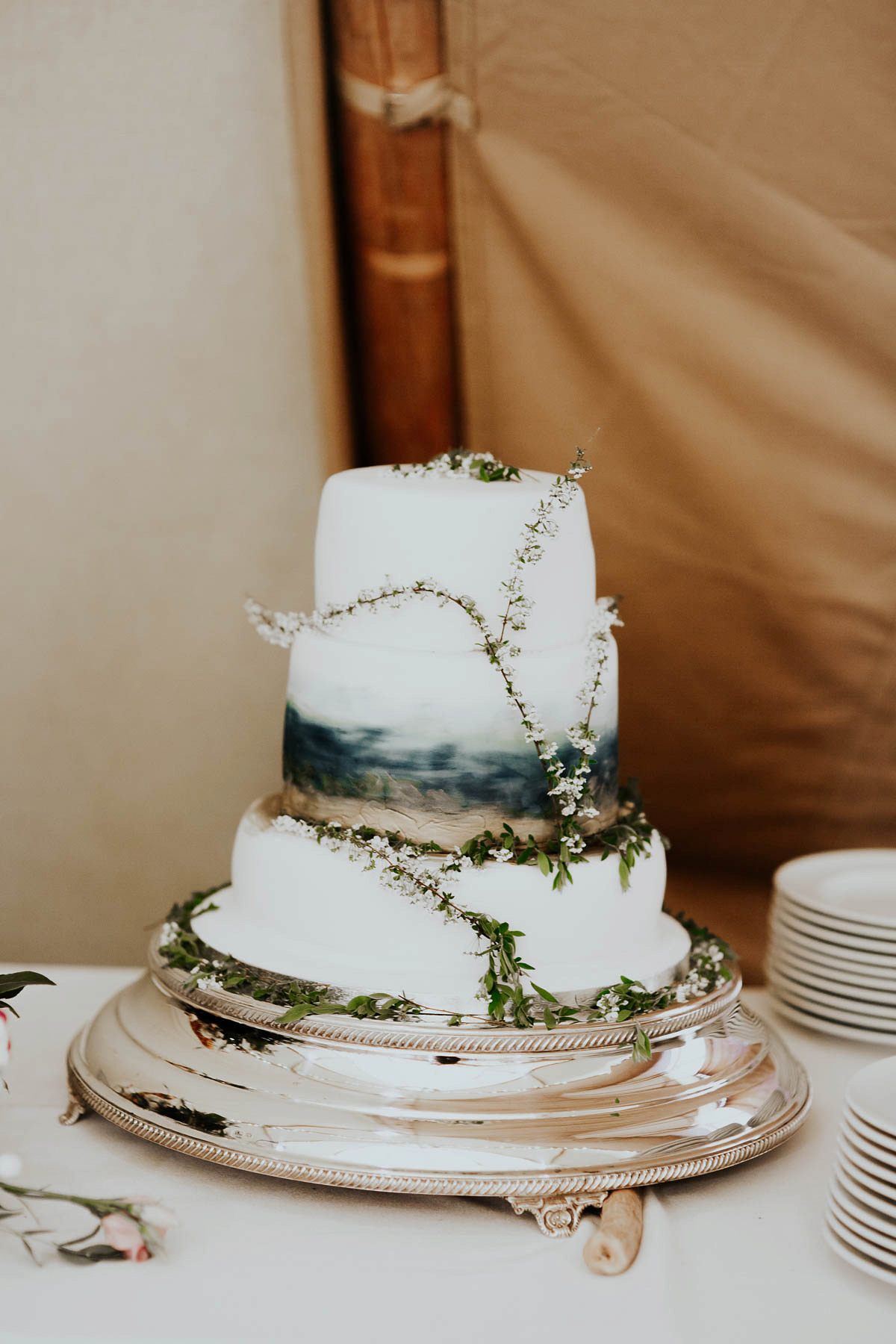 "We had a croquembouche made by Creative Catering – I lived in France for a while and to say I love profiteroles is an understatement. We also had a cheese tower to accompany the serving of port."
"Our friend Lionel Shell knew what sort of sounds we were after, so put together and led a jazz funk band as our entertainment. They are in the process of coming up with a name!"
Words of Wedded Wisdom
"Delegate – people are really happy to help and they often love to be included.
 Don't decide to write 185 personal notes to everyone the week before the wedding!
 I think everyone says this – don't worry about the little things."
Thank you so much to Krissy and Chris for allowing us a peek into their totally gorgeous day and I'm certain you've inspired many of our lovely readers. A big thanks to Jess for capturing the smiles and all the special moments in these delightful images.
Thinking of having a tipi for your big day? Then take a look at these other tipi weddings we've previously highlighted.
I'm off to get crafty and make some origami cranes!
Love Jo -xo-