Hello lovelies. Now I must confess that I'm having cape envy. The dress is stunning on its own, but with the cape, it really is something special, a truly wonderful find at Past Caring in Holt.
Emma, an administrator at a dental lab married Chris, a design engineer for a turbocharger company in a beautiful woodland/nature themed wedding on the 14th of May 2016 at Northorpe Hall Child and Family Trust. Everything was handmade, made by themselves and friends and the result has a lovely, rustic feel.
"We wanted a nice barn, not too far from home. Northorpe Hall was perfect. Julia, the wedding co-ordinator really put us at ease. We also liked that the money paid for the wedding went back into helping the trust/charity. Alwin Greyson is an absolutely fantastic photographer. He felt like more of a guest at the wedding than just our photographer. We couldn't have asked for more."
Photography by Alwin Greyson
I adore Emma's vintage dress, not only is it a gorgeous shape and lovely fabric, it was an absolute bargain.
"I bought my dress from Past Caring Vintage Clothing and Accessories (1880s-1950s) in Holt, Norfolk. It's a French lace dancing dress from the 1940's and cost only £100! It fit perfectly, I liked the lace and the fact it was French."
"I loved the detailing  around the top of the front of the dress (little sequin bits) and that it had a hole in the centre at the top which meant you could see my sternum tattoo. The dress came, with what I can only describe as a tea-cosy-like shawl that went over my shoulders. I wasn't sure if I liked it initially but it looked right on the day with the rest of the outfit."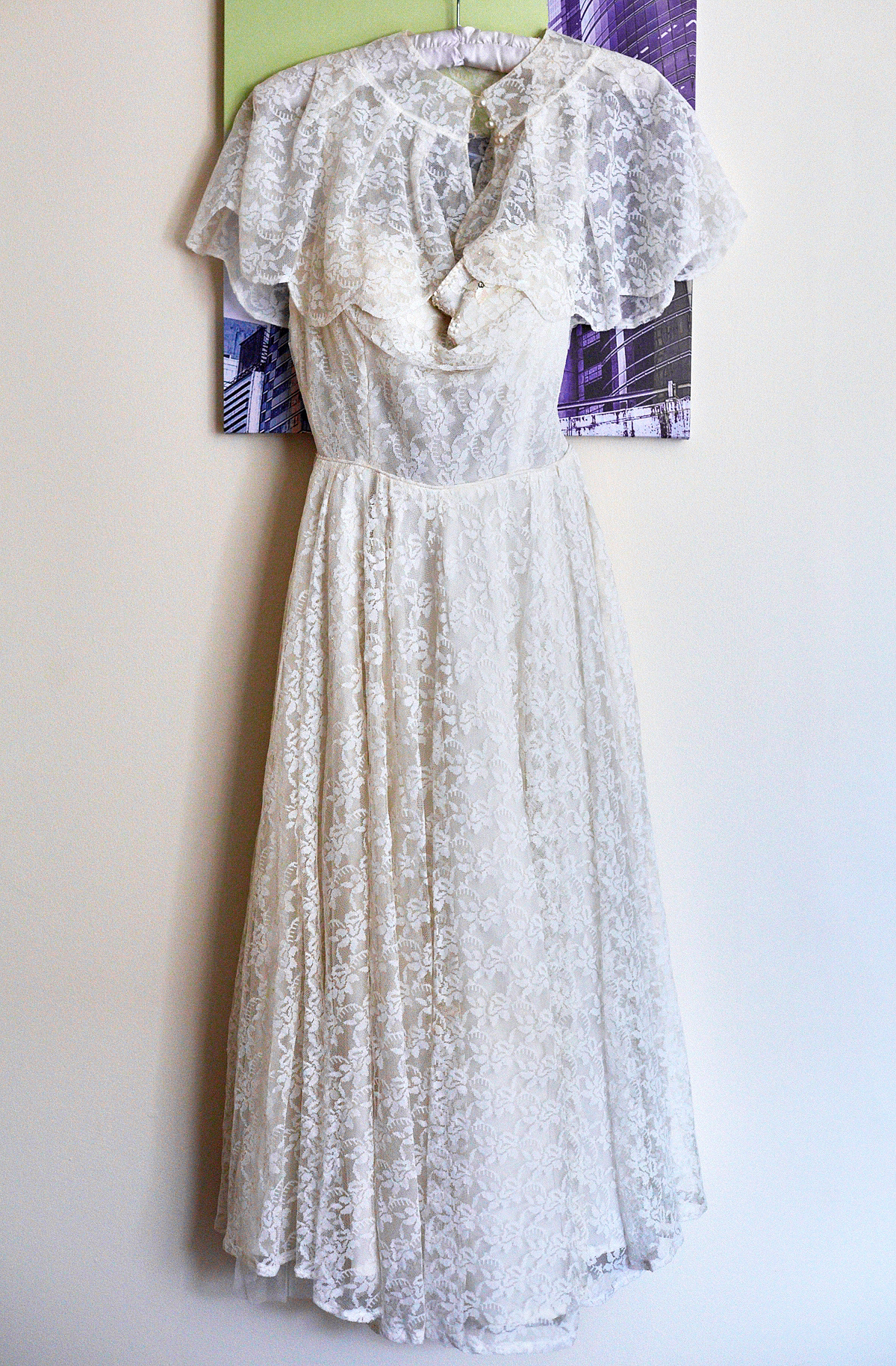 Emma added a gorgeous pair of gold glittery Kurt Geiger shoes with a big nude bow and in her hair she wore the buttonhole of her best guy friend Jimmy, who unfortunately couldn't make the wedding.
"I wore silver and brown jewellery (necklace and bracelet) that my grandma and grandad bought me for my sixth form ball when I was 18, with white gold and diamond earrings, a 21st birthday gift from my parents."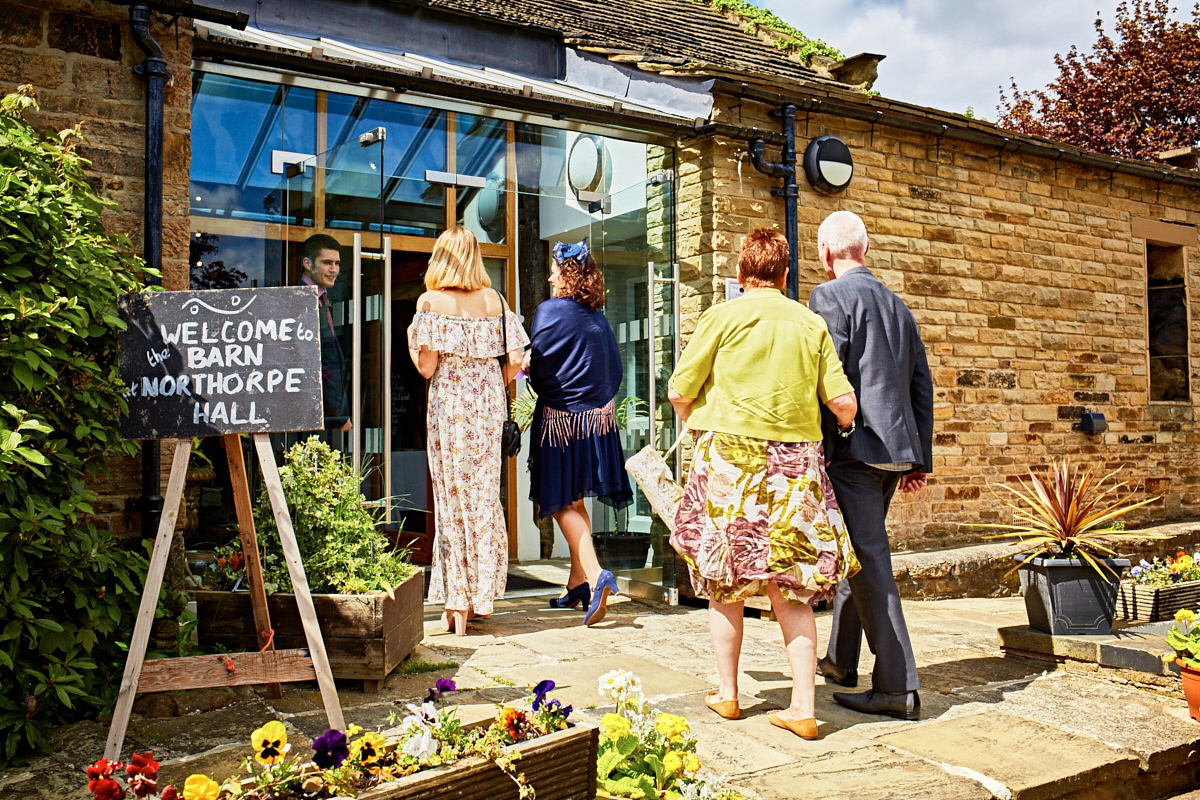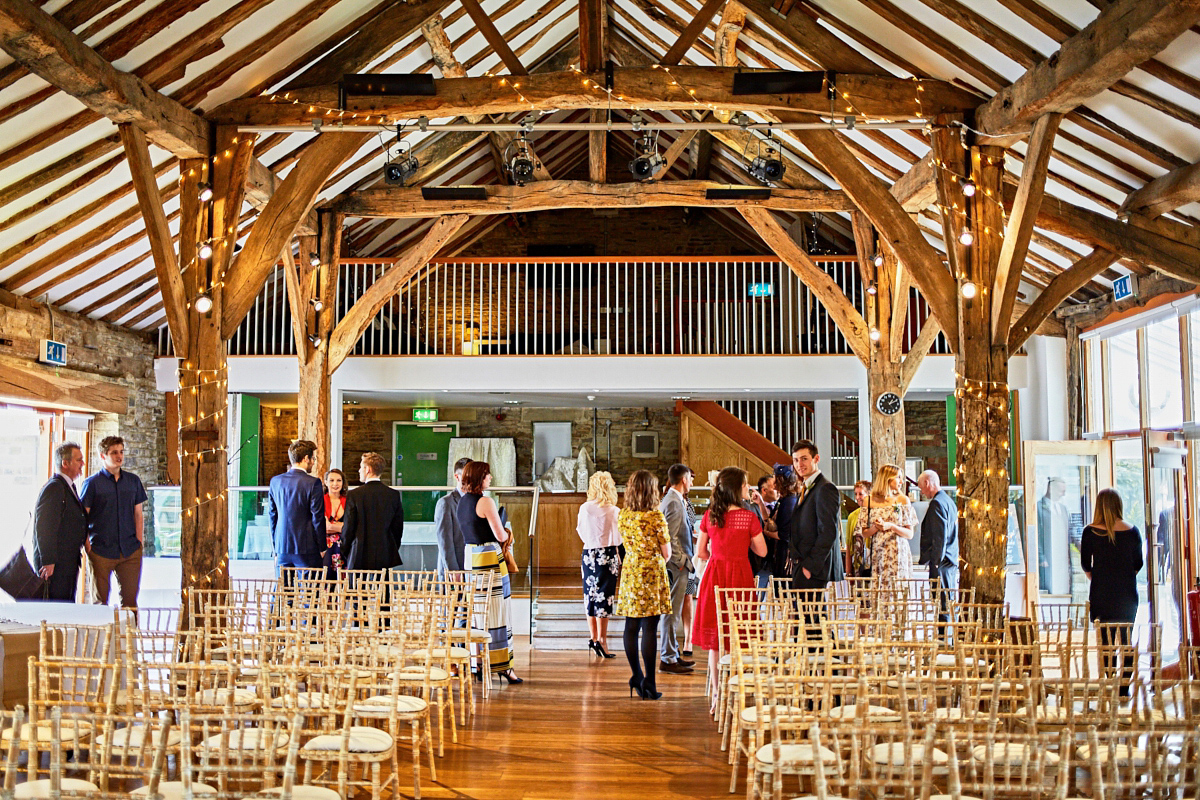 "Chris and I met through a mutual friend of a friend when I was working at Costa in May 2010. Chris proposed in September 2014 on a weekend away in Wales at a place called Gwalia farm. The place was a lovely log cabin next to a lake, completely off grid. He proposed in the wood fired hot tub."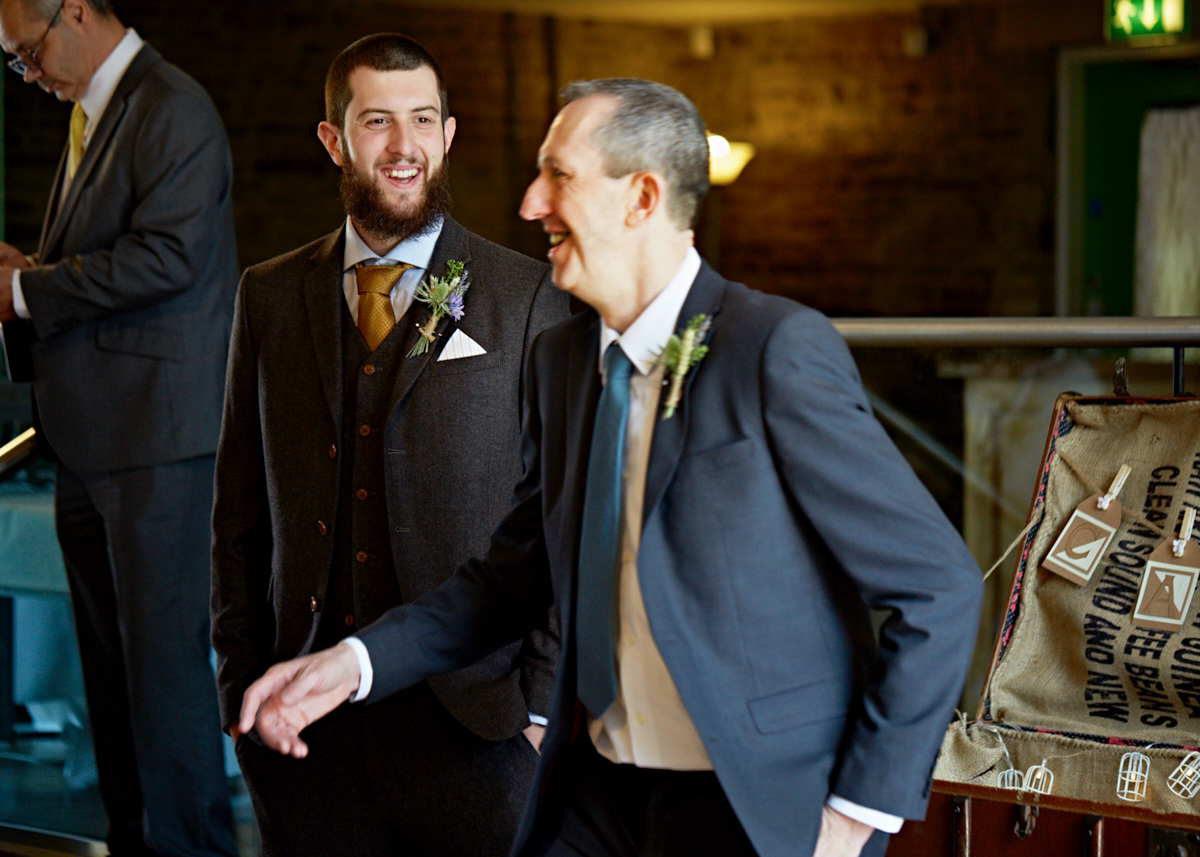 "Laura Taff did our makeup. She was absolutely brilliant, really friendly and helped me stay calm in the run up on the day. I rarely wear much makeup so I wanted to keep it natural on the day."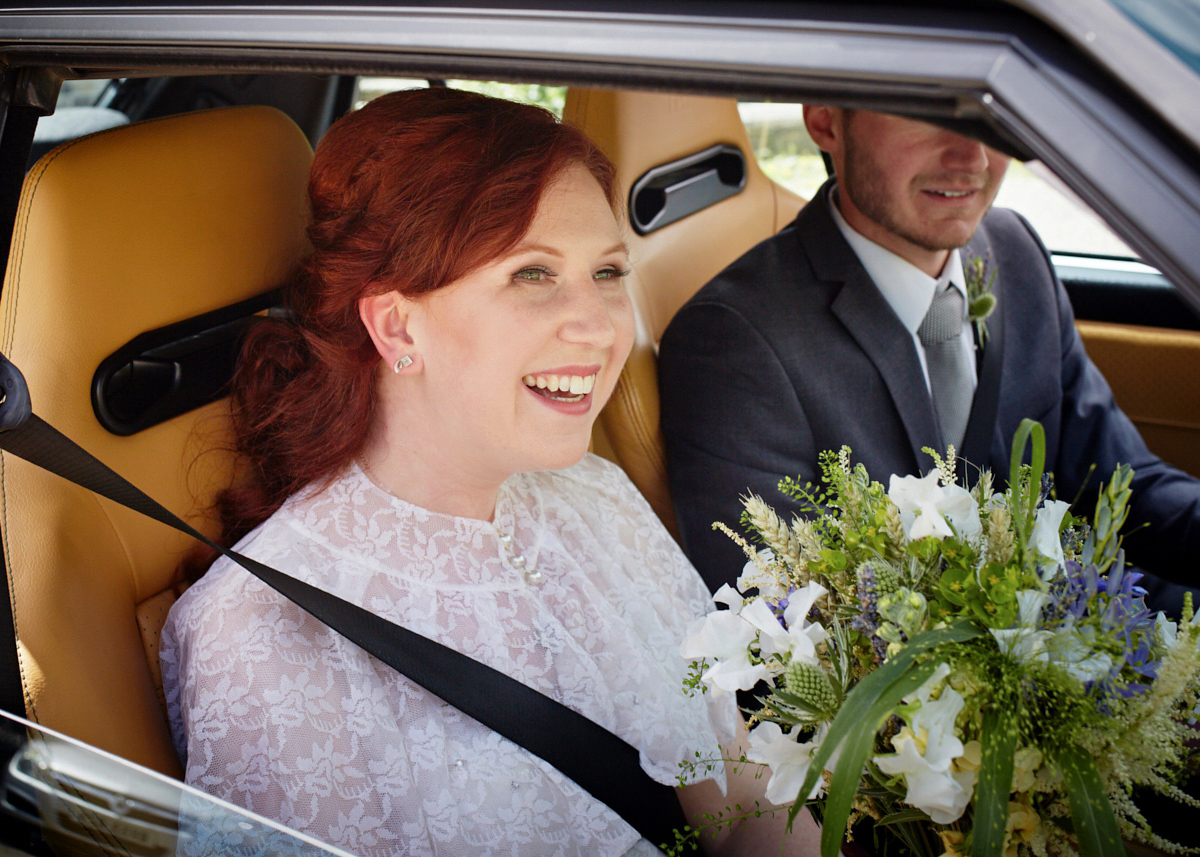 "The bridesmaids dresses were made by a wonderful company based in Wakefield called Blonde and Wise, run by Amy and Lucy. Lynette and Phoebe both wore pale lime/pistachio coloured dresses in different styles, with gold strappy sandals from Debenhams."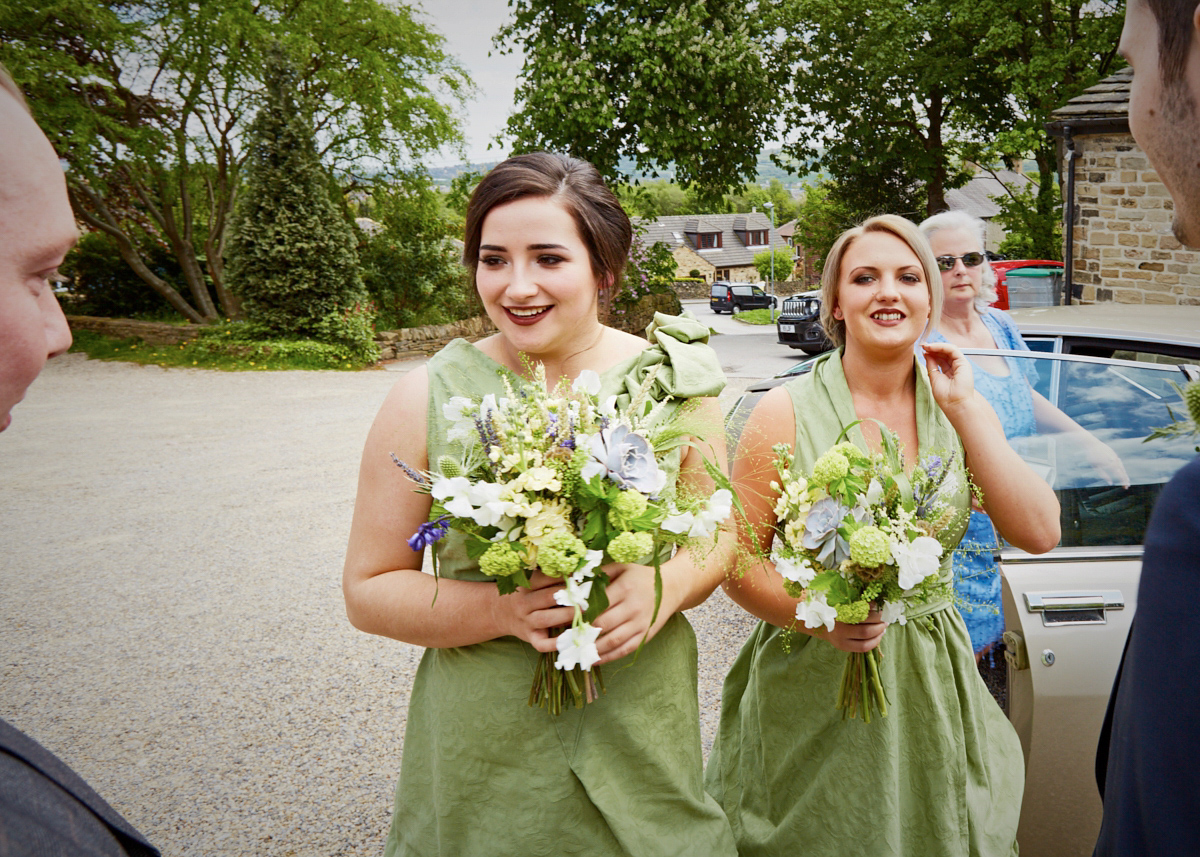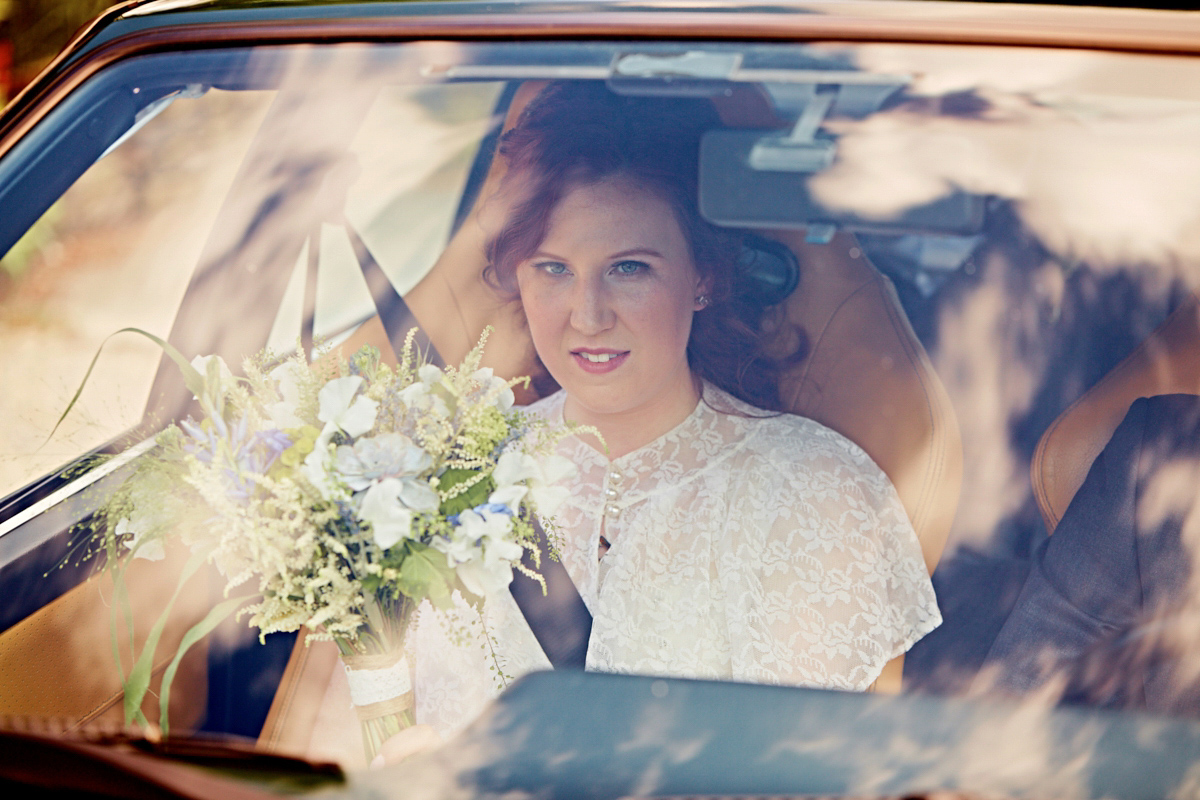 "Tracey Campbell of Campbell's Flowers did our flowers. She is a lovely lady who understood that we wanted a very natural, woodland feel to the wedding."
"I suffer with really bad hayfever so wanted to stay away from heavily scented flowers so we opted for wheats, twigs, succulents, shades of green and some lavender."
The Groom travelled to the wedding in his own modified 1988 Volvo 240 and the bride arrived in a friend's 1991 Lancia Delta Integrale Evo.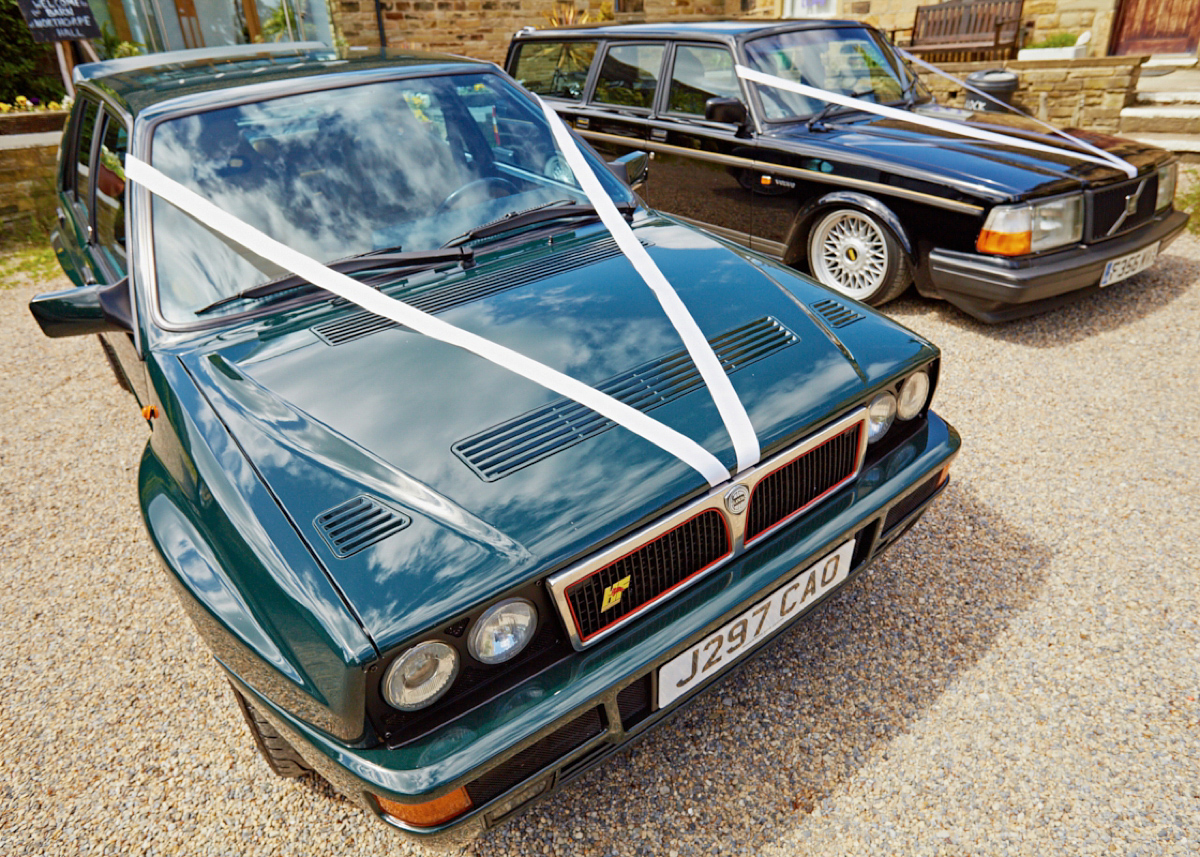 The Bride chose to walk down the aisle to the acoustic version of 'Swing Life Away' by Rise Against, accompanied by her close friend Kal. The newlyweds walked out of the ceremony together to 'If It Means A Lot To You' by A Day To Remember, one of the first bands they listened to together.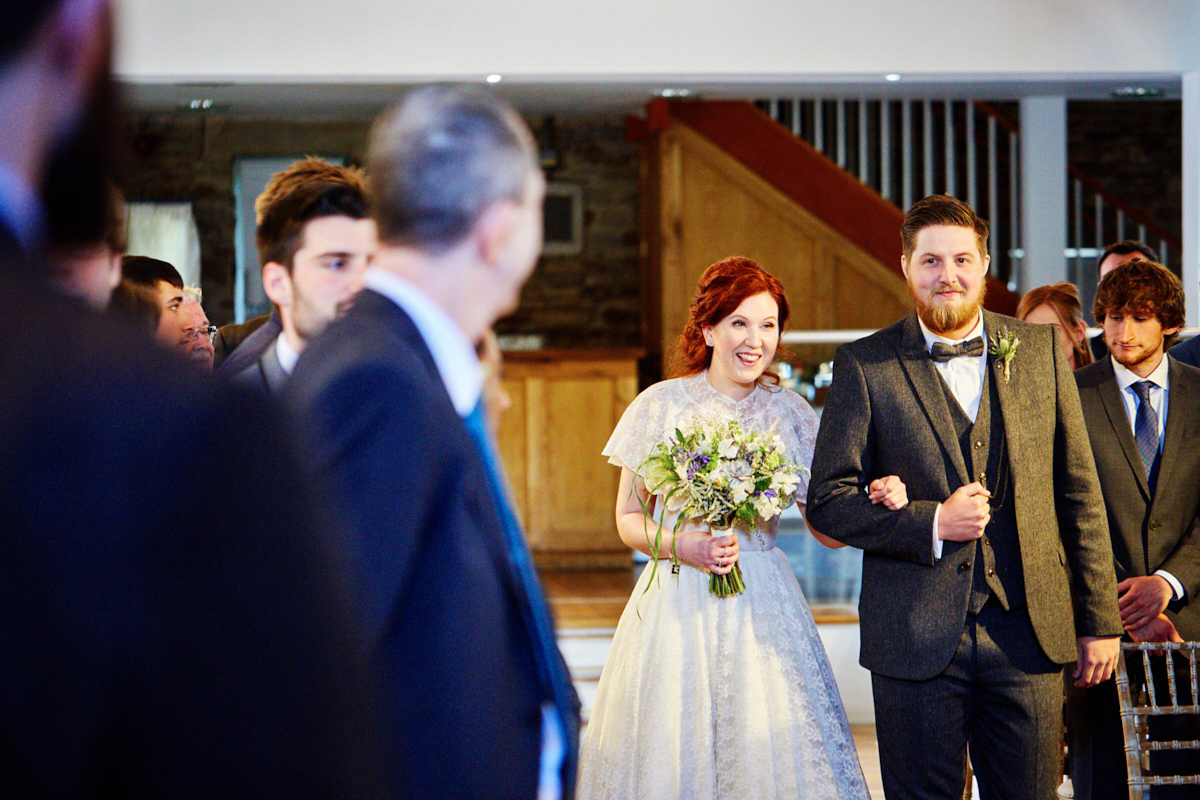 Chris looks very handsome in his brown tweed three piece suit from ASOS with his grandad's tie pin and cuff links made from recycled bicycle chain links.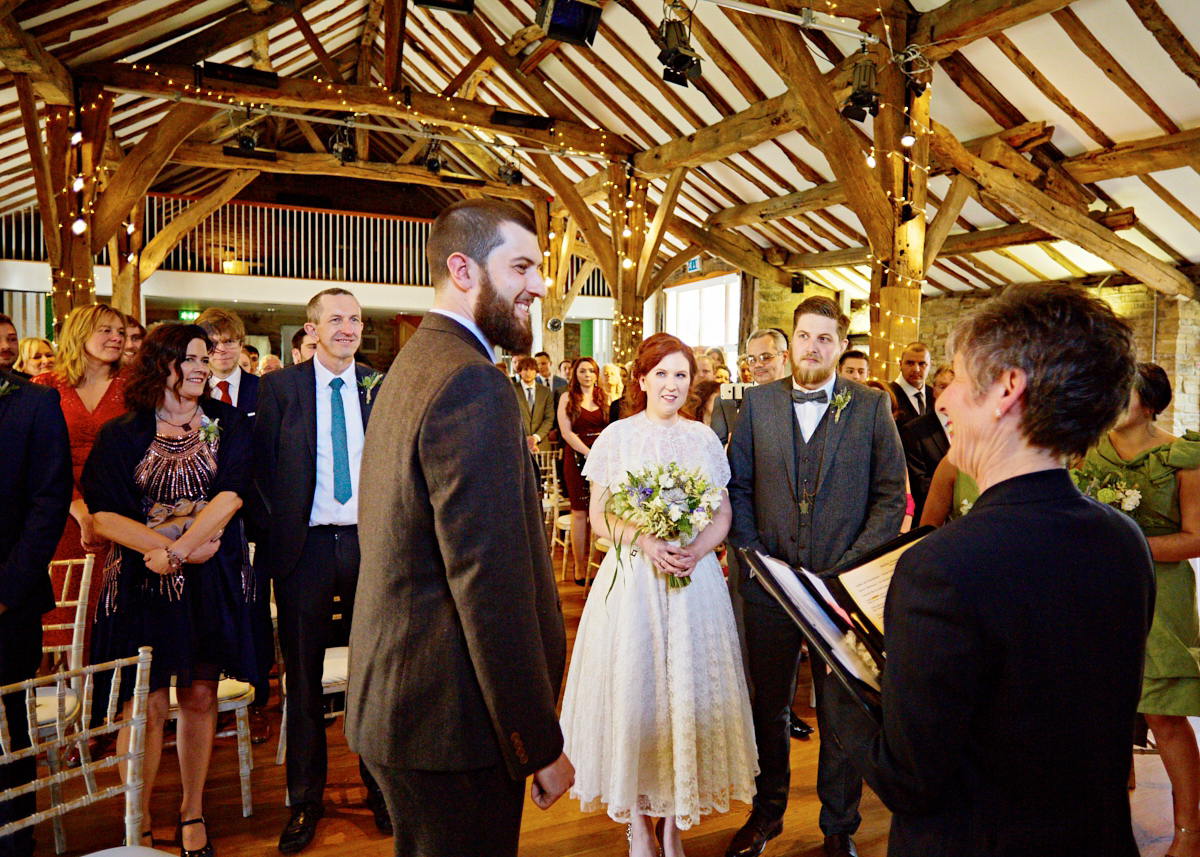 "Chris is always making things and working on cars etc. so he always said that he wasn't going to wear a ring for fear of pulling his finger off."
"However we found a very durable ring, forged from carbon fibre, that we both actually liked from a company in America called Carbon6. Chris' has a glow in the dark purple insert and mine has a silver band interior."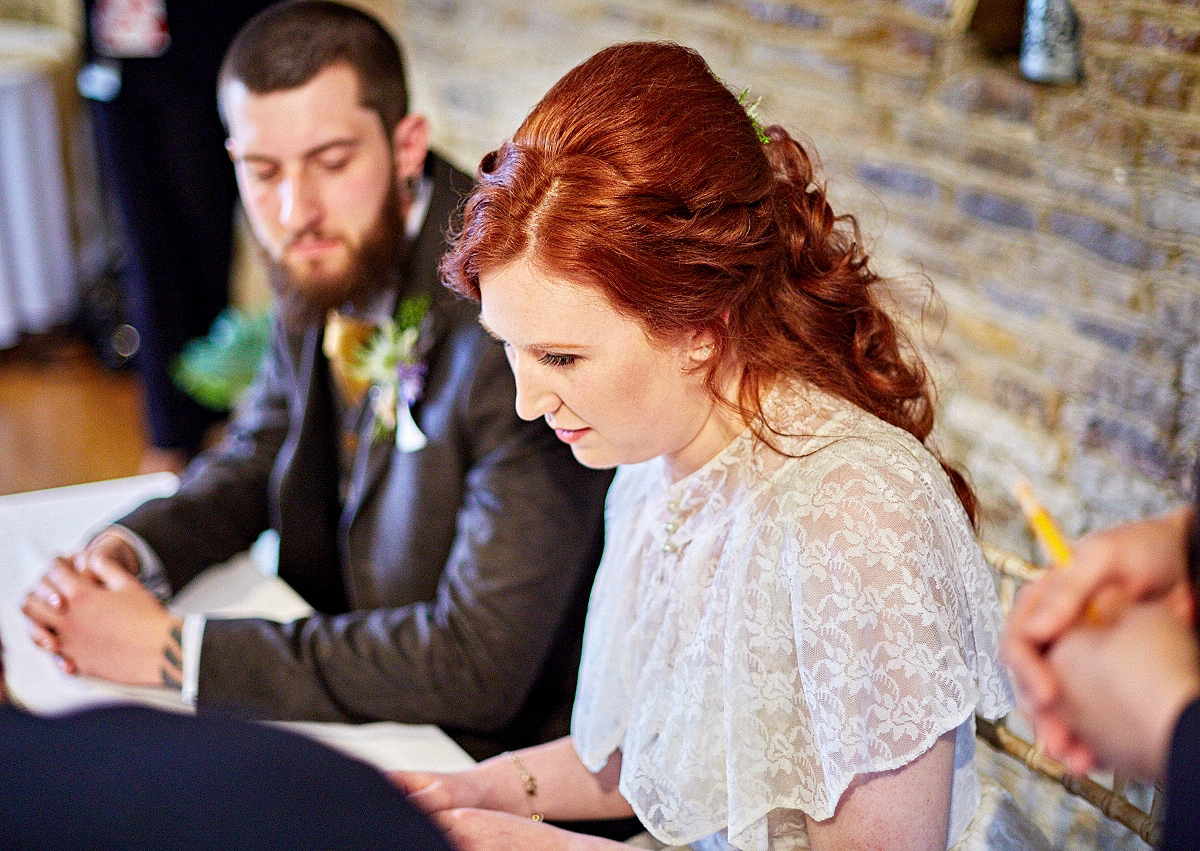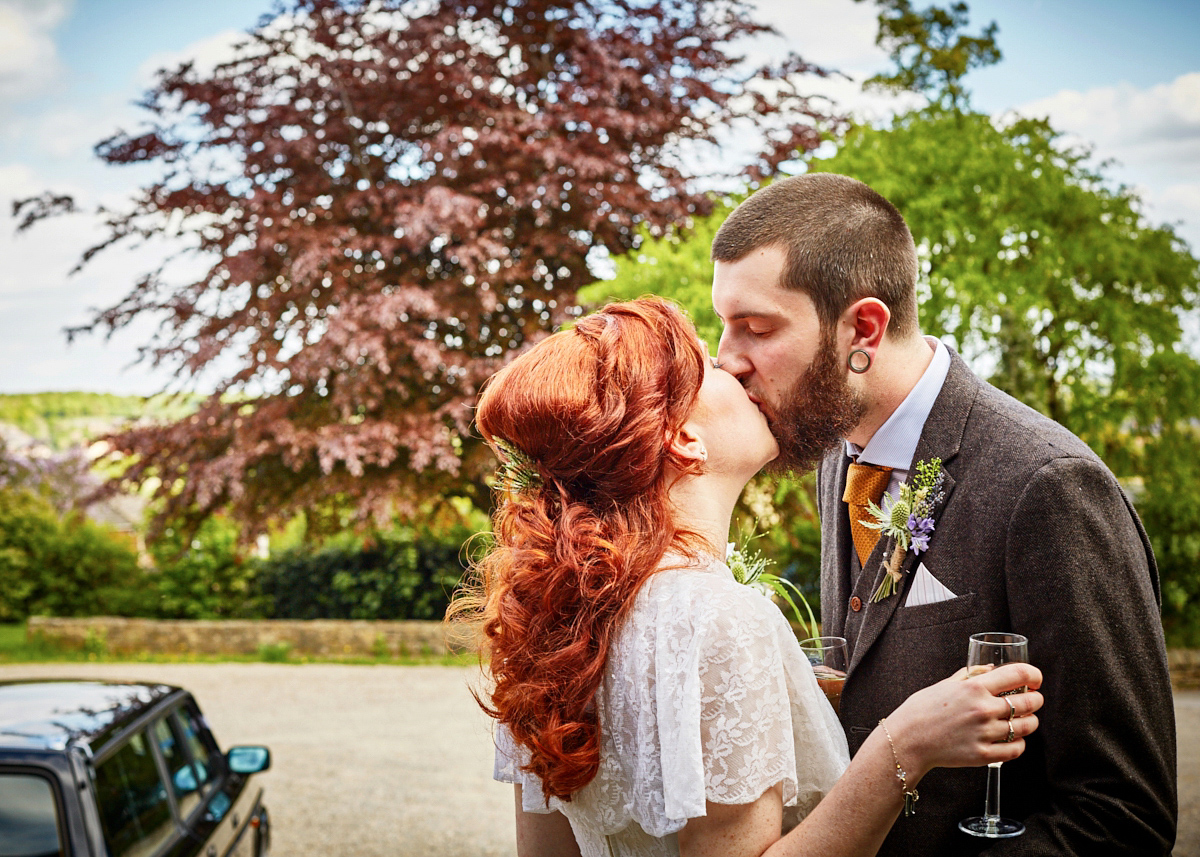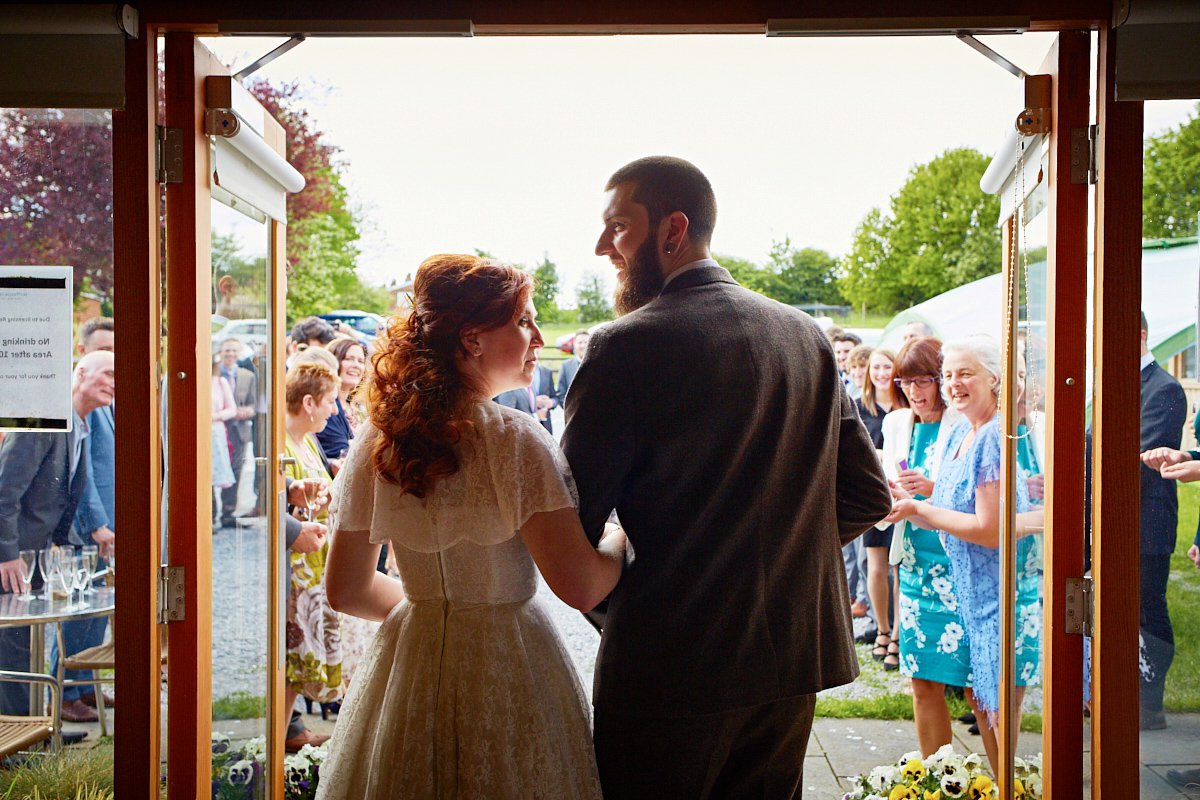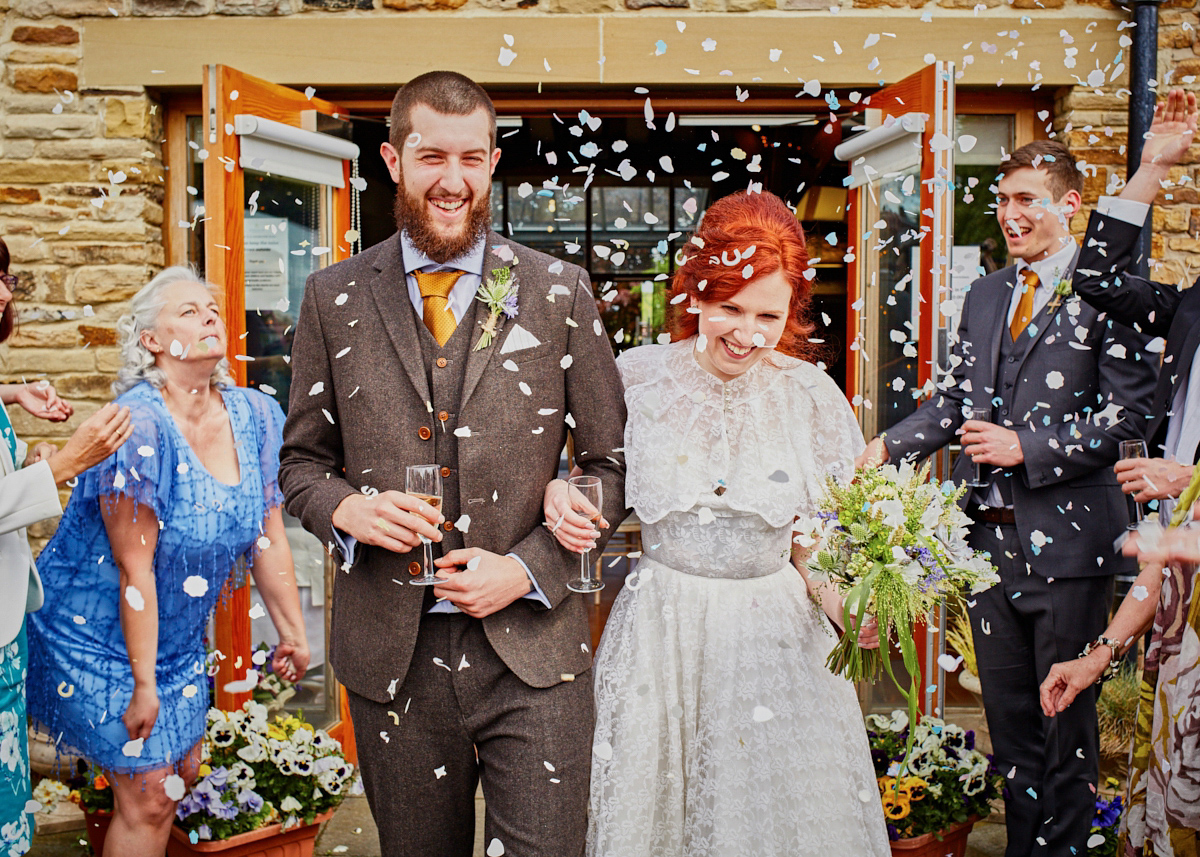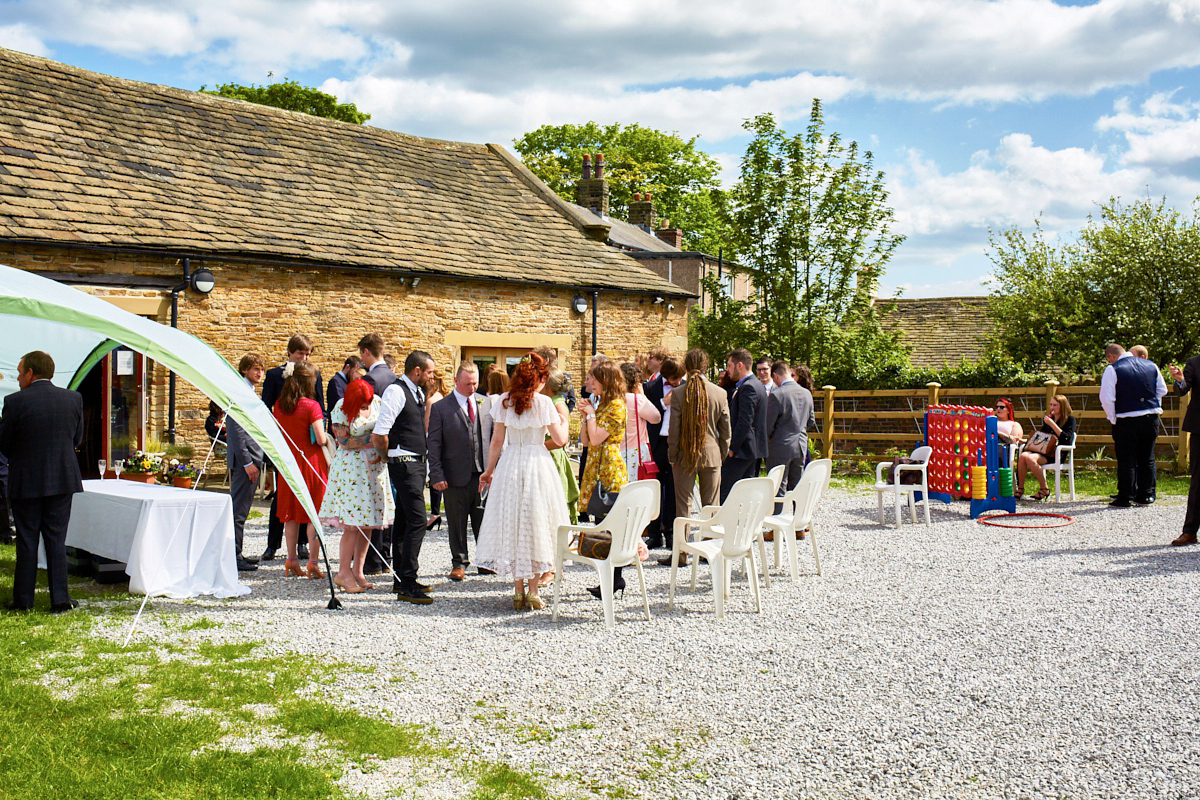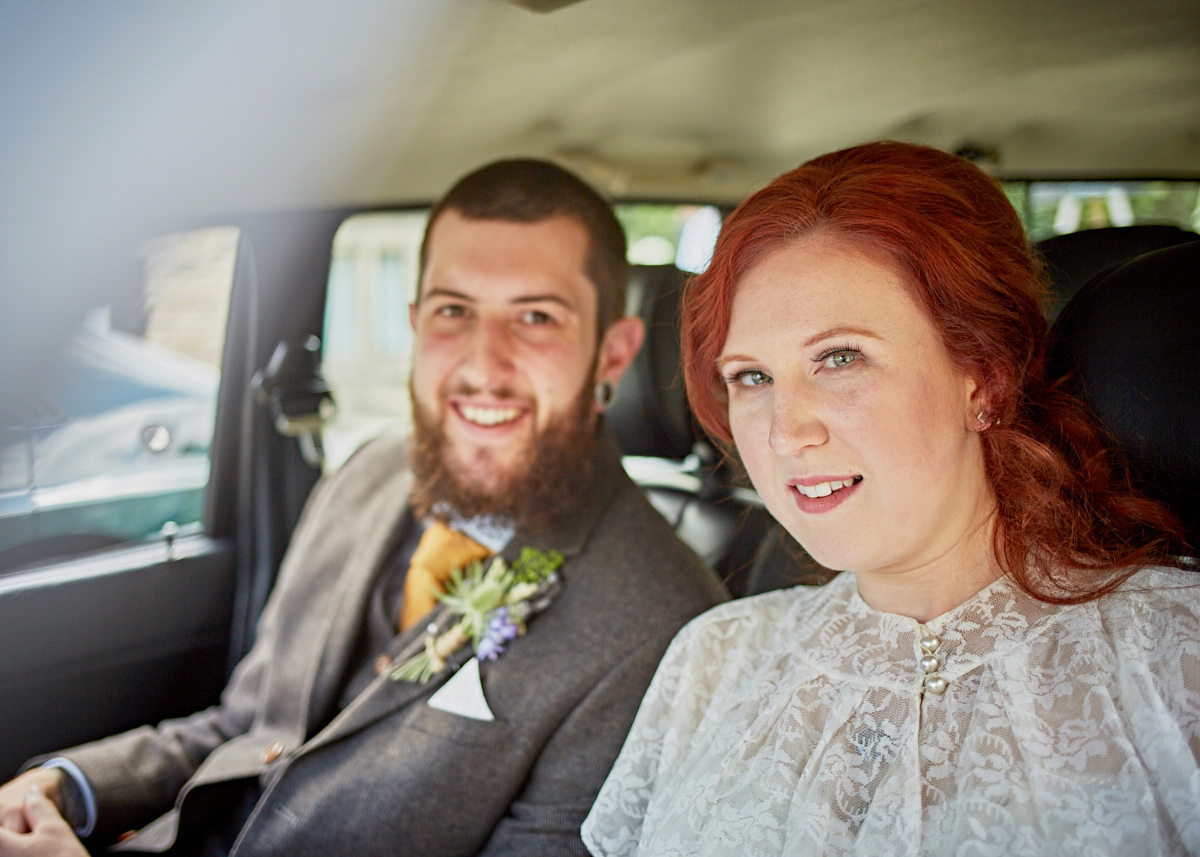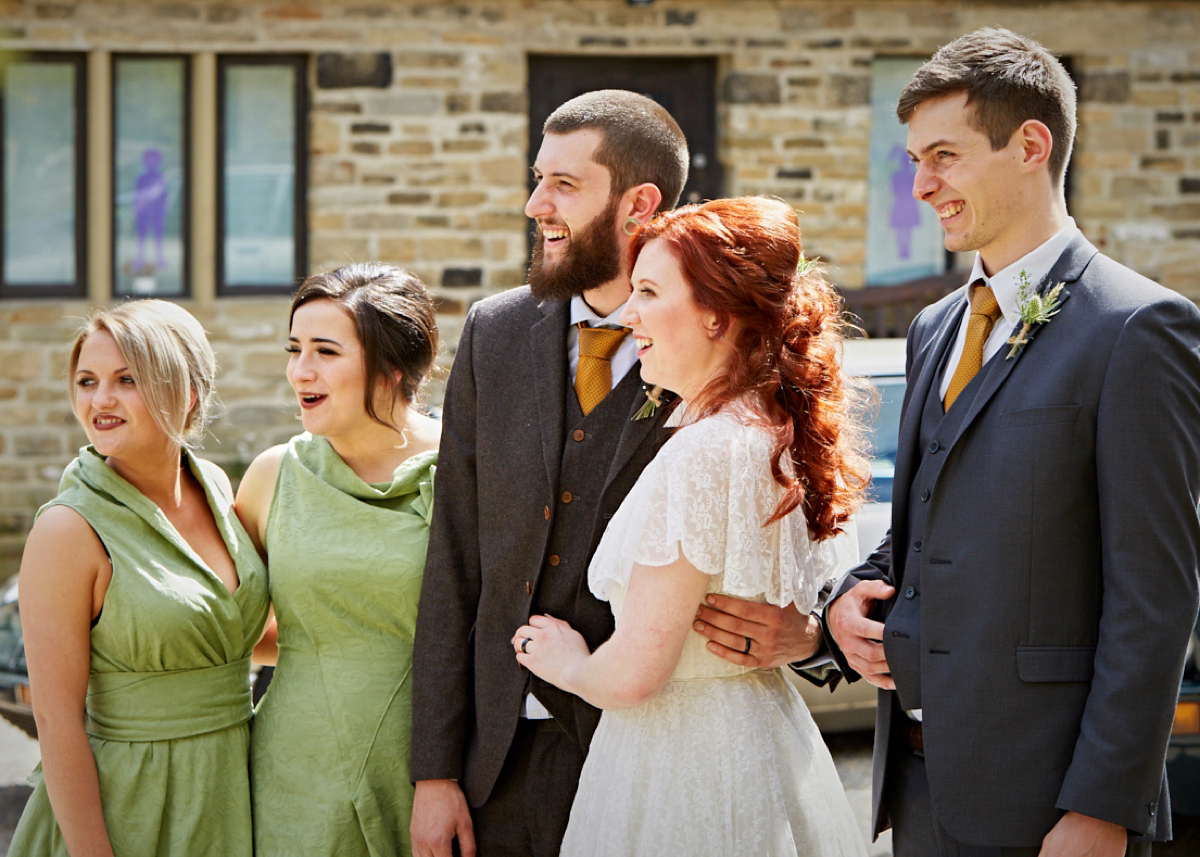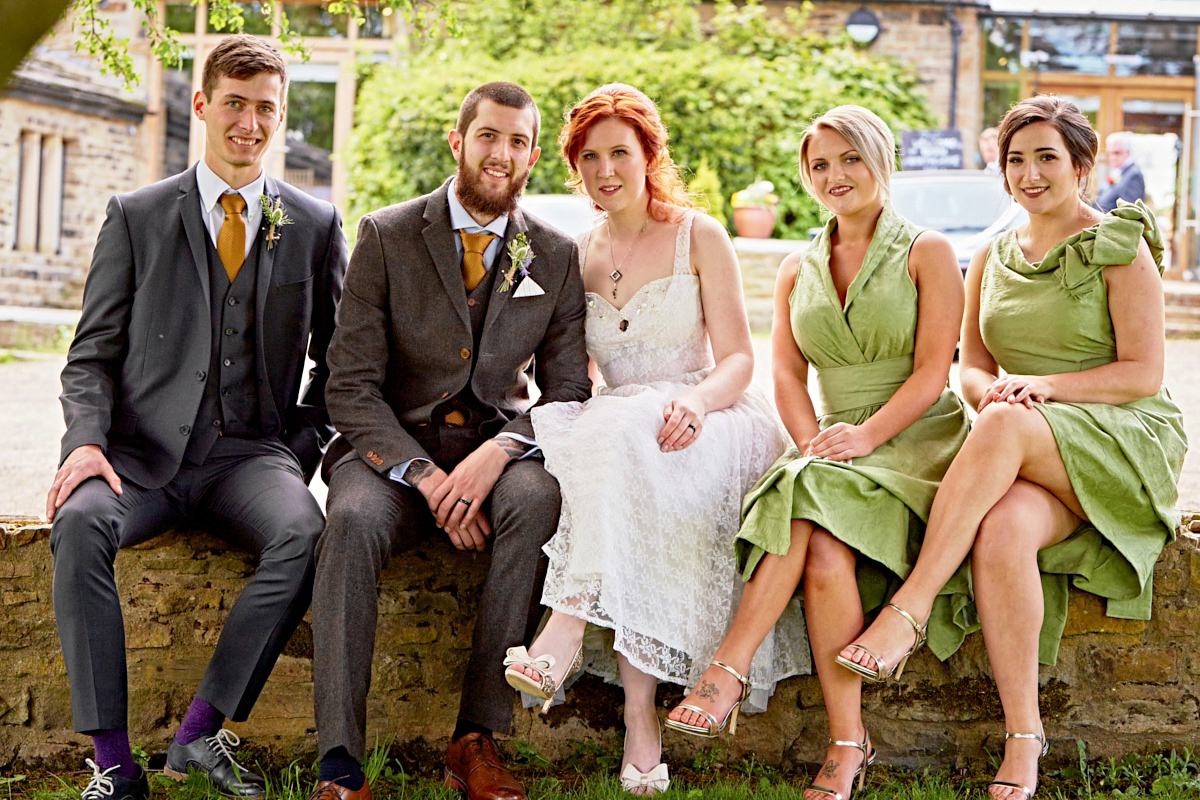 The couple both did their bit and got crafty for the wedding. Emma made all the invitations and table names, while Chris made the order of the day boards and table centre pieces of tea lights, twigs and artificial lavender. The favours were old keys from Etsy.
"We did not really have an original budget we just tried to do everything as cost effectively as possible and make lots of things ourselves. The whole day including venue, dresses, food, cars, rings and photographer came in at around £5000."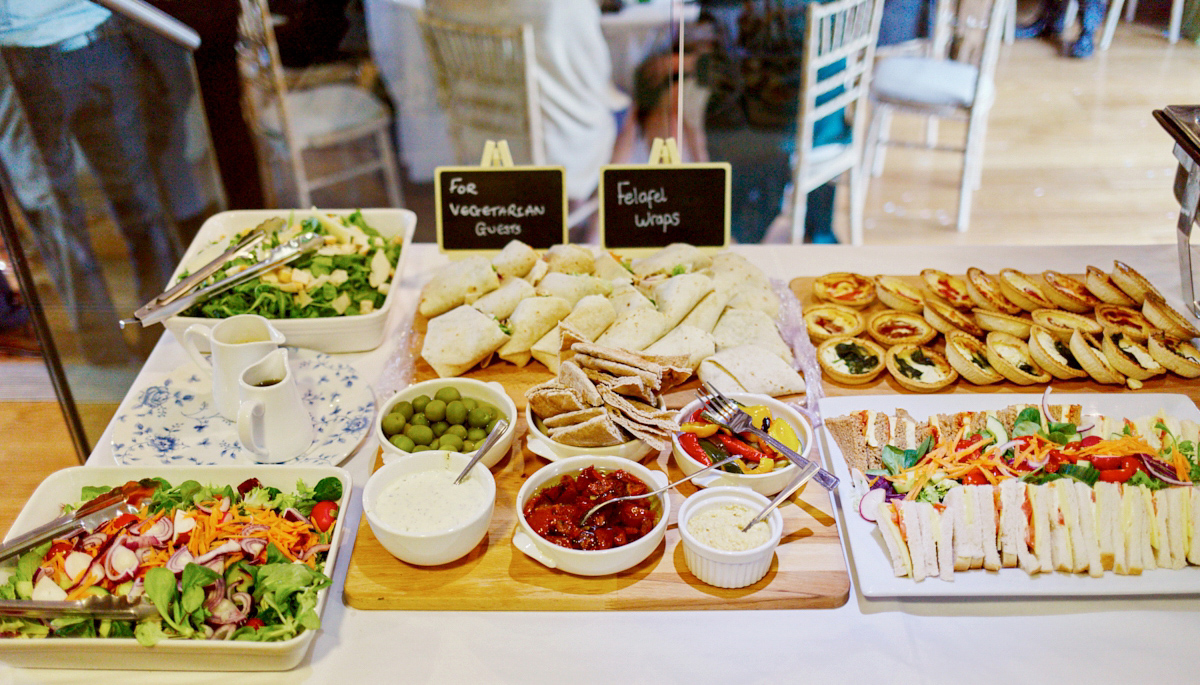 The couple weren't comfortable having a first dance so instead they had the great idea of a wedding party dance to 'You Make My Dreams Come True' by Hall and Oates which encouraged everyone else to get on the dance floor.
They decided to forgo a DJ and put the whole evening's playlist together themselves.
"Chris' mother Clare made our wedding cake. We had a chocolate cake and coconut cakes covered in frosting on a wooden tree slice base. There was also a spare fruit cake and chocolate cake. All cakes were decorated with 'edible moss' made from crushed golden grahams with green food colouring which worked really well, then twigs, rosemary and pine cones."
WORDS OF WEDDED WISDOM
"You really don't need to spend a lot of money on your dress. Have a go at making things yourself, it's more personal and can save you lots of money."
"All the little things like table decorations, favours, invitations and guest book add up but they are easy to make. Music is a massive part of our lives and the choice of songs was very important for the big day."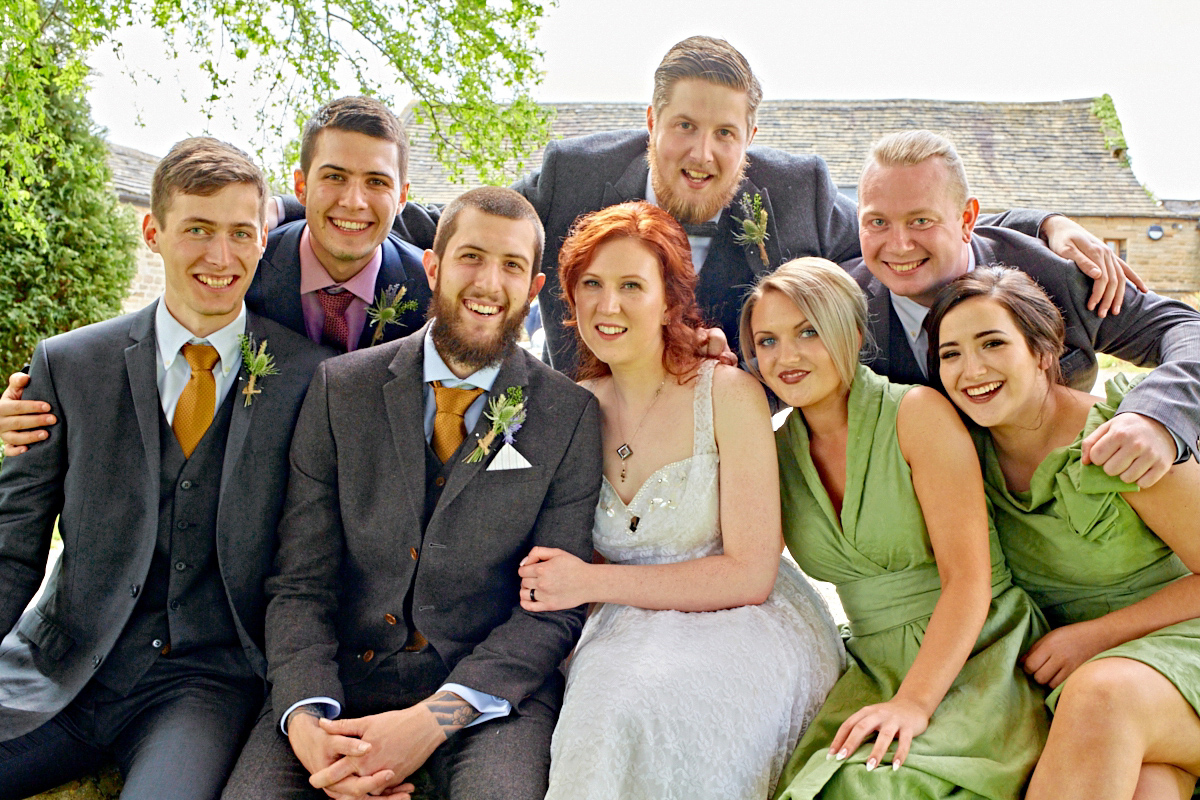 How amazing does Emma look in her vintage dress? If you're feeling inspired, we have featured lots of brides in vintage dresses, including a bride in her mum's 1980's dress just last week. Congratulations Emma and Chris on your gorgeous wedding, and thank you to Alwin Greyson for the stunning images.
Love Caoimhe xx