Ohhh lovelies, I do love a bride who goes for something that little bit different. Meet jeweller and designer Cecilia of Cecilia Stamp Jewellery and her husband Greg, who works as a dentist for the NHS.
The brilliant Caro Weiss caught these delightful shots on the 11th of March 2017 at the grand Errol Park in Perthshire, Scotland, where special furry friends could roam free, and the majority of the suppliers were the couple's clever and creative friends – very handy!
"We wanted to have a wedding day that reflected us and our interests – nothing overly formal. I was keen to DIY as much as possible and wasn't fussy on style or over complicating things. Also, being able to have my dog and my sister's dog there was essential! I was also keen to incorporate friends and family as much as possible – we are lucky to know so many talented people. Pretty much everyone we hired were friends."
Photography by Caro Weiss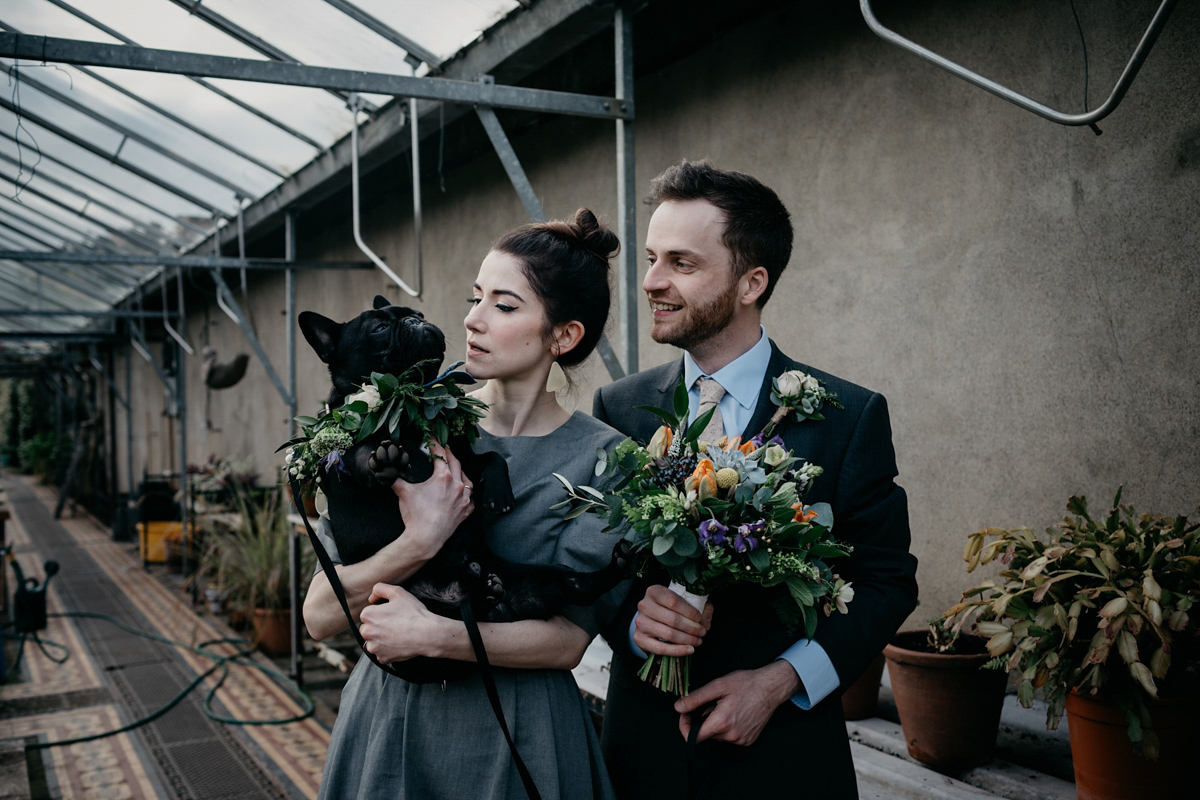 A treasured member of our handy Little Book for Brides resource – see her directory listing here – photographer Caro Weiss is a friend of Cecilia and expertly captured such natural images. I particularly love the outdoor shots of the couple.
"I've known Caro for a few years and always loved her work – she is so talented and so much fun. She also photographs my work for my website. I wouldn't have wanted anyone else! I love that her work is natural, candid and contemporary – she has such a great eye and manages to capture the atmosphere of a day perfectly."Two friends of the bride helped with her style on the day; her pretty make-up was by Heather Birrell, with Daisy Jones from Sassoon in Edinburgh creating Cecelia's stylish up-do.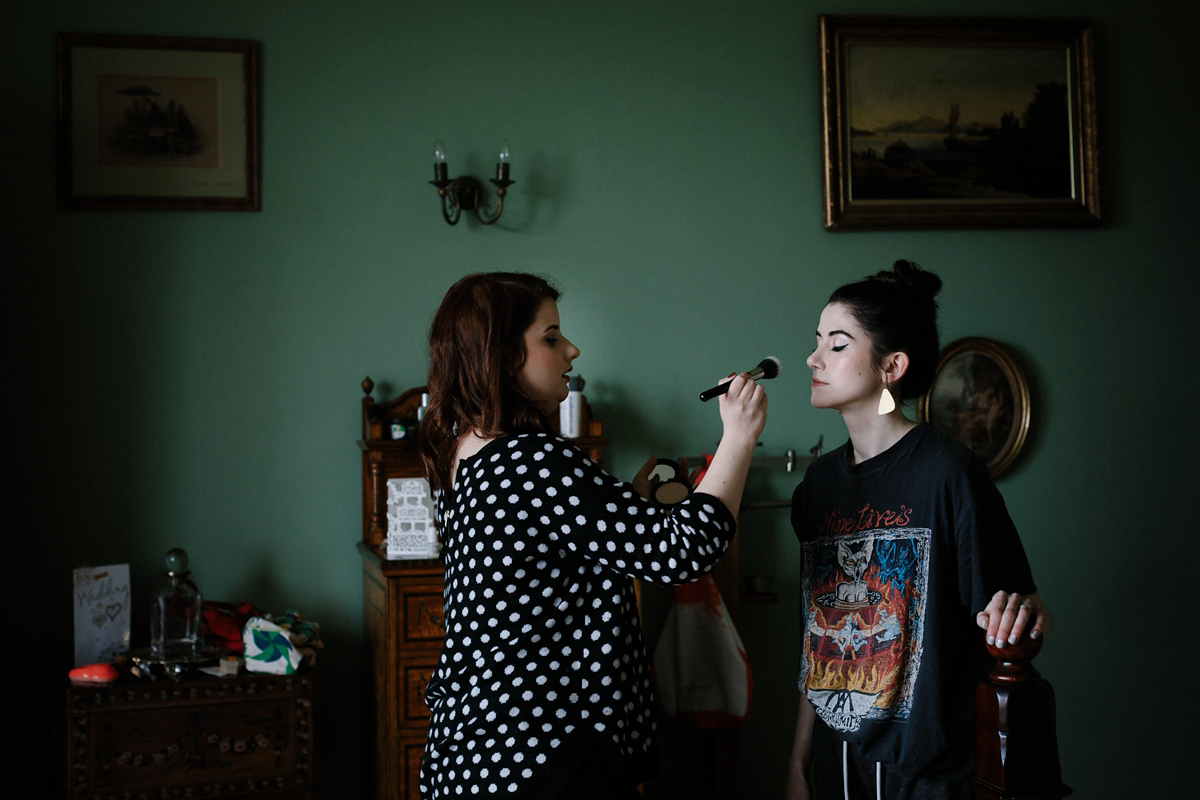 Lesley Hepburn – independent designer and dressmaker and Cecilia's sister-in-law (and open to commissions!) – made the bride's stunning two-piece dress in a grey chambray denim to create a utilitarian, modern style.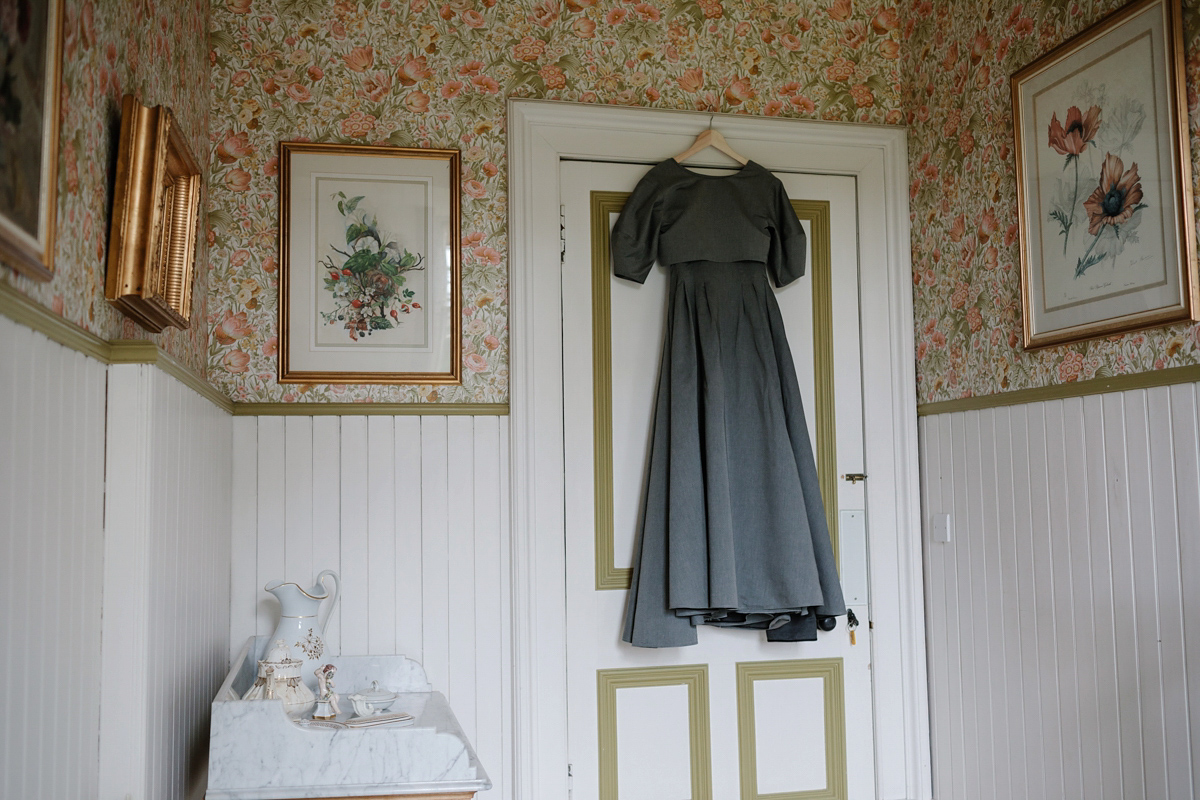 "I was struggling to find a dress – everything felt wrong and I felt stupid in all of them! I'm a bit of a tomboy and don't wear many dresses, everything I found was fussy and overly decorative. Lesley is a hugely talented dressmaker – making bespoke pieces and costumes for performance, visual arts and contemporary dance."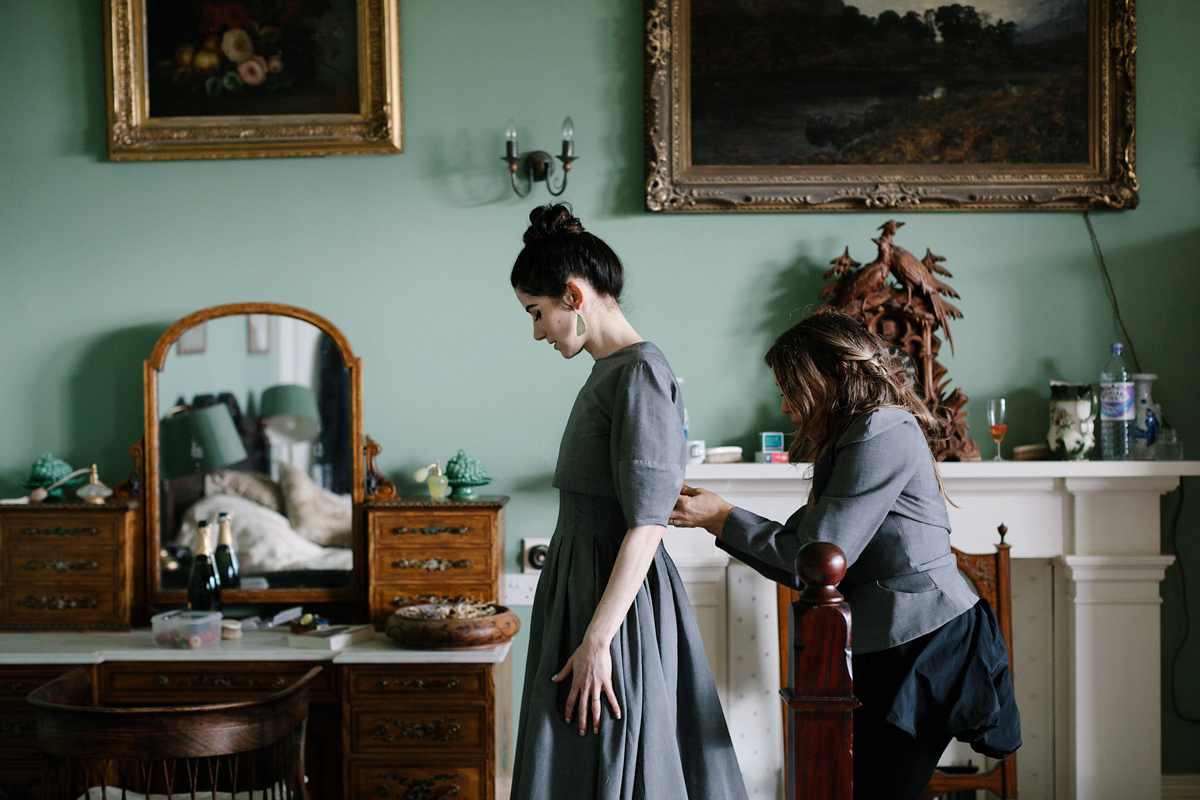 "She came to me and offered help which I was hugely grateful for. After an initial chat and lots of visual research, we narrowed down my likes and dislikes and I gave Lesley free reign on creating a design."
"Lesley made a few different toiles and ten different sleeve options in calico which I tried on and loved. We narrowed it down and ran with the one I wore on the day. Sourcing fabric was a long process – we wanted something vaguely utilitarian so opted for a lightweight chambray denim."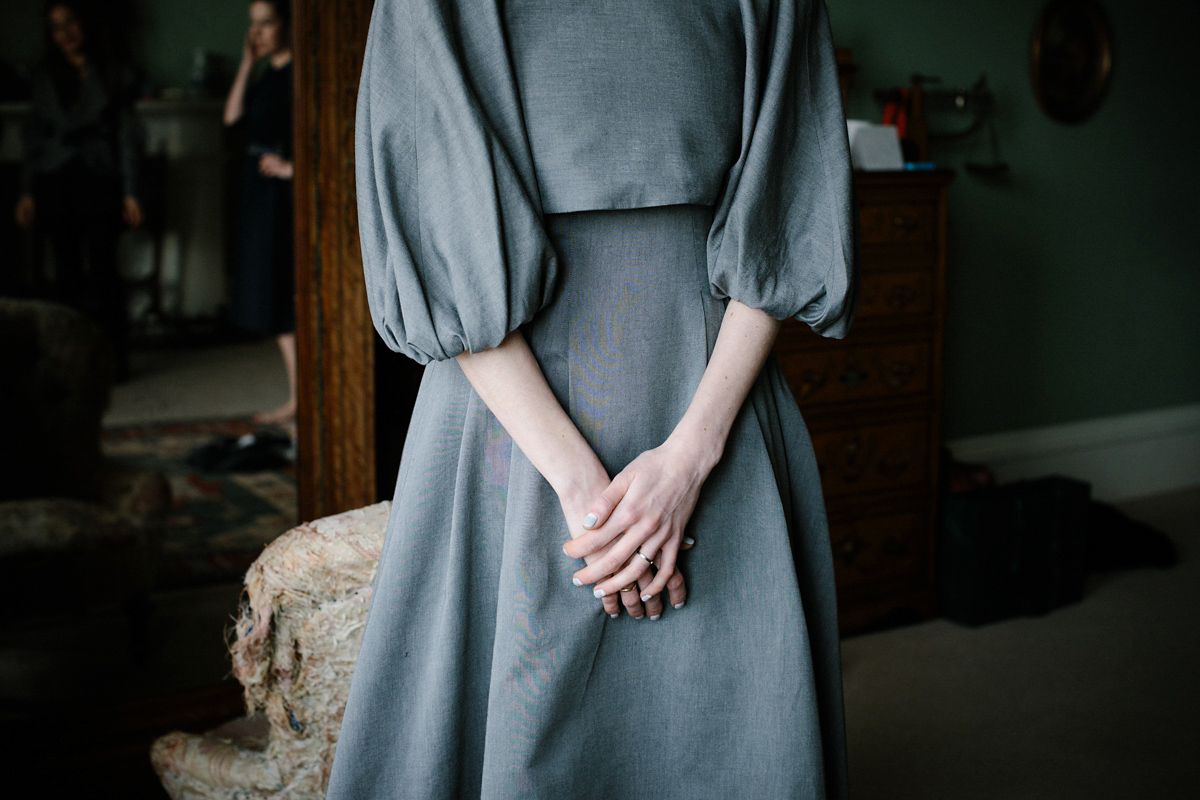 "Due to the length of the dress and the circumference of the hem (13.5 metres!) it took a while to source a suitable option. The grey used is actually the reverse of the black denim."
"I love the sculptural sleeves and the fact the dress is in two parts. It hangs beautifully and was so much fun to wear."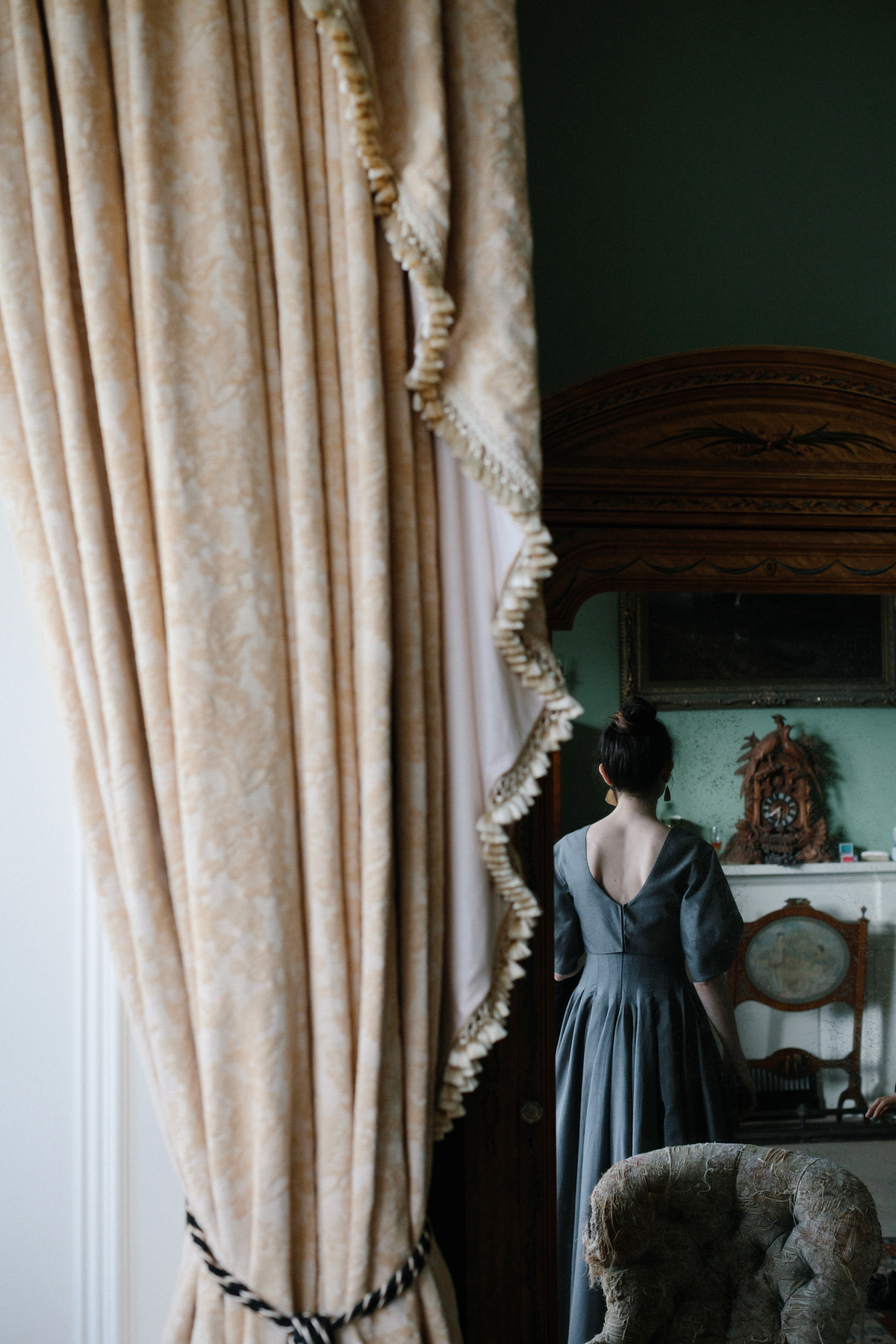 Cecilia added a pair of black suede Hobbs sandal platforms, a spritz of 'Noir' by Tom Ford – given to her by Greg for Christmas and her current favourite – and a striking pair of brass and silver earrings she made herself. The gorgeous bride also carried a cream leather slouch bag made by her friend and independent designer Melissa Devine.
Leo, Cecilia's French Bulldog and Titan, a Staffordshire Bull terrier who belongs to the bridesmaid (Agnes) and her boyfriend Chris, dressed up for the occasion in denim T-shirts and neckerchiefs made by Cecilia's aunt, Jacqueline Riley, and their floral wreaths around their necks were made by the florist Amy Craig.
Bridesmaid Agnes wore Kurt Geiger heels with a gorgeous ASOS gown, earrings by Sima Vaziry and a ring by Cecilia Stamp Jewellery.
"My dad accompanied me for the walk down the grand staircase to the tune of 'Love on a Real Train' by Tangerine Dream. It's instrumental and from the film 'Risky Business' which was the first film we watched together – and was also the name of the table we sat at."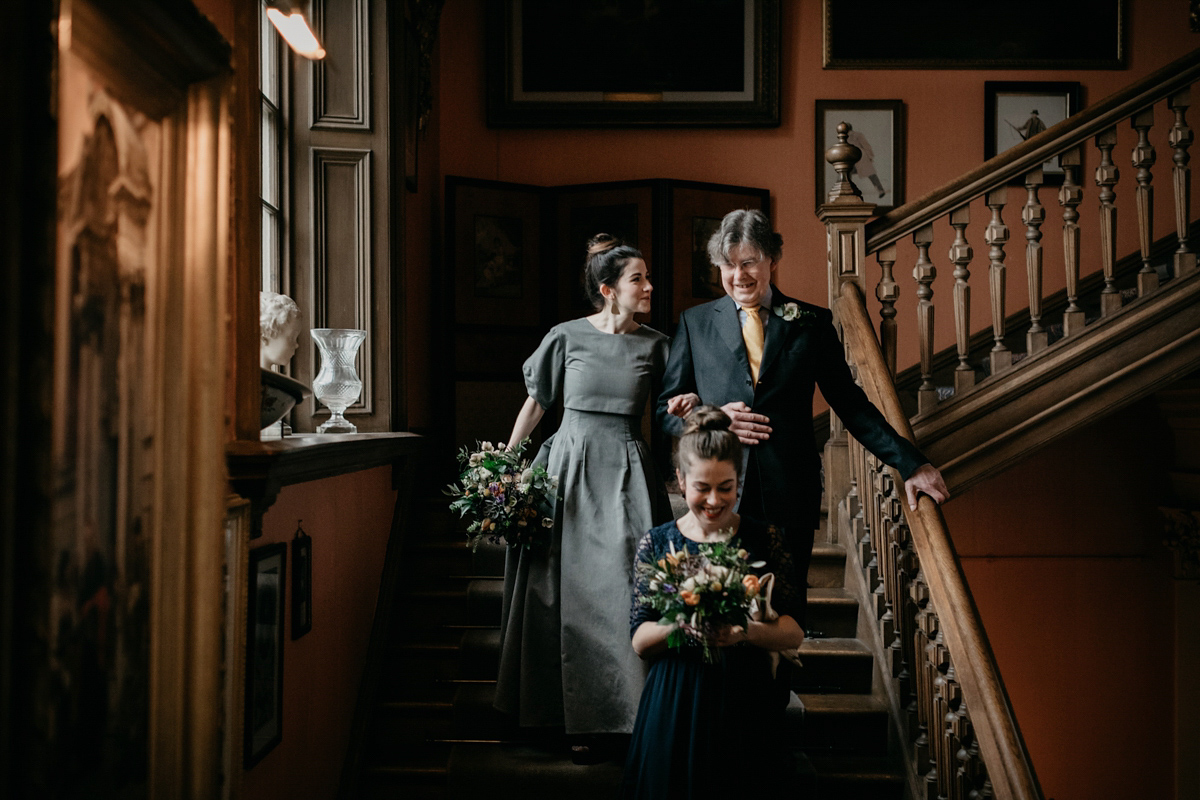 "We wrote our own vows – they were nice and short, personal, and involved promises to do with friendship, love, pizza and the correct way to dispose of tea-bags at home; a terrible habit I have which Greg tries to rectify!"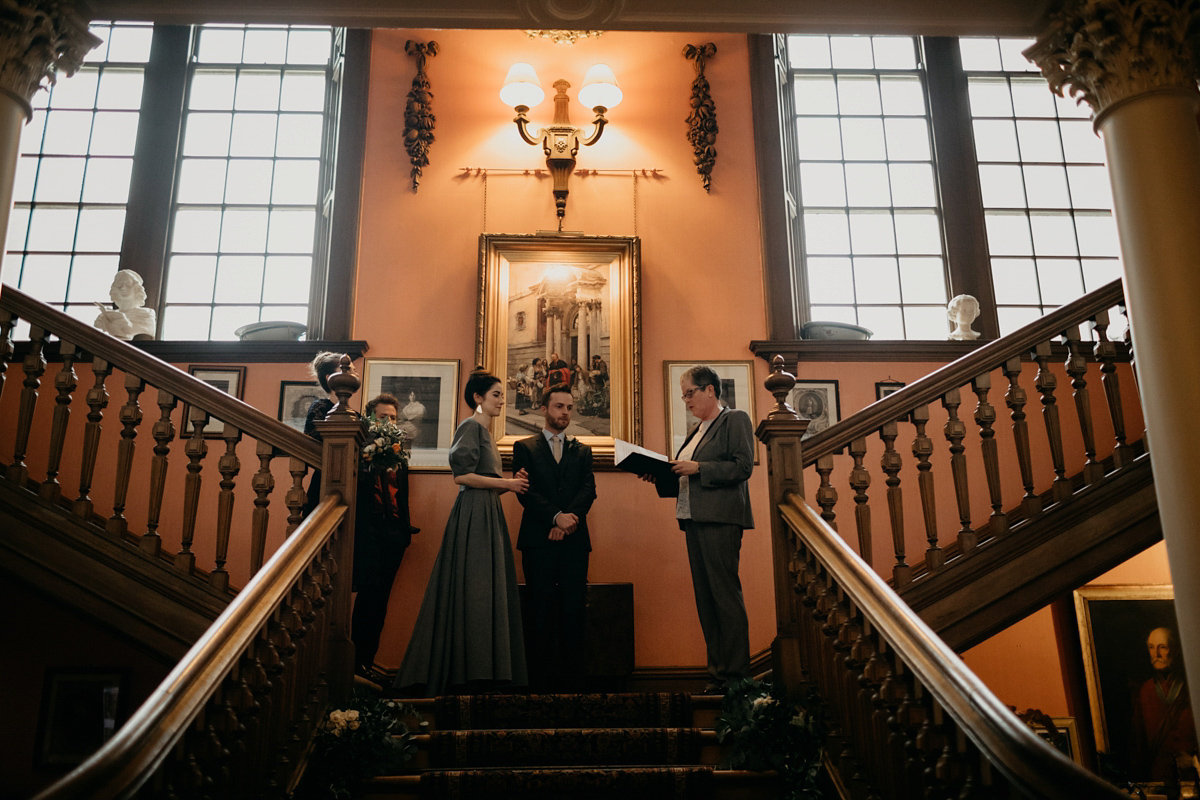 "We had two readings – one read by my godfather Andrew and the other by my cousin Suzanne. Andrew chose a reading, as shown below (he's a professor of English so we were in safe hands and I trusted his judgement!) and I chose the second reading – by Tina Modetti which she read when Frida Kahlo and Diego Rivera got married – as it's funny, true and heartfelt."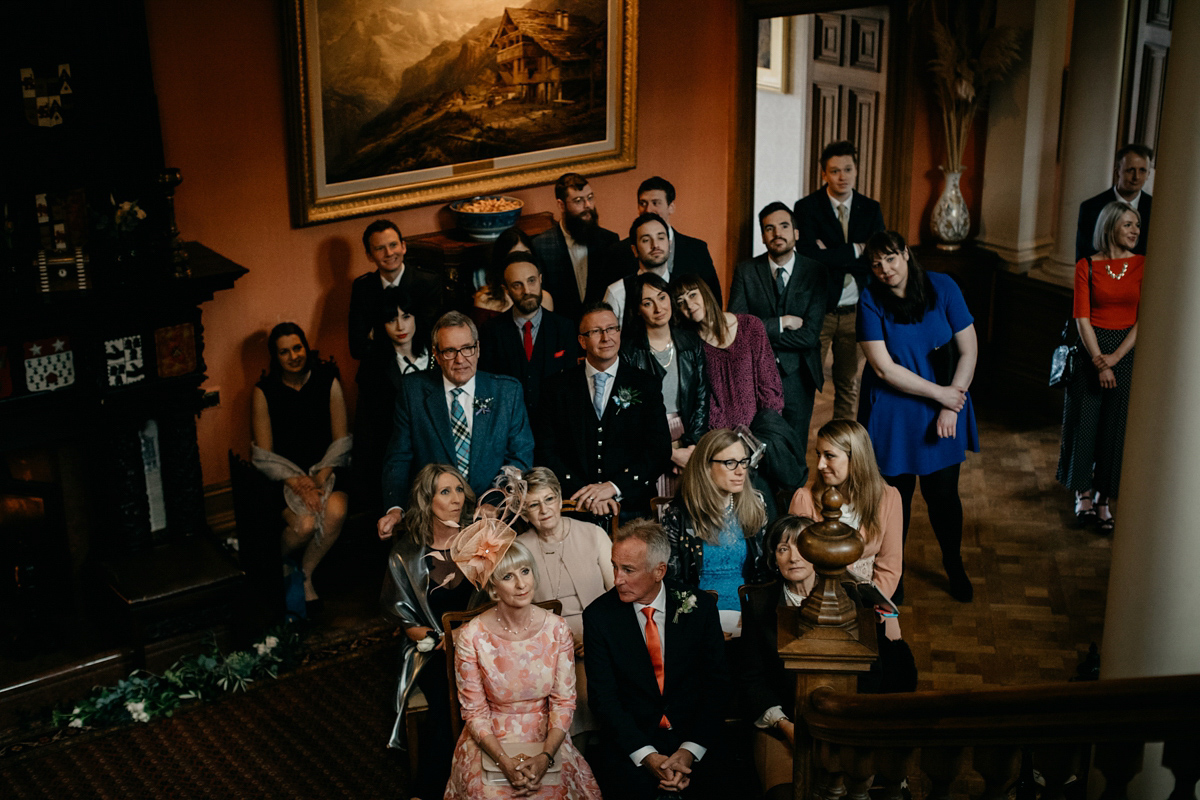 Their Lonely Betters by WH Auden

As I listened from a beach-chair in the shade
To all the noises that my garden made,
It seemed to me only proper that words
Should be withheld from vegetables and birds.

A robin with no Christian name ran through
The Robin-Anthem which was all it knew,
And rustling flowers for some third party waited
To say which pairs, if any, should get mated.

No one of them was capable of lying,
There was not one which knew that it was dying
Or could have with a rhythm or a rhyme
Assumed responsibility for time.

Let them leave language to their lonely betters
Who count some days and long for certain letters;
We, too, make noises when we laugh or weep:
Words are for those with promises to keep.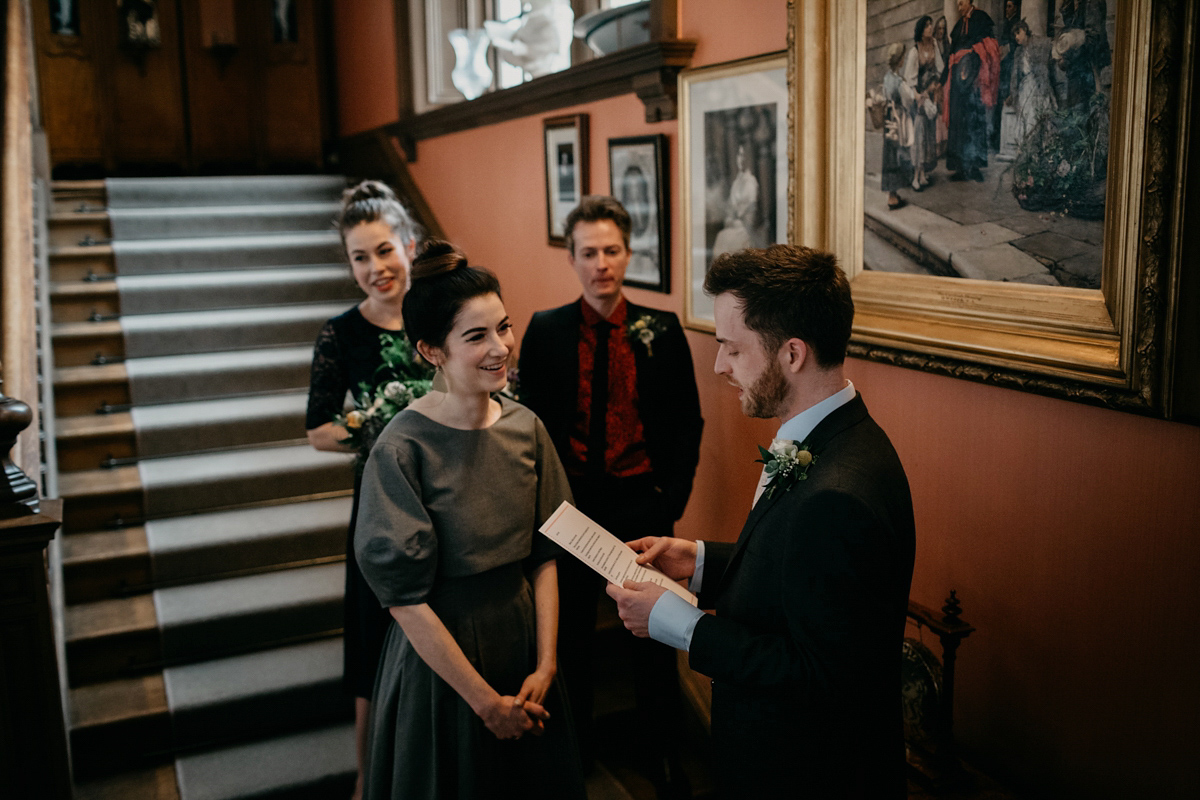 With a handy occupation as a jeweller, Cecilia made both hers and Greg's wedding bands.
"I made myself a chunky wedding band in 18ct white gold, with two faceted edges to mirror the shape of the baguette diamond on my engagement ring. It's so heavy and I love it! It was such a treat to make myself something. I made Greg a simple 14ct white gold band, which has two subtle faceted edges as it goes from flat to round.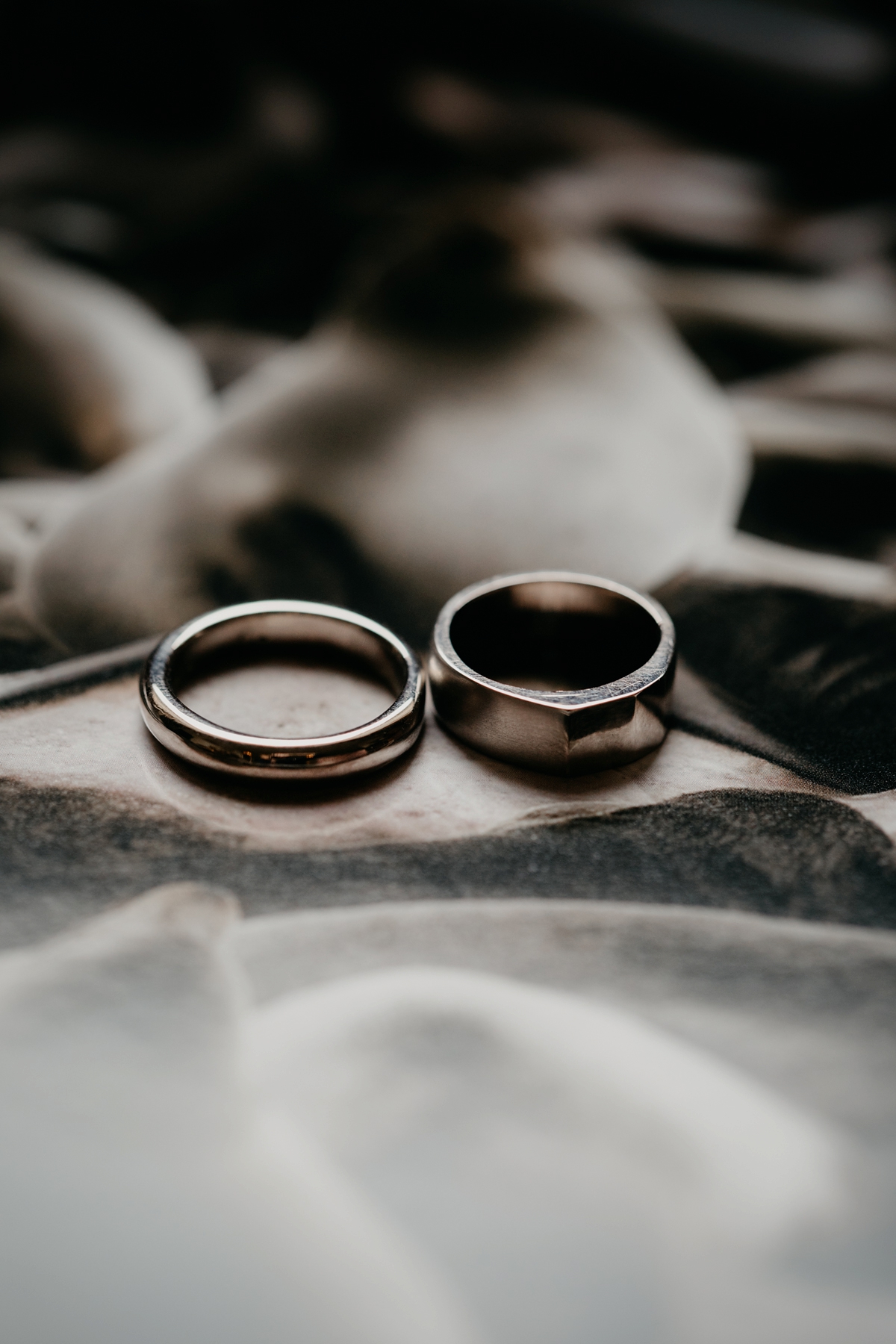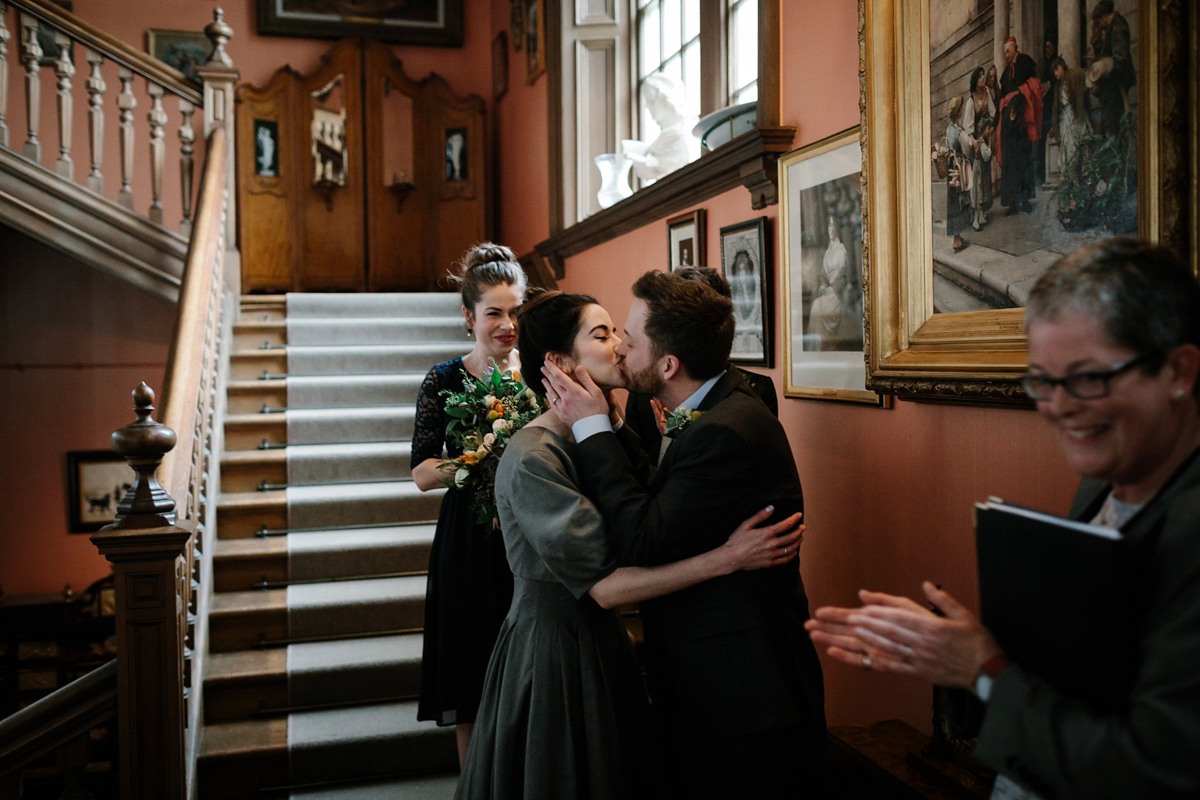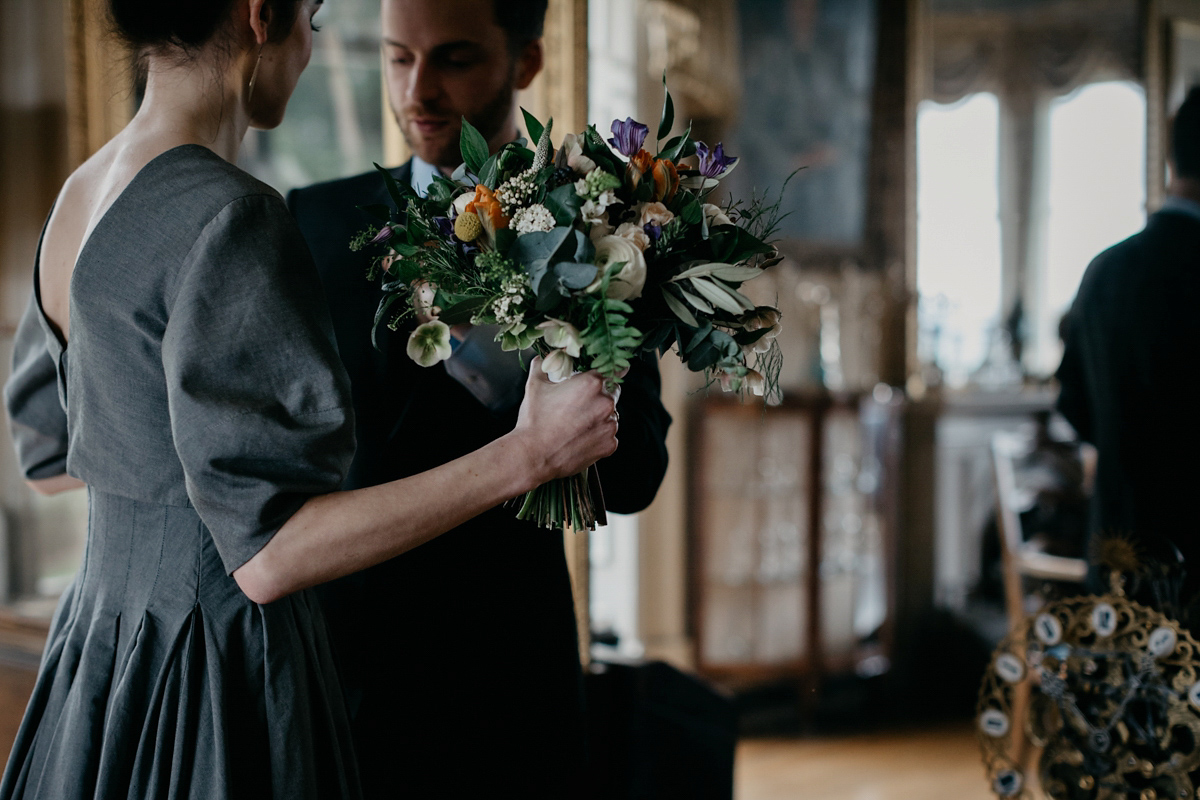 "Greg and I met at school – he was three years above me – and we briefly dated as he left school to go to university, then split up. We lost touch a bit but eventually came back into contact through a mutual love of music – we were both in bands and ended up sharing playlists and CDs with each other over the years."
"Timing was never great as we were both in other relationships, but eventually ten years later we met up for lunch one day and became inseparable."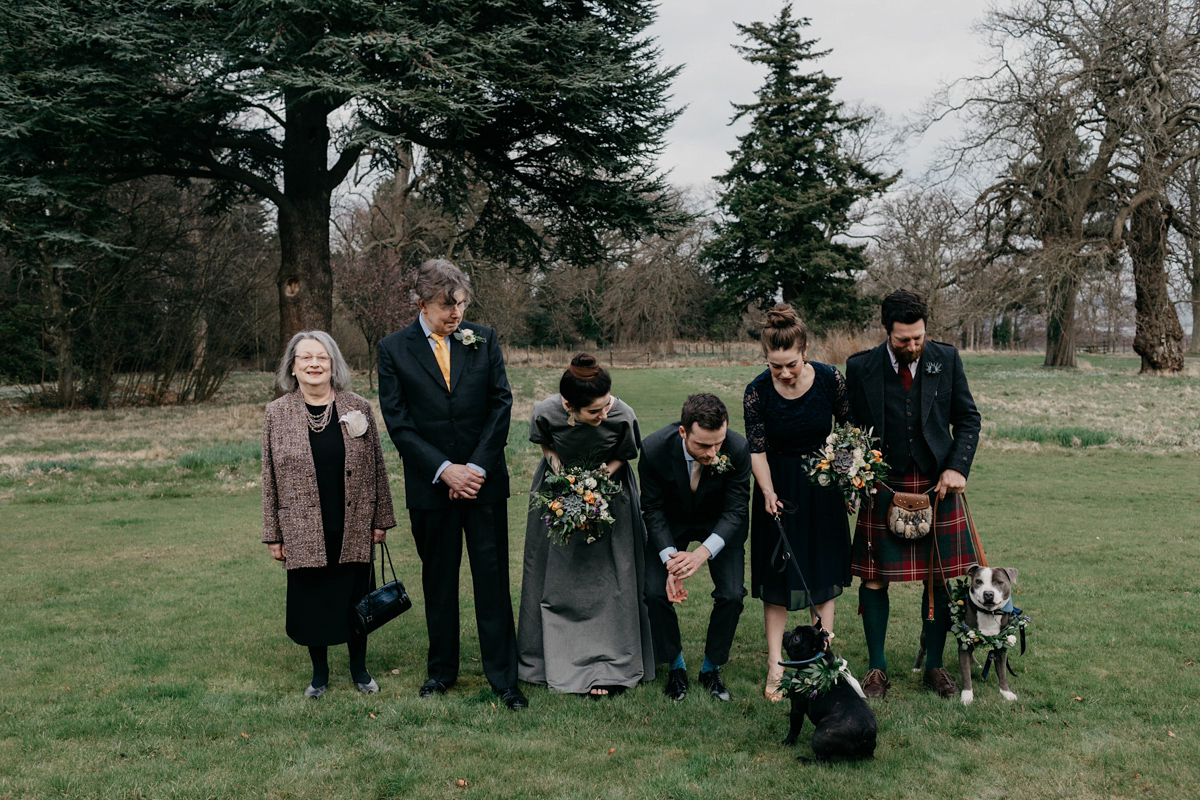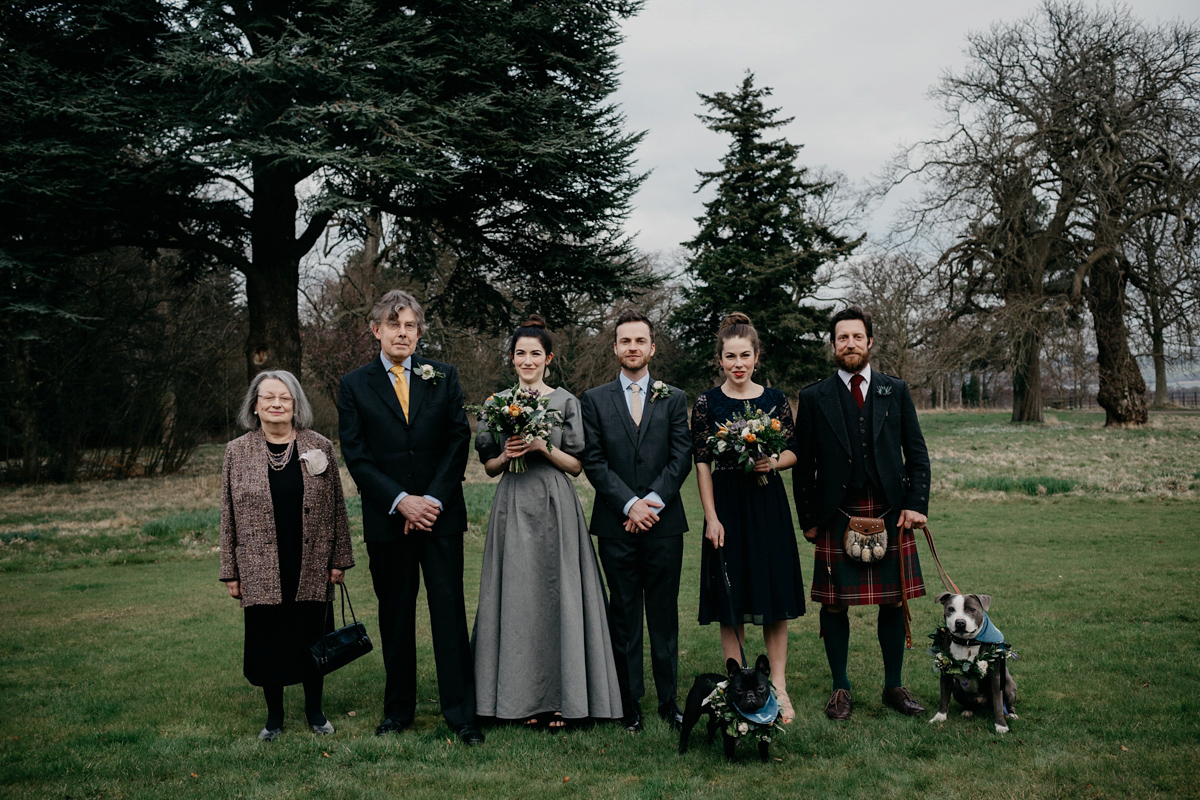 The florist was another friend of Cecilia's – Amy Craig – who works at Rose 'n' Thyme and also freelances for Lace Buds. She crafted a stunning array of relaxed, loose and wild displays with plenty of foliage, as well as dotting little succulents around the venue. Amy also incorporated monstera plant leaves as part of the display that Cecilia used on the wedding invites, so everything tied in.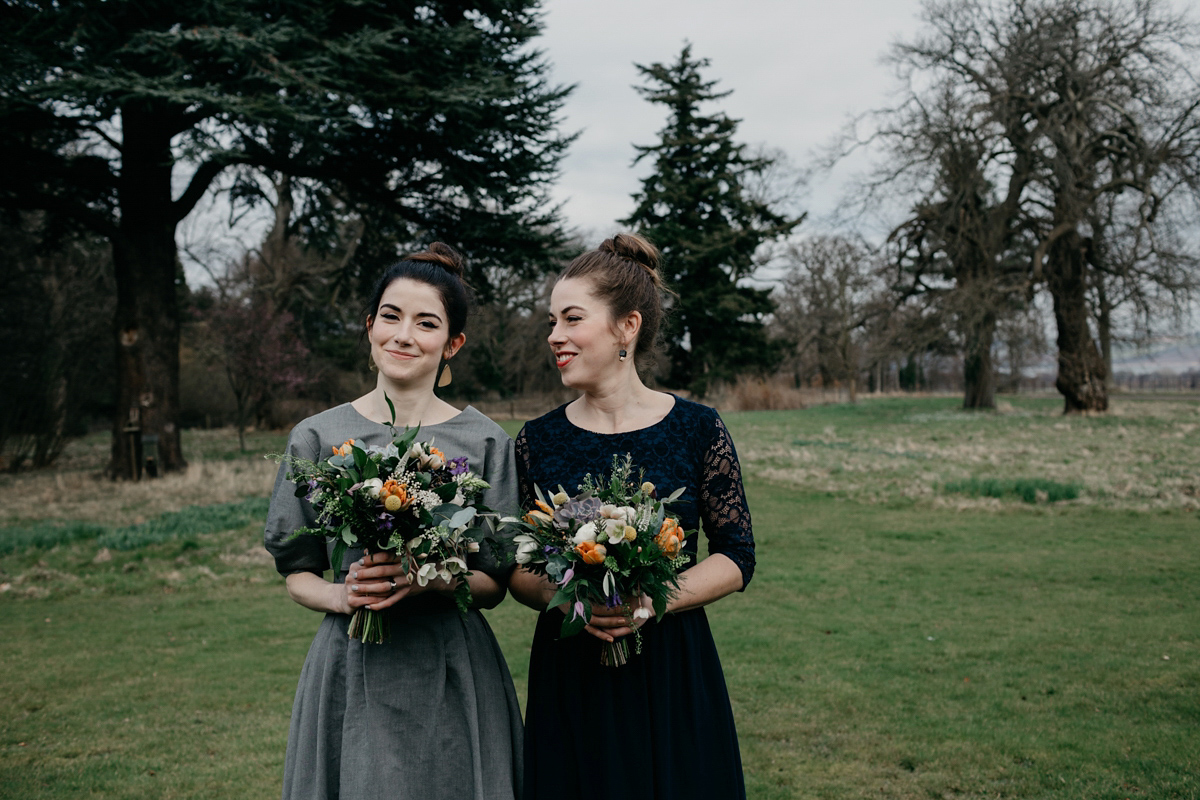 "Amy is so talented and has such a great eye. I wasn't fussy about a colour scheme or certain flowers – I just asked Amy to use her judgement and choose anything seasonal and muted. She knows what I like! I especially loved the eucalyptus and ferns. I was so delighted with the outcome and the variety of plants we had as well as the beautiful bouquets."
"Amy incorporated a section of lace around my bouquet too, which was from my Grandma's veil and it was perfect. We also spent a while sourcing interesting bottles to use as vessels for the table displays, including beer, spirits, hot sauce and old soda bottles and our friends were also happy to help in donating bottles, which was so helpful and kind."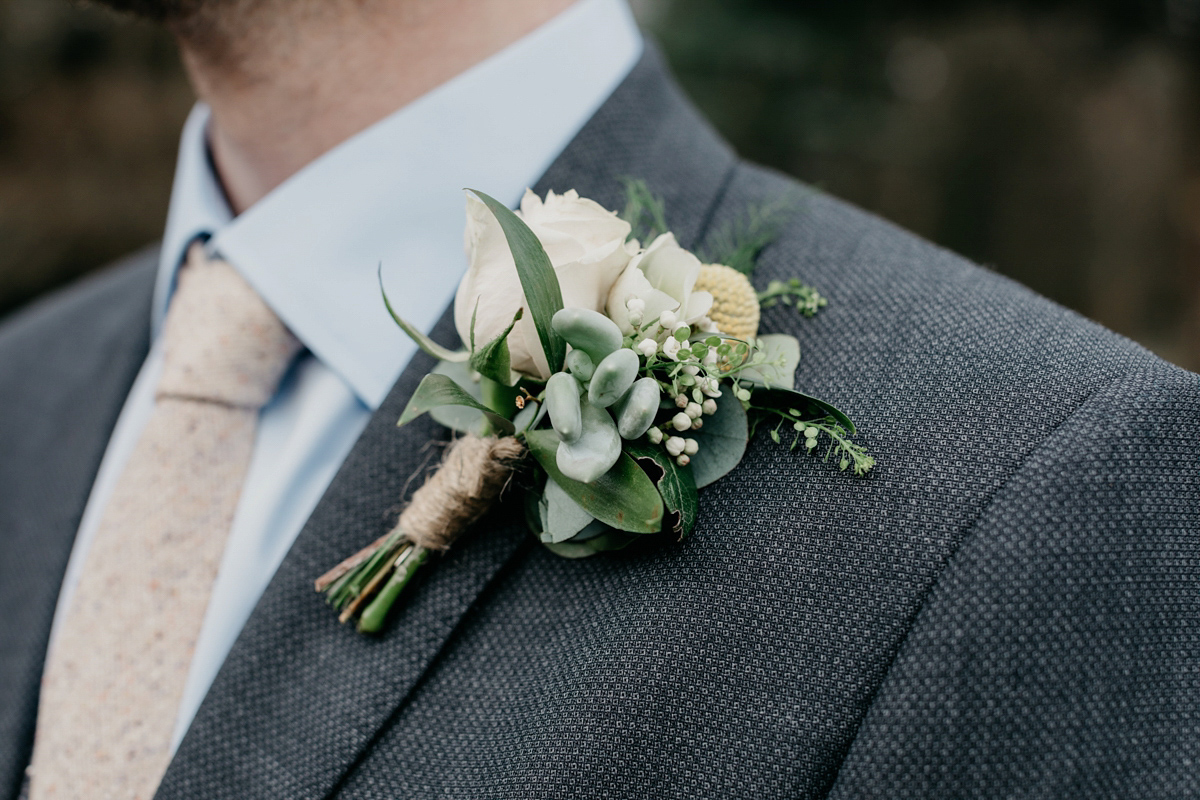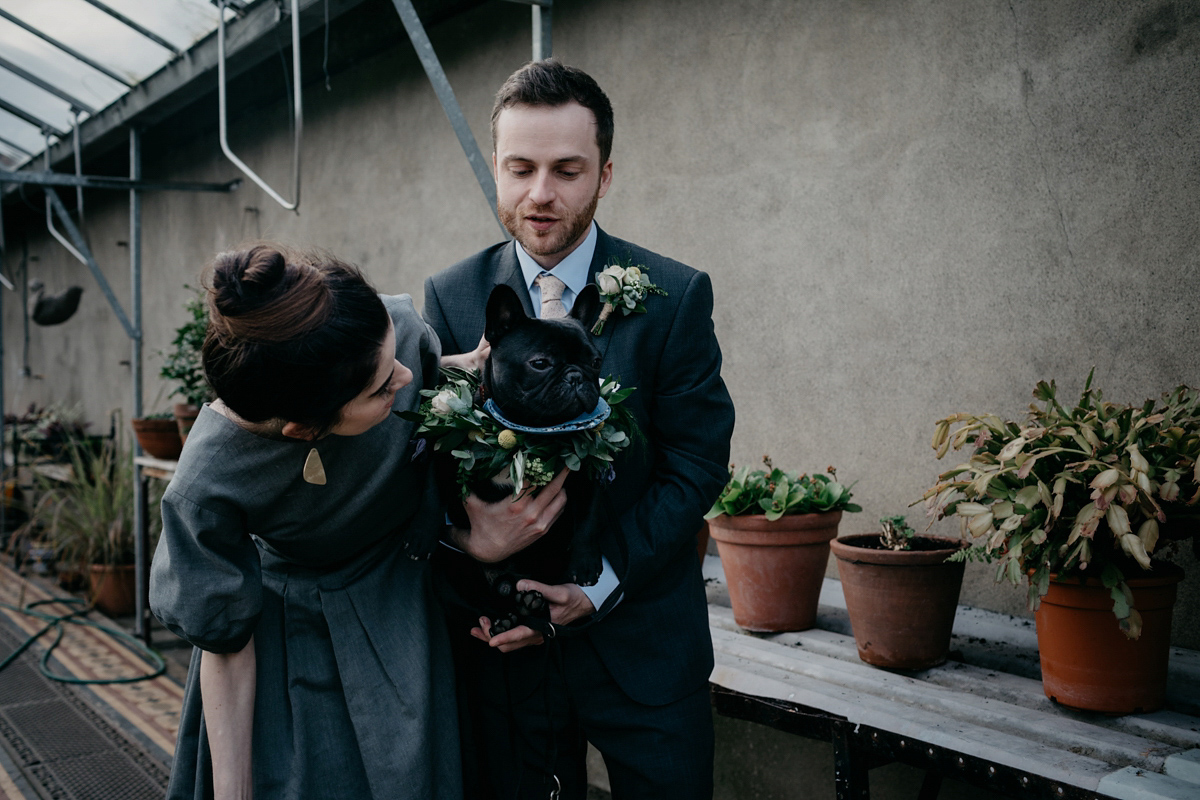 "Errol Park is beautiful as it is and full of personality, so we didn't feel like we needed to do much. As well as the concrete blocks and bottles/flower displays, myself and some friends made a number of white tissue paper pom-poms and we also had tea-lights in little paper bags/lanterns to decorate the stairways."
"I designed our wedding invites – they incorporated a few of our favourite things (sharks, plants, space, chillis, amongst other things). I wanted them riso-printed as I love the screen-printed look and colours – gold, fluorescent orange and teal – and we had them printed by Risotto. The invites were really important to me and I wanted them to be fun and graphic."
"Greg and I drew the table names by hand in pencil and pen – each one was a film title so we used the original fonts from each film. My Dad did calligraphy on the name cards for each person and I designed the table plan to reflect the wedding invites and it was printed by Vista Print."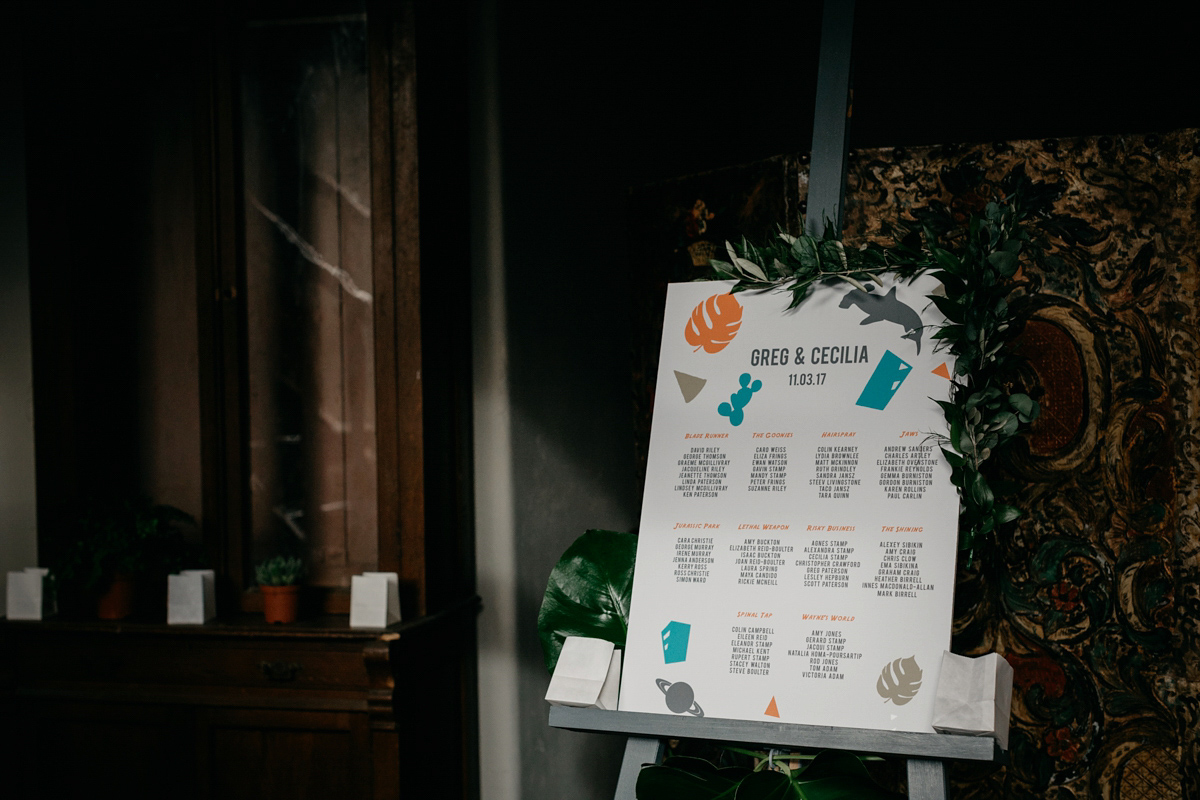 "Our friend Graham Craig (husband to our florist Amy) homebrews beer – we asked him to brew an IPA as wedding favours. He kindly helped us out and made a delicious dark IPA. I designed labels, which we printed up and stuck on each one. Graham's one stipulation was that the name of the beer had to have a pun – so we went with 'Ferment For Each Other'.
I also made a large number of concrete ziggurats/flat-topped pyramid shapes as part of the table displays which people took home as a memento/decoration for their homes."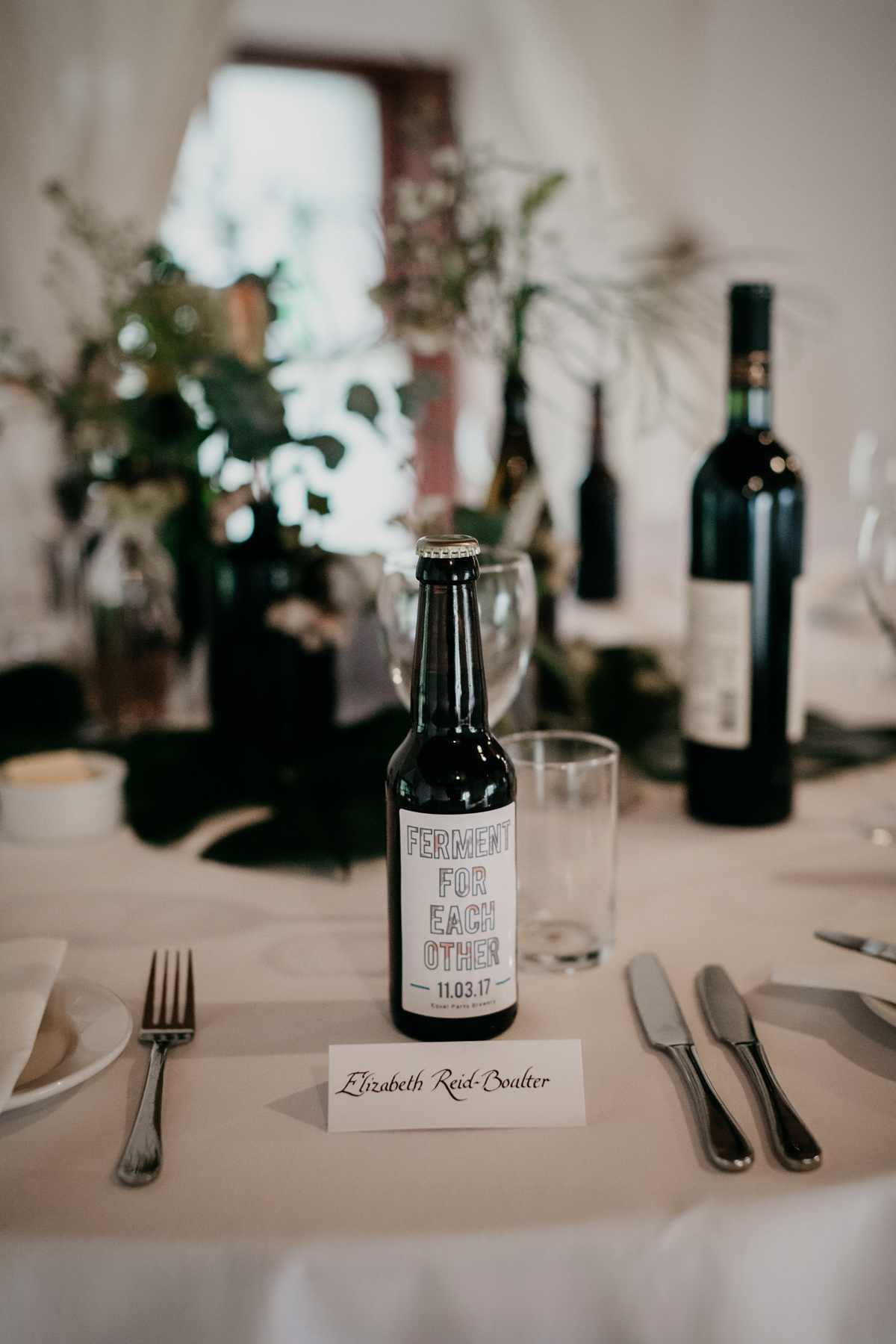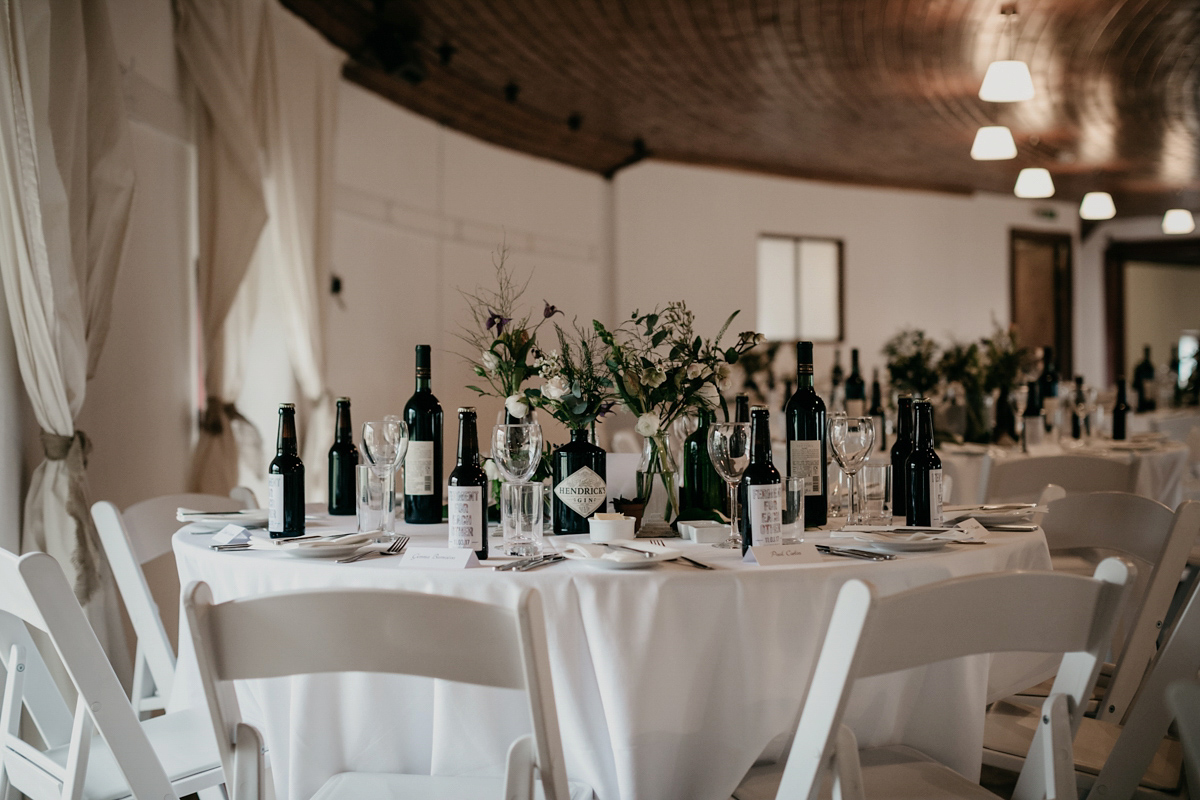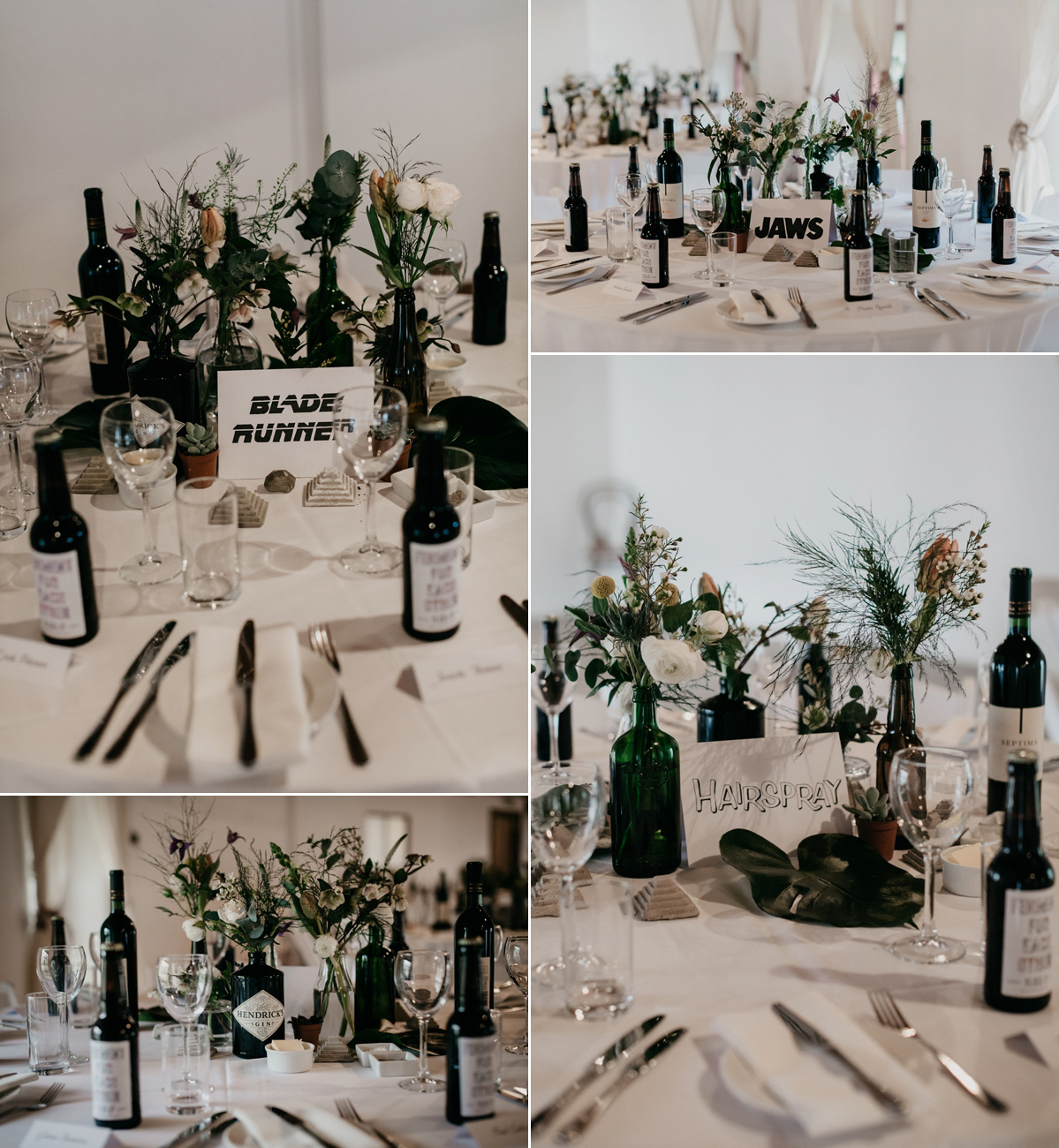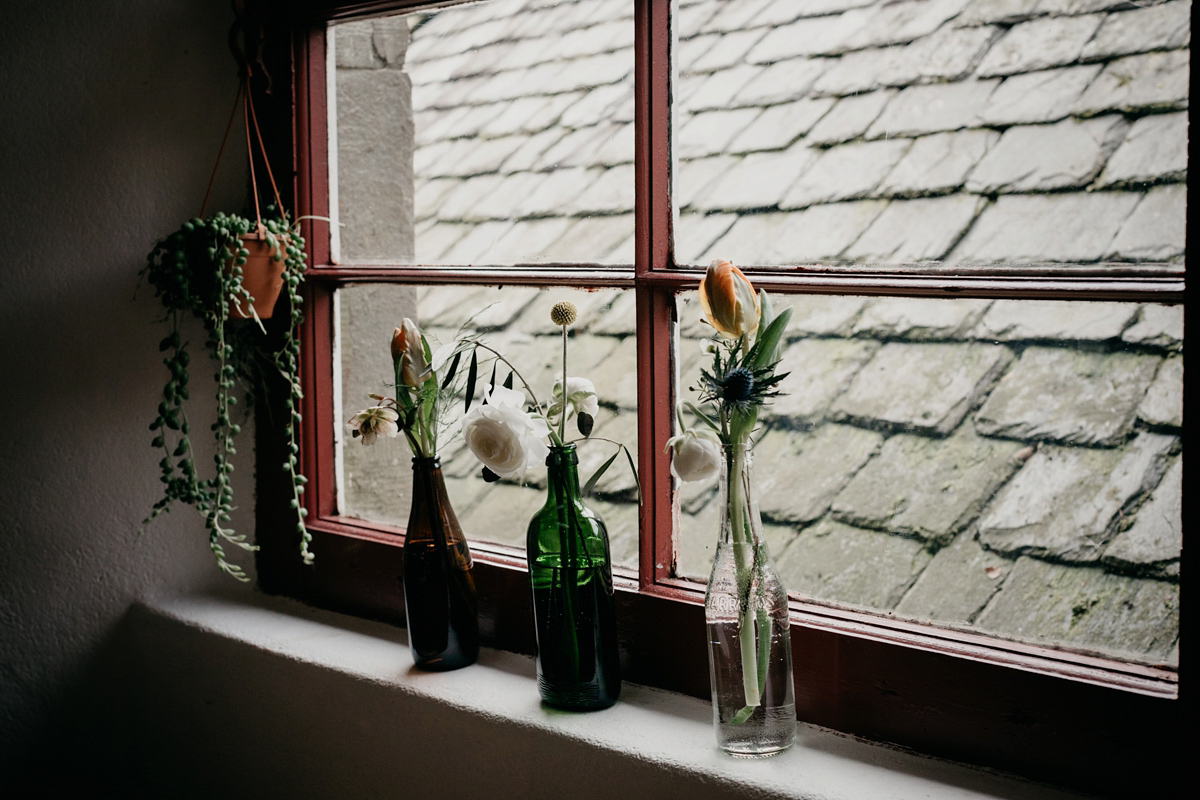 Sam Saxby and Julie Revell, of A Couple of Cooks fame, prepared tasty morsels for the guests, whilst the couple's friend Colin Campbell, owner of The Hug & Pint, ran the bar for the evening and organised all the drinks for the day. The bride and groom also had help from a baker friend…
"Our friend Stacey Walton from Bear Sign is a great baker and she made us lots of doughnuts for the evening. Peanut butter filling is a favourite!"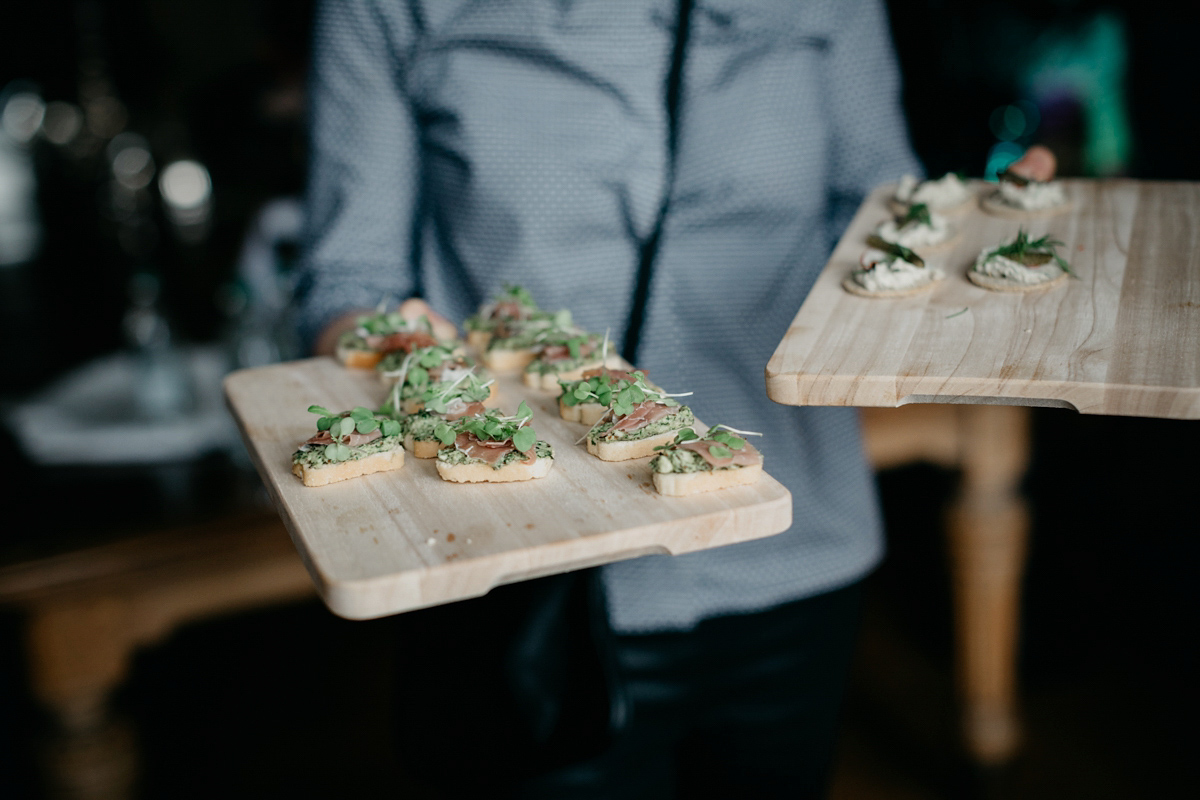 "Bakery 47 is around the corner from our flat, and we go there regularly. Sam and Anna are wonderful and we knew that we wanted our cakes from there – everything they make is delicious and we love the ethos of what they do. We opted for three cakes – the largest was a gluten-free raspberry Victoria Sponge.
The next was orange, chocolate and hazelnut cake and the other one was a vegan courgette and lime cake. Anna decorated them with flowers for us and they were absolutely beautiful, as well as delicious; there was hardly any left after our wedding day!"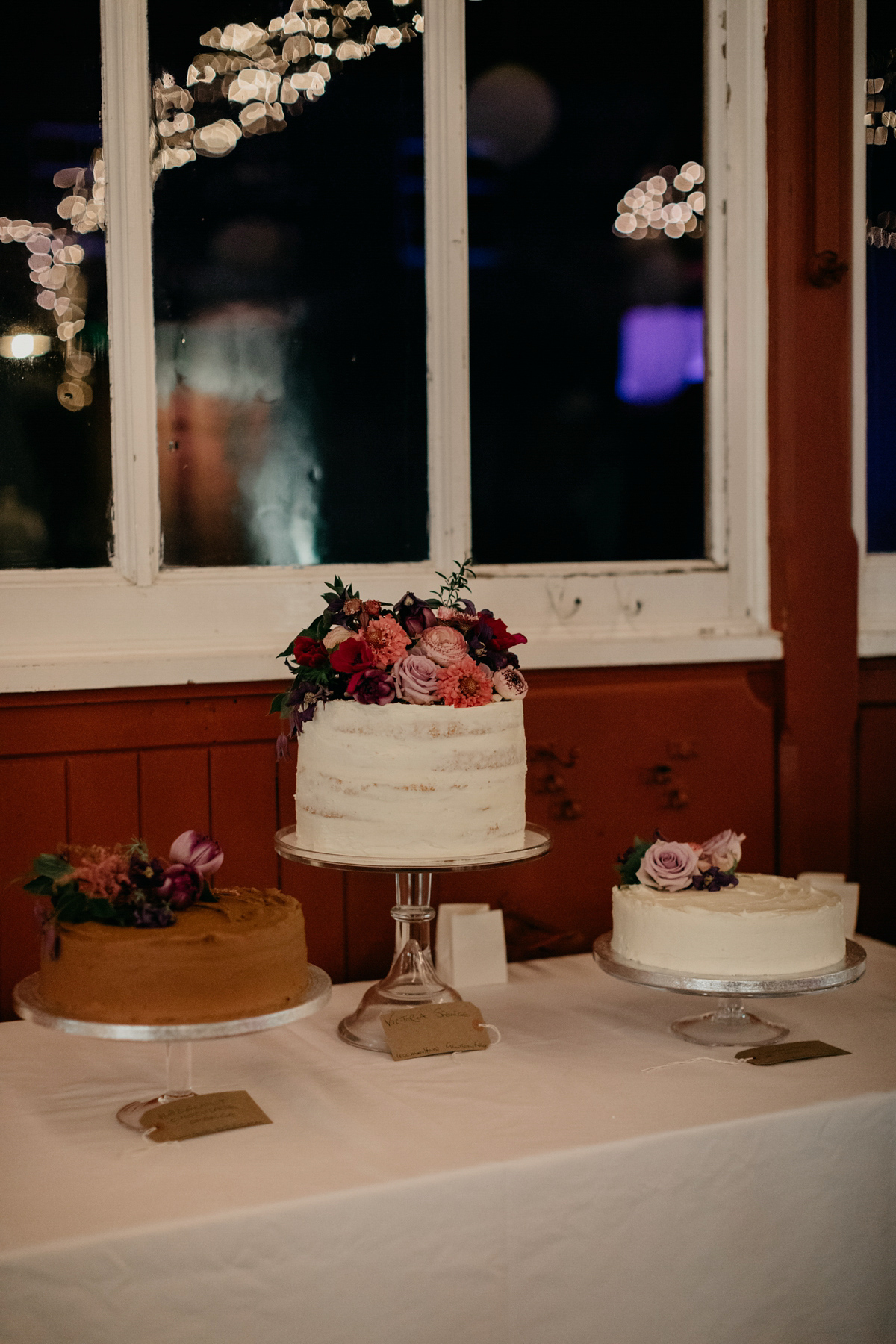 "It's so hard to choose a favourite part of the day! I was so anxious in the morning and wish I'd managed to relax and enjoy getting ready a bit more – I was surrounded by family and friends (and champagne) but I was so nervous. I honestly loved every bit of the day and was so sad when it was over. Greg, my sister and her boyfriend Chris and I were the last ones up and we had a nightcap in the kitchen at about 2am before we finally headed off to bed – I didn't want to miss any part of it!"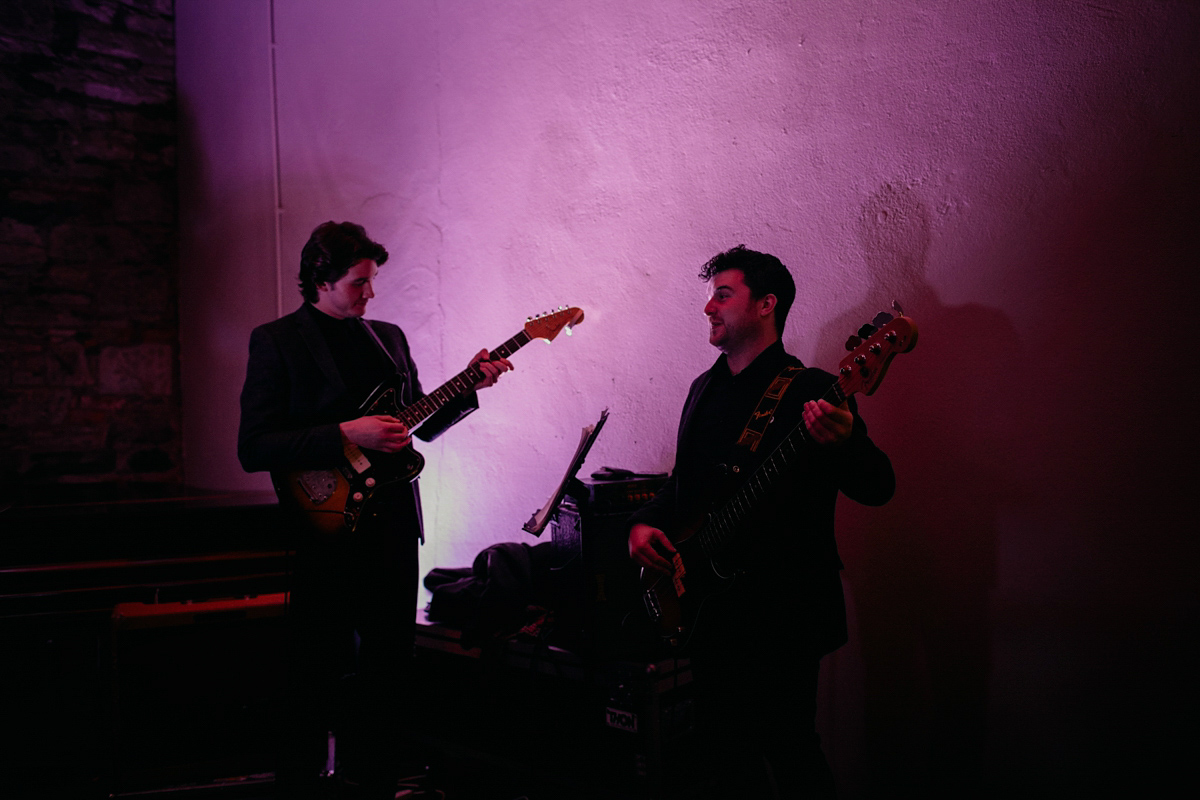 "Greg and I are lucky to know lots of people in music! We had our friend Joe Rattray organise the band for the evening – he's an amazing bass player and amongst other things plays in the Mountain High Band and runs a Motown night at The Hug & Pint in Glasgow. After the band we had DJs (who were also our wedding guests!) Simon Ward and Steev Livingston from Errors and Rickie McNeill of Cru Servers."
"We didn't want to do a first dance as such, but we had asked the band to play 'This Must Be The Place' by Talking Heads – our favourite song by them."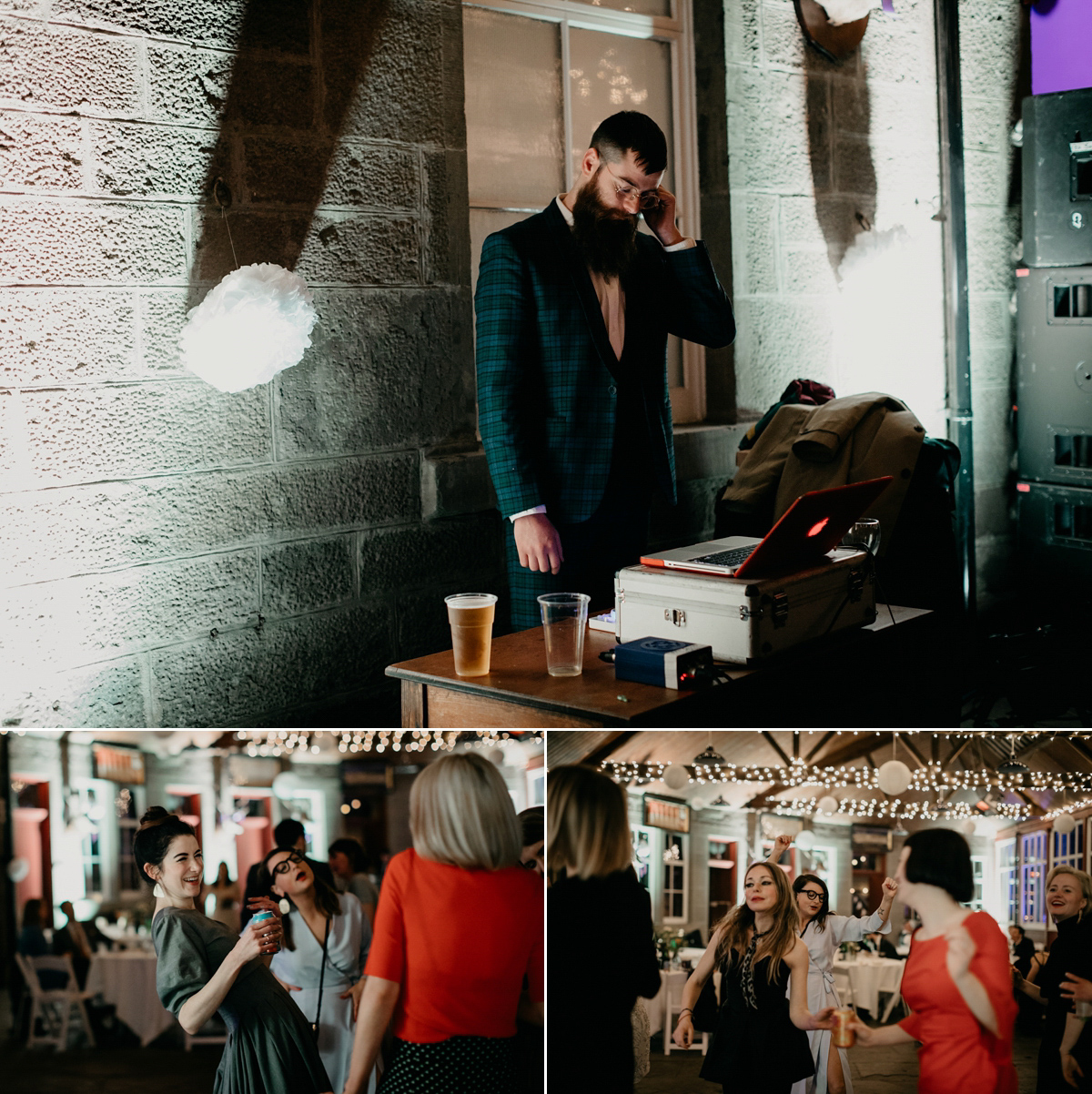 Words of Wedded Wisdom
"I suppose I would just say to try to relax and enjoy it! Don't let anyone else influence what you both want to do. It's not up to them! I'd also say not to worry too much about everyone else – I was so concerned about people having a good time and everything going to plan – so it's important to let go a little bit. I'm so glad we were able to give input into every area of the day and involved all of our talented friends and family where possible – it really made it special and so much fun."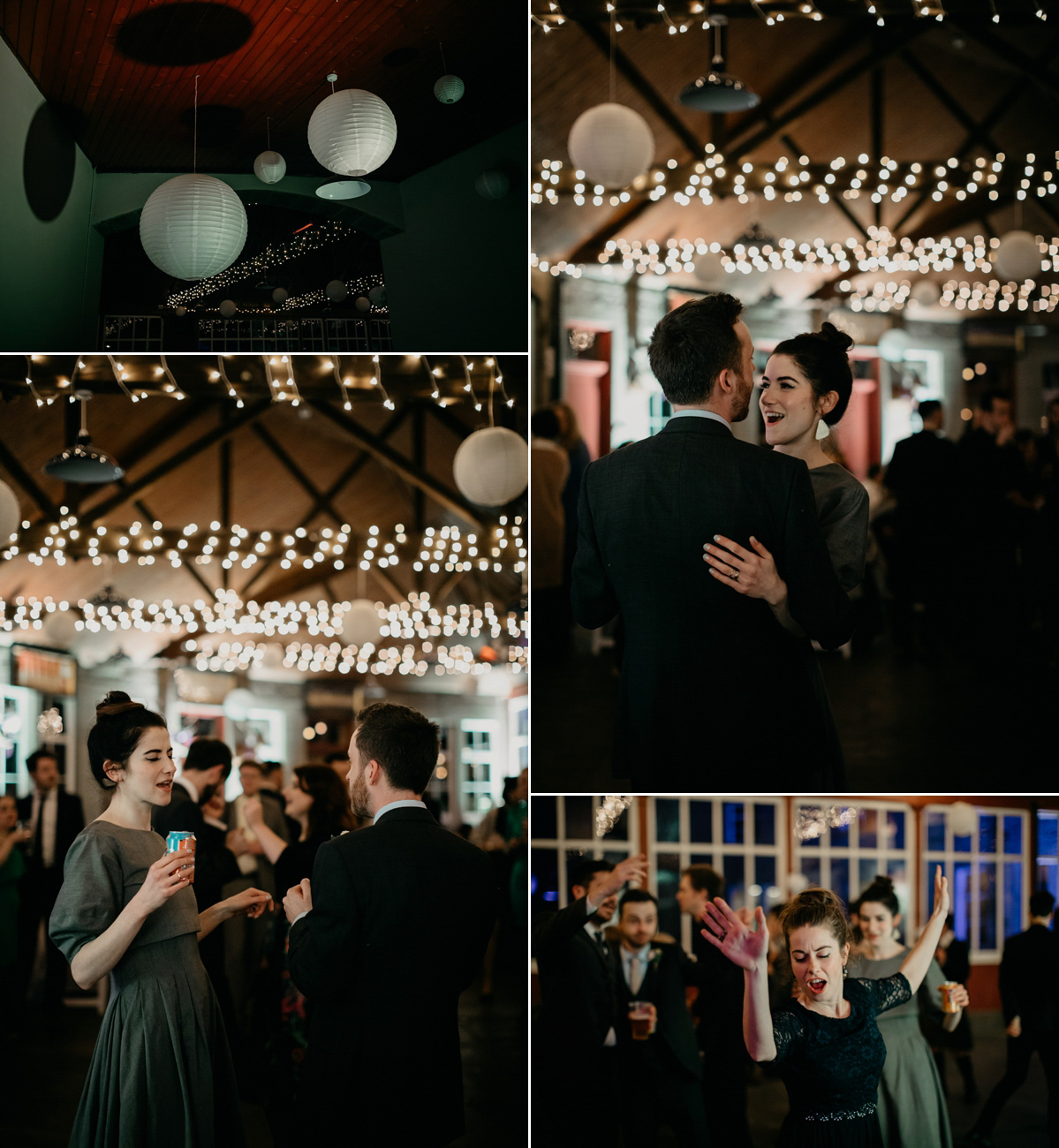 I'm in complete awe of your amazing dress Cecilia! And so lovely to have help from creative friends and family in many aspects of your big day. Thank you to you and Greg for allowing us a wee peek and also to Caro for sharing, as always, such fabulous and heartfelt images.
Are you thinking, just like Greg and Cecilia, of including your pooch as part of your nuptials? See here for more lovely dog-friendly weddings we've previously highlighted.
Love Jo -xo-